If you've been searching for amazing short Instagram captions to make your posts stand out – you've come to the right place!
Welcome to the richest collection of the best Instagram captions that are short and to the point!
I gathered them from various online sources to save you from the hassle of searching the web to find inspiration for your next post!
Picking a perfect short caption has never been easier, so stick with me to find some brilliant caption ideas to rock your posts!
Let's take a look!
10 Best Short Instagram Captions
I'll kick things off with my top 10 short captions for your Instagram posts:
1. Don't be like the rest of them, darling.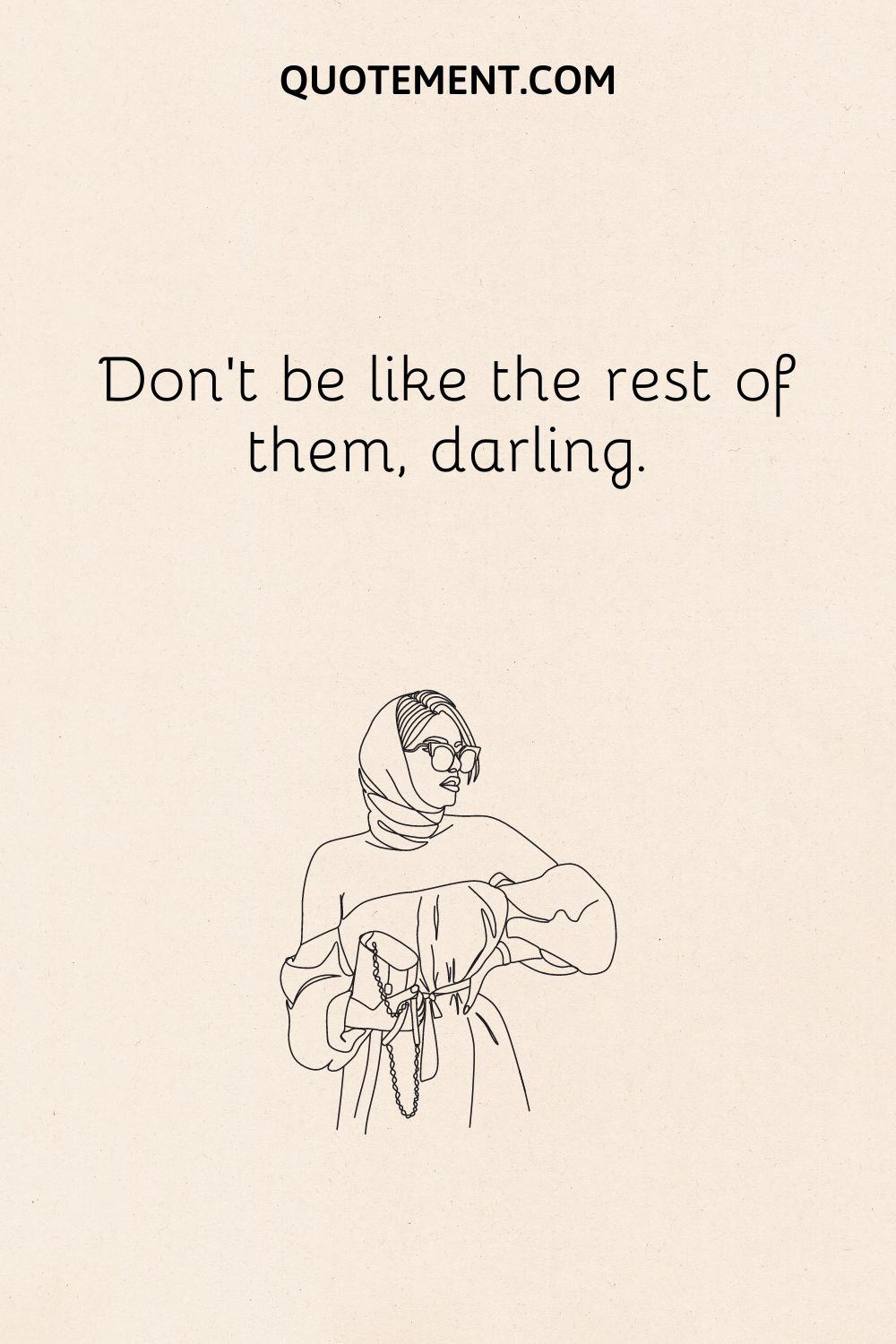 2. Your secrets are safe with me… I wasn't even listening.
3. Cozy nights. Good books. Hot chocolate.
4. Go where the good vibes are.
5. All it takes is one song to bring back a thousand memories.
6. A balanced diet is chocolate in both hands.
7. Dreams don't have expiration dates, keep going.
8. Nature – cheaper than therapy.
9. High tides and good vibes.
10. Just crossing this thing off the bucket list real quick.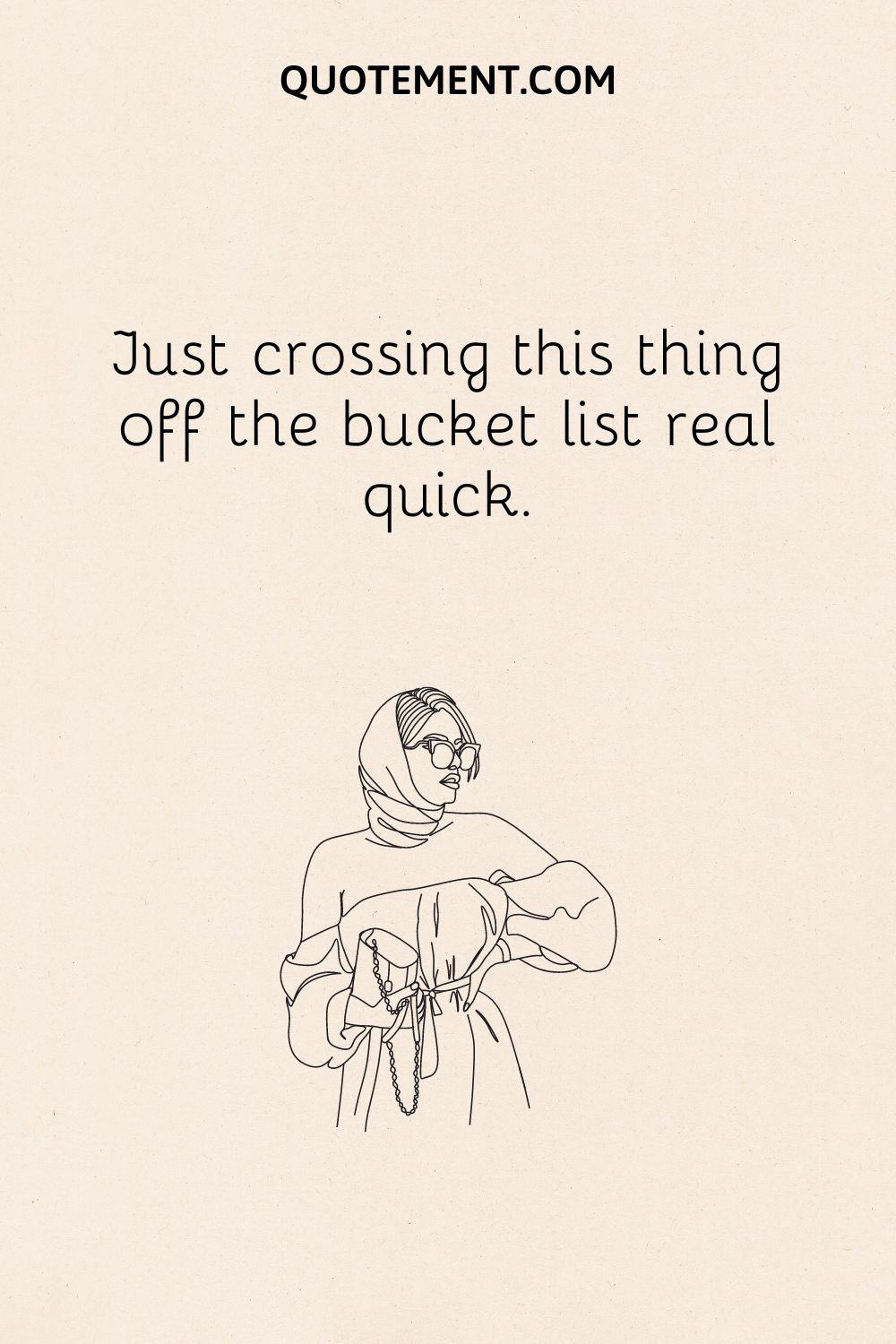 Funny Short Instagram Captions
If you've been searching for funny Instagram captions for your next post, be sure to check out these hilarious short Instagram captions:
1. Don't give up on your dreams. Keep sleeping.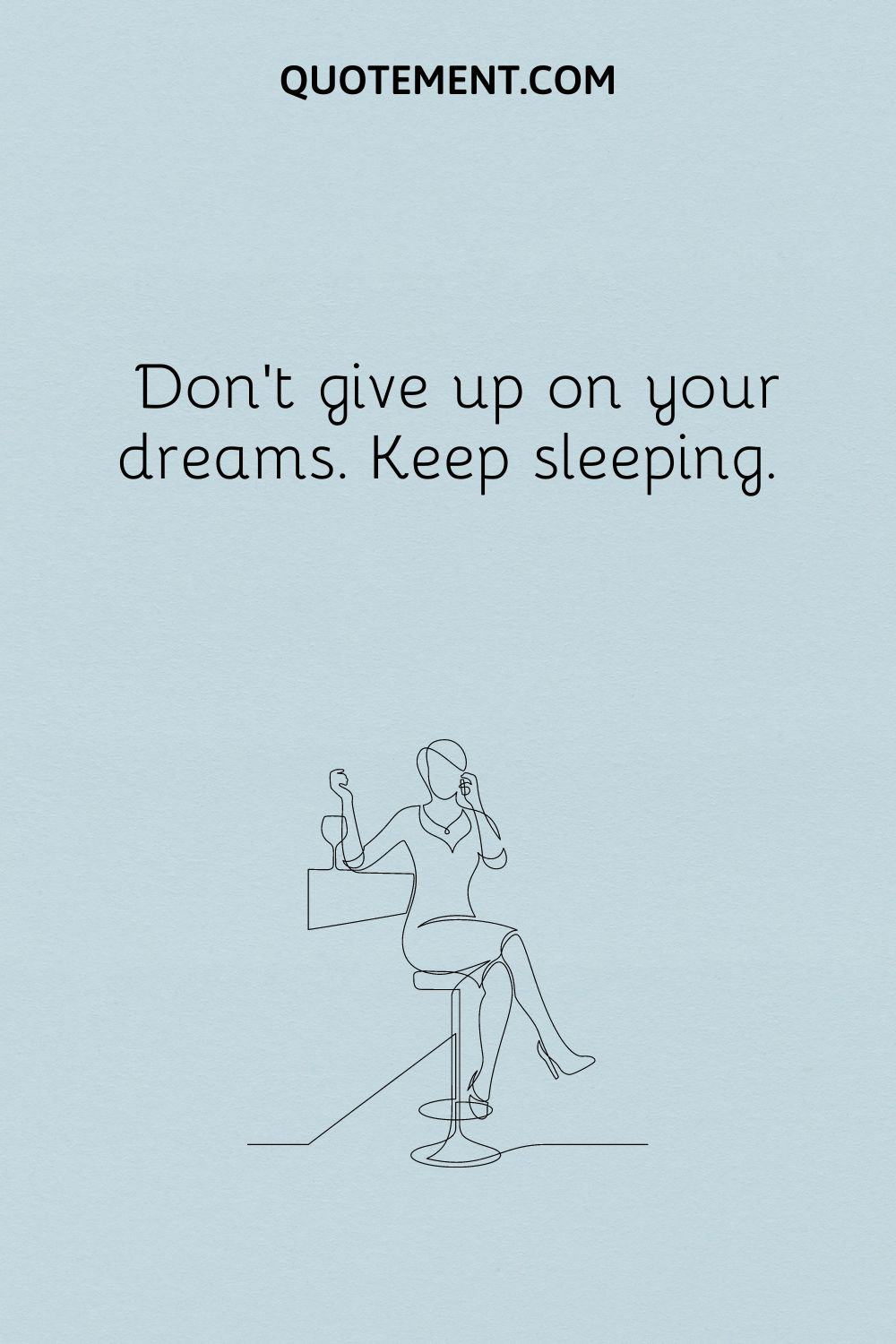 2. Today is one of those days when even my coffee needs a coffee.
3. Real friendship is when your friend comes over to your house and then you both just take a nap.
4. May your coffee be hot and your eyeliner even.
5. I'm sorry if I offended you with my common sense.
6. I have more issues than Vogue.
7. Tequila may not be the answer, but it's worth a shot.
8. I would never let my best friend do anything stupid alone!
9. Nothing to see here, just a couple of weirdos in love.
10. If this drink says I can dance, then I definitely can dance.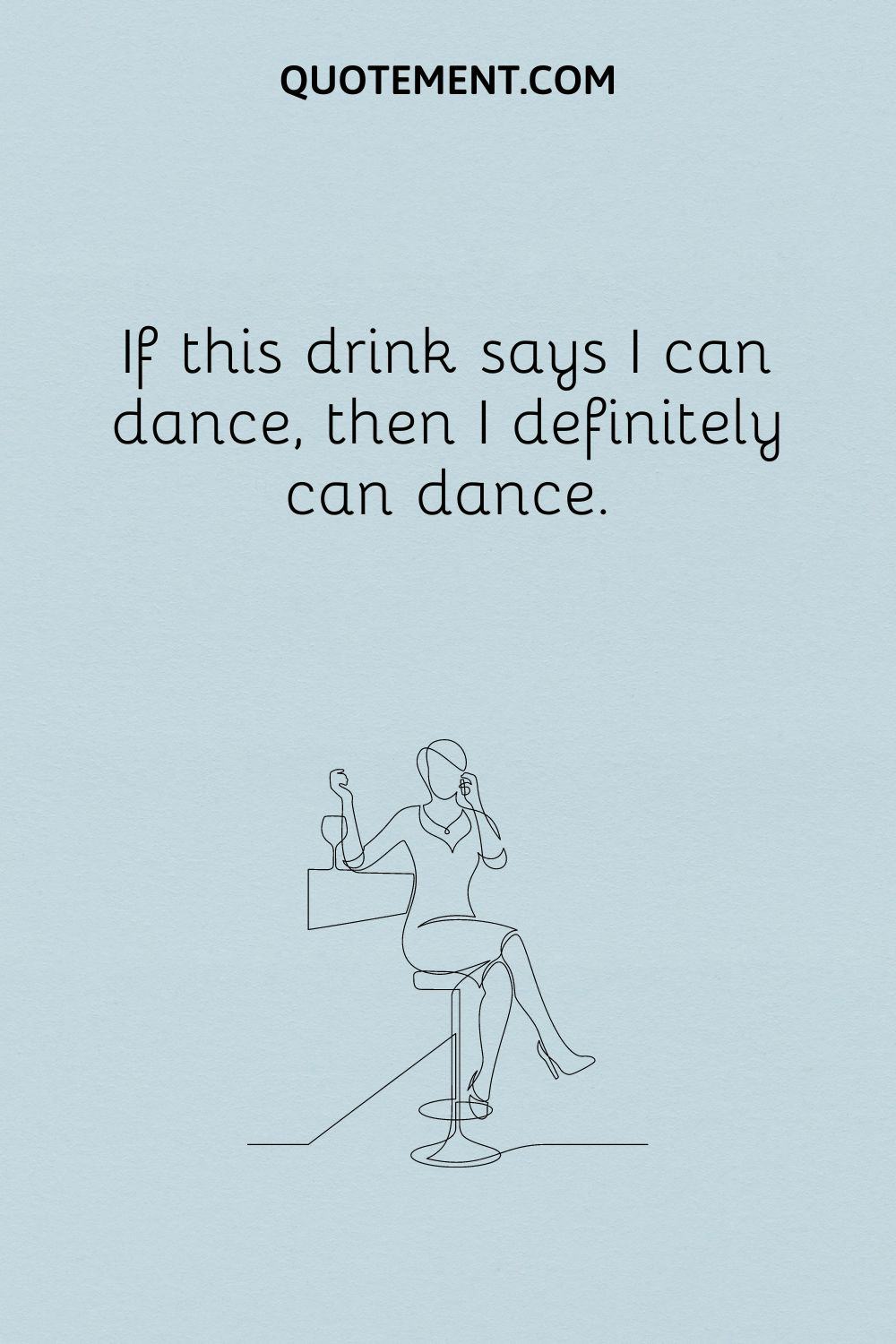 11. It was no fun being crazy alone, so we decided to be crazy together.
12. A good friend might know your wild stories, but your best friend was right there with you.
13. At least my pizza still loves me.
See also: 270 Perfect Pizza Captions For A Catchy Instagram Post
14. If you're hotter than me, then that means I'm cooler than you.
15. I love my six-pack so much that I protect it with a layer of fat.
16. I don't care what people think of me. Mosquitoes find me attractive!
17. My bed is a magical place where I suddenly remember everything I had to do.
18. I don't need a hairstylist. My pillow gives me a new hairstyle every morning.
19. Don't trust everything you see, even salt can look like sugar.
20. I was going to take over the world this morning, but I overslept. Postponed. Again.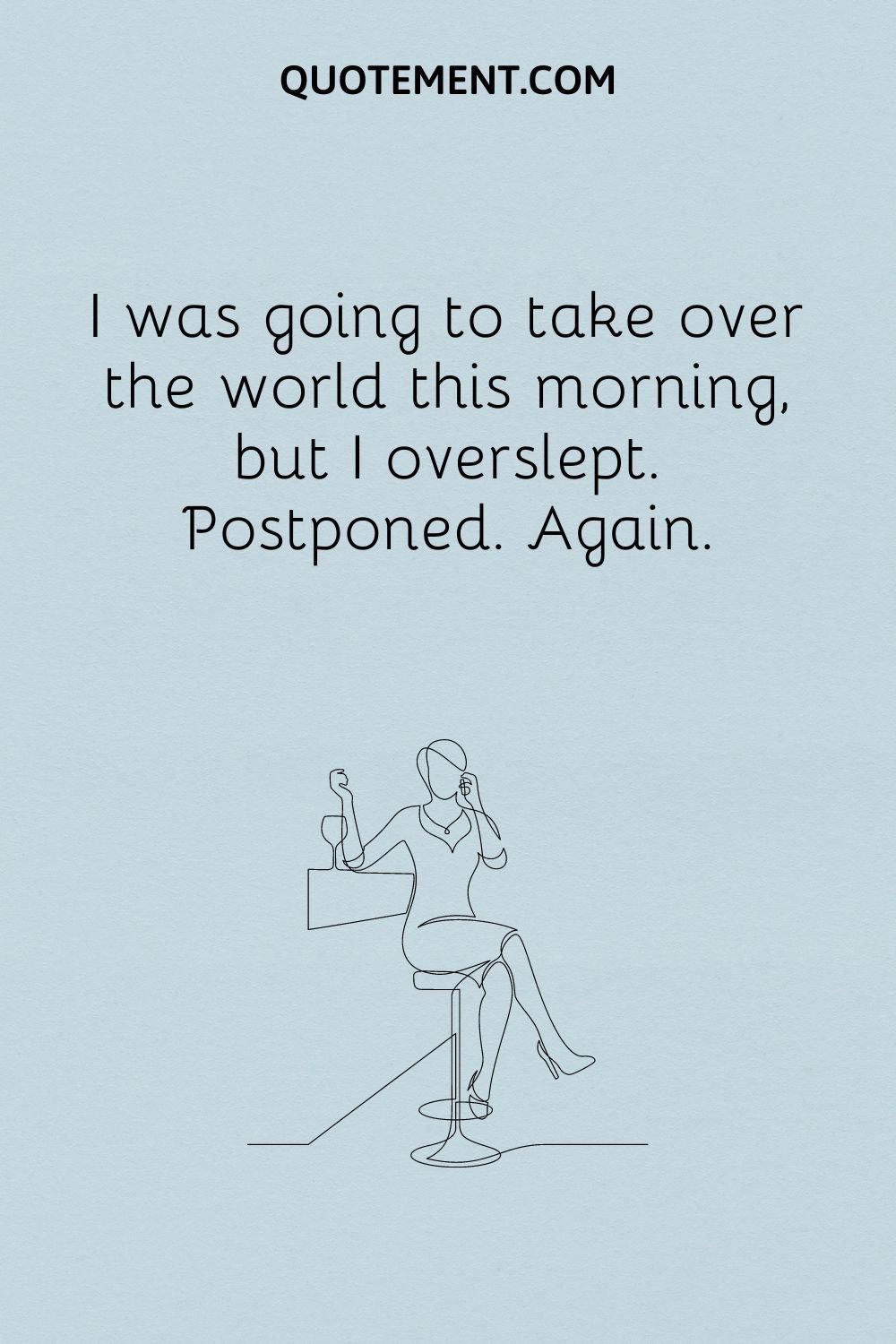 21. Friday is my second favorite F-word.
22. I'm not high maintenance, you're just low effort.
23. It's not a phase mom, it's who I am.
24. When nothing goes right, go left.
25. Sure, I do marathons. On Netflix.
26. Vodka may not be the answer but it's worth a shot.
27. I need a six-month holiday, twice a year.
28. That awkward moment when you're wearing Nike's and you can't do it.
29. They said, "Do what you love and money will come to you". Let's see what happens. I just ordered tacos.
See also: 200 Fantastic Taco Captions For Your Next Instagram Post
30. If I ever go missing, be sure to use my selfie with most likes.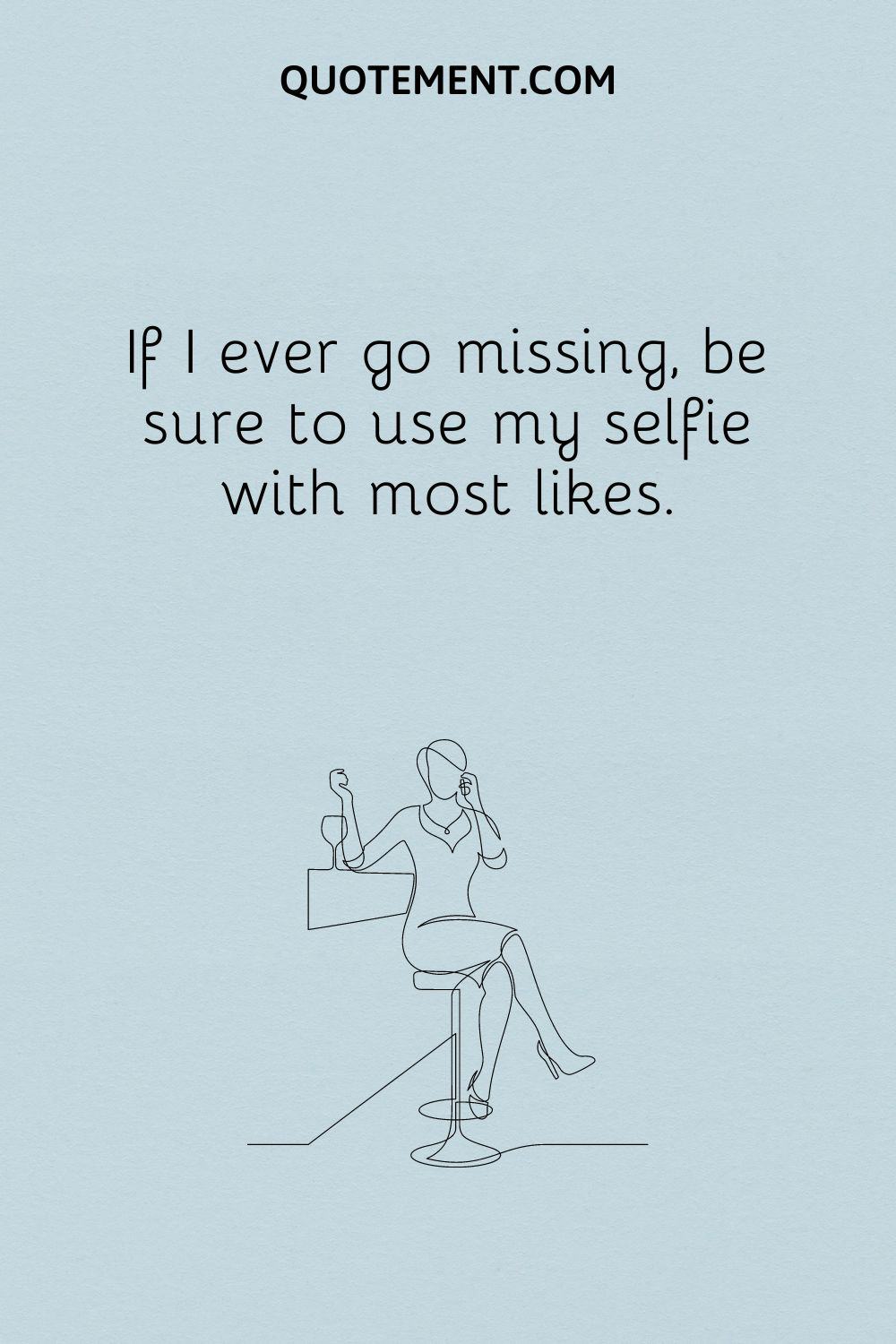 31. If it's snowing, I'm not going.
32. Just because I can't dance doesn't mean I shouldn't dance.
33. I never make the same mistake twice. I make it like five or six times, you know, just to be sure.
34. Sleep like no one's watching.
35. Twinkle, twinkle little star… sign me up to the nearest bar.
36. A party without cake is just a meeting.
37. Wine improves with age. The older I get, the better I like it.
38. Well, that escalated quickly!
39. Beer is proof that God loves us.
40. Let's get sassy and be a little bit glittery.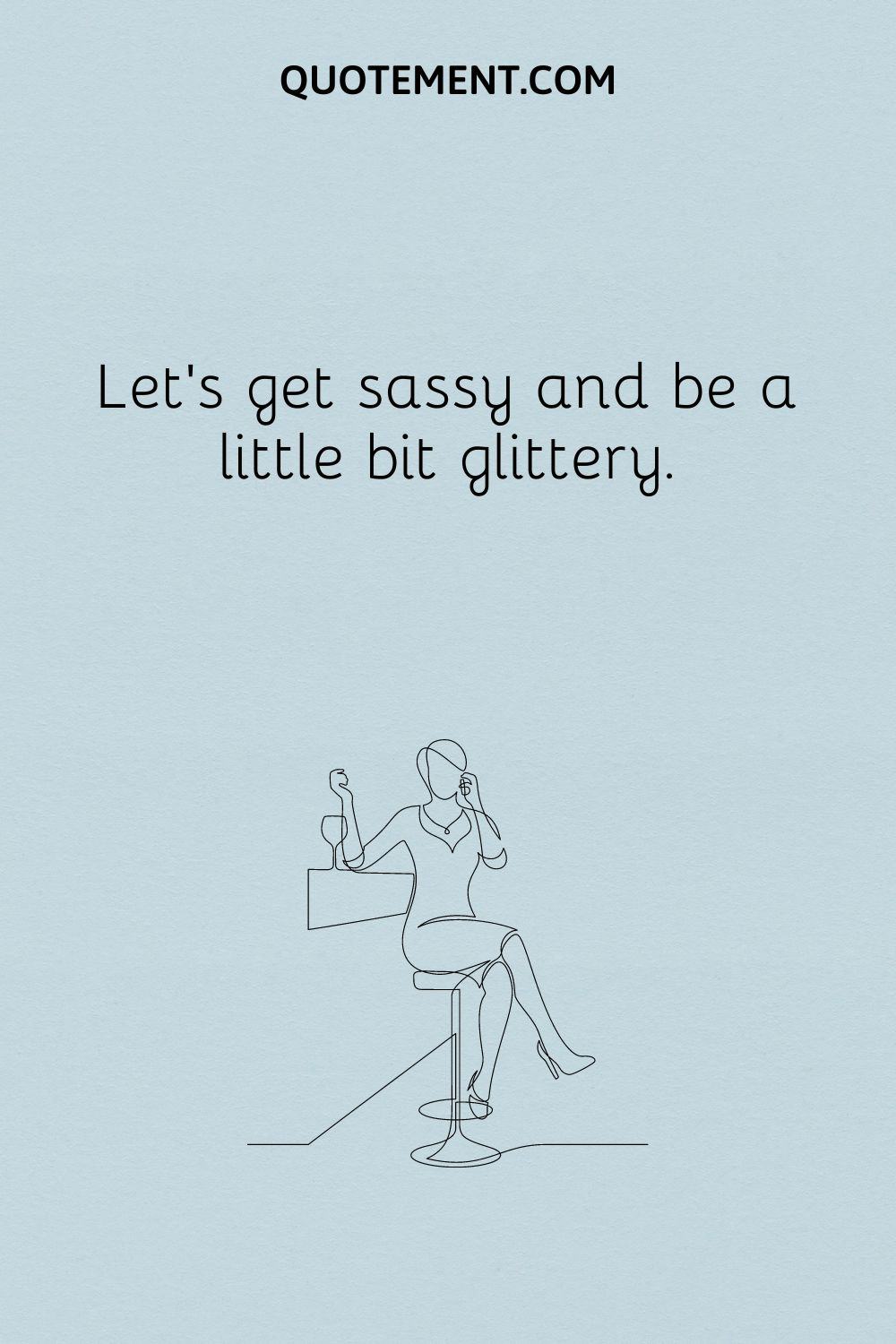 Short Instagram Captions For Selfies
A cute selfie requires a brilliant caption, doesn't it? Well, here's a selection of the best ideas for your selfie captions. Enjoy!
1. If I was you, I'd wanna be me too.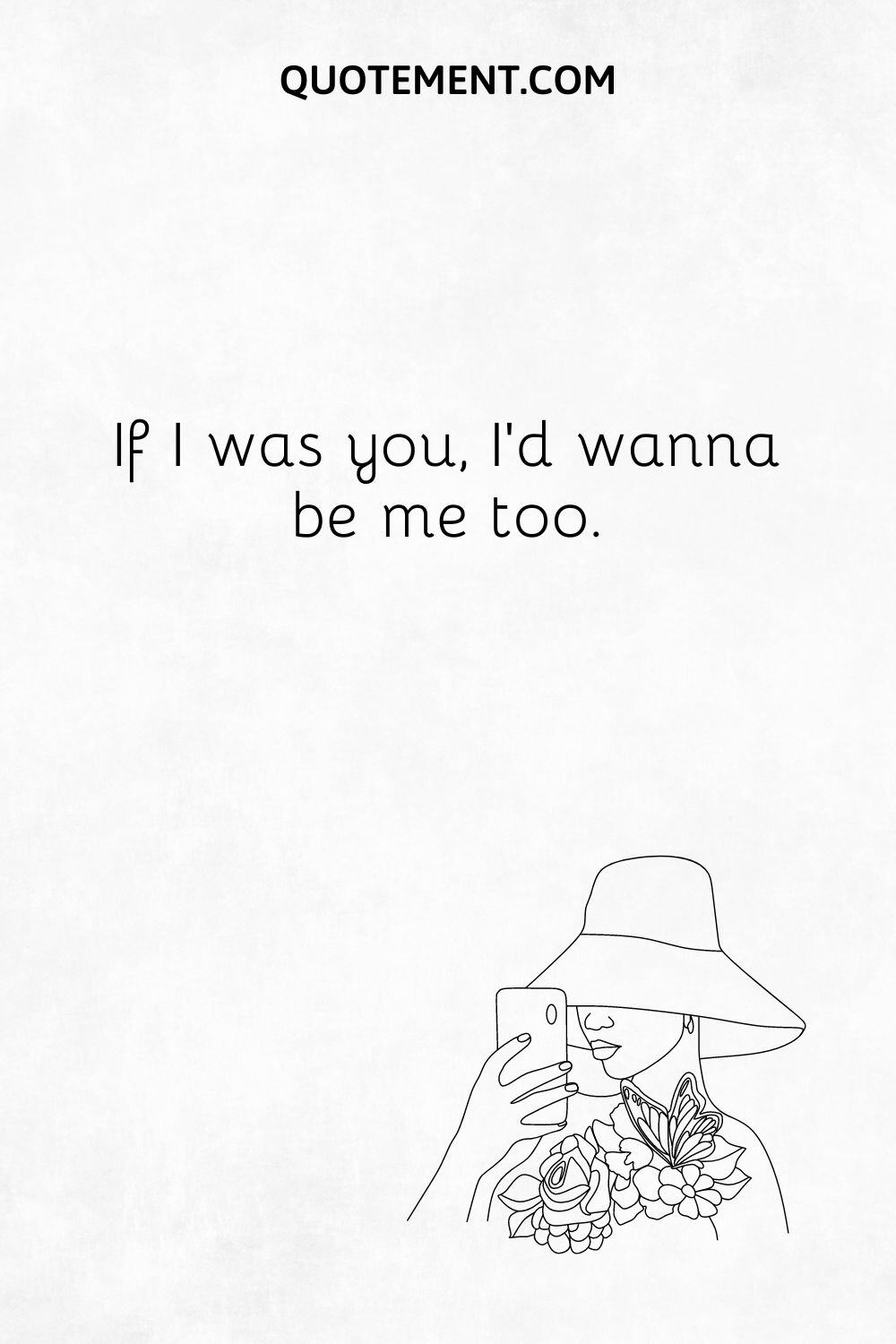 2. Vacation mode: activated.
3. Good times. Tan lines.
4. Rate this selfie from 1–10.
5. Selfie, selfie, on the wall, who's the fairest of them all?
6. I am not taking a selfie, I am just checking my camera quality.
7. If a picture is worth a thousand words, a selfie is worth ten thousand more.
8. Born to stand out with selfies.
9. But first, let me take a selfie.
10. Selfies are genuine confidence boosters!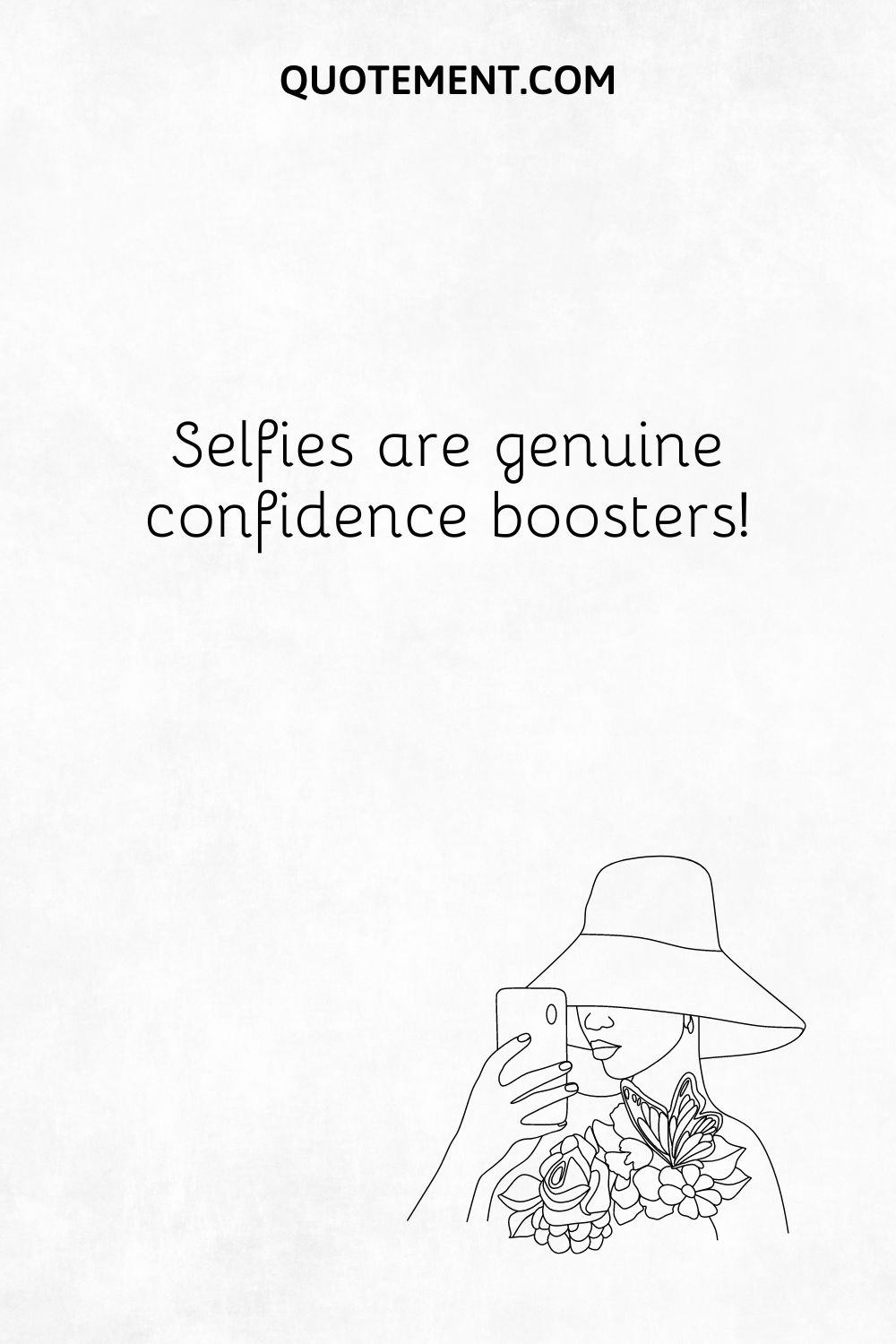 11. I don't take selfies all the time, just every day.
12. I must have no selfie control.
13. No job is complete until a selfie is posted.
14. Me, myself, and I.
See also: 200 Me Myself And I Quotes To Make You Love Yourself More
15. I am not a selfie expert.
16. May your day feel as good as taking this perfect selfie on the first try.
17. I don't always take a selfie, but when I do…
18. I'm here. That's the miracle I've been looking for.
19. This selfie has its own vocabulary.
20. Selfie in paradise.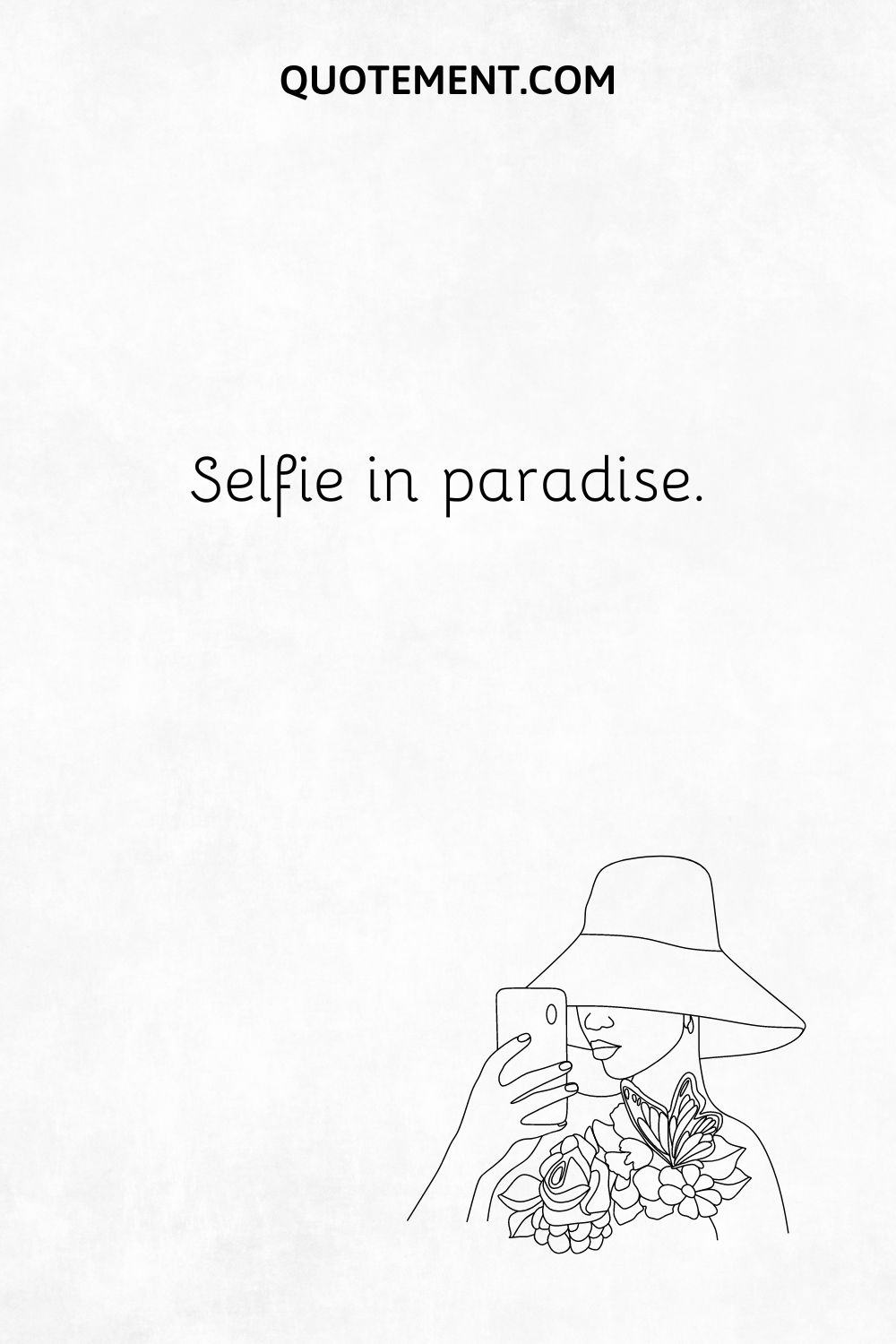 21. A selfie a day keeps the doctor away!
22. Life is like a mirror. We get the best results when we smile.
23. Life is better when you're smiling.
24. Smile with your eyes.
25. Be your own reason to smile.
26. Less perfection, more authenticity.
27. Coffee and friends just make the perfect blend.
28. Wine + dinner = winner.
29. Coffee in one hand, confidence in the other.
30. The power of imagination makes us infinite.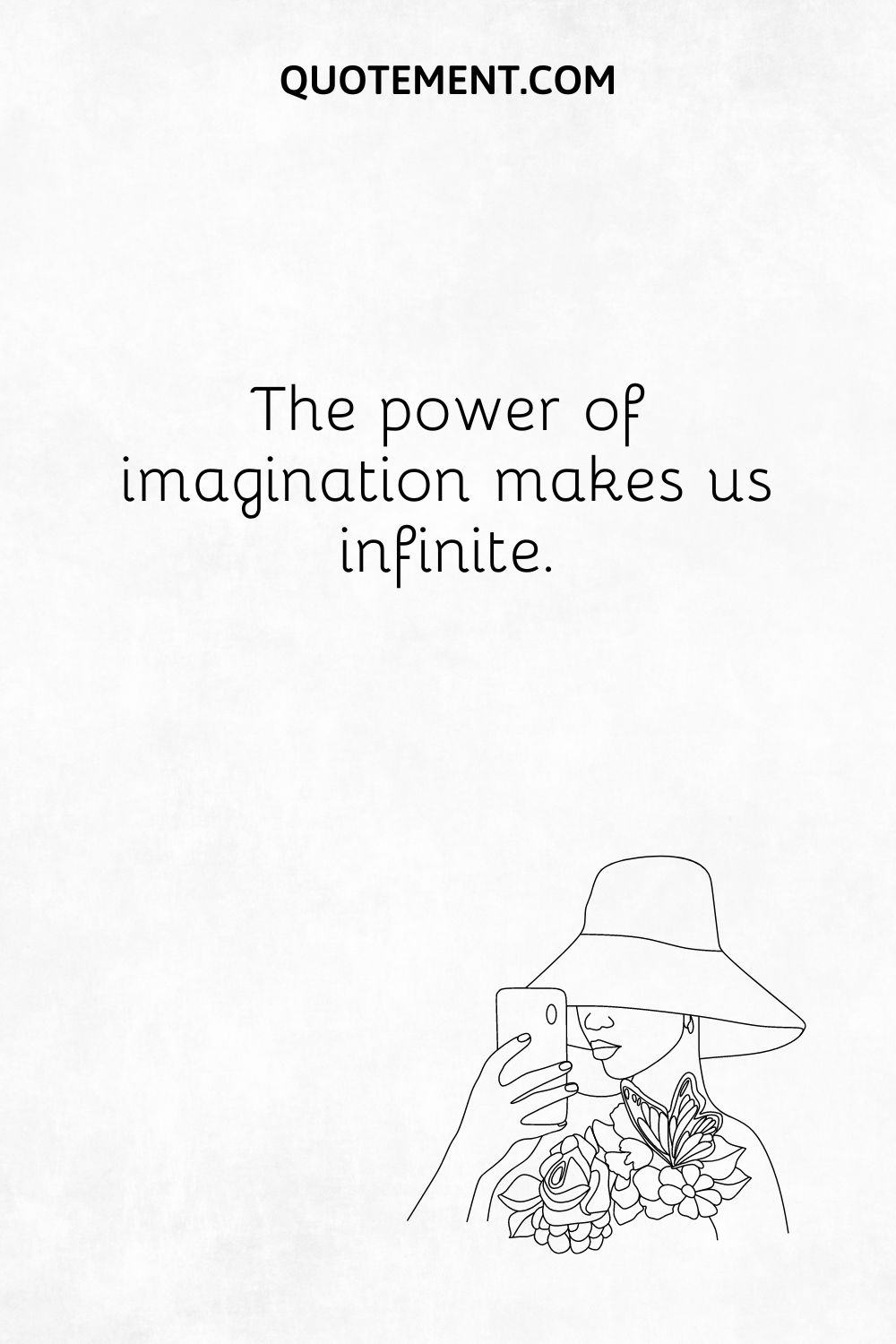 31. You can't buy happiness, but you can buy ice cream and that is pretty much the same thing.
32. Life happens, coffee helps.
33. Stay strong. Make them wonder why you are still smiling.
34. Be the best version of yourself.
35. Stop looking for happiness in the same place you just lost it.
36. Confidence level: a selfie with no filter.
37. The journey of a thousand miles begins with one step.
38. That which does not kill us makes us stronger.
39. You only live once, but if you do it right, once is enough.
40. May you live all the days of your life.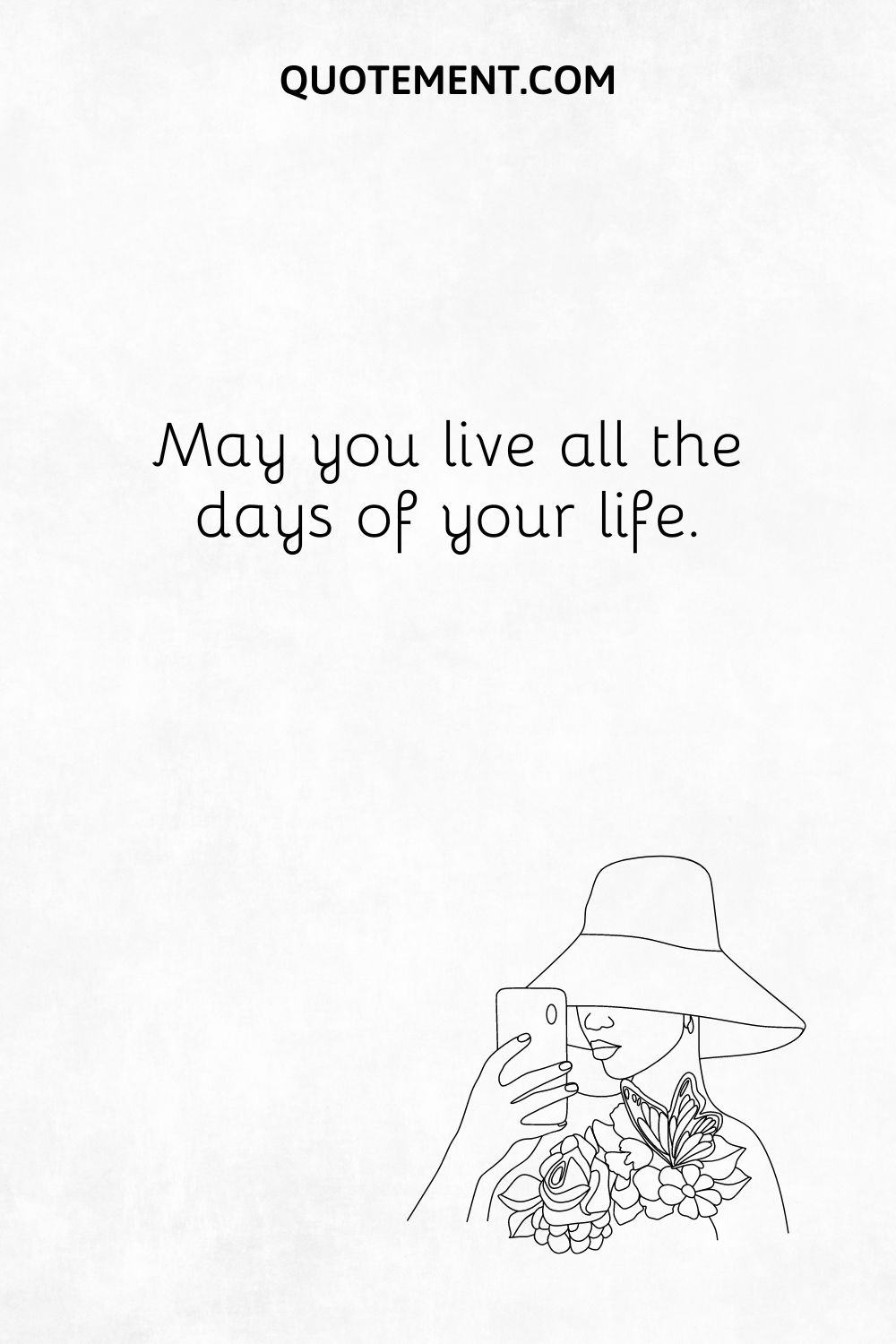 Inspirational Short Instagram Captions
This section brings you the most inspirational short Instagram captions. Let's take a look!
1. Do more of what makes you happy.
2. No beauty shines brighter than that of a good heart.
3. Don't be afraid to sparkle a little brighter.
4. I'm not a fighter by nature, but if I believe in something, I stand up for it.
5. I'm wearing the smile you gave me.
6. She has a fire in her soul and grace in her heart.
7. Keep a smile on your face and let your personality be your autograph.
8. Life is better when you're laughing.
9. I am the princess of my own fairy tale.
10. It is not the mountain we conquer but ourselves.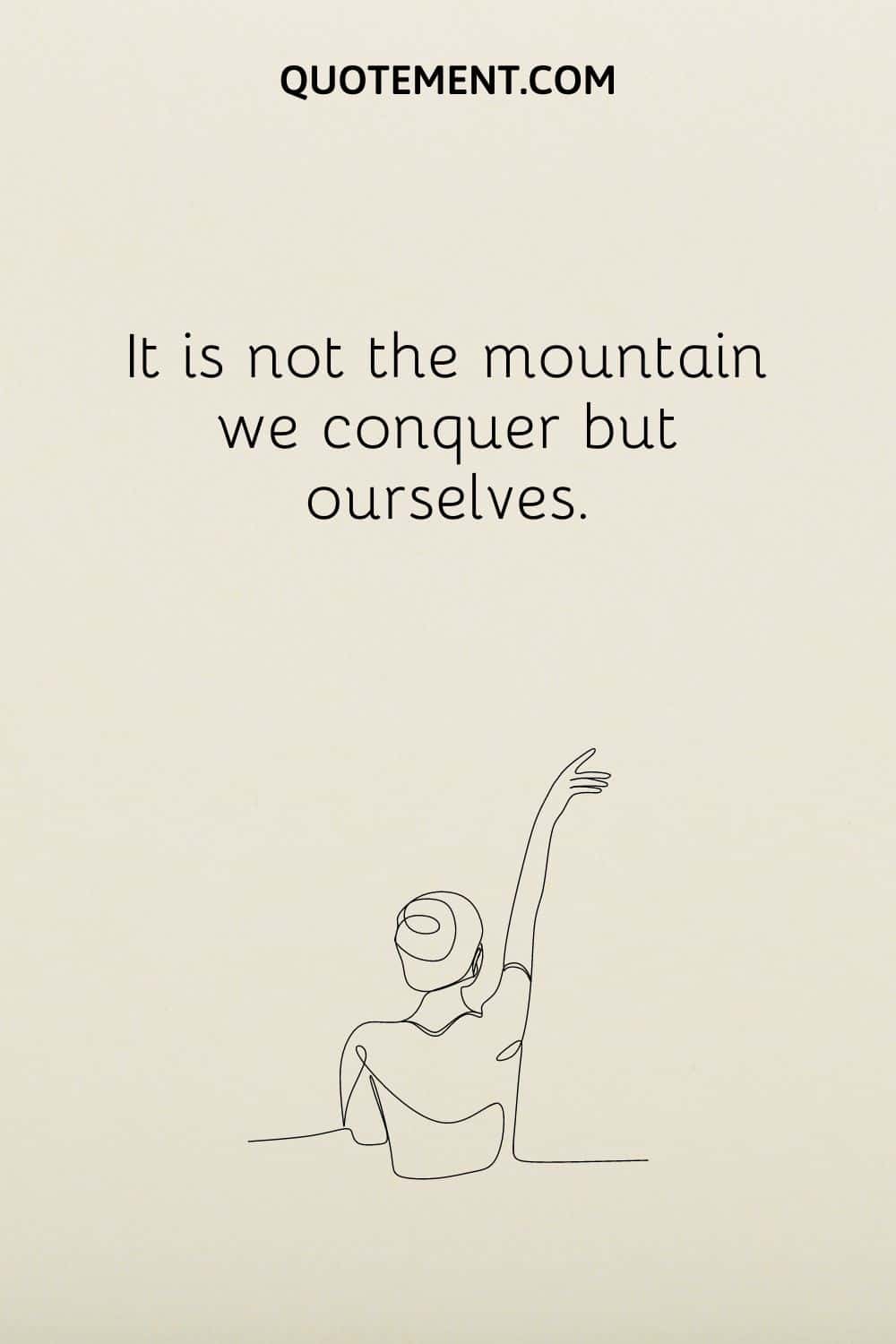 11. Your smile makes me smile.
12. A smile can change the world.
13. My favorite part about this outfit is the invisible crown.
14. Classy and fabulous!
15. Living well is the best revenge.
16. Don't be so hard on yourself.
17. Just be happy! It drives people crazy.
18. Dress like you're already famous!
19. You can change the world.
20. Have faith in yourself and in the future.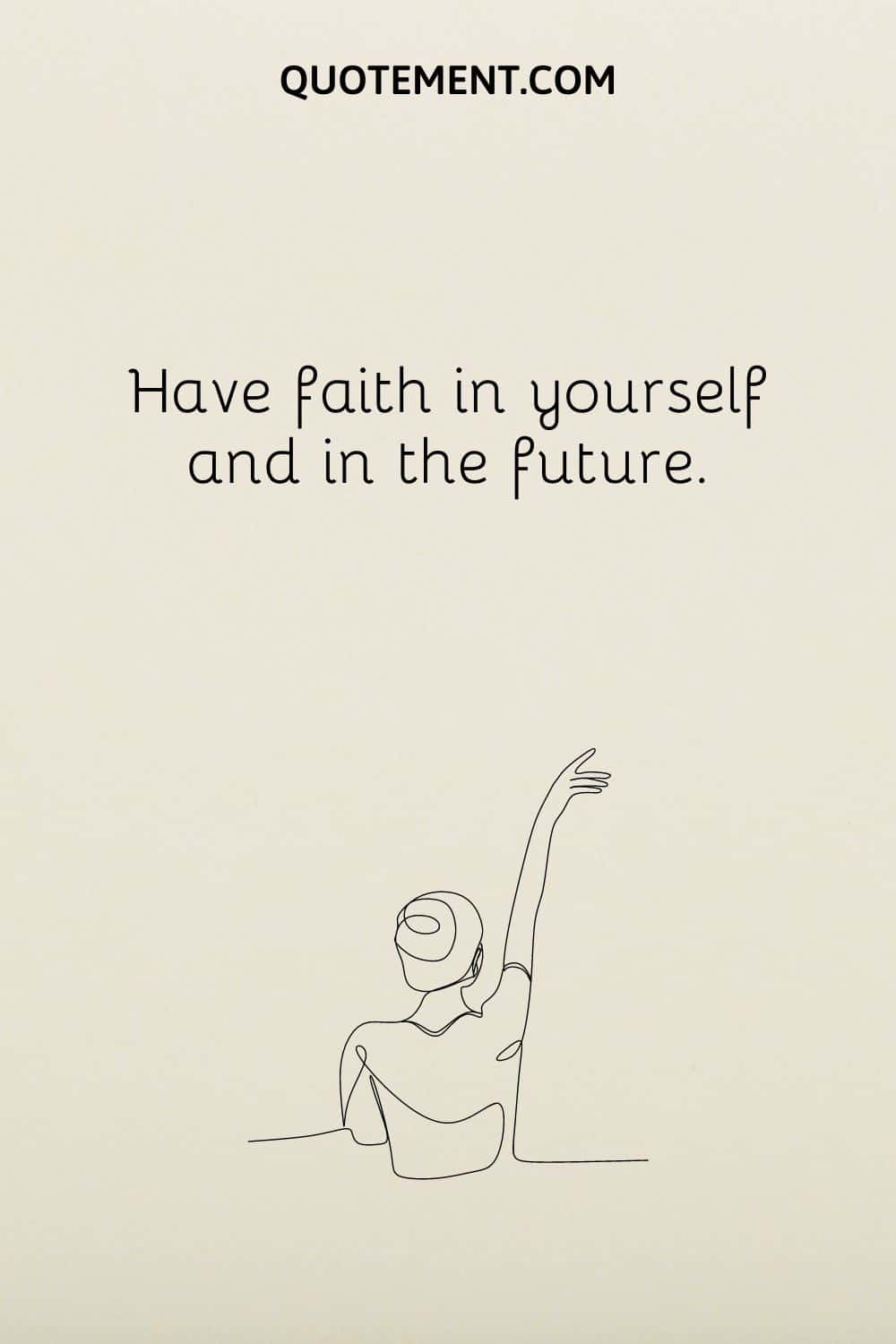 21. I dress to impress myself.
22. I just want to live right now.
23. I wish some nights lasted forever.
24. What do you think of this look?
25. A girl's eyes have their own vocabulary.
26. Wake up and make up.
27. Queen of my own world.
28. I am not trying to be cool. It's what I am.
29. You're not fully dressed until you sparkle.
30. Another day, another sunrise.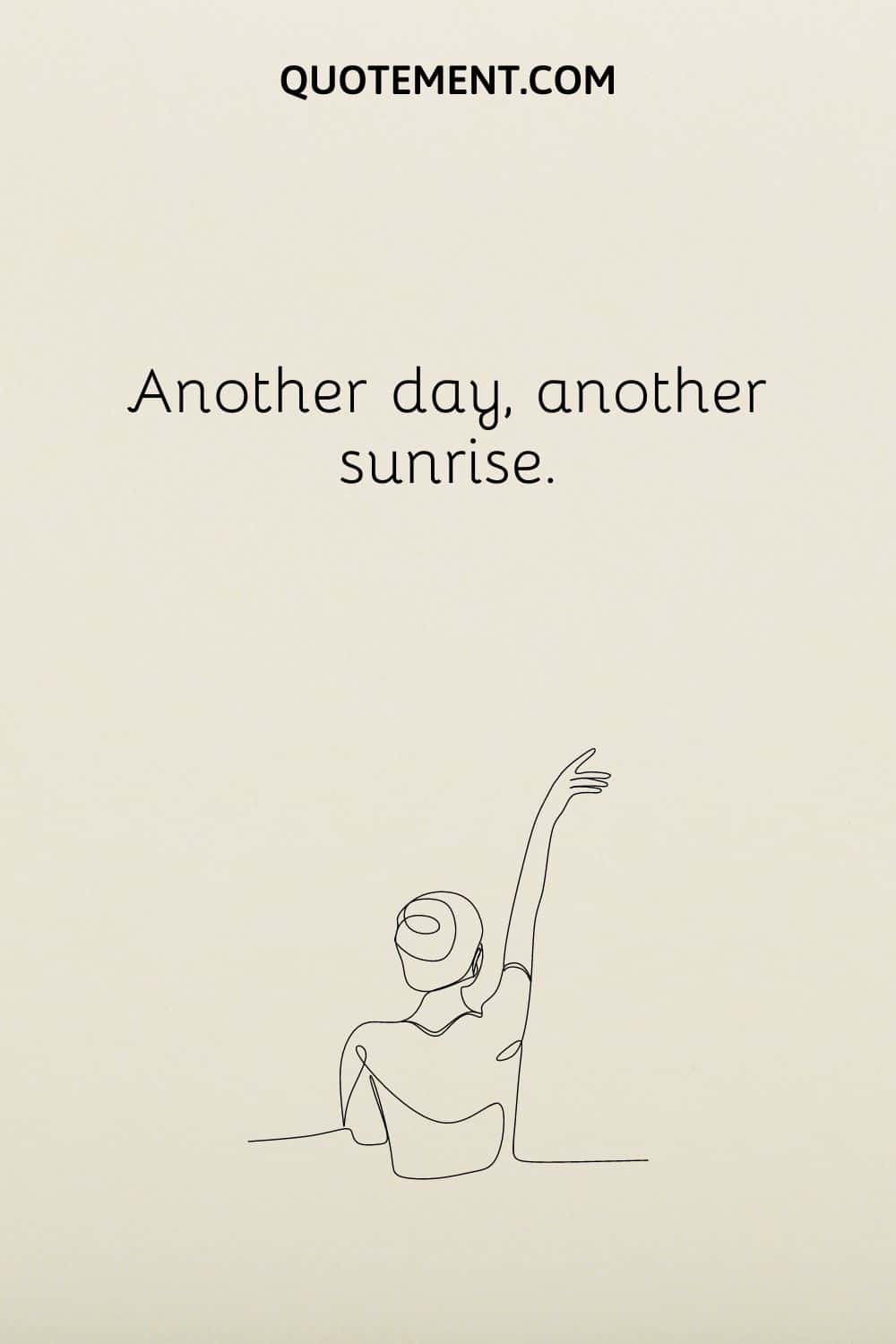 31. One bad chapter doesn't mean your story is over.
32. The only way to have a friend is to be one.
33. Joy blooms where minds and hearts are open.
34. If you are good, life is good.
35. Wherever you go, go with all your heart.
36. We can only learn to love by loving.
37. Beautiful things don't ask for attention.
38. You're a diamond – don't you ever forget that!
39. She dreamed incredible dreams, followed her heart, and created her own fantasy.
40. There are no shortcuts to any place worth going.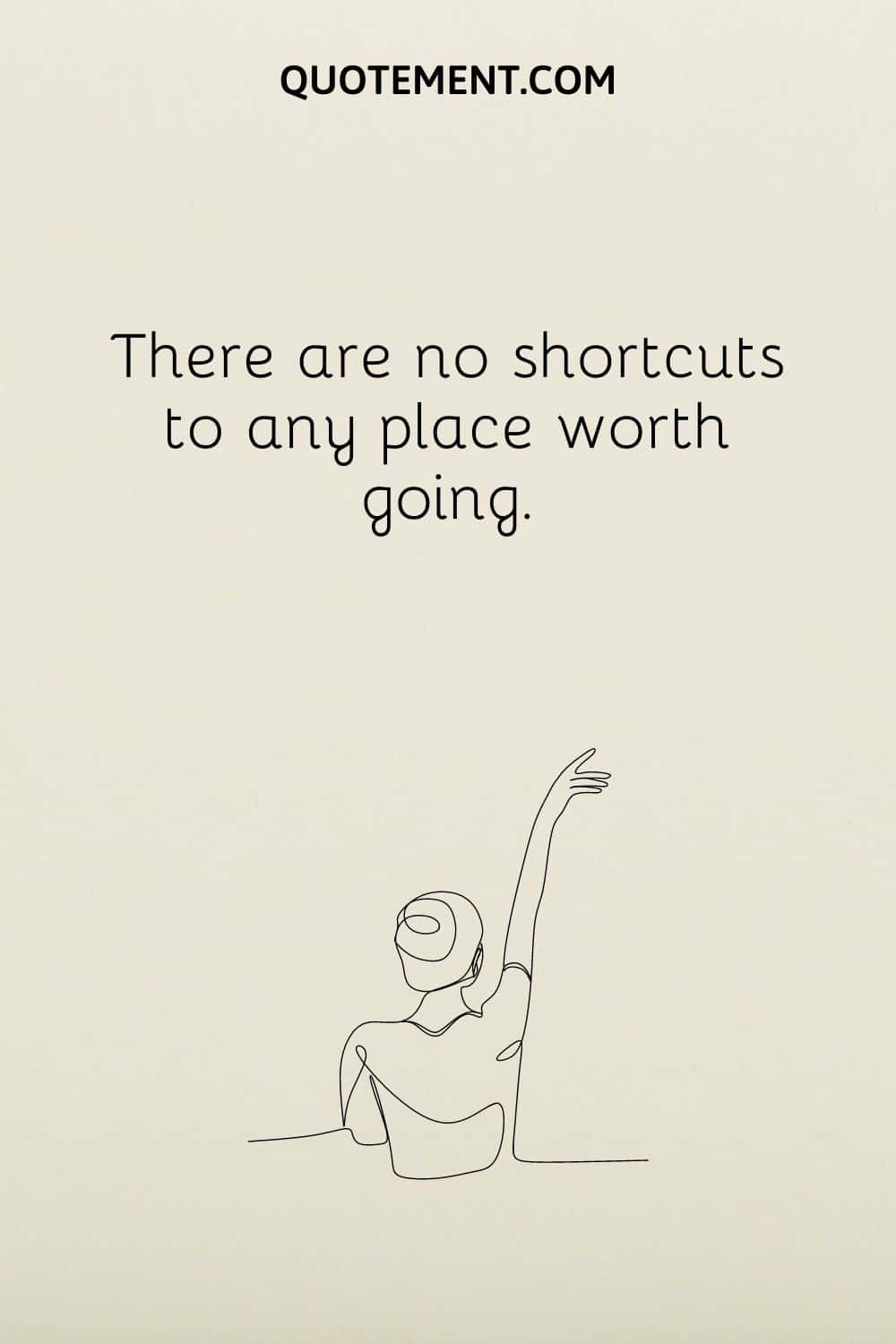 Short Instagram Captions For Couples
Lovely couple pics surely need romantic caption ideas, so be sure to check these out:
1. I'll be yours forever.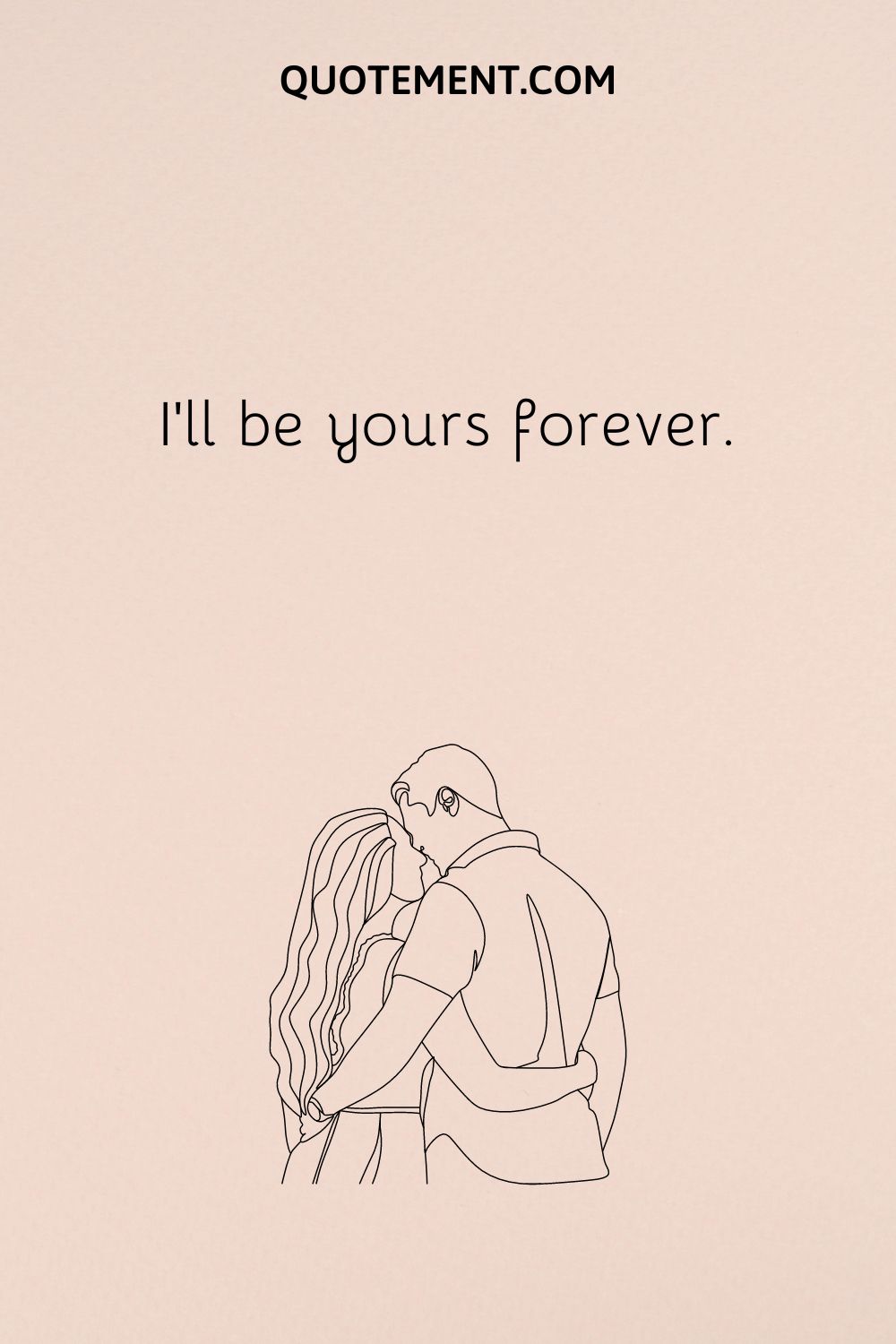 2. Always and forever.
3. The only person in the world that I'd share my snacks with.
4. Love will find you, even when you try to hide from it.
5. Together is a beautiful place to be.
6. You drive me crazy, but I love it.
7. You are my sunshine on a rainy day.
8. Drink, eat, be merry, repeat.
9. One smile can't change the world, but your smile changes mine.
See also: 300 Cool And Inspirational Smile Captions For Instagram
10. Everything is better when we do it together.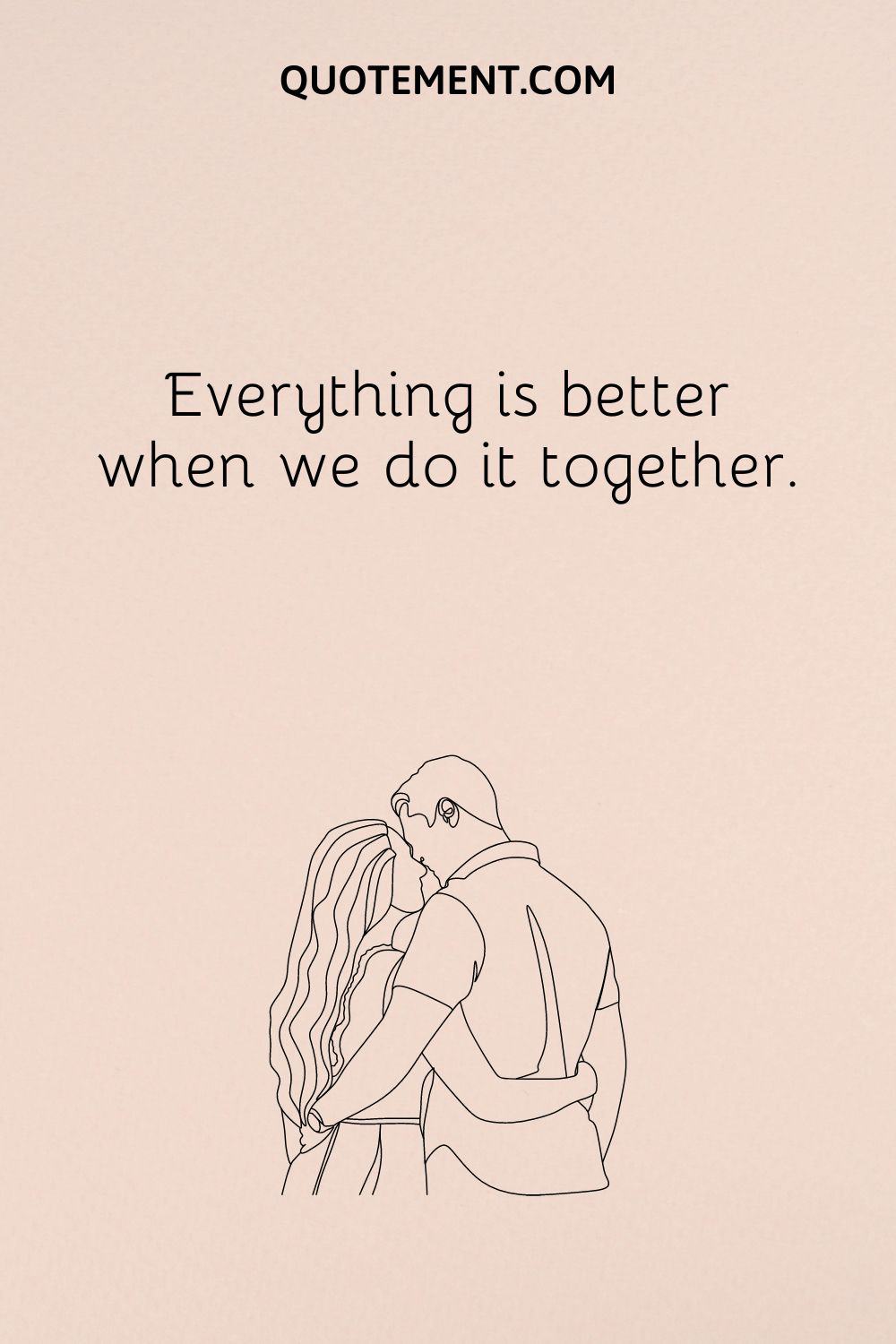 11. You stole my heart, but I'll let you keep it.
12. Every day with you is the best day of my life.
13. You're my favorite distraction.
14. I love you, not only for what you are but for what I am when I am with you.
15. When you realize you want to spend the rest of your life with somebody, you want the rest of your life to start as soon as possible.
16. Some hearts understand each other, even in silence.
17. Just the two of us.
18. It's a forever kind of thing.
19. My ride or die.
20. Home is wherever I'm with you.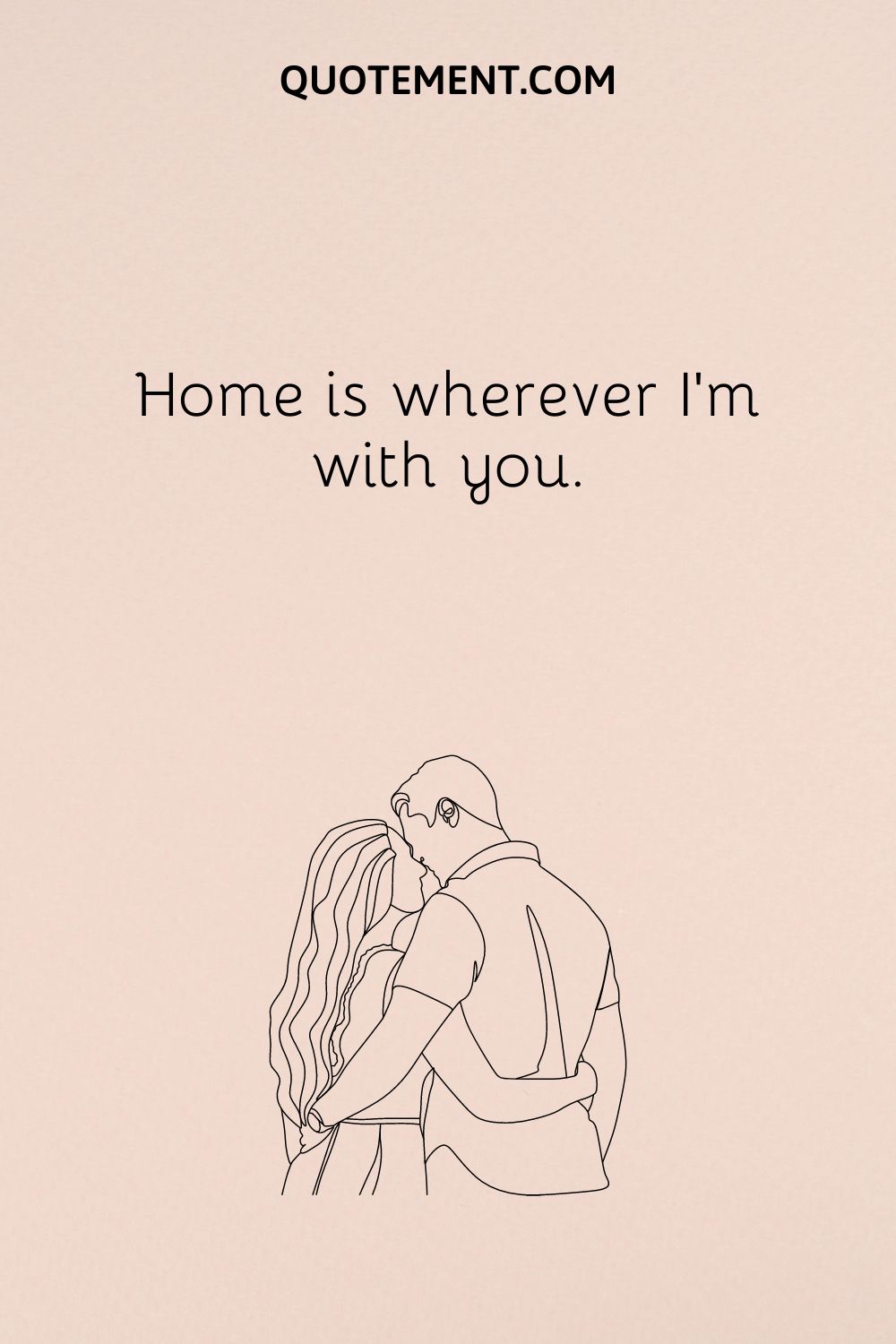 21. Partner in crime.
22. I'll be there for you.
23. True love is that thing you'll never have to chase.
24. I don't believe in magic, I believe in true love.
25. Look! It's just two beautiful people smiling at each other.
26. We go together like cupcakes and frosting.
27. Can't keep calm when I'm crazy for you.
28. Always thinking about you.
29. Keep calm and kiss on!
30. All of me loves all of you.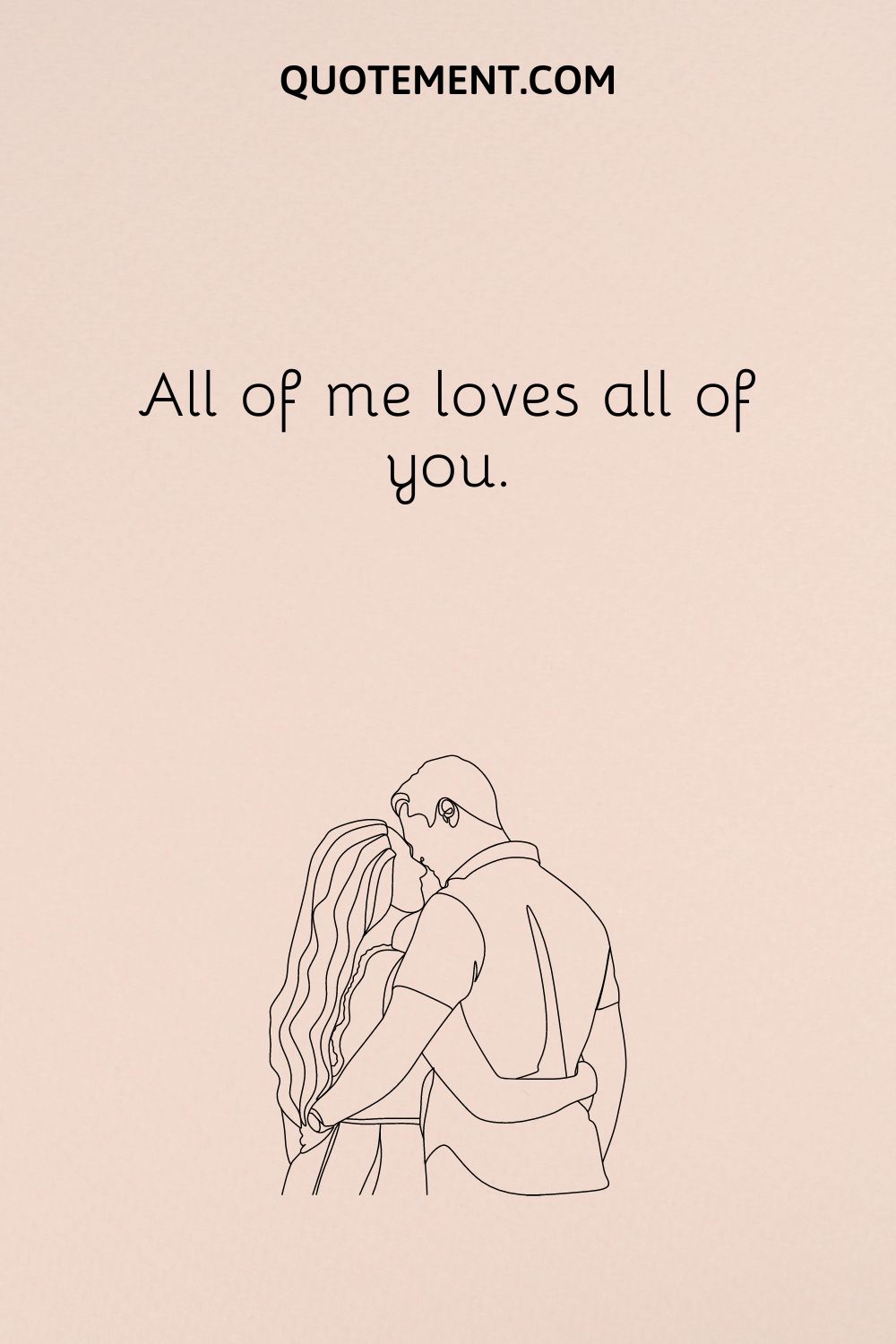 31. I've been waiting for you this whole time.
32. Every love story is beautiful, but ours is my favorite.
33. I would be nothing without you.
34. Come live in my heart, and pay no rent.
35. True love never gets old.
36. You've got the key to my heart.
37. I'll love you till the end of time.
38. I was made for loving you, baby.
39. You give me the kind of feelings people write novels about.
40. You are extraordinary, exquisite, impressive, magical, and I am so in love with you.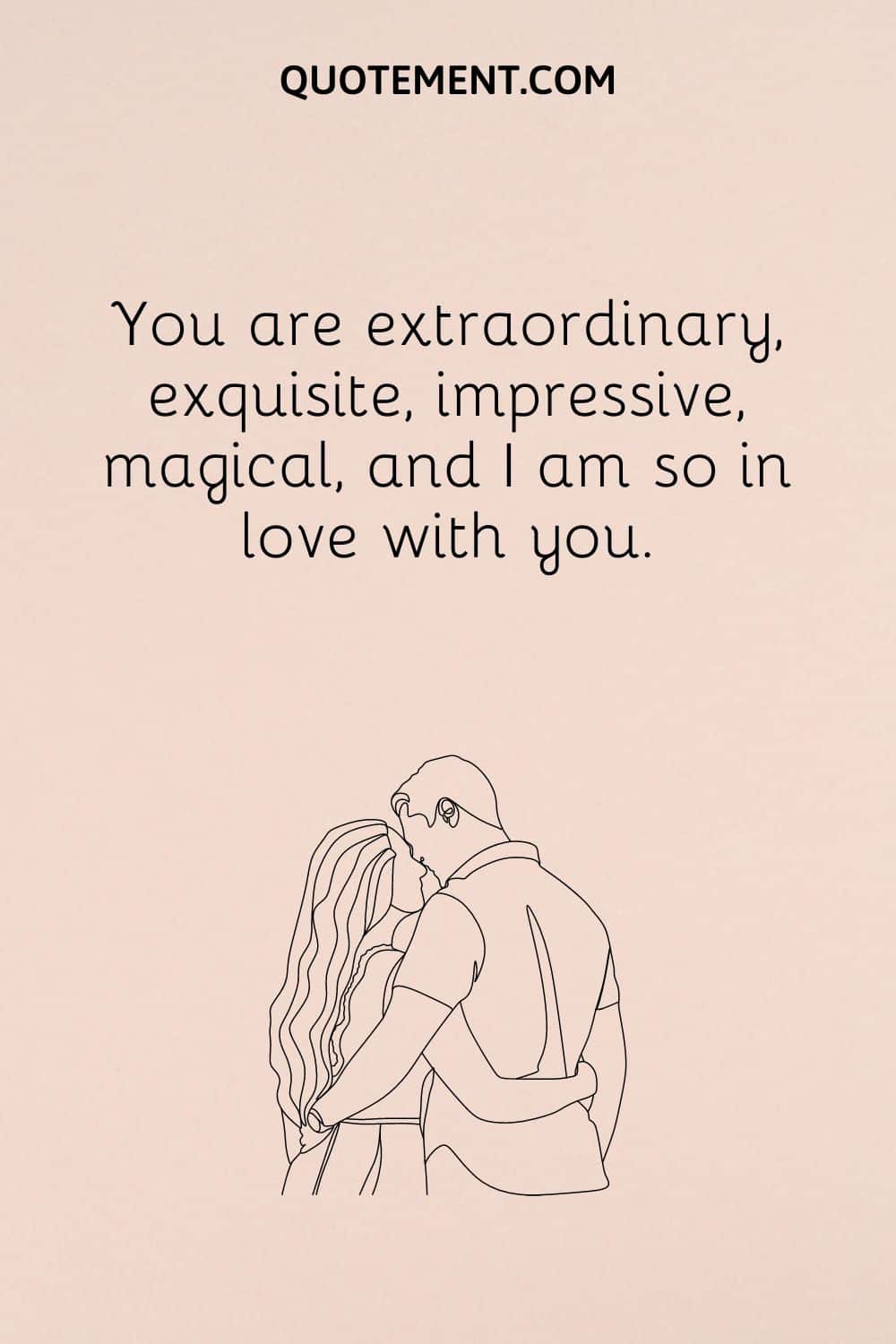 Motivational Short Instagram Captions
If you're looking for motivational short Instagram captions, make sure you check this brilliant list as well:
1. Success is not final, failure is not fatal: it is the courage to continue that counts.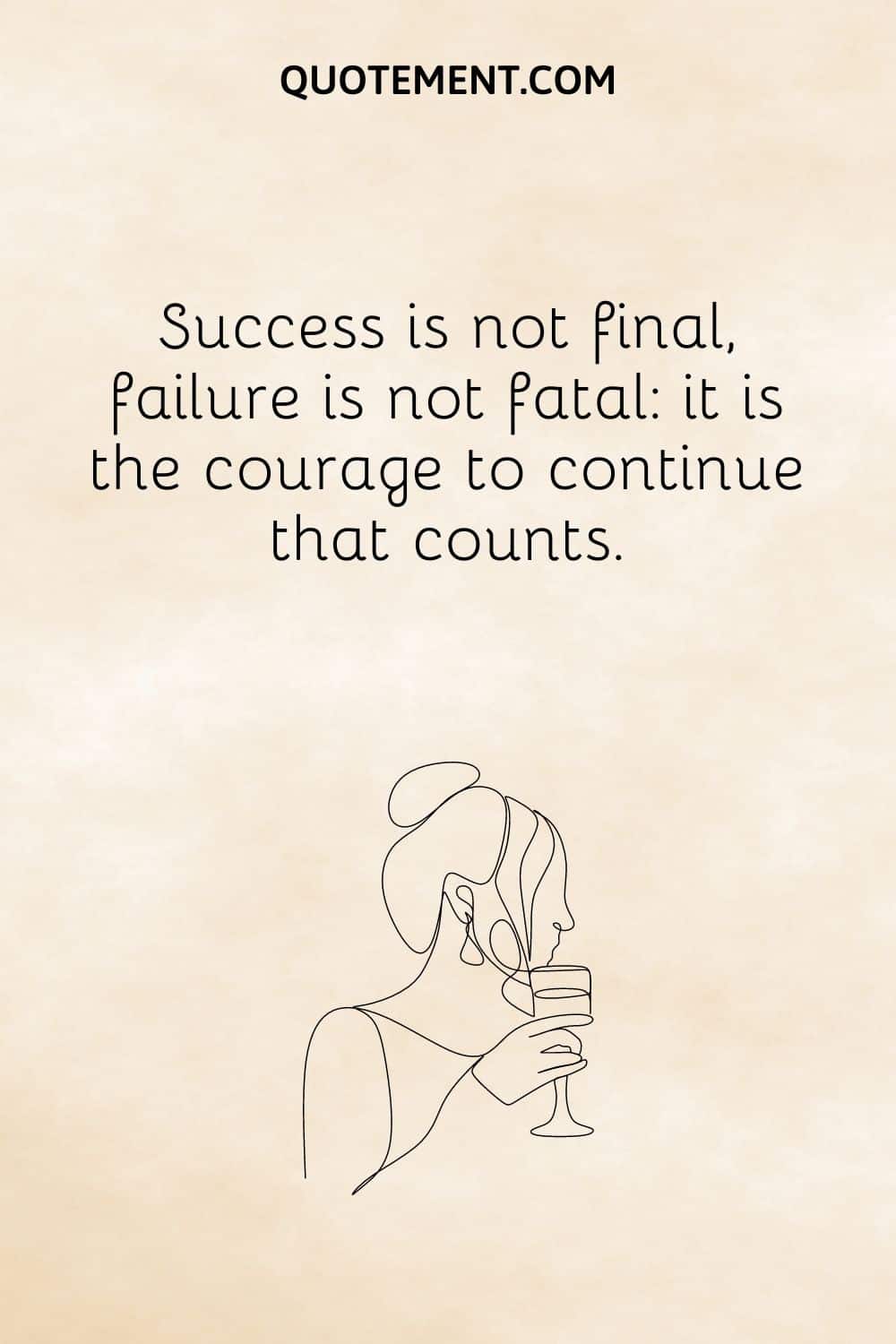 2. The happiest people don't have the best of everything; they make the best of everything.
3. I've found out that time can heal almost anything.
4. It always seems impossible until it's done.
5. If it was easy, everyone would do it.
6. There is no limit.
7. Don't wait for the New Year to make positive changes in your life. Start today!
8. Don't count the days, make the days count.
9. These are the days we live for.
10. I could build a castle out of all the bricks they threw at me.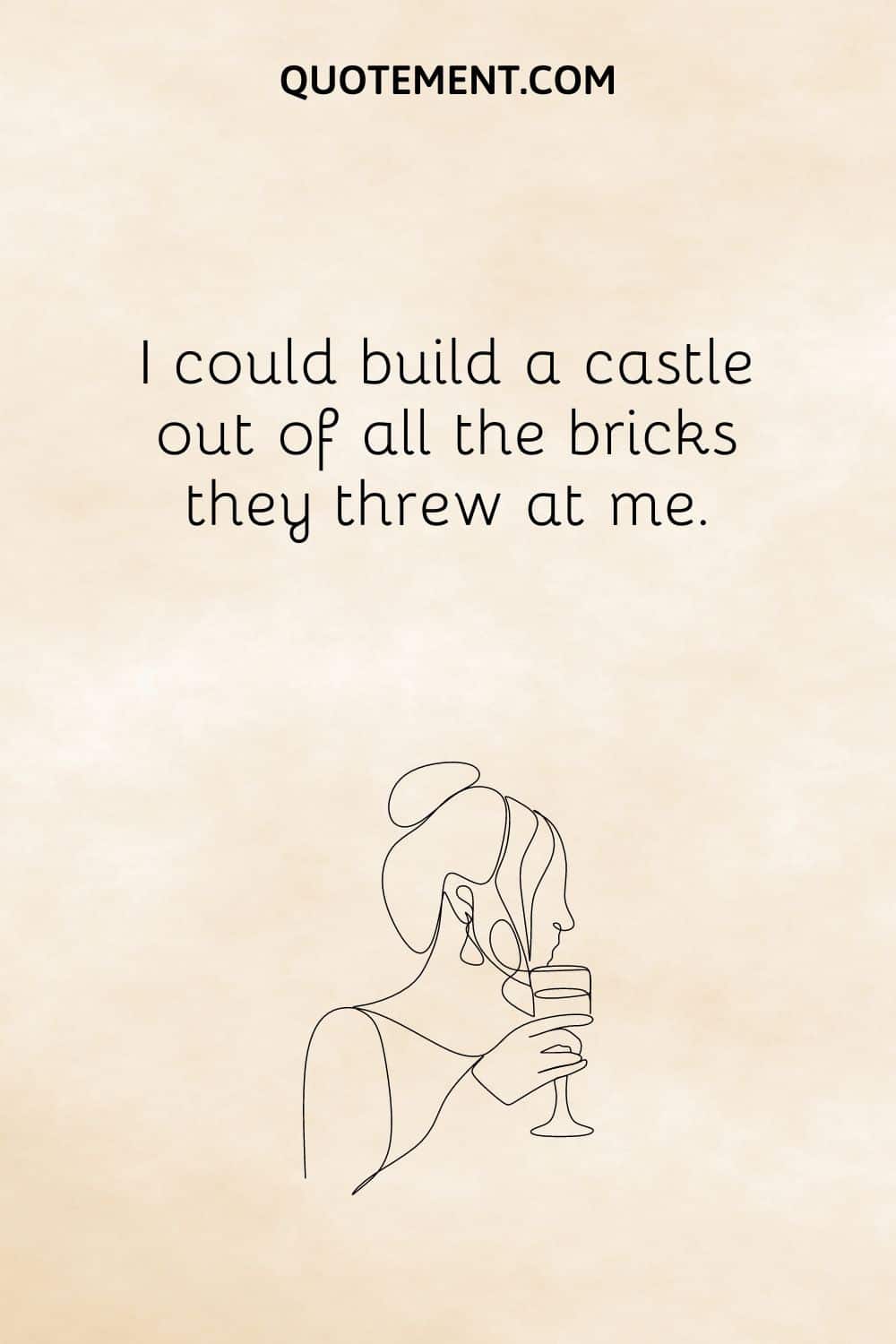 11. Don't forget to be awesome.
12. Look for the magic in every moment.
13. When dreams become a reality…
14. Don't be afraid of your shadow; it's really just a constant reminder that there's light all around you.
15. Some beautiful paths can't be discovered without getting lost.
16. If you were looking for a sign, here it is.
17. Smile a little more, regret a little less.
18. Being happy never goes out of style.
19. The way you speak to yourself matters the most.
20. You were born to stand out.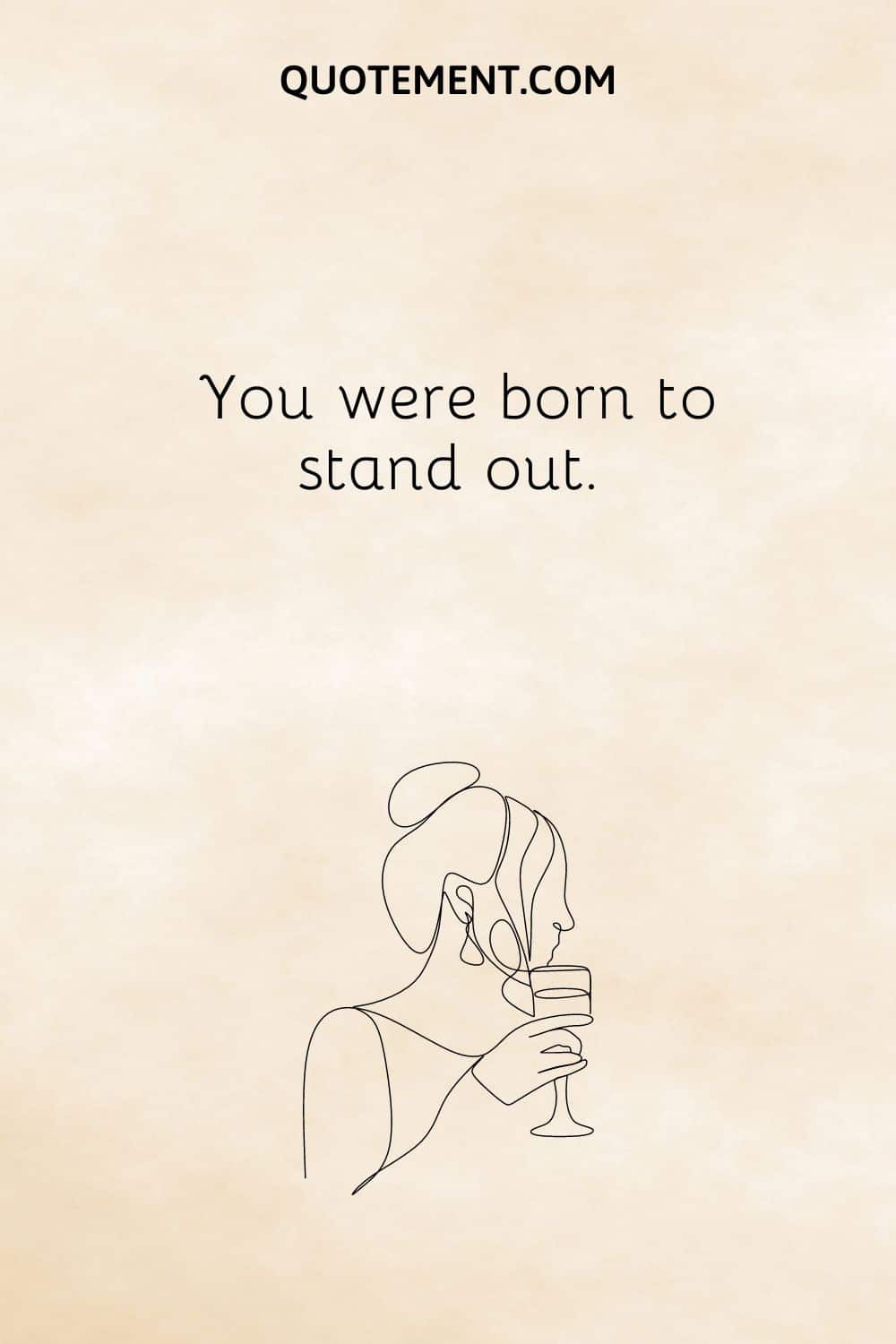 21. You can regret a lot of things but you'll never regret being kind.
22. I don't know where I'm going, but I'm on my way.
23. Some days you just have to create your own sunshine.
24. Keep your heels, head, and standards high.
25. Every little thing is gonna be alright!
26. I am beautiful, no matter what they say. Words can't bring me down.
27. Gonna love myself, no, I don't need anybody else.
28. Some call it arrogant, I call it confidence.
29. When it comes to me, I wouldn't wanna be anybody else.
30. I'm gonna live like tomorrow doesn't exist.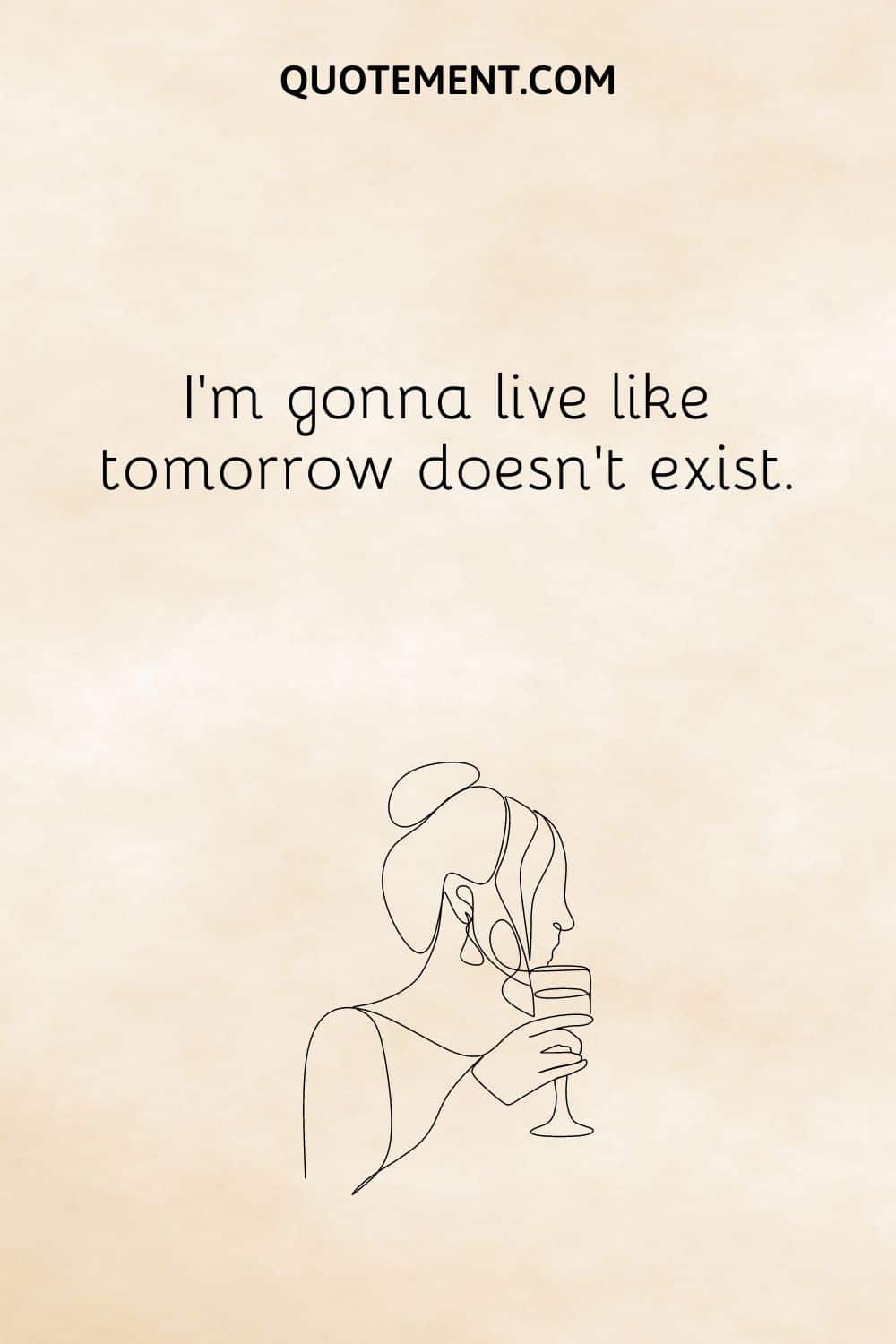 Short Instagram Captions For Friends
Friends are our chosen family. Get inspired with these caption ideas if you want to post a pic or video that celebrates an amazing friendship:
1. A true friend sees the first tear, catches the second, and stops the third.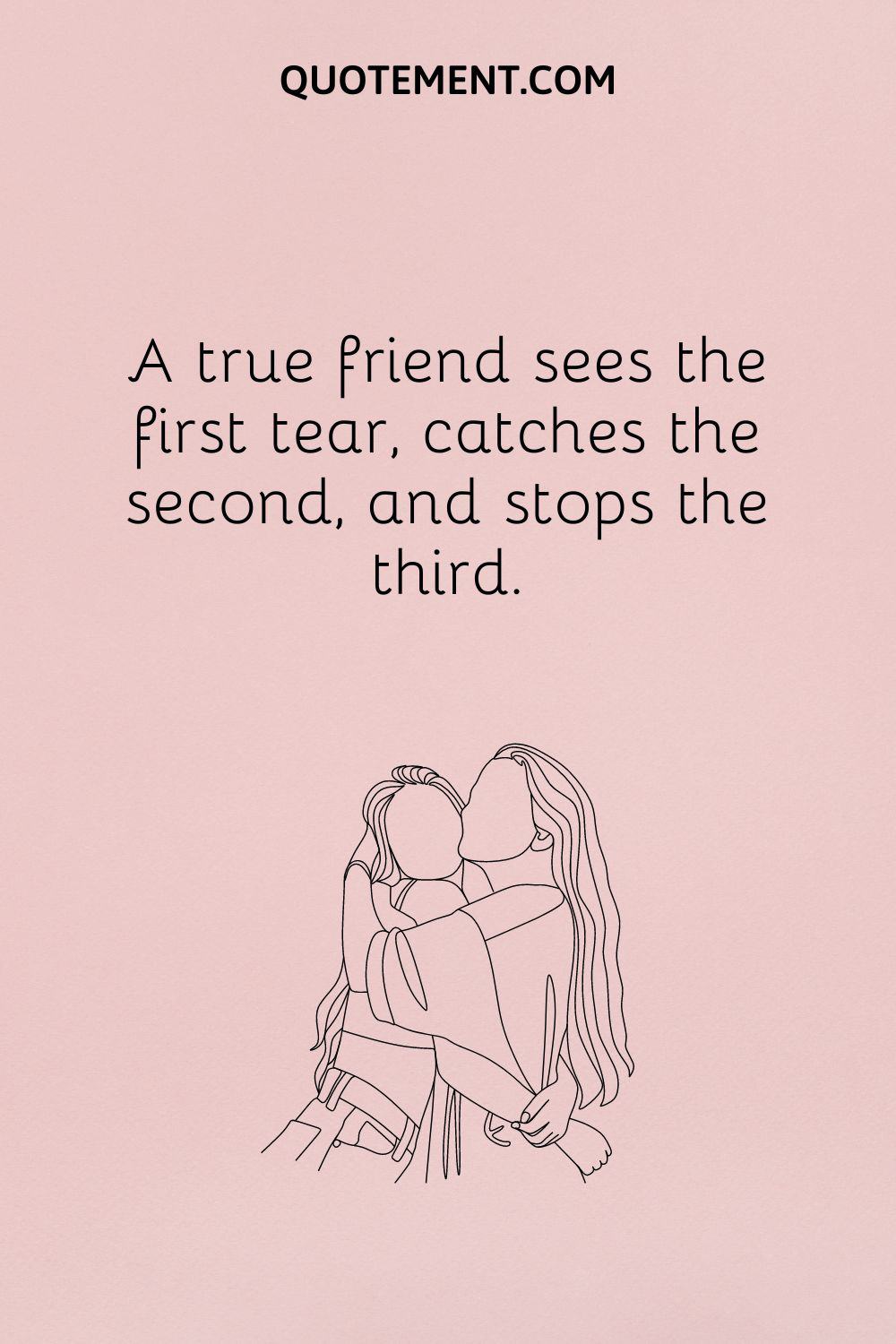 2. Life is way too short for bad vibes, so make sure you spend it in amazing company.
3. A friend is someone who makes you want to become a better person.
4. I hope my friends always find a reason to smile.
5. Smile, my friend. Why? Because you can.
6. There is no such thing as a perfect person, but someone's heart can have a perfect intention.
7. Friends for life.
8. A true friend is the greatest of all blessings.
9. Be someone else's sunshine. Be the reason someone smiles today.
10. Best friend? Nah. She's my sister.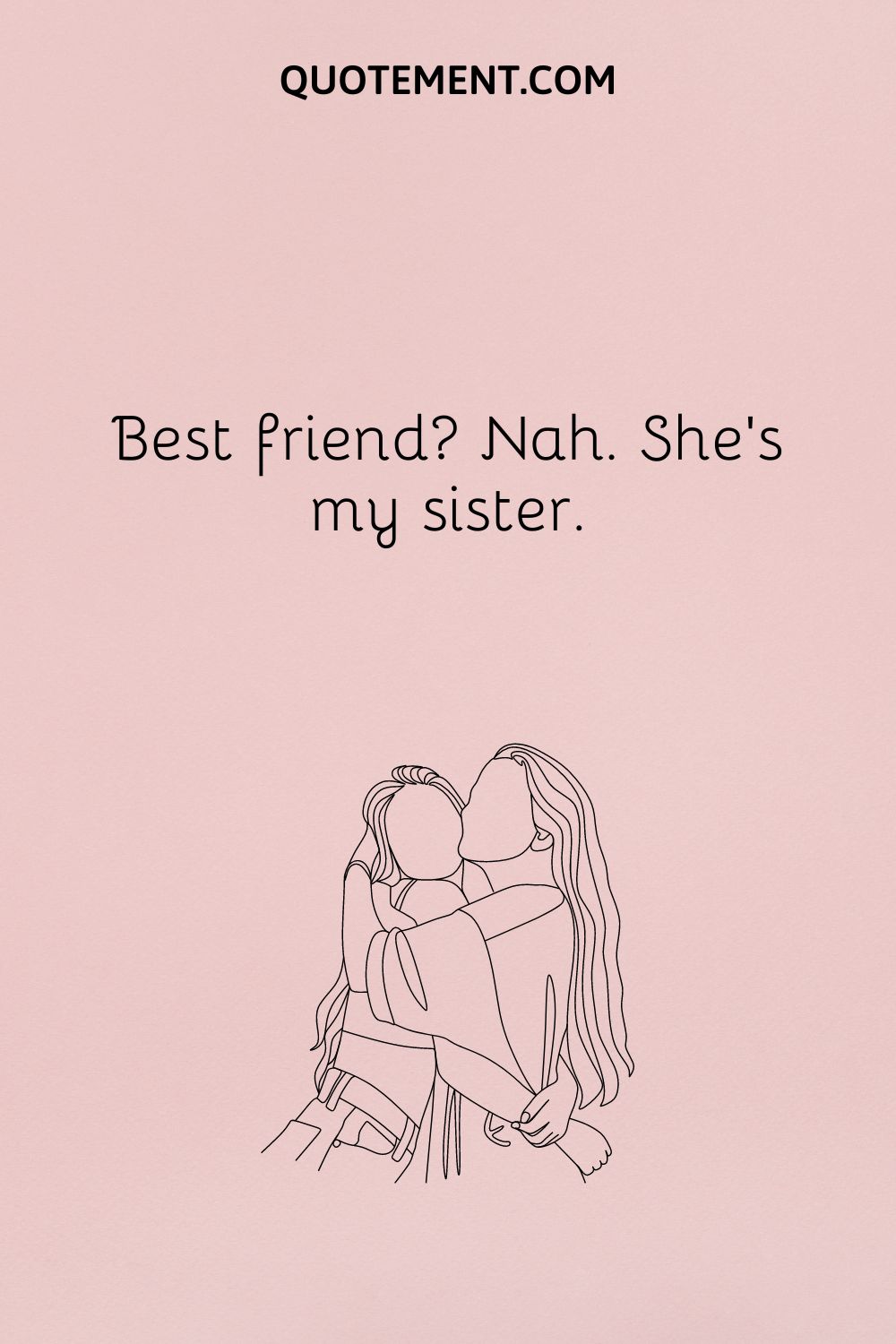 Clever Short Captions For Instagram Posts
Choosing a caption can be tricky, but here are some clever caption ideas to inspire you:
1. I know who I am, and I am damn proud of it.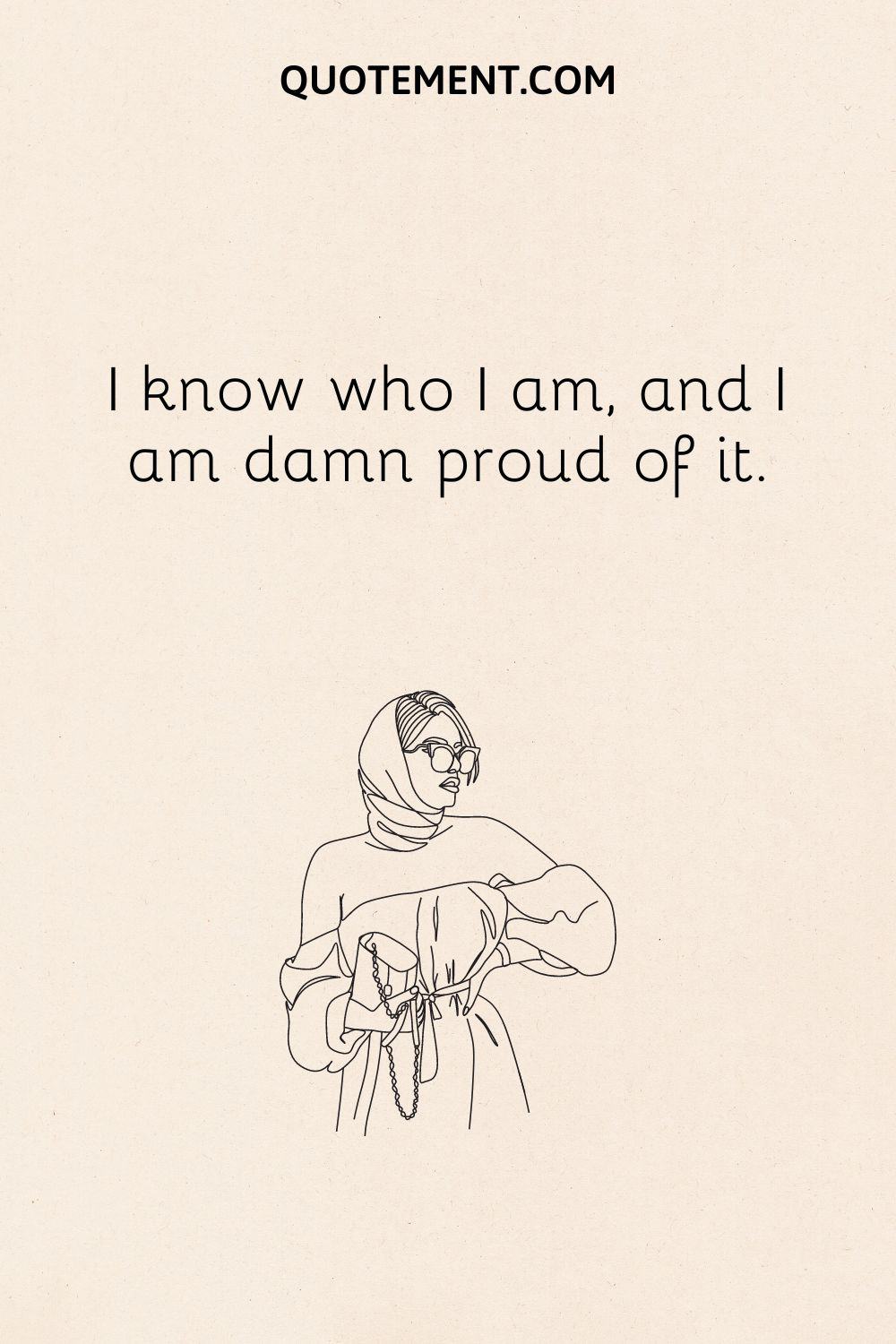 2. I wasn't lucky, I deserved it.
3. Be the type of person you want to meet.
4. You're like a four-leaf clover: hard to find and lucky to have.
5. Dream big, little one!
6. My life isn't perfect, but it's the best thing that's ever happened to me.
7. Don't hide yourself in regret, just love yourself, and you're set.
8. I restore myself when I'm alone.
9. You do the most adorable things without realizing it.
10. It's not about the destination, it's about the journey.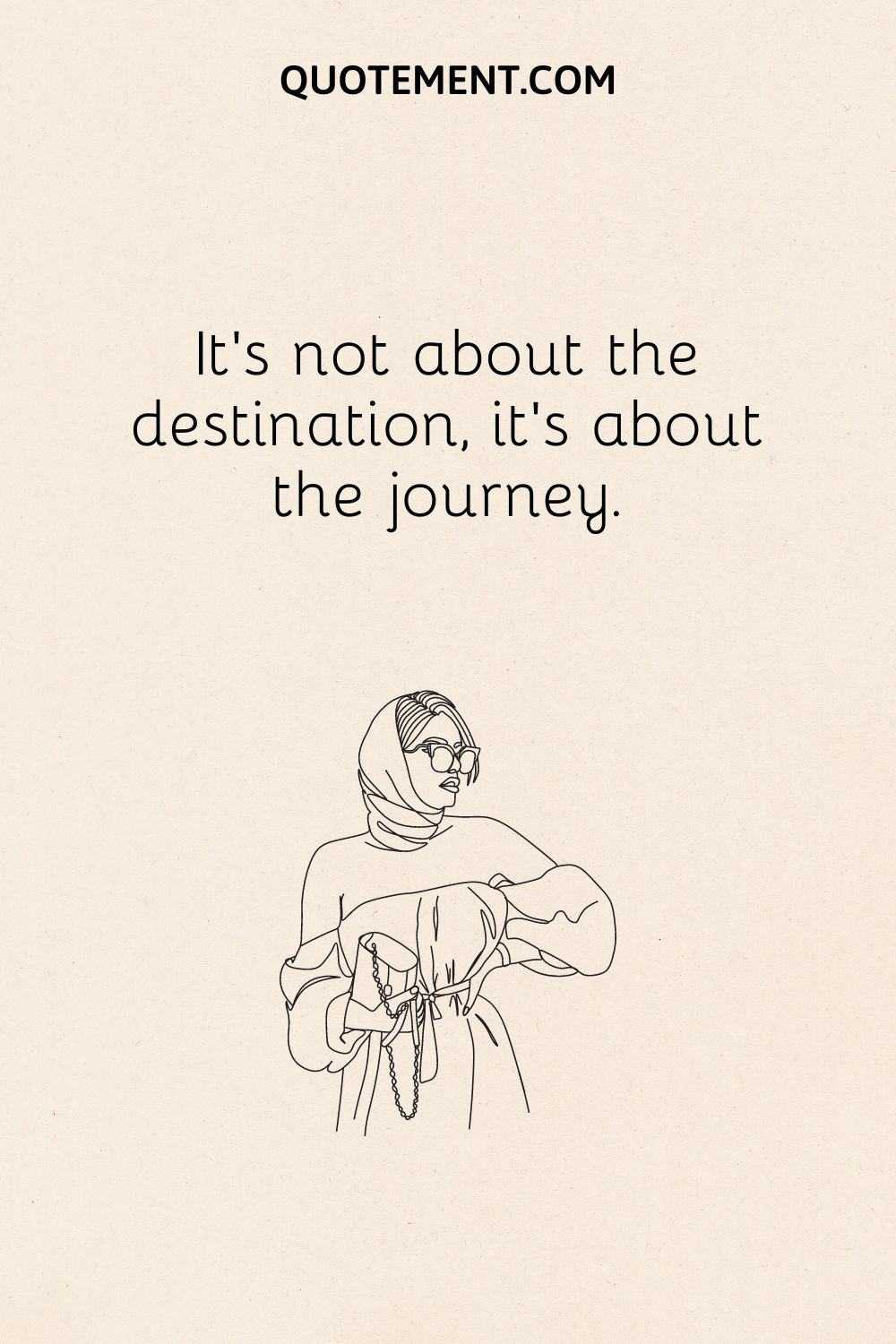 11. Don't grow up… It's a trap!
12. Can't nothing, bring me down. My level's too high to bring me down.
13. Tonight, we are young, so let's set the world on fire. We can burn brighter than the sun.
14. Don't worry about a thing, 'cause every little thing is gonna be alright.
15. Darling, you are a work of art.
16. Every moment matters.
17. Look at the stars, look how they shine for you and everything you do…
18. You belong among the wildflowers.
19. If it doesn't challenge you, it doesn't change you.
20. Creativity is intelligence having fun.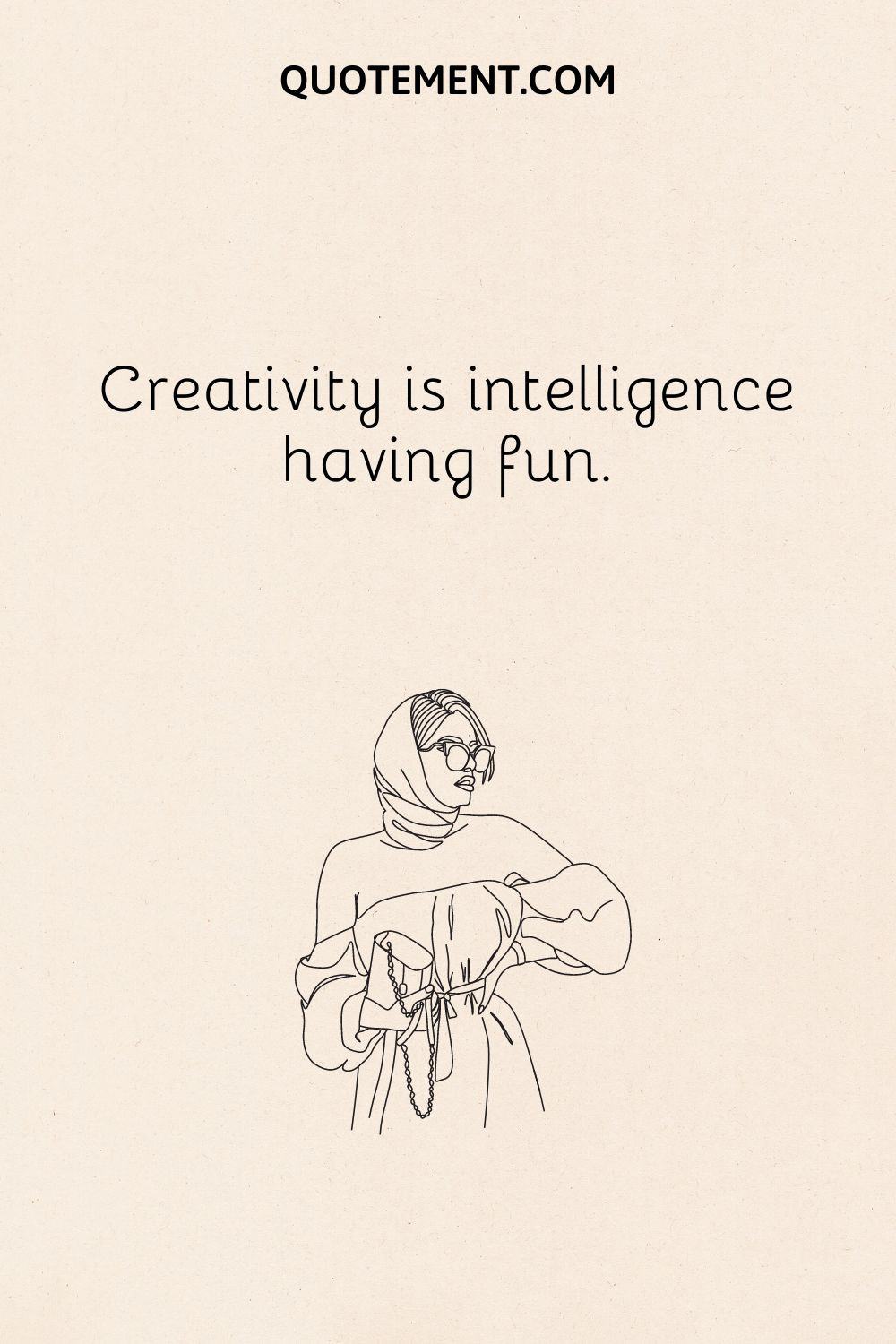 21. Life is not a problem to be solved, but a reality to be experienced.
22. I bend, but I don't break.
23. It's going to happen because I'm going to make it happen.
24. Today's struggle is tomorrow's strength.
25. Born to succeed, not to fail.
26. I may not be perfect, but at least I know who I am.
27. If it doesn't open, it's not your door.
28. Your style should match your ambition.
29. We set the rules, they follow them.
30. Before you judge me, make sure you are perfect.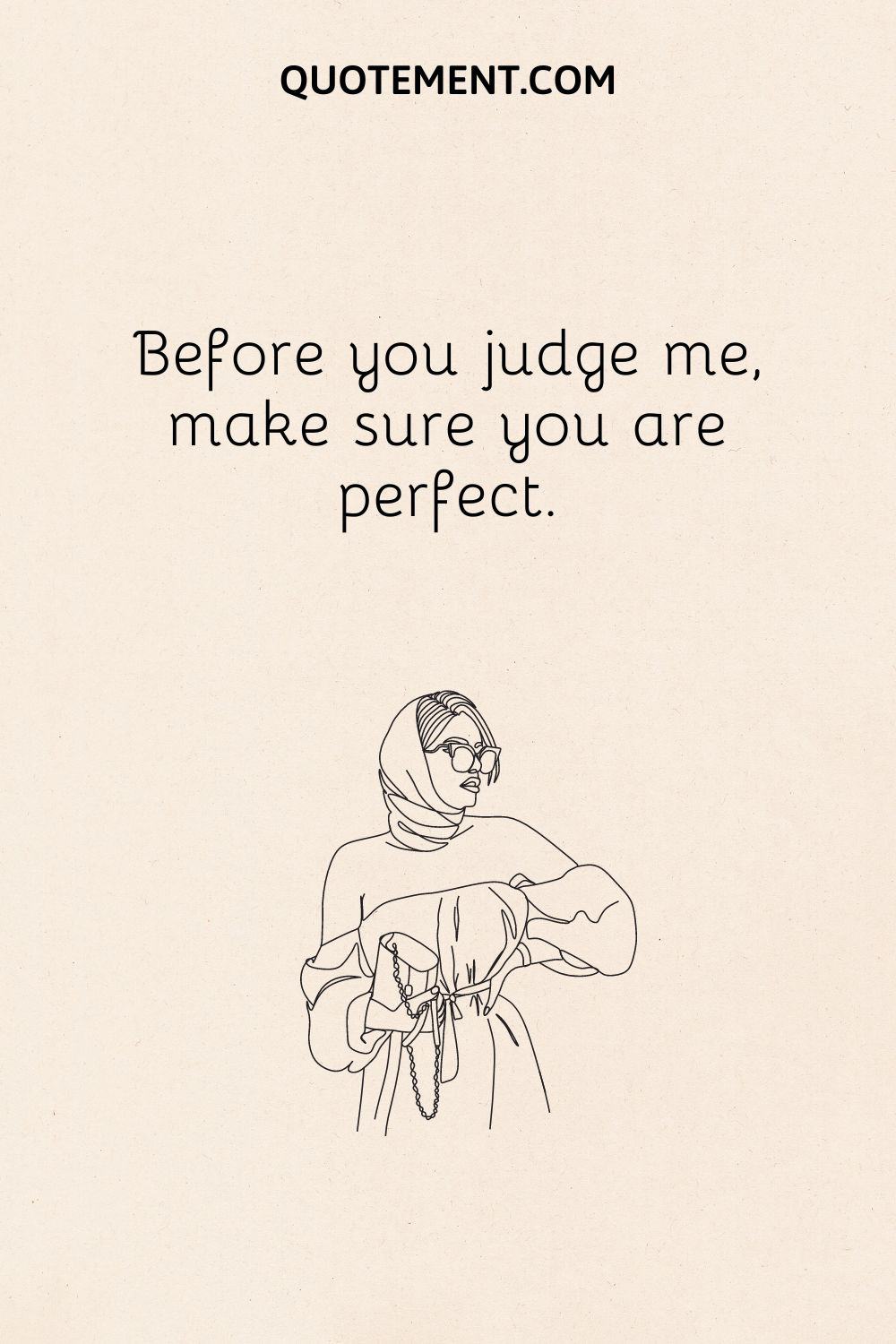 Brilliant Short Captions For Insta Pics
Boost your Insta pics with these brilliant short Instagram captions:
1. Be happy for this moment. This moment is your life.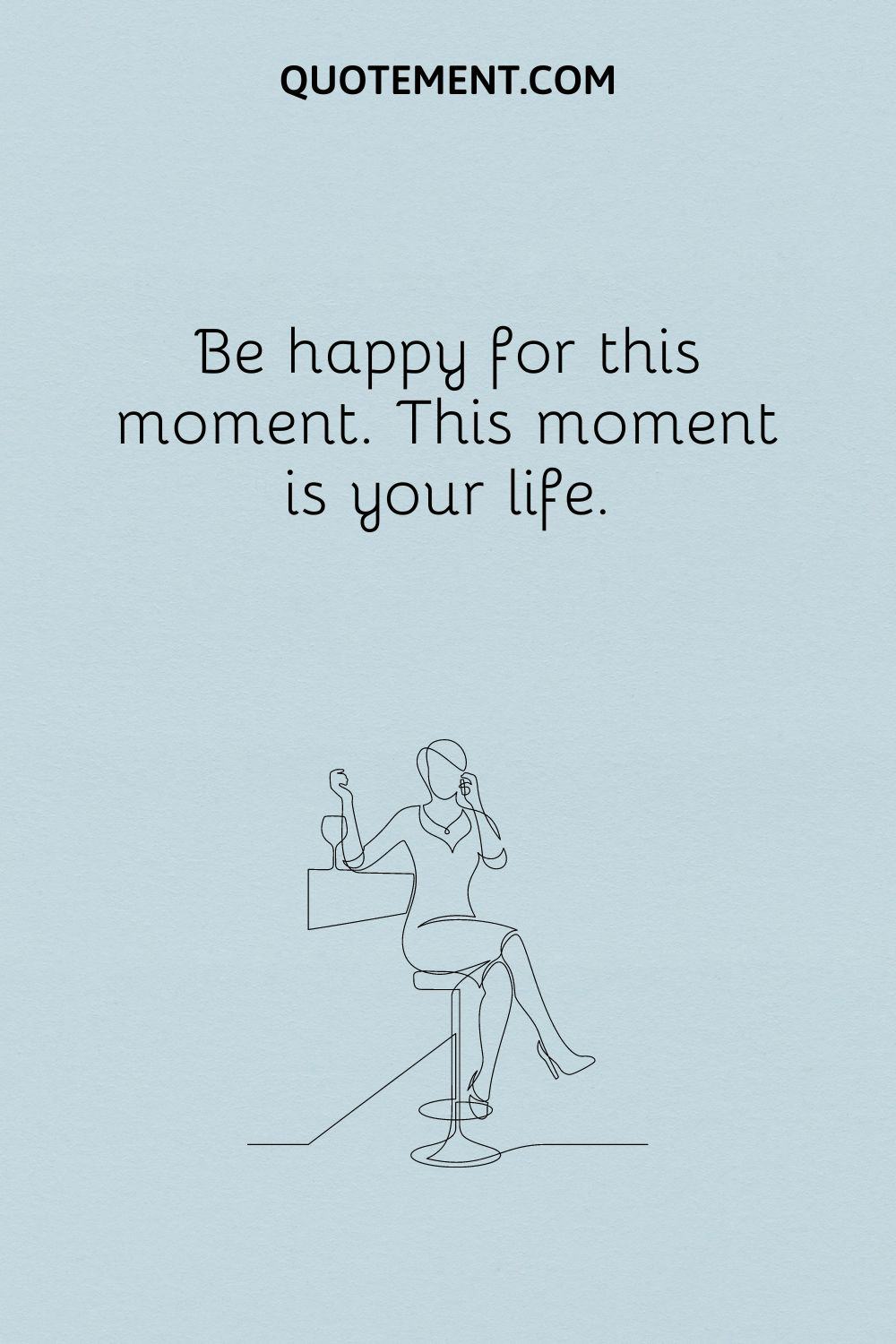 2. You've come so far, don't quit now.
3. Keep your face towards the sunshine, you will never see the shadow.
4. I like criticism. It makes you strong.
5. You were not given this life to be average.
6. There is no limit.
7. The future is bright.
8. It's going to happen because I'm going to make it happen.
9. Be the best version of yourself.
10. Having hope will give you courage.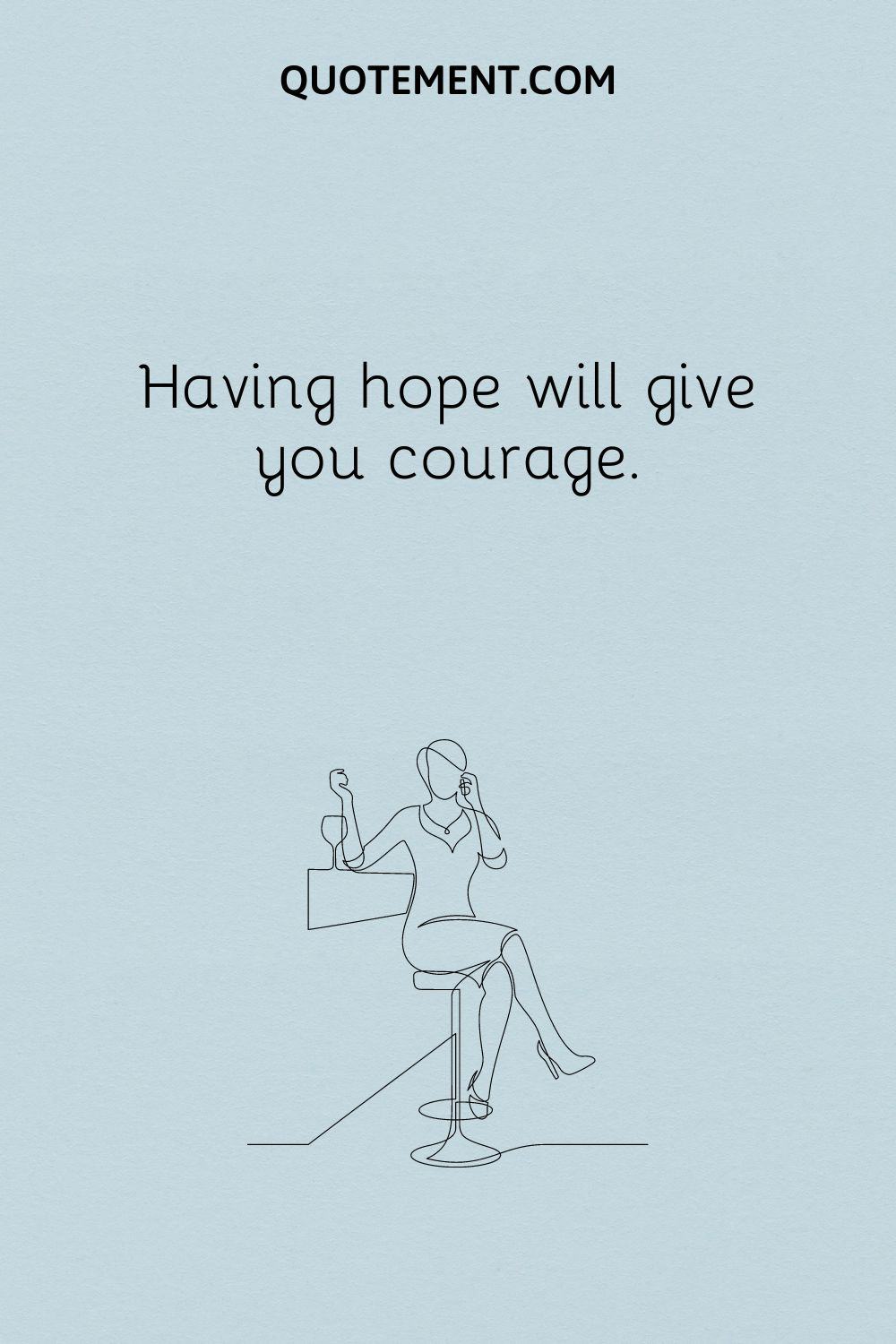 11. Hustle for the pretty things.
12. Sparkle every single day.
13. Smile, breathe, and go slowly.
14. Your attitude determines your direction.
15. We rise by lifting others.
16. Mindset is what separates the best from the rest.
17. Let your success do the talking.
18. I didn't come here to lose.
19. Hustle until your haters ask if you're hiring.
20. Be a warrior in a room of worriers.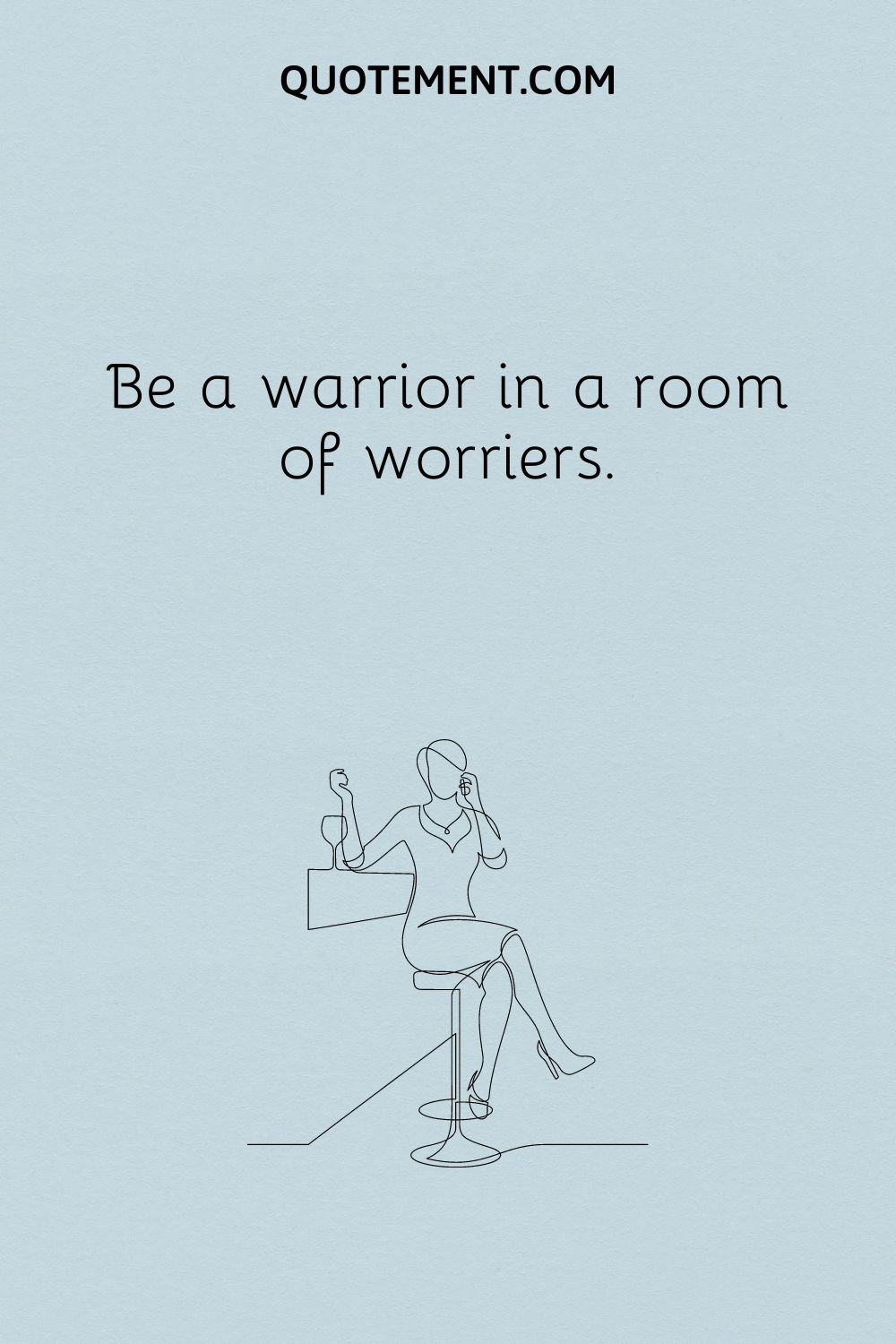 21. Build your own version of success.
22. Be the best at what you do.
23. Nothing worth having comes easy.
24. No guts, no glory, no legend, no story.
25. I may not be there yet, but I'm closer than I was yesterday.
26. Everyone has a chapter they don't read out loud.
27. My life. My choices. My mistakes. My lessons. Not your business.
28. Beautiful people aren't always good, but good people are always beautiful.
29. It is easy to find a friend but difficult to find a true friendship.
See also: Hard Times Reveal True Friends: 80 True Friendship Quotes
30. Goals are like magnets. They'll attract the things that make them come true.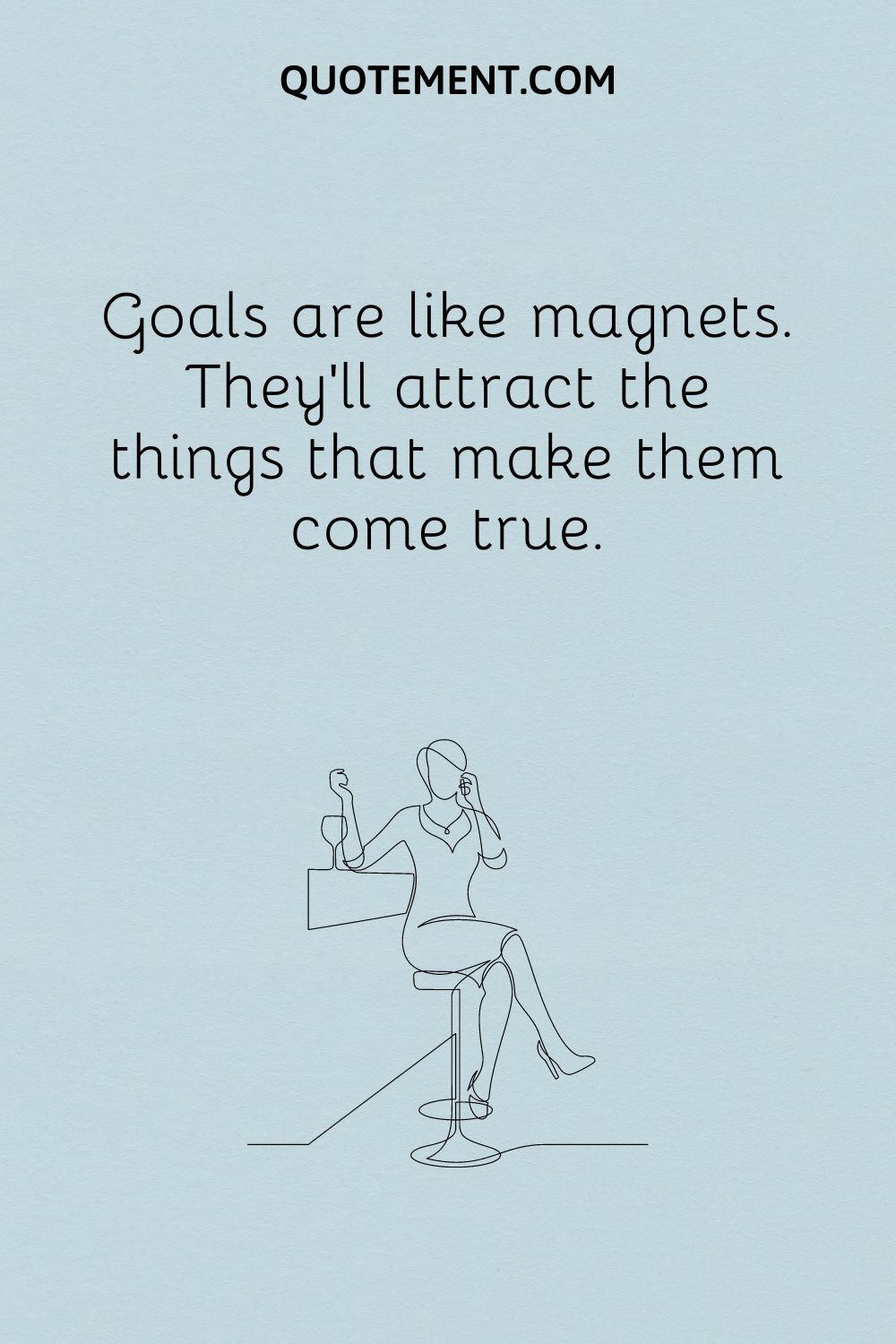 31. The more you learn, the less you know.
32. Things left unsaid stay with us forever.
33. Age is just a hashtag.
34. You don't know my past.
35. I embrace mistakes, they make you who you are.
36. Don't stop now.
37. You were not given this life to be average.
38. Dream big and dare to fail.
39. Don't settle for what life gives you; make life better and build something.
40. Today is the only day. Yesterday is gone.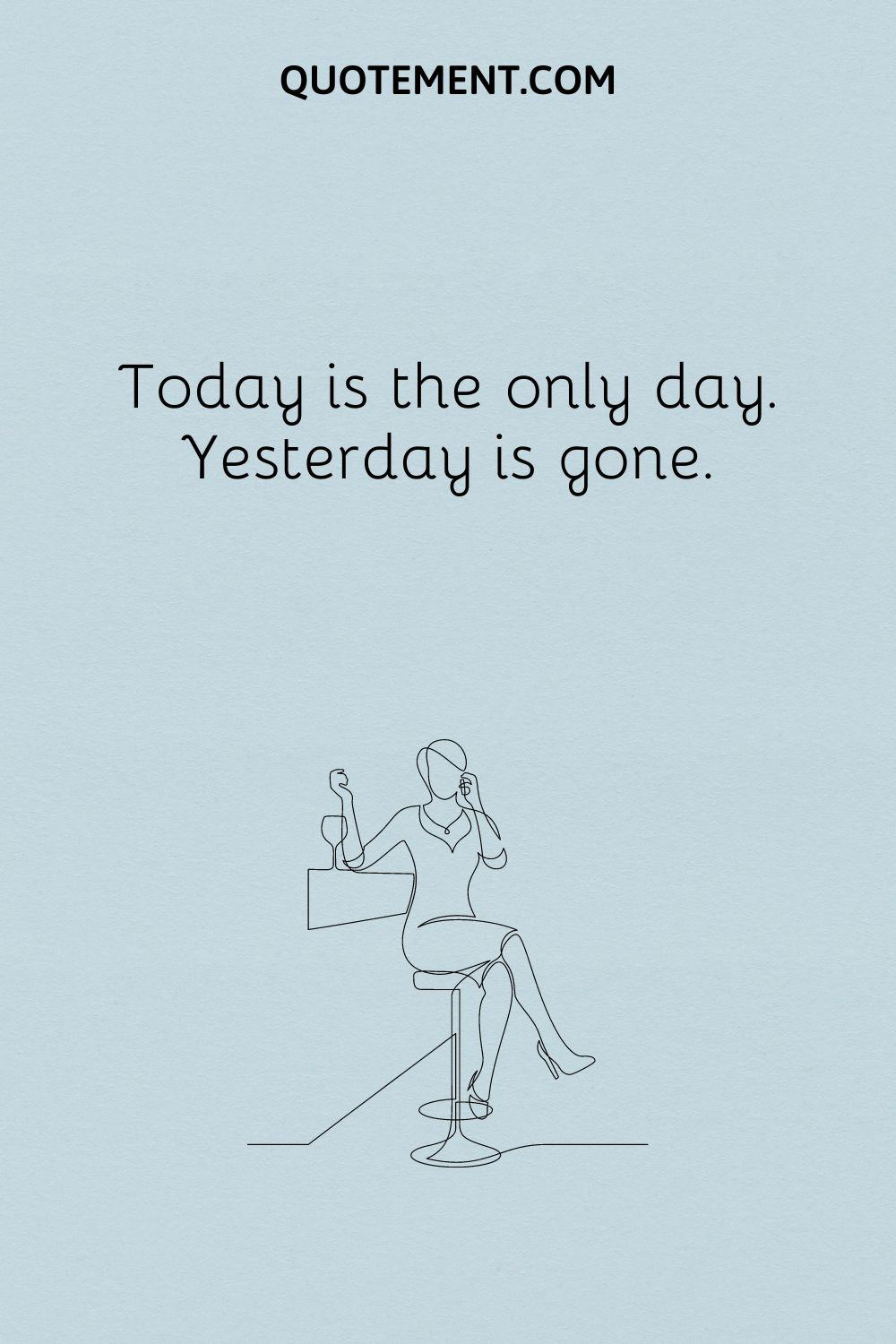 Short Instagram Captions For Travel
If you want to share your favorite pics or videos taken while you were traveling, be sure to check out these beach captions, vacation captions, nature captions, and cute captions for different activities:
1. Take a journey that has no destination!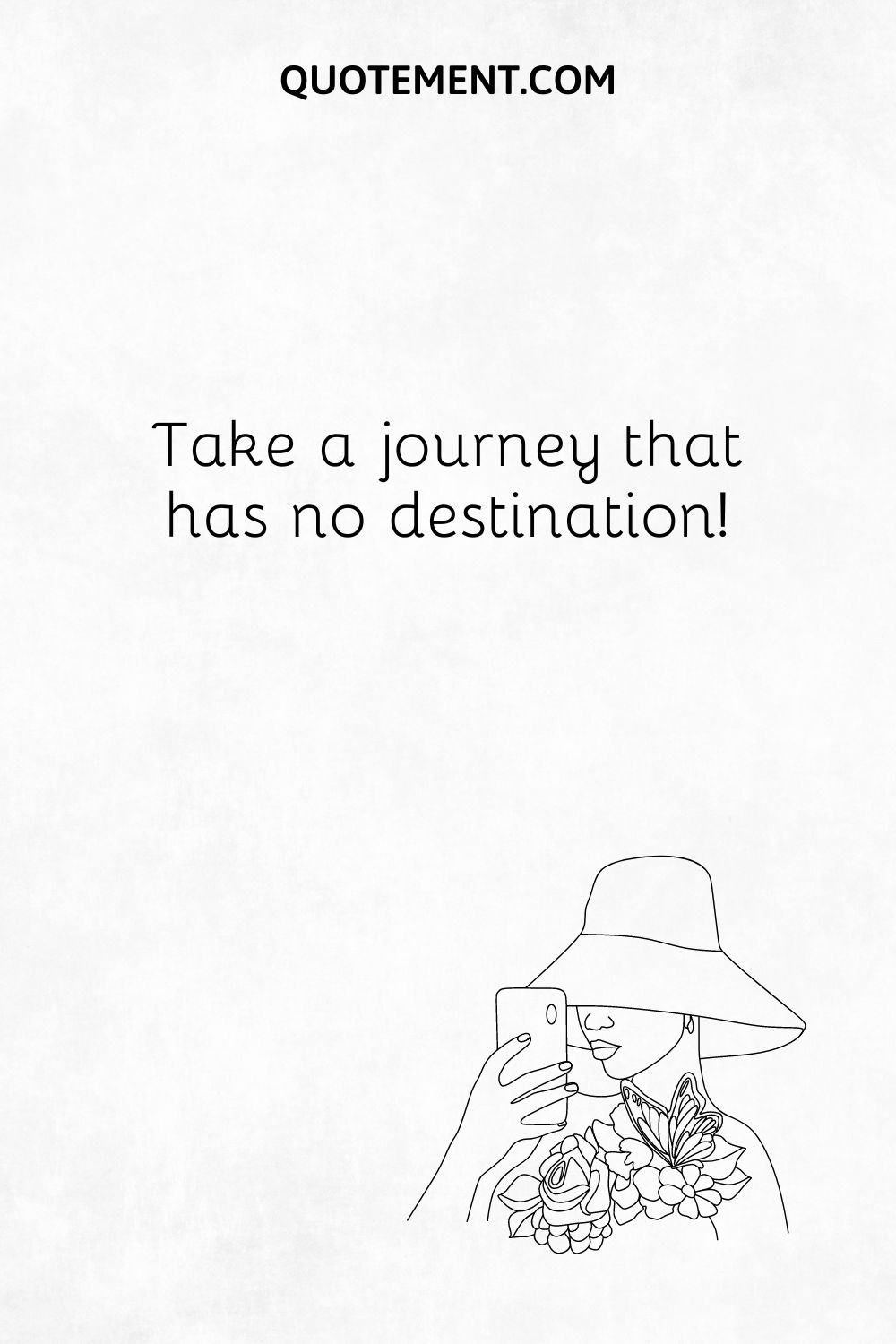 2. Live your life by a compass, not a clock.
3. Need no magic to disappear, a destination would be enough!
4. I googled my symptoms. Turns out I just needed to go on a vacay.
5. Fill your life with experiences, not things. Have stories to tell, not stuff to show.
6. A coconut a day keeps the doctor away.
7. Follow your own steps.
8. Excuse me while I kiss the sky.
9. The ocean is calling and I must go.
10. This is my happy place.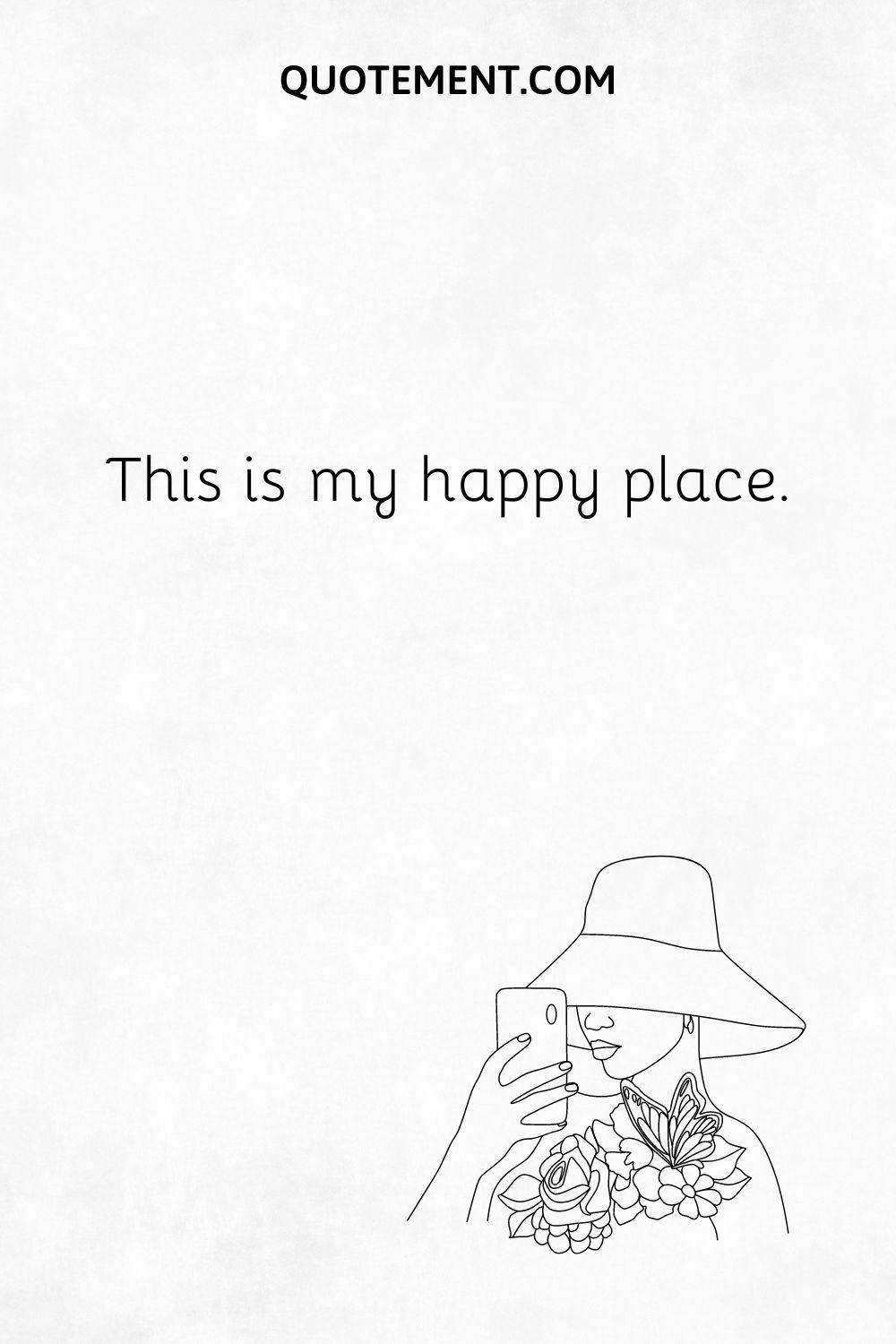 11. Life is better with palm trees.
12. I've never met a sunset I didn't like.
13. I do believe it's time for another adventure.
14. Dreams are made of sun and sand.
15. Learning about myself even more.
16. I haven't been everywhere, but it's on my list.
17. Go somewhere you've never been before.
18. You should always travel long enough that you meet yourself.
19. We travel not to escape life, but for life not to escape us.
20. Remember to explore!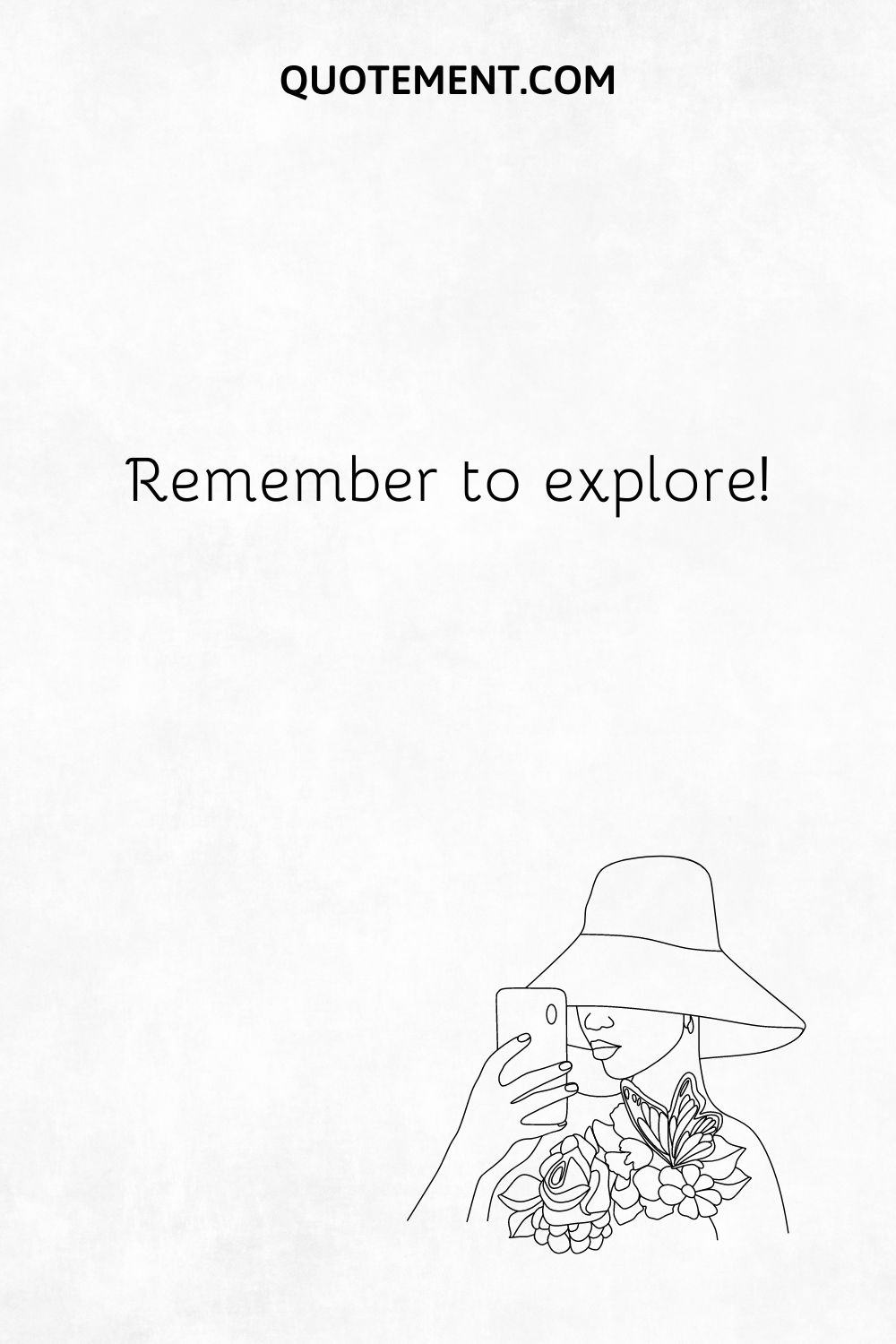 21. Travel is the only thing you buy that makes you richer.
22. Say yes, take risks, and live life on your own terms.
23. Hike more. Worry less.
24. Get lost in nature and you will find yourself.
See also: 150 Nature Captions For Instagram For All The Nature Lovers
25. If you could travel anywhere in the world, where would you go first?
26. Nature is not on the internet.
27. An escape from the ordinary.
28. What is life but one grand adventure?
29. Adventure is out there.
30. Sunshine and roses.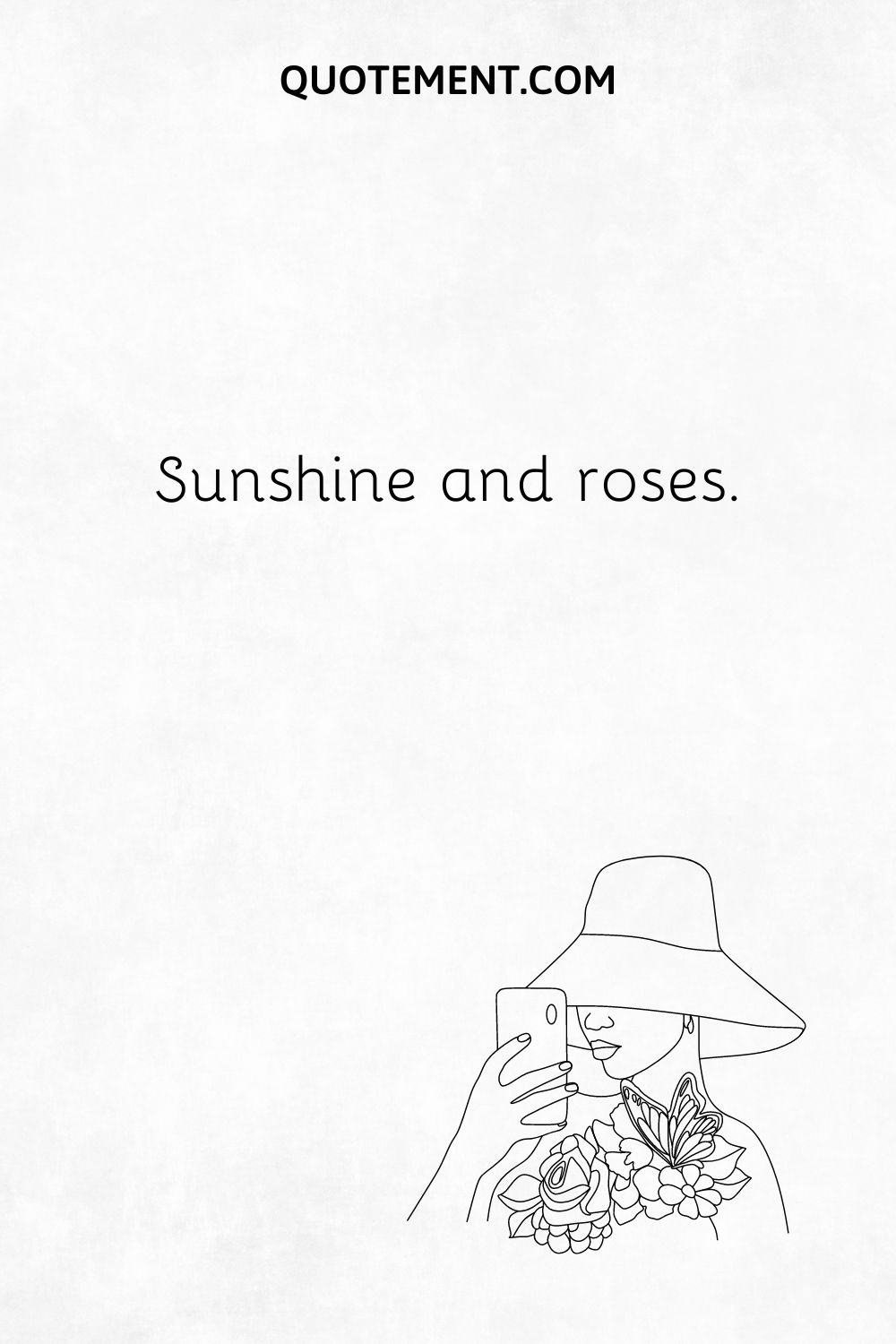 Famous Quotes That Can Also Be Used As Short Instagram Captions
My exciting collection ends with these famous quotes that can also be used as short Instagram captions! Get inspired and find ideas for good Instagram captions!
1. "Every mountain top is within reach if you just keep climbing." – Barry Finlay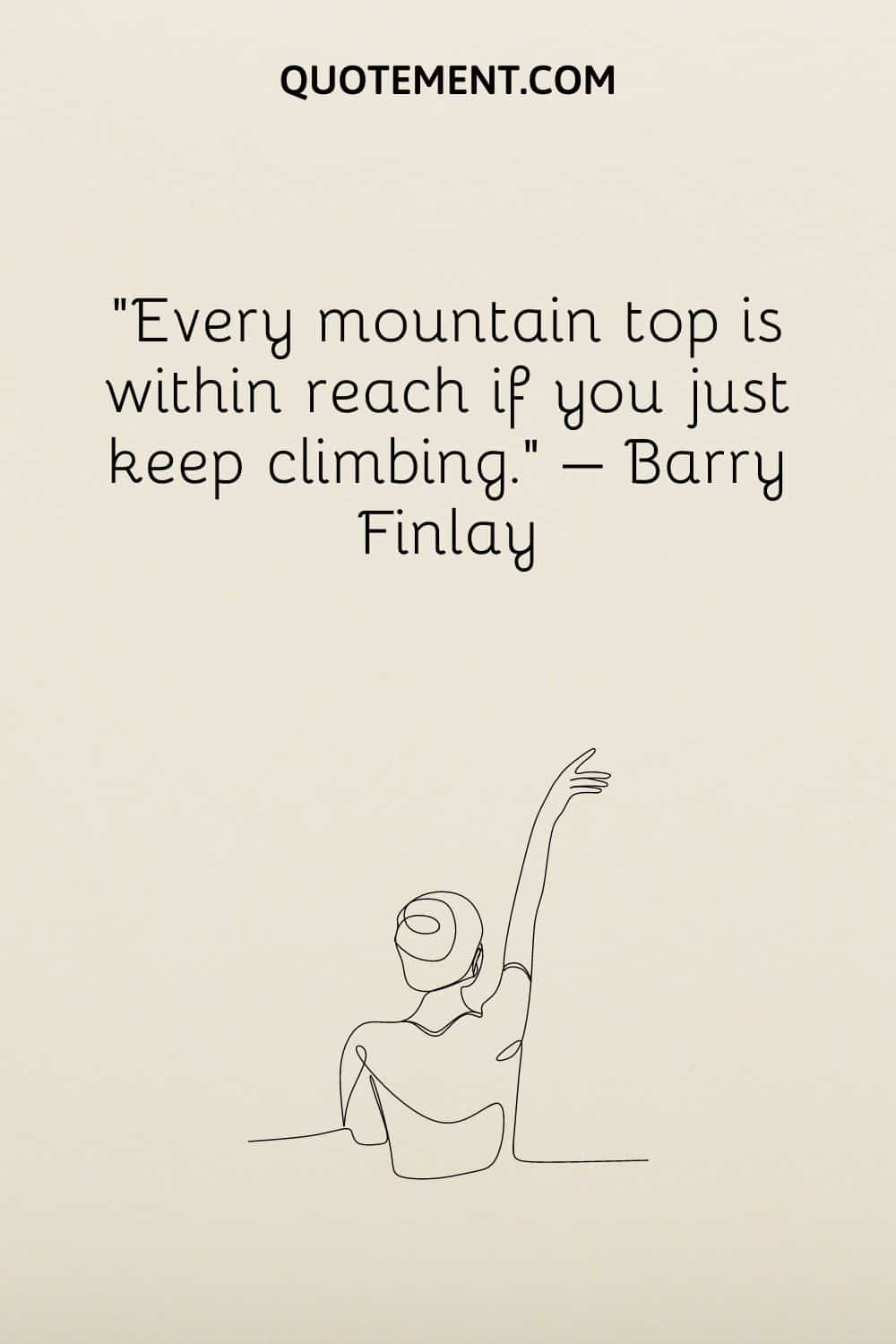 2. "A flower doesn't think of competing with the flower next to it. It just blooms." – Zen Shin
3. "You may say I'm a dreamer, but I'm not the only one." – John Lennon
4. "A smile is the best make–up a girl can wear." – Marilyn Monroe
5. "Be yourself because an original is worth more than a copy." – Suzy Kassem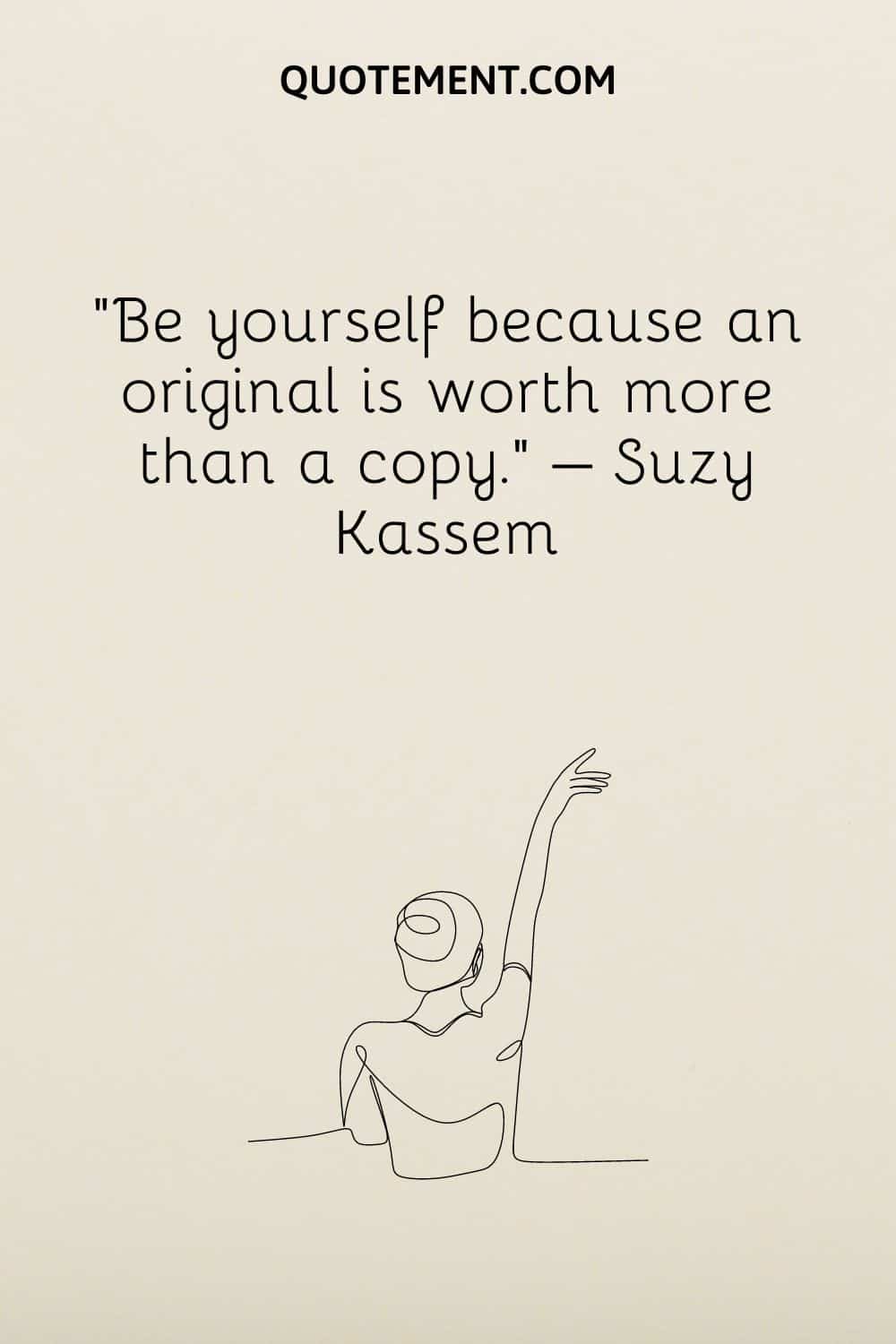 6. "You will face many defeats in life, but never let yourself be defeated." — Maya Angelou
7. "If it doesn't challenge you, it doesn't change you." – Fred DeVito
8. "Every sunset brings the promise of a new dawn." – Ralph Waldo Emerson
9. "Look deep into nature and then you will understand everything better." – Albert Einstein
10. "Simplicity is the key to brilliance." – Bruce Lee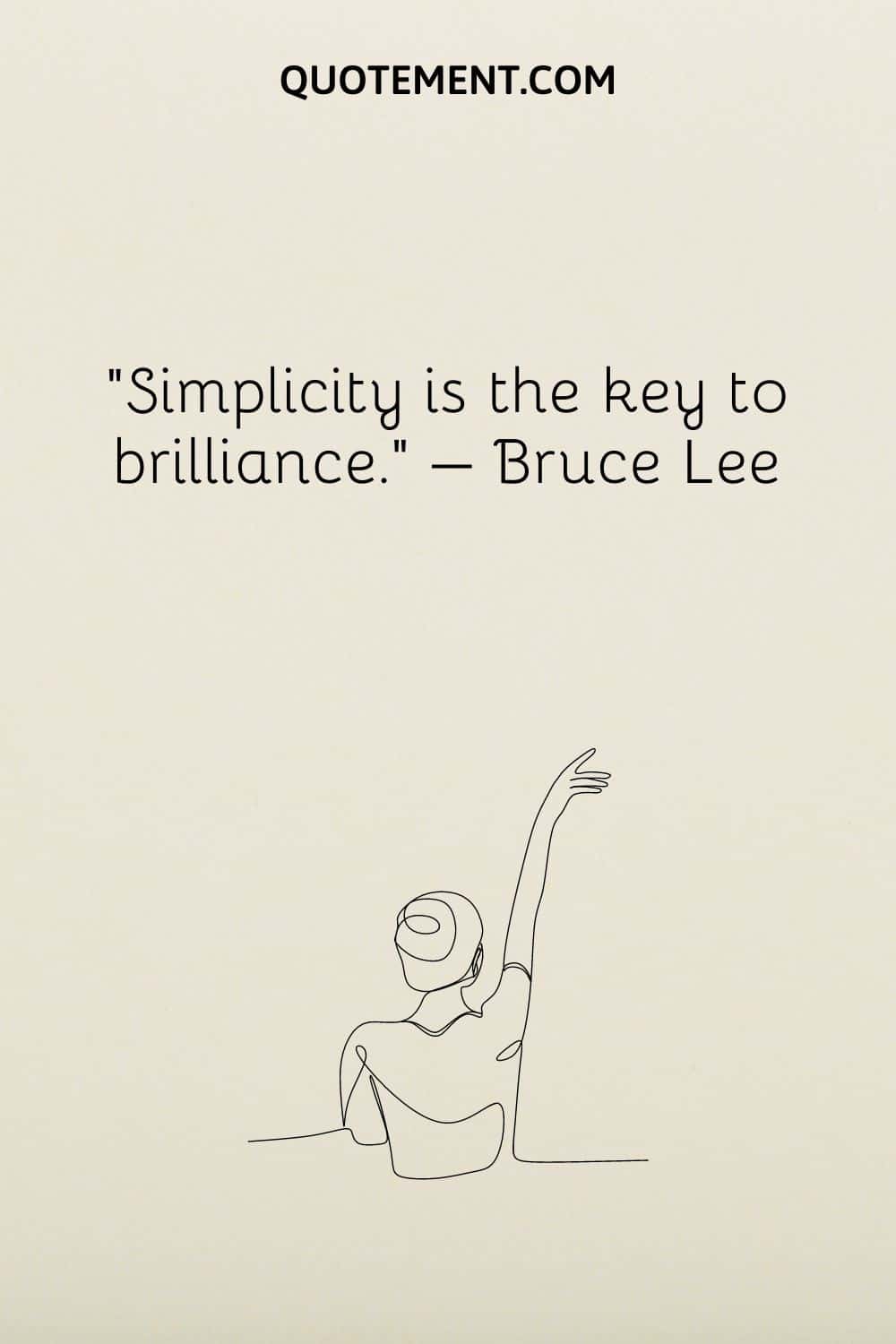 11. "The greatest mistake you can make in life is continually fearing that you'll make one." – Elbert Hubbarb
12. "Keep your love of nature, for that is the true way to understand art more and more." – Vincent van Gogh
13. "Beauty without expression is boring!" – Ralph Waldo Emerson
14. "Try to be a rainbow in someone's cloud." – Maya Angelou
15. "If you cannot do great things, do small things in a great way." – Napoleon Hill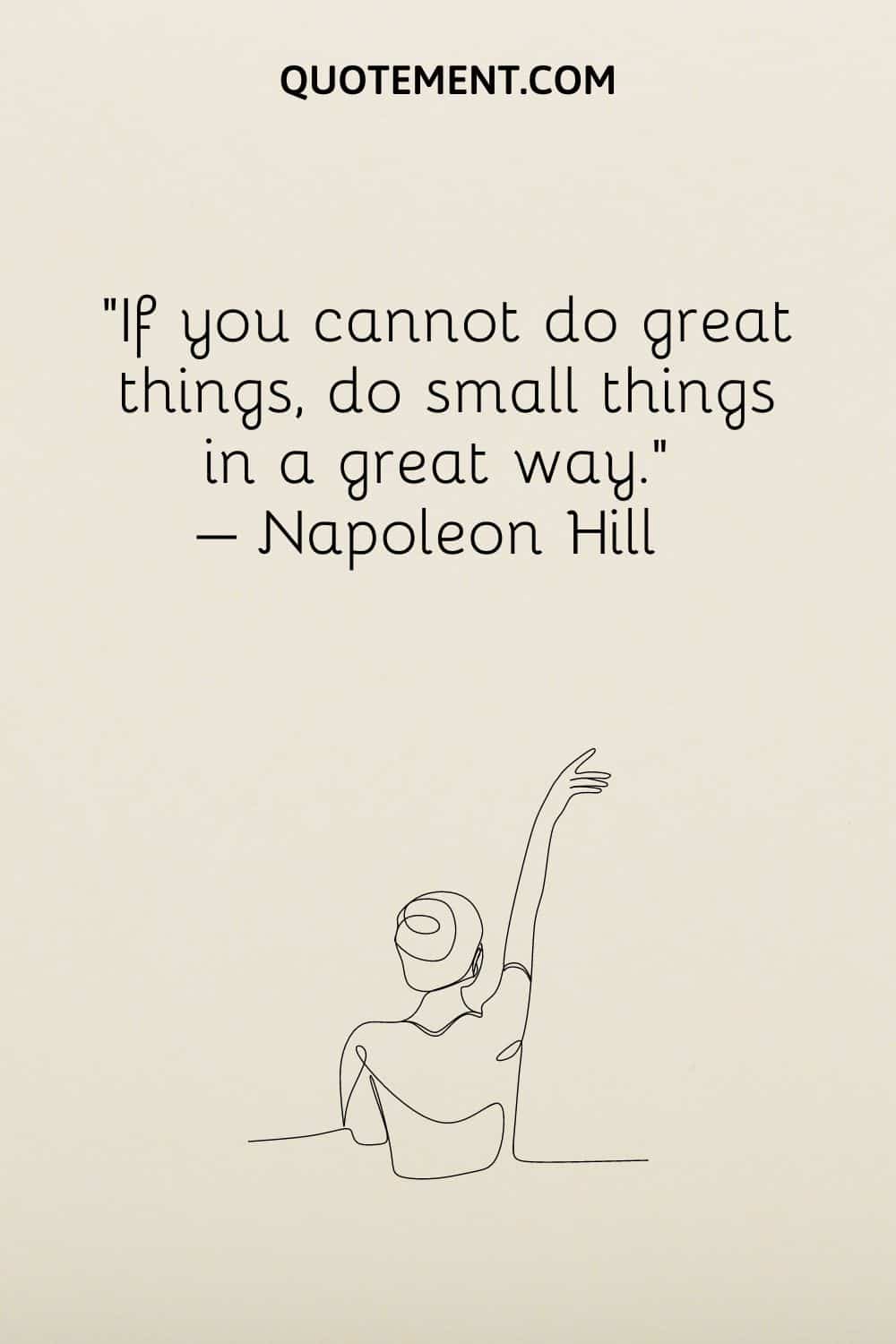 16. "Life is what happens when you're busy making other plans." — John Lennon
17. "Be yourself, there's no one better." – Taylor Swift
18. "Beauty begins the moment you decide to be yourself." – Coco Chanel
19. "Autumn is a second spring when every leaf is a flower." – Albert Camus
20. "Believe you can and you're halfway there." – Theodore Roosevelt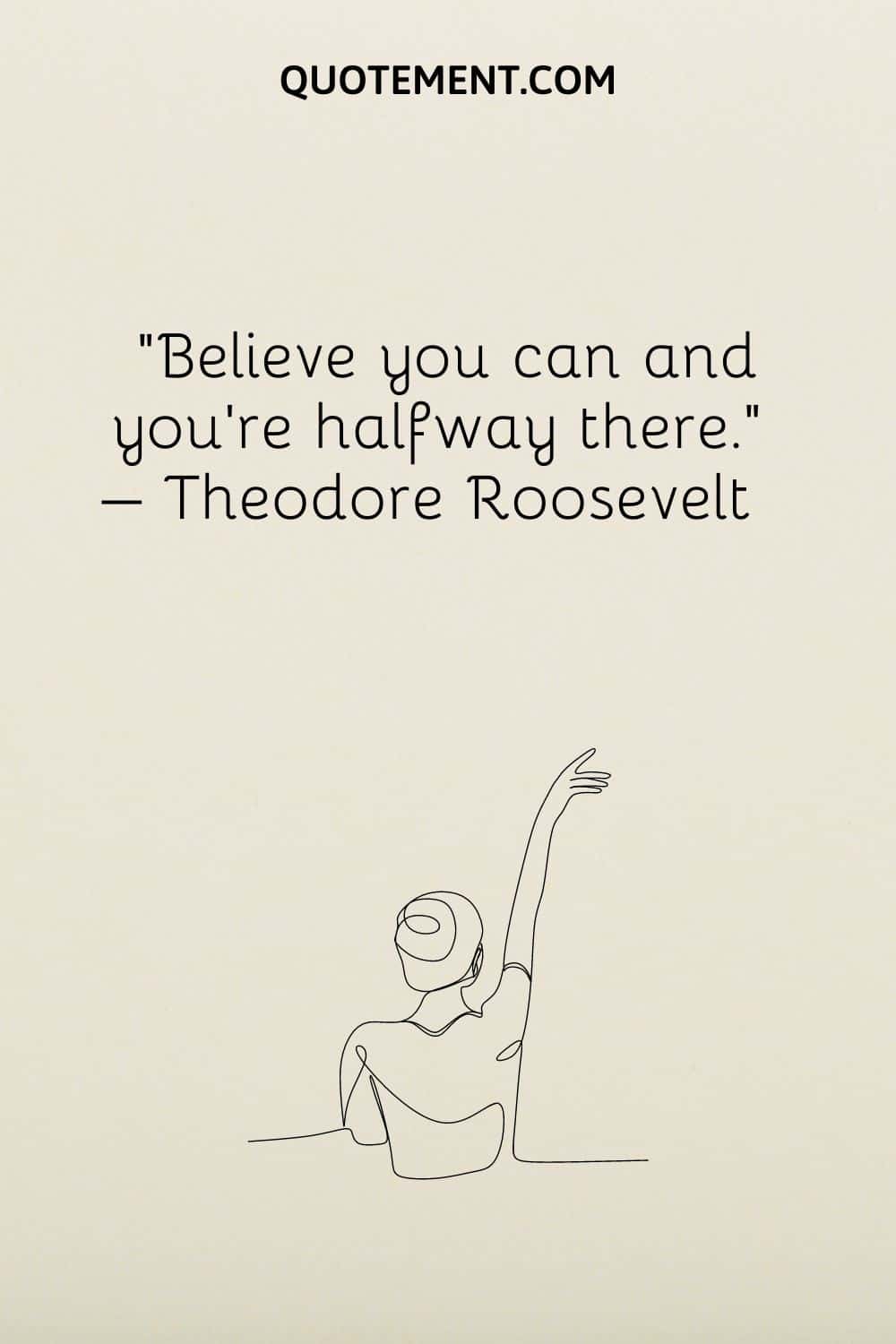 To Wrap It Up
You've reached the end of my article!
Thank you for reading my collection of 330 short Instagram captions!
Regardless of whether you're an influencer or not, choosing a perfect caption for your next post can be difficult. However, I hope that I've helped you find your inspiration!
Posting on social media can be a challenge since amazing content needs amazing captions as well. If you'd like to enjoy more awesome content like this, be sure to check out our page for more brilliant caption ideas on different topics!
There's a collection of amazing Snapchat captions you shouldn't miss.
Stay tuned for more inspirational content.
Until next time!
Read next: 200 Most Toxic Instagram Captions To Show Your Dark Side