My dear, if you have haters, congrats, you are doing something right. Honestly, if somebody is hating on you, it just means that you've got something that they don't. And they are jealous about it!
I mean, we have all been in certain situations where we felt jealous. However, most of us didn't go to those lengths to become a hater.
Jealousy is a natural human reaction to certain situations. If a child sees another child that has a lollipop, and they don't have it, they will probably be a bit jealous, and will definitely try to convince their parents to buy them a lollipop, too.
The same goes for a grown adult, just on rather larger scales.
Whatever their cause is, you are not to blame. Haters typically do so because they are unhappy with themselves. They won't have the time or energy to hate if they are extremely happy with their life, their partner, and their profession.
Therefore, the only things you can do are:
Reading hater quotes that I have collected online and prepared for these situations
Being mindful and accepting of the fact that they cannot accept that you are simply better than them
Enjoy the attention, and simply move on with your life
Having this in mind, I think the best option would be the first one, huh?
Best Quotes About Haters
1. "Haters are sometimes people who can't understand why everybody loves you." – Ziad K. Abdelnour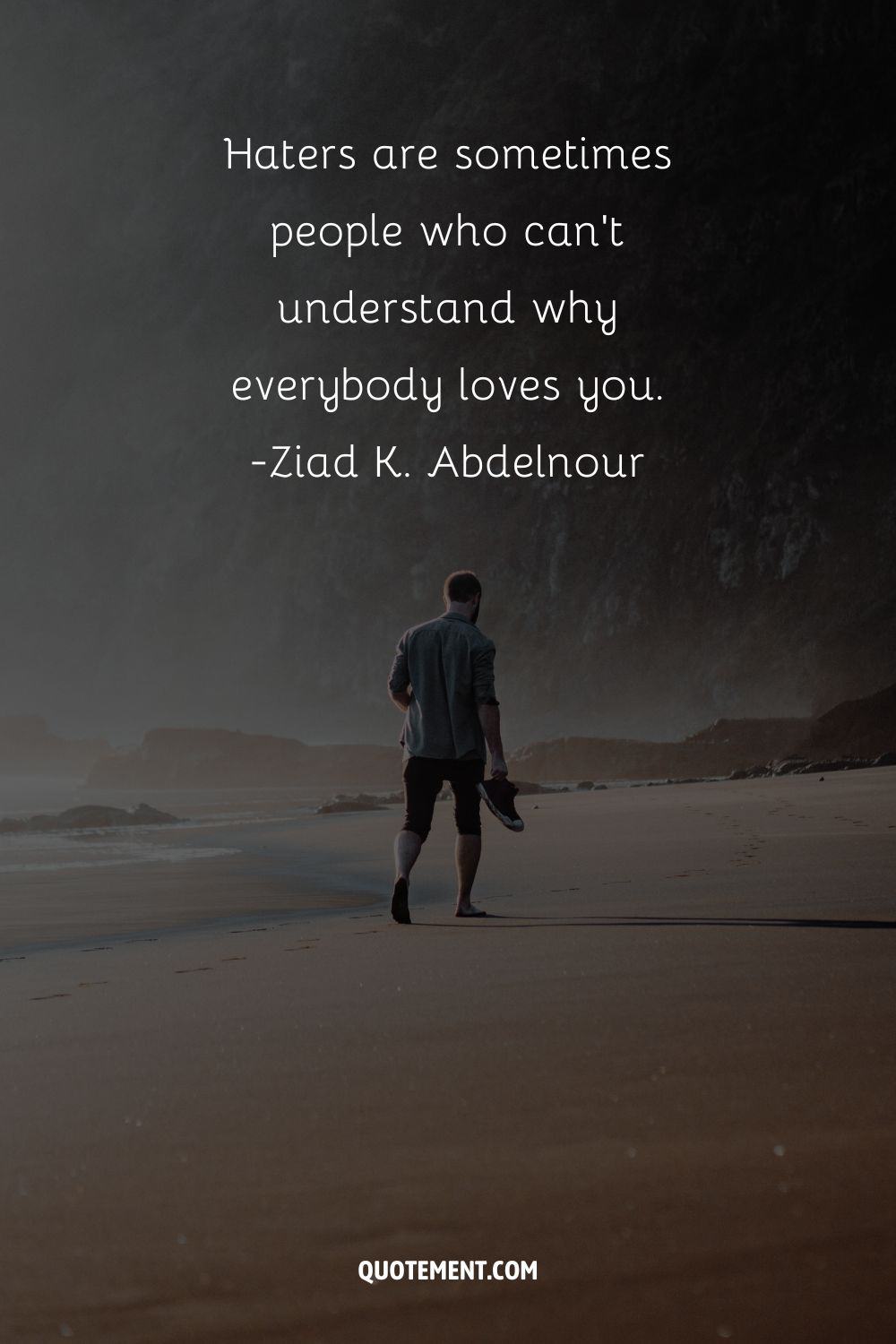 2. "Don't give anyone the power to put you down. Haters are losers pretending to be winners." – Paulo Coelho
3."I don't think haters are small-minded; it's more tragic than that. I think they're great minded, but choose to sell themselves short every day." – Steve Maraboli
4. "In time we hate that which we often fear." – William Shakespeare
5. "From the deepest desires often come the deadliest hate." – Socrates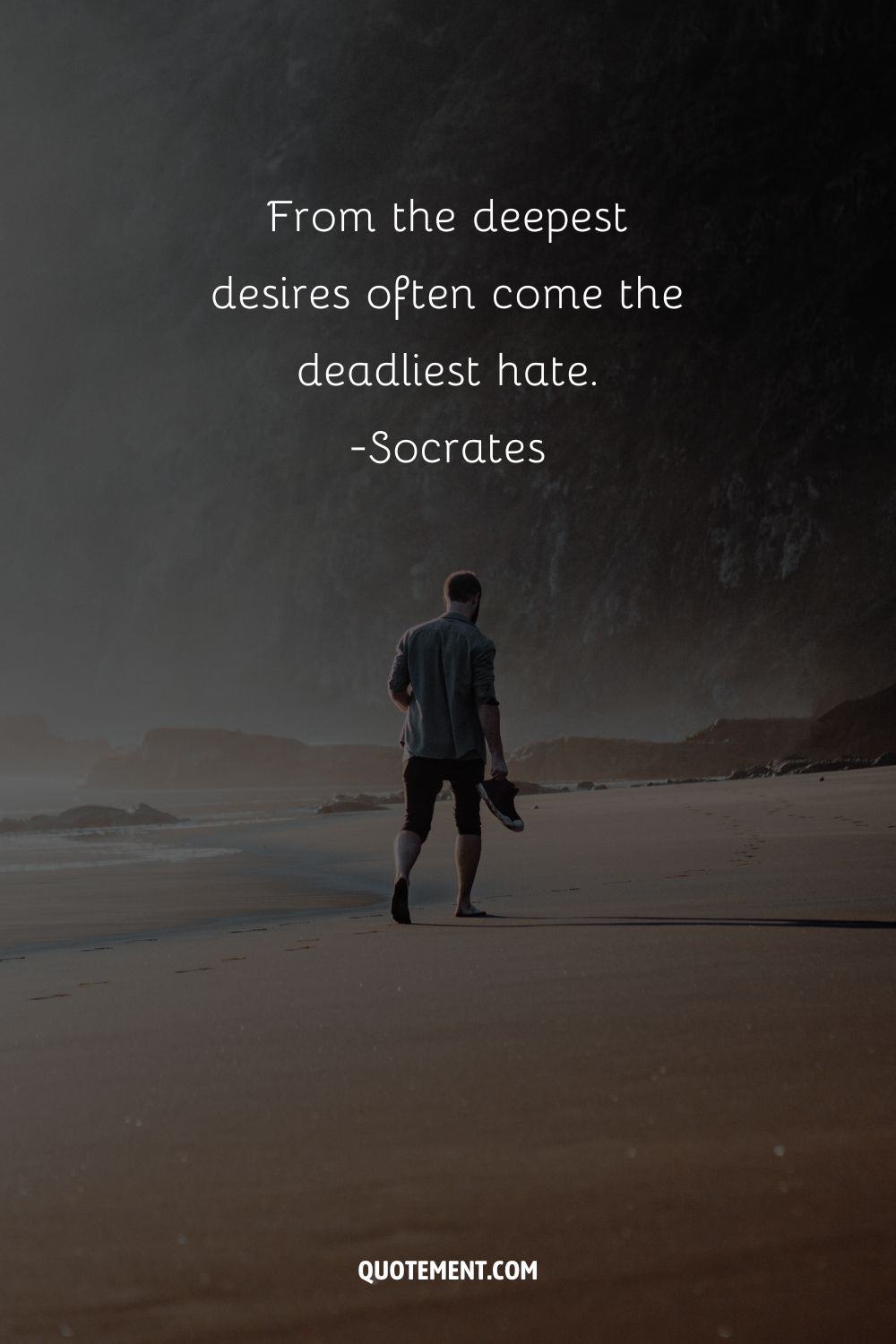 6. "Haters are just confused admirers because they can't figure out the reason why everyone loves you." – Jeffree Star
7. "Haters will broadcast your failure, but whisper your success." – Drake
8. "I think that everybody wants to be heard, and the easiest way to be the loudest is to be the hater." – Tavi Gevinson
9."Those people, who hate you, envy your freedom." – Santosh Kalwar
10. "They don't hate you. They hate themselves and take it out on you. There's a difference." – Ritu Ghatourey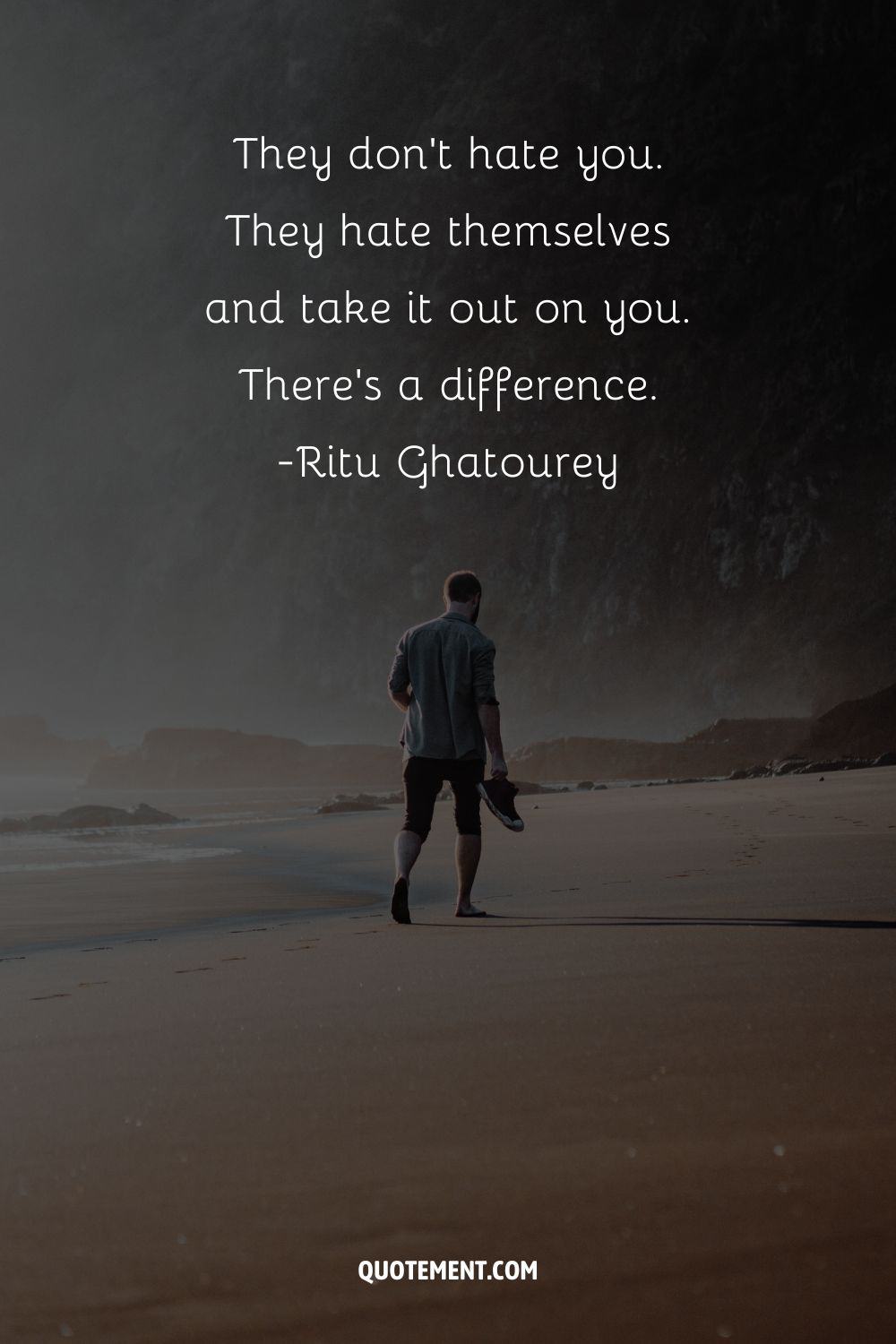 Hater Quotes That Will Make You Feel Better About Yourself
1. "The only thing more frustrating than slanderers is those foolish enough to listen to them." ― Criss Jami, Killosophy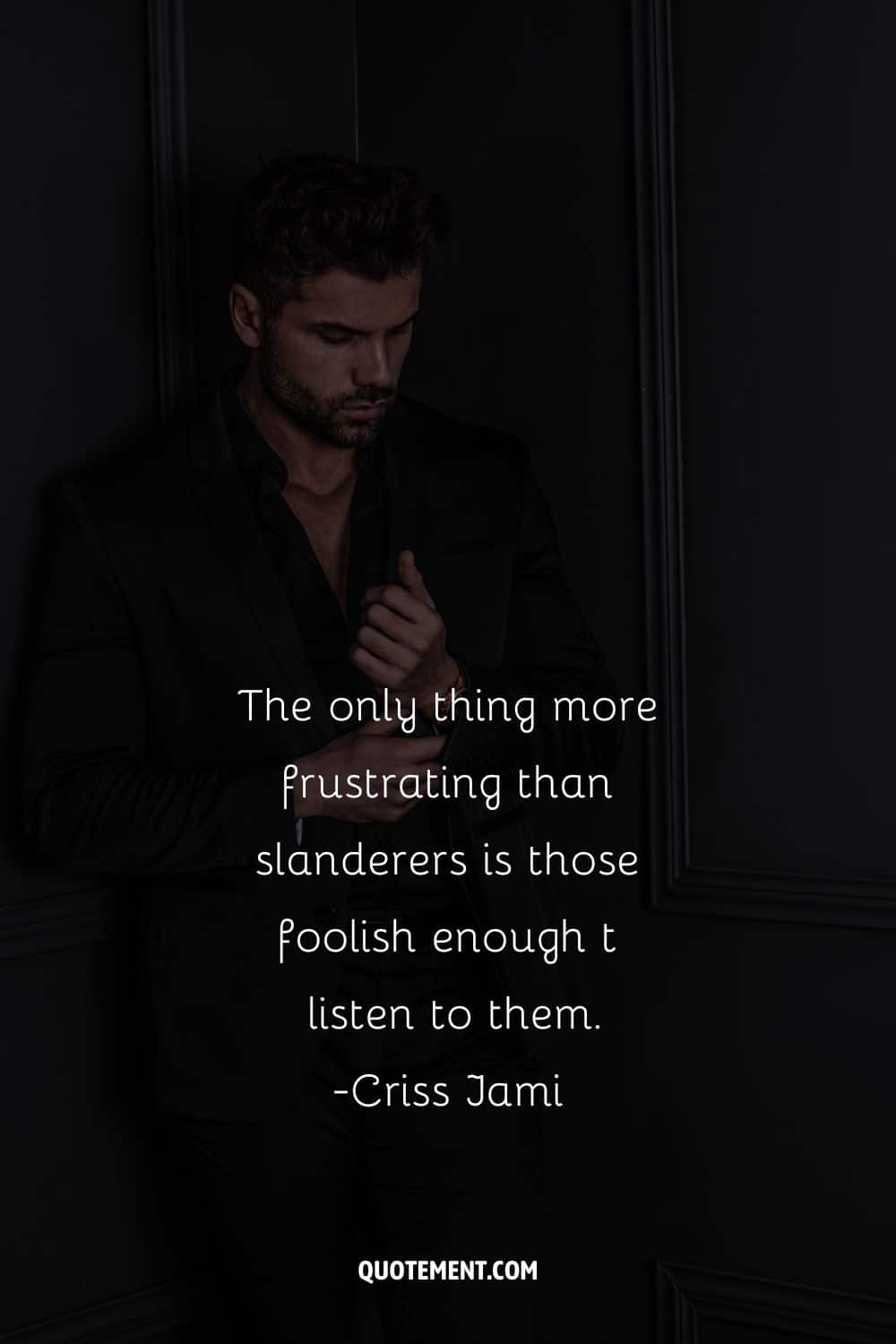 2. "An entire sea of water can't sink a ship unless it gets inside the ship. Similarly, the negativity of the world can't put you down unless you allow it to get inside you." – Goi Nasu
3. "Save your skin from the corrosive acids from the mouths of toxic people. Someone who just helped you to speak evil about another person can later help another person to speak evil about you." ― Israelmore Ayivor
4. "Friends ask you questions; haters question you." ― Criss Jami, Healology
5. "Always remember… Rumors are carried by haters, spread by fools, and accepted by idiots." ― Ziad K. Abdelnour, Economic Warfare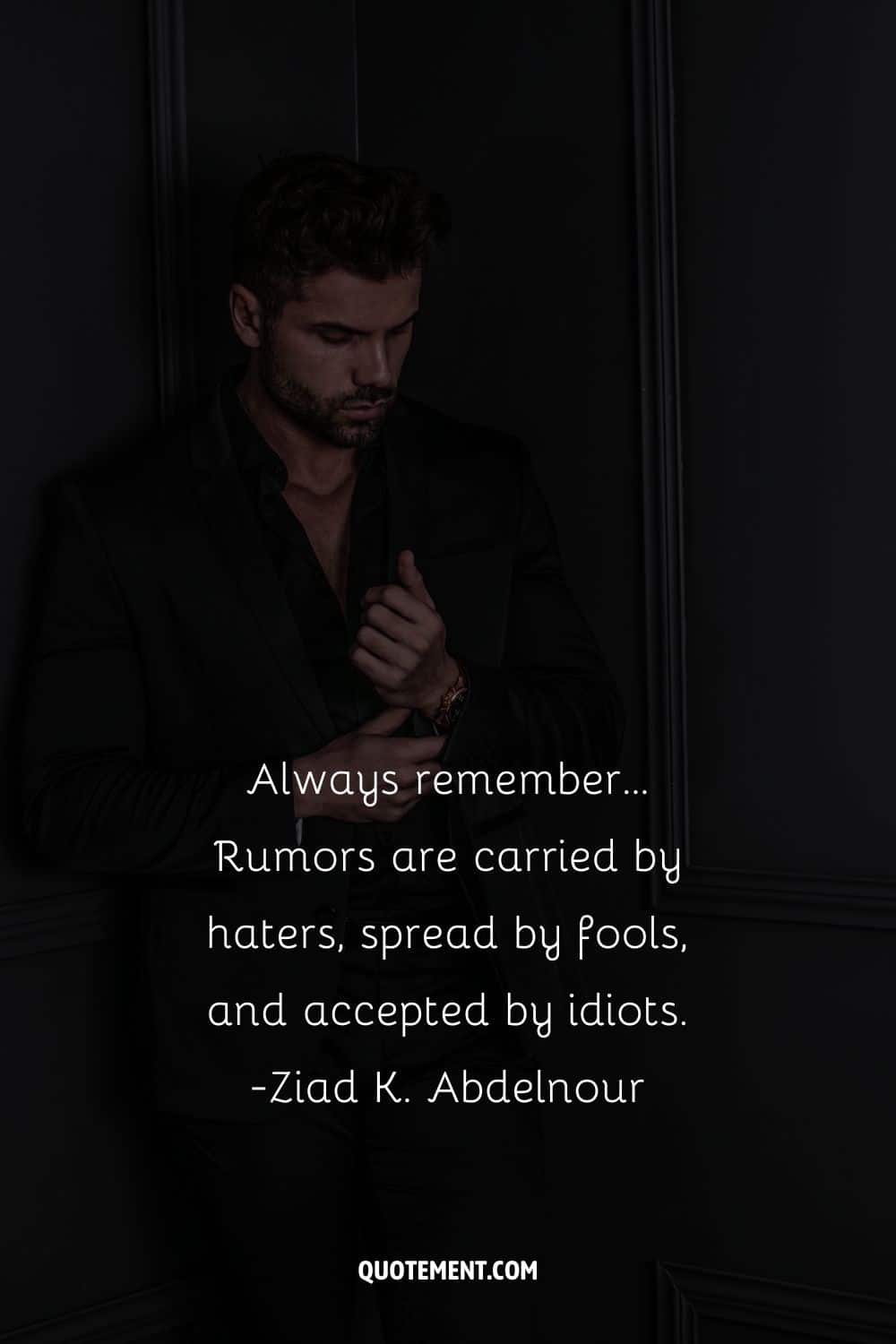 6. When emerging from humble beginnings, those around you tend to underestimate your authenticity because they knew you before you were 'somebody'." ― Criss Jami, Killosophy
7. "There will always be haters. And the more you grow the more they hate; the more they hate the more you grow." ― Anthony Liccione
8. "The moment you have to recruit people to put another person down, in order to convince someone of your value is the day you dishonor your children, your parents and your God. If someone doesn't see your worth the problem is them, not people outside your relationship." ― Shannon L. Alder
9. "One of the most powerful lessons in life is to recognize that no one can give you power, and many people don't want you to have it. You have to find the courage to seize it, own it and hold on!" ― Shannon L. Alder
10. "There will be haters, there will be doubters, there will be non-believers, and then there will be you proving them wrong." ― Jennifer Van Allen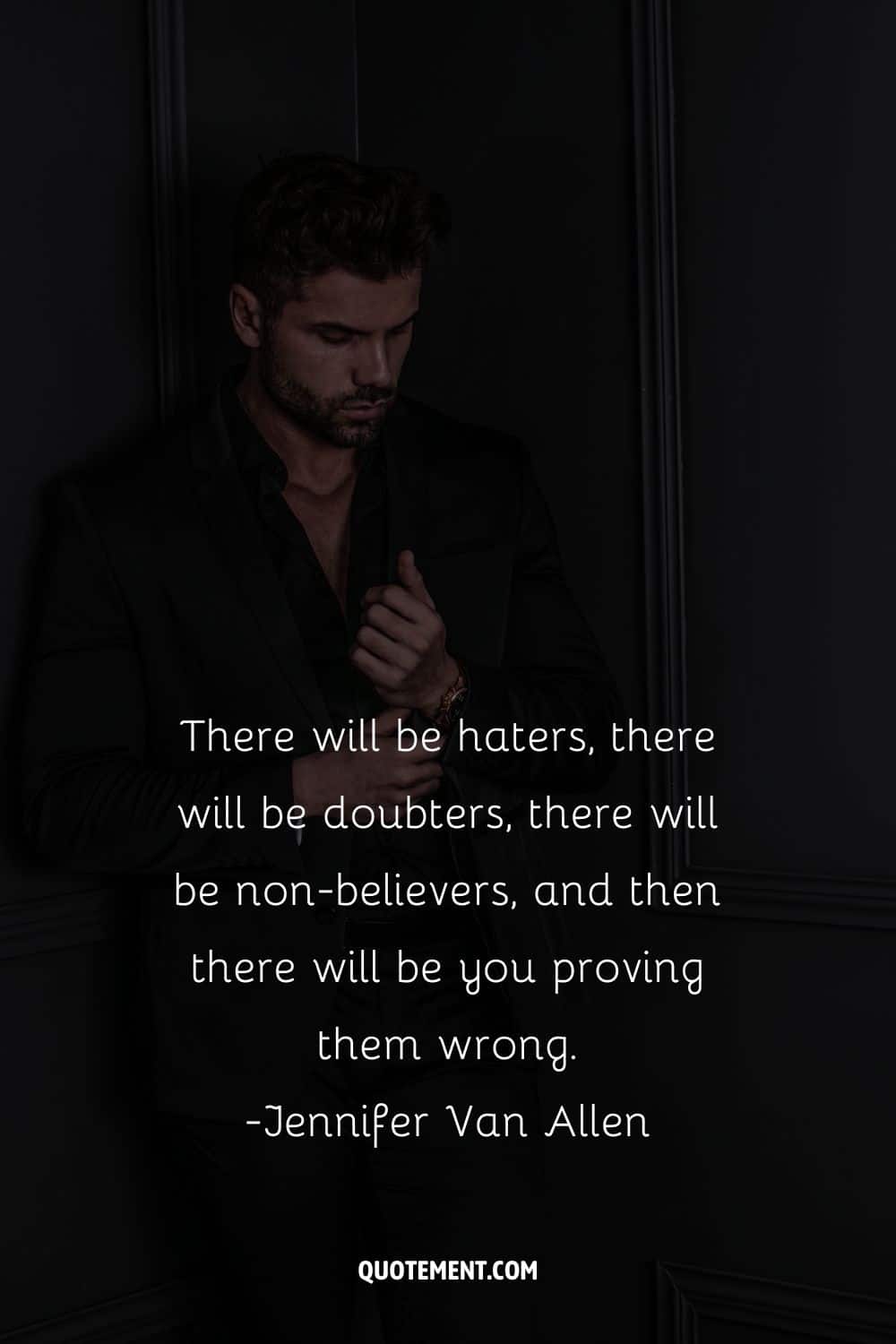 11. "There will be haters, there will be doubters, there will be non-believers, and then there will be you proving them wrong." ― Jennifer Van Allen
12. "Always find a way to profit from the actions of your haters. When they go low, use them as stepping stones!"― Bohdi Sanders
13. "Don't worry about the haters… Zombies always attack the living. Just do your thing. Most of the people criticizing you are doing it from their couch." ― Steve Maraboli
14. "Don't believe the noise. Those mean, petty, hateful voices will never be the majority. They only seem loud and pervasive, because they have the idle time to broadcast their negativity. The rest of us are too busy with real efforts to make the world a better place." ― Anthon St. Maarten
15. "If you have haters, the solution is simple: ignore them and keep doing what you do." ― Oscar Auliq-Ice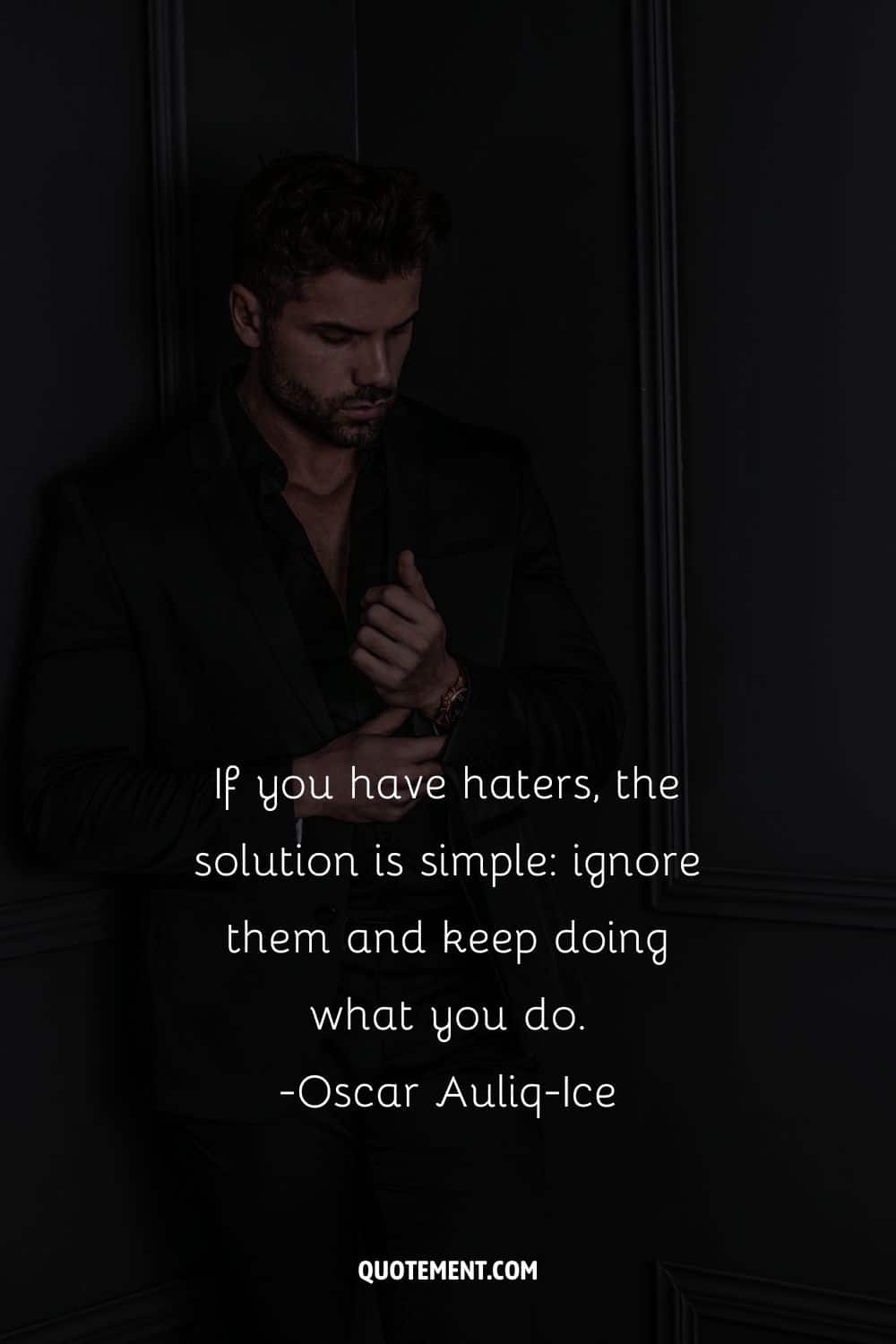 16. "The most successful people in history were made fun of, called "crazy", hated on, and ridiculed…because people didn't want to think a normal person like them could be successful. Thank God they didn't listen to the haters, because how else would the Founding Fathers of America establish America? – Kailin Gow, The American Adventure TV Series" ― Kailin Gow
17. "Reflect who you truly are even when people try to tempt you to reflect the wrong image of yourself." ― Thebe Kegomoditswe
18. "Never deny others their right to criticize or to hate you, and yourself your right to ignore them." ― Mokokoma Mokhonoana
19. "The haters just don't get it… They're never going to catch up. Because while they're talking about how "lucky" you are, you're working. While they're talking about what they're going to do, you're already doing it. While they're making resolutions, you're setting behaviors." ― Steve Maraboli
20. "Next time, just give your enemy a smile, and he will wonder why?" ― Ernest Agyemang Yeboah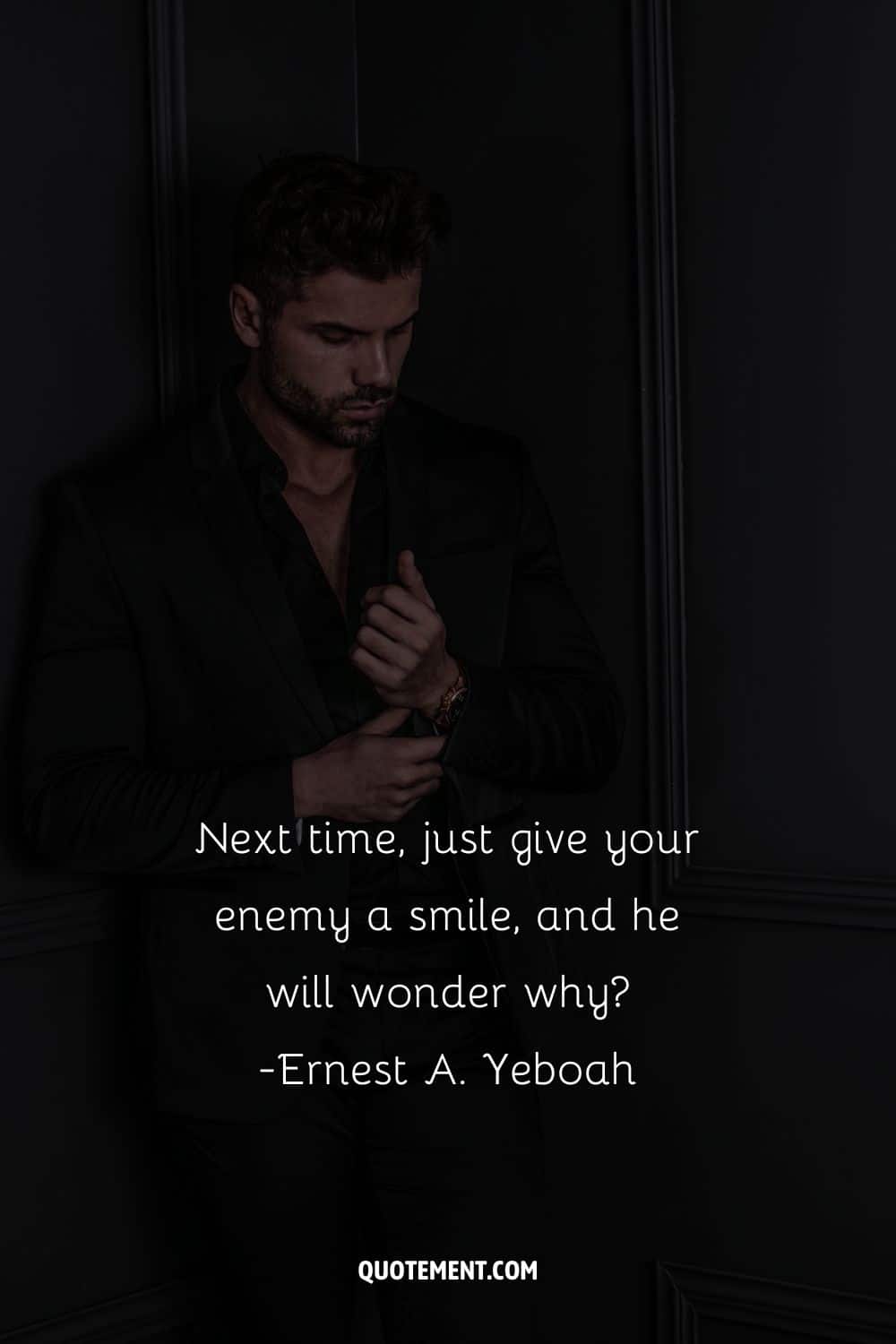 21. "They will talk about you and it won't always be good. You won't even know them but they will critique you – and judge you – and everything you stand for. Their words will cut through your heart-strings and make you question the hopes and dreams that have gnawed your soul since birth. I warn you, because I believe your unique gift of expression needs to be shared. Resist cowering down and holding back for fear of rejection. Spread those creative wings and create. But, prepare yourself. Because naysayers are not a possibility, they are a guarantee." ― Alfa H, Abandoned Breaths
22. "The do-somethings will always be judged by the do-nothings… Those who dare are always hated by those who cower." ― Steve Maraboli
23. "If people are hating on you it's often because they are: 1. Threathened by you, 2. Jealous of you or 3. Feeling like you're above them so they put you down to feel better about themselves. The greatest people have haters for a reason, so take it as a compliment. Haters gonna hate." ― Jeanette Coron
24. "Everybody has something to do, but some people will always seek to detract and destruct others! However, always remember, how people perceive things depends on their knowledge, understanding and way of interpreting things, therefore, do not just be moved by the perception of people to abort your true mission on earth. One most important thing is the lesson to learn from people to shape your vision and to accomplish your mission distinctively! Always be vigilant! Always Stay focused! Live the dream!" ― Ernest Agyemang Yeboah
25. "Haters don't really hate you. They hate seeing your potential and not their own. Love them anyways and someday they'll become your biggest fans." ― Farshad Asl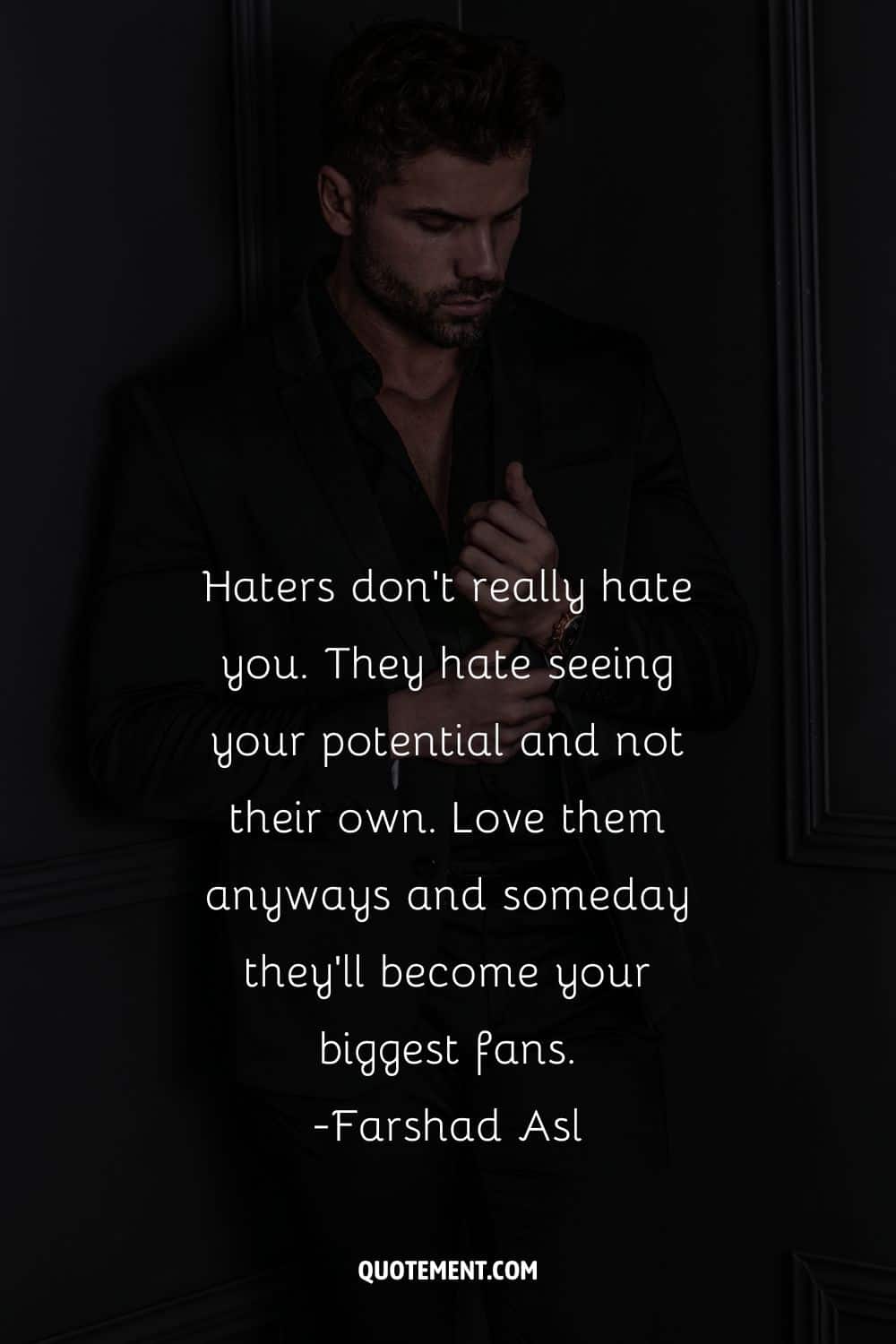 26. "Why don't I lose sleep over haters? Because I know that their hate for me is just an indication of a much bigger psychological issue. Haters are rarely better off than you personally or professionally… and if they were to just focus on their own life instead of mine, they would be so much better off. But that's their problem; not mine. I'll sleep fine and continue living my dream." ― Steve Maraboli
27. "Mindset matters… always. The difference found between the victorious and the envious, the successful and the haters; is mindset." ― Steve Maraboli
28. "They may call your victories, "lucky"… They may mock your failures… They may laugh at your heartache… But still, they will never be happy. This is the cyclical emptiness of the hater mindset." ― Steve Maraboli
29. "Haters will unwittingly give you the inspiration you need to conquer your great obstacle of destiny if you did not give up" ― Sunday Adelaja
30. "Never let hatred give you an escort. It will drag your attention from all fortunes along the way." ― Israelmore Ayivor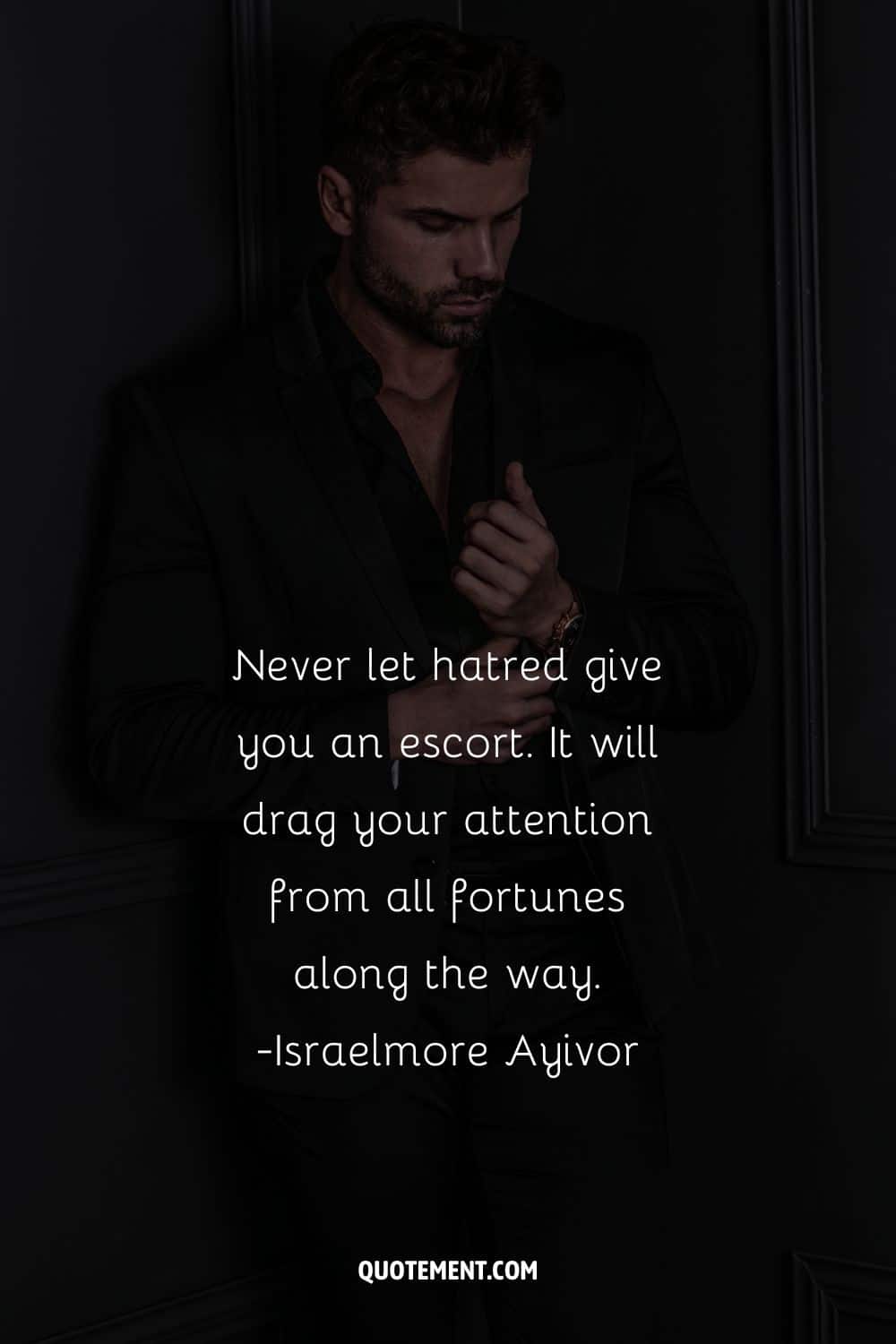 See also: 110 Inspiring Moving On Quotes To Help You Forge Ahead
Funny Hater Quotes That Will Make You Feel Sorry For Them
1. "Haters and bullies are always cowards, you know." ― Scylar Tyberius, Sebastian the Great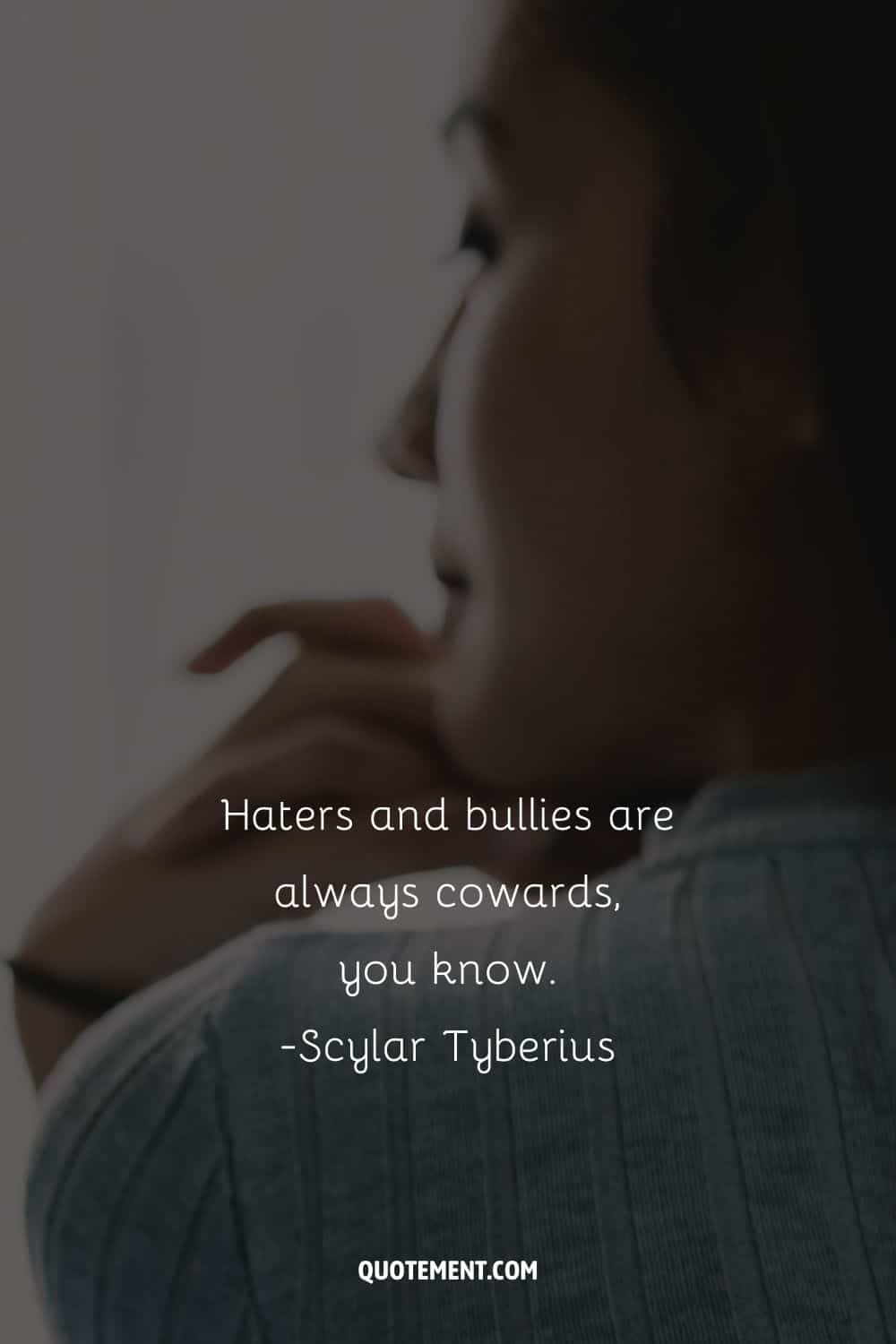 2. "Most haters are stuck in a poisonous mental prison of jealousy and self-doubt that blinds them to their own potentiality." ― Steve Maraboli, Unapologetically You: Reflections on Life and the Human Experience
3. "When God takes out the trash, don't go digging back through it. Trust Him."― Amaka Imani Nkosazana, Heart Crush
4. "Friends ask you questions; enemies go around asking others about you looking for the answer they want to believe" ― Maria Nieves
5. "You love doing your haters a favor by putting them out of their misery at close proximity with wide-barreled arms of inclusivity." ― Curtis Tyrone Jones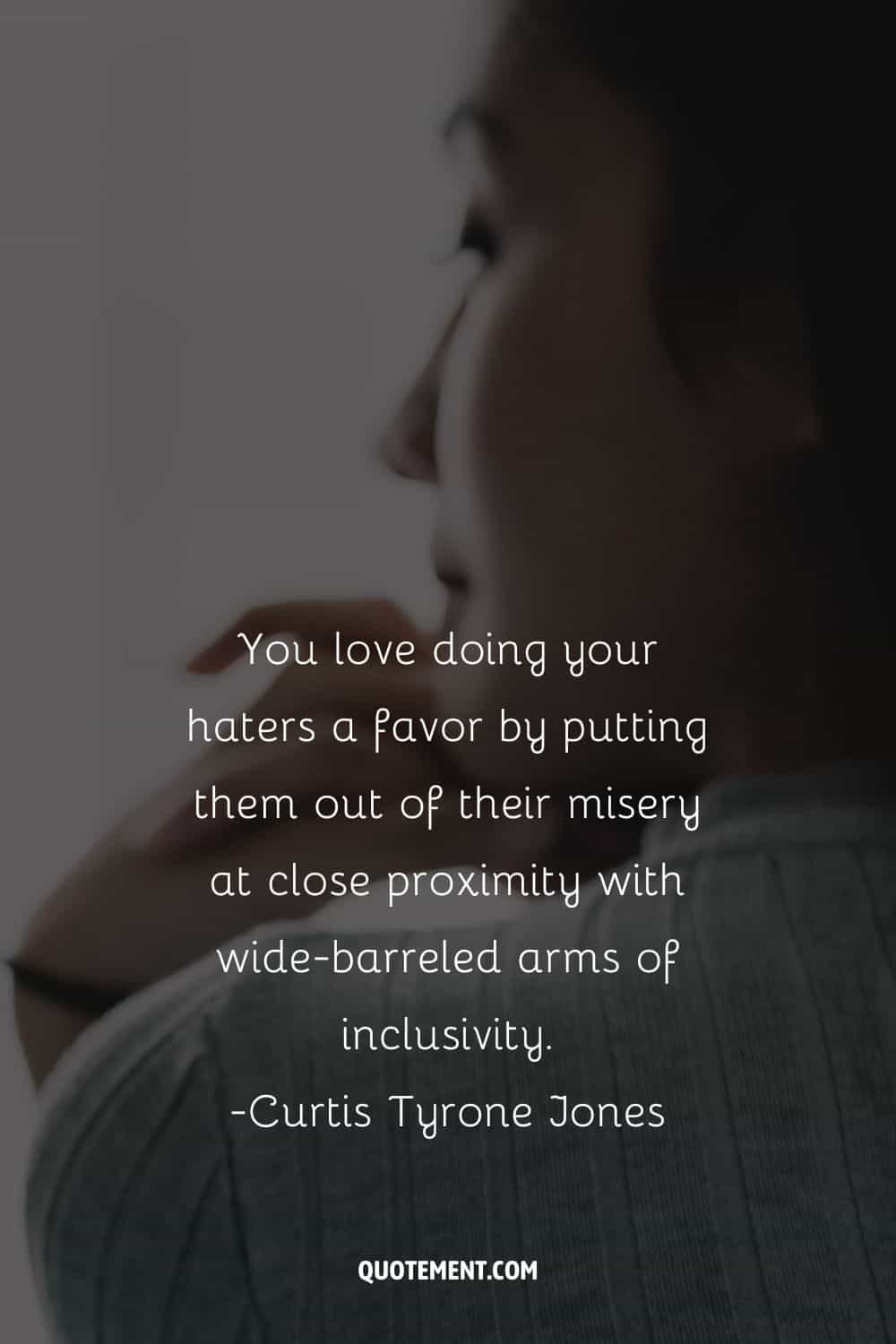 6. "Some of the people who we think care that we hate them do not even care that there are people who love them."― Mokokoma Mokhonoana
7. "The haters are the ones that must investigate what is wrong with themselves and why they spread negative vibes instead of encouraging people to follow their dreams and be better in what they do." ― Maria Karvouni
8. "It is even more unpleasant to hate someone who does not even know that you exist." ― Mokokoma Mokhonoana
9."Haters need to see you go down to lift themselves up." ― Oscar Auliq-Ice
10. "The more you focus on someone's downfall, the less likely you are to rise." ― Carlos Wallace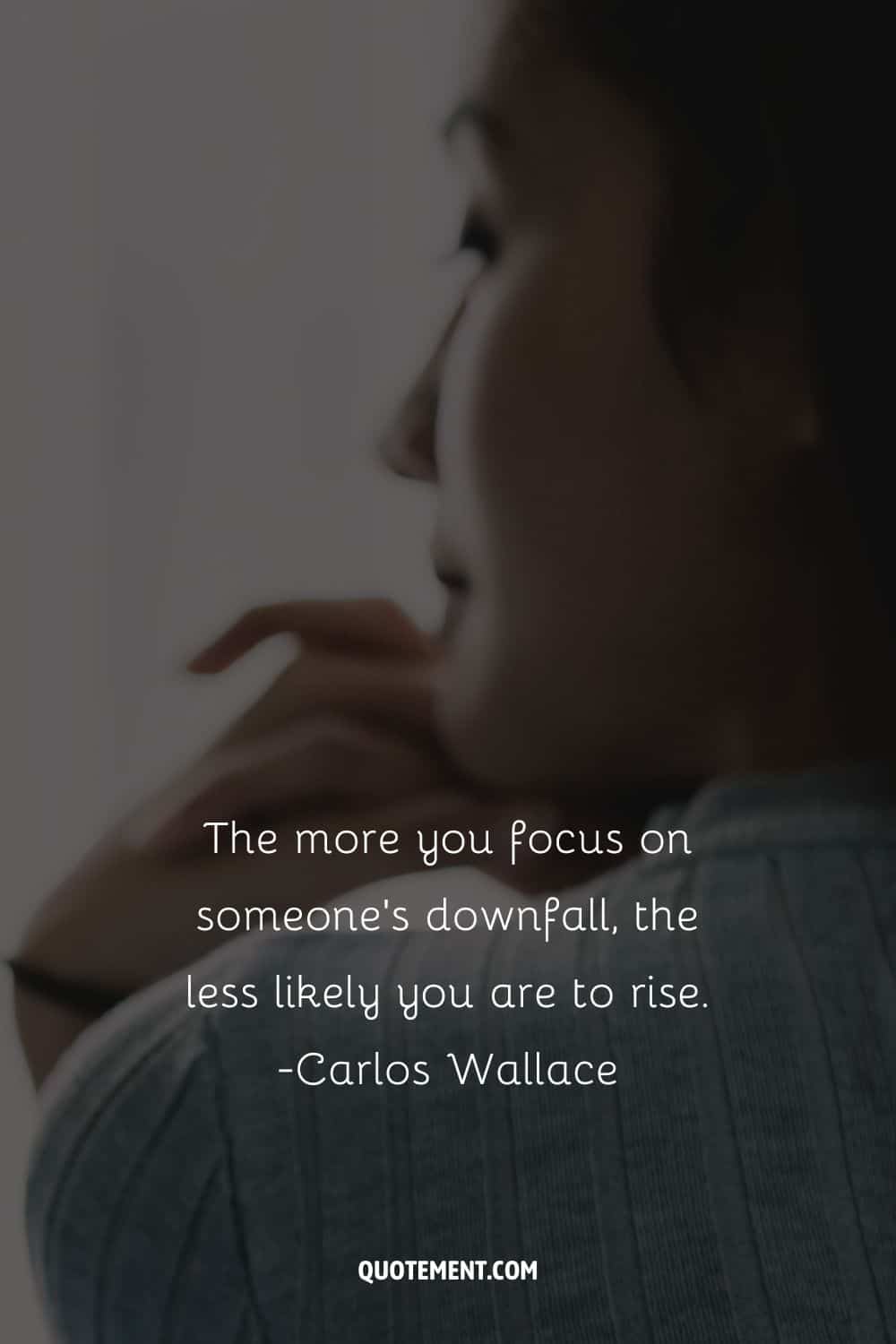 Hater Quotes That Would Serve As The Best Captions
1. "When God takes out the trash, don't go digging back through it. Trust Him." ― Amaka Imani Nkosazana, Heart Crush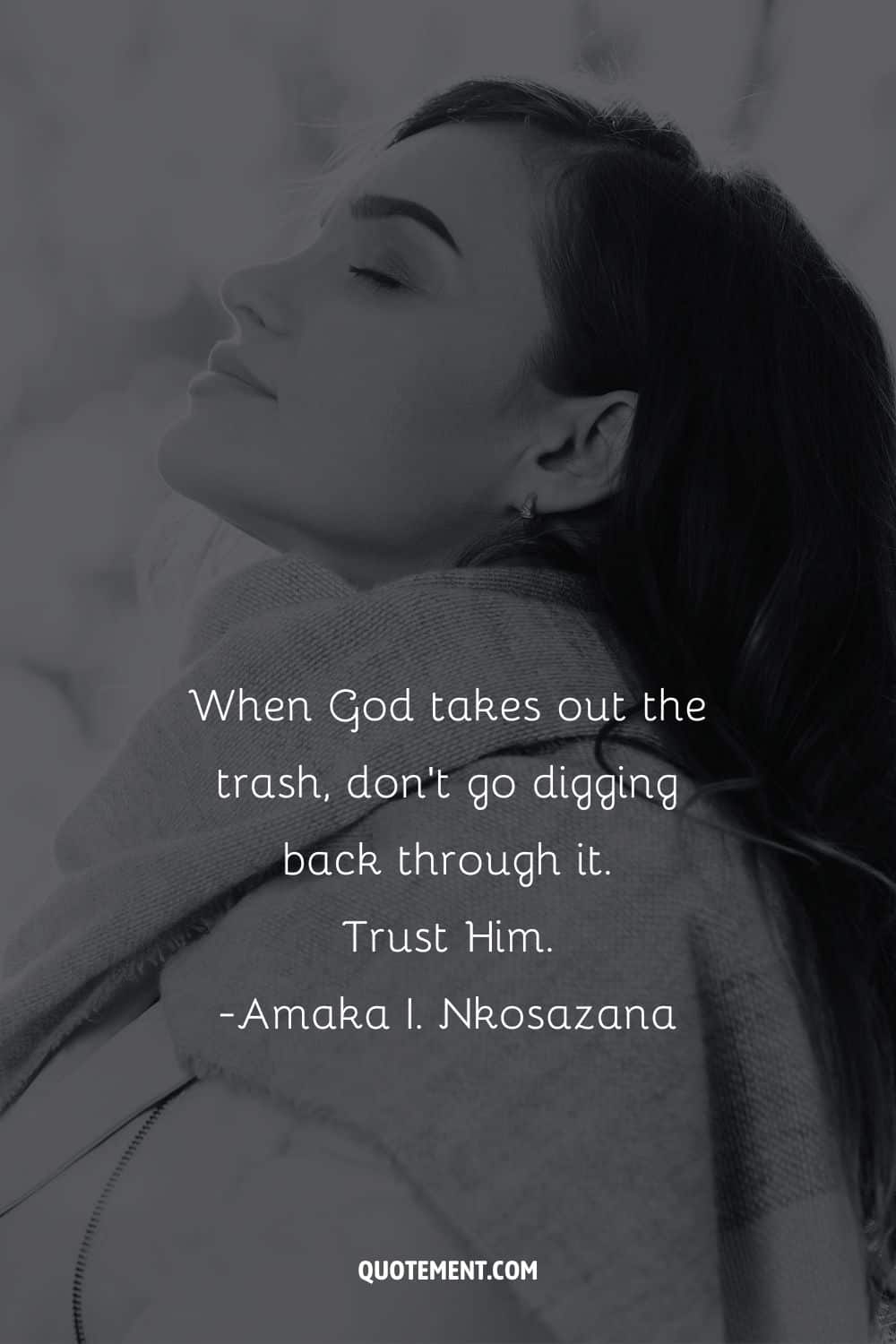 2. "I don't have time, energy, or interest in hating the haters; I'm too busy loving the lovers." ― Steve Maraboli, Unapologetically You: Reflections on Life and the Human Experience
3. "Haters are my favorite. I´ve built an empire with the bricks they´ve thrown at me. Keep on hating…" ― CM Punk
4. "My father never taught me to hate anybody; that's why I never get upset when I meet more haters after giving love." ― Sonal Takalkar
5. "Pay the rent in gratitude to your haters for living rent-free in their heads." ― Sayem Sarkar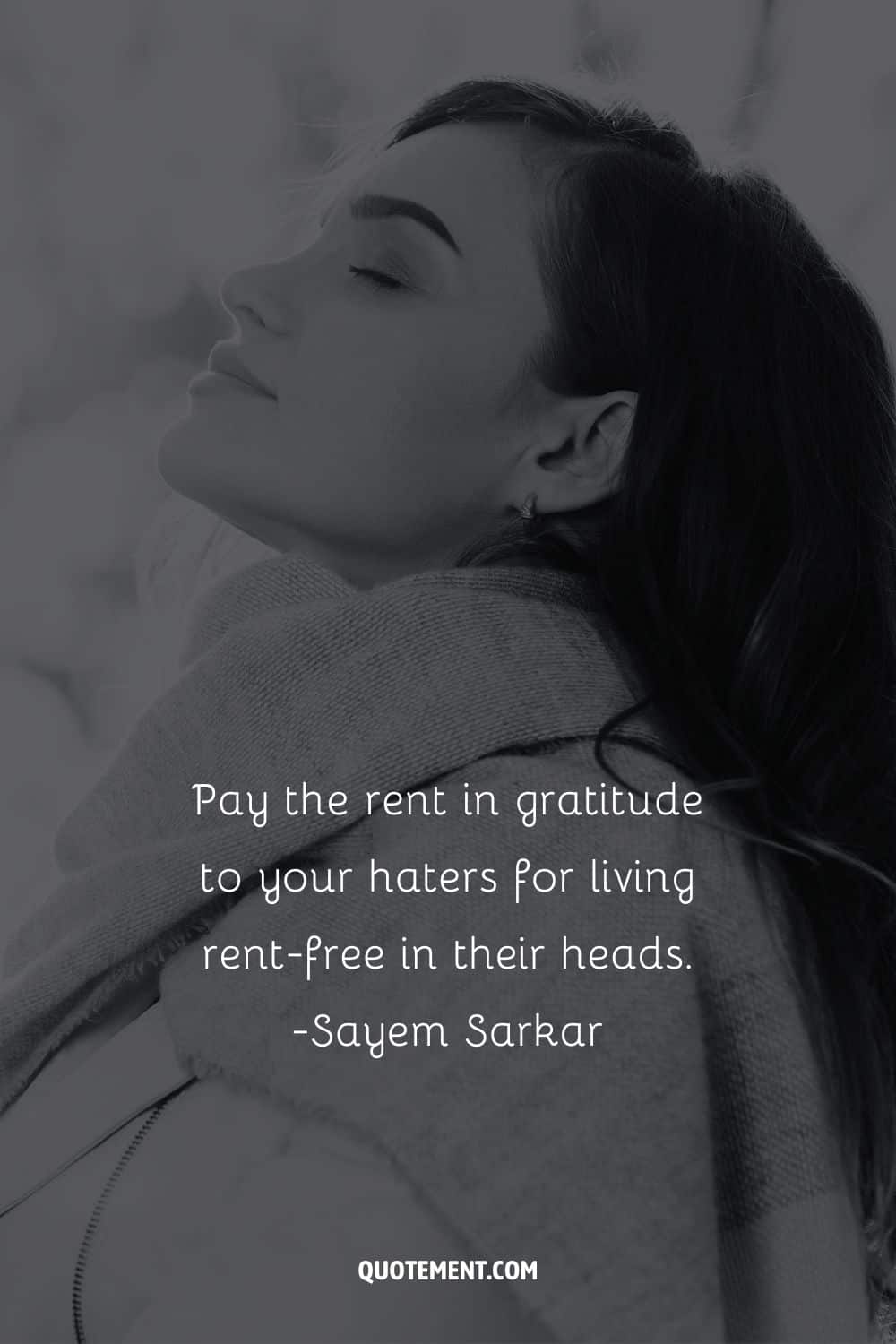 6. "Always thank your haters because they may remember you more than anyone else in the world." ― Sayem Sarkar
7. "How do I handle haters? If my connection to someone disappears when I don't have wifi, I don't stress about their opinion. " ― Steve Maraboli
8. "If you love me I am in your heart, if you hate me I am in your head, either way it's flattering to know that you can't spend a moment without me." ― Abhijit Naskar
9. "You have to stop worrying about whether people like you. Some people don't even like themselves." ― Andrena Sawyer
10. "Some people will hate you for not hiding your blessings." ― Mokokoma Mokhonoana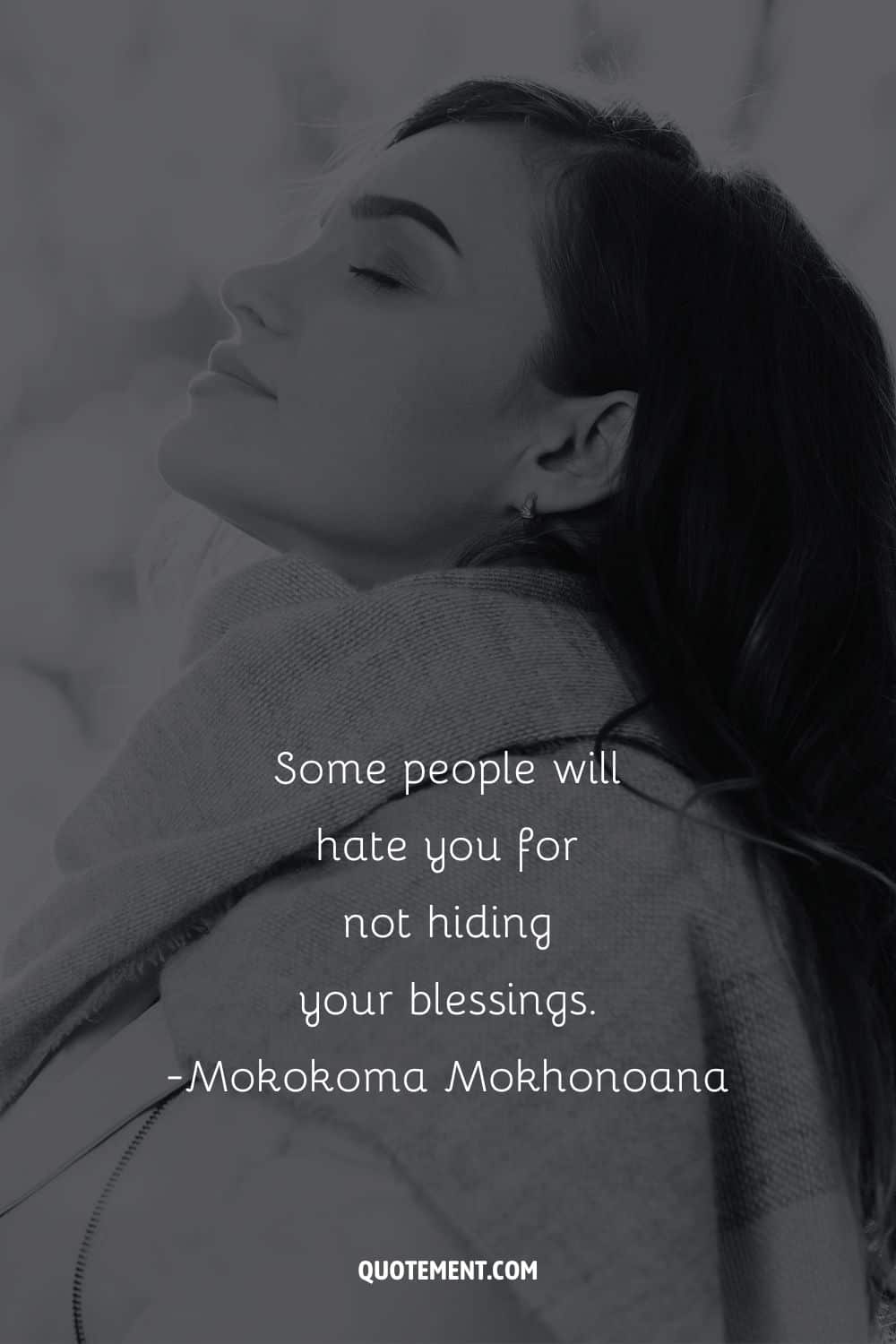 11. "We need not reply or even listen to people who are talking about—not to—us." ― Mokokoma Mokhonoana
12. "Hater you can find in a moment, but it takes an eternity to find a true well-wisher." ― Shon Mehta, The Timingila
13. "Most haters are like cobras; they spit evil and deadly venom , but don't let the Viper's bite poison you, kill them slowly with the living fire of your success." ― Motherly Love
14. "Dear haters, You're never going to catch up. Because while you're talking about how "lucky" I am, I'm working. While you're talking about what you're going to do, I'm already doing it. While you're making resolutions, I'm setting behaviors." ― Steve Maraboli
15. "Do not allow haters to ruin your happiness." ― Gift Gugu Mona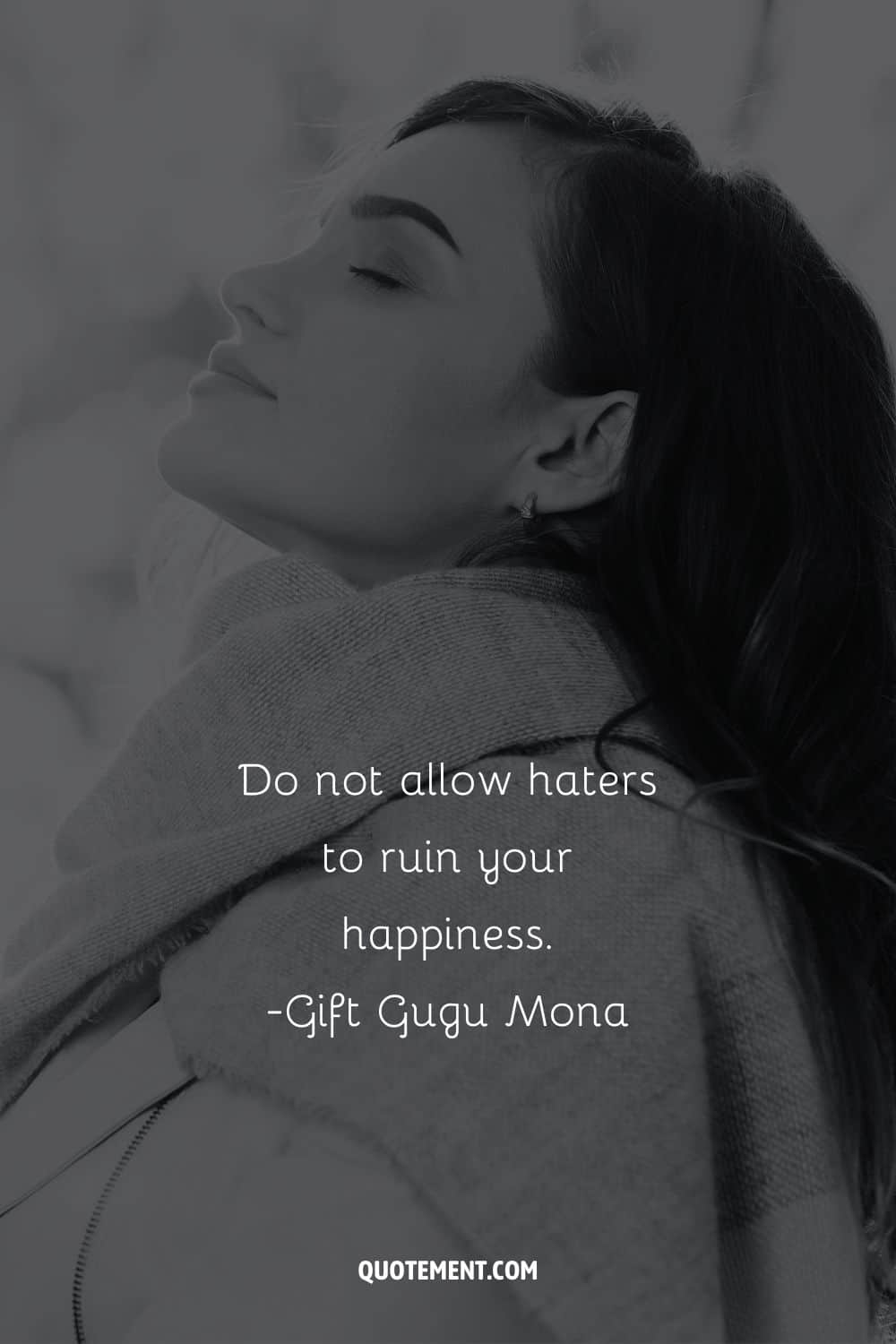 16. "If only you could see the greatness in yourself, you wouldn't envy the greatness in others." ― Suzy Kassem
17. "Reflect who you truly are even when people try to tempt you to reflect the wrong image of yourself." ― Cyc Jouzy
18. "Remember how many people want to see you losing? It is your duty to make sure that they keep waiting… forever!" ― Harshvardhan Malpani
19. "Being hated isn't easy, you know. You just cannot falter meeting their expectations." ― Aniruddha Sastikar
20. "If my fall made you smile, you might not want to witness what's about to happen when I get up." ― Yvonne Pierre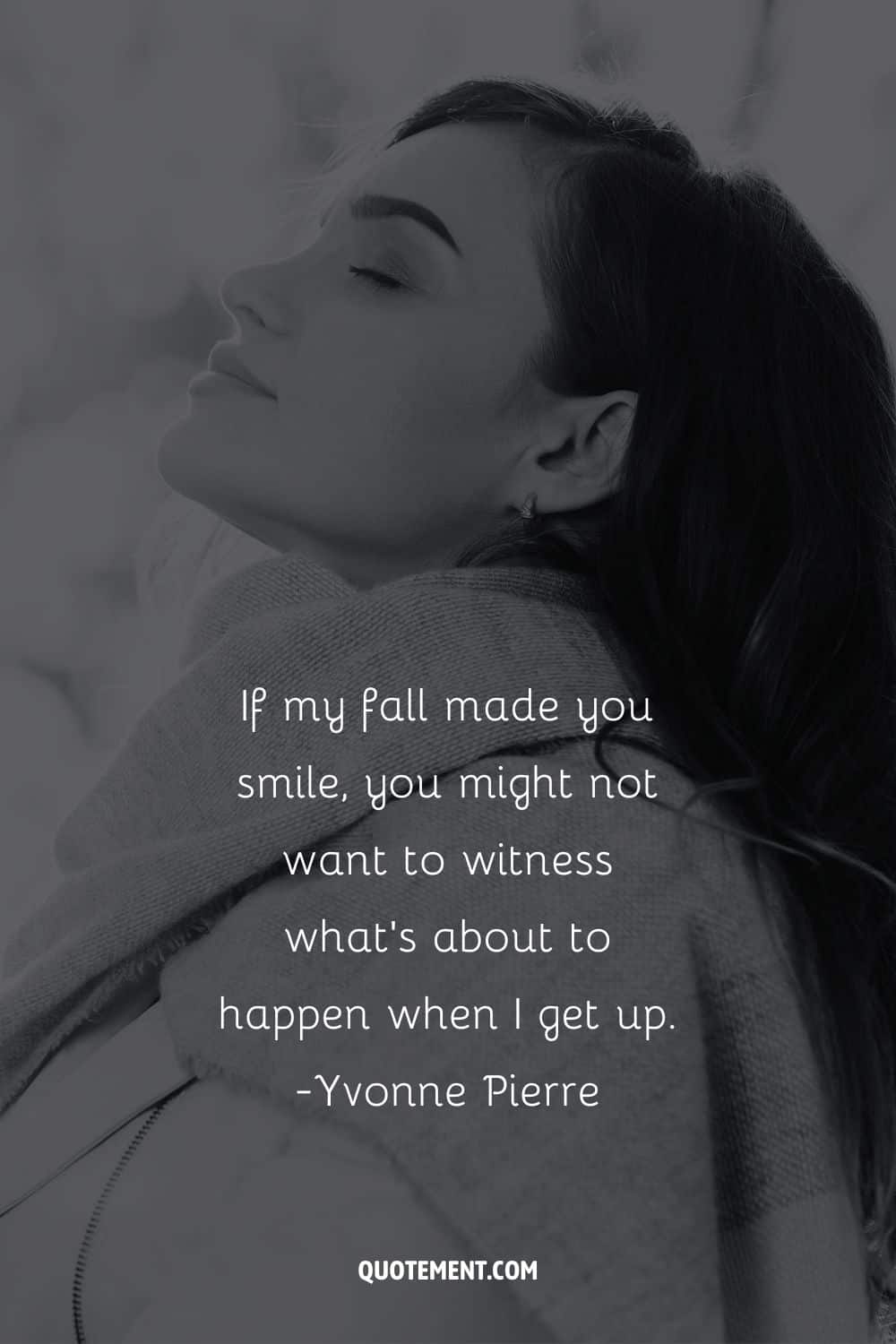 See also: 160 Best Petty Captions To Spice Up Your Instagram Game
Hater Quotes To Think About
1. "Don't think that just because you made it to the next level that the haters and naysayers disappear. Remember, new levels bring new devils." ― Steve Maraboli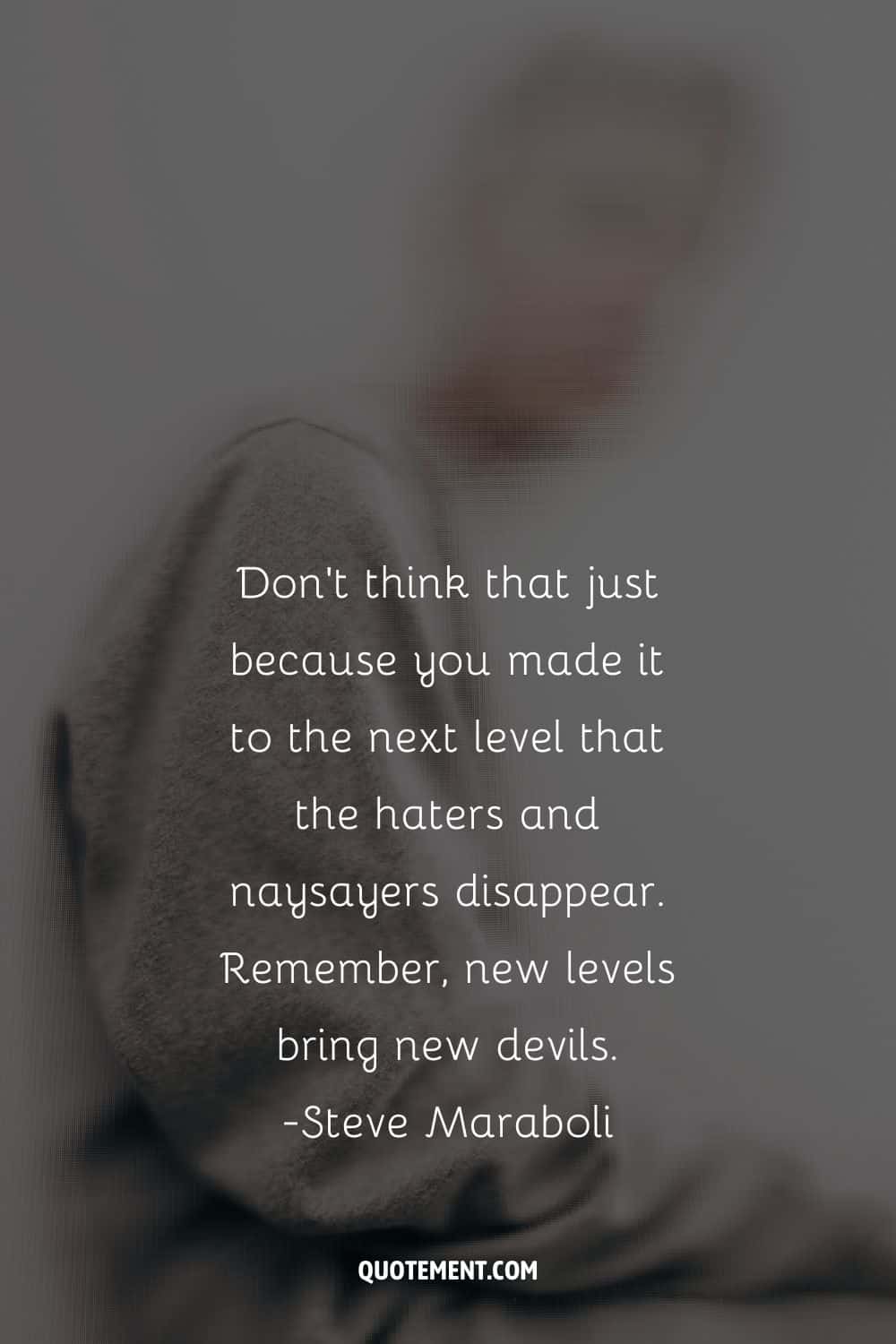 2. "We are way less likely to love someone just because they love us than we are to hate someone just because they hate us." ― Mokokoma Mokhonoana
3. "Knowledge planted in truth grows in truth.
Strength born of peace loses nothing to hate." ― Aberjhani, Elemental: The Power of Illuminated Love
4. "You create silent enemies by revealing how much God has blessed you." ― Michael Bassey Johnson
5. "Hate your haters, then you are no different from them." ― Racine Bamwanya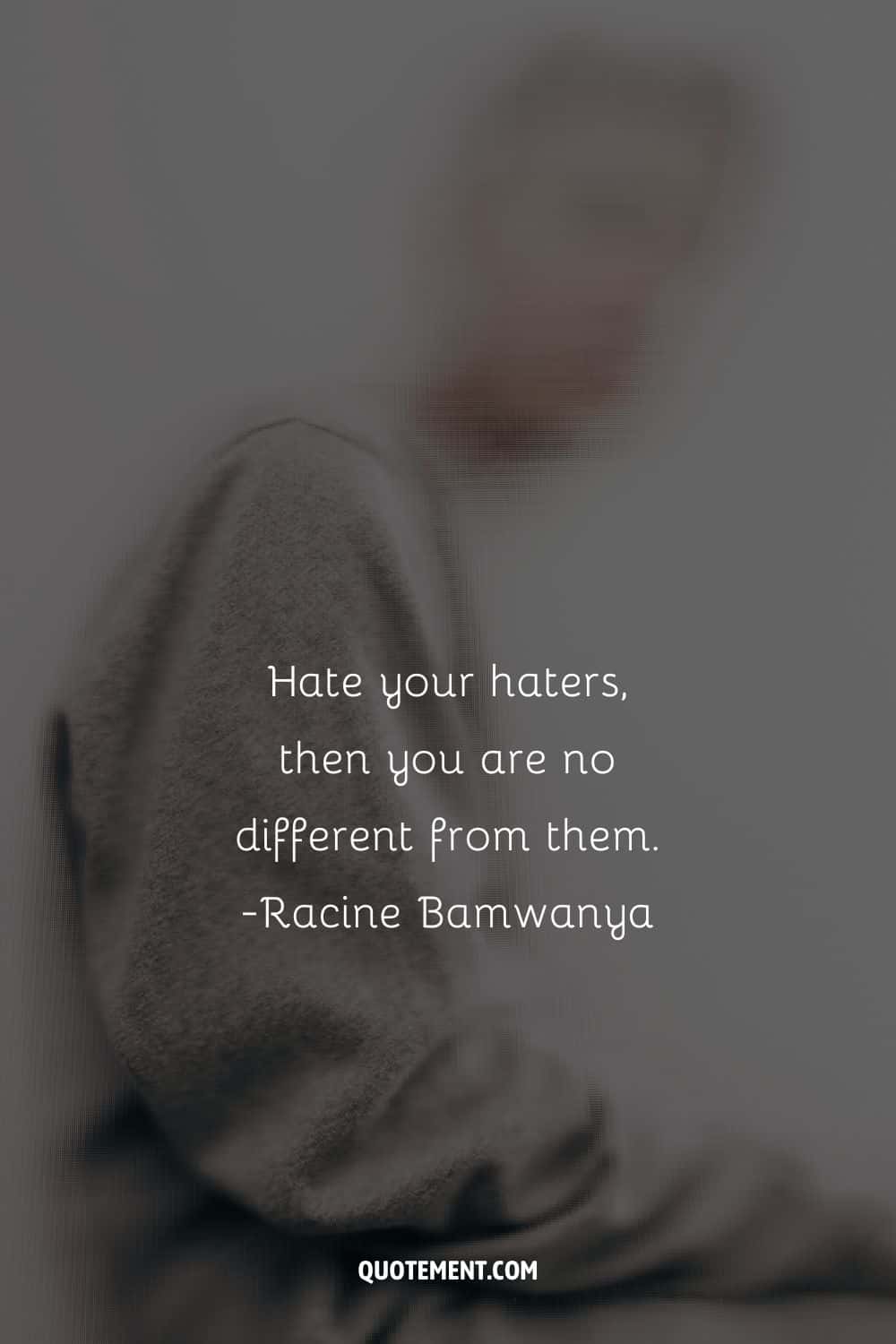 6. "Haters gonna hate, no matter what you choose to do. So, you might as well do what makes you happy." ― Anthon St. Maarten
7. "If there are no obstacles or enemies in your path, you're going the wrong way." ― Sebastien Richard
8. "Anyone who talks hatefully about themselves or others is not in the right place to offer the world advice." ― Drue Grit
9. "If everyone hates you then you are doing something wrong. If no one hates you then also you are doing something wrong." ― Pruthvi Sagar VC
10. "If a hater can directly influence your plans, then your plans aren't ambitious enough." ― Oscar Auliq-Ice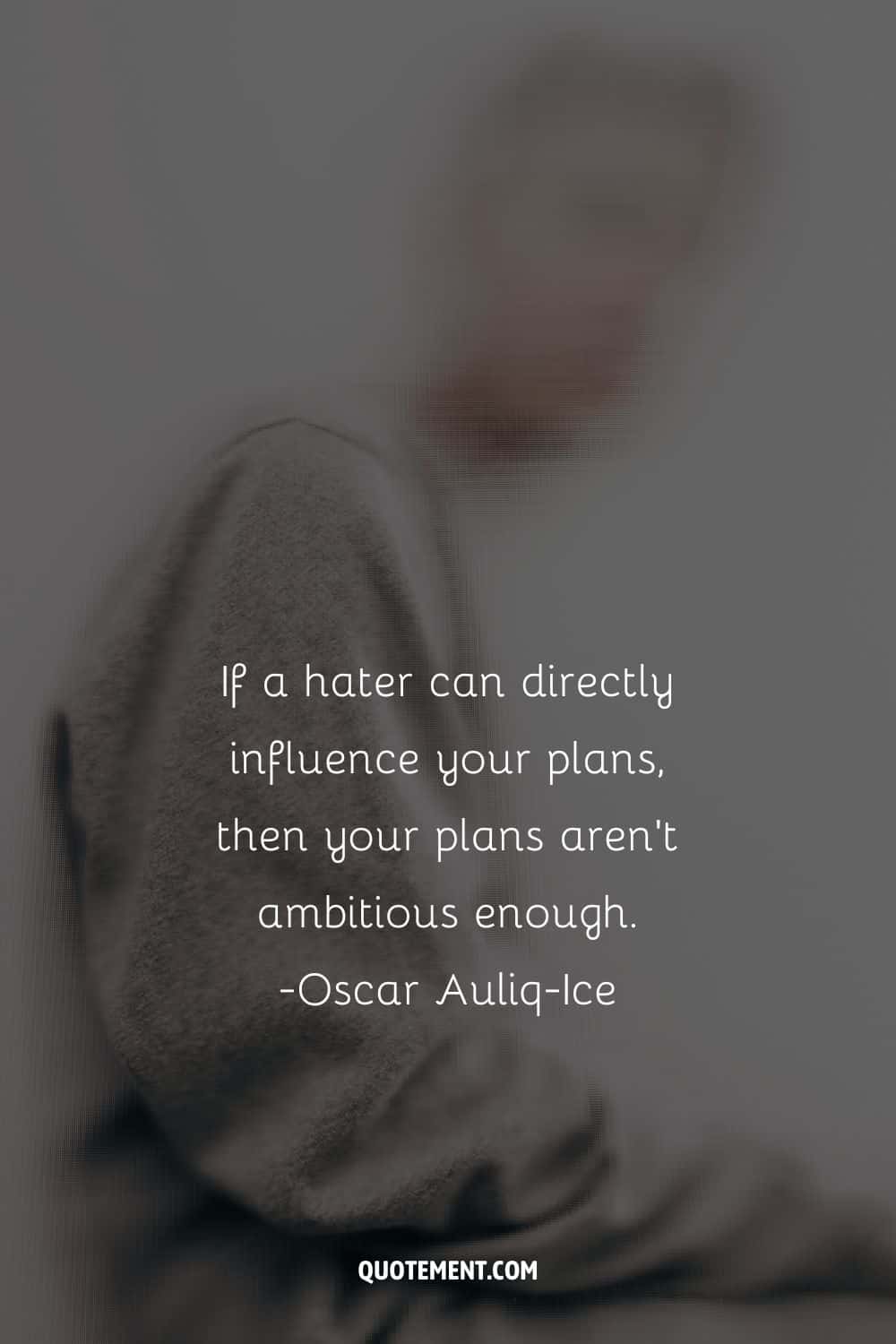 11. "When you move past them on the social ladder, they'll feel a need to pull you down." ― Oscar Auliq-Ice
12. "Your failures make a hater happier than their own success." ― Oscar Auliq-Ice, The Secret of Greatness
13. "There is no magic wand to get rid of haters. There is no secret spell to win them over to your side." ― Oscar Auliq-Ice
14. "Love your haters. People shed layers when they feel warmth." ― Richie Norton
15. "Stop letting your haters write your bio." ― Steve Maraboli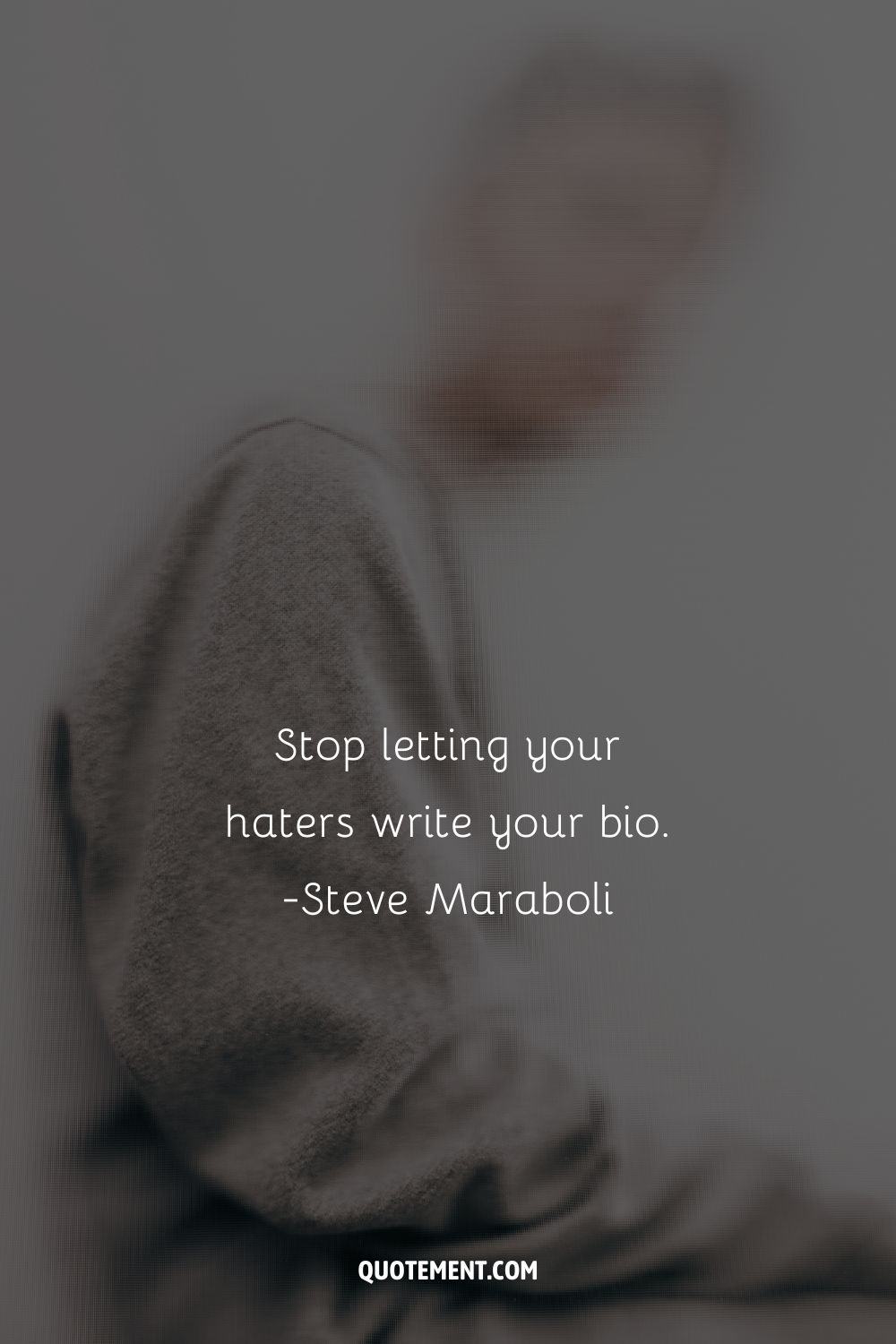 16. "Folks who scream the loudest get heard, and those who spew the most negative, most repeatedly, get falsely perceived as telling the truth." ― Cathy Burnham Martin
17. "When we hate other people, it reduces ourselves." ― Kilroy J. Oldster, Dead Toad Scrolls
18. "If you can't handle haters on this level, then you're not ready for the Next Level." ― Jeanette Coron
19. "Trolls and haters are only distractions from your greater purpose. When you achieve your goals and success, not only will the trolls and haters be forgotten, but they will definitely be looked upon as the biggest fools. – Strong by Kailin Gow on Staying Strong" ― Kailin Gow
20. "There's so much hate in this world, but the most despicable are those who find themselves entitled to hate because of mass opinion." ― Radhika Mundra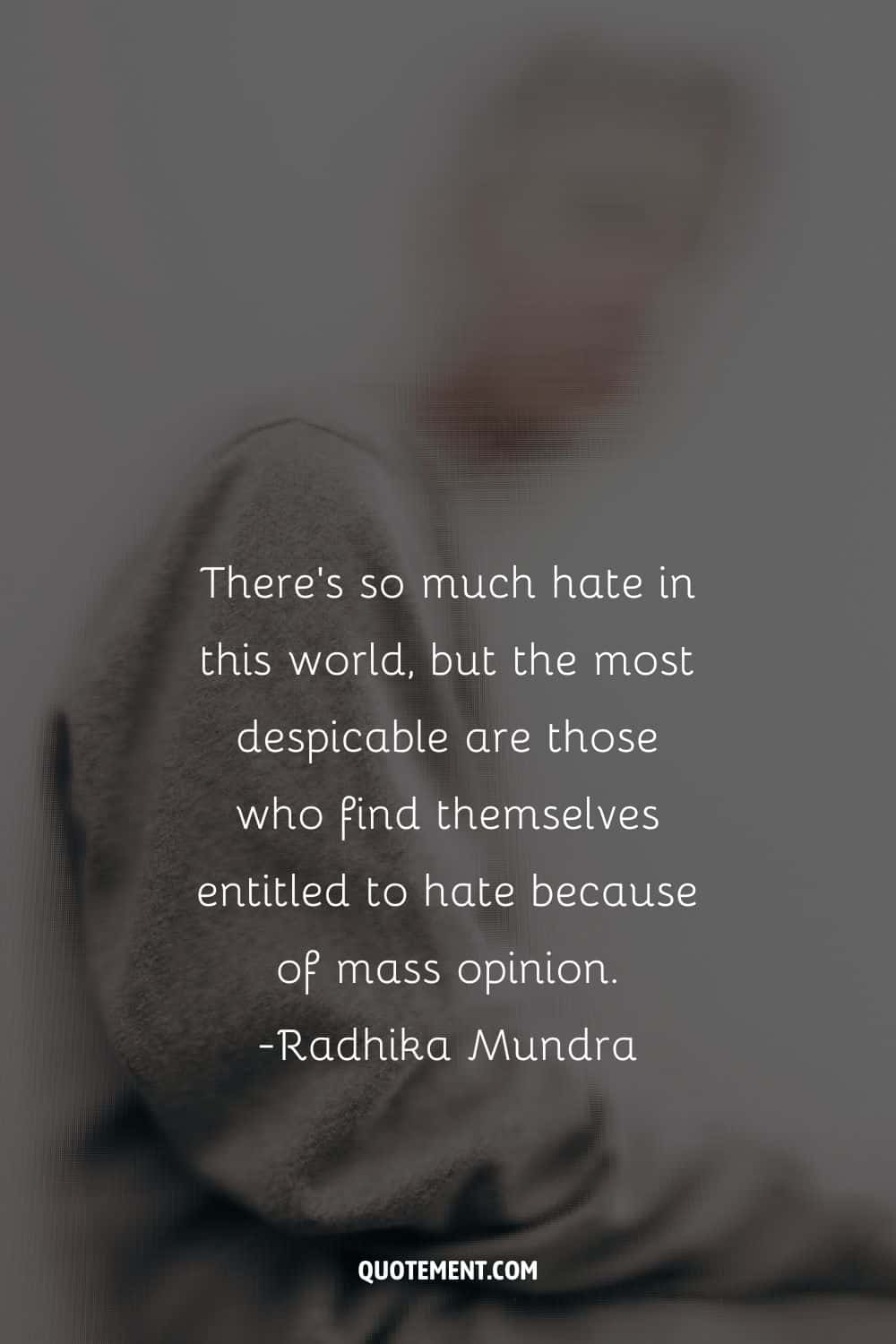 21. "Stay away from people who don't know who they are but want you to be just like them. People who'll want to label you. People who'll try to write their fears on your face."
― Richard Peck, The Best Man
22. "Jealousy is a serious disease, that reflects who people are when others are achieving great things. It has nothing to say about the person they are hating but has everything to say about who they are. People who injects negativity and expect others to fail so that they can celebrate." ― De philosopher DJ Kyoss
23. "When people support you when you have done something wrong. It doesnt mean you are right, but it means those people are promoting their hate , bad behavior or living their bad lives through you." ― De philosopher DJ Kyos
24. "I dont celebrate any friendship that was build on hate, because we share the common enemy." ― De philosopher DJ Kyos
25. "We hate people who honestly tell us what they think about us. We wish we were what we are not" ― Bangambiki Habyarimana, Pearls Of Eternity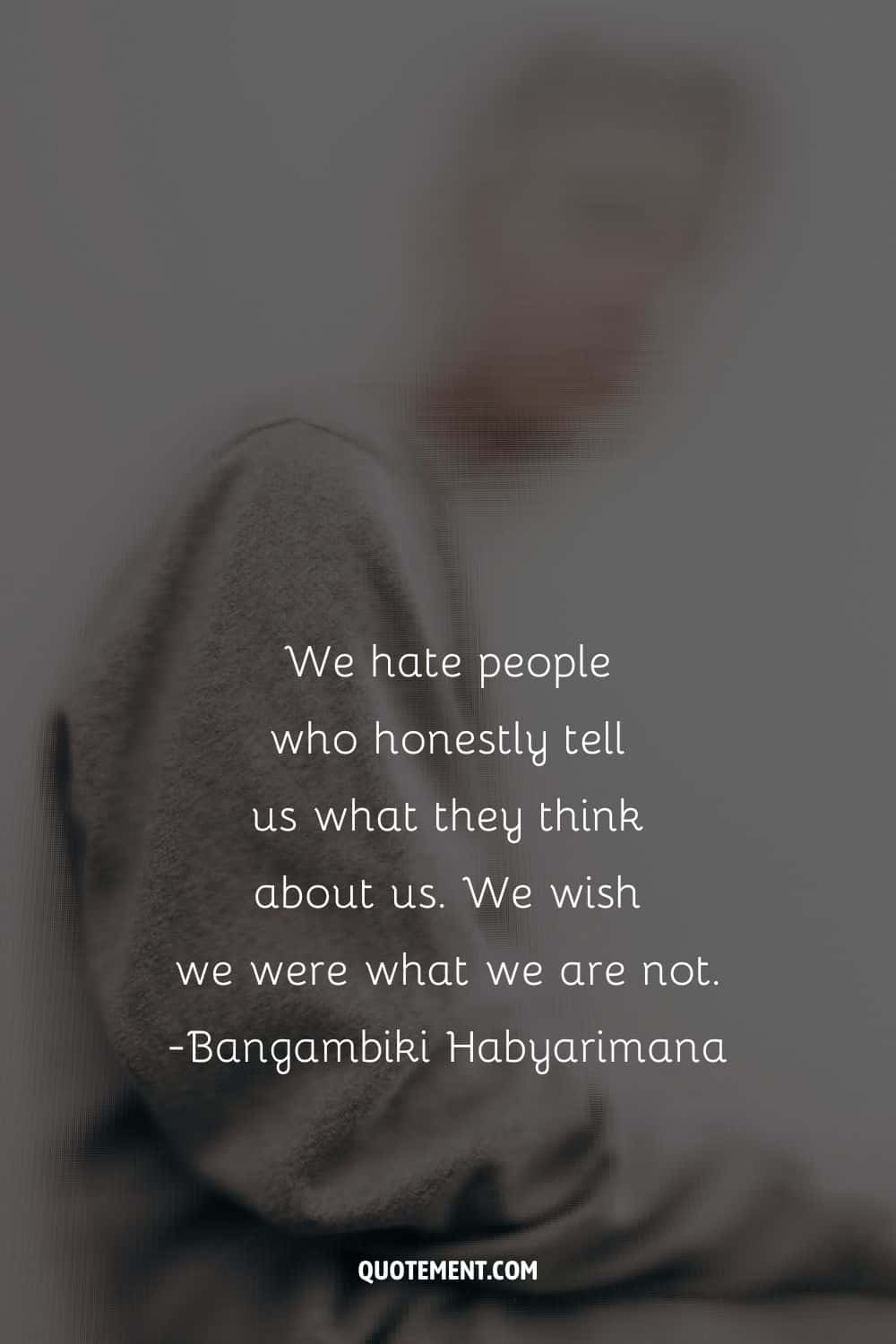 26. "It is very normal for one ugly weed to not want to stand alone." ― Suzy Kassem
27. "You gotta know that People will say a million negative things about you before they mention 1 good thing, don't be surprise if they never said that 1 good thing about you." ― Werley Nortreus
28. "Sometimes people can be negative, especially about my confidence. I trust myself, I refuse to obey, and I noticed there is a need to punish me for it. But haters are important because they show you you're doing something right. I'm scared of unanimity, artists who everybody likes. When you speak your mind and you're loud, you will attract negativity. But I have thick skin. I think the fact that I was severely bullied in my childhood helped me build strength and believe in my artistic vision. I deal with rejection very well. I have a lifelong vision and an unbreakable spirit." ― Nuno Roque
29. "When you pursue your goals with passion, you will attract people who love you; but you'll also attract haters. I'm okay with that; I welcome it. I don't want to live life as a spectator. I've learned that if no one is cheering you on and/or booing you; it means you're not in the game." ― Steve Maraboli
30. "It's very simple. Liars initiate, haters carry forward, fools spread, idiots believe and mindful void." ― Aditya Ajmera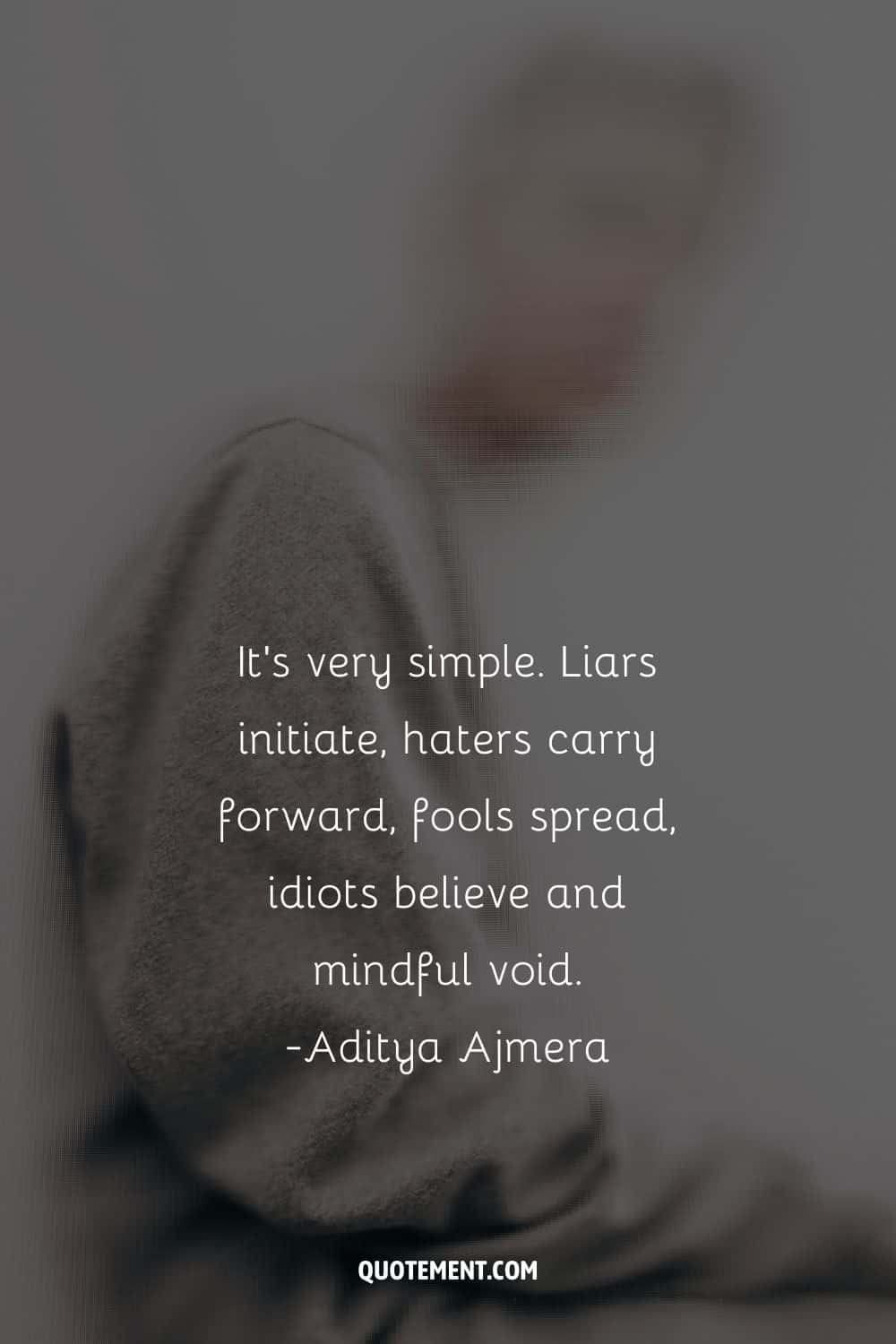 Final Word
I hope that you are on the path of understanding that haters are nothing more than people who are jealous of your personality, goals and achievements. That's why, reading these hater quotes will help you understand their mentality better.
Other than that, I am happy that you are visiting these hater quotes, because that means that you are on the right path! Since you have some haters, it means that you have something that they don't.
Don't ever let them take your power away from you. Keep going the way you started to go, and you will shine brighter than they would, ever. I'm cheering for you!
Read next: 130 Know Your Worth Quotes To Remind You Of Your Greatness