Life often challenges us to move on to a new future when we feel least ready.
It may be a breakup you didn't see coming, a friendship you never expected to end, a job you lost, or a loved one gone too soon — moving on is something we all gotta do.
No, it's not easy, but it's not impossible either. And in most cases, what we move into is the greater good.
Here are the best moving on quotes I found online to remind you that stepping away from the familiar and embracing the unknown will bring you the peace you need.
Many people have been down this road before you and managed to come out on the other side.
Read their quotes about change in life and moving on, bask in their wisdom, and know that even if it feels like it, you're really not alone in your agony.
10 Best Moving On Quotes
1. "Cry. Forgive. Learn. Move on. Let your tears water the seeds of your future happiness." — Steve Maraboli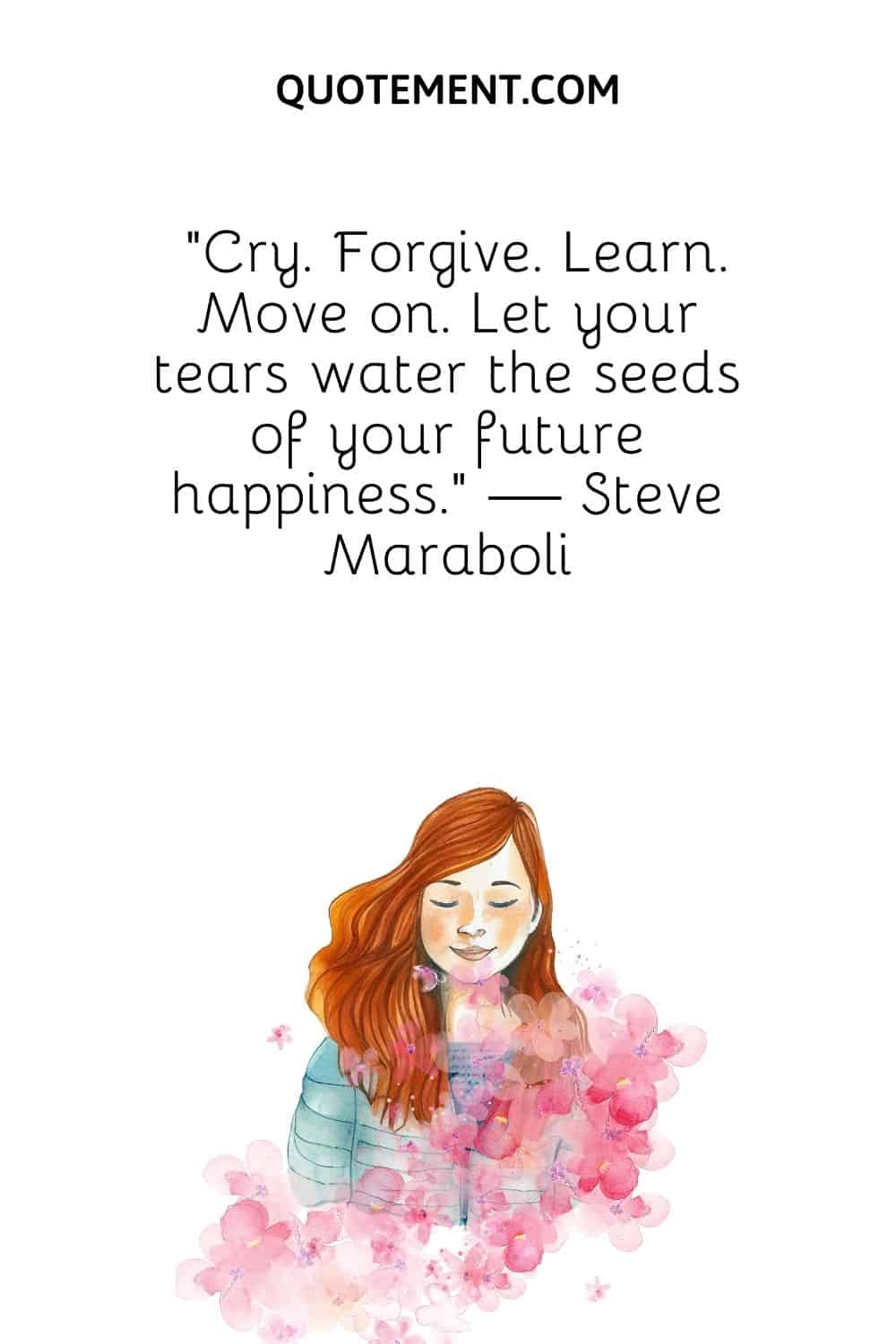 2. "If you can't fly then run, if you can't run then walk, if you can't walk then crawl, but whatever you do you have to keep moving forward." — Martin Luther King Jr.
3. "Moving on doesn't mean you forget about things, it just means you have to accept what happened and continue living." — Erza Scarlet
4. "Moving on will show you a lot about who you are, what you truly want, and what you have no desire to waste your time on." — April Mae Monterrosa
5. "Let go over a cliff, die completely, and then come back to life — after that you cannot be deceived." — Zen Proverb
6. "Take all the time you need to heal emotionally. Moving on doesn't take a day, it takes lots of little steps to be able to break free of your broken self." — Tere Arigo
7. "There comes a time in your life when you have to choose to turn the page, write another book or simply close it." ― Shannon L. Alder
8. "That's all you can do in this world, no matter how strong the current beats against you, or how heavy your burden, or how tragic your love story is. You keep going." ― Robyn Schneider
9. "Expect trouble as an inevitable part of life and repeat to yourself, the most comforting words of all: This, too, shall pass." — Ann Landers
10. "I demolish my bridges behind me…then there is no choice but to move forward." ― Fridtjof Nansen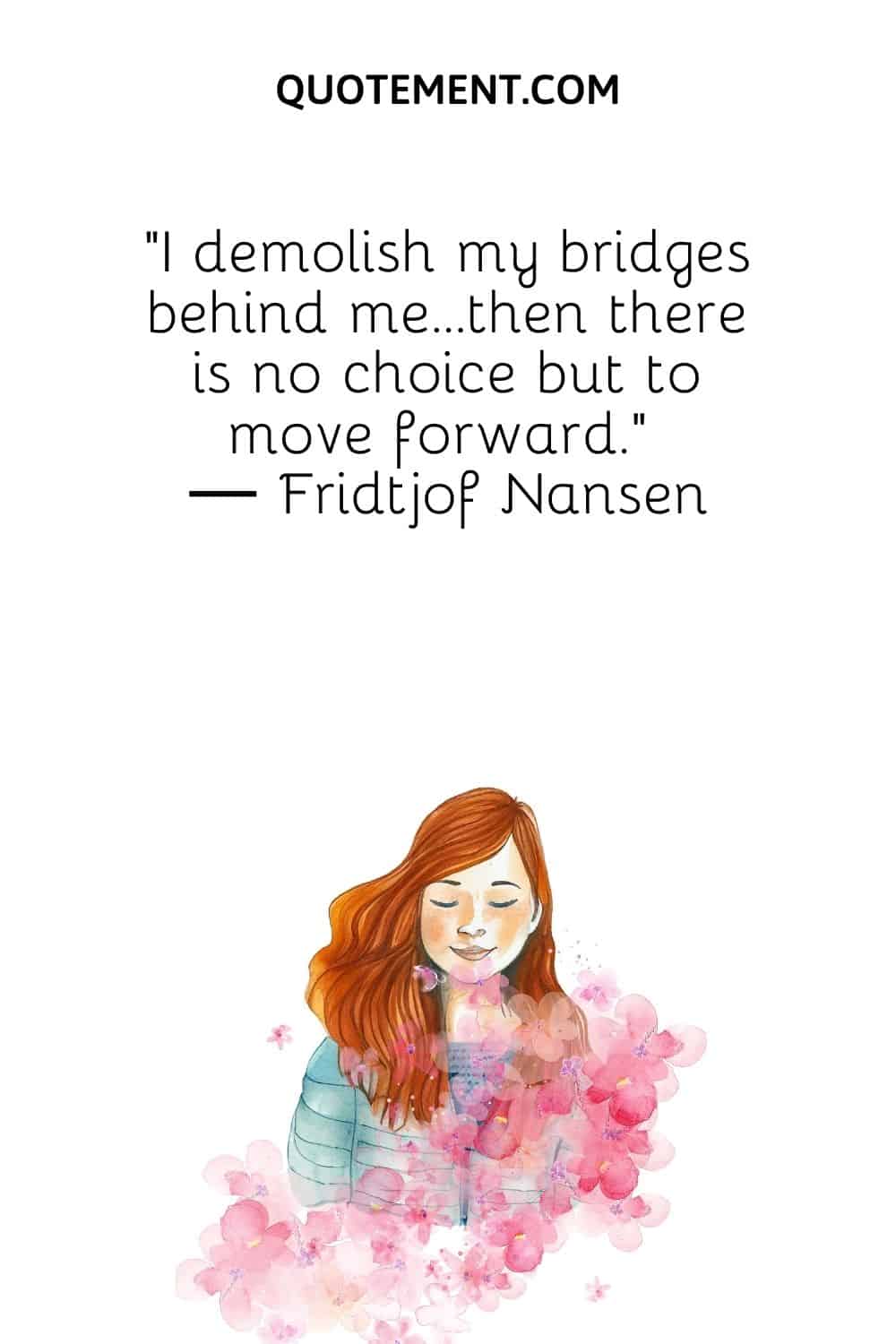 Short Quotes On Moving On
1. "Life is like riding a bicycle. To keep your balance you must keep moving." — Albert Einstein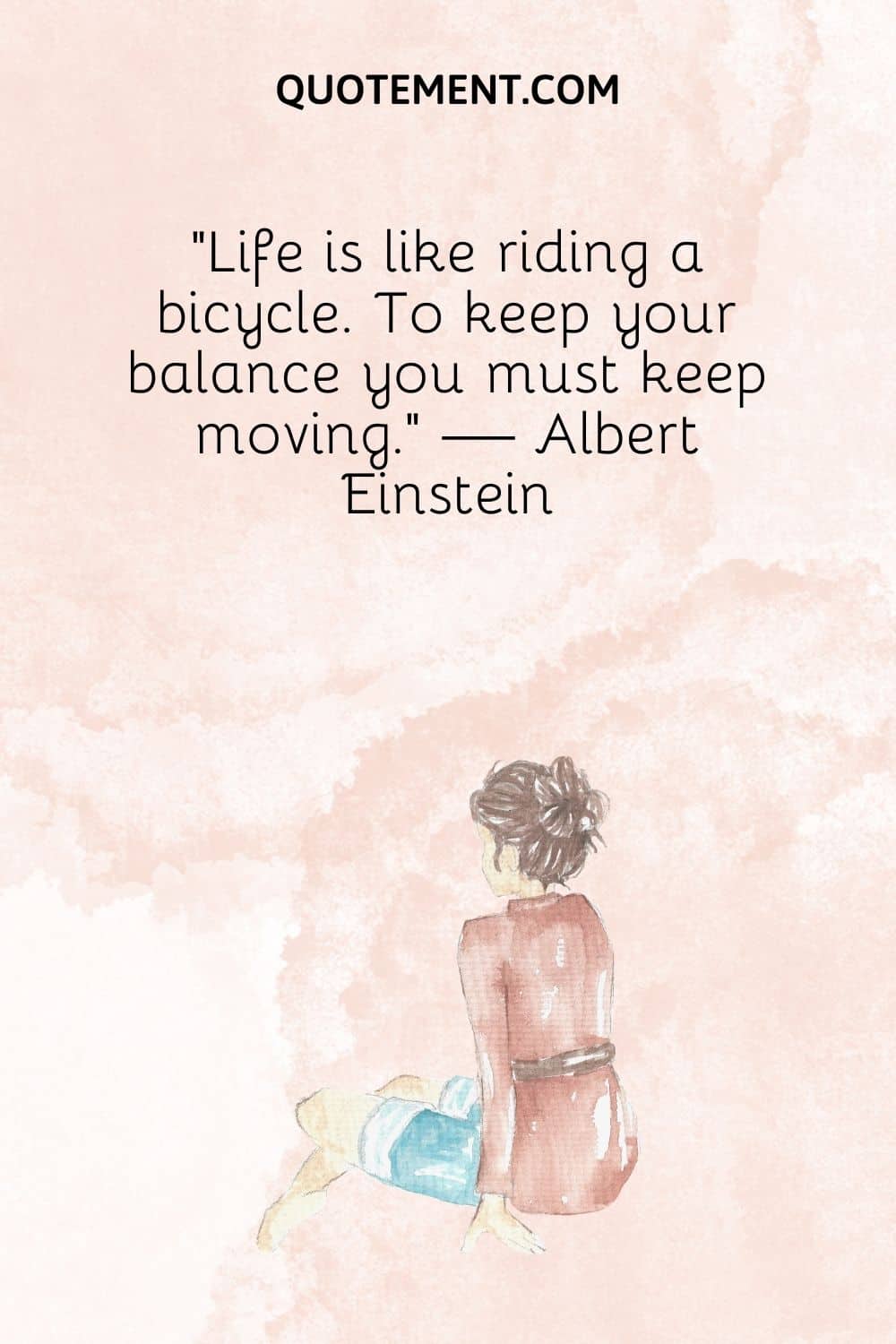 2. "I can enjoy anywhere, and I can leave it. Life is about moving on." — Waris Dirie
3. "The heart will break, but broken live on." — Lord Byron
4. "One must move on in any situation of life. The time is not going to stop anyway." — Invajy
5. "Life is about making the right decisions and moving on." — Josh Rayburn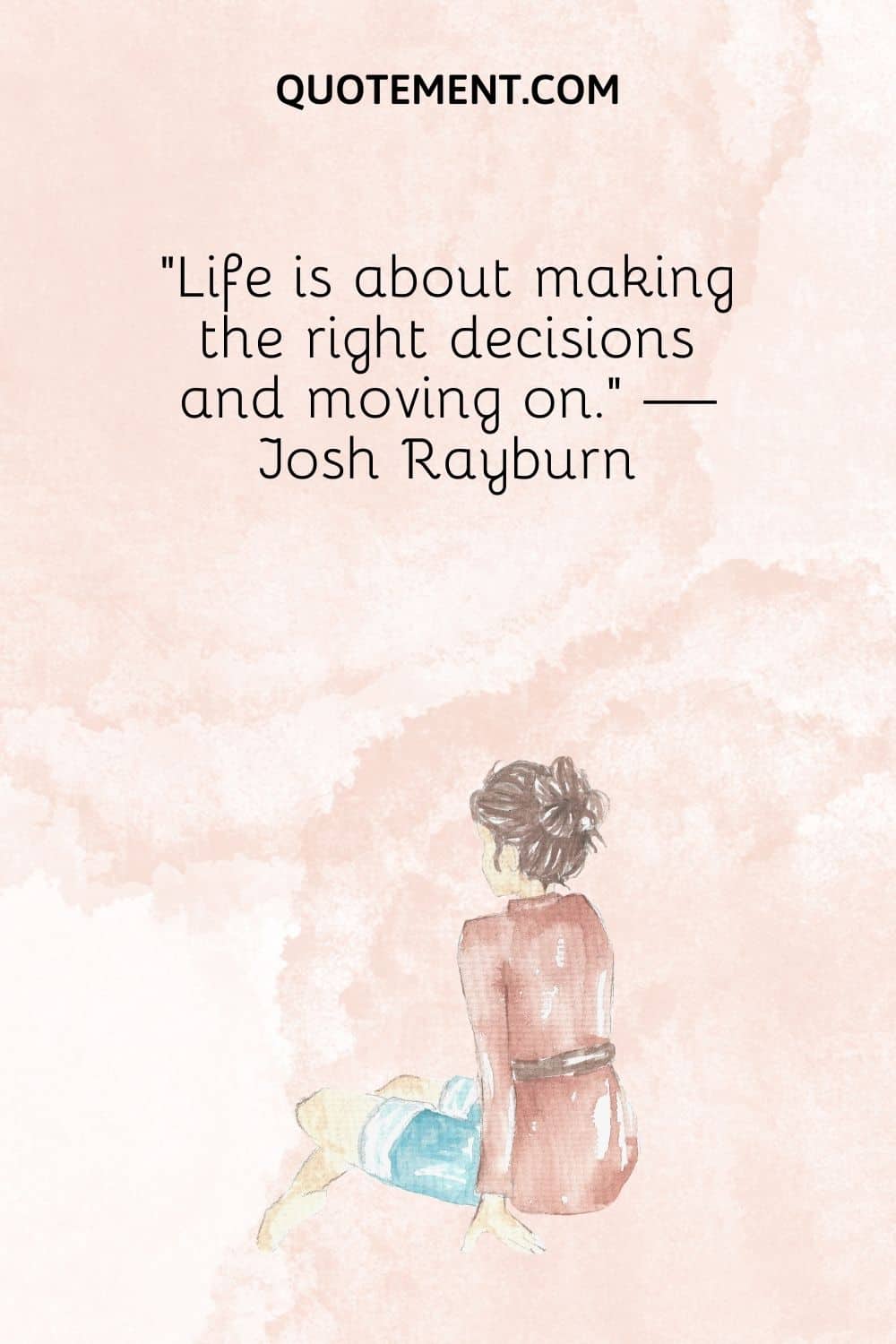 6. "That which does not kill us makes us stronger." — Friedrich Nietzche
See also: 60 Inspirational You Are Stronger Than You Think Quotes
7. "Often the thought of pain is actually worse than the pain itself." — Greg Behrendt
8. "Moving on is self-care, which is intelligence." ― Maxime Lagacé
9. "Part of the game is moving on. And you do." — Chris Hughton
10. "Letting go is hard but being free is beautiful." — Wilder Poetry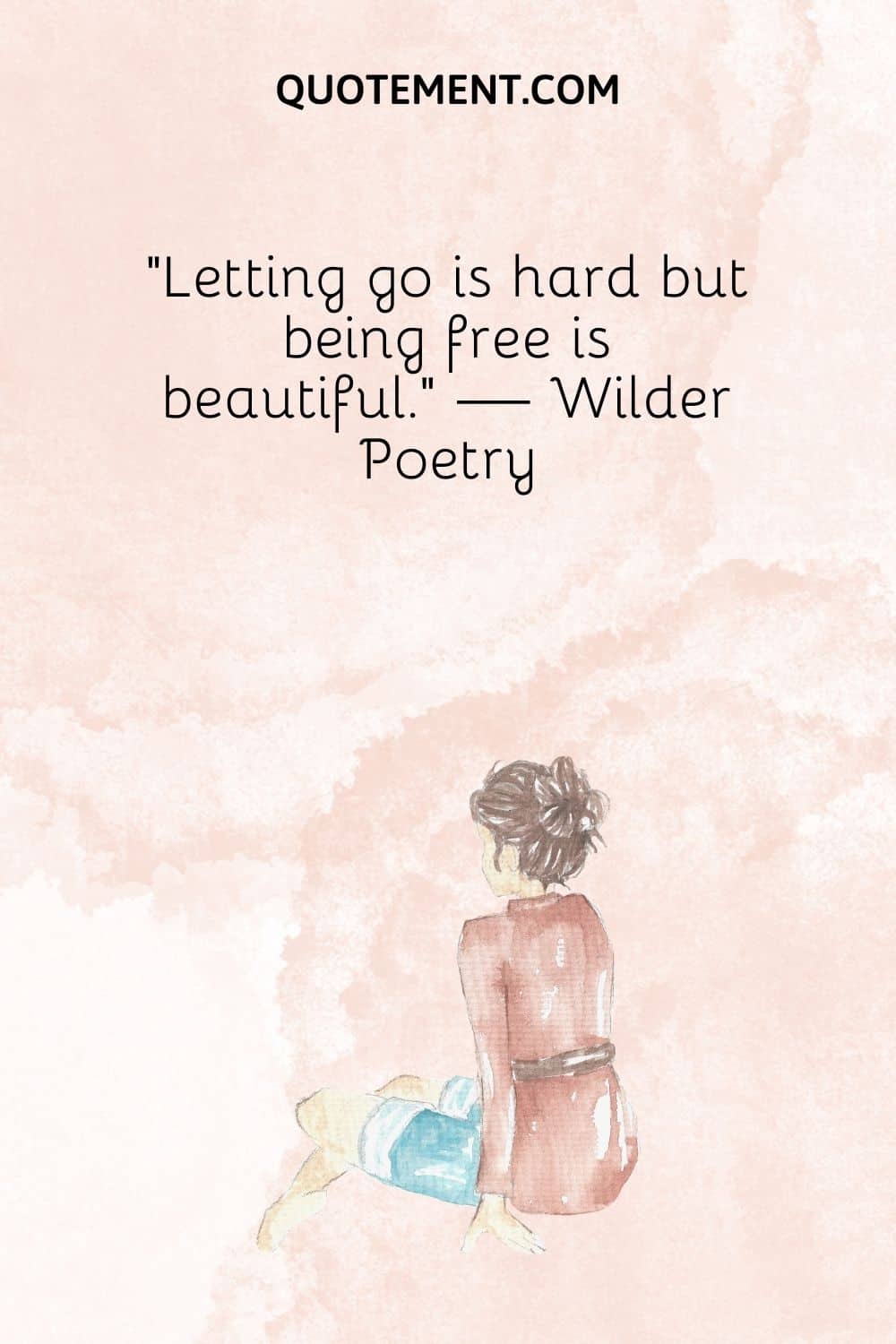 11. "Look at life through the windshield, not the rear-view mirror." — Byrd Baggett
12. "Sometimes you have to take a step back to move forward." — Erika Taylor
13. "What surrounds us we endure better for giving it a name — and moving on." — Emil Cioran
14. "Moving on is a simple thing, what it leaves behind is hard." — Dave Mustaine
15. "Even if you fall on your face, you're still moving forward." — Victor Kiam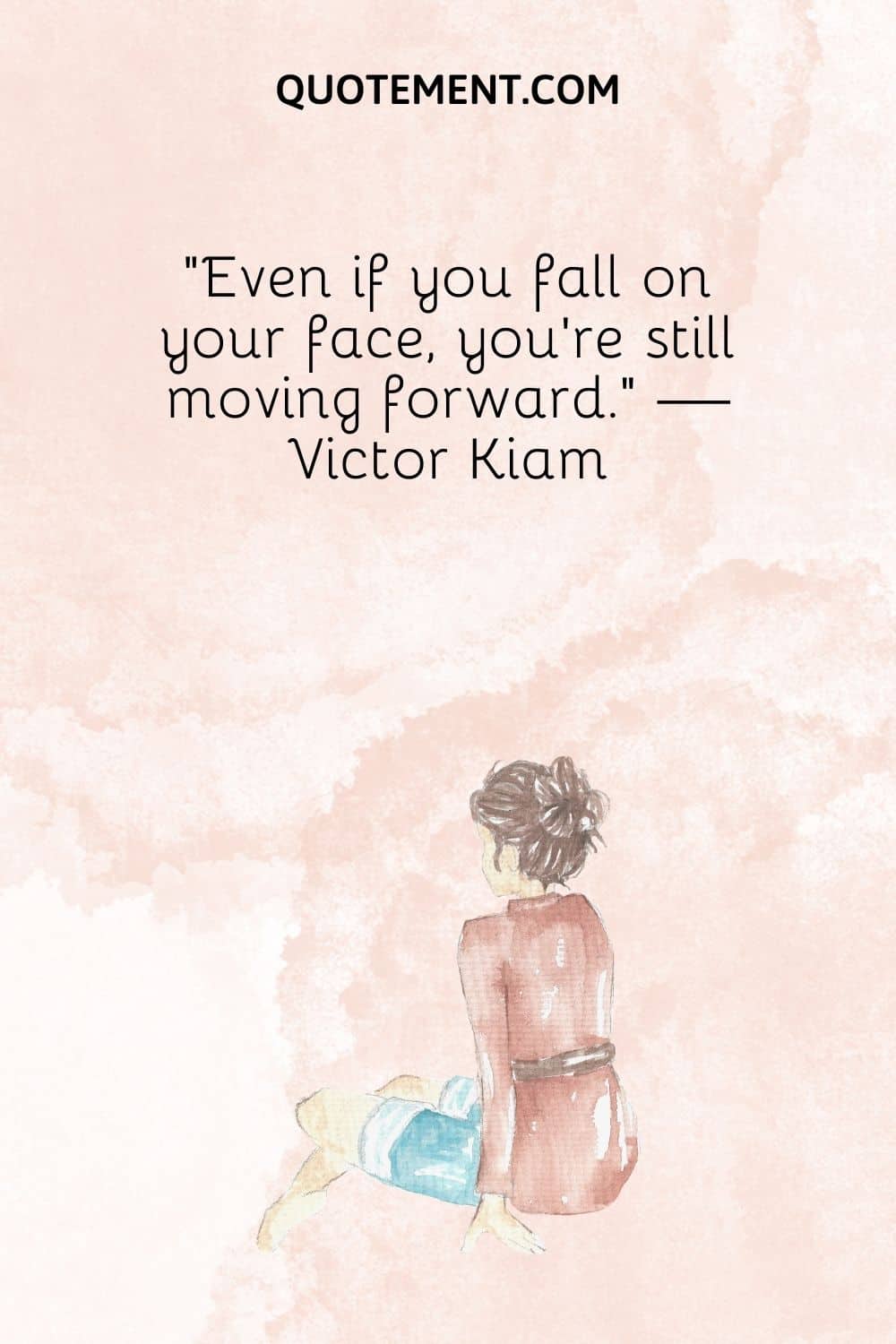 16. "Forgive yourself for your faults and your mistakes and move on." — Les Brown
17. "There is love in holding on and there is love in letting go." — Elizabeth Bert
18. "Courage is going from failure to failure without losing enthusiasm." — Winston Churchill
19. "Moving on is easy. It's staying moved on that's trickier." — Katerina Stoykova Klemer
20. "There are far better things ahead than any we leave behind." — S. Lewis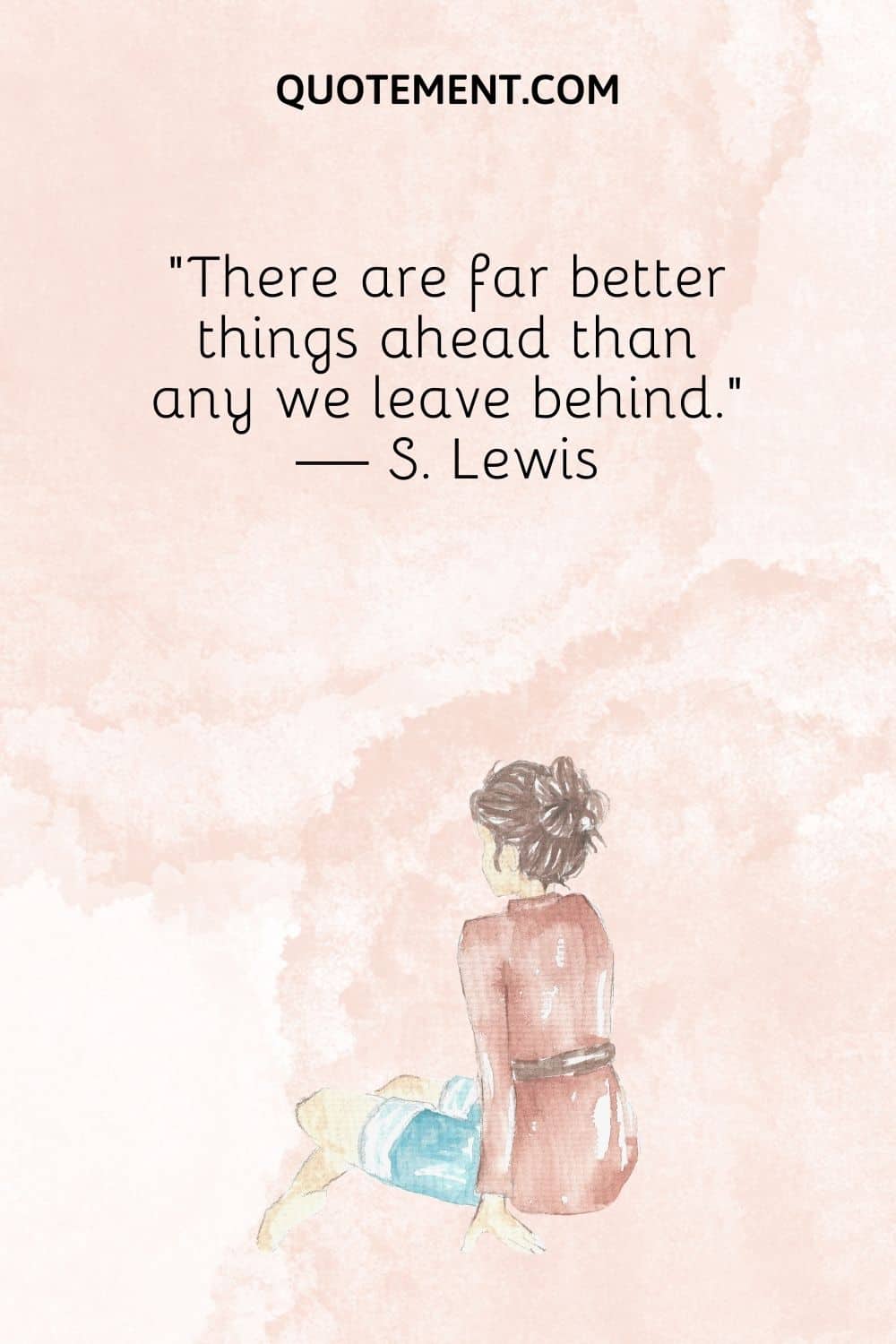 Inspirational Quotes About Moving On
1. "The pain of letting go will be eclipsed by the relief of moving on." — Scott Stabile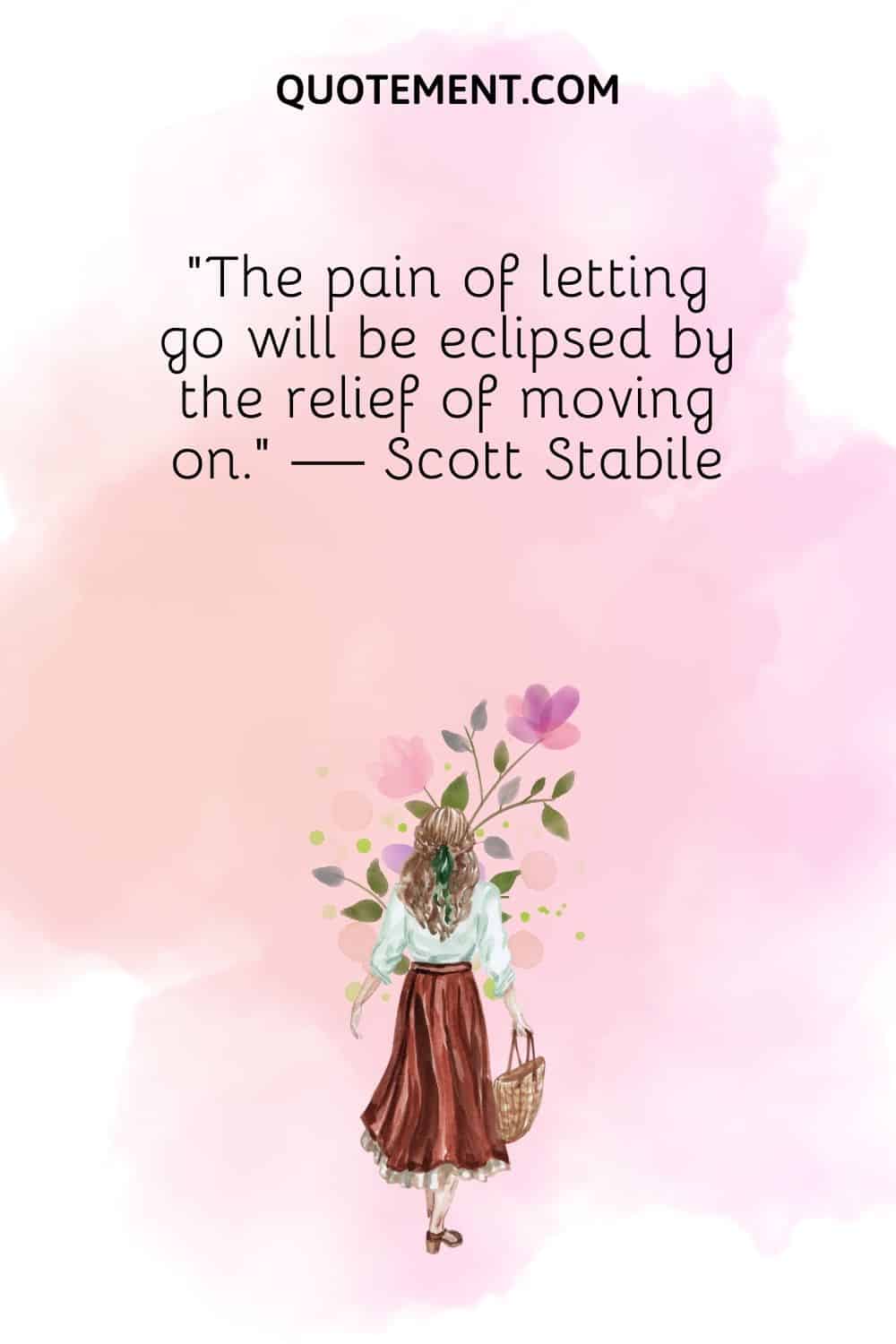 2. "It is always important to know when something has reached its end. Closing circles, shutting doors, finishing chapters, it doesn't matter what we call it; what matters is to leave in the past those moments in life that are over." — Paulo Coelho
3. "What's gone is gone. One of life's lessons is always moving on. It's okay to look back and think of fond memories, but perhaps it's time to give up and move forward." — Unknown
4. "When you start to abandon your old beliefs or values — you may be stuck at the threshold for two or three years. Before moving on, you have to clear away your cherished beliefs." — Dick Raymond
5. "You don't always need a plan. Sometimes you just need to breathe, trust, let go and see what happens." — Mandy Hale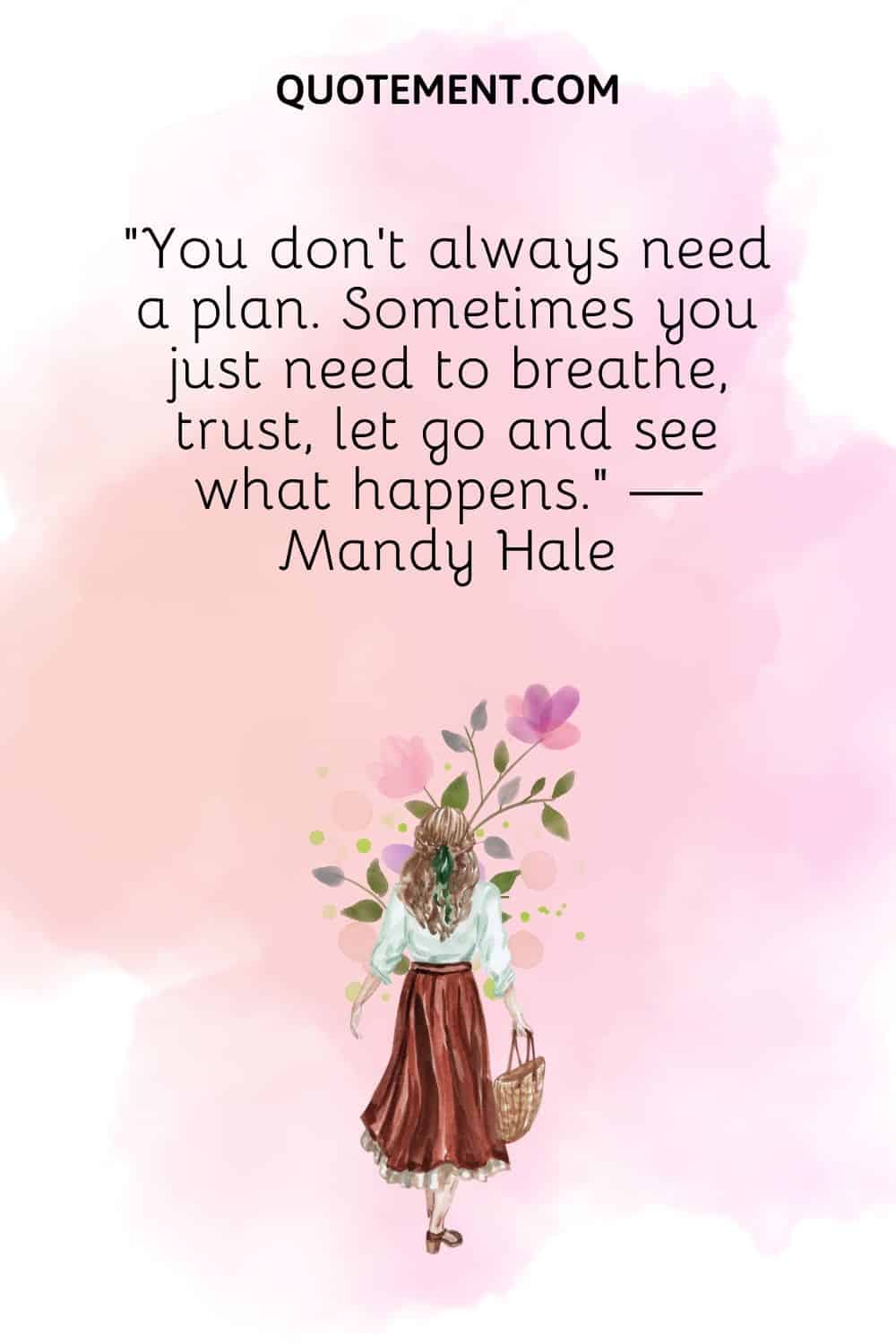 6. "The secret to life is to have no fear. When you can let go of what others think about you, how something is going to turn out, or how your past will affect your future, then you are finally living life free." ― Shannon L. Alder
7. "Imagine a future where you hold no grudges towards anyone. You're not angry at past lovers, not bitter about failures, not disappointed in your parents. You forgive, send love, and move on. You're free." ― Charlotte Eriksson
8. "There are things that we never want to let go of, people we never want to leave behind. But keep in mind that letting go isn't the end of the world, it's the beginning of a new life." — Unknown
9. "Sometimes you have to move on without certain people. If they're meant to be in your life, they'll catch up." — Mandy Hale
10. "Moving doesn't change who you are. It only changes the view outside your window." — Rachel Hollis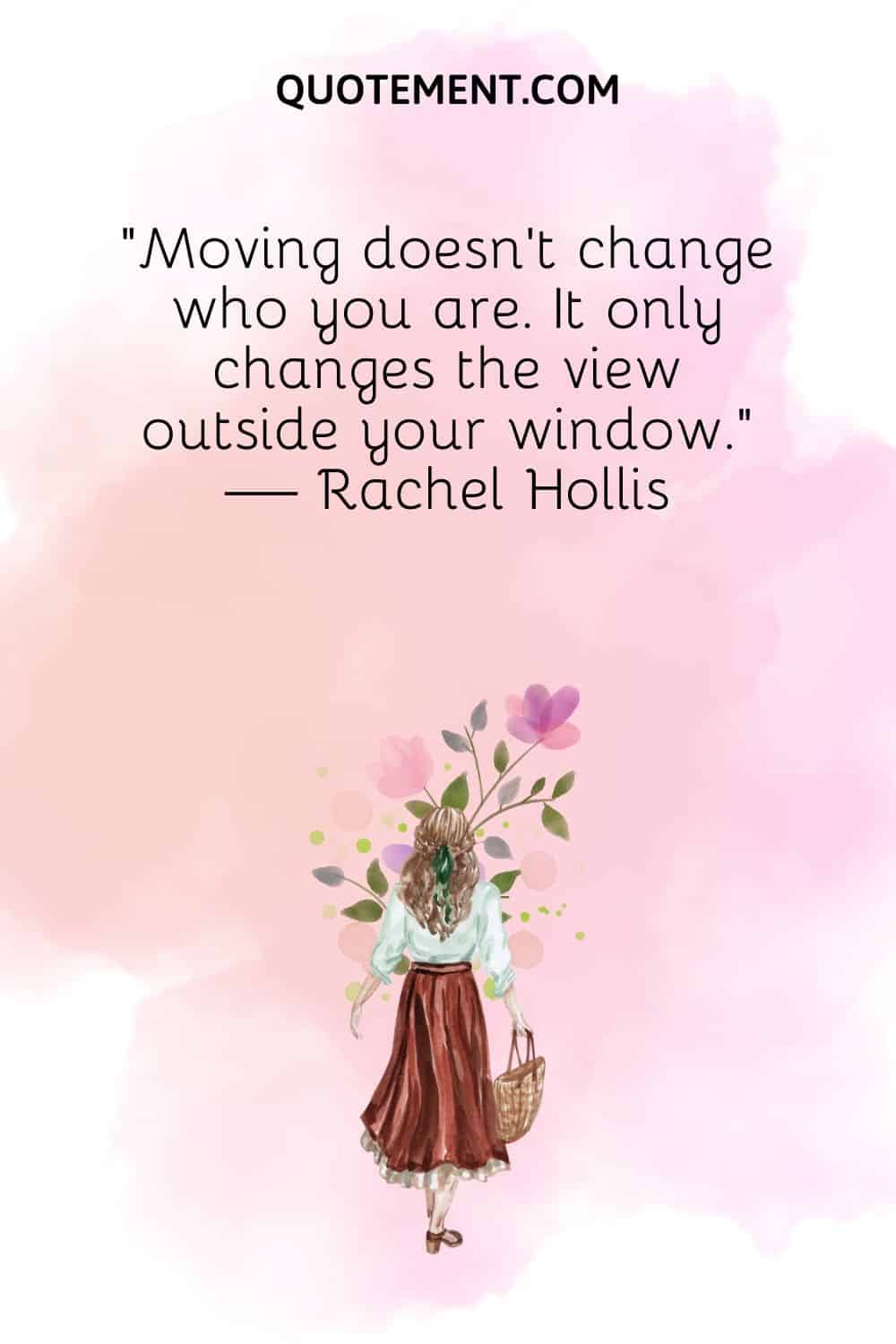 11. "Moving on is not forgetting — moving on is being able to remember without feeling awful about it." — Sam Madison
12. "You must make a decision that you are going to move on. It won't happen automatically. You will have to rise up and say, I don't care how hard this is, I don't care how disappointed I am, I'm not going to let this get the best of me. I'm moving on with my life." — Joel Osteen
13. "Just because you miss someone doesn't mean you need them back in your life. Missing is just a part of moving on." — Mackelmore
14. "You must take care of yourself first and if that difficult person does not get fit in your life, you should move on." — Invajy
15. "Nobody can go back and start a new beginning, but anyone can start today and make a new ending." — Maria Robinson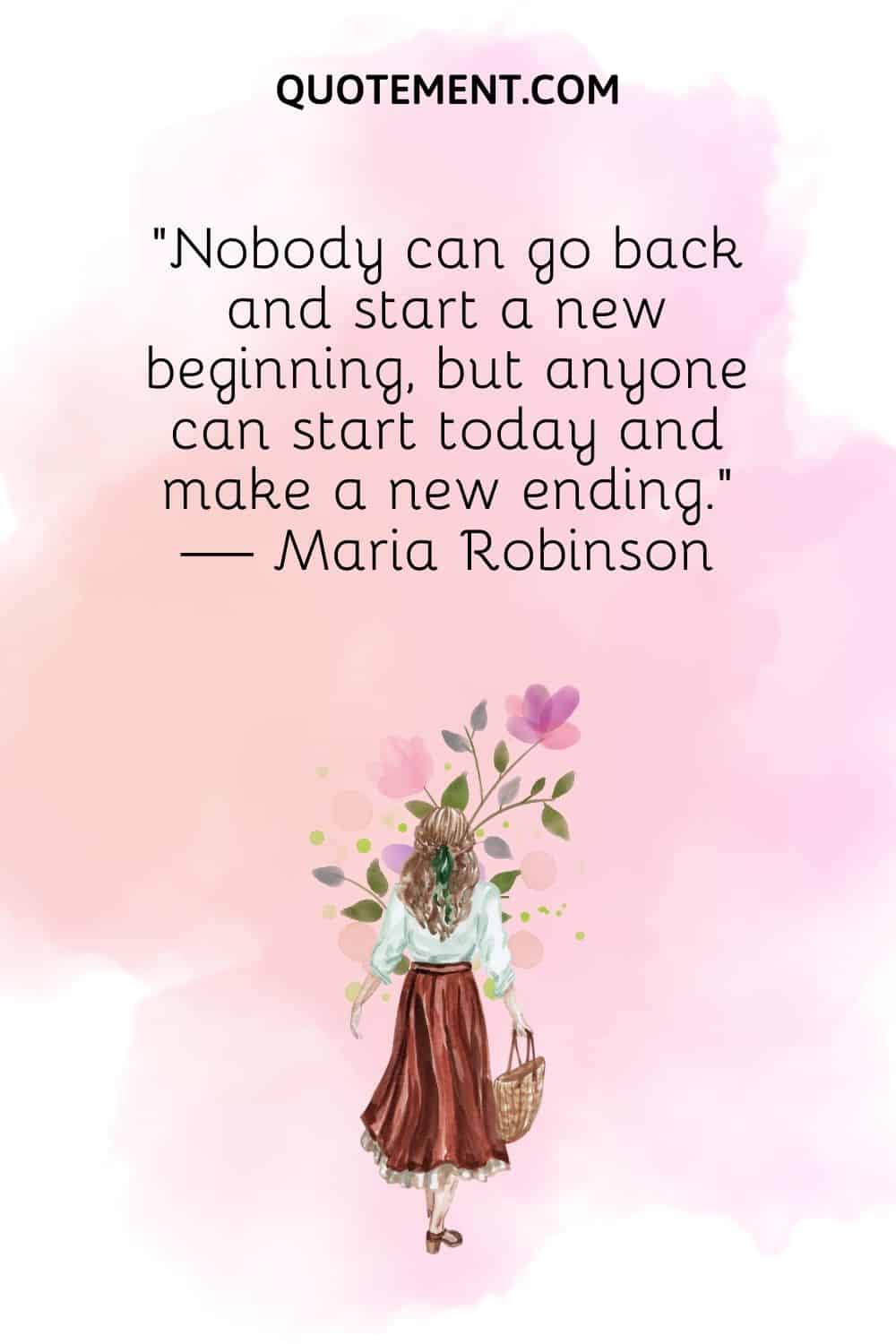 16. "A very wise man once told me that you can't look back — you just have to put the past behind you, and find something better in your future." — Jody Picoult
17. "It's so empowering to say, 'This isn't serving me,' and walk away in peace." — Unknown
18. "I've been burdened with blame trapped in the past for too long, I'm moving on." ― Rascal Flatts
19. "Sometimes it takes a heartbreak to shake us awake and help us see we are worth so much more than we're settling for." ― Mandy Hale
20. "Don't stay in the harbor and miss the greatness of the sea. Just because everyone else is anchored, doesn't mean you have to be." — Joyce Rachelle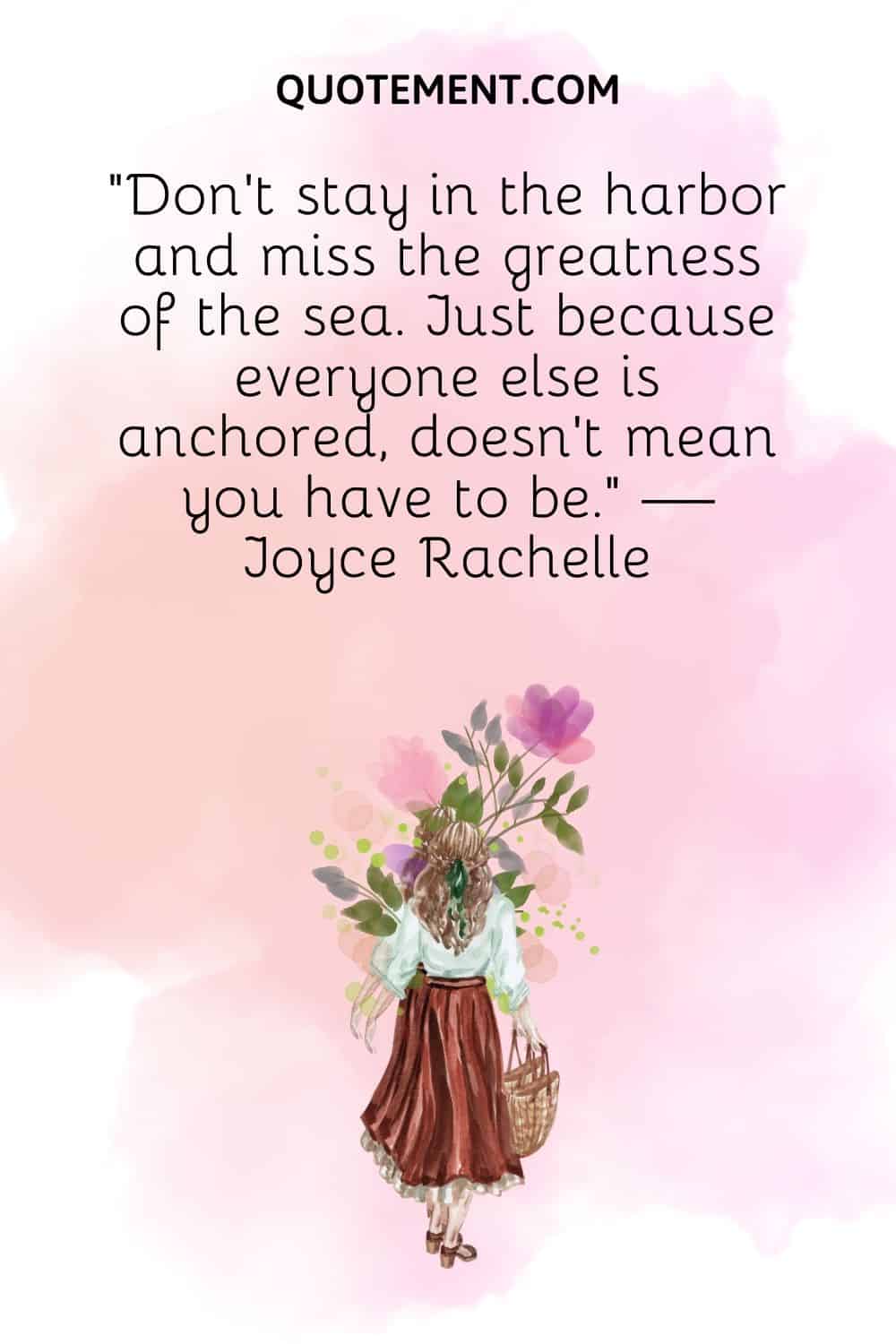 Keep Moving Forward Quotes To Give You Strength
1. "Don't worry. Just when you think your life is over, a new storyline falls from the sky and lands right in your lap." ― Rebekah Crane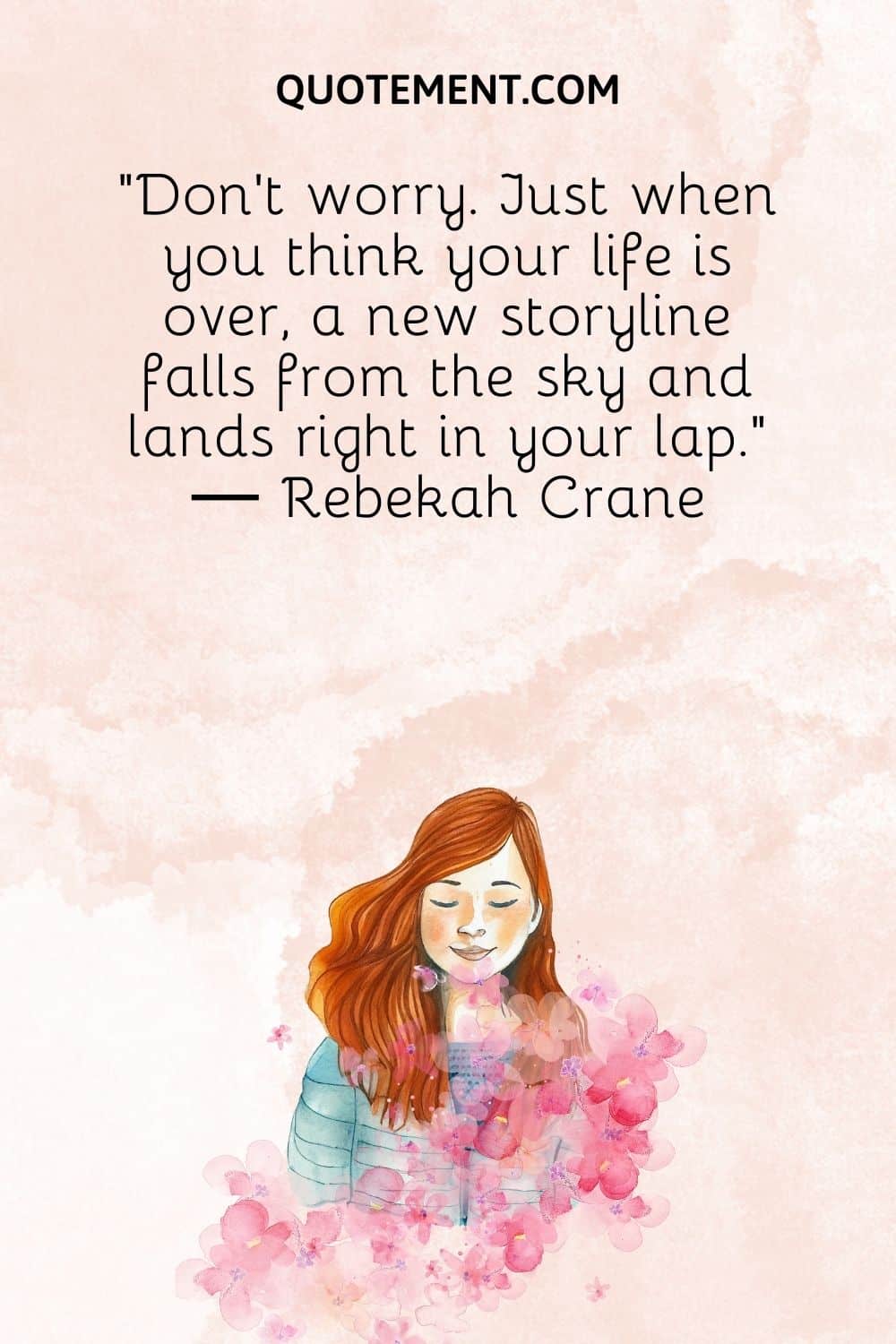 2. "If you keep working at it, if you keep moving forward, you will achieve what you want." — Leigh Shulman
3. "The only thing a person can ever really do is keep moving forward. Take that big leap forward without hesitation, without once looking back. Simply forget the past and forge toward the future." — Alyson Noel
4. "You can spend minutes, hours, days, weeks, or even months over-analyzing a situation; trying to put the pieces together, justifying what could've, would've happened…or you can just leave the pieces on the floor and move on." — Tupac Shakur
5. "What's the point of pointing the finger, other than to stall your own progress in moving on?" — Lisa Steadman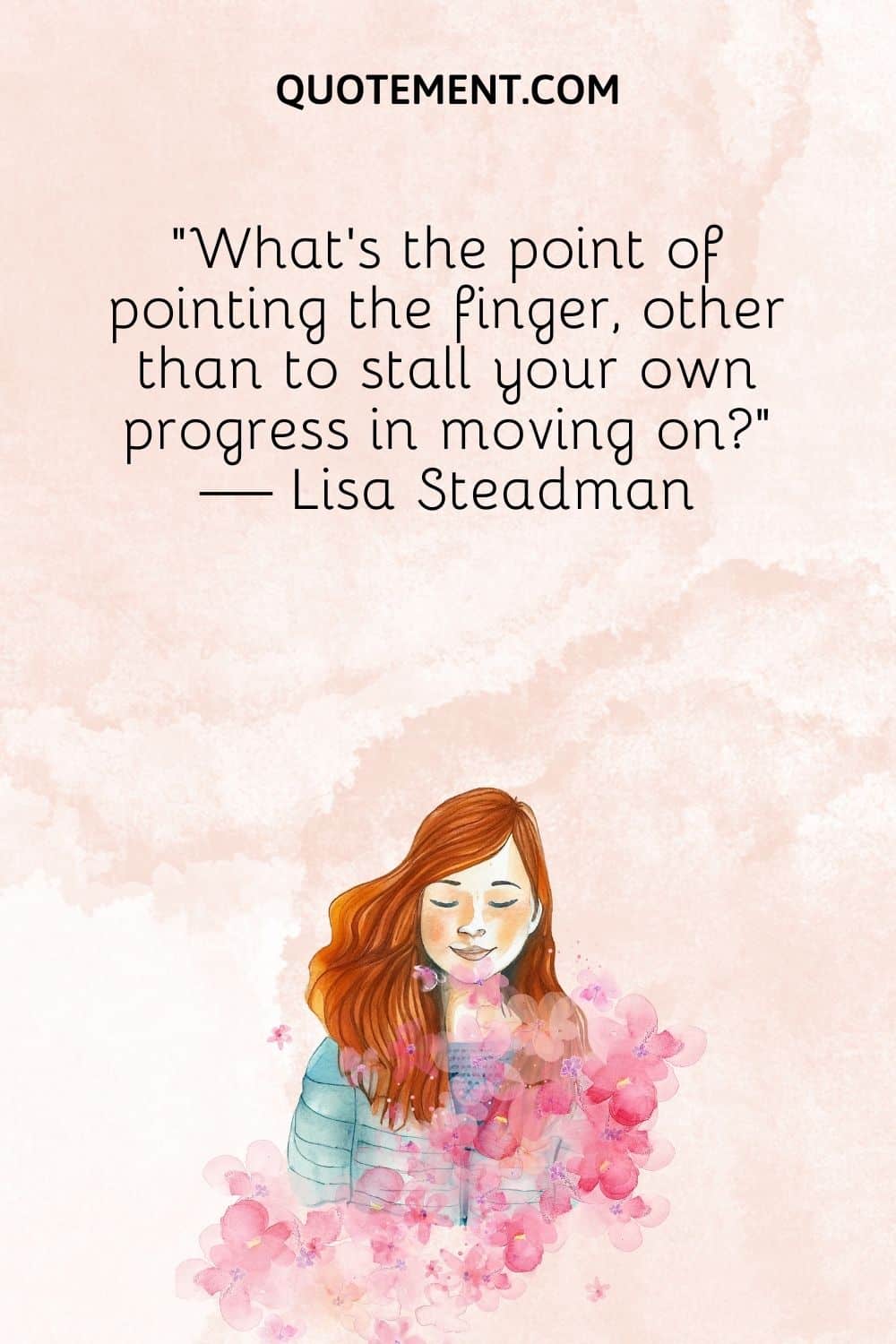 6. "In order to move on, you must understand why you felt what you did and why you no longer need to feel it." — Mitch Albom
7. "It happens to everyone as they grow up. You find out who you are and what you want, and then you realize that people you've known forever don't see things the way you do. So you keep the wonderful memories, but find yourself moving on." — Nicholas Sparks
8. "Make it a rule of life never to regret and never to look back. Regret is an appalling waste of energy; you can't build on it; it's only good for wallowing in." ― Katherine Mansfield
9. "Your destiny is to fulfill those things upon which you focus most intently. So choose to keep your focus on that which is truly magnificent, beautiful, uplifting, and joyful. Your life is always moving toward something." — Ralph Marston
10. "The first step towards getting somewhere is to decide that you are not going to stay where you are." — P. Morgan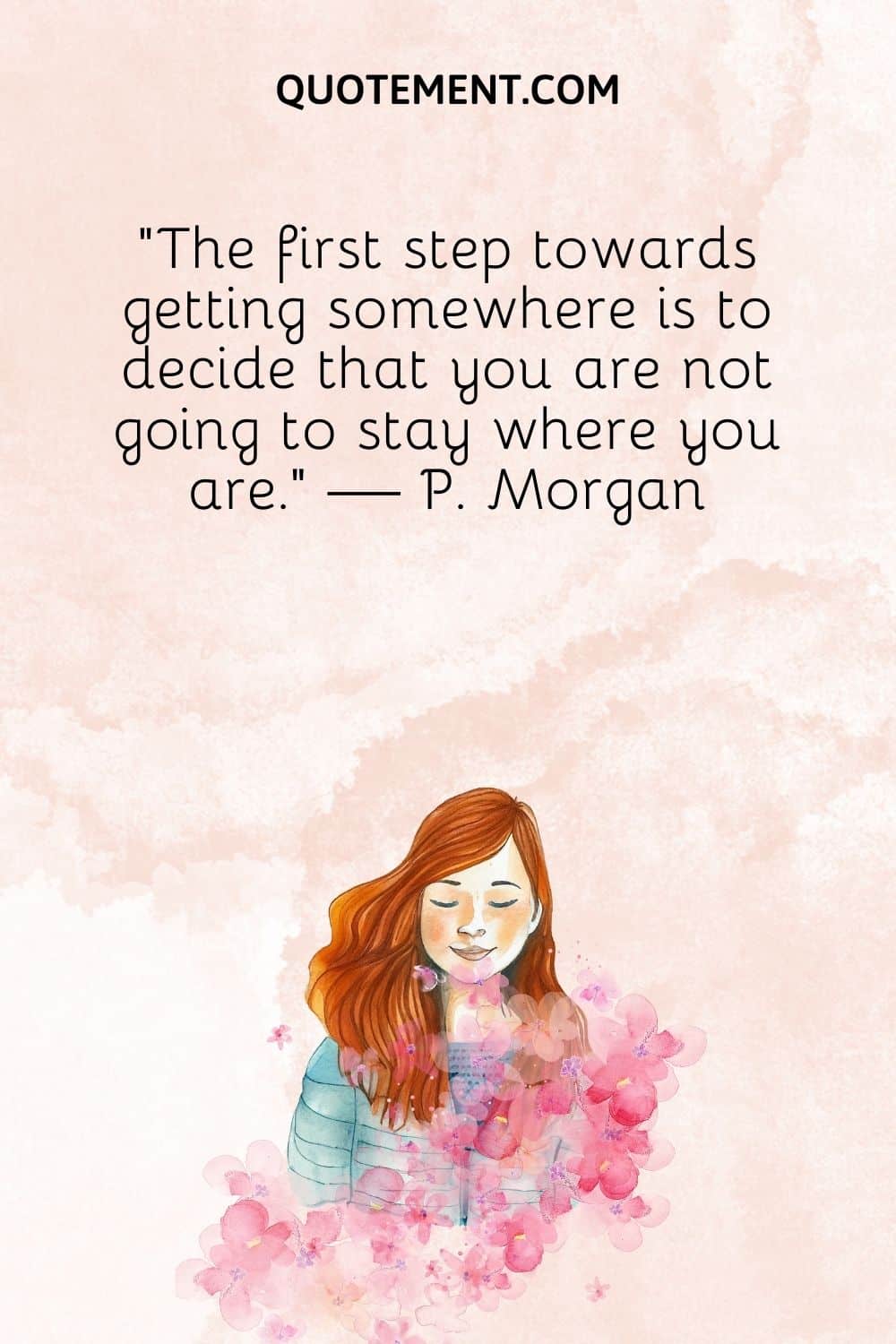 11. "I am learning every day to allow the space between where I am and where I want to be to inspire me and not terrify me." — Tracee Ellis Ross
12. "Keeping baggage from the past will leave no room for happiness in the future." ― Wayne L Misner
13. "If you want to fly in the sky, you need to leave the earth. If you want to move forward, you need to let go of the past that drags you down." — Amit Rav
14. "If I kept saying it; if I kept reaching out. My accident really taught me just one thing: the only way to go on is to go on. To say 'I can do this' even when you know you can't." — Stephen King
15. "Yesterday is not ours to recover, but tomorrow is ours to win or lose." ― Lyndon B. Johnson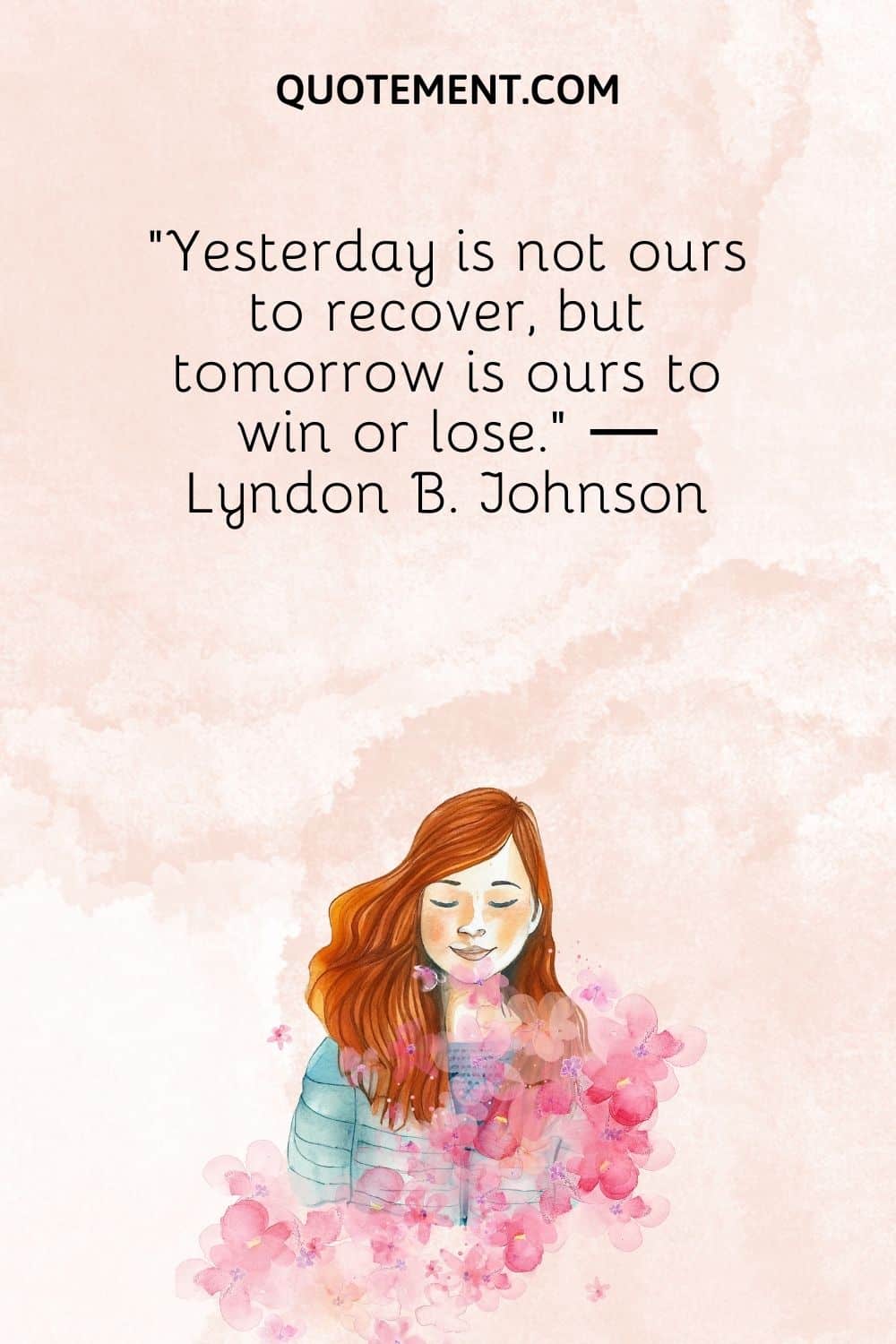 16. "To be bitter is to attribute intent and personality to the formless, infinite, unchanging, and unchangeable void. We drift on a chartless, resistless sea. Let us sing when we can, and forget the rest.." ― H.P. Lovecraft
17. "The great courageous act that we must all do, is to have the courage to step out of our history and past so that we can live our dreams." — Oprah Winfrey
18. "When you think this pain is all you deserve, you are right. You are the only one that can decide how long you will walk in hell." ― Shannon L. Alder
19. "Someone once told me that just because you can't have the life you wanted, you shouldn't give up and fade out of existence. That's how we become living ghosts — by never moving on." ― Roshani Chokshi
20. "Sometimes trying to piece together your past only builds a wall that keeps you there." ― Erin Anastasia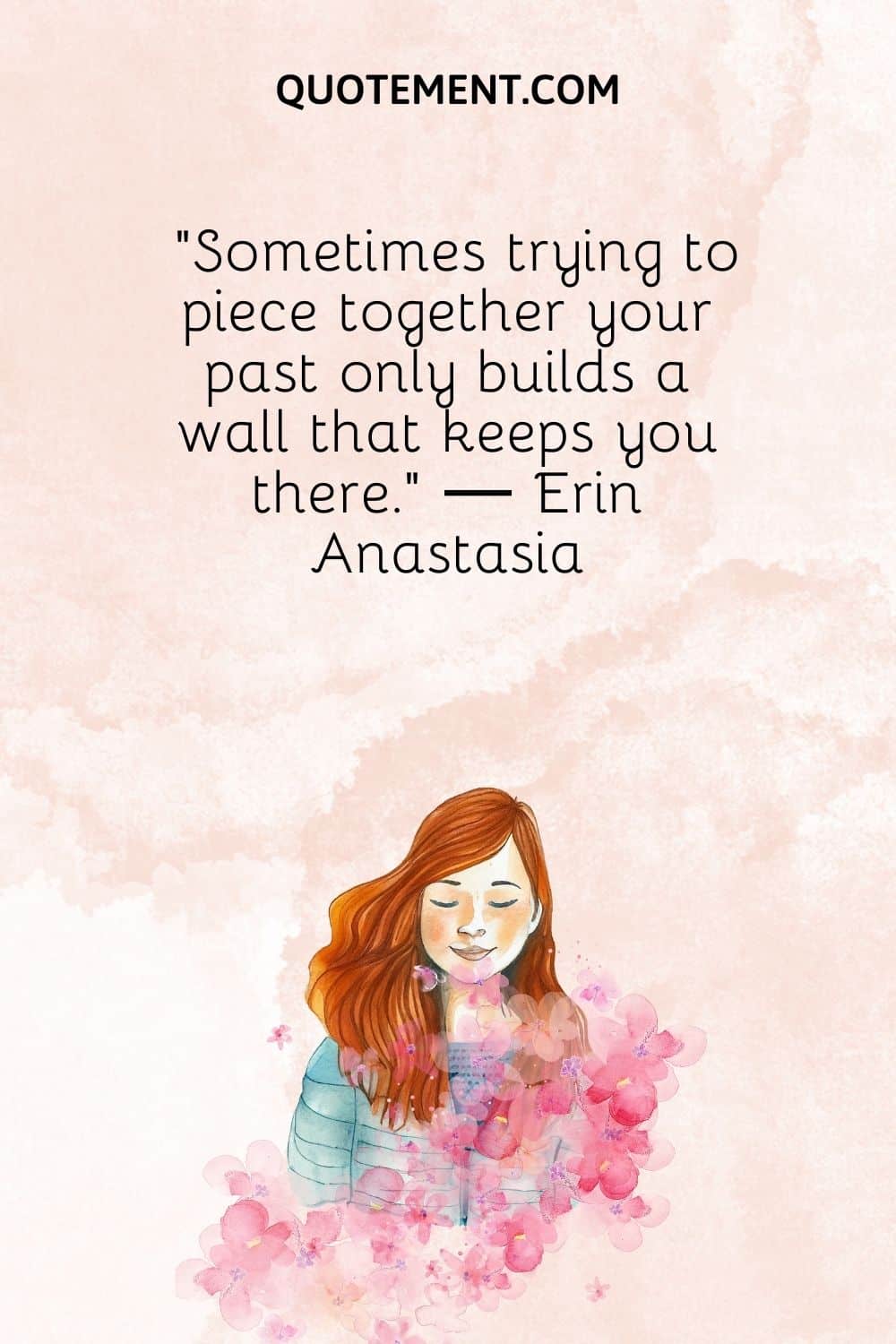 Moving Forward Letting Go Quotes
1. "Let today be the day you learn the grace of letting go and the power of moving on." — Steve Maraboli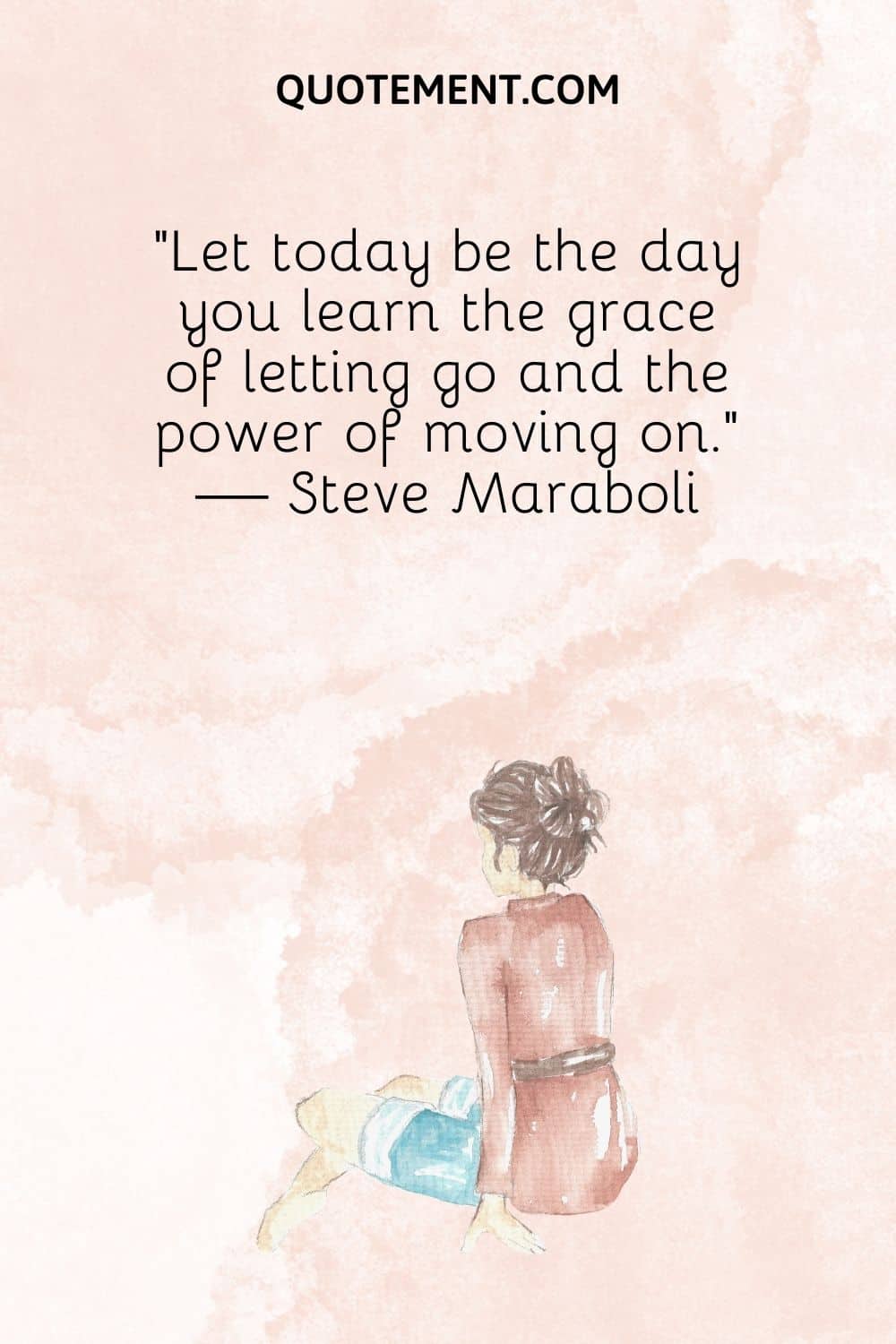 2. "Letting go doesn't mean that you don't care about someone anymore. It's just realizing that the only person you really have control over is yourself." — Deborah Reber
3. "Your heart's strength is measured by how hard it holds on. Your self-worth and faith are measured by finally letting go. However, your peace is measured by how long you don't look back." ― Shannon L. Alder
4. "People can be more forgiving than you can imagine. But you have to forgive yourself. Let go of what's bitter and move on." — Bill Cosby
5. "Letting go means to come to the realization that some people are a part of your history, but not a part of your destiny." — Steve Maraboli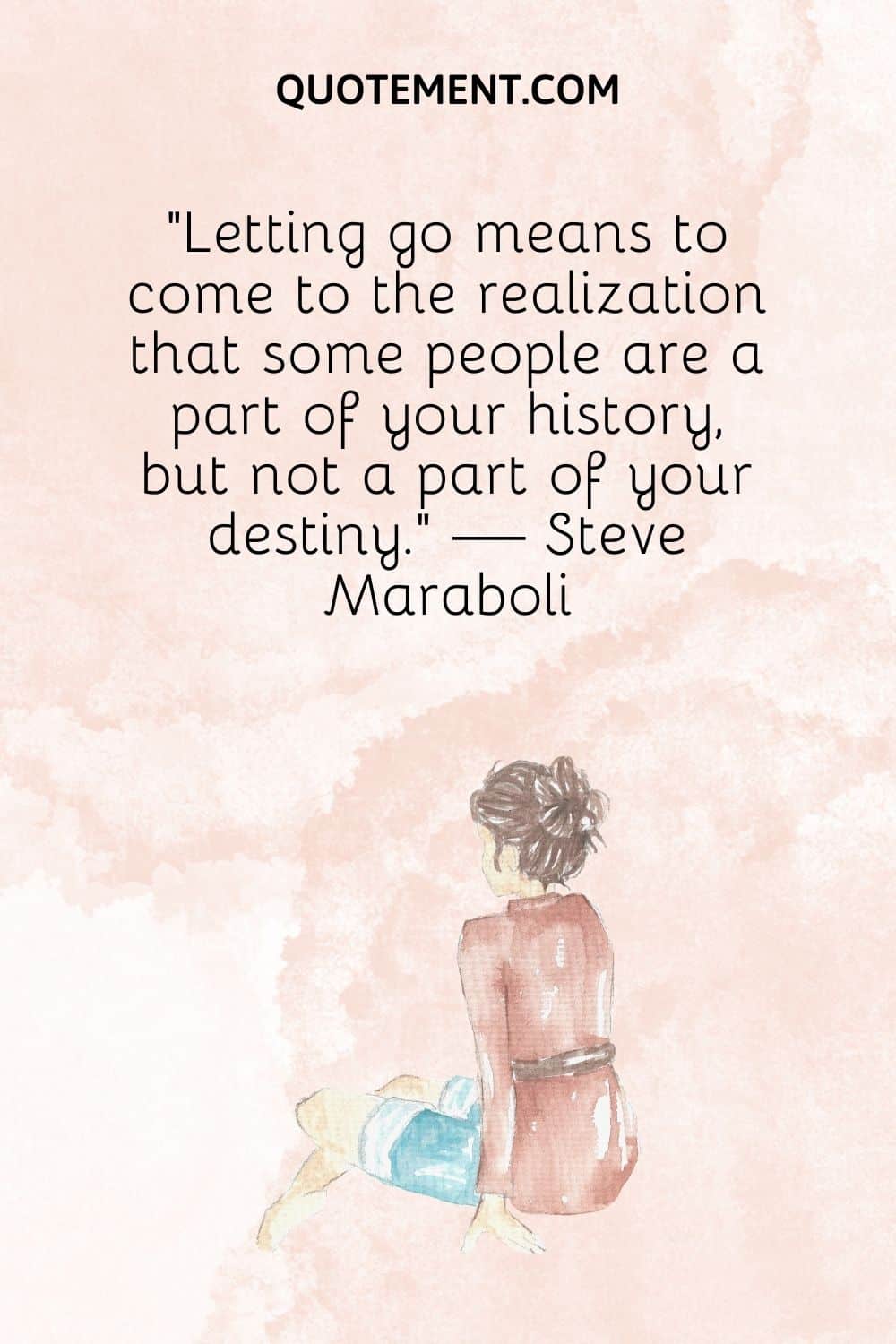 6. "It is not easy to let go, but when you do; not only do you realize the strength that lies within you, you also create an opportunity to see God perform the best of miracles in your life." ― Gift Gugu Mona
7. "You don't need strength to let go of something. What you really need is understanding." — Guy Finley
8. "Holding on is believing that there's a past; letting go is knowing that there's a future." — Daphne Rose Kingma
9. "When I let go of what I am, I become what I might be. When I let go of what I have, I receive what I need." — Lao Tzu
10. "We must be willing to let go of the life we planned so as to have the life that is waiting for us." — Joseph Campbell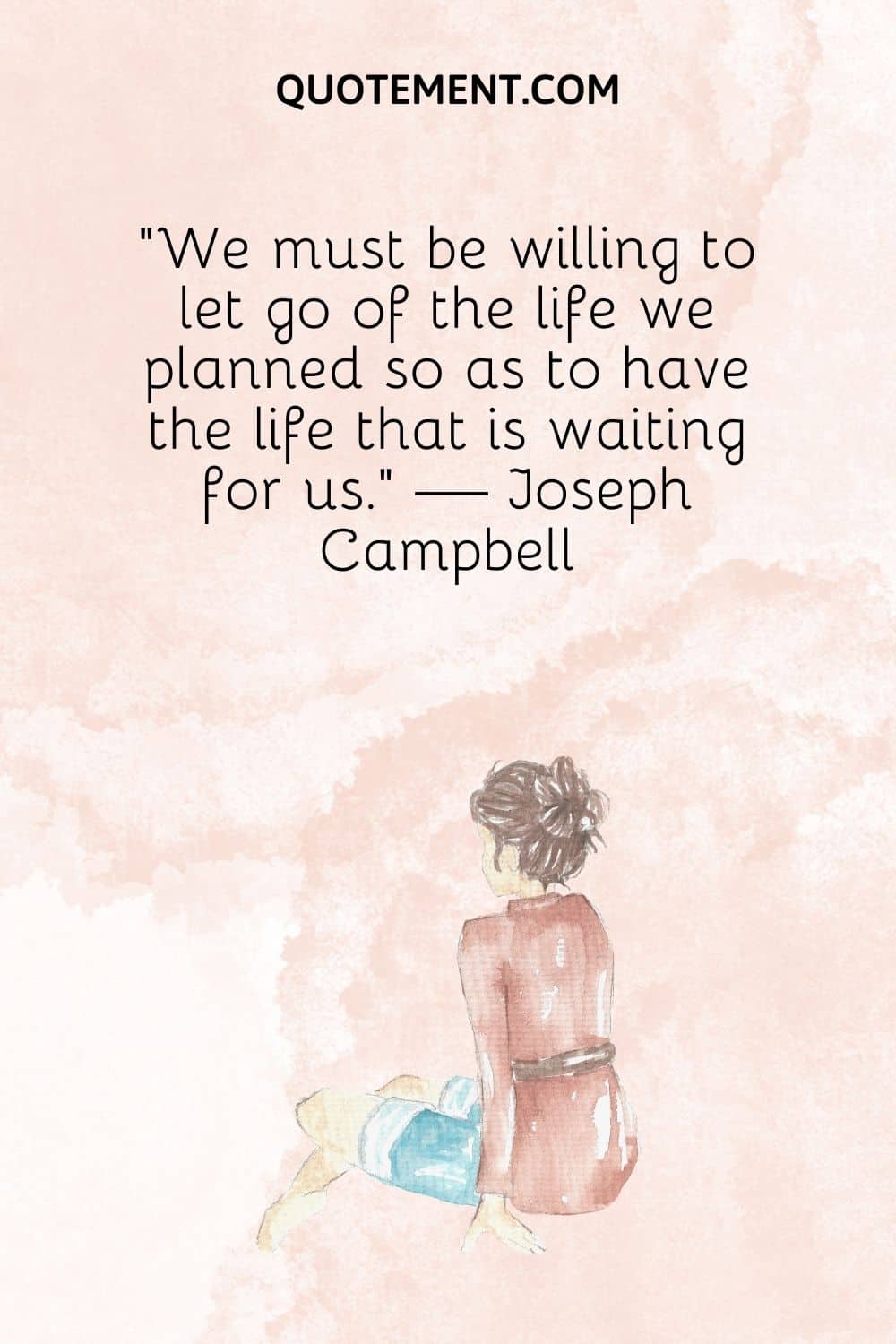 11. "You really don't have to burn any bridges to let go… You don't have to destroy anything. You can just decide to cross over and move on." — Marta Mrotek
12. "Sometimes difficult, narcissistic, and toxic people start affecting your day-to-day life too much. It's time to remove them from your life completely and move on." — Invajy
13. "The truth is, unless you let go, unless you forgive yourself, unless you forgive the situation, unless you realize that the situation is over, you cannot move forward."— Steve Maraboli
14. "You are allowed to let go of all the things that don't set you free anymore." — Dhiman
15. "The most liberating moment, is the moment you finally let go." — Ava Harrison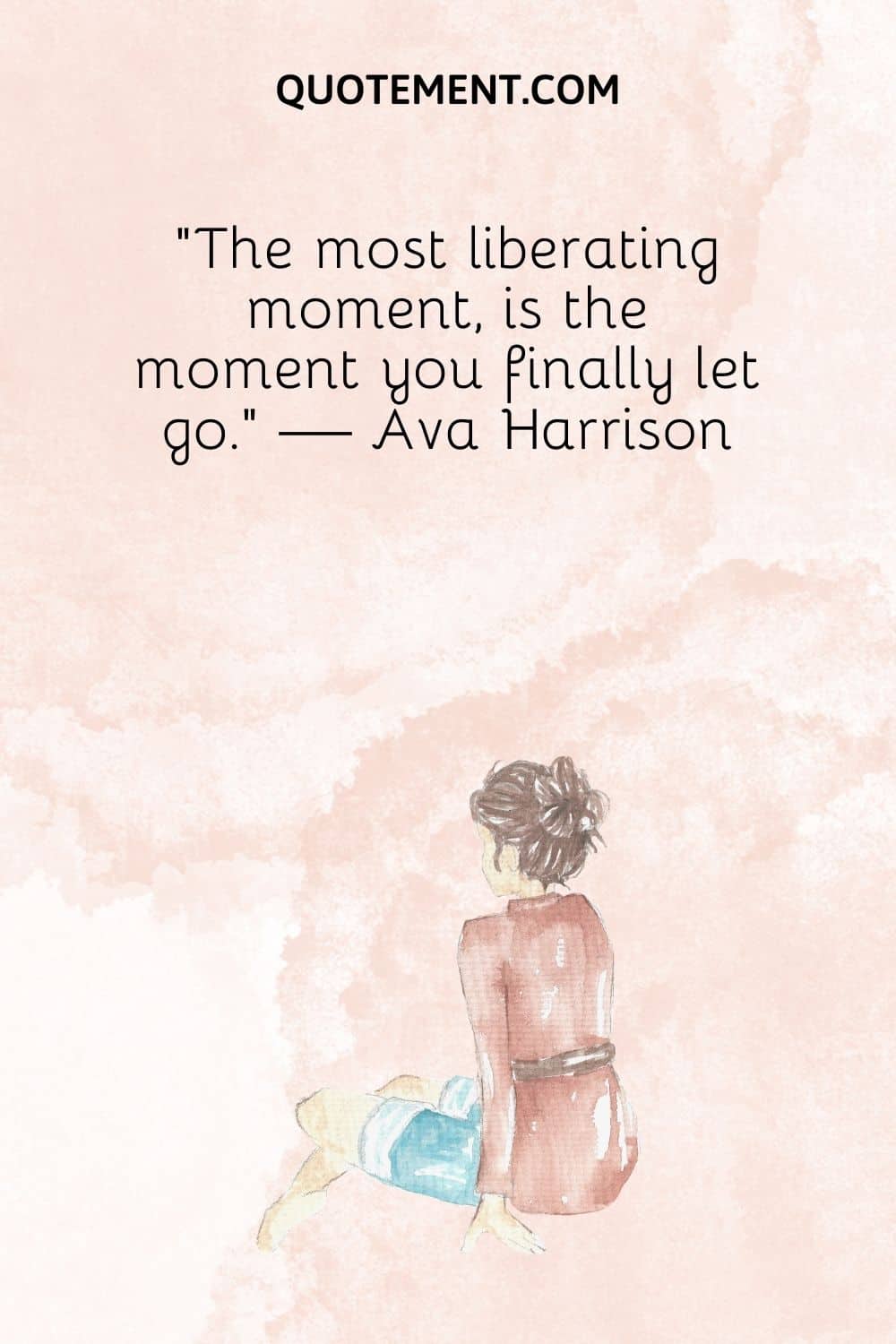 16. "You will find that it is necessary to let things go; simply for the reason that they are heavy. So let them go, let go of them. I tie no weights to my ankles." — JoyBell
17. "I realize there's something incredibly honest about trees in winter, how they're experts at letting things go." ― Jeffrey McDaniel
18. "Don't tie your heart to a person that has nothing left to offer you. Let it go. It might hurt for a while, but when you get over it, you'll see that it's better." ― Orebela Gbenga
19. "The only real battle in life is between hanging on and letting go." ― Shannon L. Alder
20. "To experience true happiness, two things are quintessential: zero expectations and let go attitude." — Invajy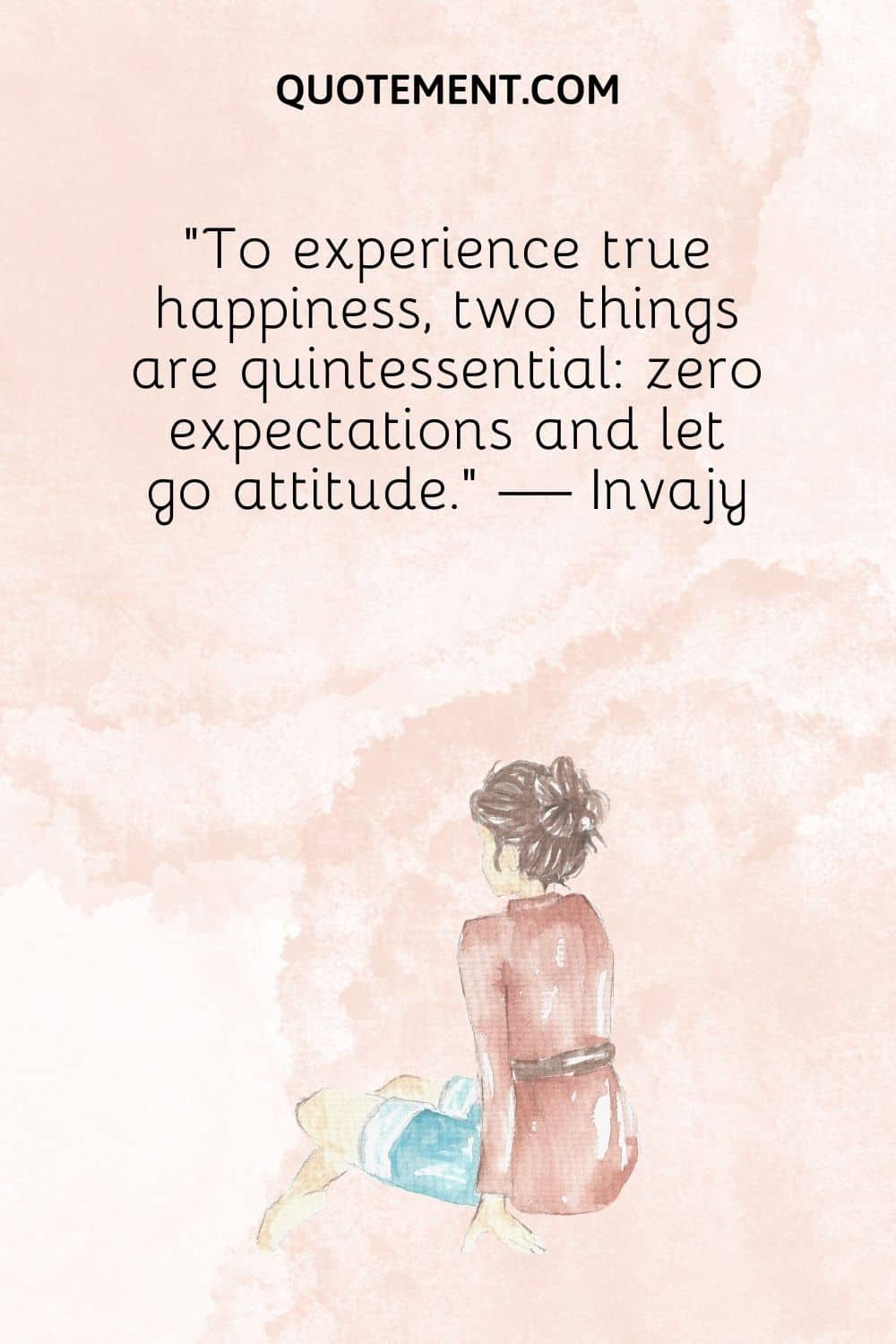 See also: 130 Deep Goodbye Letting Go Of Someone You Love Quotes
Move On Life Quotes
1. "In three words I can sum up everything I've learned about life: It goes on." — Robert Frost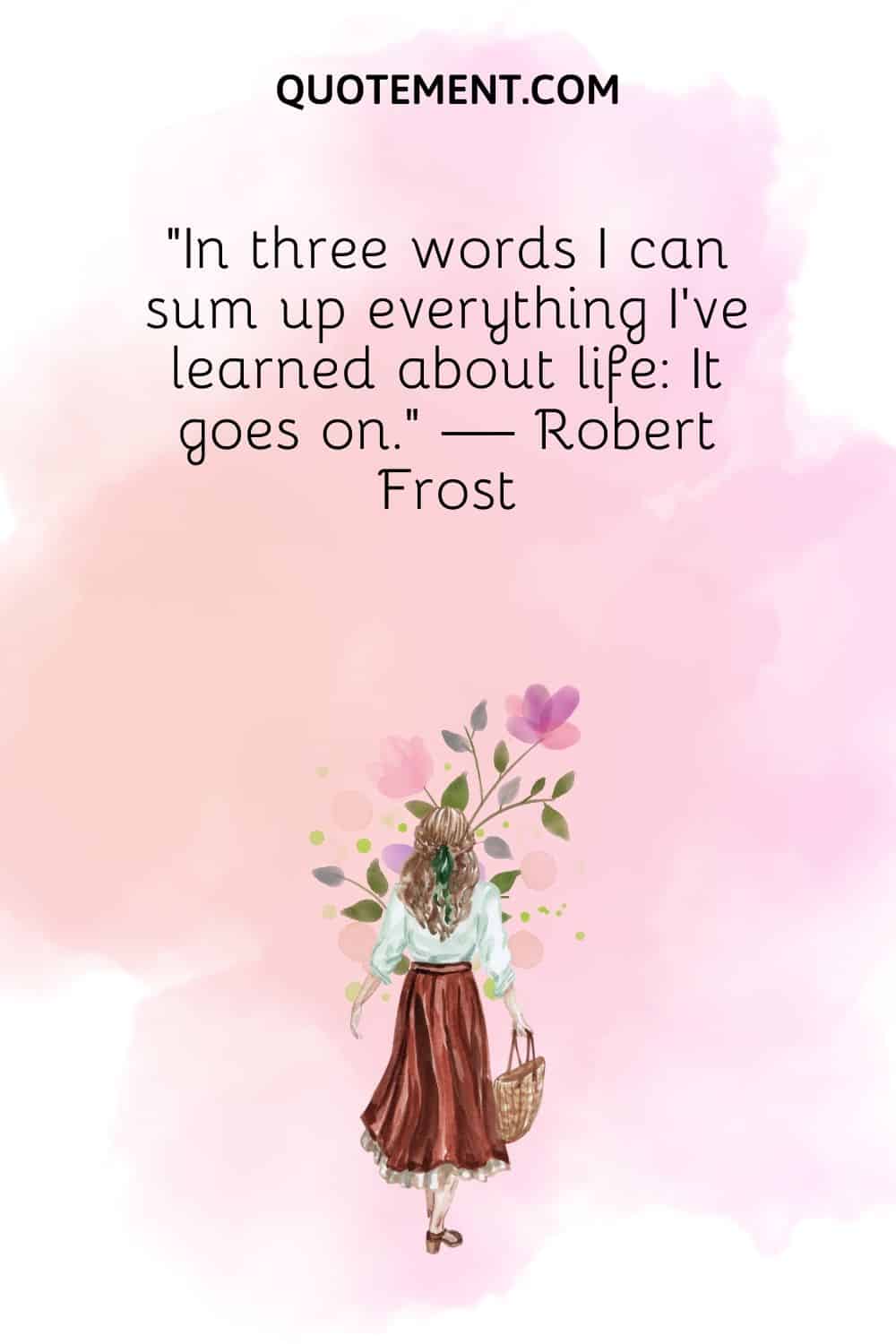 2. "Every woman that finally figured out her worth, has picked up her suitcases of pride and boarded a flight to freedom, which landed in the valley of change." ― Shannon L. Alder
See also: 120 Best Strong Woman Walk Away Quotes To Encourage You
3. "By forgiving and choosing to move on, one takes power back to morph it into positive energy." — Eugenia Tripputi
4. "Life is a journey and while you move on, keep unloading your emotional baggage on the sides of roads. If you will not, this will get heavier and heavier and it will be difficult for you to move ahead in life." — Invajy
5. "The only way to make sense out of change is to plunge into it, move with it, and join the dance." — Alan Watts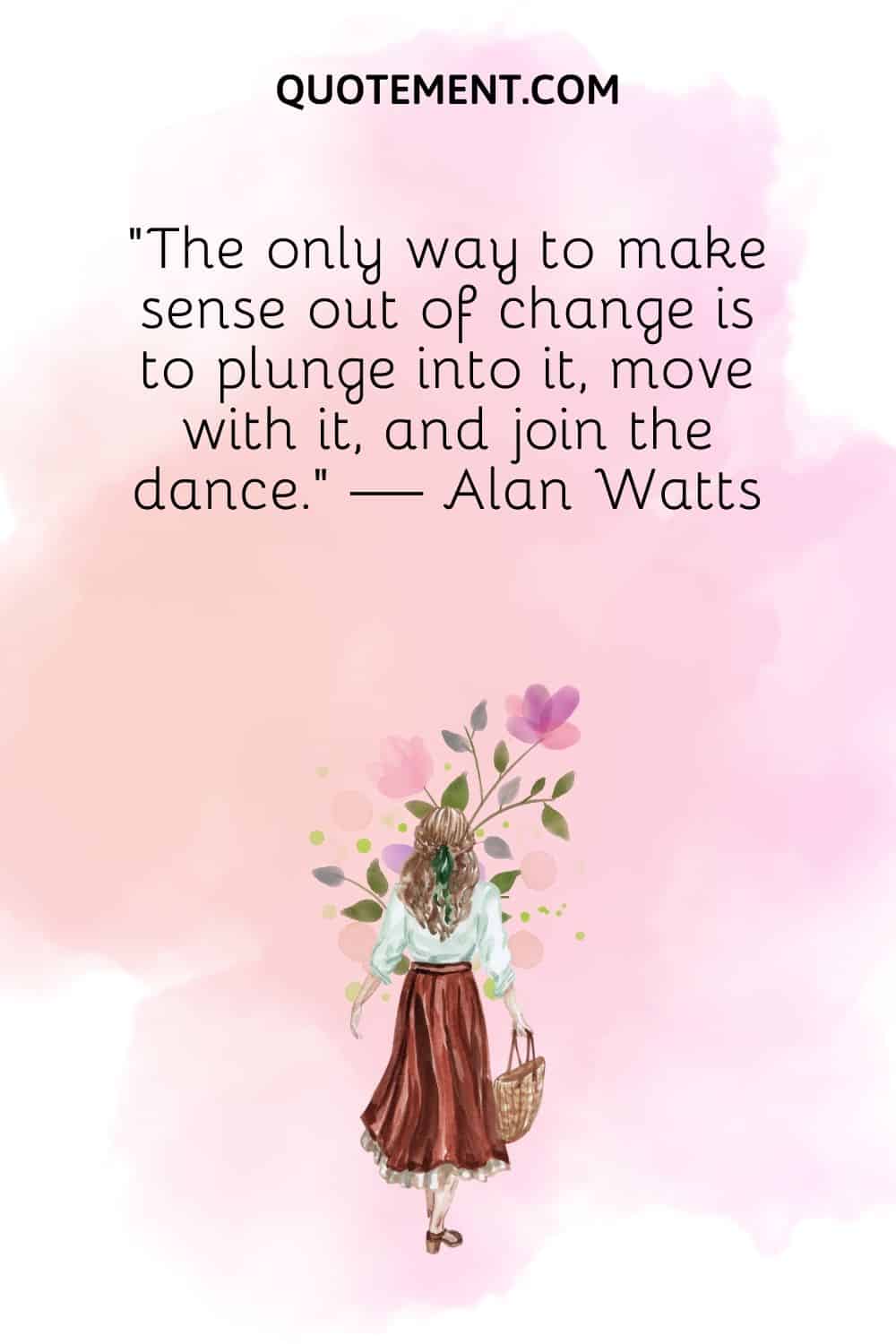 6. "Laughter gives us distance. It allows us to step back from an event, deal with it, and then move on." — Bob Newhart
7. "The choice isn't to move on — life moves whether I want it to or not. No, the choice is to look forward, not backward, to take a step because refusing to move won't draw the past nearer, only postpone better days." ― Caroline George
8. "We keep moving forward, opening new doors, and doing new things, because we're curious and curiosity keeps leading us down new paths." — Walt Disney
9. "You can clutch the past so tightly to your chest that it leaves your arms too full to embrace the present." — Jan Glidewell
10. "Success seems to be connected with action. Successful people keep moving. They make mistakes, but they don't quit." — Conrad Hilton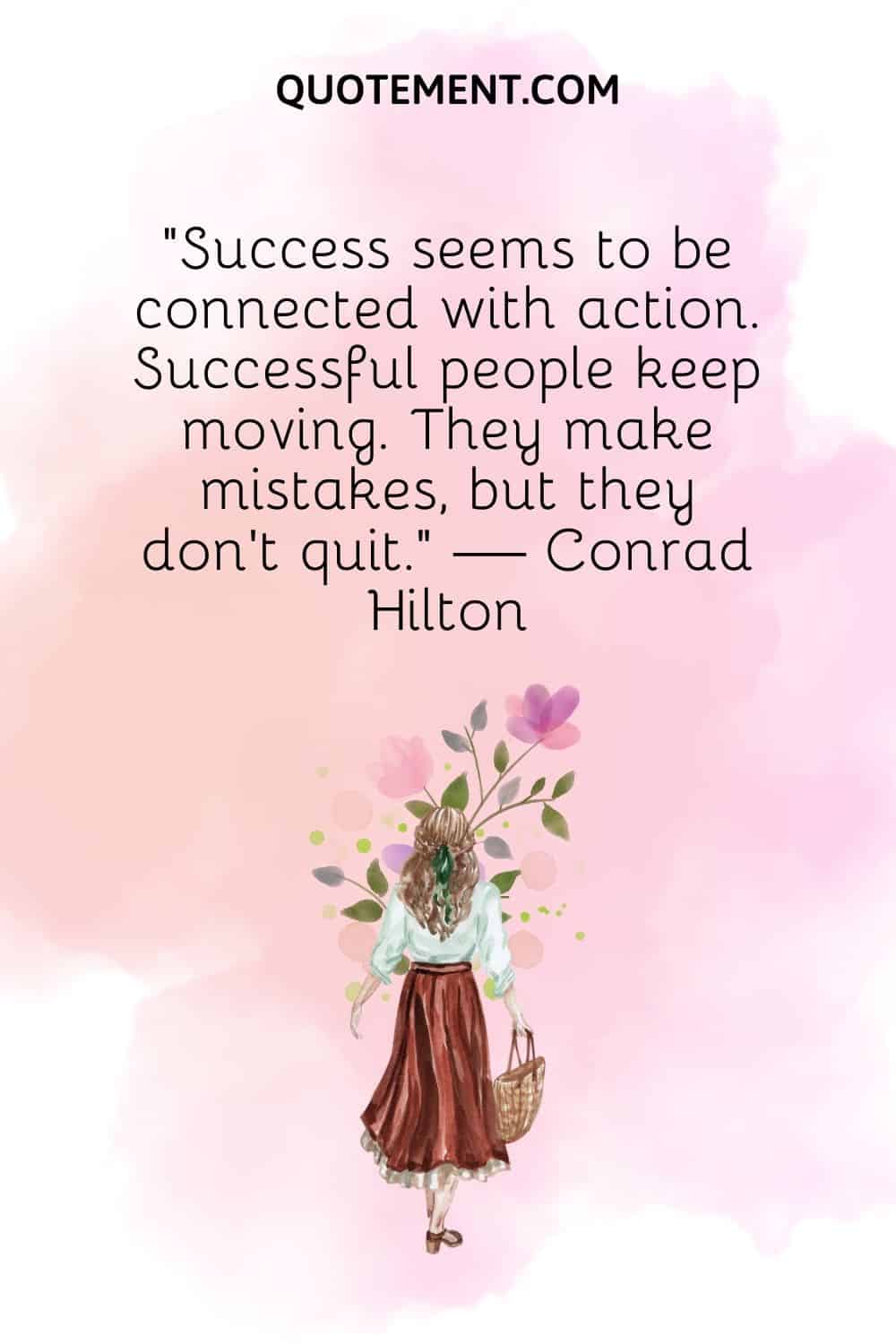 See also: 220 Best Proverbs About Success To Give You Inspiration
11. "Part of growing up is just taking what you learn from that and moving on and not taking it to heart." — Beverly Mitchell
12. "Grudges are for those who insist that they are owed something; forgiveness, however, is for those who are substantial enough to move on." — Criss Jami
13. "The problem is that when we speak of plan Bs, we already negate the possibility of moving on with plan A." — Isaac Herzog
14. "Love is forgiving, accepting, moving on, embracing, and all-encompassing. And if you're not doing that for yourself, you cannot do that with anyone else." ― Steve Maraboli
15. "You are responsible for your life. You can't keep blaming somebody else for your dysfunction. Life is really about moving on." — Oprah Winfrey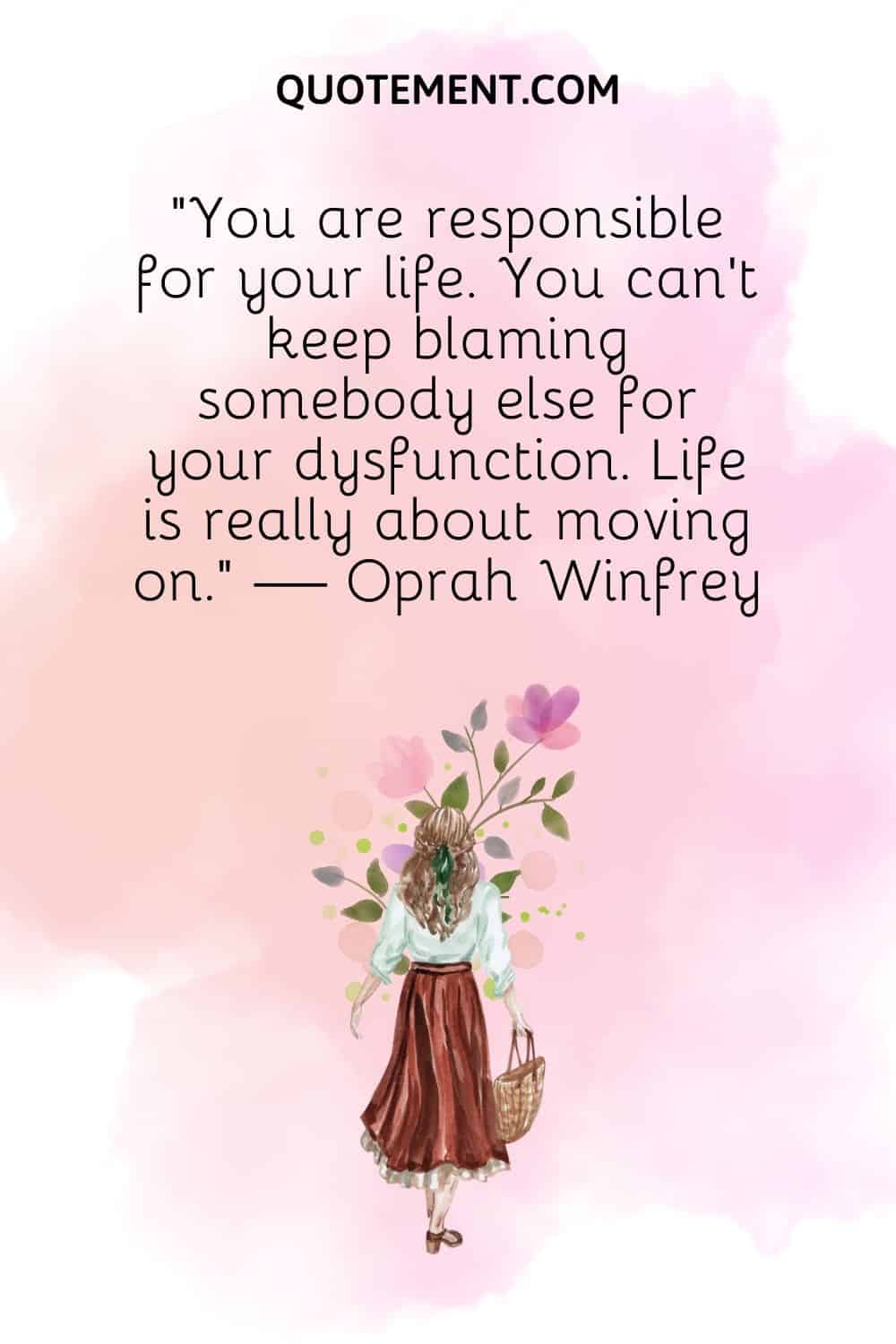 16. "For me, becoming isn't about arriving somewhere or achieving a certain aim. I see it instead as forward motion, a means of evolving, a way to reach continuously toward a better self. The journey doesn't end." — Michelle Obama
17. "Sometimes, you're the one who strikes it lucky. Sometimes, it's the other poor bastard who's left with the short straw, and you just have to shut up and get on with it." ― M.L. Stedman
18. "And perhaps there is a limit to the grieving that the human heart can do. As when one adds salt to a tumbler of water, there comes a point where simply no more will be absorbed." ― Sarah Waters
19. "When you feel at peace with your troubles, they turn into lessons and ladders to help you climb to the next level of your evolution." ― Dr. Jacinta Mpalyenkana
20. "When you hold onto a script that doesn't serve you, you leave no space to write a new one that does." ― Jennifer Ho-Dougatz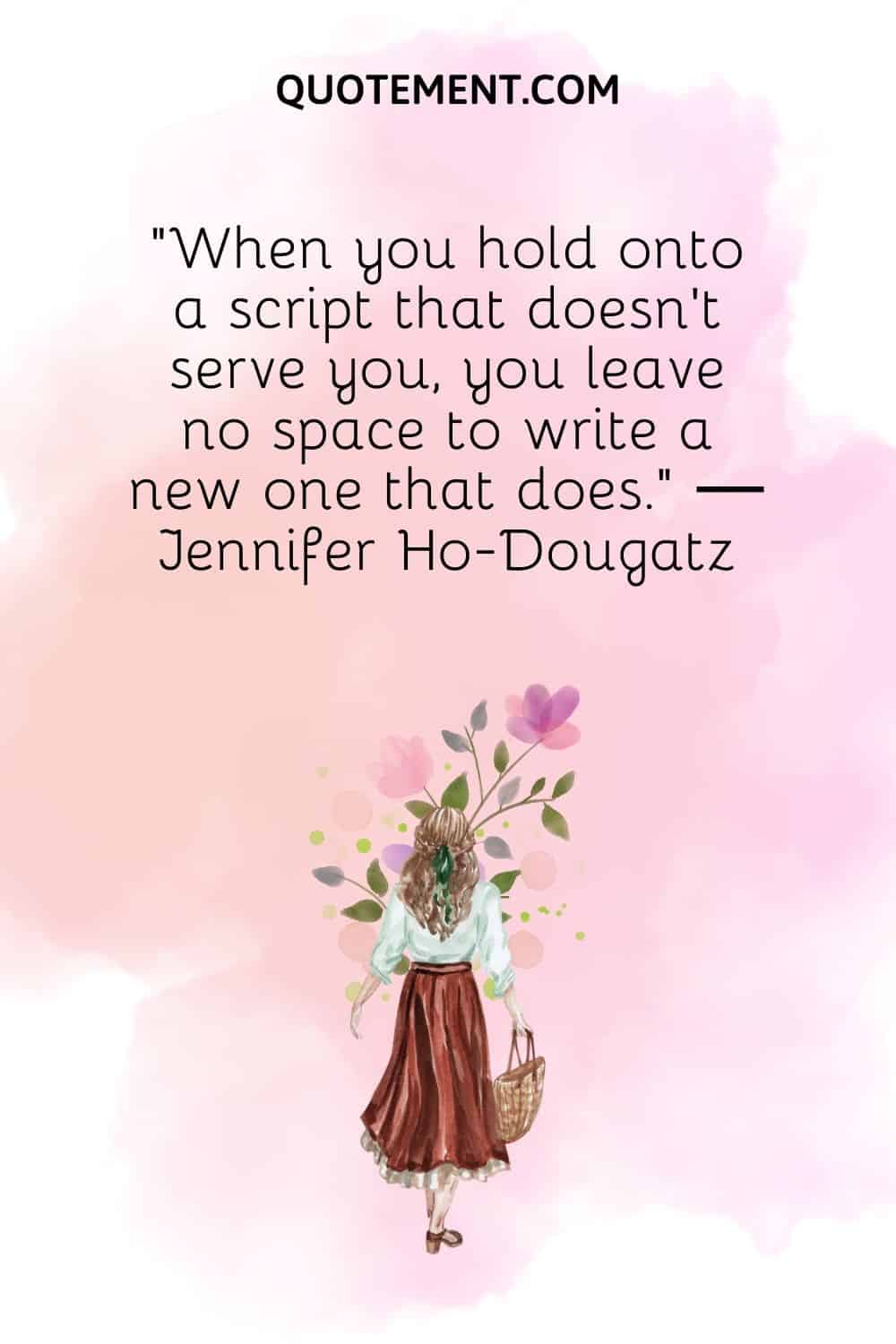 Final Thoughts
I created this collection of moving on quotes to remind you that we all faced tough life challenges, but we moved on and healed. So will you.
The end of a certain relationship or period in your life is not the end of your story.
So, if you know it's time for a new chapter in whatever you're doing, get ready and embrace it.