It is not a cliché when people say that love is blind.
When it comes to those we love, it is sometimes too difficult to recognize the signs of a toxic relationship, even when they become too obvious.
But that's not the worst thing. It is our decision to end such a relationship that's the hardest part!
Here are the best final goodbye toxic relationship quotes to remind you that it is time to get your mind right and stop the emotional torture and draining you've been going through.
This article is full of inspiring toxic relationship goodbye quotes, encouraging breakup quotes, self-love quotes, and toxic people quotes, all gathered here to help you let it go, heal, and move on.
My collection of final goodbye toxic relationship quotes will inspire you to make the best decision for yourself by distancing from a relationship that will affect all aspects of your life.
Let's start!
Top 20 Final Goodbye Toxic Relationship Quotes
1. "Stop holding onto the hope that something will change. Instead, focus on how much you are losing for the change you are hoping for." — Lauren Levine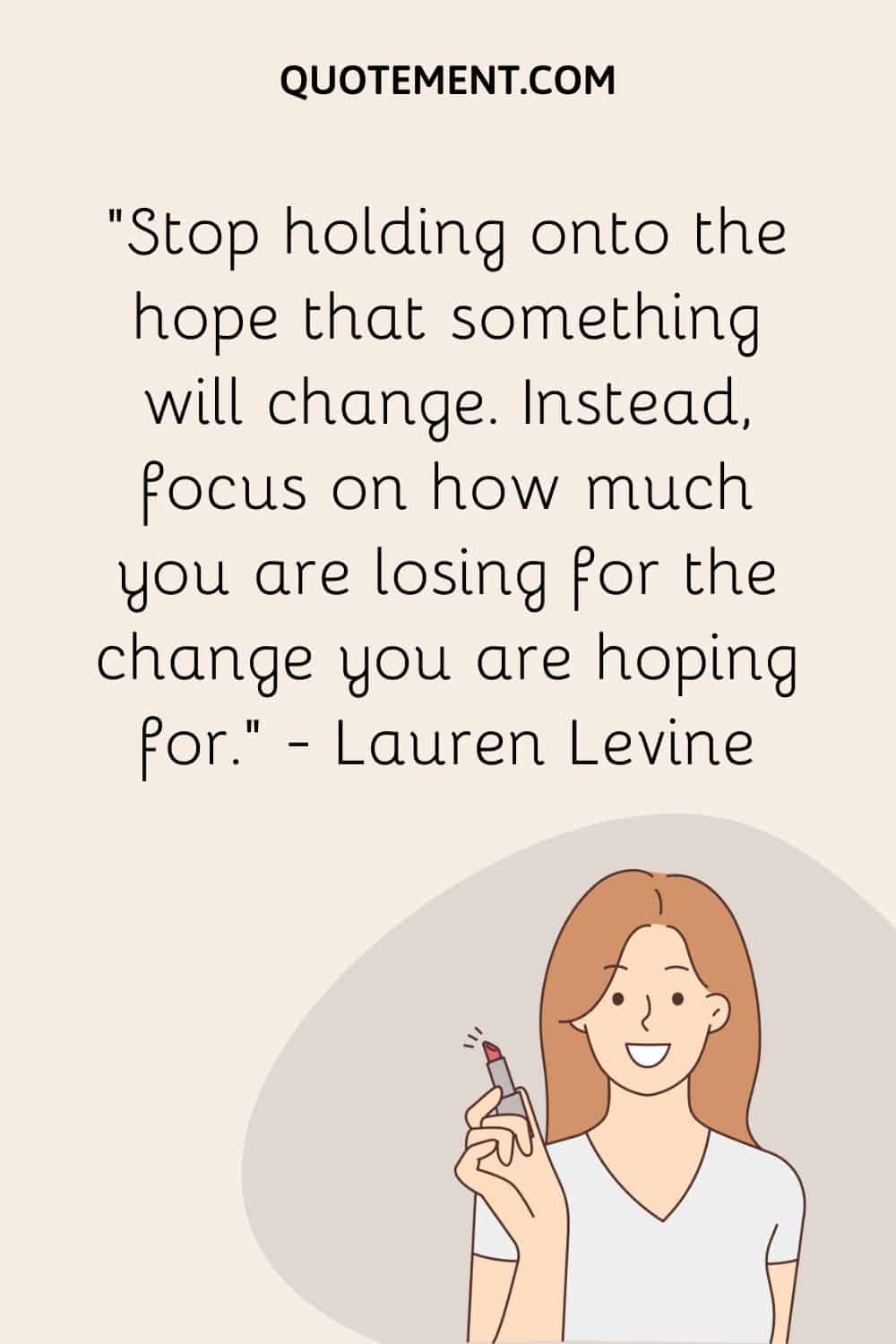 2. "Dear Self: Stop re-opening your doors for toxic people, then calling it 'seeking closure.' Certain things don't work out in life… and that's ok." — Reyna Biddy
3. "We all have those toxic people around us that make our lives miserable… The day we take them out from our lives, we will all become better people; including them…" ― Rodolfo Peon
4. "My encouragement: delete the energy vampires from your life, clean out all complexity, build a team around you that frees you to fly, remove anything toxic, and cherish simplicity. Because that's where genius lives." — Robin S. Sharma
5. "Letting go means to come to the realization that some people are a part of your history, but not a part of your destiny." — Steve Maraboli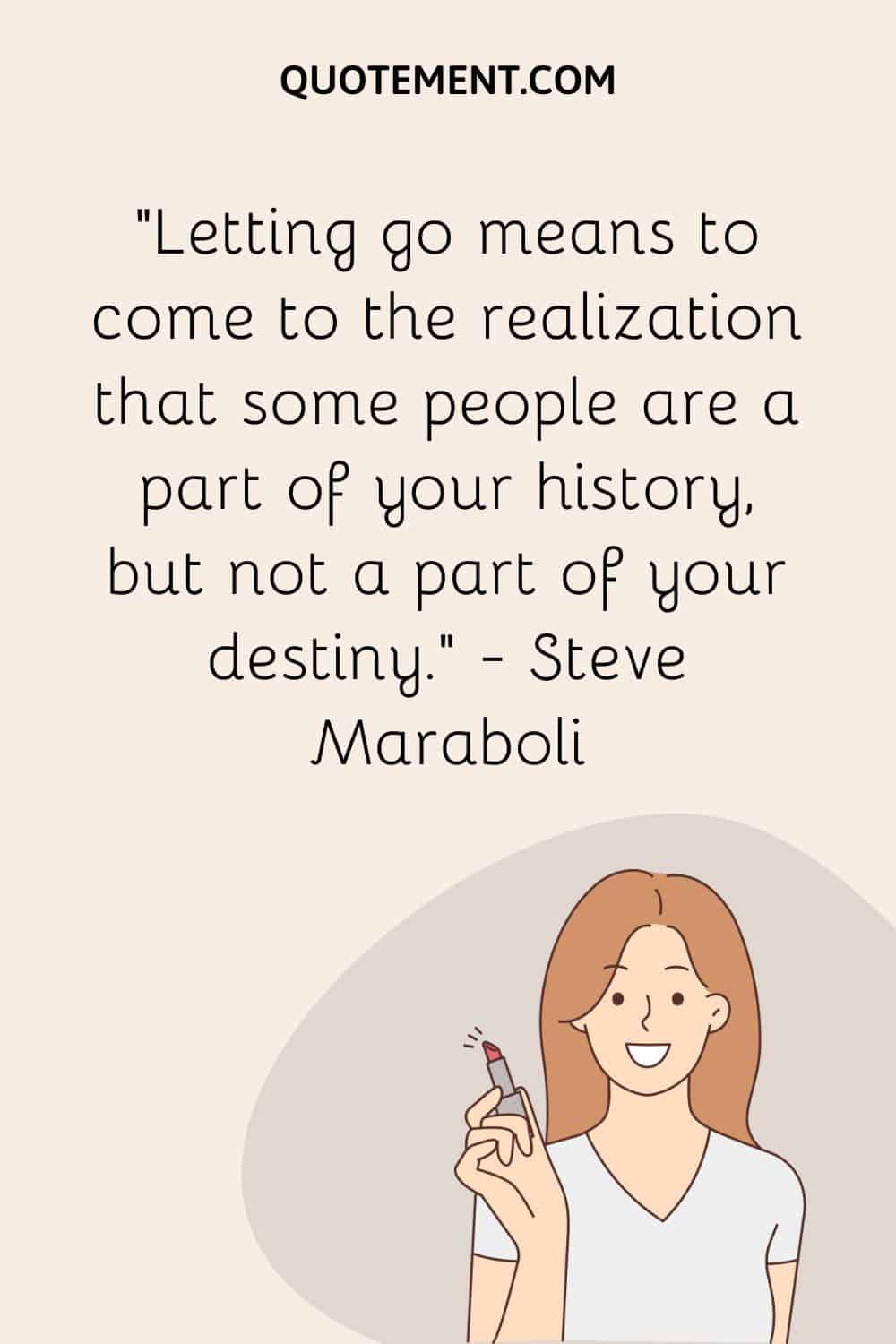 6. "Staying in an unhealthy relationship that robs you of peace of mind is not being loyal. It is choosing to hurt yourself mentally, emotionally, and sometimes, physically." — Kemi Sogunle
7. "Toxic people attach themselves like cinder blocks tied to your ankles and then invite you for a swim in their poisoned waters."― John Mark Green
8. "If someone isn't honoring your feelings, it's not a real relationship. If you feel drained after spending time with someone, that's a red flag!" — Doreen Virtue
9. "Make sure you're not saying 'It's complicated' when it's actually TOXIC. The more words it takes you to explain your relationship, the less healthy it probably is." ― Steve Maraboli
10. "Know your worth, and please don't invest in toxic people or relationships because any bond that requires servicing is not worth your time." — Masaba Gupta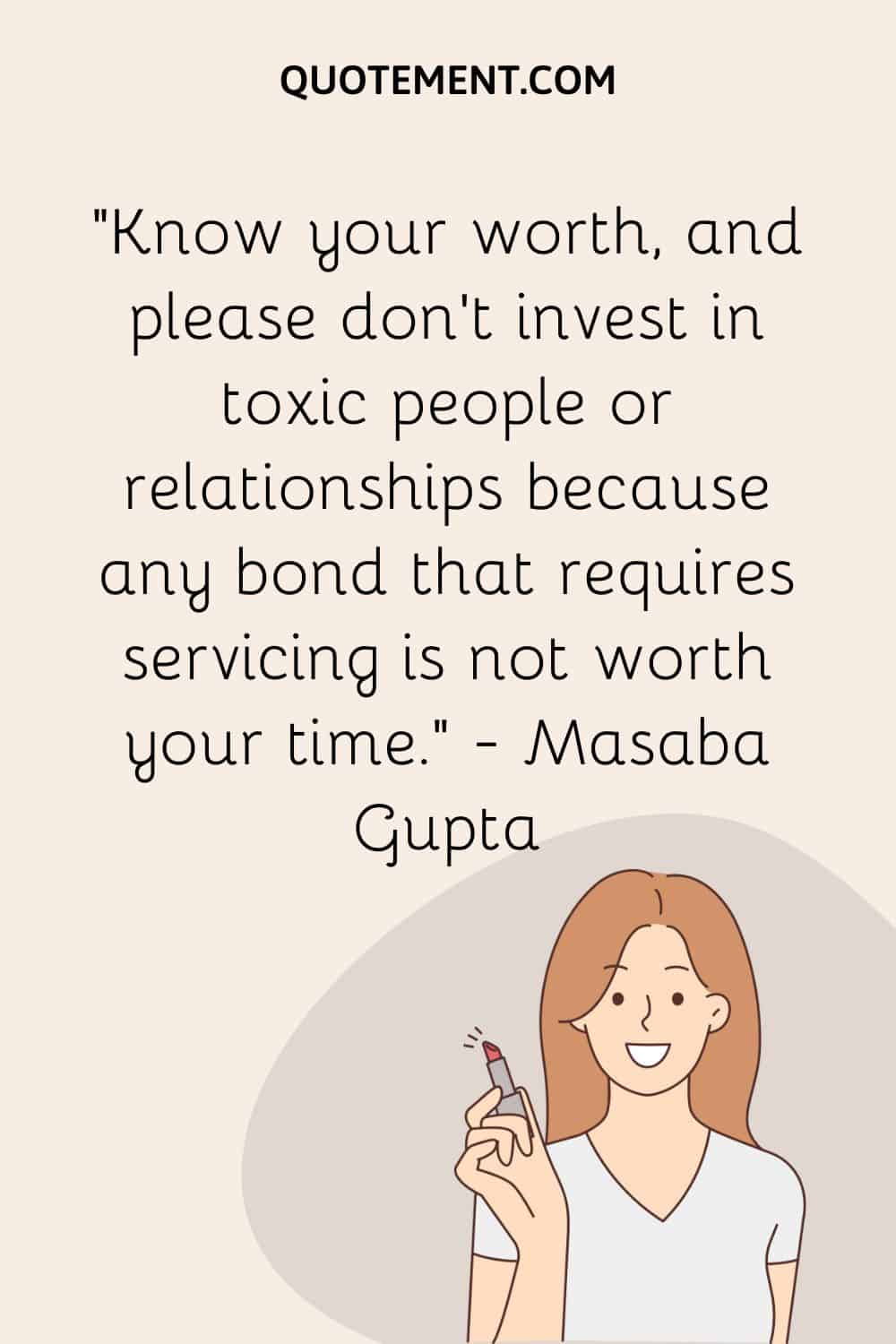 11. "Consistency is genuinely improving yourself to become a good match for those with whom you are in relationships while distancing yourself from people when their actions become too toxic." ― Dexter A. Daniels
12. "Cry. Forgive. Learn. Move on. Let your tears water the seeds of your future happiness." — Steve Maraboli
13. "Release the toxic and infectious spreaders of misery, souls destroying souls, and poisonous liars. Awaken from the hallucinations and take back your heart. Reclaim your self-esteem and leave the toxic be." — George Leedy
14. "Cut the toxic ties that force you to mask your true feelings." ― Linda Greyman
15. "Don't let negative and toxic people rent space in your head. Raise the rent and kick them out." — Zig Ziglar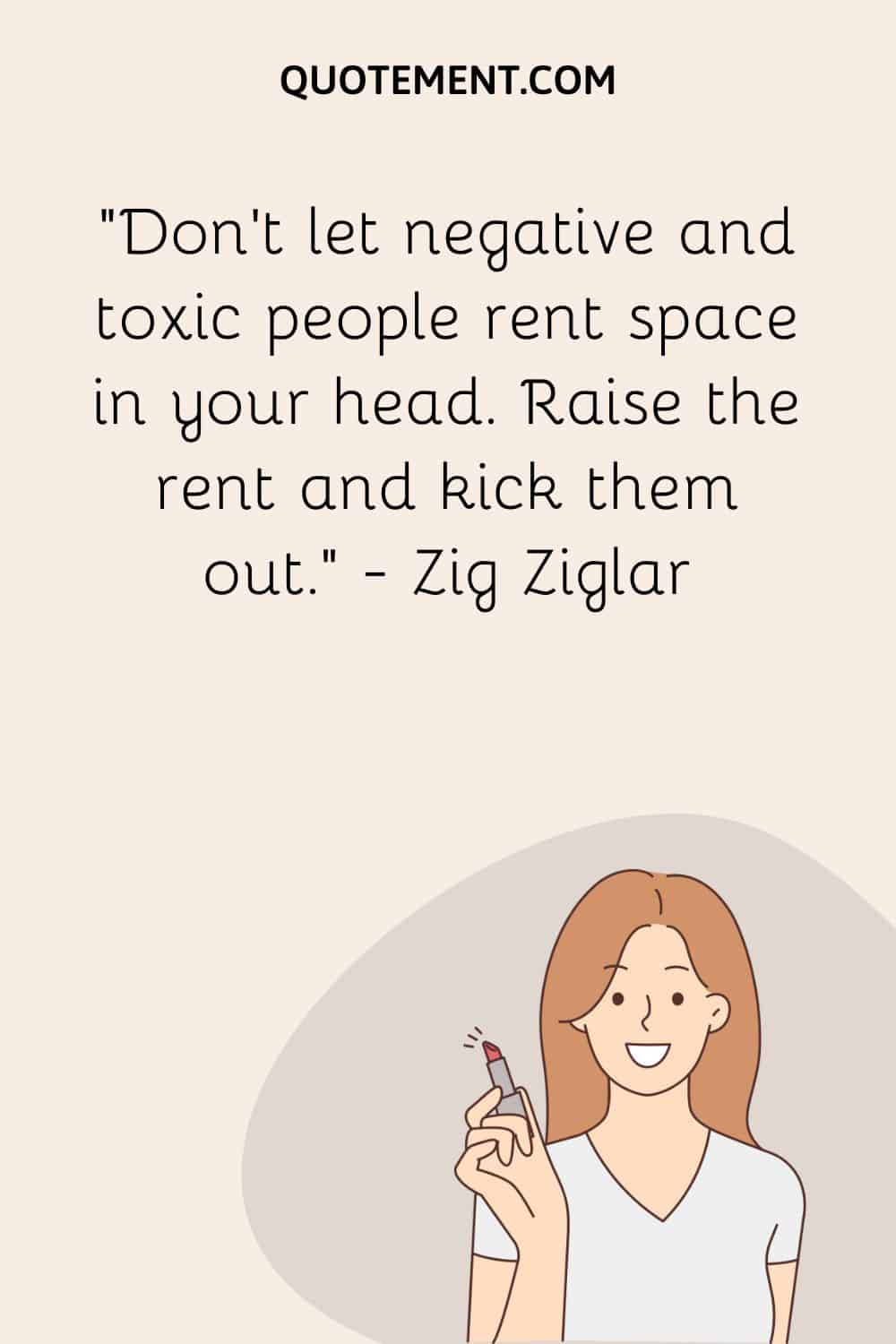 16. "As you begin to walk away from negativity and toxic people, it will inspire you to embrace positivity, and your life will become more rewarding and fulfilling." ― Germany Kent
17. "You have to believe that you're better than the fountain of abuse that's been spewing hurt and pain at you. You just are." — Sara Li
18. "It's one thing if a person owns up to their behavior and makes an effort to change. But if a person disregards your feelings, ignores your boundaries, and continues to treat you in a harmful way, they need to go." — Daniell Koepke
19. "There is a time for departure even when there's no certain place to go." — Tennesse Williams
20. "You are in control of your life. Set new boundaries by removing all of the toxic people from your inner circle." ― Germany Kent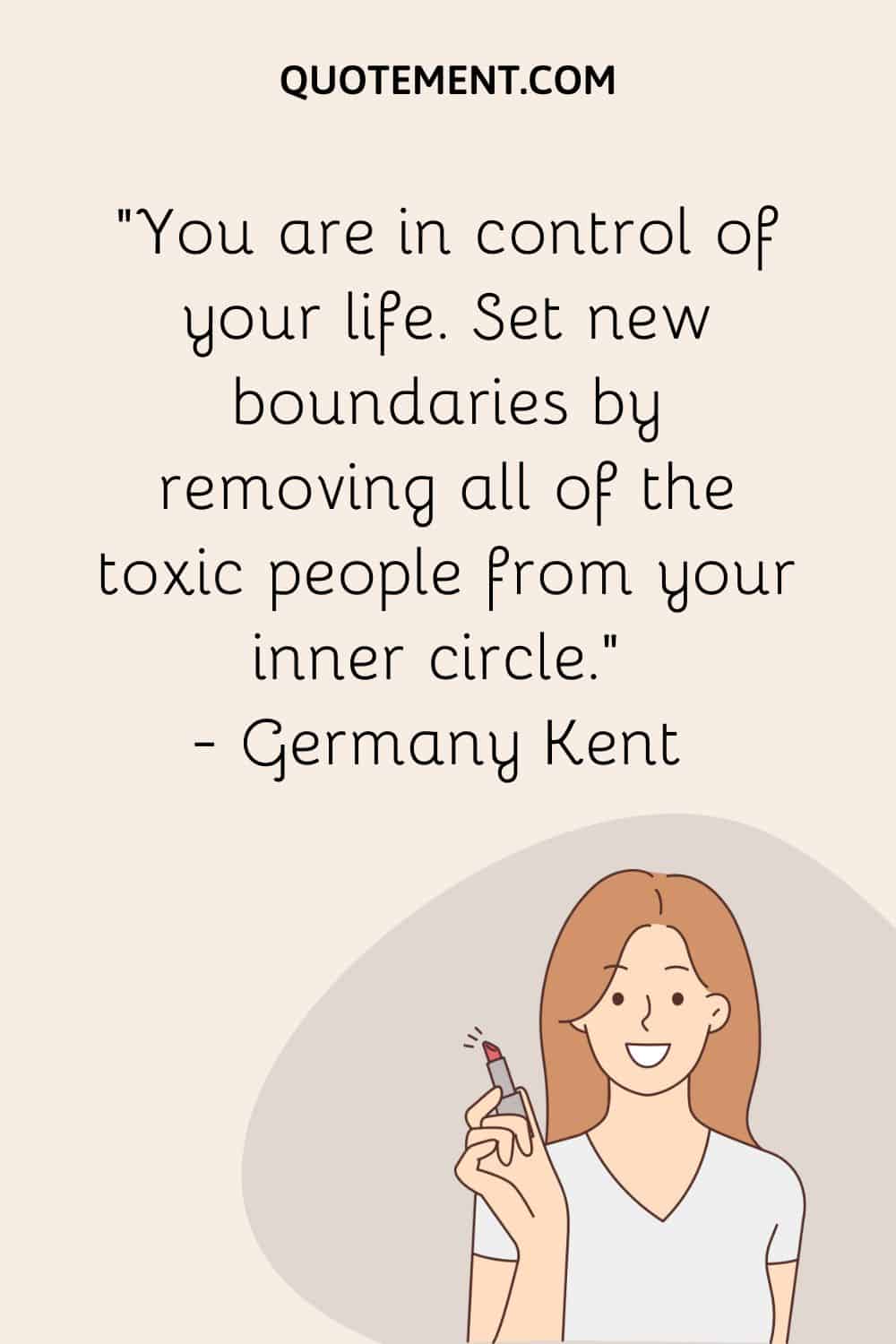 See also: Top 90+ Cutting People Off Quotes To Save Your Sanity
Moving On From A Toxic Relationship Quotes
1. "At some point, you have to realize that some people can stay in your heart but not in your life." ― Tara Westover, Educated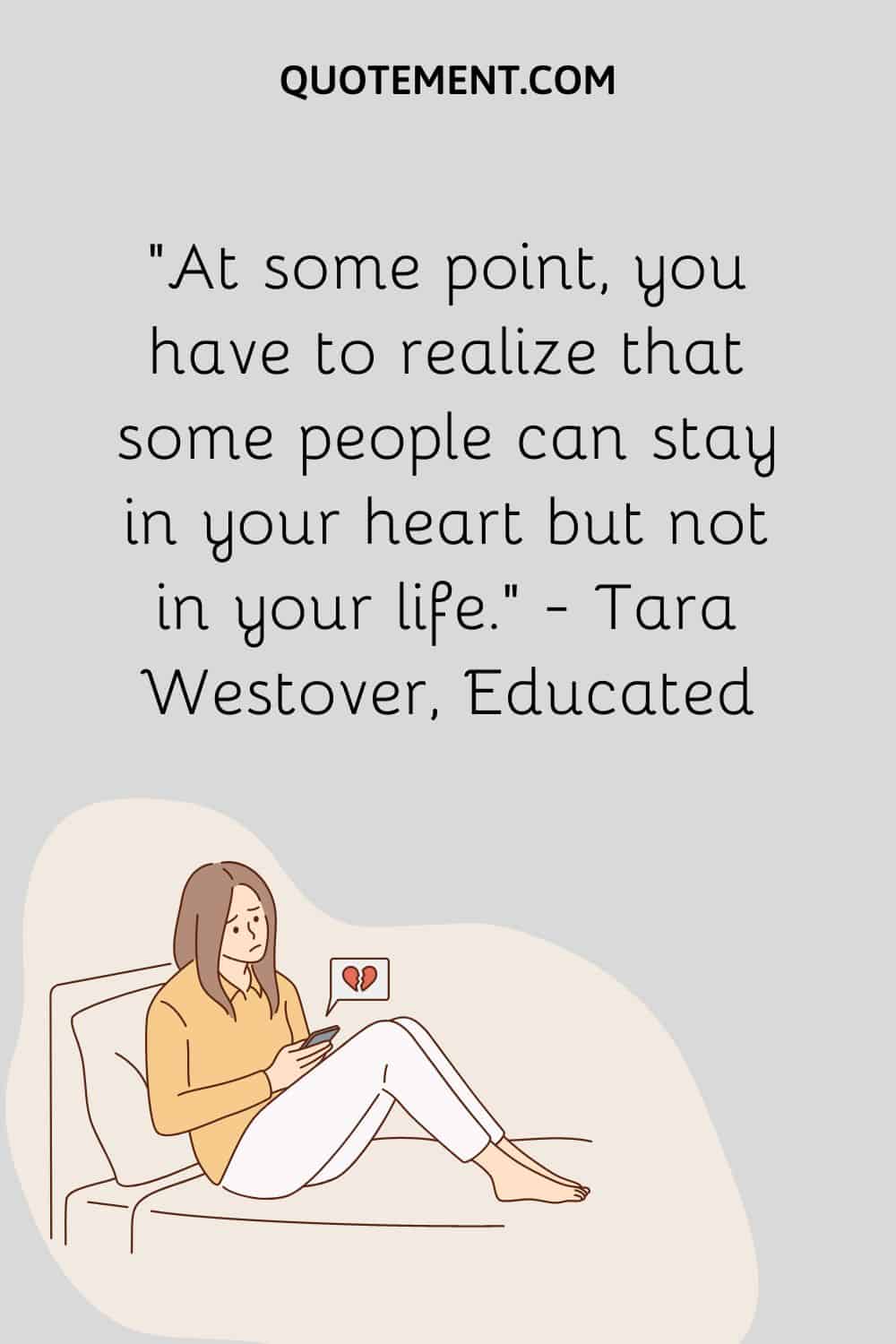 2. "The damage isn't caused in just one day. Give yourself plenty of time to heal and move on. Pack your things. Stop blaming yourself. Delete the photos. Change your number. Take small steps one at a time." ― Unknown
See also: 110 Spiritual Healing Quotes To Find Strength And Peace
3. "Don't stay in an unhealthy relationship because you think it'll get better eventually. Know your worth and move on." — Unknown
4. "I know that it really hurts to move on, but it hurts more to stay somewhere you aren't appreciated, respected, and loved." — Unknown
5. "Grudges are for those who insist that they are owed something; forgiveness, however, is for those who are substantial enough to move on." — Criss Jami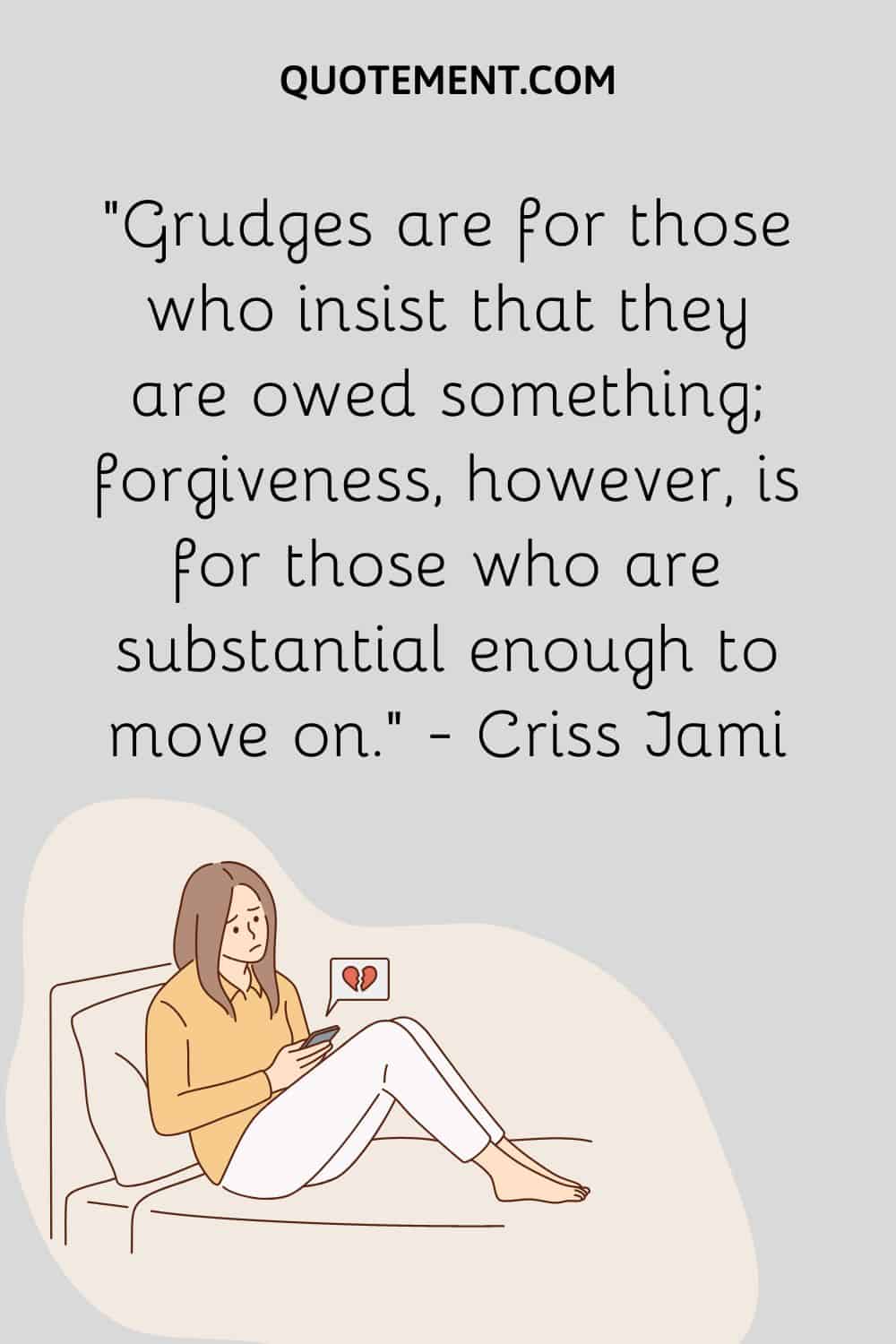 6. "We are born in relationship, we are wounded in relationship, and we can be healed in relationship." — Harville Hendrix
7. "Sometimes there are things in life that aren't meant to stay. Sometimes change may not be what we want. Sometimes change is what we need." — Don Bolena Jr.
8. "Sometimes the best revenge is to smile and move on." ― Unknown
9. "Relationships are supposed to make you feel good. Relationships are not supposed to make you feel bad. Or guilty, insecure, ashamed, paranoid, or hopeless. So when a relationship makes you feel bad, guilty, insecure, ashamed, paranoid, or hopeless. End it. Get over him. Move on." — Laura Bowers
10. "The emotion that can break your heart is sometimes the very one that heals it." ― Unknown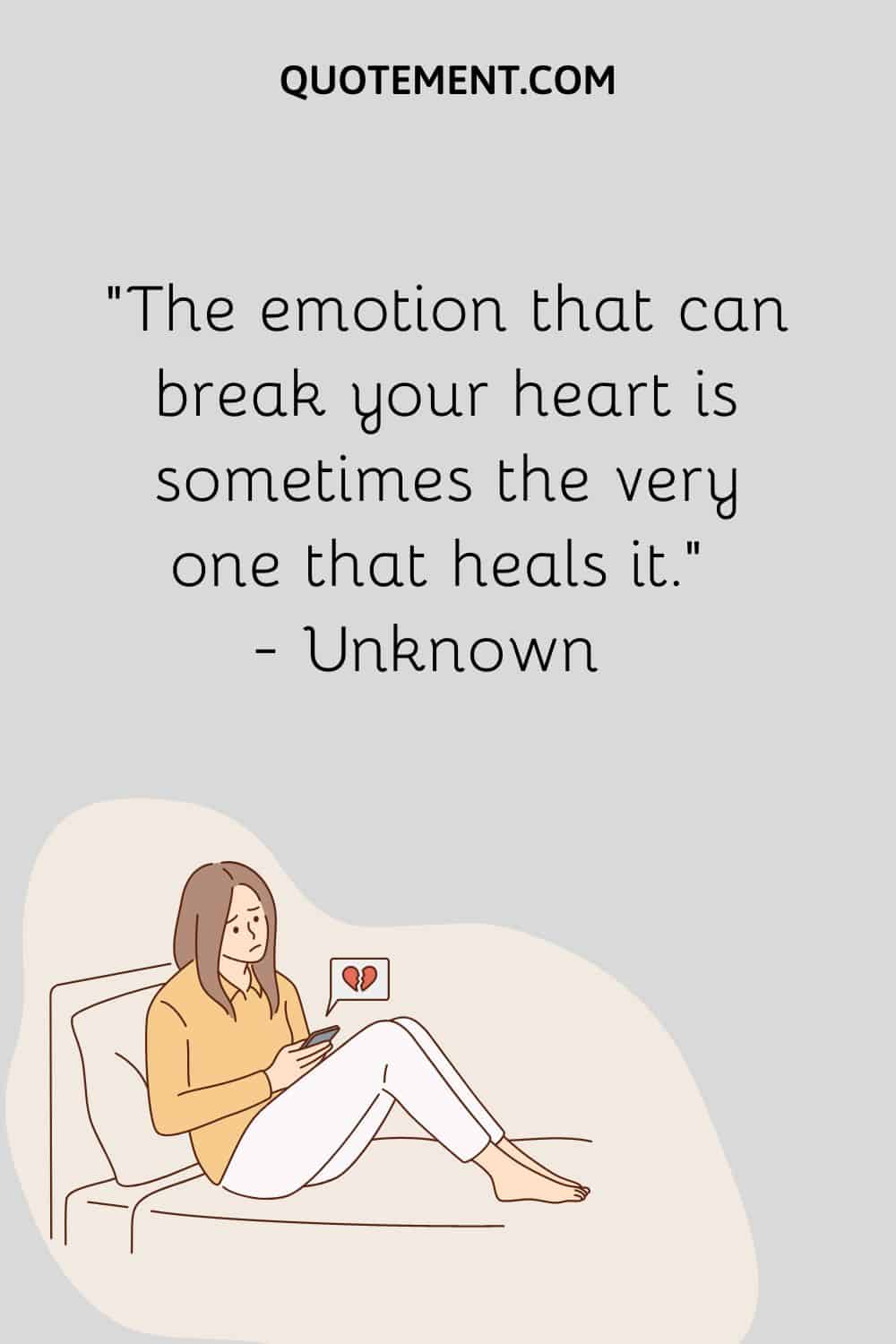 11. "You deserve better." ― Unknown
12. "Toxic people may try to isolate you from the rest of the world, making them "the only one you have". And that's why to leave a toxic relationship, we have to rebuild the connection with your support network." ― Unknown
13. "One's dignity may be assaulted, vandalized, and cruelly mocked, but it can never be taken away unless it is surrendered." ― Michael J. Fox
14. "Sometimes you need to die a little inside in order to be reborn and thrive." ― Unknown
15. "There is no safe way to remain in a relationship with a person who has no conscience. The only solution is to escape." ― Unknown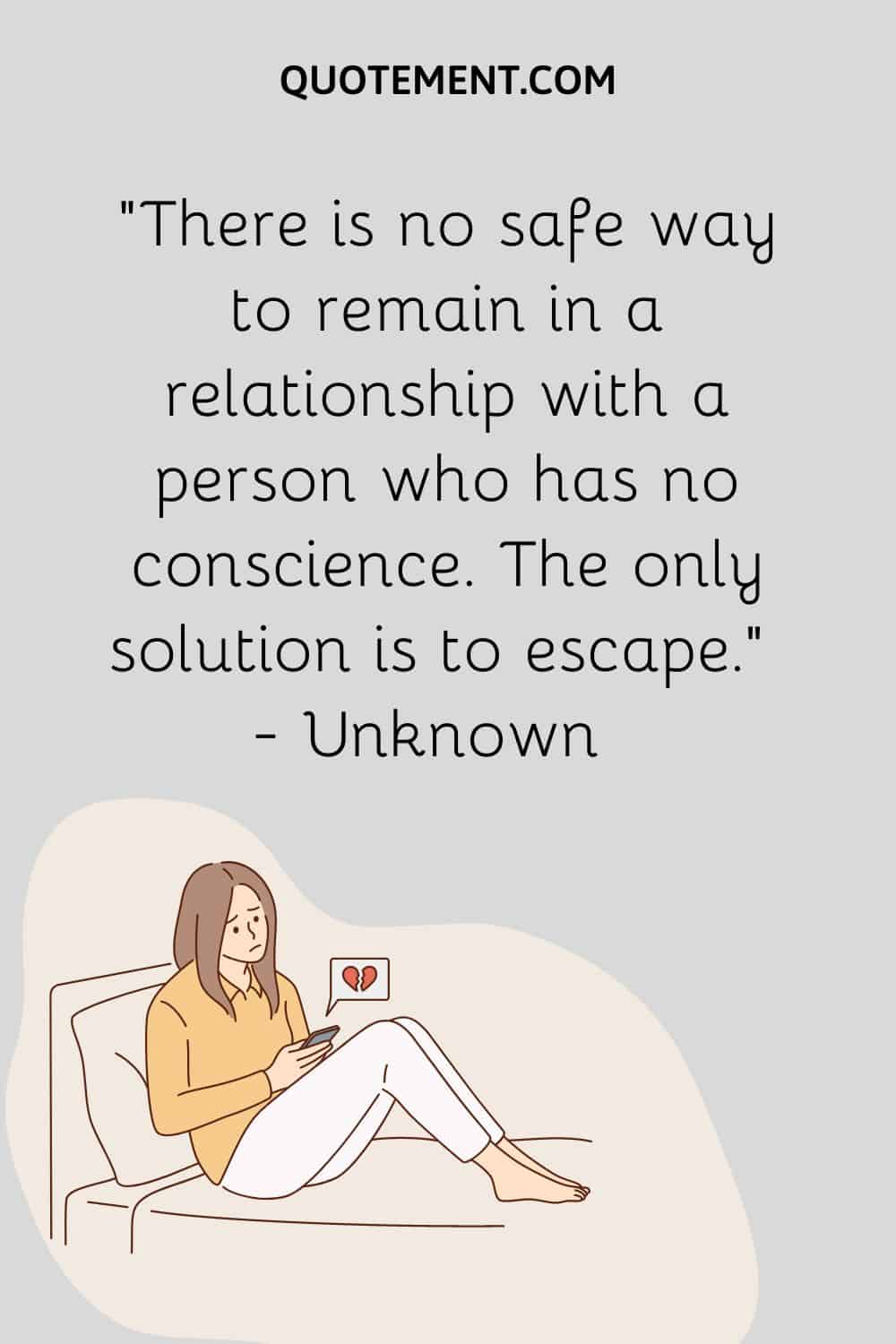 16. "When being in a toxic relationship in life, at times you may have to step outside yourself, to see yourself, so you can find yourself and love yourself again." ― Angel Moreira
See also: 200 Me Myself And I Quotes To Make You Love Yourself More
17. "You must make a decision that you are going to move on. It won't happen automatically." — Joel Osteen
18. "A relationship without trust is like a car without gas, you can stay in it all you want, but it won't go anywhere." — Michael J Herbert
19. "Let things come and go. Stay calm, don't let anything disturb your peace, and carry on." ― Germany Kent
20. "Sometimes you need to give up on people, not because you don't care but because they don't." ― Unknown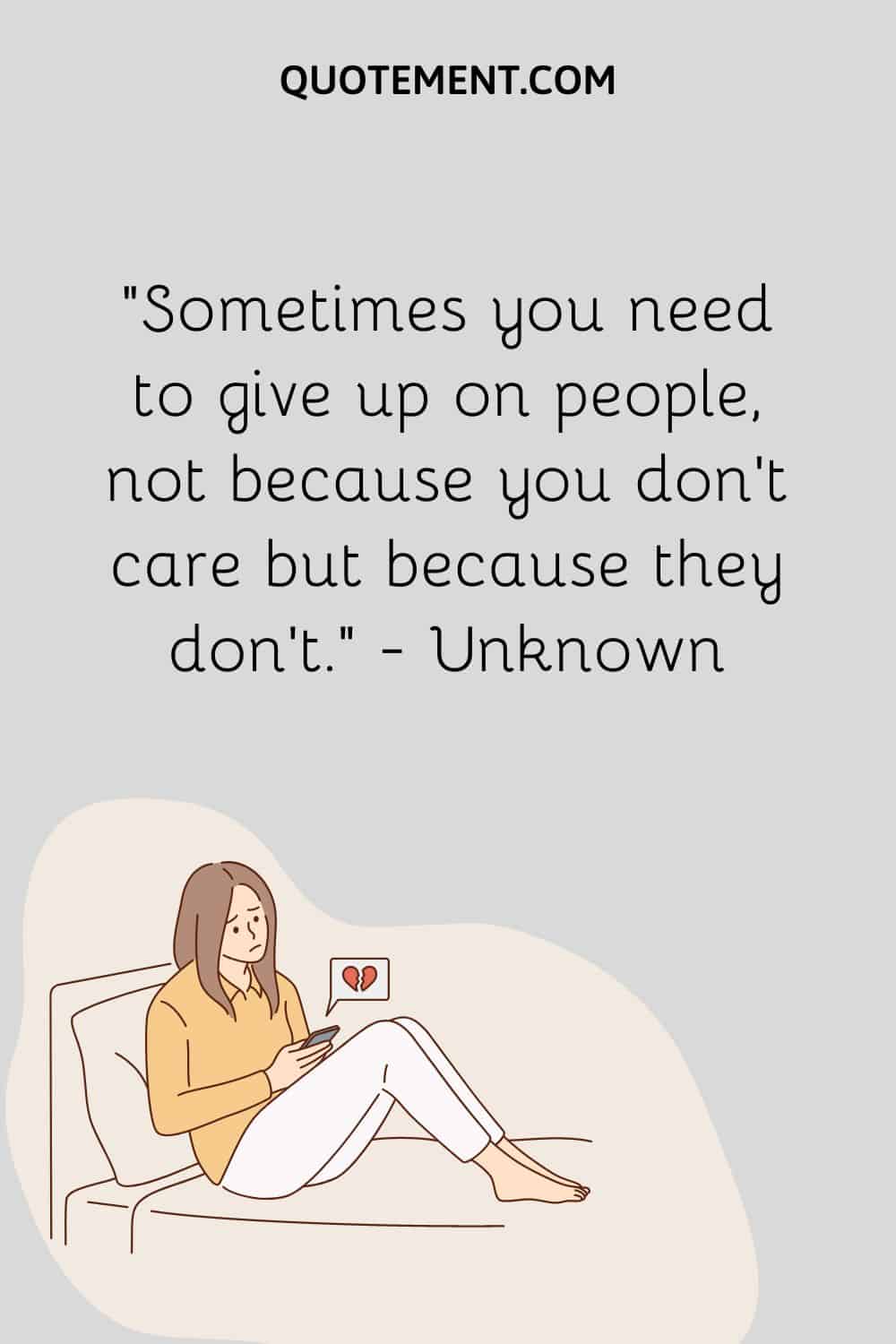 See also: 100 Maybe It's Time To Give Up Quotes To Help You Move On
Toxic Relationship Letting Go Quotes
1. "A bad relationship is like standing on broken glass. If you stay, you will keep hurting. If you walk away, you will hurt, but eventually, you will heal." ― Autumn Kohler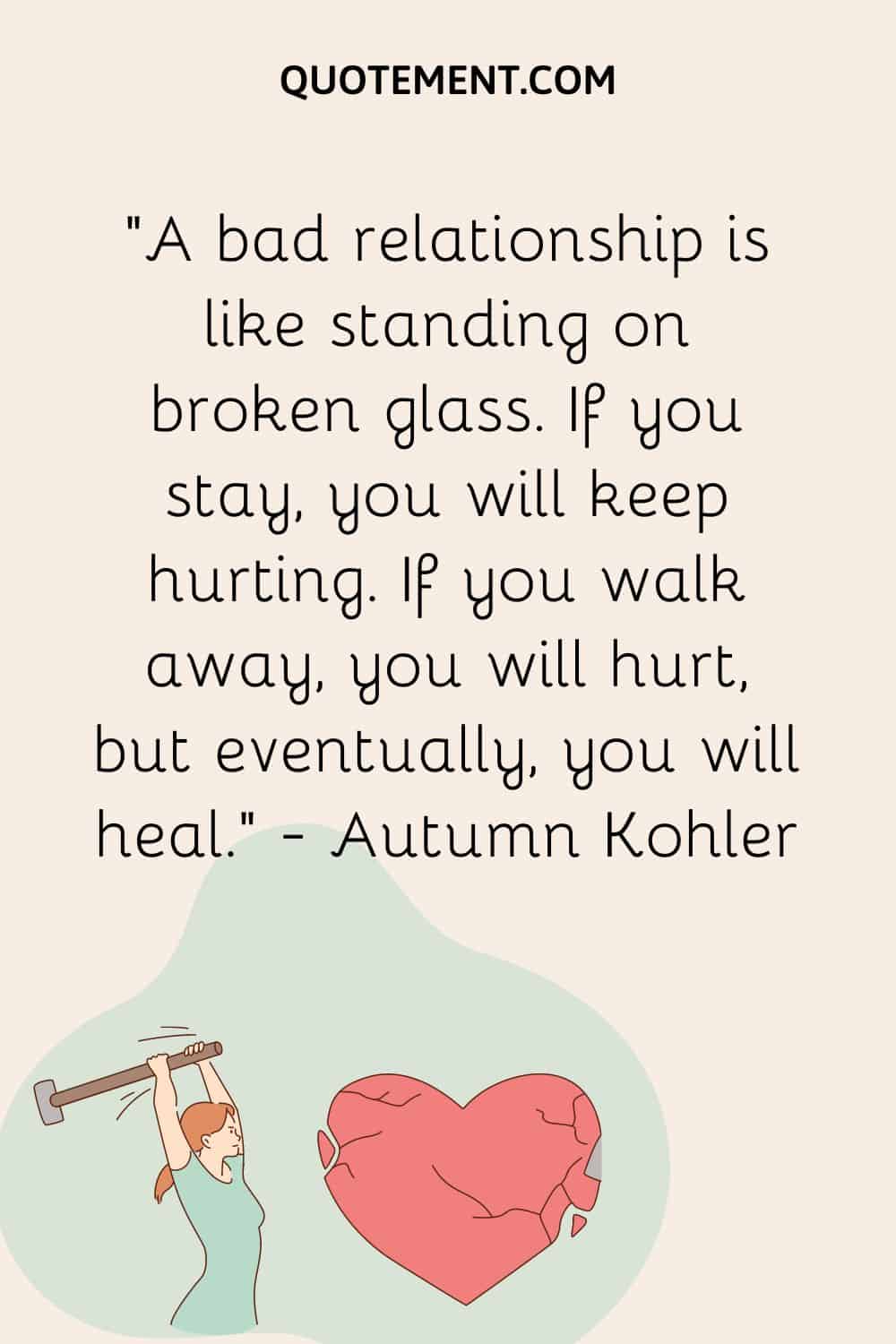 2. "Letting go of toxic people in your life is a big step in loving yourself." — Hussein Nishah
See also: 210 Killer Self Love Captions For Instagram To Lift You Up
3. "We should fight for our relationships, but if fighting means ripping yourself to shreds and piggybacking all his demons, you need to leave." ― Tara Love
4. "Life is too short to hang around people who are causing you to compromise. Pulling you down. Your time is too valuable to waste it with people who don't have a dream. People that aren't going anywhere. You don't need to make some big announcements, but little by little, you should spend less time with them. ― Joel Osteen
5. "Losing will not always amount to a loss, sometimes you have to lose those toxic relationships and bad habits to create a space for better things." ― Gift Gugu Mona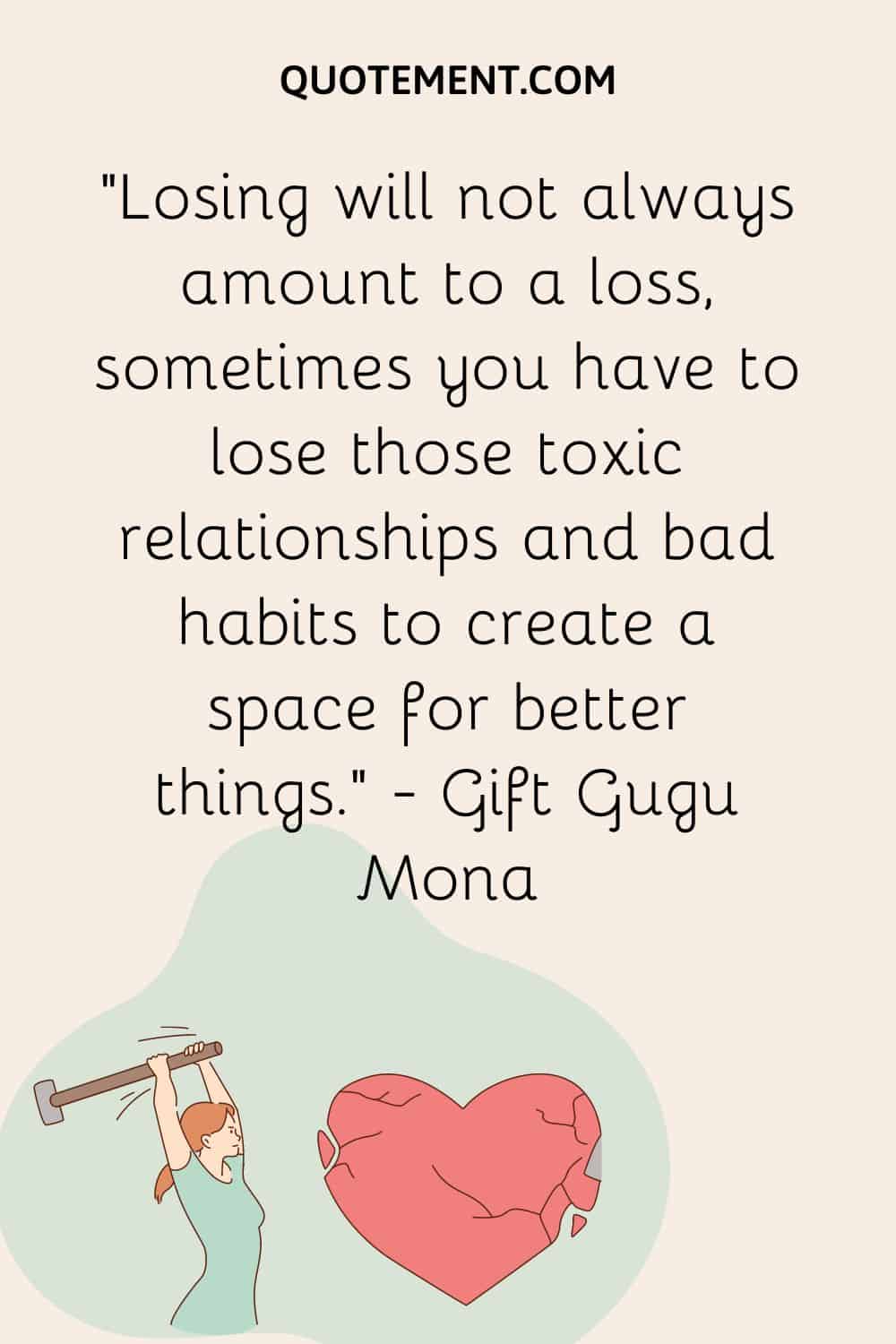 6. "You are allowed to terminate toxic relationships. You are allowed to walk away from people who hurt you. You don't owe anyone an explanation for taking care of yourself." — Unknown
7. "Do not hold your breath for anyone. Do not wish your lungs to be still. It may delay the cracks from spreading. But eventually, they will. Sometimes to keep yourself together, you must allow yourself to leave. Even if breaking your own heart is what it takes to let you breathe." ― Erin Hanson
8. "Remove yourself from people who treat you like your time doesn't matter, like your feelings are worthless, or like your soul is replaceable." ― Unknown
9. "Like arsenic, toxic people will slowly kill you. They kill your positive spirit and play with your mind and emotions. The only cure is to let them go." — Denisse Lisseth
10. "Until you let go of all the toxic people in your life, you will never be able to grow to your fullest potential. Let them go so you can grow." ― Unknown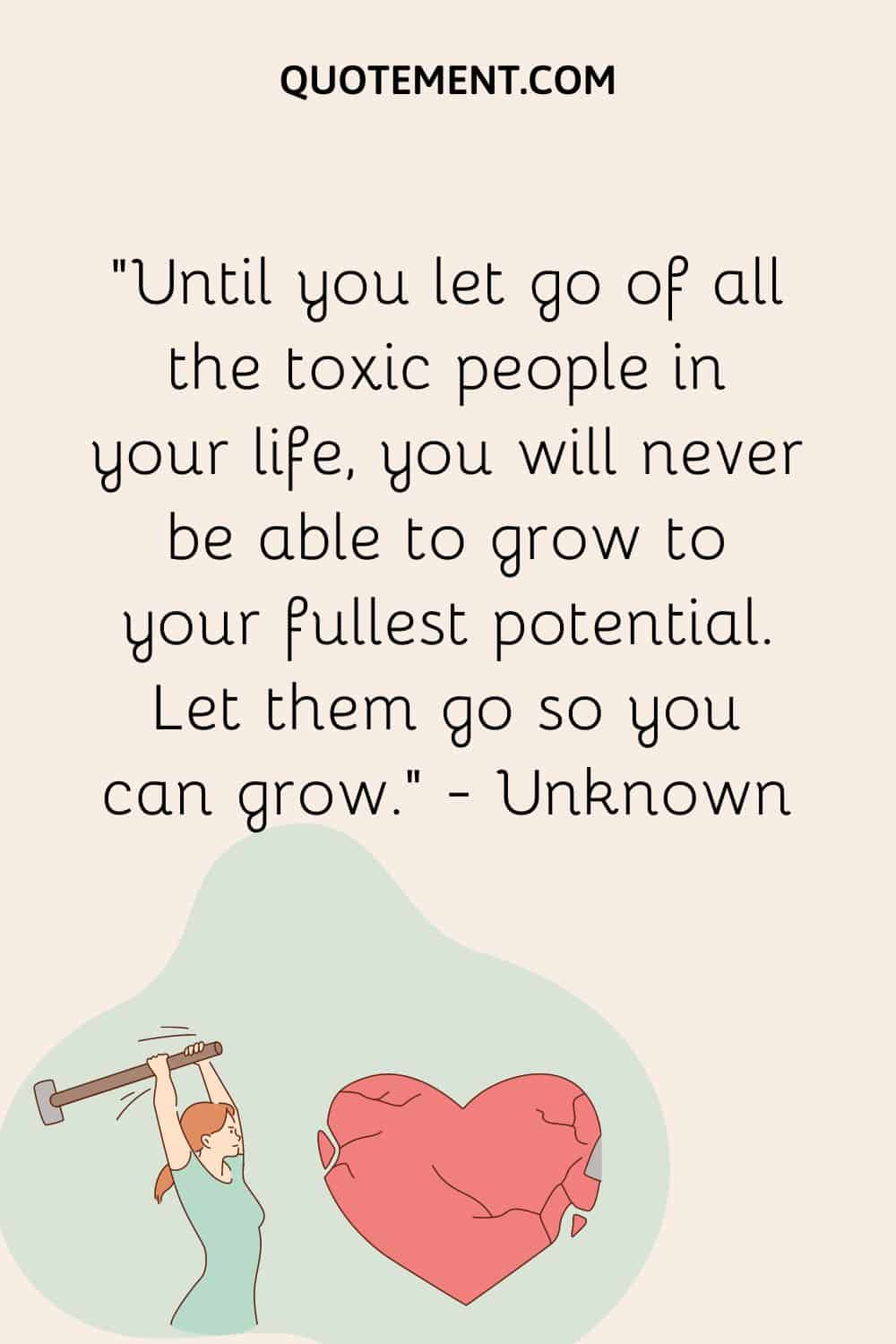 11. "Keep in mind that being happily single is way better than being miserable in a relationship." ― Unknown
See also: 110 Attitude Happy Alone Quotes That Will Uplift You
12. "A deadness occurs in relationships when people are no longer willing to tell each other how they really feel." — Shakti Gawain
See also: 150 Best Love Failure Quotes For All The Heart-Broken Souls
13. "There must come a time when your love for yourself becomes more important than your need to hold onto the pain of your past." ― Karen Salmansohn
14. "You'll never be good enough for the wrong person." ― Steph Social
15. "There are many paths to a fairytale ending… Blocking, unfollowing, muting, and unfriending also lead to "happily ever after"." — Unknown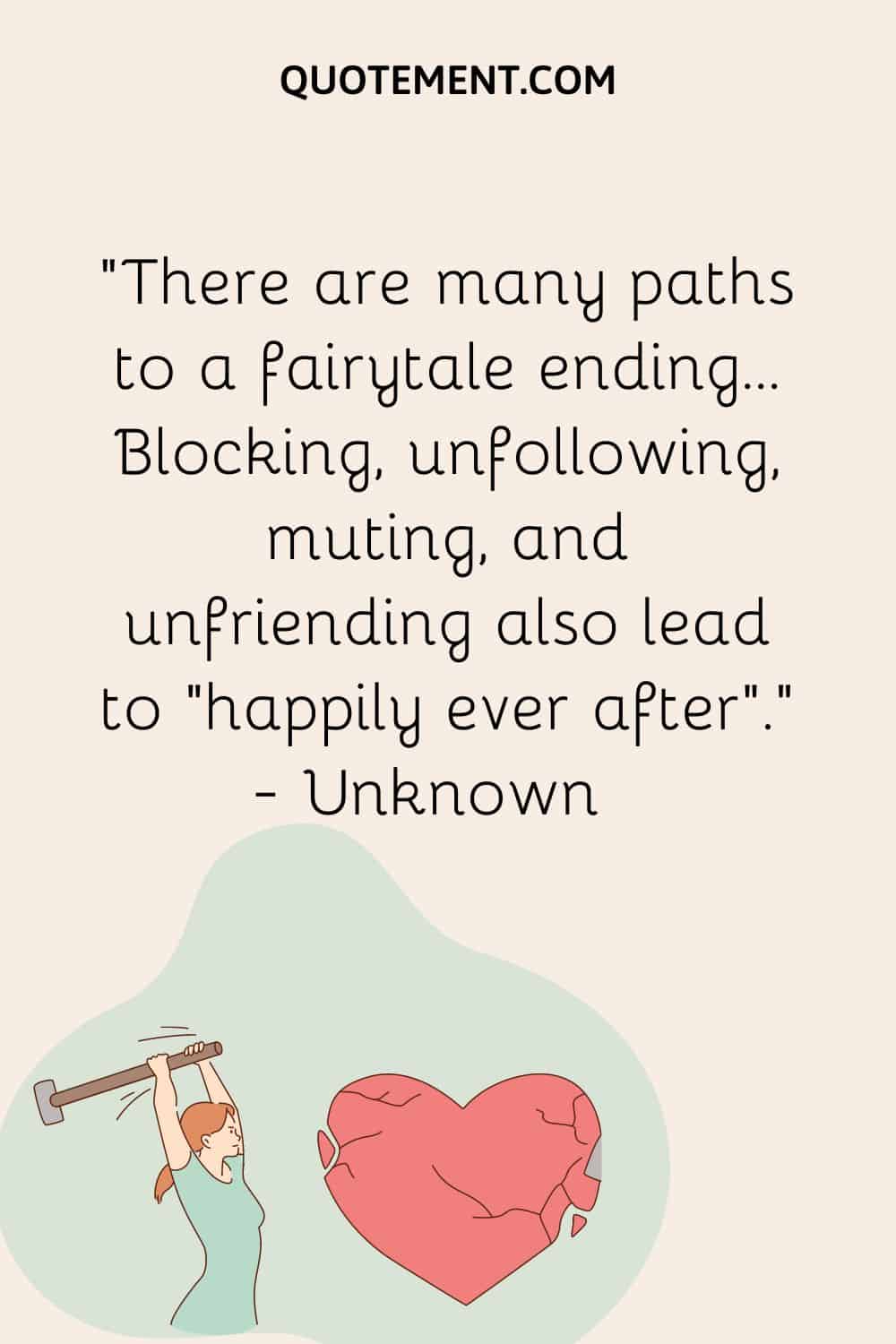 16. "Escaping a toxic relationship can feel like breaking a piece of your heart off, like a wolf chews its leg off to escape a steel trap. Leaving is never easy, but sometimes it's necessary to save yourself and others from dying inside." — Unknown
17. "Bravery is leaving a toxic relationship and knowing that you deserve better." ― Unknown
18. "There's an important difference between giving up and letting go." — Jessica Hatchigan
19. "You let go of a toxic and unhealthy relationship not because you are weak, not because you no longer love the other person, but because you are strong enough to understand that there are times when two people will be a lot happier if they go separate ways than if they stay together." — Unknown
See also: 120 Best Strong Woman Walk Away Quotes To Encourage You
20. "You don't let go of a bad relationship because you stop caring about them. You let go because you start caring about yourself." — Charles Orlando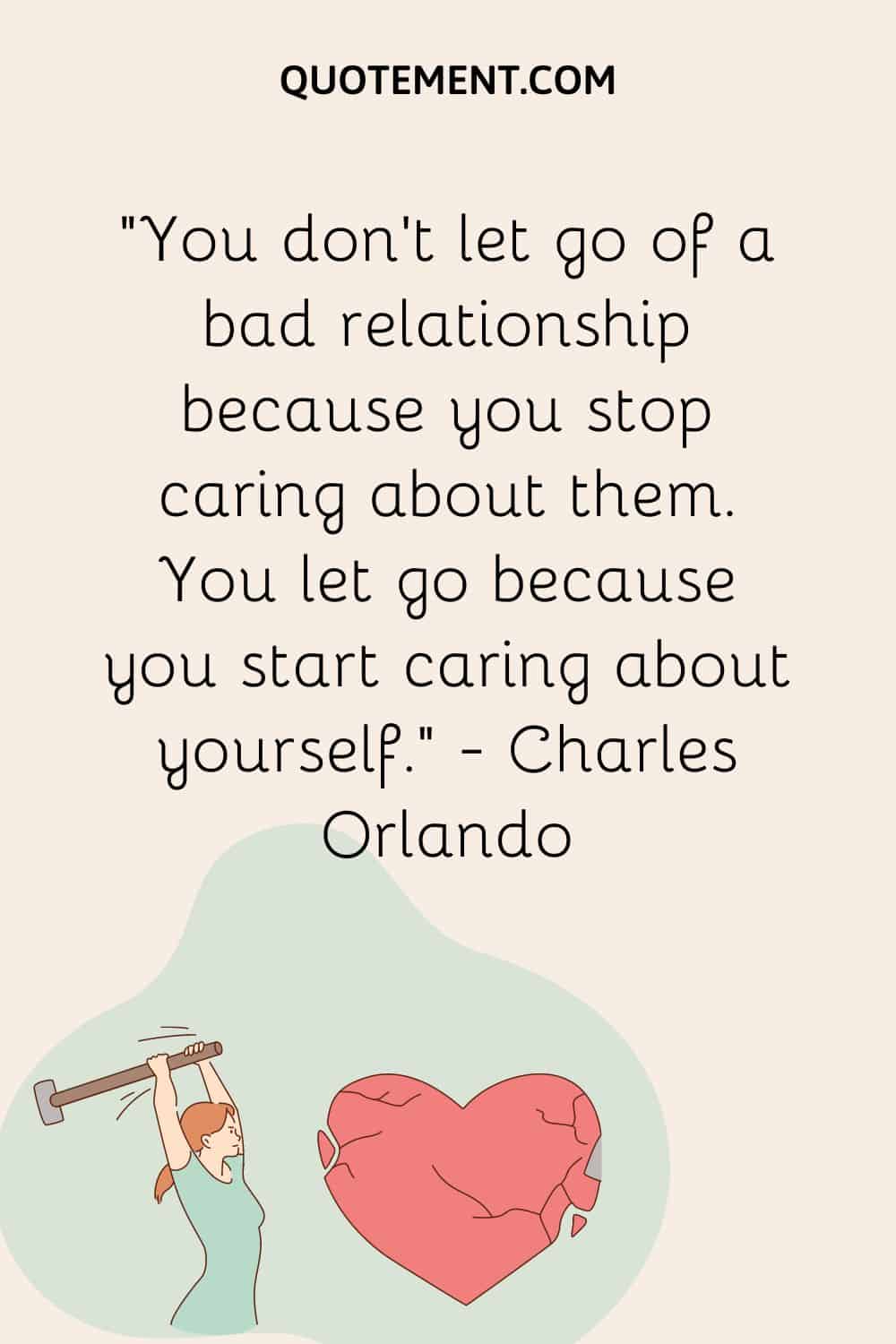 Toxic Love Quotes
1. "If you keep pretending you're not hurt, how can you heal? True love doesn't expect you to deny you're in pain." ― Zara Hairston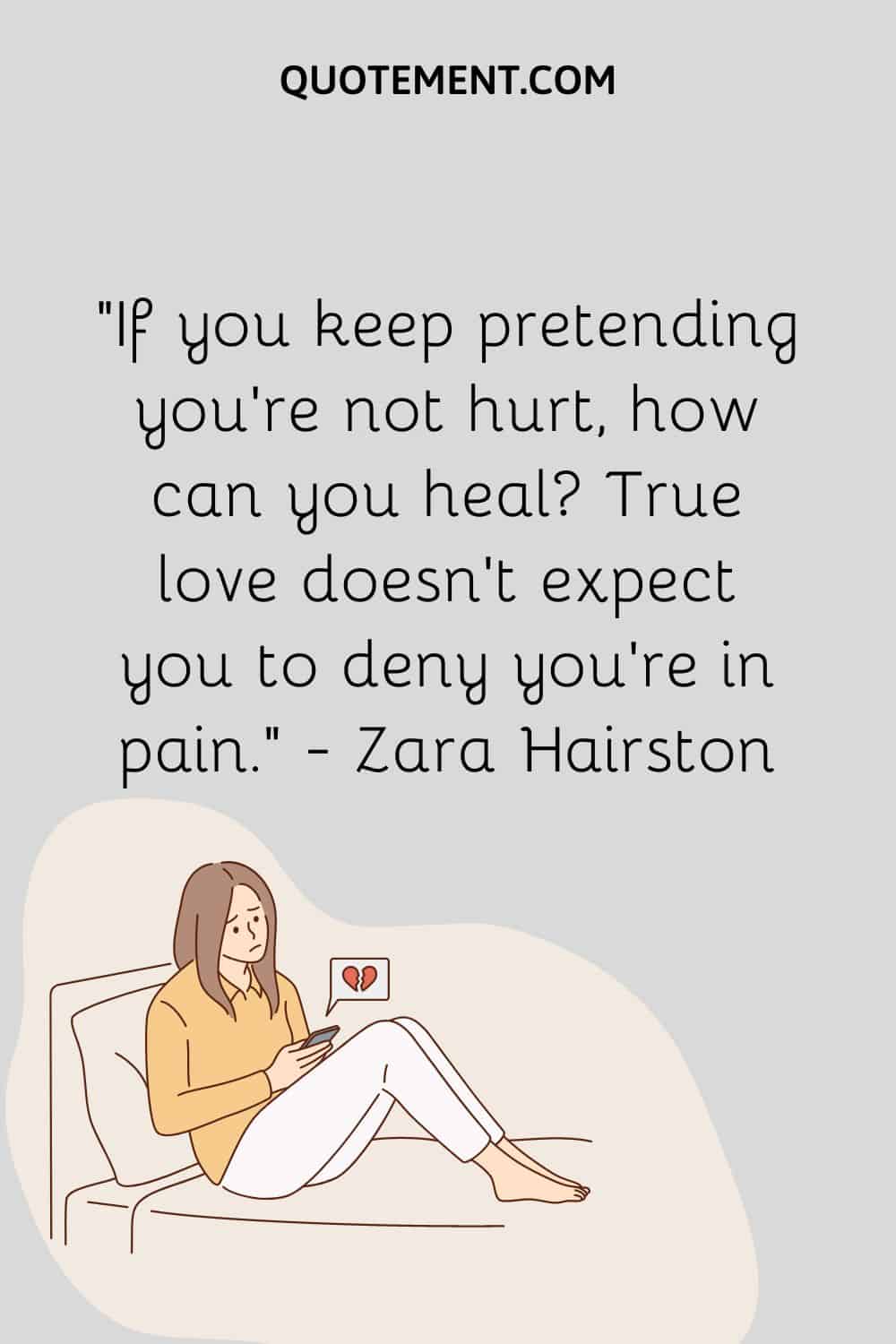 2. "Stop setting yourself on fire to keep someone else warm." ― Unknown
3. "Love should not make you feel like walking on eggshells." ― Emma Xu
4. "A healthy relationship doesn't drag you down. It inspires you to be better." ― Unknown
5. "Just say no to complicated, dead-end, unhealthy, and toxic relationships." ― Stephanie Lahart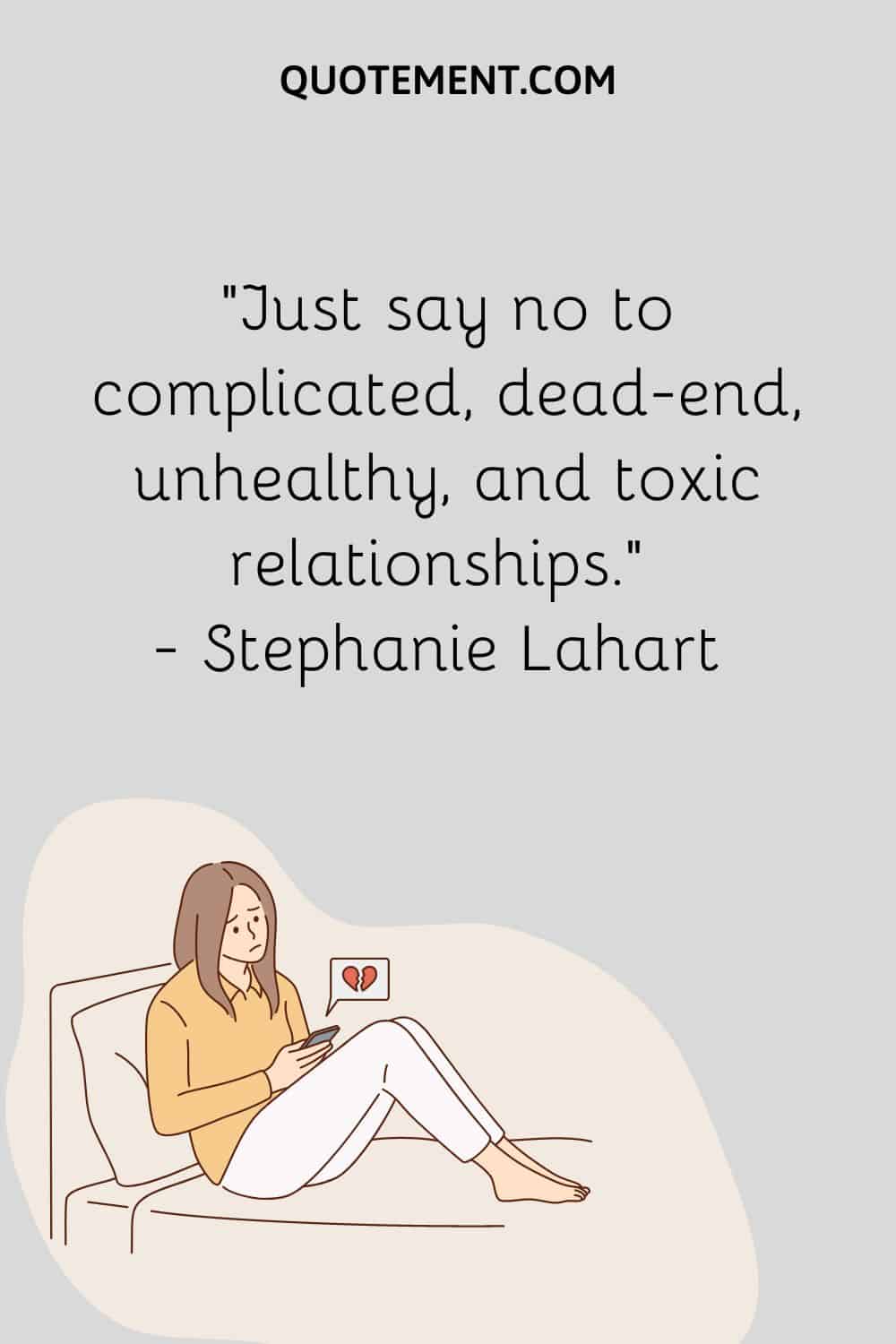 6. "Don't light yourself on fire trying to brighten someone else's existence." ― Charlotte Eriksson
7. "Such a disappointment when you defend someone for so long thinking they are different and they turn out to be just like what everyone said." ― Unknown
8. "Toxic relationships are like good pasta that has been overcooked." ― Asa Don Brown
See also: 180 Awesome Instagram Captions For Pasta Lovers + Quotes
9. "The moment that you start to wonder if you deserve better, you do." ― Unknown
10. "A bad relationship can do that, can make you doubt everything good you ever felt about yourself." ― Dionne Warwick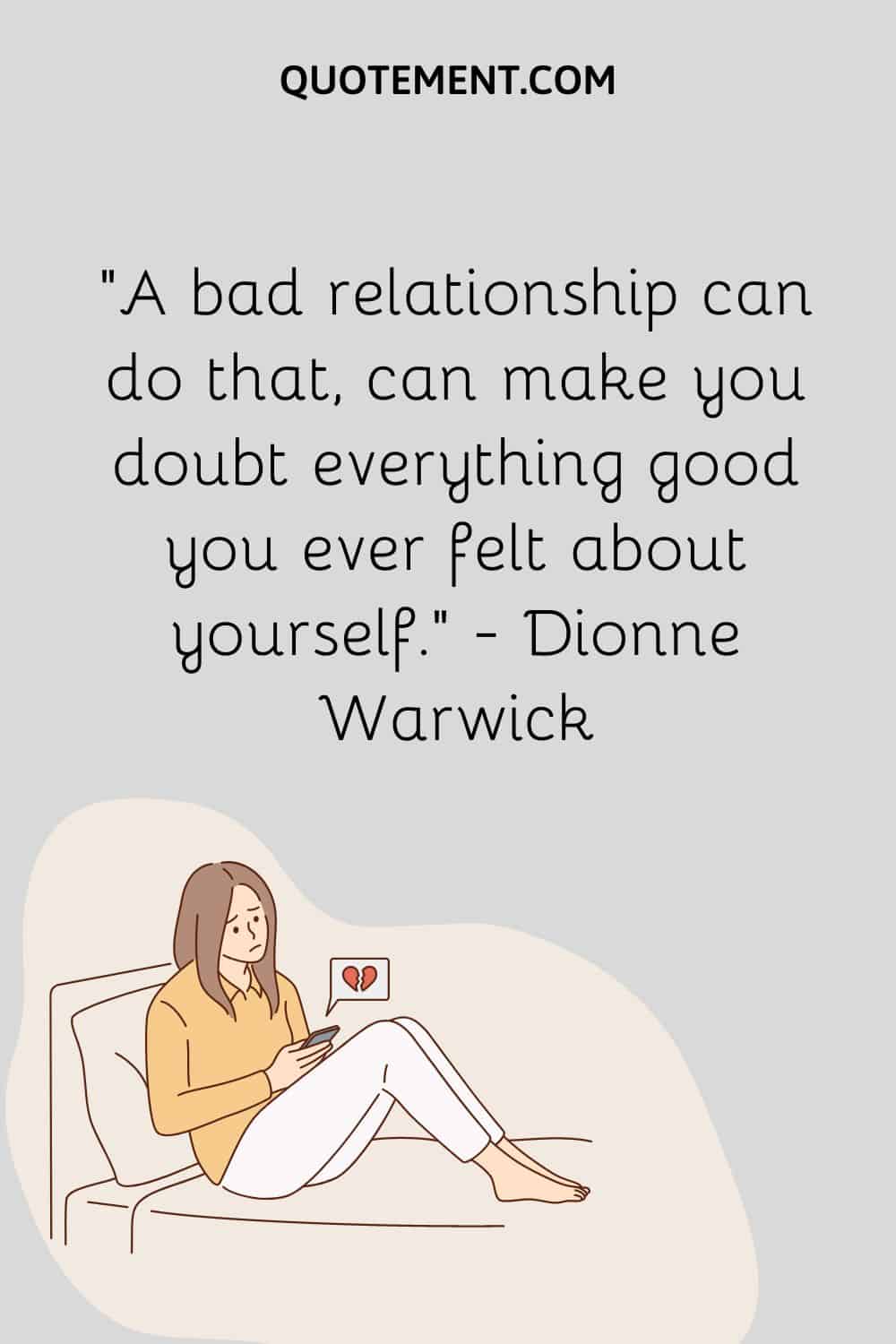 11. "It's better to be single with high standards than in a relationship settling for less." ― Unknown
See also: 140 Single Quotes For Instagram Celebrating Single Life
12. "If you're in a relationship and all you do is cry, you need to stop and ask yourself, are you dating a human or an onion?" ― Karen Salmansohn
13. "It is better to break your own heart once than having someone breaking it every day." ― Unknown
14. "Don't lose yourself holding on to someone that doesn't care about you." ― Unknown
15. "While it may feel painful to have a broken heart, you already have the strength within yourself to heal." — Unknown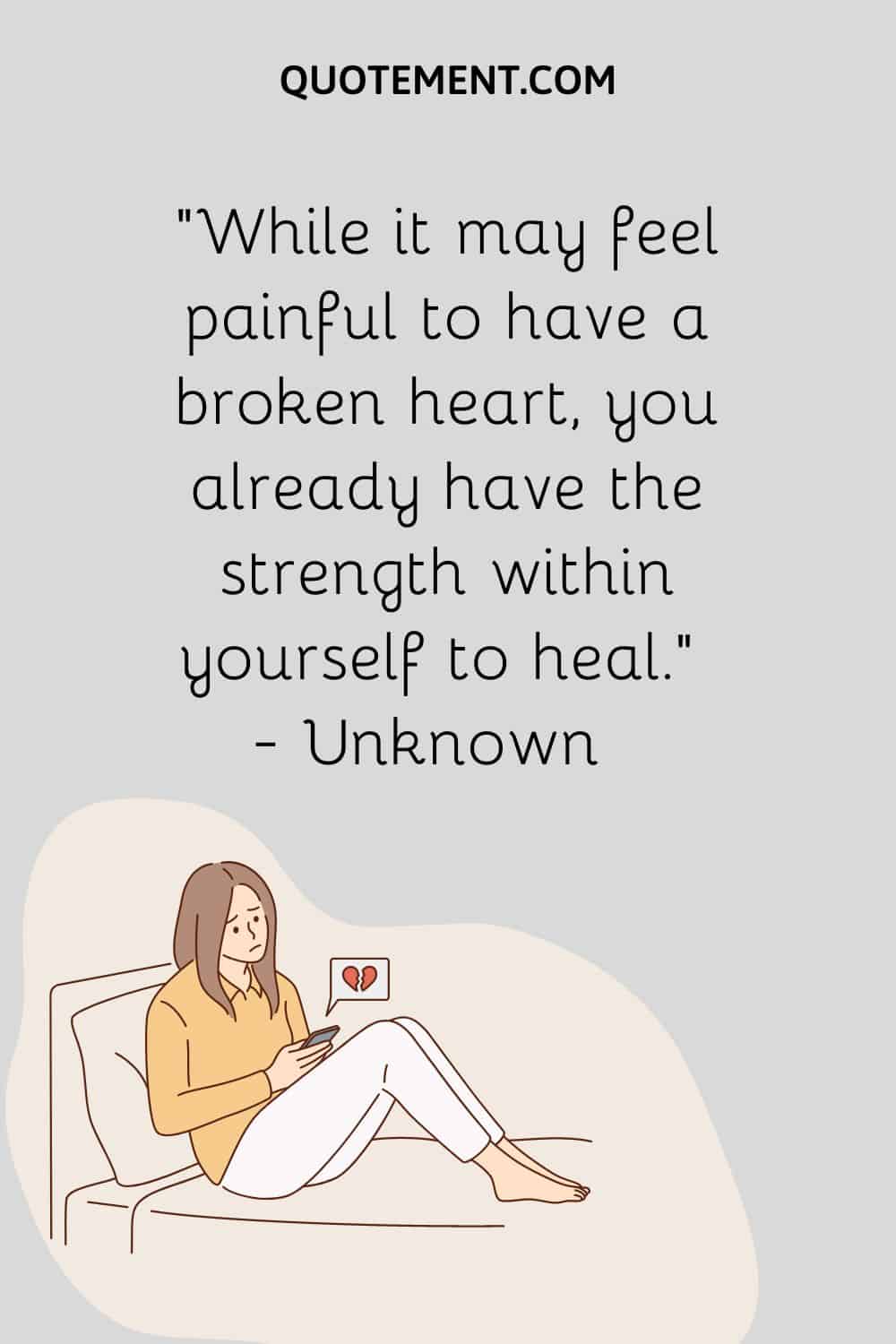 See also: 60 Inspirational You Are Stronger Than You Think Quotes
16. "Problems in relationships occur because each person is concentrating on what is missing in the other person." — Wayne Dyer
17. "When you get out of it, you realize how toxic it actually was." — Steve Maraboli
18. "The most painful thing is losing yourself in the process of loving someone too much, and forgetting that you are special too." ― Ernest Hemingway
19. "I love you. But I hate the way you push me sometimes." — Unknown
20. "No partner in a love relationship… should feel that he has to give up an essential part of himself to make it viable." ― May Sarton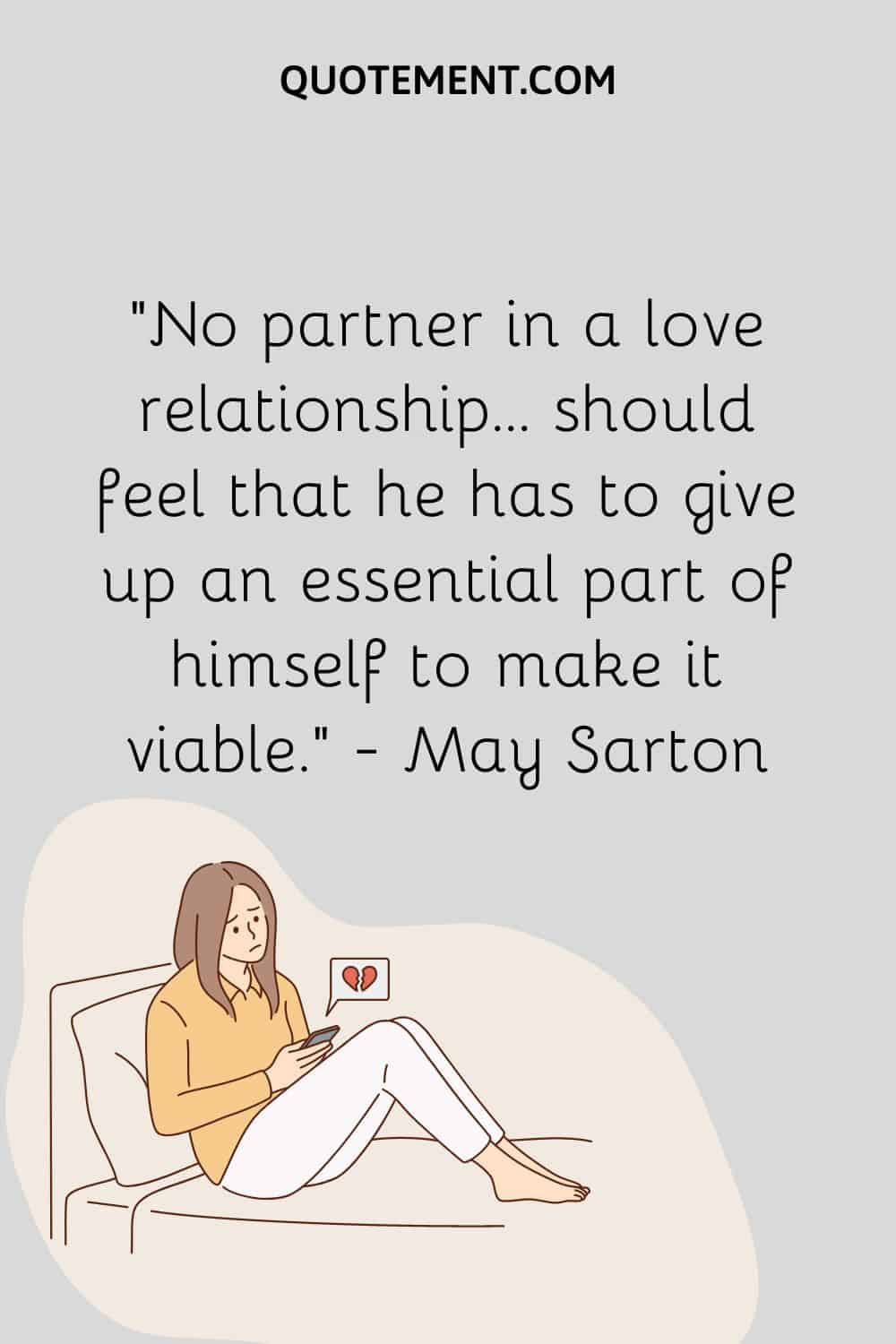 Toxic Relationship Quotes To Let Go of Negativity
1. "May you reach that level within, where you no longer allow your past or people with toxic intentions to negatively affect or condition you." ― Lalah Delia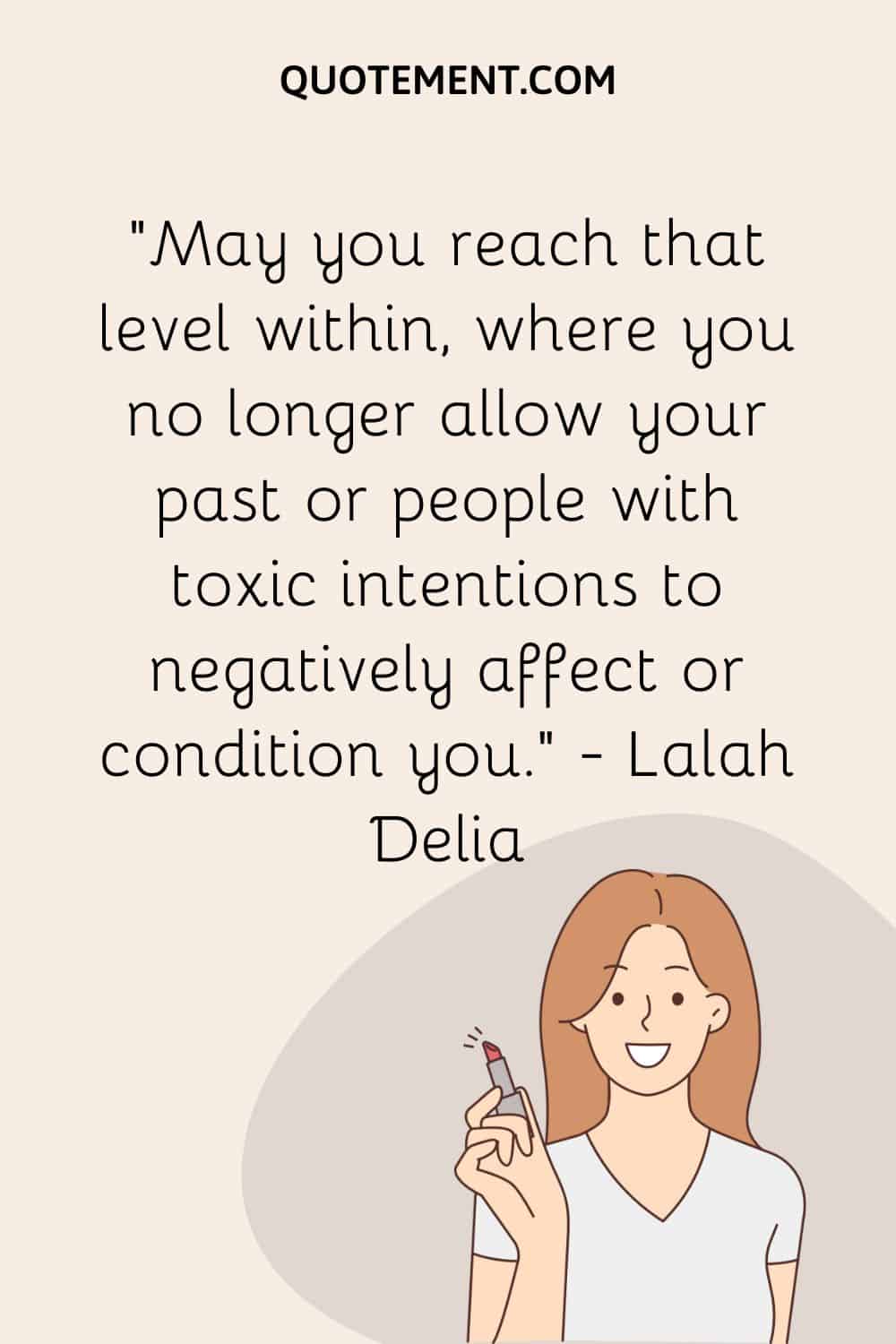 2. "The person who doesn't value you is blocking you from the one who will." ― Robert Tew
3. "Relationships never die a natural death. They are always murdered by attitude, behavior, ego, or ignorance." ― Unknown
4. "You create more space in your life when you turn your excess baggage to garbage." ― Chinonye J. Chidolue
5. "In order to reach your highest potential, it is imperative that you remove all negative people from your life." ― Germany Kent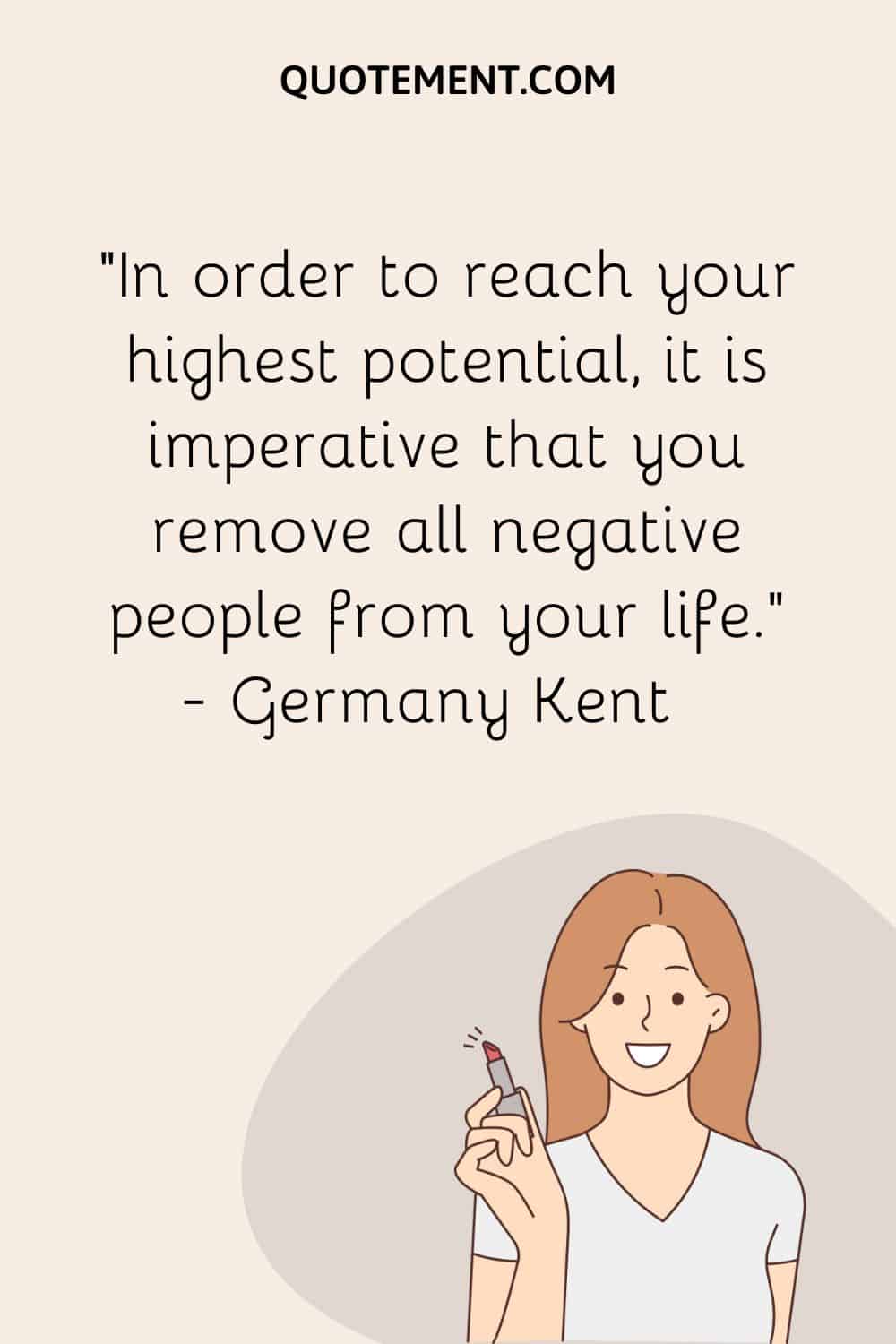 6. "I mean, if the relationship can't survive the long term, why on earth would it be worth my time and energy for the short term." ― Nicholas Sparks
7. "There are people who bring you down by just being them. They need not do anything." ― Malebo Sephodi
See also: 110 Inspiring When Someone Puts You Down Quotes To Live By
8. "A toxic relationship keeps dragging you down. It never helps you in becoming better." ― Unknown
9. "Stop worrying if you will never be able to find another one as good as them. Start practicing self-love. When you love yourself enough, it will be easier to cut off people that aren't good enough for you." ― Unknown
See also: 70 Self Compassion Quotes To Help You Love Yourself More
10. "May you reach that level within, where you no longer allow your past or people with toxic intentions to negatively affect or condition you." ― Lalah Delia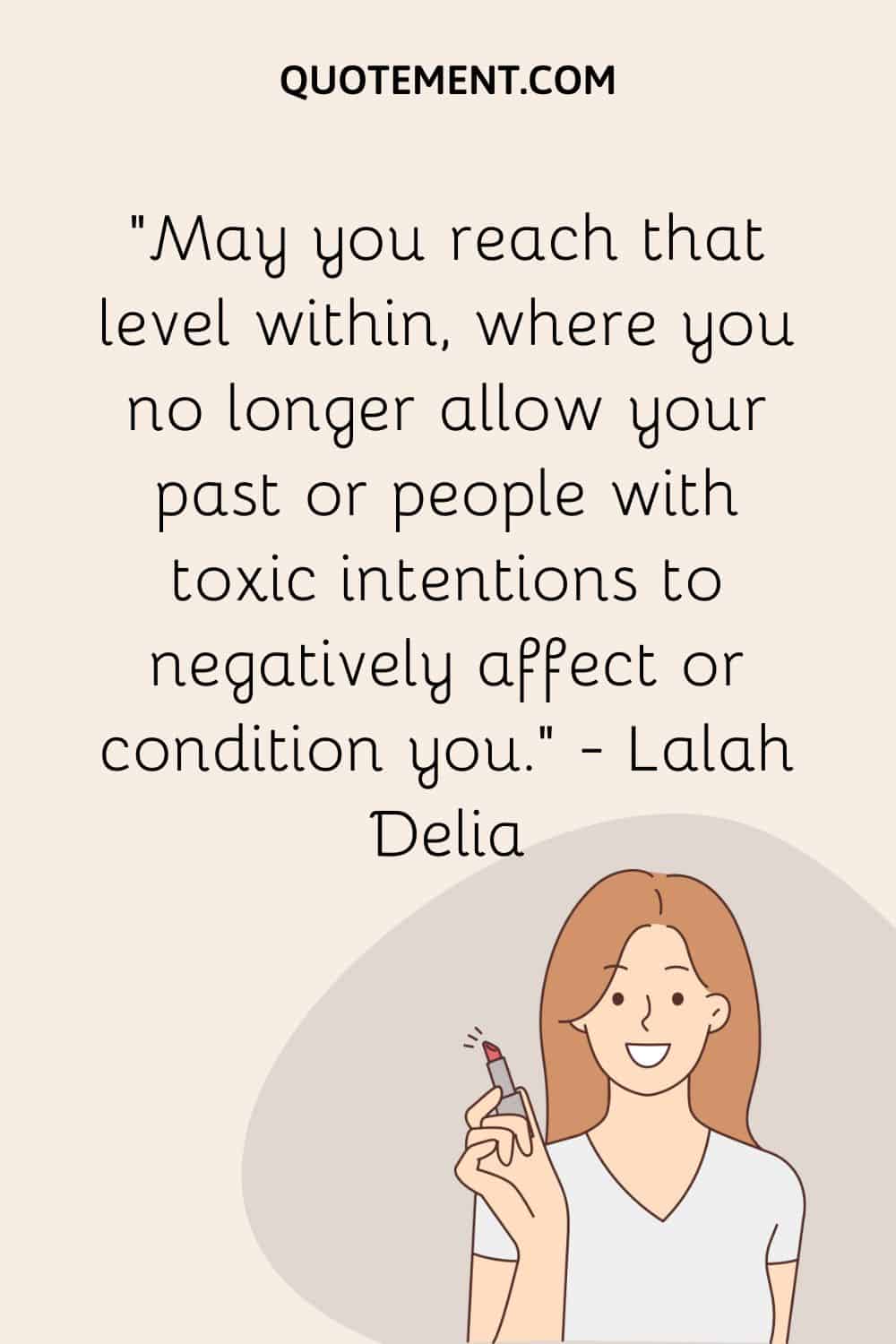 11. "Just because someone desires you, does not mean that he values you." ― Unknown
12. "If your partner makes you lose your friends, family, self-esteem, happiness, and confidence, then you should lose him." ― Unknown
13. "Stop giving narcissists "second chances" because "next time" equals more heartbreaks, more frustrations, and more time spent in a living hell." — Unknown
14. "Self-respect, self-worth, and self-love all start with self. Stop looking outside of yourself for your value." — Rob Liano
15. "When you know your worth, you don't lose people. People lose you." — Unknown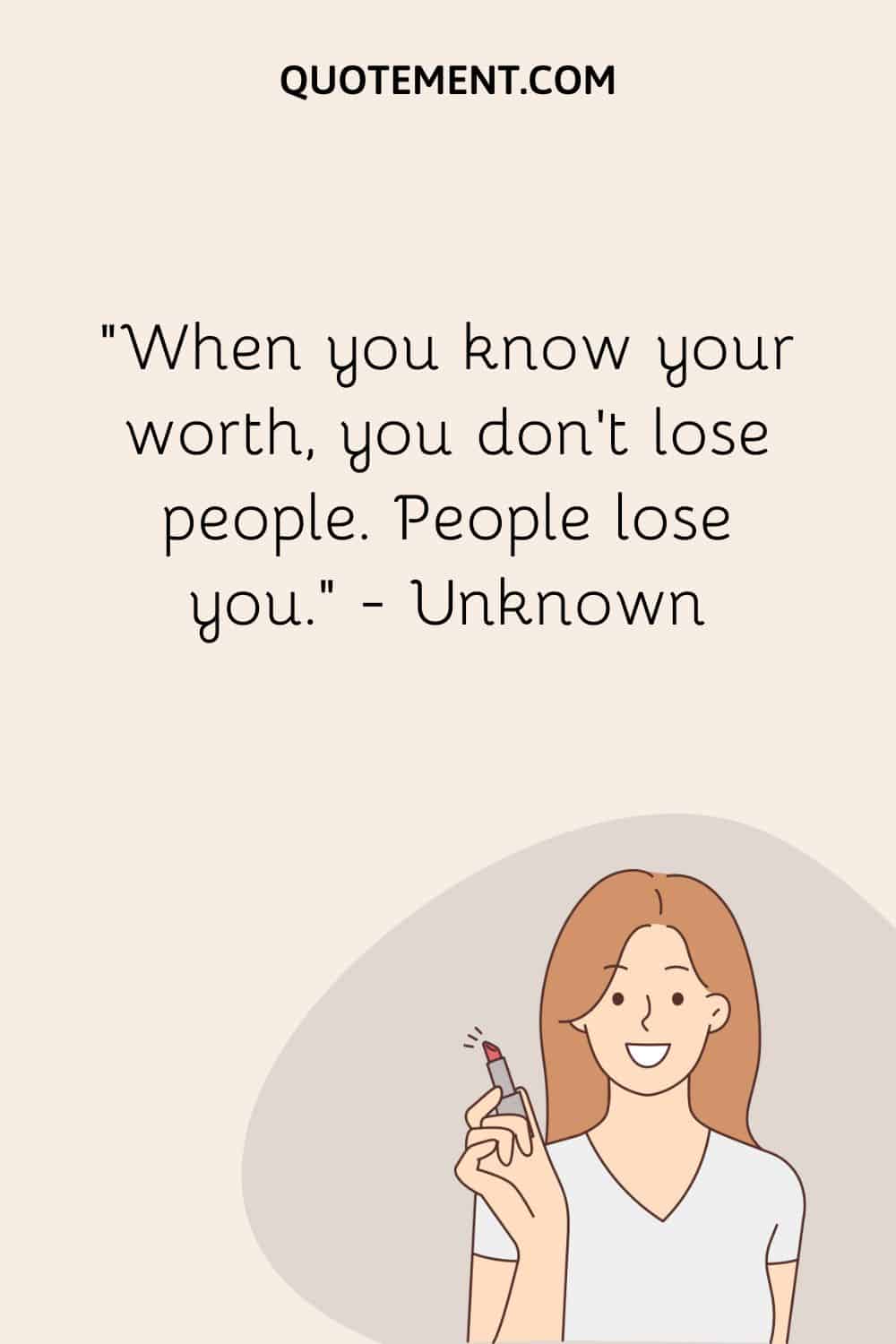 16. "The only way to win with a toxic partner is not to play." — Unknown
17. "Saying goodbye to a toxic relationship means you were brave enough to trust your gut." — Unknown
18. "There are only two kinds of people who can drain your energy: those you love and those you fear. In both instances, it is you who let them in. They did not force their way into your aura or pry their way into your reality experience." ― Anthon St. Maarten
19. "Keeping bad company is like being in a germ-infested area. You never know what you'll catch." ― Frank Sonnenberg
20. "Break free of toxic people and relationships, they erode your quality of life." — Unknown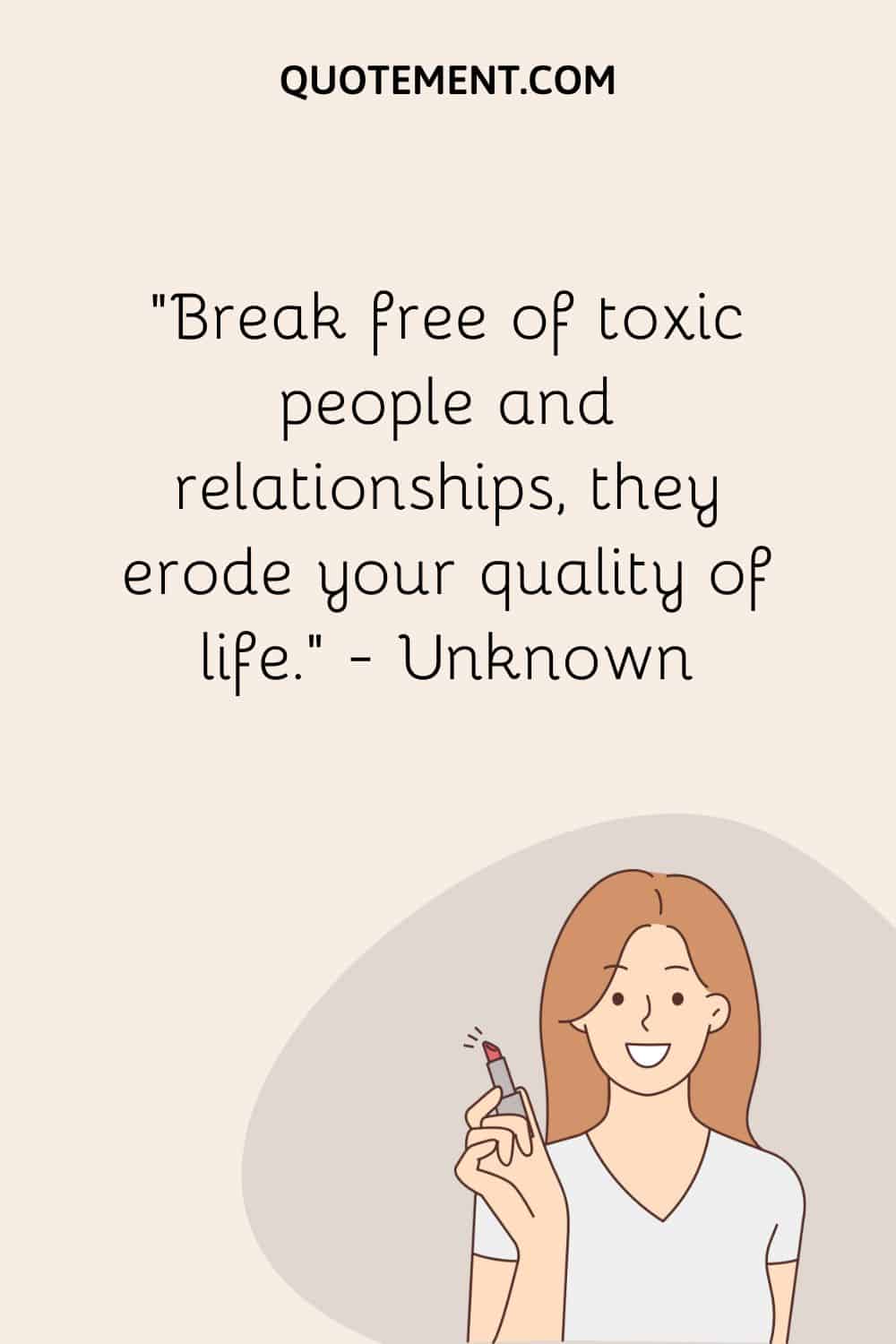 Toxic Relationship Quotes For Him
1. "It is better for someone to break your heart once by leaving your life than for them to stay in your life and break your heart continually." — Terry Mark
2. "A good relationship is when someone accepts your past, supports your present, and encourages your future." ― Karen Salmansohn
3. "Don't settle for a relationship that won't let you be yourself." ― Oprah Winfrey
See also: Top 90 Never Settle For Less Quotes To Encourage You
4. "You don't ever have to feel guilty about removing toxic people from your life." ― Unknown
5. "If you're giving your all and it's not enough, you're probably giving it to the wrong relationship." ― Unknown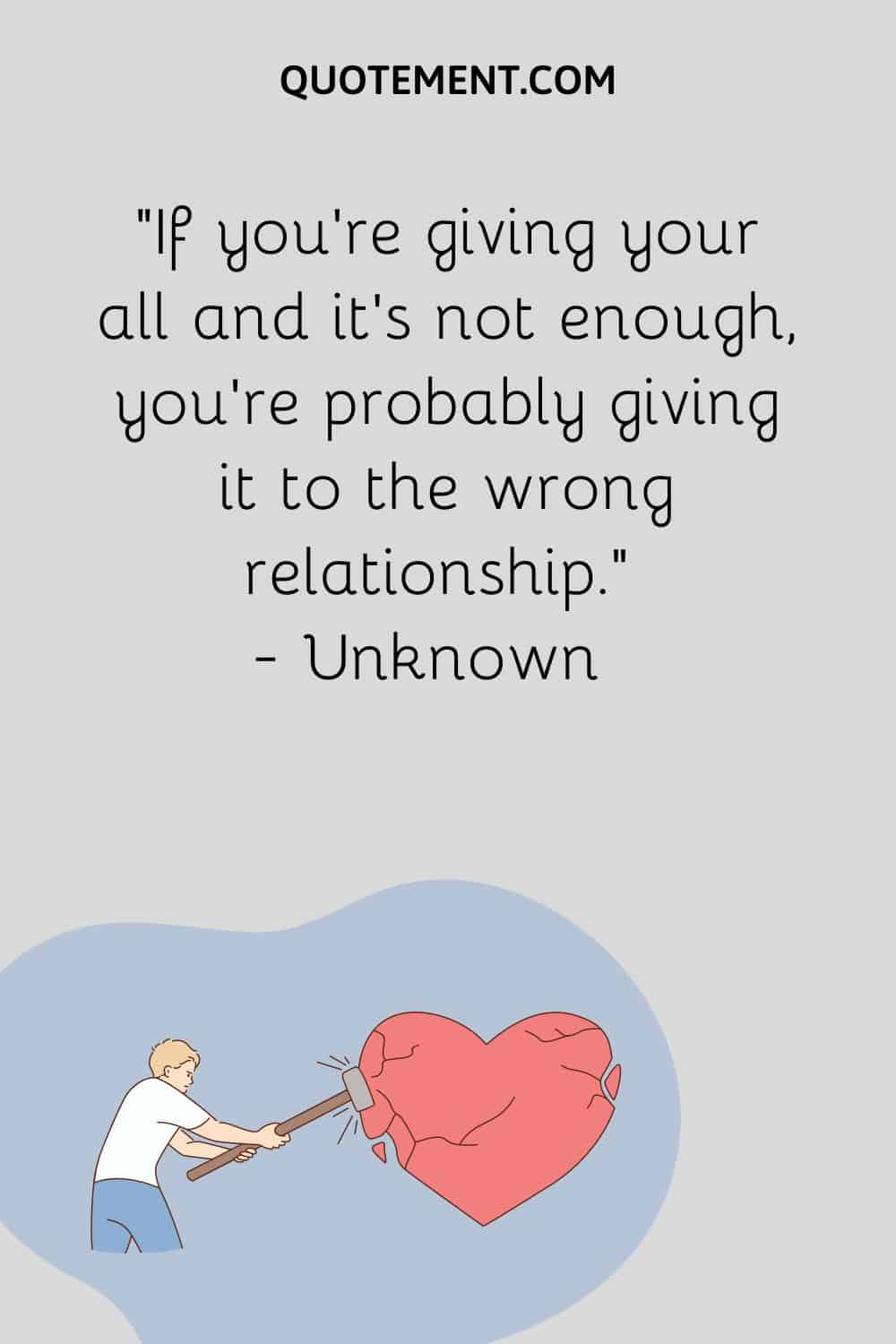 6. "When you are finally able to see and understand the toxicity you have been surrounding yourself with, they will do everything in their power to make you out to be the evil one." ― Christine E. Szymanski
7. "Don't allow someone not worth it to have the power to occupy your thoughts." ― Donna Lynn Hope
8. "Relationships end too soon because people stop putting in the same effort to keep you as they did to win you." — Unknown
9. "Mental abuse is much more painful than physical abuse because you are consumed by your own thoughts." ― Unknown
10. "If someone is treating you like you are nothing, you should become nothing in their life by leaving." — Unknown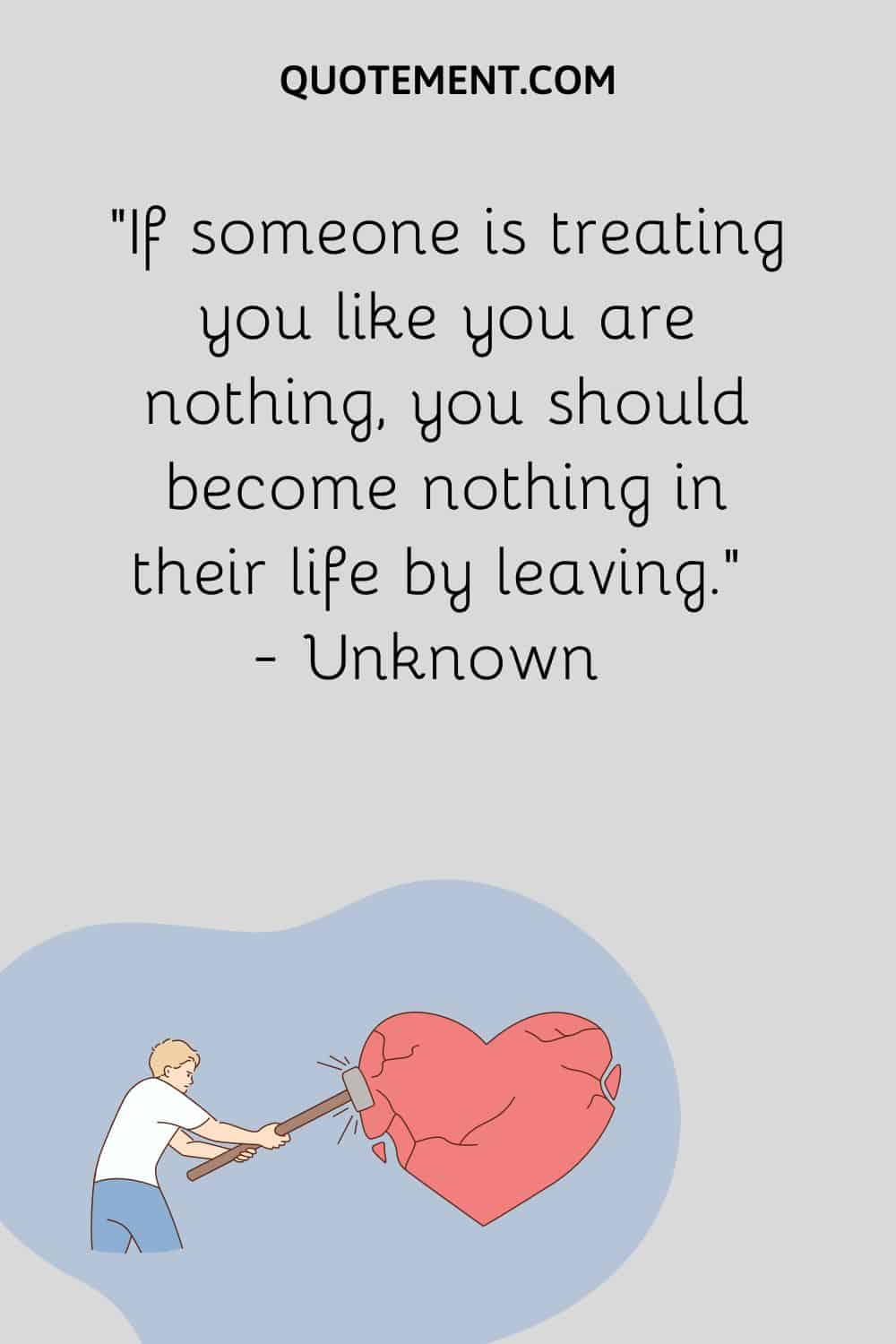 See also: 80 Not Feeling Like A Priority In A Relationship Quotes
Final Goodbye Toxic Relationship Quotes For Her
1. "Until a man gets himself heal, he will be toxic to every woman who tries to." ― Unknown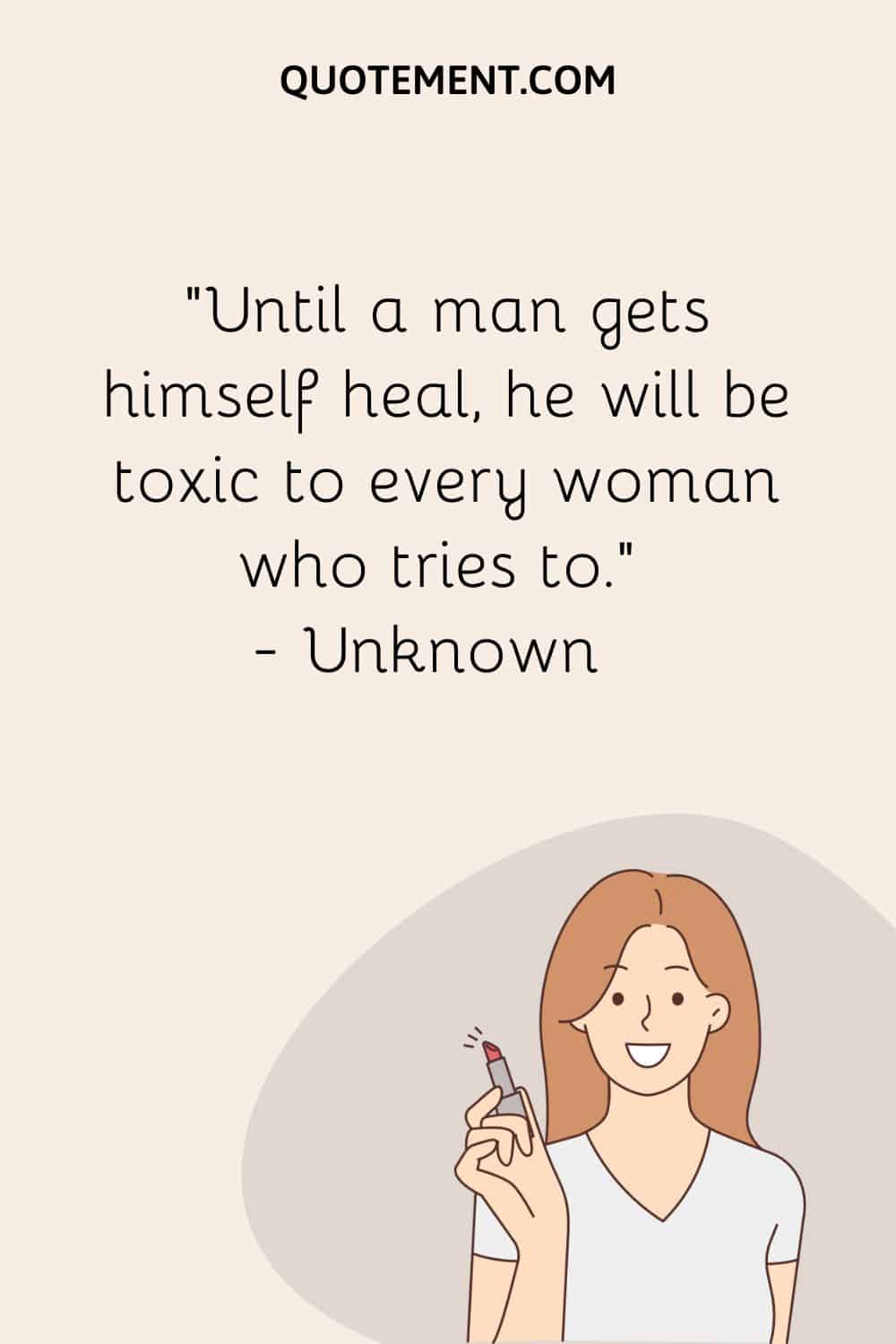 2. "Give your time to let him go! Your heart will hurt at first, but eventually, it understands." — Unknown
3. "Stop telling yourself you can fix him. He's been this way for a long, long time, and he doesn't intend to change. Don't be a sacrificial lamb on the altar of his rage. Don't play the martyr to his hate. You can never save someone by letting them destroy you. That's not love, it's relational suicide. Save yourself instead. Get out while there's still time." ―. John Mark Green
4. "I love when I see women go from such toxic, unhealthy relationships to now being with someone who adores and treats her like a queen!" ― Unknown
5. "It was strange, really. A couple of months ago, I had thought I couldn't live without him. Apparently, I could." ― Gabrielle Zevin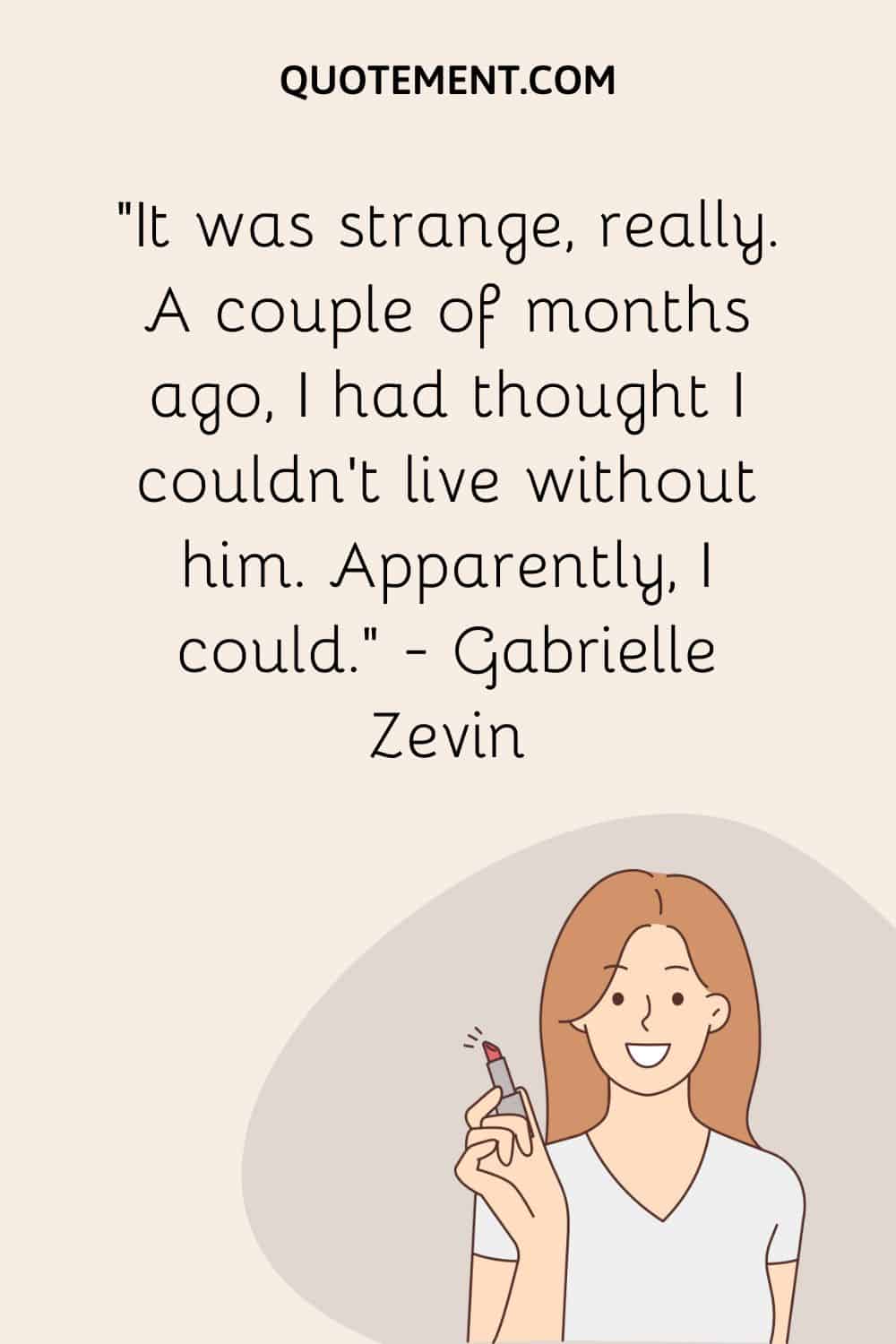 6. "Oh, what an ill fate it was that has made me love that man." ― Iris Murdoch
7. "When he's the last thing you need, he'll drain you. He'll exhaust you. He'll destroy you. And you won't see it that way. In fact, you won't notice it at all. But everyone else will." ― Kirsten Corley
8. "Letting go of a toxic boyfriend is an act of self-care." ― Unknown
9. "Lose him when he treats you like his girlfriend behind closed doors and sees right past you in public." — Liane White
10. "Pour yourself a drink, put on some lipstick and get yourself together." ― Unknown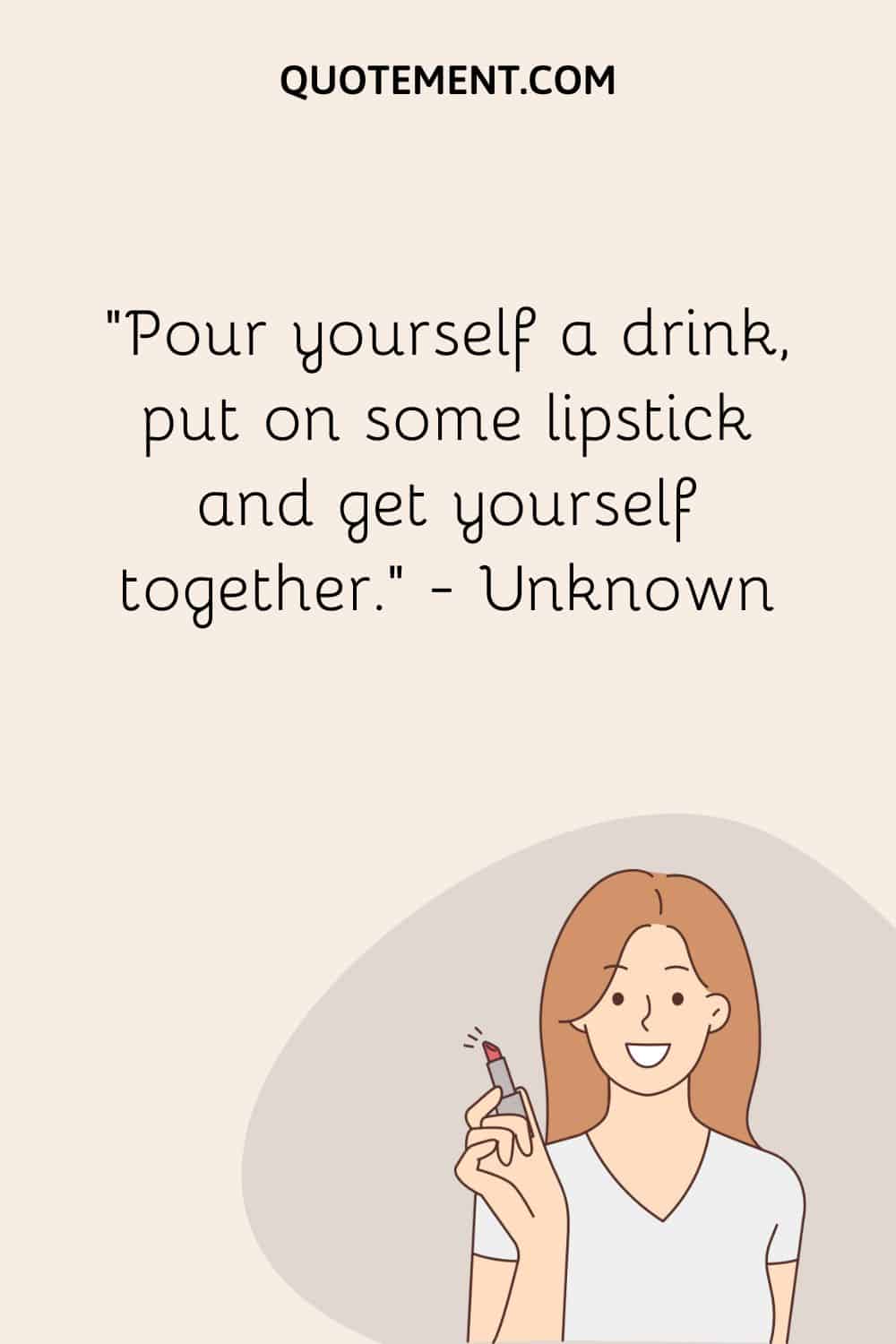 See also: 90+ Inspiring Pick Yourself Up Quotes To Keep You Going
Final Word
I hope you found some inspiration in the final goodbye toxic relationship quotes you just read.
The purpose of life is to be happy. So, don't waste your precious time on a relationship that brings you more harm than happiness.If you liked this collection of final goodbye toxic relationship quotes, check for more inspirational quotes on our page, I assure you we have some really good stuff!