I think we've all experienced unrequited love at some point in our lives. I know I have. And it really sucked.
Back in those days, I felt so hopeless and hungry for the love of a guy who didn't deserve it.
Since I was too sad to speak about this with anyone, I googled one-sided effort relationship quotes that would give me at least some comfort. And they really helped me heal.
Since you are reading this article, I assume that you are involved in a one-sided relationship.
That's why I searched the internet once again to collect the best one-sided effort relationship quotes you will definitely relate to.
These one-sided love quotes are a mix of heart-breaking but highly inspirational quotes and wise words from people who've felt the same way you feel now.
If you love someone who doesn't reciprocate those emotions to you, take comfort in this collection of one-sided effort relationship quotes!
Top 20 One-Sided Effort Relationship Quotes
1. "Watering artificial flowers will never make them grow. Stop pouring your energy into one-sided relationships." — John Mark Green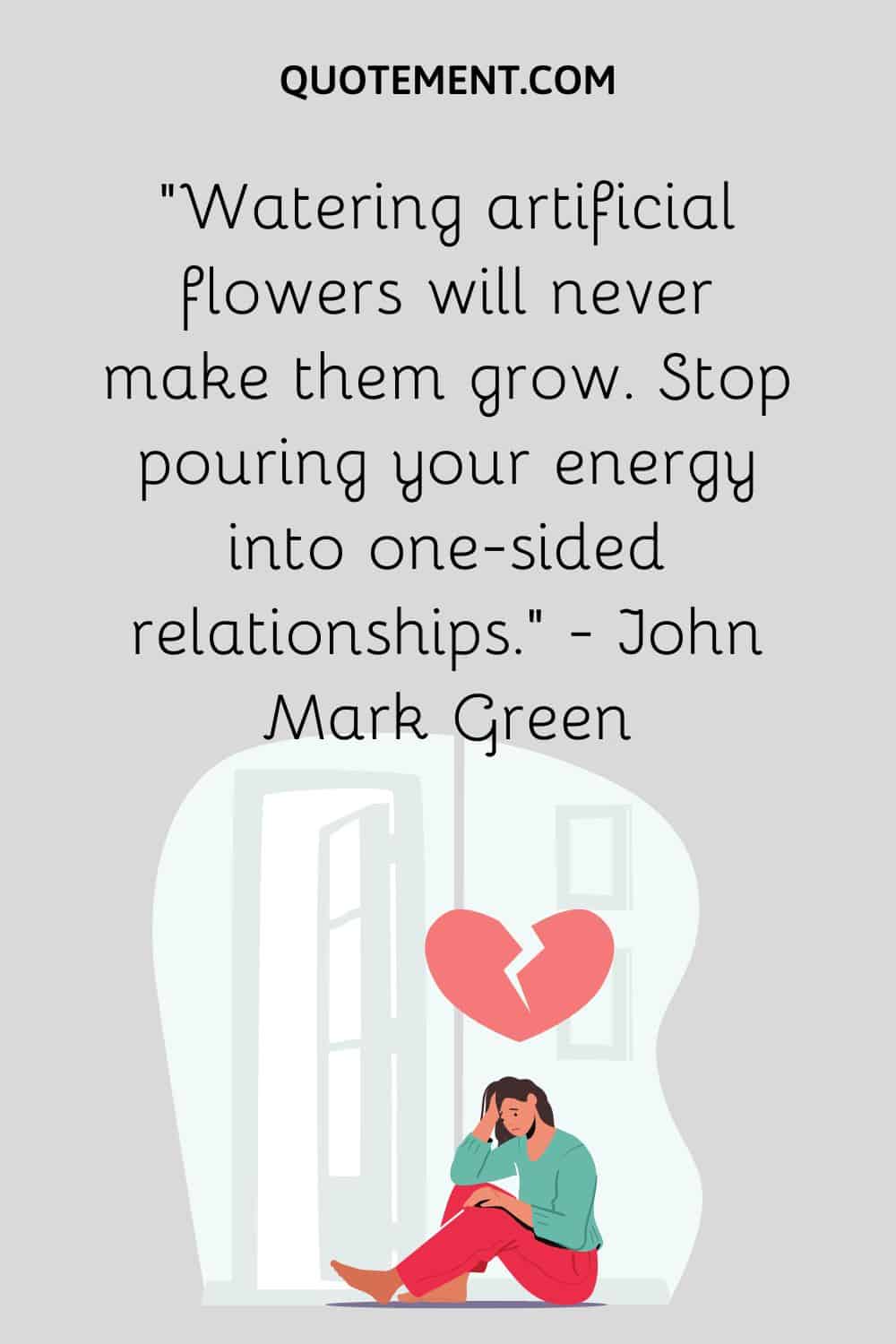 2. "If you don't receive love from the ones who are meant to love you, you will never stop looking for it." — Robert Goolrick
3. "Any relationship (friend, romantic, or business) that's one-sided isn't one; it's a one-way street headed in one direction nowhere. Cultivation requires input from willing participants." — T.F. Hodge
4. "One-sided relationship is no relationship at all. The relationship blossoms when there is trust, love, and affection between all concerned." — Sandeep Ravidutt Sharma
5. "Unrequited love is the infinite curse of a lonely heart." ― Christina Westover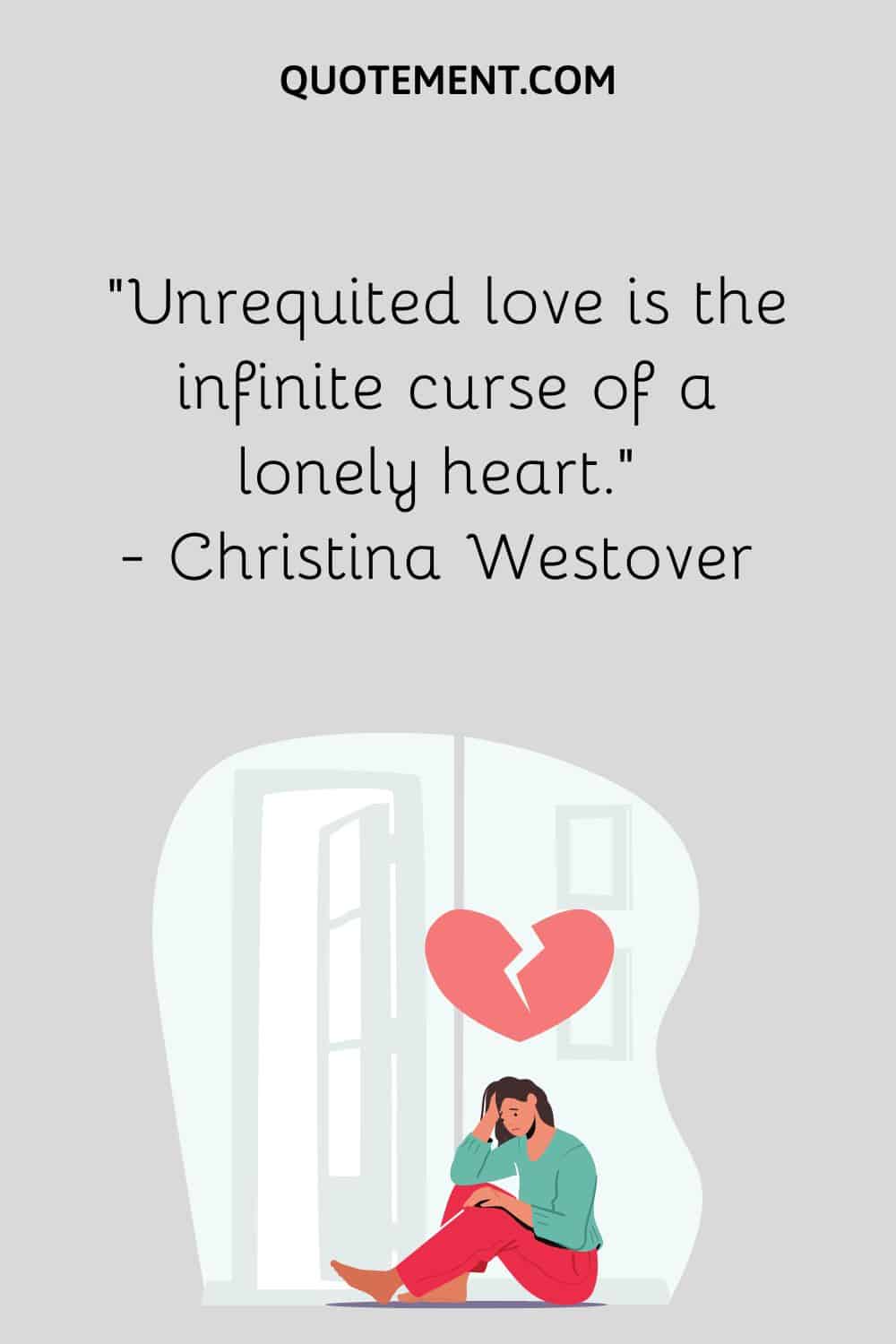 6. "Love takes off masks that we fear we cannot live without and know we cannot live within." — James Baldwin
7. "One of the greatest pain and agony is being in one-sided love with someone." — Anurag Prakash
8. "I have to admit, unrequited love is so much better than a real one. I mean, it's perfect. As long as something is never even started, you never have to worry about it ending. It has endless potential." — Sarah Dessen
9. "Loving someone who doesn't love you in return is like trying to fly with a broken wing." — Amogh Tiwari
10. "Be with someone who won't make poor excuses for their lack of effort." — Kristie May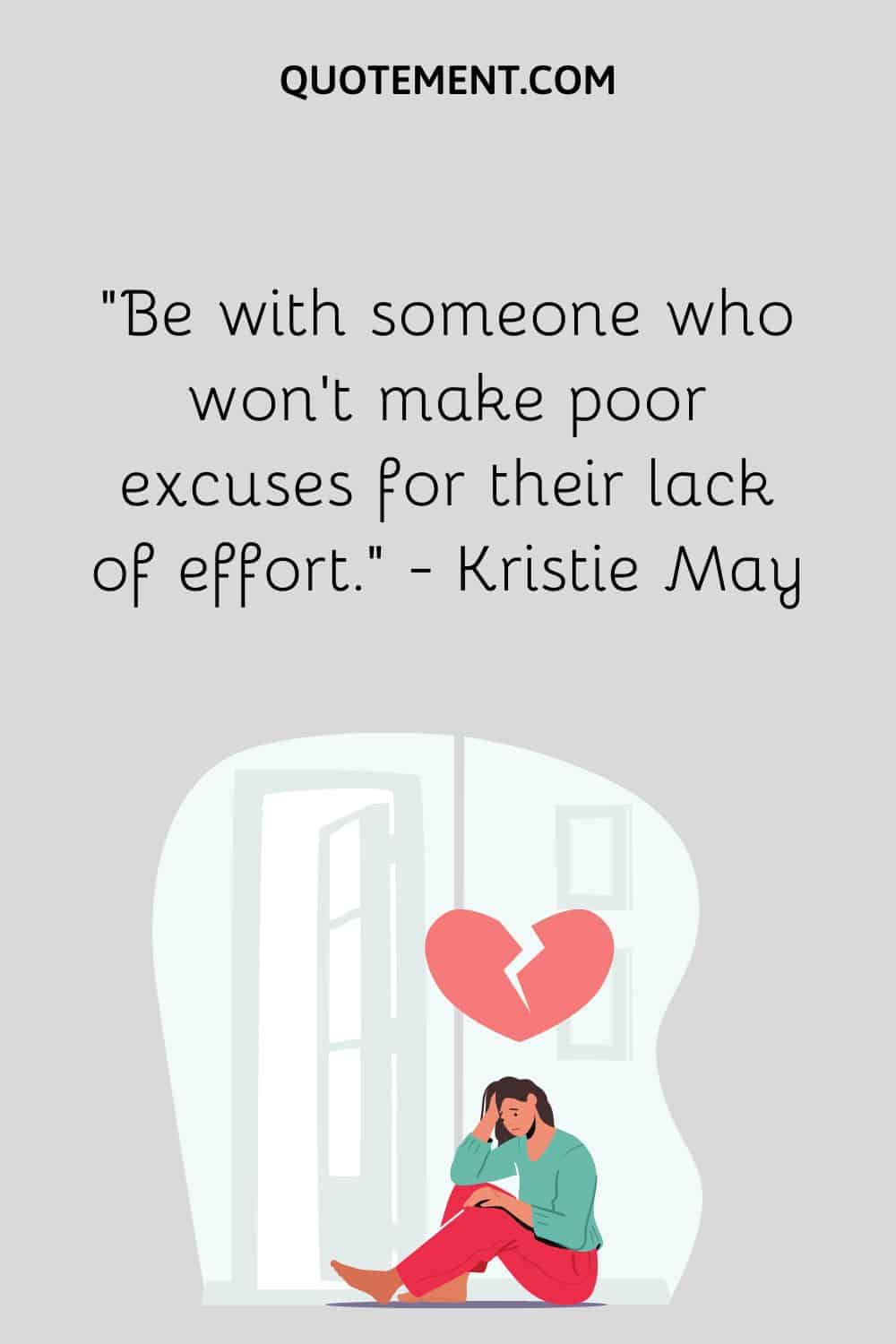 11. "In the arithmetic of love, one plus one equals everything, and two minus one equals nothing." — Mignon McLaughlin
12. "You can close your eyes to the things you don't want to see, but you can't close your heart to the things you don't want to feel." — Johnny Depp
13. "The only person that deserves a special place in your life is someone that never made you feel like you were an option in theirs." — Shannon L. Alder
14. "Sometimes it takes a heartbreak to shake us awake and help us see we are worth so much more than we're settling for." — Mandy Hale
See also: Top 90 Never Settle For Less Quotes To Encourage You
15. "Stop feeding connections that don't feed you. Stop spending so much time filling others while you starve of love. You are deserving too." — Billy Chapata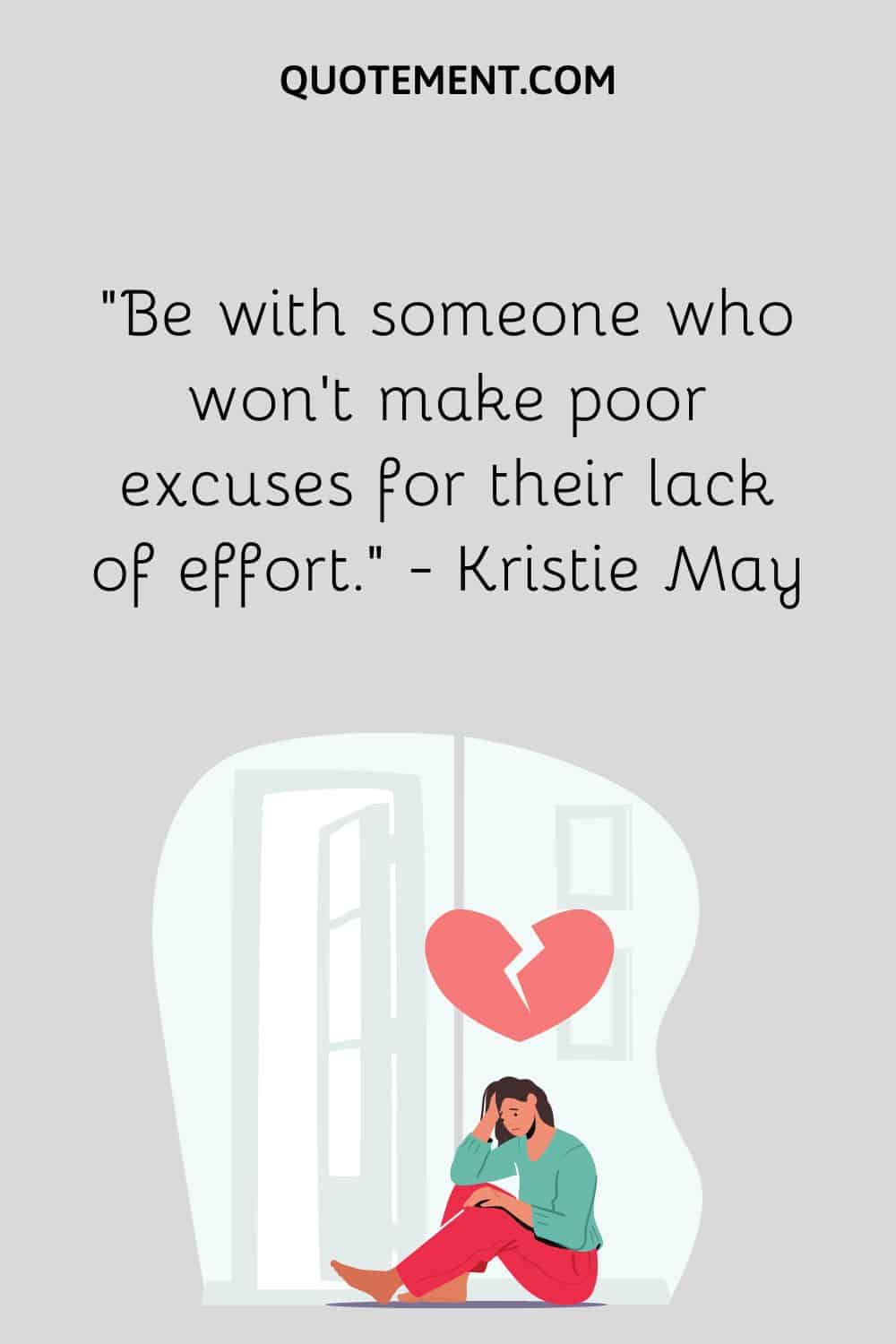 16. "In a relationship, no amount of extra effort on your part can make up for lack of effort on theirs." — John Mark Green
17. "Indifference and neglect often do much more damage than outright dislike." — J. K. Rowling (Harry Potter and the Order of the Phoenix)
18. "Unrequited love differs from mutual love, just like delusion differs from the truth." — George Sand
19. "Love simply is — it asks no permissions. Acceptance is all love asks, the only demand it makes, but it is an absolute one. You can either admit it to your heart or refuse it, but there's no other option." — Stephanie Laurens
20. "Life's a prison when you're in love alone." — Usher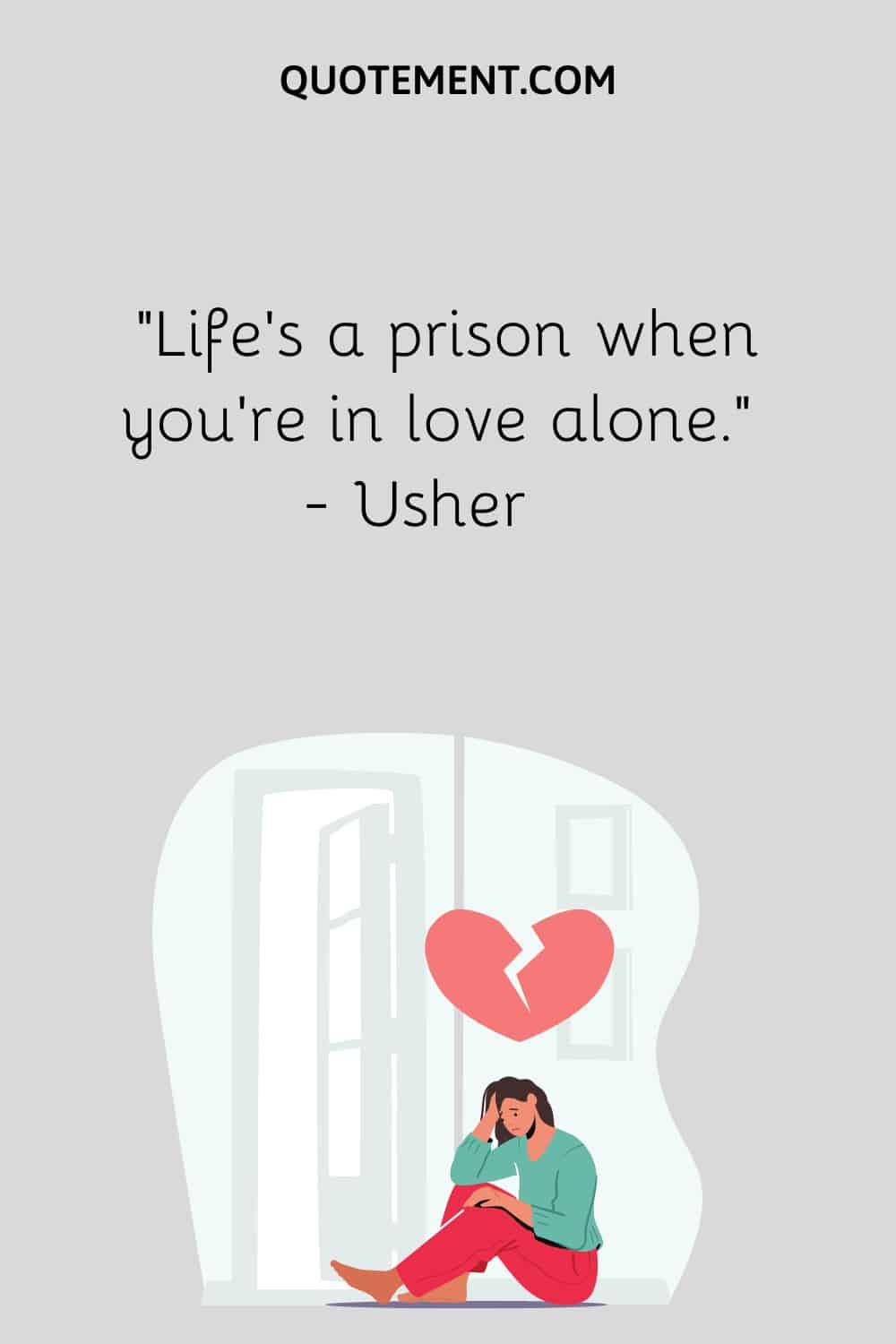 Sad But True One-Sided Relationship Quotes
1. "Loving someone who will never love you back is like going to war and standing in the line of fire with your arms wide open." — Unknown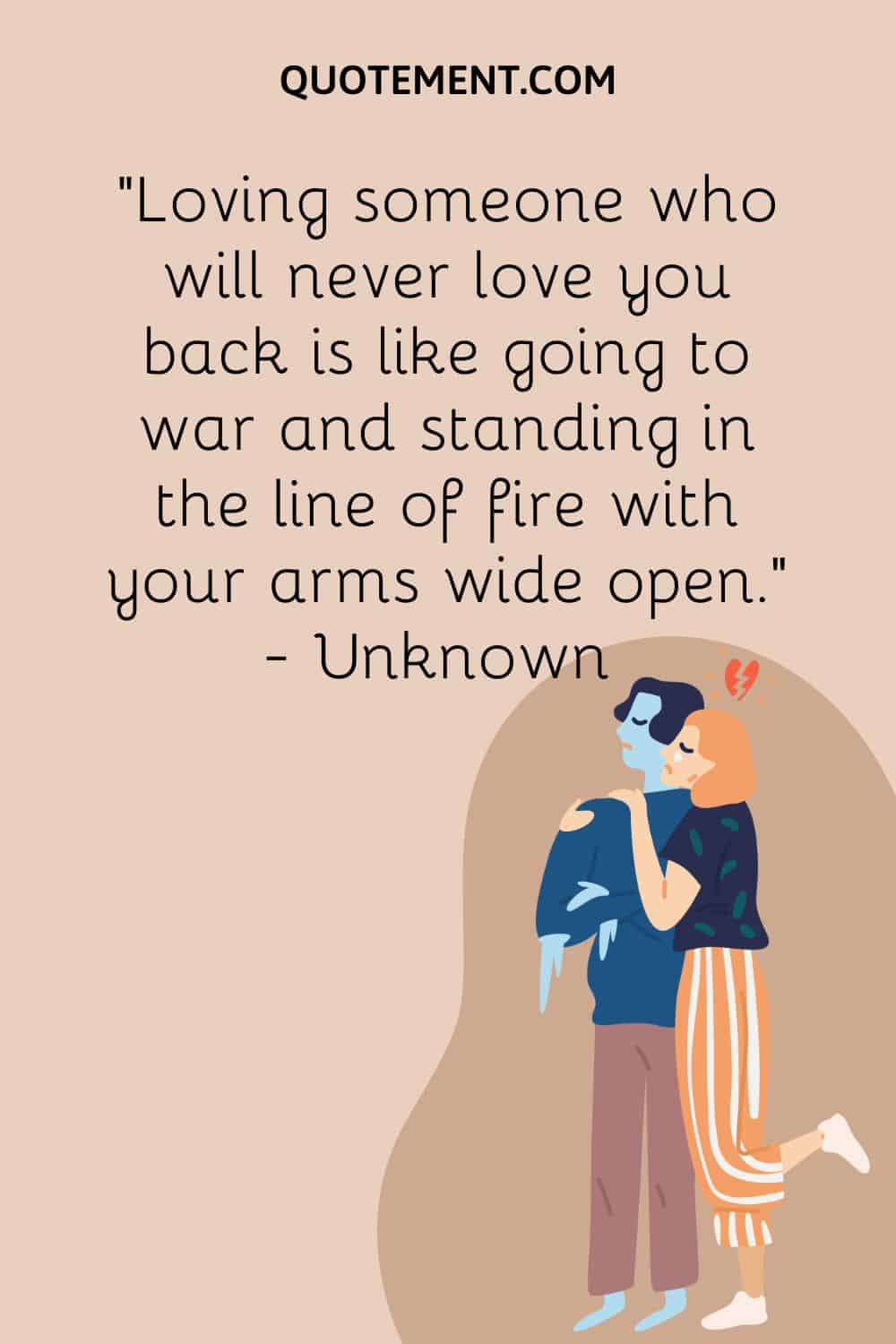 2. "For so long, I've only had one-sided feelings for other people. I've completely forgotten how good it feels to be loved." — Hinako Takanaga
3. "Problems can be fixed. But unrequited love is a tragedy." — Suzanne Harper
4. "Those who love more are loved less." — Unknown
5. "A person doesn't know true hurt and suffering until they've felt the pain of falling in love with someone whose affections lie elsewhere." — Rose Gordon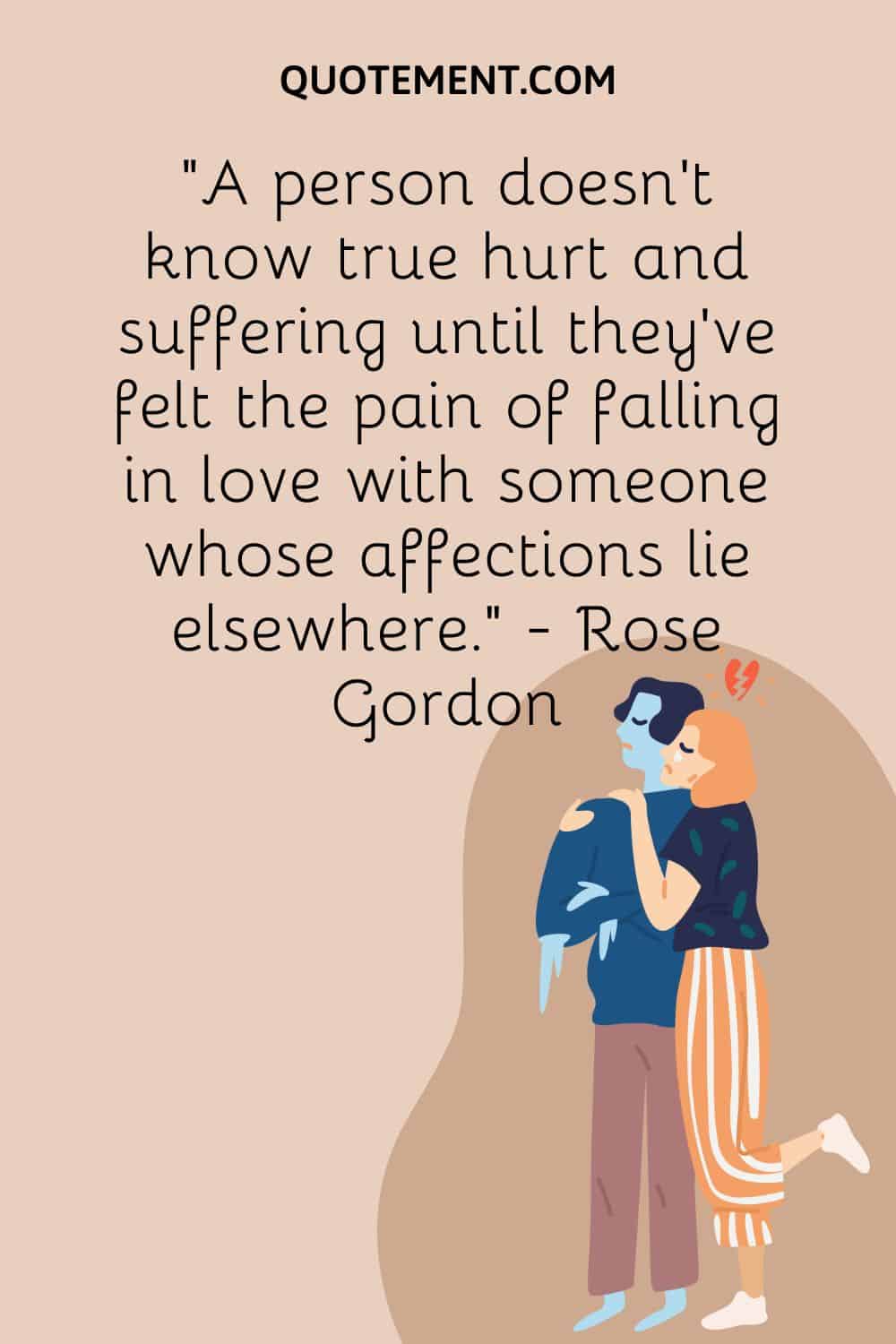 6. "To burn with desire and keep quiet about it is the greatest punishment we can bring on ourselves." — Federico García Lorca
7. "It is not the separation that is unsettling but the stigma of being left alone." — Unknown
8. "You can sacrifice and not love. But you cannot love and not sacrifice." ― Kris Vallotton
9. "Some say that one-sided love is better than none, but like half a loaf of bread, it is likely to grow hard and moldy sooner." — Unknown
10. "The most painful goodbyes are the ones that are left unsaid and never explained." — Jonathan Harnisch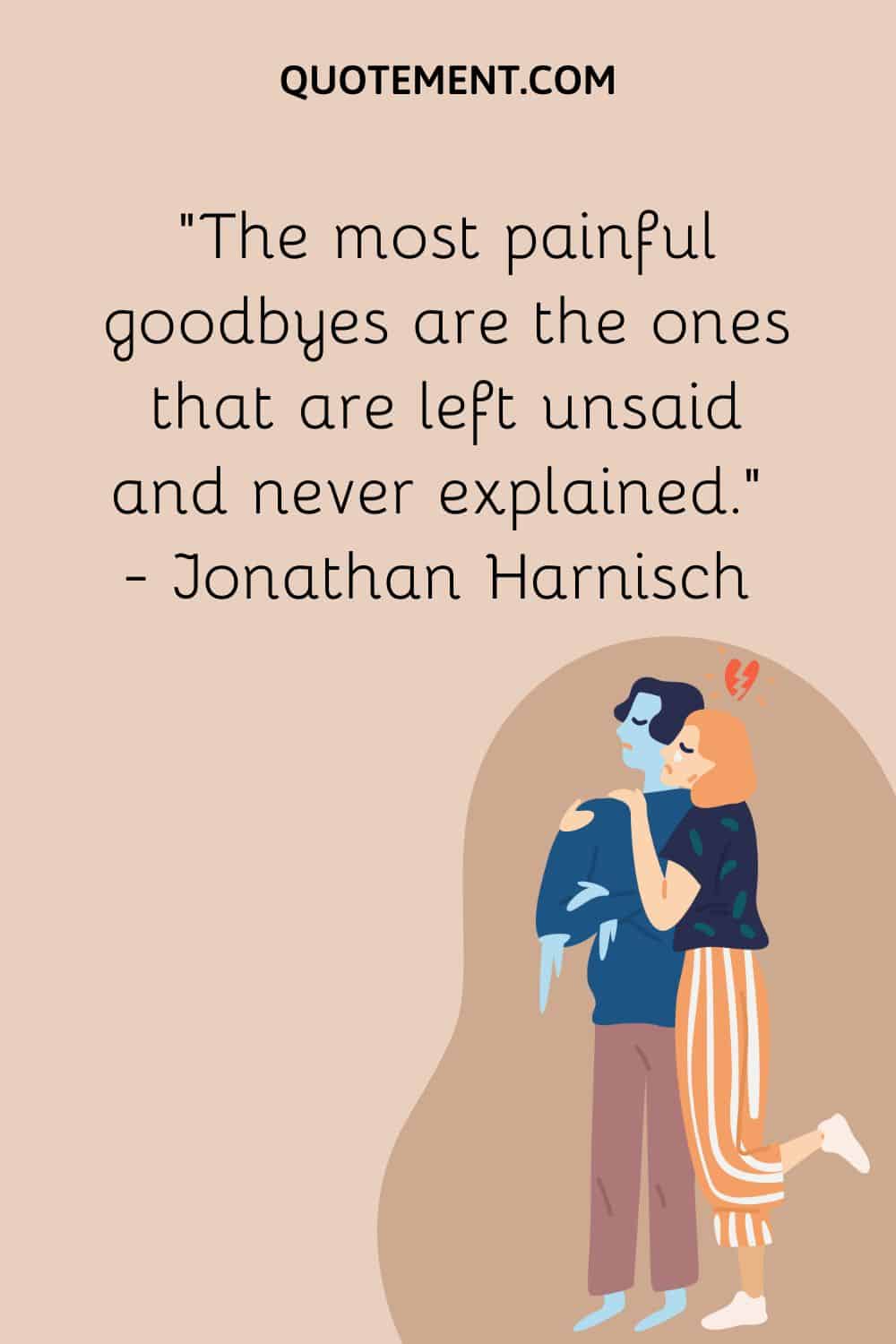 See also: 130 Deep Goodbye Letting Go Of Someone You Love Quotes
11. "Sometimes no matter how many eyelashes or dandelion seeds you blow, no matter how much of your heart you tear out and slap on your sleeve, it just ain't gonna happen." — Melissa Jensen
12. "It hurts the most when the person that you feel special yesterday makes you feel so unwanted today." — Unknown
13. "I'm not sure what scares me more, that you will never start loving me or that I will never stop loving you. Too sad to miss you, too bad to lose you, too hard to forget you!" — Amogh Tiwari
14. "Sometimes you need to give up on people, not because you don't care, but because they don't." — Unknown
See also: 100 Maybe It's Time To Give Up Quotes To Help You Move On
15. "Unrequited love is all right in books and things, but in real life, it completely sucks." — Meg Cabot, Haunted: A Mediator Tale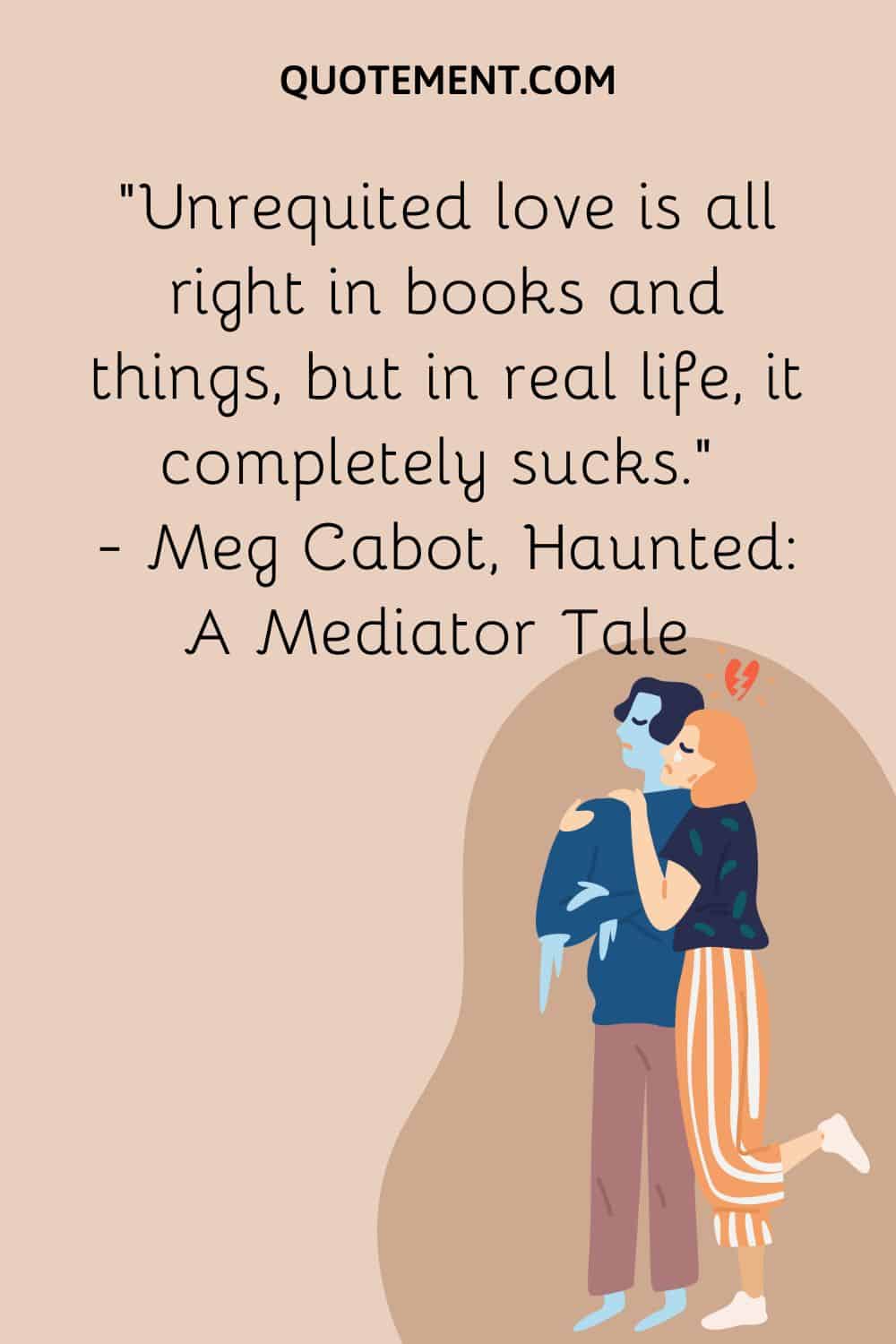 16. "It's hard to wait around for something that you know might never happen. But it's even harder to give up when you know it's everything you want." — Unknown
17. "If you're constantly having to wonder where you stand with someone, maybe it's time to stop standing and start walking." — Unknown
See also: 120 Best Strong Woman Walk Away Quotes To Encourage You
18. "The only person worthy of your love is not one who overstayed in the relationship without a single change, but one who appeared like an angel and used a single day to make a million changes." — Unknown
19. "Miserable pain is the result of an absence of love." — Unknown
20. "Staying in a situation where you are unappreciated isn't called loyalty. It's called breaking your own heart." — Unknown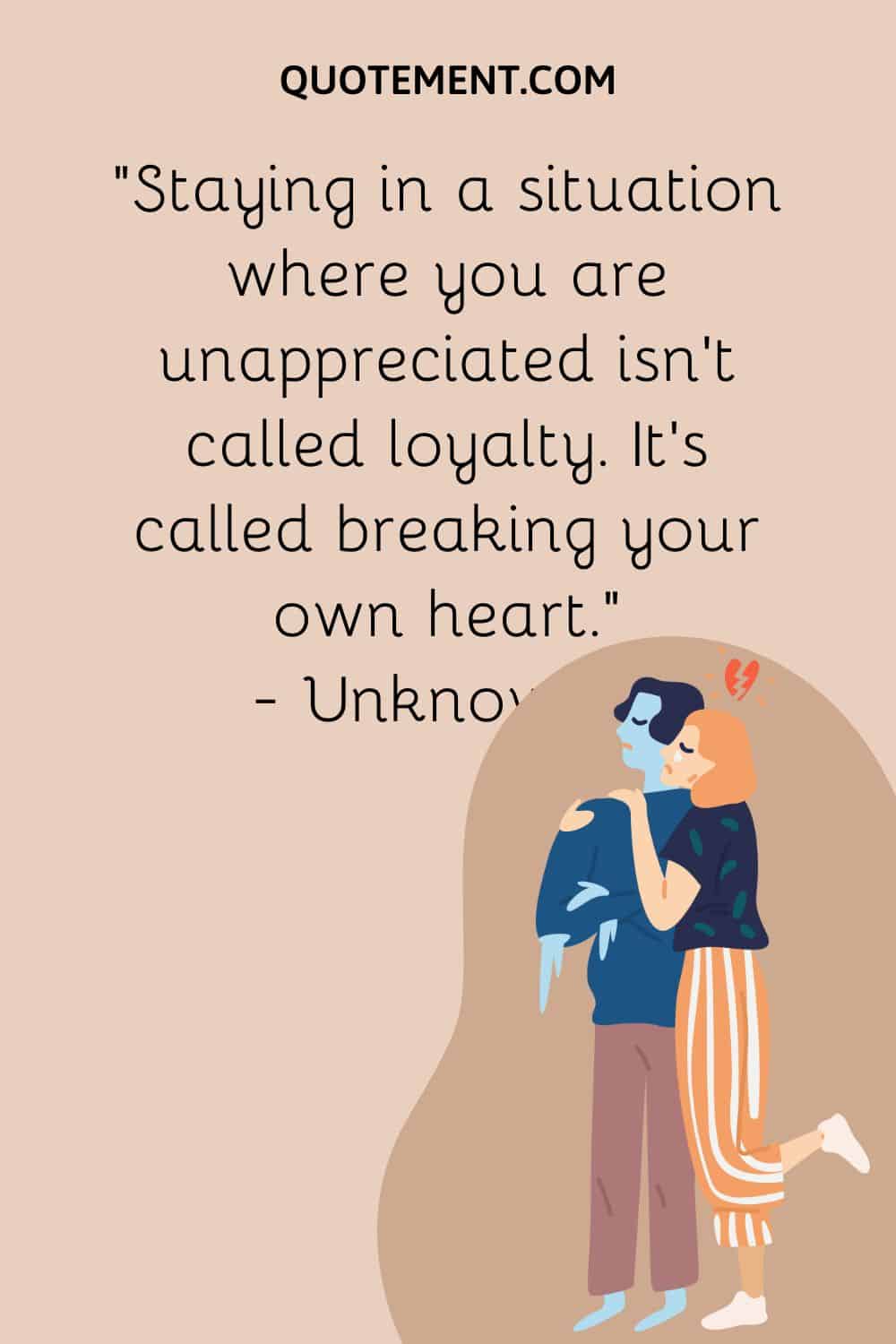 21. "You just know something is amiss when you look at someone and long for something that is not yours or you cannot have. It's an absence – a loss of a heartbeat." — Nadège Richards, Burning Bridges
22. "It's easier to make an excuse than it is to make an actual effort. And when all you get are excuses, it's a red flag that something is going downhill in your relationship." — Unknown
23. "The wrong person makes you beg for attention, affection, love, and commitment. The right person gives you these things because they love you." — Unknown
24. "Unrequited love is a ridiculous state, and it makes those in it behave ridiculously." — Cassandra Clare
25. "We are afraid to care too much, for fear that the other person does not care at all." — Eleanor Roosevelt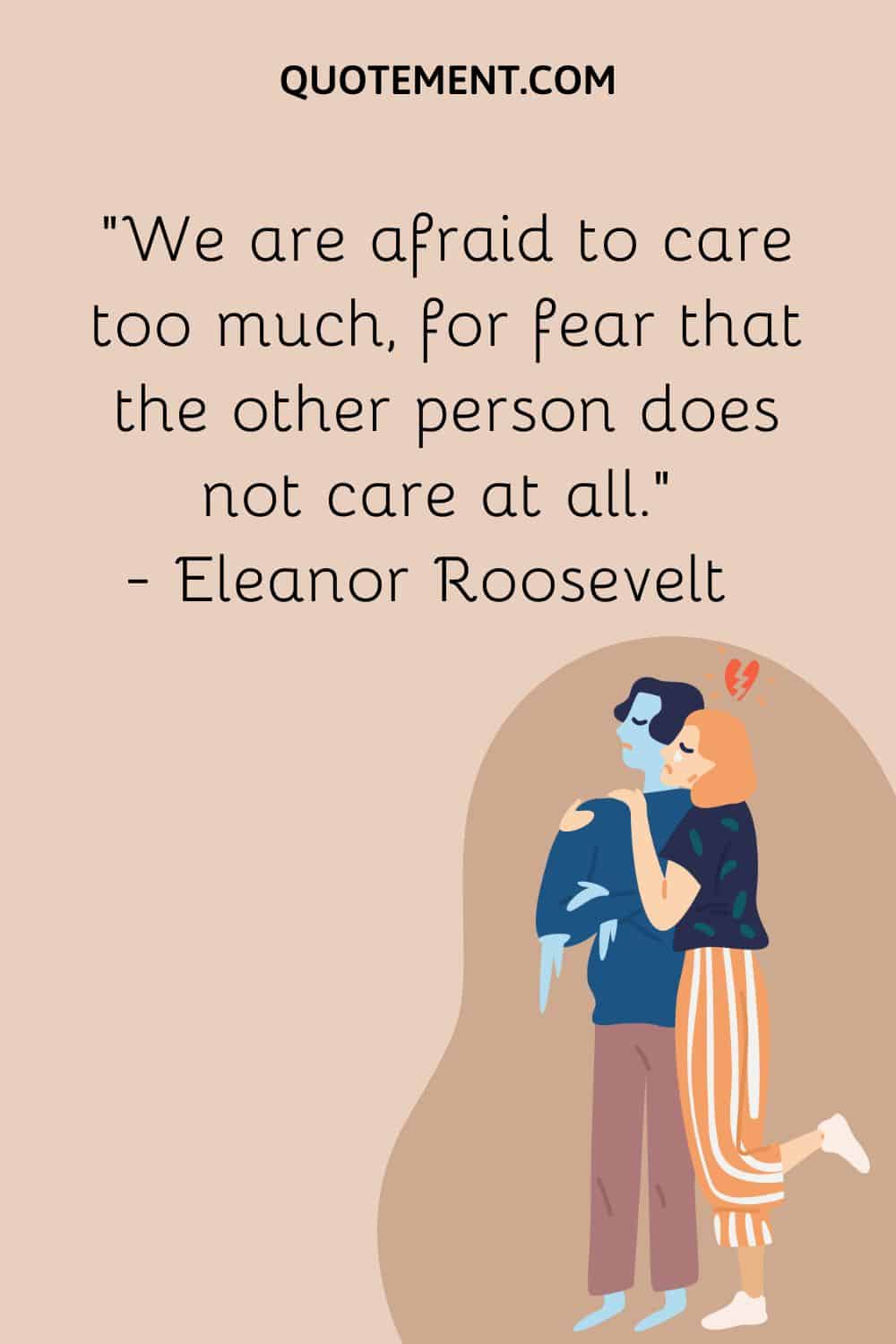 One-Sided Love Quotes
1. "One-sided love is not even love. It's a bad investment that puts your emotional well-being in debt." — Unknown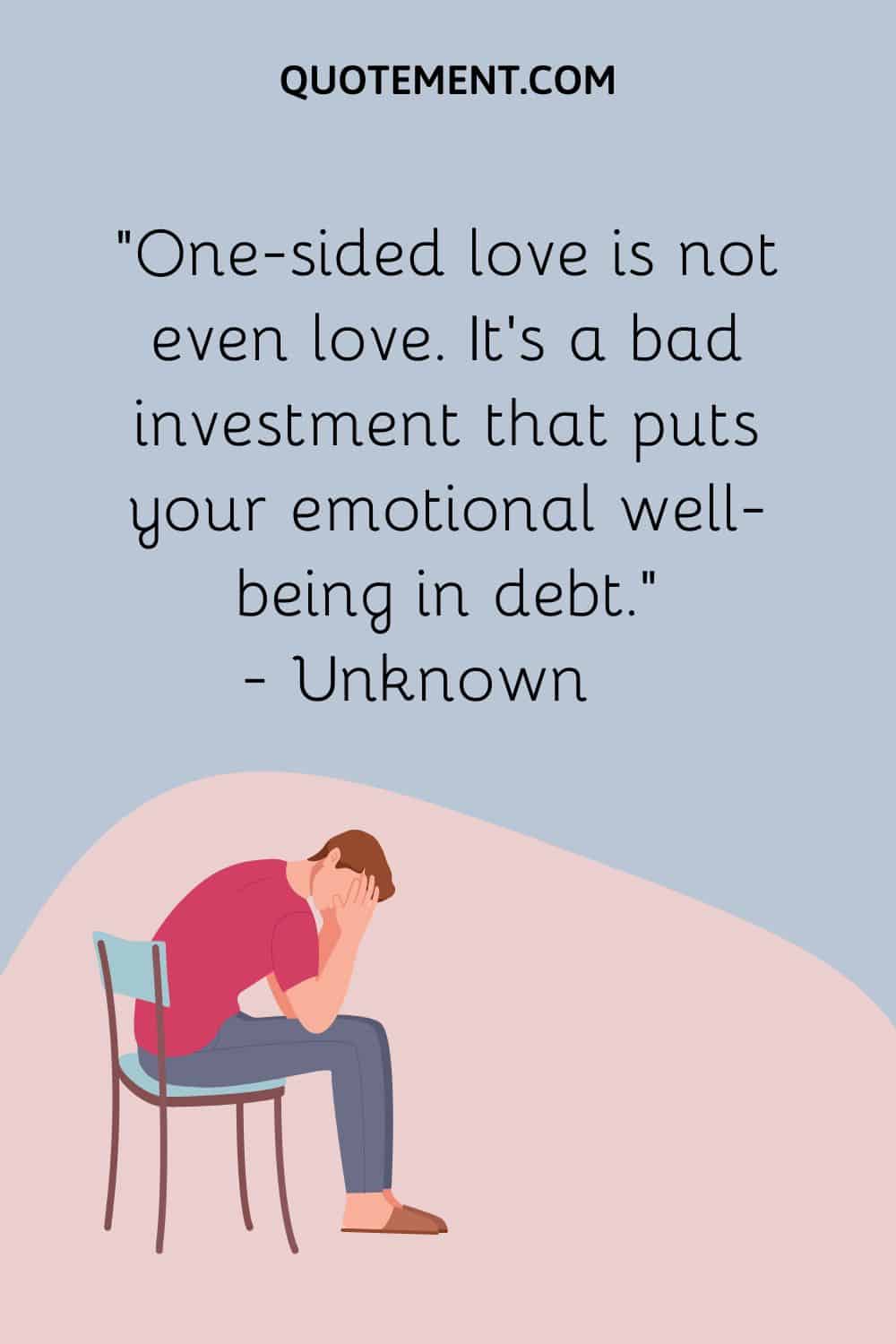 2. "It takes both sides to build a bridge." — Fredrik Nael
3. "You like someone who can't like you back because unrequited love can survive in a way that once-requited love cannot." — John Green
4. "Dear Cupid, next time, hit both." — Unknown
5. "Nobody's home but me I'm the only one hangin' on one-sided love." — Brooke Hogan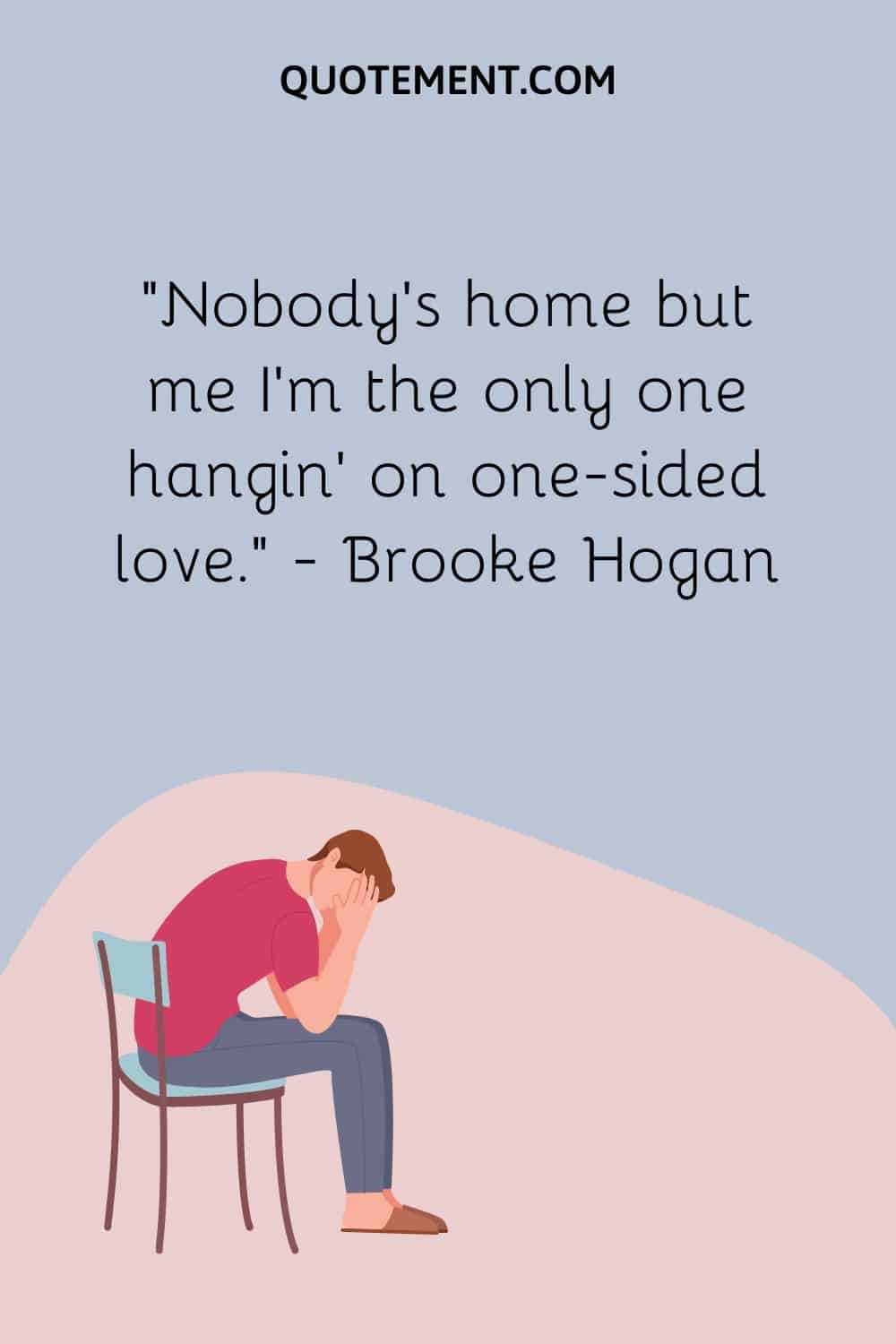 6. "Sometimes we expect more from others because we would be willing to do that much for them." — Unknown
7. "I feel like I'm waiting for something that isn't going to happen." — Unknown
8. "If you wanna be hugged. Well, you've gotta hug me, too. Yeah, 'cause I ain't for no one-sided love affair." — Aldo
9. "One-sided love is never gonna work. So let me tell you something that I'm sure you've never heard of tender love and care, in case you're unaware." — Mandy Moore
10. "There is nothing so mortifying as to fall in love with someone who does not share one's sentiments." — Georgette Heyer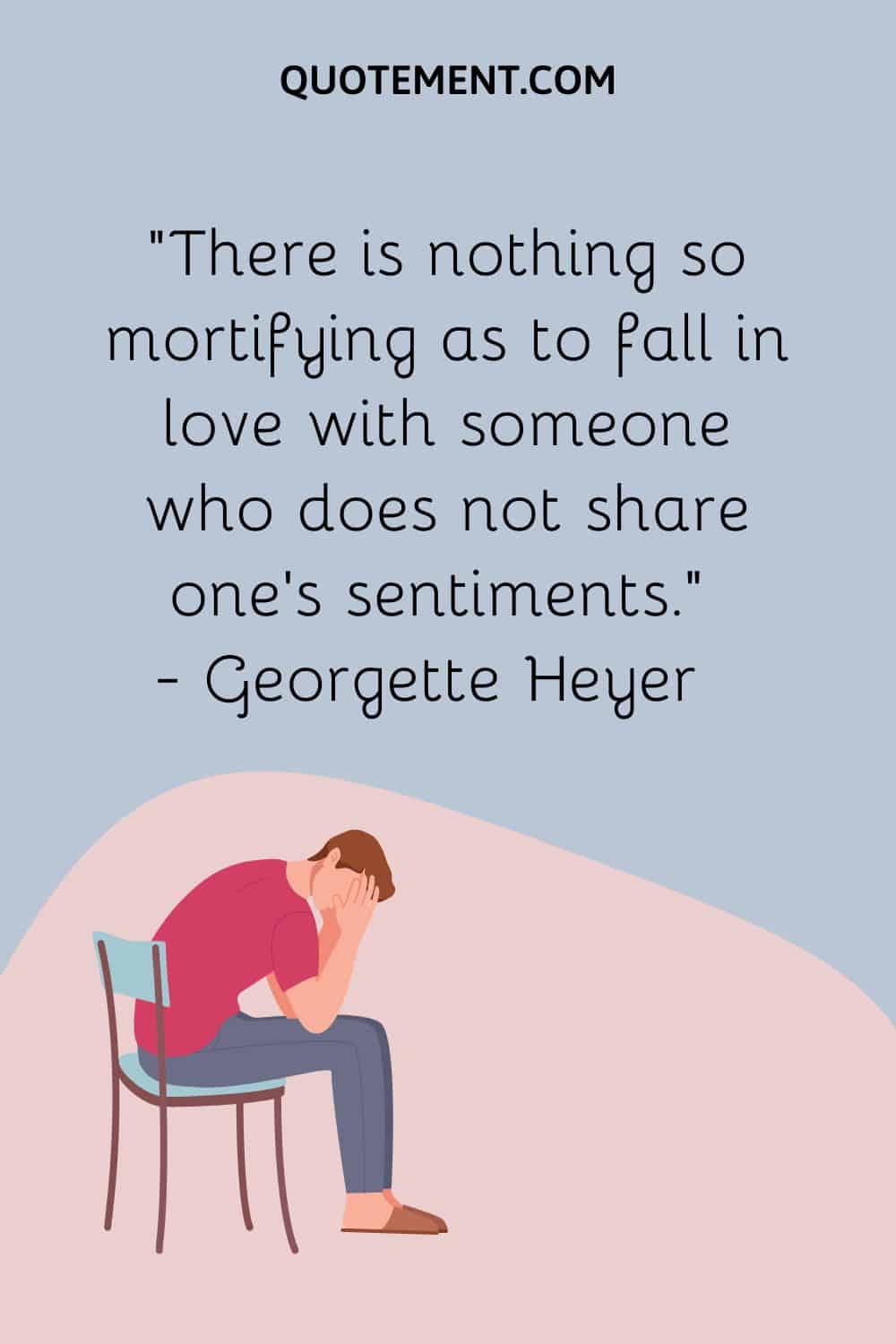 11. "The pain of one-sided love, of knowing that I had loved her more than she had loved me." ― Sierra Simone
12. "Because what's worse than knowing you want something, besides knowing you can never have it?" ― James Patterson
13. "If you know you can't take it, then baby, why try to give it? Cause I ain't for no one-sided love affair." — Elvis Presley
14. "There's nothing quite as sad as a one-sided love. When one doesn't care at all, and the other cares too much." — Dolly Parton
15. "Love isn't always perfect. It isn't a fairy tale or a storybook. And it doesn't always come easy." ― Linda Lapointe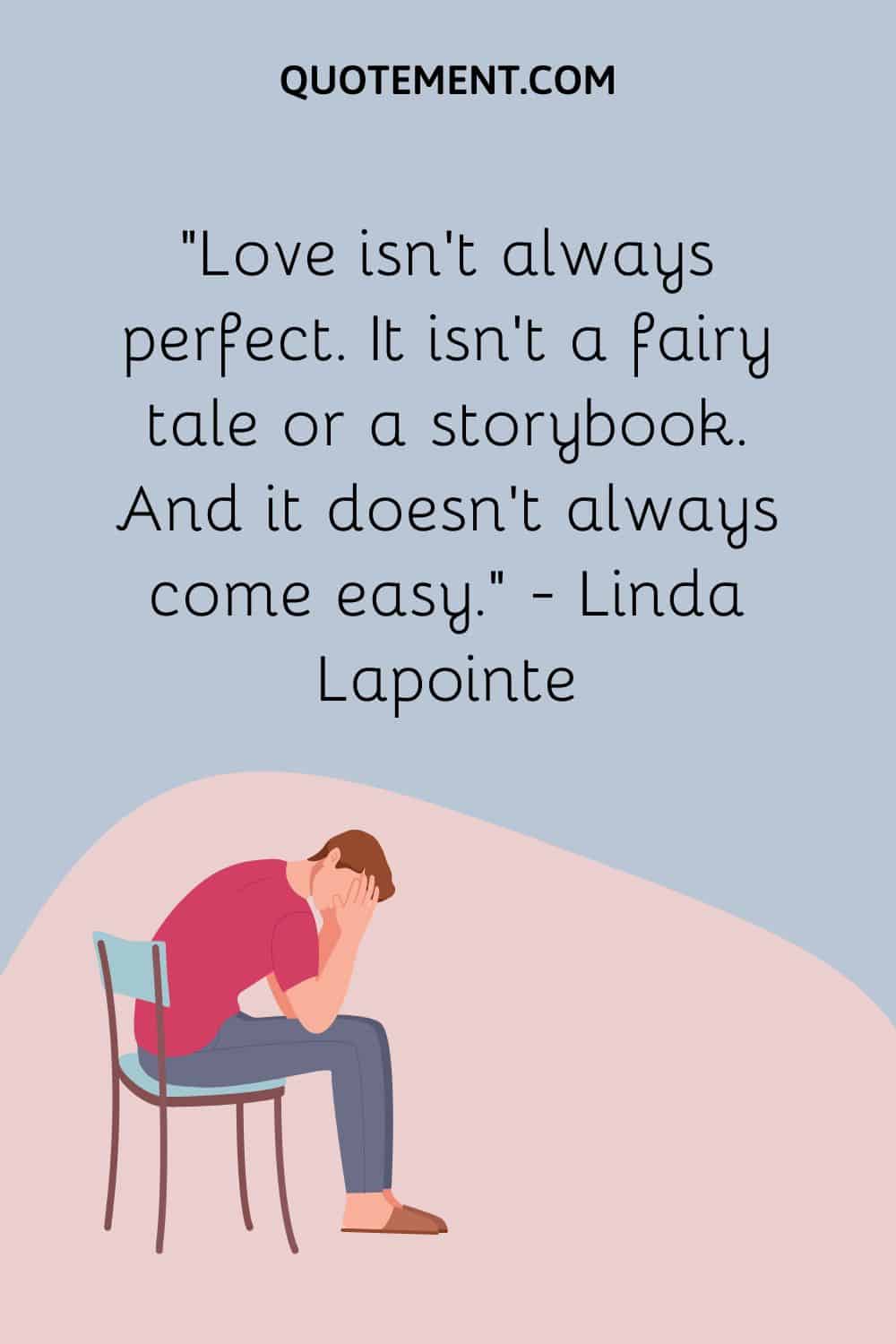 16. "One-sided love is also a relationship. Just because she is not participating, it doesn't mean that I am not investing in the relationship. And the most beautiful thing about one-sided love relationships is that it doesn't depend on anyone. It's all about how you feel. If it's love, it is. And it's so volatile! So filled with action, this one-sided love affair. Do you know, in a relationship, the day you fall in love, you win. And the day you break up, you lose. But in a one-sided relationship, the most beautiful thing is, you win every day, and you lose every day." — Unknown
17. "Well, you know that I love you more than anyone can, but a one-sided love I just don't understand." — The Beatles
18. "I wonder what it's like to be loved by you." — Wonder, Shawn Mendes
19. "Never fall in love with someone that won't fight for you because when the real battles begin, they won't pull your heart to safety, but they will their own." — Shannon L. Alder
20. "It is better to be out of love than to be miserable in a one-sided love." — Unknown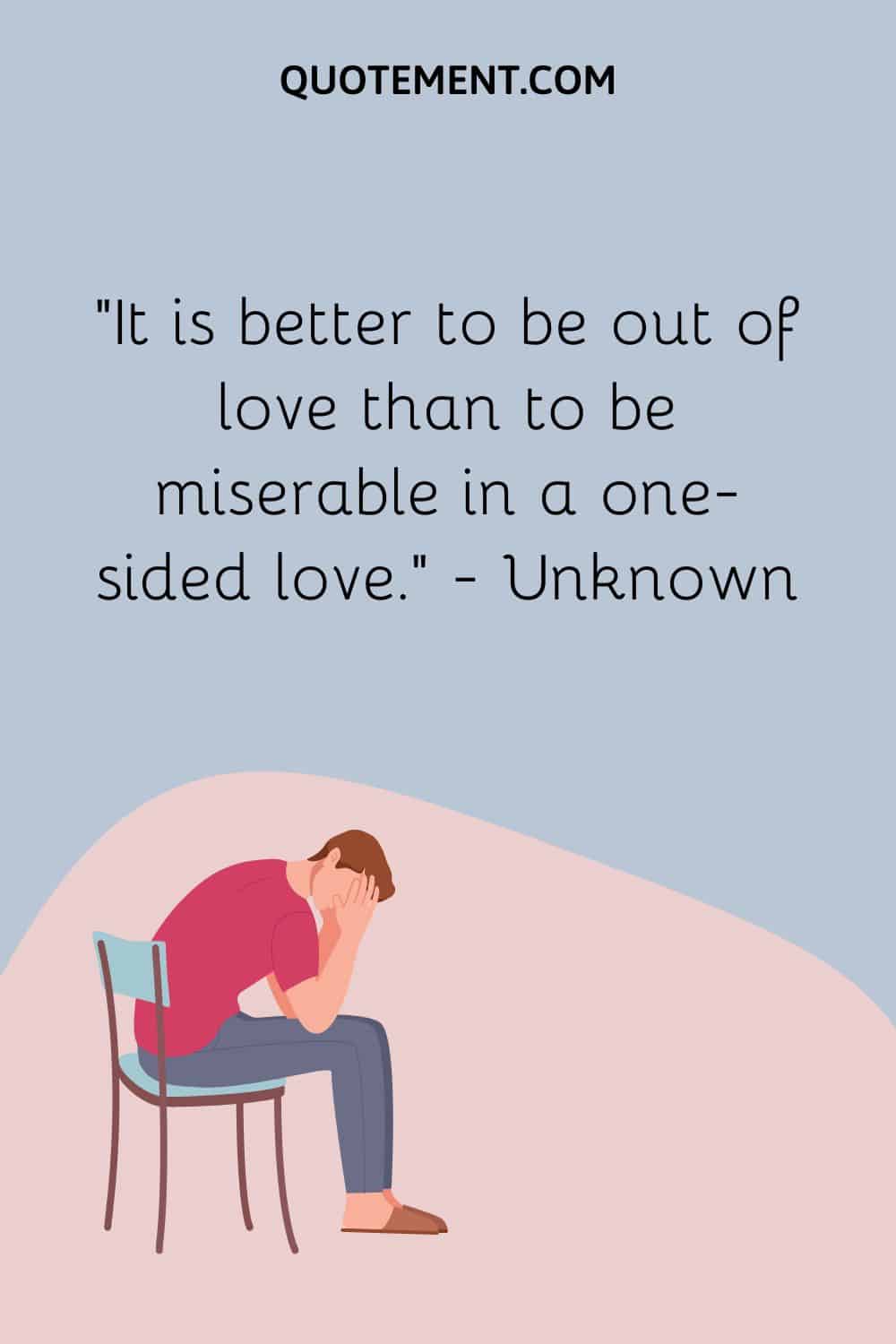 See also: 110 Attitude Happy Alone Quotes That Will Uplift You
21. "People do incredible things for love, particularly for unrequited love." ― Pearly Tan
22. "Loving you is like a drug. It's addictive, but soon it will destroy me." — Unknown
23. "The biggest curse in life is not losing your love, but not being loved by someone you love." — Kiran Joshi
24. "It was hard to pour endless love into someone who wouldn't love you back. No one could do it forever." — Zoje Stage
25. "Living with someone you love can be lonelier than living entirely alone if the one that you love doesn't love you." — Tennessee Williams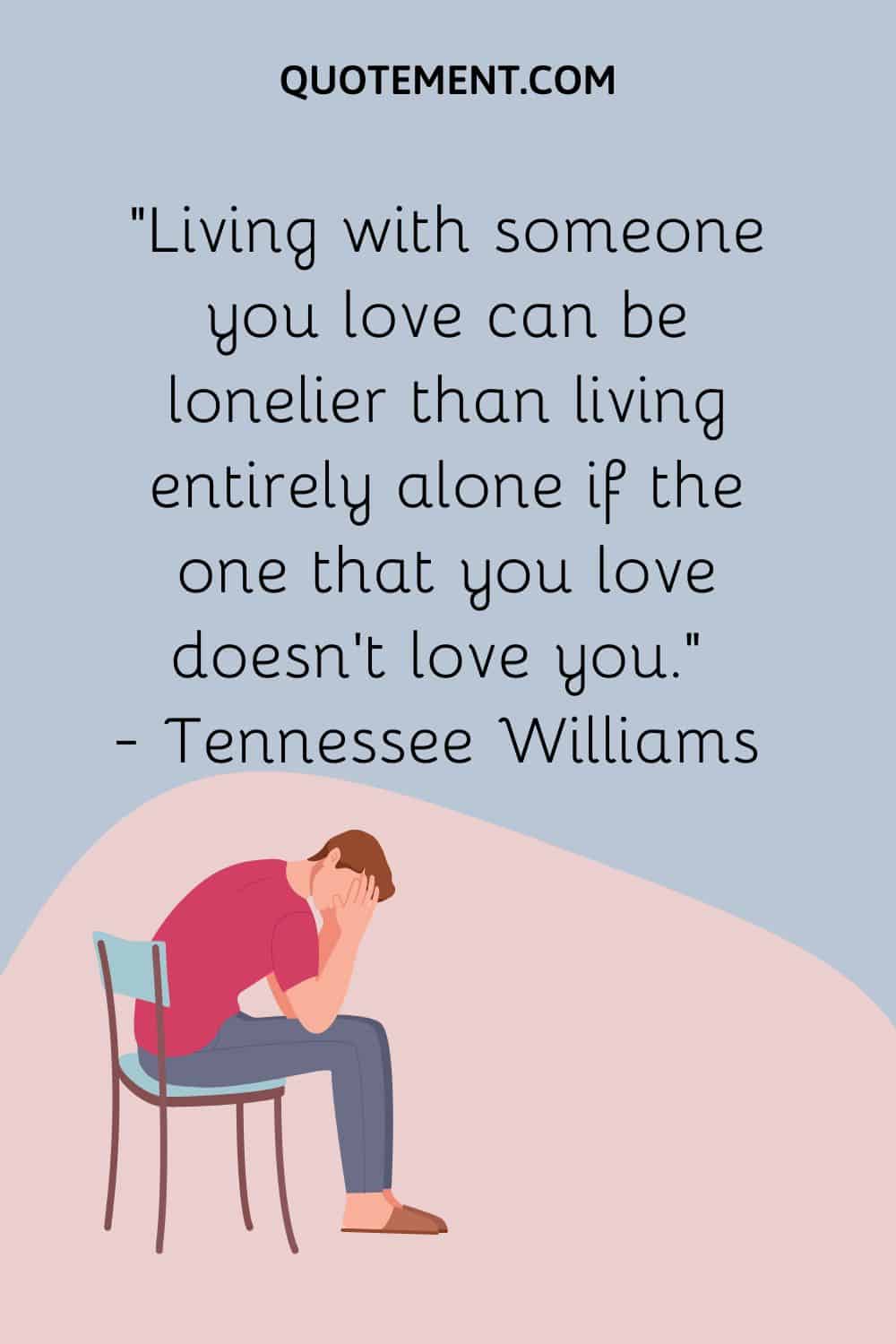 See also: 80 Best Relationship Lonely Quotes To Help You Find Hope
Breaking Point One-Sided Relationship Quotes
1. "I don't want a one-sided relationship…I want a relationship where both sides always put effort, time, and love into making things last." — Unknown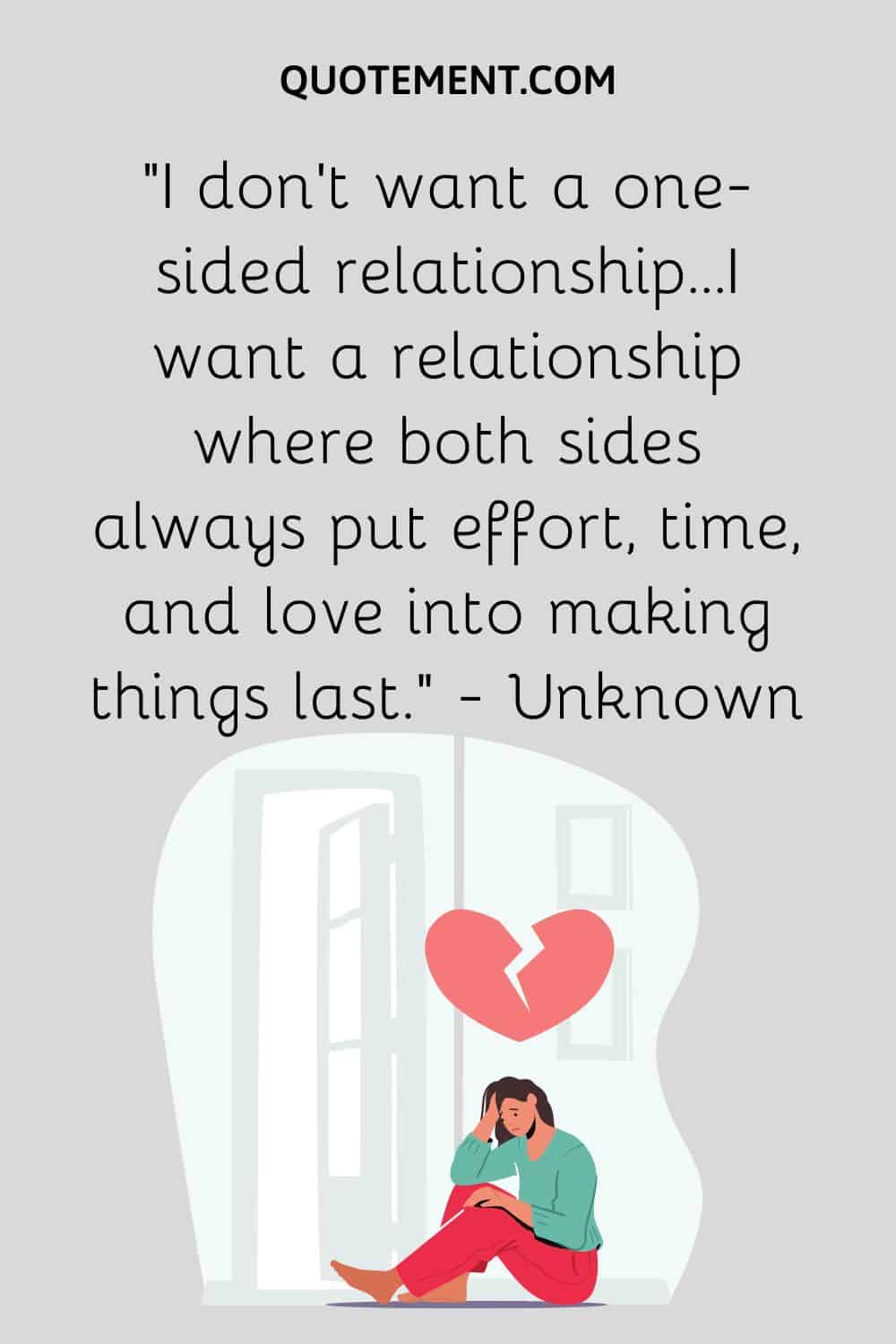 2. "I decided to put as much effort into contacting you as you do with me — that's why we don't talk anymore." — Unknown
3. "Stop chasing after people and being the only one trying to fix everything. It's mentally and physically exhausting. You have to find peace with whoever comes and goes from your life. Don't be the only one putting in effort because you will lose yourself trying to save someone else." — Unknown
4. "Sometimes you have to forget what you feel and remember what you deserve." — Unknown
5. "There comes a time when you have to stop crossing oceans for people who won't even jump a puddle for you." — Unknown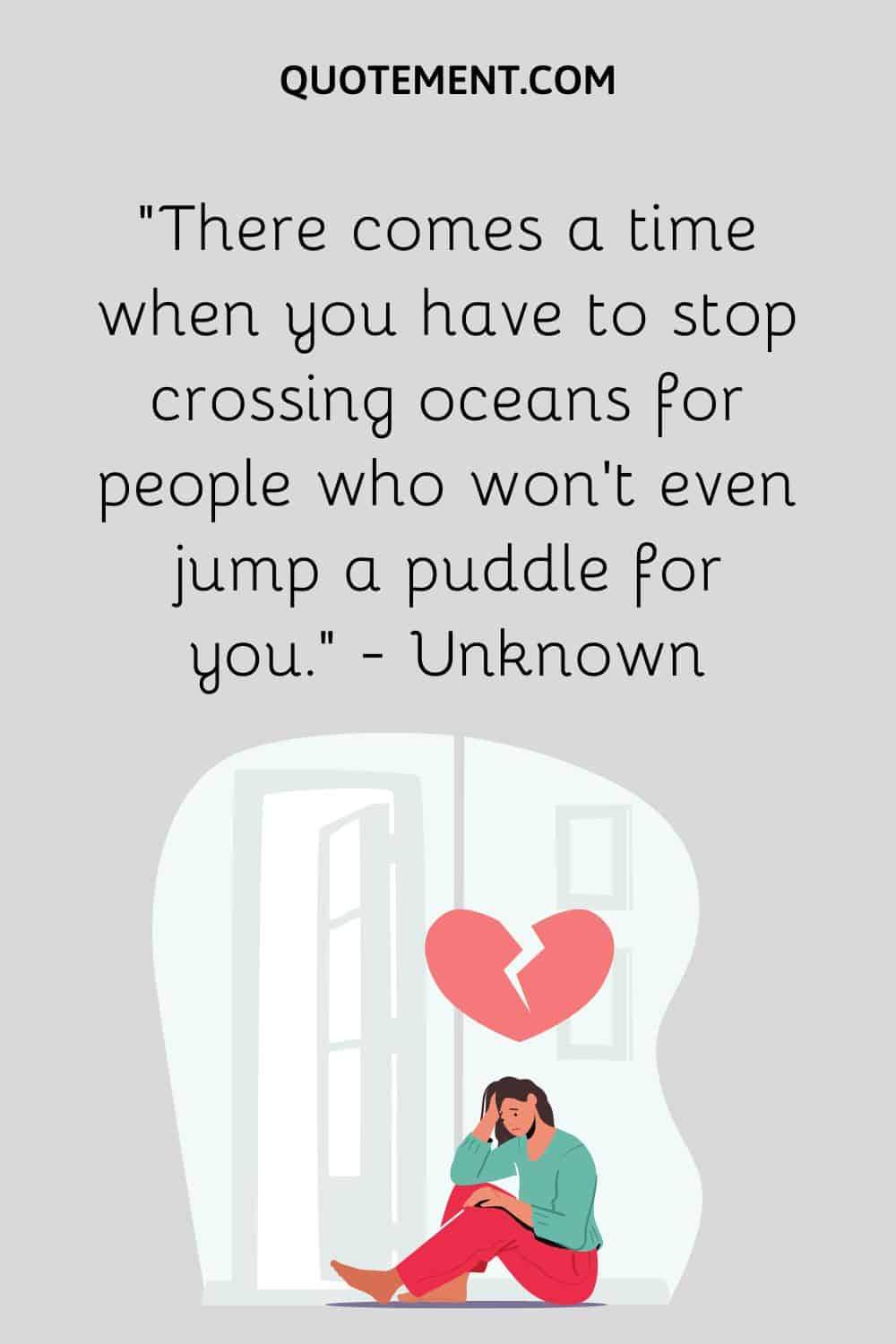 6. "Our time is up. Trying to make this work, it ain't enough one-sided love." — Blackbear
7. "If someone doesn't fight to keep you, never fight yourself to stay." — Unknown
8. "If you allow people to make more withdrawals than deposits in your life, you will be out of balance and in the negative! Know when to close the account." — Christie Williams
9. "Stop chasing someone who is not afraid of losing you." — Unknown
10. "One of the most courageous decisions you'll ever make is to finally let go of what is hurting your heart and soul." — Unknown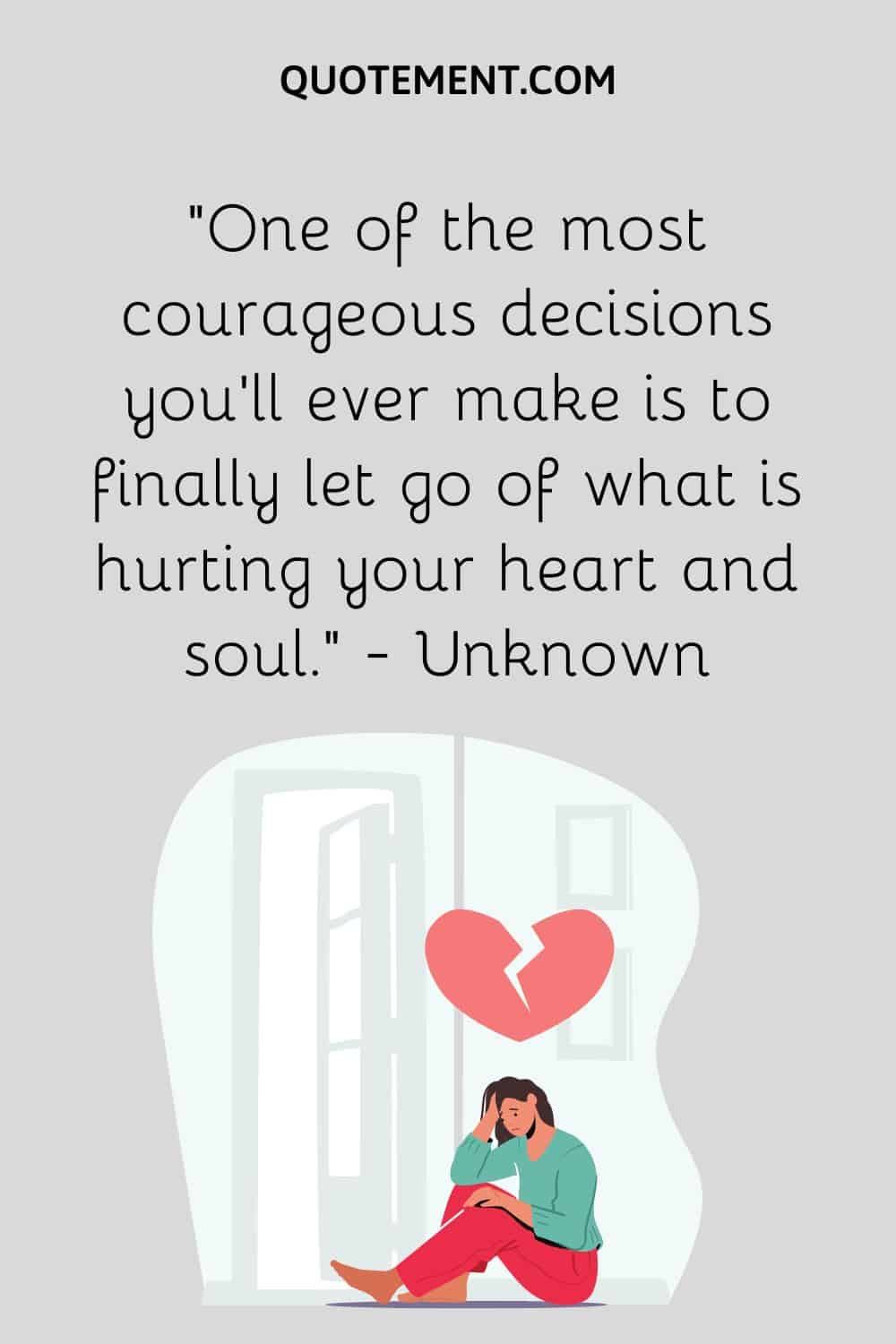 11. "There comes a time in your life when you have to choose to turn the page, write another book or simply close it." — Shannon L. Alder
12. "With a love that's so one-sided, there's no chance at all. The walls have got to fall."- Sonny & Cher
13. "Every time I think about you, I have to remind myself that if you wanted to talk to me, you would." — Unknown
14. "When you care for people more than they deserve, you get hurt more than you deserve." ― Stephen Kyeyune
15. "Never get too attached to anyone unless they also feel the same because one-sided expectations can mentally destroy you." — Unknown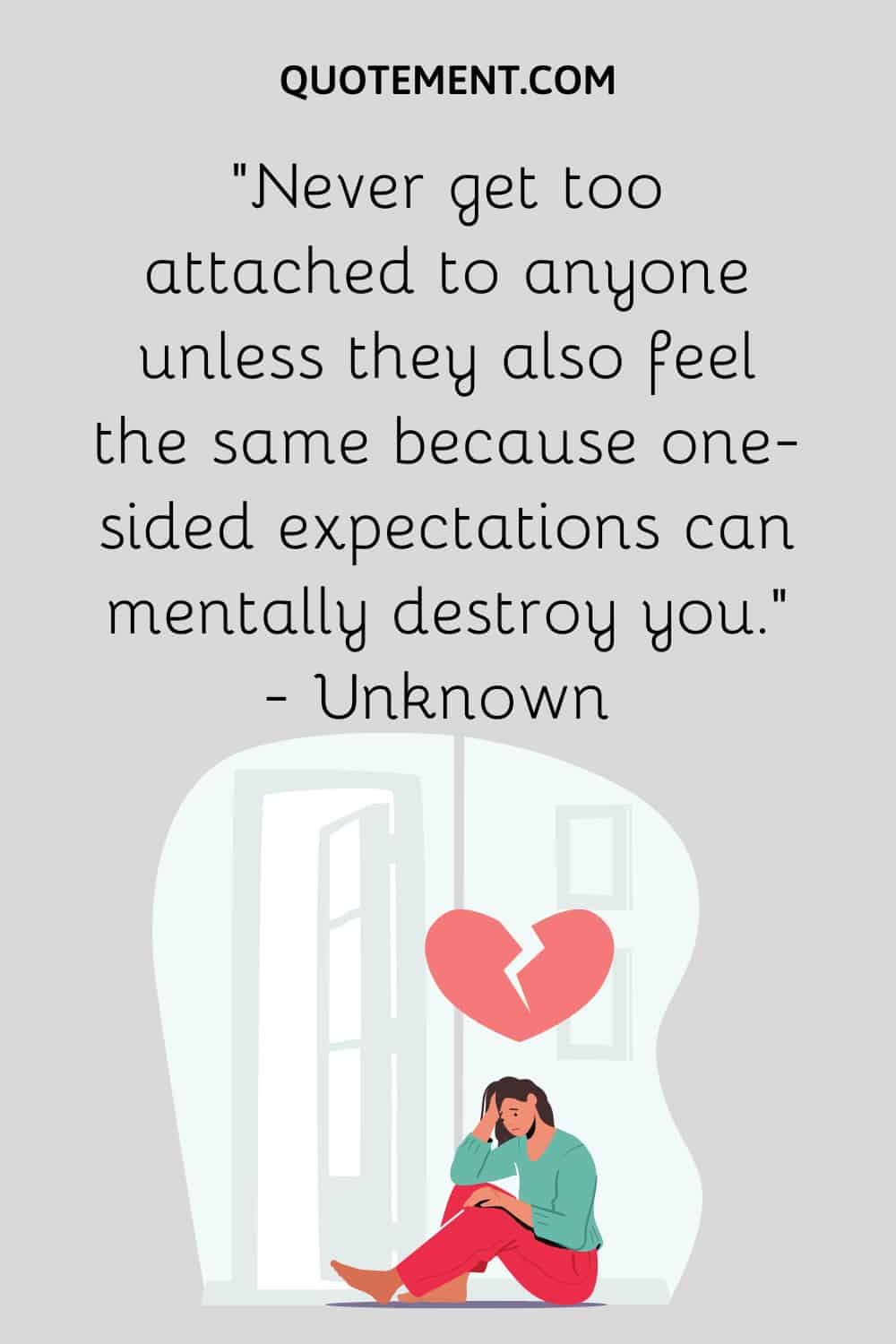 16. "People will hold your hand through the darkness but then let go when they find the light." — Unknown
17. "When you quit texting people first, you realize who is making all the efforts." — Unknown
18. "If the feelings are mutual, the effort will be equal. It's as simple as that." — Unknown
19. "If they don't make an effort to keep you, why should you?" — Unknown
20. "In the end, we all just want someone that chooses us, over everyone else, under any circumstances." — Unknown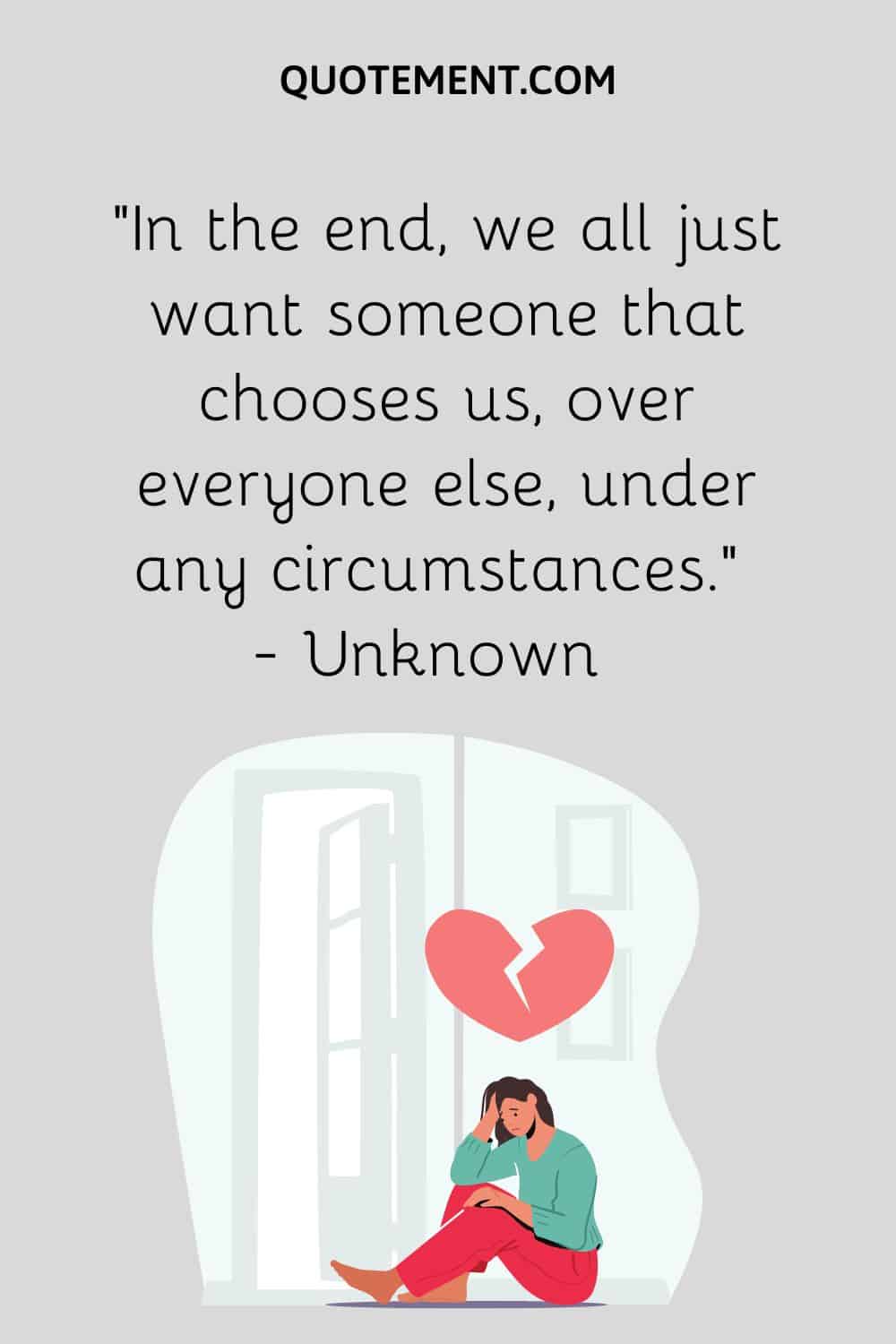 One-Way Relationship Quotes
1. "A relationship is nothing if all the feelings, sacrifices, contributions, and hard work are only coming from one end." — Kisstopher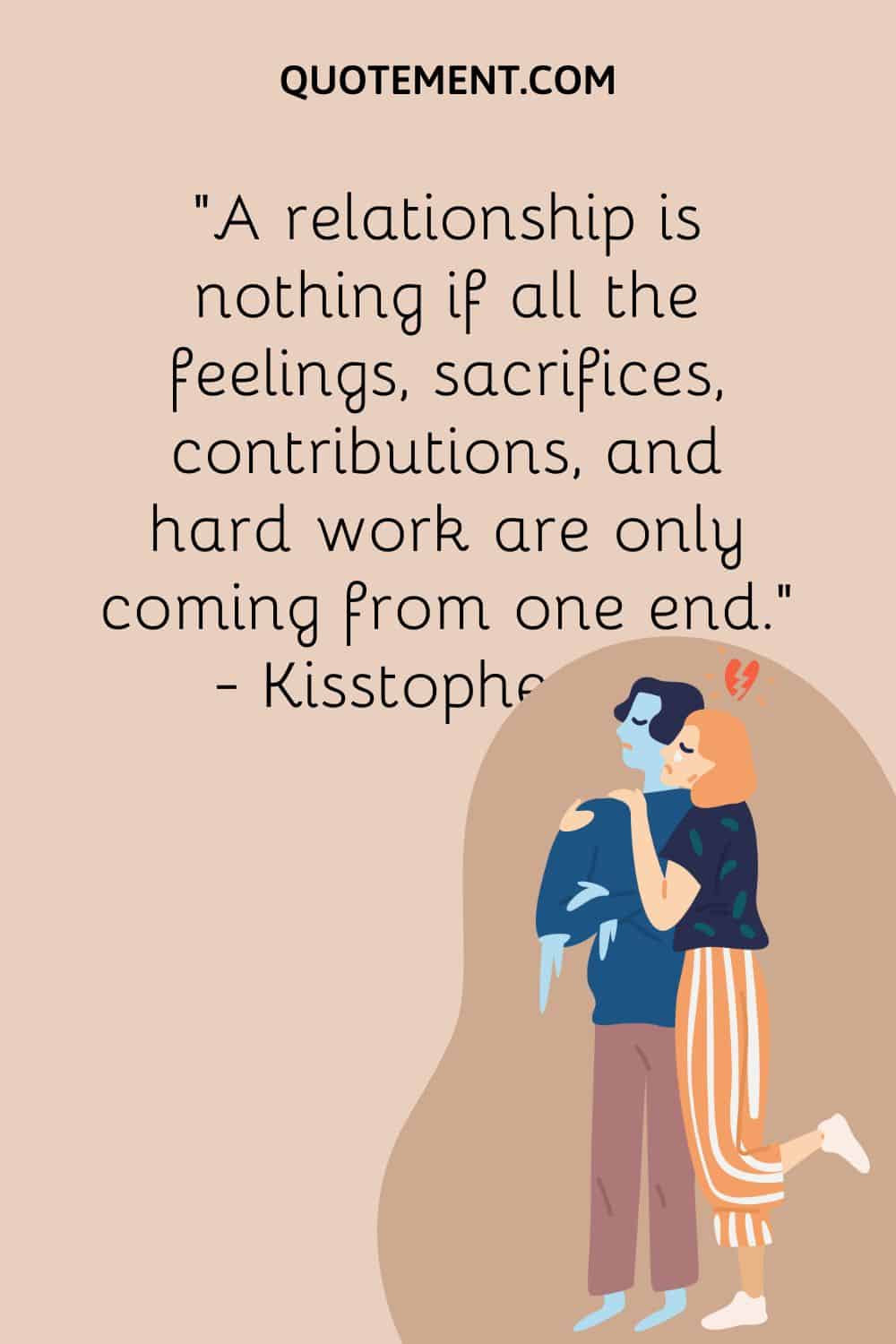 2. "I wish I hadn't been so blinded in love and listened to my mind instead of my heart." — Unknown
3. "Dear crush, please just smile at me as I smile inside every time I see you. And you'll know how much power you hold over me." — Unknown
4. "You know what's the worst? Thinking you have a chance with someone and then realizing you actually don't. Wasting your time on someone. Wasting your time thinking about them every moment of the day. Wasting your time just waiting for a text or a callback. Wasting your time wondering if they feel the same way as you, wondering if they're thinking about you too. When in reality, they aren't. While you're making them your priority, they're only making you an option." — Unknown
See also: 80 Not Feeling Like A Priority In A Relationship Quotes
5. "Relationships are worth fighting for, but sometimes you can't be the only one fighting." — Emily Christine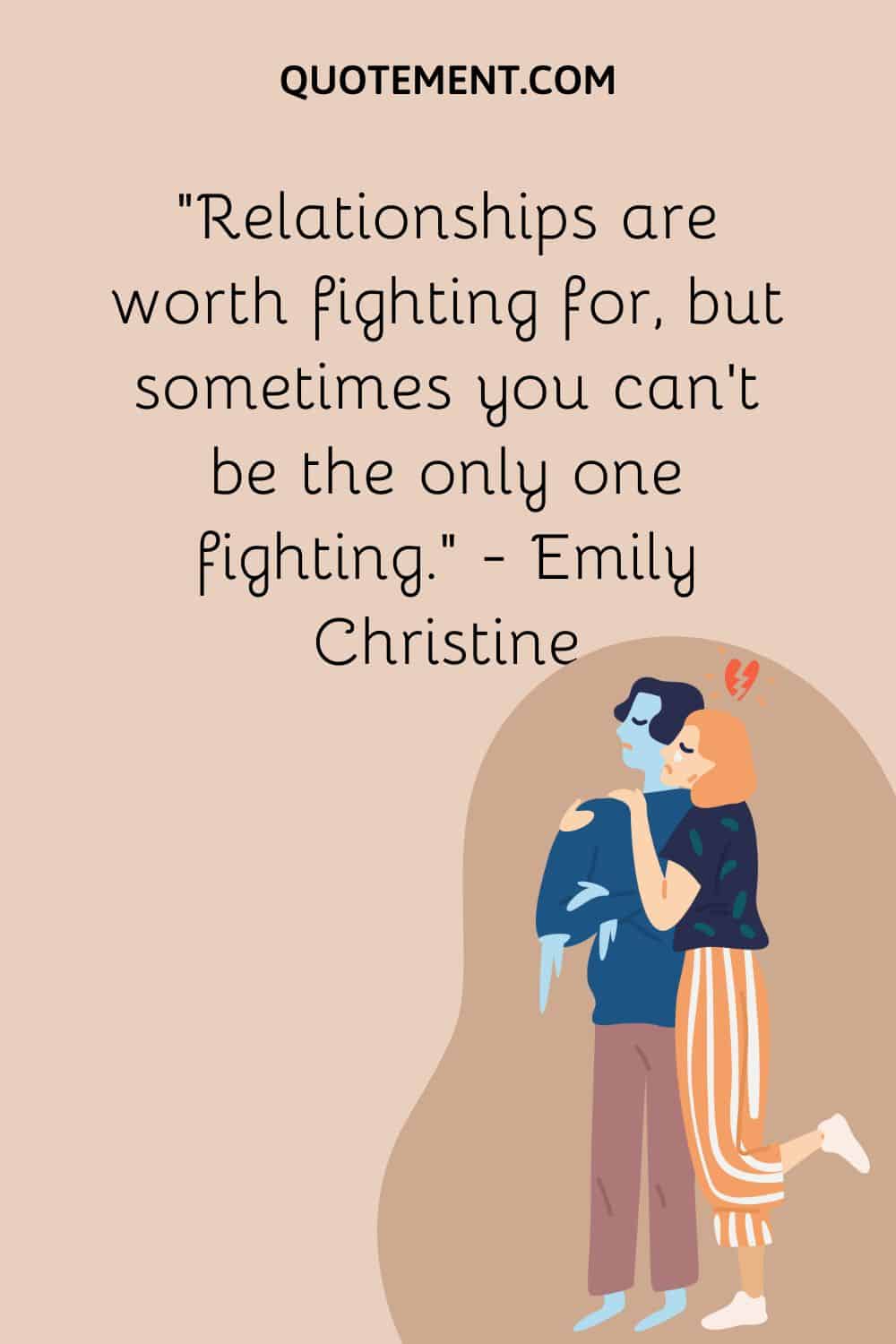 6. "Perhaps unrequited love was a specter in the house, a presence that brushed at the edge of senses, a heat in the dark, and a shadow under the sun." — Sherry Thomas
7. "Because if you could love someone and keep loving them without being loved back, then that love had to be real. It hurt too much to be anything else." — Sarah Cross
8. "Don't stay in a toxic relationship because you think it'll get better eventually. Know your worth and say goodbye." — Unknown
See also: 120 Final Goodbye Toxic Relationship Quotes To Let It Go
9. "If someone cries in front of you, it doesn't mean that they couldn't control the pain, it means that they trust you that you will wipe those tears for sure." — Unknown
10. "No relationship in this world ever remains warm and close unless good effort is made on both sides to keep it so." — Eleanor Roosevelt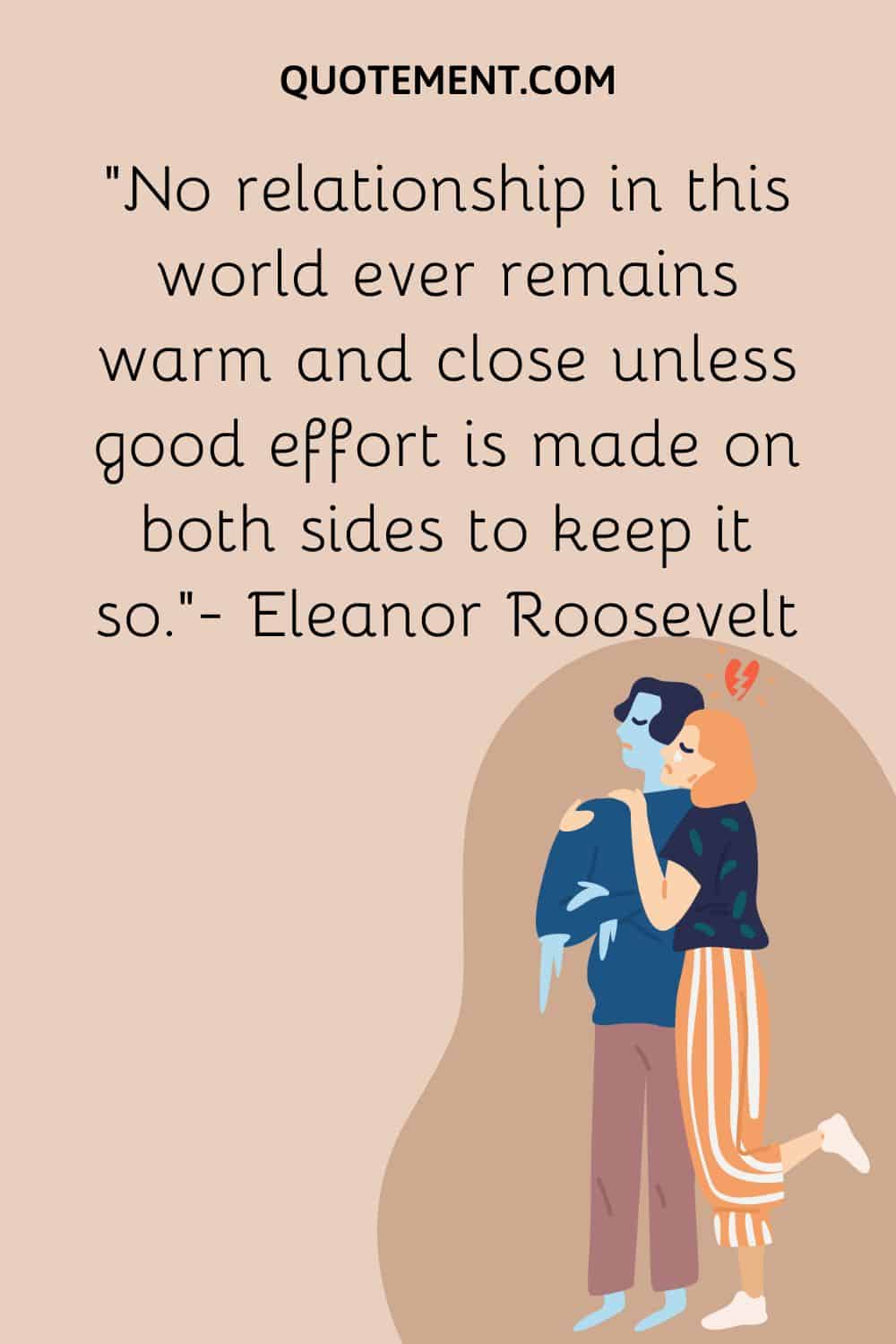 11. "All relationships have one law: never make the one you love feel alone, especially when you're there." — Unknown
12. "Waiting for you is like waiting for rain in the drought, which was useless and disappointing." ― Himanshu Chate
13. "All of a sudden, my dreams seem to be better than my reality because at least you loved me in my sleep." — Unknown
14. "If only, if only, that's been my anthem since I set eyes on you." — Unknown
15. "I cannot fathom congratulating you on finding love when I'm not the giver of that love." — Unknown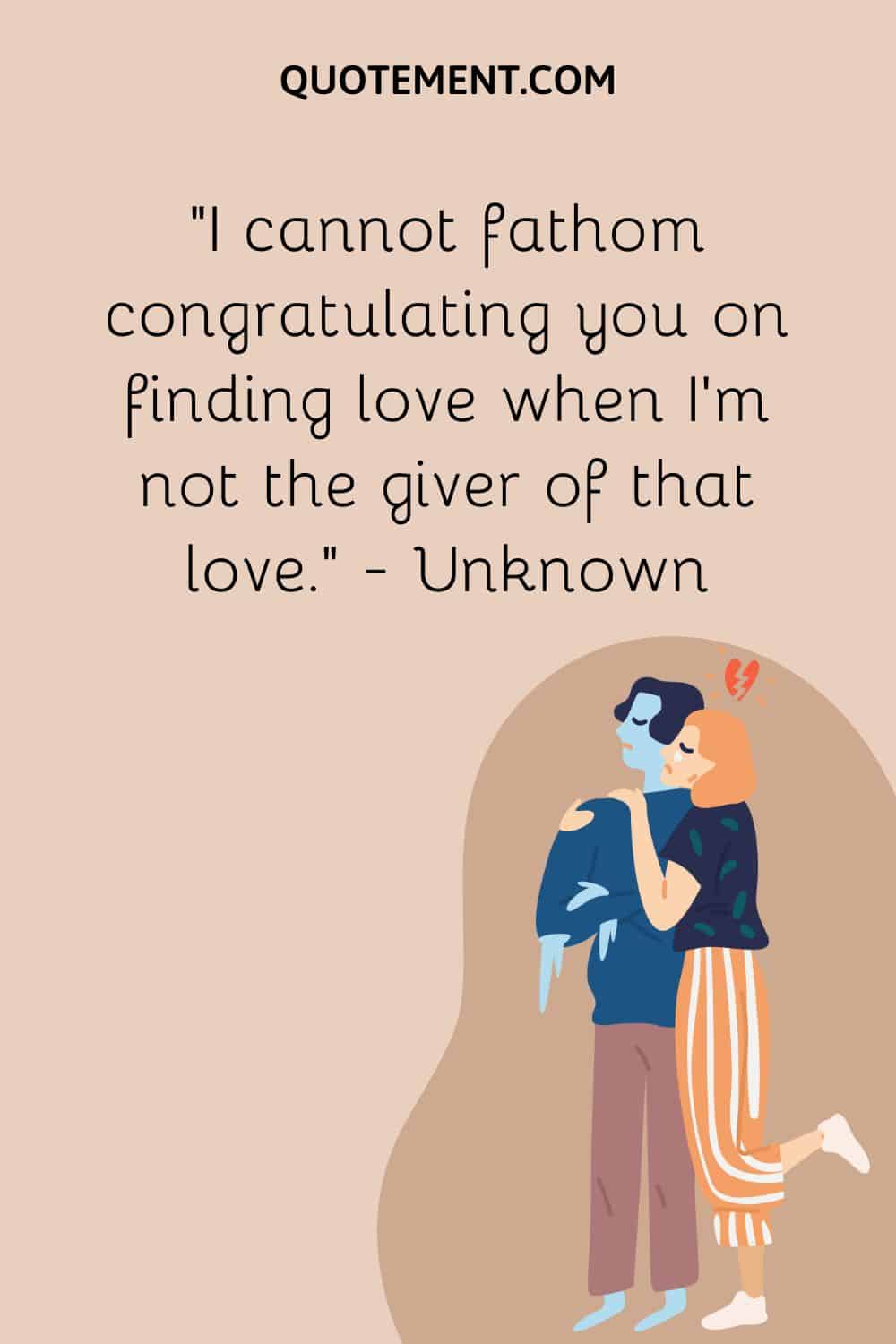 16. "They say insanity is doing the same thing over and over and expecting a different result. Thus, I'm insane because of you, I just can't stop hoping." — Unknown
17. "In my dreams, I felt complete and true love, only to wake up with sadness and loneliness." — Unknown
18. "I'm happy for you while feeling unhappy that I'm not the author of your happiness." — Unknown
19. "Being in love with someone who doesn't even know you exist isn't the worst thing in the world. In fact, it's quite the opposite. Almost like passing in a term paper that you know sucked, but having that period of time where you haven't gotten your grade back yet — that kind of exhale where you haven't been rejected, although you pretty much know how it's going to turn out." — Tonya Hurley
20. "Cupid is nothing without harmony, and you made me understand why." — Unknown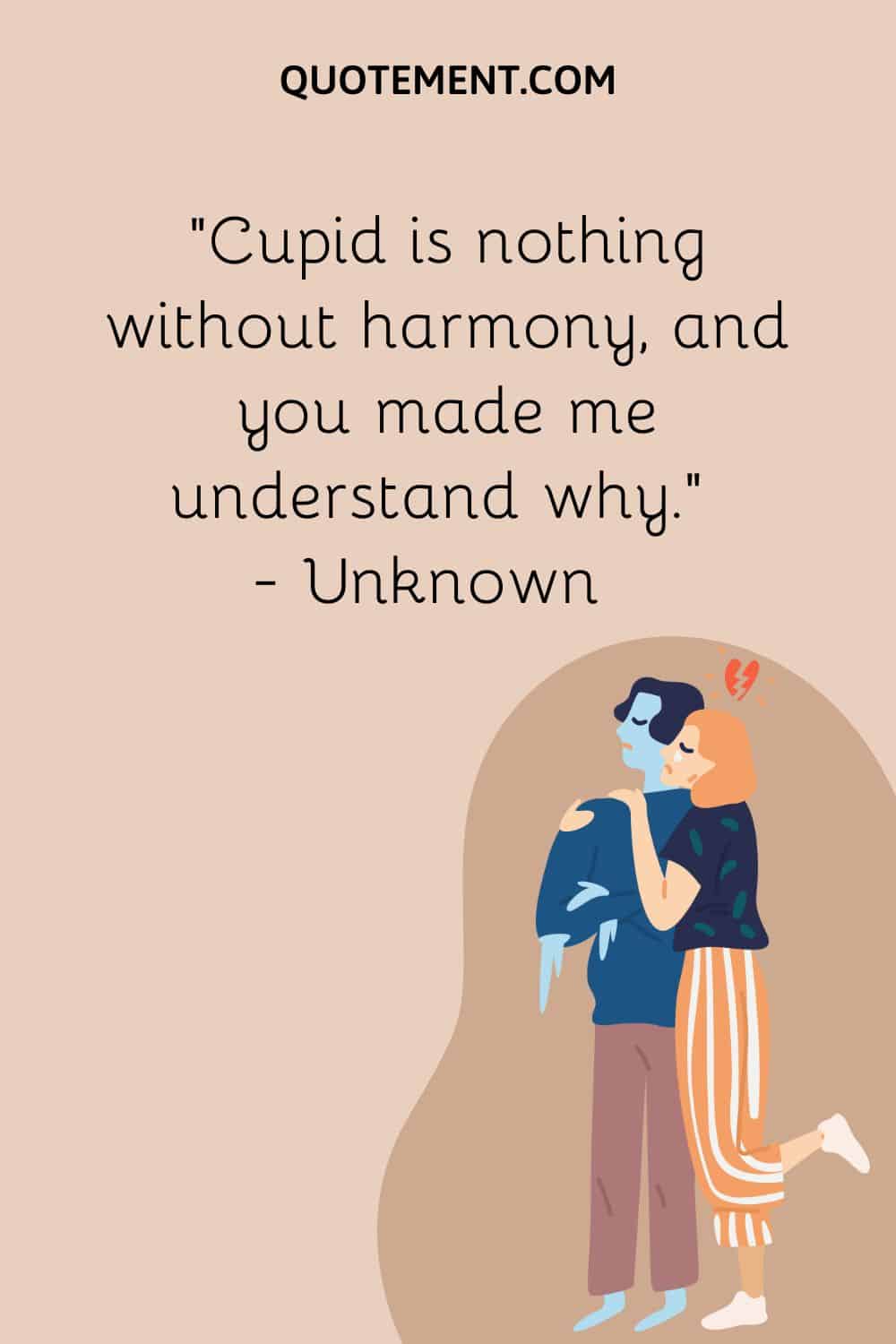 Heartbroken One-Sided Effort Relationship Quotes
1. "My heart no longer felt as if it belonged to me. It now felt as it had been stolen, torn from my chest by someone who wanted no part of it." — Meredith Taylor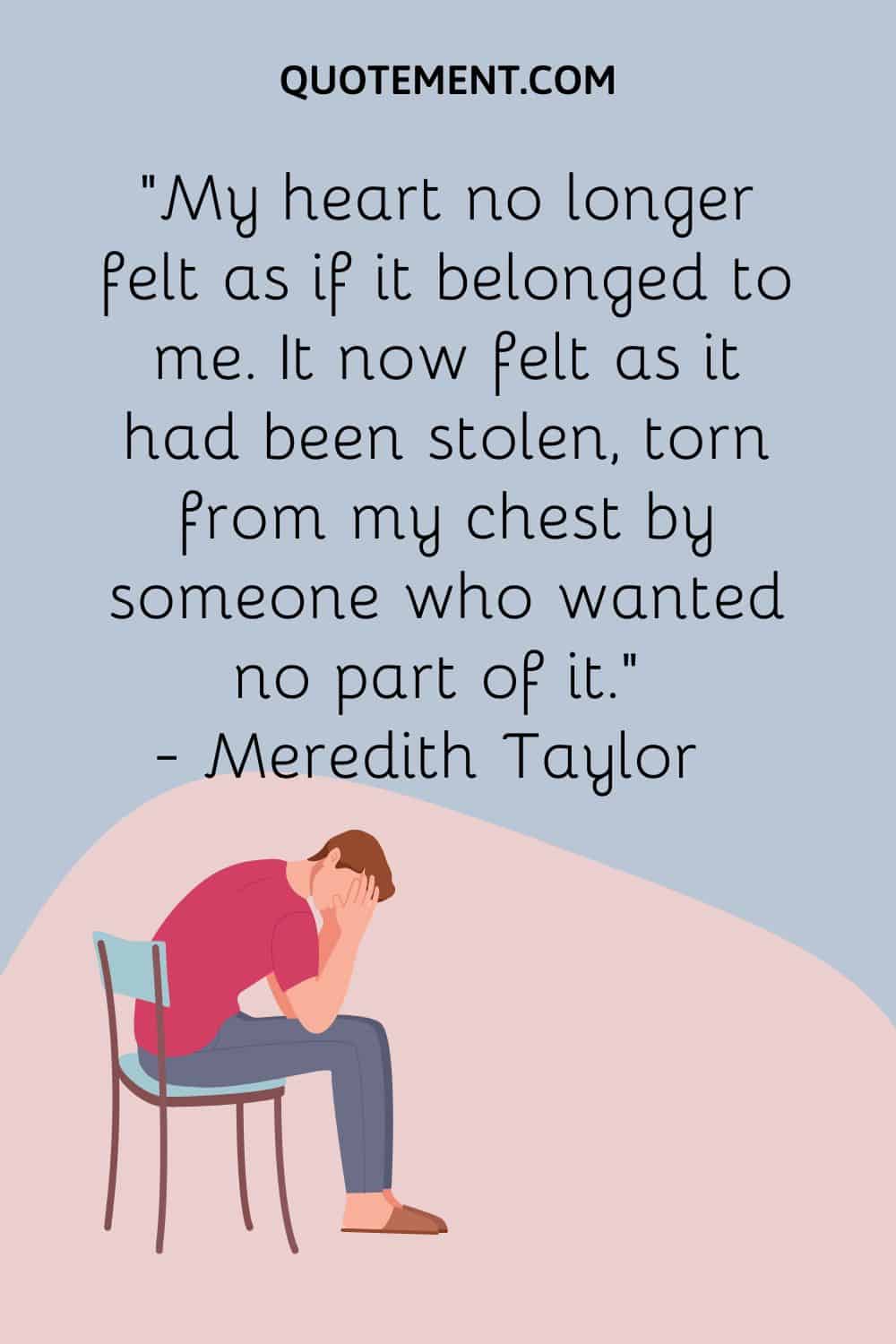 2. "Seeing you with someone else is the definition of hell." — Unknown
3. "One-sided everything about your love was one-sided." — Kelsea Ballerini
4. "She'd been in love with the man, and love is a scary thing. If not reciprocated, it can turn a person into a monster." ― Michele Young-Stone, The Handbook for Lightning Strike Survivors
5. "You know you've got it bad when you miss something you never had. At least even for a little while, I was the reason behind your smile." — Unknown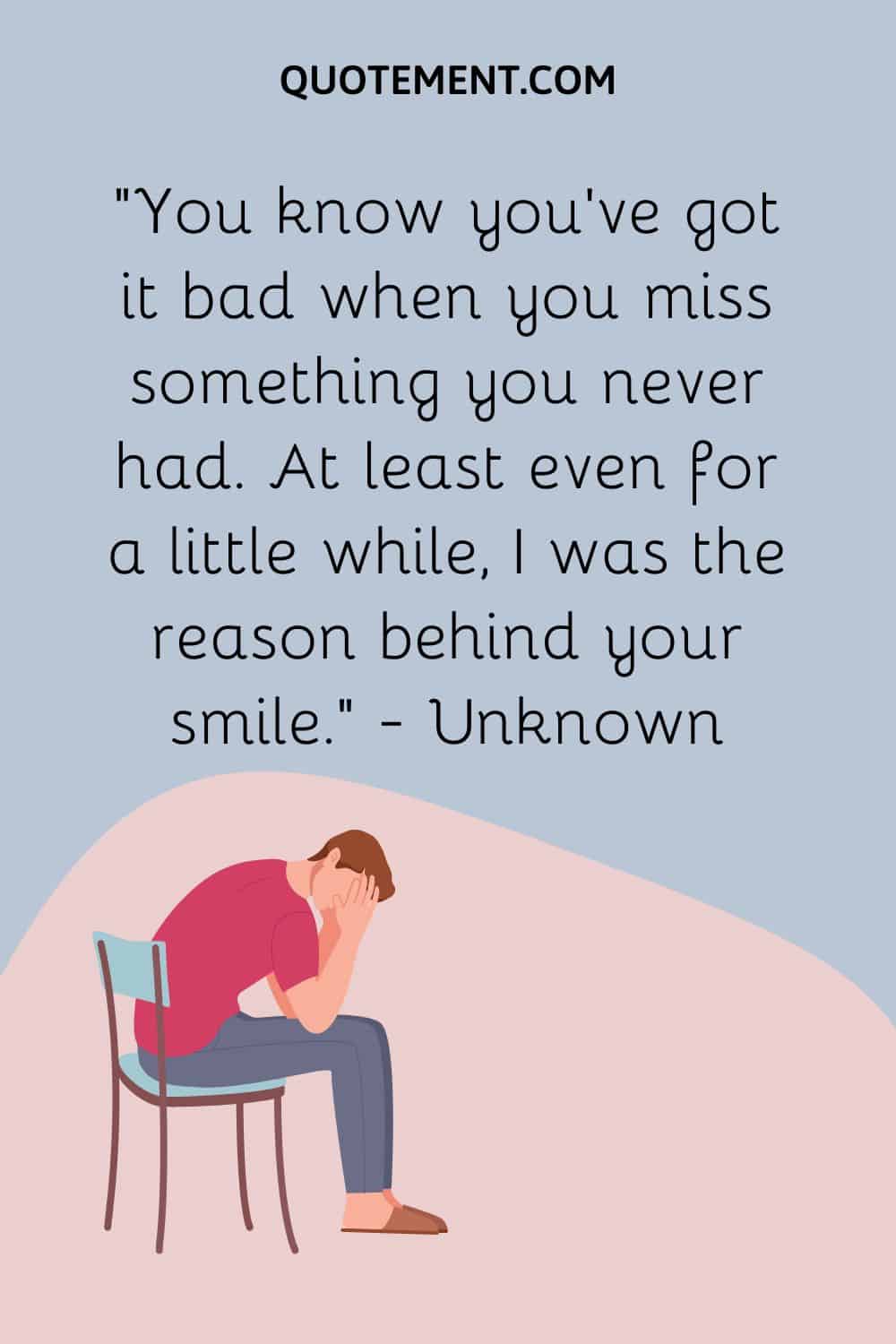 6. "I hate myself for loving you, but I hate it more to know you don't love me as much as I love you." — Unknown
7. "Maybe I was destined to forever fall in love with people I couldn't have. Maybe there's a whole assortment of impossible people waiting for me to find them. Waiting to make me feel the same impossibility over and over again." — Carol Rifka Brunt
8. "I can't close my eyes without you in my dreams." — Unknown
9. "Those eyes that have been my sun, it pains to see them shining for another." — Unknown
10. "I love you, and it kills me each day to see that you do not feel the same way, too." — Unknown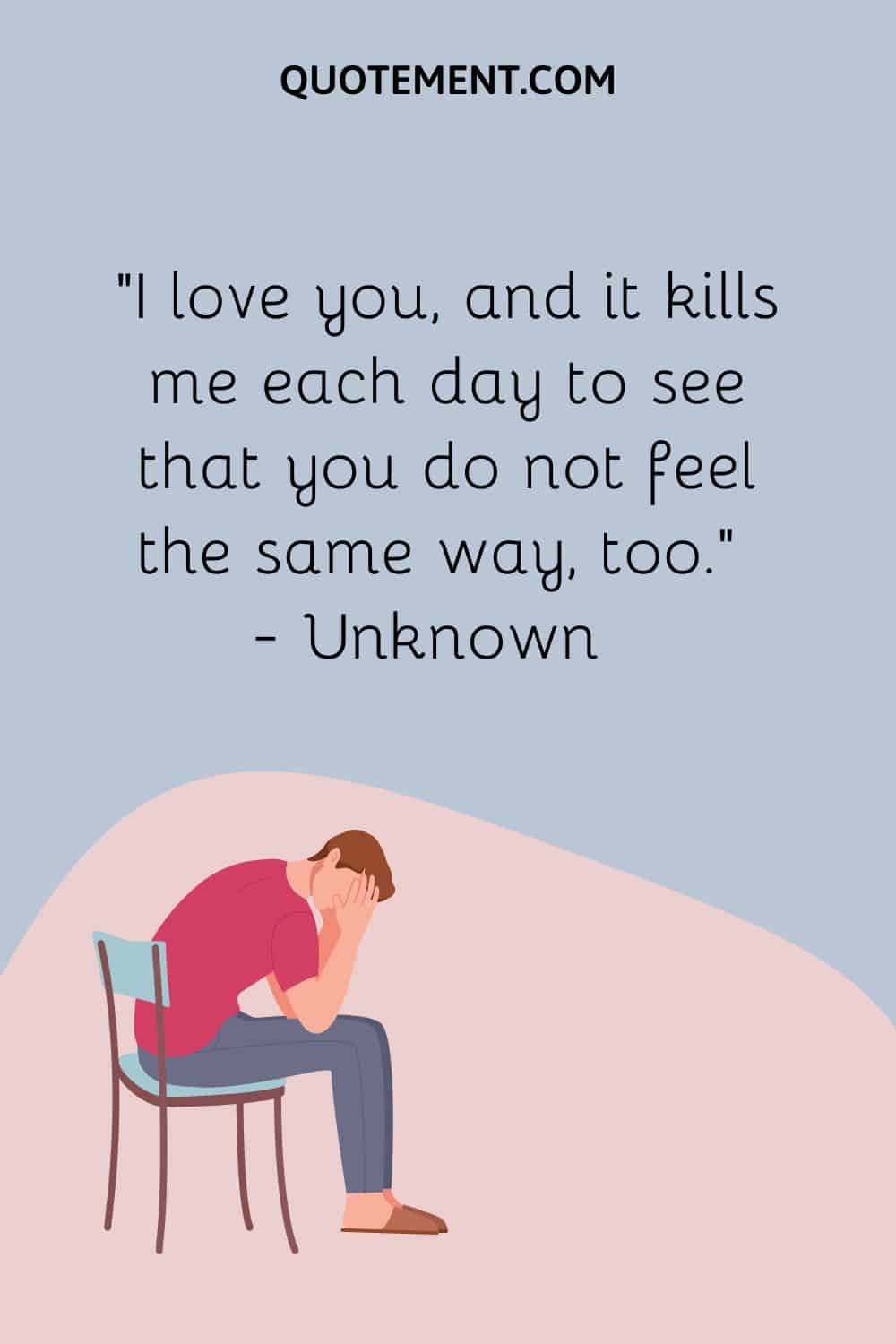 11. "I'm not ignoring you, I'm waiting to see if you'll make an effort for once." — Unknown
12. "You know you really like someone when you don't hate them for breaking your heart." — Unknown
13. "I've never really known the word 'hopeless' until I met you." — Unknown
14. "It's kind of funny how someone can break your heart, and you can still love them with all the little pieces." ― Kuhhrizma Clemons
15. "Every time she laughs, she hopes he's watching, hoping that he'll fall for her smile just as hard as she fell for his." — Unknown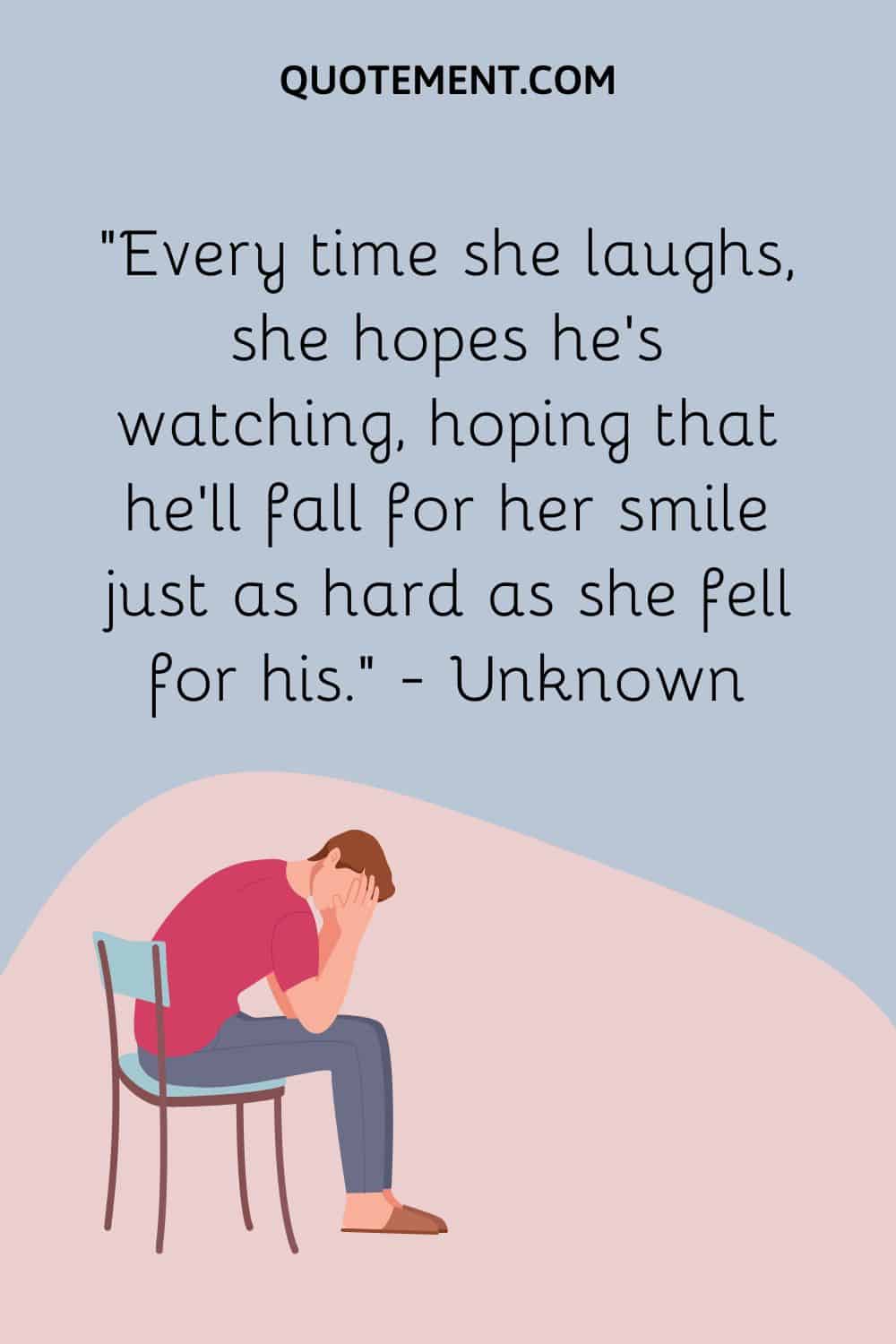 16. "My silence is just another word for my pain. A love like I have for you, I'll never, ever know again." ― Vicki Case
17. "Break my face, my back, my arms, my neck. But please don't break my heart." ― Sarah Bettens
18. "It hurts when you have someone in your heart, but you can't have them in your arms." ― Belinda Hernandez
19. "My heart is broken, you hold the pieces but cannot mend them." — Unknown
20. "You have so much power over me to make me happy or sad. Yet the only thing you've ever done has been the latter by saying no." — Unknown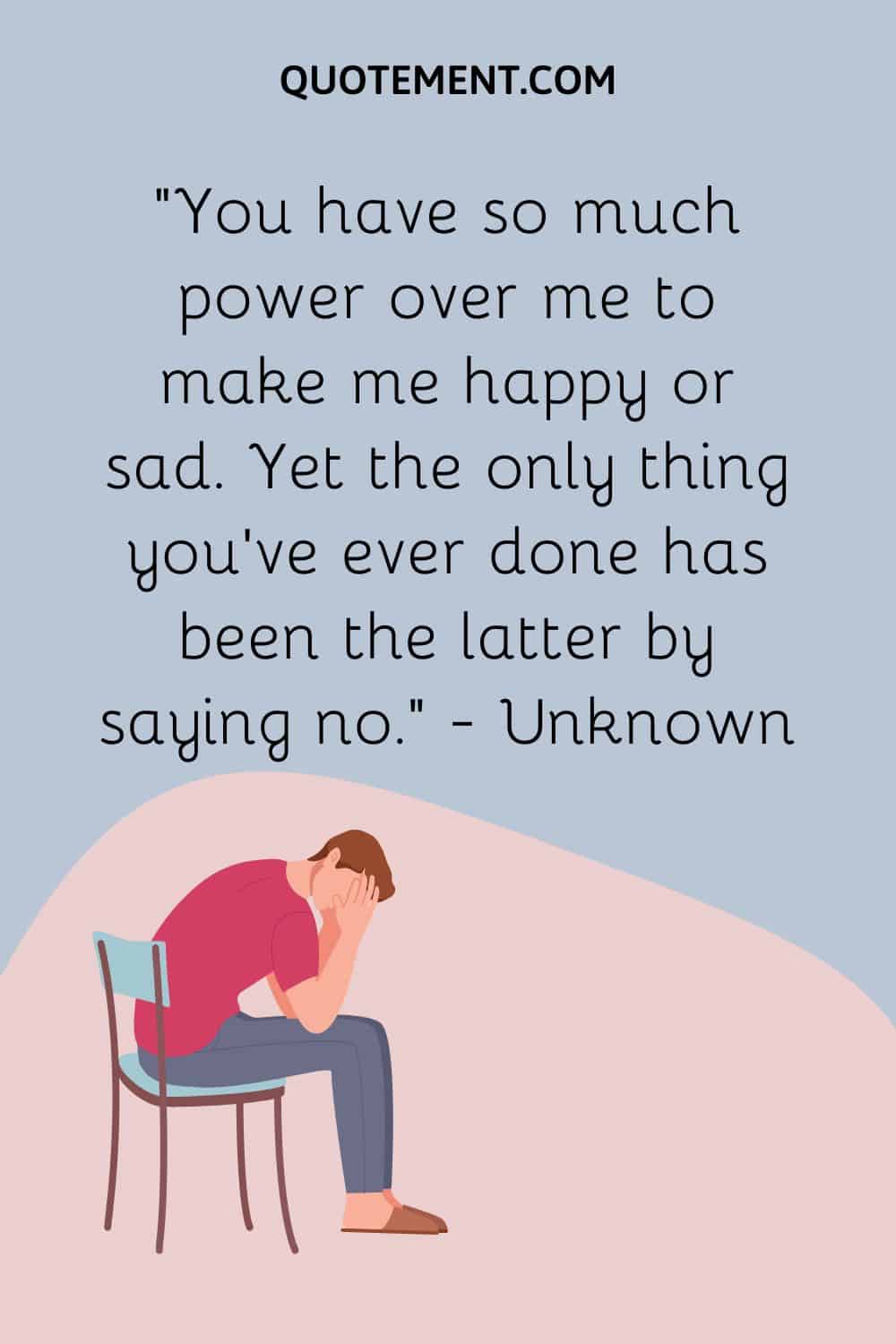 To Conclude
The pain of one-sided love is real. Loving someone without having the same feelings in return can bring us so much despair and agony.
Sometimes it helps to be reminded that other people have experienced what you are going through now.
I hope my collection of one-sided effort relationship quotes made you feel less alone.
Knowing that you're not alone in your agony won't take away the pain you feel, but I believe it can help to ease it at least a bit.