I believe that, in order to know your worth and truly value yourself, you have to live life on your own terms. That is, to live a life that is purposeful and fulfilling to you.
And that isn't the easiest thing to accomplish.
Those who've managed to realize the value they bring to the world are the ones who know they'll never settle for less than they deserve because they know they deserve the best.
Are you one of them?
Here are some of the greatest know your worth quotes I found online to remind you to value yourself because it's the only way to feel good about yourself and truly feel happy.
Top 10 Know Your Worth Quotes
1. "Know your worth and don't settle for anything else. You were born to win!" — June Doyle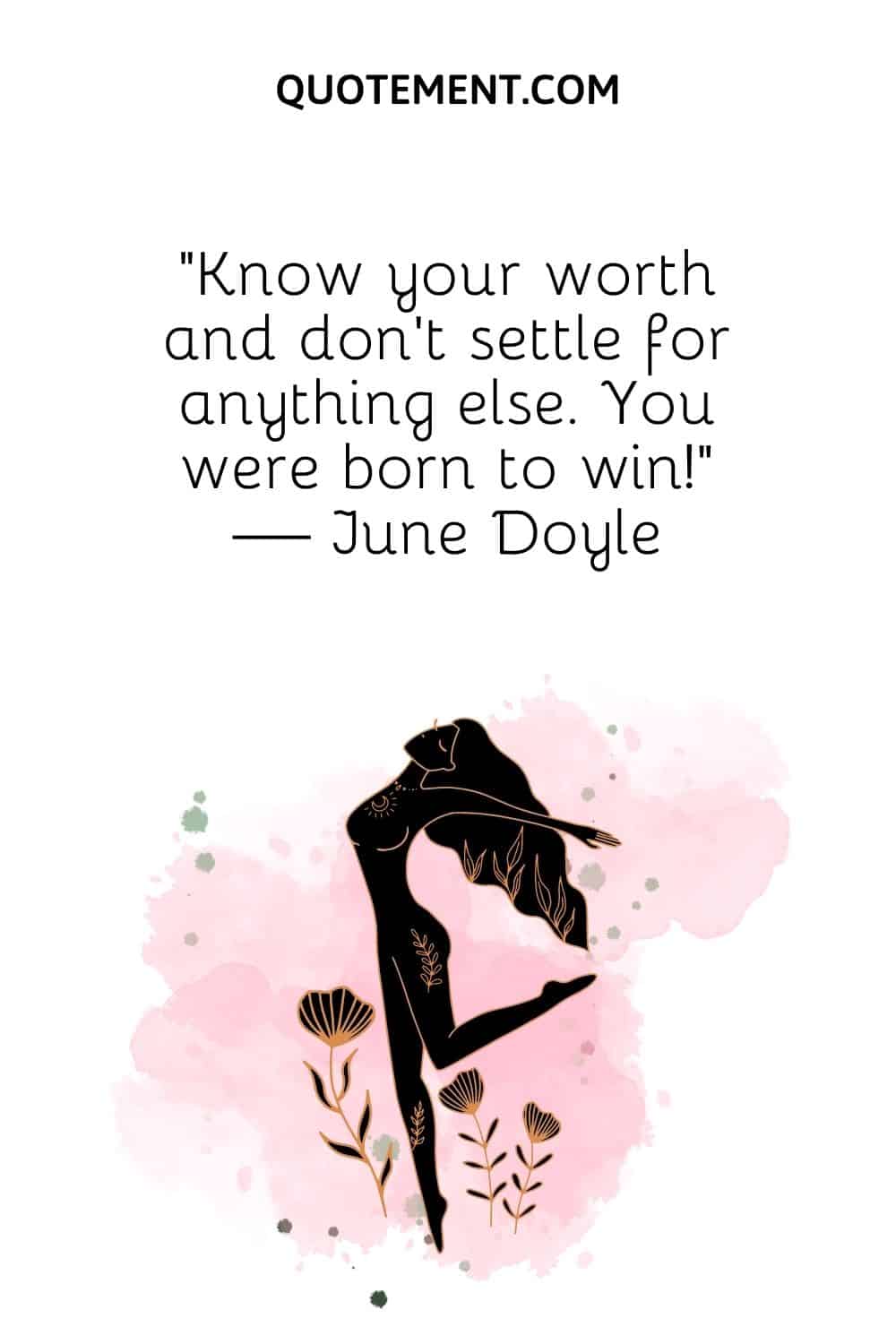 2. "You alone are the judge of your worth, and your goal is to discover infinite worth in yourself no matter what anyone else thinks." ― Deepak Chopra
3. "Any relationship that never considered your values should not stay longer in your heart. Know your worth!" — Terry Mark
4. "Know your worth, hold your own power, be you." — Morgan Harper Nichols
5. "Love yourself. Be clear on how you want to be treated. Know your worth. Always." — Maryam Hasnaa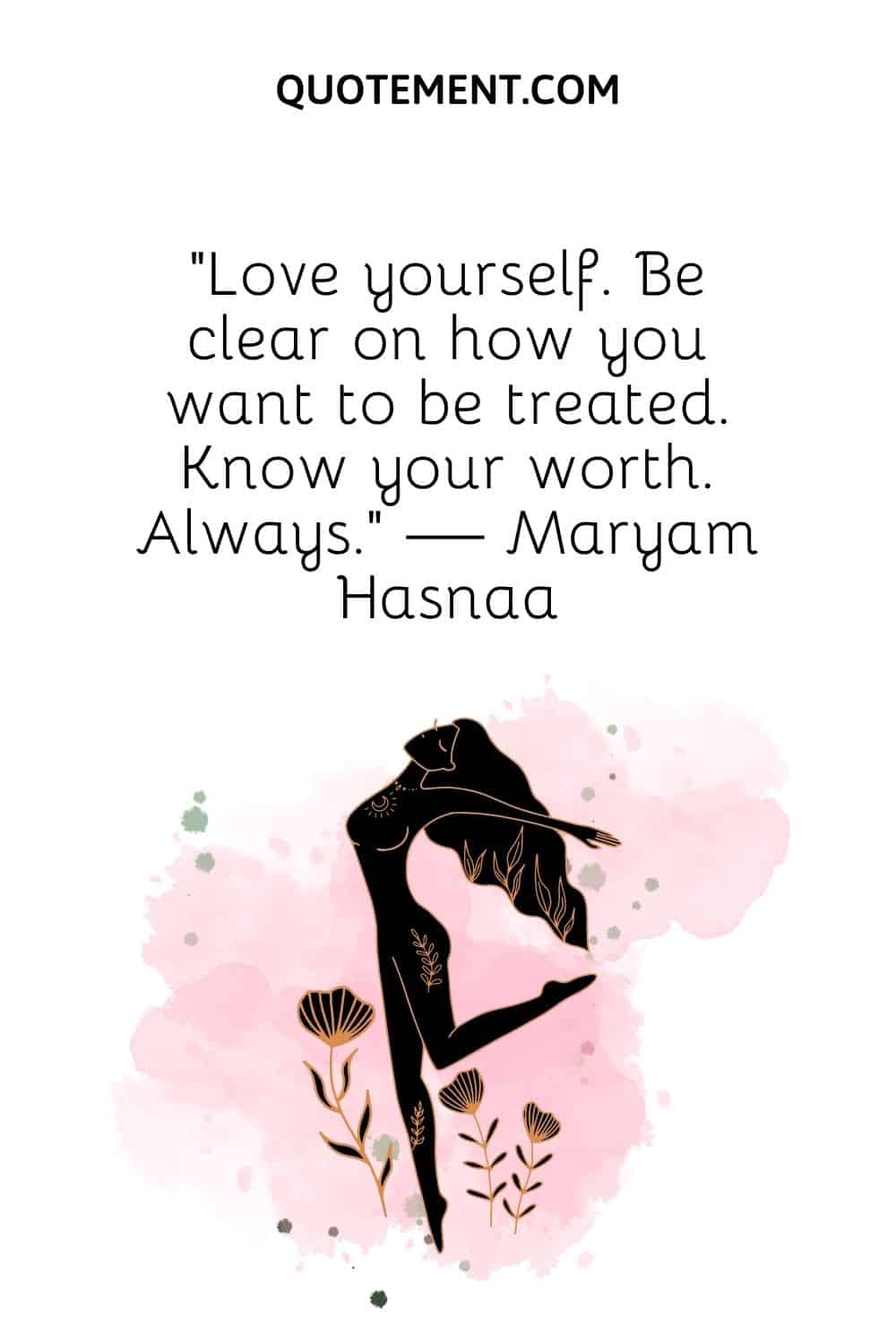 6. "Be careful who you trust. Count on yourself, and know your worth." — Aaron Cornett
7. "Know your worth, even if others don't. You are Special. You are Unique. You are Awesome." — Nidhi Singh Chauhan
8. "Know your worth, and stand your ground. Never settle for less than you deserve because you're afraid that nothing better will come along." — Moses Gazman Mukhansi
9. "Why settle for a lesser vision? When you are destined for greatness!" ― Lailah Gifty Akita
10. "Know your worth and believe in it. Live life accordingly. No one will dare to let you down." — Dr. Anil Kumar Sinha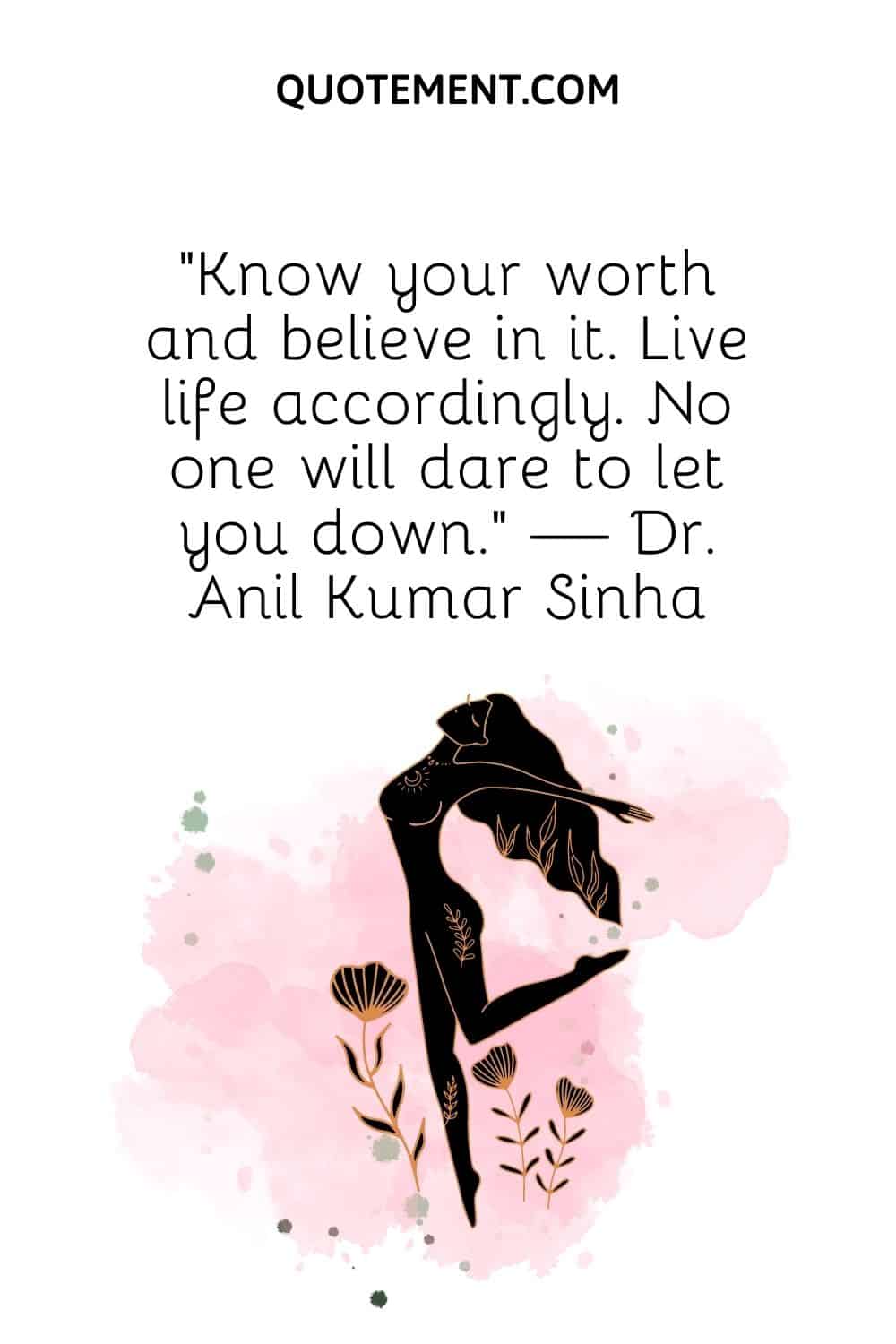 See also: 110 Inspiring When Someone Puts You Down Quotes To Live By
Inspirational Quotes About Knowing Your Worth
1. "If you want to improve your self-worth, stop giving other people the calculator." — Tim Fargo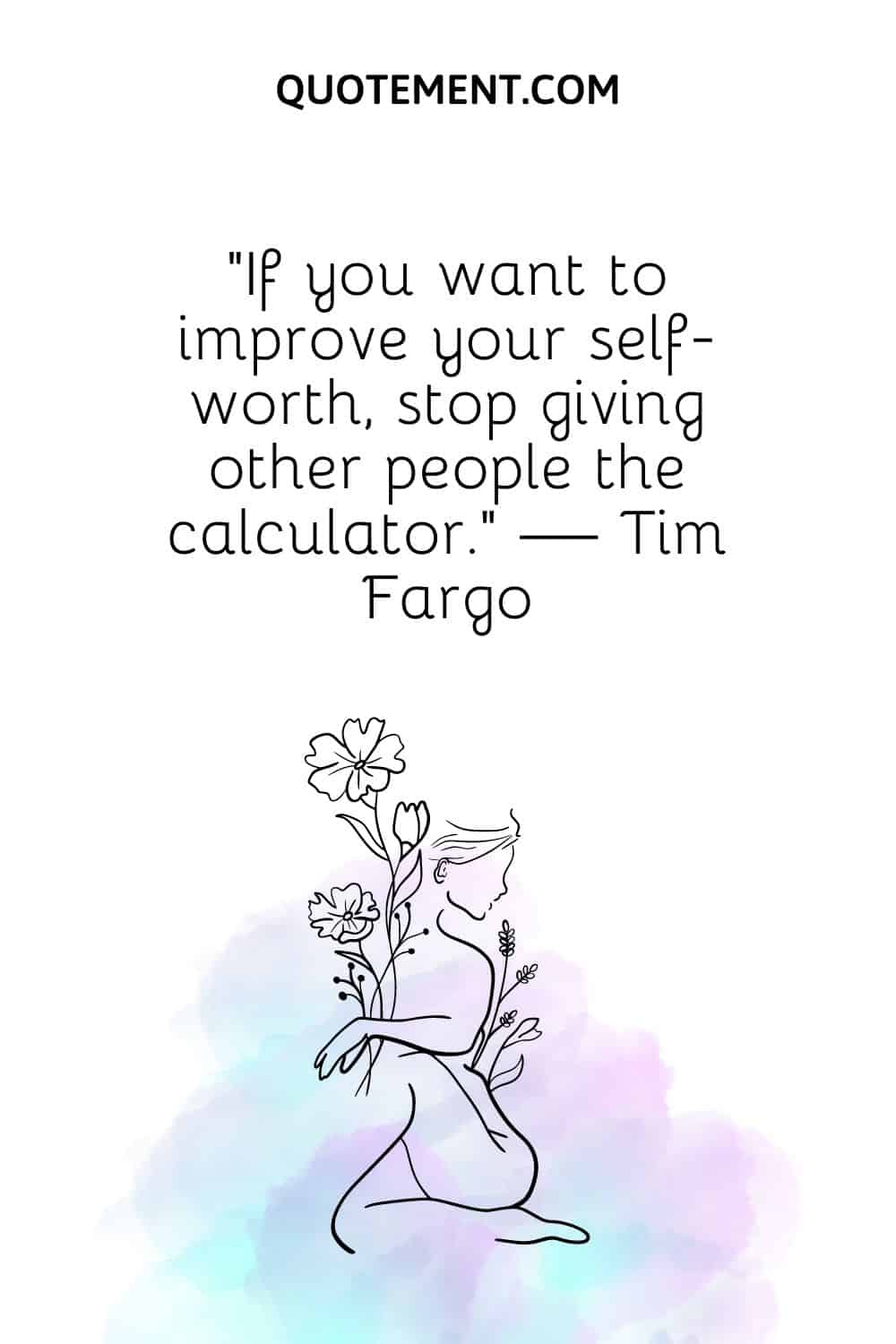 2. "The price tag that you put on your soul will determine the people and circumstances in which you find yourself." ― Shannon Alder
3. "If you wish to achieve worthwhile things in your personal and career life, you must become a worthwhile person in your own self-development." ― Brian Tracy
4. "Only you can make the decision for what you believe your worth is and that will determine how you allow other people to treat you." ― Germany Kent
5. "When you know your worth and the worth of all, you are rich in joy. You know nothing is ever lost." — Monica McDowell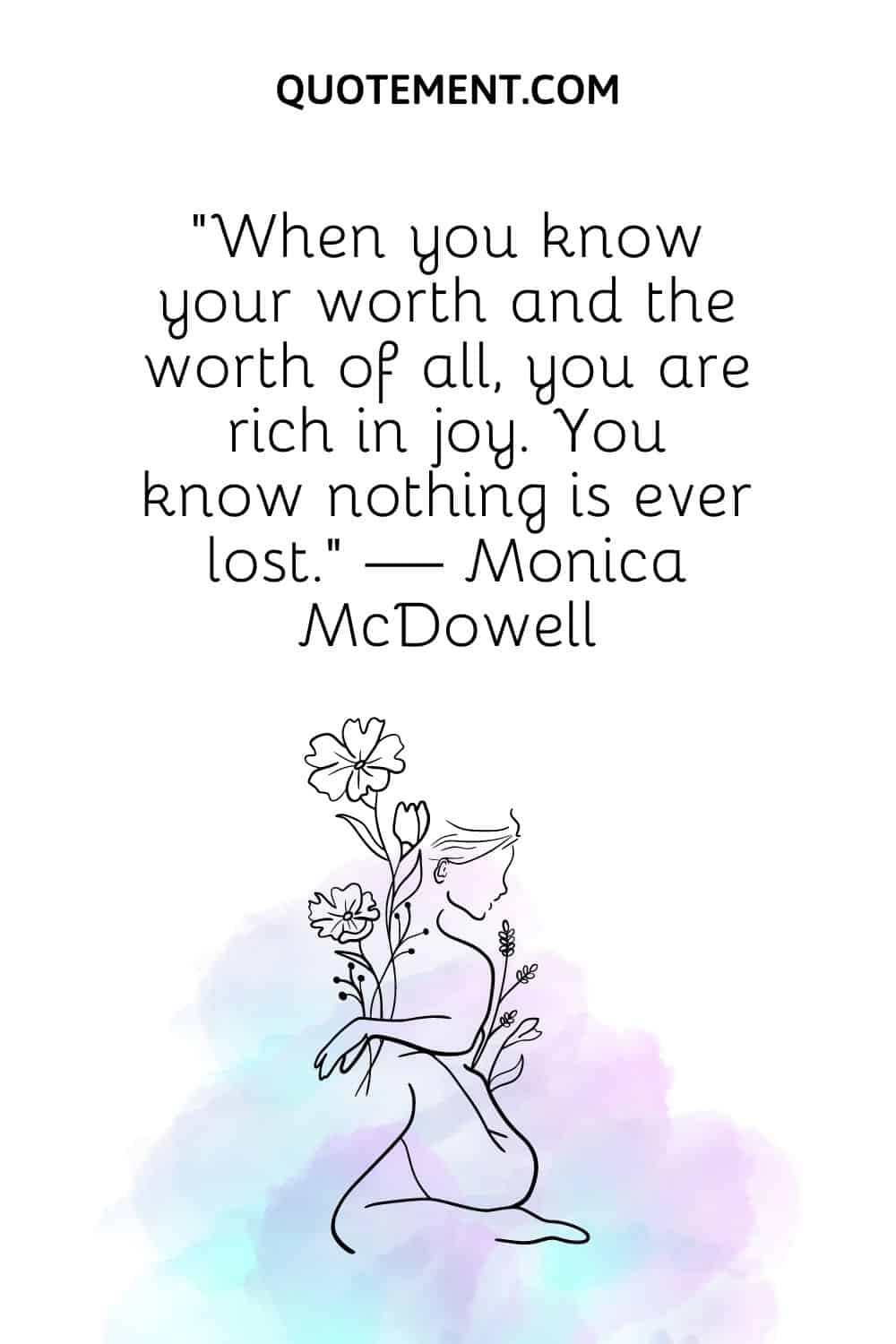 6. "Know yourself, know your worth." — Drake
7. "You've sacrificed too much for others. Now do the same for yourself." ― Mitta Xinindlu
8. "You can always hold out for something better when you know your self-worth." — Bryant McGill
9. "Believe in yourself! Have faith in your abilities! Without humble but reasonable confidence in your own powers, you cannot be successful or happy." — Norman Vincent Peale
10. "When you please others in hopes of being accepted, you lose your self-worth in the process." — Dave Pelzer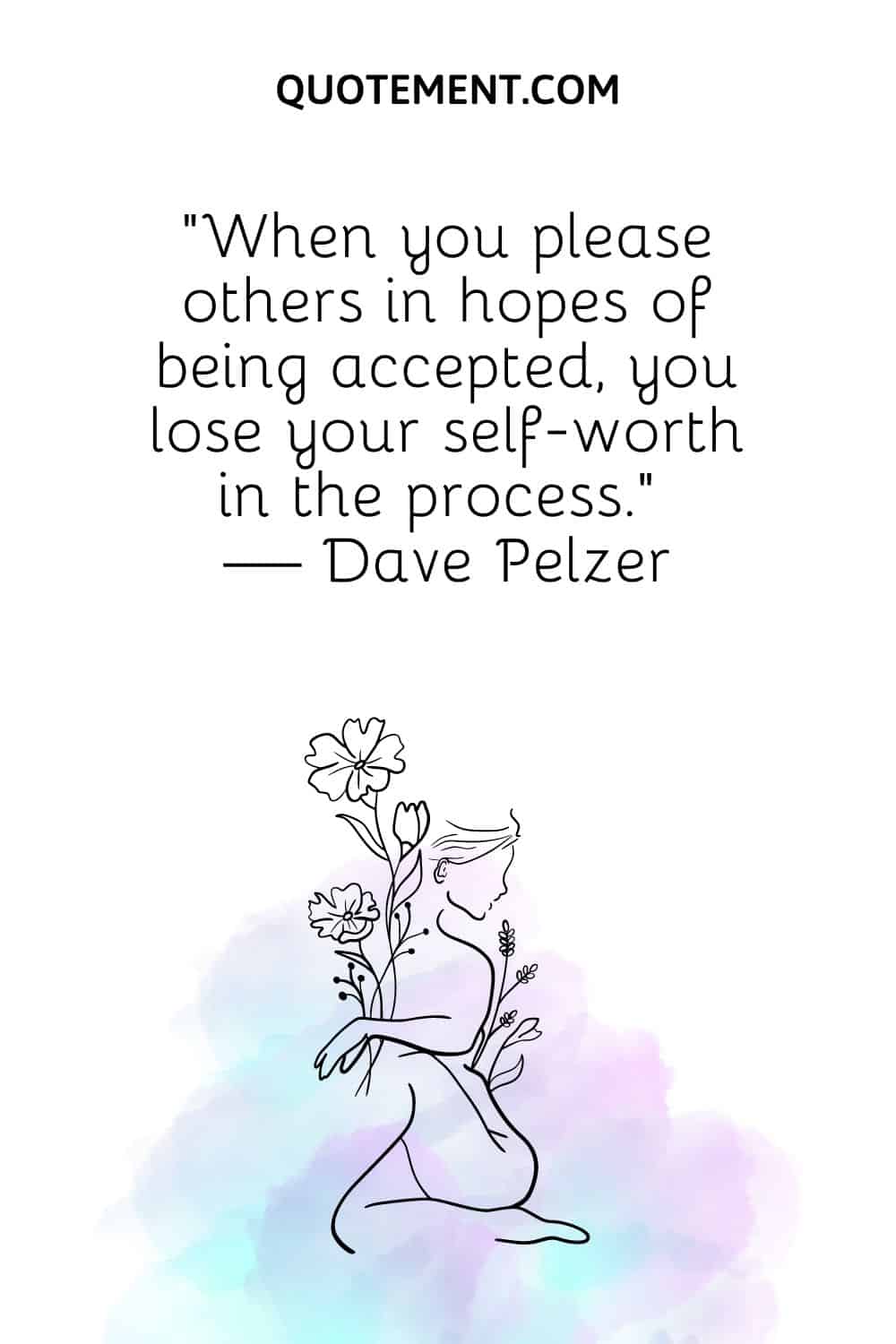 11. "Now if you know what you're worth. Then go out and get what you're worth." — Sylvester Stallone
12. "The journey is valuable, but believing in your talents, your abilities, and your self-worth can empower you to walk down an even brighter path." — Soledad O'Brien
13. "Life is not easy for any of us. But what of that? We must have perseverance and above all confidence in ourselves. We must believe that we are gifted with something and that this thing, at whatever cost, must be attained." — Marie Curie
14. "If you want to accomplish more in life than the average person, you will know your worth and act accordingly." — E.Kinnard Moss
15. "Your sense of self-worth comes from you alone — never the opinion of others." ― Robert Greene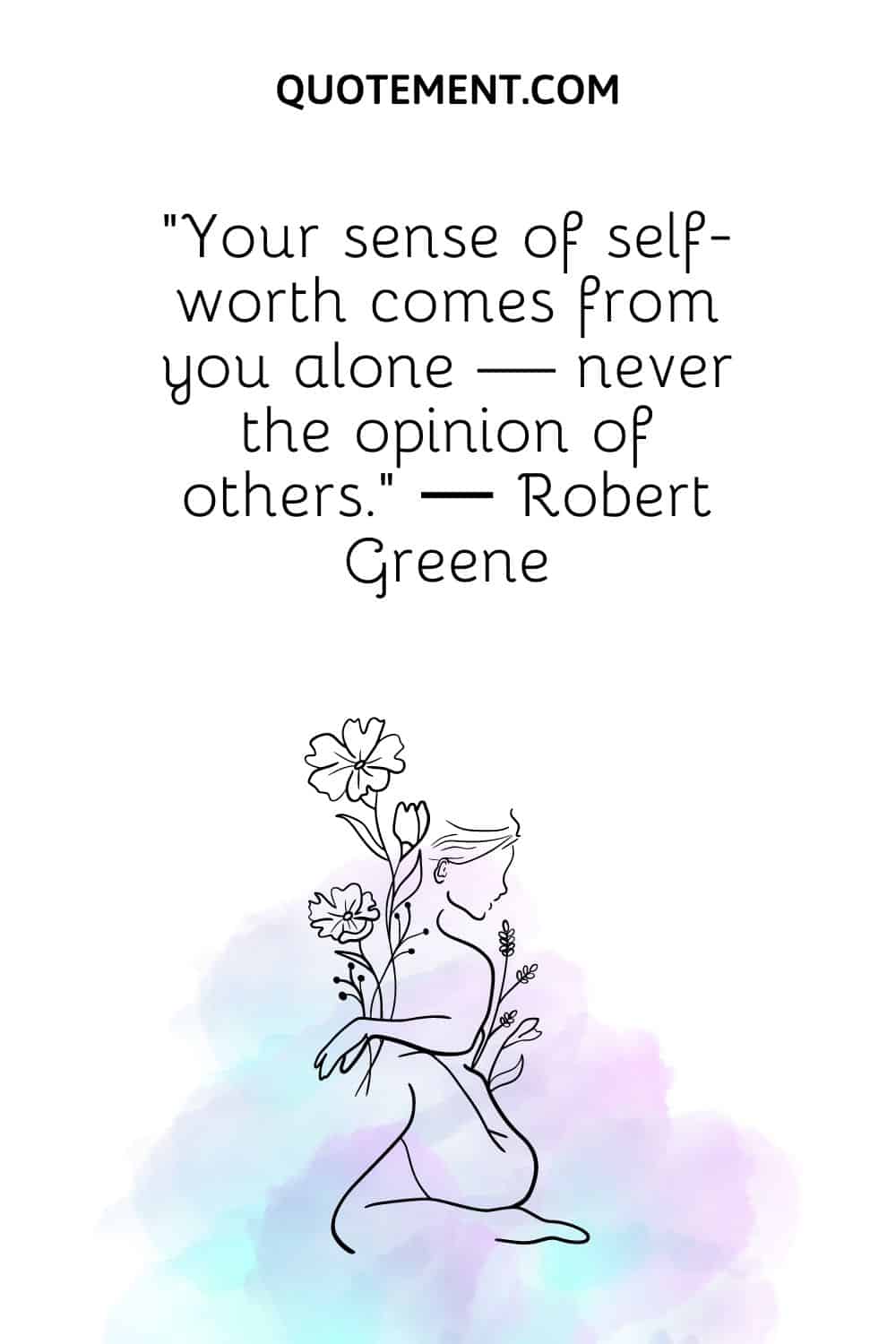 16. "Know your worth and be willing to change." — Stefanie Magness
17. "Don't try to prove anything about yourself to anyone. It isn't necessary. Your worth shines through to others — know your worth." — Alexandra Stoddard
18. "Never think that you're not good enough yourself. A man should never think that. People will take you very much at your own reckoning." ― Anthony Trollope
19. "Know your worth. People always act like they're doing more for you than you're doing for them." — Kanye West
20. "When you truly understand your worth, you feel an obligation to give your gift to the world." ― Bill Masur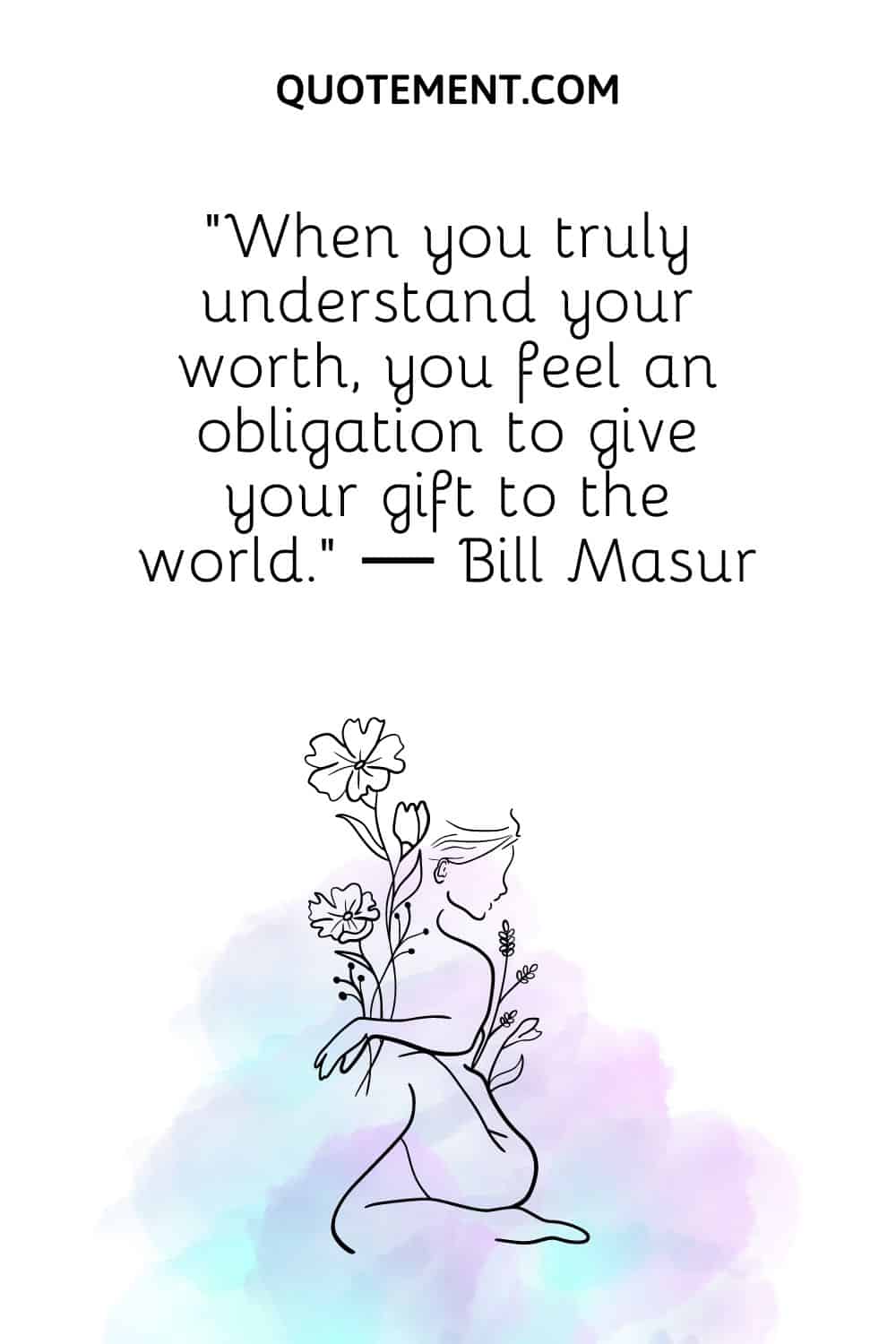 21. "Until you know your worth you'll continue to seek other people's approval just to feel good about yourself." — Sonya Parker
22. "Everything that happens to you is a reflection of what you believe about yourself. We cannot outperform our level of self-esteem. We cannot draw to ourselves more than we think we are worth." ― Iyanla Vanzant
23. "In your own life it's important to know how spectacular you are." — Steve Maraboli
See also: 140 You Are Amazing Quotes To Fall In Love With Yourself
24. "The problem isn't that I think so highly of myself. It is just that you think so little of yourself. Live life BIG, BOLD, and OUT LOUD!" ― Shannon L. Alder
25. "The moment you feel you have to prove your worth to someone is the moment to absolutely and utterly walk away." — Alysia Harris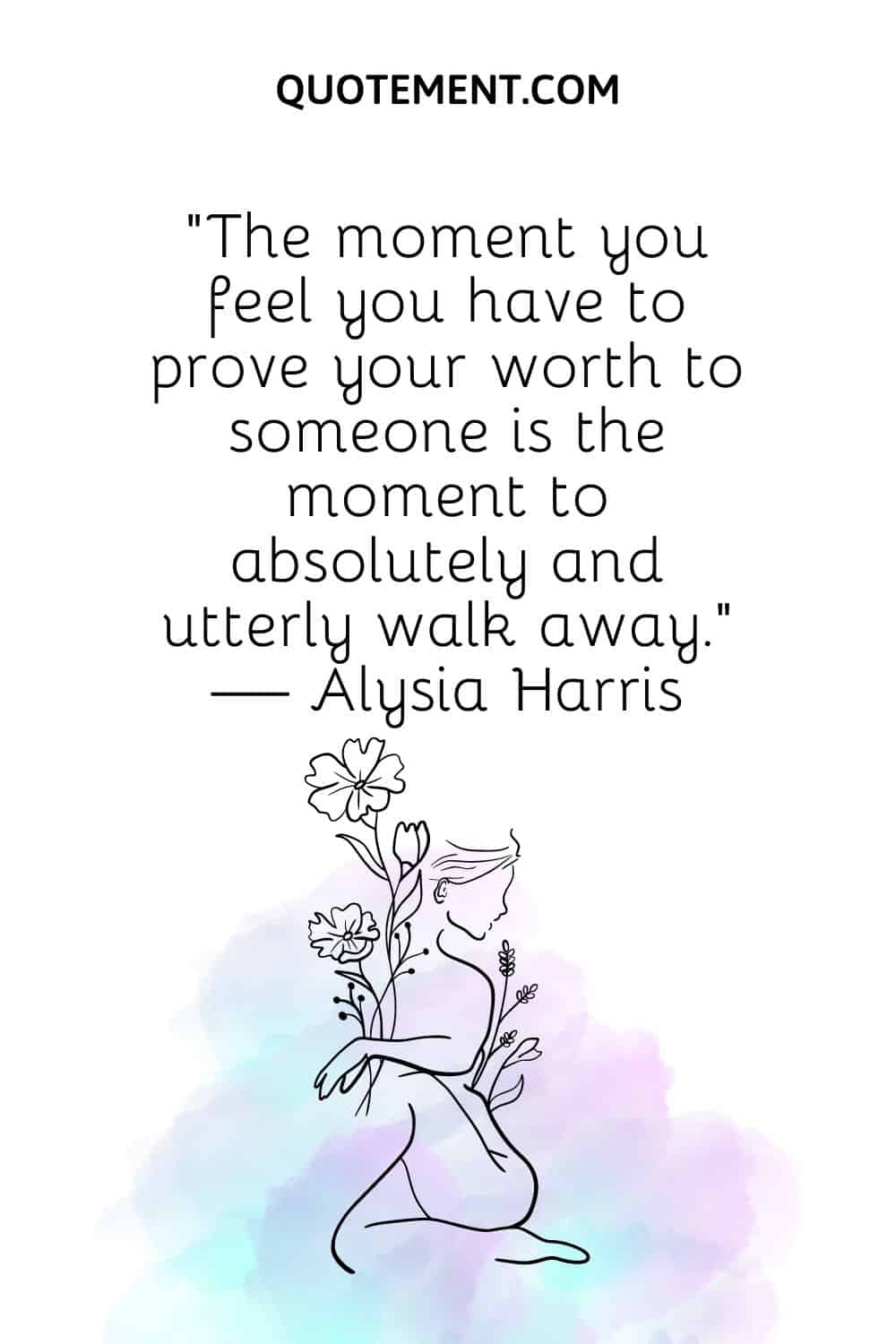 26. "Nothing has value without self-worth." ― Rasheed Ogunlaru
27. "We are each gifted in a unique and important way. It is our privilege and our adventure to discover our own special light." — Mary Dunbar
28. "Know who you are and have the confidence to show it!" ― Anneka Jordan
29. "Refuse to accept another's estimation of yourself." — Alison Stormwolf
30. "Until you value yourself, you won't value your time. Until you value your time, you will not do anything with it." — M. Scott Peck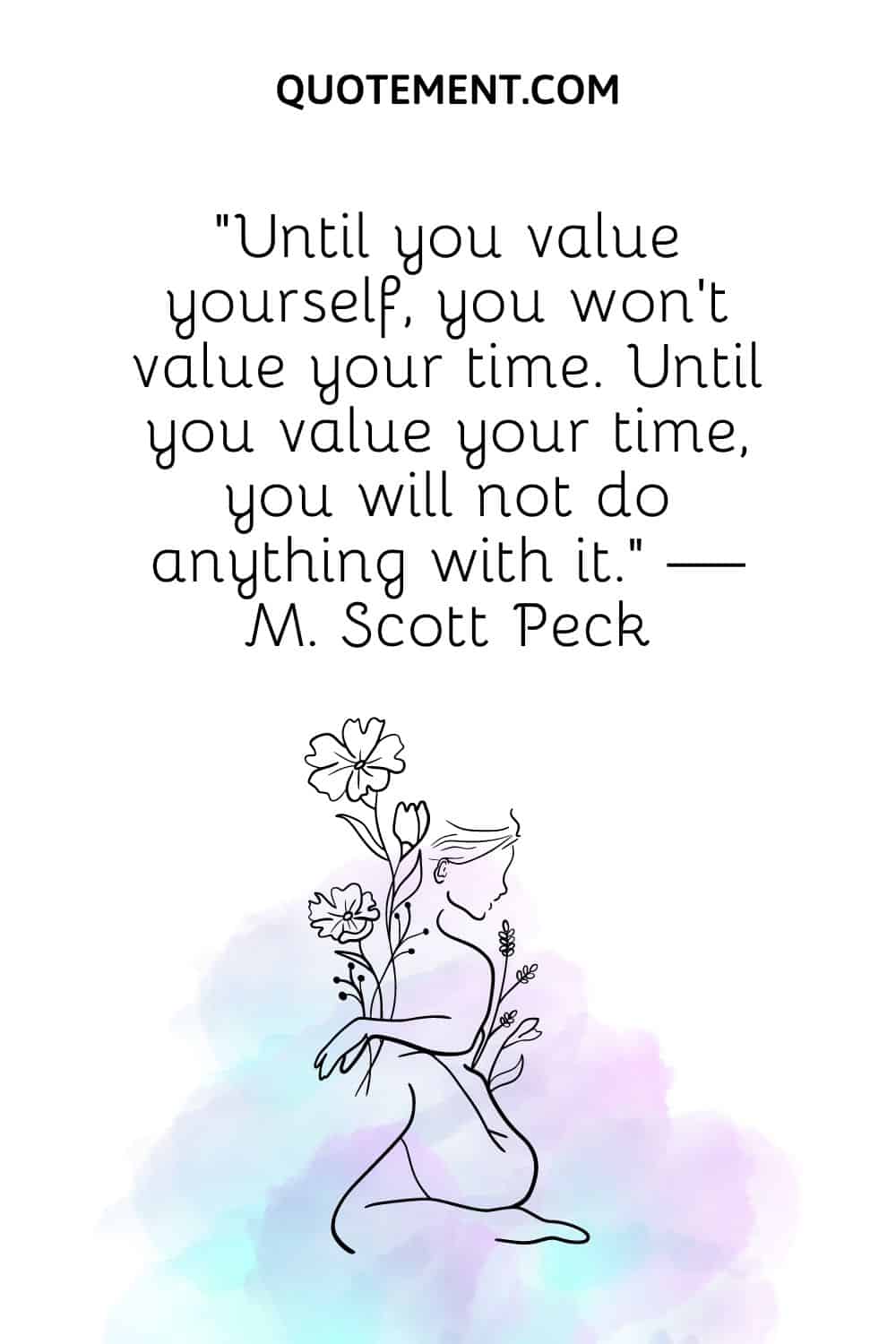 You Are Worthy Quotes
1. "Remember, you're not half of anything, you're twice of everything." ― Viet Thanh Nguyen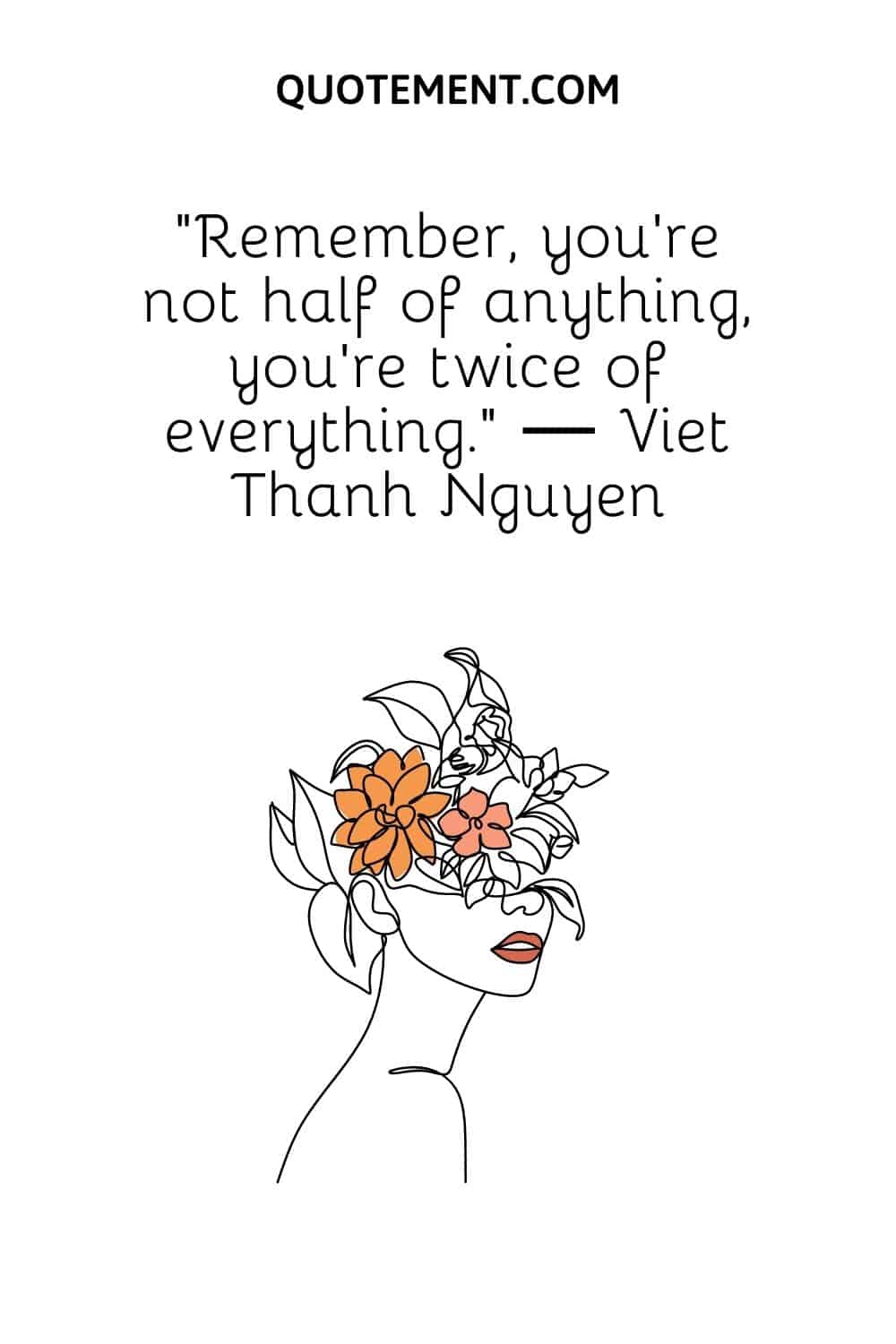 2. "You may be the only person left who believes in you, but it's enough. It takes just one star to pierce a universe of darkness." — Richelle E. Goodrich
3. "You are not a drop in the ocean. You are the entire ocean in a drop." ― Rumi
4. "Retrieve your self-esteem so it is not dependent on how they do or don't respond to you. You are enough. You are worthy." ― Thema Bryant-Davis
5. "You need to love yourself. Love yourself so much to the point that your energy and aura reject anyone who doesn't know your worth." — Billy Chapata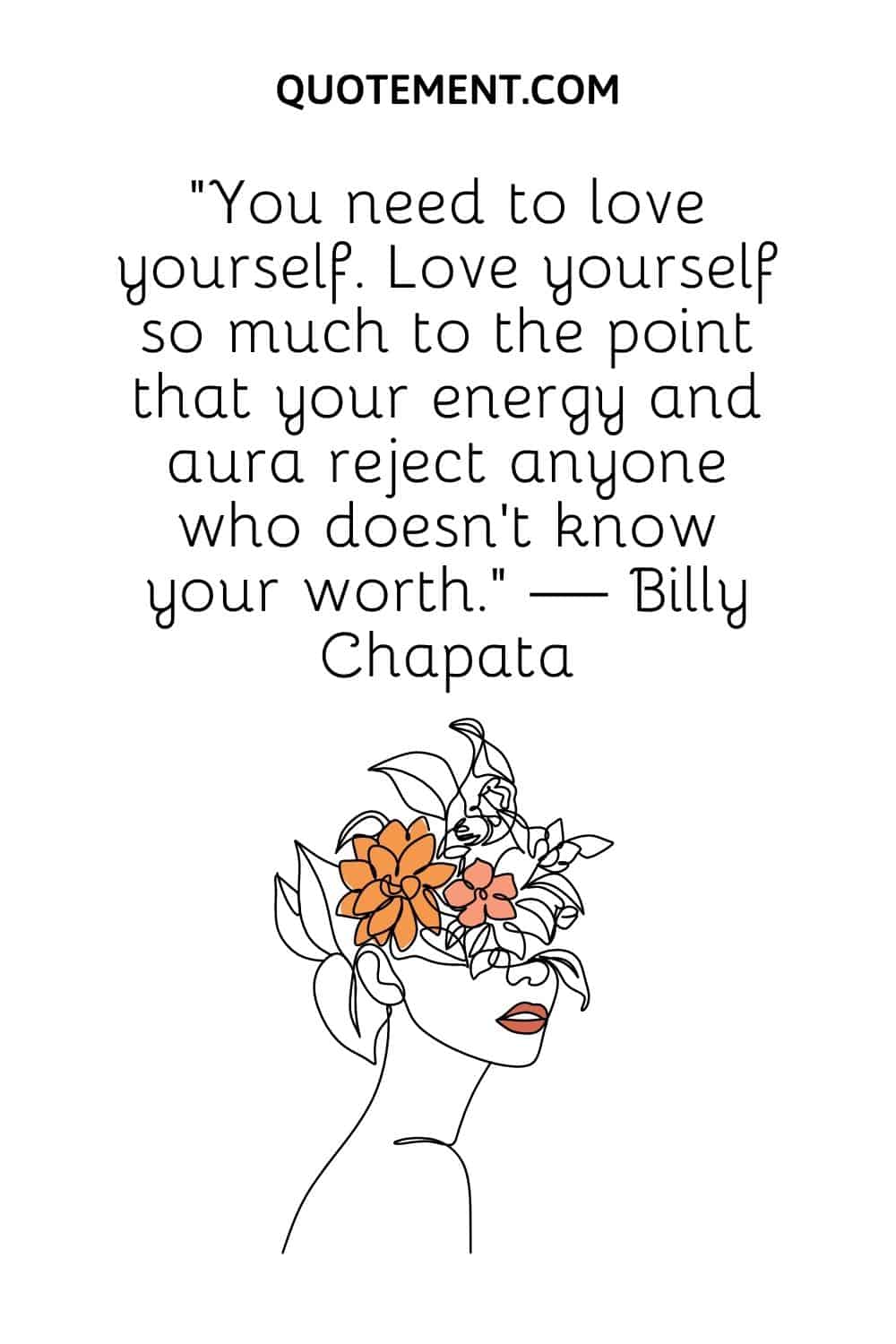 6. "I'm simply reminding you that you're worth more than what you'll find at the bottom of a bottle." ― Myra McEntire
7. "No matter what you have done, or left undone, you are worthy of love." — Nithya Shanti
8. "There's no single person on this planet that's worth more than the other. Know your worth. Be confident in yourself." — Holly Holm
9. "You are worthy of love and belonging." ― Brené Brown
10. "When you refuse to settle for less than the best…the best tends to track you down." — Mandy Hale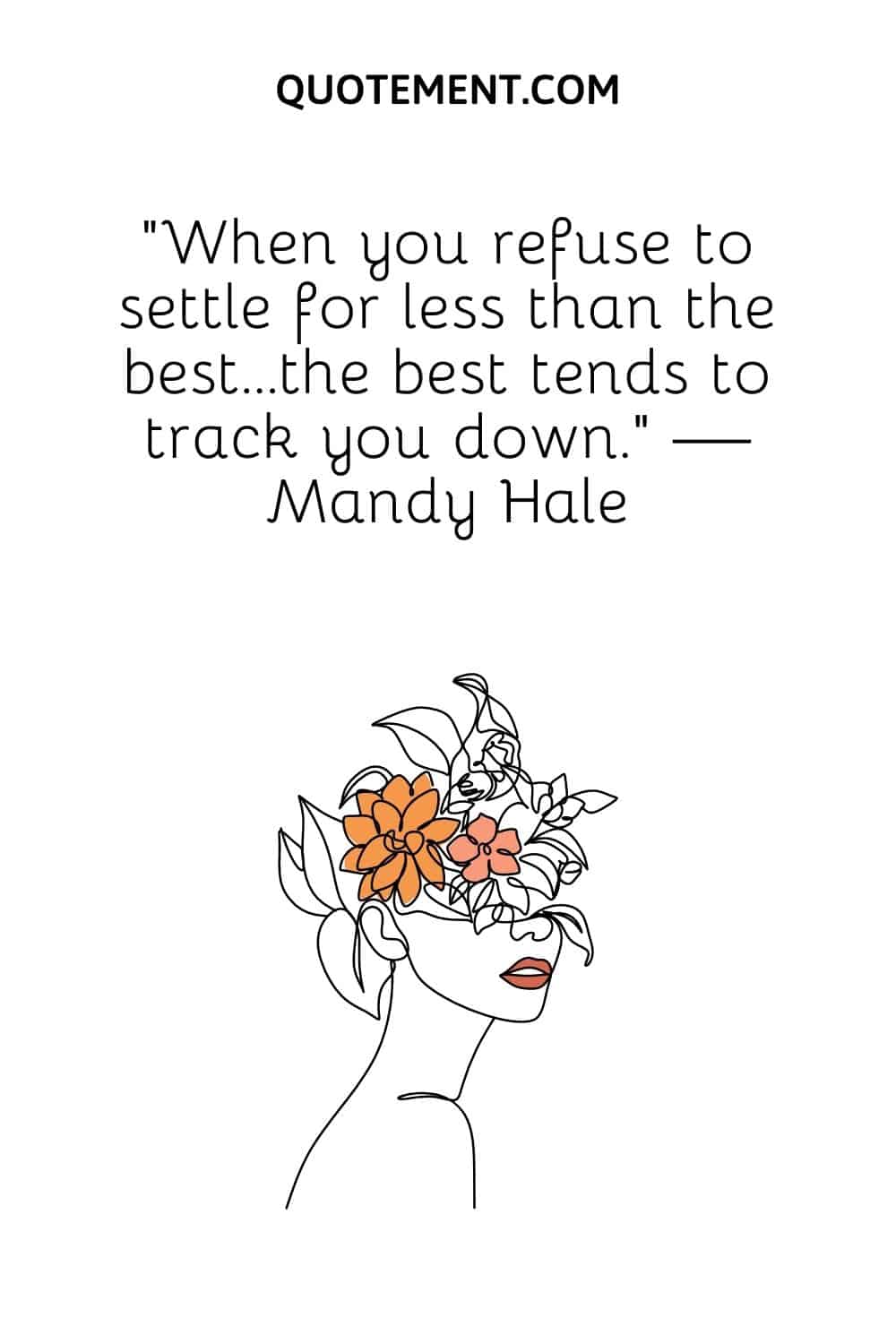 11. "Sometimes the hardest part of the journey is believing you're worthy of the trip." — Glenn Beck
12. "Never settle for anything less than your best." — Brian Tracy
13. "Self-worth comes from one thing — thinking that you are worthy." — Wayne Dyer
14. "If you are insecure, guess what? The rest of the world is too. Do not overestimate the competition and underestimate yourself. You are better than you think." — T. Harv Eker
15. "When you undervalue what you do, the world will undervalue who you are." ― Oprah Winfrey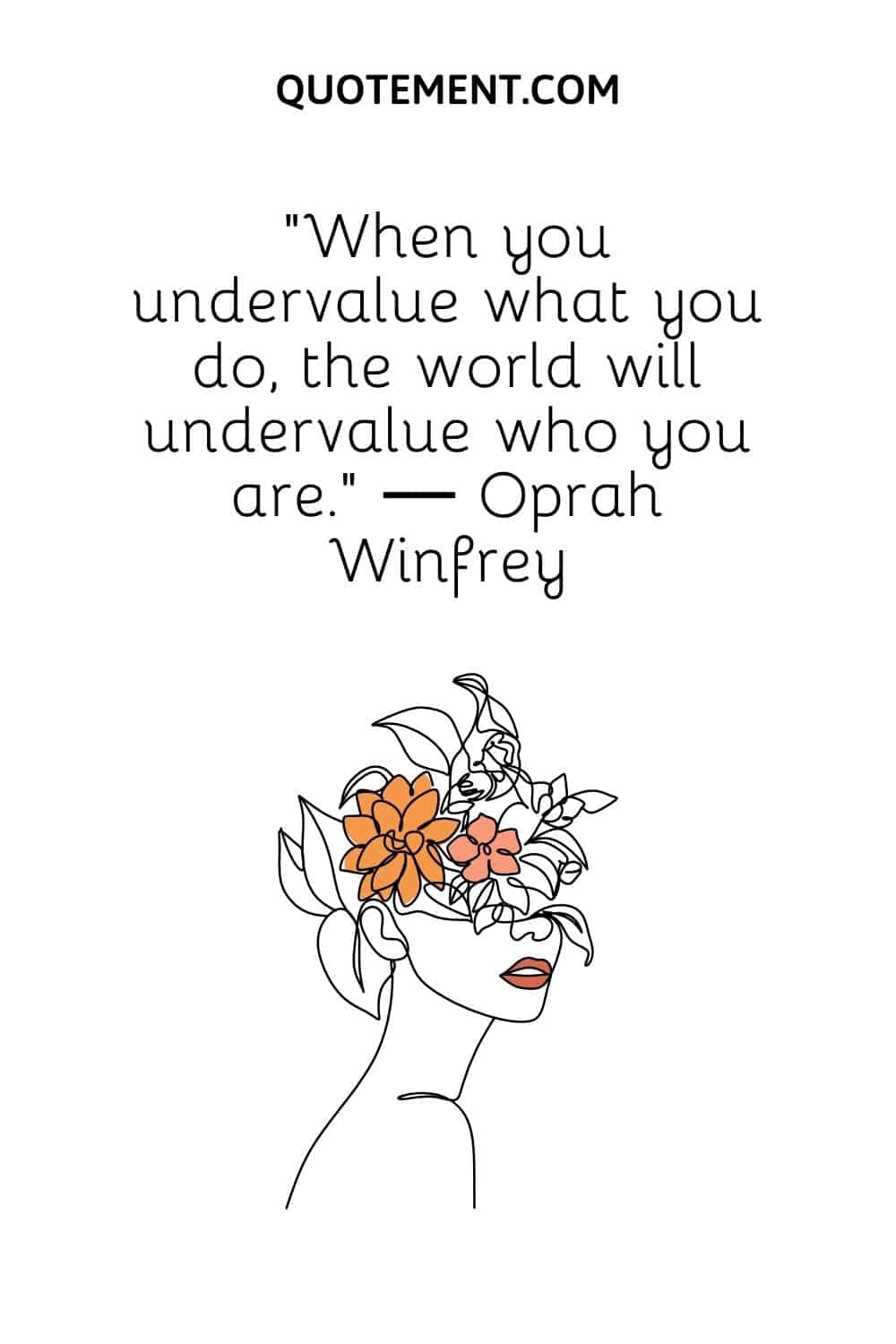 16. "Never underestimate yourself." ― Carolyn Mackler
17. "Once you know your worth, no one can make you feel worthless." — Rashida Rowe
18. "Your only limit is the one you set for yourself." ― Roy T. Bennett
19. "Don't belittle yourself. Be BIG yourself." ― Corita Kent
20. "Never chase people in your life. No one is worthier than you to be chased." ― Avijeet Das
21. "Once you are able to value yourself, you will know your worth, and you will not waste your time with anything or anyone who cannot see that worth." — Aura E. Martinez
22. "When you start to beat yourself up, remind yourself of how worthy you are of love." — Demi Lovato
23. "Your value doesn't decrease based on someone's inability to see your worth." ― Ted Rubin
24. "You might feel worthless to one person, but you are priceless to another. Don't ever forget your worth." — Luan Legacy
25. "You're worthy of being chosen, fought for, and loved. Remember that." — Mark Groves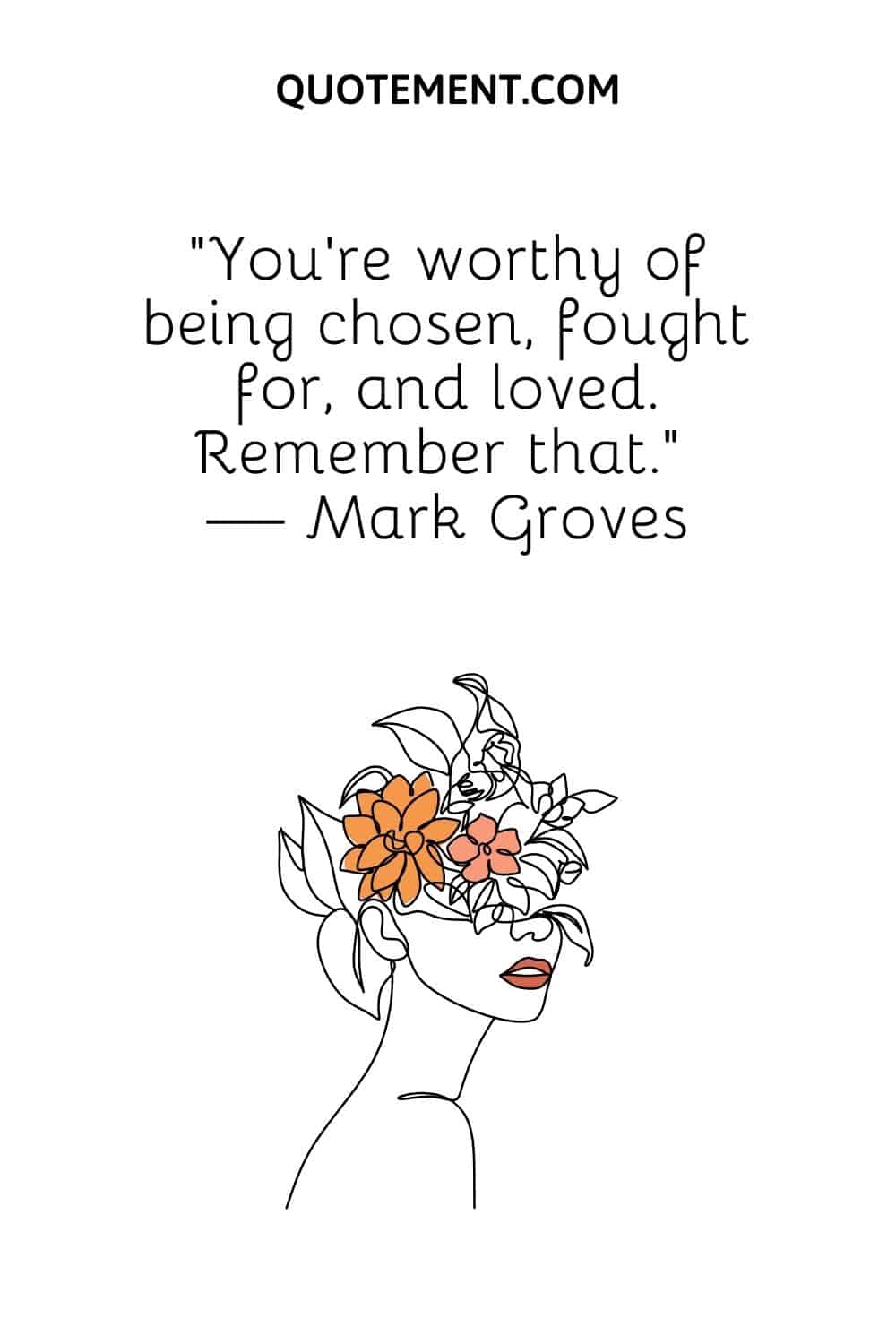 26. "All that matters is that you know your worth. If they don't know your worth realize that it's OKAY because they aren't meant for you anyway." — Sonya Parker
27. "Only make decisions that support your self-image, self-esteem, and self-worth." ― Oprah Winfrey
28. "Do not undervalue what you are ultimately worth because you are at a momentary disadvantage." ― Sherry Thomas
29. "You accepted less because you thought a little was better than nothing. Know your worth." — Trent Shelton
30. "Never allow someone to be your priority while allowing yourself to be their option." — Mark Twain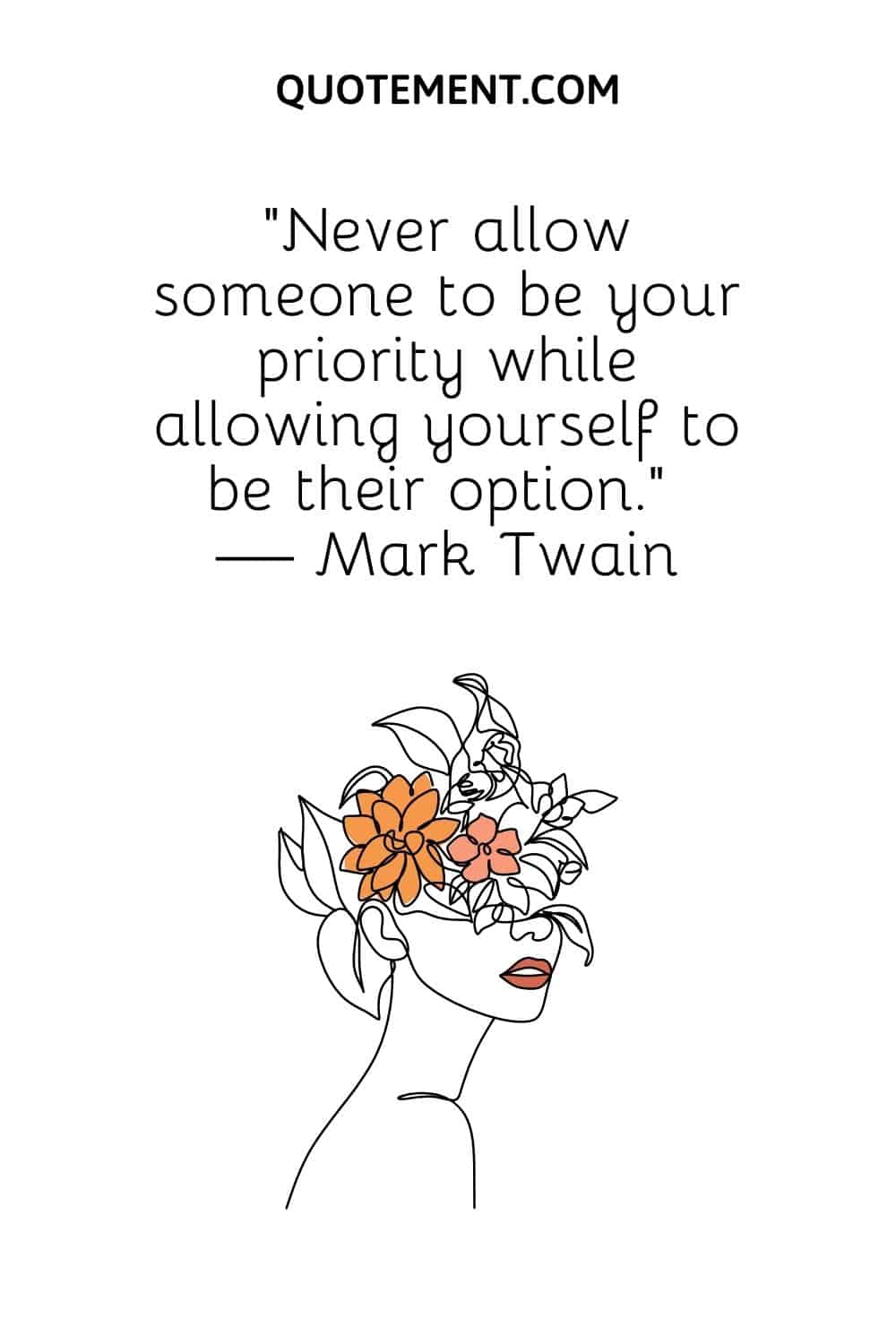 See also: 80 Not Feeling Like A Priority In A Relationship Quotes
Powerful Quotes About Valuing Yourself
1. "If you don't know your own value, somebody will tell you your value, and it'll be less than you're worth." — Bernard Hopkins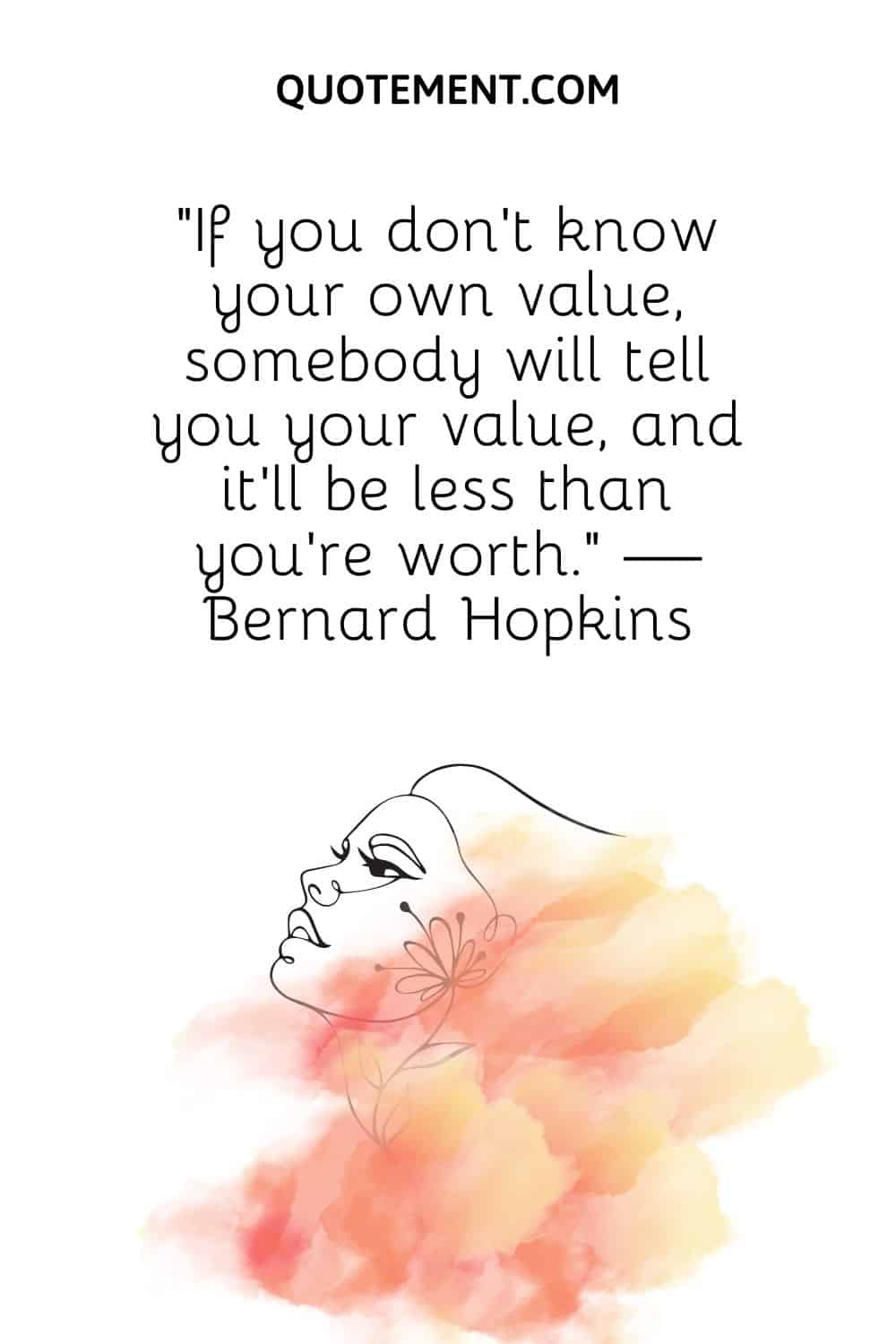 2. "It is very important that, no matter what happens, you keep your feeling of self-worth and value." — Vartan Gregorian
3. "Never suppress your greatness just to fit in!" ― Anneka Jordan
4. "Your net worth can fluctuate, but your self-worth should only appreciate." — Chris Gardner
5. "The deeper you love yourself, the more the universe will affirm your worth." — Alan Cohen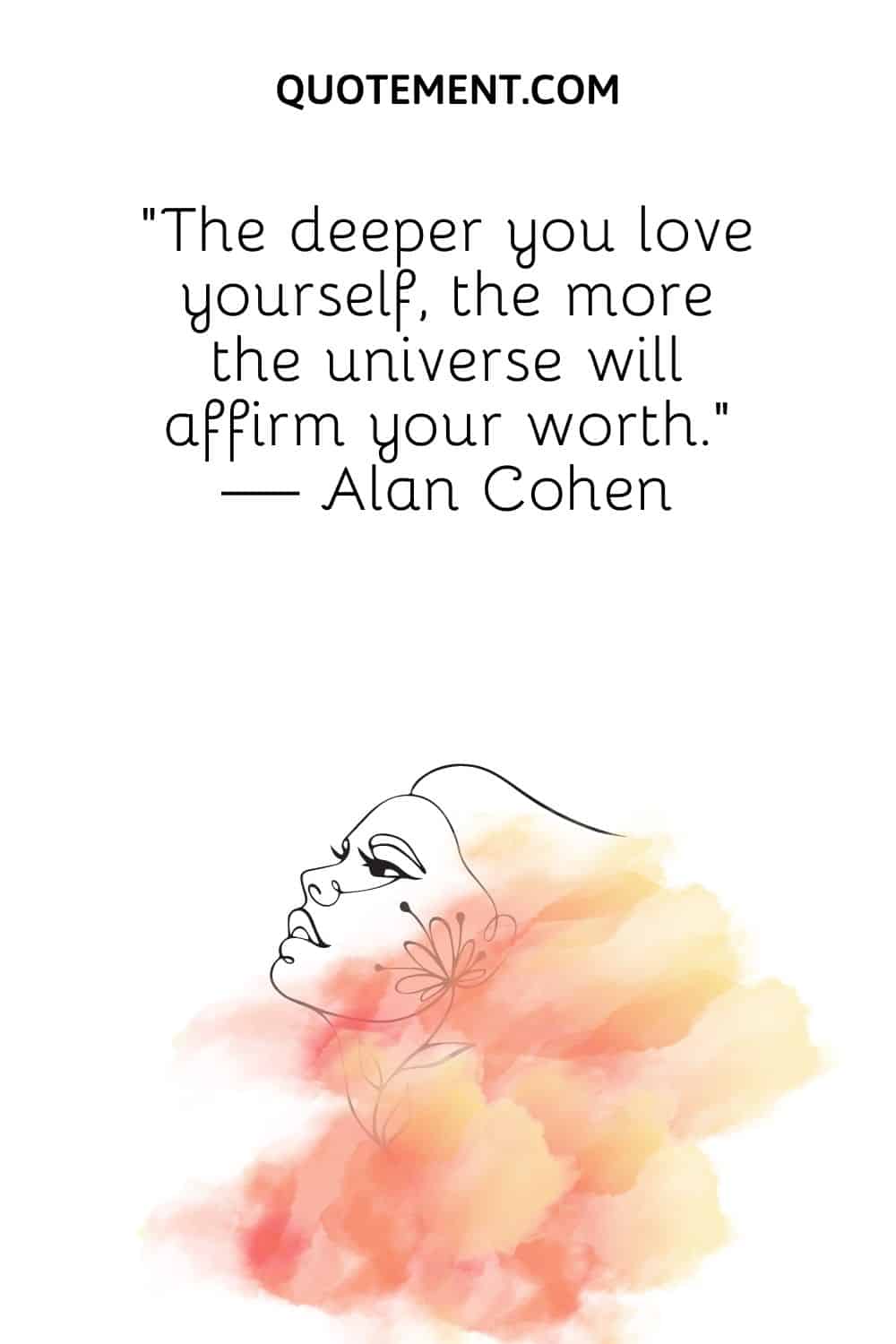 6. "Why should we worry about what others think of us, do we have more confidence in their opinions than we do in our own?" — Brigham Young
7. "She understood her worth which made her powerful. The world gravely needed a hero so she became one. No superpowers really, just a strong woman who took no sh#t from anyone." ― Rabdall Core
See also: 50 Phenomenal Woman Quotes To Awaken The Goddess In You
8. "When you know your worth, you will never let another person devalue you." — Danita Stewart
9. "Know your worth. Examine what you tolerate!" — Jyoti Patel
10. "There will always be someone who can't see your worth. Don't let it be you." — Unknown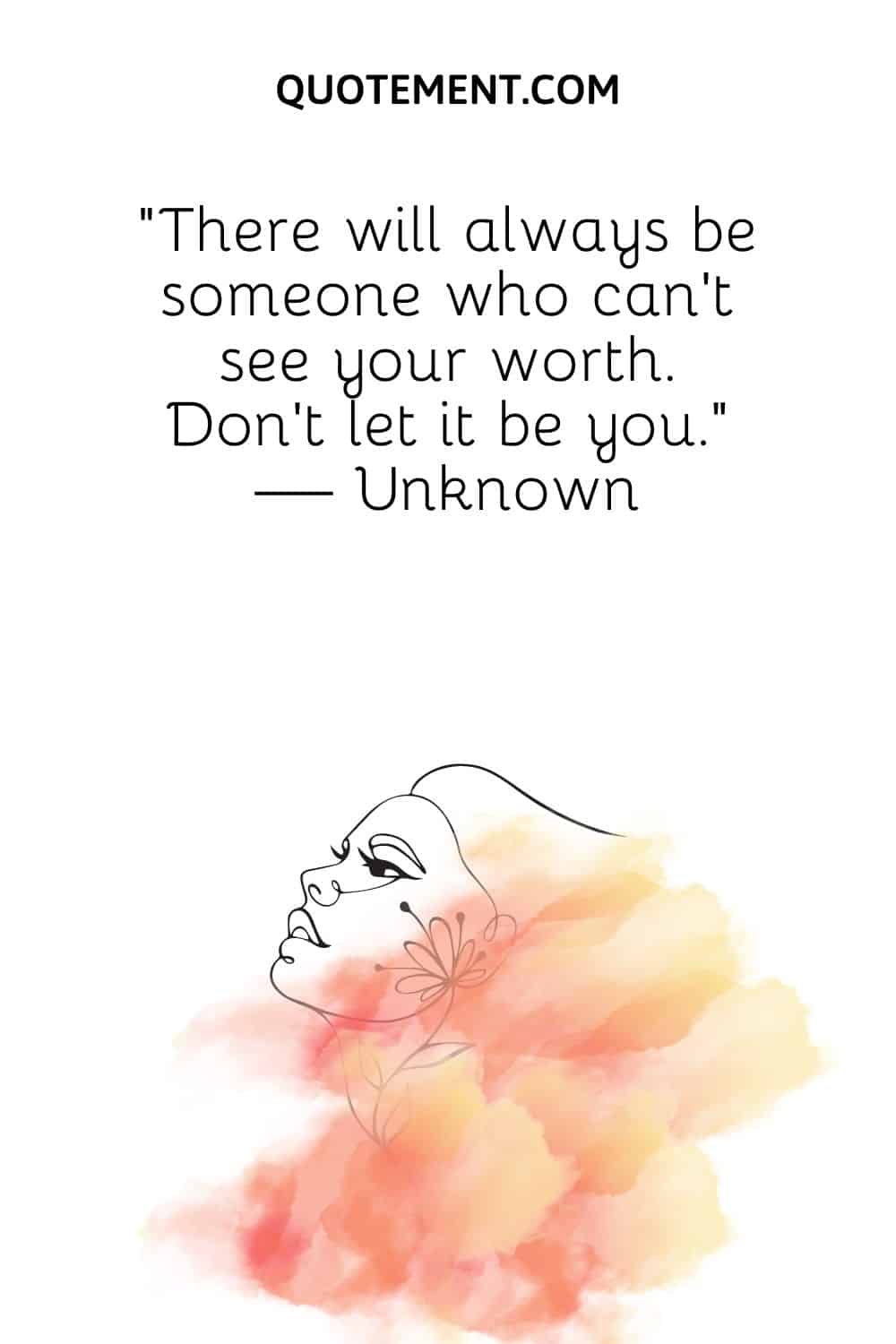 11. "To be yourself in a world that is constantly trying to make you something else is the greatest accomplishment." — Ralph Waldo Emerson
12. "The man who does not value himself, cannot value anything or anyone." — Ayn Rand
13. "Never cry for that person who doesn't know the value of your tears." — Unknown
14. "When you start loving yourself and respecting your time and energy, things will change. Get to know your worth, and your value will go up." — Germany Kent
15. "Make sure you don't start seeing yourself through the eyes of those who don't value you. Know your worth, even if they don't." — Thema Davis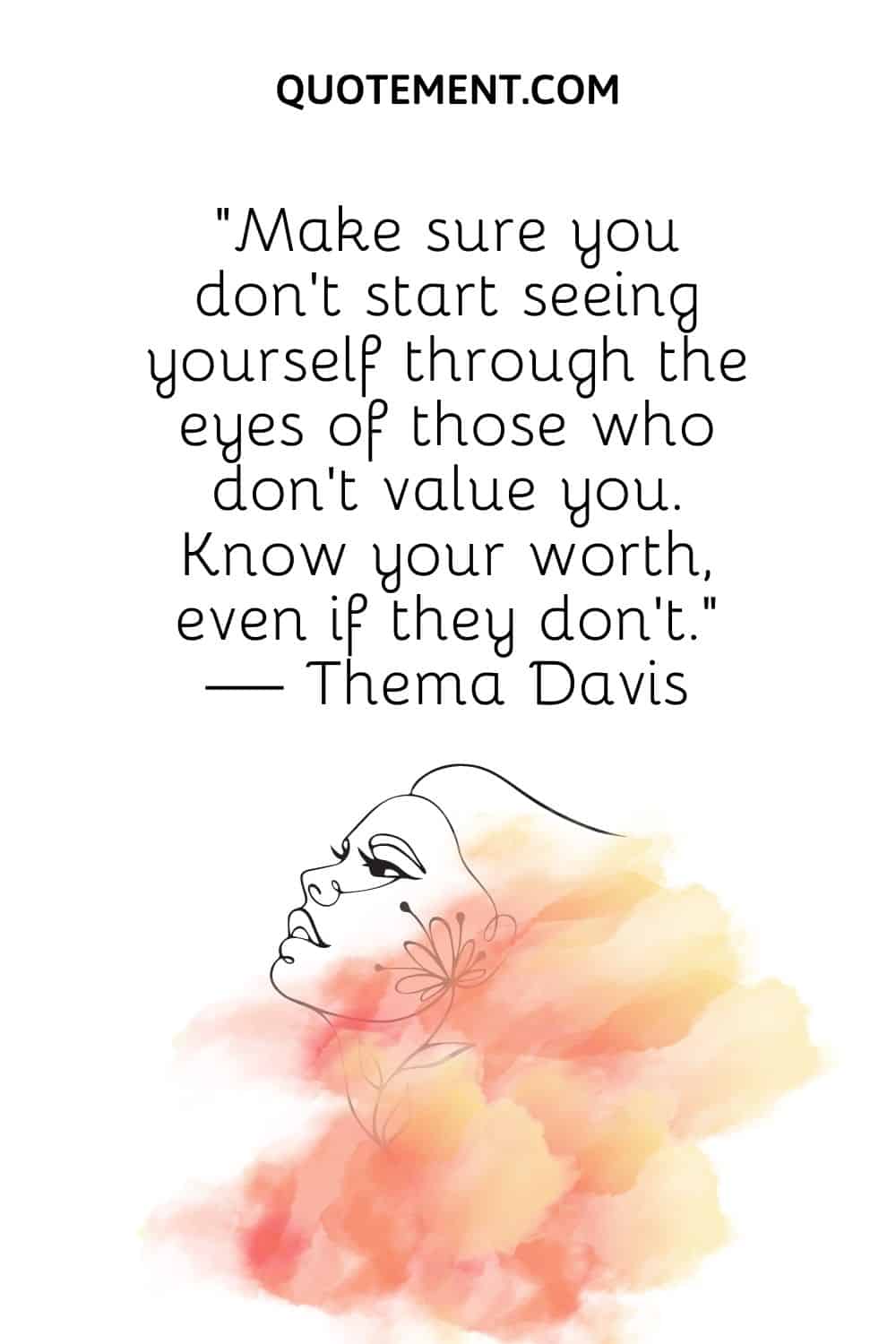 16. "Your time, energy, and love are very valuable. Pursue relationships with people who know your worth." — Unknown
17. "You are very powerful, provided you know how powerful you are." — Yogi Bhajan
18. "Our self-respect tracks our choices. Every time we act in harmony with our authentic self and our heart, we earn our respect. It is that simple. Every choice matters." ― Dan Coppersmith
19. "If you know what your life is worth, you will look for yours on earth." — Bob Marley
20. "When you start seeing your worth, you'll find it harder to stay around people who don't." — Unknown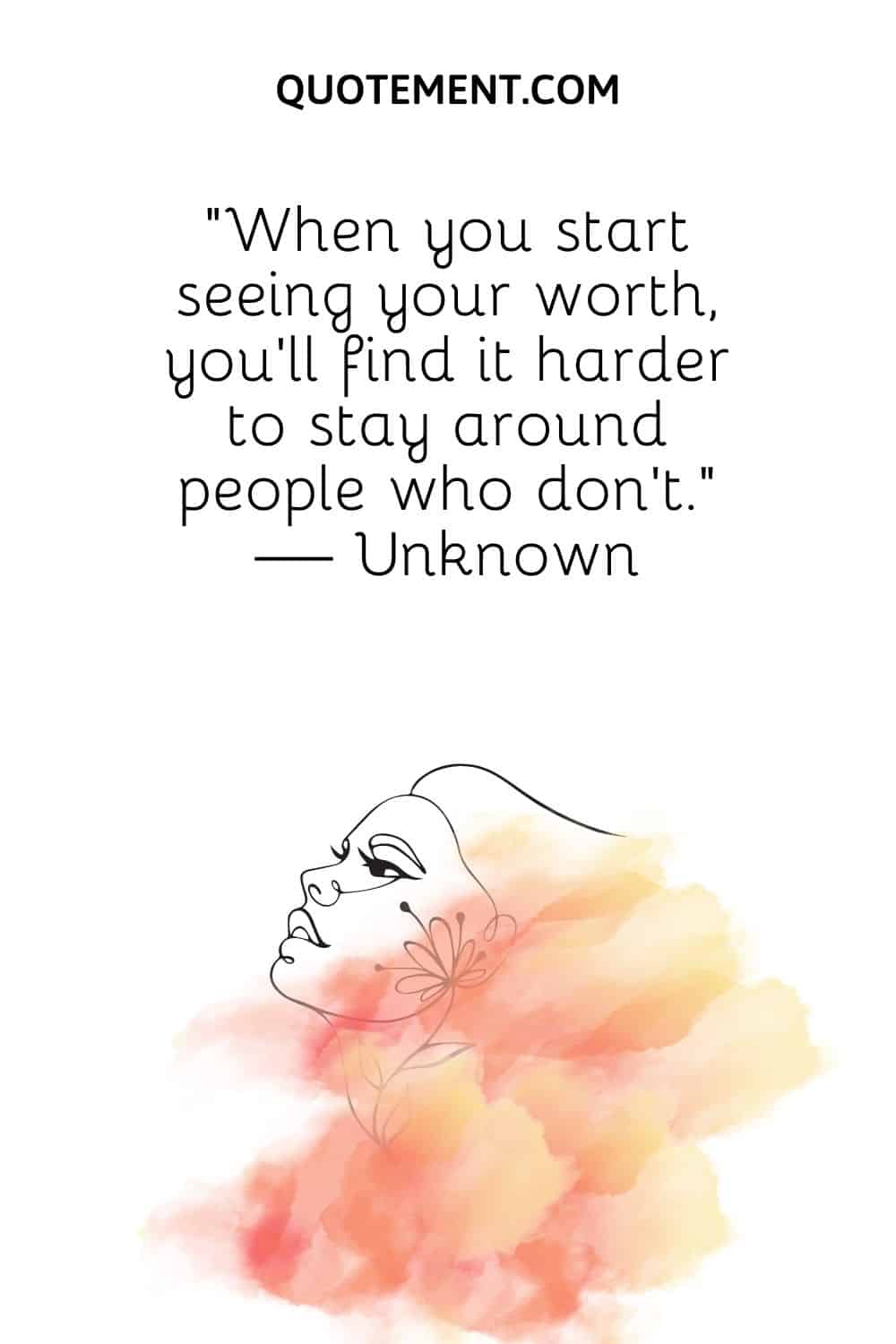 21. "Know your worth and stop giving people discounts." — Unknown
22. "Never chase a person that doesn't know your worth because the moment you catch him you will always feel you were never good enough." — Shannon L. Alder
23. "Always be prepared, always be yourself, and always be honest. That is a good recipe for self-respect, self-love, and self-worth." — Unknown
24. "Your problem is you are too busy holding onto your unworthiness." — Ram Dass
25. "Know your worth so you know when to say, "Yes", and when to say, "Thank you but no thank you." — Sam Owen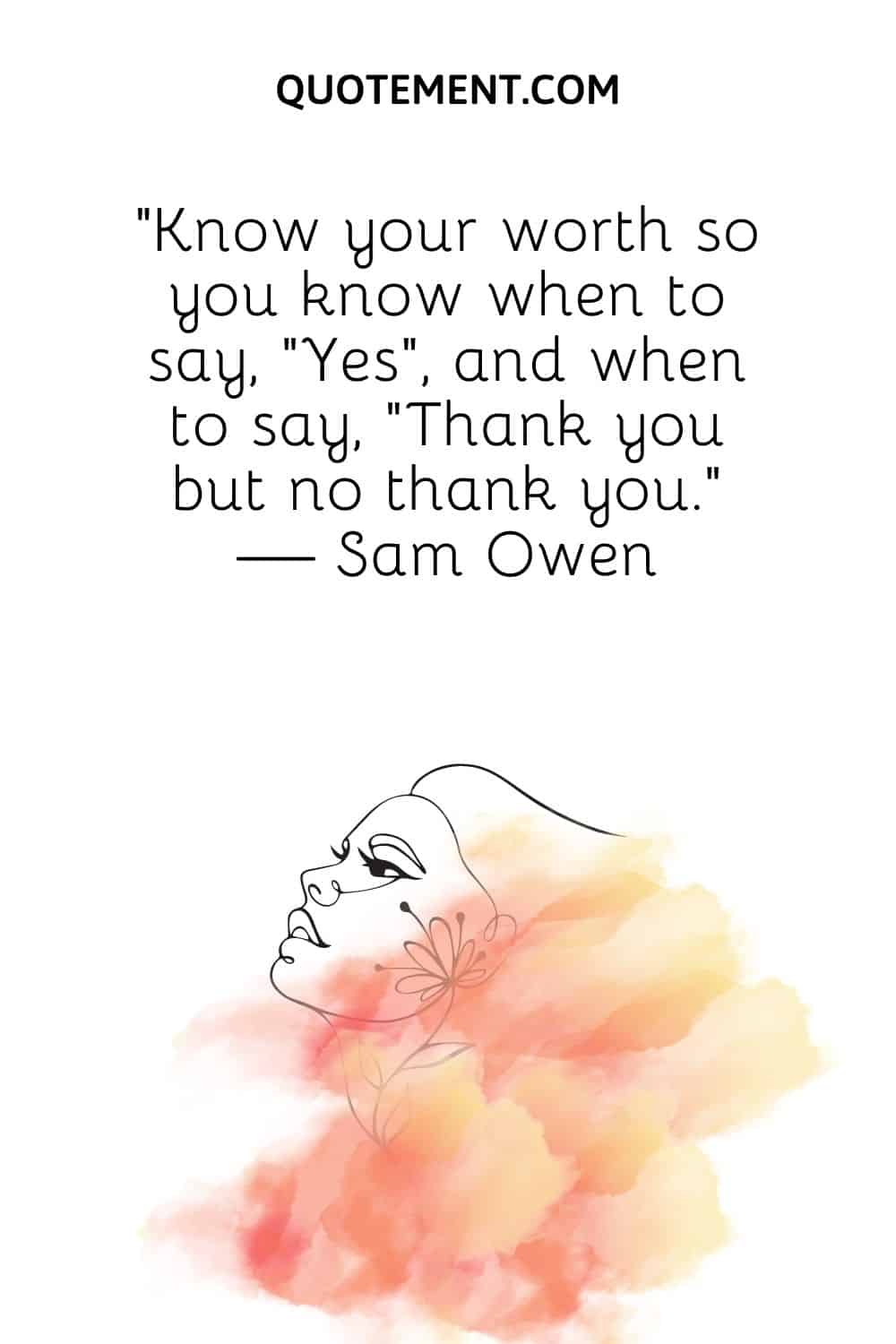 26. "To double your net worth, double your self-worth. Because you will never exceed the height of your self-image." — Robin Sharma
27. "You must find the courage to leave the table if respect is no longer being served." — Tene Edwards
28. "Know your worth because knowledge about self-worth is important. Find your passion and go for it." — Minakshi Mishra
29. "Know your worth. Know the difference between what you're getting and what you deserve." — Unknown
30. "You will never gain anyone's approval by begging for it. When you stand confident in your own worth, respect follows." ― Mandy Hale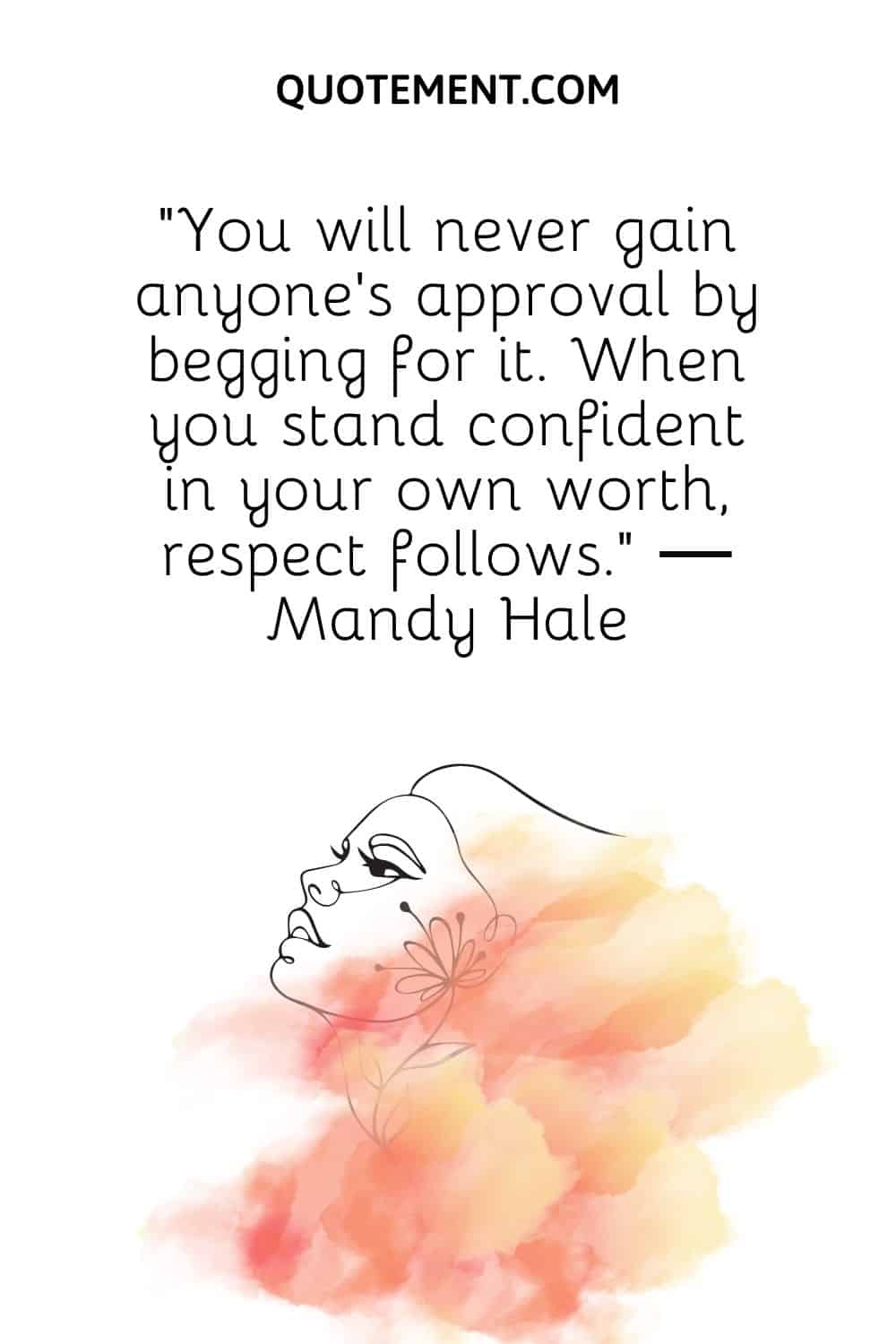 See also: 70 Woman Respect Quotes That Remind About Women's Worth
Life quotes About Worth
1. "A person's worth in this world is estimated according to the value they put on themselves." — Jean De La Bruyère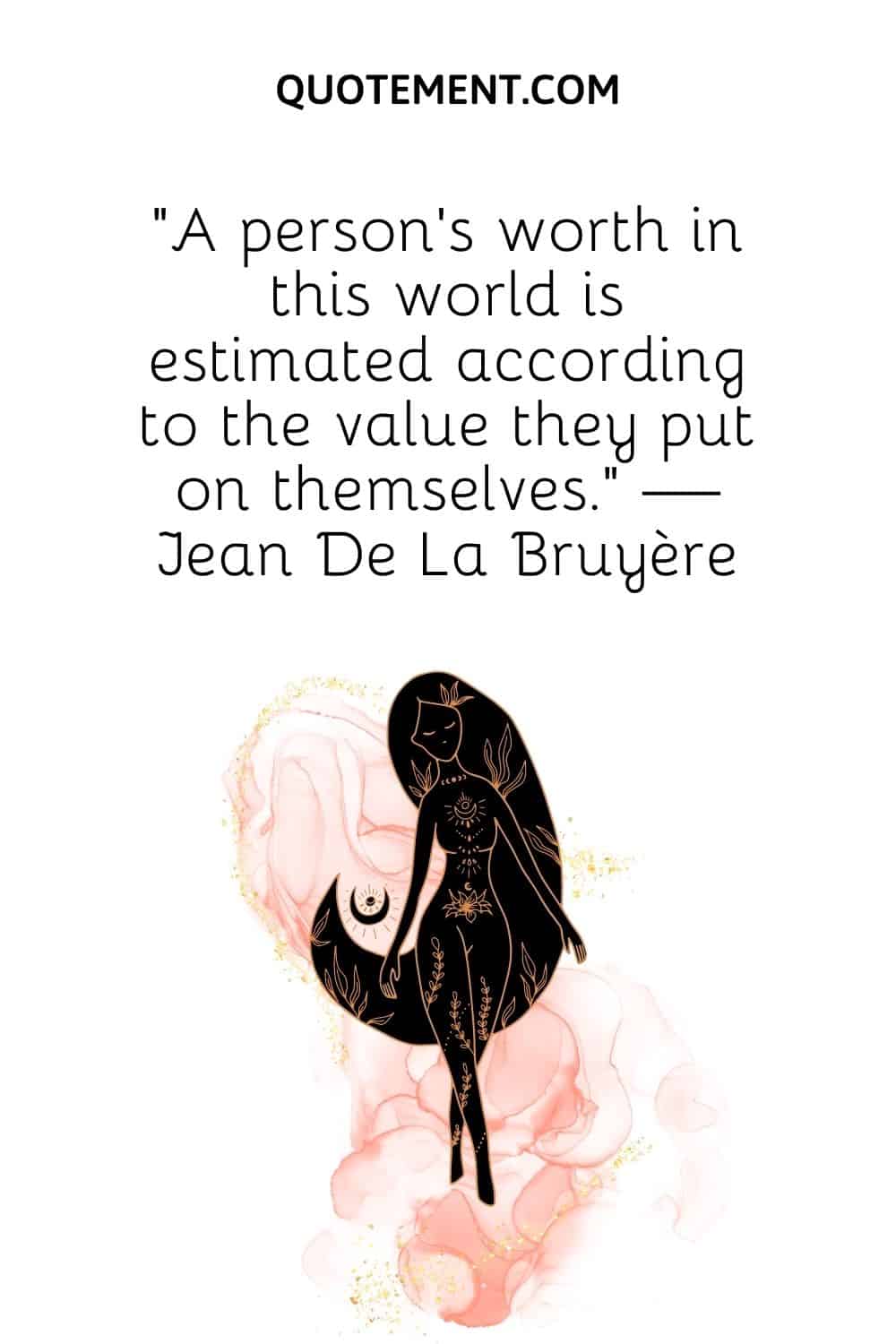 2. "Self-esteem is that deep-down inside our skin feeling you have of your own self-worth." — Dennis Waitley
3. "It is difficult to make a man miserable while he feels worthy of himself and claims kindred to the great God who made him." ― Abraham Lincoln
4. "Dignity will only happen when you realize that having someone in your life doesn't validate your worth." ― Shannon L. Alder
5. "True abundance isn't based on our net worth, it's based on our self-worth." — Gabrielle Bernstein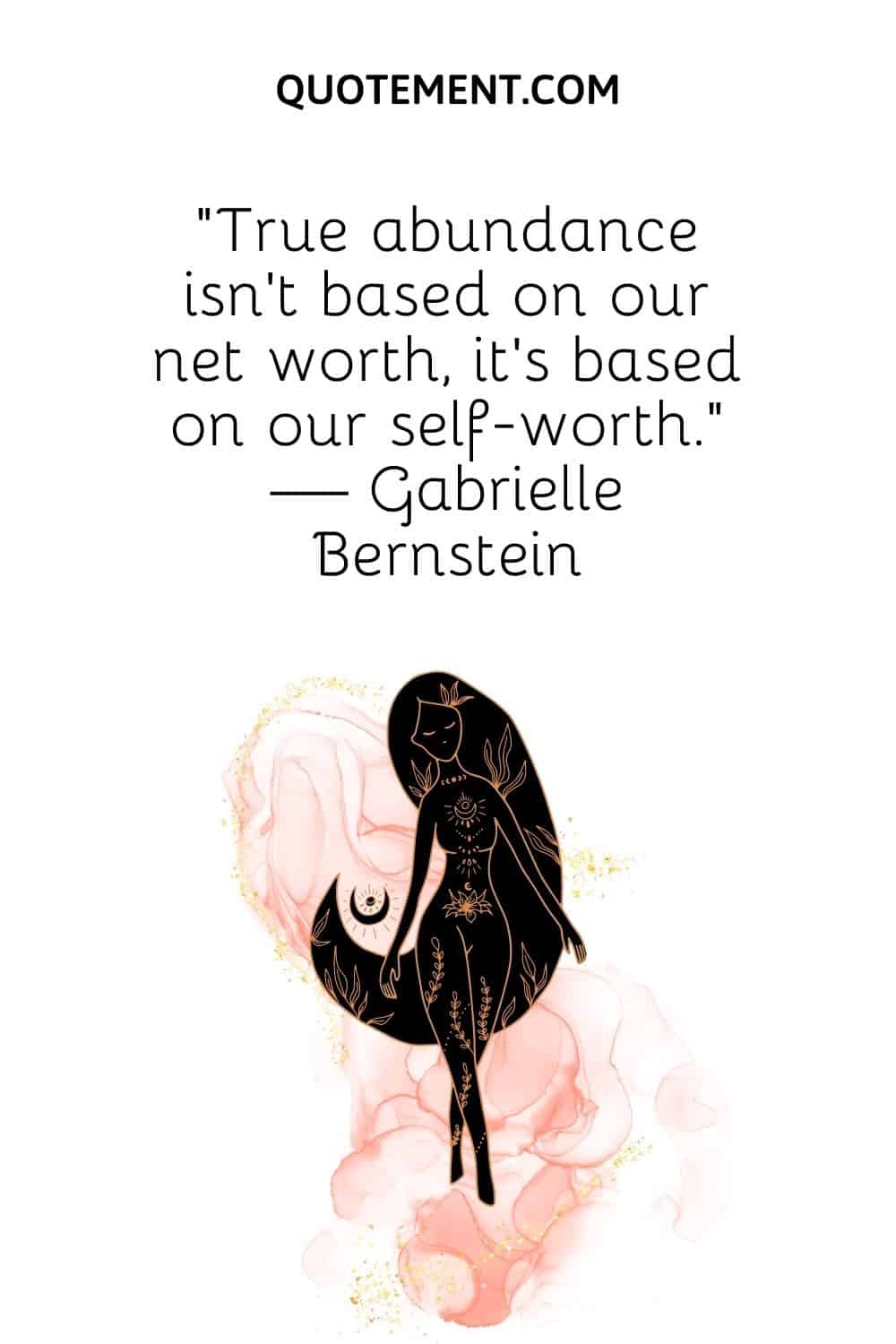 6. "We are valued in this world at the rate we desire to be valued." — Jean de la Bruyere
7. "Self-worth is so vital to your happiness; if you don't feel good about you, it's hard to feel good about anything else." — Sandy Hale
8. "We sabotage the great things in our lives because deep down we don't feel worthy of having the great things." ― Taressa Riazzi
See also: 90 Self-Sabotage Quotes To Free You From Your Own Mind
9. "Living your life without knowing your worth is a sin." — Nitin Namdeo
10. "We are the brightest star of our sky though we often fail to notice our own brilliance in the presence of others' light." ― E.L.Blade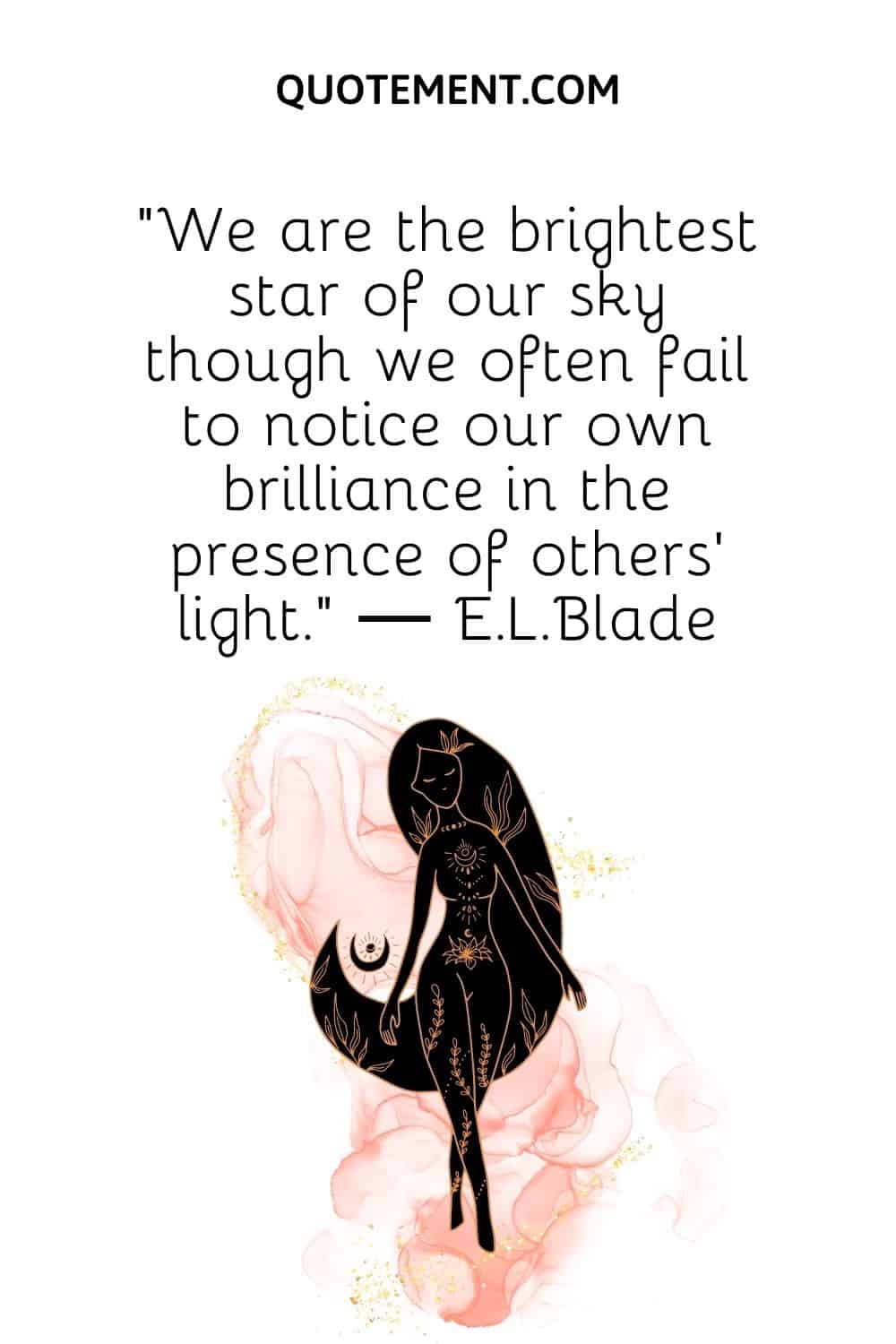 11. "When your self-worth goes up, your net worth goes up with it." — Mark Victor Hansen
12. "No one can figure out your worth but you." ― Pearl Bailey
13. "There is nothing so rewarding as to make people realize that they are worthwhile in this world." — Bob Anderson
14. "The precept, 'Know thyself,' was not solely intended to obviate the pride of mankind; but likewise that we might understand our own worth." ― Cicero
15. "Know your worth. Some people never want you to realize your greatness because your being mediocre comforts them." — Tony Gaskins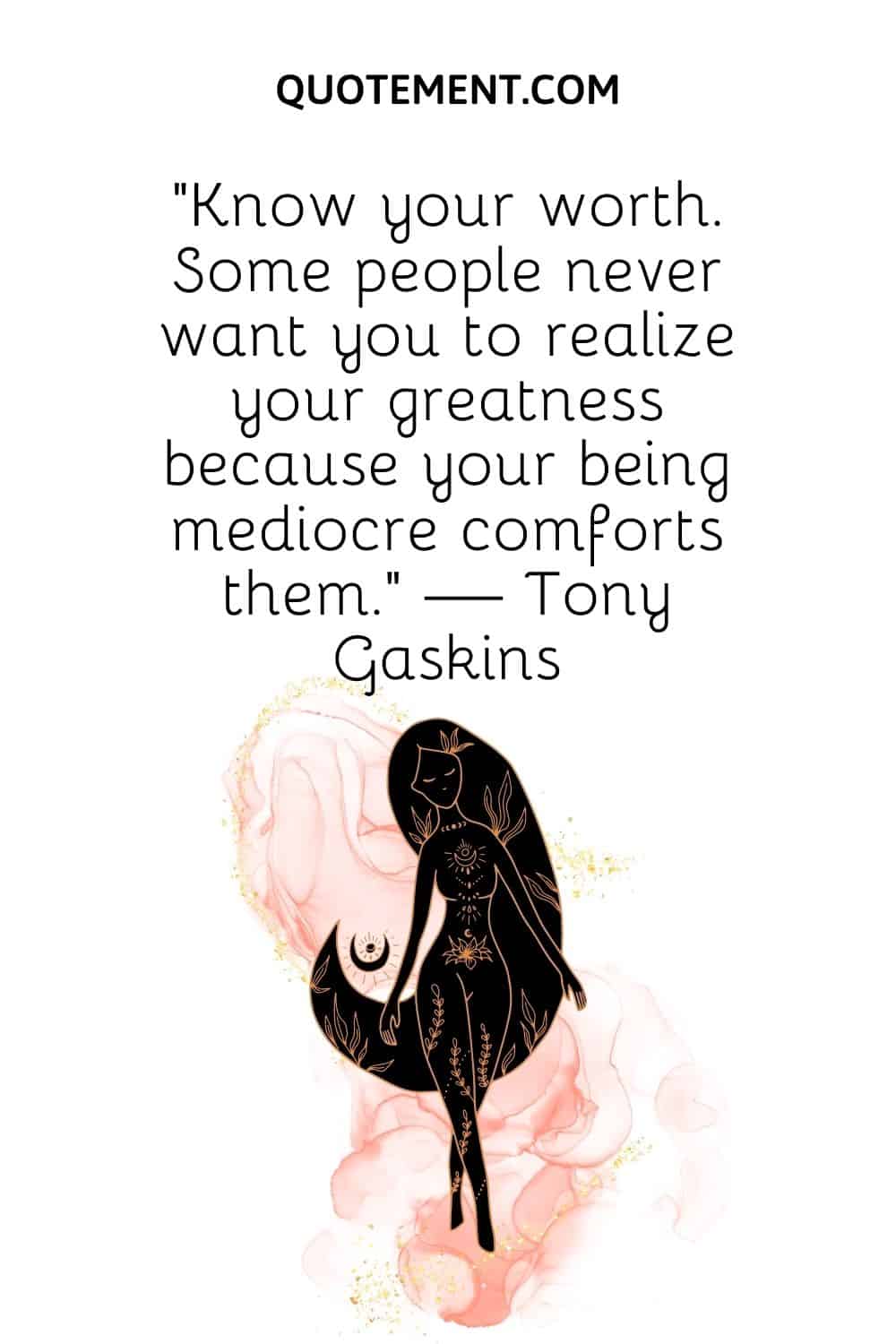 16. "You may be basing a portion of your self-worth on your bank account without even realizing it. Try to pinpoint the activities and qualities that, free of charge, fulfill you." — Jean Chatzky
17. "Only when you are aware of the uniqueness of everyone's individual body will you begin to have a sense of your own self-worth." — Ma Jian
18. "Women must learn to find self-worth within themselves, not through others. It is important to carve out a place just for you." — Georgette Mosbacher
19. "Your actions, and your action alone, determines your worth." — Evelyn Waugh
20. "The true value of a human being can be found in the degree to which he has attained liberation from the self." — Albert Einstein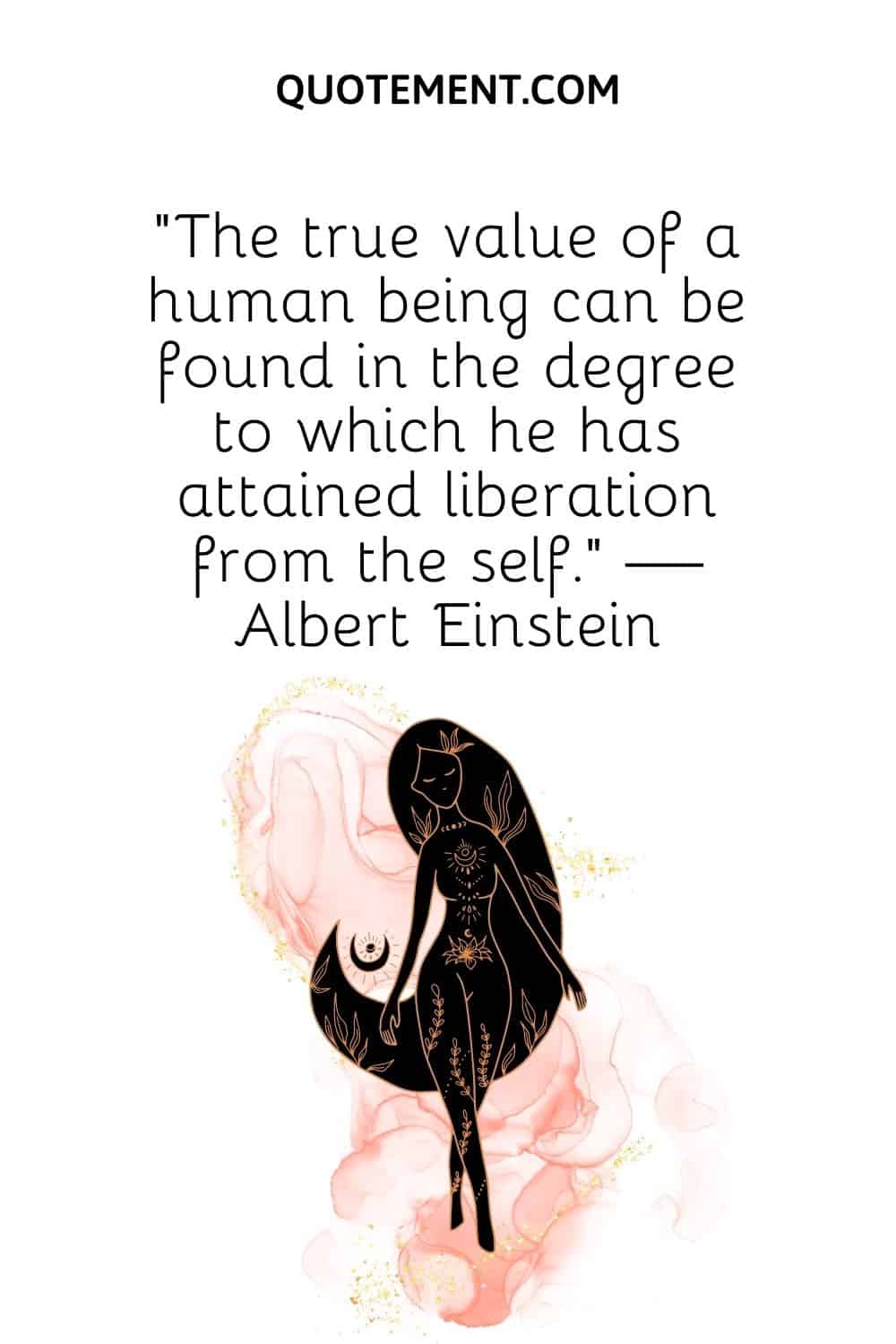 21. "Once you embrace your value, talents, and strengths, it neutralizes when others think less of you." ― Rob Liano
22. "If your self-worth is invested in what you own, as can be the case in our market-driven society, then these things may not hold their value for very long." ― Sean Sanders
23. "Sometimes you have to be alone to truly know your worth." ― Karen A. Baquiran
24. "Role models are only of limited use. For no one is as important, potentially powerful and as key in your life and world as you." ― Rasheed Ogunlaru
25. "Strong people have a strong sense of self-worth and self-awareness; they don't need the approval of others." ― Roy T. Bennett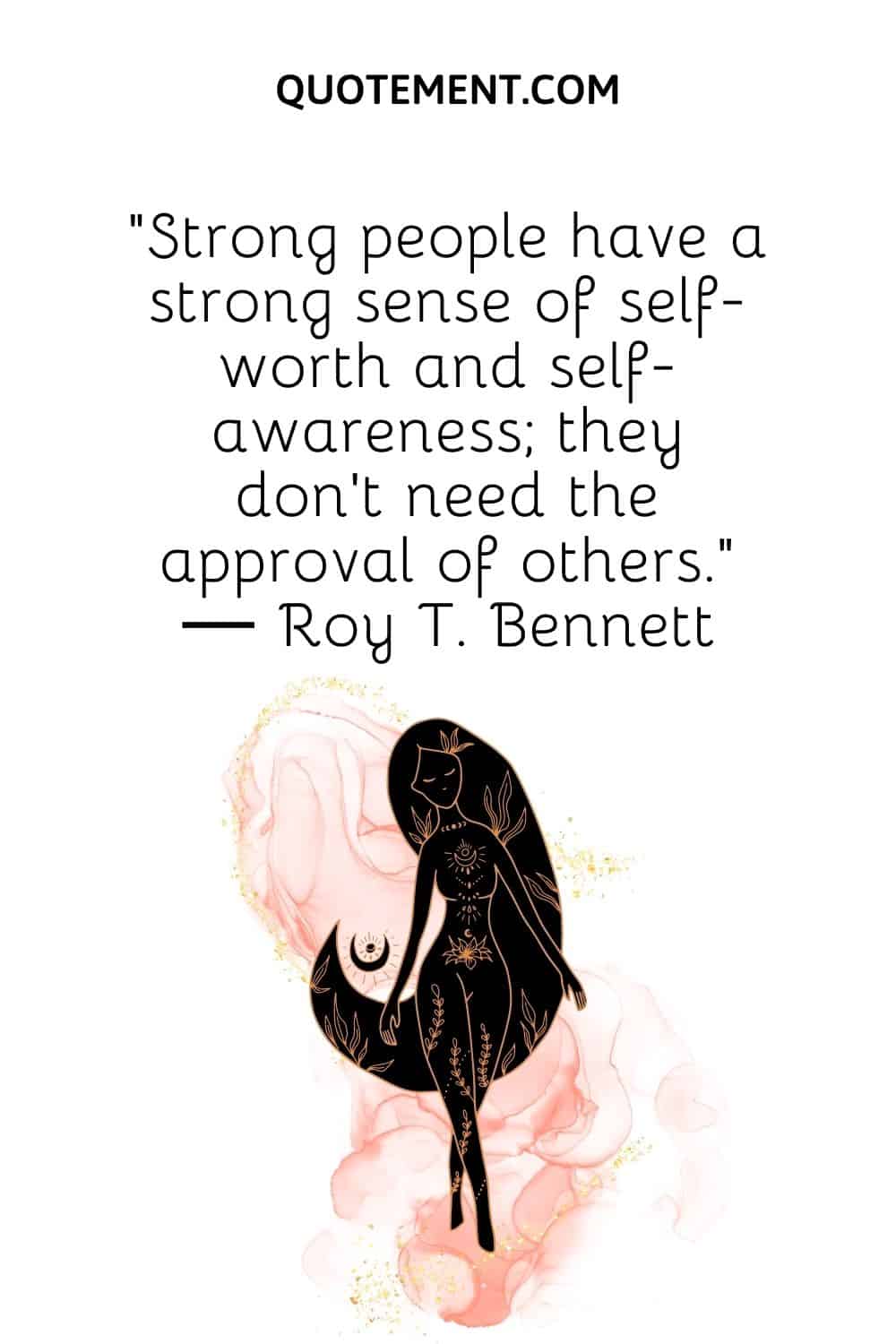 26. "Your worth consists in what you are and not in what you have." — Thomas A. Edison
27. "Know your value. Confidence breeds success. Act like the person you want to become and people will start seeing you as that person." — Mark M. Ford
28. "Know that you are worth so much more than the value you place on your body. It's not the only thing that defines you." — Molly Tarlov
29. "Sometimes you have to let go of someone you love because they can't give you what you deserve." — Unknown
30. "Only if you love yourself, only if you're happy with yourself, and only if you know your own worth will you ever be happy." — Momina Mustehsan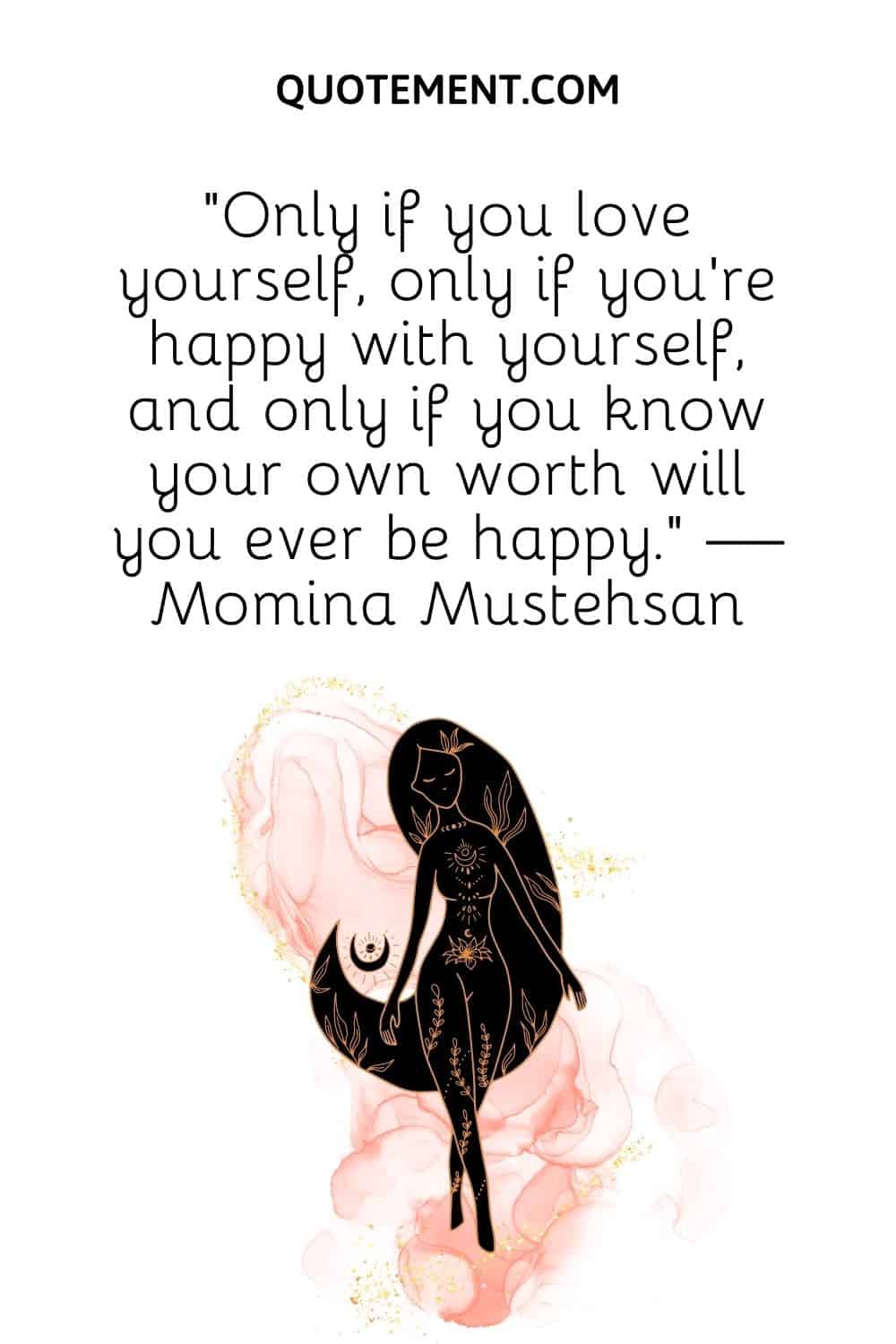 To Conclude
When you value yourself you can commit to self-care, self-respect, and self-love which will lead you to higher self-esteem.
This is the only way to build up a positive relationship with yourself and with those around you.That's what this collection of know your worth quotes was created for — to remind you to cultivate self-value and constantly work on that.