Are you interested in reading some inspirational quotes about respecting women?
If so, keep scrolling to discover the best woman respect quotes that speak about women's worth and importance.
All women deserve to be treated with respect, and the woman respect quotes from this article will serve as a reminder of that.
Women have so many life roles. From being moms and nurturers to being powerful entrepreneurs, the list of women's roles, duties, and contributions is a never-ending one.
So, if there is one thing we can give a woman in return for all the things she provides us with, it is definitely respect! In fact, it is the least we can give her!
Let these woman respect quotes inspire you always to respect women and treat them right!
Top 20 Woman Respect Quotes
1. "A man never so beautifully shows his own strength as when he respects a woman's softness." — Douglas William Jerrold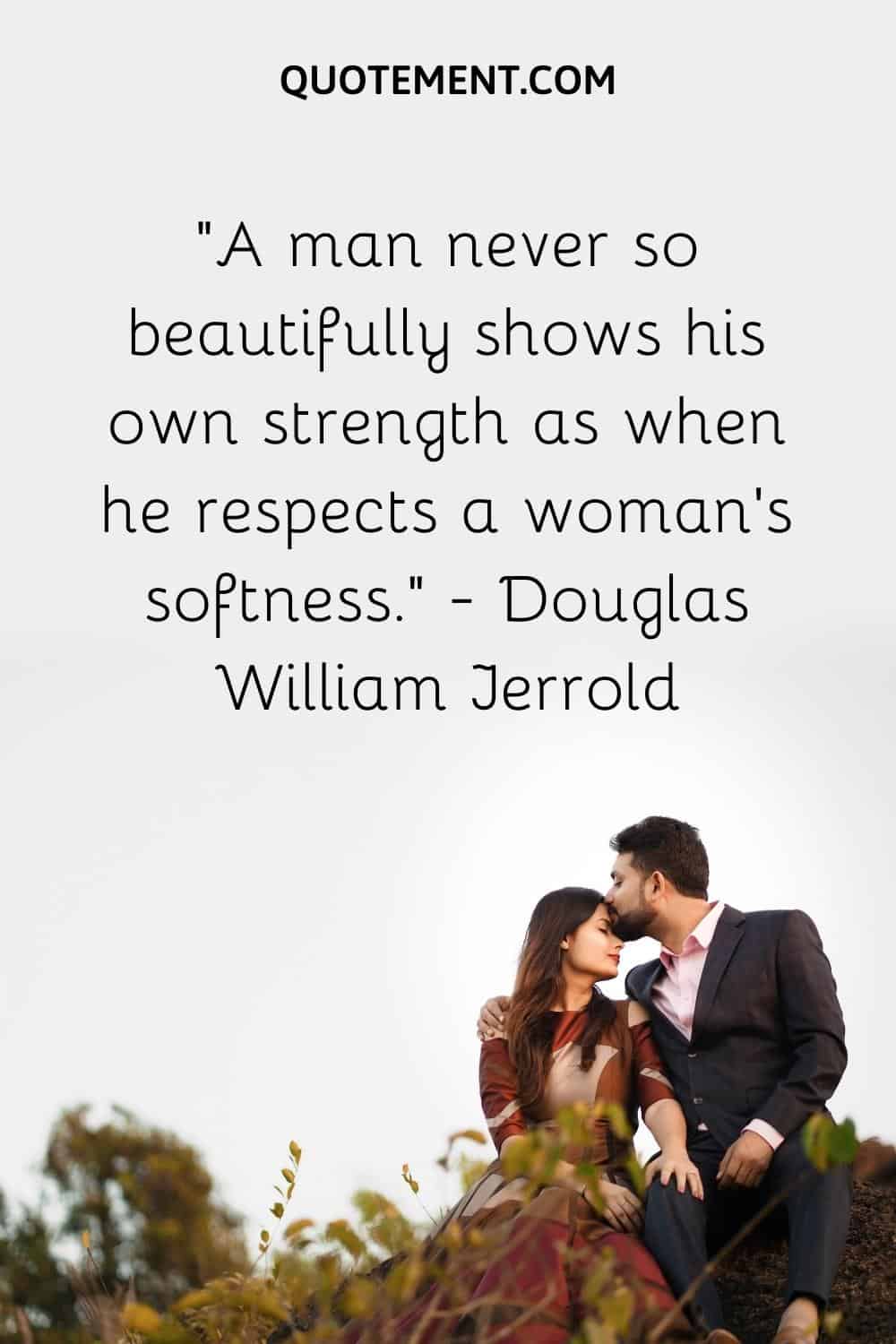 2. "When people respect someone as a person, they admire her. When they respect her as a friend, they love her. When they respect her as a leader, they follow her." — John C. Maxwell
3. "We need to live in a culture that values and respects and looks up to and idolizes women as much as men." — Emma Watson
4. "Let's respect women for the value – let's respect everyone, men and women, for the value they bring to the workplace." — Nancy Pelosi
5. "A woman brought you into this world, so you have no right to disrespect one." — Tupac Amaru Shakur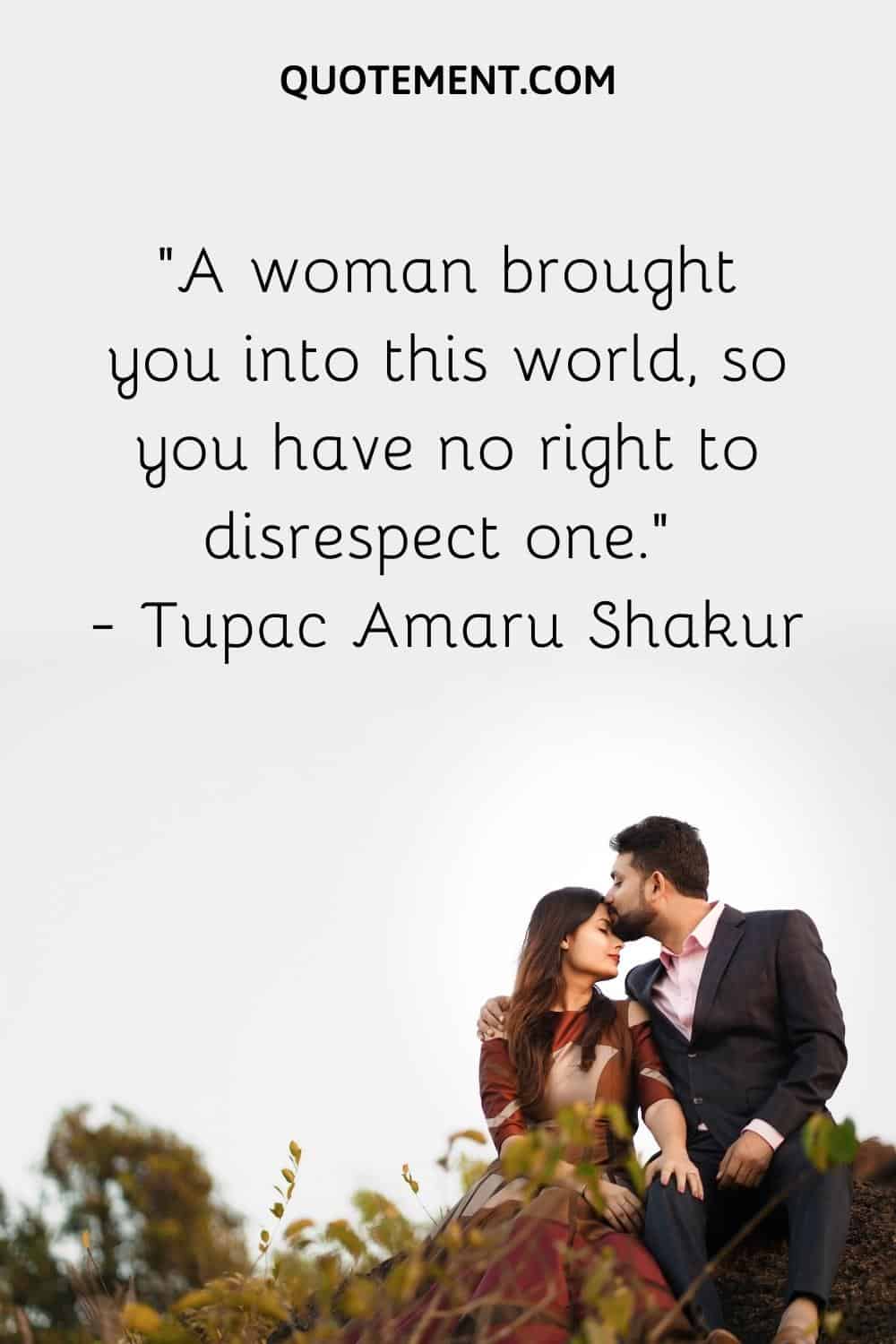 6. "A woman is soft, kind, and loving. When you are in danger, she is always ready to sacrifice herself to save you. So never forget to respect women." — Debasish Mridha
7. "Let's respect the dignity of women to make their own decisions about the size and timing of their families." — Nancy Pelosi
8. "We respect women and don't insult them by saying all they care about is reproductive rights. All issues are women's issues." — Carly Fiorina
9. "Women are leaders everywhere you look—from the CEO who runs a Fortune 500 company to the housewife who raises her children and heads her household. Our country was built by strong women, and we will continue to break down walls and defy stereotypes." — Nancy Pelosi
10. "If you cannot respect women, you cannot respect anybody else – because it is from women you come." — Osho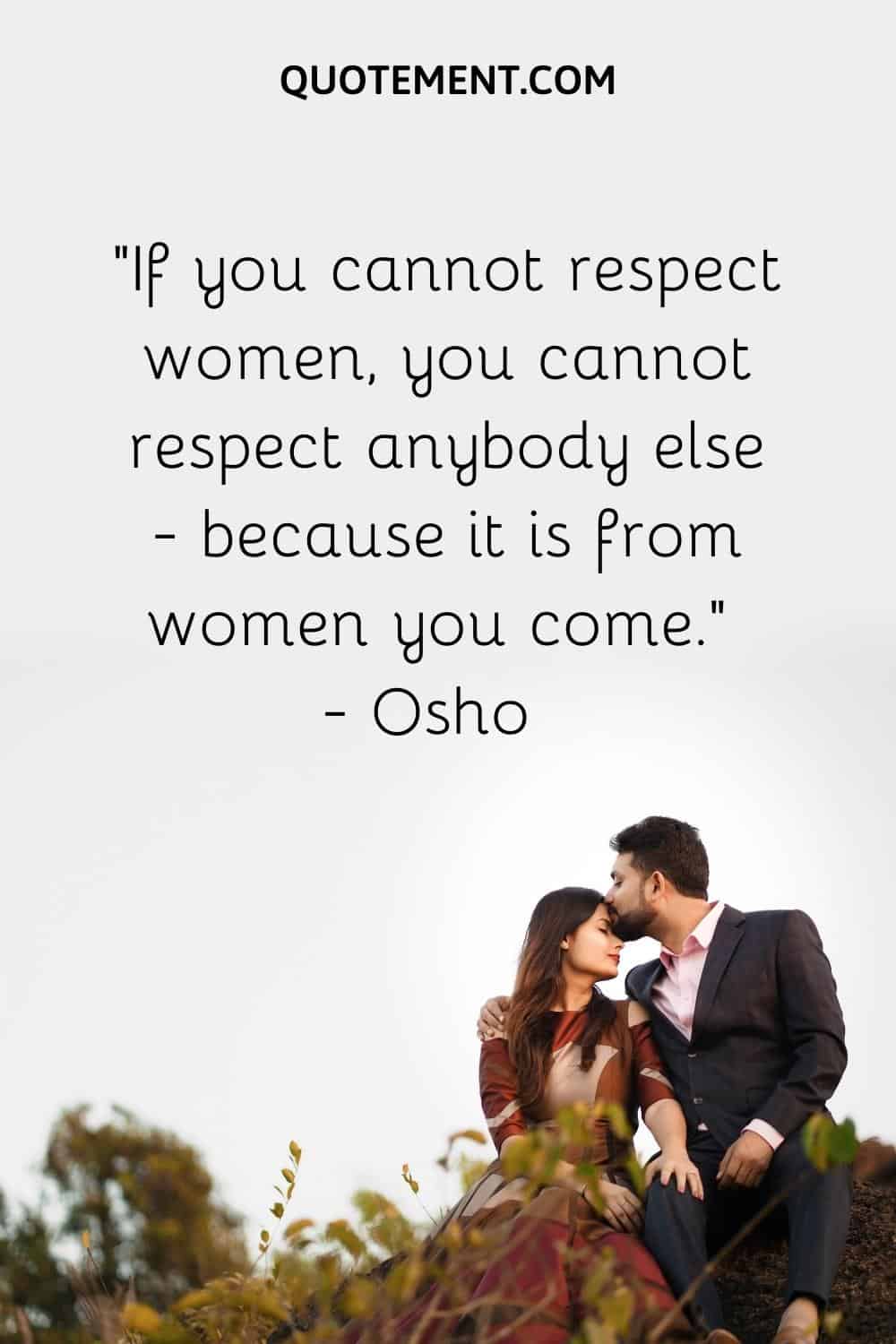 11. "Respect is one of the greatest expressions of love." — Miguel Angel Ruiz
12. "The basic Buddhist stand on the question of equality between the genders is age-old. At the highest tantric levels, at the highest esoteric level, you must respect women: every woman." — Dalai Lama
13. "Respect a woman not because they demand it, but because they deserve it." — Saraswati Awasthi
14. "We need to understand that there is no formula for how women should lead their lives. That is why we must respect the choices that each woman makes for herself and her family. Every woman deserves the chance to realize her God-given potential." — Hillary Clinton
15. "Women are one half of society which gives birth to the other half, so it is as if they are the entire society." — Ibn Qayyim Al—Jawziyya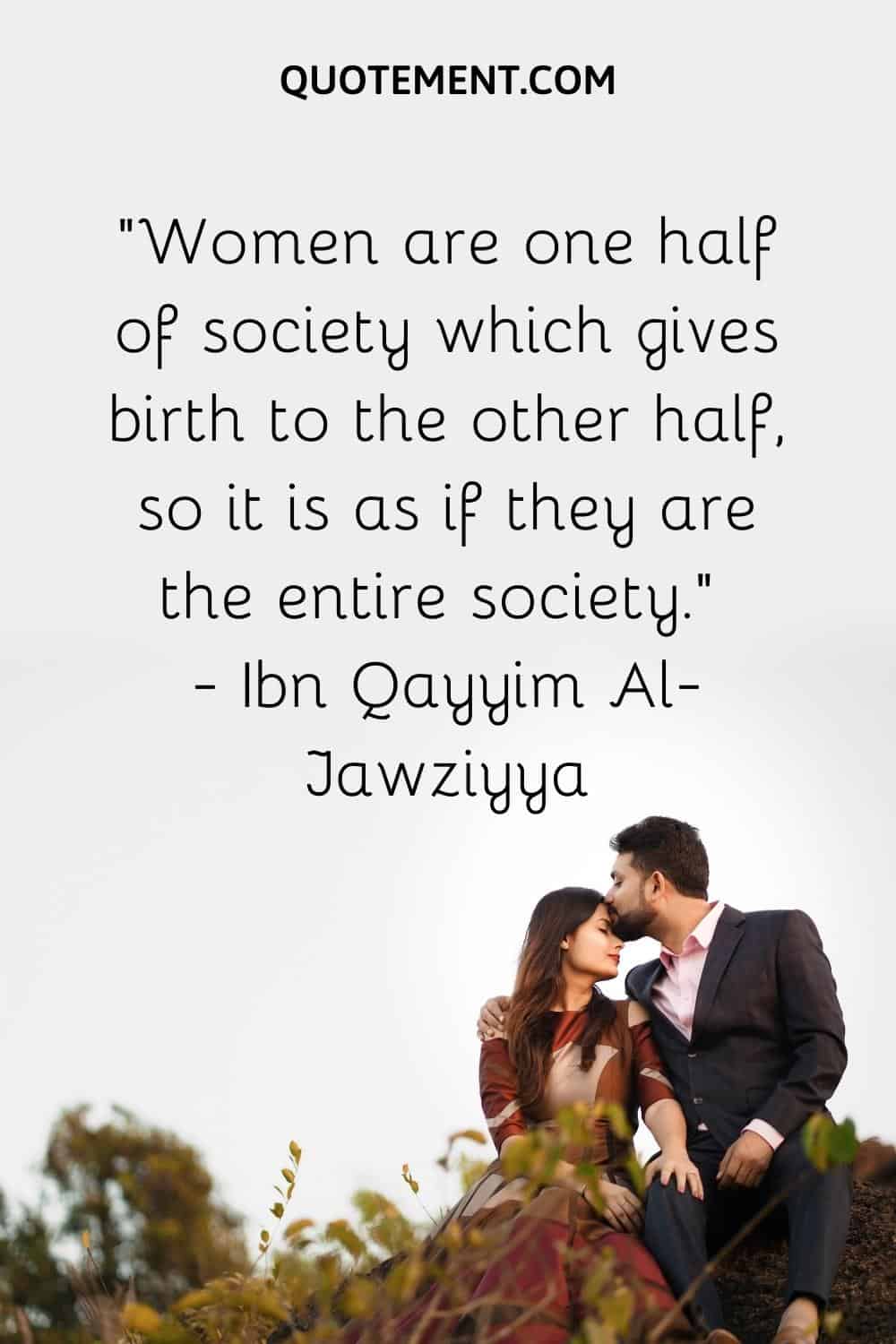 16. "It is unmanly. It is not some expression of macho virtue. It is the absolute antithesis of this. Real men don't bully women and children. Respect for women … is so essential." — Malcolm Turnbull
17. "Men who love their mothers treat women wonderfully. And they have enormous respect for women." — Ellen Barkin
18. "Respect for woman, the much-lauded chivalry of the Middle Ages, meant what I fear it still means to some men in our own day – respect for the elect few among whom they expect to consort." — Anna Julia Cooper
19. "A gentleman respects every woman in his life. If you can't respect your own mother, forget about respecting your girlfriend." — James Merrow
20. "Your biceps, six—pack abs, and daring attitude are of no use if you cannot protect and respect women!" — Avijeet Das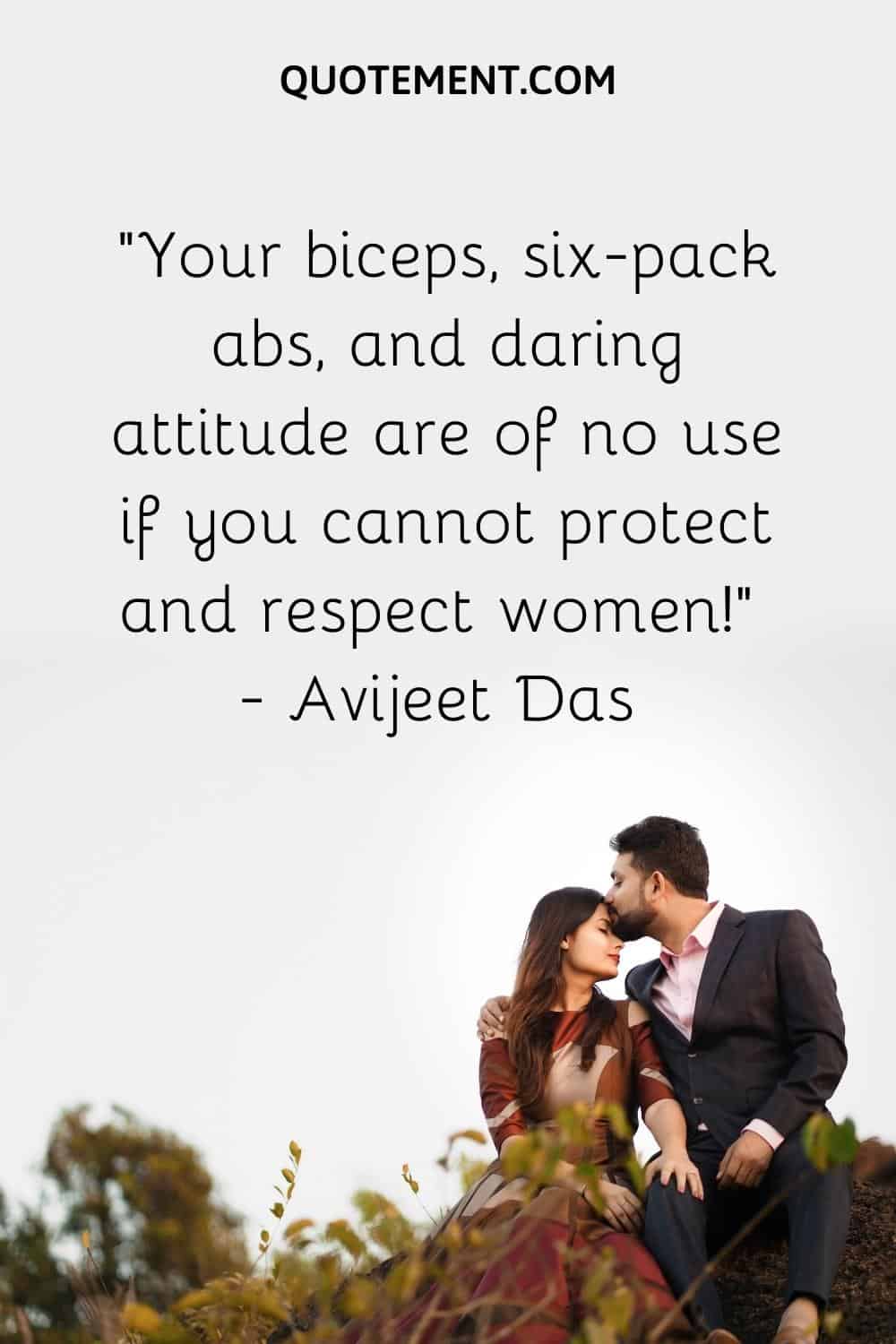 Respect Women Inspirational Quotes
1. "We have to raise our young boys to respect women and our young girls to demand respect and to get their values from something other than their physicality." — Paula Broadwell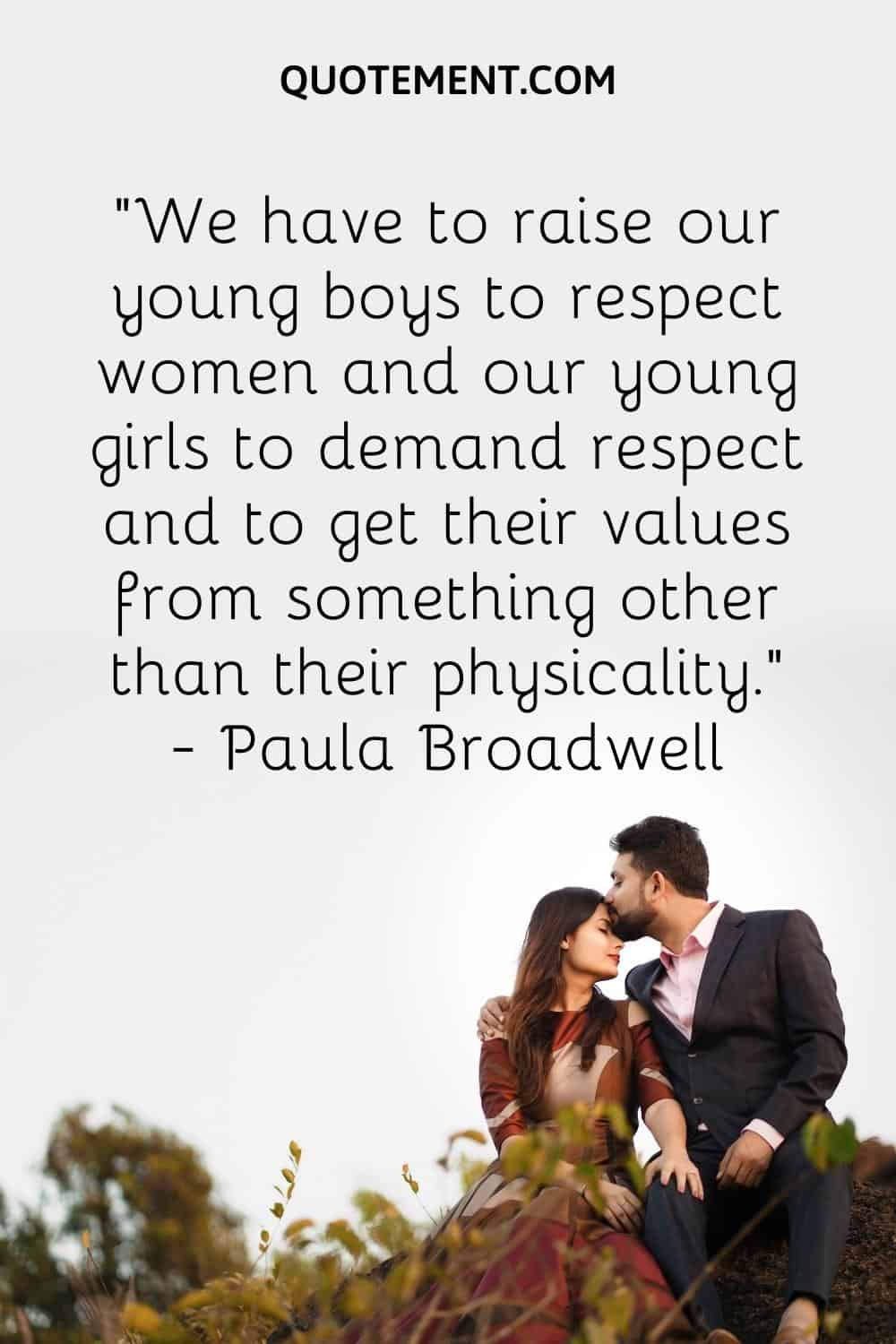 2. "Don't think about making women fit the world — think about making the world fit women." — Gloria Steinem
3. "Respect for ourselves guides our morals; respect for others guides our manners." — Lawrence Sterne
4. "Learn to embrace your own unique beauty, celebrate your unique gifts with confidence. Your imperfections are actually a gift." — Kerry Washington
5. "Love and respect women. Look to her not only for comfort but for strength and inspiration and the doubling of your intellectual and moral powers. Blot out from your mind any idea of superiority; you have none." — Giuseppe Mazzini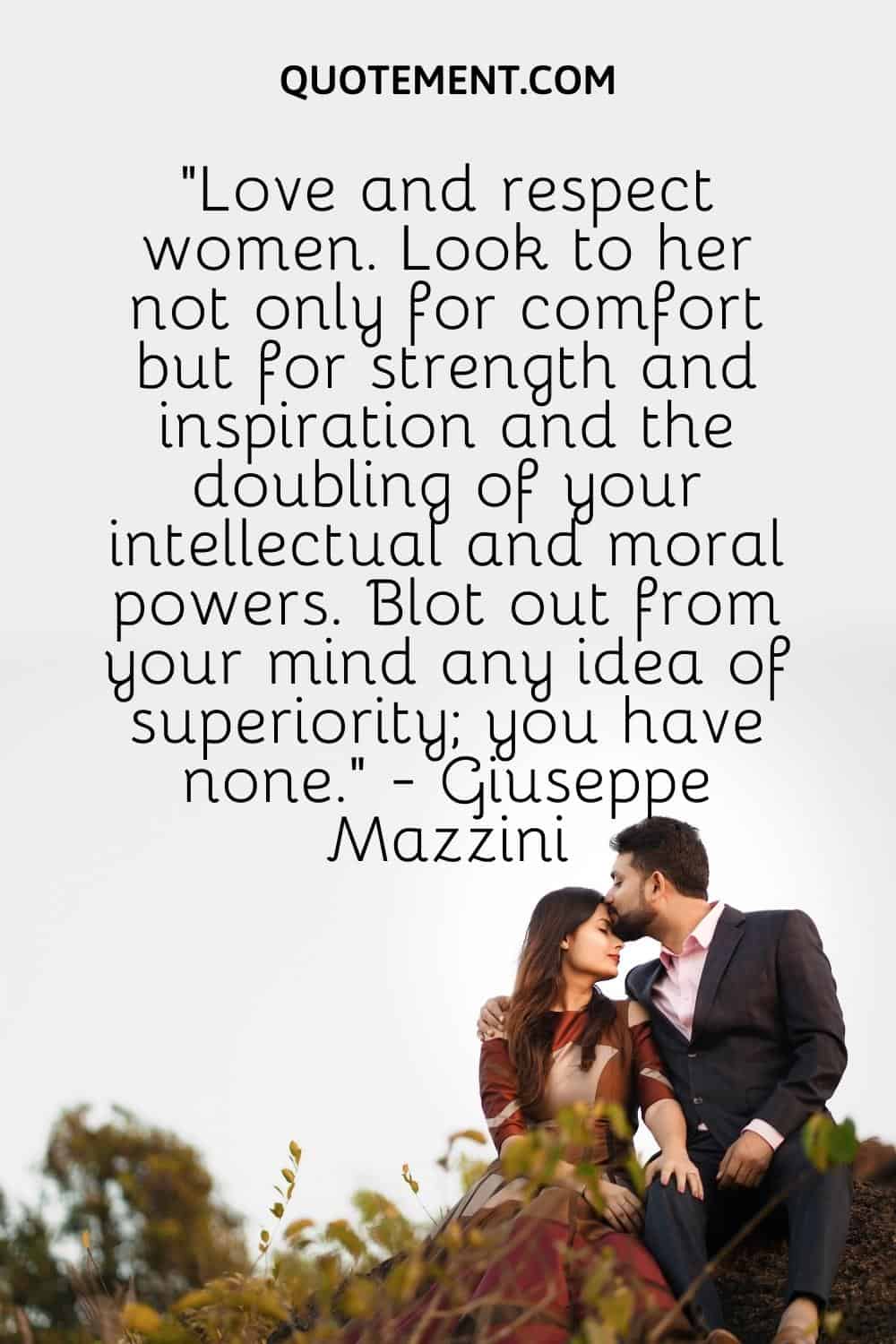 6. "A real man never hurts a woman. Be very careful when you make a woman cry because God counts her tears. The woman came out of a man's rib, not from his feet to be walked on, and not from his head to be superior, but from his side to be equal. Under the arm to be protected, and next to the heart to be loved." — Unknown
7. "Let a woman have her place because as you provide the foundation for her, she provides a foundation for you. And through that vulnerability comes strength." — Shemar Moore
8. "Bring her flowers, give her chocolates, send her sweet messages, feed her hungry stomach. Make her feel like she is the most important woman in the world to you because she is." — Unknown
9. "A real man never hurts a woman. Be a real man and respect women." — Unknown
10. "Treat your woman with respect because one day someone will do the same to your daughter." — Unknown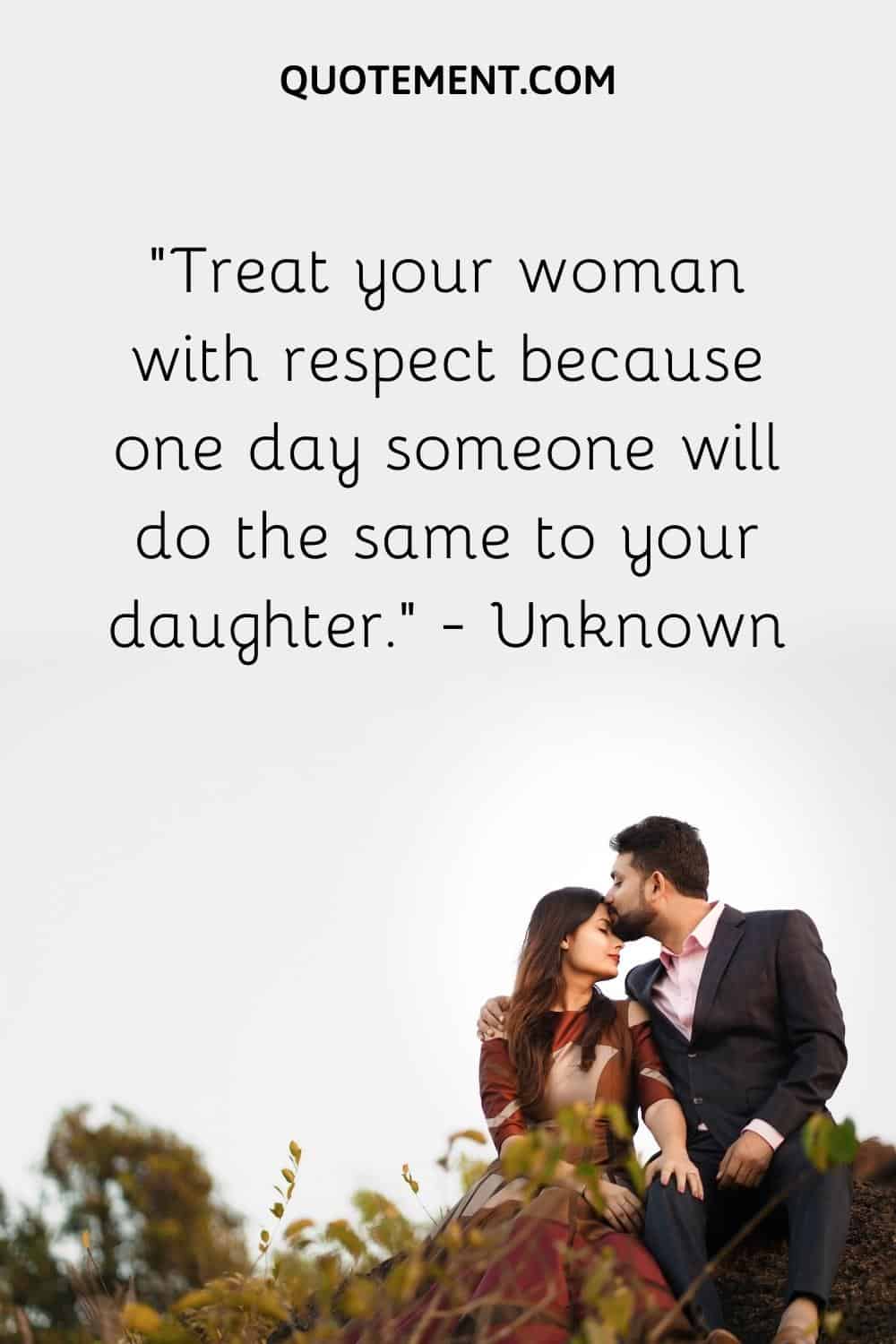 Women Self—Respect Quotes
1. "Be a woman of confidence and self-respect; give a man a reason worth fighting for." — Nikki Rowe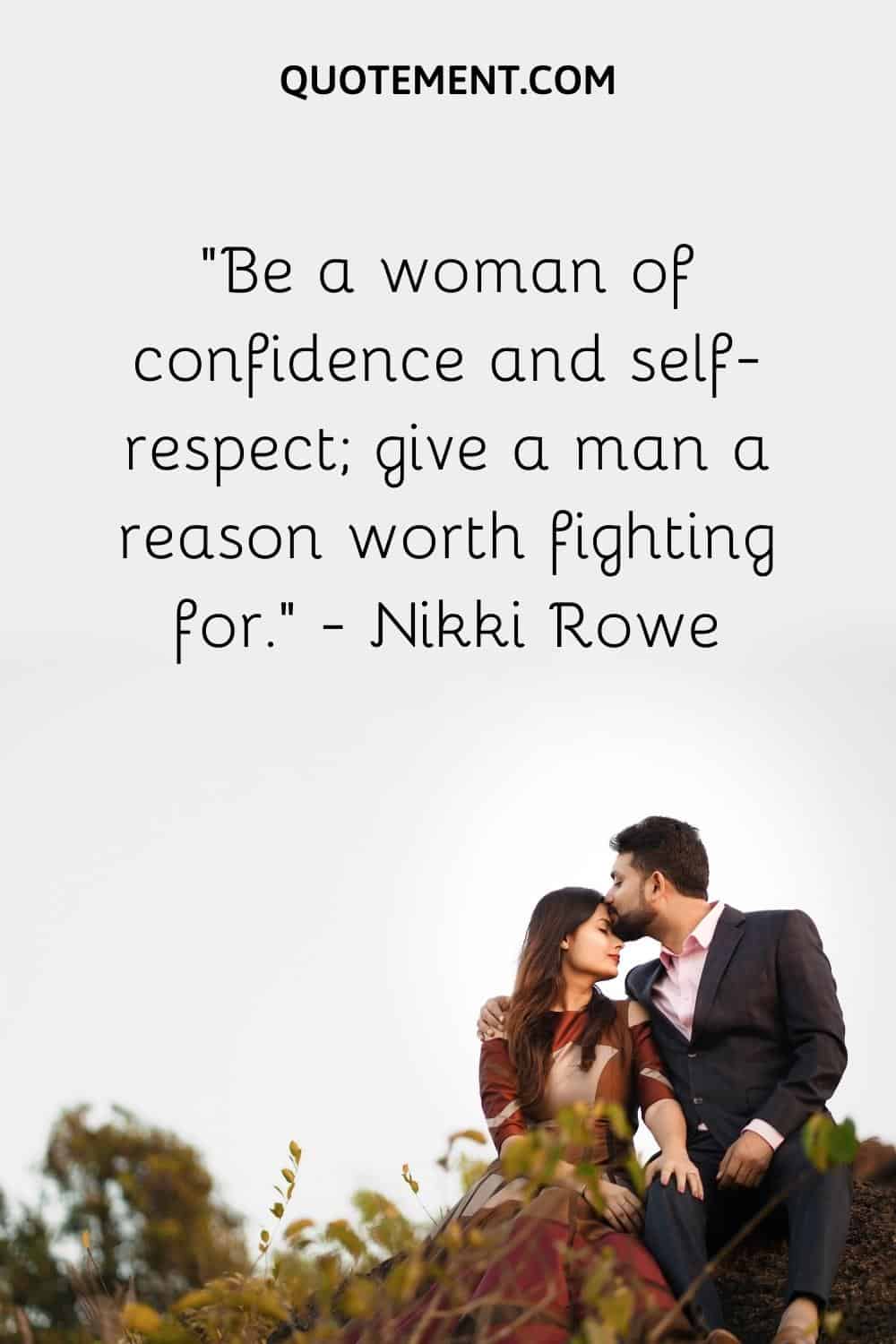 2. "Have respect for yourself, and no one can take away your self-respect." — Ravi Shankar
3. "We must reject not only the stereotypes that others hold of us but also the stereotypes that we hold of ourselves:" — Shirley Chisholm
4. "The most alluring thing a woman can have is confidence." — Beyoncé
5. "If you do not respect your own wishes, no one else will. You will simply attract people who disrespect you as much as you do." ― Vironika Tugaleva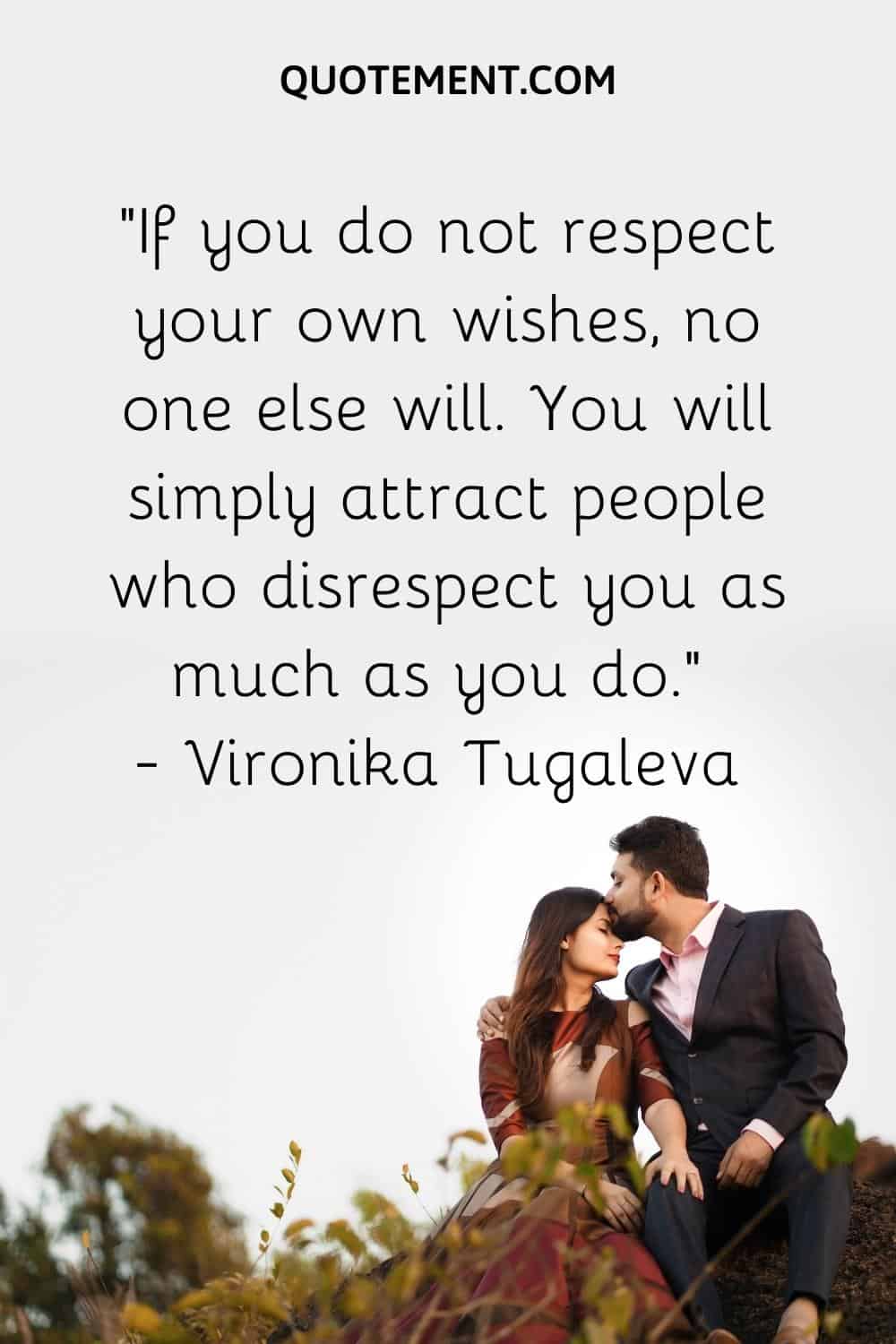 6. "Our self-respect tracks our choices." — Dan Coppersmith
7. "Not being yourself is the worst form of self-disrespect." ― Mokokoma Mokhonoana
8. "When a woman becomes her own best friend, life is easier." ― Diane Von Furstenberg
9. "Do we not realize that self-respect comes with self-reliance?" — A. P. J. Abdul Kalam
10. "Respect your efforts, respect yourself. Self-respect leads to self-discipline. That's real power." — Clint Eastwood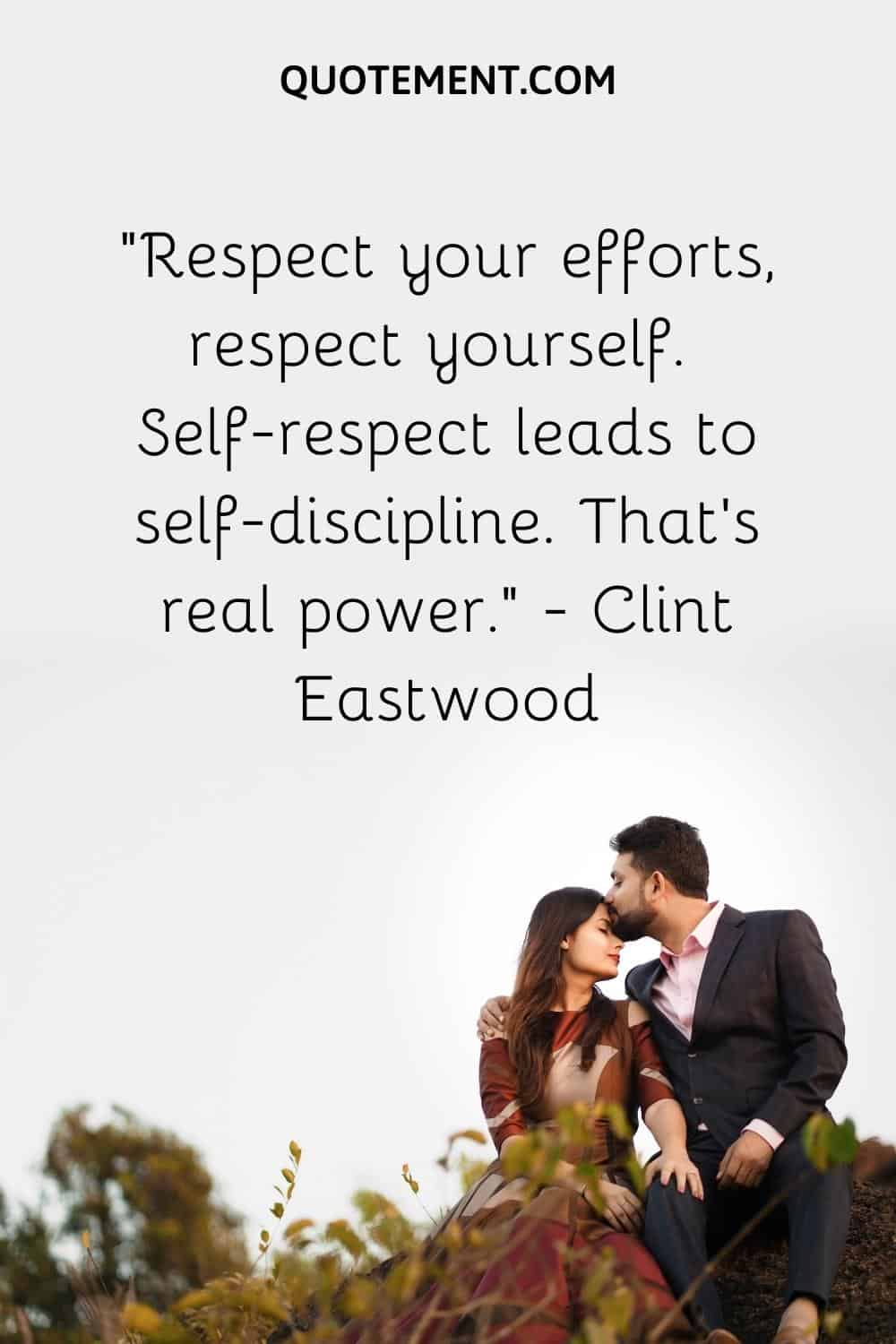 Respect Women Quotes
1. "I still believe in the old-fashioned ways of showing a woman respect and honor!" — Angela Merkel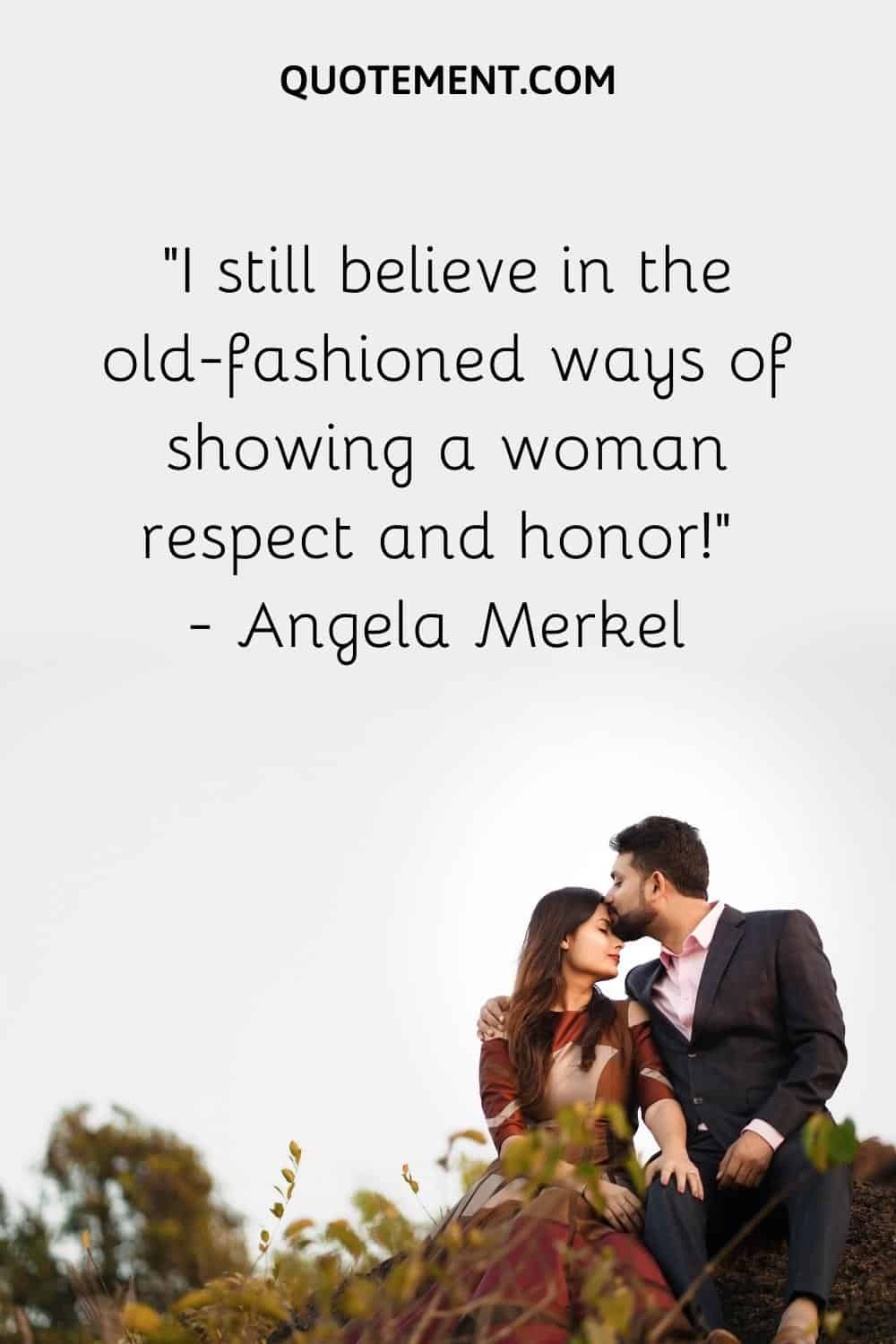 2. "A guy is automatically 10x more attractive if he has morals about respecting women." — Unknown
3. "I love and respect women. I work mostly with women." — Alber Elbaz
4. "A good man treats women with honor." — [Tirmidhi] Prophet Muhammad
5. "It's a man's job to respect women, but it's a woman's job to give him something to respect." — Unknown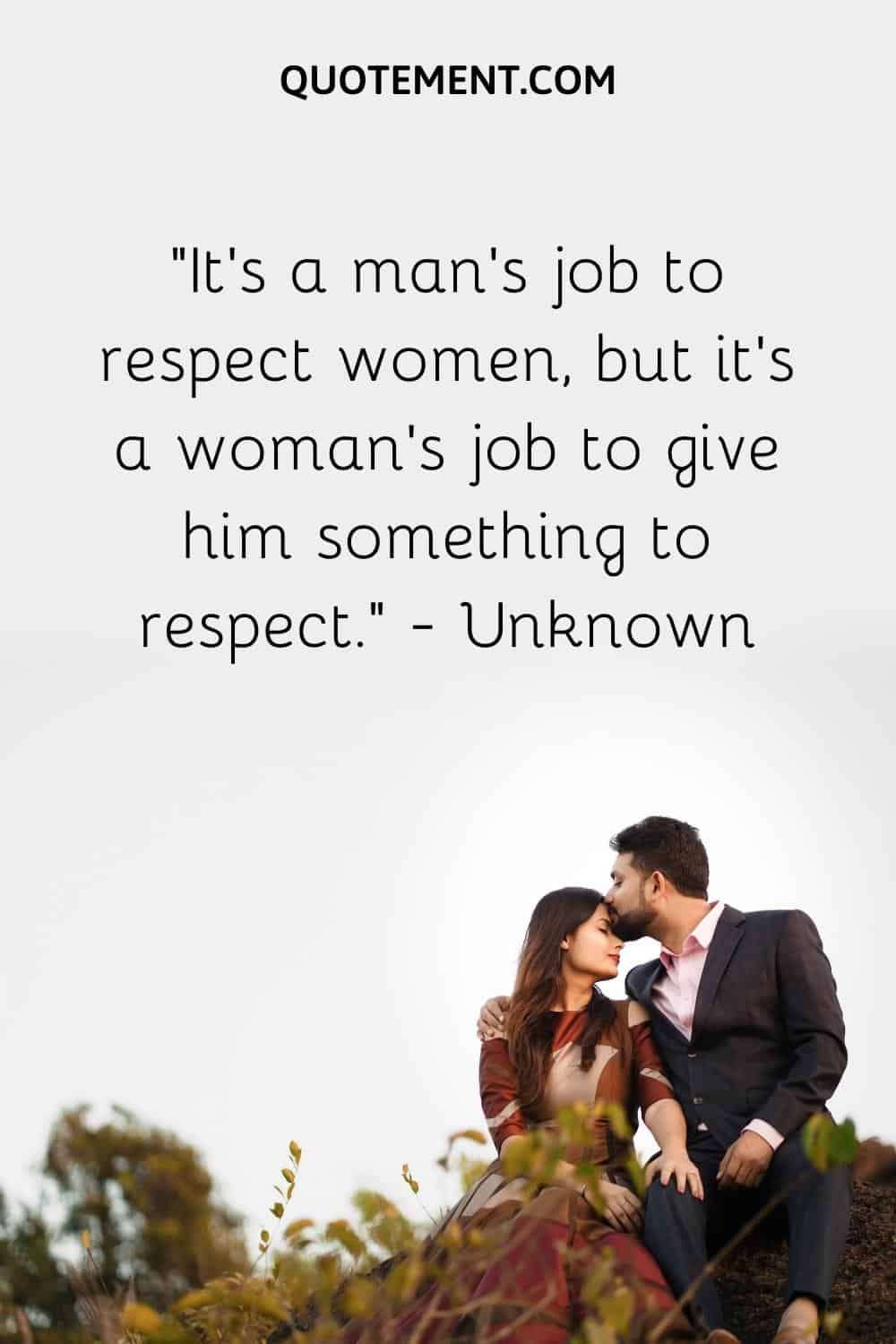 6. "In too many instances, the march to globalization has also meant the marginalization of women and girls. And that must change." — Hillary Clinton
7. "Respect for women is one of the greatest gifts a father can show a son." — Unknown
8. "Treat people with respect and do it with feelings too, whatever you expect from others is what you have to give." — Kemmy Nola
9. "Men and women have roles – their roles are different, but their rights are equal." — Harri Holkeri
10. "Every woman deserves to be respected not only for her homemaking skills but her intelligent mind too." — Unknown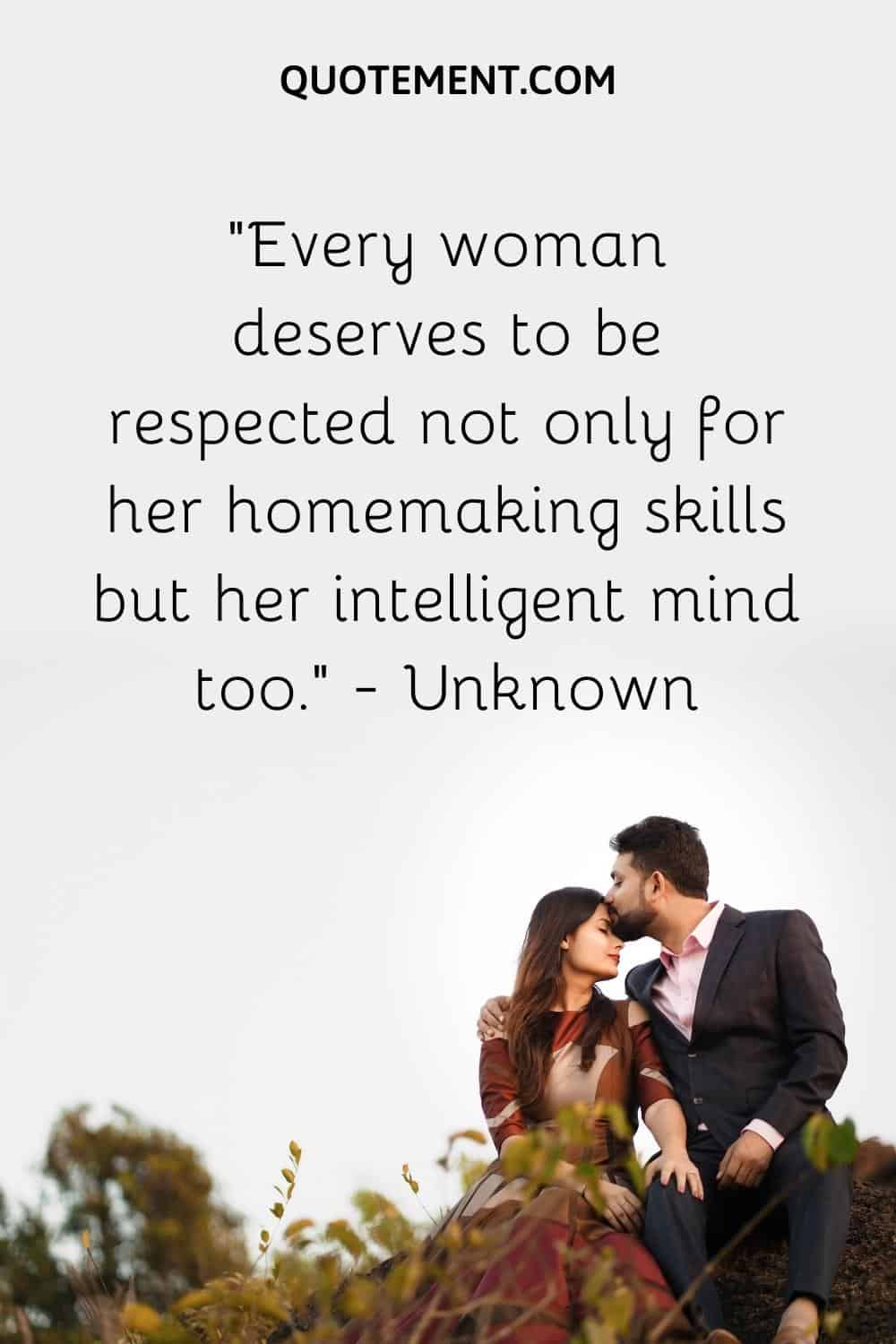 How To Treat A Woman Quotes
1. "This is not just about women. We men need to recognize the part we play, too. Real men treat women with the dignity and respect they deserve." — Prince Harry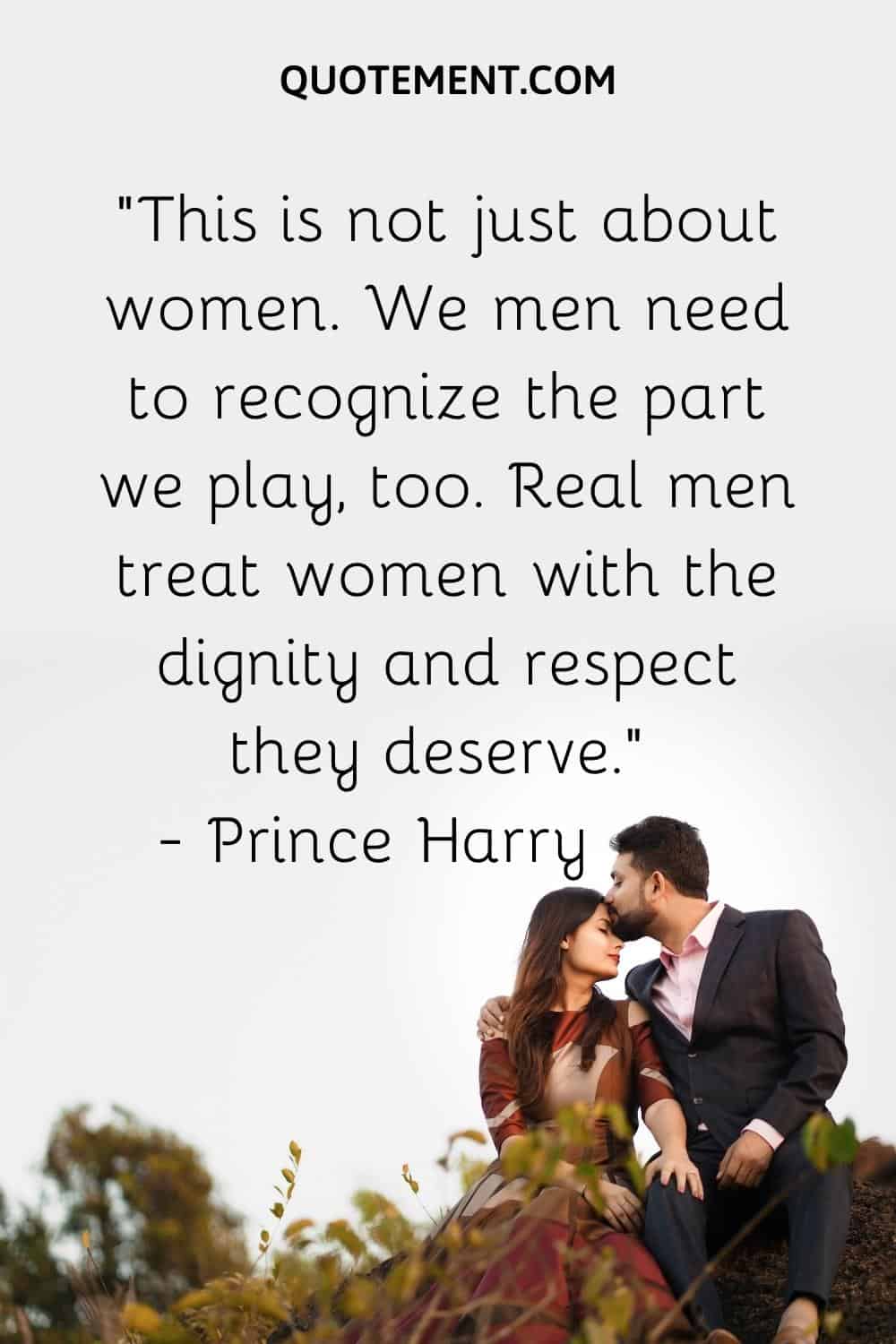 2. "You do not respect women if you pick and choose who to respect based on whether or not they fit into the narrative you've created about what a woman should or shouldn't be." — Unknown
3. "A gentleman will open doors, pull out chairs, and carry things. Not because she's helpless or unable, but because he wants to show her that she is valuable and worthy of respect." — Unknown
4. "My sisters and mom raised me to respect women and open doors for them." — Milo Ventimiglia
5. "A real man knows how to respect a woman. Because he knows the feeling if someone would disrespect his mother." — Unknown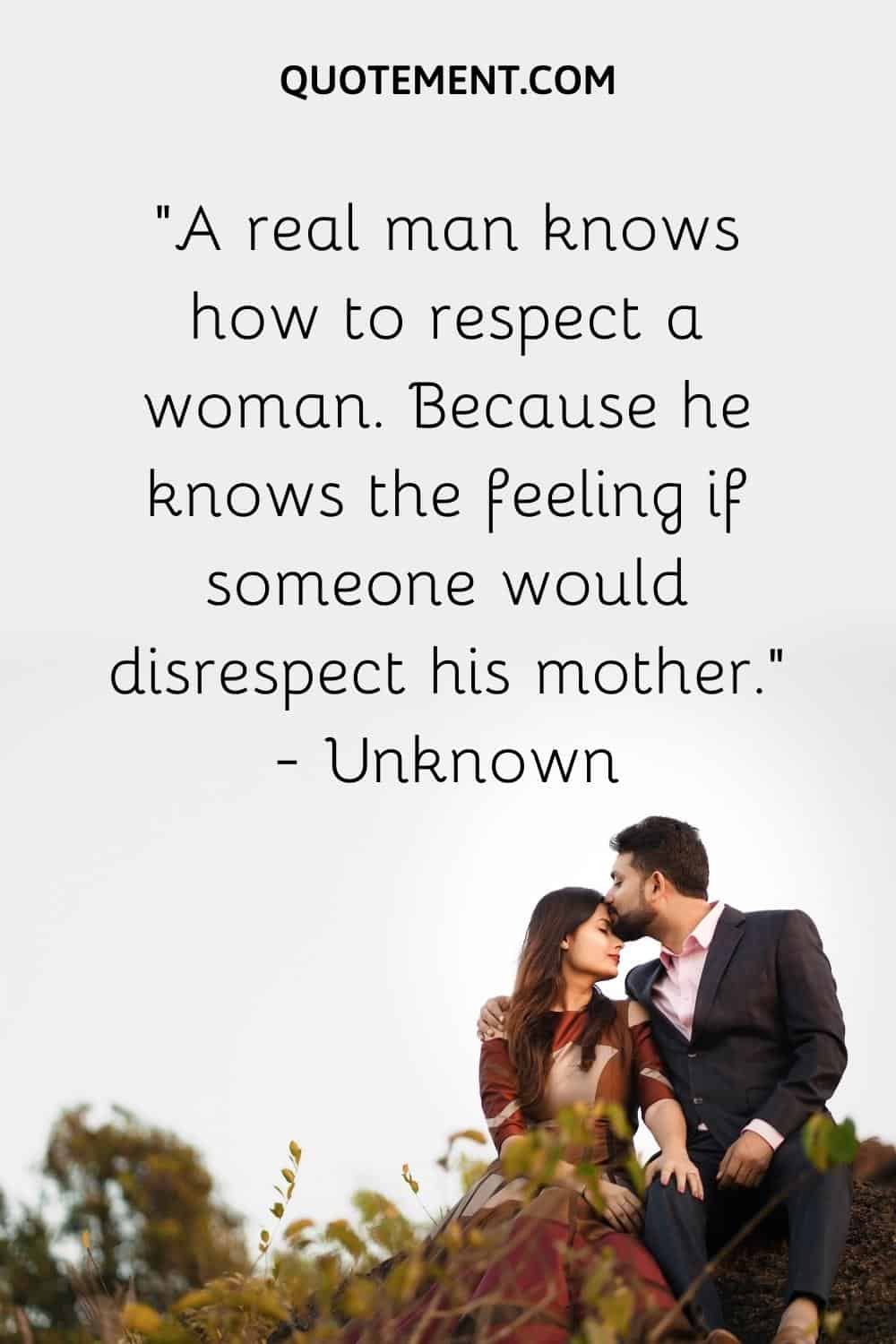 6. "Treat a woman right and you will be treated right in return." — Unknown
7. "The measure of any society is how it treats its women and girls." — Michelle Obama
8. "It's her right to be treated with love and dignity." — Unknown
9. "A man can build a home, but it needs a woman to run a home." — Amit Kalantri
10. "A man who treats his woman like a princess is a proof that he has been born and raised in the arms of a queen." — Unknown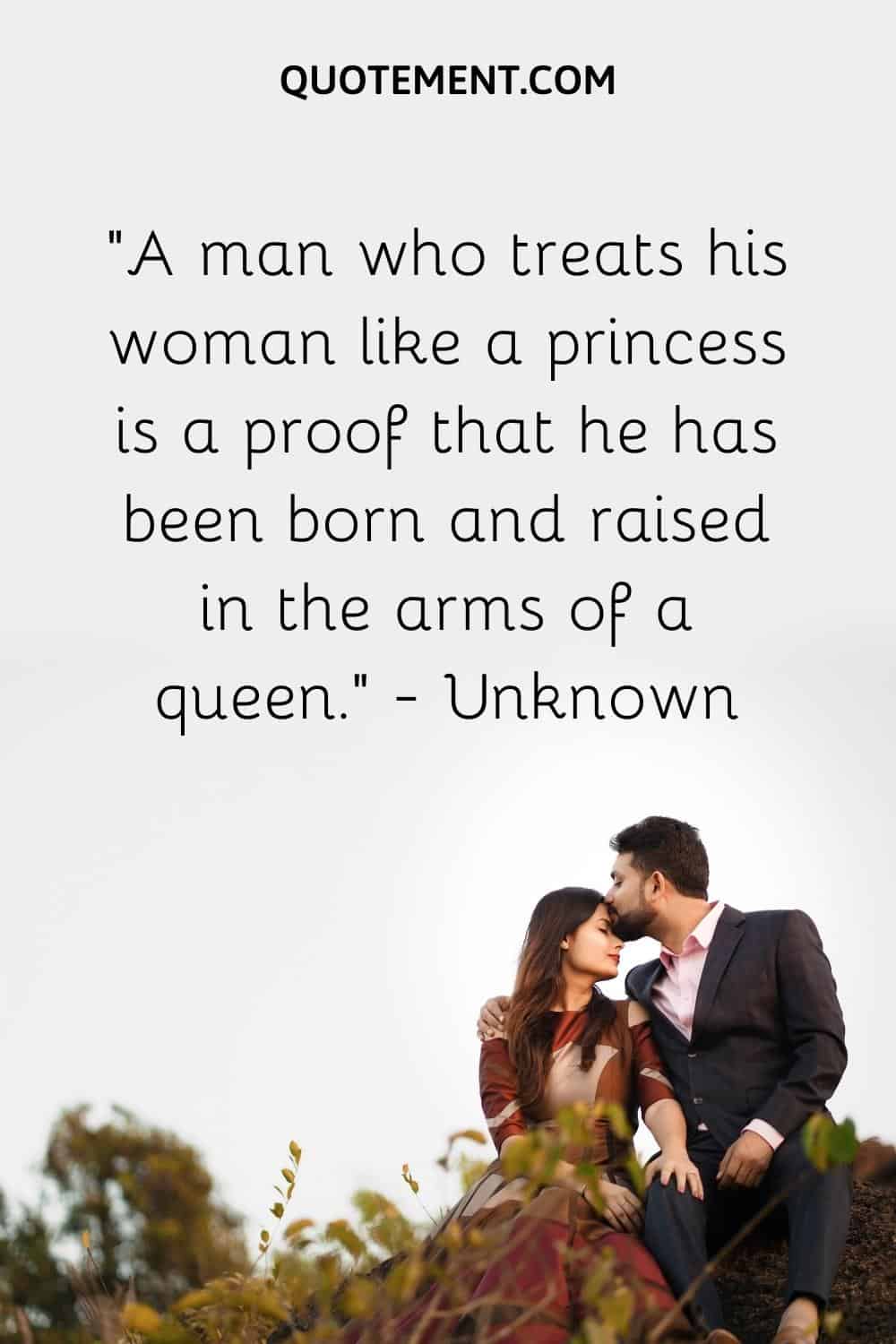 Life Quotes About Women
1. "The beauty of a woman must be seen in her eyes because that is the doorway to her heart, the place where love resides." — Audrey Hepburn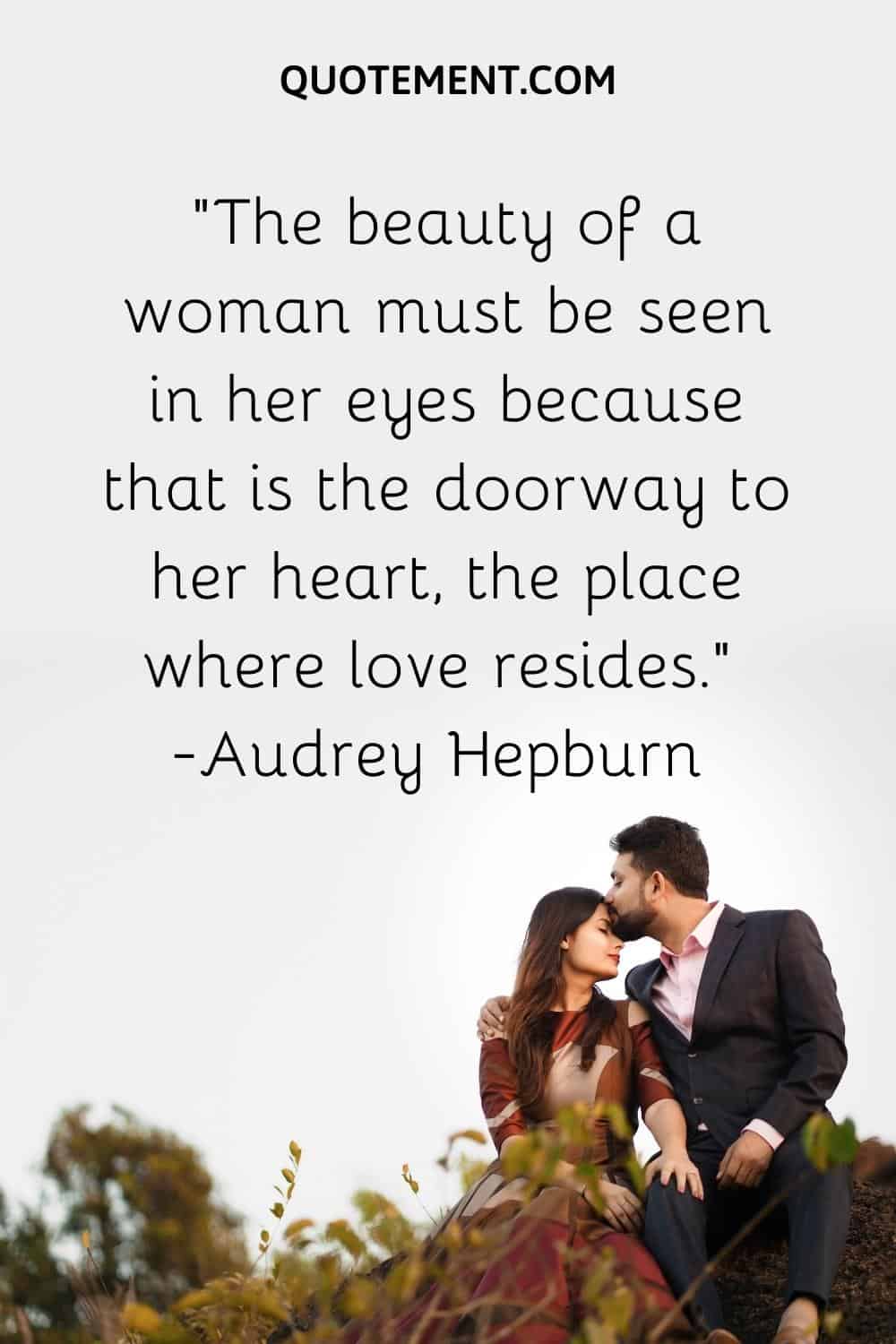 2. "Females are the most beautiful, gorgeous creatures in the whole world. And I think that we are gorgeous no matter what size we are." — Alicia Keys
3. "I believe in being strong when everything seems to be going wrong. I believe that happy girls are the prettiest girls. I believe that tomorrow is another day, and I believe in miracles." — Audrey Hepburn
4. "A woman with a voice is, by definition, a strong woman." — Melinda Gates
5. "When a woman is talking to you, listen to what she says with her eyes." — Victor Hugo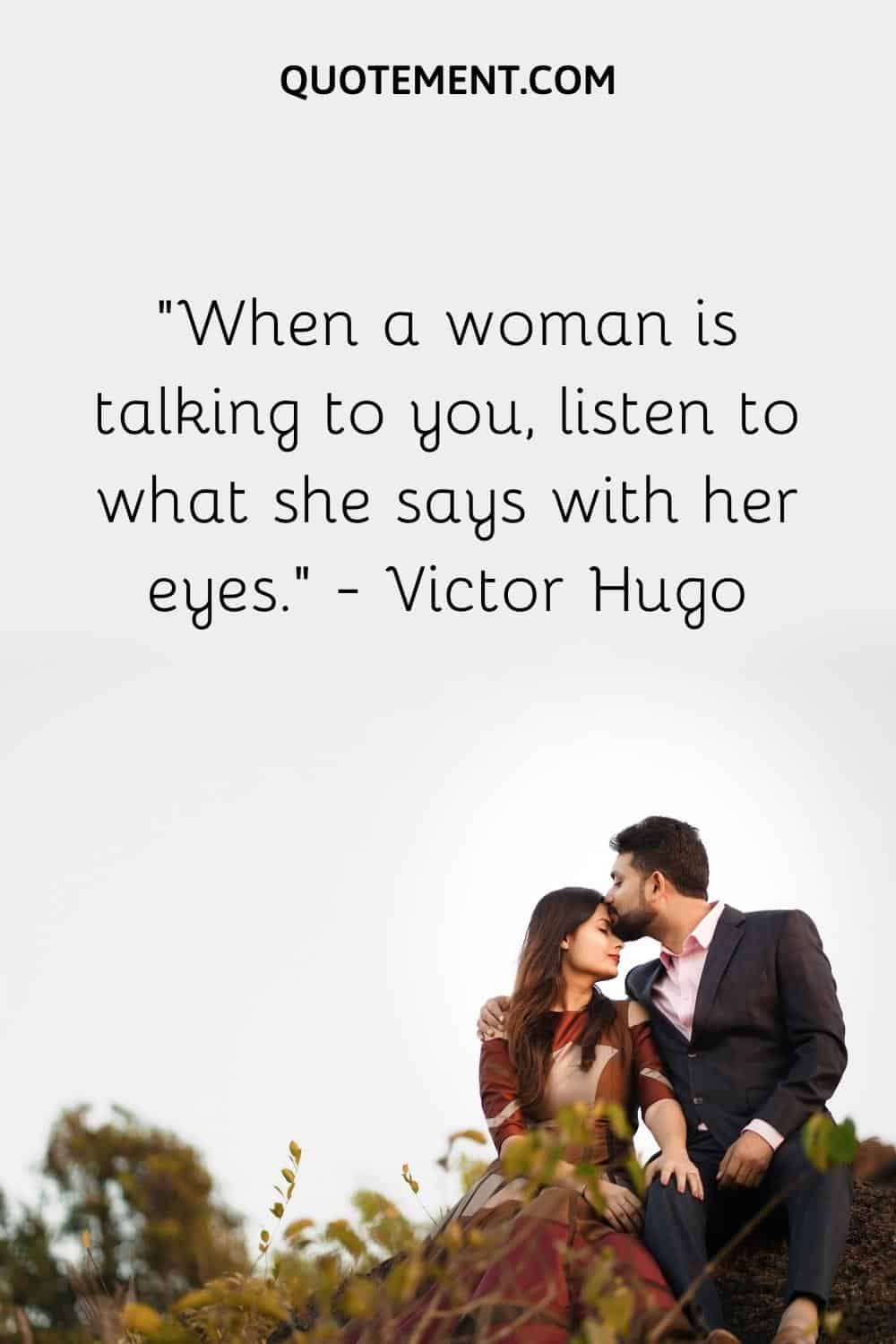 6. "There's something special about a woman who dominates in a man's world. It takes a certain grace, strength, intelligence, fearlessness, and the nerve to never take no for an answer." — Rihanna
7. "No man succeeds without a good woman behind him. Wife or mother, if it is both, he is twice blessed indeed." — Godfrey Winn
8. "A girl should be two things: who and what she wants." — Coco Chanel
9. "Strong women don't have 'attitudes', we have standards." — Marilyn Monroe
10. "If you want something said, ask a man; if you want something done, ask a woman." — Bozoma Saint John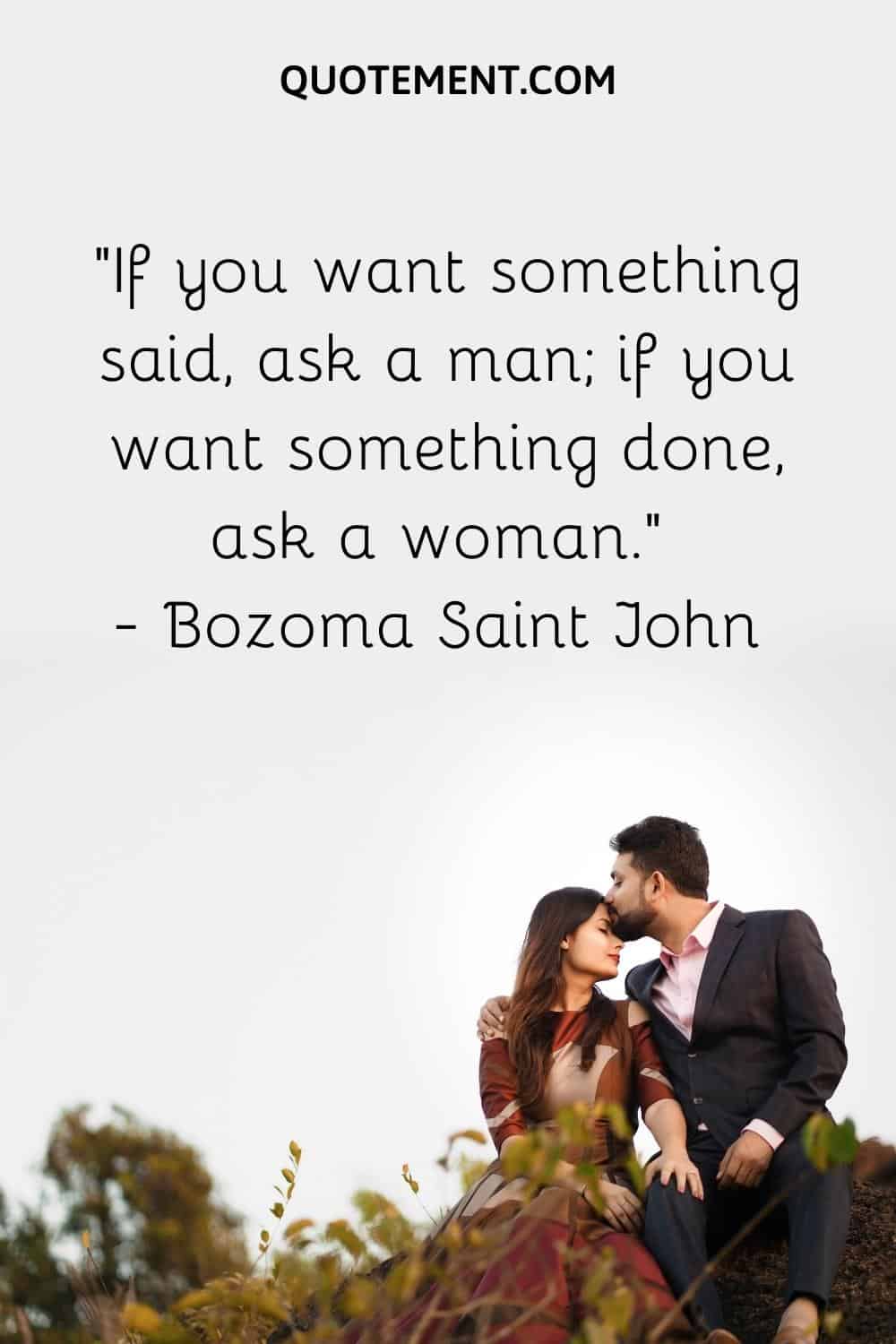 Final Thoughts
I hope my collection of woman respect quotes inspired you to treat women with love, respect, and care.
Until next time!