My fellow wine lovers, I have some good news for you; you have found the ultimate collection of the best wine captions anywhere on the web!
If a glass of perfect wine inspired you to snap a pic and post it on social media, there's something you need to know: there's no perfect Instagram post without a perfect caption!
Creating a perfect caption can be tricky, especially when it comes to wine.
When it comes to wine captions, you want something classy and smart that will show off your refined taste and capture your audience's attention.
Whether you are after something classy, funny, romantic, or simple, you will find all that and much more in this article.
Let's get down to business, shall we?
Best 30 Wine Captions For Instagram
1. If you walk a mile in my shoes, you'll end up at a wine bar.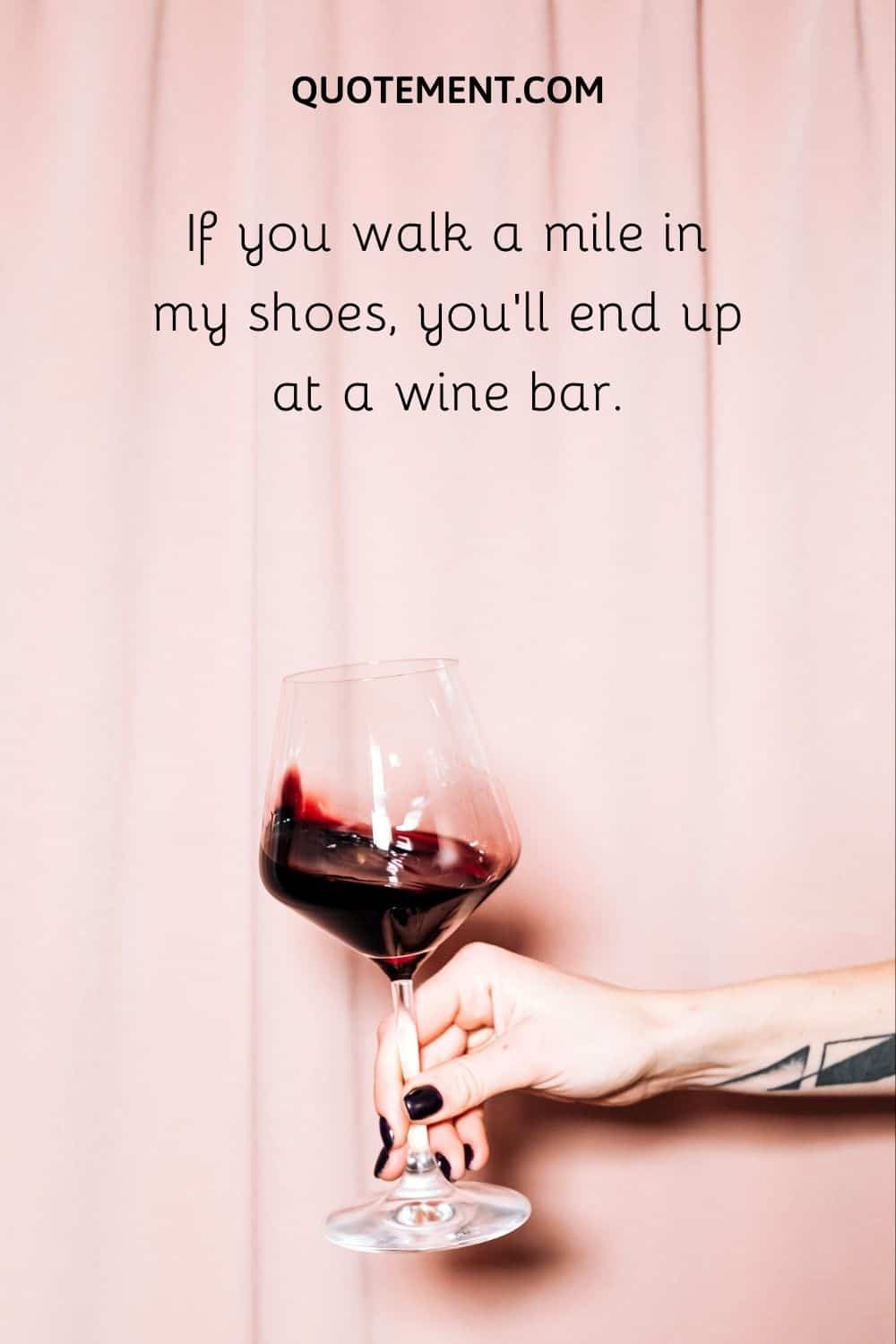 2. Wine Wednesday? What about wine every day?
3. Wine improves with age, I improve with wine.
4. Life is too short to drink bad wine.
5. If you've got the wine, I've got the time.
6. Wine pairs nicely with good friends.
7. Tonight's forecast… 99% chance of wine glass in my hand.
8. The bottle says "four servings," but my heart says one.
9. Music is the wine that fills the cup of silence.
10. I'm having fruit salad for dinner. Ok, it's mainly grapes. Ok, all grapes. Fermented grapes. I'm having wine for dinner.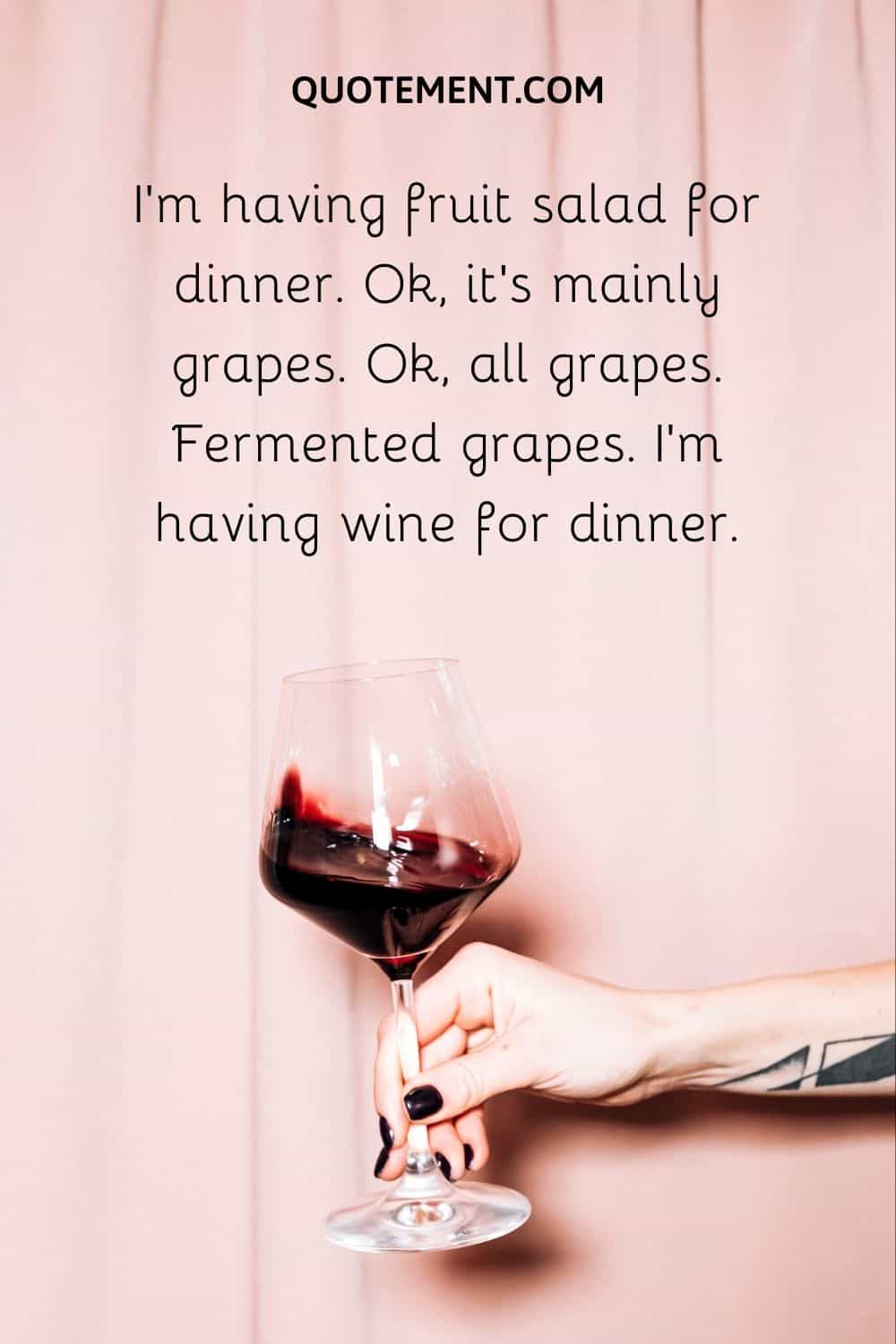 11. Hardest decision today: glass or bottle.
12. At this point, wine should sponsor me.
13. I would give up wine, but I'm not a quitter.
14. Open a bottle at the smallest excuse.
15. A meal without wine is like a day without sunshine.
16. Ask not what wine has done for you but rather what you are willing to do for some wine.
17. Wine is sunlight held together by water.
18. Laugh out loud after winning and dining a lot.
19. They should put more wine in a bottle, so there's enough for two people.
20. I could really go for a glass of wine and my own private island right about now.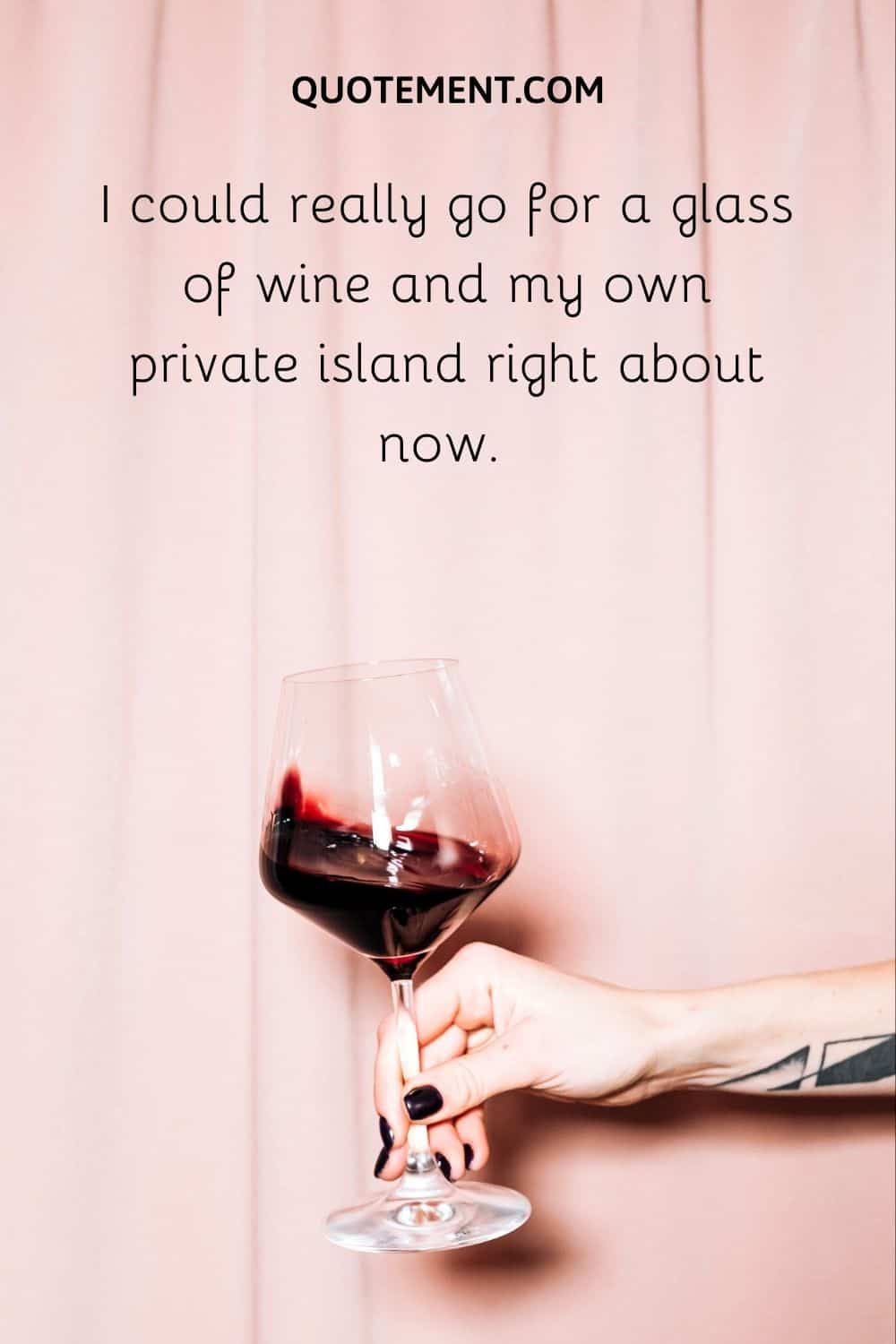 21. My only regret in life is that I did not drink more wine.
22. I make wine disappear. What's your superpower?
23. In victory, you deserve Champagne. In defeat, you need it.
24. Like human beings, a wine's taste is going to depend a great deal on its origins and its upbringing.
25. Wine makes daily living easier, less hurried, with fewer tensions and more tolerance.
26. Home is where the wine is.
27. A true friend reaches for your hand…and puts a glass of wine in it.
28. Madame, I may be drunk, but you are ugly, and tomorrow I will be sober.
29. Every empty bottle is filled with a great story.
30. Coffee keeps me going until it's acceptable to drink wine.
See also: 280 Awesome Coffee Captions To Show Your Coffee Obsession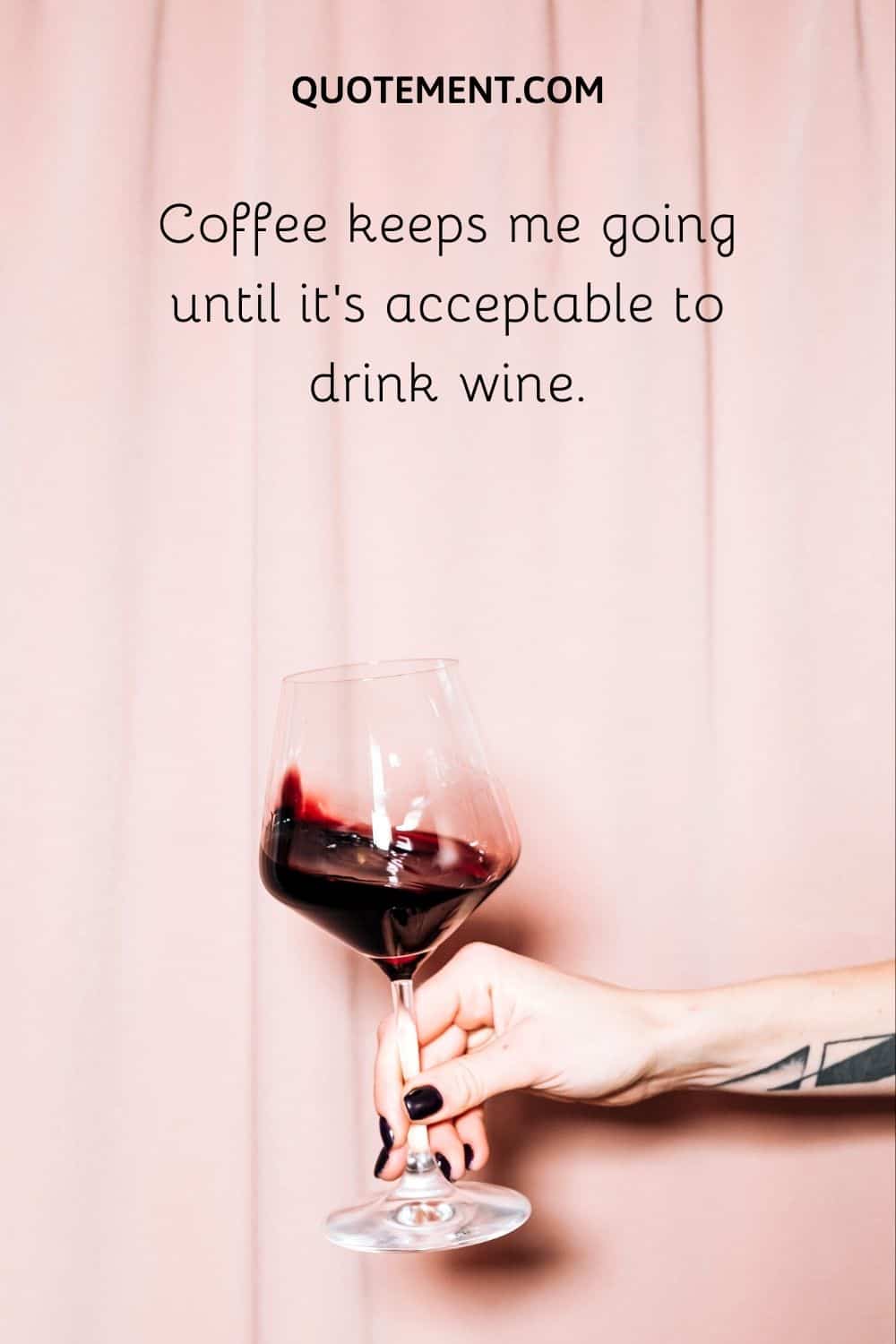 Classy Wine Captions For Instagram
Wine is classy, so wine captions should be classy too, and these are exactly that!
1. Sorrow can be alleviated by good sleep, a bath, and a glass of wine.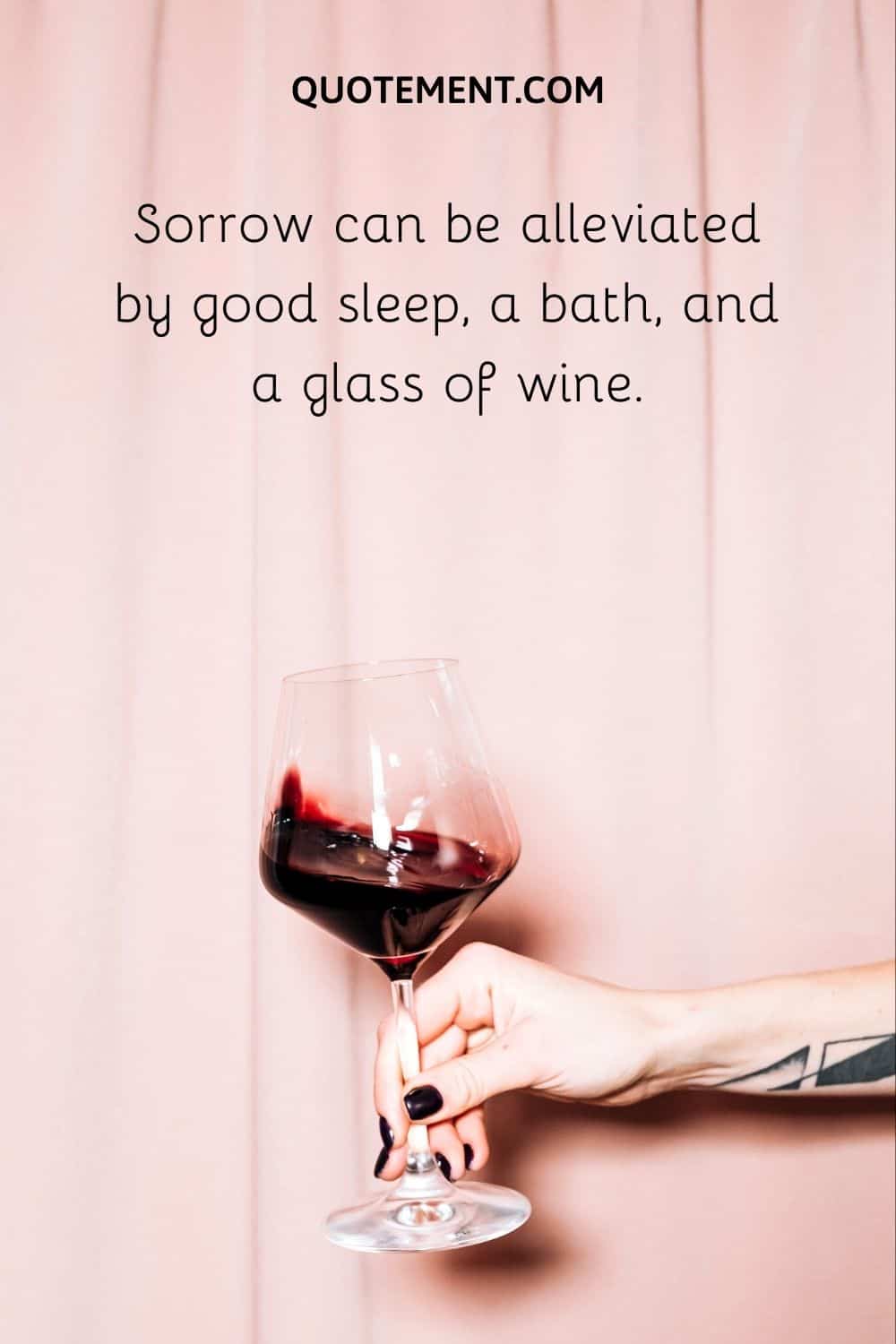 2. Red or white, sparkling and bright, our wines are an absolute delight.
3. Red lips and wine sips.
4. If it's pink or sparkly, yes, I want it.
5. Wine… the intellectual part of the meal.
6. Well-groomed champagne for every occasion.
7. The older a bottle of wine, the more improved its taste.
8. With wine and hope, anything is possible.
9. Our winemaking isn't just a craft. To us, it is an art.
10. If a life of wine, women, and song becomes too much, give up the singing.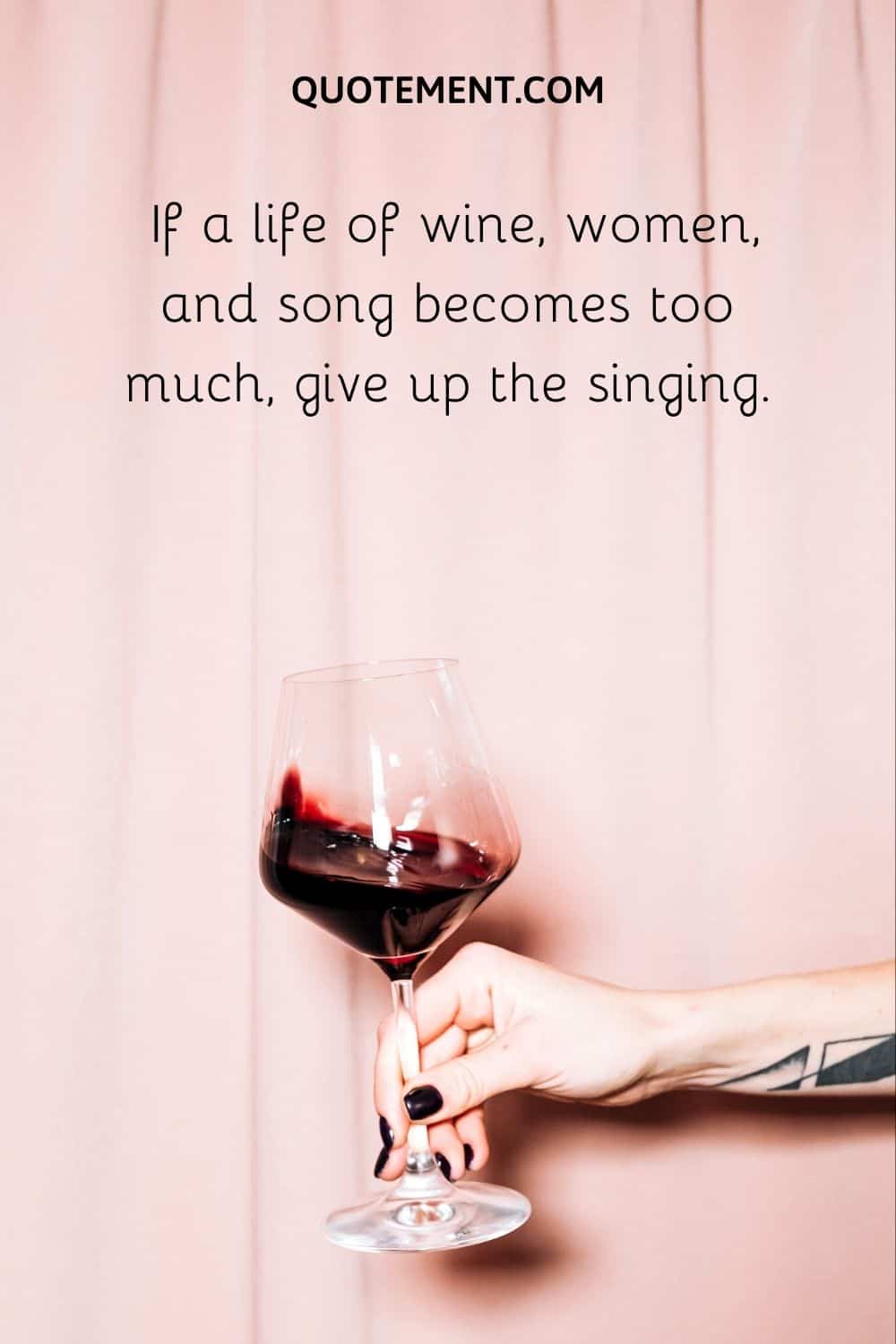 11. Age appears best in four things: old wood to burn, old wine to drink, old friends to trust, and old authors to read.
12. His lips drink water, but his heart drinks wine.
13. Love the wine you're with.
14. Drink like there is Pinot tomorrow.
15. Too much of anything is bad, but too much Champagne is just right.
16. Here for the right riesling.
17. Men are like wine – some turn to vinegar, but the best improve with age.
18. I'm determined to taste a new wine every week.
19. Sir, I did not count your glasses of wine, why should you number up my cups of tea?
20. There is a time and place for wine. In my hand and now.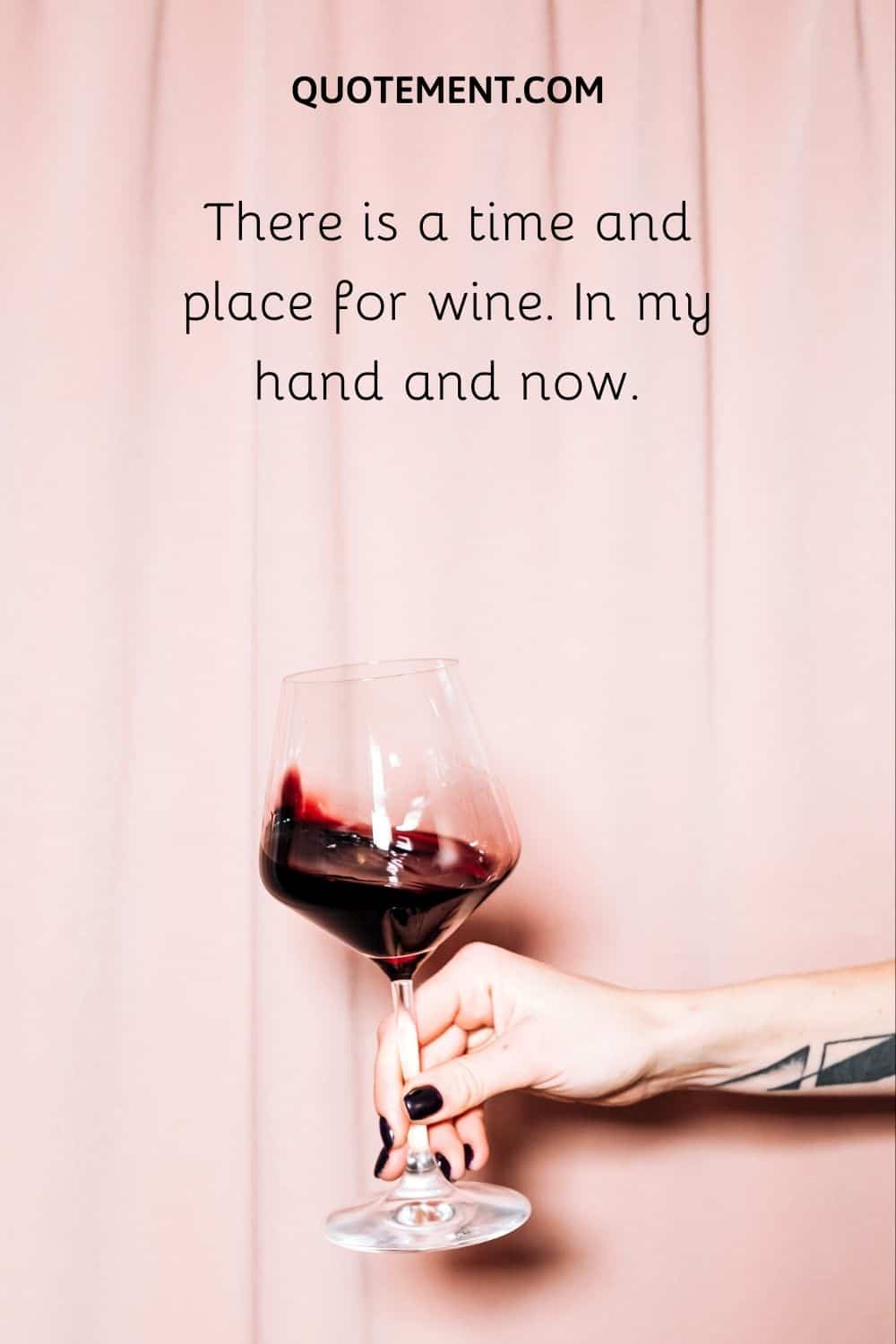 21. A wine that helps you in holistic living.
22. I can see no reason why anyone should ever go into a cellar unless there is wine involved.
23. Wine brightens the life and thinking of anyone.
24. Wine and cheese brie-long together.
25. Wine me up and watch me go!
26. If you love wine, you will love us.
27. Let us celebrate the occasion with wine and sweet words.
28. Every sip of these wines is a delightful experience.
29. Wine is the thinking person's health drink.
30. Wine makes every meal an occasion, every table more elegant, every day more civilized.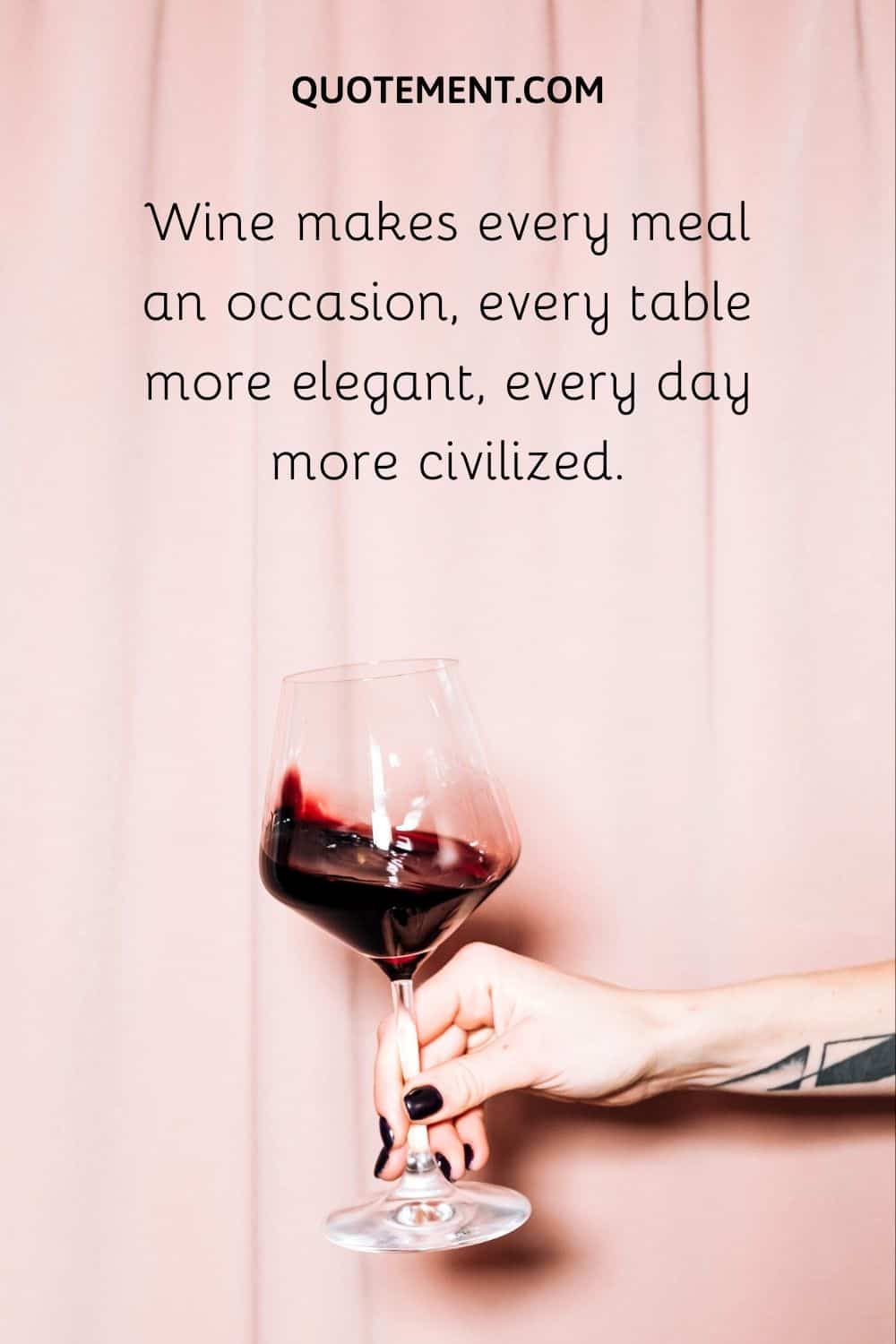 31. The glow is visible within a few days of drinking regularly.
32. Blessed with the best company and the best wine.
33. I felt once more how simple and frugal a thing is happiness: a glass of wine, a roast chestnut, a wretched little brazier, the sound of the sea. Nothing else.
34. But not with my wine, obviously. Give it back.
35. Life is nothing without wine.
36. Language is wine upon the lips.
37. All you need is a glass of wine and a pretty view.
38. There are many wines that taste great but do not drink well.
39. Wine cheers the sad, revives the old, inspires the young, and makes weariness forget his toil.
40. I don't get drunk, I get less classy and more fun.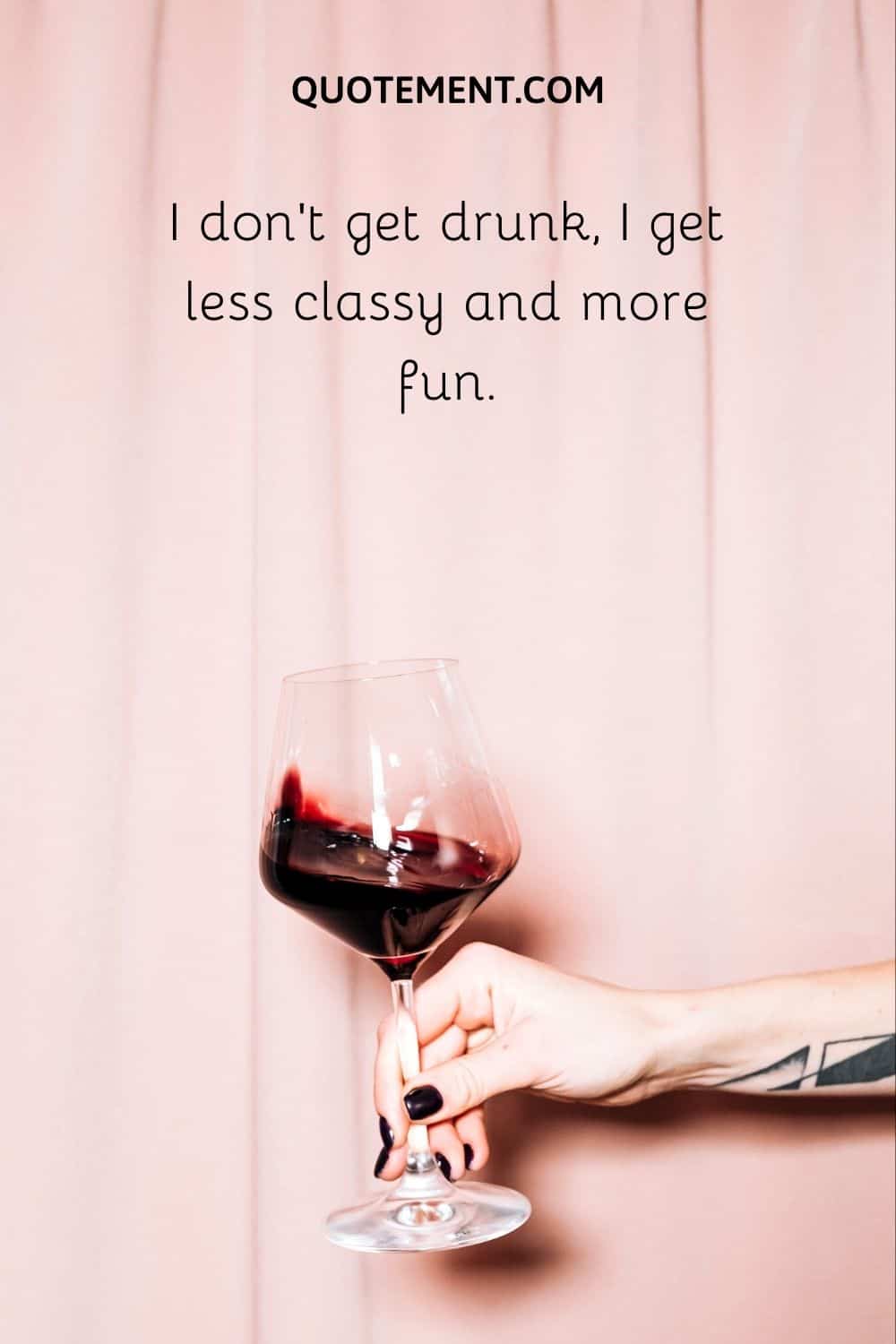 41. High and fine literature is wine, and mine is only water, but everybody likes water.
42. Summer is as fine as an aged wine.
Short Wine Captions For Instagram
If you like to keep it simple, you'll love these short wine captions. They are witty and catchy and will draw attention to your post in a split second!
1. You are so bottle full to me.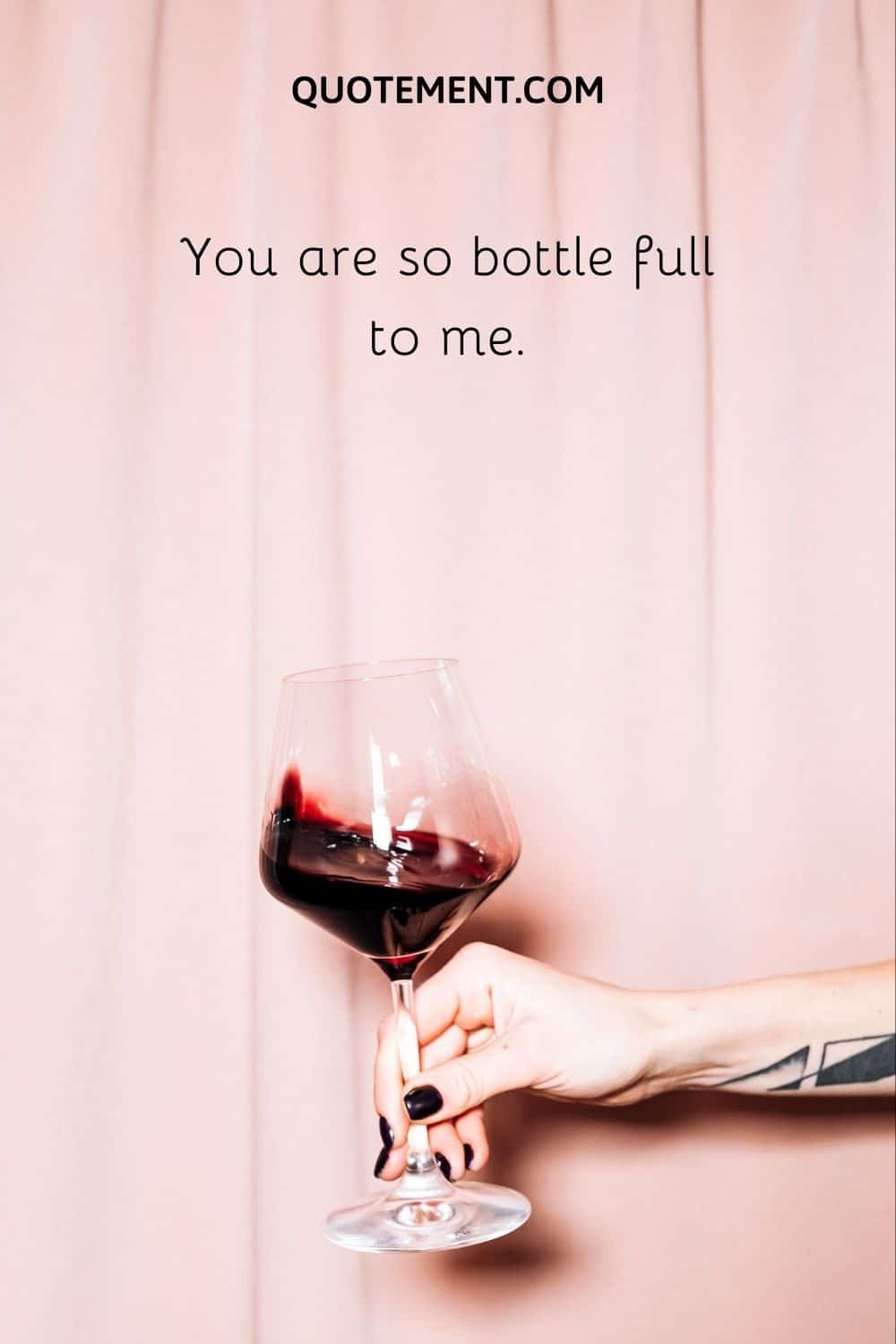 2. It's time to drink wine.
3. Uncork and unwind.
4. Wine not?
5. I'm so grapeful for you!
6. Partners in wine.
7. Sip, sip, hooray.
8. Drink wine, feel fine.
9. You can't sip with us.
10. Working nine to wine.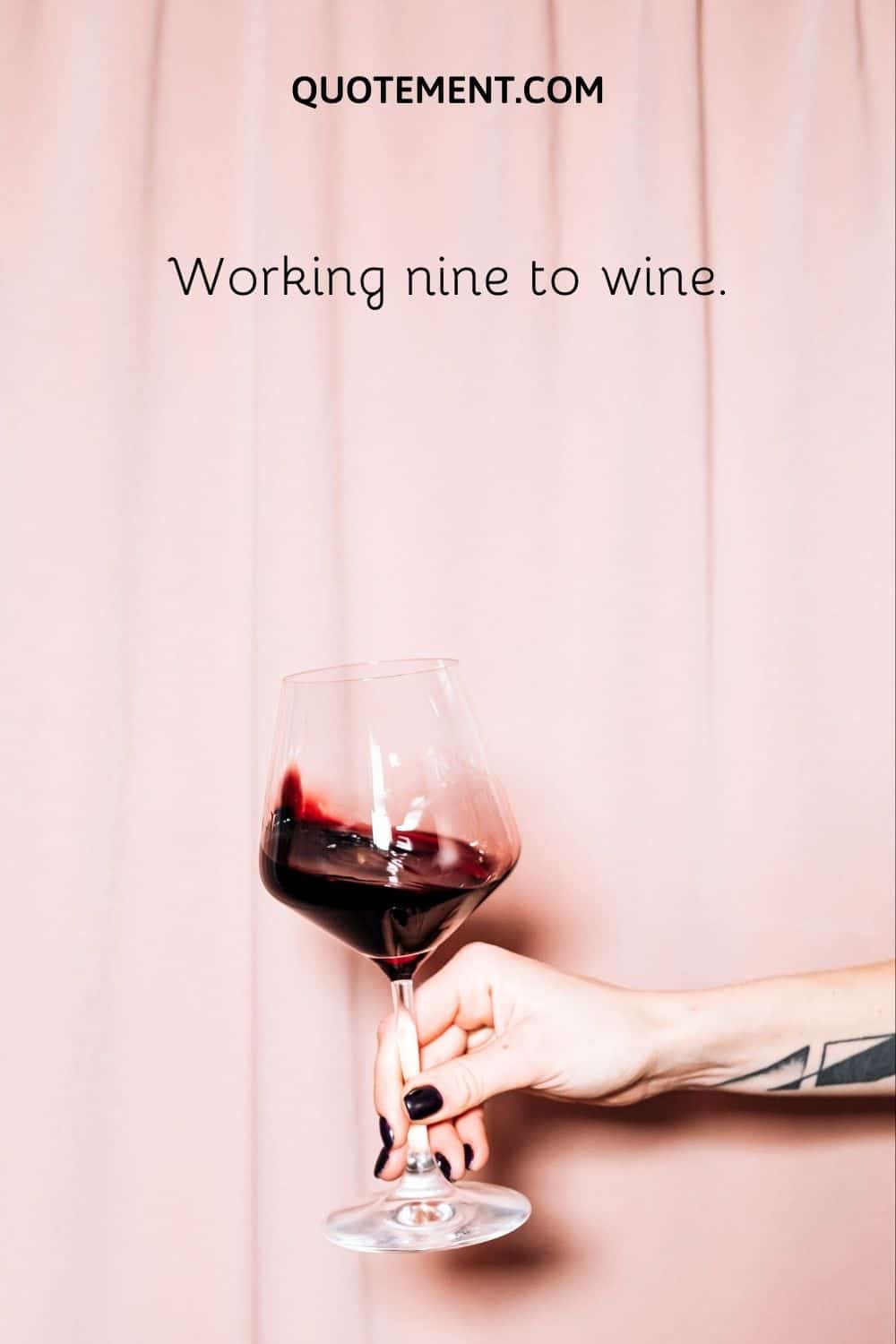 11. But first, wine.
12. Gone with the wine.
13. Winesday Wednesday.
14. I mead more wine.
15. Que Syrah, Syrah.
16. Be kind and re-wine.
17. Wine is my spirit animal.
18. A wine for everyone.
19. No wine left behind.
20. Wine a bit. You'll feel better.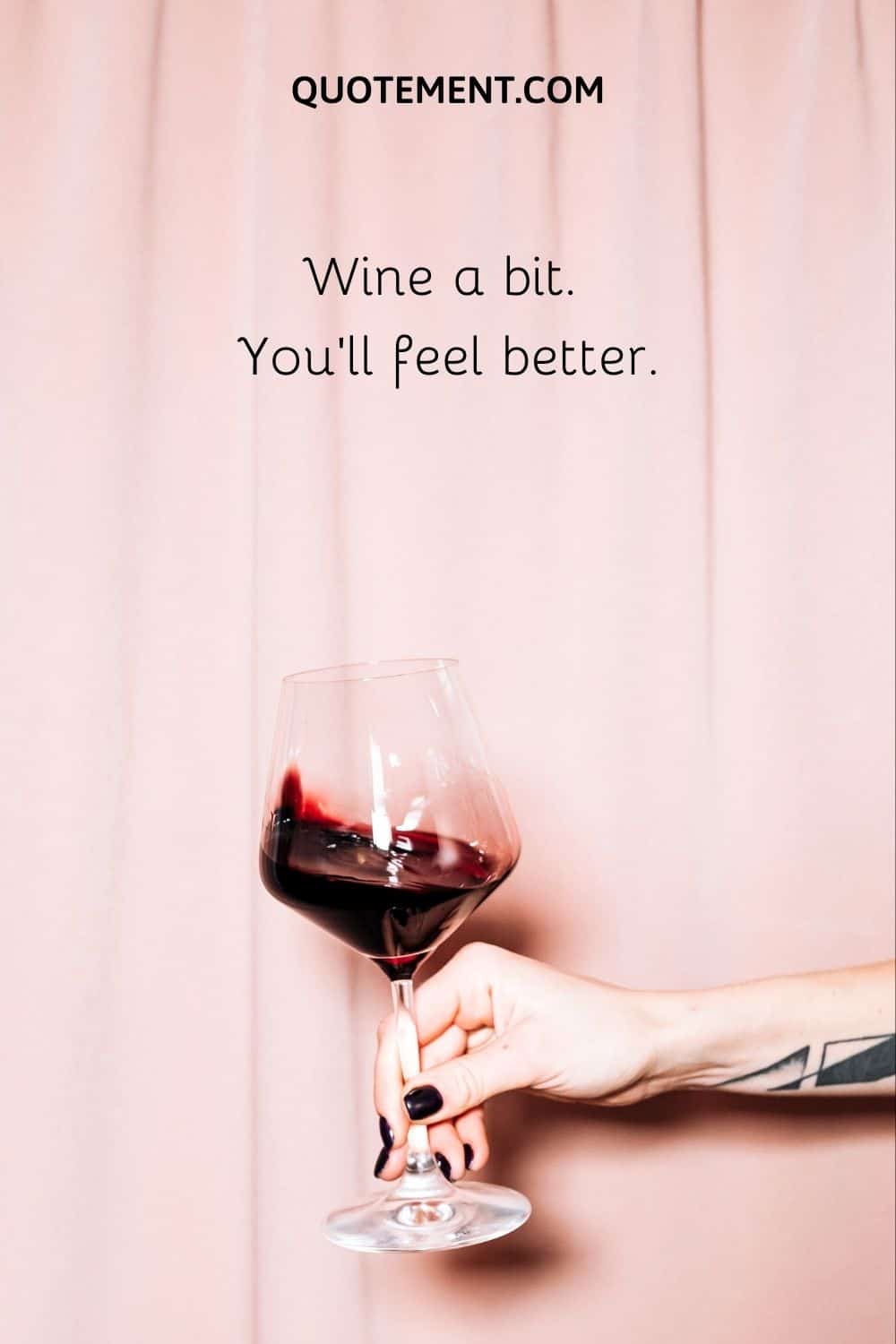 21. Make grape decisions.
22. Wine is life.
23. Drink wine or go to hell.
24. Time to wine down.
25. Back that glass up.
26. Aged like a fine wine.
27. I'm on cloud wine.
28. Coffee now. Wine later.
29. Wine is bottled poetry.
30. A friend of wine is a friend of mine.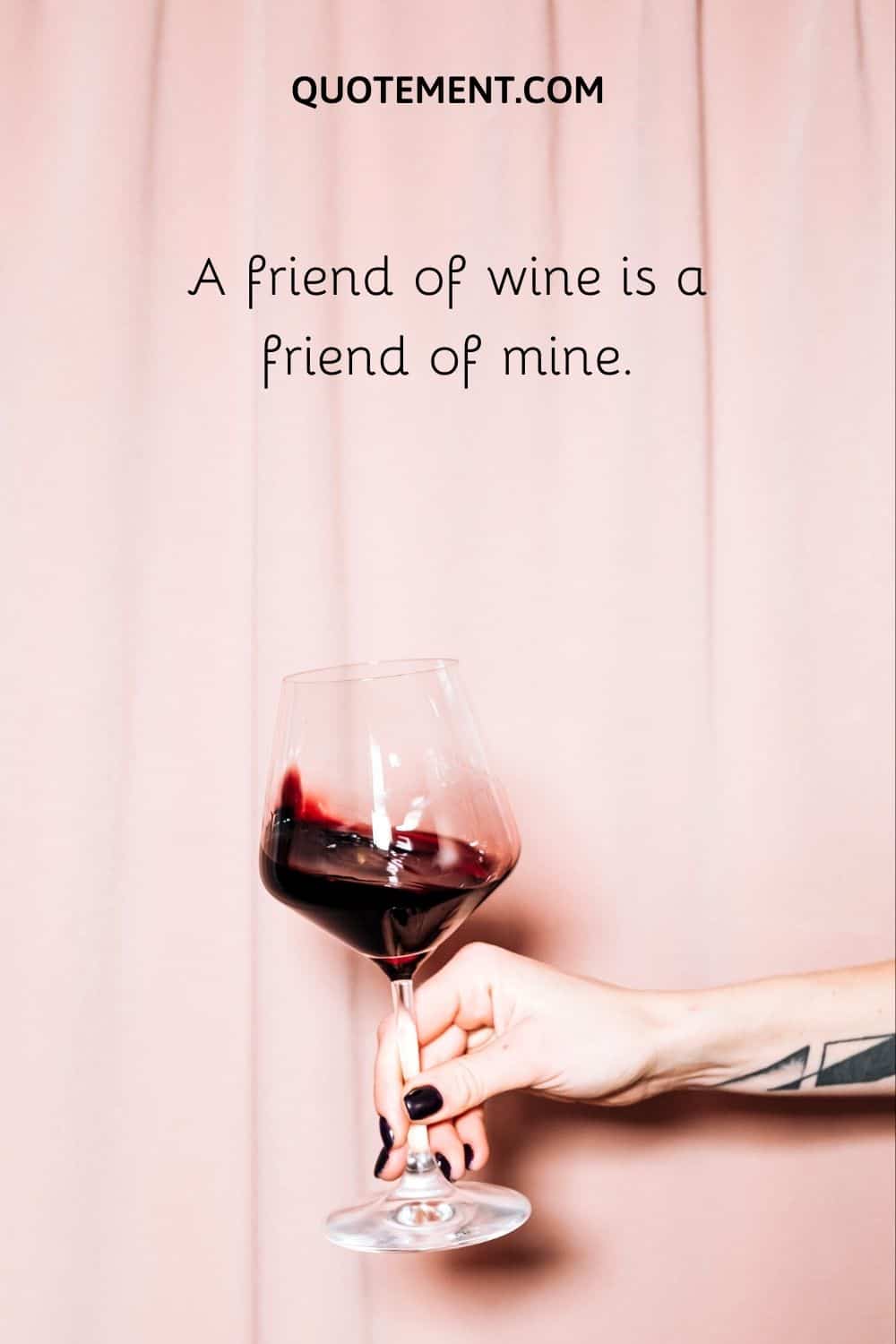 31. Save water, drink wine.
32. Keep calm and drink wine.
33. Oh, sweet child of wine.
34. In vino veritas.
35. My favorite wine is here.
36. Keep calm and pour on!
37. My wine or die.
38. My blood type is Wine-O.
39. Wine a little, laugh a lot.
40. Great minds drink alike!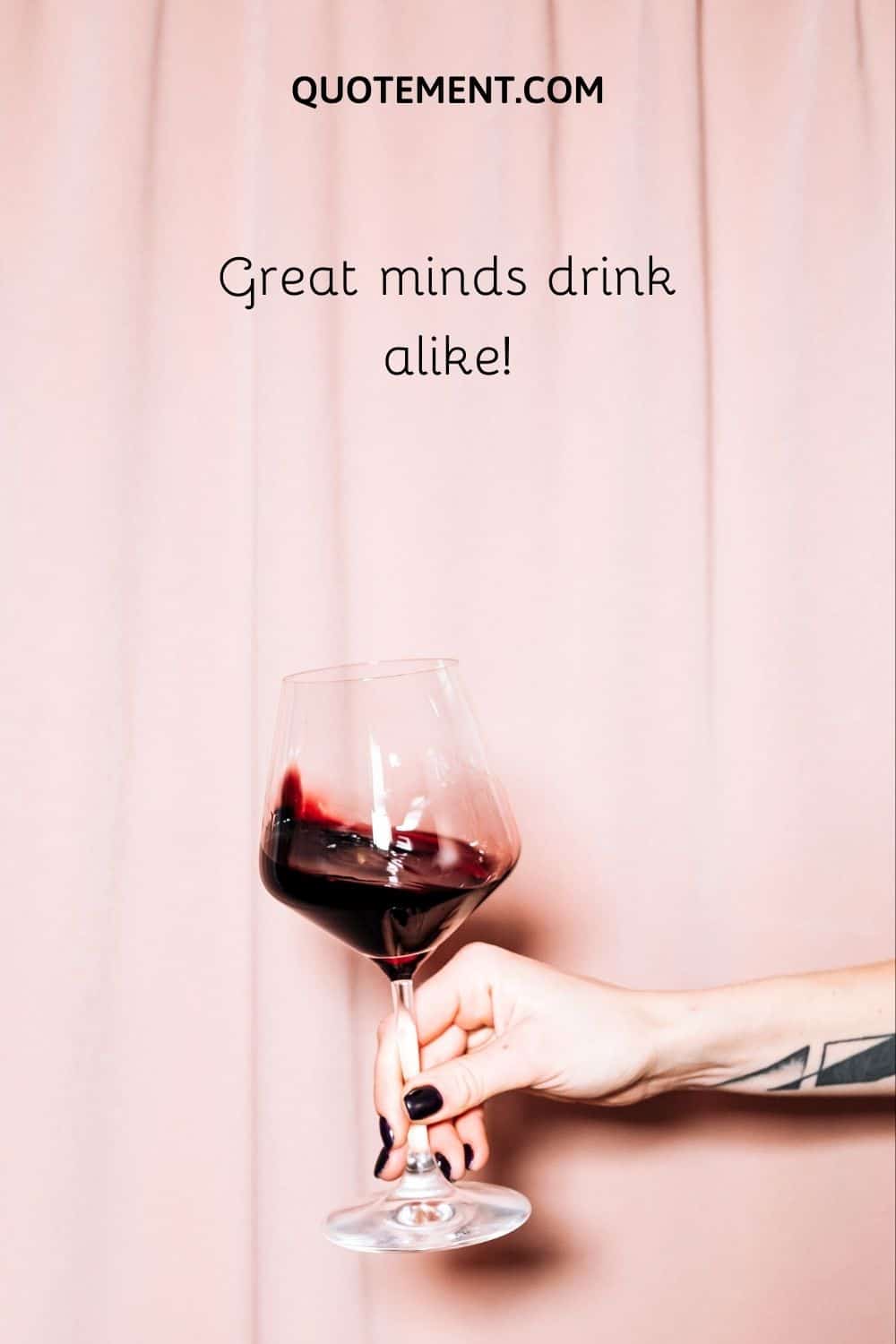 41. Double tap if you love wine.
42. Perfection in a glass.
43. No wine left behind.
44. Wine is the way to my heart.
45. Life is short, buy the good wine.
46. Resting wine face.
47. Alexa, pour more wine.
Clever Wine Captions For Instagram
I don't know about you, but drinking wine makes me feel super smart, just like these clever wine captions!
1. Drink wine, and you will sleep well. Sleep, and you will not sin. Avoid sin, and you will be saved. Ergo, drink wine and be saved.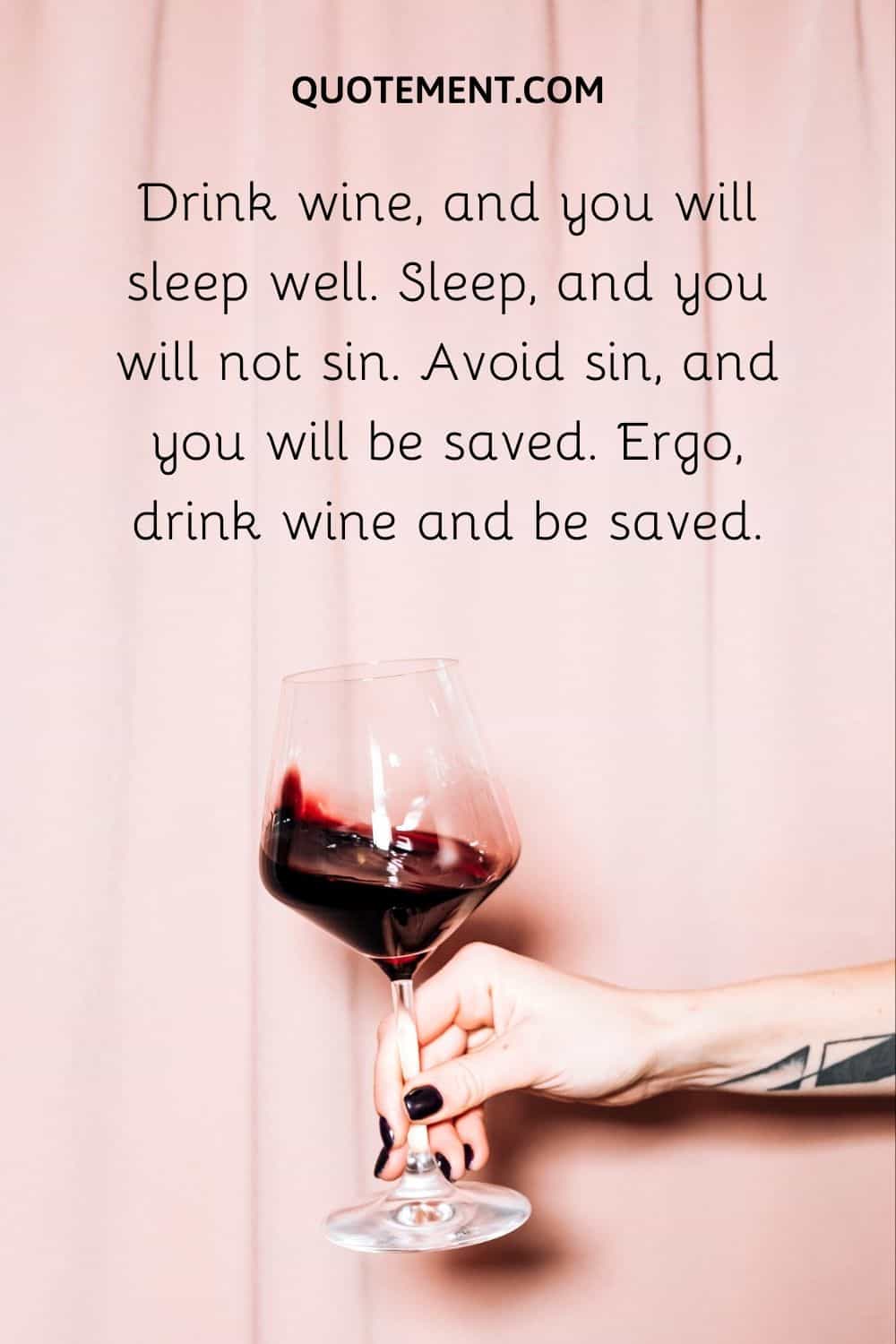 2. This home runs on love, laughter, and really good wine.
3. I only drink Champagne when I'm happy, and when I'm sad. Sometimes I drink it when I'm alone. When I have company, I consider it obligatory. I trifle with it if I am not hungry and drink it when I am. Otherwise, I never touch it – unless I'm thirsty.
4. Wine can be a better teacher than ink, and banter is often better than books.
5. Wine, because no great story starts with drinking water.
6. Wine makes all things possible.
7. Wine is the most civilized thing in the world.
8. A bottle of wine contains more philosophy than all the books in the world.
9. Rich in both color and taste.
10. Whether wine is a nourishment, medicine or poison is a matter of dosage.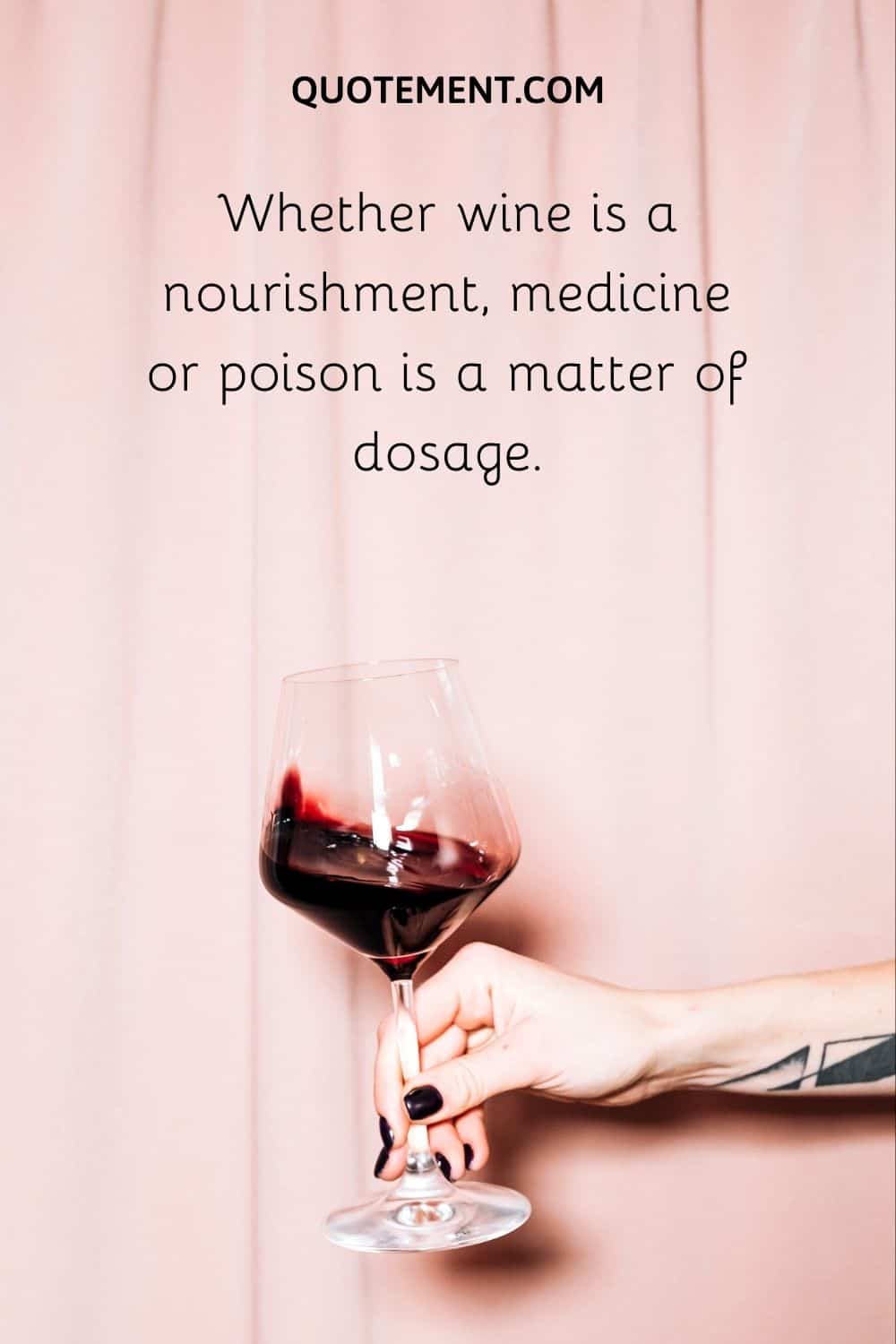 11. Every time I open a bottle of wine, it is an amazing trip somewhere.
12. Age and glasses of wine should never be counted.
13. Wine is like the incarnation – it is both divine and human.
14. Happiness is a well-stocked wine cabinet and a closet full of shoes.
15. Take life one sip at a time.
16. Port is not for the very young, the vain, and the active. It is the comfort of age and the companion of the scholar and the philosopher.
17. Wine adds a smile to friendship and a spark to love.
18. Wine is cheaper than therapy.
19. When you get hungover on wine, it's called a grape depression.
20. I feel sorry for people who don't drink. When they wake up in the morning, that's as good as they're going to feel all day.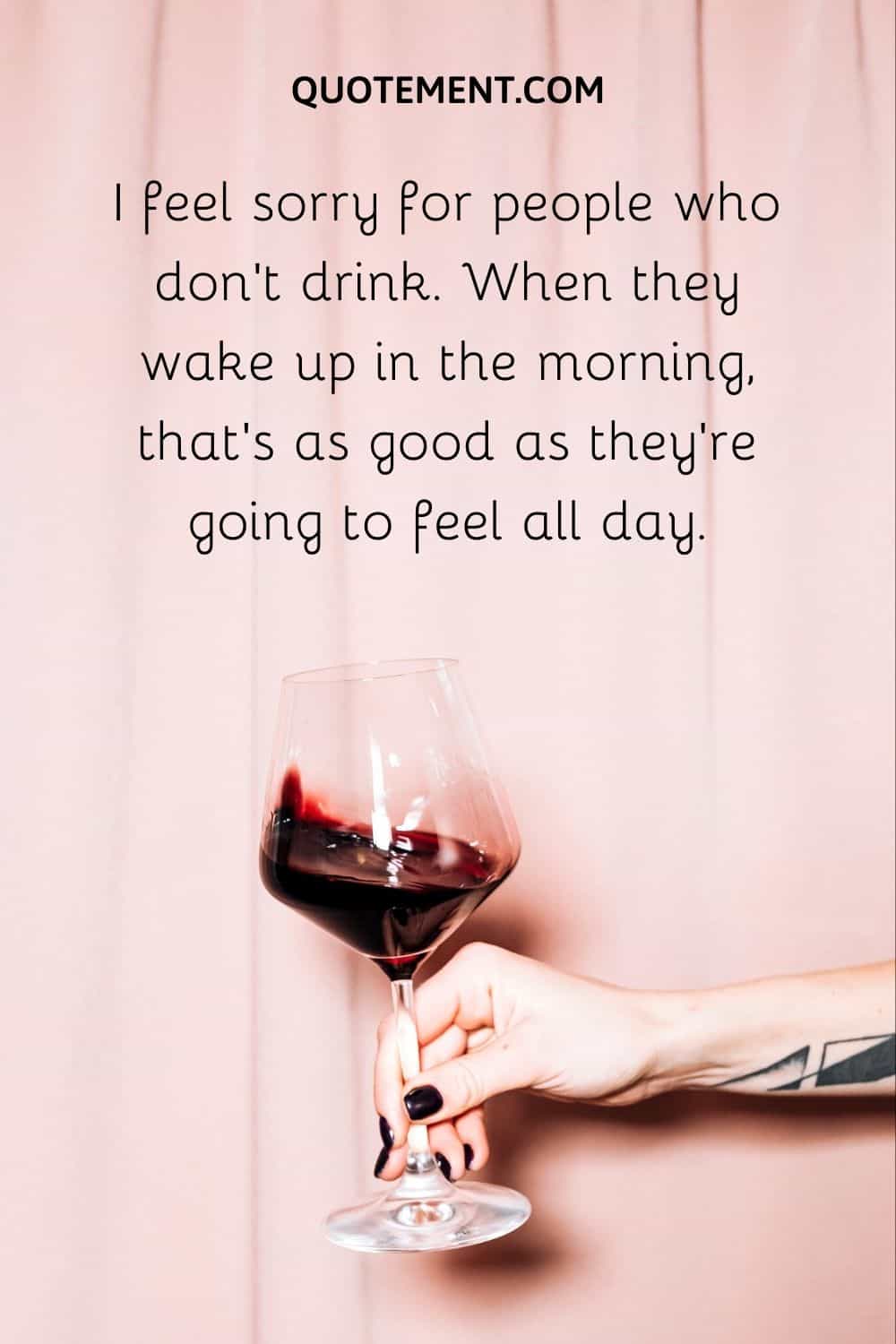 21. Every day is a very good day to drink wine.
22. Do I want a glass of wine? You bet Shiraz I do!
23. Wine comes in at the mouth, and love comes in at the eye. That's all we shall know for truth before we grow old and die. I lift the glass to my mouth, I look at you, and sigh.
24. A good day starts with coffee and ends with wine.
25. Better is old wine than new, and old friends like-wise.
26. Wine is constant proof that God loves us and wants to see us happy.
27. Champagne is the wine of civilization… the oil of government.
28. Compromises are for relationships, not wine.
29. Nothing is so effective in keeping one young and full of lust as a discriminating palate thoroughly satisfied at least once a day.
30. Wine improves with age. The older I get, the better I like it.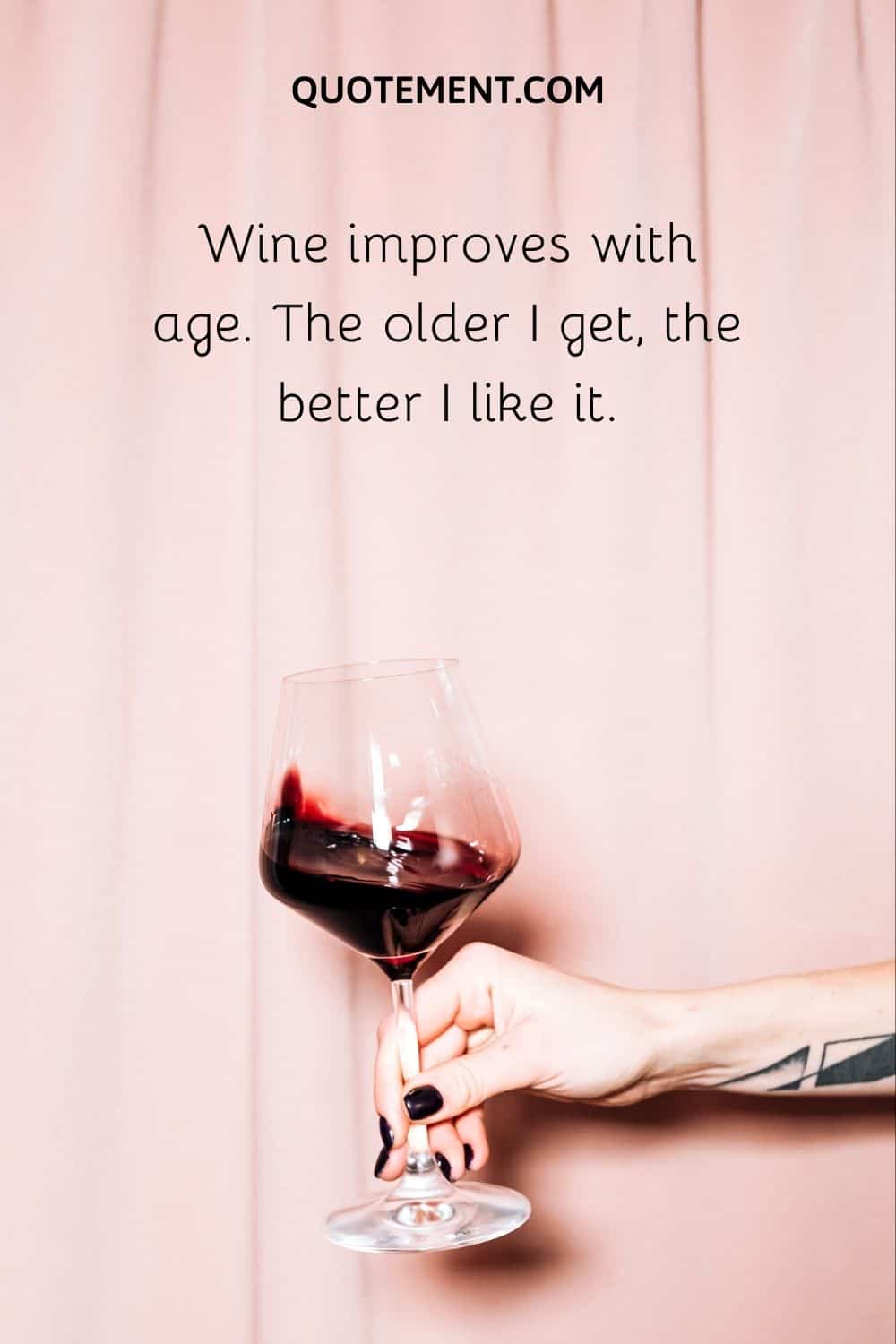 31. There are days when solitude is a heady wine that intoxicates you with freedom.
32. A meal without wine is called breakfast.
33. I really love how there are no rules with wine names!
34. There are just certain moments where wine is the only answer.
35. Your job will still be waiting after you enjoy a glass of wine.
36. This is one of the disadvantages of wine, it makes a man mistake words for thoughts.
37. Give me books, French wine, fruit, fine weather, and a little music played out of doors by somebody I do not know.
38. A wine a day keeps the doctor away.
39. If a glass of wine is good for you, a whole bottle must be amazing.
40. I'm not having a glass of wine, I'm having six. It's called a tasting and it's classy!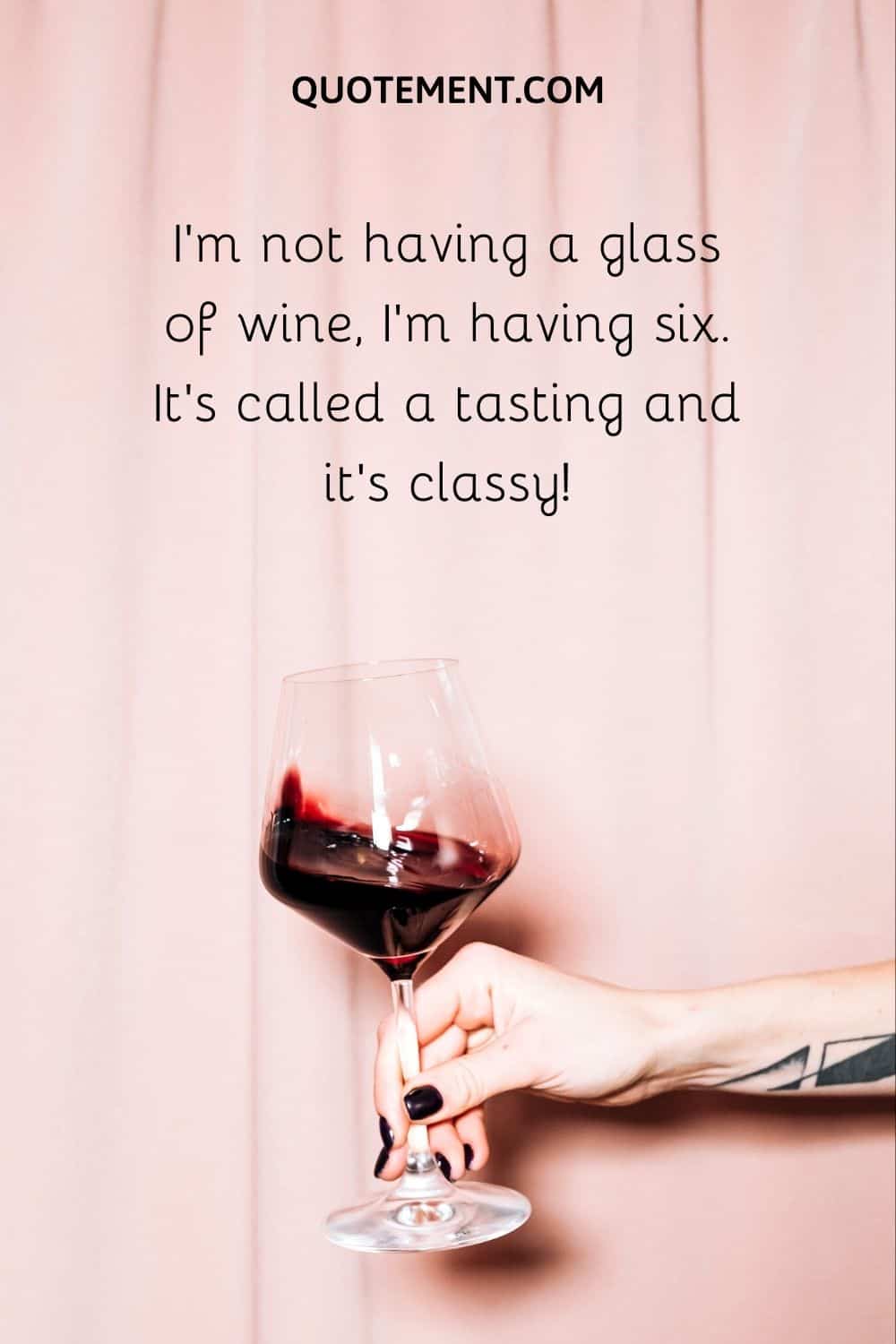 41. Wine Wednesday is the perfect start to the middle of the week.
42. Wine: A drink before a meal gives you an appetite; a drink during the meal helps you enjoy it more, and a drink after the meal is to help you digest it.
43. Spilling a glass of wine is the adult equivalent of letting go of a balloon.
44. If you can't be with the one you love, love the wine you're with.
45. Quickly, bring me a beaker of wine so that I may wet my mind and say something clever.
46. Wine is like duct tape, it fixes everything.
47. It doesn't matter if the glass is half empty or half full. There's clearly room for more wine.
Funny Wine Captions For Instagram
Show off your sense of humor with one of these funny wine captions for Instagram!
1. I cook with wine, sometimes I even add it to the food!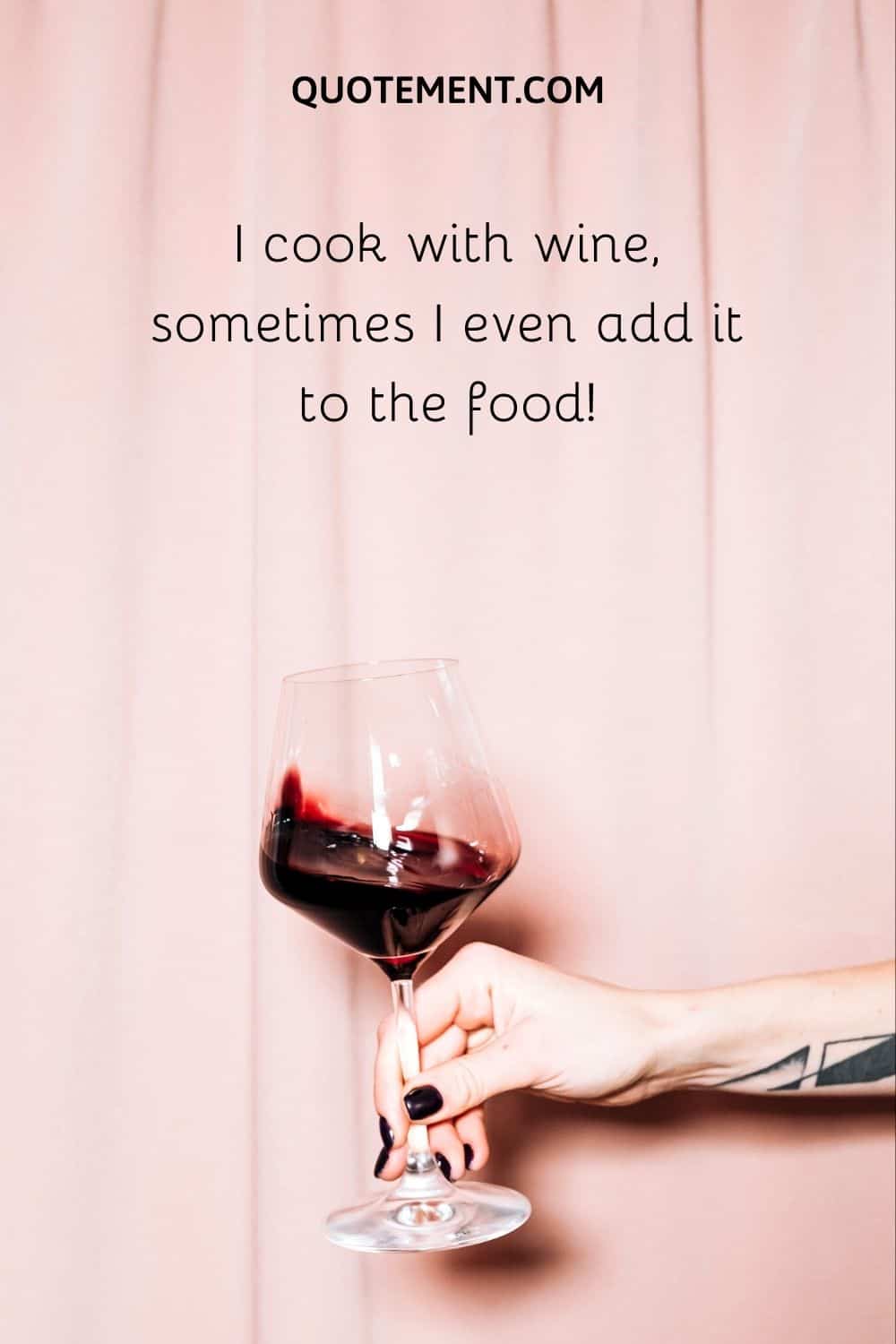 2. It's wine o'clock somewhere.
3. Wine is the answer. I just don't remember the question.
4. I don't complain, I just wine.
5. Sip happens. It's okay to wine.
6. I just rescued some wine. It was trapped in a bottle.
7. I'll be there in a prosecco!
8. Hakuna Moscato: it means drink wine.
9. What did the grape say when it was crushed? Nothing, it just let out a little wine.
10. Dear Jesus, I can afford wine. How about you start turning water into gas?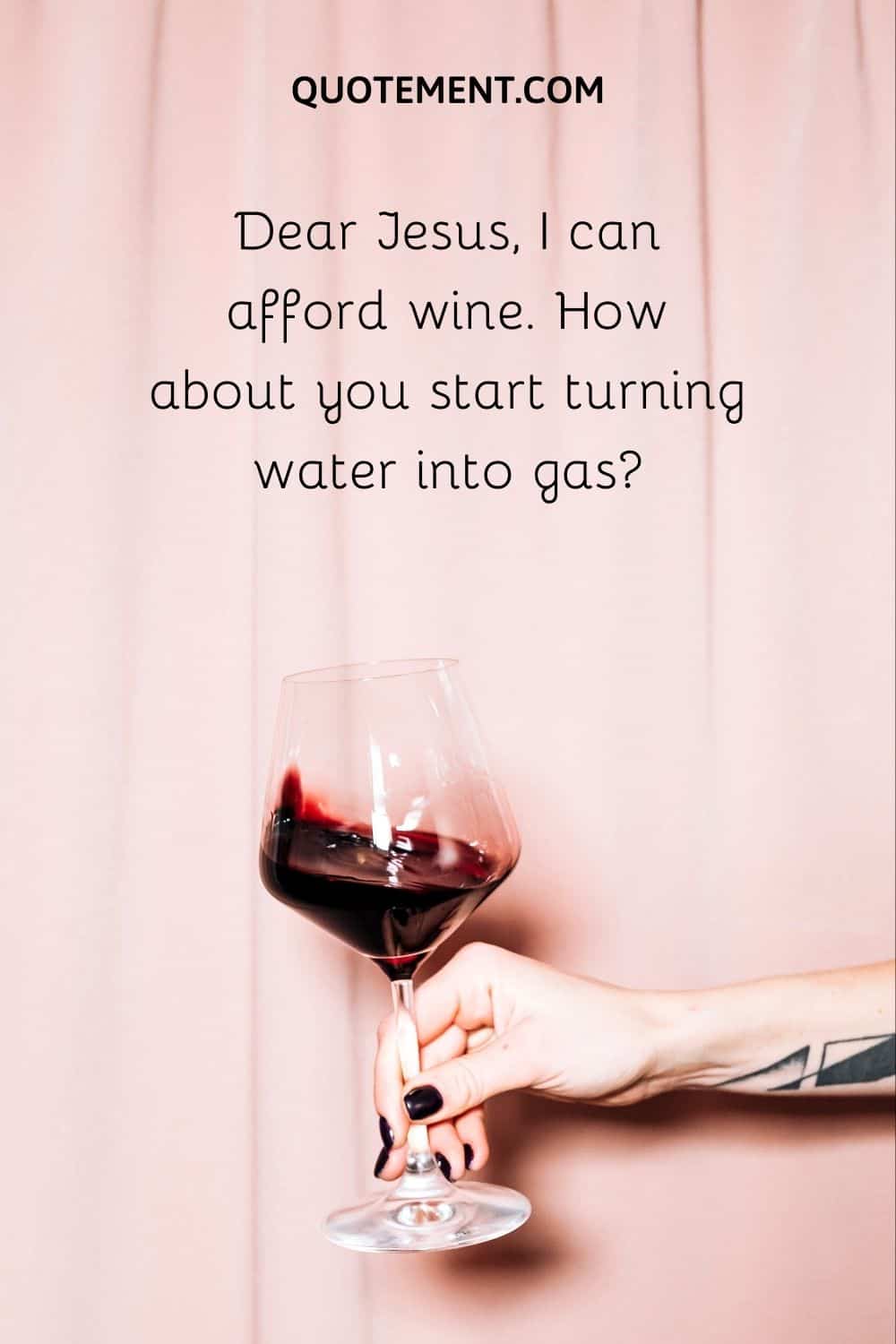 11. We're on an all-grape diet.
12. It's not a hangover, it's wine flu.
13. Sip me, baby, one more time.
14. Adulting makes me wine.
15. Cheers to pour decisions.
16. There hasn't been a wine I haven't liked.
17. Wine does not solve problems, but neither does water.
18. Should I start an Instagram account where I rate wines?
19. German wine is Gewurzt!
20. I'm a wine enthusiast. The more I drink, the more enthusiastic I become!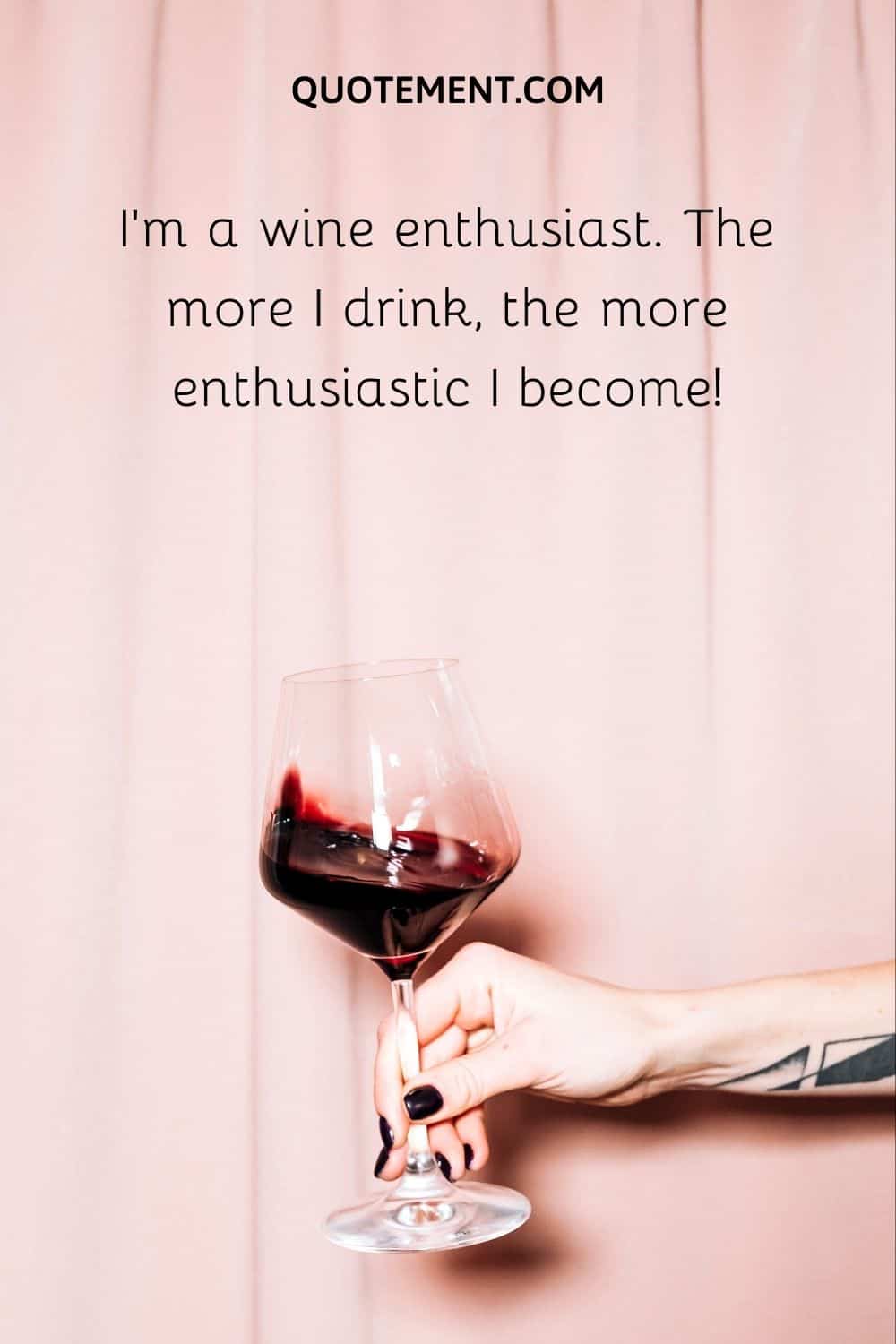 21. It is the wine that leads me on.
22. Oops! Did I buy wine instead of milk again?
23. I'm so outdoorsy. I taste wine on my patio.
24. Wine flies when you are having fun.
25. I don't have a beer belly, I have a wine barrel.
26. In dog wines, I only had one.
27. When I sip, you sip, we sip.
28. We make some really grape decisions.
29. After drinking so much wine, I need a Napa!
30. I enjoy long romantic walks down the wine aisle.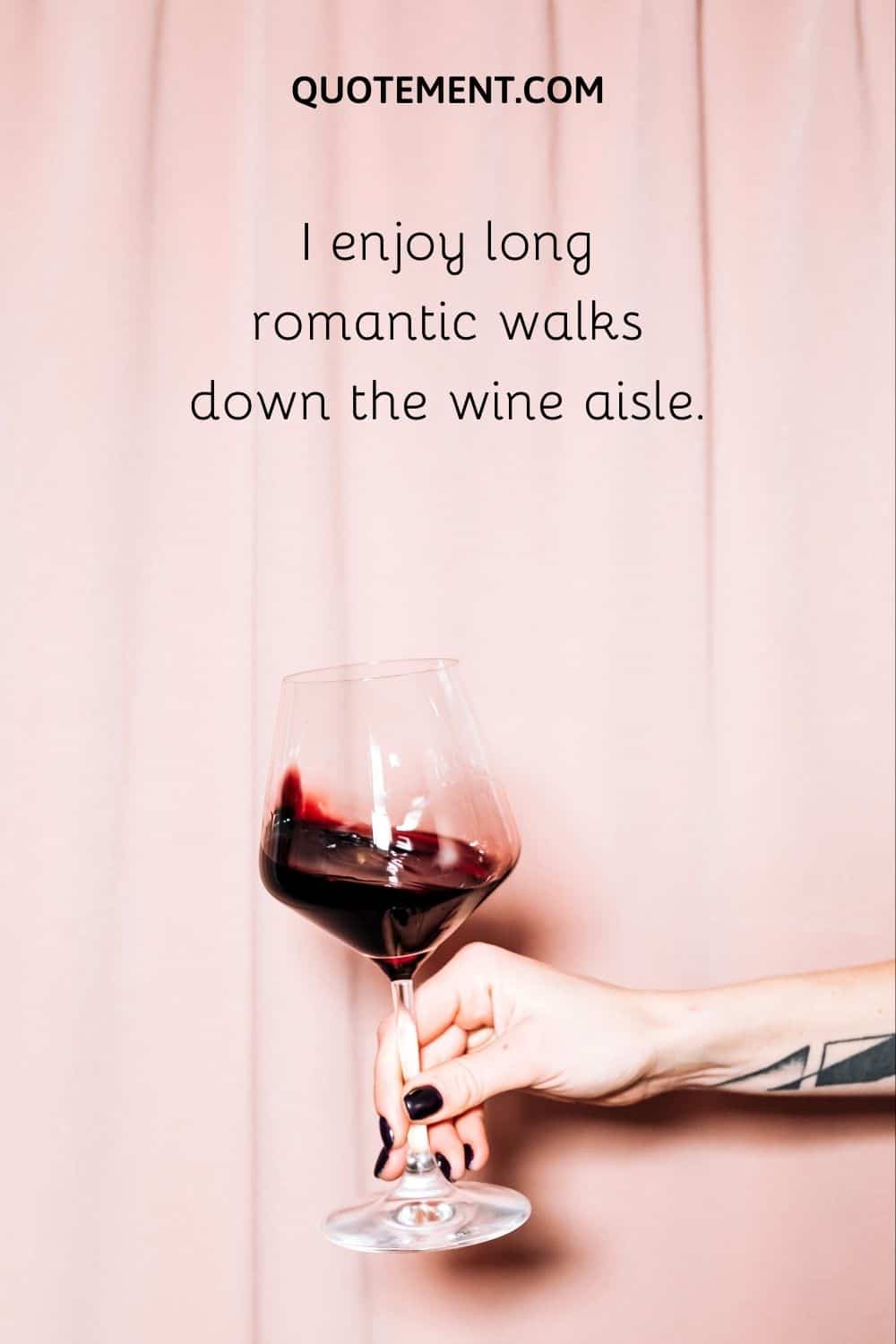 31. Is there wine where you are?
32. I need a glass of wine…or a bottle…or a winery in Italy.
33. You could be my flamingo. 'Cause pink is the new kinda lingo.
34. I drink wine to sanitize my insides.
35. You look like I need a wine.
36. I'm not a wino. I'm a wine-YES!
37. Feel the class after drinking a glass.
38. Not wine-ing about this situation.
39. I still don't know what a wine stopper is for.
40. A day without wine is like….just kidding, I have no idea.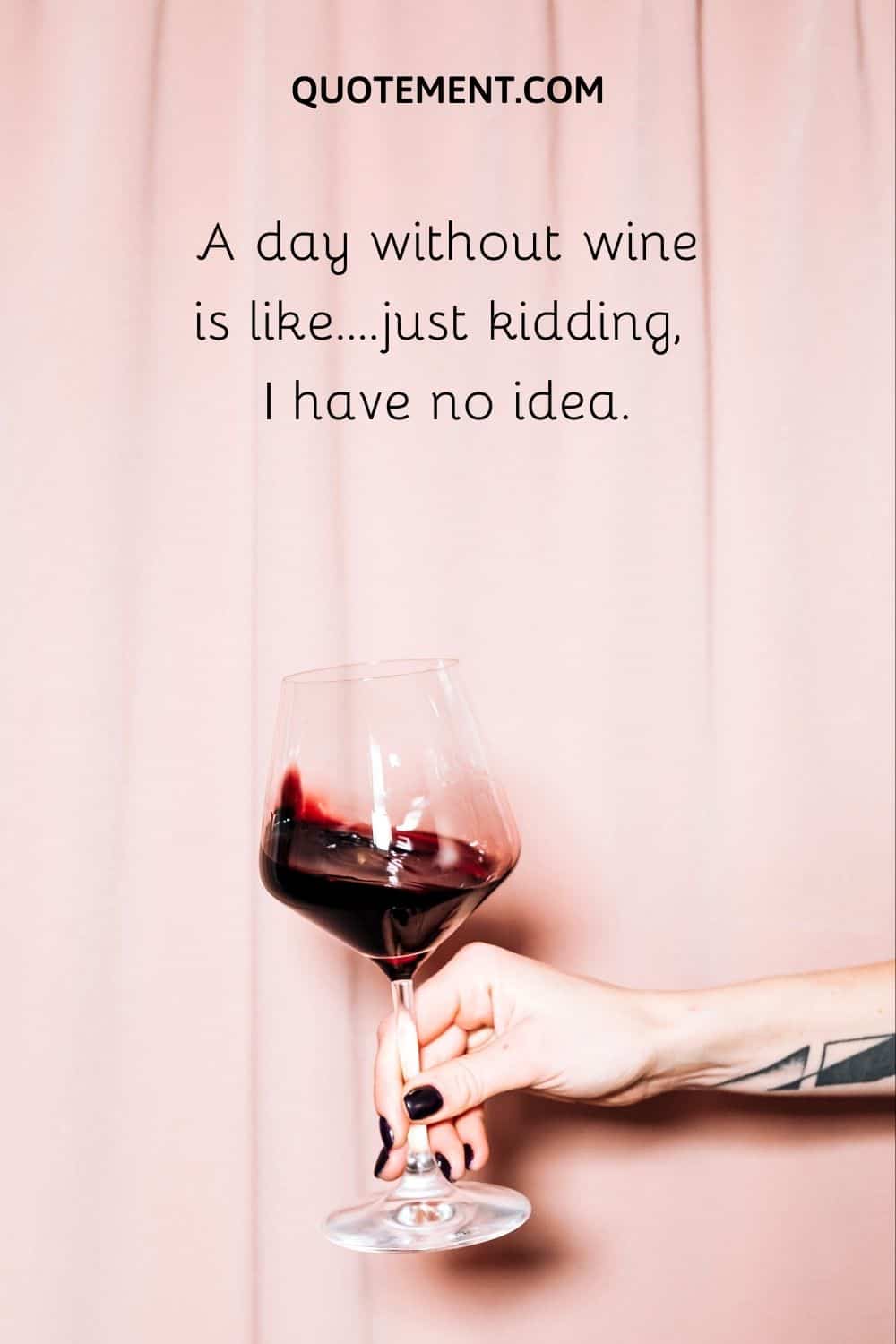 41. Just putting my cheese board to good use.
42. Gluten-free. Dairy-free. Fat-Free. I love the wine diet!
43. My day just went from super to sip-erb, really quick.
44. Step aside, coffee! This is a job for alcohol!
45. I do yoga to relax. Just kidding, I drink wine in my yoga pants.
46. Someone please call nine wine wine.
Red Wine Captions For Instagram
What is your favorite wine? If it's red, you'll love these amazing wine captions for all red wine lovers.
1. I like my coffee black, my beer from Germany, and wine from Burgundy. The darker, the better.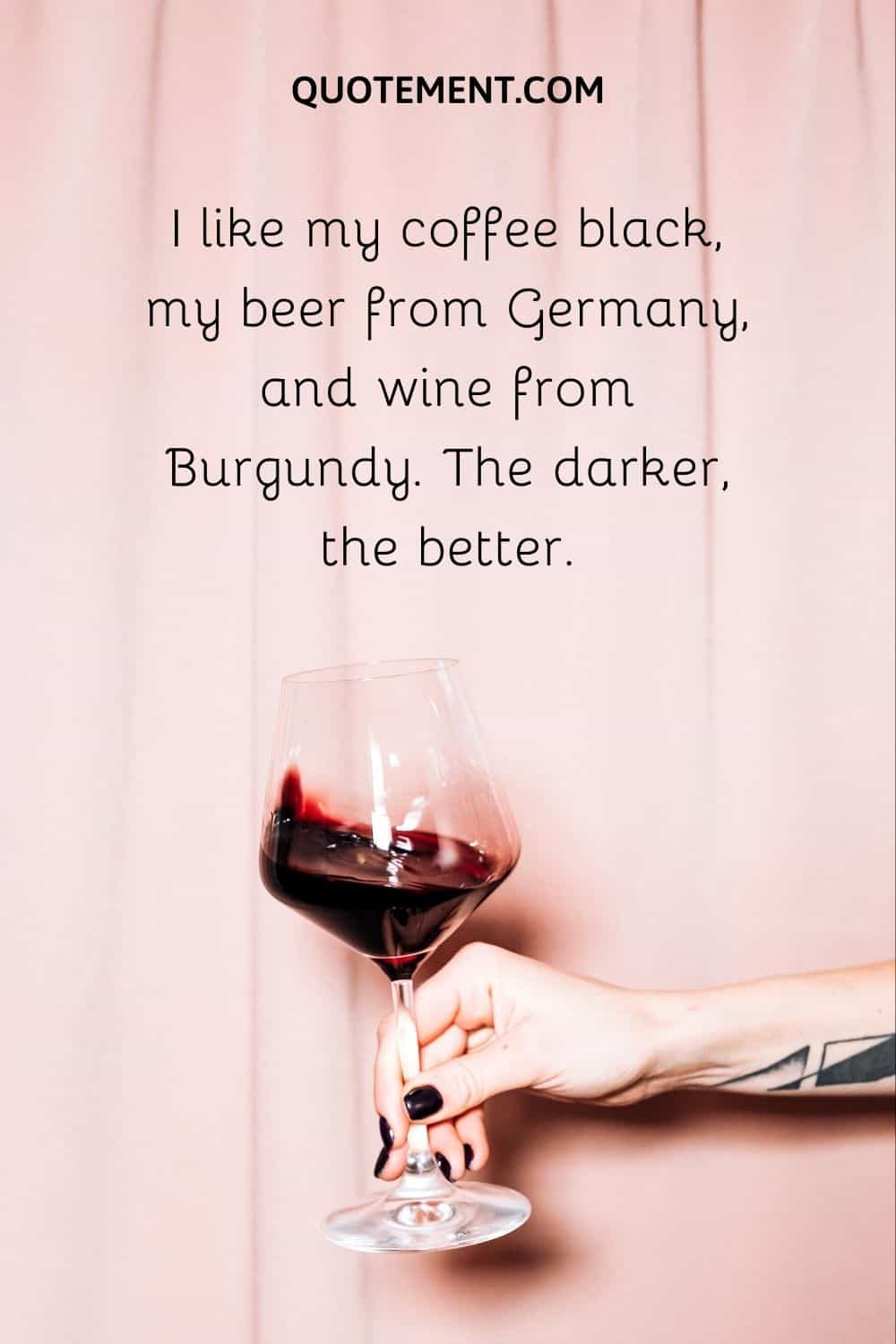 2. I left him on red.
3. The reddest wines for the reddest lips.
4. One drop of wine is enough to redden a whole glass of water.
5. How merlot can you go?
6. Red, wine, and booze.
7. Wines to relax after a long day.
8. You had me at Merlot.
9. A wine that compliments the scenery.
10. Exercise makes you more attractive. So does Pinot Noir. Your choice.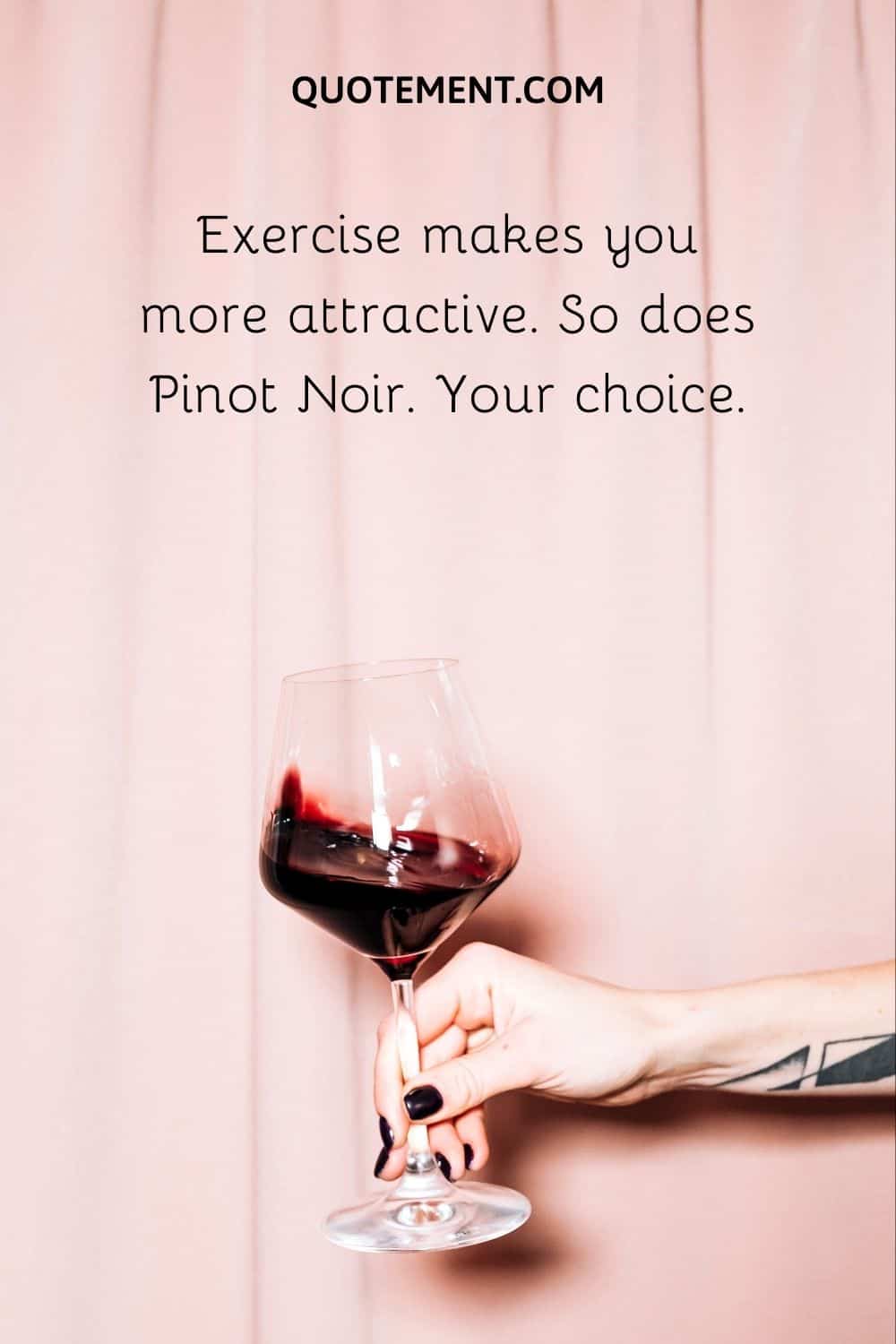 11. Roses are red, so is my wine. Refill my glass, and I'll be just fine.
12. Slay all day, then cabernet.
13. Pinotage has the heart of a lion and the tongue of a woman; after drinking a certain quantity, you can talk forever and fight like the devil!
14. I think I'll have a glass of red instead of going out tonight.
15. It's just another Malbec Monday.
16. Red is my favorite color.
White Wine Captions For Instagram
If you're a fan of sweet and refreshing white wines, these captions are for you.
1. Elegant in taste, elegant in color, elegant in flavor.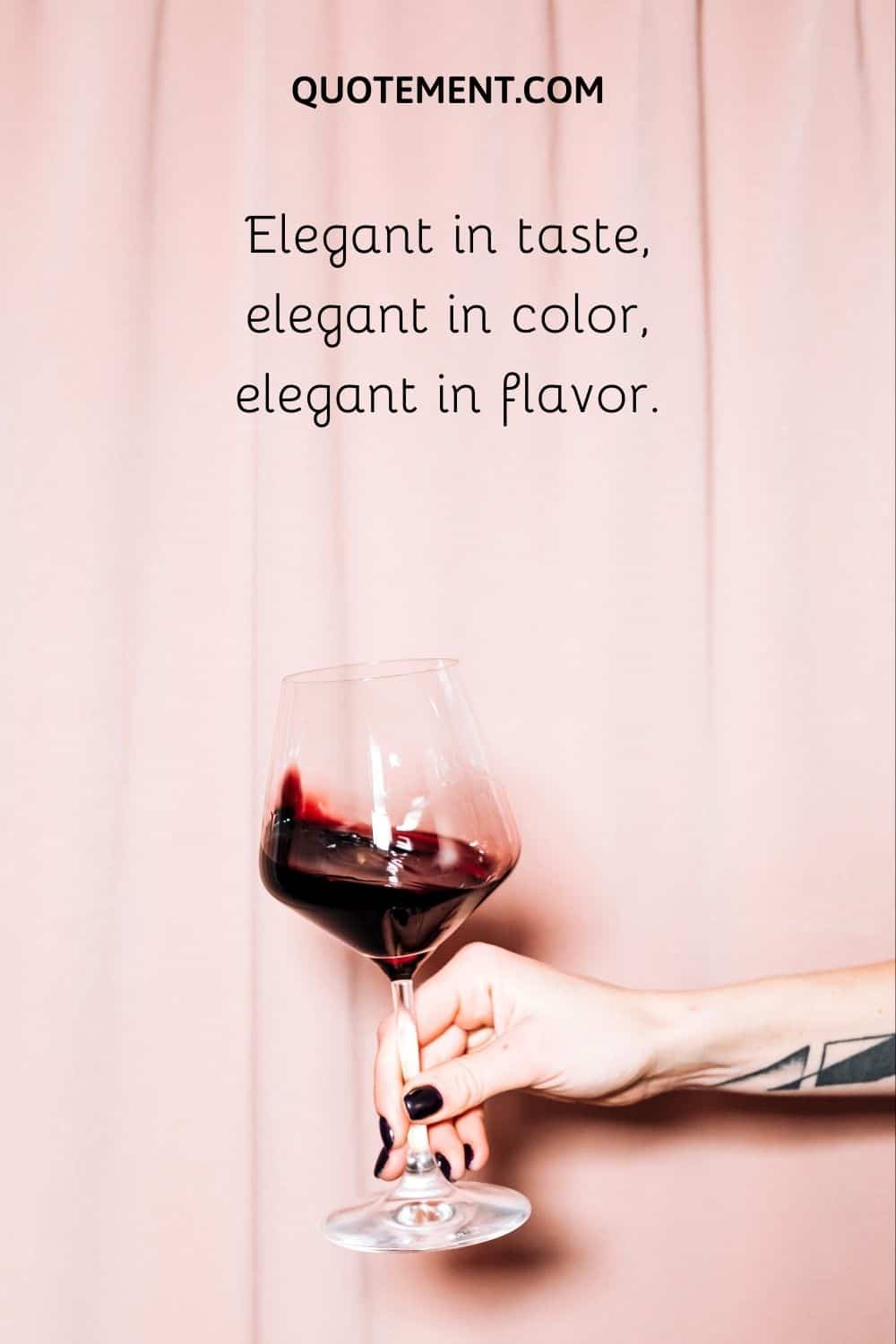 2. White wine all the time.
3. I stay hydrated by adding ice to my white wine.
4. White wines are sparkling, clean, and clear.
5. It's ok to drink white wine after Labor Day.
6. May all your pain be Champagne.
7. This is a Moscato flavor you won't find anywhere else.
8. Today, I'm going to be as useless as the "T" in Pinot Grigio.
9. Sauvignon blanc out.
10. The bubbles are sparkling in the mellow colors.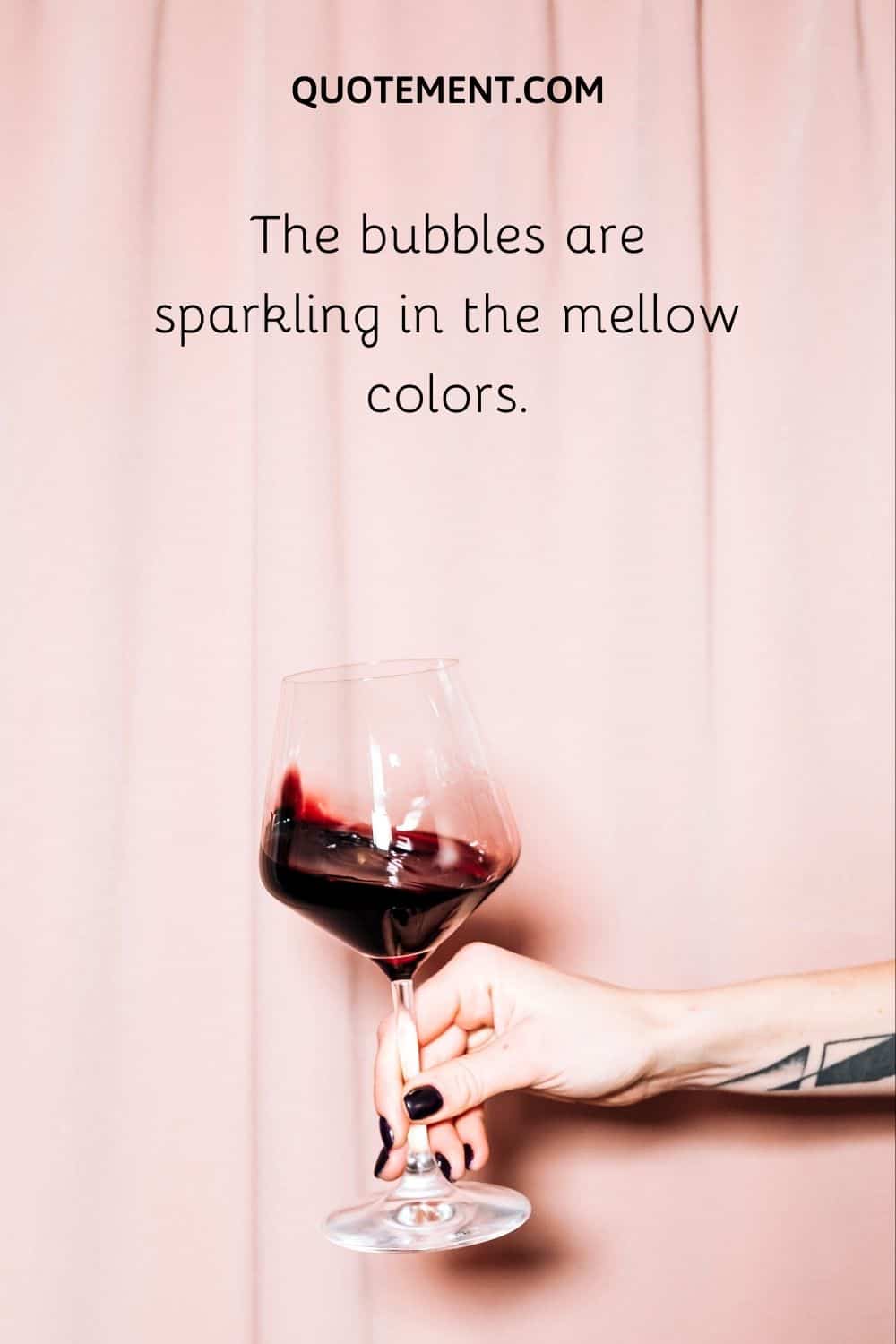 11. I'll never be Bordeaux of you.
12. A glass of chardonnay is to merriment, as a season ticket to the ballet is to dance.
13. I came, I saw, I Concord.
14. Chardonnay or should I go?
15. Don't Loire your standards.
Rose Wine Captions For Instagram
Somewhere between red and white, you'll find rosé. Check out these wine captions, perfect for all rosé lovers.
1. Anything is possible with sunshine and a glass of rosé wine.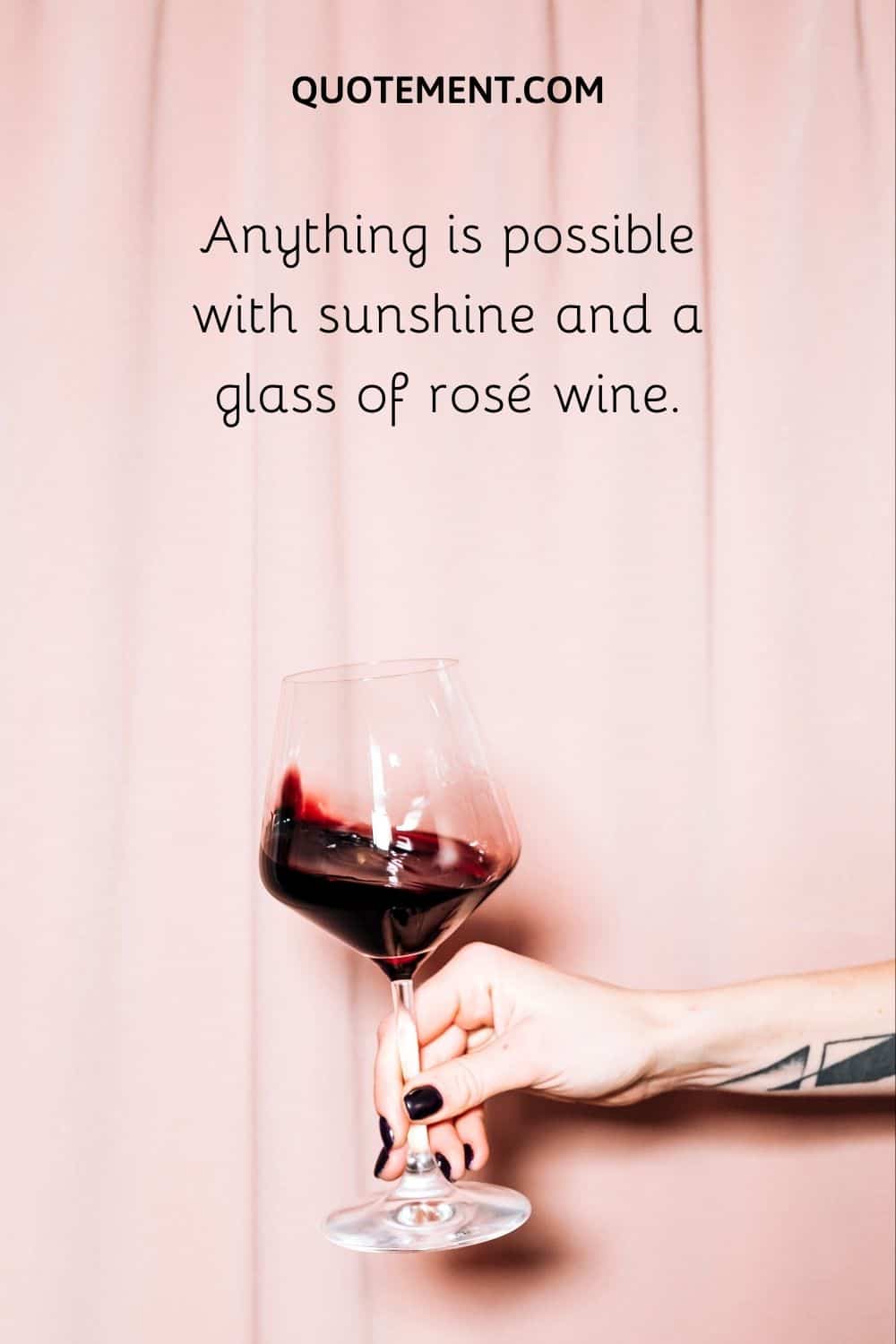 2. Fifty shades of rosé.
3. Slay then rosé.
4. Where there's a will, there's a rose!
5. Rosé is bae.
6. Will you accept this rosé?
7. Rosé can you see?
8. Stop and smell the Rosé!
9. Just tasting this year's rosé. How about you?
10. The world looks better through rosé-colored glasses.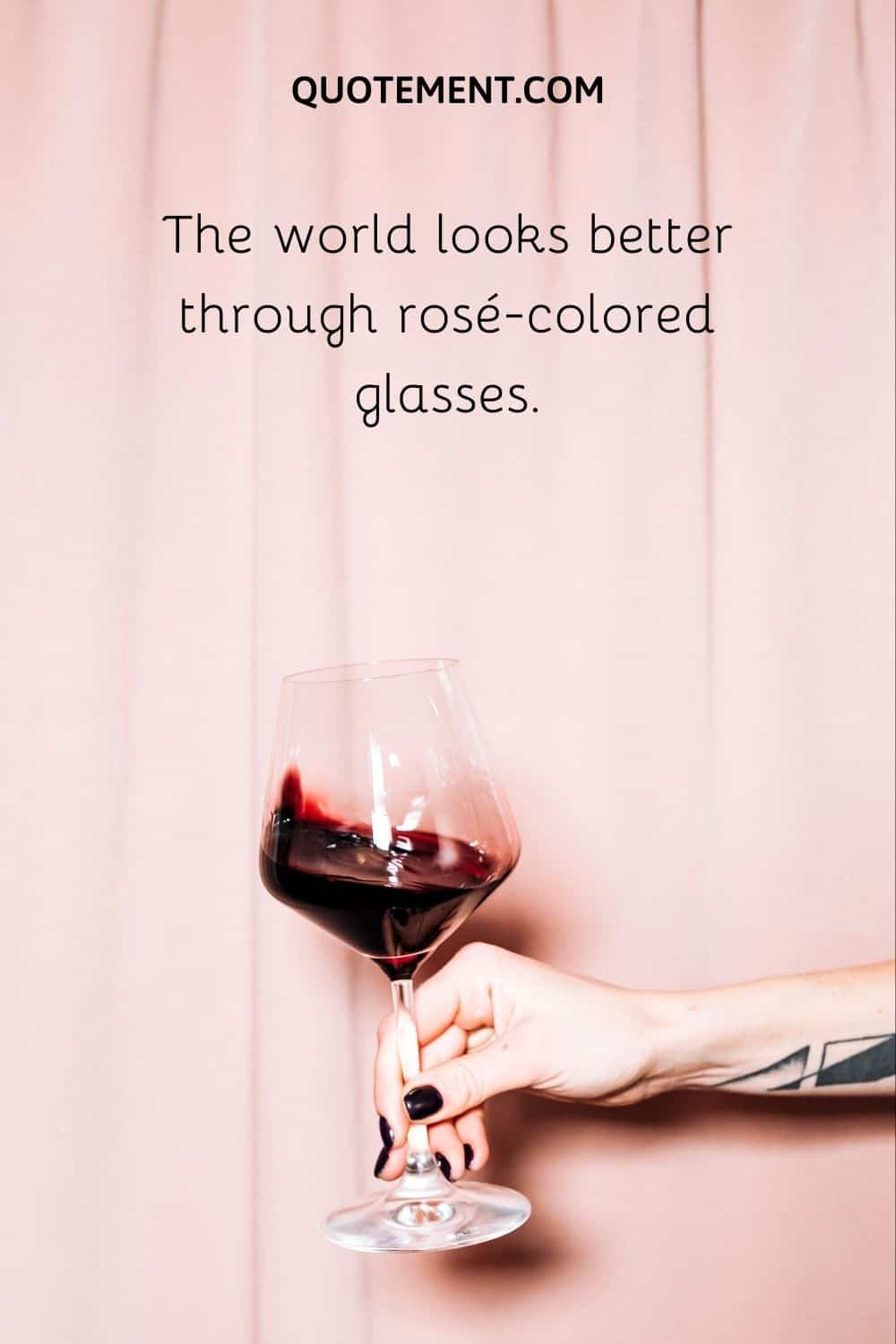 11. La vie en rosé.
12. Rosé all day.
13. You had me at rosé.
14. You can't buy happiness, but you can buy rosé, and that's close enough.
15. Rosé > Roses
16. Yes way, Rosé!
17. Rosé the day away.
18. The only one I'd share my favorite rosé with.
19. Pink isn't just a color. It's an attitude.
20. Stop and drink the rosé.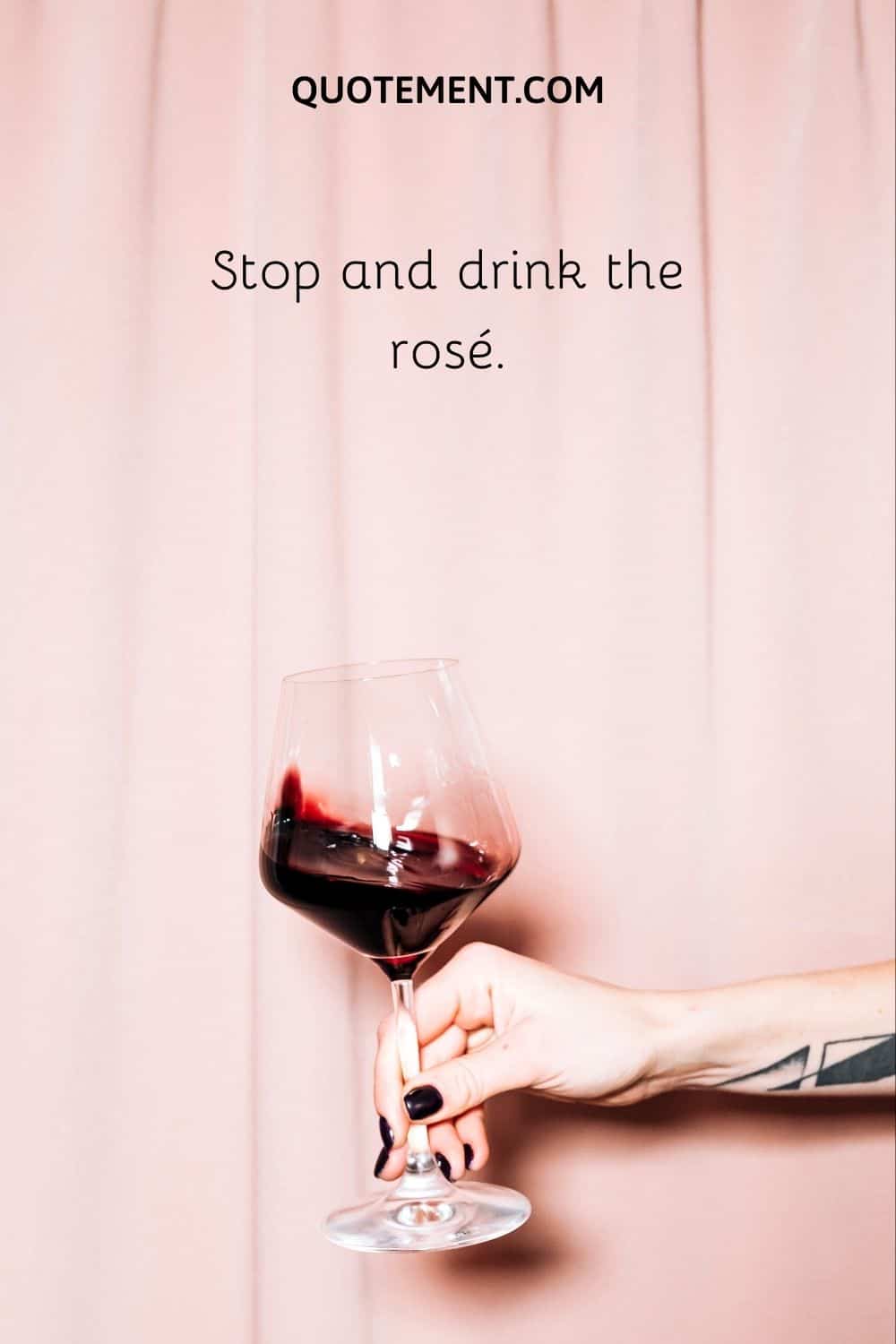 21. I was told you'd have rosé.
22. Sippin' pink-gold lemonades.
Drinking Wine Instagram Captions
Wine is a never-ending source of inspiration. Here are some more amazing wine captions for Instagram.
1. All wines should be tasted; some should only be sipped, but with others, drink the whole bottle.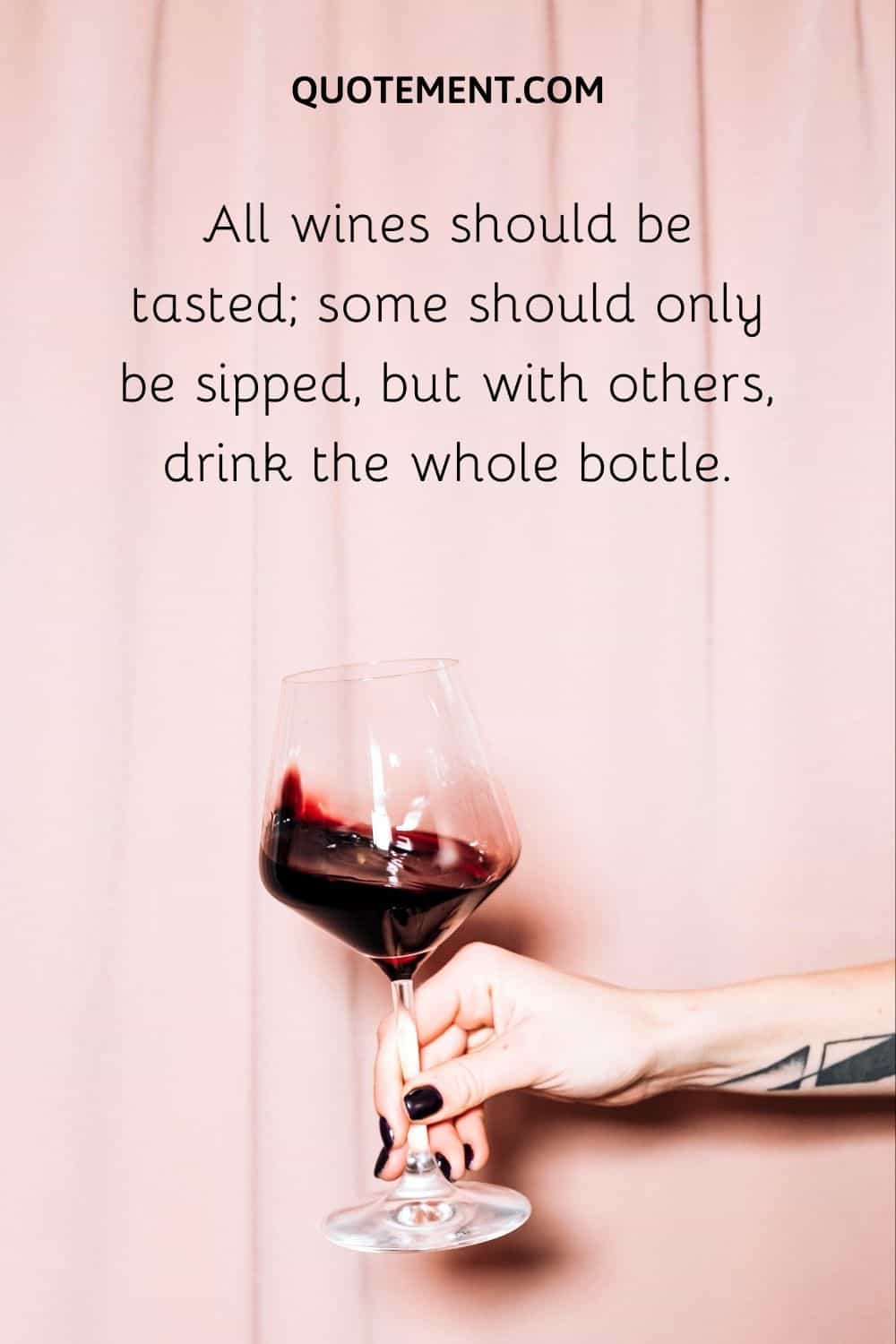 2. The best way to learn about wine is in the drinking.
3. Every time you drink it, you find something new.
4. Tasting wine on the couch is a unique experience.
5. Pink is my signature color.
6. Go chard or go home.
7. The best wines are the ones we drink with friends.
8. If you can drink away your hurts, it must have been champagne.
9. Wine rejoices the heart of man, and joy is the mother of all virtues.
10. Wine, because it's not good to keep things bottled up.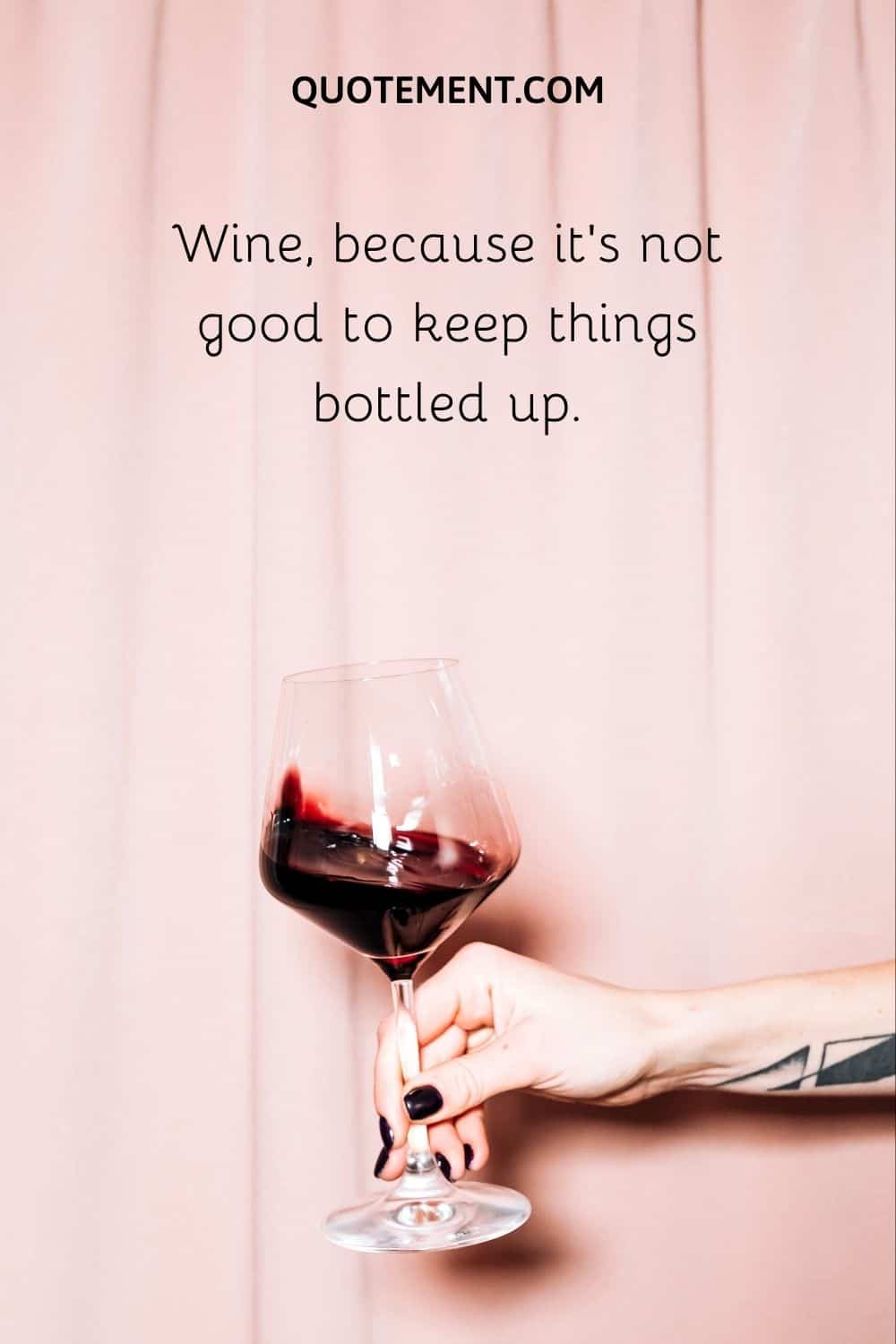 11. Tasting our way through the vineyard.
12. So much taste in just a glass.
13. Good friends wine together.
14. Sipping back and drinking the weekend from a glass.
15. I like on the table, when we're speaking, the light of a bottle of intelligent wine.
16. The art of wine drinking is as old as the art of winemaking.
17. Wines that will bring peace into your life.
18. When men drink, then they are rich and successful and win lawsuits and are happy and help their friends. Quickly, bring me a beaker of wine so that I may wet my mind and say something clever.
19. You don't need anything special celebration to drink wine.
20. Drinking good wine with good food in good company is one of life's most civilized pleasures.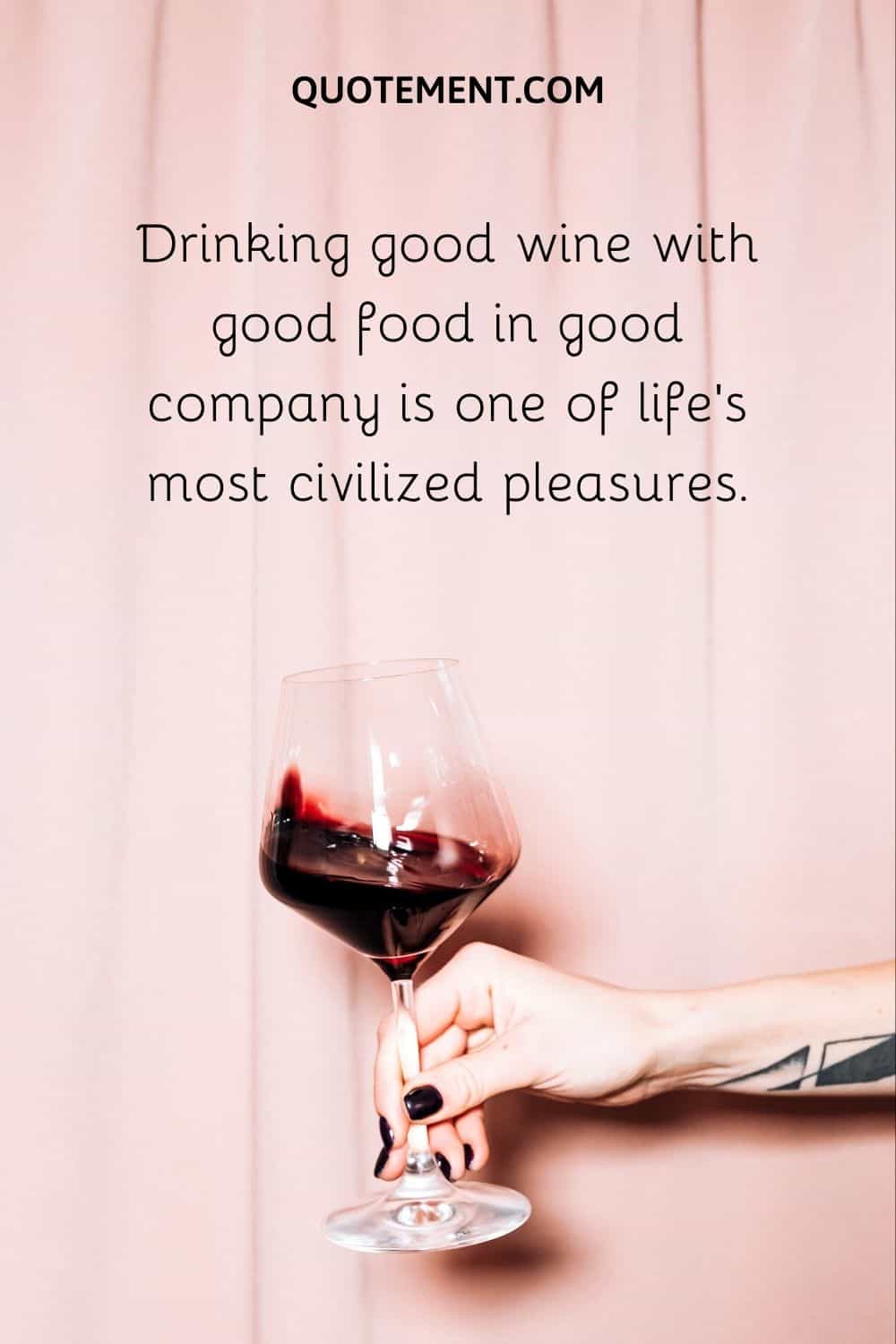 21. Quickly, bring me a beaker of wine so that I may wet my mind and say something clever.
22. I swear it's always sunny at the winery.
23. This cheese board is as nice as can brie.
24. Netflix is better with wine and cheese.
25. When the wine is just as beautiful as the view.
26. Wine brightens the life and thinking of anyone.
27. The most pleasant experience ever.
28. A wine that will make you rise and shine in the morning.
29. You might have a glass of wine, or a joint, or a big delicious blob of heroin to silence your silly brainbox.
30. Drink responsibly – Don't spill any wine.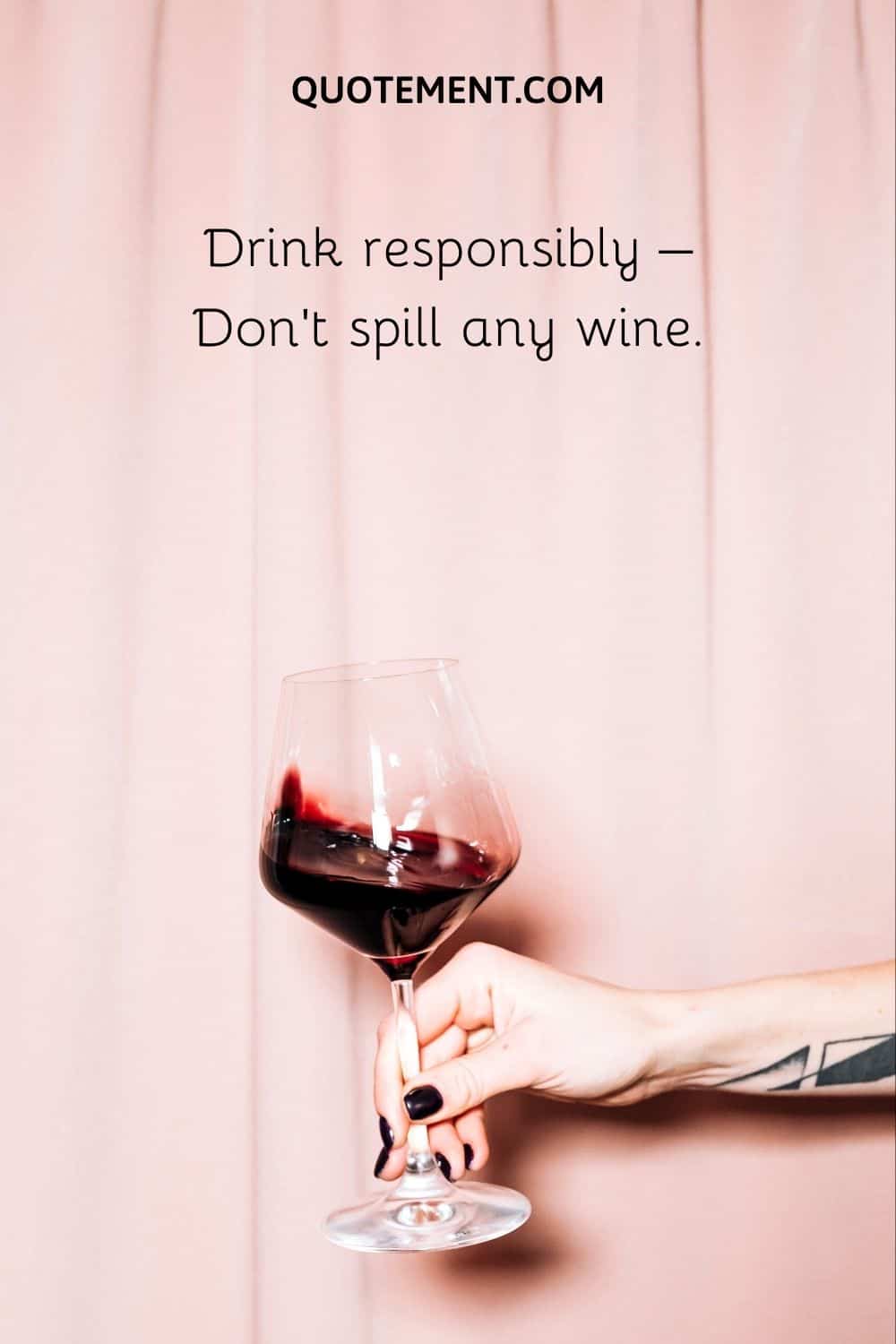 31. There's no such thing as a bad bottle of wine.
32. Home is where the wine is, so I'm definitely home here.
33. Wine is all about sharing – with friends, family, or even just yourself. Let's do this!
34. Never chase anything but drinks and dreams.
35. I wish someone would look at me the same way I look at wine.
36. Wine is the most healthful and most hygienic of beverages.
37. It's always the right time for a glass of wine.
38. Just keep living your life, and I will keep drinking my wine.
Romantic Wine Captions For Instagram
We usually link wine to romance, and there's a good reason for that. There's no drink more romantic than red wine.
Check out these wine captions for Instagram that are all about romance. You'll also discover some famous wine quotes that can be used as captions.
1. We are all mortal until the first kiss and the second glass of wine.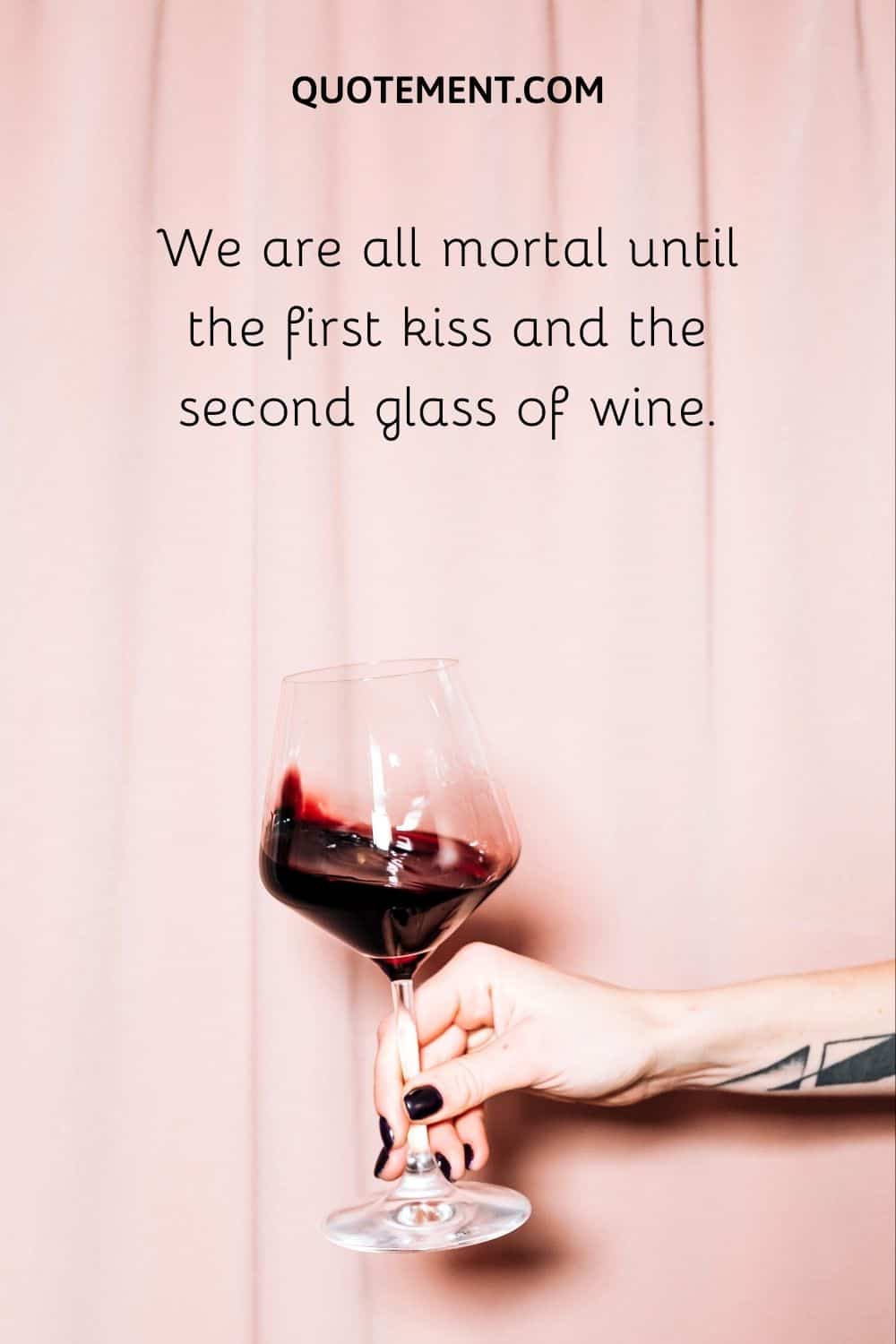 2. "Wine is bottled poetry." — Robert Louis Stevenson
3. If we sip the wine, we find dreams coming upon us out of the imminent night.
4. Let's go wine tasting on the couch.
5. Say you'll be wine.
6. I love everything that is old; old friends, old times, old manners, old books, old wines.
7. Let's re-wine this night and do it again.
8. Anything is possible with sparkle and a little pink.
9. Great views, great company, great wine, can't ask for much more!
10. It's a smile, it's a kiss, it's a sip of wine … it's summertime!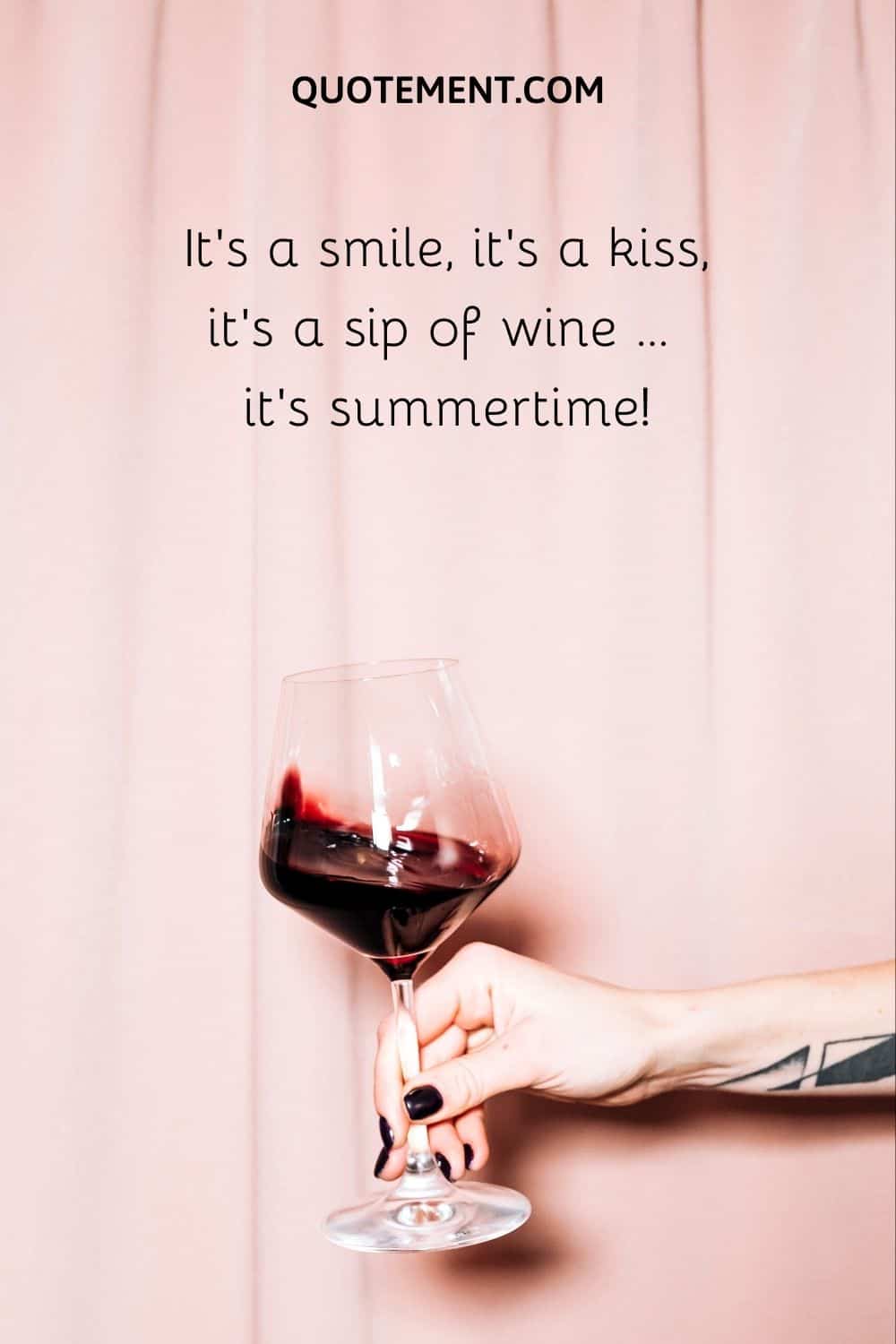 11. Roses are red. Violets are fine. Let's order pizza, and I'll bring the wine.
12. Love at first sip.
13. I'm currently on cloud wine.
14. I wheely like wine nights with you.
15. Wine and women make wise men dote and forsake God's law and do wrong.
16. Love her more than wine, and that's saying something!
17. First, we taste wine. Then, we make s'mores.
18. Where there is no wine there is no love.
19. I'll be yours if you'd be wine.
20. "I only drink Champagne on two occasions: when I'm in love and when I'm not." — Coco Chanel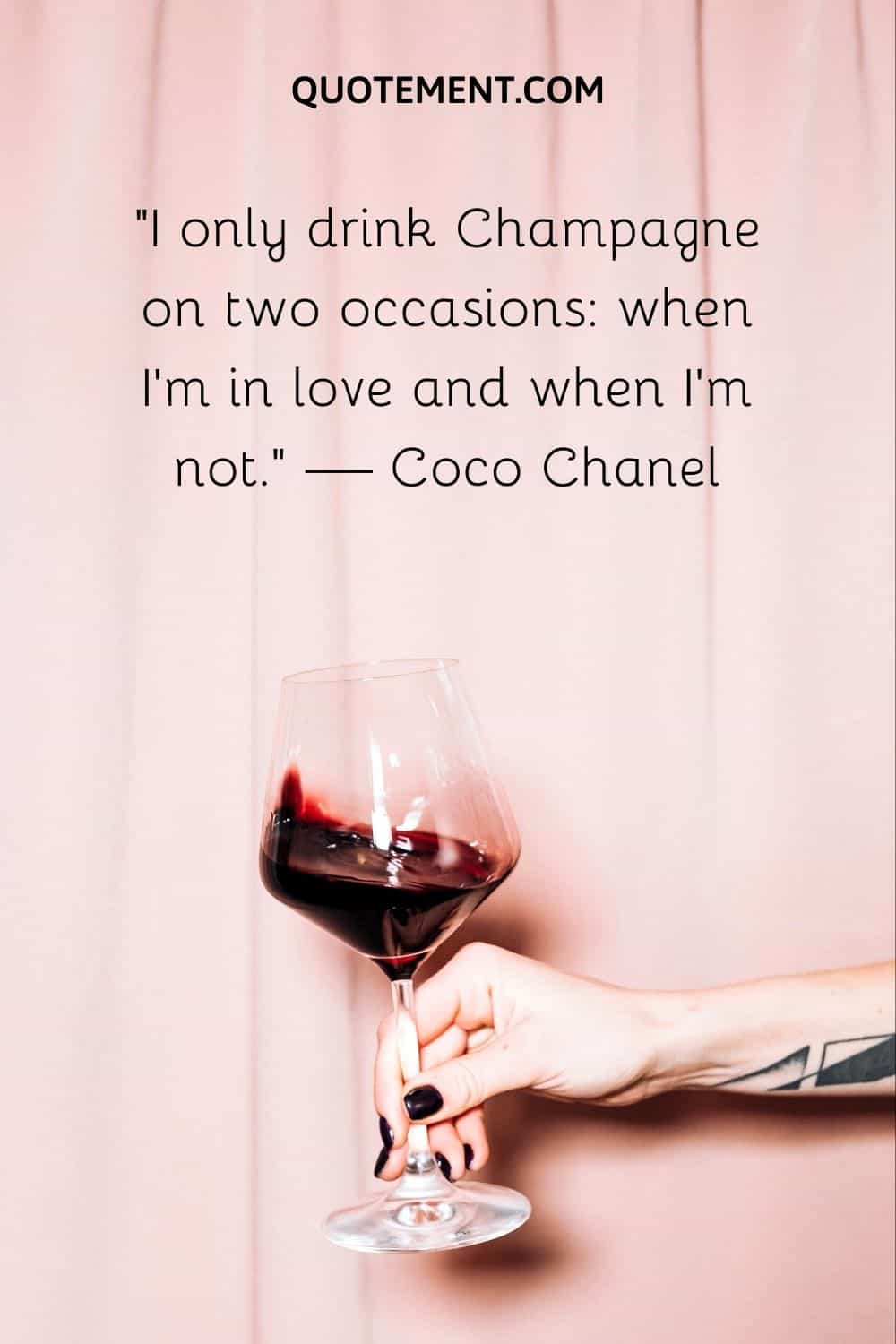 21. Wine is my valentine.
22. He who loves not wine, women, and song remains a fool his whole life long.
23. I pray you, do not fall in love with me, for I am falser than vows made in wine.
24. We go together like wine and cheese.
25. "Pour yourself a drink, put on some lipstick, and pull yourself together." — Elizabeth Taylor
26. "Either give me more wine, or leave me alone." — Rumi
27. You don't drink it, you kiss it.
28. Enjoy the atmosphere where wine flows freely as water.
29. Artists and poets still find life's meaning in a glass of wine.
30. A bottle of wine begs to be shared; I have never met a miserly wine lover.
31. You're the wine that I want.
32. "One should always be drunk. That's all that matters…But with what? With wine, with poetry, or with virtue, as you chose. But get drunk." — Charles Baudelaire
33. Let us celebrate the occasion with wine and sweet words.
34. The best way to watch a sunset is with a glass of wine.
35. Cozy nights are made for wine.
36. Love, like wine, gets better with time.
37. "Wine brings light to the hidden secrets of the soul." — Horace
See also: 60 Brilliant Wine Quotes That'll Suit Your Taste Buds
Wrapping It Up
A glass of good wine is a pleasure beyond pleasure, and only true wine lovers will understand.
Since you landed on this page, you must be one of them. I hope you liked these wine captions and found the perfect one for you.
Talk to you soon!
Read next: 230 Brilliant Cocktail Captions For Instagram + Quotes