Are you looking for a catchy cocktail caption to post along with your cute cocktail picture? Well, your search is over because you just found a collection of the best cocktail captions anywhere on the web!
Cocktails make everything better and more joyful. A long stressful day of work requires some sort of relaxation afterward, and what better way is there to relax than with a cocktail?
When you go out on a Friday night to have fun with the girls, you grab your favorite cocktail. When it's too hot outside and you need something to cool you down, guess what? A cocktail!
It doesn't matter what the question is, a cocktail is always a good answer!
Cocktails taste amazing and they look impressive, which is why they always end up on our social media. But, if you're posting a cute cocktail selfie, you'll want a proper caption to go with it.
I've collected 230 amazing and catchy cocktail captions to help you grab your Instagram followers' attention.
When they see an attractive photo and read a cute, catchy caption, what else is there to do than double tap on it to give it a like?
Let's take a look!
Top 20 Cocktail Captions For Instagram
1. Save water. Drink alcohol.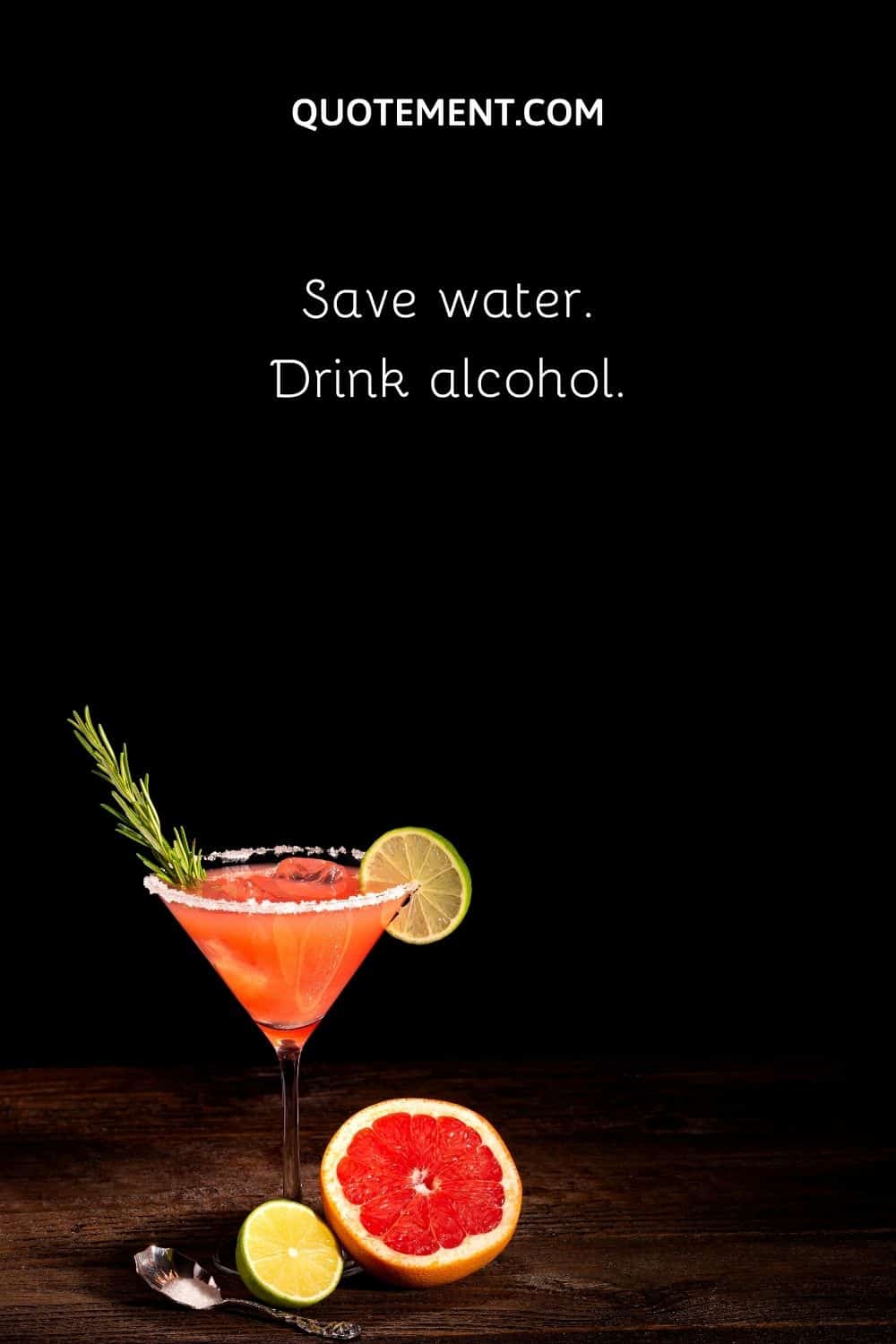 2. Twinkle, twinkle, little star, point us to the nearest bar.
3. Tonight's forecast? 99% of cocktails.
4. Democratic party, Republican party, Cocktail party.
5. Never chase anything but drinks and dreams.
6. Step aside coffee! This is a job for alcohol!
See also: 280 Awesome Coffee Captions To Show Your Coffee Obsession
7. Being a beach lover is one of the things I got right.
8. A lady with a glass of cosmopolitan defines beauty with class.
9. There is nothing that a glass of cocktail cannot solve.
10. I prefer my espresso in a martini.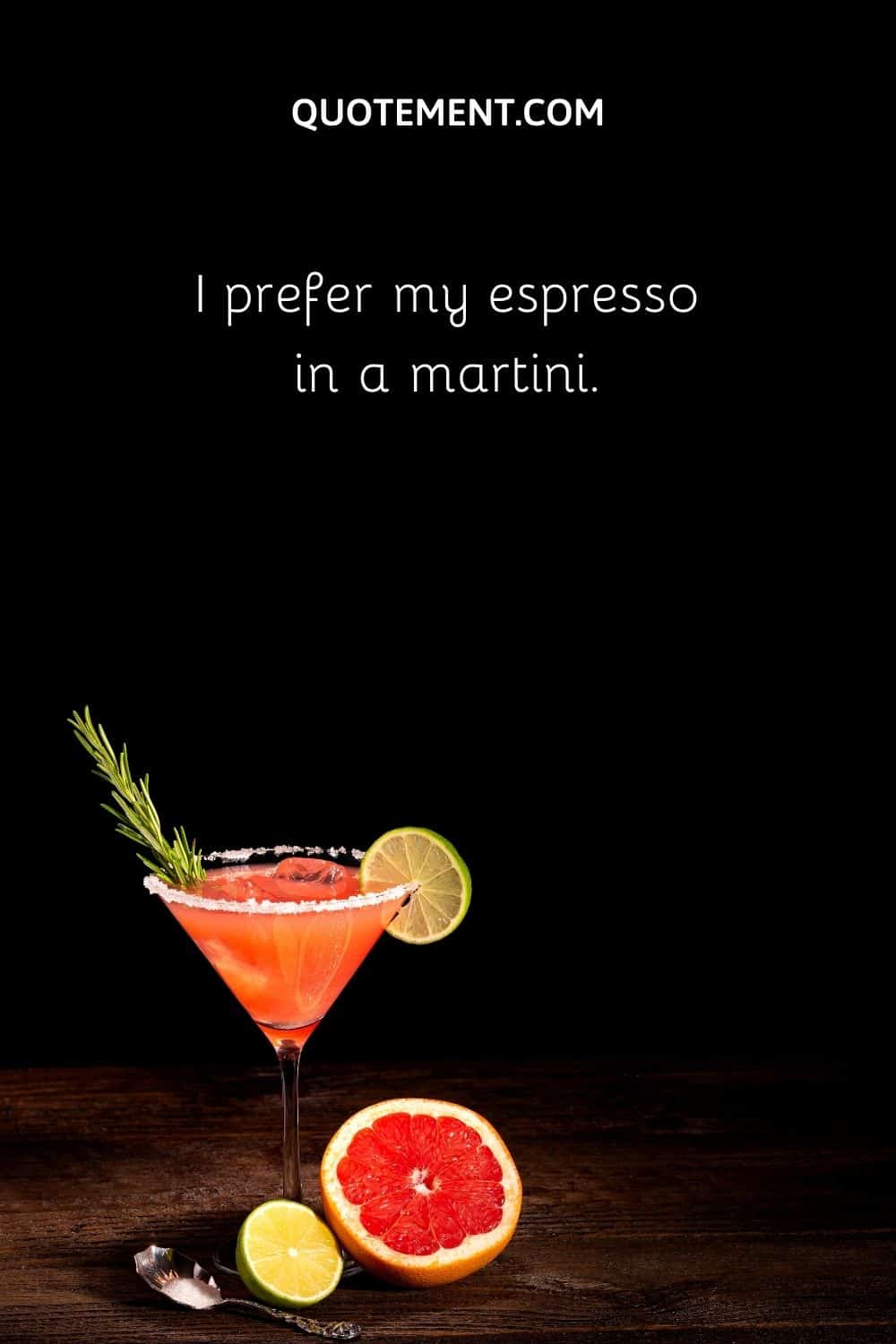 11. Go where the wifi is weak and the rum is strong.
12. A pineapple a day keeps the worries away.
13. Friday called. She's on her way, bringing cocktails!
14. I love water. Especially frozen into ice cubes. Blended with tequila. I love margaritas.
15. Girls just wanna have cocktails.
16. Bring on the bubbly.
17. The more I drink, the less there is for the kids to drink.
18. Friday nights are incomplete without the cocktail.
19. If u visit New York someday, don't ever forget to try the Manhattan cocktail.
20. If life gives you limes, make a margarita.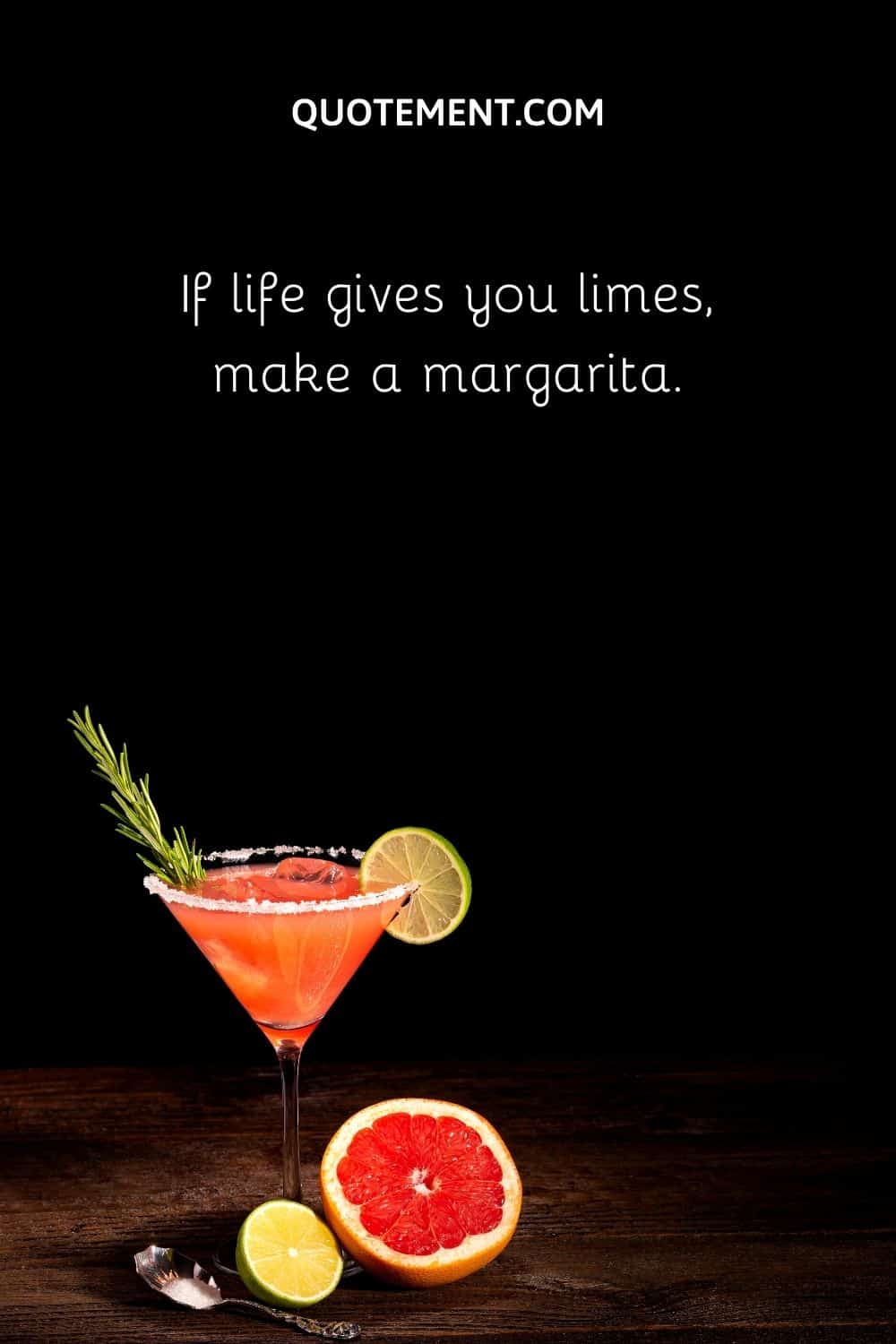 Classy Cocktail Captions
Cocktails boost your mood and confidence and instantly make you feel classy and rich. When you're holding a cocktail, you'll feel like Carrie Bradshaw somewhere in Manhattan.
These cocktail captions are classy and make your Instagram post really cute and attractive.
1. I'm a better person when I'm drinking pińa coladas.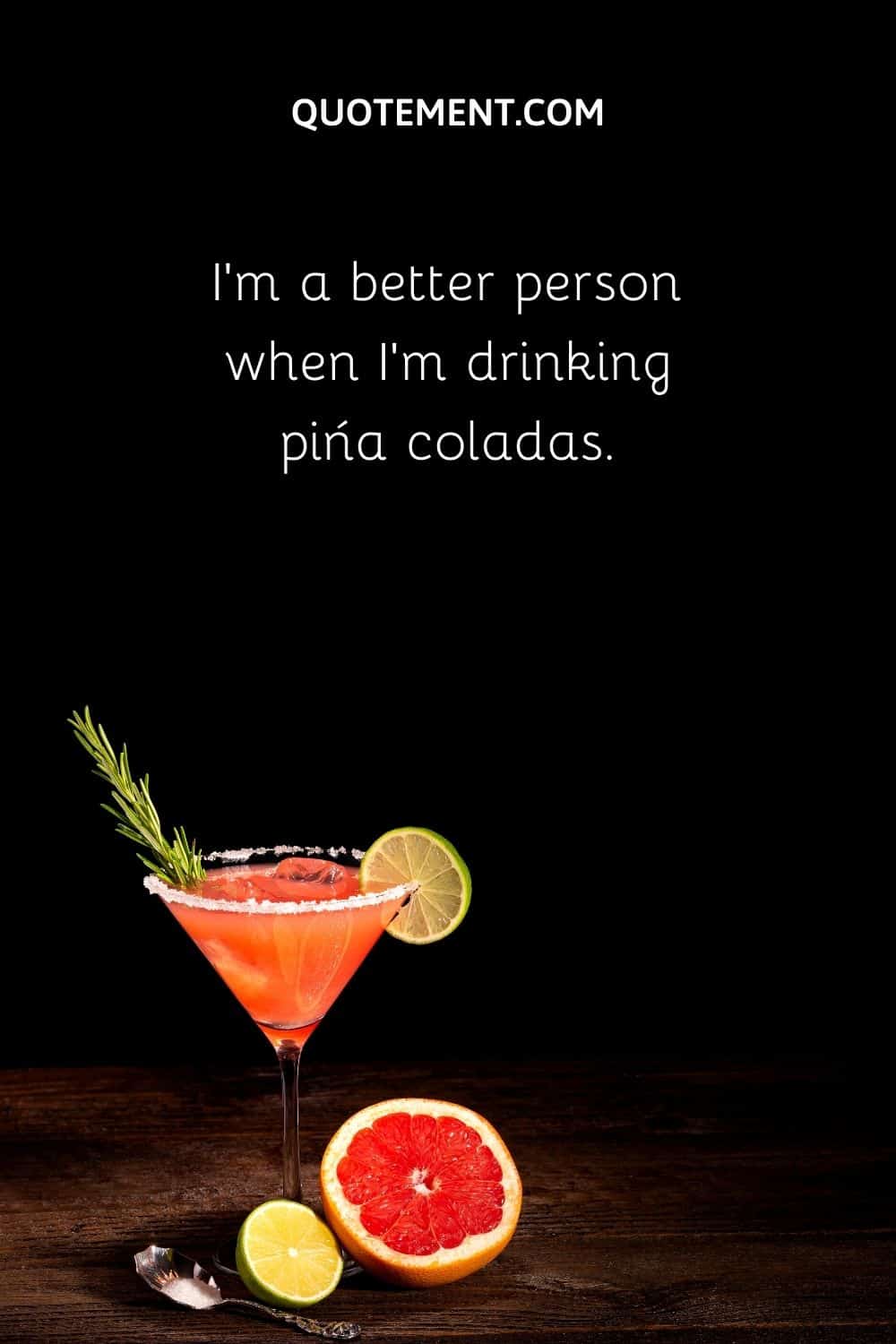 2. Life is better by the beach.
3. It's beginning to look a lot like cocktails.
4. I do believe it's time for another peachy adventure.
5. Too much of anything is bad, but too many cocktails are just right.
6. I'm in a good place right now. I'm on the beach.
7. An ocean breeze puts a mind at ease.
8. I need a little drinky drink.
9. The cocktail is the best drink.
10. Don't think about the cocktail. Drink the cocktail.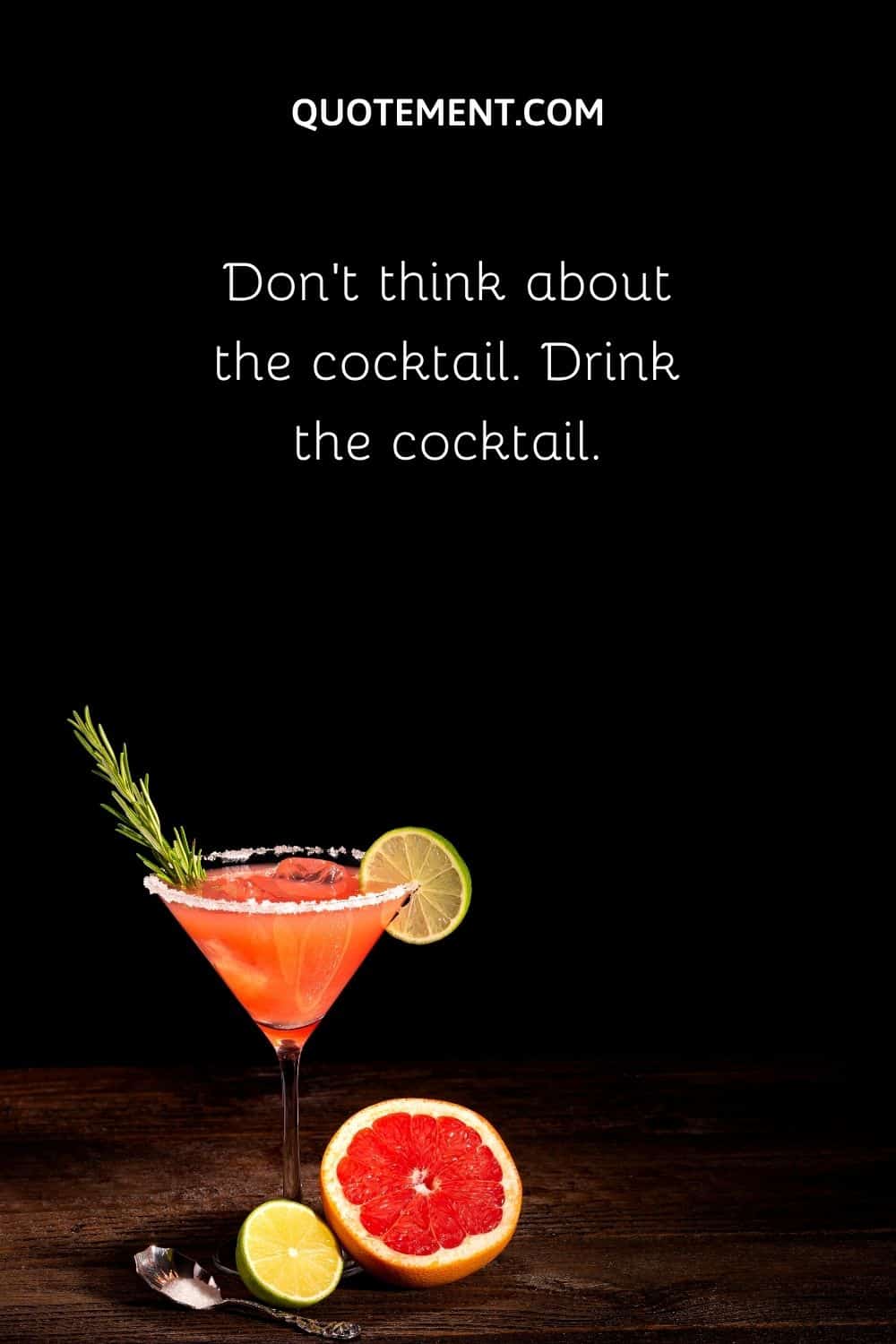 11. There's always time for cocktails.
12. Just need a cocktail to make my mood good.
13. Great love affairs start with a cocktail.
14. Finish your day sparkling.
15. It's a cocktail o clock.
16. I love the umbrella hanging on the top of the cocktail.
17. Happy hour or better call it a cocktail hour.
18. Let's pop bottles.
19. Cocktail thoughts.
20. Strong women need strong drinks.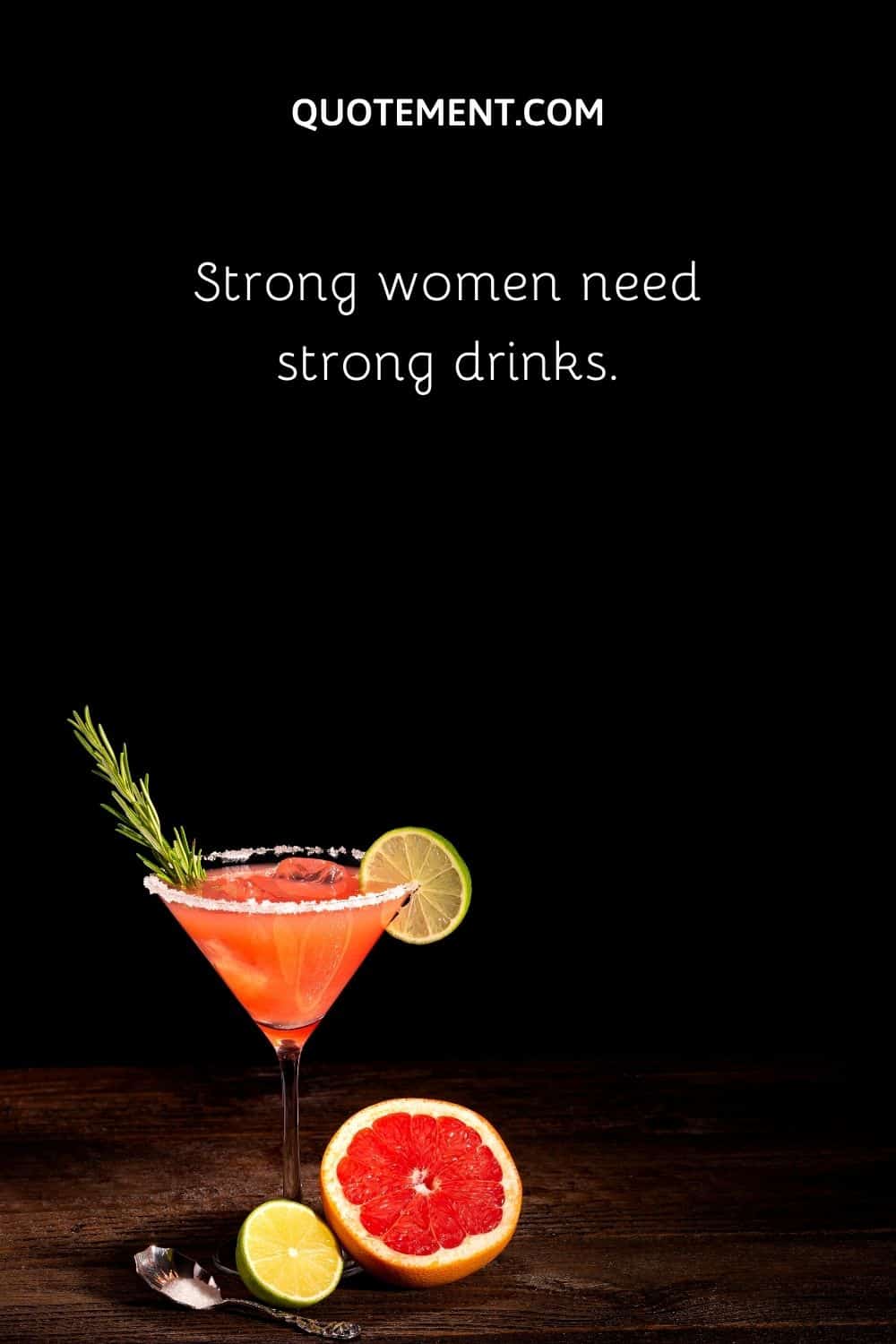 21. Fresh for your enjoyment.
22. A drink a day keeps reality at bay.
23. You don't need a recipe for your cocktail, just blend every spirit out there, and the best cocktail is already ready.
24. I didn't choose the thug life. The thug life chose me.
25. If you like piña coladas and getting caught in the rain…
26. The best way to thank for a lovely moment is to enjoy it fully.
27. First drink, then let's think about it.
28. Sip sip, hooray!
29. Beer, if drunk in moderation, softens the temper, cheers the spirit and promotes health.
30. The greatest adventures happen after cocktails.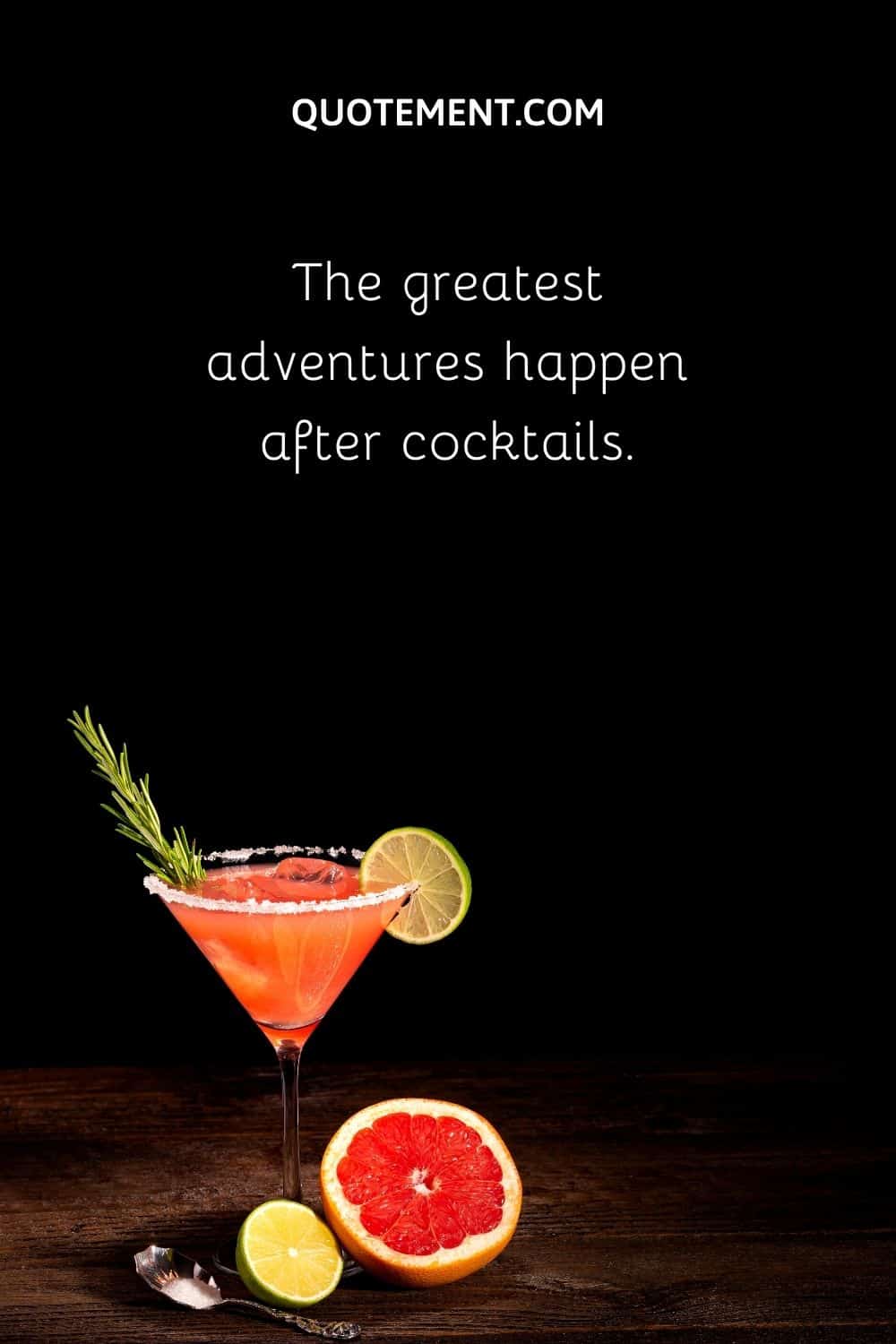 31. Dope days, chill nights, good company, and mellow vibes.
32. Find me at the counter of cocktails in bars.
33. My happy place.
34. As endless as the ocean, as timeless as the tides.
35. I don't drink a cocktail. The cocktail drinks me.
36. Be a pineapple: stand tall, wear a crown, and be sweet on the inside.
37. Political party? NO, cocktail party? YES.
38. If you want to hear the tale, go first grab a glass of cocktail.
39. Cocktails are more loyal than anyone else.. at least they never let you down.
40. At times, an illusion is better than reality. At least you're getting an unlimited cocktail over there.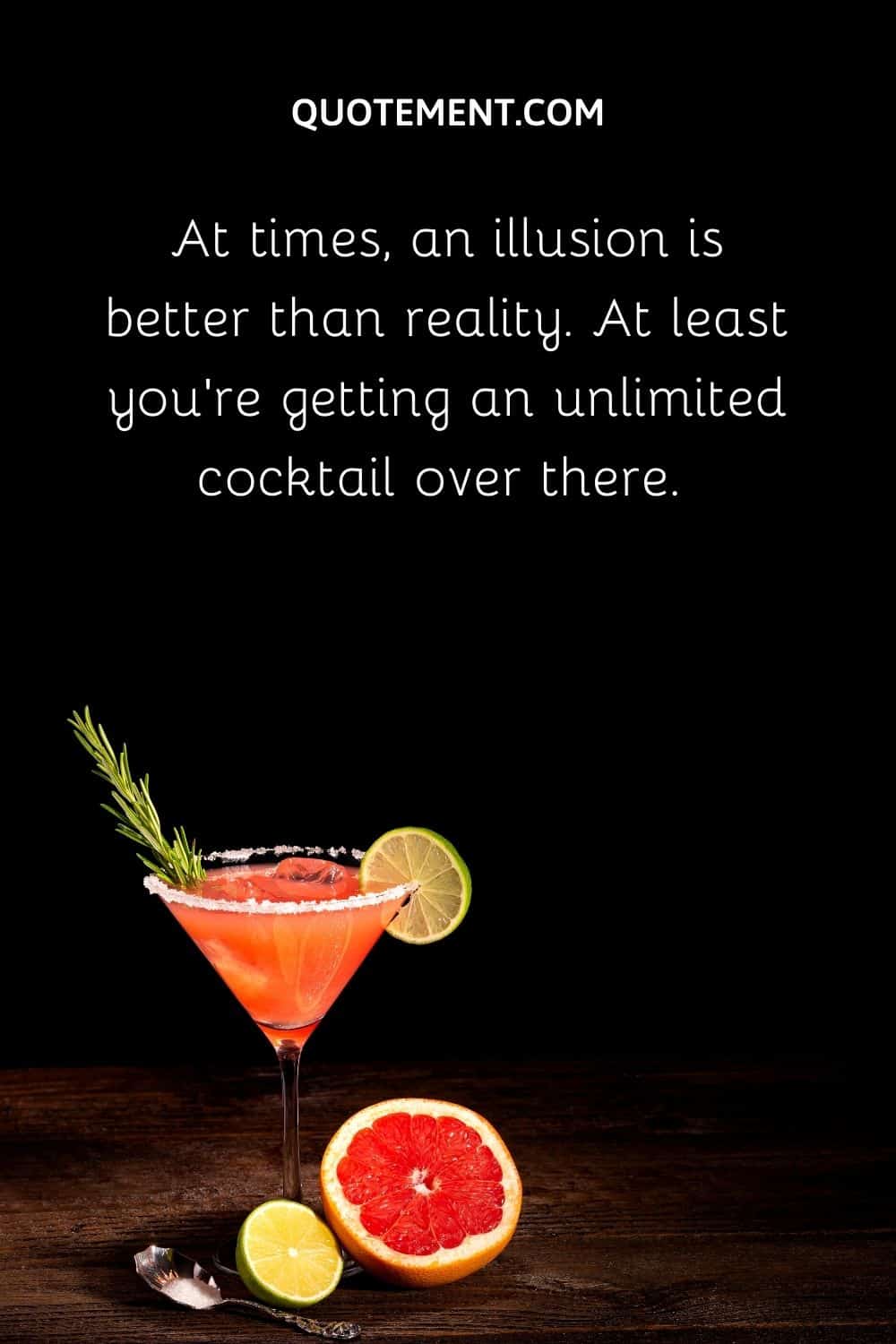 41. Bring me the best cocktail in the town.
42. Two wrongs don't make a right. But two margaritas usually do.
43. The more I think about you, the more I need to fill my empty glass of cocktail.
44. You are the piña to my colada.
45. May all your days be filled with umbrella drinks.
46. I prefer my cocktails old-fashioned.
47. You can never resist the charm of a cocktail. #cocktailcharm
48. Cocktails are way cheaper than therapy.
49. She had a cocktail in her hand and confetti in her hair.
50. A slice of lemon and a glass of cocktail, tell me a better love story than this?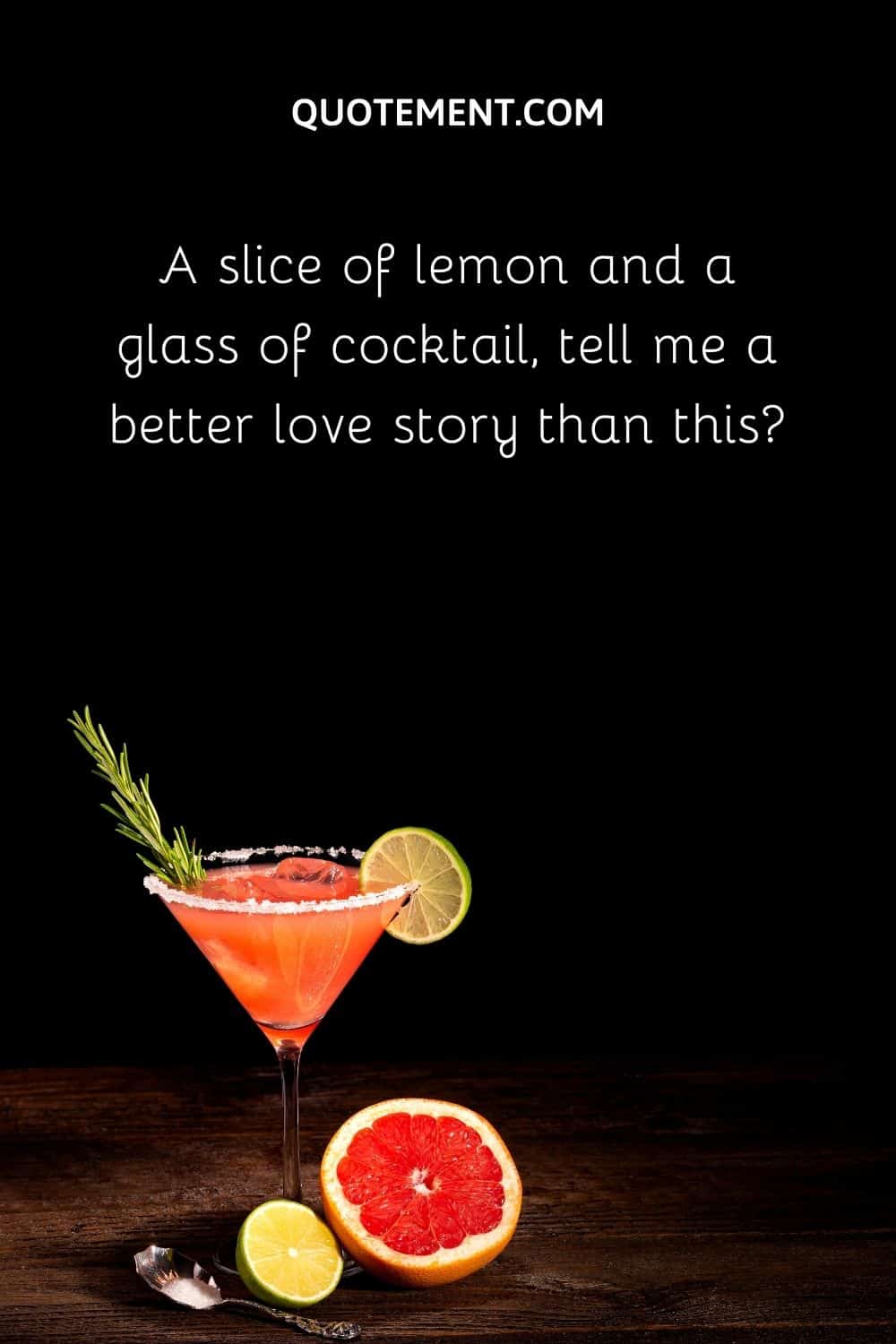 Funny Cocktail Captions For Instagram
Cocktails bring out the comedian in us all! Here are some of the funniest cocktail captions you can find online.
1. A friend of wine is a friend of mine.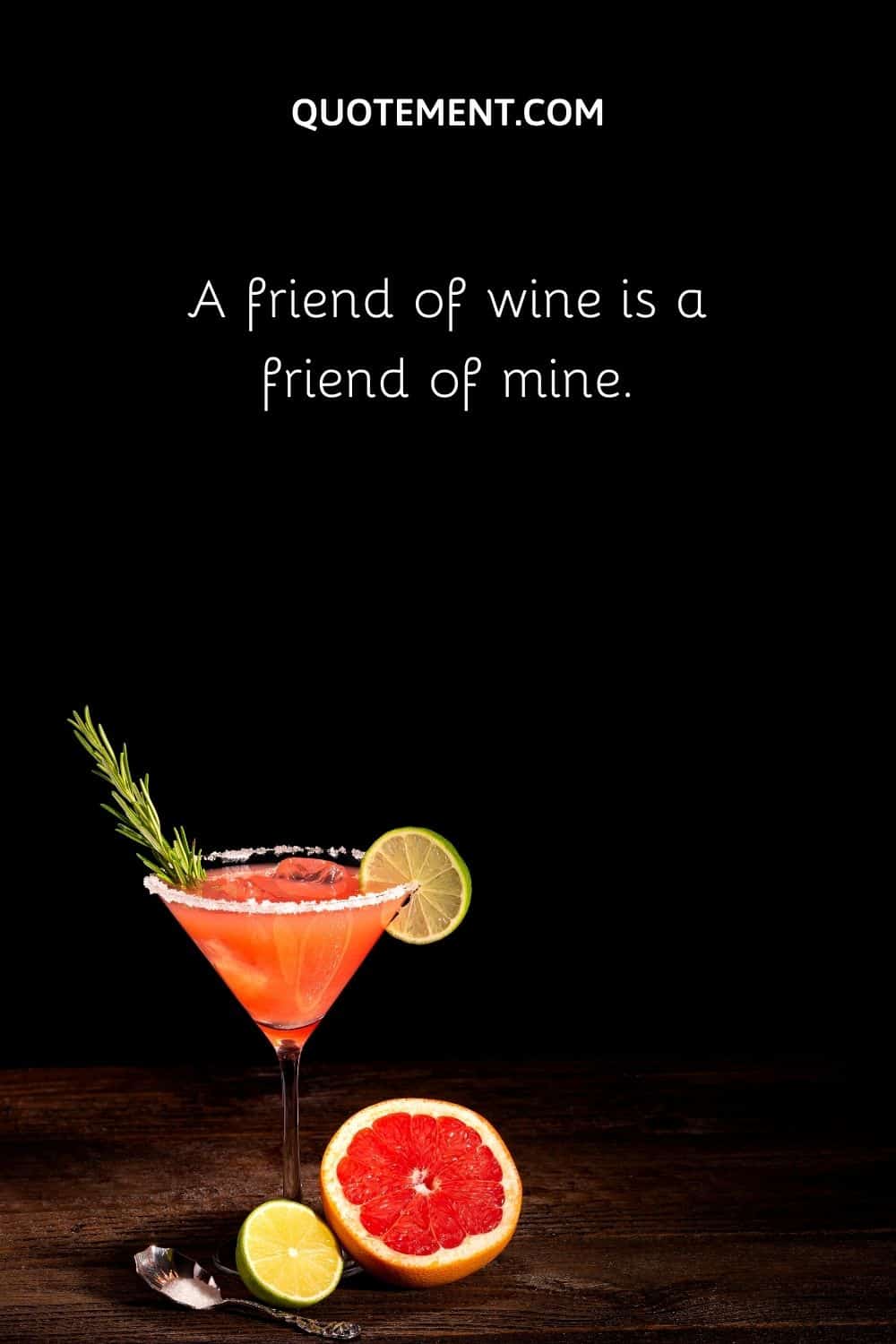 2. Drinks well with others.
3. Kids drink beer. Real men go for pitchers.
4. To beer, or not to beer, that is a silly question.
5. Alcohol you later.
6. Wine stains on my glass mean I went to a virtual wine tasting.
7. The lower the latitude, the better the attitude.
8. Trying to make protein shakes, but they keep coming out like margaritas.
9. If you want to start your love story in an amazing way, start it with a cocktail.
10. I have mixed drinks about feelings.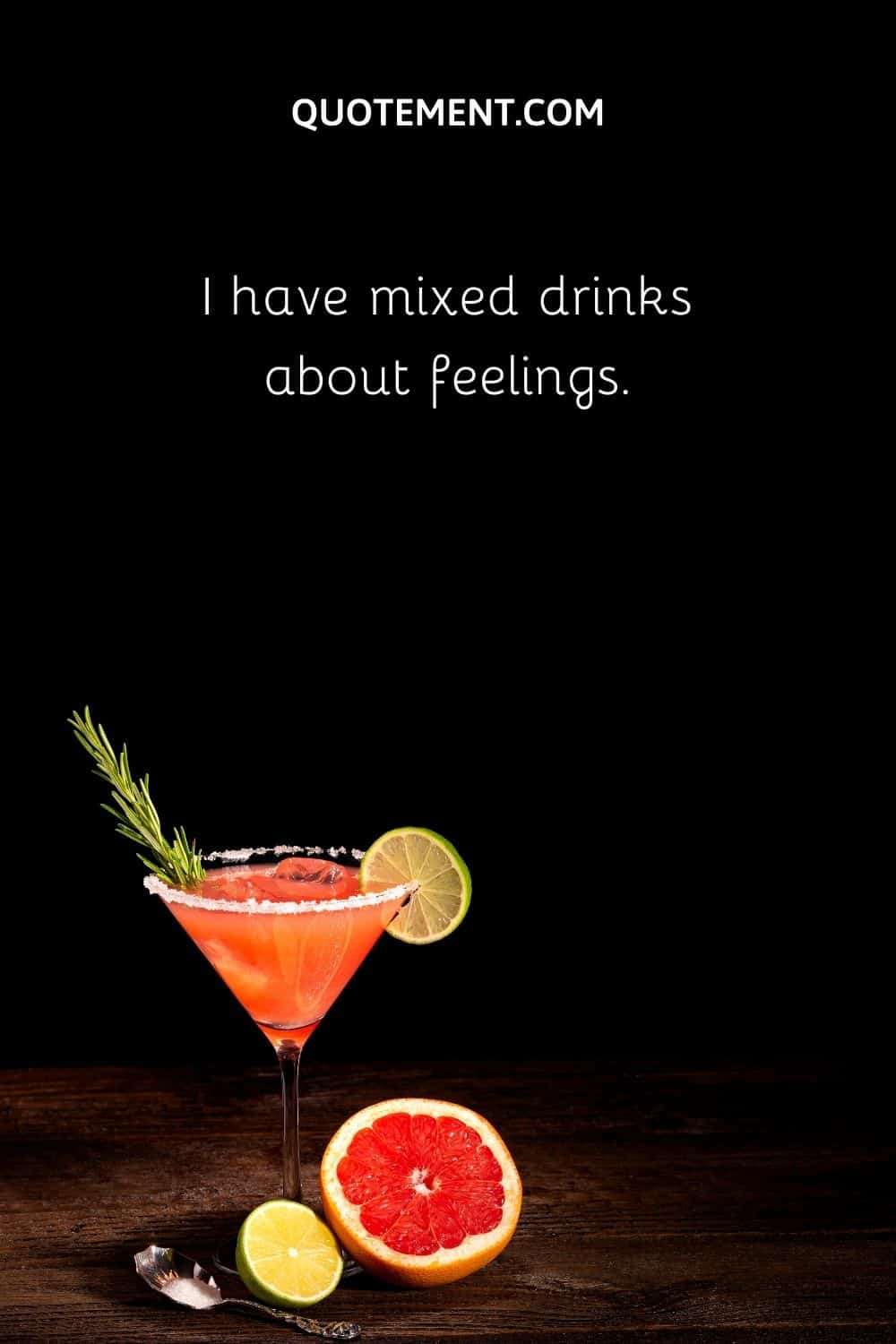 11. Whiskey me away.
12. One tequila, two tequila, three tequila, floor.
See also: 100 Tequila Quotes That Are Absolutely Worth A Shot!
13. You're not drunk if you can lie on the floor without holding on.
14. 24 hours a day. 24 beers in a case. Coincidence? I think not.
15. I cook with wine. Sometimes I even add it to the food.
16. The first five days of the weekend are the hardest.
17. Make yourself special by drinking well and more than others.
18. Time to become a superhero and rescue some wine trapped in a bottle.
19. Let the evening be gin.
20. When I read about the evils of drinking, I gave up reading.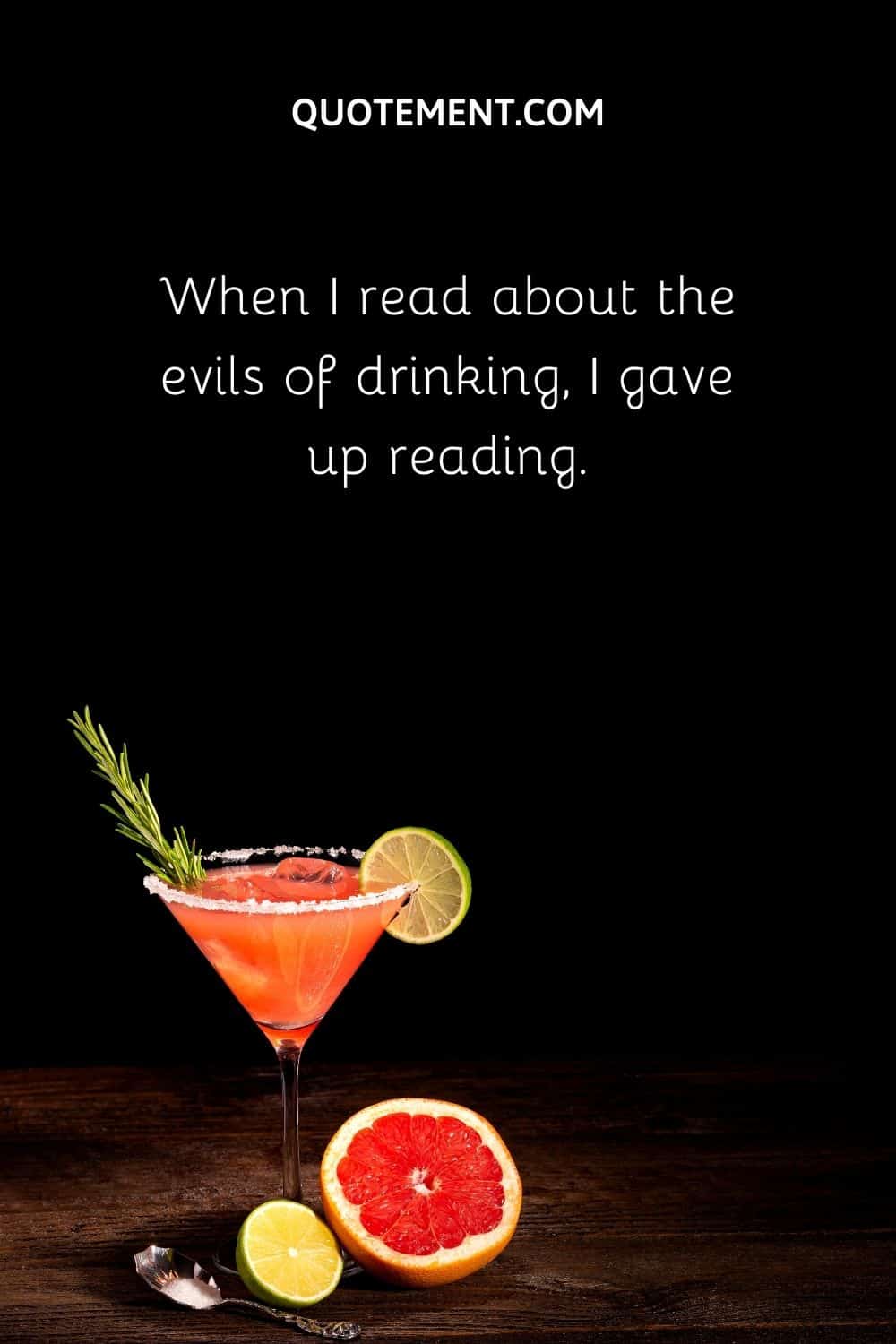 21. Thank you from the bottom of my glass.
23. Everything happens for a reisling.
24. Drinking before 10 am makes you a pirate, not an alcoholic.
25. Wine + Dinner = Winner
26. Of course, size matters. No one wants a small glass of wine.
27. When life hands you lemons, bust out the Tequila and salt!
28. An intelligent man is sometimes forced to be drunk to spend time with his fools.
29. Drinking alone is the beginning stage of alcoholism.
30. I only drink a little, but when I do, I turn into another person, and that person drinks a lot.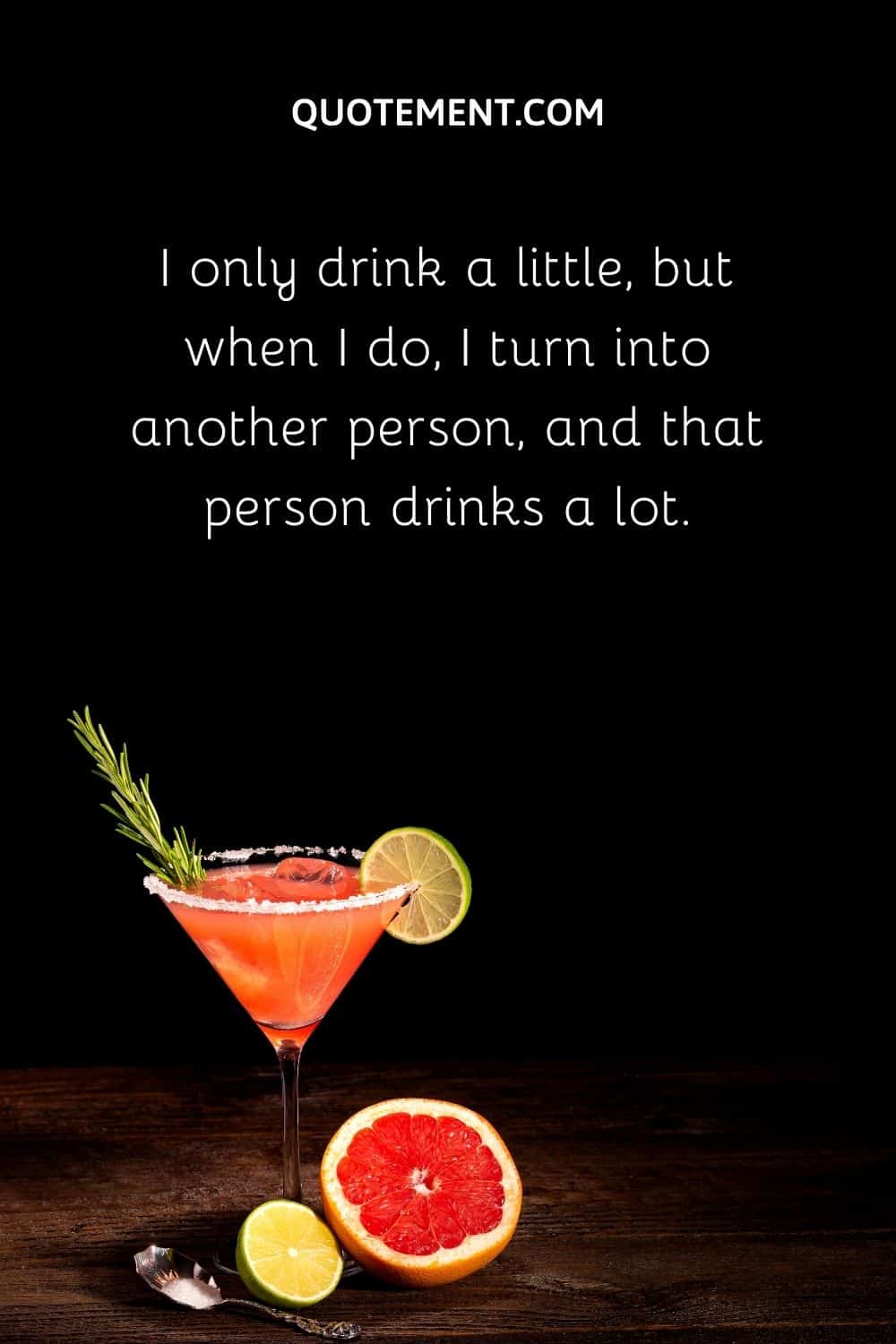 31. Monday, nothing a cocktail can't fix.
32. I take my problems with a grain of salt, a slice of lime, and a shot of tequila.
33. When life gets too salty, add a little tequila and lime.
34. Looks like this is a gin-gin situation.
35. Cocktail, because no great story ever started with someone eating a salad.
36. This senorita needs a margarita.
37. Let me be your Ginderella.
38. One drink away from telling everyone what I think.
39. I wonder if there's a margarita somewhere out there thinking about me too.
40. Technically, it's not drinking alone if a bartender is there.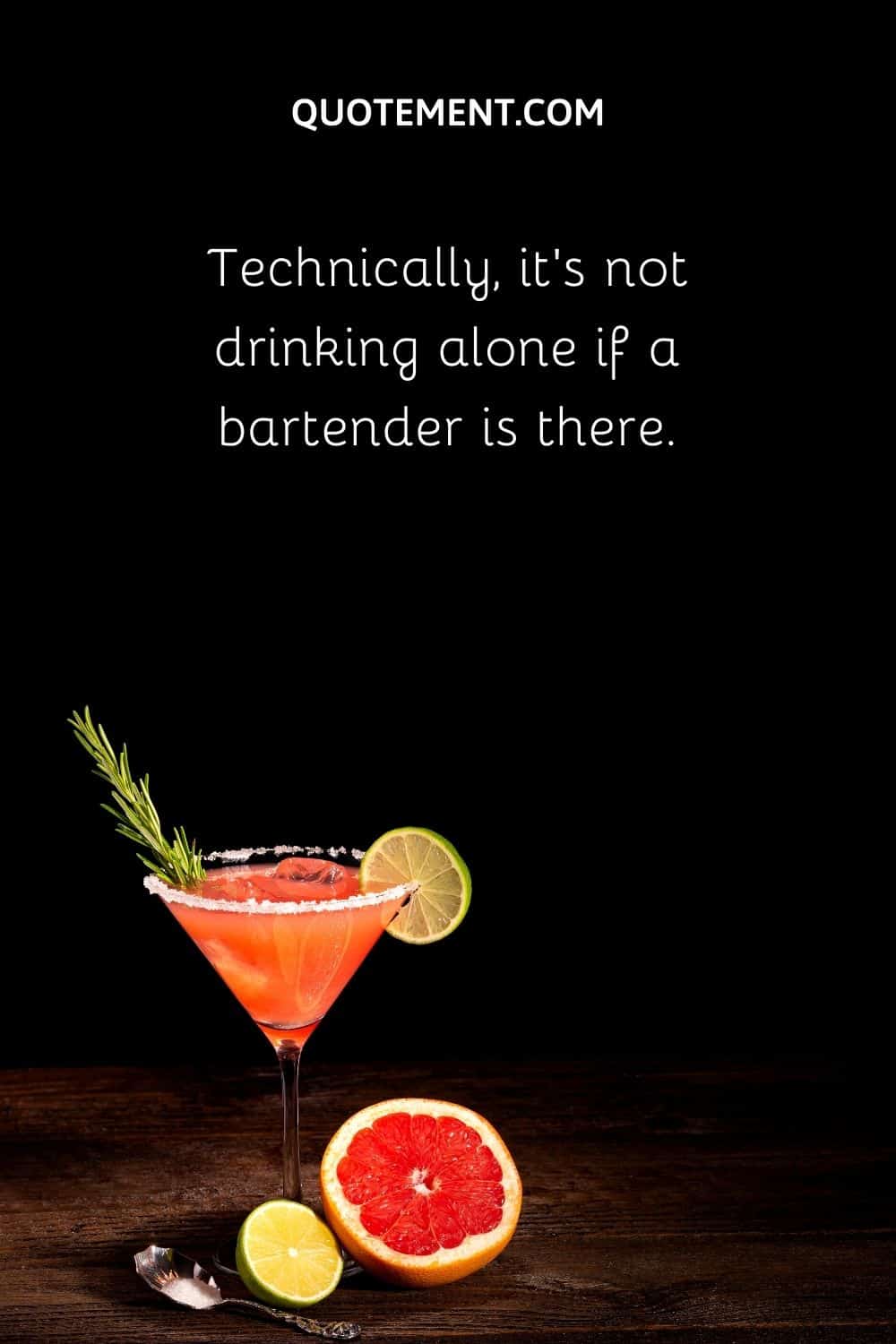 See also: 320 Cool & Catchy Drinking Captions For Instagram
41. We all deserve an alcoholiday.
42. I stay hydrated by adding ice to my cocktail.
43. You know what rhymes with Friday? Cocktail.
44. I enjoy long romantic walks toward the bar.
45. I don't get drunk. I just get less classy and more fun.
46. Alcohol is not the answer. Alcohol is the question. Yes is the answer.
47. I followed my heart, it led me to the bar.
48. Sip happens.
49. My favorite drink is the next one.
50. Gym? I thought you said gin.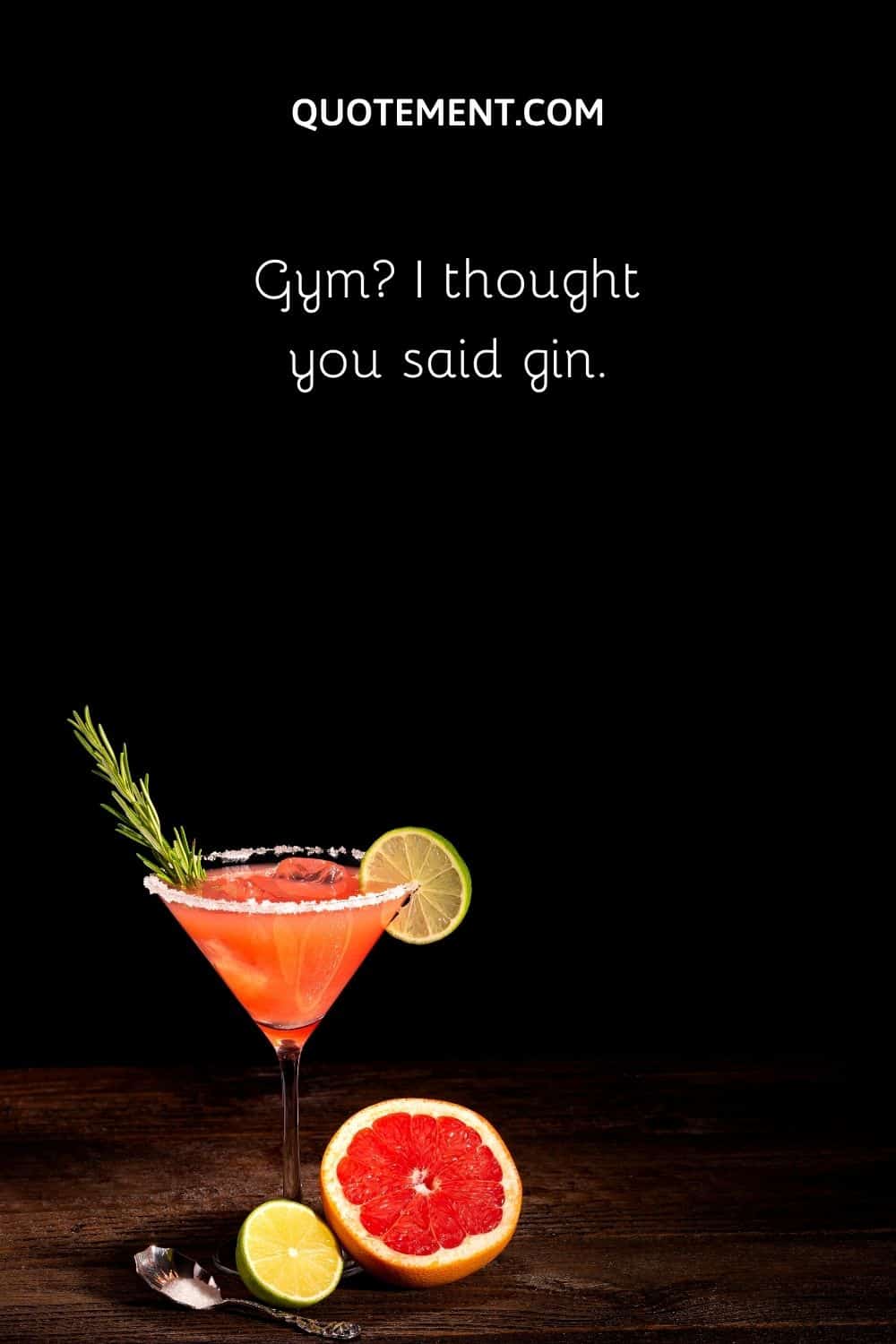 Summer Cocktail Captions
1. The inner soul of every girl out there demands a glass of bloody Mary.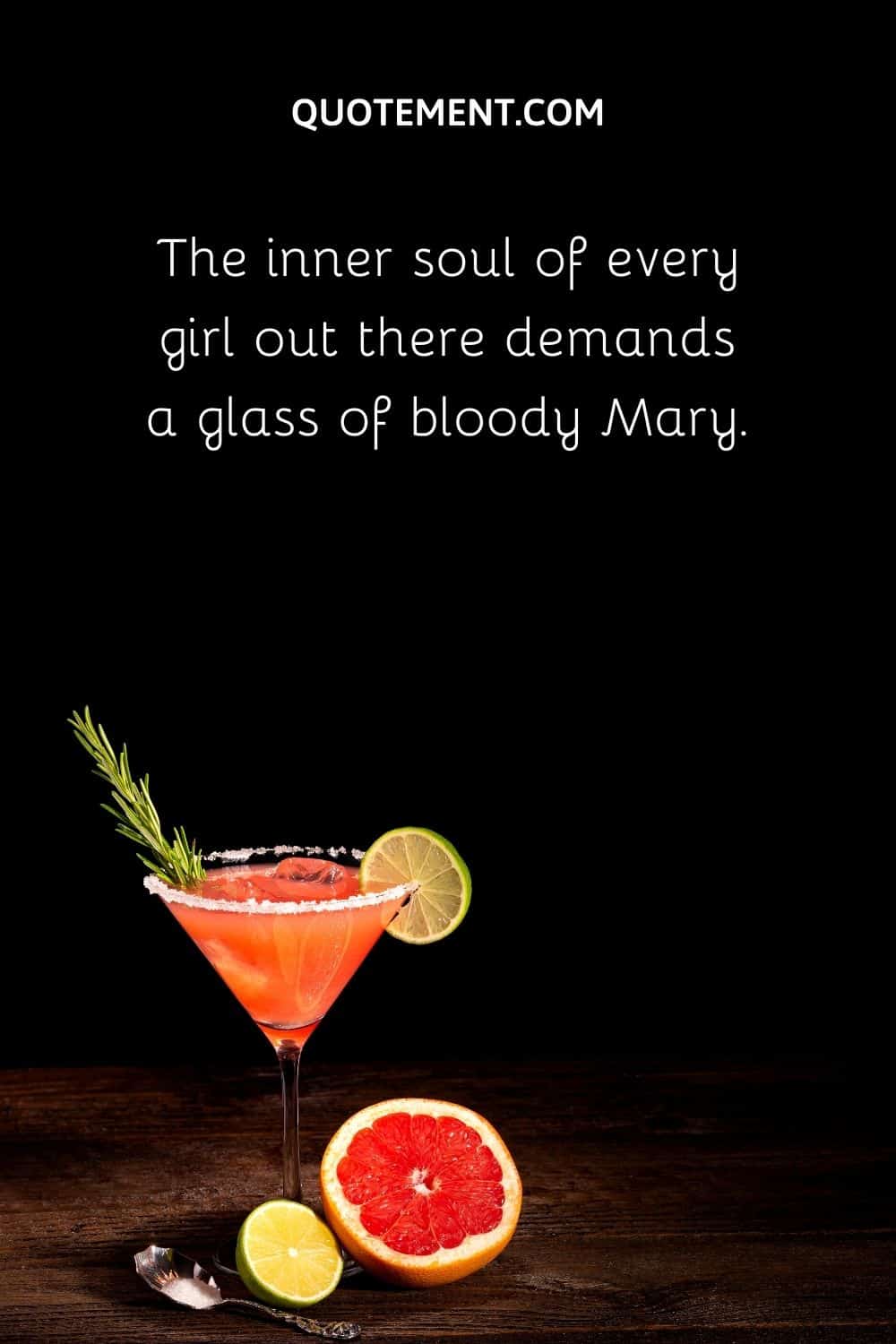 2. Rosé all day.
3. Don't even ask. Just pour me a drink.
4. Margarita over senorita, any time.
5. Want to make me yours? Offer me some cocktails.
6. I'm in need of liquid therapy.
7. Enjoy a taste of heaven.
8. Hakuna ma' vodka.
9. No working during drinking hours.
10. Why limit happiness to an hour?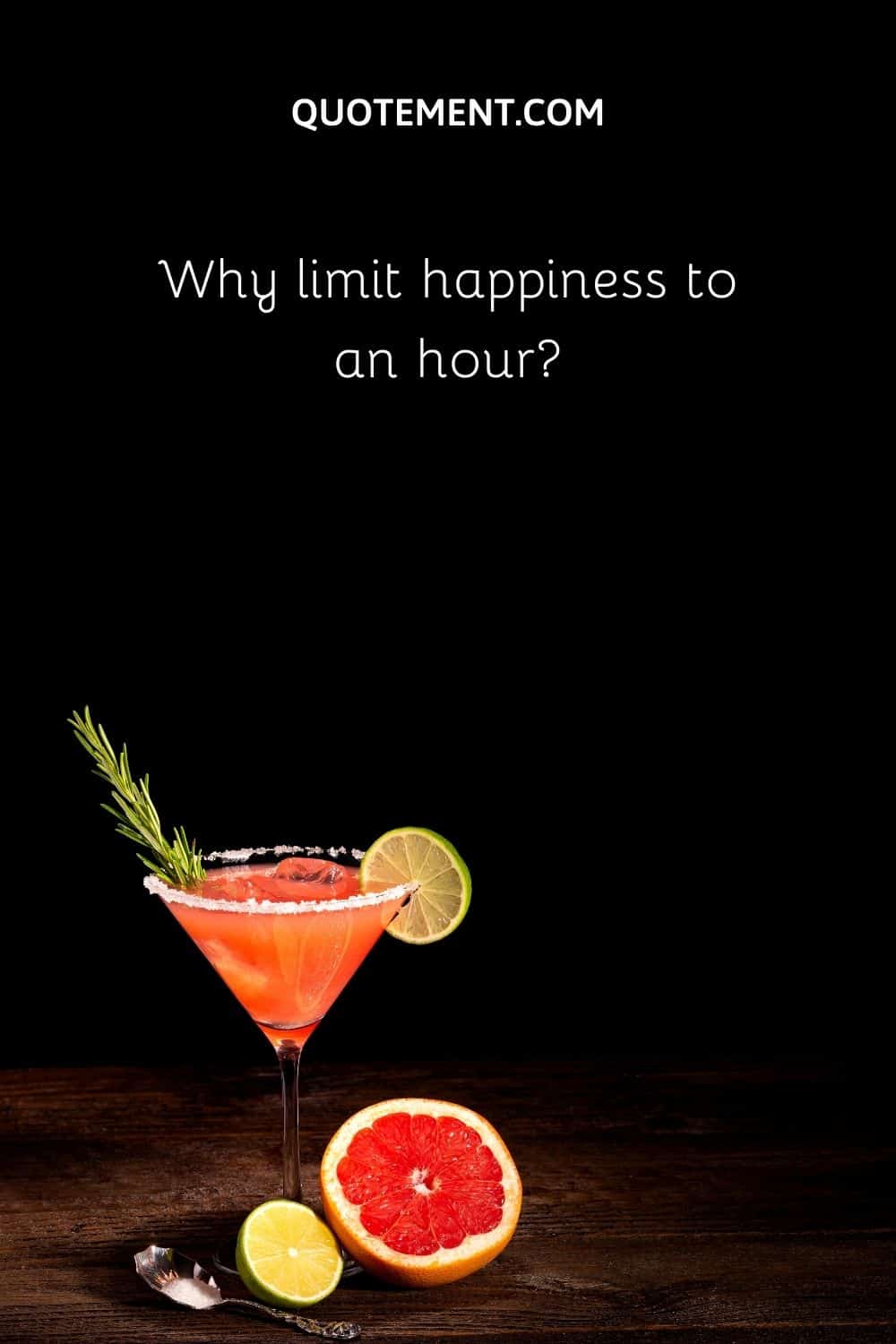 11. Always find time for the things and people who make you happy.
12. Be happy for this moment.
13. Cocktails bring you the best taste swings.
14. Time flies when you are having a cocktail.
15. Cocktails always get high on girls.
16. Drink triple, see double, act single.
17. Tequila is cheaper than therapy.
18. It's time to bring the mojito.
19. Hit me with your best shot.
20. I prefer Tom Collins over Tom Cruise.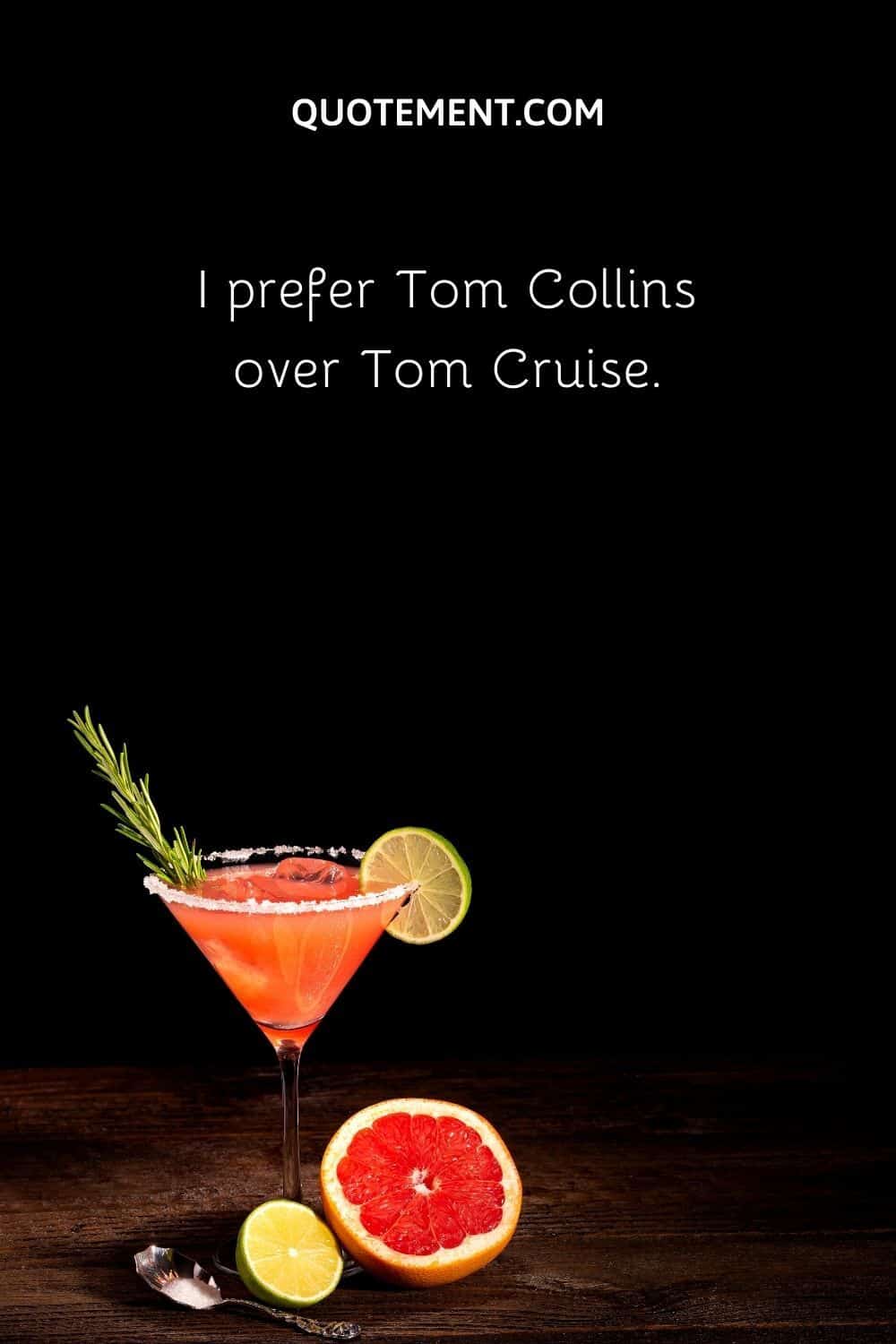 21. Life is a crazy mixture of intoxicating cocktails.
22. I want my toes in the sand and a cocktail in my hand.
23. It's never too early for a cocktail.
24. It's cosmo o'clock.
25. Stop trying to make everybody happy. You're not a cocktail.
26. But first, cocktails.
27. Keep your gin up.
28. You are the mint to my mojito.
29. Sometimes, all you need is a mojito.
30. Know when to give up and have a margarita.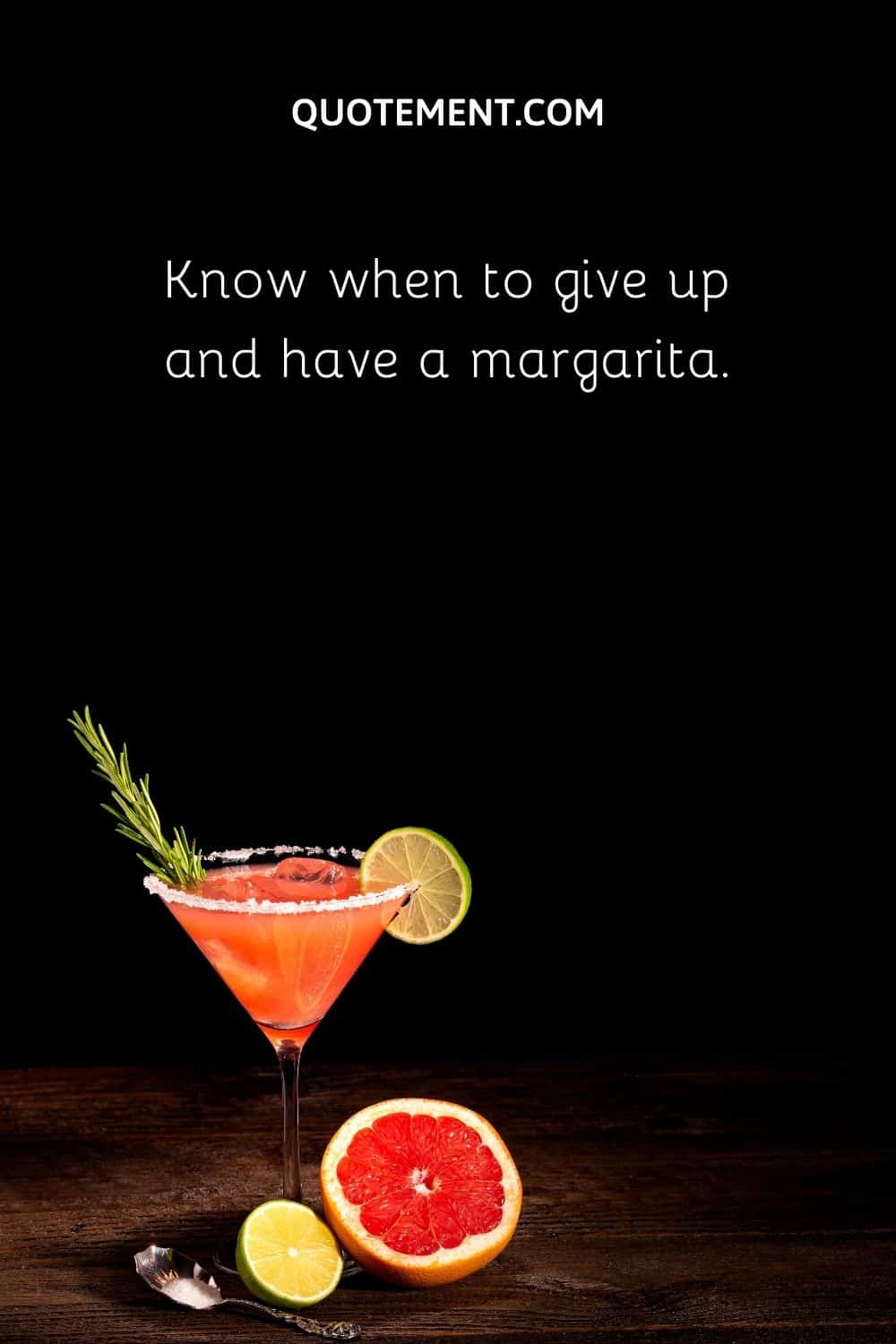 Happy Hour Captions
These lovely captions celebrate the joy of happy hour. May your day be filled with as many as possible!
1. After work, we hit the gin.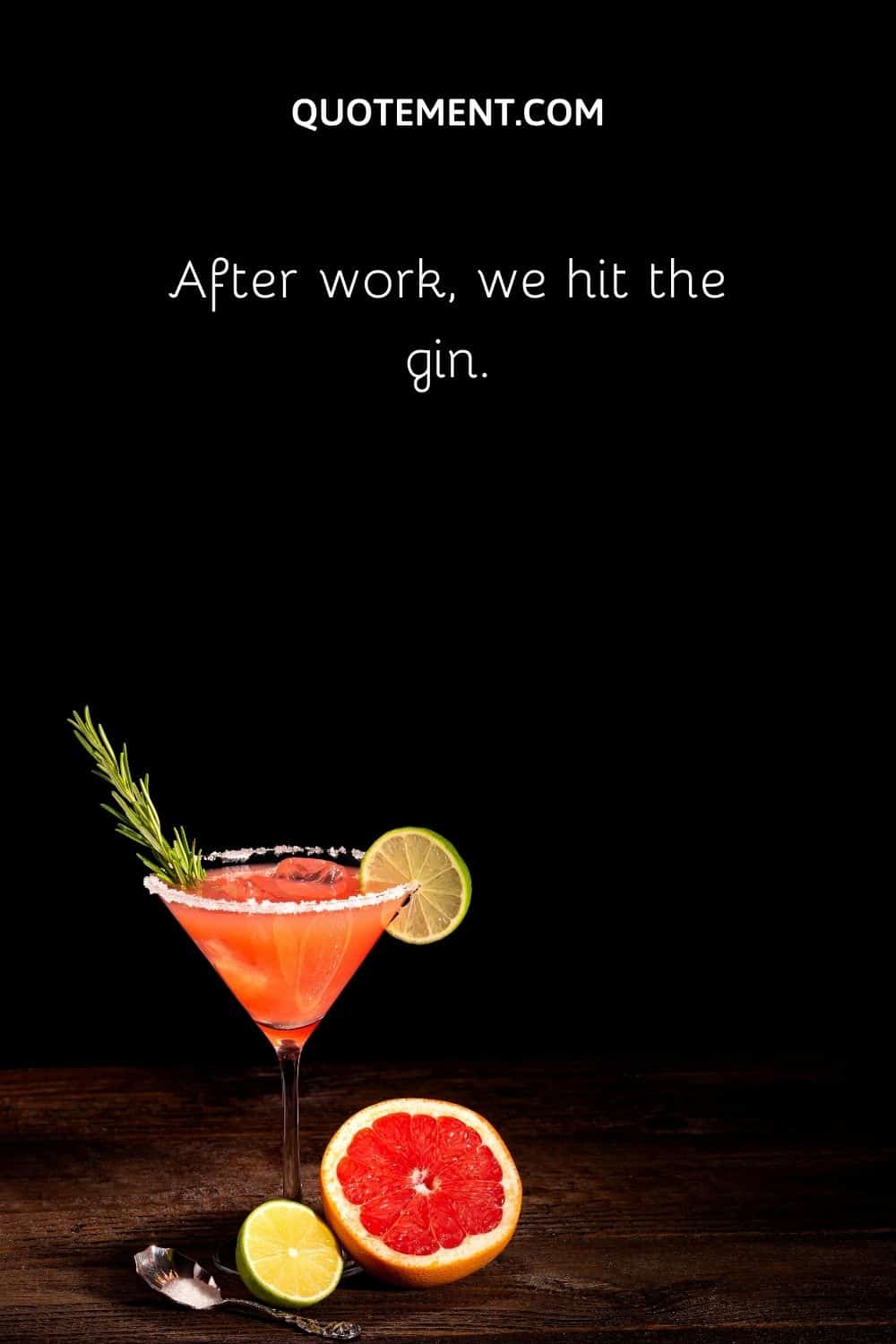 2. Live every hour like it's happy hour.
3. Long Live Happy Hour!
4. I could never in a hundred summers get tired of this.
5. Darling, every hour is 'happy hour' when you are fabulous.
6. We go together like Fridays and happy hour.
7. Keep calm because it's happy hour!
8. Good vibes happen at happy hour.
9. Make happy hour last all day.
10. Happy hour? I prefer to make every hour happy.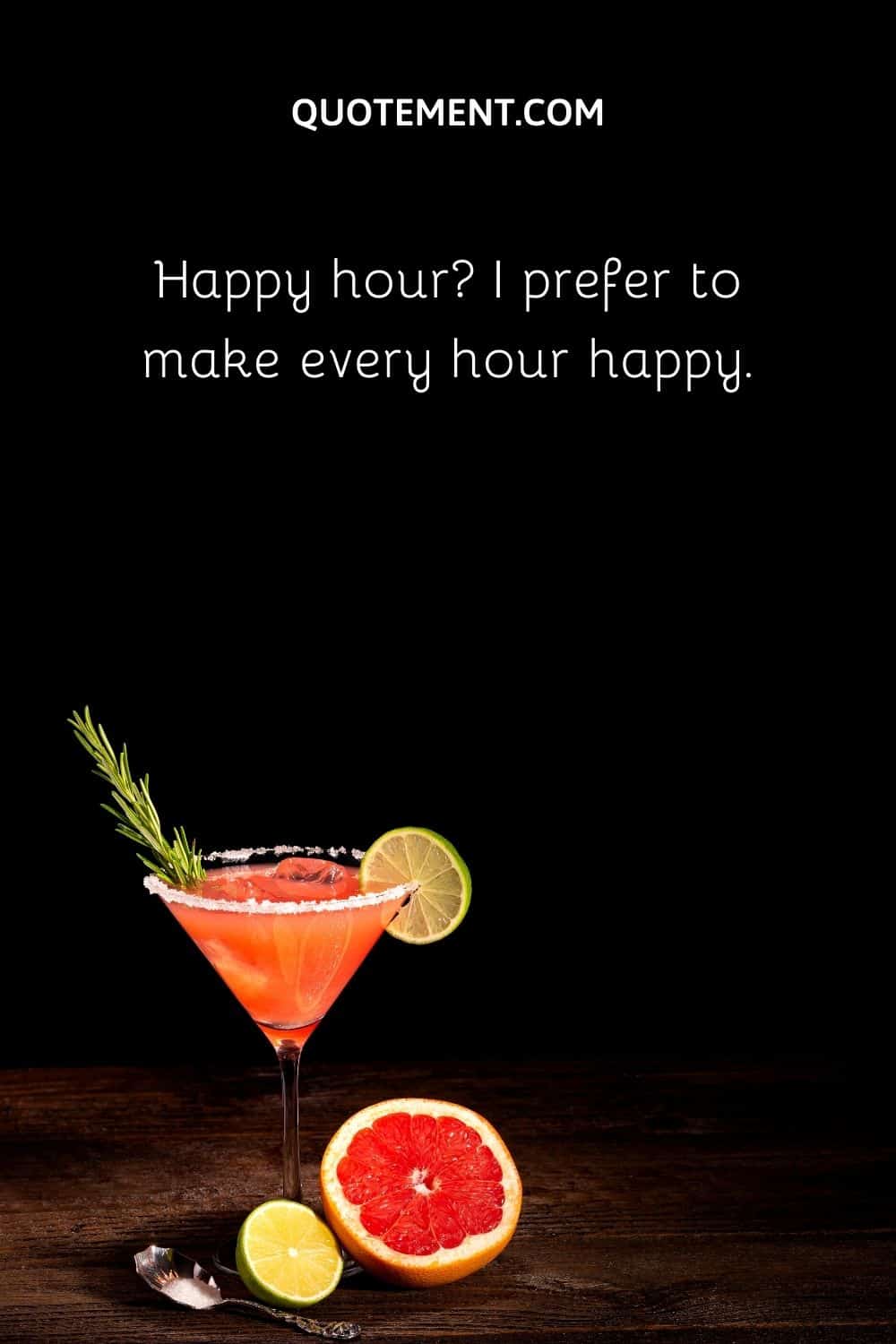 11. Happy hour is the best hour.
12. Happy hour views.
13. Happiest among all the hours.
14. Only count the happy hours.
15. Peace, love, and happy hour.
16. It is my favorite time of the day.
17. There is always a happy hour in your day. Make sure to have it.
18. Choose happy…hour.
19. Reality is an illusion that happens due to a lack of alcohol.
20. When life screws you up, get yourself a screwdriver.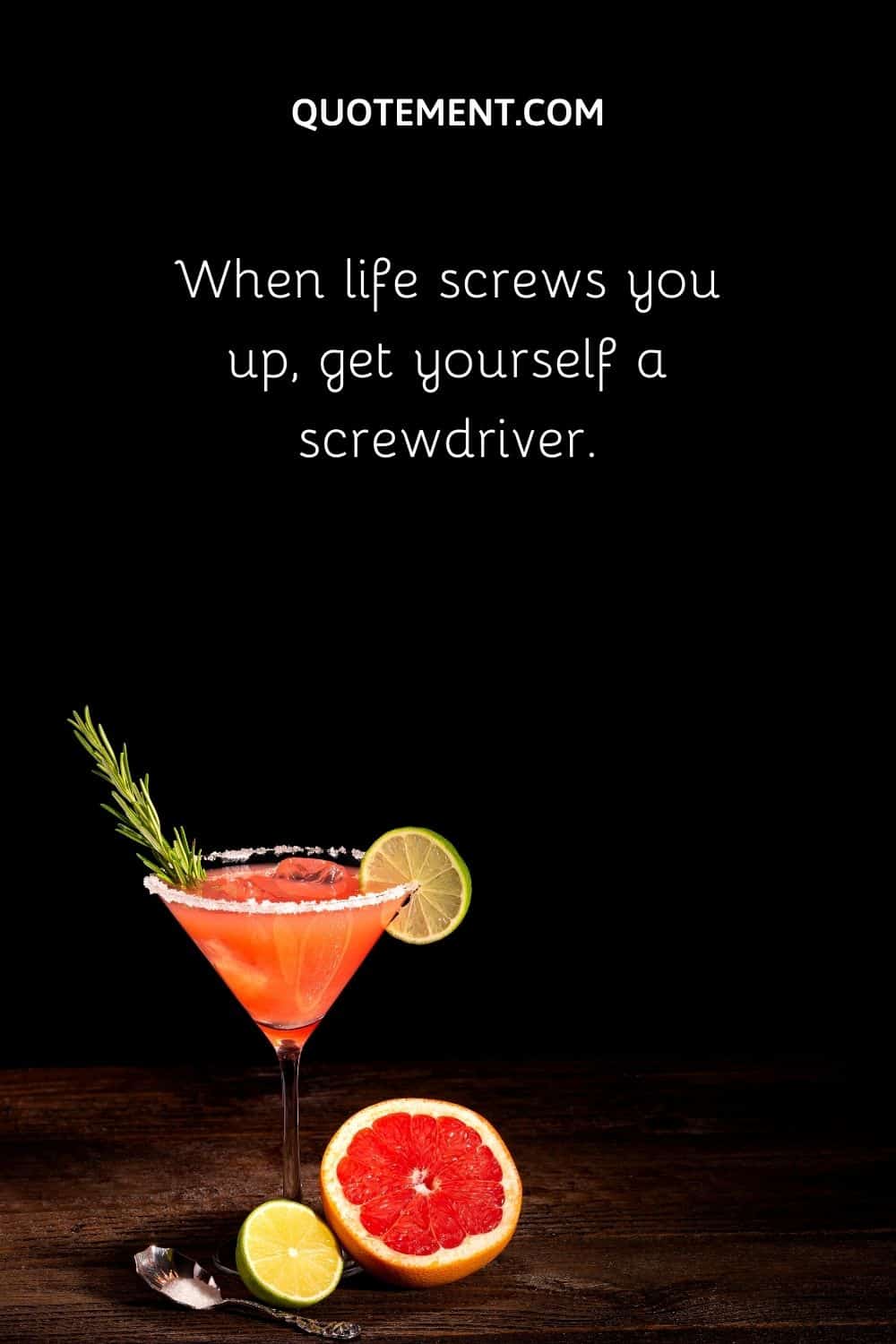 21. In a relationship with a cocktail.
22. Take time to coast (and toast).
23. My happiest hours include sunset and a boardwalk.
24. Sometimes, alcohol is the answer.
25. God has given you unlimited and countless happy hours. You just need to find and recognize them.
26. Wine not?
27. Dying for the cocktail.
28. Catch me live at my happy hours.
29. Party now, worry later.
30. Drinks well with others.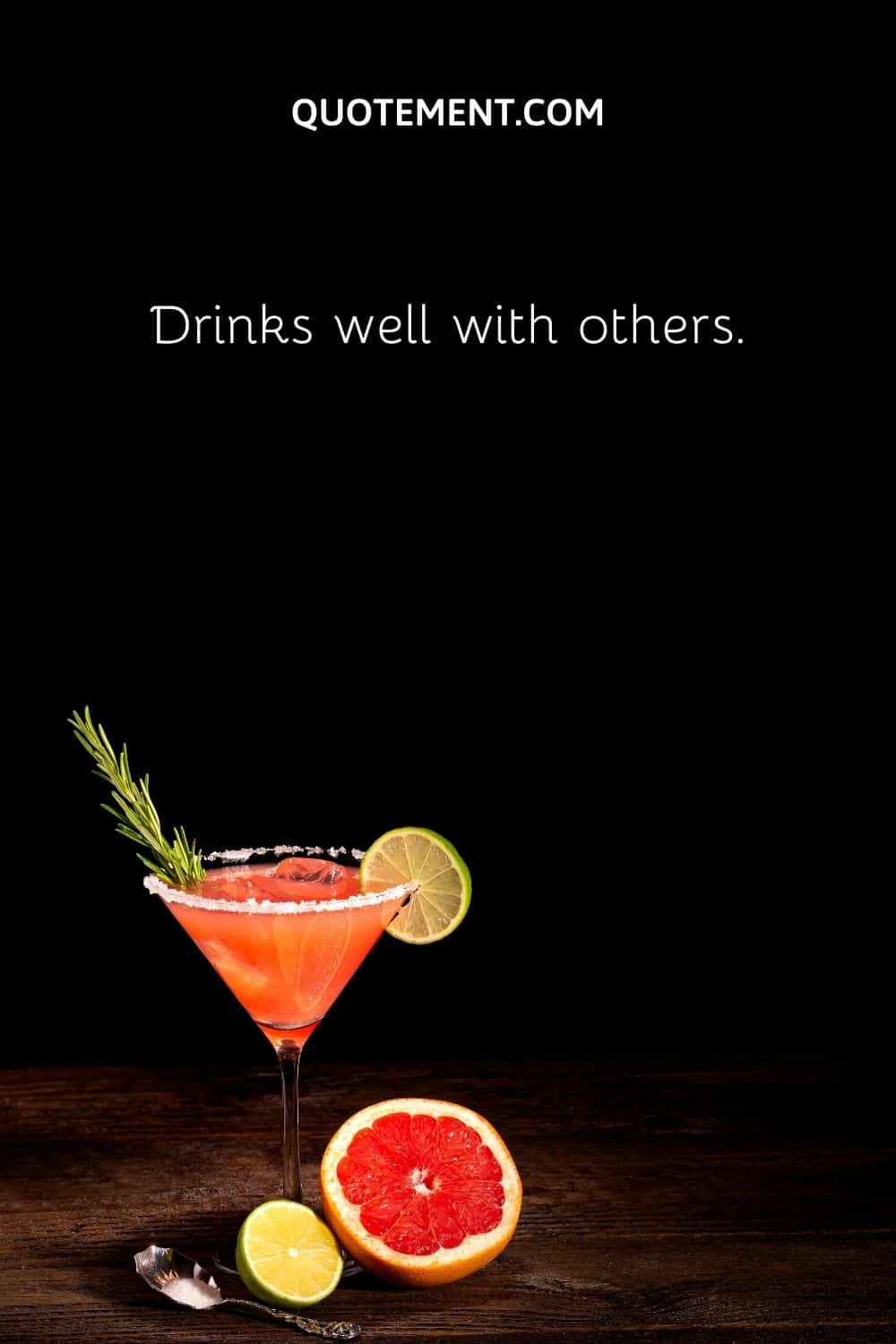 31. Every hour deserves to be happy.
32. How can you ever be bored on a boardwalk like this?
33. Feeling just peachy.
34. Yes way rosé.
35. Cheers to many more years (and many more beers).
Drinks Captions For Instagram
These catchy cocktail captions are inspired by different kinds of alcoholic beverages.
1. The only real happy ending is the weekend.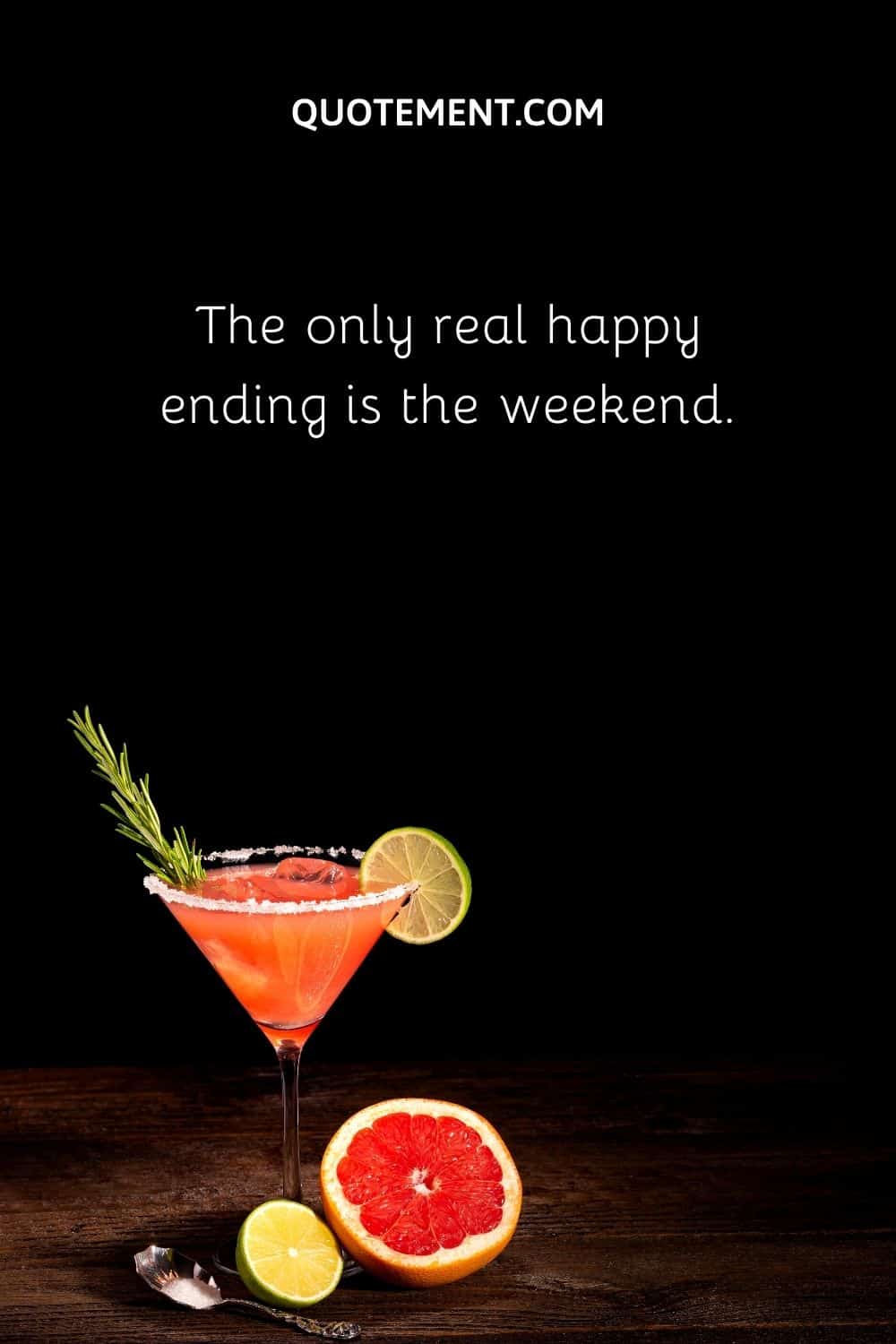 2. Beer. Lime. & Sunshine.
3. In alcohol's defense, I've done some pretty dumb sh*t while completely sober too.
4. I worked hard all week to put beer on this table.
5. Alcohol is the anesthesia by which we endure the operation of life.
6. I drink to make other people more interesting.
7. I make wine disappear. What's your superpower?
8. Champagne is like duct tape. It fixes everything.
9. Hangovers are temporary, drunk stories are forever.
10. A party without champagne is just a meeting.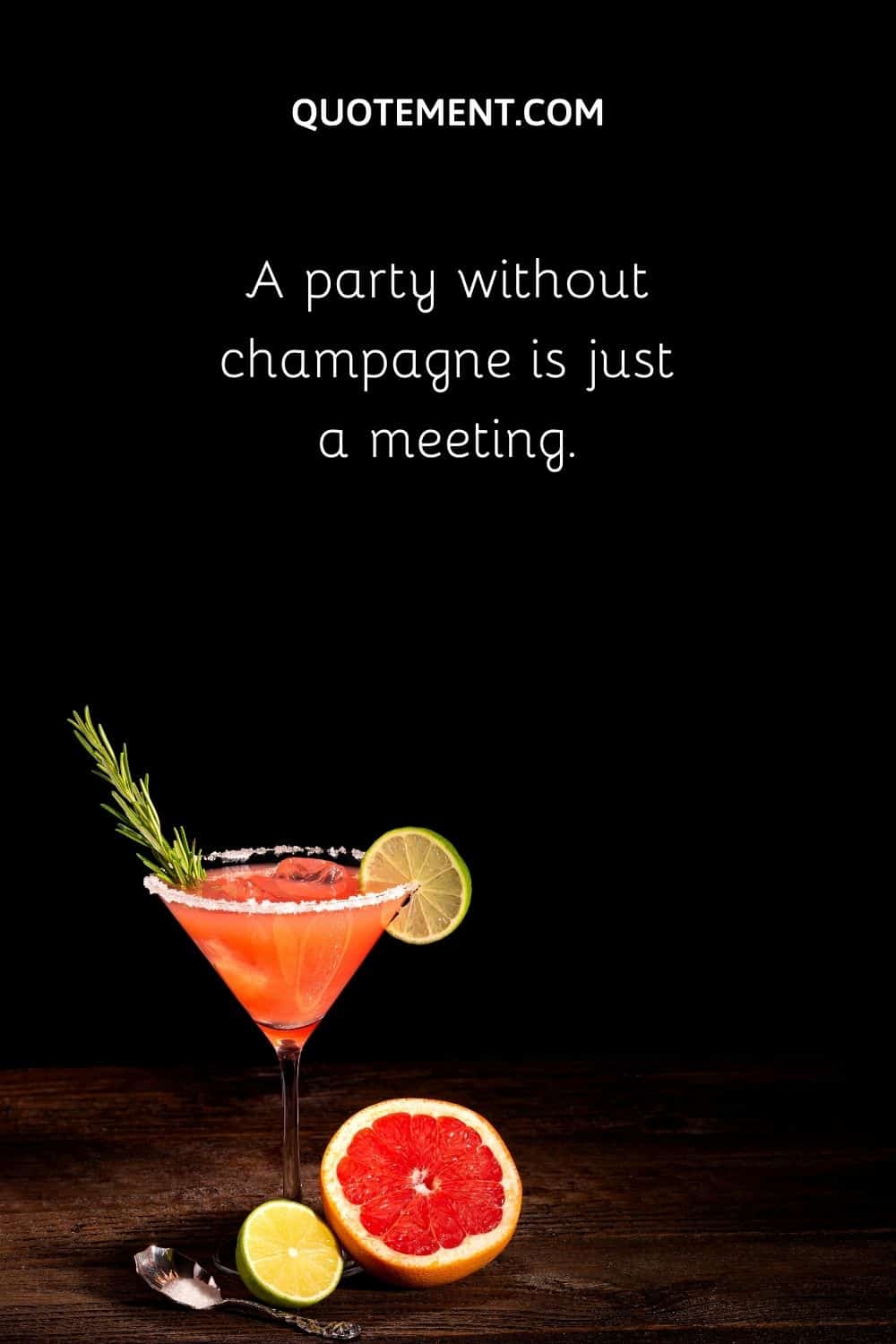 11. Whiskey is a great drink? It makes you see double and feel single.
12. Alcohol is the liquid version of photo shop.
13. You can't buy happiness, but you can buy beer, and that's kind of the same thing.
14. Take a pitcher, it'll last longer.
15. I don't have a drinking problem except when I can't get a drink.
16. It's wine o clock.
17. It's finally Friday, let's pop the champagne!
18. My friends speak of my drinking…. but they know not of my thirst.
19. Passports and pineapples.
20. I live for thirsty Thursday.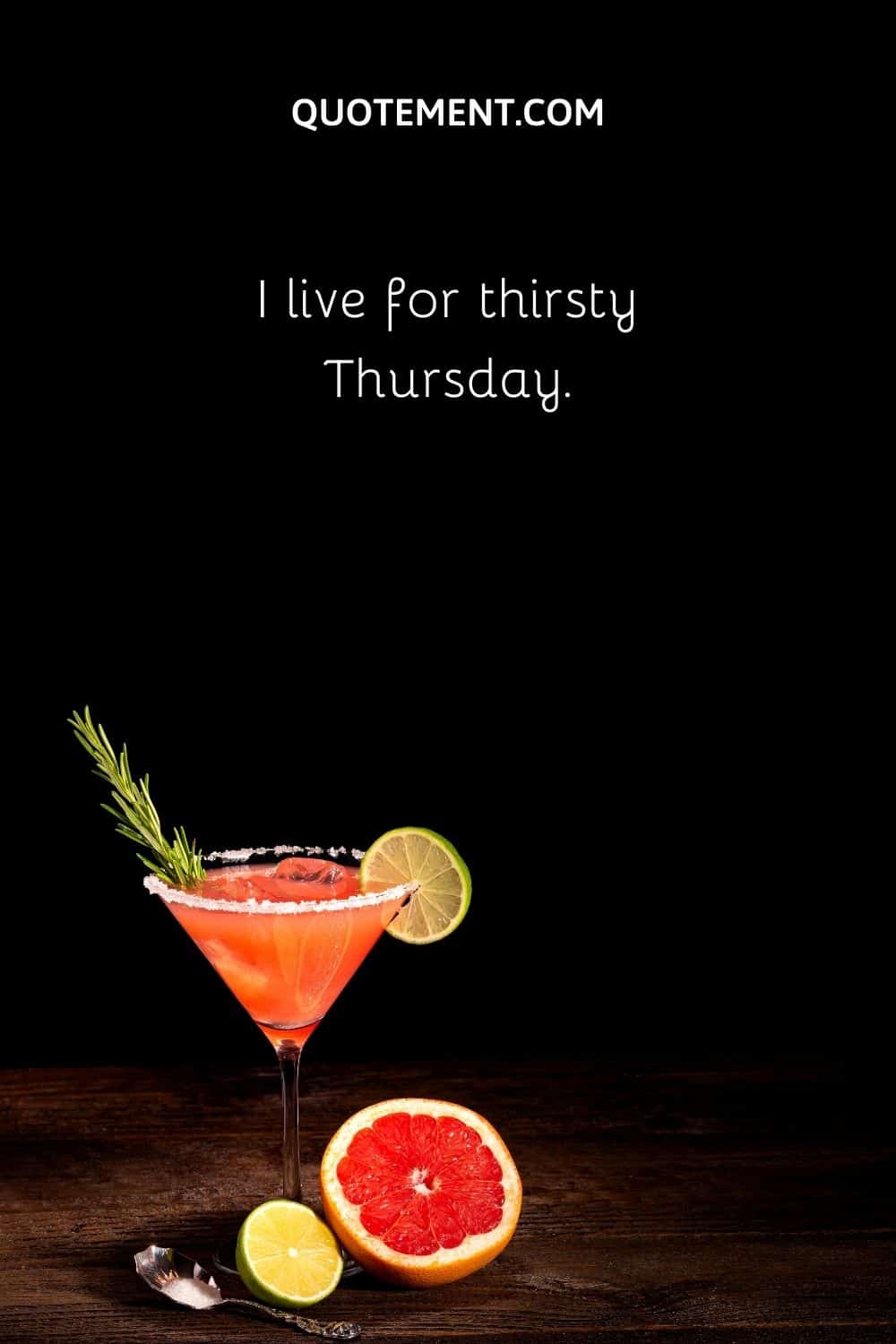 21. Coffee keeps me going until it's acceptable to drink champagne.
22. The drunken man speaks the honest truth.
23. We're all addicted to something that takes away the pain.
24. If you want to be happy, worry less and drink more.
25. Watch me sip, watch me lay lay.
26. Two best things about Russia? It's vodka and Moscow mule.
27. Confused about your feelings? Have a blend shot to clear it out.
28. If you have to ask if it's too early to drink champagne, you're an amateur, and we can't be friends.
29. Beers too many more cheers.
30. It's time to wine down.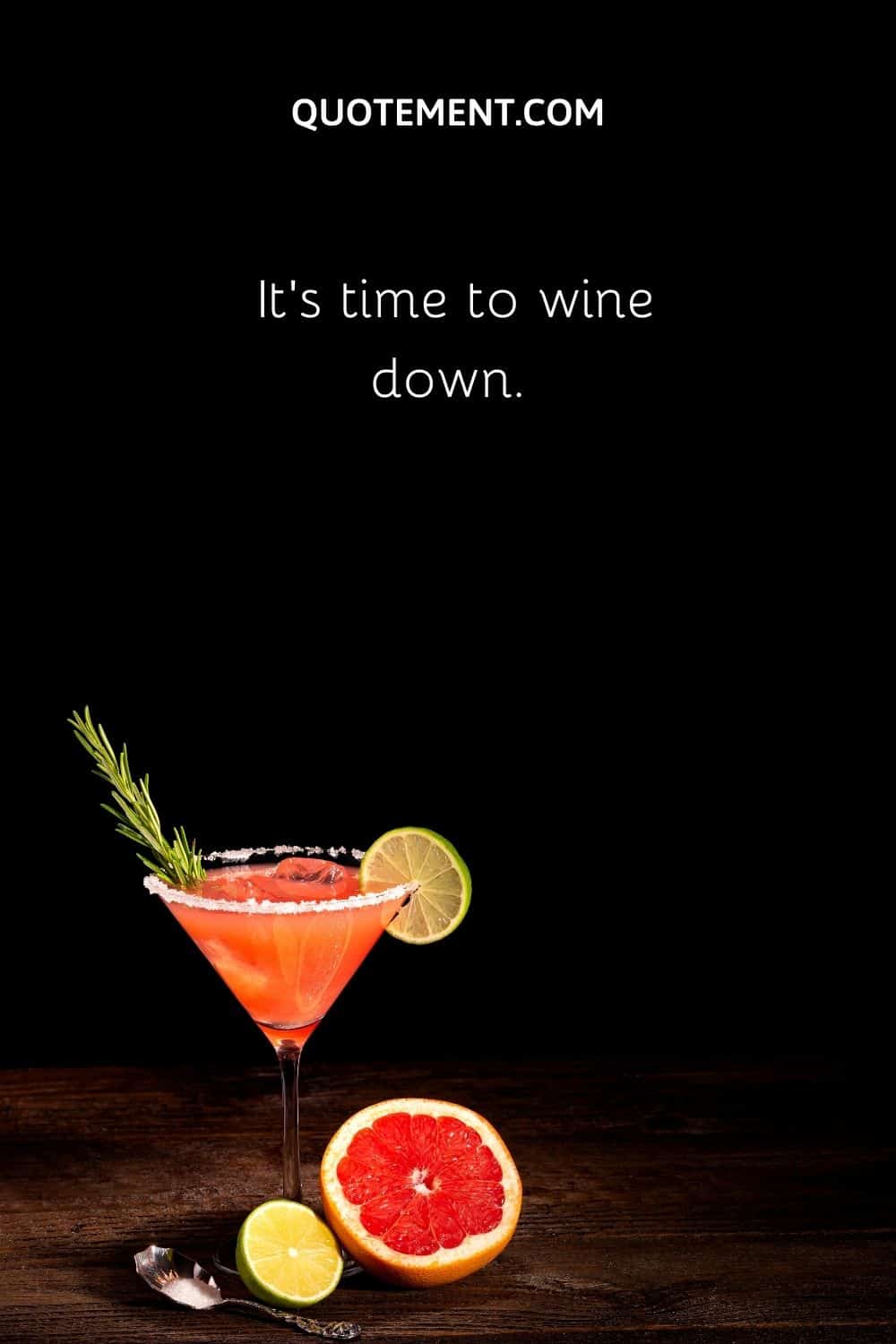 31. I'd rather be someone's shot of whiskey than everyone's cup of tea.
32. Give your taste buds a burst of sweet and sour mix #sweetandsourmojito
33. I'll drink to that.
34. When life gives you pineapples, make pina coladas.
35. Save water, drink wine.
See also: 340 Ultimate Best Wine Captions For Wine Lovers Everywhere
Cocktail Quotes For Instagram That Can Be Used As Captions
1. "Oh, you hate your job? Why didn't you say so? There's a support group for that. It's called EVERYBODY, and they meet at the bar." — Drew Carey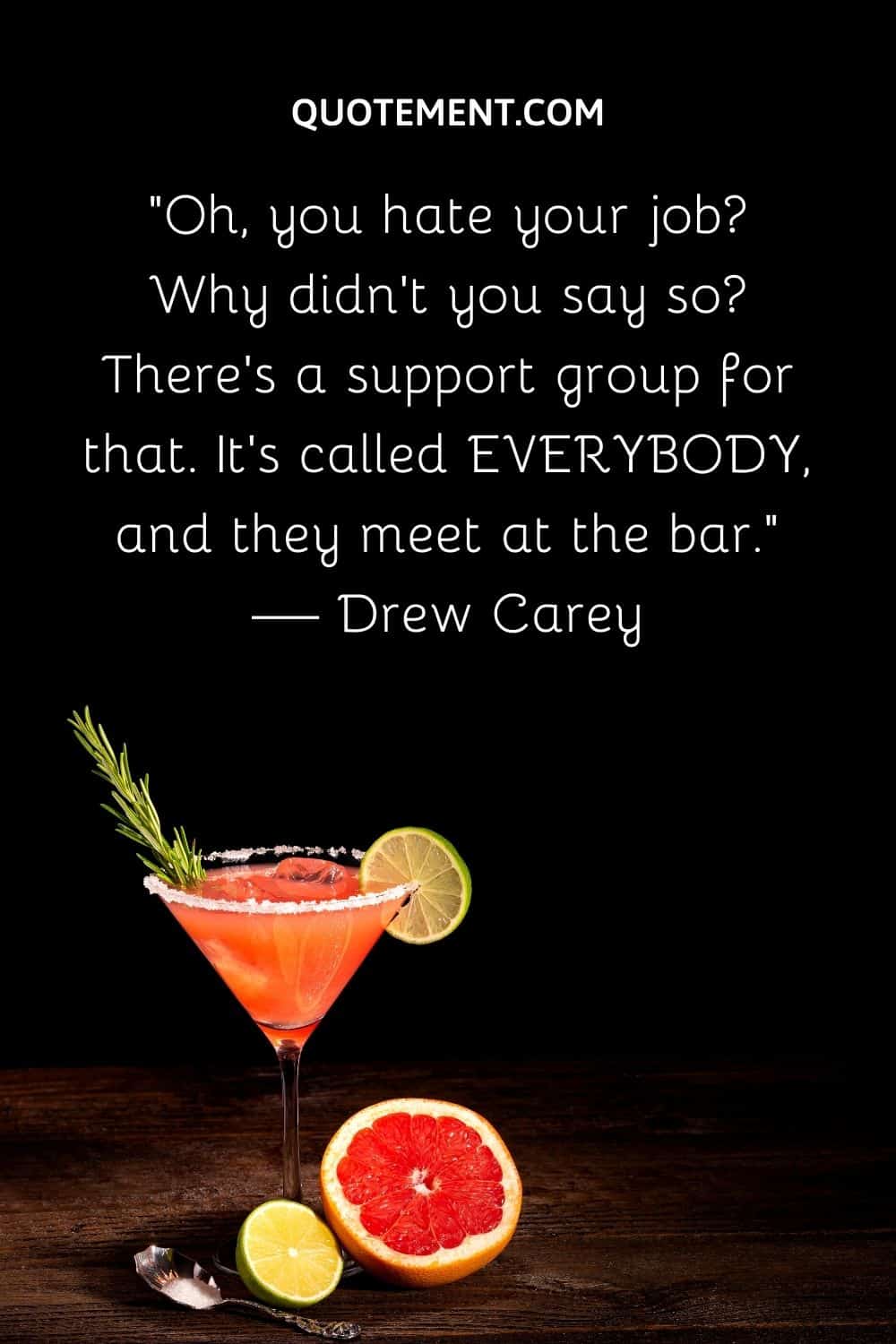 2. "I believe when life gives you lemons, you should make lemonade… and try to find someone whose life has given them vodka, and have a party." — Ron White
3. "Everybody's got to believe in something. I believe I'll have another beer." — W.C. Fields
4. "Seen through the gold of old Scotch, life seems more beautiful." — Pierre Souvestre
5. "I spent half my money on gambling, alcohol, and wild women. The other half I wasted." — W. C. Fields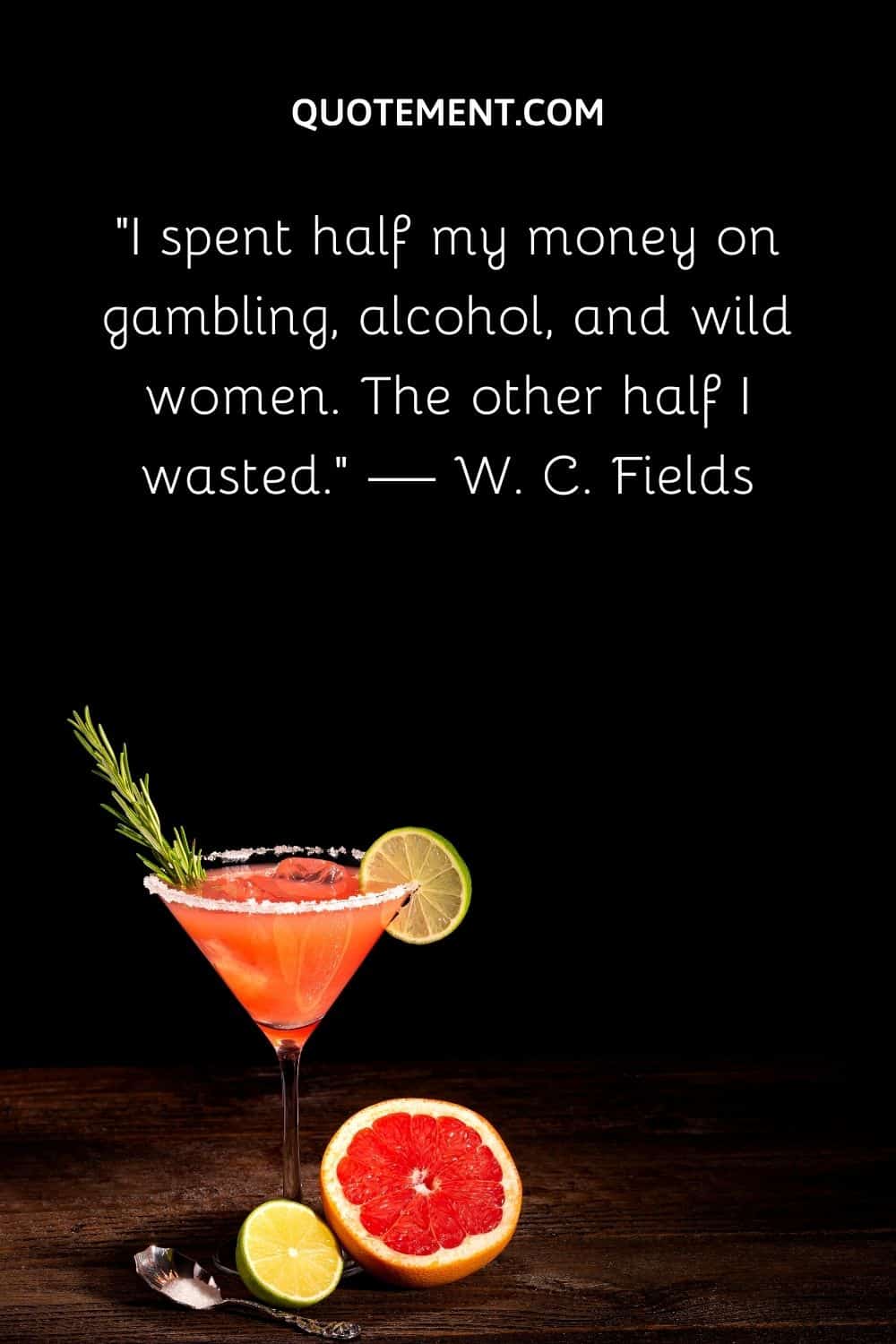 6. "Life is like a cocktail, it depends upon what ingredients you mix in it. So be careful about your ingredients." — Ahil Murali
7. "Only Irish coffee provides in a single glass all four essential food groups: alcohol, caffeine, sugar, and fat." — Alex Levin
8. "Alcohol may be man's worst enemy, but the bible says love your enemy." — Frank Sinatra
9. "Not all chemicals are bad. Without chemicals such as hydrogen and oxygen, for example, there would be no way to make water, a vital ingredient in beer." — Dave Barry
10. "A man is a fool if he drinks before he reaches the age of 50, and a fool if he doesn't afterward." — Frank Lloyd Wright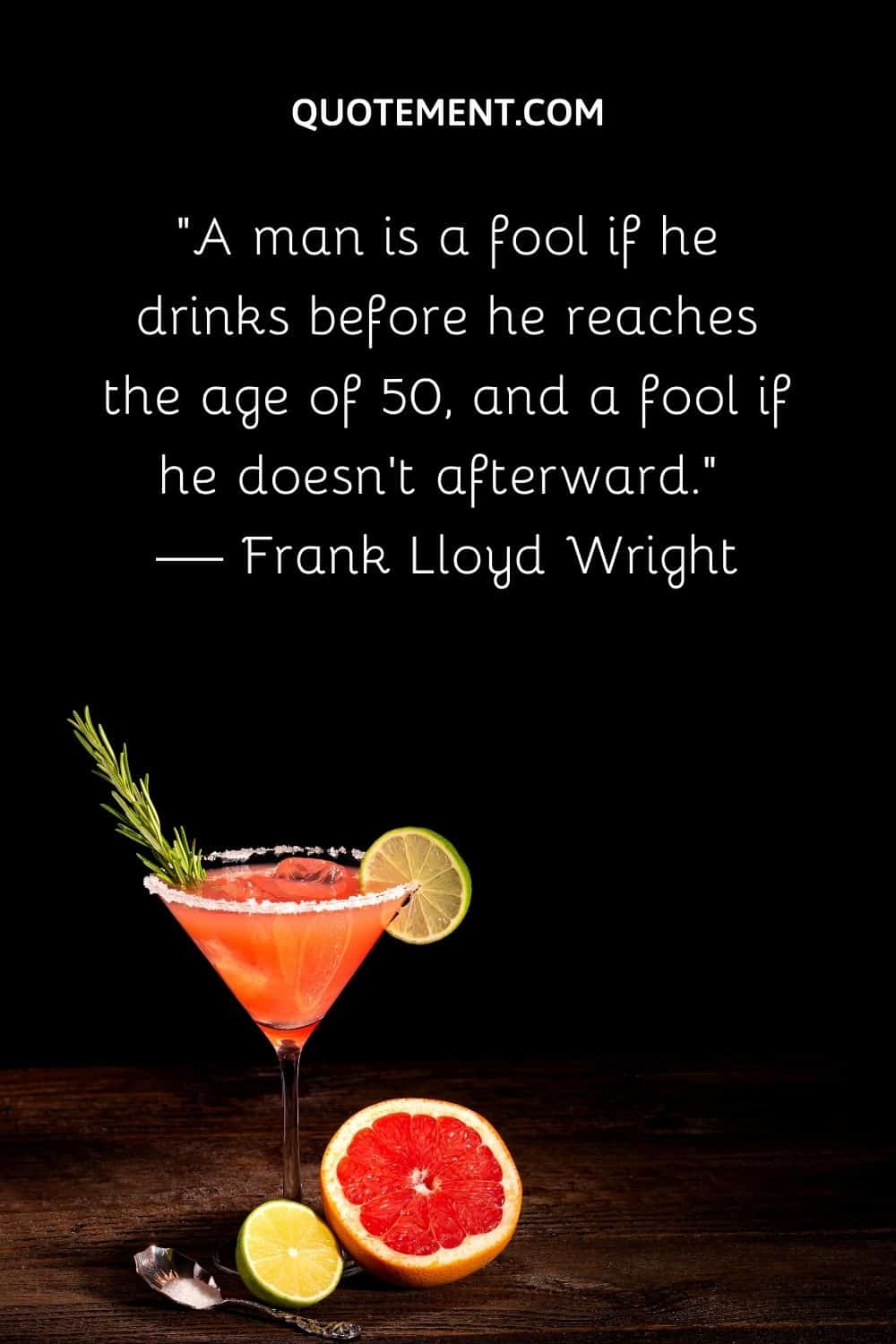 Conclusion
I don't know about you, but having this many cool and catchy cocktail captions definitely inspired me to hit the bar and order my favorite cocktail.
And, of course, Instagram will have to know about it!
I hope you liked all the great and funny captions you found in this article.
Until next time!