Do you need a perfect drinking caption to go with your post on social media? Well, I've got good news because you have found a list of the best drinking captions for Instagram to rock all your posts!
If you enjoy having a drink and taking pics and selfies with it, make sure you always have a great caption to accompany your photos. After all, there's no perfect post without a perfect caption!
That's why I have rounded up this great collection of drinking captions for Instagram, so you always have great captions for your posts and attract more likes and followers to your profile.
The drinking captions for Instagram you'll read here will show off your refined taste and draw attention to your cool photos with drinks.
I've got all sorts of drinking Instagram captions, including cocktail captions for Instagram, beer captions, wine captions, as well as a list of great drinking quotes.
If you want to show off your sense of humor, I've got plenty of puns and funny drinking captions too.
So, scroll down to check out my collection of the best drinking captions for Instagram!
40 Best Drinking Captions
Let's start with a list of my personal favorite Instagram captions about having a relaxing time with a glass of wine or bottle of beer after a stressful day.
1. Nothing lasts forever so live it up, drink it down, laugh it off.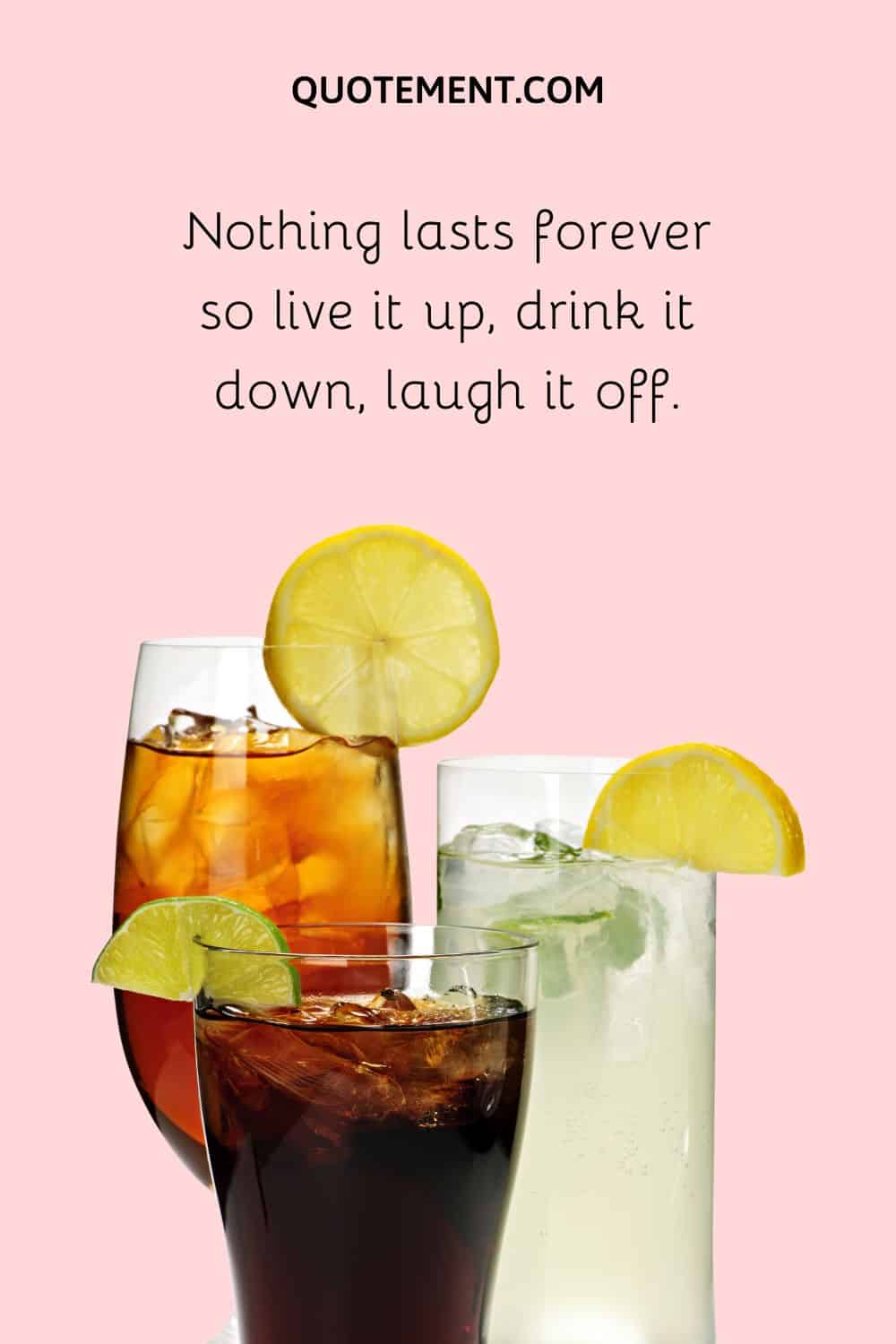 2. A drink a day keeps reality at bay.
3. Alcohol is the anesthesia by which we endure the operation of life.
4. Never chase anything but drinks and dreams.
5. I'm in need of liquid therapy.
6. Strong women need strong drinks.
7. My friends speak of my drinking…. but they know not of my thirst.
8. Cheers to pour decisions.
9. I have mixed drinks about feelings.
10. First drink, then let's think about it.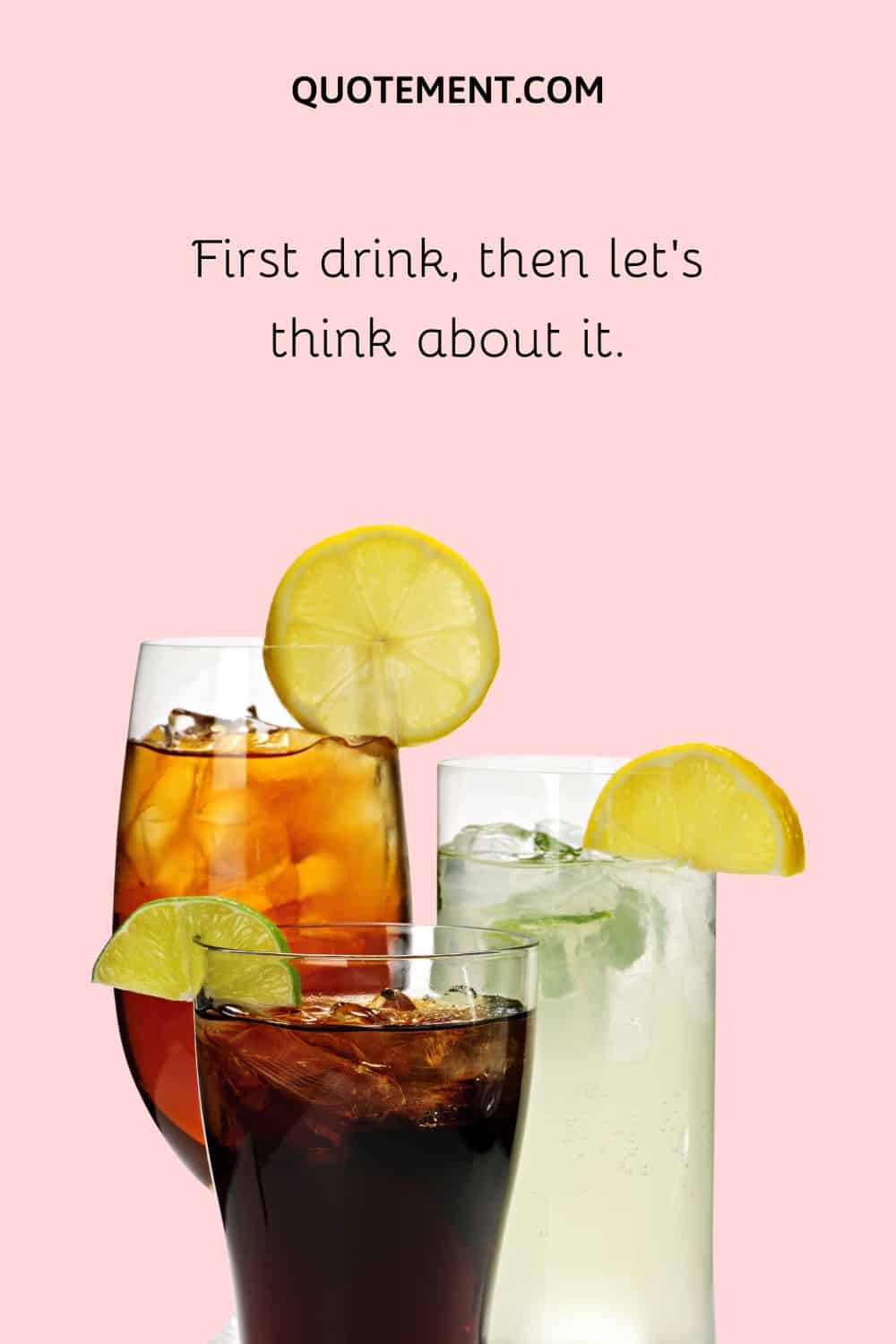 11. Twinkle, twinkle, little star, point us to the nearest bar.
12. Friends are therapists you can drink with.
13. Sir sips' a lot.
14. Don't even ask, just pour me a drink.
15. Sippin' and chillin'.
16. No working during drinking hours.
17. Sip, sip hooray!
18. That's what I do. I drink and I know things.
19. Let's drink about it.
20. Drinking before 10 am makes you a pirate, not an alcoholic.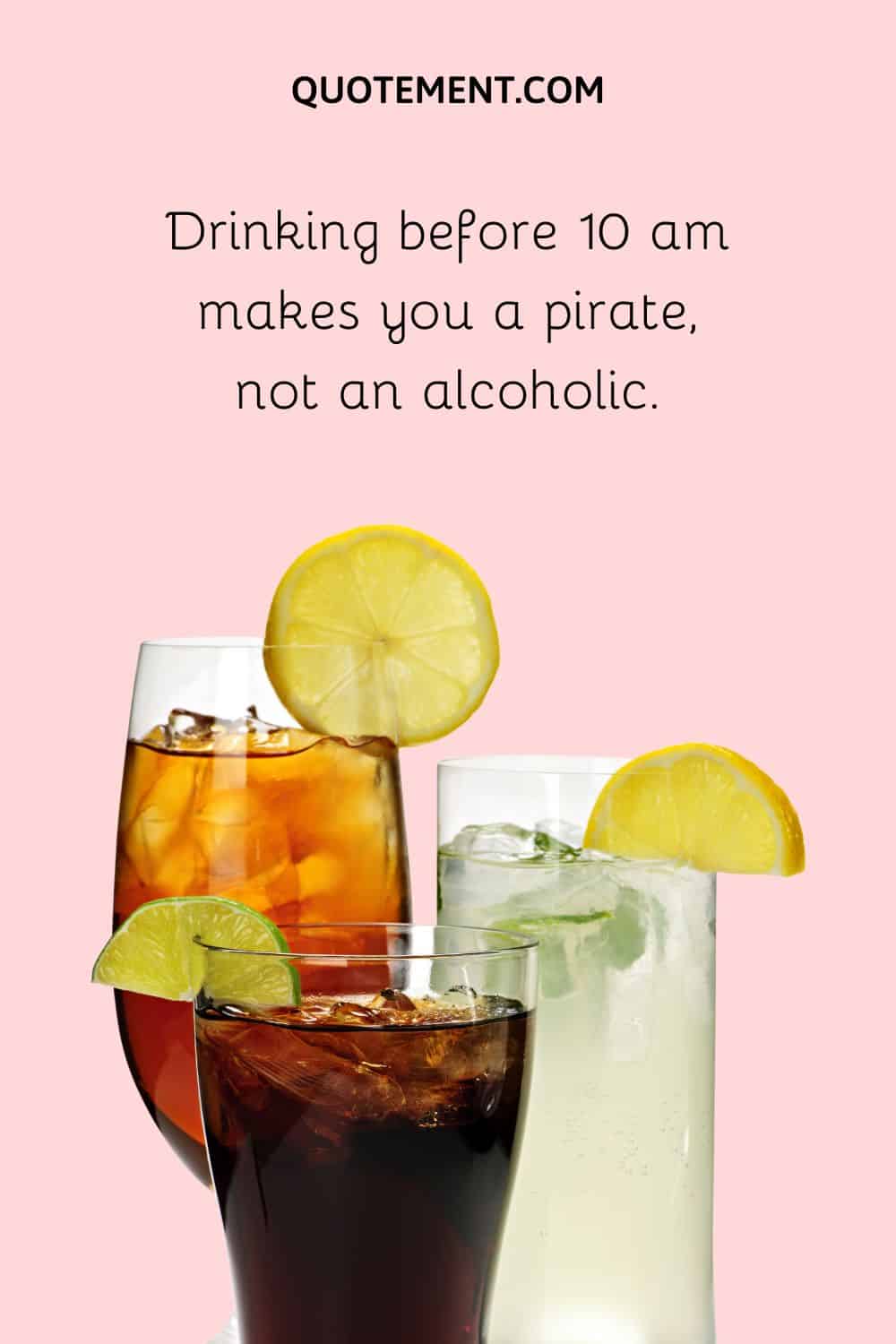 21. Drink happy thoughts.
22. It's 5 o'clock somewhere.
23. Sip happens.
24. Pour quality pic, high-quality friends.
25. I enjoy long romantic walks toward the bar.
26. I have mixed drinks about feelings.
27. I drink to make other people more interesting.
28. Always buy a bigger bottle than you think you'll need. Better to be safe than sober.
29. Bottoms Up!
30. A man's true character comes out when he's drunk.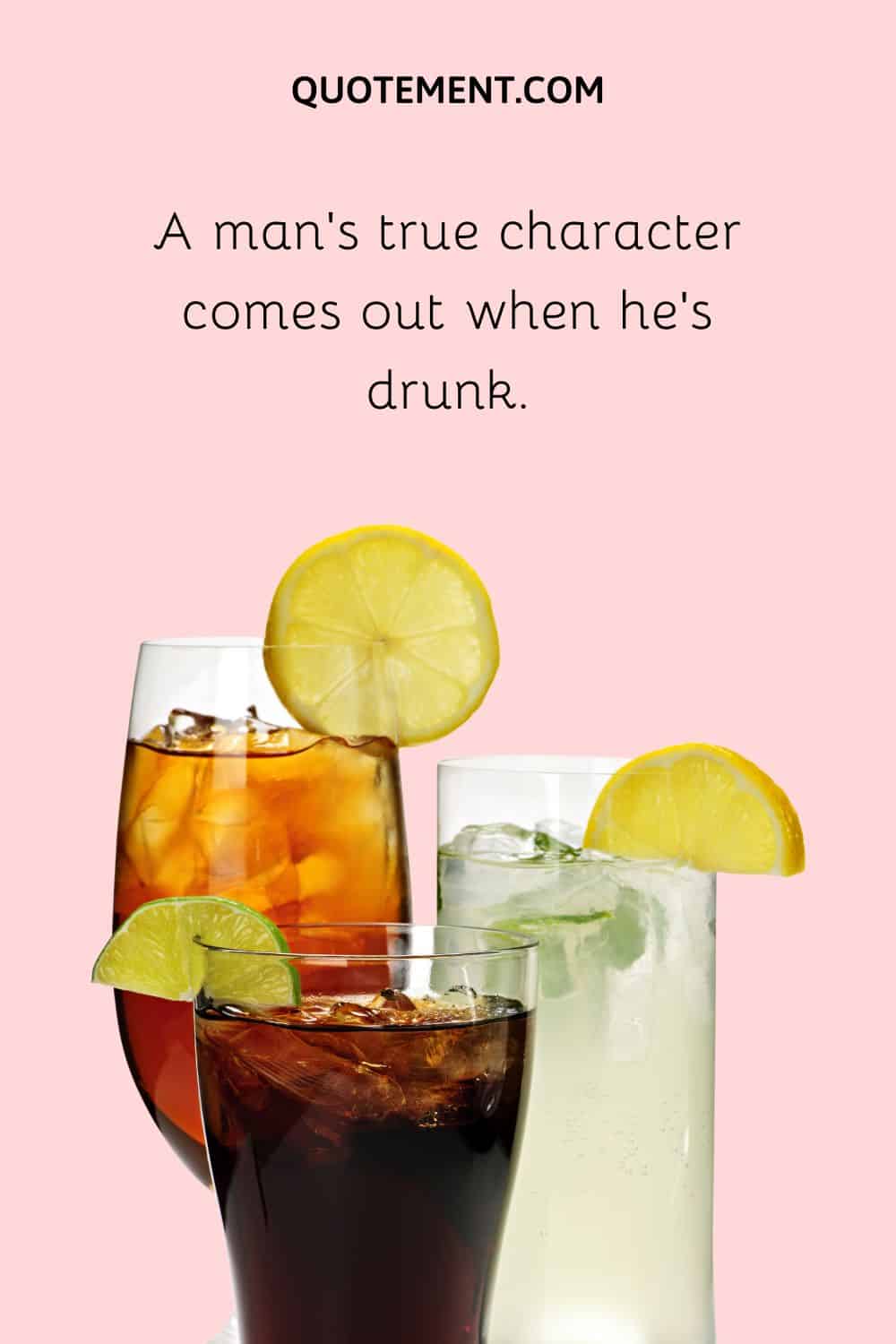 31. Moral of the story…we all survived.
32. There's too much blood in my alcohol system.
33. I'm not really a social drinker. I would say it's mostly work-related.
34. Bad choices make good stories.
35. Vodka is kind of a hobby.
36. Girls just wanna have rum.
37. You are the gin to my tonic.
38. Good friends offer advice. Real friends offer booze.
39. Toes in the sand, drink in hand.
40. The lower the latitude the better the attitude.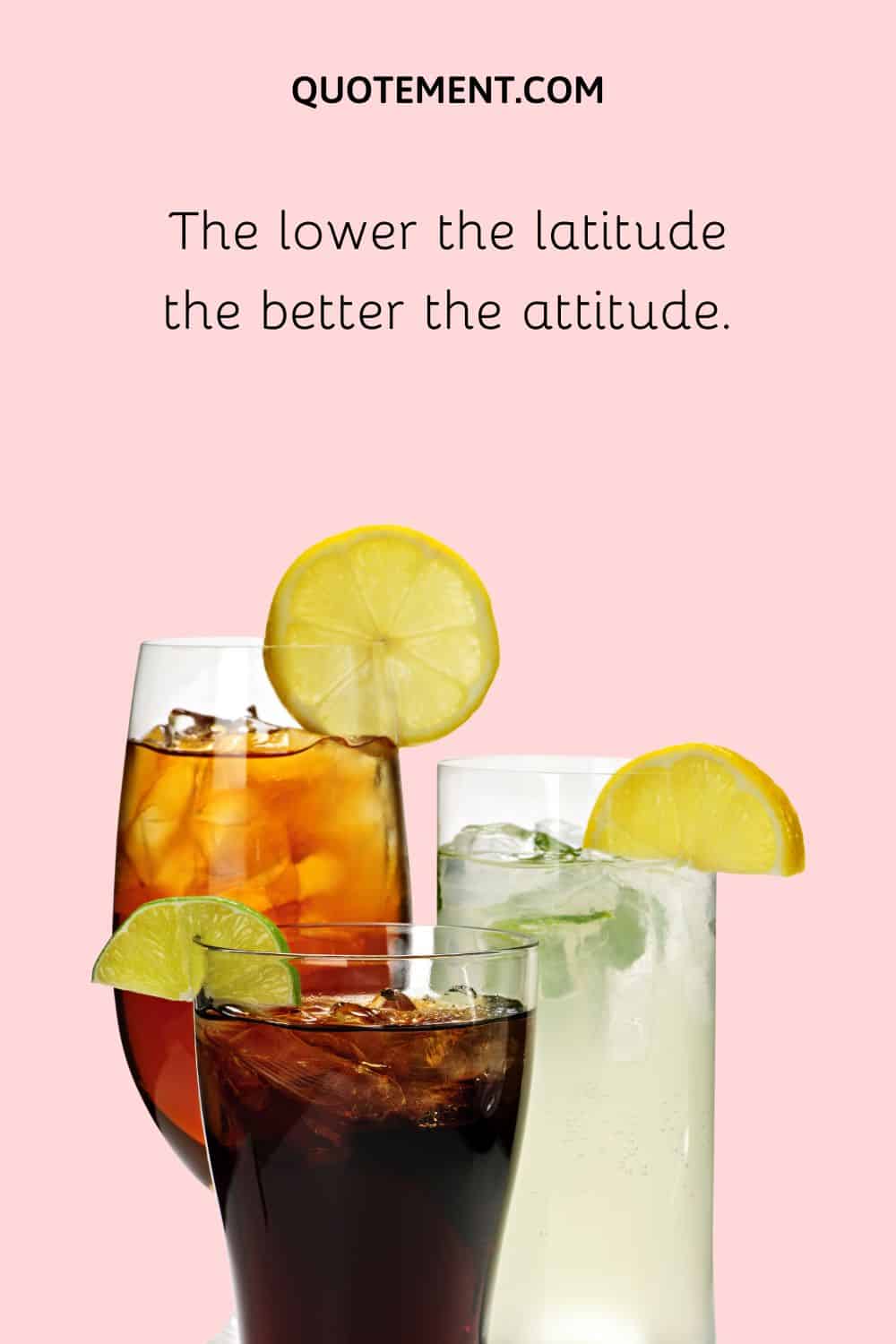 See also: 270 Best Attitude Caption Ideas To Make Your Instagram Pop
Cool Instagram Captions About Drinking
Whether you're celebrating a special occasion or simply having a good time with friends, you'll want to snap some pics and share them on social media. Those awesome drinking pics and selfies definitely deserve cool captions, and you'll find plenty of them below.
1. Trust me you can dance — alcohol.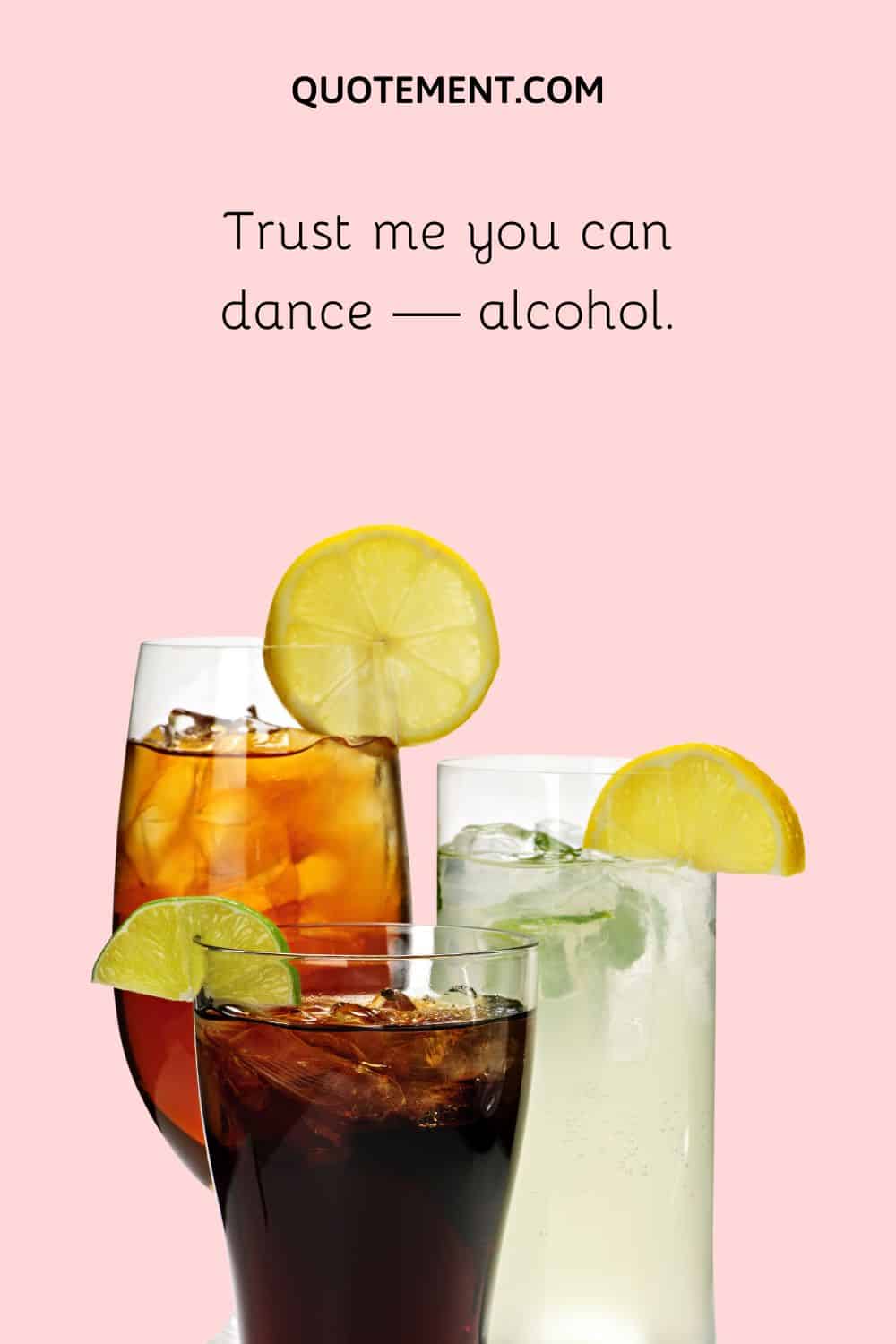 2. Drink triple, see double, act single.
3. I followed my heart & it led me to alcohol.
4. Thirsty Thursday.
5. Looks like you have a lot on your mind. Wanna drink about it?
6. Alcohol is the liquid version of photoshop.
7. Watch me sip, watch me lay lay.
8. An intelligent man is sometimes forced to be drunk to spend time with his fools.
9. I hope to arrive at my death late, in love, and a little drunk.
10. Let the evening be gin.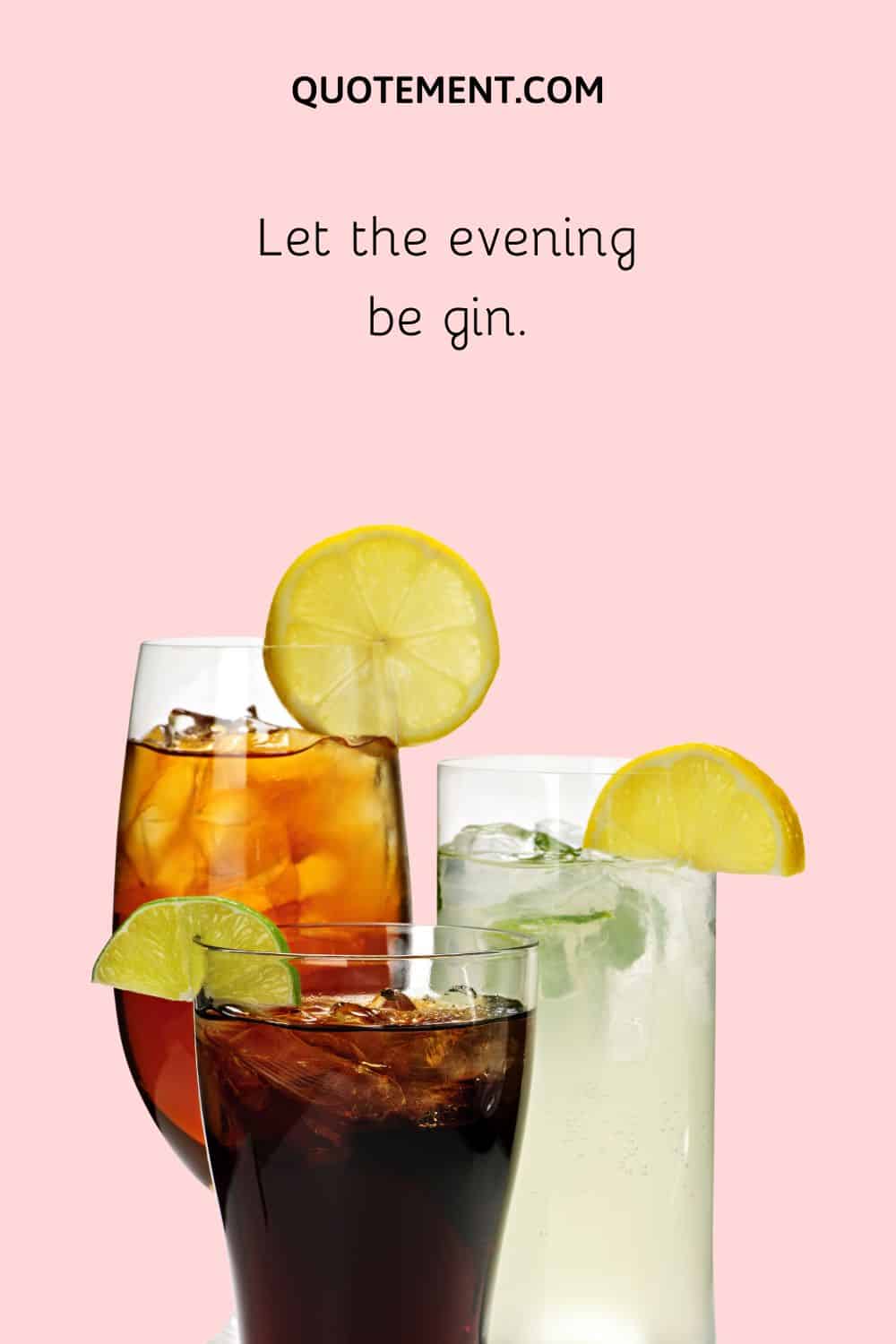 11. Candy is dandy, but liquor is quicker.
12. Take time to coast (and toast).
13. If there is magic on this planet, it is contained in alcohol.
14. The bottle says "four servings," but my heart says one.
15. I feel sorry for people who don't drink. When they wake up in the morning, that's as good as they're going to feel all day.
16. Party now, adult later.
17. I don't get drunk, I get less classy and more fun.
18. When I read about the evils of drinking I gave up reading.
19. Hanging with you is gin-credible.
20. An ocean breeze puts a mind at ease.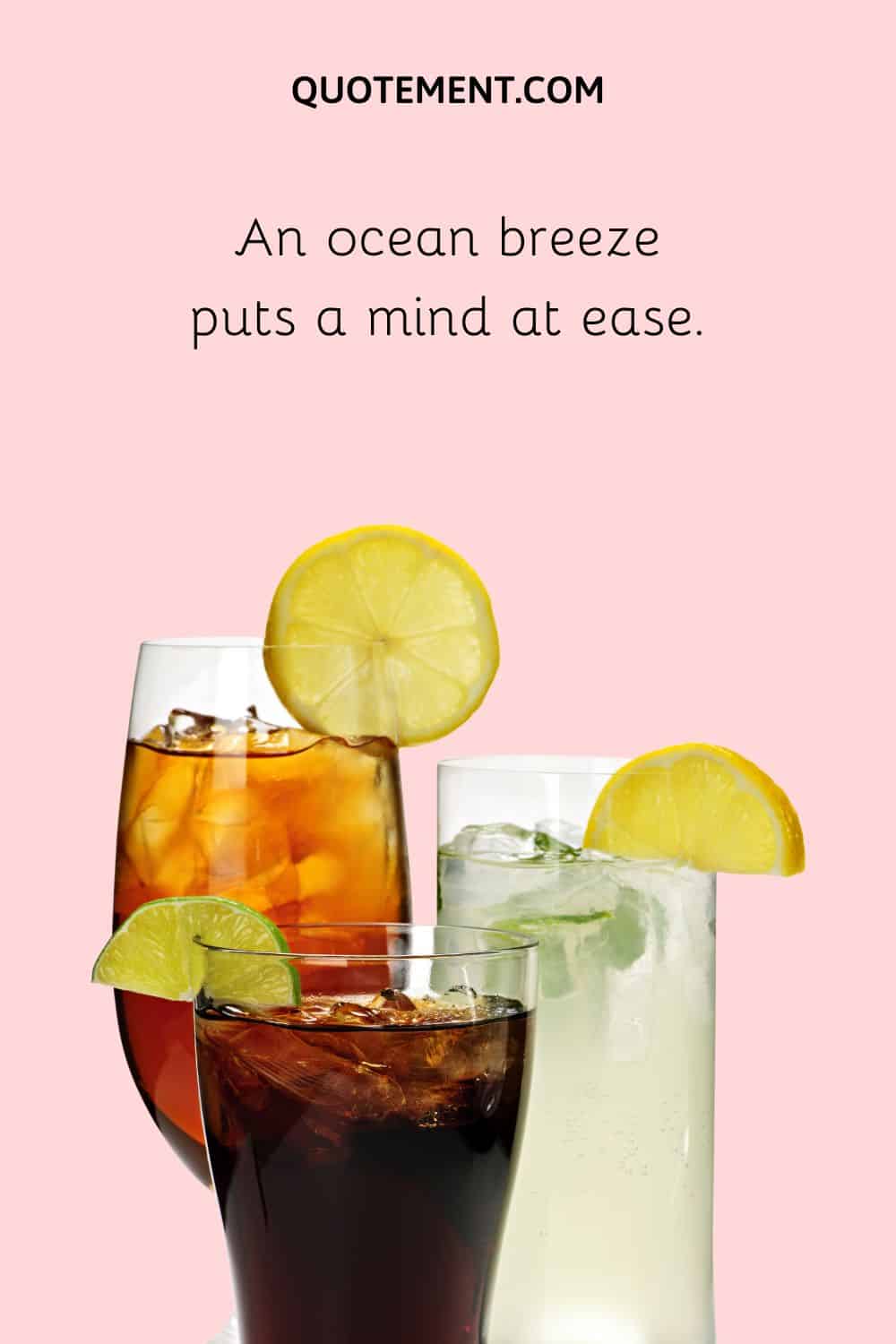 21. Sip me, baby, one more time.
22. Home is where the booze is.
23. I would give up alcohol, but I'm not a quitter.
24. Perfection in a glass.
25. You can't sip with us.
26. Duck, duck, Grey Goose.
27. Madame, I may be drunk, but you are ugly, and tomorrow I will be sober.
28. Take life one sip at a time.
29. Every empty bottle is filled with a great story.
30. Why was it that the sight of alcohol made everything in the world seem okay?
31. Hit me with your best shot.
32. Time flies when you're having rum.
33. Open a bottle at the smallest excuse.
34. If life gives you lemons, add VODKA!
35. Why drink and drive if I can smoke and fly?
See also: 130 Smoke Captions For Instagram For All Nicotine Lovers
36. Hakuna ma' vodka.
37. Whiskey me away.
38. When life hands you lemons, bust out the tequila and salt!
39. Confused about your feelings? Have a blend shot to clear it out.
40. Love at first sip.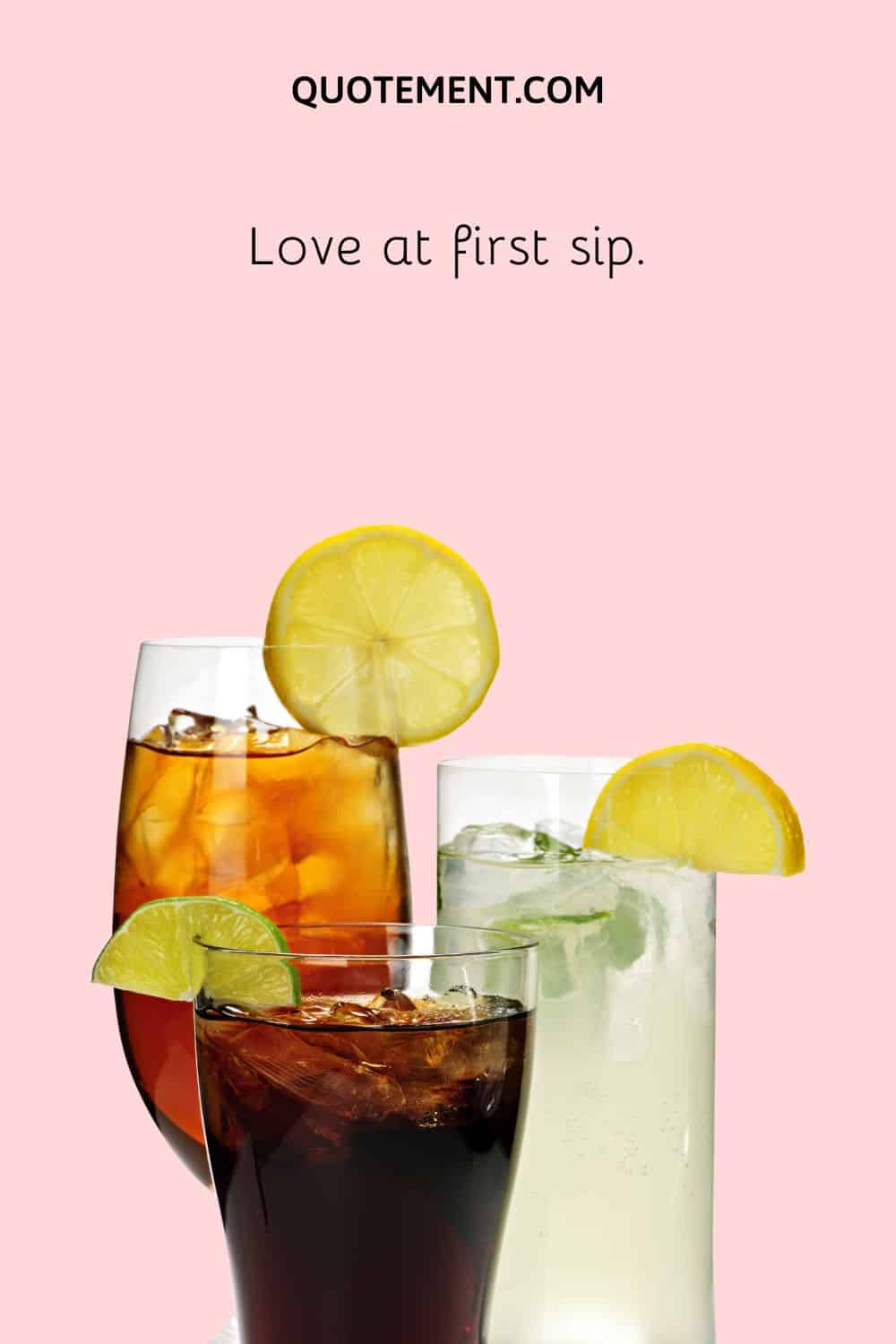 41. I must sincerely flask you a question.
42. After work, we hit the gin.
43. More alcohol, more happiness.
44. All my friends are in the wine business but my best friend is a big glass!
45. I make pour decisions!
46. Alcohol you later.
47. Go where the wifi is weak and the rum is strong.
48. Thank you from the bottom of my glass.
49. 50 Shades of Grey Goose.
50. Step aside coffee! This is a job for alcohol!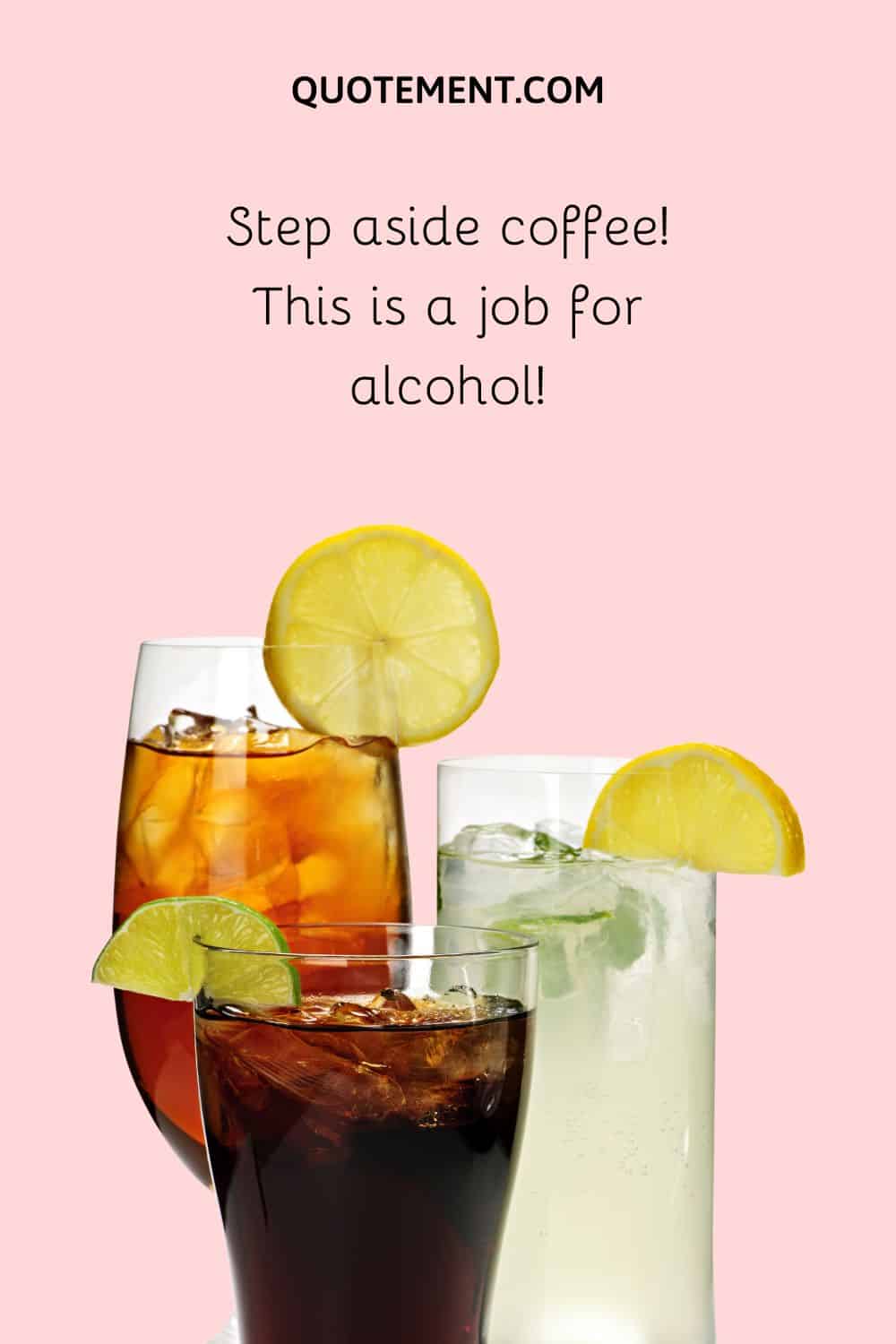 51. You are so bottlefull to me.
52. Work is the curse of the drinking classes.
53. When I sip, you sip, we sip.
54. Enjoy a taste of heaven.
55. One tequila, two tequila, three tequila. Floor!
See also: 100 Tequila Quotes That Are Absolutely Worth A Shot!
56. I'll drink to that!
57. My day just went from super to sip-erb, really quick.
58. So much taste in just a glass.
59. Sipping back and drinking the weekend from a glass.
60. Don't think of it as a beer. Think of it as a wheat smoothie.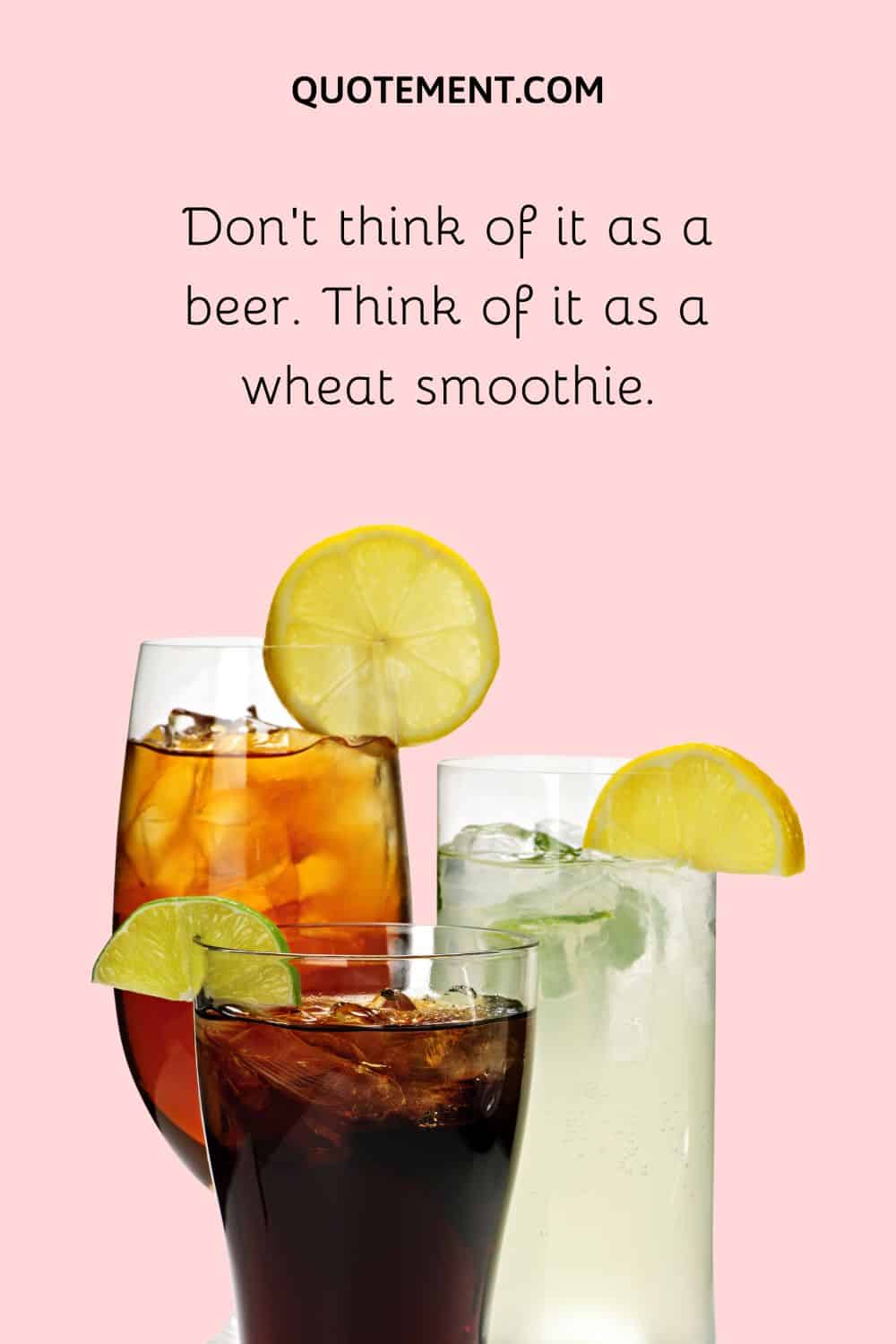 Cocktail Captions For Instagram
If you're fancy, I'm sure you go to cocktail parties. Below you'll find the best cocktail captions for Instagram to show off those experiences in your next Instagram post about cocktail parties!
1. There is nothing that a glass of cocktail cannot solve.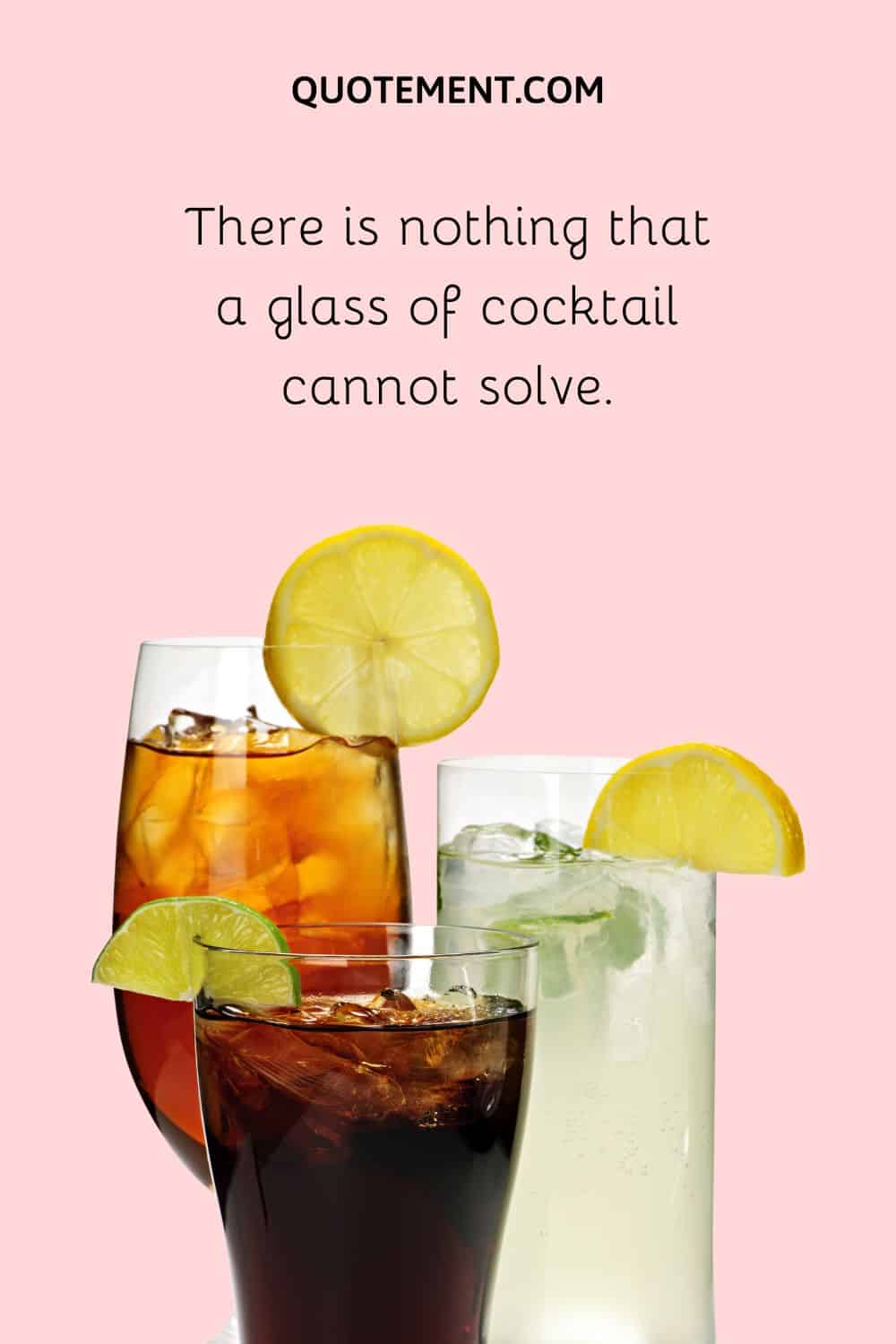 2. Time flies when you are having a cocktail.
3. If life gives you limes, make a margarita.
4. Girls just wanna have cocktails.
5. I prefer Tom Collins over Tom Cruise.
6. I always make time for cocktails.
7. I prefer my cocktail old-fashioned.
8. You are the piña to my colada.
9. It's a cocktail o'clock.
10. Tonight's forecast? A 99% chance of cocktails.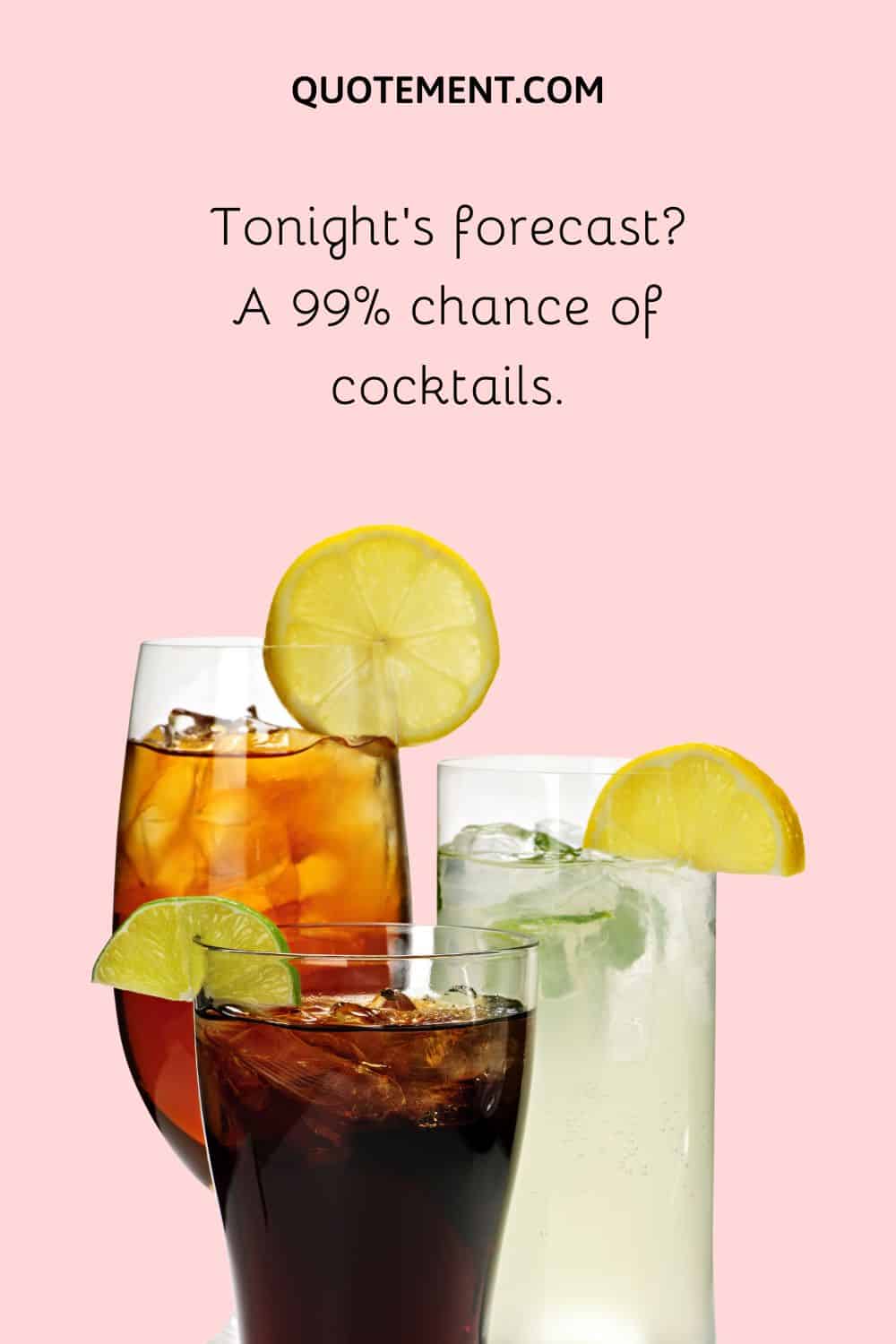 11. When life throws lemons, catch them and make a cocktail.
12. If you like piña coladas and getting caught in the rain…
13. Friday nights are incomplete without the cocktail.
14. Cocktails are always a good idea.
15. I love my coworkers from my head to mojitos.
16. Don't think about the cocktail, drink the cocktail.
17. Keep calm and give yourself a cocktail.
18. Girls often prefer cocktails over, Ahem I guess u already know it.
19. I'm a better person when I'm drinking pińa coladas.
20. A slice of lemon and a glass of cocktail, tell me a better love story than this?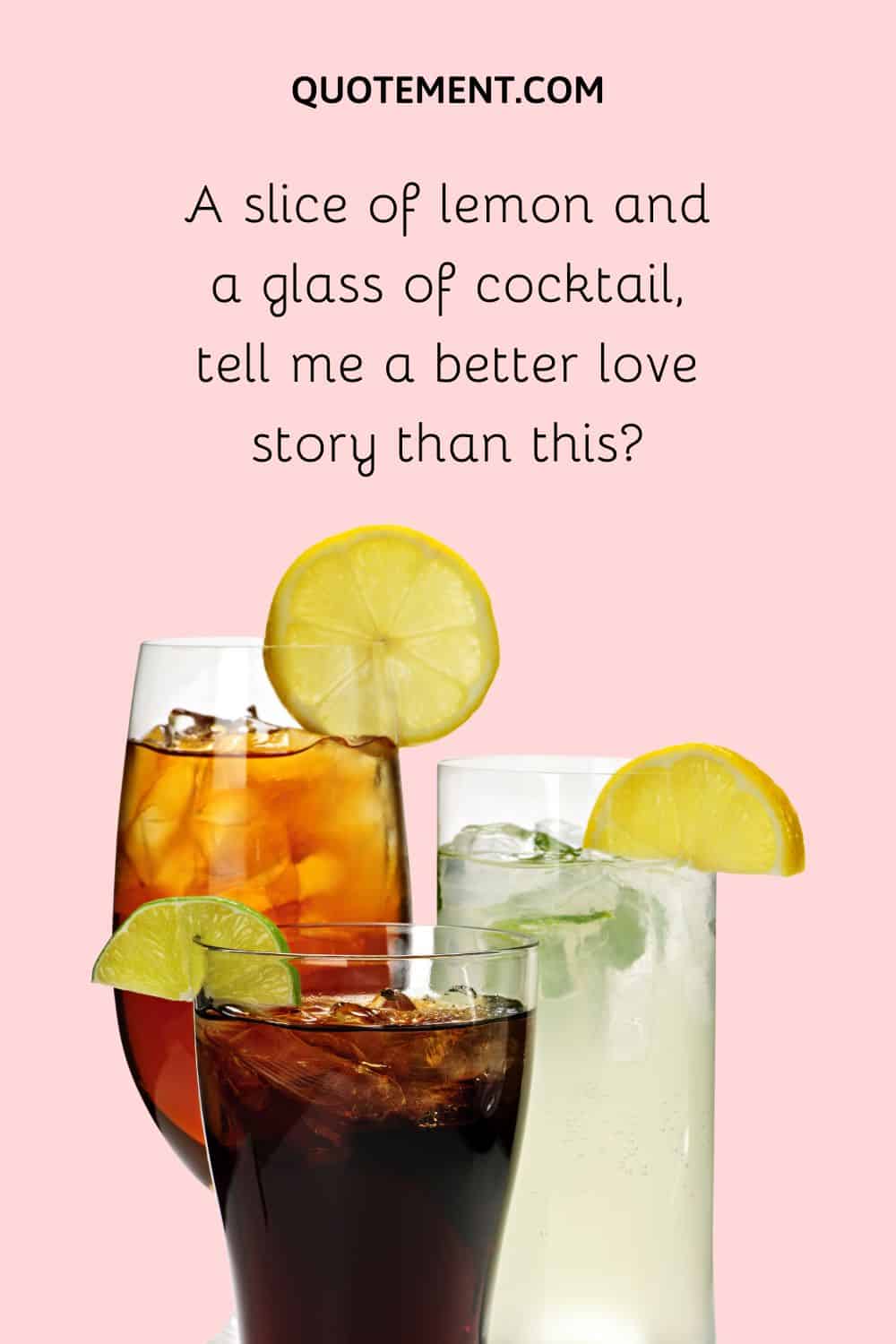 21. She had a cocktail in her hand and confetti in her hair.
22. Take a pitcher, it'll last longer.
23. You want to hear the tale, go first and grab a glass of cocktail.
24. Too much of anything is bad, but too many cocktails is just right.
25. Cocktails bring you the best taste swings.
26. You don't need a recipe for your cocktail, just blend every spirit out there and the best cocktail is already ready.
27. Have a cocktail and get up on the dance floor.
28. Cocktail thoughts.
29. Bring me the best cocktail in the town.
30. There's always time for cocktails.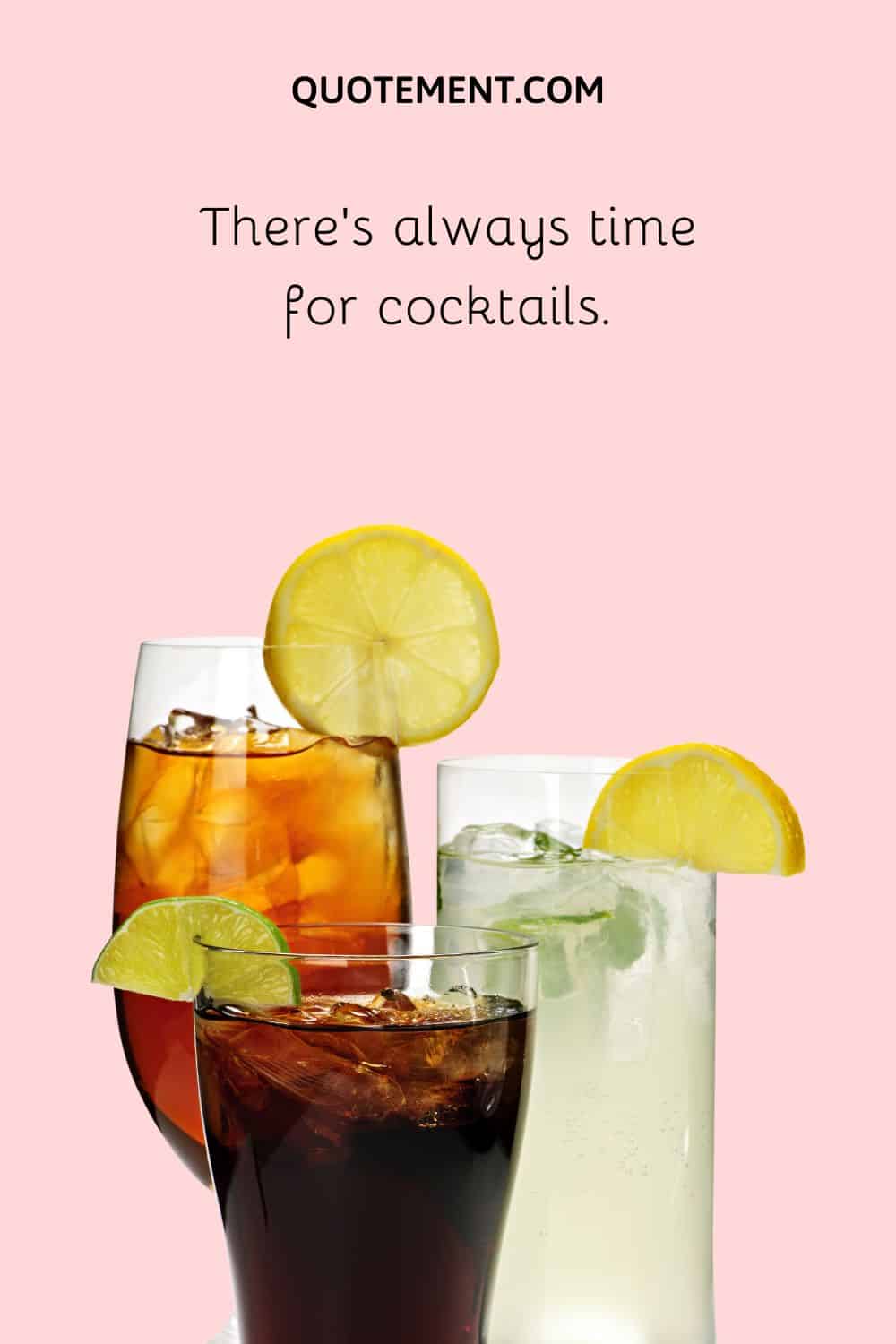 31. I love the umbrella hanging on the top of the cocktail.
32. Political party? NO, cocktail party? YES!
33. Always find time for the things and people who make you happy.
34. Drink cocktails as much as you can.
35. I need different types of cocktails.
36. I don't drink cocktails, cocktails drink me.
37. The more I think about you the more I need to fill my empty glass of cocktail.
38. You can never resist the charm of a cocktail.
39. I need therapy, cocktail therapy.
40. At times illusion is better than reality, at least you're getting unlimited cocktails over there.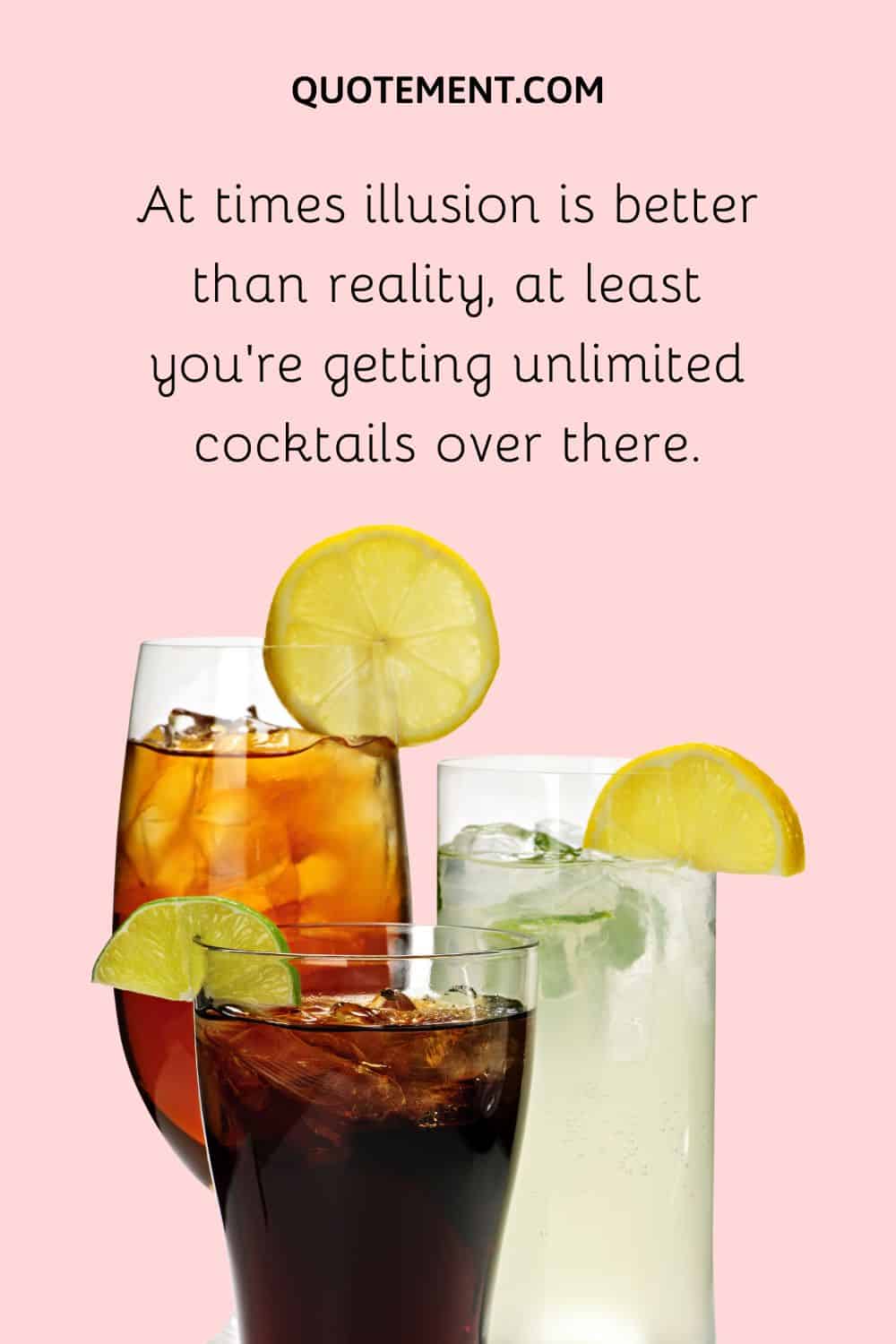 41. It's beginning to look a lot like cocktails.
42. I prefer my espresso in a martini.
43. The inner soul of every girl out there demands a glass of bloody Mary.
44. Want to make me yours? Offer me some cocktails.
45. Cocktails are more loyal than anyone else.. at least they never let you down.
46. Great love affairs start with a cocktail.
47. When life screws you up, get yourself a screwdriver.
48. Cocktails always get high on girls.
49. Democratic party, the Republican party, Cocktail party.
50. May all your days be filled with umbrella drinks.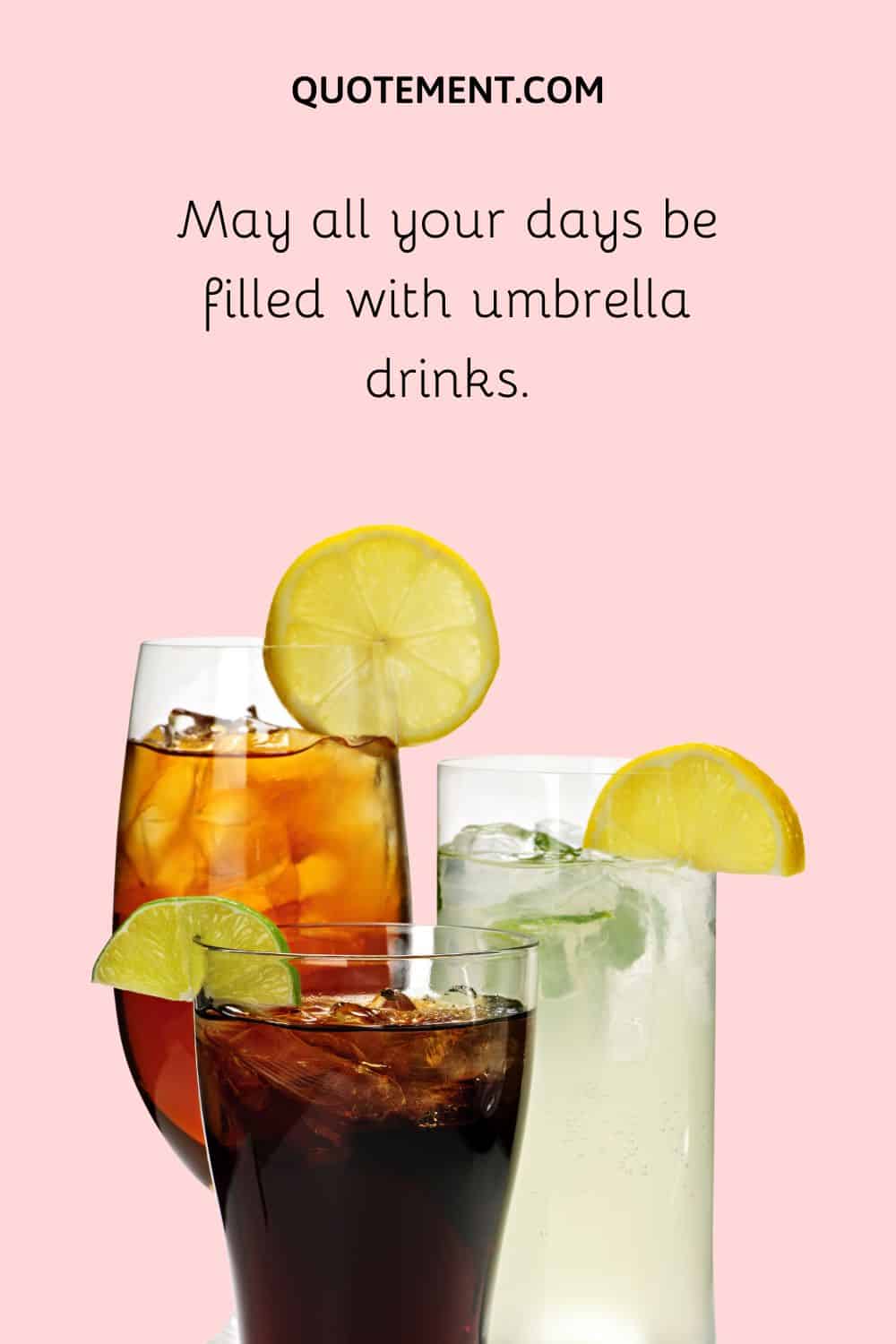 51. Olive a good martini with my work besties.
52. In a relationship with a cocktail.
53. It's not as giant as James' peach, but I like mine just fine.
54. Friday called, she's on her way bringing cocktails!
55. If you visit New York someday don't ever forget to try the Manhattan delight.
56. In beer there is freedom, in wine there is health, in cognac there is power and in the water there are bacteria.
57. A lady with a glass of cosmopolitan defines beauty with class.
Beer Captions For Instagram
If a good cold beer is what makes you happy, then these beer captions are just what you need to share those beer moments with the world!
1. To beer, or not to beer, that is a silly question.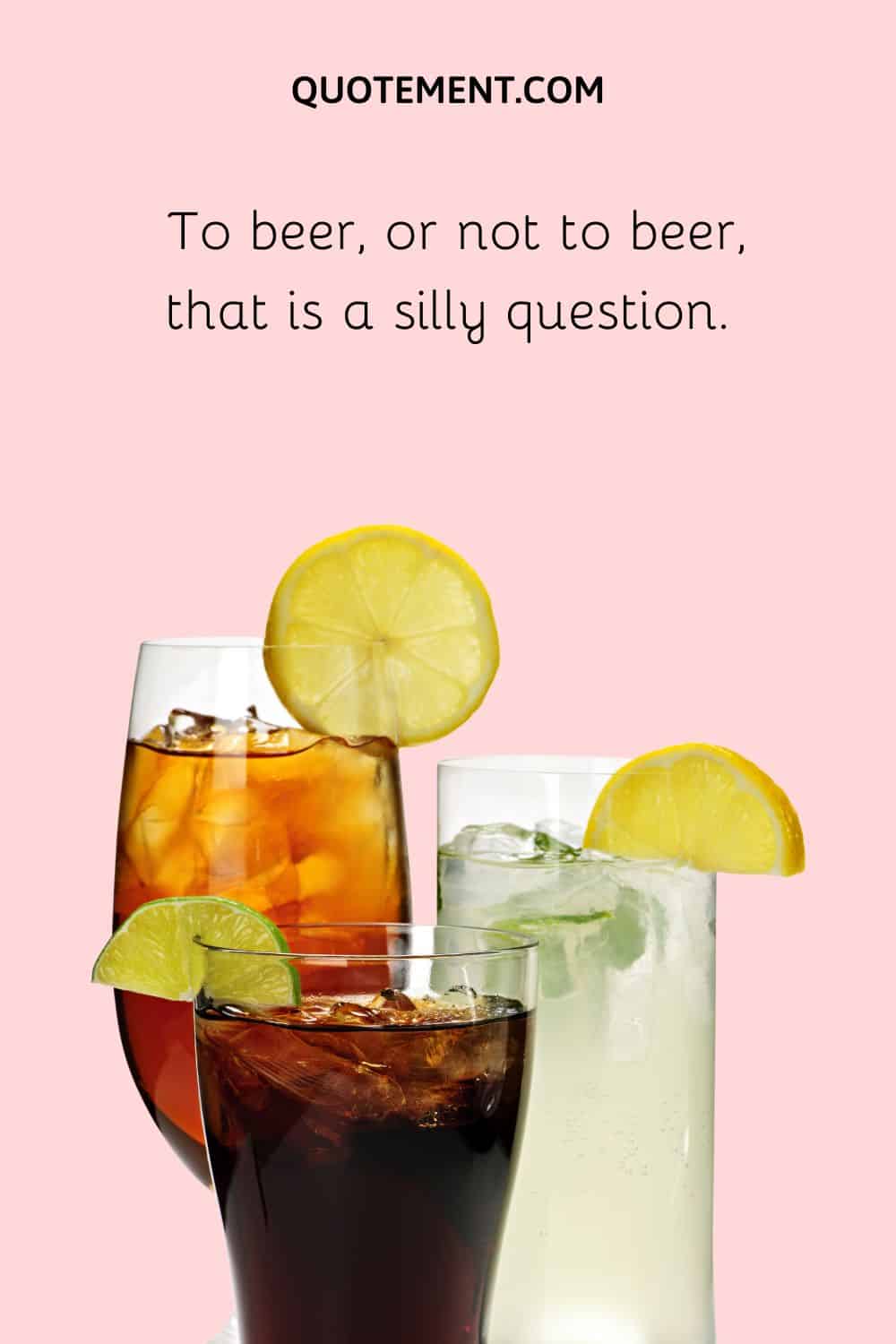 2. You can't buy happiness, but you can buy beer and that's kind of the same thing.
3. Everybody's got to believe in something. I believe I'll have another beer.
4. Beer is not the answer. Beer is the question. Yes is the answer.
5. Hop-posites attract.
6. Beauty is in the eye of the beer holder.
7. Friends bring happiness into your life. Best friends bring beer.
8. Let's get hop-py.
9. Well, look what we have beer.
10. I got 99 problems and beer solves every one of them.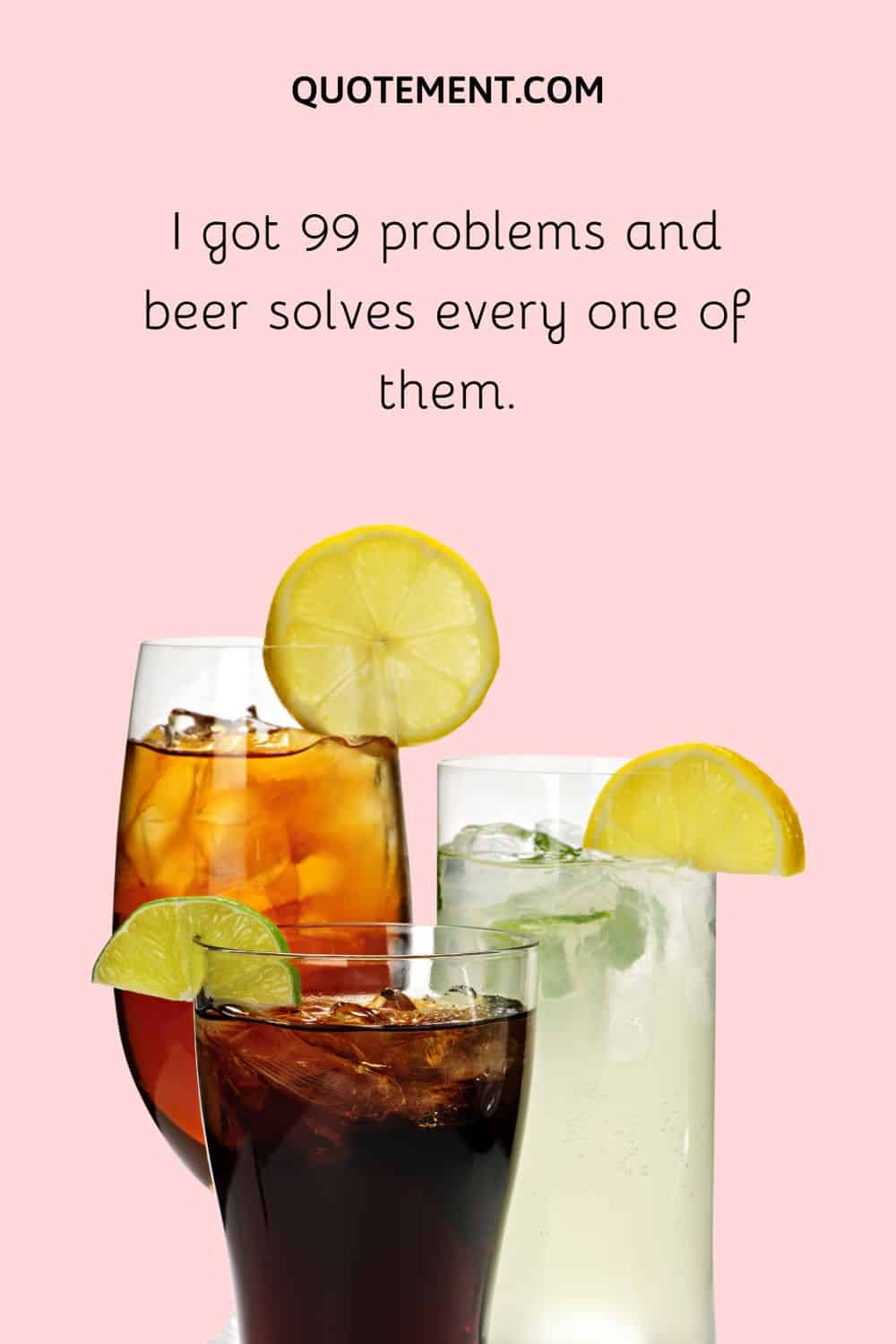 11. I must be having deja brew.
12. You are un-beer-leavible.
13. How do you know a man is thinking about his future? He buys two cases of beer instead of one.
14. I don't have a beer belly, I have a wine barrel.
15. Pitcher perfect.
16. Of Coors, I love you.
17. Kids drink beer. Real men go for pitchers.
18. Stout, Stout, let it all out!
19. B.E.E.R = Brew. Enjoy. Empty. Repeat.
20. 24 hours in a day. 24 beers in a case. Coincidence? I think not.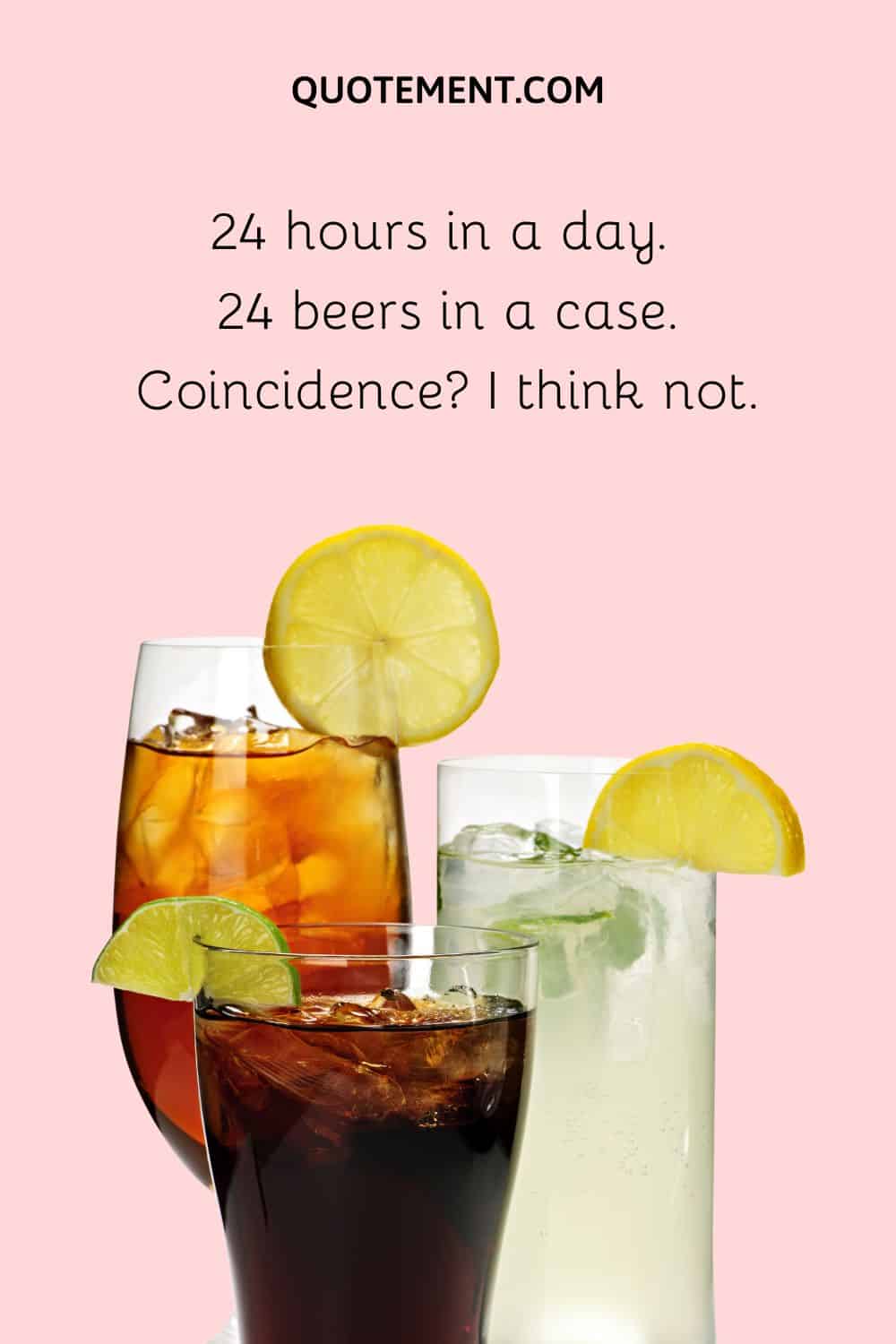 21. I gotta take a pilsner.
22. Rich in both color and taste.
23. Who Let the Dogs Stout.
24. It burns when IPA.
25. Beer Lime & Sunshine.
26. I worked hard all week to put beer on this table.
27. Beer makes me hoppy.
28. Brew-nicorn.
29. Cheers to many more years (and many more beers).
30. Wish you were beer.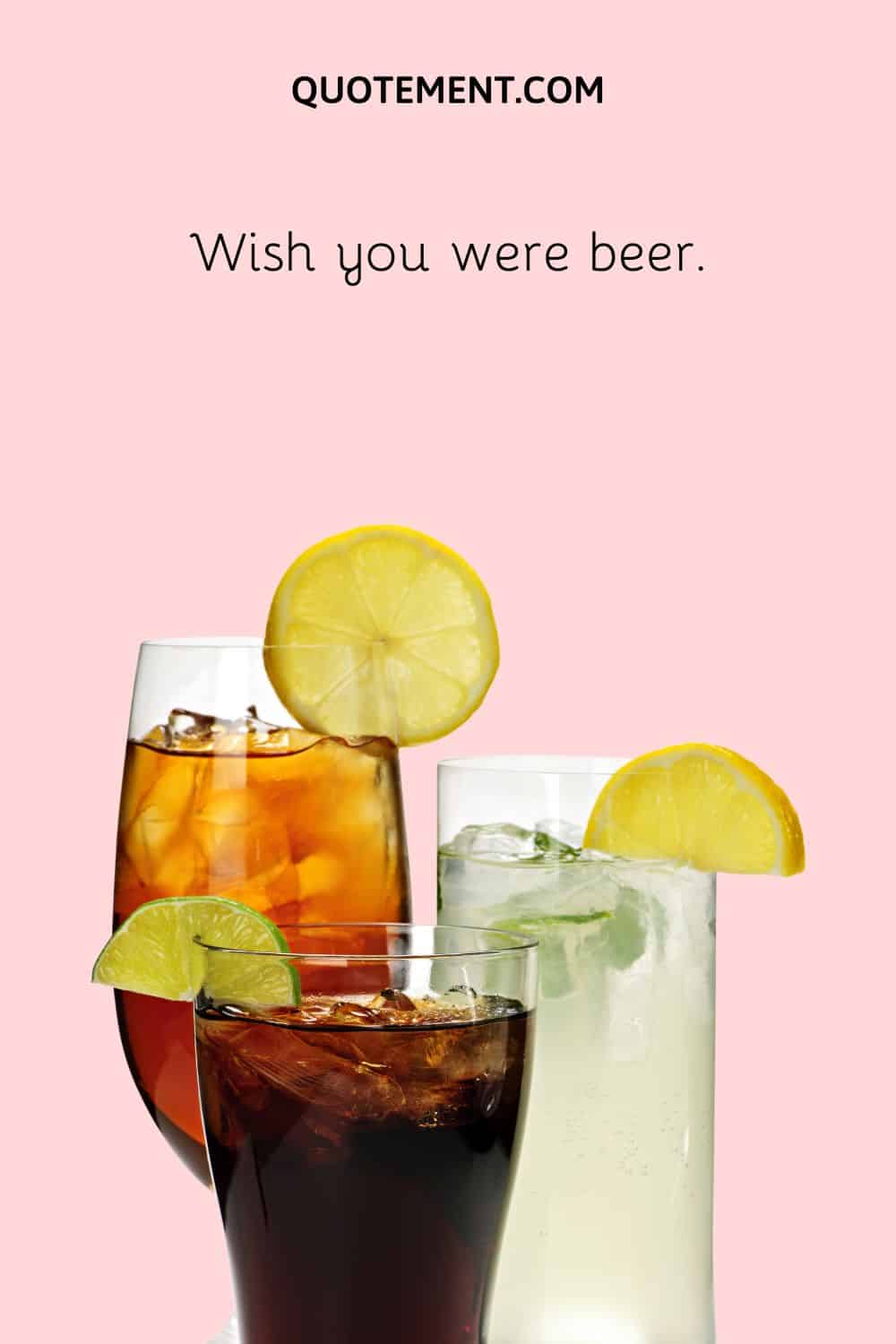 31. This beer tastes like I'm not going to work tomorrow.
32. Our friendship is more like a sisterhood at this pint.
33. Life is brew-tiful.
34. I'm just here for the pretzels.
35. Hop-tical illusion.
36. From one of the oldest breweries around.
37. You are my best bud (light).
38. He was a wise man who invented beer.
39. I want someone to look at me the way I look at this pint of beer.
40. Beers too many more cheers.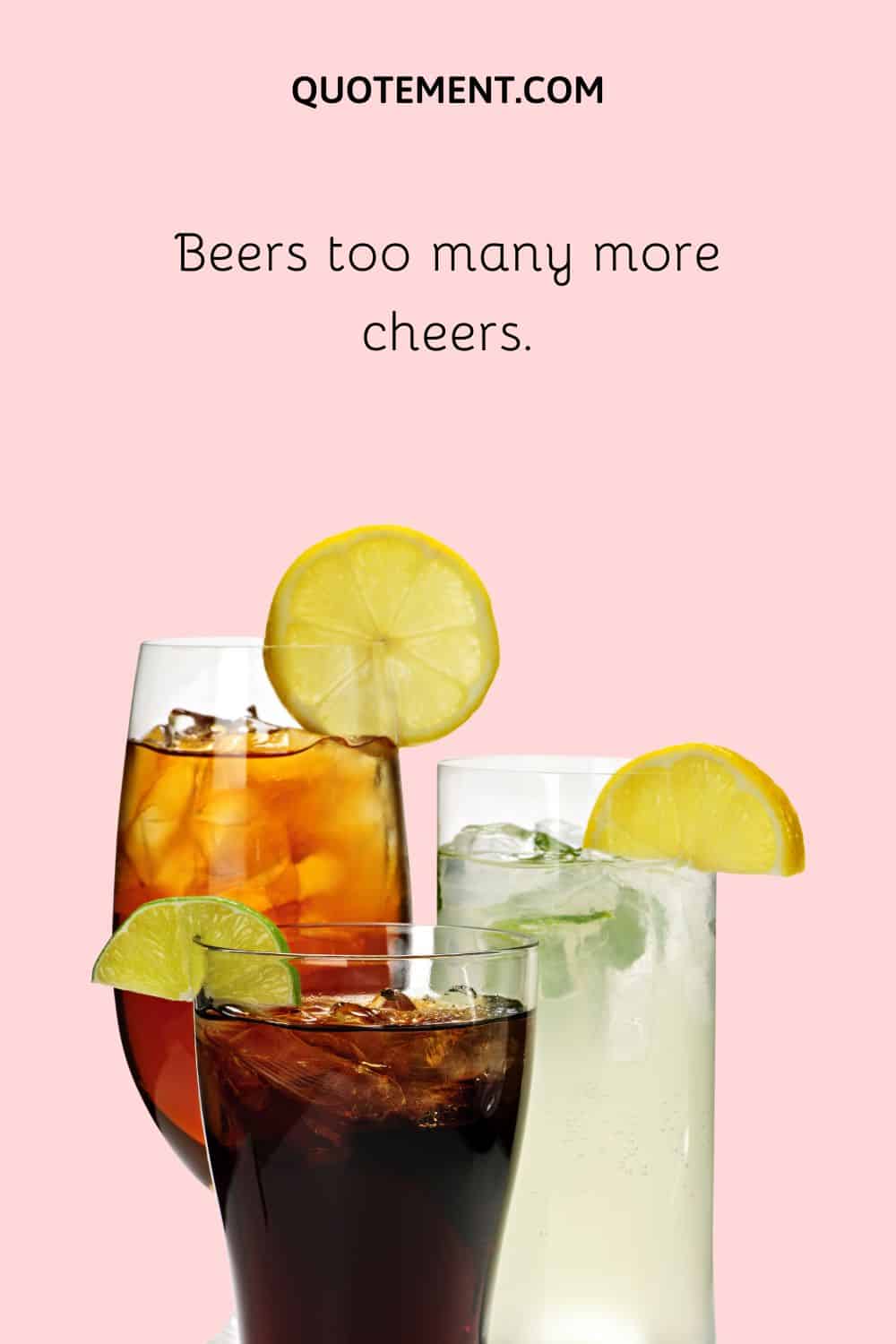 41. Let us celebrate the occasion with beers and sweet words.
42. Beer is the thinking person's health drink.
43. Nothing compares to brew.
44. Another delicious Busch Latte.
45. The glow is visible within a few days of drinking regularly.
46. Ale hello there, beer.
47. For all you do, this Bud's for you.
48. To some, it's a six-pack. To me, it's a support group.
49. Hey there, hops stuff.
50. Don't worry, beer happy.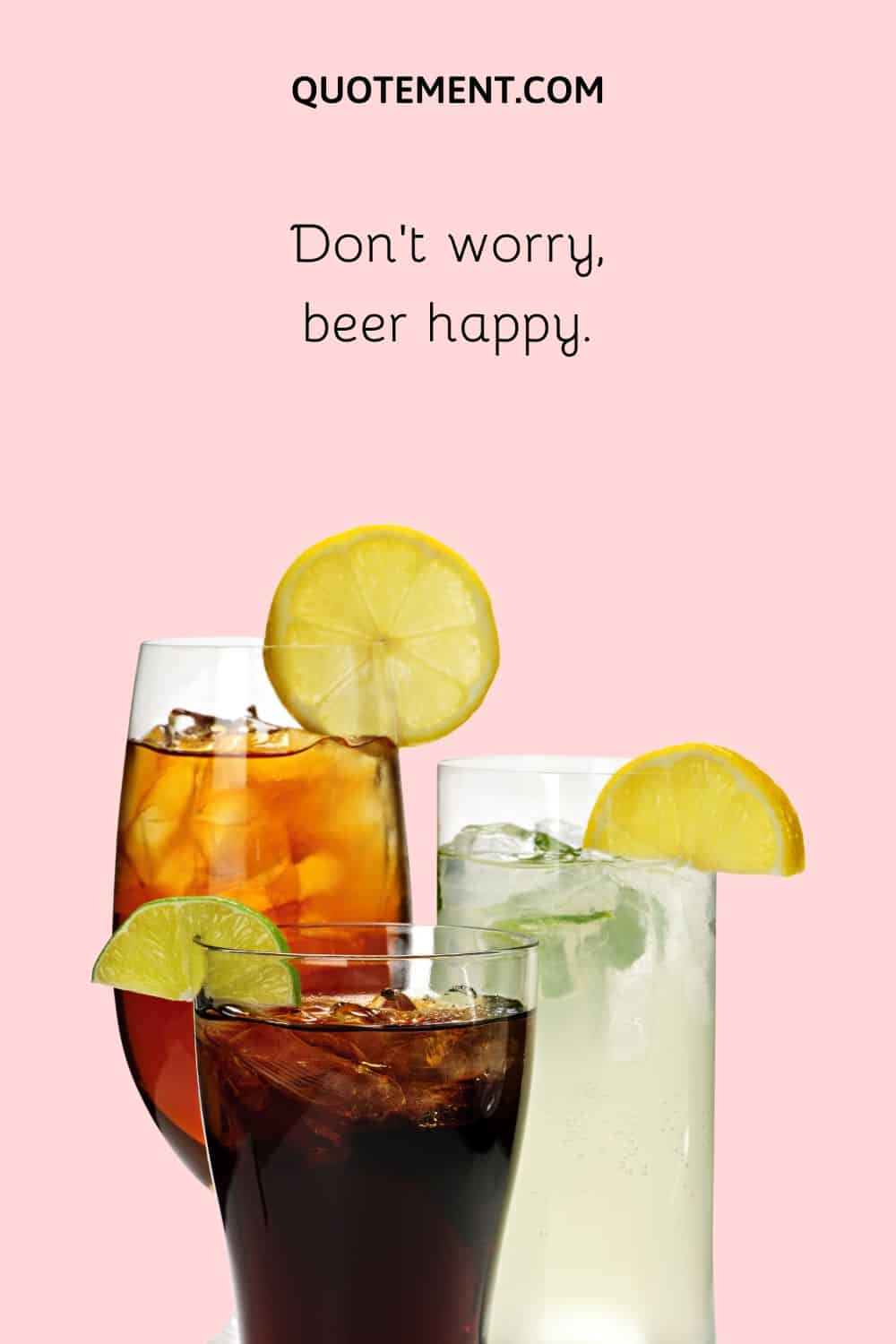 Wine Instagram Captions
Wine is for classy drinkers. If you are one of them, then these wine captions will help you draw everyone's attention to your sophisticated wine Instagram post.
1. Time to become a superhero and rescue some wine trapped in a bottle.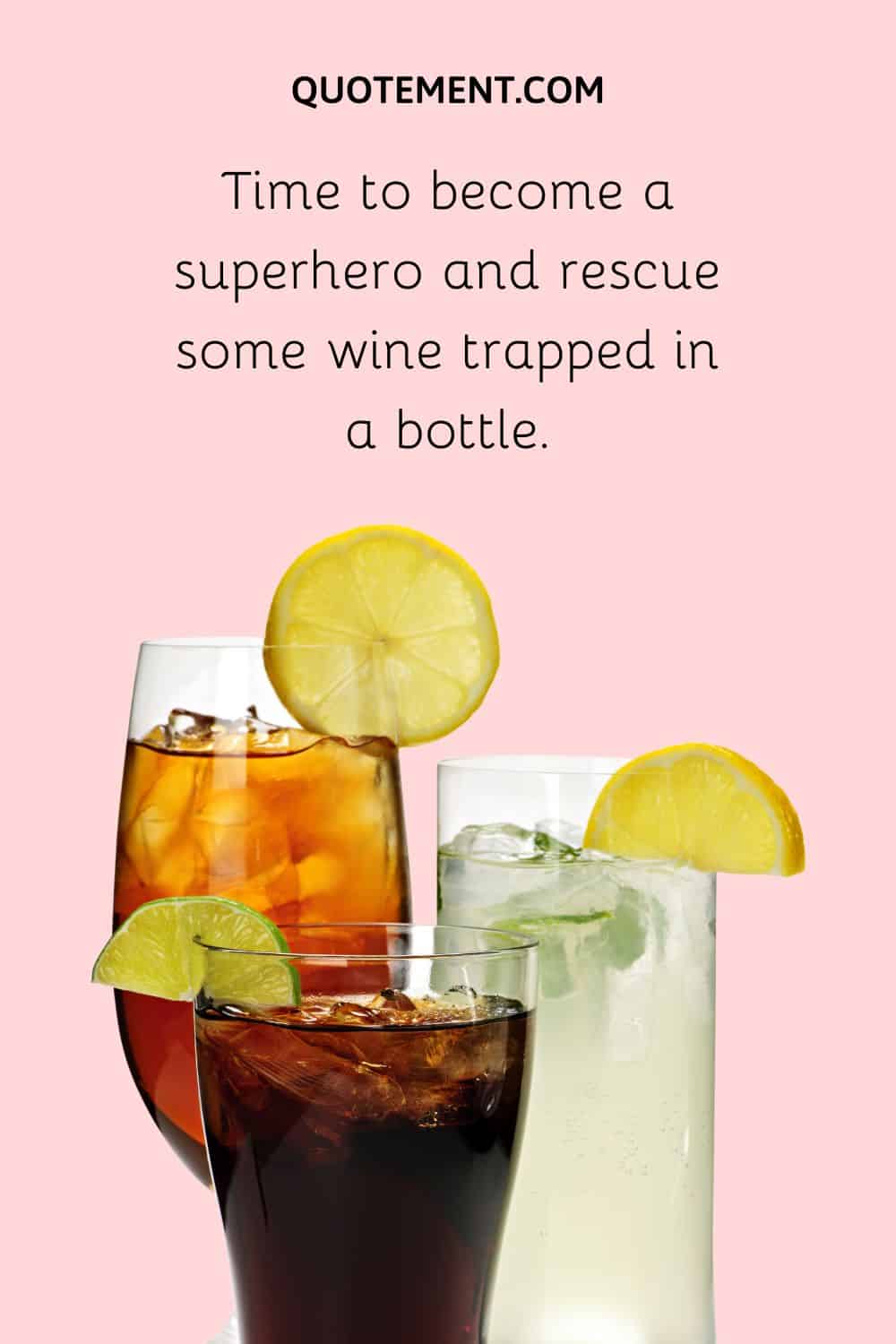 2. Save water, drink wine.
3. Champagne is one of the elegant extras in life.
4. No champagne, no gain.
5. If you walk a mile in my shoes, you'll end up at a wine bar.
6. You know what rhymes with Friday? Wine day.
7. Take time to stop and smell the rose.
8. Rosé all day.
9. My only regret in life is that I didn't drink enough champagne.
10. A true friend reaches for your hand and puts a wine glass in it.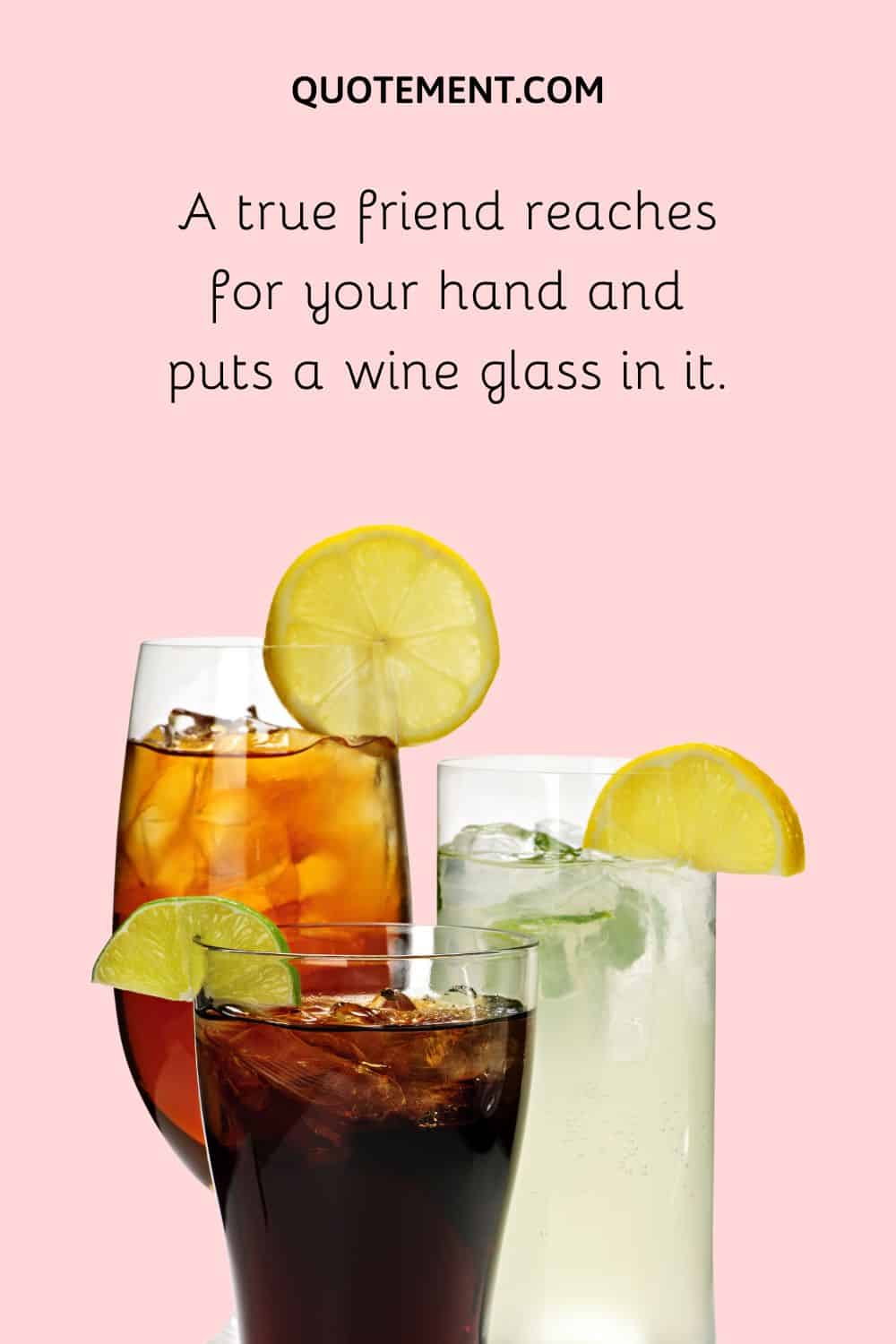 11. Wine Wednesday? What about wine every day?
12. I'll drink your champagne. I'll drink every drop of it, I don't care if it kills me.
13. Music is the wine that fills the cup of silence.
14. Wine improves with age, I improve with wine.
15. We know just how to wine down after a long week.
16. Friends don't let friends wine alone.
17. A true friend reaches for your hand…and puts a glass of wine in it.
18. I'm having fruit salad for dinner. Ok, it's mainly grapes. Ok, all grapes. Fermented grapes. I'm having wine for dinner.
19. Wine pairs nicely with good friends.
20. There is nothing more beautiful than a sunset, viewed over a glass of chilled Champagne.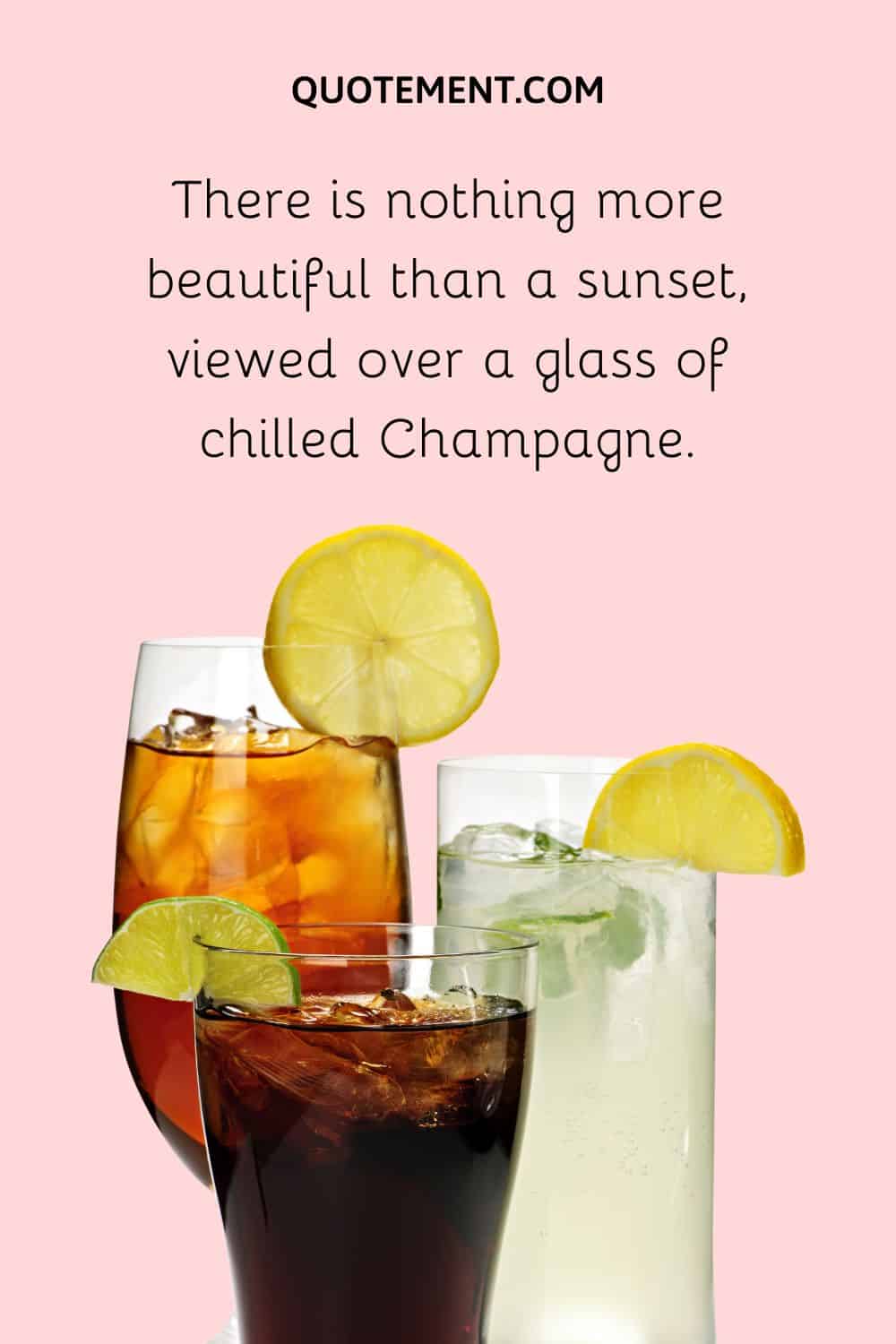 21. Uncork and unwind.
22. Anything feels possible after I sip a glass of champagne.
23. I love my partner-in-wine.
24. If you've got the wine, I've got the time.
25. Make it pop like this champagne in my glass.
26. Oh no! I bought champagne instead of milk… again.
27. Can't stop to chat, I'm late for a meeting at wine o'clock.
28. At this point, wine should sponsor me.
29. Laugh out loud after winning and dining a lot.
30. I could really go for a glass of wine and my own private island right about now.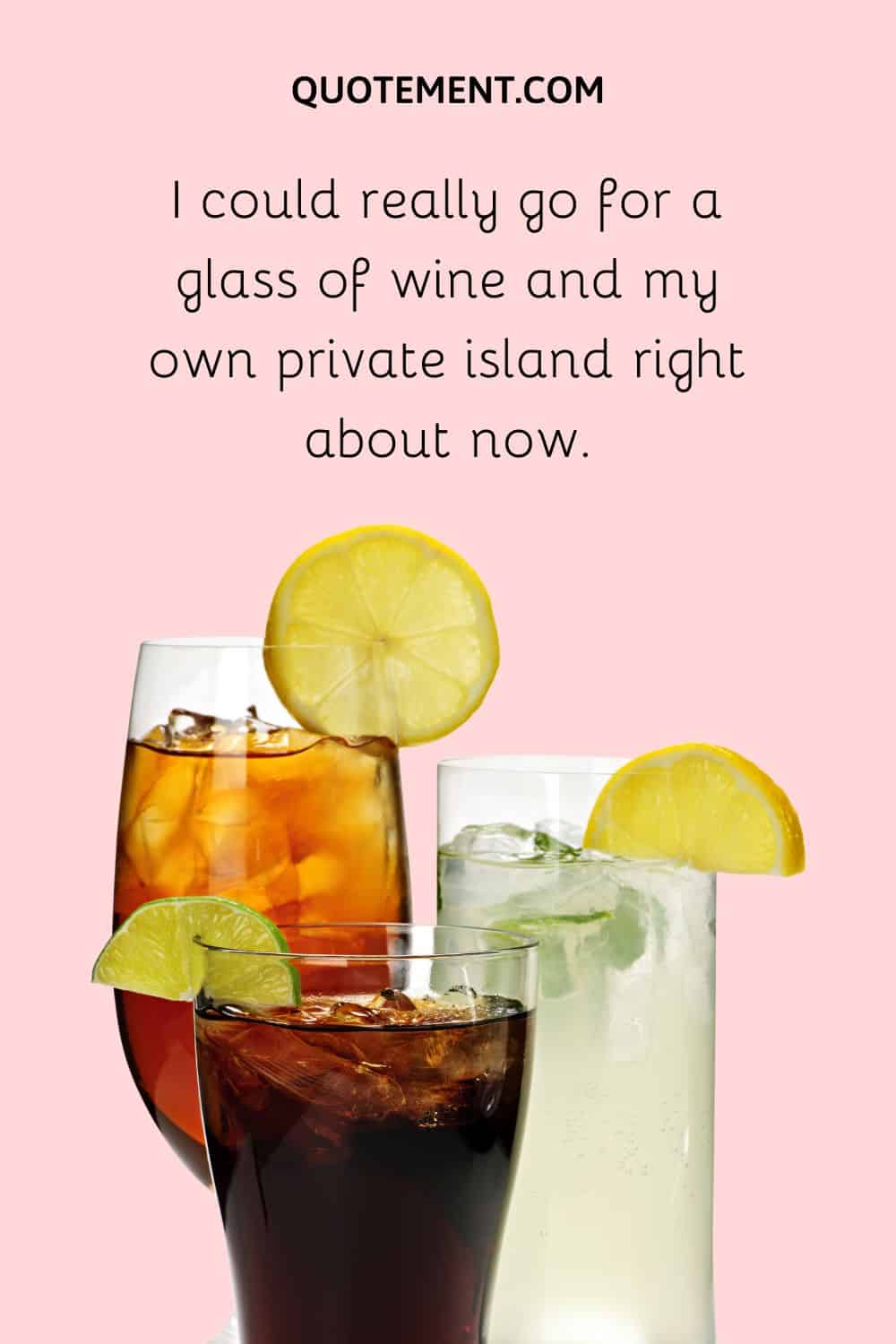 31. On Wednesdays, we drink pink.
32. You had me at merlot.
33. It's finally Friday, let's pop the champagne!
34. Drowning my pain in champagne.
35. Taking a weekend away to un-wine.
36. But first, champagne.
37. Everything happens for a Riesling.
38. Champagne should be cold, dry, and hopefully, free.
39. Wine flies when you're having fun.
40. Like human beings, a wine's taste is going to depend a great deal on its origins and its upbringing.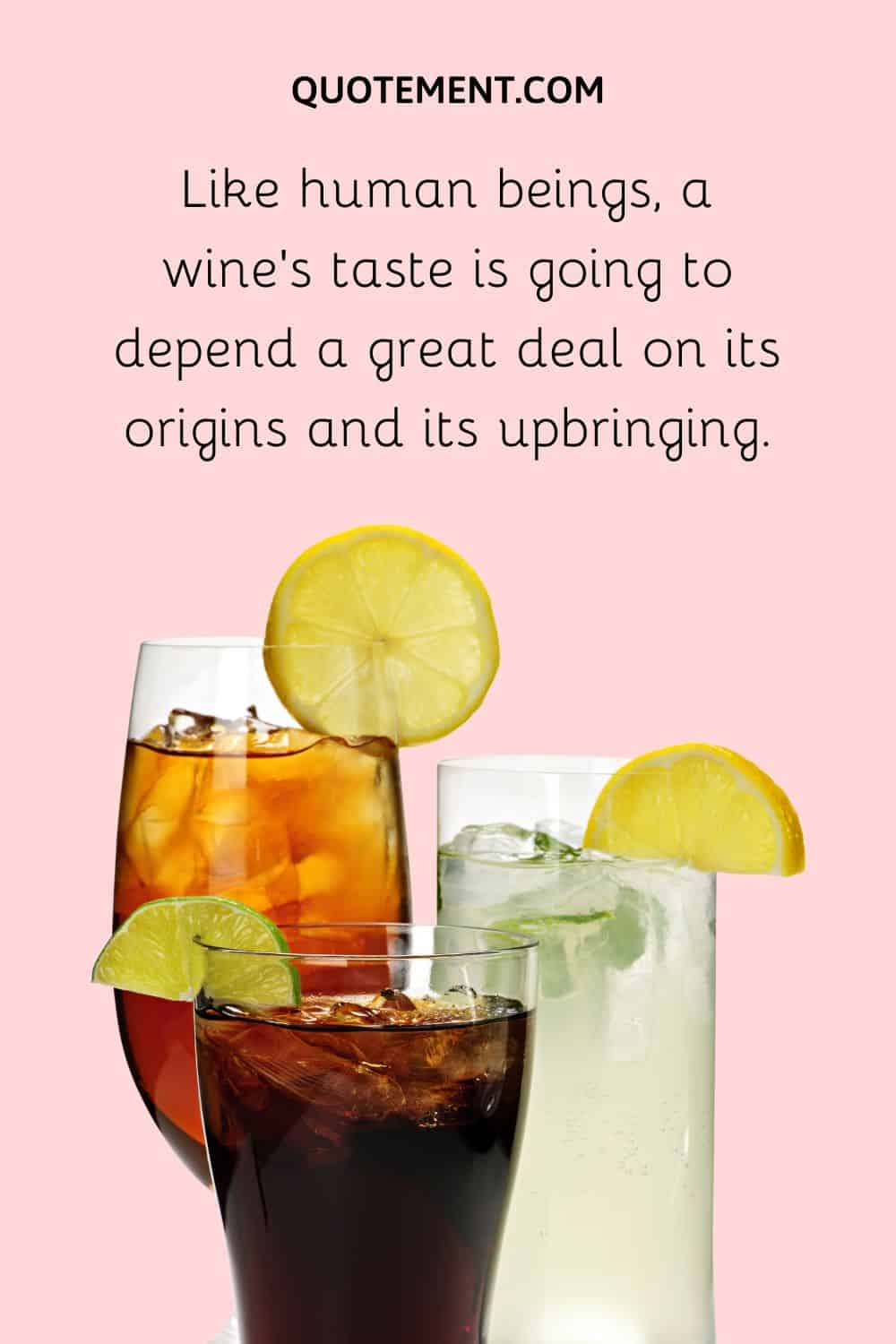 41. A party without champagne is just a meeting.
42. Champagne kisses.
43. Eat, Sleep, Champagne, Repeat.
44. BRB: on cloud wine.
45. Sometimes, the special occasion is that you've got a bottle of champagne in the fridge.
46. All you need is love and wine.
47. One holds a bottle of red wine by the neck, a woman by the waist, and a bottle of champagne by the derrière.
48. Some people wanted champagne and caviar when they should have had a beer and hot dogs.
49. It's time to wine down.
50. A cause may be inconvenient, but it's magnificent. It's like champagne or high heels, and one must be prepared to suffer for it.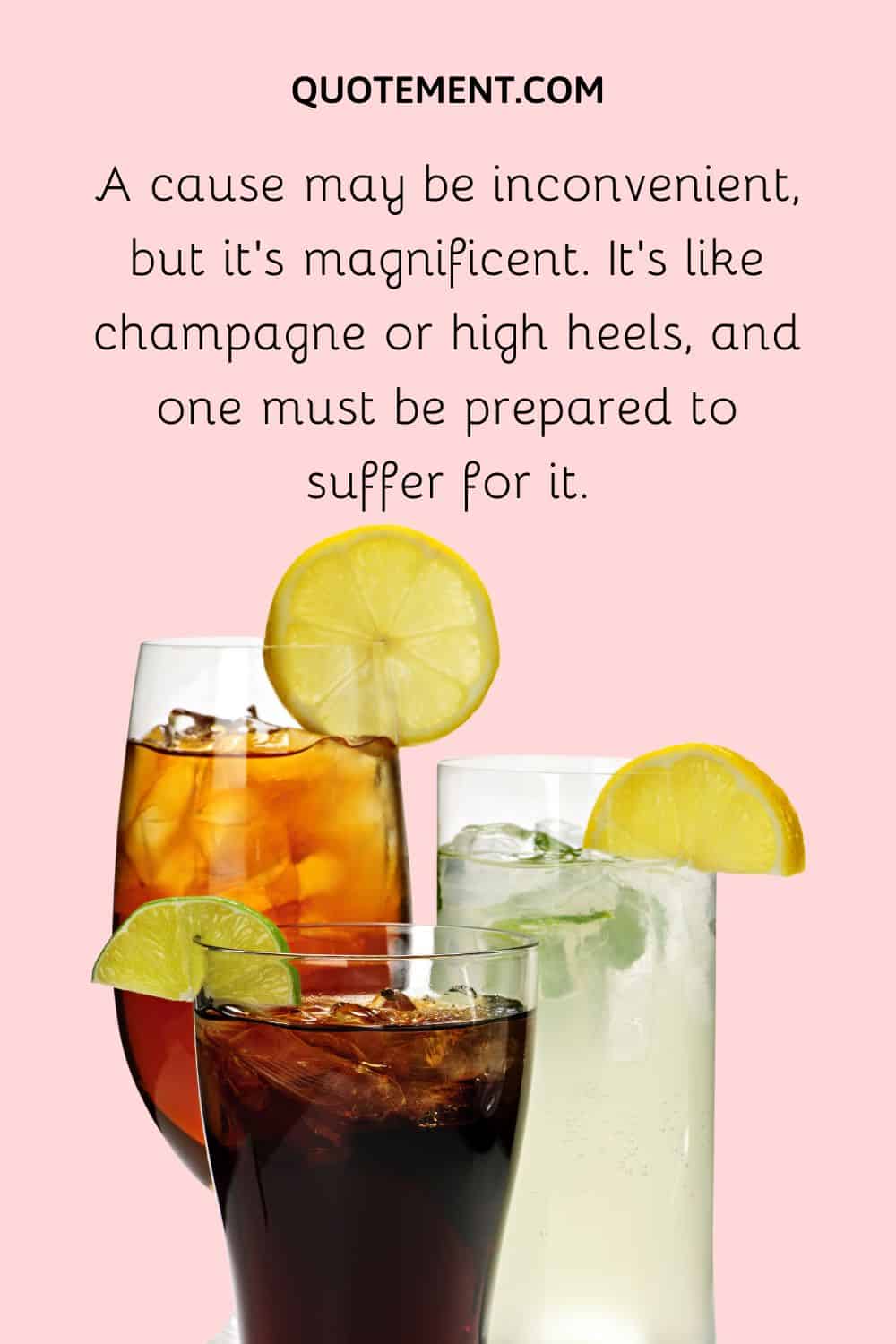 51. Wine not?
52. If you can't be with the one you love, love the wine you're with.
53. Hey, what's the time? It's wine o clock.
54. You were my cup of tea but I drink champagne now.
55. Always at the right place with the white wine.
56. My birthstone is a champagne cork.
57. Don't tell me you miss me… tell me you're outside with champagne.
58. Of course size matters. No one wants a small glass of wine.
59. Not wine-ing about this situation.
60. The hardest decision today: glass or bottle.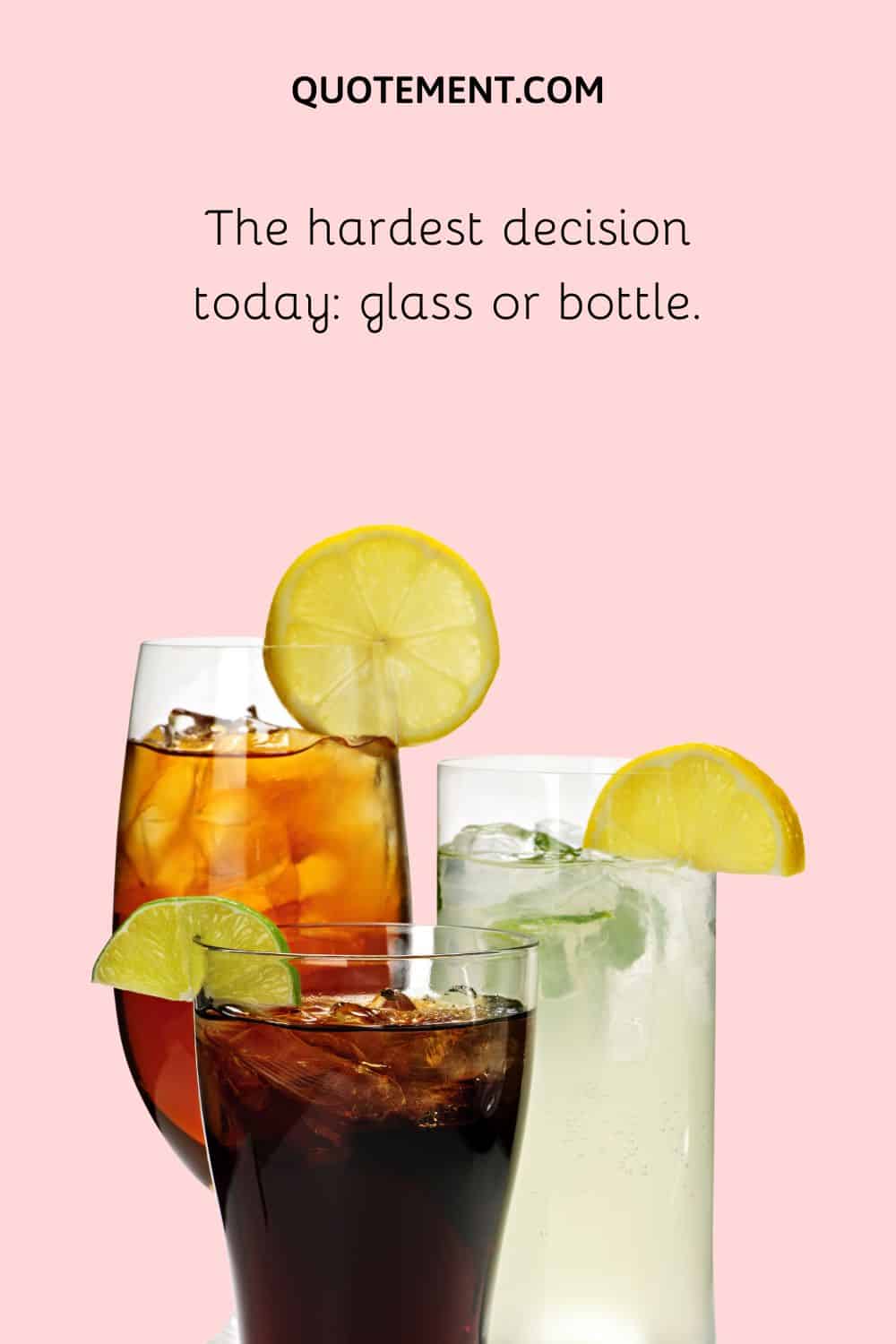 61. Champagne is always the answer.
62. Too much of anything is bad. But too much wine is just right.
63. If you have to ask if it's too early to drink champagne, you're an amateur and we can't be friends.
64. Wine is like duct tape, It fixes everything.
65. Que syrah, syrah!
66. Throw confetti, pop champagne, and toast to a new day.
67. Always keep a bottle of champagne in the fridge for special occasions.
68. It's a bubbly kind of night.
69. What rhymes with Friday? Champagne.
70. When there's a wine, there's a way.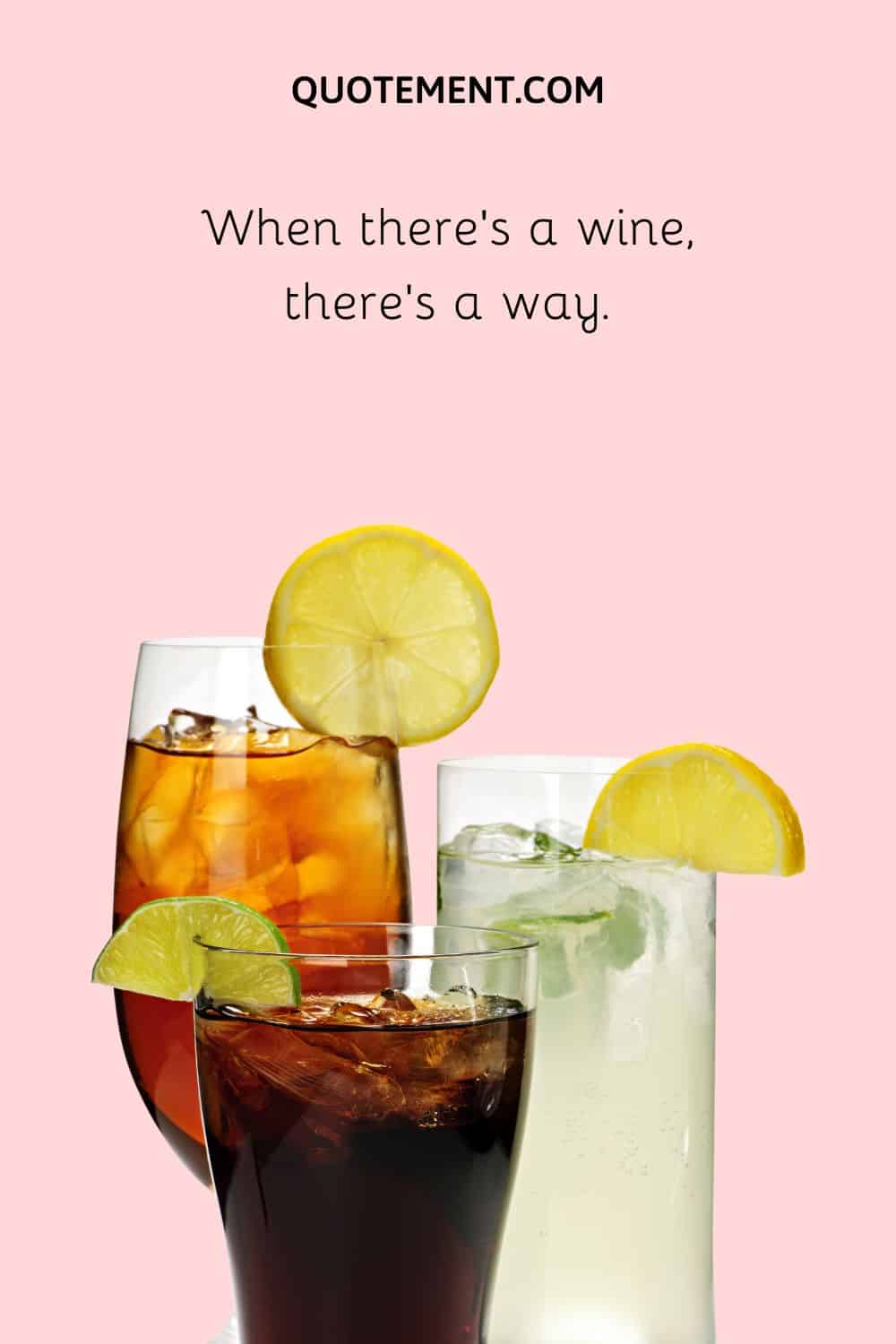 71. I'm a wino-saur.
72. Roses are red, so is my wine. Refill my glass, and I'll be just fine.
73. Wine + Dinner = Winner.
74. Running out of champagne is my cardio.
75. In dog wines, I only had one.
76. Champagne, if you are seeking the truth, is better than a lie detector.
77. Hakuna Moscato.
78. Embarking on my champagne campaign.
79. Yes, way rosé.
80. Life's too short to drink cheap champagne.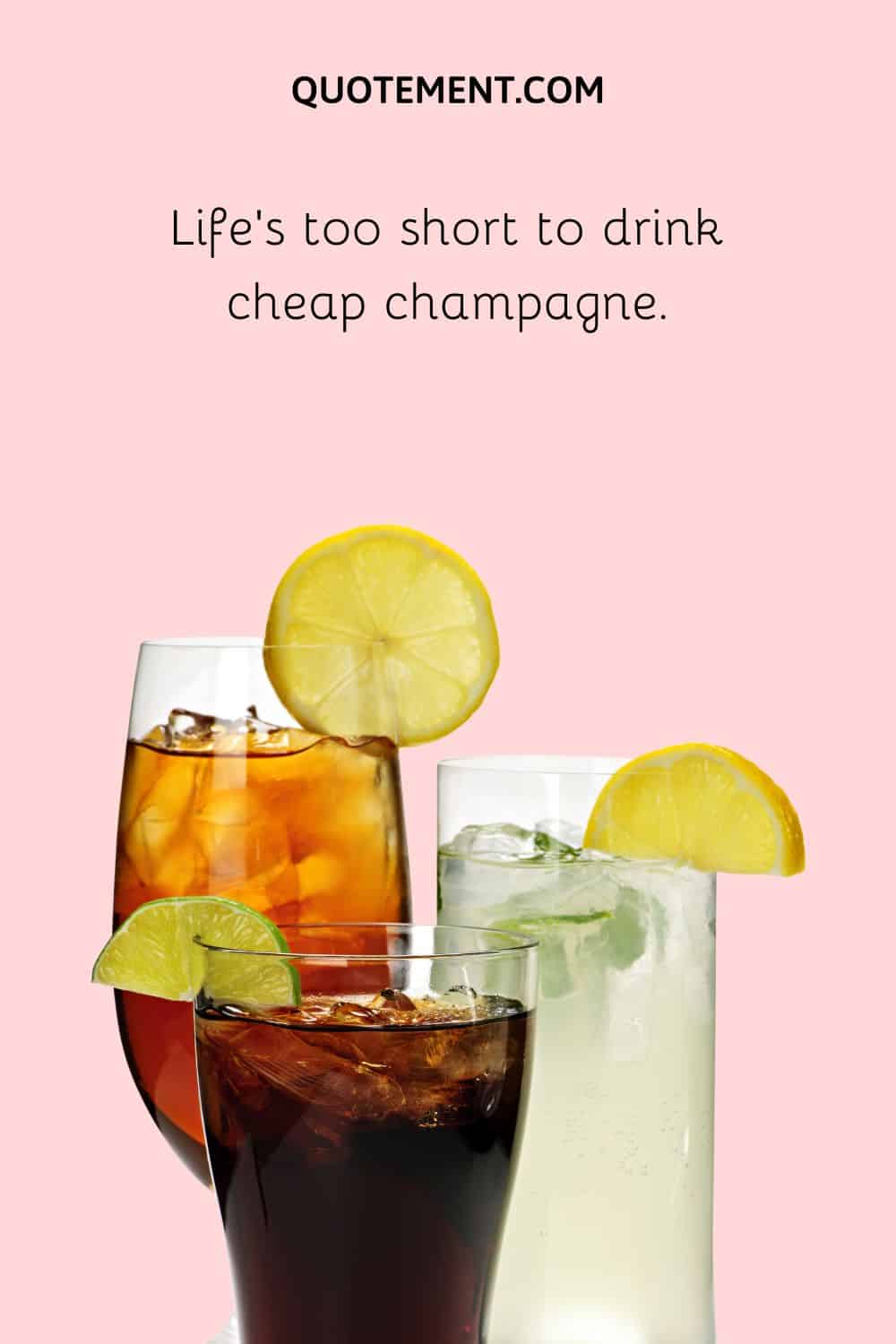 81. Gluten-free, dairy-free, fat-free, I love this champagne diet.
82. Coffee keeps me going until it's acceptable to drink wine.
See also: 280 Awesome Coffee Captions To Show Your Coffee Obsession
Happy Hour Instagram Captions
Now let's read some good drinking captions for Instagram about a drink lover's favorite time of day – happy hour!
1. Live every hour like it's happy hour.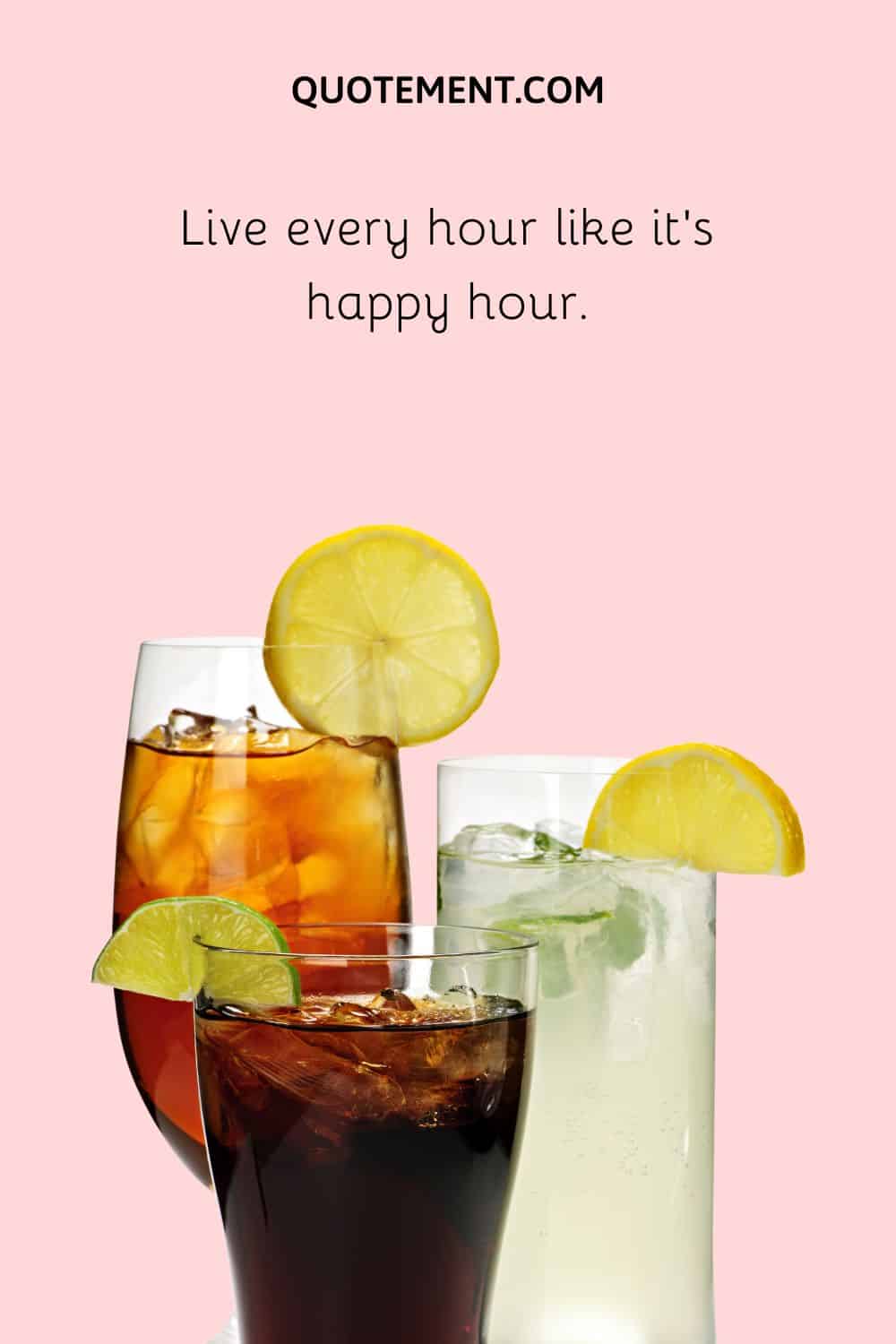 2. Sip happens at happy hour.
3. Long Live Happy Hour!
4. Let's make this a recurring meeting.
5. Happy hour is necessary on days when meetings could have been emails.
6. Happiest among all the hours.
7. Good vibes happen at happy hour.
8. Happy hour or better call it a cocktail hour.
9. Only count the happy hours.
10. Peace, love, and happy hour.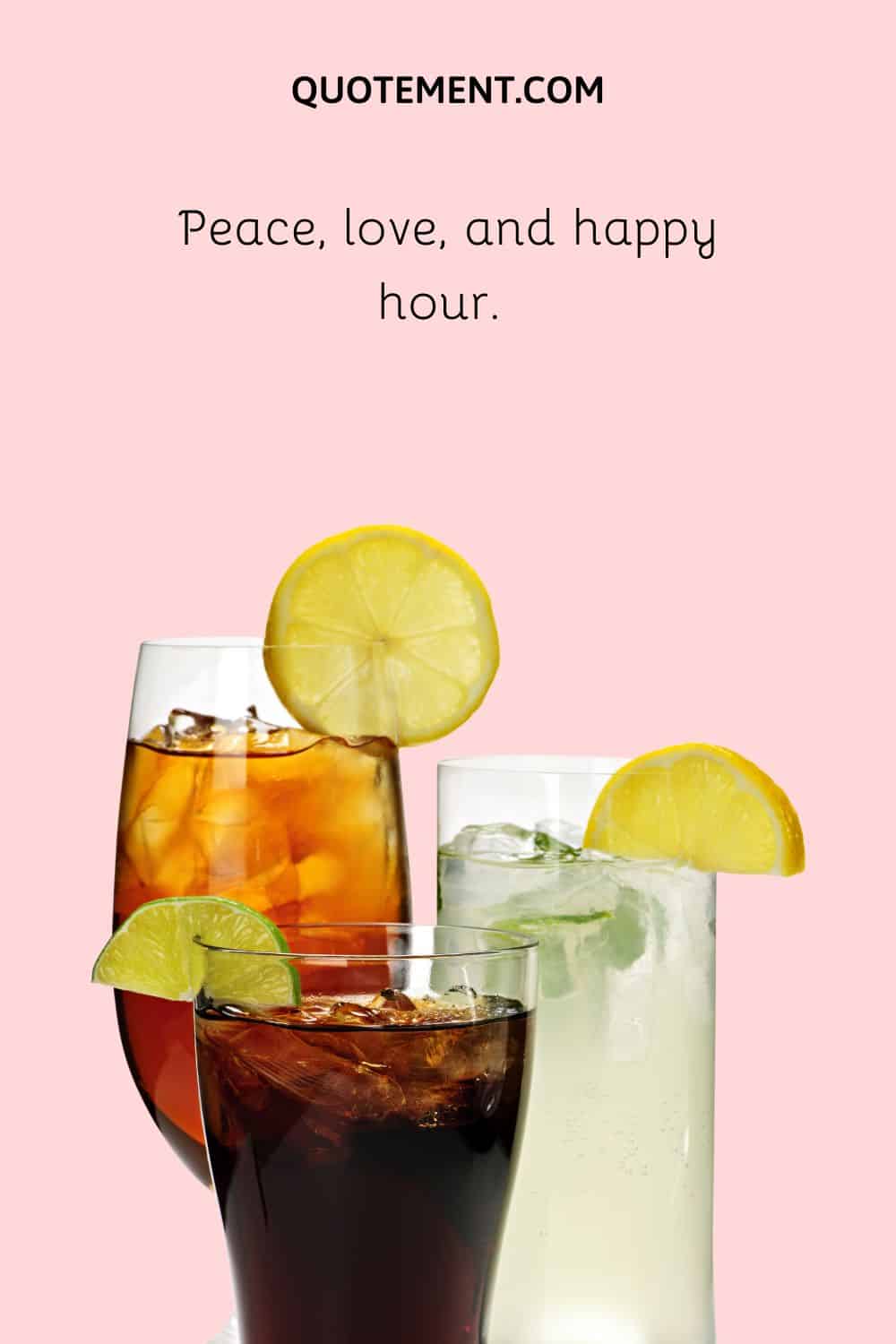 11. Darling, every hour is 'happy hour' when you are fabulous.
12. Happy hour views.
13. Happy hour o'clock.
14. Happy hour vibes.
15. Choose happy…hour.
16. Happy hour is the best hour.
17. Be happy for this moment.
18. It's my favorite time of day.
19. God has given you unlimited and countless happy hours, you just need to find and recognize them.
20. We go together like Fridays and happy hour.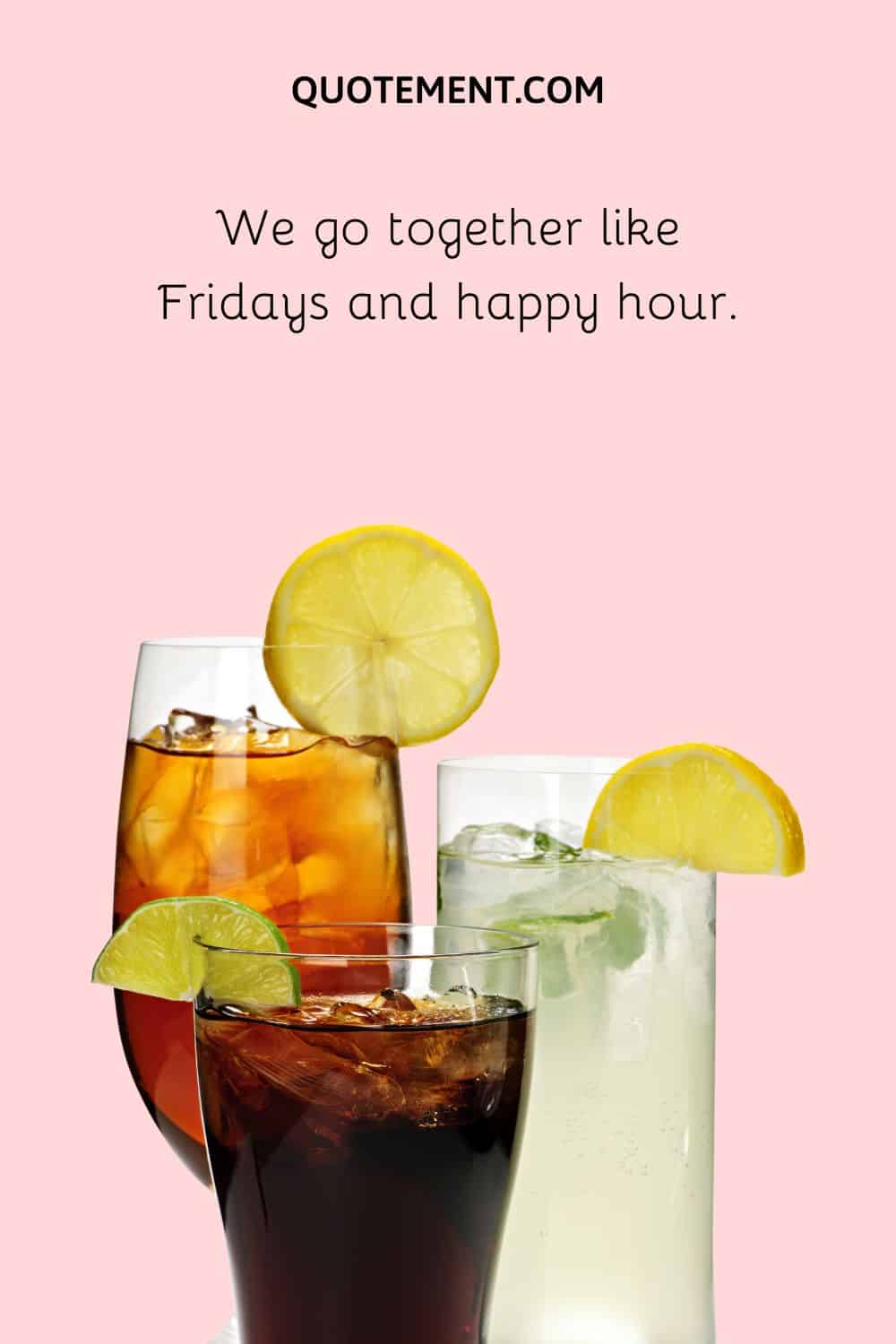 21. Happy hour? I prefer to make every hour happy.
Drinking Quotes That Can Be Used As Captions
Here are some famous drinking quotes that you can also use as Instagram captions.
1. "I cook with wine, sometimes I even add it to the food." — W.C Fields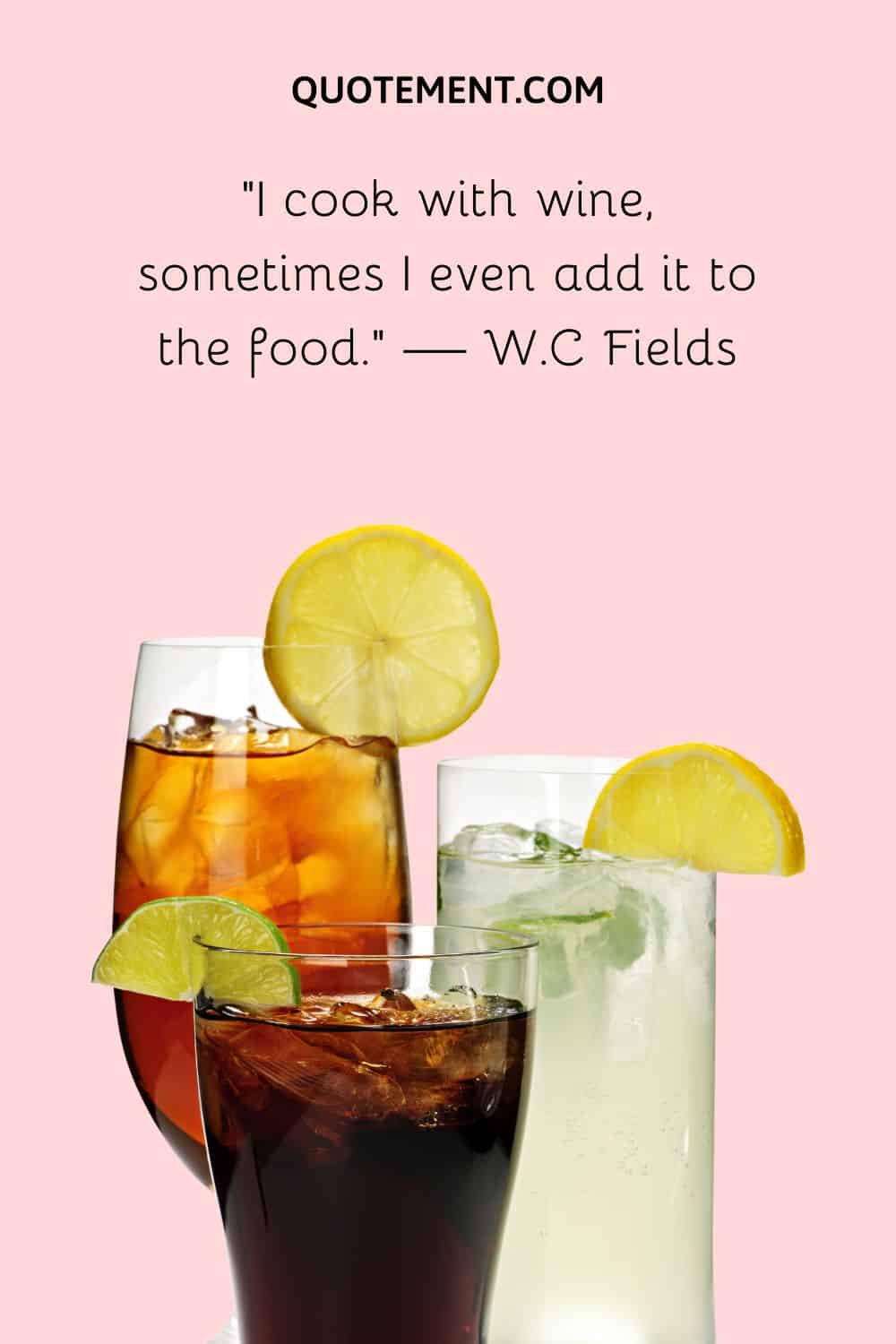 2. "Not all chemicals are bad. Without chemicals such as hydrogen and oxygen, for example, there would be no way to make water, a vital ingredient in beer." — Dave Barry
3. "Alcohol may be man's worst enemy, but the bible says love your enemy." — Frank Sinatra
4. "I am a firm believer in the people. If given the truth, they can be depended upon to meet any national crisis. The great point is to bring them the real facts, and beer." — Abraham Lincoln
5. "I drink too much. The last time I gave a urine sample it had an olive in it." — Rodney Dangerfield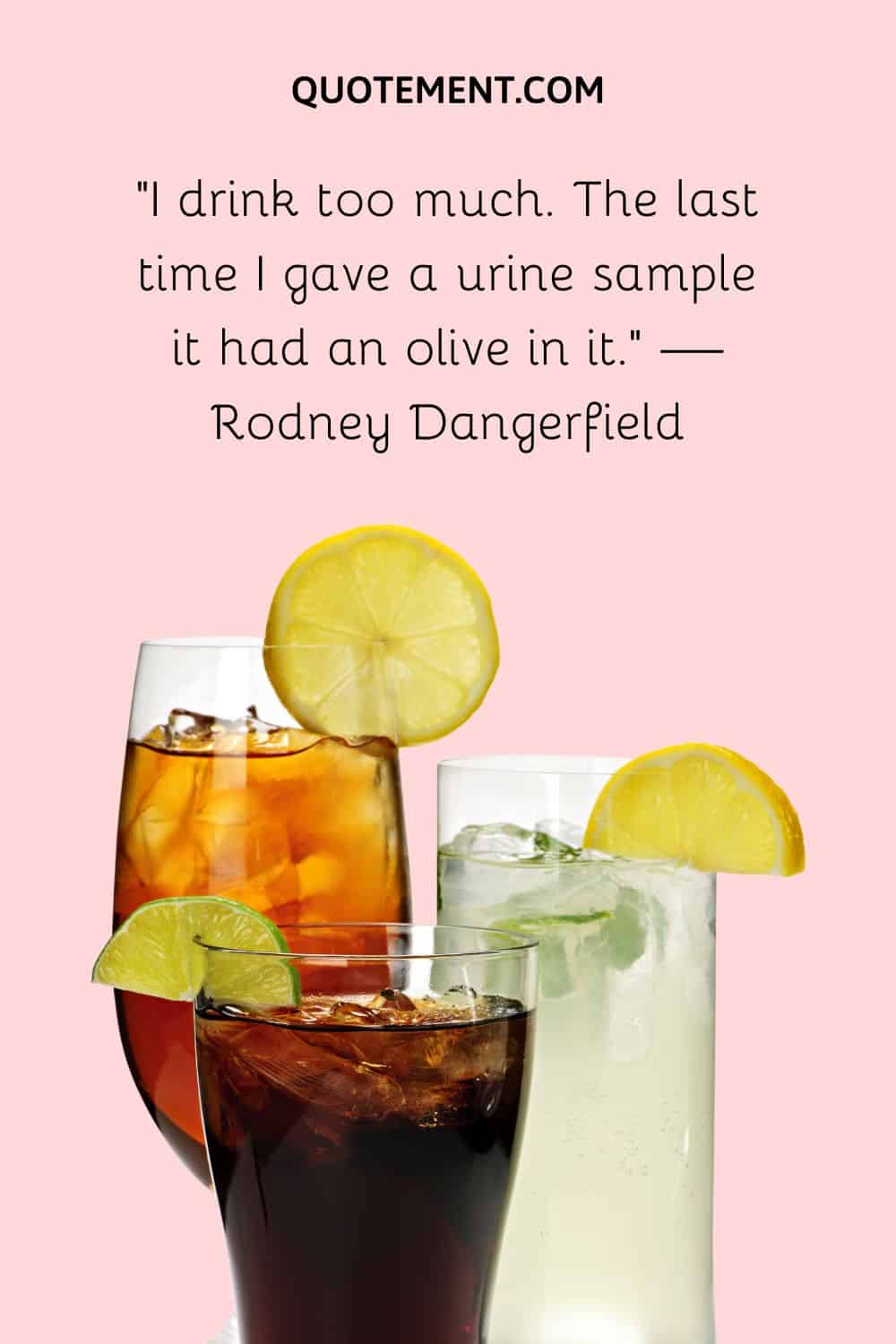 6. "I like to have a martini, two at the very most. After three I'm under the table, after four I'm under my host." — Dorothy Parker
7. "Here's to alcohol, the cause of — and solution to — all life's problems." — Homer Simpson
8. "A lady came up to me one day and said 'Sir! You are drunk', to which I replied 'I am drunk today madam, and tomorrow I shall be sober but you will still be ugly." — Winston S. Churchill
9. "Drunkenness is nothing but voluntary madness." — Seneca
10. "Alcohol is necessary for a man so that he can have a good opinion of himself, undisturbed by the facts." — Finley Peter Dunne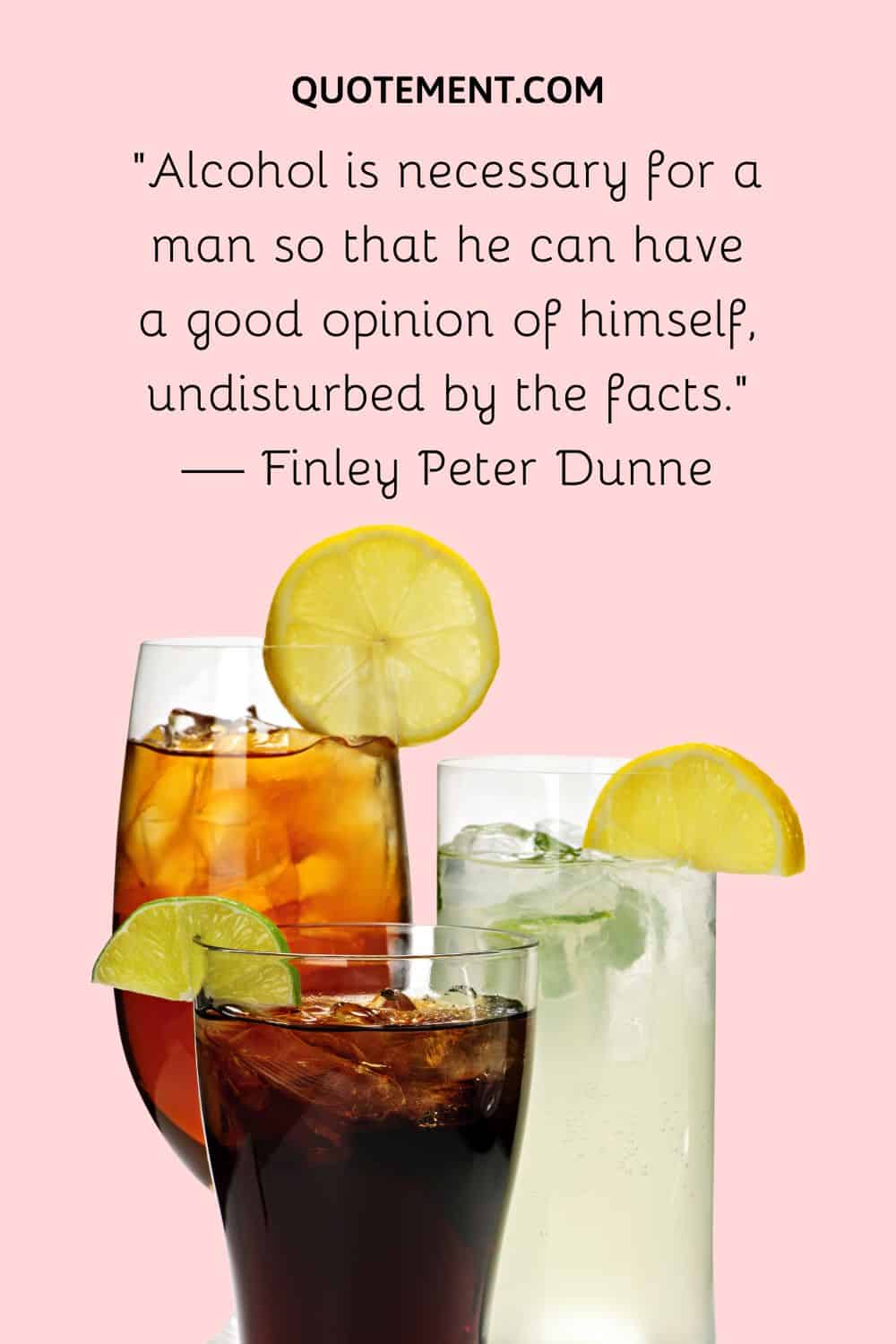 11. "I went out with a guy who once told me I didn't need to drink to make myself more fun to be around. I told him, I'm drinking so that you're more fun to be around." — Chelsea Handler
12. "Always do sober what you said you'd do when you were drunk. That will teach you to keep your mouth shut!" — Ernest Hemingway
13. "I don't have a drinking problem except when I can't get a drink." — Tom Waits
14. "Cheers to the freakin' weekend." — Rihanna, "Cheers (Drink to That)"
15. "The problem with the world is that everyone is a few drinks behind." — Humphrey Bogart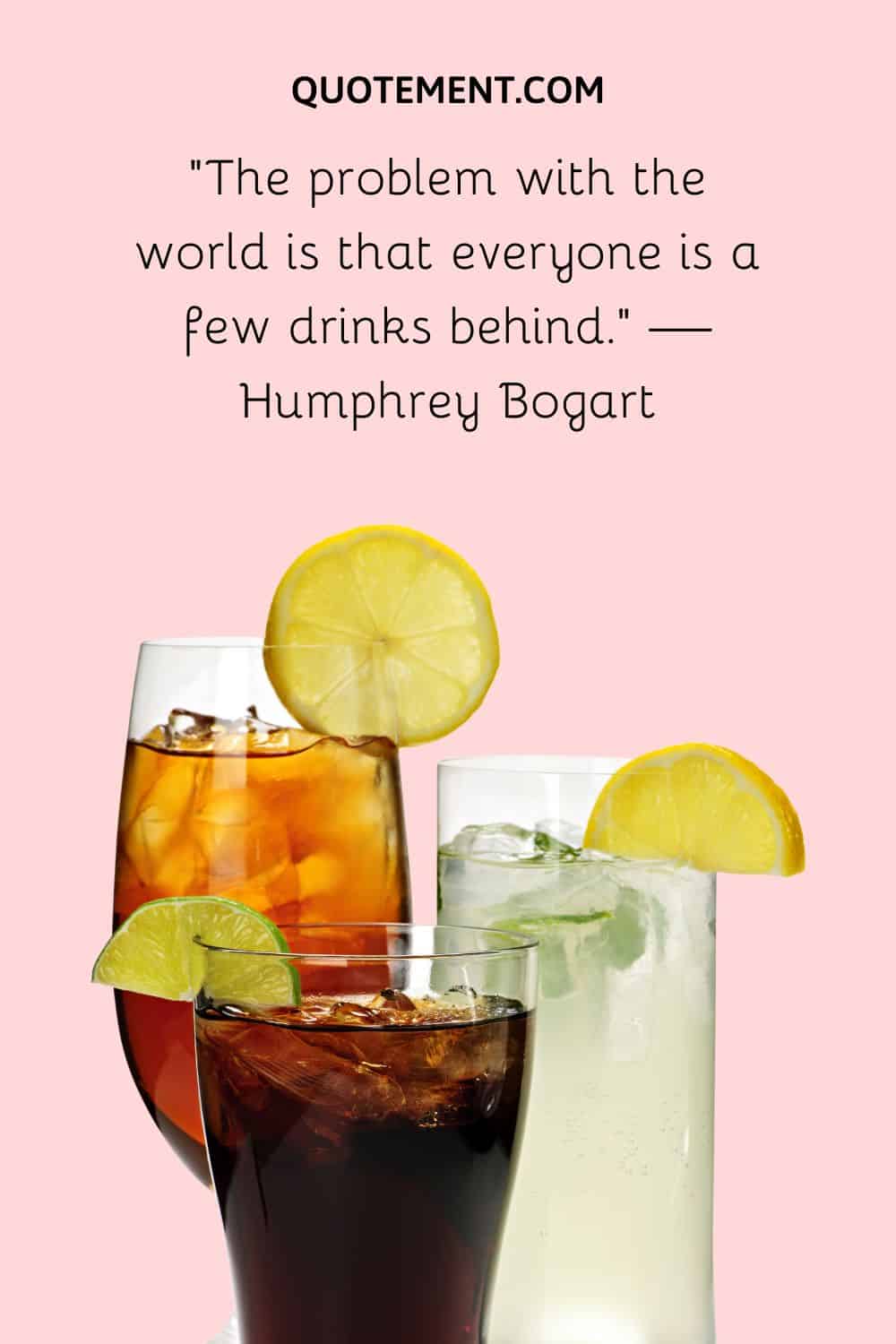 16. "Here's to alcohol, the rose colored glasses of life." — F. Scott Fitzgerald
17. "Drink because you are happy, but never because you are miserable." — G.K. Chesterton
18. "If I had to live my life over, I'd live over a saloon." — W.C. Fields
19."When we drink we get drunk. When we get drunk we fall asleep. When we fall asleep we commit no sin. When we commit no sin we go to heaven. Sooooo, let's all get drunk and go to heaven!" — Brian O'Rourke
20. "I believe when life gives you lemons, you should make lemonade… and try to find someone whose life has given them vodka, and have a party." — Ron White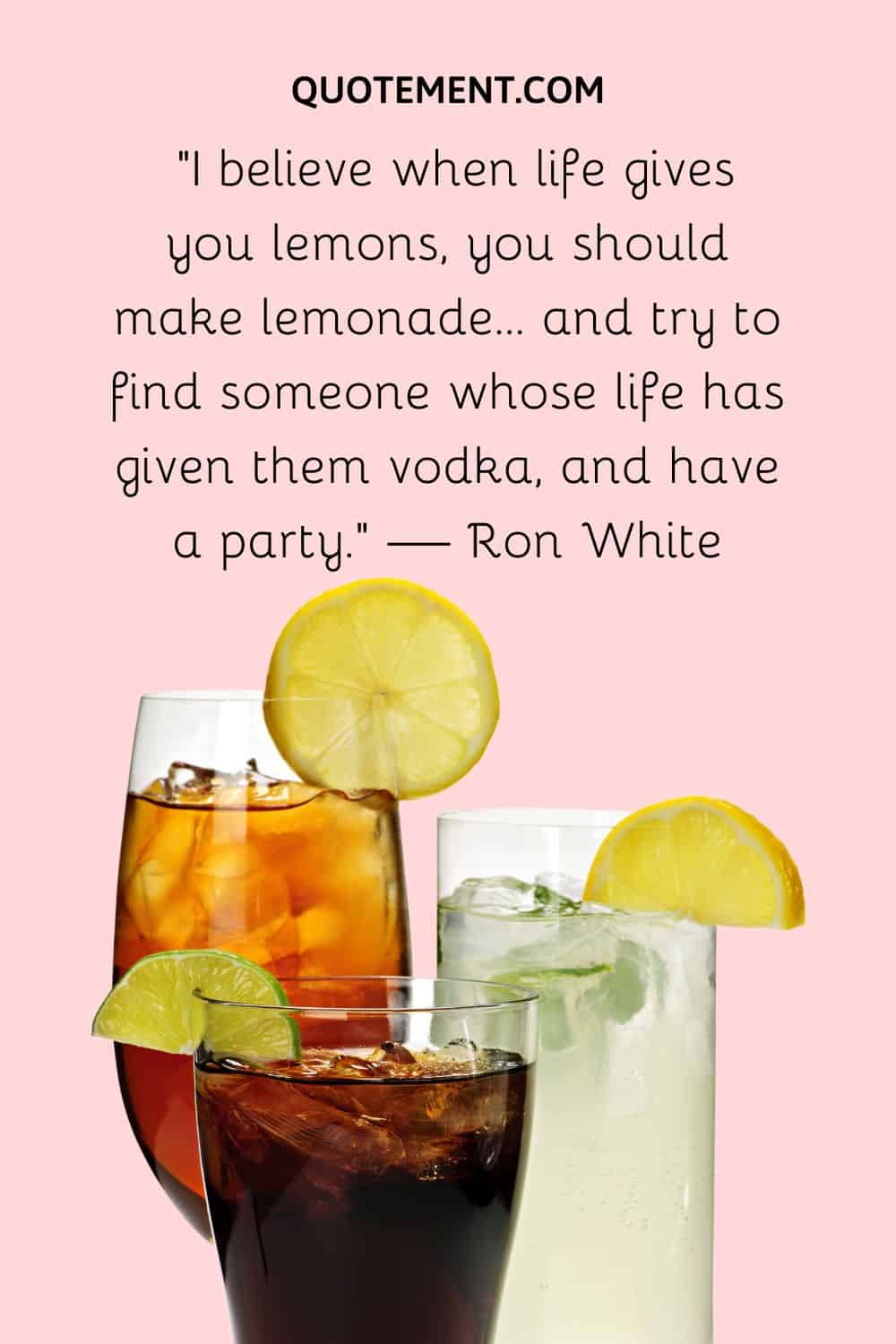 Final Words
Thank you for checking out my collection of the best drinking captions for Instagram.
Which one will you pick for your drinking post?
Until next time, cheers!