Diamonds symbolize love, power, strength, perfection, rarity… and the list surely goes on!
As you can see, today's post is all about precious diamonds, and it brings you no less than 140 best diamond quotes I could find on the web!
If you just take a moment to think about it, you'll realize that diamonds are a true Mother Nature's miracle and that they remind us that if there's no pressure, then there are no diamonds either.
Basically, nothing good comes easy. Their amazing symbolism inspires us to be persistent and patient – and what's more beautiful than that?
Now let's dive into my unique collection to find inspirational and motivational quotes!
Top 10 Diamond Quotes
You can read many quotes on diamonds on the internet, but here are my top 10 most brilliant quotes:
1. "The more the diamond is cut, the brighter it sparkles; and in what seems hard dealing, there God has no end in view but to perfect His people." – Thomas Guthrie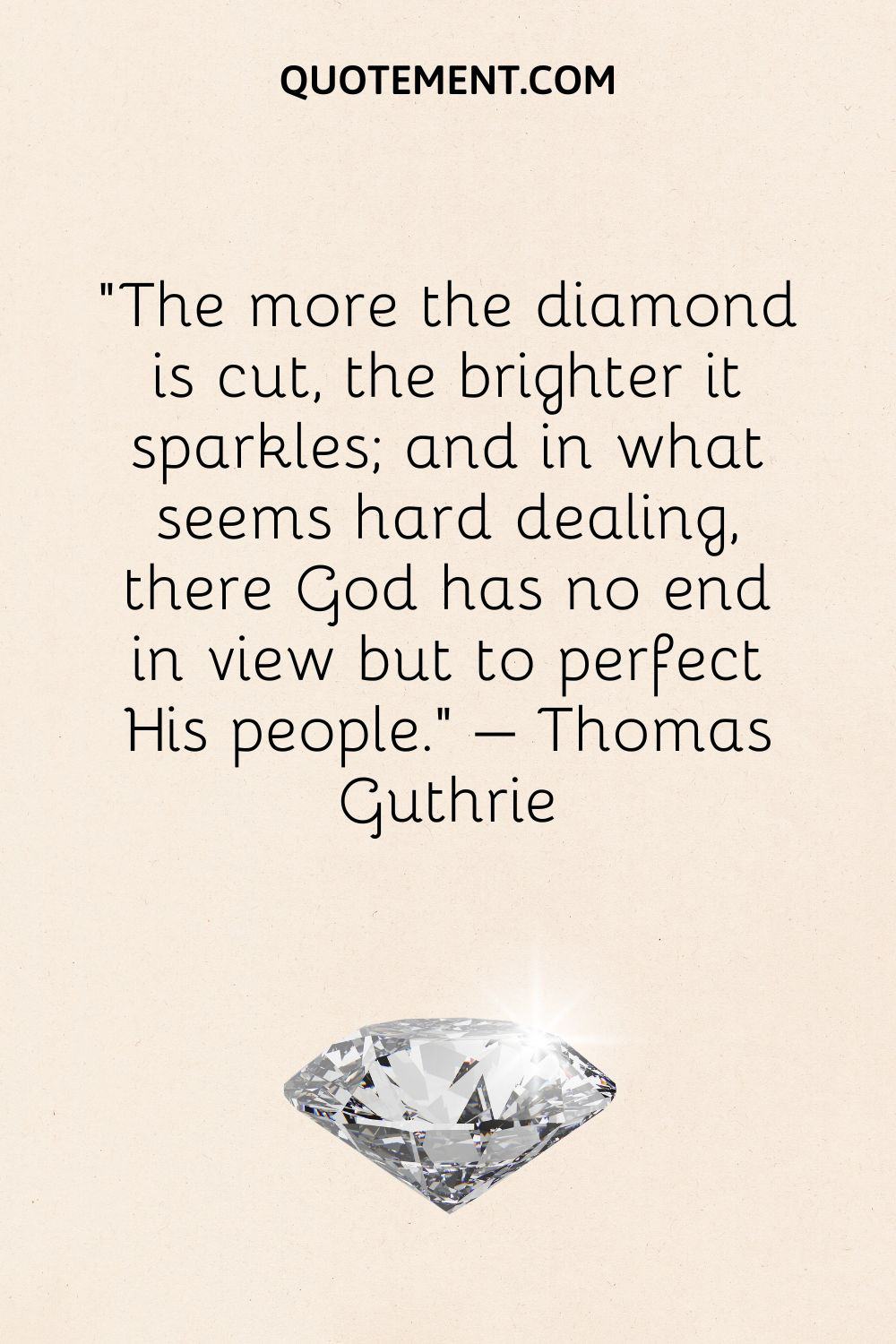 2. "Be a diamond-studded unicorn. Unbreakable and unique." ― Coco
3. "Life keeps throwing me stones. And I keep finding the diamonds." – Ana Claudia Antunes
4. "Be like a diamond, precious and rare, not like a stone that is found everywhere." – Rita Gatourey
5. "Diamonds are forever – my youth is not." – Jill St. John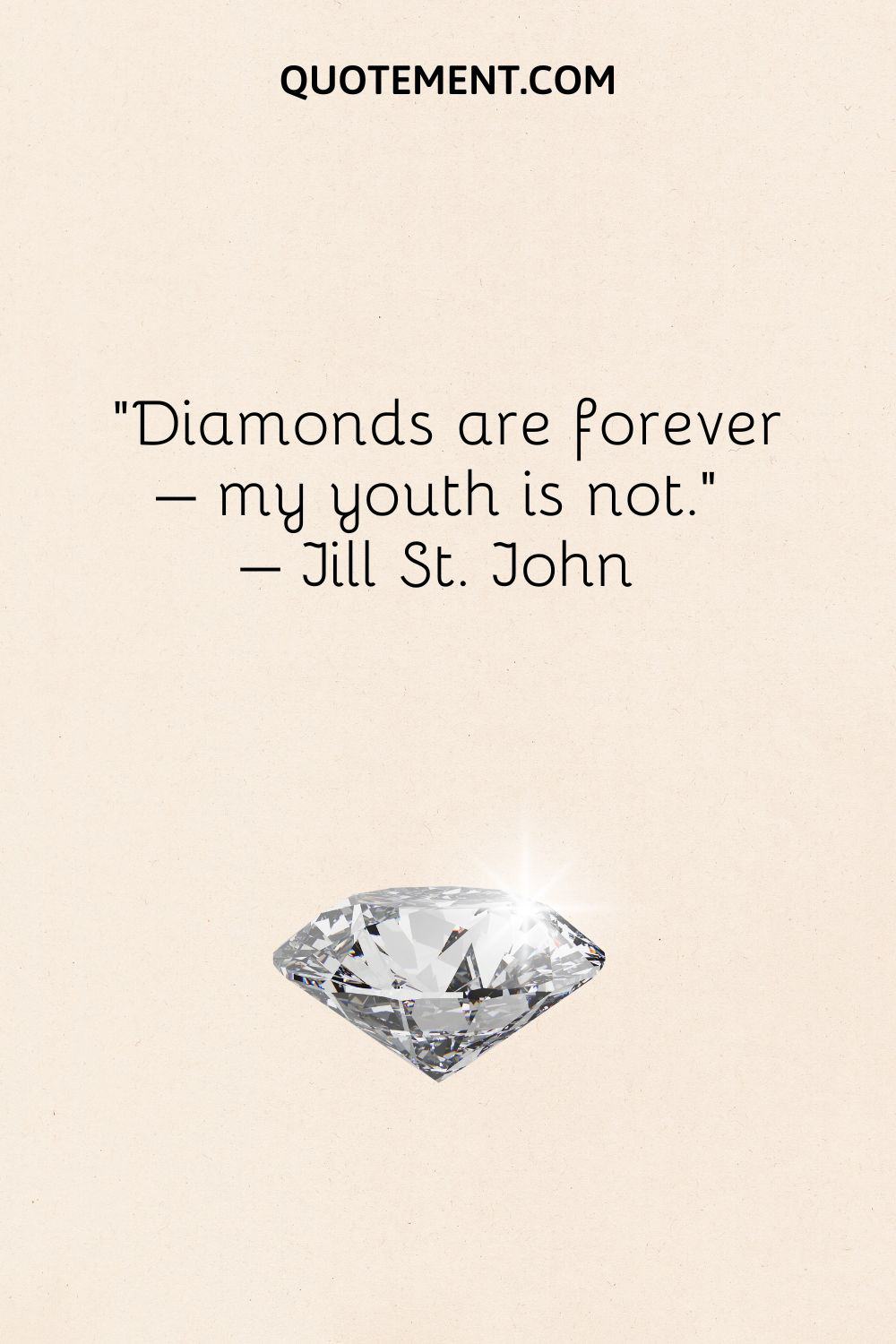 6. "Be patient, my little wild one, wondrous things take time. A pearl is hidden before it's refined. A diamond's luster is dull before revealing brilliant magnificent breathtaking shine." ― Melody Lee
7. "I bought my wife a beautiful diamond ring, and I even had it engraved – with the price." – Michael McIntyre
8. "A real diamond is never perfect." – Anthony Doerr
9. "Whether we fall by ambition, blood, or lust, like diamonds we are cut with our own dust." – John Webster
10. "The more you get past pain, the more it goes from coal to diamond." – Jodi Picoult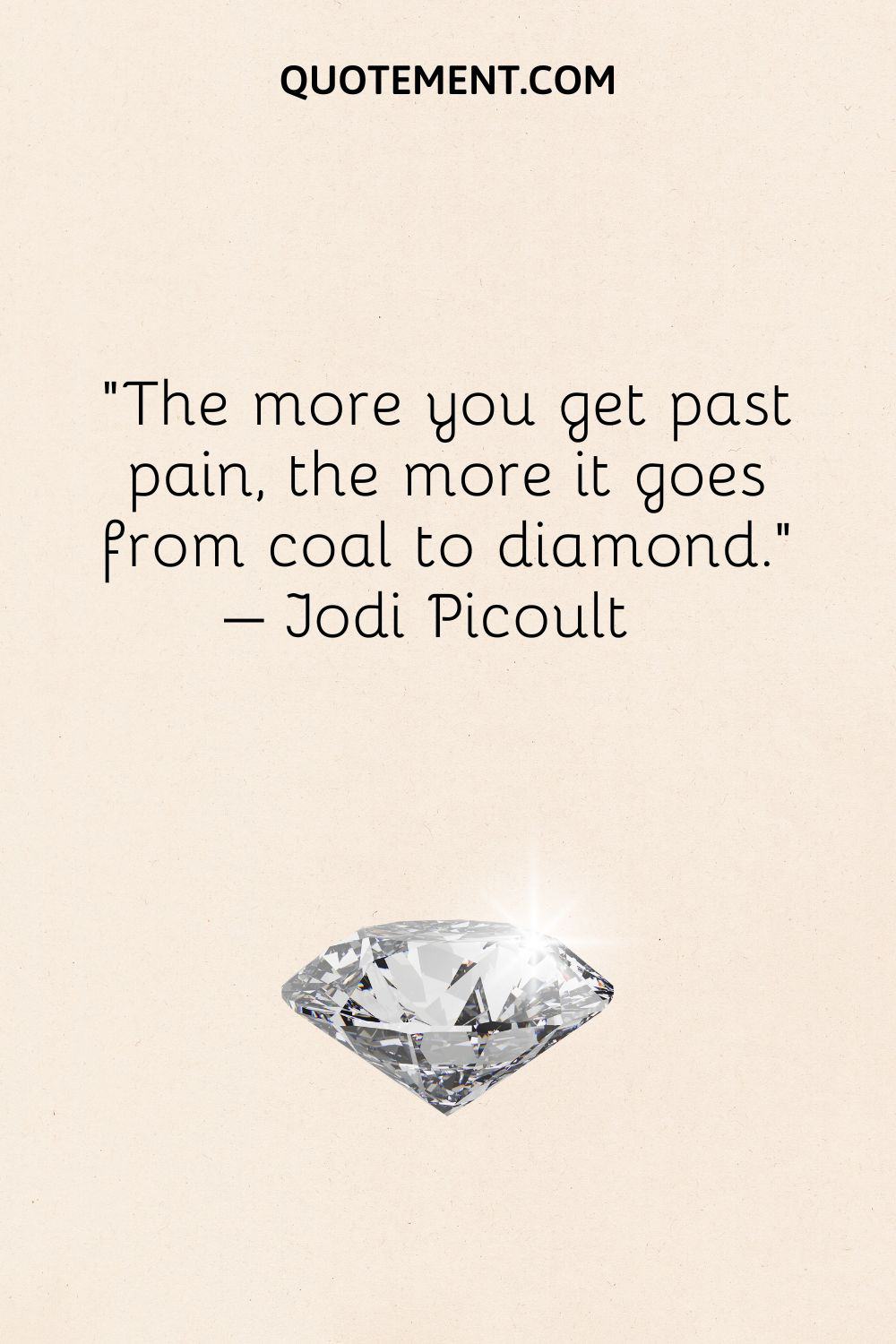 Inspirational Diamond Quotes
This exciting section brings you the most inspirational quotes, so keep scrolling to discover unforgettable diamond quotes:
1. "There are two kinds of diamonds in this world: the diamond itself and the eyes full of love!" – Mehmet Murat ildan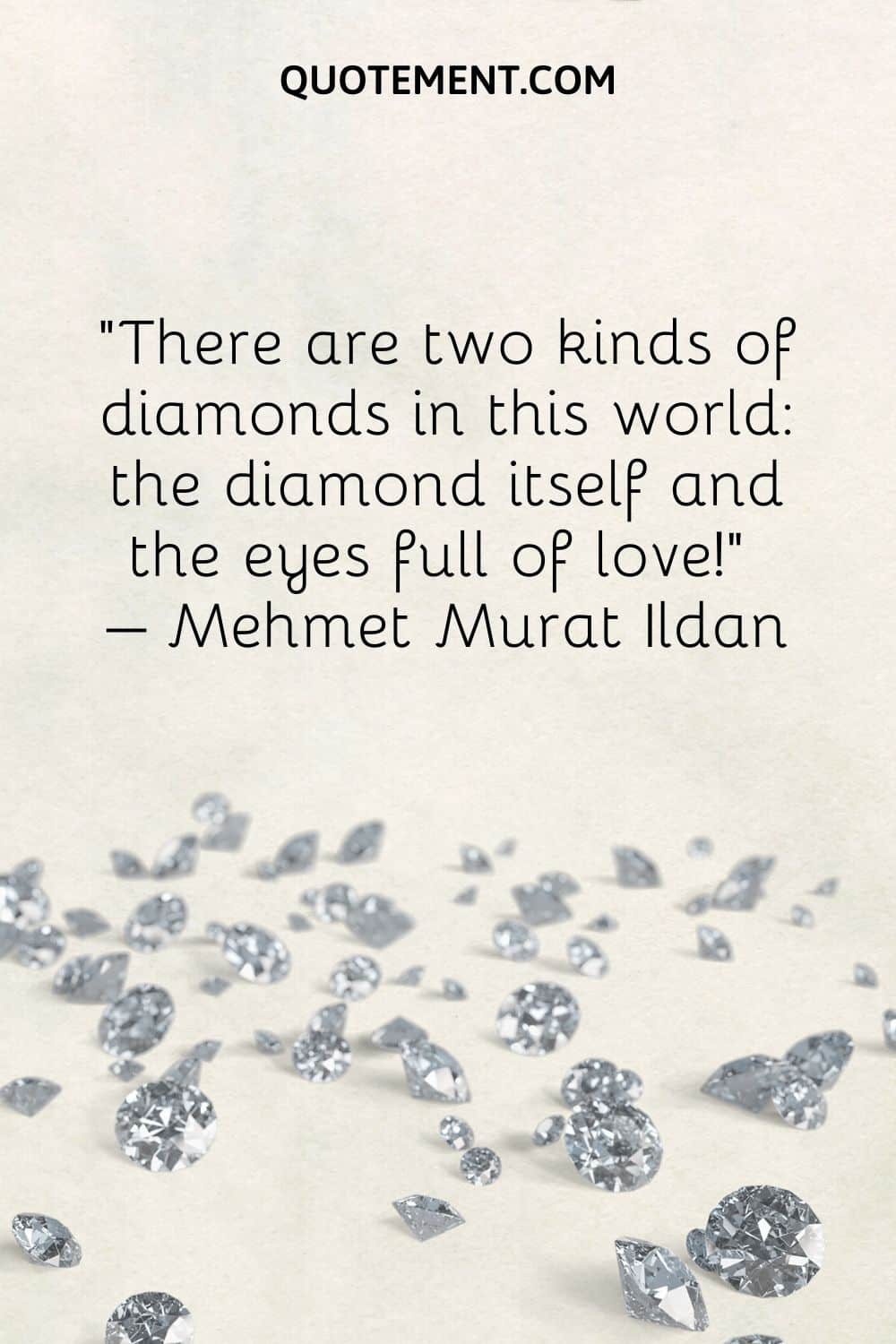 2. "A book that has been written has very little value. What matters the most is the book that has been read, sometimes many years or centuries after its creation. It's like a diamond; resting deeply in the mud, it will never shine until someone picks it up and makes it clean." ― Giannis Delimitsos
3. "Diamonds are only lumps of coal that stuck at it no matter how much heat or pressure they faced." – Jeffery Fry
4. "My Spirit radiates brighter than a diamond or rainbow… This beauty unseen. Only those with true beauty know." ― Cali Willette
5. "Better a diamond with a flaw than a pebble without." – Confucius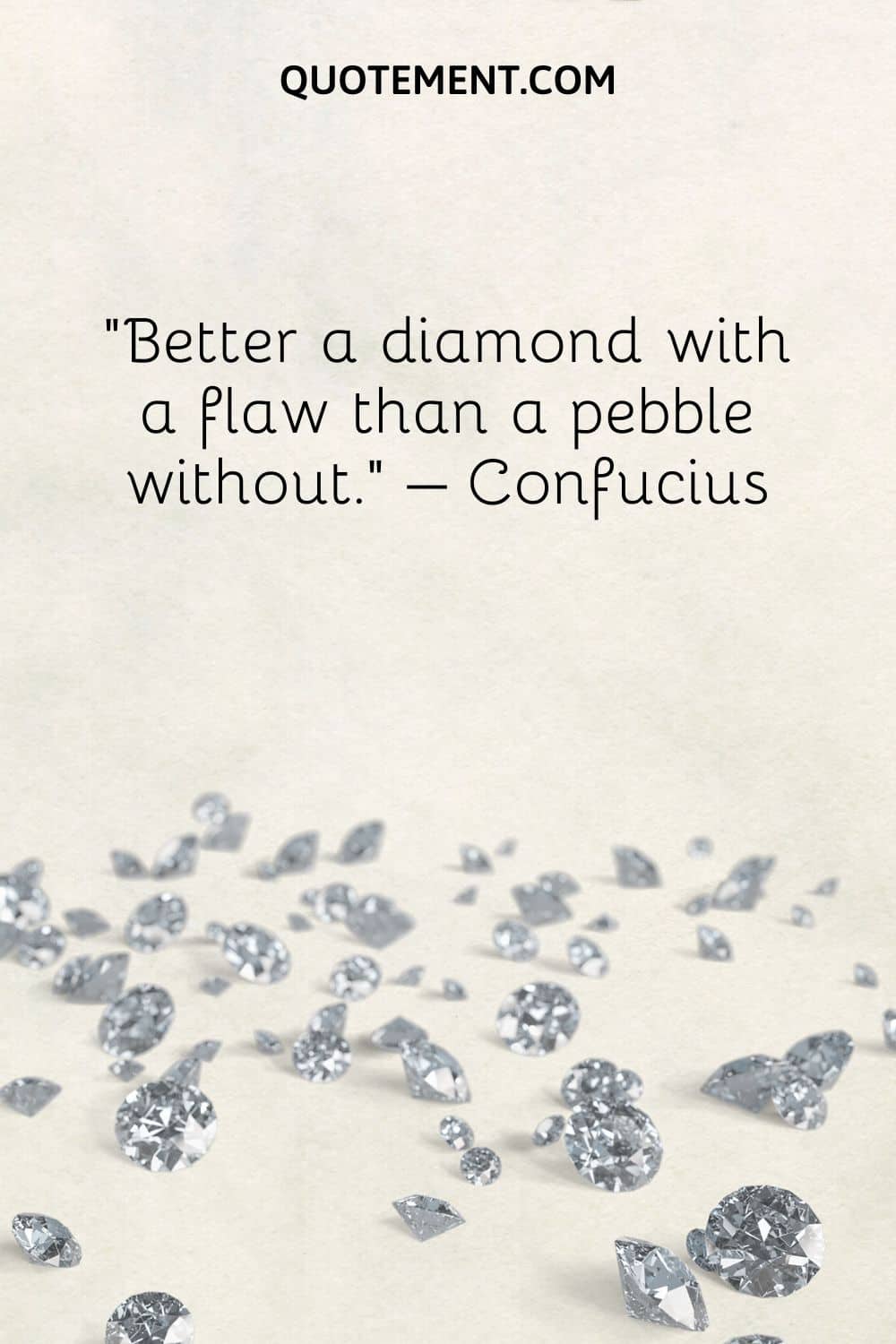 6. "Into every girl's life a little diamond should fall." – Elizabeth Taylor
7. "Diamonds have an image of purity and light. They are given as a pledge of love and worn as a symbol of commitment." – Peter Singer
8. "Diamonds are a girl's best friend." – Marilyn Monroe
9. "You can't cry on a diamond's shoulder, and diamonds won't keep you warm at night, but they're sure fun when the sun shines." – Elizabeth Taylor
10. "Each of us is like a diamond, and each of us has the potential to be brilliant." – Simon T. Bailey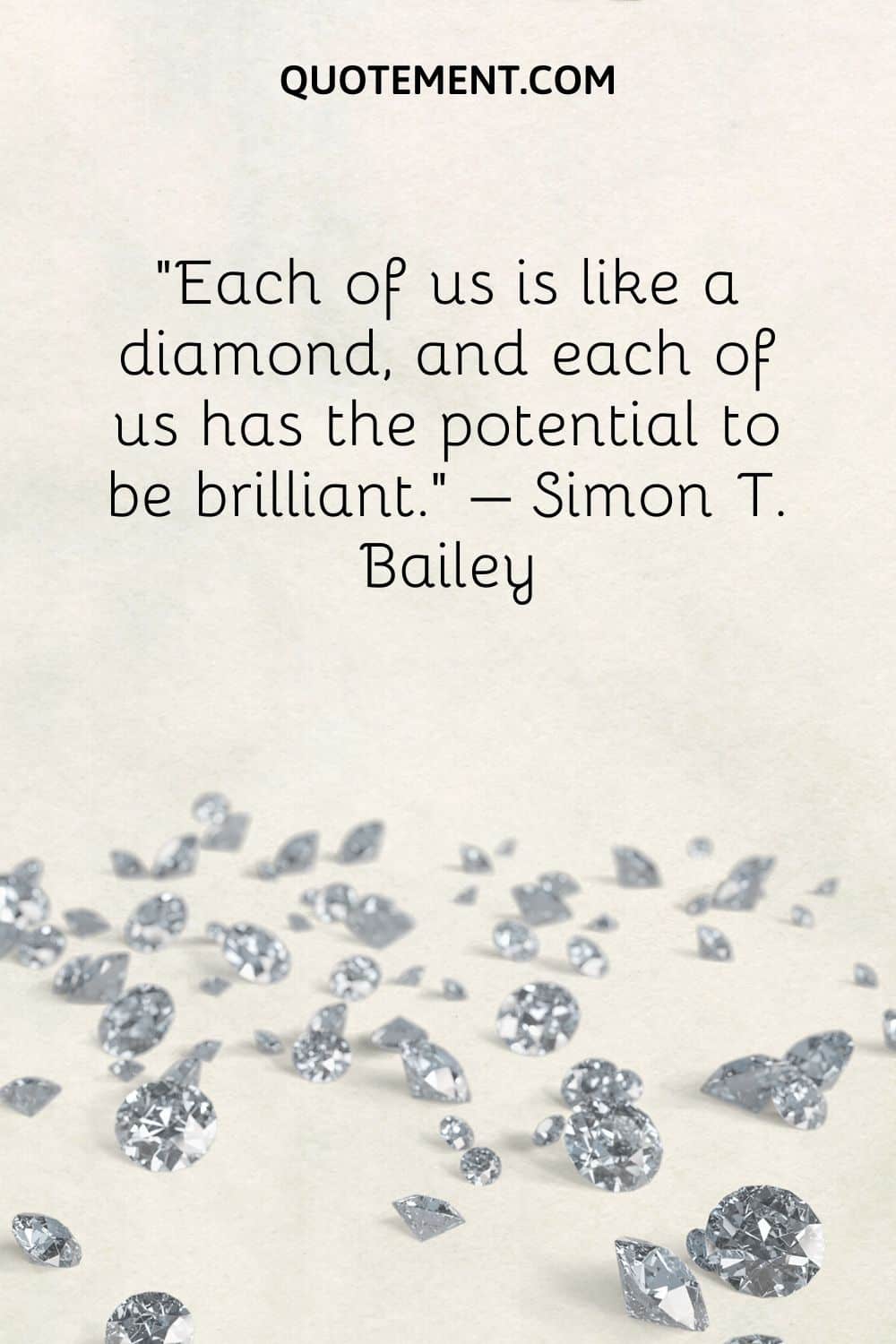 11. "Shine on you crazy diamond…" — Pink Floyd
12. "Remember diamonds are created under pressure, so hold on." ― Sope Agbelusi
13. "A powerful woman knows how to dust herself off and shine just like a diamond, even after the worst has happened to her." ― Gift Gugu Mona
14. "It's not about how skinny you are or how much money or how many diamonds you have – that's the fluff that people sometimes look at as being the main thing. It's about understanding that the things that make you fabulous are all inside of you." – Kimora Lee Simmons
15. "A diamond doesn't start out polished and shining. It once was nothing special, but with enough pressure and time, becomes spectacular. I'm that diamond." – Solange Nicole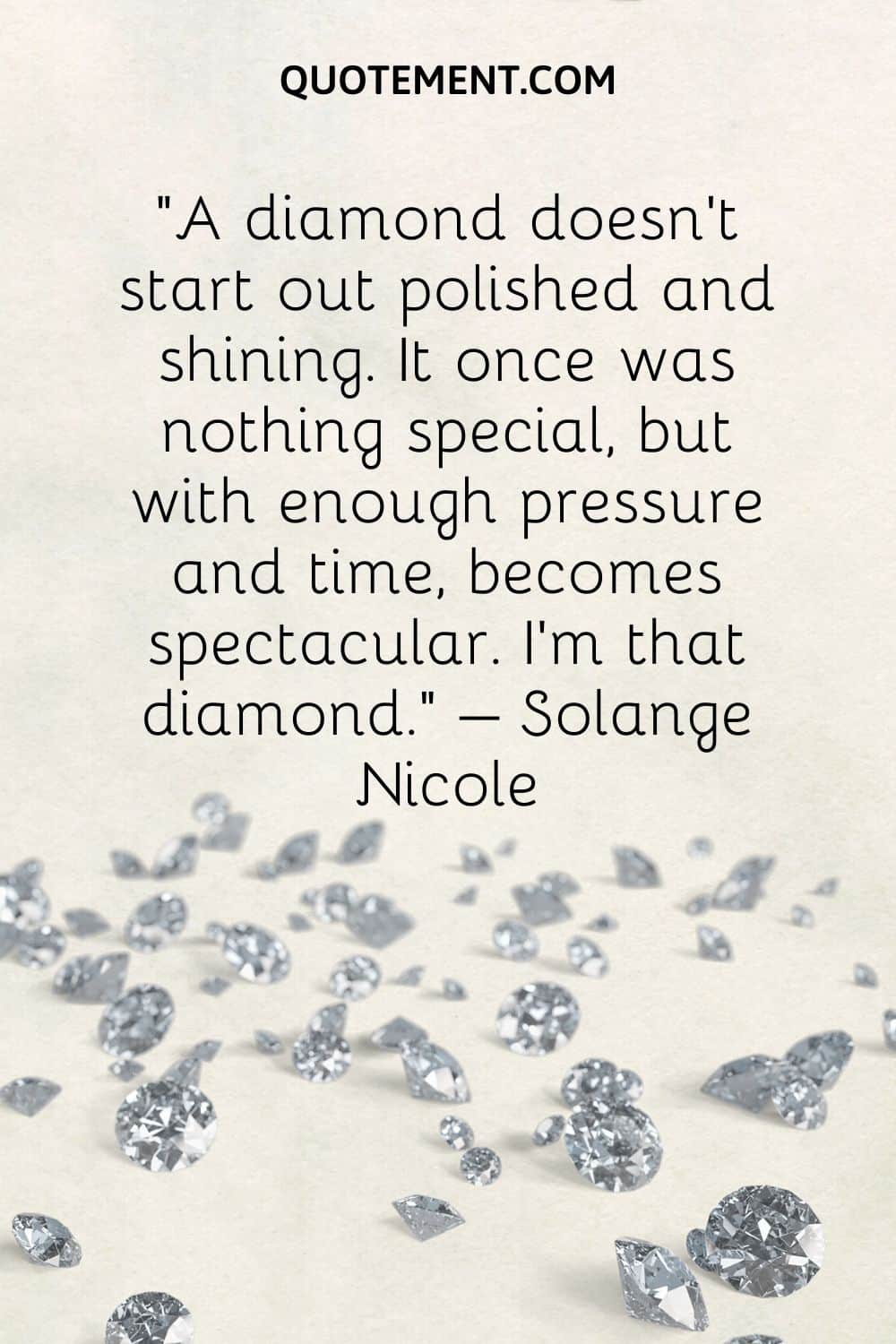 16. "The more you get past pain, the more it goes from coal to diamond." – Jodi Picoult
17. "Throw diamonds, not shade." – G. Hunt
18. "A diamond's creation requires immense pressure and intense temperatures to reach its highest potential. Without enduring the adversity and pressure of its environment, the diamond would never become the treasure it was meant to be. May the changes you grow through bring incredible value in helping you forge a remarkable and multi–faceted life." – Susan C. Young
19. "Every diamond has the ability to shine when there is someone to recognize its good facets and inhibit its flaws." – Wes Fesler
20. "It's hard to be a diamond in a rhinestone world." – Dolly Parton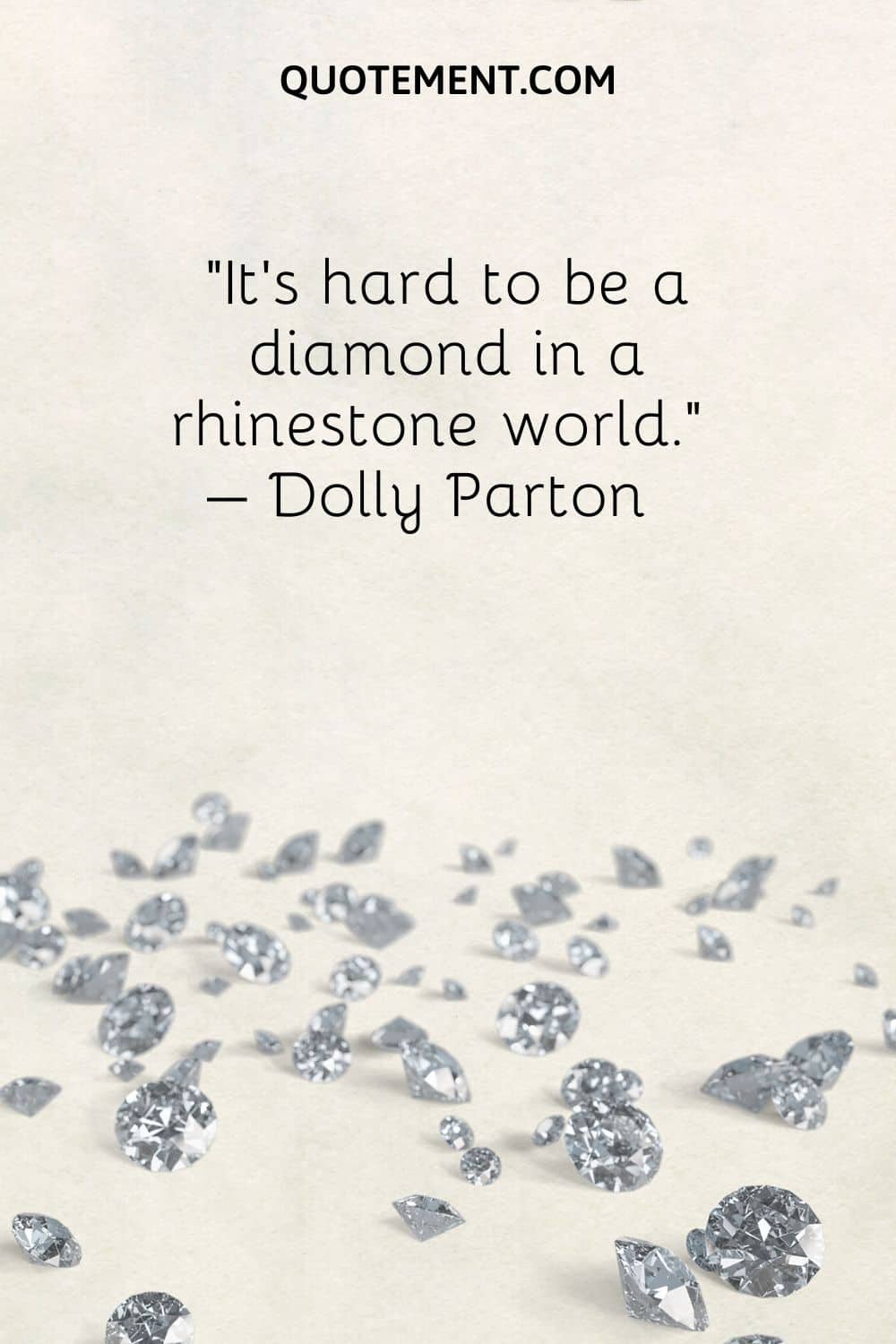 Brilliant Diamond Quotes
If you've been searching for brilliant quotes about diamonds, be sure to check these out:
1. "Perhaps time's definition of coal is the diamond." ― Khalil Gibran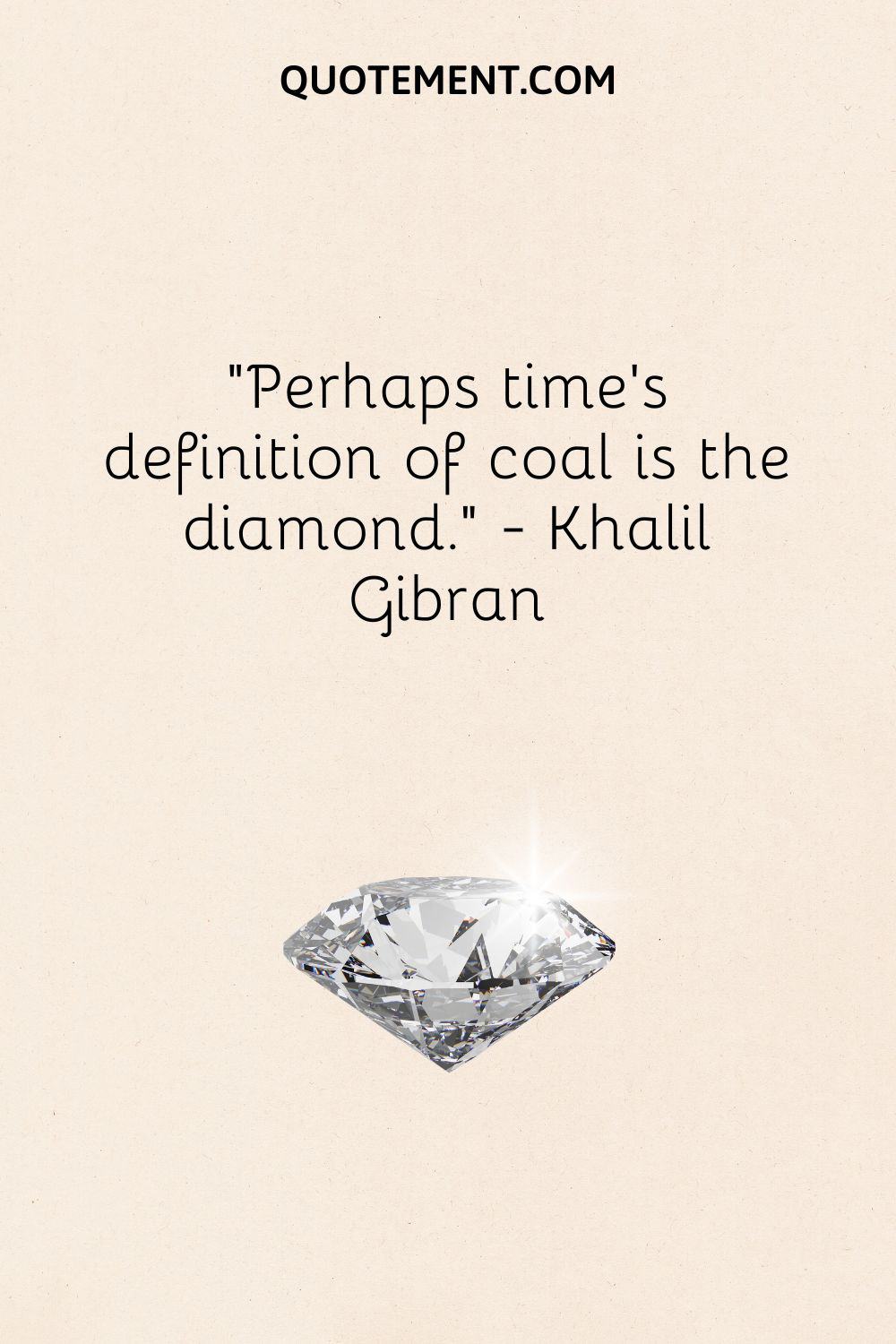 2. "Life tries to crush her, but only succeeds in making a diamond." ― John Green
3. "Jewelry should transcend time like a fine painting, never losing its appeal." – Oscar Heyman
See also: 150 Jewelry Quotes To Show Off Your Sophisticated Style
4. "There comes a moment when the silence between two people can have the purity of a diamond." ― Philippe Djian
5. "The next time you feel slightly uncomfortable with the pressure in your life, remember no pressure, no diamonds. Pressure is a part of success." – Eric Thomas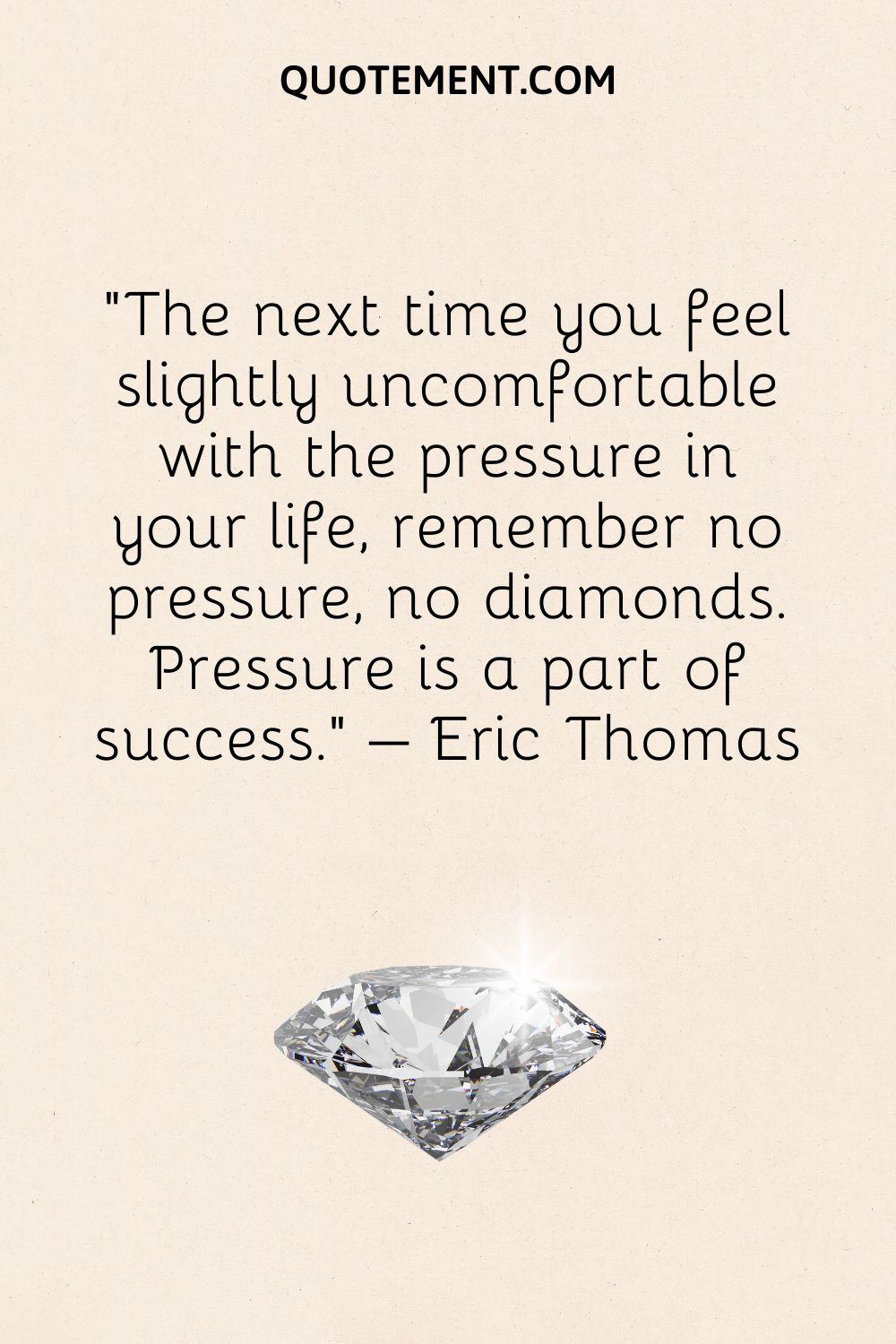 6. "A diamond cannot be polished without friction, nor a person perfected without trials. Someone is enjoying shade today because someone planted a tree a long time ago." – Warren Buffett
7. "A diamond is a chunk of coal that is made good under pressure." – Henry Kissinger
8. "Wit must be foiled by wit: cut a diamond with a diamond." – William Congreve
9. "A diamond's luster is dull before revealing brilliant magnificent breathtaking shine." — Melody Lee
10. "My reason for choosing diamonds is that, dense as they are, they represent the greatest worth in the smallest volume." – Coco Chanel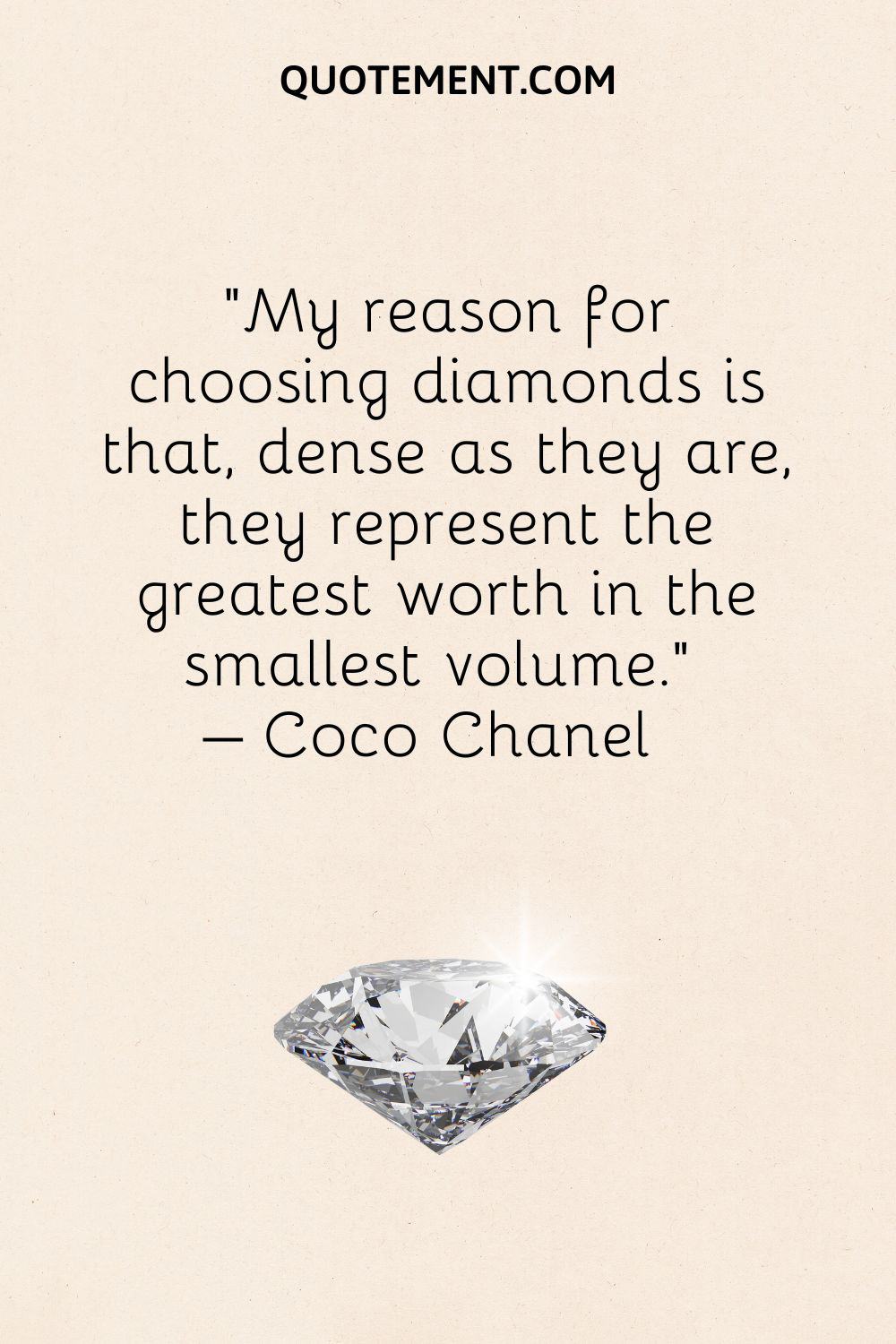 11. "A diamond on the finger of a man of wit and a pebble in the hand of a fool." – Joseph Roux
12. "The soul is placed in the body like a rough diamond, and must be polished, or the luster of it will never appear." – Daniel Defoe
13. "A woman's confidence is like a clear diamond: never unnoticed."
See also: 220 Confident Girl Quotes To Uplift & Motivate You
14. "Good news is rare these days, and every glittering ounce of it should be cherished and hoarded and worshipped and fondled like a priceless diamond." – Hunter S. Thompson
15. "The diamond which shines in the Saviour's crown shall burn in unquenched beauty at last on the forehead of every human soul." – Theodore Parker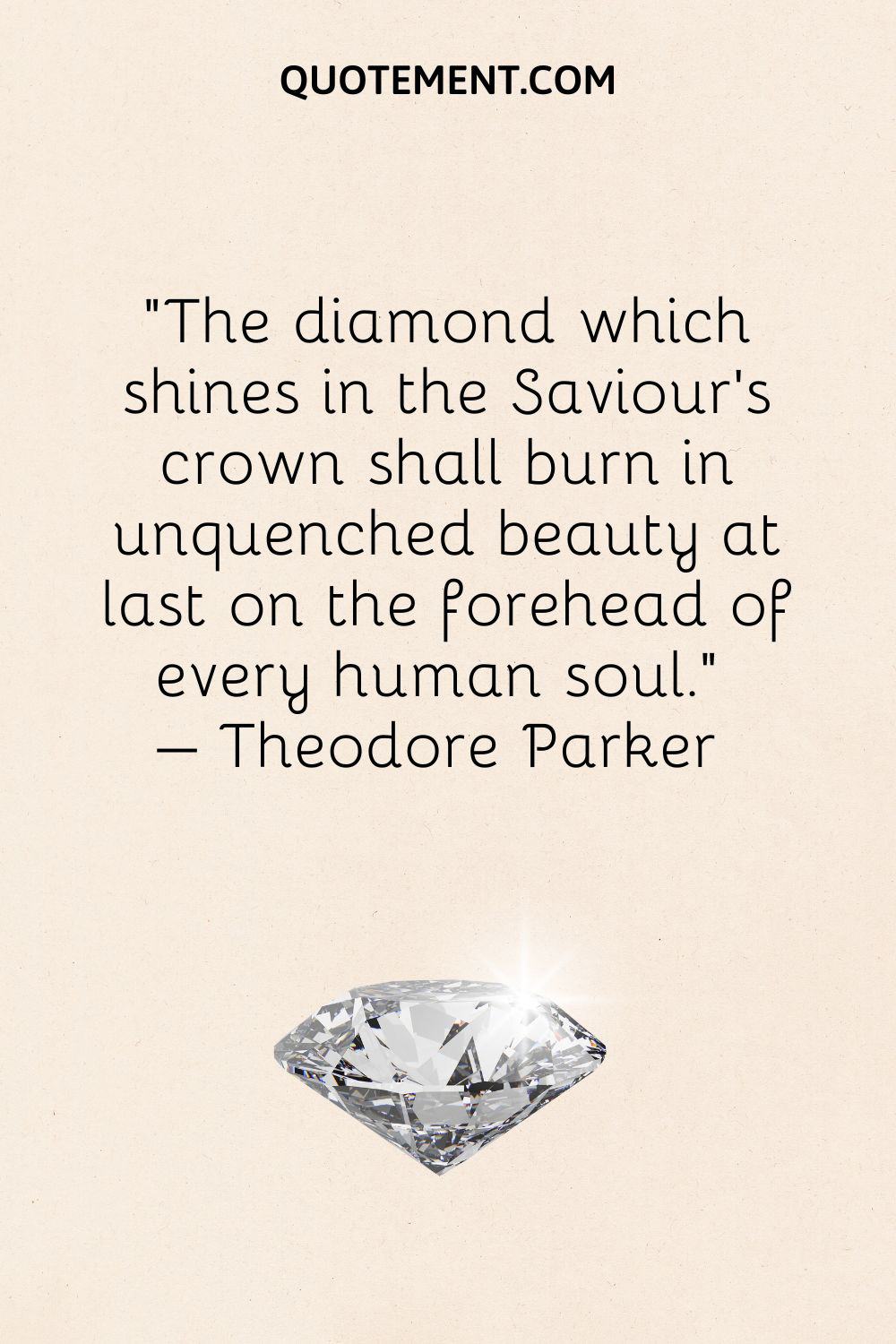 16. "Rough diamonds may sometimes be mistaken for worthless pebbles." – Thomas Browne
17. "Perhaps I should just bury myself and become a diamond after thousands of years of intense pressure." – Lemony Snicket
18. "I celebrate my life, whether it's being a single mother, wearing diamonds, or holidaying in exotic places." – Sushmita Sen
19. "Better to be a strong man with a weak point than to be a weak man without a strong point. A diamond with a flaw is more valuable than a brick without a flaw." – Wiliam J.H. Boetcker
20. "Shine bright like a diamond…" — Rihanna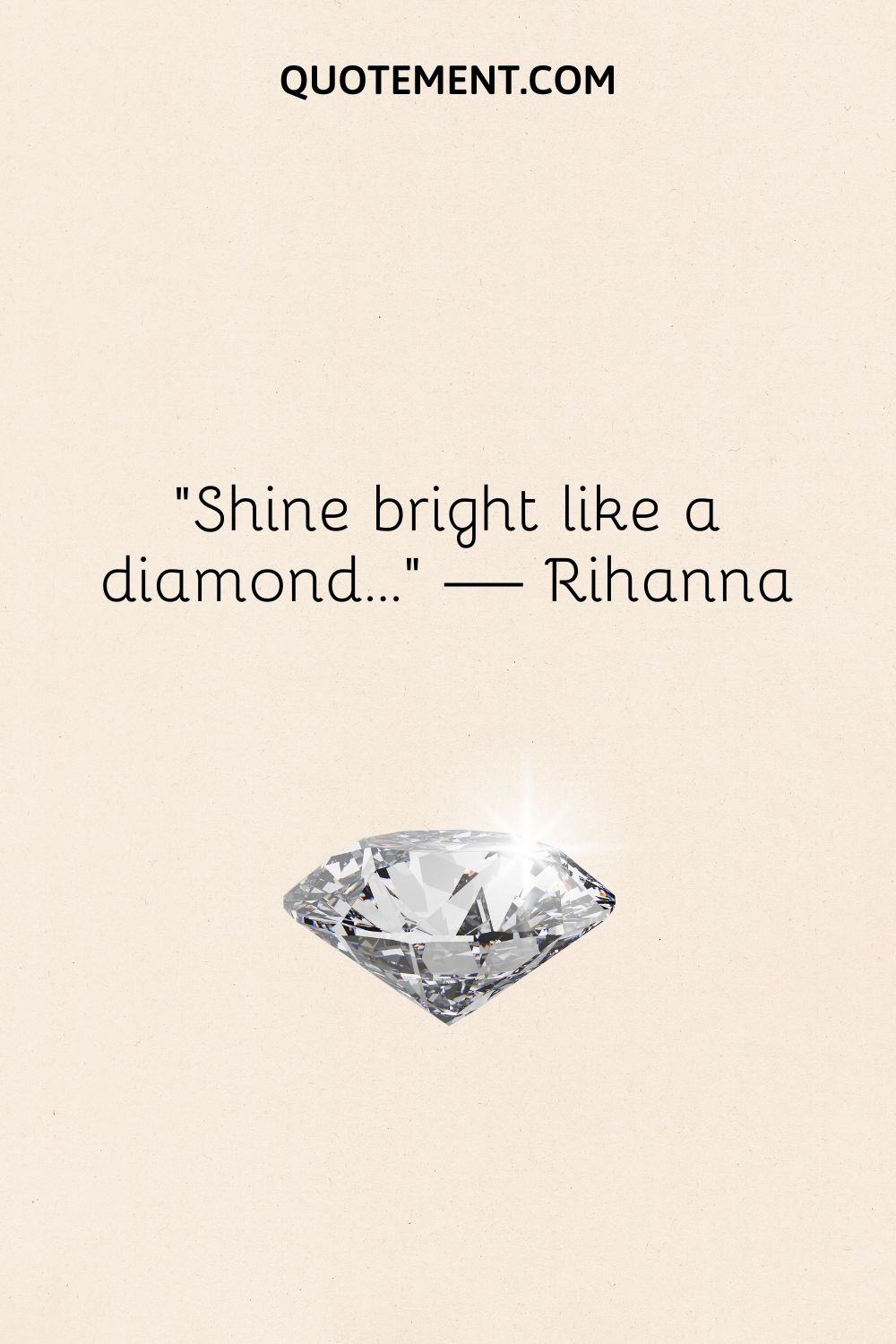 Motivational Diamond Quotes
Need a few diamond quotes that will motivate you when you feel down or under pressure? Why don't you take a look at these wonderful quotes:
1. "When we long for life without difficulties, remind us that oaks grow strong in contrary winds and diamonds are made under pressure." – Peter Marshall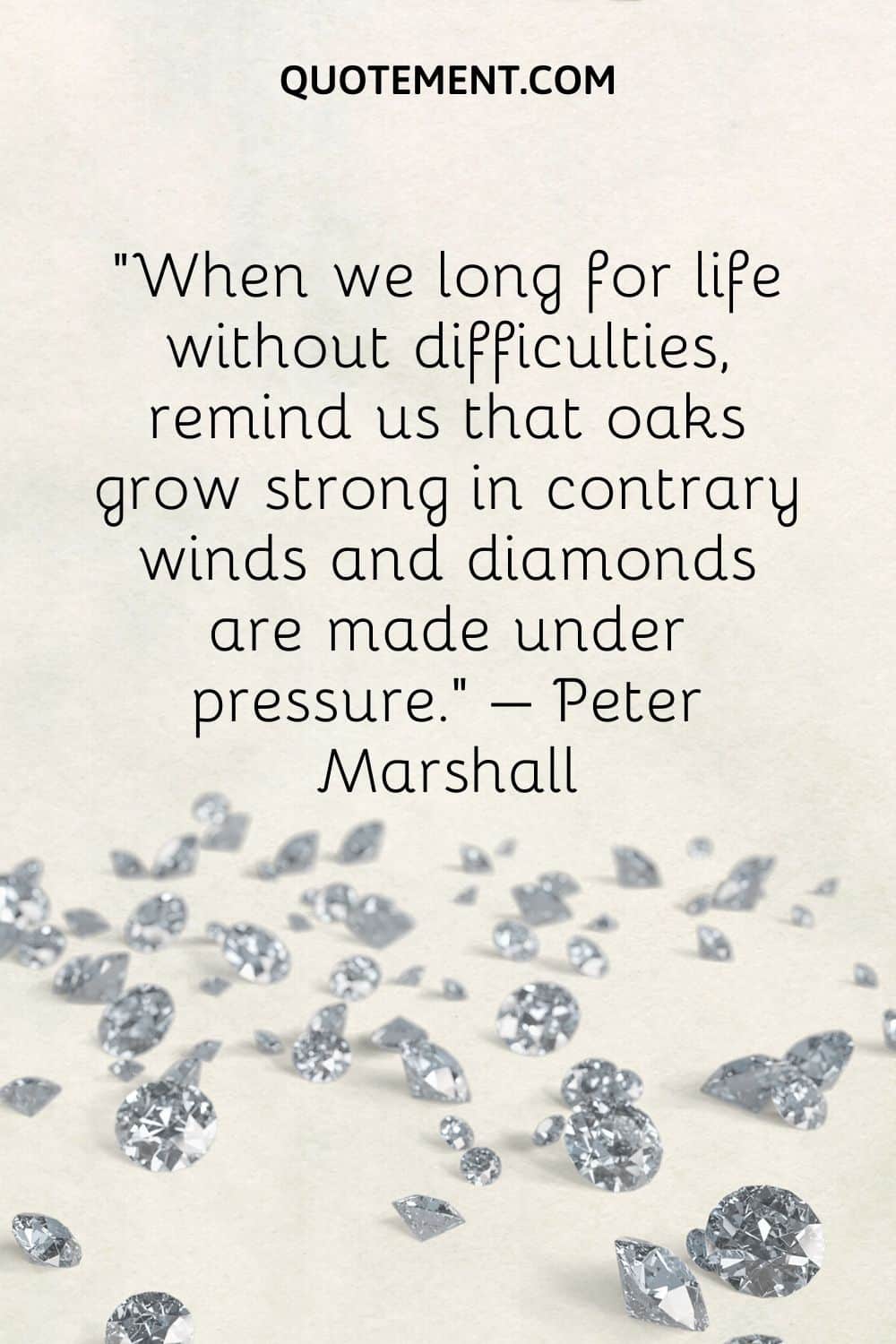 2. "Life is like that. Some days are diamonds and some days are stones." – Jann Arden
3. "Pressure can burst a pipe, or pressure can make a diamond." – Robert Horry
4. "Oh, the joy of the Lord, it will be my strength. When the pressure is on, He's making diamonds." – Hawk Nelson
5. "And when you become a diamond, you'll see why life had to pressure you." –The Idealist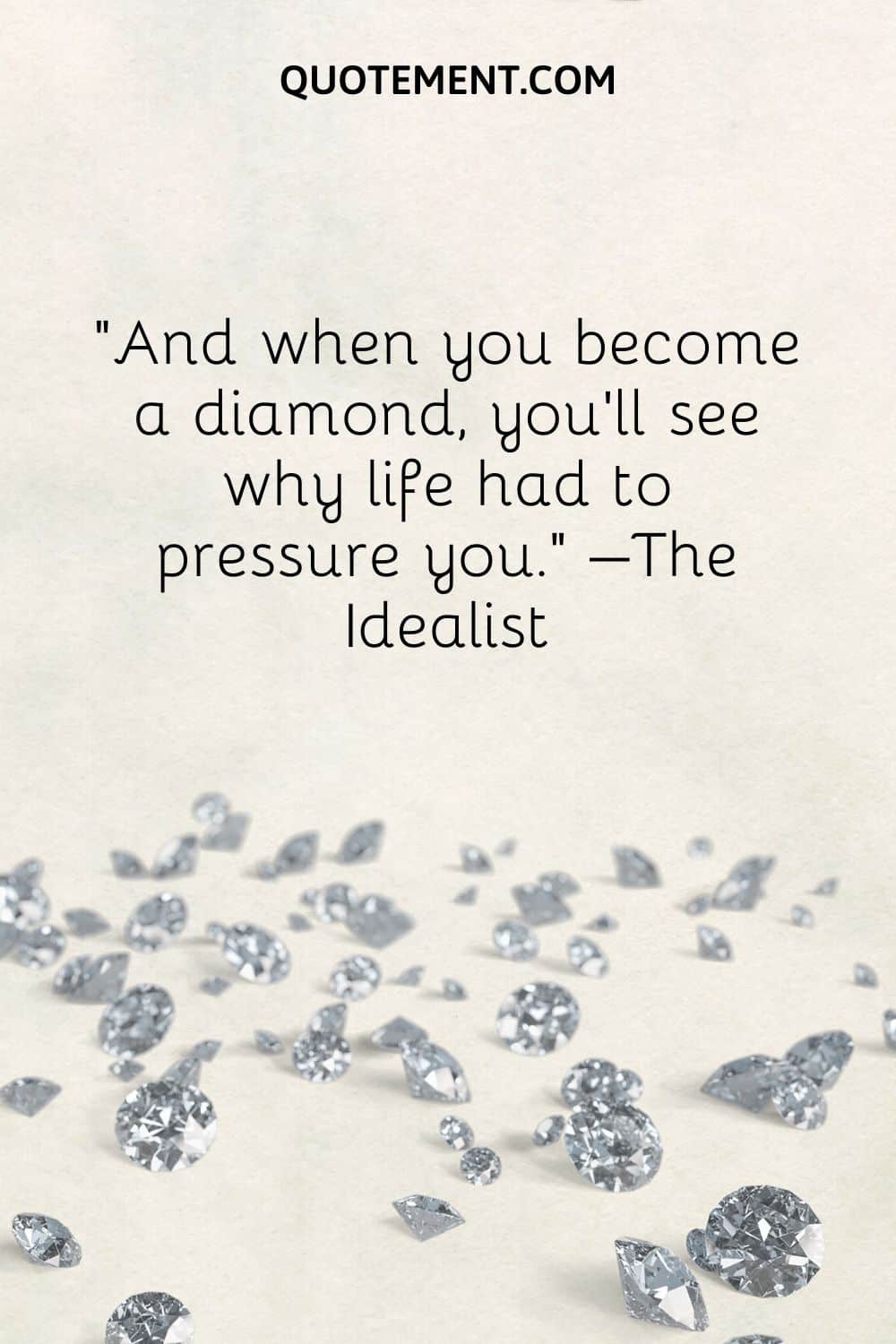 6. "On the difficult days, when the world is on your shoulders, remember that diamonds are made under the weight of mountains."
7. "The hardness of a diamond is part of its usefulness, but its true value is in the light that shines through it." – B.K.S. Isengar
8. "Invest in the human soul. Who knows, it might be a diamond in the rough." – Mary McLeod Bethune
9. "My teachers treated me as a diamond in the rough, someone who needed smoothing." – Mary Harris Jones
10. "Challenges are your stepping stones. No one can explore their potential without meeting obstacles. Bear the pressure to emerge like a sparkling diamond." – Anastasia Verg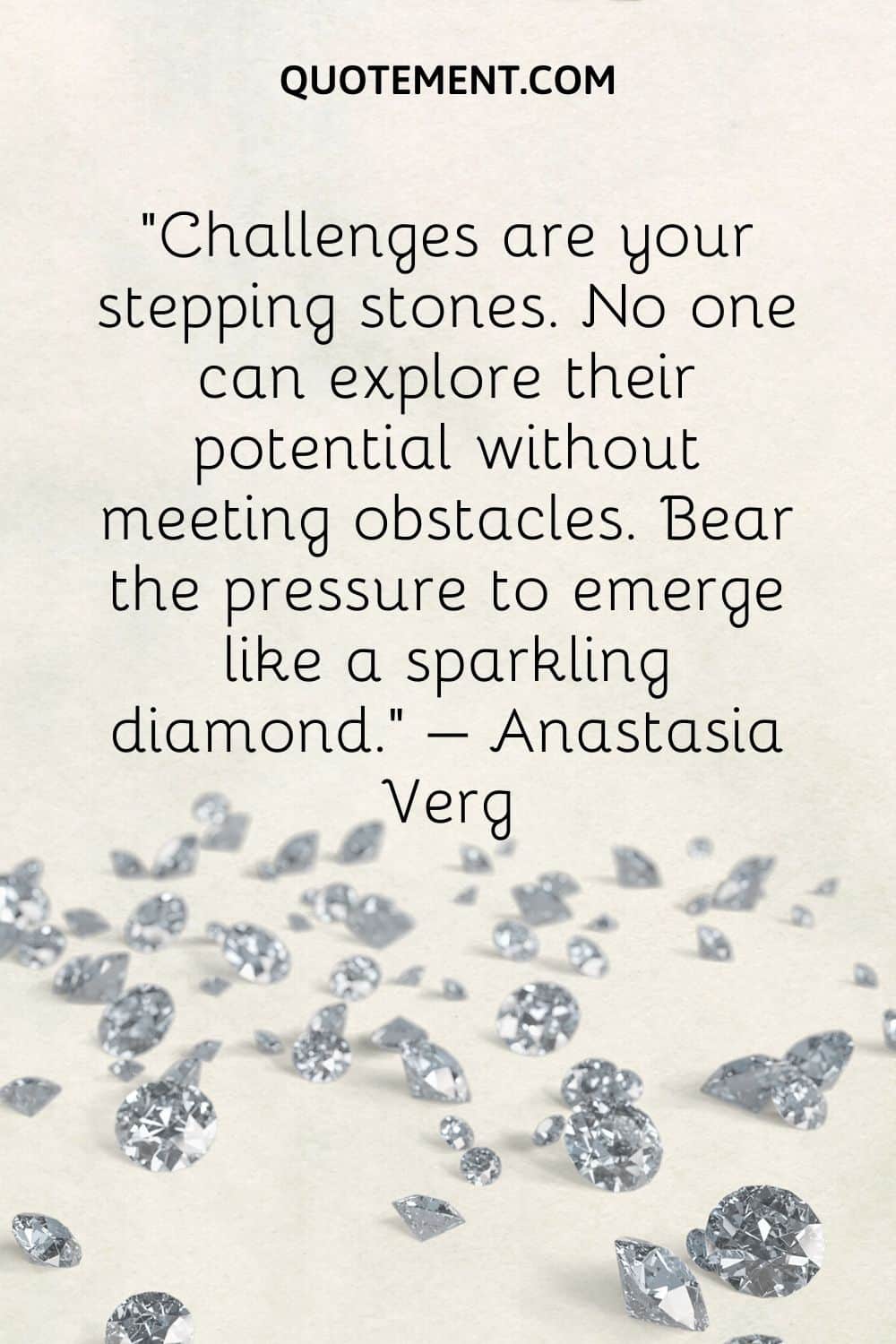 11. "Anybody is able to doubt me. I say, 'Come with your criticism to polish the diamond of the truth.'" – Wim Hof
12. "Adversity is the diamond dust Heaven polishes its jewels with." – Thomas Carlyle
13. "As the earth dies, your spirit will bloom; as the world fades, your soul will rise and glisten. Amongst the dehydrated crevices of a desert earth, you will stumble upon your diamonds; in between the dry skulls and cracked bones, you will find your sapphires." – C. JoyBell C.
14. "I thought of the soul as resembling a castle, formed of a single diamond or a very transparent crystal, and containing many rooms, just as in Heaven there are many mansions." – Saint Teresa of Avila
15. "Diamonds are to be found only in the darkness of the earth, and truth in the darkness of the mind." – Victor Hugo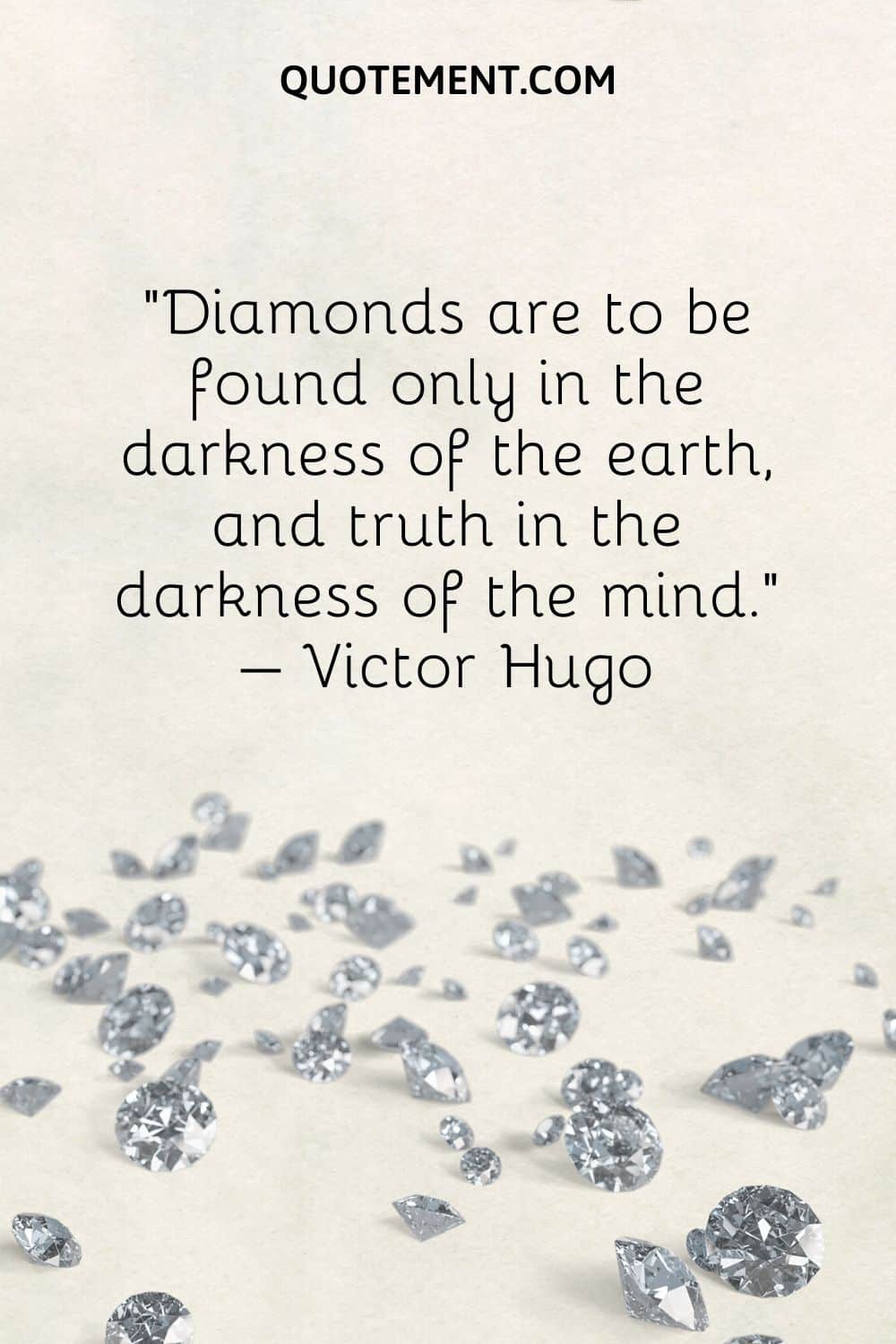 16. "Next to sound judgment, diamonds and pearls are the rarest things in the world." – Jean de la Bruyere
17. "I think diamonds represent luxury, indulgence, and class. So any time you can incorporate a gift that is synonymous with all those attributes, you know the other person will love it. I would challenge someone to find something that better represents Valentine's Day more than diamonds!" – Chris Evans
18. "Anything I get to wear to the Met Ball is huge. I'm not a fashion girl, so it's cool to be dolled up and have those diamonds where they send armed guards with you." – Chrissy Teigen
19. "Some people have remarked that if the surface of the moon were covered with diamonds, it would hardly be worthwhile bringing them back." – James Alfred Van Allen
20. "Diamonds can be imitated but not duplicated." – Cozette R. Garrett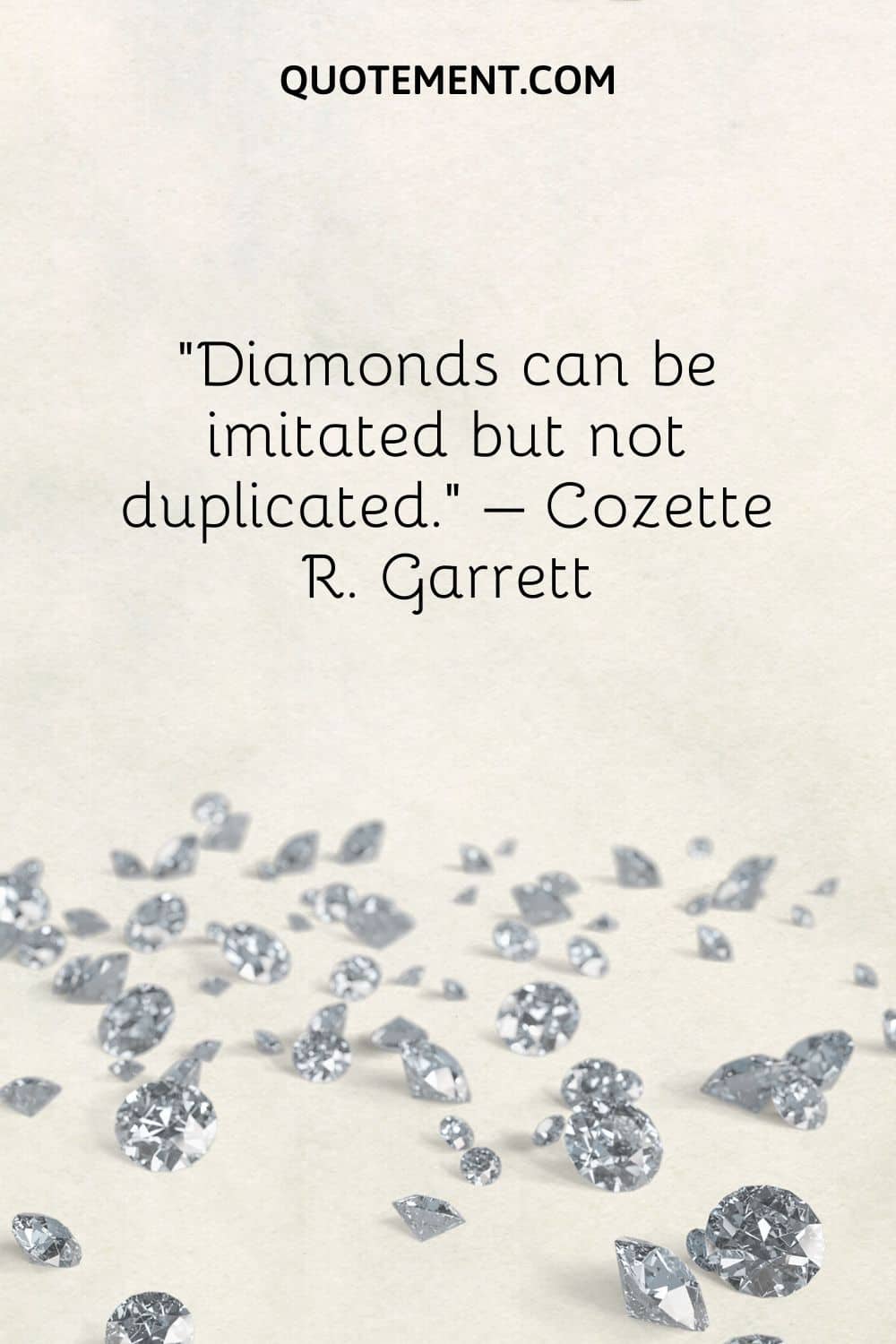 Powerful Diamond Quotes
Powerful quotes and life quotes can be life-changing. Find your inspiration here:
1. "All is beautiful and unceasing, all is music and reason, and all, like diamond, is carbon first, then light." – Jose Marti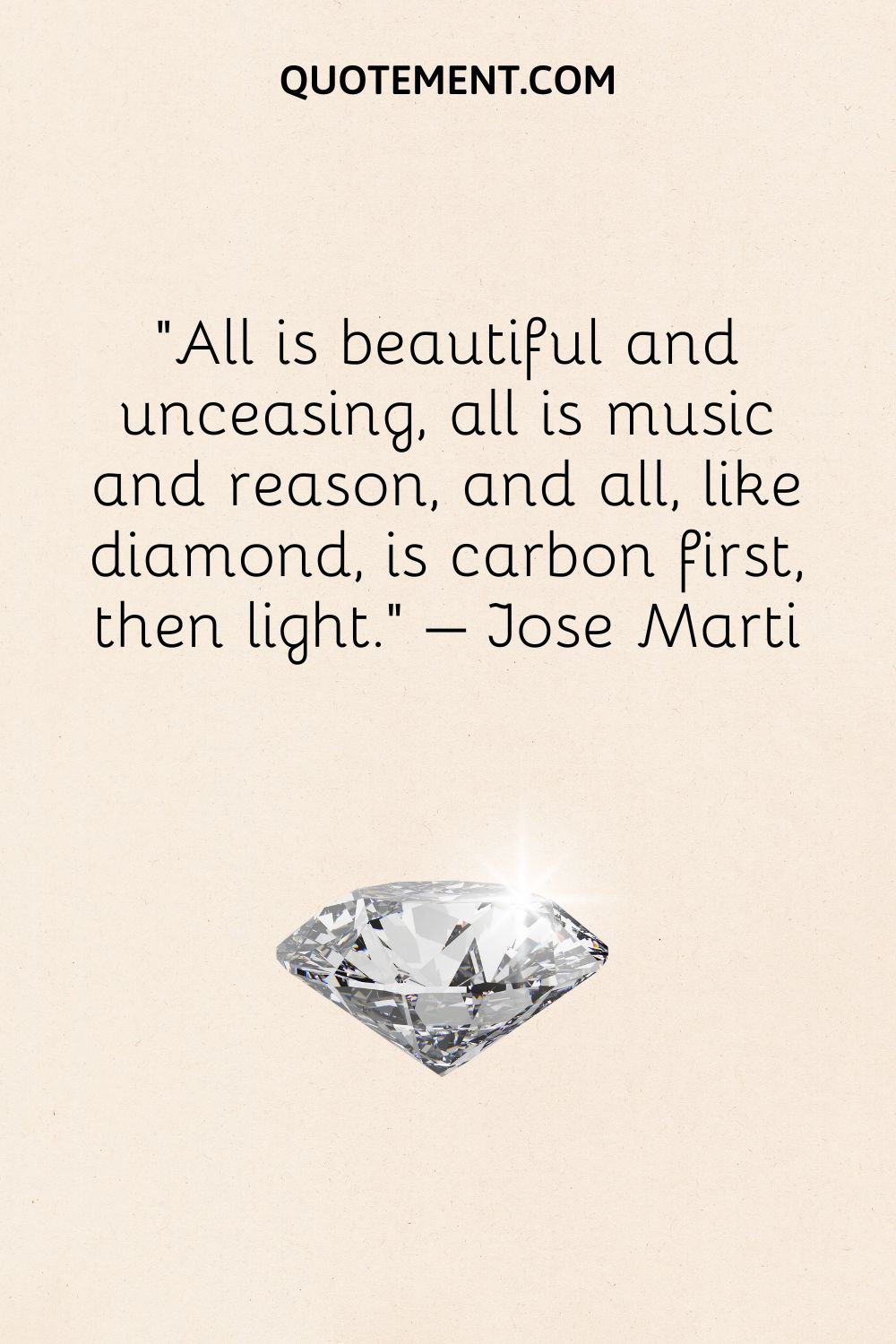 2. "The diamond has been always esteemed the rarest stone, and the most precious of all: among the ancients it was called the stone of reconciliation." – Lewis Vertoman
3. "What did a diamond bring you? A momentary flash of brilliance. A diamond scintillated for second; a book could scintillate forever." – Veronica Henry
4. "A diamond, though set in horns, is still a diamond, and sparkles in purest gold." – Philip Massinger
5. "You'll finally realize the importance of the spark of that diamond once you've lost it." – RS Cruz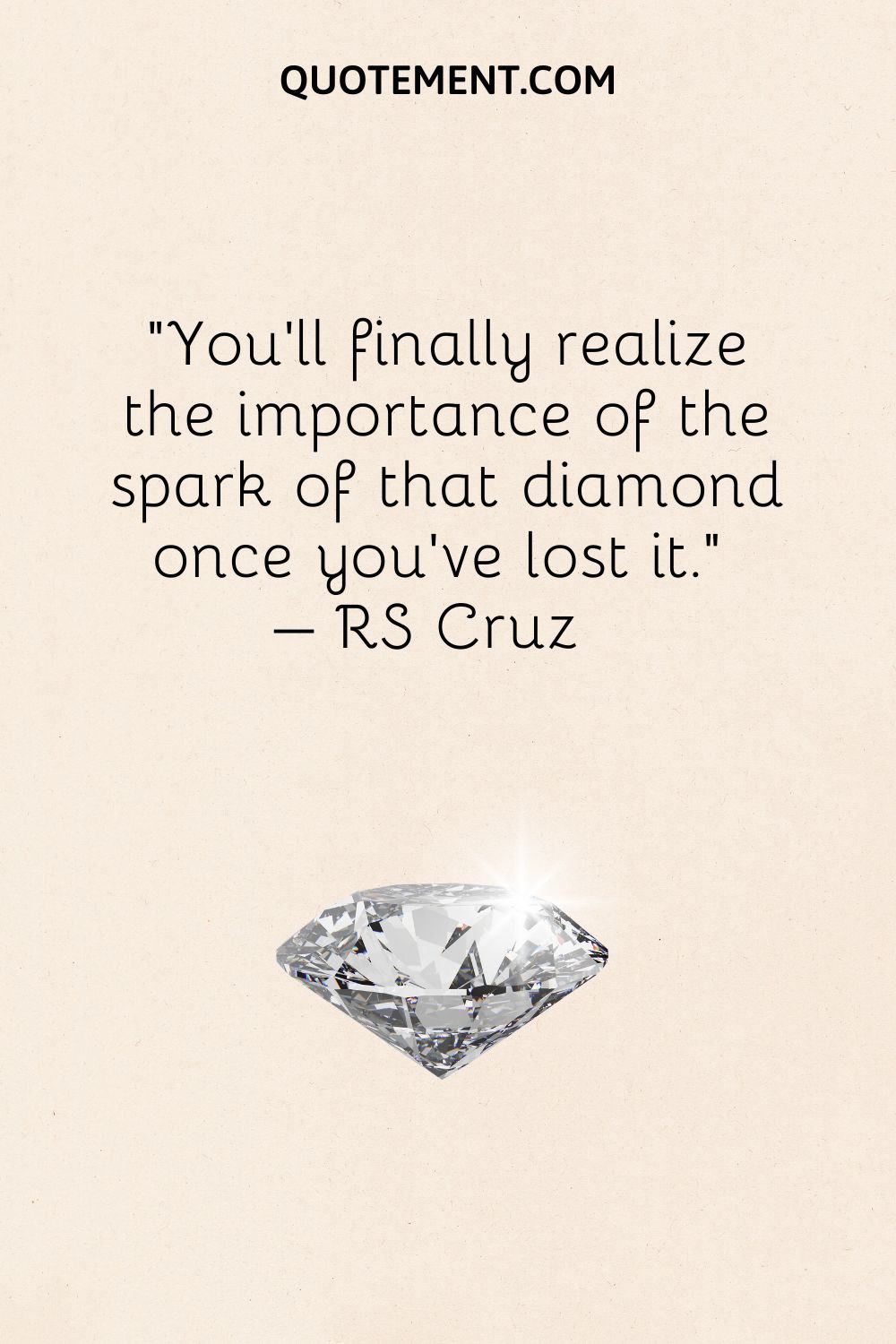 6. "I had a dream that my boyfriend went back to his ex… I woke up and giggled because you don't pick up a rock after finding a diamond." ― Starley Ard
7. "Last year my boyfriend gave me a painting – a very personal one. I really prefer personal gifts or ones made by someone for me. Except diamonds. That's the exception to the rule." – Minnie Driver
8. "I carry a little collection of jewelry I love with me, in case I need diamonds." – Liv Tyler
9. "We seem to live in an age where we are quietly appalled by the idea of appetites, whether they be for s*x, food or diamonds." – Jojo Moyes
10. "This world is a field of opportunity and a river of diamonds. You just have to find them." – Debasish Mridha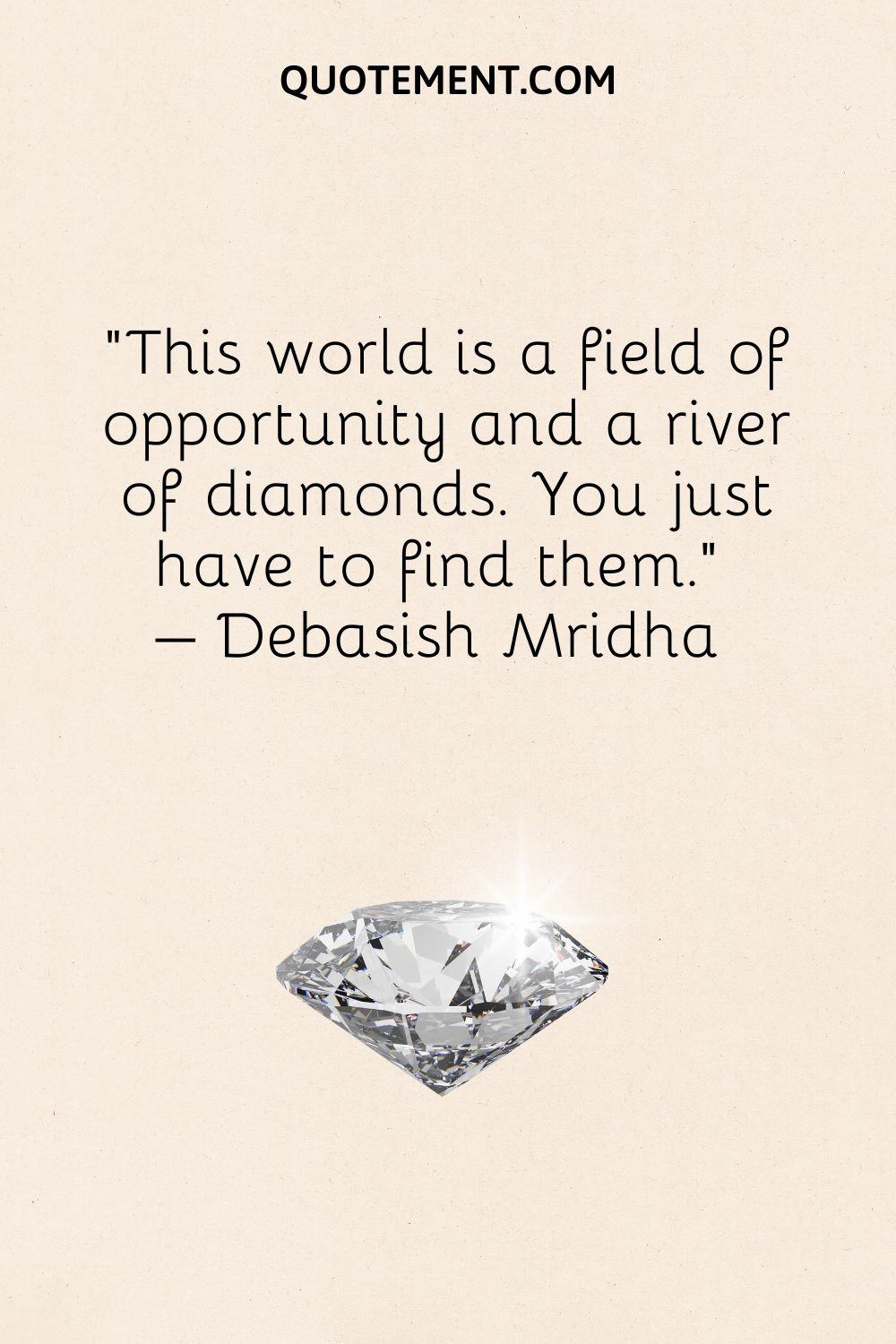 11. "Just because it looks and shines like a diamond, doesn't necessarily make it one." – Edmond Mbiaka
12. "I work with gold that holds our past and diamonds that see the future, and rubies that long for love. It's just a way of telling a story." – Waris Ahluwalia
13. "You were never born with a silver spoon in your mouth. Don't think that way. You were born with a diamond spoon in your palm. Carry it by your own hand. Now, feed yourself." ― Israelmore Ayivor
14. "Diamonds are created through the pressures of earth and then have to go through a million dirty roads to get to the cutter who turns it into a beautiful massage. And that's like human beings. They go through a lot to be who they are in front of you." – Jeremy Sisto
15. "Life isn't all diamonds and roses… but it should be." — Lisa Vanderpump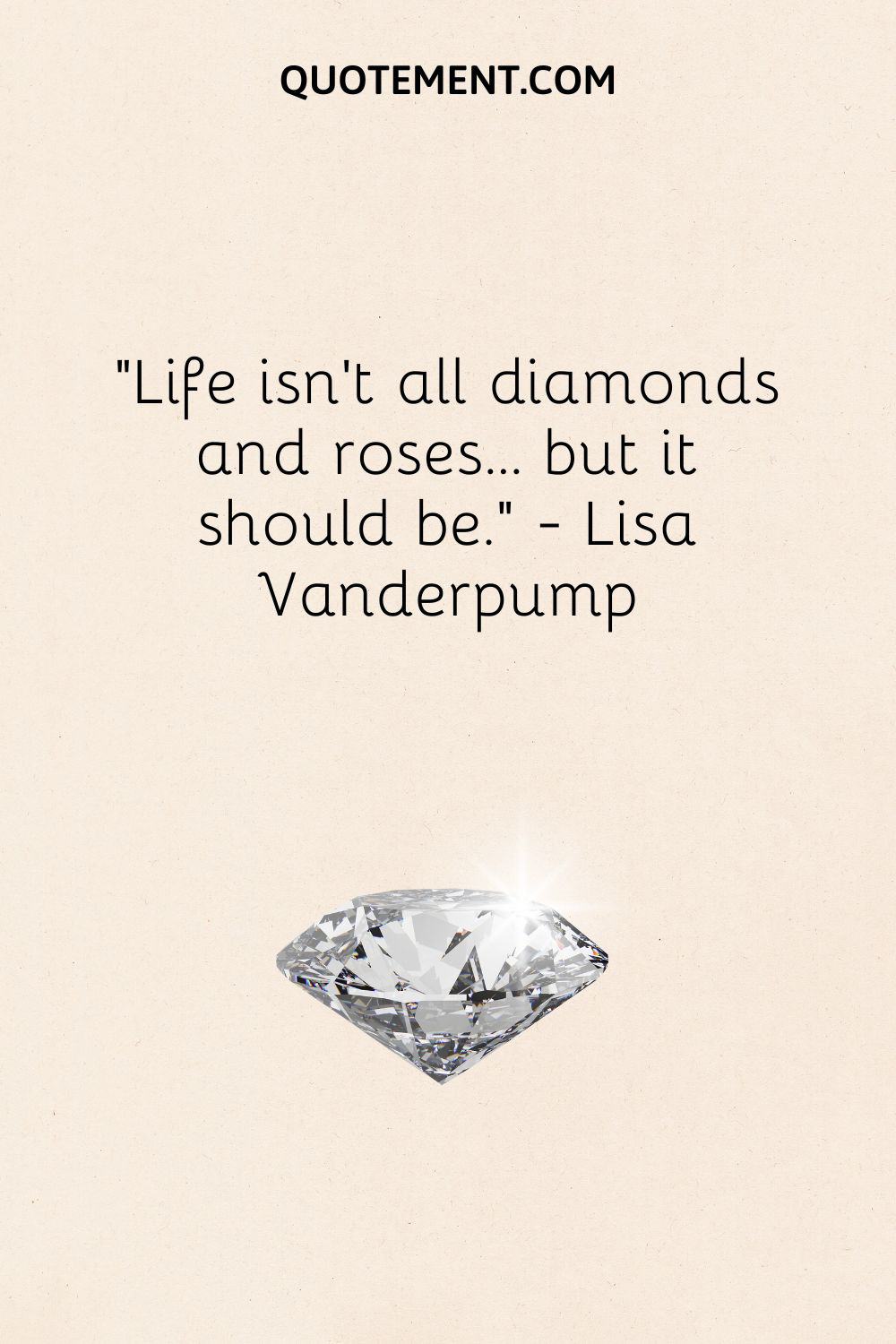 See also: 290 Beautiful Rose Captions For Instagram To Inspire You
16. "I don't understand this irony – valuable things like cars, gold, diamonds are made up of hard materials, but most valuable things like money, contracts, and books are made up of soft paper." ― Amit Kalantri
17. "Through darkness diamonds spread their richest light." – John Webster
18. "I don't care how cheap the box is that you put a diamond ring in, nothing about the box diminishes the value of the content." — T. D. Jakes
19. "Allow God to use the difficulties and disappointments in life as polish to transform your faith into a glistening diamond that takes in and reflects His love." ― Elizabeth George
20. "Under the beautiful moonlight, there remains no ugly reality; even muds turn into diamonds!" — Mehmet Murat Ildan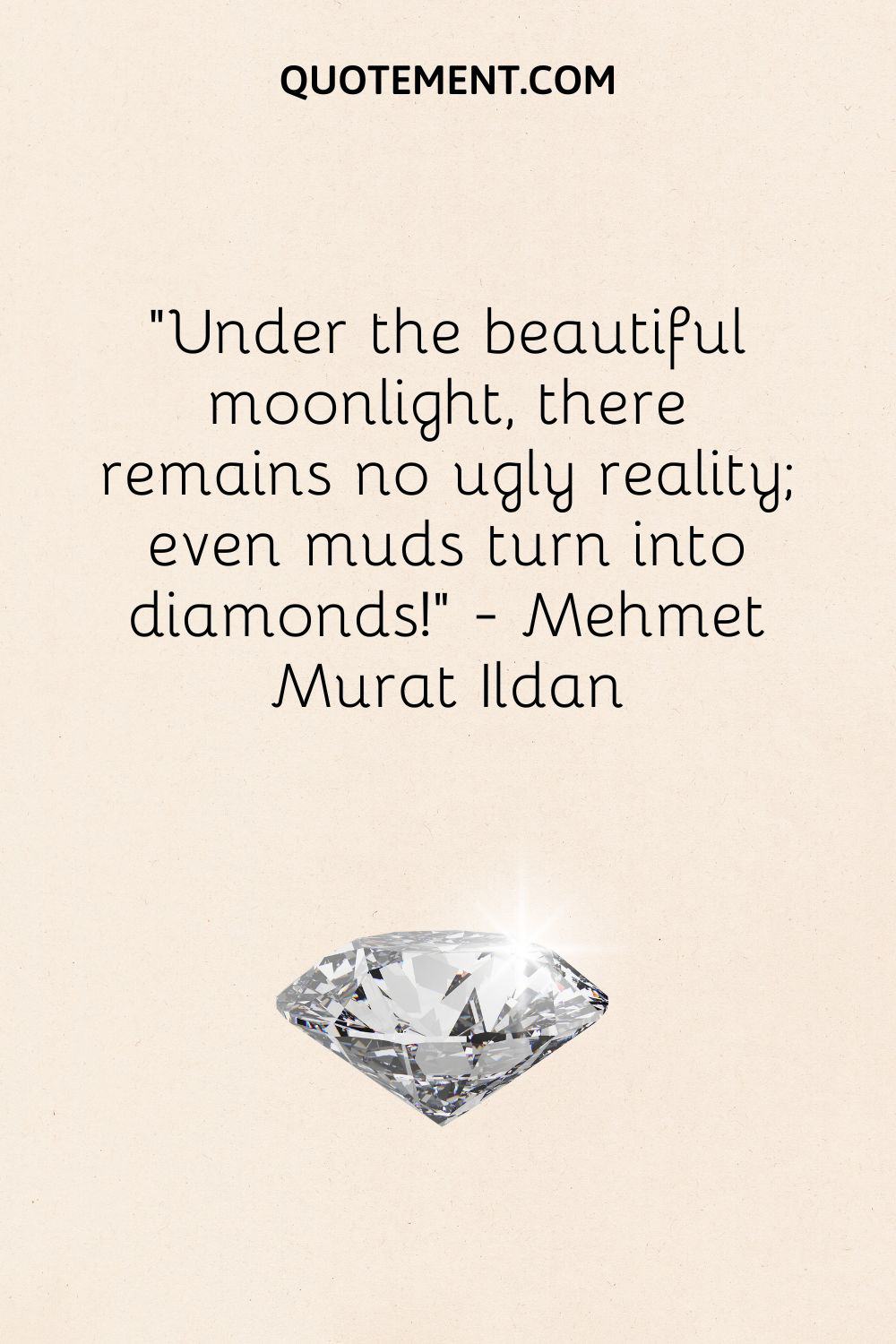 Marvelous Quotes About Diamonds
If you're in love with diamonds, you absolutely can't miss these marvelous diamond quotes:
1. "The diamond cannot love the flower, for the flower lives only a day, then fades and dies. You are a diamond now." – Barbara Hambly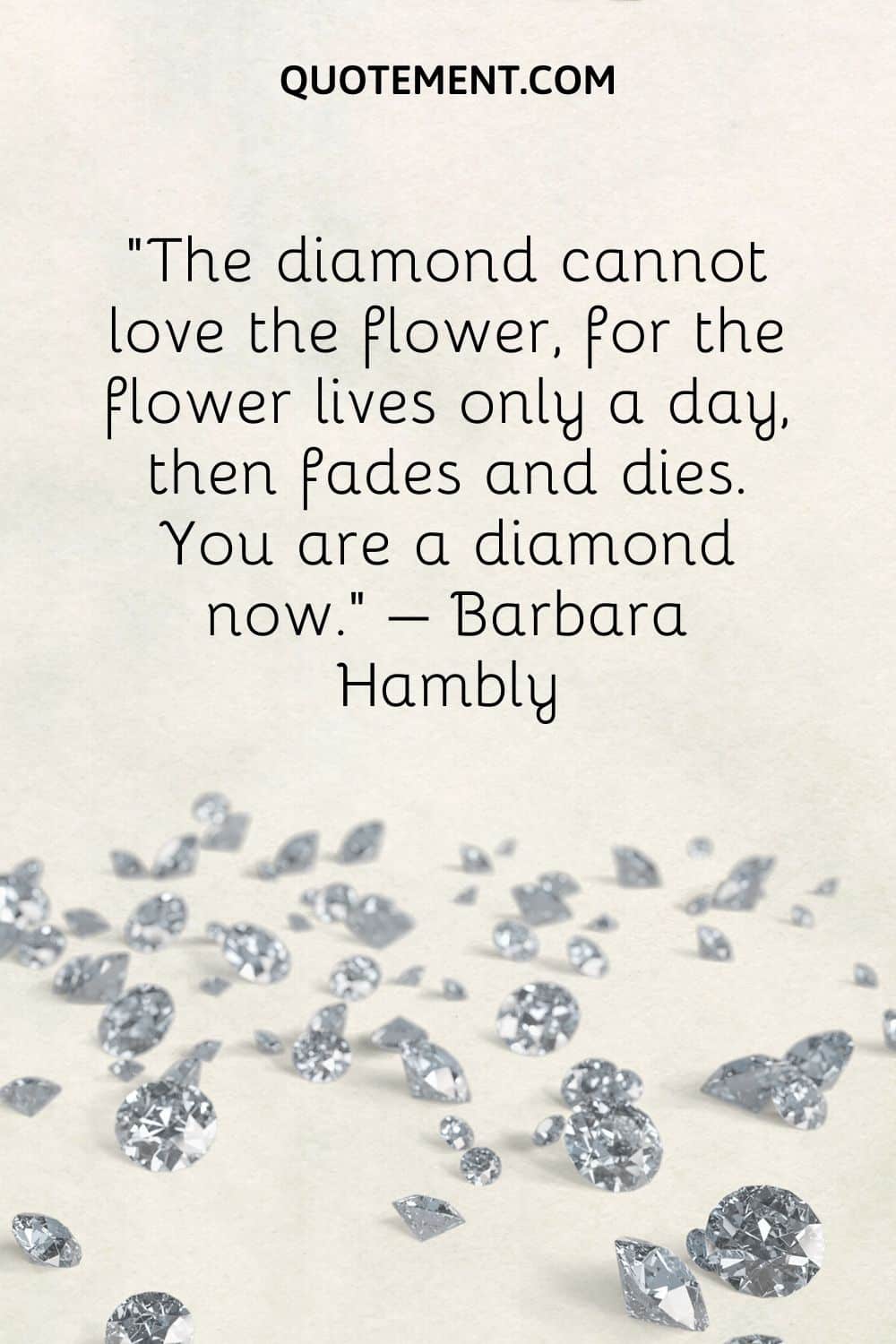 2. "You are a diamond, unbreakable if it is so, and broken, in any shape, remains still a diamond." ― Ehsan Sehgal
3. Pray is gold, whereas love is a diamond. – Ehsan Sehgal
4. "Food. Water. Diamonds. You know, the essentials."
5. "When we have graciously endured every adversity, we become like a shining diamond." – Lailah Gifty Akita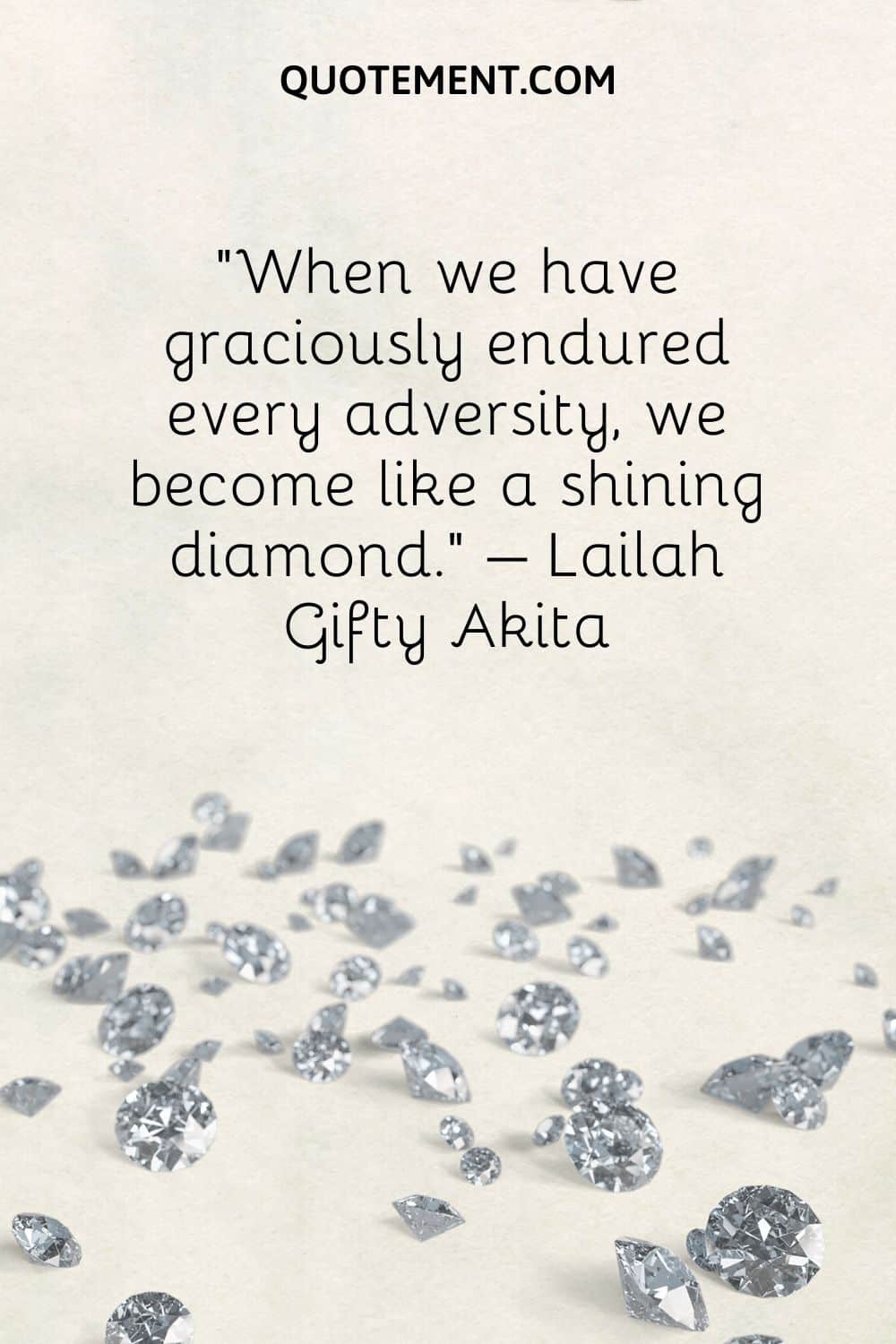 6. "Flowers will show me that you're sorry, but diamonds will ensure my forgiveness."
7. "You're a diamond, dear. They can't break you."
8. "A diamond is but frozen time." – Khalil Masood
9. "Some people value sentiments over diamonds." – Cassandra Clare
10. "No pressure, no diamonds." – Thomas Carlyle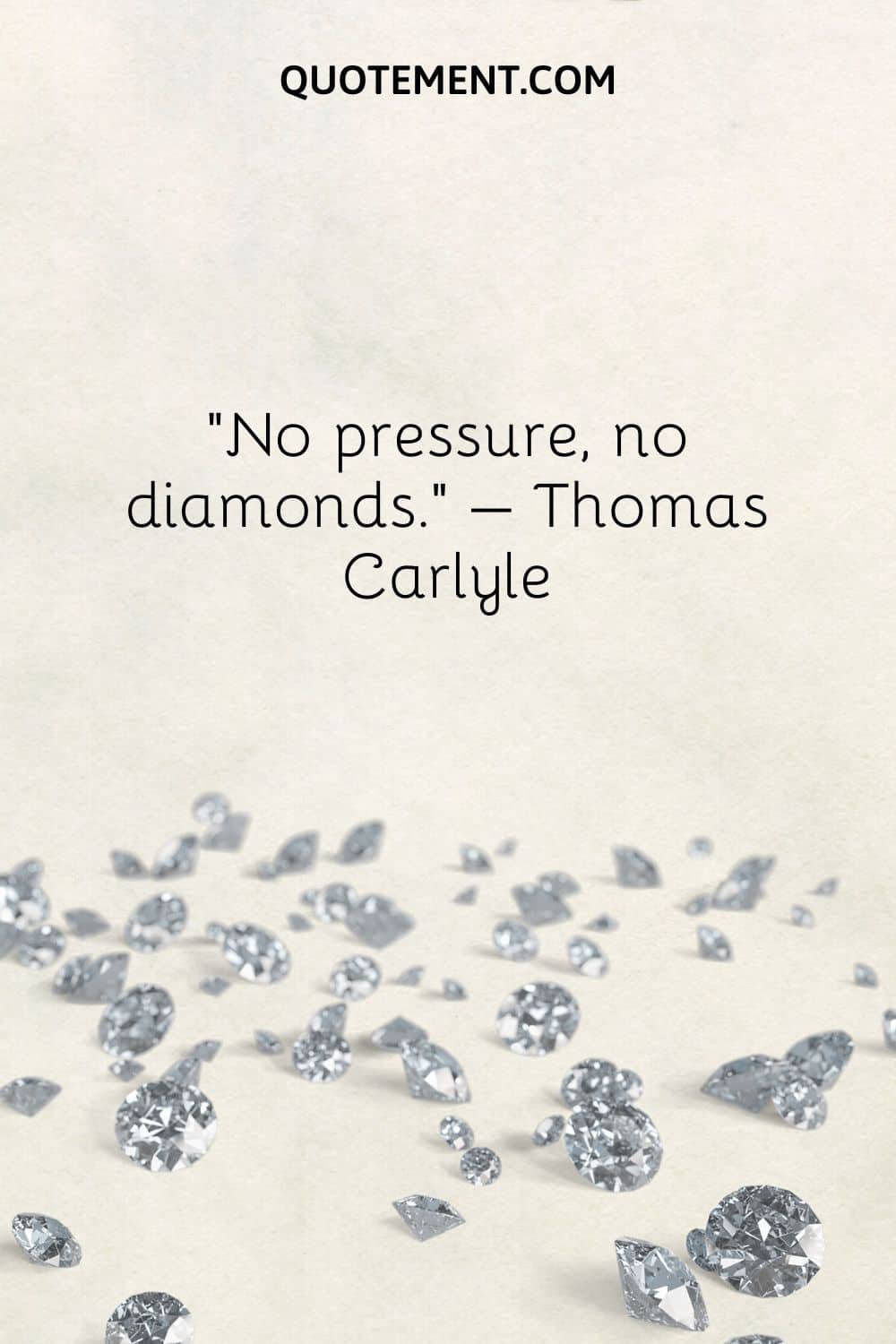 11. "I am fascinated by diamonds. When I put diamonds on, my hands shake." – Debra Messing
12. "Growing up, I was a bit of a tomboy; feminine things took a while to find their place in my world. But diamonds made me understand the magic and beauty of jewelry." – Erika Christensen
13. "On every birthday, I ask my wife, 'What would you like this year?' and her instant reply is, 'Diamonds! Diamonds! Diamonds!' I'm always living in hope that one day she'll say she just wants me!" – Akshay Kumar
14. "Let us not be too particular; it is better to have old secondhand diamonds than none at all." – Mark Twain
15. "Many individuals have, like uncut diamonds, shining qualities beneath a rough exterior." – Juvenal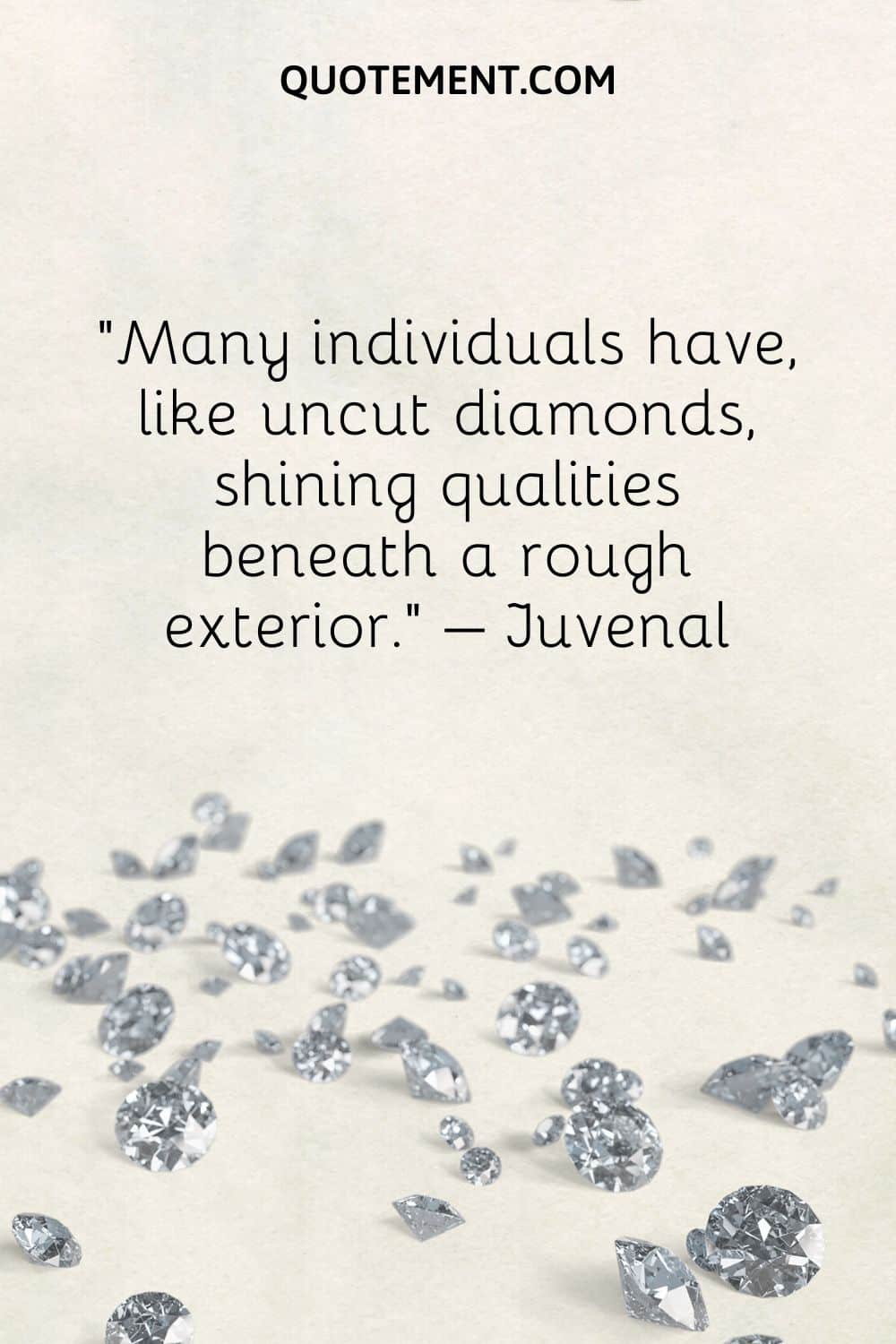 16. "True friends are like diamonds – bright, beautiful, valuable, and always in style." – Nicole Richie
See also: Hard Times Reveal True Friends: 80 True Friendship Quotes
17. "They can award me with the greatest accolades and reward me with the finest diamonds. They can name days and streets after me, canonise and celebrate me. They can make me the queen of their kingdom, the president of their nation. They can carry my picture in their wallets and whisper my name in their prayers but, tell me, what is all this worth if your voice isn't the one calling me home?" – Kamand Kojouri
18. "Diamonds are a girl's best friend and dogs are a man's best friend. Now you know which sex has more sense." – Zsa Zsa Gabor
19. "I never worry about diets. The only carrots that interest me are the number you get in a diamond." – Mae West
20. "I don't exercise. If God had wanted me to bend over, he would have put diamonds on the floor." – Joan Rivers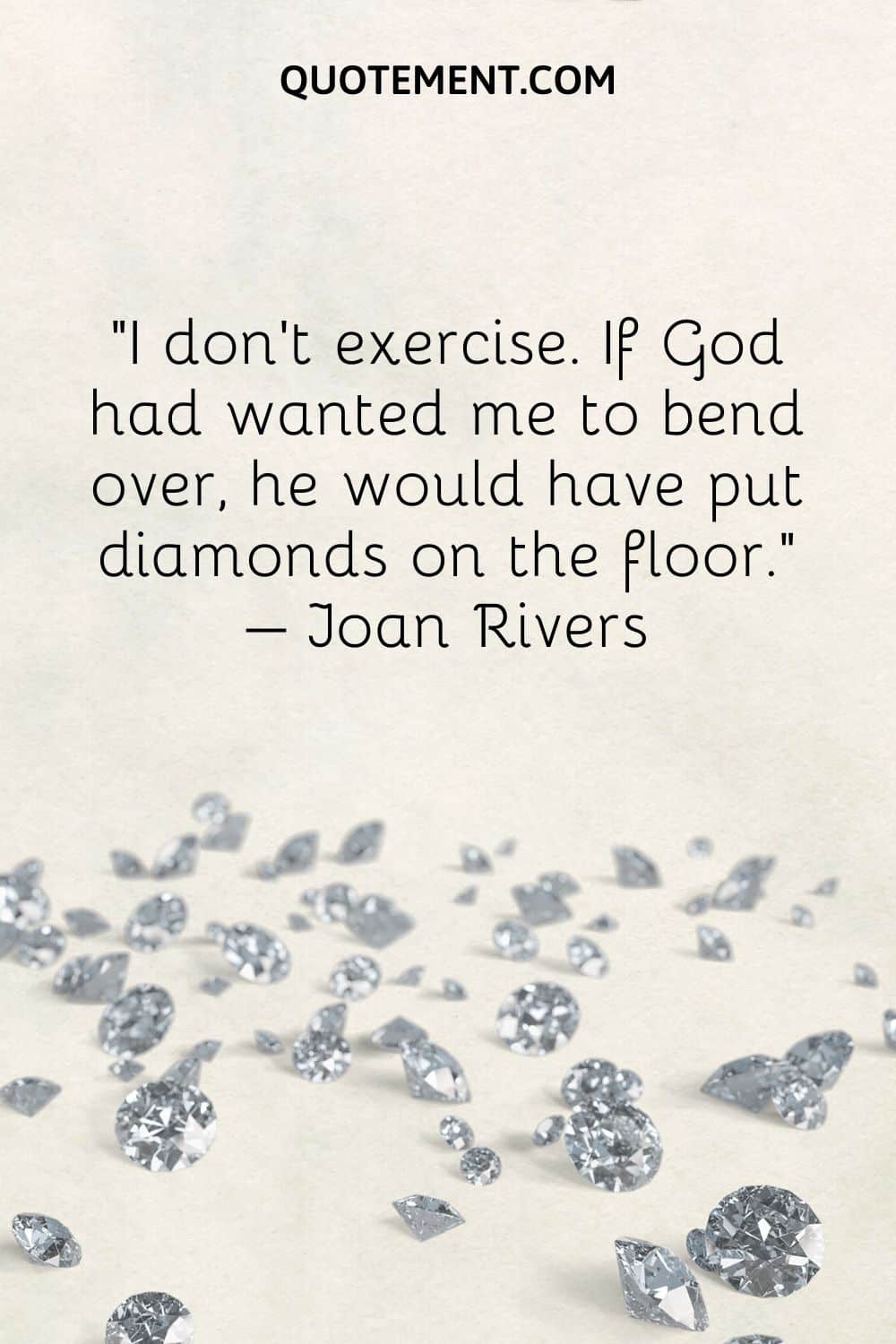 Short Diamond Quotes
My exciting collection ends with these short diamond quotes:
1. "Diamonds never leave you… men do!" – Shirley Bassey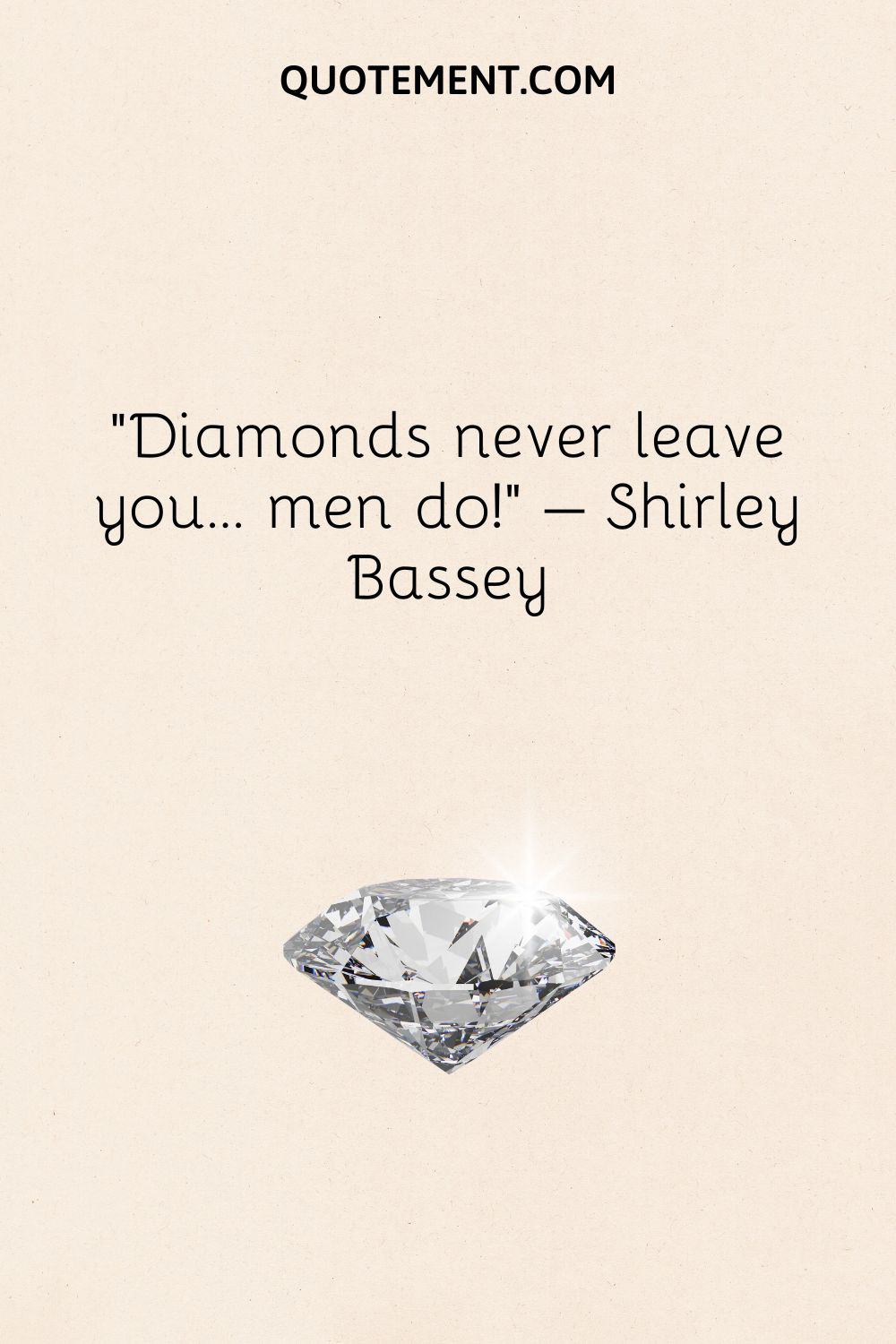 2. "Your rebel soul shines like a diamond pulled from dust: bright, clear and flawless." ― Jay Long
3. "I like pressure. Diamonds are made under pressure, and I definitely enjoy it." — Caroline Buchanan
4. "I have always felt a gift diamond shines so much better than one you buy for yourself!" — Mae West
5. "My style is not that big. I wear heels, tight pants, and I wear diamonds." – Donatella Versace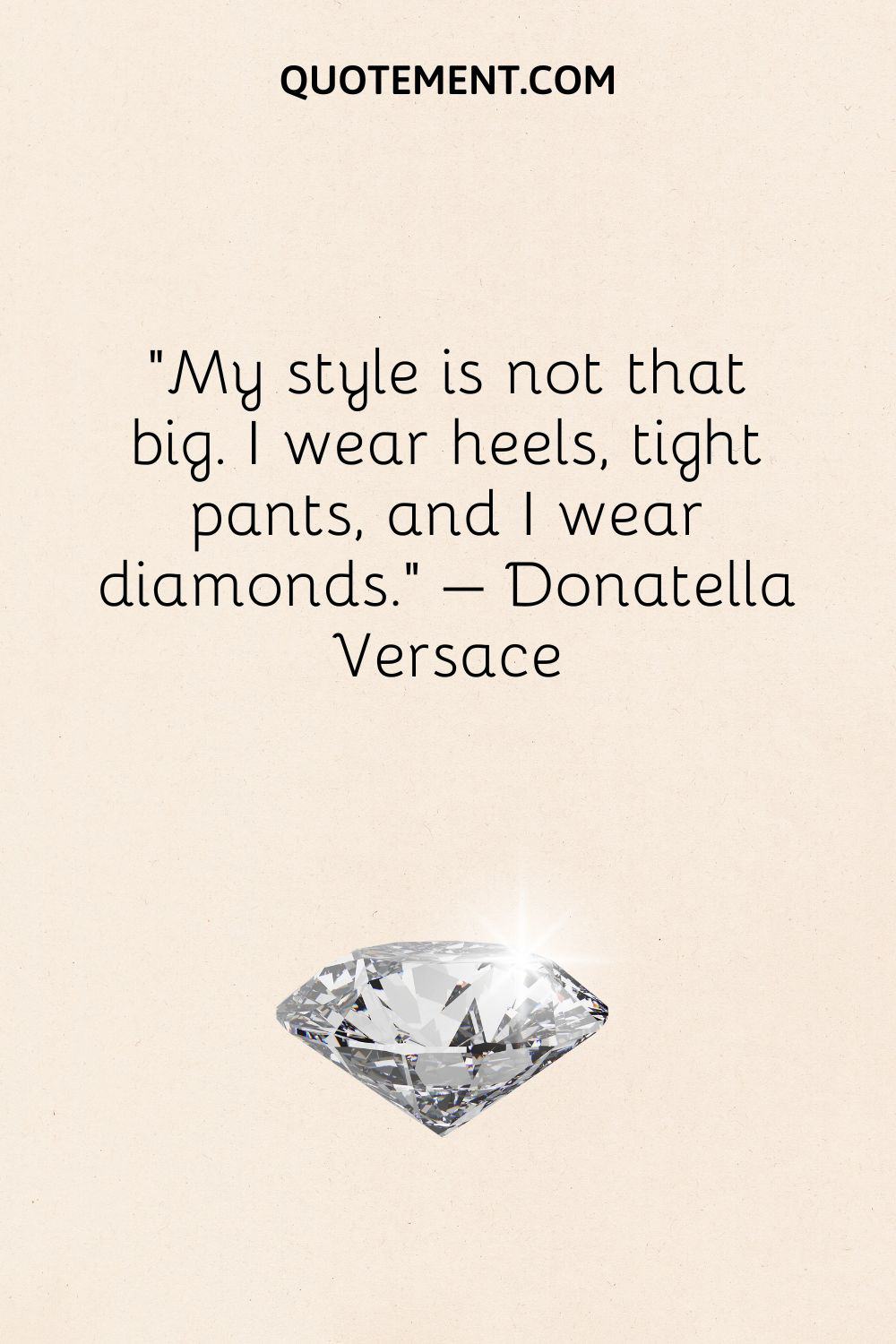 6. "At the edge of madness, you howl diamonds and pearls." – Aberjhani
7. "Big girls need big diamonds." – Elizabeth Taylor
8. "I'm a dirt person. I trust the dirt. I don't trust diamonds and gold." – Eartha Kitt
9. "I have never hated a man enough to give him his diamonds back." – Zsa Zsa Gabor
10. "You are, at this moment, standing right in the middle of your own acres of diamonds." — Earl Nightingale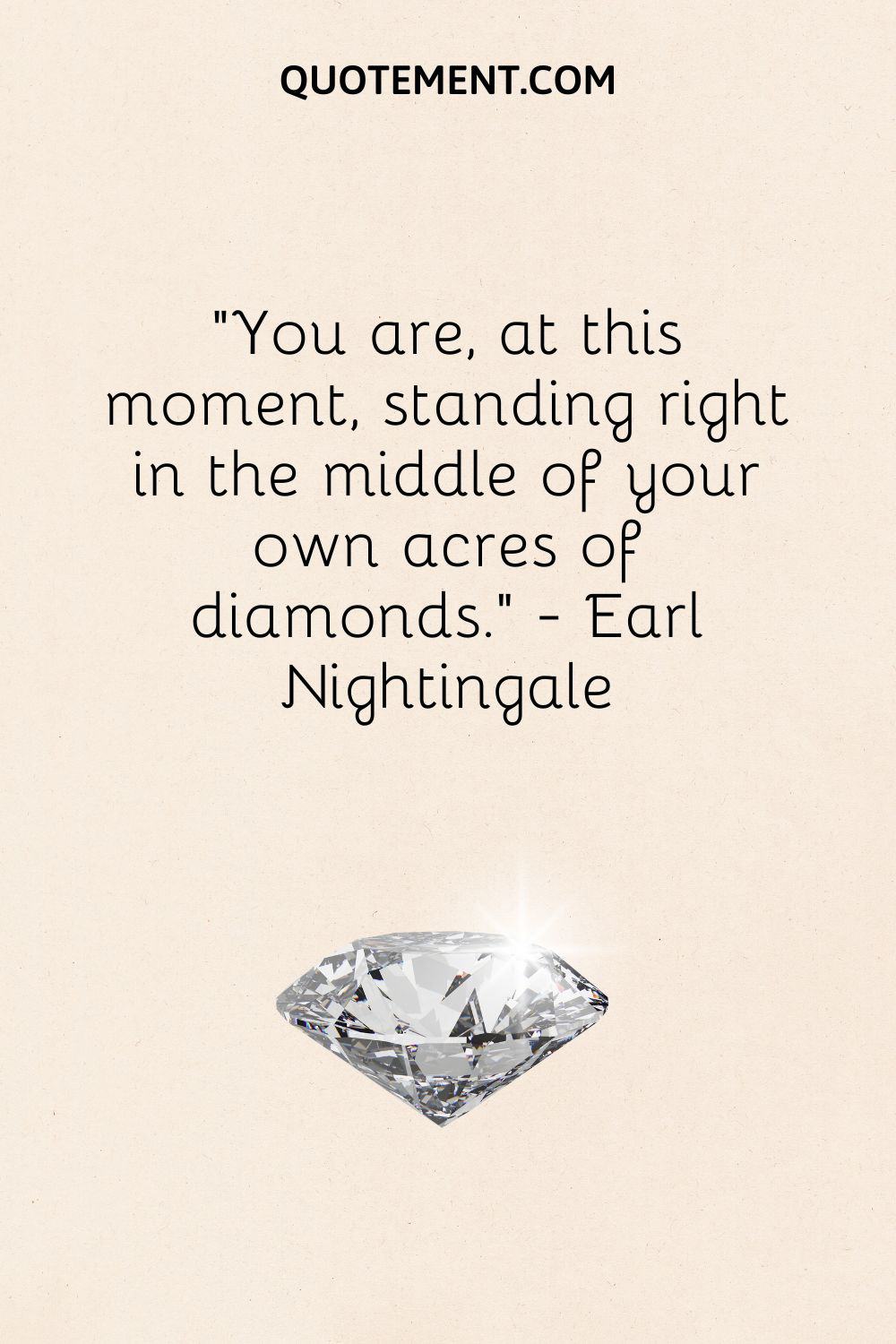 11. "It's diamonds in your pockets one week, macaroni and cheese the next." – Jolene Blalock
12. "I'd rather have roses on my table than diamonds on my neck." — Emma Goldman
13. "Praise, like gold and diamonds, owes its value only to its scarcity." — Samuel Johnson
14. "A girl never cares who casts the first stone at her – as long as it's a diamond." — Evan Essar
15. "We shall find peace. We shall hear angels, we shall see the sky sparkling with diamonds." — Anton Chekhov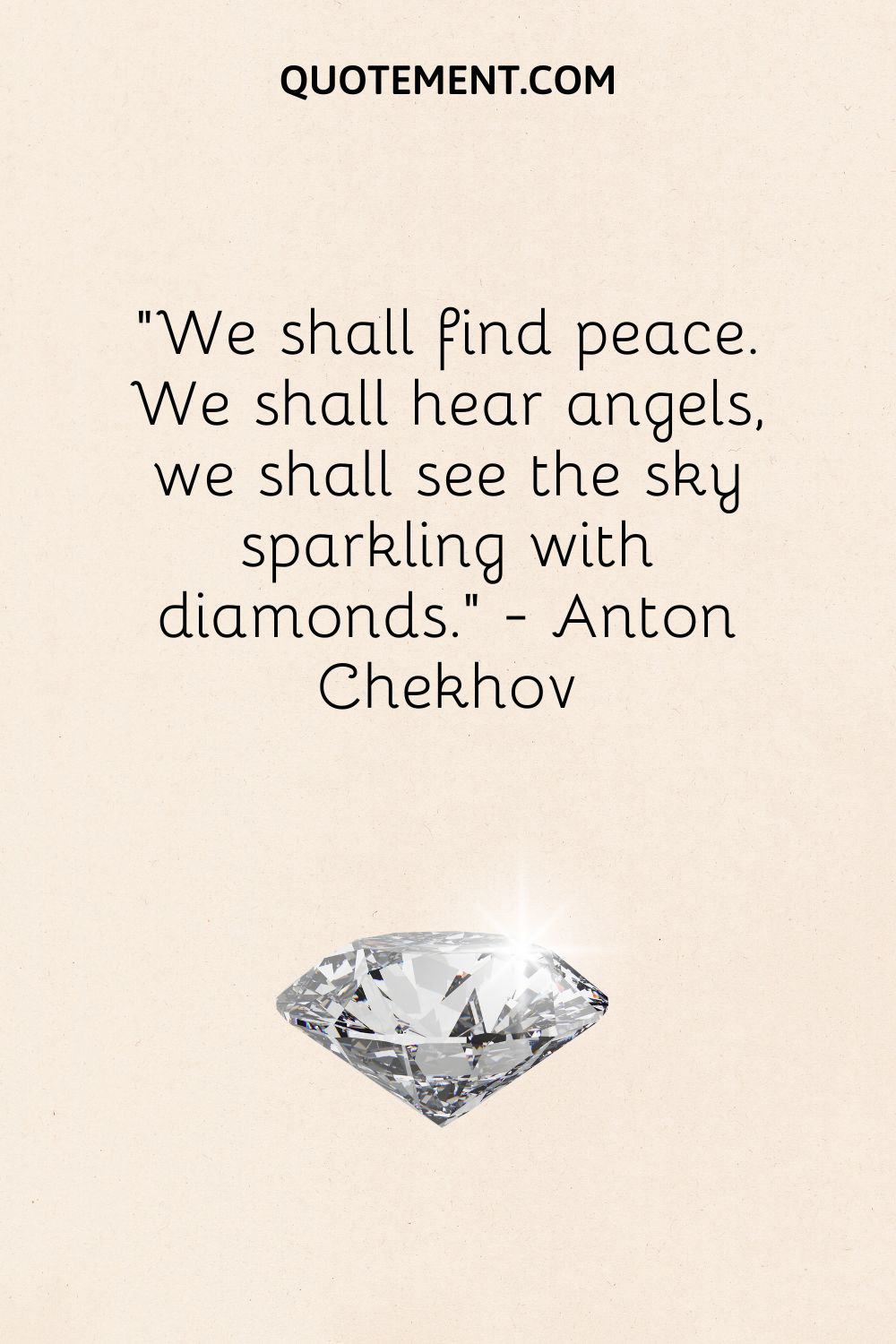 16. "Diamonds are nothing more than chunks of coal that stuck to their jobs." — Malcolm Forbes
17. "I prefer liberty to chains of diamonds." – Mary Wortley Montagu
18. "It is no more easy to make a good picture than it is to find a diamond or a pearl. It means trouble, and you risk your life for it." – Vincent Van Gogh
19. "The family is like a diamond, with a rock solidity and divine splendor, held by love." – Skender Niraj
20. "In our ever–busy world, patience is not easily found like diamonds." – Martin Uzochukwu Ugwu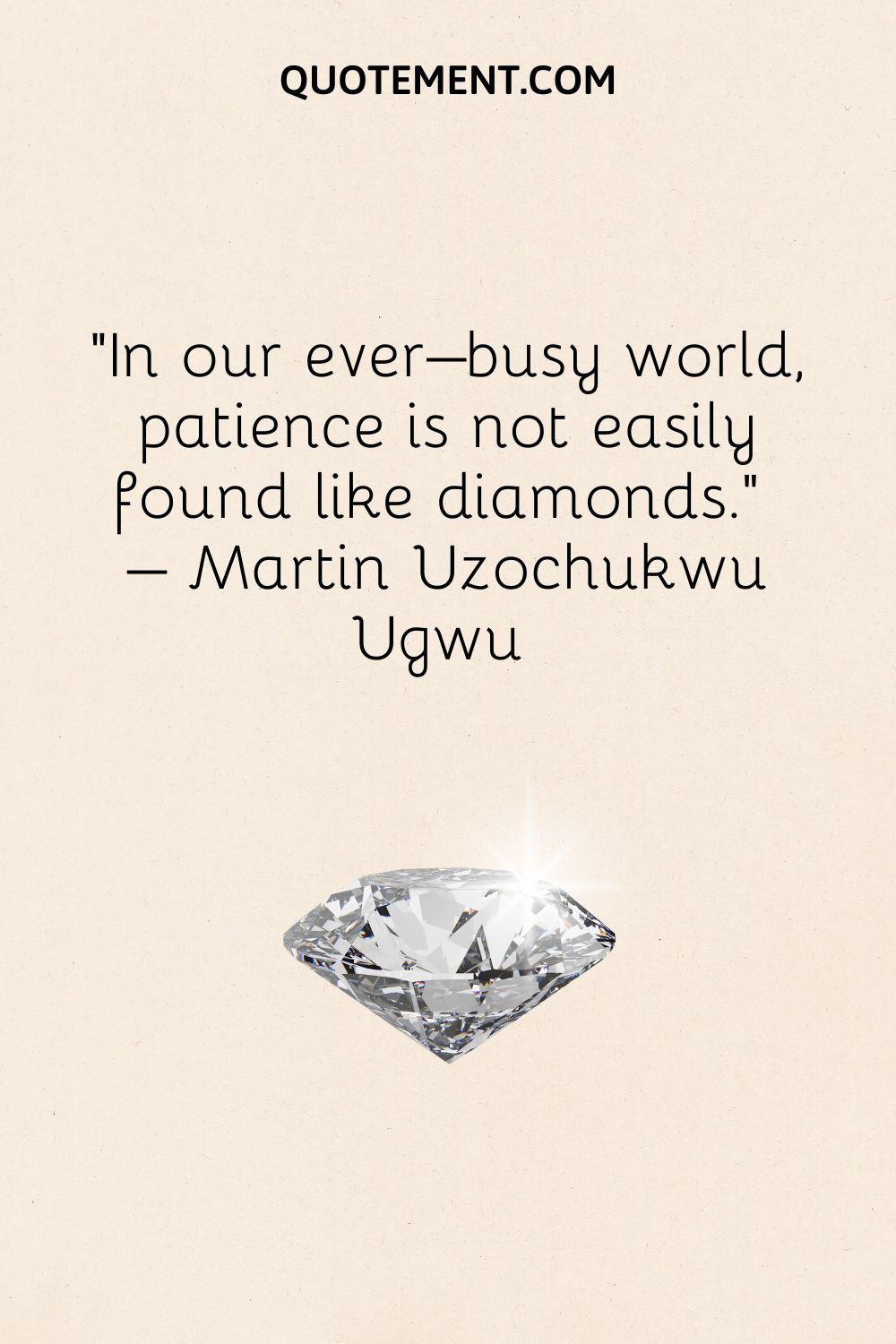 21. "Diamonds are a key component in the campaign to make poverty history." – Nicky Oppenheimer
22. "A tooth is much more to be prized than a diamond." – Miguel de Cervantes
23. "I don't mind a repetitive chorus; I mind repetitive verse. I mean, it's the same amount of space. Why would you have only three diamonds if you can have six?" – Lou Reed
24. "Oh – a diamond ring – and Rhett, do buy a great big one!" – Margaret Mitchell, Gone with the Wind
25. "Angels are like diamonds. They can't be made. You have to find them. Each one is unique." – Jaclyn Smith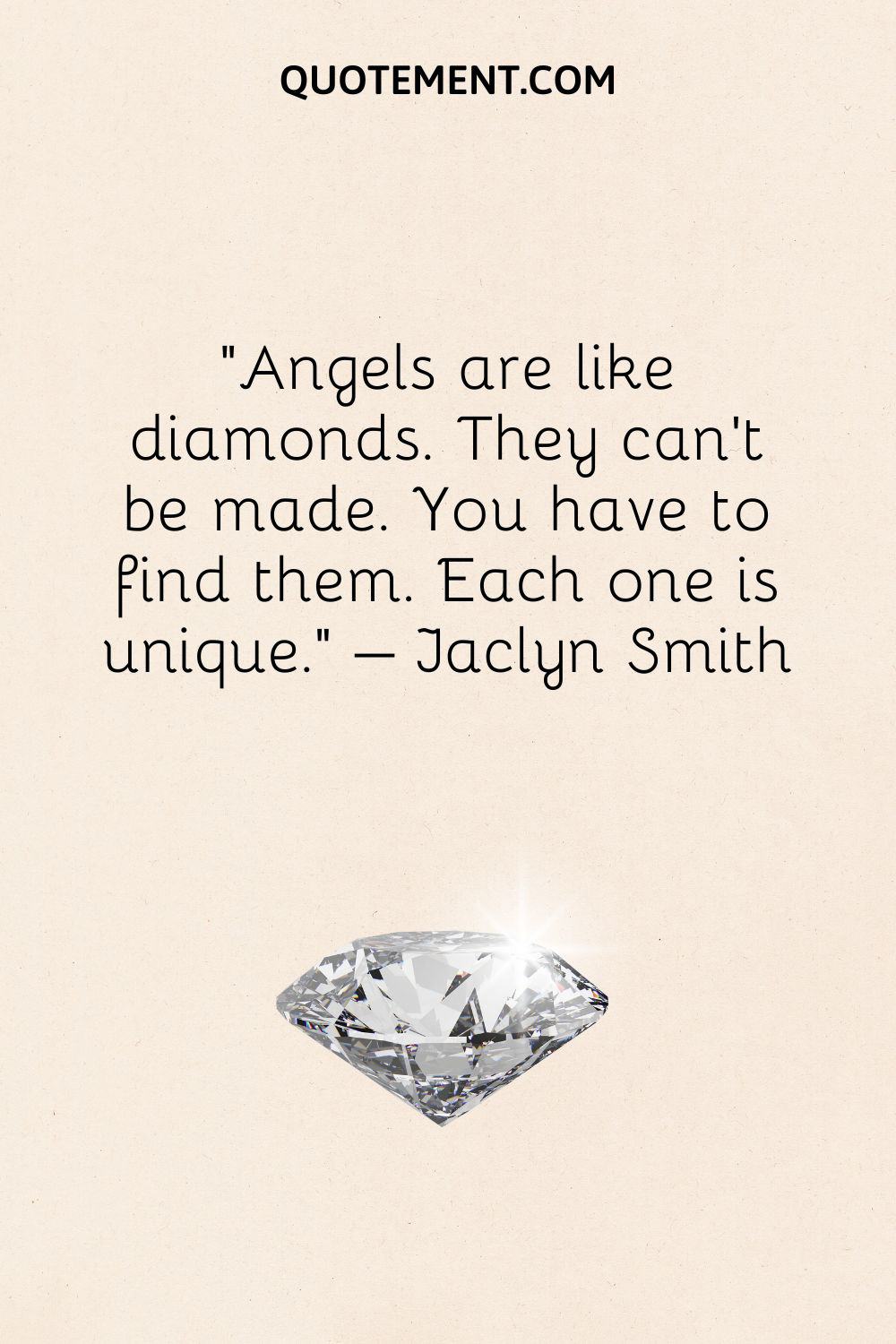 26. "Books are more precious than jewels. She truly believed this. What did a diamond bring you? A momentary flash of brilliance. A diamond scintillated for second; a book could scintillate forever." ― Veronica Henry
27. "Wear your diamonds on the inside." – Megan Dodds
28. "There are many sham diamonds in this life which pass for real, and vice versa." – William Makepeace Thackeray
29. "Diamonds are intrinsically worthless, except for the deep psychological need they fill." – Nicky Oppenheimer
30. "It's not that diamonds are a girl's best friend, but it's your best friends who are your diamonds."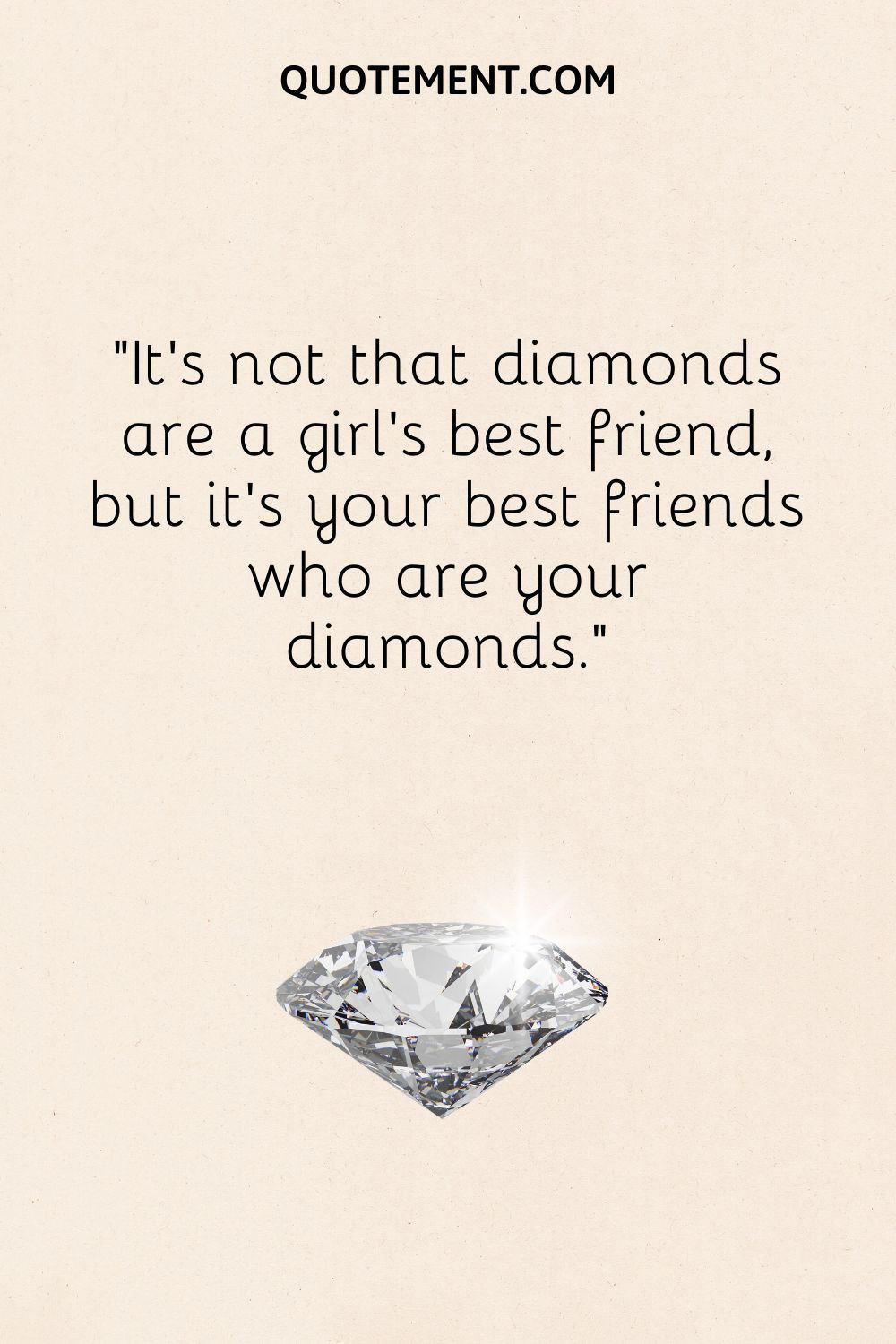 See also: 100 Awesome Quotes About Spending Time With Friends
To Wrap It Up
Thank you for reading my collection of 140 diamond quotes!
If you like this post, feel free to share it with your nearest and dearest.
Until next time!
P.S. What's your favorite diamond quote? Let me know in the comments section below! 🙂
Read next: 120 Most Powerful Rise And Shine Quotes To Inspire You