If your mind is open to the universe, you know that each new day is a blessing, a new beginning, and a fresh start.
So, if you need a little inspiration to start your day in the best possible way, here's a unique collection of rise and shine quotes I am sure you'll love!
I've gathered the finest quotes from the web so you can have them all in one place.
Keep reading to find encouraging, inspirational, and motivational quotes that can really make a difference.
Let's set the right mood for each morning and spread positive vibes! Let's rise and shine!
Of course, don't forget to share quotes with your nearest and dearest as well!
Top 10 Rise And Shine Quotes
I'll kick things off with my 10 best quotes:
1. "Let your light shine. Be a source of strength and courage. Share your wisdom. Radiate Love." ― Wilfred Peterson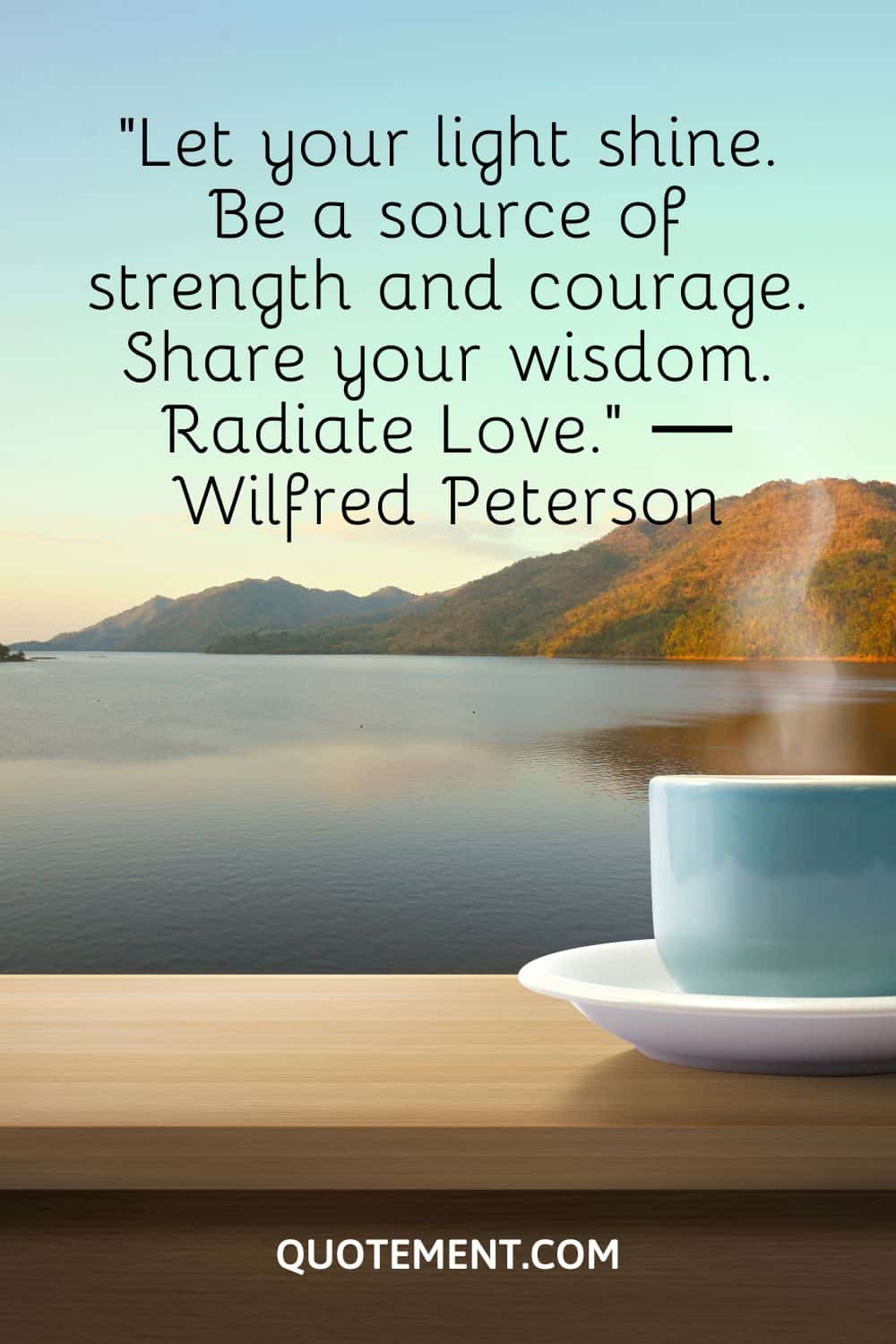 2. "It is only those who believe in their ability who shine when it matters." ― Maurice Greene
3. "Create a vision that makes you wanna jump out of bed in the morning." ― Jordan Belfort
4. "If you want to shine like a sun, first burn like a sun." ― A.P.J. Abdul Kalam
5. "Try not to get lost in comparing yourself to others. Discover your gifts and let them shine!" ― Jennie Finch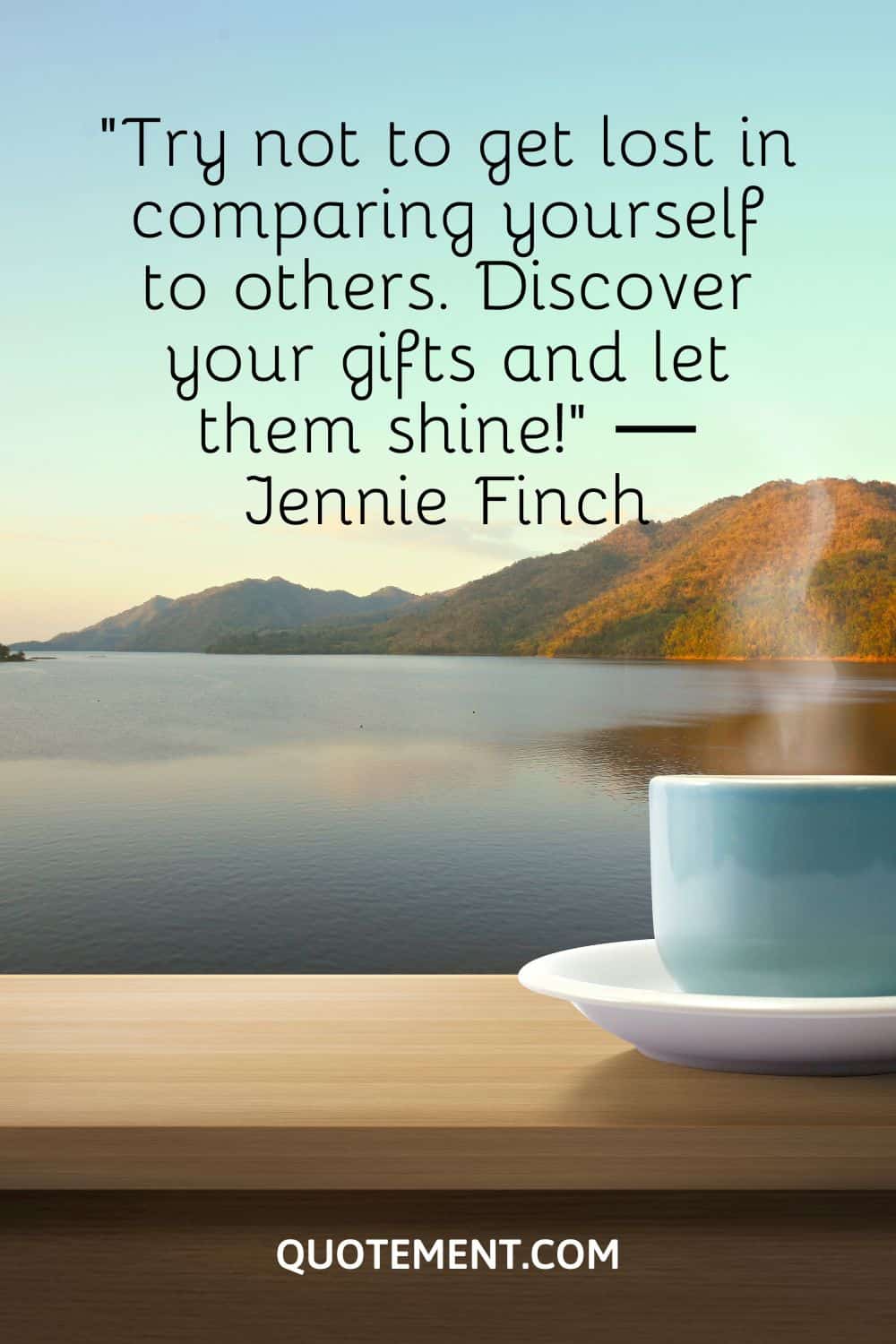 6. "Rise and shine, because now it's your time." ― Anup Patel
7. "Write it on your heart that every day is the best day in the year." – Ralph Waldo Emerson
8. "Make the most of yourself by fanning the tiny, inner sparks of possibility into flames of achievement." – Golda Meir
9. "Smile in the mirror. Do that every morning and you'll start to see a big difference in your life." – Yoko Ono
10. "With the new day comes new strength and new thoughts." – Eleanor Roosevelt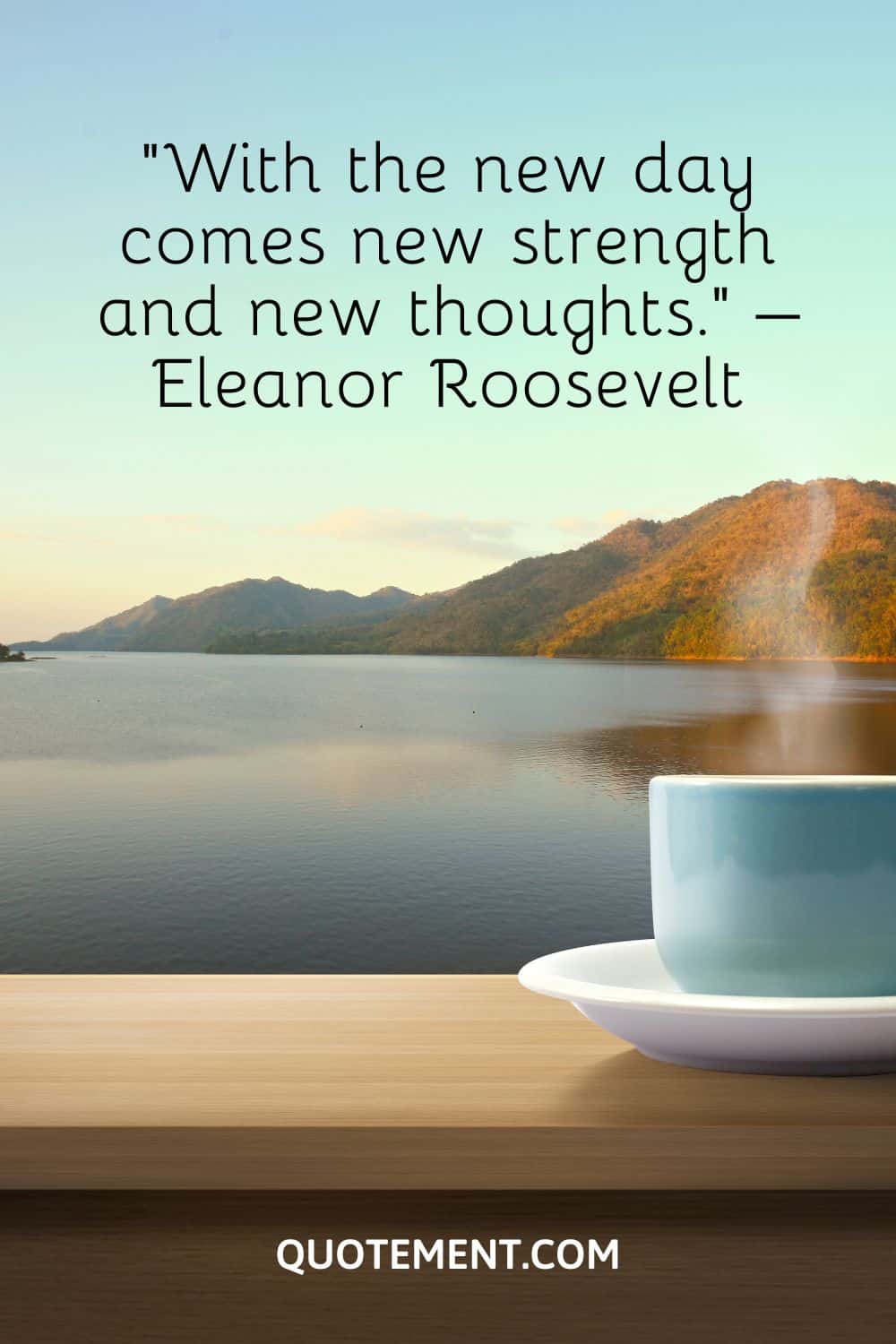 Rise And Shine Inspirational Quotes
These inspirational rise and shine quotes and positive thoughts will make each morning special:
1. "Rise and shine, there's an adventure waiting."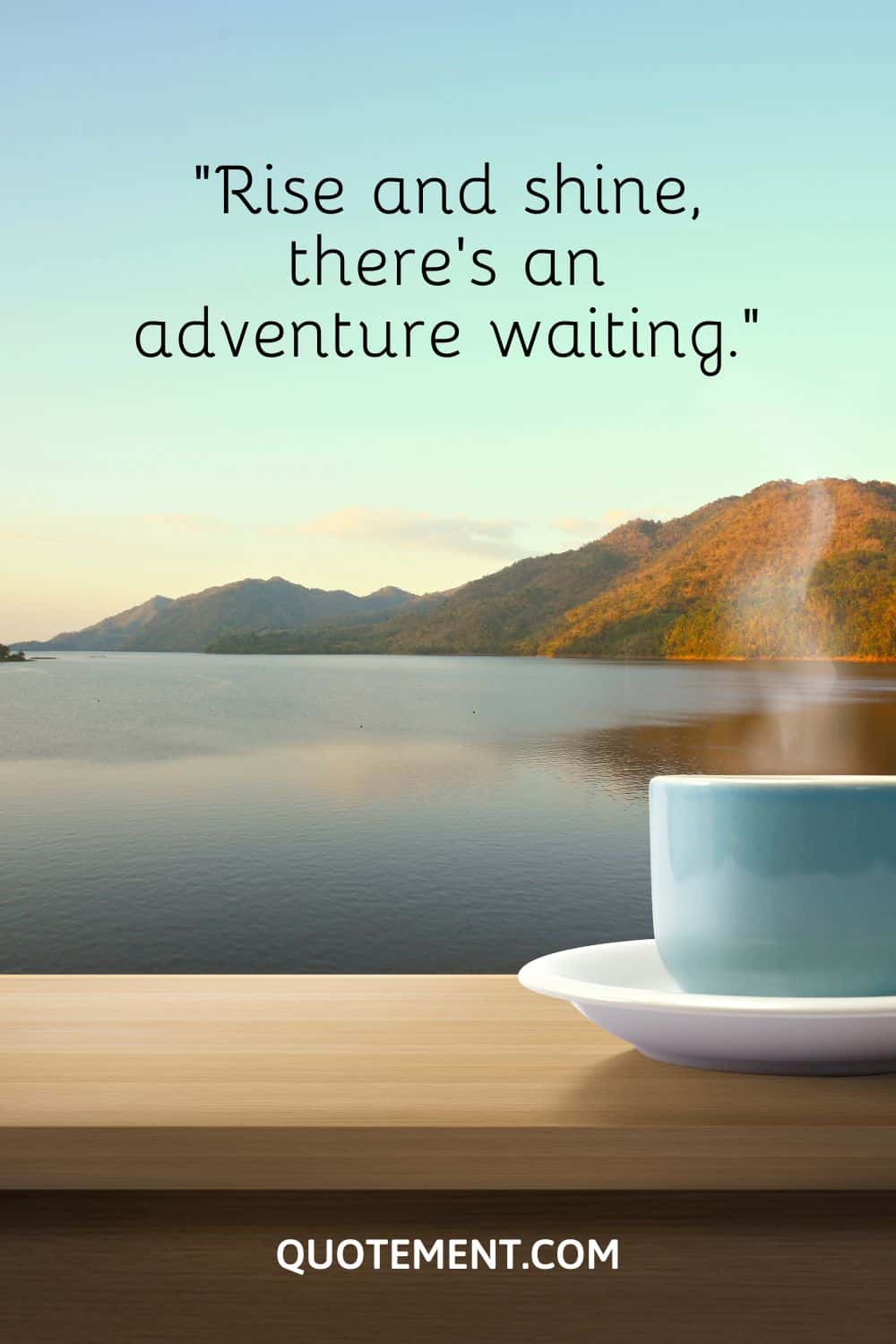 2. "When you can't find the sunshine, be the sunshine."
3. "Nothing can dim the light that shines from within."
4. Rise, sparkle and shine darlin'."
5. "Be yourself. Above all, let who you are, what you are, what you believe shine through every sentence you write, every piece you finish." ― John Jakes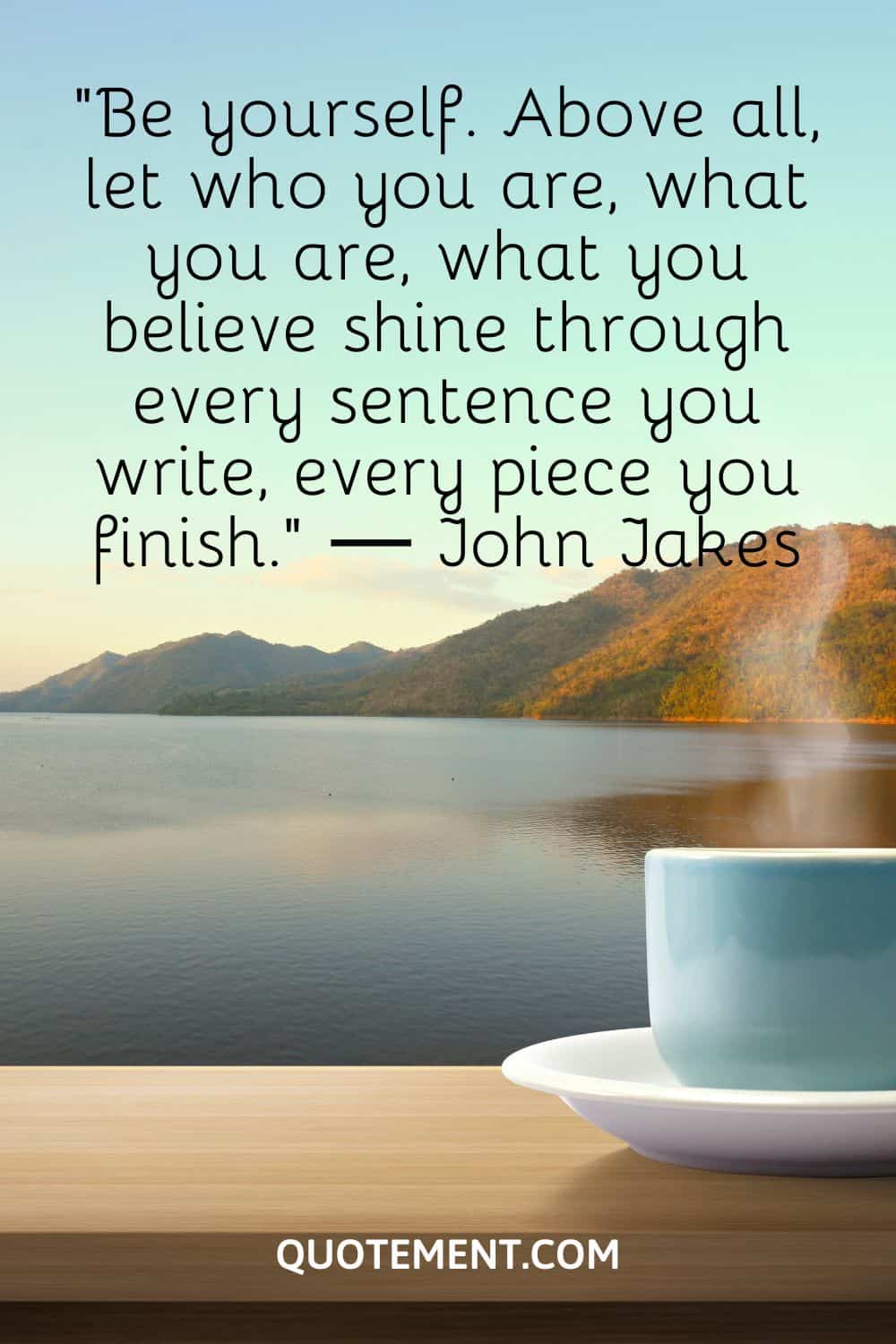 6. "Rise and shine, love your life. Start your day with a bright smile."
7. "Bloom wherever you are planted."
8. "Rise and shine pretty girl."
9. "One day you will have to rise and shine. So don't be afraid of sparkling a little brighter."
10. "Arise, shine for your light has come, and the glory of the Lord rises upon you." ― Isaiah 60:1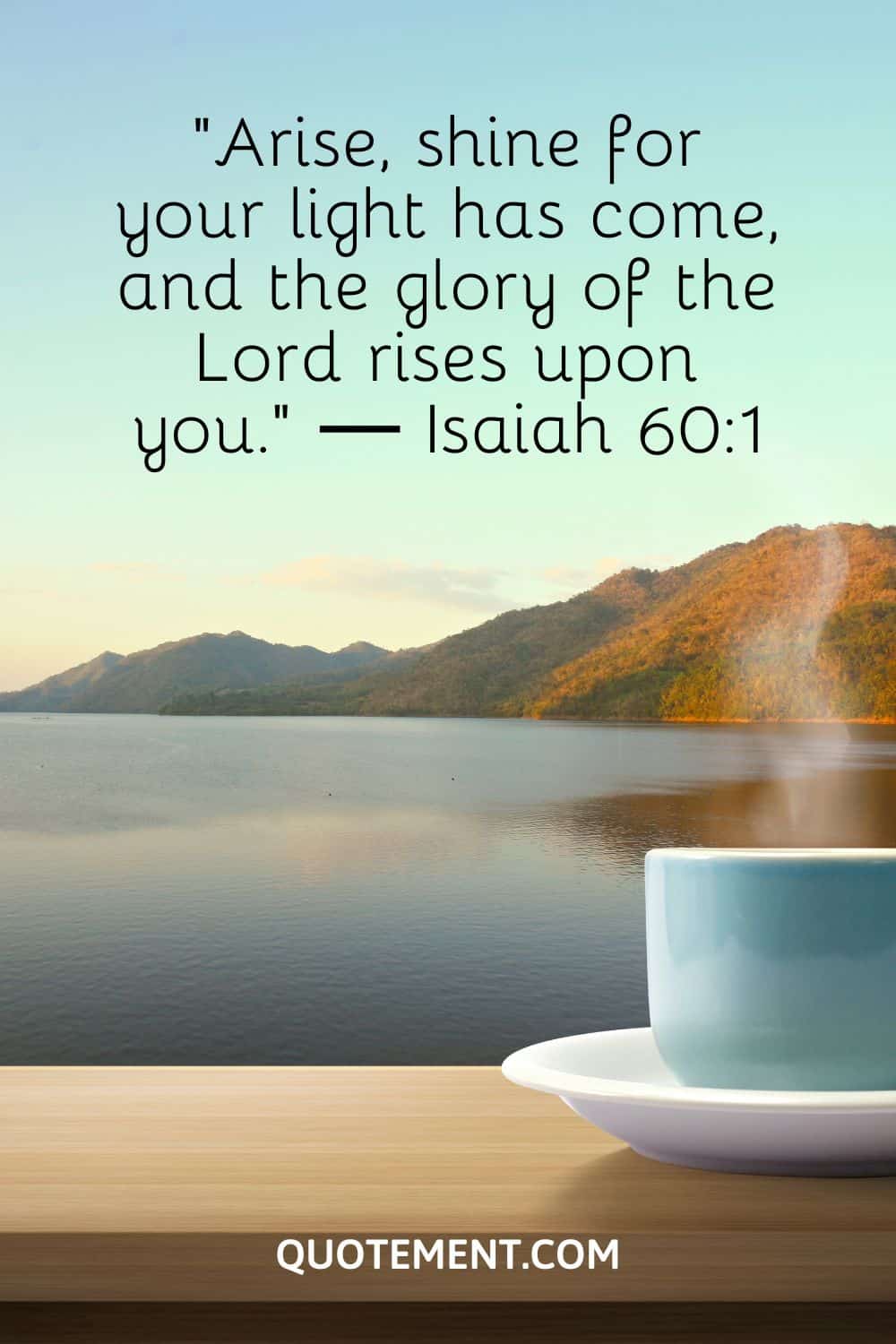 11. "Rise and shine each and every day with love in your heart and gratitude on your mind."
12. "Follow your dreams, have faith in what you do and shine like a star."
13. "Rise and shine. Wake up and greet the new day with fresh dreams and hope in your heart."
14. "Believe in yourself and shine confidently."
15. "Rise and shine and give God the glory."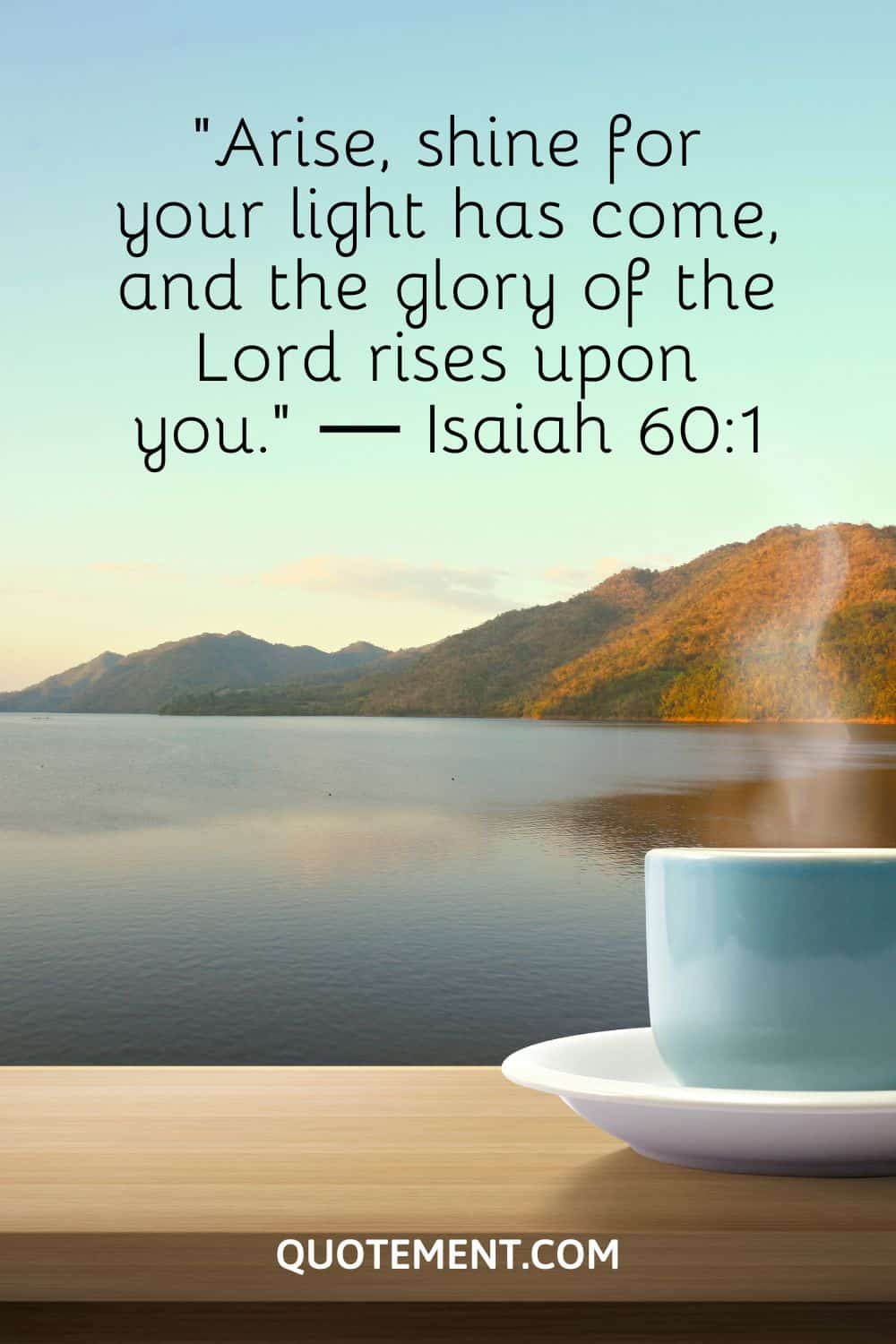 16. "In order to help you rise and shine like no one else, God created darkness too."
17. "Happiness looks gorgeous on you."
18. "Don't let anyone dull your sparkle. So wake up! And just rise and shine baby!"
19. "Rise and shine my little ray of light."
20. "We are all broken, that's how the light gets in." ― Ernest Hemingway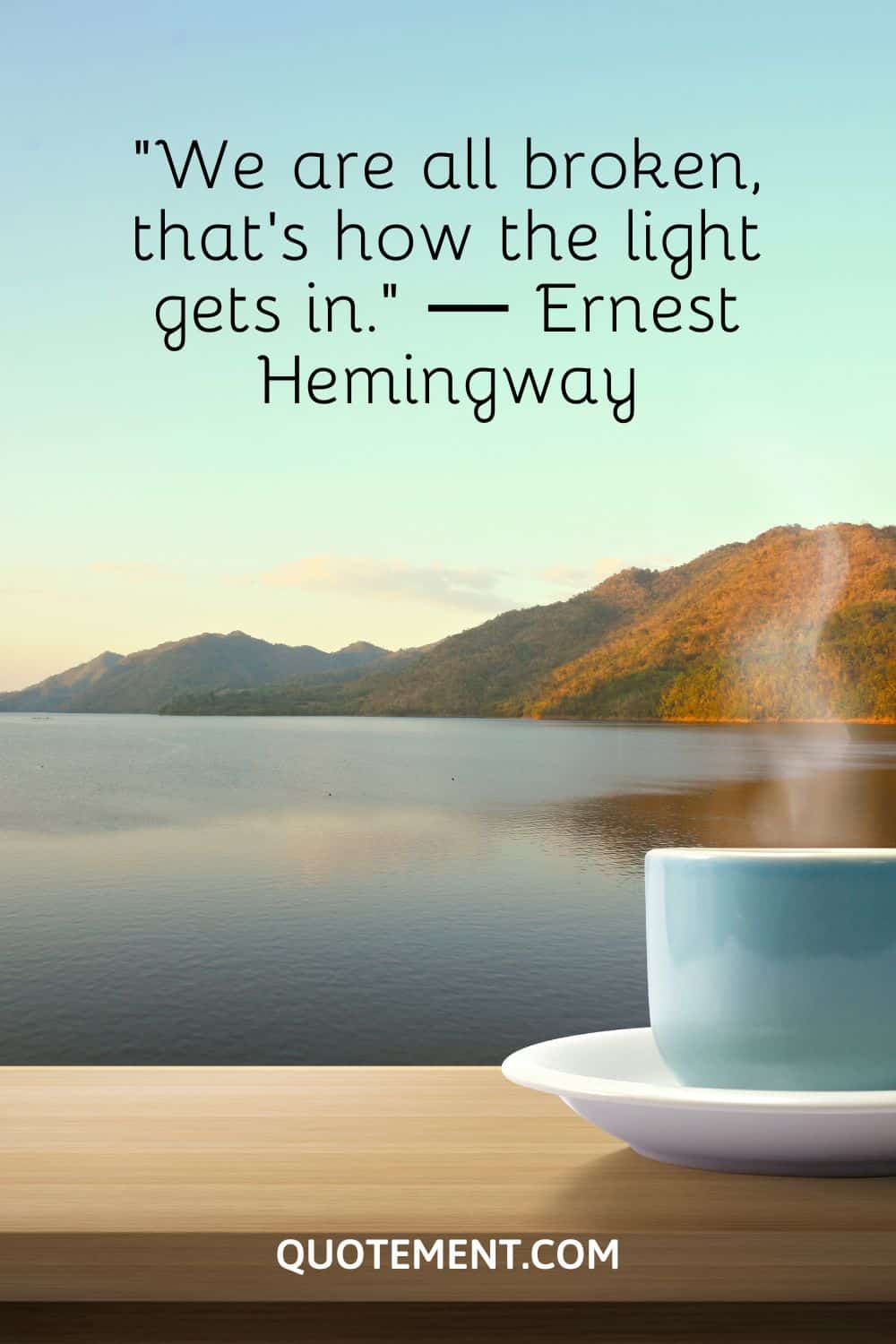 21. "Wake up every morning in such a way as if it is the first day of your life. So what are you waiting for? Rise and shine…"
22. "Passion is energy. Feel the power that comes from focusing on what excites you." – Oprah Winfrey
23. "Don't be afraid to speak up for yourself. Keep fighting for your dreams!" – Gabby Douglas
24. "The power you have is to be the best version of yourself you can be, so you can create a better world." – Ashley Rickards
25."The most common way people give up their power is by thinking they don't have any." – Alice Walker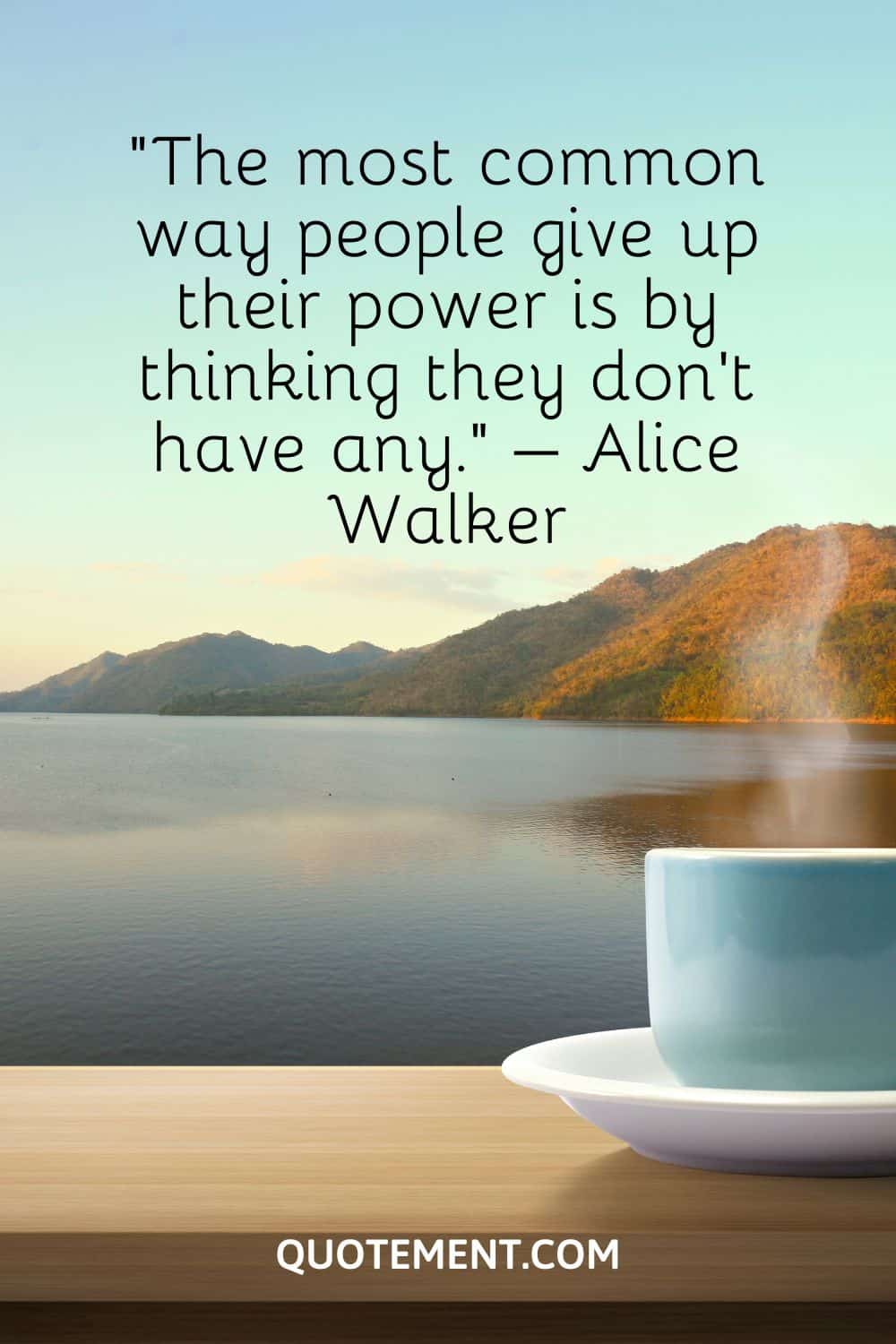 26. "When one door of happiness closes, another opens; but often we look so long at the closed door that we do not see the one which has been opened for us." – Helen Keller
27. "Morning is an important time of day, because how you spend your morning can often tell you what kind of day you are going to have." – Lemony Snicket
28. "Now that your eyes are open, make the sun jealous with your burning passion to start the day. Make the sun jealous or stay in bed." – Malak El Halabi
Rise And Shine Motivational Quotes
These motivational rise and shine quotes will definitely amaze you and help you rise and shine:
1. "Change your life today. Don't gamble on the future, act now, without delay." – Simone de Beauvoir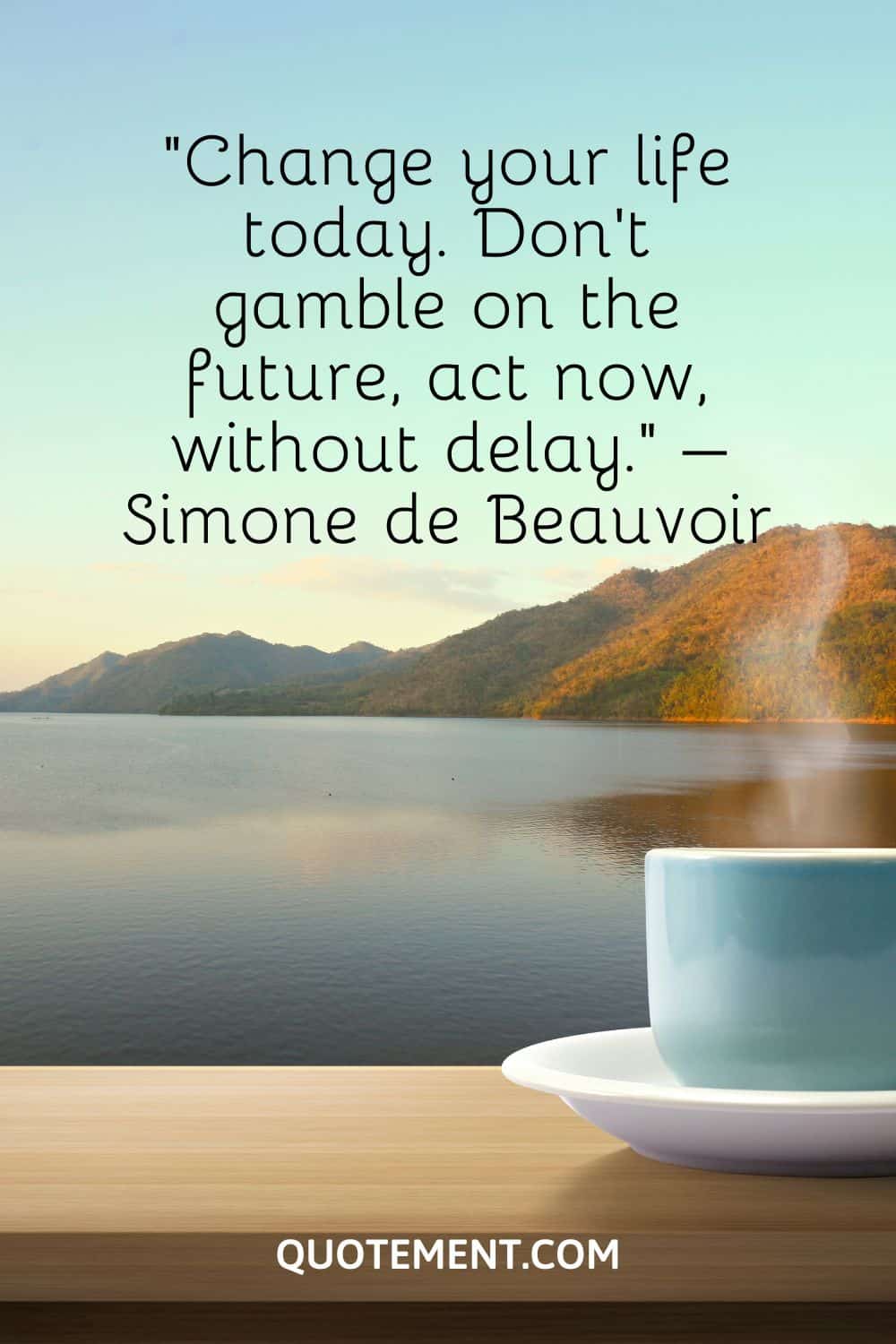 2. "Don't ever start your day with the broken pieces of yesterday. Start them with a new hope. Rise and shine!"
3. "It's not that everyone out here can shine. No! Only hard work makes you do so."
4. "Shine and leave a positive impact on the rest of the world."
5. "Remember who you really are today. Know that you too have the power to overcome anything you may be facing. It's time for you to rise and shine."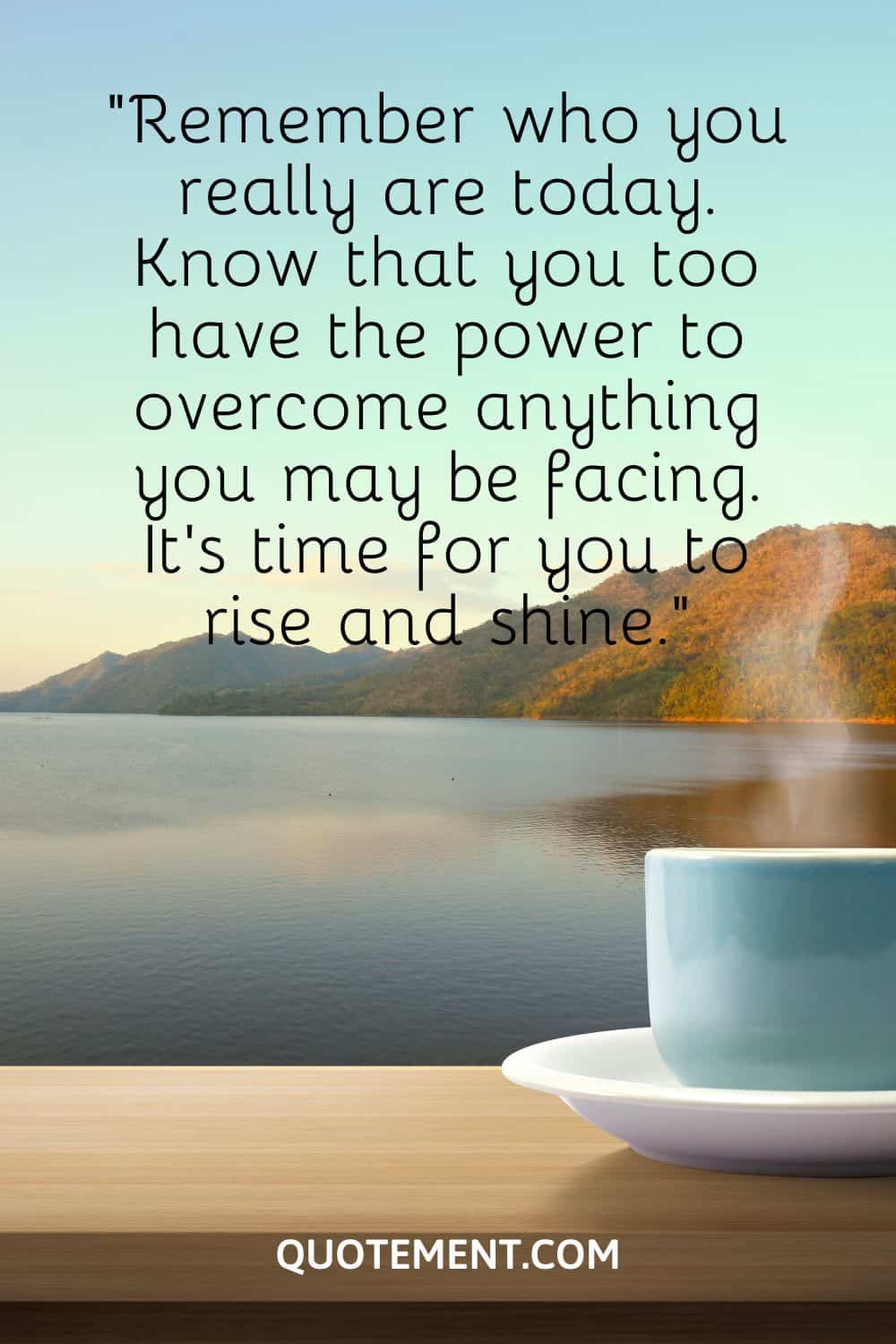 6. "Don't let anybody stand in your way to shine."
7. "Dream big. Work for it and shine."
8. "You attract what you are, not what you want. If you want great, then be great."
9. "Let your shine be an inspiration to humanity."
10. "If you want to give a light to others, you have to glow yourself." ― Thomas S. Monson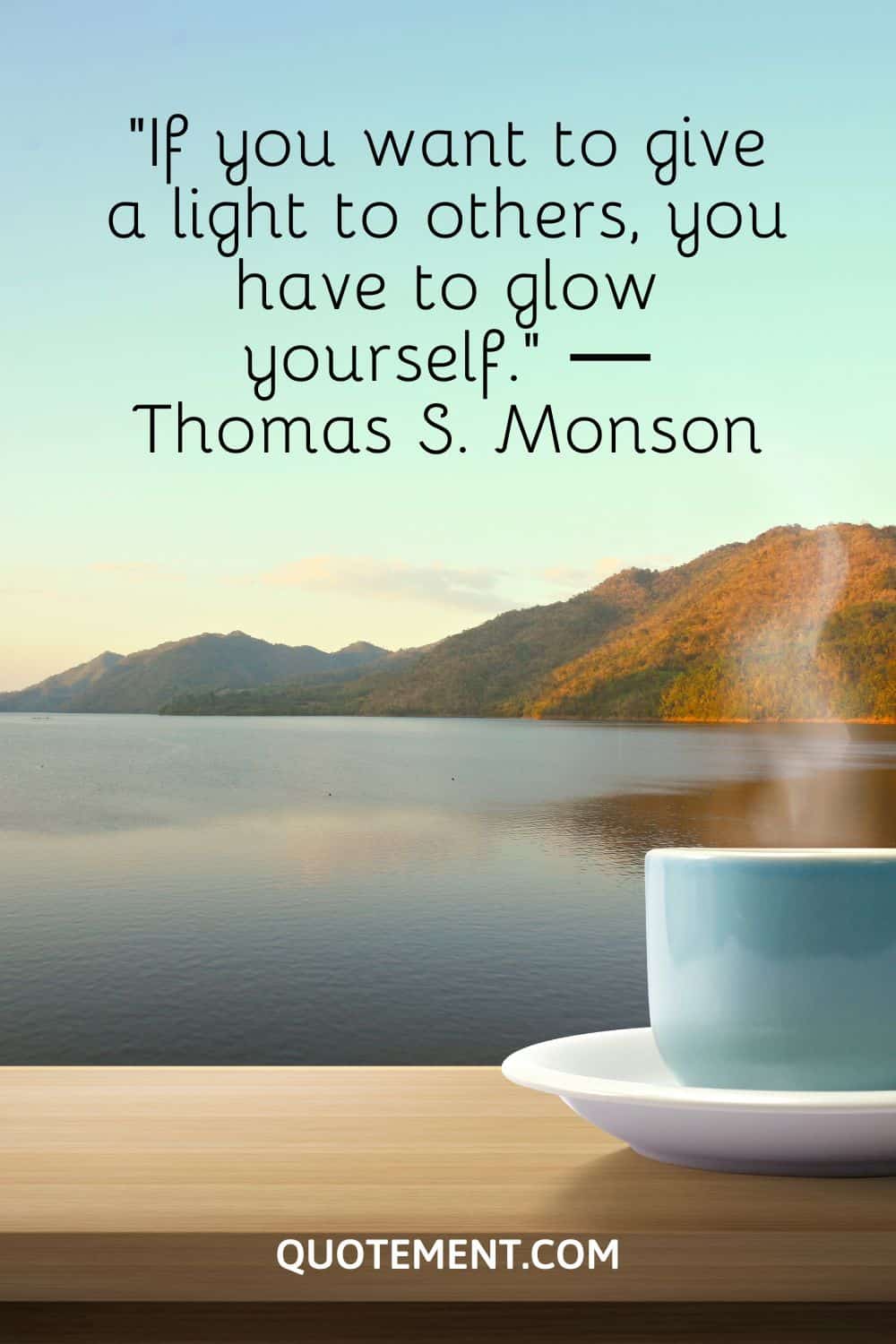 11. "Do more of what makes you sparkle."
12. "Rise up, start fresh, see the bright opportunity in each day."
13. "You are fire! So continue to shine!"
14. "When you see darkness around you, rise and shine even brighter."
15. "Don't look at your feet to see if you are doing it right… Just dance." ― Anne Lamott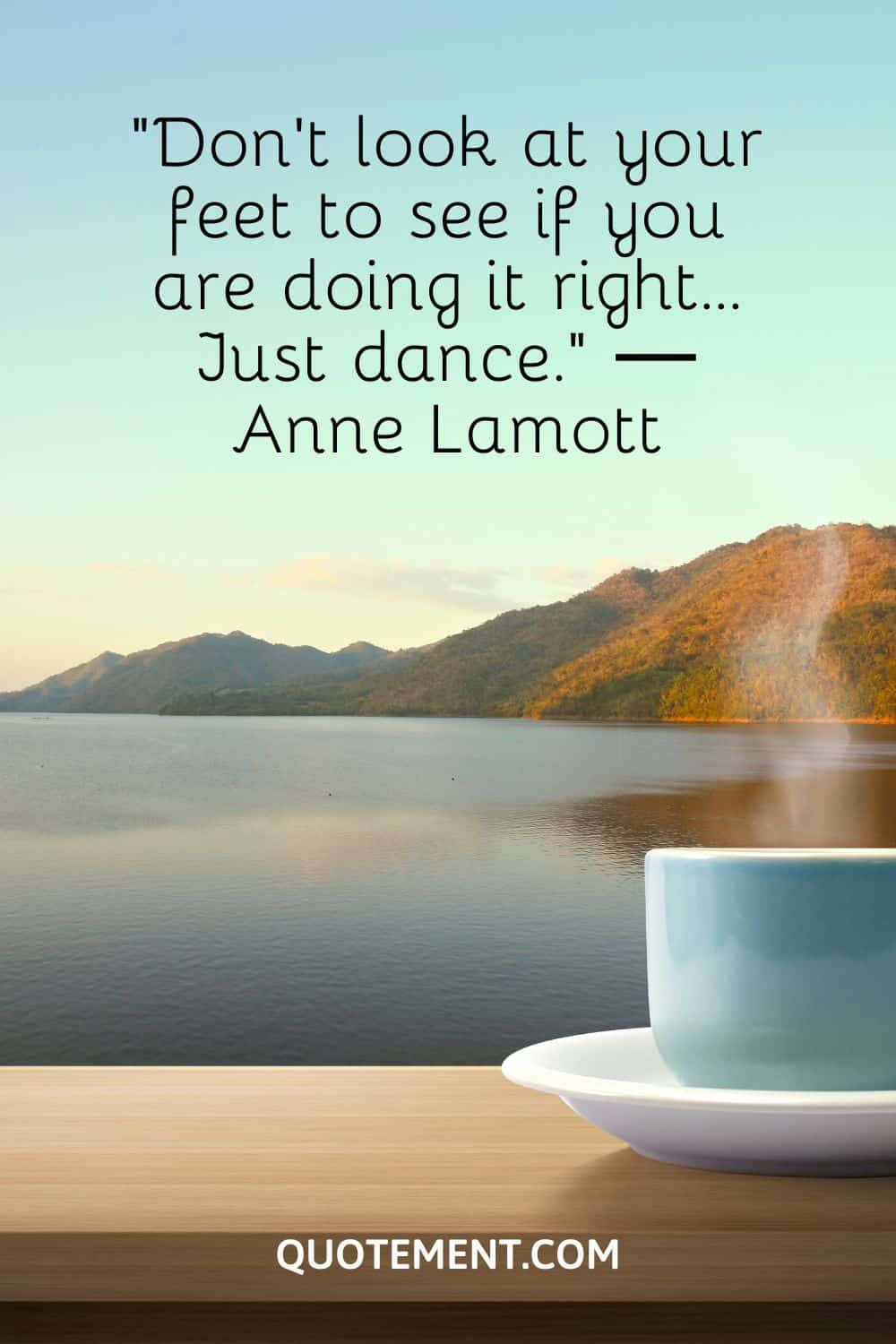 16. "Be wise enough to let go and shine brightly."
17. "Be happy. Do the best you can. Help others and shine bright like a diamond."
18. "Rise and shine! Getting up is good; showing up is even better!"
19. "The closer we get to being who we are meant to be, the brighter we shine."
20. "Failure is simply the opportunity to begin again, this time more intelligently." ― Henry Ford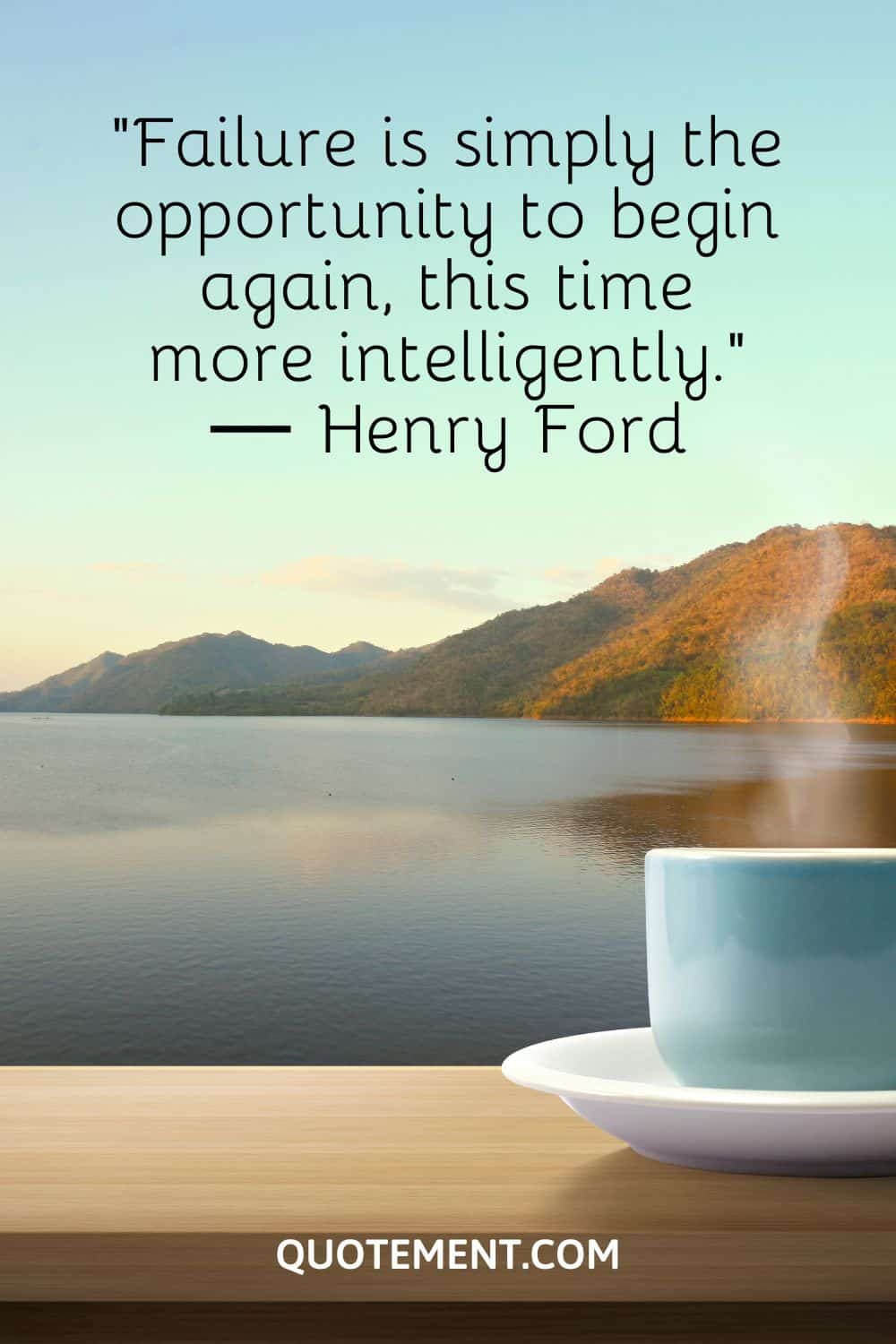 21. "Don't quit. Suffer now and live the rest of your life as a champion." ― Muhammad Ali
22. "It is never too late to be what you might have been." ― George Eliot
23. "Just develop the courage inside you and rise and one day you will definitely shine as well."
24. "Rise up and tackle the day with great enthusiasm and believe me you will definitely shine."
25. "Success is determined by rising up with a smile and working confidently the whole day to outshine others."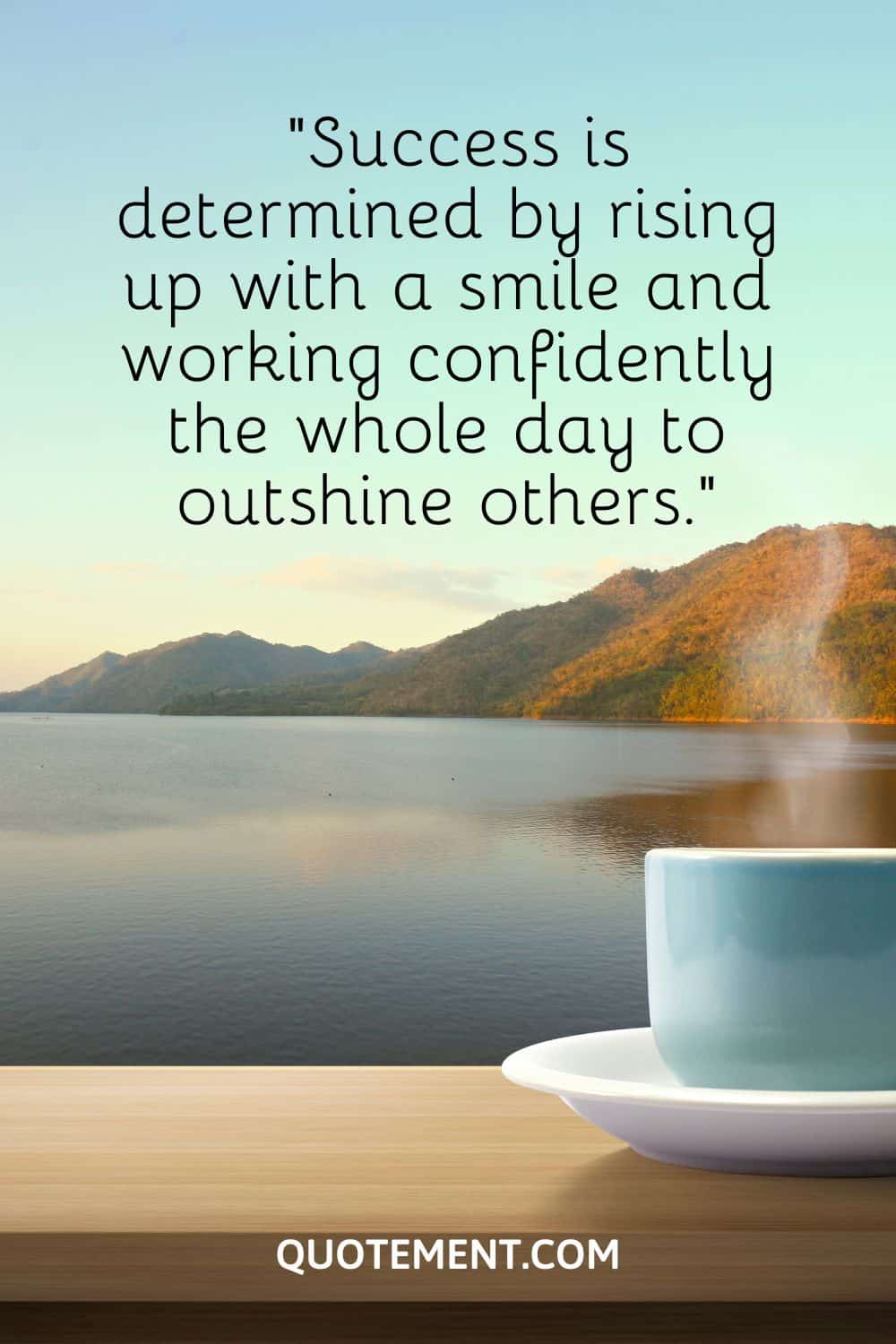 26. "I learned to always take on things I'd never done before. Growth and comfort do not coexist." – Ginni Rometty
27. "The size of your dreams must always exceed your current capacity to achieve them. If your dreams do not scare you, they are not big enough." – Ellen Johnson Sirleaf
28. "We do not need magic to change the world, we carry all the power we need inside ourselves already: we have the power to imagine better." – J.K. Rowling
29. "We need to accept that we won't always make the right decisions, that we'll screw up royally sometimes – understanding that failure is not the opposite of success, it's part of success." – Arianna Huffington
30. "The breeze at dawn has secrets to tell you. Don't go back to sleep." – Rumi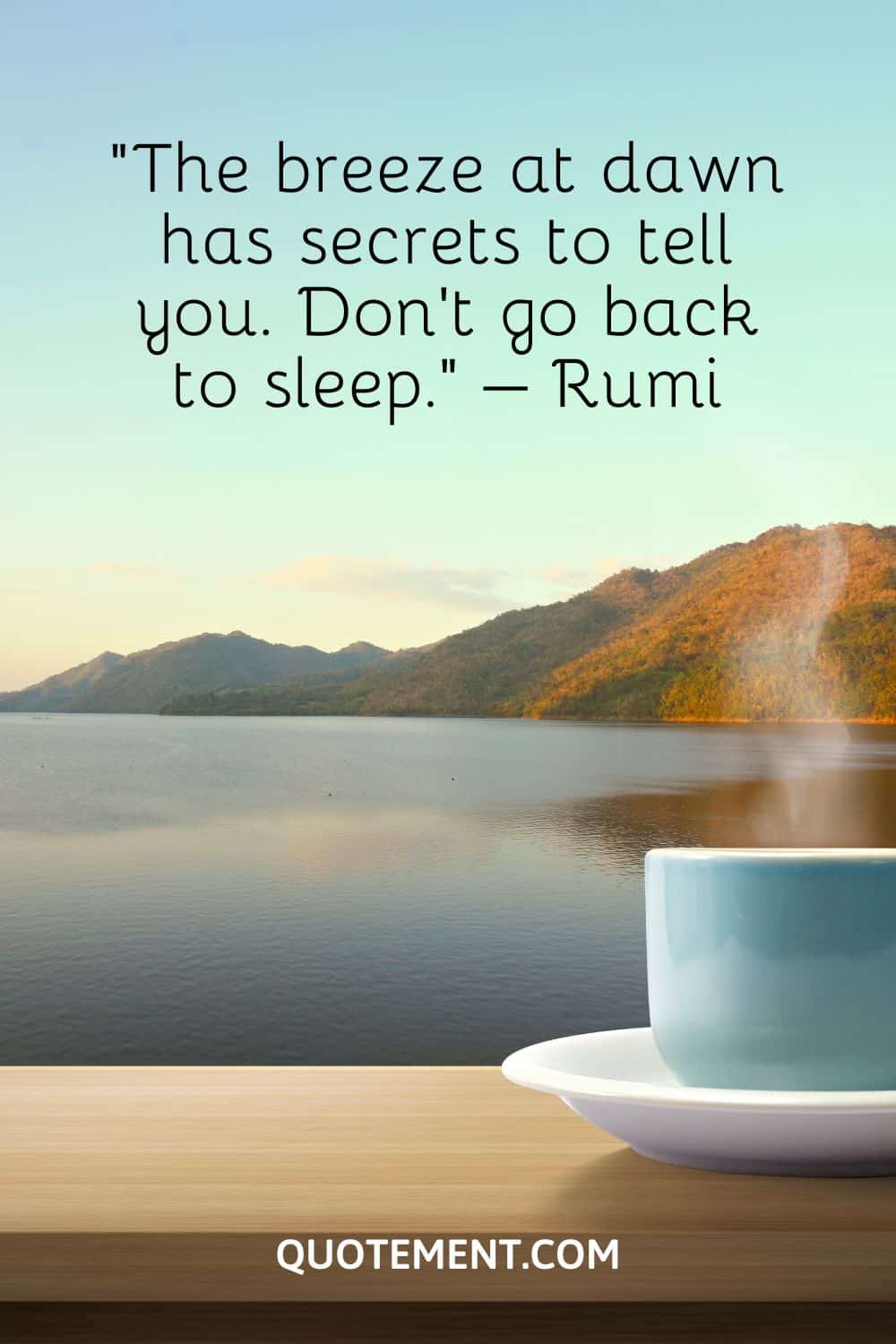 31. "Waking up this morning, I smile. 24 brand new hours are before me. I vow to live fully in each moment." – Thich Nhat Hanh
32. "Nobody can go back and start a new beginning, but anyone can start today and make a new ending." – Maria Robinson
33. "Some people dream of success, while other people get up every morning and make it happen." – Wayne Huizenga
See also: 220 Best Proverbs About Success To Give You Inspiration
Brilliant Rise & Shine Quotes
Each new day can be a fresh start, so let's take a look at these rise and shine quotes and life quotes to get a little more excited about it:
1. "Doubt is a killer. You just have to know who you are and what you stand for." – Jennifer Lopez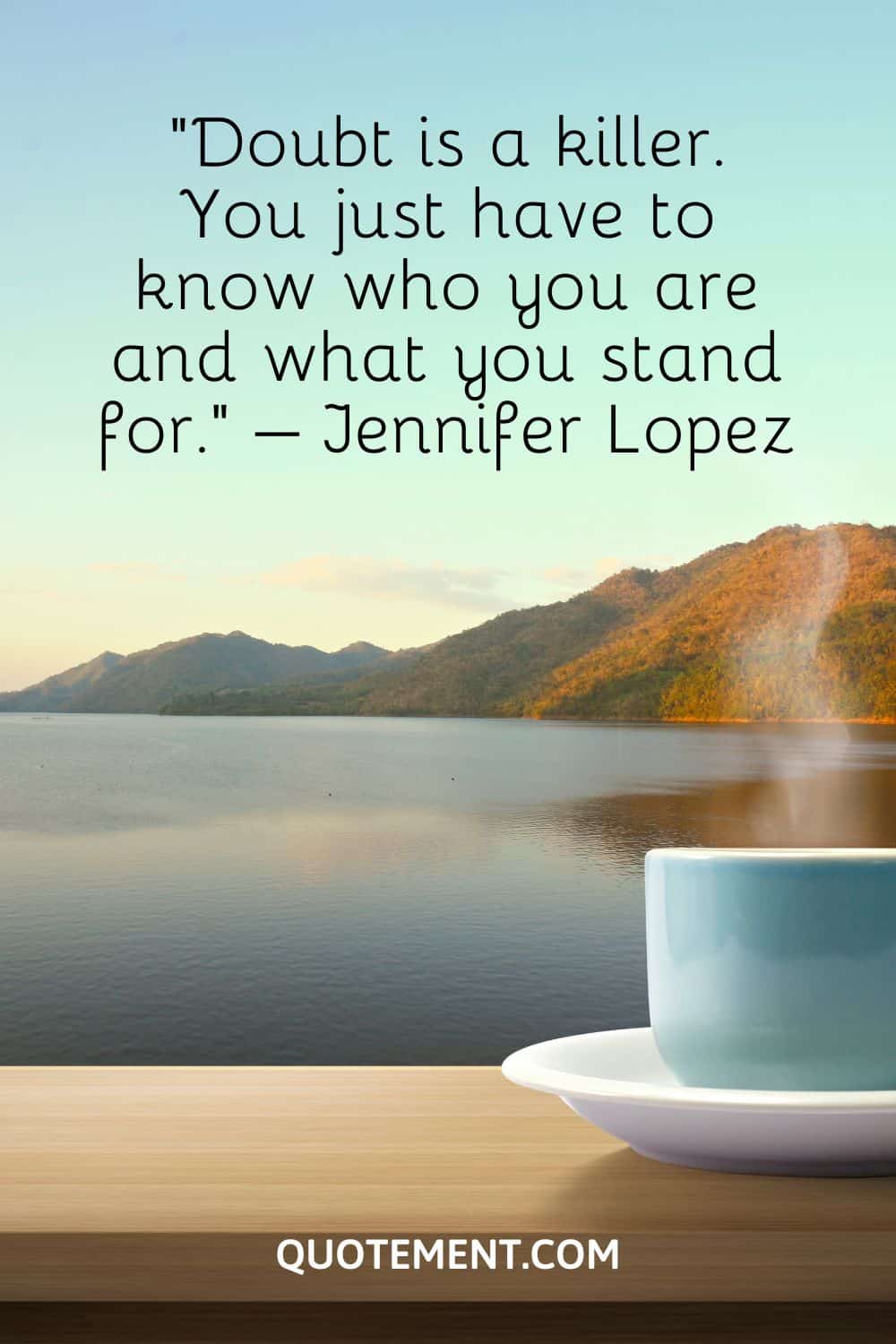 2. "I arise in the morning torn between a desire to improve the world and a desire to enjoy the world." – E. B. White
3. "Be willing to be a beginner every single morning." – Meister Eckhart
4. "Rise and shine and conquer the darkness of your life."
5. "Generous spirits always strive to shine brightly and won't fade away. Let's rise & keep glowing." – Shaa Zainol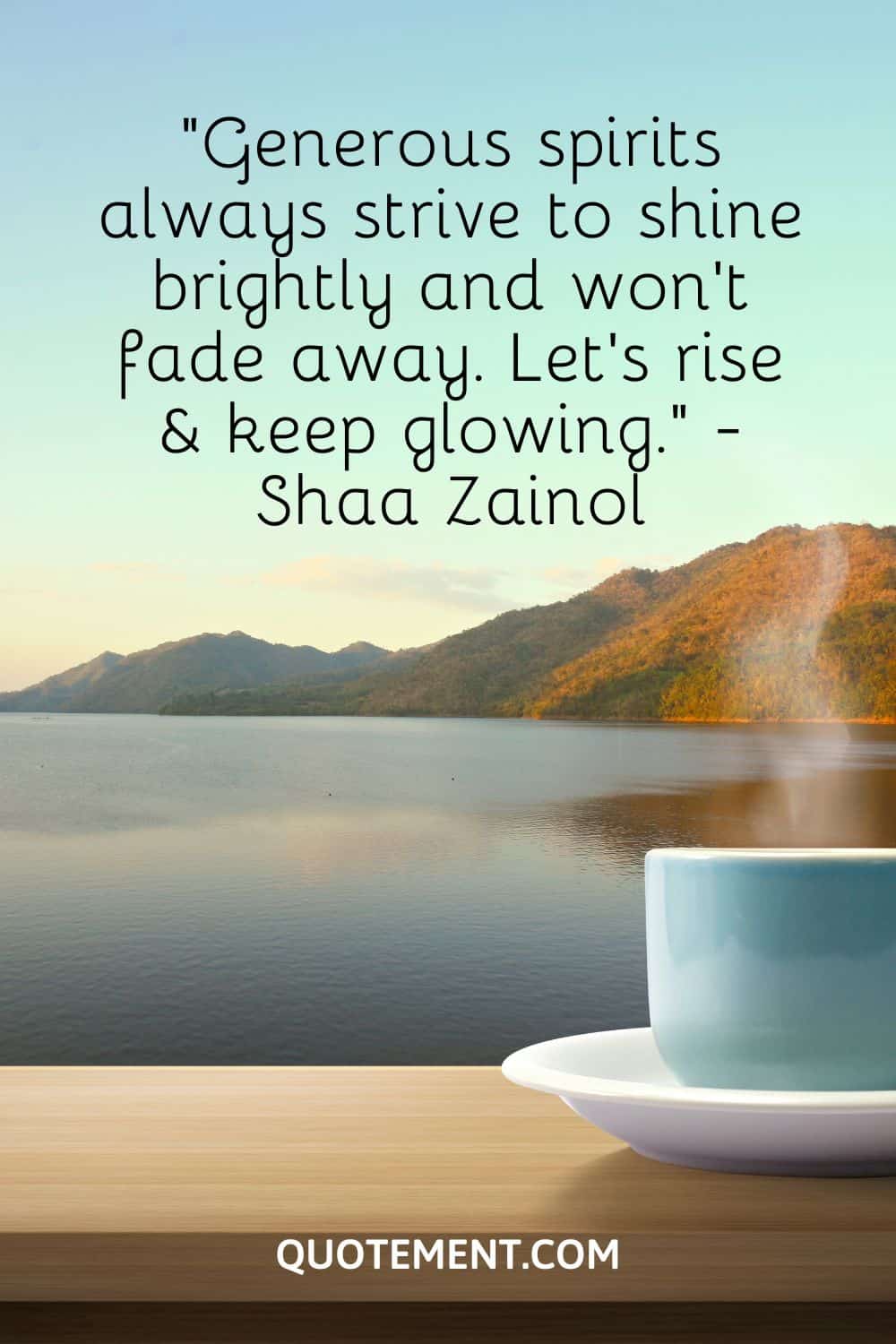 6. "Rise and Shine! And have a beautiful day."
7. "Rise up every morning with sunshine in your soul."
8. "No beauty shines brighter than that of a good heart."
9. "When you arise in the morning, think of what a precious privilege it is to be alive; to breathe, to think, to enjoy, to love-then make that day count!" – Steve Maraboli
10. "Blowing out someone else's candle doesn't make yours shine any brighter."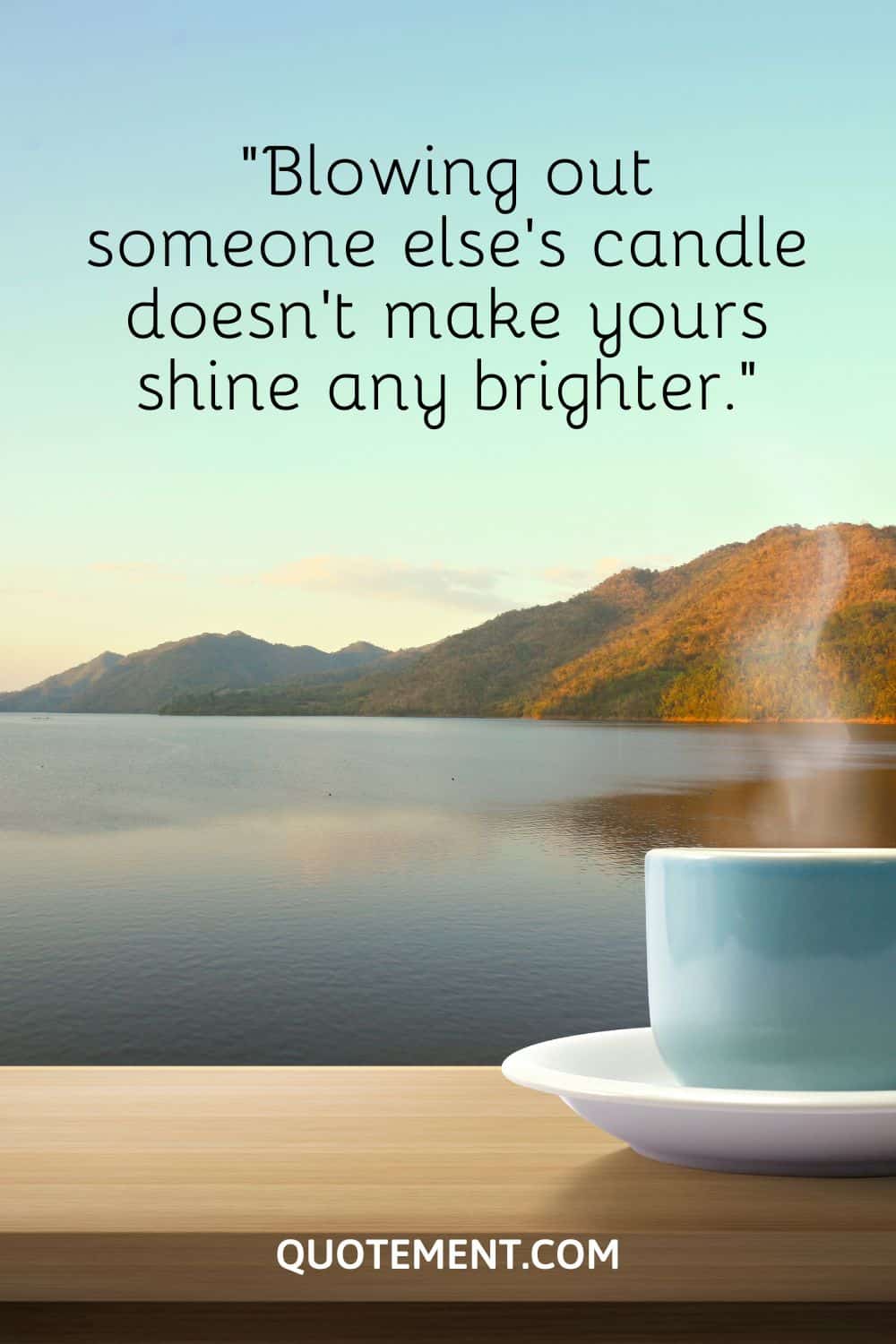 11. "The sun is the daily reminder to rise everyday and shine no matter what happened yesterday."
12. "We all are stars and we sparkle! All that we need to know is we have to rise to shine brightly."
13. "Rise and shine. Whatever was bothering you yesterday is gone and today is a bright new beginning!"
14. "Just dump all the negative thoughts present in your mind. Rise and shine because it's your day today."
15. "Today's goals: coffee and kindness. Maybe two coffees, and then kindness." – Nanea Hoffman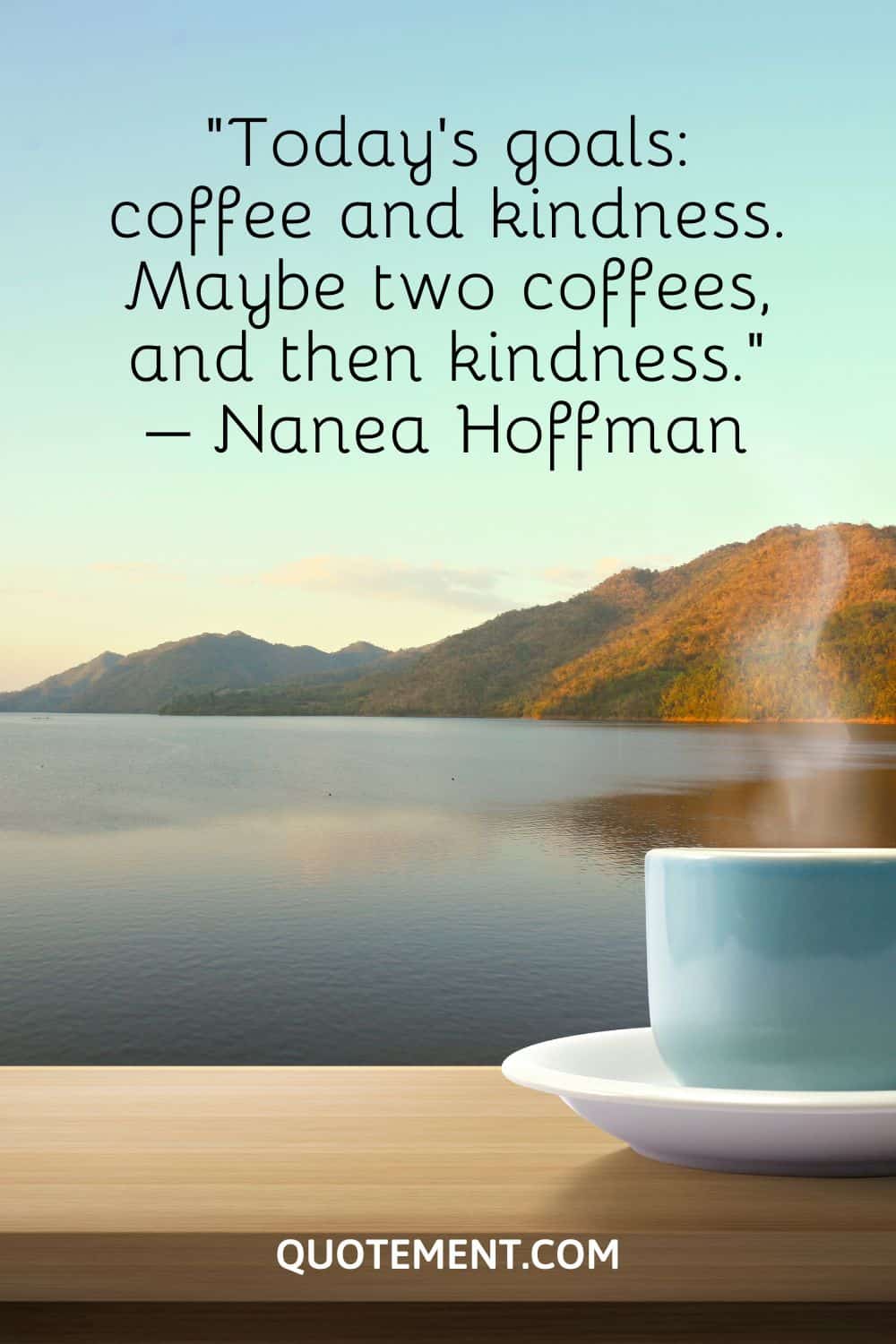 16. "Why afraid of falling? Remember whenever you fall you rise even higher than before. Rise and shine!"
17. "You have to have confidence in your ability, and then be tough enough to follow through." – Rosalynn Carter
18. "Life has knocked me down plenty of times. But there's always a little bit of me that tells me to get back up, to rise, and shine. It reminds me that I don't belong in the dust. I belong in the stars and that's where I should be headed. And that little bit of me… that's the one I love the most!" ― Mona Soorma
19. "Rise and shine!!! No negotiations! A fantastic day is waiting for you. The very first thoughts of your day will frame and fuel your entire day. Make them align with your goals. You got this!"
20. "No matter how dark the night, the Sun shall still rise in the morning." ― Lailah Gifty Akita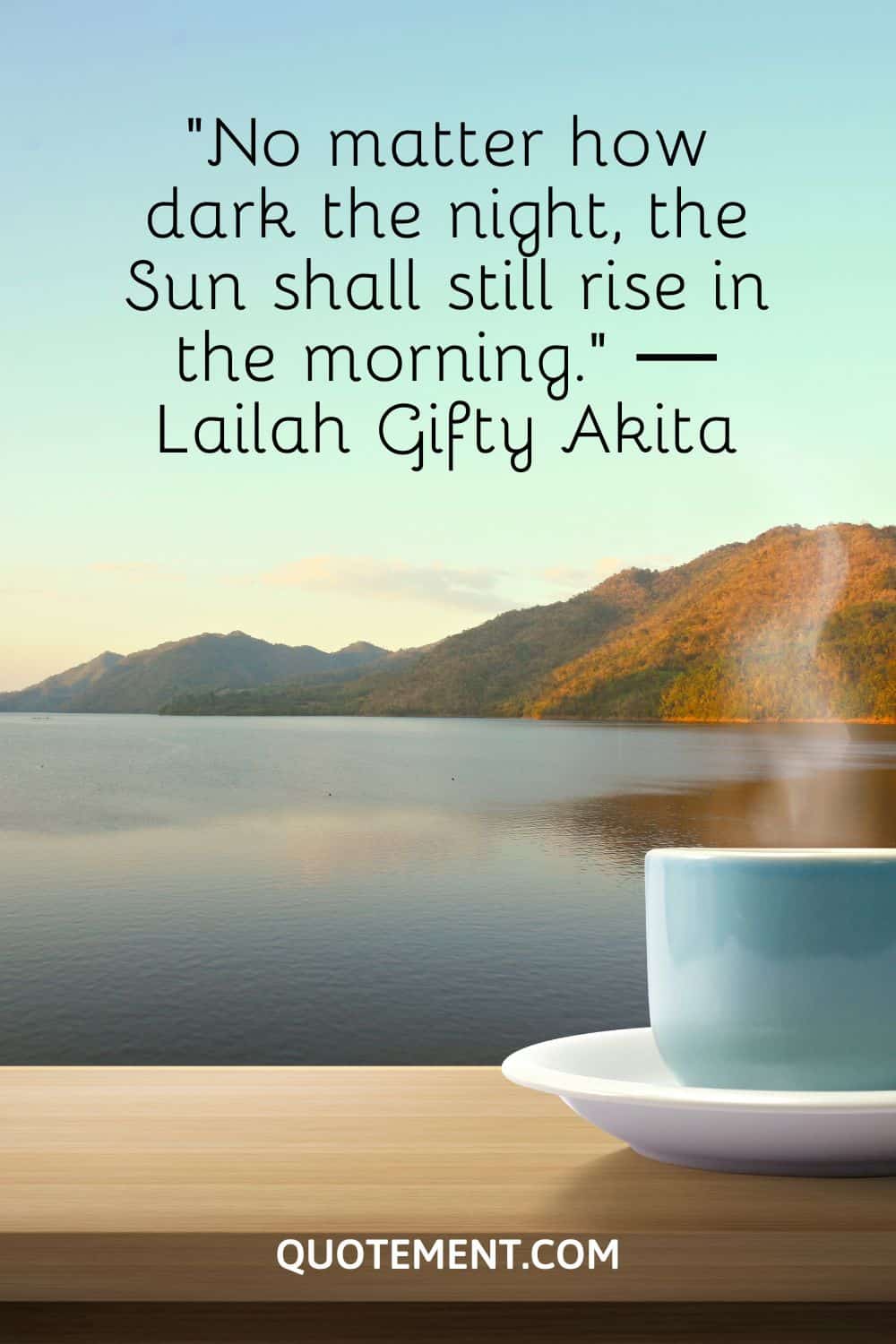 21. "A candle loses nothing by lighting another candle." ― James Keller
22. "I used to love night best but the older I get the more treasures and hope and joy I find in mornings." – Terri Guillemets
23. "Everyone has highs and lows that they have to learn from, but every morning I start off with a good head on my shoulders, saying to myself, 'It's going to be a good day!" – Lindsay Lohan
24. "I'm always thinking about creating. My future starts when I wake up every morning. Every day I find something creative to do with my life." – Miles Davis
Amazing Rise And Shine Quotes
Finally, here are some more amazing, bible verse inspired, and uplifting self love quotes that will encourage you to rise and shine:
1. "Waking up early, connecting with nature, and having my quiet time are priorities to me, and they are non-negotiable." – Danette May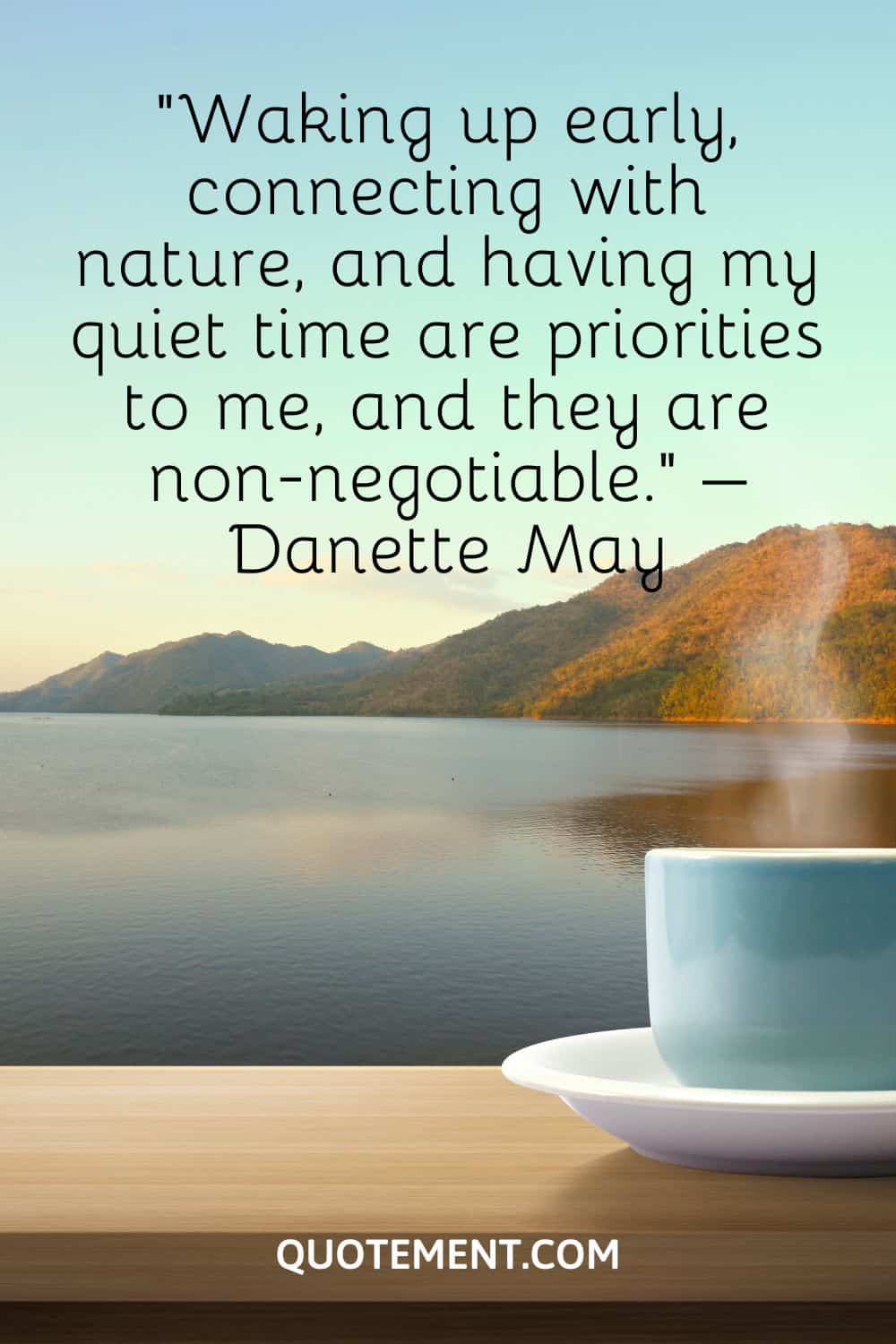 2. "Beautiful morning and the bright day started together, the light of dawn has spread everywhere; animals and birds are doing their own works, may the new morning bring new possibilities into your life. Good morning." – Rupali Mitra
3. "God will rise and shine on you; the Eternals bright glory will shine on you, a light for all to see." – Isaiah 60:2b
4. "People who shine from within don't need the spotlight."
5. "If you get up in the morning and think the future is going to be better, it is a bright day. Otherwise, it's not." – Elon Musk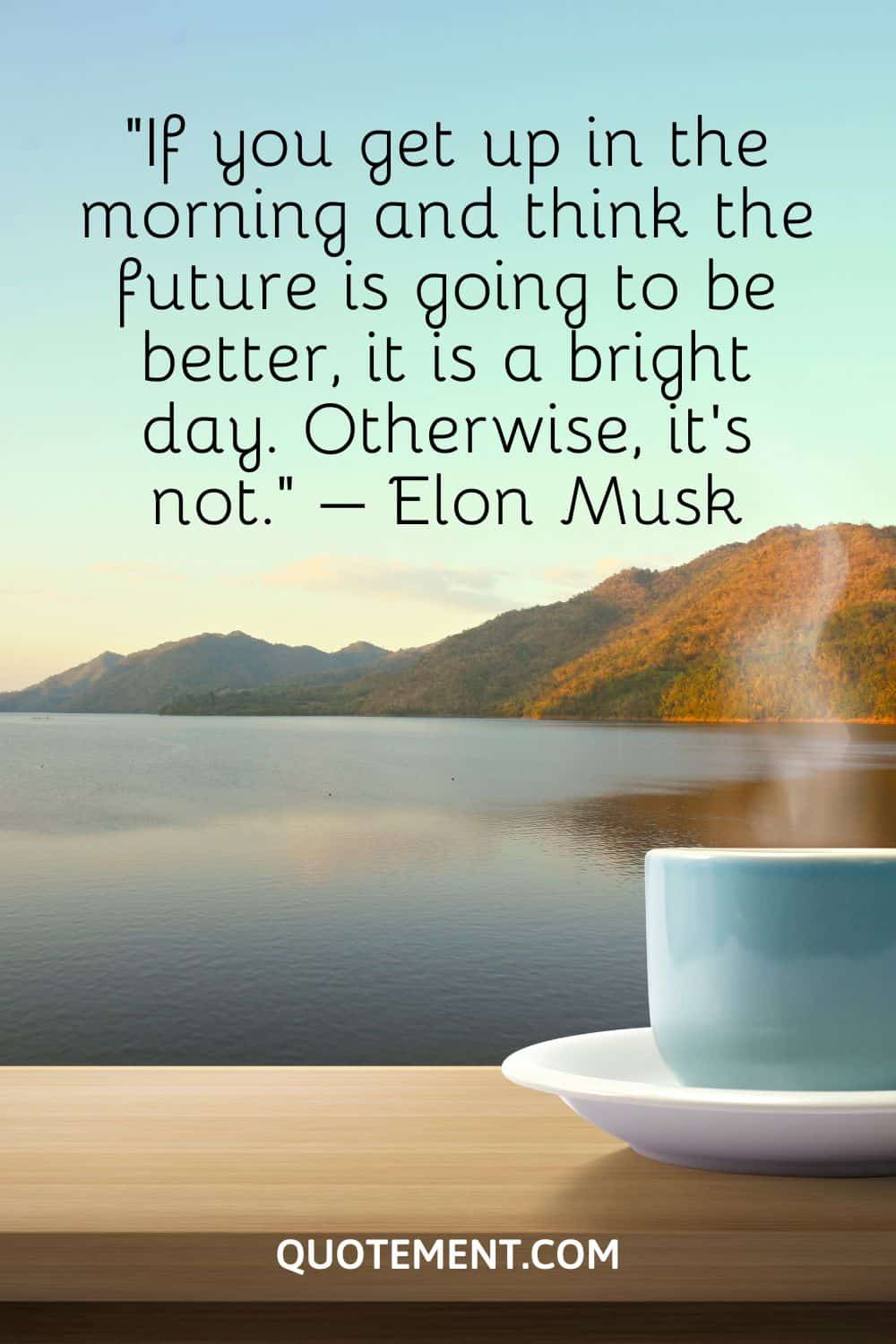 6. "If you are going to rise you might as well shine."
7. "Rise and shine! Because the almighty God is with you!"
8. "Rise with a smile and shine with all that you have."
9. "Shake off all those negative thoughts of yesterday. Rise and shine, it's a new day."
10. "Morning is God's way of saying one more time, go make a difference, touch a heart, encourage a mind, inspire a soul and enjoy the day."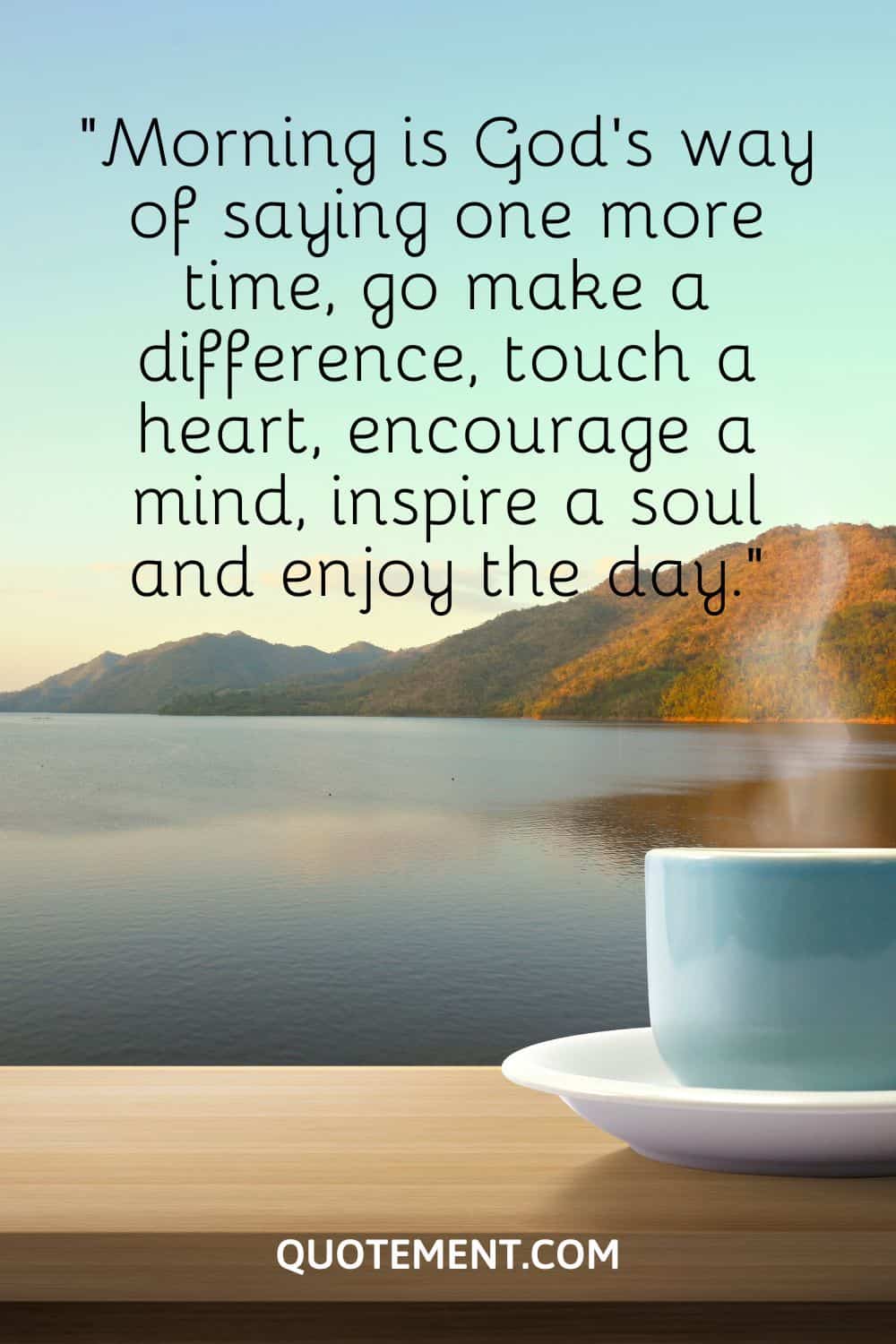 11. "Be like a sunflower. Rise, shine and hold your head high!"
12. "It's just your day so just rise and shine throughout the whole day."
13. "Good morning sunshine. Rise and shine, it's coffee time. Have a pleasant day."
14. "Morning by itself signifies a new beginning. So this morning start by forgiving yourself for all the mistakes you made yesterday and look forward to a promising day that lies ahead of you."
15. "You are more powerful than you know; you are beautiful just as you are." – Melissa Etheridge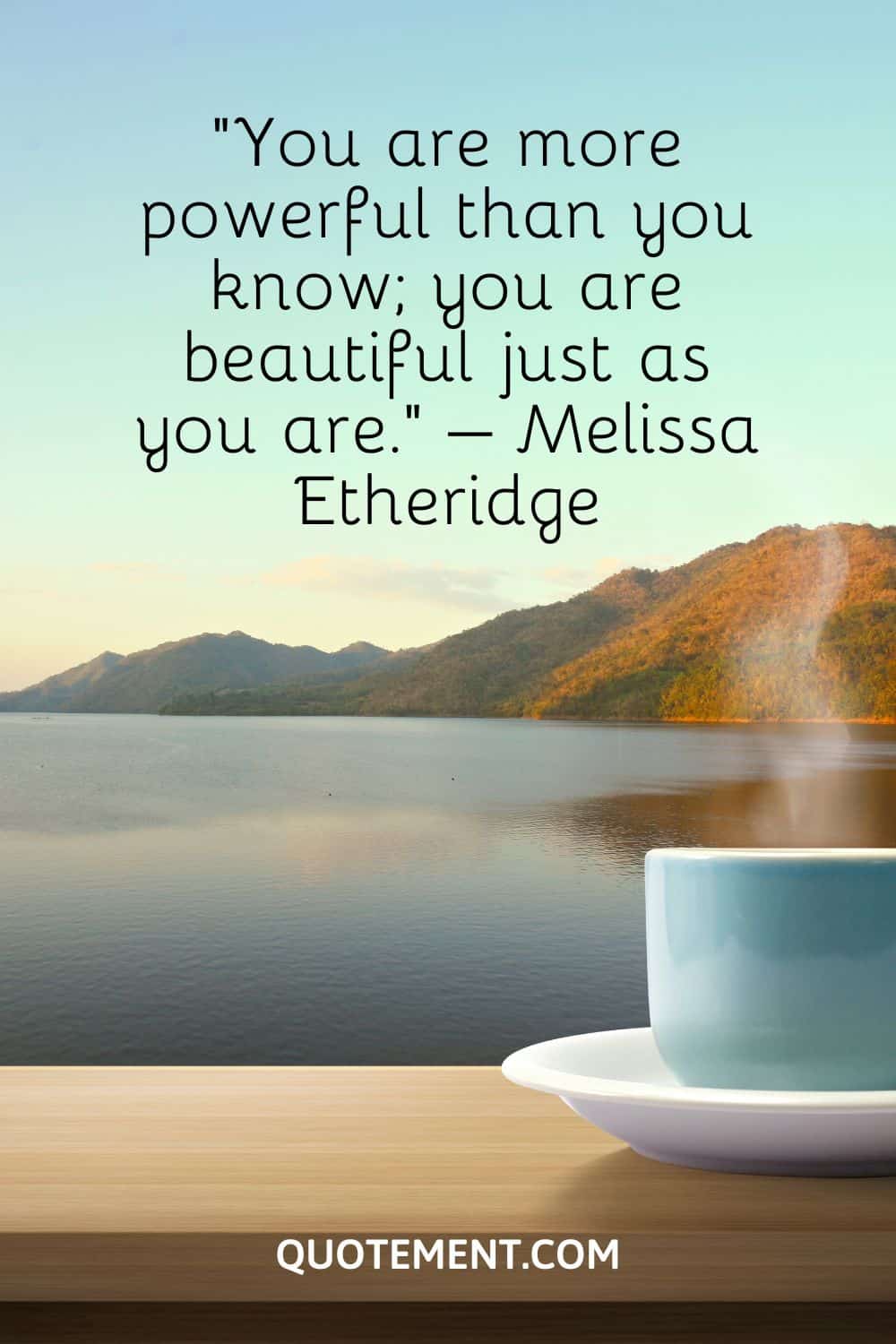 16. "In the same way, let your light shine before others, that they may see your good deeds and glorify your Father in heaven." ― Jesus Christ
17. "Morning comes whether you set the alarm or not." – Ursula K. Le Guin
18. "I wake up every morning at nine and grab for the morning paper. Then I look at the obituary page. If my name is not on it, I get up." – Benjamin Franklin
19. "When you arise in the morning, think of what a precious privilege it is to be alive, to breathe, to think, to enjoy, to love." – Marcus Aurelius
20. "Every morning, I wake up saying, 'I'm still alive, a miracle.' And so I keep on pushing." – Jim Carrey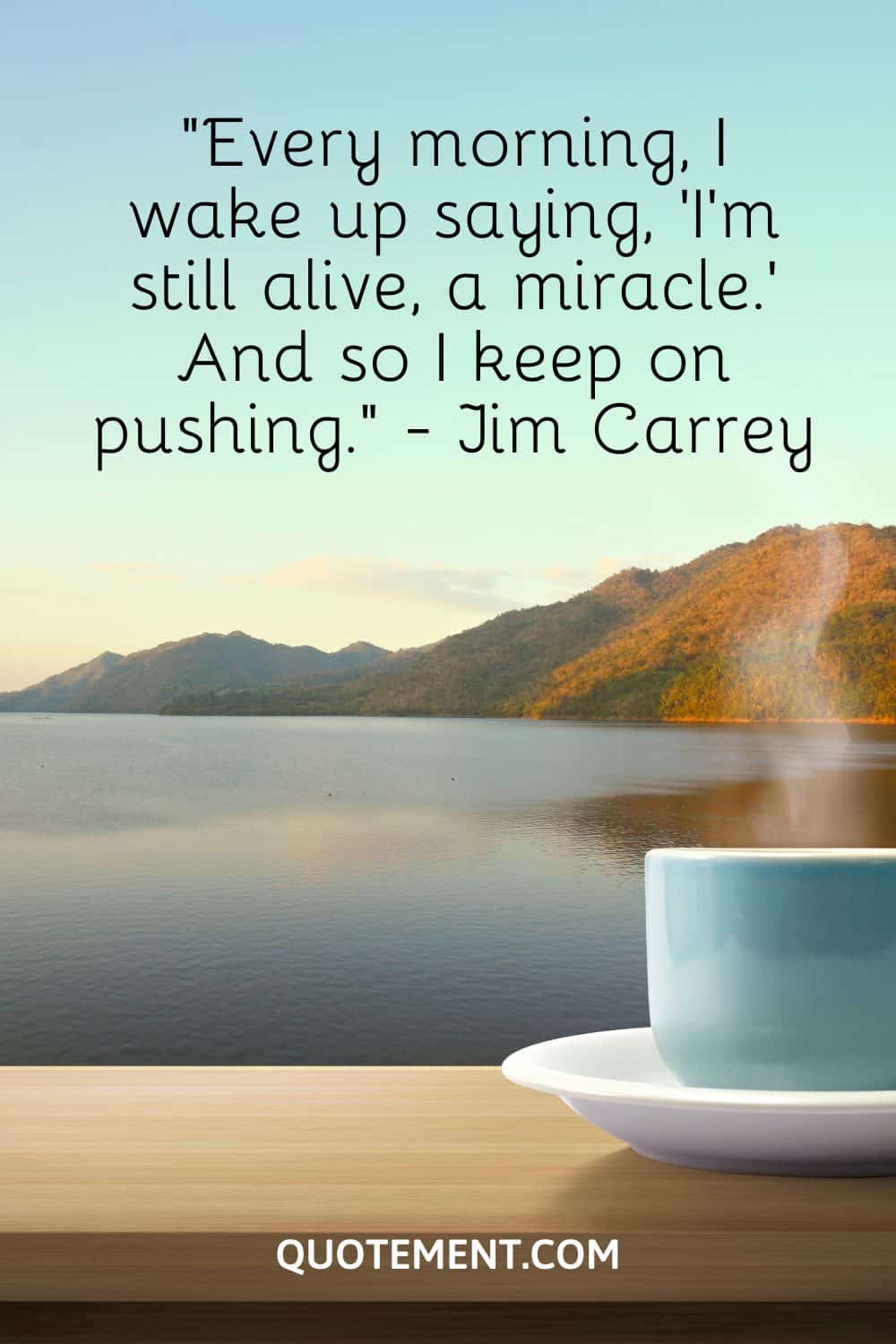 21. "First thing every morning before you arise, say out loud, 'I believe,' three times." – Ovid
22. "Every morning was a cheerful invitation to make my life of equal simplicity, and I may say innocence, with Nature herself." – Henry David Thoreau
23. "You know that feeling when you wake up in the morning and you're excited for the day? That's one of my main goals in life." – Kirsten Dunst
24. "Every morning, my dad would have me looking in the mirror and repeat: "Today is going to be a great day; I can, and I will." – Gina Rodriguez
25. "For each new morning let there be a flow of love. Let there be light of happiness in every direction." – Amit Ray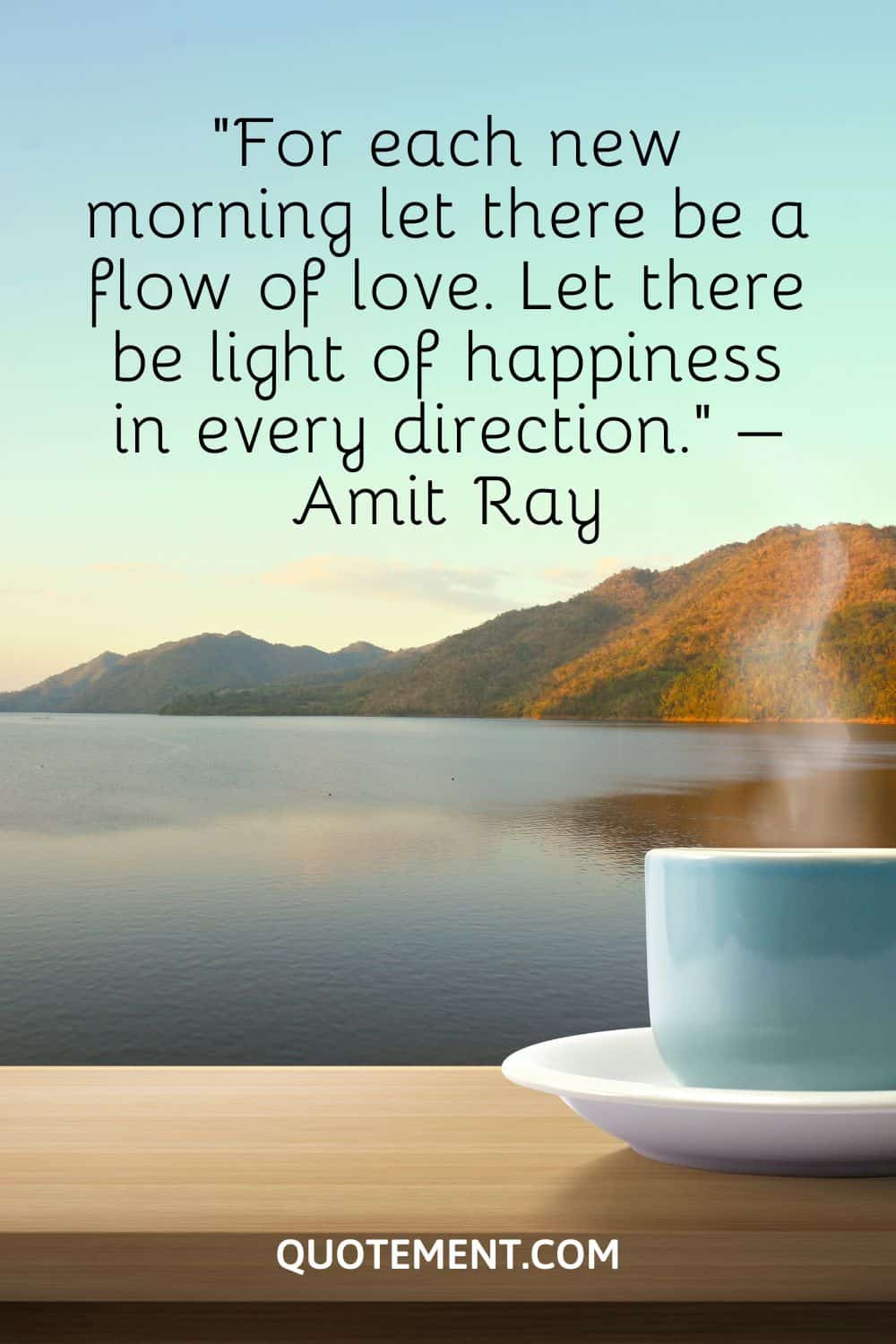 See also: 150 Best Positive Good Morning Blessings To Wake Up To
To Wrap It Up
That's all, folks! I hope you liked my collection of 120 awesome rise and shine quotes!
Remember that we are blessed to wake up each morning.
Regardless of what life may bring, we should be grateful for each new beginning we get every day.
Each day brings new opportunities, and it is us who must decide to rise and shine! We have the power to do it!
Finally, I hope you'll share a few uplifting and positive quotes with your beloved people.
Feel free to share them as good morning quotes, on Tumblr, Instagram, or elsewhere.
Until next time!
P.S. Which rise and shine quotes did you like best? Let me know in the comments section!