Jewelry is more than a fashion statement; jewelry shows who you are. It's a glimpse into your most personal being.
For today's article, I've prepared an extensive list of 150 beautiful jewelry quotes to inspire you to show off your jewelry.
My wardrobe is mostly black. When it comes to clothes, my style is minimalistic, elegant and simple. On the other hand, my jewelry is quite the opposite.
My clothes don't say much about me, but my jewelry screams!
If you share my obsession with jewelry, you'll love the content I've prepared.
Whether you're looking for an inspirational quote to spark your inspiration or a catchy jewelry quote for Instagram, you'll find plenty of amazing ideas to choose from.
Let's dive in!
Top 10 Jewelry Quotes
The essence and true purpose of jewelry are best described in these jewelry quotes below. Check them out!
1. "I dress for other people but my jewelry is for me." — Anna Solowij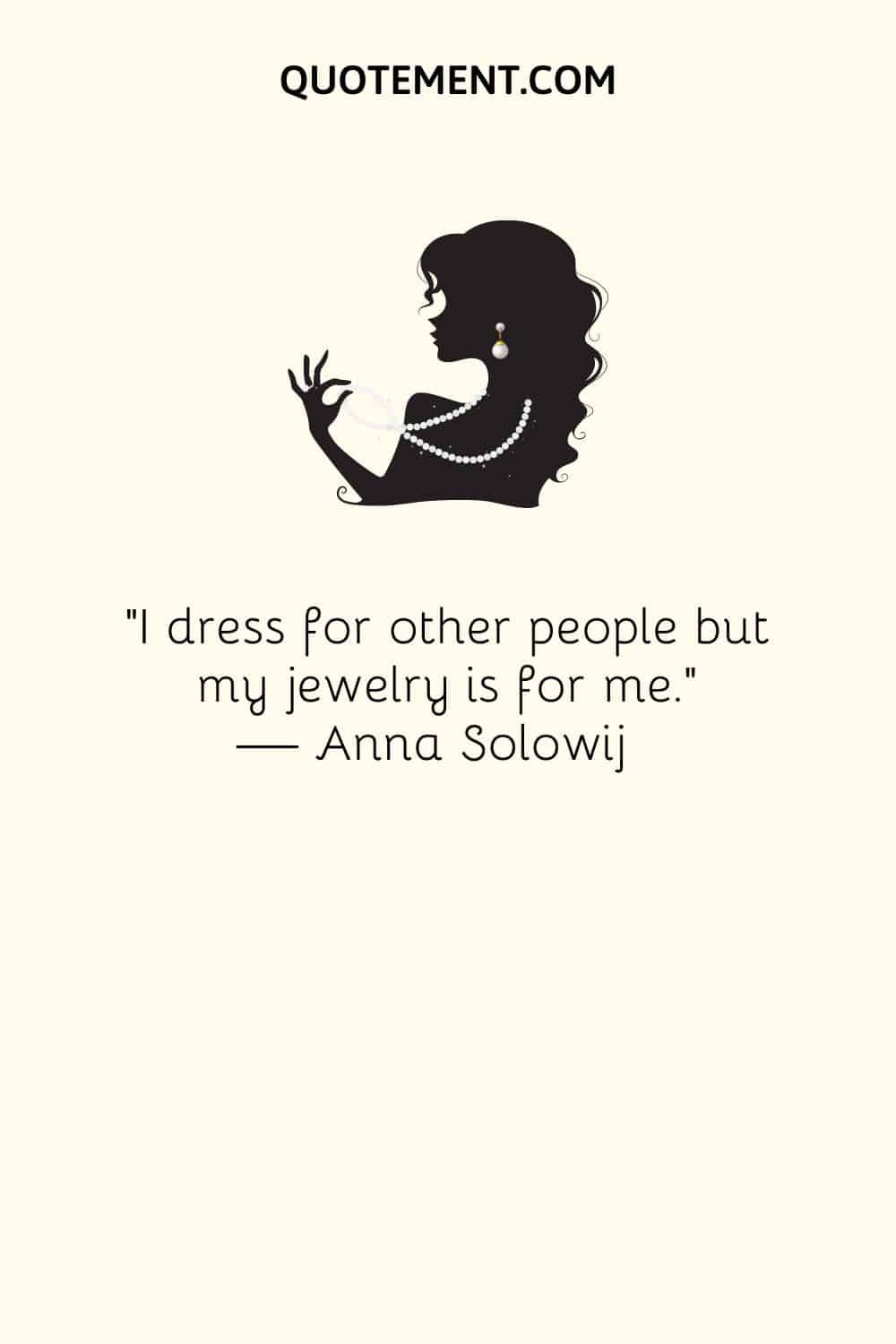 2. "The power of a jewel to me is its beauty, its appeal, the memory it evokes, and the way I feel when I wear it." — Carolina Herrera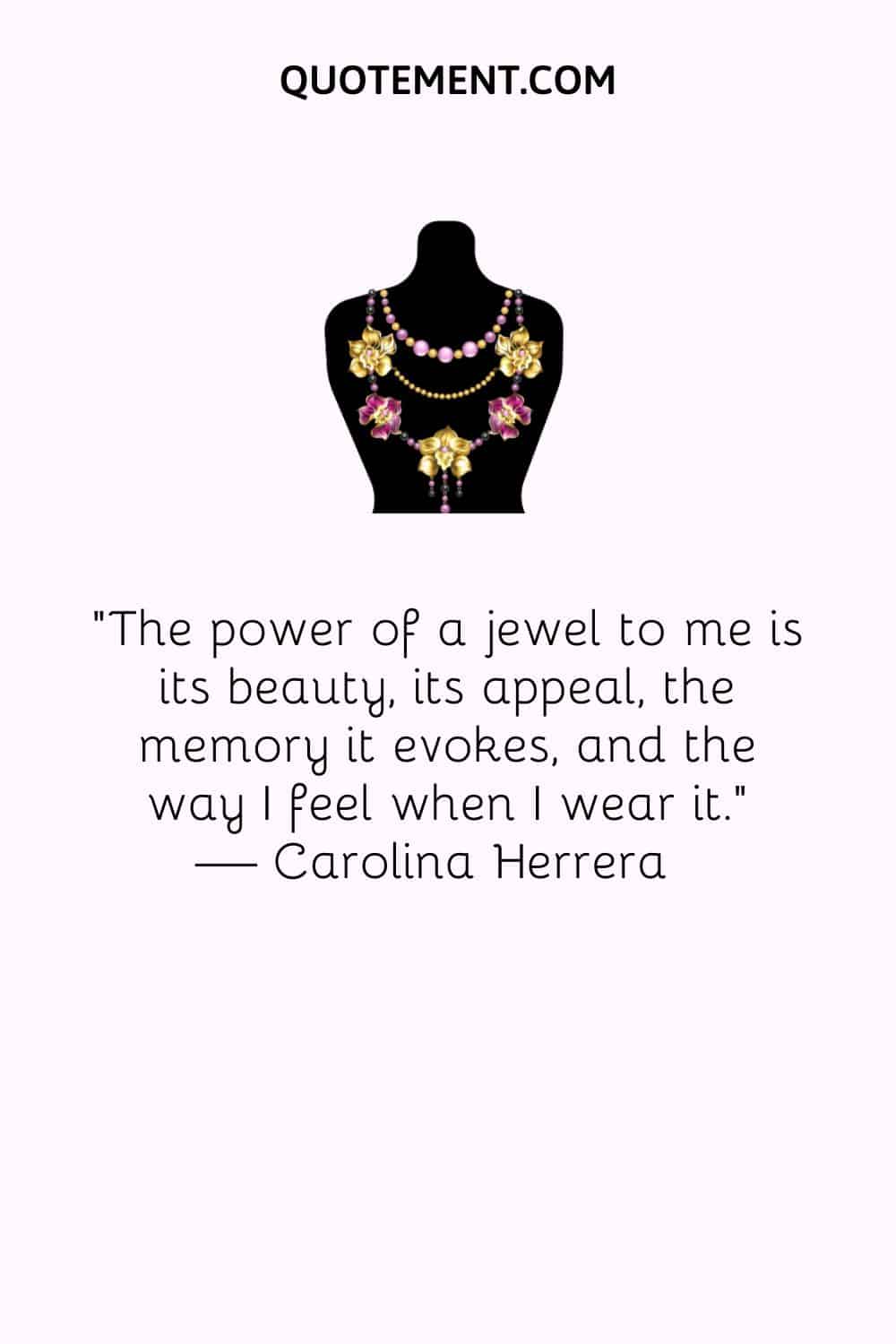 3. "Wear a fabulous smile, great jewelry and know that you are totally and utterly in control." — Donatella Versace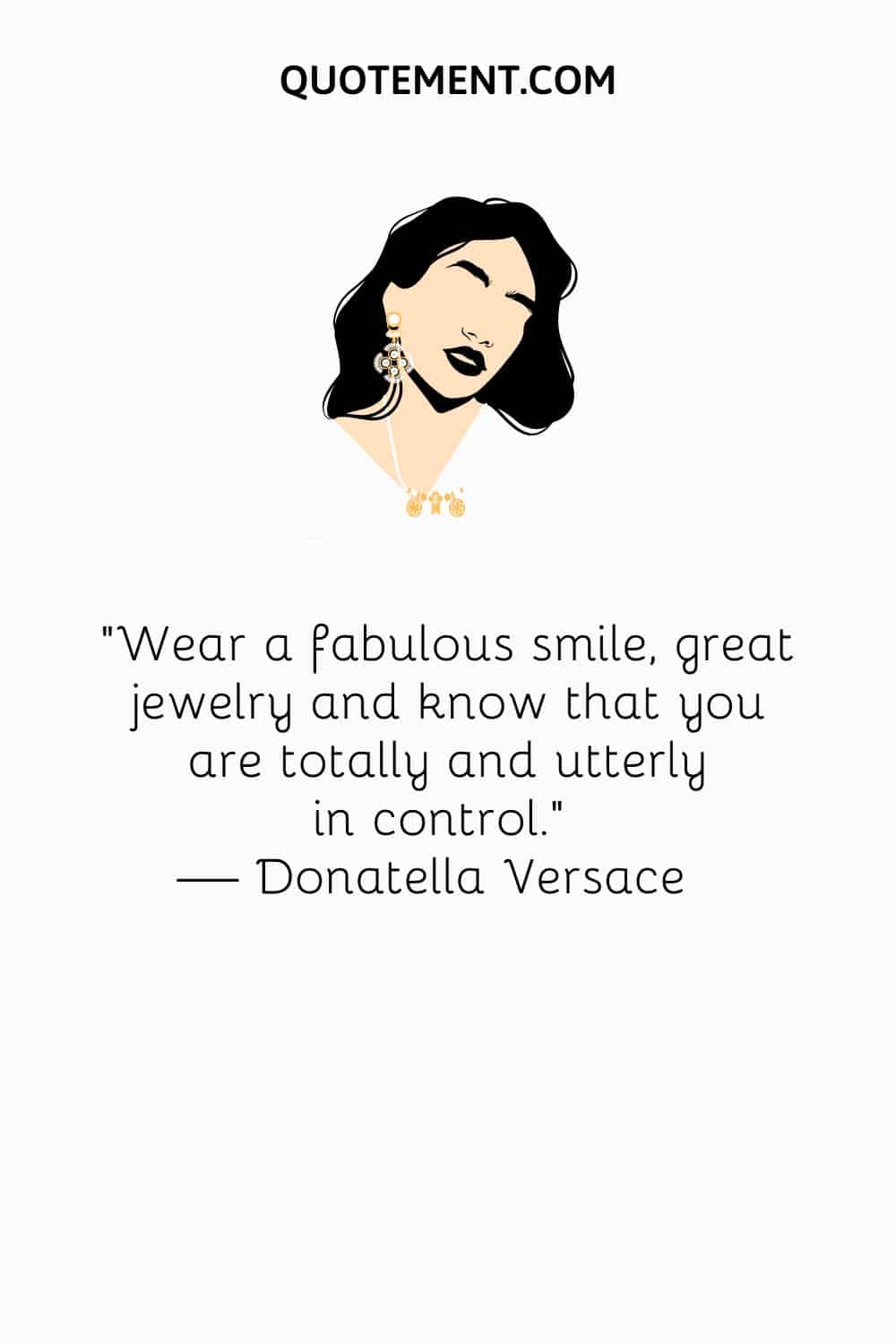 4. "My jewels represent an idea, first and foremost! I wanted to cover women with constellations." — Coco Chanel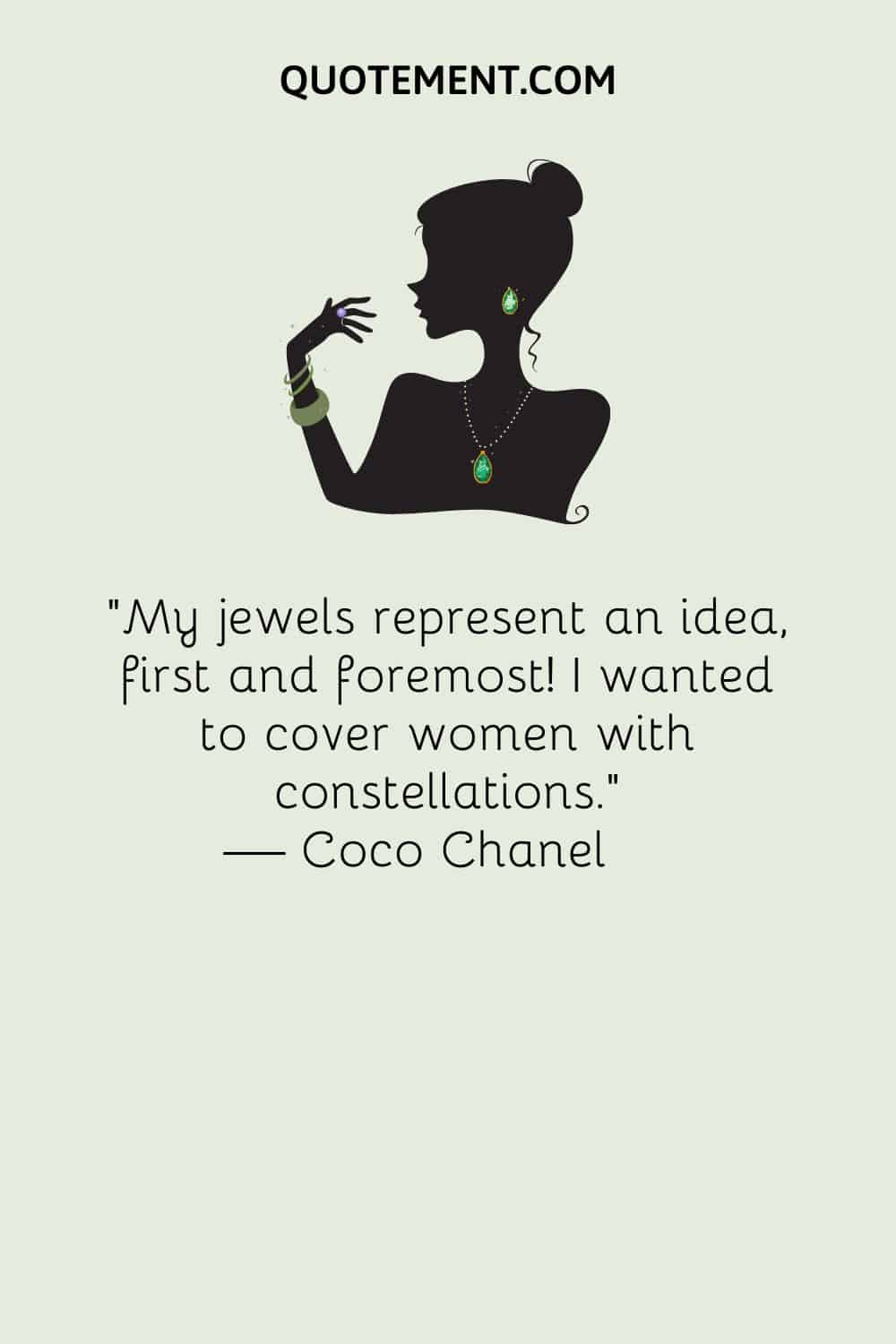 5. "Jewelry tells a story without even a single word – a non-verbal communication of style." — Michael Rosey West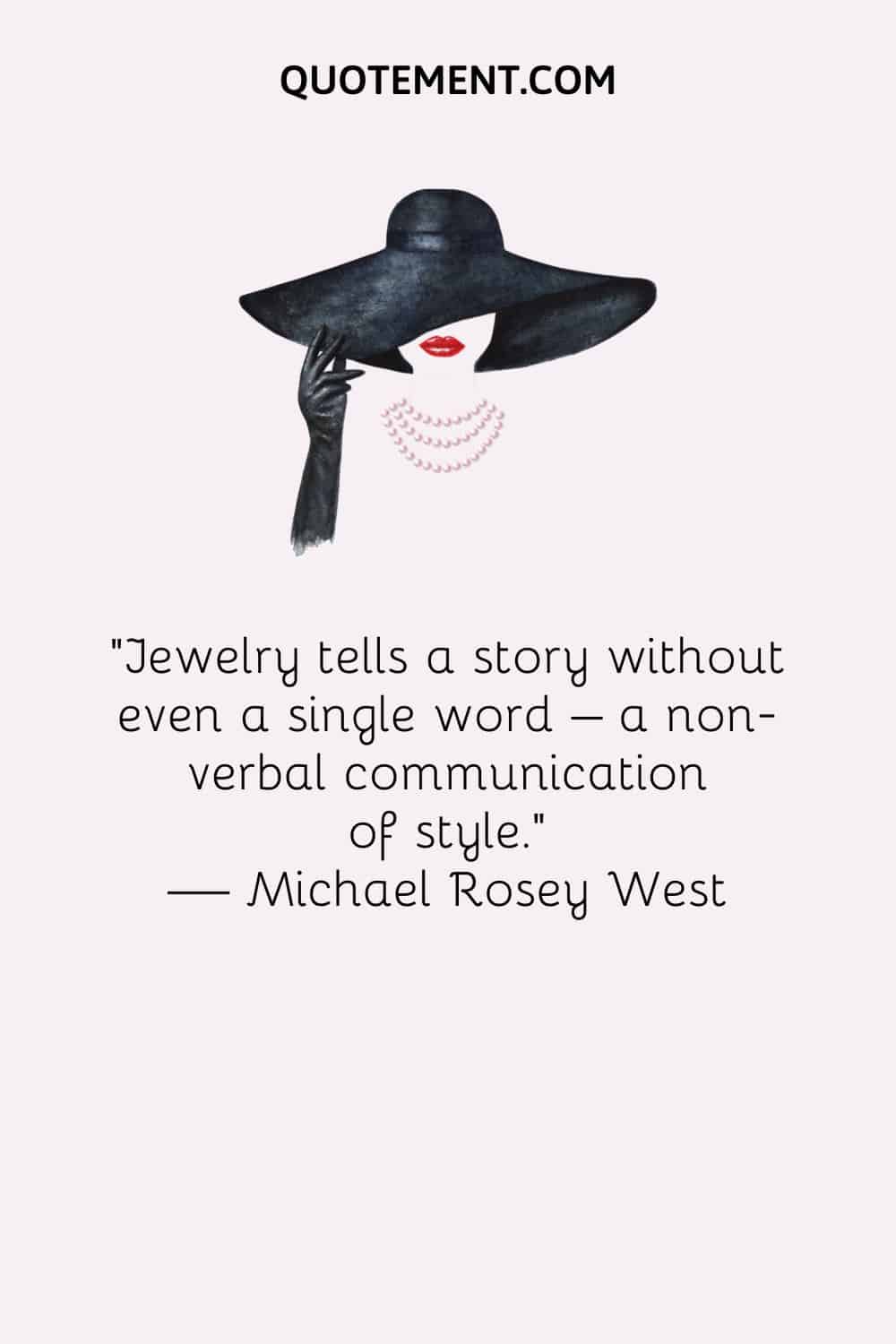 6. "The French are glad to die for love. They delight in fighting duels. But I prefer a man who lives… and gives expensive jewels." — Satine, Moulin Rouge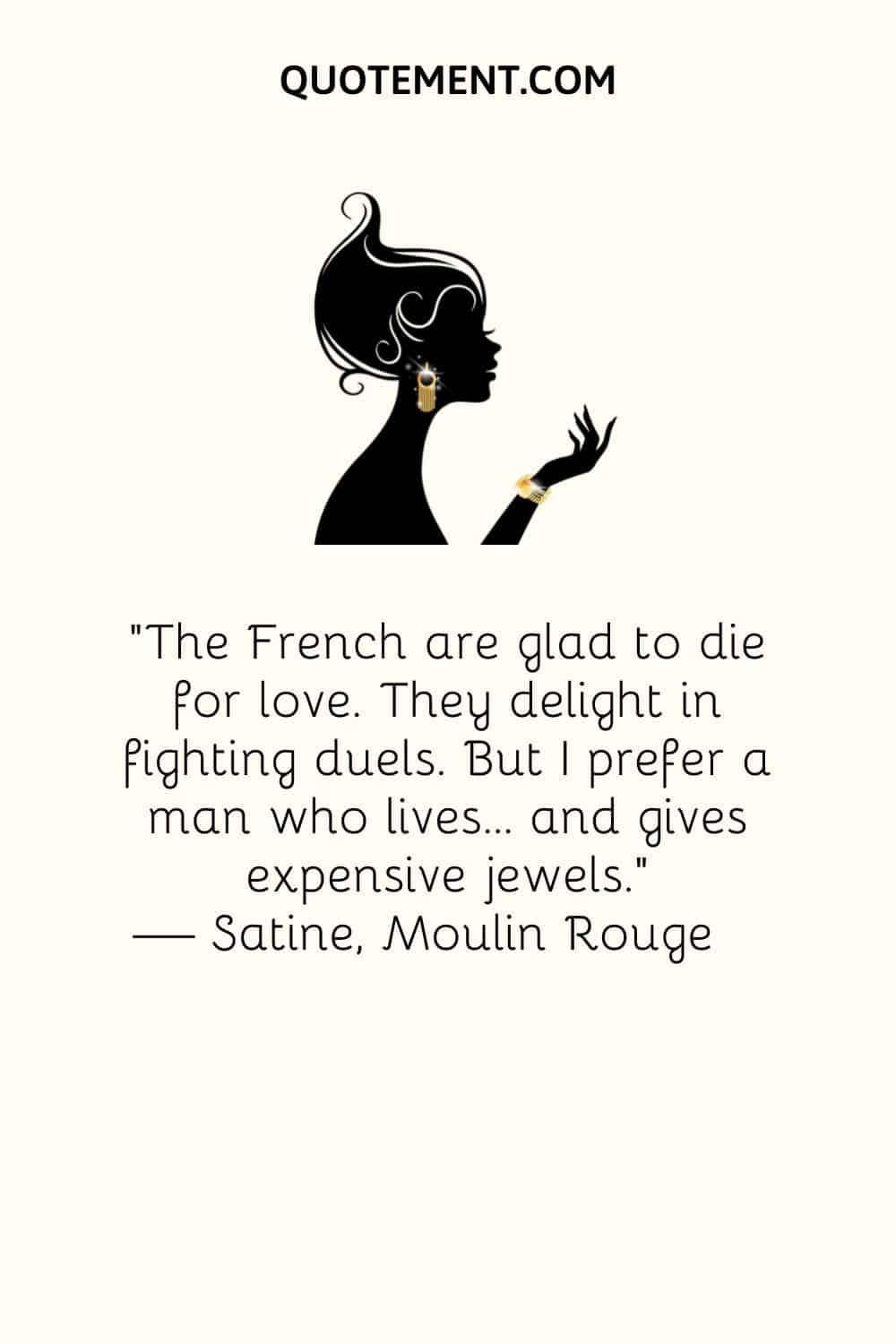 7. "Transformation, punch, individuality: One or all of the above are why you should wear jewelry." — Iris Apfel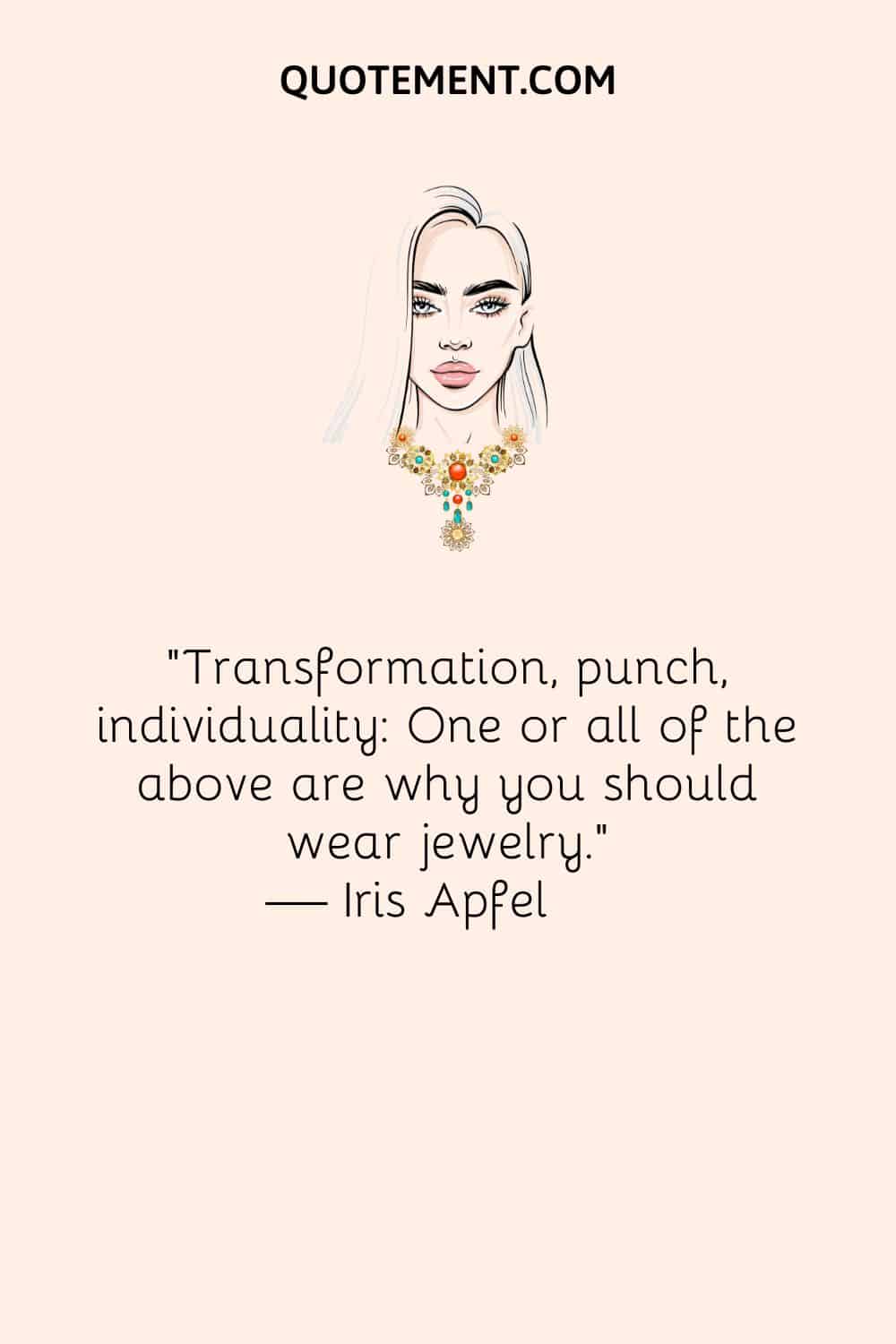 8. "Jewelry is like the perfect spice — it complements what's already there." — Diane Von Furstenberg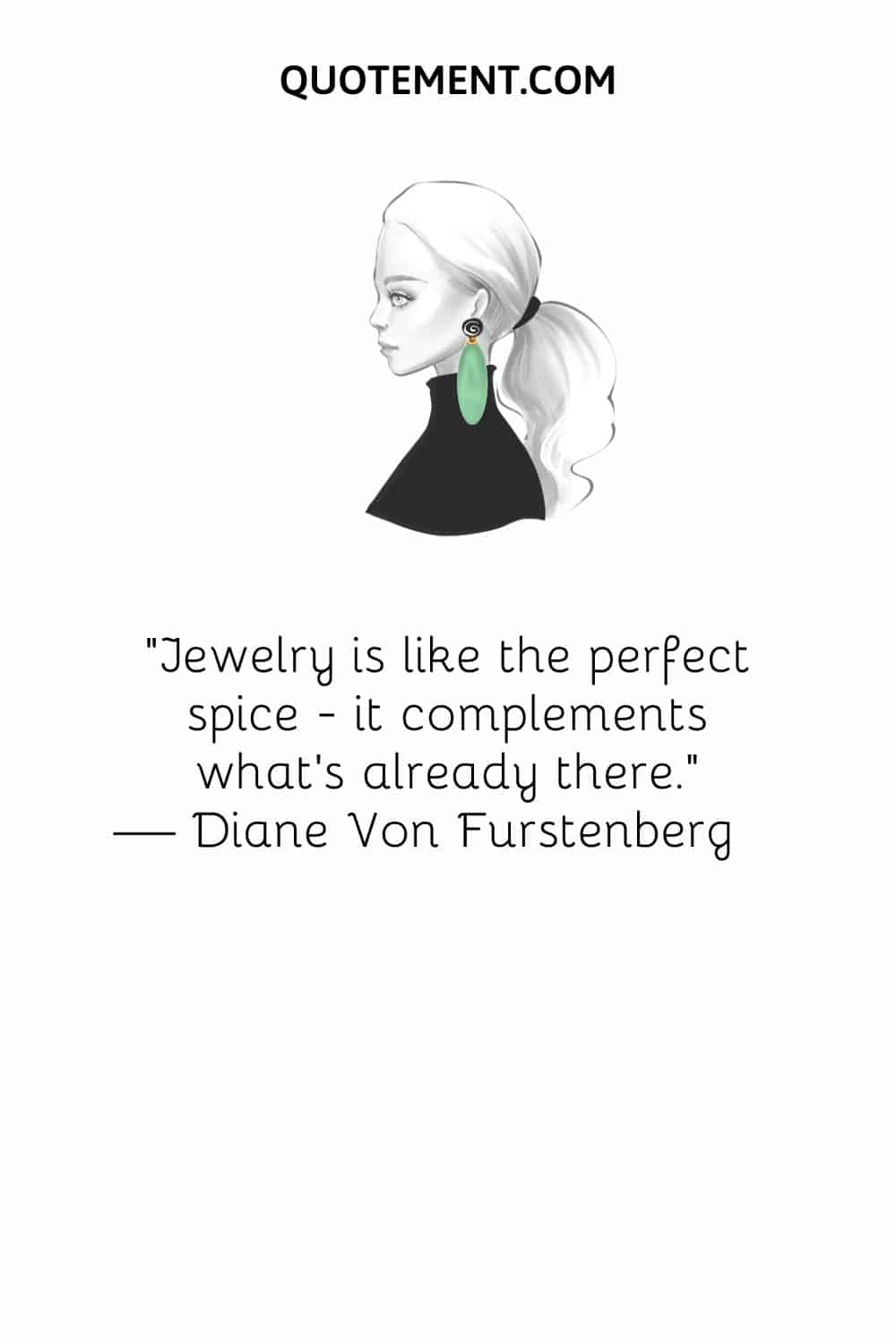 9. "Jewelry has the power to be this one little thing that can make you feel unique." — Jennie Kwon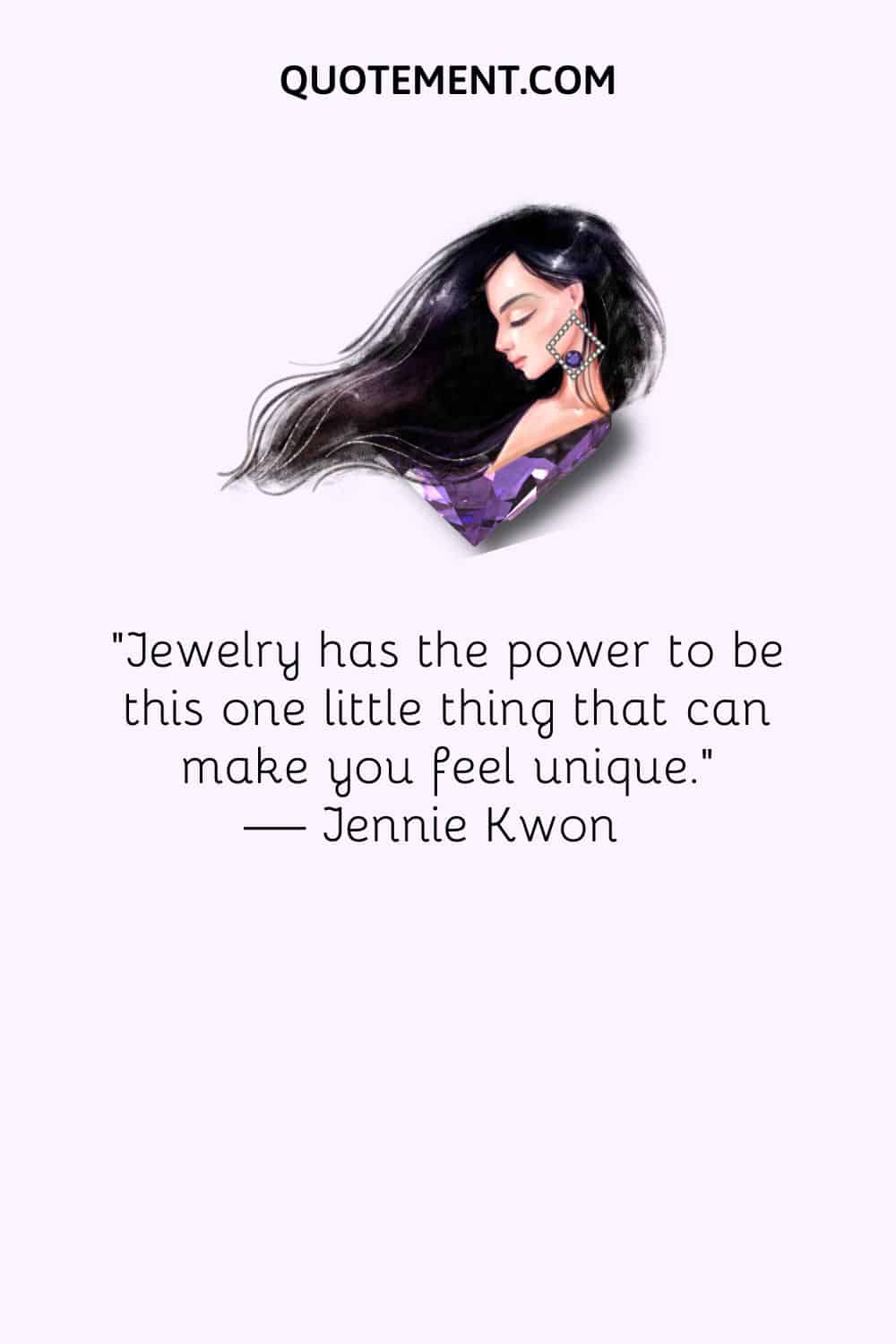 10. "The hues of the opal, the light of the diamond, are not to be seen if the eye is too near." — Ralph Waldo Emerson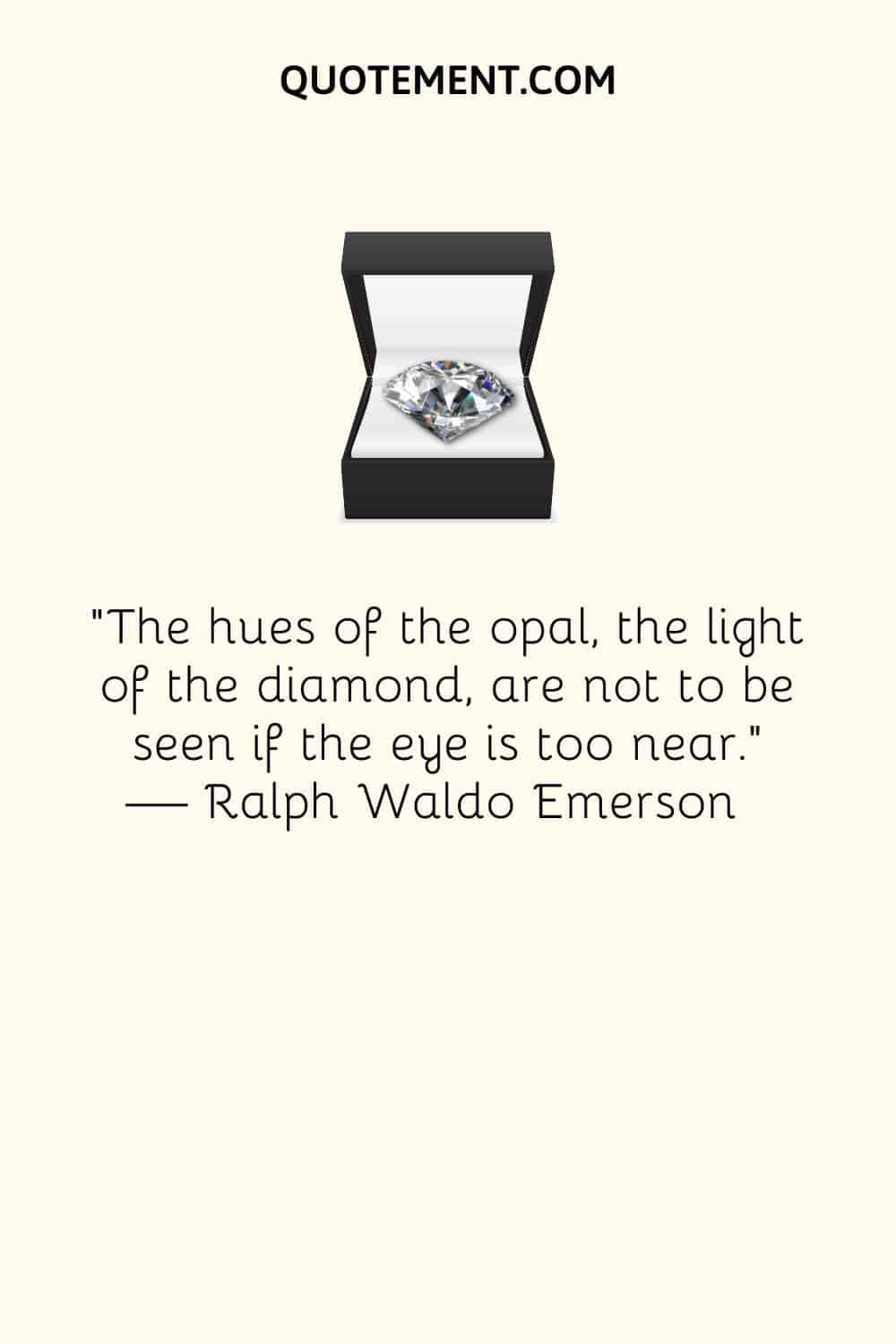 See also: List Of 140 Eye-opening Diamond Quotes To Check Out
Famous Jewelry Quotes
Next up is a list of famous jewelry quotes. Have a look!
1. "Jewelry is a treasure that lasts from one generation to another." — Dana Cheng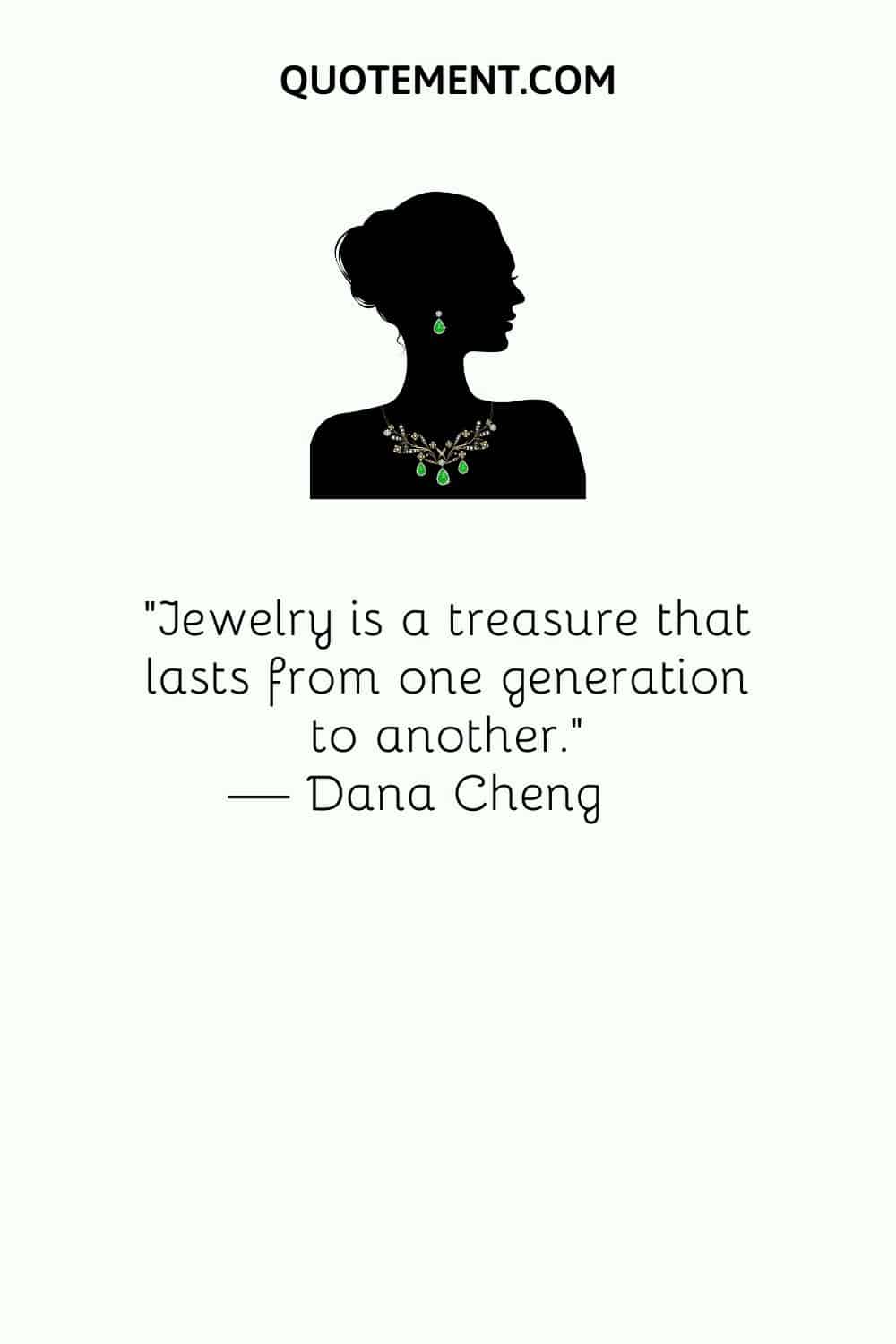 2. "Diamonds are a girl's best friend." — Marilyn Monroe
3. "Into every girl's life, a little diamond should fall." — Elizabeth Taylor
4. "A girl could never have too much jewelry or too much weaponry." — Laurell K. Hamilton
5. "I never worry about diets. The only carrots that interest me are the number you get in a diamond." — Mae West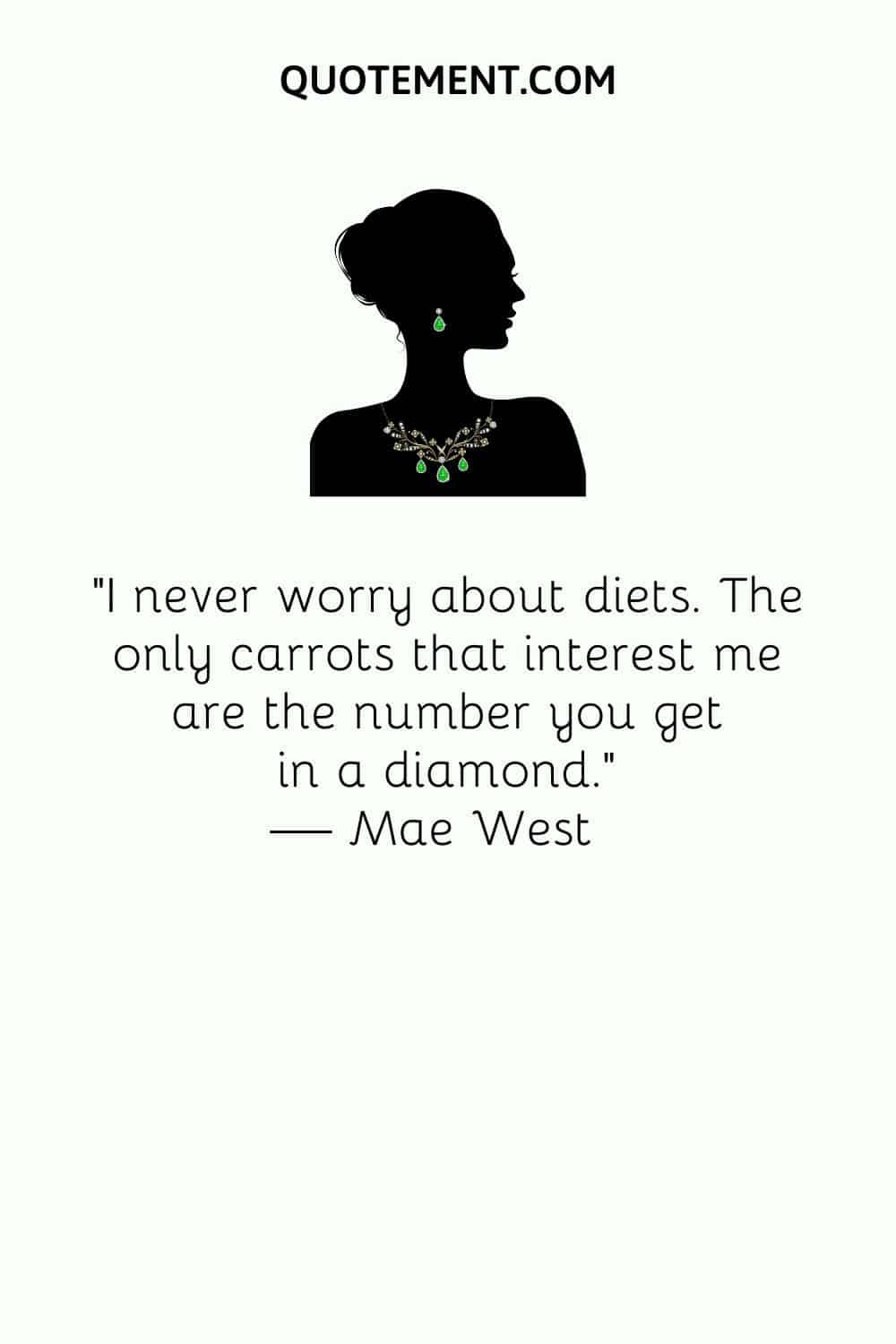 6. "The pearl is the queen of gems and the gem of queens." — Grace Kelly
7. "Women should not go without earrings. Passing on them is an opportunity missed." — Jennifer Lopez
8. "I love jewelry—rings, earrings, bracelets, necklaces, you name it." — Sofia Vergara
9. "I love jewelry—gold and diamonds. I'm a woman." — Monica Bellucci
10. "You can always tell the kind of person a man really thinks you are by the earrings he gives you." — Audrey Hepburn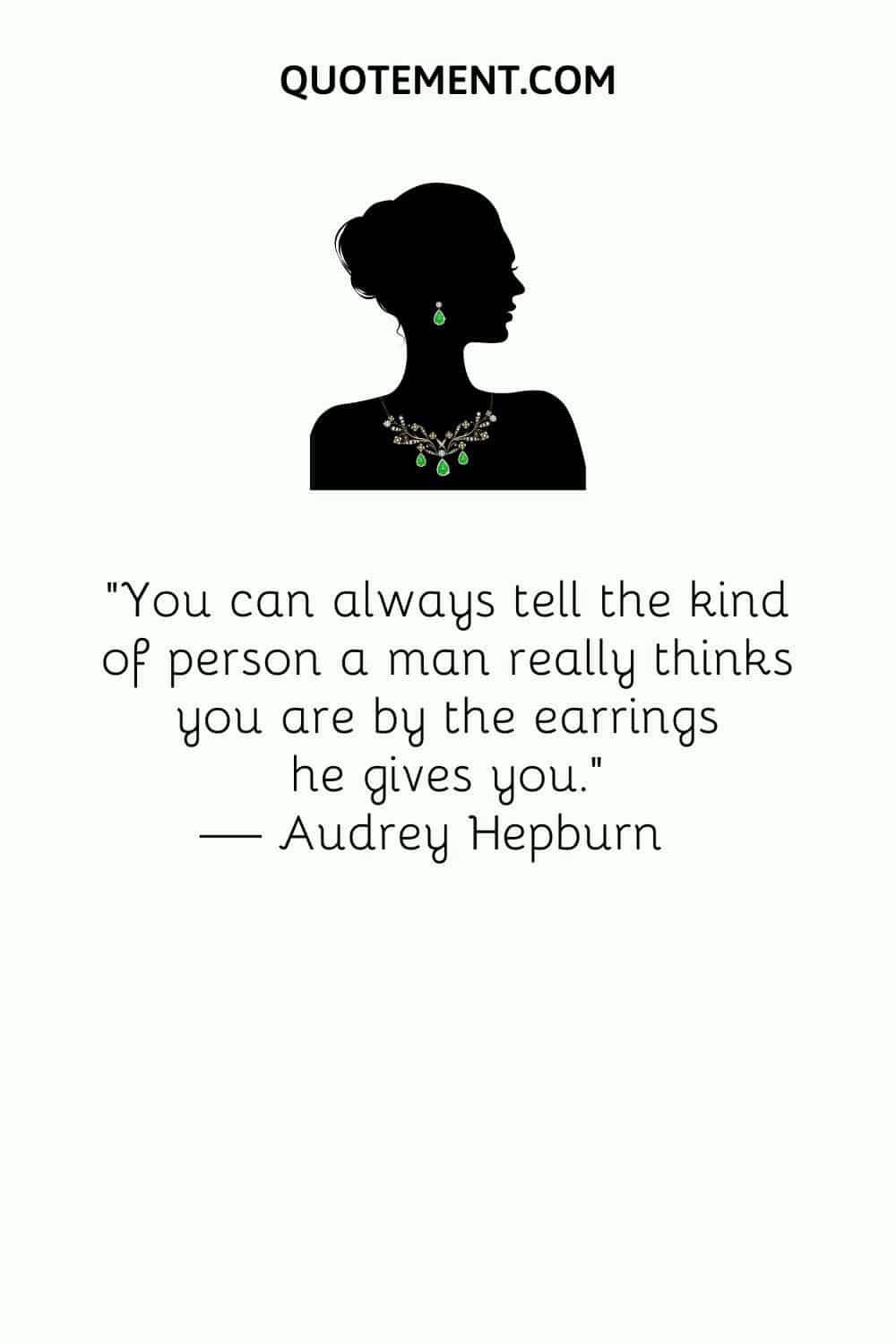 11. "What can I say about my jewelry? It speaks for itself." — Elsa Peretti
12. "Accessories are important and becoming more and more important every day. They can completely change the look of an outfit, and women like the idea of having a wardrobe that's versatile. For instance, a strong piece of jewelry can make a simple outfit look elegant." — Giorgio Armani
13. "For me accessories create and define a woman's personal style. The bag she carries, the watch on her wrist, her jewelry, her sunglasses, her shoes all define a look that is her signature. For Spring 2014, my accessory collections are about a clean, graphic boldness creating a new dimension redefining modern classics." — Ralph Lauren
14. "A woman needs ropes and ropes of pearls." — Coco Chanel
15. "Each gemstone needs to have something magical, an inner beauty that draws us in." — Victoria Wirth Reynolds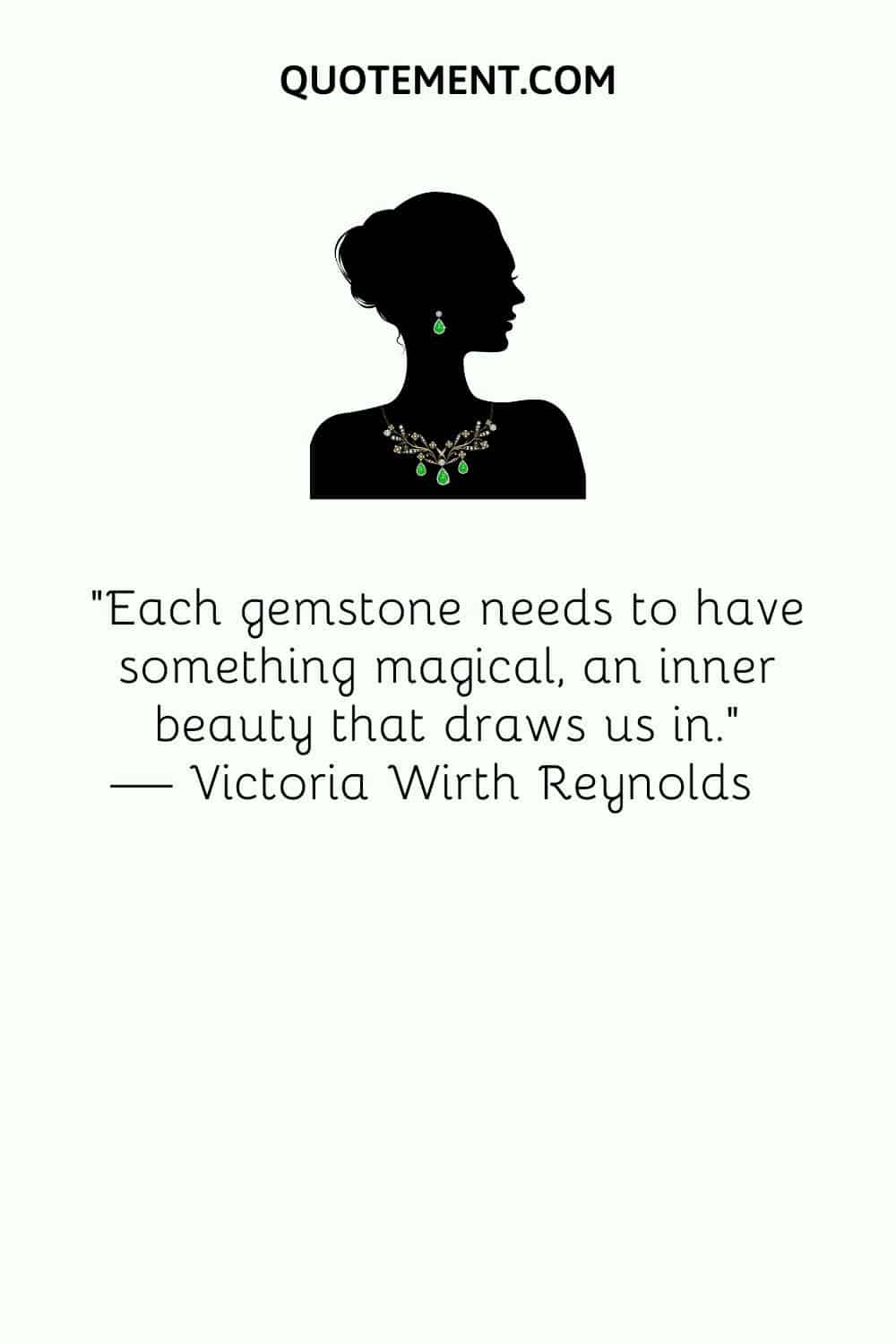 16. "I had much rather be adorned by beauty of character than by jewels. Jewels are the gift of fortune, character comes from within." — Plautus
17. "I have a very sentimental relationship with jewelry. I wear a few pieces and I wear them all the time." — Poppy Delevengene
18. "Jewelry and pins have been worn throughout history as symbols of power, sending messages. Interestingly enough, it was mostly men who wore the jewelry in various times, and obviously, crowns were part of signals that were being sent throughout history by people of rank." — Madeleine Albright
19. "A timeless piece of jewelry, like pearls or stud earrings, has lasting value. I bought a vintage ring for $600 with my first paycheck; I plan to pass it down to my daughter." — Ivanka Trump
20. "I have always felt a gift diamond shines so much better than one you buy for yourself." — Mae West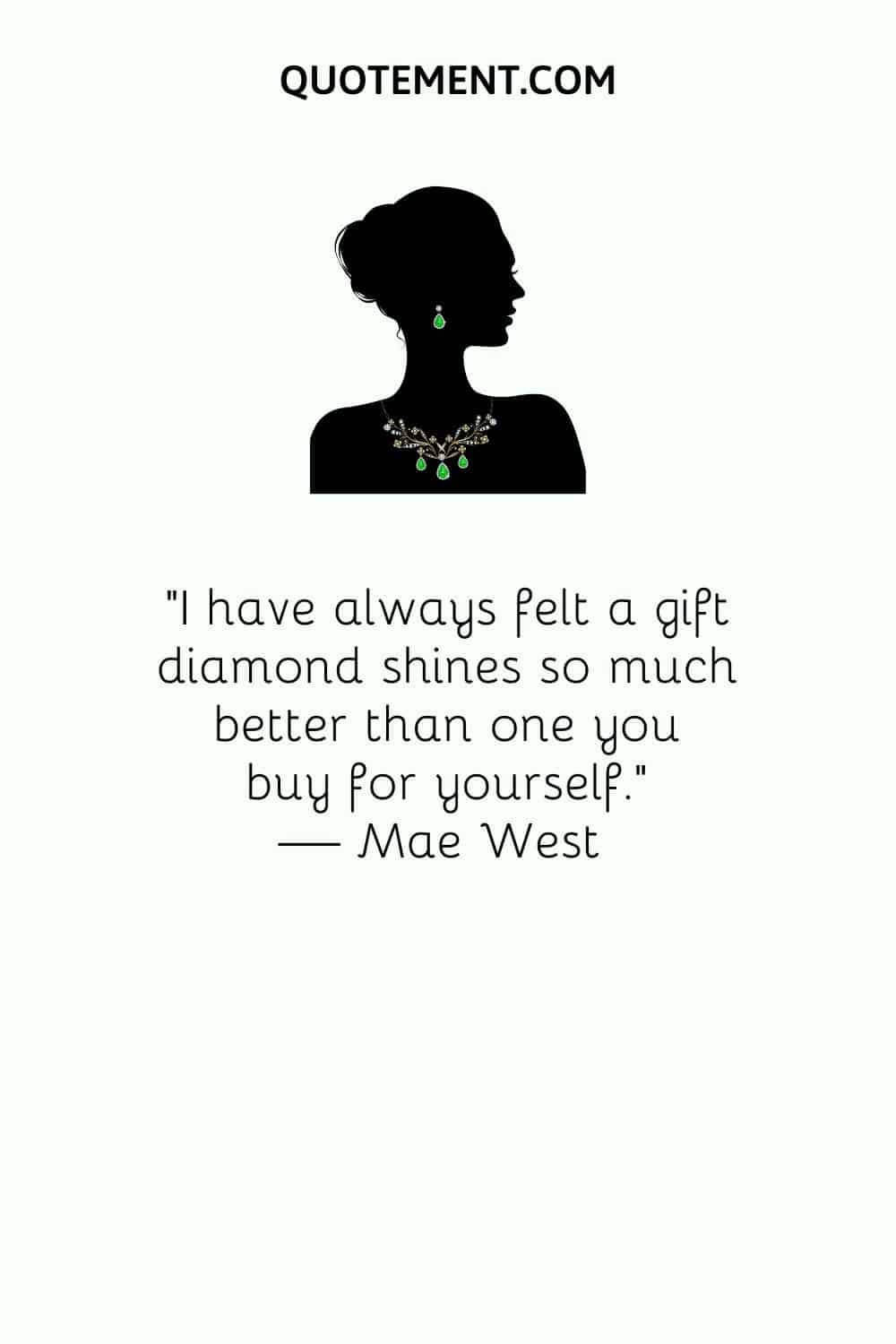 21. "I might not be flawless, but you know I got a diamond heart…" — Lady Gaga
22. "With short hair you begin to crave pearl necklaces, long earrings, and a variety of sunglasses. Short hair removes obvious femininity and replaces it with style." — Joan Juliet Buck
23. "I like jewelry. Big rings, big necklaces. Shoes, belts, luggage." — Janel Parrish
24. "If I were a woman, I would wear the same dress for a month and only change my hat and gloves. Maybe the shoes too. Although in reality are the jewels that modify an outfit." — Manolo Blahnik
25. "Jewels are, as all art forms are, the mirror of their time." — Amanda Triossi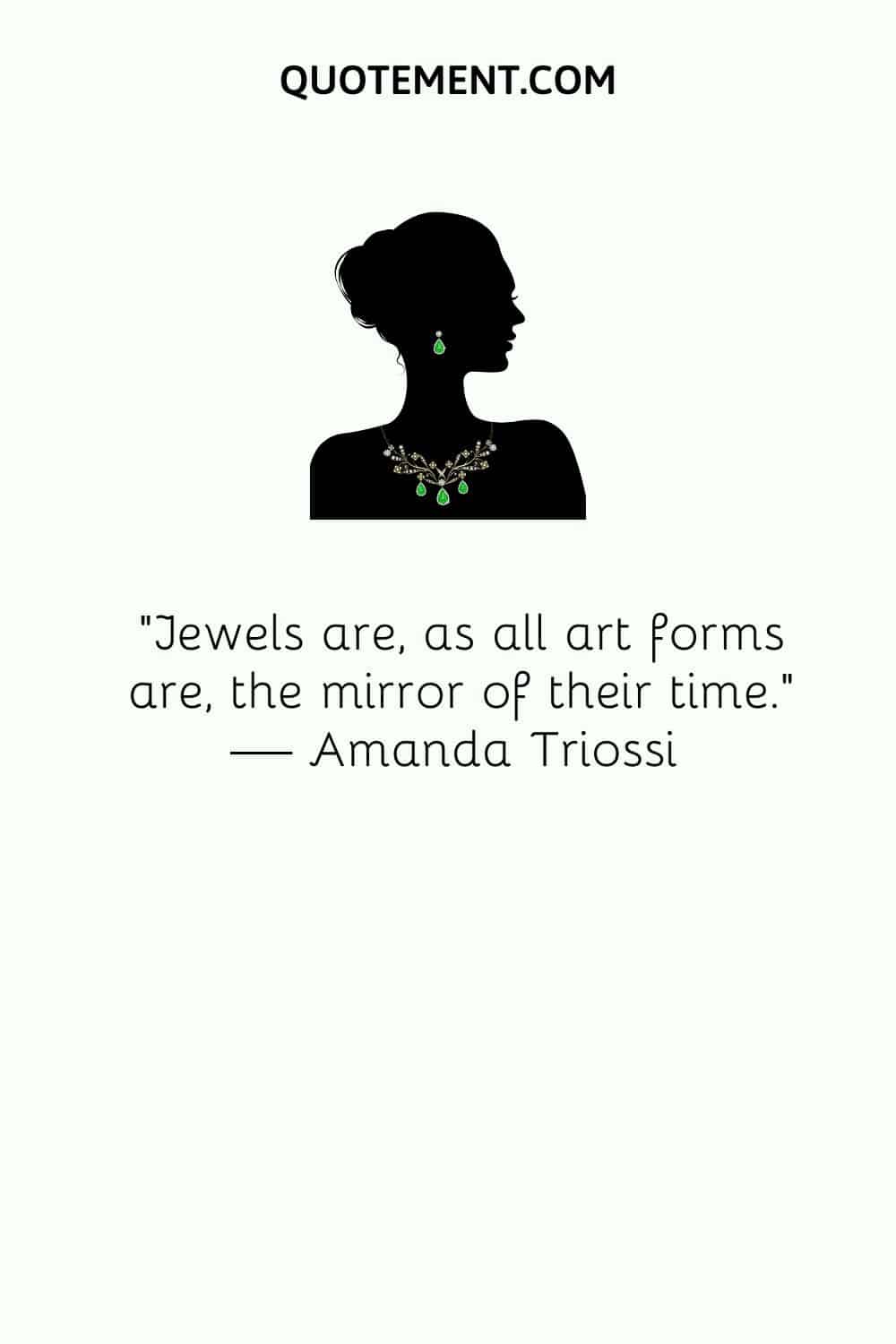 See also: 120 Inspirational Art Quotes To Awaken The Divine In You
Catchy Jewelry Quotes
Don't miss these catchy jewelry quotes below.
1. "Jewelry is something that has to do with emotion. That aspect of jewelry really interests me." — Ann Demeulemeester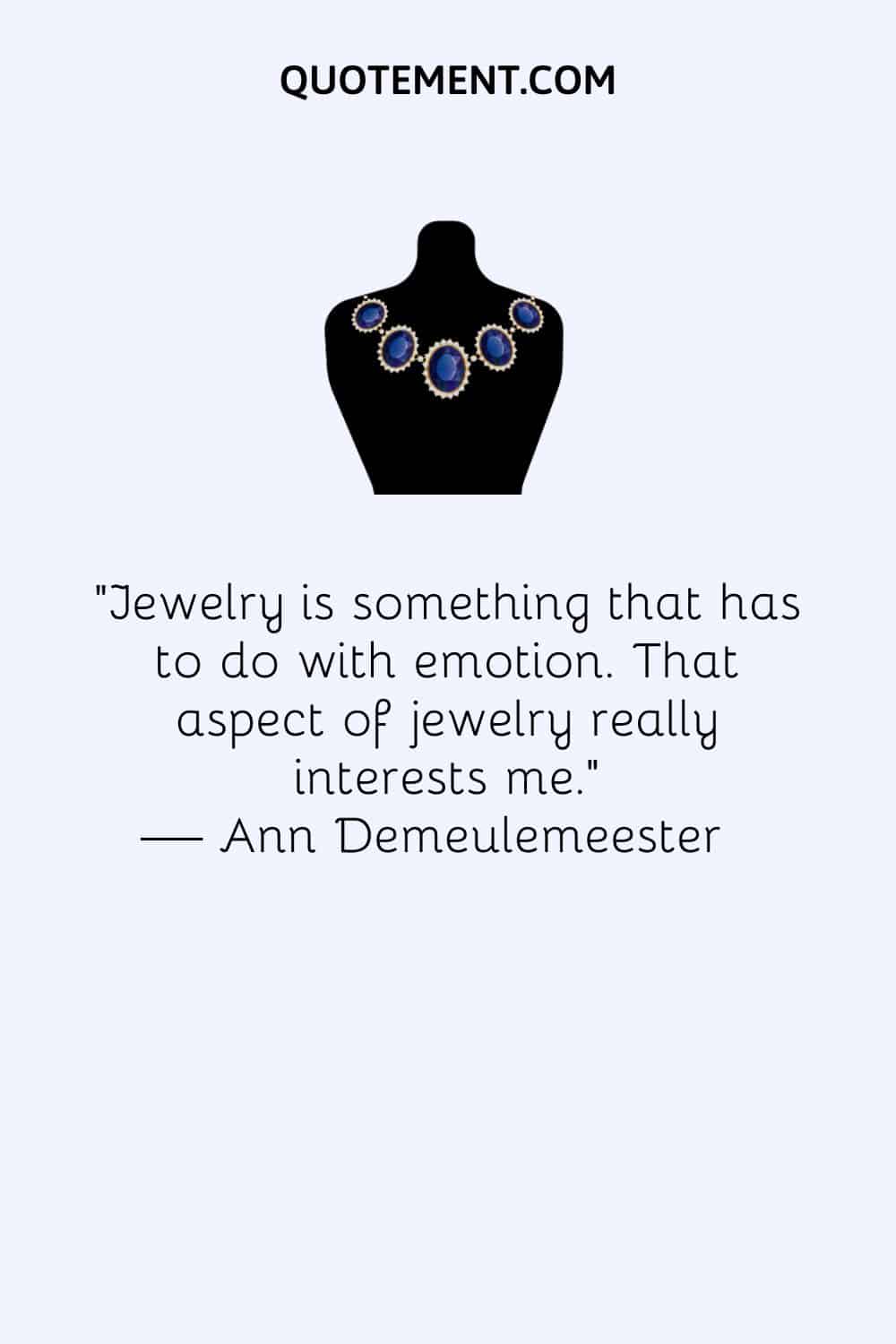 2. "My dream is to adorn the neck of all women around the world with pearls." — Kokichi Mikimoto
3. "Your jewelry introduces you before you speak." — Madison Gem
4. "Above all, jewels are symbols of love." — Judith Miller
5. "The rarest things in the world, next to a spirit of discernment, are diamonds and pearls." — Jean de la Bruyere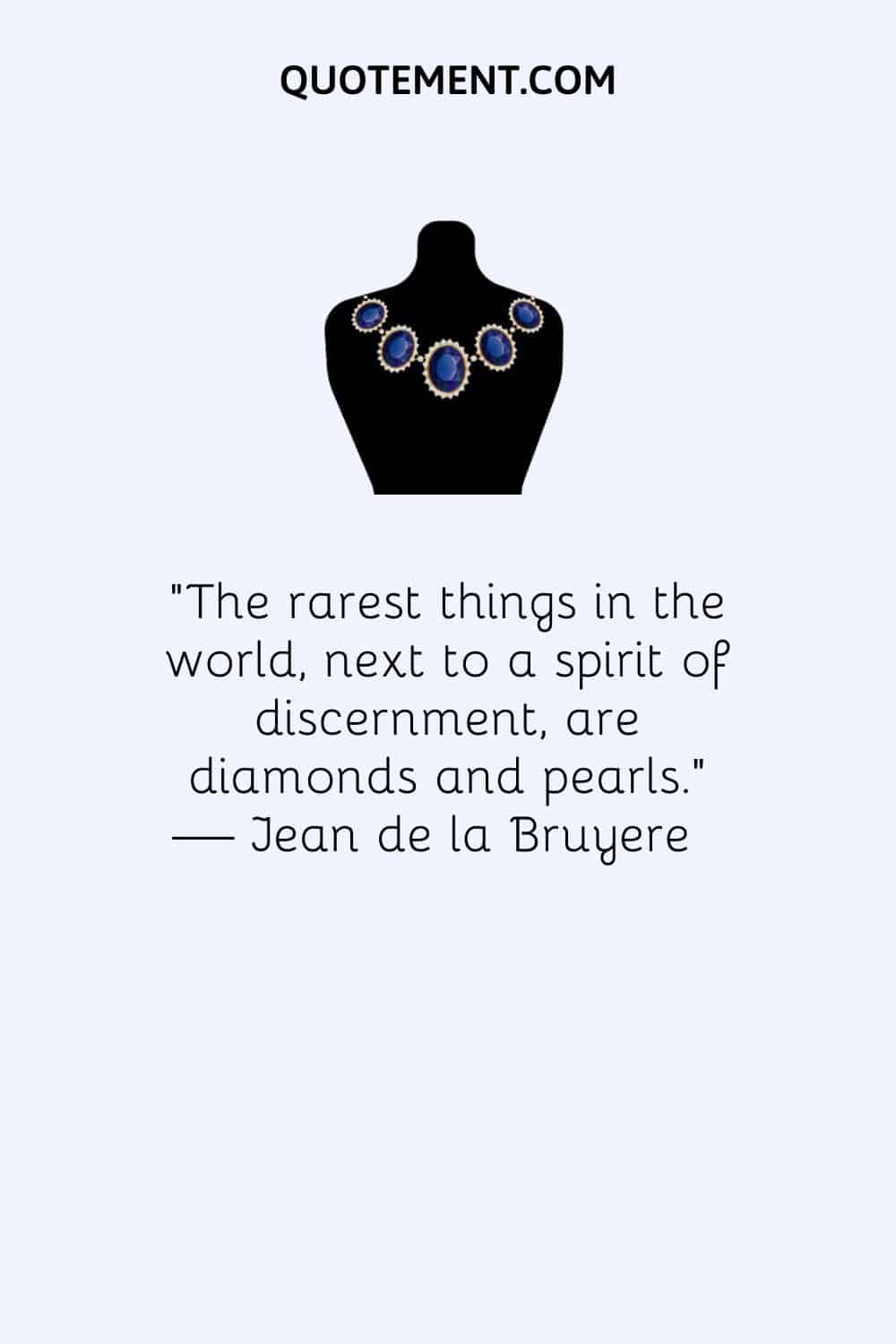 6. "Jewelry isn't a necessity, but sometimes it can bring out my fashion. Sometimes if I'm wearing very dark clothes, like darker colored, black, anything like that, and I put white jewelry on top, it look crazy because it's like, the contrast of the diamonds and the dark clothes." — Roddy Ricch
7. "An outfit is not complete without jewelry. It's what takes the mundane to the sophisticated, adding a touch of sparkle to the everyday." — Emily Kuvin
8. "These gems have life in them: their colors speak, say what words fail of." — George Elliot
9. "When we strip away the clothes, the jewelry, that's who we really are. I walk around naked in my house." — Leonor Varela
10. "I don't find you need to wear jewelry for others but for your own pleasure. It feels wonderful." — Carolina Herrera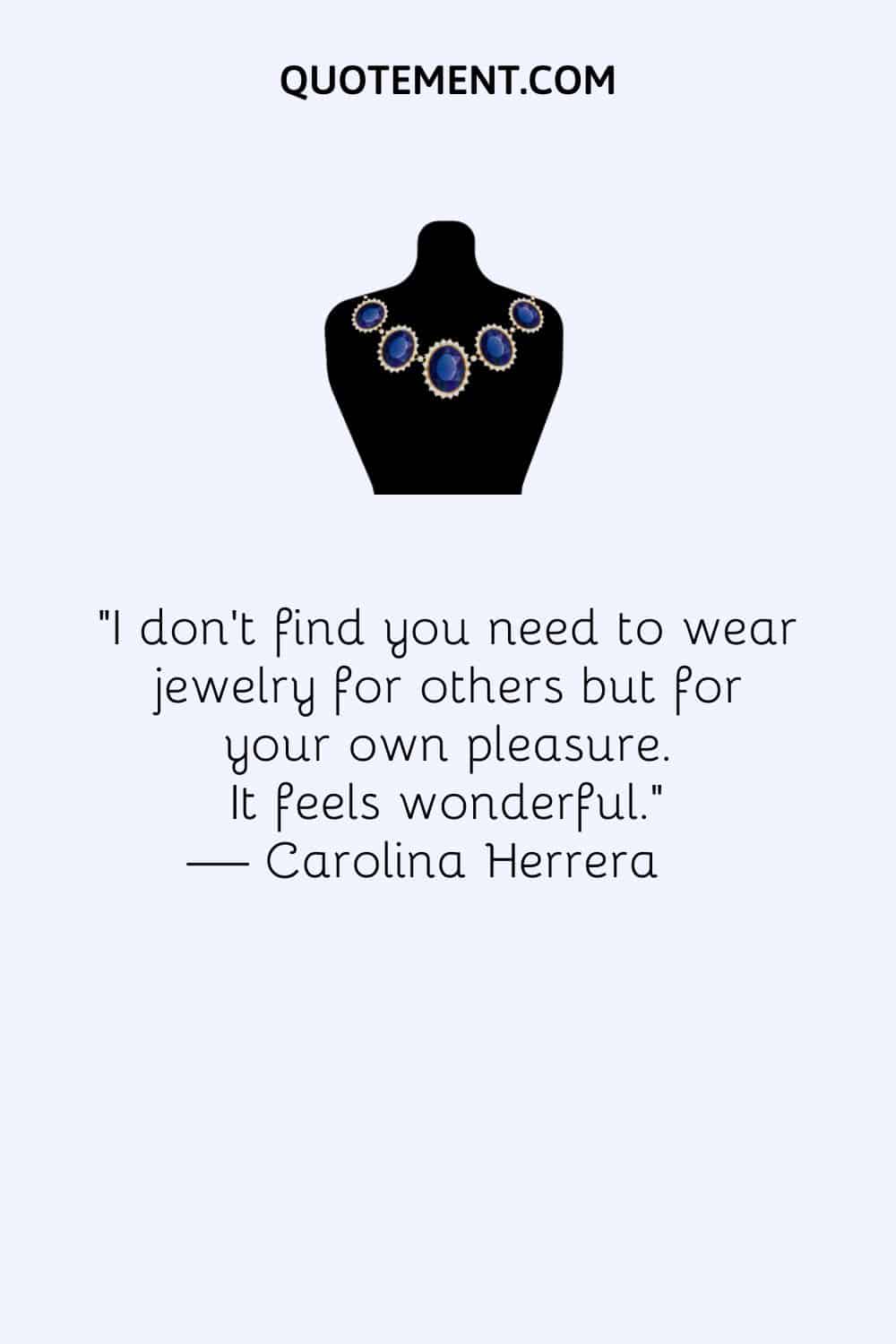 11. "My inspiration is always love and history, and my passion to a fault is craftsmanship and responsibility. Those are the simplest things. It goes beyond jewelry. It's every part of my life." — Waris Ahluwalia
12. "Cheap jewelry, however, is worse than no jewelry at all, and there are very few things in life that are worse than no jewelry at all." ― Jill Conner Browne
13. "I see bold accessories as a woman's armor." — Rachel Zoe
14. "Jewelry should not upstage you. I pick one hot point on my body that I'm going to highlight. Let one area do the singing – you don't want to hear three songs at once." ~ Padma Lakshmi
15. "The only real elegance is in the mind; if you've got that, the rest really comes from it." — Diana Vreeland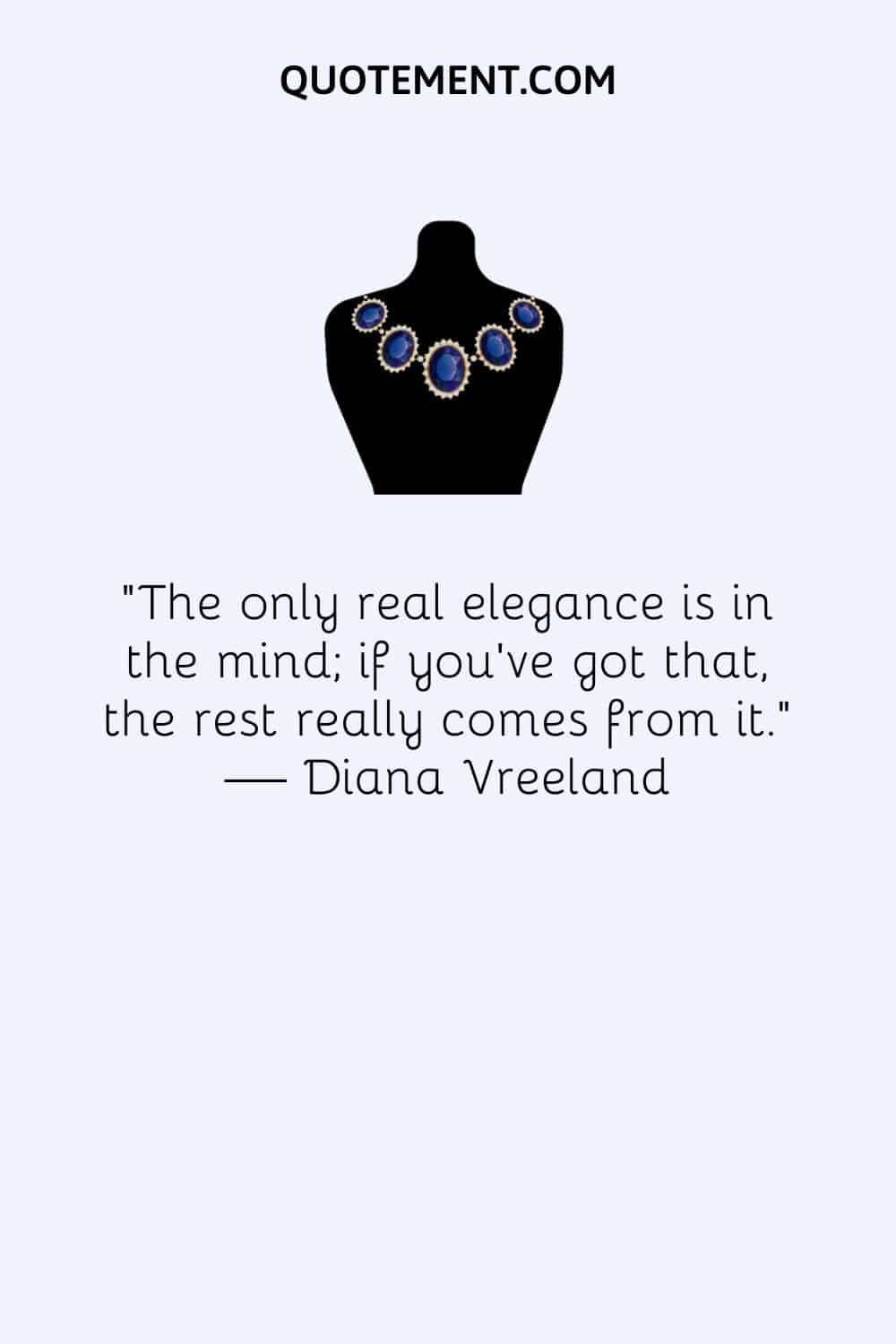 16. "I really think that American gentlemen are the best after all, because kissing your hand may make you feel very good, but a diamond and a sapphire bracelet lasts forever." — Anita Loos
17. "I'd rather wear jewels in my hair than anywhere else. The face should have the advantage of this brilliance." ― Hedy Lamarr
18. "Pearls are always appropriate." — Jacky Kennedy
19. "Layering is the best way to express yourself through jewelry; each piece makes a statement, each piece has its story, and if curated and layered well, it can enhance your look and make sure you stand out." — Masaba Gupta
20. "Beauty is who you are. Jewelry is simply the icing on the cake." — Misty Burgess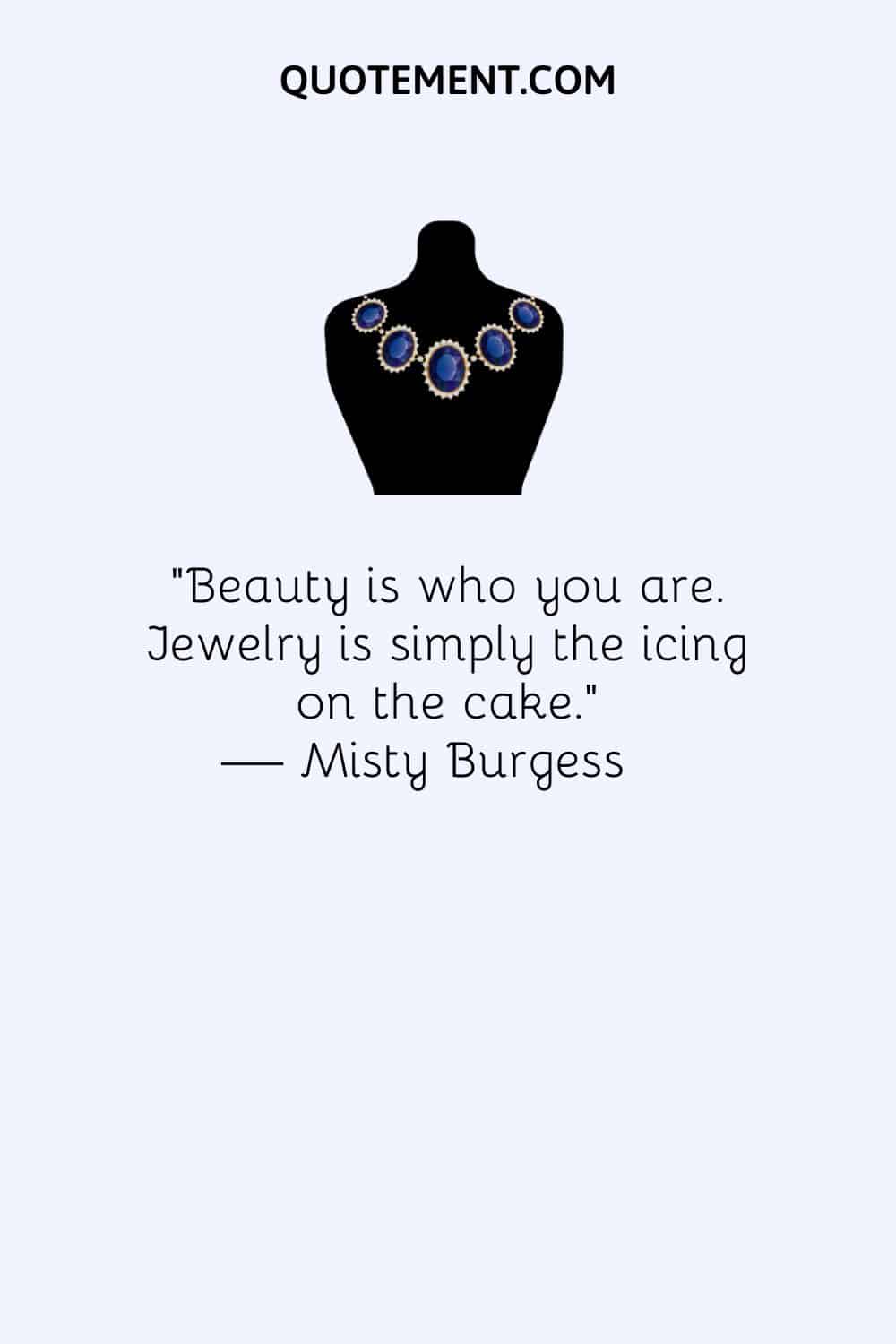 21. "A colorful body with fabrics, tattoos and jewelry is attractive, but a colorful heart with love, truth and faith is beautiful." ― Anthony Liccione
22. "Jewelry is eternal, it never goes out of fashion it will always be there." — Kate Moss
23. "Why fit in when you were born to stand out?" — Anna Wintour
24. "Fine jewelry reflects a prestigious taste in quality preferences." ― Wayne Chirisa
25. "I treat clothing or a piece of jewelry like it was a piece of art, even though people who collect clothes get a bad rap because they're told it's all vanity." — Daphne Guinness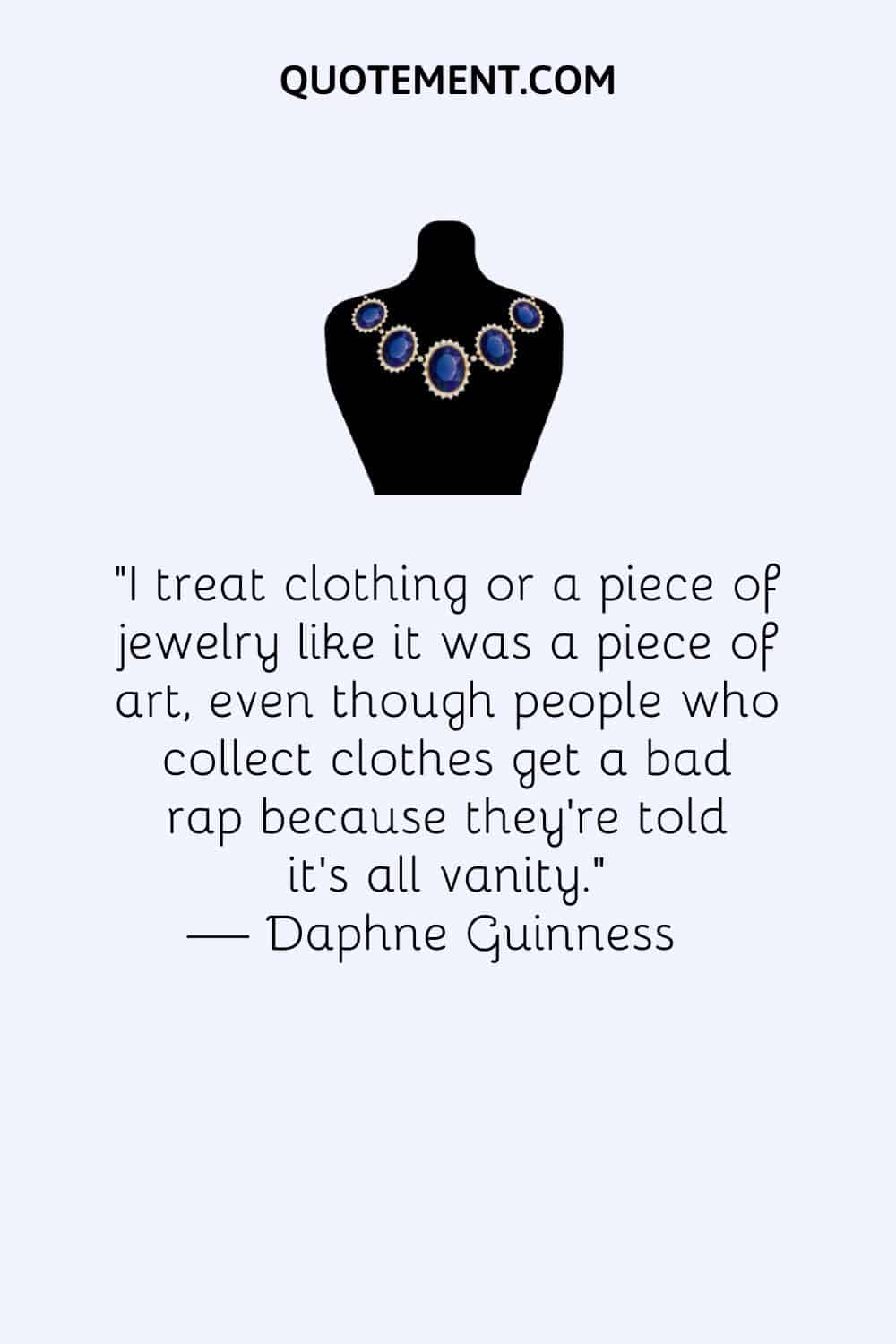 26. "Jewelry has always been so serious, so traditional, and when you speak surreal, you speak the language of freedom, of dreams." — Delfina Delettrez
27. "I dislike the idea of jewelry being like a price tag around someone's neck. It needs to be something else – and there is something extremely magical about armor." — Daphne Guinness
28. "You're not fully dressed until a piece of jewelry adds some sparkle to it." — Unknown
29. "Jewelry lends itself to abstraction and randomness, much more than clothing." — Faris Du Graf
30. "I wear girls' jeans, a lot of black, and I wear a lot of jewelry. I'm a wacky person." — Jamie Blackley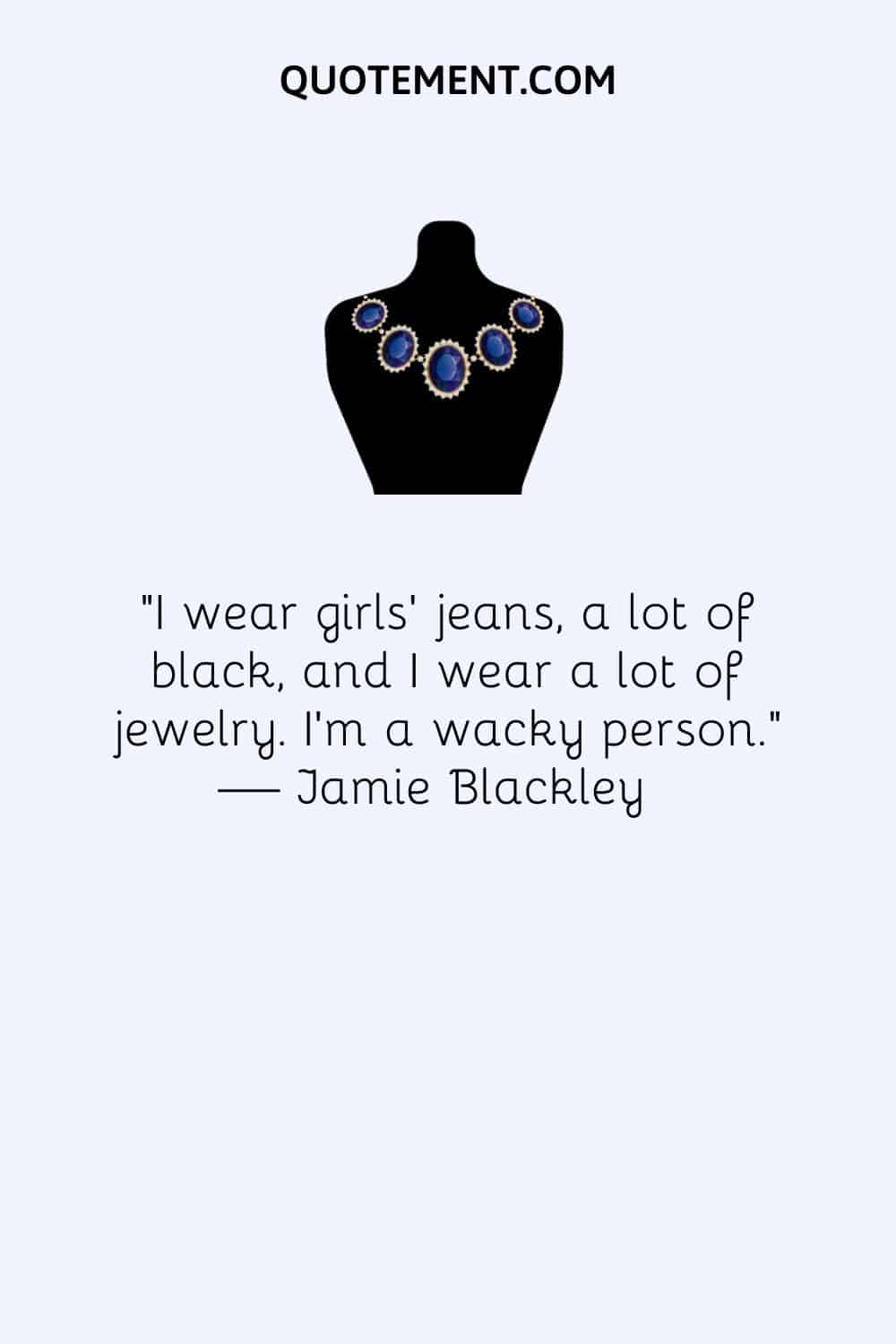 See also: 110 Wearing Black Quotes To Inspire You To Go All Black
Inspiring Jewelry Quotes
Here are some of the most inspiring jewelry quotes ever.
1. "I think part of the beauty of our relationship with jewelry is that it can change and evolve as we do ourselves." — Erika Christensen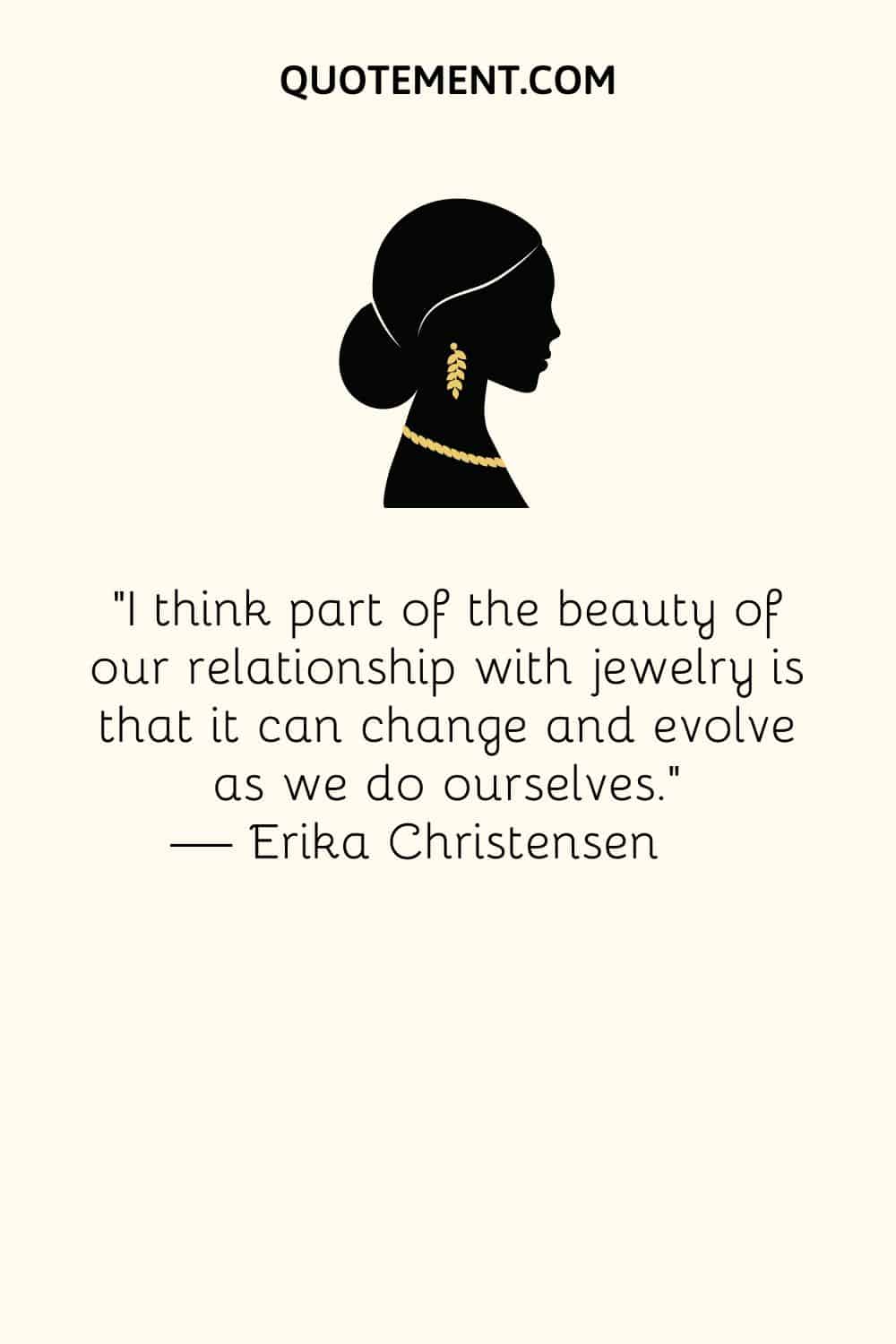 2. "A woman without jewelry is like a night without stars." — Henry Swen
3. "Giving jewelry to someone is personal. It says "I celebrate and value you" and "this beautiful thing made me think o you"." — Emily Kuvin
4. "Emerald as heavy as a golf course, ruby as dark as an afterbirth, diamond as white as sun on the sea." — Anne Sexton
5. "It's not what you have on the outside that glitters in light, it's what you have on the inside that shines in the dark." ― Anthony Liccione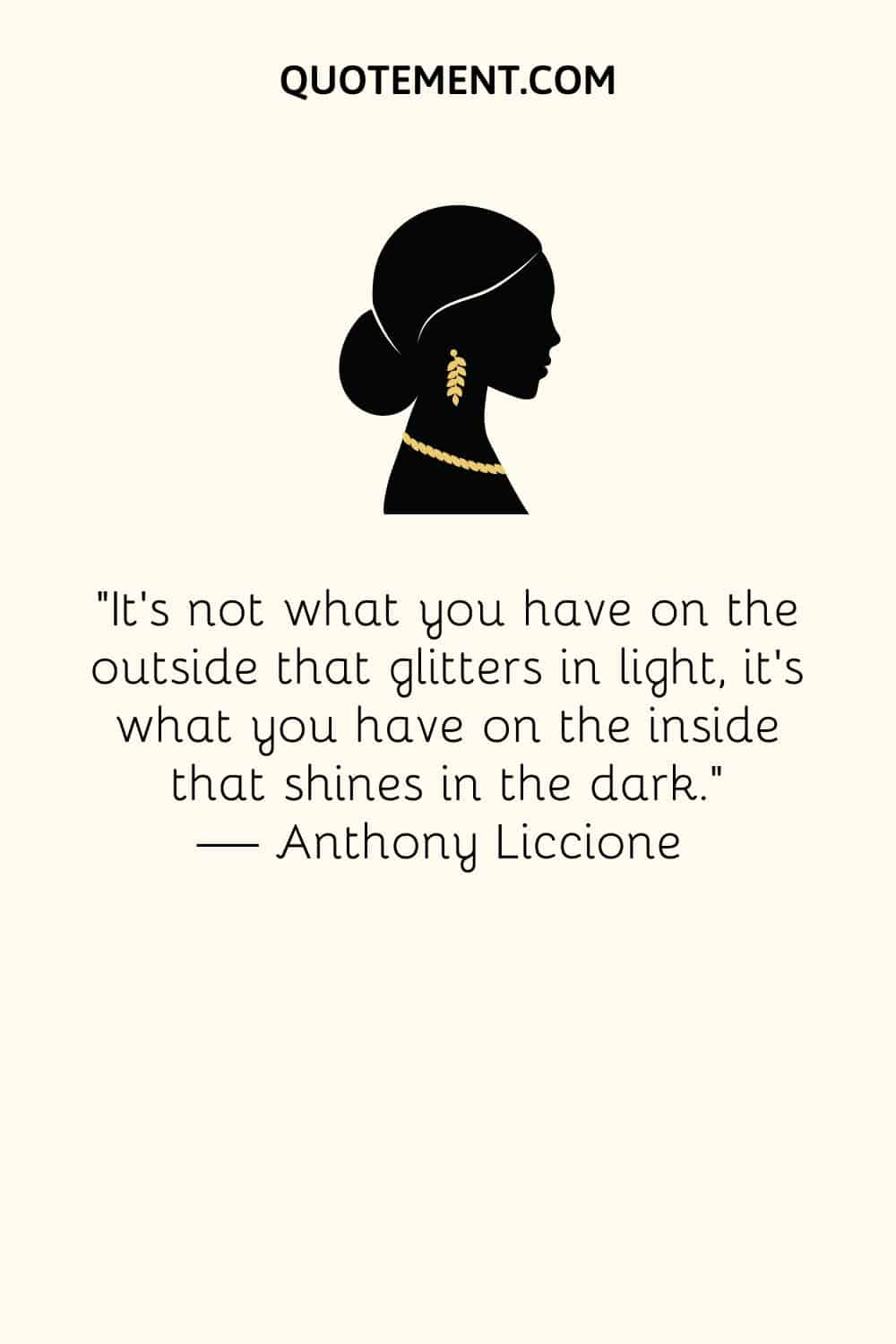 6. "I like different statement jewelry, especially around the ears." — Kat Graham
7. "We must buy jewelry; it identifies us with our tribe, just as body piercing identifies those of a different tribe." — Paulo Coelho
8. "What strikes the oyster shell, doesn't damage the pearl." — Rumi
9. "When you're wearing a diamond you're getting so much energy from the Earth. You're putting something on your body that's been around for a billion years." — Lorraine Schwartz
10. "Jewelry is a very personal thing… it should tell a story about the person who's wearing it." — Garance Daré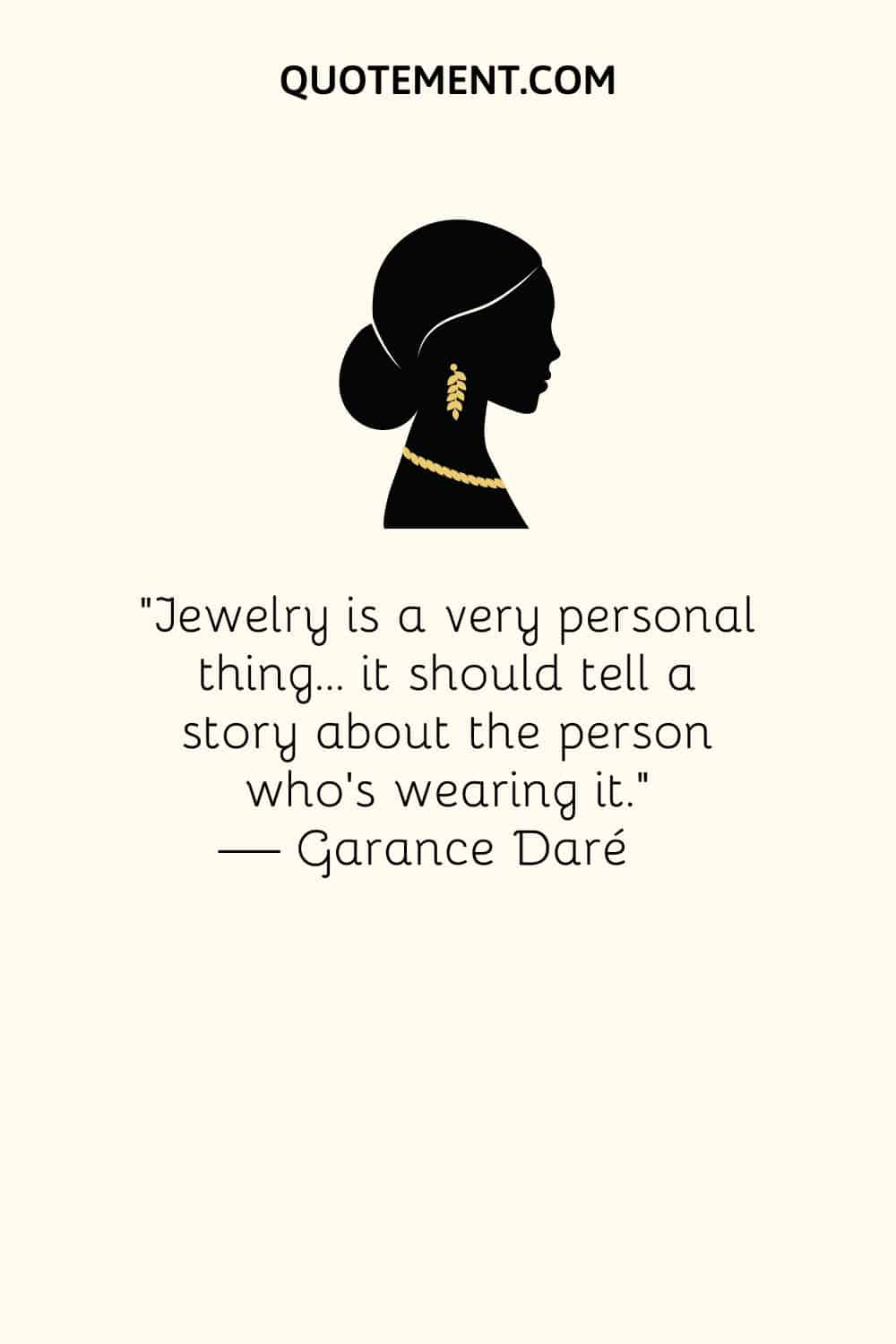 11. "I'm very simplistic. I like jewelry that is small, that is a statement piece but with a delicate statement." — Cobie Smulders
12. "I've decided that I am totally against jewelry. So I have all fake. There's no reason to have real diamonds. People think it's real anyway." — Liza Minnelli
13. "When I give my jewelry as a present, I feel like I'm giving protection to someone I care about… I've given pieces to my mom, my aunts, my friends. I've even made bracelets for my dad and my uncle." — Sofia Boutella
14. "If you don't know jewelry, know the jeweler." — Warren Buffett
15. "The difference between false memories and true ones is the same as for jewels: it is always the false ones that look the most real, the most brilliant." — Salvador Dali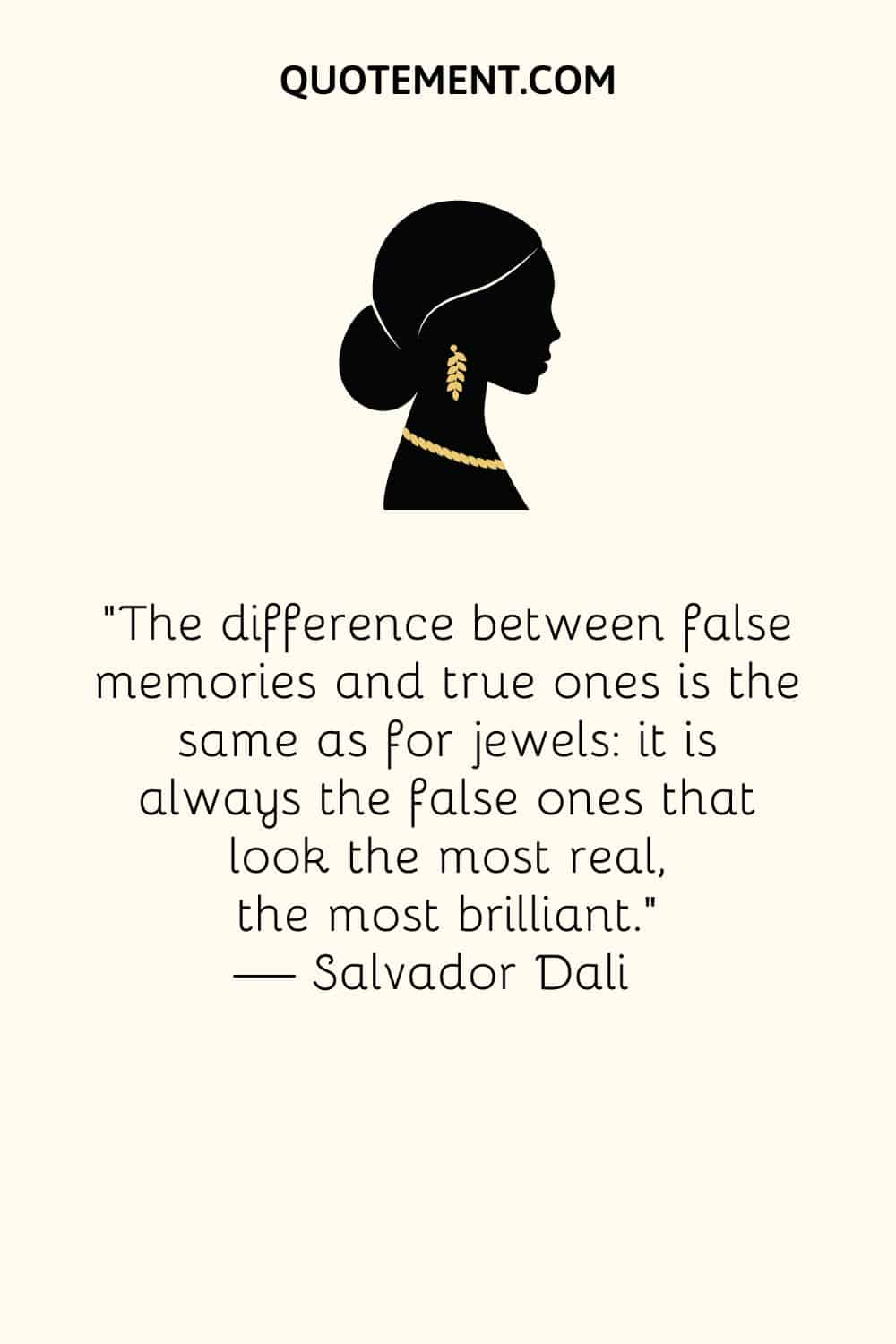 16. "I've never thought of my jewelry as trophies. I'm here to take care of it and to love it, for we are only temporary custodians of beauty." — Elizabeth Taylor
17. "I always wear the same thing at home. I can't be bothered with jewelry. My pants have elastic waists. I like to be comfortable. There are so many more important things to worry about." — Barbra Streisand
18. "Sometimes jewelry is at its most formidable when it does not rest upon the body at all." — Melanie Holcomb
19. "Jewelry adds richness, another layer in the storytelling. Think of Elizabeth Taylor and Jackie Kennedy. Jewelry can make moments iconic." — Kelly Framel
20. "A beautiful woman needs no embellishments. But a prideful man may give them to her nevertheless." ― Katharine Ashe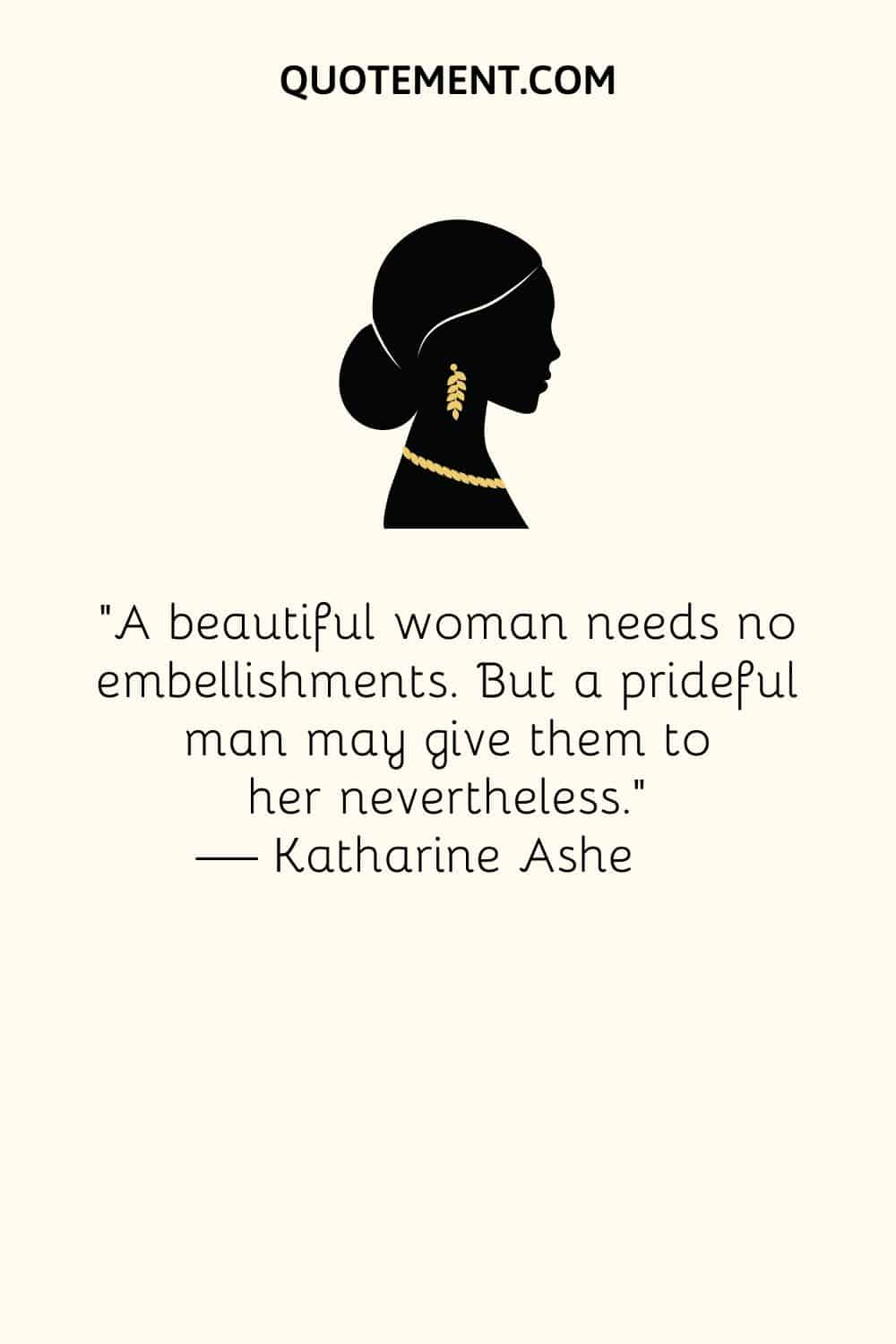 21. "Some say the economy means that you have to persuade people to invest in clothes, to buy fewer things but more expensive things. I disagree! Invest in jewelry, or a house, maybe, but not in fashion." — Donatella Versace
22. "There is just one piece of jewelry that is equally becoming to everybody, lovely with almost every ensemble, appropriate for almost any occasion, and indispensable in every woman's wardrobe…long live the pearl necklace, true or false, from our first date until our last breath!" — Genevieve Antoine Dariaux
23. "If I had my way, I'd wear jewelry, a great pair of heels and nothing else." — Jada Pinkett Smith
24. "Jewels are wonderful things. They have a life of their own." — Gregory Anton
25. "Little black dress and a pair of pearl earrings are timeless classics you can't go wrong with." — Kirsten Hill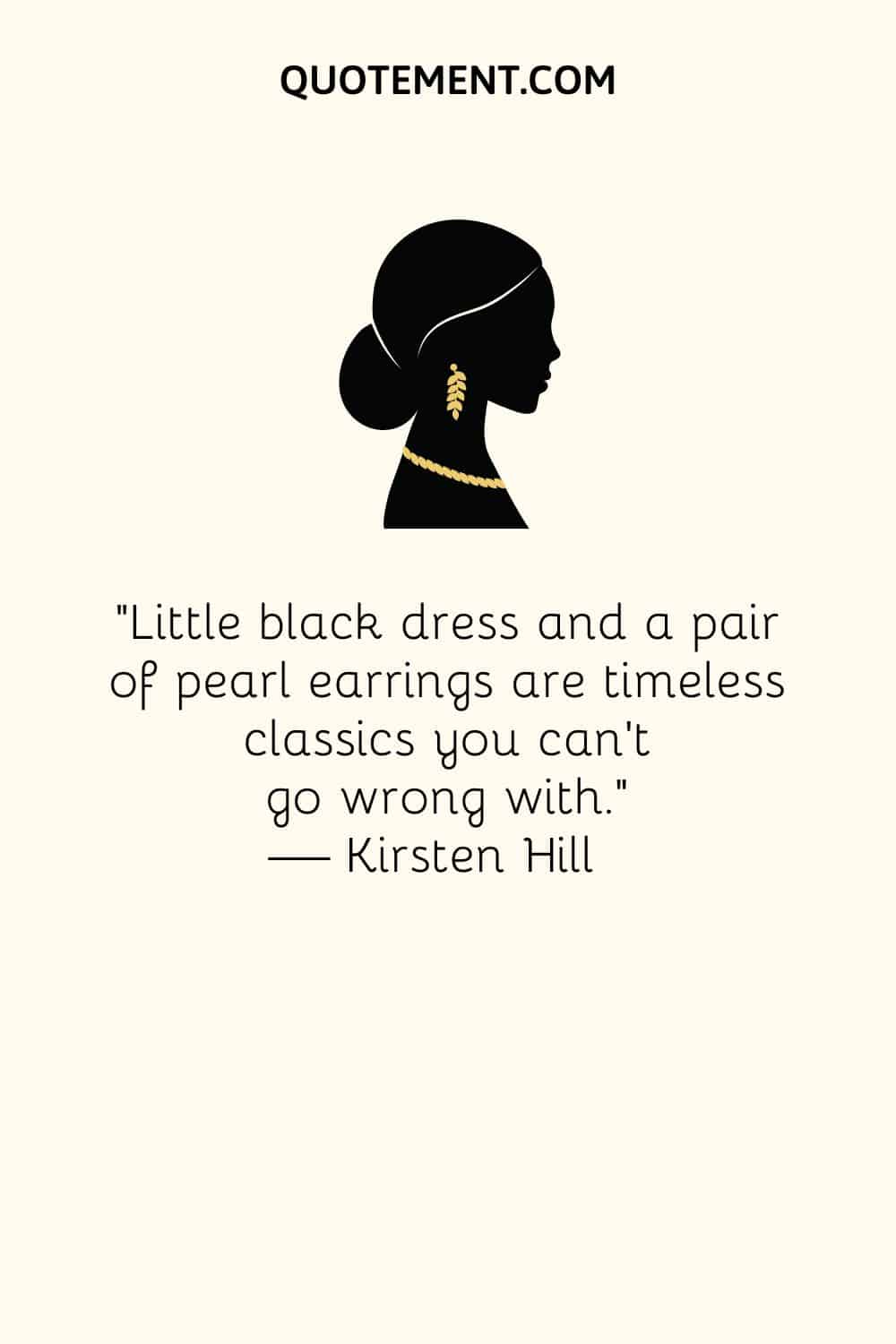 See also: Caption For Black Dress: 130 Perfect Captions + Quotes
Jewelry Quotes For Girls
If you're a girl who loves wearing jewelry, you just check out these jewelry quotes.
1. "I've always thought of accessories as the exclamation point of a woman's outfit." — Michael Kors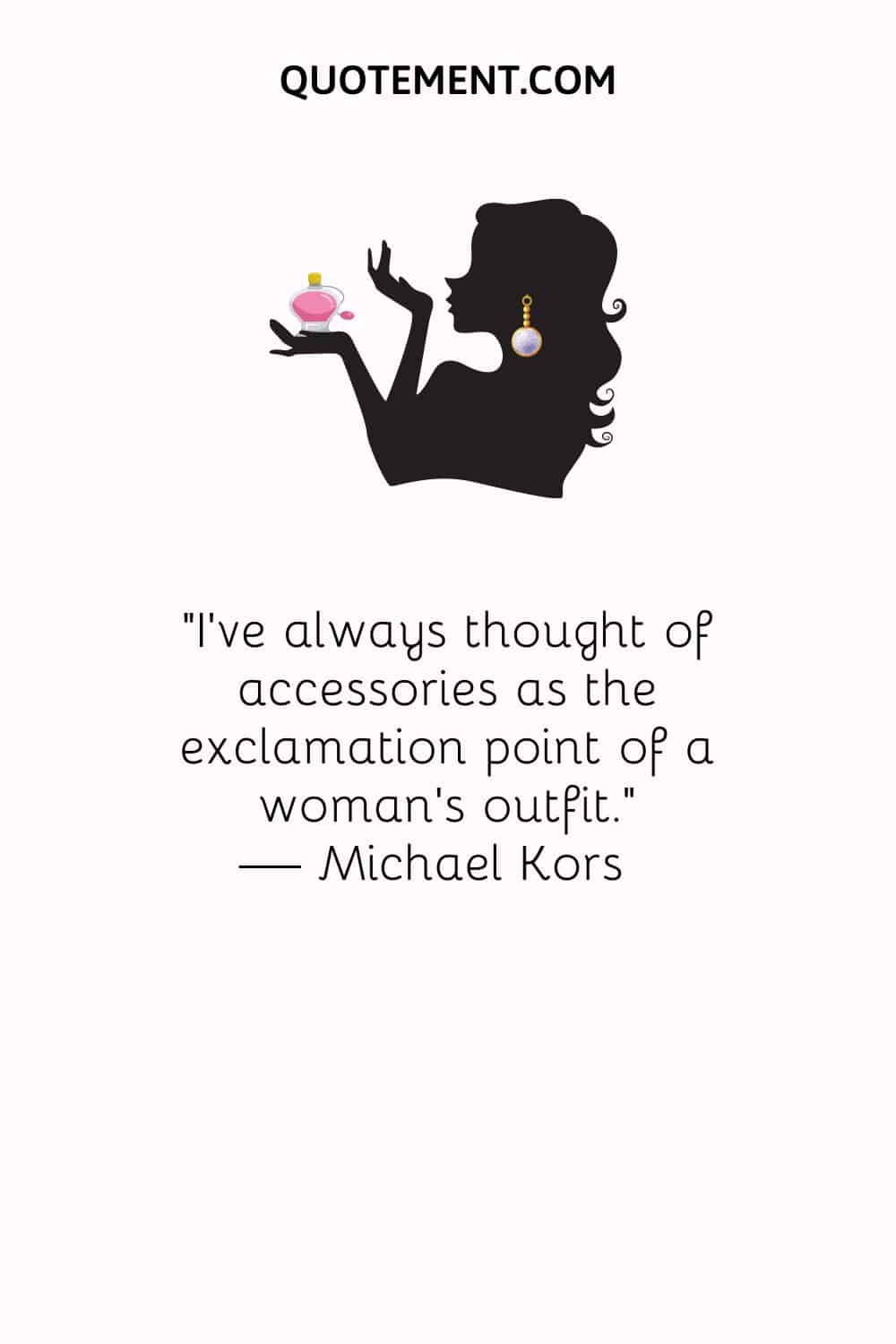 2. "I like for jewelry to tell a story and to be able to talk about what I'm wearing. That's more important to me than a name, brand, or label." — Nikki Reed
3. "If I'm not feeling super confident about an outfit or a little insecure—I'll probably accessorize my outfit with some jewelry." — Amber Le Bon
4. "I love to be casual and comfortable, but I also love the easy glamour of wearing jewelry all the time." — Elizabeth Taylor
5. "I would like to be naked and cover myself in cold crystal jewelry. Jewelry and perfume." — Anaïs Nin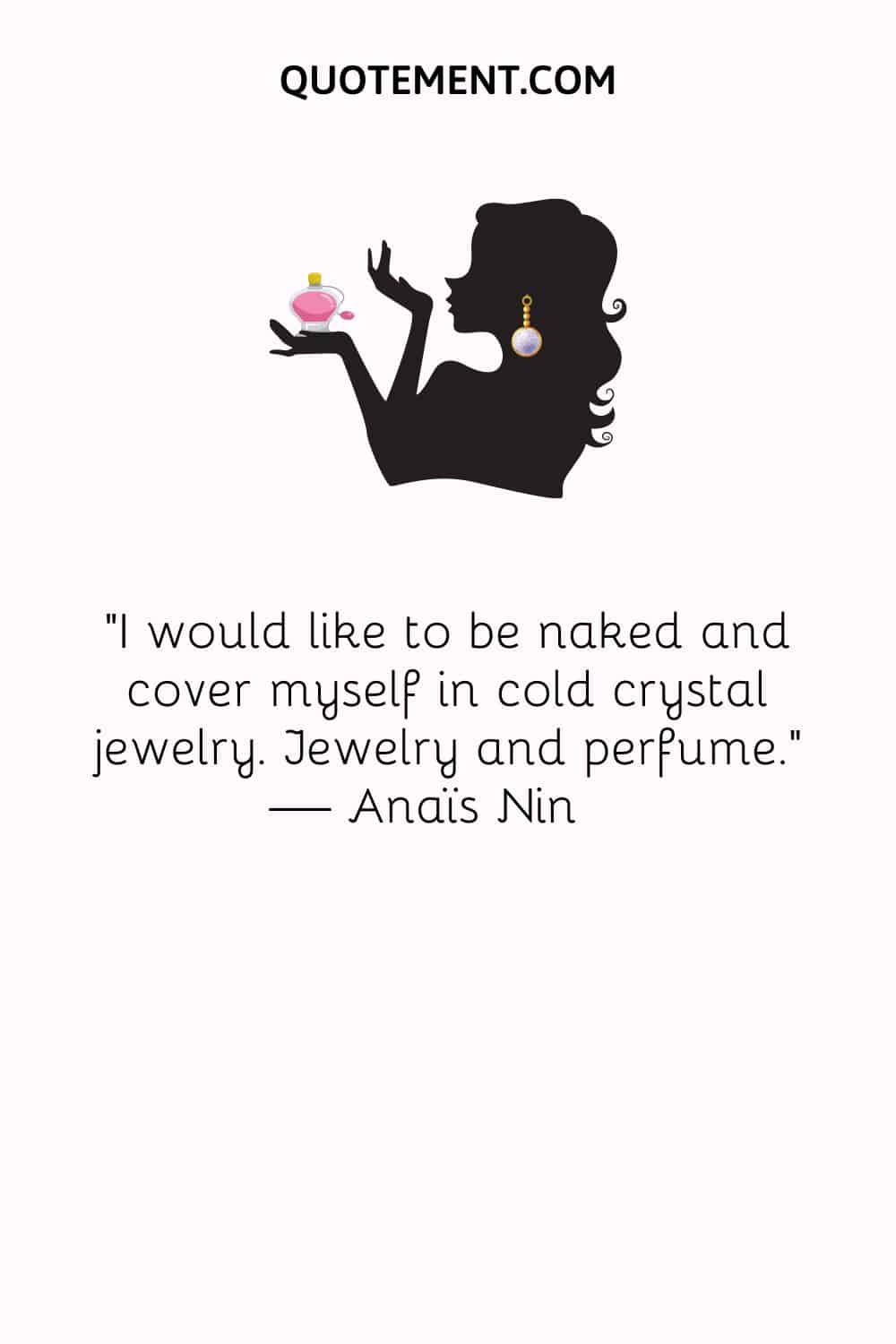 6. "Jewelry is the most transformative thing you can wear." — Iris Apfel
7. "My favorite thing in my wardrobe is my jewelry." — Kate Reardon
8. "You never really know a woman until you've seen her jewelry." — Unknown
9. "The kinds of things I like with crystals are the really beautiful costume jewelry, vintage pieces, and they usually have that diamond shape." — Zoe Kravitz
10. "Trends come and go, and style evolves. It's important to have pieces of jewelry that are timeless and look chic despite ever-changing fashions." — Karen Elson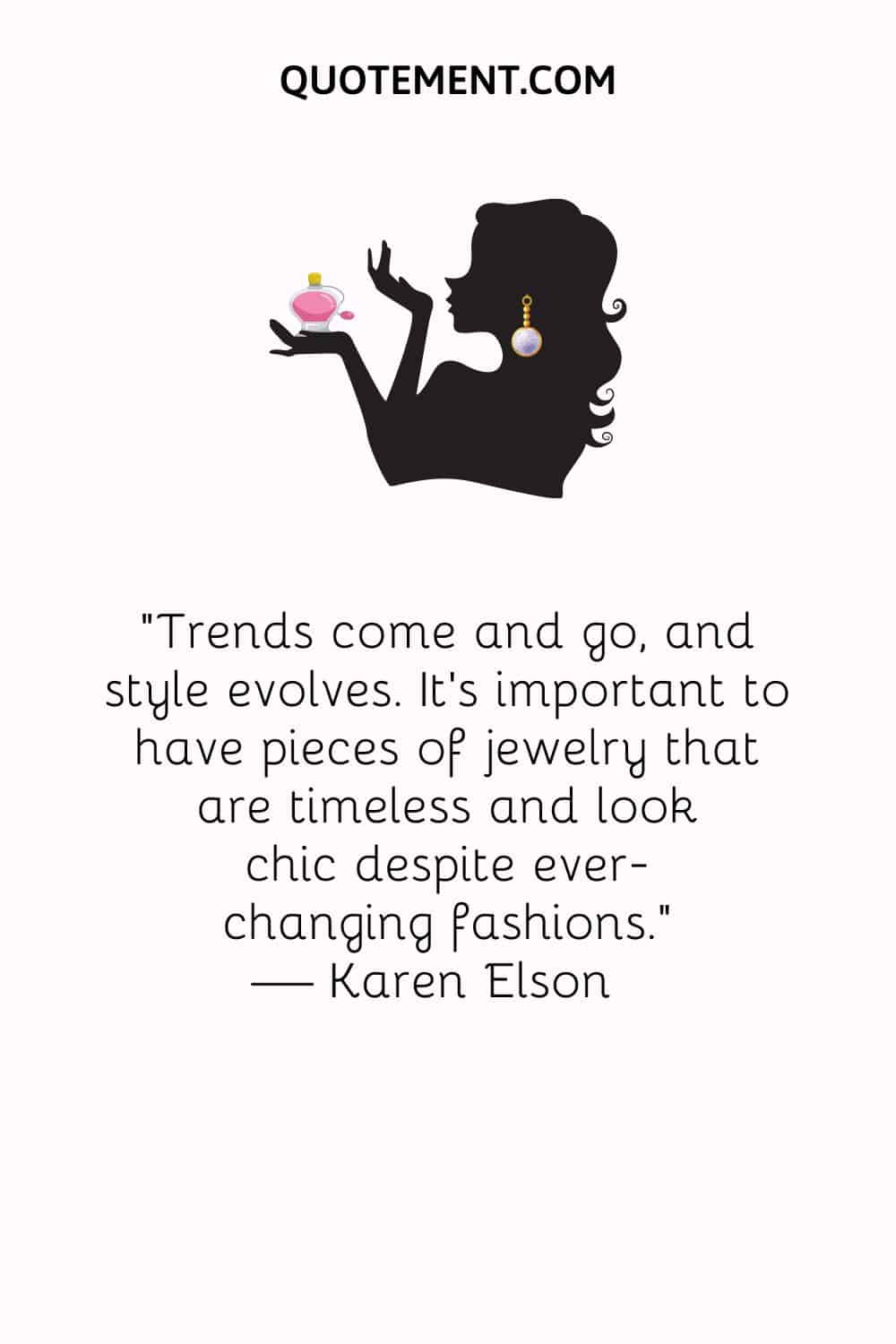 11. "You can't ever go wrong with pearls. Perhaps pearls are a girl's best friend after all." — Ki Hackney
12. "I think jewelry has a wonderful emotional component to it.… I'm a big believer in symbols as wonderful positive reminders. And sometimes when you have something beautiful that you see every day, it's like a symbol for your love for yourself or someone else's love for you.… To me it's a little bit of magic in your everyday life." — Zosia Mamet
13. "Growing up, I was a bit of a tomboy; feminine things took a while to find their place in my world. But diamonds made me understand the magic and beauty of jewelry." — Erika Christensen
14. "It's good to start early when buying jewelry pieces. Aside from being investments, they are classic, they are timeless, and they are something that you pass on – it's a memory, it's an heirloom." — Heart Evangelista
15. "You can't cry on a diamond's shoulder, and diamonds won't keep you warm at night, but they're sure fun when the sun shines." — Elizabeth Taylor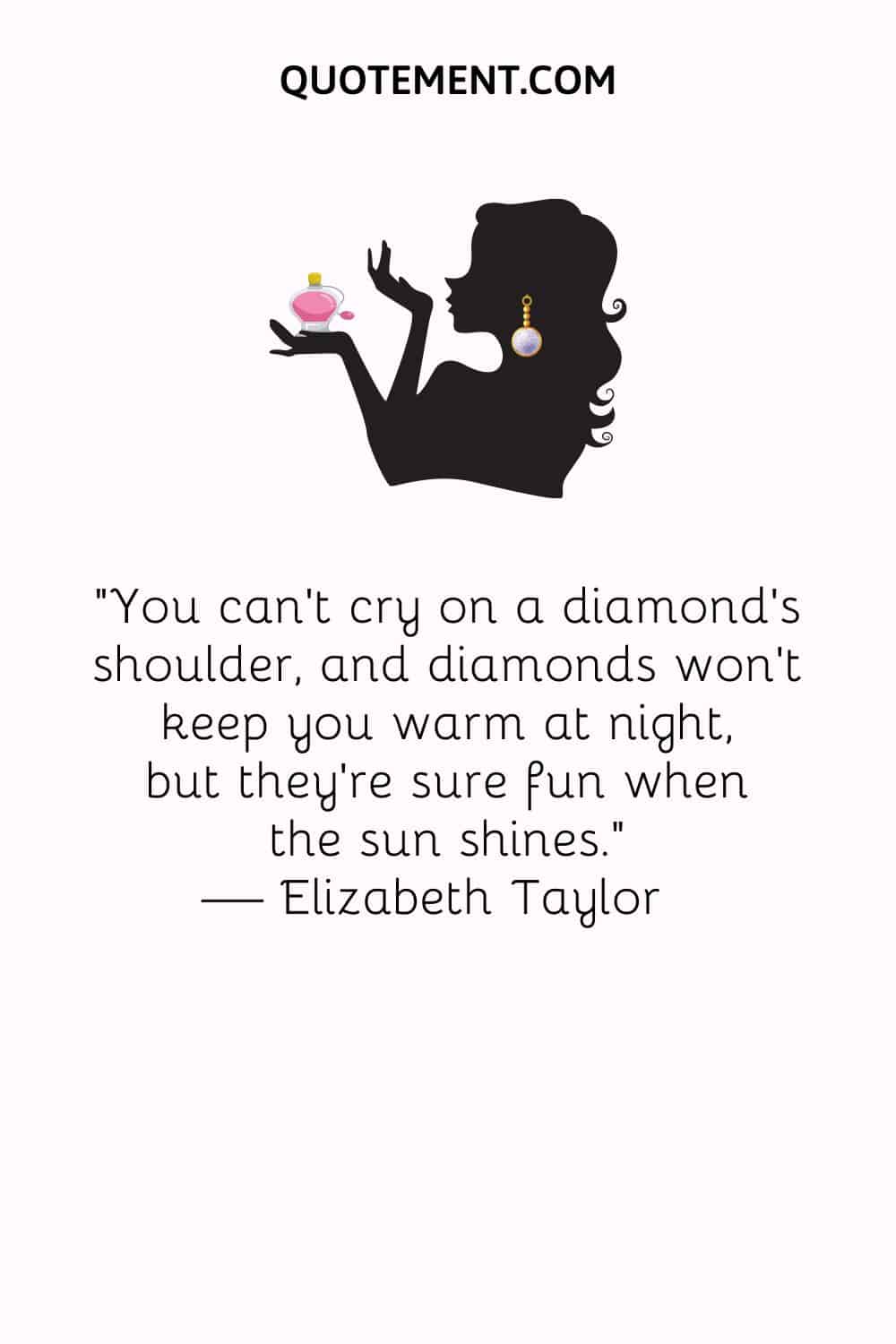 16. "The Earth is like a beautiful bride who needs no manmade jewels to heighten her loveliness." — Khalil Gibran
17. "Jewelry, I'm telling you. It's a thing. And love. And maybe danger." ― Kami Garcia
18. "I basically stay in jewelry all the time. I have the same couple of necklaces, earrings, and rings, and they usually don't come off my body." — Emily Ratajkowski
19. "Good dressing is largely a question of detail and accessories." — Elsie de Wolfe
20. "In Beverly Hills, they have real jewelry and fake people. In west Virginia, we have fake jewelry but real people." — Cecil B. Roberts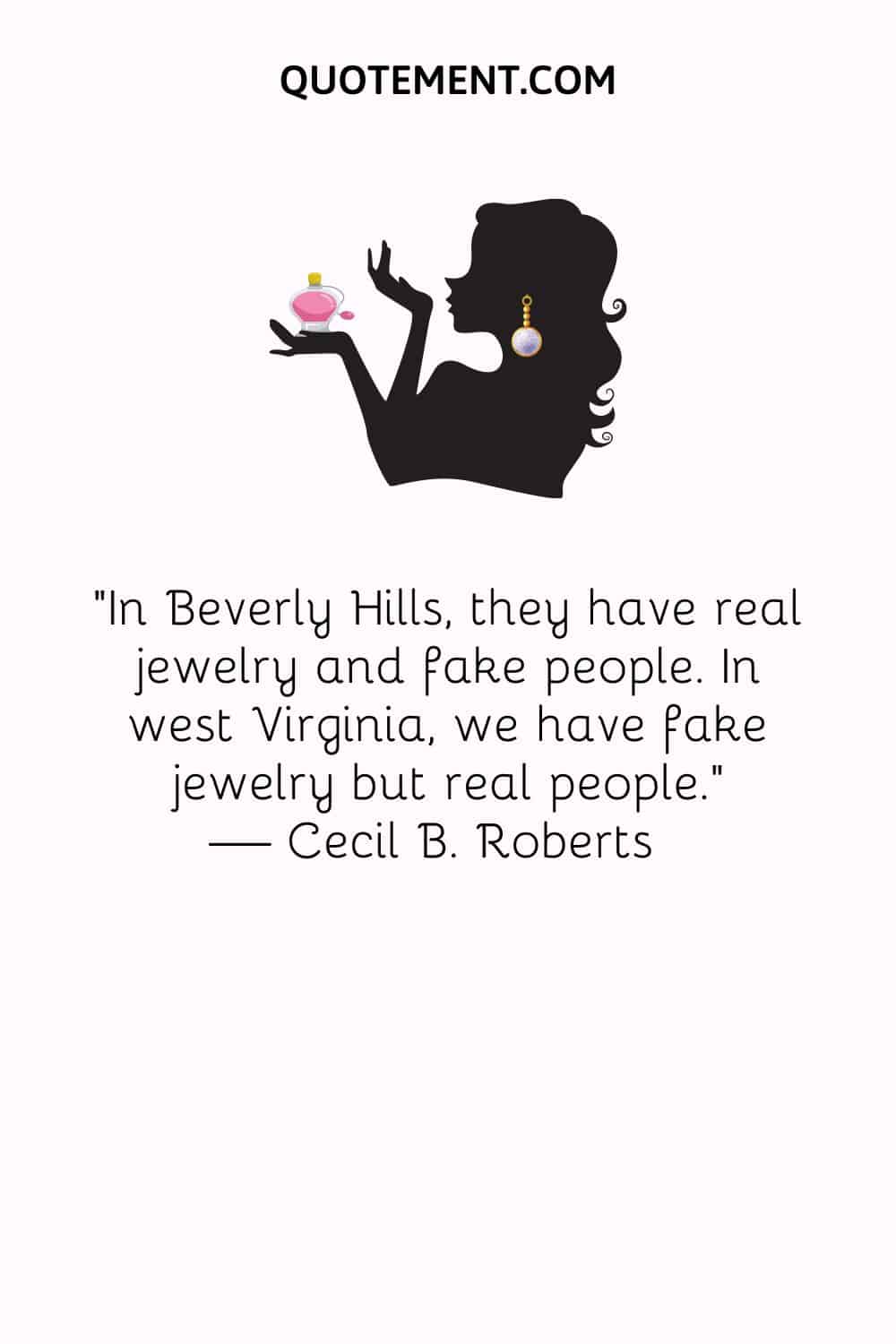 21. "I'm a jewelry girl. I became friends with designer Irene Neuwirth a few years ago. At that point, I just used to wear my wedding rings. Very low-key. Now, if I could, I'd be draped from head to toe in her jewelry all the time." — Busy Philipps
22. "When I'm cold I just put another rope of pearls on." — Dorothy Parker
23. "Sometimes, the only way to catch an uncatchable woman is to offer her a wedding ring." — Ed Bloom Snr.,
24. "The True Beauty in Women Is Reflected in Her Jewellery." — Unknown
25. "I don't usually wear makeup, but there are two things I have on me at all times: a piece of jewelry and nicely done nails." — Kirsten Hill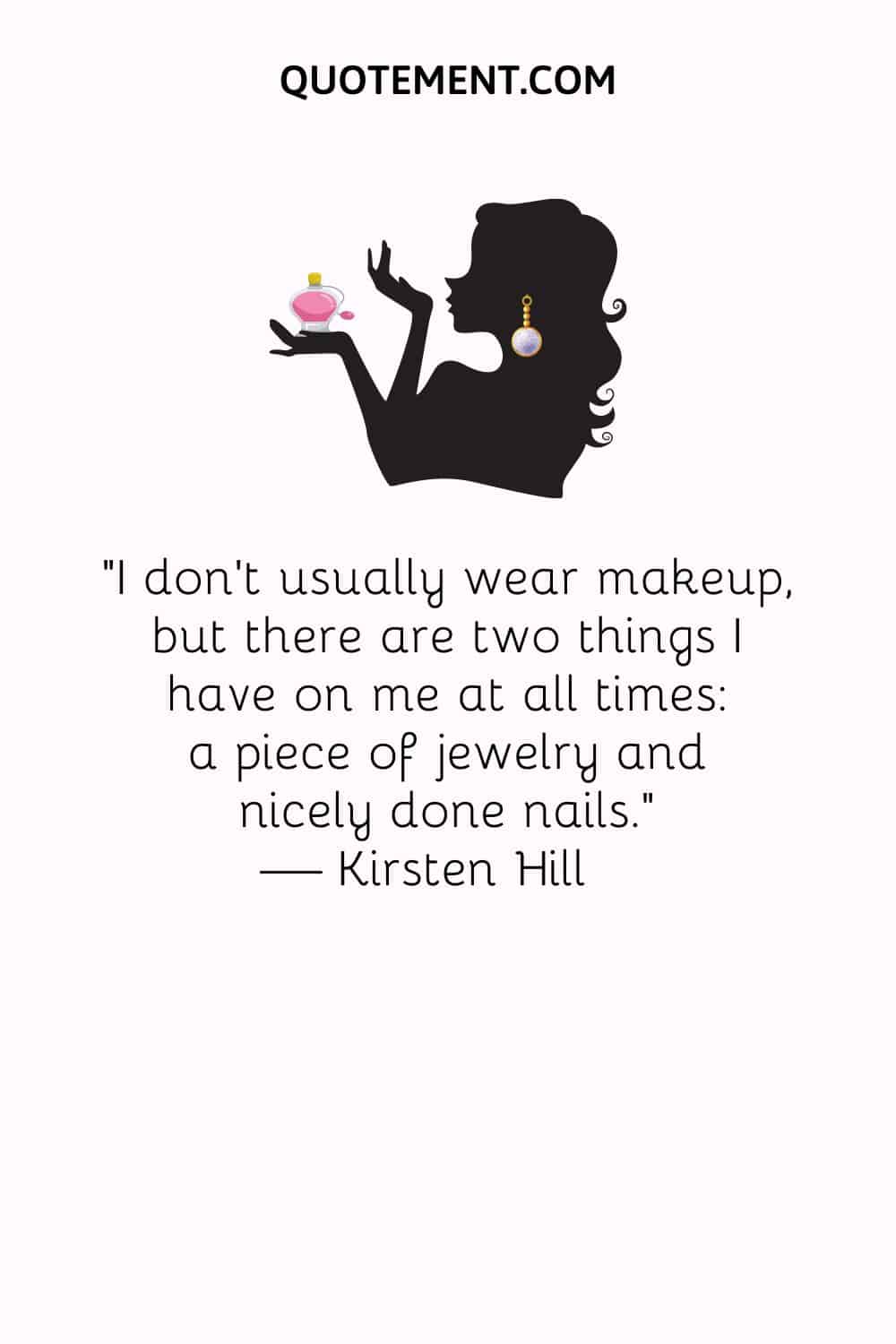 See also: 150 Best Nail Quotes To Show Off Your Nail Art Design
Funny Jewelry Quotes
Scroll down and discover some of the funniest jewelry quotes anywhere on the web.
1. "I never hated a man enough to give him his diamonds back." — Zsa Zsa Gabor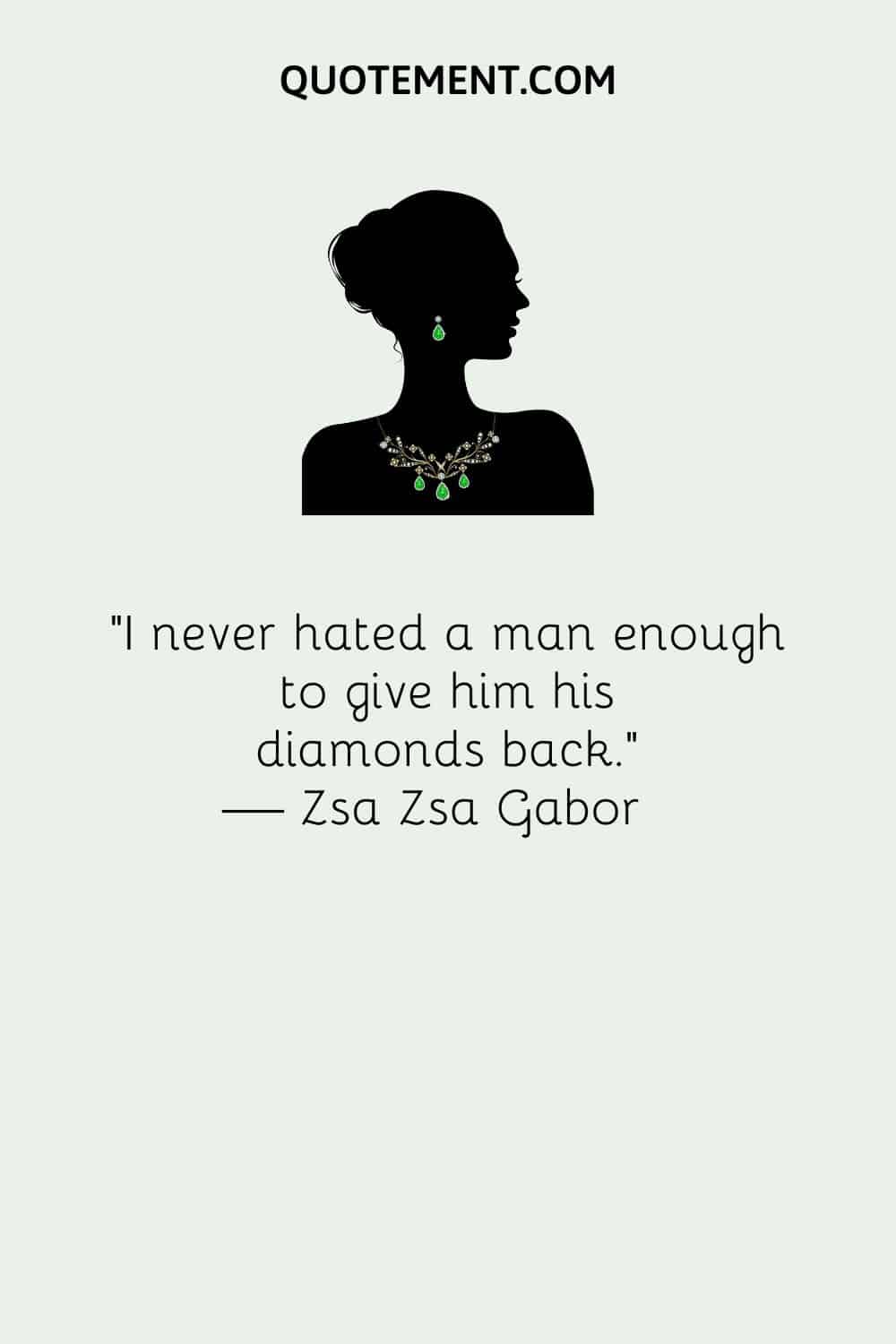 2. "No gold-digging for me: I take diamonds! We may be off the gold standard for someday." — Mae West
3. "A man's got two shots for jewelry: a wedding ring and a watch. The watch is a lot easier to get on and off than a wedding ring." — John Mayer
4. "If a girl says not to get her a birthday present that means get me a birthday present and make sure it's jewelry." — Kami Garcia
5. "I never understood girls who give away jewelry just because it came from an ex. I consider it compensation." — Georgina Bloomberg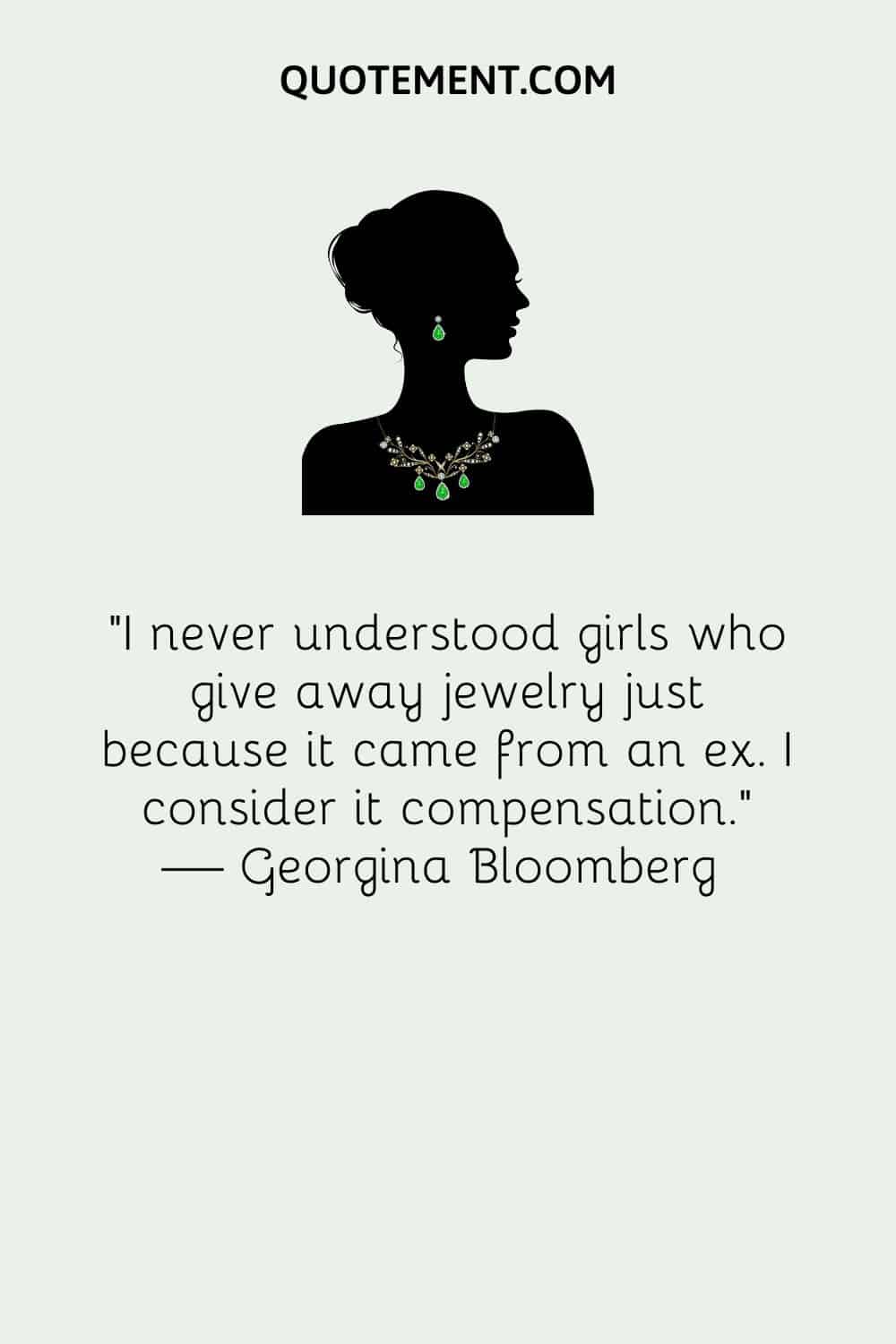 6. "A diamond is a chunk of coal that did well under pressure." — Henry Kissinger
7. "Trust and love are wonderful, but don't forget the earrings." — Estee Lauder
8. "Diamonds never leave you… men do!" — Shirley Bassey
9. "Women don't care if it's paper or scissors. Rock always wins." — Unknown
10. "I don't exercise. If God had wanted me to bend over, he would have put diamonds on the floor." — Joan Rivers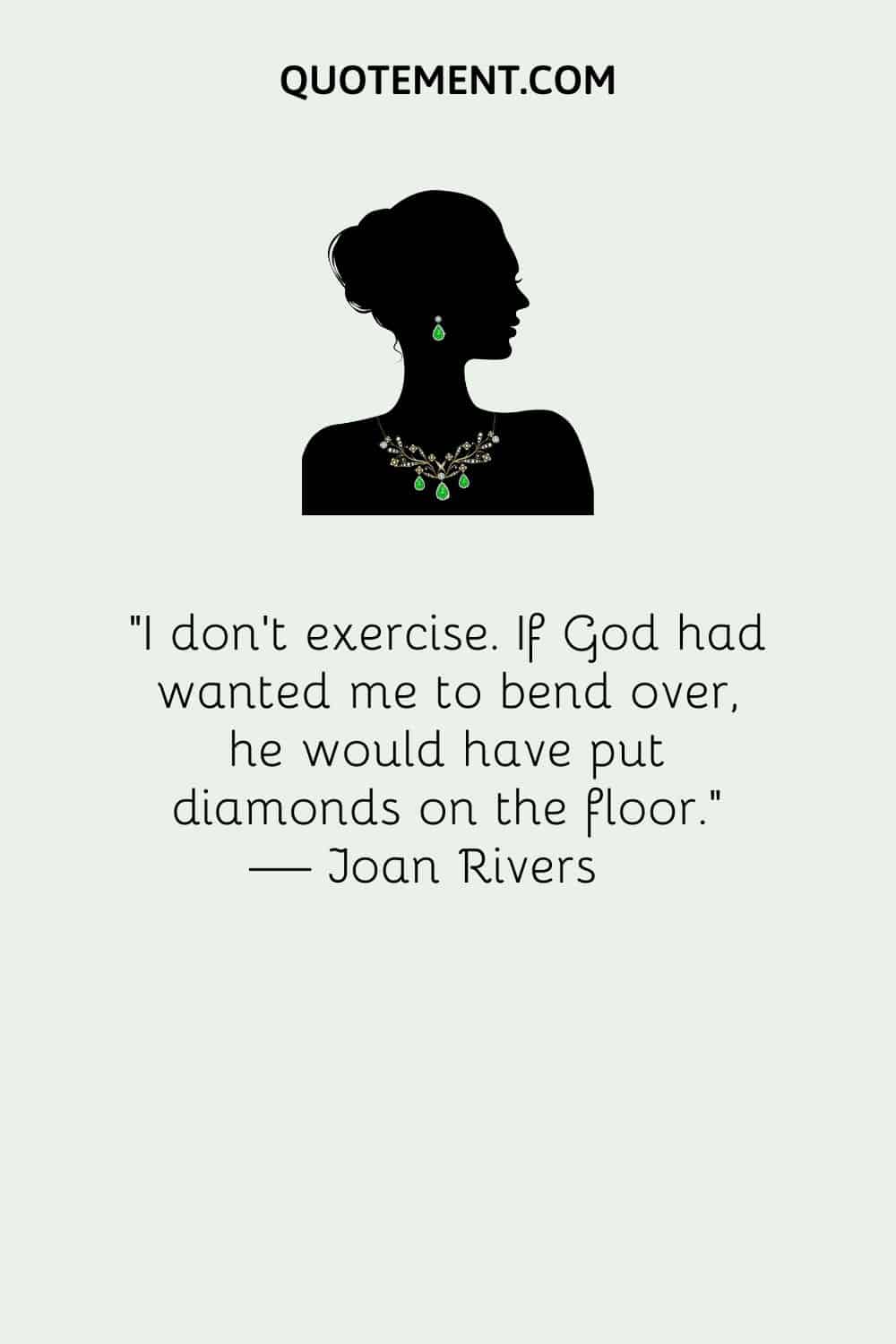 Beautiful Jewelry Quotes
I saved something really special for the end, a collection of beautiful jewelry quotes to inspire you.
1. "Dive into the sea of thought, and find there pearls beyond price." — Moses Ibn Ezra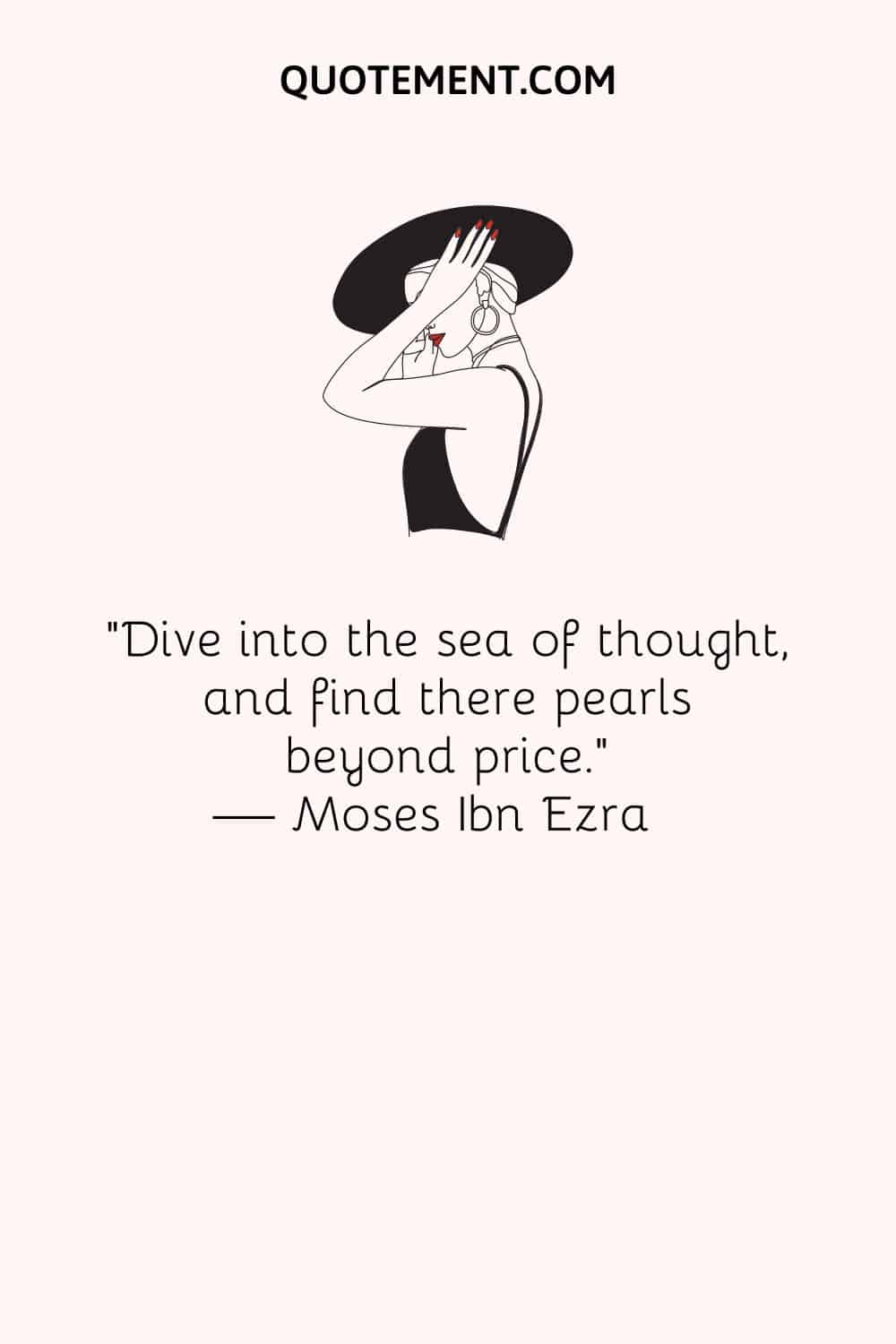 2. "Coco Chanel used to talk about wearing more than one string of pearls. Why wear one if you can wear two, or something to that effect." — C. JoyBell C.
3. "My jewelry's all fake – from Claire's. Or I get it from my mom's boutique in Barbados." — Rihanna
4. "I have this necklace I always wear. I collect pendants from people I love; my best friends and members of my family have all given me one, and I put them on this chain so no matter where I am they're always with me." — Lake Bell
5. "Jewelry is the finishing touch – the sparkle to punctuate an ensemble and to express one's personal style." — Emily Kuvin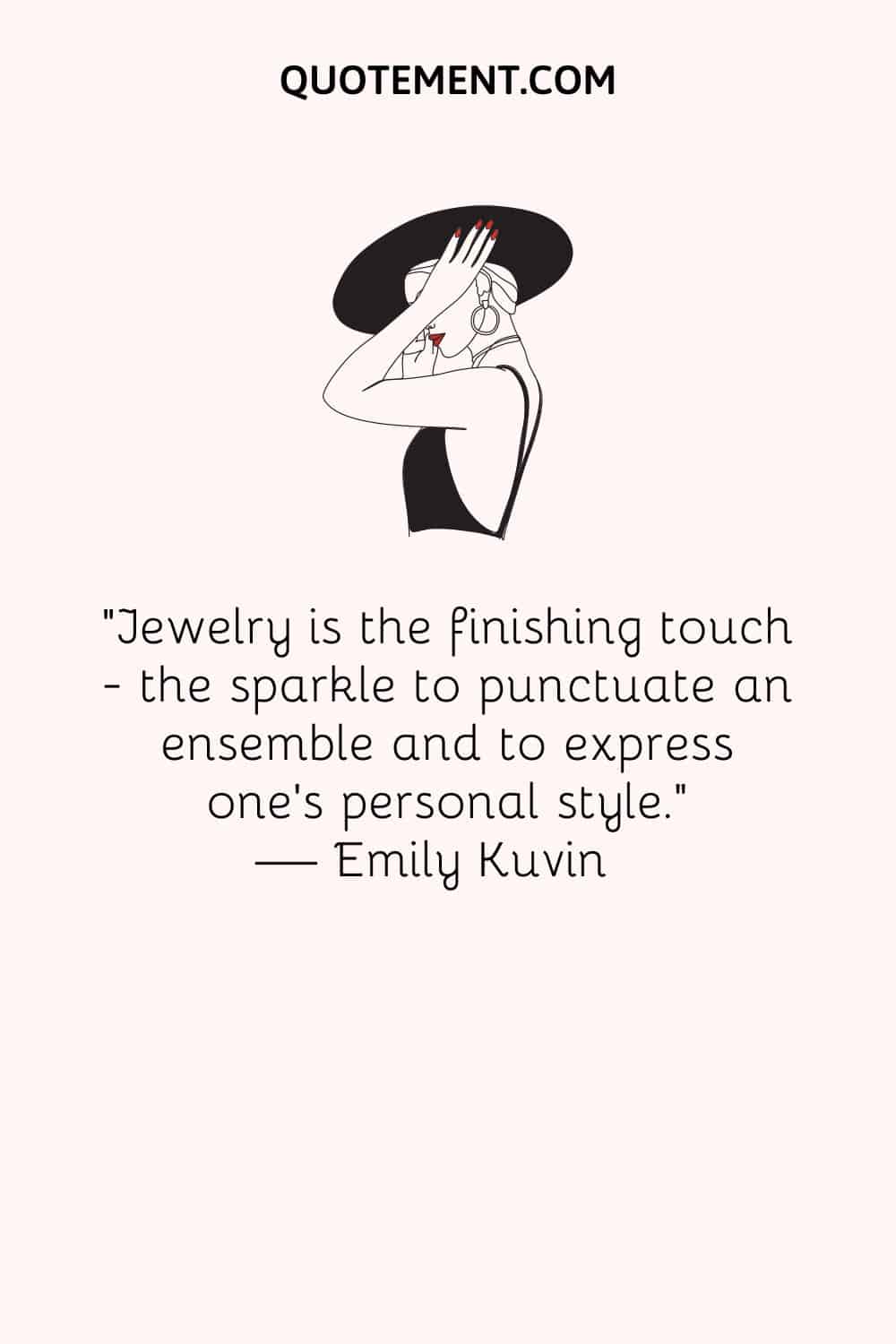 6. "I feel naked without jewelry. If I'm having a bad hair day, I pick something from my huge collection of hats." — Olivia Thirlby
7. "When we long for life without difficulties, remind us that oaks grow strong in contrary winds and diamonds are made under pressure." — Peter Marshall
8. "To me, accessorizing is the most fun part of an outfit. While I don't think you can rely on accessories to make a dress that isn't working work, I do love jewelry and handbags more than anything." — Anna Kendrick
9. "It is hard to be a diamond in a rhinestone world" — Dolly Parton
10. "I feel undressed if I don't have my pearls on. My pearls are my security blanket." – Lady Sarah Churchill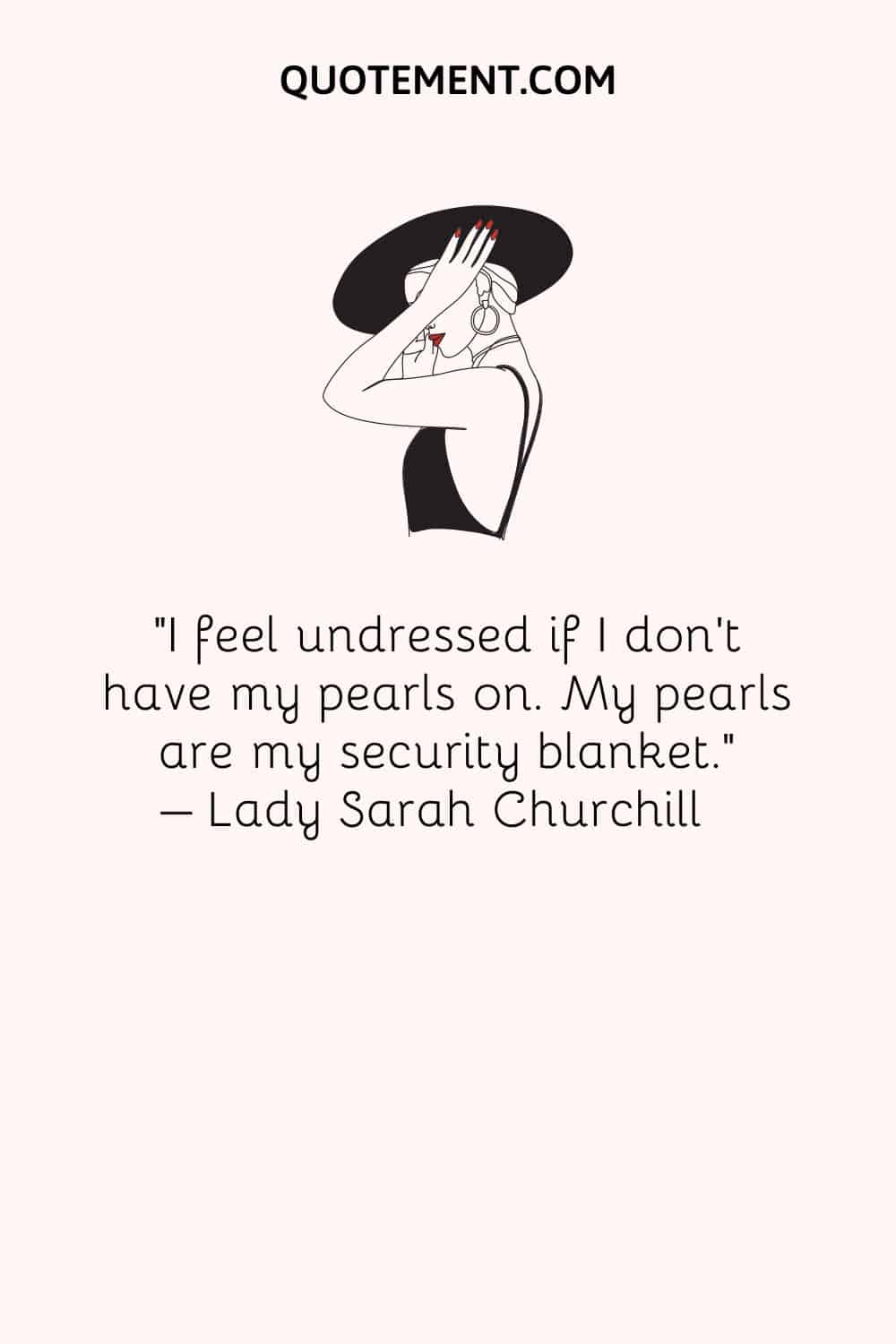 11. "Jewelry is how I add a bit of fun to my outfit." — Monica Ainley
12. "Life is made up of a few moments all strung together like pearls. Each moment is a pearl, and it is up to us to pick the ones with the highest luster." — Joyce Hilfer
13. "Cute accessories always help bring out your outfit and pull it all together." — Ciara
14. "The ideal thing for me is the one that is absolutely useless. You can not write with this object, remove excessive hair, or call. This item can not be placed on a masterpiece or put on a chest of drawers of Louis XIV. This thing you just need to wear, and it's jewelry." — Salvador Dali
15. "Good things come in small packages, especially when it's jewelry!" — Unknown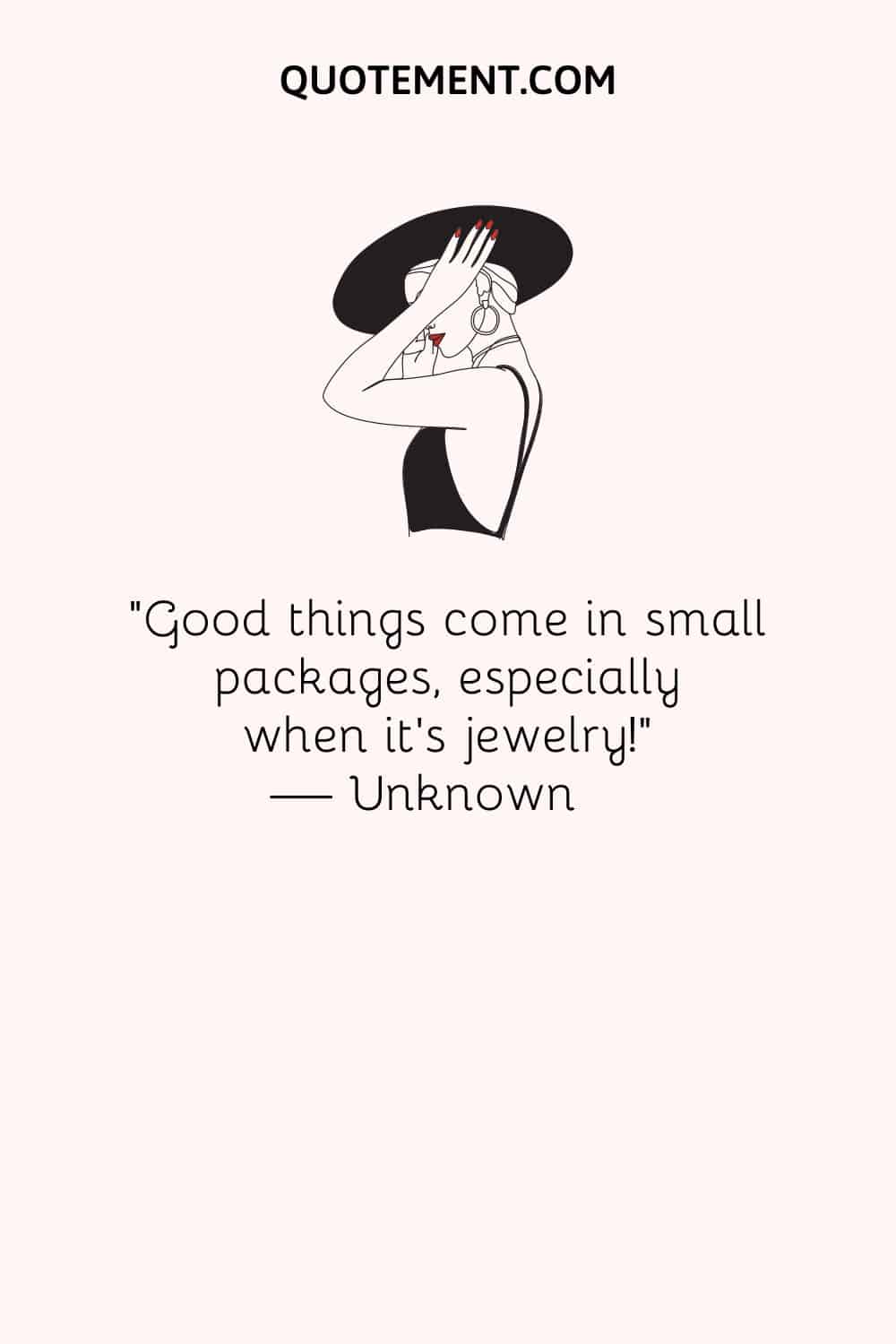 16. "Color is what gives jewels their worth. They light up and enhance the face. Nothing is more elegant than a black skirt and sweater worn with a sparkling multi-stone necklace." — Christian Dior
17. "Diamonds never lie to me. For when love's gone, they'll lustre on…" — Shirley Bassey
18. "Elegance Is Not Being Noticed, It's About Being Remembered." — Unknown
19. "The modern designers are quite showy, and a lot of young people really like it. Costume jewelry has always been about being noticed and not discreet." — Judith Miller
20. "Jewellery is a symbol and a signifier, a tangible stand-in for intangible things." — Aka Raden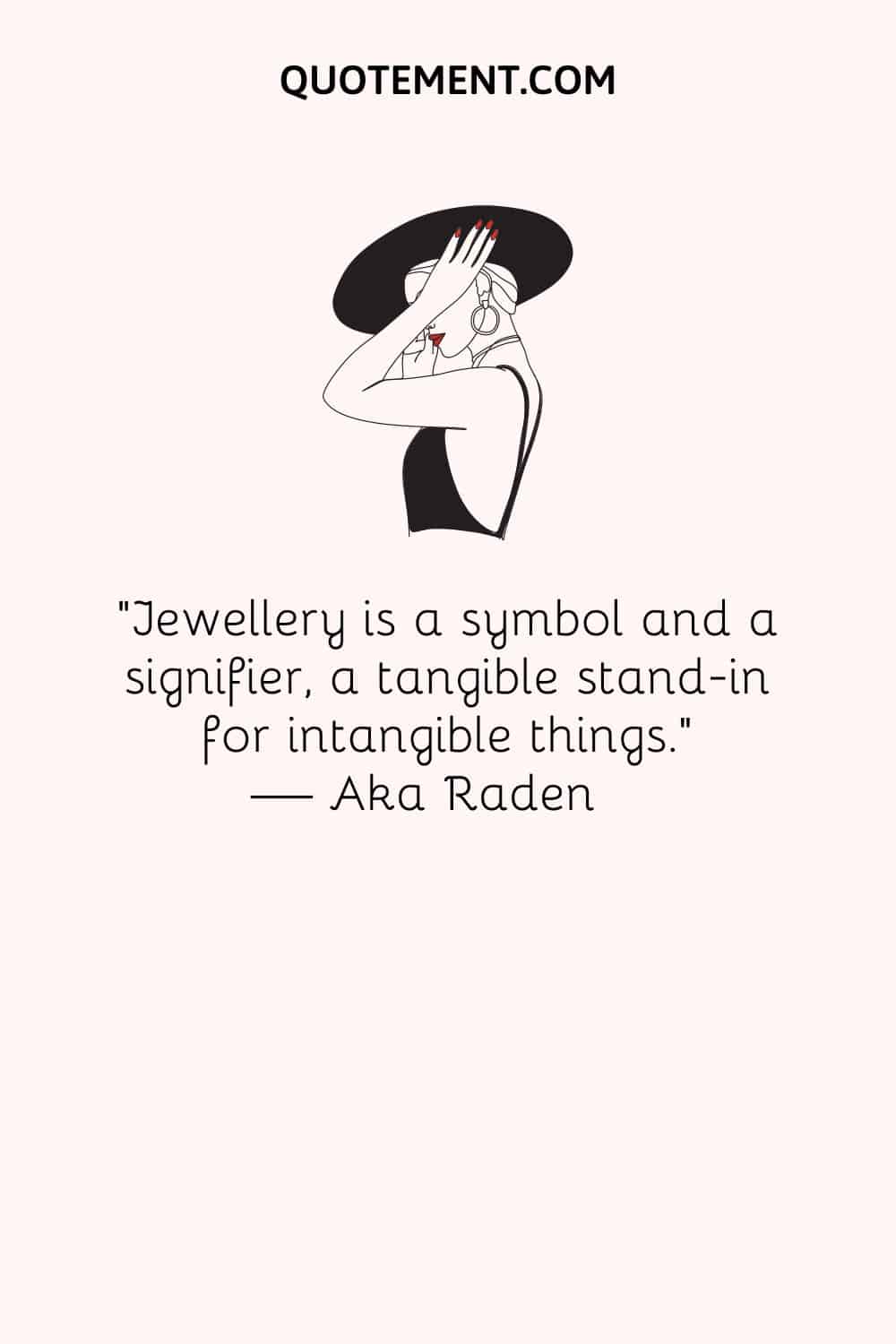 21. "You wear your jewelry, don't let it wear you." — Masaba Gupta
22. "Jewelry, like perfume, has a huge sentimental value. They take you back to a moment. Perfume and jewels are magical in this way. They are the ultimate accessories for a woman." — Carolina Herrera
23. "I am fond of beauty, be it clothes, jewelry, or just life. It has to be the best." — Amrita Rao
24. "I carry a little collection of jewelry I love with me, in case I need diamonds." — Liv Tyler
25. "A woman wears both jewelry and fragrance and both recall happy moments of her life." — Alain Boucheron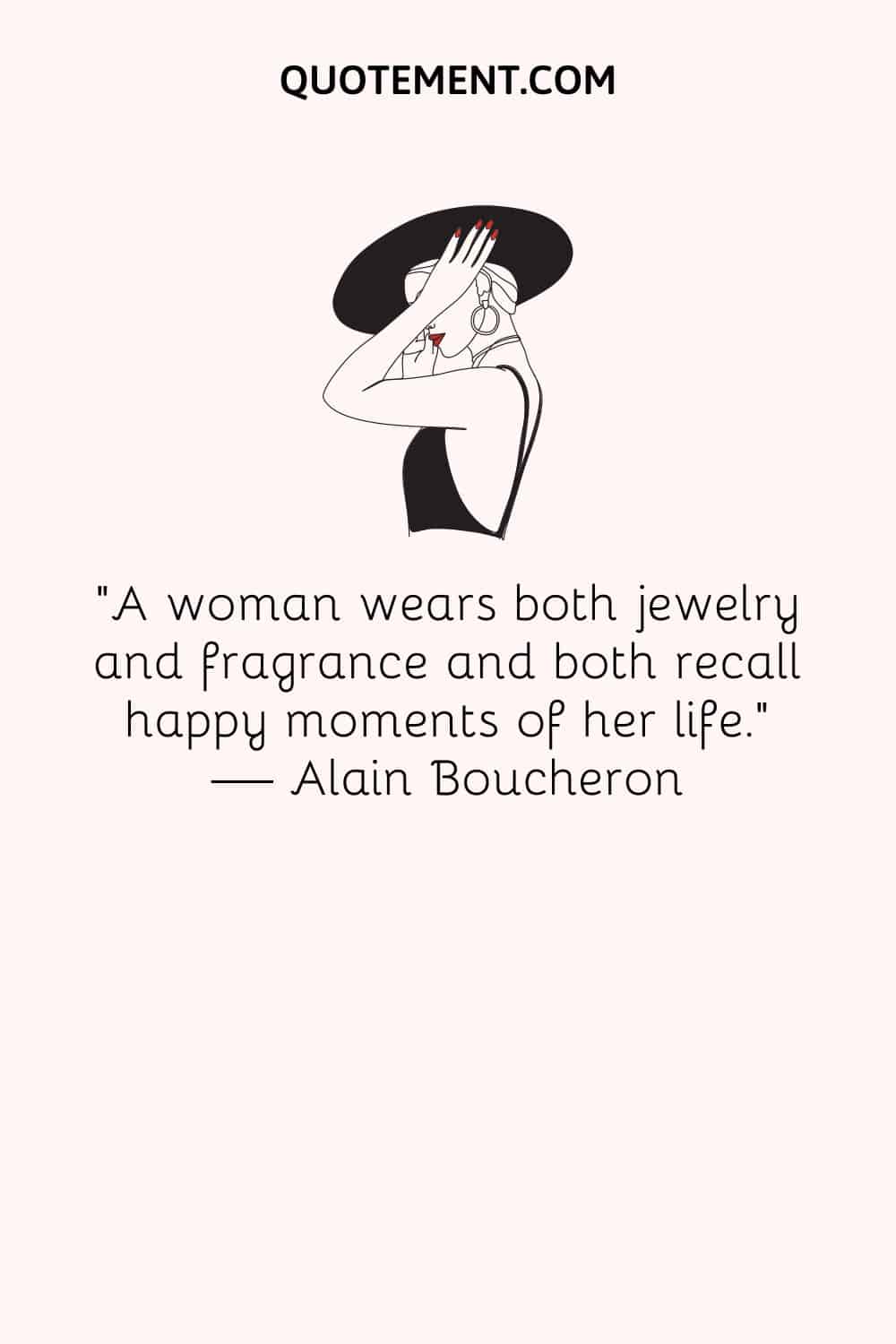 Final Words
I hope you enjoyed reading all the jewelry quotes I've prepared for you.
Until next time!