June is my favorite month.
It marks the beginning of a new season opening a new chapter in our lives. What's not to love about that?
In the spirit of a fresh start and positive vibes, here are the best June quotes to celebrate the summertime delights.
I collected these inspirational quotes for the month of June from various sources on the web and I hope you'll like them as much as I do.
Let's take a look!
10 Best June Quotes
1. "In early June the world of leaf and blade and flowers explodes, and every sunset is different." — John Steinbeck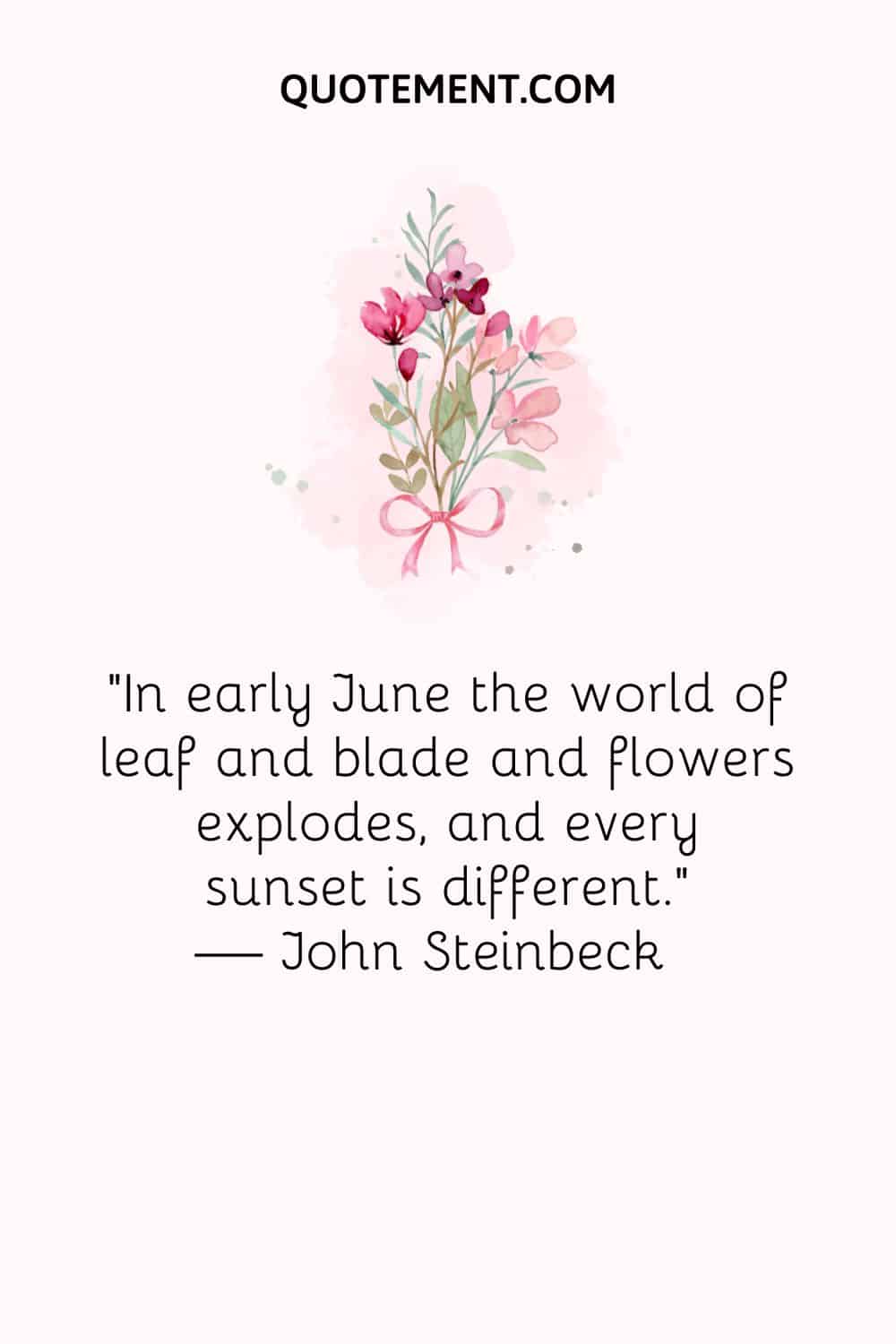 See also: 340 Absolutely Best Sunset Captions For Instagram + Quotes
2. "If a June night could talk, it would probably boast it invented romance." — Bernard Williams
3. "I wonder what it would be like to live in a world where it was always June." — L. M. Montgomery
4. "In June, as many as a dozen species may burst their buds on a single day. No man can heed all of these anniversaries; no man can ignore all of them." — Aldo Leopold
5. "Green was the silence, wet was the light, the month of June trembled like a butterfly." — Pablo Neruda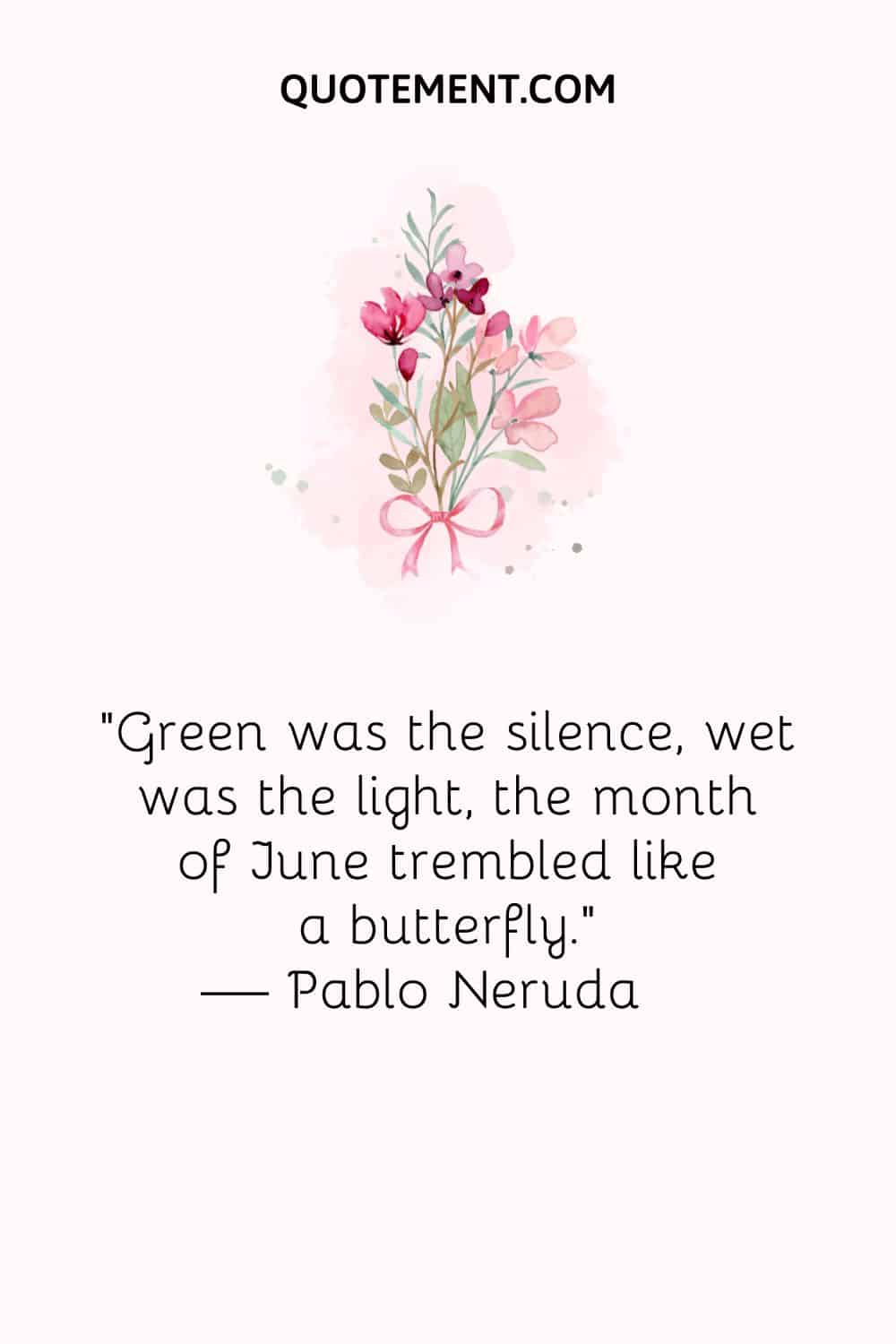 6. "What is one to say about June, the time of perfect young summer, the fulfillment of the promise of the earlier months, and with as yet no sign to remind one that its fresh young beauty will ever fade." — Gertrude Jekyll
7. "It's beautiful the Summer month of June . . . and the sun shines most of the day brightly." — Francis Duggan
8. "June has never looked more beautiful than she does now, unadorned and honest, vulnerable yet invincible." — Marie Lu
9. "I have laughed more than daffodils and cried more than June." — Sanober Khan
10. "Of course, fresh flowers are the answer to any June gloom you may be feeling. Flowers really do solve all problems." — Mia Moretti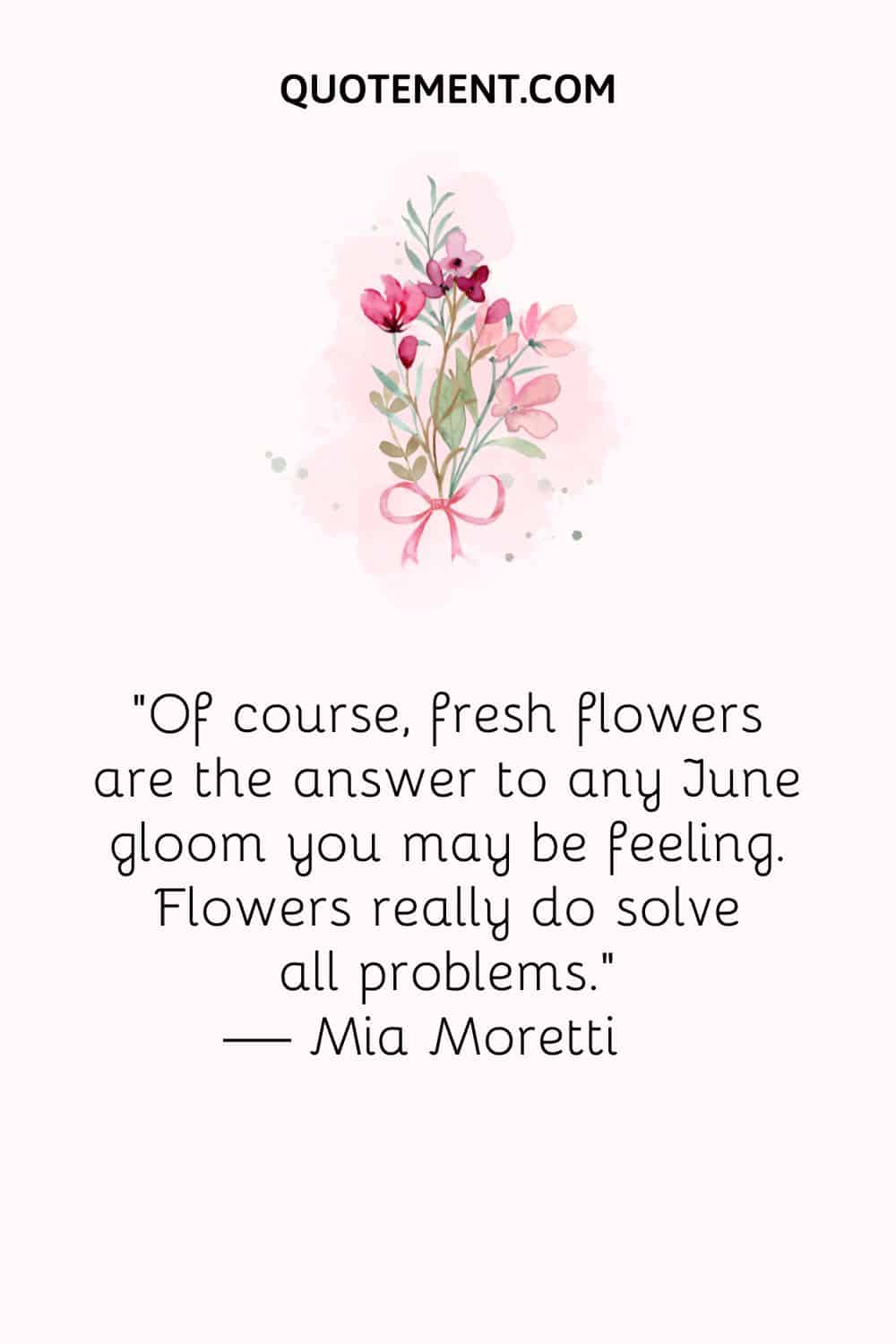 See also: 130 Beautiful Short Flower Quotes To Add Colors To Your Day
Inspirational Quotes About June
1. "It is better to be a young June bug than an old bird of paradise." — Mark Twain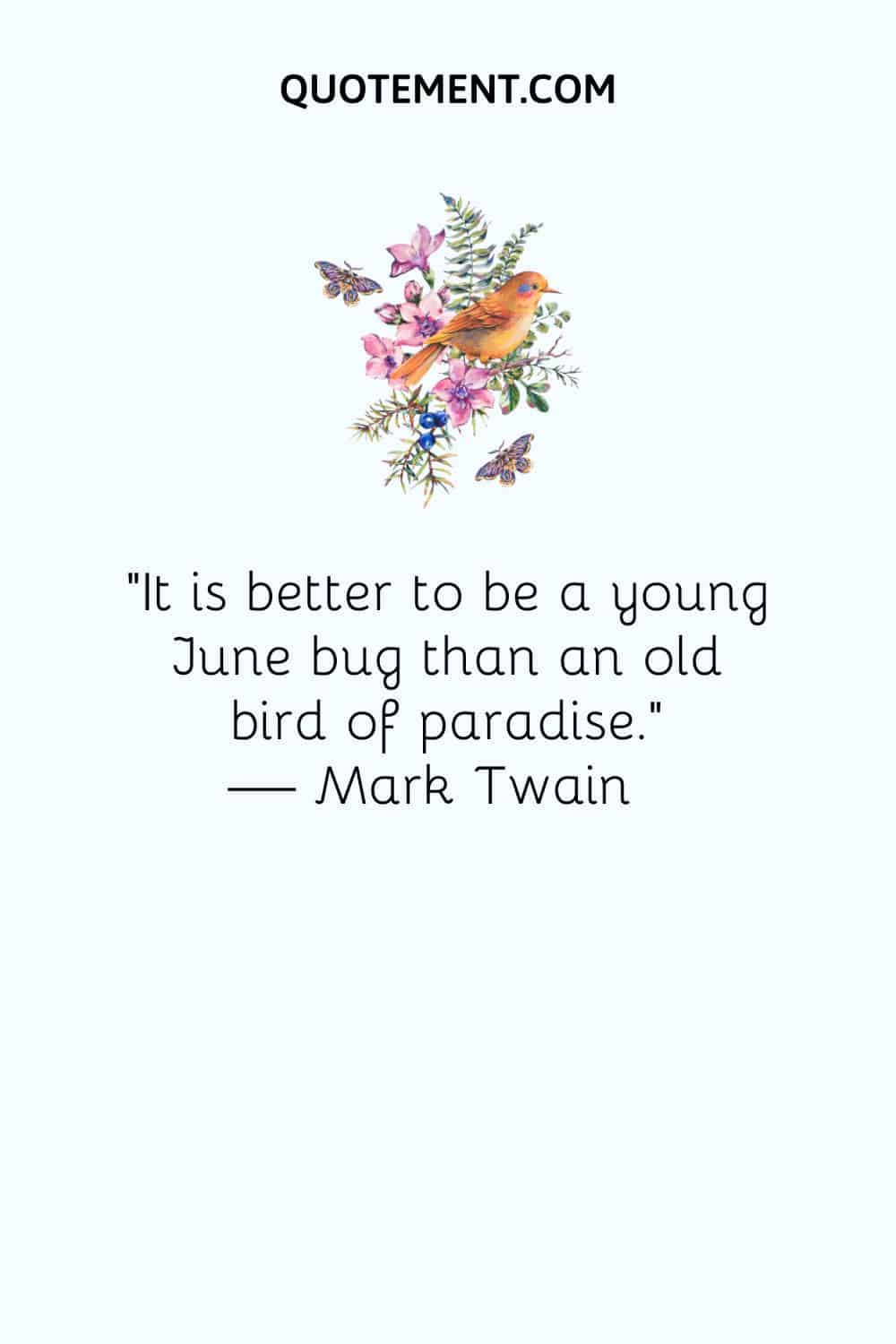 2. "June suns, you cannot store them To warm the winter's cold, The lad that hopes for heaven Shall fill his mouth with mould." ― A. E. Housman
See also: 280 Best Sun Captions For Instagram For A Shiny Post
3. "It is the month of June, the month of leaves and roses when pleasant sights salute the eyes and pleasant scents the noses." — Nathaniel Parker Willis
4. "One benefit of summer was that each day we had more light to read by." — Jeannette Walls
See also: Brilliant List Of 120 Light Quotes To Awaken Your Mind
5. "And what is so rare as a day in June? Then, if ever, come perfect days." — James Russell Lowell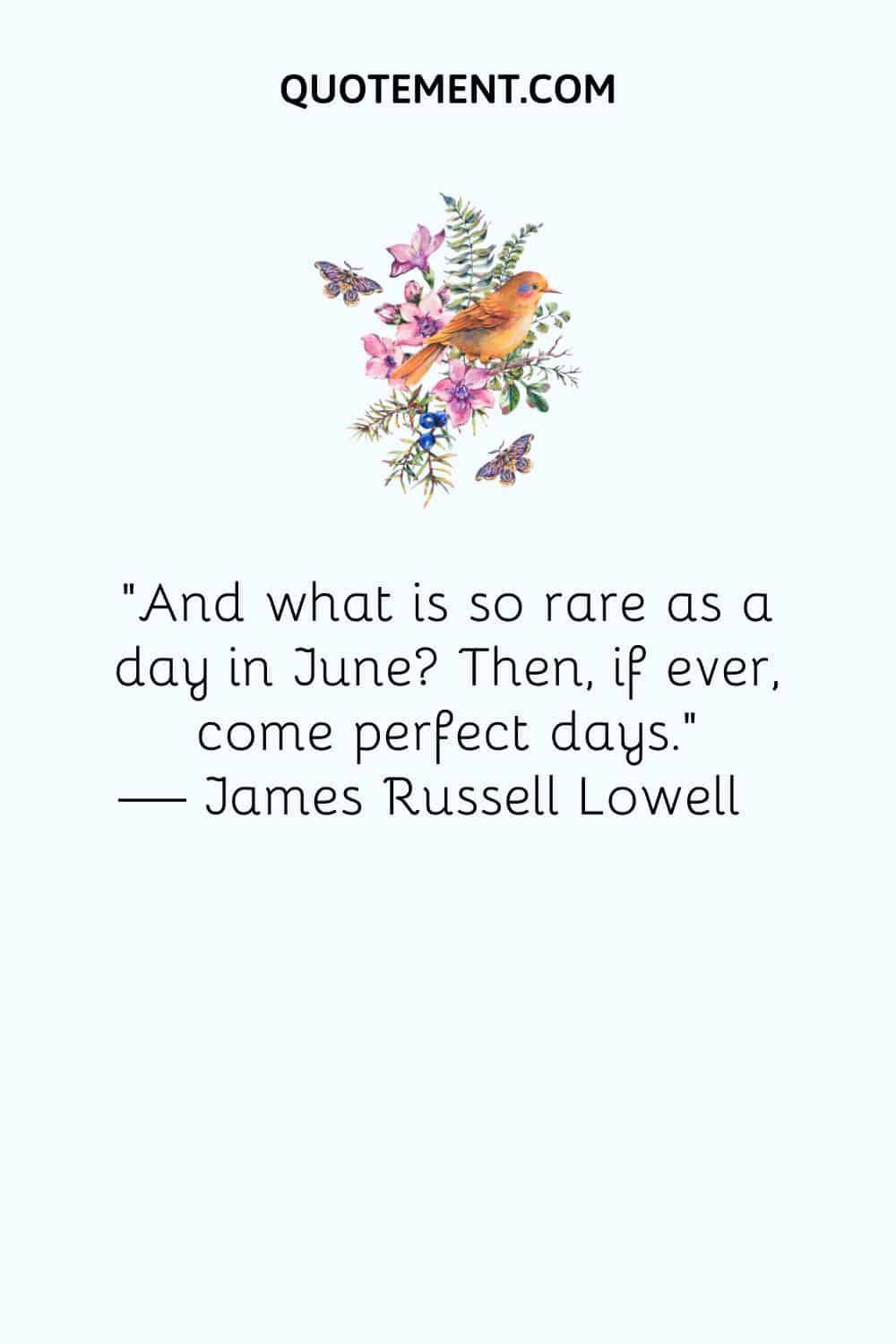 6. "Today winter clouds gather in towers of white, reaching toward the wide horizon. But the rain is far off and will not come, today or even tomorrow when perhaps random drops, will foreshadow the deluge of June." — Michael Hogan
7. "And since all this loveliness cannot be Heaven, I know in my heart it is June." — Abba Louisa Goold Woolson
8. "Let it be June, bring the summer beach back, and let our life be simple again." — Unknown
9. "There are moments, above all on June evenings when the lakes that hold our moons are sucked into the earth, and nothing is left but wine and the touch of a hand." — Charles Morgan
10. "March into May to witness that fullness of life in June." — Unknown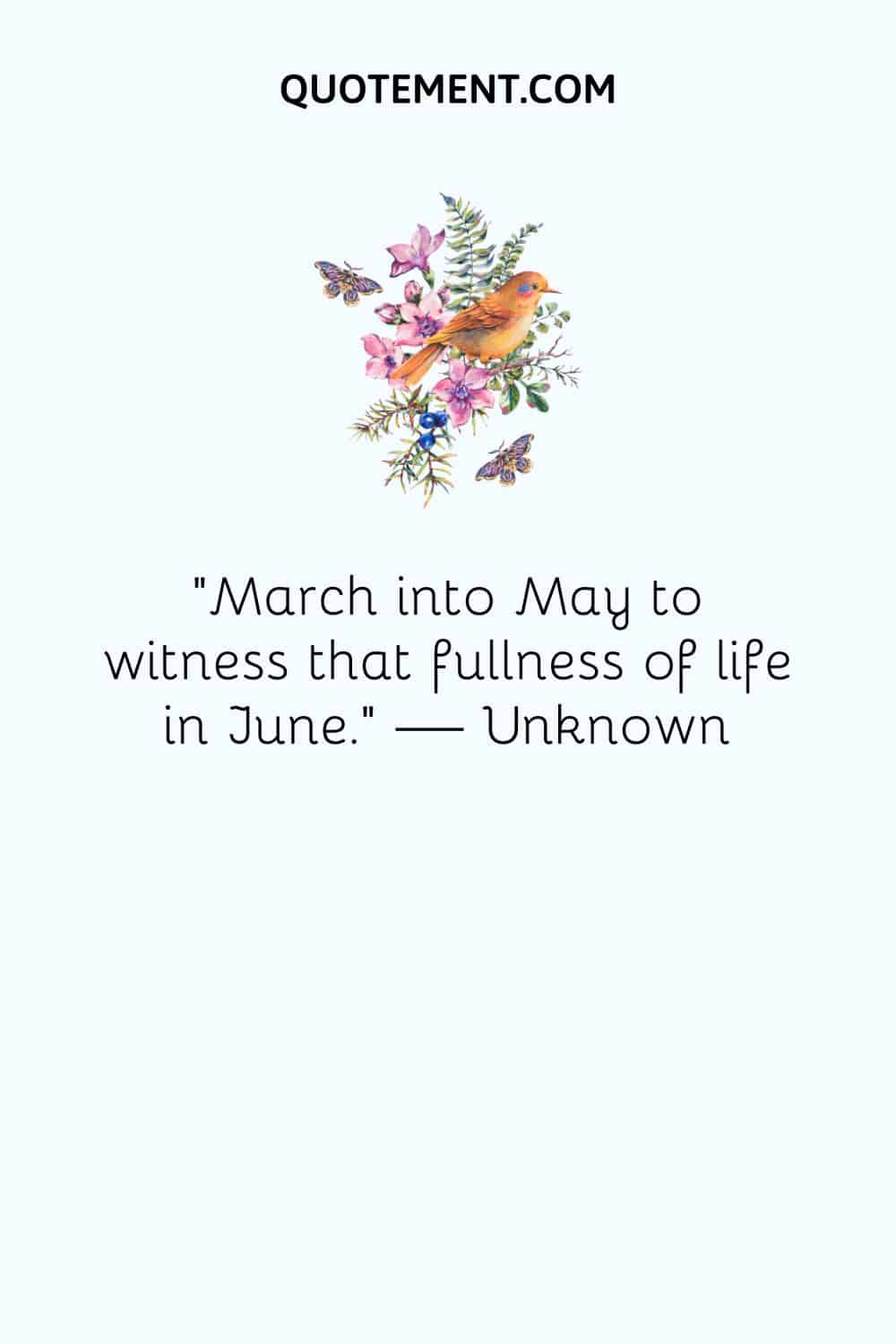 Positive June Quotes
1. "June is the time for being in the world in new ways, for throwing off the cold and dark spots of life." — Joan D. Chittister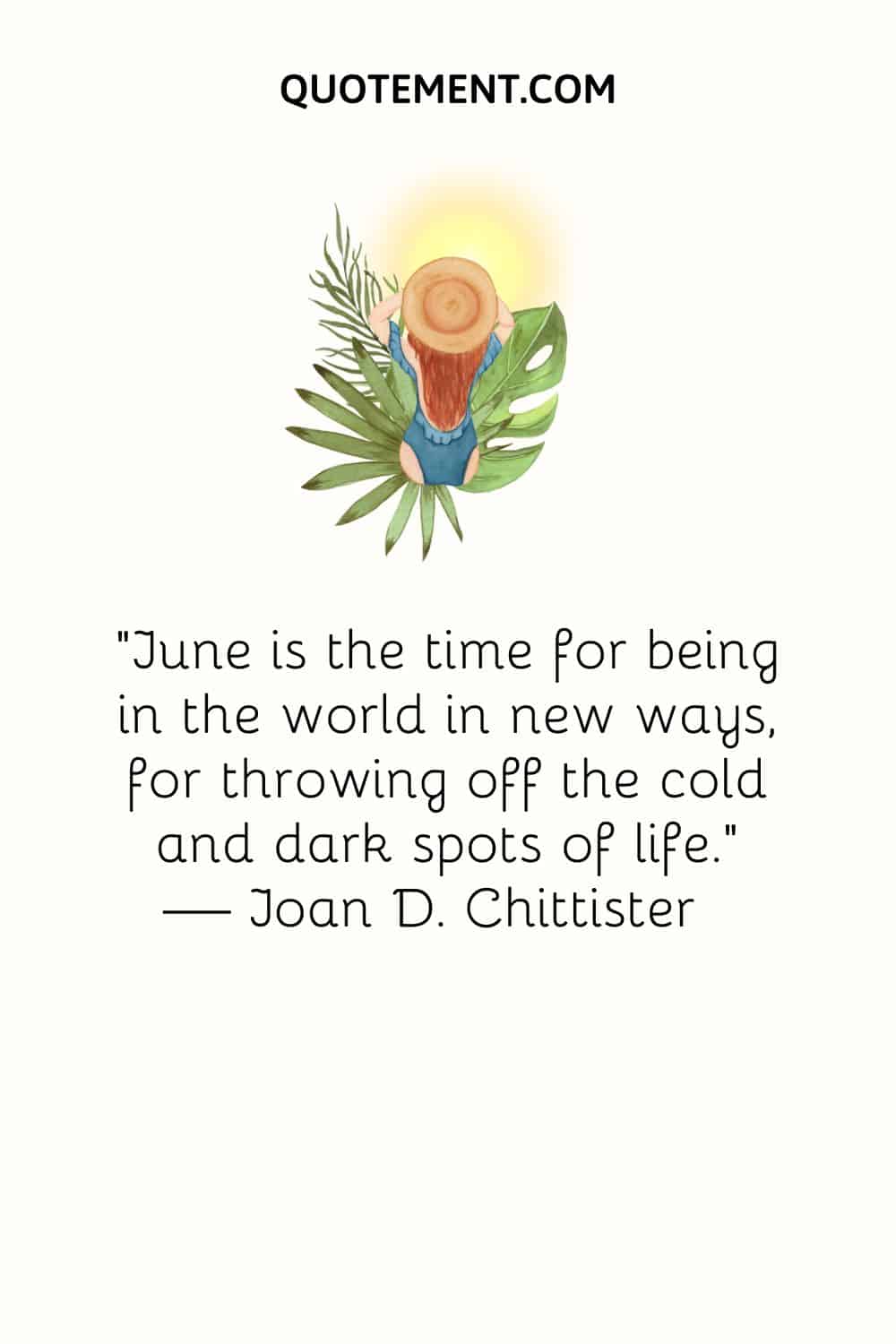 2. "Life is at the beach. All you have to do is find your wave in June." — Unknown
3. "It was June, and the world smelled of roses. The sunshine was like powdered gold over the grassy hillside." — Maud Hart Lovelace
4. "May June bring you joy, happiness, love, and lots of sunshine." — Unknown
5. "June had drawn out every leaf on the trees." — Virginia Woolf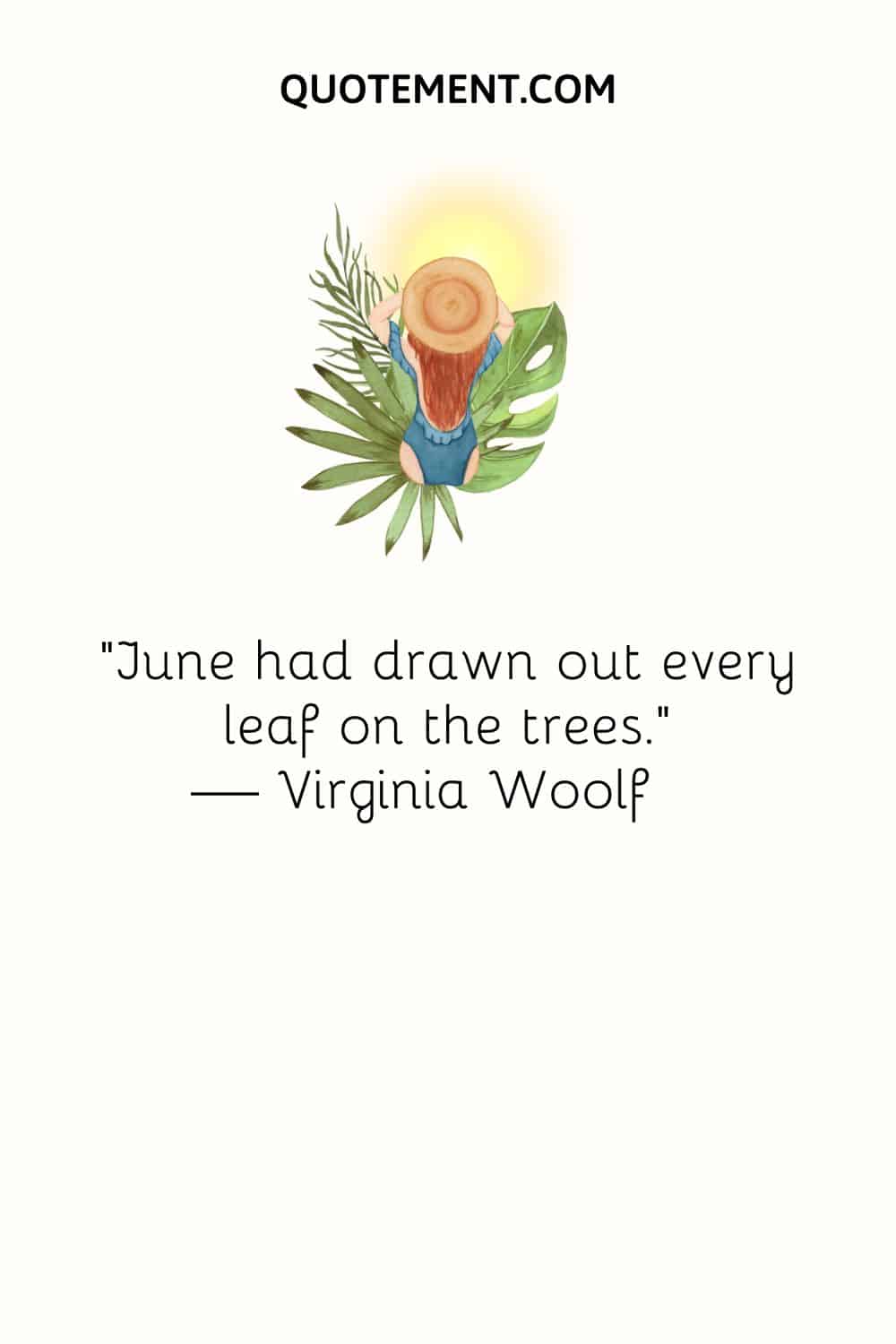 6. "It's June in January because I'm in love It always is spring in my heart with you in my arms." — Leo Robin
7. "Oh, my love's like a red, red rose, That's newly sprung in June." — John Barrowman
See also: 290 Beautiful Rose Captions For Instagram To Inspire You
8. "On this June day, the buds in my garden are almost as enchanting as the open flowers. Things in bud bring, in the heat of a June noontide, the recollection of the loveliest days of the year, those days of May when all is suggested, nothing yet fulfilled." — Francis King
9. "Life is better in flip-flops. Life is better in June." — Unknown
10. "June falls asleep upon her bier of flowers." — Lucy Larcom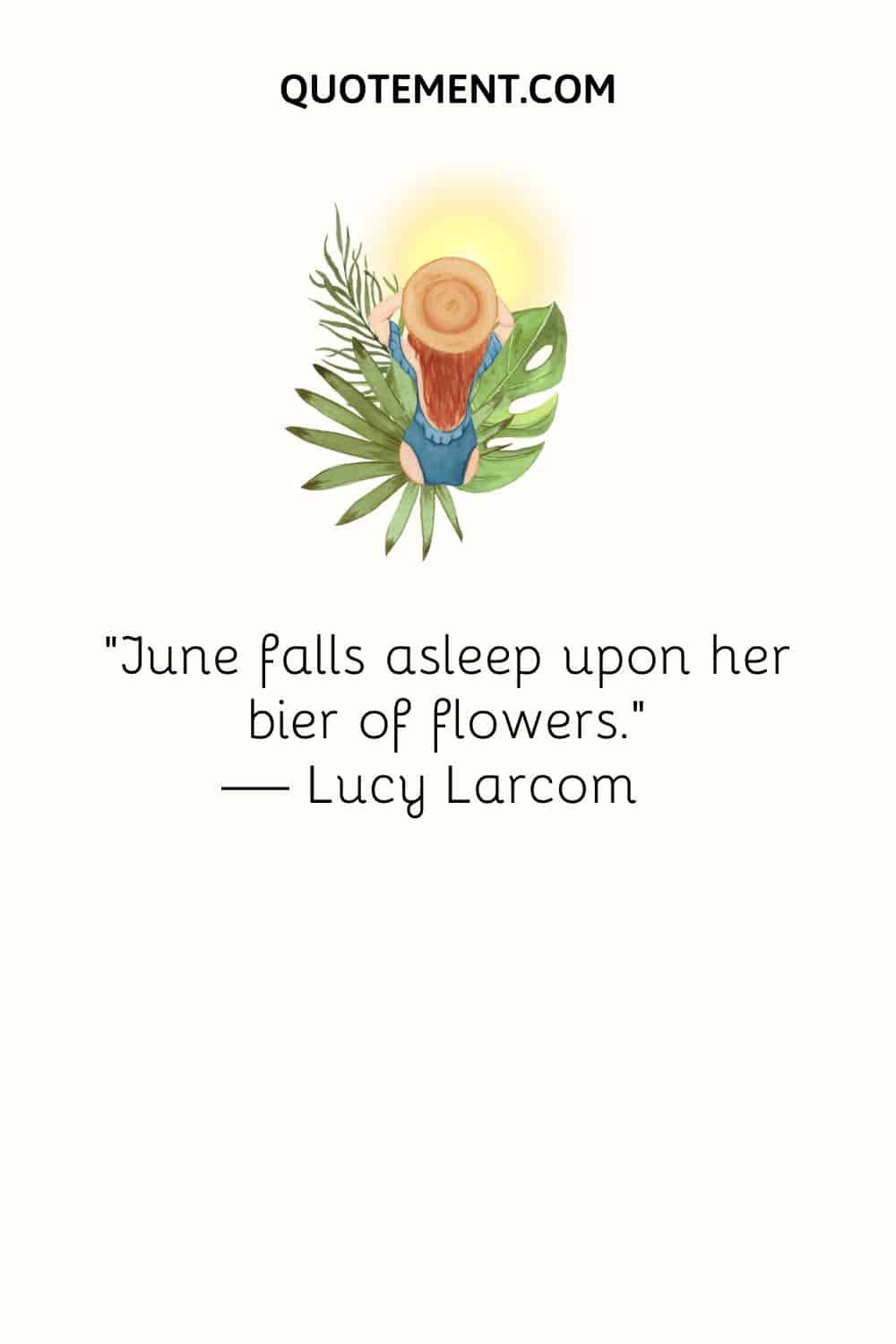 See also: 140 Beautiful Flower Captions To Make Your Post Stand Out
June Summer Quotes
1. "June is the gateway to summer." — Jean Hersey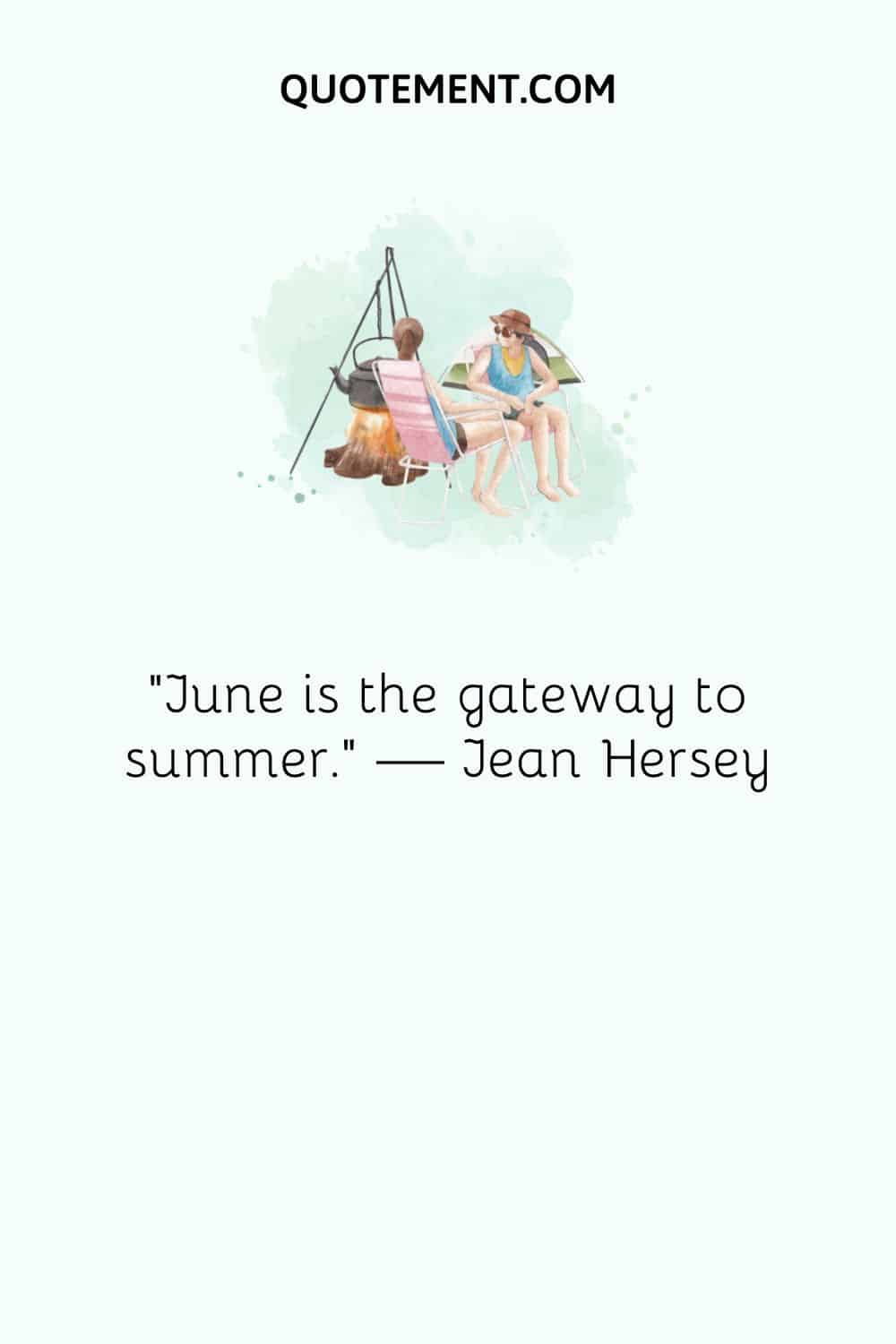 2. "Summer is a promissory note signed in June, its long days spent and gone before you know it, and due to be repaid next January." — Hal Borland
3. "Summer is the annual permission slip to be lazy." — Regina Brett
4. "Life is a summer, full of fun, at the beach, under the sun." — Debasish Mridha
5. "The summer night is like a perfection of thought." — Wallace Stevens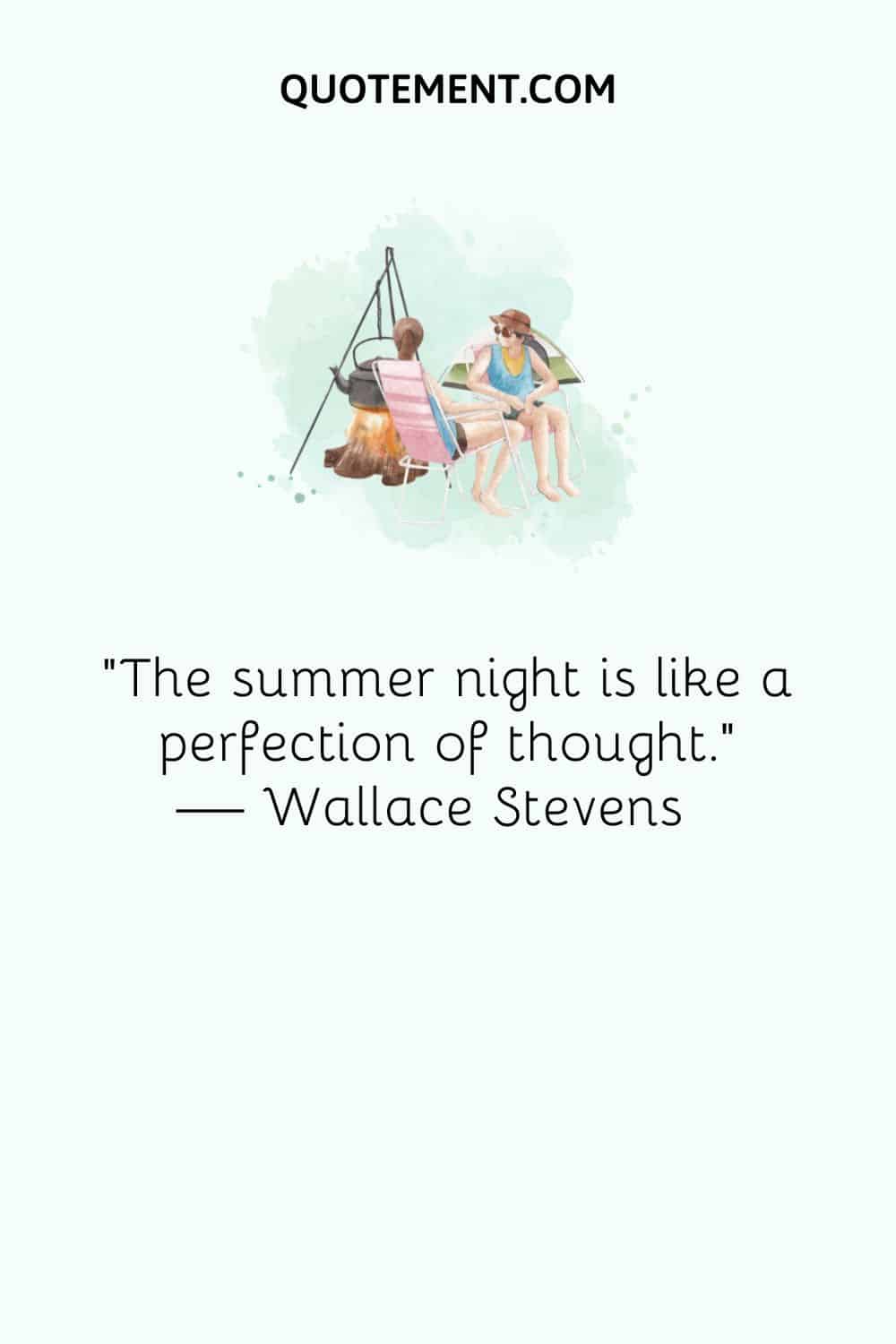 6. "A perfect summer day is when the sun is shining, the breeze is blowing, the birds are singing, and the lawnmower is broken." — James Dent
7. "What good is the warmth of summer, without the cold of winter to give it sweetness." — John Steinbeck
8. "No price is set on the lavish summer; June may be had by the poorest comer." — James Russell Lowell
9. "People don't notice whether it's winter or summer when they're happy." — Anton Chekhov
10. "In summer, the song sings itself." — William Carlos Williams
See also: 210 Best Singing Quotes To Make You Sing Your Heart Out
Famous June Month Quotes
1. "Do not the bright June roses blow to meet thy kiss at morning hours?" — William C. Bryant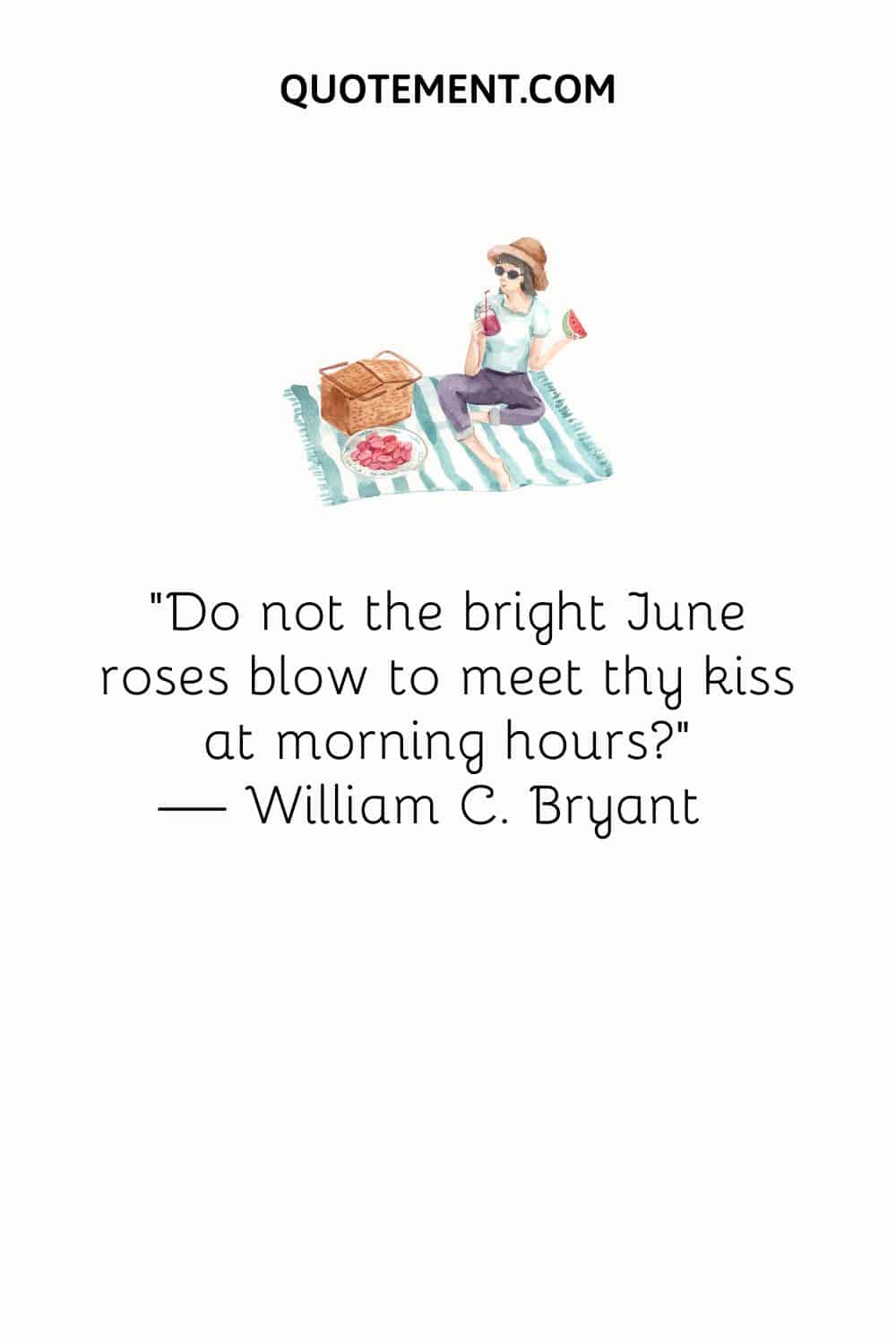 2. "I know well that the June rains just fall." — Onitsura
See also: 200 Best Rain Captions For Instagram To Rock Your Post!
3. "Goodnight, June." — Marie Lu
4. "June falls asleep upon her bier of flowers; In vain are dewdrops sprinkled o'er her, in vain would fond winds fan her back to life, her hours are numbered on the floral dial." — Lucy Larcom
5. "I realized June had never been just a month music… never just a tremble on my lips, warmth was never merely a blanket." — Sanober Khan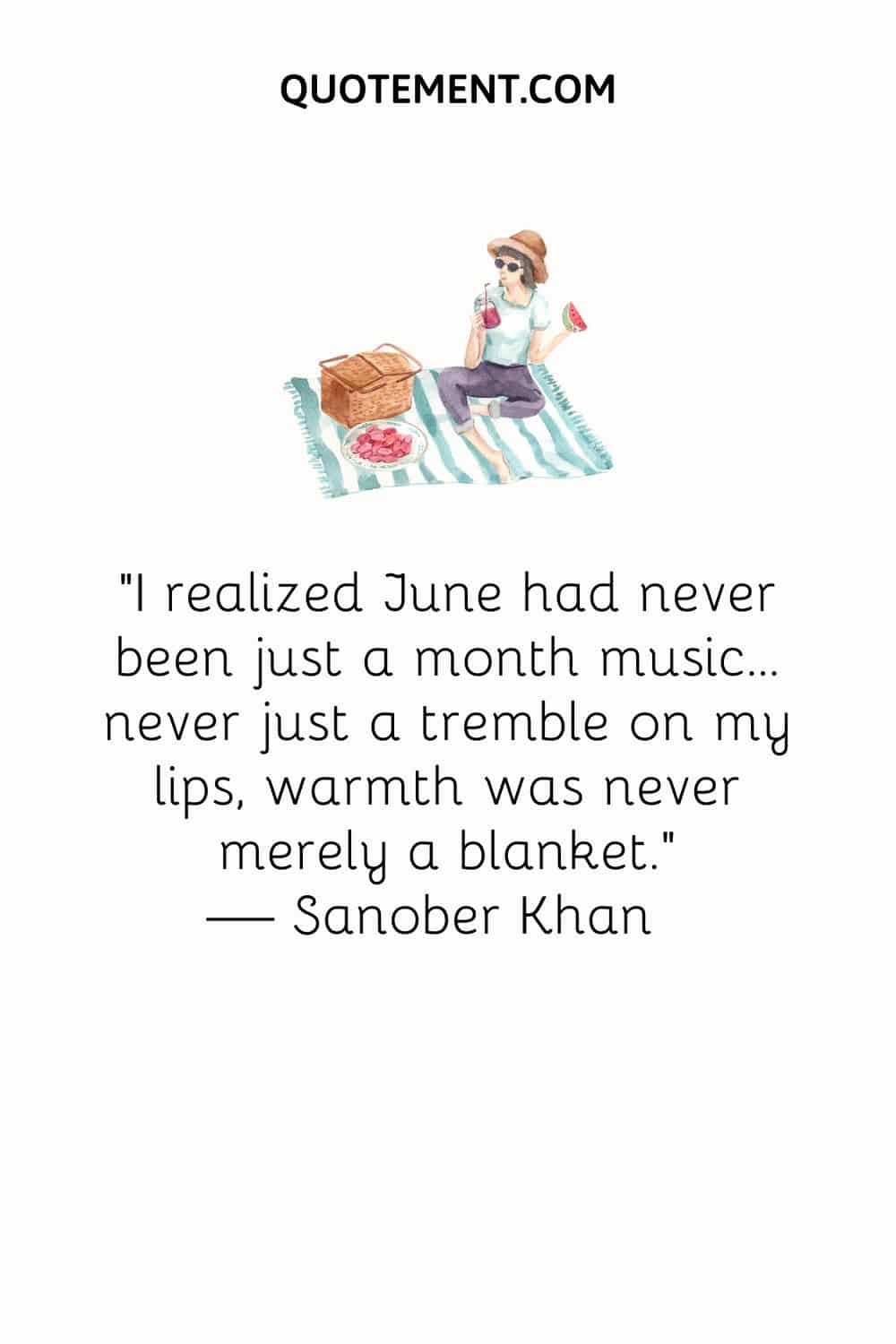 6. "And that sweet city with her dreaming spires, She needs not June for beauty's heightening." — Matthew Arnold
7. "It is dry, hazy June weather. We are more of the earth, farther from heaven these days." — Henry David Thoreau
8. "Even the illusion of June is enough to send a stabbing pain through my chest." — Marie Lu
9. "All June I bound the rose in sheaves. Now, rose by rose, I strip the leaves." — Robert Browning
10. "At midnight, in the month of June, I stand beneath the mystic moon." — Edgar Allan Poe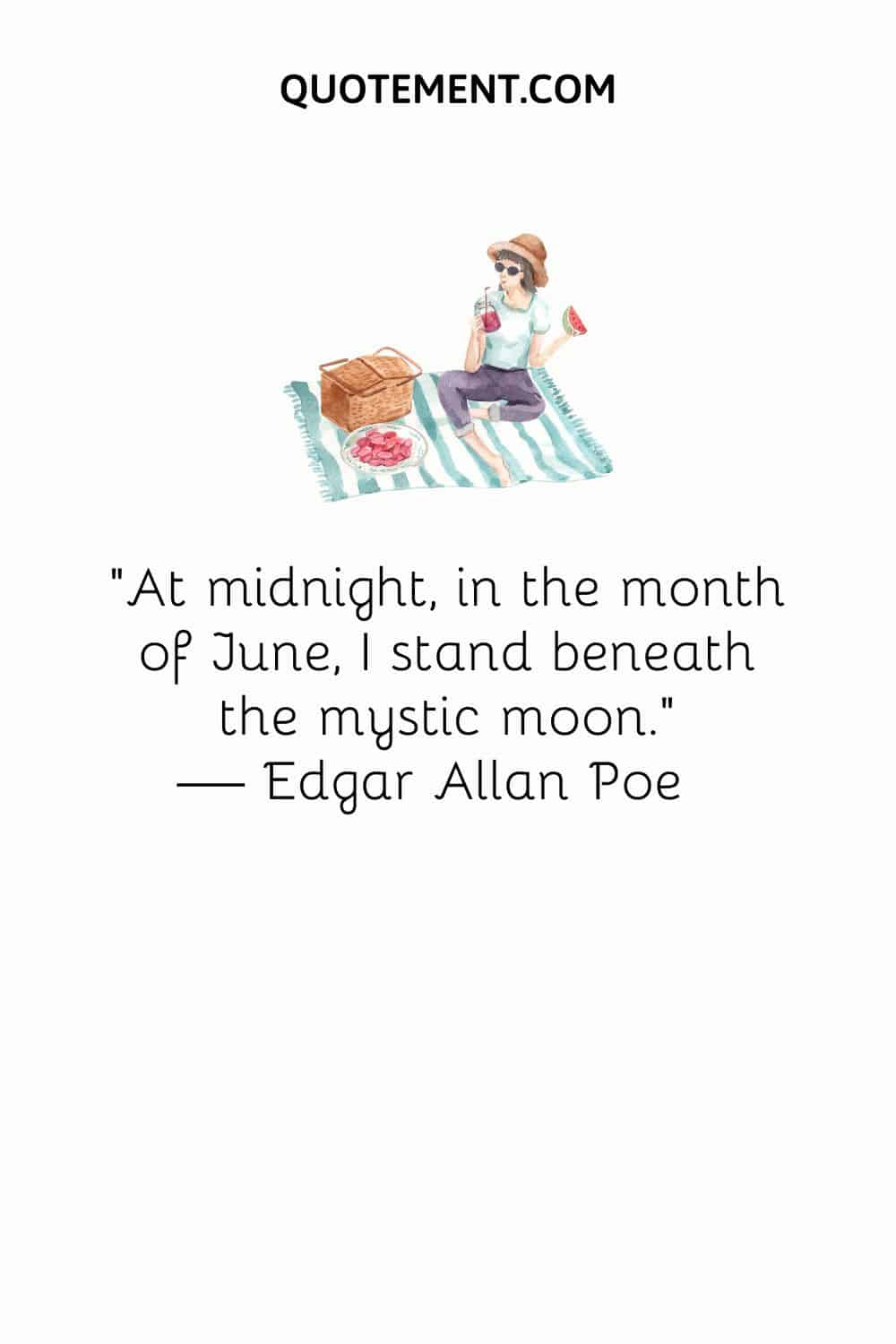 See also: 430 Beautiful Moon Captions For A Magical Instagram Post
Welcome June Quotes
1. "June is bustin' out all over." — Oscar Hammerstein II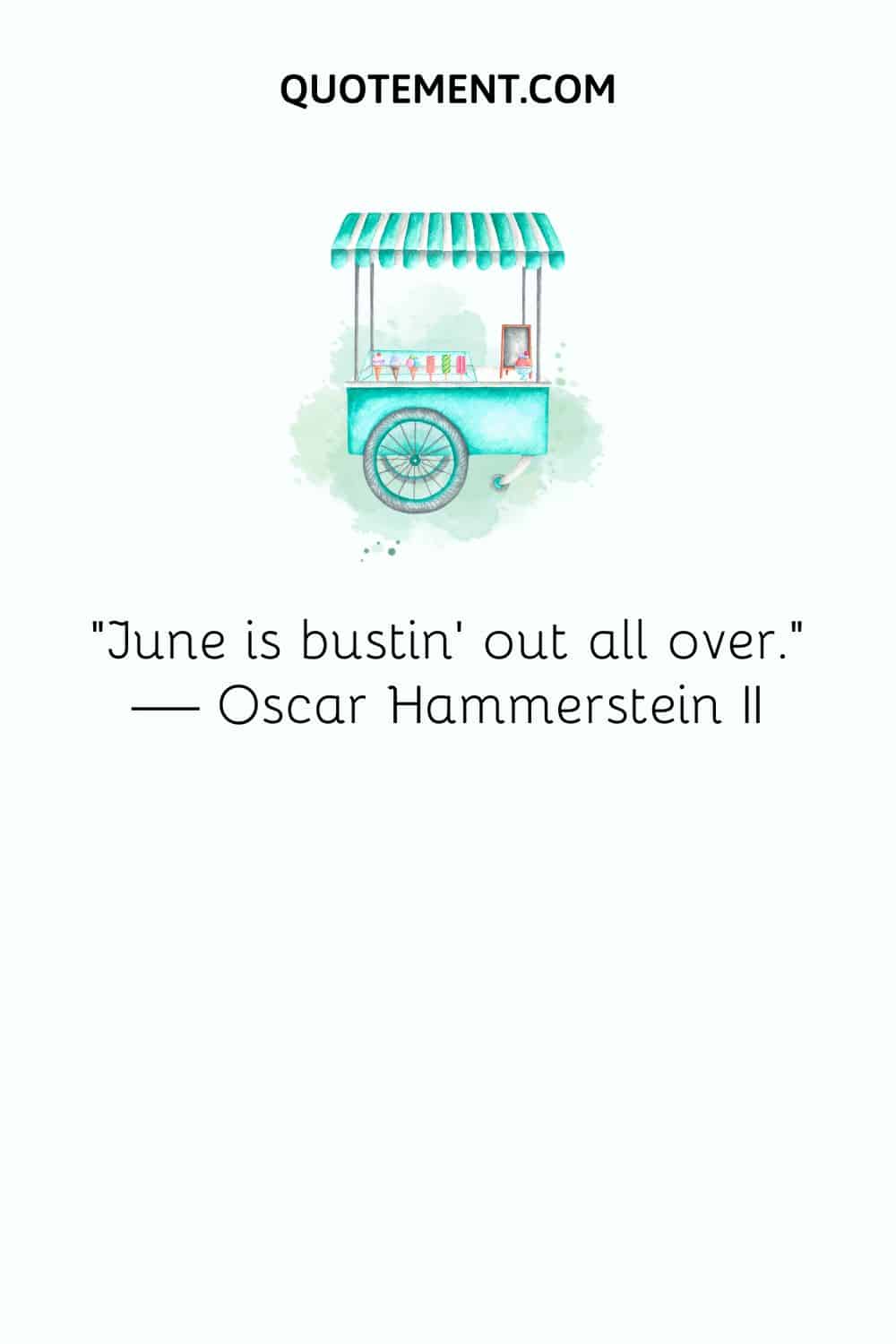 2. "Far up in the deep blue sky, Great white clouds are floating by; All the world is dressed in green; Many happy birds are seen, Roses bright and sunshine clear Show that lovely June is here." — F. G. Sanders
See also: 180 Beautiful Cloud Captions To Boost Your Instagram Post
3. "Welcome to the start of another great month!" — Unknown
4. "Ocean, summer, beach, and barbecues. Welcome, June." — Unknown
5. "Take it easy, don't rush things. Half-year is gone, but hey, welcome, June." — Unknown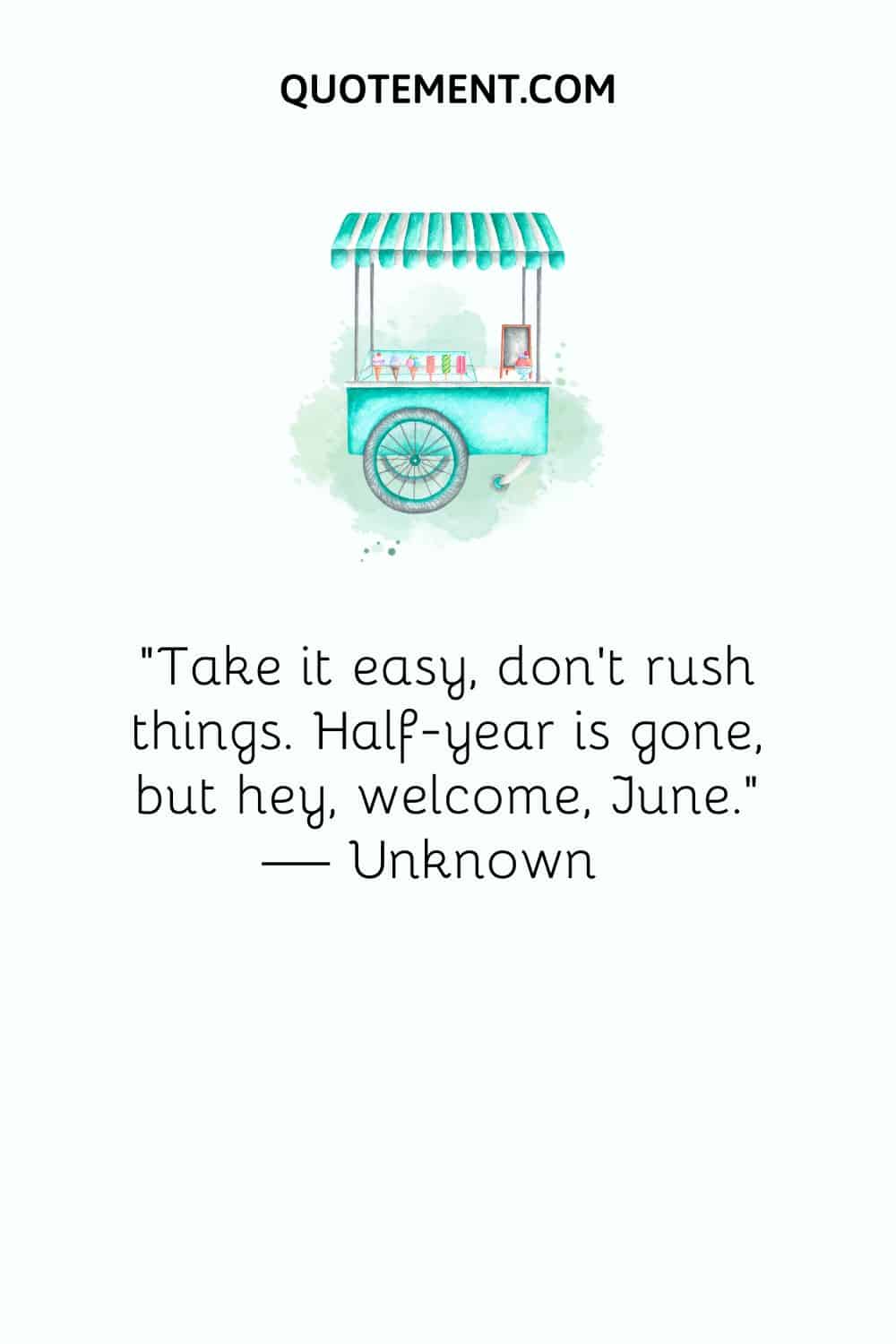 6. "June the month of months, flowers and fruitage brings too, when green trees spread shadiest boughs, when each wild bird sings too." — Christina Rossetti
7. "Welcome June: now go do what you do best." — Unknown
8. "Happy June! May the warm days ahead fill you with joy!" — Unknown
9. "The castle grounds were gleaming in the sunlight as though freshly painted; the cloudless sky smiled at itself in the smoothly sparkling lake, the satin-green lawns rippled occasionally in a gentle breeze: June had arrived." — J.K. Rowling
See also: 270 Absolutely Beautiful Sky Captions For Instagram
10. "Welcome, June! Let me 'seas' my day." — Unknown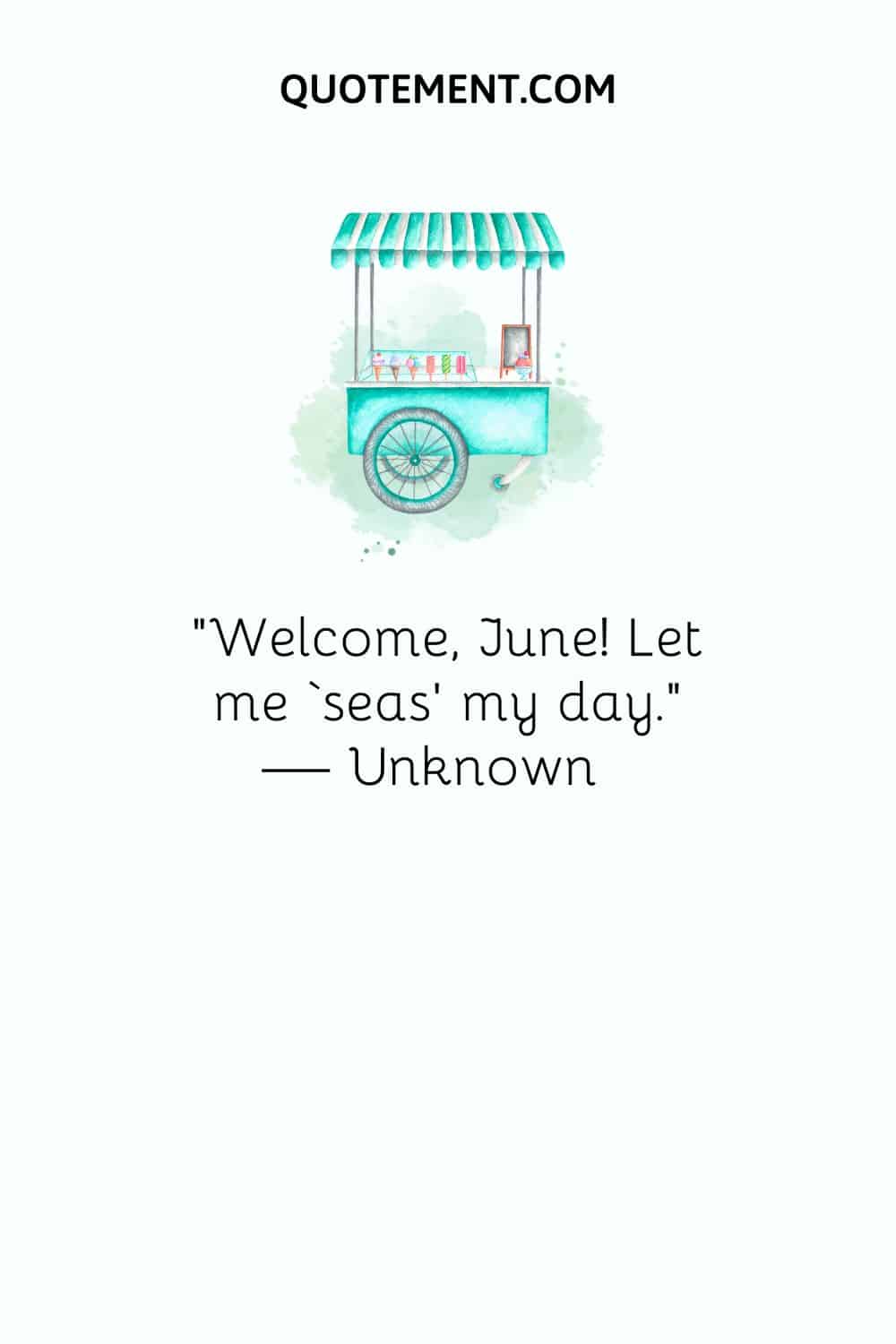 Hello June Quotes
1. "The first day of June is here, which means summer will be right behind it soon enough." — Unknown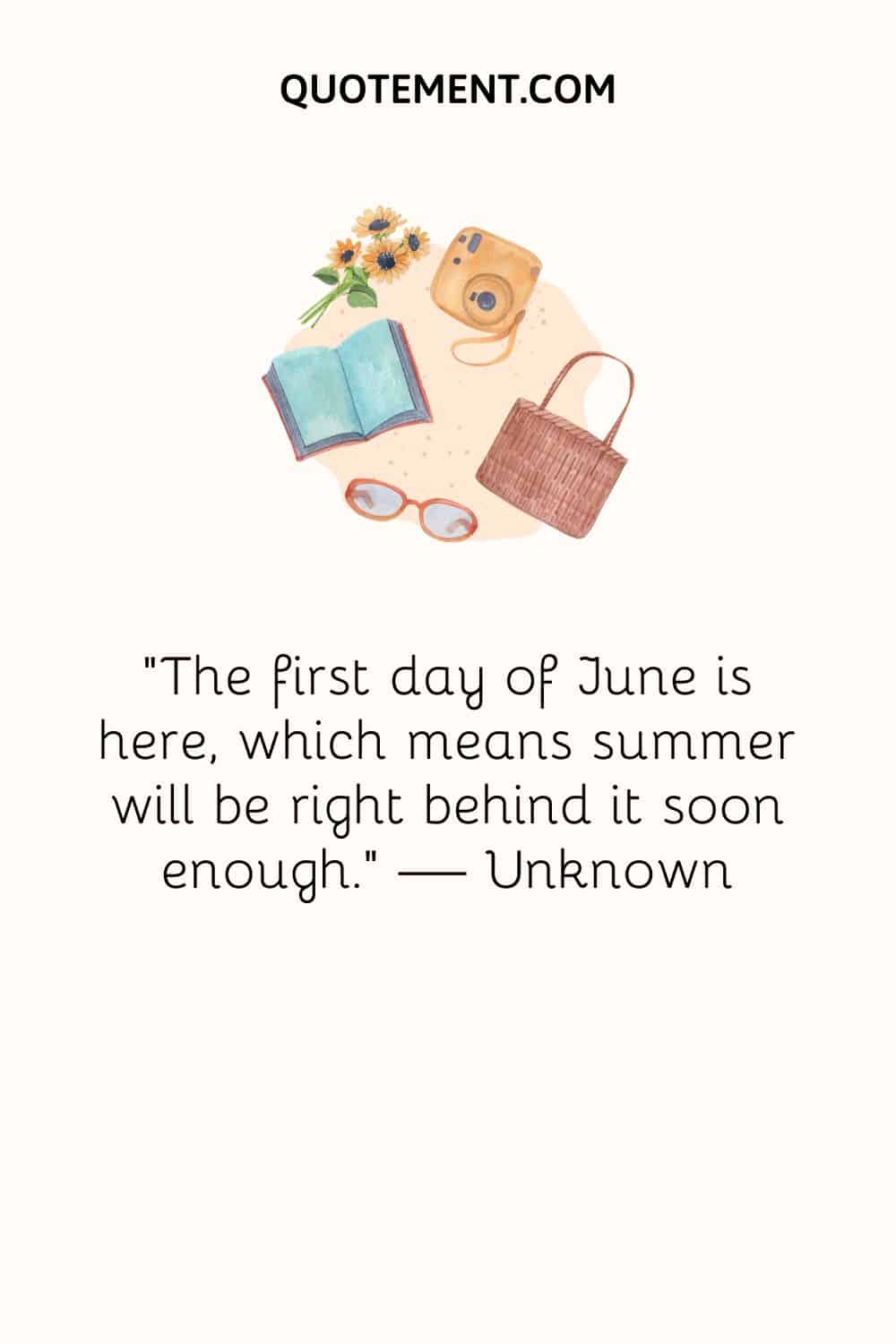 2. "June comes in with roses in her hand, but very often with a thick shawl on her shoulders, and a bad cold in her head." — Oliver Wendell Holmes
3. "Hello, June! Now, the days are going to be hotter and the nights even longer." — Unknown
4. "June brings tulips, lilies, roses, fills the children's hands with posies." — Sara Coleridge
5. "Goodbye May. It's a new month with new hope and a new spirit. Hello June! Please, be good to me." — Unknown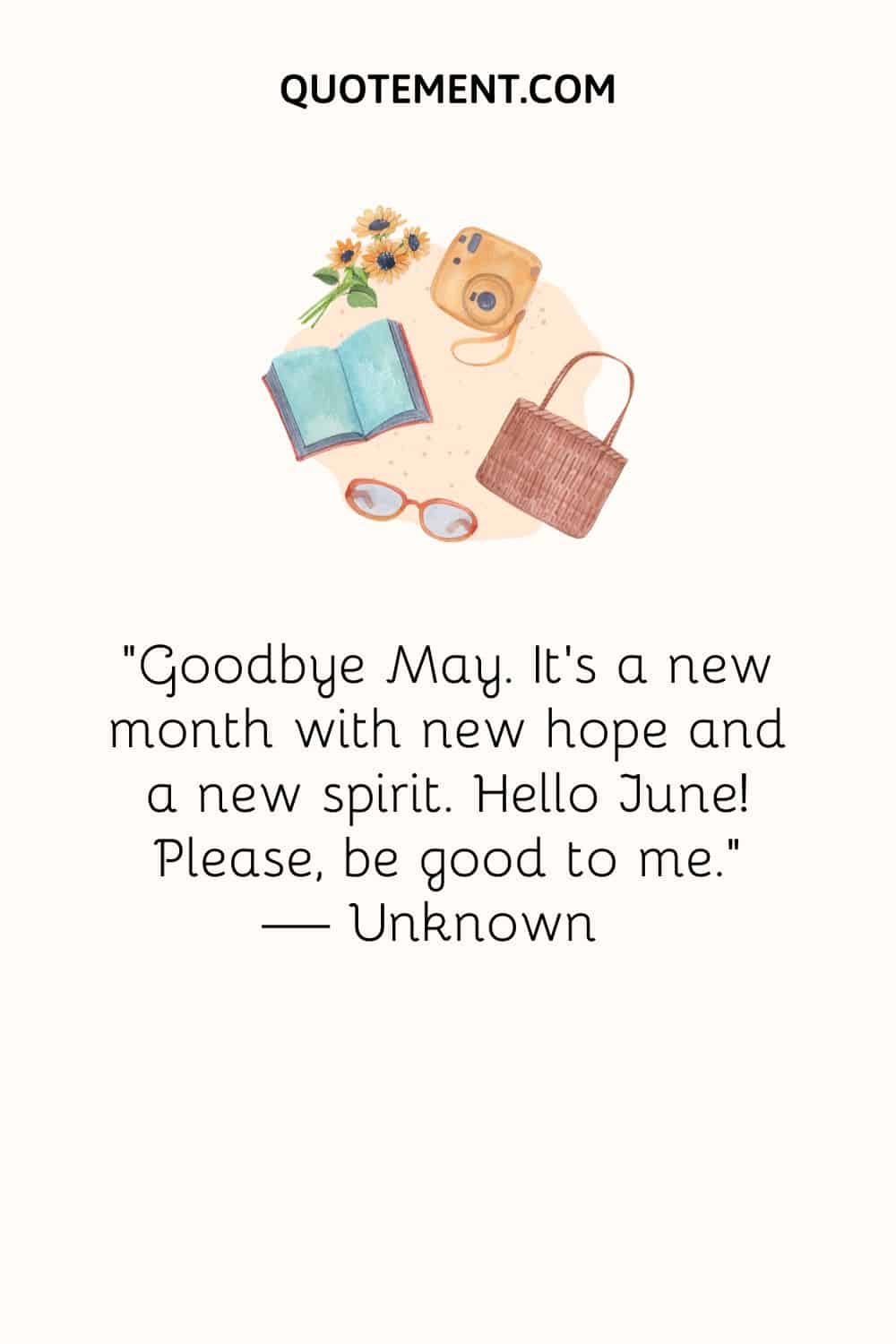 6. "Hello, June! Let the summer begin." — Unknown
7. "Hello, June and Goodbye May. Here's to an exciting, joyful, enjoyable, peaceful, and blessed month." — Unknown
8. "Hello June, I know you are going to be a great month for me." — Unknown
9. "Hello June, please be a good month that brings smiles and happiness to our lives." — Unknown
10. "It's the nature of the world. One thing remains, and one gone. Goodbye May and Hello June." — Unknown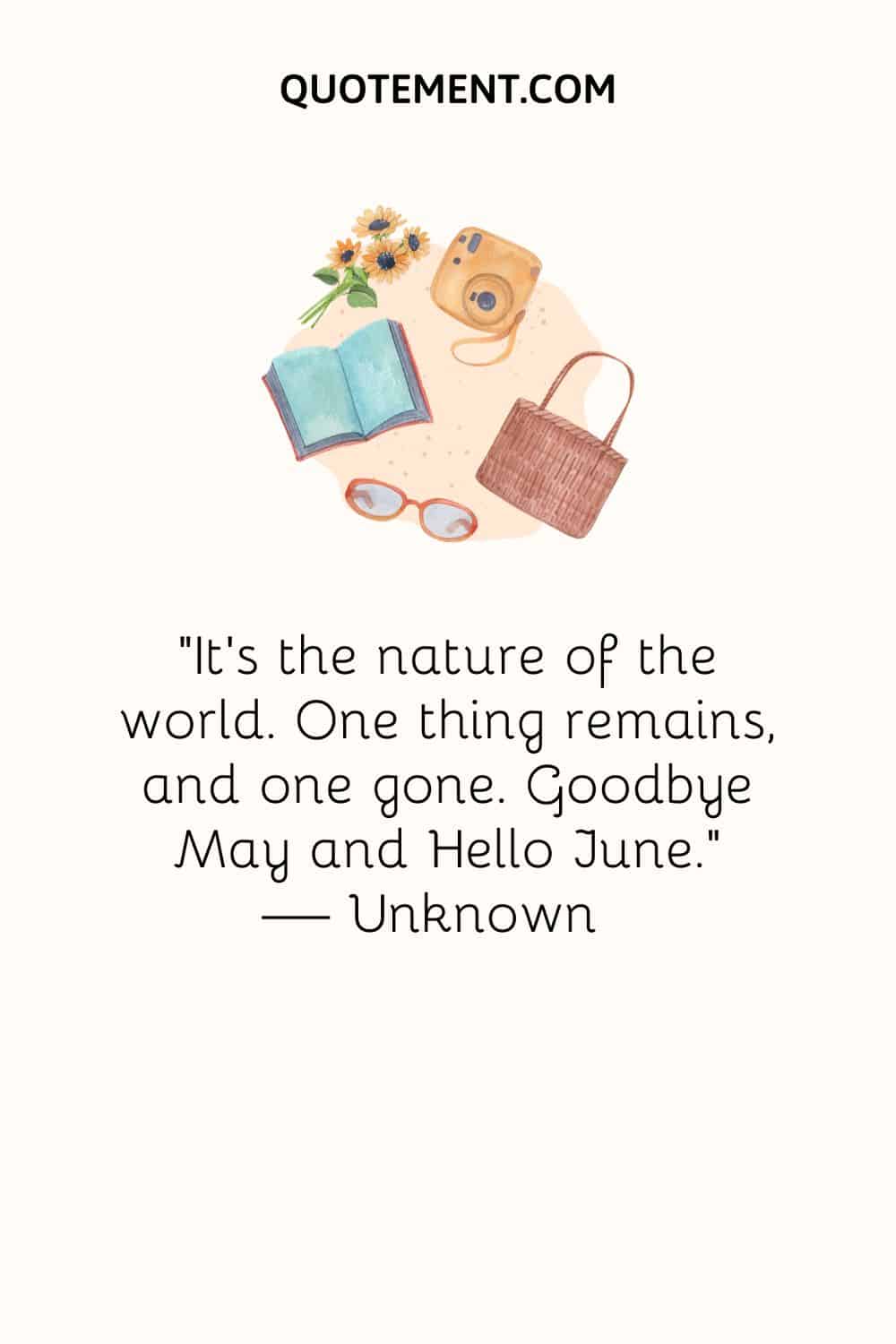 See also: 150 Nature Captions For Instagram For All The Nature Lovers
June Life Quotes
1. "It's a cruel season that makes you get ready for bed while it's light out." — Bill Watterson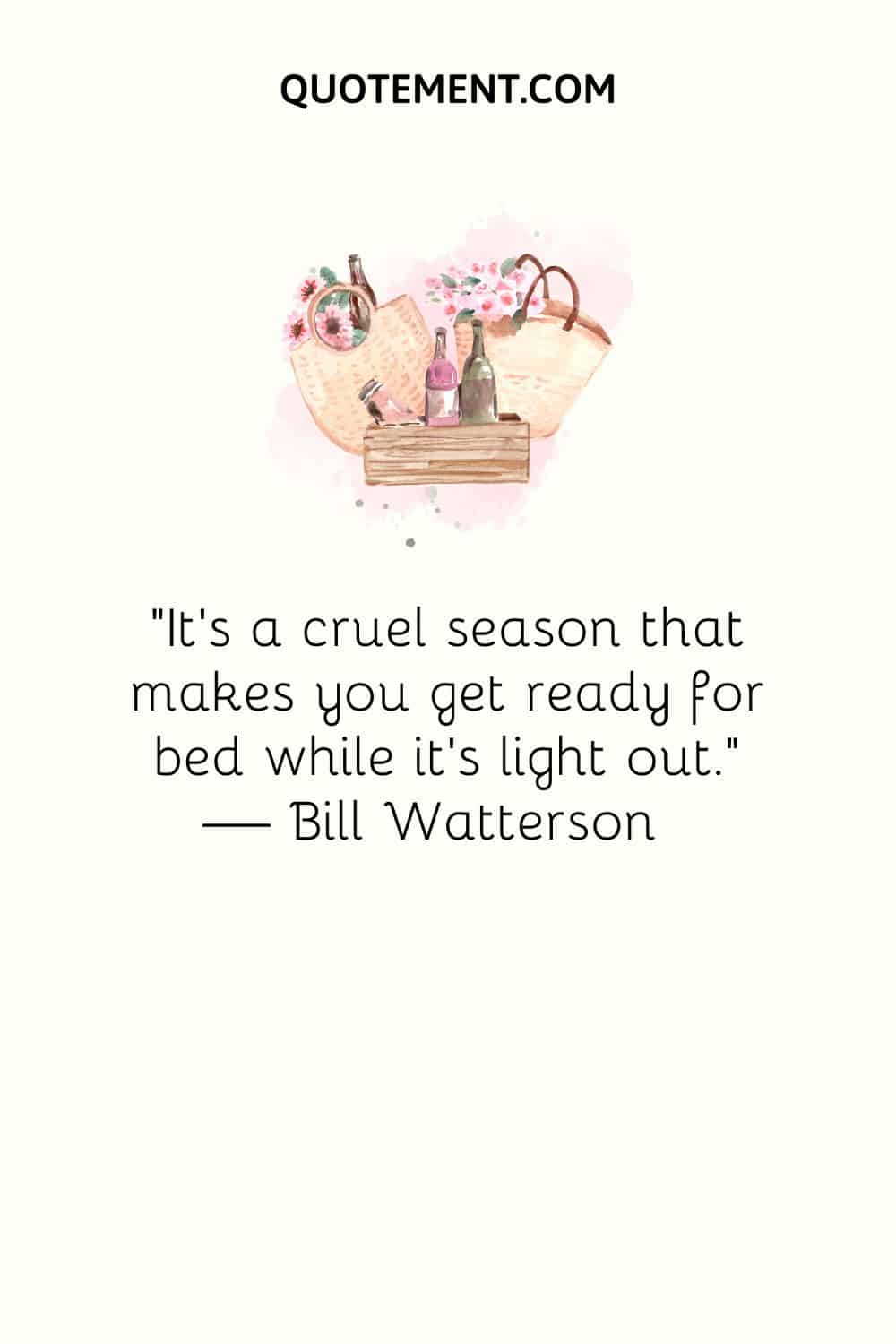 2. "A cold in the head in June is an immoral thing." — L.M. Montgomery
3. "Spring being a tough act to follow, God created June." — Al Bernstein
4. "To read a poem in January is as lovely as to go for a walk in June." — Jean Paul Sartre
5. "Sometimes the snow comes down in June, sometimes the sun goes around the moon." ― Vanessa L. Williams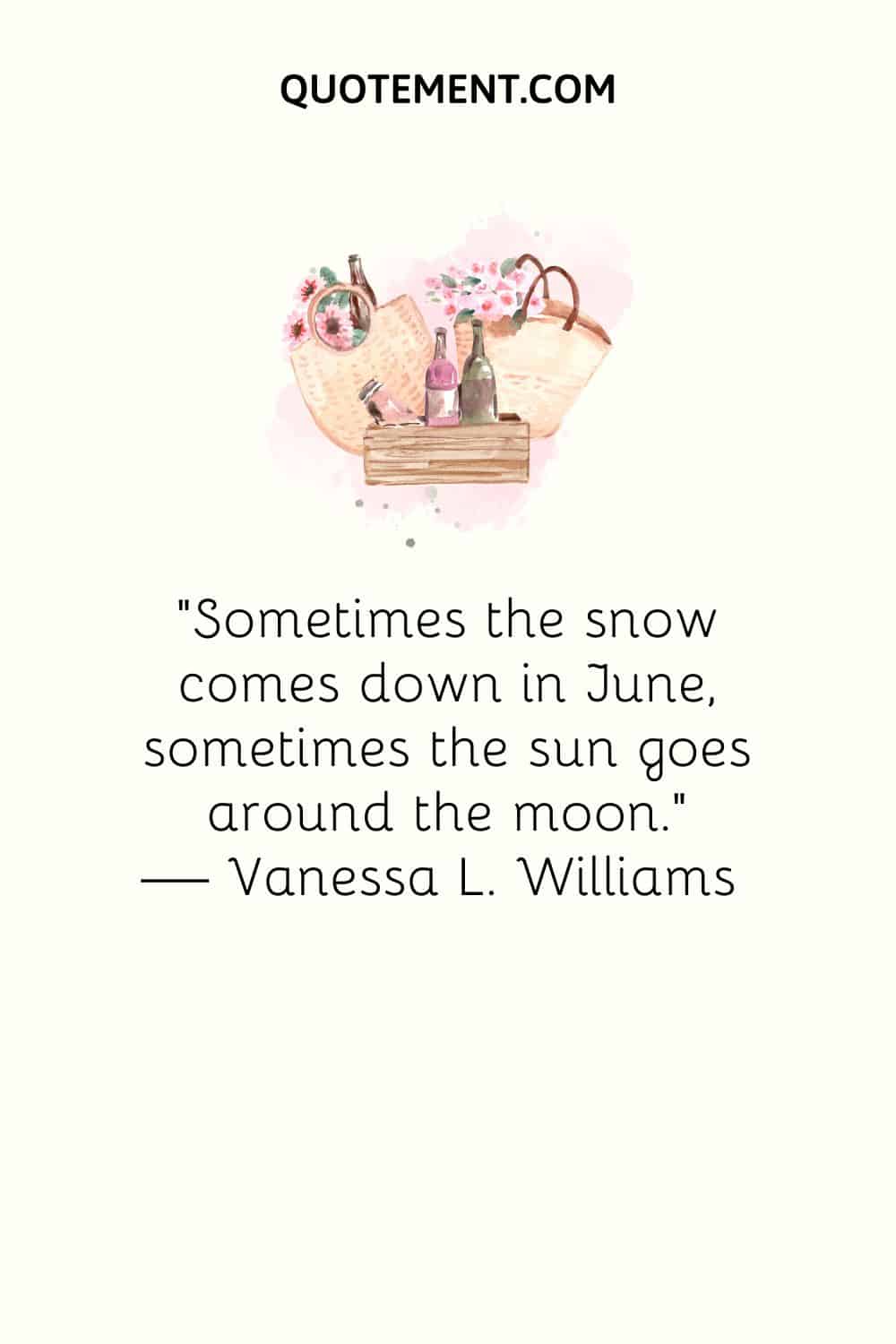 6. "There are two seasons in Scotland: June and Winter." ― Billy Connolly
7. "If you're not barefoot on the beach day in June, then you're overdressed." — Unknown
8. "In these divine pleasures permitted to me of walks in the June night under moon and stars, I can put my life as a fact before me and stand aloof from its honor and shame." — Ralph Waldo Emerson
9. "It is June. I am tired of being brave." — Anne Sexton
10. "Wine and cheese are ageless companions, like aspirin and aches, or June and moon, or good people and noble ventures." — M. F. K. Fisher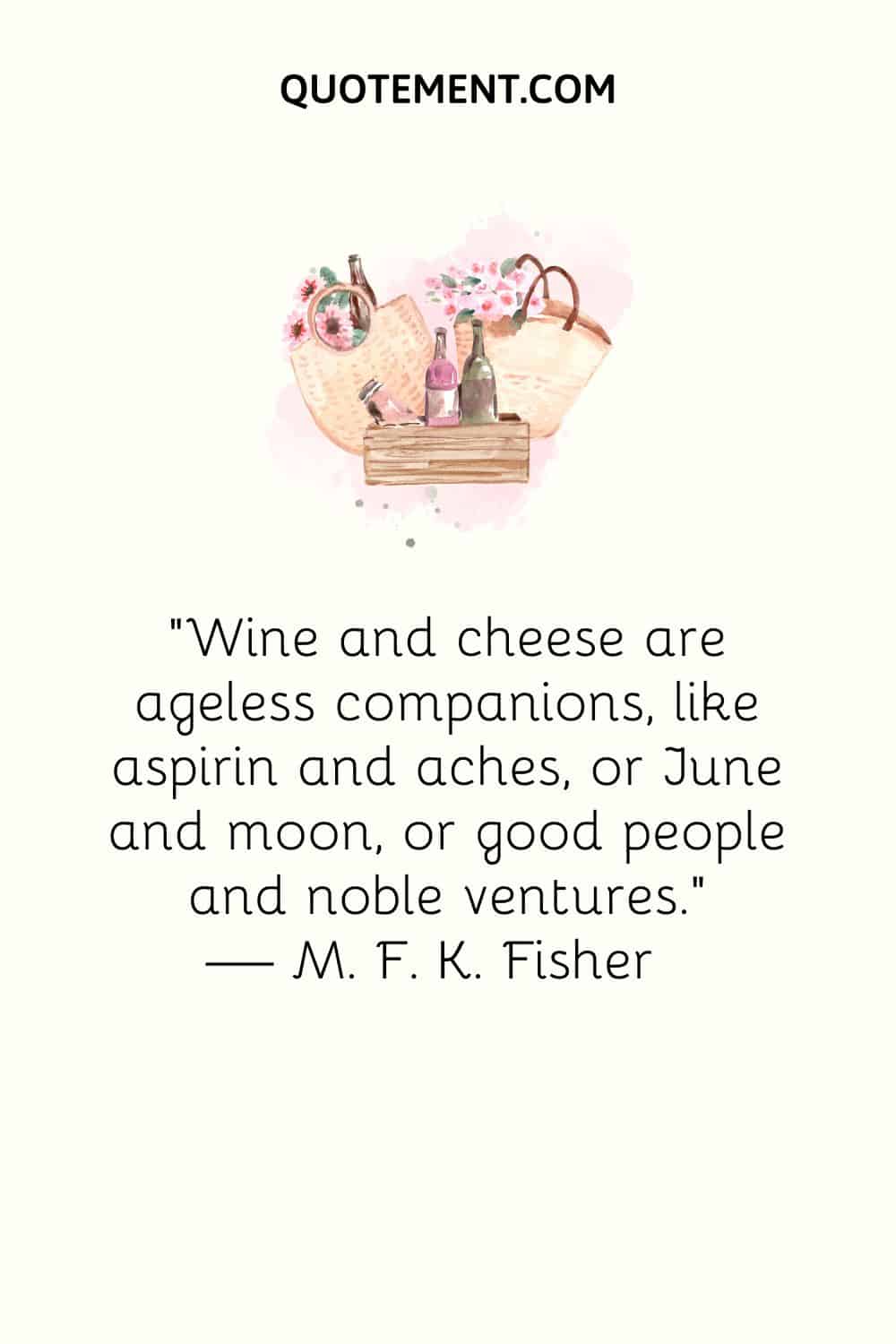 See also: 340 Ultimate Best Wine Captions For Wine Lovers Everywhere
To Conclude
What a lovely collection of June quotes, don't you agree?
I hope these quotes on June inspired you and got you excited for summer.
Until next time!