Are you interested in reading some inspirational quotes about light that are filled with life lessons?
Great! Below you'll discover the best light quotes I could find on the web.
Some of them will serve as a great source of inspiration to you and some will make you see light in a different way.
In any case, these light quotes are sure to speak to you.
Check them out below!
20 Best Light Quotes
1. "Thousands of candles can be lighted from a single candle. Happiness never decreases by being shared." — Buddha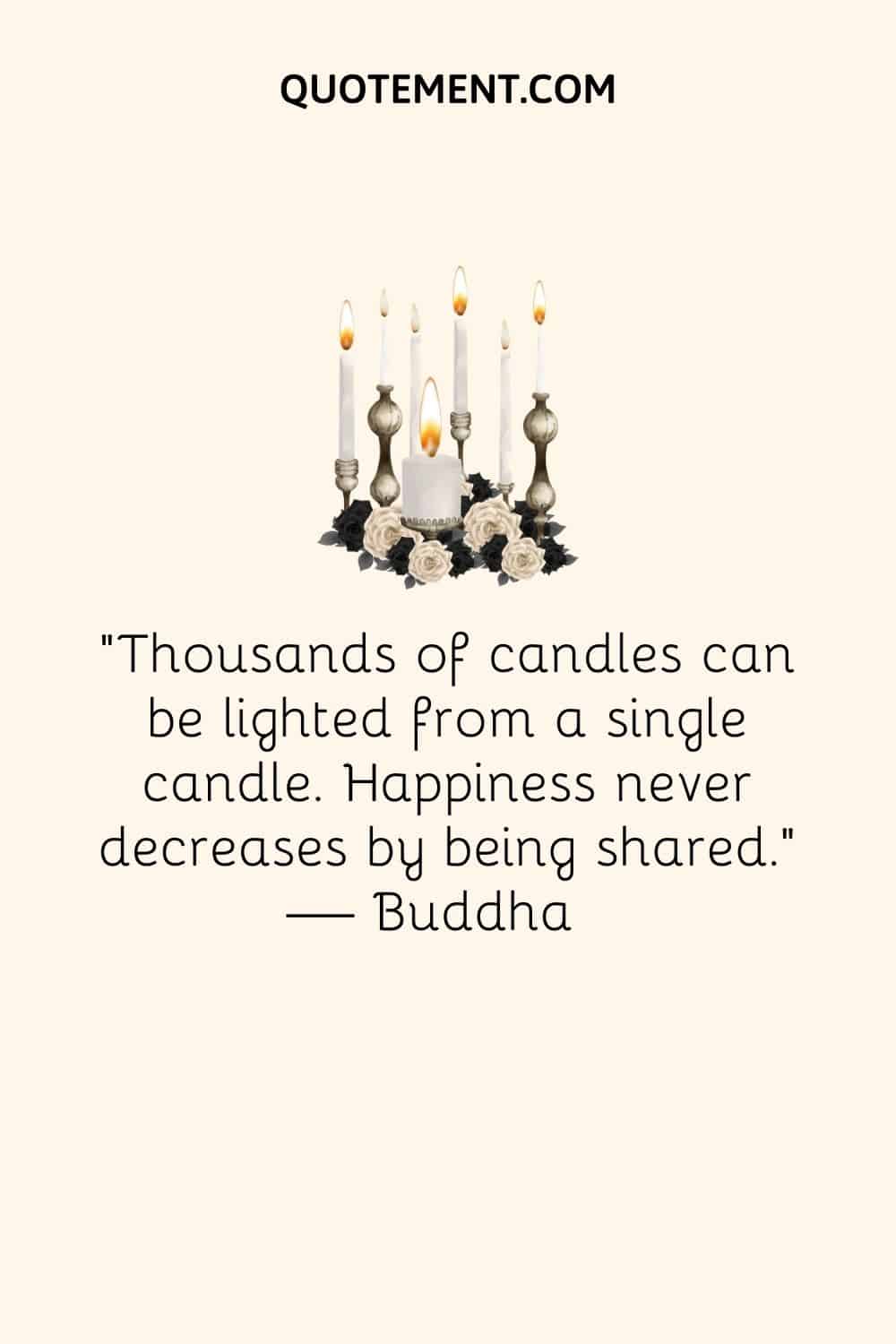 2. "Darkness cannot drive out darkness; only light can do that. Hate cannot drive out hate; only love can do that." — Martin Luther King Jr.
3. "I will love the light for it shows me the way. Yet I will endure the darkness for it shows me the stars." — Og Mandino
4. "It is during our darkest moments that we must focus to see the light." — Aristotle
5. "Only when we are brave enough to explore the darkness will we discover the infinite power of our light." — Brené Brown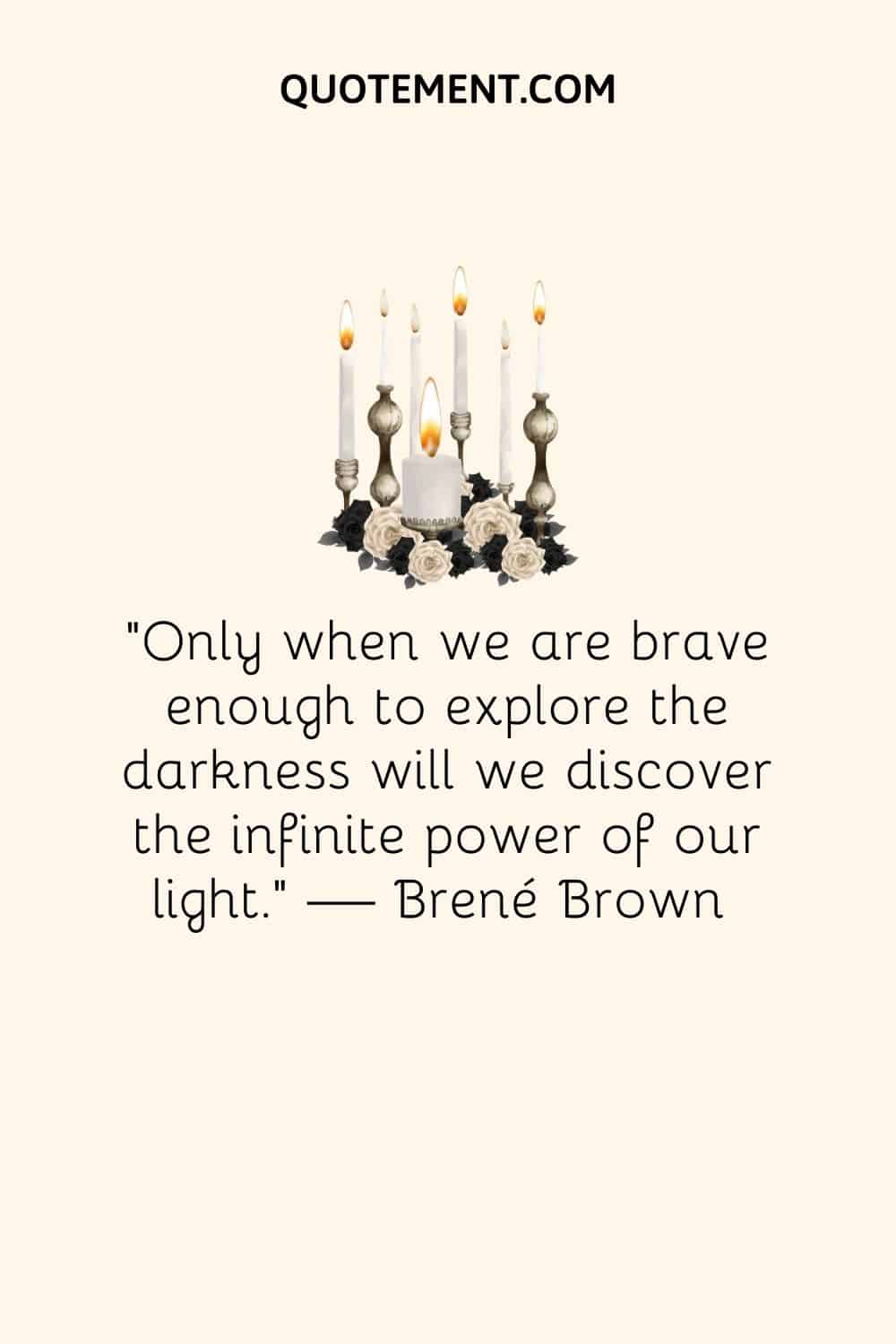 6. "Faith is the strength by which a shattered world shall emerge into the light." — Helen Keller
7. "At times our own light goes out and is rekindled by a spark from another person. Each of us has cause to think with deep gratitude of those who have lighted the flame within us." — Albert Schweitzer
8. "Every man must decide whether he will walk in the light of creative altruism or in the darkness of destructive selfishness." — Martin Luther King Jr.
9. "There is a crack in everything, that's how the light gets in." — Leonard Cohen
10. "There are two ways of spreading light; to be the candle or the mirror that reflects it." — Edith Wharton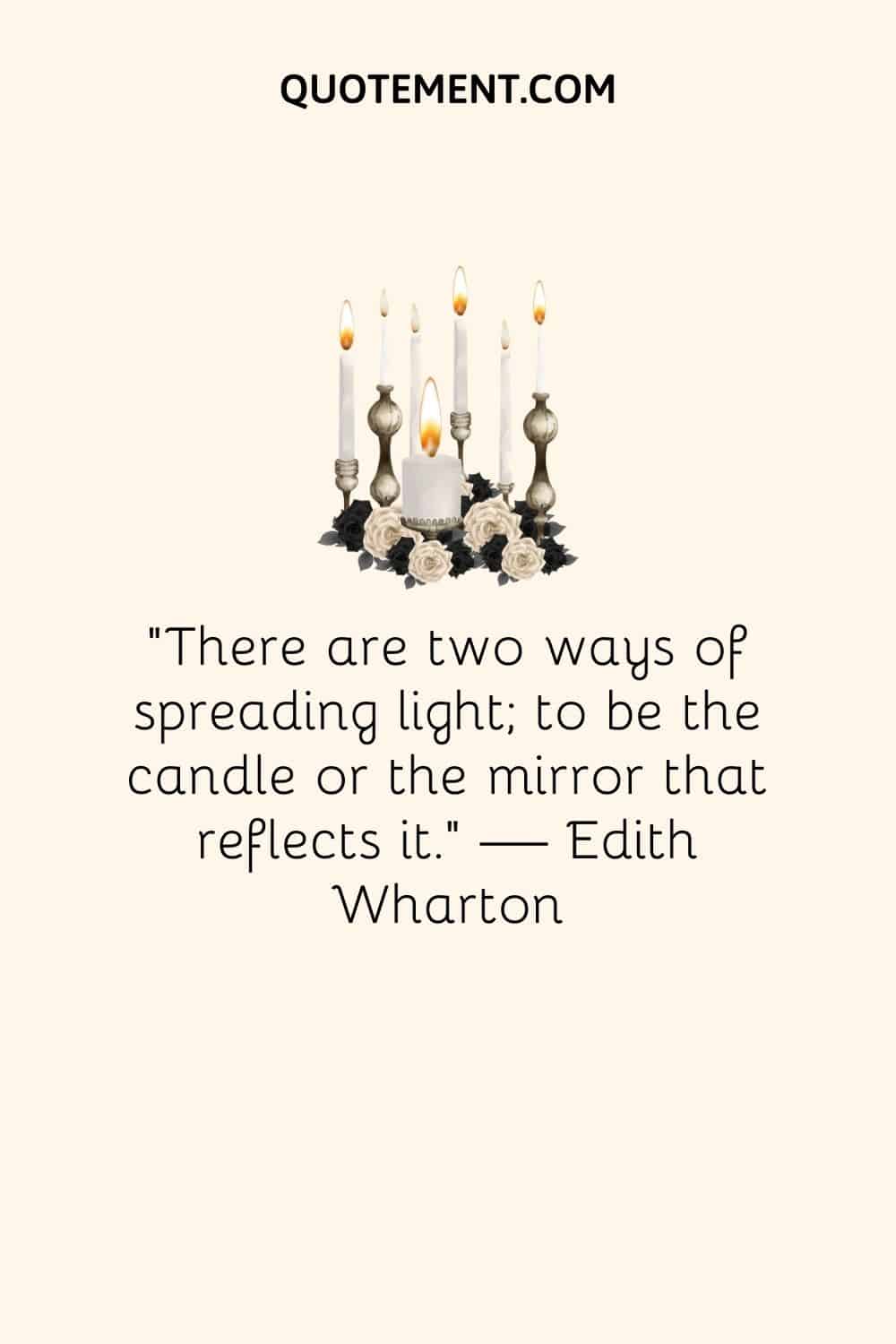 11. "Every moment of light and dark is a miracle." — Walt Whitman
12. "There's a sorrow and pain in everyone's life, but every now and then there's a ray of light that melts the loneliness in your heart and brings comfort like hot soup and a soft bed." — Hubert Selby, Jr.
13. "Look at how a single candle can both defy and define the darkness." — Anne Frank
14. "Don't fight darkness — bring the light, and darkness will disappear." — Maharishi Mahesh Yogi
15. "There is no darkness so dense, so menacing, or so difficult that it cannot be overcome by light." — Vern P. Stanfill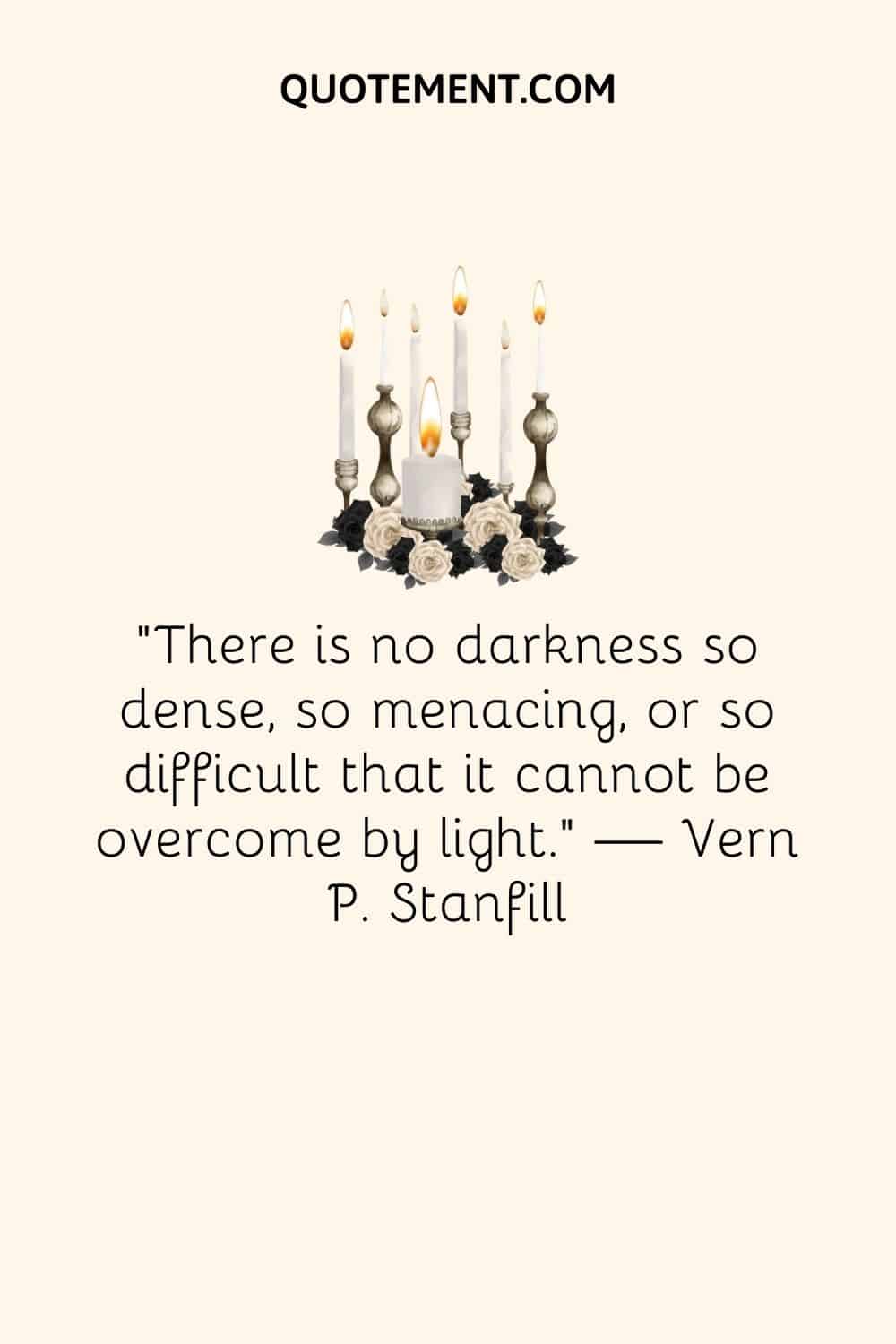 16. "Never fear to deliberately walk through dark places, for that is how you reach the light on the other side." — Vernon Howard
17. "Just as one candle lights another and can light thousands of other candles, so one heart illuminates another heart and can illuminate thousands of other hearts." — Leo Tolstoy
18. "In order for the light to shine so brightly, the darkness must be present." — Sir Francis Bacon
19. "As we let our light shine, we unconsciously give other people permission to do the same. As we are liberated from our own fear, our presence actually liberates others." — Marianne Williamson
20. "It is often in the darkest skies that we see the brightest stars." — Richard Evans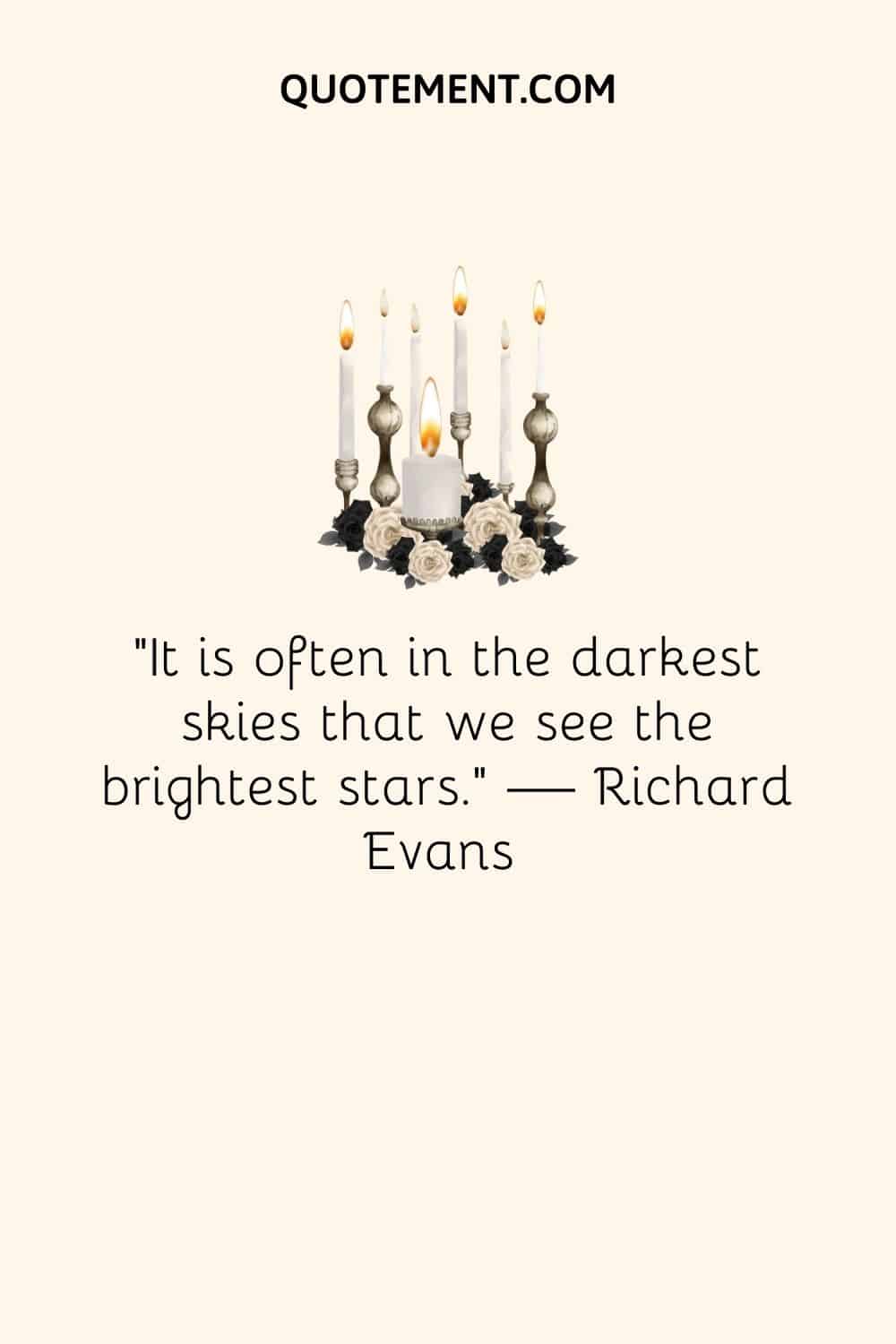 See also: 270 Absolutely Beautiful Sky Captions For Instagram
Inspirational Quotes About Light
1. "Believe in the light while you have the light, so that you may become children of the light." — Bible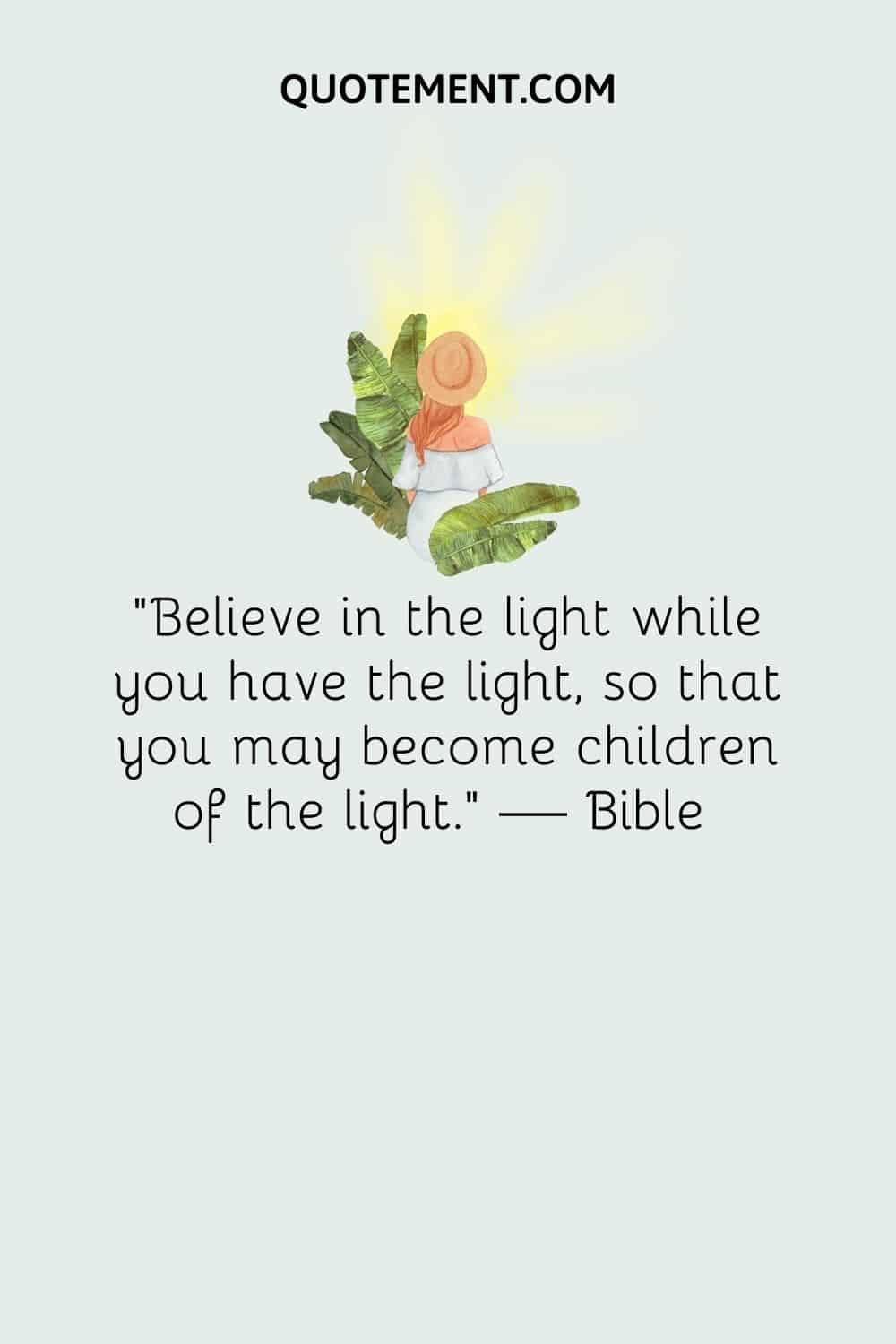 2. "There is no denying that there is evil in this world but the light will always conquer the darkness." — Idowu Koyenikan
3. "If there is light in the soul, there will be beauty in the person. If there is beauty in the person, there will be harmony in the house. If there is harmony in the house, there will be order in the nation. If there is order in the nation, there will be peace in the world." — Chinese Proverb
4. "The spirit is there in every boy; it has to be discovered and brought to light." — Robert Baden-Powell
5. "Beauty is not in the face; Beauty is a light in the something you do daily." — Mike Murdock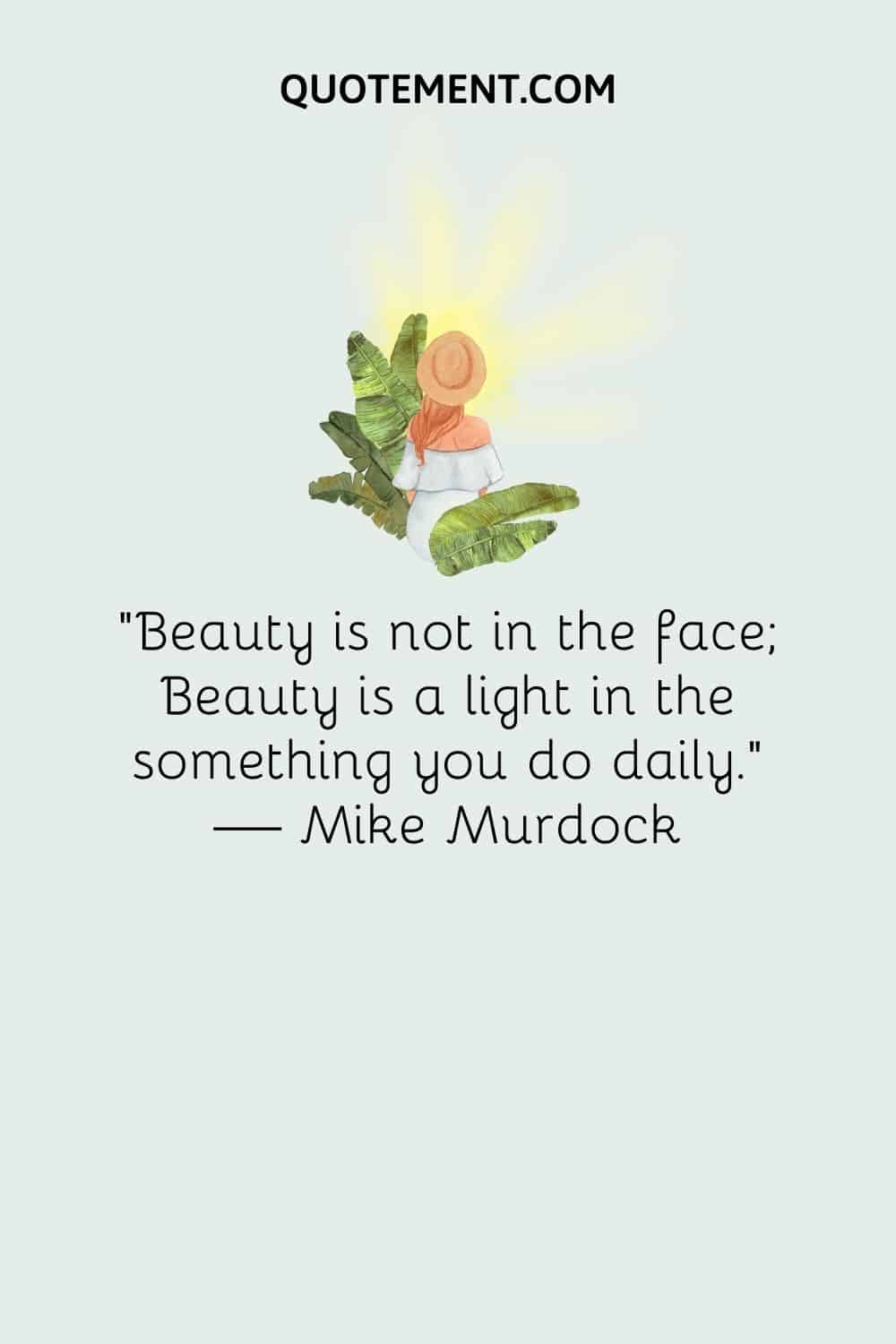 6. "Is there anything more loyal than the sun?" — Mary Oliver
7. "We are indeed the light of the world — but only if our switch is turned on." — John Hagee
8. "If the light is in your heart, you will find your way home." — Rumi
9. "Nature is a light, and by looking at Nature in her own light we will understand her. Visible Nature may be seen in her visible light; invisible Nature may become visible if we acquire the power to perceive her invisible light." — Paracelsus
See also: 150 Nature Captions For Instagram For All The Nature Lovers
10. "Light and shadow are opposite sides of the same coin. We can illuminate our paths or darken our way. It is a matter of choice." — Maya Angelou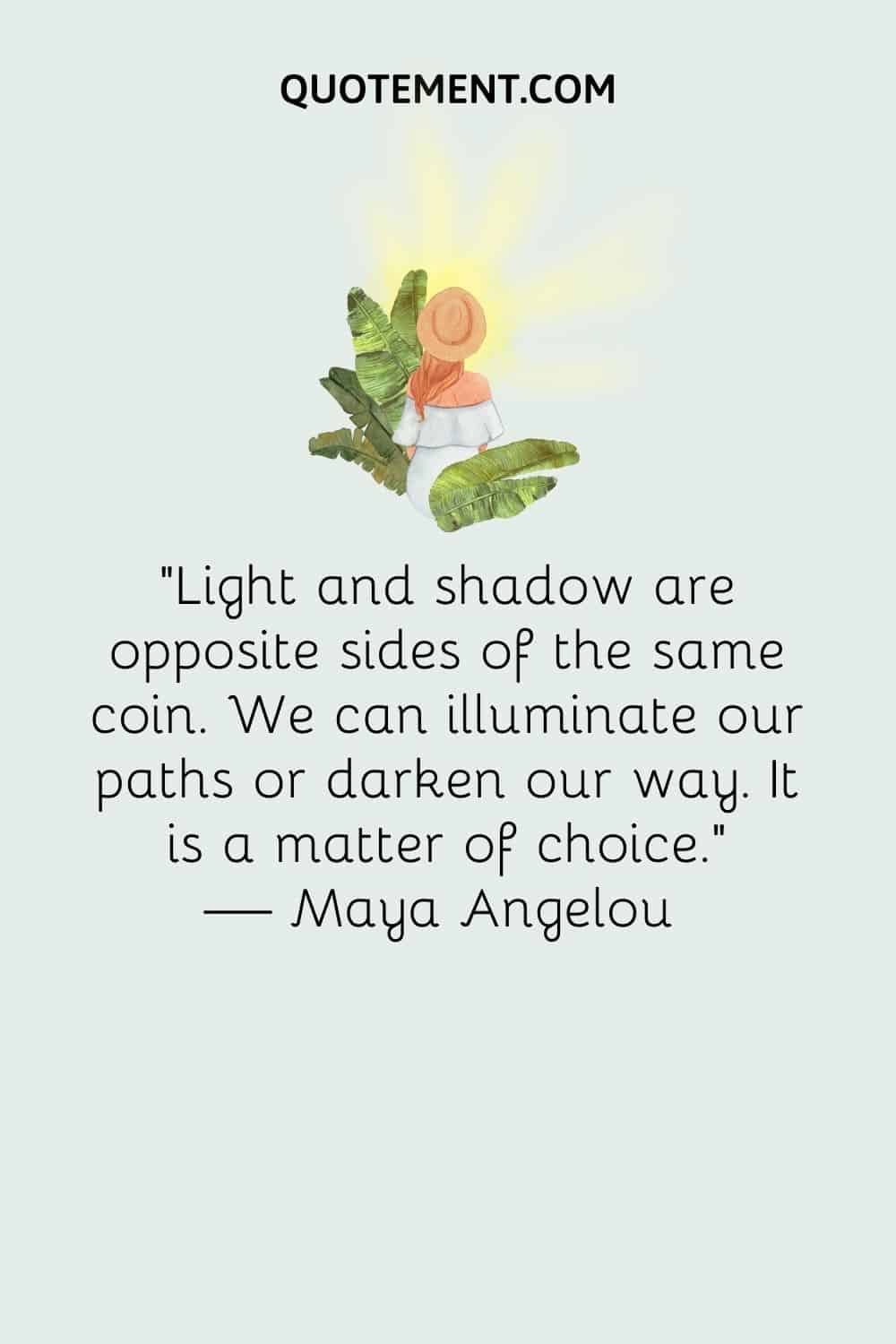 11. "When you light a candle, you also cast a shadow." — Ursula K. Le Guin
12. "When Jesus spoke again to the people, he said, "I am the light of the world. Whoever follows me will never walk in darkness, but will have the light of life." — Light Of The World
13. "It's so much darker when a light goes out than it would have been if it had never shone." — John Steinbeck
14. "How far that little candle throws his beams! So shines a good deed in a weary world." ― William Shakespeare, The Merchant of Venice
15. "The shadow is the greatest teacher for how to come to the light." — Ram Dass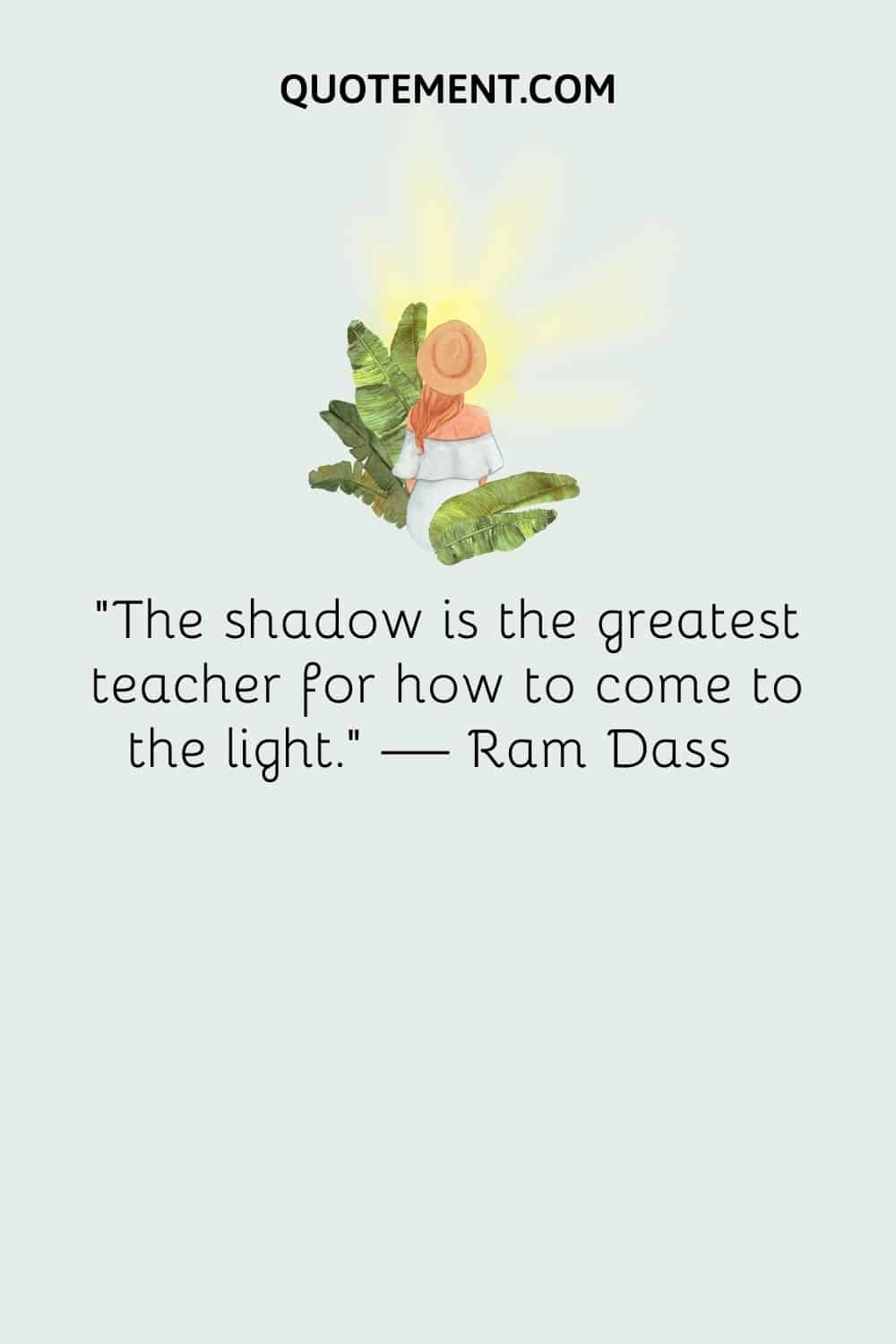 16. "You can't see the future coming — not the terrors, for sure, but you also can't see the wonders that are coming, the moments of light-soaked joy that await each of us." — John Green, The Anthropocene Reviewed
17. "Never fear shadows. They simply mean there's a light shining somewhere nearby." — Ruth E. Renkel
18. "Why blame the dark for being dark? It is far more helpful to ask why the light isn't as bright as it could be." — Rob Bell
19. "No situation is so dark that there is not a ray of light!" — Norman Vincent Peale
20. "Keep your face always toward the sunshine — and shadows will fall behind you." — Walt Whitman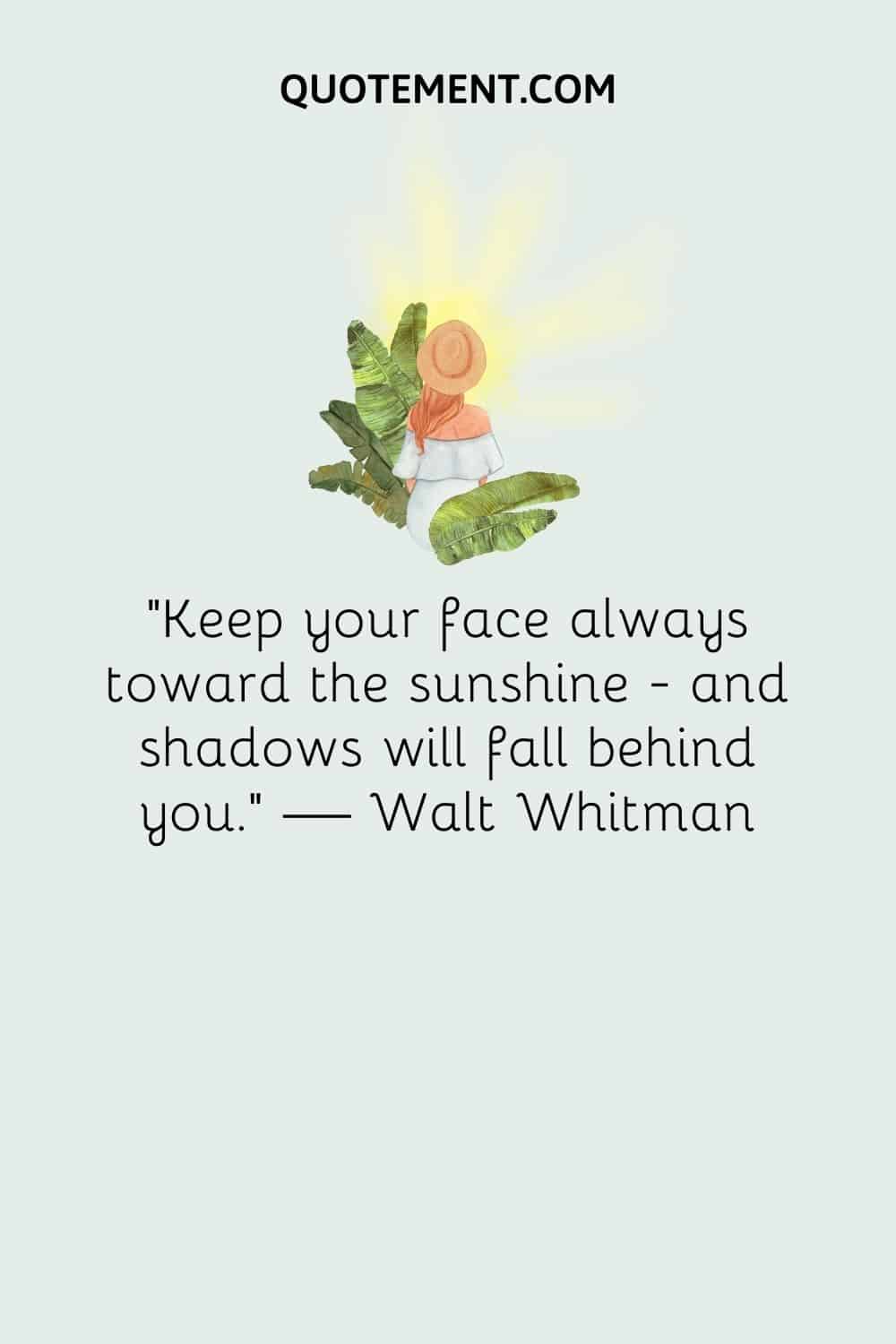 Positive Light Shine Quotes
1. "A candle loses nothing when it lights another candle." — Thomas Jefferson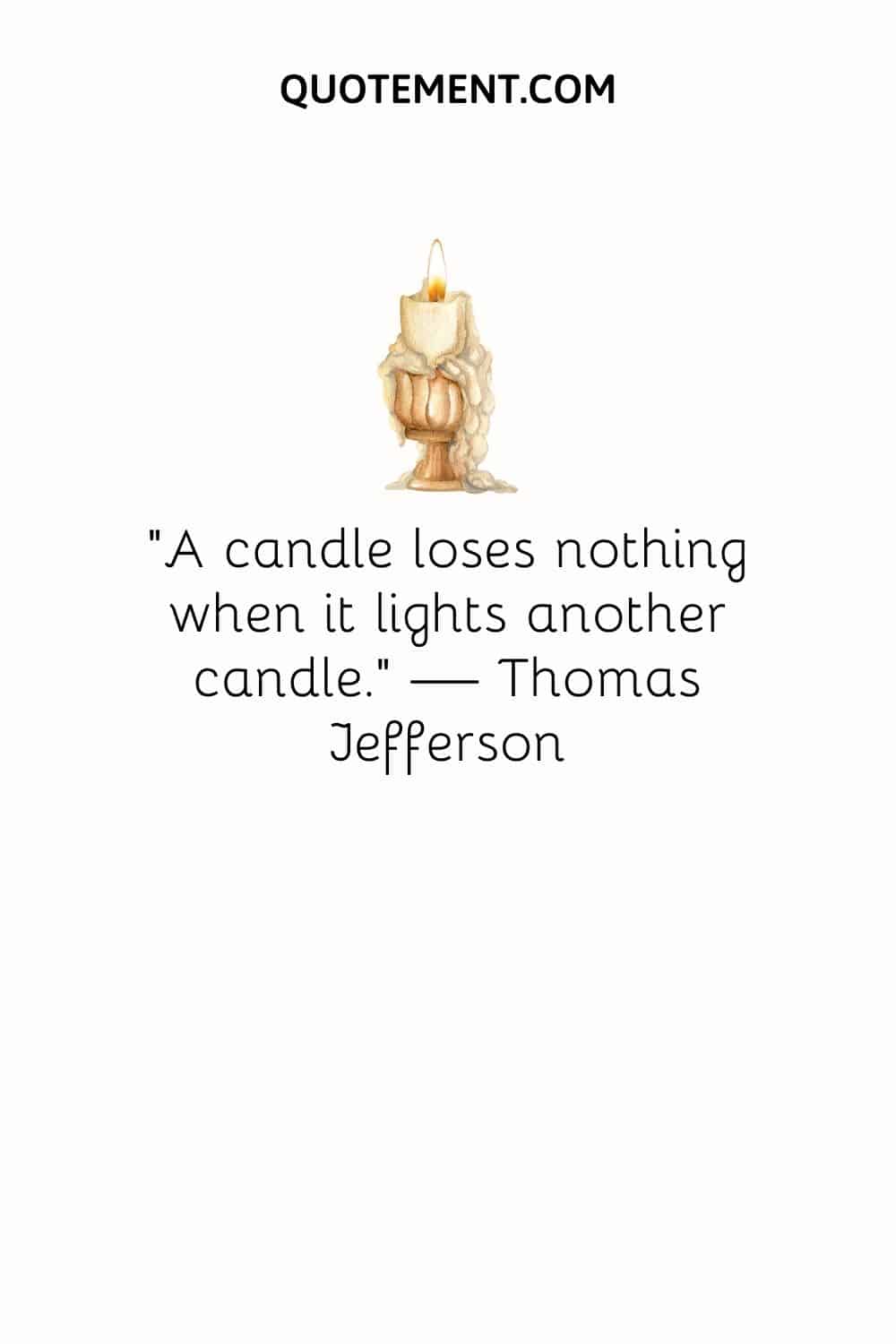 2. "From within or from behind, a light shines through us upon things and makes us aware that we are nothing, but the light is all." — Ralph Waldo
3. "When the sun is shining I can do anything; no mountain is too high, no trouble too difficult to overcome." — Wilma Rudolph
See also: 150 Mountain Quotes To Make You Wanna Hike Right Now
4. "The sun does not shine for a few trees and flowers, but for the wide world's joy." — Henry Ward Beecher
5. "It's not necessary to blow out your neighbor's light to let your own shine." — M.R. Dehaan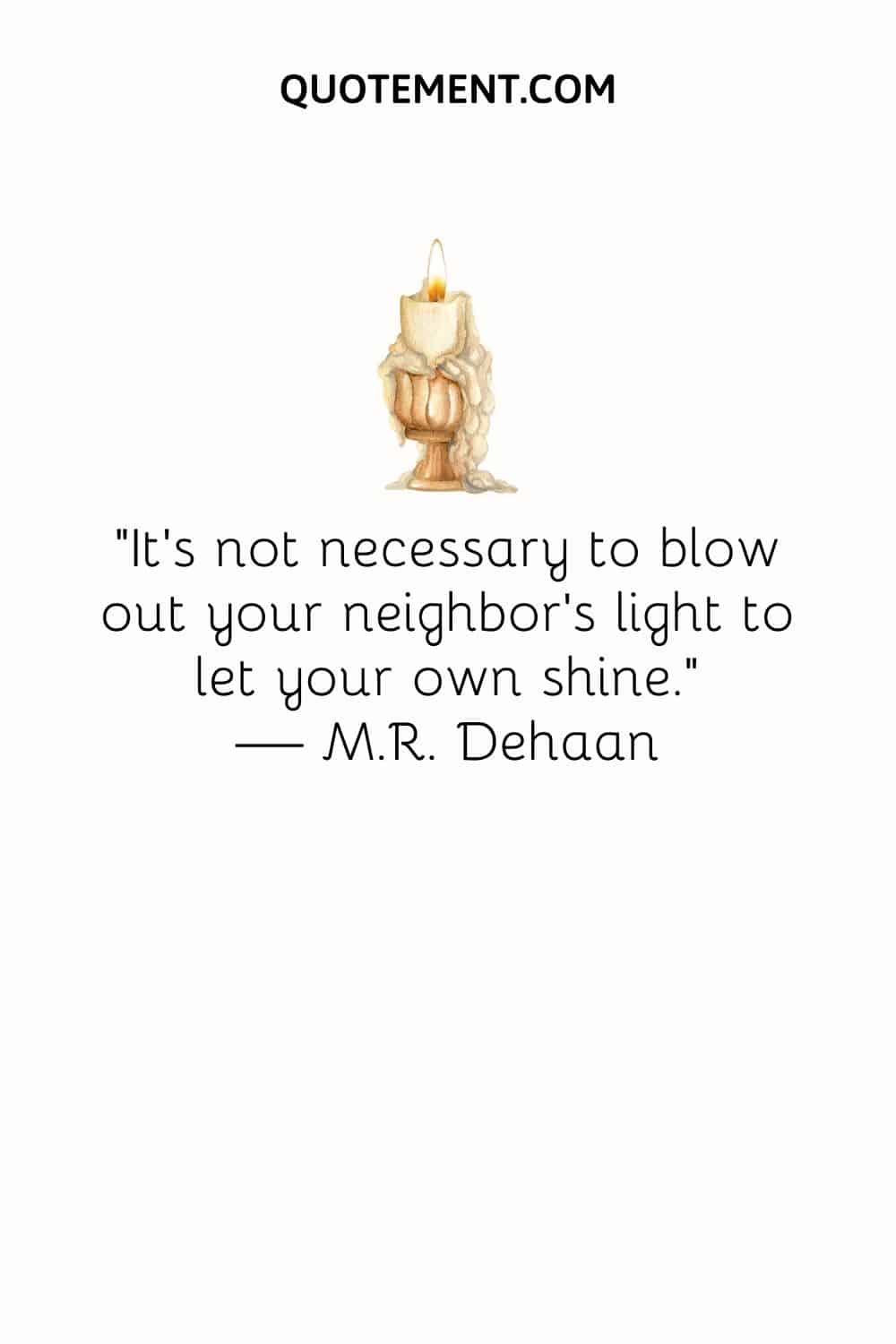 6. "Moonlight drowns out all but the brightest stars." ― R.R. Tolkien, The Lord of the Rings
7. "We are told to let our light shine, and if it does, we won't need to tell anybody it does. Lighthouses don't fire cannons to call attention to their shining – they just shine." — Dwight L. Moody
8. "Truth, like light, blinds. Falsehood, on the contrary, is a beautiful twilight that enhances every object." — Albert Camus
9. "Give light and people will find the way." — Light Quotes– Ella Baker
10. "Life throws challenges and every challenge comes with rainbows and light to conquer it." — Amit Ray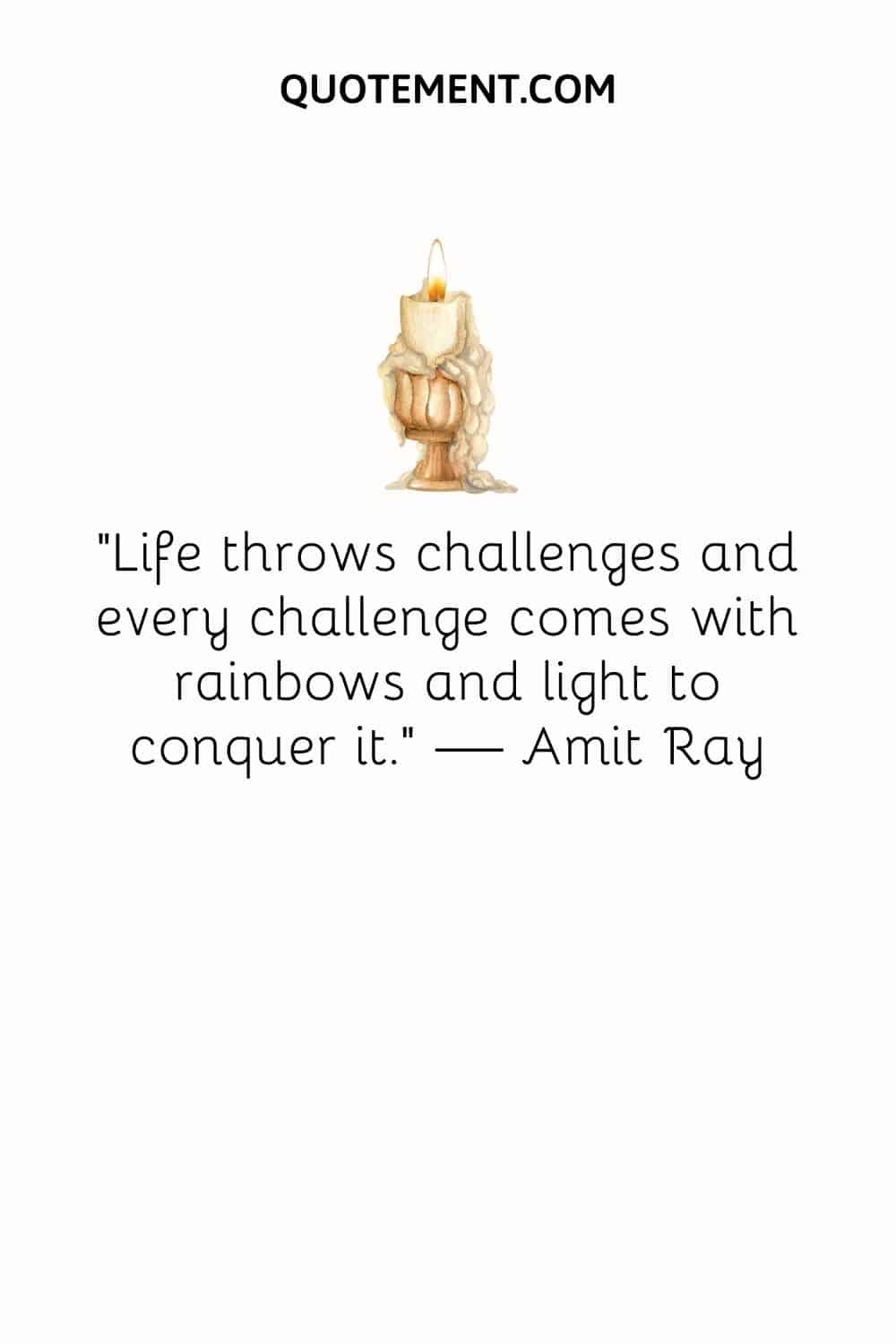 See also: 140 Perfect Rainbow Captions To Share Joy & Inspiration
11. "Even the sun directs our gaze away from itself and to the life illumined by it." — Eberhard Arnold
12. "Moons and years pass by and are gone forever, but a beautiful moment shimmers through life a ray of light." — Franz Grillparzer
13. "We cannot hold a torch to light another's path without brightening our own." — Ben Sweetland
14. "Though the light shines on things unclean, yet it is not thereby defiled." — Augustine
15. "In the right light, at the right time, everything is extraordinary." — Aaron Rose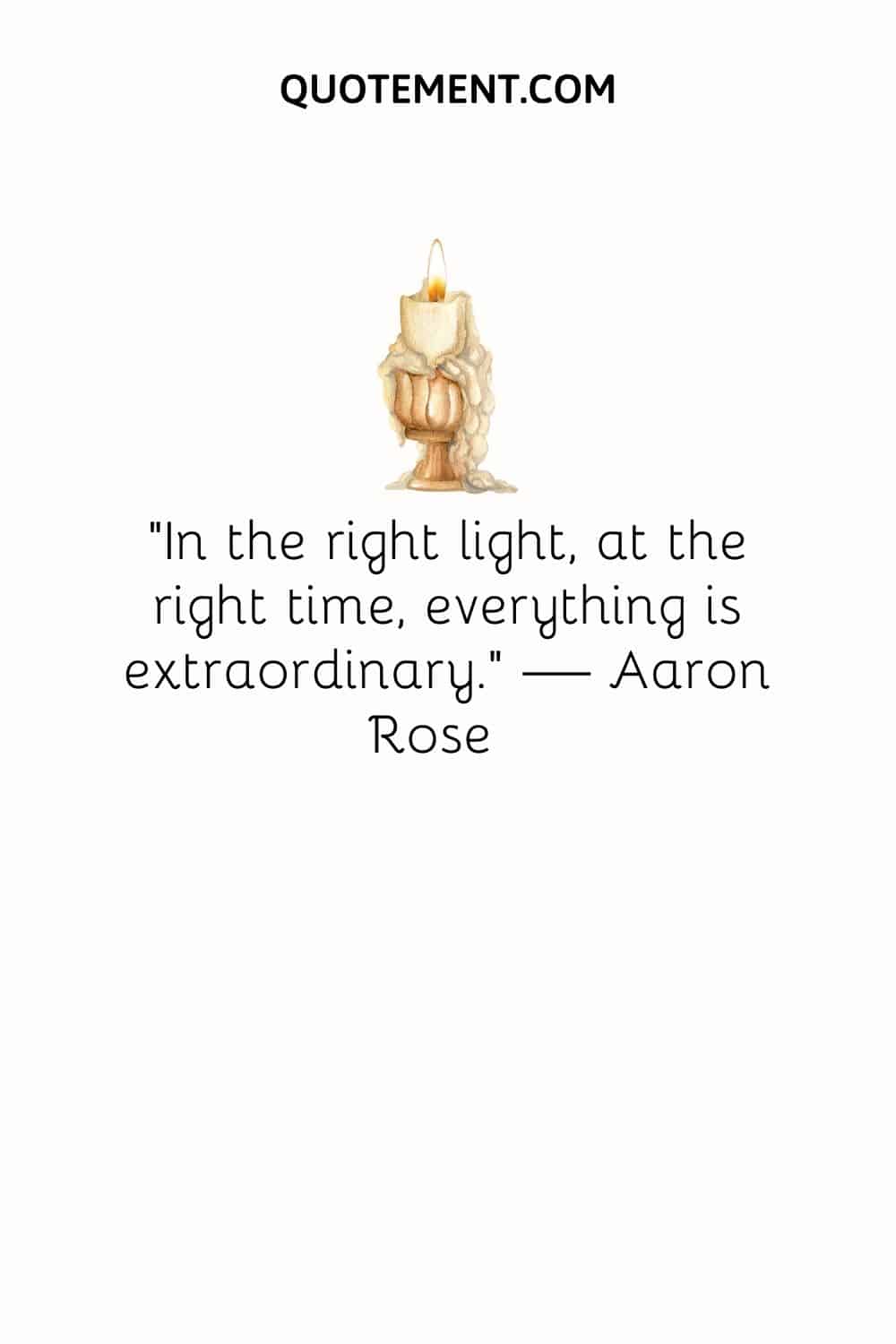 16. "Following the light of the sub, we left the Old World." — Christopher Columbus
17. "All shadows of clouds the sun cannot hide like the moon cannot stop oceanic tide, but a hidden star can still be smiling at night's black spell on darkness." — Munia Khan
See also: 180 Beautiful Cloud Captions To Boost Your Instagram Post
18. "At times our own light goes out and is rekindled by a spark from another person. Each of us has cause to think with deep gratitude of those who have lighted the flame with us." — Alan Schweitzer
19. "Gorgeous, glowing rays of light…This was what true beauty and goodness looked like — a spectral, luminescent gathering of beings so pure it hurt to look directly at them, like the most glorious eclipse, or maybe Heaven itself." — Lauren Kate
20. "He has those kind eyes that shone with the light of everything will be ok." — Atticus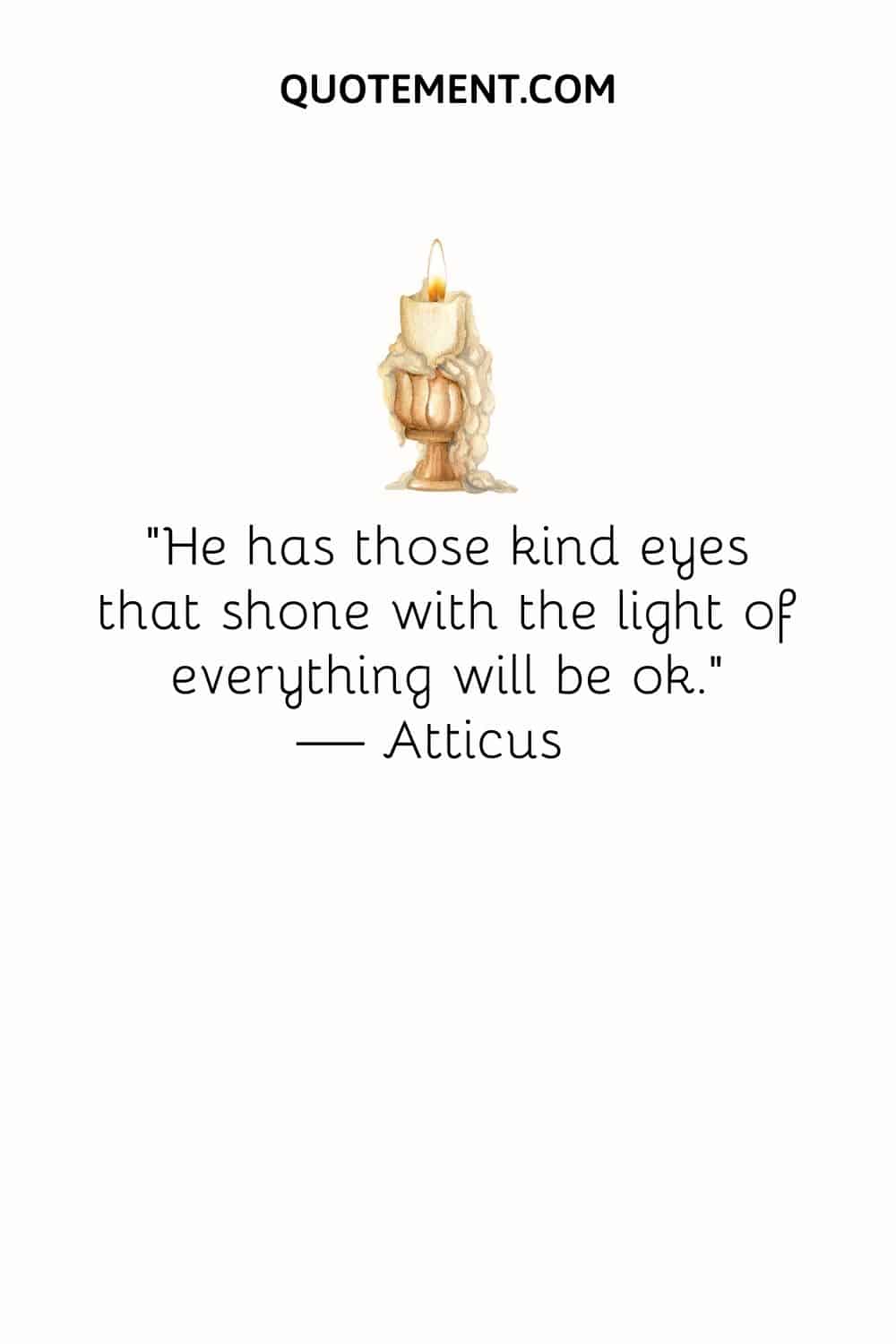 Be The Light Quotes
1. "Travel light, live light, spread the light, be the light." — Yogi Bhajan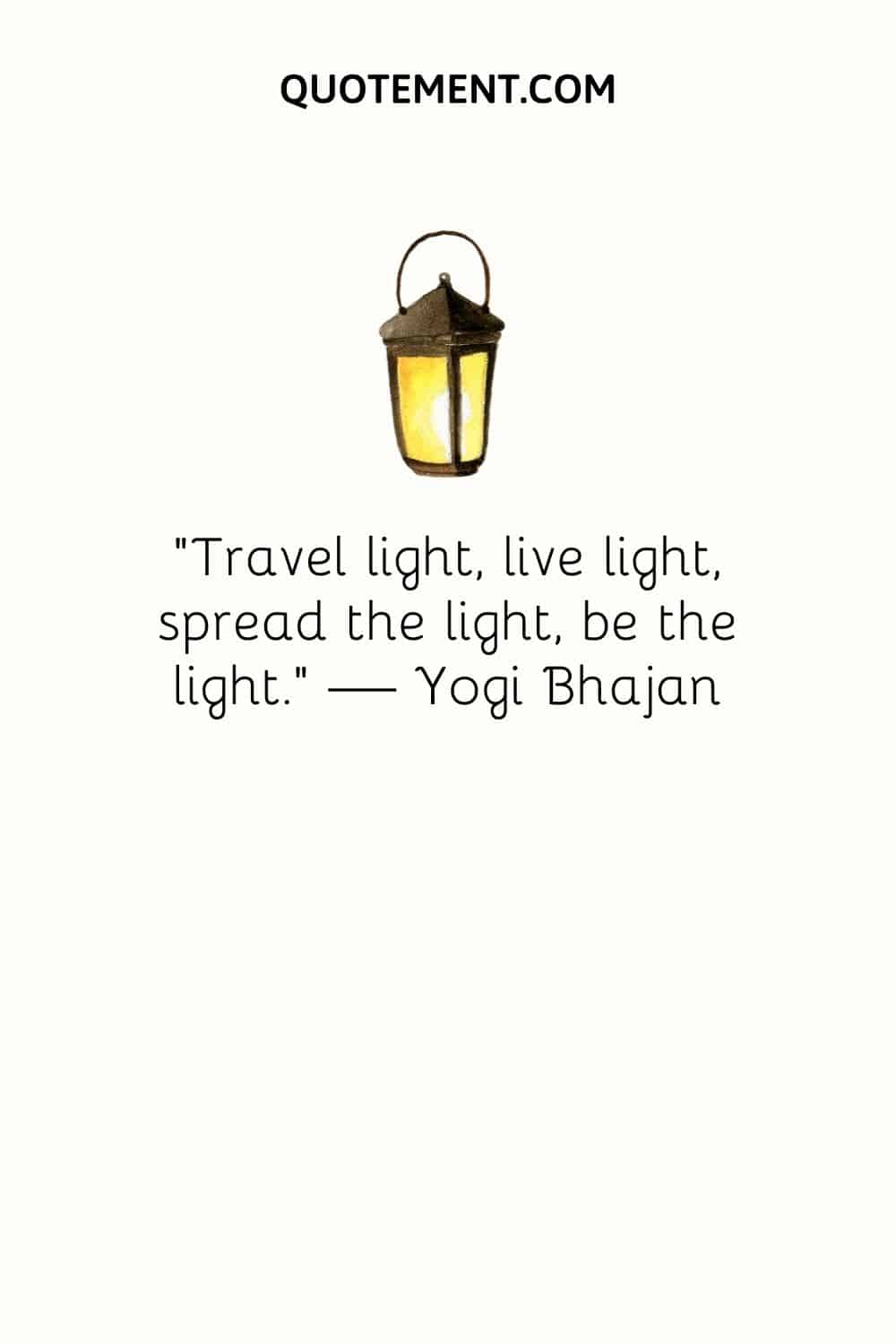 2. "Why not dare yourself to become a shining positive light where darkness is the only thing known?" — Edmond Mbiaka
3. "The wound is the place where the Light enters you." — Rumi
4. "Be the light that helps others see." — Unknown
5. "Know that darkness is merely the absence of light. You can be the small candle that defeats the vast darkness." — Jonathan Lockwood Huie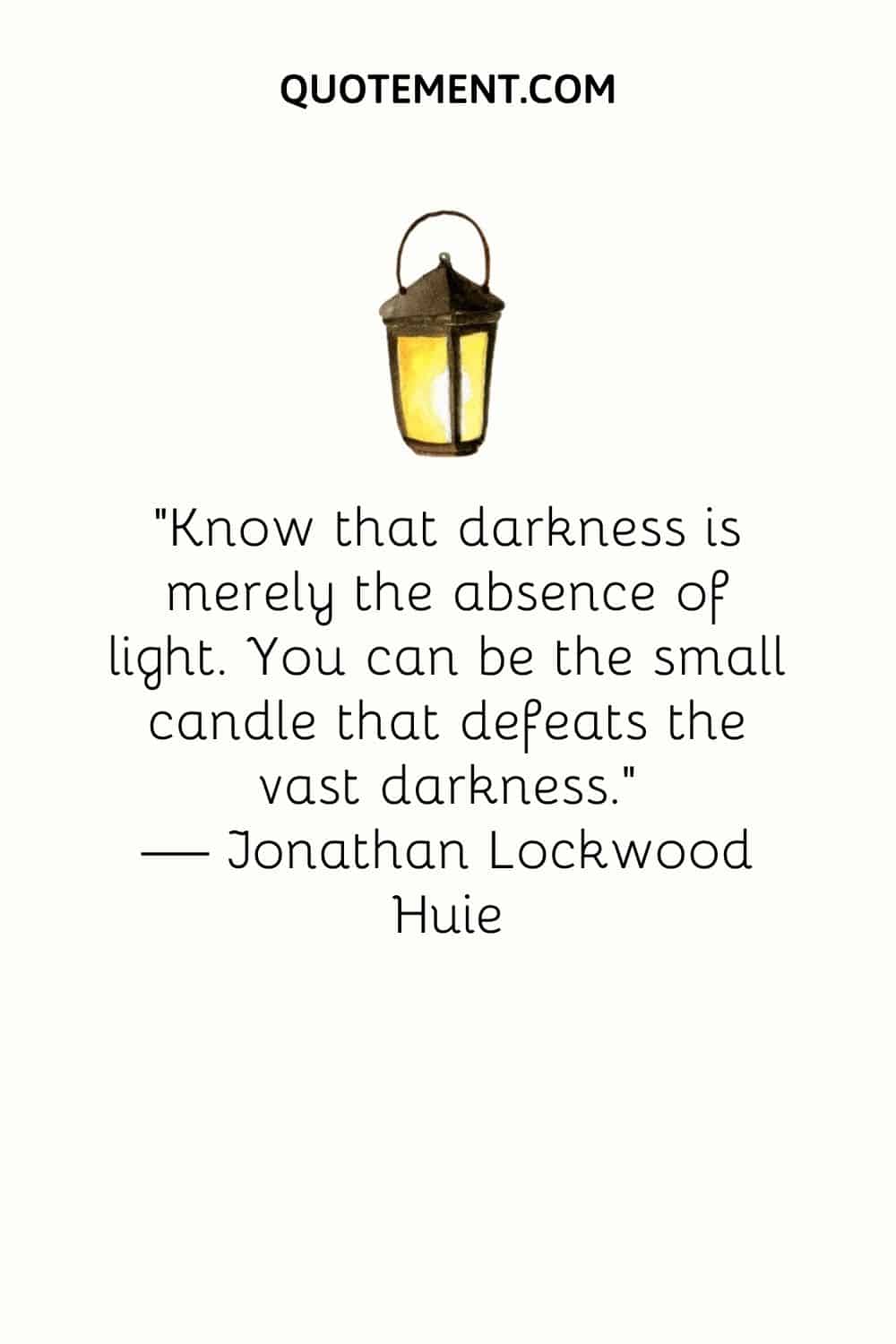 6. "As we work to create light for others, we naturally light our own way." — Mary Anne Radmacher
7. "When you possess light within, you see it externally." — Anais Nin
8. "I am not bound to win, but I am bound to be true. I am not bound to succeed, but I am bound to live by the light that I have. I must stand with anybody that stands right, and stand with him while he is right, and part with him when he goes wrong." — Abraham Lincoln
9. "I preach darkness. I don't inspire hope-only shadows. It's up to you to find the light in my words." — Charles Lee
10. "Shining a light on someone else doesn't diminish mine. Take time here to encourage people and lift them up." — Bernice King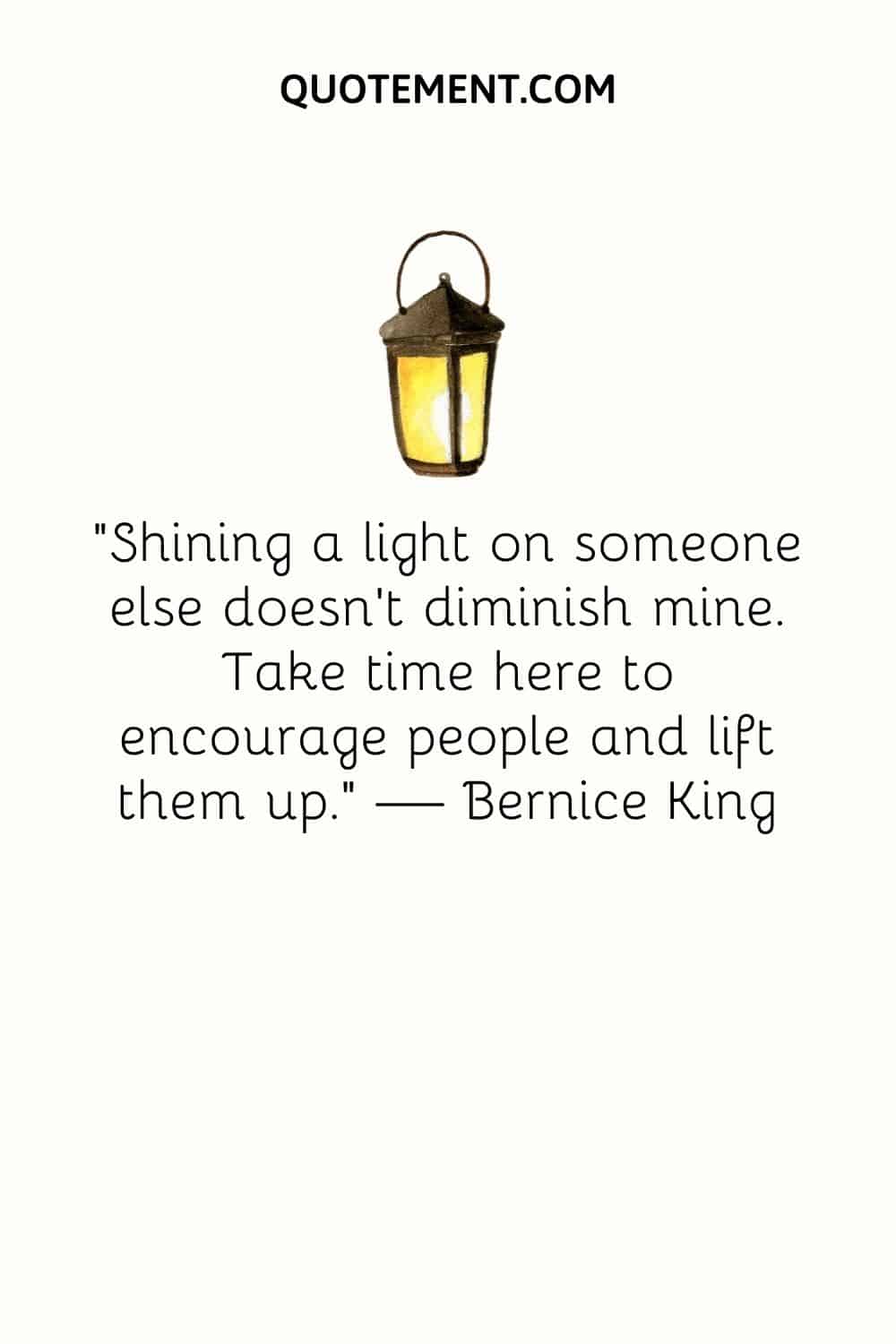 11. "There are darknesses in life and there are lights, and you are one of the lights, the light of all lights." ― Bram Stoker, Dracula
12. "People are like stained-glass windows. They sparkle and shine when the sun is out, but when the darkness sets in, their true beauty is revealed only if there is a light from within." — Elisabeth Kübler-Ross
13. "But my darling, there's no such thing as the light at the end of the tunnel, you must realize that you are the light." — Unknown
14. "Shine your own light. Follow your own path." — Unknown
15. "There is always light. If only we're brave enough to see it. If only we're brave enough to be it." — Amanda Gorman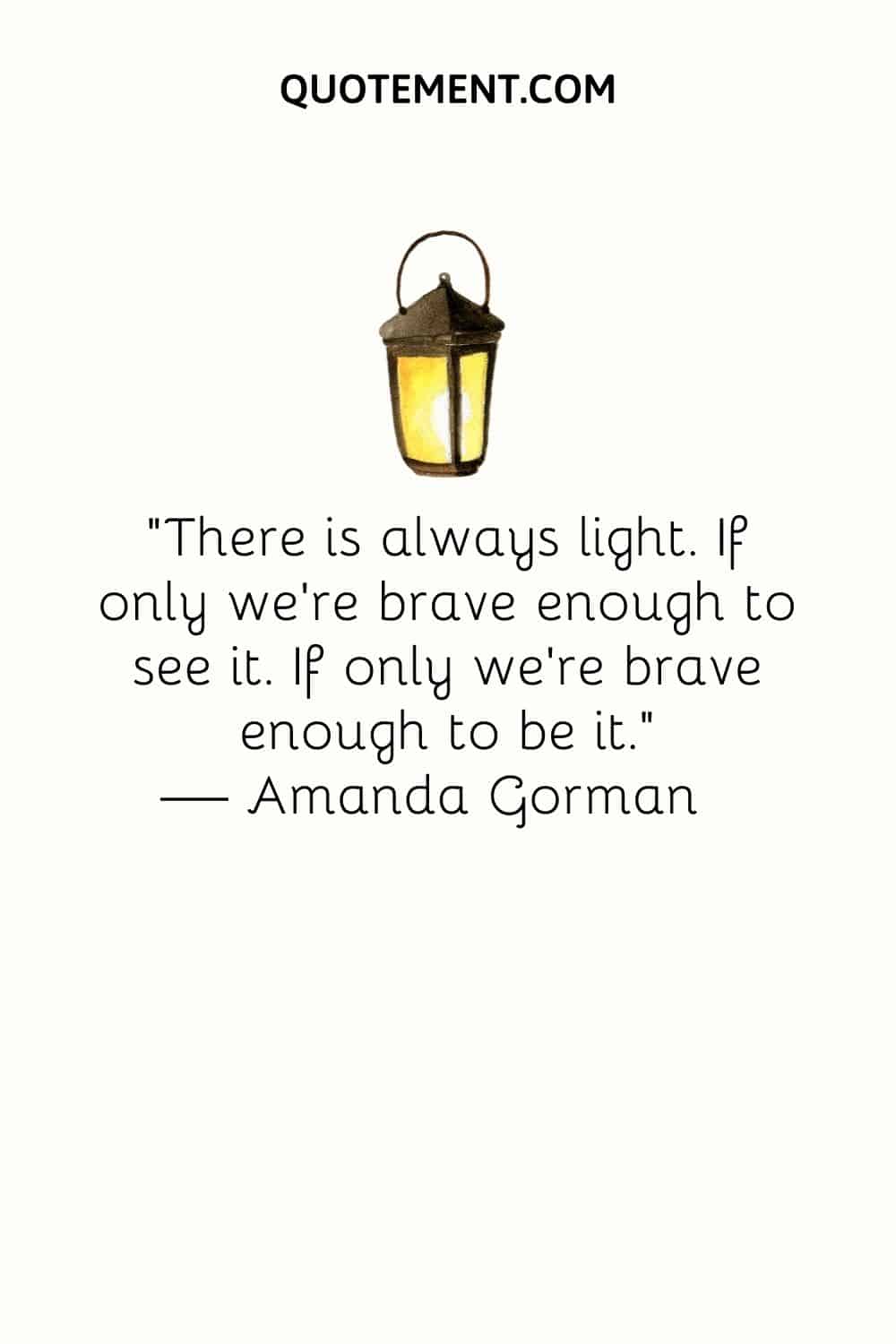 16. "Light attracts light." — Warsan Shire
17. "Learn to light a candle in the darkest moments of someone's life. Be the light that helps others see; it is what gives life its deepest significance." ― Roy T. Bennett, The Light in the Heart
18. "To shine your brightest light is to be who you truly are." ― Roy T. Bennett
19. "Your existence brings light into this world like no other. Please keep that light shining." — TWLOHA
20. "Within you is the light of a thousand suns." — Robert Adams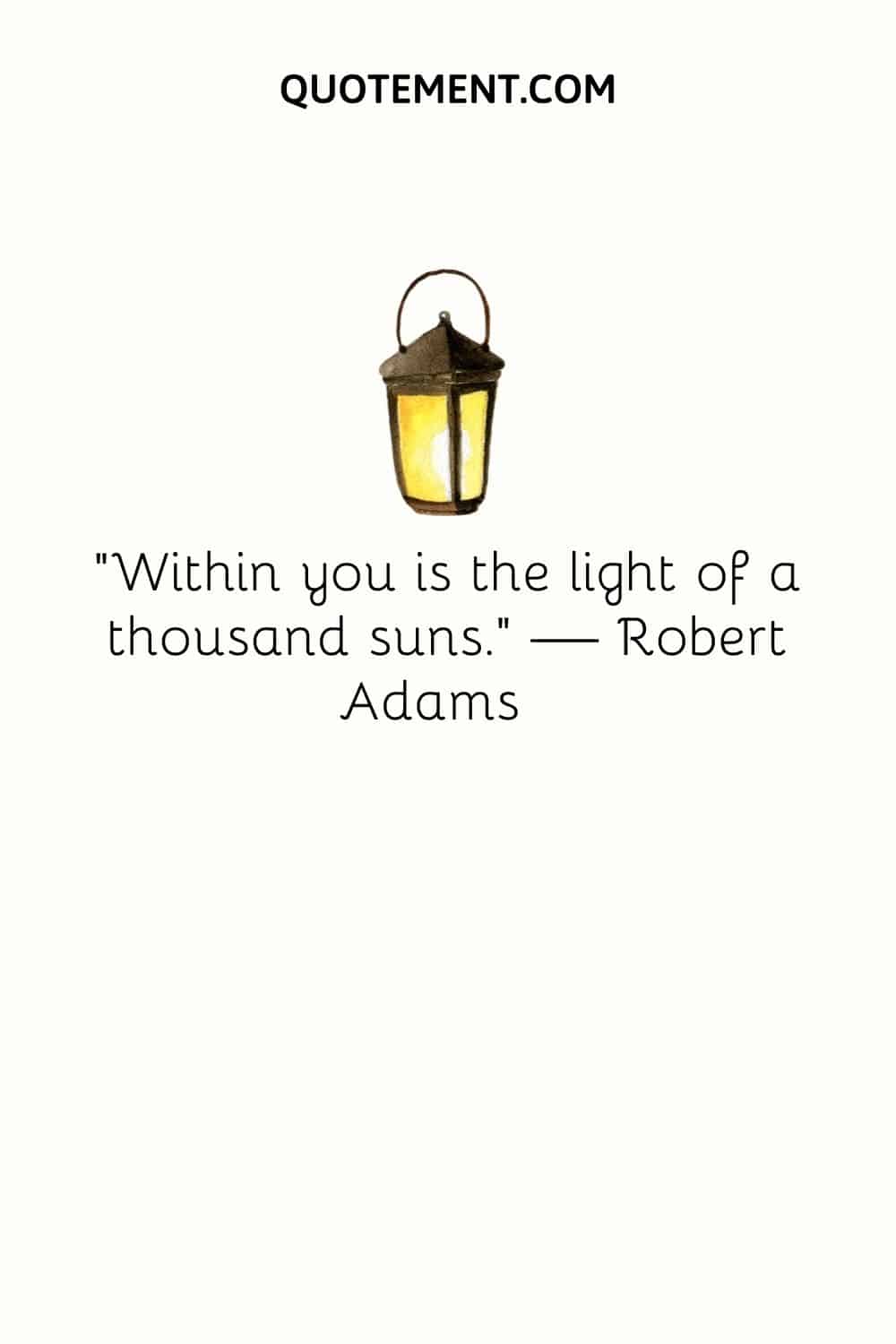 See also: 280 Best Sun Captions For Instagram For A Shiny Post
Quotes About Light And Darkness
1. "As far as we can discern, the sole purpose of human existence is to kindle a light in the darkness of mere being." — Carl Jung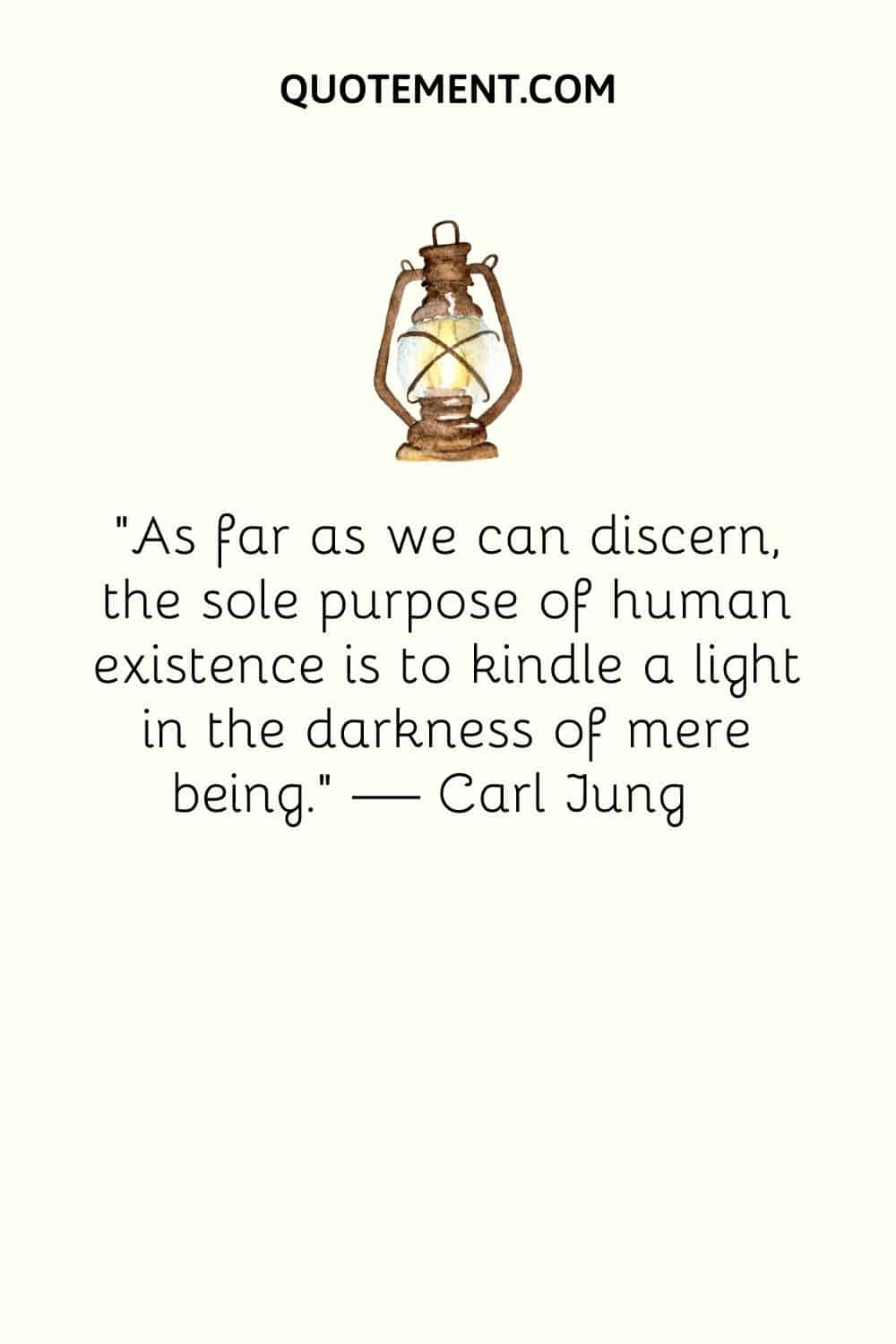 2. "The dark and the light, they exist side by side. Sometimes overlapping, one explaining the other. The darkened path is as illuminated as the lightened… " — Raven Davies
3. "We can easily forgive a child who is afraid of the dark; the real tragedy of life is when men are afraid of the light." — Plato
4. "Give light, and the darkness will disappear of itself." — Desiderius Erasmus
5. "Light is to darkness what love is to fear; in the presence of one the other disappears." — Marianne Williamson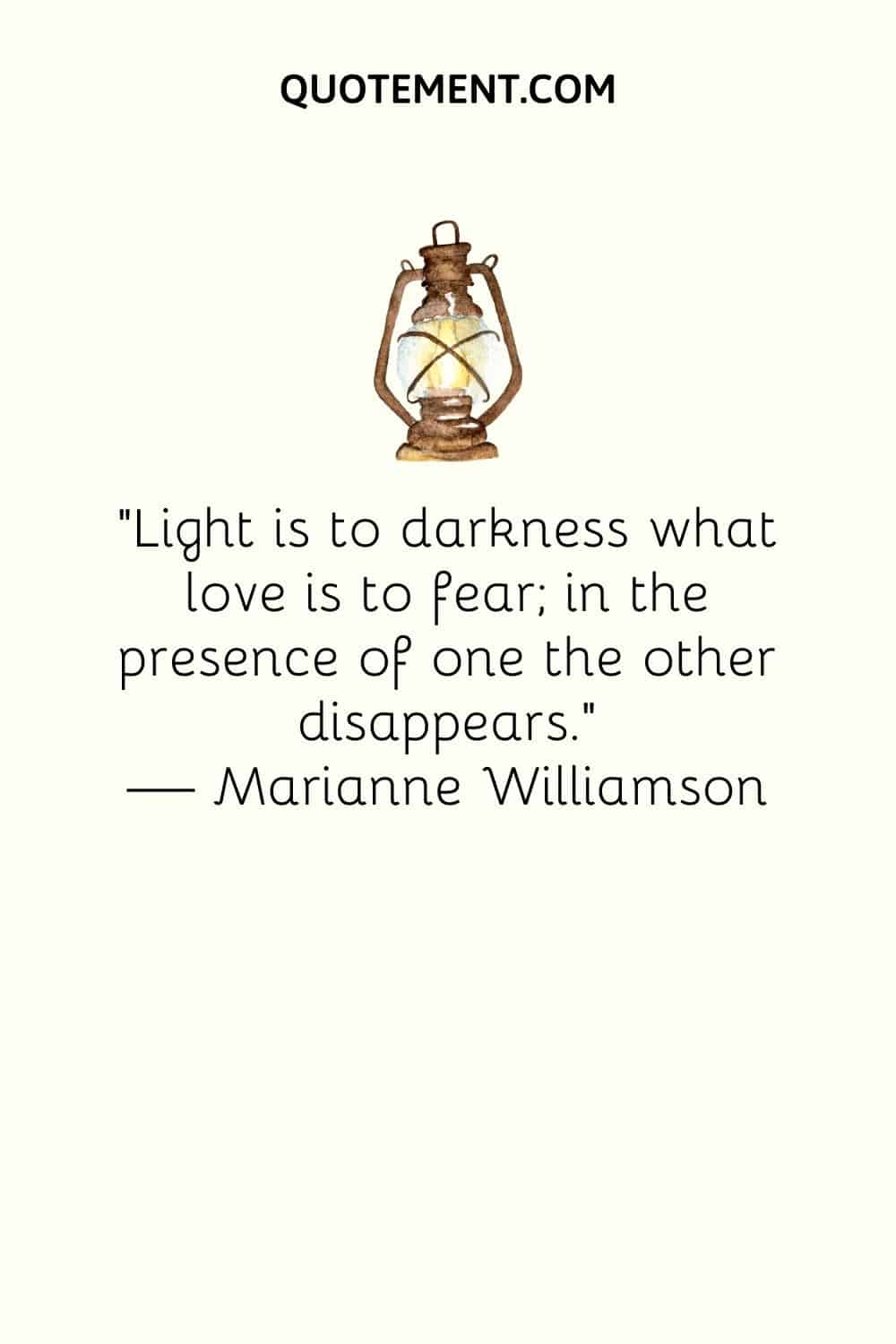 6. "A man who refuses light will remain in the darkness even by the side of light!" ― Mehmet Murat ildan
7. "Education is the movement from darkness to light." — Allan Bloom
8. "Your path is illuminated by the light, yet darkness lets the stars shine bright." — J.L.W. Brooks
9. "Even the darkest night will end and the sun will rise." — Victor Hugo
10. "However vast the darkness, we must supply our own light." — Stanley Kubrick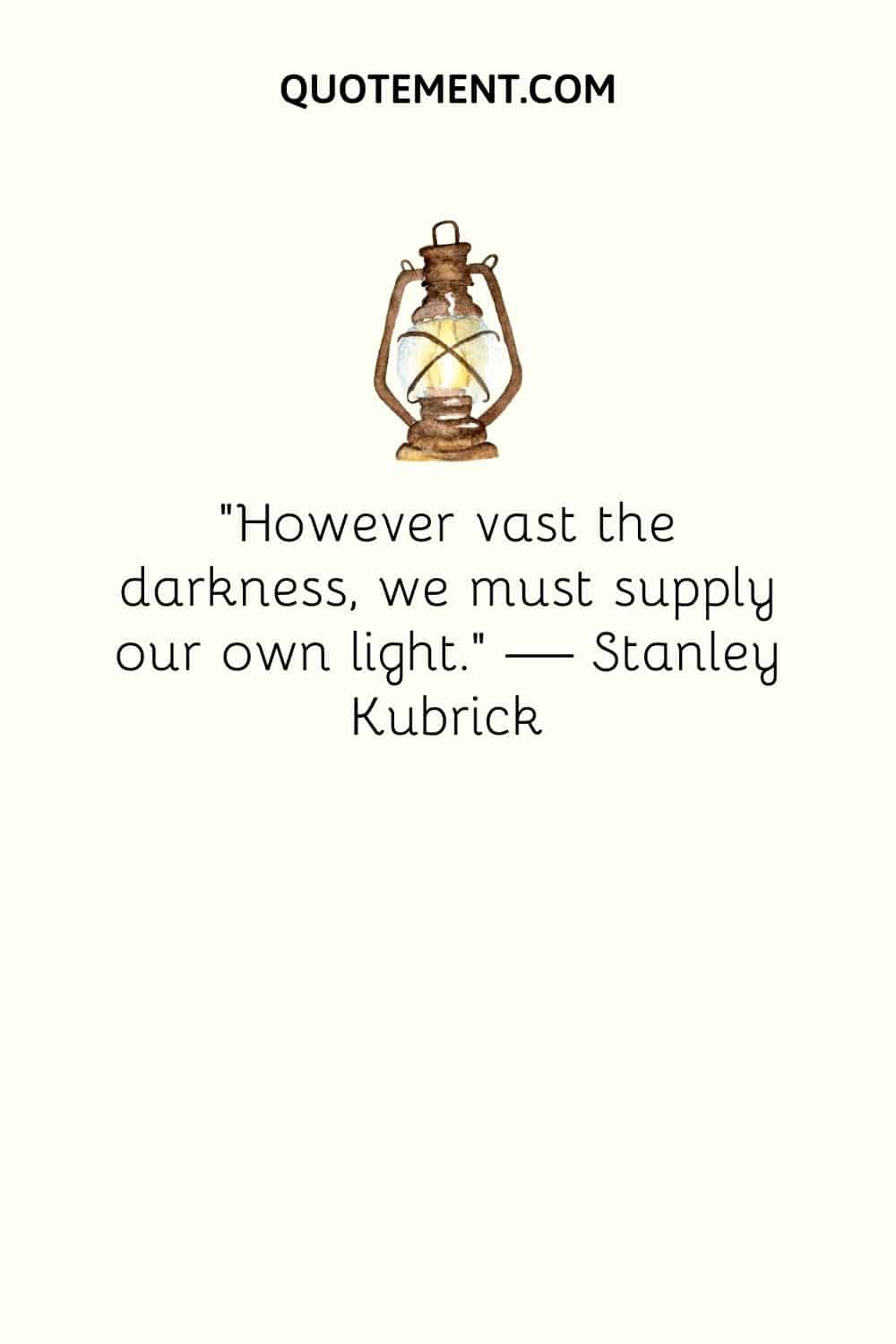 11. "When it is dark enough, you can see the stars." — Ralph Waldo Emerson
12. "You can't discover light by analyzing the dark." — Wayne Dyer
13. "Hope is being able to see that there is light despite all of the darkness." — Desmond Tutu
14. "The dance between darkness and light will always remain – the stars and the moon will always need the darkness to be seen, the darkness will just not be worth having without the moon and the stars." — C. JoyBell C.
See also: 430 Beautiful Moon Captions For A Magical Instagram Post
15. "Every human being is a mixture of light and darkness, trust and fear, love and hate." — Jean Vanier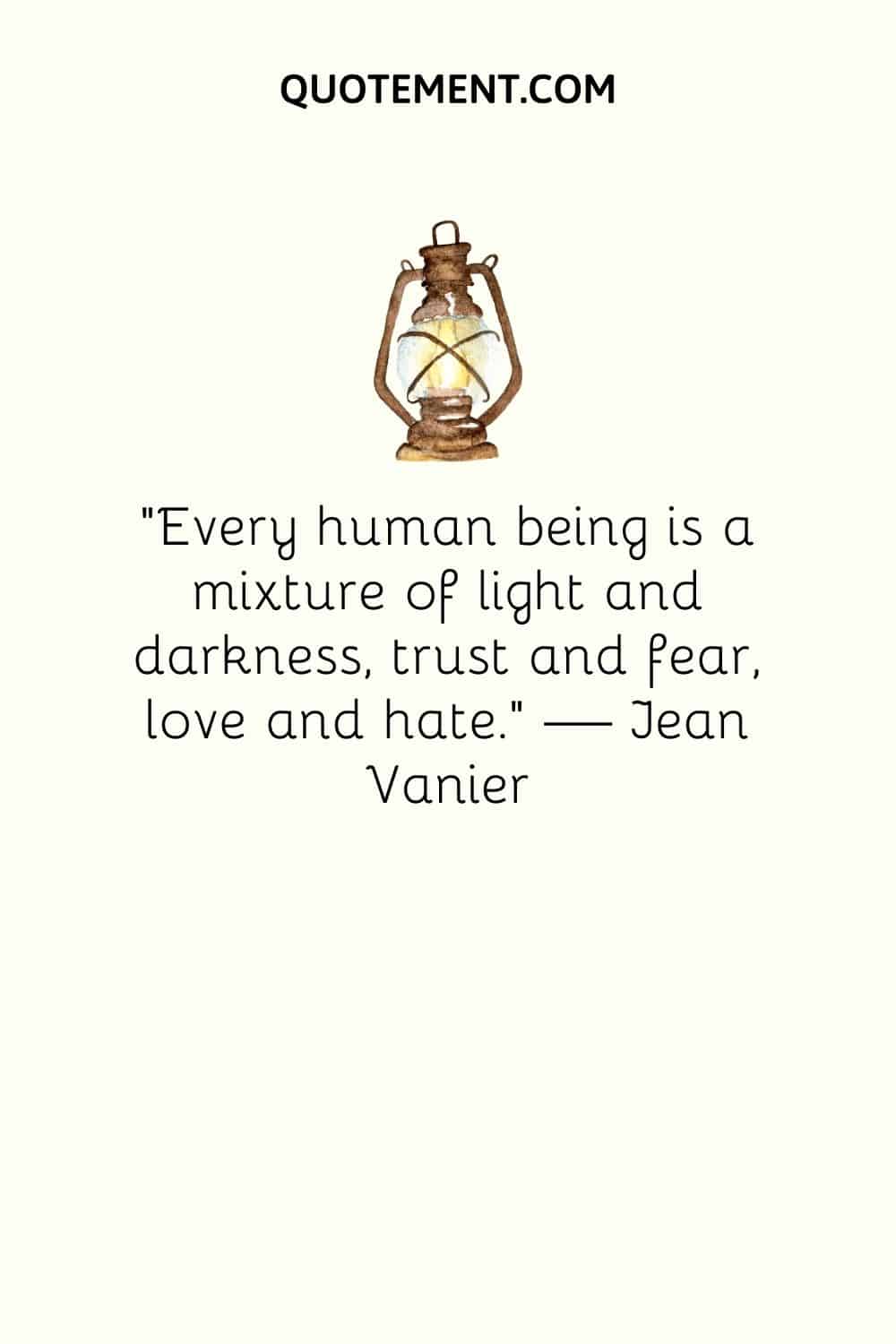 16. "Unless we form the habit of going to the Bible in bright moments as well as in trouble, we cannot fully respond to its consolations because we lack equilibrium between light and darkness." — Helen Keller
17. "The light shines in the darkness, and the darkness has not overcome it." — Bible
18. "Light thinks it travels faster than anything but it is wrong. No matter how fast light travels, it finds the darkness has always got there first and is waiting for it." — Terry Pratchett
19. "If you believe in light, you'll be in light, you don't have to face darkness." — Maharishi Mahesh Yogi
20. "Light must come from inside. You cannot ask the darkness to leave; you must turn on the light." — Sogyal Rinpoche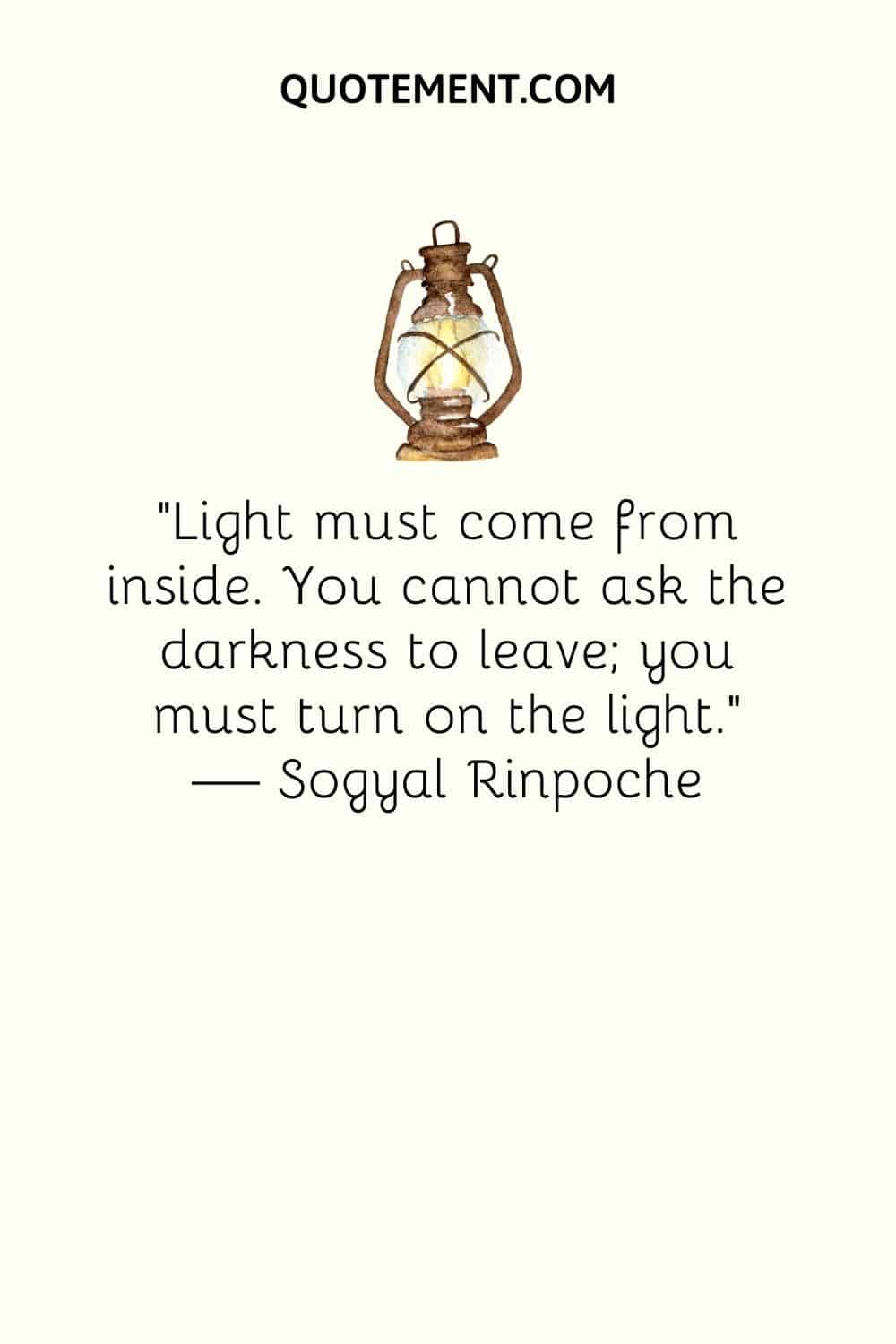 Inner Light Quotes
1. "No degree of worldly darkness can extinguish the glow of a soul's inner light." — Wes Fesler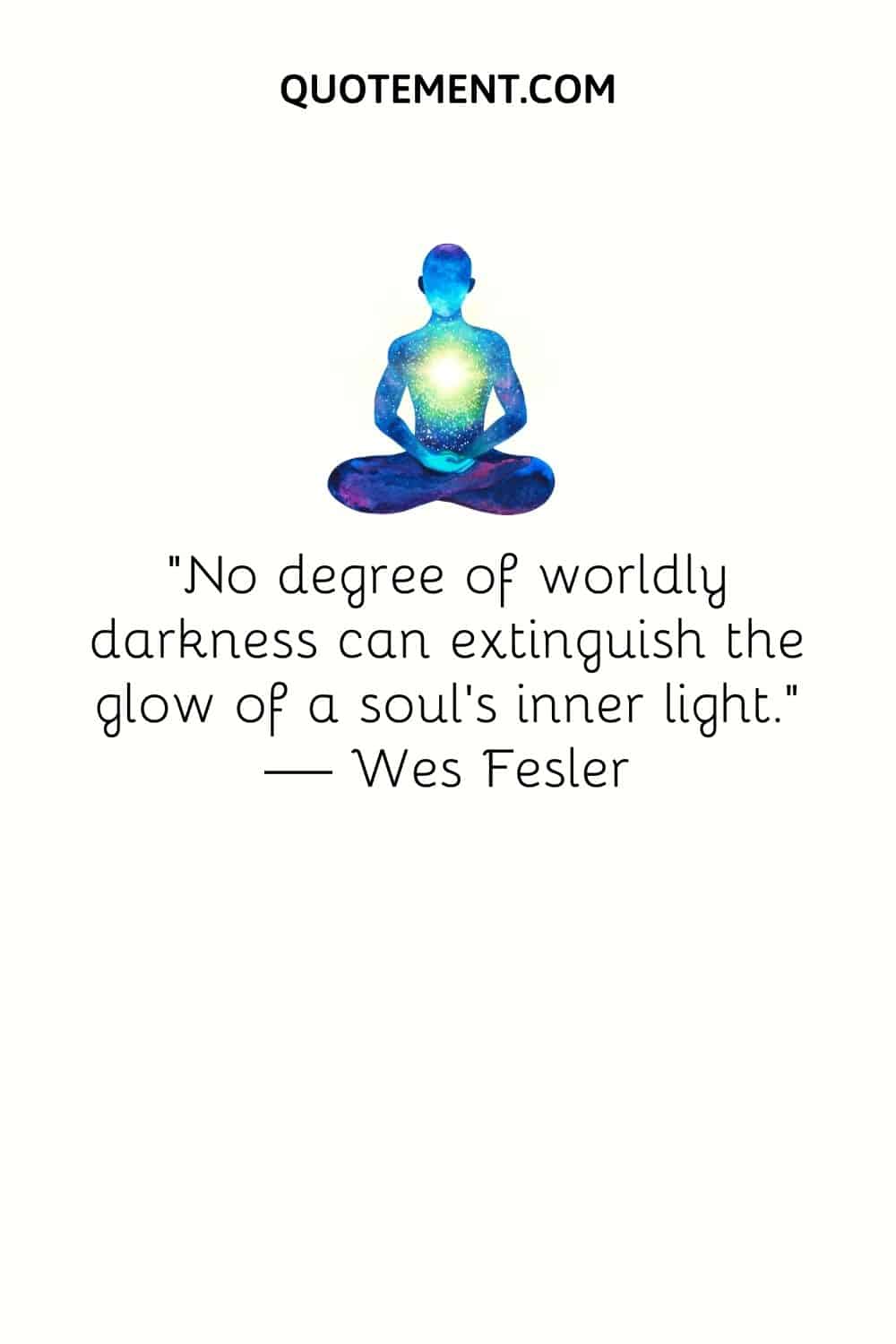 2. "Inner darkness, which we call ignorance, is the root of suffering. The more inner light that comes, the more darkness will diminish. This is the only way to achieve salvation or nirvana." — Dalai Lama
3. "Listen to the inner light; It will guide you. Listen to the inner peace; It will feed you. Listen to the inner love; It will transform you, It will divinize you, it will immortalize you." — Sri Chinmoy
4. "Slice a pear and you will find that its flesh is incandescent white. It glows with an inner light. Those who carry a knife and pear are never afraid of the dark." — Yann Martel
5. "It's in the darkest moments when the cracks allow the inner light to come out." — Edward James Olmos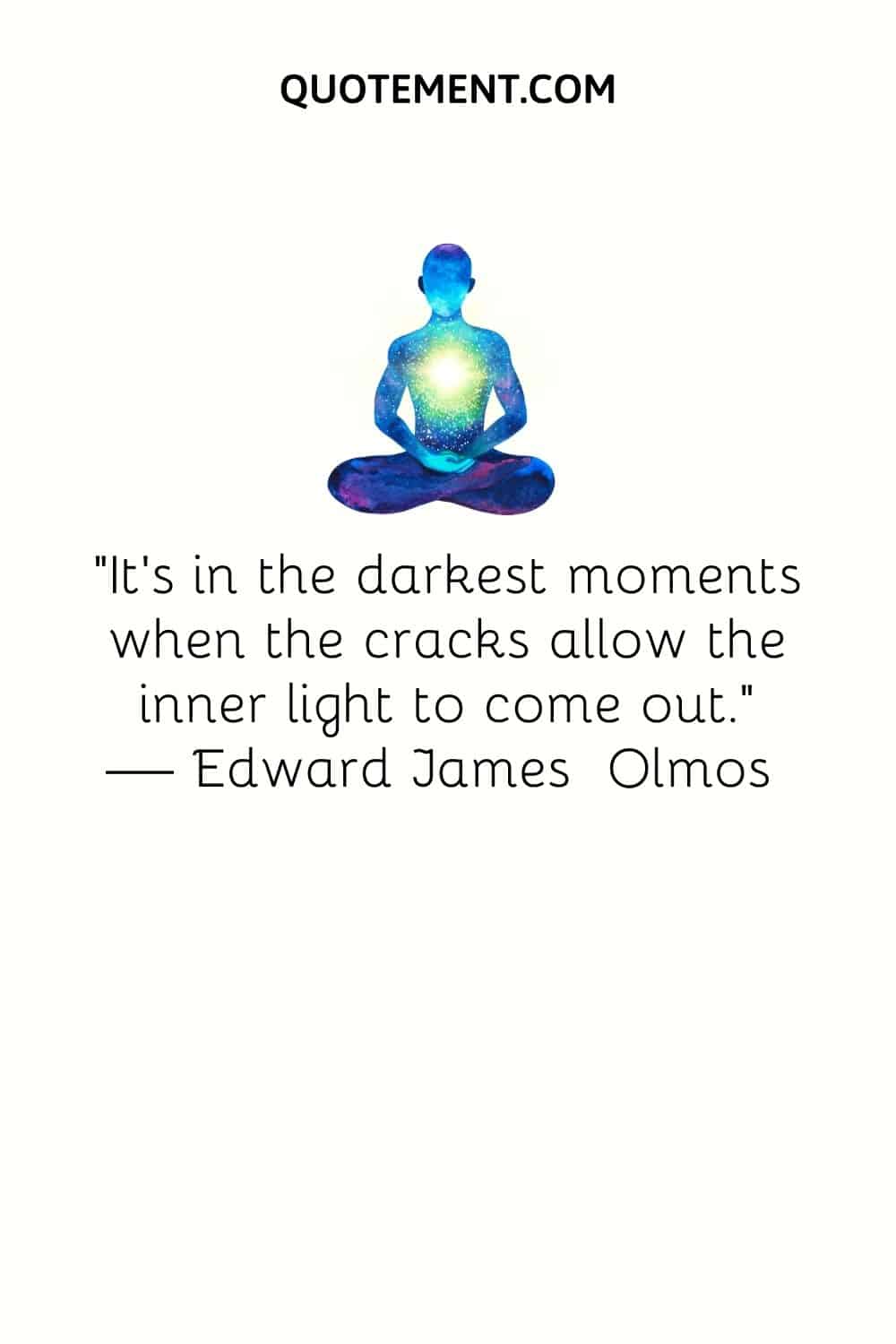 6. "We have great work ahead of us, and it needs devotion and much, much energy. To grow, to discover, we need involvement, which is something I experience every day – sometimes good, sometimes frustrating. No matter what, you must let your inner light guide you out of the darkness." — Bruce Lee
7. "The short story is the art form that deals with the individual when there is no longer a society to absorb him, and when he is compelled to exist, as it were, by his own inner light." — Frank O'Connor
8. "Blessed are those who have known meditation. Only those few people are the blessed people; others are simply groping in darkness. Meditation gives you inner light, and then wherever you are there is light, and whatsoever you do, you do in full light and clarity. Hence there is never any guilt, no repentance, no looking back. Whatsoever one does, one feels that`s the only thing that can be done. It is always right." — Rajneesh
9. "Inspiration is that state in which mind and heart are connected. When you feel inspired, you find yourself thrust into a world where ordinary objects and events are full of light, as if illuminated from within. This inner light is truth, and when you suddenly see the truth, we gain insight, clarity, and joy." — Deepak Chopra
10. "Nothing can dim the light that shines from within." — Maya Angelou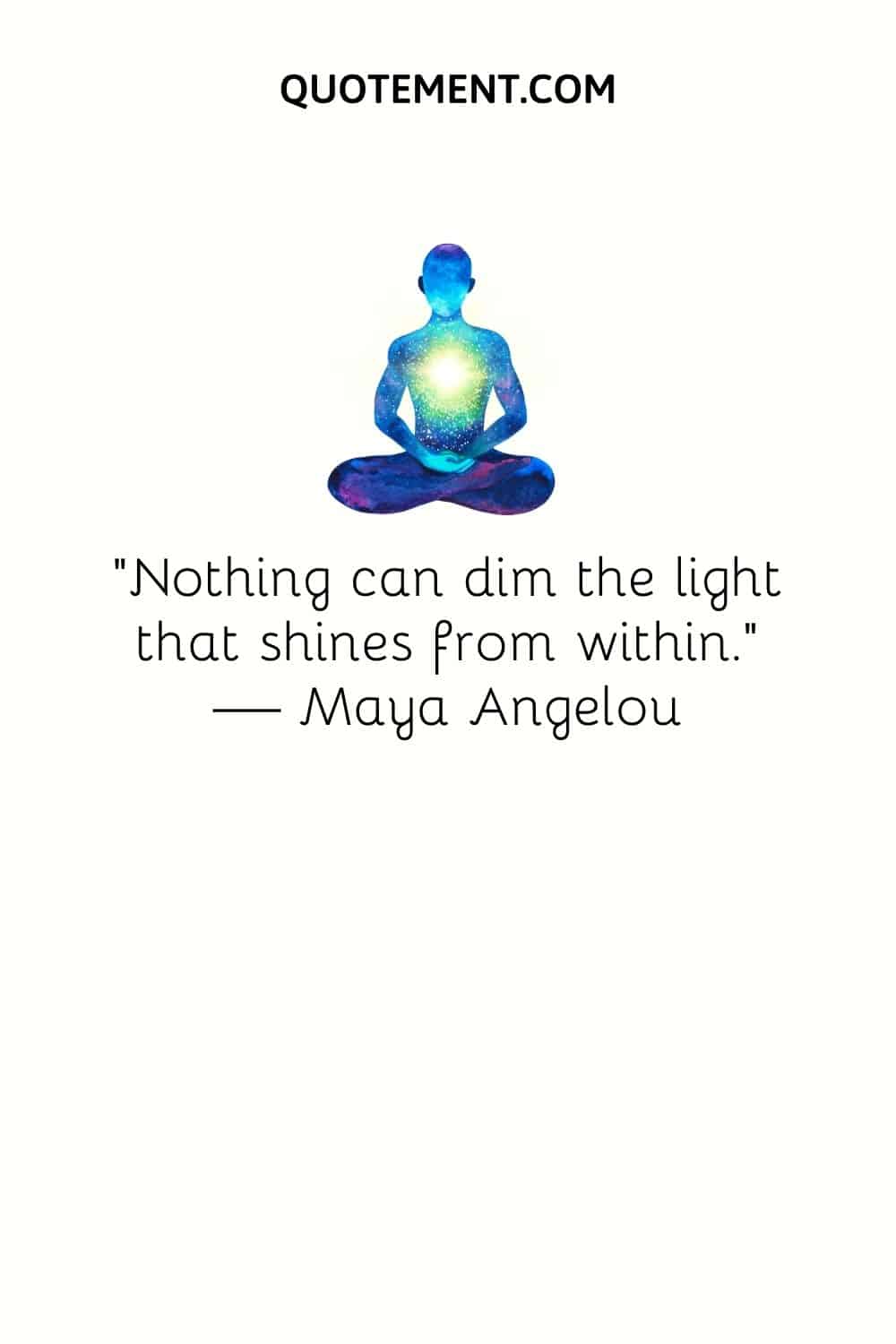 11. "Foster and polish the warrior spirit while serving in the world; illuminate the path according to your inner light." — Morihei Ueshiba
12. "There is no amount of darkness that can extinguish the inner light. The important thing is not to spend our lives trying to control the environment around us. The task is to control the environment within us." — Joan D. Chittister
13. "Don't practice for cosmetic beauty, practice for cosmic beauty. Practice for inner beauty and inner light." — B.K.S. Iyengar
14. "Books suggest the inner light and the method of bringing that out, but we can only understand them when we have earned the knowledge ourselves. When the inner light has flashed for you, let the books go, and look only within. You have in you all, and a thousand times more than is in all the books. Never lose faith in yourself, you can do anything in this universe. Never weaken, all power is yours." — Swami Vivekananda
15. "Let your inner light shine bright like the star that you are." — Unknown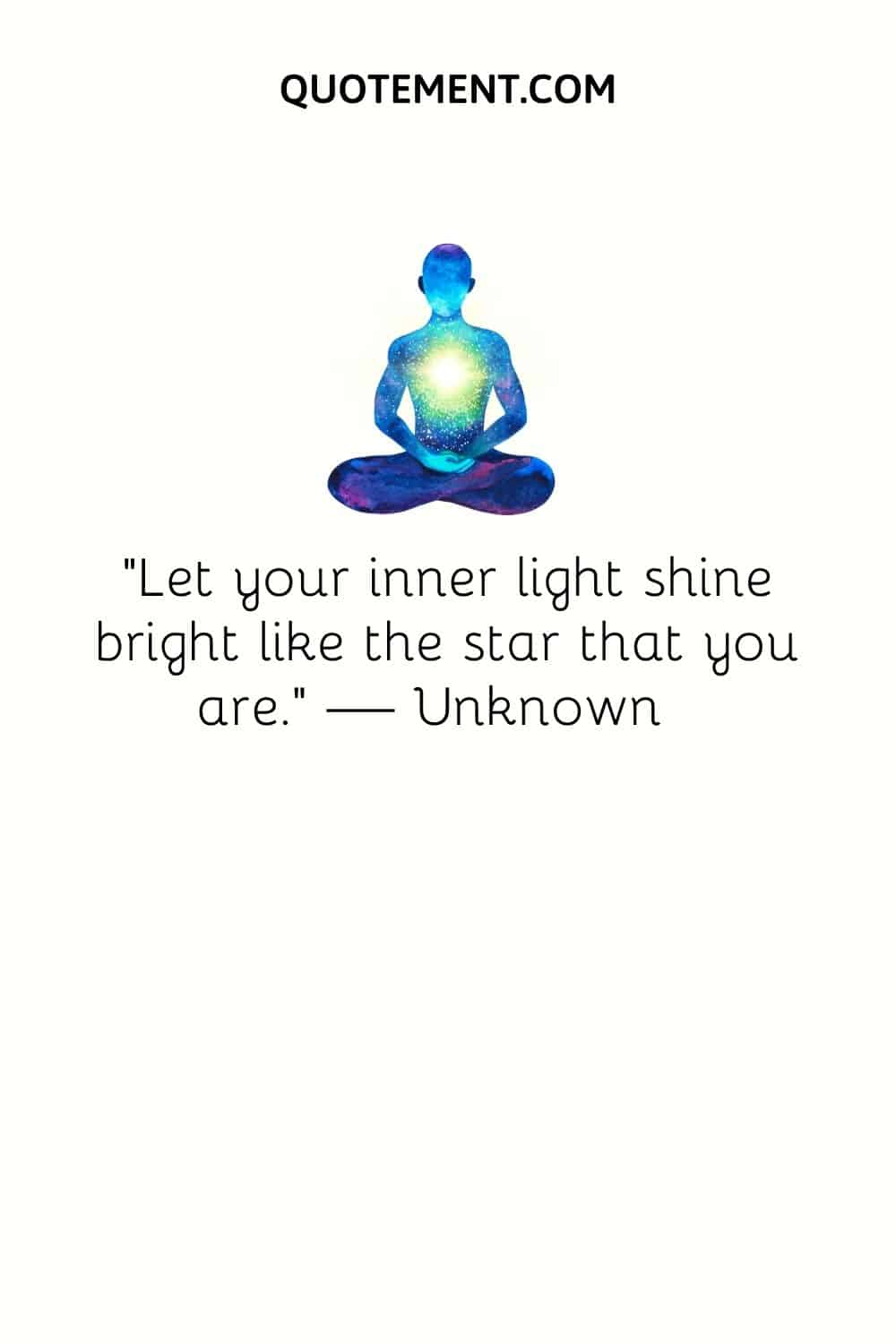 16. "Light in your mind is truth. Light in your heart is knowledge. Light in your soul is wisdom. Light in your life is God." ― Matshona Dhliwayo
17. "Inside we are all Golden Buddhas, but we grew to believe we were made of clay. Our ego's false perceptions led us to grow into a belief system that covered our inner light. We've spent years, maybe decades, masking our truth. Now it's time to embrace our light and reconnect with our Golden Buddha within." — Gabrielle Bernstein
18. "Good human qualities — honesty, sincerity, a good heart — cannot be bought with money, nor can they be produced by machines, but only by the mind itself. We can call this the inner light, or God's blessing, or human quality. This is the essence of mankind." — Dalai Lama
19. "Your inner light is what makes you beautiful." ― Mary Davis, Every Day Spirit: A Daybook of Wisdom, Joy and Peace
20. "Healing is not necessarily about curing. As your inner light grows – anything is possible." — Alberto Villoldo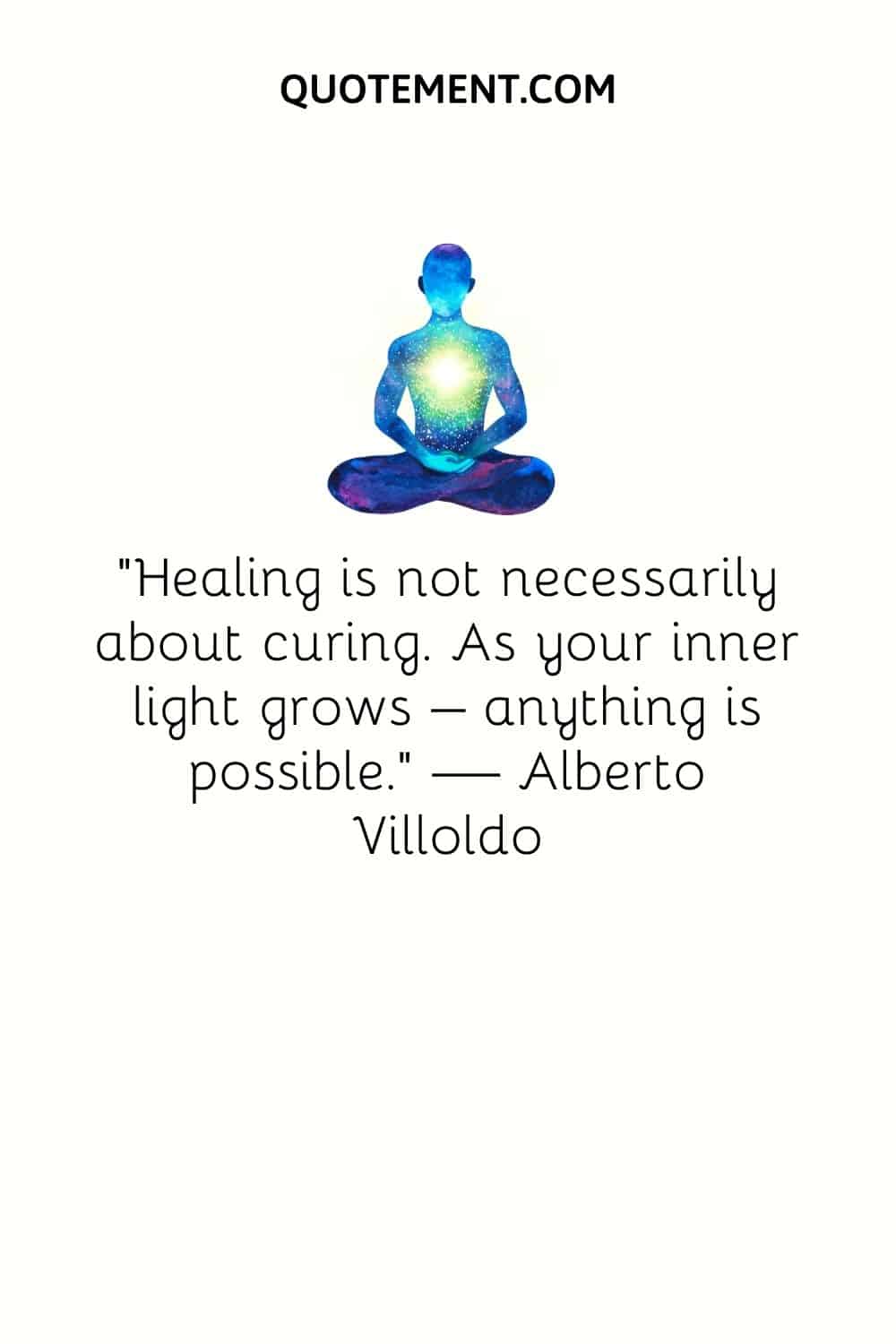 See also: 110 Spiritual Healing Quotes To Find Strength And Peace
Conclusion
As you could see, many great minds discussed the power of light and the importance it has in our lives.
I hope you liked their light quotes as much as I did.
Until next time!
Read next: Ultimate List Of 100 Lightning Quotes To Inspire You