It's not every day that you capture the magic of a rainbow in a photo, so when it does happen you will want to share its beauty on your social media!
I've put together the 140 best rainbow captions I could find online, and you can use them with your stunning rainbow pictures.
It's true that a picture says a thousand words, but a few more words in the form of a catchy caption won't do any harm. Quite the opposite, in fact!
To help you find the perfect caption, I picked only the best rainbow captions I found on my search. Whichever you end up choosing, you won't be making a mistake.
Rainbows awaken our inner children and fascinate us. We don't see them very often, and when we do, we're thrilled!
When it happens, snap a photo, add a caption, and share the joy with the world.
Now, let's check out all the amazing rainbow captions I've prepared for today.
Top 20 Rainbow Captions
I'll begin with the rainbow captions I like the most. Take a look!
1. Focus on your rainbow and not your rain.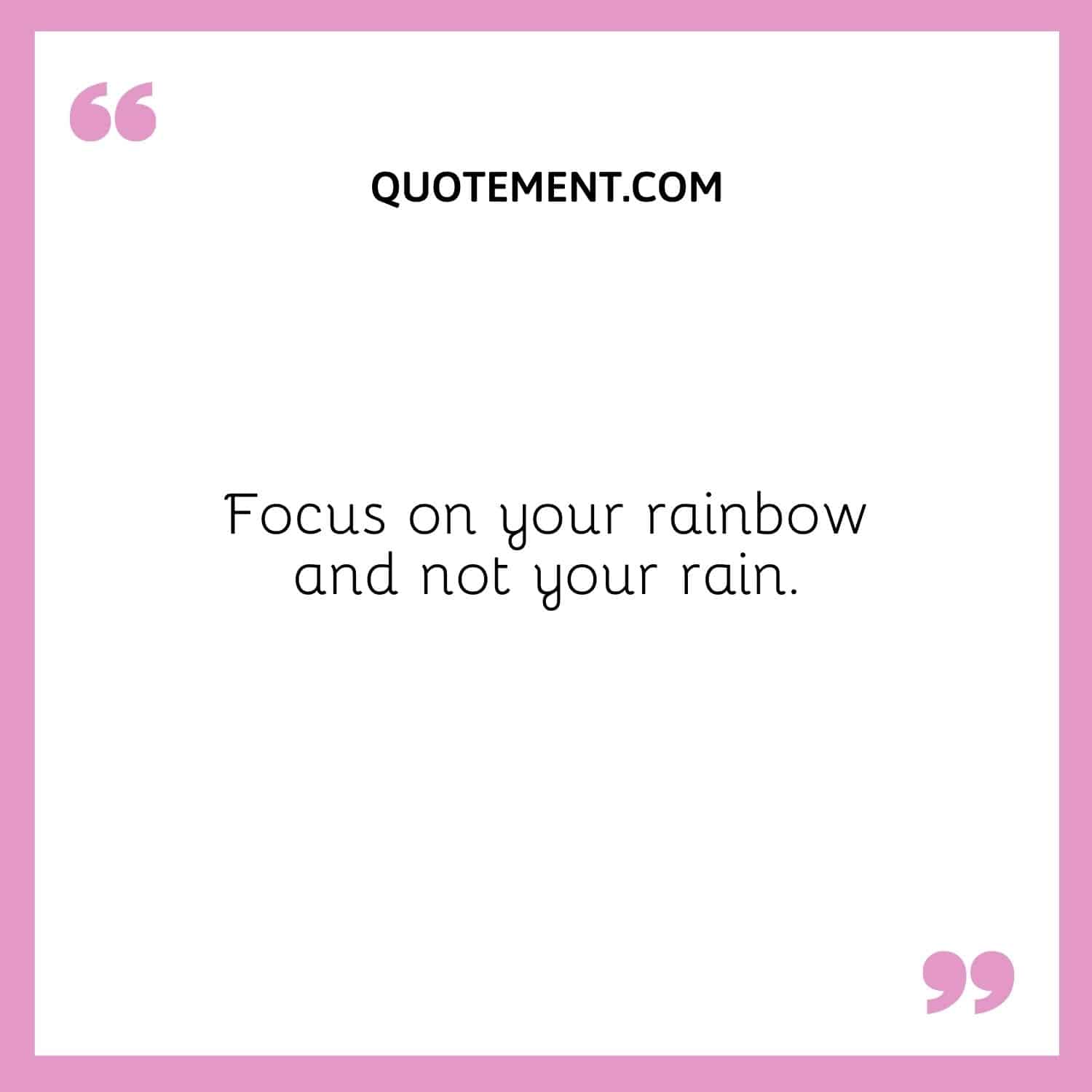 2. Never stop dreaming.
3. Be a rainbow in someone else's cloud.
4. Keep walking through the storm… your rainbow is waiting on the other side.
5. You are a rainbow of possibilities.
6. A rainbow of happiness is the byproduct of your inner sunshine after the rain of sorrows.
7. Dare to love yourself as if you were a rainbow with gold at both ends.
8. Rainbow vibes.
9. There is a rainbow of hope at the end of every storm.
10. The greater your storms, the brighter your rainbow.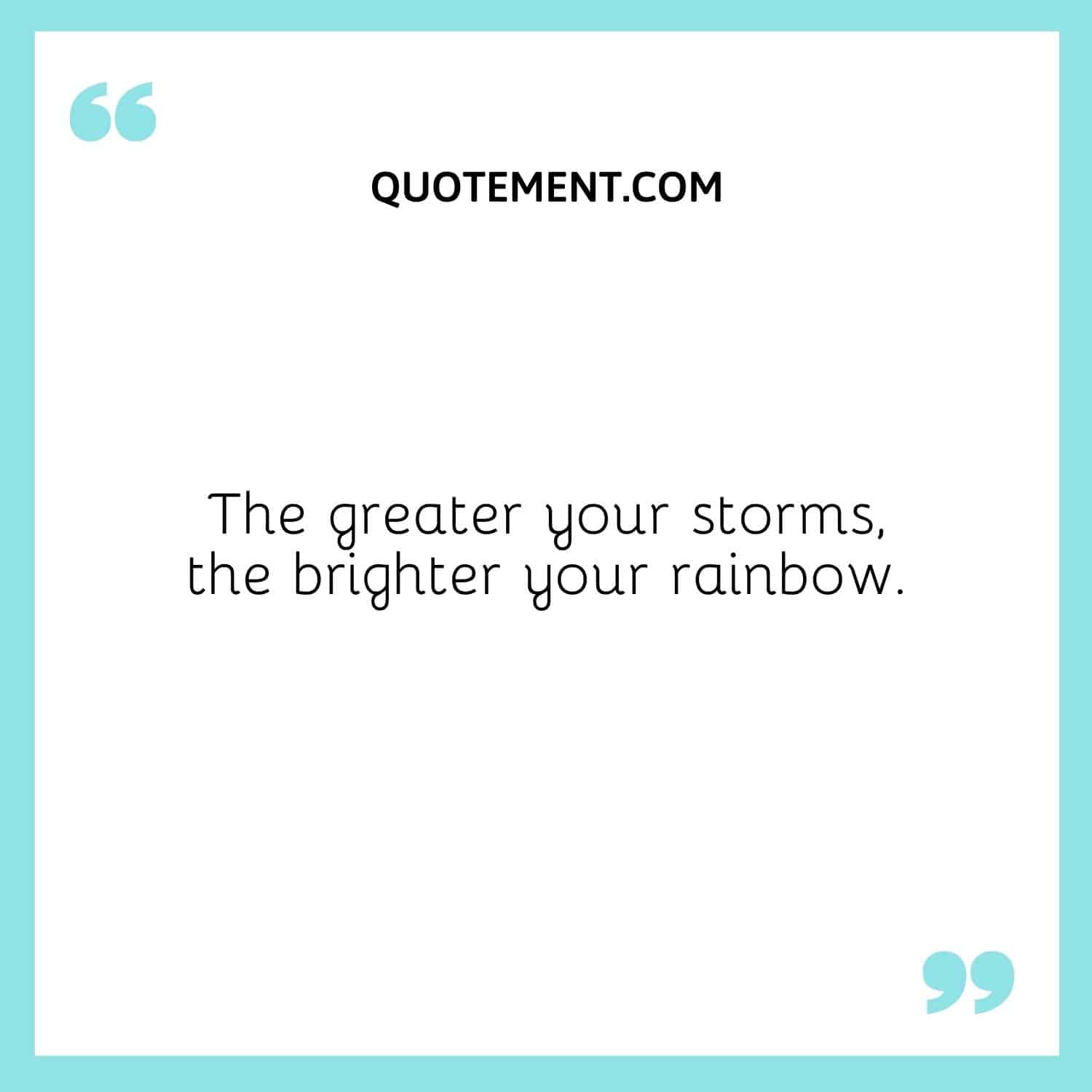 11. Live in the moment.
12. It's greener on the other side, but it's rainbows and gold on mine.
13. Where does the rainbow end, in your soul or on the horizon?
14. We believed we'd catch the rainbow, ride the wind to the sun, and sail away on ships of wonder.
15. You are your own rainbow.
16. To catch the rainbows of your dreams, love yourself, love what you do, and how you do it.
17. Life is like a rainbow. You need both the sun and the rain to make its colors appear.
18. There is just something about seeing a rainbow that makes you feel so happy and excited.
19. Wish upon a rainbow.
20. We never know the beauty of the rainbow unless we see it.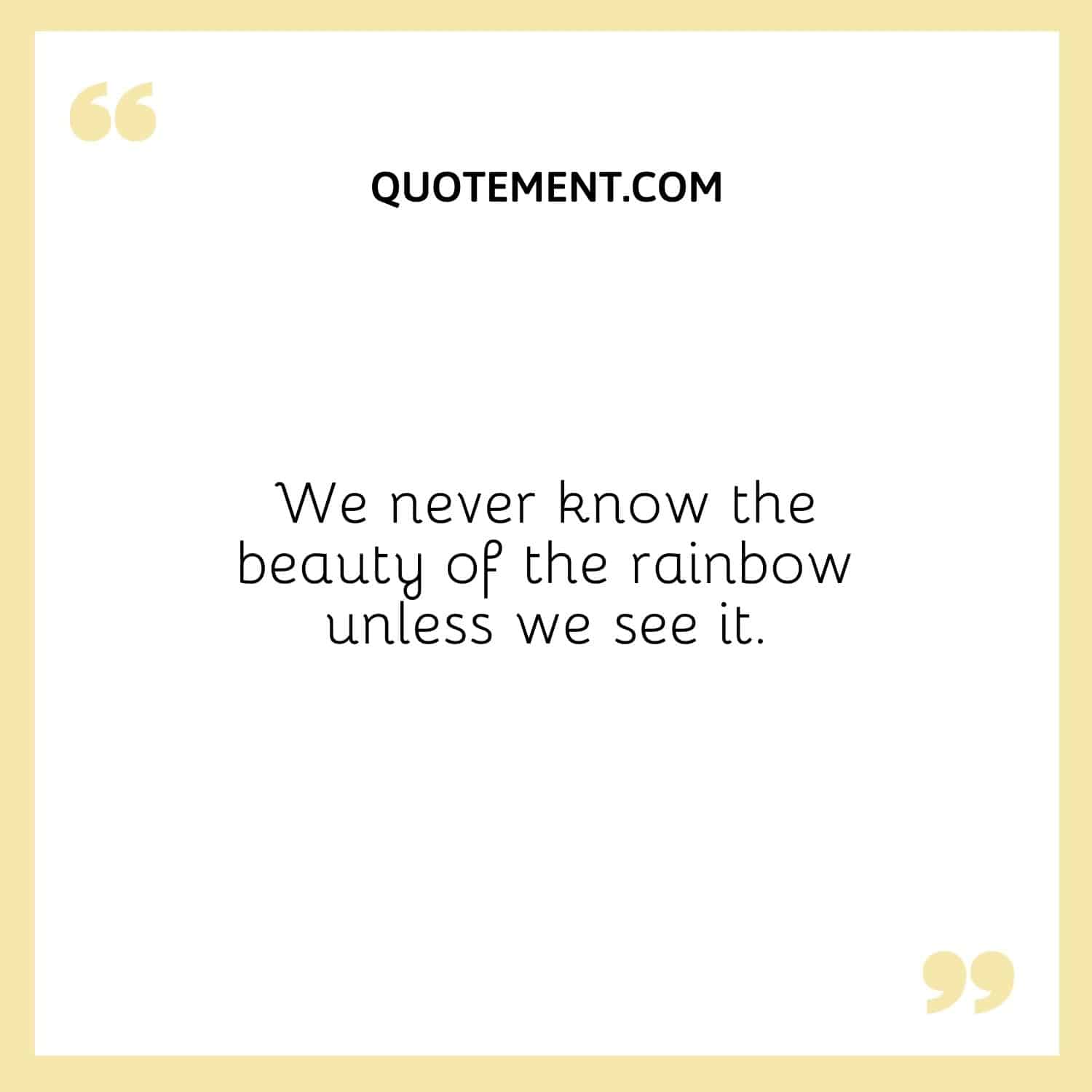 Short Rainbow Captions
1. Chase rainbows.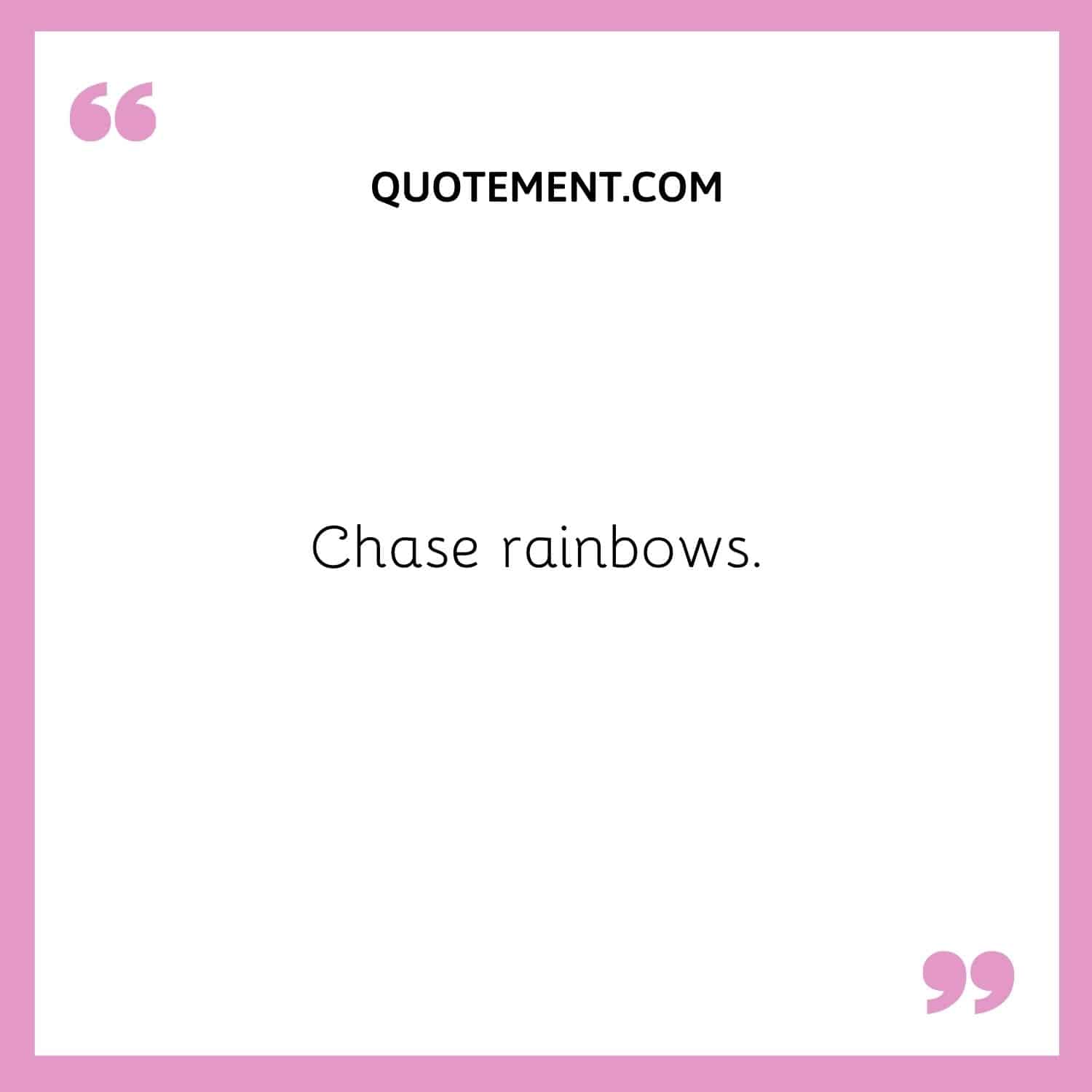 2. Cherish today.
3. Live colorfully.
4. Choose joy.
5. Radiate positivity.
6. Always be a rainbow.
7. Taste the rainbow.
8. Life is beautiful.
9. Follow your dreams.
10. Stay colorful, babe.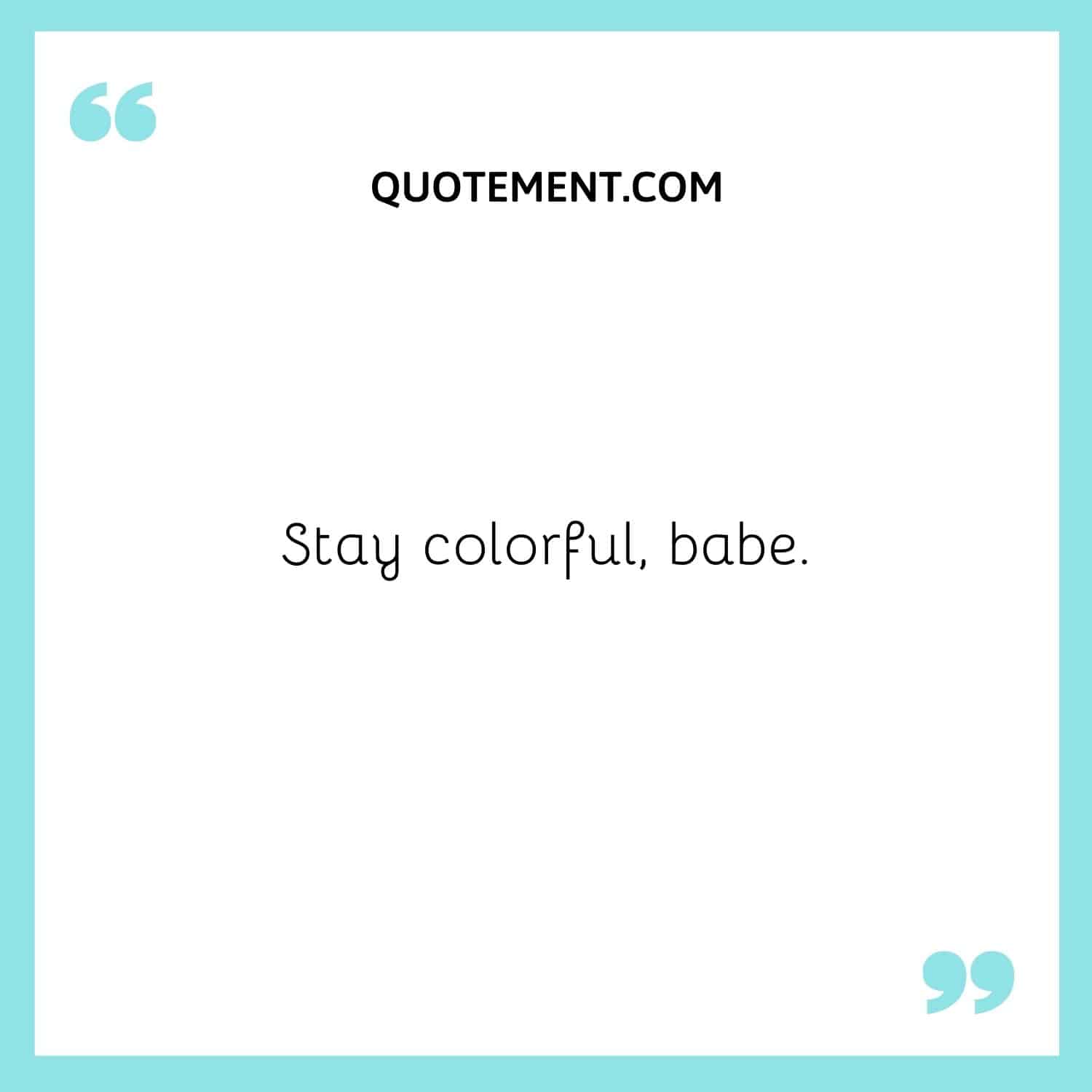 Beautiful Rainbow Instagram Captions
Check out these truly exceptional rainbow captions!
1. There is magic in the sky if you look for it.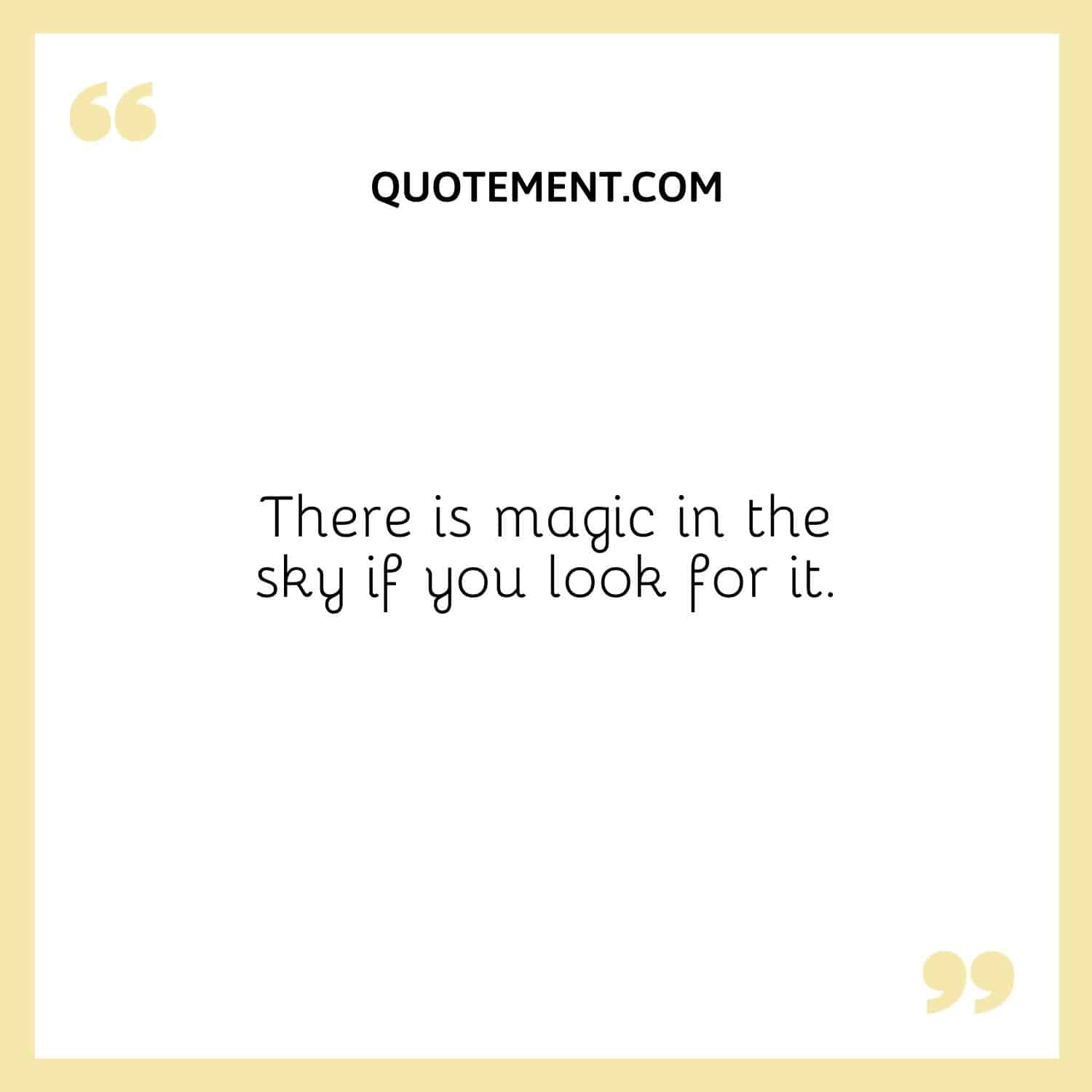 2. Look for the magic in every day.
3. Diversity exists in colors.
4. Double rainbows over trees on a cloudy day.
5. Don't seek to be happy; let everyone else chase after that rainbow. Seek to be kind, and you'll find the rainbow follows you.
6. I can't lose hope, what's left of my heart's still made of gold.
7. Everything will be ok.
8. I hope that your storms are less and that your rainbows are more.
9. Friends are like rainbows, always there to cheer you up after the storm.
10. An optimist sees rainbows when there is rain.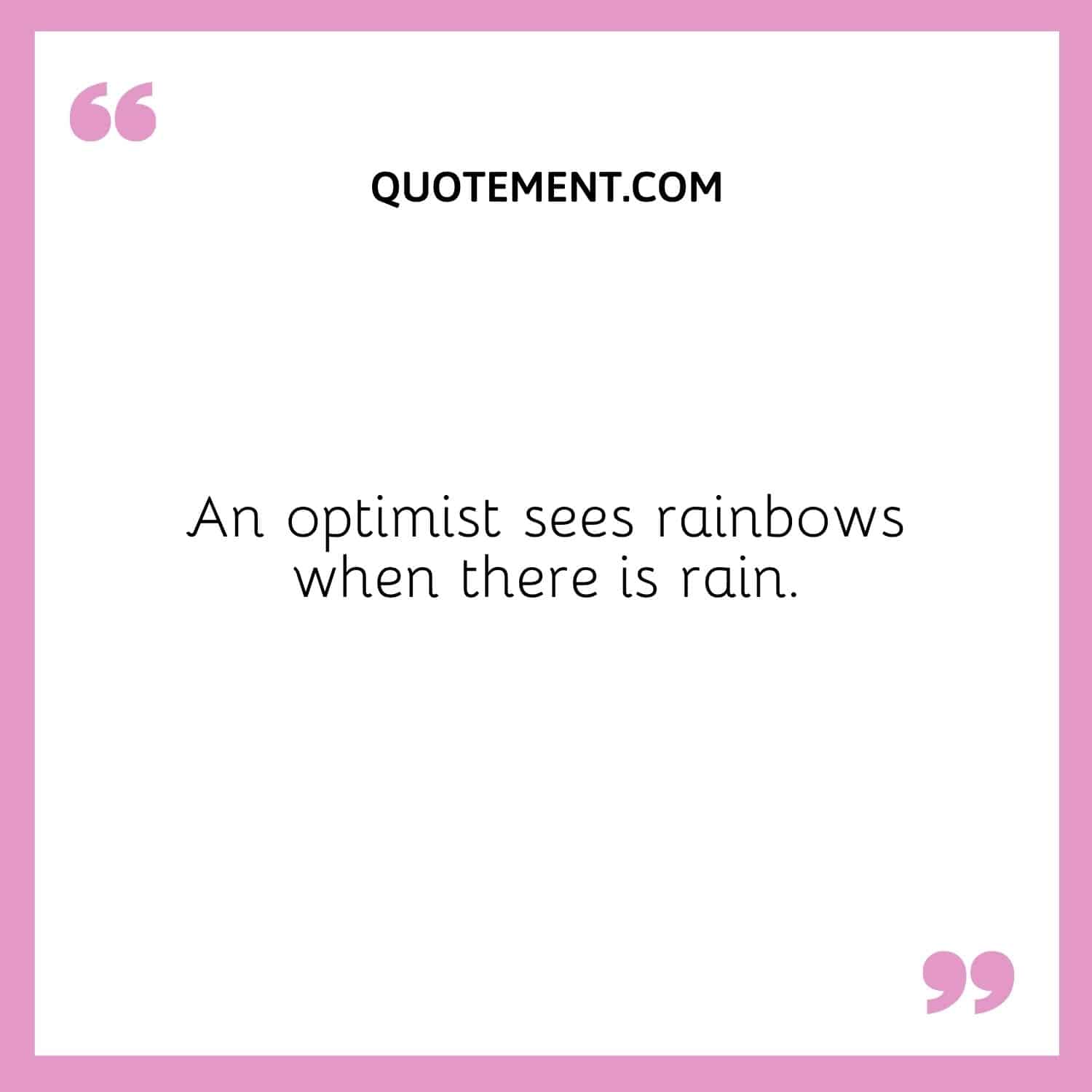 11. It's when you follow the rain clouds that you find out where the rainbows are hiding.
12. When there is love in the heart, there are rainbows in the eyes, which cover every black cloud with gorgeous hues.
13. You are the rainbow that adds color to my gray skies.
14. The closer you move towards the rainbow, the farther it gets.
15. Shine bright like a rainbow.
16. Like the rainbow after the rain, joy will reveal itself after sorrow.
17. Draw a curve with each smile & let your happiness be known to the world as a stunning rainbow!
18. Just searching for the pot of gold after this rainbow.
19. Follow the rainbow.
20. People add color to their story because they think it happened in black and white.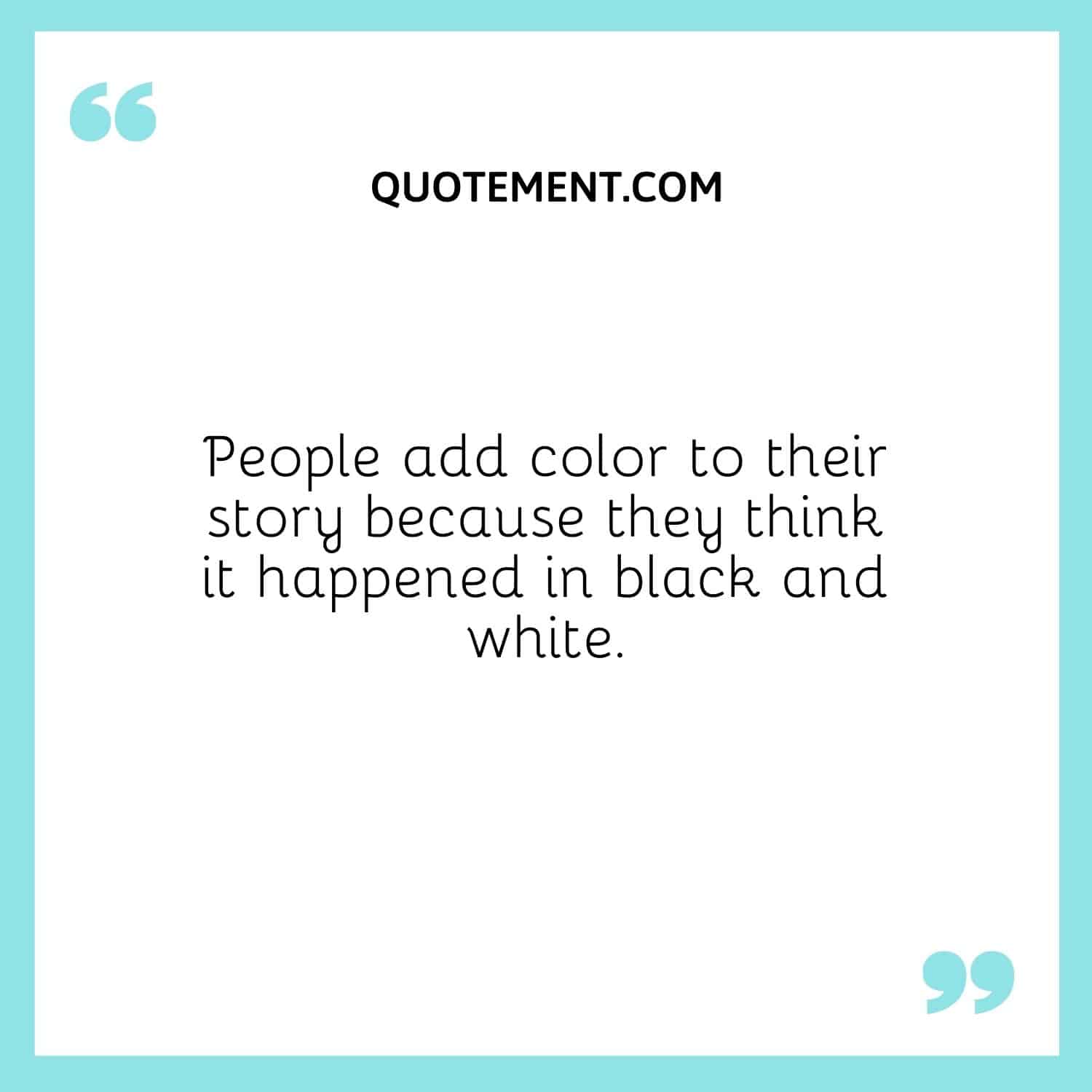 21. The sun longs to show the rainbow, so we have to be ready to pray for rain.
22. Every time I see a rainbow, it is such a special moment.
23. When thunderstorms roll in, you make a choice to either succumb with tears to the gloomy downpour or smile and look for rainbows.
24. Let's make today a happy day.
25. Dance with fairies, ride a unicorn, swim with mermaids, and chase rainbows.
26. Rainbows are a reminder that every day is a fresh start.
27. Let your happiness be known to the world as a stunning rainbow.
28. Advice from a rainbow; follow your heart, live in the moment, believe in your dreams, choose happiness, and always be kind.
29. Whenever you need a rainbow, never try to take someone else's rain or sun for your own rainbow!
30. The beauty of the rainbow has the power to delight a soul.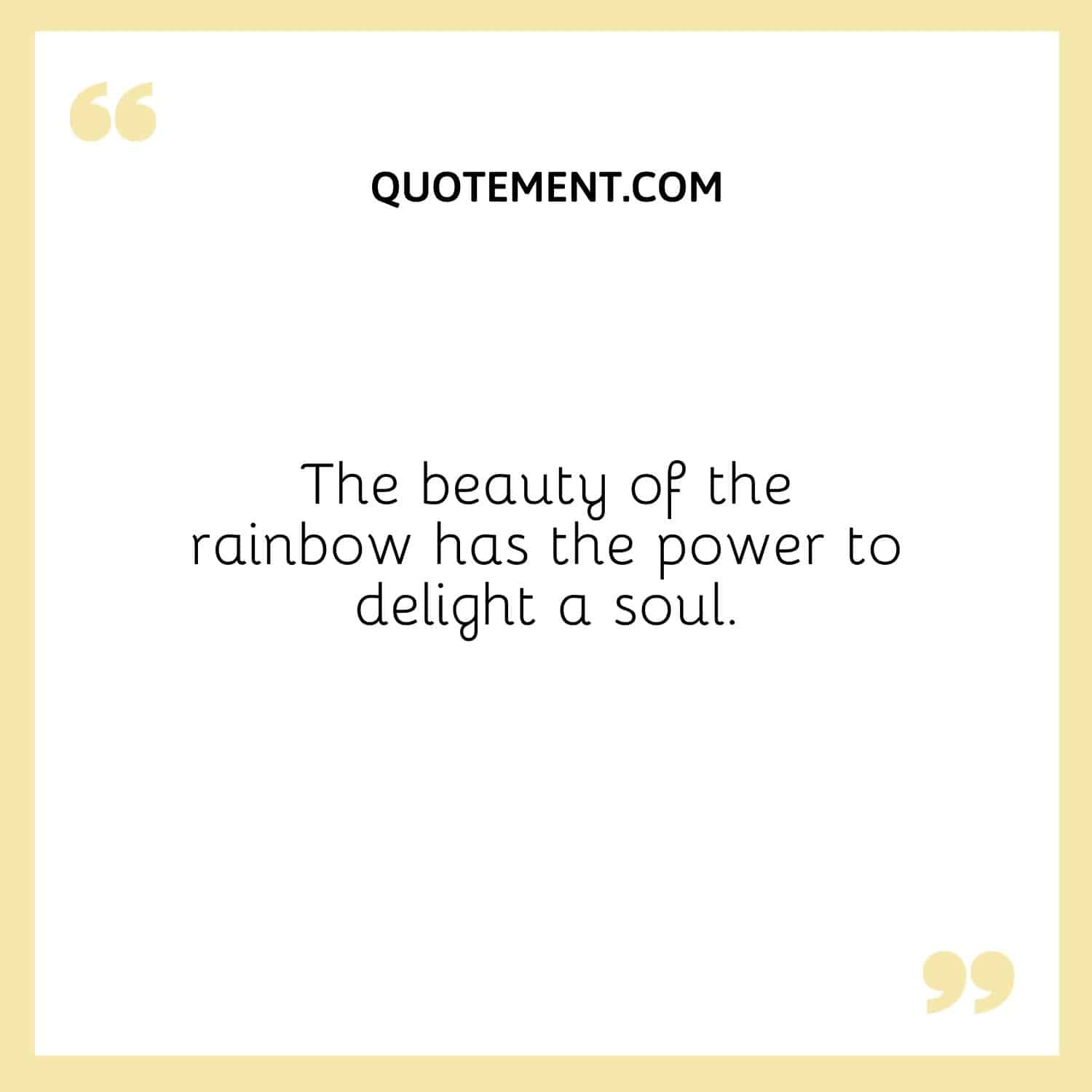 31. How could he try to get Sandi to reveal her true colors when she was a rainbow?
31. There is a rainbow of hope at the end of every storm.
32. Storm? Shine your light and make a rainbow.
33. I find happiness in rainbows.
34. Ignore the rain, look for the rainbow.
35. Stay strong because this storm will pass, and then the rainbow will emerge.
36. We live in a rainbow of chaos.
37. There is a reason why I love rain. It comes without excuse and leaves without action. But, the rainbow always is its friend no matter what the rain breaks the world.
38. In a sky full of clouds, be a rainbow.
See also: 180 Beautiful Cloud Captions To Boost Your Instagram Post
Colorful Rainbow Captions For Instagram
There's more! Stay with me to discover some awesome and colorful rainbow captions.
1. The colors in a rainbow are fixed, unlike our thoughts and feelings.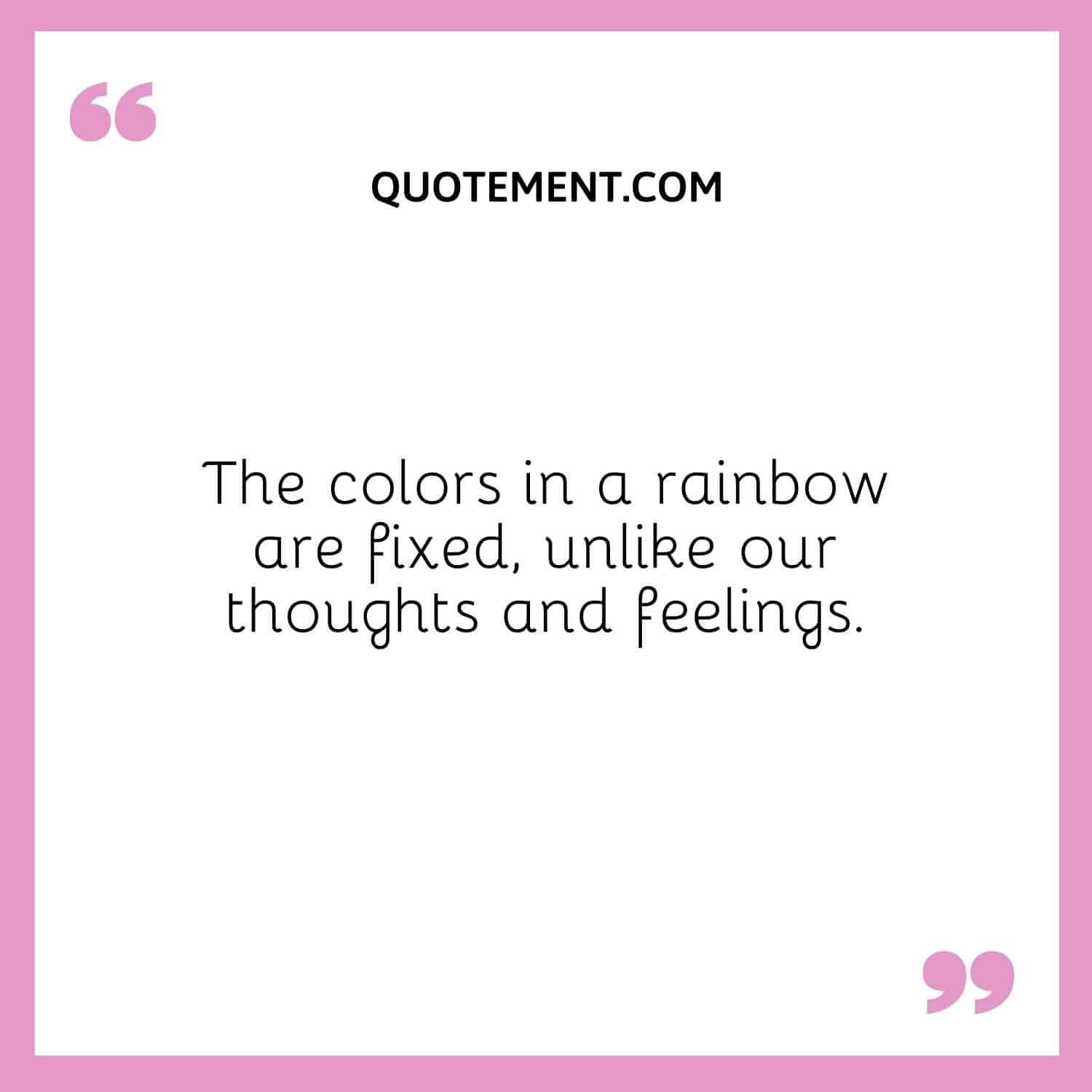 2. Happiness is…seeing rainbows.
3. Life is about using the whole box of crayons.
4. Life is a beautiful ride.
5. With all colors combined, the world shines.
6. The quiet break of soul that comes when you realize that what looked like a rainbow was actually only a trick of the light.
7. Rainbows: The gift from heaven to us all.
8. You color my world.
9. Some day, we'll find it, the rainbow connection. The lovers, the dreamers, and me.
10. May your journey through life be vibrant and full of colorful rainbows.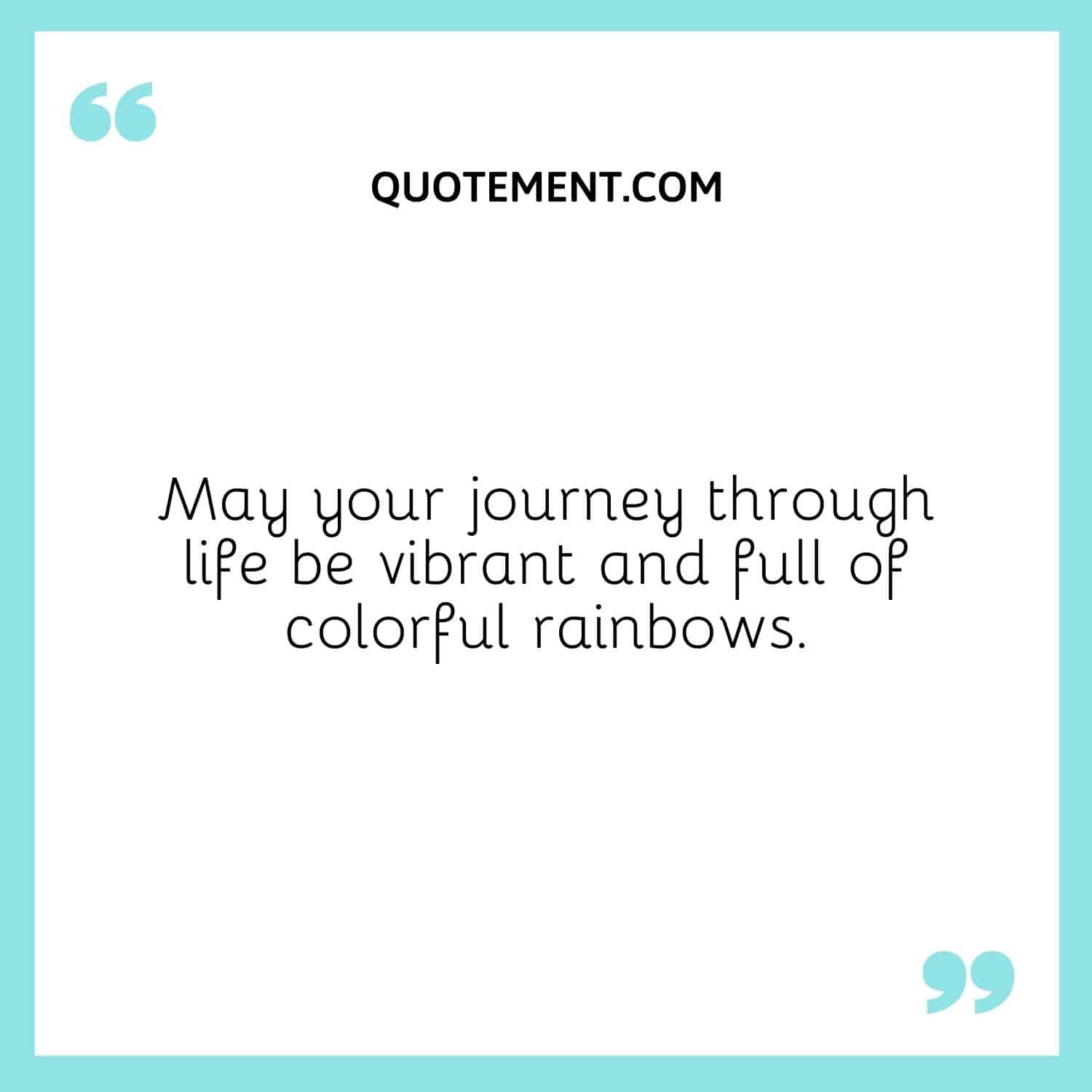 11. Let your light shine.
12. She is the gold at the end of the rainbow.
13. You need to portray your talents like the multicolored rainbow.
14. You brought colors into my life.
15. If you want to enjoy the rainbow, be prepared to endure the storm.
16. Rainbows have a way of making the world seem right.
17. Life is more beautiful with rainbows.
18. Be happy, be bright, be you.
19. Life is a work of art, make it colorful.
20. I don't have to understand the reasons for the colors of a rainbow to appreciate its beauty.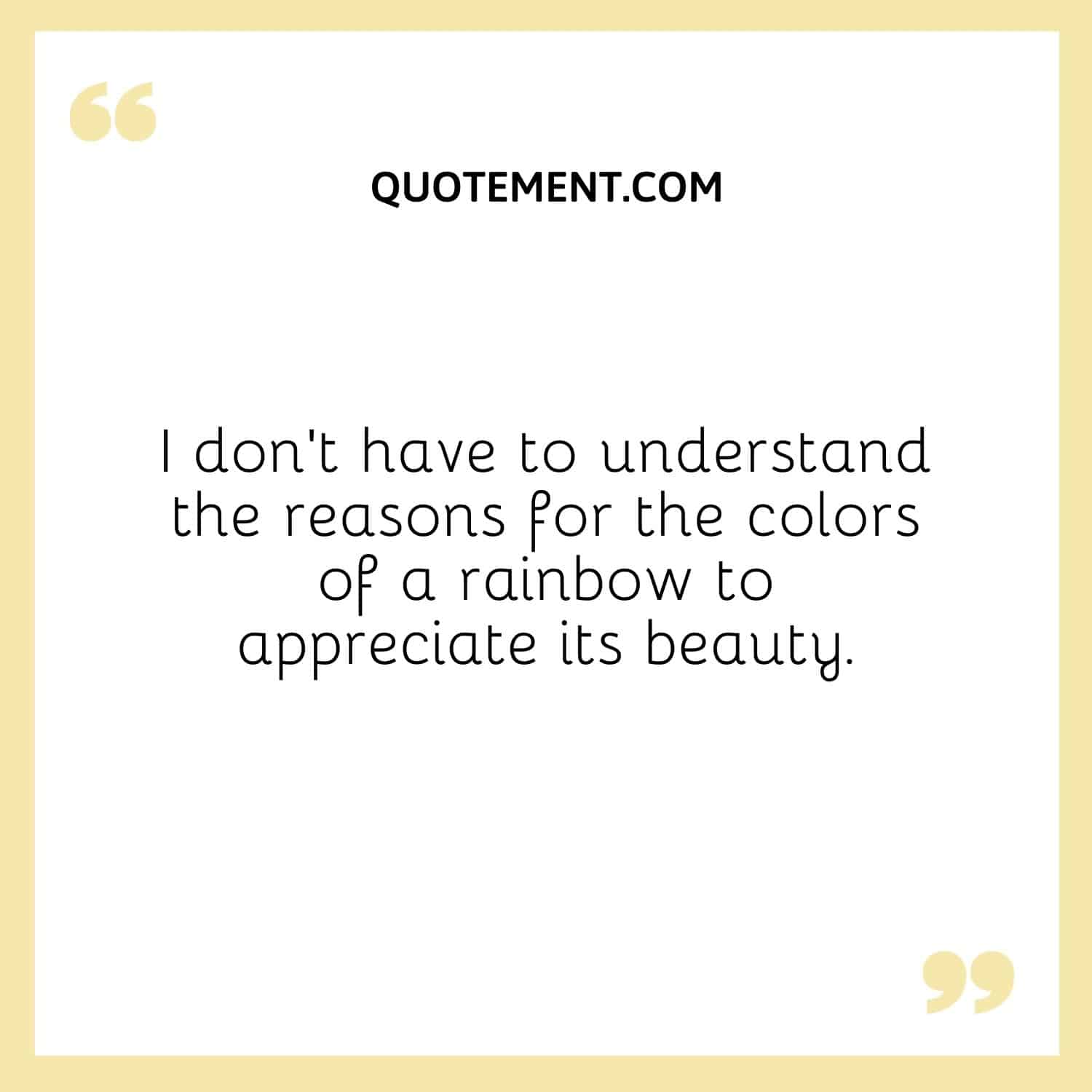 21. My favorite color is rainbow.
22. A woman is like the color of the rainbow, very colorful and so beautiful.
23. Why would I spend my life chasing rainbows when I can be still and see them in their full beauty.
24. It's not all sunshine and rainbows, but a good amount of it actually is.
25. At the end of the dream, on the other side of the rainbow, there's only light.
26. No two people see the rainbow the same way.
27. Don't waste your time admiring the rainbow, instead, use your time by being the rainbow.
28. Follow every rainbow until you find your dream.
29. Your true colors are beautiful, like a rainbow.
30. Don't fear the storm, for the rainbow's never far behind.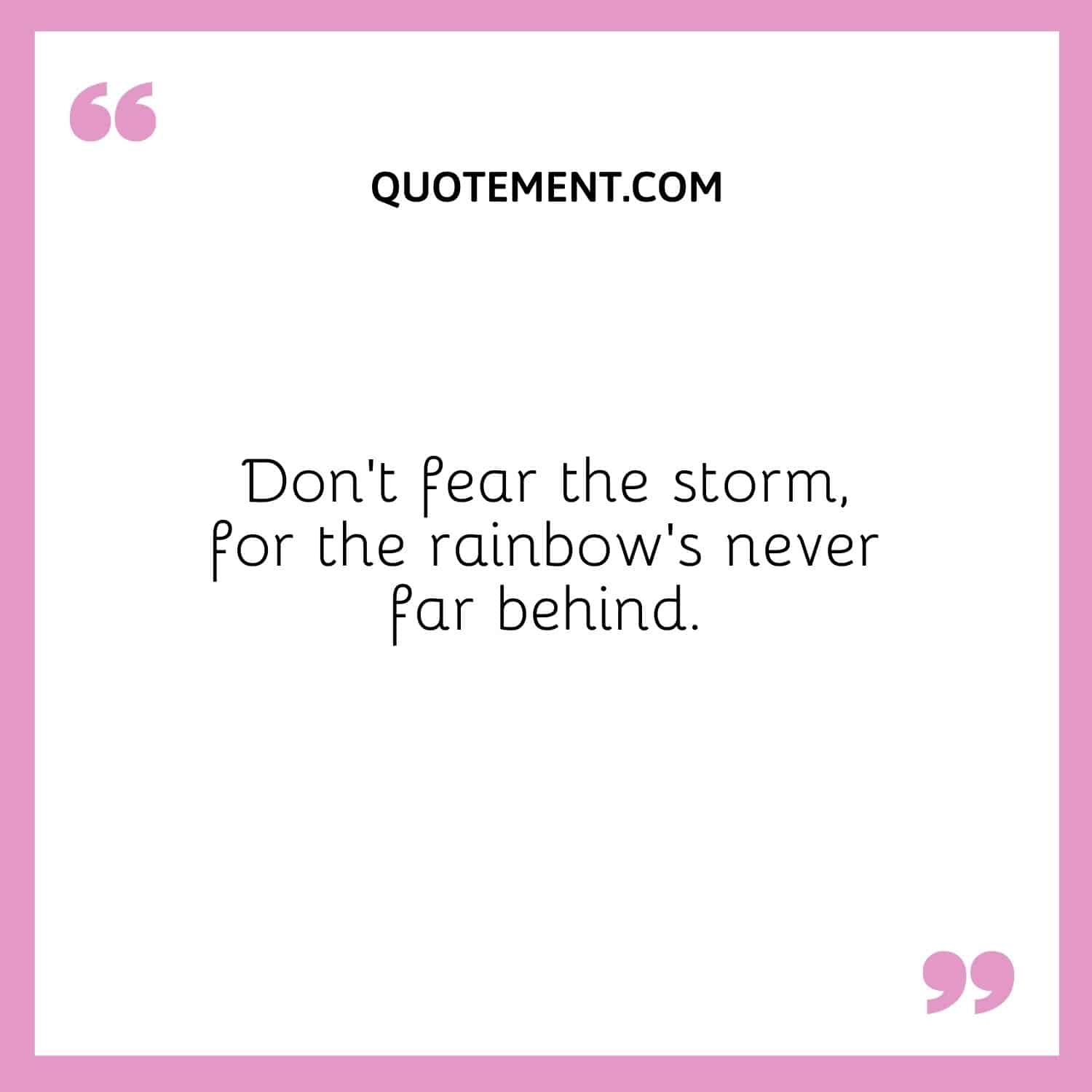 31. There is no envy, jealousy, or hatred between the different colors of the rainbow. And no fear either. Because each one exists to make the others' love more beautiful.
32. May your journey through life be vibrant and full of colorful rainbows.
33. We color the world, not with the darkness of our pasts, But with the rainbow of our hope.
34. Colors will fascinate you completely.
35. Colors speak louder than words.
36. If your dream is at the end of a rainbow, you'll never reach it.
37. We needed something to express our joy, our beauty, our power. And the rainbow did that.
38. One can enjoy a rainbow without necessarily forgetting the forces that made it.
39. Don't give up your daydream.
40. What is more exciting than seeing a rainbow in the sky!
See also: 270 Absolutely Beautiful Sky Captions For Instagram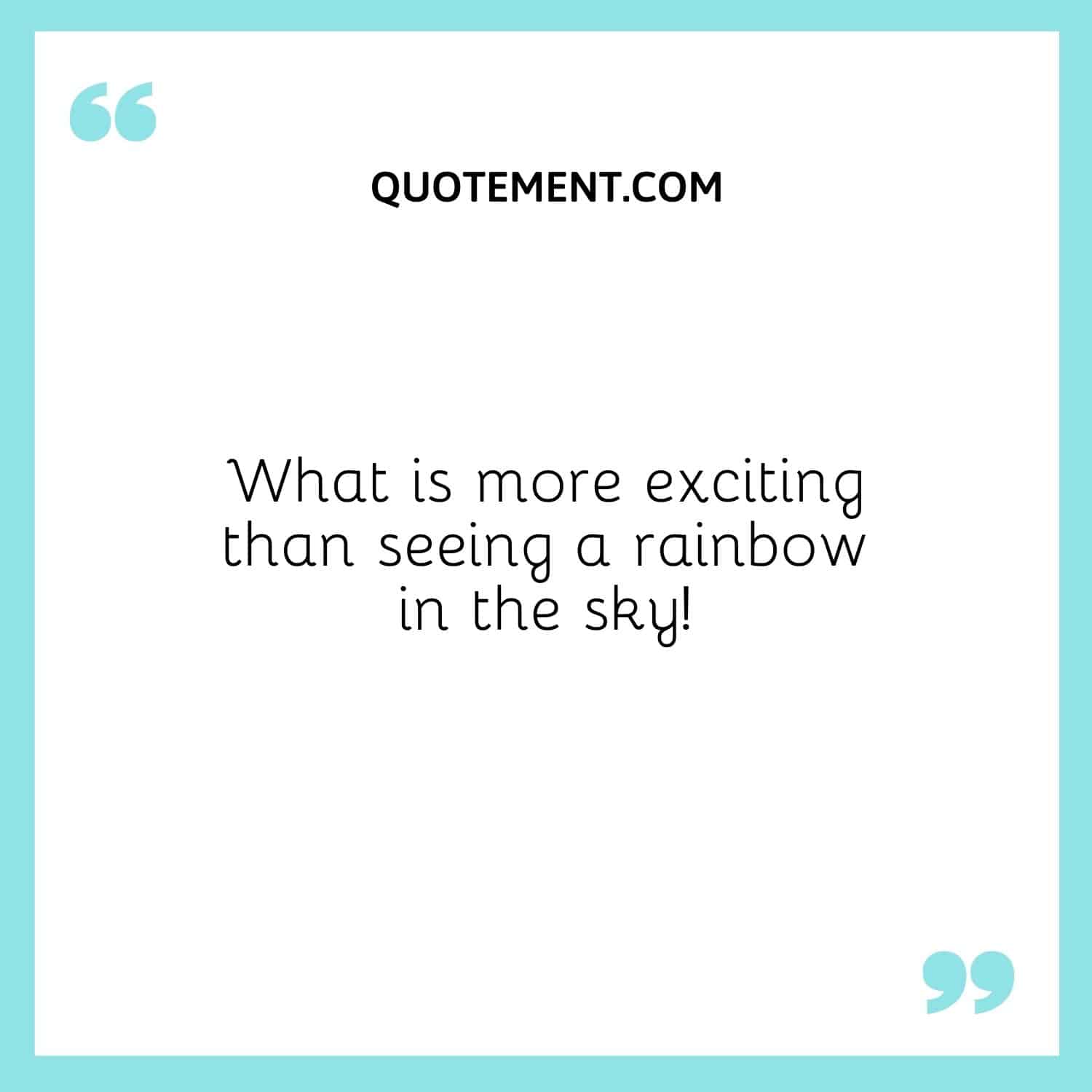 Funny Rainbow Captions For Instagram
1. Somewhere, over the rainbow, way up tall, there's a land where they've never heard of cholesterol.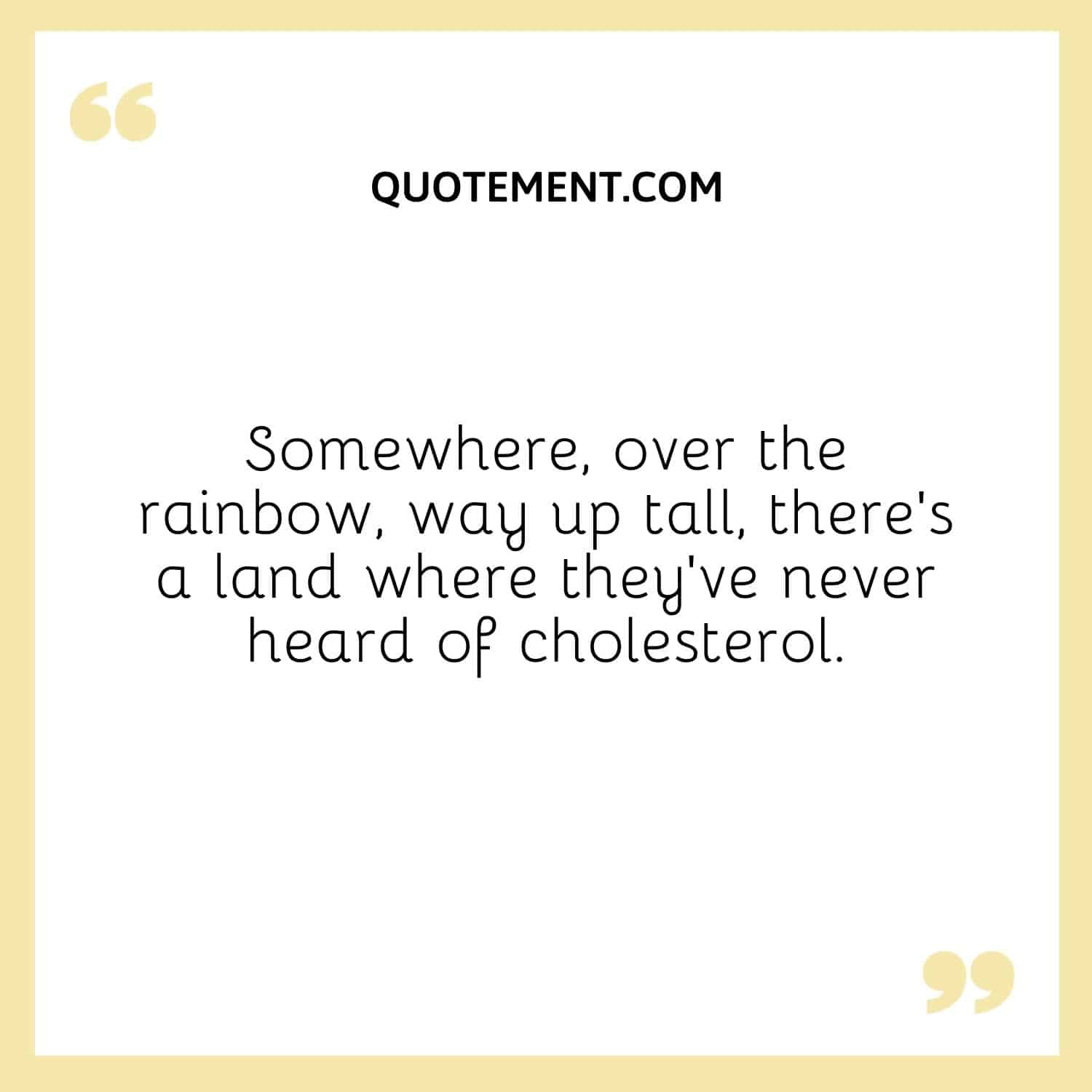 2. When it comes to blame… you can't blame a rainbow for the rain.
3. Rainbows just love to show off in the rain.
4. What happens over the rainbow stays over the rainbow.
5. Thank you for being a rainbow in my life.
6. No matter how far I'll find my way to you, followin' a rainbow.
7. I wish I could bake a cake filled with rainbows and smiles, and everyone would eat and be happy.
8. If the rainbow had the eighth color, it would be you.
9. Friends are like crayons, each one is different, but put them together, and they make your rainbow.
10. She was a rainbow, but he was colorblind.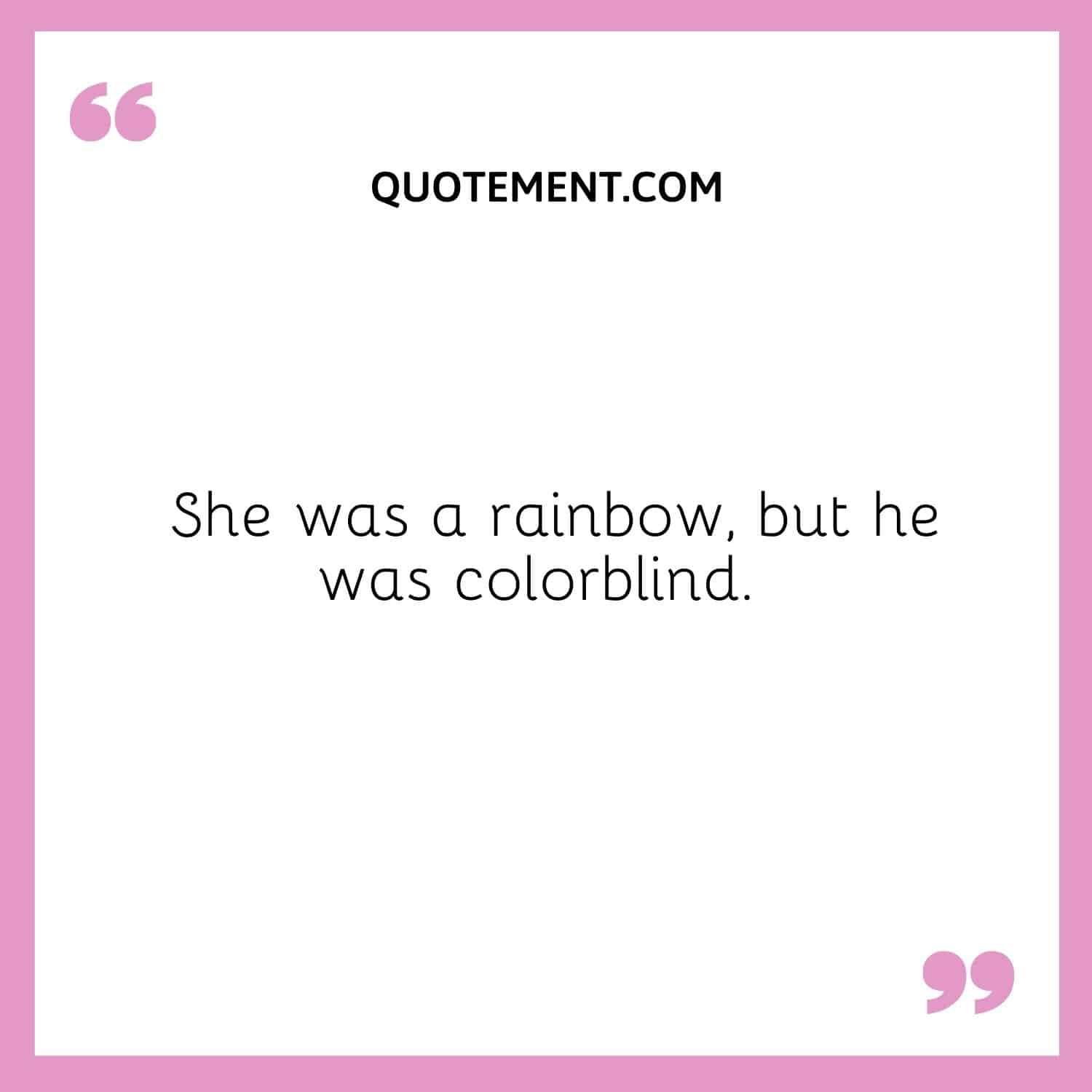 11. Why are there so many songs about rainbows, and what's on the other side?
12. Be-you-tiful.
Rainbow Quotes That Can be Used As Captions
You can use any of these inspirational rainbow quotes as an Instagram caption. Choose the one you like most and add it to your beautiful rainbow picture!
1. "You'll never find a rainbow if you're looking down." — Charlie Chaplin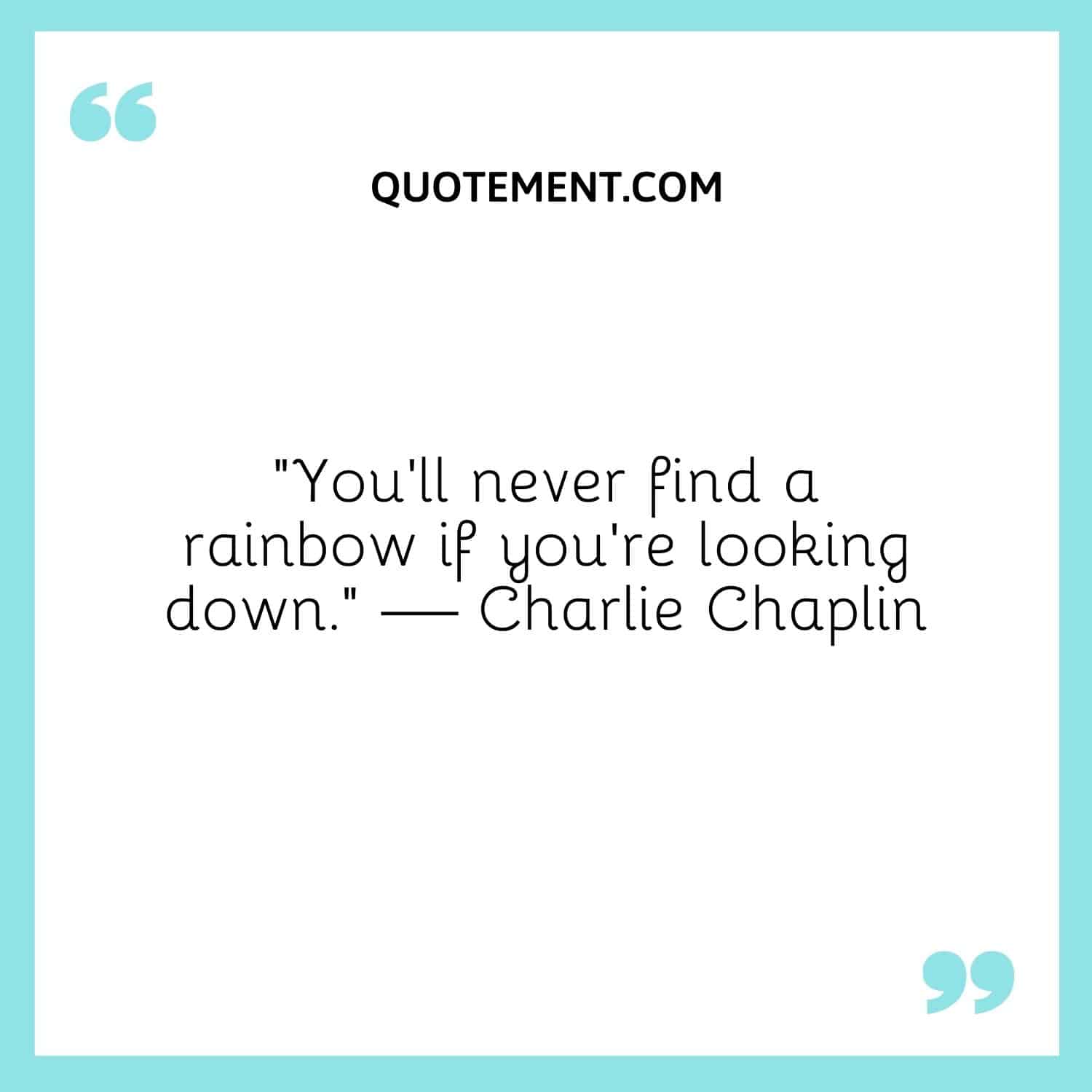 2. "Color will always make you smile." — Anthony T. Hincks
3. "Rainbows are people whose lives are bright, shining examples for others." — Maya Angelou
4. "When a friend is going through a difficult stormy time in their life, try to be the rainbow that makes them smile." ― R.J. Intindola
5. "If you want to see a rainbow, you have to learn to see the rain." — Paulo Coelho
6. "Don't seek to be happy; let everyone else chase after that rainbow. Seek to be kind, and you'll find the rainbow follows you." — Richelle E Goodrich
7. "Count your rainbows, not your thunderstorms." — Alyssa Knight
8. "In life, you either choose to sing a rainbow, or you don't. Keep singing." ― Kathleen Long
9. "And when it rains on your parade, look up rather than down. Without the rain, there would be no rainbow." — Gilbert K. Chesterton
10. "I kind of view everybody like a rainbow. Everybody on the planet has all the colors of the rainbow inside." — Alexia Fast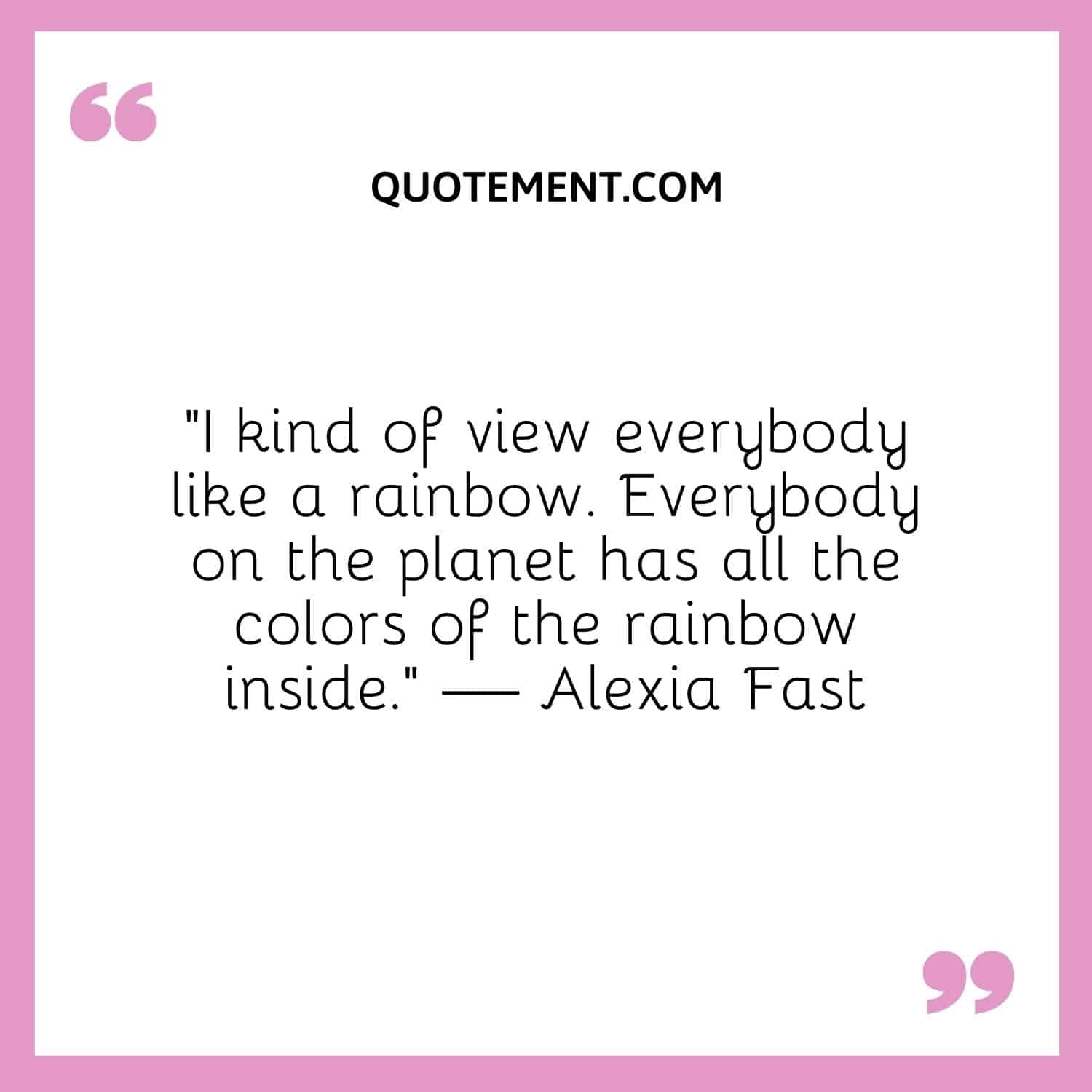 11. "Somewhere over the rainbow skies are blue, and the dreams that you dare to dream really do come true." — E.y. Harburg
12. "Don't turn around. Don't look back. Keep moving forward. Keep pushing. The pot of gold is at the end of the rainbow, not the beginning."— Ziad K Abdelnour
13. "The way I see it, if you want the rainbow, you gotta put up with the rain." — Dolly Parton
14. "Life throws challenges, and every challenge comes with rainbows and lights to conquer it." — Amit Ray
15. "I can see a rainbow in your tears as the sun comes out as the sun comes out." — Sia
See also: 280 Best Sun Captions For Instagram For A Shiny Post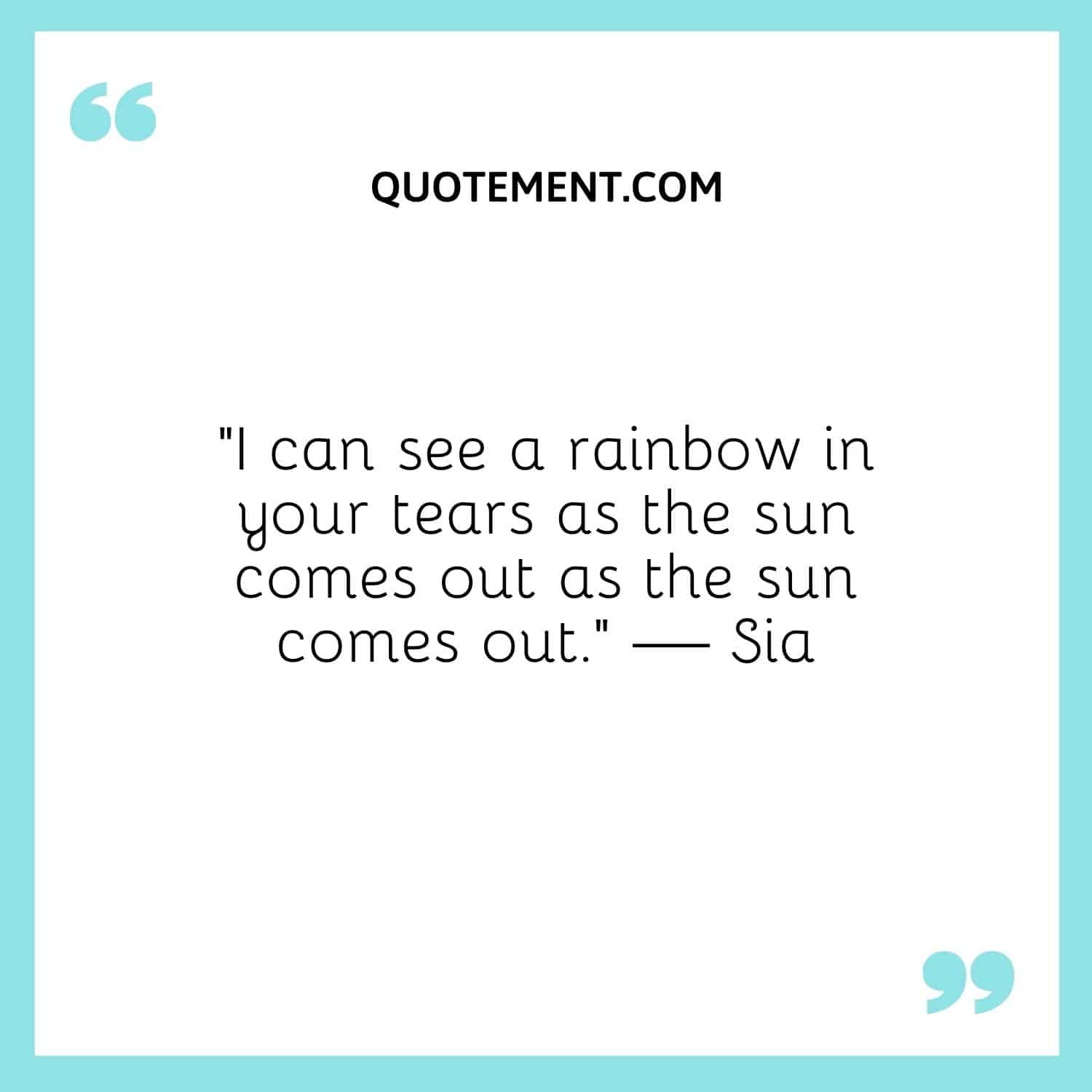 16. "There is no envy, jealousy, or hatred between the different colors of the rainbow. And no fear either. Because each one exists to make the others' love more beautiful." — Aberjhani
17. "I'd rather see the world as a rainbow than endless shade of gray." — Amani
18. "Somewhere over the rainbow, way up high, there's a land that I've heard of once in a lullaby." — Judy Garland
19. "We are rainbows, me and you. Every color, every hue." — Miley Cyrus, "Rainbowland"
20. "Sunset is my favorite color, and rainbow is my second." — Mattie Stepanek
See also: 340 Absolutely Best Sunset Captions For Instagram + Quotes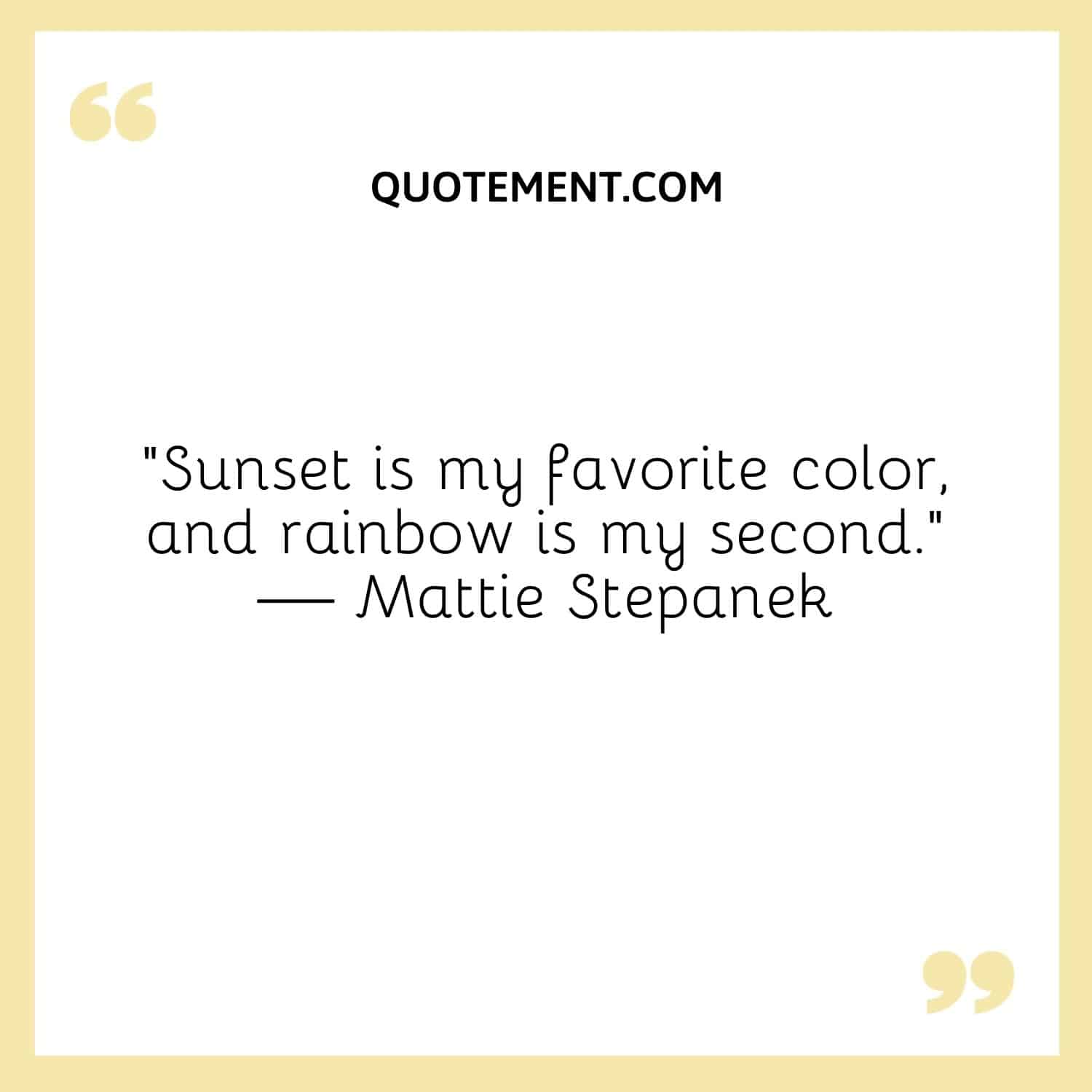 In Conclusion
That was all for today's post!
I hope you found your perfect rainbow caption. Let me know in the comments section below which one was your favorite.
Until next time!