Attention, juice drinkers, I've got something for you! I've prepared an extensive collection of juice captions for the perfect Instagram post you simply must check out!
If you've got a juice pic you want to share on your social media, the next step is choosing a proper caption.
You want something cute and catchy that will match the vibe of your photo and inspire your audience to engage.
In this article, you'll find loads of awesome juice Instagram captions perfect for when you want to share your healthy glass of juice with the world.
Let's take a look!
Top 20 Juice Caption Ideas For Instagram
I'll start off with the 20 best juice captions. They're catchy, proven to work, and my personal favorites!
1. Love your body, feed your soul, drink your juice.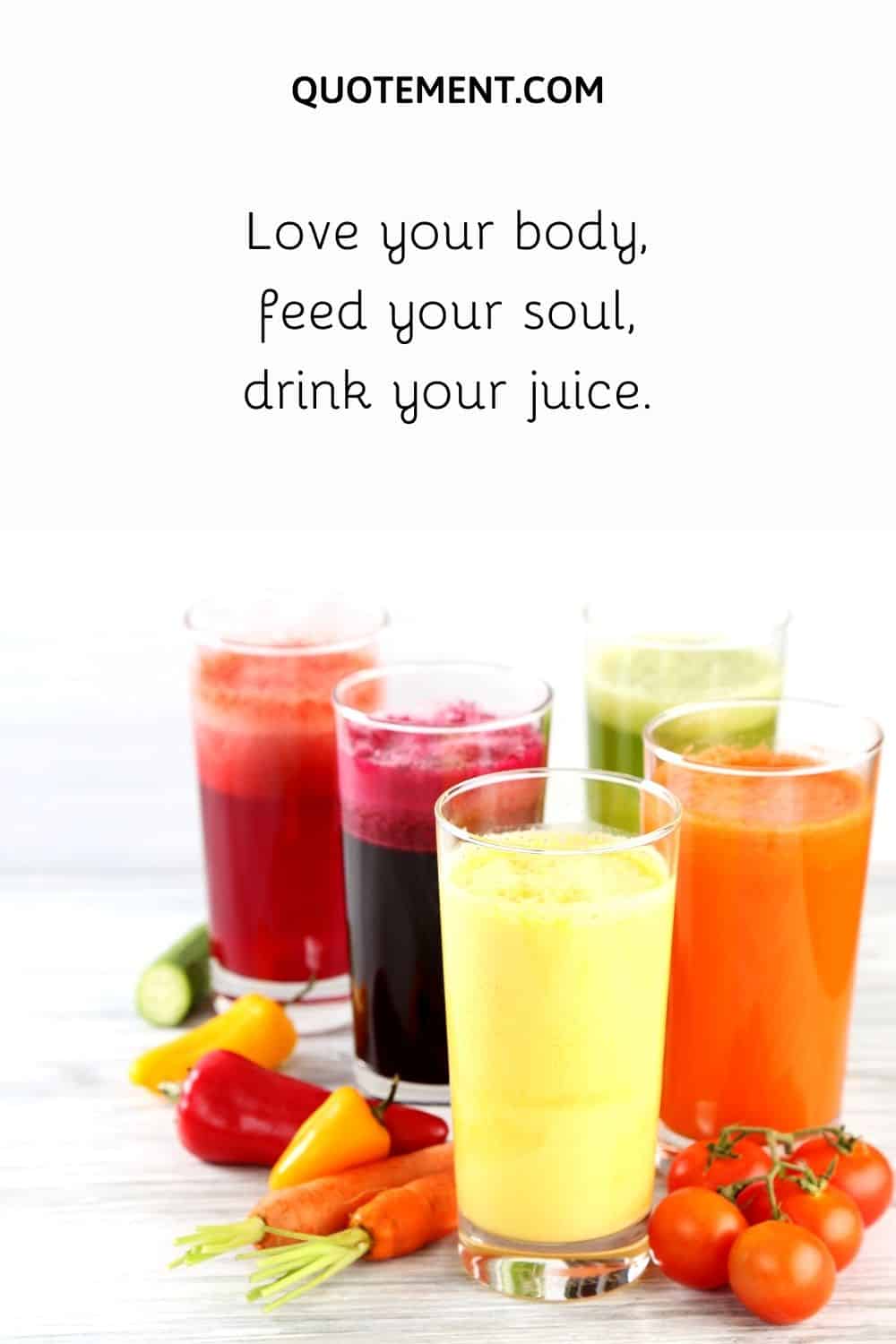 2. I believe in the healing power of juice.
3. Juice up your day with juices made with all-natural ingredients, fruits, and vegetables for a healthier way of life.
4. Take your health to new heights with a tall glass of juice.
5. Juice is living food. Raw, alive, packed with vitamins, and good for the soul!
6. When you look good, you feel good. Get the most out of life with the help of fruit juices.
7. One sip. One sip closer to a healthy, happy you.
8. Now thirst is satisfied in the best possible way.
9. We believe in cleansing your body to deeply nourish your mind, spirit & soul…
10. Nothing beats the feeling of being healthy and taking care of yourself.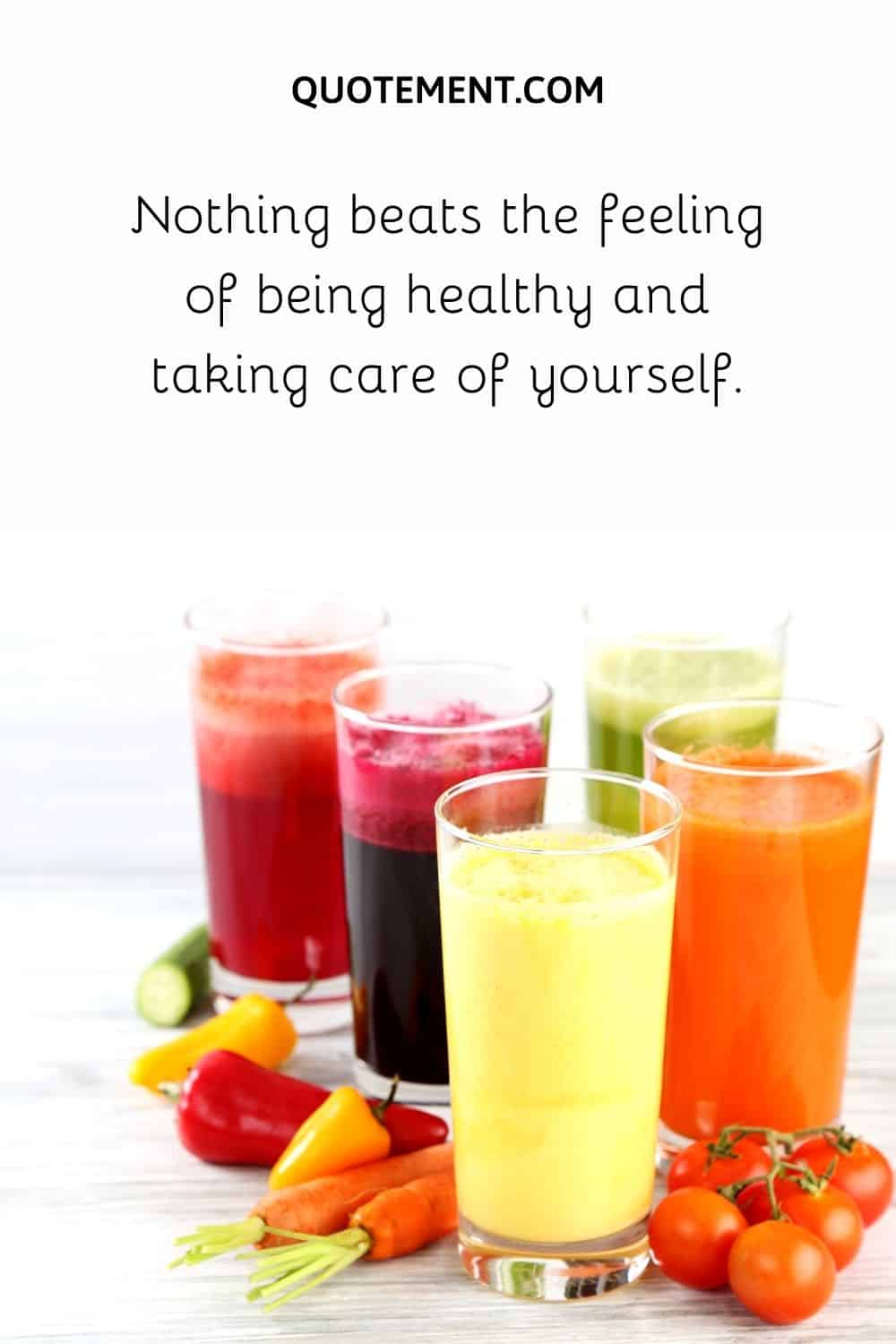 11. Let's go on a juice retreat!
12. When life gives you lemons, squeeze them and add sugar, then drink the juice.
13. Combining colors and textures in a juice isn't just beautiful; it's also an art.
14. Freshly squeezed… Freshly blended.
15. Juice. Happiness.
16. You can't pour from an empty cup. So pick a juice and fill it up!
17. Throw away that boring water. Wake up to a fresh squeeze of healthy, hydrated energy.
18. Keep calm and drink some juice!
19. Juice drinkers know it's addictive, in a good way.
20. A journey of a thousand miles begins with one step. But first, grab a juice.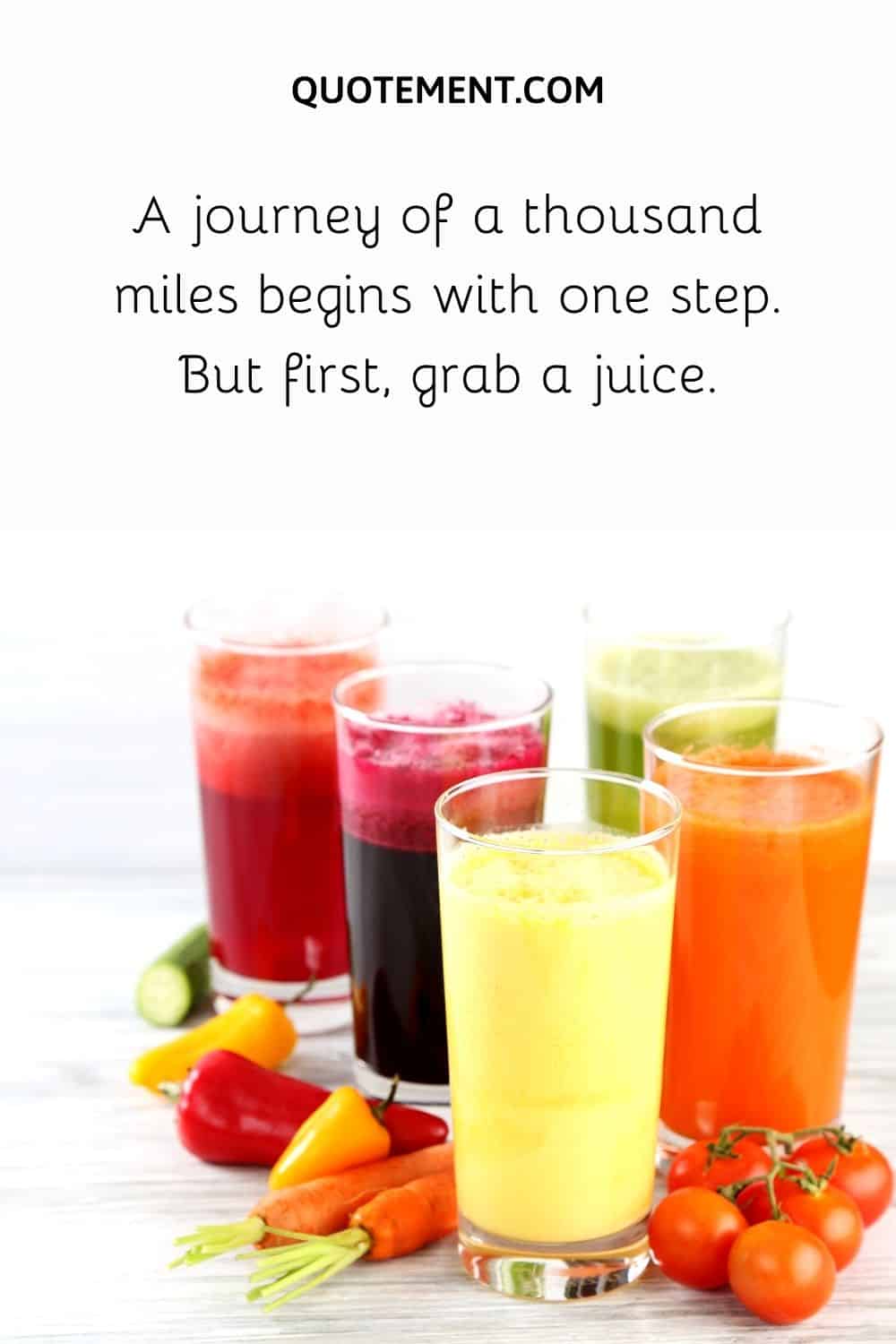 Funny Juice Captions For Instagram
Here are some funny juice captions for those of you who love making people giggle.
1. When life gives you lemons, make apple juice and make people wonder how you did it.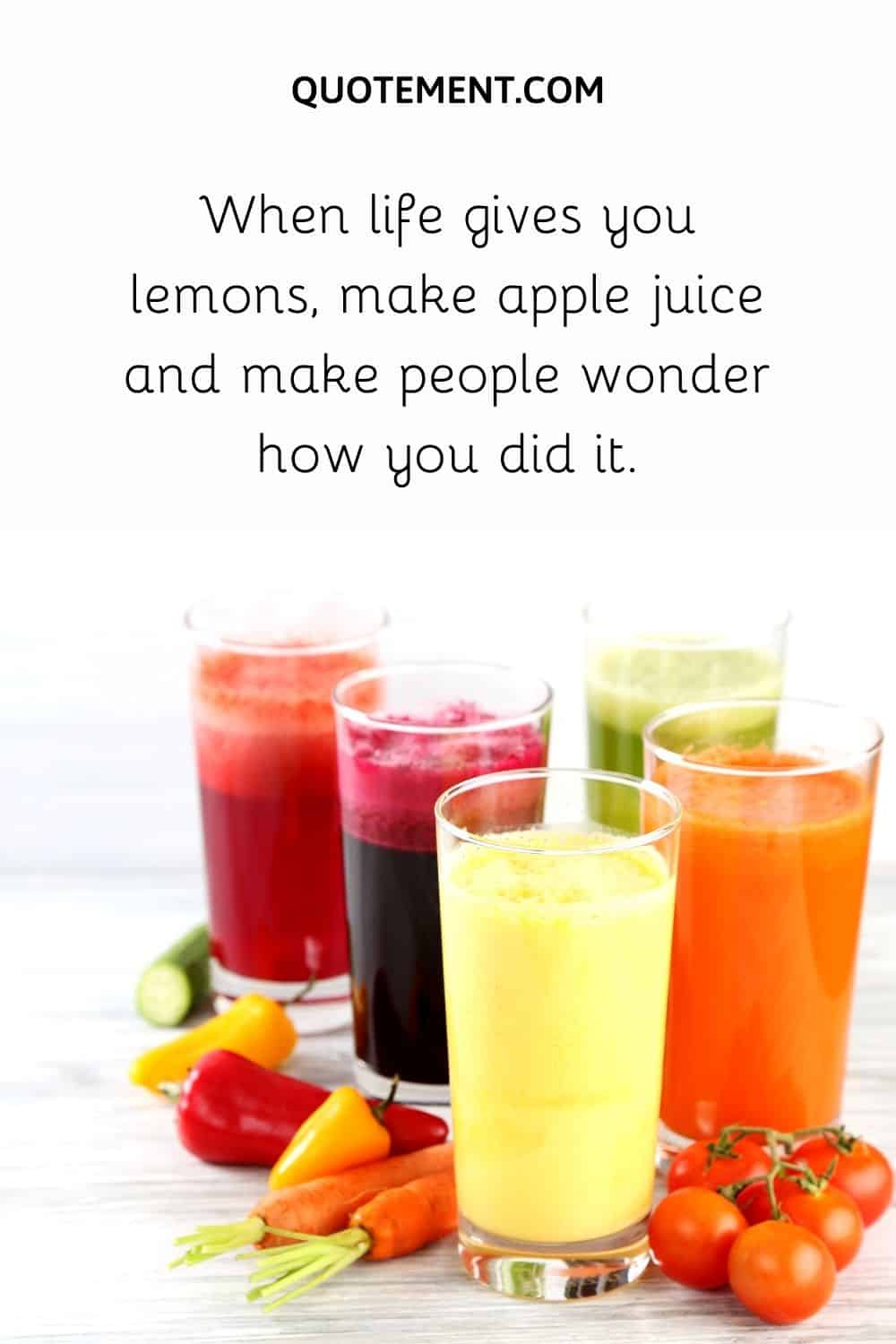 2. A juice cleanse is like a breakup.
3. Now chilling is way more fun.
4. Just squeeze into this long weekend like it's your next juice cleanse.
5. Smells like a FRUIT-tastic day.
6. Just tune in, tone up, and feel the juice!
7. Just like you, sometimes the morning needs a little pick me up.
8. I once worked in an orange juice factory, but I got canned because I couldn't concentrate.
9. The best part of a juice cleanse is that you don't have time to eat because you're too busy telling everyone you're on a juice cleanse.
10. I've got 99 problems and juice solved like 86 of them.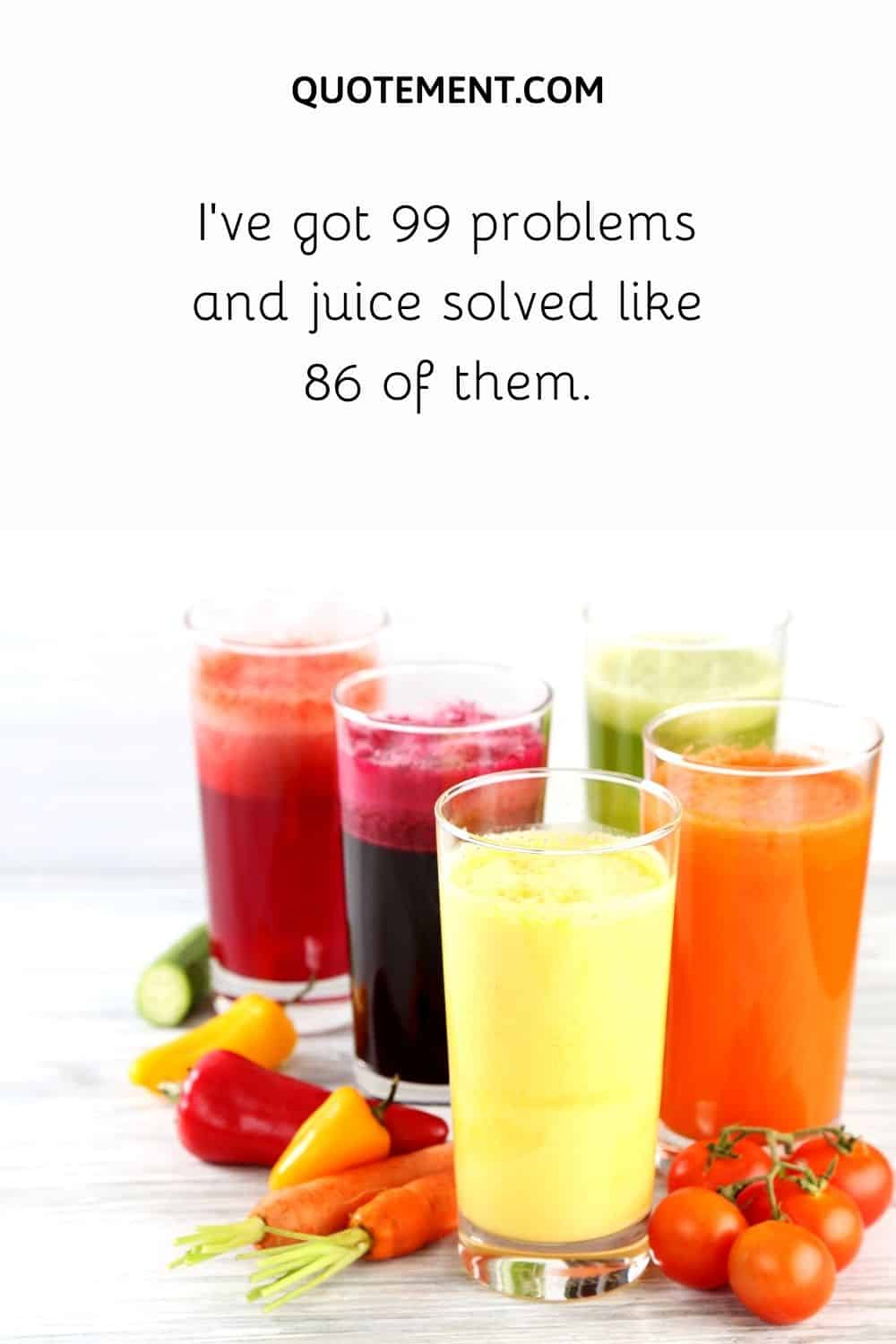 11. Juicing is like dating: sometimes you have to kiss some fruit to get to the good stuff.
12. Juice, sweat, smile, repeat.
13. I drink so much juice, I should just put a straw on my arm.
14. There's plenty of juice to keep this economy going.
15. God doesn't make orange juice. God makes oranges.
16. I'm on a juice cleanse, and by juice I mean wine.
Read also: 340 Ultimate Best Wine Captions For Wine Lovers Everywhere
Fruit Juice Captions For Instagram
Share your healthy glass of fruit juice with your followers, and don't forget to add a cute juice caption! You'll find plenty of them right here.
1. Throw in a healthy dose of fruit every day.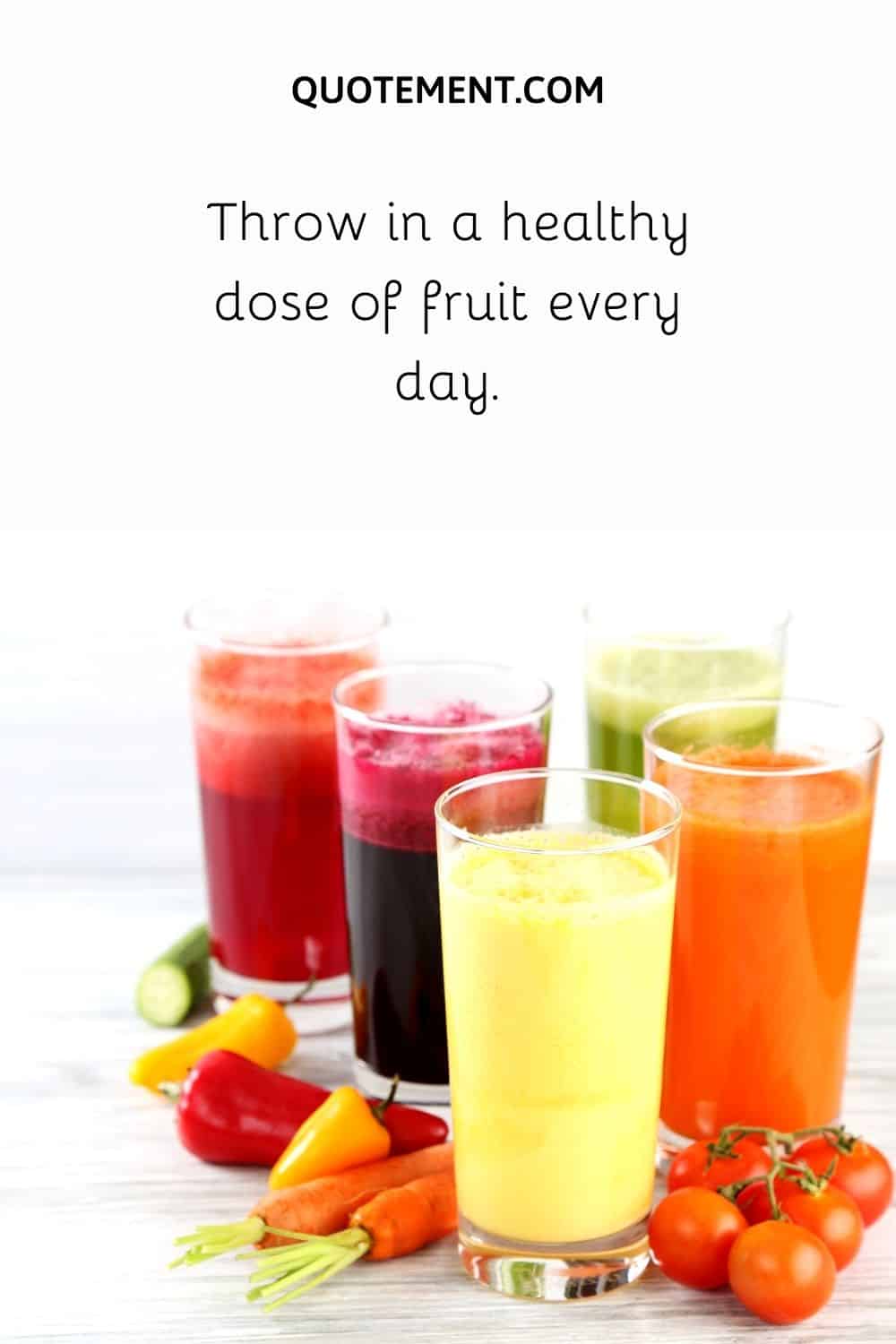 2. The real taste of fruits is presented to you.
3. Raw fruits are perfectly blended to produce the best fruit juice.
4. Nothing beats a fruity, icy blend from the juice bar.
5. Fruits take care of you constantly.
6. Keep yourself hydrated with tasty and healthy fruit juice.
7. Let's go tropical with some yummy pineapple juice.
8. Fruit juice can benefit you in various ways.
9. Fruits take care of you constantly.
10. A glass of fruit juice keeps you healthy every day.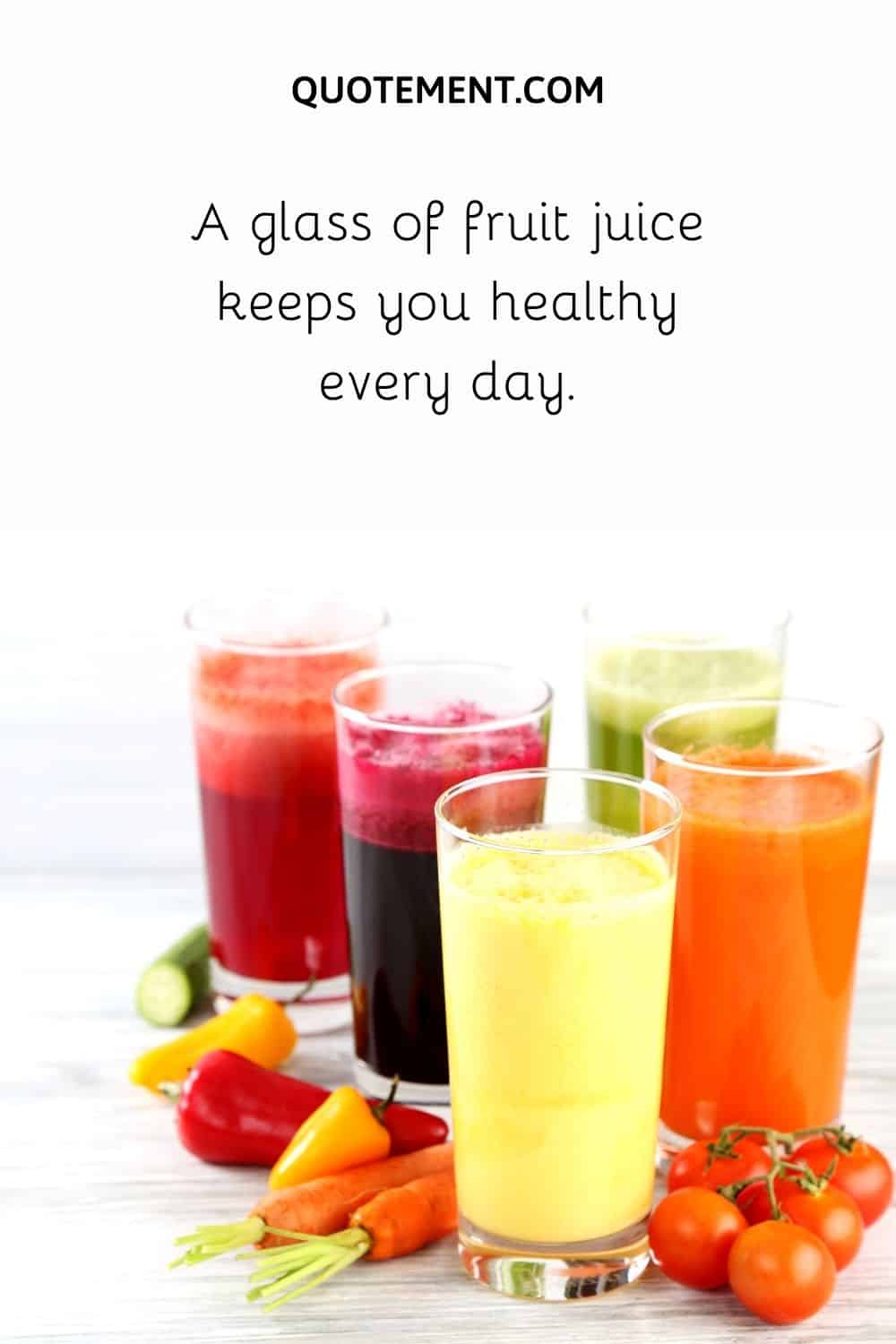 11. Join the party of fruit juice and have fun.
12. Real fruit juice does not have chemicals in it.
13. On any occasion, fruit juices are a must.
14. Citrus, mango, and pineapple combine to make a blend that tastes as good as it makes you feel.
15. The satisfaction of having a glass of fruit juice cannot be expressed in words.
16. The taste that will make you try these fruit juices every day.
17. Sometimes the only way to make it through the day is with a little help from fruit – or fruit juice. It's your ally; it's your friend; and it's clean with no artificial sweeteners added. Why, hello there, fruit juice!
18. Smoothies are my thing, and I like to add tons of fruits for a refreshing drink.
19. Nothing beats the taste of a fresh, fruity juice on a hot day.
Catchy Juice Captions For Instagram
Here are some more amazing juice captions to help you captivate your audience.
1. Juicing is an easy way to jumpstart a healthier you!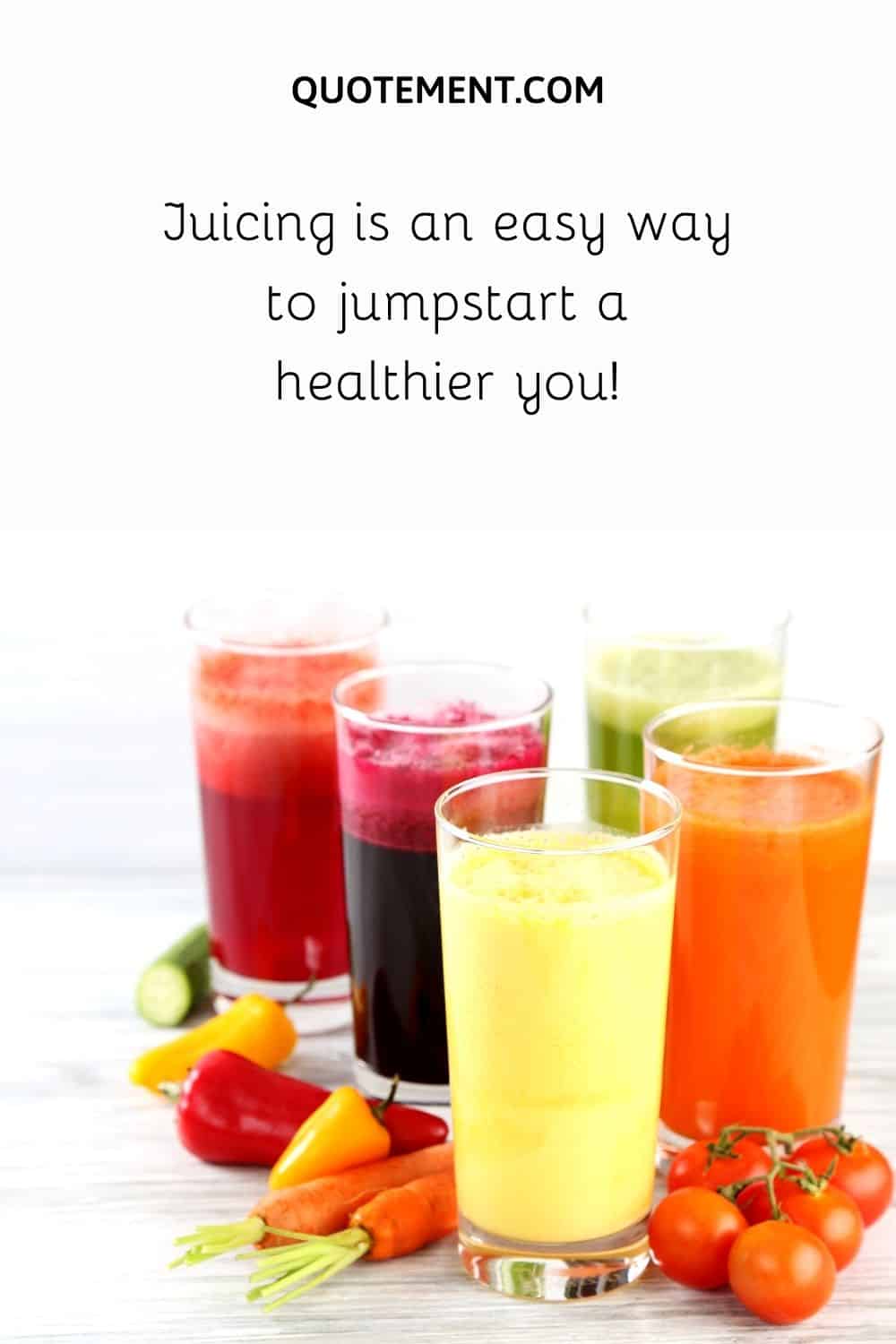 2. Enjoy the fresh fruit juice together with your friends.
3. One glass of juice a day keeps the doctor away.
4. Life is a constant second chance. Drink up!
5. My two favorite things: gym and juice.
6. Good morning! Here's the perfect way to jumpstart your day. A refreshing juice that blends the perky taste of pomegranate with a carrot for a tangy burst.
7. You can do anything you set your mind to – sweeten the rest of your day with some healthy juice.
8. Hip, hip, hooray for juice with wholesome fruits and vegetables. Give me those good-for-my-body vitamins and minerals any day of the week.
9. A glass of fruit juice can surely make your day.
10. Drink life like a glass of juice!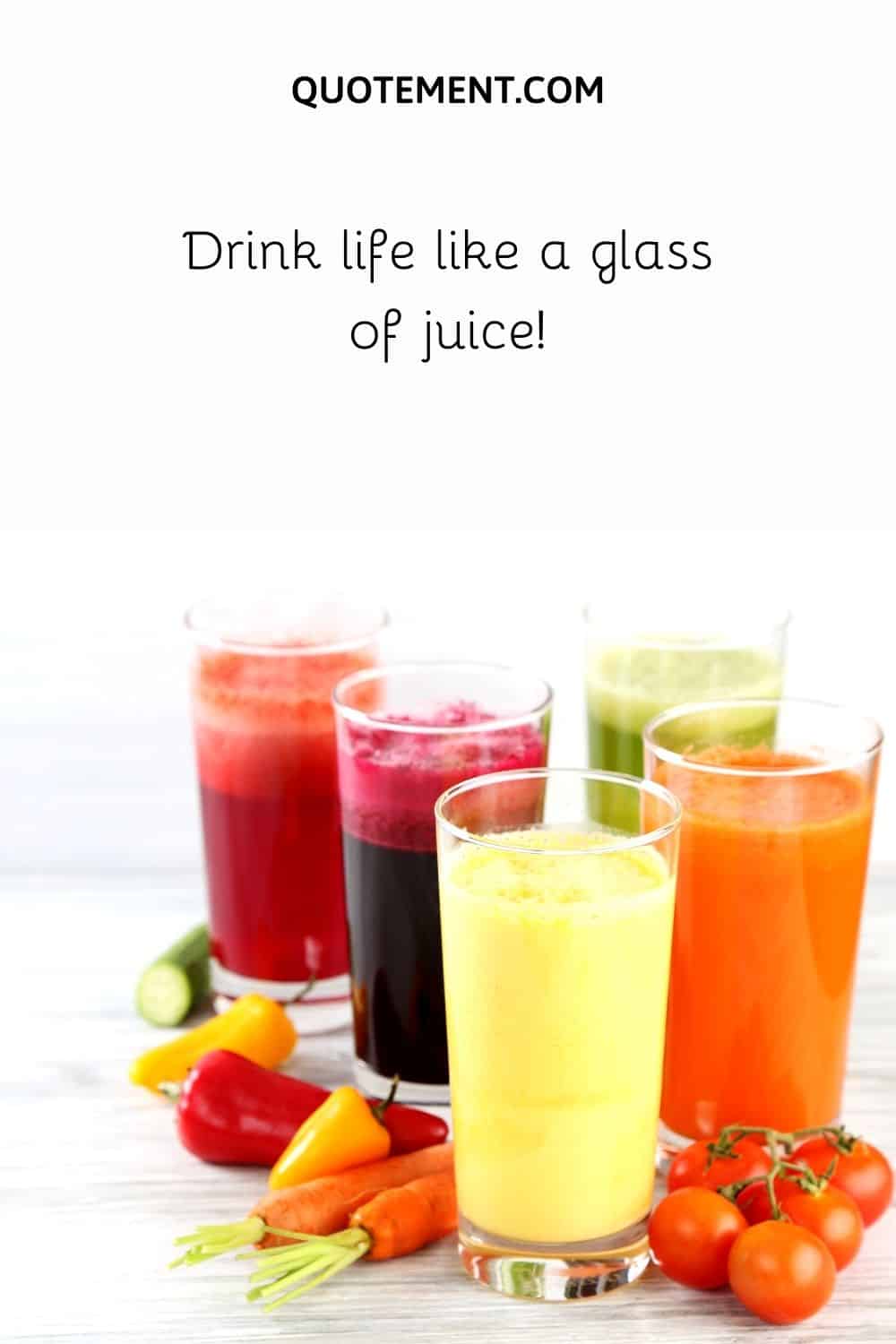 11. Feel the glow. Detox, refresh, and recharge with our 100% organic cold-pressed juices and smoothies. This cleanse is all you need to get in your green on a daily basis.
12. Drink juice & stay fresh.
13. It feels like winter in this hot summer.
14. Life is like a juicer. Full of twists and turns, ups and downs, and sometimes you get the pulp that gets stuck in your teeth.
15. A glass of fruit juice should be the first thing you reach for when the clock strikes nine. The best way to start your day.
16. Live clean and drink clean with these clean eating juice recipes. Get your daily fruit intake and make sure you are drinking enough water too!
17. What's better than a cold glass of smoothie, especially on a rainy day?
18. Unleash your inner Wolverine with this incredibly fresh and nutrient-rich juice.
19. As a juice stop, we take pride in having the freshest healthy juices, smoothies & food to fuel your day.
20. Where health and taste come hand in hand.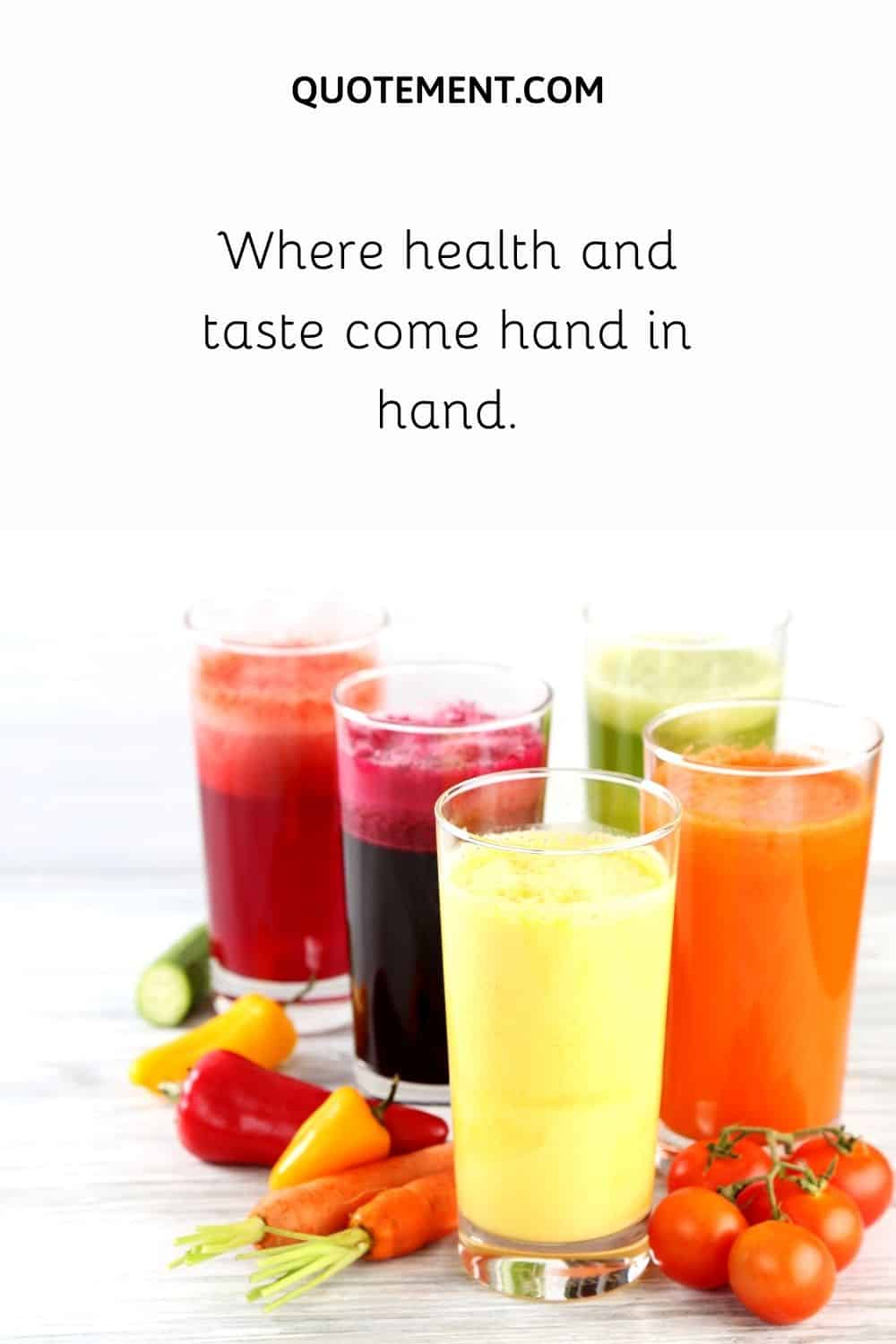 21. Good friends, good vibes, and great juice.
22. Start your day with the best juice made from the highest quality ingredients and contains 100% of the recommended daily allowance of Vitamin C.
23. Healthy, nutritious, and delicious.
Smart Juice Captions For Instagram
Drink smart and talk smart. Choose a clever juice caption for your next Instagram post and you'll see how it does wonders!
1. Shine bright like a diamond. Drink juice that shines even brighter.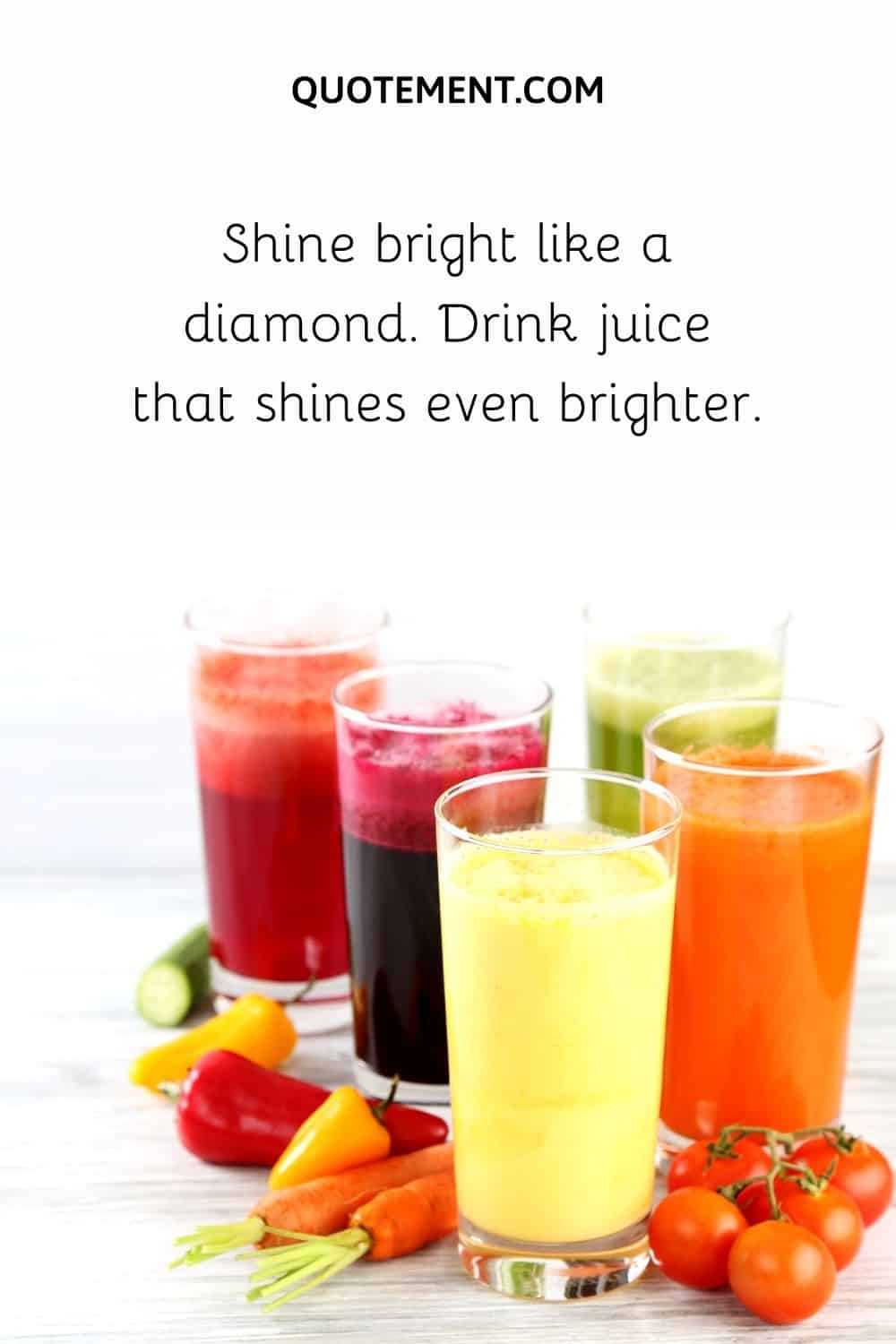 2. The best juices are made with the worst hangovers.
3. Sometimes the water is not enough to beat the sun.
4. Hop on the all-natural fresh juice train and choose this prettily-packaged pick.
5. Drinking juice is a little like going to the bar. It's always better with friends.
6. Juicing fresh fruits and veggies gives you the bright flavors and colorful nutrition of your favorite products, but it's also a simple way to sneak in some extra servings of produce.
7. The time of year when the sun is at its peak, and the fruit is juicier.
8. Wake up as if you're on a tropical island with this juice of ripe green fruits.
9. These juices are achingly delicious – made with organic fruits and herbs grown by a small cooperative of organic farmers in the bright greens of Brazil. These berry-fresh concoctions are out of this world.
10. Experience the incredible taste and health benefits of fresh-pressed juice.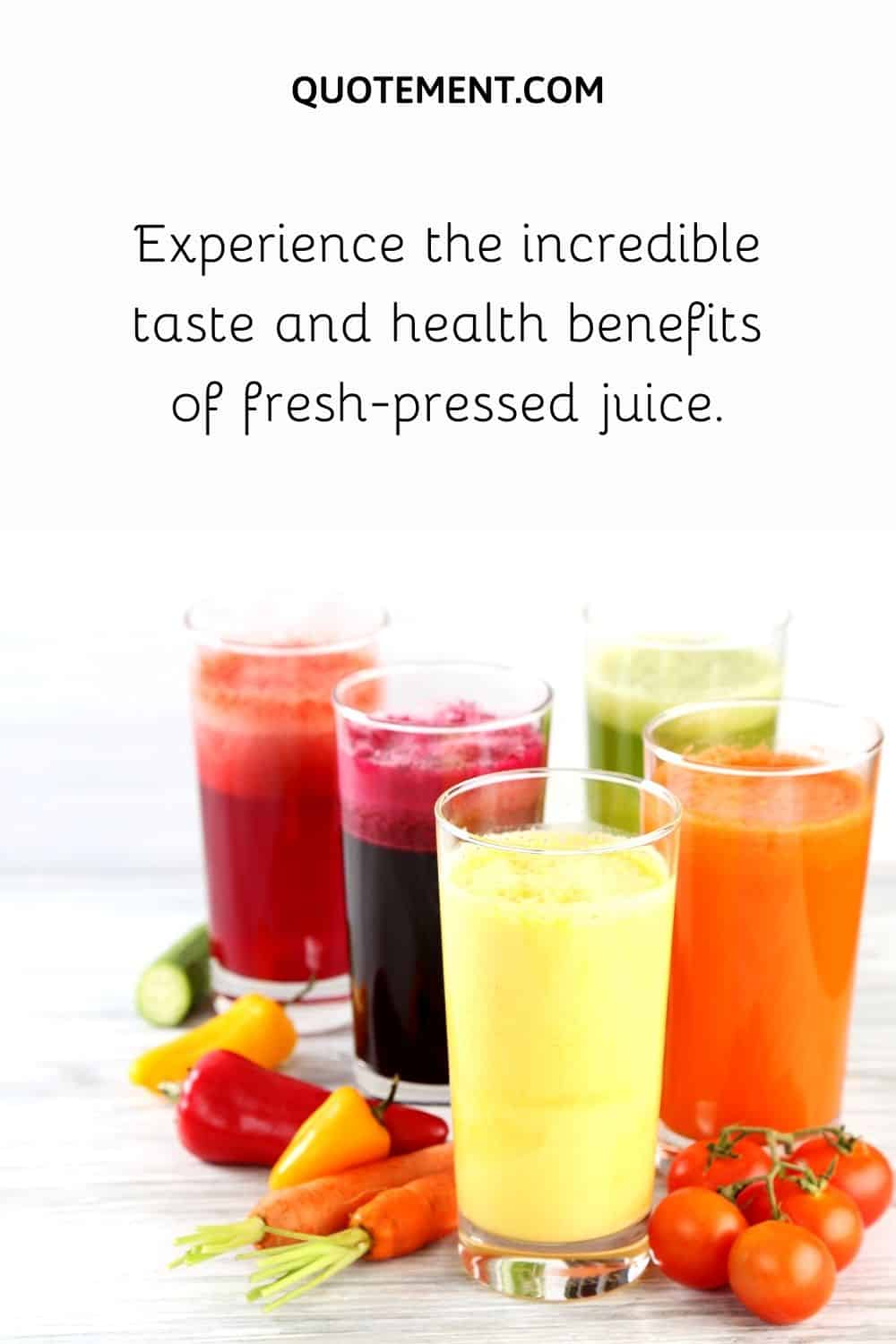 11. Juicing is the best way to detox your body. Our juices are made fresh, with no preservatives or artificial flavors. Get ready to feel great! Love.
12. Pineapple gives you a natural high that is fortified with vitamin C.
13. Fruit juice looks tasty and is tastier in reality.
14. Juicing is three things. Fresh, fast, and healthy. There's a juice to fit every lifestyle.
15. The first sip of a crisp, cold glass of juice is the sweetest.
16. Sometimes, no matter how much you put into a glass of juice, it just doesn't fill up.
17. The healthiest juice, smoothies, and acai bowls in town. All-day on weekends.
18. Freshly squeezed juice makes every day brighter.
19. When life gives you lemons, squeeze them into a delicious glass of low-sugar, fresh juice.
20. Make it a juice day and detox your body.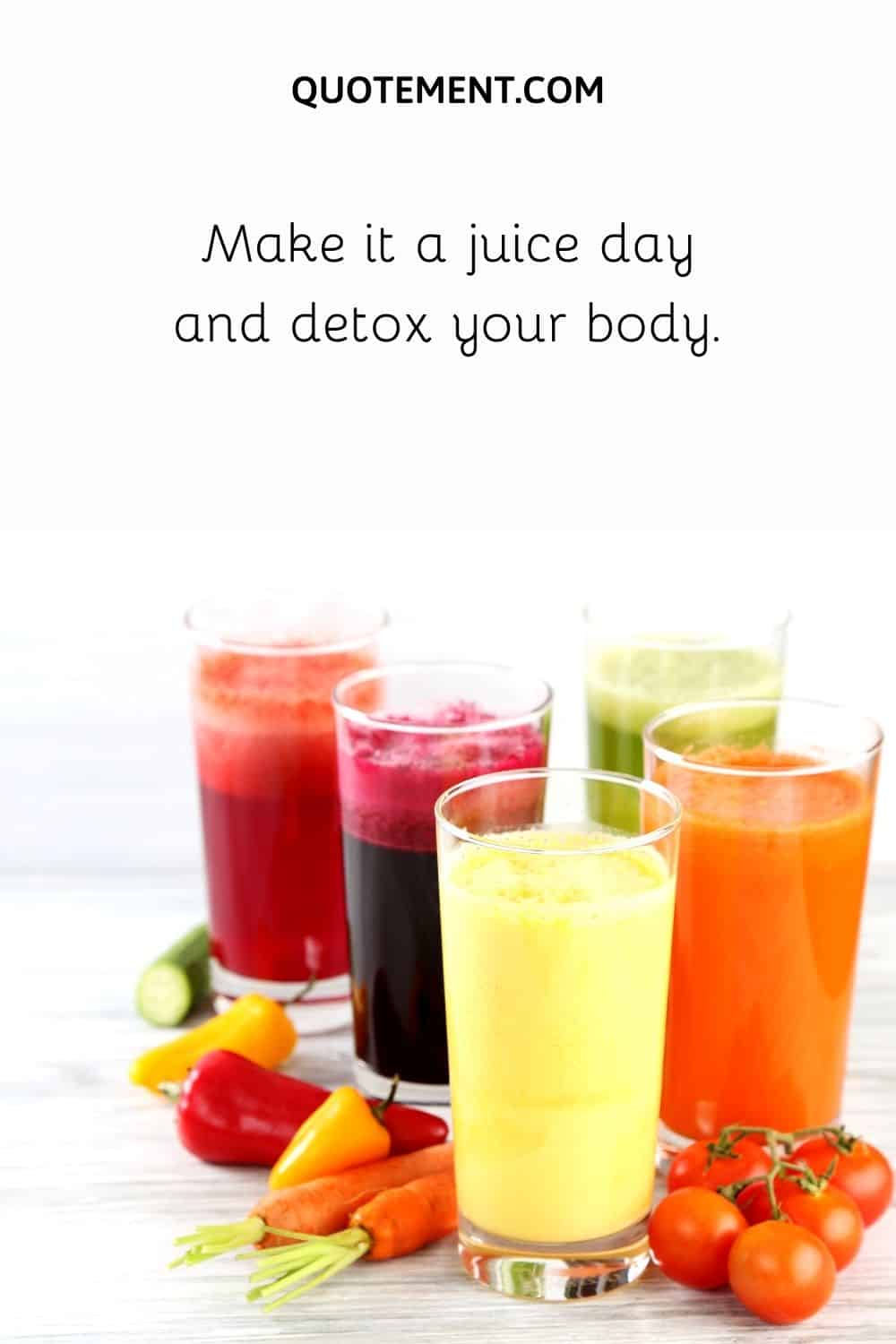 21. Treat yourself to a glass of juice with that extra special something.
22. Be healthy, be happy, and be colorful! Here's to a great start to the day and all your hard work.
23. Treat your body well by drinking plenty of antioxidant-rich fruit juice every day. Drink orange juice in the morning, apple juice before lunch, and cranberry juice after dinner.
Orange Juice Captions For Instagram
Start your day off right with a nice glass of orange juice! While you're enjoying it, don't forget to take a pic or two for your social media.
You'll find a bunch of cool and catchy orange juice captions to accompany your orange juice photo right here.
1. You know it's a good day when you're up before the sun, and you make yourself an orange juice with a smile.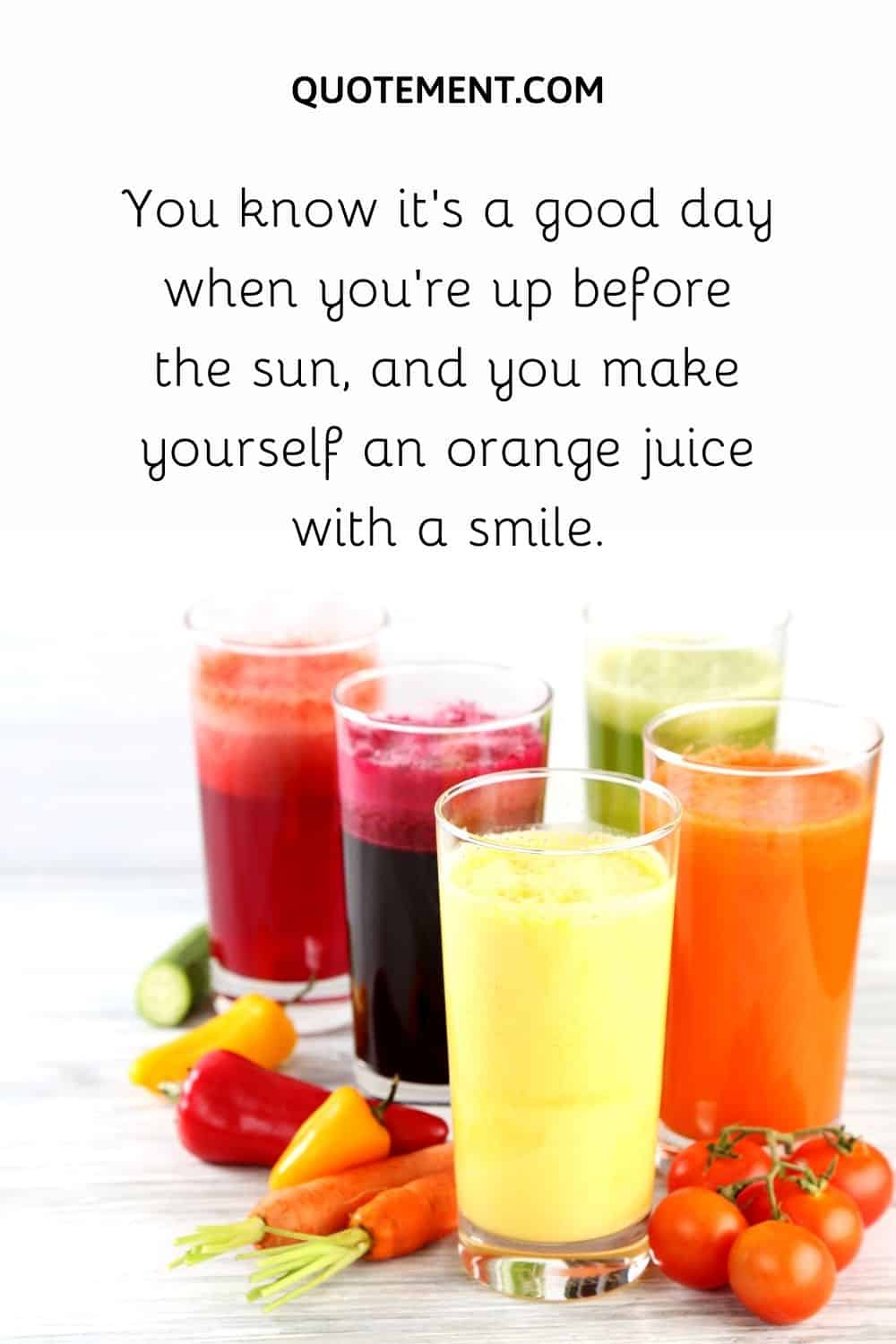 2. With a little more tweaking, we could make orange juice in the orange without any packaging or processing.
3. If the real world is orange juice, then art is like orange-juice concentrate.
4. Hello, sunshine. Meet your new best friend, our Orange Mango smoothie.
5. Every meal I eat, I'm like, 'Can I get some orange juice?
6. It's Friday, which means it's the perfect day to take a break from your busy week and enjoy a tall glass of freshly squeezed orange juice.
7. We are dedicated to providing you with the best tasting and highest quality juice. Our juices are freshly squeezed on-site daily.
8. Some days you need a little something to get your day started. The morning energy coupled with the sweet nectar of a perfectly ripe orange will help get you through the day and make it all seem right.
9. I love drinking orange juice because if I don't have time for breakfast, at least I have time for something that tastes like it.
10. Hunkering down with an icy glass of orange juice to cure (or ignore) your cold.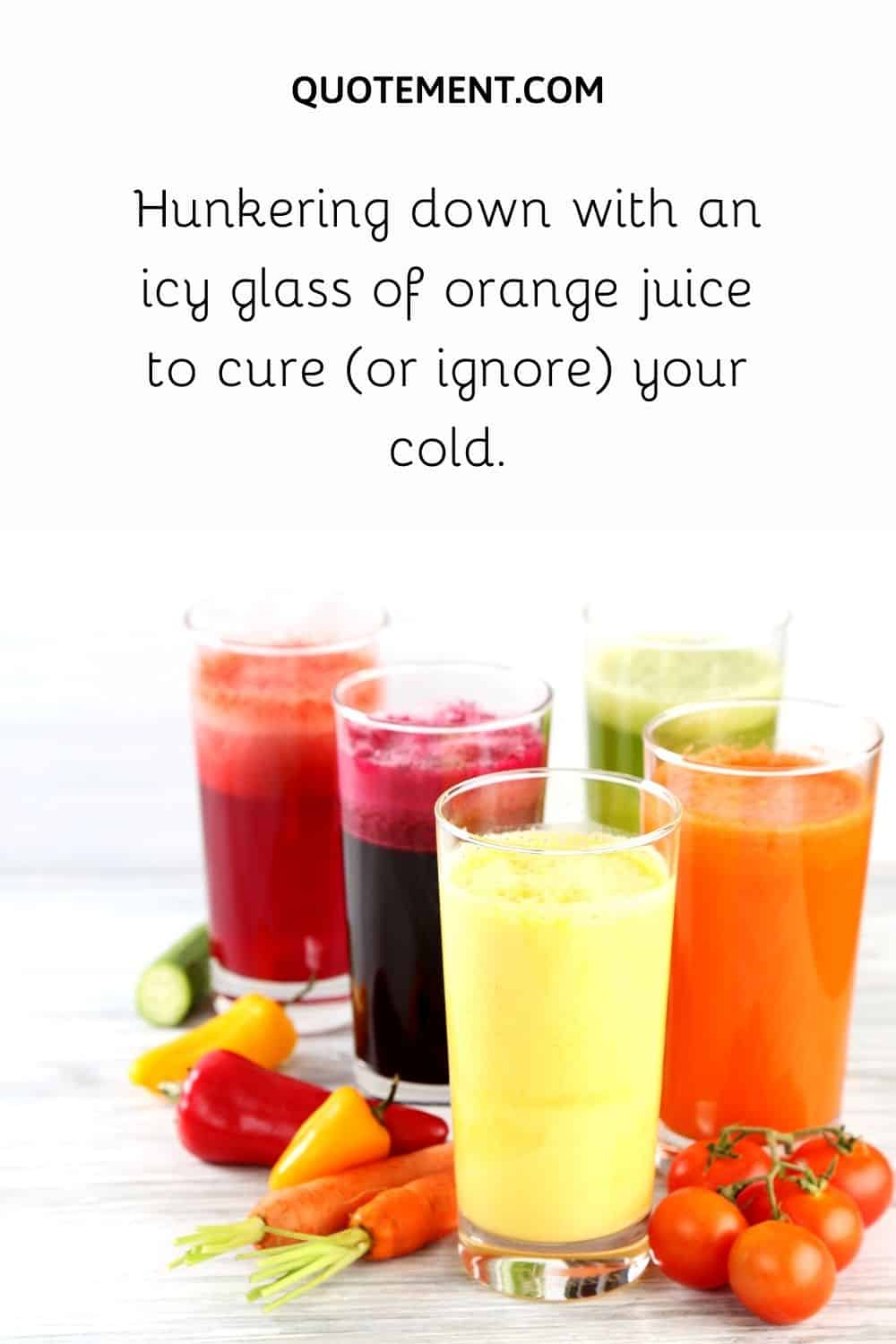 11. Fruits are better when they're fresh.
12. When life gives you lemons, do NOT make lemonade. Lemonade is for losers. Make orange juice instead.
13. "Breakfast without orange juice is like a day without sunshine." — Anita Bryant
14. Just got some fresh-squeezed orange juice – it's legit. Doesn't get any more natural than this.
15. When you squeeze an orange, orange juice comes out because that's what's inside…
16. Pour some orange juice over your ice cubes and you've got a mimosa without the champagne.
17. I don't need coffee in the morning, just a glass of fresh orange juice.
See also: 280 Awesome Coffee Captions To Share Your Coffee Obsession
Refreshment Captions For Instagram
There's nothing better than having a glass of cold and healthy juice on a hot summer day.
If you want to share your refreshing moments on Instagram, here are some amazing captions you can use to go with them.
1. This summer, to fight the sun, you need the most refreshing fruit juice.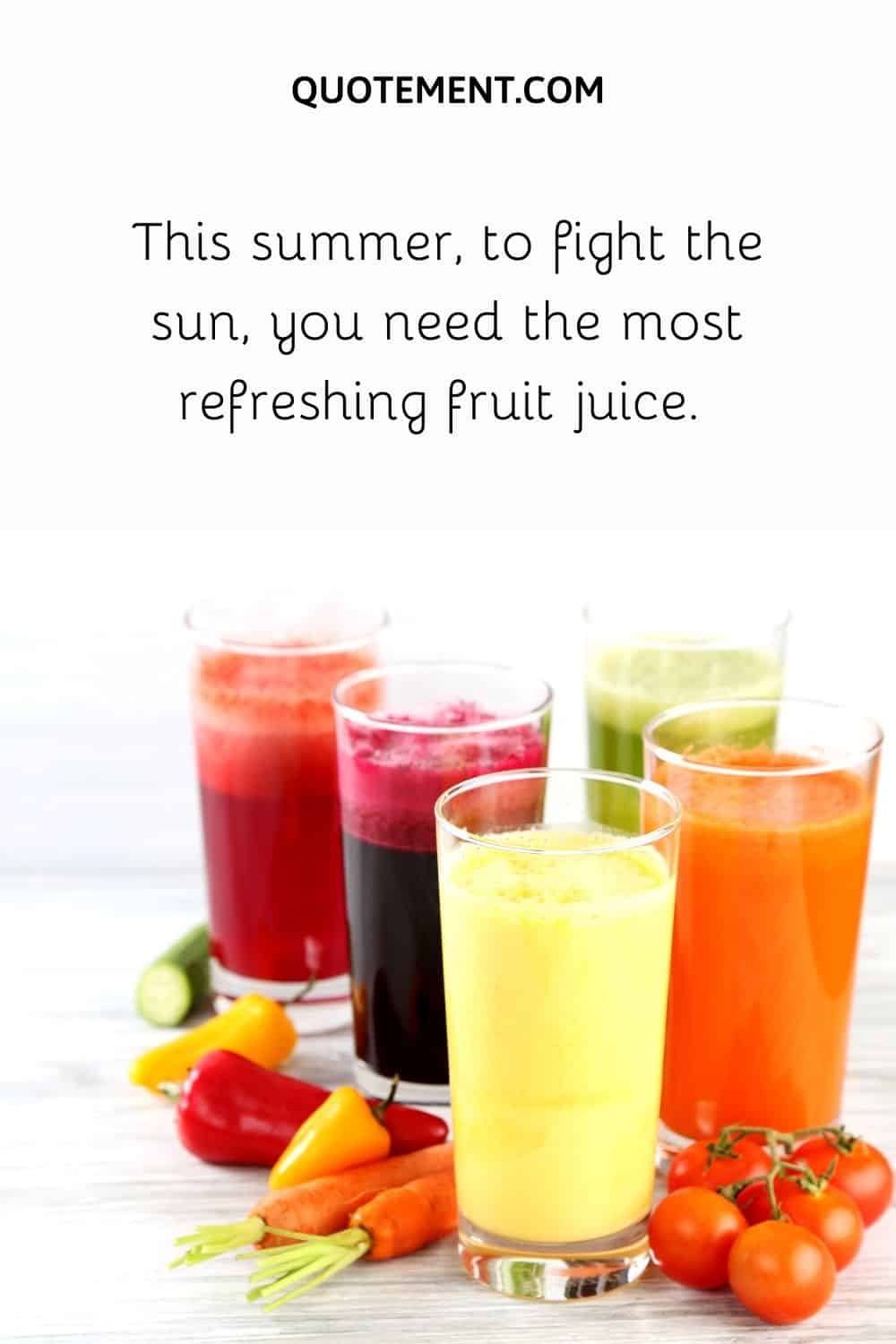 2. The magical ride of freshness.
3. A glass of freshness brought to you.
4. Groove to the beat of your drum. That's what this fresh-pressed juice is all about.
5. We blended watermelon, mint, and ginger.
6. Helping to cool your body in the best possible way.
7. Squeeze in some green on your day off with this refreshing and healthy 5-minute juice.
8. Every kid loves our fresh fruit juice.
9. This week, we love… green juice!
10. Sunny day. Cold drink. What else do you need?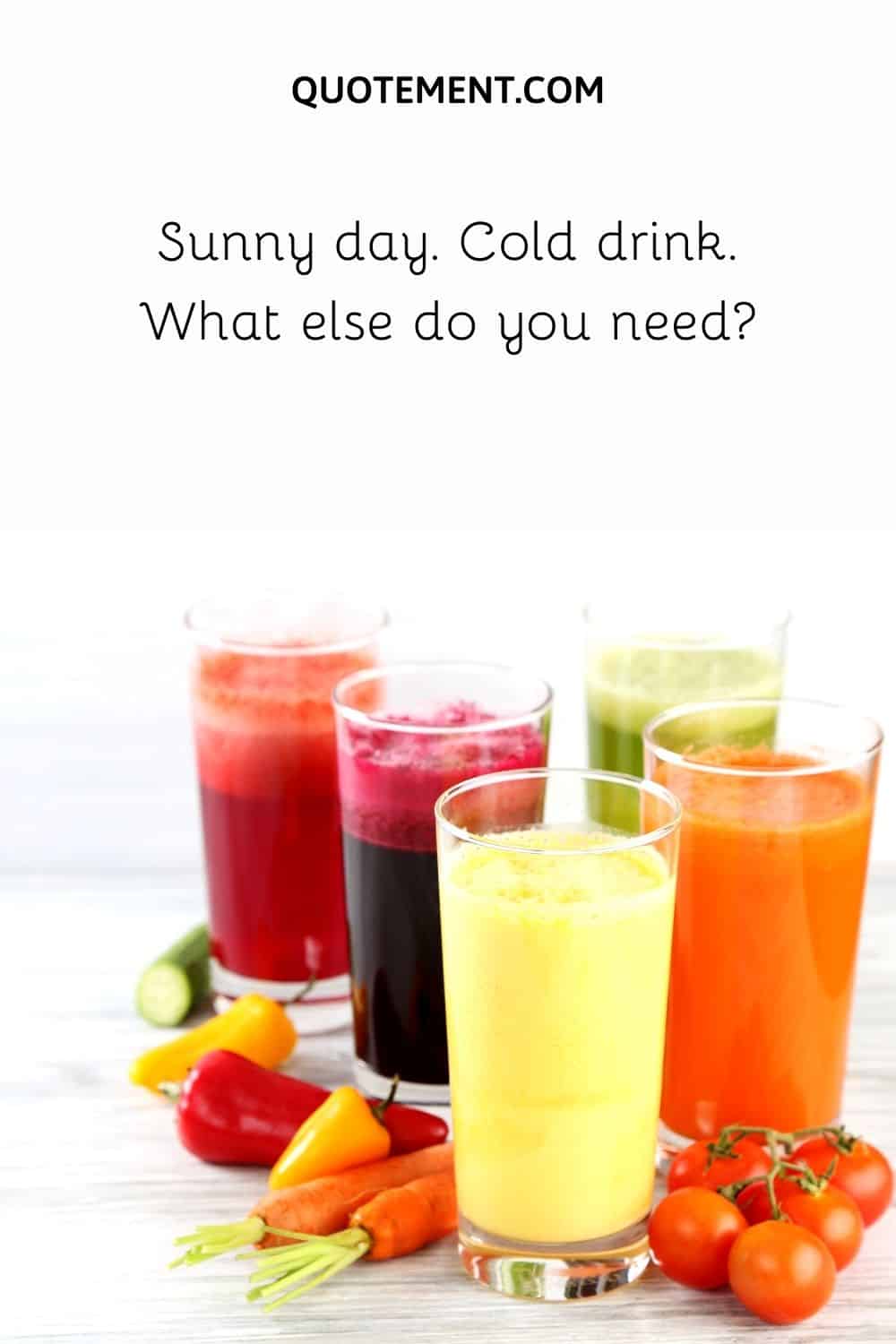 11. For the freshest of fresh recipes, you have to blend fresh ingredients.
12. Green smoothies are great, but fruit juice is what's really getting fresh!
13. Give yourself an extra punch of freshness.
14. We're so fresh, and we're pouring over you.
15. Fresh fruits making fresh juices.
16. Juice is perfect for a warm summer day. It's light and refreshing, and it's so good in long drinks or with ice cream.
17. Stay hydrated and refreshed. All day long.
18. Refresh with this nutrient-dense juice full of antioxidants and vitamins.
19. Nothing is more refreshing than the taste of fruits and vegetables, next to a mild breeze, of course. Make your yard into a juice bar with our probiotic organic smoothies!
20. I must always have fresh orange juice, alkaline water, and hazelnut creamer for my coffee.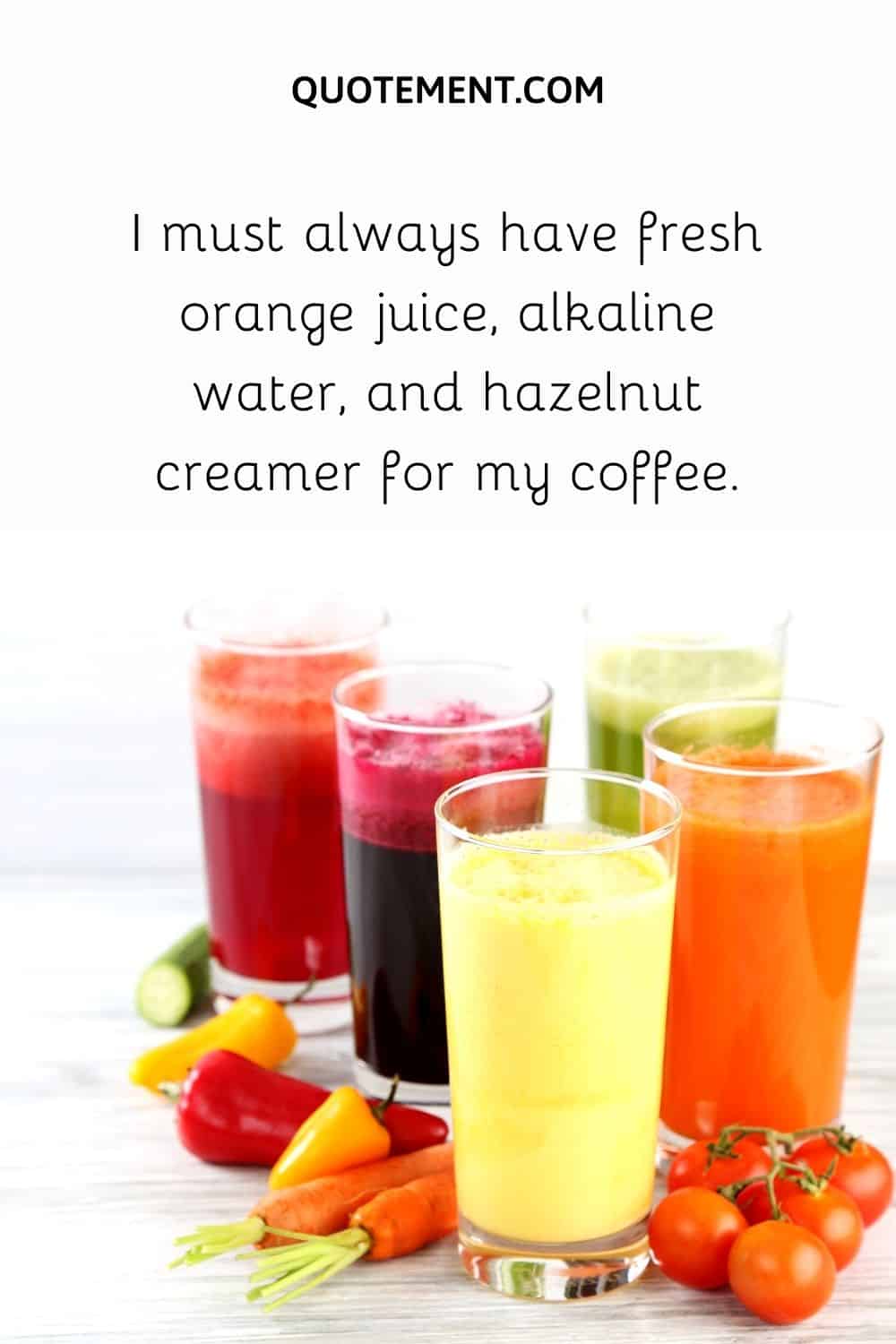 21. Anyone who has tasted our freshly squeezed juices will tell you there's no comparison.
22. Get your hands on our secret recipe for the ultimate green juice: Spirulina + Kale + Mint = perfection!
To Wrap Up
Now that you have plenty of amazing options, choosing the perfect juice caption will be a piece of cake.
I hope you enjoyed this article and to see you again soon.
Stay healthy and hydrated!
Until next time!