Have you been searching for the most inspirational and beautiful eyes quotes? If so, you'll be happy to learn that you've just discovered an exciting collection of the best quotes I could find on the web!
Eyes symbolize the windows to our souls, and they reflect all sorts of things – happiness, sadness, well-being, love, and so on.
Eye contact plays an important role in our social life as well. Thanks to the sense of sight, we observe and decode everything that surrounds us, and we basically get the necessary information for survival.
Today's article brings you 190 beautiful eyes quotes that'll amaze you. They cover various topics and offer a unique insight into various aspects of life.
Now let's dive into my collection and find enchanting life quotes, motivational quotes and get inspired straight away!
10 Best Beautiful Eyes Quotes
You can find many quotes on this brilliant topic, but here are my 10 most inspirational quotes:
1. "It is in their eyes that their magic resides." – Arthur Symons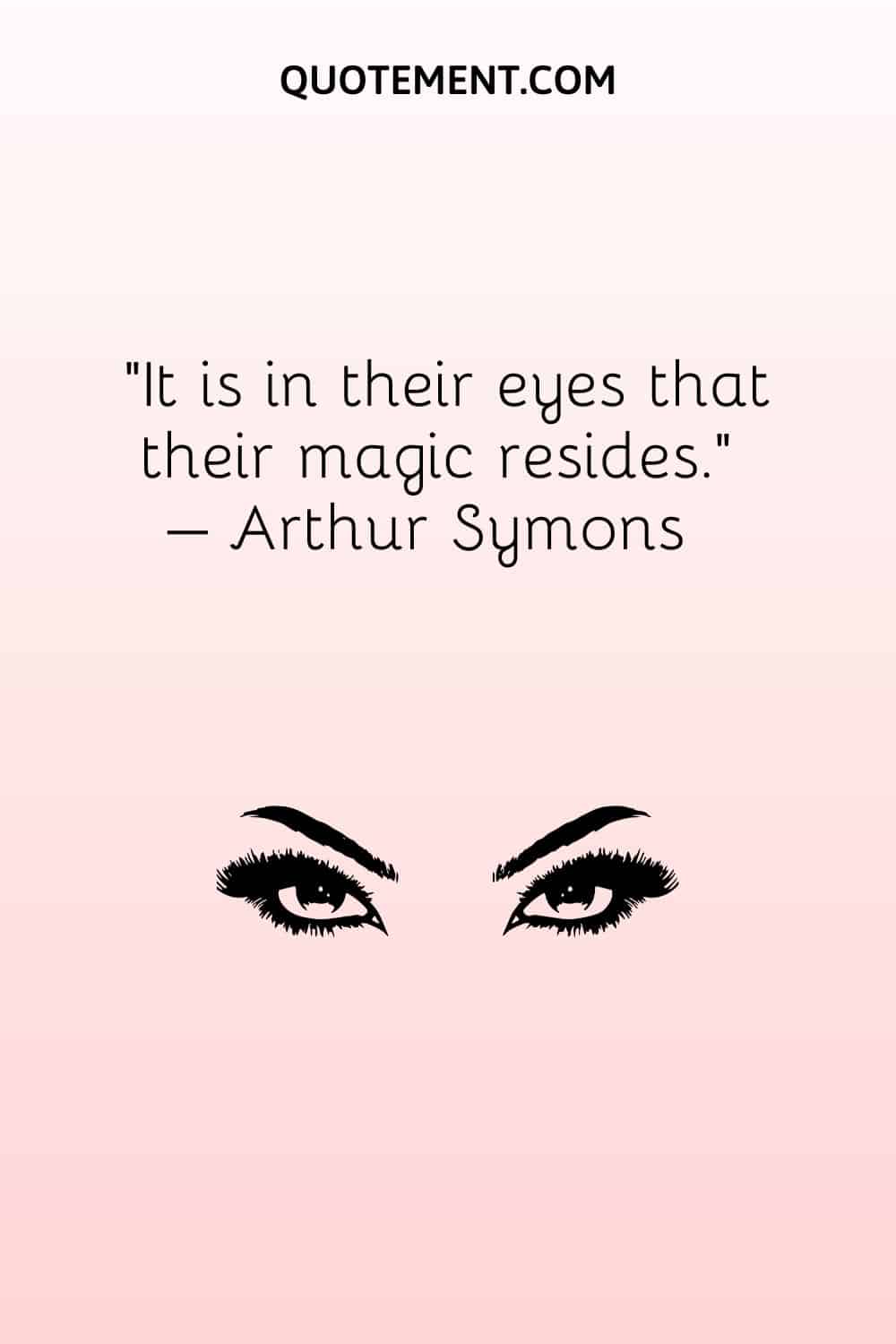 2. "You know you're in love when you can see your unborn children in her eyes." — Bryan Adams
3. "I like you; your eyes are full of language." ― Anne Sexton
4. "Watch with glittering eyes the whole world around you." ― Roald Dahl
5. "My favorite stories are the ones your eyes tell." – John Mark Green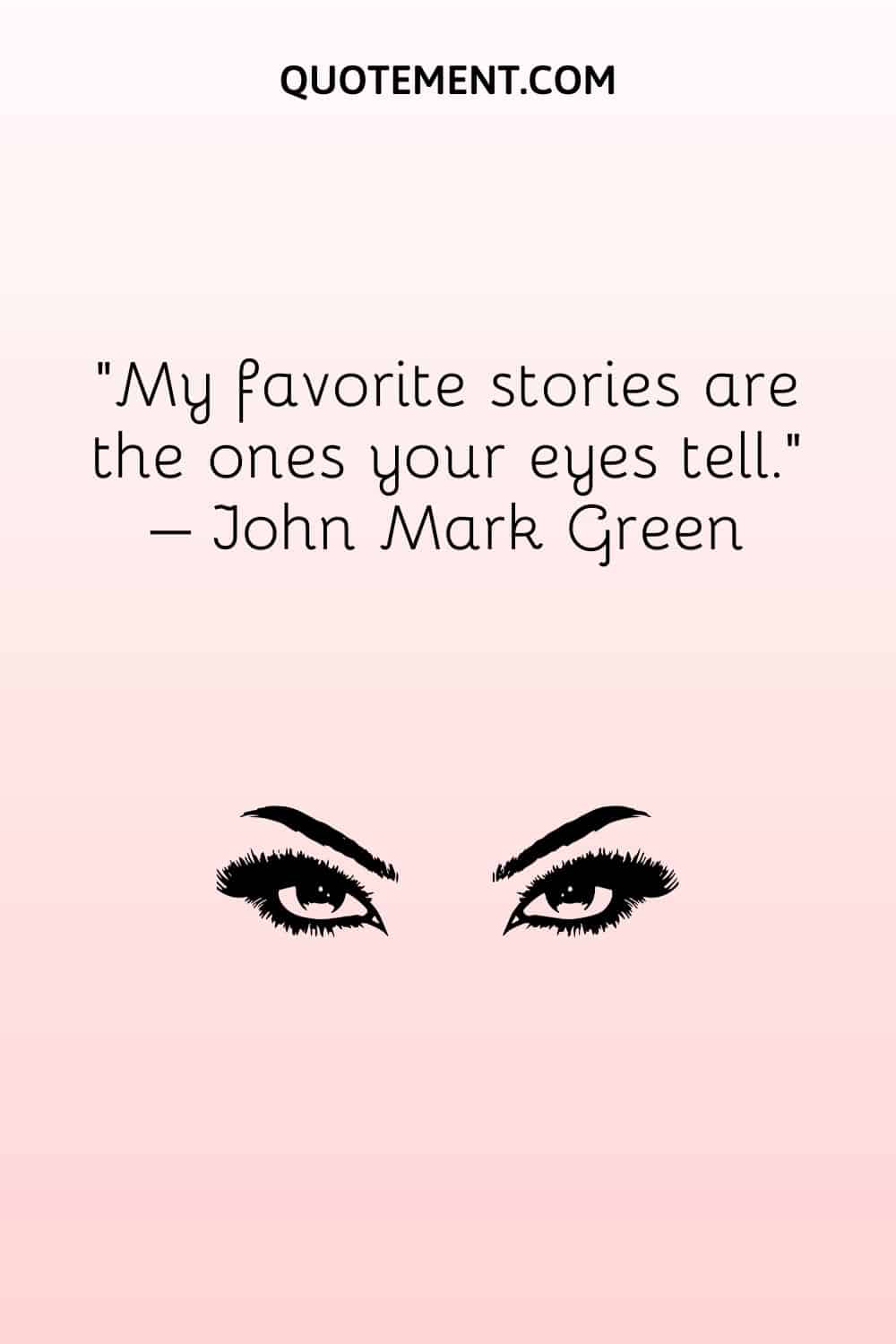 6. "The soul that can speak through the eyes can also kiss with a gaze." – Gustavo Adolfo Becquer
7. "Across the seat our eyes are holding hands." ― Jennifer Niven
8. "His eyes were open wounds beneath his heavy brows, a blue as dark as the sea by night." ― George R.R. Martin
9. "… Her eyes make me think of wide-open skies that I have never actually seen, only dreamed of." ― Veronica Roth
10. "The eyes have one language everywhere." – George Herbert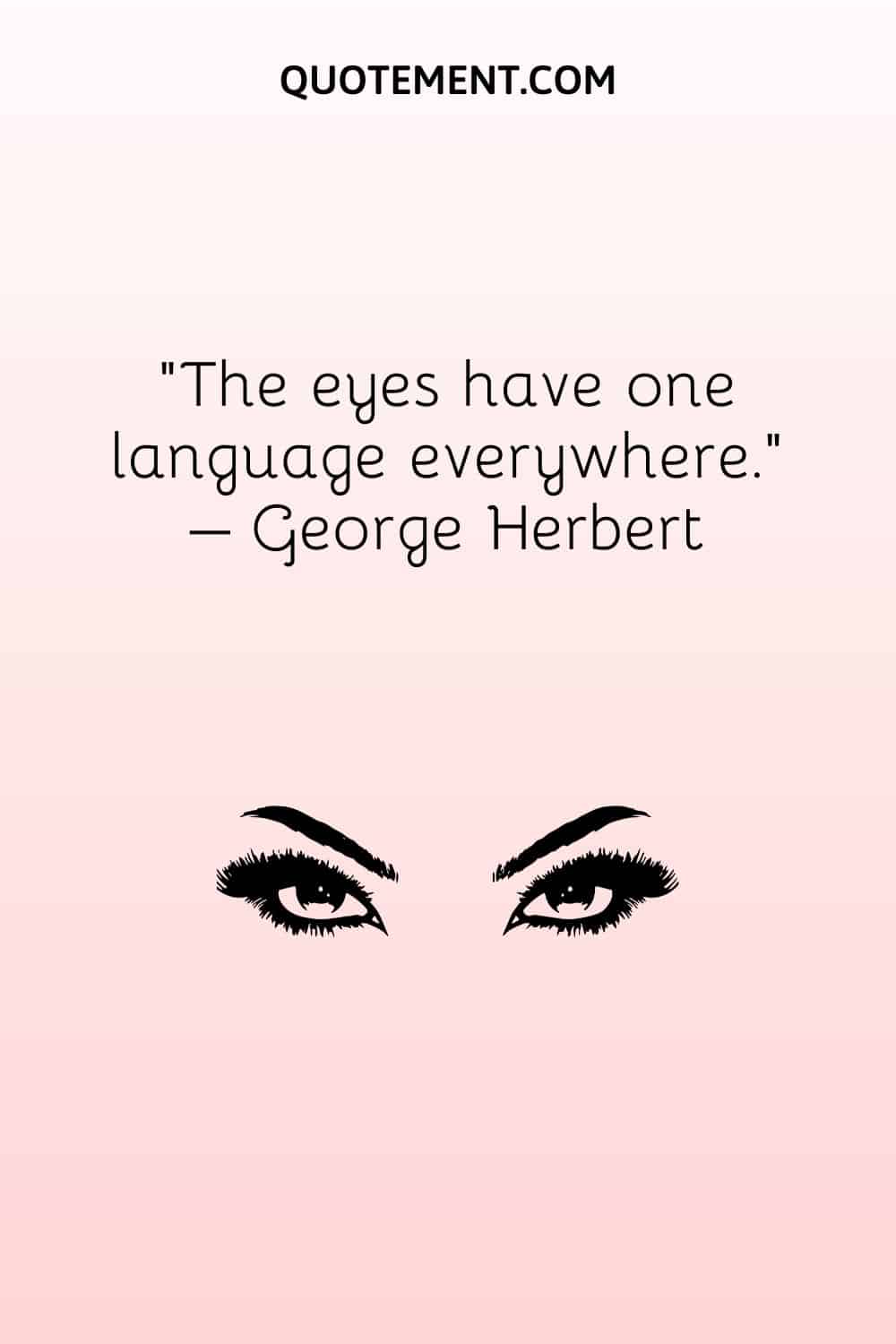 Inspirational Beautiful Eyes Quotes
I hope you liked my top 10 quotes, but now let's check out more inspirational beautiful eyes quotes! Enjoy:
1. "Your eyes show the strength of your soul." ― Paulo Coehlo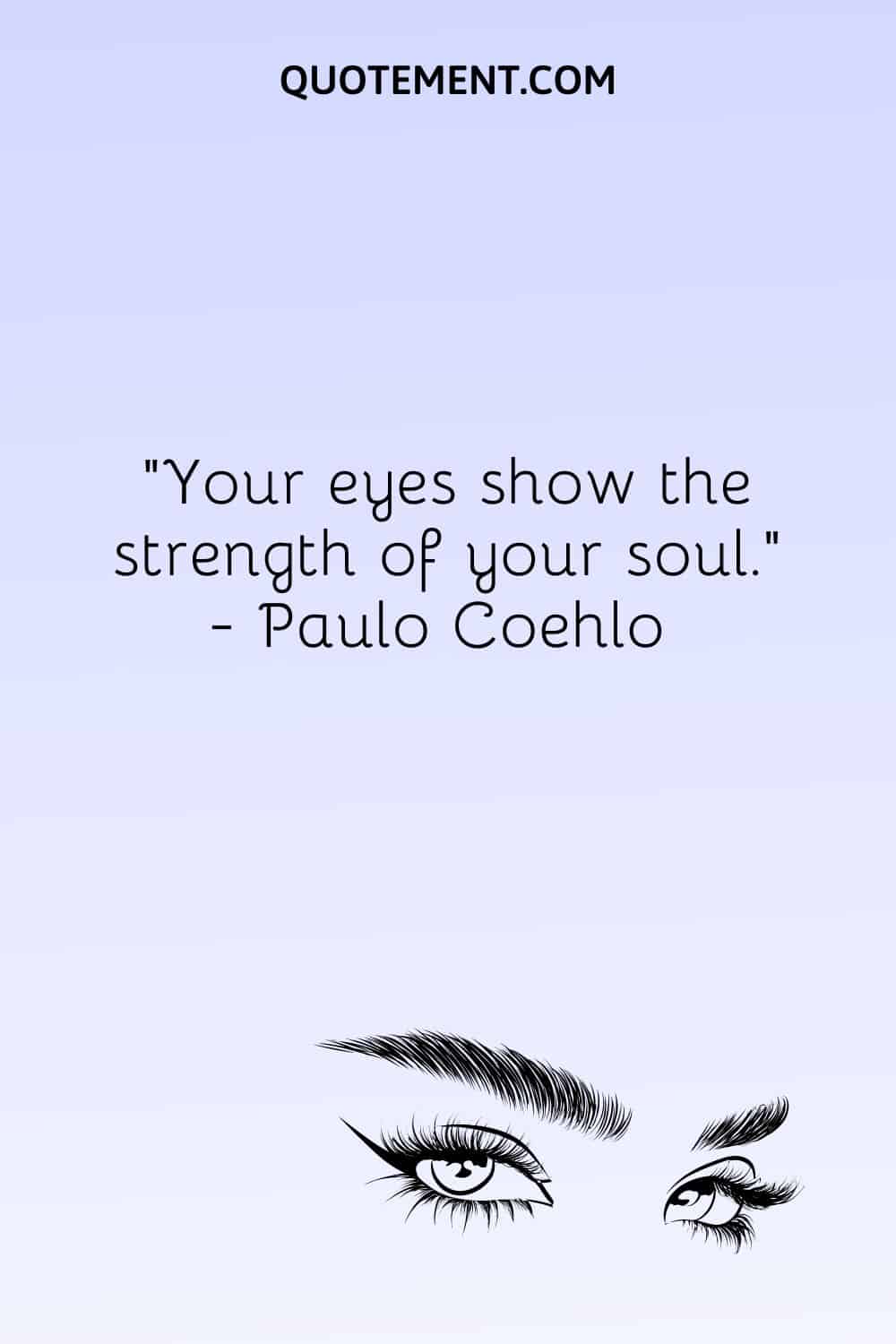 2. "My eyes are an ocean in which my dreams are reflected." – Anna M. Uhlich
3. "There is no end to the adventures that we can have if only we seek them with our eyes open." – Jawaharlal Nehru
4. "The world only exists in your eyes. You can make it as big or as small as you want." – F. Scott Fitzgerald
5. "No tongue can speak more sentimental than the eyes screaming for love!" ― Mehmet Murat Ildan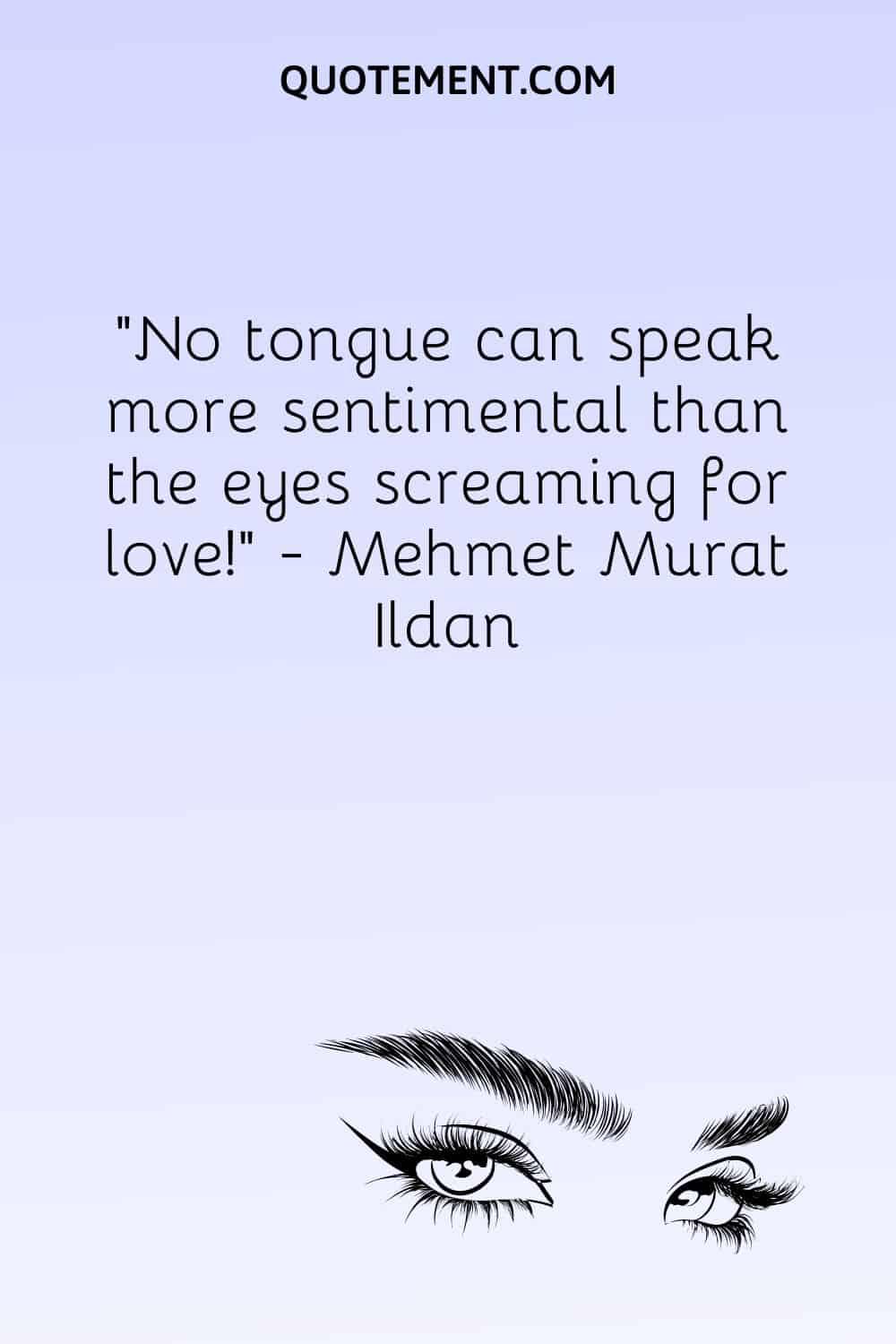 6. "The tongue may hide the truth but the eyes – never!" – Mikhail Bulgakov
7. "The eyes, chico. They never lie." – Tony Montana
8. "The most beautiful thing we can experience is the mysterious. It is the source of all true art and all science. He to whom this emotion is a stranger, who can no longer pause to wonder and stand rapt in awe, is as good as dead: his eyes are closed." ― Albert Einstein
9. "Your eyes will always be closer to your soul than to any other part of your body except the heart." ― Sorin Cerin
10. "The soul, fortunately, has an interpreter – often an unconscious but still a faithful interpreter – in the eye." ― Charlotte Brontë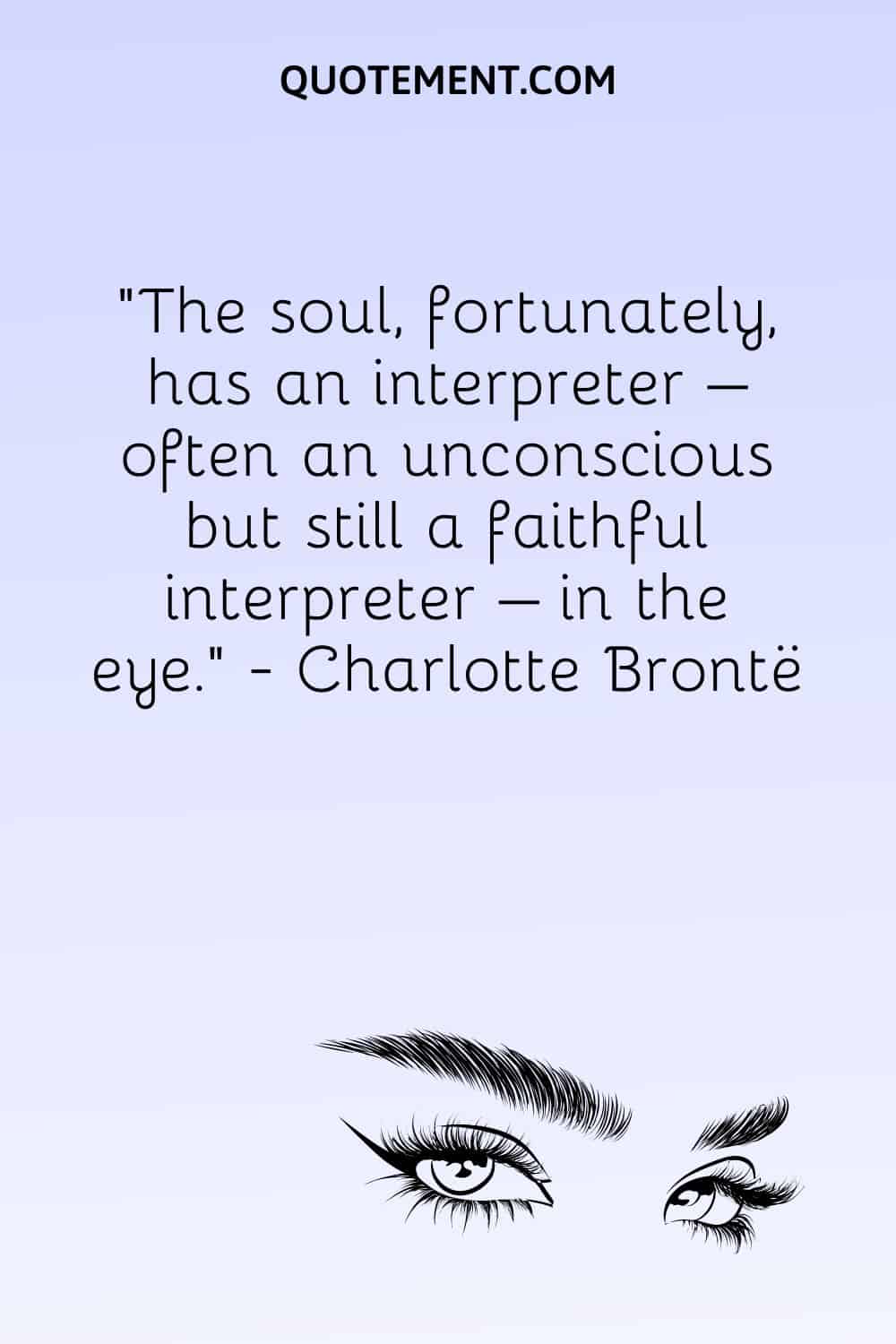 11. "Where words are restrained, the eyes often talk a great deal." – Samuel Richardson
12. "She didn't say anything — at least, not with her mouth. Her eyes told me a different story. The only problem was that they each had a thousand tongues talking, each in a language I didn't speak." ― J.X. Burros
13. "The real voyage of discovery consists not in seeking new landscapes, but in having new eyes." – Marcel Proust
14. "The face is the mirror of the mind, and eyes without speaking confess the secrets of the heart." – St. Jerome
15. "Come into my eyes and look at me through them, for I have chosen a home far beyond what eyes can see." – Rumi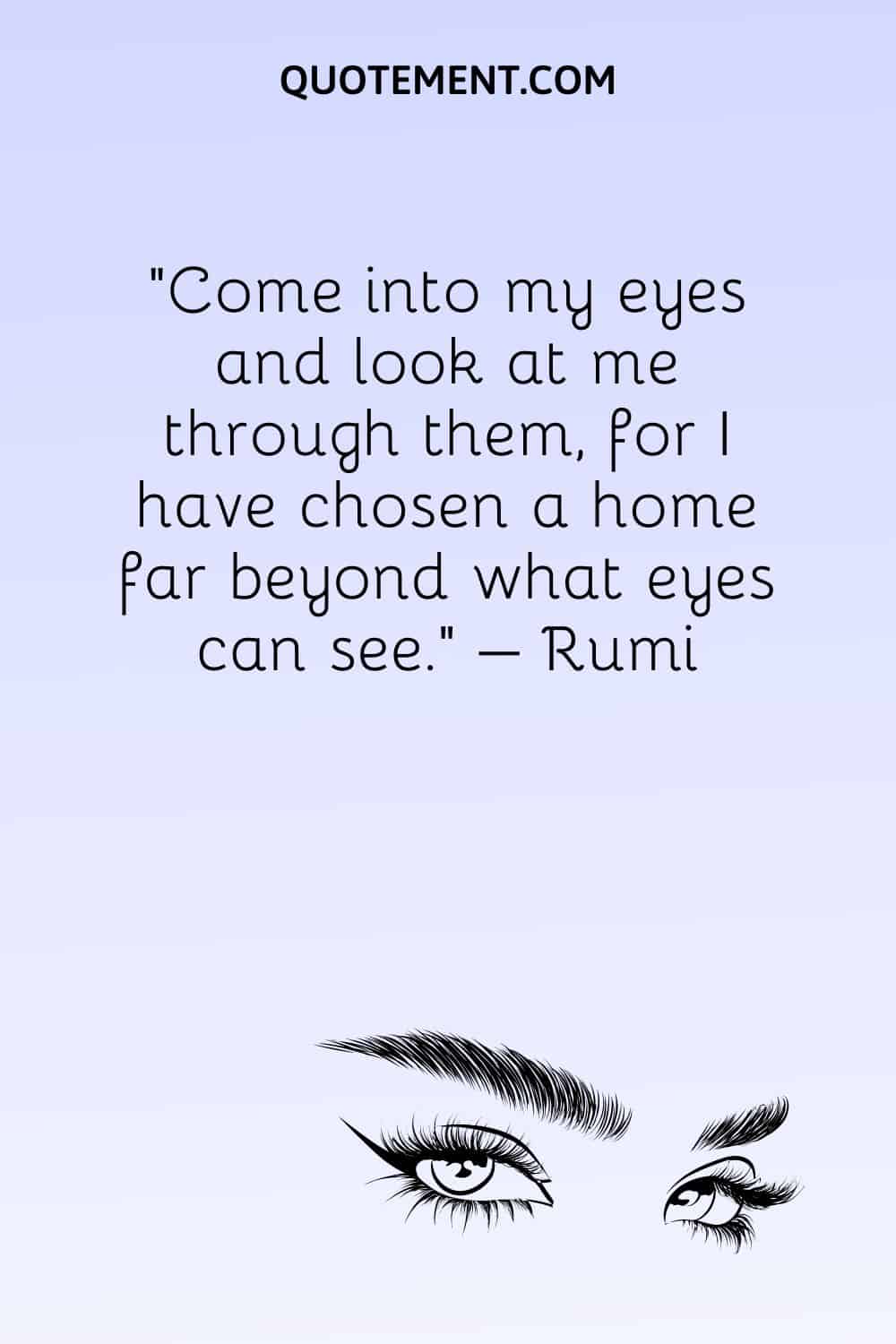 16. "Maybe we fall in love with sad eyes because we see our souls reflected in them." ― Bridgett Devoue
17. "If I can see pain in your eyes, then share with me your tears. If I can see joy in your eyes, then share with me your smile." – Santosh Kalwar
18. "No object is mysterious. The mystery is your eye." ― Elizabeth Bowen
19. "Escape? There is one unwatched way: your eyes. O Beauty! Keep me good that secret gate." ― Wilfred Owen
20. "Remember. The sun rises only to reflect in your eyes." ― Emmanuelle Soni–Dessaigne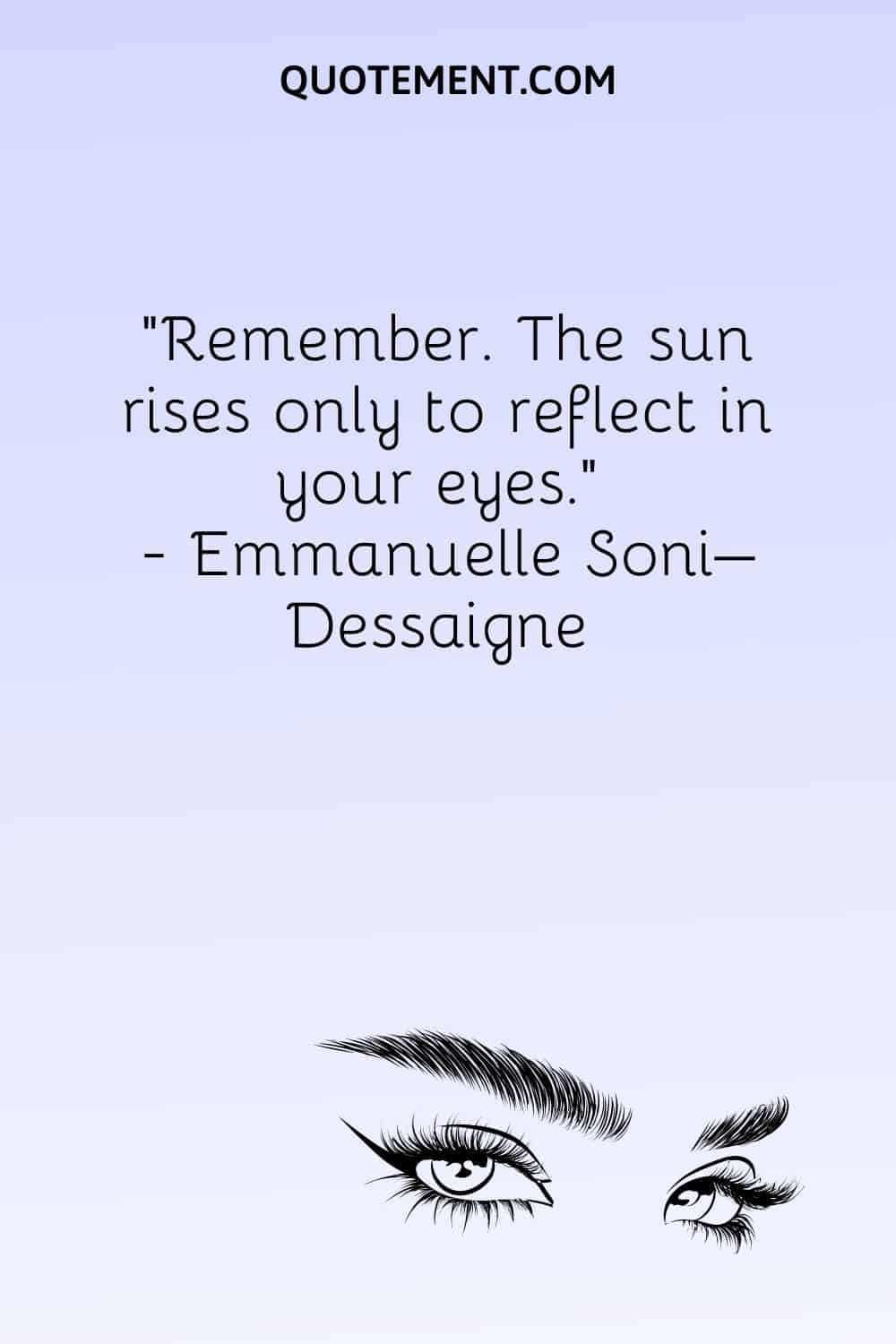 21. "When pain brings you down, don't be silly, don't close your eyes and cry, you just might be in the best position to see the sun shine." ― Alanis Morissette
22. "The eyes indicate the antiquity of the soul." – Ralph Waldo Emerson
23. "The eyes shout what the lips fear to say." – William Henry
24. "My eyes were closed, they're open now." ― Damien Rice
25. "A curious eye means a hundred eyes!" ― Mehmet Murat Ildan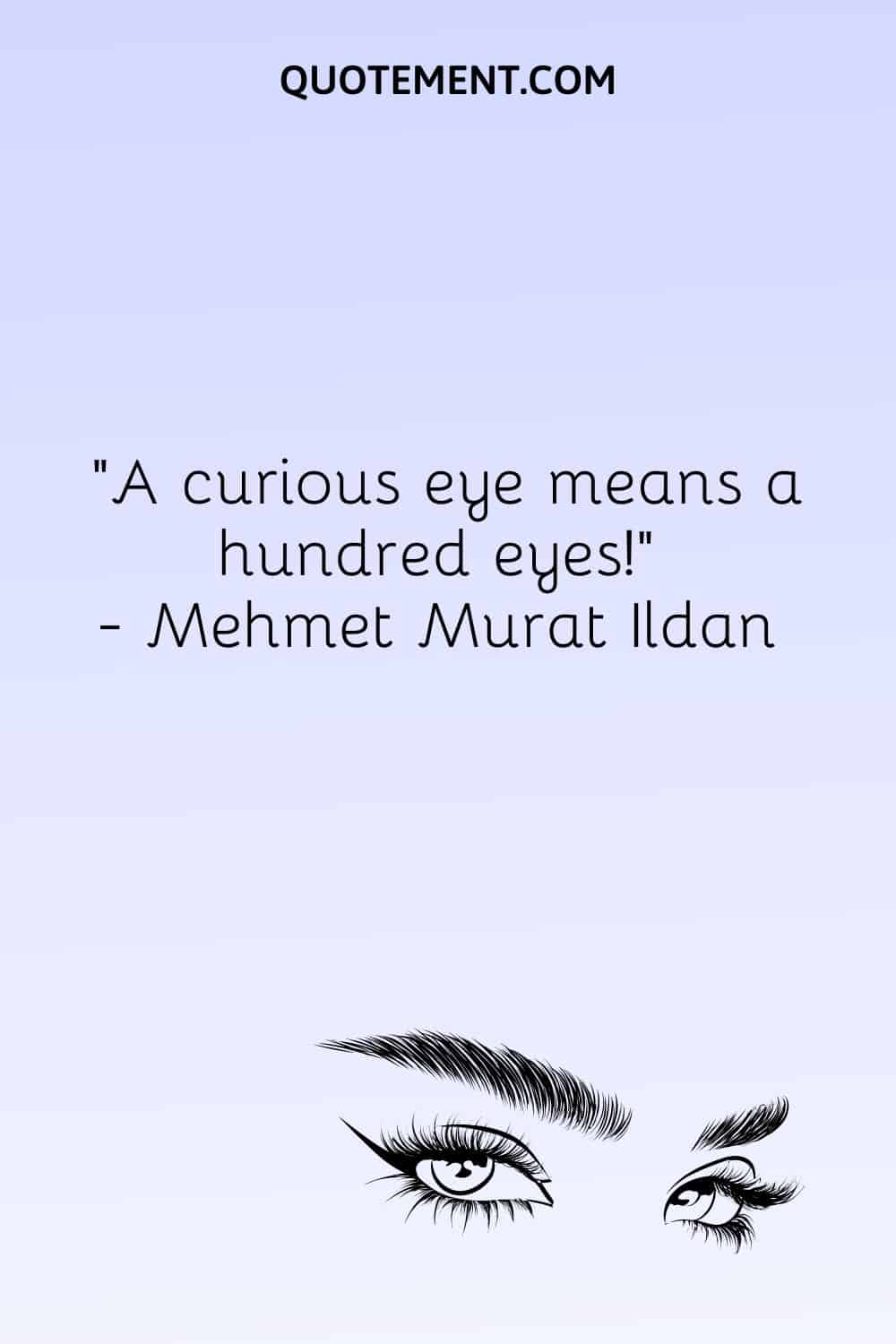 26. "You believe what your eyes want to believe!" – Santosh Kalwar
27. "The real meaning of enlightenment is to gaze with undimmed eyes on all darkness." – Nikos Kazantzakis
28. "I was once a skeptic but was converted by the two missionaries on either side of my nose." – Robert Breault
29. "Never bend your head. Always hold it high. Look the world straight in the eye." – Helen Keller
30. "It is often said that before you die, your life passes before your eyes. It is, in fact, true. It's called living." – Terry Pratchett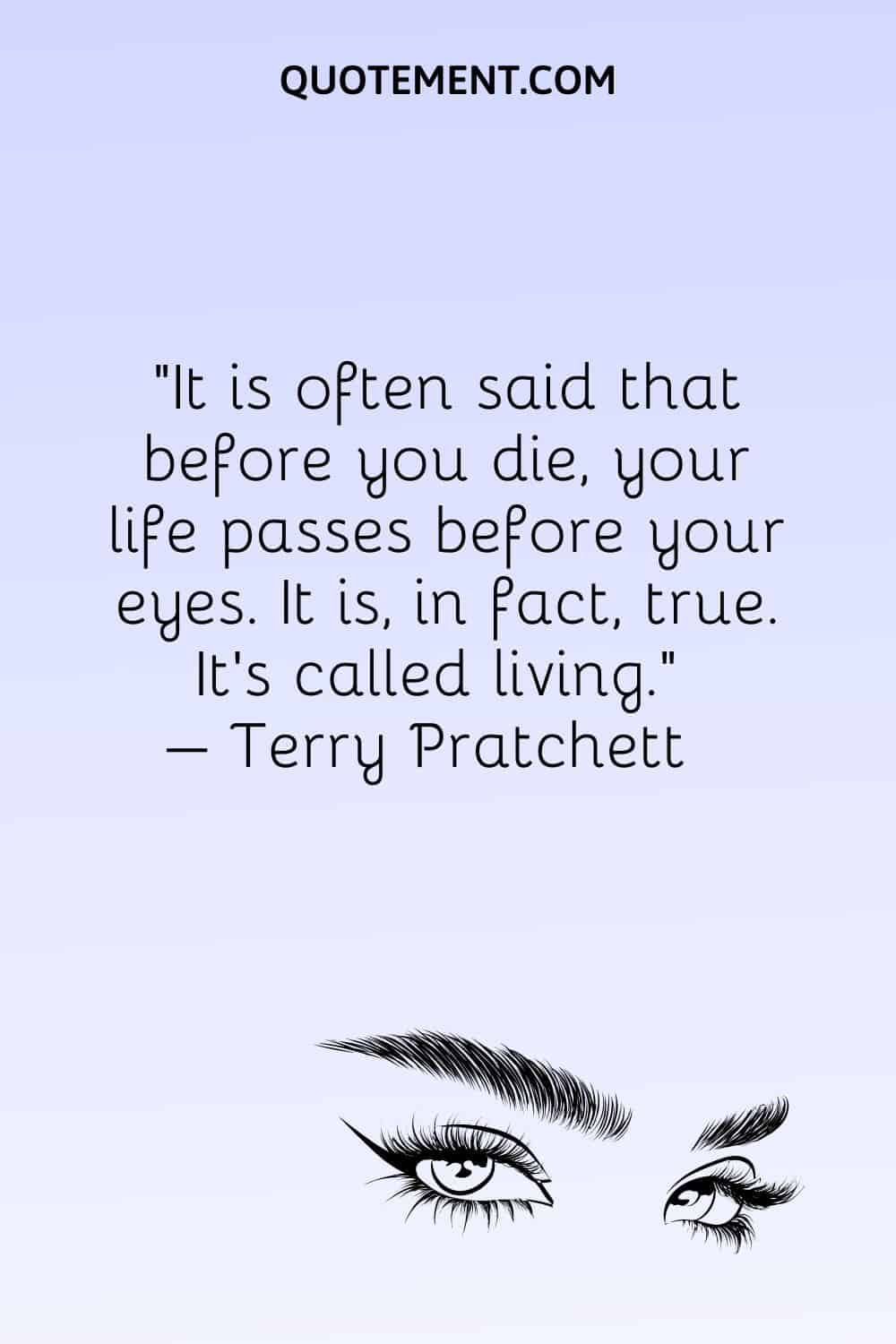 Love Quotes On Eyes
This section brings you beautiful eyes quotes and love quotes as well:
1. "And when I lifted my eyes to your name, suddenly your heart showed me my way." ― Pablo Neruda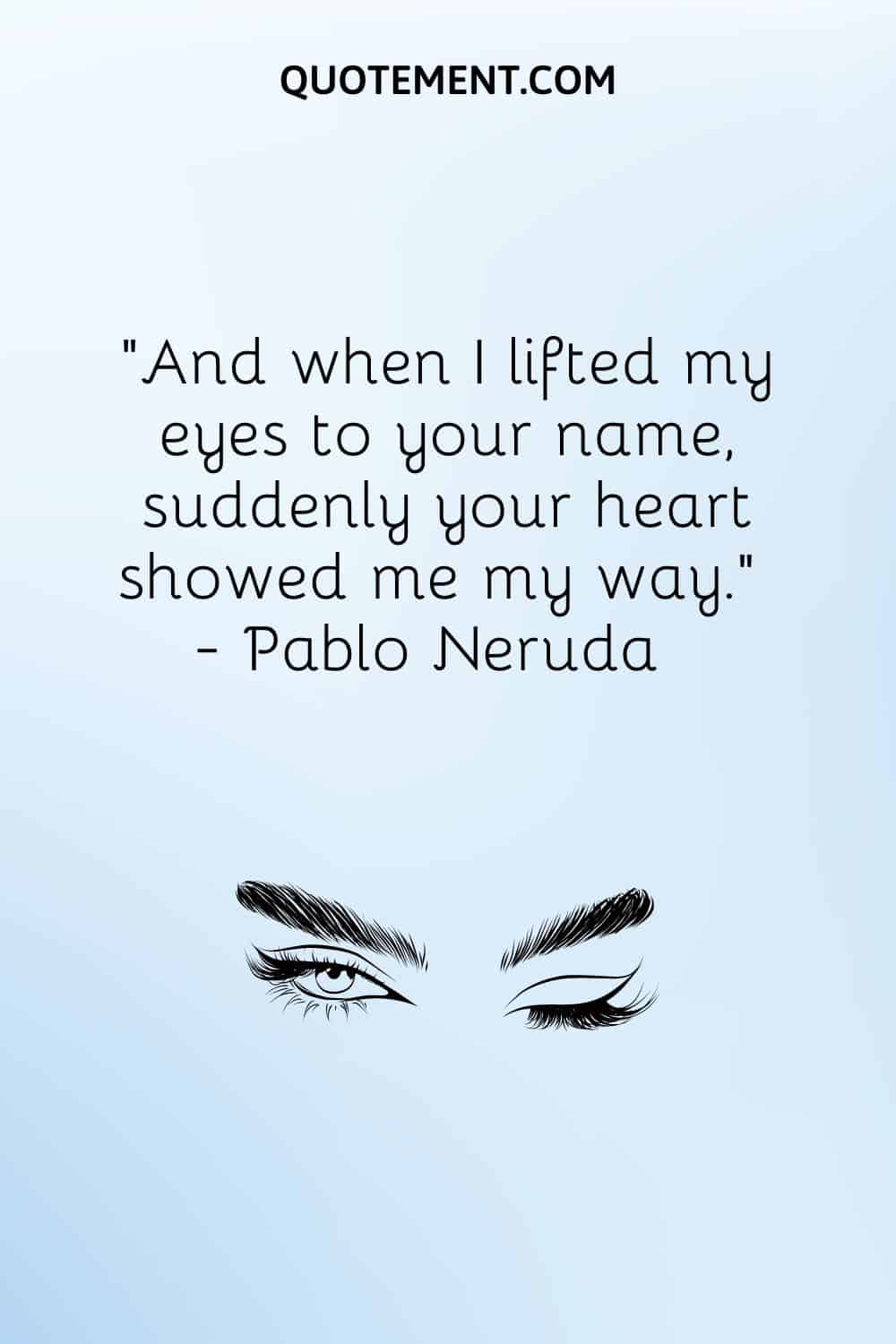 2. "When my eyes meet his gaze as we're sitting here staring at each other, time stops. Those eyes are piercing mine, and I can swear at this moment, he senses the real me. The one without the attitude, without the facade…" ― Simone Elkeles
3. "Love's tongue is in the eyes." – Phineas Fletcher
4. "Her eyes were those of someone who's just fallen in love, someone who sees nothing but her lover, someone who has no fear of anything." ― Banana Yoshimoto
5. "Beautiful eyes in the face of a handsome woman are like eloquence to speech." ― Edward Bulwer–Lytton
6. "Love gives you eyes." ― Peter Kreeft
7. "Where his eyes should've been, there was only fire…" ― Rick Riordan
8. "Only in the eyes of love you can find infinity." ― Sorin Cerin
9. "You can either look into his eyes or breathe." – Shaista Archer
10. "What attracted me to her was her blue eyes. It was just like love at first sight." – Olivia Bull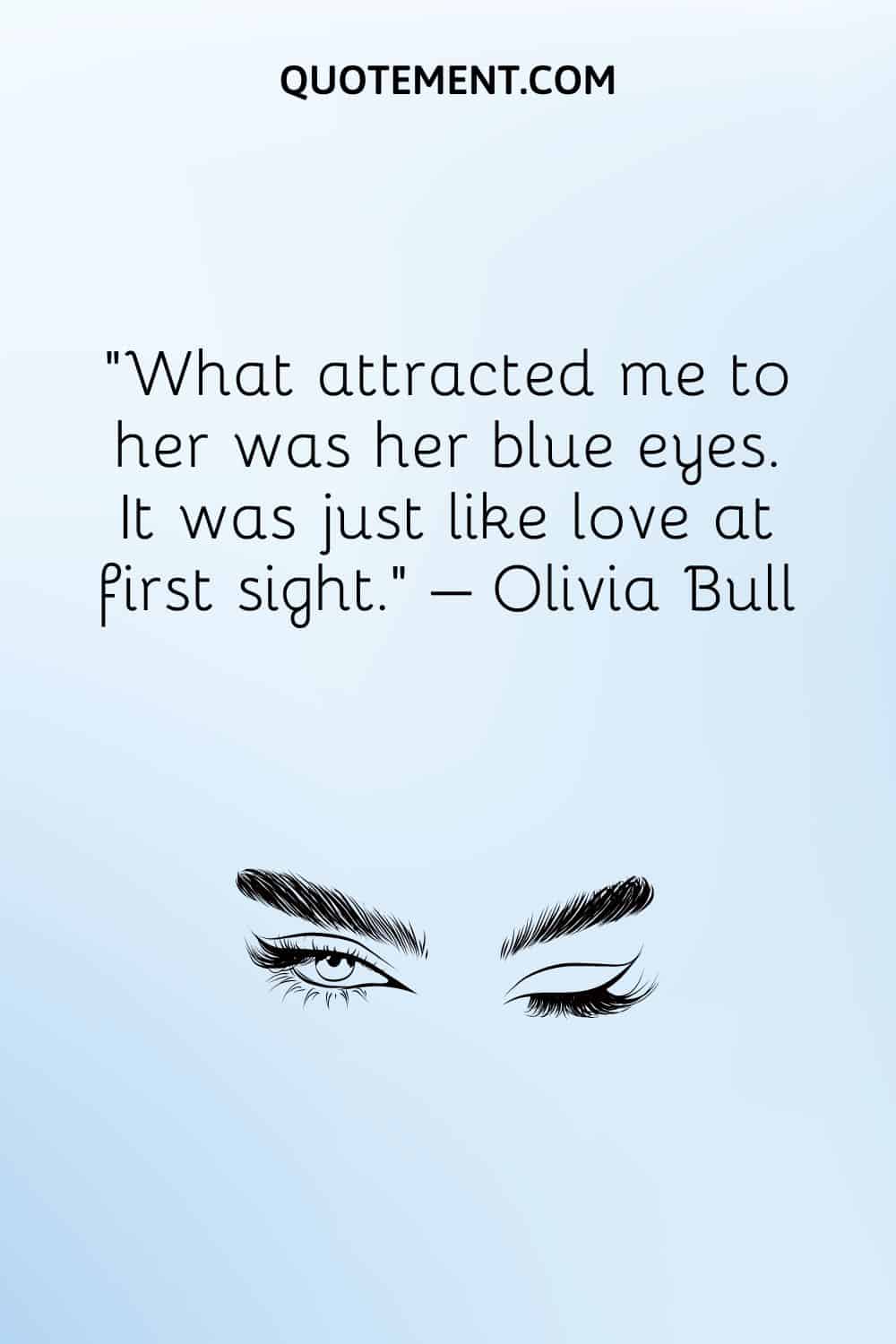 11. "For she had eyes and chose me." ― William Shakespeare
12. "Curiosity is gluttony. To see is to devour." ― Victor Hugo
13. "Almost nothing need be said when you have eyes." ― Tarjei Vesaas
14. "What the eyes had seen could not be erased." – Frank Herbert
15. "Close your eyes. Fall in love. Stay there." – Rumi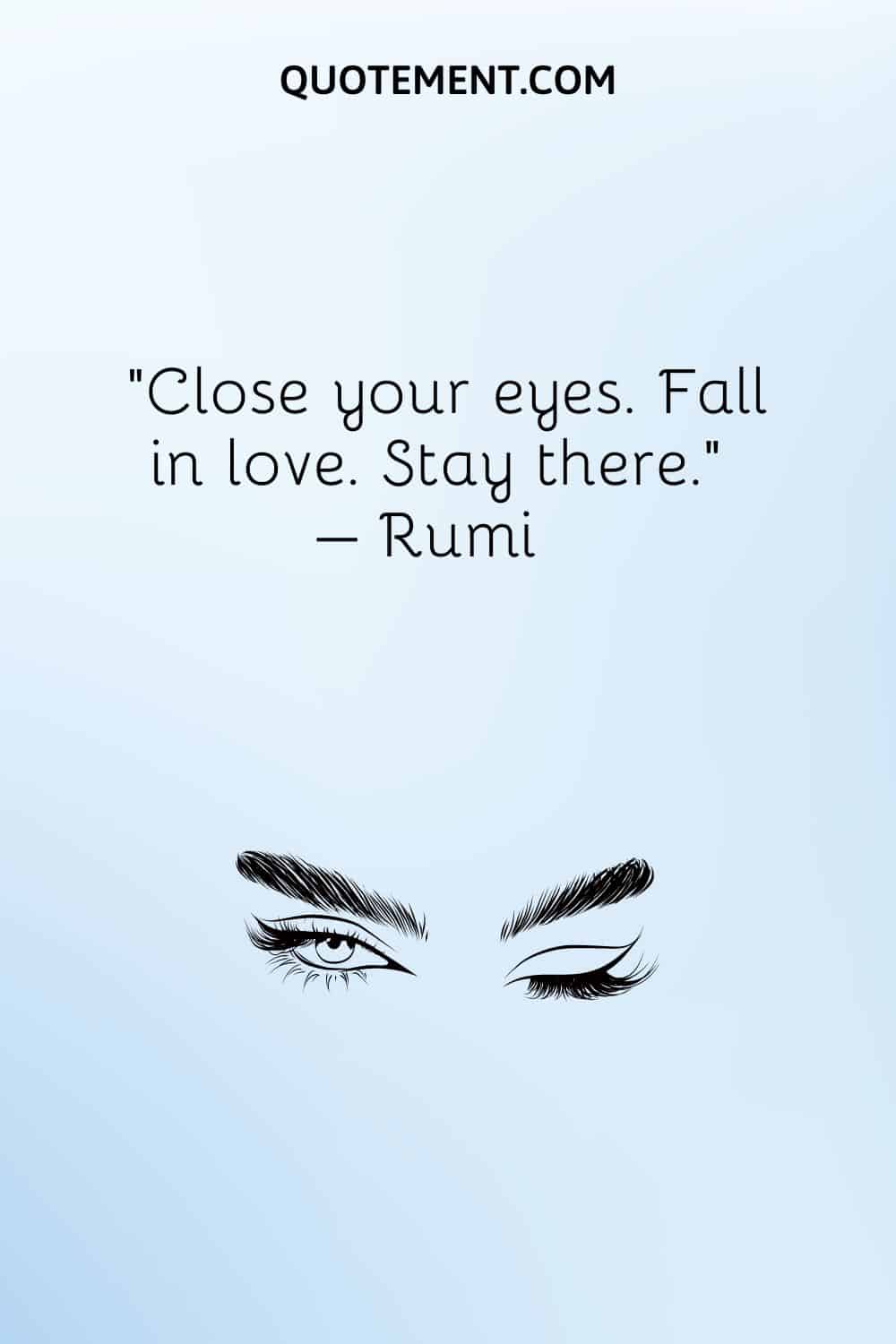 16. "His eyes missed her as much as the rest of him." ― Rainbow Rowell
17. "His eyes undress his ancient unrevealable emotions…" ― Claudia Pavel
18. "… Those eyes were unforgiving in their determination, and without knowing when or how, I was hopelessly, endlessly, in love." ― Sayed H Fatimi
19. "There is certainly a peculiar grace, both in the gleaming eyes of a loved one as well in the eyes of someone saying goodbye for the last time. It is the happiness and the sadness shouting joy and pain." ― Rolf van der Wind
20. "When I look into your eyes, I see everything I want in this world, and that is never going to change." – Stephen F. Campbell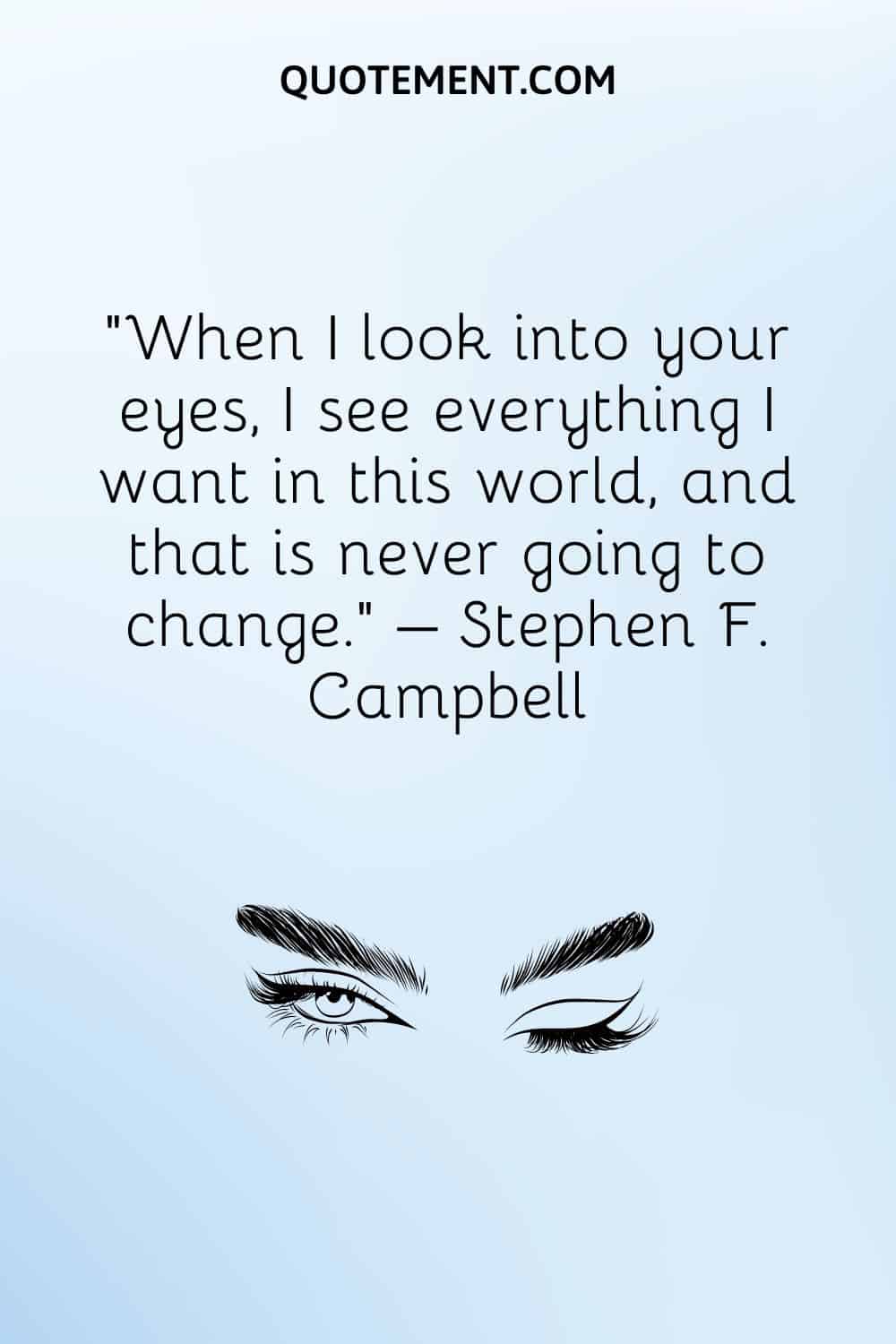 21. "True love doesn't need proof. The eyes told what heart felt." ― Toba Beta
22. "Each time a man looks into your eyes, he is only searching to find himself; for he knows already that he is part of you." ― Jeremy Aldana
23. "You love me, and I love you, let us stare at each other's eyes for quite some time right now."
24. "The first time ever I saw your face I thought the sun rose in your eyes and the moon and the stars were the gifts you gave to the dark." – Ewan MacColl
25. "The voice of your eyes is deeper than all roses." ― E.E. Cummings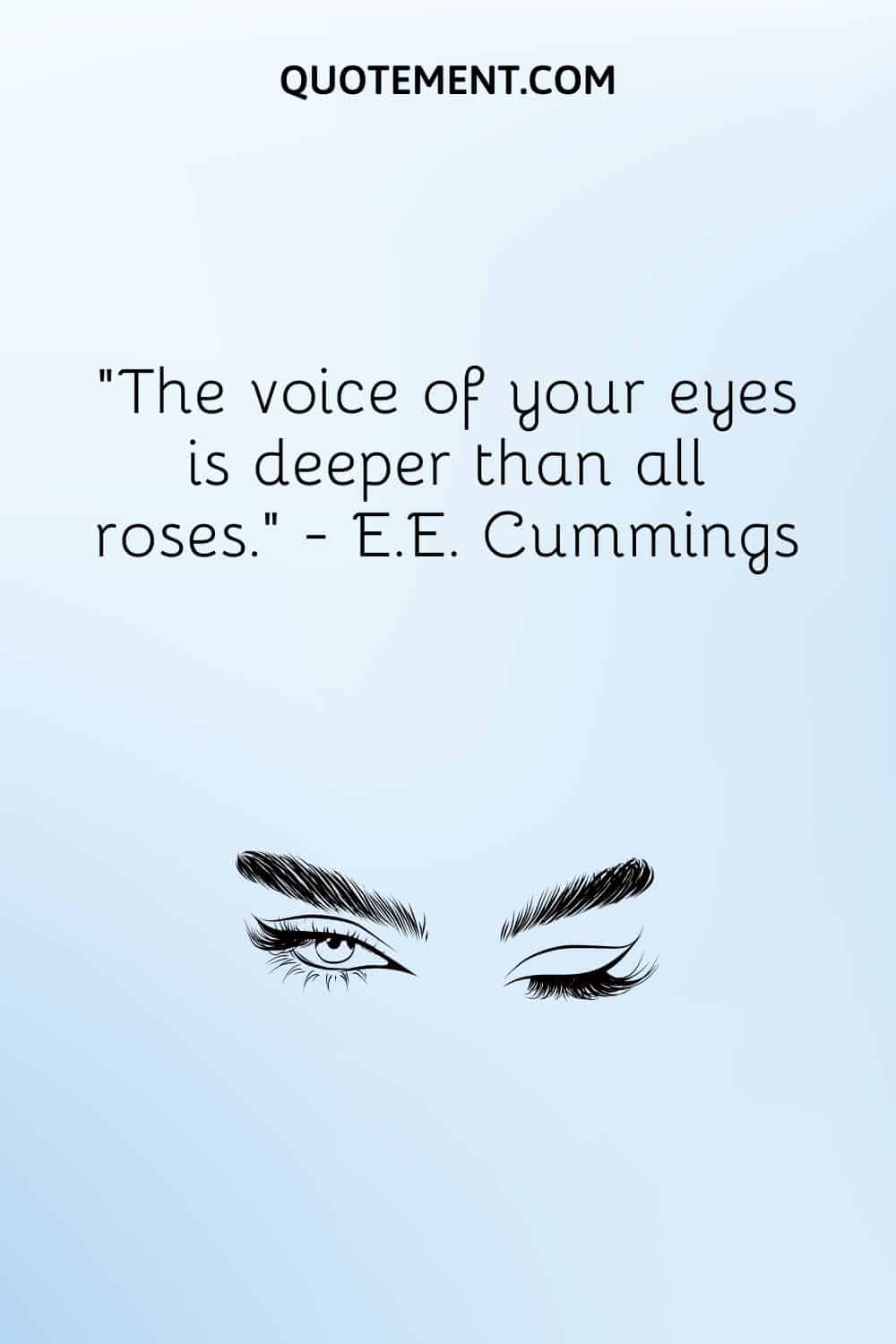 26. "Love knows no distance; it hath no continent; its eyes are for the stars." – Gilbert Parker
27. "There's a light in a woman's eyes that speaks louder than words." ― Arthur Conan Doyle
28. "Your eyes are like two jewels in the sky." – Bob Dylan
29. "She tucks the veil of her hair behind the crescent moon of her ear to reveal the stars in her eyes." ― Curtis Tyrone Jones
30. "Her eyes were dancing like those of angels." ― Guillaume Apollinaire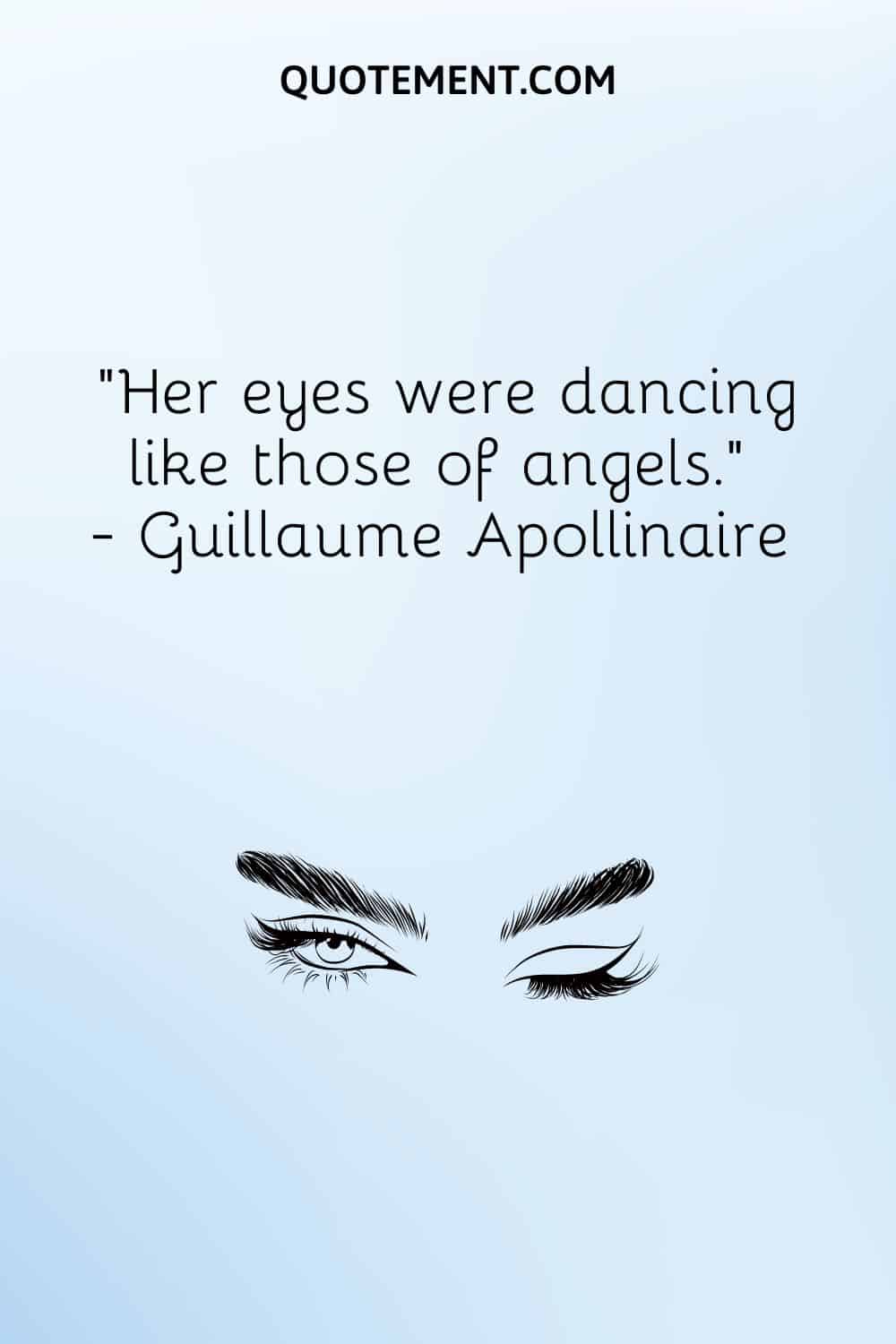 Deep Quotes About Eyes
If you've been searching for deep quotes on eyes, take a look at this amazing selection:
1. "It took me a long time not to judge myself through someone else's eyes." — Sally Field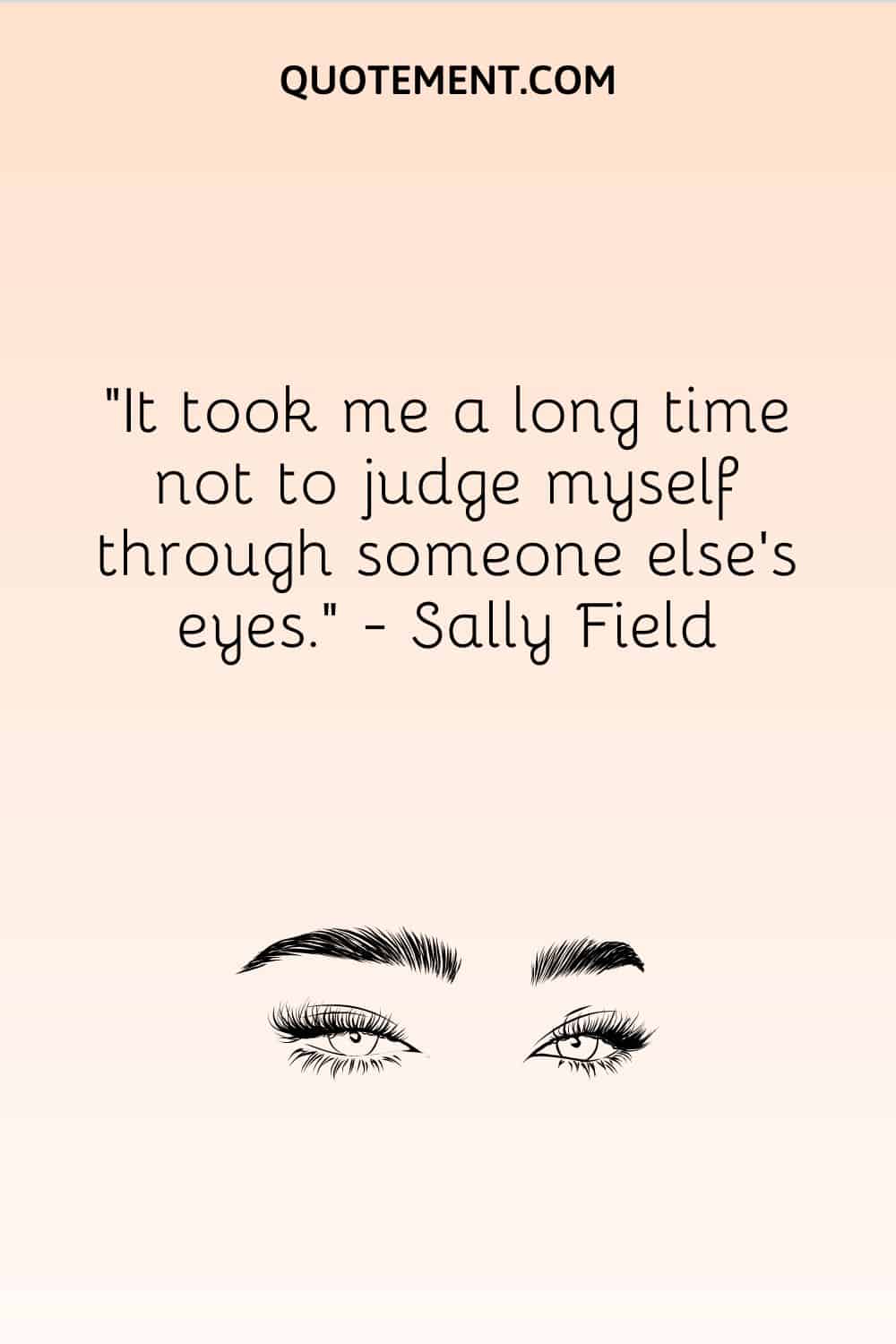 2. "Some words are spoken by the eyes. And you must understand the language of the eyes." ― Avijeet Das
3. "There is a saying, 'Eyes are the windows to the soul.' It means, mostly, people can see through someone else by eye contact in seven seconds. I have a habit that if I meet someone I don't know, I'd like to look at her or his eyes on purpose. When my eyes lay on them, I can immediately see their true color." – Peng Liyuan
4. "Her eyes are homes of silent prayers." – Alfred Lord Tennyson
5. "The prettiest eyes sparkle from the inside out."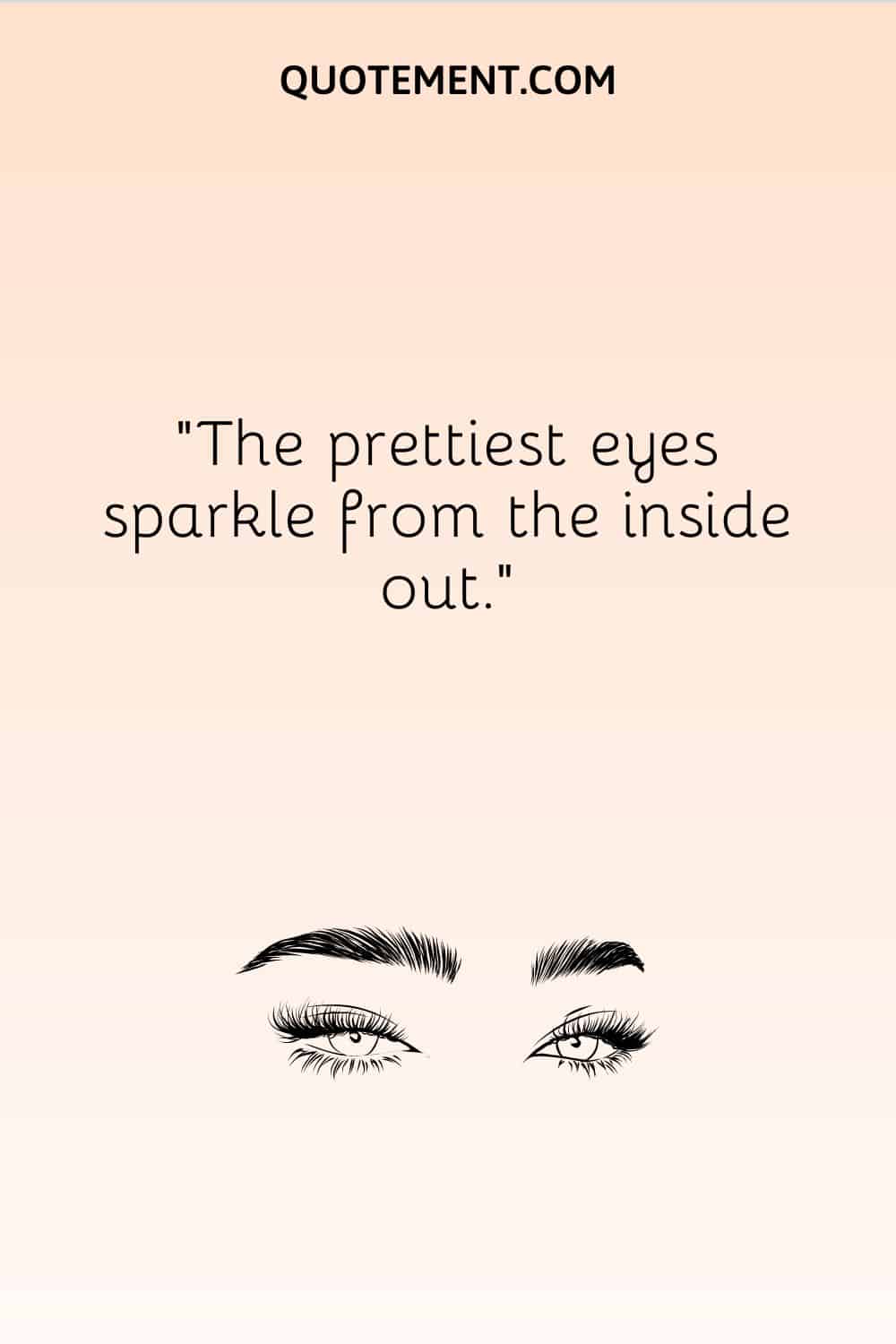 6. "I am a museum full of art but you had your eyes shut." ― Rupi Kaur
7. "My God, Sage. Your eyes. How have I never noticed them?" That uncomfortable feeling was spreading over me again. "What about them?" "The color," he breathed. 'When you stand in the light. They're amazing… like molten gold. I could paint those…' He reached toward me but then pulled back. 'They're beautiful. You're beautiful'." ― Richelle Mead
8. "Ah, what happiness it is to be with people who are all happy, to press hands, press cheeks, smile into eyes." ― Katherine Mansfield
9. "The eye through which I see God is the same eye through which God sees me; my eye and God's eye are one eye, one seeing, one knowing, one love." ― Meister Eckhart
10. "My eyes make pictures when they are shut." – Samuel Taylor Coleridge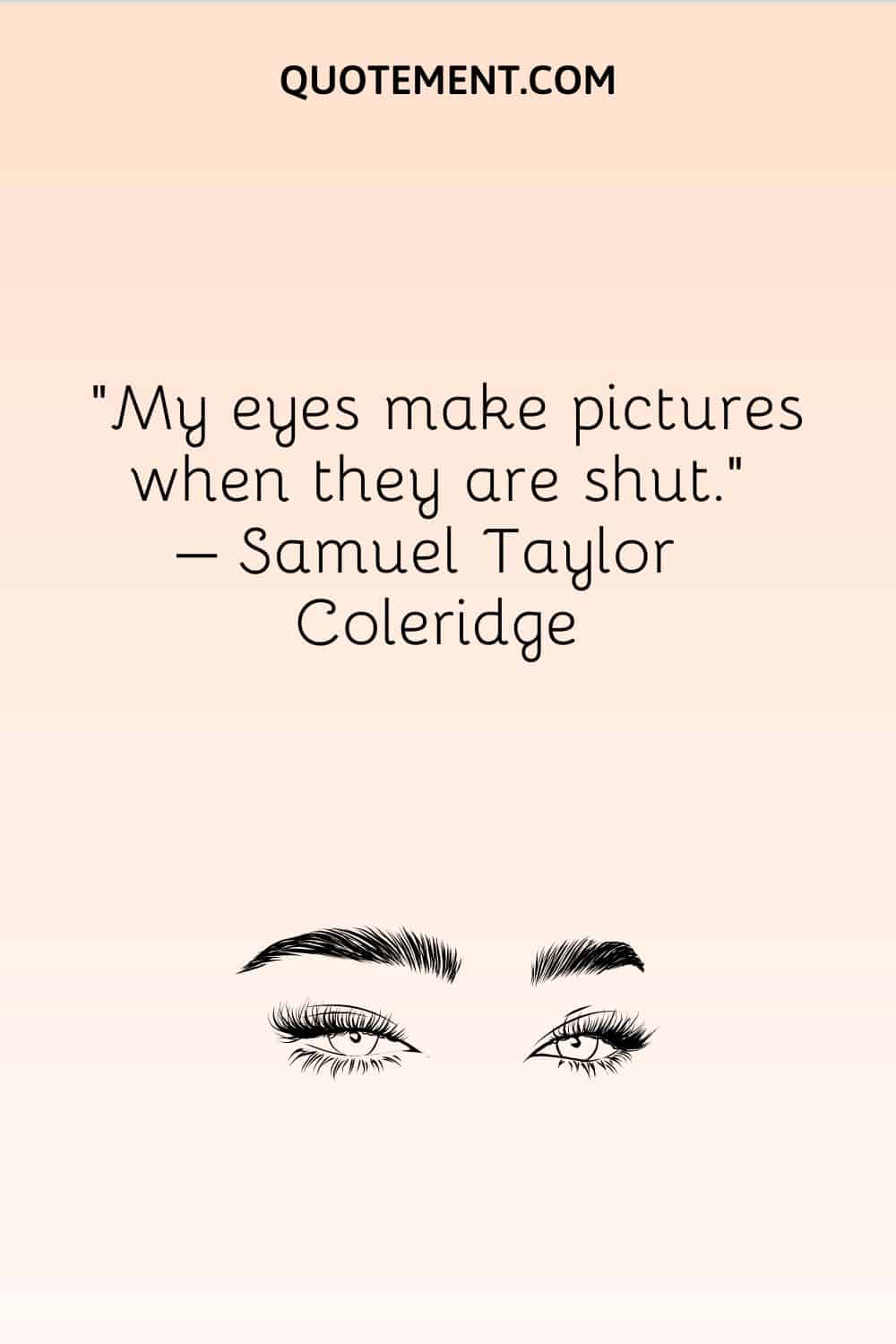 11. "I am intrigued by the smile upon your face and the sadness within your eyes." ― Jeremy Aldana
12. "The intensity in your eyes burns my pen as I write." ― Sanober Khan
13. "Eyes can only capture objects that are already seen in mind. And mind can only see things that are already written in heart." ― Toba Beta
14. "You can close your eyes to reality but not to memories." – Stanislaw Jerzy Lec
See also: 180 Unforgettable Memories Quotes About The Good Old Days
15. "If you see with innocent eyes, everything is divine." — Federico Fellini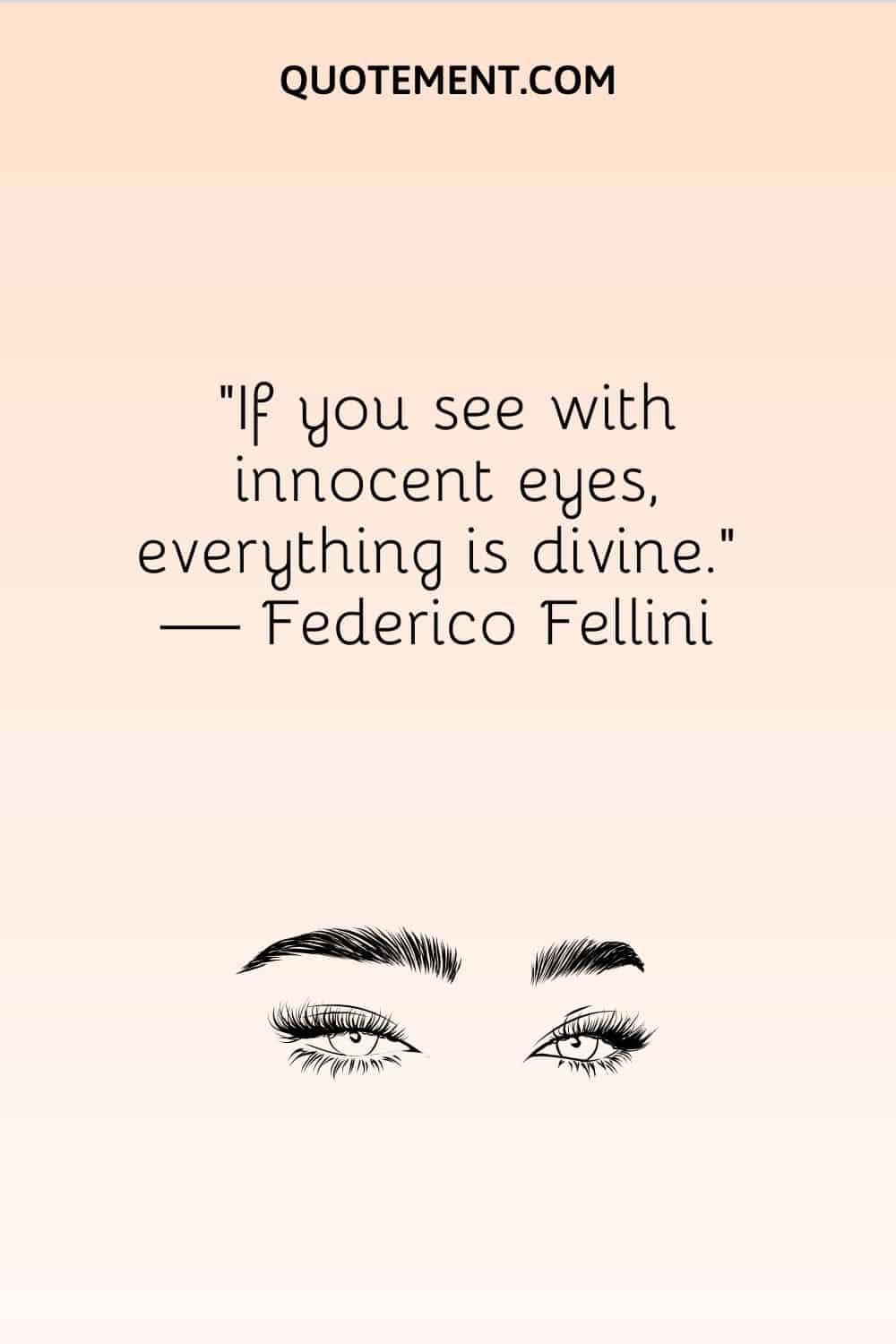 16. "Beauty is how you feel inside, and it reflects in your eyes. It is not something physical." — Sophia Loren
17. "How is it possible that a being with such sensitive jewels as the eyes, such enchanted musical instruments as the ears, and such fabulous arabesque of nerves as the brain can experience itself anything less than a god." – Alan Watts
18. "I think that the greatest gift God ever gave man is not the gift of sight but the gift of vision. Sight is a function of the eyes, but vision is a function of the heart." – Myles Munroe
19. "The eyes of others our prisons; their thoughts our cages." – Virginia Woolf
20. "Let my soul smile through my heart and my heart smile through my eyes, that I may scatter rich smiles in sad hearts." – Paramahansa Yogananda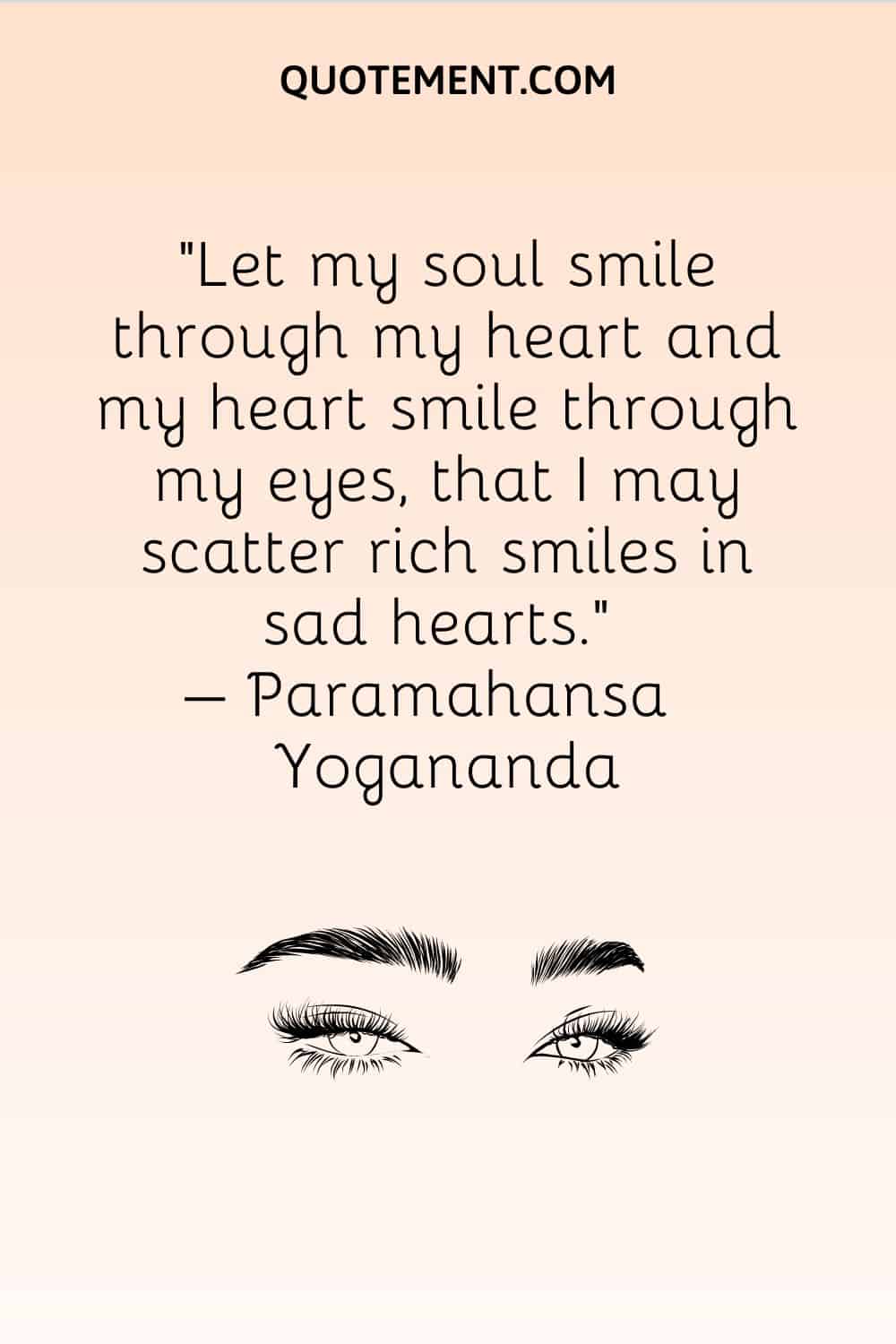 21. "The face is the portrait of the mind; the eyes, its informers." – Latin proverb
22. "You never know how you look through other people's eyes." – Ralph Waldo Emerson
23. "The real lover is the man who can thrill you by kissing your forehead or smiling into your eyes or just staring into space." — Marilyn Monroe
24. "Look into my eyes and hear what I'm not saying, for my eyes speak louder than my voice ever will."
25. "The eye is the cosmos made complete." – Robert McDowell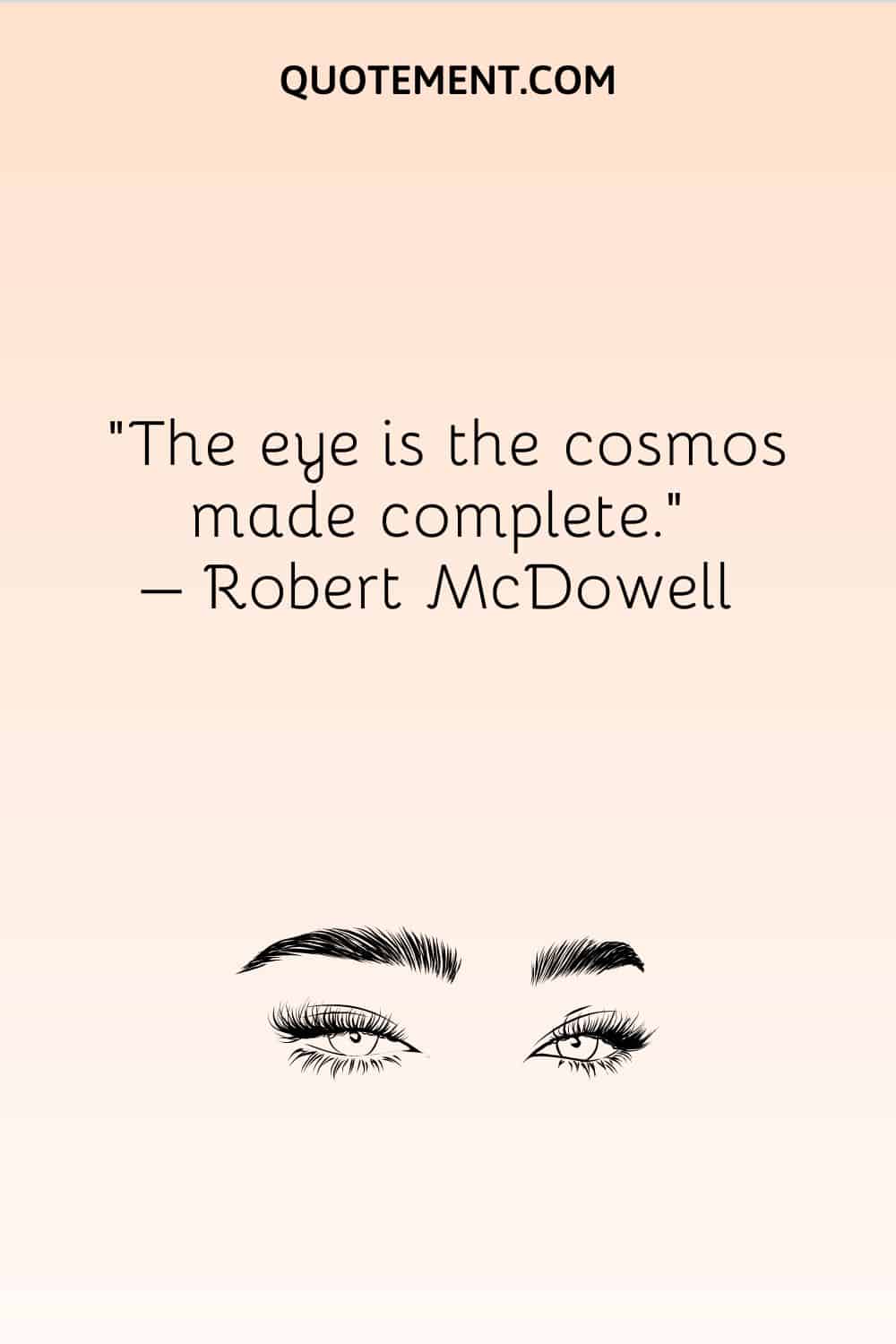 26. "Don't believe what your eyes are telling you. All they show is limitation. Look with your understanding, find out what you already know, and you'll see the way to fly." – Richard Bach
27. "Remember, we see the world not as it is but as we are. Most of us see through the eyes of our fears and our limiting beliefs and our false assumptions." – Robin S. Sharma
28. "We try to hide our feelings, but we forget that our eyes can speak."
29. "I'm curious. Period. I find everything interesting. Real life. Fake life. Objects. Flowers. Cats. But mostly people. If you keep your eyes open and your mind open, everything can be interesting." – Agnes Varda
30. "The world is the true classroom. The most rewarding and important type of learning is through experience, seeing something with our own eyes." – Jack Hanna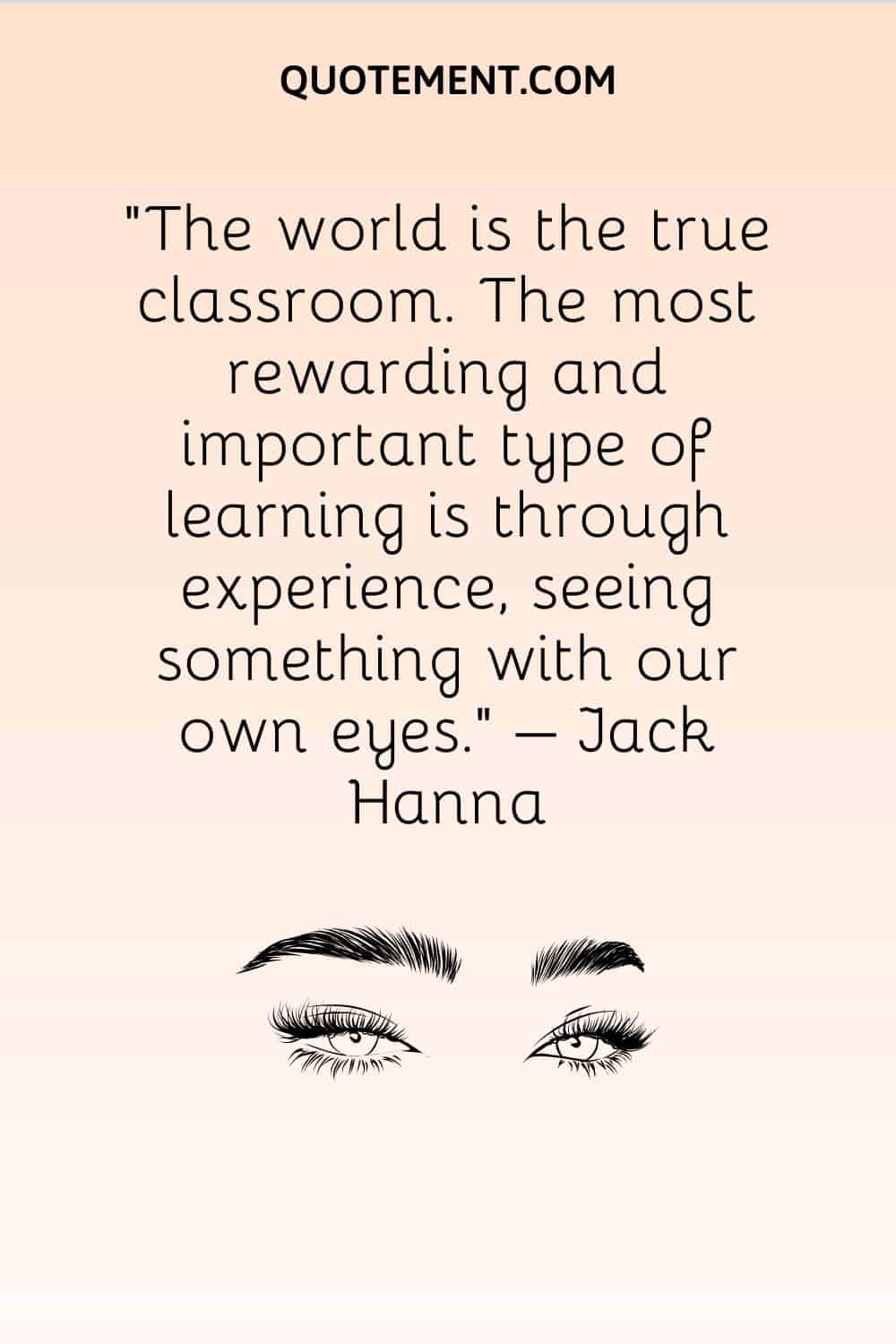 Insightful Quotes About Eyes
Find insightful beautiful eyes quotes right here:
1. "There is only one way to see things until someone shows us how to look at them with different eyes." ― Pablo Picasso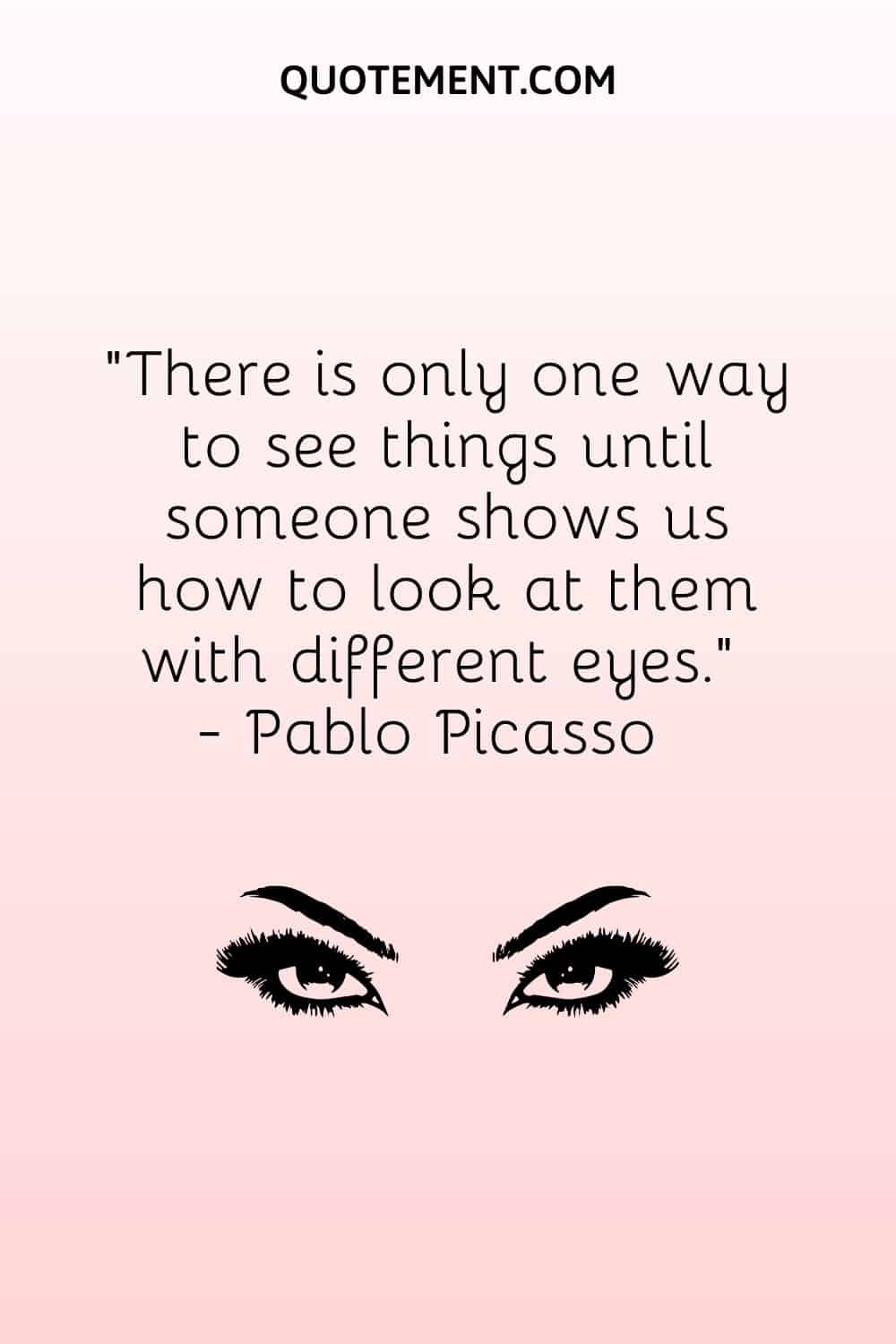 2. "All the powers in the universe are already ours. It is us who have put our hands before our eyes and cry that it is dark." – Swami Vivekananda
3. "People felt themselves watching him even before they knew that there was anything different about him. His eyes made a person think that he heard things that no one else had ever heard, that he knew things no one had ever guessed before. He did not seem quite human." ― Carson McCullers
4. "Beautiful places are not just a joy for the moment while you're there. They will become homes for you, spaces of solace and comfort where you can close your eyes and go to. Nothing you experience will ever go away. It belongs to you now. Just feel. Don't be afraid to feel." ― Charlotte Eriksson
5. "Beauty is how you feel inside, and it reflects in your eyes. It is not something physical." – Sophia Loren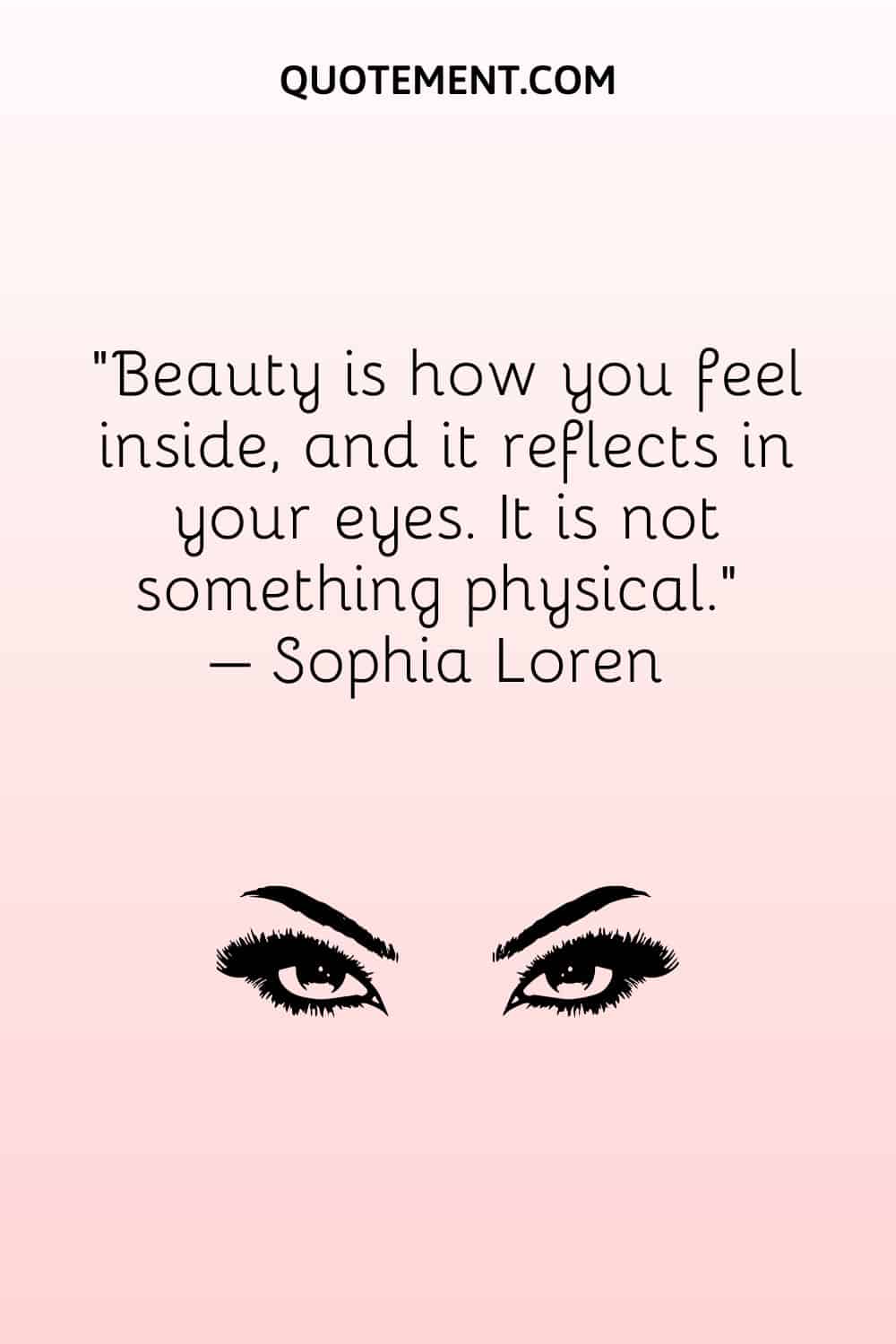 6. "Even when we feel the sun in our soul has died, and the autumn storms of our life have broken the glow in our eyes, nothing must keep us from swelling the river of our inner longing. We can create a new scenario and colorize the chapters of the story we want to embed and liven up the thinking pattern of the personae we would like to cast a role." – Erik Pevernagie
7. "The madness of the eyes is the lure of the abyss. Sirens lurk in the dark depths of the pupils as they lurk at the bottom of the sea, that I know for sure – but I have never encountered them, and I am searching still for the profound and plaintive gazes in whose depths I might be able, like Hamlet redeemed, to drown the Ophelia of my desire." ― Jean Lorrain
8. "Some don't even watch art with their eyes nor with their mind, but with their ears, ever since they judge art by the sound of money." – Erik Pevernagie
9. "The world is a wide place where we stumble like children learning to walk. The world is a bright mosaic where we learn like children to see, where our little blurry eyes strive greedily to take in as much light and love and color and detail as they can." ― Jay Woodman
10. "The eyes are the amulets of the mind." – Bill Vaughan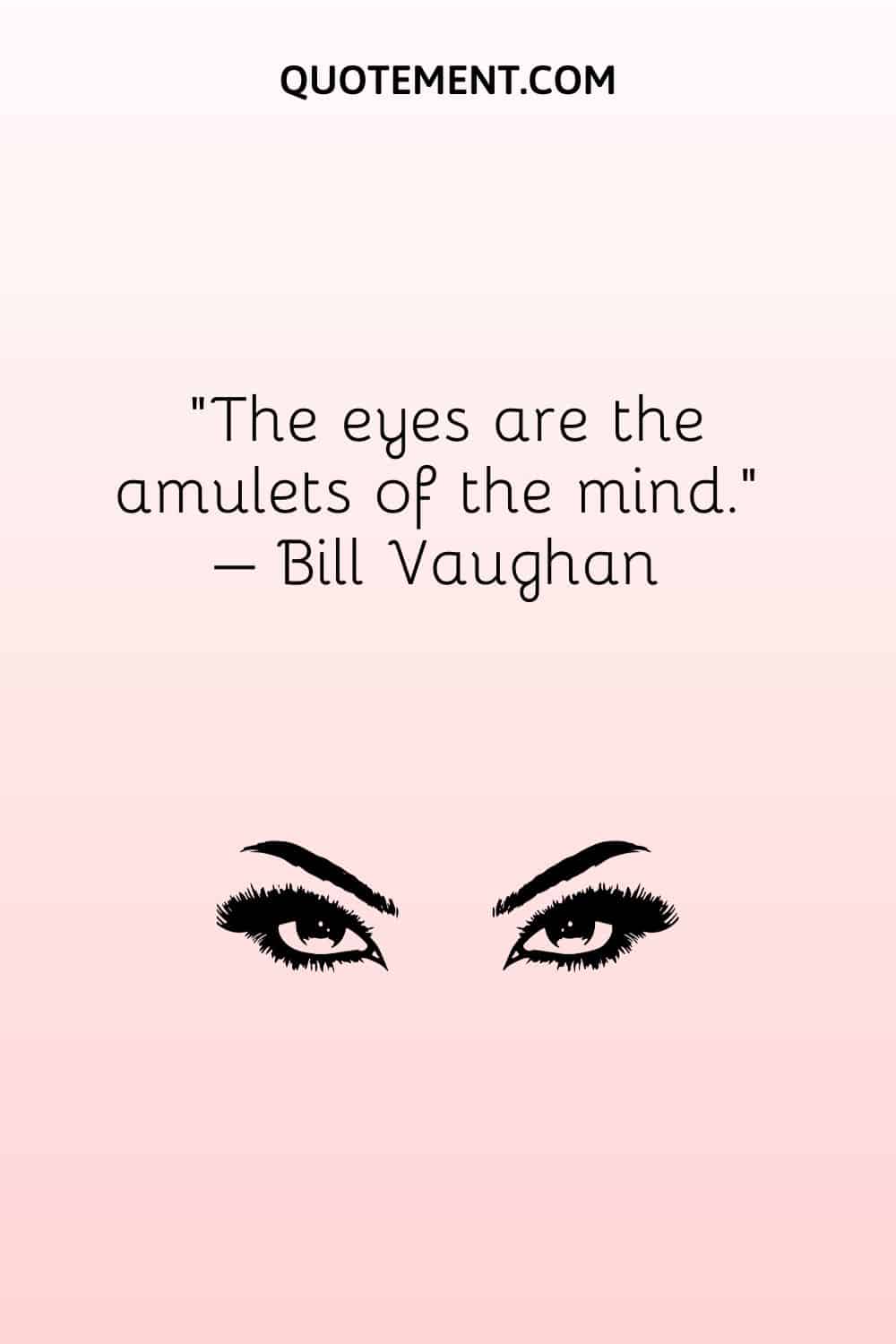 11. "I see… the way you're always searching. How much you hate anything fake or phony. How you're older than your years, but still… playful, like a little girl. How you're always looking into people, or wondering what they see when they look back at you. Your eyes. It's all in the eyes." ― Claudia Gray
12. "She looked out the window; in her eyes was the light that you see only in children arriving at a new place, or in young people still open to new influences, still curious about the world because they have not yet been scarred by life." ― Orhan Pamuk
13. "You shine like the sun and you move like water. Your eyes are the perfect mix of gray and brown, like fog in the woods, and you smell like lilacs in the summer. I think if you laughed, it would sound like music." ― M. Leighton
14. "When a woman is talking to you, listen to what she says with her eyes." – Victor Hugo
15. "It's easy to fool the eye but it's hard to fool the heart." – Al Pacino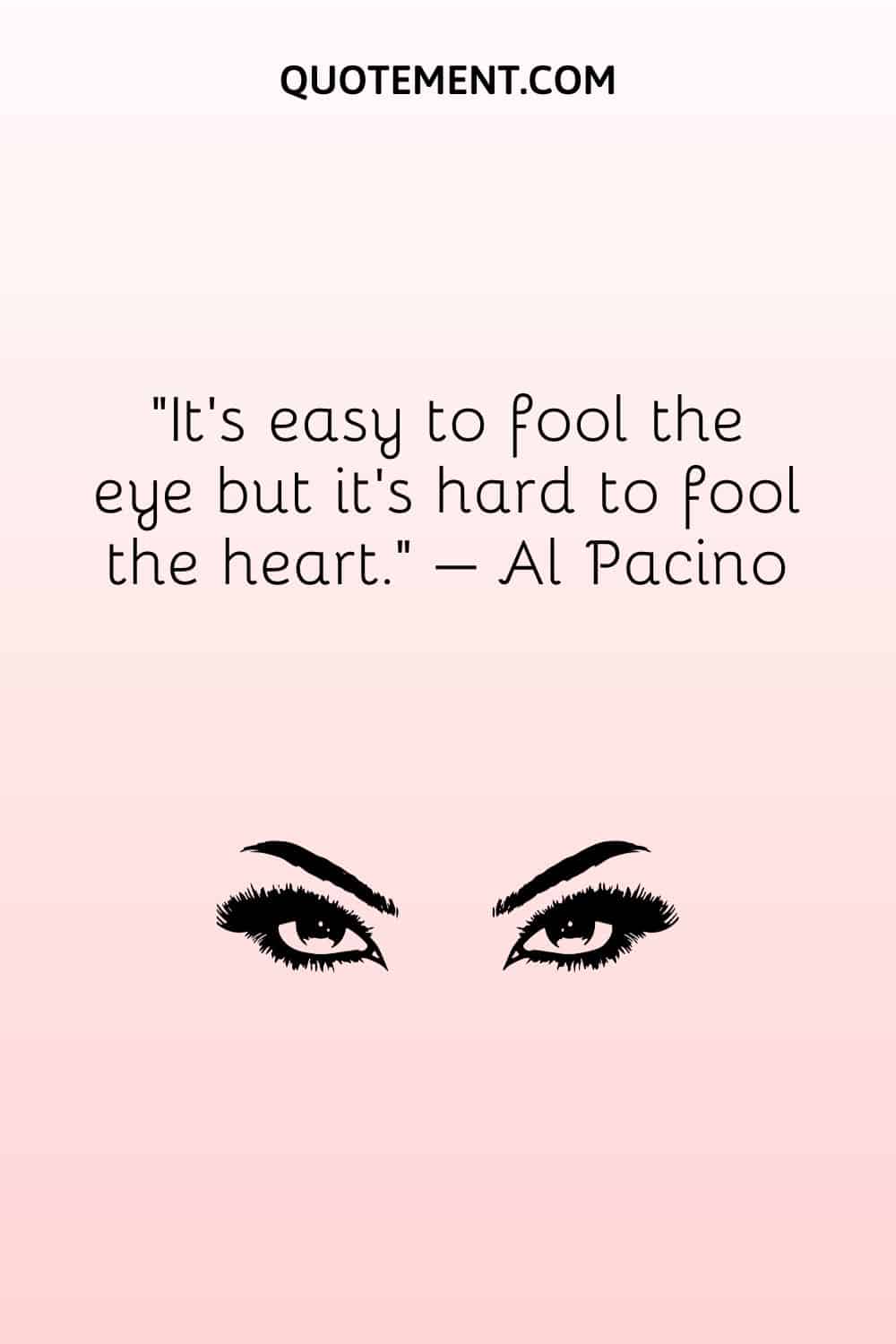 16. "When words remain unspoken and emotions are left unexpressed, just a glint in the eyes from otherness can inflame the mind and rouse a shower of empathy." – Erik Pevernagie
17. "I have been finding treasures in places I did not want to search. I have been hearing wisdom from tongues I did not want to listen. I have been finding beauty where I did not want to look. And I have learned so much from journeys I did not want to take. Forgive me, O Gracious One, for I have been closing my ears and eyes for too long. I have learned that miracles are only called miracles because they are often witnessed by only those who can see through all of life's illusions. I am ready to see what really exists on other side, what exists behind the blinds, and taste all the ugly fruit instead of all that looks right, plump and ripe." ― Suzy Kassem
18. "If my eyes have pain, I close them; if my body aches, I rest it; if my heart breaks, I mend it; if my soul is lost, I pray for it." ― Jeremy Aldana
19. "There are brown eyes in the world, after all, as well as blue, and one pair of brown that meant heaven to me as the blue had never done." ― E. Nesbit
20. "Keep your eyes open to your mercies. The man who forgets to be thankful has fallen asleep in life." – Robert Louis Stevenson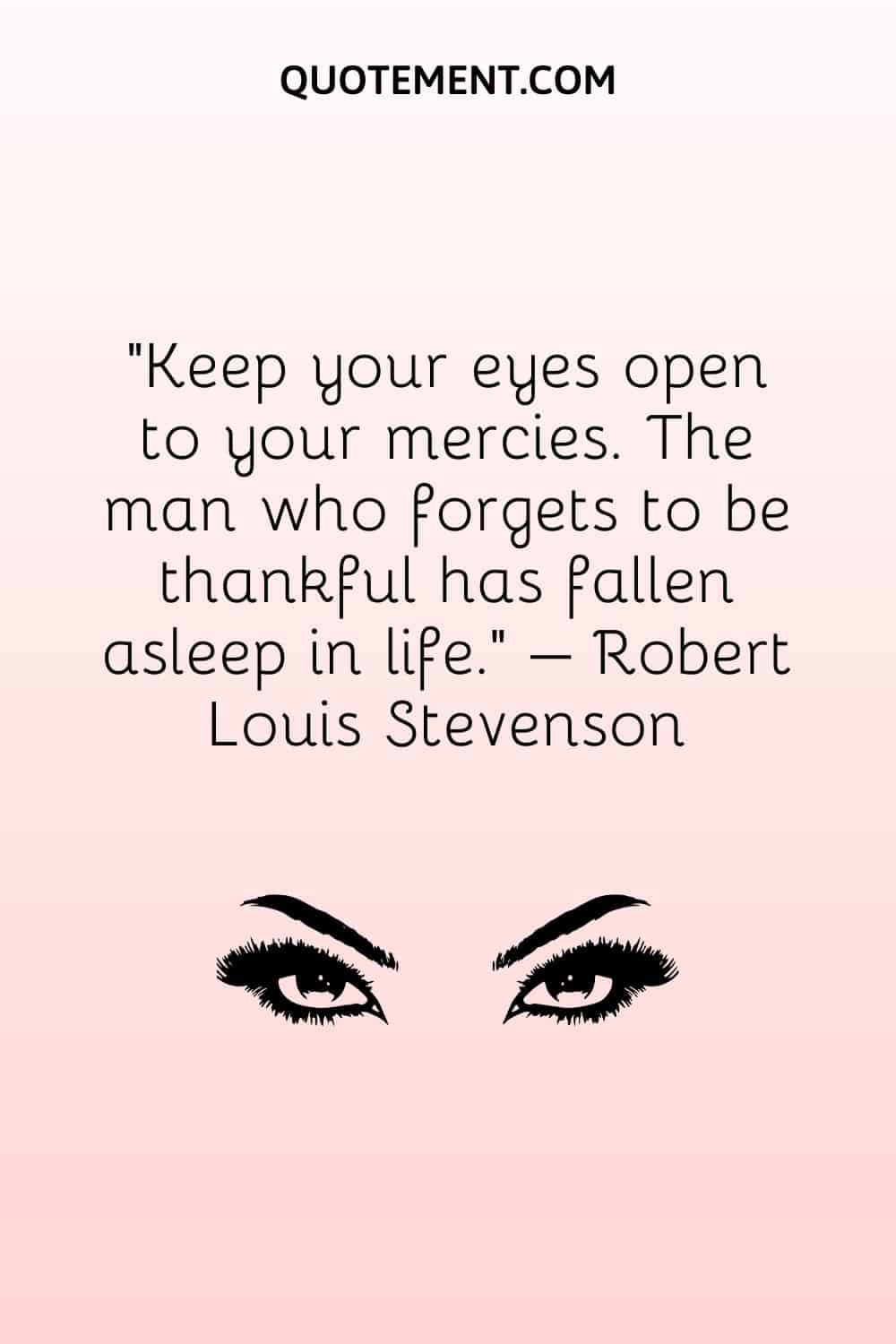 21. "Poets are damned… but see with the eyes of angels." ― Allen Ginsberg
22. "His eyes are so intense I want to look away… or never look away, I can't decide." ― Kasie West
23. "The sharpest minds often ruin their lives by overthinking the next step, while the dull win the race with eyes closed." ― Bethany Brookbank
24. "I'm glad to be alive in a world where his gently awakening eyes nourish the morning sun." ― Sanober Khan
25. "Purify your eyes, and see the pure world. Your life will fill with radiant forms." ― Rumi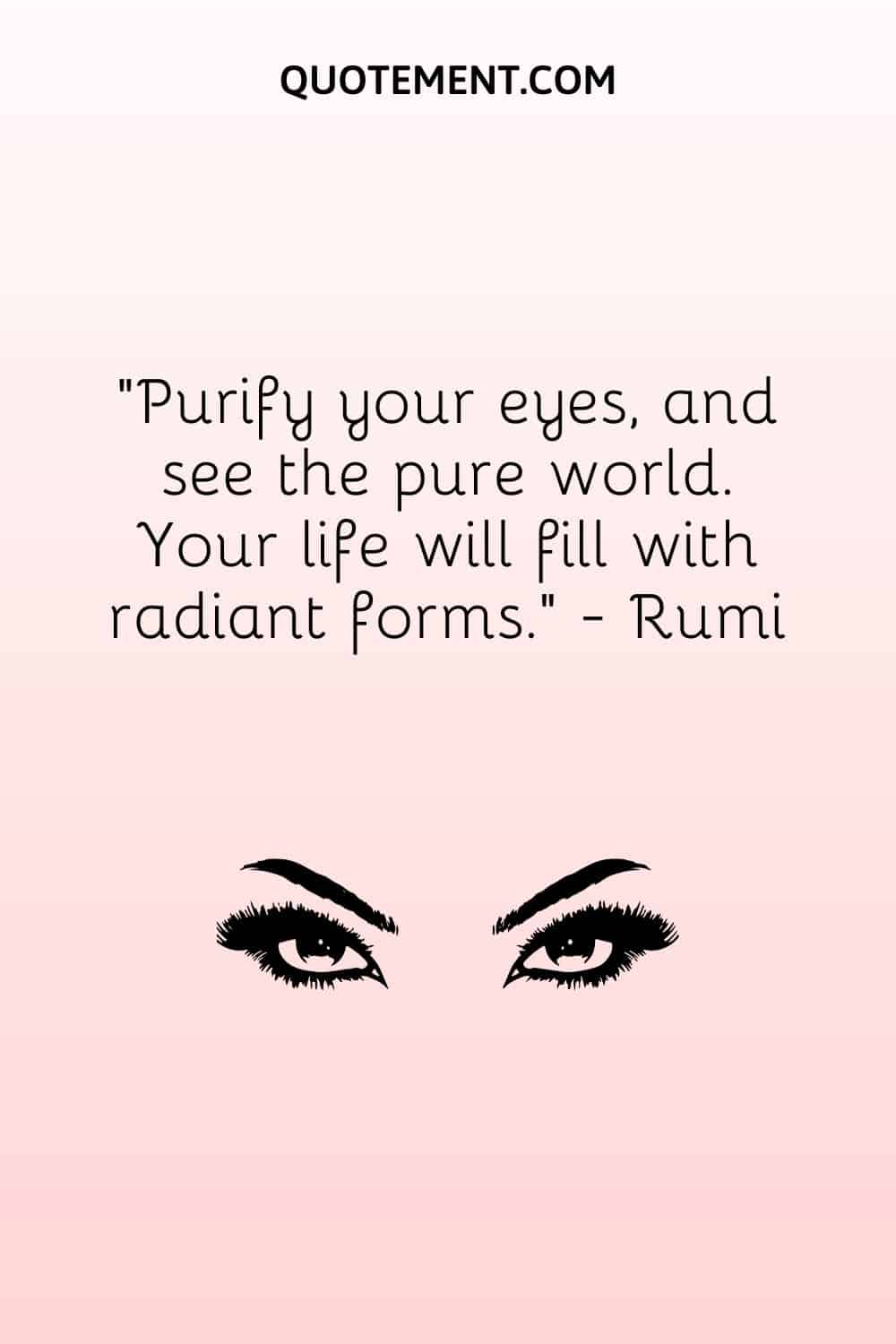 26. "… so I will greet you in a way all loved things are meant to be greeted, with a tear in my heart and a poem in my eye." ― Sanober Khan
27. "Why does he have such an unnerving effect on me? His overwhelming good looks maybe? The way his eyes blaze at me? The way he strokes his index finger against his lower lip? I wish he'd stop doing that." ― E.L. James
28. "The sky is the daily bread of the eyes." – Ralph Waldo Emerson
29. "The Artist always has the masters in his eyes." ― Ralph Waldo Emerson
30. "The hardest thing to see is what is in front of your eyes." – Johann Wolfgang von Goethe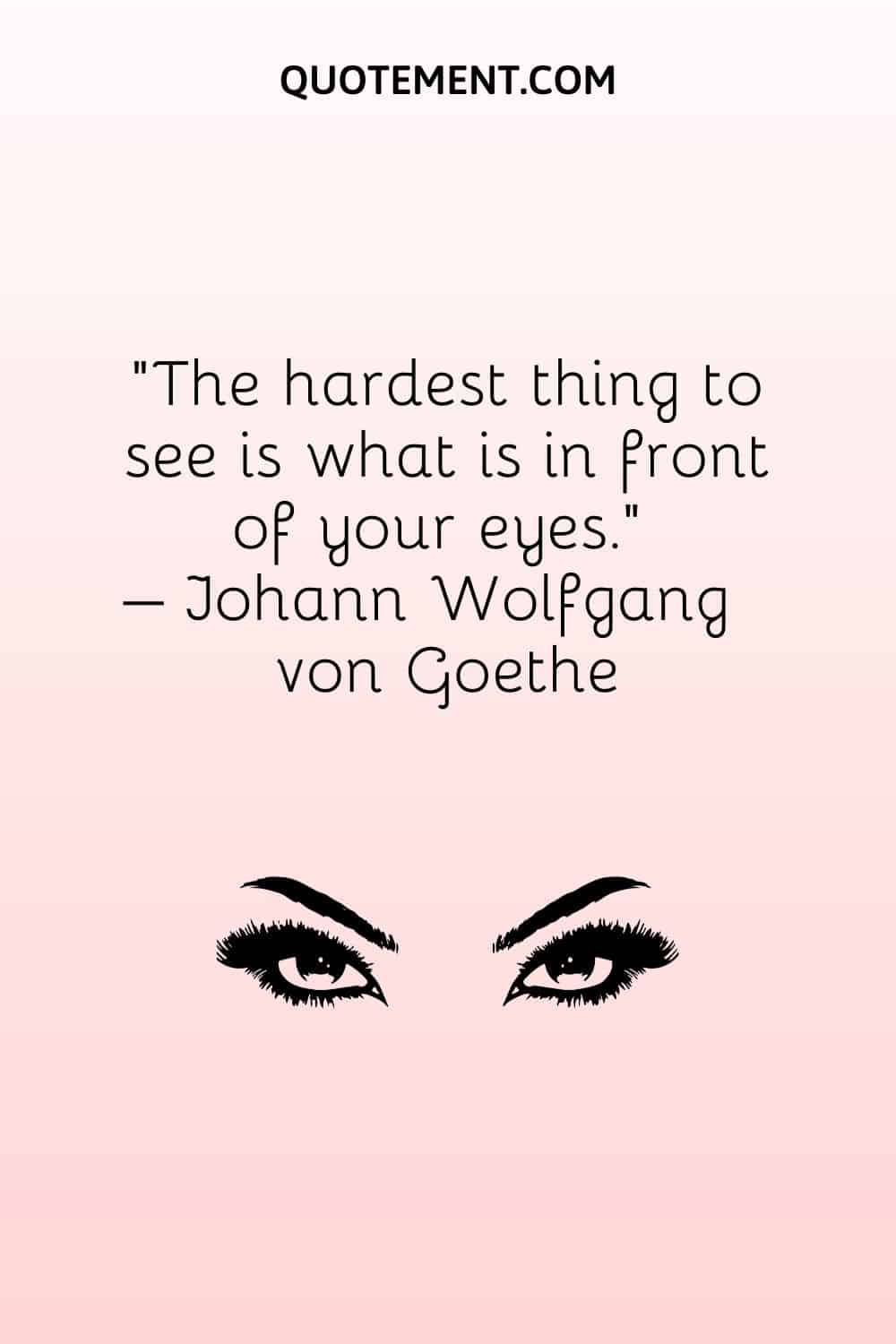 Beautiful Quotes About Eyes
If you want to read more beautiful quotes on eyes, just keep scrolling:
1. "One of the most wonderful things in nature is a glance of the eye; it transcends speech; it is the bodily symbol of identity." ― Ralph Waldo Emerson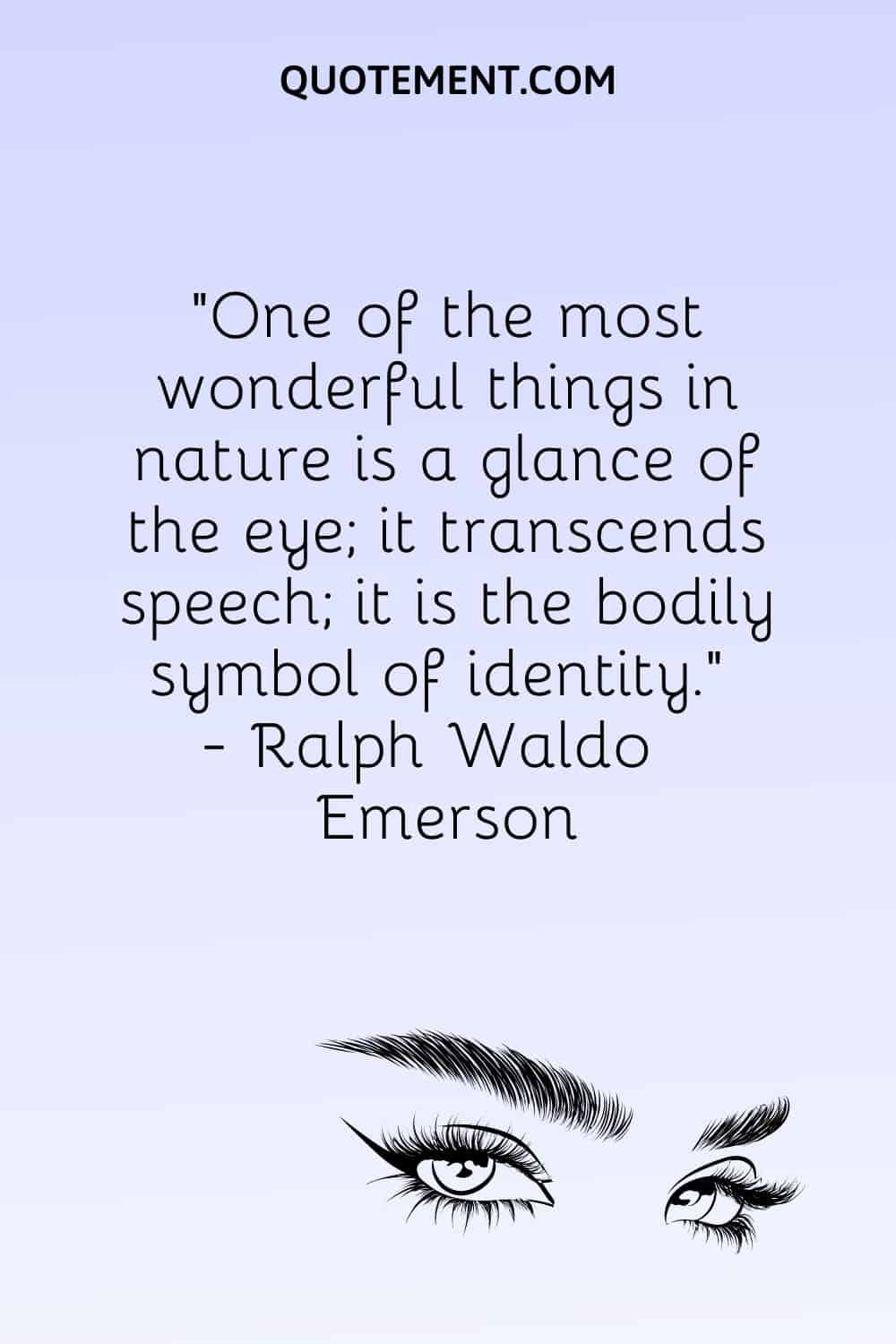 2. "Since we cannot change reality, let us change the eyes which see reality." – Nikos Kazantzakis
3. "For beautiful eyes, look for the good in others; for beautiful lips, speak only words of kindness; and for poise, walk with the knowledge that you are never alone." – Audrey Hepburn
4. "An animal's eyes have the power to speak a great language." ― Martin Buber
5. "The eye of the master will do more work than both his hands." – Benjamin Franklin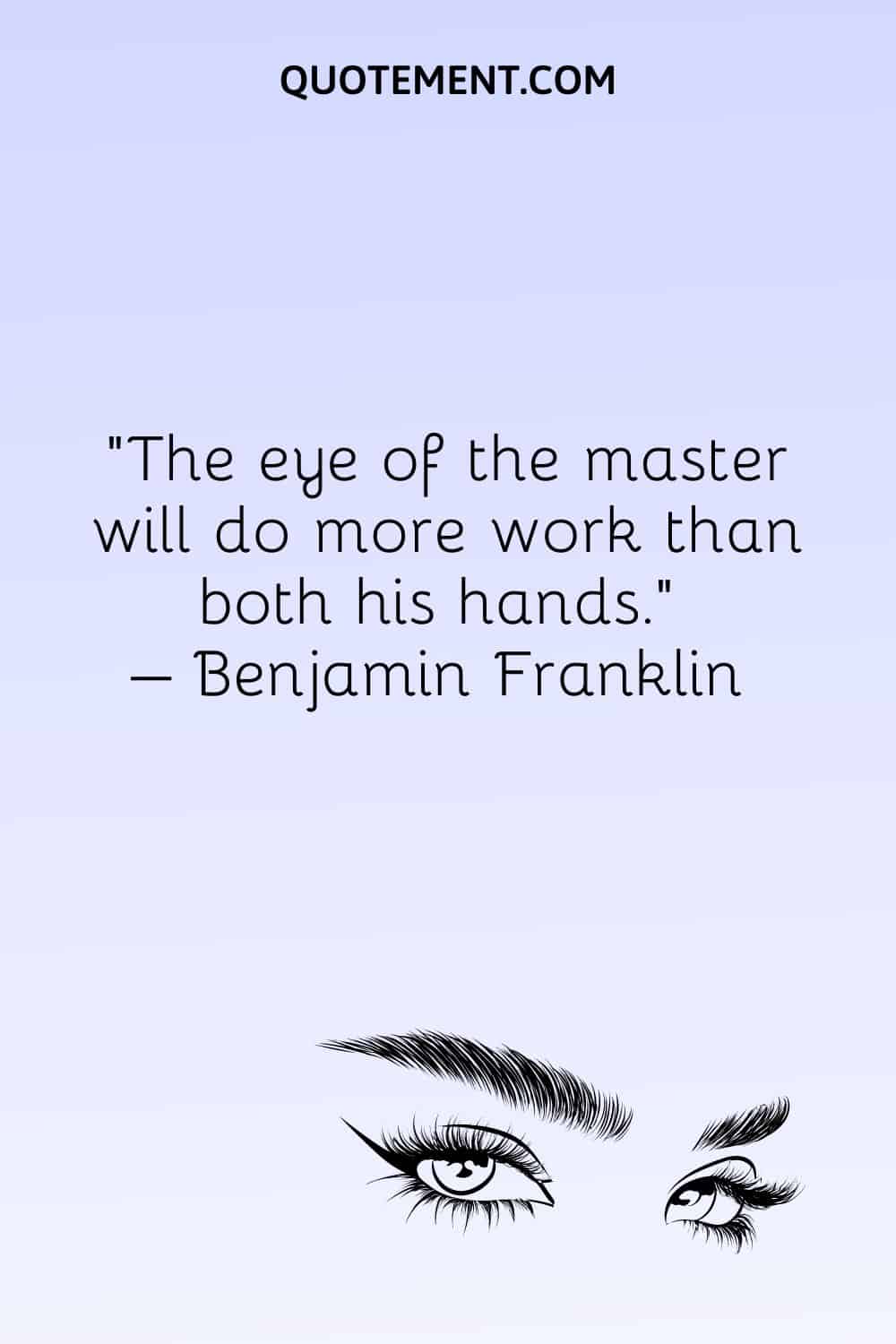 6. "He who can no longer pause to wonder and stand rapt in awe, is as good as dead; his eyes are closed." – Albert Einstein
7. "His eyes were the same color as the sea in a postcard someone sends you when they love you, but not enough to stay." ― Warsan Shire
8. "… As I already said, they didn't look like much –– but beauty's in the eye of the beholder, isn't it?" – Kate Morton
9. "Fear keeps us focused on the past or worried about the future. If we can acknowledge our fear, we can realize that right now we are okay. Right now, today, we are still alive, and our bodies are working marvelously. Our eyes can still see the beautiful sky. Our ears can still hear the voices of our loved ones." – Thich Nhat Hanh
10. "See with a different eye, visualize with a colorful mind, manifest your thoughts with the energy within." – Michael Bassey Johnson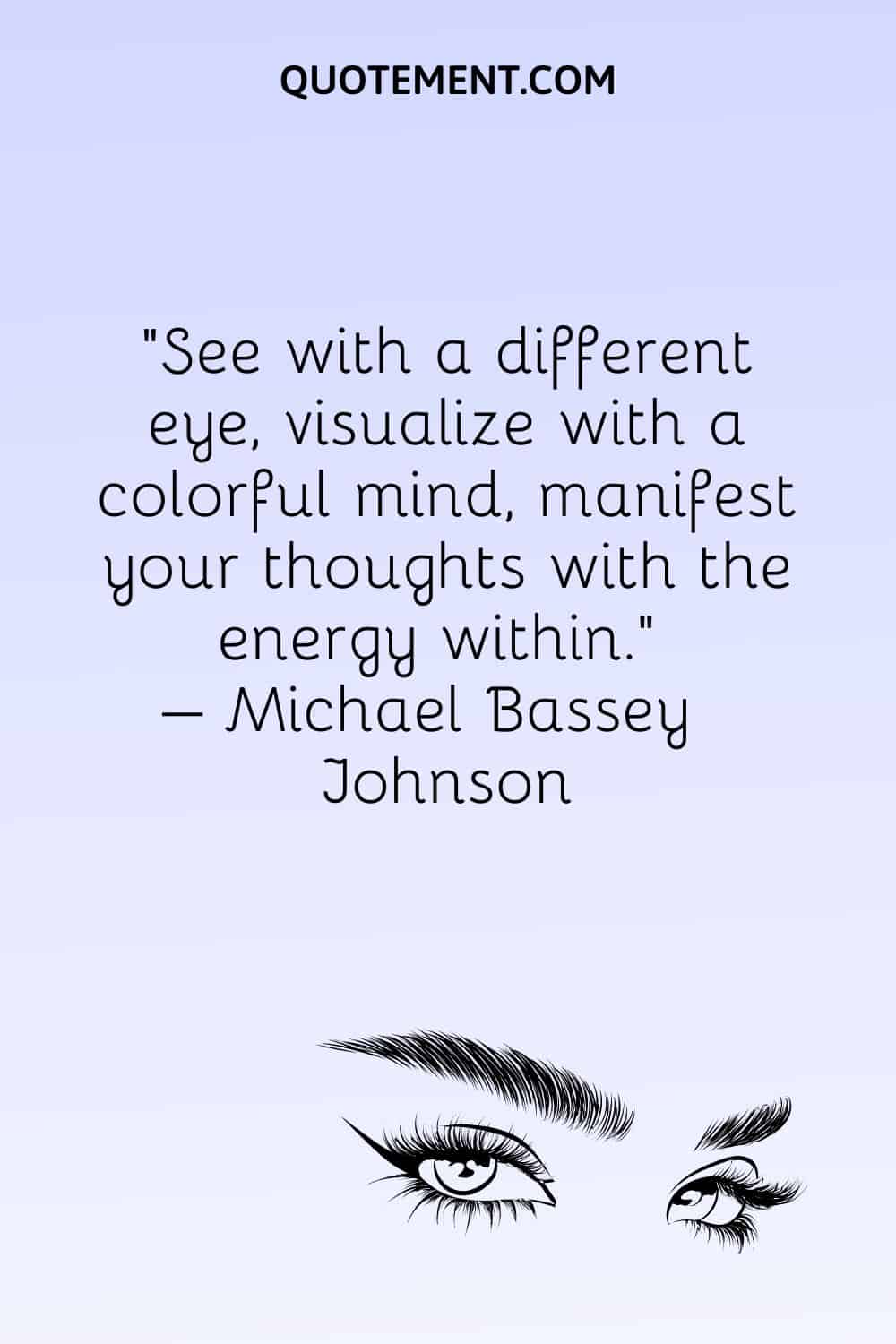 11. "Your eyes need to be opened wider than your heart when love is blinder than your eyes." – Munia Khan
12. "One day, your beauty will manifest in someone's eye." – Anthony Liccione
13. "Everything can be seen directly except the eye through which we see." – E.F. Schumacher
14. "Words speak to the mind through the ears; actions speak to the mind through the eye." – Ernest Agyemang Yeboah
15. "The holy eye is the one who is able to see the extraordinary beauties of the ordinary days!" – Mehmet Murat Ildan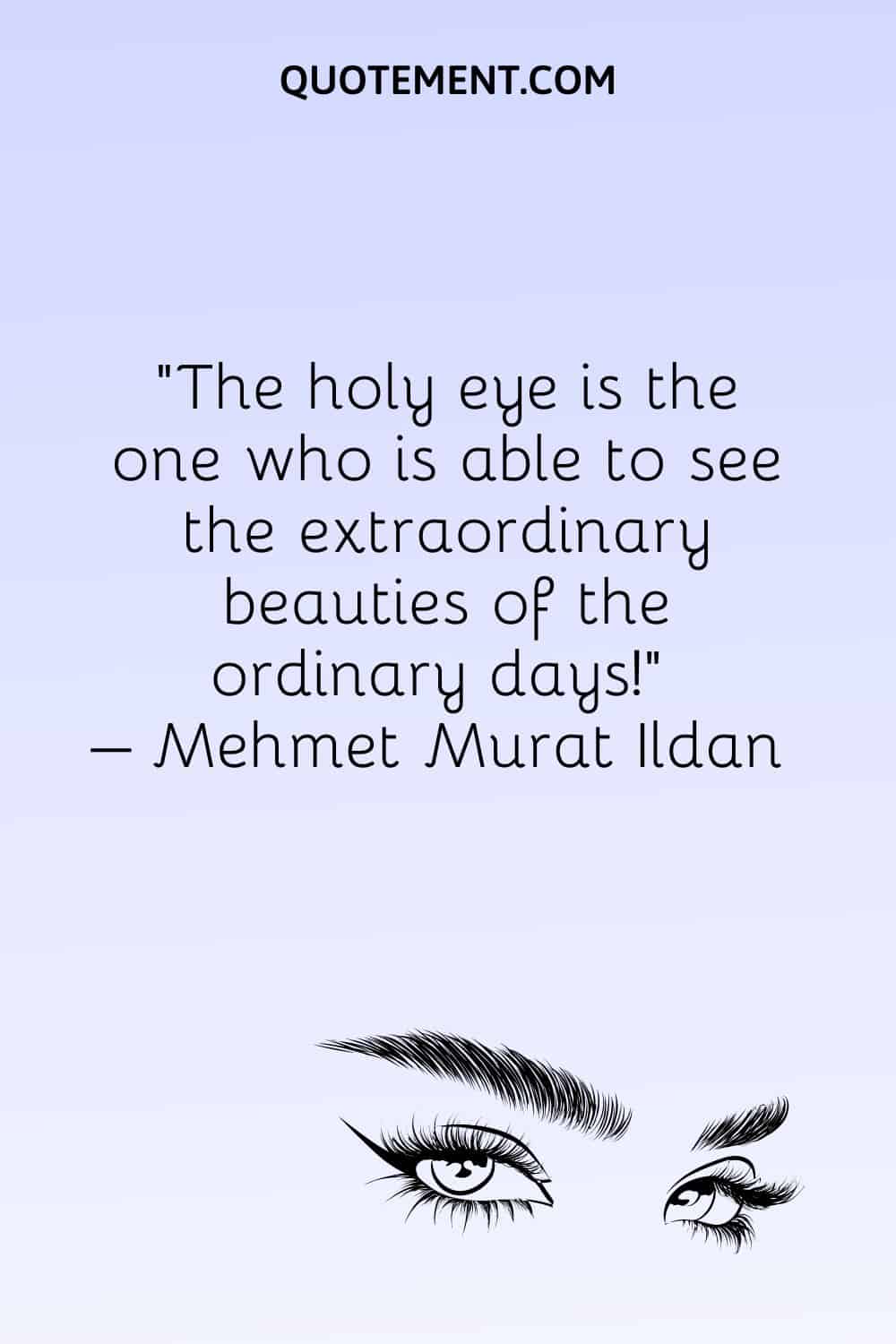 16. "The ear is never tired of hearing nor the eye tired of seeing." – Lailah Gifty Akita
17. "The heart can see things invisible to the eye." – T. A. Barron
18. "Nothing and no one is perfect. It just takes a good eye to find those hidden imperfections." – Daphne Delacroix
19. "God's eyes are always on you, you are precious in His sight." – Sunday Adelaja
20. "Within the eye, mysteries of the soul burn deeply beneath the fiery chasms of love and patiently wait for an awakening …" – Virginia Alison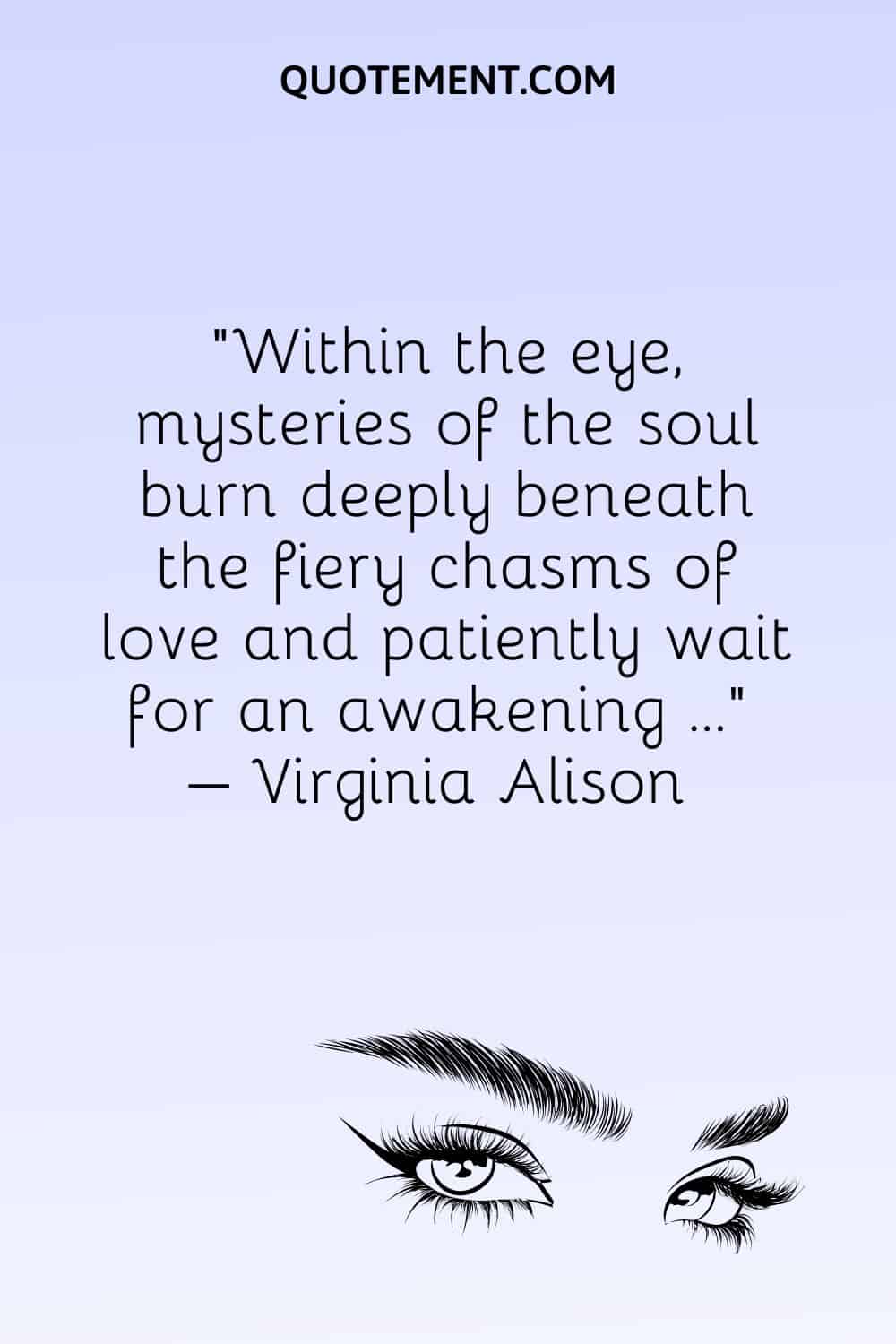 21. "Man's eye is his imagination." – Lailah Gifty Akita
22. "Eyes so young, so full of pain. Two lonely drops of winter rain. And no tear could these eyes sustain. For too much had they seen." – Shaun Hick
23. "When indifferent, the eye takes stills, when interested, movies." – Malcolm de Chazal
24. "When the star dies, its eye closes; tired of watching, it flies back to its first bright dream." – Dejan Stojanovic
25. "Look yourself in the eyes in a mirror each day. You can ignore the small voice still inside you, but your reflection will always have something to say." – Ryan Lilly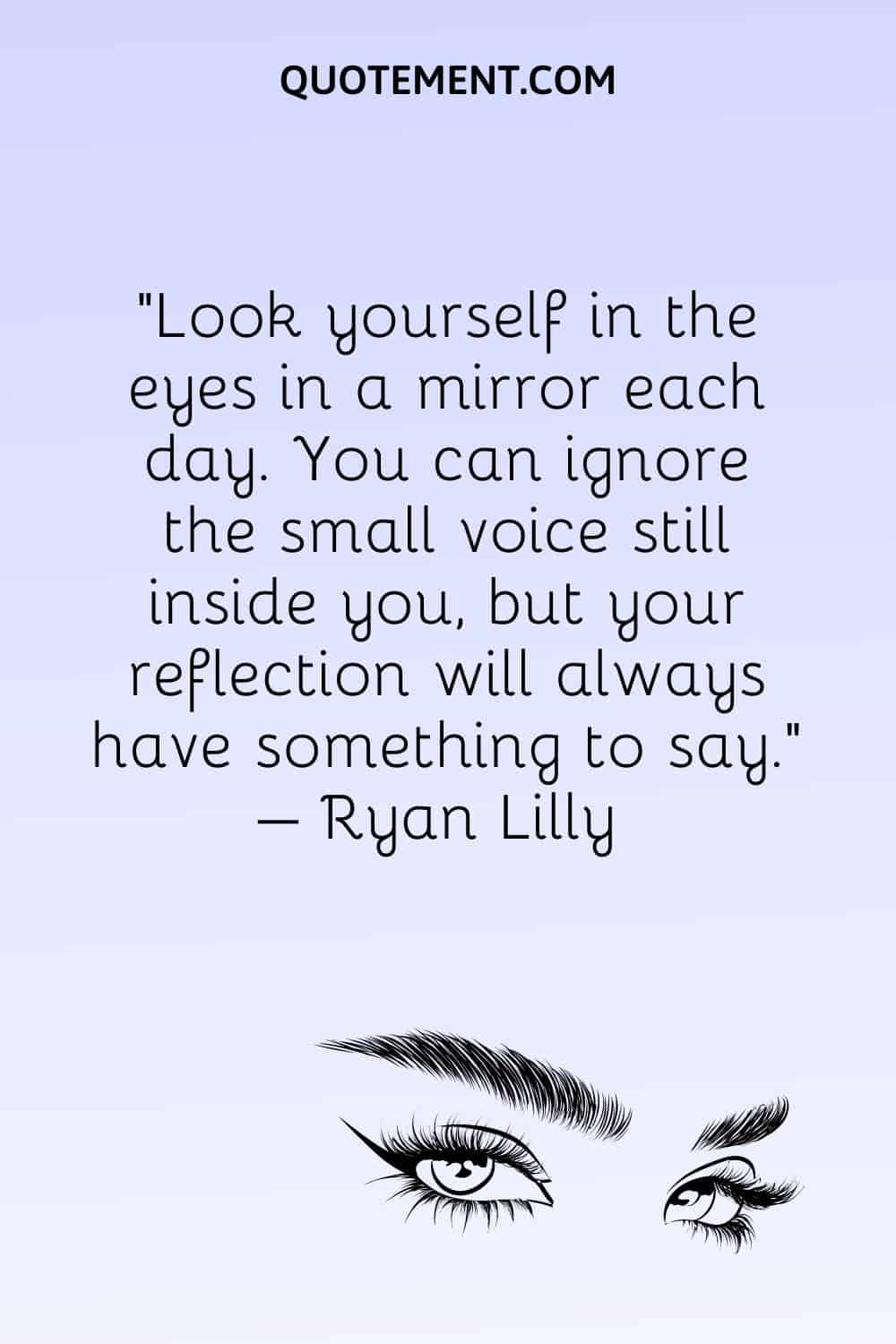 26. "An eye for an eye, my friend." – Tsugumi Ohba
27. "You can close your eyes to reality but not to memories." – Stanislaw Jerzy Lec
28. "Always, the eye sees more than the mind can comprehend…" – Dean Koontz
29. "Eyes that do not cry, do not see." – Swedish proverb
30. "I have looked into your eyes with my eyes. I have put my heart near your heart." – Pope John XXIII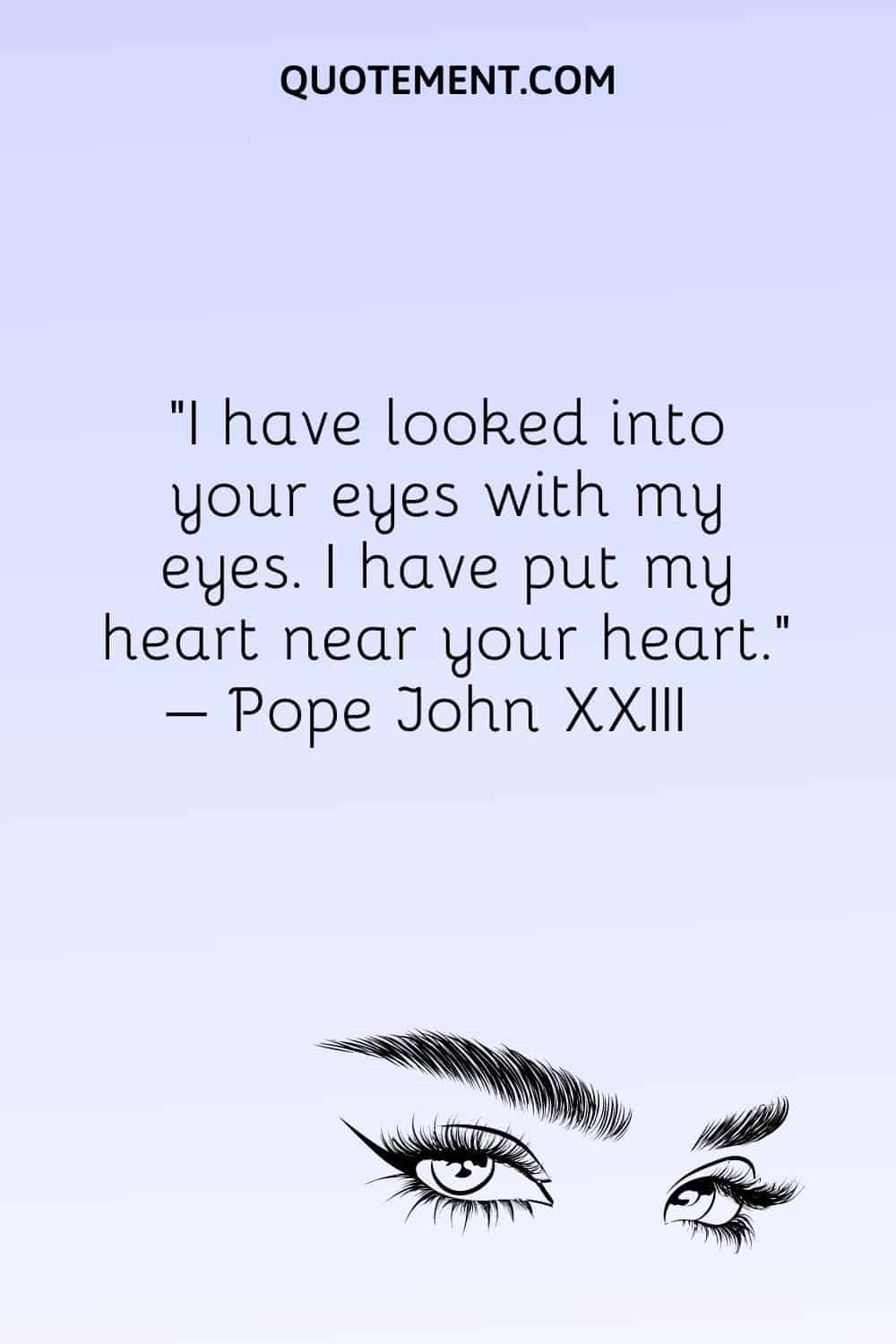 Memorable Beautiful Eyes Quotes
Now let's check out these memorable beautiful eyes quotes as well:
1. "Keep your eyes on the stars, and your feet on the ground." – Theodore Roosevelt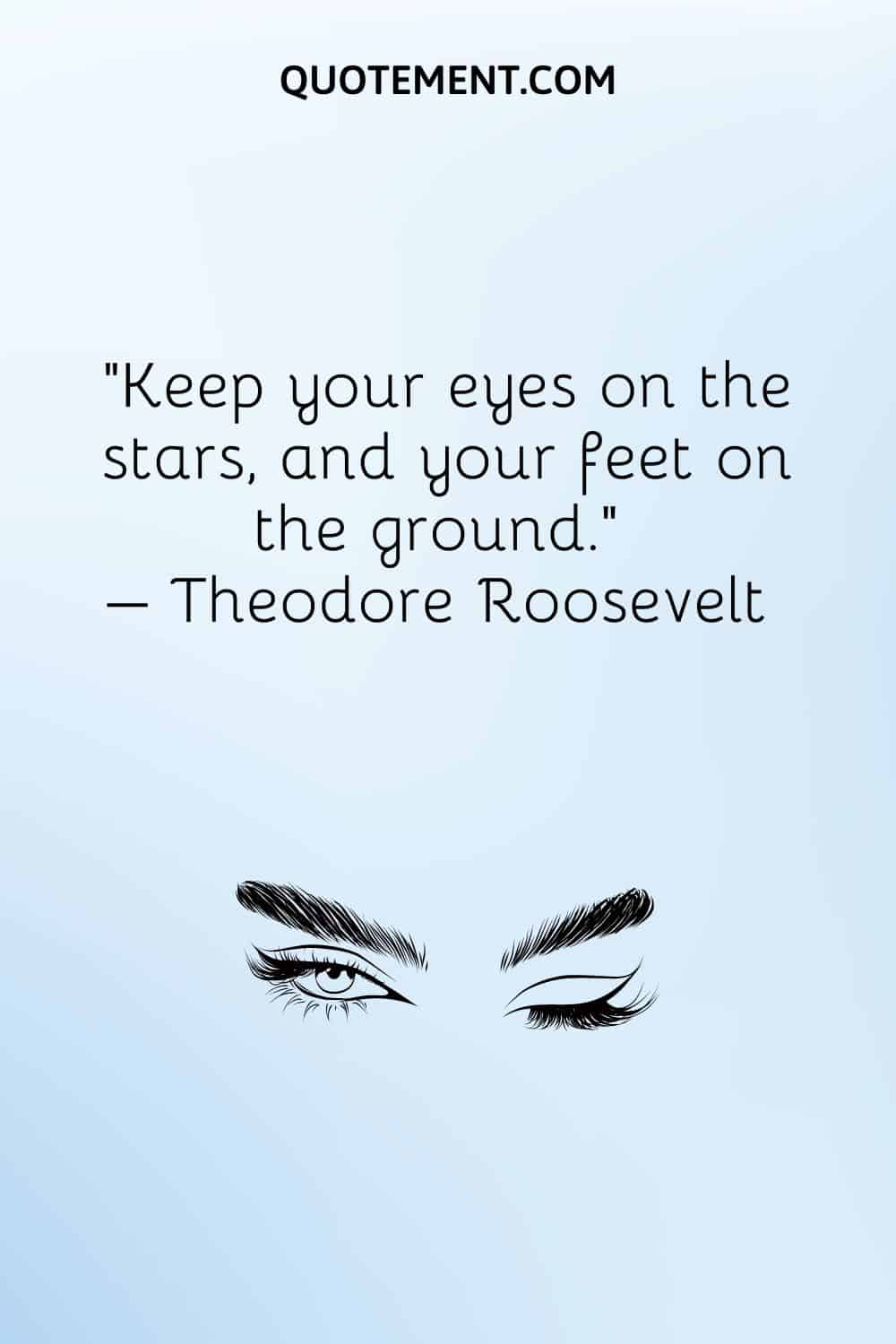 2. "When the eyes of the flesh are shut, the eyes of the spirit are open." – Willa Cather
3. "You can't depend on your eyes when your imagination is out of focus." – Mark Twain
4. "The eyes can do a thousand things that the fingers can't." – Iranian proverb
5. "Just because a man lacks the use of his eyes doesn't mean he lacks vision." – Stevie Wonder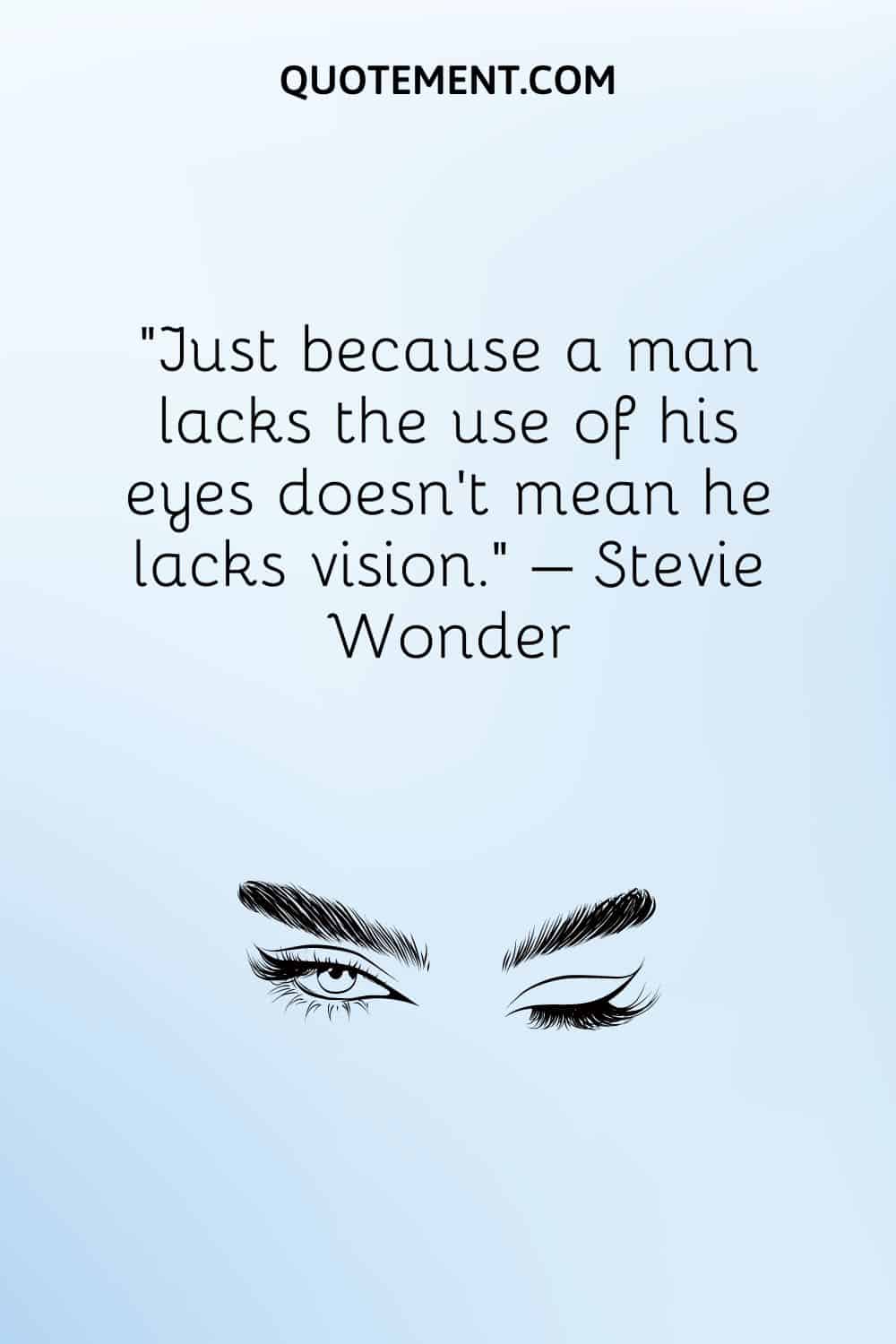 6. "The eyes only see what the mind is prepared to comprehend." – Henri Bergson
7. "If my eyes show me what all my training assures me is impossible, I can only conclude that my eyes deceive me." – W. Somerset Maugham
8. "If we have relegated vision solely to a function of the eyes, we are blind indeed." ― Craig D. Lounsbrough
9. "What the eye doesn't see, the heart doesn't grieve about." ― James Hadley Chase
10. "The beauty of a woman must be seen from in her eyes because that is the doorway to her heart, the place where love resides." – Audrey Hepburn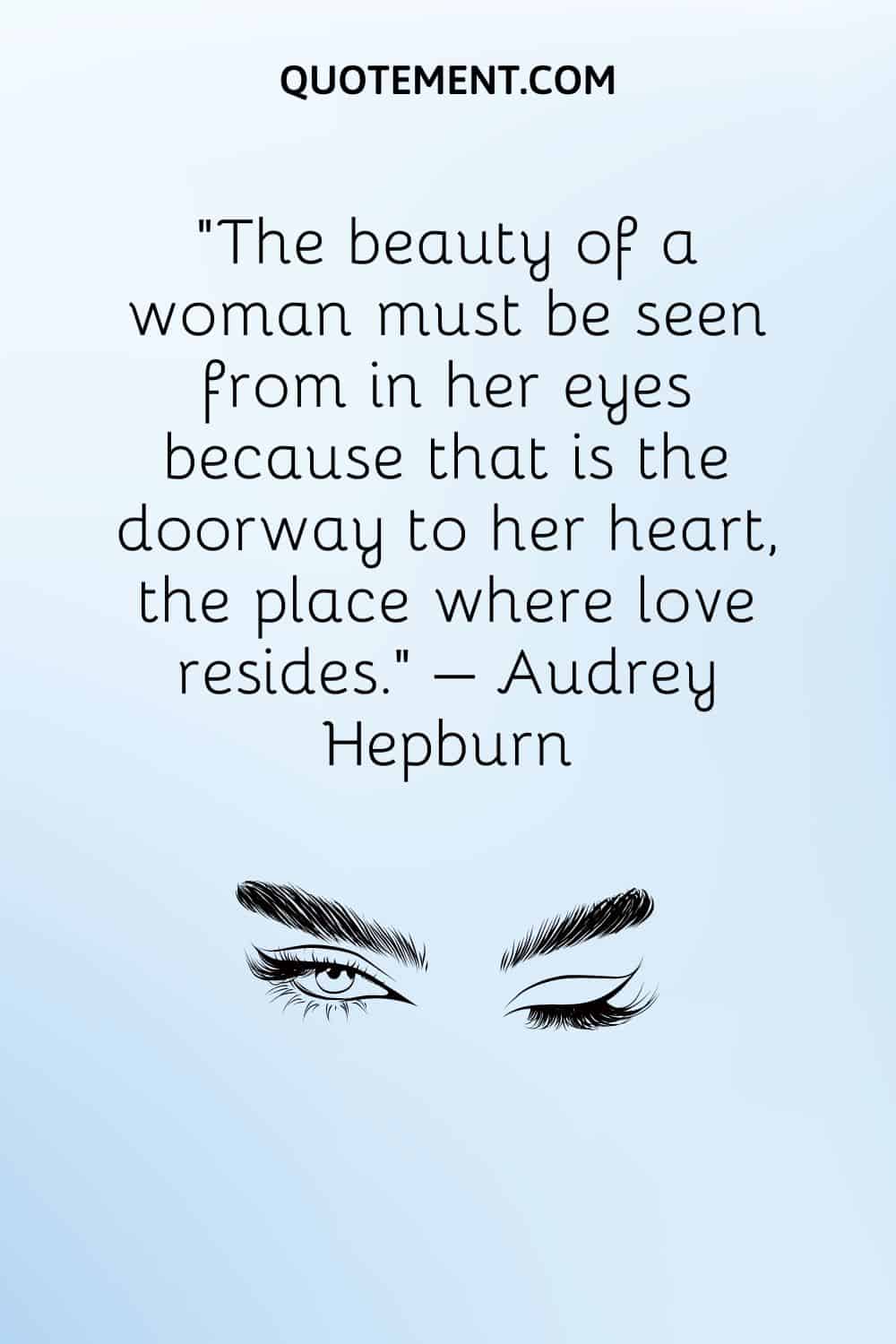 11. "When the heart is down and the soul is heavy, the eyes can only speak the language of tears." ― Ikechukwu Izuakor
12. "[A] person whose head is bowed and whose eyes are heavy cannot look at the light." ― Christine de Pizan
13. "We scarcely know how much of our pleasure and interest in life comes to us through our eyes until we have to do without them; and part of that pleasure is that the eyes can choose where to look. But the ears can't choose where to listen." ― Ursula K. Le Guin
14. "The face is a picture of the mind with the eyes as its interpreter." ― Marcus Tullius Cicero
15. "I shut my eyes in order to see." – Paul Gauguin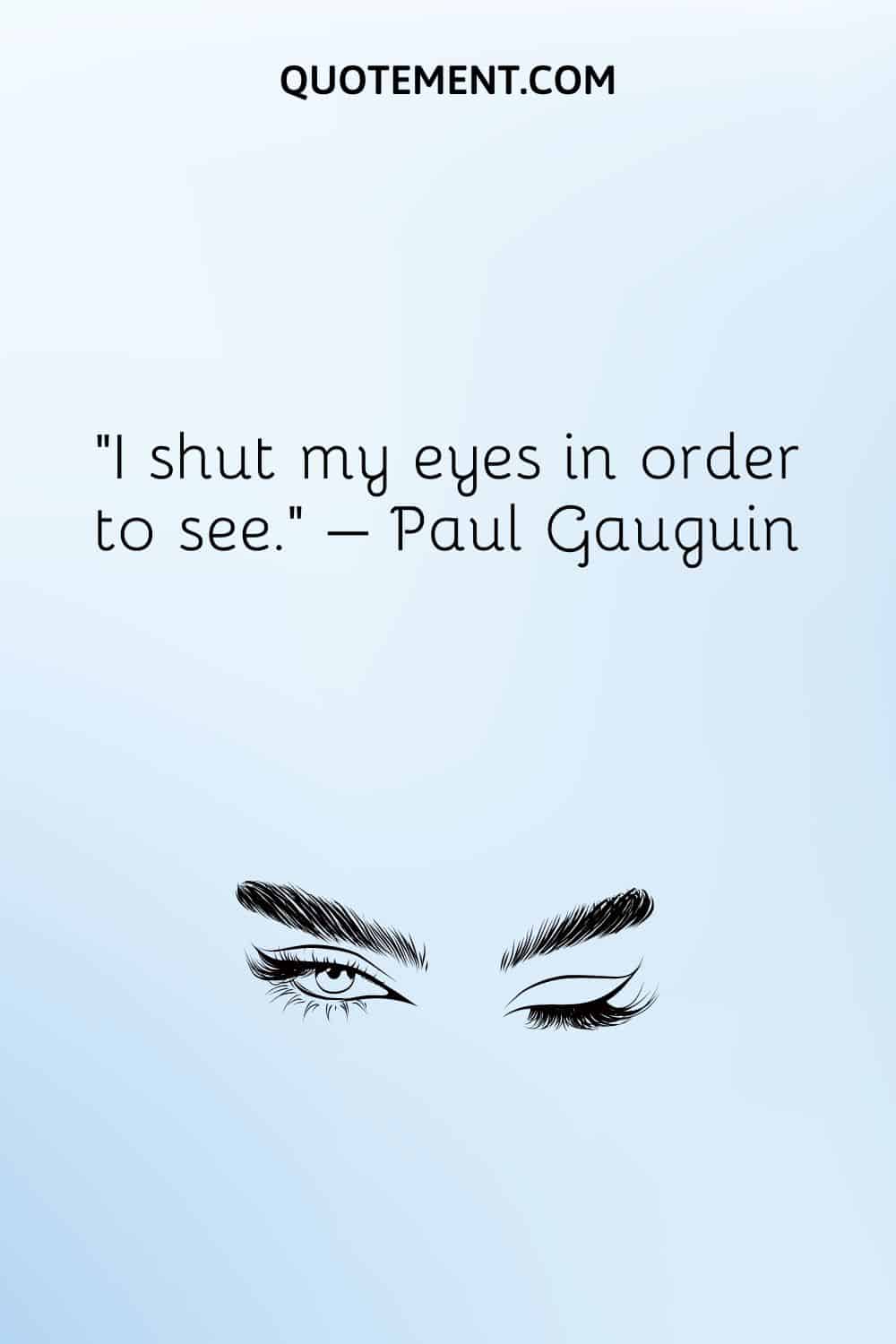 16. "In your eyes, no one could ever see that you're lonely, baby, please tell me why. In your eyes, you may pretend you're free, but I know you so well, love will come back, you'll see." – John Norum
17. "Open your eyes, look within. Are you satisfied with the life you're living?" – Bob Marley
18. "When the heart is full, the eyes overflow." – Sholom Aleichem
19. "Always look carefully, she told me. Look with more than your eyes." ― Alice Hoffman
20. "Could a greater miracle take place than for us to look through each other's eyes for an instant? " – Henry David Thoreau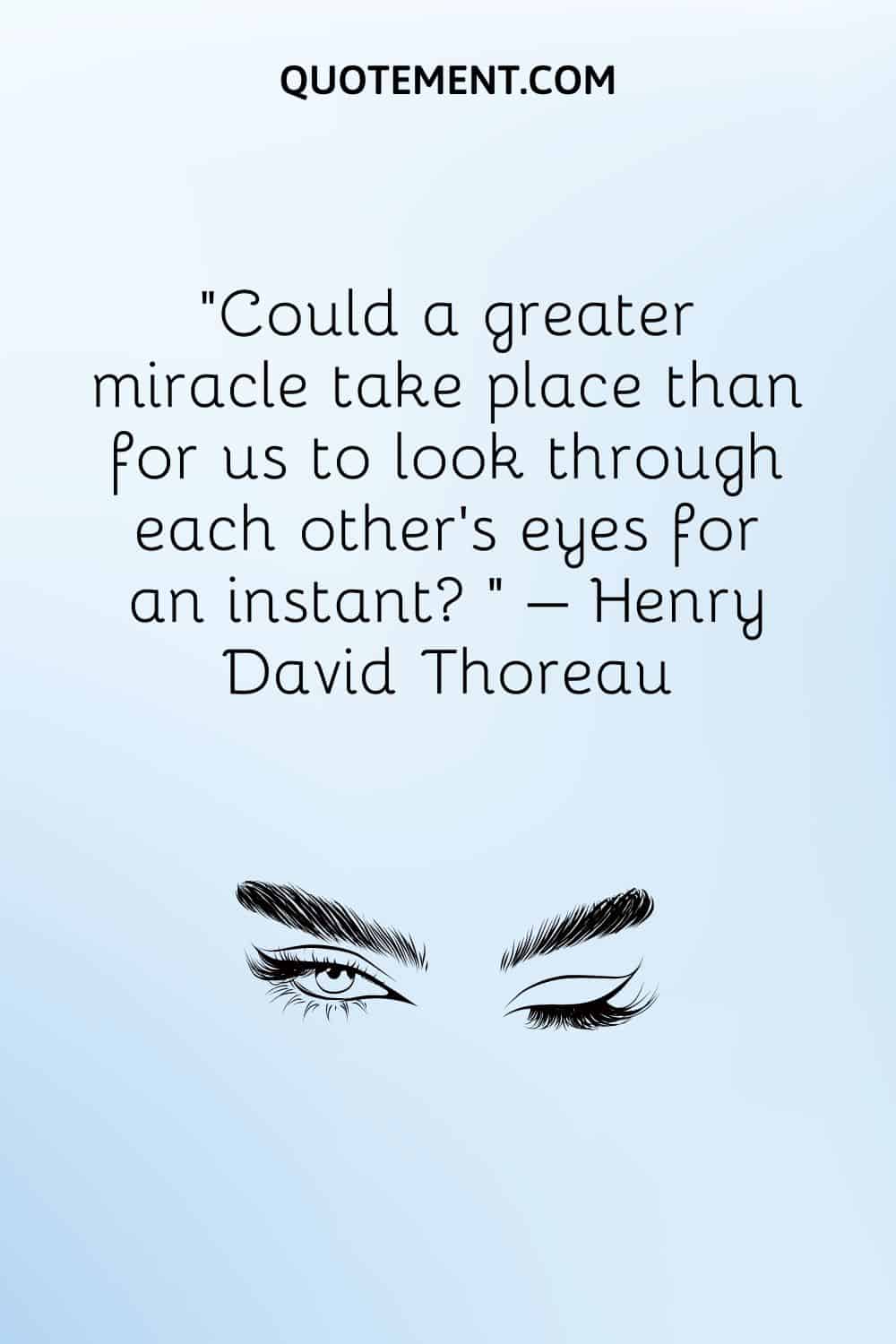 21. "I open my eyes. I want to know: what is in the abyss of a kiss?" ― Kamand Kojouri
22. "If your eyes are blinded with your worries, you cannot see the beauty of the sunset." – Jiddu Krishnamurti
23. "You have two eyes, and two ears, but only one mouth. This is so because you are supposed to look and listen more than you talk." ― Lucca Kaldahl
24. "I met a boy whose eyes showed me that the past, present and future were all the same thing." ― Jennifer Elisabeth
25. "Your vision will become clear only when you can look into your own heart. Who looks outside, dreams; who looks inside, awakes." – Carl Jung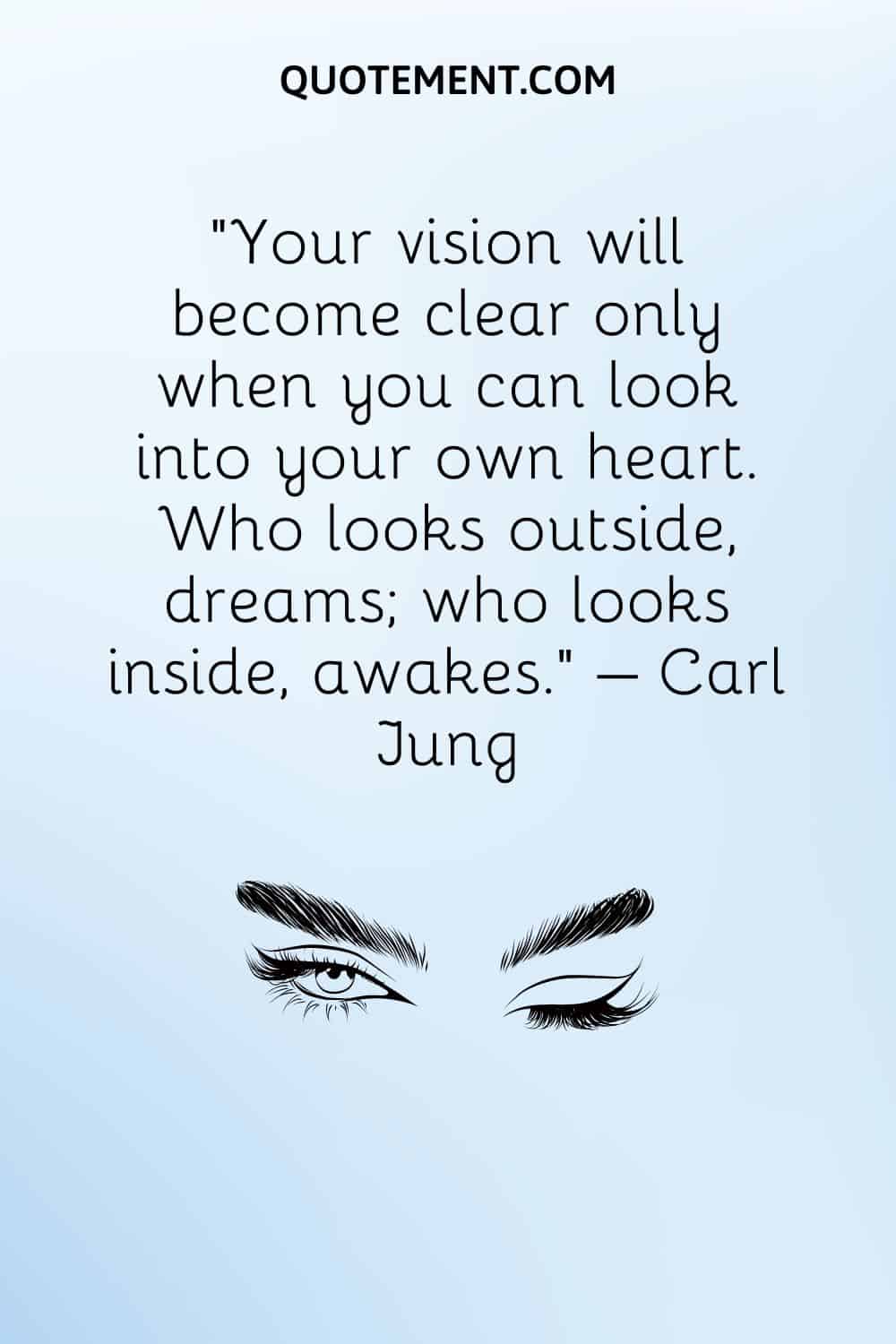 26. "No one can lie, no one can hide anything, when he looks directly into someone's eyes." – Paulo Coelho
27. "Let my soul smile through my heart and my heart smile through my eyes, that I may scatter rich smiles in sad hearts." – Yogananda
28. "I shut my eyes and all the world drops dead; I lift my eyes and all is born again." – Sylvia Plath
29. "A woman's eyes cut deeper than a knife." – Robert Jordan
30. "Eyes are more accurate witnesses than ears." – Heraclitus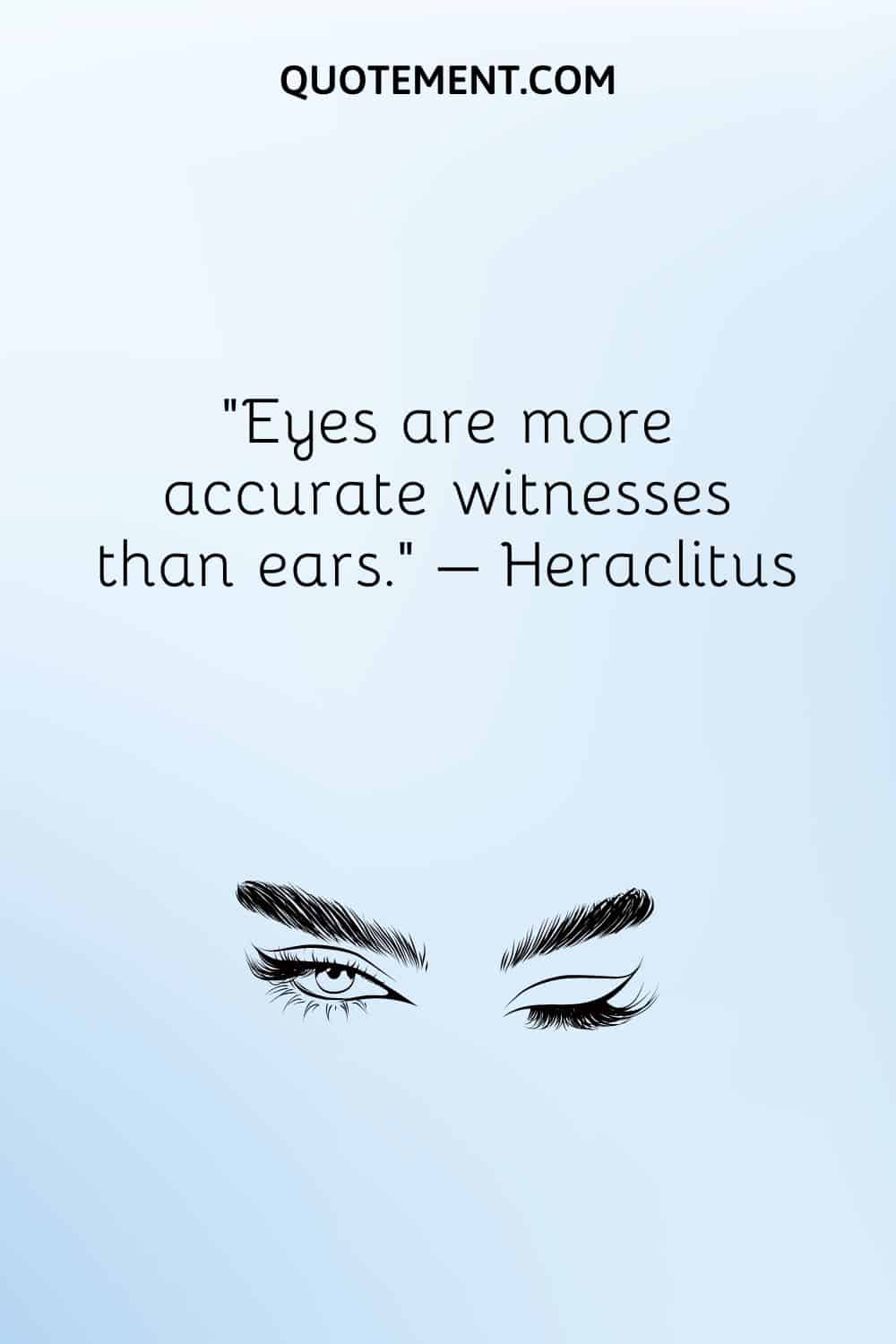 To Wrap It Up
Thank you for visiting our page and reading my collection of 190 beautiful eyes quotes!
I hope today's article has inspired you and offered you a unique perspective on various life aspects.
Stay tuned for more amazing content.
Until next time!
Read next: 100 Aesthetic Deep Short Quotes To Get You Motivated