One of the most painful lessons we learn during our lives is that people don't care as much as we would want them to.
In this article, I've collected 80 eye-opening reality no one cares quotes to let you know that you are not alone.
Human beings crave love, affection, and care in order to be happy and fulfilled. However, very often, these needs go unmet.
Despite our deepest desire to be cared for, sometimes all the love and care we can get is that from ourselves.
It's especially hard when you learn that a loved one doesn't care about you as much as you care about them. Such an experience can be devastating.
I've collected the 80 best reality no one cares quotes to help you accept the fact that people usually don't care.
It can sound depressing, but it will actually set you free. So let's start exploring!
Top 10 Reality No One Cares Quotes
I'll start off with a selection of the 10 best reality no one cares quotes. Have a look!
1. "No one cares until someone cares; be that one!" ― Ken Poirot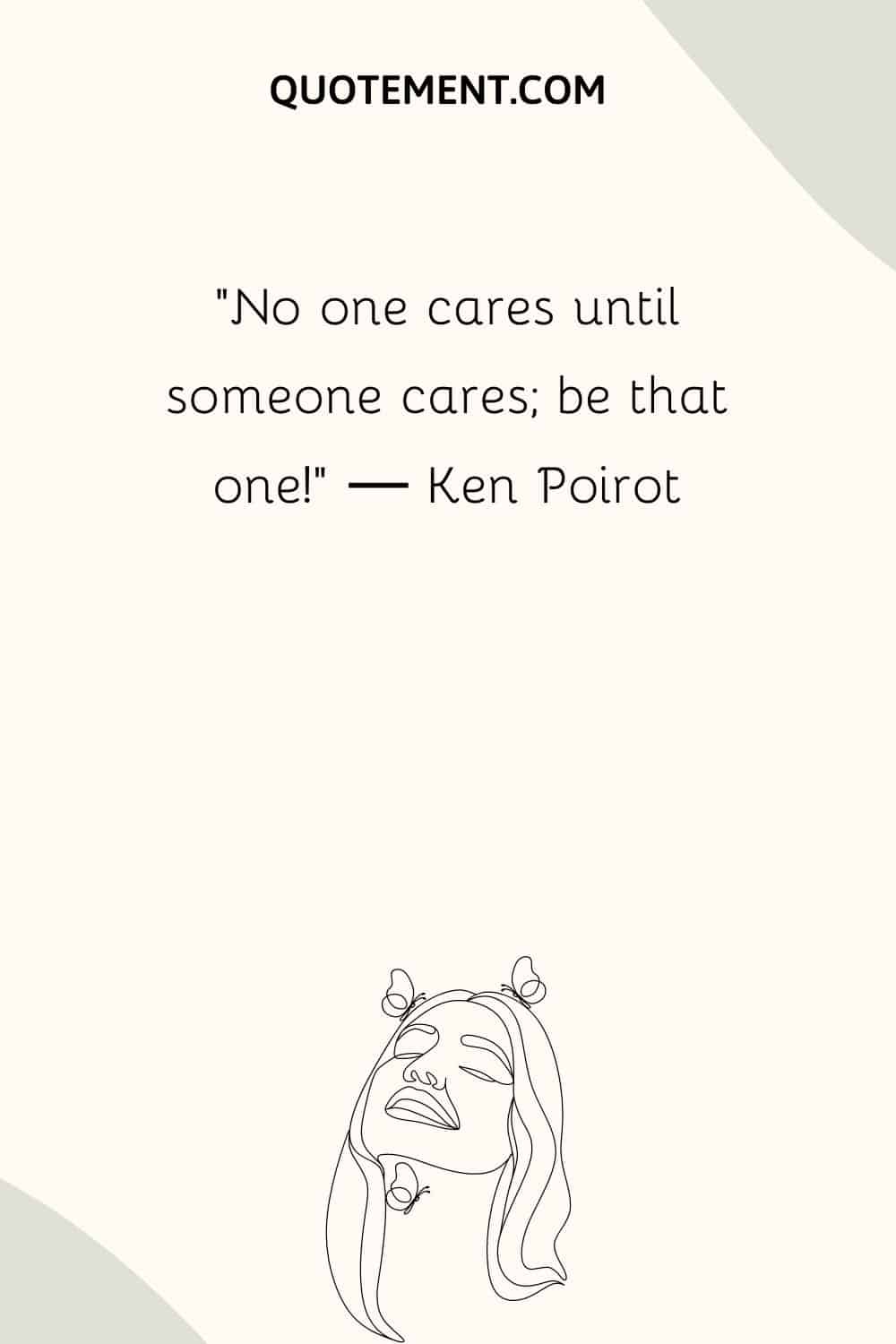 2. "No one cares of you, you should care of yourself." ― Lilly Ghalichi
3. "Nobody really cares if you're miserable, so you might as well be happy." ― Cynthia Nelms
4. "Nobody cares how much you know until they know how much you care." ― Theodore Roosevelt
5. "You have to make people realize your worth, else no one cares!" ― Anamika Mishra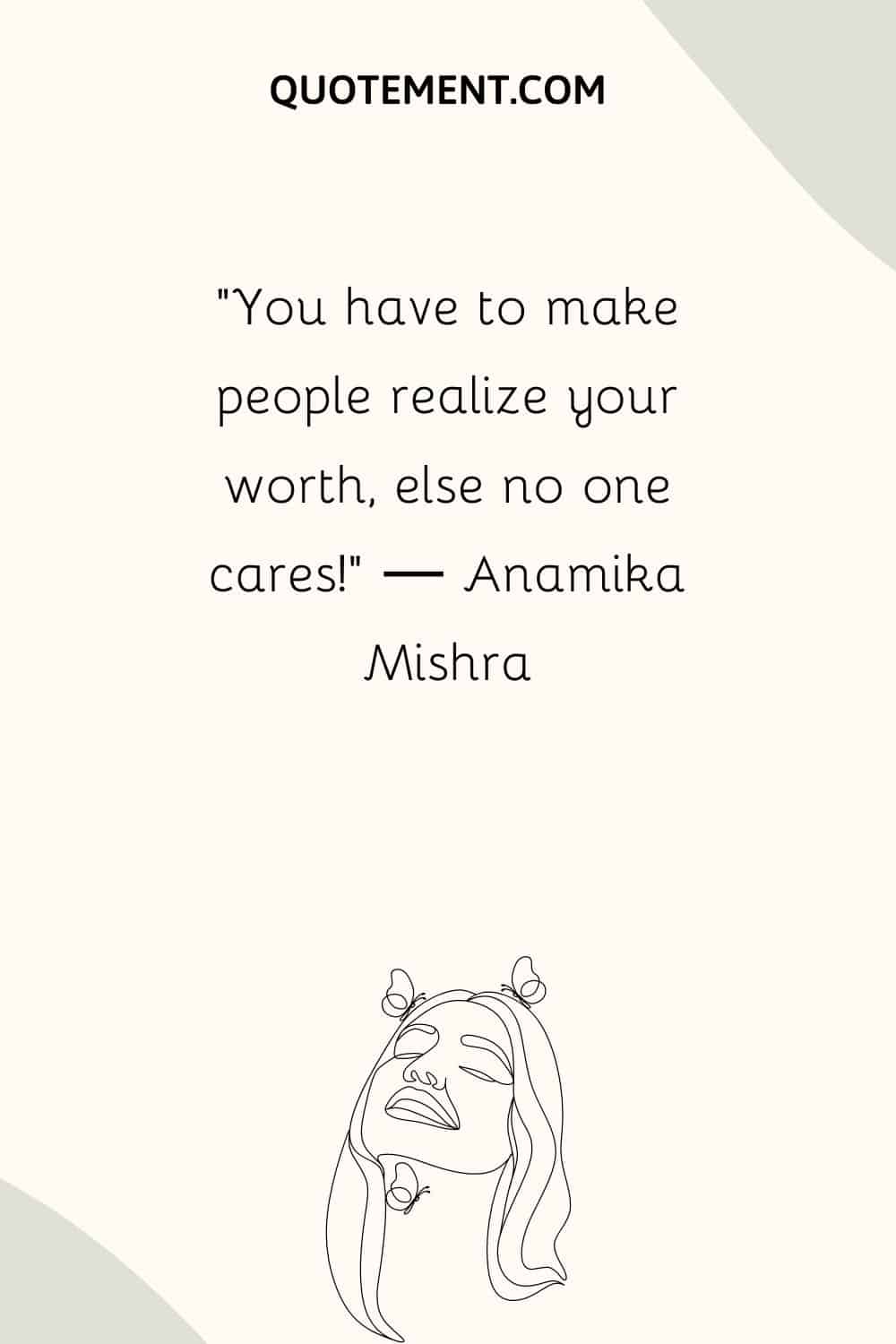 6. "What is freedom, in the end, but that no one cares any longer to try to restrain us?" — Naomi Alderman
7. "You will become way less concerned with what other people think of you when you realize how seldom they do." — David Foster Wallace
8. "If you think nobody cares about you, try missing a couple of payments." — Steven Wright
9. "Nobody cares about worthiness. People care about what is real inside of you." ― Douglas Coupland
10. "It's such a relief to finally understand and accept that nobody cares. It allows you to take care of yourself." — Kirsten Hill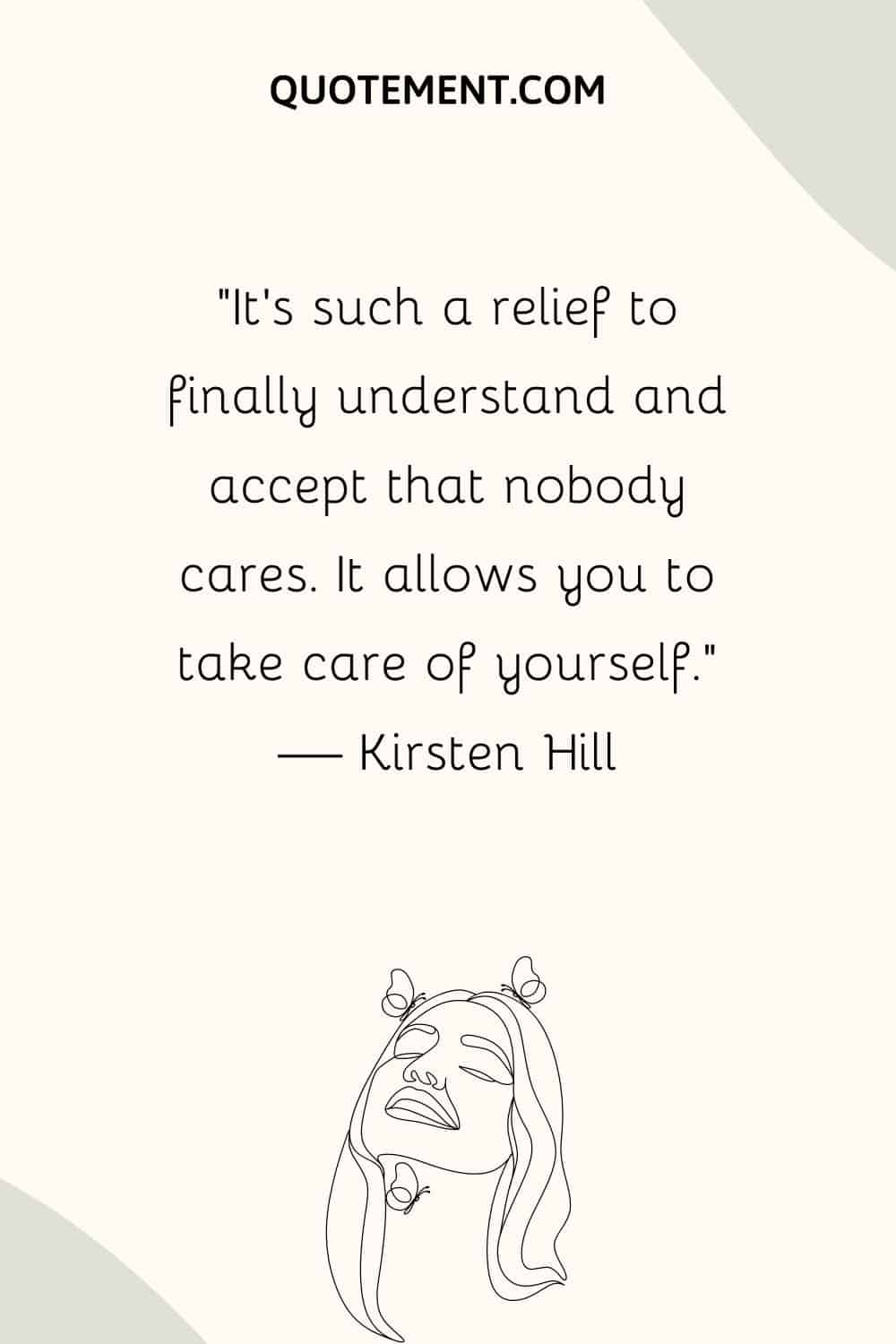 Deep Reality No One Cares Quotes
Below you'll find a collection of deep reality no one cares quotes.
1. "Just go up there where no one cares what you say or do." ― Sara Niemietz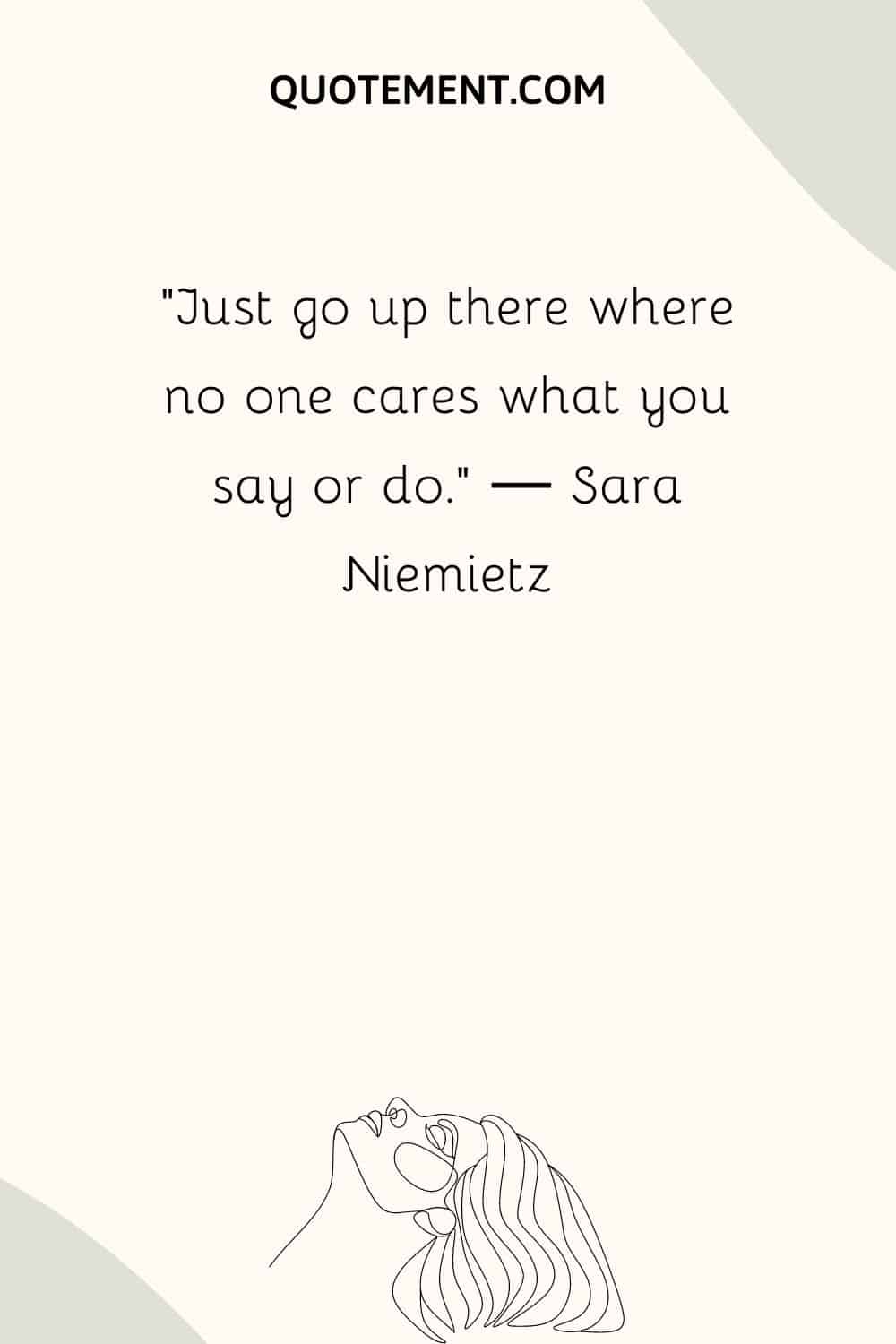 2. "It isn't a perfect place. There are no perfect places. But nobody cares about perfection when there are sand castles to build and kites to chase, children that are being born, old hearts that are giving in." — Lauren DeStefano
3. "There is something very freeing about being anonymous because nothing is expected of you; nothing is getting back to anyone, and no one cares." ― Dolly Wells
4. "If a window is broken and left unrepaired, people walking by will conclude that no one cares and no one is in charge. Soon, more windows will be broken, and the sense of anarchy will spread from the building to the street on which it faces, sending a signal that anything goes." — Malcolm Gladwell
5. "When it seems like nobody cares, God cares. When it seems like nobody is there for you, God is ready to listen." ― Ritu Ghatourey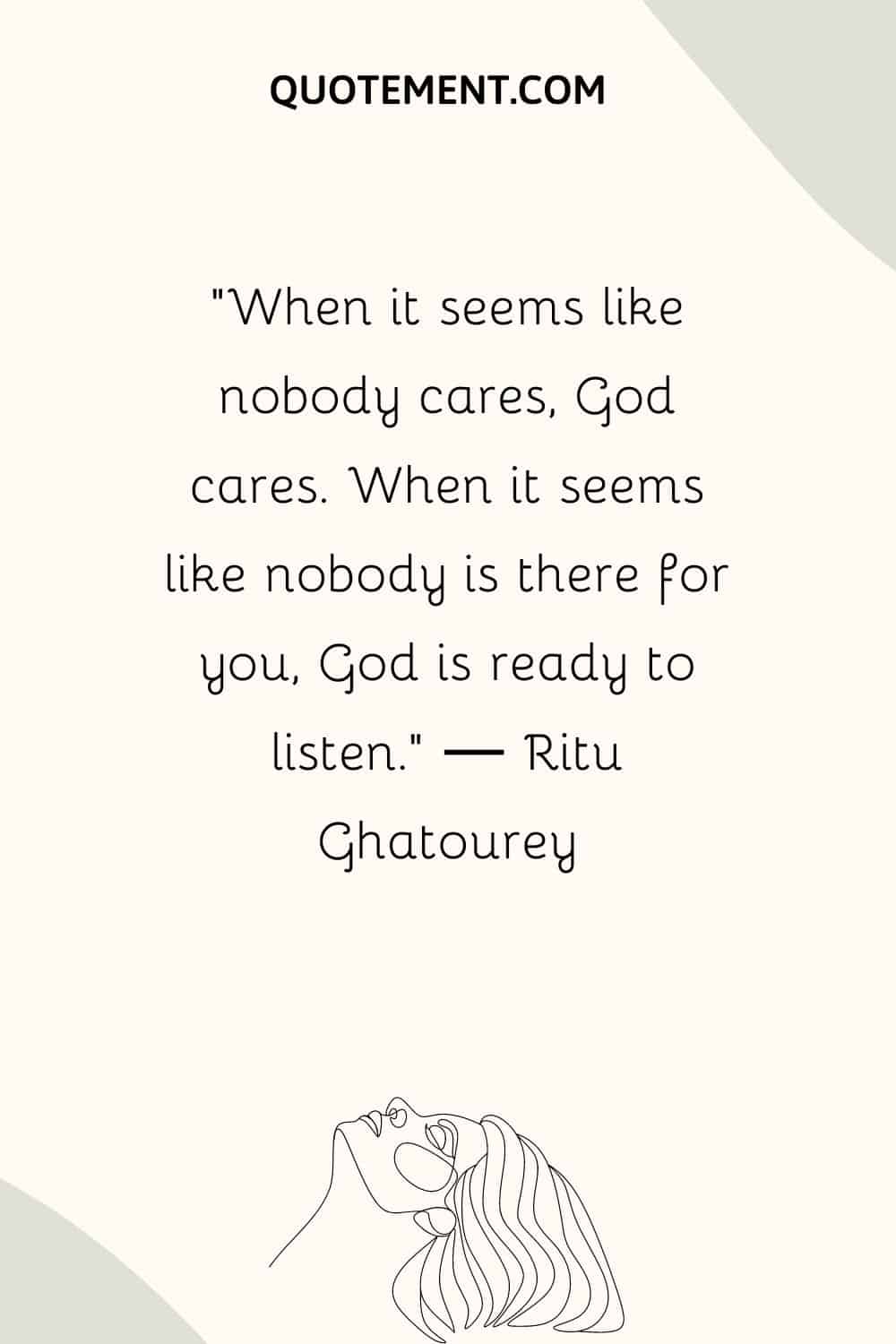 6. "Money is not the thing that drives me. I like to develop assets to create value. No one cares how rich you are or what your ranking is in Forbes magazine." ― Mikhail Prokhorov
7. "It's a disease. Nobody thinks or feels or cares anymore; nobody gets excited or believes in anything except their own comfortable little God damn mediocrity." — Richard Yates
8. "No one is asking what happened to all the homeless. No one cares because it's easier to get on the subway and not be accosted." ― Richard Linklater
9. "Liberating but hard to remember we're just bit-parts in the lives of people we know, who care very little for our secrets." — Derren Brown
10. "No one cares about race or religion or nationality in space travel. We're all just part of Team Human." ― Anne McClain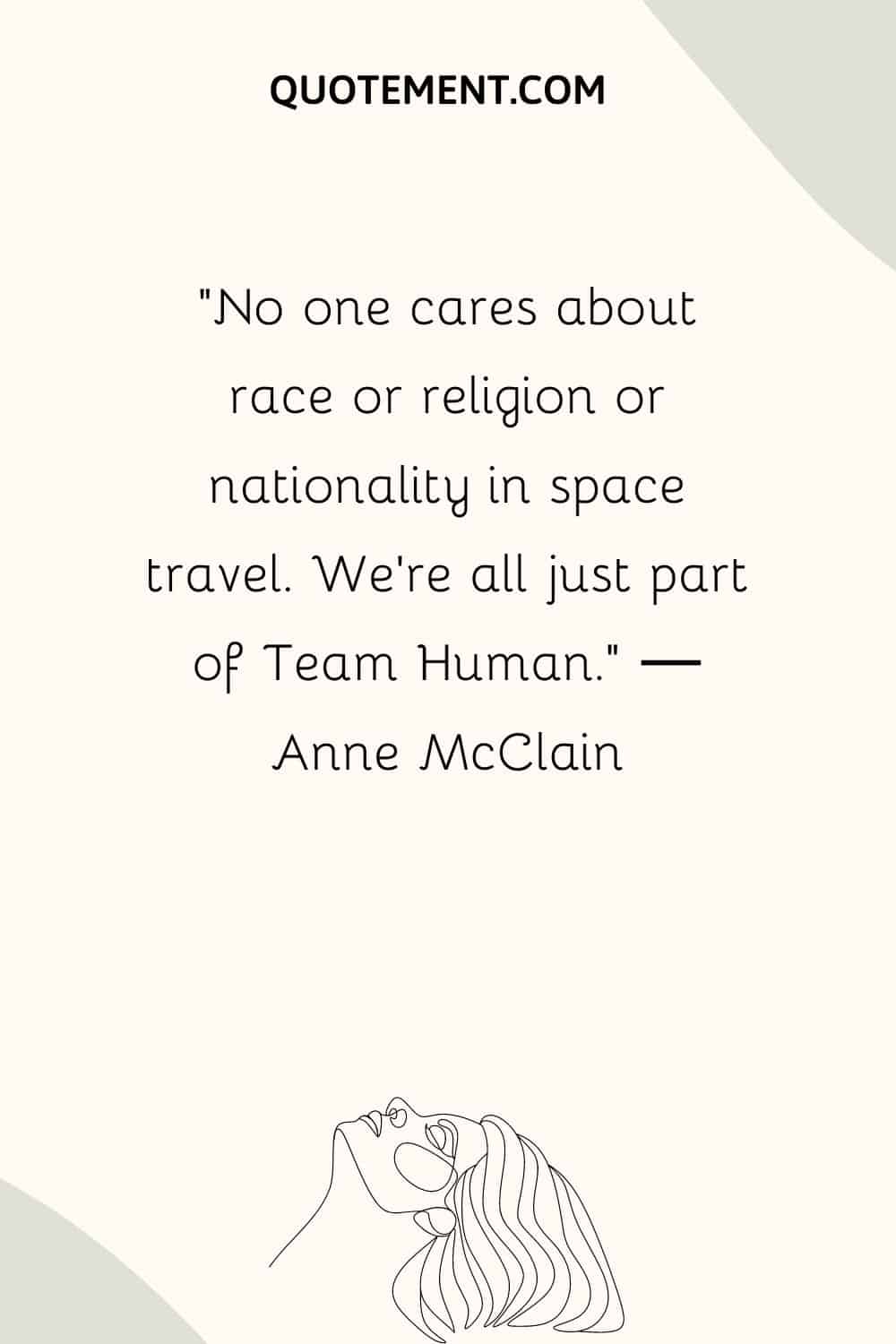 11. "You feel lonely not when no one cares about you, but when someone you expect to care does not care about you." — unknown
12. "We are born, and we die. No one cares, no one remembers, and it doesn't matter. This is why we laugh." ― The Gnoll Credo
13. "One does not care for the cage when the bird has flown away from it. And when the bird of life flies away, no one cares for the body left behind." ― Ramakrishna
14. "When nobody has cared for so long, it's hard to accept it when someone finally does." — unknown
15. "It is not necessary to bury the truth. It is sufficient merely to delay it until nobody cares." ― Napoleon Bonaparte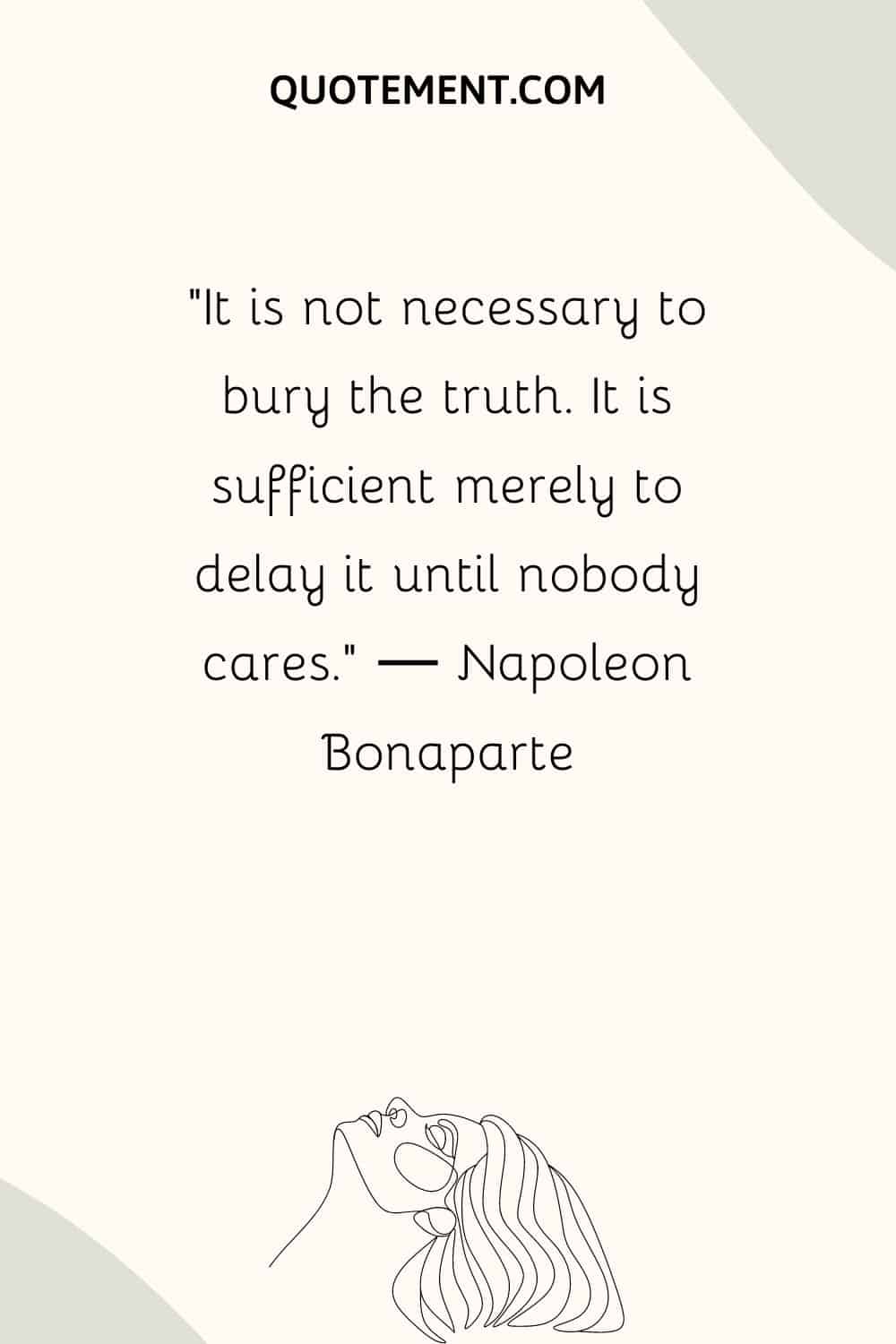 16. "If I may throw out a word of counsel to beginners, it is: Treasure your exceptions! When there are none, the work gets so dull that no one cares to carry it further. Keep them always uncovered and in sight. Exceptions are like the rough brickwork of a growing building which tells that there is more to come and shows where the next construction is to be." — William Bateson
17. "But especially if you have the wrong people within your circle. Truthfully, at the end of the day, no one cares about you in this business whether they are your agent or your manager or your publicist." — Heather Matarazzo
18. "The enemy of any artistic statement is to create something that no one cares about, in a sense, they have no opinion either way." — Carrie Brownstein
19. "The vast majority of writers out there, they finish their books, and no one cares whether their book is late or ever comes out at all. And then it comes out, and two reviews are published, and it sells 12 copies." — George R. R. Martin
20. "I hate myself for caring about other people more than they care about me." — unknown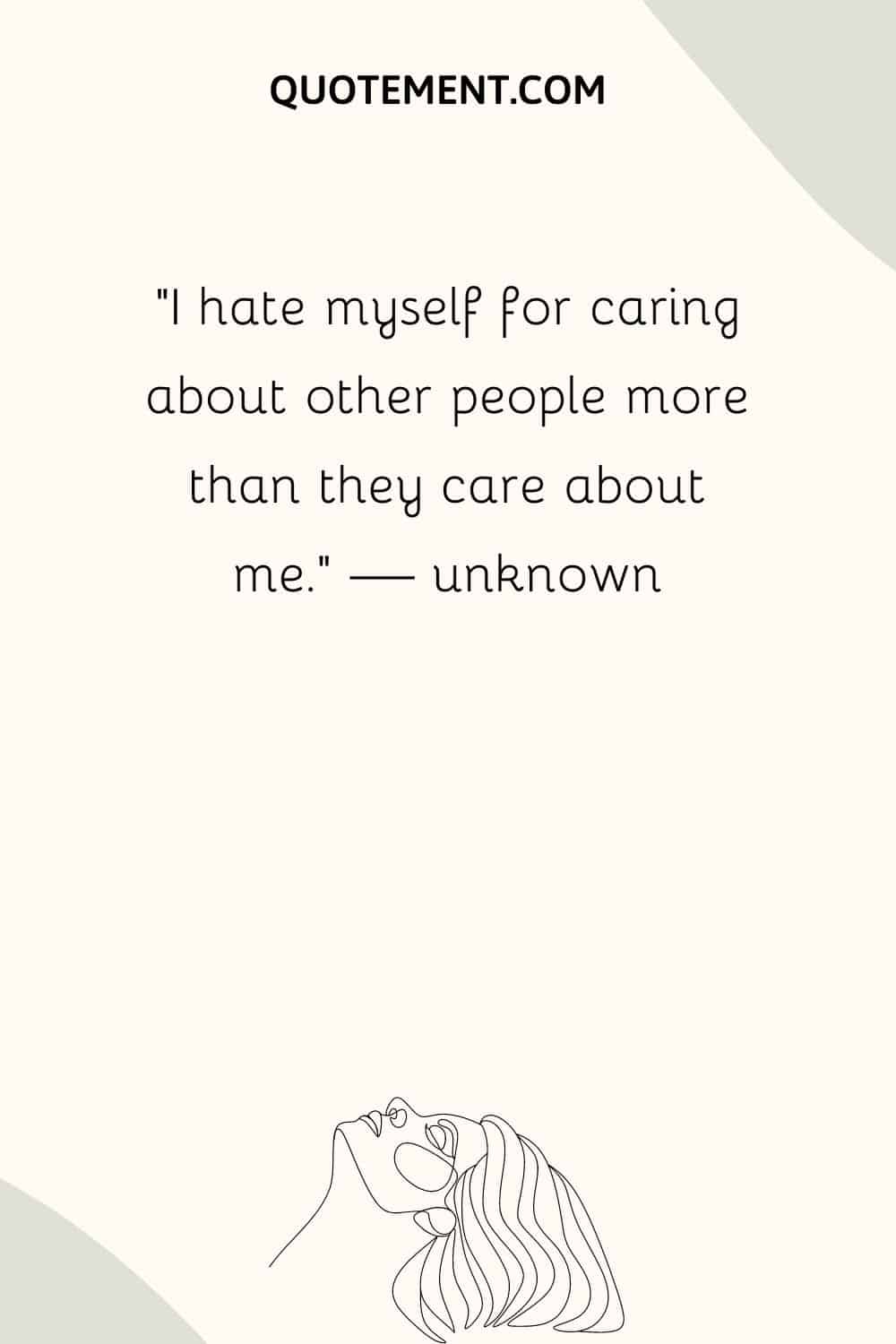 See also: 150 Relatable I Hate Myself Quotes To Express Self-hatred
Inspiring Nobody Cares Quotes
These inspiring reality no one cares quotes will make you realize that you're your own best friend and support.
1. "No one cares about it more than you. Give it the attention it needs." ― Robert T. Kiyosaki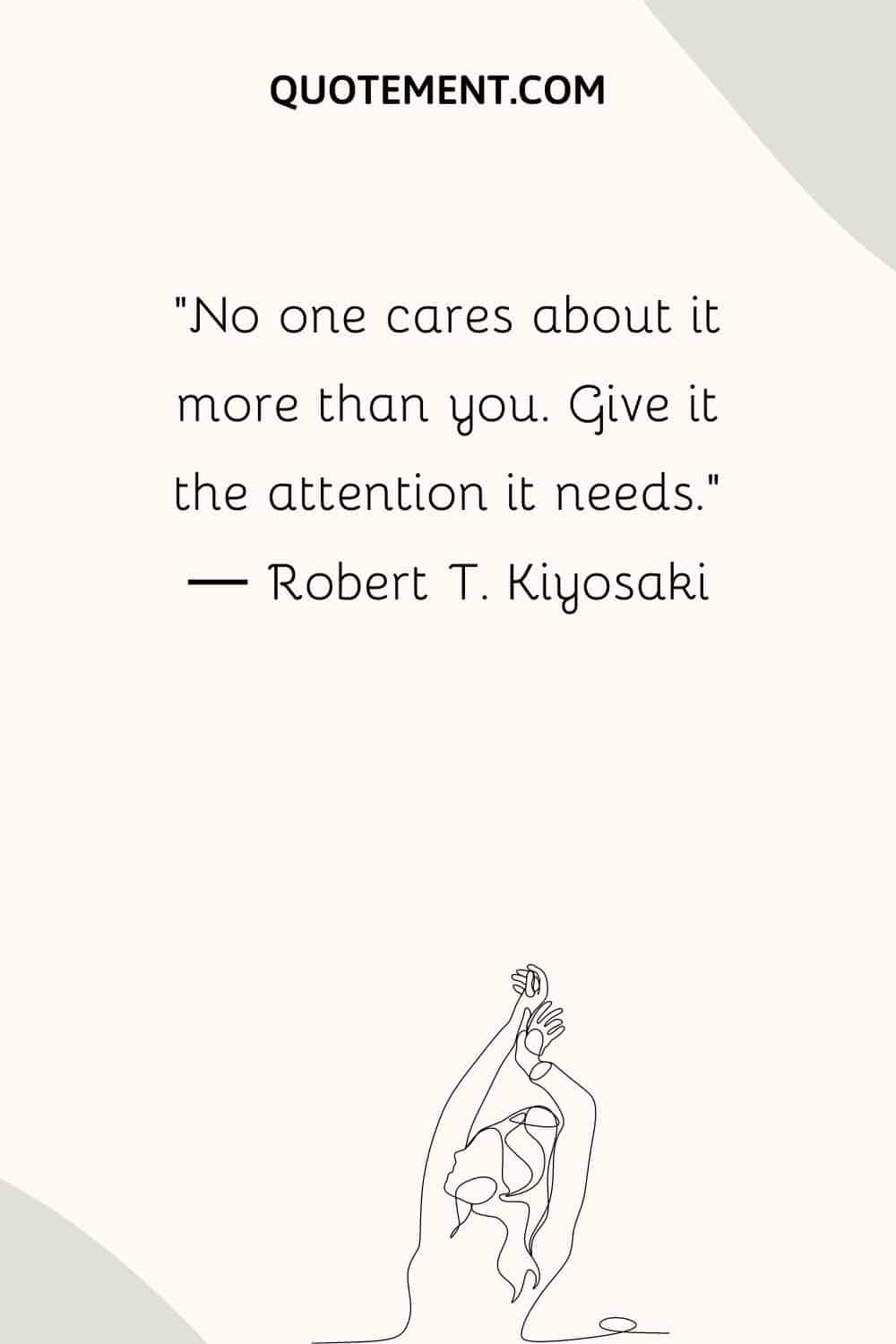 2. "If no one cares for you at all, do you even really exist?" ― Cassandra Clare
3. "No one cares. Apathy is a disease, and some days I long for it." ― Zoe Trope
4. "Nobody cares if you're an idiot, as long as you're a useful one." ― Mira Grant
5. "Live the way you want, no matter what others think; it's your life, not theirs." — unknown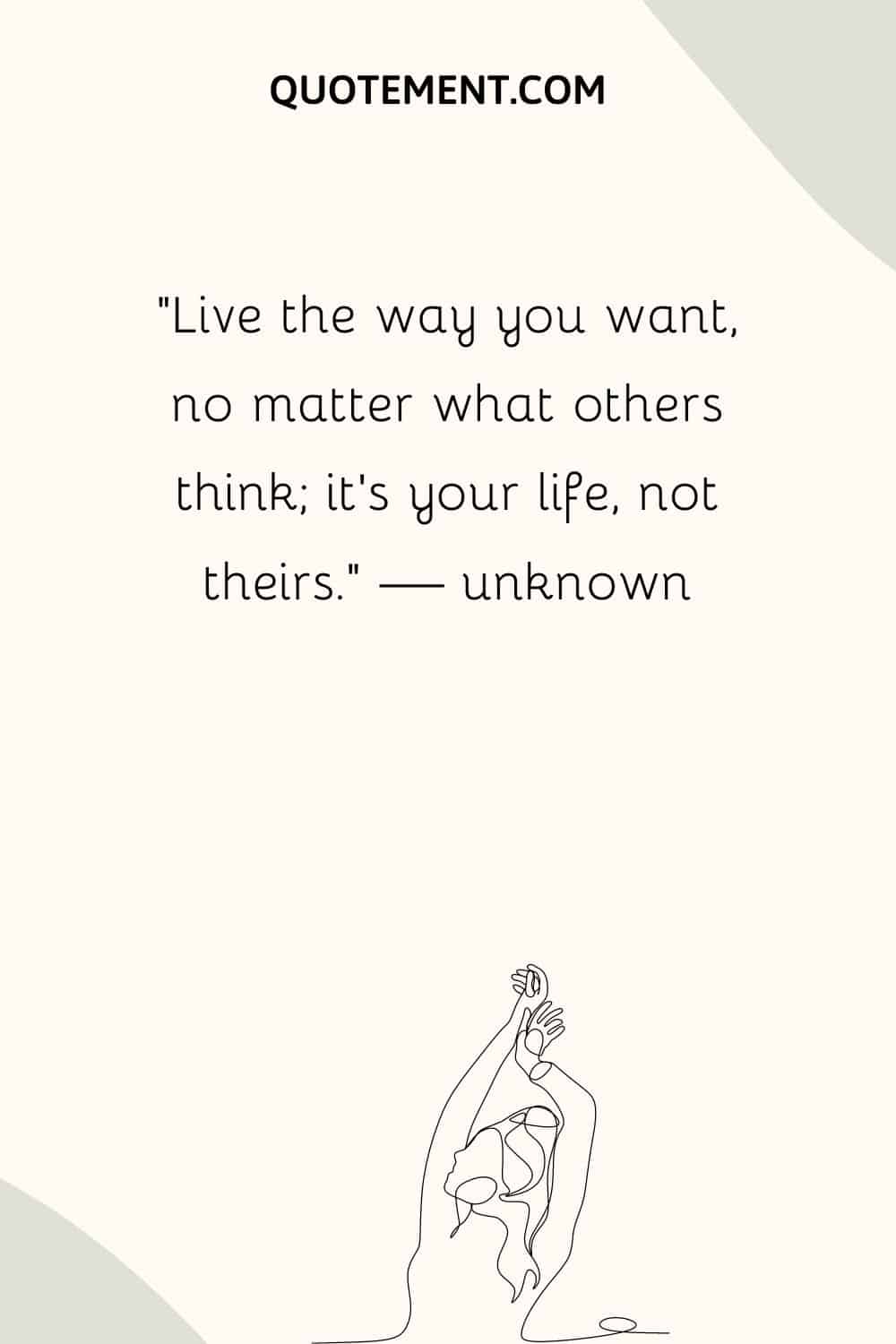 6. "At times, some may think that no one cares–but someone always cares! Your Heavenly Father will not leave you to struggle alone, but stands ever ready to help." ― Thomas S. Monson
7. "I want to make beautiful things, even if nobody cares, as opposed to ugly things. That's my intent." — Saul Bass
8. "Nobody cares how tough your upbringing was. Nobody cares if you suffered some discrimination." ― Barack Obama
9. "One unrepaired broken window is a signal that no one cares, and so breaking more windows costs nothing." ― James Q. Wilson
10. "You don't want to play a perfect person; no one cares about that." ― Matthew Morrison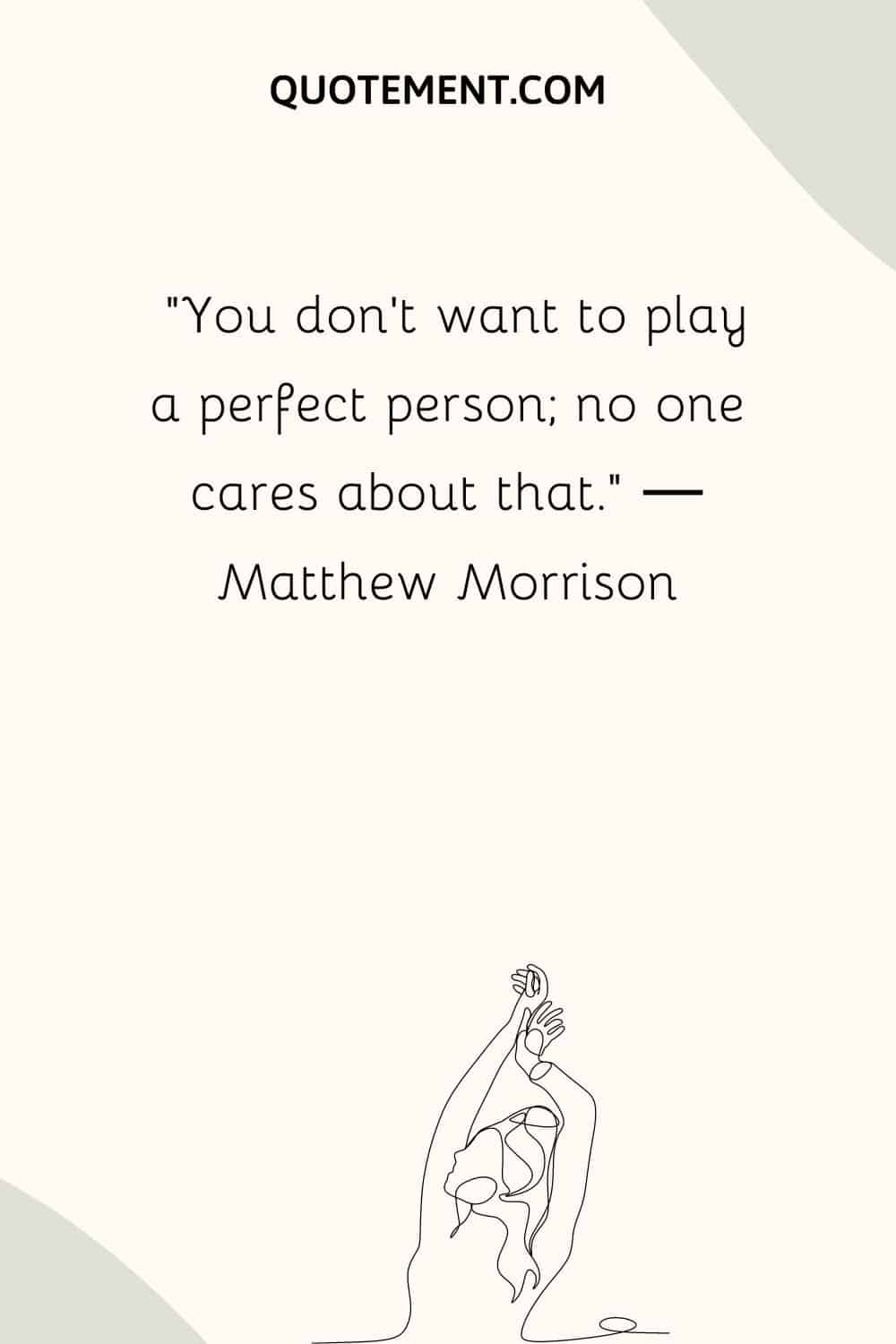 11. "Wherever I go, people recognize me, call my name, cheer for me. But there are names no one cares to remember, that no one cheers for: the 805 million people suffering from hunger in the world today." — Zlatan Ibrahimovic
12. "No one cares who is better, who is worse, who has more, who has less. Content in our connectedness, we are brothers and sisters after all." ― Adele Faber
13. "God is dead, and no one cares! If there is a hell, I'll see you there!" — Trent Reznor
14. "When an artist paints a picture, he does not want you to consider his personality as represented in that picture – he wants you to look at the beauty of that picture. No one cares who has painted the picture as long as it is beautiful." — Jiddu Krishnamurti
15. "Nobody cares. You shouldn't either." ― Alexander Gordon Smith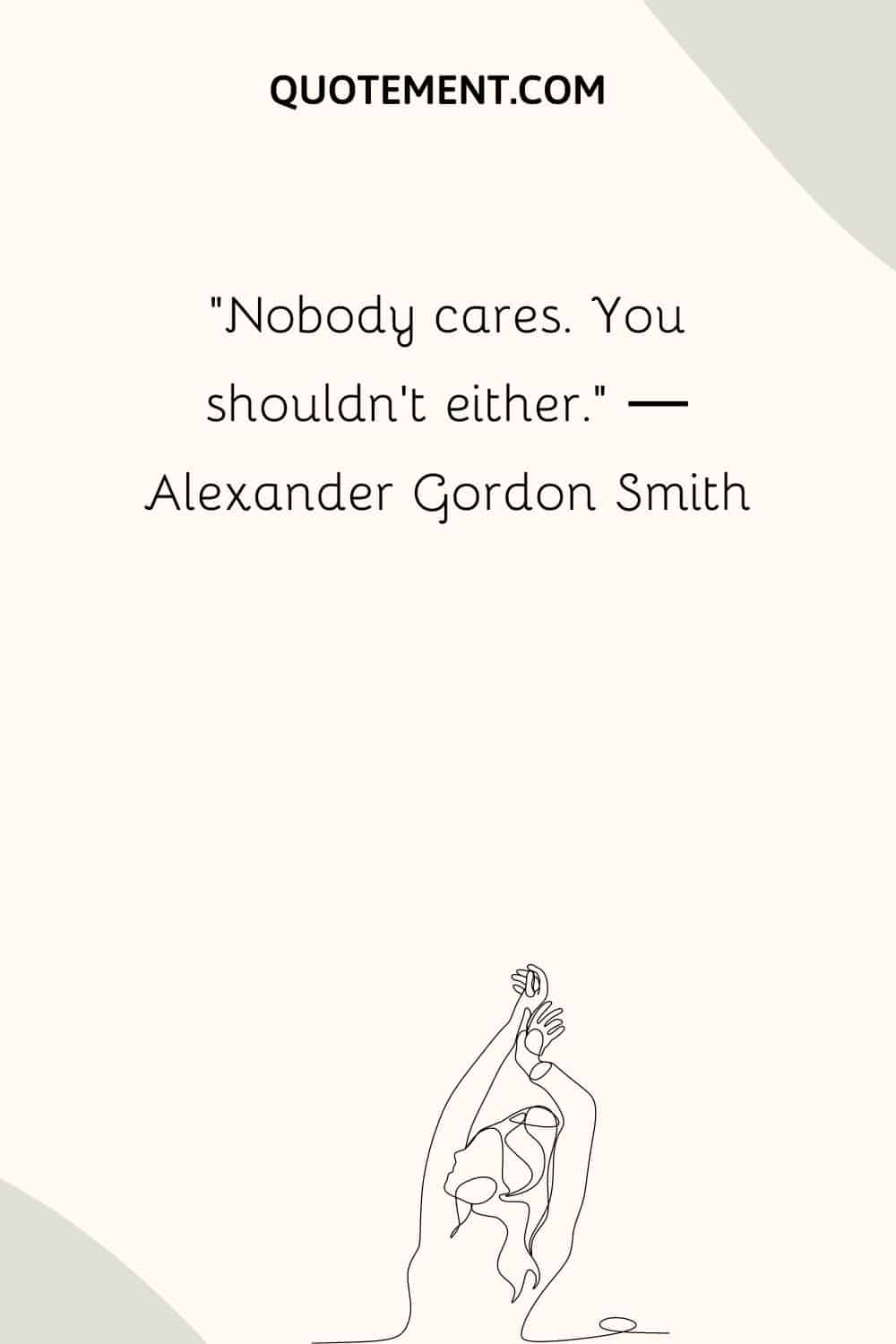 16. "None of the pictures I take a risk in cost a lot, so it doesn't take much for them to turn a profit. We don't deal in big budgets. We know what we want, and we shoot it, and we don't waste anything. I never understood these films that cost twenty or thirty million dollars when they could be made for half that. Maybe it's because no one cares. We care." — Clint Eastwood
17. "You have to do something different, or you are just the guy who goes out there and has a great match, but nobody cares. You have to have different layers to your character." — Dolph Ziggler
18. "I don't care what straight people do, I don't care what gay people do. I don't care what nobody do. That's they business. I just care about what I do. You know what I'm saying?" — ASAP Rocky
19. "If you feel like no one cares about you, think again. Look in the mirror because the person you see needs you more than anyone else." — unknown
20. "If women who were free to speak did not speak, we might as well say to the entire world, 'No matter what you do to women, no one cares, just go right ahead.'" — Mavis Leno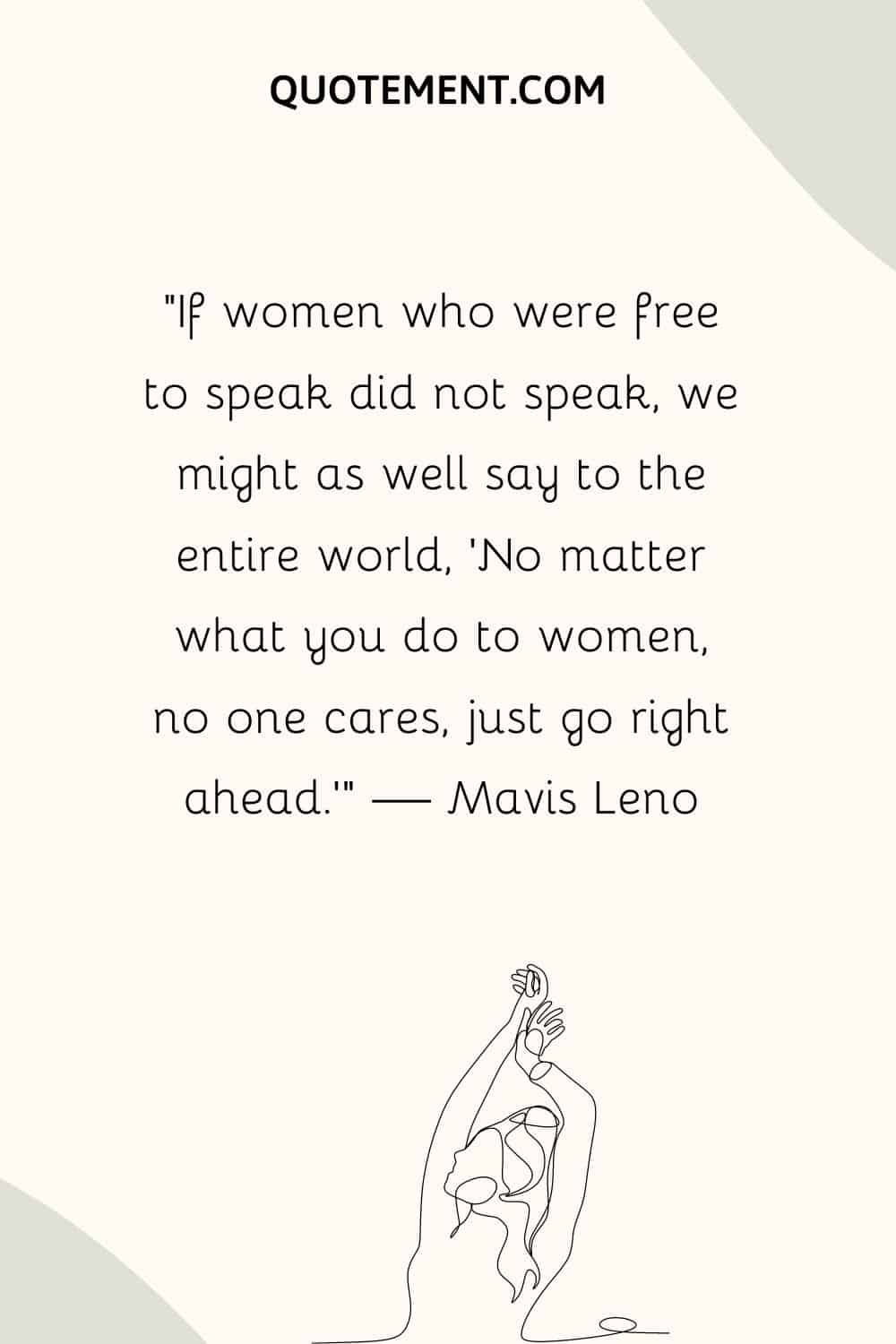 See also: 70 Woman Respect Quotes That Remind About Women's Worth
No One Cares About Me Quotes
If you've been feeling lonely and left out, these reality no one cares quotes are for you.
1. "No one cares about you. No one cares. You will die and be forgotten." ― Frederick Lenz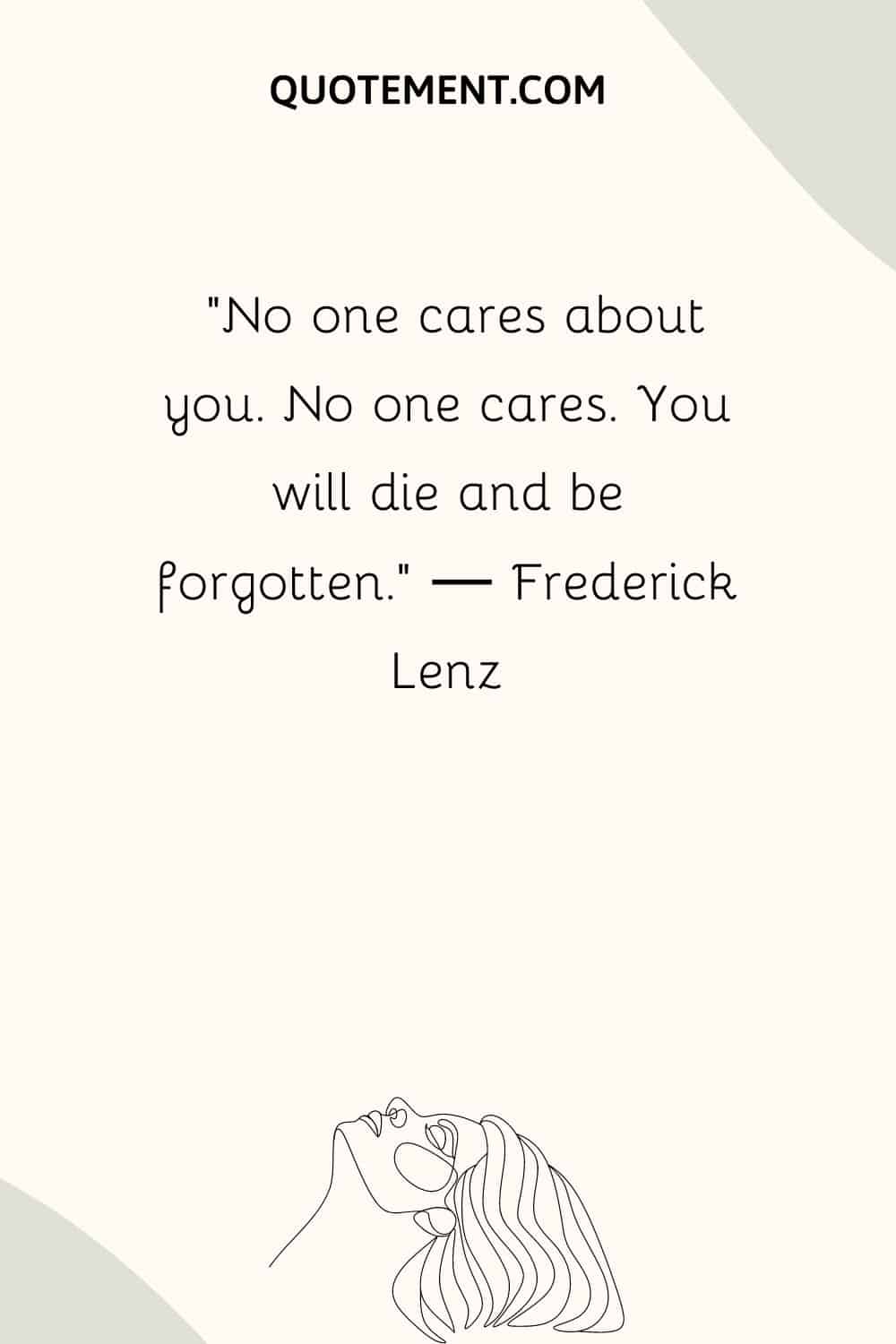 2. "No one loves me, – no one cares for me, but you, mother." ― Elizabeth Gaskell
3. "It is the nature of creation, no one cares how much you are good or bad, just get famous, they all will walk after you." ― M.F. Moonzajer
4. "The awkward moment when you're talking, and you realize no one cares about what you're saying." — unknown
5. "Reserve is strength; overstatement is weakness. No one cares to hear the singer's topmost notes when the voice is 'nigh onto breaking." — John F. Carlson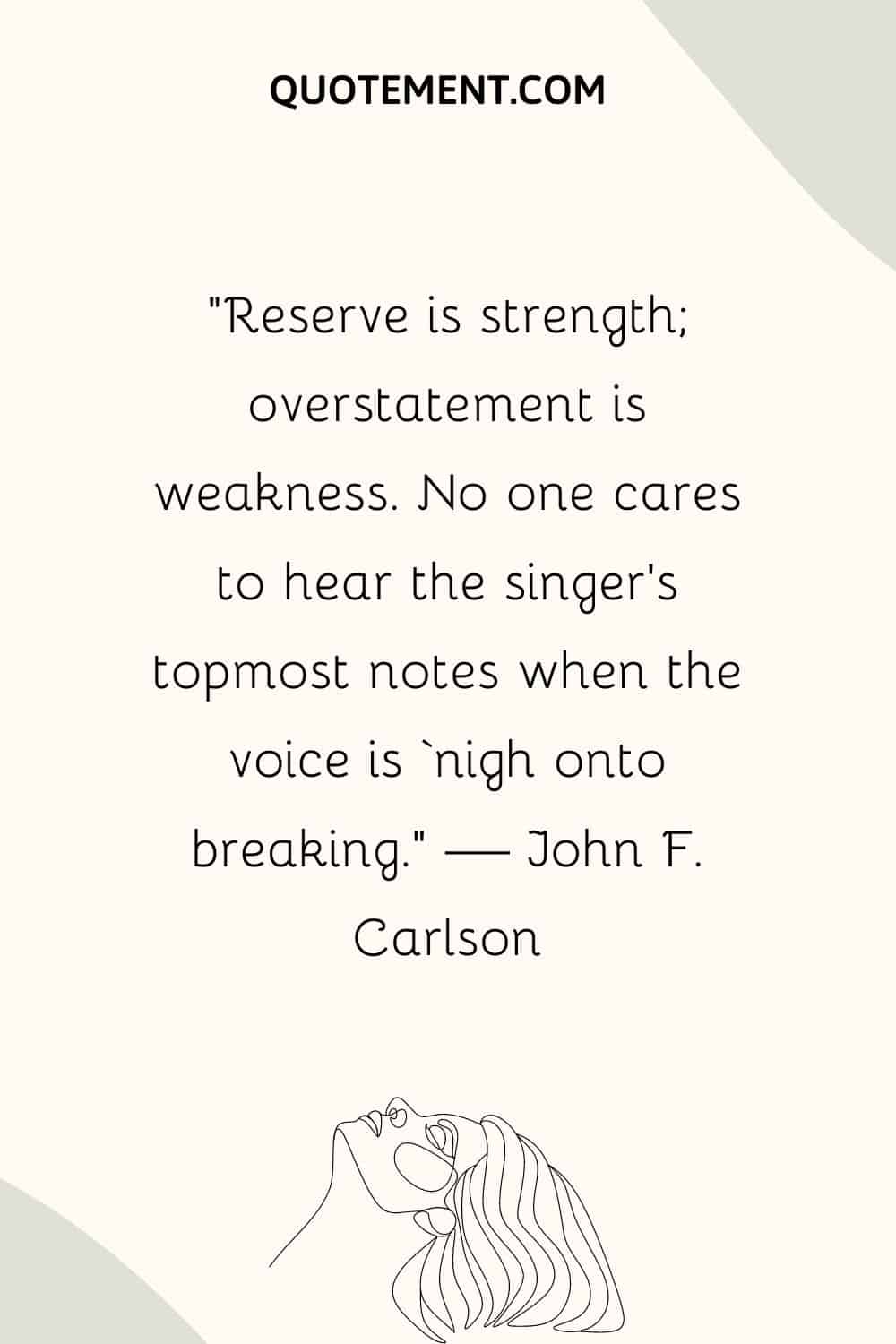 6. "Everywhere there is apathy. Nobody cares whether that which is preached is true or false. A sermon is a sermon whatever the subject; only, the shorter it is, the better." ― Charles Spurgeon
7. "It seems unfortunate that strong people are usually so disagreeable and overbearing that no one cares for them. In fact, to be different from your fellow creatures is always a misfortune." — L. Frank Baum
8. "Nobody cares for your excuses. Nobody pities you for procrastinating. Nobody is going to cuddle you because you feel like being lazy. It's your life. Change it." — unknown
9. "Where's the use of looking nice when no one sees me but those cross midgets, and no one cares whether I'm pretty or not?" —Louisa May Alcott
10. "Under the engine cover, no one cares what's in there. Nobody cares." — Bernie Ecclestone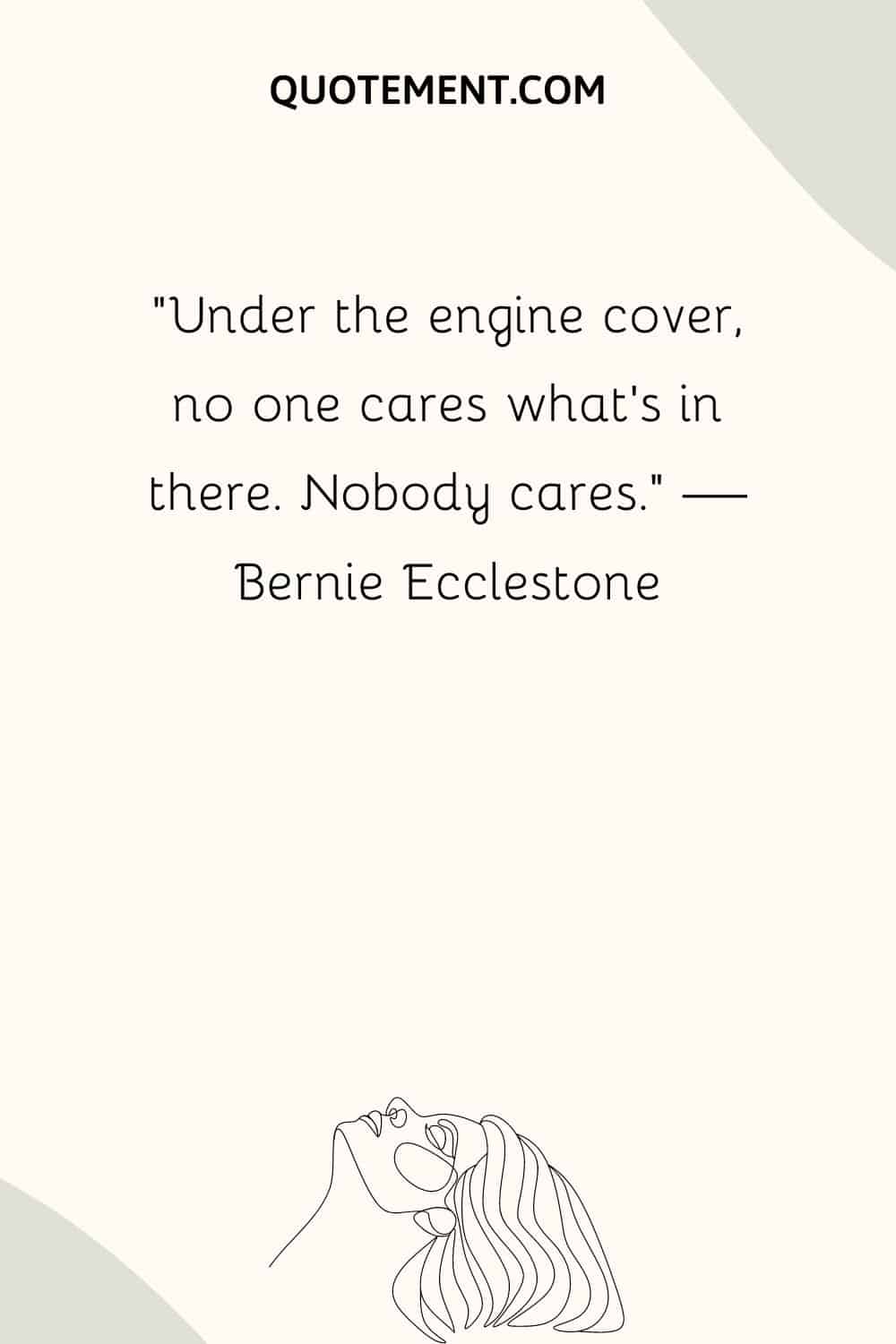 11. "The mind is so tricky. It will say, "No one cares. Is it true? Well, someone does. Let's see: So-and-so doesn't care. Well, maybe they do. Well, there is someone who doesn't care." It just shifts and shifts and shifts, so it can keep all of its concepts intact." ― Byron Katie
12. "No one cares what you ate for breakfast. Unless it's something really spectacular, don't tweet me your breakfast, I don't care." — Busy Philipps
13. "Those nights when you just break down realizing how lonely you are, and that nobody even cares." — unknown
14. "Sometimes I feel that no one cares about me anymore and that I'm not special to anyone anymore. Why do we always feel like this is because we did something wrong in the past or are just sick of me and just left me stranded and alone by myself." — unknown
15. "Self-compassion is the most important thing. Focus on yourself, because people don't care anyways." — Kirsten Hill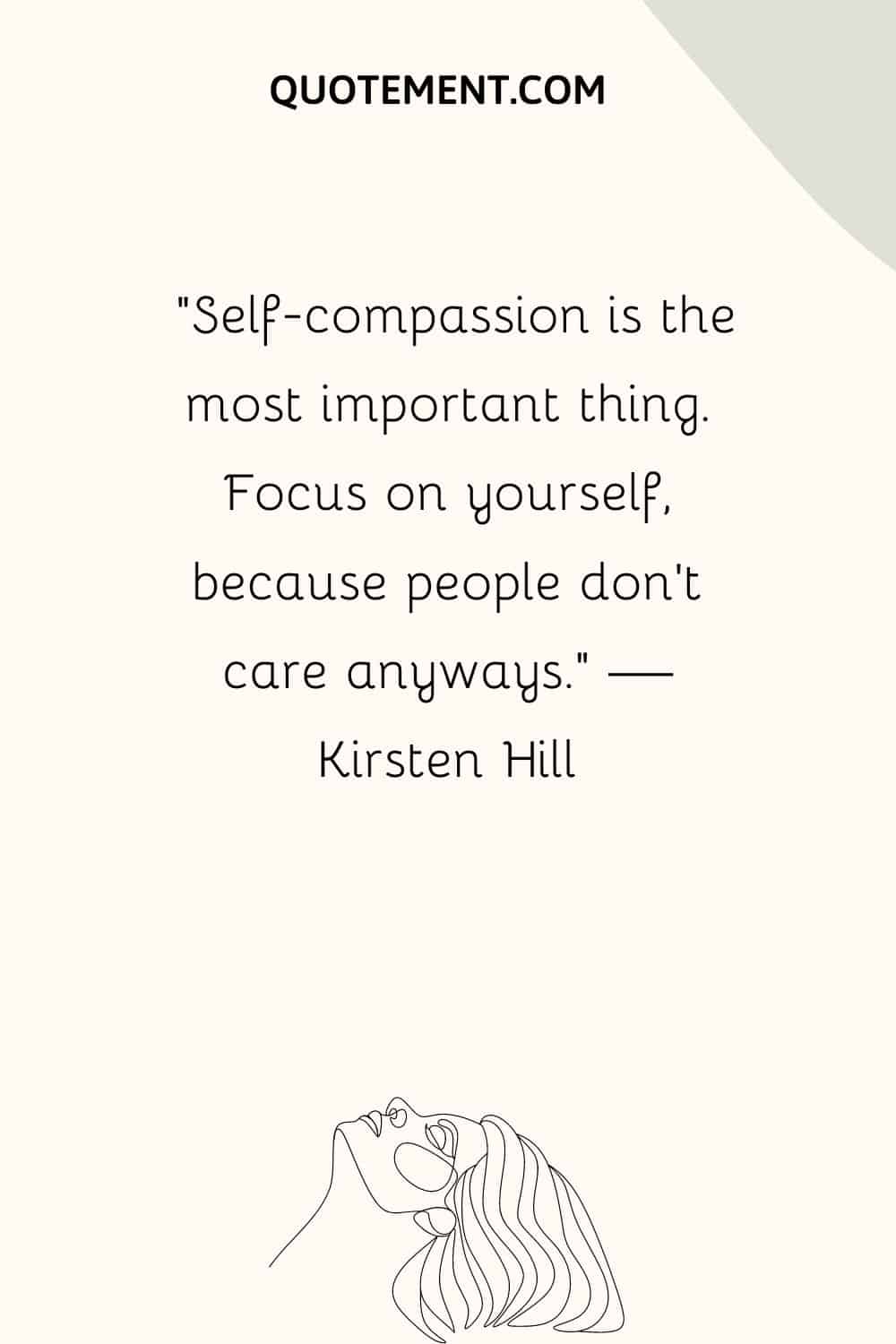 See also: 70 Self Compassion Quotes To Help You Love Yourself More
No One Cares Quotes And Sayings
Here are some more reality no one cares quotes for you to check out.
1. "It is amazing what you can accomplish if you do not care who gets the credit." ― Harry S Truman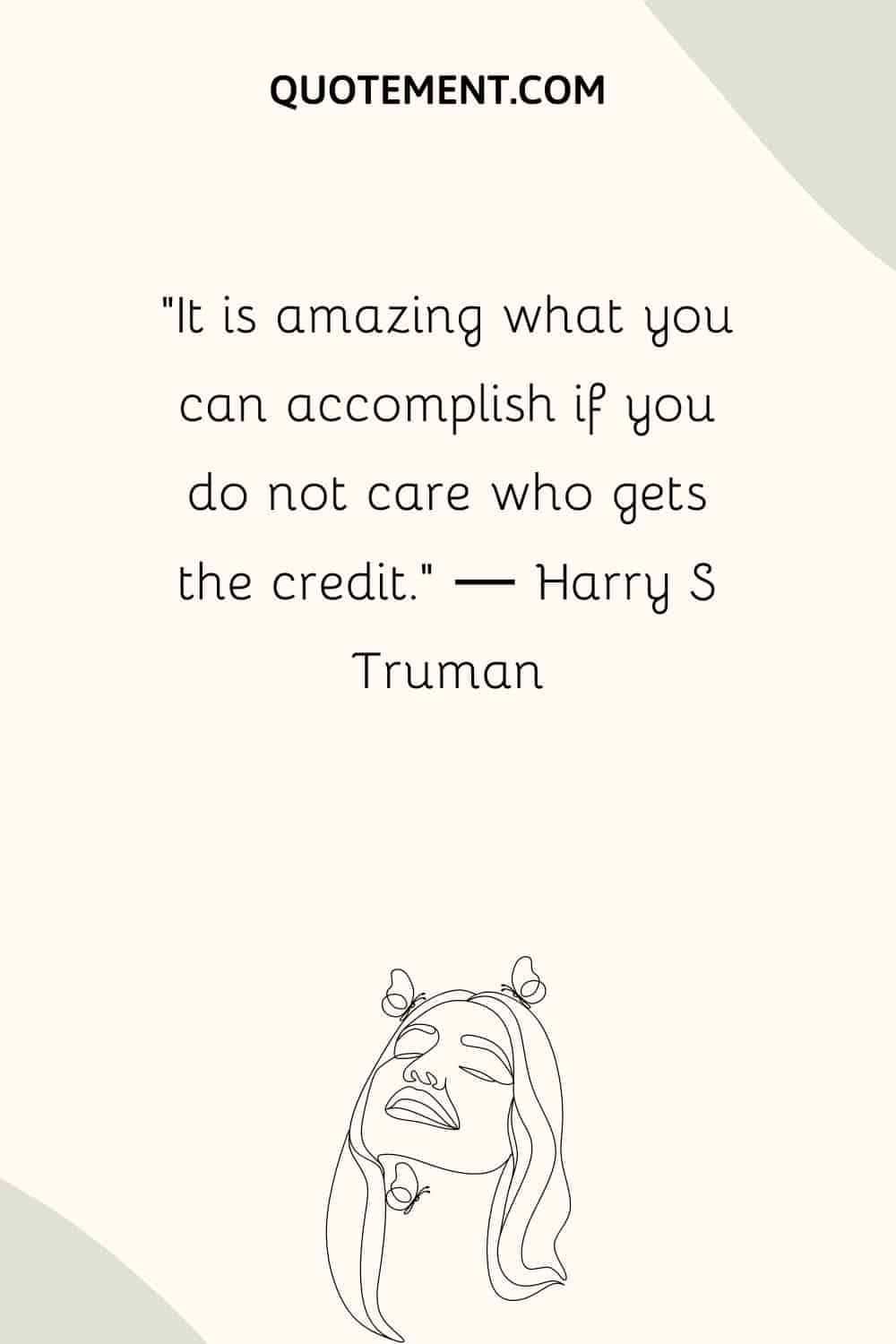 2. "You can have the greatest strategy in the world, but what is the point if no one cares?" ― Patrick Dixon
3. "No one cares about anything until it's something that goes viral. It's most certainly frustrating." ― Maria Taylor
4. "Embarrassment has a lot to do with thinking too much. Let it go. Nobody cares as much as you think they do." ― Ryan Robbins
5. "I'm in a business where no one cares about anything except how well your last collection sold." ― Calvin Klein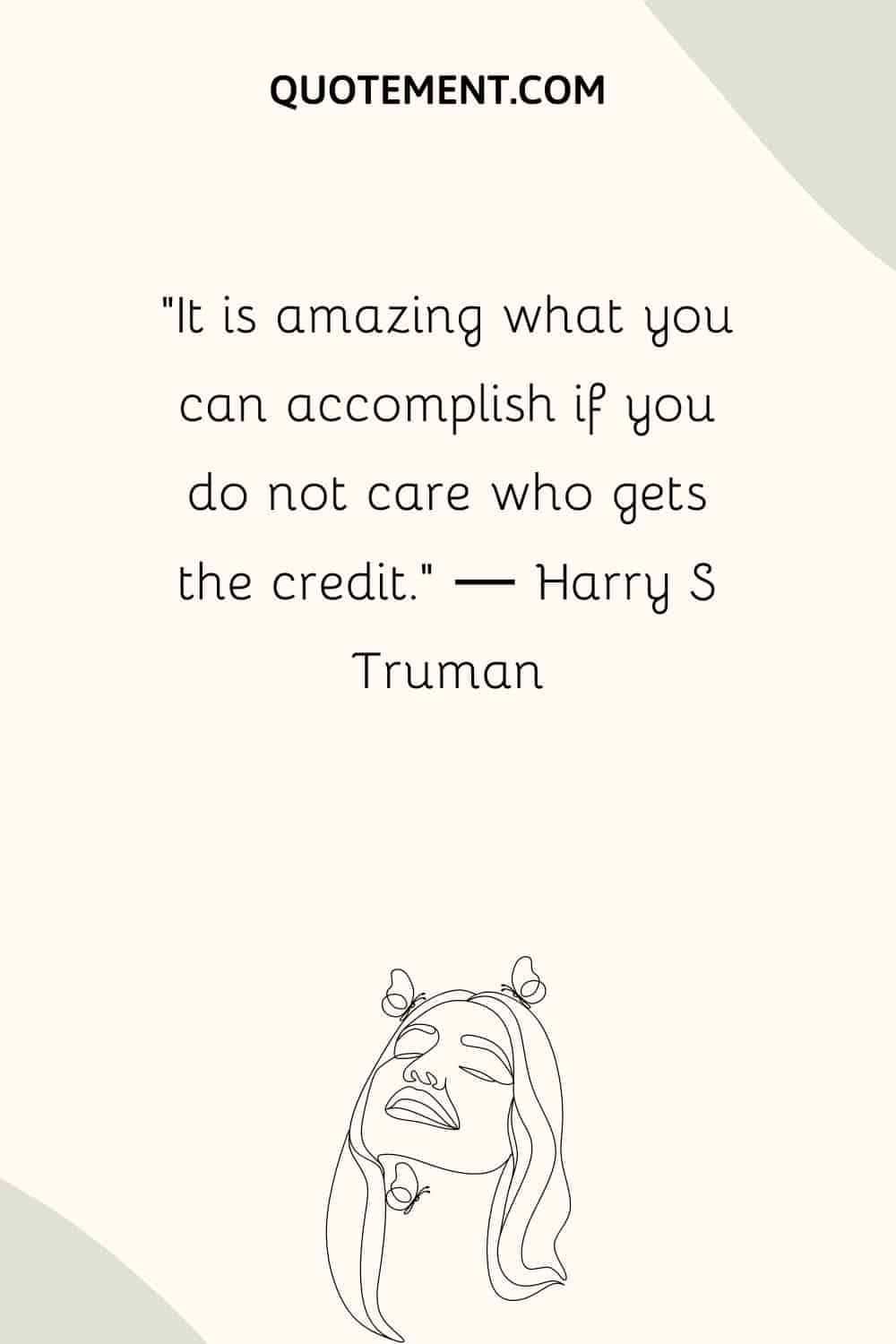 6. "There is nothing worse than the feeling that no one cares whether we exist or not, that no one is interested in what we have to say about life, and that the world can continue turning without our awkward presence." ― Paulo Coelho
7. "Be happy. Decide to be happy. If you want to be happy, be happy! No one cares if you're happy or not, so why wait for permission? And did it really matter if you had been deeply unhappy in your past? Who but you remembered that?" ― Amity Gaige
8. "Your self-worth should not depend on other people. Even when no one cares, you should care about yourself." — Kirsten Hill
9. "No one cares to speak to an unwilling listener. An arrow never lodges in a stone: often it recoils upon the shooter of it." — St. Jerome
10. "Nobody cares if they hurt you unless they see you wounded." — unknown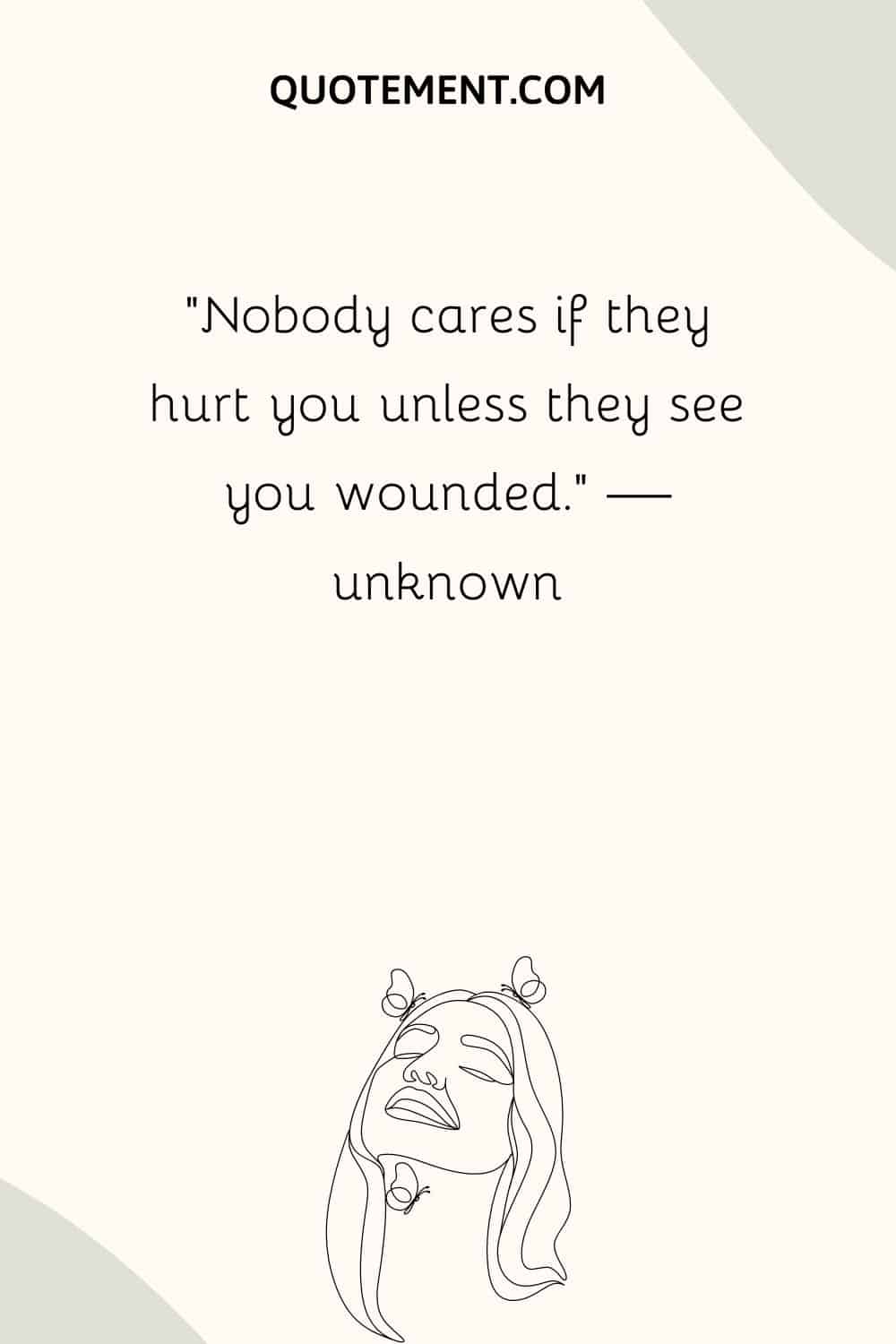 11. "When you are depressed, hurting inside, or feeling down, no one cares, but when you get famous, rich, and popular, everyone is your friend." — unknown
12. "The "18/40/60" rule to happiness: At age 18, people care very much about what others think of them. By age 40, they learn not to worry what others think. By age 60, they figure out that no one was thinking about them in the first place." — Daniel Amen
13. "Nobody cares if you can't dance well. Just get up and dance." — Dave Berry
14. "No one knows who I am, and no one cares. I could jump in front of a cameraman, and he'd just tell me to get out of the way." — Eve Hewson
15. "If they don't care about you, don't ever waste your time and effort again. Just leave." — unknown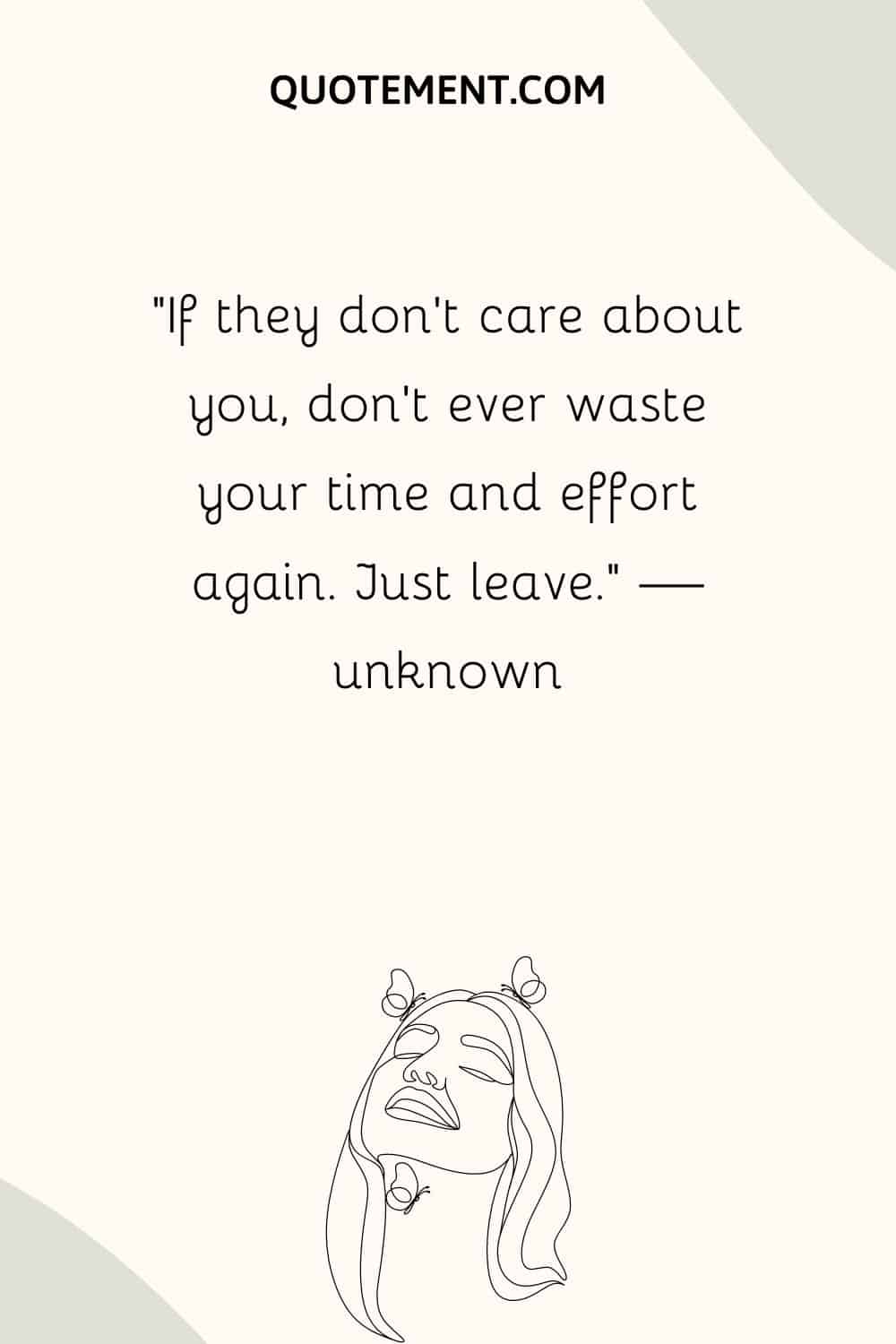 See also: 100 Don't Waste My Time Quotes To Live Your Best Life
Final Thoughts
Accepting the fact that people don't care is not easy, but it can set you free.
When you stop expecting anything and start to rely on yourself for love and support, you become happier.
I hope you liked my collection of reality no one cares quotes.
Until next time!