Are you interested in reading some beautiful quotes about sweet memories? If so, you'll love the best unforgettable memories quotes that I put together for this article!
I collected the loveliest unforgettable memories quotes about the good old days from various sources on the internet to remind you of the unforgettable moments you never want to lose.
You'll find sweet memories quotes reflecting on the happy times in your life, various friendship quotes and unforgettable memories with friends quotes, and also some love memories quotes.
You can use these motivational quotes to get inspired for your next social media post when you want to share some unforgettable throwback memories quotes with your loved ones.
These meaningful unforgettable memories quotes can also be used as cool Instagram captions.
Let's see what my unforgettable memories quotes are all about!
30 Best Unforgettable Memories Quotes
We'll start with my top 30 unforgettable memories quotes from famous people.
1. "Everybody needs his memories. They keep the wolf of insignificance from the door." — Saul Bellow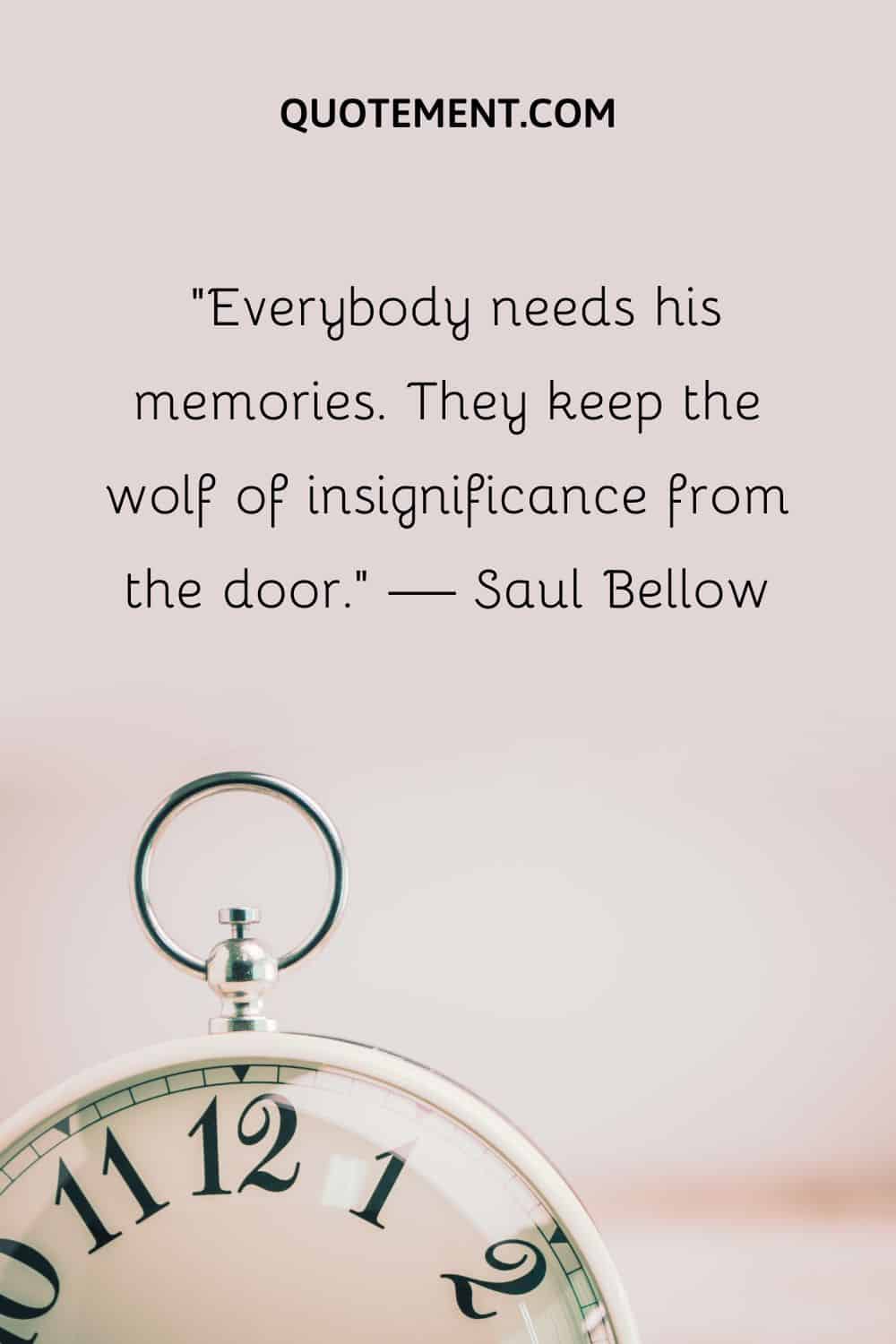 2. "We don't remember days, we remember moments." — Cesare Pavese
3. "Some memories are unforgettable, remaining ever vivid and heartwarming!" — Joseph B. Wirthlin.
4. "Memories are what warms you up from the inside." — Haruki Murakami
5. "Life cannot be lived backwards. But our memories make up for that by making some moments truly unforgettable!" — Avijeet Das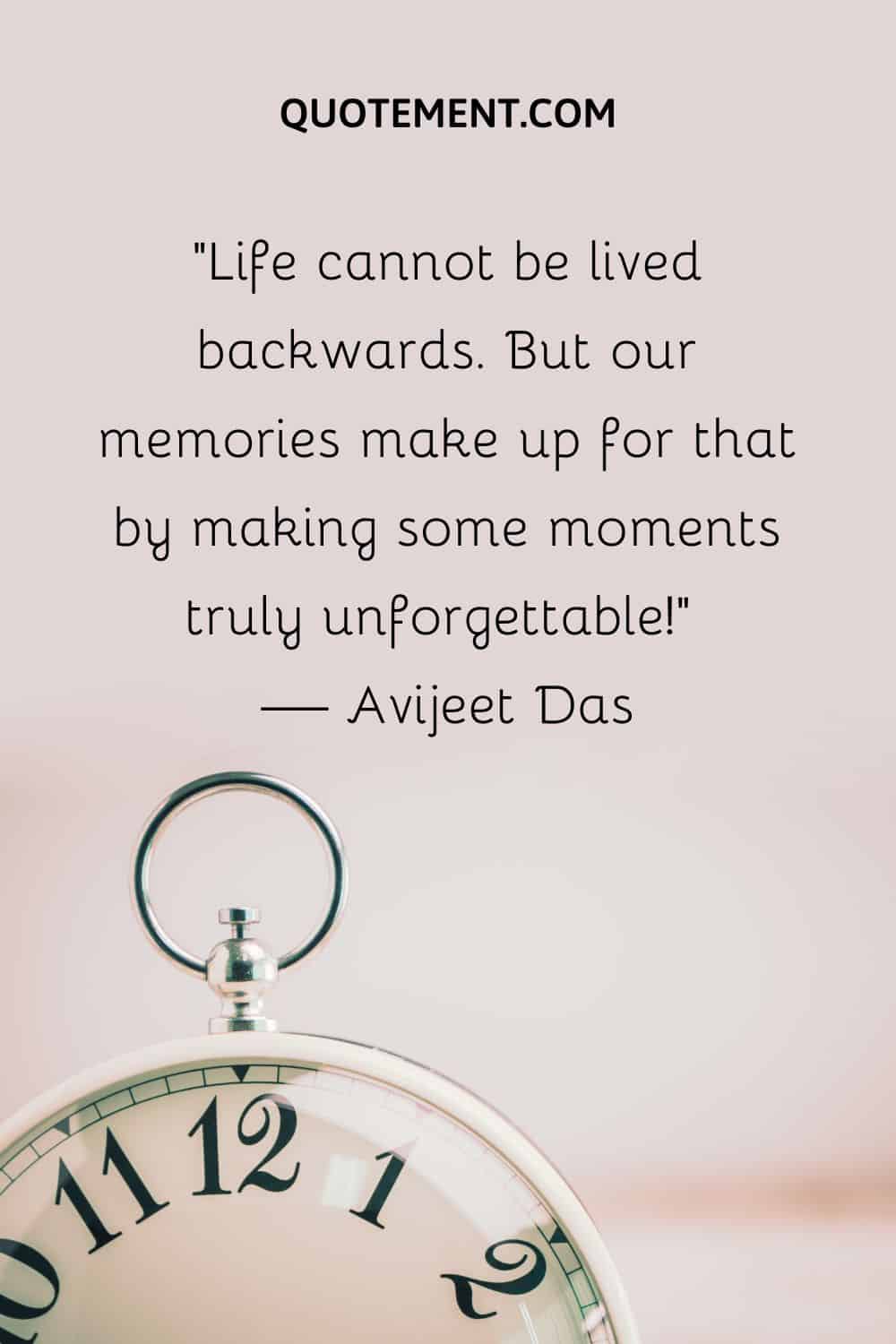 6. "Memories are the best things in life, I think." — Romy Schneider
7. "Memory is the treasure house of the mind wherein the monuments thereof are kept and preserved." — Thomas Fuller
8. "Memory is the diary that we all carry about with us." — Oscar Wilde
9. "He who has gone, so we but cherish his memory, abides with us, more potent, nay, more present than the living man." — Antoine de Saint-Exupéry
10. "Some memories live forever, whether as a scar or a stain — they can't be wiped away." – Radhika Raut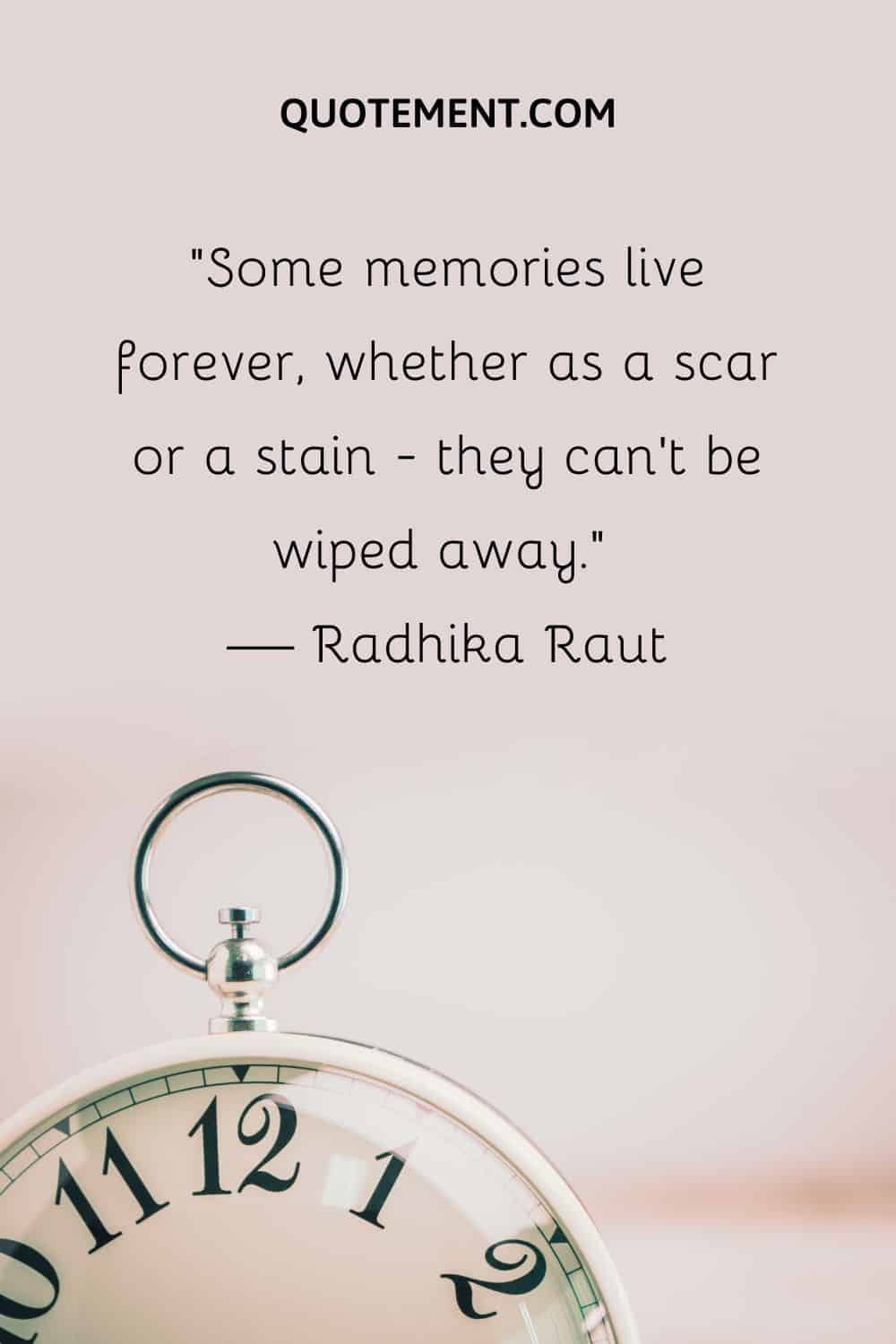 11. "That's the thing about memories; you can't forget them." — Lex Luthor, 'Smallville'
12. "The best part about pictures is that even when the people in the photo change, the memory it contains never will." — Andy Warhol
13. "The tears dry, the smiles fade, but the memories last forever." — Malik Faisal
14. "Many incidents of those early years are fixed in my memory, isolated, but clear and distinct, making sense of that silent, aimless, dayless life all the more intense." — Helen Keller
15. "Memories, all those little experiences make up the fabric of our lives and on balance, I wouldn't want to erase any of them, tempting though it may be." — Ben Affleck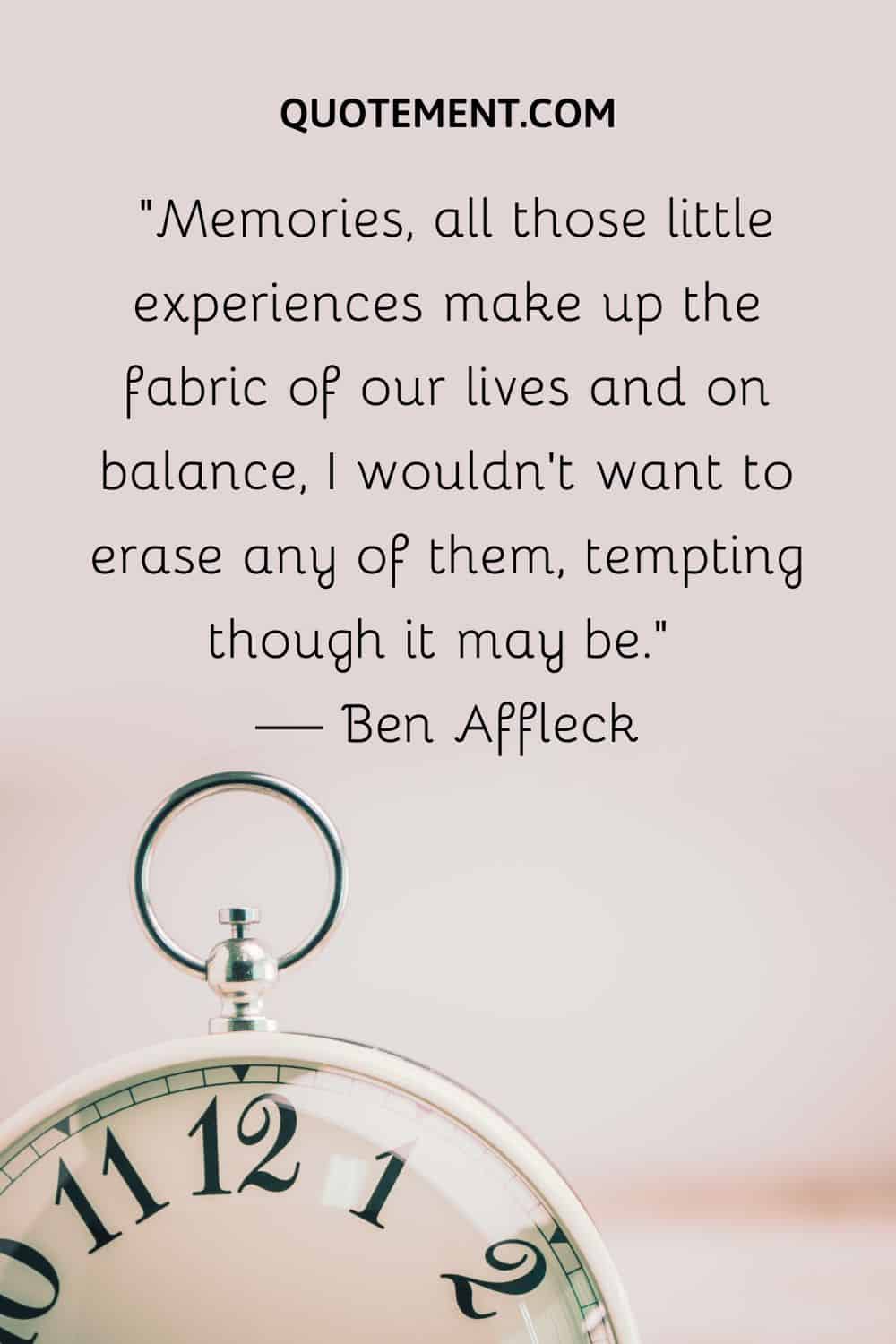 16. "There'll always be unforgettable memories behind your goodbyes." — Ujjwal Karmakar
17. "One of the keys to happiness is a bad memory." — Rita Mae Brown
18. "The worst part of holding the memories is not the pain. It's the loneliness of it. Memories need to be shared." — Lois Lowry
19. "You may not think you have a good memory, but you remember what's important to you." — Rick Warren
20. "A man's real possession is his memory. In nothing else is he rich, in nothing else is he poor." — Alexander Smith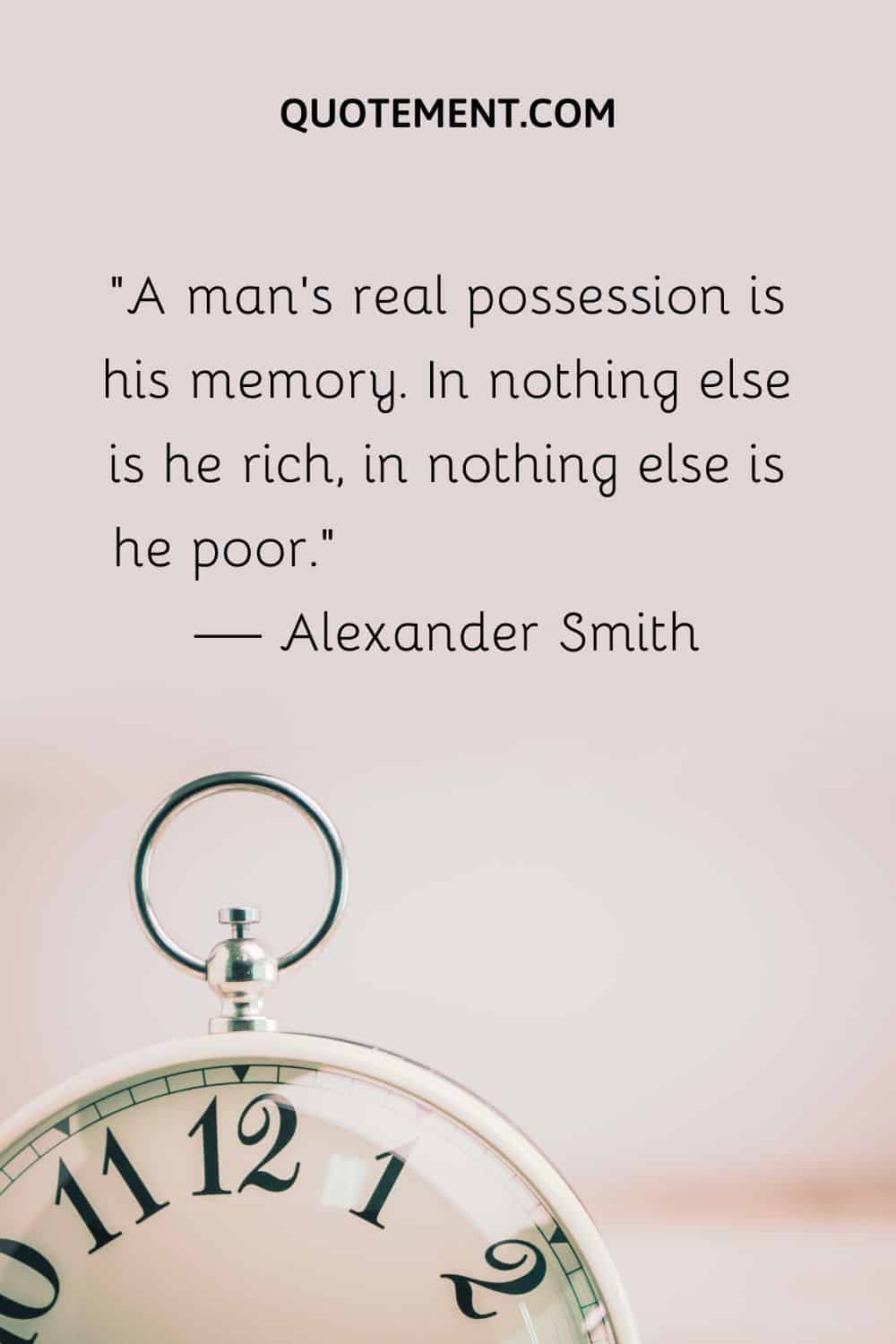 21. "We have lived through some unforgettable times together, some good, some bad, achieving results that will be hard to equal." — Luca Cordero di Montezemolo
22. "I can mention many moments that were unforgettable and revelatory." — David Attenborough
23. "To live in hearts we leave behind is not to die." — Thomas Campbell
24. "I have more memories than if I were a thousand years old." — Charles Baudelaire
25. "You shouldn't wait for other people to make special things happen. You have to create your own memories." — Heidi Klum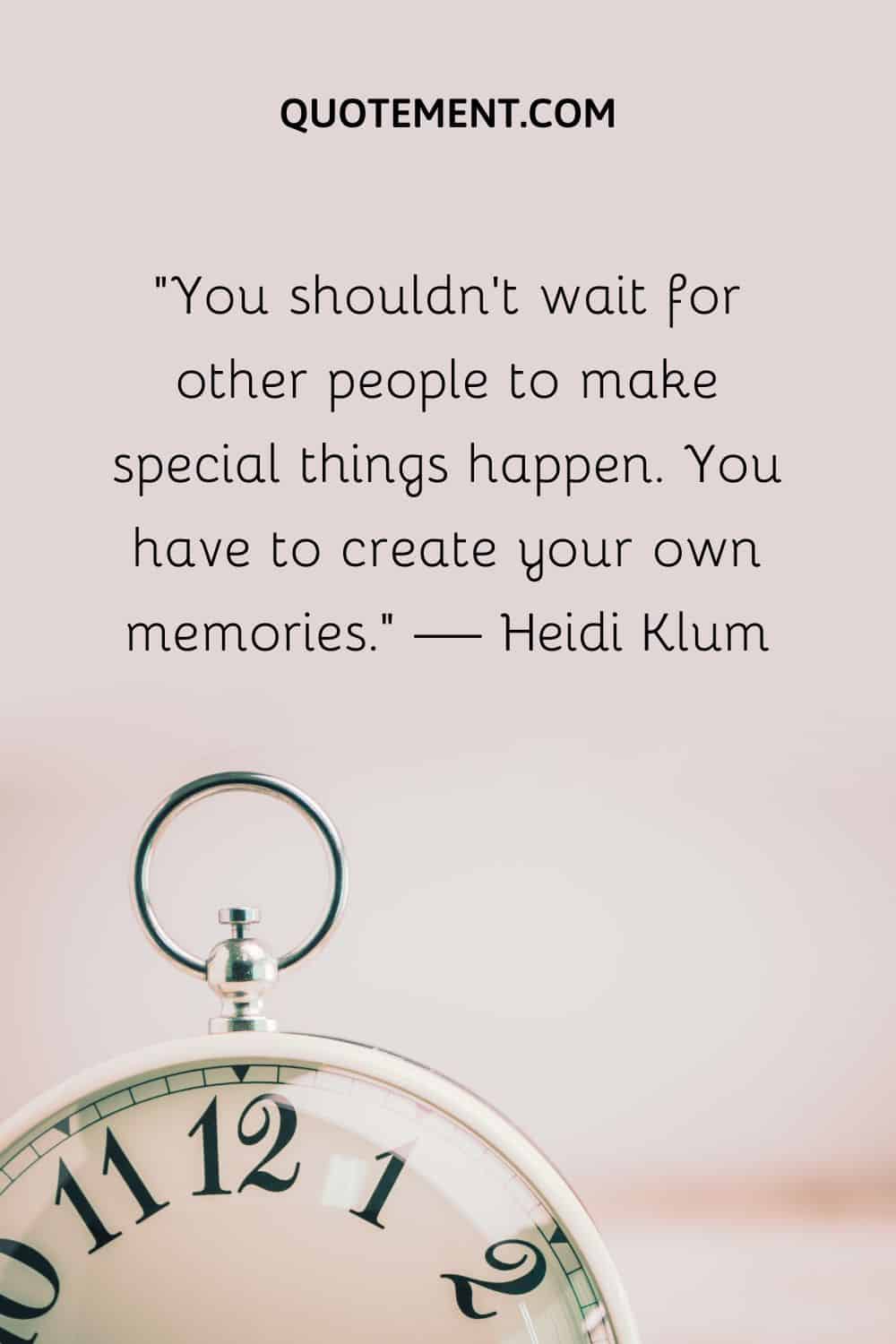 26. "Memories need to be shared." — Lois Lowry, 'The Giver'
27. "Every man's memory is his private literature." — Aldous Huxley
28. "The past scampers like an alley cat through the present, leaving the paw prints of memories scattered helter-skelter." — Charles De Lint
29. "Nothing fixes a thing so intensely in the memory as the wish to forget it." — Michel de Montaigne
30. "There are things that happen in a person's life that are so scorched in the memory and burned into the heart that there's no forgetting them." — John Boyne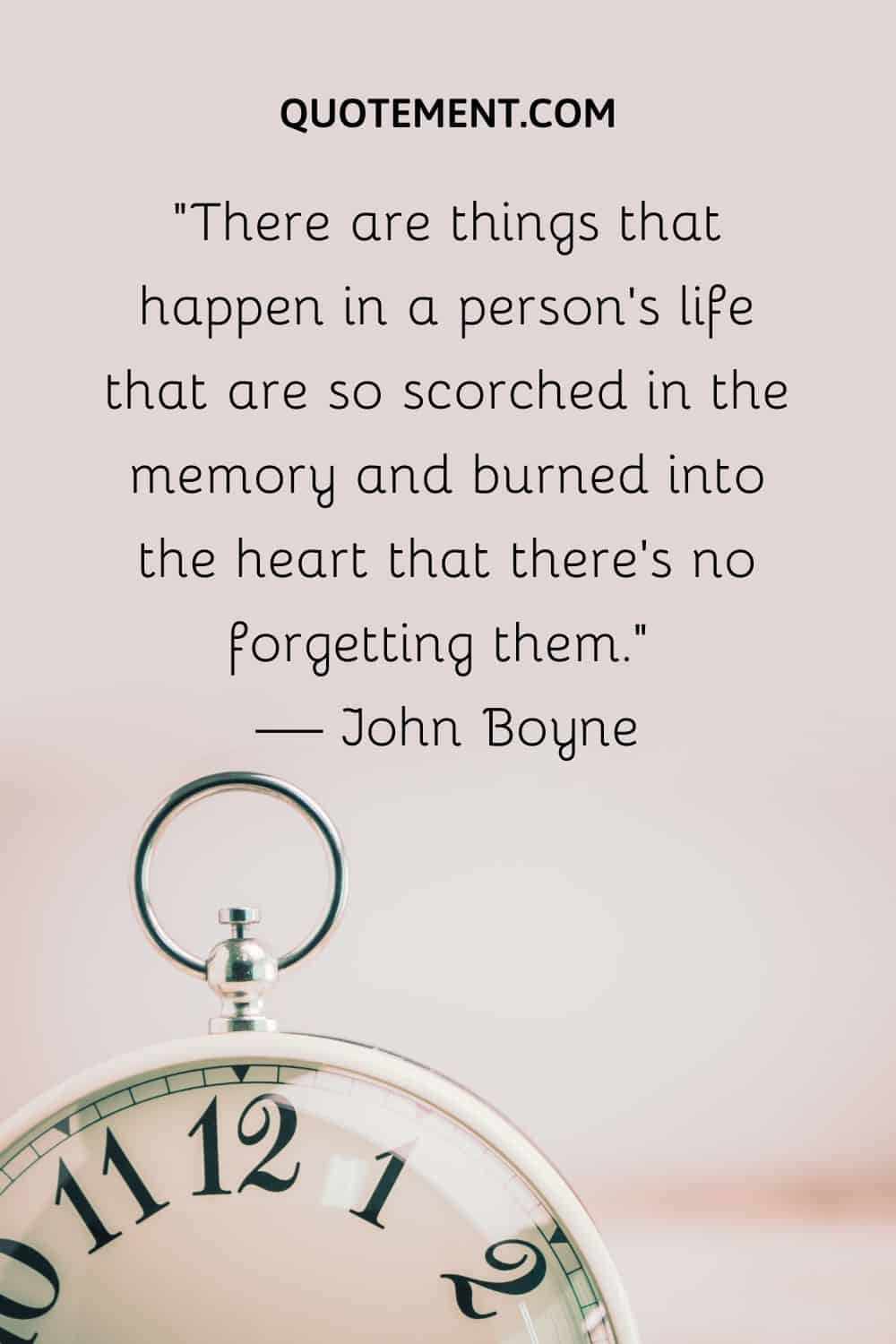 Unforgettable Sweet Memories Quotes
Here are some lovely unforgettable memories quotes to revive the sweet memories shared with those close to your heart.
1. Memory is a way of holding on to the things you love, the things you are, the things you never want to lose." — Kevin Arnold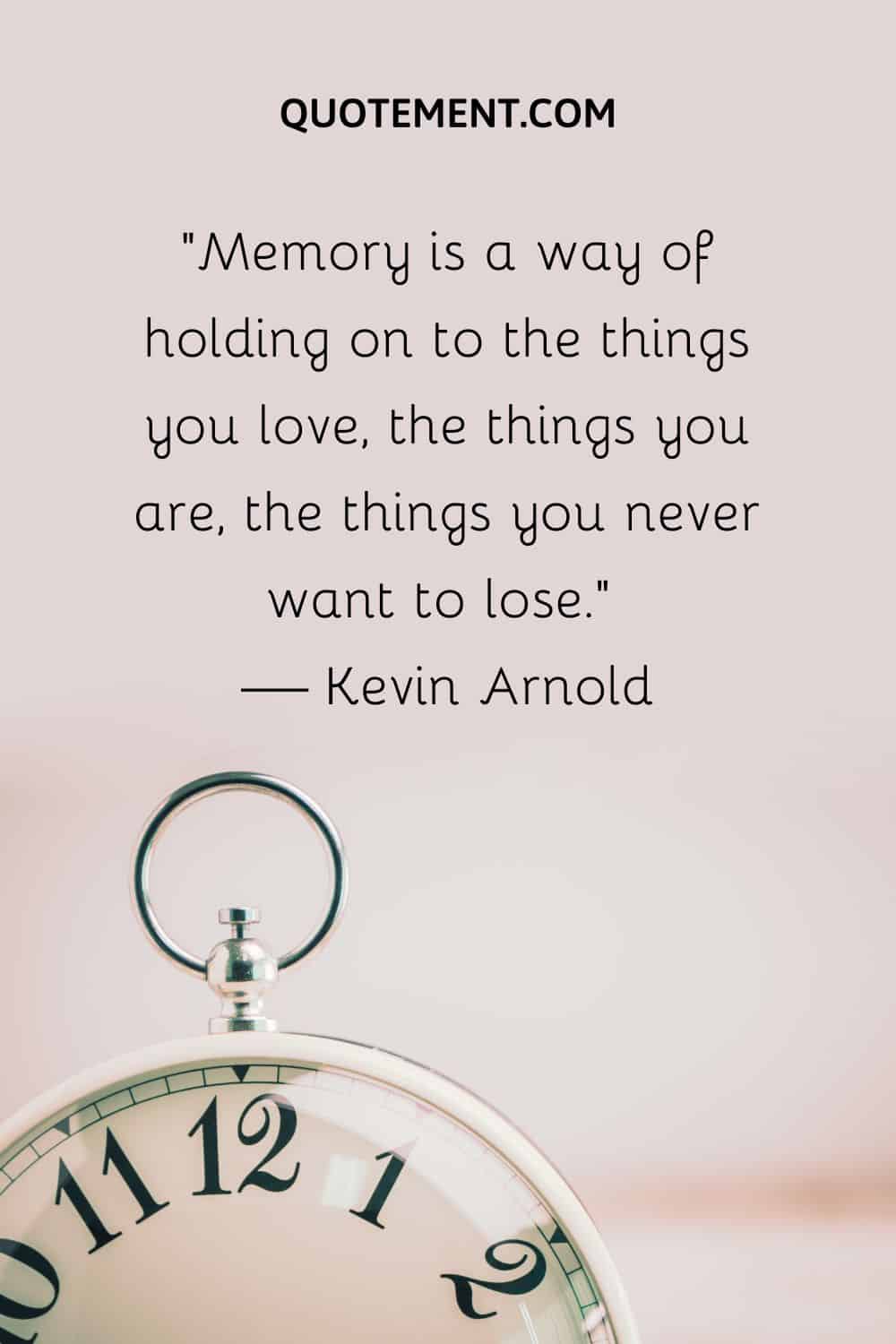 2. "Memories are sweet when created with the right people." — Unknown
3. "No one looks back on their life and remembers the nights they got plenty of sleep." — Ryan Brü
4. "People say that bad memories cause the most pain, but actually it's the good ones that drive you insane." — Kid Cudi
5. "Our memories are the only paradise from which we can never be expelled." — Jean-Paul Richter
6. "I love these random unforgettable memories that make me smile no matter what's going on in my life right now." — Meena Chakrabarty
7. "No matter what happens, some memories cannot be replaced." — Unknown
8. "For some, life lasts a short while, but the memories it holds last forever." — Laura Swenson
9. "Some memories are realities, and are better than anything that can ever happen to one again." — Willa Cather
10. "At the end of the day, memories are all that matters. Money fades, people change, but memories live on forever." — Unknown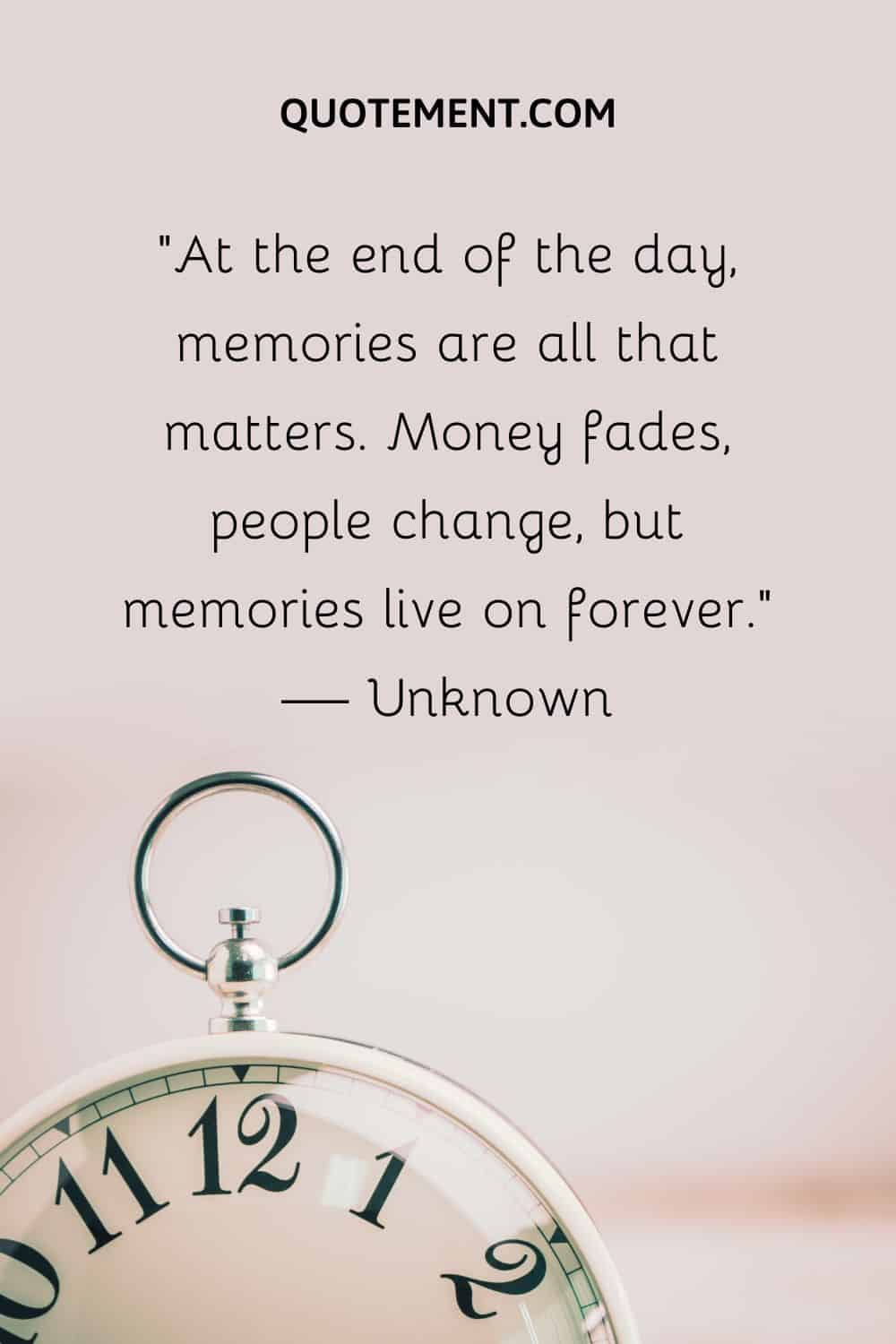 11. "Some moments are simply unforgettable." — Unknown
12. "The value of things is not the time they last, but the intensity with which they occur. That is why there are unforgettable moments and unique people!" — Fernando Pessoa
13. "I remember the giants born so long ago; in those ancient days they raised me." — Jackson Crawford, 'The Poetic Edda'
14. "The most beautiful thing in life are not things. They're people and places and memories and pictures. They're feelings and moments and smiles and laughter." — Unknown
15. "Memories are bullets. Some whiz by and only spook you. Others tear you open and leave you in pieces." — Richard Kadrey, 'Kill The Dead'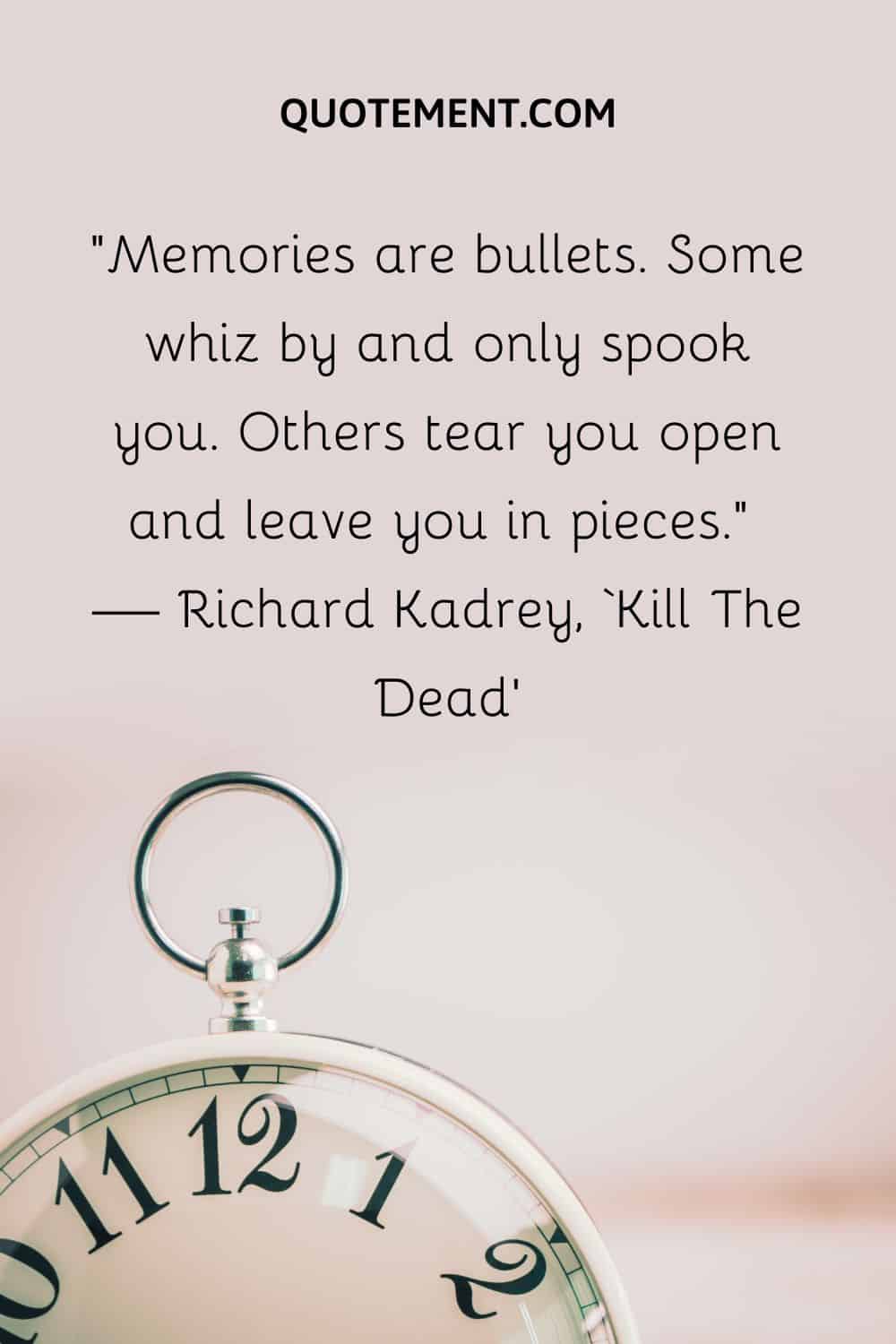 16. "There are moments when I wish I could roll back the clock and take all the sadness away, but I have the feeling that if I did, the joy would be gone as well." — Nicholas Sparks, 'A Walk To Remember'
17. "I thank life every day for giving me a chance to live all these beautiful moments of life." — Unknown
18. "The worst memories stick with us, while the nice ones always seem to slip through our fingers." — Rachel Vincent, 'My Soul To Save'
19. "Memories can be vile, repulsive, little brutes." — Alan Moore, 'Batman: The Killing Joke'
20. "Life brings tears, smiles, and memories. The tears dry, the smiles fade, but the memories last forever." — Unknown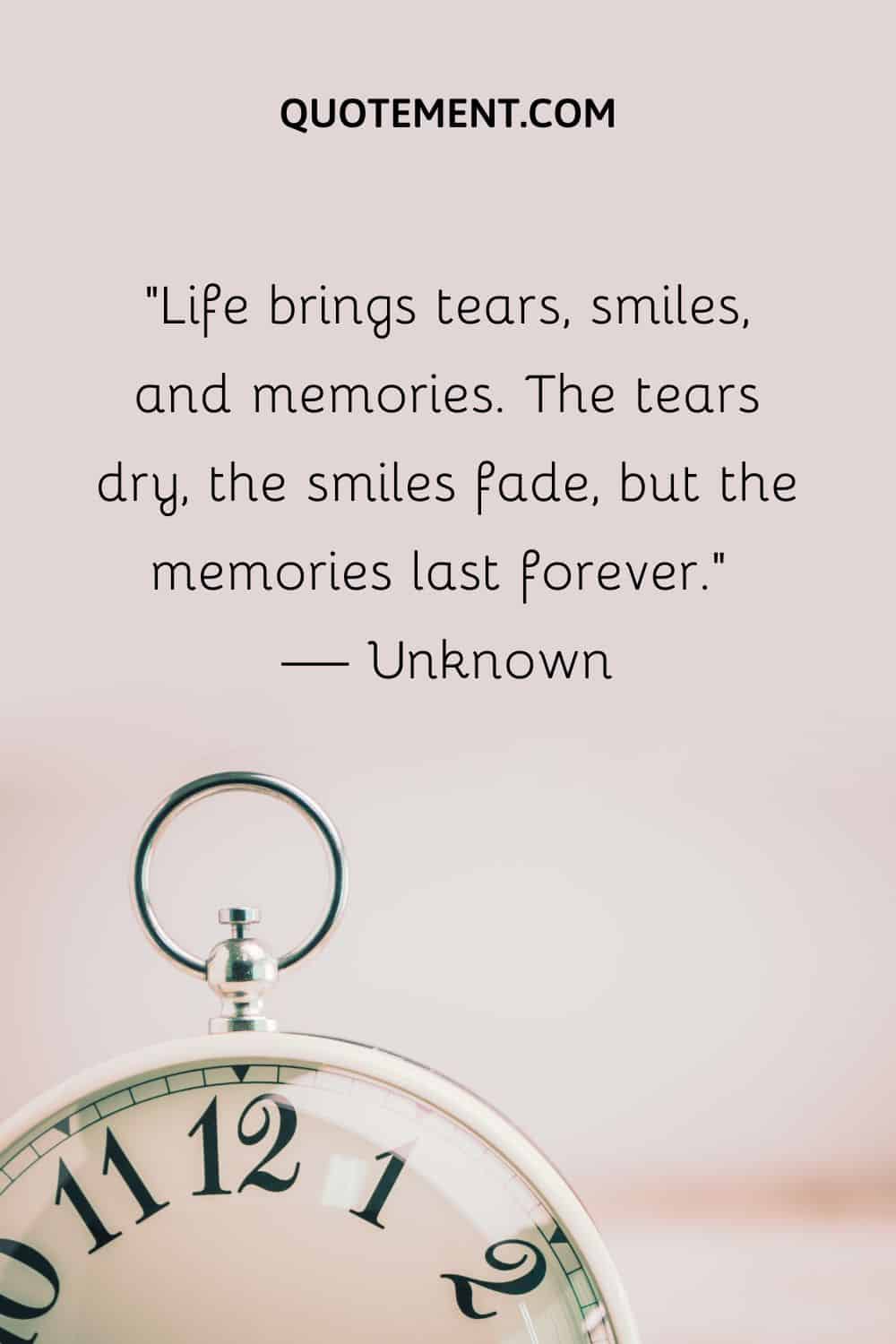 21. "A life-long blessing for children is to fill them with warm memories of times together. Happy memories become treasures in the heart to pull out on the tough days of adulthood." — Charlotte Kasl
22. "A million feelings. A thousand thoughts. A hundred memories. One person." — Unknown
23. "Memories, even your most precious ones, fade surprisingly quickly. But I don't go along with that. The memories I value most, I don't ever see them fading." — Kazuo Ishiguro, Never Let Me Go
24. "A picture is worth a thousand words, but memory is priceless." — Unknown
25. "What we remember from childhood, we remember forever — permanent ghosts, stamped, inked, imprinted, eternally seen." — Cynthia Ozick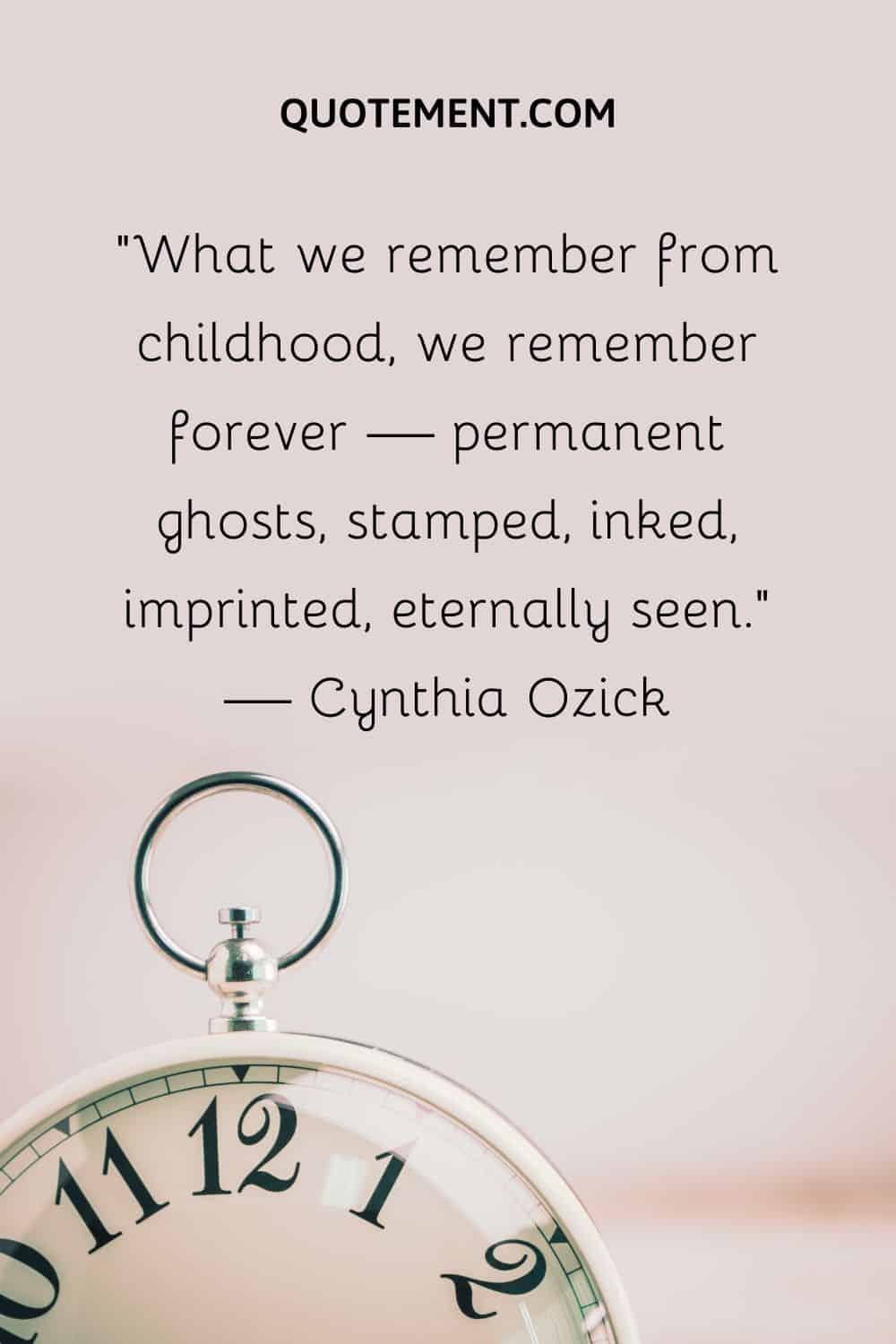 Inspirational Quotes About Unforgettable Moments
Check out these unforgettable memories quotes that'll get you inspired to take a walk down memory lane.
1. "Sometimes you will never know the true value of a moment until it becomes a memory." — Theodor Seuss Geisel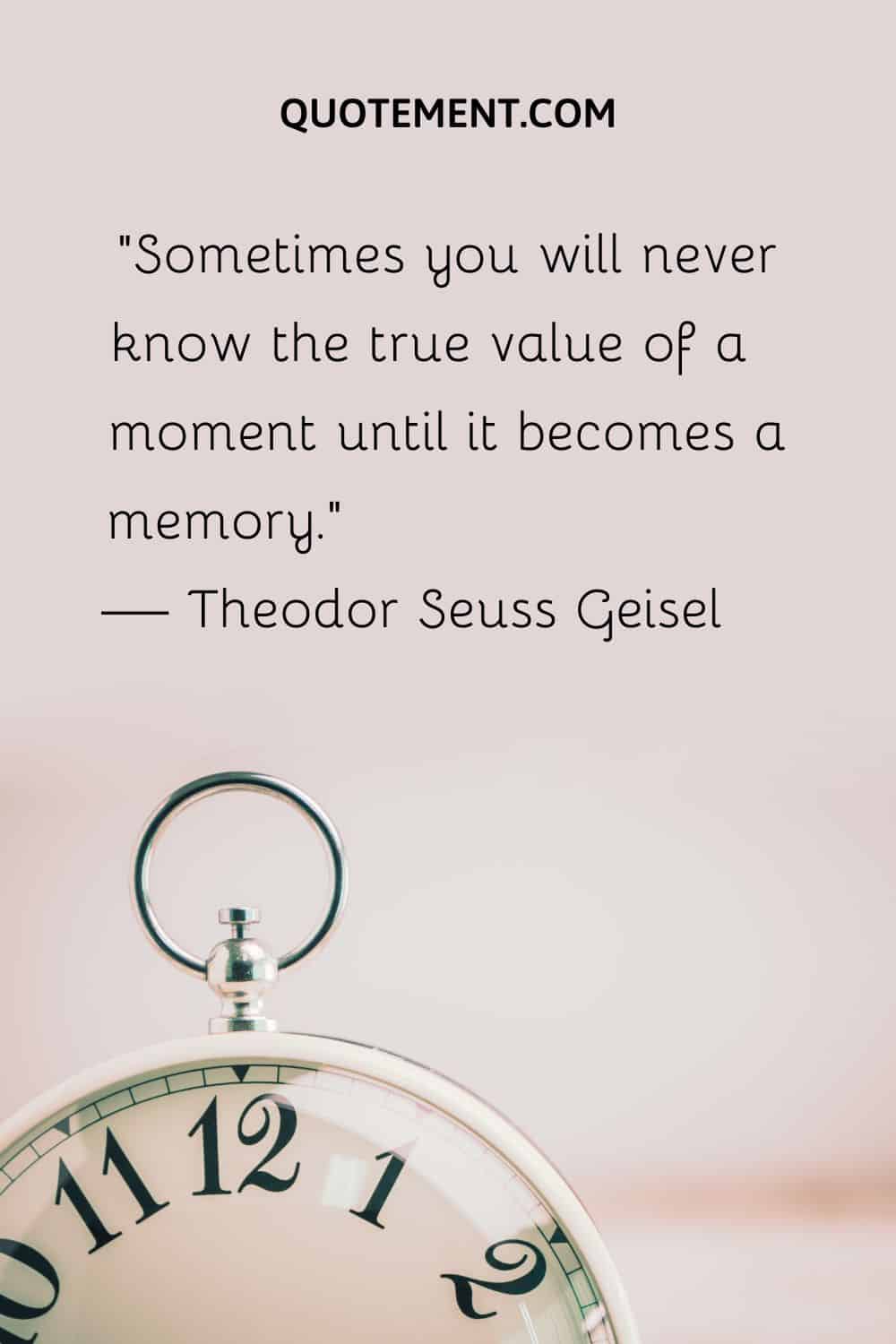 2. "You never realize what a good memory you have until you try to forget something." — Franklin P. Jones
3. "The most beautiful things are not associated with money; they are memories and moments. If you don't celebrate those, they can pass you by." — Alek Wek
4. "Memories — the one thing that can never be taken away from us. Make lots of them!" — Catherine Pulsifer
5. "Memories are like a garden. Regularly tend the pleasant blossoms and remove the invasive weeds." — Linda Fifer Ralphs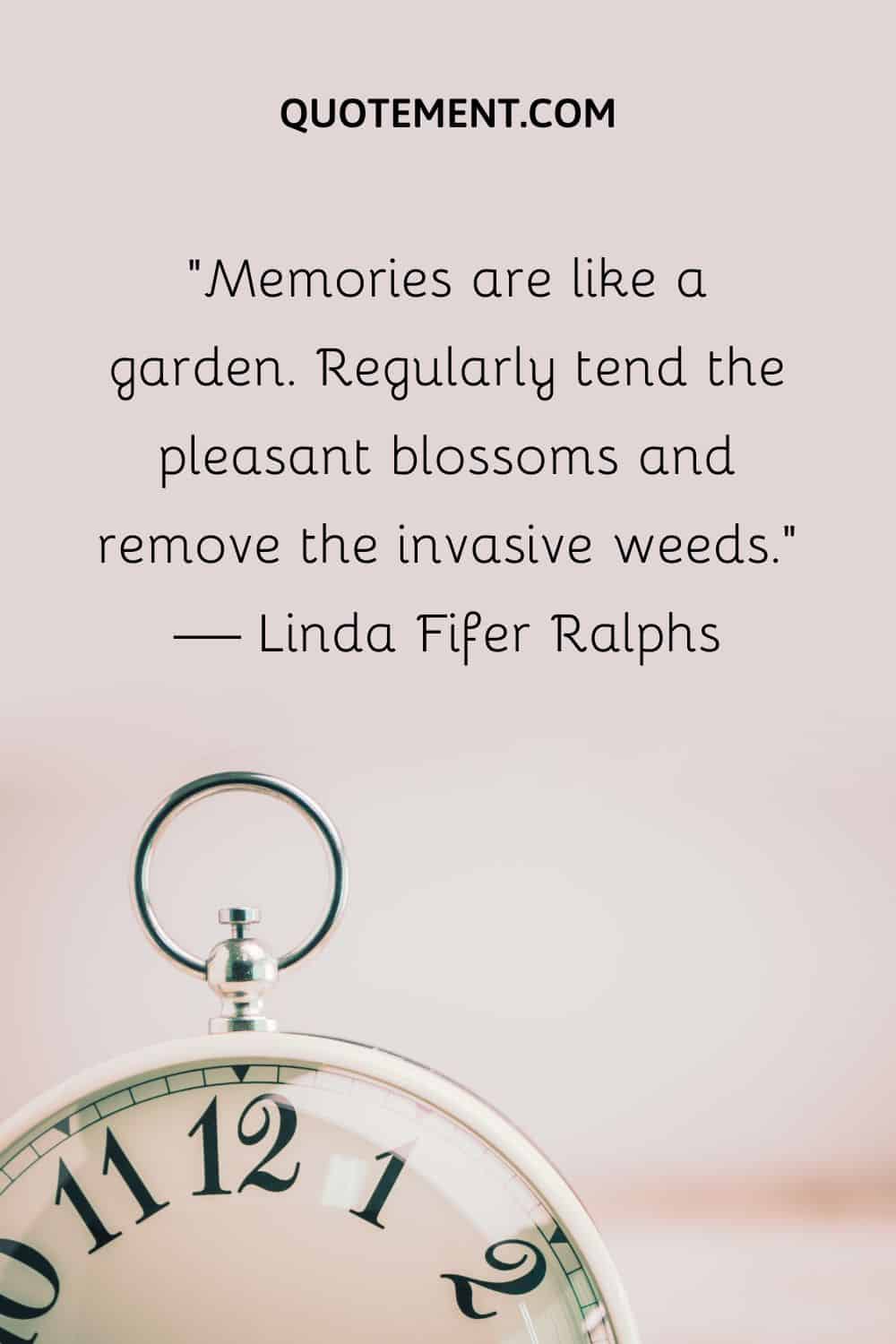 6. "Allow yourself to smile just a tiny bit. Like revisiting a memory of happiness. Turn the corners of your mouth up a little and feel the muscles of your cheekbones slightly contracting." — Jenny Clift
7. "The value of things is not the time they last, but the intensity with which they occur." — Fernando Pessoa
8. "The more often you share what you've learned, the stronger that information will become in your memory." — Steve Brunkhorst
9. "Keep all special unforgettable memories for lifetimes to come. Share these keepsakes with others to inspire hope and build from the past, which can bridge to the future." — Mattie Stepanek
10. "Life is shorter, live it. Love is rare, grab it. Anger is bad, dump it. Fear is awful, face it. Memories are sweet, cherish them." — Unknown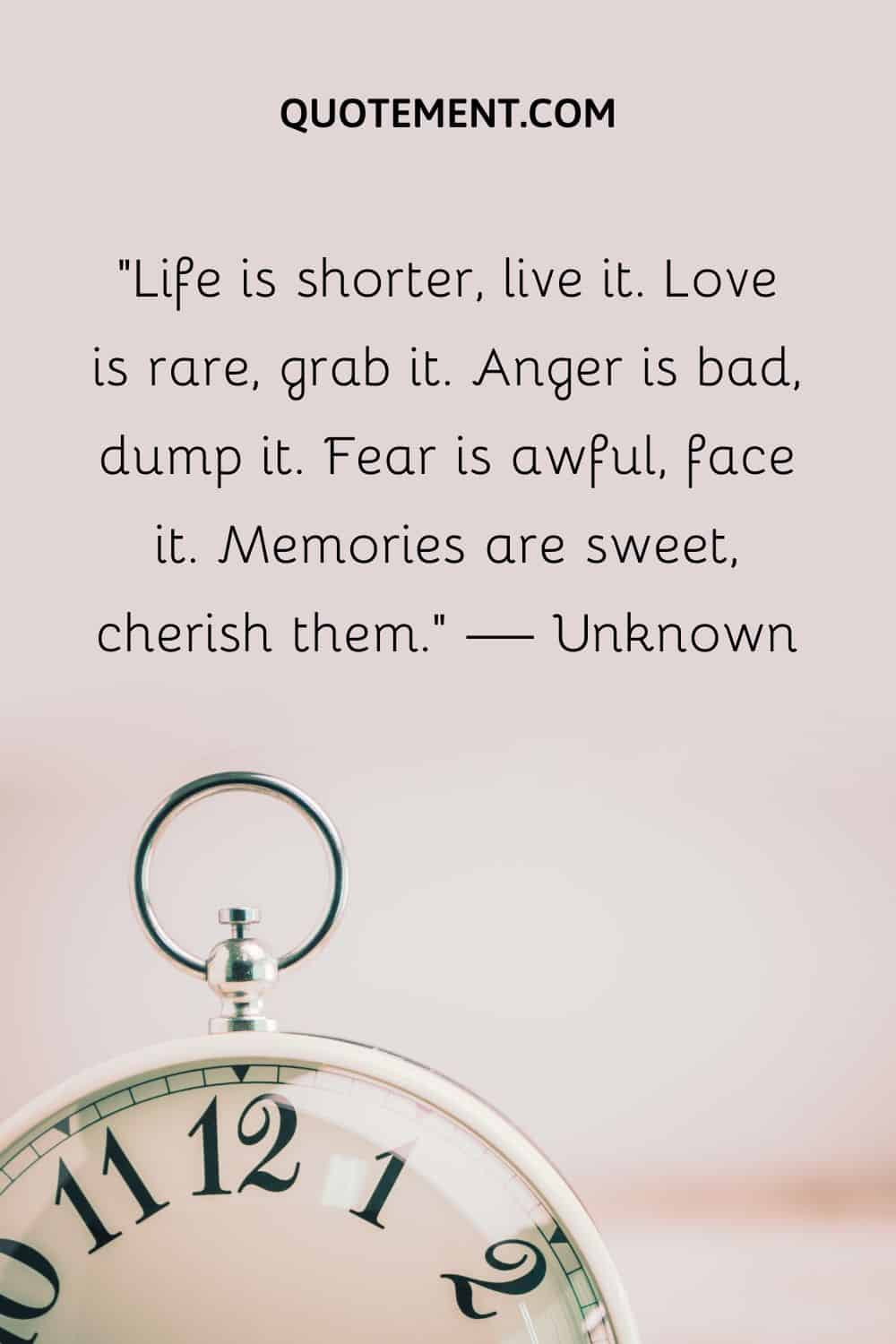 11. "Unforgettable memories are special moments that tell our story." — Unknown
12. "Memories images, once they are fixed in words, are erased." — Italo Calvino, 'Invisible Cities'
13. "Adventure is important in life. Making memories matters (…) Effort from imagination and following adventure creates stories that you keep forever. And anyone can do it." — Rob Lowe
14. "People change. Memories don't." — Unknown
15. "Some memories are hard to forget, some memories take us to the flashback. While some memories we want to create again and again." — Unknown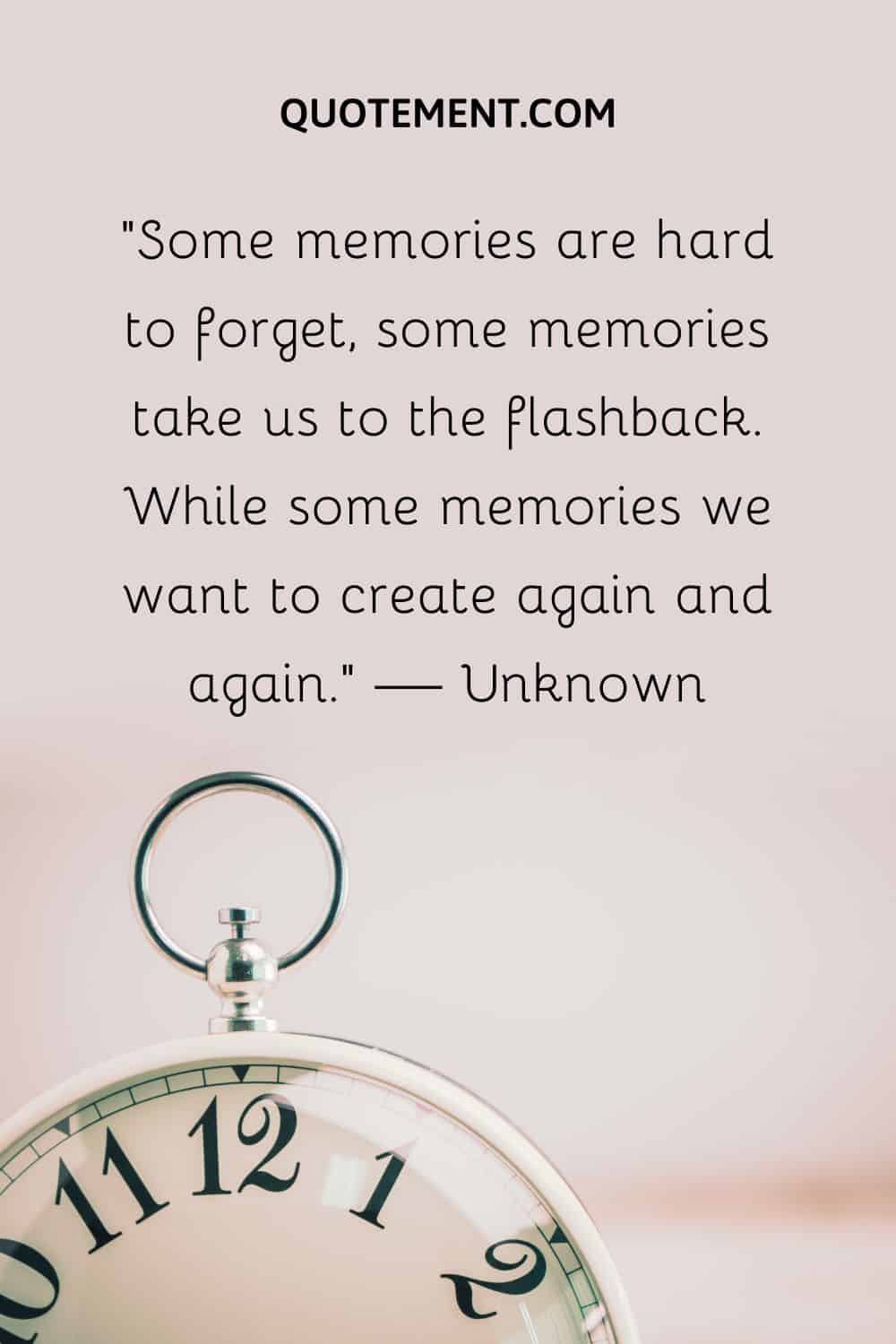 16. "Own only what you can always carry with you: know languages, know countries, know people. Let your memory be your travel bag." — Aleksandr Solzhenitsyn, 'The Gulag Archipelago'
17. "Your memory is a monster; you forget—it doesn't." — John Irving, 'A Prayer For Owen Meany'
18. "If you wish to forget anything on the spot, make a note that this thing is to be remembered." — Edgar Allan Poe
19. "Life's most beautiful moments happen when you forget cameras and capture them in your heart." — Unknown
20. "Sometimes you don't realize how good the good old days were until they're gone." — Unknown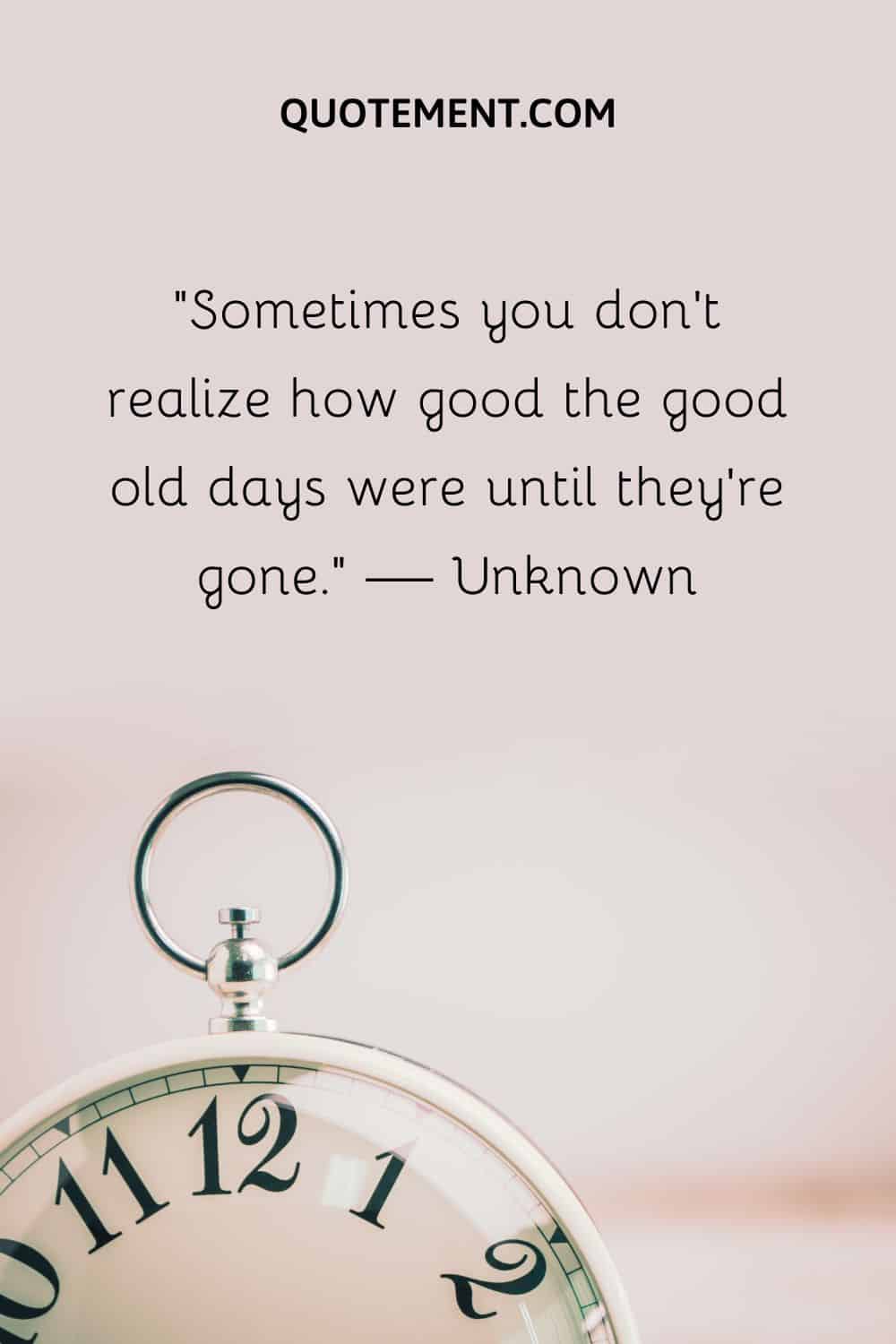 21. "A clear conscience is the sure sign of a bad memory." — Mark Twain
22. "I can only note that the past is beautiful because one never realizes an emotion at the time." — Virginia Woolf
23. "Life is a collection of moments." — Unknown
24. "Never forget those memories of your life that made you both cry and laugh." — Unknown
25. "The advantage of a bad memory is that one enjoys several times the same good things for the first time." — Friedrich Nietzsche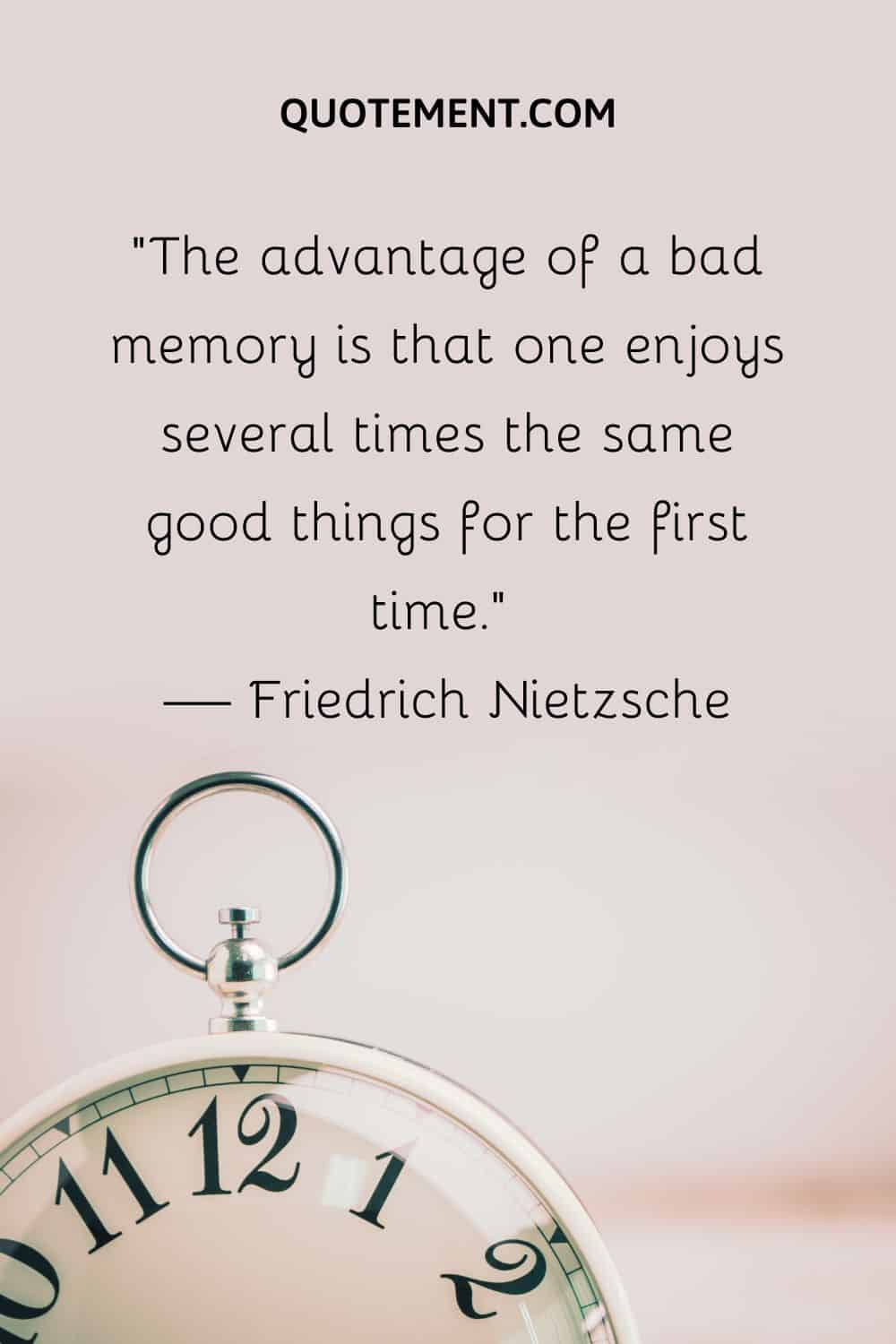 Unforgettable Moments Quotes
Relive the unforgettable moments you experienced in your past with this list of unforgettable memories quotes.
1. "No one can ever take your memories from you – each day is a new beginning, make good memories every day." — Catherine Pulsifer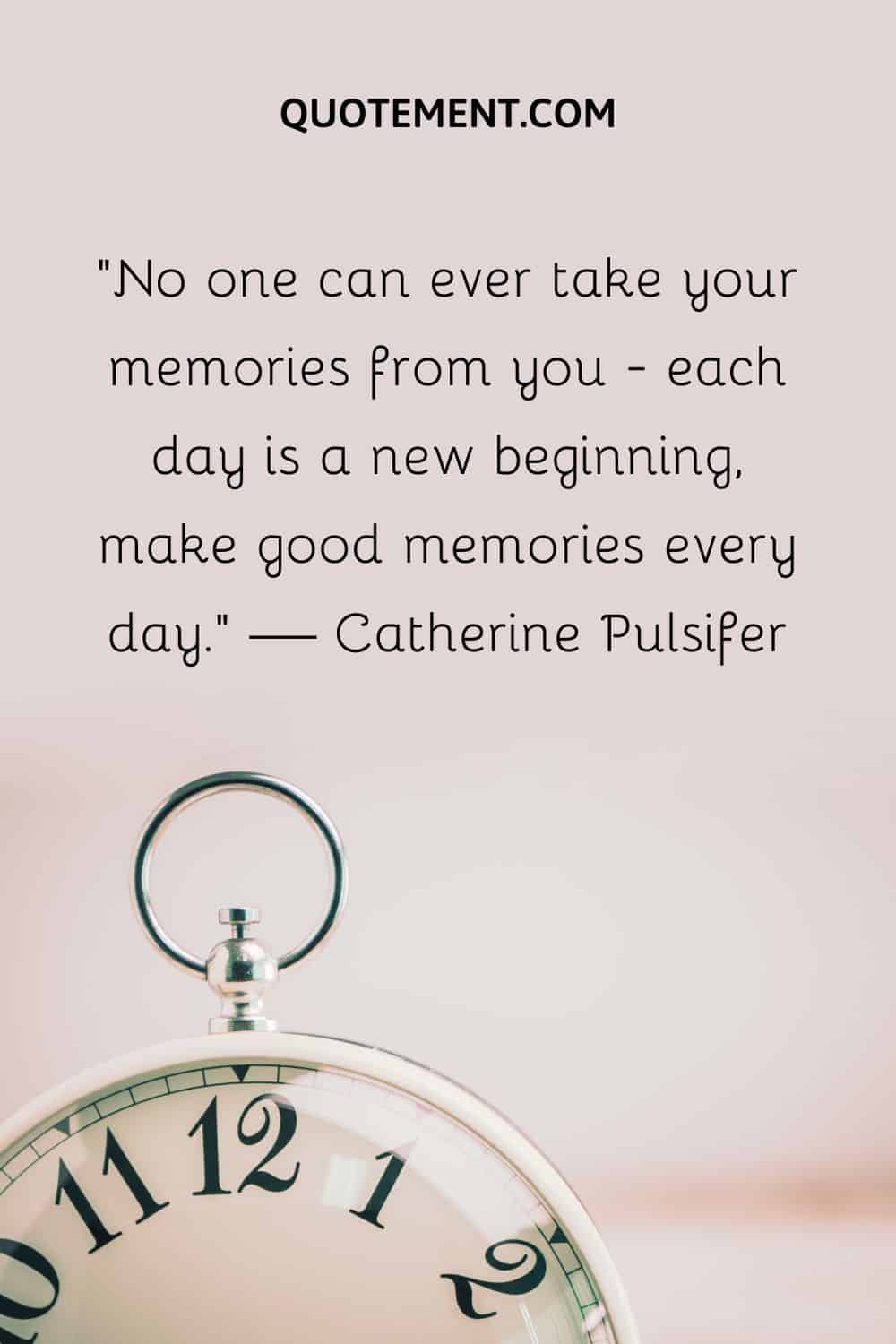 2. "Memories are timeless treasures of the heart." — Unknown
3. "Nothing brings to life again a forgotten memory like a fragrance." — Christopher Poindexter
4. "The deepest-rooted and most pleasurable memories are usually those from earliest childhood, and are often unconsciously associated with a parental figure. " — Robert Greene, 'The Art Of Seduction'
5. "We all have our time machines, don't we? Those that take us back are memories… And those that carry us forward are dreams." — H.G. Wells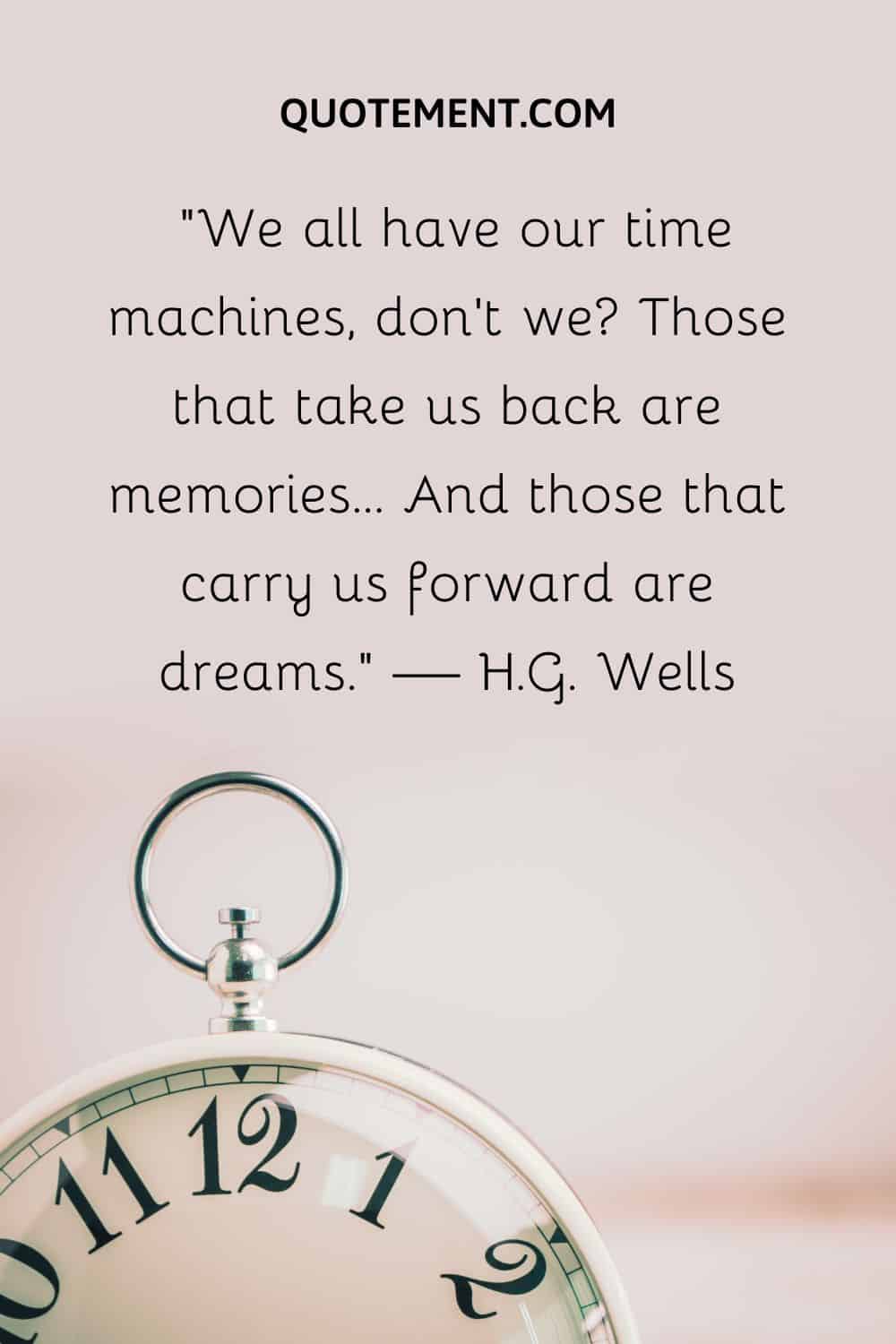 6. "We find after years of struggle that we do not take a trip; a trip takes us." — John Steinbeck, 'Travels With Charley'
7. "Touch has a memory." — John Keats
8. "But the mind is like a phantom that lives only in the past or future." — Dan Millman, 'Way Of The Peaceful Warrior'.
9. "God gave us memory so that we might have roses in December." — J.M. Barrie
10. "What I like about photographs is that they capture a moment that's gone forever, impossible to reproduce." — Karl Lagerfeld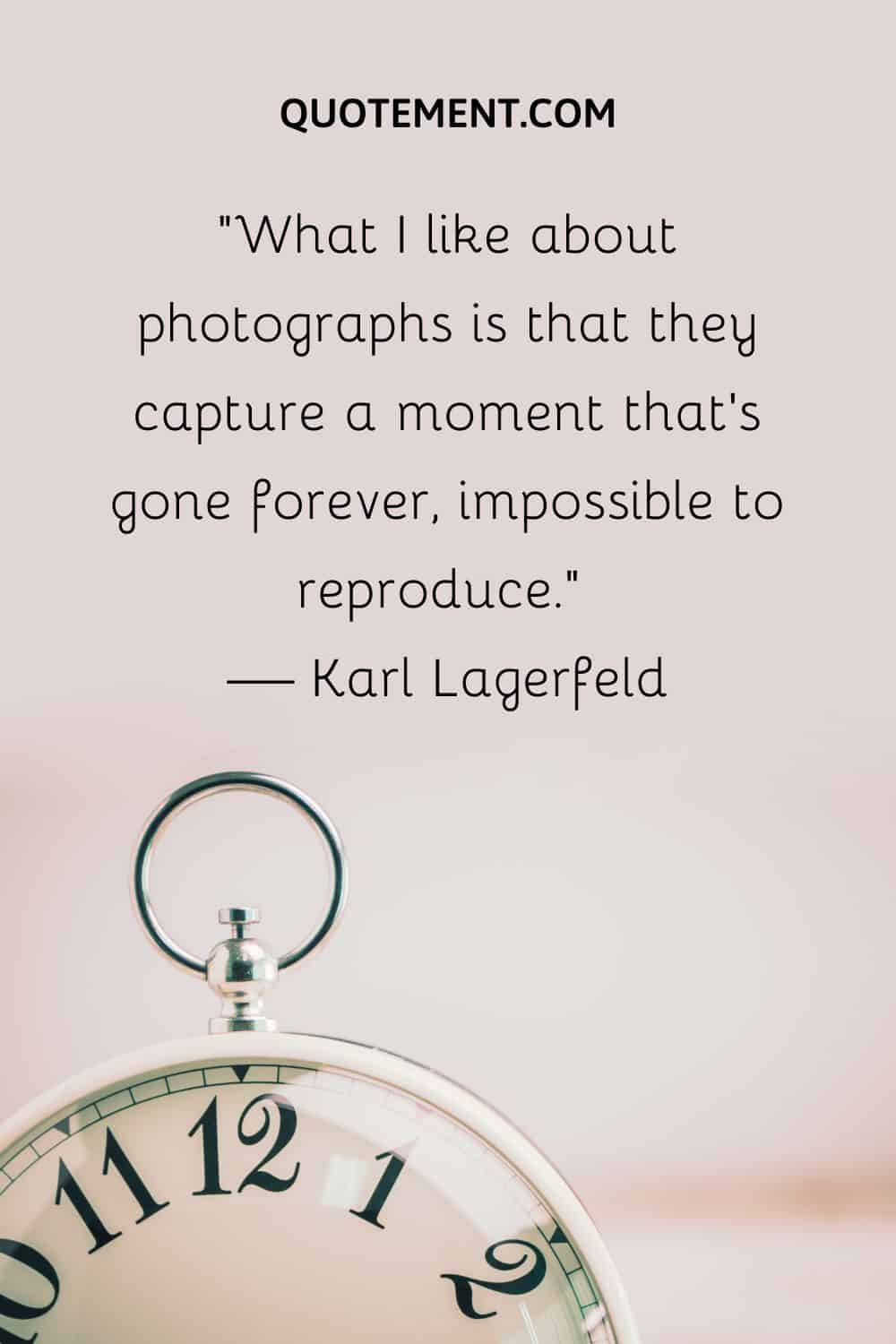 11. "Some things don't last forever, but some things do. Like a good song, or a good book, or a good memory you can take out and unfold in your darkest times, pressing down on the corners and peering in close, hoping you still recognize the person you see there." — Sarah Dessen, This Lullaby
12. "Memory is more indelible than ink." — Anita Loos
13. "It's just that… without the memories, it's all meaningless." — Lois Lowry, 'The Giver'
14. "How quickly things disappear: in the universe the bodies themselves but in time the memory of them." — Marcus Aurelius
15. "Our memory is a more perfect world than the universe: it gives back life to those who no longer exist." — Guy de Maupassant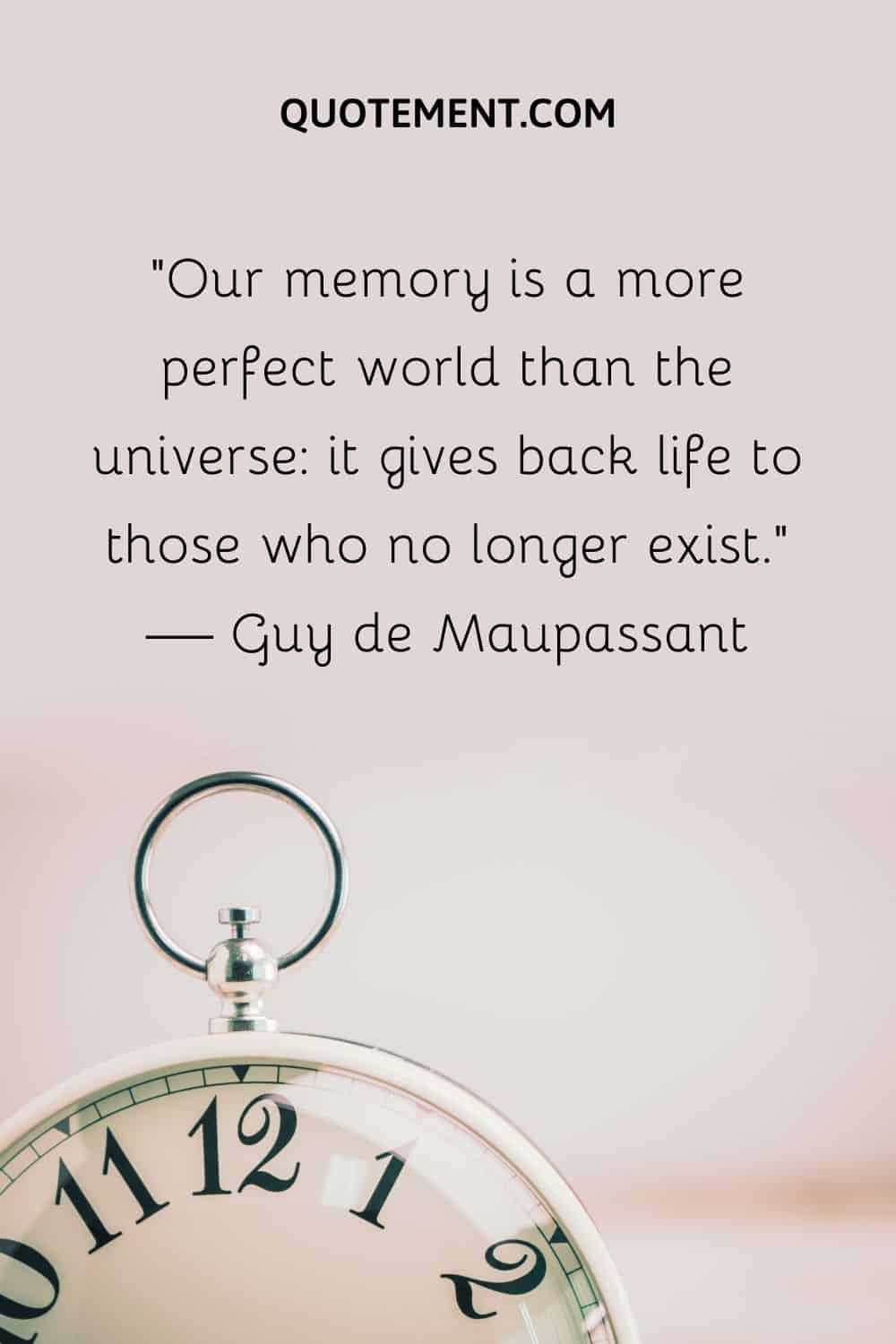 16. "High school is what kind of grows you into the person you are. I have great memories, good and bad, some learning experiences and some that I'll take with me the rest of my life." — Giancarlo Stanton
17. "Truly precious memories will never vanish even if you discard the objects associated with them." — Marie Kondo, 'The Life-Changing Magic Of Tidying Up'
18. What you end up remembering isn't always the same as what you have witnessed." — Julian Barnes, 'The Sense Of An Ending'
19. "One day, your life will flash before your eyes. Make sure it's worth watching" — Gerard Way
20. "We didn't realize we were making memories, we just knew we were having fun." — Winnie the Pooh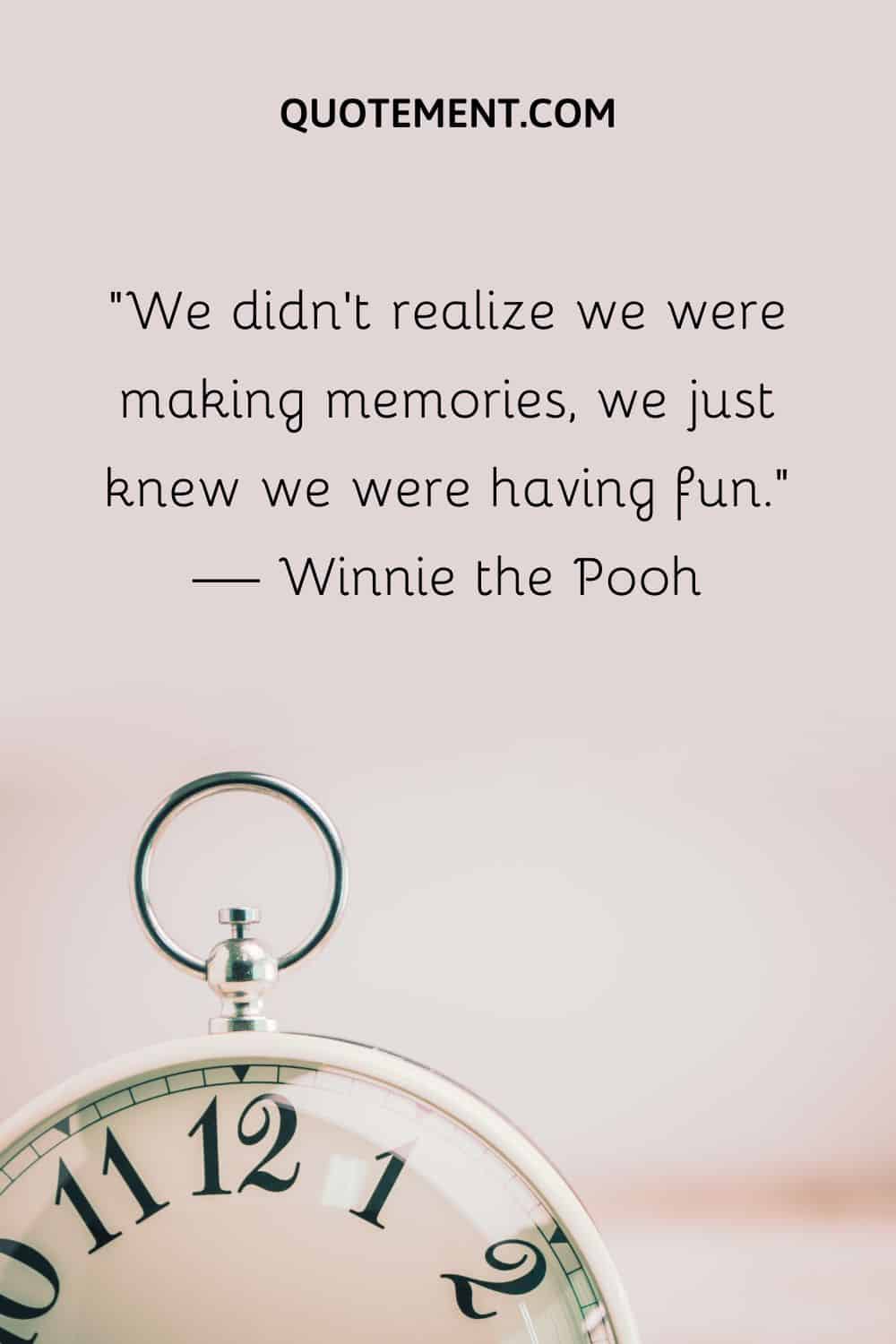 21. "Recalling days of sadness, memories haunt me. Recalling days of happiness, I haunt my memories." — Robert Brault
22. "The best memories of our life can never be captured in pictures, they are always captured by heart." — Unknown
23. "Music, at its essence, is what gives us memories. And the longer a song has existed in our lives, the more memories we have of it." — Stevie Wonder
24. "Beautiful memories will always make you smile." — Unknown
25. "Memories and thoughts age, just as people do. But certain thoughts can never age, and certain memories can never fade." — Haruki Murakami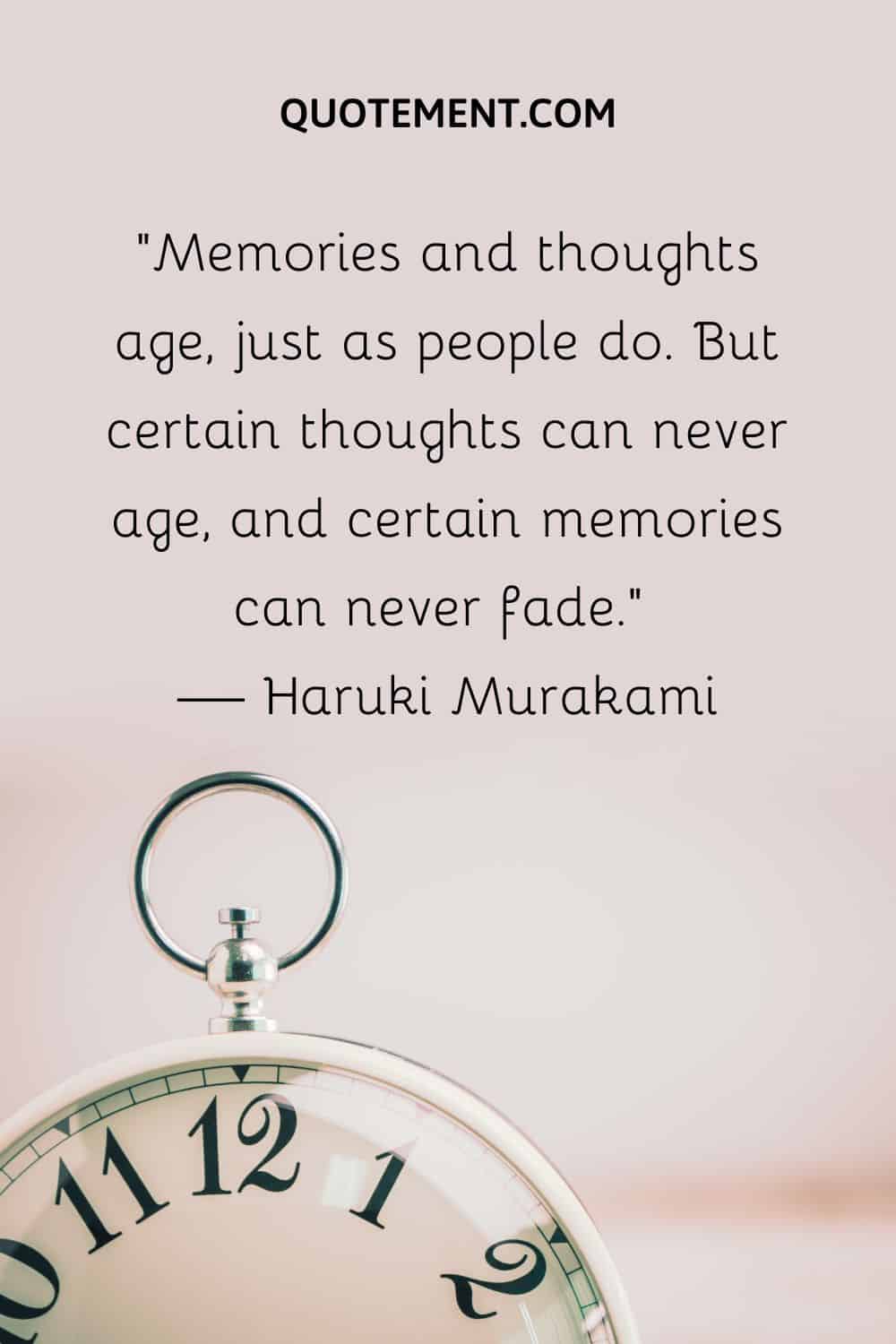 Happy Memories Of The Good Old Days
There are special events and moments in our past that we might be happy to recall. The following list of unforgettable memories quotes will take you back to those precious good old days.
1. "Old memories are like coffee with cream and sugar. When stirred, both can become mellow and sweet." — Susan Gale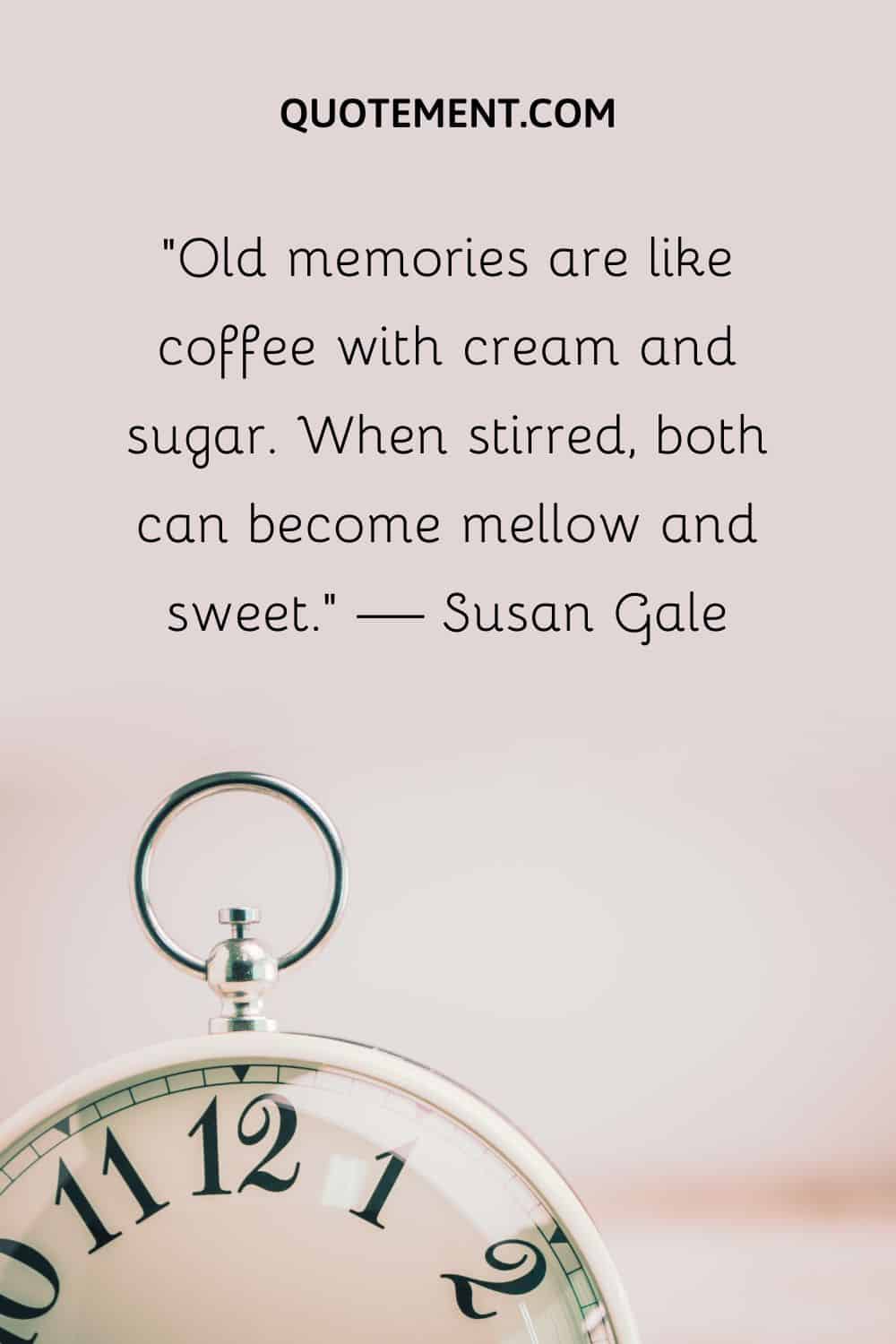 2. "The heart's memory eliminates the bad and magnifies the good." — Gabriel Garcia Marquez
3. "A good life is a collection of happy memories." — Denis Waitley
4. "Good times become good memories and bad times become good lessons." — Unknown
5. "When we think of the past, it's the beautiful things we pick out." — Margaret Atwood, 'The Handmaid's Tale'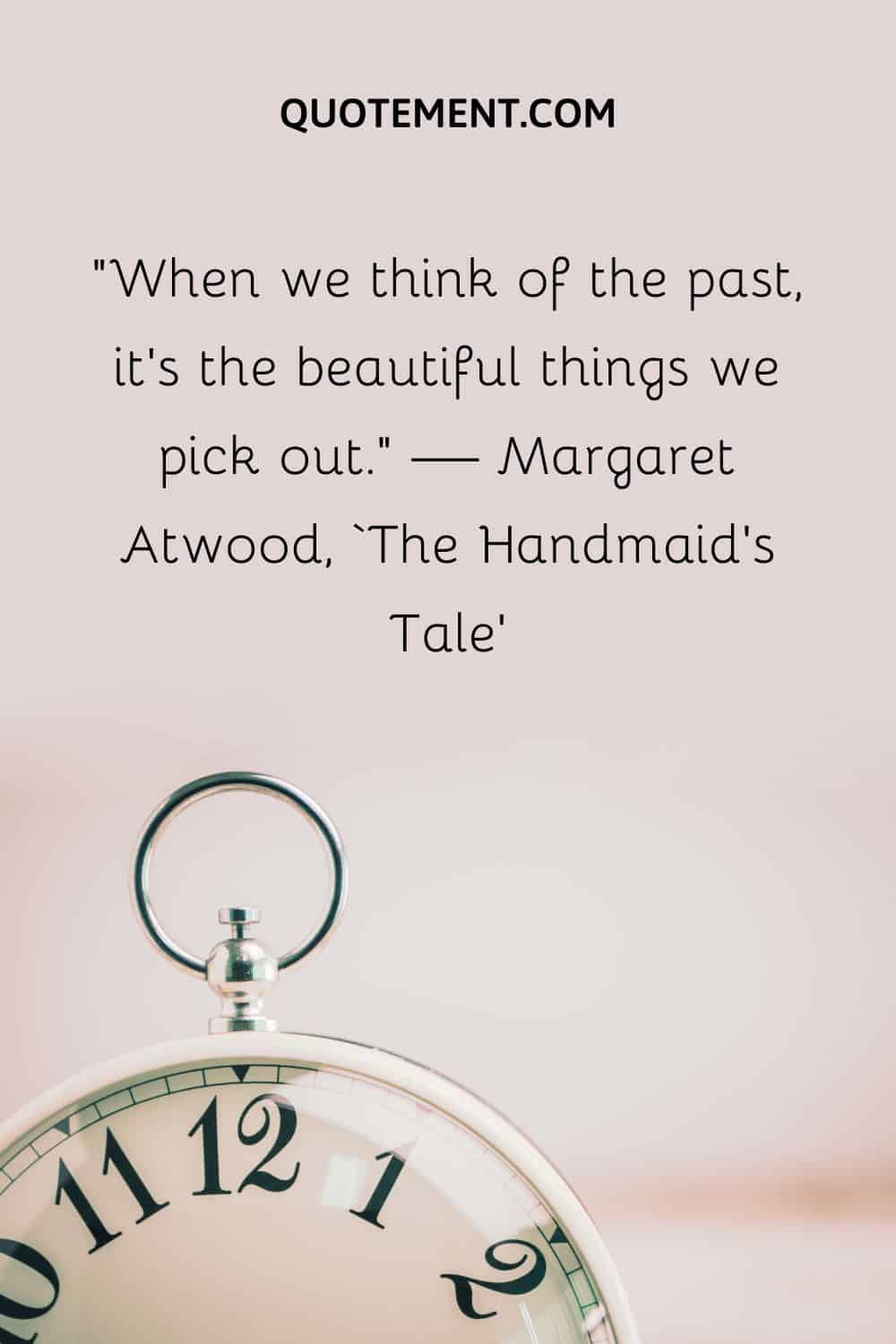 6. "What takes us back to the past are the memories." — Jeremy Irons
7. "It is strange how we hold on to the pieces of the past while we wait for our futures." — Ally Condie, 'Matched'
8. "The past beats inside me like a second heart." — John Banville, 'The Sea'
9. "Curious how a place unvisited can take such hold on the mind so that the very name sets up a ringing." — John Steinbeck, 'Travels With Charley'
10. "Remembrance of things past is not necessarily the remembrance of things as they were." — Marcel Proust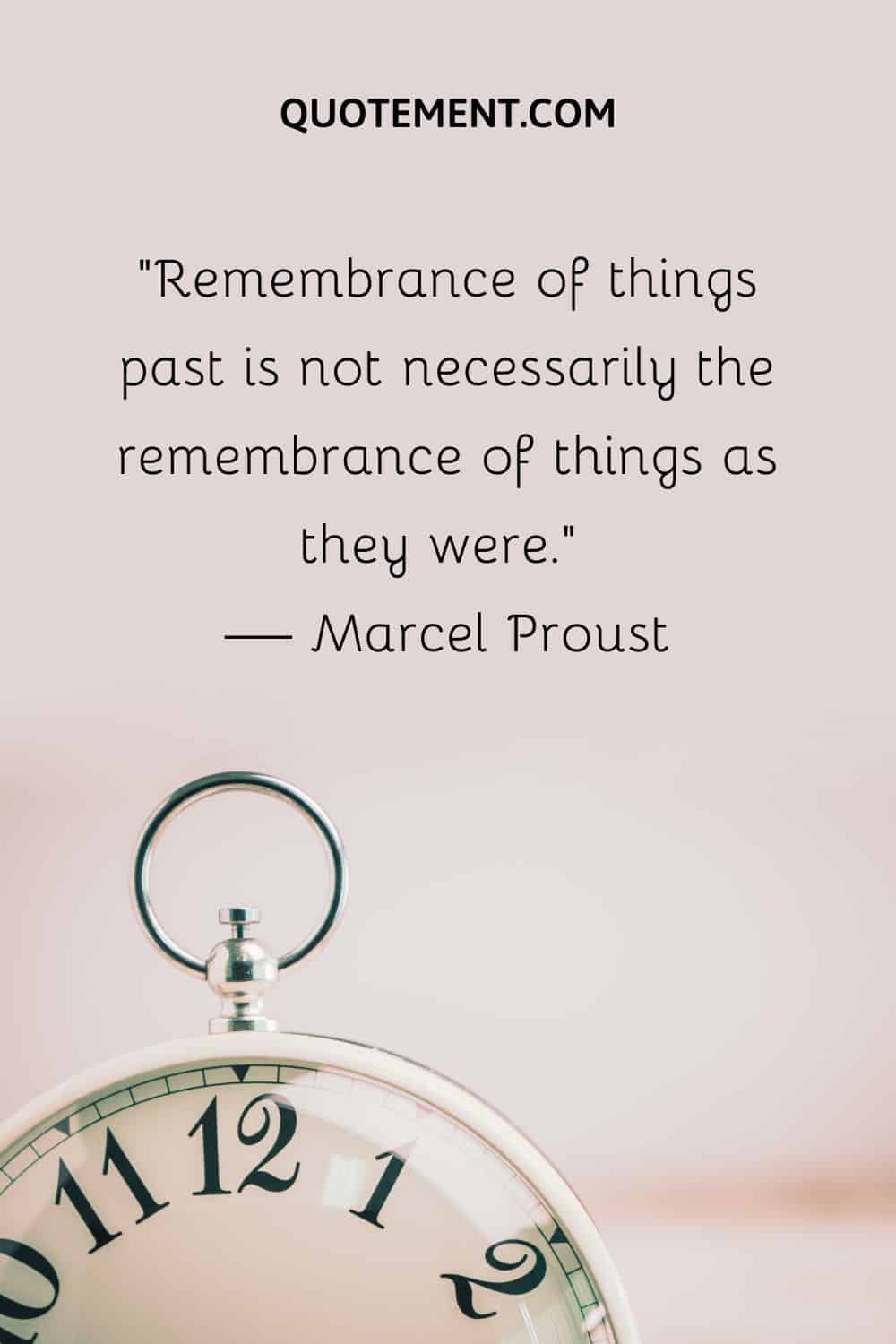 11. "The value of a smile… It costs nothing but creates much. It enriches those who receive without impoverishing those who give. It happens in a flash and the memory of it sometimes lasts forever." — Dale Carnegie
12. "Nostalgia is the suffering caused by an unappeased yearning to return." — Milan Kundera, 'Ignorance'
13. "Time moves in one direction, memory in another." — William Gibson
14. "Sometimes, I sit and think of all the memories I've made and smile. Then I smile even more at the thought of memories yet to be made." — Unknown
15. "Enjoy good memories. But don't spend your remaining days here looking back, wishing for 'the good old days." — Randy Alcorn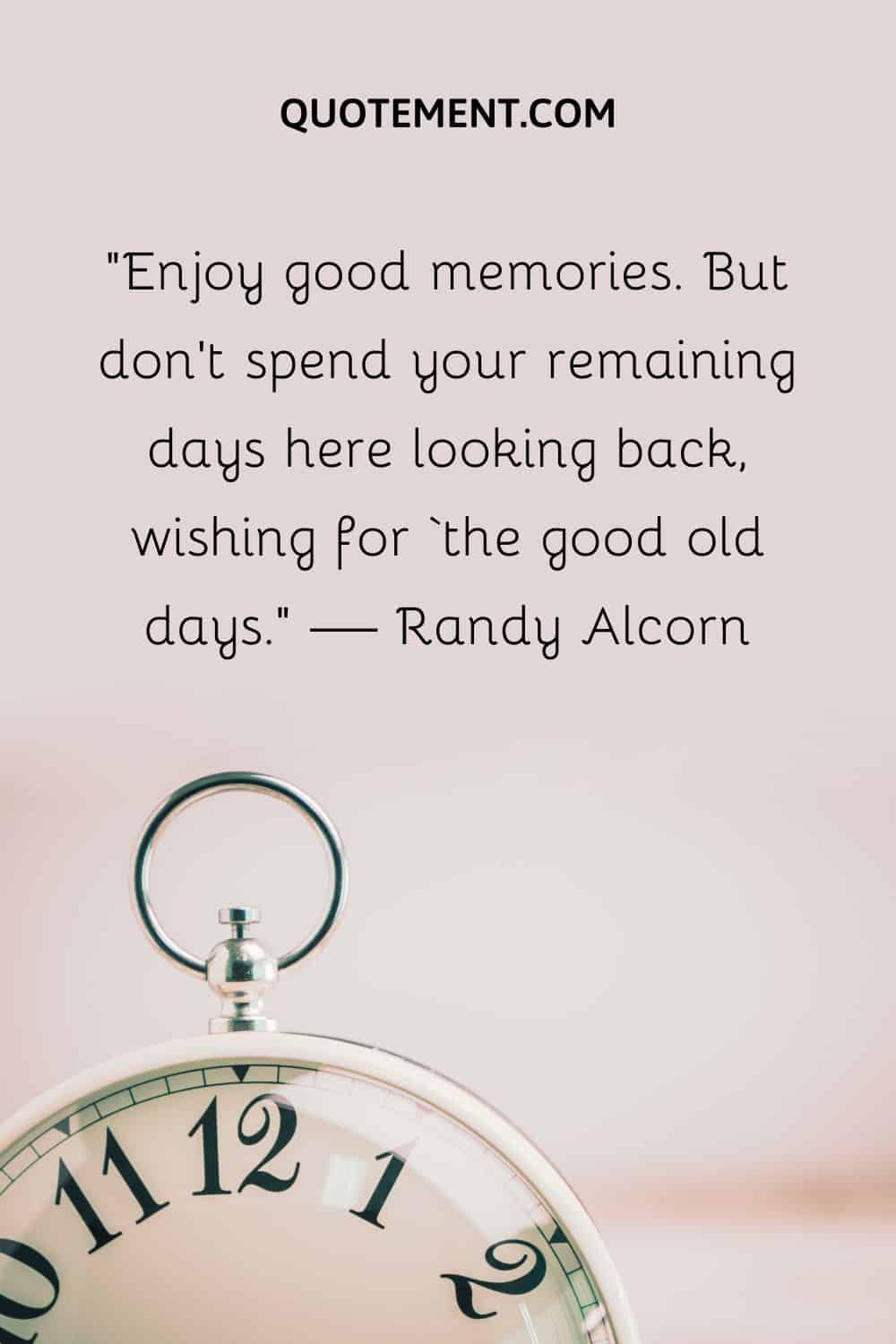 16. "Someday these will be the good old days." — Macklemore, 'Good Old Days'
17. "And we sit around, and we laugh about how we used to be. When all we cared about was turning 16." — Thomas Rhett, 'Sixteen'
18. "Memories can also be a burden that we carry around with us. Not every memory is a happy one." — Meik Wiking
19. "I'm still walkin' down memory lane." — Tim Mcgraw, 'Memory Lane'
20. "A memory is a photograph taken by the heart to make a special moment last forever." — Unknown
Life Quotes About Memories
Here are some life quotes and motivational words of wisdom about memories I found interesting.
1. "Our childhood memories are often fragments, brief moments or encounters, which together form the scrapbook of our life." — Edith Eger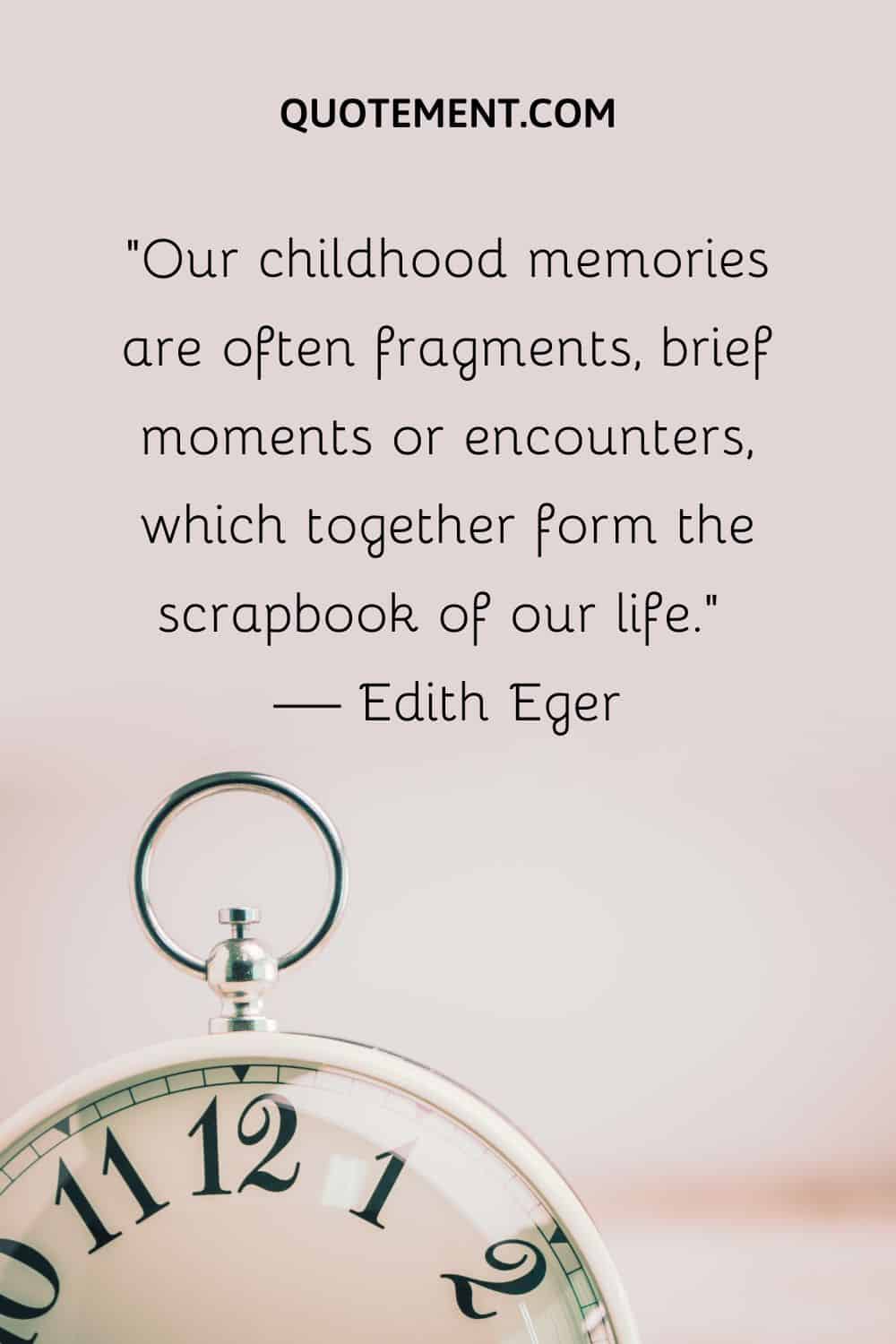 2. "Memories are like books; a few live in our hearts through life, and the rest, like the bills we pay, are read and then forgotten." — George Bendall
3. "When it comes to memories, the good and the bad never balance." — Jodi Picoult
4. "Memories play a very confusing role, they make us laugh when we remember the times we cried but make us cry when we remember the times we laughed" — Unknown
5. "There are memories that time does not erase." — Cassandra Clare, 'City Of Heavenly Fire'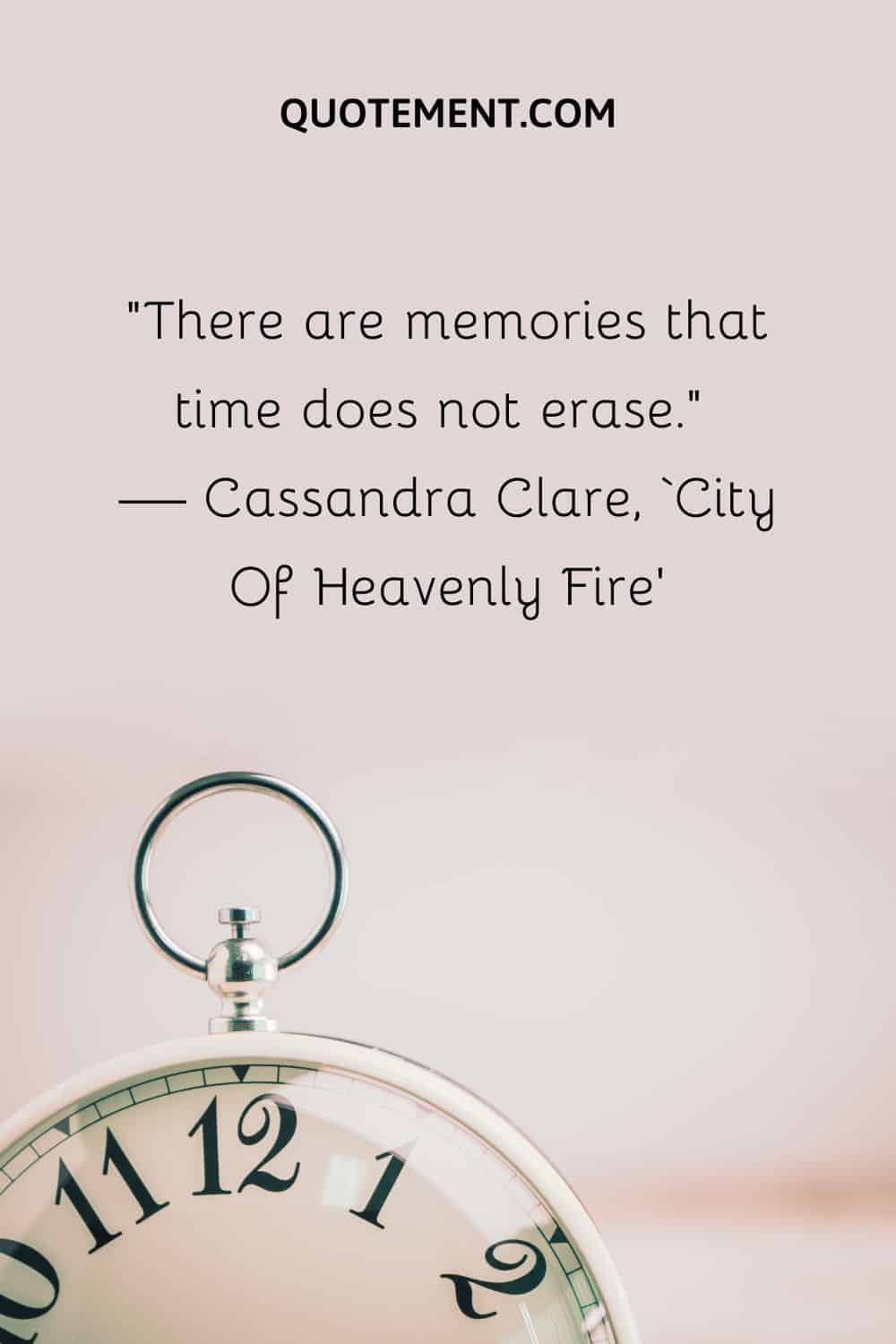 6. "Humans, not places, make memories." — Ama Ata Aidoo
7. "Memories were the markers of the journey through life. It was necessary to know where you had come from. Only then could you know where you were going." — William Shatner
8. "It takes one thought, one second, one moment or positive memory to act as a catalyst for the light to gradually seep in again." — Fearne Cotton
9. "When you are gone, the only truly important thing you will leave behind are the memories you've created. How do you want to be remembered?" — Michael Hyatt
10. "Memories are like antiques, the older they are, the more valuable they became." — Marinela Reka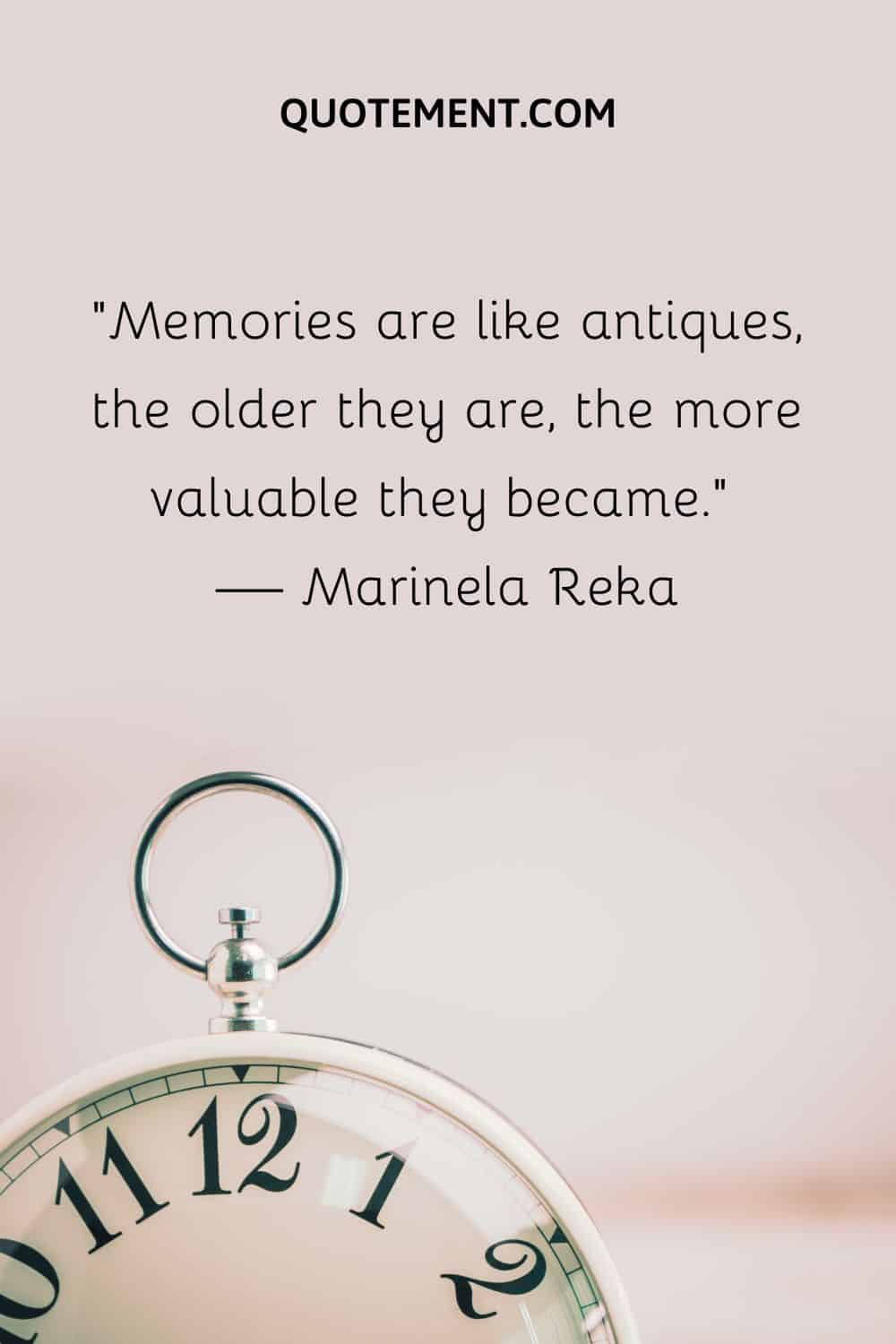 11. "Being a human, it's all about creating beautiful memories." — Unknown
12. "We must use time wisely for our development and advancement; so that when we are old, we can look back and recollect the pleasant memories and deeds that we have achieved." — Michael Lee
13. "Our memories give us a voice and bear witness to history so that others might learn. So they might celebrate our triumphs and be warned of our failures." — Mohinder Suresh
14. "If you want people to remember you, you need to give them something to remember you by." — Meik Wiking
15. "There's always a special space in our little hearts where we keep our beautiful memories of the good old days." — Unknown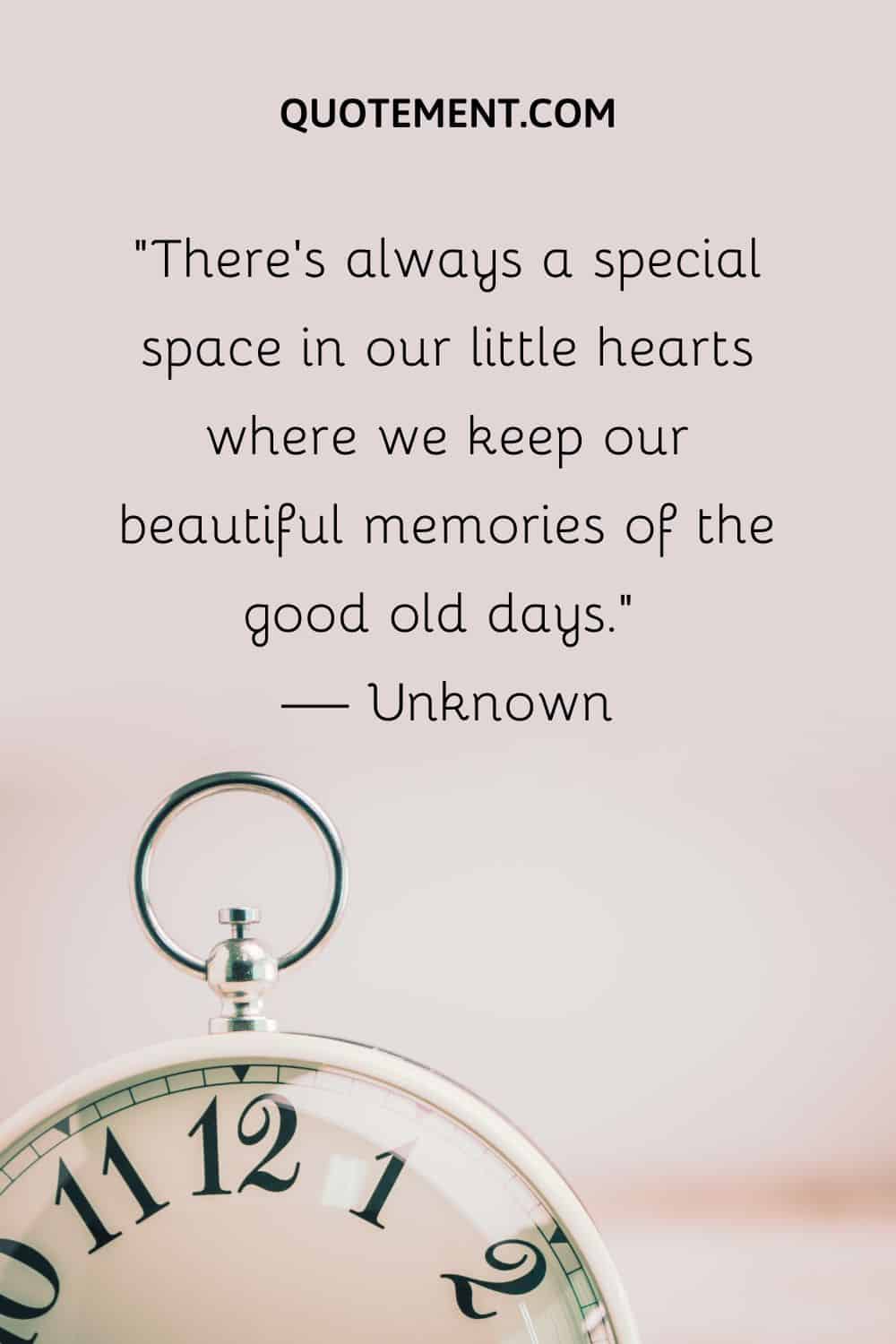 16. "Your memory is the glue that binds your life together; everything you are today is because of your amazing memory. You are a data collecting being, and your memory is where your life is lived." — Kevin Horsley
17. "Memory is the diary we all carry about with us." — Oscar Wilde
18. "It is the experiences, the memories, the great triumphant joy of living to the fullest extent in which real meaning is found. " — Jon Krakauer, 'Into The Wild'
19. "Grief and memory go together. After someone dies, that's what you're left with. And the memories are so slippery yet so rich." — Mike Mills
20. "Those moments you fail are not the end, they are periods in which you recollect thoughts, ideas, and ambitions, and change direction." — Benjamin Chapin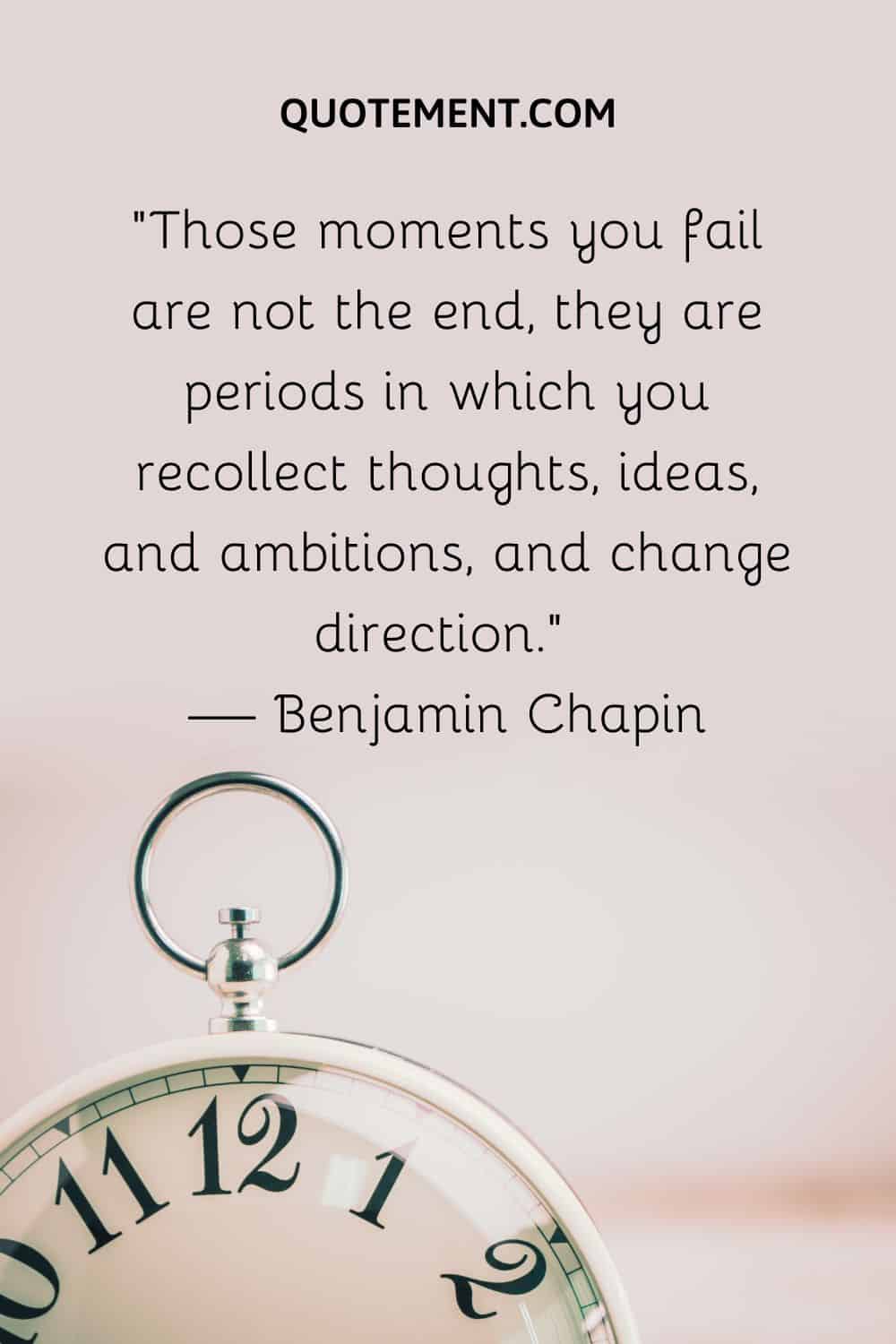 21. "It doesn't matter what you did in the past, you can't change it. The best you can do about your past is to be nostalgic with your family and loved ones about happy memories." — Zoe McKey, The Unlimited Mind
22. "Life, sometimes so wearying, is worth its weight in gold. The experience of traveling lends wisdom that is old. Beyond our living memory, a softly spoken prayer: it's the journey that's important, not the getting there!" — John McLeod
23. "Happiness is discussing your childhood memories with your long-distance siblings." — Unknown
24. "Things pass, and the best we can do is to let them really go away. Getting rid of certain memories also means making some room for other memories to take their place." — Paulo Coelho
25. "Maybe our happiness depends not only on what we can remember but also on what we are able to forget." — Meik Wiking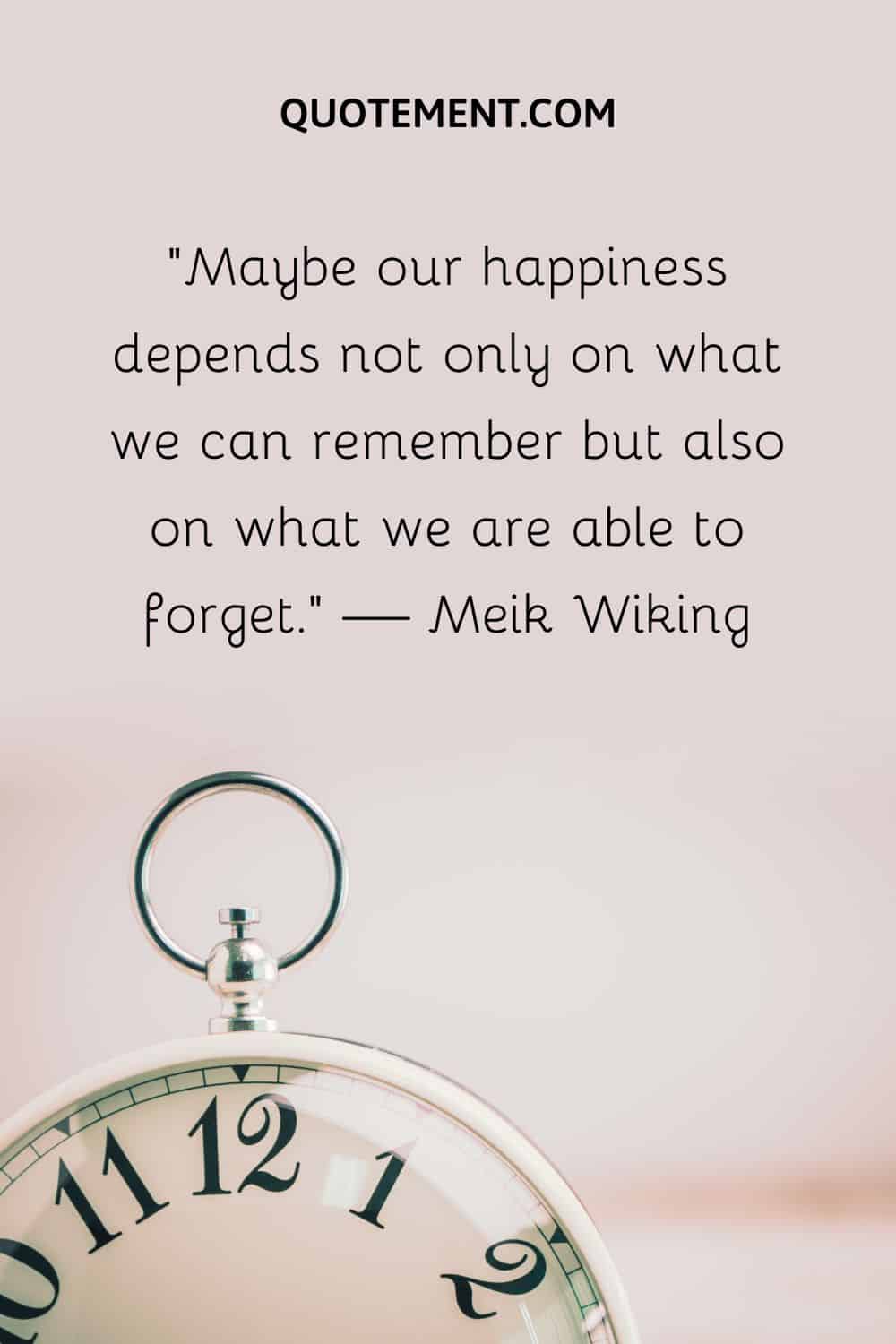 Love Memories Quotes
People walk in and out of our lives, and there's no way to know when someone we love will be gone. But, we'll always have the sweet memories of those unforgettable moments spent with them. I'm sure you'll enjoy the love memories quotes I gathered in the list below.
1. "I think it is all a matter of love; the more you love a memory, the stronger and stranger it becomes." — Vladimir Nabokov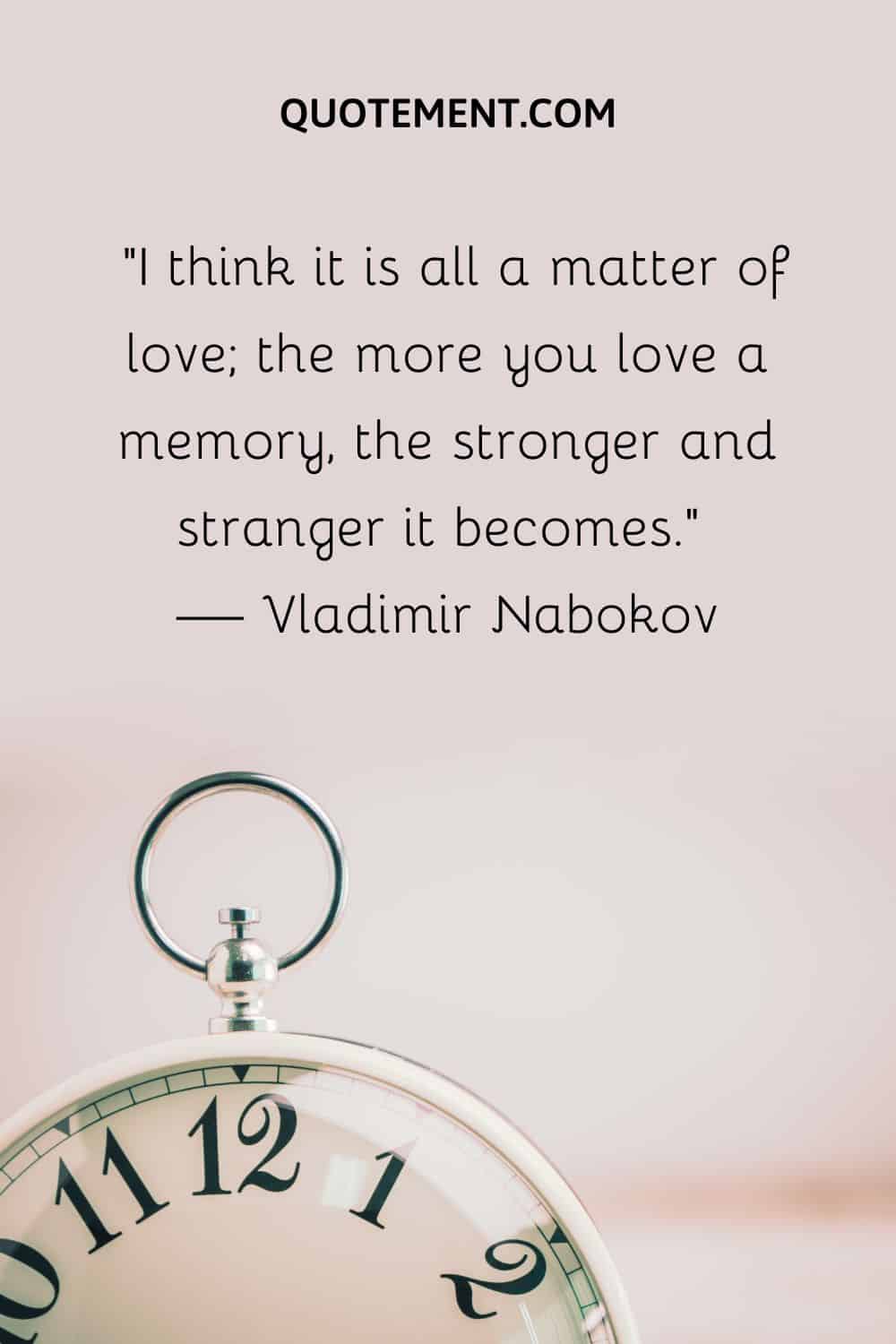 2. "The heart that truly loves never forgets." — Proverb
3. "When we lose one we love, our bitterest tears are called forth by the memory of hours when we loved not enough." — Maurice Maeterlinck
4. "Lost love is still love. It takes a different form, that's all. You can't see their smile or bring them food or tousle their hair or move them around a dance floor. But when those senses weaken, another heightens. Memory. Memory becomes your partner. You nurture it. You hold it. You dance with it." — Mitch Albom
5. "Our sweet memories can smooth out the rough edges of our life's biography." — Unknown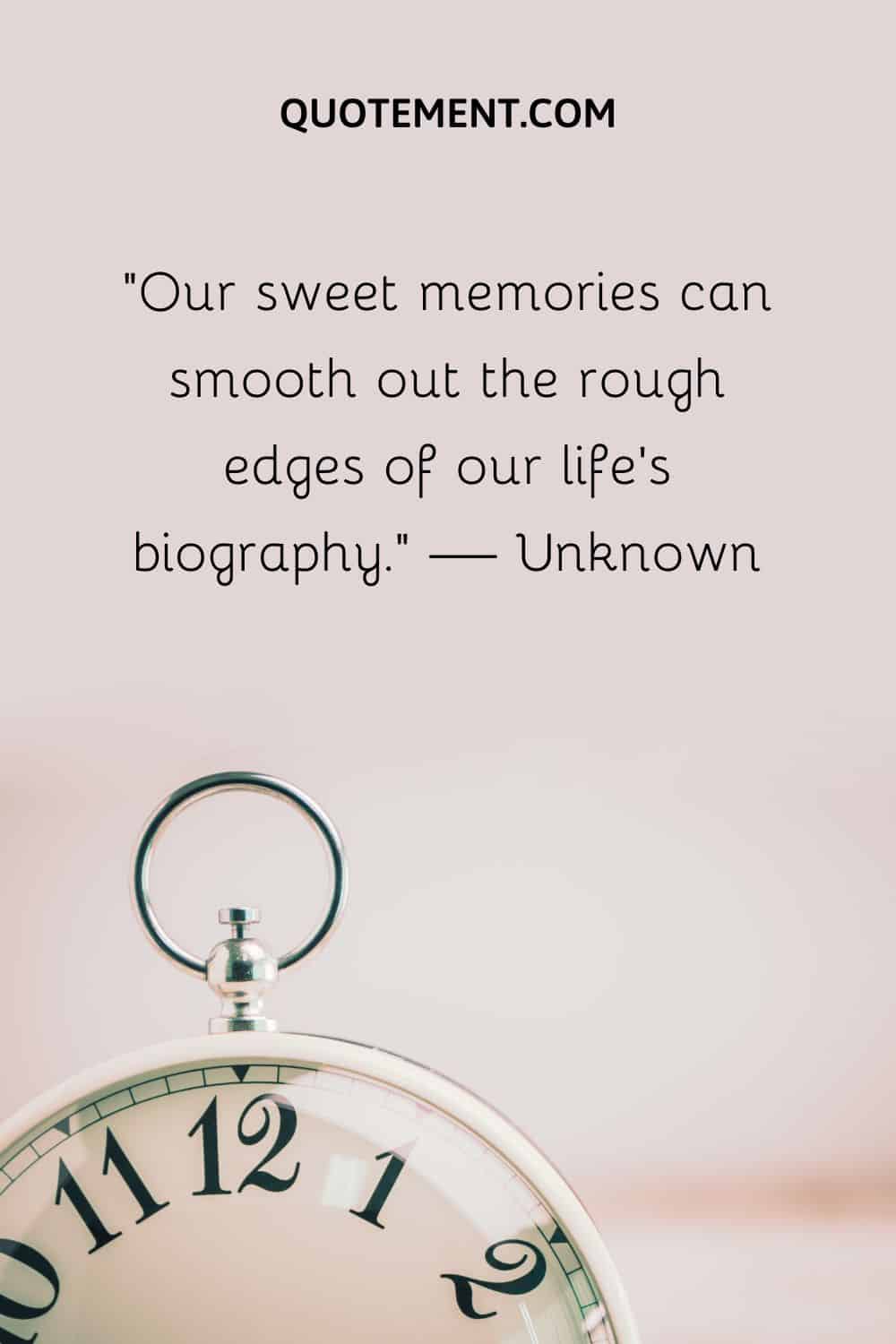 6. "When someone you love becomes a memory, that memory becomes a treasure." — Unknown
7. "Isn't it funny how the memories you cherish before a breakup can become your worst enemies afterward?" — Allyson Braithwaite Condie, 'First Day'
8. "Anyone who falls in love is searching for the missing pieces of themselves. So anyone who's in love gets sad when they think of their lover. It's like stepping back inside a room you have fond memories of, one you haven't seen in a long time." — Haruki Murakami
9. "The greatest treasures are those invisible to the eye but felt by the heart." — Unknown
10. "As long as we can love each other, and remember the feeling of love we had, we can die without ever really going away." — Mitch Albom, 'Tuesdays With Morrie'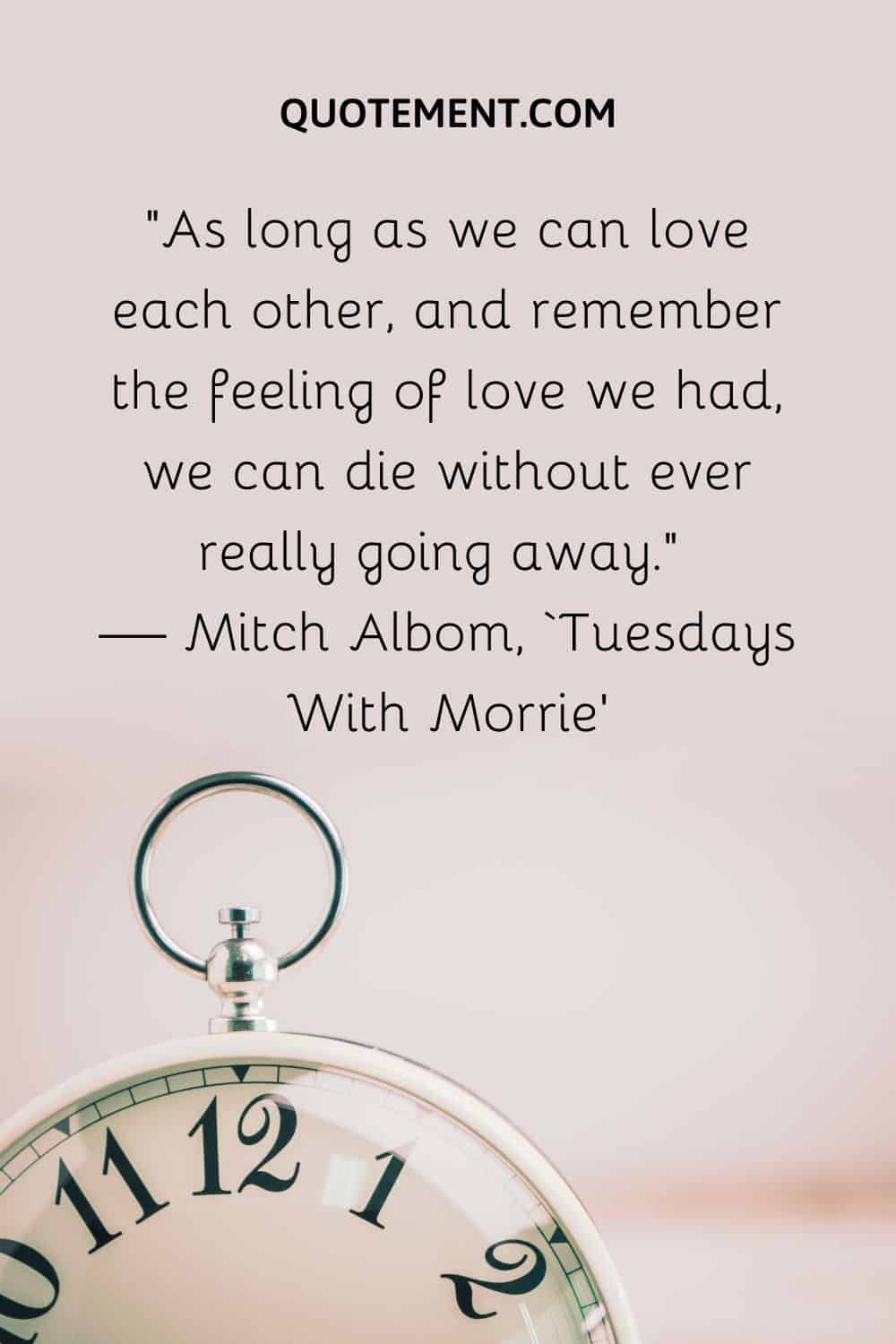 11. "Perhaps love is like a resting place, a shelter from the storm. It exists to give you comfort, it is there to keep you warm, and in those times of trouble when you are most alone, the memory of love will bring you home." — John Denver
12. "Love is a really scary thing, and you never know what's going to happen. It's one of the most beautiful things in life, but it's one of the most terrifying. It's worth the fear because you have more knowledge, experience, you learn from people, and you have memories." — Ariana Grande
13. "It is easy to love people in memory; the hard thing is to love them when they are there in front of you." — John Updike, My Father's Tears And Other Stories
14. "We fell in love, despite our differences, and once we did, something rare and beautiful was created. For me, love like that has only happened once, and that's why every minute we spent together has been seared in my memory. I'll never forget a single moment of it." — Nicholas Sparks, The Notebook
15. "Sweet memories remind us of the roads we have traveled and the people we have loved." — Unknown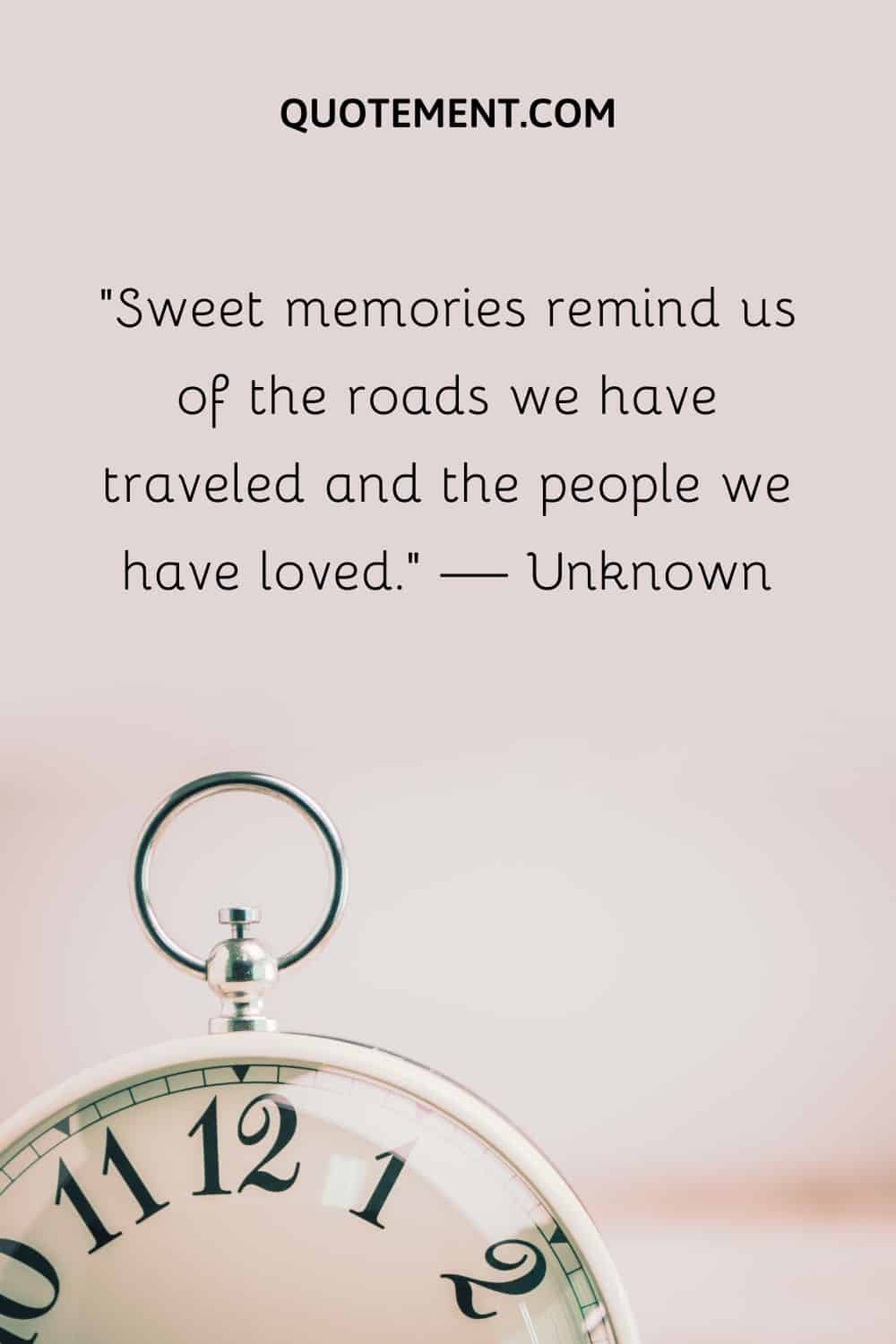 Heartwarming Friendship Memories Quotes
Here are some unforgettable memories quotes and beautiful friends quotes about the happiest moments spent with friends.
1. "So long as the memory of certain beloved friends lives in my heart, I shall say that life is good." — Helen Keller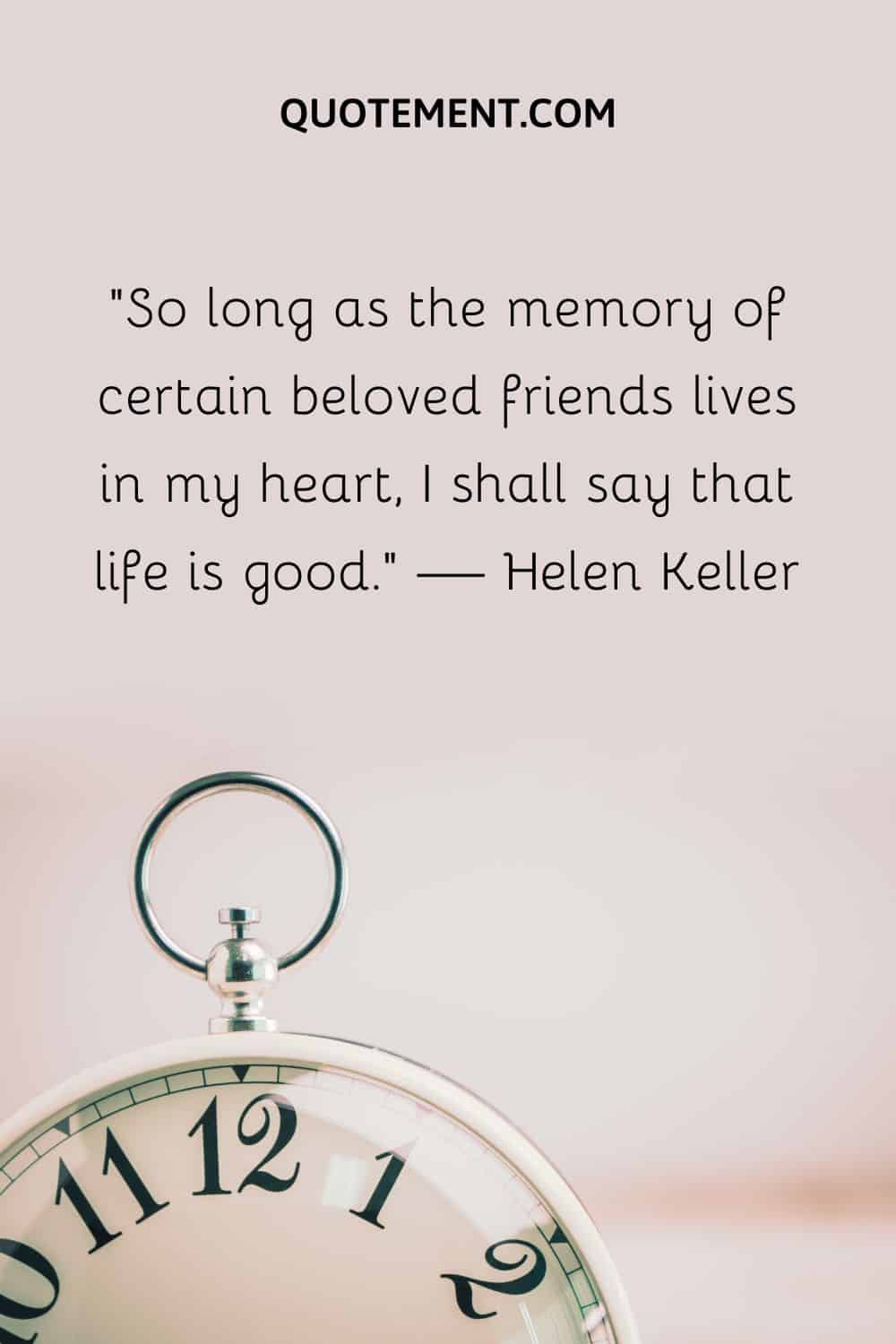 2. "Someday, many years from now, we'll sit beside the candle's glow, exchanging tales about our past and laughing as the memories flow. And when that distant day arrives, I know it will be understood that friendship is the key to life, and we were friends, and it was good." — Eileen Hehl
3. "Never forget the days I spent with you. Continue to be my friend, as you will always find me yours." — Ludwig van Beethoven
4. "Look back in life, and you'll see that some of the best memories will be the simple moments spent with friends." — Unknown
5. "Millions of memories, Thousands of jokes, Hundreds of secrets, One reason, Best friends." — Unknown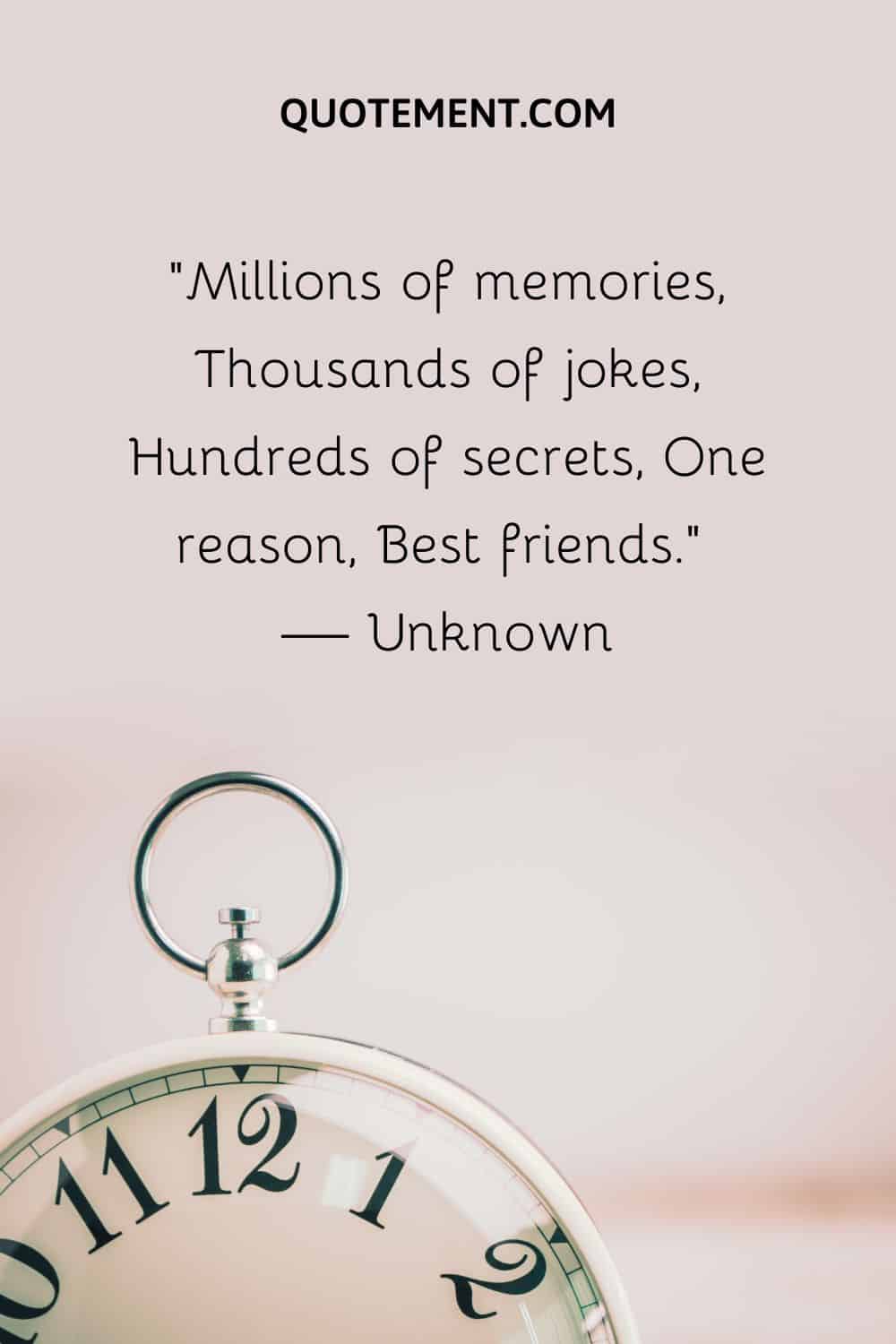 6. "Every moment comes on when I hear that old song that we used to sing with the words all wrong." — Zoya Roy
7. "I haven't seen you in a while, yet I often imagine all your expressions. I haven't spoken to you recently, but many times I hear your thoughts. Good friends can't always be together. It is the feeling of oneness, when distant, that proves a lasting friendship." — Unknown
8. "Friends are the most important part of your life. Treasure the tears, treasure the laughter, but most importantly, Treasure the memories." — Unknown
9. "There would be many things to follow, as our friendship has many things. And so many of them remind me of the happiness our friendship brings." — Julie Hebert
10. "Beautiful memories are like old friends. They may not always be on your mind, but they are forever in your heart." — Unknown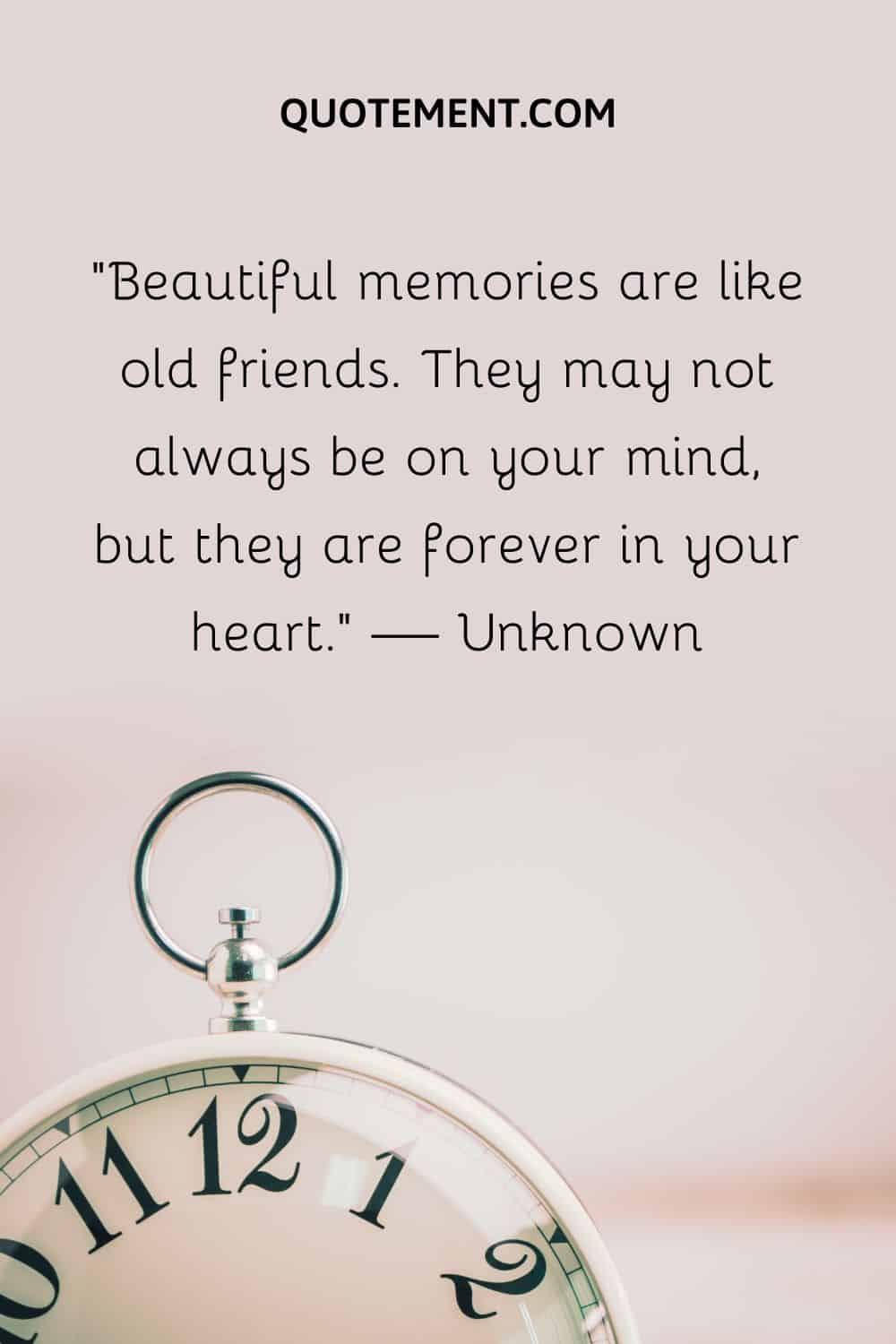 11. "The best memories are the ones with your best friends." — Unknown
12. "Close friends are truly life's treasures. Sometimes they know us better than we know ourselves. With gentle honesty, they are there to guide and support us, to share our laughter and our tears. Their presence reminds us that we are never really alone." — Vincent Van Gogh
13. "Childhood friendship is the most beautiful memory that can't ever be replaced." — Unknown
14. "Real friends know all of your best memories because they've spent them all with you." — Unknown
15. "You can't describe your best friends in words. You can describe them with memories that you had with them." — Saurabh Saini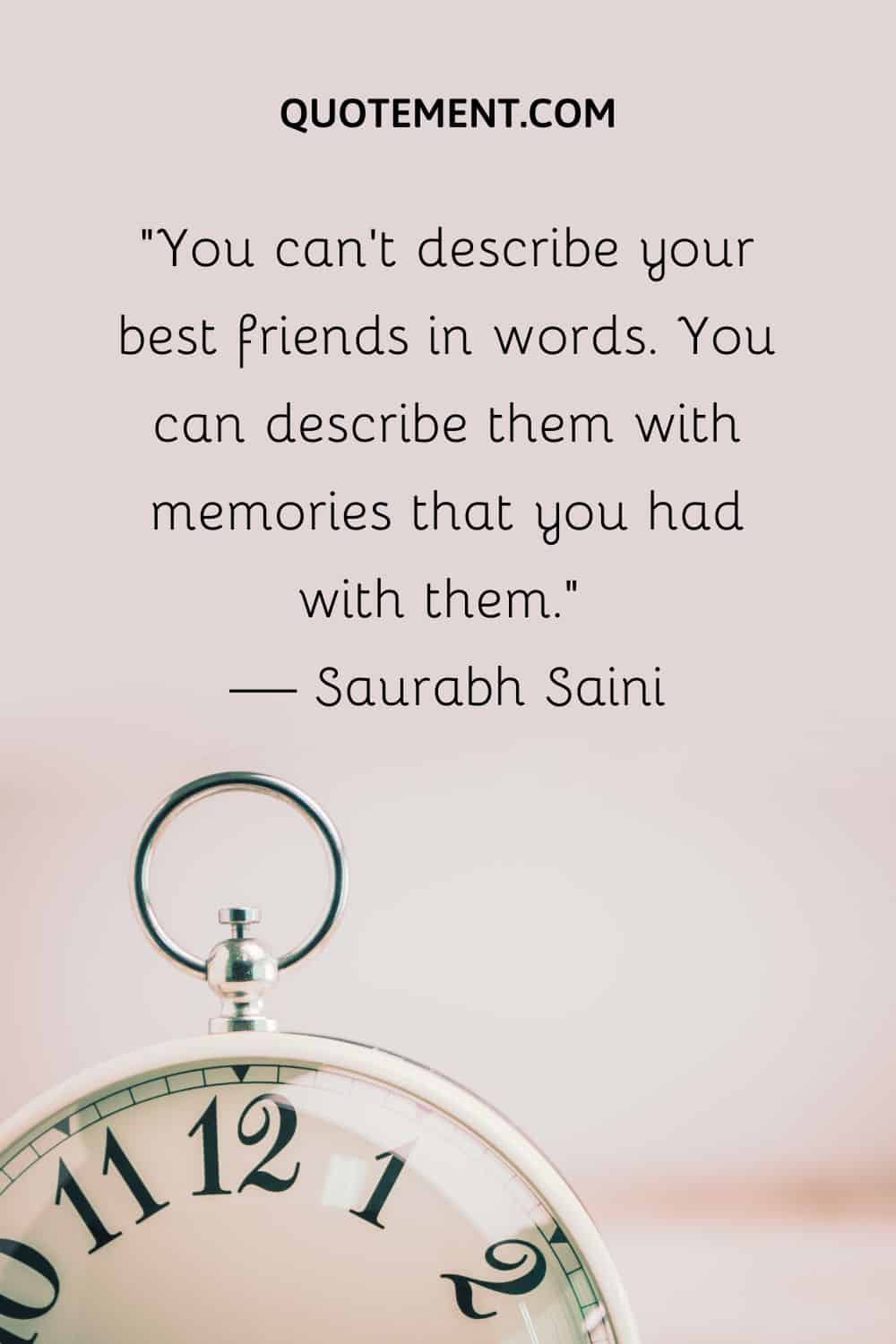 Wrapping It Up
I hope you liked my collection of unforgettable memories quotes, and that they made you travel through your mind to recall past experiences that once made you happy.
I especially hope you enjoyed that feeling.
Until next time!
Read next: 80 Today Is The Day We First Met Quotes For Your Love