Voice is such a powerful tool of expression, and we people love to use it. For today's article, I prepared a collection of beautiful singing quotes to inspire you to let your voice out and sing.
Being able to fully express yourself and create art using your voice is a tremendous blessing. That's why singers are one of the most adored artists in the world.
However, you don't have to be professional to sing. You don't even have to be good at it. You don't need an audience. You just need your voice.
Sing for yourself, and let your emotions come out. It's such a healing experience.
Stay with me until the end, and you'll discover a list of amazing singing quotes that will inspire you to sing your heart out.
Top 20 Singing Quotes
These are my absolute favorite singing quotes ever. Check them out!
1. "The woods would be quiet if no bird sang but the one that sang best." — Henry van Dyke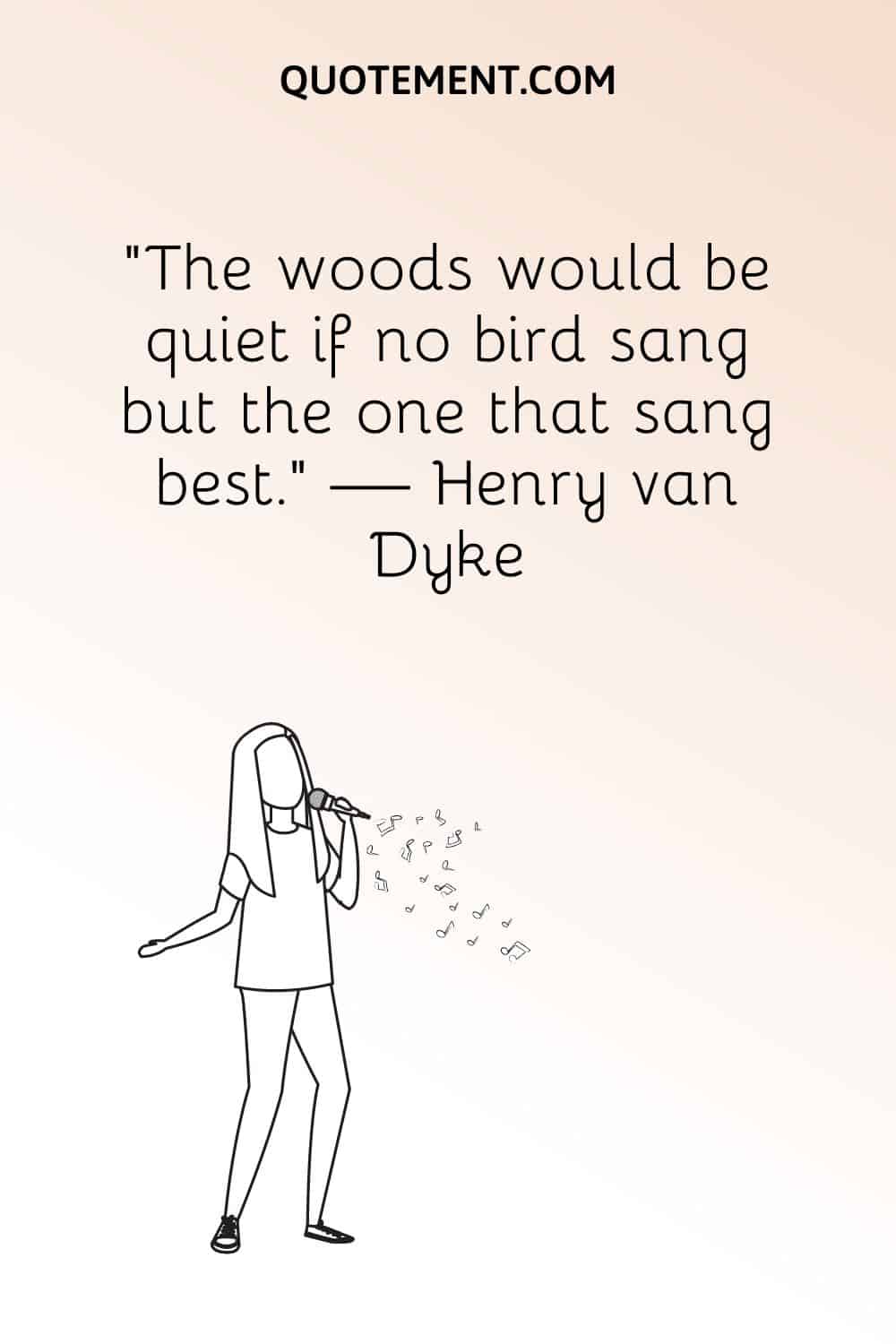 2. "Some days there won't be a song in your heart. Sing anyway." — Emory Austin
3. "Music can change the world." — Ludwig van Beethoven
4. "Words make you think. Music makes you feel. A song makes you feel a thought." — Yip Harburg
5. "Singing is a way of escaping. It's another world. I'm no longer on earth." — Edith Piaf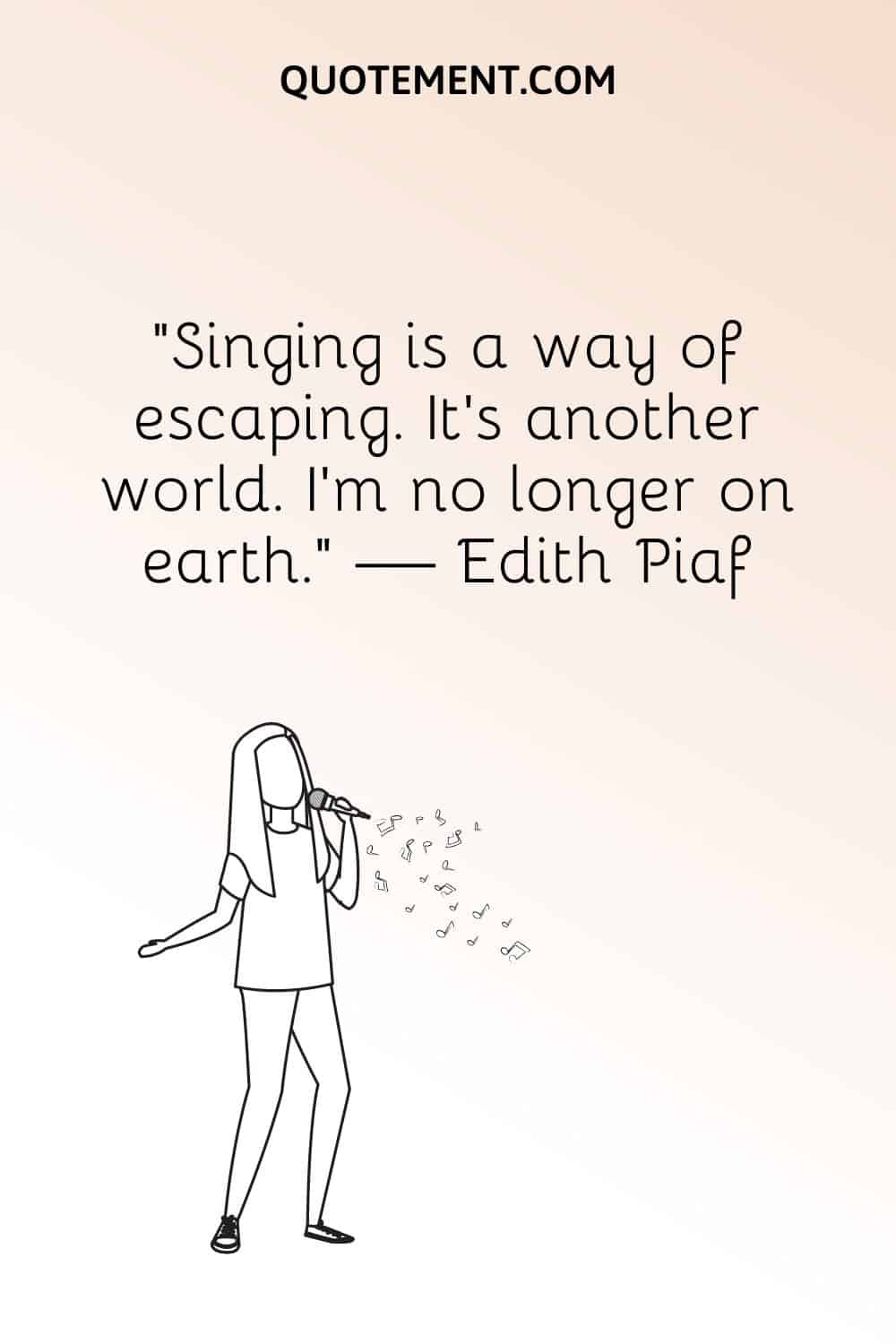 6. "When I discovered music — when I discovered the craft of shaping a song — my being fell into place." — Charlotte Eriksson
7. "I can't talk about my singing. I'm inside it. How can you describe something you're inside of?" — Janis Joplin
8. "If God wanted the woods to be quiet, He would not have given birds songs to sing." — Matshona Dhliwayo
9. "The whole basis of my singing is feeling. Unless I feel something, I can't sing." — Billie Holiday
10. "Singing connects the mind with the heart and the heart with the soul. So sing. I dare you!" — Neale Donald Walsch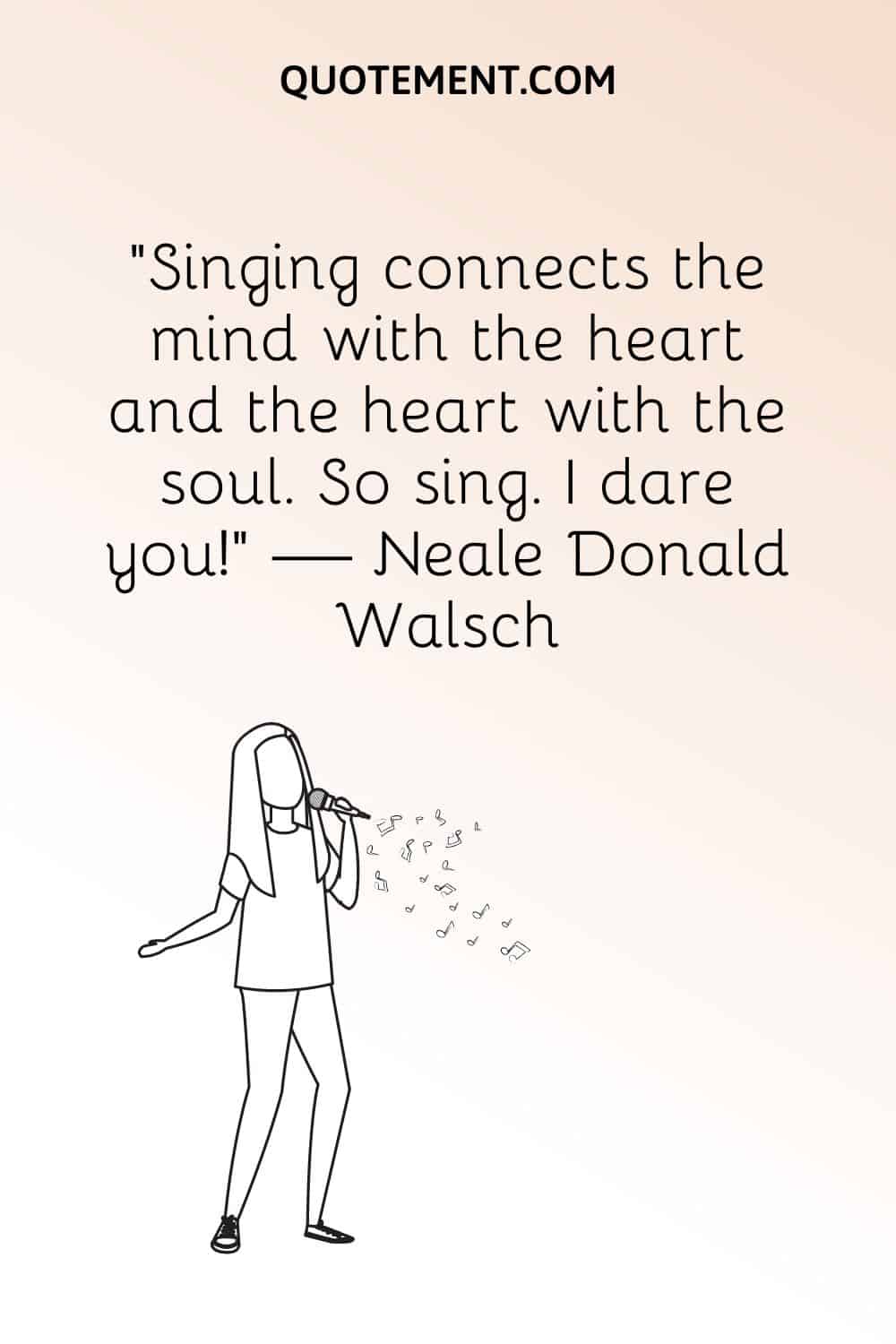 11. "Singing is a form of meditation… apparently the only one that I have command over." — Brandi Carlile
12. "To sing is to bring to the surface all the depth of one's being." — Marty Rubin
13. "There was one emotional outlet my people always had when they had the blues. That was singing." — Ethel Waters
14. "Music expresses that which cannot be said and on which it is impossible to be silent." — Victor Hugo
15. "It is a tale that you sing. As long as you believe it, it makes you powerful." — Kieron Gillen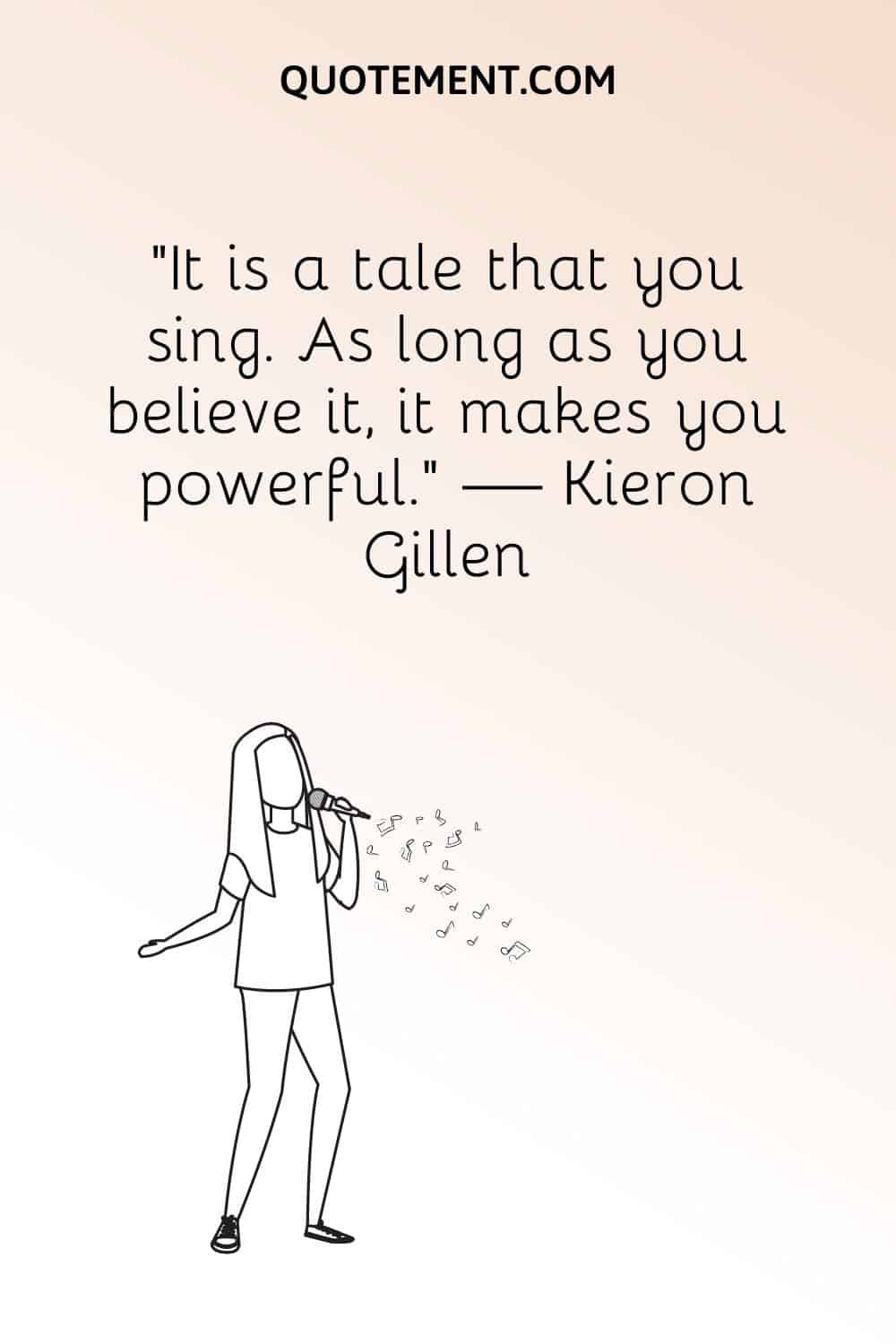 16. "A bird does not sing because it has an answer. It sings because it has a song." — Chinese Proverb
17. "Blessed is the nightbird that sings for joy and not to be heard." — Marty Rubin
18. "When I'm singing the blues, I'm singing life." — Etta James
19. "Singing has always seemed to me the most perfect means of expression." — Georgia O'Keeffe
20. "Music gives a soul to the universe, wings to the mind, flight to the imagination, and life to everything." — Plato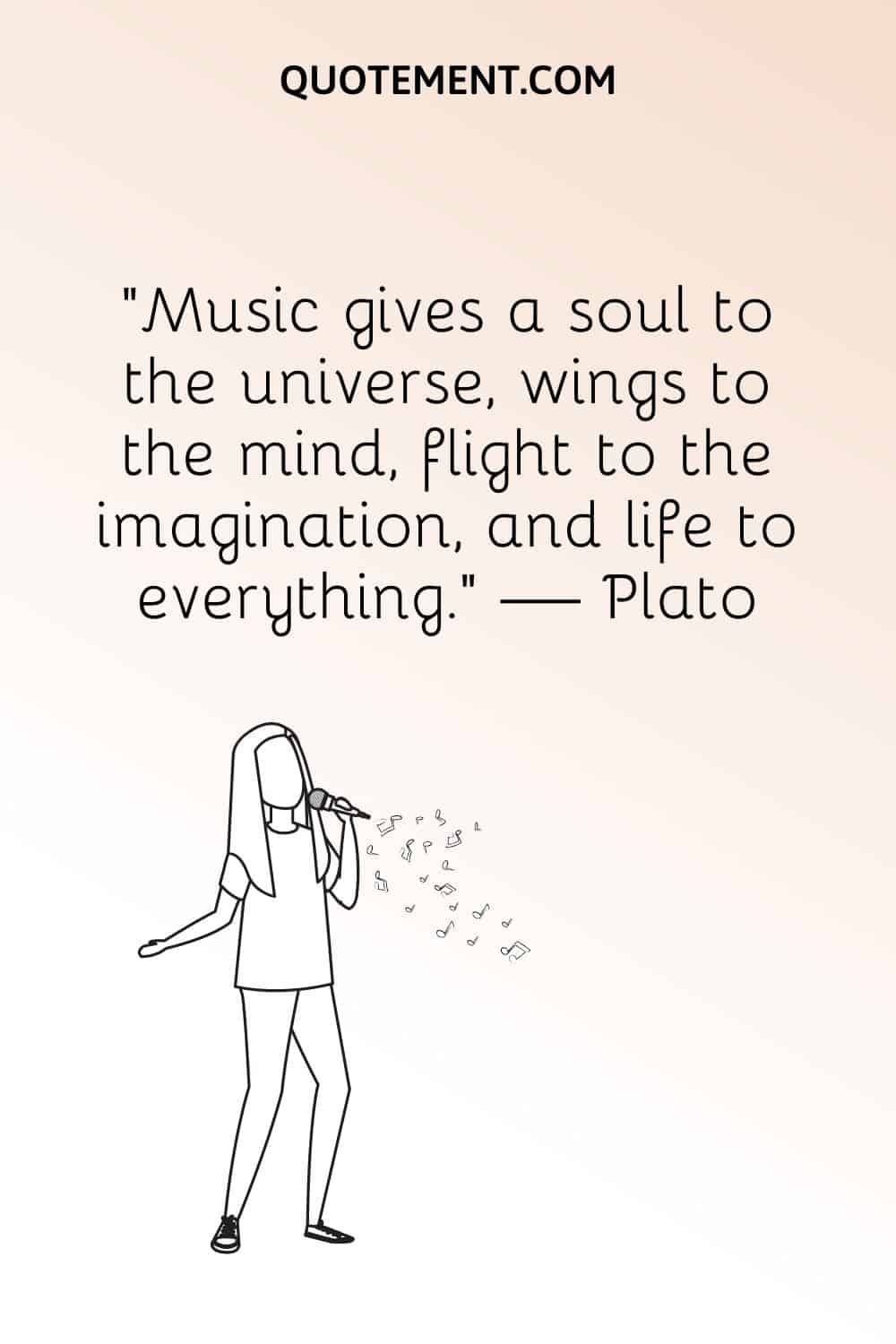 See also: 120 Best Spiritual Universe Quotes To Contemplate Life
Inspirational Singing Quotes To Boost Your Energy
These inspirational quotes about singing will definitely make you boost your energy. Have a look!
1. "There are two means of refuge from the miseries of life: music and cats." — Albert Schweitzer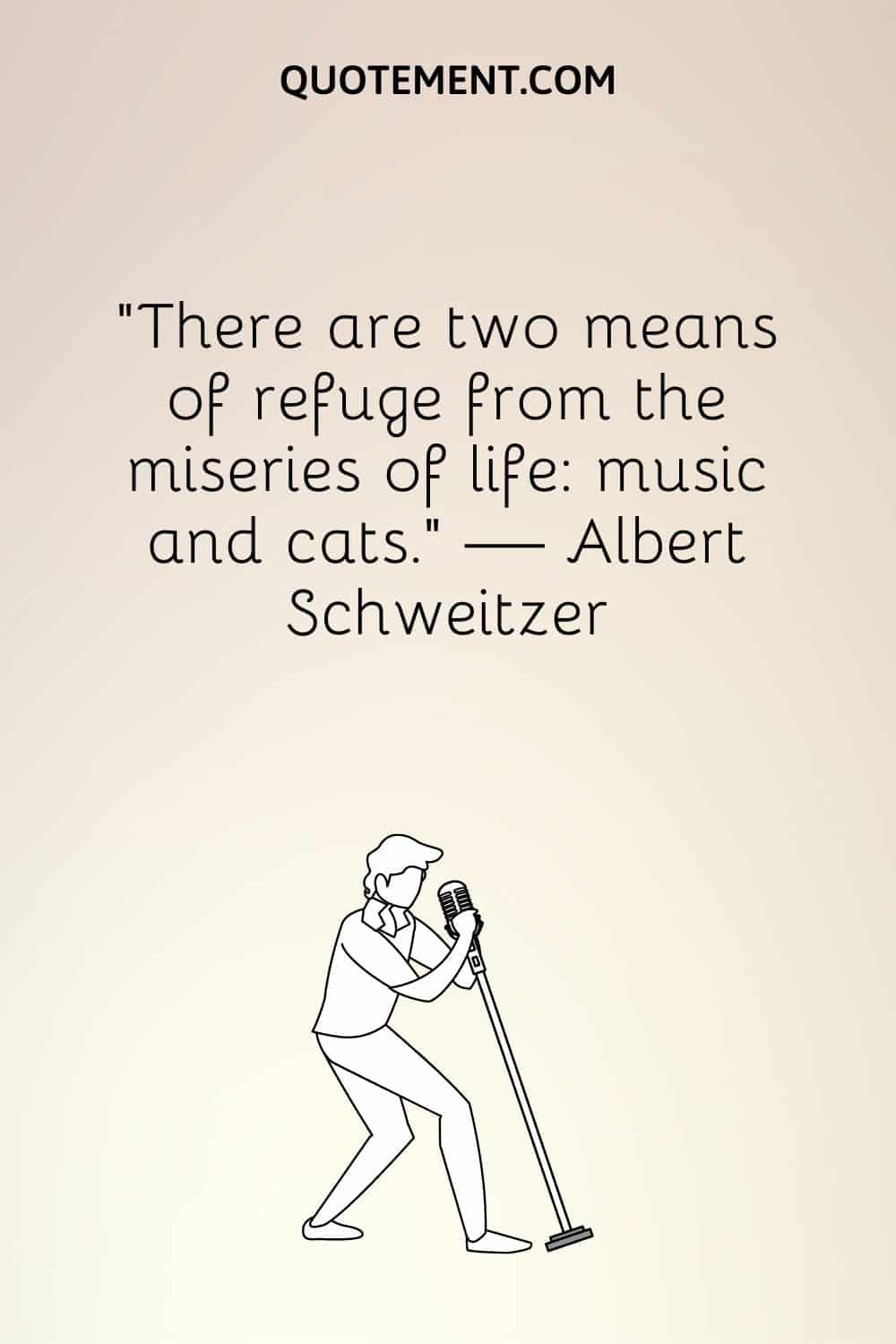 2. "Love, I find, is like singing. Everybody can do enough to satisfy themselves, though it may not impress the neighbors as being very much." — Zora Neale Hurston
3. "Music heals all forms of misery" — Friedrich Nietzsche
4. "There is something consoling in the singing of a song, no matter how sad its subject." ― Marty Rubin
5. "Sometimes, when we are sad, we have to do the opposite of sad. Sometimes we have to sing." — Daisy Whitney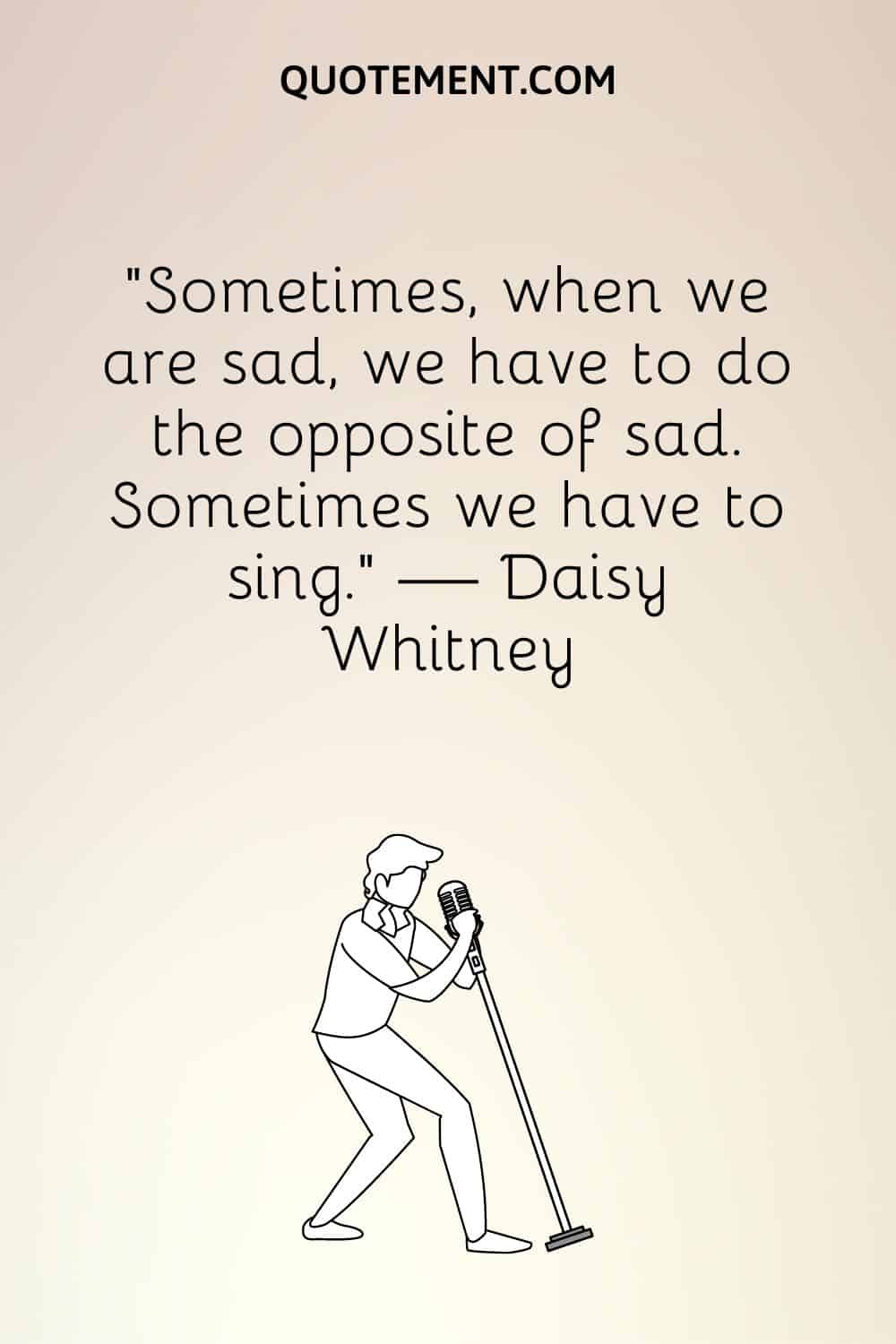 6. "Singing is probably the most natural function a human can do." — Mark Baxter
7. "Singing is a way of expressing huge heightened emotions. A song conveys feelings so big that the character can't just say it; he has to sing." — Pamelia S. Phillips
8. "When there's music in your soul, there's soul in your music." — Criss Jami
9. "Nature is the one song of praise that never stops singing." — Richard Rohr
10. "Music should strike fire from the heart of man and bring tears from the eyes of a woman." — Ludwig van Beethoven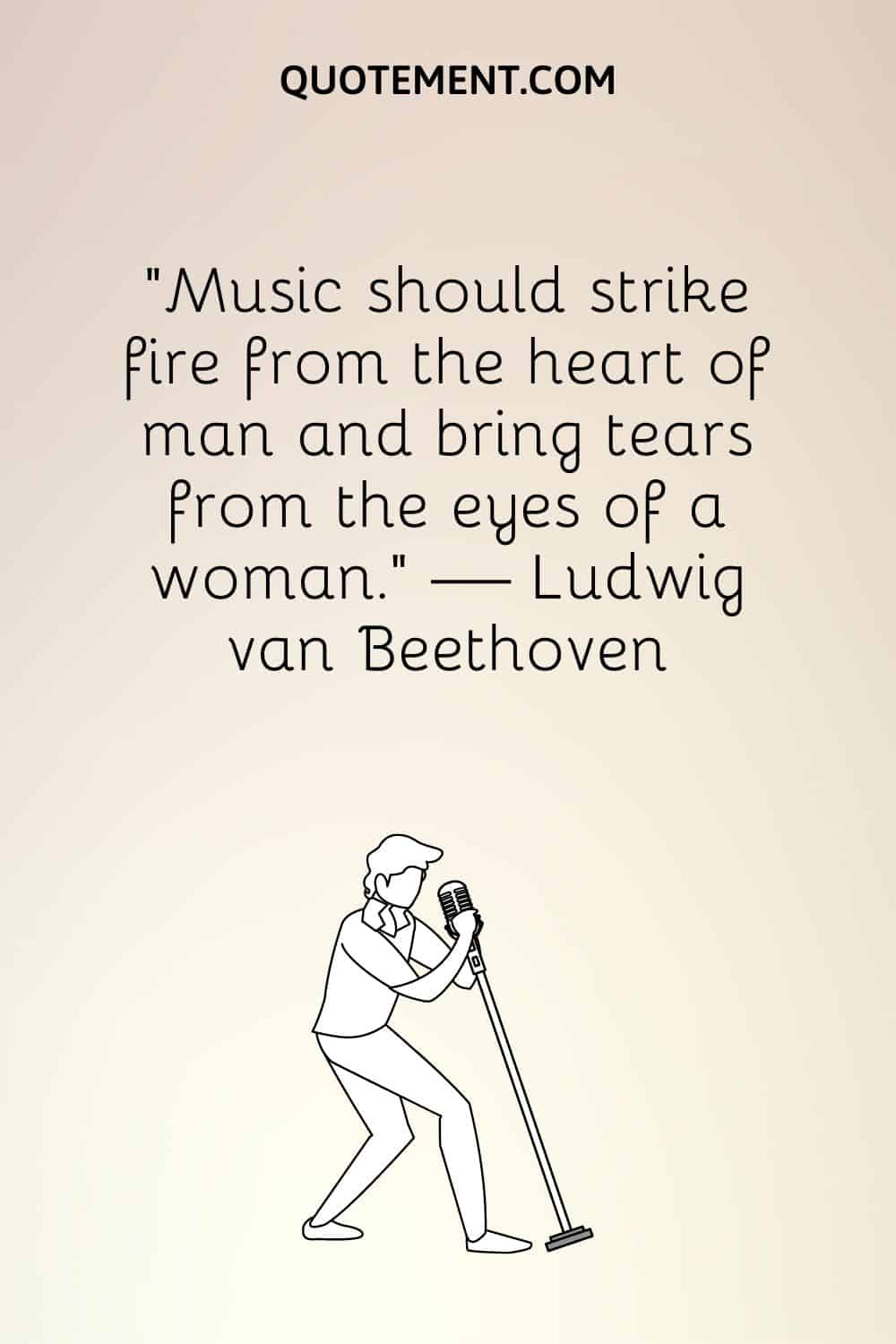 11. "If you cannot teach me to fly, teach me to sing." — J.M. Barrie
12. "I'm singing in the rain, just singing in the rain; What a wonderful feeling, I'm happy again." — Arthur Freed
13. "Keep a green tree in your heart, and perhaps a singing bird will come." — Chinese Proverb
14. "Enjoy your life. No curse hangs over you, nor did it ever. No devil chases after your soul. Sing and dance and be merry." — Christopher Pike
15. "I'm singing for the love of it. Have mercy on the man who sings to be adored." — Josh Ritter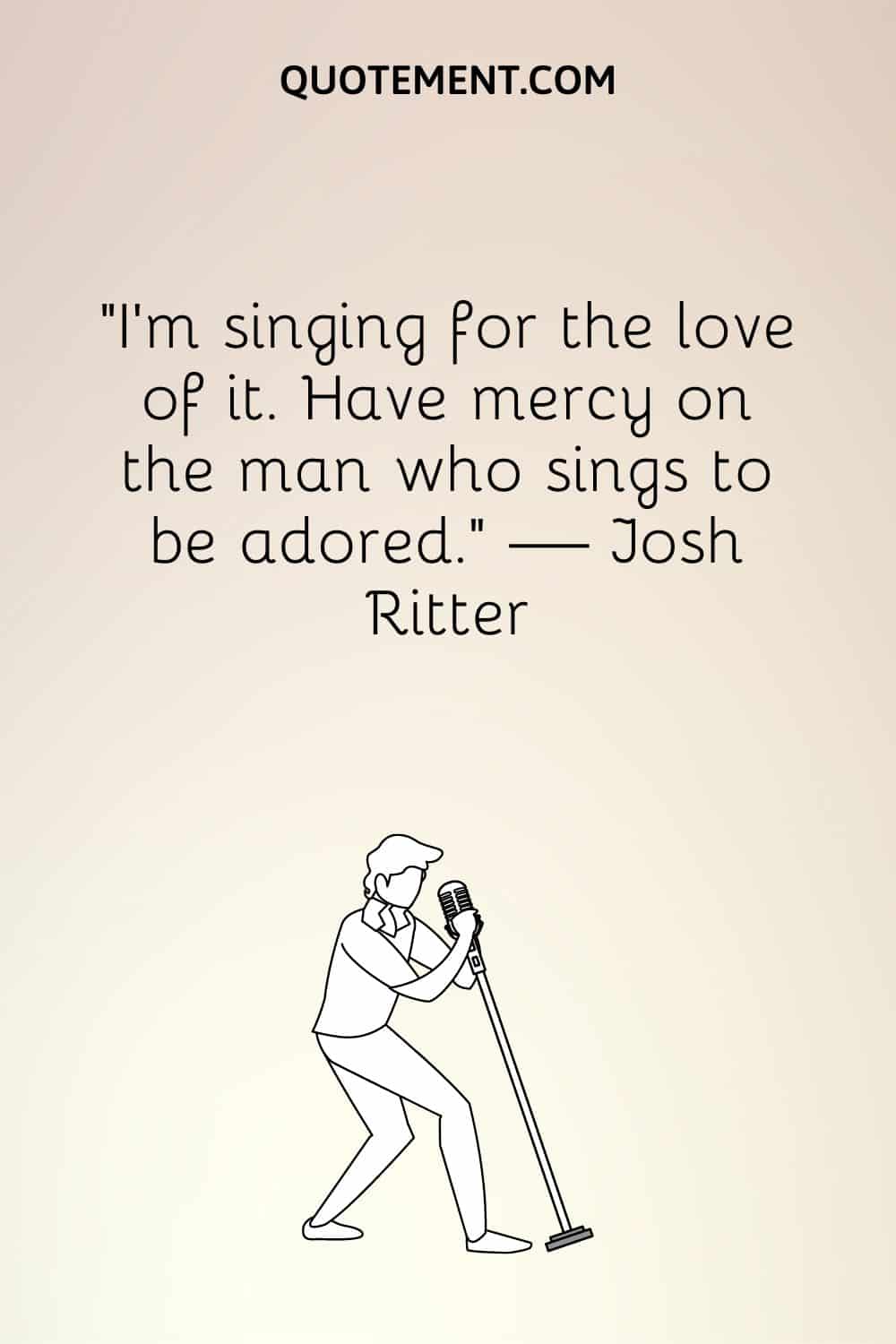 16. "A little bit of singing each day will keep the blues away." — Kirsten Hill
17. "I think, generally, I just cannot really envision life without writing and producing records and singing." — David Bowie
18. "But when our voices join together, the music sets us free." — Julia K. Dinsmore
19. "I just love the thrill of performing on stage. I believe that singing is something I was put here to do." — Lucy Hale
20. "If everyone started off the day singing, just think how happy they'd be." — Lauren Myracle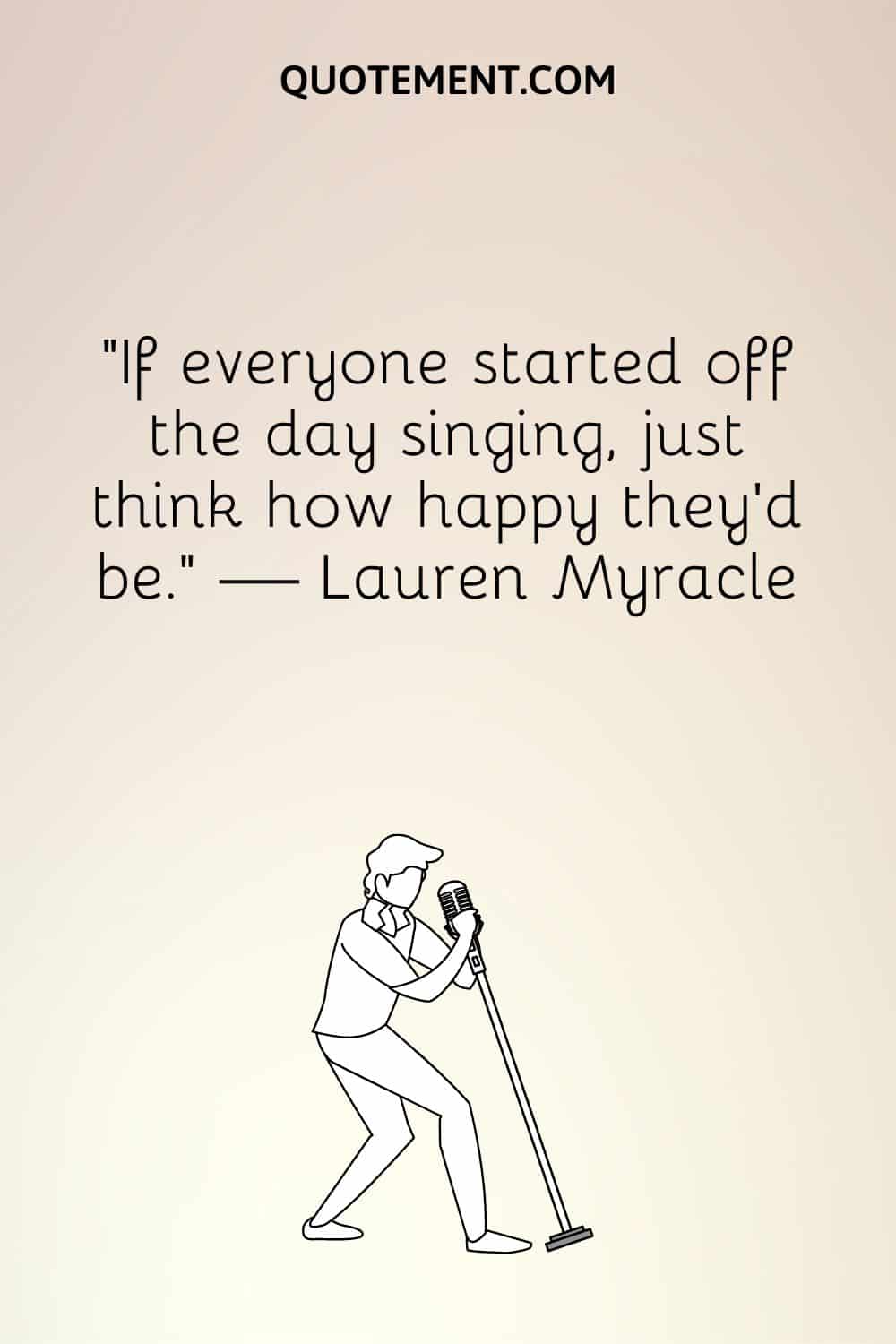 21. "Practicing an art, no matter how well or badly, is a way to make your soul grow, for heaven's sake. Now, I mean, I'm talking about singing in the shower, I'm talking about dancing to the radio, I'm talking about writing a poem to a friend–a lousy poem." ― Kurt Vonnegut, Jr.
22. "Take back your picture in a frame. Take back your singing in the rain. I just hope you understand sometimes clothes do not make the man." — George Michael
23. "Singing is my passion and something that I still love to do, and I'm always going to want to do it." — Naturi Naughton
24. "The music was thunder and joy. Lightning bolts of happiness and praise, foot-stomping, dance-shouting, good-feeling singing from the soul." — Etta James
25. "With singing, you get lost in the music – I go into another world when I'm singing." — Asha Bhosle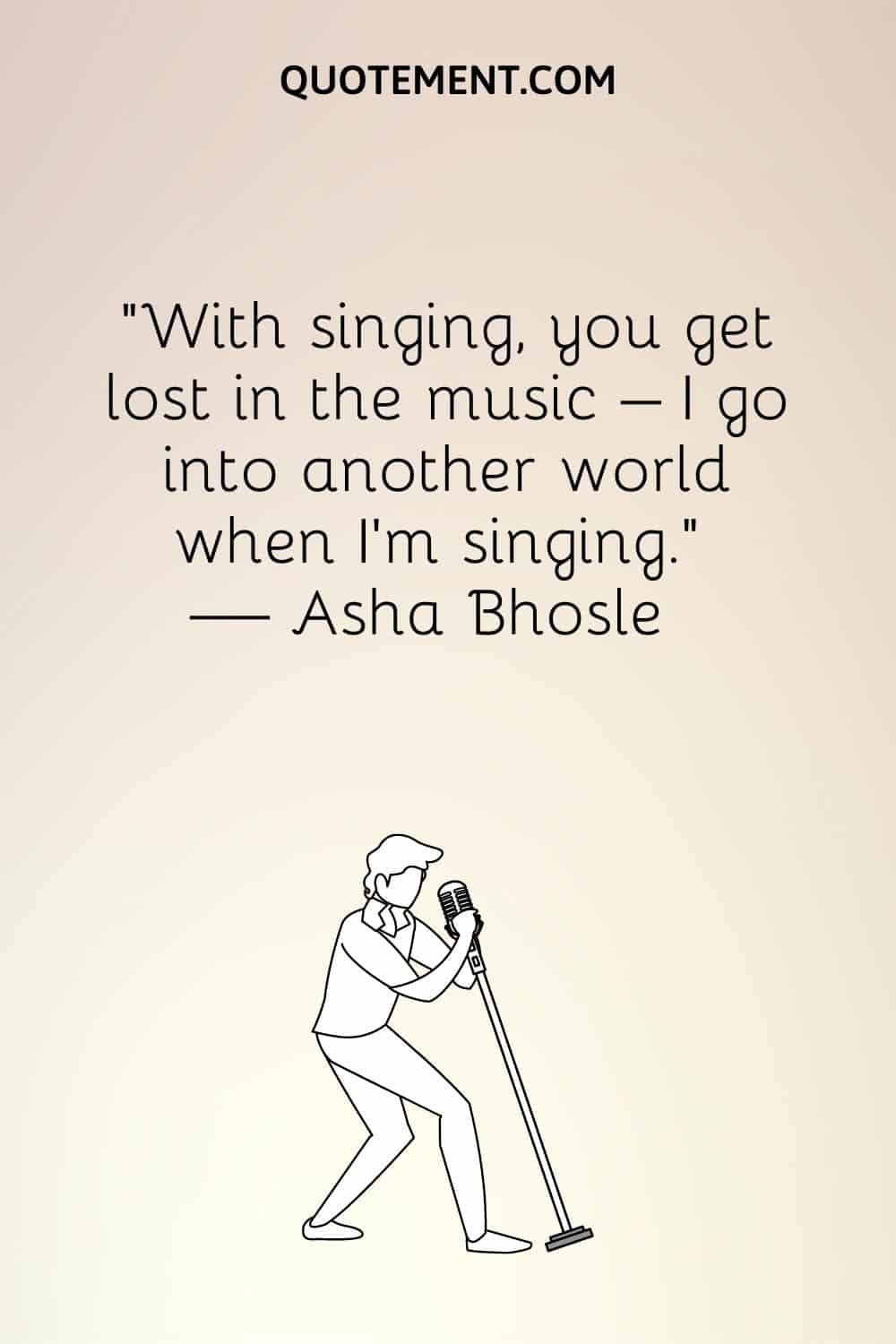 26. "Once I thought they sang because everything was right with the world… I now know I was wrong. They sing because they're feeble-minded." — Richard Matheson
27. "If you see the sunset, does it have to mean something? If you hear the birds singing, does it have to have a message?" — Robert Wilson
28. "Where the heart is not singing, there is no melody, there is only the dreadful medley of human self-praise." — Dietrich Bonhoeffer
29. "You've just got to sing, do some kind of singing every day. Early mornings and cold weather can mess with that. I drink special teas with cayenne pepper, but I think you're psyching yourself out, really." — Aaron Neville
30. "I'd rather learn from one bird how to sing than to teach ten thousand stars how not to dance." — E. E. Cummings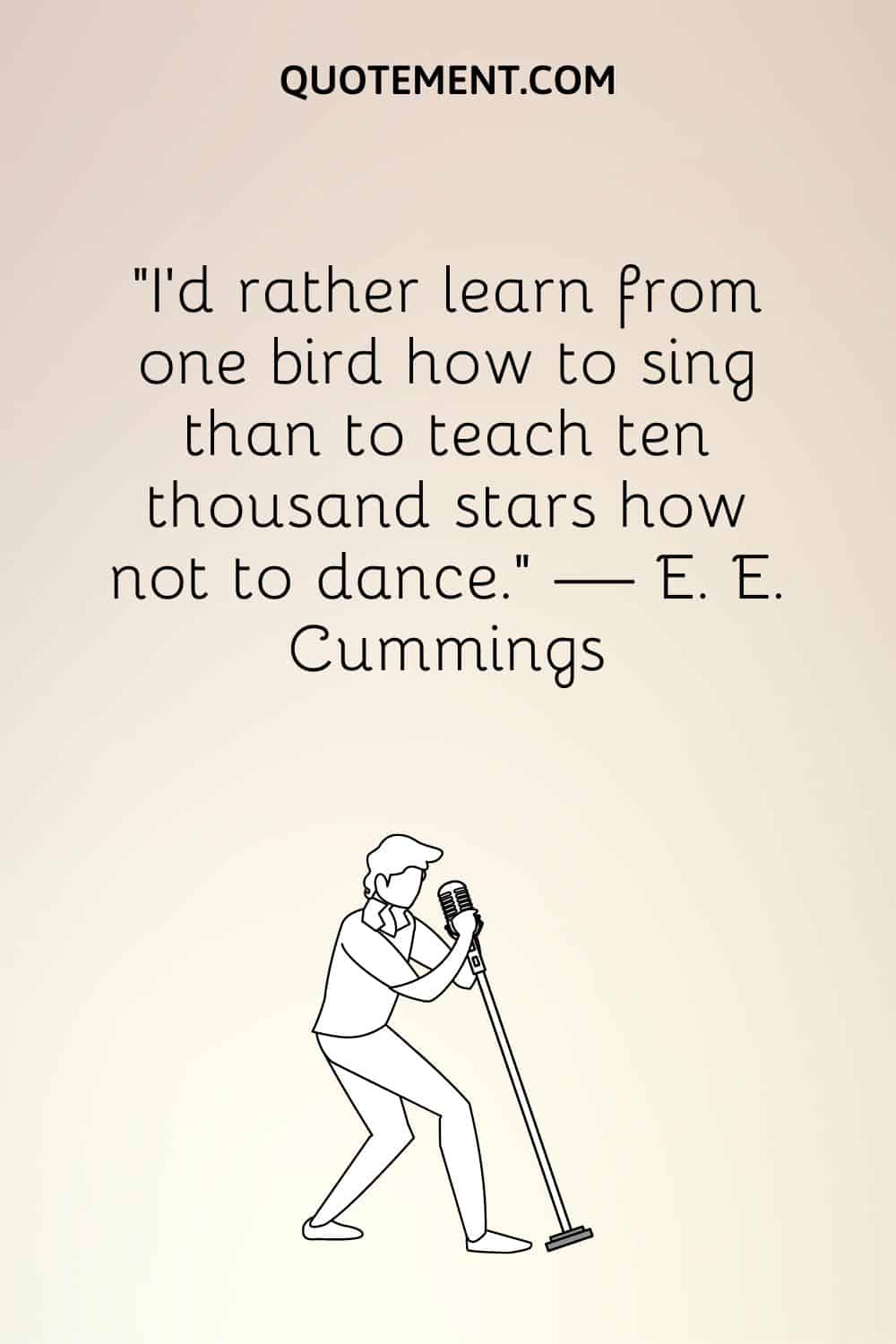 See also: The 280 Best Dance Captions To Awaken The Dancer In You
Beautiful Singing Quotes For Inspiration
Here are some more singing quotes for inspiration.
1. "Singing, it's like it's like loving somebody, it's a supreme emotional and physical experience." — Janis Joplin
2. "If I cannot fly, let me sing." — Stephen Sondheim
3. "His tongue is now a stringless instrument." — William Shakespeare
4. "Music is the universal language of mankind." — Henry Wadsworth Longfellow
5. "Singing is such sweet comfort, who, if he could sing the whole year through." — Alfred Austin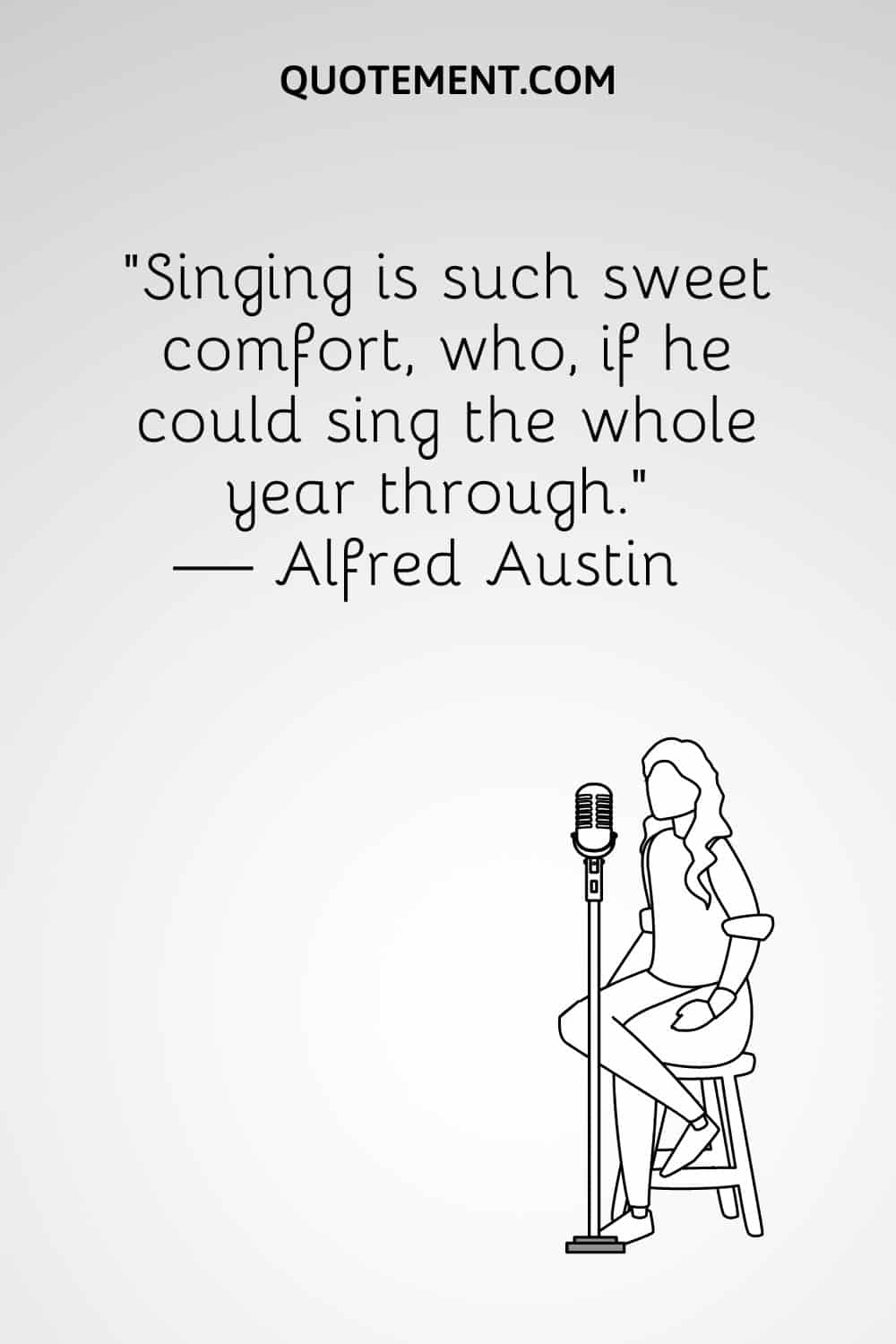 6. "Singing is a powerful tool for self-realization and for the nourishment of others. Developing it is a shared responsibility." – Meribeth A. Dayme
7. "Singing is a natural outgrowth of time spent in revelry." — Adam Reinwald
8. "Music just makes sense to me. I don't ever worry when I'm singing. It's the safest place. I am a bit of a worrier." — Maria Doyle Kennedy
9. "Let the rain kiss you. Let the rain beat upon your head with silver liquid drops. Let the rain sing you a lullaby." — Langston Hughes
10. "To me, singing is like freedom. It's a very therapeutic thing. It's incredible. I can just lose myself. It's sort of like meditation." — Lisa Stansfield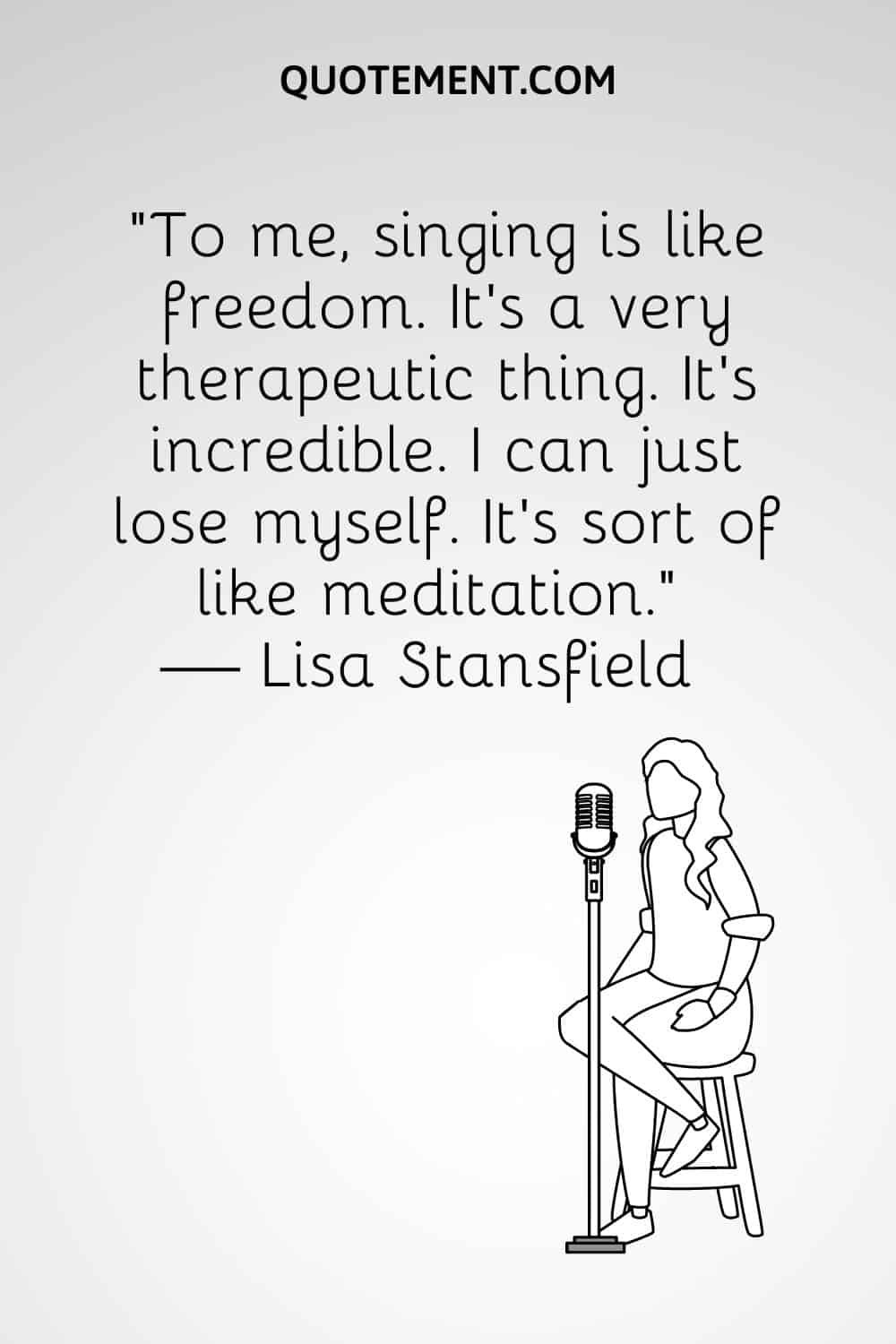 11. "A singer starts by having his instrument as a gift from God . . . when you have been given something in a moment of grace, it is sacrilegious to be greedy." — Marian Anderson
12. "Inspiration is an awakening, a quickening of all man's faculties, and it is manifested in all high artistic achievements." — Giacomo Puccini
13. "I listened wide-eyed, stupid. Glowing by her voice in the dim light. If chocolate was a sound, it would've been Constantine's voice singing. If singing was a color, it would've been the color of that chocolate." ― Kathryn Stockett
14. "Singing is a way of releasing an emotion that you sometimes can't portray when you're acting. And music moves your soul, so music is the source of the most intense emotions you can feel. When you hear a song and you're acting, it's incredible. But when you're singing a song, and you're acting, it's even more incredible." — Amanda Seyfried
15. "Even if you can't sing well, sing. Sing to yourself. Sing in the privacy of your home. But sing." — Rebbe Nachman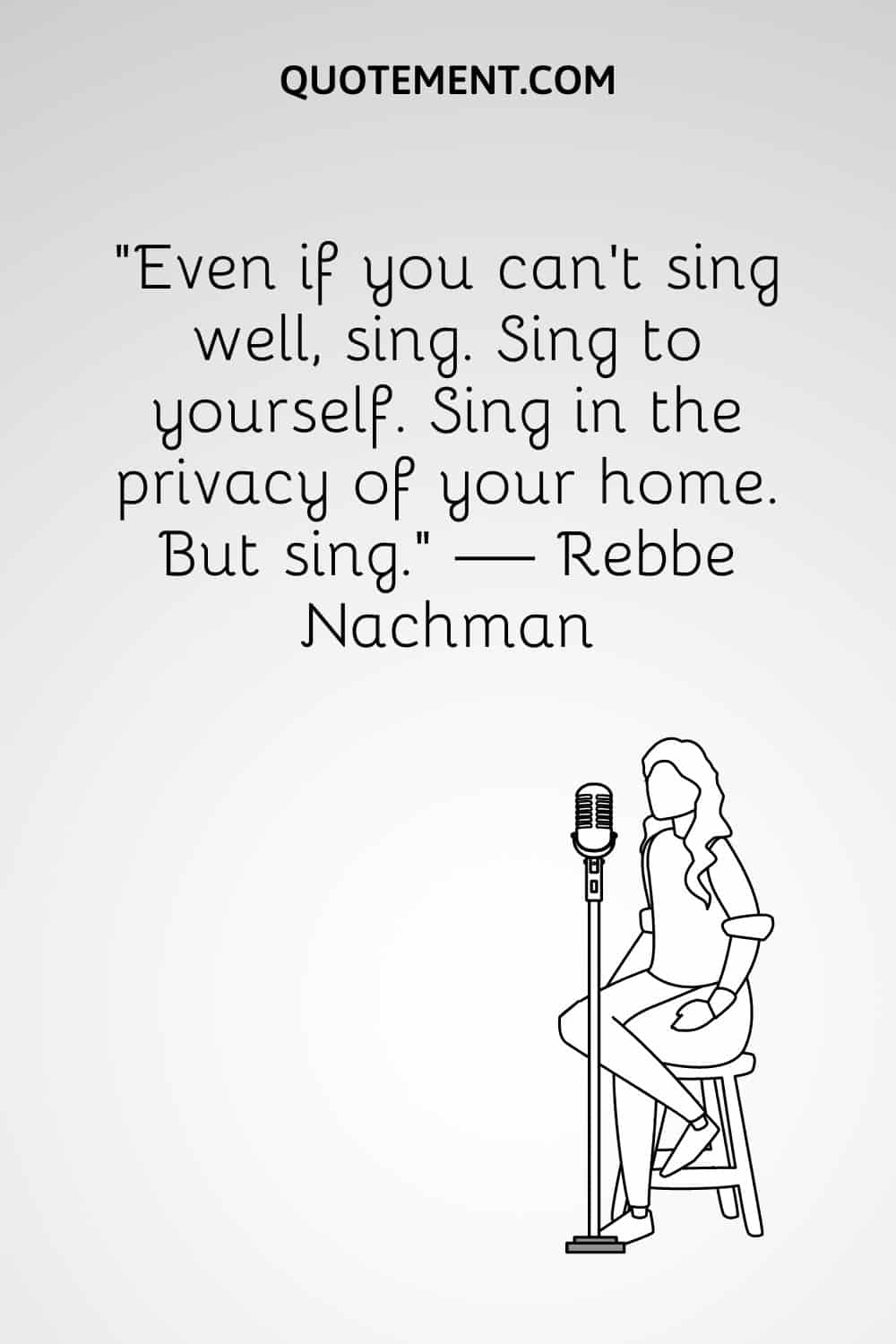 16. "I pretty much came out of the womb singing. I think I sang all the time." — Jodi Benson
17. "Swans sing before they die – 't were no bad thing. Should certain persons die before they sing." ― Samuel Taylor Coleridge
18. "I feel God has sent me to Earth to sing. I started singing when I was five, but I don't think I've worked as hard as many other people." — Lata Mangeshkar
19. "I've always loved the magic of music. The right song can be a magic spell capable of seducing you and making you fall in love. It can touch you in the most intimate of ways, all the way to the hidden parts of your heart. It's magic at its finest." ― Ariella Zoelle
20. "Singing on earth is an accomplishment we can carry with us to heaven." — Maria L. Pizzoli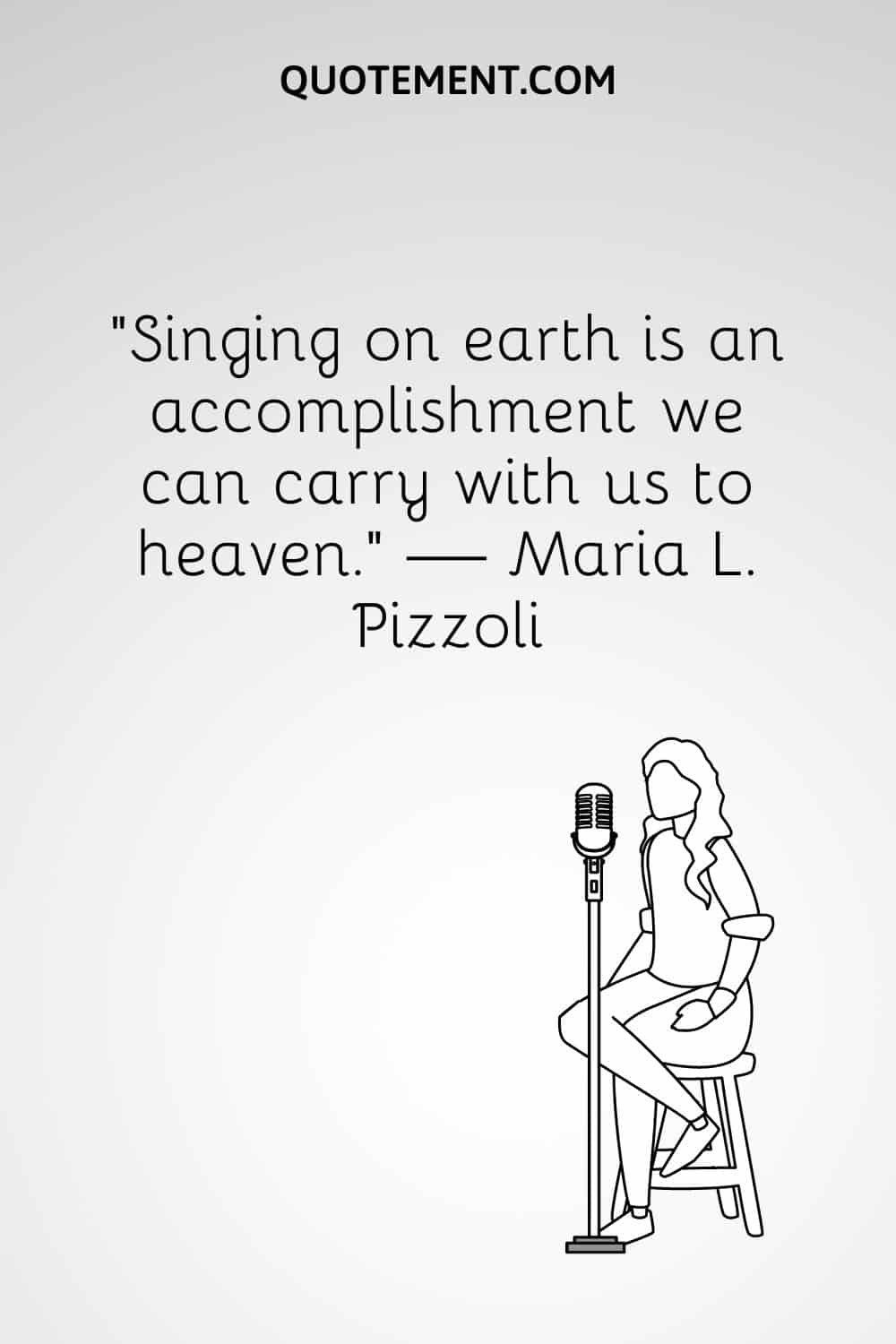 21. "The easiest way to avoid wrong notes is to never open your mouth and sing. What a mistake that would be." — Pete Seeger
22. "When you're happy, you enjoy the music, but when you're sad, you understand the lyrics." ― Frank Ocean
23. "Wake up, live your life and sing the melody of your soul." — Amit Ray
24. "There must always be remaining in every life, some place for the singing of angels, some place for that which in itself is breathless and beautiful." — Howard Thurman
25. "No matter what you step in, keep walking along and singing your song… because it's all good." — Eric Litwin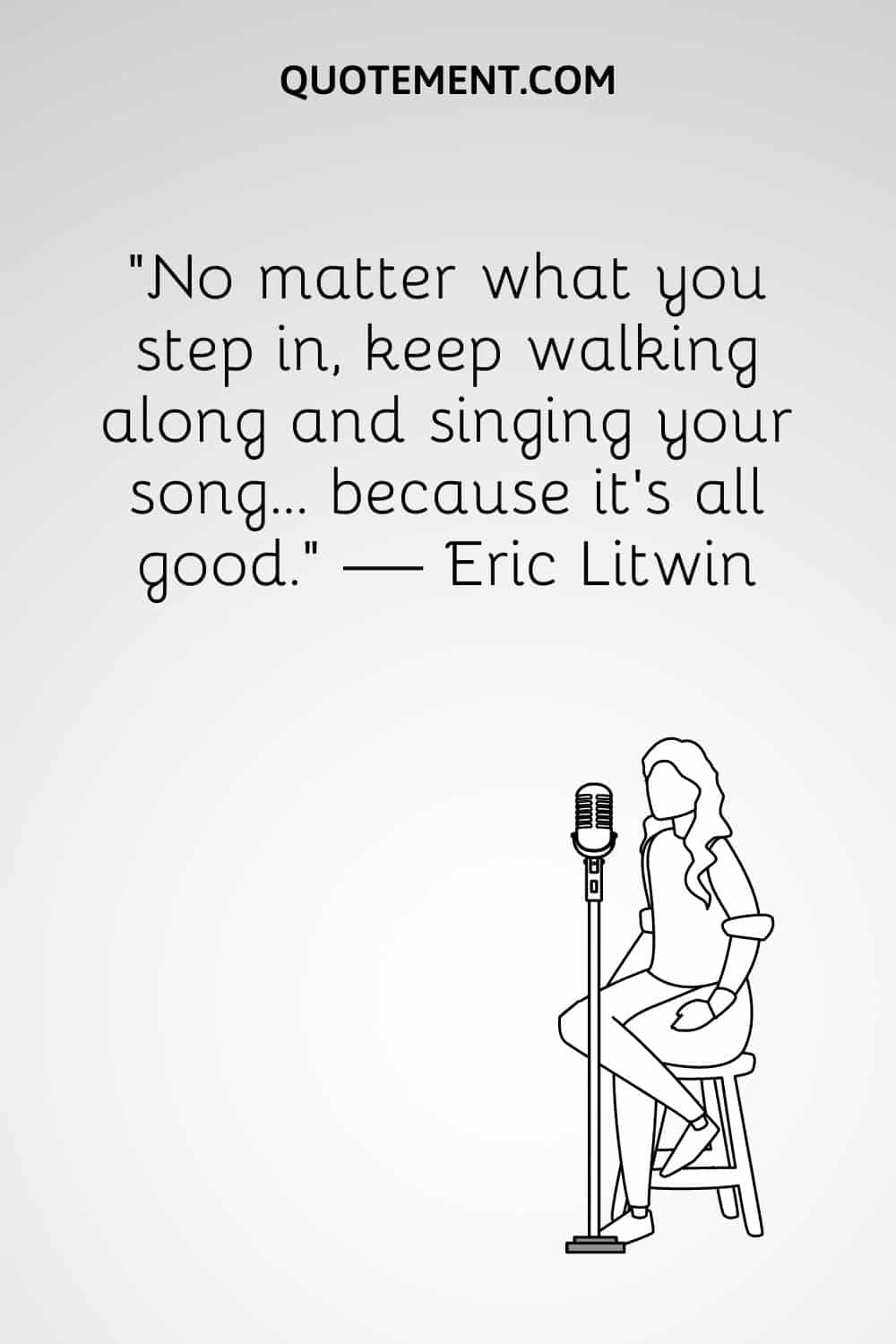 26. "I don't know if it is a spiritual, physiological or psychological phenomenon, but I believe now more than ever that singing is a universal, built-in mechanism designed to cultivate empathy and compassion." — Eric Whitacre
27. "Our sweetest songs are those that tell of saddest thought." — Percy Bysshe Shelley
28. "Works of art make rules; rules do not make works of art." — Claude Debussy
29. "I guess it simply goes to show that stuff will come and stuff will go. But do we cry? Goodness no! We keep singing." — Eric Litwin
30. "To live your truth and sing your truth, that defines success." — Gabriella Wilson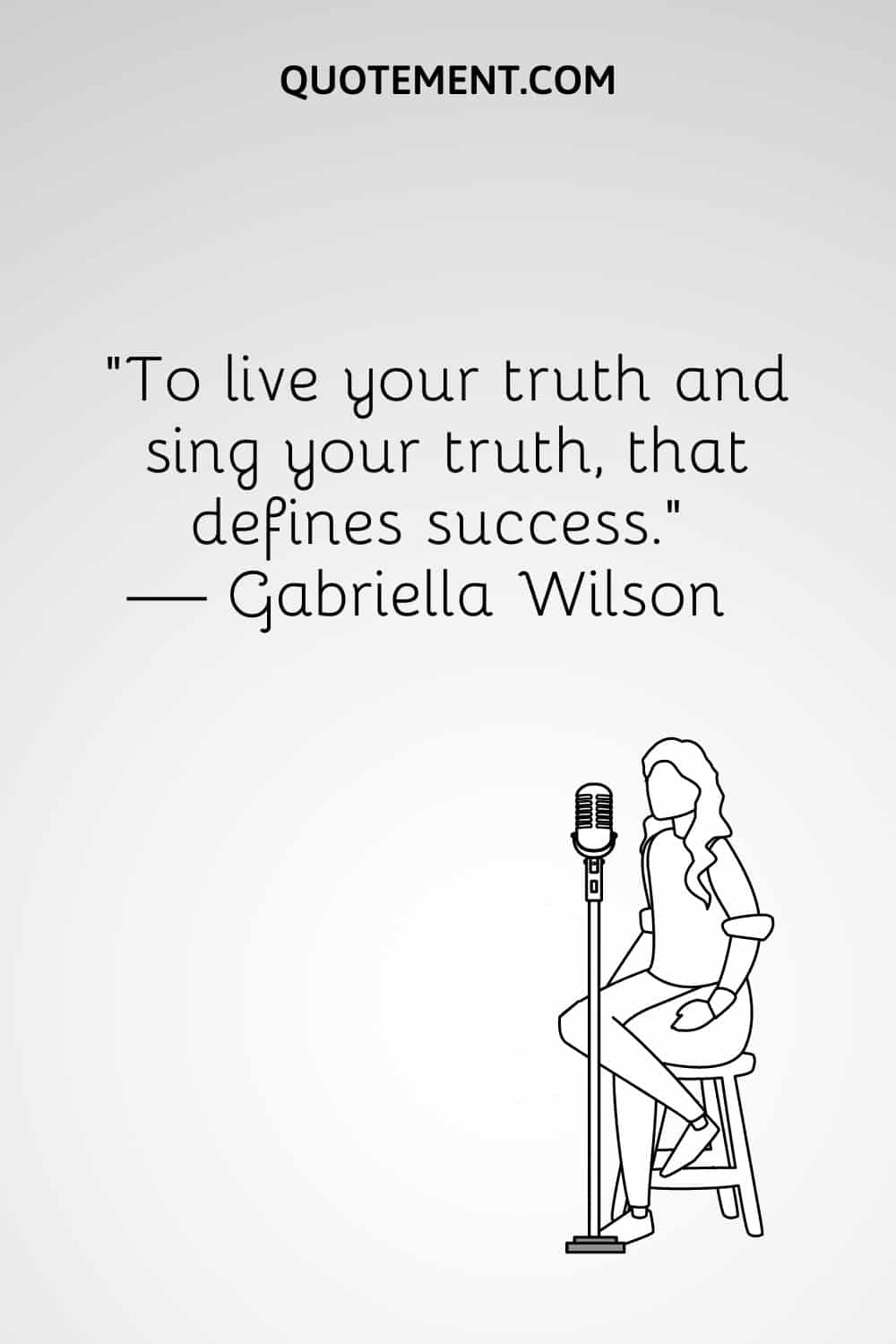 See also: 220 Best Proverbs About Success To Give You Inspiration
Cute Singing Quotes For Motivation
Next up is a collection of motivational singing quotes.
1. "I believe in kindness. Also, in mischief. Also in singing, especially when singing is not necessarily prescribed." — Mary Oliver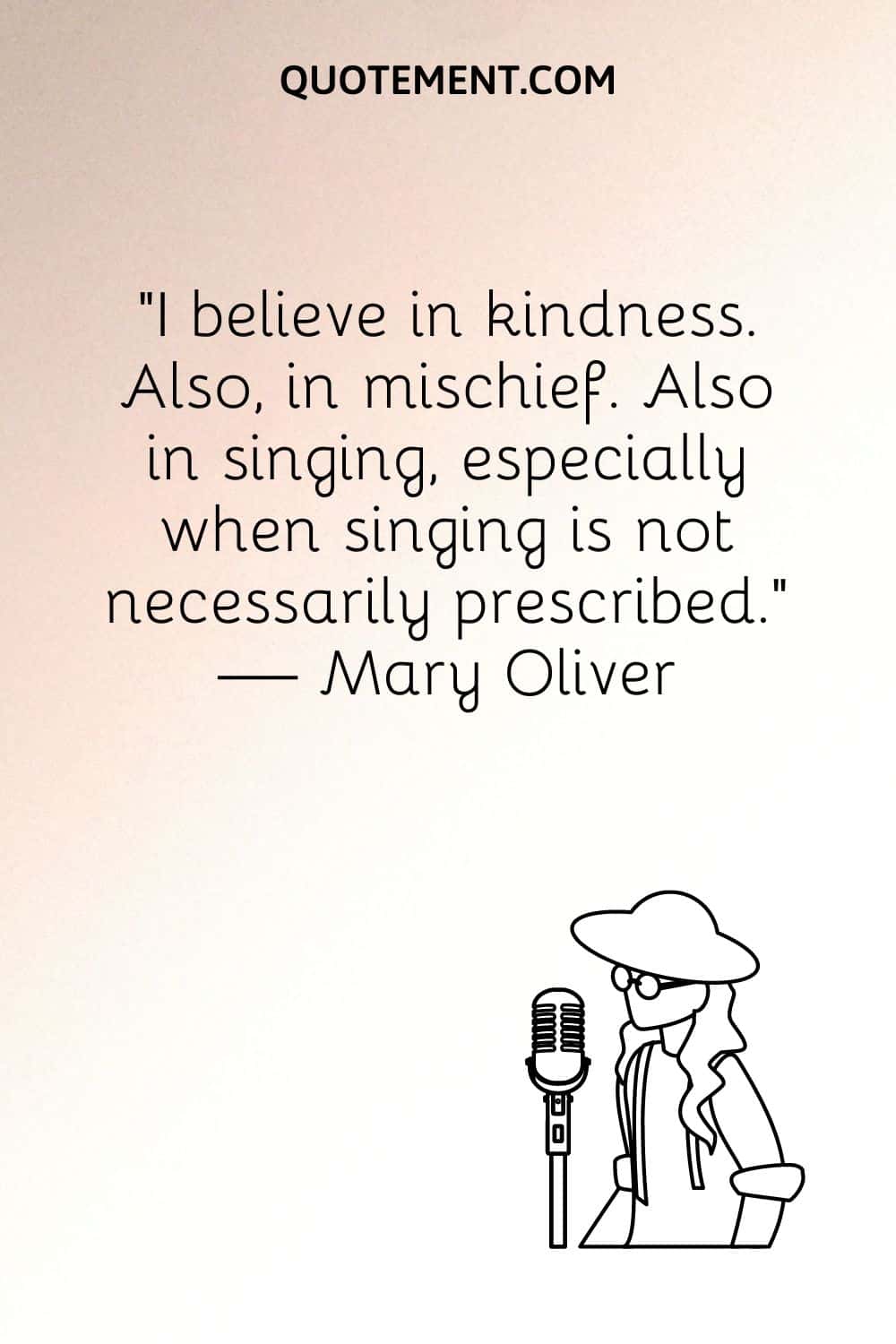 2. "The only thing better than singing is more singing." — Ella Fitzgerald
3. "We don't just sing; we are the song." — Louise Penny
4. "Singing lessons are like bodybuilding for your larynx." — Bernadette Peters
5. "Sing your own song. There are always some earnest listeners." — Amit Ray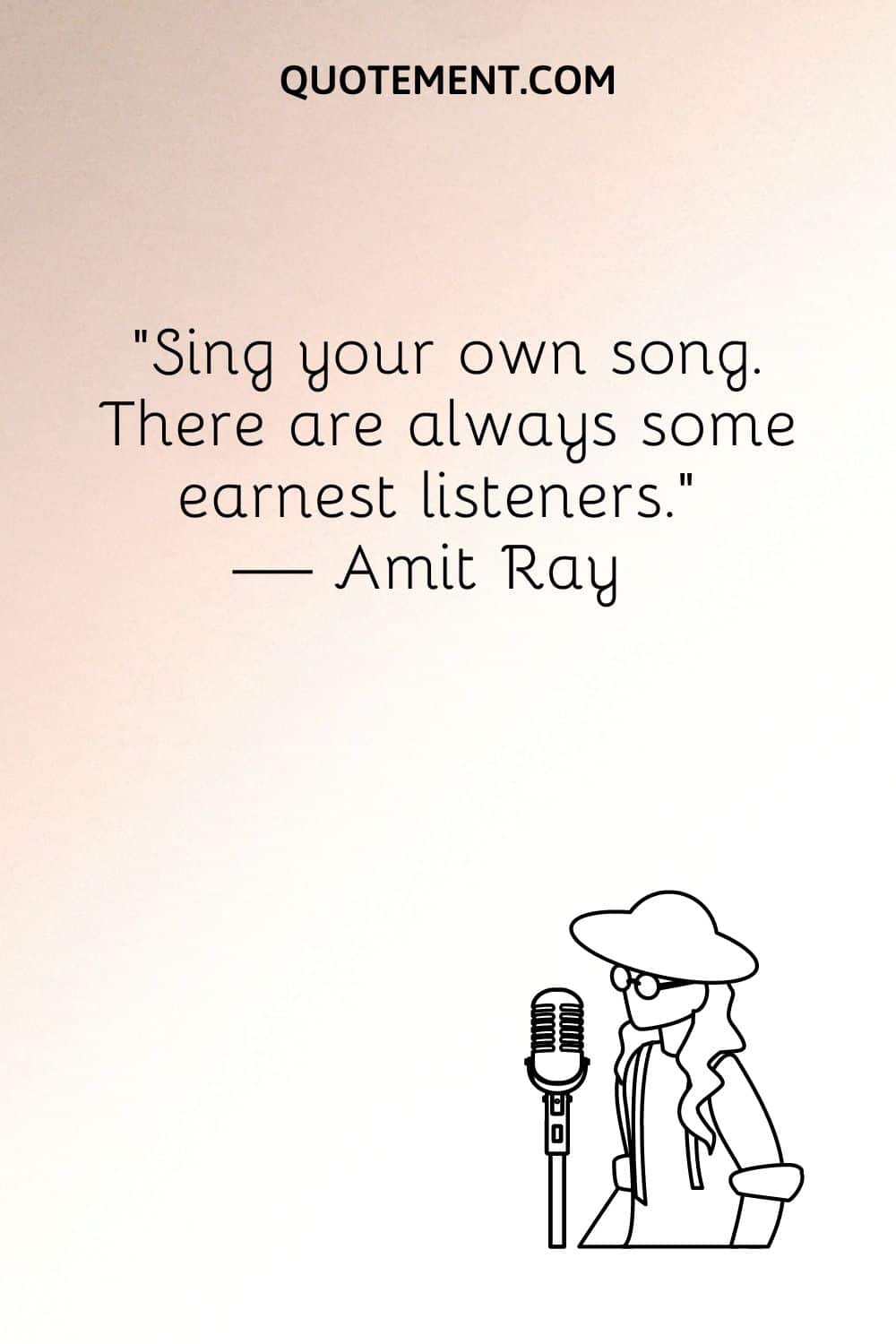 6. "He who sings frightens away his ills." — Miguel de Cervantes
7. "For me, singing is the most natural thing in the world. I've grown up with it, and I know I've got that gift." — Stella McCartney
8. "In singing, you cannot 'cheat' if you want to give emotions to those who are listening. You must have something to tell." — Andrea Bocelli
9. "Sometimes, if you begin to sing in a halfhearted mood, you can sing yourself up the ladder. Singing will often make the heart rise." — Charles Spurgeon
10. "God gave me a voice to sing with, and when you have that, what other gimmick is there?" — Whitney Houston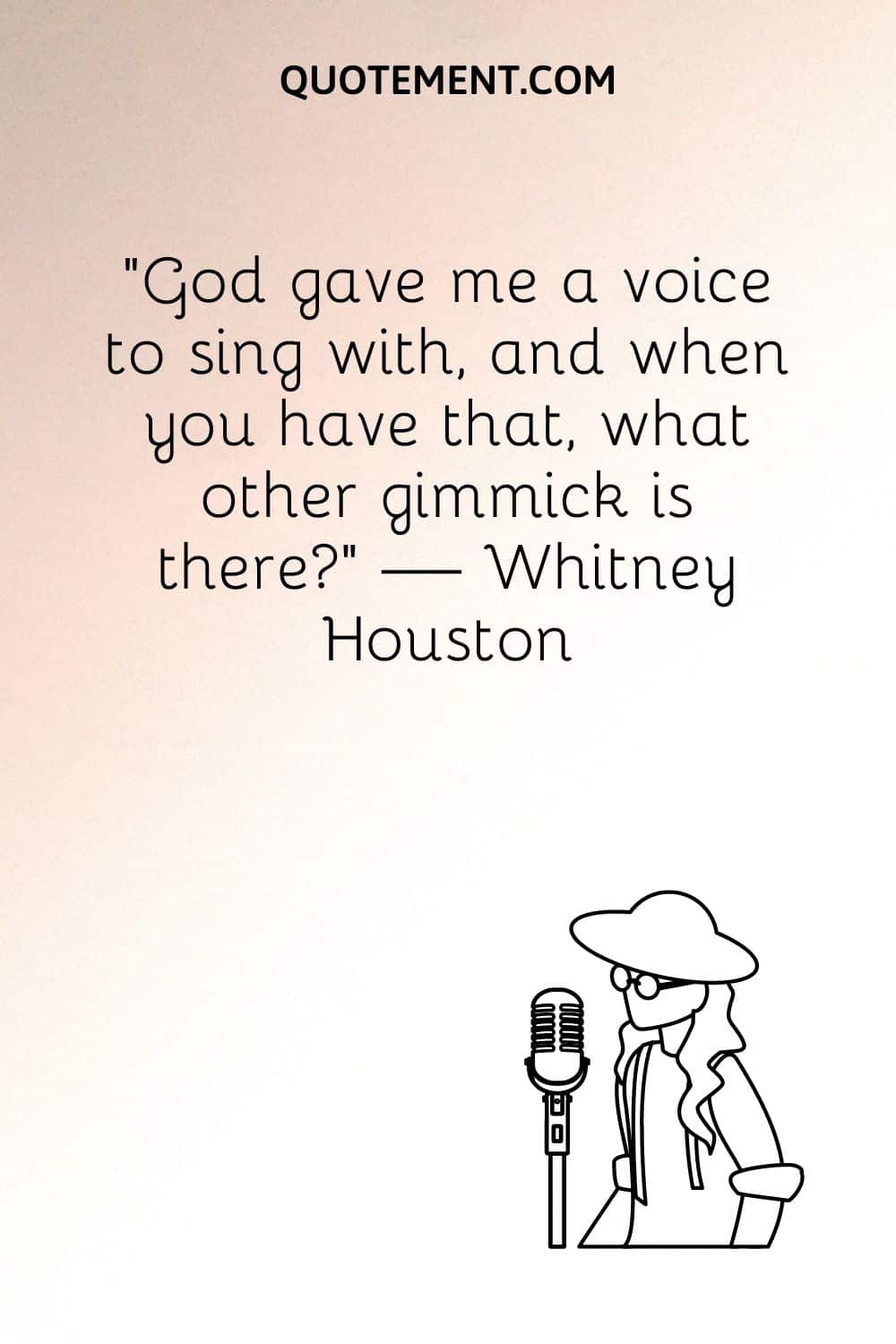 11. "Basically, I started singing when I started talking. Music has just been my saving grace my whole life." — Mariah Carey
12. "My parents wanted me to be a lawyer. But I don't think I would have been very happy. I'd be in front of the jury singing." — Jennifer Lopez
13. "There is nothing like singing a song that 20,000 people know and are singing back to you." — Gary Cherone
14. "My life is singing. I don't plan on retiring. I plan to die on stage. I can have a headache, but when it's time to sing, and I step on that stage, there is no more headache." — Celia Cruz
15. "It's easy to sing the song, but to pray the lyrics from deep within… that's worship!" ― Gangai Victor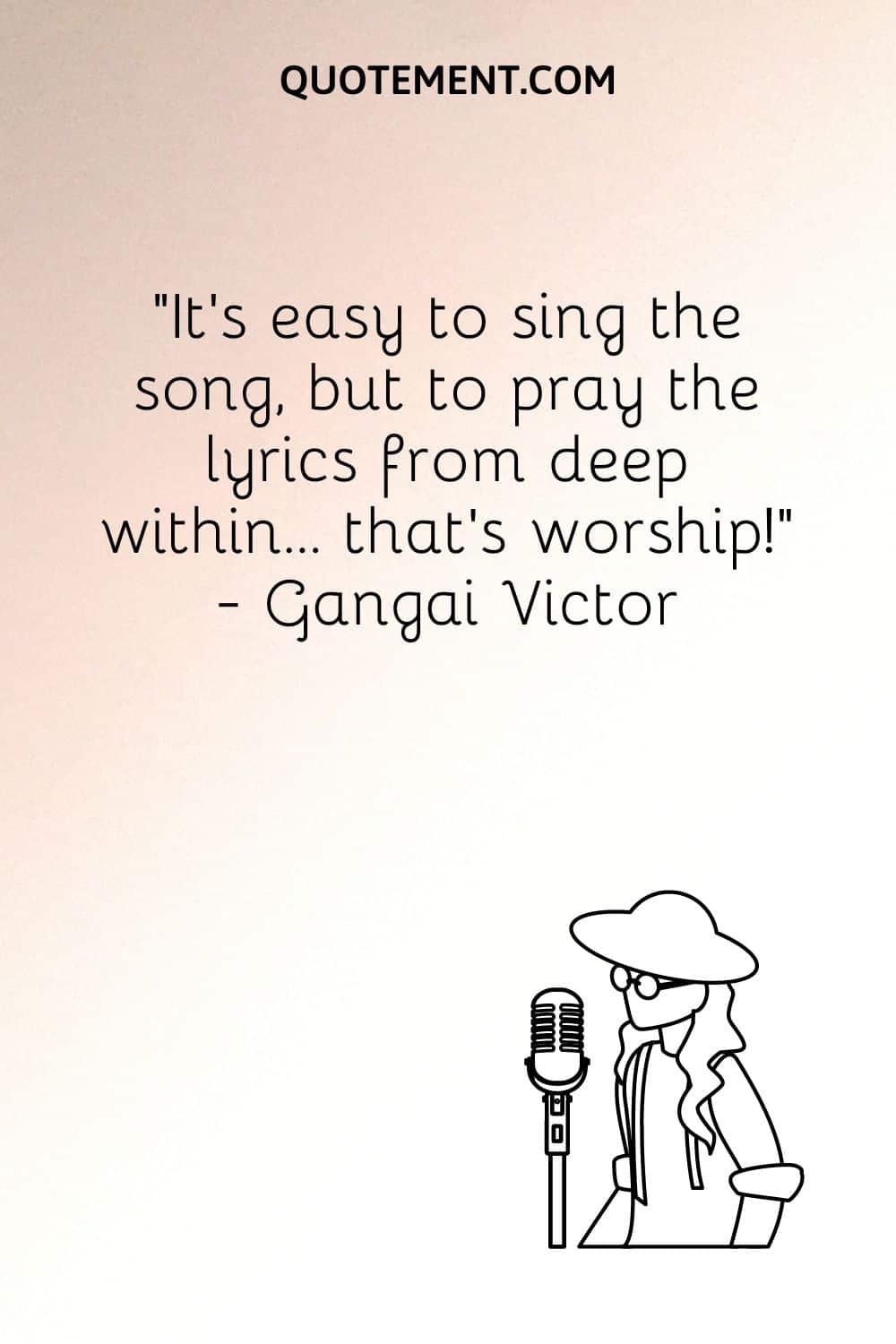 16. "Are you asking me if there is a god?' he said, still in that soft voice. 'All I can say is, I believe there is. I feel him when I sing. He has responded to my prayers countless times. He guides my actions, and he dwells in my heart. I know he is there." ― Sharon Shinn
17. "A song to me is a very tangible thing. I can feel it with my hands and see it with my eyes." — Roberta Flack
18. "I sing, no matter who is listening coz it is my natural way of expression." — Jeffy Thomas
19. "A song can be more than words and music … when sung with soul, a song carries you to another world, to a place where no matter how much pain you feel, you are never alone." — Clay Aiken
20. "Sweetest the strain when in the song the singer has been lost." — Elizabeth Stuart Phelps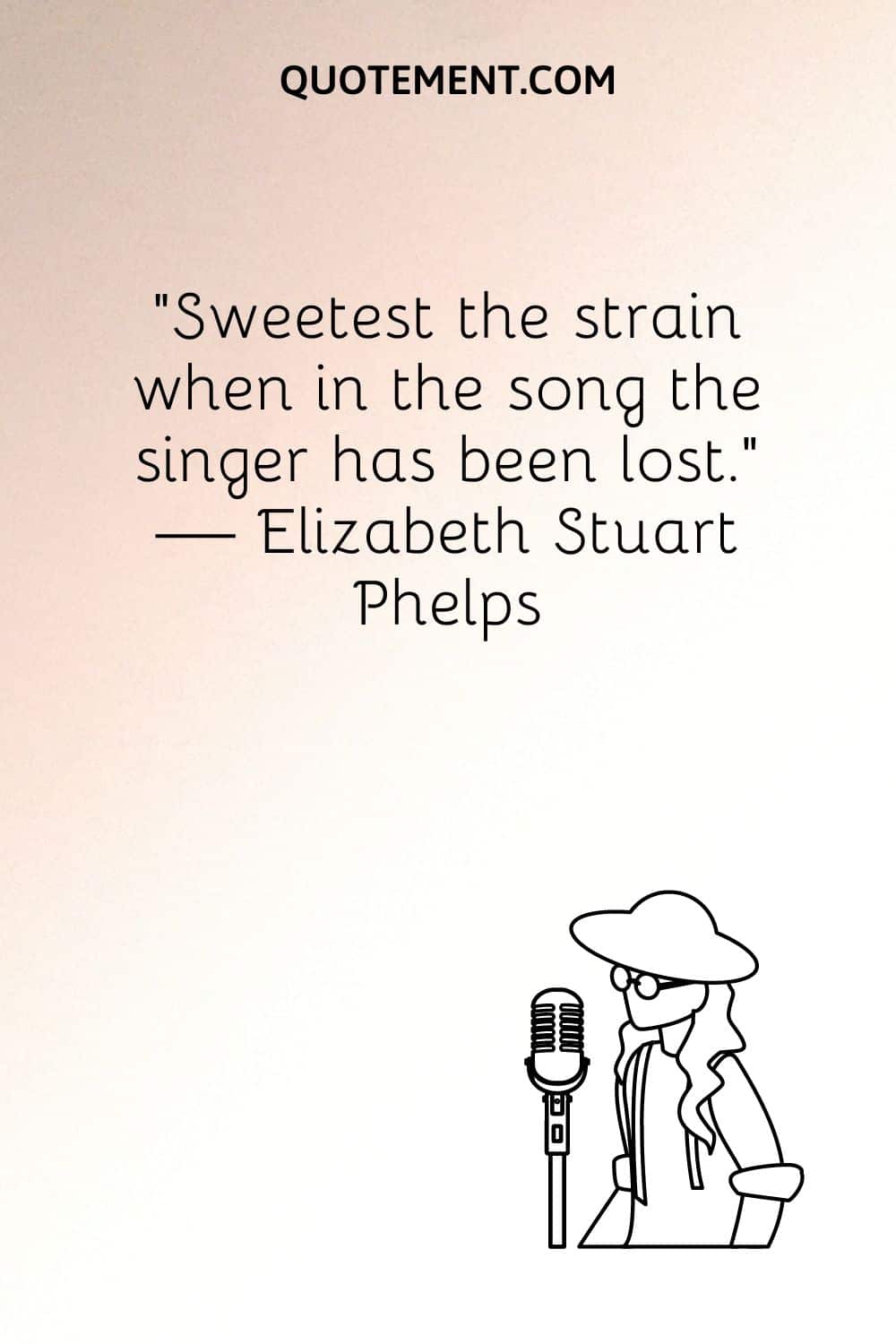 21. "It's one thing to be able to sing well, but another to be an artist and find your own voice within music. And that's what the goal was for me in my teenage years. I had to find myself." — Gabriella Wilson
22. "You can cage the singer but not the song." — Harry Belafonte
23. "Wherever one sings, settle down quietly; Without fear what one believes in the country. Where one sings, no man is robbed. Villains have no songs." — Johann Gottfried Seume
24. "Live your truth. Express your love. Share your enthusiasm. Take action toward your dreams. Walk your talk. Dance and sing to your music. Embrace your blessings. Make today worth remembering." — Steve Maraboli
25. "Singing songs that represent everything I am is just the best feeling in the world." — Selena Gomez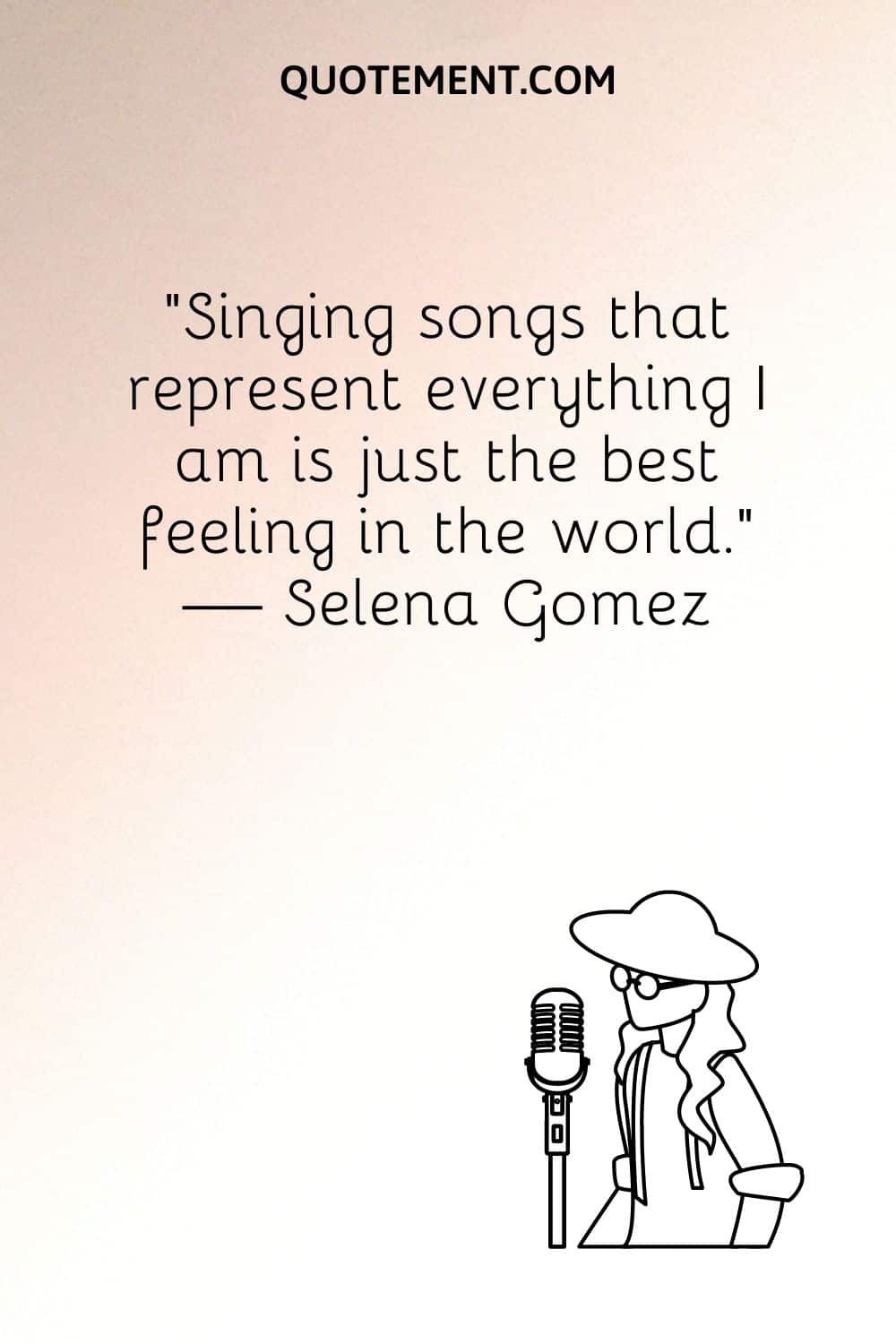 26. "I think singing is one of the most natural things that human beings do, but it's difficult." — Renee Fleming
27. "Singing is just a feeling set to music." — Carrie Underwood
28. "And music has always been incredibly cathartic for me, whether it's writing my own stuff or singing other people's music; it's very freeing." — Sarah McLachlan
29. "You have to respect your audience. Without them, you're essentially standing alone, singing to yourself." — K. D. Lang
30. "There's something spiritual about singing. Letting your voice out can help you heal your deepest wounds." — Kirsten Hill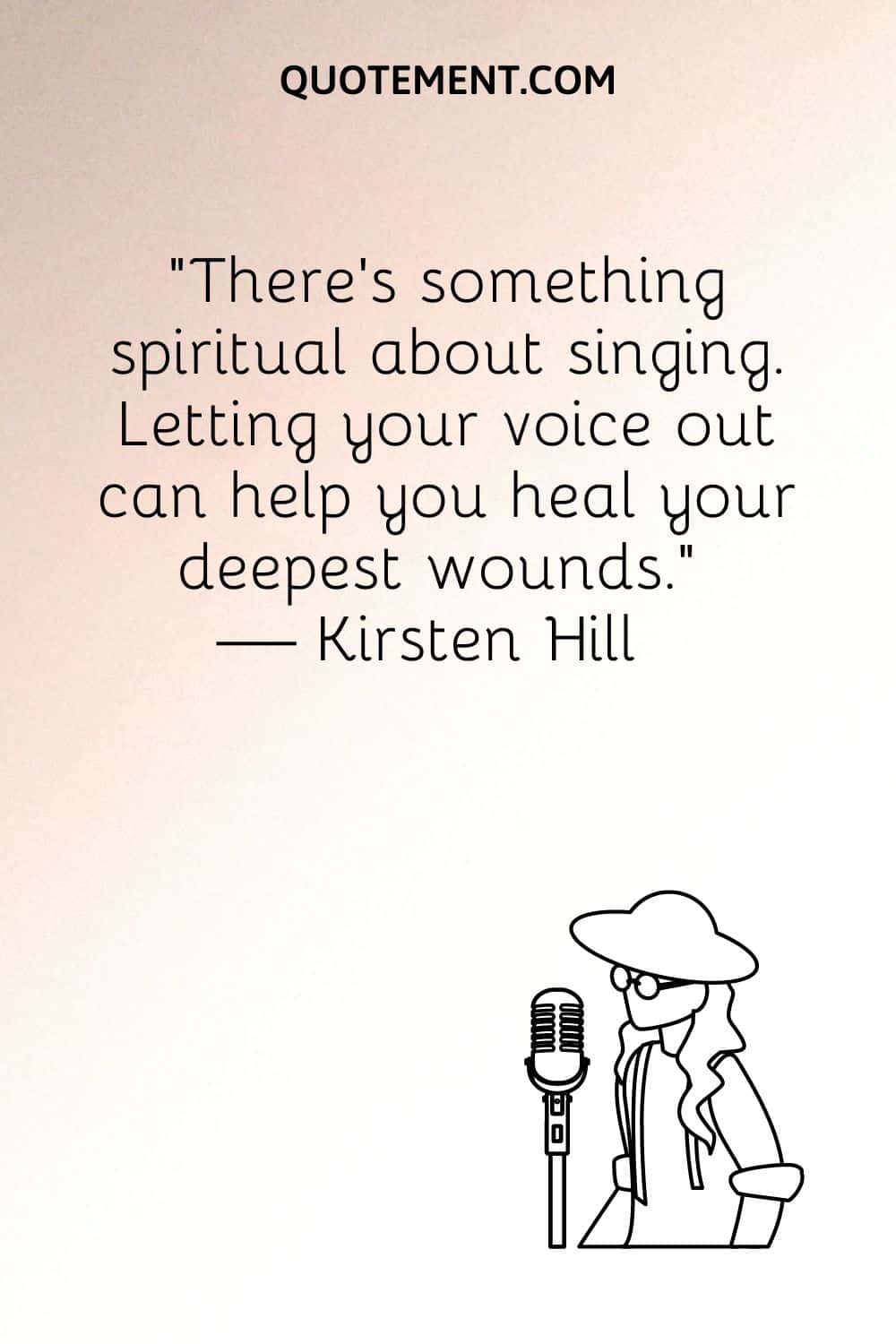 See also: 110 Spiritual Healing Quotes To Find Strength And Peace
Good Music Quotes To Inspire You To Sing
If you're looking for good music quotes to inspire you to sing, you'll find them here.
1. "God respects me when I work, but he loves me when I sing." — Rabindranath Tagore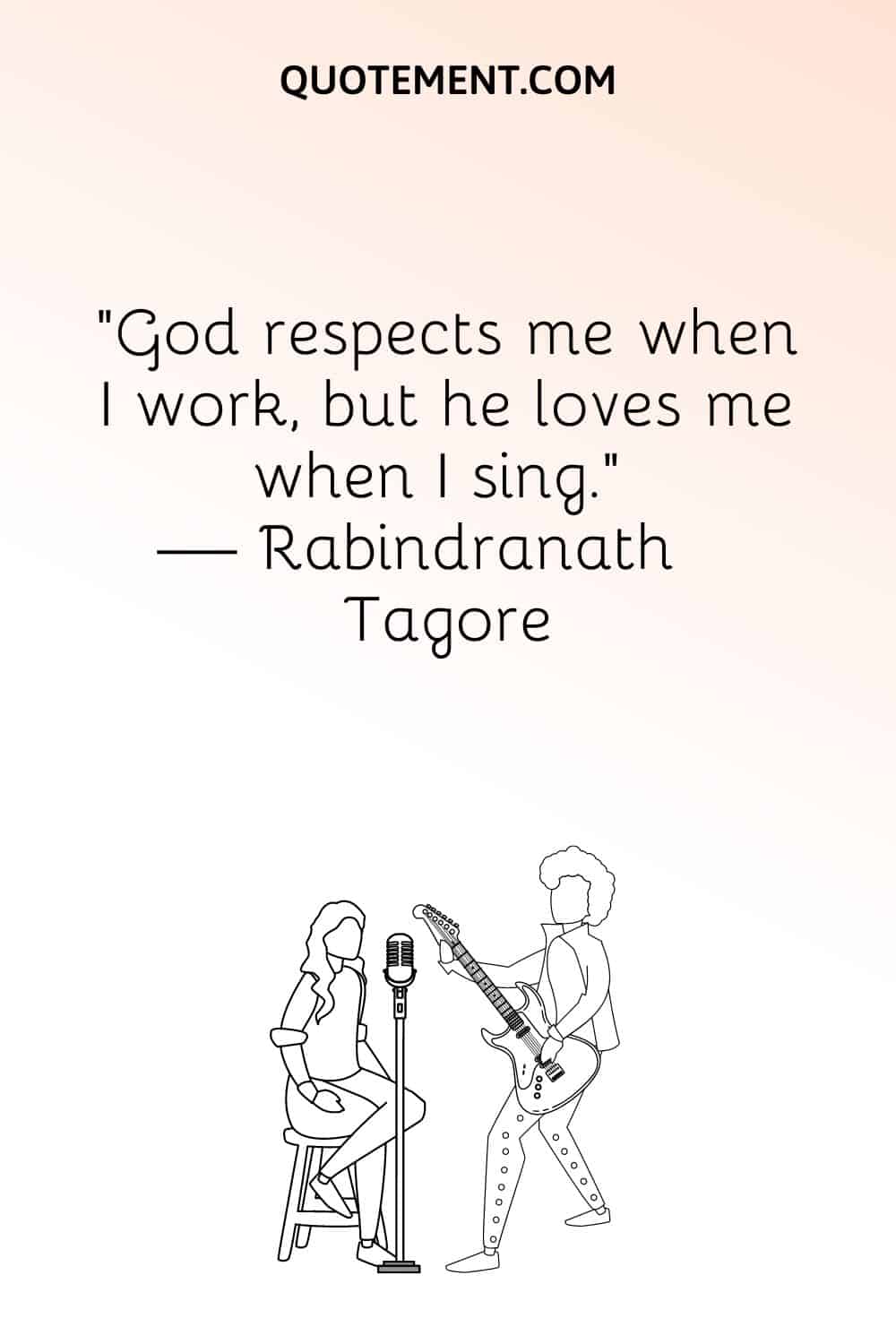 2. "I love singing. I love it, and it doesn't feel like a chore. It's an expression." — Rihanna
3. "A person can drop dead even while singing. But that's no reason to stop singing." — Marty Rubin
4. "The total person sings not just the vocal chords." — Esther Broner
5. "Music replays the past memories, awakens our forgotten worlds, and makes our minds travel." — Michael Bassey Johnson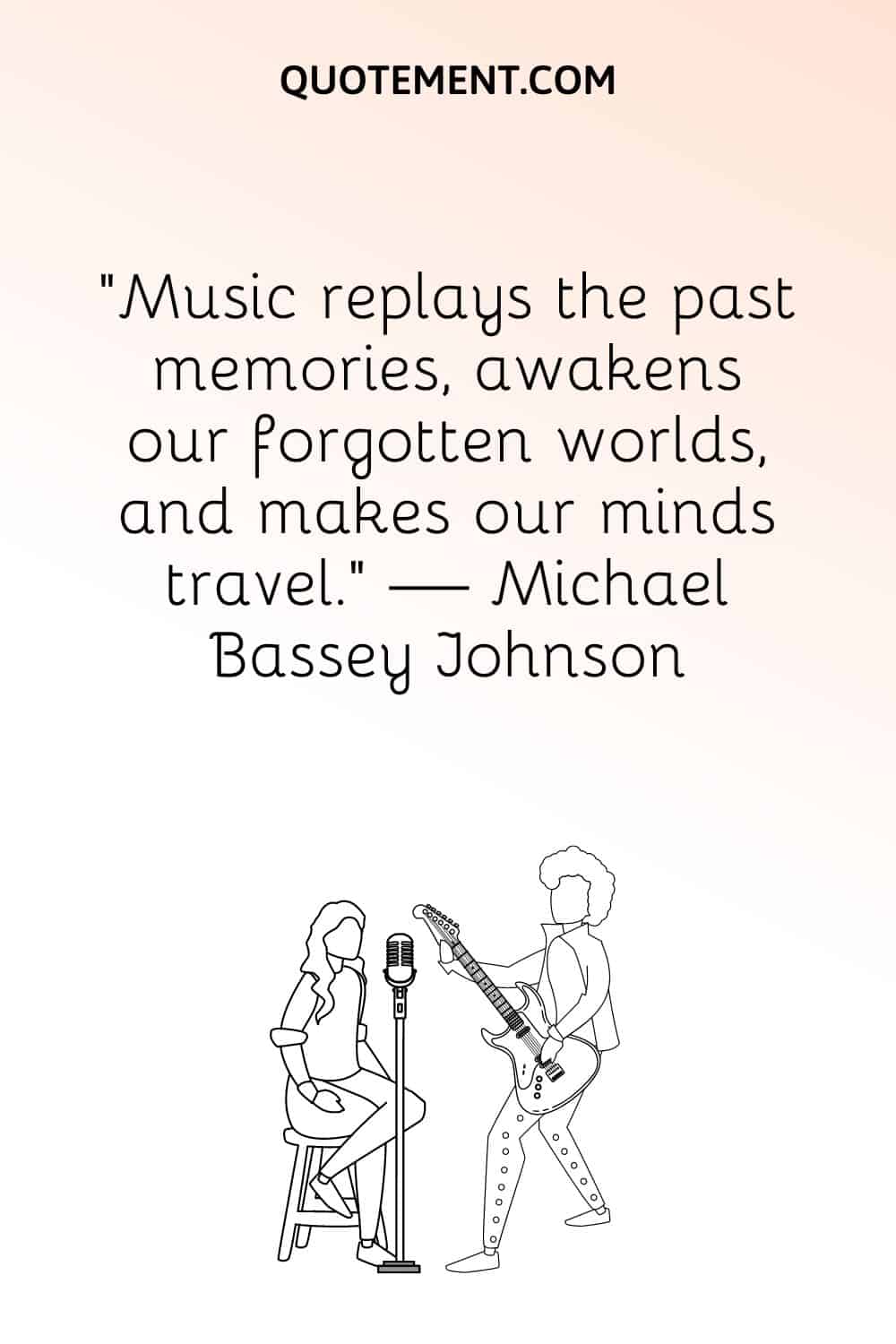 6. "Men are not revived because they sing; they sing because they are revived." — Aiden Wilson Tozer
7. "Music is a language that doesn't speak in particular words. It speaks in emotions, and if it's in the bones, it's in the bones." — Keith Richards
8. "A painter paints his pictures on canvas. But musicians paint their pictures in silence. We provide the music, and you provide the silence." — Leopold Stokowski
9. "The trouble with music appreciation, in general, is that people are taught to have too much respect for music. They should be taught to love it instead." — Igor Stravinsky
10. "Singing is a trick to get people to listen to music for longer than they would ordinarily." — David Byrne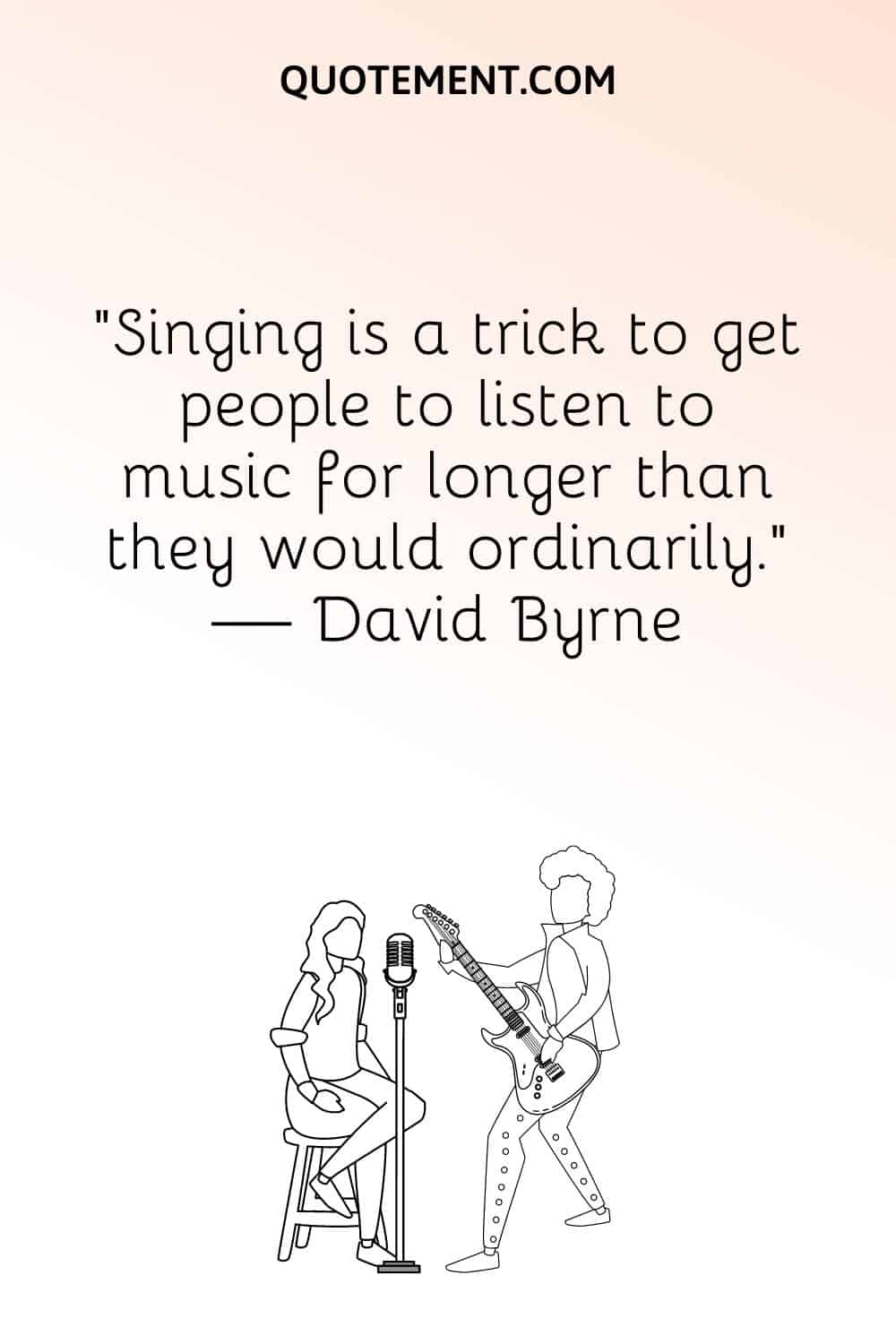 11. "Singing is my passion and something that I still love to do, and I'm always going to want to do it." — Naturi Naughton
12. "I would like to be remembered as a man who brought an innovation to popular singing." — Frank Sinatra
13. "Singing is a powerful tool for self-realization and for the nourishment of others. Developing it is a shared responsibility." — Meribeth A. Dayme
14. "Singing provides a true sense of lightheartedness. If I sing when I am alone, I feel wonderful. It's freedom." — Andrea Bocelli
15. "Listen to the birds, their lyrics are not profane, yet the entire world wants to hear them sing." ― Michael Bassey Johnson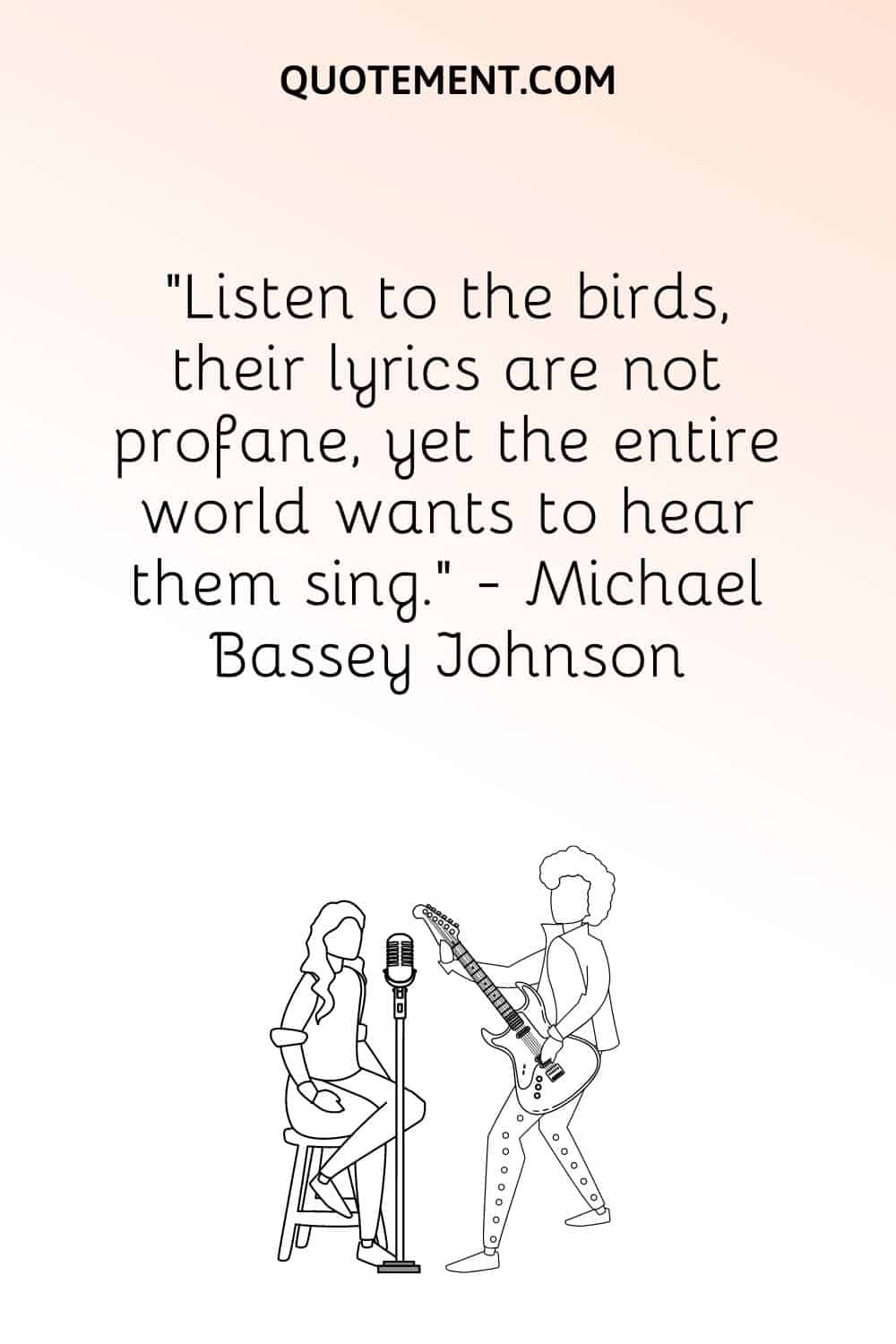 16. "Then the singing enveloped me. It was furry and resonant, coming from everyone's very heart. There was no sense of performance or judgment, only that the music was breath and food." ― Anne Lamott
17. "If people take anything from my music, it should be motivation to know that anything is possible as long as you keep working at it and don't back down." — Eminem
18. "I would rather be remembered by a song than by a victory." — Alexander Smith
19. "I'm singing these songs to inspire you, to keep you going, to lift you up and give you a reason to get up in the morning." — Mavis Staples
20. "There are always going to be bad things. But you can write it down and make a song out of it." — Billie Eilish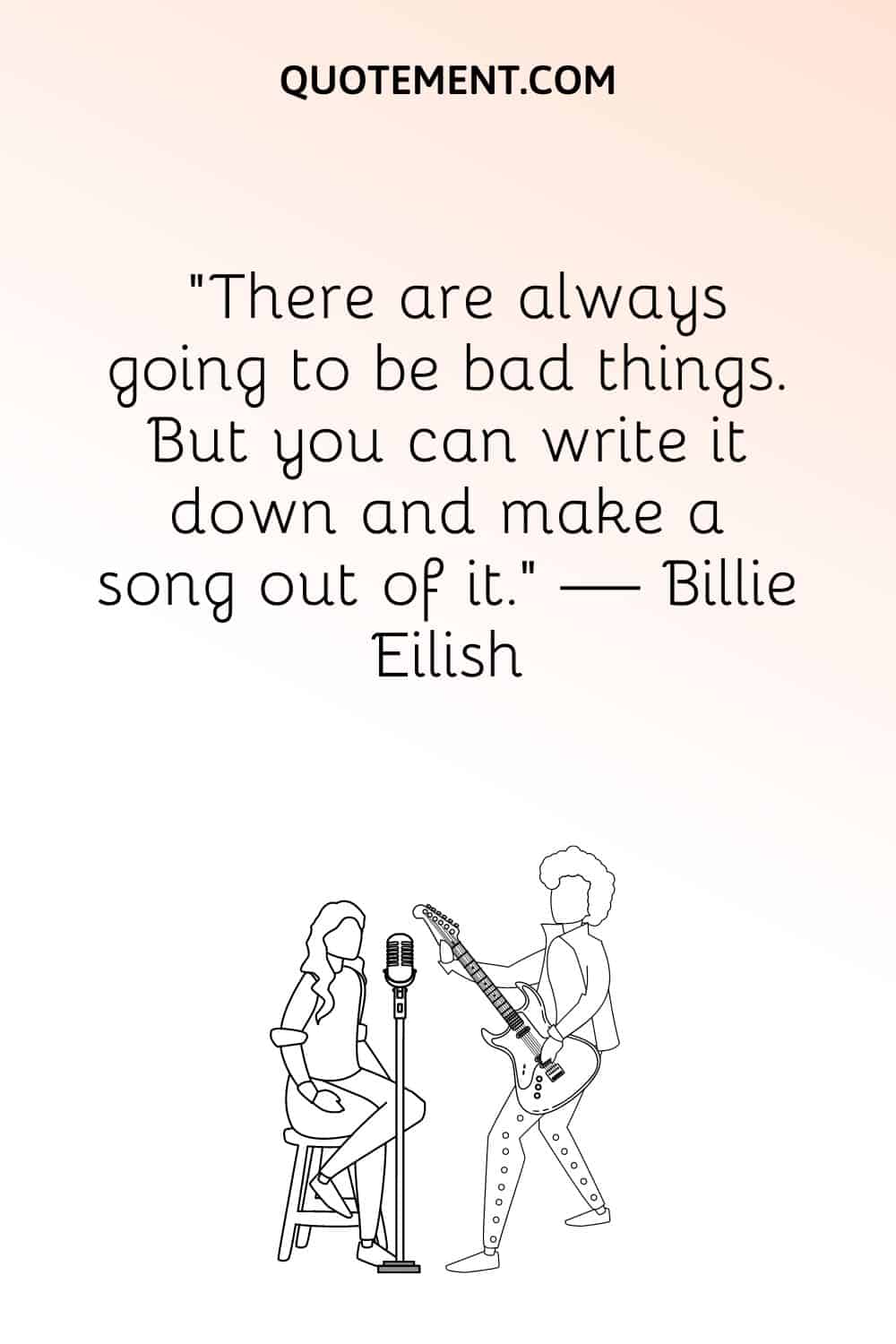 21. "That's one of the great things about music. You can sing a song to 85,000 people, and they'll sing it back for 85,000 different reasons." ― Dave Grohl
22. "Singing is my passion, my first love, and the secret of my energy. Music, to me, is like finding my inner self, my soul. It gives me great joy to see audiences enjoying me. I have given my heart to singing. When I sing, I can feel romance in everything around me." — Kailash Kher
23. "I'm singing what I want to sing based on the emotion of what that day feels like. That's what comes out of my mouth and guitar. That impacts people. They know anything can happen." — John Mayer
24. "Listen to music, dance, or sing your favorite song while doing the chores. You see how happiness adds to your energy." —Lindsey Schlessinger
25. "Going to a concert is so overwhelming, and the energy is amazing." — Victoria Justice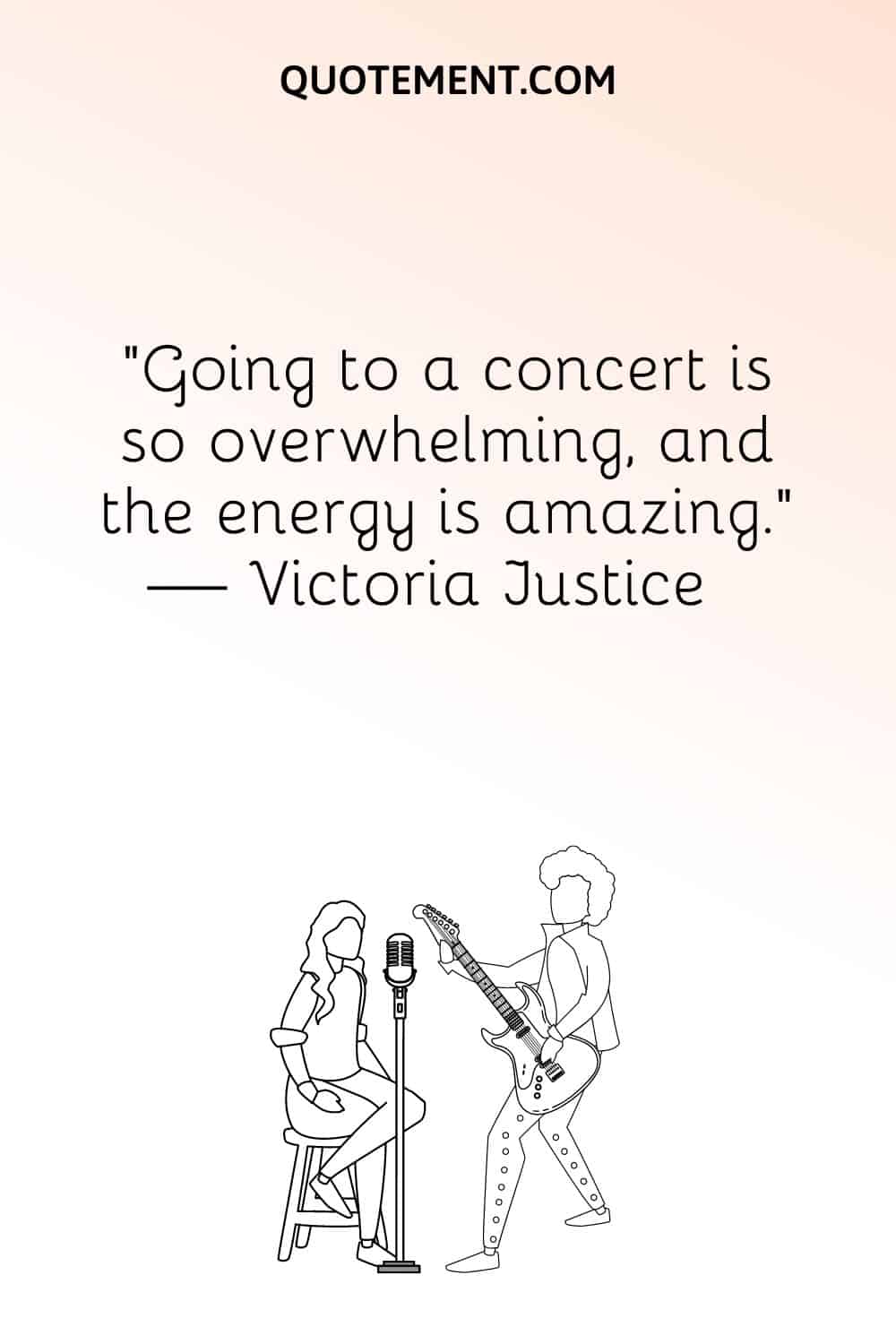 See also: 150 Best Concert Captions For Instagram To Rock Your Post
Meaningful Singing Quotes
Below you'll find a list of meaningful singing quotes to make you think.
1. "There is a delight in singing, though none hear beside the singer." — Walter Savage Landor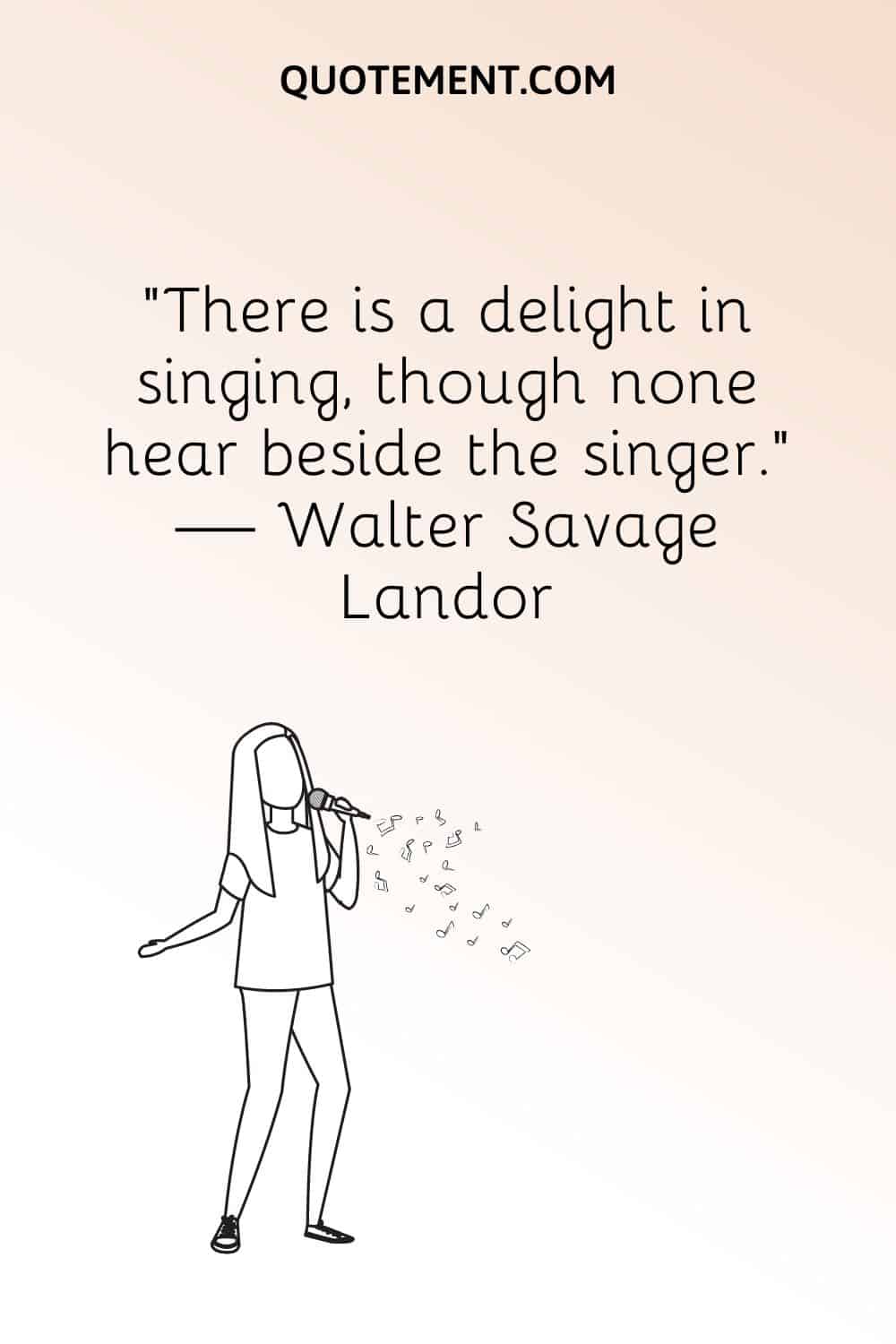 2. "Those who wish to sing always find a song." — Swedish Proverb
3. "Singing is like a celebration of oxygen." — Bjork
4. "There's no half-singing in the shower, you're either a rock star or an opera diva." — Josh Groban
5. "One thing I have learned is that I am not the owner of my talent, I am the manager of it." — Madonna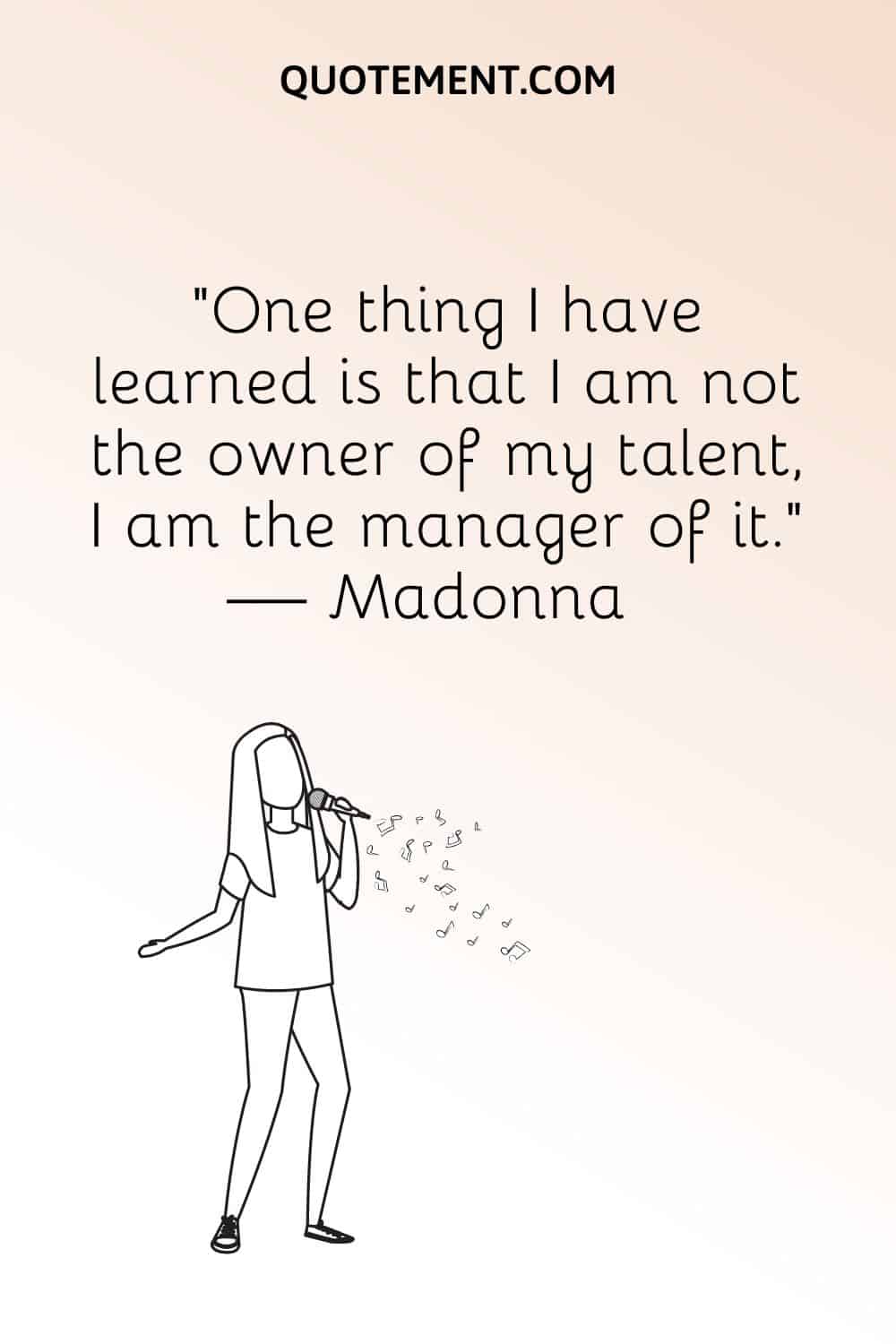 6. "When a singer truly feels and experiences what the music is all about, the words will automatically ring true." — Montserrat Caballé
7. "Singing intimately is almost like thinking into a microphone, so it helps to have the song buried inside you." — Tony Bennett
8. "I feel God has sent me to Earth to sing. I started singing when I was five, but I don't think I've worked as hard as many other people." — Lata Mangeshkar
9. "To sing means to sense and to affirm that the spirit is real and that its glory is present." — Abraham Joshua Heschel
10. "Singing is a miracle. It has been called the most complex coordinative act that a human being is ever called upon to perform." — Dan Marek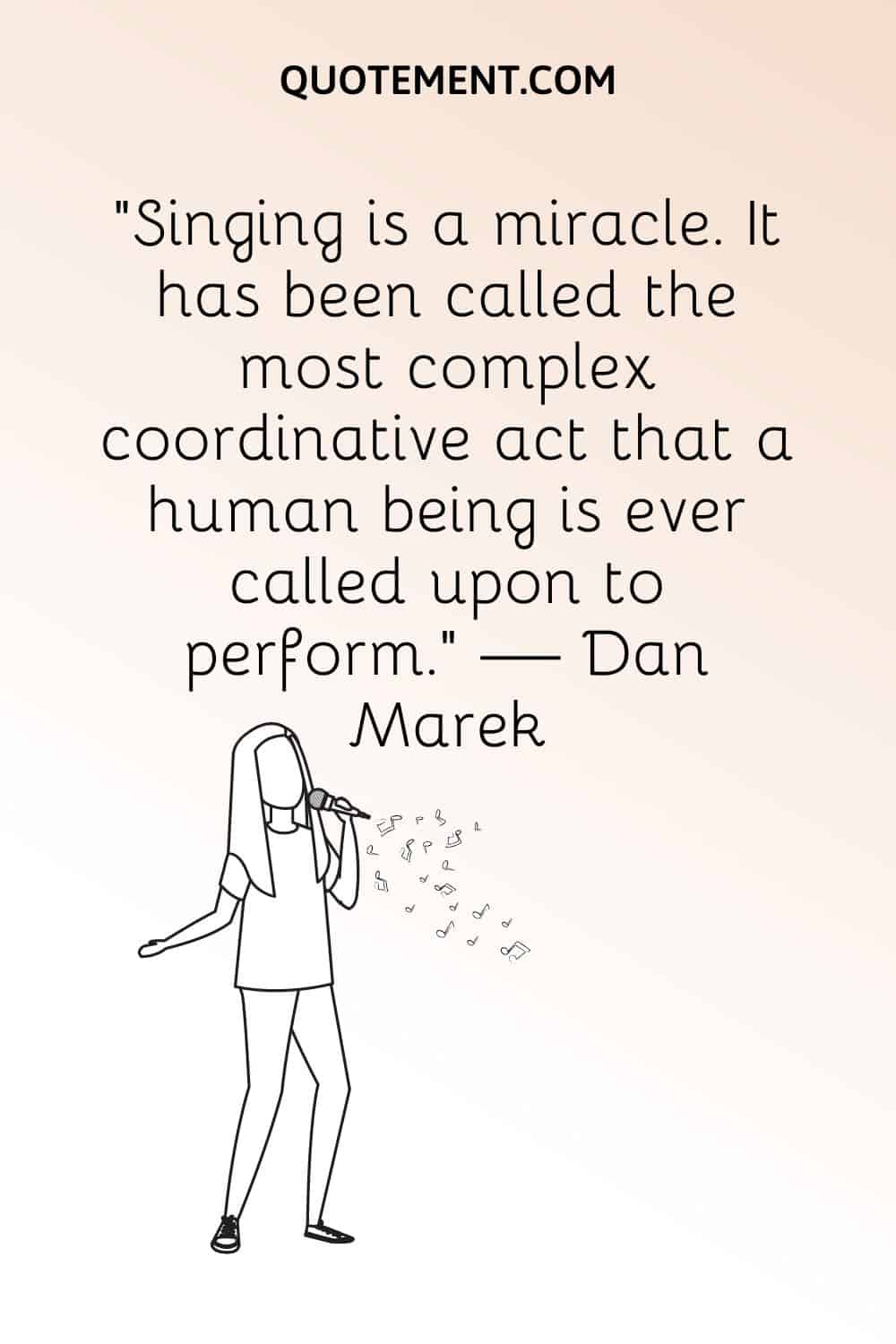 11. "Singing is something you can do for a lifetime, and studies prove it is good for mental, physical, social, and psychological health." — Mike Kruger
12. "Singing has been a passion of mine, equal to or greater than acting, ever since I was very small." — Dove Cameron
13. "When a singer truly feels and experiences what the music is all about, the words will automatically ring true." — Monserrat Caball
14. "There are several ways of saying what's on your mind. And in states and counties where it ain't too healthy to talk too loud, speak your mind, or even vote like you want to, folks have found other ways of getting the word around. One of the main ways is by singing." — Woody Guthrie
15. "There is another alphabet, whispering from every leaf, singing from every river, shimmering from every sky." ― Dejan Stojanovic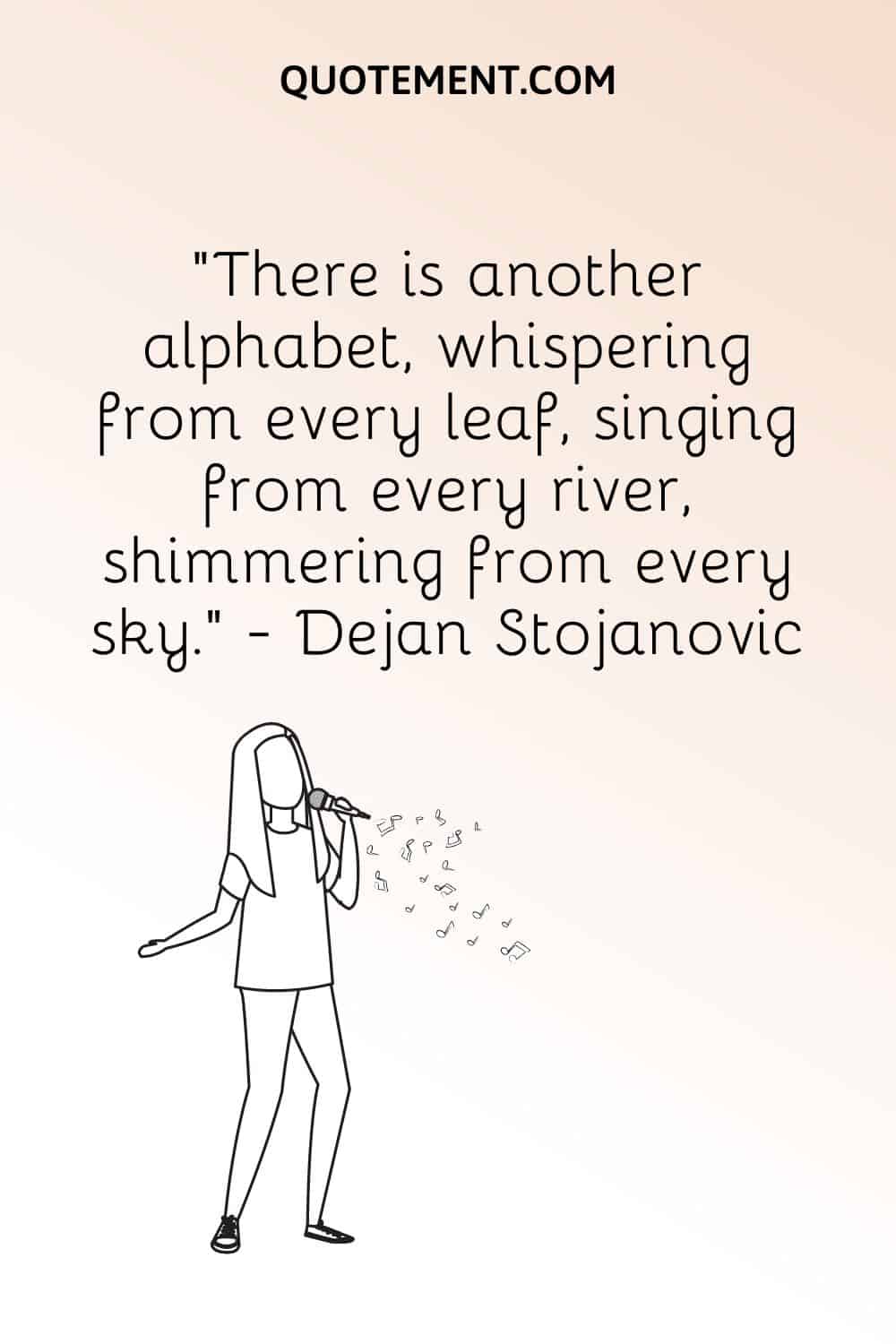 16. "An opera begins long before the curtain goes up and ends long after it has come down. It starts in my imagination, it becomes my life, and it stays part of my life long after I've left the opera house." — Maria Callas
17. "If children are not introduced to music at an early age, I believe something fundamental is actually being taken away from them." — Luciano Pavarotti
18. "If they're singing about heartbreak, they've lived it." — Paula Abdul
19. "Noise: The blessing of so many voices is we can find someone singing our song and join in." ― Richie Norton
20. "Singing from your heart is like fresh air that heals you again from the pollution around you." — Ahmed Farrag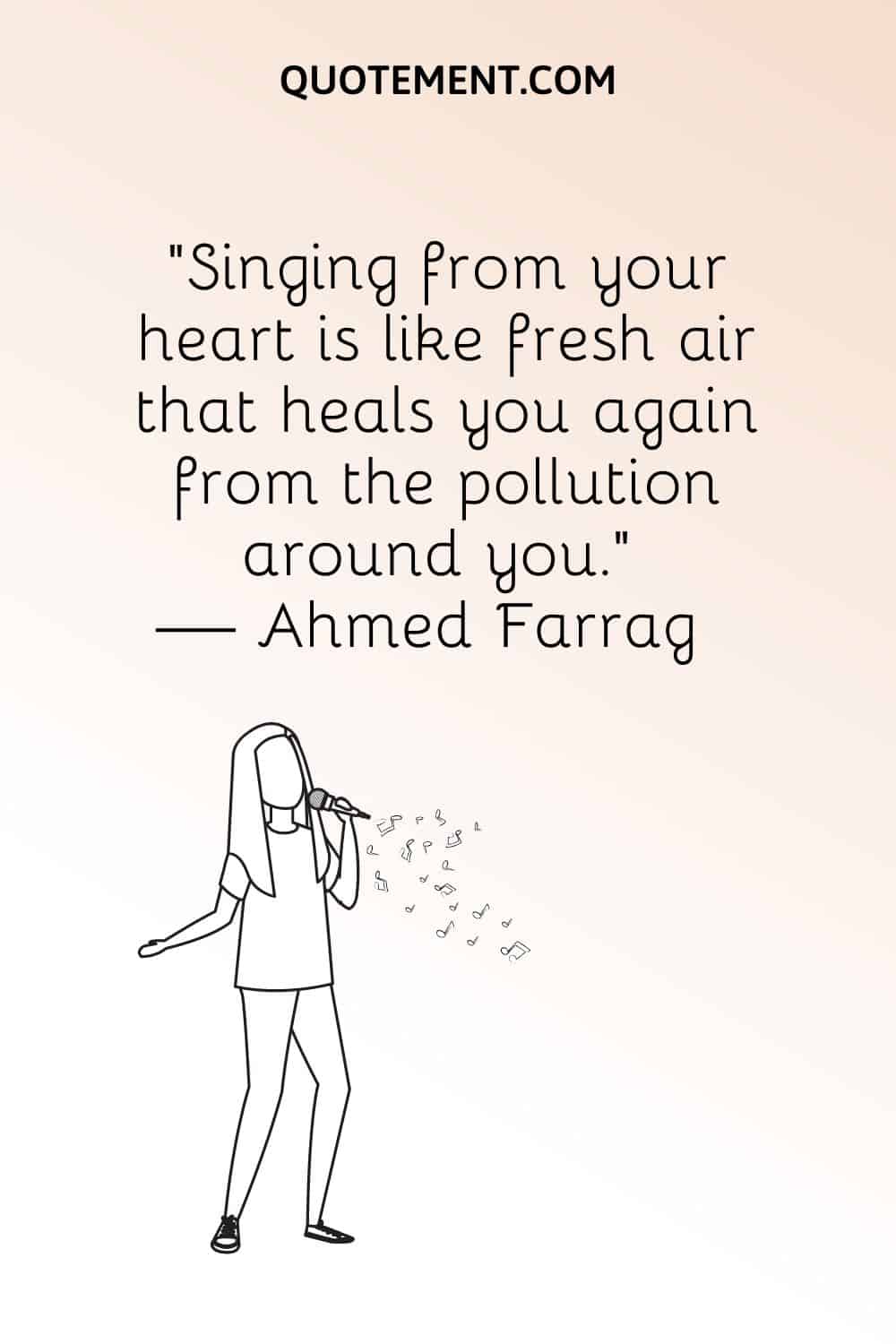 21. "For the first time, he heard something that he knew to be music. He heard people singing. Behind him, across vast distances of space and time, from the place he had left, he thought he heard music too. But perhaps, it was only an echo." ― Lois Lowry
22. "Singing allowed me to express myself in ways that I wouldn't be able to do otherwise." — Josh Turner
23. "There are many ways to relax. Sometimes you might enhance that relaxation by listening to mellow music. At other times, you might use the stress and sing and dance to an upbeat tune." — Jay Winner
24. "After silence, that which comes nearest to expressing the inexpressible is music." — Aldous Huxley
25. "Life is all about random moments of joy, like singing and dancing in the rain." — Kirsten Hill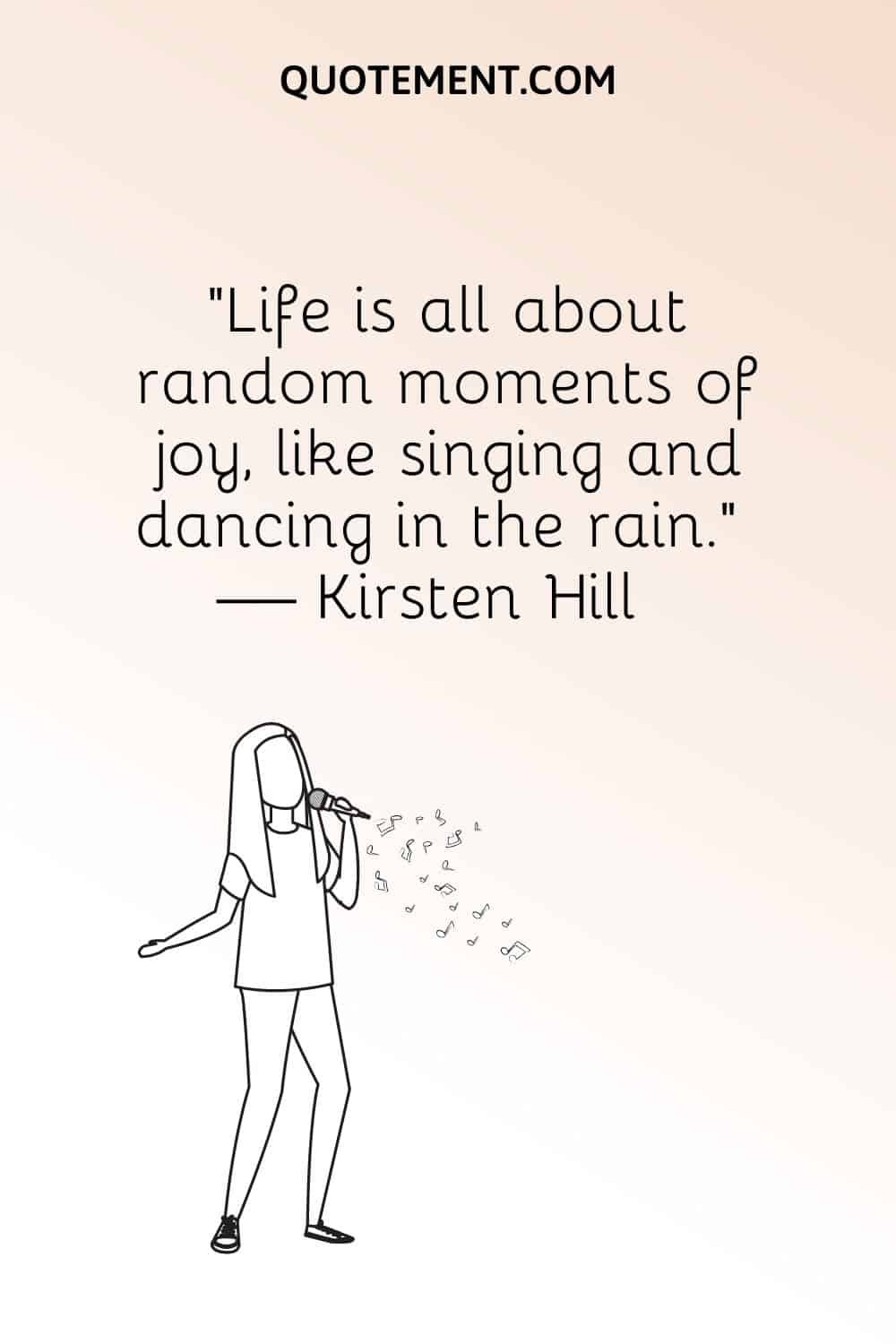 See also: 120 Dance In The Rain Quotes To Strengthen Your Spirit
Singing Quotes To Brighten Your Day
These singing quotes will improve your mood and brighten your day.
1. "In life, you either choose to sing a rainbow, or you don't. Keep singing." — Kathleen Long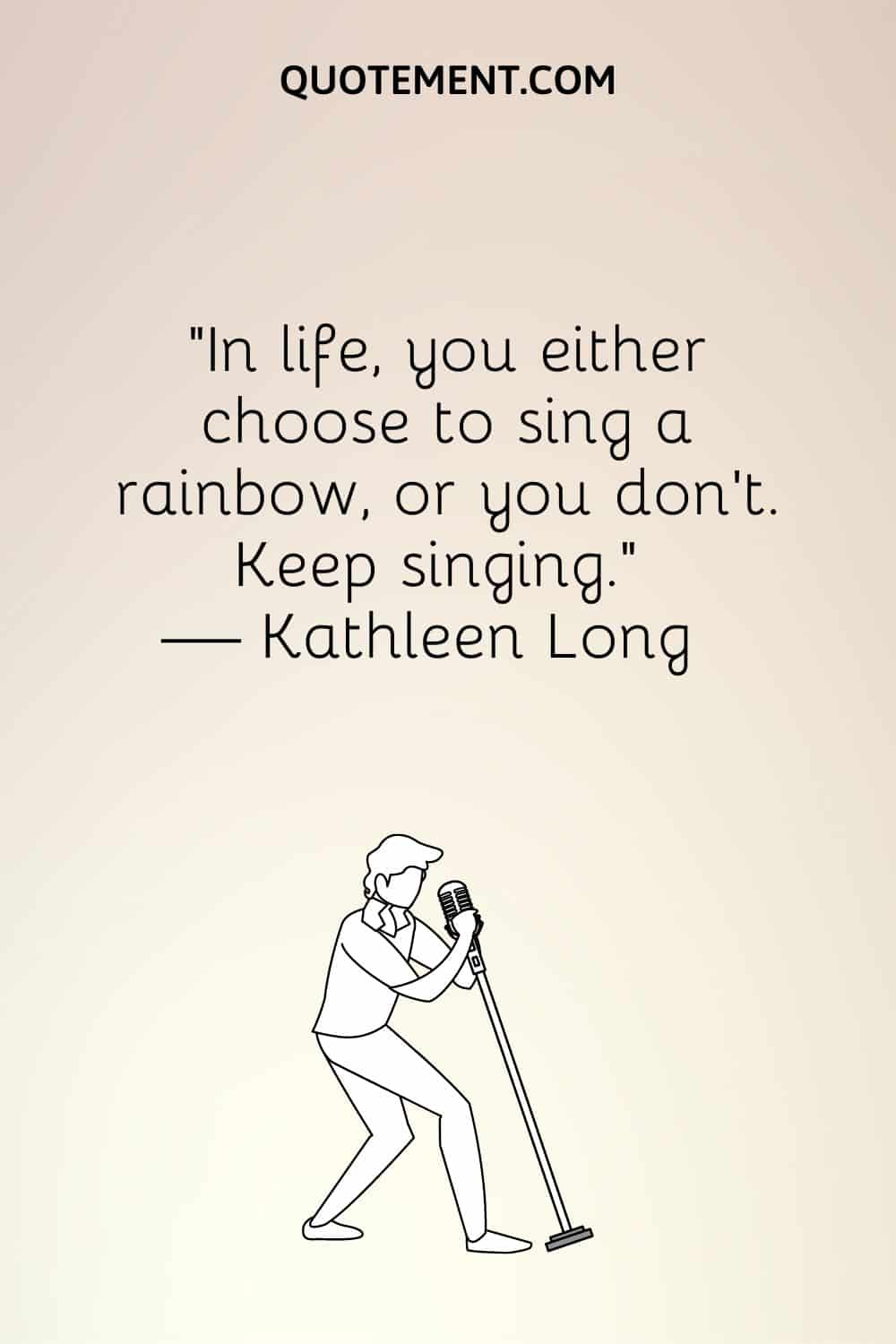 2. "I don't sing because I'm happy; I'm happy because I sing." ― William James
3. "There isn't enough sadness in the world to keep the robins from singing." ― Marty Rubin
4. "There is a significant difference between skillful singing and artistic vocal interpretation. Although skillful singing brings joy to many listeners, only a remarkable vocal interpretation may cause people to be overcome with emotion." ― Eraldo Banovac
5. "It does not need to be perfect – or technically correct – to be magic." — Rasheed Ogunlaru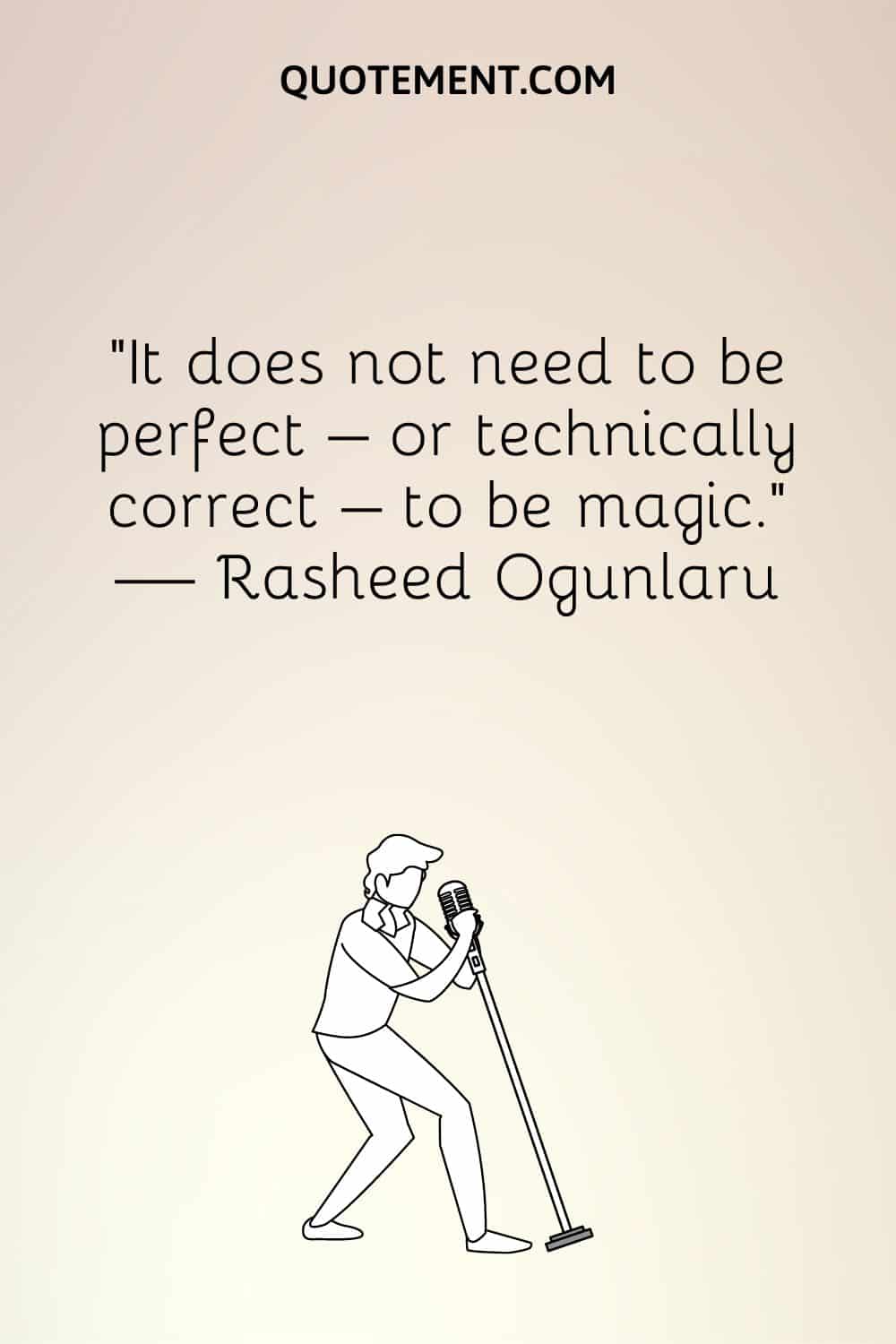 6. "When we sing, we can do anything – change the world, bring peace, be our best selves at last. When we sing, our hearts can lift and fly, over the troubled waters and over the years." ― Judy Collins
7. "Singing becomes a form of therapy." — Placido Domingo
8. "Always choose the noise of music…always end the day in singing!" ― Will Oldham
9. "Music is the greatest communication in the world. Even if people don't understand the language that you're singing in, they still know good music when they hear it." — Lou Rawls
10. "Turn your loneliness into singing and praying, and you shall realize that you are never alone at all." ― Ernest Agyemang Yeboah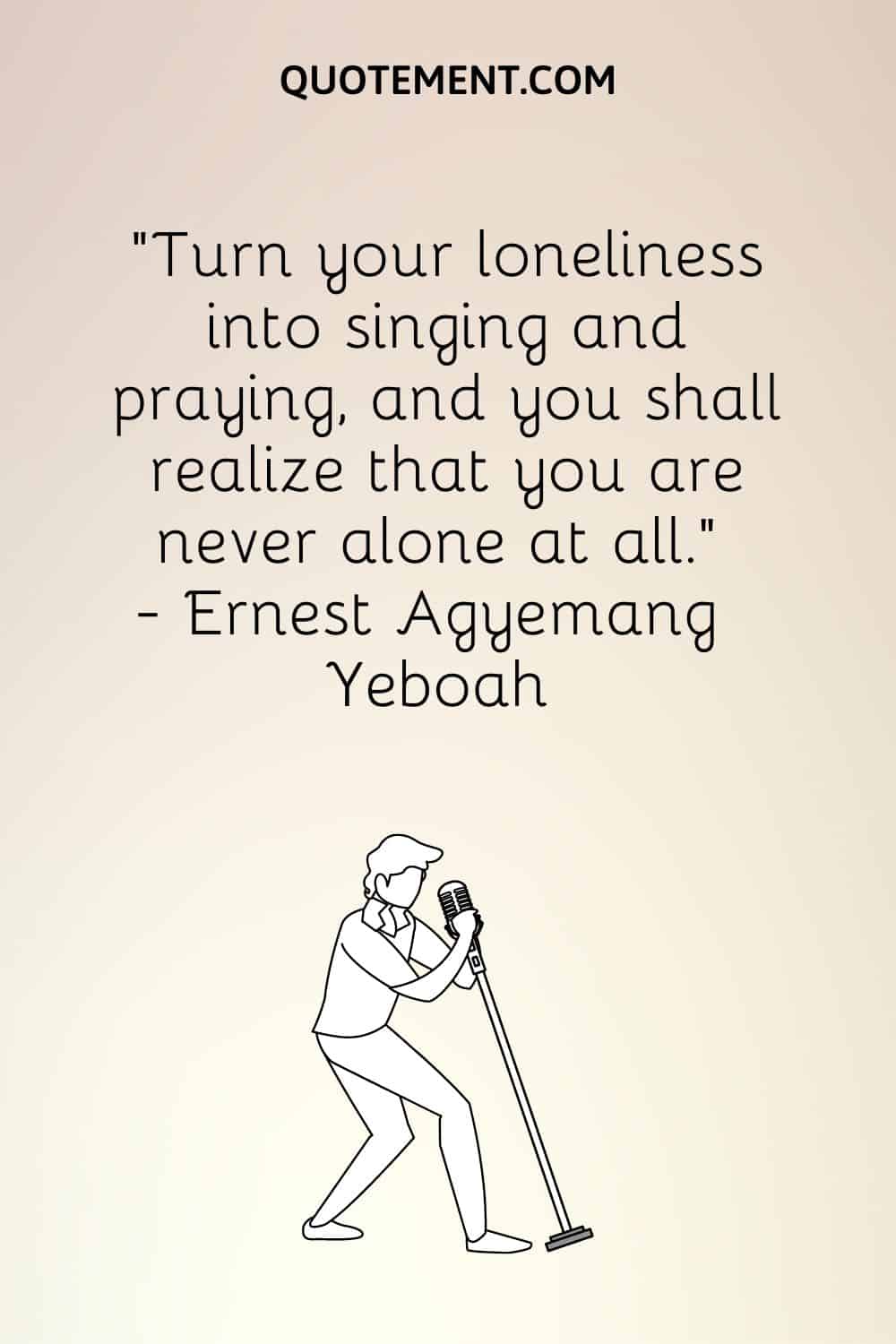 11. "Her voice was like a portrait of her soul: wild as a fire, sharp as shattered glass, sweet and clean as clover." ― Patrick Rothfuss
12. "Singing is something that I have learnt. I have given exams for it." — Parineeti Chopra
13. "Singing was my first passion. Whenever I sing, I'm always so happy." — Keke Palmer
14. "I'm much more comfortable singing than talking." — Kenny Rogers
15. "Like a bird singing in the rain, let grateful memories survive in time of sorrow." — Robert Louis Stevenson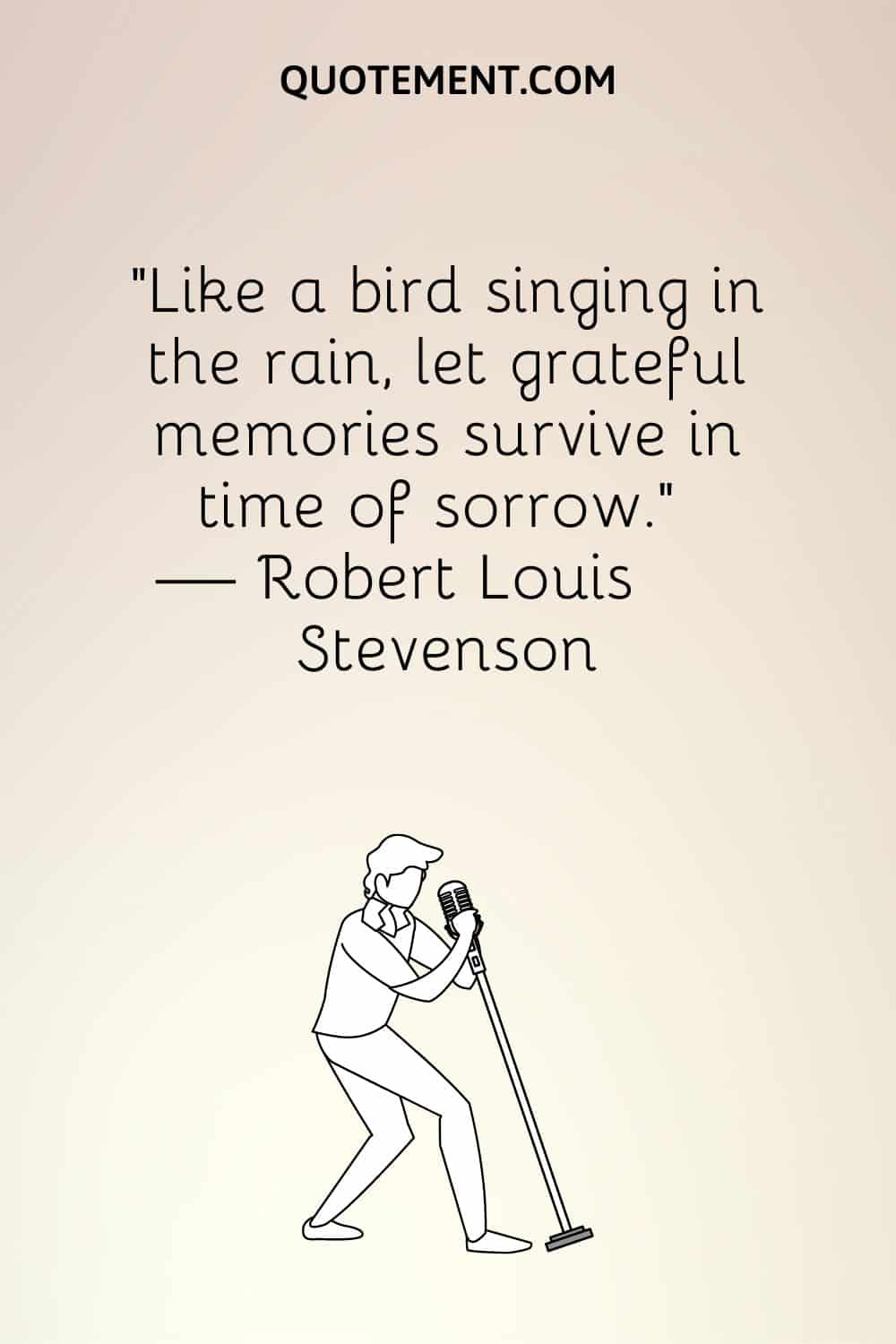 16. "For me, singing sad songs often has a way of healing a situation. It gets the hurt out in the open into the light, out of the darkness." — Reba McEntire
17. "We love music deeply, but why? Put simply: music makes lives, shapes lives, expresses all shades and stages of life – and even saves lives." ― Rasheed Ogunlaru
18. "Let your heart sing from those wounded places. When you sing your song with everything you've got, it will not only heal you, but it will heal all of us through you." ― Gemma B. Benton
19. "I could write about how I feel when I sing, write and create something from heartbreak, sorrow, sadness, or just simply nothingness. How nothingness can become the most beautiful, unexplainable feeling that makes you forget about gravity for an hour." ― Charlotte Eriksson
20. "In gratitude and joy, my heart sings better than ever in words I could." ― Gillian Duce
21. "Singing is a way of releasing an emotion that you sometimes can't portray when you're acting. And music moves your soul, so music is the source of the most intense emotions you can feel." — Amanda Seyfried
22. "I enjoy singing; being in touch with something that is inside of me." — Roger Daltrey
23. "Music drives you. It wakes you up, it gets you pumping. And, at the end of the day, the correct tune will chill you down." — Dimebag Darrell
24. "Singing is my life. It has always been my life. It will always be my life." — Celia Cruz
25. "Art doesn't give rise to anything in us that isn't already there. It simply stirs our curious consciousness and sparks a fire that illuminates who we have always wanted to be." ― Kamand Kojouri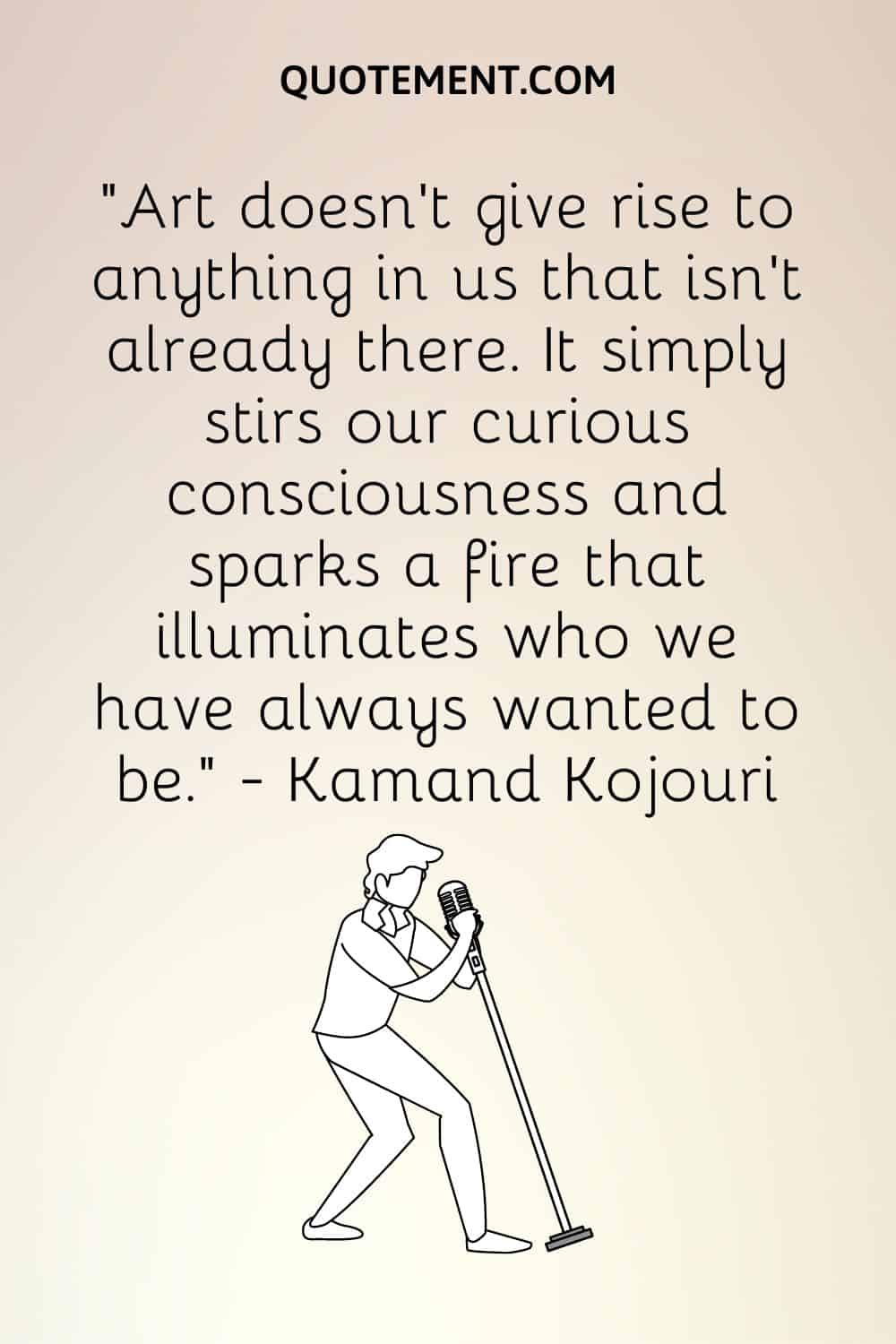 See also: 120 Inspirational Art Quotes To Awaken The Divine In You
Deep & Powerful Singing Quotes
For the last chapter, I prepared a selection of deep and powerful singing quotes. Check them out!
1. "What I like about singing is that, for me, it's a substitute for the psychiatrist's couch." — Patti Page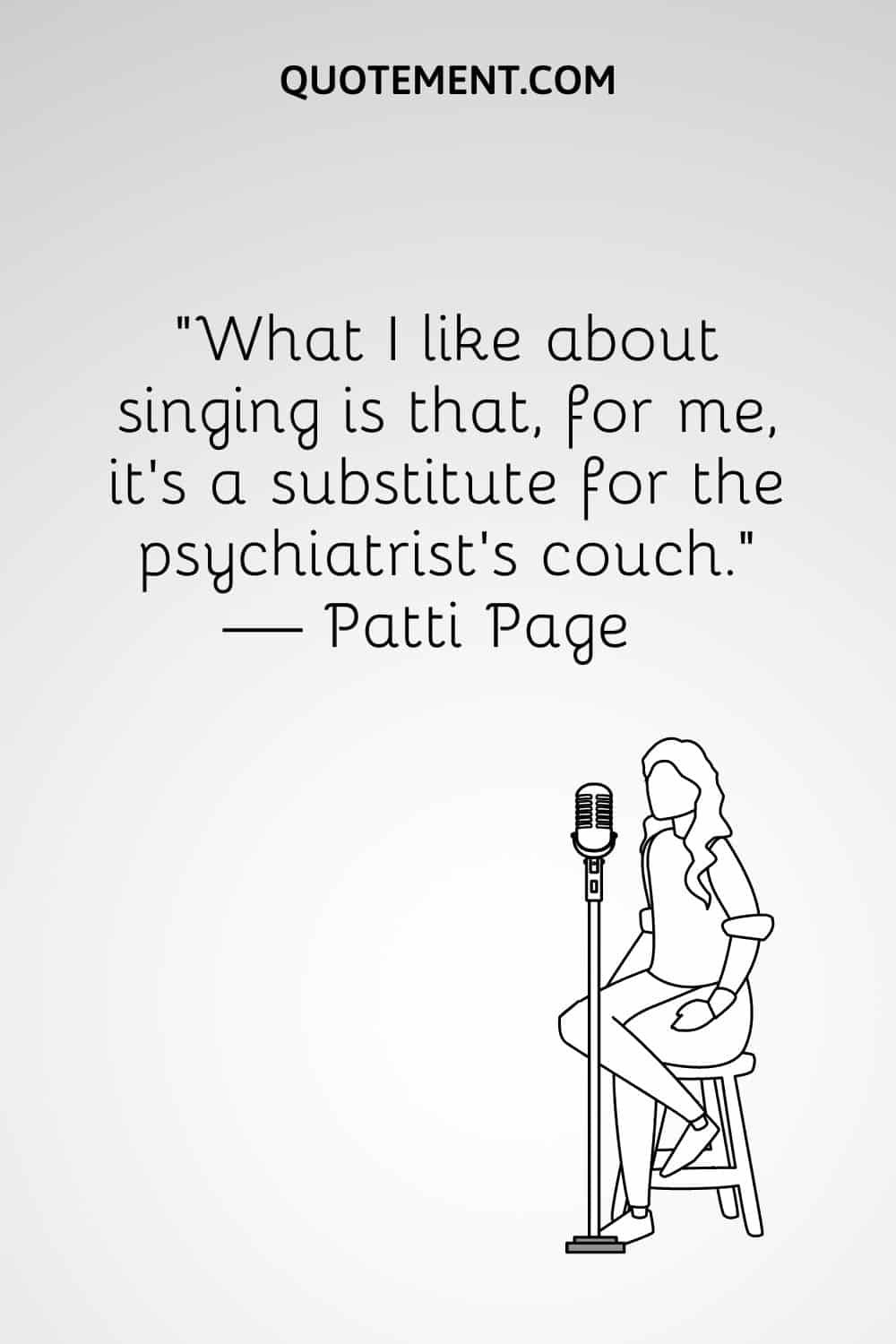 2. "Singing is kind of like stress relief, and everything just kind of makes sense when I'm doing this." — Rosé
3. "What is beautiful enchants me. I mean not just physical beauty but a wider concept of beauty. There is beauty in poetry and in great musical or singing performances. There is beauty everywhere if you can just see it." — Andrea Bocelli
4. "Anybody singing the blues is in a deep pit yelling for help." — Mahalia Jackson
5. "And all meet in singing, which braids together the different knowings into a wide and subtle music, the music of living." — Alison Croggon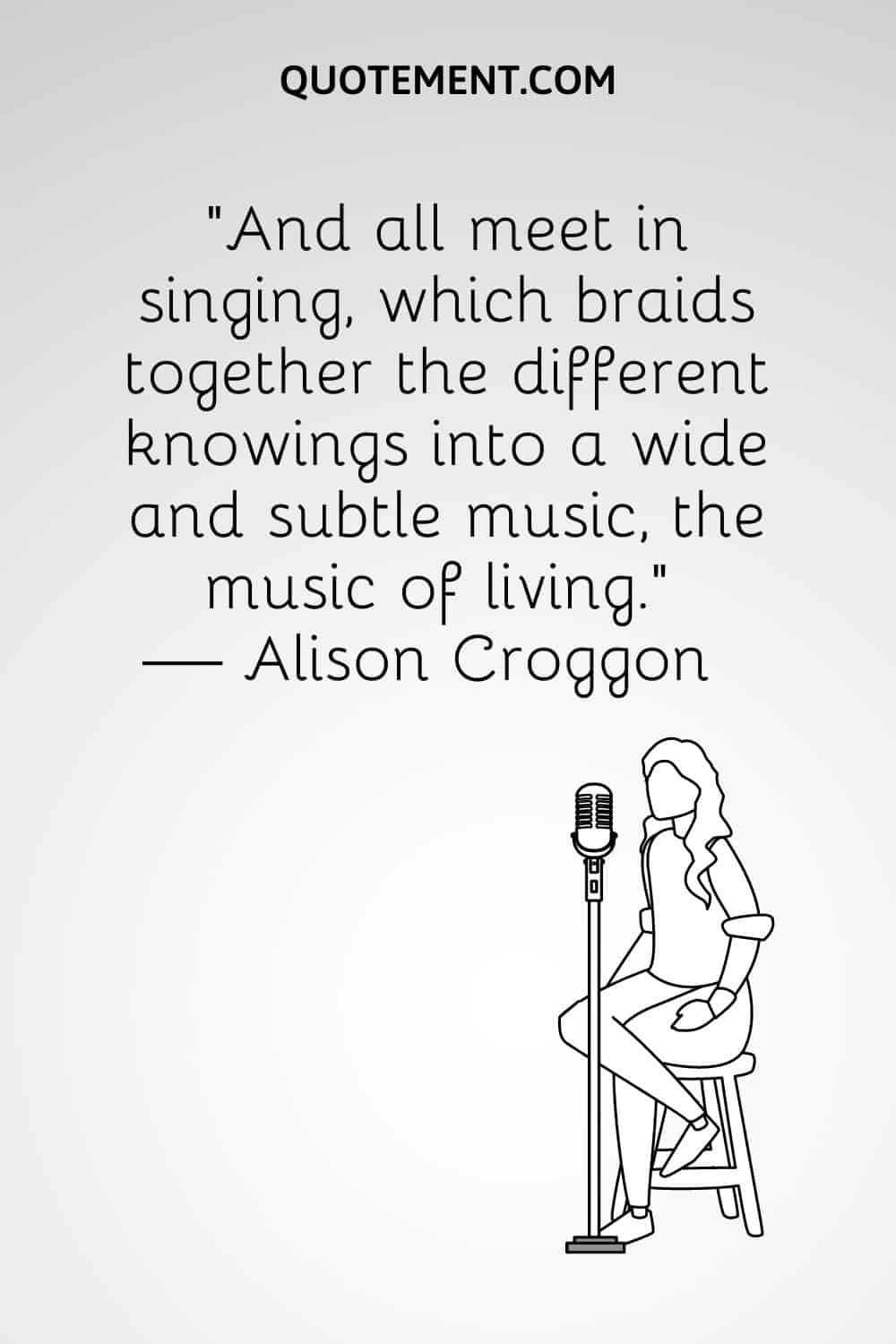 6. "The ocean has been singing to me, and the song is that of our life together." — Nicholas Sparks
7. "I enjoy all aspects of singing, and I'm luckily given a choice to be part of different styles of music." — Bryn Terfel
8. "Music is an expression of individuality; it's how you see the world. All art is, for that matter. You take how you experience the world, interpret it, and send it out there – express it – whether it's sculpture, dance or singing." — David Sanborn
9. "If I hadn't been a singer, I might have been a photographer or an artist. But it's singing I love. I sing all the time, and I feel really good that I've expressed myself." — Annie Lennox
10. "You don't have to be singing about love all the time in order to give love to the people. You don't have to keep flashing those words all the time." — Jimi Hendrix
11. "You are a dangerous collection of all my favorite things. An old soul, a heart of gold, and hands that make my body sing." — Nikita Gill
12. "Because of her singing, they all went away feeling moved, feeling comforted, feeling, perhaps, the slightest tremors of faith." — Ann Patchett
13. "Singing is one of the most organic forms of humanity." — Joe Stewart
14. "Singing is something I've always loved to do, and I'd never considered taking it further than the shower." — Hailee Steinfeld
15. "I will always try to turn sights and sounds into words. I will always try to shape words into my singing poems." — Arnold Adoff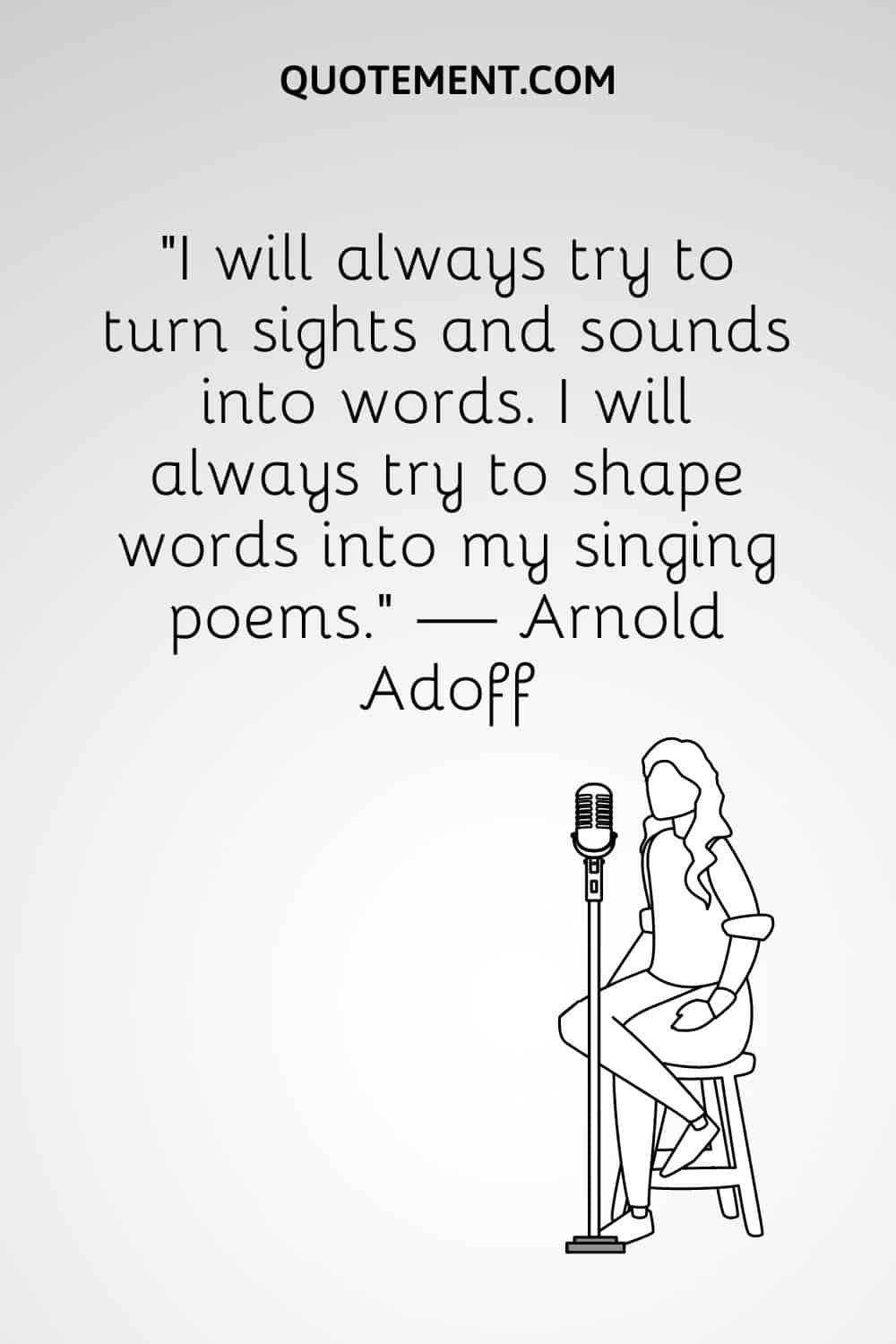 16. "Complete strangers can stand silent next to each other in an elevator and not even look each other in the eye. But at a concert, those same strangers could find themselves dancing and singing together like best friends. That's the power of music." — LZ Granderson
17. "I sing because I love singing. I perform because I love performing. I write because I actually enjoy writing." — Ne-Yo
18. "Beautiful songs could sometimes take a person out of themselves and carry them away to a place of magic. But when Jill sang, it was not about the song, really. She could sing the phone book. She could sing a shopping list. Whatever she sang, whatever the words or the tune, it was so beautiful, so achingly lovely, that no one could listen and be untouched." — Michael Grant
19. "The people who are making money are the ones who are writing and singing their own songs." — Jimmy Webb
20. "Singing your own songs is all about individual expression." — Lyle Lovett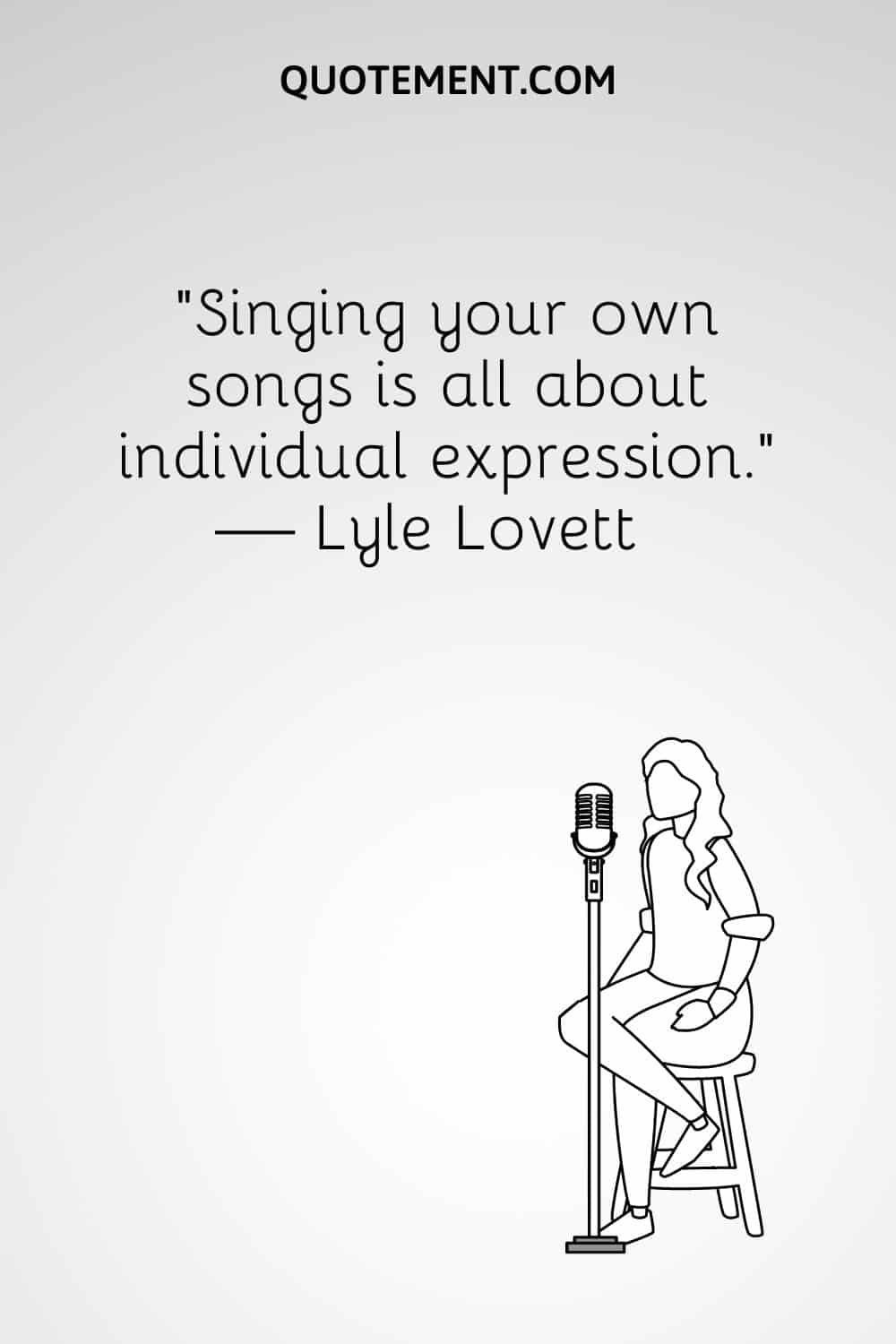 21. "If you've got nothing to dance about, find a reason to sing." — Melody Carstairs
22. "Listen to what others tell you about your voice. If you're only singing to please yourself, you might as well just sing under the shower. But if you're singing for others, you are reliant on them to ask you to sing." — Andrea Bocelli
23. "But it was the singing that pulled me in and split me wide open." — Anne Lamott
24. "I knew, regardless of anything else, singing in front of an orchestra was going to be inspirational. It would feed me." — George Michael
25. "I've been singing my entire life. The guitar came to me later on down the road." — Luke Combs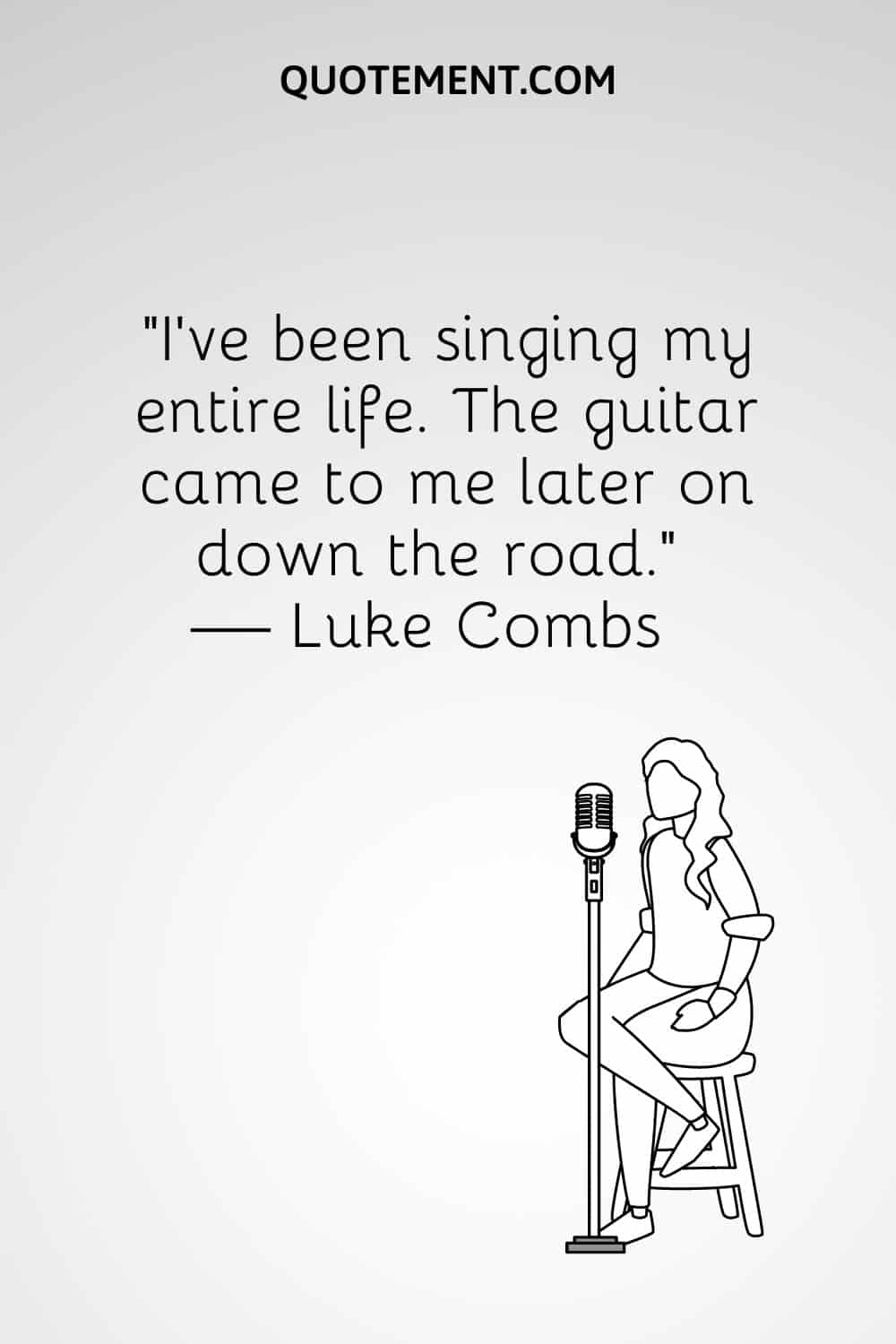 See also: 230 Best Guitar Captions And Guitar Quotes For Instagram
To Wrap Up
I hope you liked my collection of singing quotes. I'd love to know what your favorite singing quote is. Let me know in the comments section below.
Until next time!