As you've found your way to my article, you've probably been searching for inspirational quotes that can help you cultivate positive thoughts and spread positive vibes as well!
Well, I'm happy to let you know that you've just discovered a unique collection of top 90 positive vibes quotes, motivational quotes, life quotes and attitude quotes!
Life can be overwhelming or we may feel stuck sometimes – we're just human beings and nobody's perfect!
I took my time to collect only the most powerful quotes from different online sources so you can have the best possible experience!
Just keep scrolling to check them out!
10 Best Positive Vibes Quotes
First let's check out my 10 best good vibes quotes and positive vibes quotes:
1. "Cultivate an optimistic mind, use your imagination, always consider alternatives, and dare to believe that you can make possible what others think is impossible." – Rodolfo Costa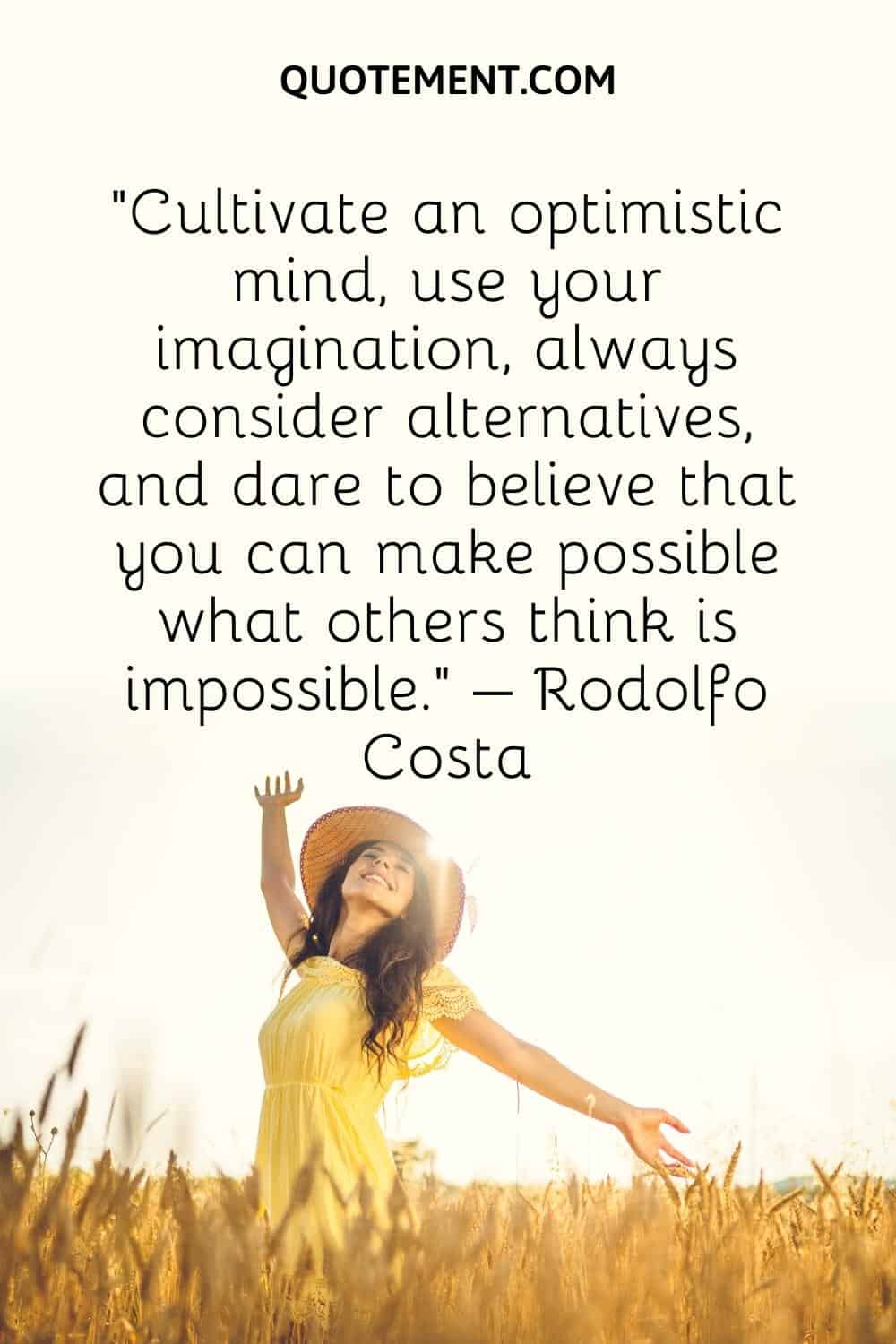 2. "All our dreams can come true if we have the courage to pursue them." – Walt Disney
3. "You must not lose faith in humanity. Humanity is an ocean; if a few drops of the ocean are dirty, the ocean does not become dirty." – Mahatma Gandhi
4. "People who are crazy enough to think they can change the world are the ones who do." – Rob Siltanen
5. "I alone cannot change the world, but I can cast a stone across the water to create many ripples." – Mother Teresa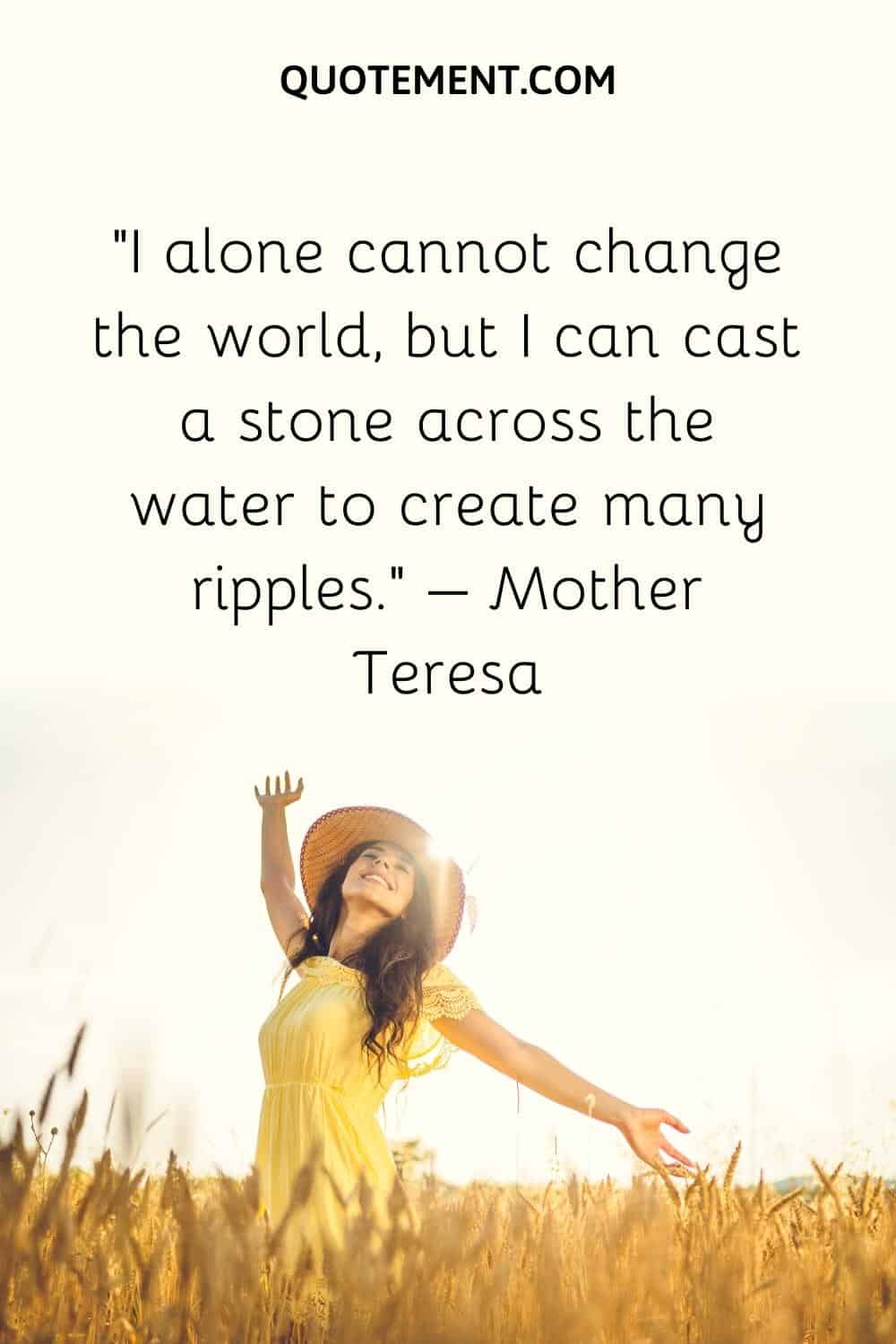 6. "We can complain because rose bushes have thorns, or rejoice because thorn bushes have roses." – Abraham Lincoln
7. "The road to success and the road to failure are almost exactly the same." – Colin R. Davis
8. "You came to radiate the fullness of who you are." ― Abraham Hicks
9. "Always believe in the magic of a new beginning." ― Dido Stargaze
10. "We may encounter many defeats but we must not be defeated." ― ​Maya Angelou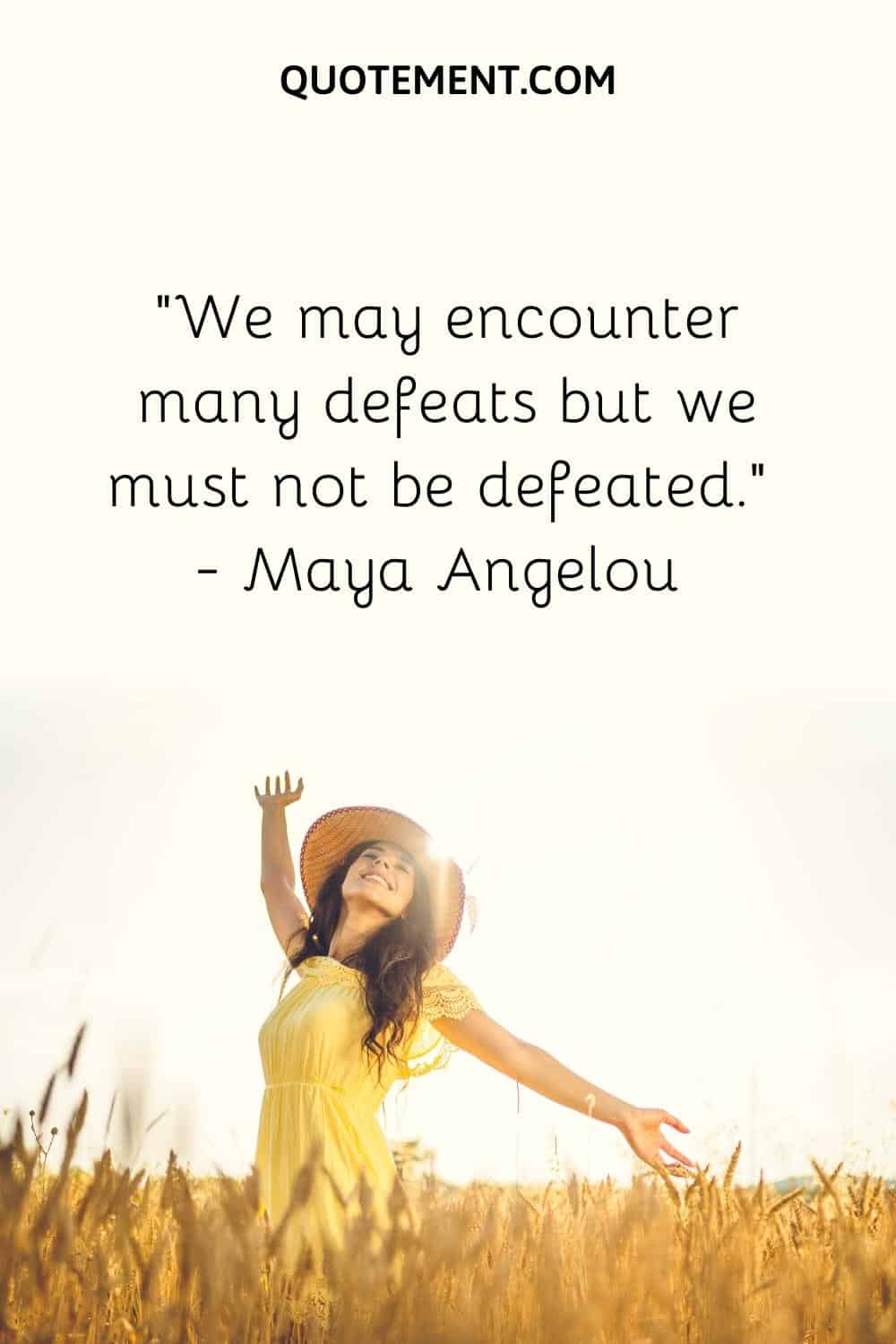 Positive Vibes Only Quotes
Positive energy is contagious! Let's take a look at these brilliant positive vibes quotes that will inspire you to stay positive:
1. "It's a funny thing about life, once you begin to take note of the things you are grateful for, you begin to lose sight of the things that you lack." – Germany Kent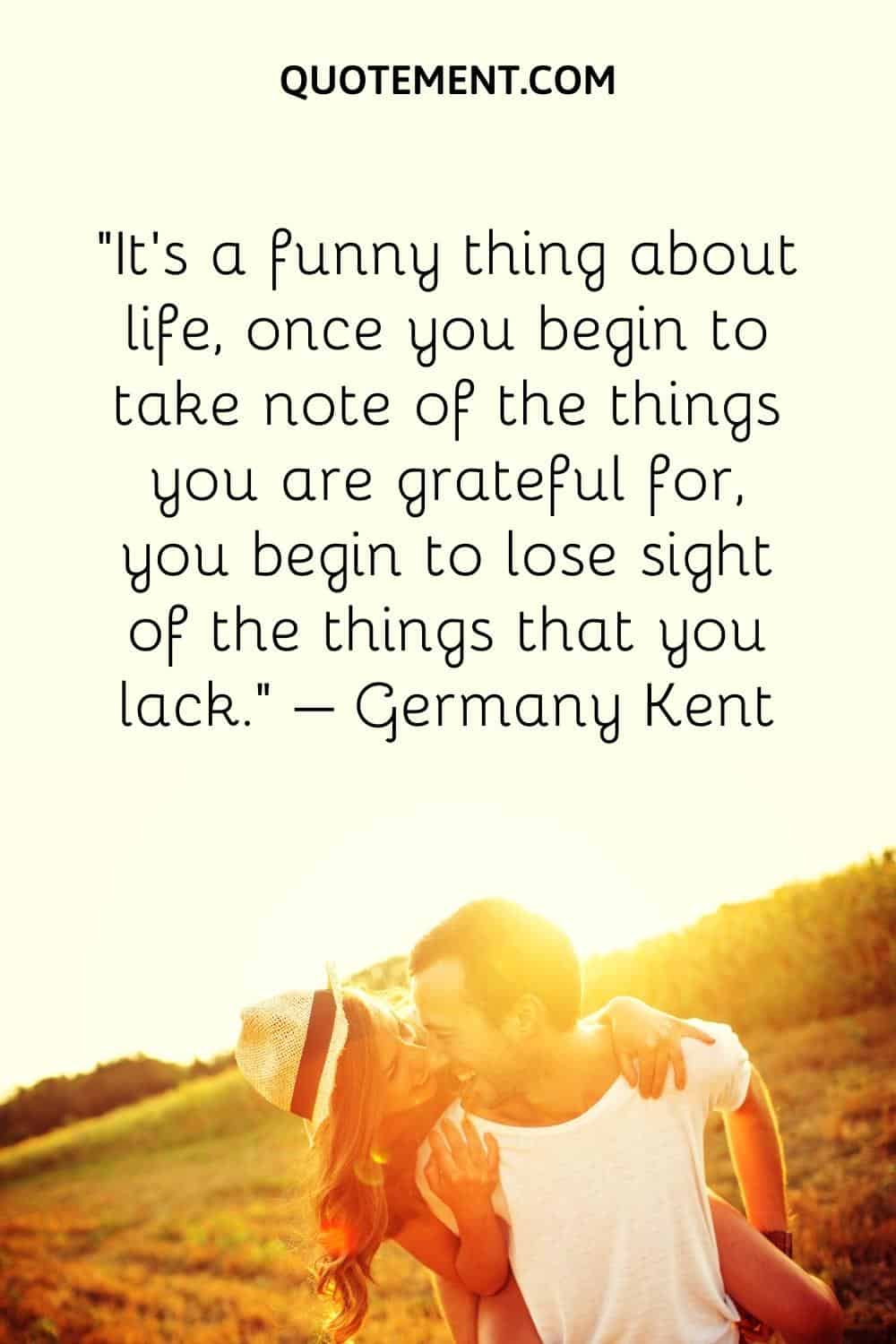 2. "Let me be the first to say that I've also been that toxic person. Calling myself out on my own toxicity is what aids me in spotting it in others. Healing my toxicity is what helped me understand myself. Now, I invite and embrace peace & good vibes only." ― Sanjo Jendayi
3. "Today I turn my eyes to see only that for which I am thankful. Today I allow myself to absorb the kindness and love within the Universe. Today I am thankful and grateful and it shows." ― Jodi Livon
4. "I say looking on the bright side of life never killed anybody." ― Jenny Han
5. "Beneath the rust and grime which dulls the shine of our weathered hearts, joy patiently waits to be rediscovered." ― John Mark Green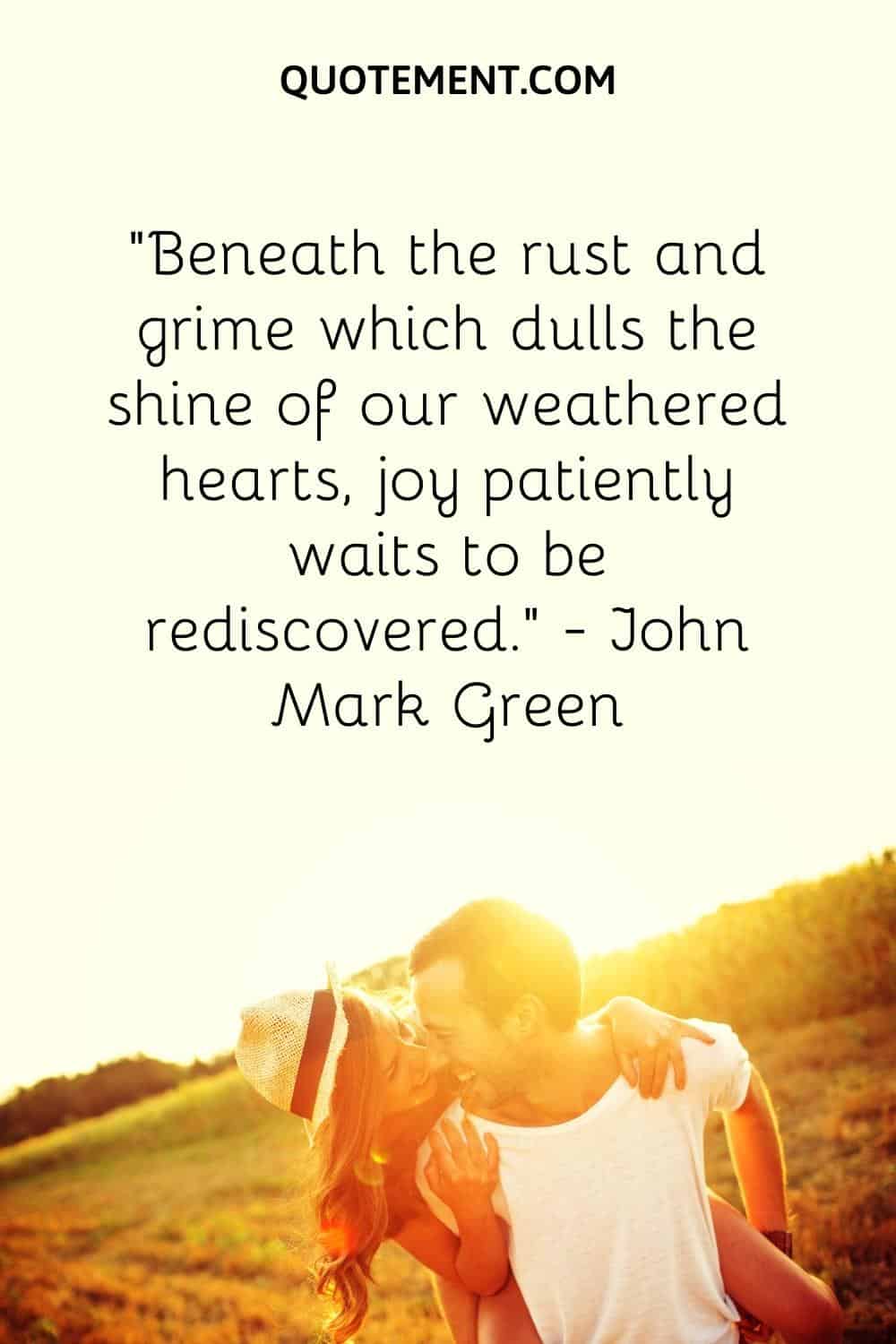 6. "The greatest win is walking away and choosing not to engage in drama and toxic energy at all." ― Lalah Delia
7. "If you feel happy, smile with all your heart. If you're down, smile with all your might." ― Paul Ian Guillermo
8. "Sometimes our light goes out, but is blown again into instant flame by an encounter with another human being." –Albert Schweitzer
9. "There is nothing better than a positive and good-natured person. Be one of them. Surround yourself with these people and you will feel the change."
10. "The best way to forget the bad things in life is to learn to remember the good things." – Mark Amend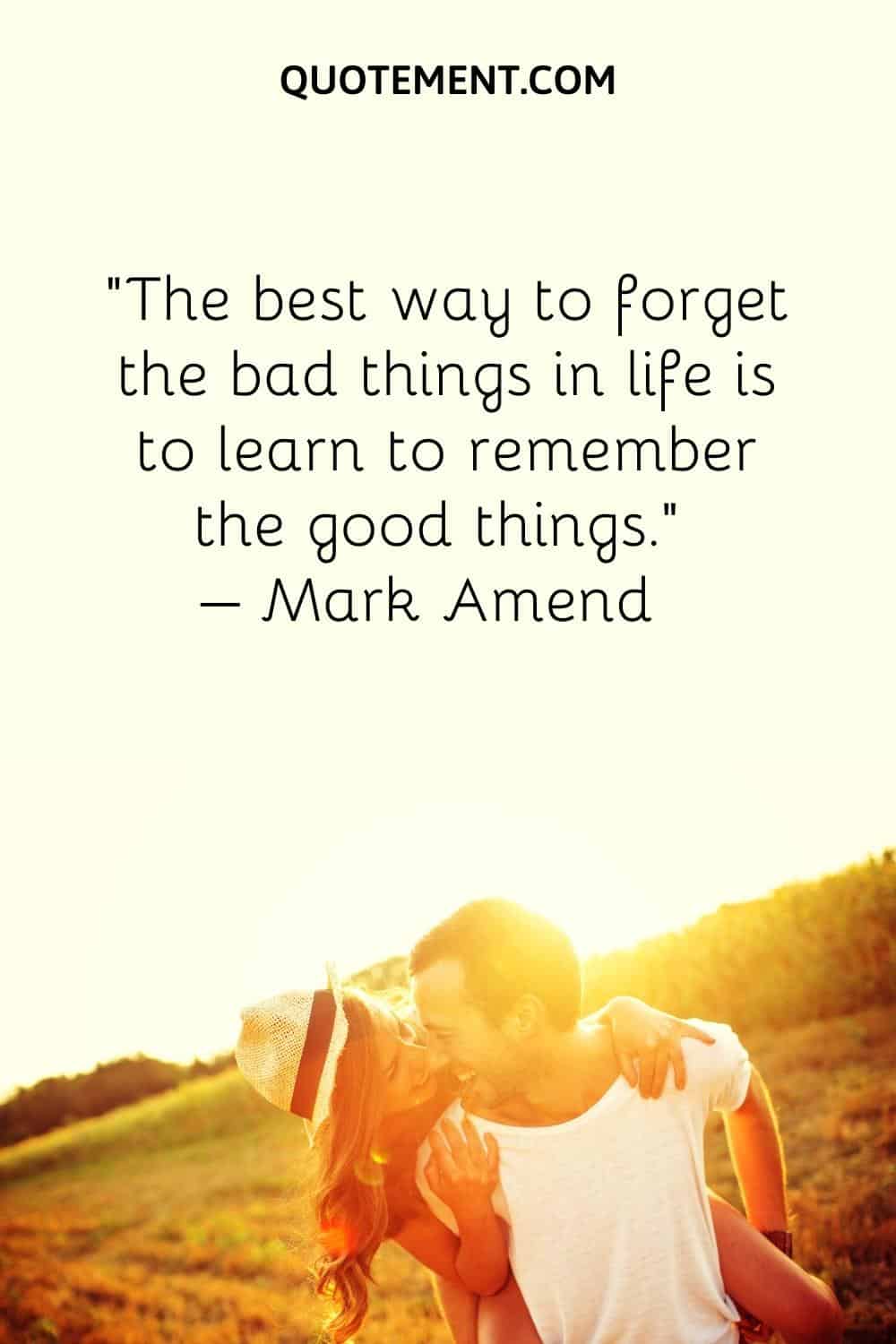 11. "Walk away from anything that gives you bad vibes. There is no need to explain or make sense of it. It's your life. Do what makes you happy."
12. "Always surround yourself with positive souls and good vibes will just come naturally. Remember that your surroundings will influence your experience, so make it a positive one."
13. "I believe in karma, and I believe if you put out positive vibes to everybody, that's all you're going to get back." – Kesha
14. "What you lack in talent can be made up with desire, hustle and giving 110% all the time." – Don Zimmer
15. "It's most important that you surround yourself with positivity always, and have it in your mind at all times." – Tyler Perry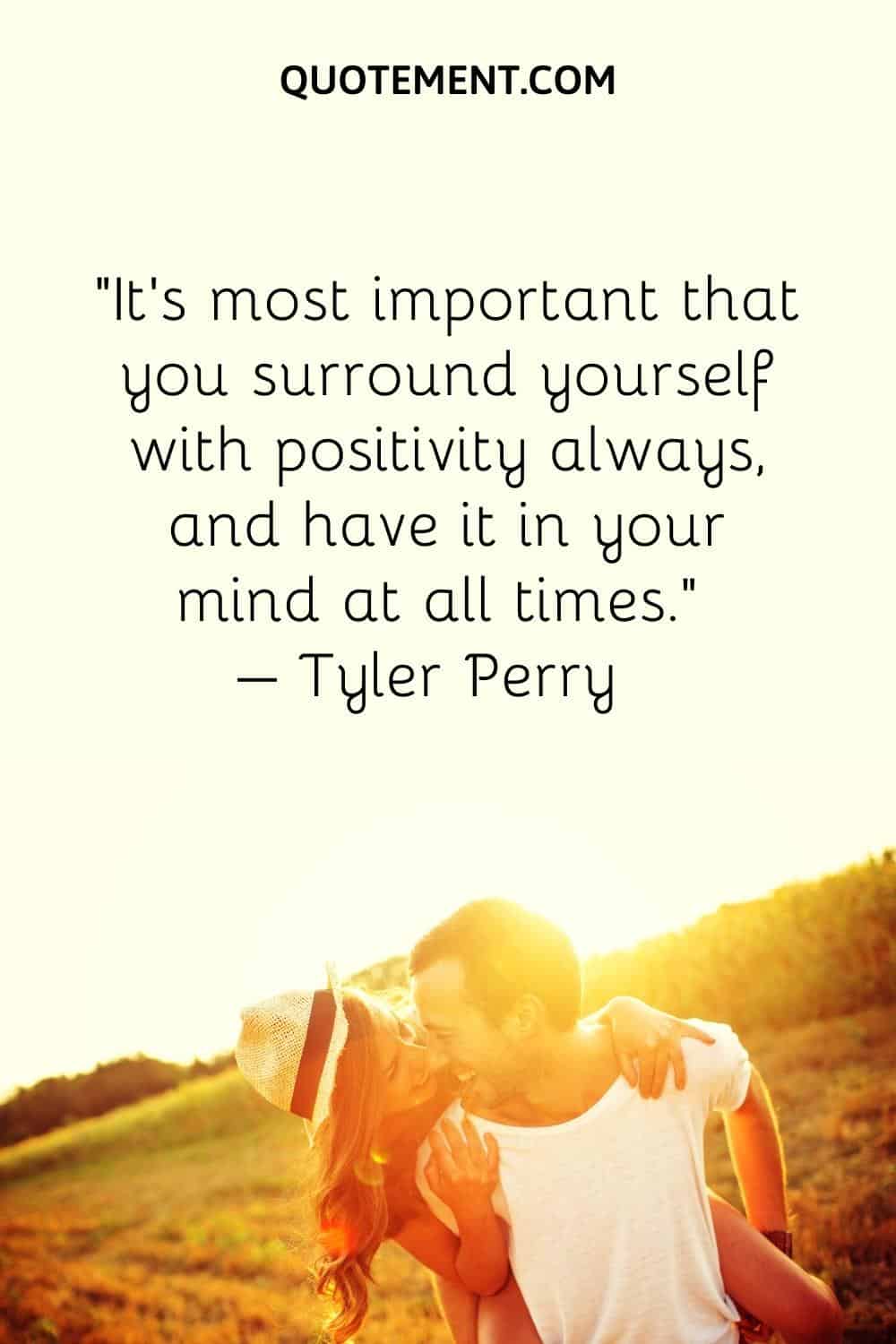 16. "The pessimist sees difficulty in every opportunity. The optimist sees opportunity in every difficulty." – Winston Churchill
17. "Vibrate good energy into others' souls, making them never forget the beauty of yours."
18. "A good day starts with a positive attitude and a great cup of coffee."
19. "You should cleanse your mind of all the bad vibes. Let the good vibes flow instead."
20. "You do not find the happy life. You make it." – Thomas S. Monson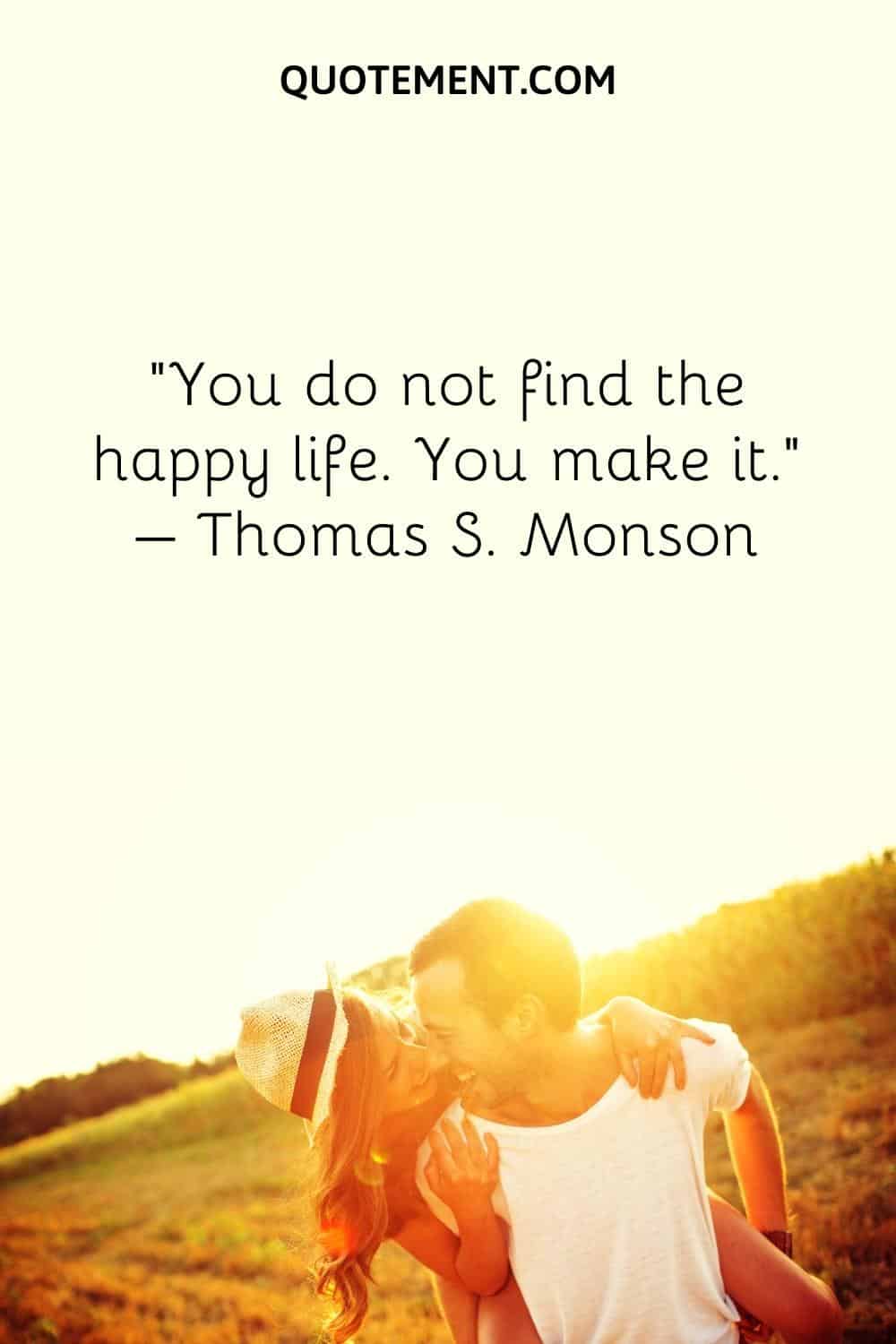 Good Vibes Quotes
If you've been searching for positive vibes quotes that also make marvelous good vibes captions, here you go:
1. "Happiness often sneaks in through a door you didn't know you left open." – John Barrymore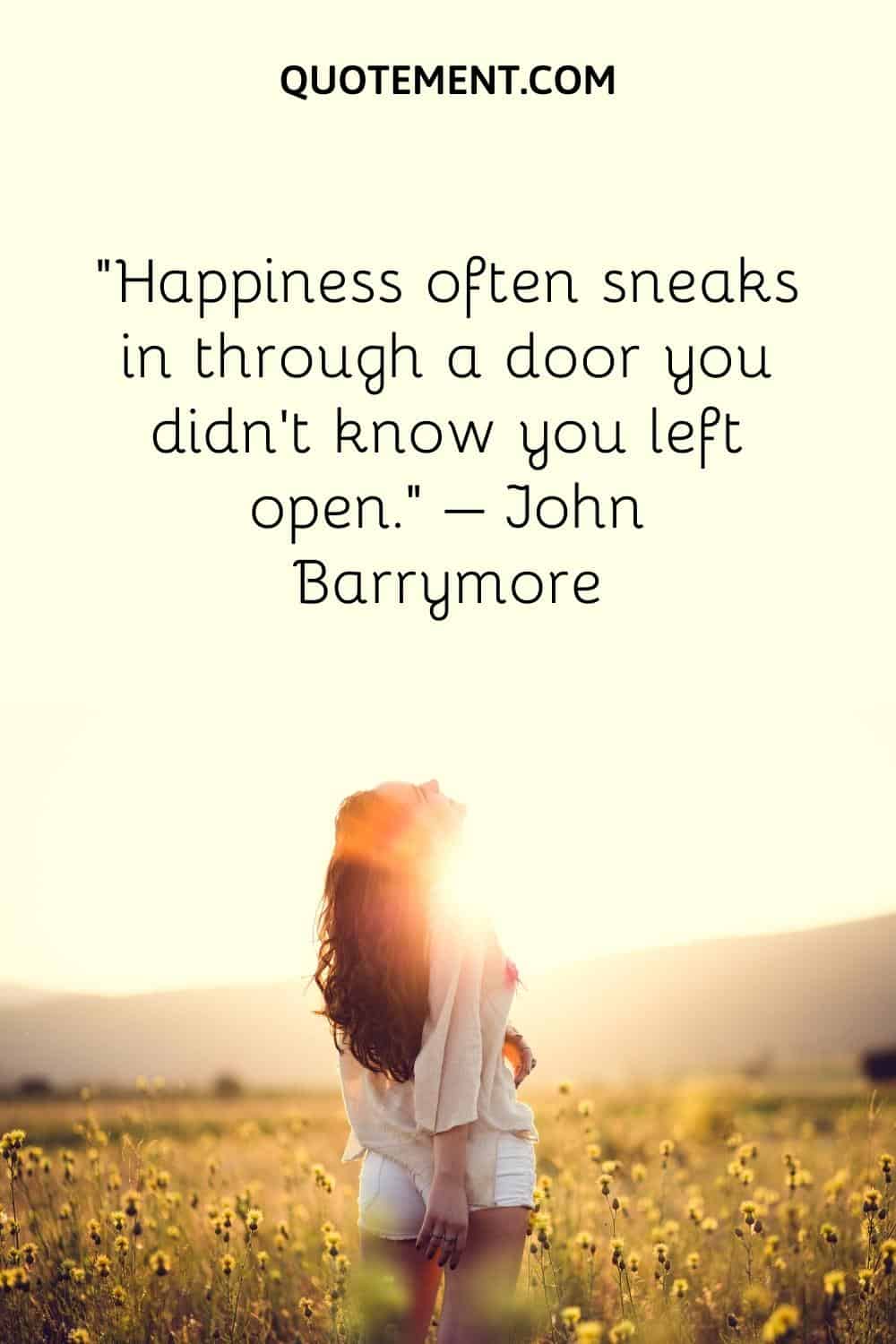 2. "Remember that the happiest people are not those getting more, but those giving more." – H. Jackson Brown, Jr.
3. "I'm a very positive thinker, and I think that is what helps me the most in difficult moments." – Roger Federer
4. "My good vibes are infectious. Self-expression is getting easier for me. My lifestyle feels better. I'm creating new habits of living. My mood is stabilizing. My present reality is very satisfying. My life is more fun now." – Yolanda and John Gonsalves
5. "You can't stop the waves, but you can learn to surf." – Jon Kabat-Zinn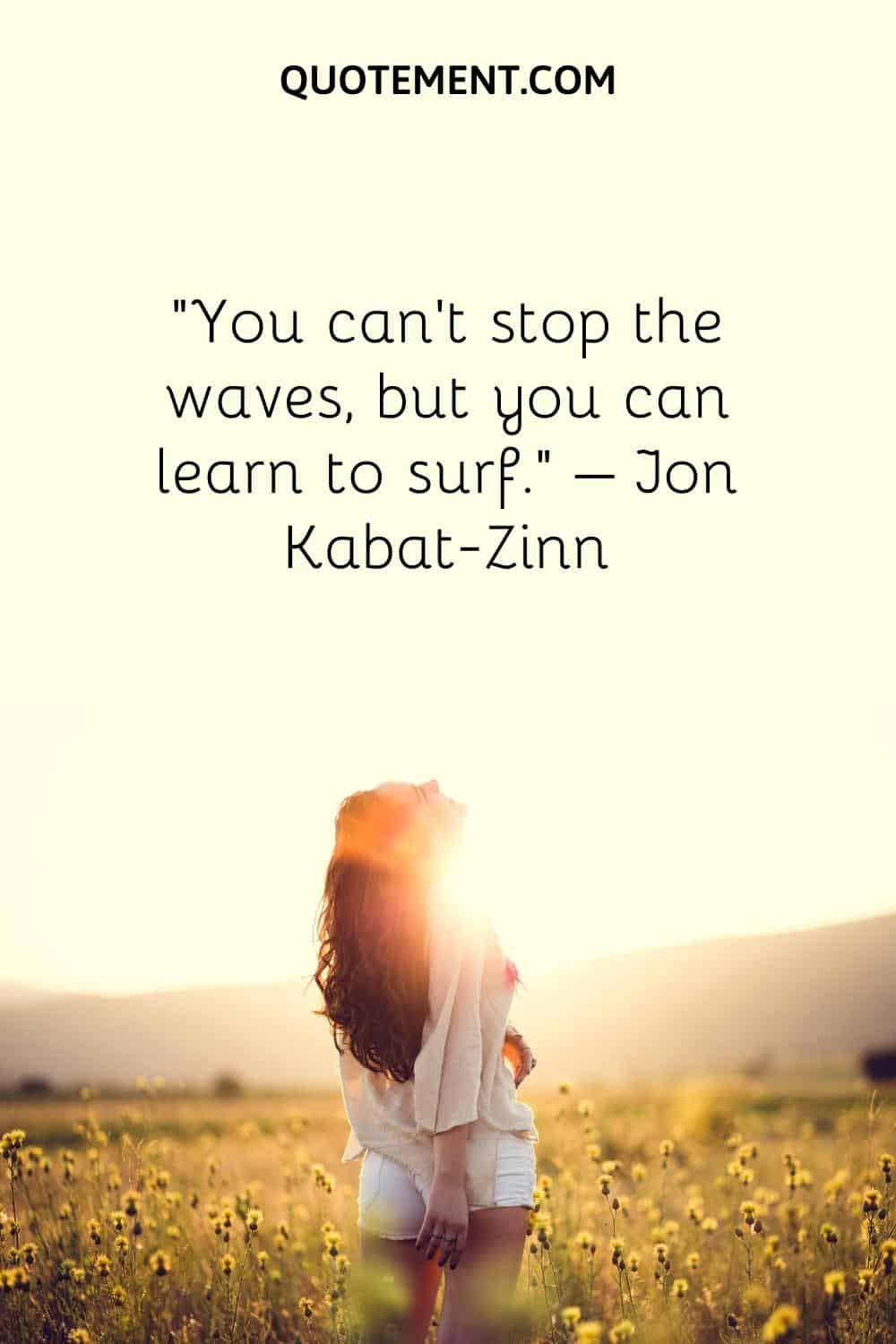 6. "In the middle of difficulty lies opportunity." – Albert Einstein
7. "Yesterday is not ours to recover, but tomorrow is ours to win or lose." – Lyndon B. Johnson
8. "I think education is power. I think that being able to communicate with people is power. One of my main goals on the planet is to encourage people to empower themselves." – Oprah Winfrey
9. "Let us rise up and be thankful, for if we didn't learn a lot today, at least we learned a little, and if we didn't learn a little, at least we didn't get sick, and if we got sick, at least we didn't die; so let us all be thankful." – Buddha
10. "Think big thoughts but relish small pleasures." ― H. Jackson Brown Jr.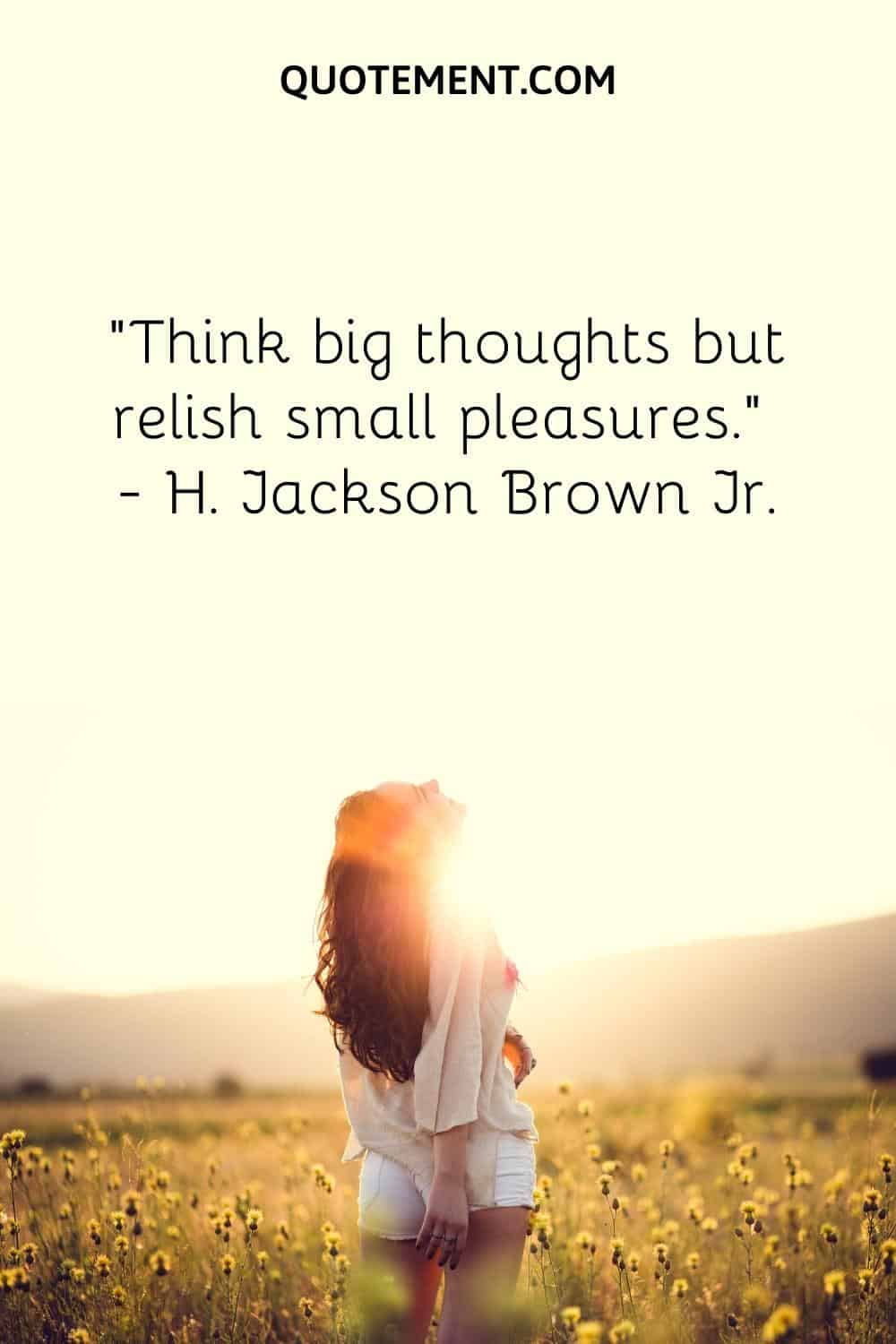 11. "I always like to look on the optimistic side of life, but I am realistic enough to know that life is a complex matter." – Walt Disney
12. "Positive thinking will let you do everything better than negative thinking will." – Zig Ziglar
13. "You can't make positive choices for the rest of your life without an environment that makes those choices easy, natural, and enjoyable." – Deepak Chopra
14. "If you believe in yourself and with a tiny pinch of magic, all your dreams can come true." – SpongeBob SquarePants
15. "You are never too old to set another goal or dream a new dream." – C.S Lewis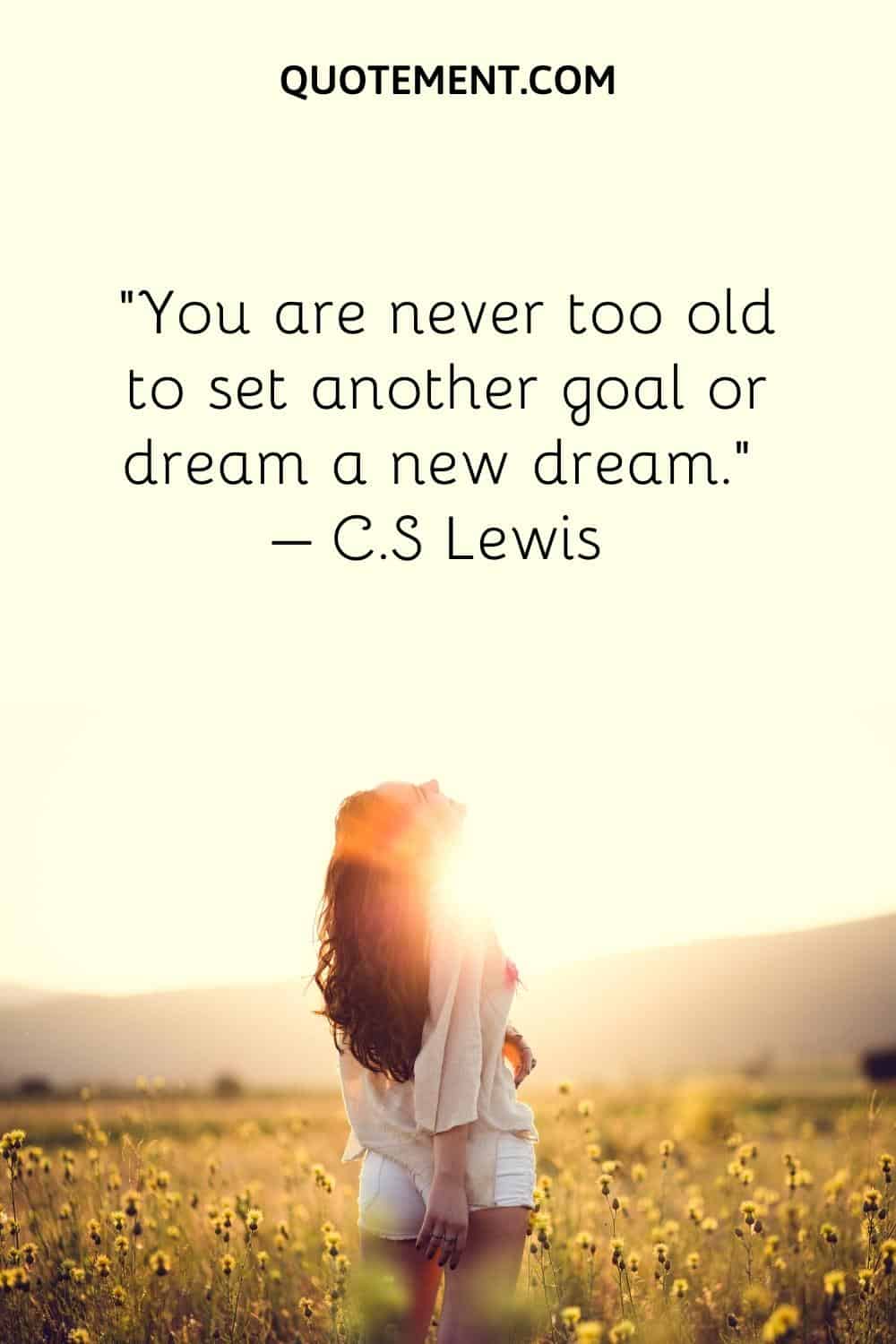 16. "Vibe high and the magic around you will unfold." – Akilnathan Logeswaran
17. "Many of life's failures are people who did not realize how close they were to success when they gave up." – Thomas Edison
18. "People hurt you over and over, think of them like sandpaper. They may scratch and hurt you a bit, but in the end, you end up polished and they end up useless." – Chris Colfer
19. "Keep away from people who try to belittle your dreams. Small people always do that, but the really great ones make you feel that you, too, can become great." – Mark Twain
20. "Positive thinking is more than just a tagline. It changes the way we behave. And I firmly believe that when I am positive, it not only makes me better, but it also makes those around me better." – Harvey Mackay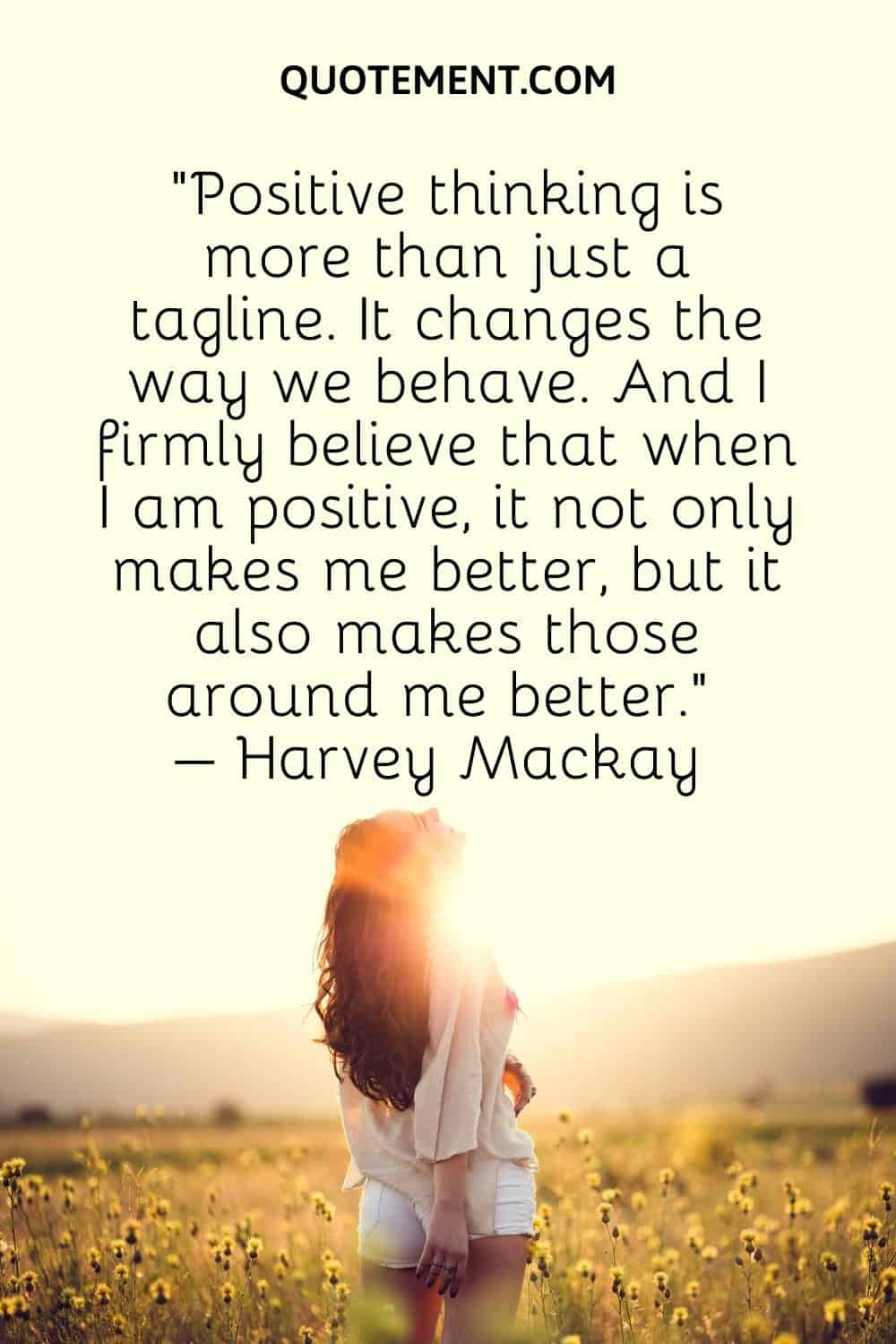 Good Vibes Only Quotes
In order to live a positive life, we need to have a positive mindset. Find your inspiration over here:
1. "An attitude of positive expectation is the mark of the superior personality." – Brian Tracy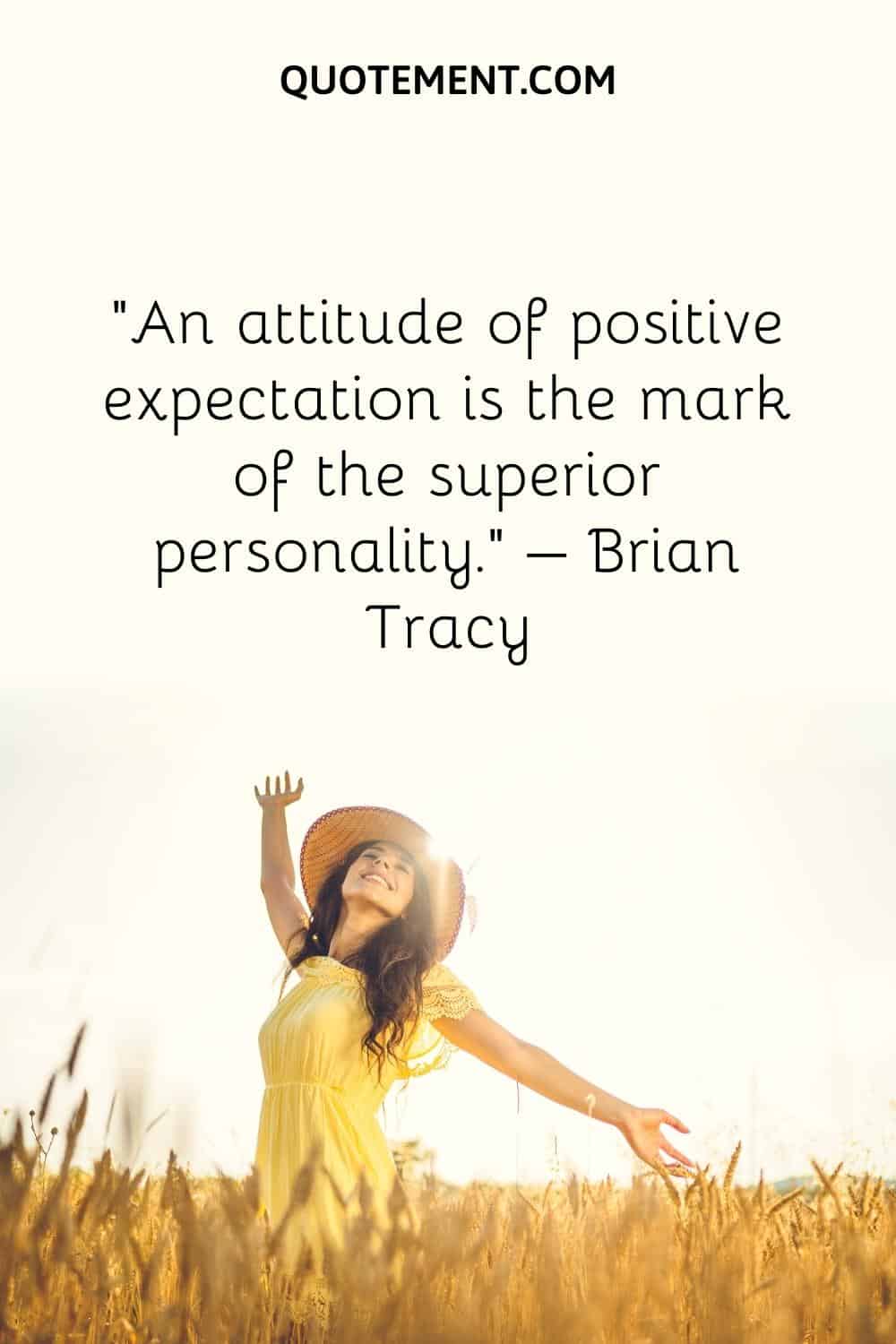 2. "Say something positive, and you'll see something positive." – Jim Thompson
3. ​"One small positive thought in the morning can change your whole day."
4. "The greatest weapon against stress is our ability to choose one thought over another." – William James
5. "If opportunity doesn't knock, build a door." – Milton Berle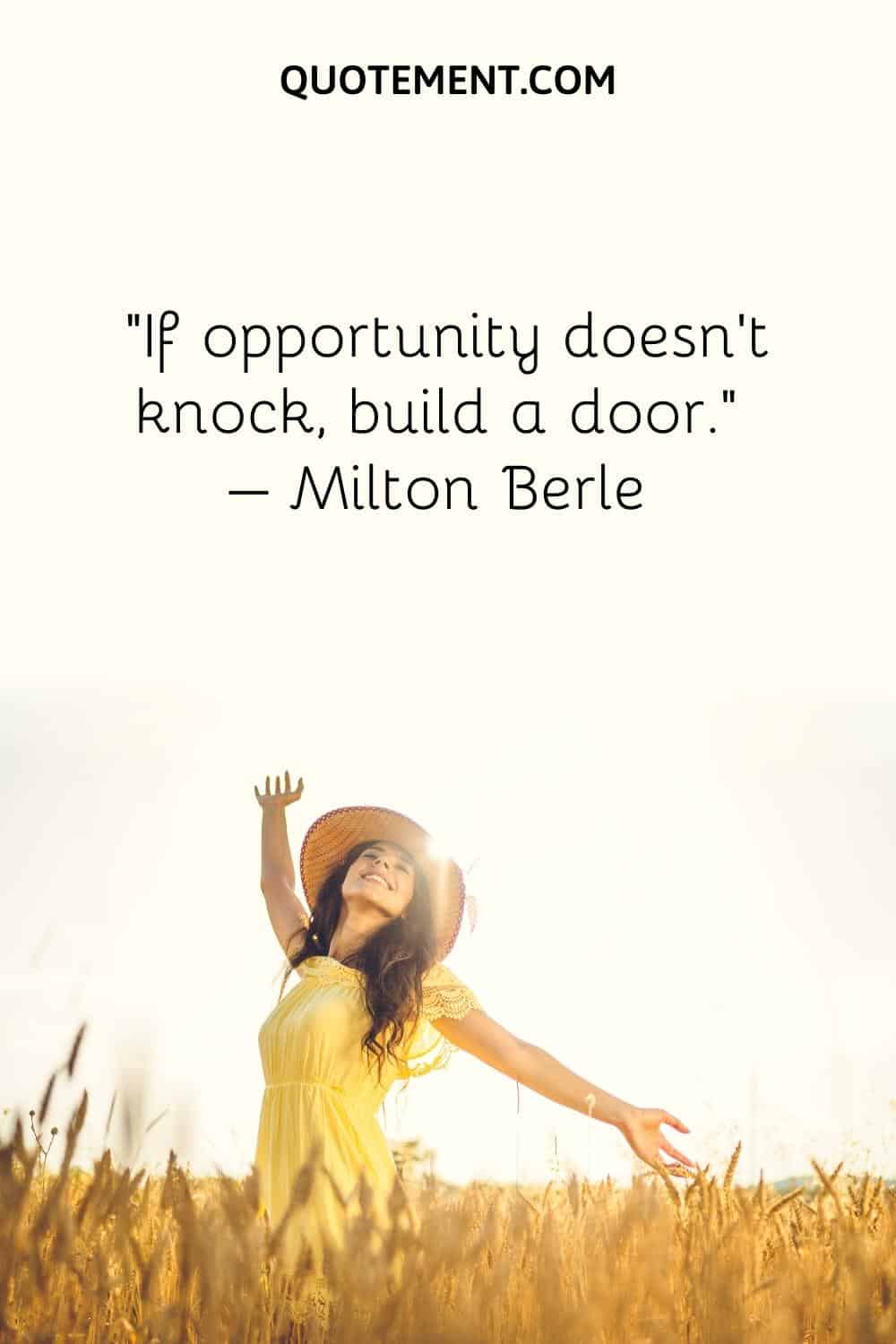 6. "It's Friday morning, mankind! Good vibe, don't frown and let the monster see you smile!" ― Napz Cherub Pellazo
7. "Out of the void and vastness of the cosmos, life emerges; audacious, improbable. You and I are here. No other miracle is needed." ― John Mark Green
8. "Your mind is very powerful. If you fill it with positive thoughts, you will soon start seeing positive changes in it."
9. "Keep those who believe in you closer." ― Michael Bassey Johnson
10. "Try to be a rainbow in someone's cloud." – Maya Angelou
11. "Smile often, think positively, express gratitude, laugh loudly, love others, spread compassion, and dream big." – Invajy
12. "When I stop eating certain things, I feel so much better. I notice the same when I stop dealing with certain people." ― Steve Maraboli
13. "I am thankful to all who said no to me. It is because of them that I'm doing it myself." – Albert Einstein
14. "Keep your face to the sunshine and you cannot see a shadow." – Helen Keller
15. "Twenty years from now you will be more disappointed by the things that you didn't do than by the ones you did do." – H. Jackson Brown Jr.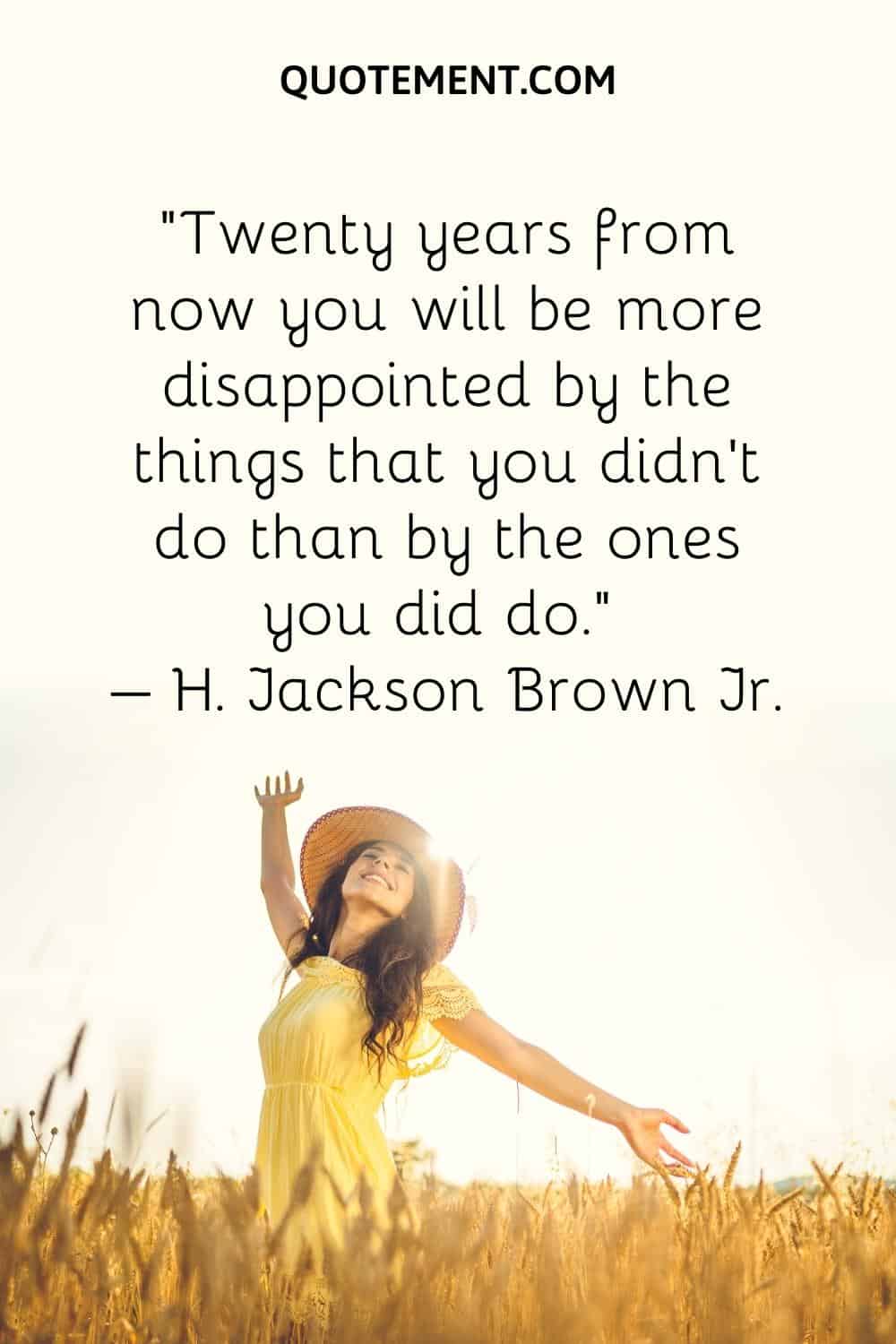 16. "In order to carry a positive action, we must develop here a positive vision." – Dalai Lama
17. "Once you replace negative thoughts with positive ones, you'll start having positive results." – Willie Nelson
18. "However, if you find you can't help yourself, there's no shame in asking others for help. Sometimes asking for help is just as heroic as giving it. There are treatments and therapies and counselors that you could benefit from – but no one finds answers if they're too afraid to ask the questions. Don't let your pride tell you otherwise." ― Chris Colfer
19. "In every day, there are 1,440 minutes. That means we have 1,440 daily opportunities to make a positive impact." – Les Brown
20. "Attitude is a little thing that makes a big difference." – Winston Churchill
Motivational Positive Vibes Quotes
Motivational positive vibes quotes will definitely help you cultivate good thoughts. One positive thought can change your whole day!
Take a look at these powerful quotes that will uplift you:
1. "There is only one corner of the universe you can be certain of improving, and that's your own self." –Aldous Huxley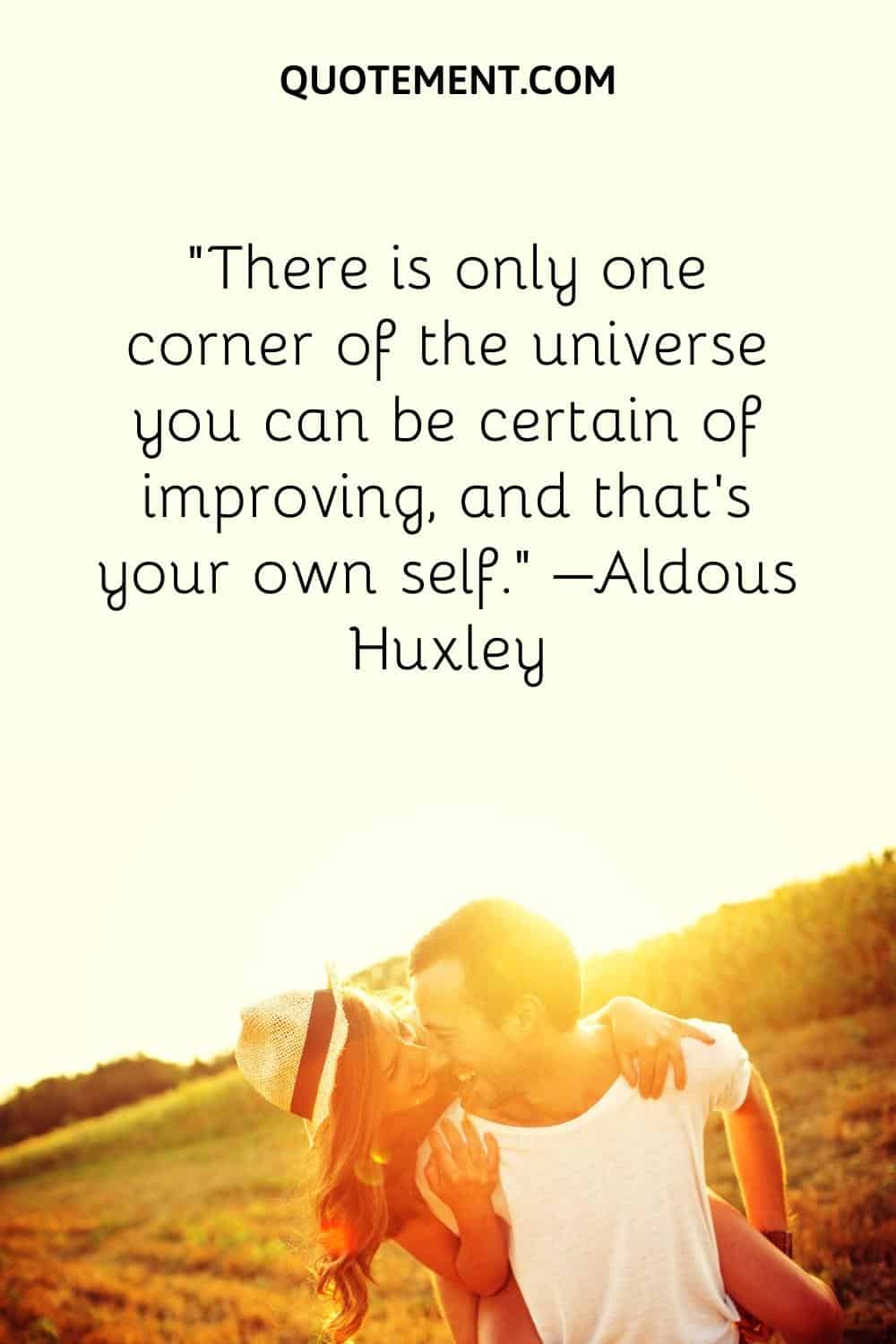 2. "All you need is the plan, the road map, and the courage to press on to your destination." –Earl Nightingale
3. "The most beautiful people I've known are those who have known trials, have known struggles, have known loss, and have found their way out of the depths." –Elisabeth Kübler-Ross
4. "Be who you are and say what you feel, because those who mind don't matter and those who matter don't mind." –Dr. Seuss
5. "If you don't like the road you're walking, start paving another one." –Dolly Parton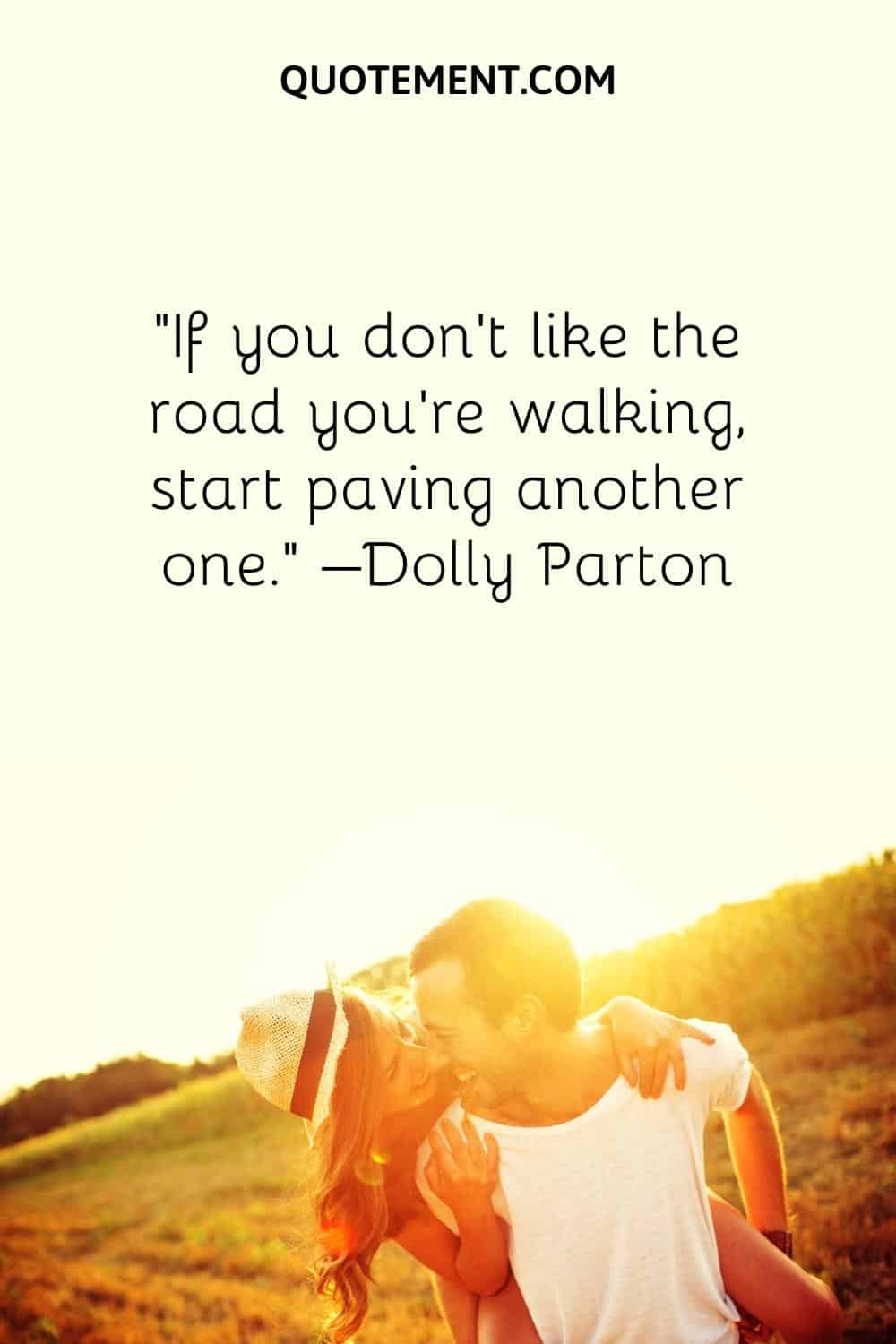 6. "Look deep into nature, and then you will understand everything better." –Albert Einstein
7. "When you are joyful, when you say yes to life and have fun and project positivity all around you, you become a sun in the center of every constellation, and people want to be near you." – Shannon L. Alder
8. "Love is the only force capable of transforming an enemy into friend." –Dr. Martin Luther King, Jr
9. "Optimism is the most important human trait because it allows us to evolve our ideas, to improve our situation, and to hope for a better tomorrow." – Seth Godin
10. "Believe that life is worth living and your belief will help create the fact." –William James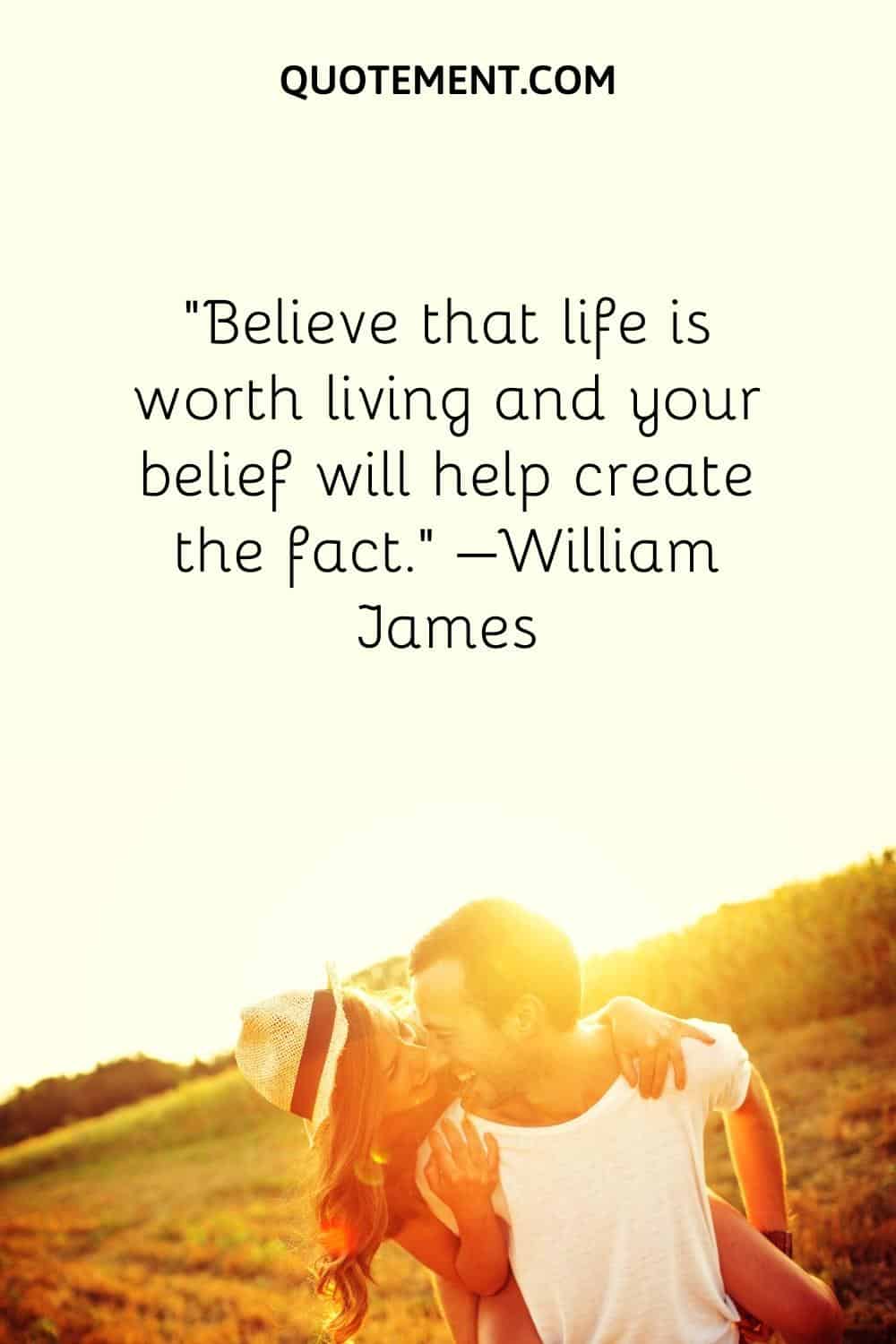 11. "Today's accomplishments were yesterday's impossibilities." –Robert H. Schuller
12. "In every day, there are 1,440 minutes. That means we have 1,440 daily opportunities to make a positive impact." –Les Brown
13. "When I was 5 years old, my mother always told me that happiness was the key to life. When I went to school, they asked me what I wanted to be when I grew up. I wrote down 'happy.' They told me I didn't understand the assignment, and I told them they didn't understand life." –John Lennon
14. "I've missed more than 9,000 shots in my career. I've lost almost 300 games. Twenty-six times I've been trusted to take the game-winning shot and missed. I've failed over and over and over again in my life. And that is why I succeed." – Michael Jordan
15. "You're off to great places, today is your day. Your mountain is waiting, so get on your way." – Dr. Seuss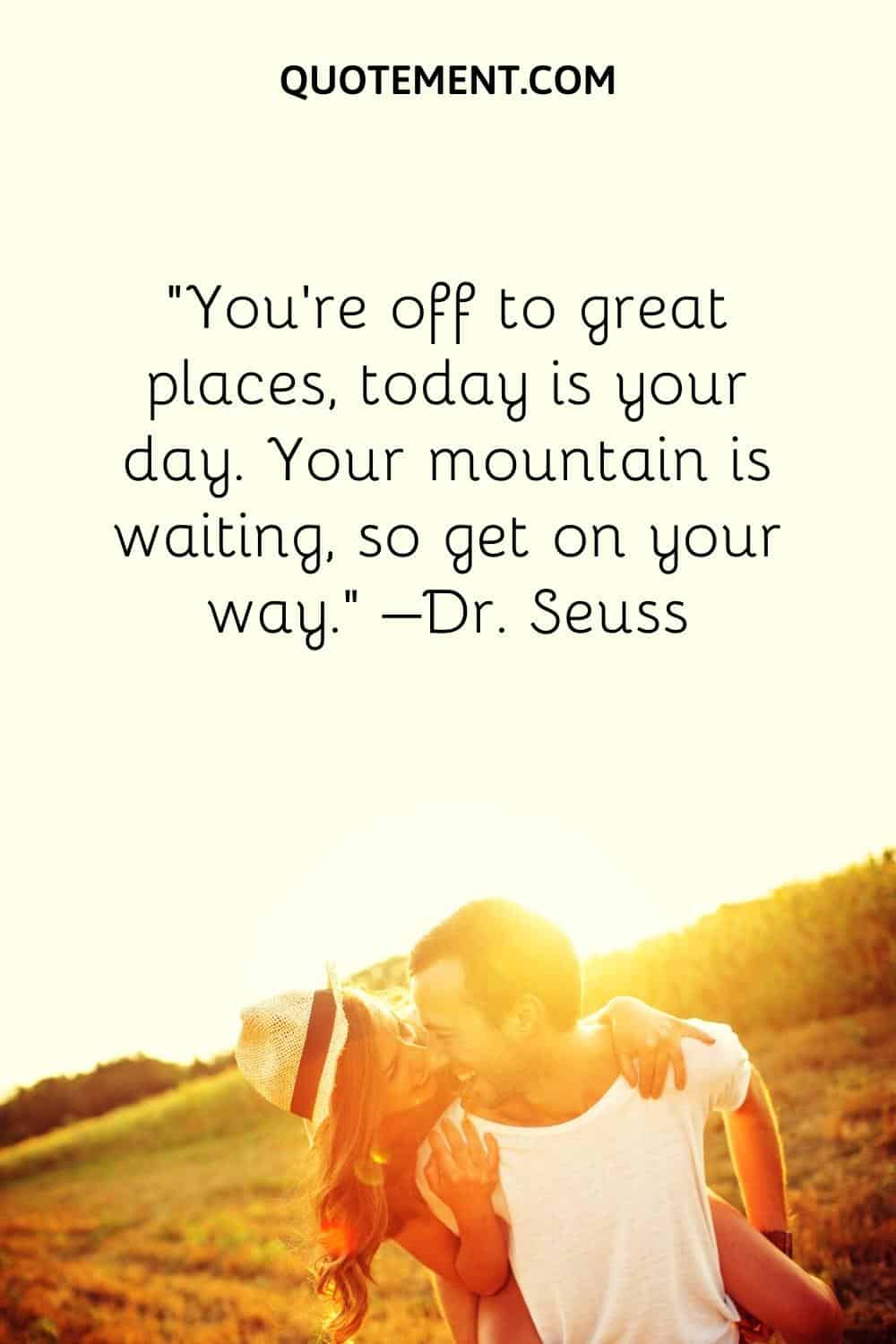 16. "People are always blaming their circumstances for what they are. I don't believe in circumstances. The people who get on in this world are the people who get up and look for circumstances they want, and, if they can't find them, make them." – George Bernard Shaw
17. "Develop an 'attitude of gratitude. Say 'thank you' to everyone you meet for everything they do for you." – Brian Tracy
18. "For every reason it's not possible, there are hundreds of people who have faced the same circumstances and succeeded." – Jack Canfield
19. "Setting goals is the first step in turning the invisible into the visible." –Tony Robbins
20. "I like to encourage people to realize that any action is a good action if it's proactive, and there is positive intent behind it." –Michael J. Fox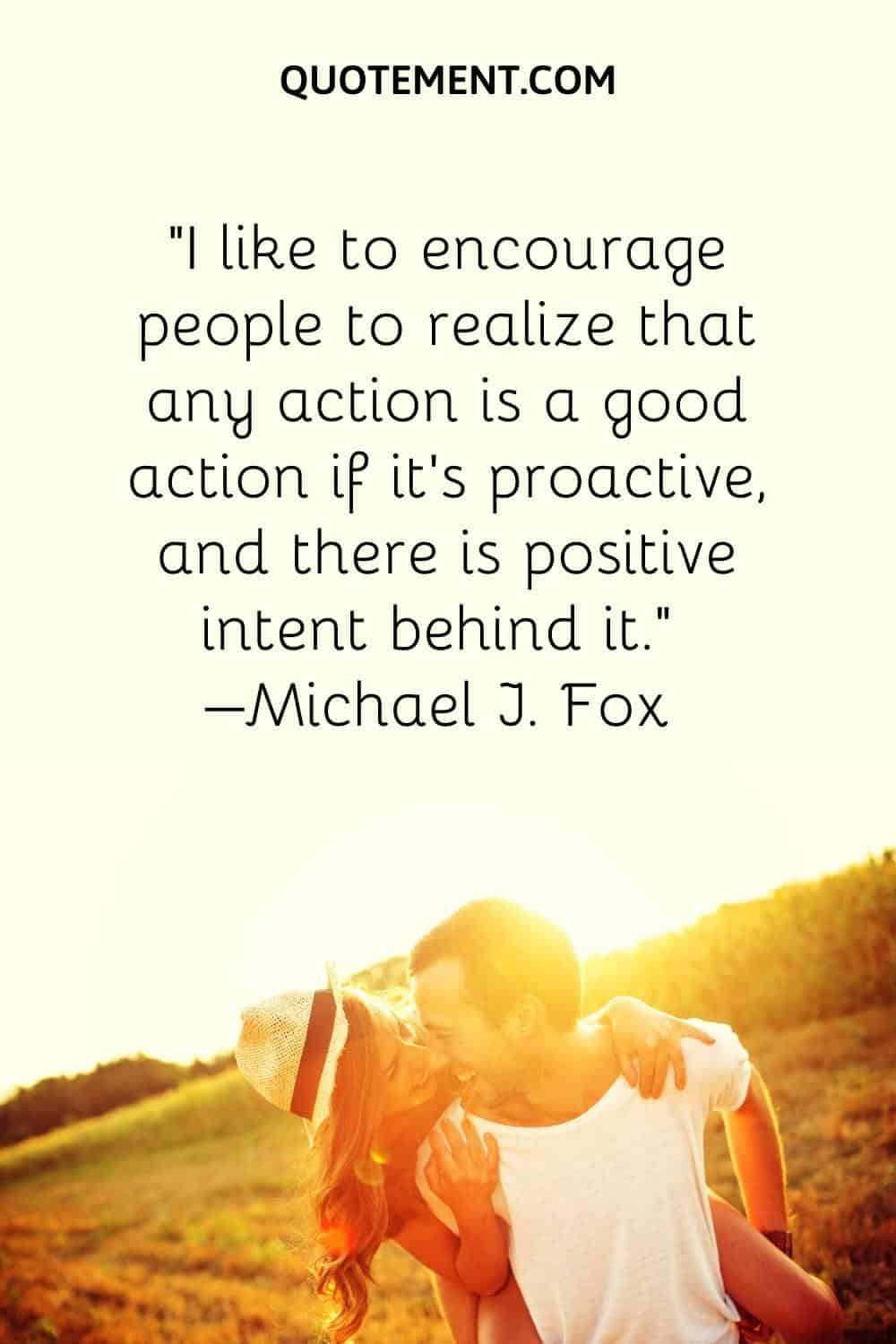 To Wrap It Up
You've reached the end of my exciting collection of 90 positive vibes quotes, be happy quotes and good vibes quotes!
Everyone believes in something – I believe that spreading good vibes does make a difference.
It's not easy, however, to stay optimistic in this hectic and demanding world. That's why it's important to stay true to our values, cultivate positive thoughts and refuse to be a quitter!
I hope my list of 90 amazing quotes will empower you and help you spread positivity whenever you feel like it!
Stay tuned for more inspirational content. 🙂
Until next time!
Read next: 120 Most Powerful Rise And Shine Quotes To Inspire You