Have you been searching for the most powerful and inspirational family first quotes? If so, I'm happy to inform you that today's article brings you only the best quotes I could find on the web!
Family plays a crucial role in our lives and nothing compares to it.
Unconditional love, support, warmth, your shelter in difficult times – you'll agree that family is so much more than words can tell. Family comes first. Simple as that.
Well, I hope you'll enjoy reading my collection! Let's have a look!
10 Best Family First Quotes
Here are my 10 most inspirational quotes:
1. "You go through life wondering what is it all about, but at the end of the day, it's all about family." – Rod Stewart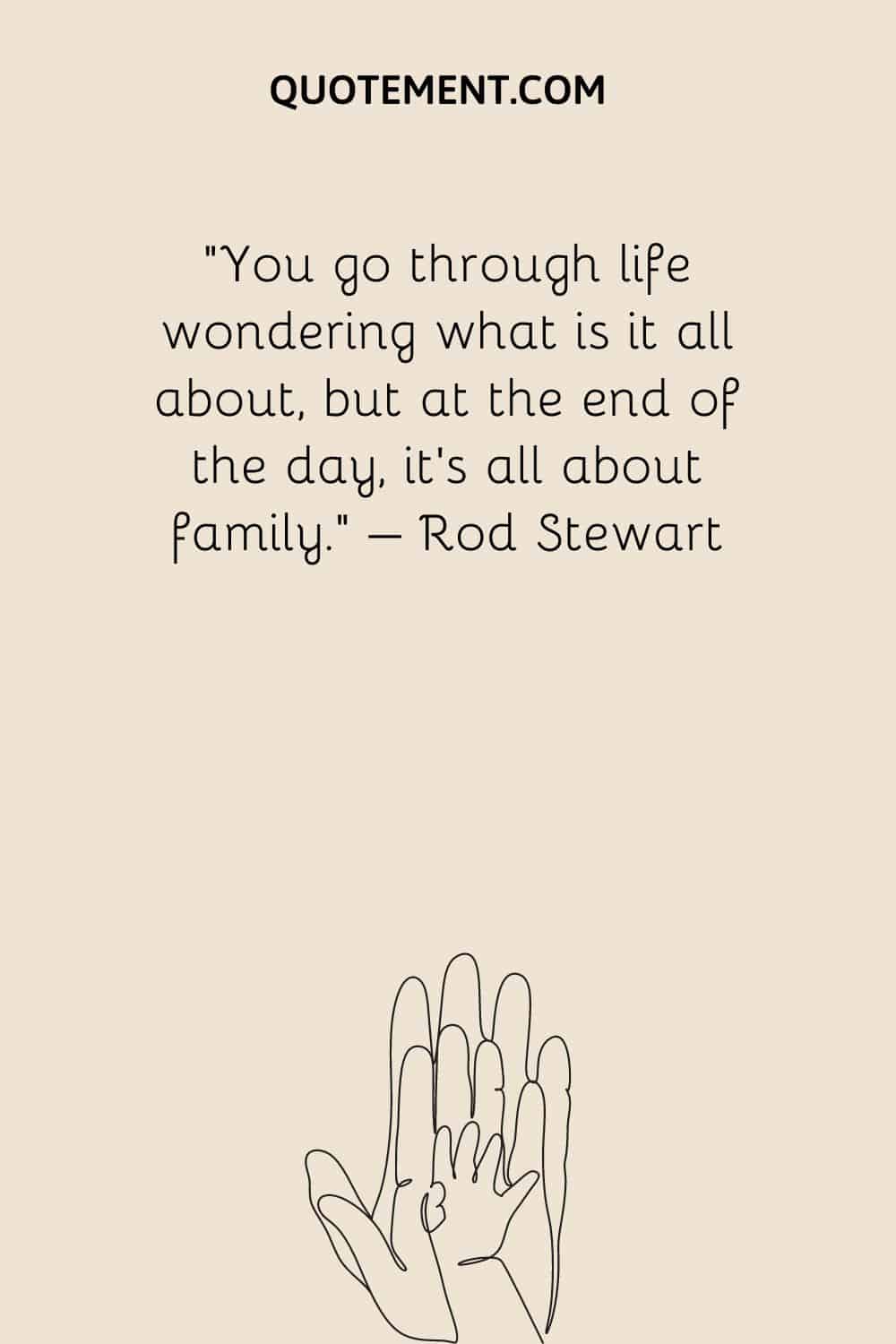 2. "I've always put my family first and that's just the way it is." – Jamie Lee Curtis
3. "My family really does come first. It always did and always will." – Meryl Streep
4. "My family is my life, and everything else comes second as far as what's important to me." – Michael Imperioli
5. "Family faces are magic mirrors. Looking at people who belong to us, we see the past, present, and future." ― Gail Lumet Buckley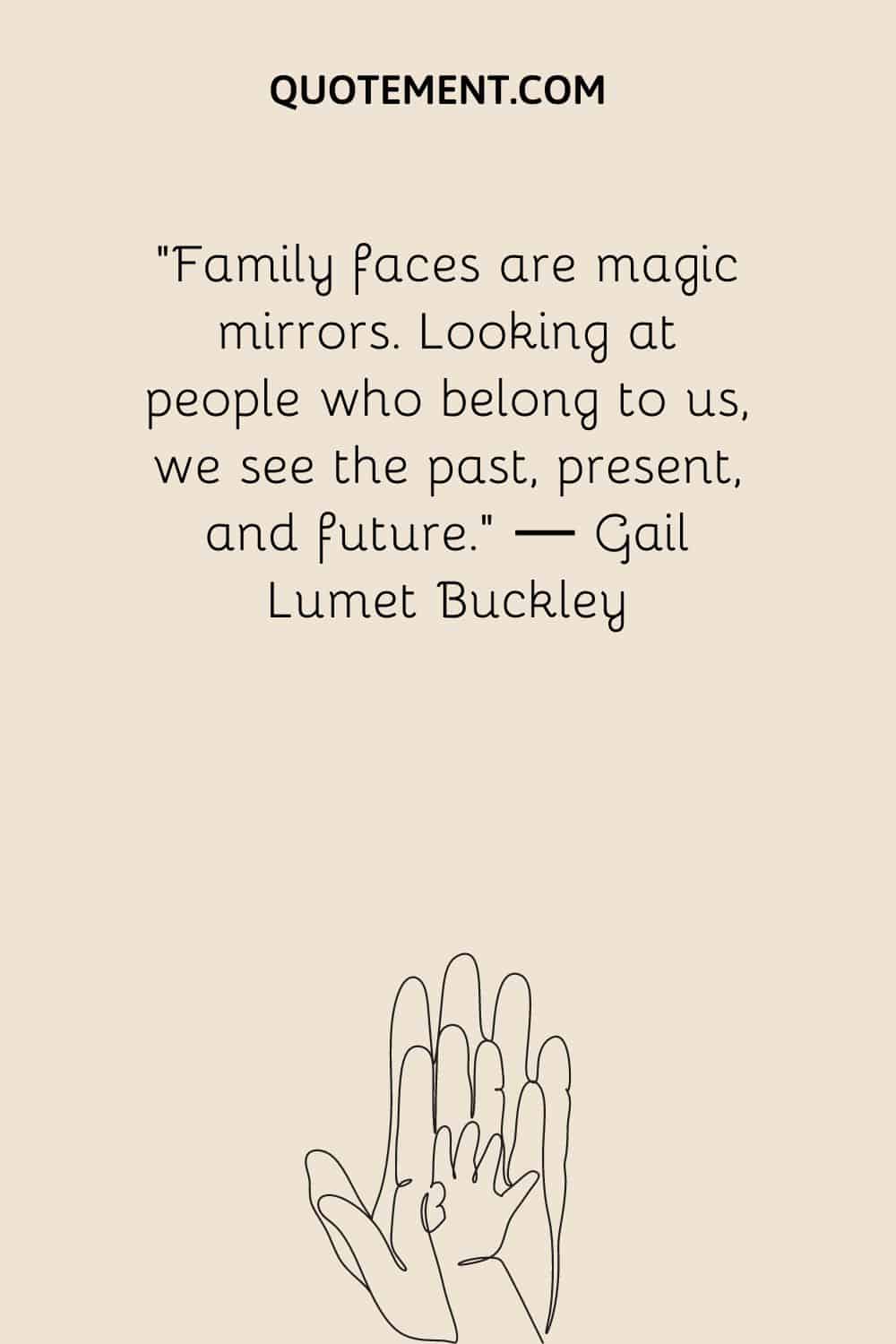 6. "The memories we make with our family is everything." – Candace Cameron Bure
7. "Life is beautiful. It's about giving. It's about family." – Walt Disney
8. "My family comes first. Maybe that's what makes me different from other guys." – Bobby Darin
9. "Other things may change us, but we start and end with the family." – Anthony Brandt
10. "I feel like I finally understand how family love is. Tangled, wounded, and wonderful. Imperfect. A forever love." ― Hannah Tunnicliffe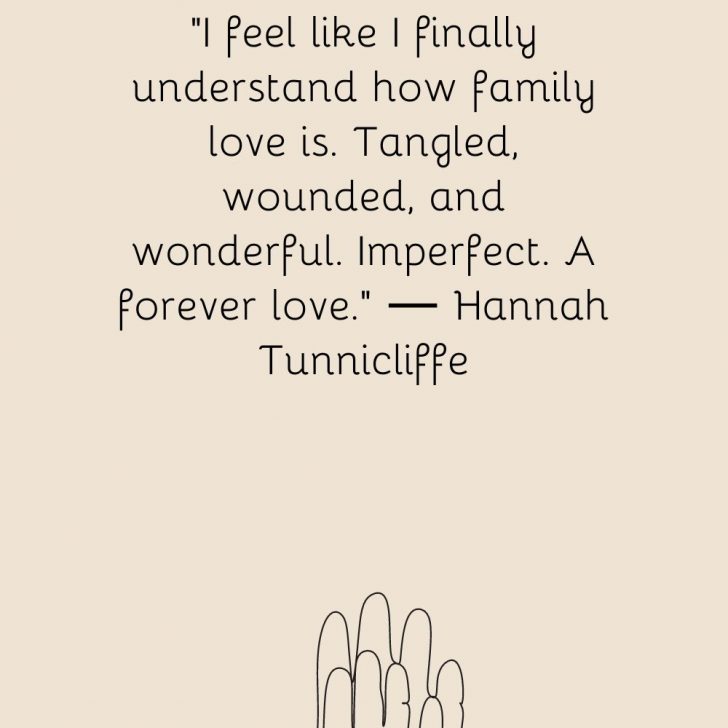 Sweet Family First Quotes
This section brings you a selection of sweet family first quotes you can share with your nearest and dearest:
1. "Family is a life jacket in the stormy sea of life." – J.K. Rowling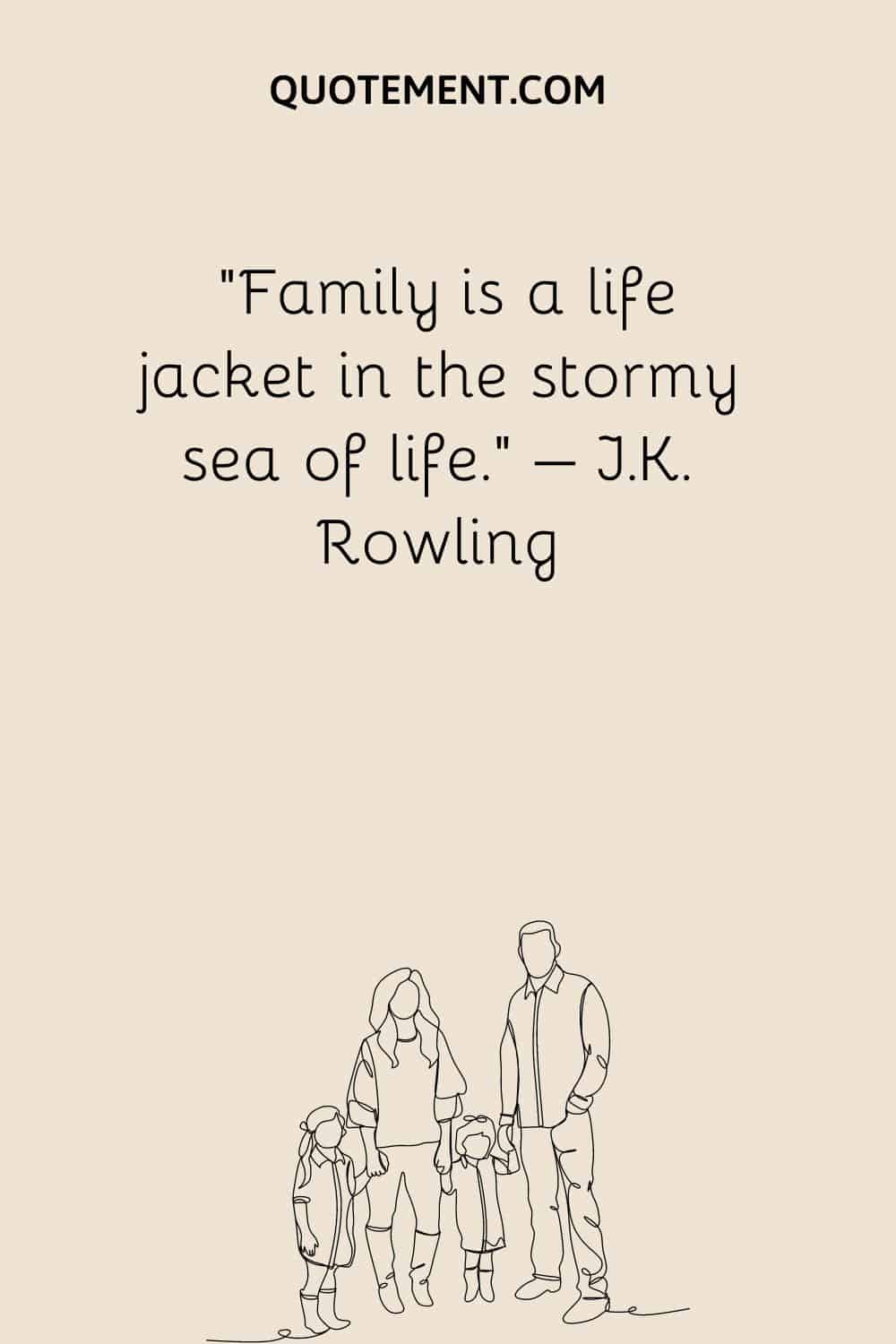 2. "Family means no one gets left behind or forgotten." – David Ogden Stiers
3. "A family is a place where minds come in contact with one another." – Buddha
4. "It didn't matter how big our house was; it mattered that there was love in it." – Peter Buffett
5. "Family is not an important thing. It's everything." – Michael J. Fox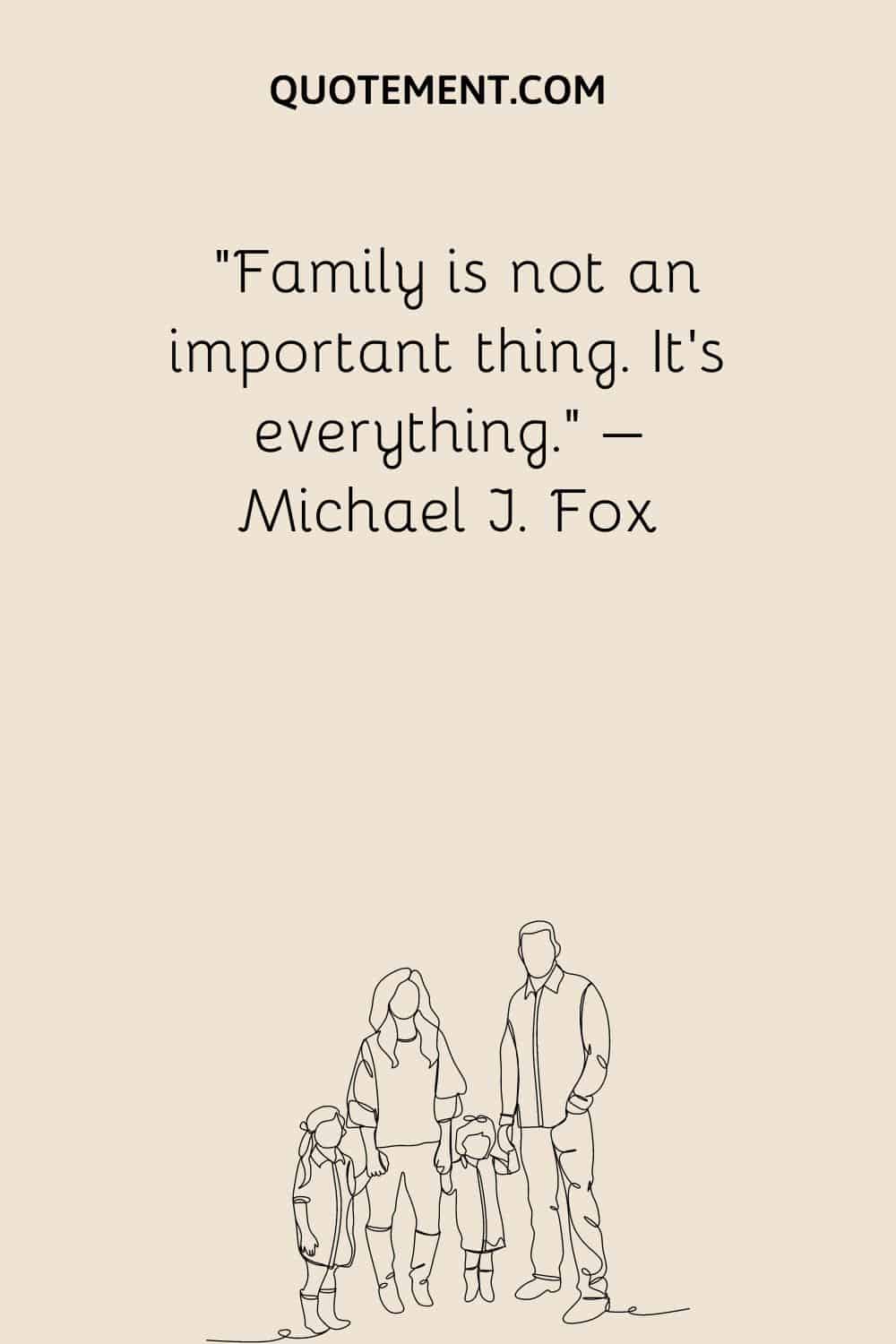 6. "I sustain myself with the love of family." – Maya Angelou
7. "Family – like branches on a tree, we all grow in different directions, yet our roots remain as one."
8. "You don't choose your family. They are God's gift to you, as you are to them." – Desmond Tutu
9. "Everyone needs a house to live in, but a supportive family is what builds a home." – Anthony Liccione
10. "A man should never neglect his family for business." — Walt Disney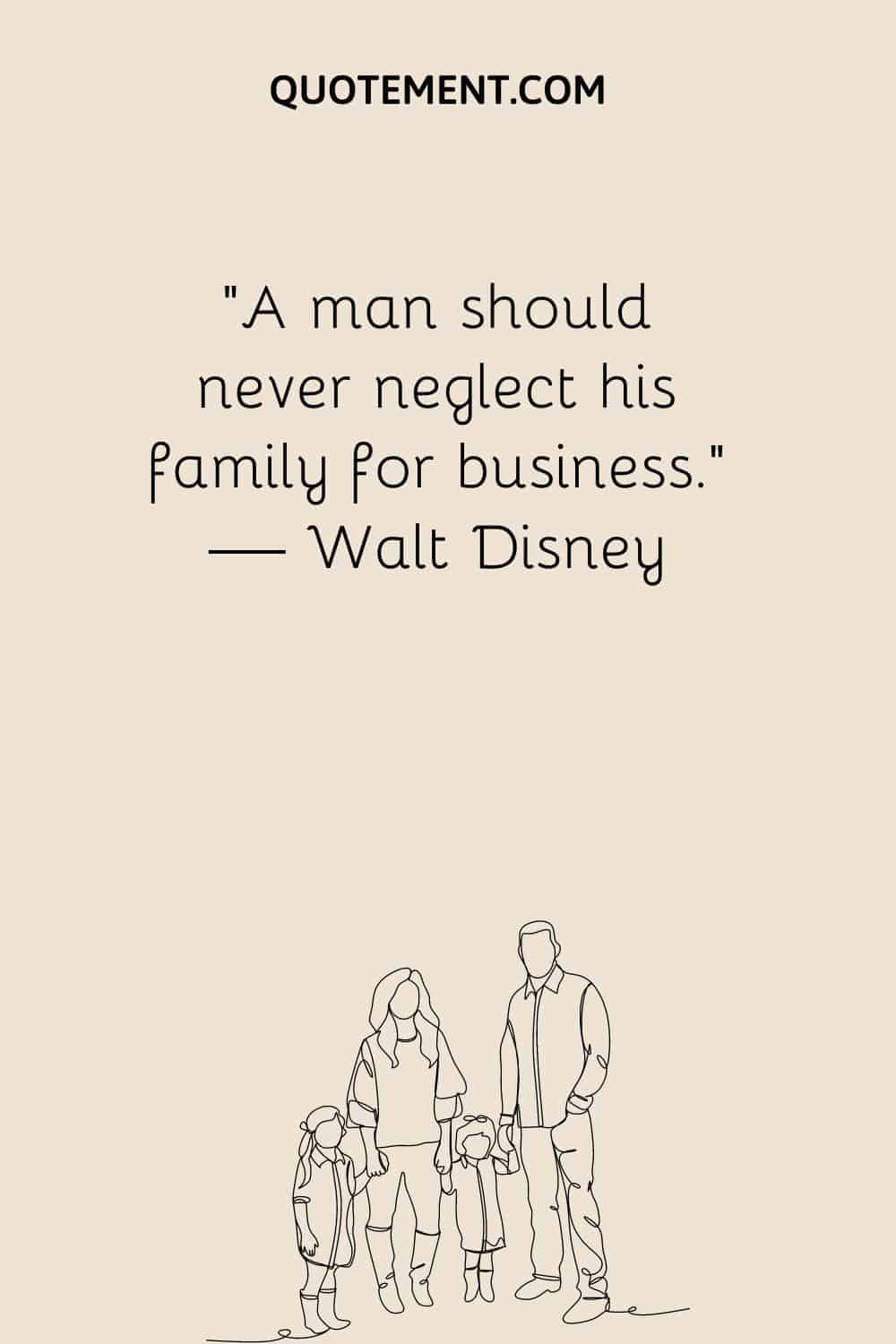 11. "Being a family means you are a part of something very wonderful. It means you will love and be loved for the rest of your life." – Lisa Weed
12. "The family is one of nature's masterpieces." – George Santayana
13. "You are born into your family and your family is born into you. No returns. No exchanges." — Elizabeth Berg
14. "The world, we'd discovered, doesn't love you like your family loves you." — Louis Zamperini
15. "Family and friends are hidden treasures, seek them and enjoy their riches." — Wanda Hope Carter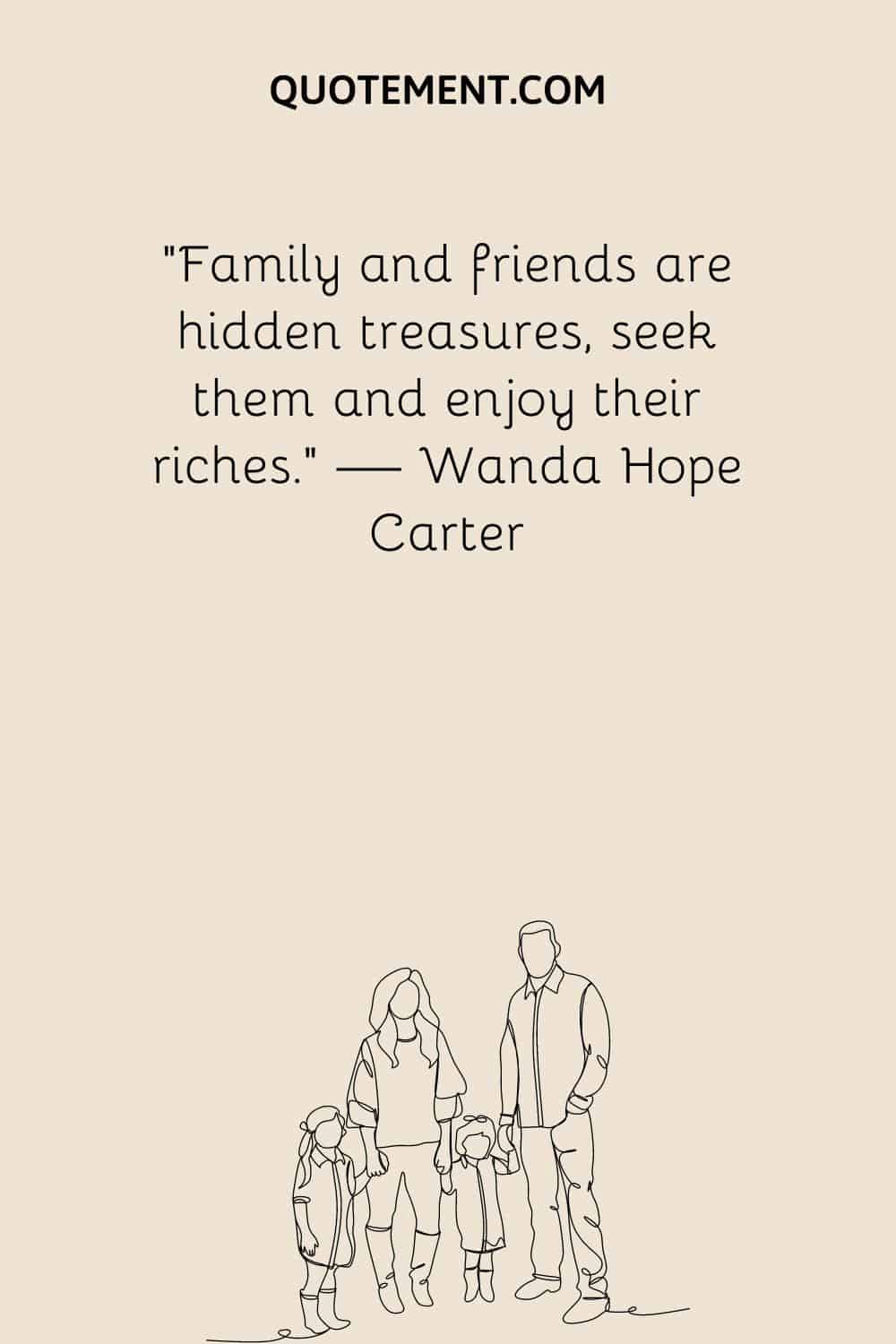 16. "Unconditional love is loving your kids for who they are, not for what they do… It isn't something you will achieve every minute of every day. But it is the thought we must hold in our hearts every day." – Stephanie Marston
17. "I believe that the greatest gift you can give your family and the world is a healthy you." – Joyce Meyer
18. "In family life, love is the oil that eases friction, the cement that binds closer together, and the music that brings harmony." – Friedrich Nietzsche
19. "Happiness is having a large, loving, caring, close-knit family in another city." ― George Burns
20. "The strength of a family, like the strength of an army, lies in its loyalty to each other." – Mario Puzo
Family Comes First Quotes
The bond you have with your family members is precious and unique. Check out these family quotes that celebrate its importance:
1. "Let your first interest be in your home. The baby you hold in your arms will grow quickly as the sunrise and the sunset of the rushing days." — Gordon B. Hinckley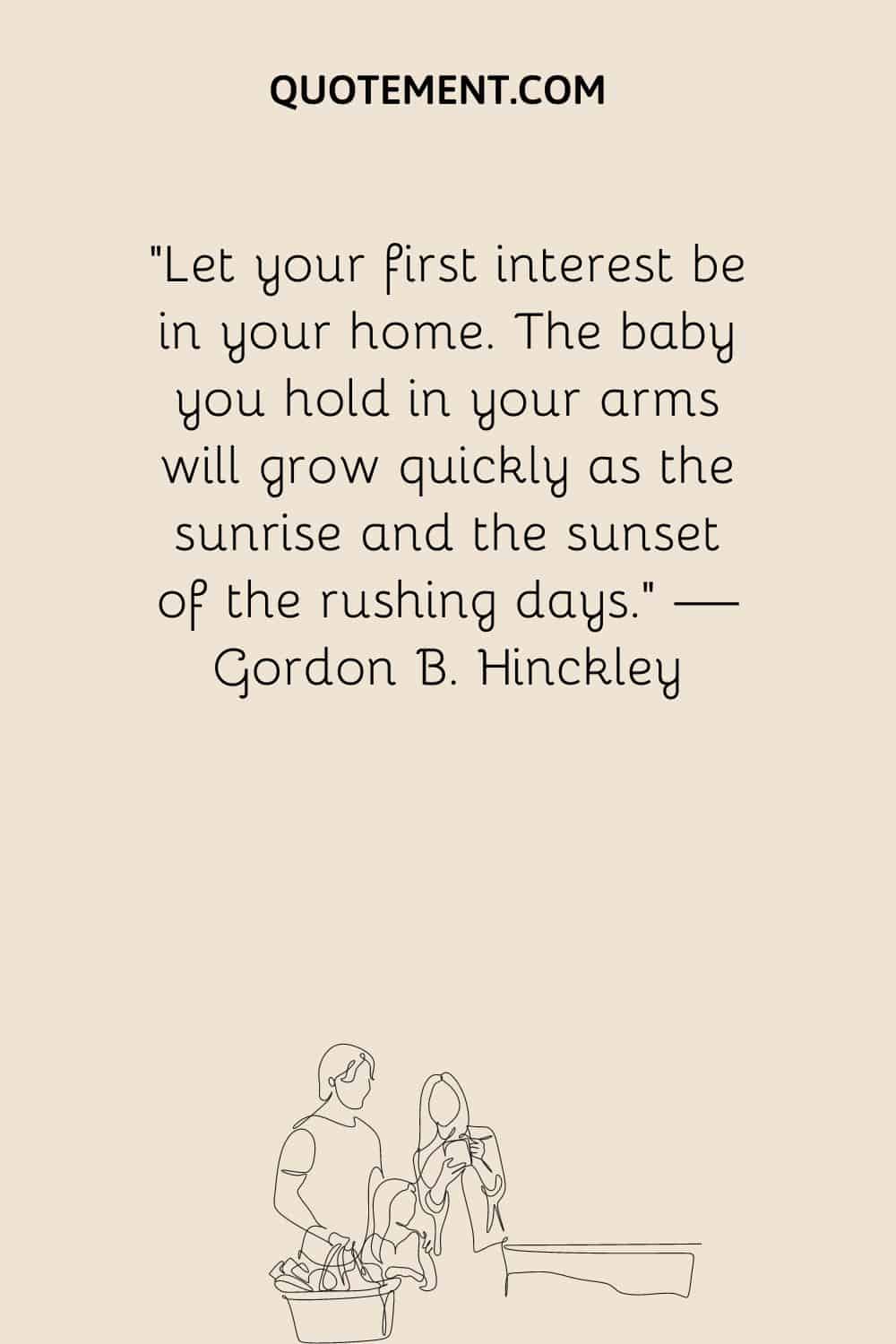 2. "In a time of test, family is best." — Burmese Proverb
3. "The most important thing in the world is family and love." – John Wooden
4. "The well-being of my loved ones is more important to me than what the society thinks of me." ― Abhijit Naskar
5. "To us, family means putting your arms around each other and being there." — Barbara Bush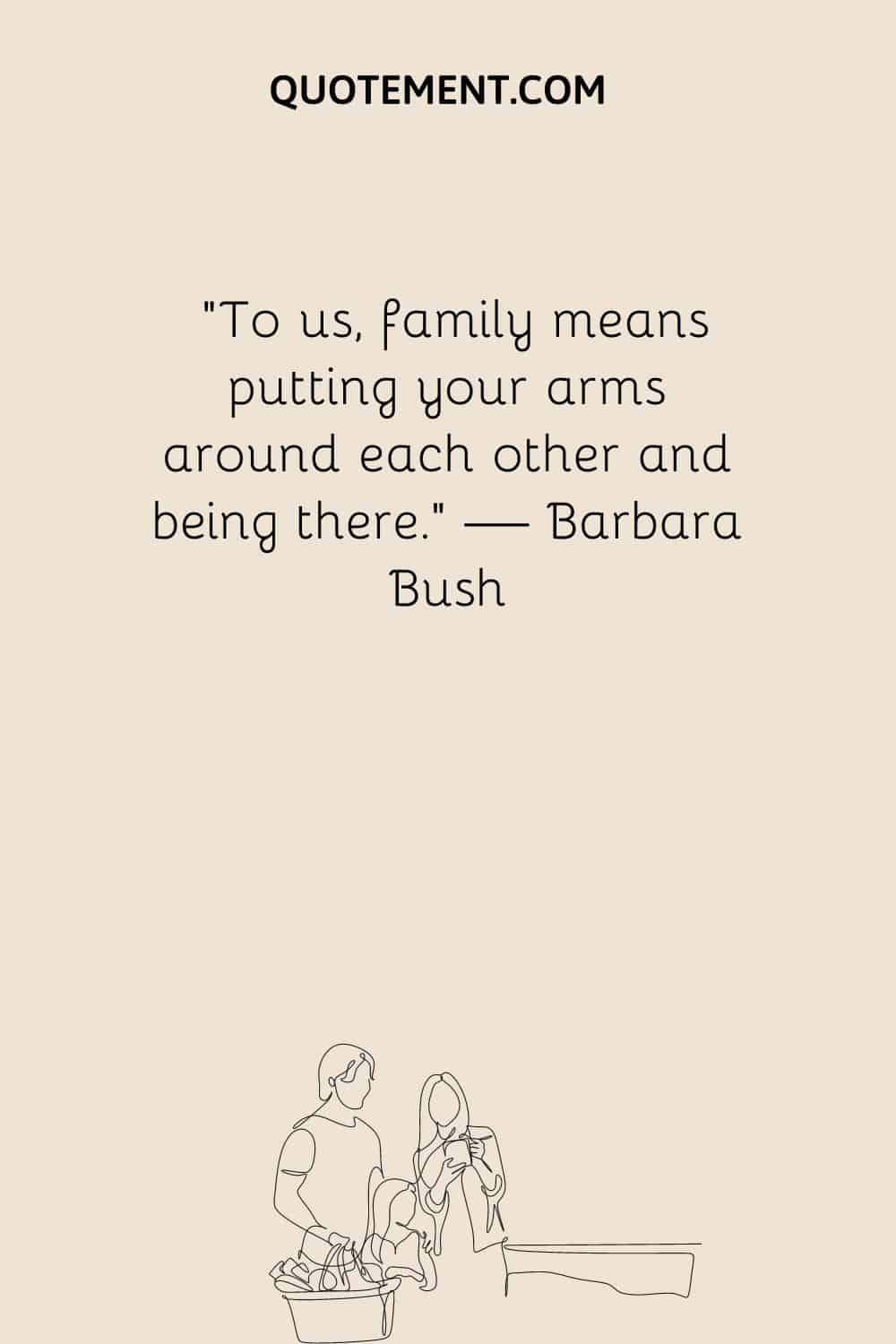 6. "Togetherness is an important ingredient of family life." — Barbara Bush
7. "Home is where you are loved the most and act the worst." – Marjorie Pay Hinckley
8. "Love your family. Spend time, be kind and serve one another. Make no room for regrets. Tomorrow is not promised and today is short."
9. "The homemaker has the ultimate career. All other careers exist for one purpose only – and that is to support the ultimate career." ― C.S. Lewis
10. "When everything goes to hell, the people who stand by you without flinching –– they are your family." ― Jim Butcher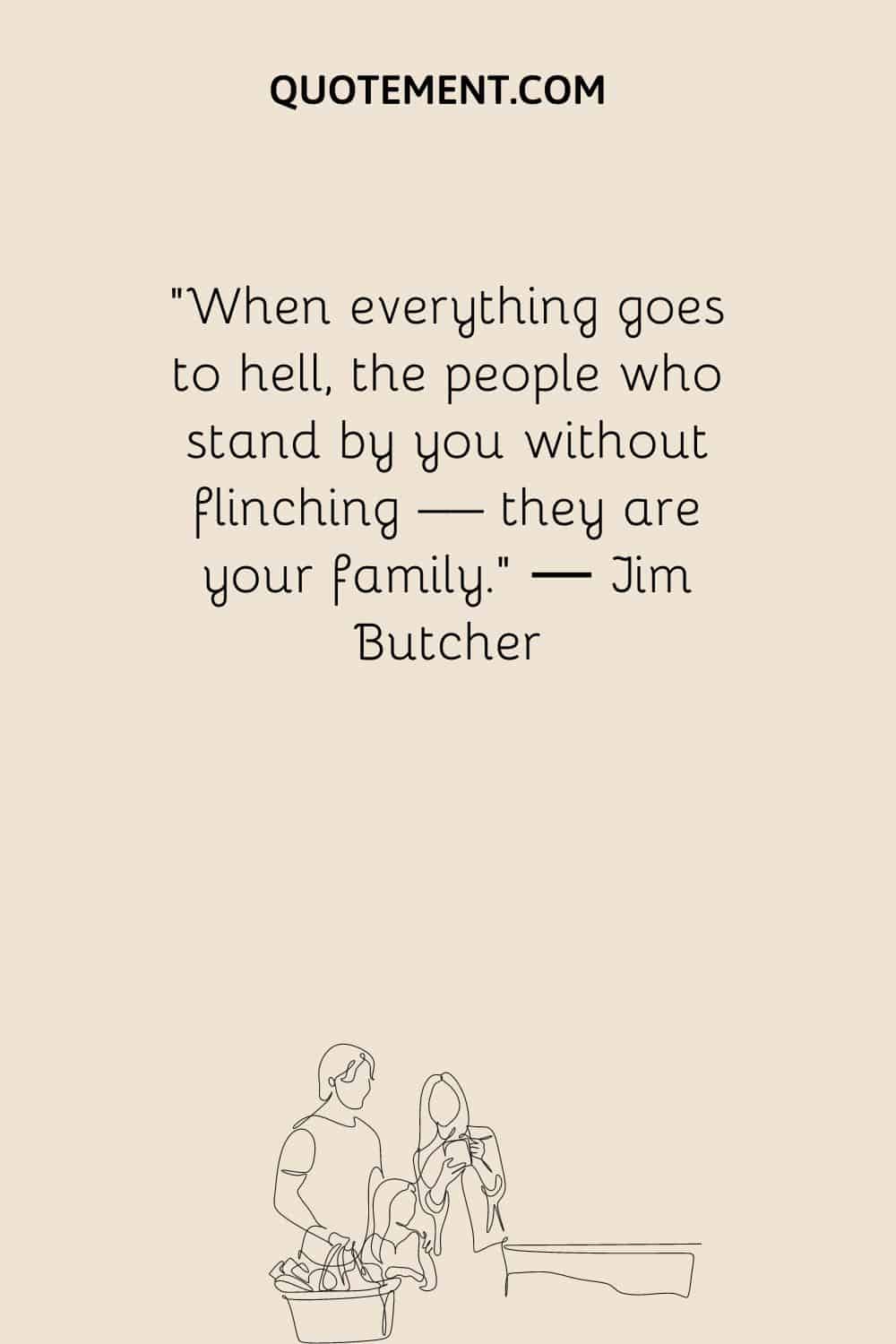 11. "Family means there's always someone to hug you on a cold day." ― Lauren Levine
12. "Spread love. Hug the people you care about and make sure they know that you care and appreciate them. Make it known to your friends and family that you love them." ― Germany Kent
13. "If you have friends and family who love you unconditionally – you truly have everything!" ― Lindsey Rietzsch
14. "I hear my family's voices in the jangling of my charms." ― Viola Shipman
15. "Family became so important to me. Without it, I was like a tree alone in a desert." ― Alephonsion Deng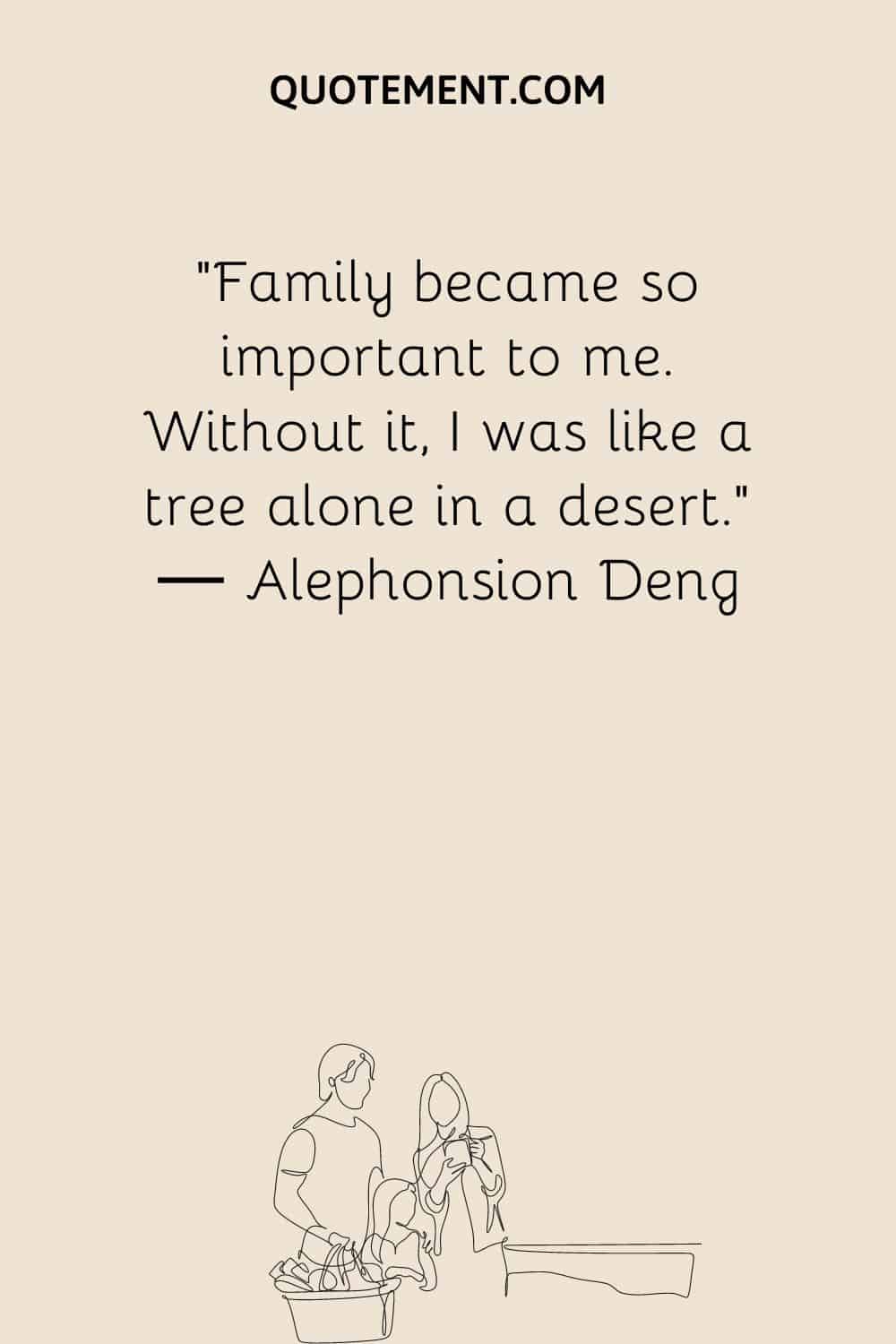 16. "I am empowered and thankful for my parents' love and support." ― Amy Leigh Mercree
17. "My family is everything. I am what I am thanks to my mother, my father, my brother, my sister… because they have given me everything. The education I have is thanks to them." – Ronaldinho
18. "Family is your most reliable source of support in any situation because love from your family is unconditional." ― Auliq Ice
19. "May our lives and gentle spirit be evident to all that we are members of God's family." ― Lailah Gifty Akita
20. "A happy family is but an earlier heaven." — George Bernard Shaw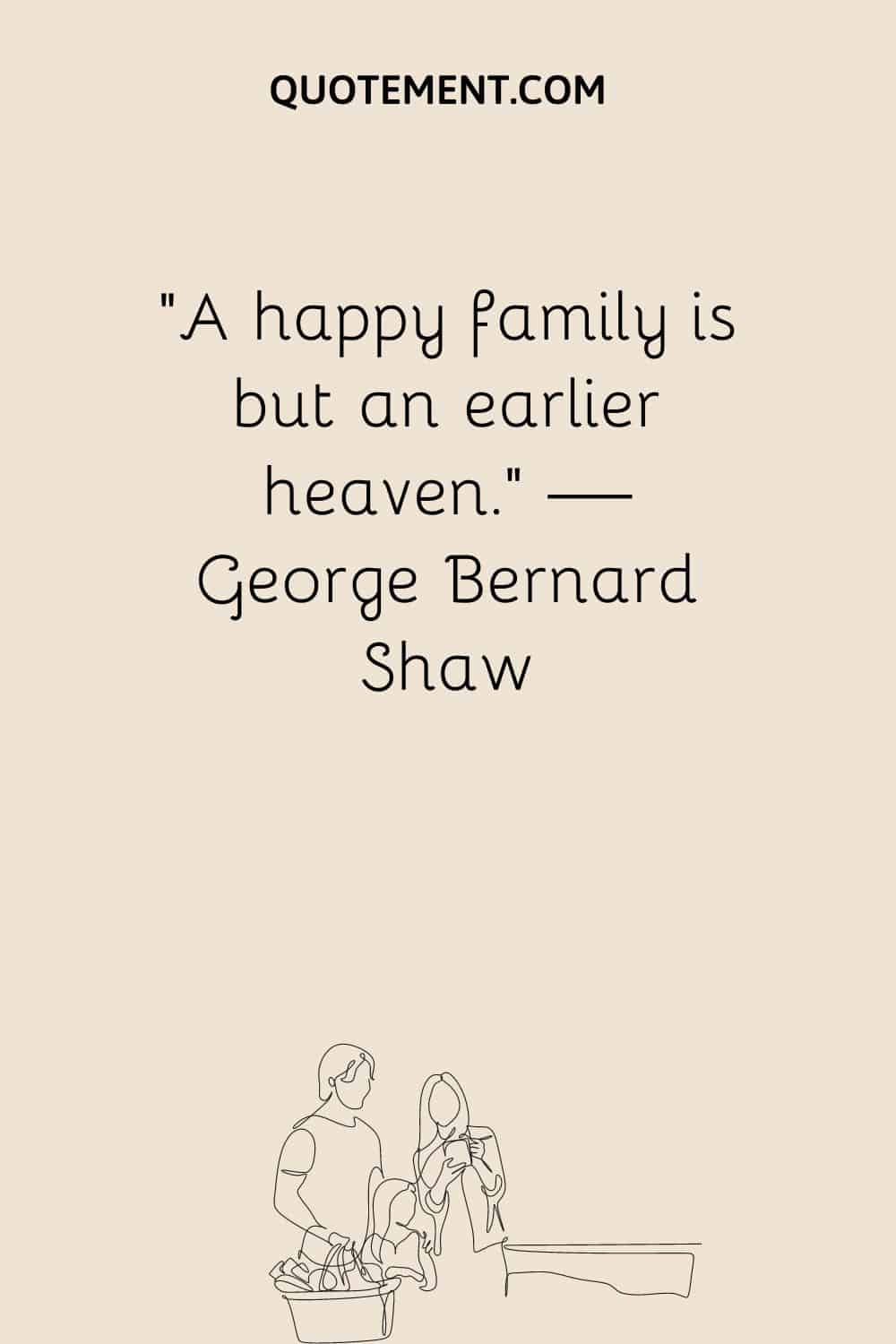 Family Priority Quotes
Our family is our top priority in life. Let's take a look at these wonderful family first quotes as well:
1. "Family will not agree on everything, nor will a family unit conform to one standard, but love is the common denominator that will bond a family." ― Wayne Chirisa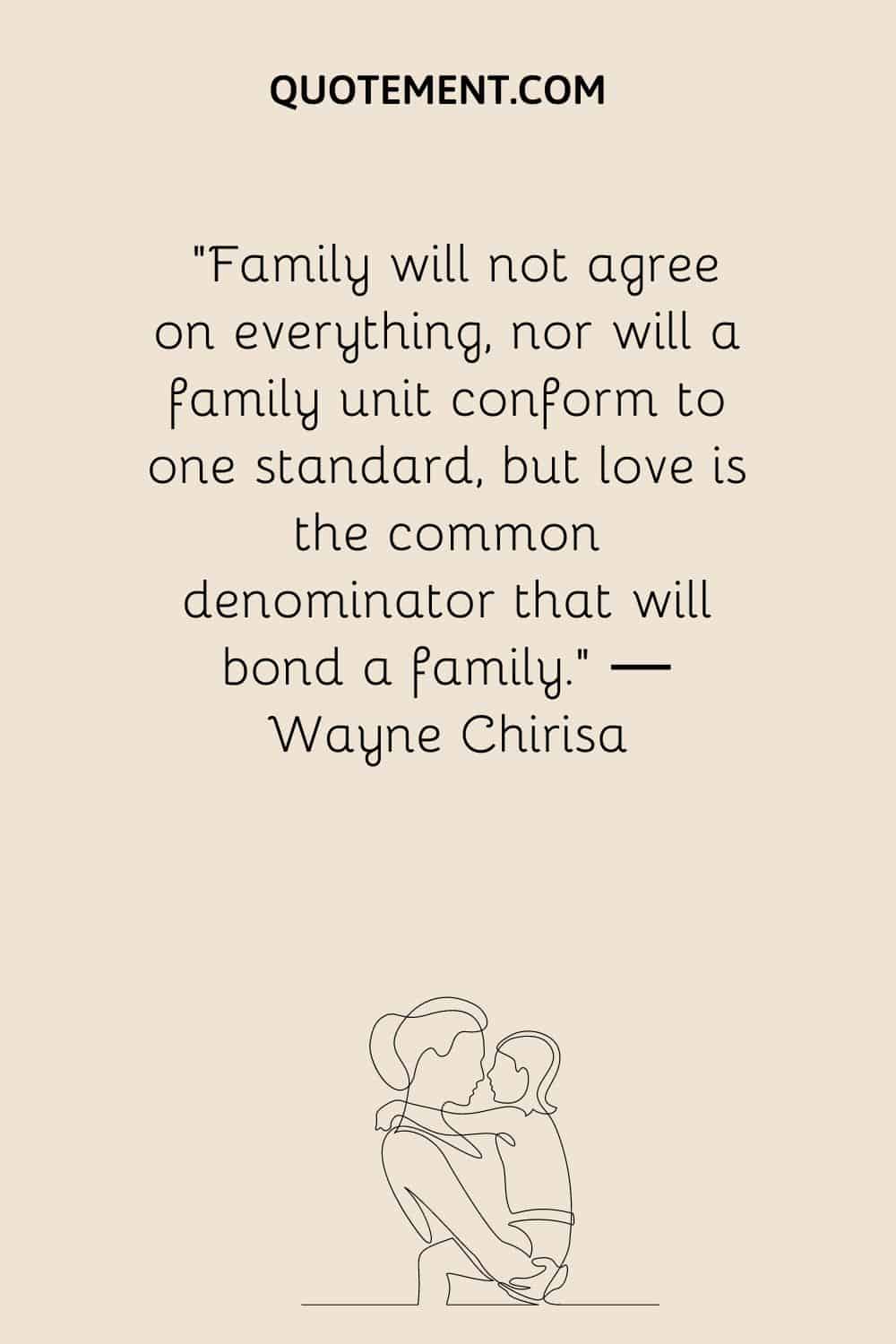 2. "Appreciate the gifts of the world, but never lose value for your family." ― Wayne Chirisa
3. "My family comes first, then others." ― Anoir Ou–Chad
4. "With so many friends and family, I am as rich as I ever could be." ― Amy Ritchie
5. "Ninety percent of those who are successful today were the people who had little or nothing, but were pushed and encouraged by their family." ― Michael Bassey Johnson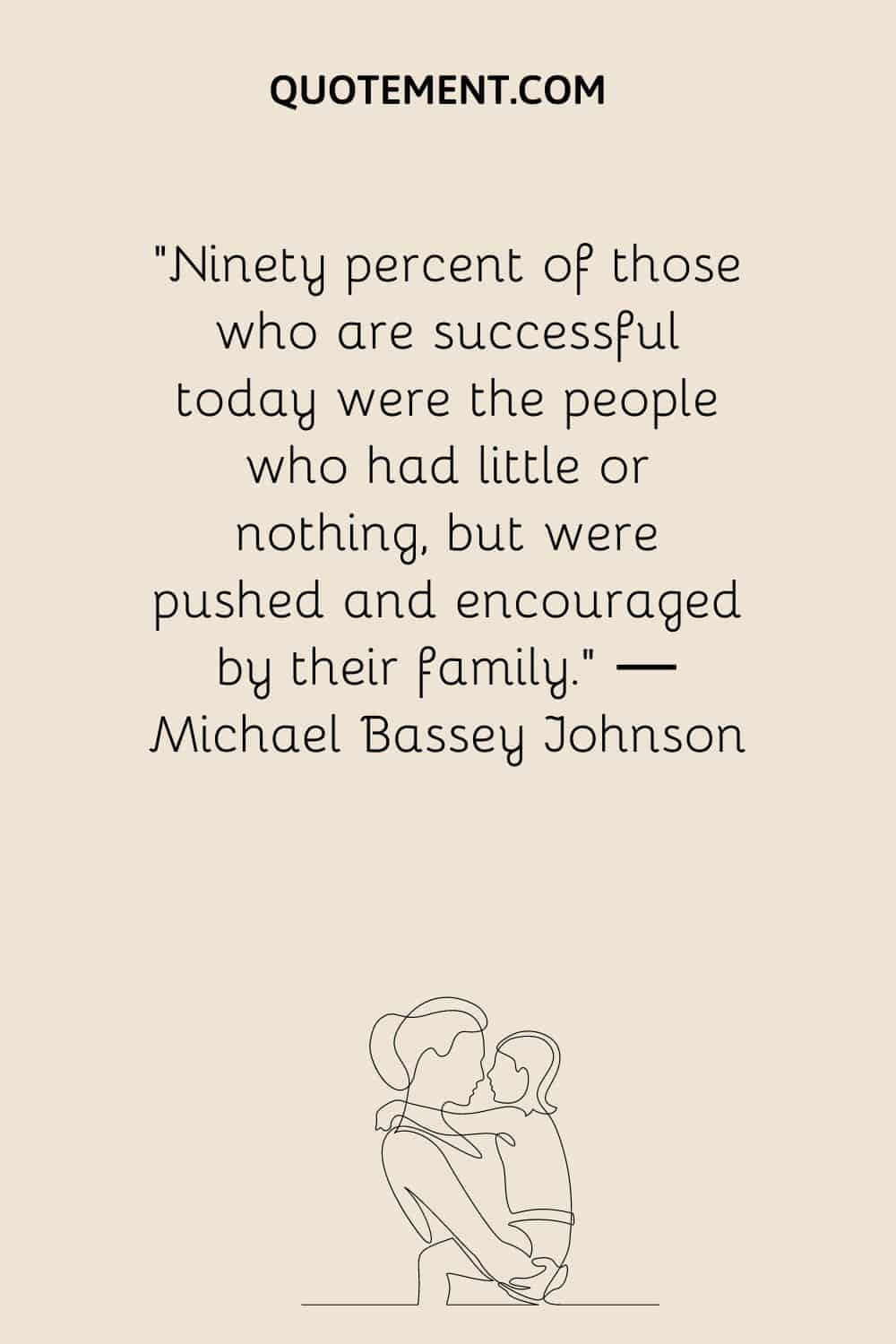 6. "I have always believed that raising kids means more than just being a good parent and trying to do the right things. It means surrounding your kids with amazing people who can bring science experiments and jam cookies, laughter and joy, and beautiful experiences into their lives." ― Karina Yan Glaser
7. "'The people who love you never stop loving you, don't you know,' she said solemnly. 'Never –– not even after they're gone'." ― Clementine Darling
8. "When Mama tucks me in at night, her eyes tell me I'm a miracle." ― Joanna Ho
See also: 140 Bond Between Mother And Child Quotes To Warm Your Heart
9. "The way she talks about family — the way everyone here does — is more foreign to Hannah than anything else. She has always had only Mama. To have dozens of people feels like a gift, a gift of love that she never expected. Because she is family, they love her. At the same time, their love is a pressure, a standard she will have to live up to." ― Eman Quotah
10. "Your family is the most important treasure you have in this world." ― Anath Lee Wales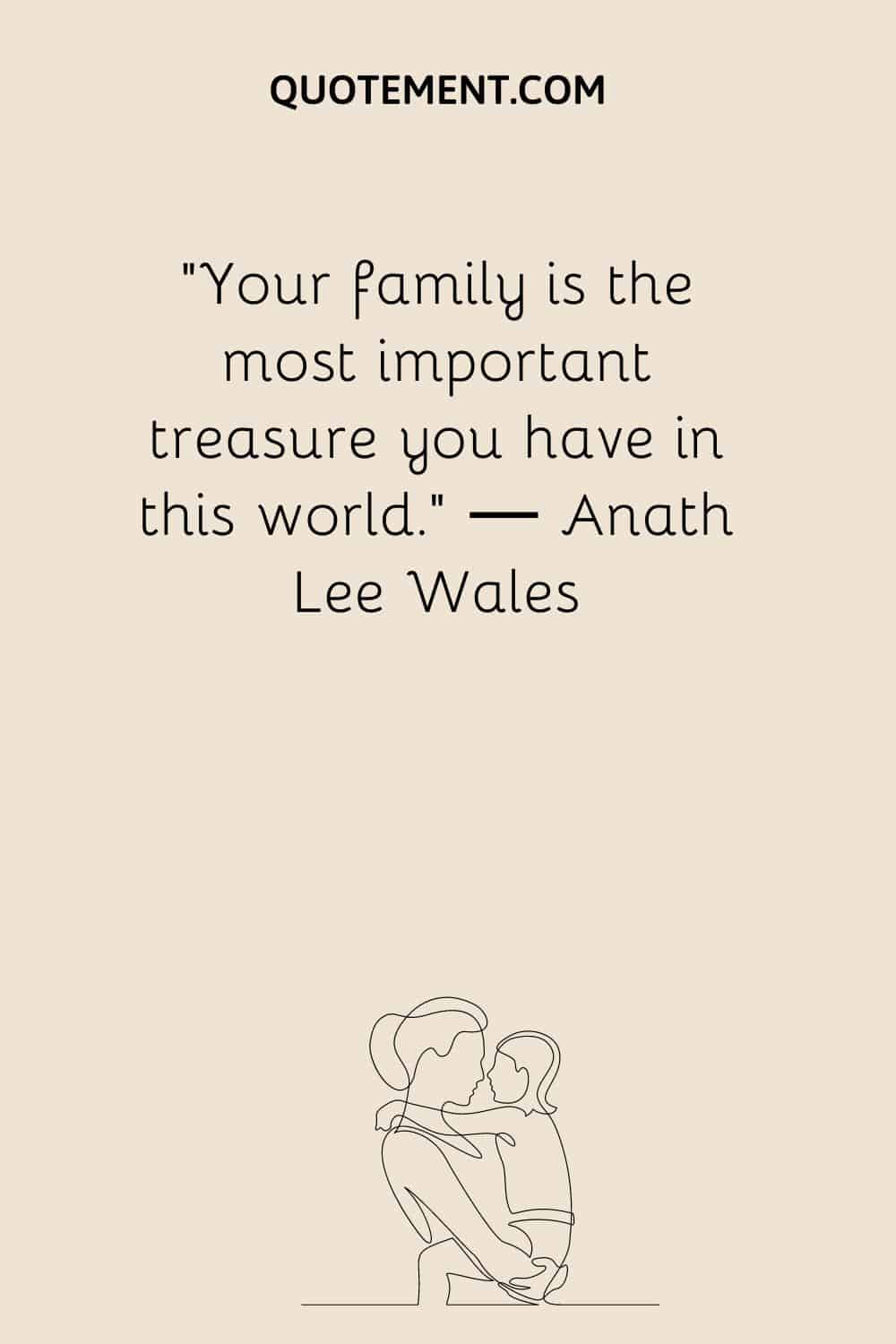 11. "Her hands flew to her mouth. 'Are we even twins?' Josh rested his hand on her shoulder and brought his forehead to rest against hers, strands of their blond hair mingling. 'I will always be your brother, Sophie. I will always look after you." ― Michael Scott
12. "Bond is stronger than blood. The family grows stronger by bond." ― Itohan Eghide
13. "My mother is pure radiance. She is the sun I can touch and kiss and hold without getting burnt." ― Sanober Khan
14. "The bond that links your true family is not one of blood, but of respect and joy in each other's life." – Richard Bach
15. "A true family's love nourishes, it's the rock that is meant to support and strengthen you after being weakened by adversities of life." ― Wayne Chirisa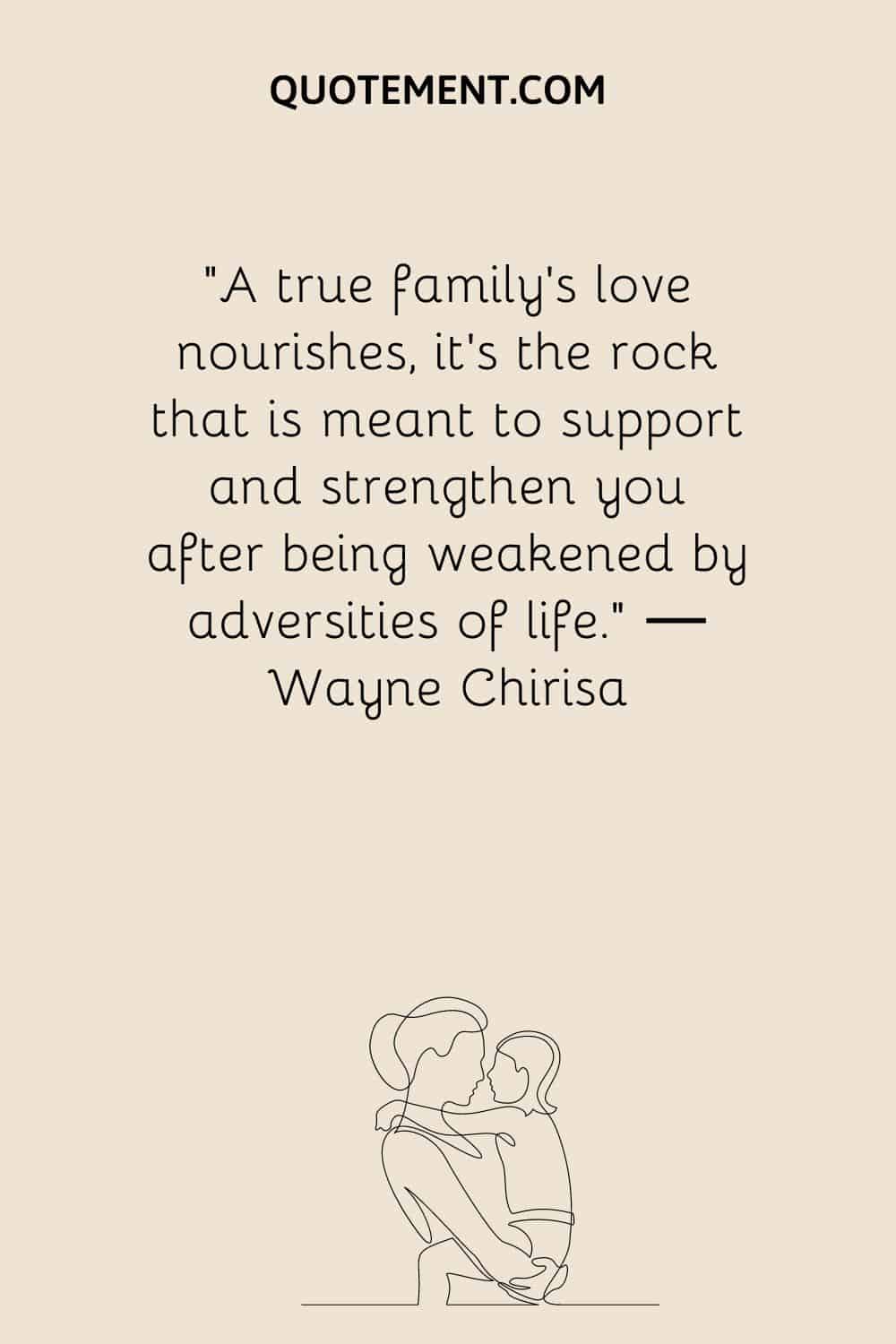 16. "Family is not defined by genes, it is built and maintained through love." – Catherine T.
17. "One day, you will do things for me that you hate. That is what it means to be family." ― Jonathan Safran Foer
18. "There is no such thing as a 'broken family'. Family is family, and is not determined by marriage certificates, divorce papers, and adoption documents. Families are made in the heart. The only time family becomes null is when those ties in the heart are cut. If you cut those ties, those people are not your family. If you make those ties, those people are your family. And if you hate those ties, those people will still be your family because whatever you hate will always be with you." ― C. JoyBell C.
19. "Love is the glue that holds a family together and without which all things fall apart." ― Bangambiki Habyarimana
20. "We may have our differences, but nothing's more important than family." – Coco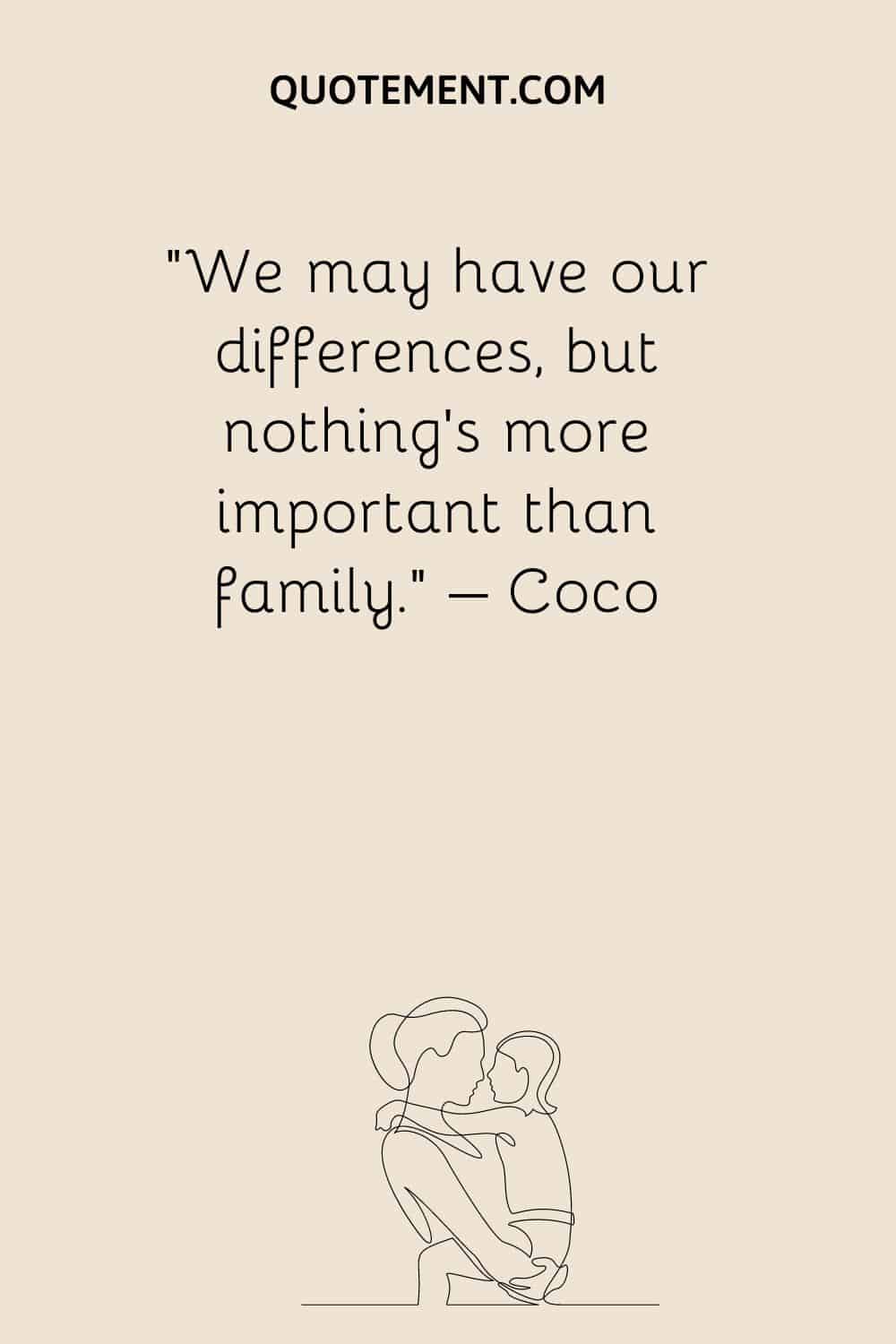 Quotes About Putting Family First
My collection of family first quotes ends with these beautiful quotes:
1. "The only rock I know that stays steady, the only institution I know that works, is the family." – Lee Iacocca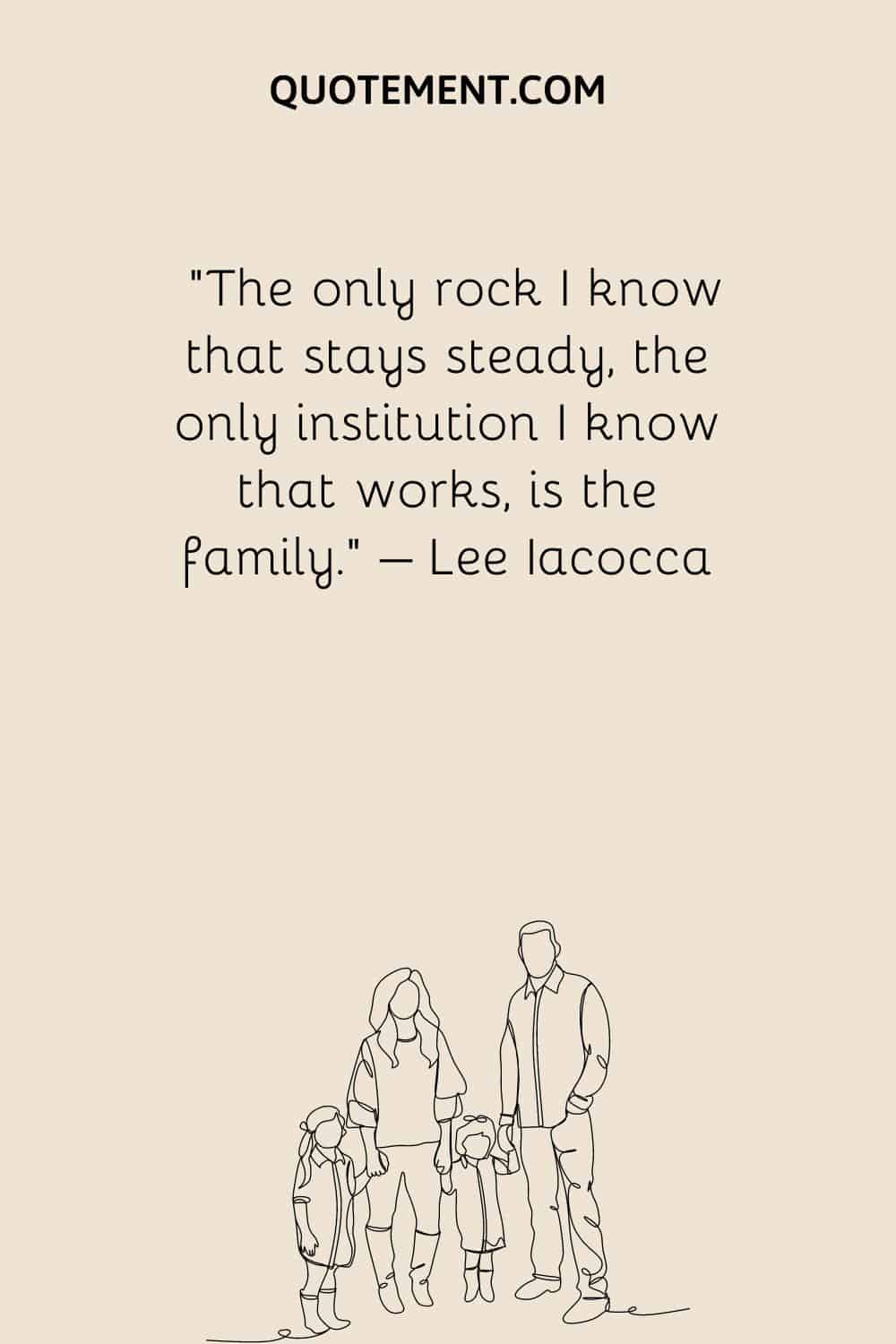 2. "I feel like I was born the day my kids were and that my life before was only there to gain wisdom for them. The point is you do your best. Your very best every day. You do it and you do it for them!" ― Drew Barrymore
3. "The best story to tell your kids is that of your own family." ― Lauren Machta
4. "It was a love story about a father and a son. The rest was window dressing. As a love story between a parent and a child, it was universal. Didn't matter that I was gay, that he was deaf, that we didn't fit in, that we were each outcasts in our own way." ― Nick Wilgus
5. "I don't think quantity time is as special as quality time with your family." — Reba McEntire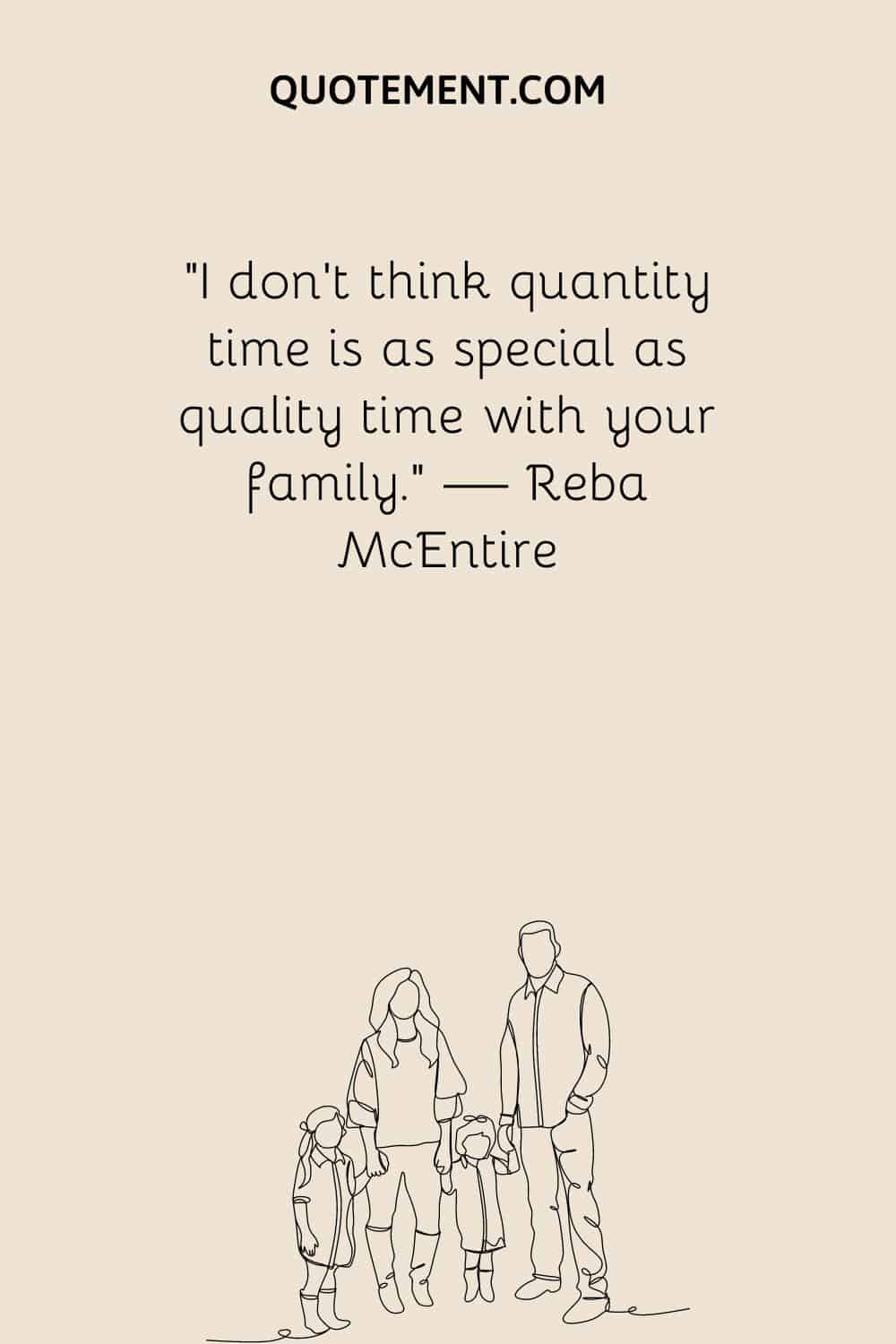 6. "I don't want awards, I want my daughter. I wouldn't exchange a single eyelash of my daughter for the whole world." ― Malala Yousafzai
See also: 120 Heartwarming Proud Daughter Quotes To Inspire You
7. "This, it occurred to me, was the deeper meaning in the mournful merriment I had been part of that day. I stood at Mam's sink before bedtime, filling an iced tea glass with water, thinking that I had underestimated this place where I was born. I knew it was a good place to be from. I had no idea how great a place it was to be." ― Rod Dreher
8. "A grandmother thinks of her grandchildren day and night, even when they are not with her. She will always love them more than anyone would understand." ― Karen Gibbs
9. "There are many things for which I owe gratitude to my dad. Most of all, I am grateful to the only man who could love my mother more than me." ― Ron Mayes
10. "If you want to change the world, go home and love your family." – Mother Teresa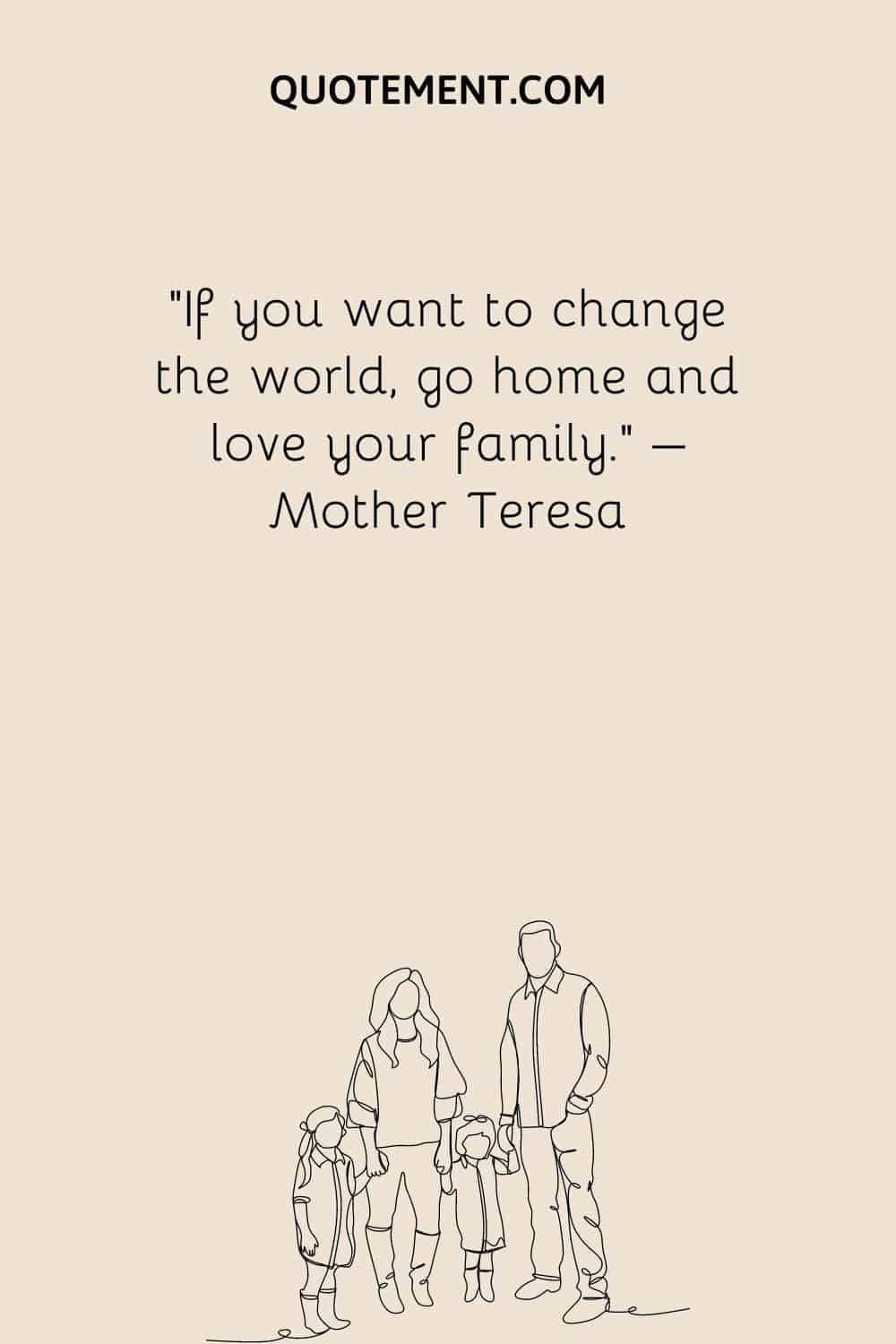 To Wrap It Up
You've reached the end of the article!
I hope you enjoyed reading my collection of 80 family first quotes!
Life can be unpredictable and challenging, but it is our family that is our shelter during difficult times.
Family comes first – always and forever.
If you like this post, you can share it with your beloved family members. Sharing is caring. 🙂
Until next time!
Read next: 160 Family Instagram Captions To Celebrate A Magical Bond