The color black is powerful, classy, and elegant, and everyone looks good while wearing it. Even if you're not crazy about all-black outfits, these timeless wearing black quotes will inspire you to give it a chance.
I promise you won't regret it!
Black is considered iconic in the fashion world. A little black dress for women is a must, as is a black suit for men.
Black is flattering in many ways. A black outfit will make you look sophisticated. They say that whenever in doubt, you should always choose black! The risk of being overdressed or underdressed is reduced to a minimum with black.
Black also implies power and will make you seem intriguing. If you are wondering what outfit to wear for a formal occasion, black is always the best option.
I've collected the 110 most iconic wearing black quotes anywhere on the web, and these fashion quotes will undoubtedly inspire you to discover the magic of black outfits.
Let's dive right in!
Top 20 Wearing Black Quotes
I've picked the best and most iconic wearing black quotes to begin with.
1. "I'll stop wearing black when they make a darker color." — Wednesday Addams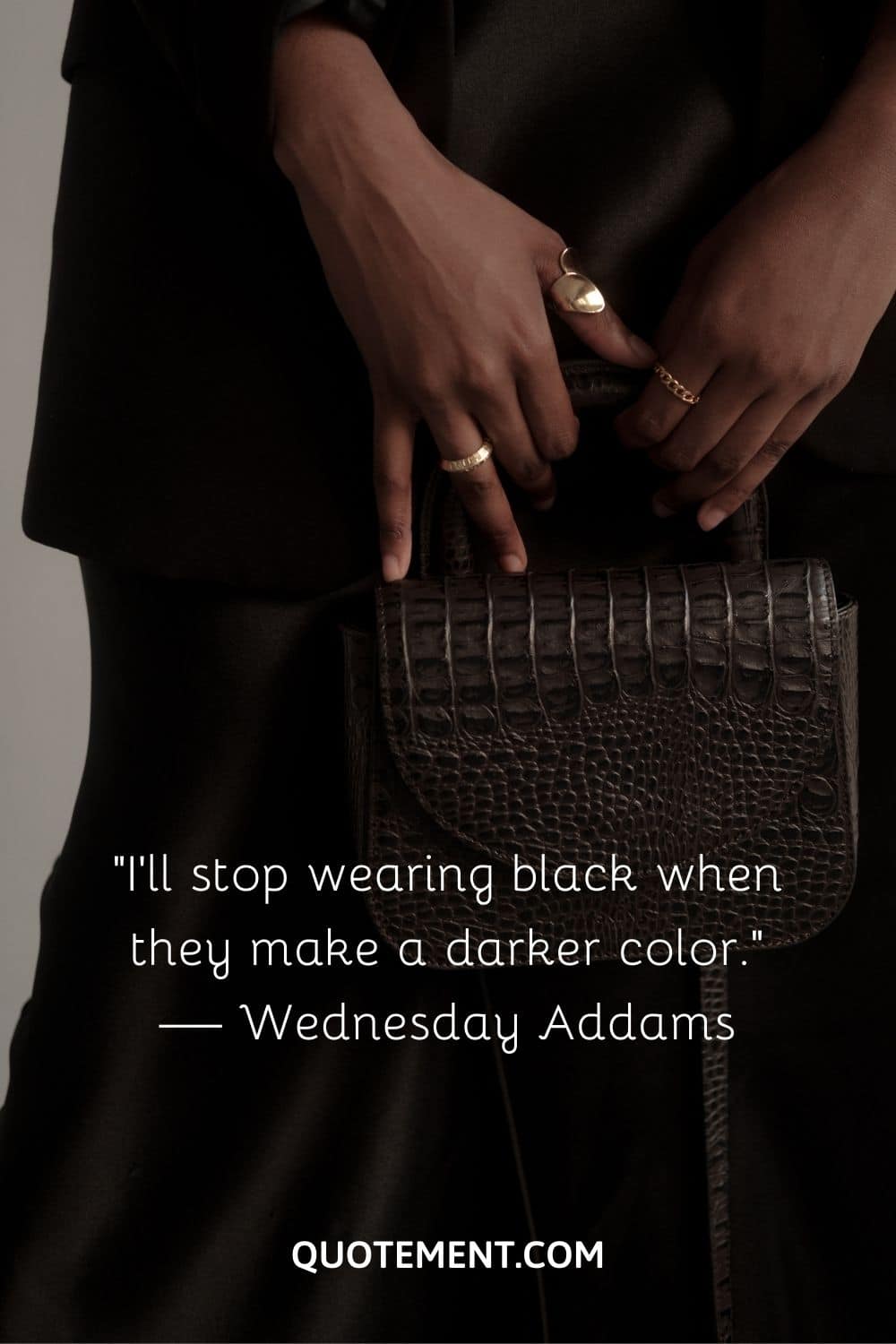 2. "Black is modest and arrogant at the same time. Black is lazy and easy—but mysterious. But above all, black says this: I don't bother you – don't bother me." — Yohji Yamamoto
3. "I wore black because I liked it. I still do, and wearing it still means something to me. It's still my symbol of rebellion – against a stagnant status quo, against our hypocritical houses of God, against people whose minds are closed to others' ideas." — Johnny Cash
4. "You can wear black at any time. You can wear it at any age. You may wear it for almost any occasion; a 'little black frock' is essential to a woman's wardrobe." — Christian Dior
5. "Black is not sad. Bright colors are what depresses me. They're so… empty. Black is poetic. How do you imagine a poet? In a bright yellow jacket? Probably not." — Ann Demeulemeester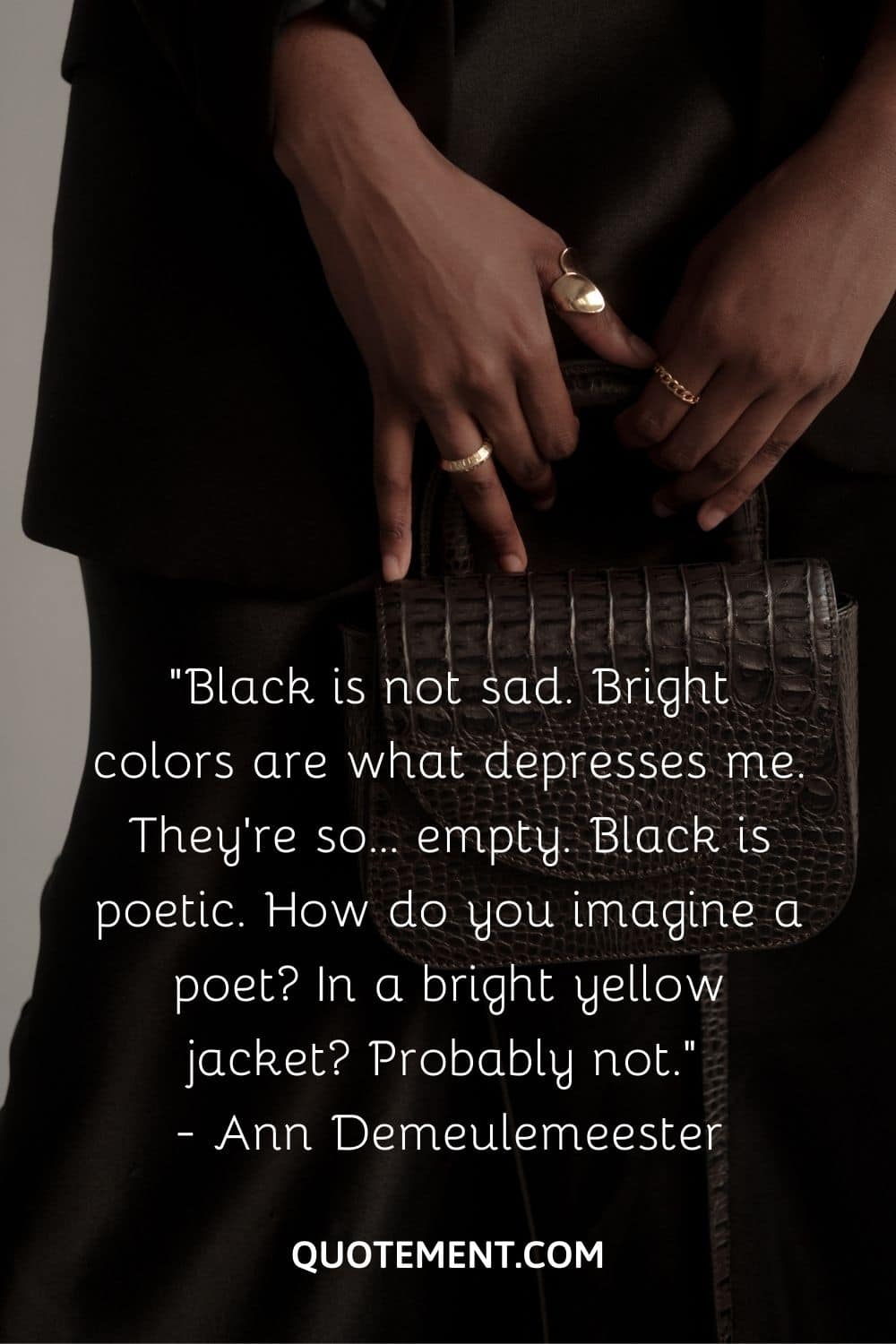 6. "There is something about black. You feel hidden away in it." — Georgia O'Keeffe
7. "But when I fell in love with black, it contained all color. It wasn't a negation of color. It was an acceptance. Because black encompasses all colors. Black is the most aristocratic color of all …You can be quiet, and it contains the whole thing." — Louise Nevelson
8. "The best thing about wearing black is that you can hide pretty easily unless you're in Hawaii, then you can't hide." — Gerard Way
9. "Women who wear black live colorful lives." — Neiman Marcus
10. "Women think of all colors except the absence of color. I have said that black has it all. White too. Their beauty is absolute. It is perfect harmony." — Coco Chanel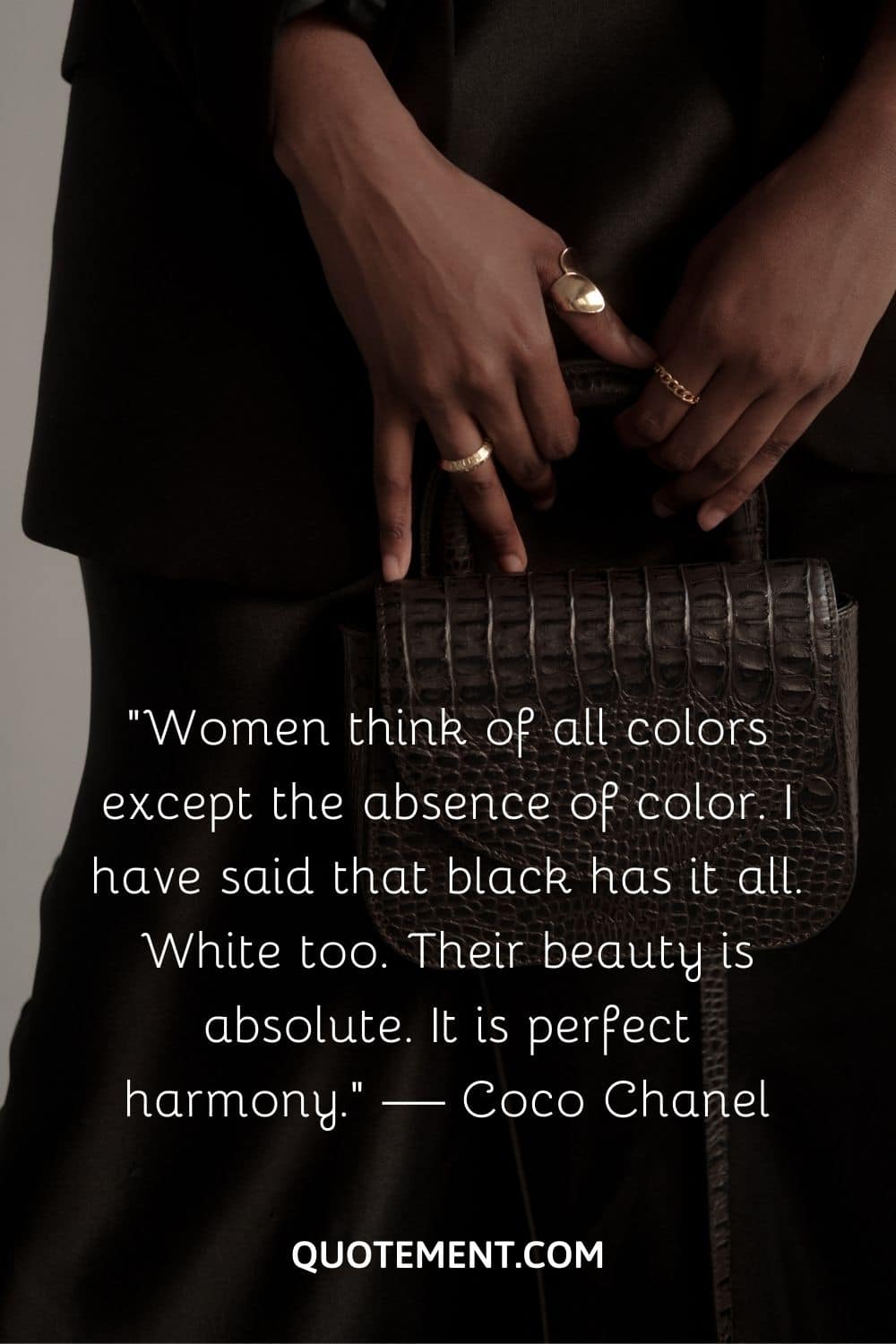 11. "Black is always elegant. It is the most complete color in the whole world, made of all the colors in the palette." — Ricardo Tisci
12. "Black is the hardest color in the world to get right – except for gray …" — Diana Vreeland
13. "I love black because it affirms, designs, and styles. A woman in a black dress is a pencil stroke." — Yves Saint Laurent
14. "The man in black travels with your soul in his pocket." — Stephen King
15. "My style – it's black, and it's expensive." — Mark Healey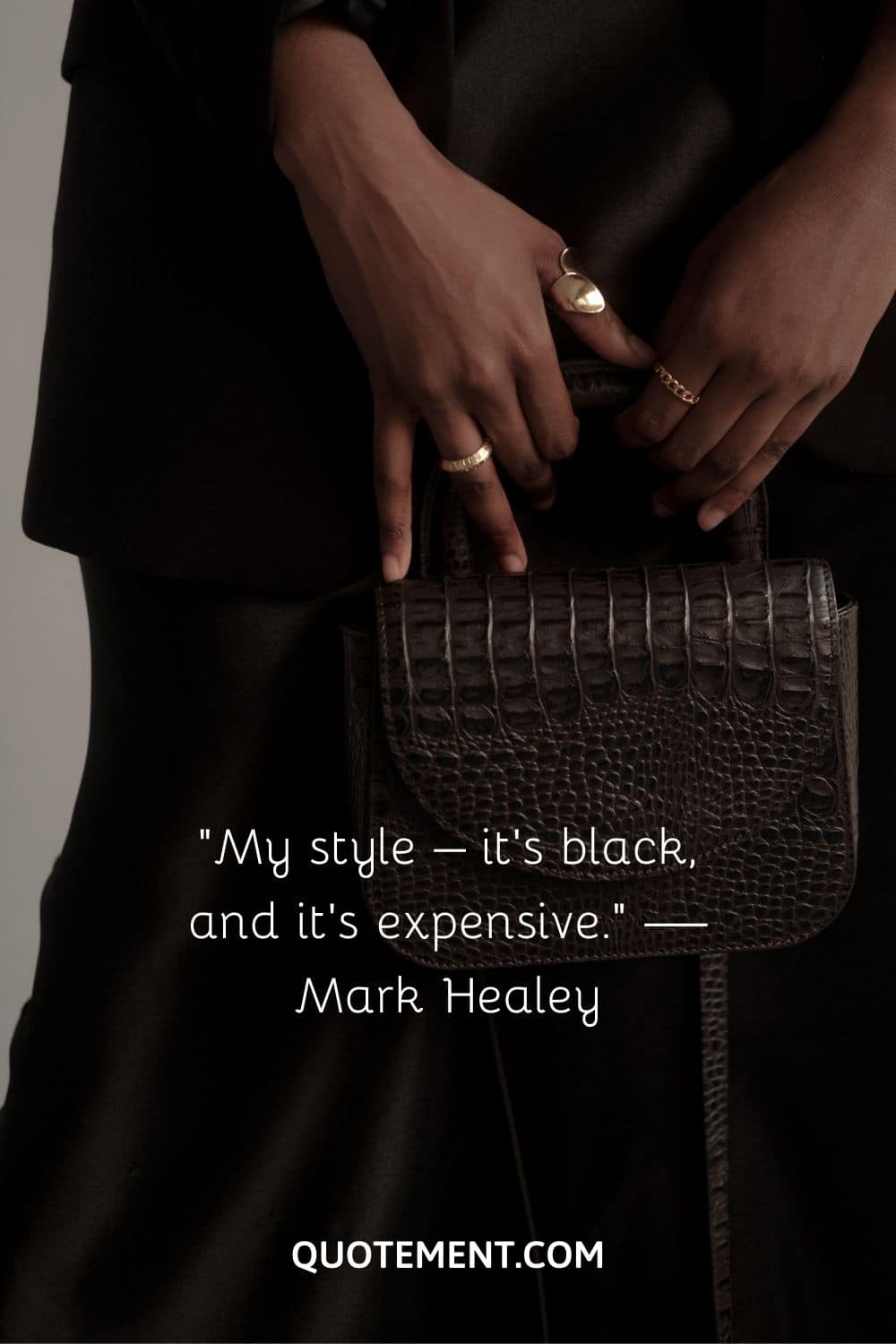 16. "I've been 40 years discovering that the queen of all colors was black." — Pierre Auguste Renoir
17. "I work in three shades of black." — Rei Kawakubo
18. "I love all the colors mixed together. BLACK." — Brian Elston
19. "I look most like myself… when I'm wearing my black, nerdy engineering glasses." — Junot Diaz
20. "I was wearing black clothes almost from the beginning. I feel comfortable in black. I felt like black looked good on stage, that it was attractive, so I started wearing it all the time." — Johnny Cash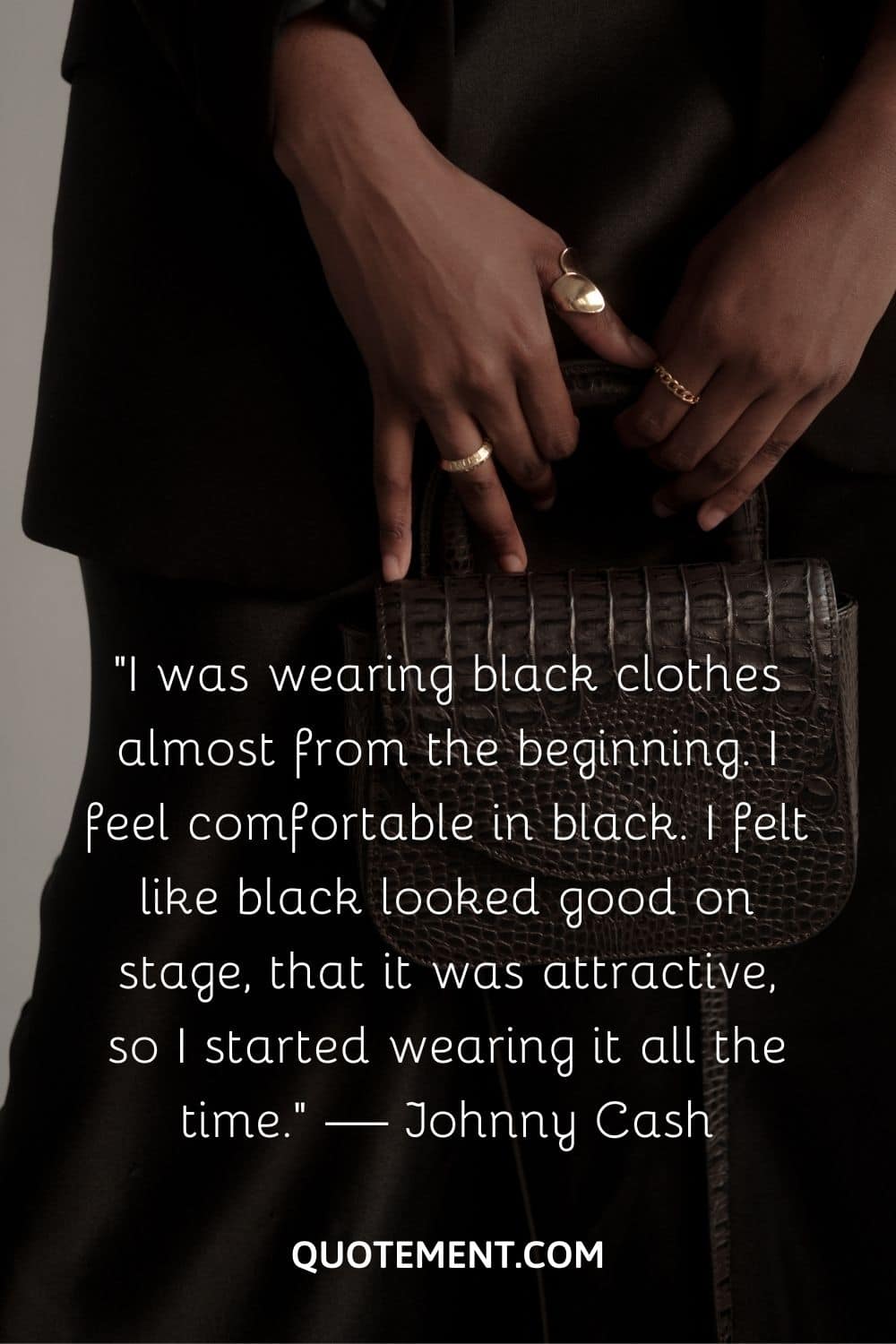 Wearing Black Color Quotes
If you're still not convinced that a black outfit is what you need, these inspirational quotes will change your mind!
1. "Black is not a color. It's a lifestyle."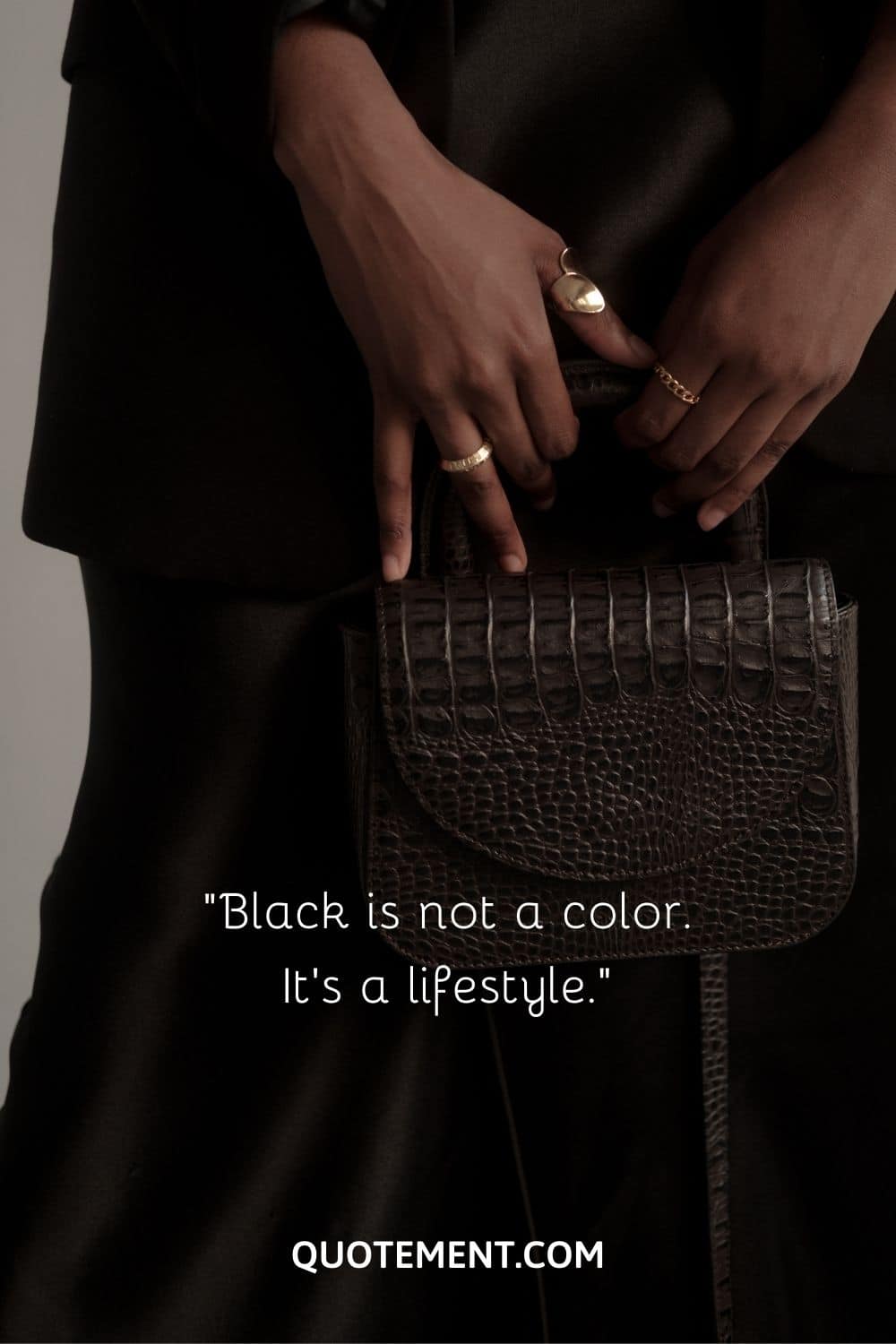 2. "Why do I always wear black? It matches my soul."
3. "I only wear two colors – black and noir."
4. "Black is an absolute beauty."
5. "Black is the only color that can make you look classy and simple, charming yet effortless, se*y yet elegant – all at the same time."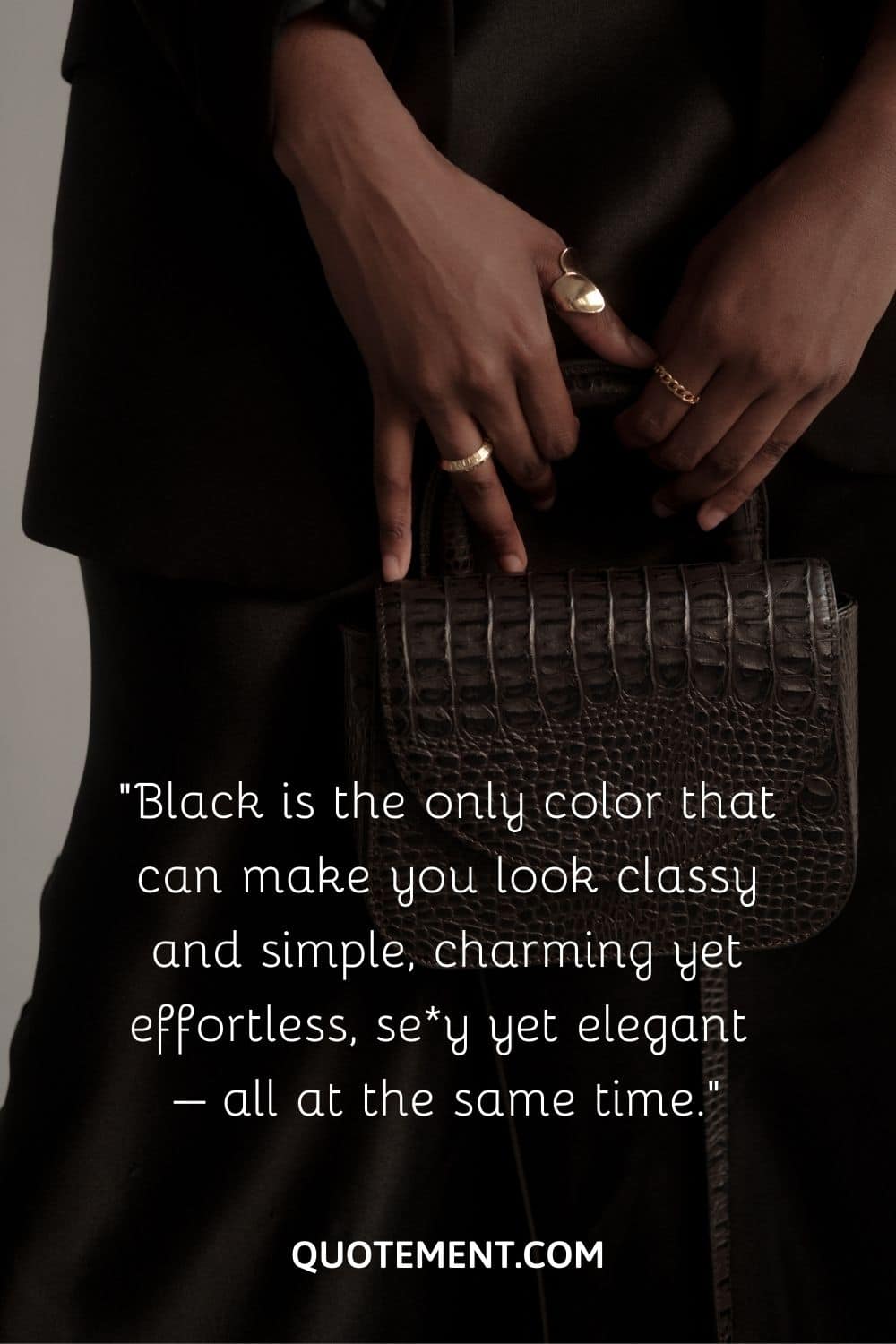 6. "Black is my happy color."
7. "I'm the darkness, forever shrouded in mystery."
8. "Instead of going to the gym, I dress in black – a lot more practical and much more fun." – Monica Bellucci
9. "Shopping rule: If it's not black… put it back."
10. "Black is a very strong and powerful color that demands seriousness and respect. It can be an intimidating color which also suggests discipline."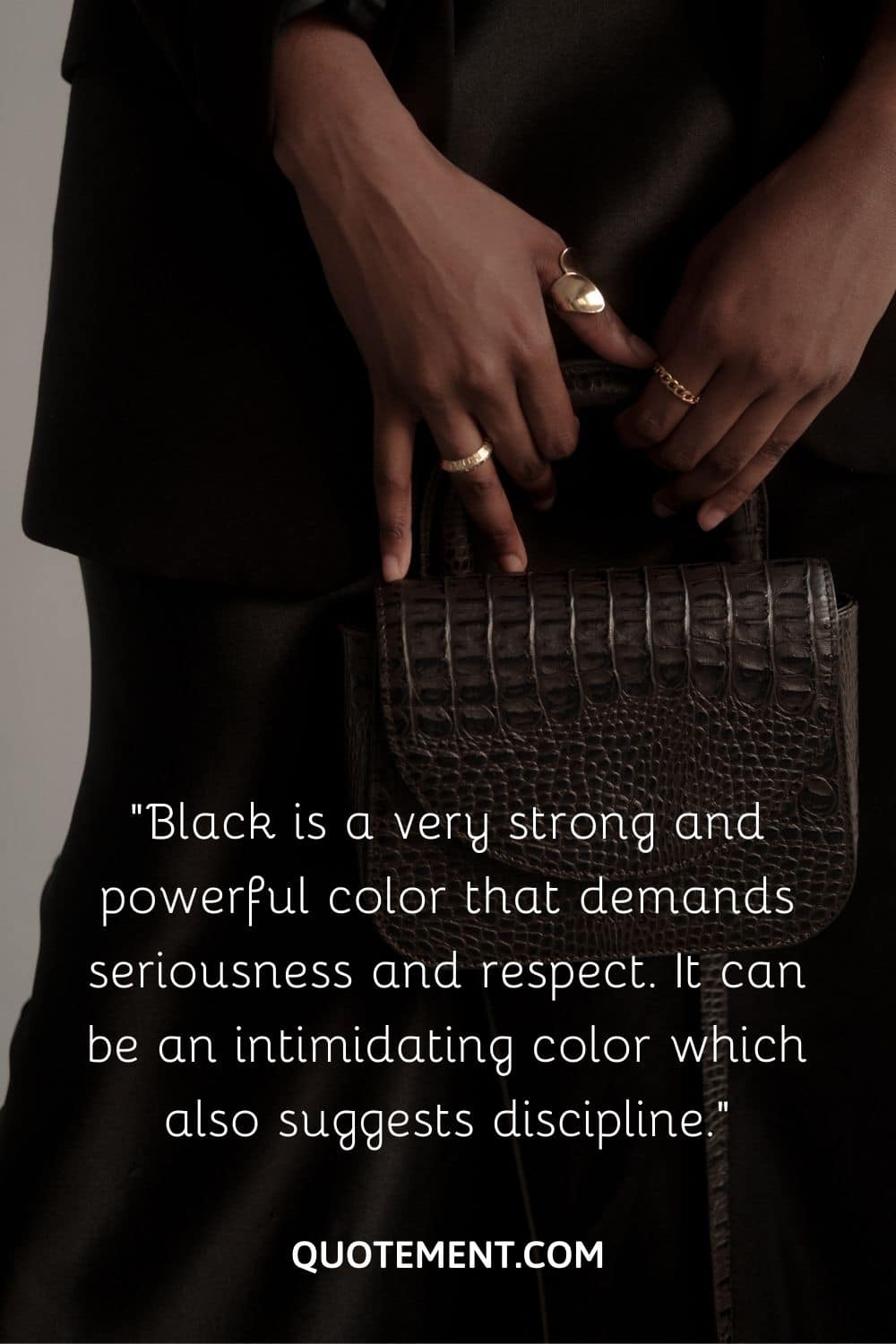 11. "Life is not always black and white, but there's no harm in wearing it."
12. "Black is the color of a predator."
13. "Black is infinitely chic, undeniably mysterious and deeply misunderstood."
14. "Wear black, stay back & let your haters shake."
15. "I'm wearing all black – but expensive black. The kind of deep, soft black that you fall into." — Sophie Kinsella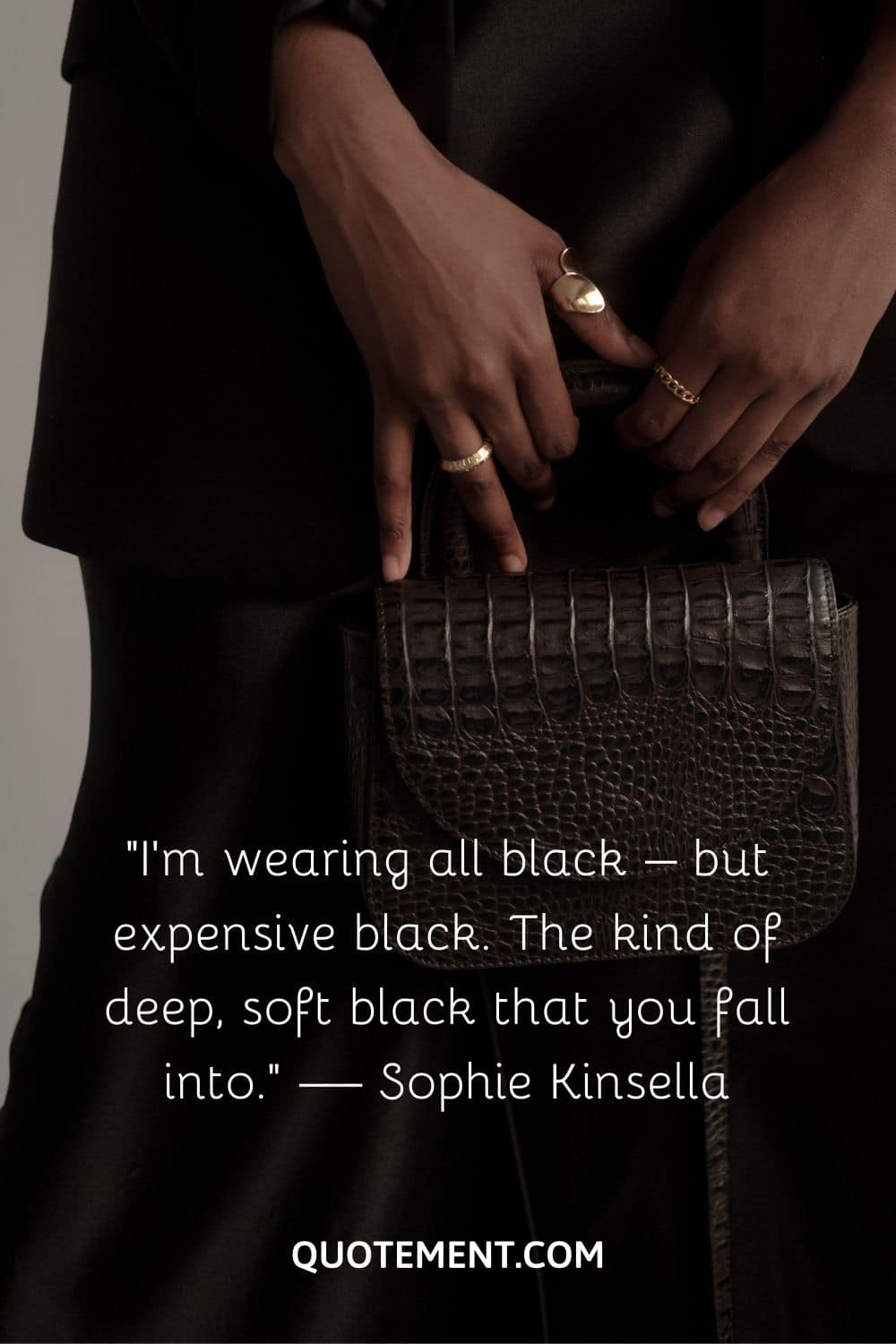 16. "Color should be two things – dark and powerful."
17. "People who can't handle all-black outfits are weak."
18. "I can go all over the world with just three outfits: a blue blazer and gray flannel pants, a gray flannel suit, and black tie." — Pierre Cardin (black suit quotes)
19. "I think in black." — Gareth Pugh
20. "A color that makes me look slim, makes me feel mysterious, and doesn't need a wash every time? What's not to love!"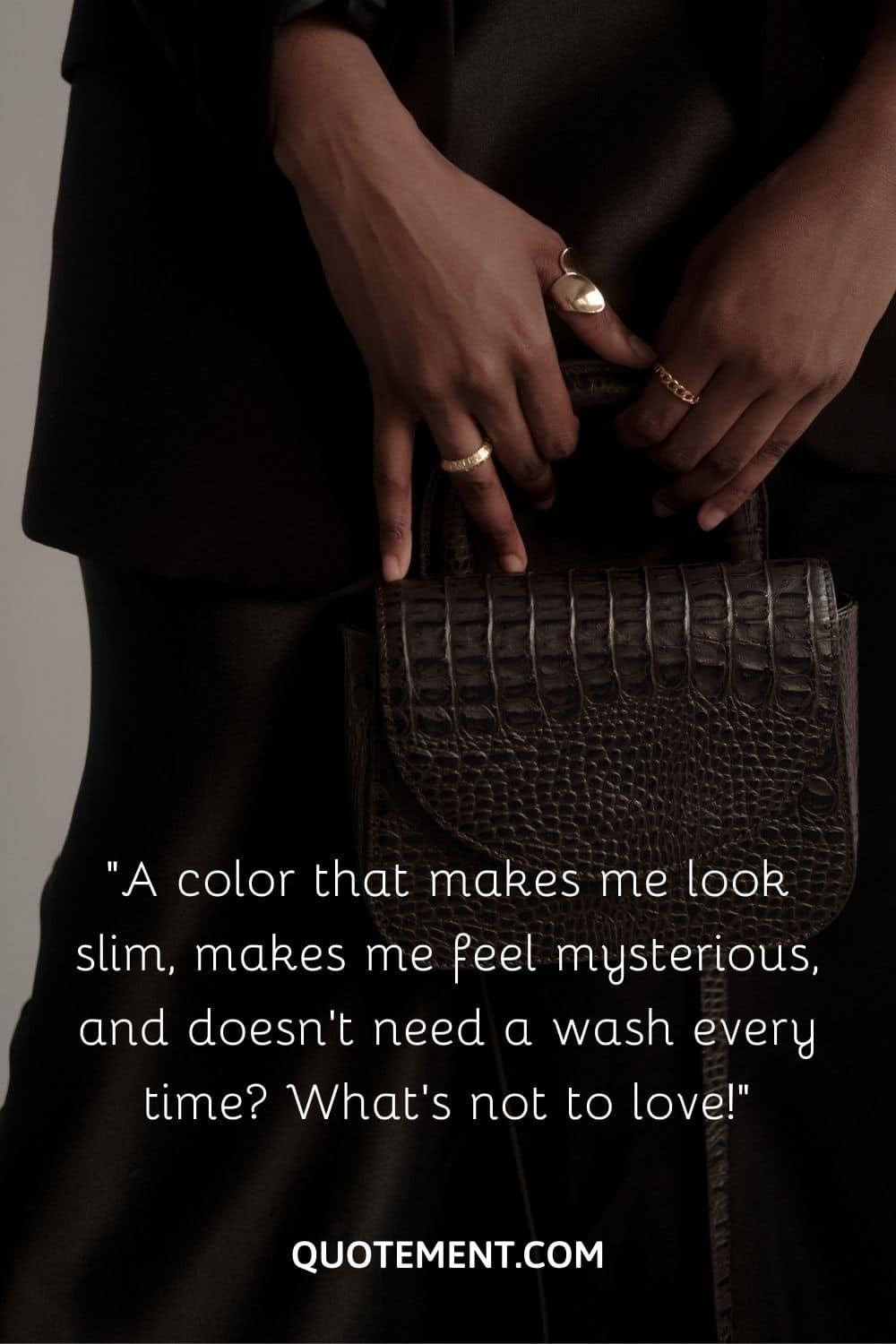 21. "An infinity of fashion can be contained in one color Black."
22. "When you want to make a statement but your vibe is relaxed, formal yet informal, chic yet comfortable, choose black. Although it can be harder to wear than other colors, black comes with one huge advantage: It's universally flattering."
23. "Color is just fine but black is majestic."
24. "Before me, no one would have dared dress in black." — Coco Chanel
25. "Wearing all black today to mourn the death of my motivation."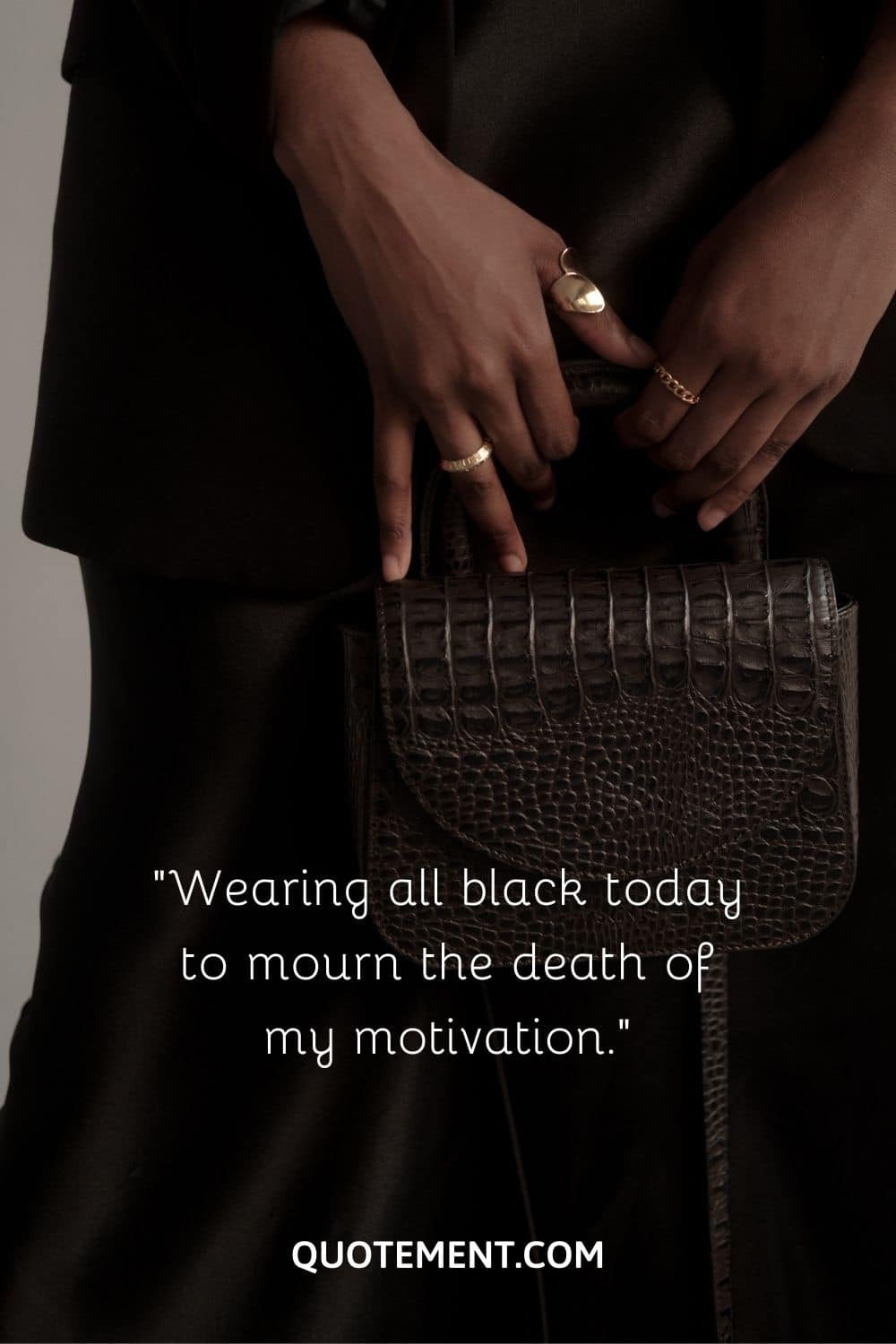 26. "Black is the most slimming of all colors. It is the most flattering." — Christian Dior
27. "Black is the only color that's enough to make up a whole wardrobe."
28. "If I could dress anyone, I'd like to dress the Queen – she can handle anything. I'd put her in black – she never wears black – and add a little leather, maybe. A little rock n' roll." — Donatella Versace
29. "Five pieces every girl needs in her closet are; a great pair of jeans, a good black heel, a great little black dress, tank tops for layering, and a jacket that can be worn day or night." — Kristin Cavallari
30. "If someone points at your black clothes and asks, whose funeral it is, you just look around the room and answer, haven't decided yet."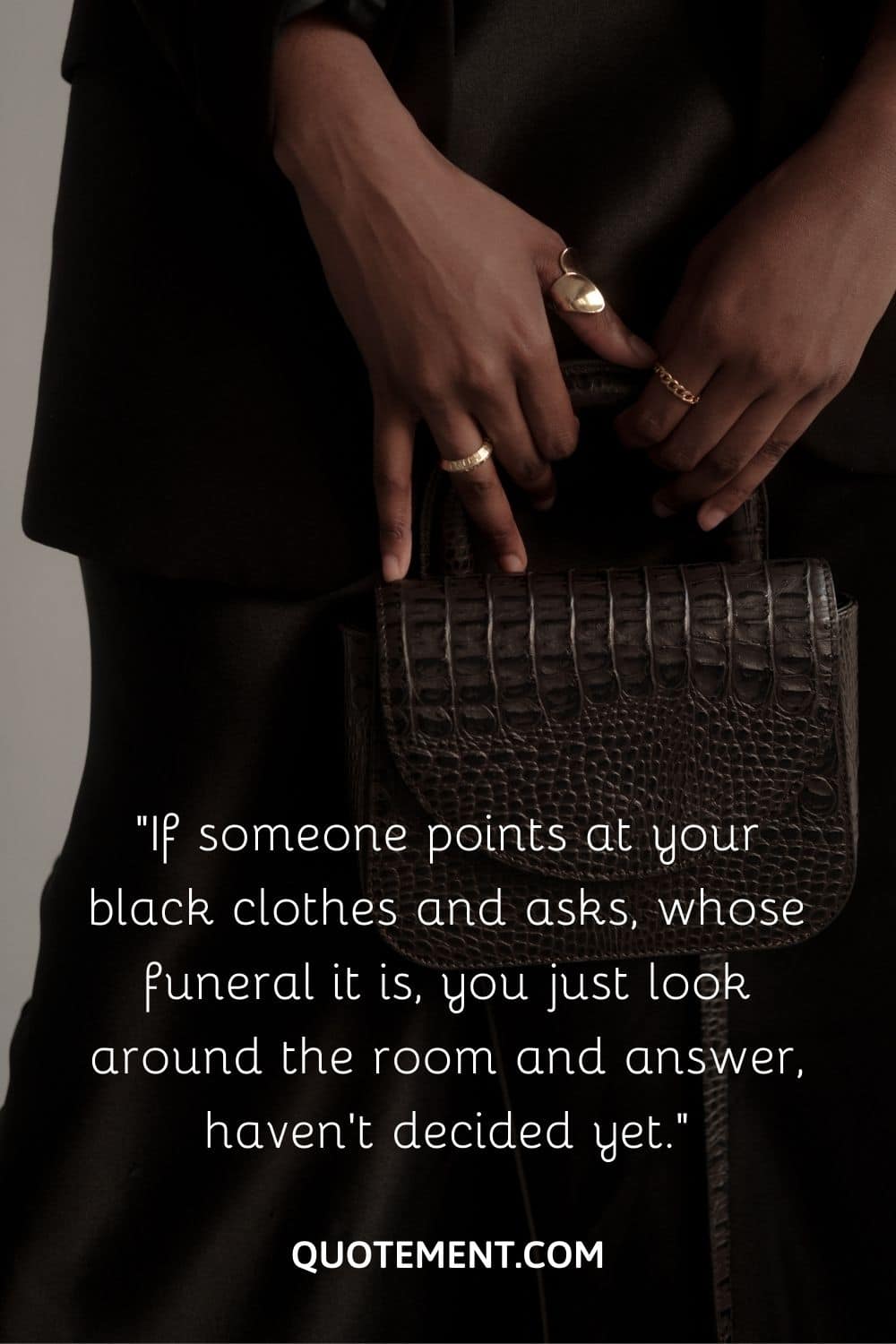 31. "Everything looks better in black."
32. "I love all black clothing. I think it's timeless and beautiful."
33. "The more black you wear, the more powerful you look."
34. "Black and white always look modern, whatever that word means." — Karl Lagerfeld
35. "I hate it when my blacks don't match."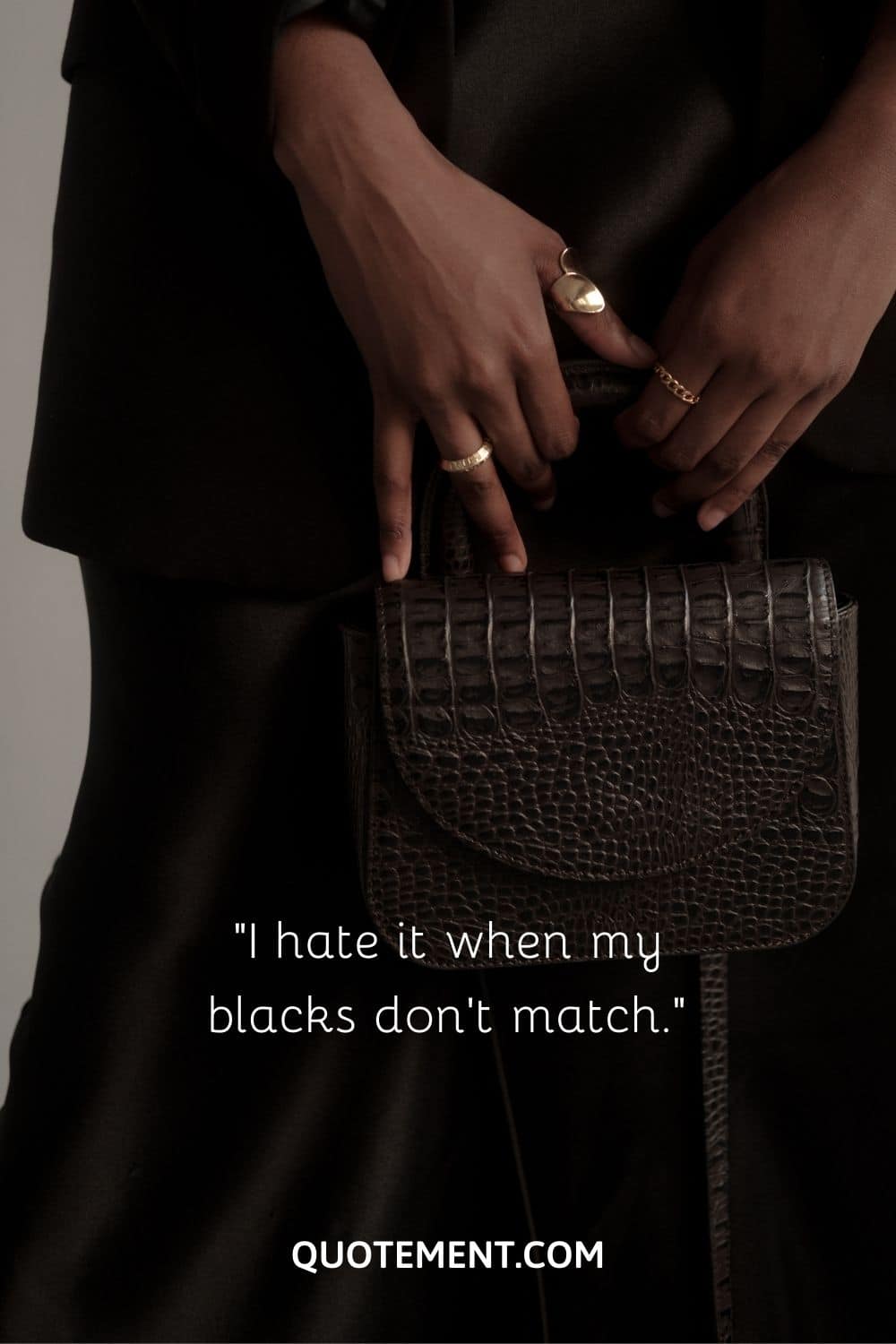 36. "It's such a nice day outside. I think I'll wear black."
37. "I wear all black to remind you not to mess with me because I'm already dressed for your funeral."
38. "My favorite outfit was this black lace dress that I found in a vintage shop in Wiliamsburg, New York." — Abbey Lee Kershaw
39. "One time I got dressed in all black, Rambo-style, and took a massive pair of bolt-cutters and nicked a military bike." — Zlatan Ibrahimovic
40. "Men in black attire is always classy and hot, which melt women's hearts!" — Divyashree Raj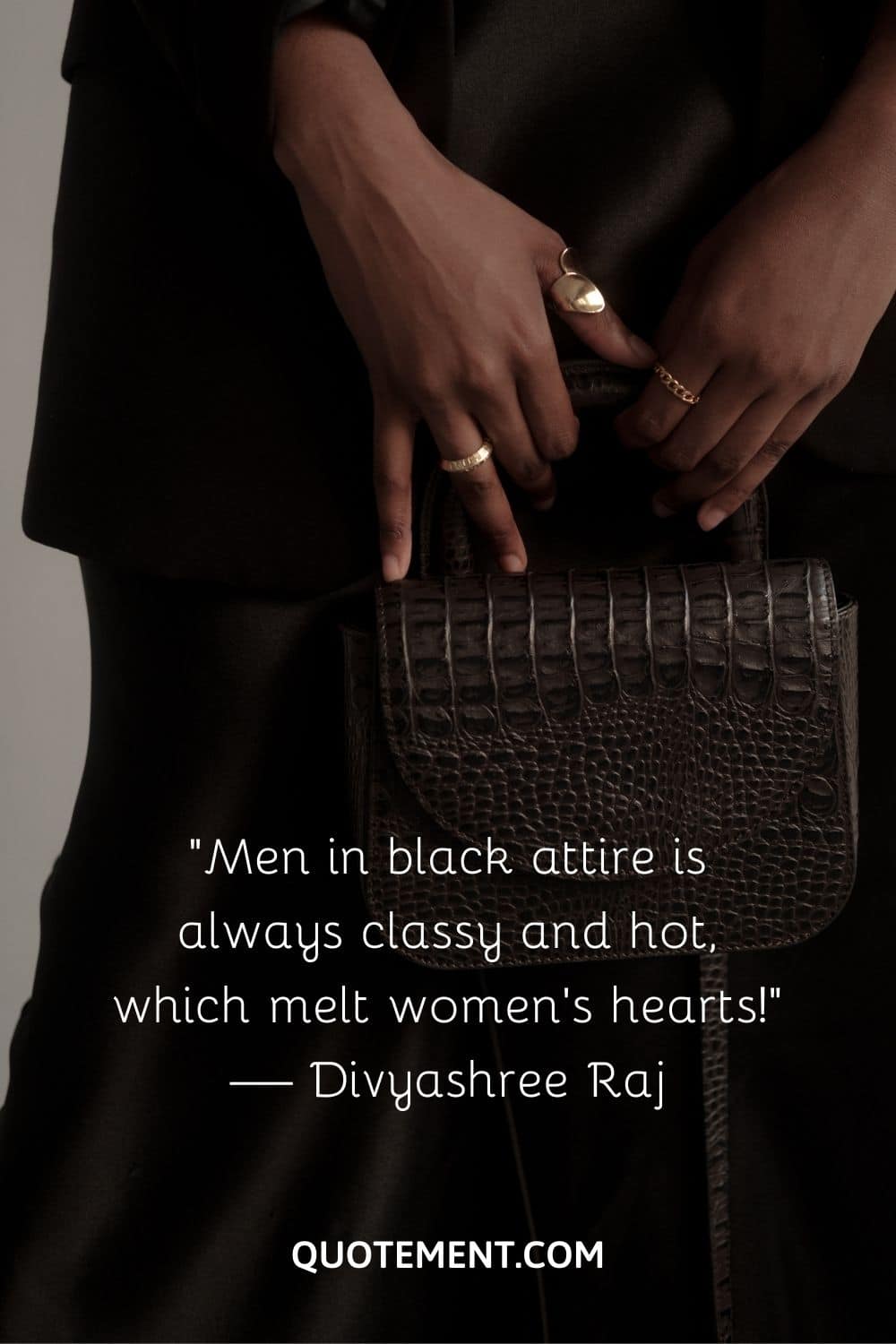 Black Dress Quotes
Many fashion icons agree that a little black dress is a must for every woman. Check out these quotes about her majesty of fashion, the timeless black dress.
1. "The night sky doesn't always need shining stars to look beautiful, and a black dress has no jewelry."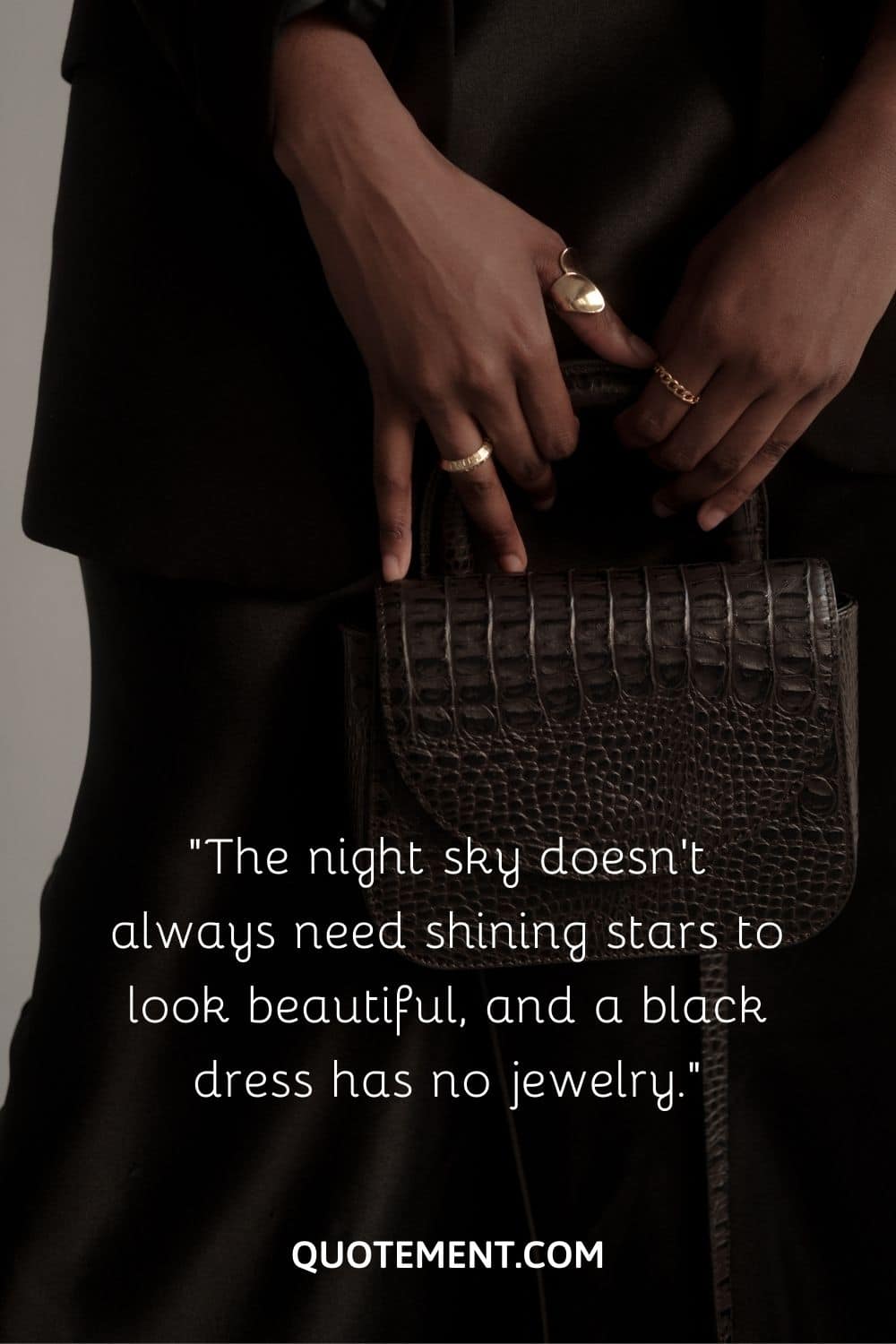 2. "The power of a black dress."
3. "Don't ask why I just wear black."
4. "A dress as black as my heart."
5. "One is never over or underdressed with a little black dress." — Karl Lagerfeld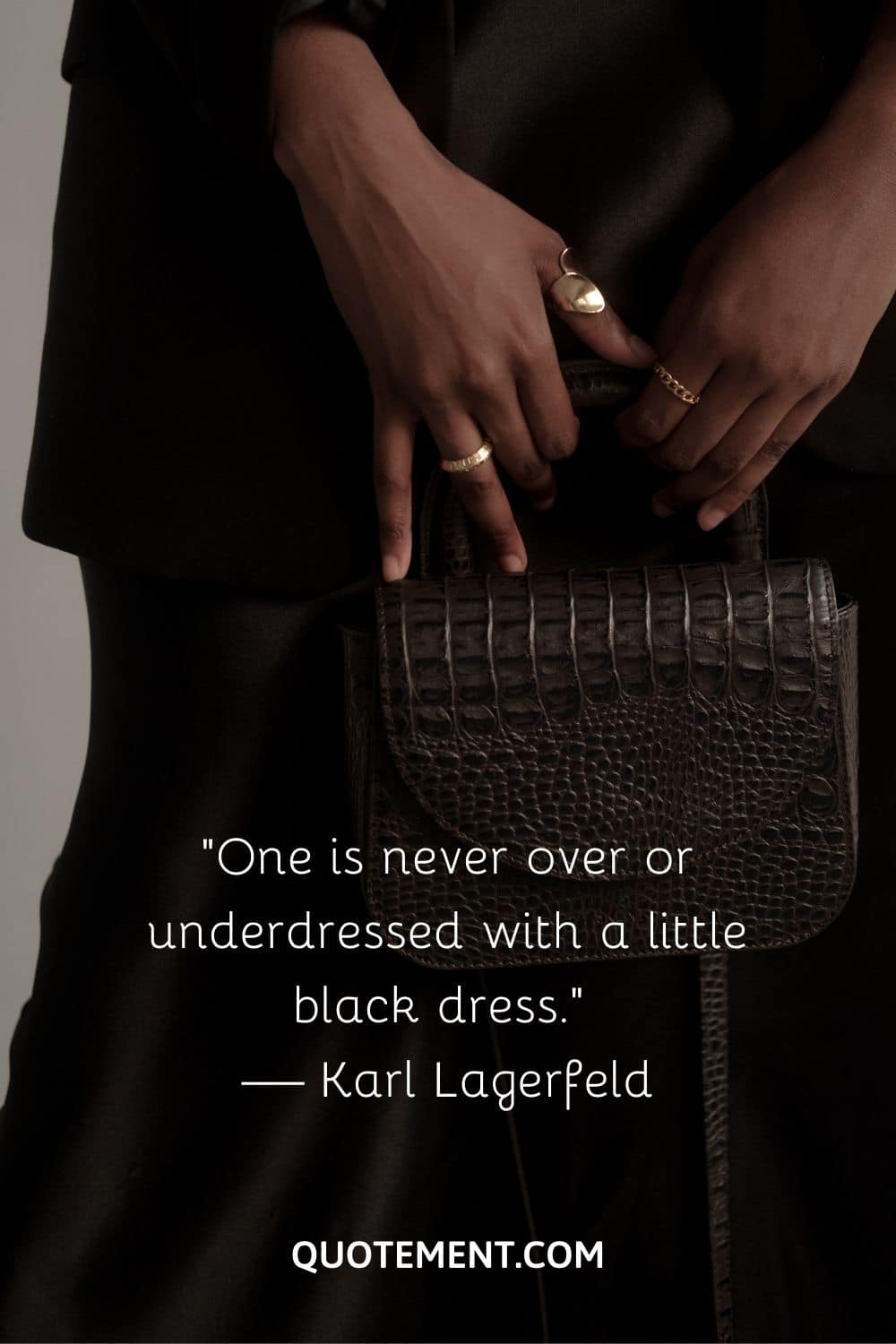 6. "People will stare. Make it worth their while."
7. "I'm wearing this black dress tonight for a casual dinner!"
8. "A black dress is forever!"
9. "If all else fails and you don't know what to wear, put on a black dress, and you'll be happy." — Lily Donaldson
10. "The zenith of elegance in any woman's wardrobe is the little black dress, the power of which suggests dash and refinement." — Andre Leon Talley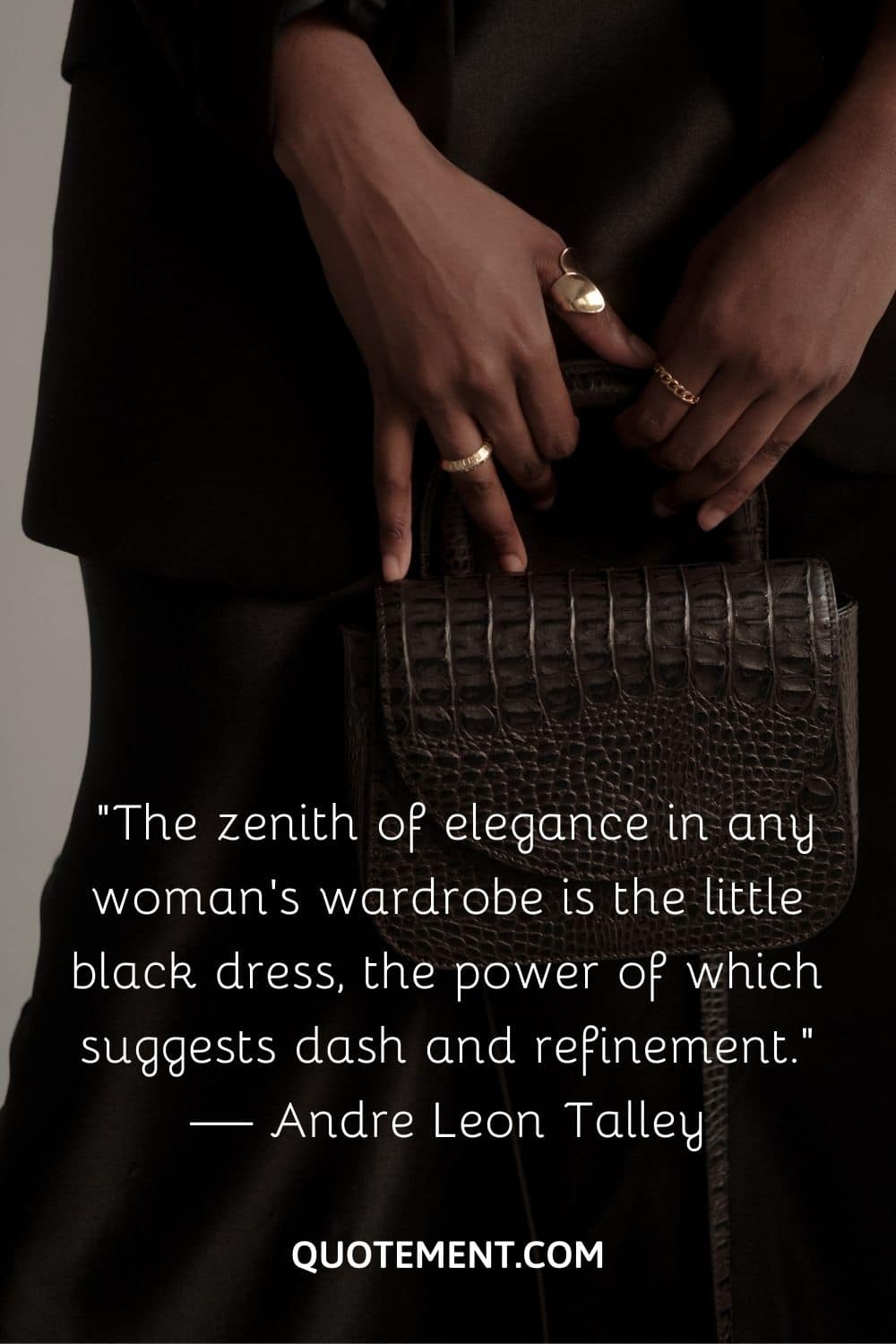 11. "Sometimes, all you need is a fresh coat of lip color, a cool pair of shades, and a little black dress to turn the longest day around."
12. "She wore her darkness like some girls wear a little black dress."
13. "The little black dress must be luxurious, rich, sensual, diaphanous, exotic, severe, lush, demure, demanding, frivolous, amusing, and it must linger in memory, but above all, it must be simple and little and black." — Carolina Herrera
14. "Some say I'm bringing out my Goth side, some say I'm trying to look se*y. But hey, I'm just wearing a black dress because it's the only one that I can't wear twice before washing!"
15. "The little black dress expresses a moment of freedom and individuality every time." — Andre Leon Talley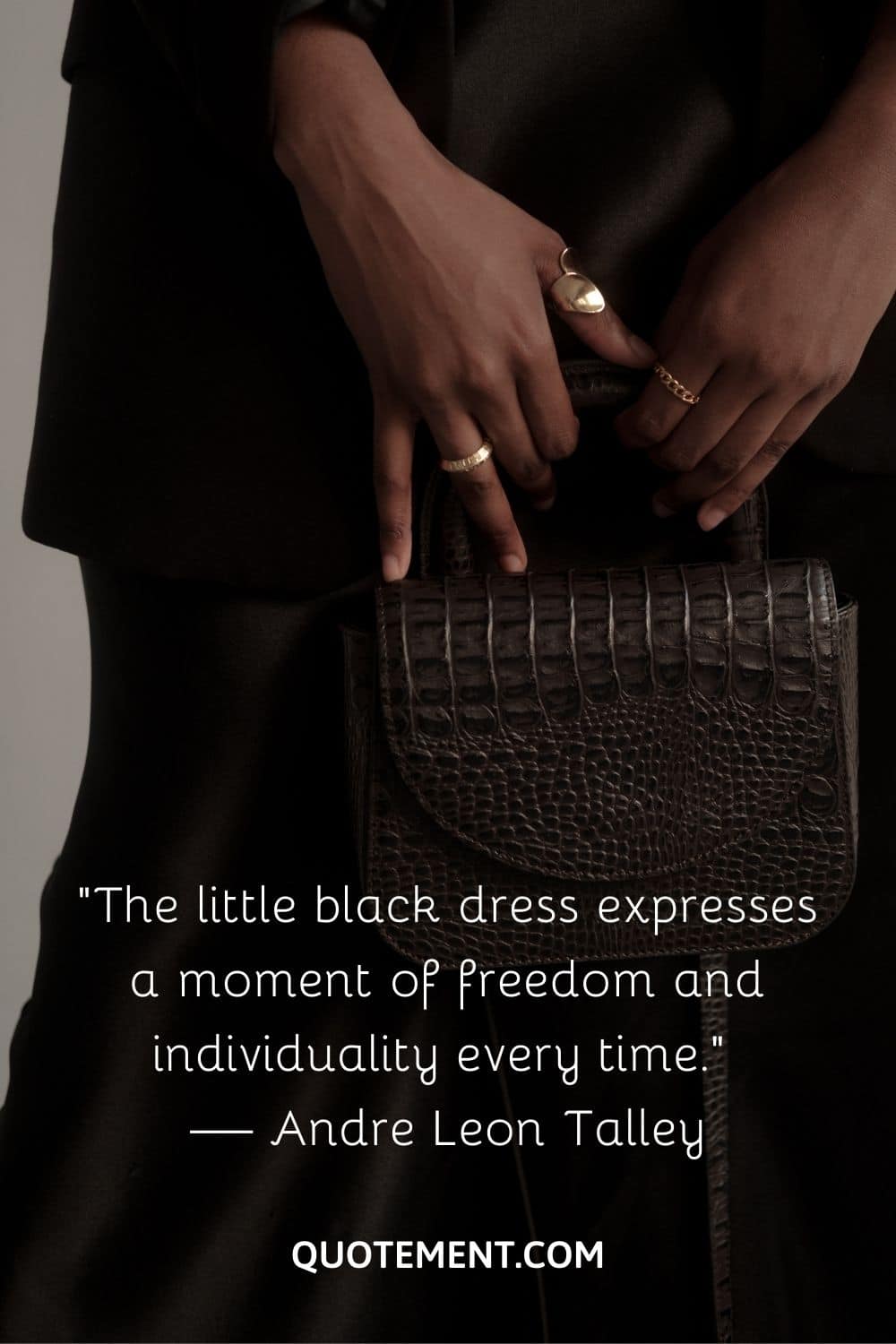 16. "I've got the dress. The perfect black pattern."
17. "Shopping trips are simple – there's always a nice new black dress to bring home!"
18. "I love a black wedding dress." — Vera Wang
19. "If you have a basic outfit on – a black sweater and skirt or a simple black dress – you can go from the office to a cocktail party at night just by changing your jewelry." — Iris Apfel
20. "Always have a good little black dress, pearls, and stay in the best hotel, even if you can have only the worst room." — Tilly Losch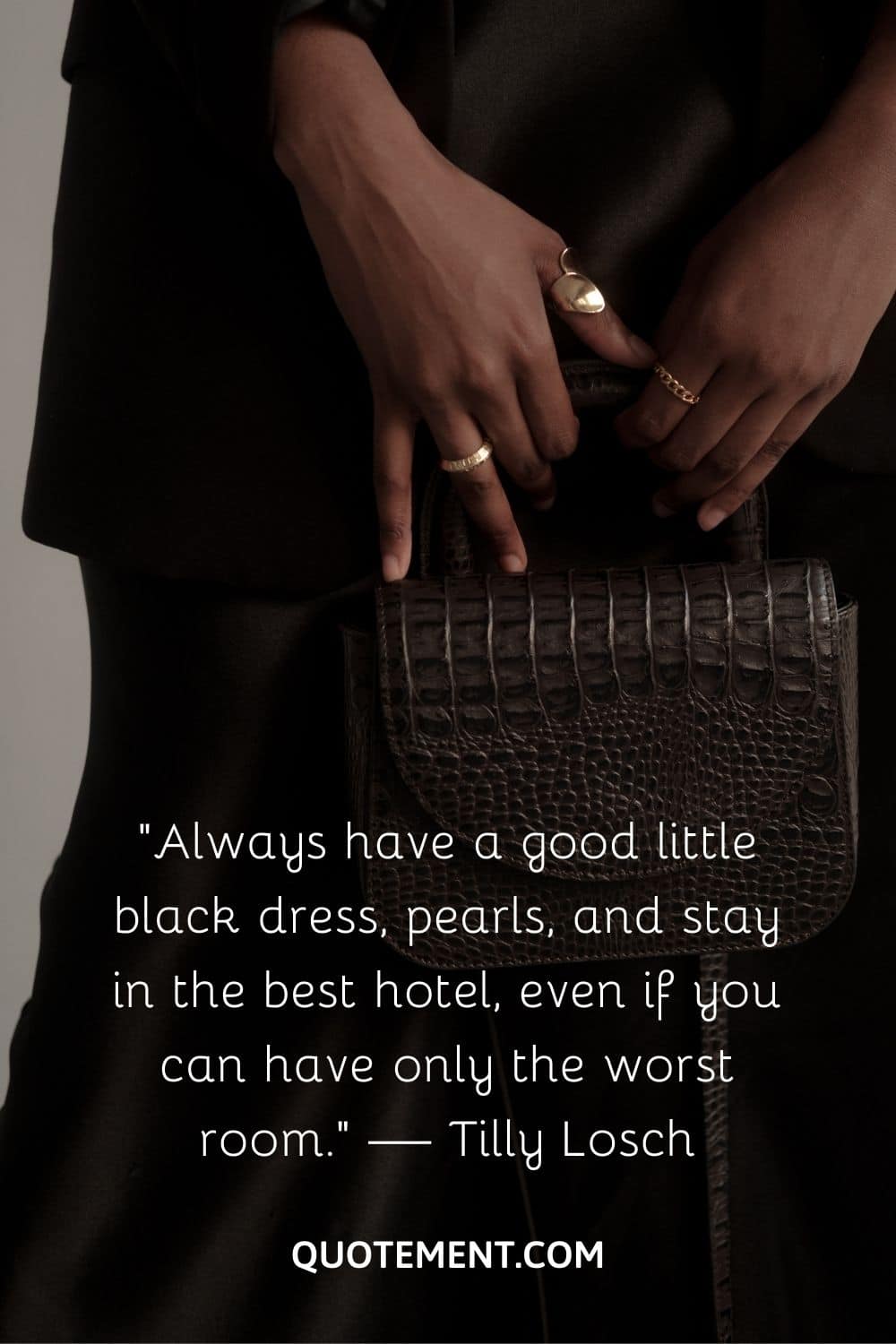 21. "A little black dress is a true friend. She travels with you, she's patient and constant. You go to her when you don't know where else to go and she's always reliable and timeless." — Diane Von Furstenberg
22. "A little black dress is beautiful. It's a good choice. It could be the wrong choice at certain events and situations, but it's very rare that you see a girl who looks bad in a black dress." — Oliver Theyskens
23. "A woman without a little black dress has no future." — Coco Chanel
24. "I like my dresses just as I like my coffee. Black."
25. "And hell, sometimes the best thing is to put on a black dress and become a wicked stepmother. There's power in that, if you're after power." — Catherynne M. Valente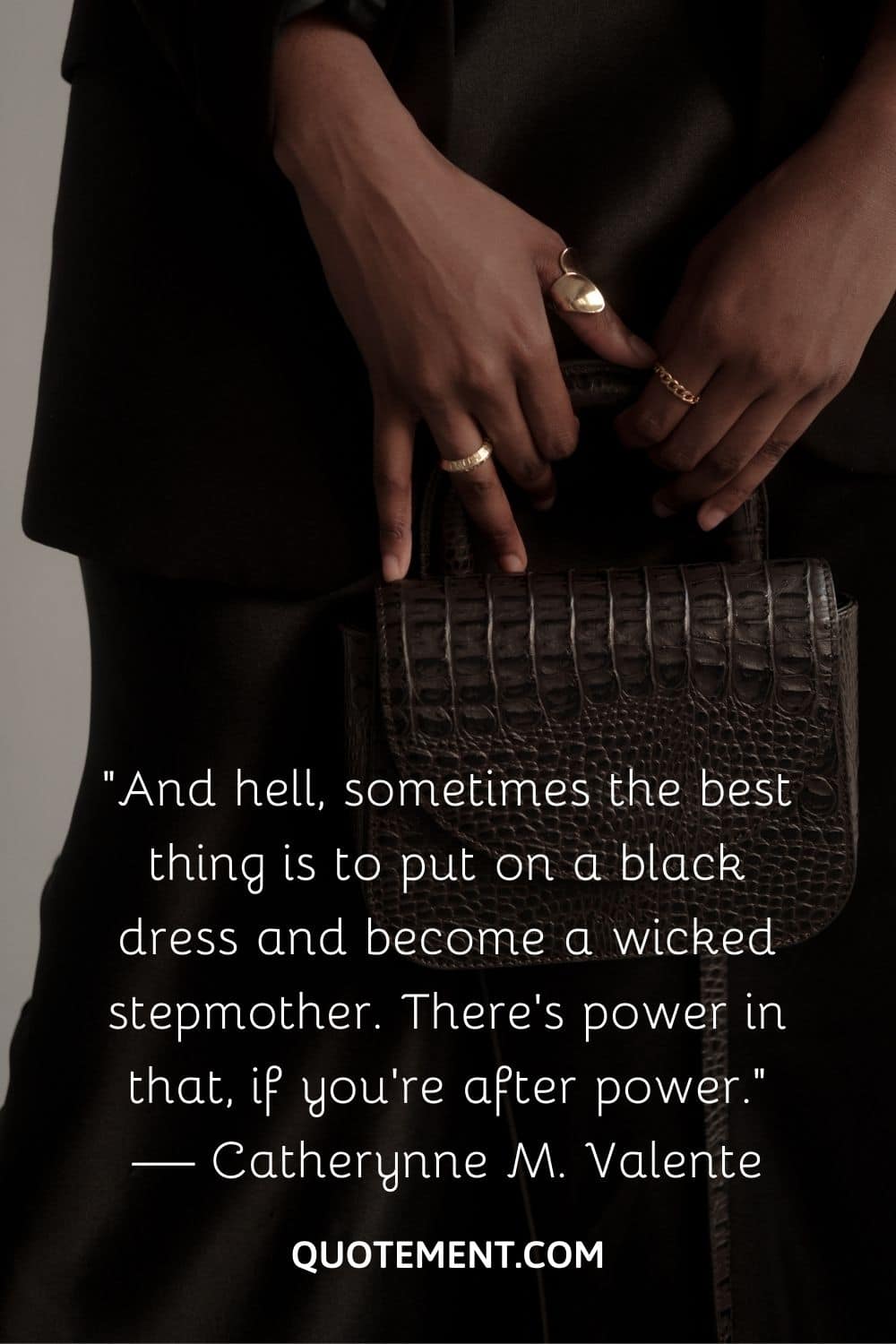 26. "I fell in love with black dress, it contained all colors. It wasn't a negation of color."
See also: Caption For Black Dress: 130 Perfect Captions + Quotes
Black Quotes For Instagram
A majestic black outfit should always be posted on Instagram, and what's a selfie without an amazing Instagram caption?
Use one of these wearing black quotes as a powerful Instagram caption to make your Instagram post the bomb!
1. "Whoever said any other color is the new black seriously needs some help."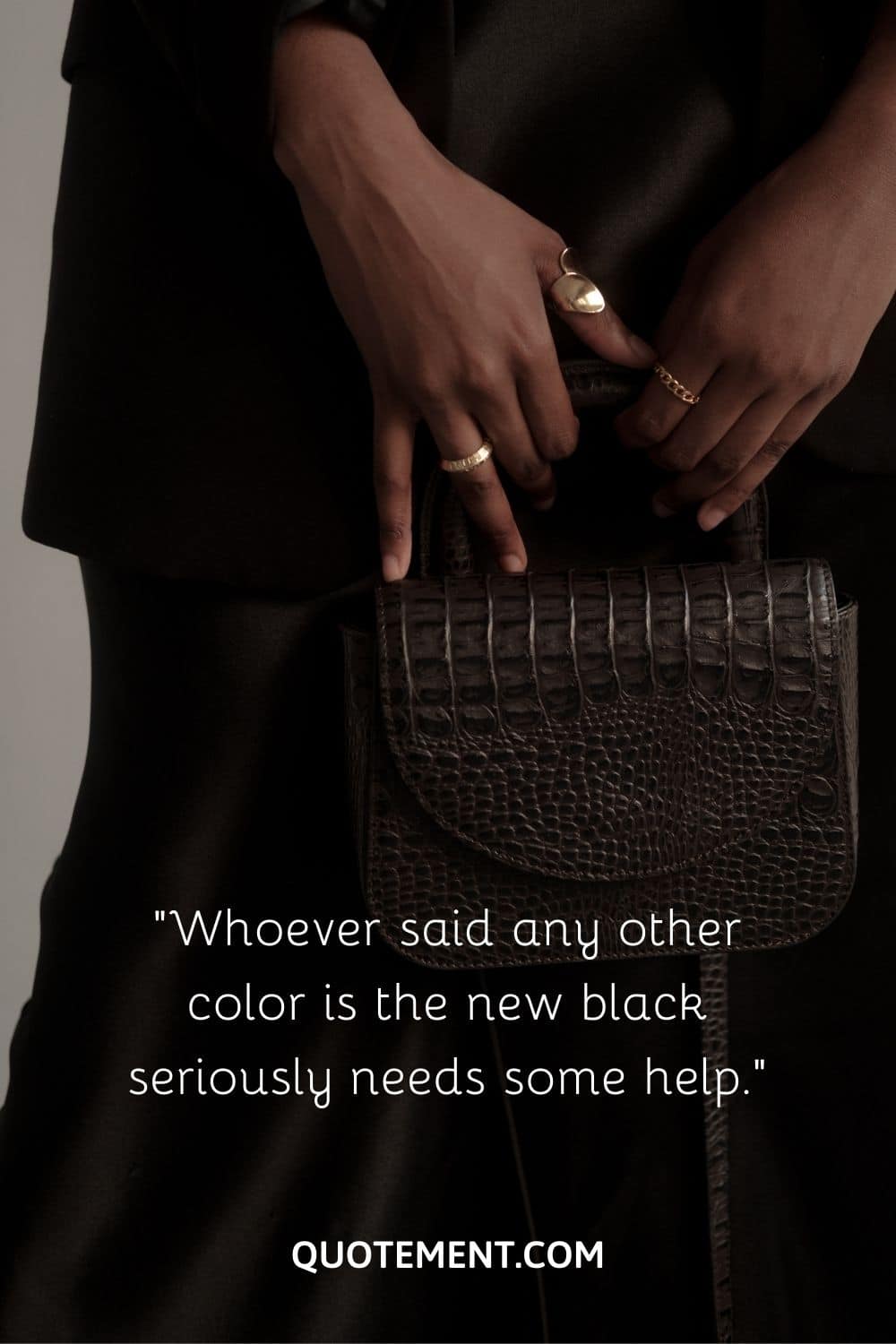 2. "Addicted to black."
3. "I feel comfortable in black."
4. "I own too much black – said no one ever."
5. "I'd buy anything as long as it's in black."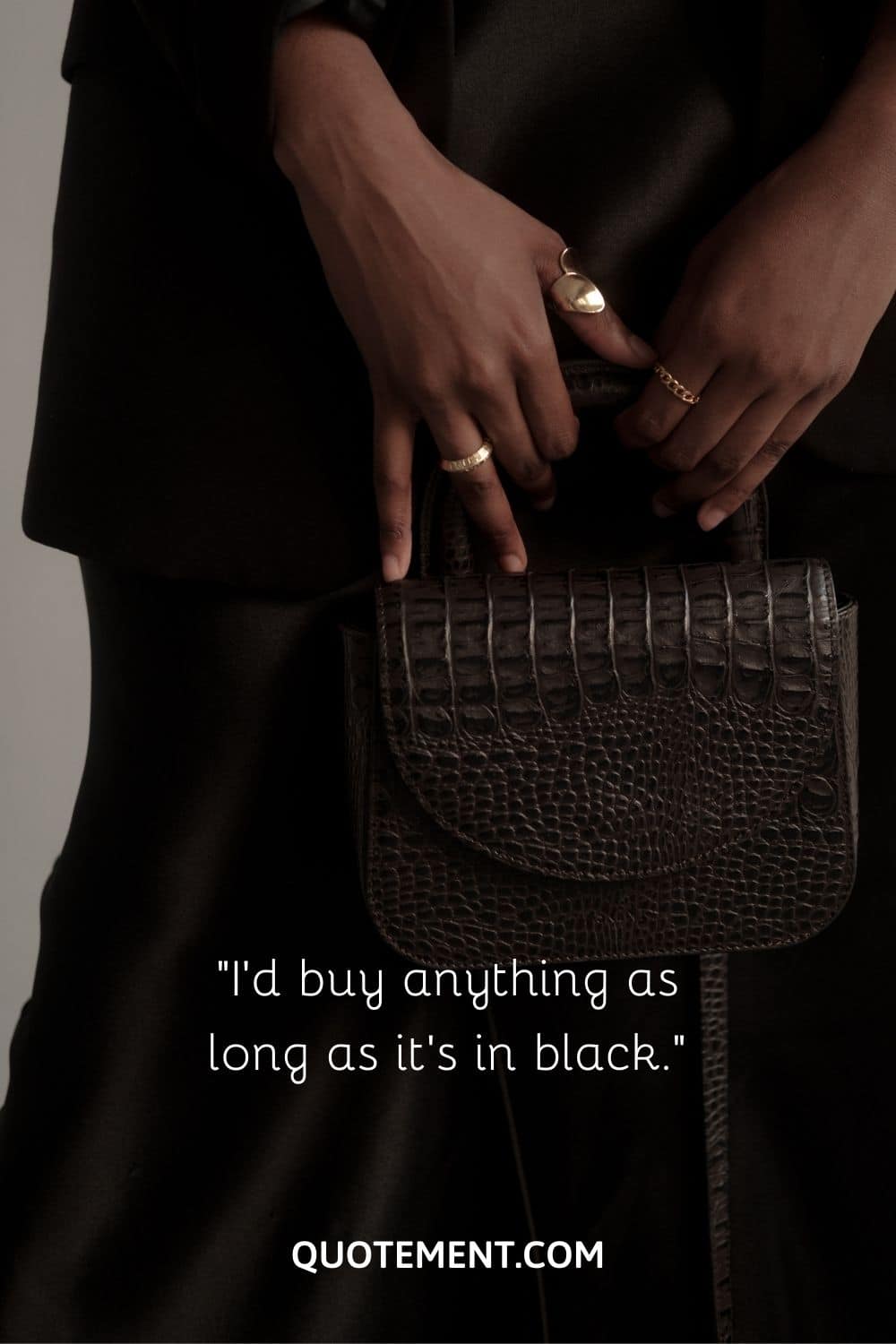 6. "Unleashing the darkness within…"
7. "When in doubt, wear black."
8. "Back in black."
9. "A reason to buy too many black clothes? There's always a black darker than all your blacks!"
10. "Black as my heart."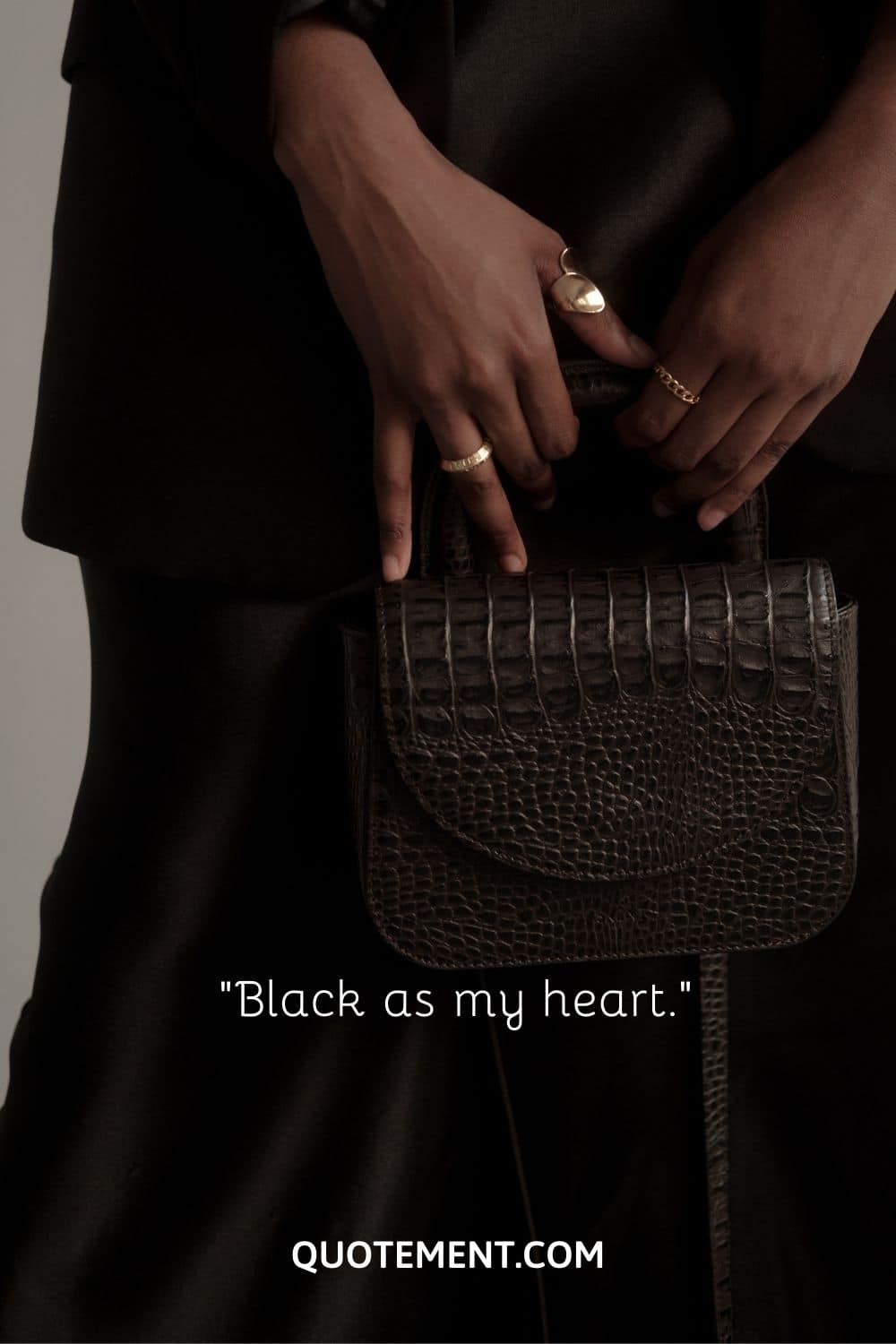 11. "Should I wear all black or all black today?"
12. "All I want is blackness. Blackness and silence."
13. "Showing off my dark side today…"
14. "I'm meaner than my demons when I'm wearing black."
15. "Black clothes today and always."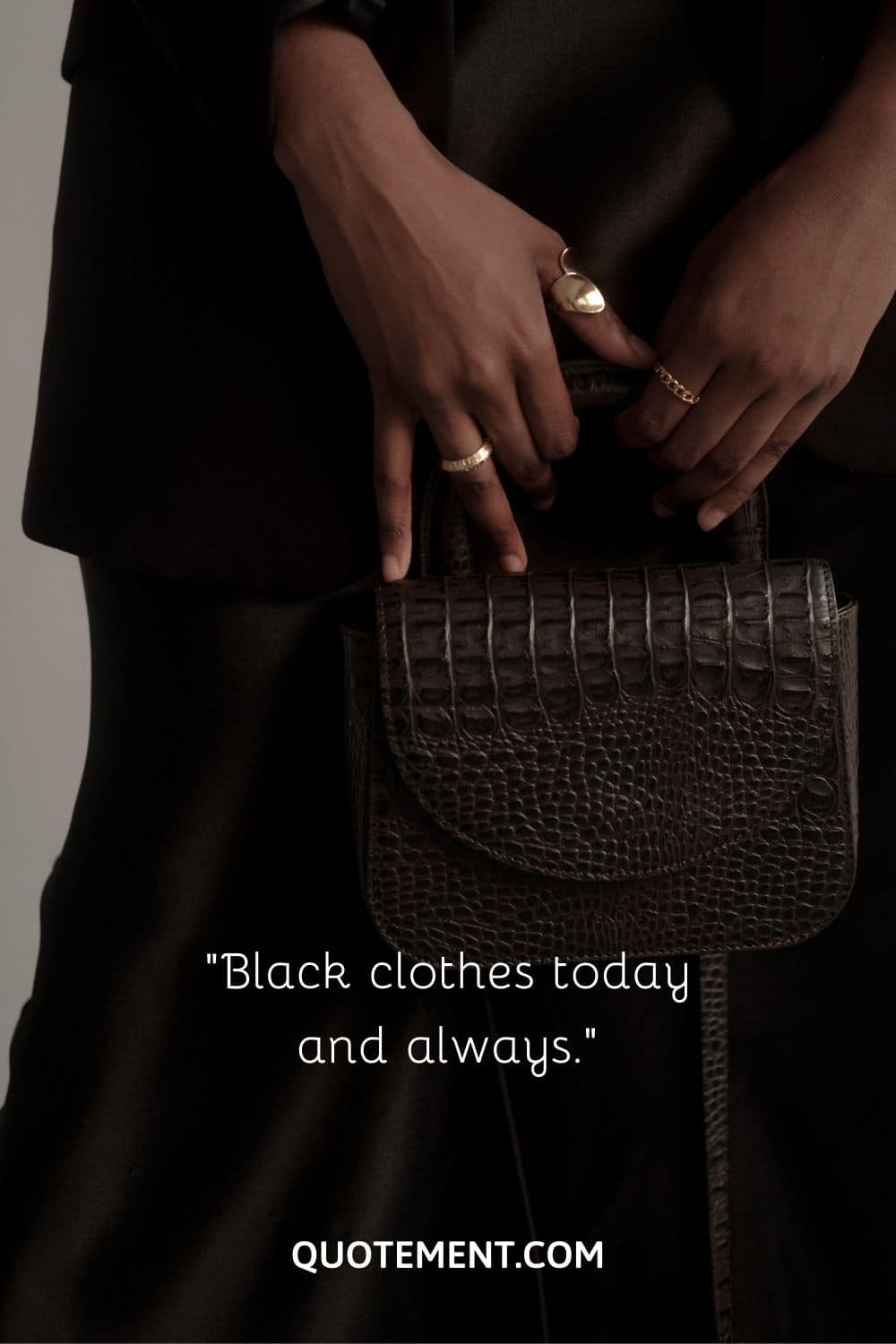 16. "Some days you want to wear all black. And other days, you need to wear all black."
17. "Black is an unstoppable force."
18. "The magic and mystique of black never fail to amaze me."
19. "Wearing black makes me smile inside."
20. "You say I'm wearing too much black, but all I hear is I look great."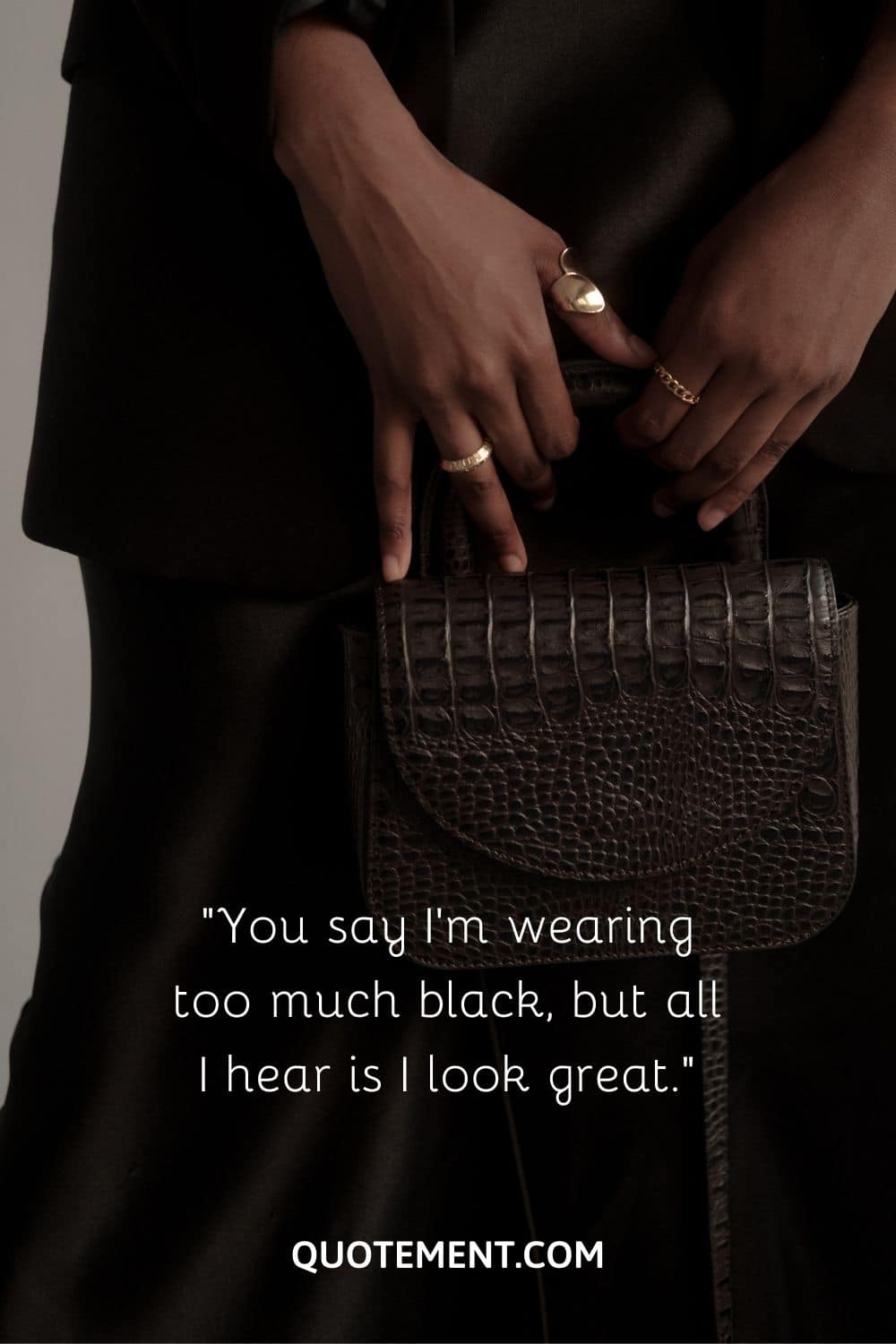 21. "Easy to match when you're wearing black."
22. "Blood type: matte black with a hint of gold."
23. "Black is both minimal and complicated."
24. "I'm not a goth, but I like to wear black."
See also: 250 Absolutely Best Goth Instagram Captions And Quotes
To Summarize
We've reached the end of our little journey through the many shades of black.
I hope you enjoyed this article and that it has inspired you to wear black more often.
Unfortunately, black is often considered the color of sadness and darkness, which is why many people avoid wearing it.
The truth is that black is neither sad nor dark. Black is deep and powerful. Black is every color combined and mixed together.
When you're wearing black, you're actually wearing the whole color palette at once!
Until next time!