It's easy to have friends around when you are happy and everything is going well. However, only hard times reveal true friends.
We use the term "friend" quite often, without thinking about the real meaning of the word. Friends are all people we love to hang out with, right?
Well, the reality is something else. We may have plenty of acquaintances, work colleagues, or social media friends and followers, but not all of them are our friends.
Unpleasant and difficult life situations show us the real faces of people around us.
Only when we have nothing to give and when we are the ones who need support do we see who is there for us.
These powerful, inspirational quotes talk about true friendships. If you need support, inspiration, or help to decide who to stick with during hard times, read them as a guide.
Top 20 Hard Times Reveal True Friends Quotes
I bring you the 20 best and most inspiring life quotes about true friendships to help you and inspire you when you need it.
1. "The harder the time, the true test of all relationships. Do they make things harder or support you." — Angie Gowan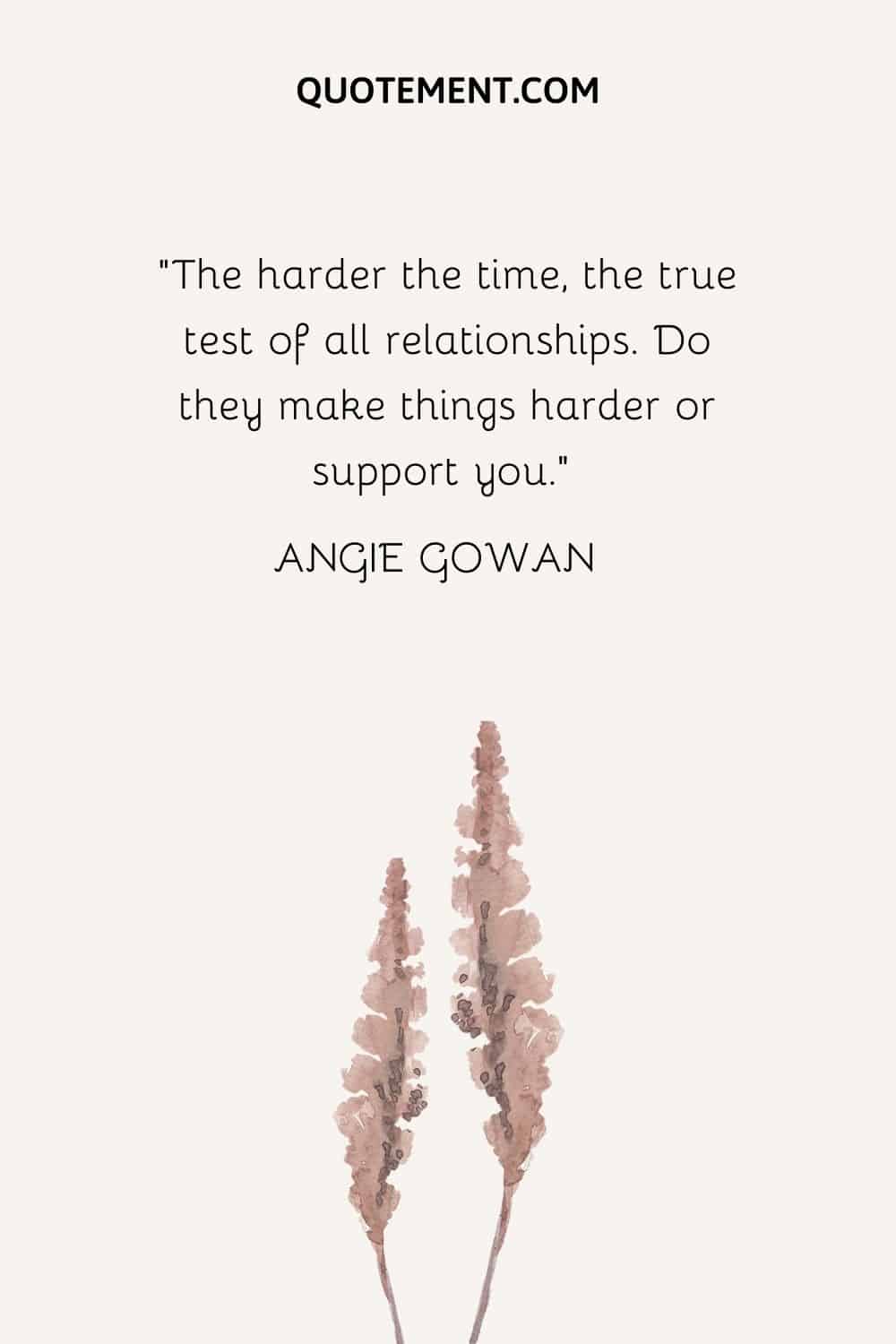 2. "If you're absent during my struggle, don't expect to be present during my success." — Will Smith
3. "Never confuse people who are always around you with people who are always there for you." — Gee Linder
4. "A true friend never gets in your way unless you happen to be going down." — Arnold H. Glasgow
5. "Friends aren't the ones who make your problems disappear. They are the ones who won't disappear when you are facing problems." — Shubam Shaw
6. "A friend is like a good bra hard to find, supportive, comfortable, always lifts you up, makes you look better, and always….close to your heart!" — Jasinda Wilder
7. "When everything goes to hell, the people who stand by you without flinching – they are your family." — Jim Butcher
8. "Making a hundred friends is not a miracle. The miracle is to make a single friend who will stand by your side even when hundreds are against you." — John Spence
9. "A friend who understands your tears is much more valuable than a lot of friends who only know your smile." — Sushan R. Sharma
10. "It was easy to be a friend when times were good. It was in hard times that true friends revealed themselves. Their friendship had been forged in the hottest of fires and fused them into the family." — Karen Brooks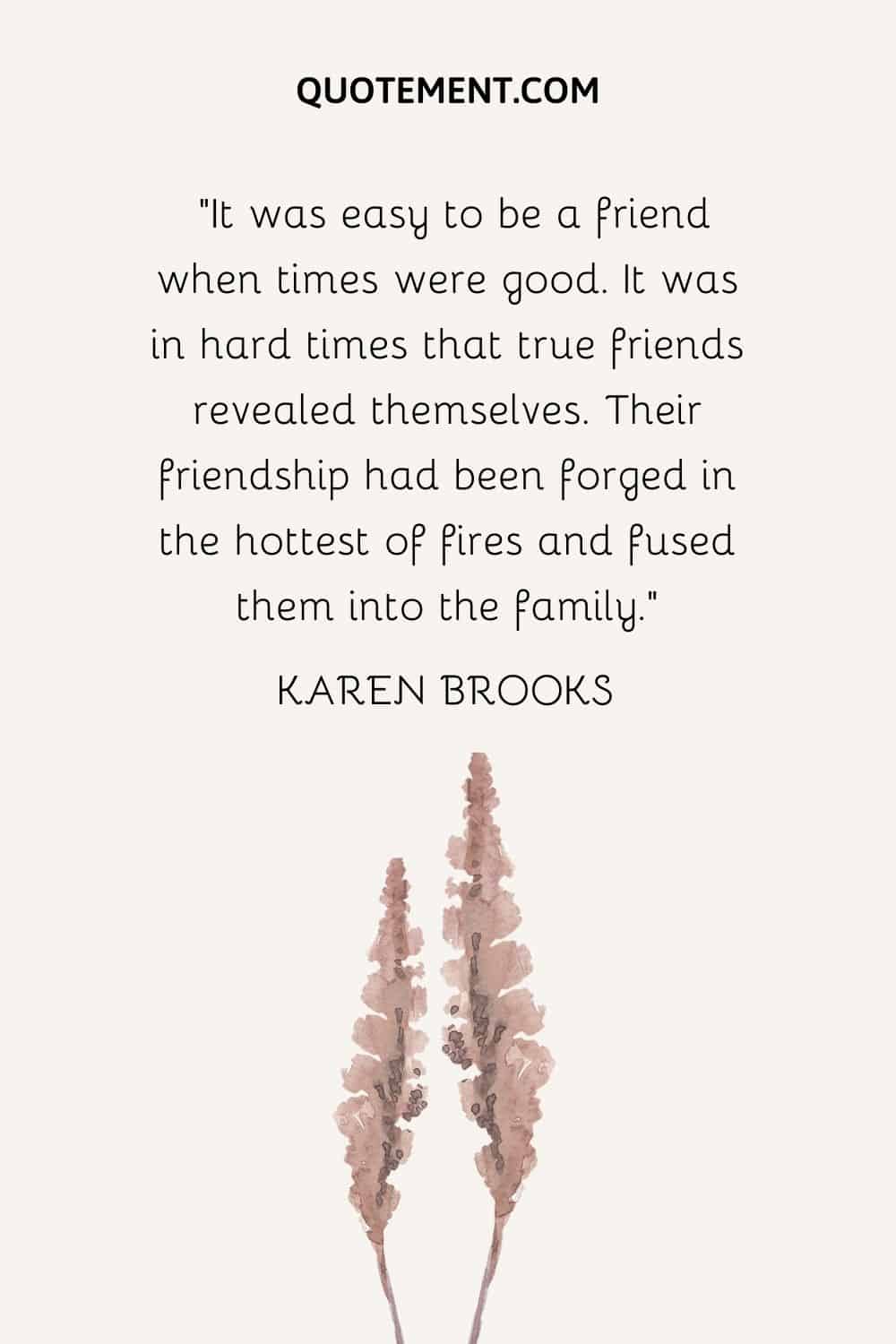 11. "True friends are those rare people who come to find you in dark places and lead you back to the light." — Steven Aitchison
12. "You find out who your real friends are when you're involved in a scandal." — Elizabeth Taylor
13. "A lot of people want to ride with you in the limo, but what you want is someone who will take the bus with you when the limo breaks down." — Oprah Winfrey
14. "One friend in a storm is worth more than a thousand friends in the sunshine." — Matshona Dhliwayo
15. "True friends are those who came into your life, saw the most negative part of you, but are not ready to leave you, no matter how contagious you are to them." — Michael Bassey Johnson
16. "The friend who can be silent with us in a moment of despair or confusion, who can stay with us in an hour of grief and bereavement, who can tolerate not knowing… not healing, not curing… that is a friend who cares." — Henri Nouwen
17. "Fake people are like soap bubbles. They pop out when the sun shines brightly." — Chiranjude Bird
18. "A messy house is a must – it separates your true friends from other friends. Real friends are there to visit you, not your house." — Jennifer Wilson
19. "The most memorable people in life will be the friends who loved you when you weren't really lovable." — Aidan Chambers
20. "Always pay attention to who is present and genuinely involved in your life at your hardest." — Joe Kay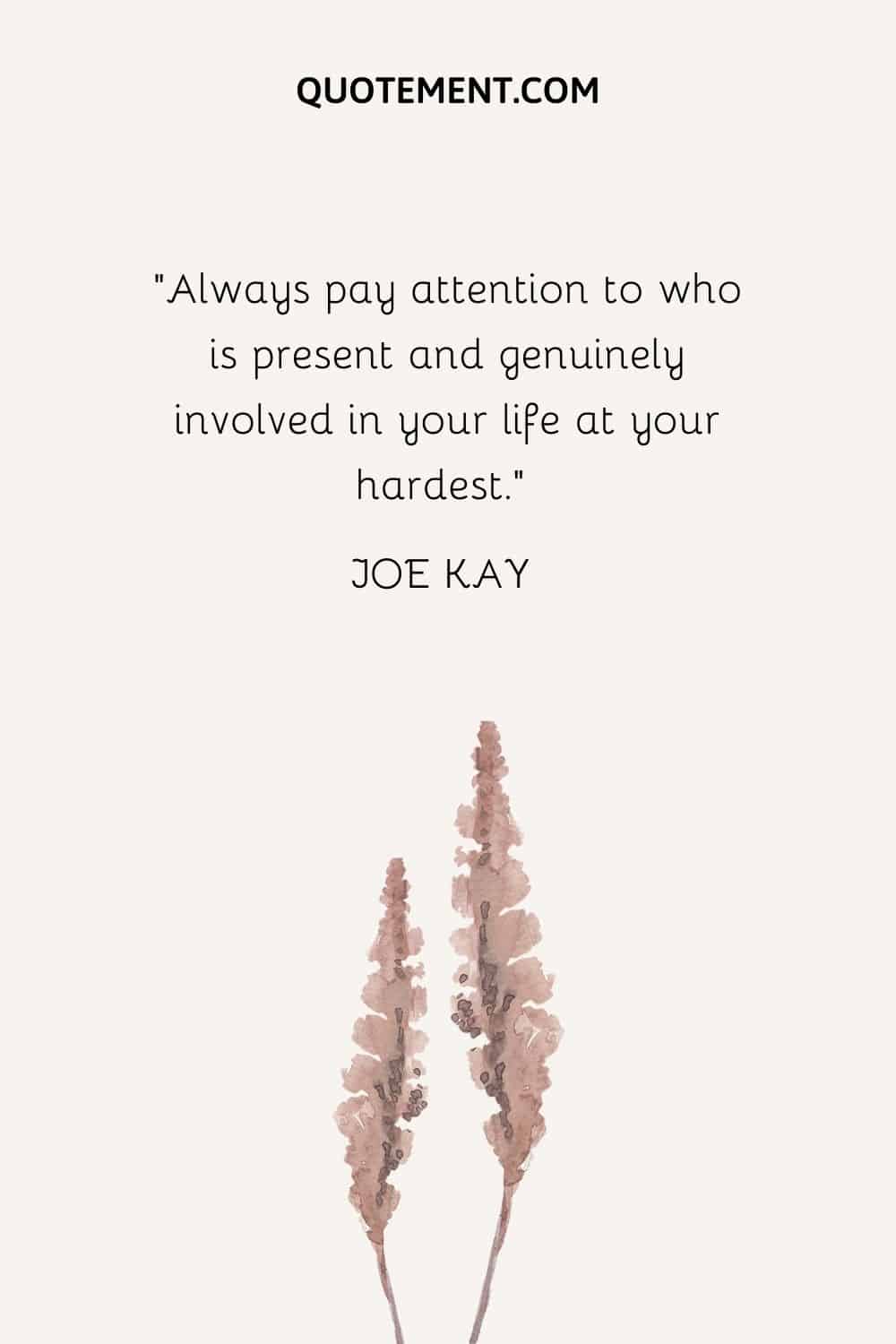 Powerful Hard Times Will Always Reveal True Friends Quotes
Here are more powerful motivational quotes about real and genuine friendships and how to differentiate them from fake ones.
Enjoy!
1. "Friendship isn't about who you've known the longest. It's about who walked into your life, said "I'm here for you," and proved it."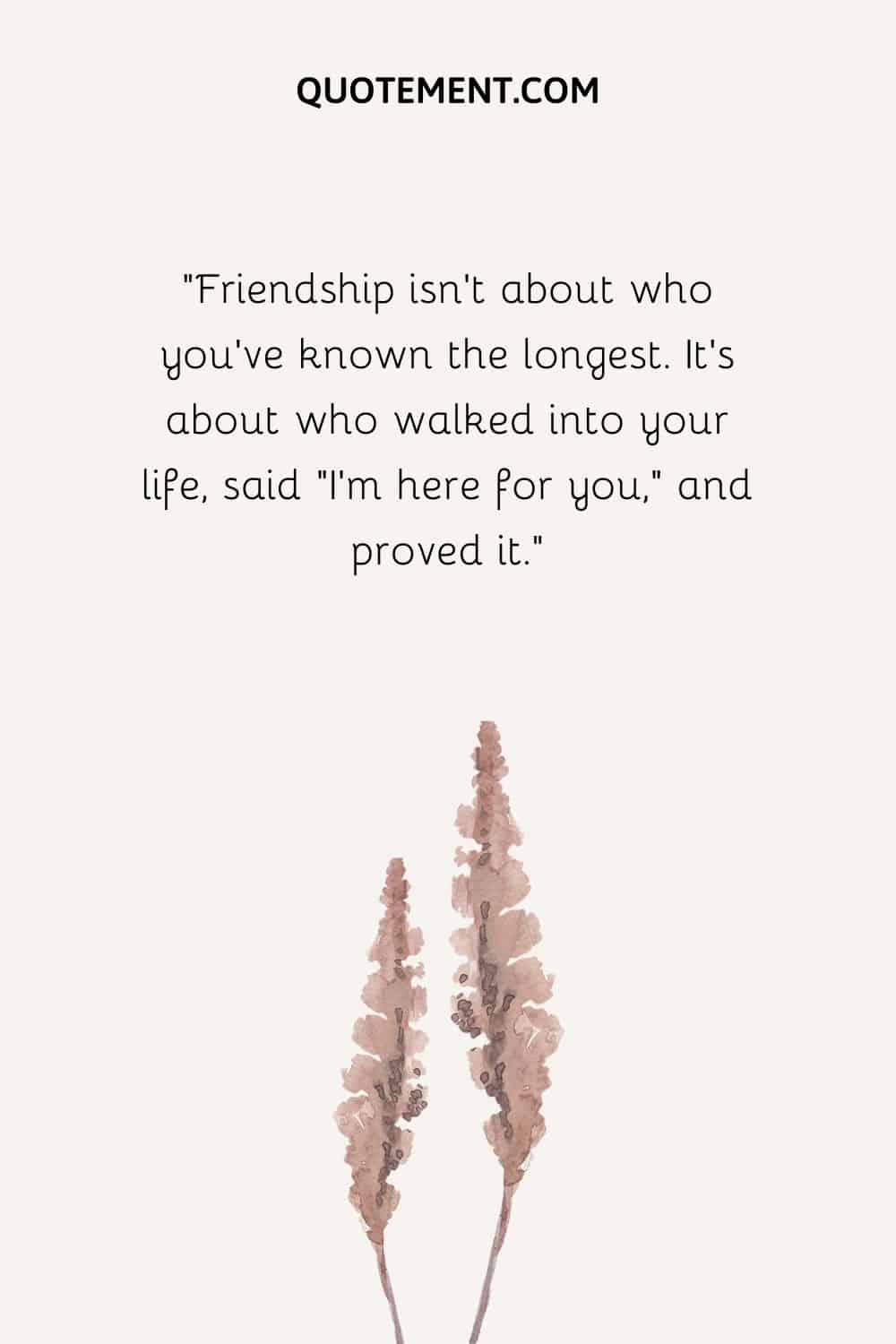 2. "When it hurts to look back, and you're afraid to look ahead, you can look beside you, and your true friend will always be there."
3. "That's when I realized what a true friend was. Someone who would always love you – the imperfect you, the confused you, the wrong you – because that is what people are supposed to do."
4. "Real friends are angels sent by God; they stand by your side through the good as well as the bad; love you when you don't love yourself."
5. "True friendship isn't about only being there when it's convenient. It's about being there when it's not."
6. "It's the friends you can call up at 4 a.m. that matter."
7. "Only a true best friend can protect you from your immortal enemies."
8. "Talk about the mistakes you've made, your battles, and struggles, then wait. Those who stick around are true friends. Fake people can't handle the struggle."
9. "A true friend is the one who believes in you when you have ceased to believe in yourself."
10. "Good friends share laughs, memories, and inside jokes. They will always be honest and stand by your side no matter what. They wipe your tears, pick you up when you fall, and are forever a piece of your heart."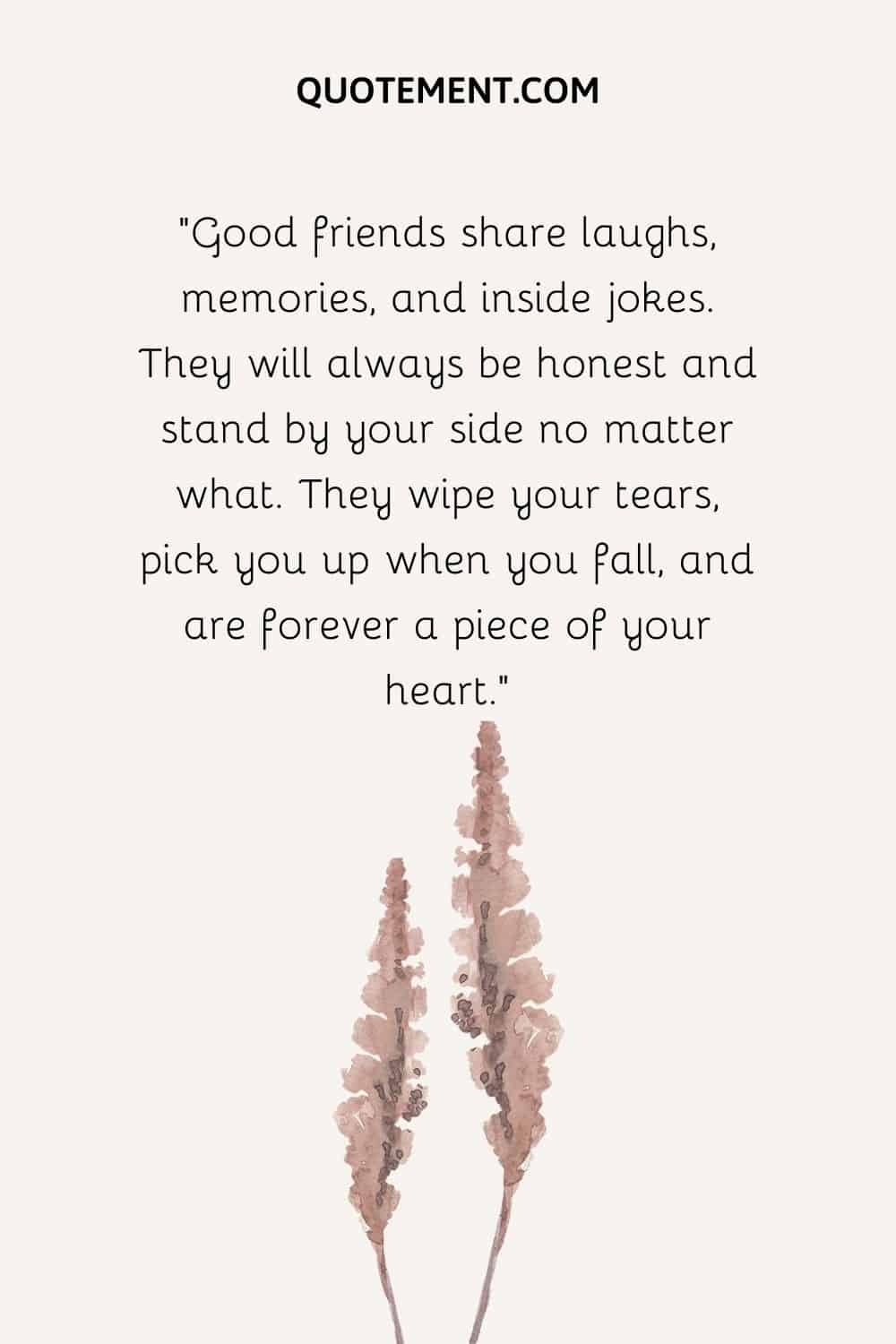 11. "True friend will always find a way. A fake friend will always find an excuse."
12. "Fake friends are around you when they think you are cool. True friends are around you even when they think you are a fool."
13. "A friend is not the person who brags about you when things are going great. It's the one who stays with you when your life is a mess and a bag of mistakes."
14. "A true friend has always been there when the whole world left you; always cheered you up when the whole world has turned you down, and never asks you to act like an angel but becomes your angel."
15. "Real friends are the ones who lift you up when no one else has noticed you've fallen."
16. "We don't lose friends. We just learn who our real ones are."
17. "When you're up, your friends know who you are. When you're down, you know who your friends are."
18. "Best friends make the good times better and the hard times easier."
19. "True friends are those who do not let down even in times of distress and stand by you to share your burden."
20. "A true friend doesn't point out how bad you're doing when it's obvious. A true friend advises you on how to get back up and stay by your side."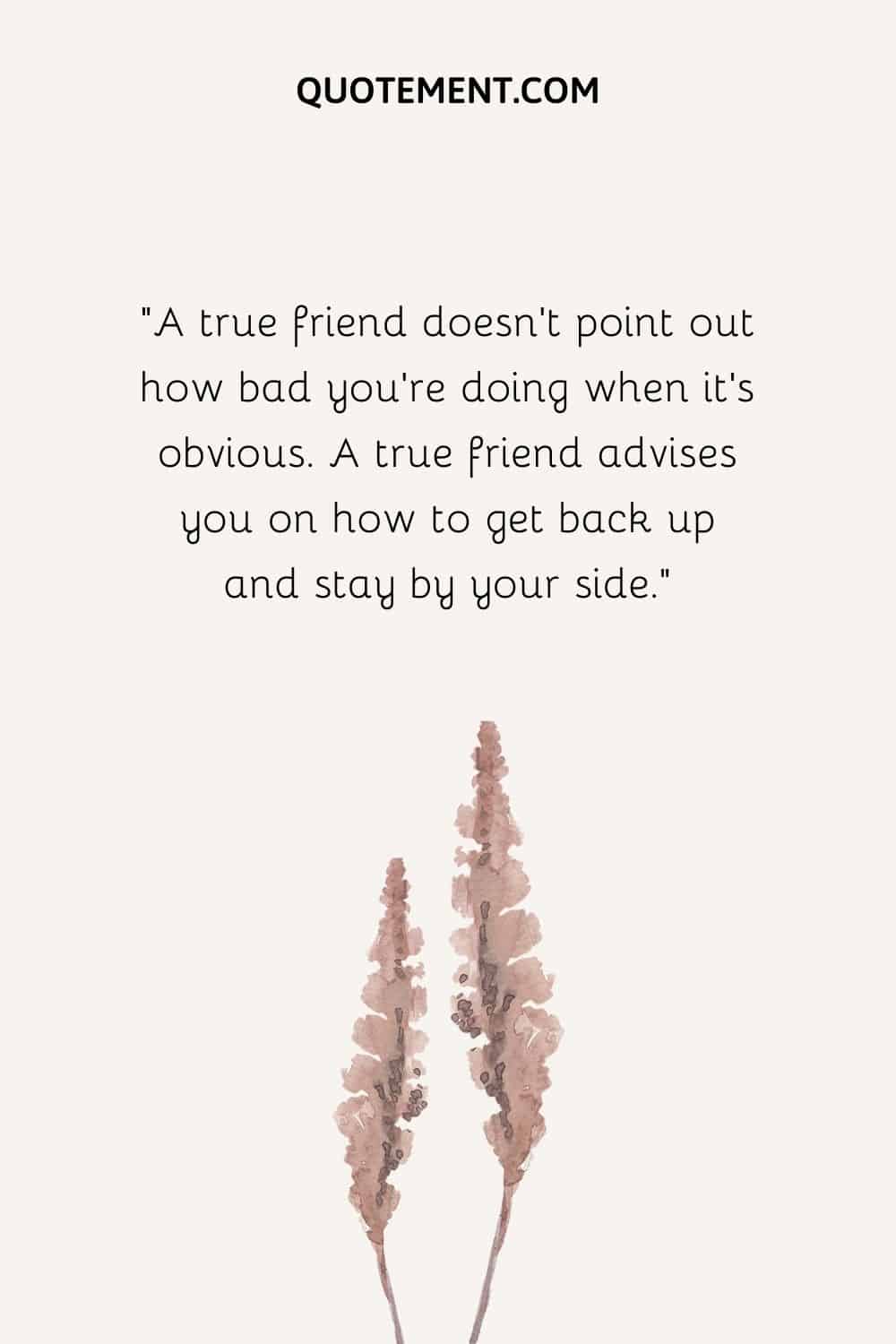 21. "A friend is one who overlooks your broken fence and admires the flowers in your garden."
22. "Sometimes your circle decreases in size but increases in value."
23. "People never change. They reveal who they really are."
24. "Fake friends are like shadows, always near you at your brightest moments, but nowhere to be seen at your darkest hour. True friends are like stars, you don't always see them, but they are always there."
25. "Always respect, honor, and pray for those who helped you in your bad times."
26. Hard times don't last forever, but true friendships do. I'll always be there for anything you need."
27. "A true friend knows your past and is in your present when you need them, not just when they need you. They love you despite your faults and support you always."
28. "When you are lost in the dark, and the world has turned on you, a friend is a candle that lights your way."
29. "A friend sticks with you through thick and thin. Someone that tells you your faults and failures. The one which corrects your mistakes, that never says anything you want to hear, but everything you need to hear…"
30. "Having a true friend in life is like a blessing. It's an assurance that whatever the situation or challenge is, we never have to face them alone."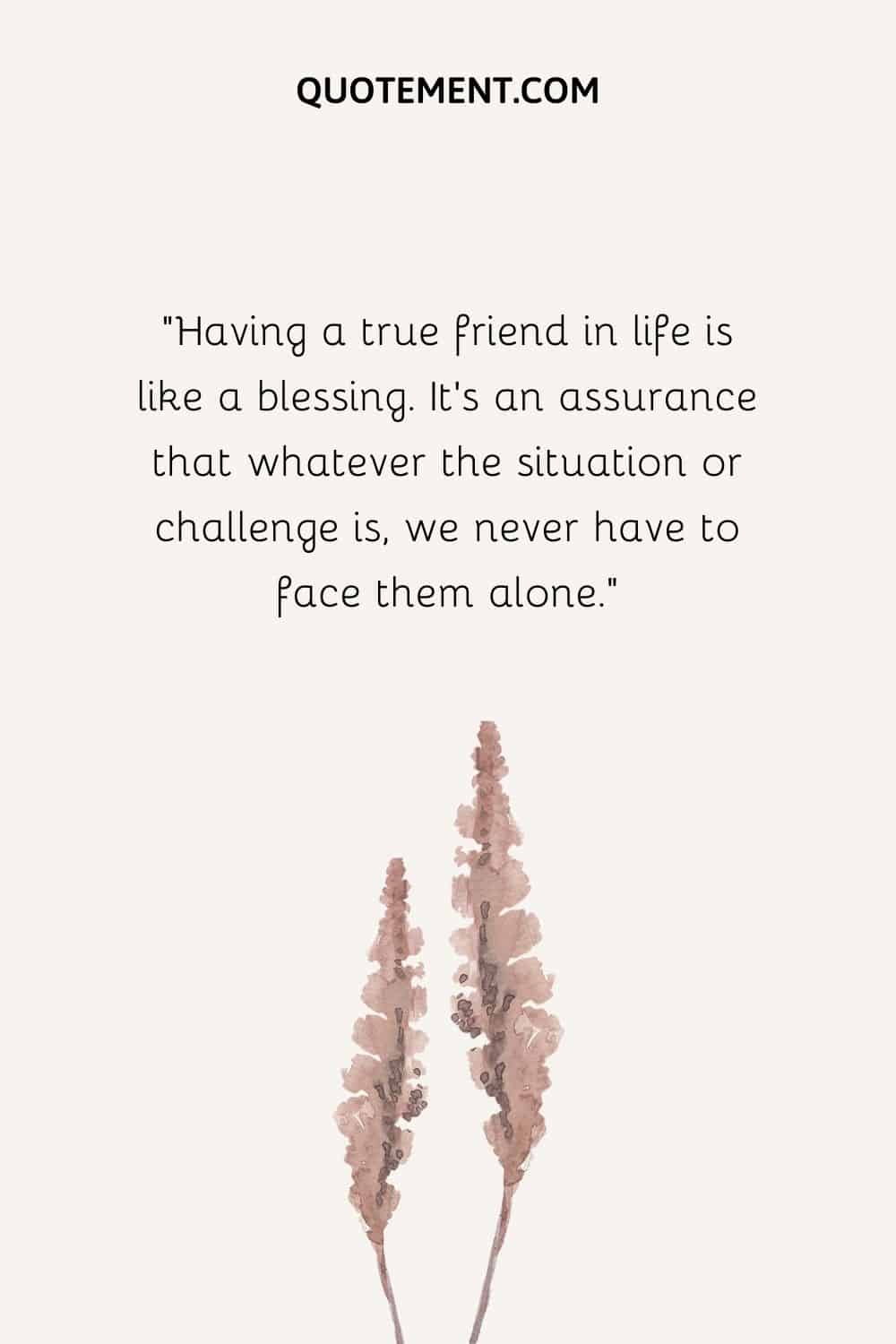 31. "Friendship is the best thing that comes to life. Friends will always be there for you. Don't worry about the fakes. Worry about the people who had your back from the start and never treated you wrong. Always remember they are your real friends."
32. "Losing a friend is hard. But if they're willing to step out of your life that quickly, they were never your friend in the first place."
33. "A real friend's got your back, while the fake ones are sticking knives in it."
34. "A real friend tells you not to give up on your dreams. A real friend inspires you to push on."
35. "True friends are always there when you need them. False friends are only there when they need you."
36. "There is nothing that says friendship like a friend who will sit with you on the darkest of days."
See also: 159 Friends Attitude Status To Appreciate Your Friendship
Hard Time Reveal True Friends Sayings
1. "Never forget three types of people: who helped you in your difficult times, who left you in your difficult times, and who put you in difficult times."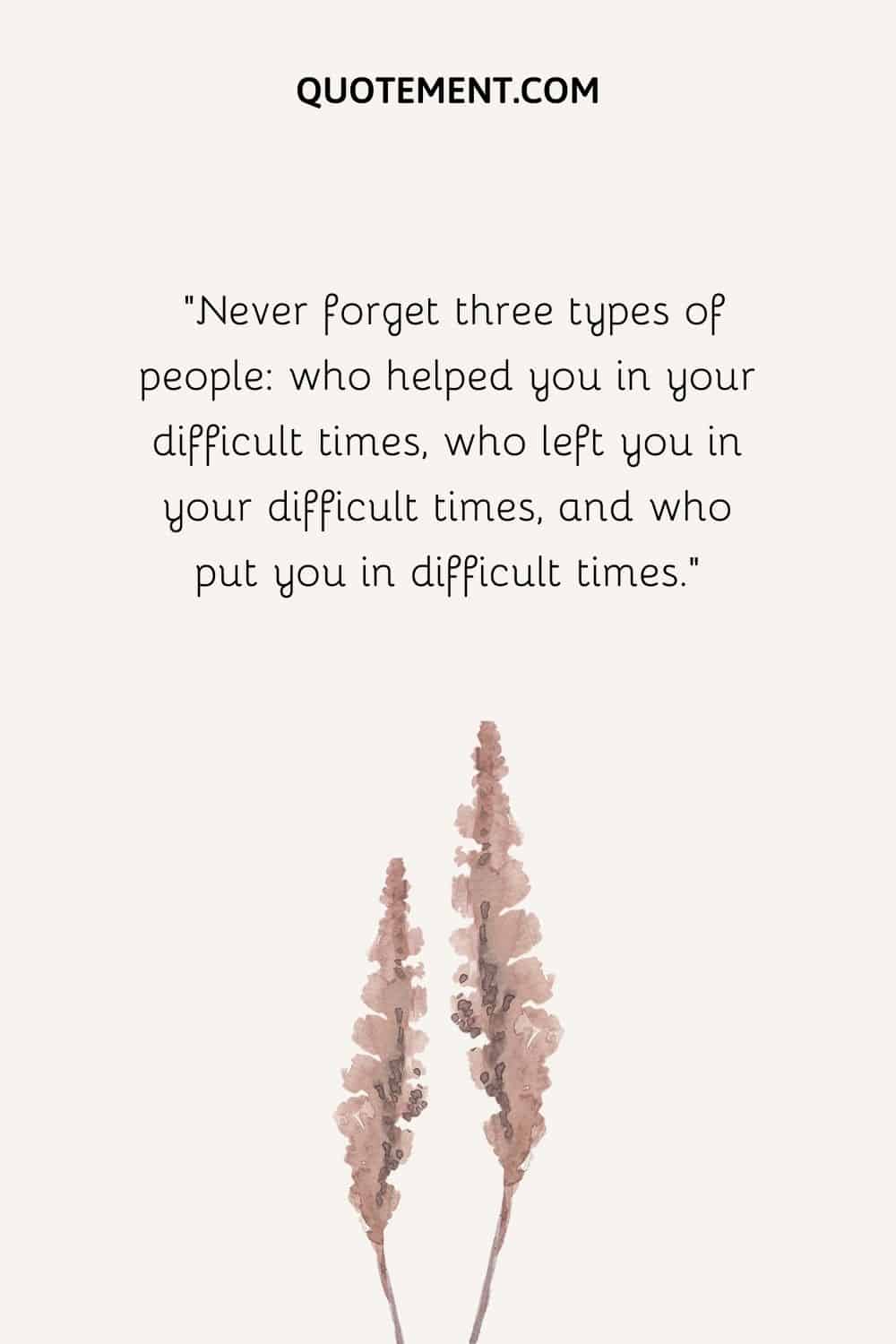 2. "The best thing about the worst time of your life is that you get to see the true colors of everyone."
3. "You know who your real friends are when you pull yourself away from them and see who wonders why you are pulling away."
4. "Keep the ones who heard you when you never said a word."
5. "A real friend doesn't judge you for your past or for who you are at the moment, but instead encourages you to continue to reach new heights, never get comfortable in plateaus, and wishes the best for you at all times."
6. "The only people worthy of being in your life are the ones that help you through the hard times and laugh with you after the hard times pass."
7. "True friends cry when you leave, fake friends leave when you cry."
8. "Never forget who was there for you when no one else was."
9. "Be with someone that will stick with you through the arguments and tough times because those are the times when you'll need them the most." — Aisha Siddique
10. "Remember, everyone can love you when the sun is shining. In the storms is where you learn who truly cares for you."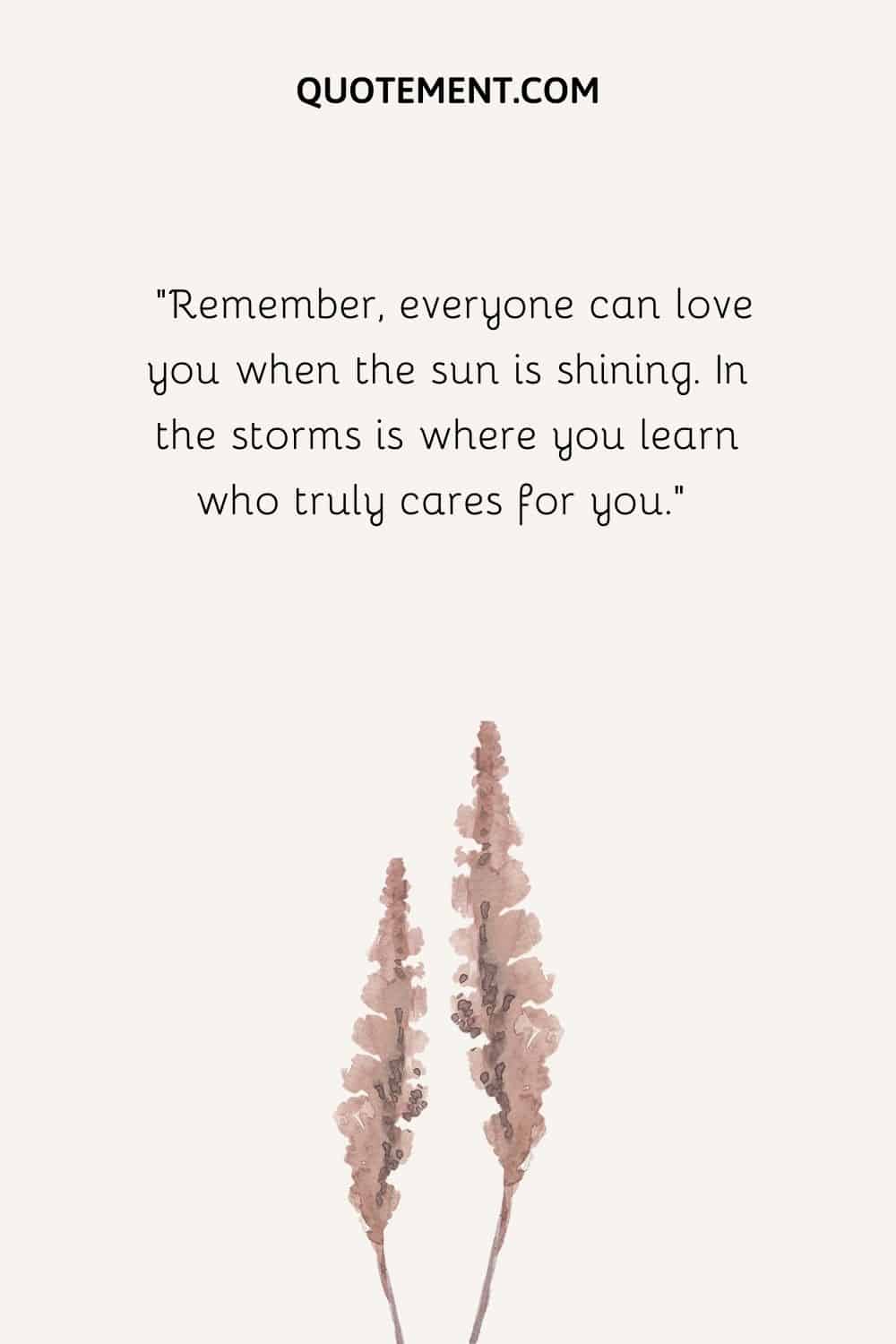 11. "Treasure the people who stayed with you during bad times."
12. "Someone who truly loves you sees what a mess you can be, how moody you can get, and how hard you can be to handle but still wants you."
13. "Friends are supposed to be there for you when you cry, not the reason to cry."
14. "Difficult times show true colors, hard times reveal true friends and the good will be blessed through the pain…Just let go and let God!"
15. "A friend cares about what's going on in your life. A fake friend will make their problems seem bigger."
16. "Stop texting first, and you'll see how many dead plants you've been watering."
17. "When bad times and hard times are suddenly here, notice those that remain, and the ones that disappear."
18. "You'll be surrounded by many so-called well-wishers during your good times, but there'll be only a few ones around you in your bad times."
19. "In the end, we will remember not the words of our enemies, but the silence of our friends." — Martin Luther King Jr
20. "An acquaintance merely enjoys your company, a fair-weather companion flatters when all is well, a true friend has your best interests at heart and the pluck to tell you what you need to hear." — E.A. Bucchianeri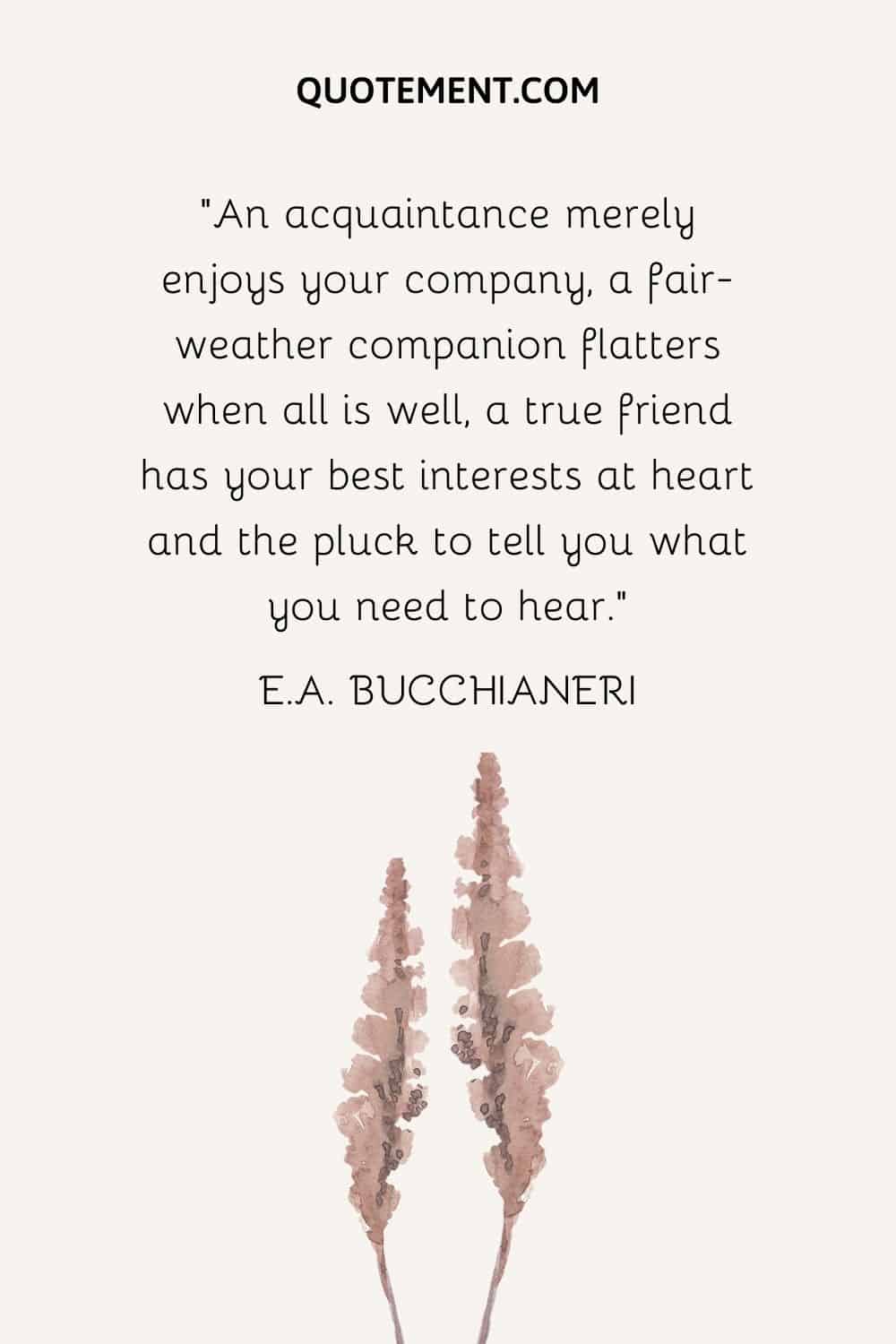 21. "Some talk to you in their free time, and some free their time to talk to you."
22. "A friend is someone who can see the truth and pain in you even when you are fooling everyone else."
23. "A real friend is one who walks in when the rest of the world walks out."
24. "It is only the great-hearted who can be true friends; the mean and the cowardly can never know what true friendship is." — Charles Kinsley
Final Words
Learning who our real friends are is a painful life lesson yet a valuable one. We are often surrounded by people who don't really care about our well-being.
They are with us only when it's convenient for them. But, hard times reveal true friends.
Real friends will be with us always. A friend is not a person who likes your new posts on Instagram. Friends help us during real-life struggles.
The fact that you've known someone for years doesn't make them a friend. Sometimes a new friend you met two weeks ago does more for you than your childhood friend.
I'll finish off with this:
"Having one good friend is better than having 100 acquaintances."