Whatever it is that you're feeling, someone has already felt it…and sung about it! That's why instead of trying to find the perfect words for your next Insta post, you should simply use a lyric.
Whether you're feeling lovey-dovey, feeling down, or just want to share a funny moment, there's a song lyric out there that perfectly captures your mood.
In this article, I've rounded up 200 of the best song lyrics for Instagram captions. So next time you're posting a photo, don't forget to add a song lyric that perfectly sums up your moment.
10 Absolute Best Song Lyrics For Instagram Captions
1. "If God got us, then we gon' be alright." — Kendrick Lamar, "Alright"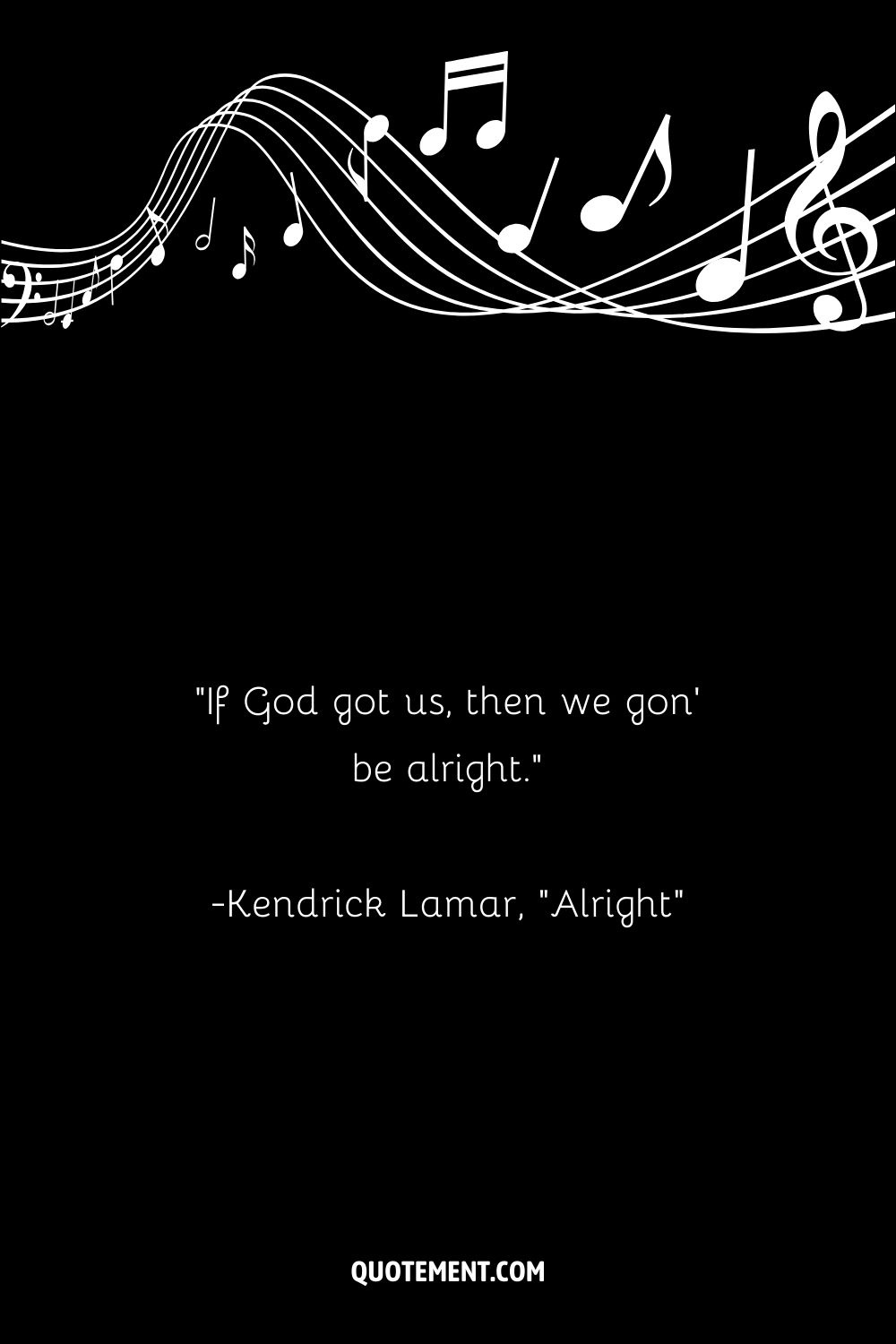 2. "Every little thing is gonna be alright!" — Bob Marley, "Three Little Birds"
3. "I can't tell you where the journey will end…but I know where to start." — Avicii, "Wake Me Up"
4. "Cause it's a bittersweet symphony this life." — The Verve, "Bitter Sweet Symphony"
5. "One day you'll leave this world behind, so live a life you will remember." — Avicii, "The Nights"
6. "Believe in your flyness, conquer your shyness." — Kanye West
7. "Why be a king when you can be a god?" — Eminem, "Rap God"
8. "Lose your dream; you lose your mind." ― The Rolling Stones, "Ruby Tuesday"
9. "In every life we have some trouble. But when you worry, you make it double." — Bobby McFerrin, "Don't Worry Be Happy"
10. "Find light in the beautiful sea, I choose to be happy." — Rihanna, "Diamonds"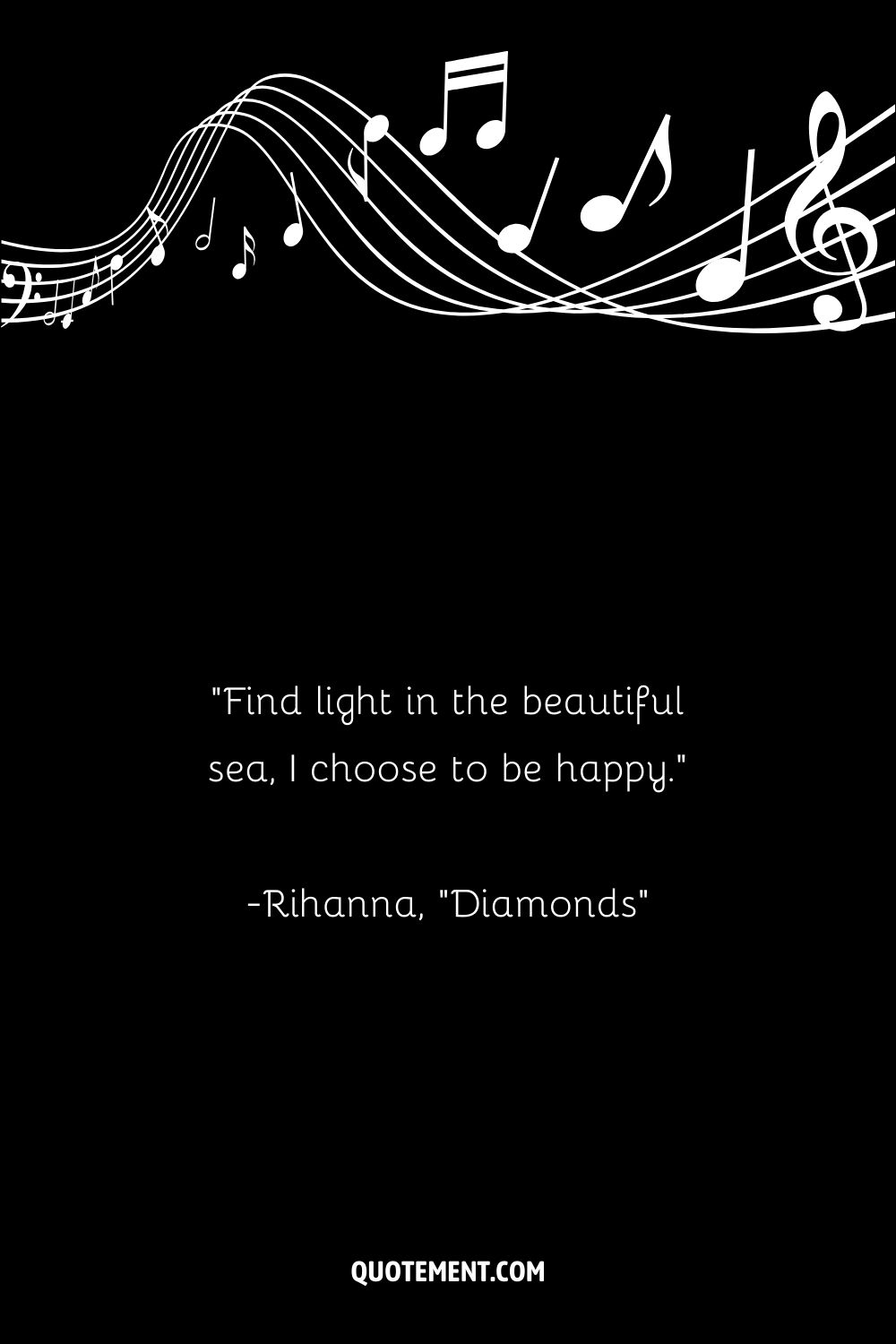 See also: Brilliant List Of 120 Light Quotes To Awaken Your Mind
Song Quotes To Make Your Instagram Pop
1. "I'm getting kinda over this. I need a metamorphosis." — Maroon 5 & Julia Michaels, "Help Me Out"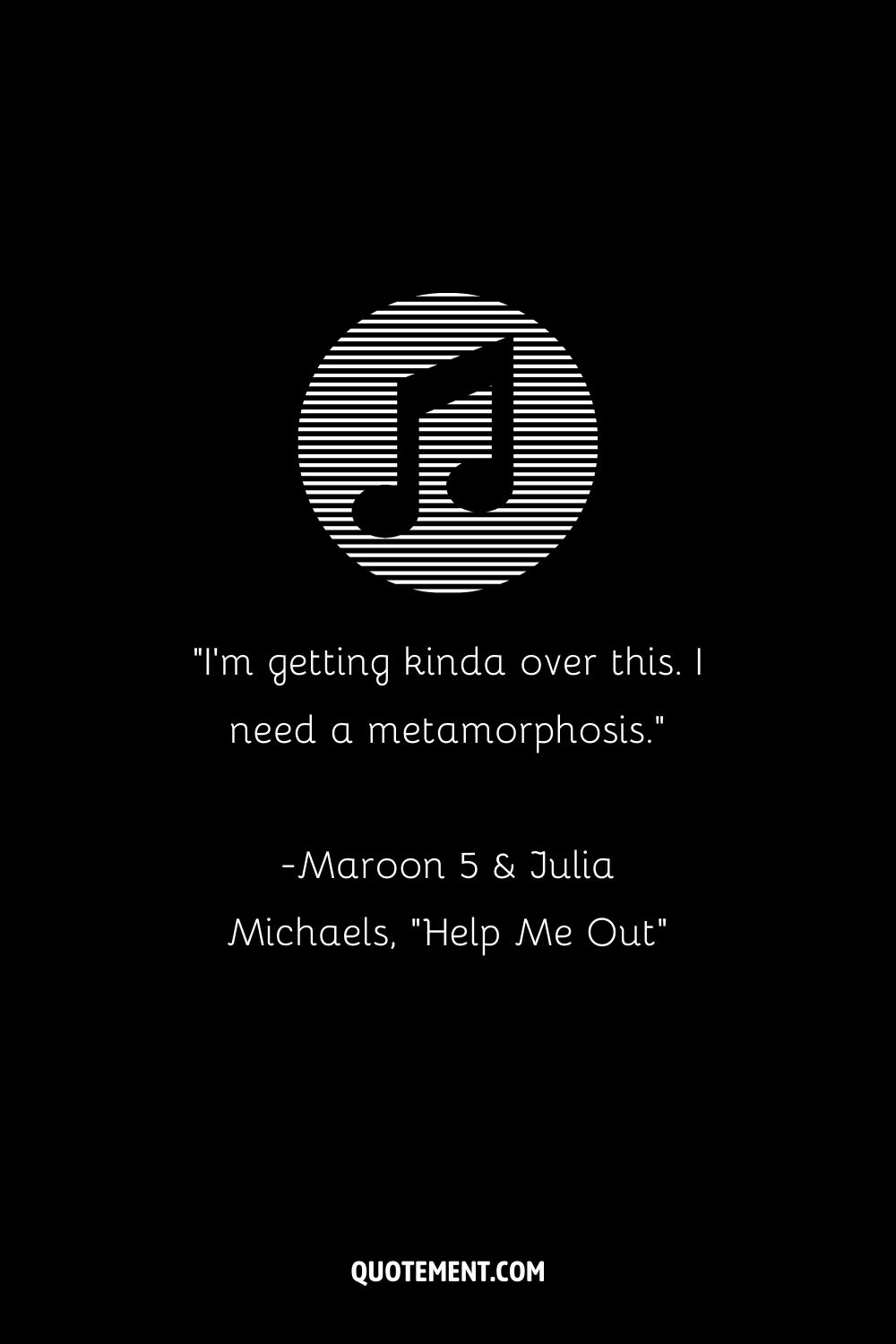 2. "Cause I got that sunshine in my pocket, Got that good song in my feet." — Justin Timberlake, "Can't Stop The Feelin'"
3. "Don't be a hard rock when you really are a gem. " — Lauryn Hill
4. "There's always been a rainbow hangin' over your head." — Kacey Musgraves, "Rainbow"
5. "Glitter in the sky, glitter in my eyes, shining just the way I like" — Dua Lipa, "Levitating"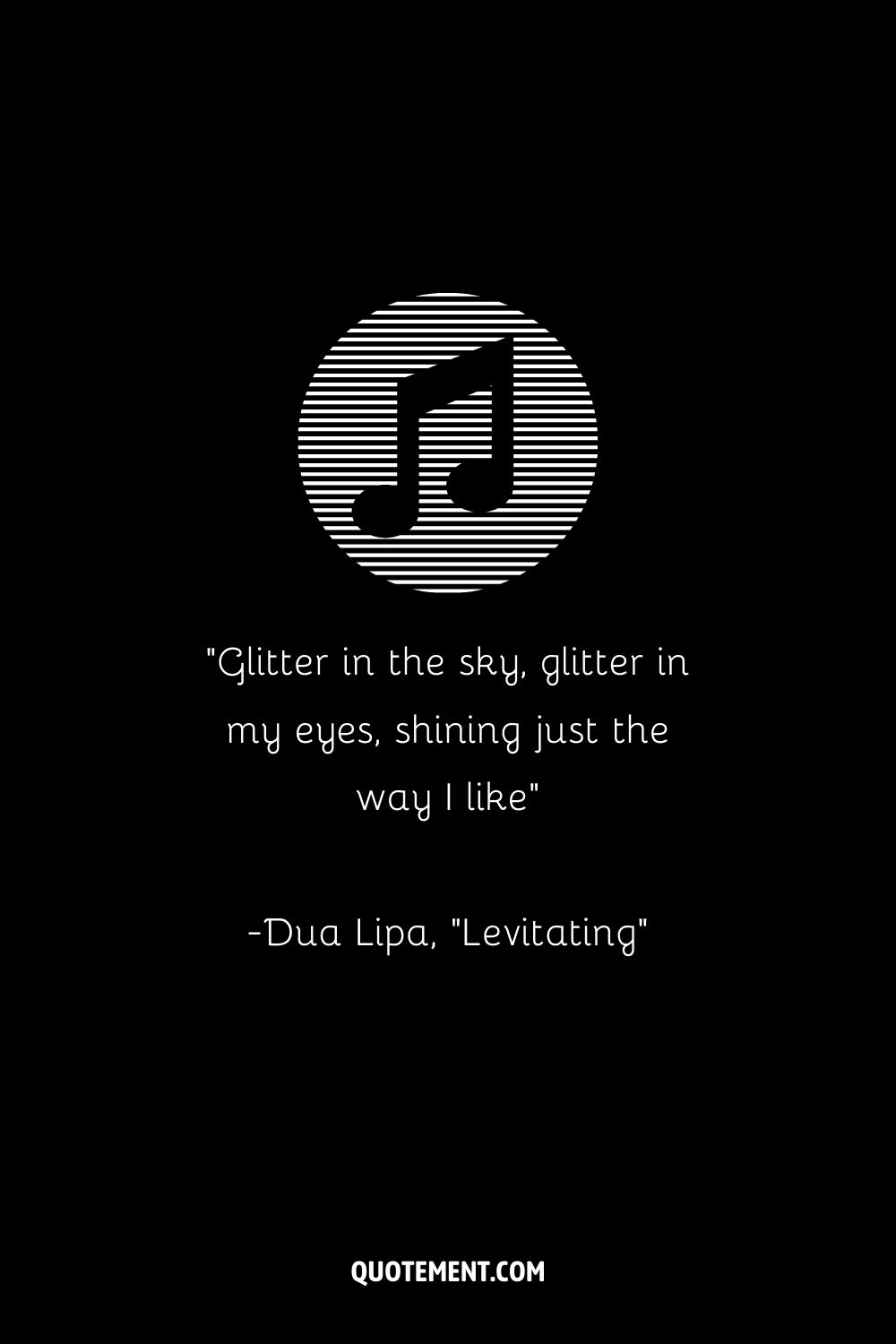 6. "Life is beautiful but you don't have a clue." — Lana Del Rey, "Black Beauty"
7. "We can be heroes, just for one day." — David Bowie, "Heroes"
8. "I just might love you still; just think I love me more." — Kendrick Lamar ft. Summer Walker, Purple Hearts
9. "Raise your glass if you are wrong in all the right ways." — Pink
10. "I know the sun's still shining when I close my eyes." — Travis Tritt‌, "It's a great Day To be Alive"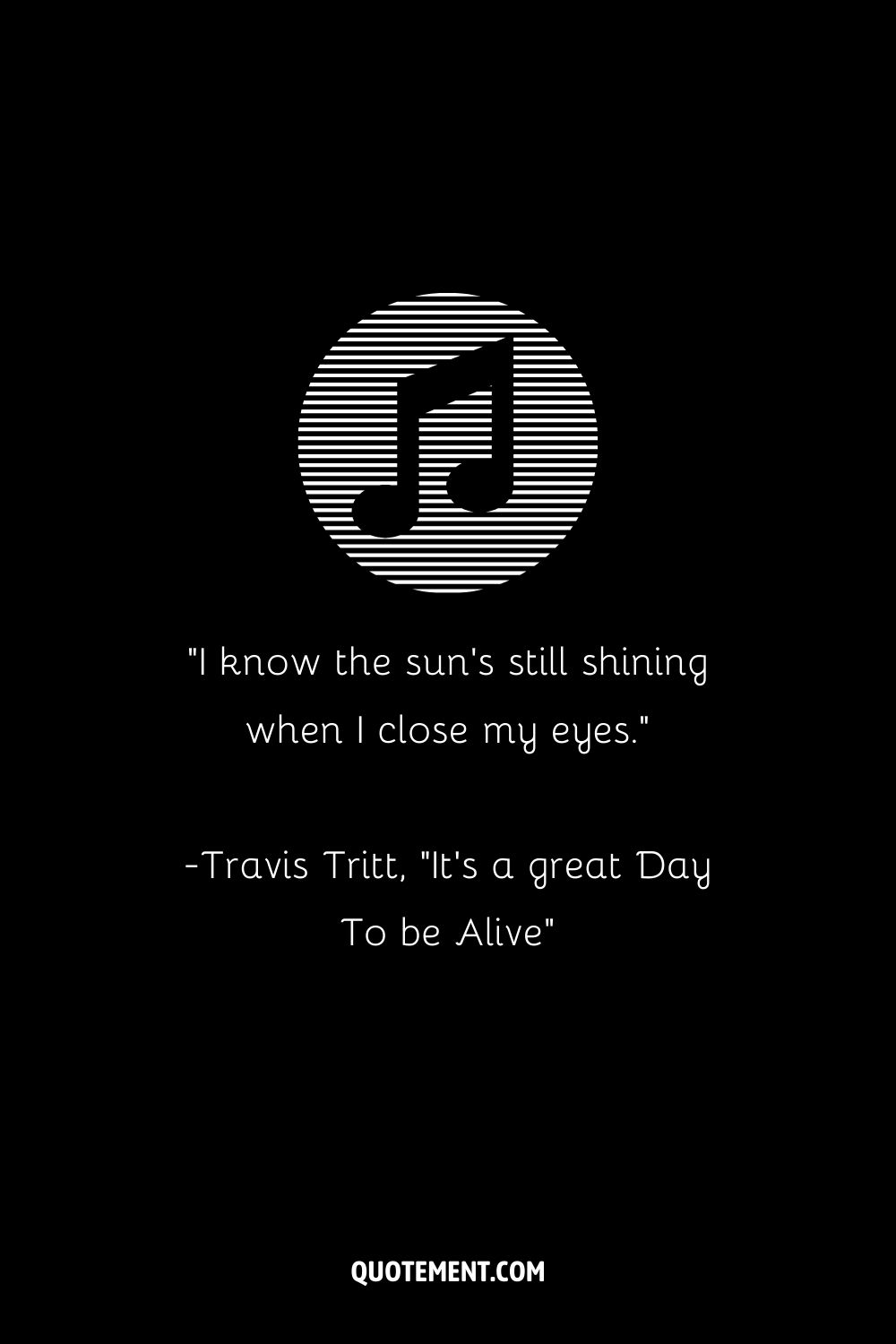 See also: 280 Best Sun Captions For Instagram For A Shiny Post
11. "If you wanna run away with me, I know a galaxy, And I can take you for a ride" — Dua Lipa, "Levitating"
12. "You only get one shot, do not miss your chance to blow. This opportunity comes once in a lifetime." — Eminem, "Lose Yourself"
13. "I'd rather laugh with the sinners than cry with the saints; the sinners are much more fun." ― Billy Joel, "Only The Good Die Young"
14. "Babe don't you know it's a pity / that the days can't be like the nights / In the Summer, in the city." — The Lovin' Spoonful, "Summer in the City"
See also: 130 Best Summer Night Quotes To Enjoy Summertime
15. "And if at first you don't succeed, then dust yourself off and try again." — Aaliyah, "Try Again"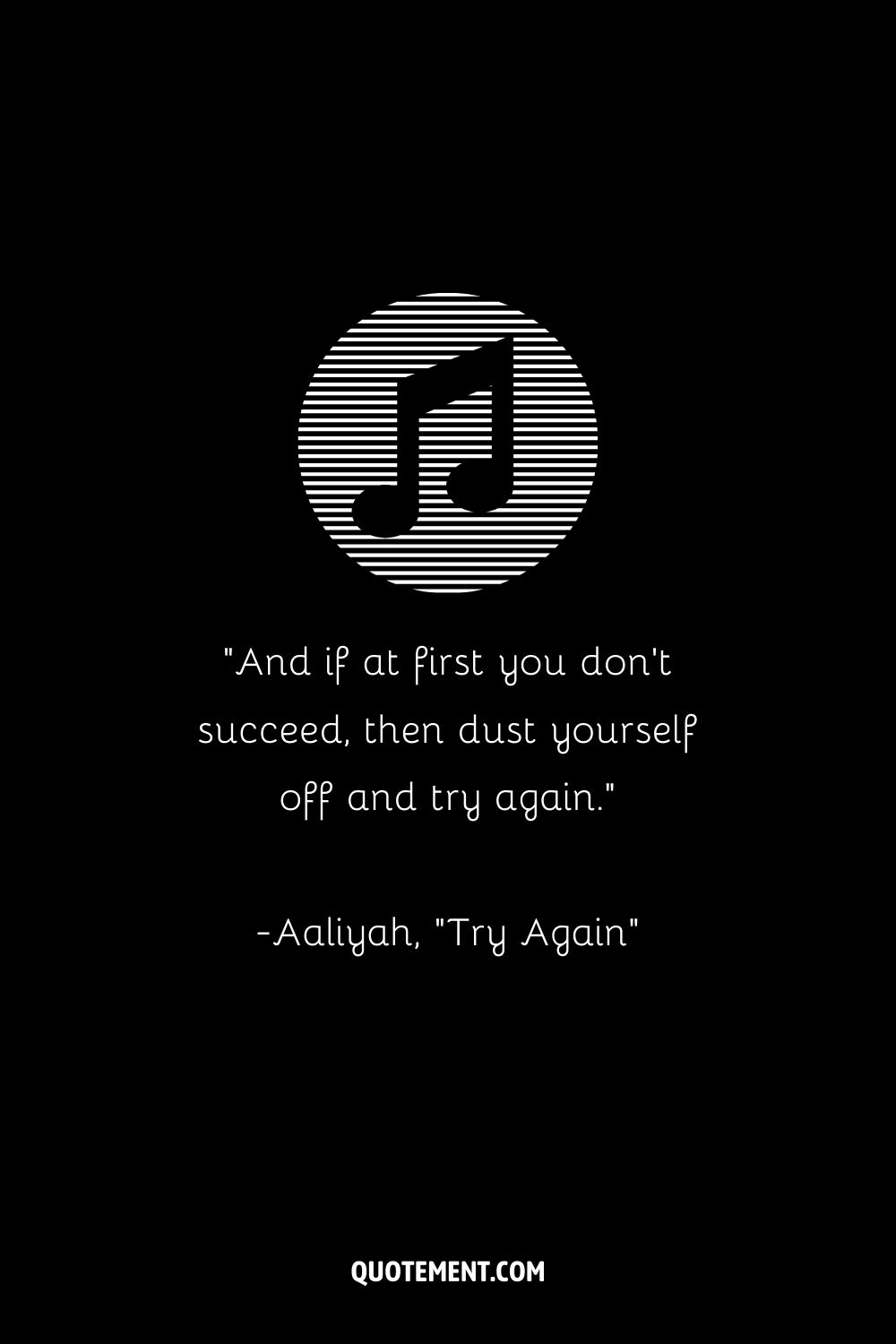 16. "I wanna go up there, and I don't ever wanna come down." — Post Malone, "Up There"
17. "As if it were shade, you would just throw it all. It's like you're trying not to glow at all" — Ariana Grande, "The Light Is Coming"
18. "Baby, you a star and all these others girls is extras" — Kris Wu & Travis Scott, "Deserve"
19. "It's a beautiful day. Don't let it get away." — U2, "Beautiful Day"
20. "Head in the clouds, got no weight on my shoulders." — Ariana Grande, "Problem"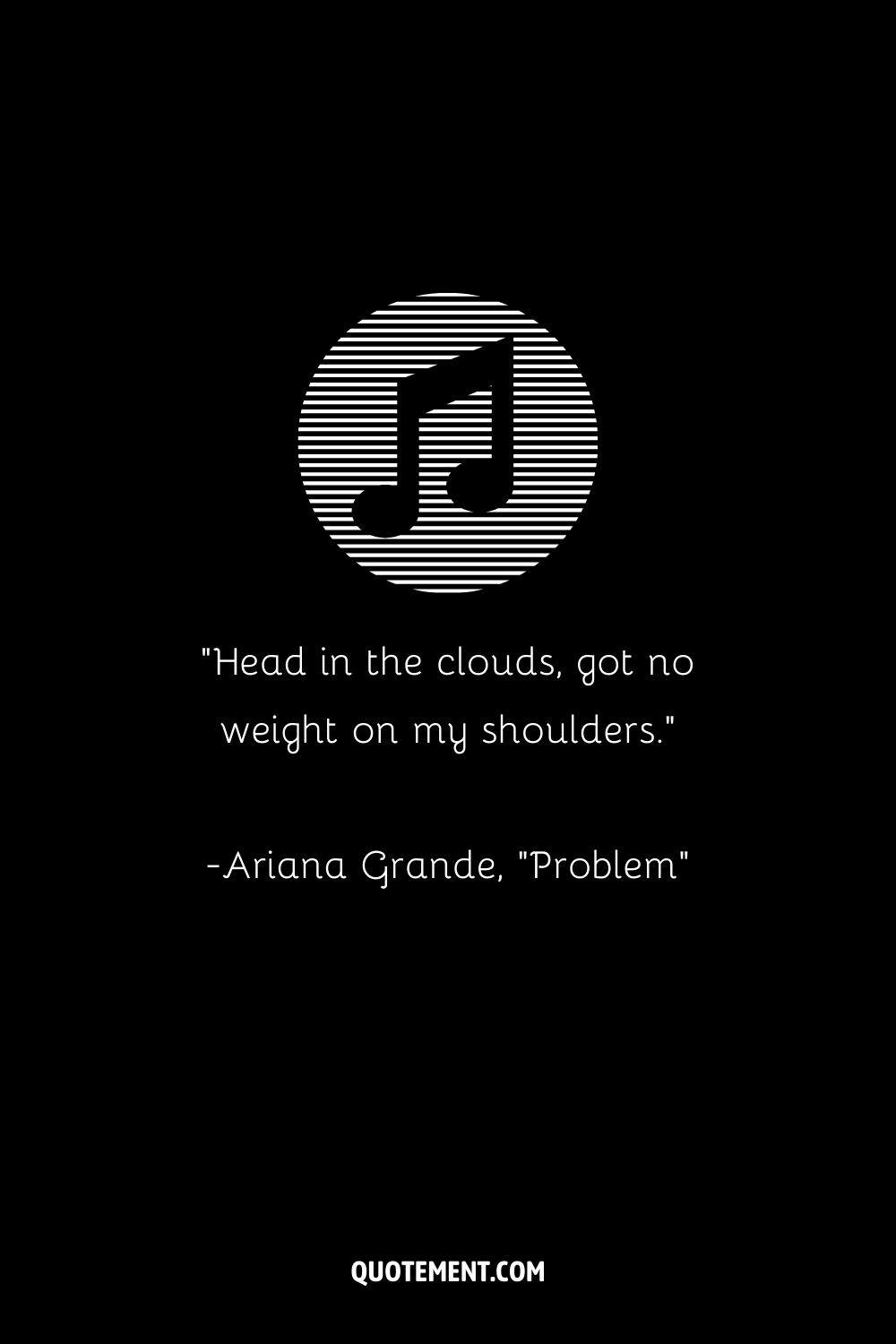 21. "I ain't got a lotta money but I got a lotta style." — Fifth Harmony, "Top Down"
22. "Don't ask questions, you don't wanna know." — Billie Eilish, "My Strange Addicition"
23. "Today is where your book begins. The rest is still unwritten." — Natasha Bedingfield, "Unwritten"
24. I do whatever it takes, cause I love how it feels when I break the chains." — Imagine Dragons, "Whatever It Takes"
25. "I swear this life is like the sweetest thing I've ever known." — Drake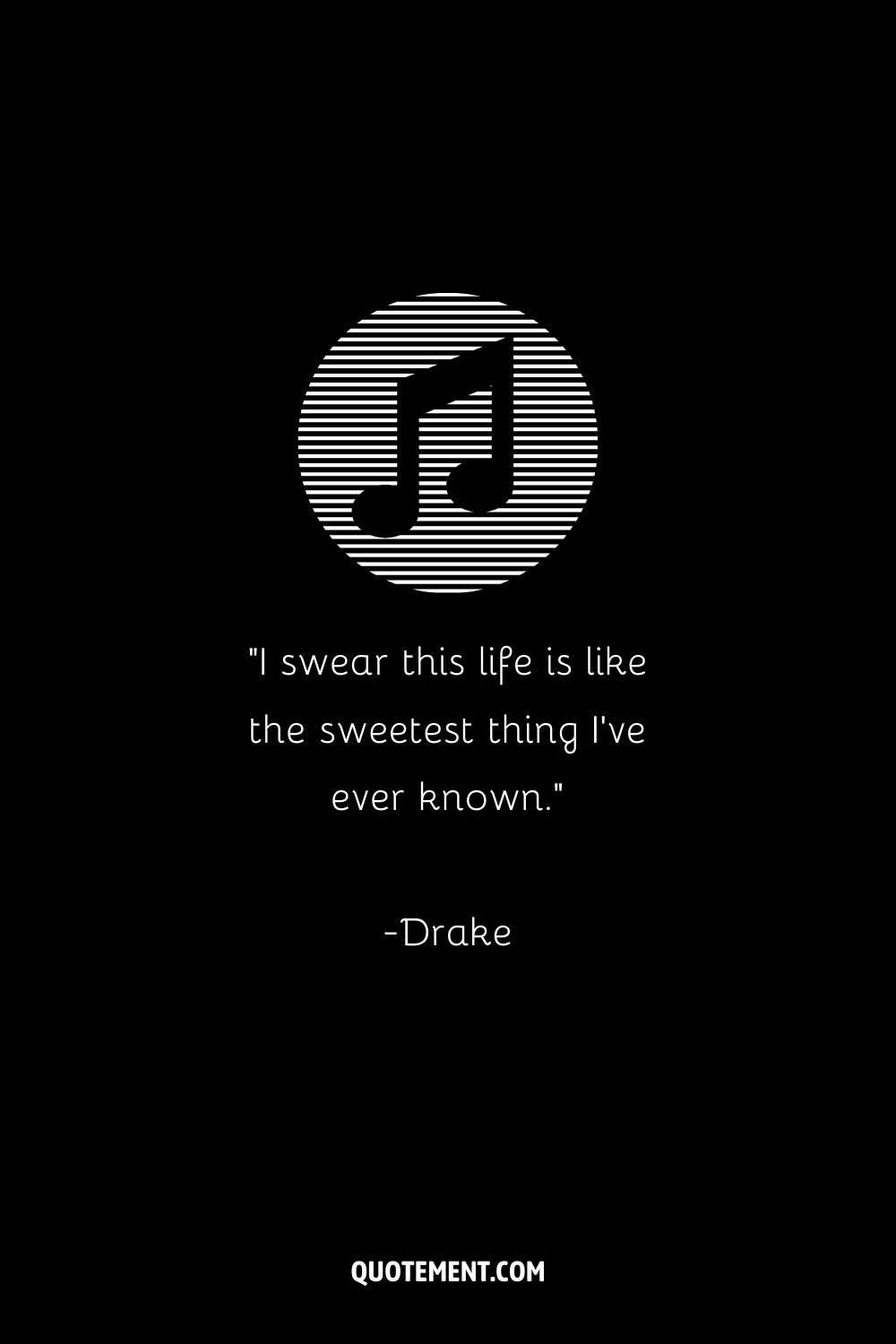 See also: 250 Cute Life Quotes To Add Sweetness To Your Day
Sassy Song Lyrics For Selfies
1. "Gonna love myself, no, I don't need anybody else." — Hailee Steinfeld, "Love Myself"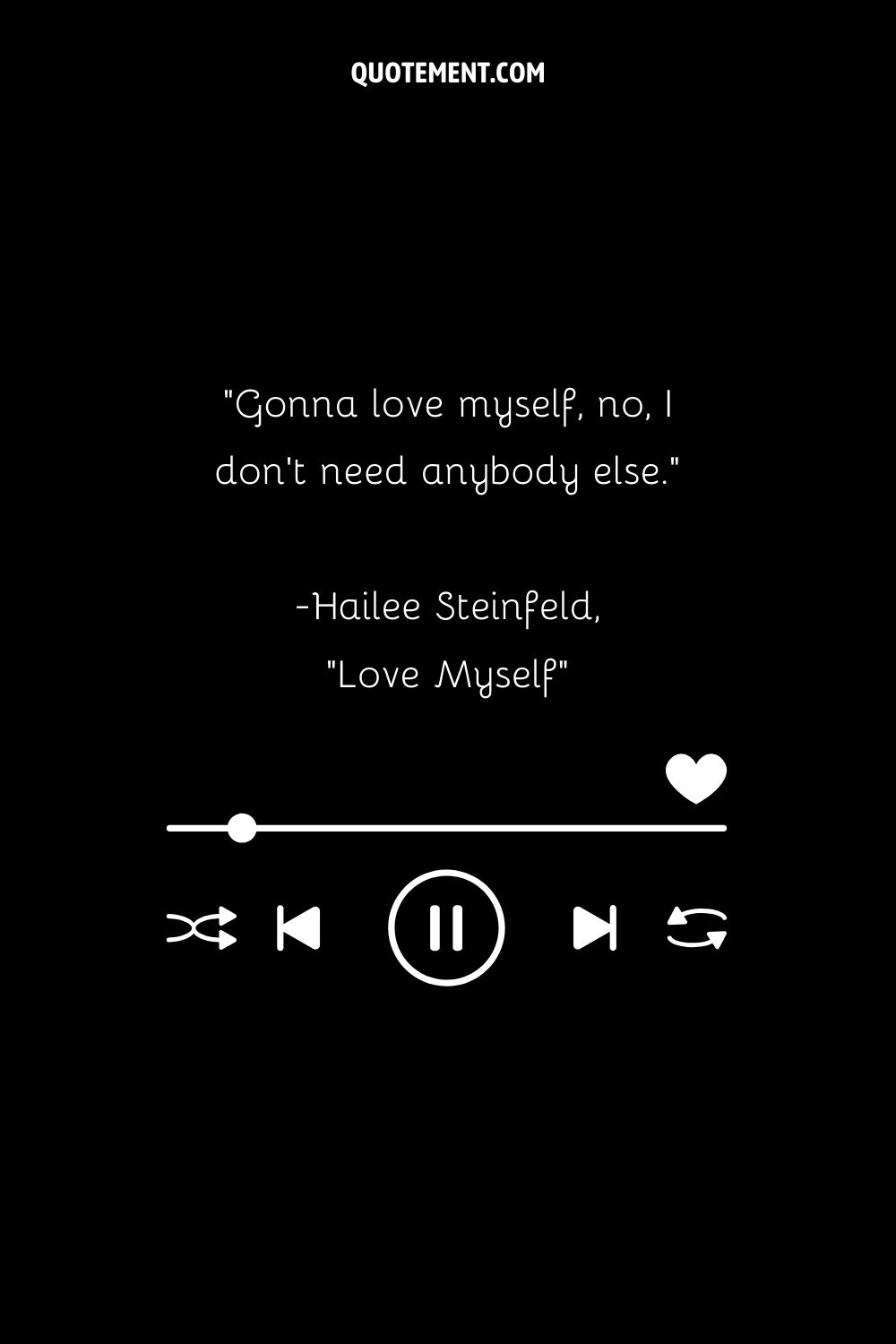 2. "Don't hate me 'cause I'm beautiful." — Kerri Hilson, "Pretty Girl Rock
3. "I'm no beauty queen, I'm just beautiful me." — Selena Gomez, "Who Says"
4. "No competition; I only see me." — D-Block Europe, No Competition
5. "Think I give a damn, boy don't you know who I am?" — Rihanna, "Jump"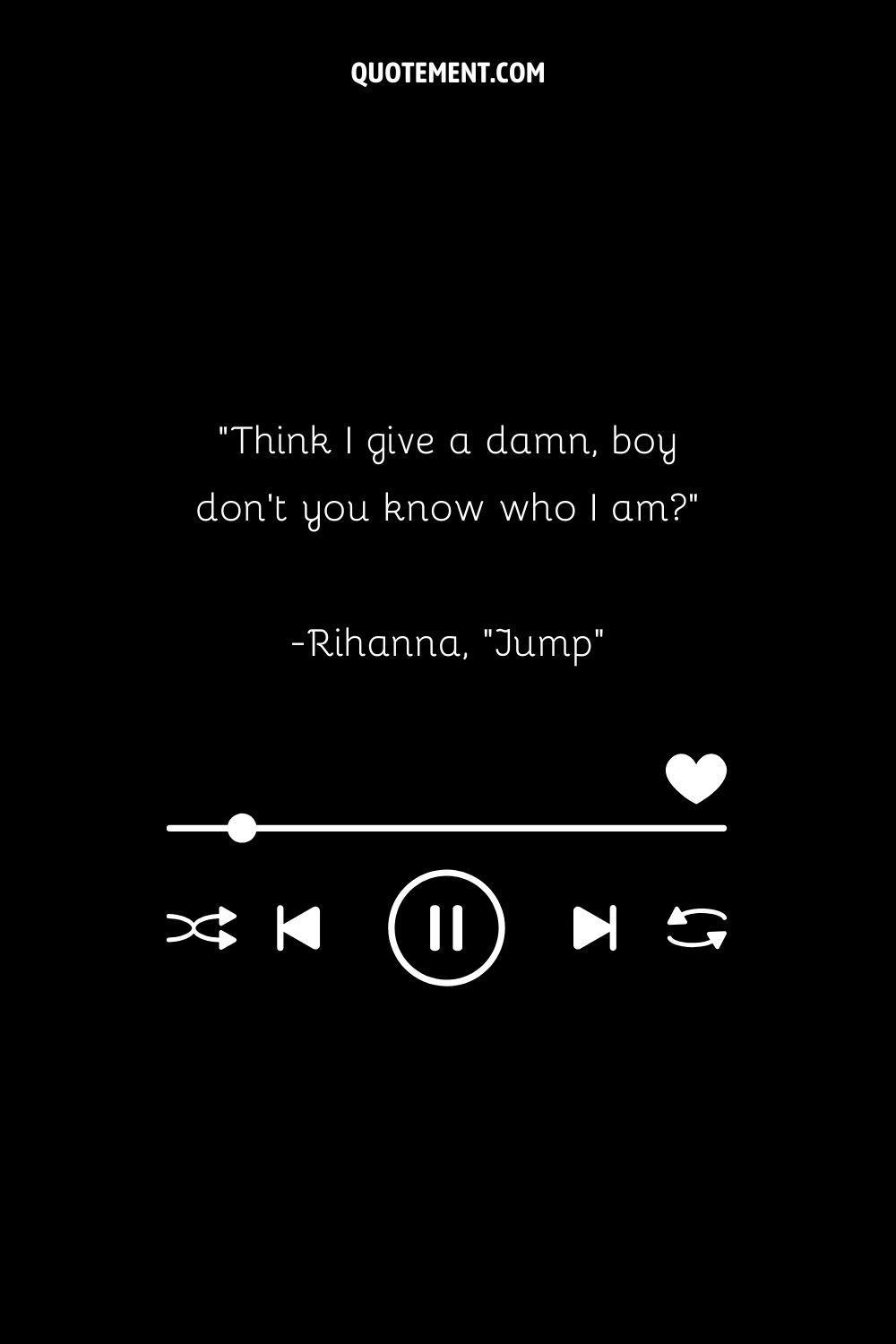 6. "I was filled with poison, but blessed with beauty and rage." — Lana Del Rey, "Ultraviolence"
7. "Don't criticize yourself no more / You got a smile worth fighting for." — Fifth Harmony, "Brave, Honest, Beautiful"
8. "A Goddess on a mountain top / Was burning like a silver flame / The summit of beauty and love / And Venus was her name" — Shocking Blue, "Venus"
9. "Lookin' in the mirror like, "d*mn, I don't brag enough." — Megan Thee Stallion, Thot Sh*t
10. "I'm a savage, classy, bougie, ratchet." — Megan thee Stallion, Savage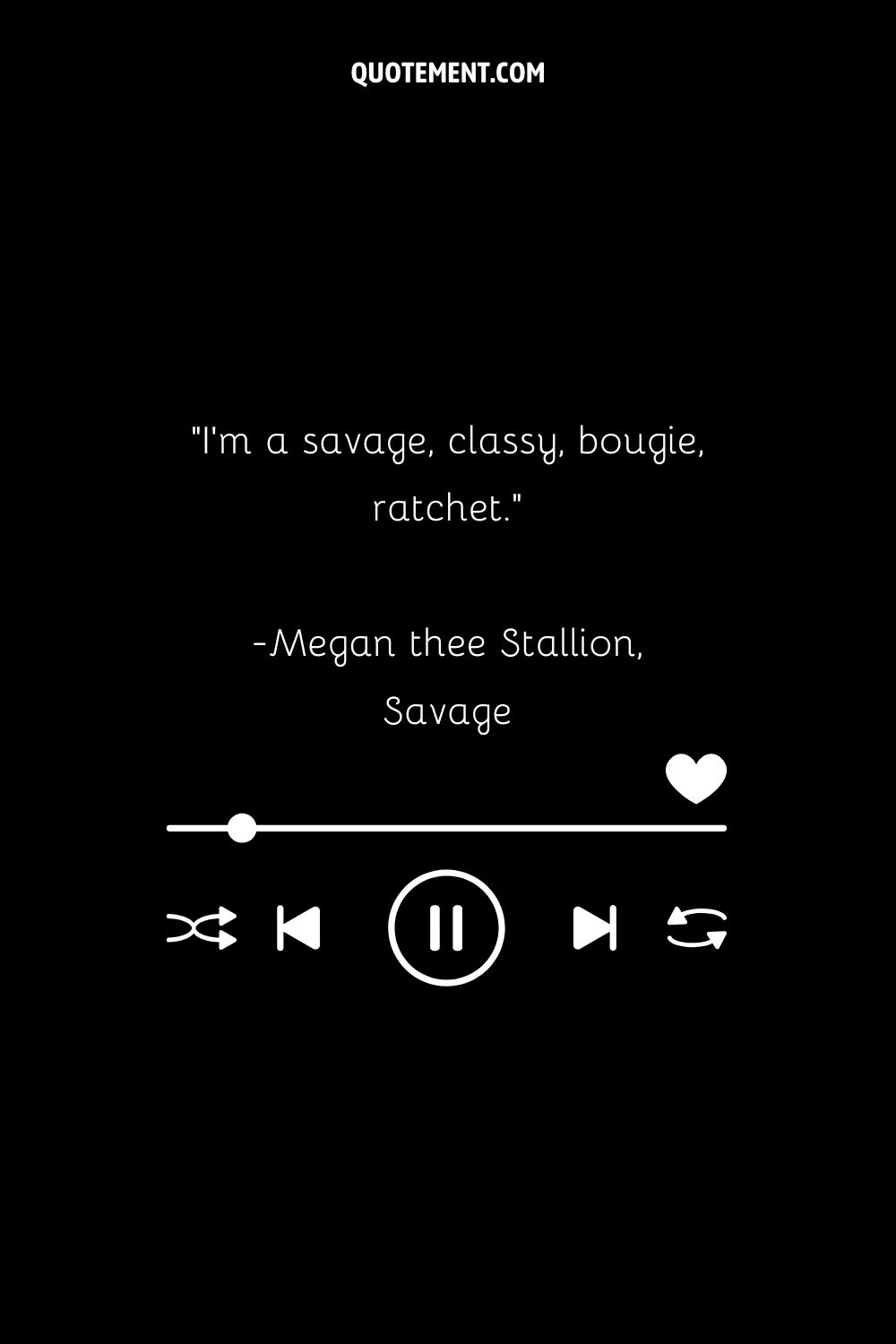 See also: 210 Unique Savage Quotes To Embrace Your Bold Attitude
11. "Feeling myself, I'm feeling myself, I'm feeling my." — Beyonce, "Feeling Myself"
12. "I'm in my own lane; you ain't in my category." — Nicki Minaj, "HOV Lane"
13. "Ten different looks and my looks all kill." — Cardi B, "Money"
14. "As hot as fire as cold as ice." — Lenka, "Everything At Once"
15. "Get mad at yourself 'cause you can't leave me alone." — Future, Wait for U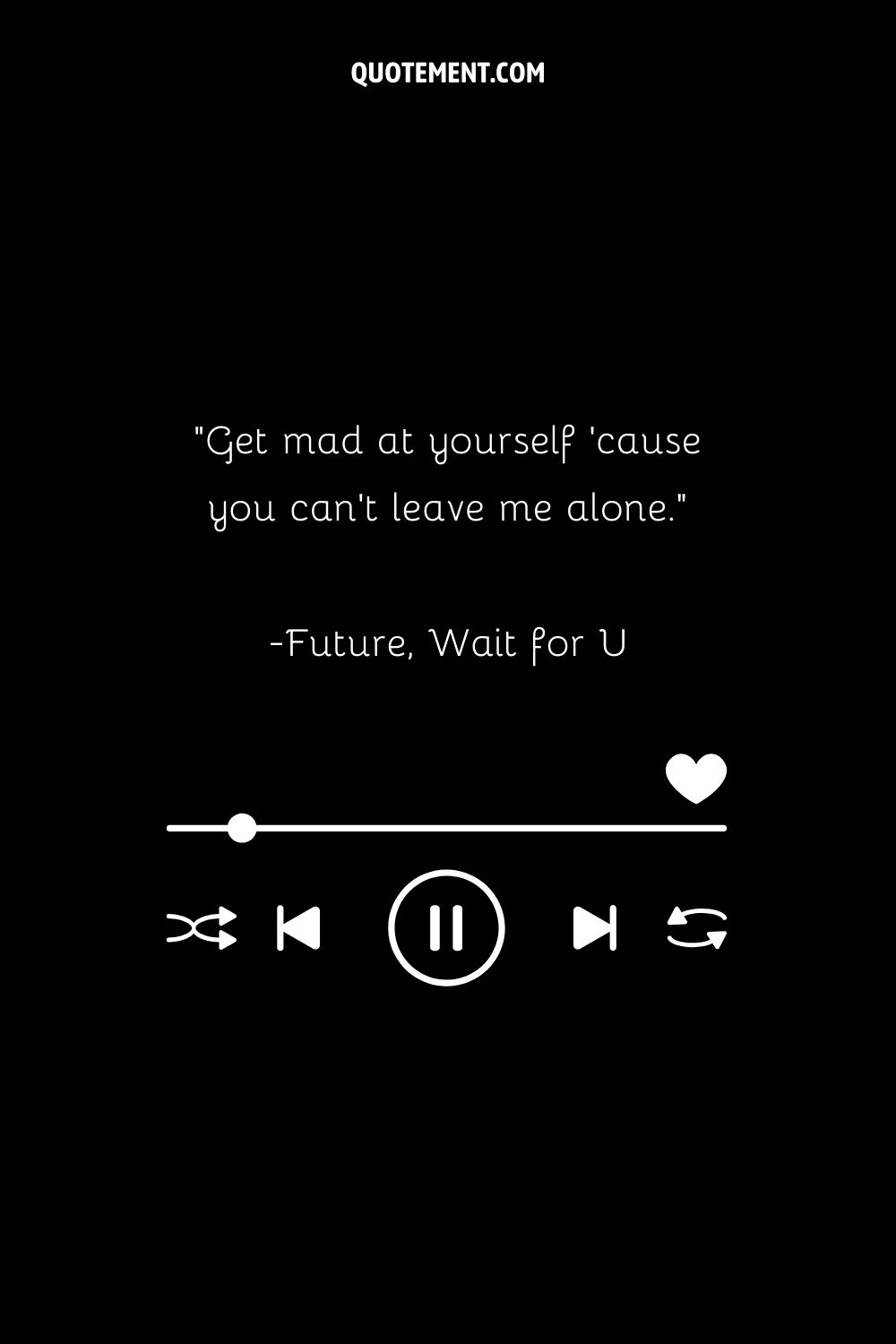 16. "If I was you, I'd wanna be me too." — Meghan Trainor, "Me Too"
17. "Ain't you ever seen a princess be a bad bitch?" — Ariana Grande, "Bad Decisions"
18. "It's the darker side of me that makes you feel so numb." — Dua Lipa, "Hotter Than Hell"
19. "It's all about forgiving and the will to walk away; I'm ready to be loved and love the way I should." — Shania Twain, "Life's About To get Good"
20. "And I'm feeling kind of free, feelin' kind of good." — Katy Perry, "Roar"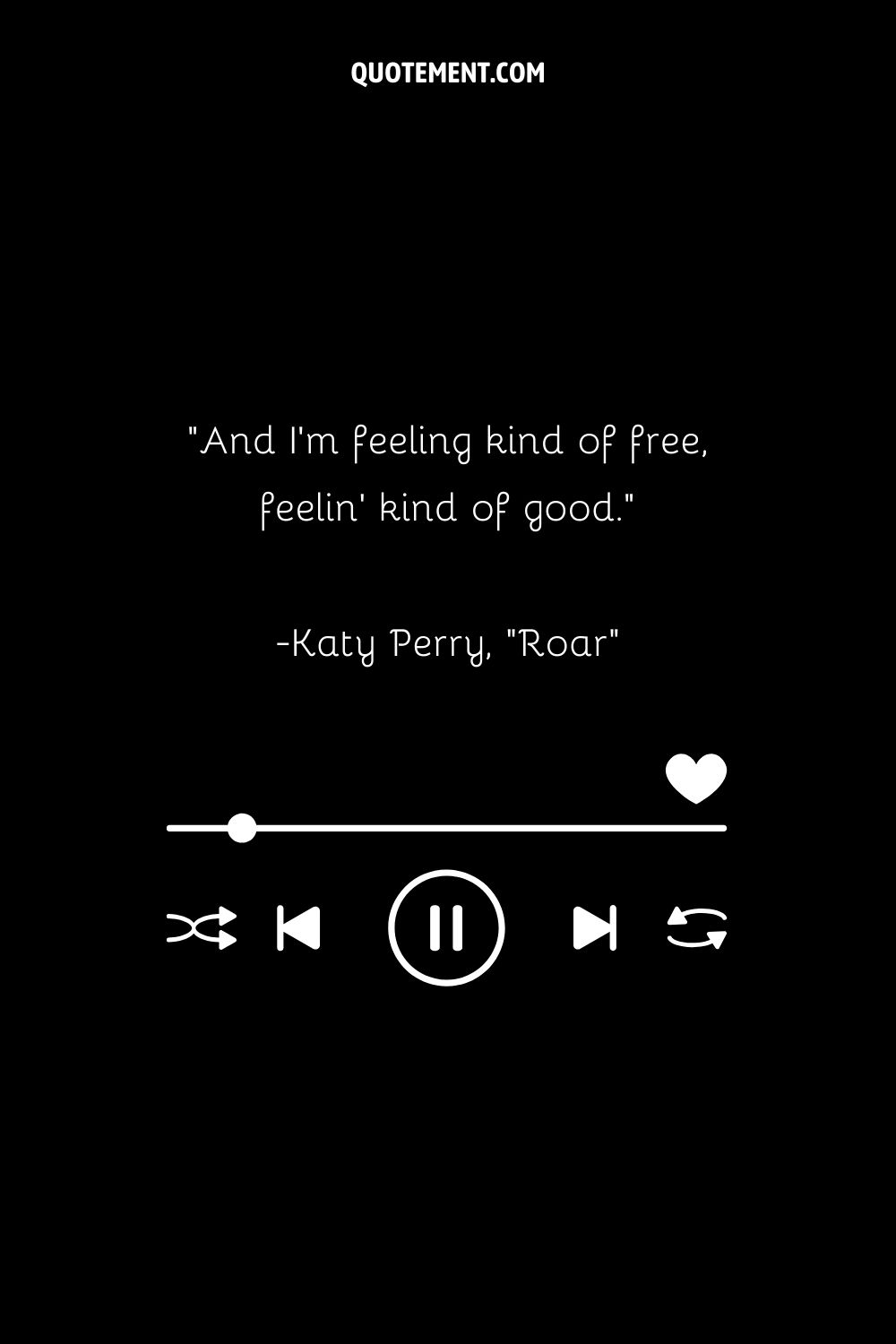 21. "I'm throwin' shade like it's sunny." — Nicki Minaj, "Want Some More"
22. "They see pictures, they say goals. I'm who they trying to be." — Cardi B, "Bodak Yellow"
23. "My milkshake brings all the boys to the yard." — Kelis, "Milkshake"
24. "Was a good girl. Watch me turn diva. Here goes my heart. I put it on speaker." — Cardi B feat. Kehlani, "Ring"
25. "I'm a hot girl, don't try it at home." — Megan Thee Stallion, "Captain Hook"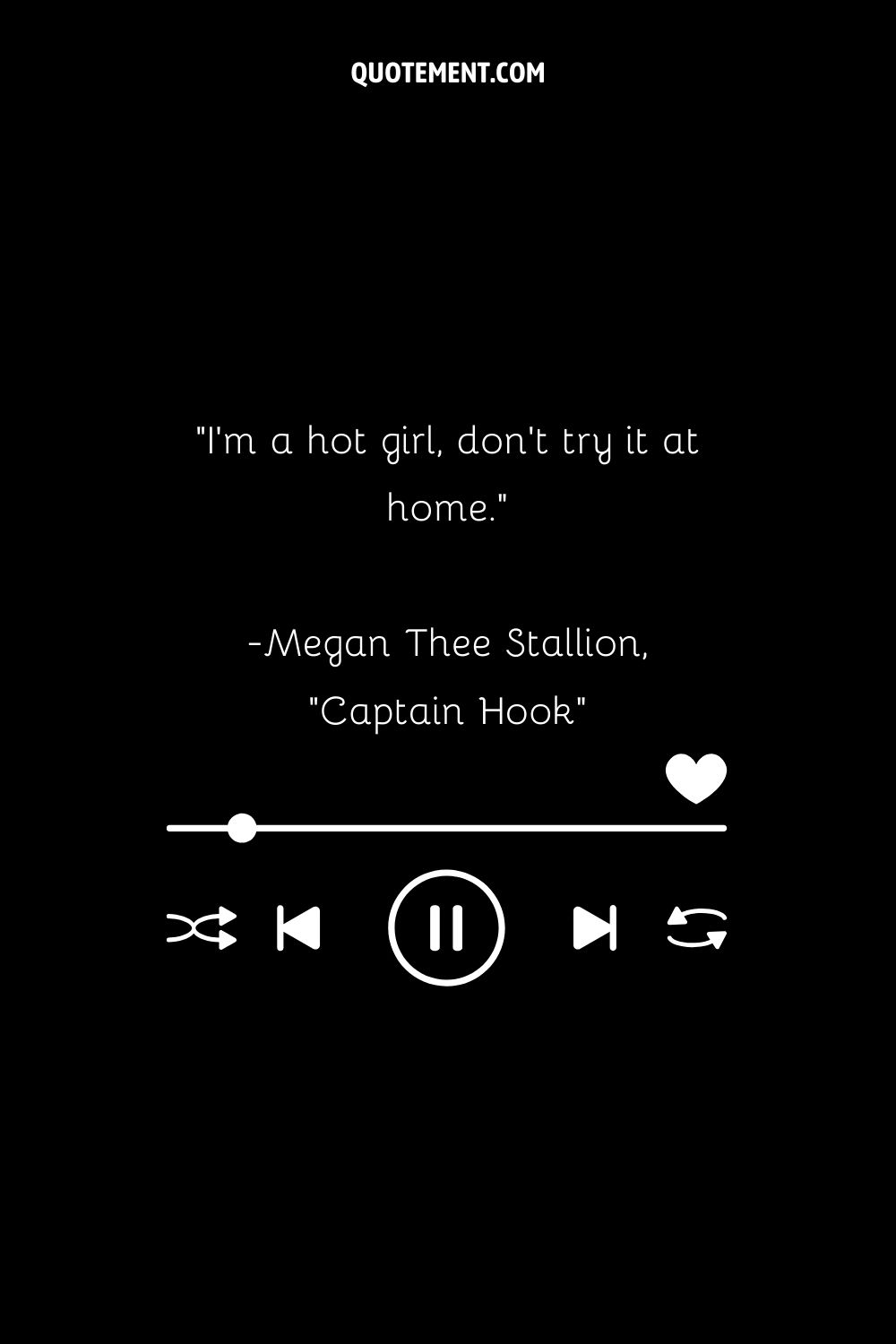 See also: 100 Sassy Quotes To Make You Laugh, Think, and Sass Back
Savage Lyrics To Show Your Confidence
1. "Didn't they tell you that I was a savage." — Rihanna, "Needed Me"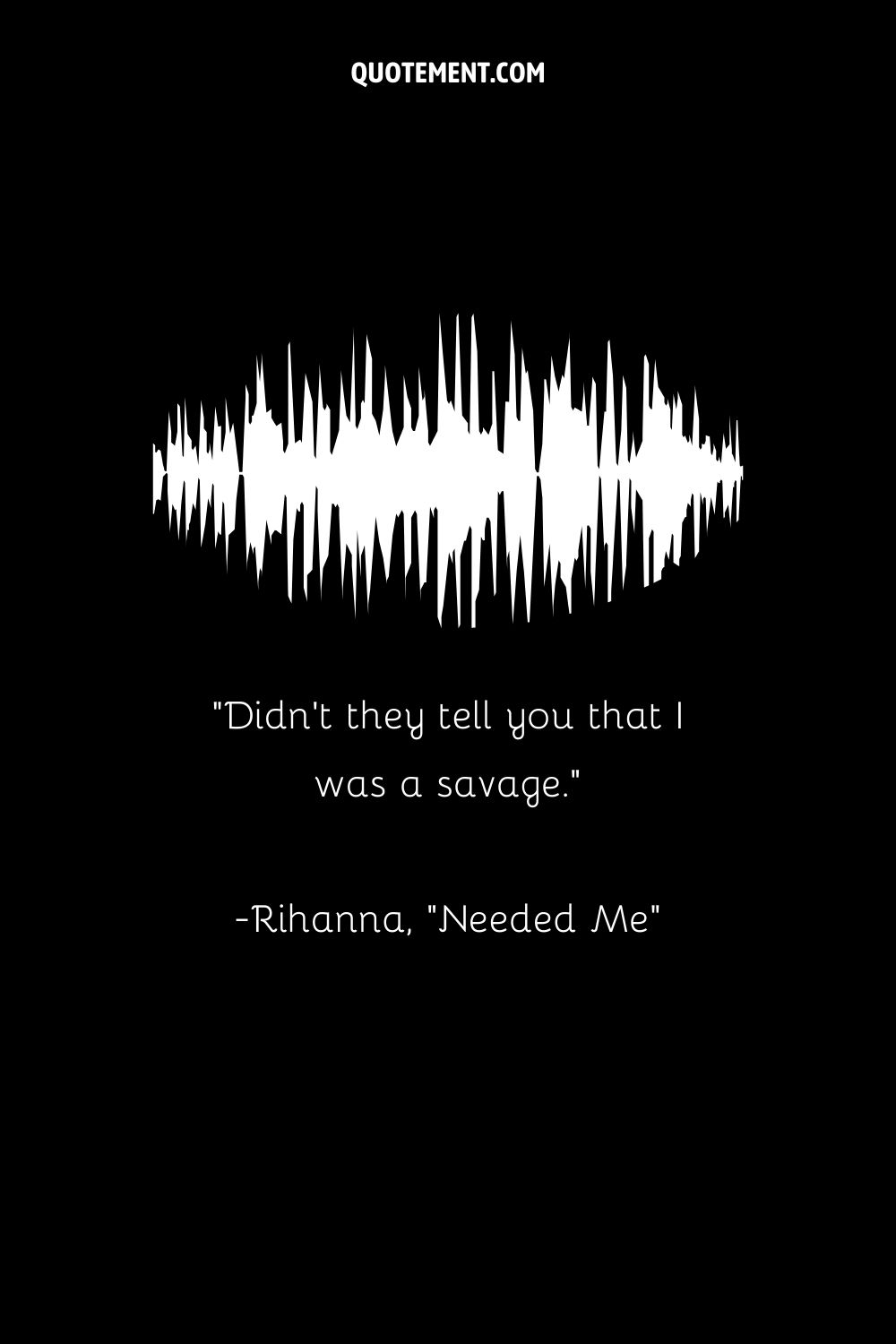 2. "I'm on top of the world, looking down on creation." — Imagine Dragons, "Radioactive"
3. "Lord I'm on fire they think that I'm Satan." — Travis Scott, Antidote
4. "It's bad bitch o'clock, yeah, it's thick-thirty." — Lizzo, "About Damn Time"
5. "Either you play the game or watch the game play you. " — J. Cole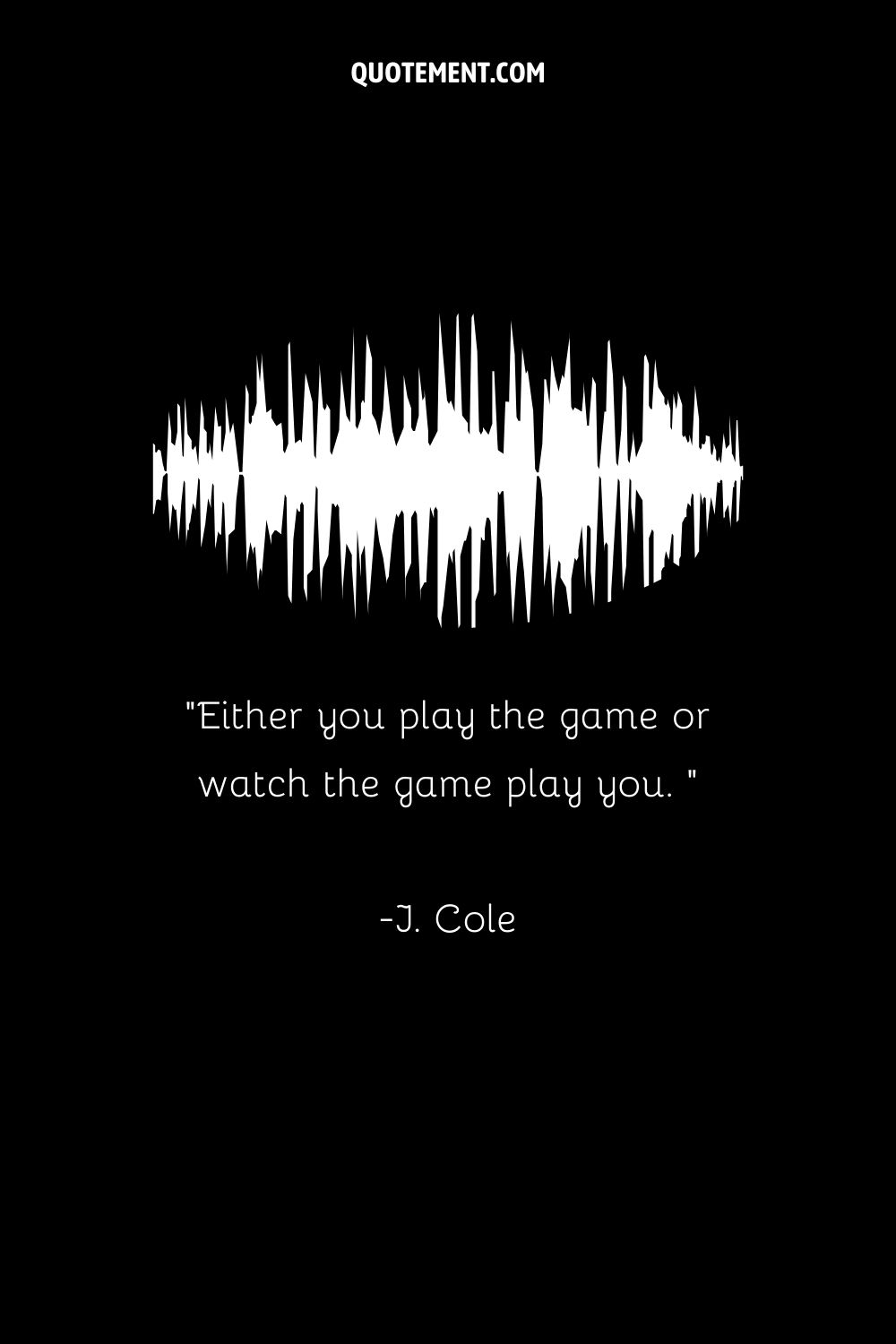 6. "Nothing can stop me, I'm all the way up." — Fat Joe and Remy Ma, "All the Way Up"
7. "Love me or hate me, I swear it won't make or break me." — Lil Wayne, "Love Me or Hate Me"
8. "Six-inch heels she walked in the club like nobody's business." — Beyoncé, "6 Inch"
9. "Diva is a female version of a hustla." — Beyoncé, "Diva"
10. "I'm just feelin' my vibe right now. I'm feelin' myself." — Desiigner, "Panda"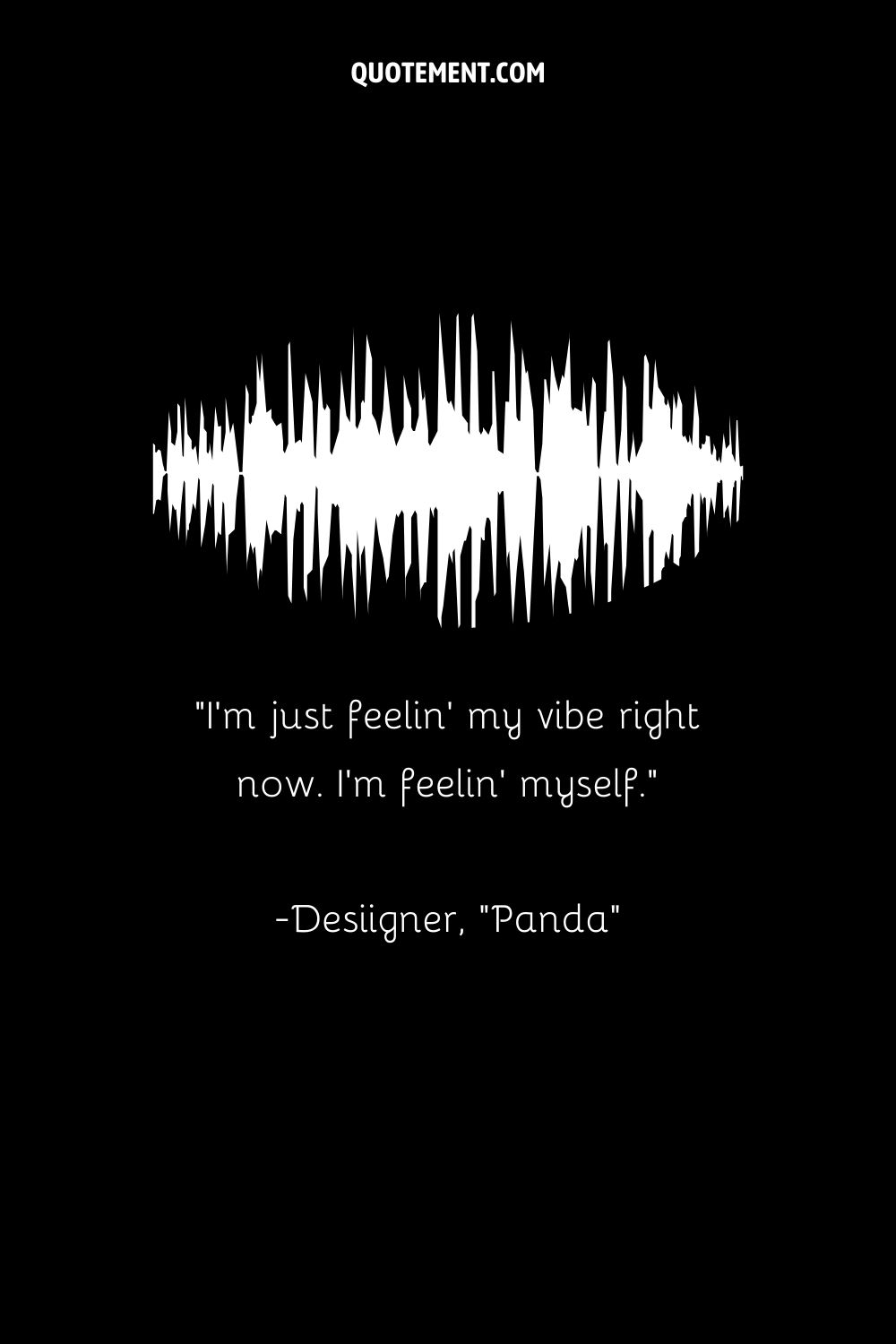 See also: 200 Me Myself And I Quotes To Make You Love Yourself More
11. "I don't chase 'em, I replace 'em." — The Notorious B.I.G., One More Chance
12. "Got a drink on my mind and my mind on my money." — Rihanna, "Cheers (Drink To That"
13. "Take a shot, make a friend, just enjoy the moment, I'm Luke Skywalkin' on these haters." — Miguel, Travis Scott, "Sky Walker"
14. "Frame me up on your wall just to keep me out of trouble." — Fall Out Boy, "Irresistible"
15. "If my heart broke, it's nothin' that my jeweler won't fix." — Megan Thee Stallion, "Do It On The Tip"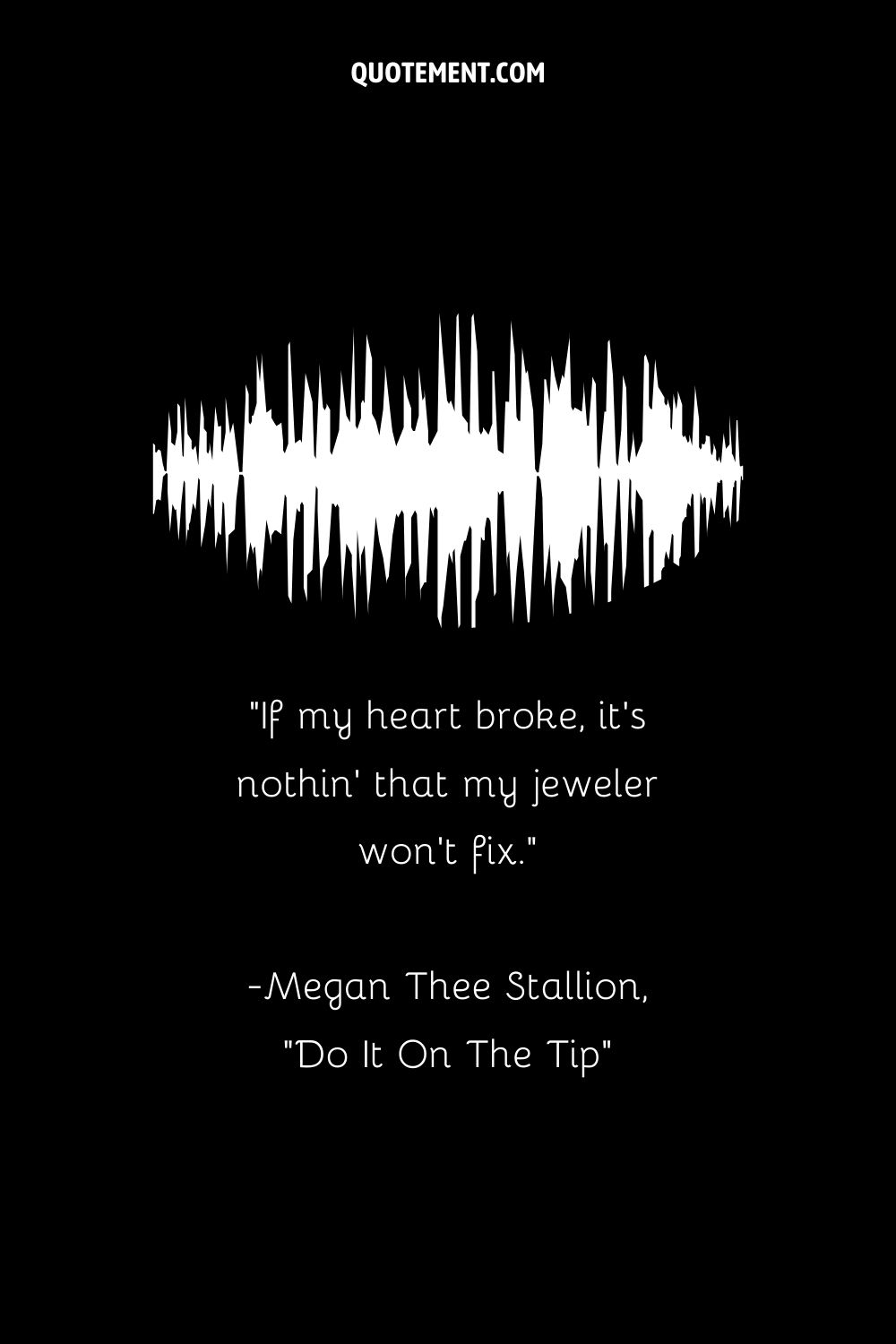 16. "Nine to five is how you survive, I ain't tryna survive." — JAY-Z, D'Evils
17. "All of these lines across my face Tell you the story of who I am." — Brandi Carlile, "The Story"
See also: 150 Jewelry Quotes To Show Off Your Sophisticated Style
18. "Middle fingers up, put them hands high. Wave it in his face, tell him boy, bye." — Beyonce, "Sorry"
19. "Cleansed my scars and turned my pain into passion. Forgive myself for my past mistakes, I'm not afraid to look backwards." — Kevin Gates, "Dreka"
20. "I believe there's a god above me, I'm just the god of everything else." — Pusha T feat. Kanye West, "New Good Flow"
21. "Everything I do, I do it with a passion. If I gotta be a bitch, I'mma be a bad one." — Kehlani, "CRZY"
22. "They wanna know 'bout me. They say, 'Tell me your story.' Only thing you need to know is I'm in love with the money." — Megan Thee Stallion, "Hood Rat Sh*t"
23. "You get in my way, I'ma feed you to the monster." — Eminem, "Godzilla"
24. "Ain't no runnin' up on me. Went from nothing to glory. Ain't no more beefing. I'm just keeping to myself. I'm my own competition. I'm competing with myself." — Cardi B, "Best Life"
25. "You could be the king but watch the queen conquer." — Nicki Minaj, "Monster"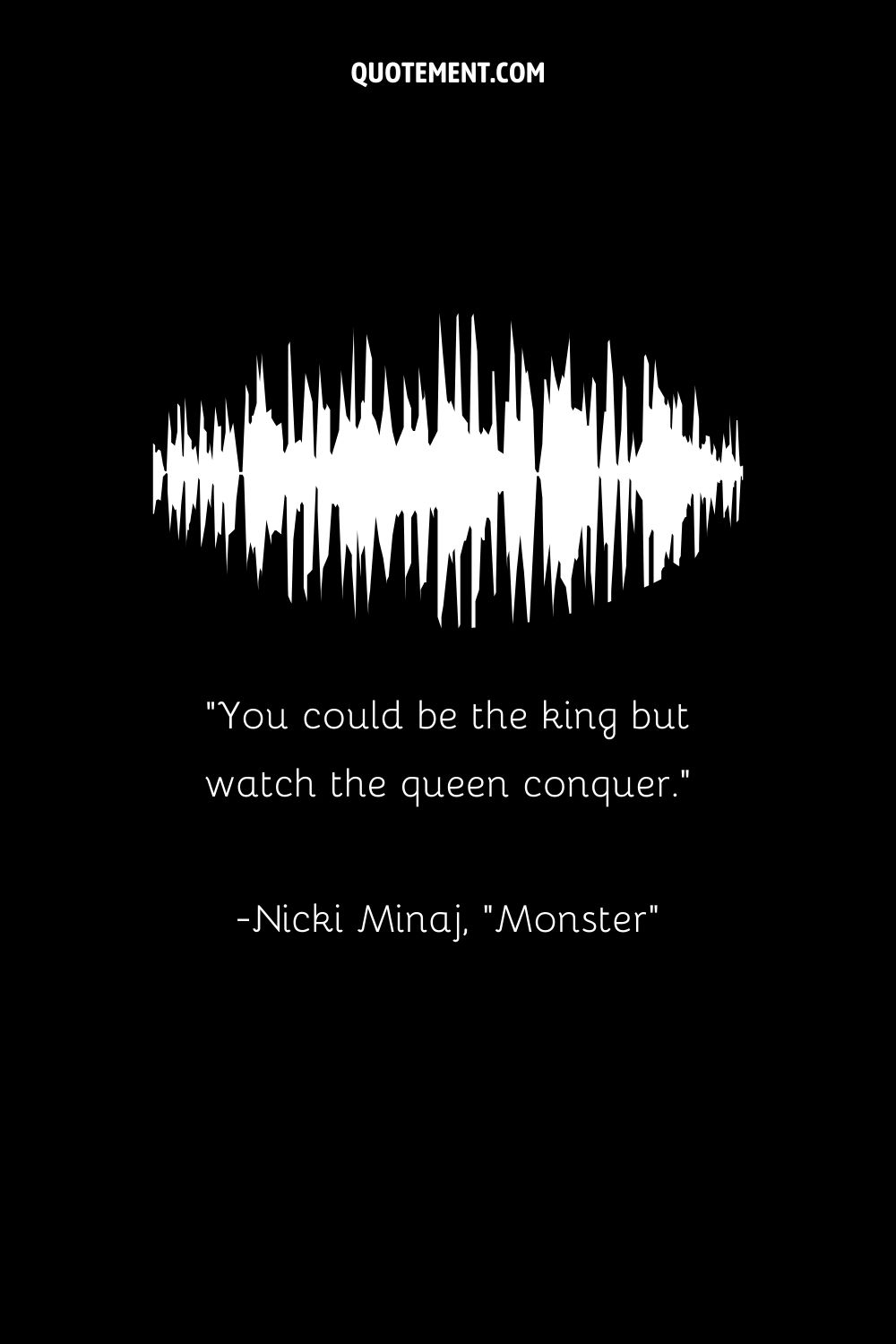 See also: 220 Best Nicki Minaj Captions For Your Next Insta Post
Cute Song Lyrics For Couple Pics
1. "Take me to your heart, for it's there that I belong." — Elvis Presley, 'Love Me Tender'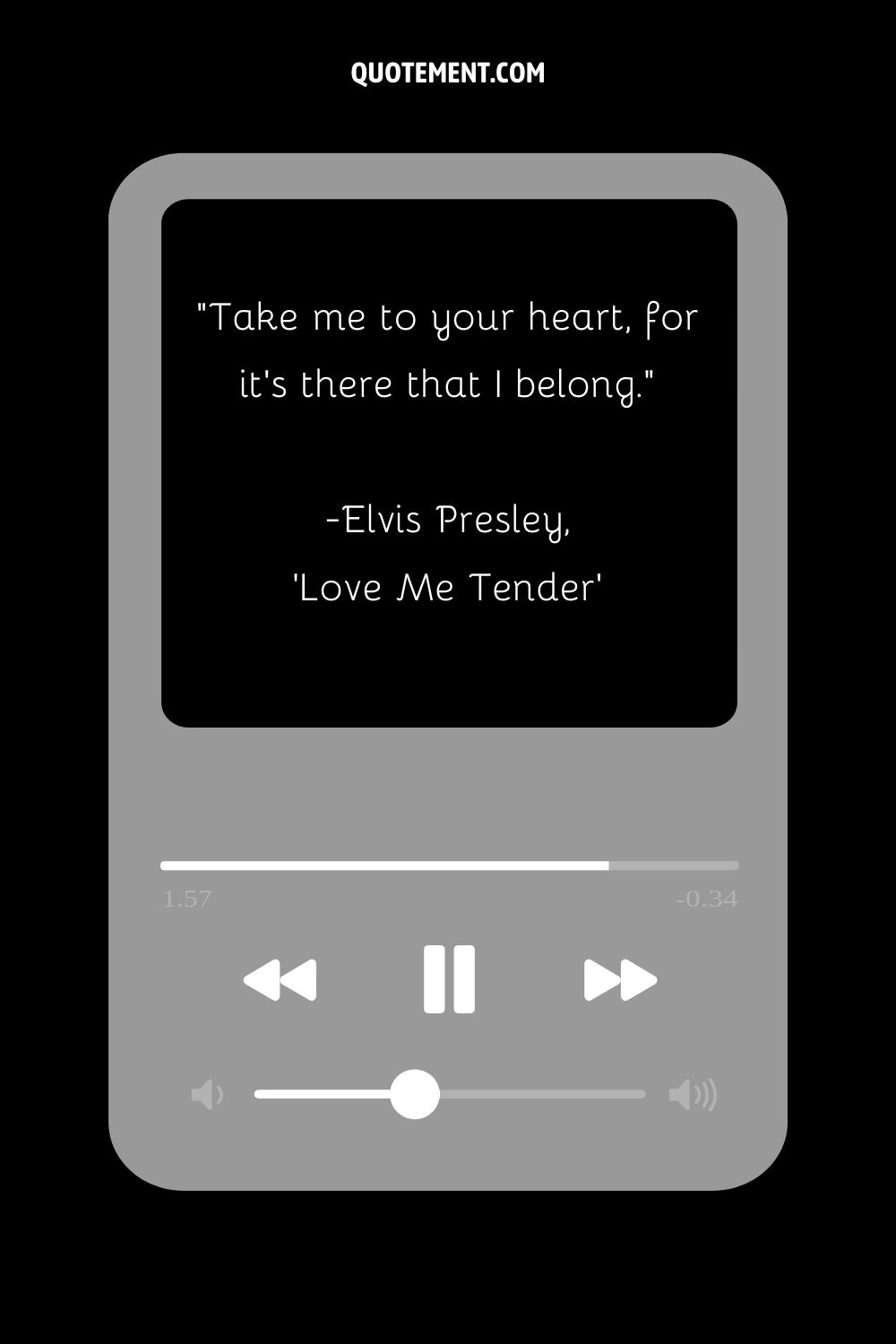 2. "Your hands in mine when we're intertwined everything's alright." — Miley Cyrus, "7 Things"
3. "How long will I love you? As long as stars are above you, and longer if I can." — Ellie Goulding, "How Long Will I Love You"
4. "Everything is fine when your head's resting next to mine." — Vance Joy, "Fire and the Flood"
5. "We're connected by the sun and all of the stars above."— Selena Gomez, Body Heat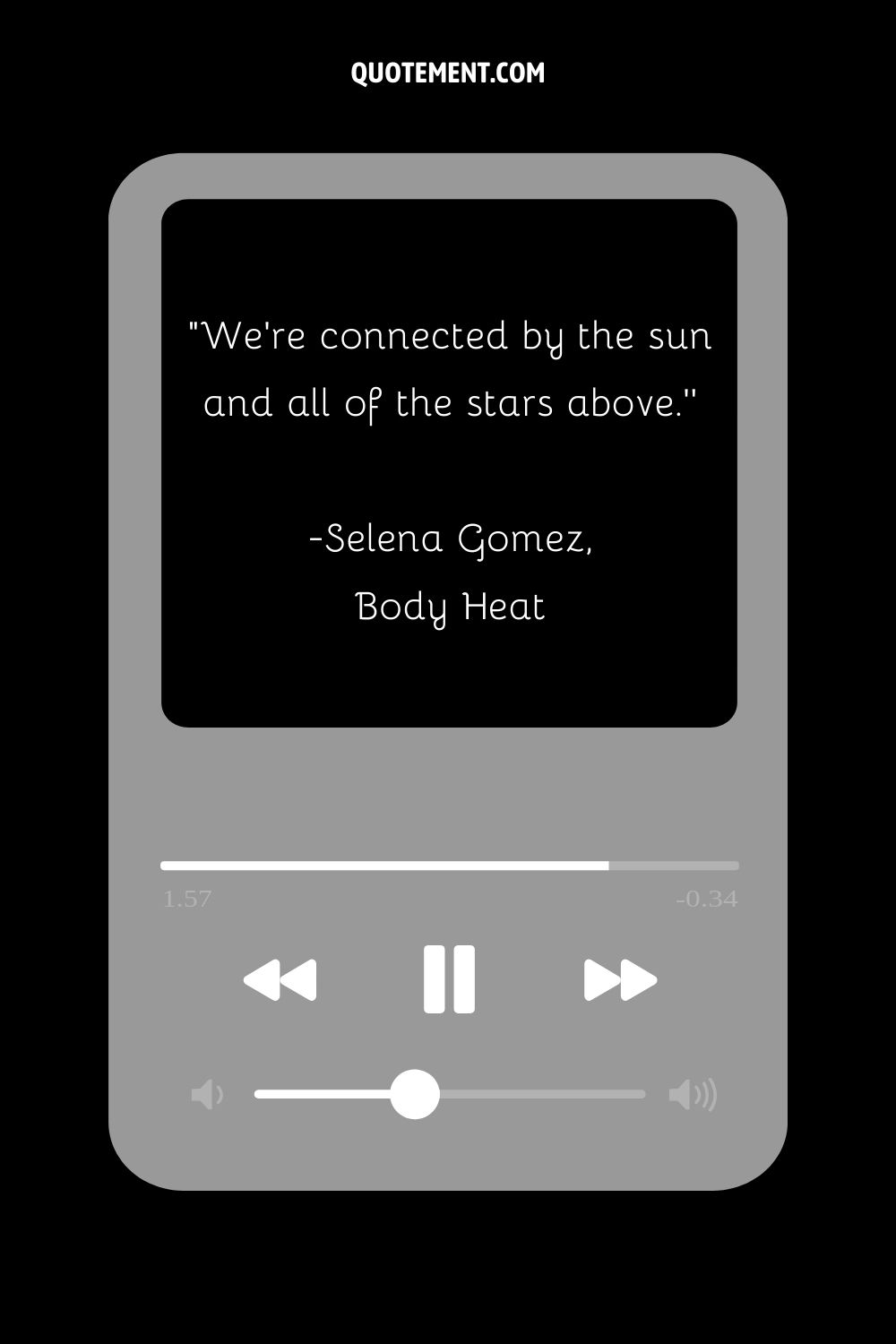 6. "Nothing can stop love from loving on us. And I'm not asking for much, just a couple of forevers." — Chrisette Michele, "Couple of Forevers"
See also: 220 Finest Loving You Forever Quotes For Your Darling
7. "You've got my head spinning, no kidding." — John Legend, "All of Me"
8. "I get those goosebumps every time you come around. You ease my mind, you make everything feel fine." — Travis Scott, "Goosebumps"
9. "Because being with you makes perfect sense." ― Tim McGraw, My Best Friend
10. "Every inch of your skin is a Holy Grail I've got to find. Only you can set my heart on fire." — Ellie Goulding, "Love Me Like You Do"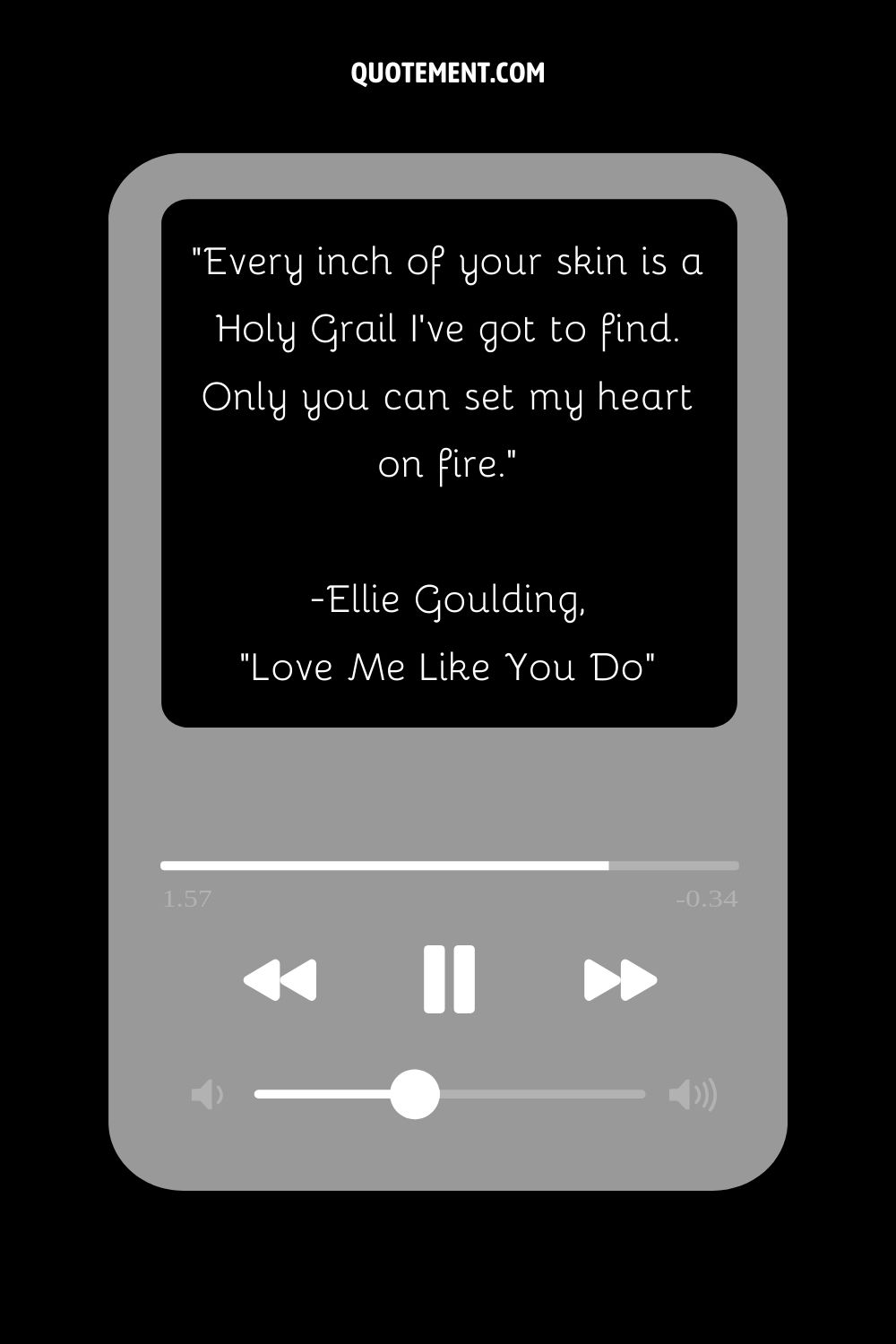 11. "I see nobody but you." — The Weeknd, "Earned It"
12. "Knew that I was in love with you right away. Turned all my days into brighter days." — Jhené Aiko, New Balance
13. "Hair blowing in the wind, losing track of time, just you and I." — Demi Lovato, "Made in the USA"
14. "At last, the skies above are blue. My heart was wrapped up in clover, the night I looked at you." — Etta James, "At Last"
15. "For you, I would cross the line. I would waste my time. I would lose my mind." — Taylor Swift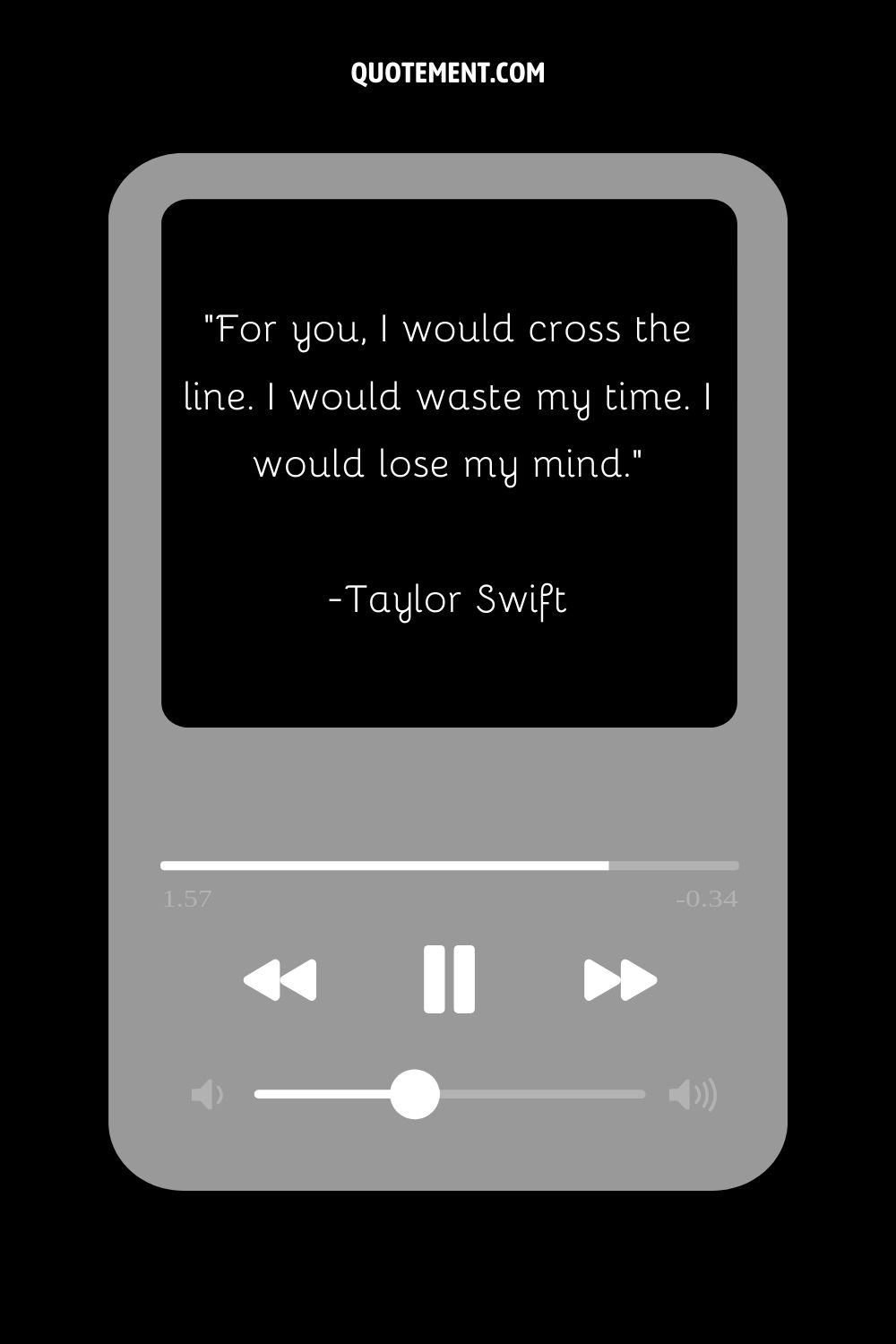 16. "There's no one that comes close to you, could ever take your place, 'cause only you can love me this way." — Keith Urban, "Only You Can Love Me This Way"
17. "And if you said this life ain't good enough, I would give my world to lift you up. I could change my life to better suit your mood because you're so smooth." — Santana, "Smooth"
18. "And when you smile, the whole world stops and stares for a while…" — Bruno Mars, 'Just the Way You Are'
19. "Here's to you, the one that always pulls us through, always do what you gotta do. You're one of a kind. Thank God you're mine." — Michael Bublé, 'Close Your Eyes'
20. "Diamonds ain't nothing when I'm shining with you." — Rihanna, "Wild Thoughts"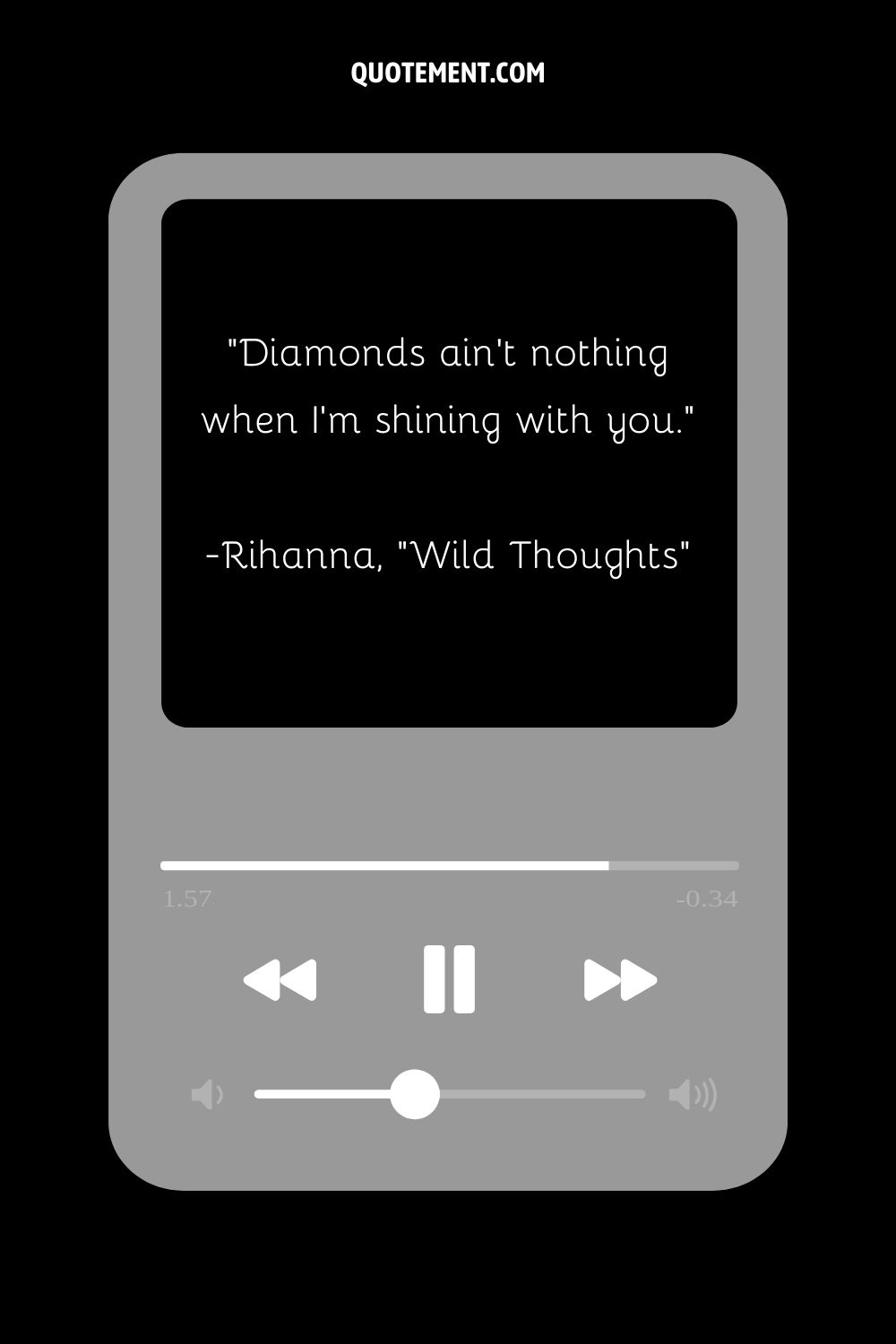 See also: List Of 140 Eye-opening Diamond Quotes To Check Out
21. "Take it from a man that loves what you got, and baby girl, you're a star, don't let them tell you you're not." ─ J Cole, "Crooked Smile"
22. "I won't be afraid just as long as you stand, stand by me." — Ben E. King, "Stand By Me"
23. "I'll stop time for you the second you say you'd like me to…" — Shawn Mendes, "Treat You Better"
24. "You da one that I dream about all day, you da one that I think about always." — Rihanna, "You da One"
25. "She said, 'Where we goin'?' I said, 'The moon." — Travis Scott, "Sicko Mode"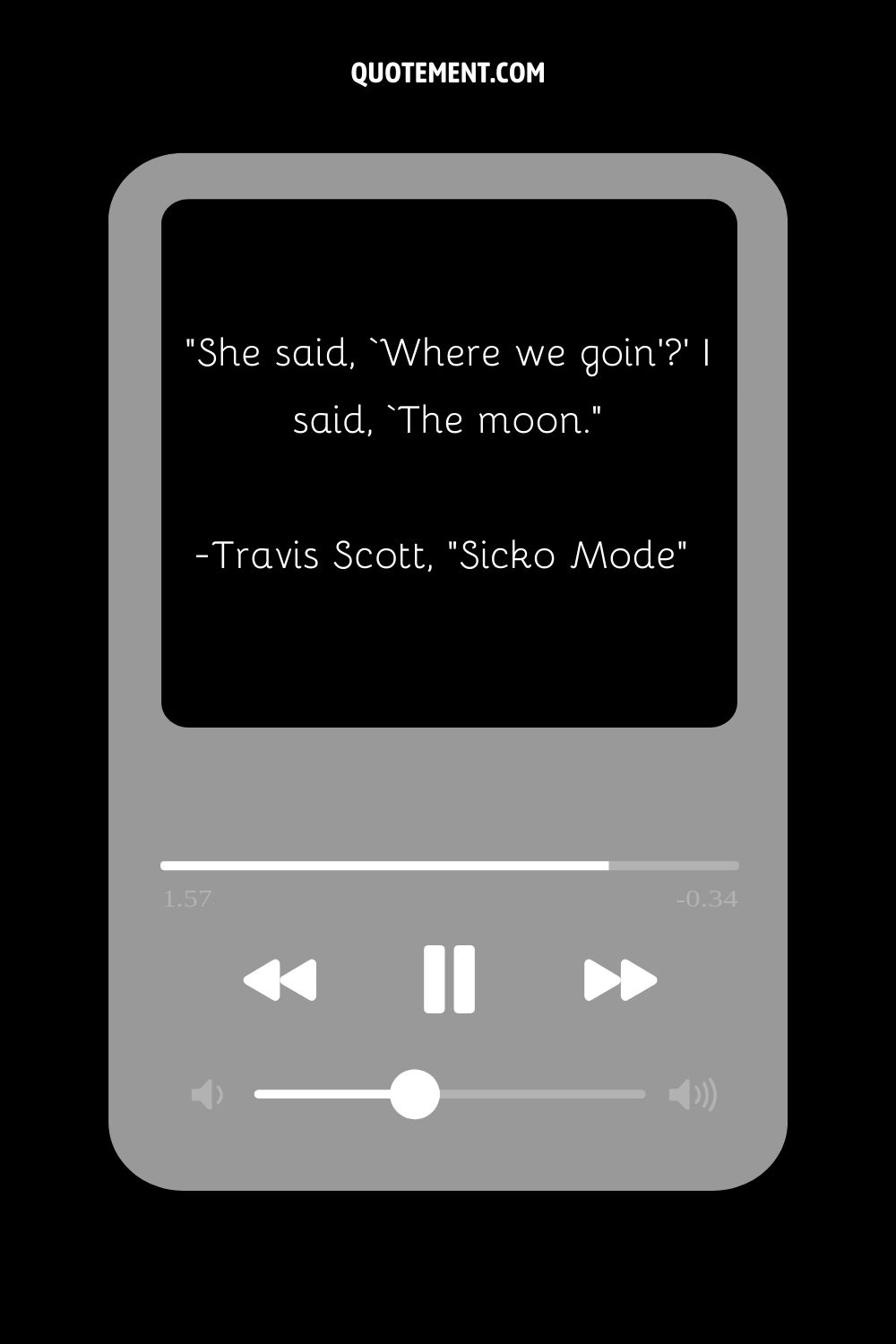 See also: 430 Beautiful Moon Captions For A Magical Instagram Post
Song Lyrics For You Crazy Group Pics
1. "If you wanna be my lover, you gotta get with my friends." — Spice Girls, "Wannabe"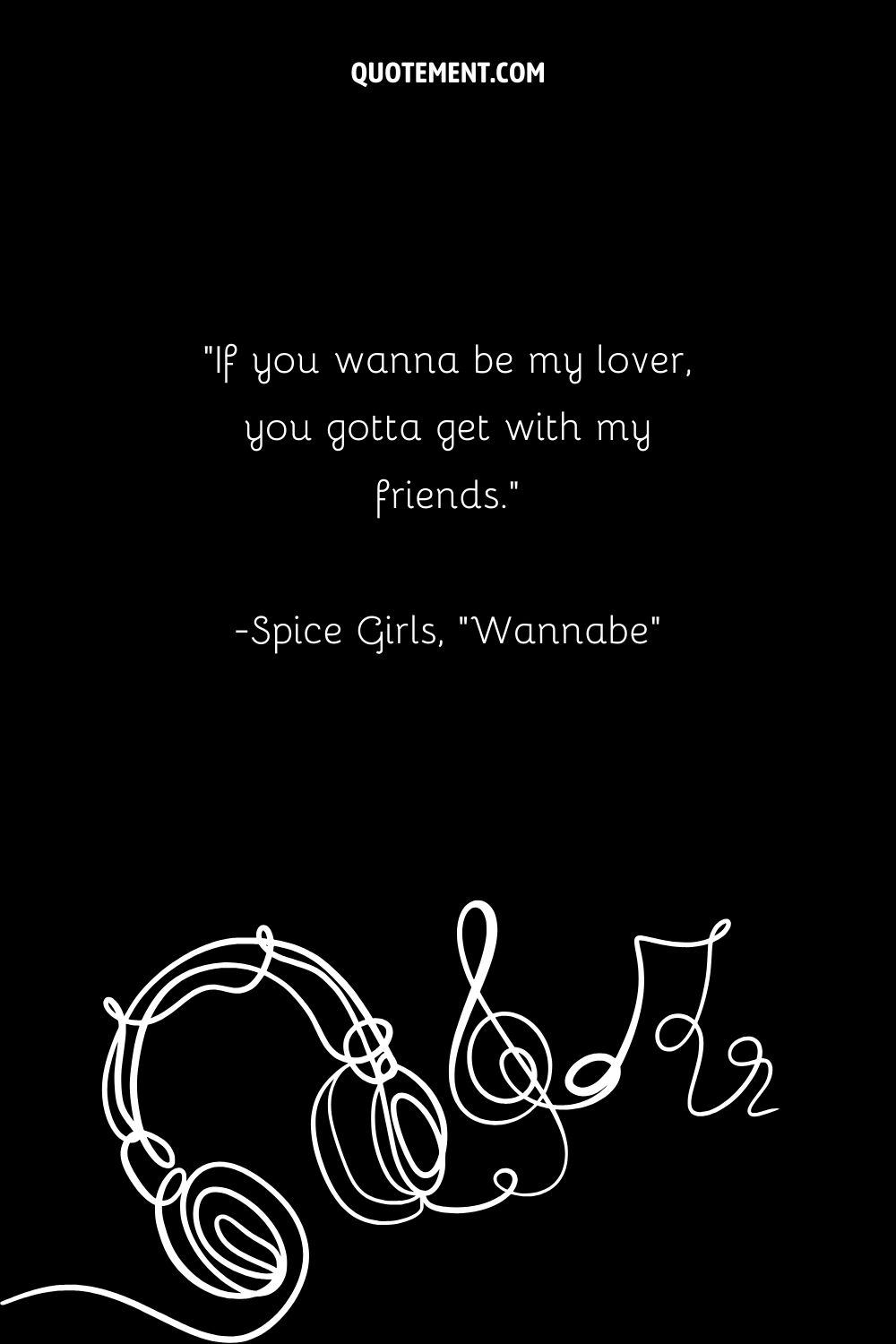 2. "For good times and bad times/ I'll be on your side forever more/ That's what friends are for" — Dionne Warwick, "That's What Friends Are For"
3. "This is our house. This is our rules." — Miley Cyrus, "We Can't Stop"
4. "A good friend and a glass of wine/ That kind of therapy money can't buy/ Every girl needs a good friend and a glass of wine" — LeAnn Rimes, "Good Friend and a Glass of Wine"
5. "These are the days we'll never forget." — Avicii, The Days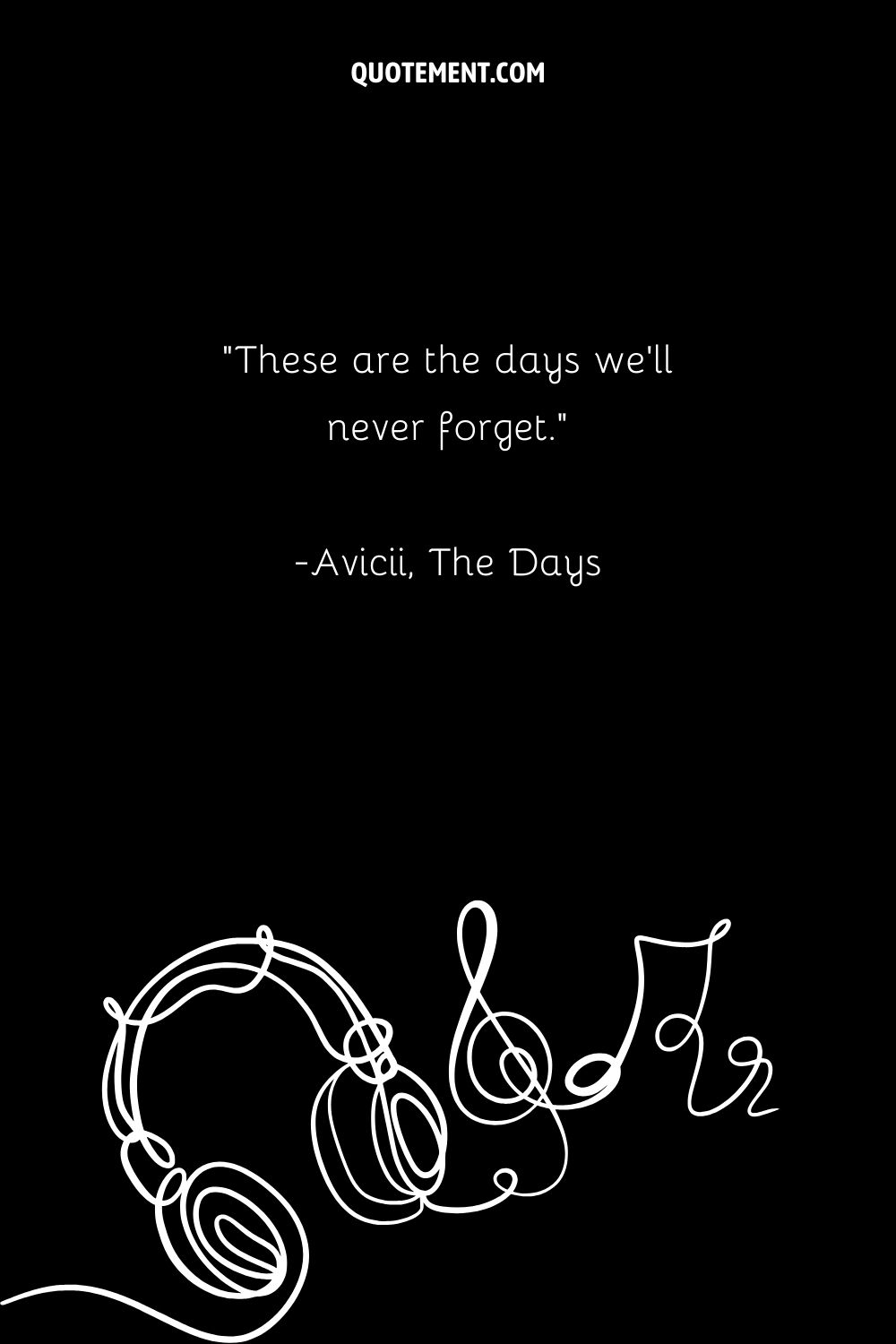 6. "The night is still young, and so are we." — Nicki Minaj "The Night Is Still Young"
7. "We are too busy dancing / To get knocked off our feet / Baby, we're the new romantics / The best people in life are free" — Taylor Swift, "New Romantics"
8. "Whole clique full of baddies." — OMG Girlz, Baddie
See also: The 120 Best Baddie Quotes For Instagram To Slay The Day
9. "Oh, I get by with a little help from my friends." — The Beatles, "With a Little Help from my Friends"
10. "I live for the nights I can't remember with the people I won't forget." — Drake, Show Me a Good Time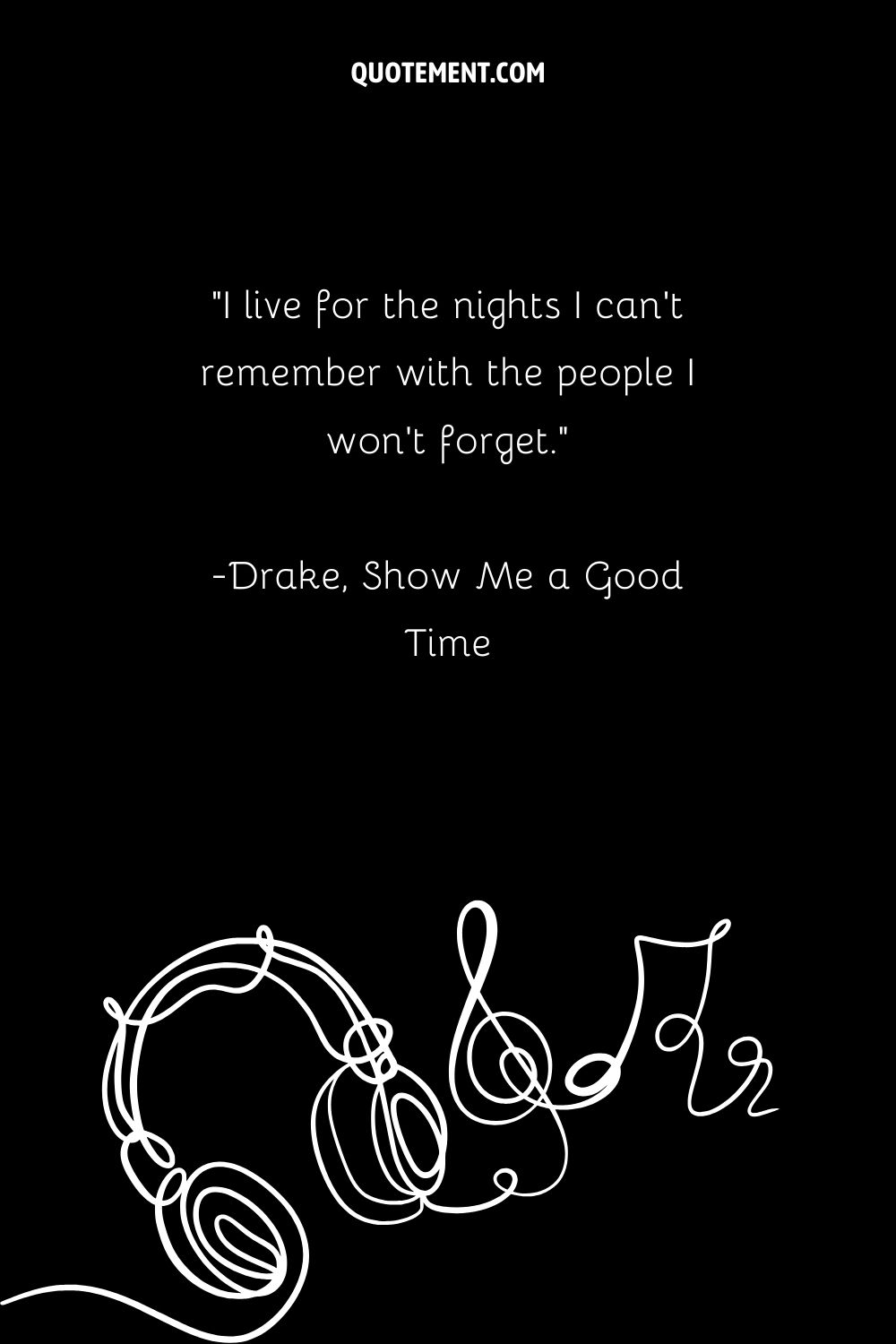 11. "As we go on, we remember All the times we had together, and as our lives change, come whatever, we will still be friends forever." — Vitamin C, "Graduation (Friends Forever)"
12. "My friends, real friends, better than your friends." — The Carters, Friends
13. "But girls they wanna have fun/ Oh girls just wanna have/ That's all they really want" — Cyndi Lauper, "Girls Just Wanna Have Fun"
14. "All you ladies leave your man at home, the club is full of ballers and their pockets full grown." — Destiny's Child, "Jumpin' Jumpin'"
15. "Sun-kissed, skin so hot, we'll melt your popsicle." — Katy Perry, "California Gurls"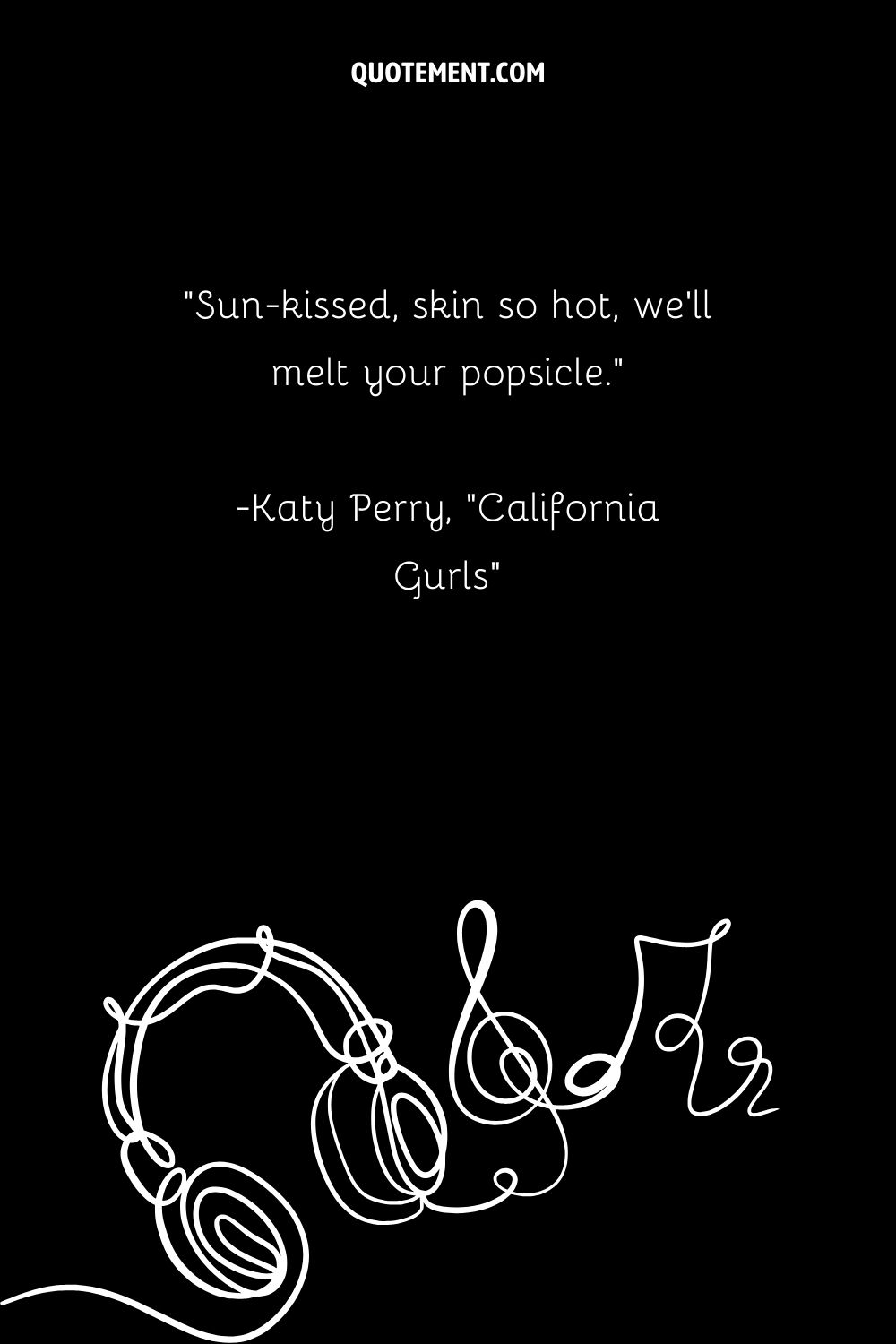 See also: 80 Glowing Sun Kissed Quotes For A Perfect Instagram Post
16. "But we're the greatest; they'll hang us in the Louvre. Down the back, but who cares – still the Louvre." — Lorde, The Louvre"
17. "I can't really see another squad trying to cross us." — Drake, "No Tellin"
18. "We breaking rules like we changing the game." — Fifth Harmony, "I'm in Love With a Monster"
19. "The circle will never end, just know that we'll meet again and we'll always be together, forever, always." — Little Mix, "Always Be Together"
20. "Everything's bright from beginning to end when you have a friend by your side." — Demi Lovato, "Gift of a Friend"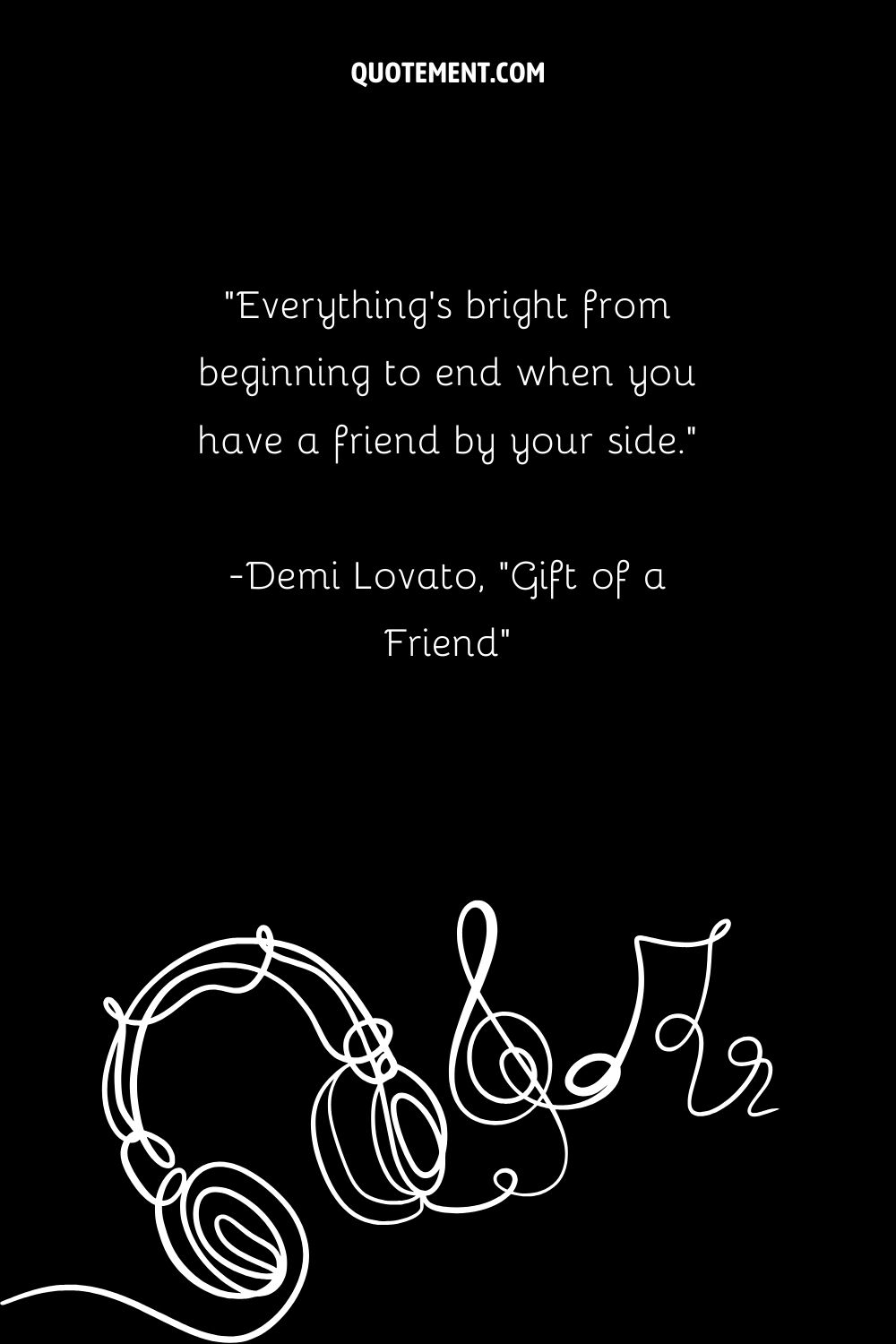 See also: 100 Awesome Quotes About Spending Time With Friends
Perfect Lyrics For Your Birthday Posts
1. "I'm dancing on my own. I make the moves up as I go." — Taylor Swift, 'Shake it Off'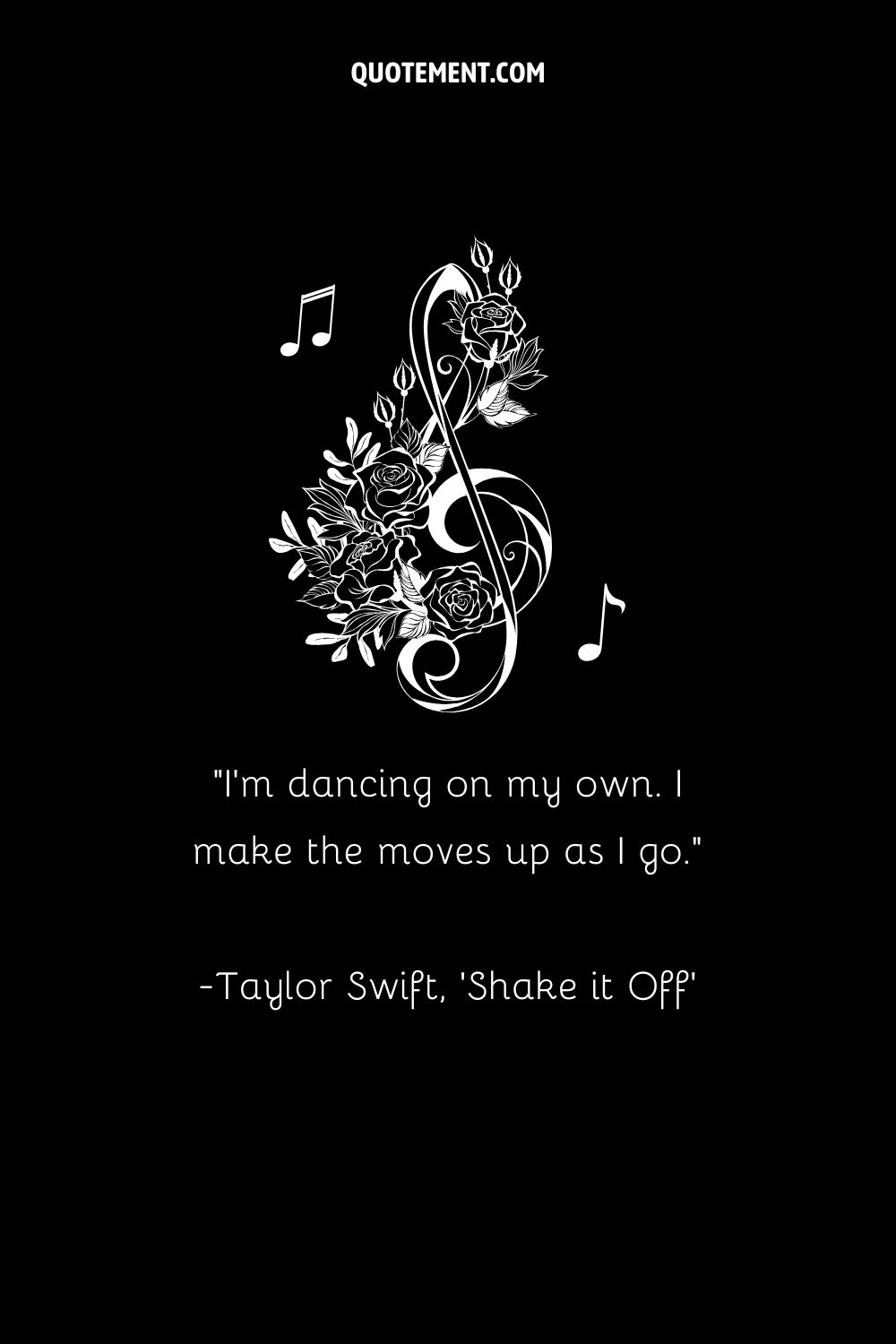 2. "A little party never killed nobody, so we gon' dance until we drop." — Fergie, "A Little Party Never Killed Nobody (All We Got)"
3. "Turn my birthday into a lifestyle" — Drake, "Pop Style"
4. "Tell 'em that it's my birthday!2 — Selena Gomez, Birthday
5. "We gonna party like it's your birthday." — 50 Cent, "In Da Club"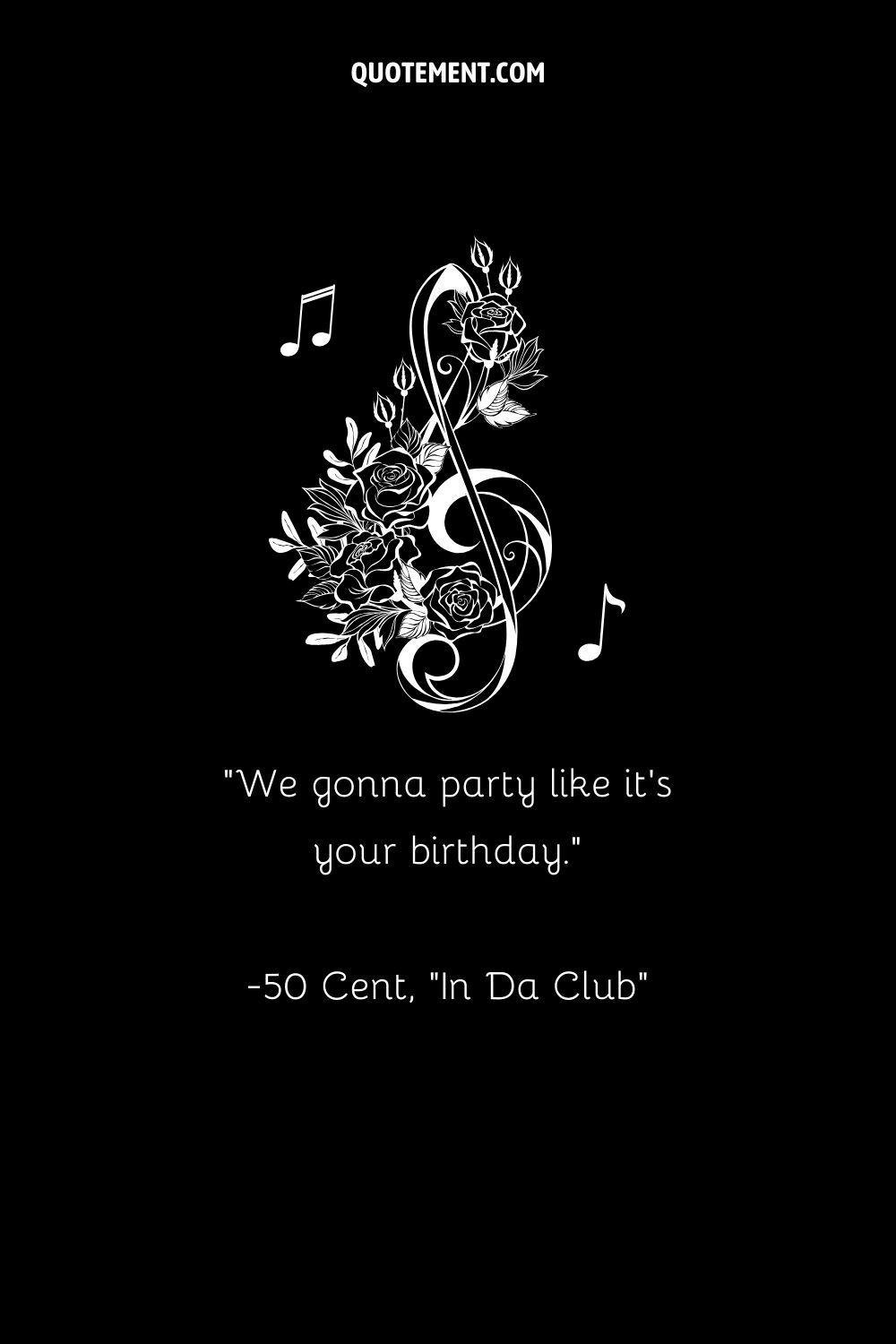 6. "Fallin' and laughin' at the drinks we spilled." — King's of Leon, 'Birthday'
7. "It's my party, and I'll cry if I want to." — Lesley Gore, It's My Party
8. "I'm living my best life. It's my birthday, at least that's what I'm dressed like." — Cardi B feat. Chance the Rapper, "Best Life"
9. "Feeling lucky today, got the sunshine. Could you tell me what more do I need?" — Taylor Swift, "A Place In This World"
10."We don't need no guest list. Everybody's invited." — Ariana Grande, "Pink Champagne"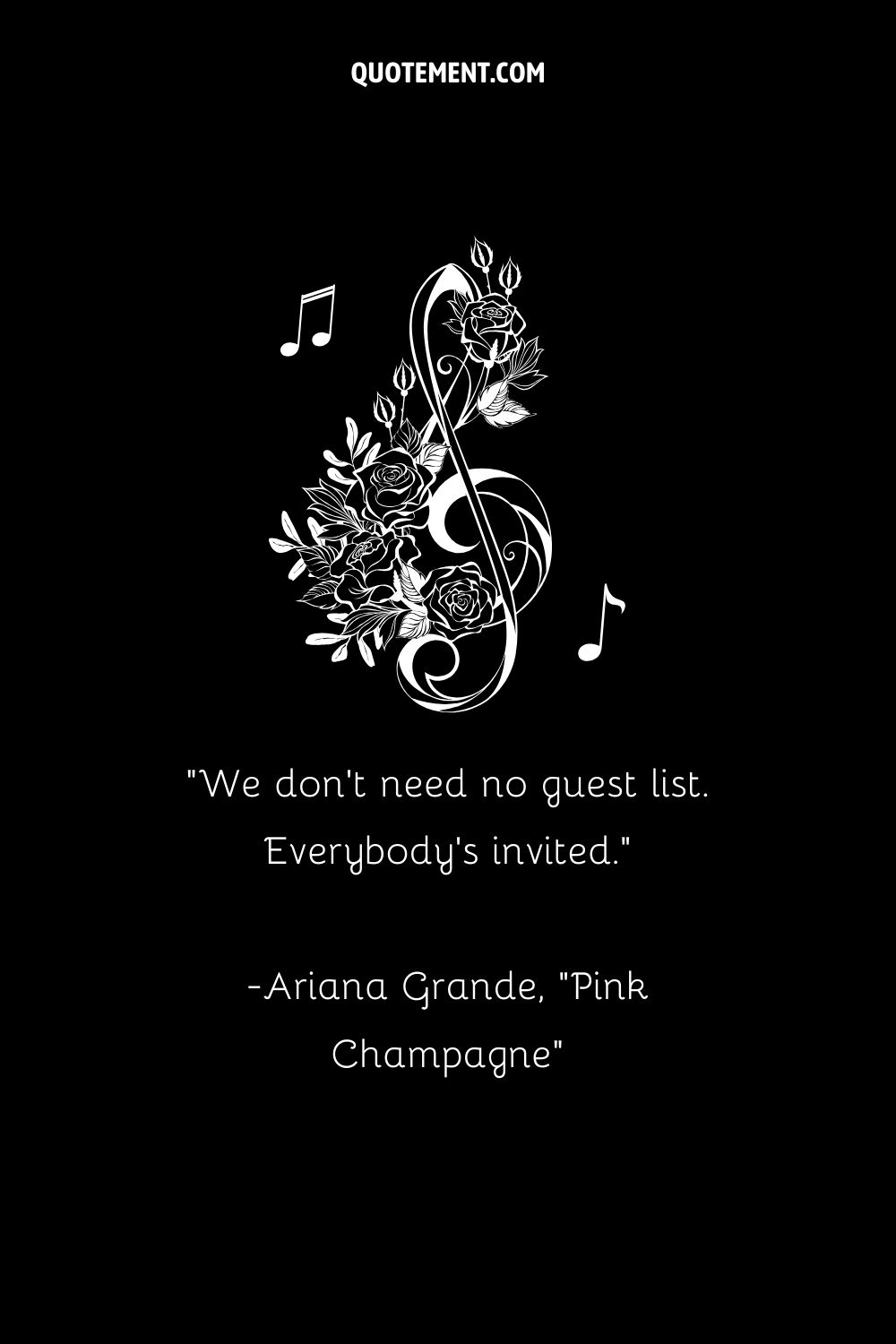 11. "It's your birthday you don't have to do nothin.'" — Destiny's Child, "Birthday"
12. "Light my candles gotta make a wish." — Madonna, B-Day Song
13."It's my birthday. I'mma live my fantasy." — will.i.am, 'It's my Birthday'
14. "But there's so much time to figure out the rest of my life." — Boys Like Girls and Taylor Swift, "Two Is Better Than One"
15. "Now, the party don't start 'til I walk in." — Kesha, "TiK ToK"
See also: Top 270 Party Captions To Get The Party Started
Song Lyrics For Travelers
1. "Looking for adventure, in whatever comes our way." — Steppenwolf, "Born To Be Wild"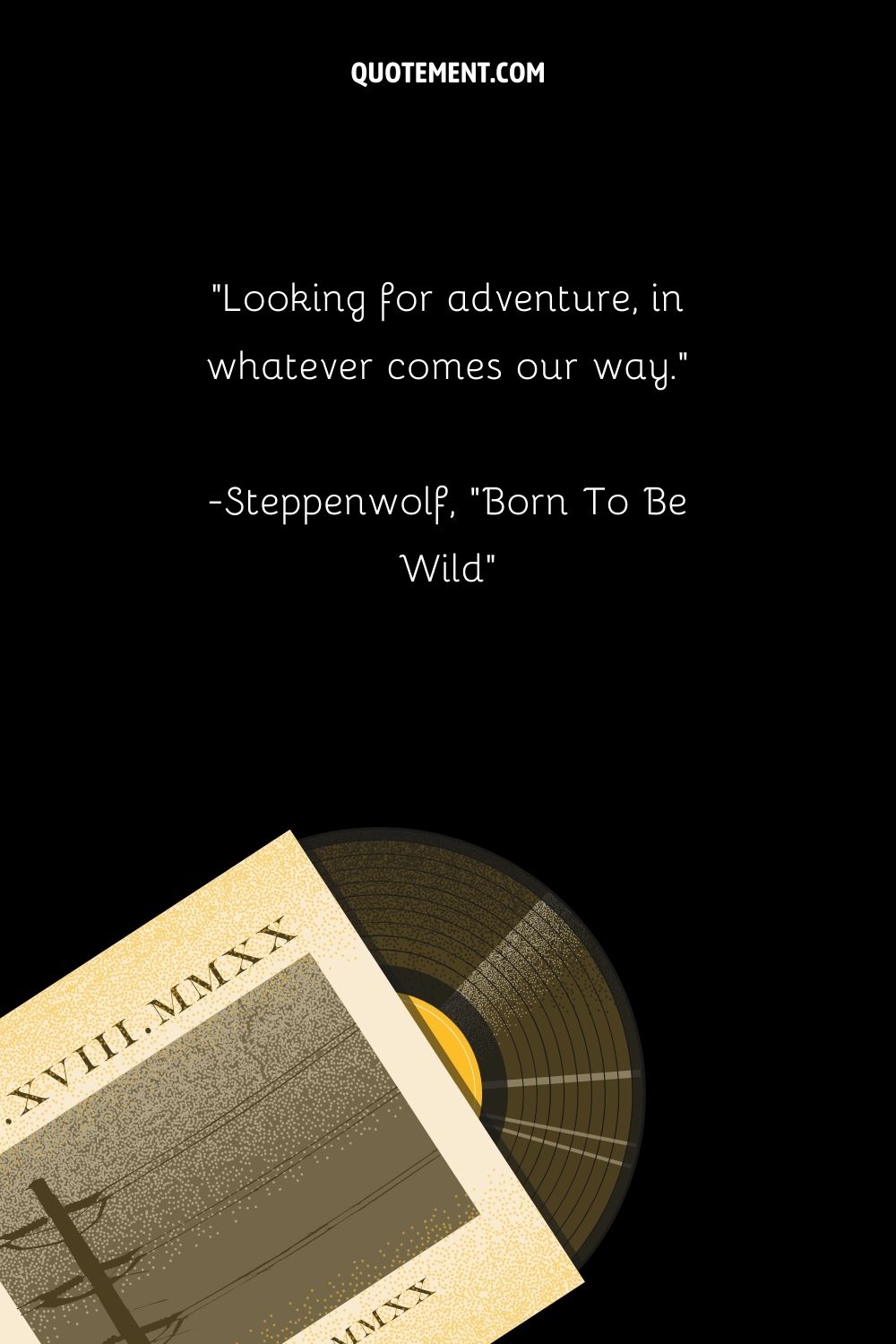 2. "Find me where the wild things are." — Alessia Cara, "Wild Things"
3. "You belong somewhere you feel free." — Tom Petty, "Wildflowers"
4. "Let's fade into the sun. Let your spirit fly where we are one, just for a little fun" — Lenny Kravitz, "Fly Away"
5. "Pick a star on the dark horizon and follow the light." — Regina Spektor, "The Call"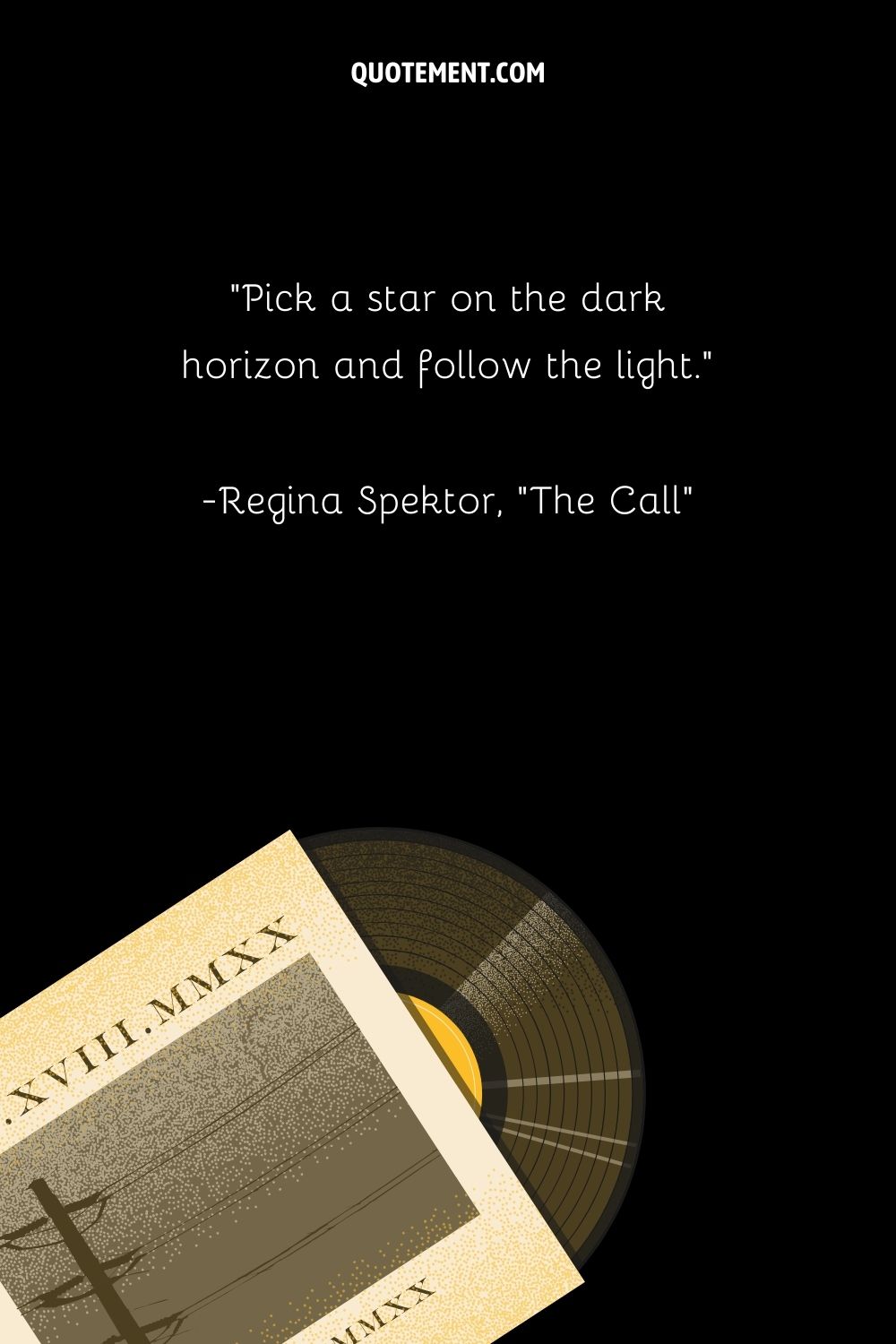 6. "Cherish these nights, cherish these people. Life is a movie, but there'll never be a sequel." — Nicki Minaj, "All Things Go"
7. "Look at the stars; look how they shine for you." — Coldplay, "Yellow"
8. "Why work so hard when you could just be free?" — Lana Del Rey, "Swan Song"
9. "We can climbed so high, I never wanna die." — Steppenwolf, "Born To Be Wild"
10. "The road's calling again tonight, dreaming under street lights." — Kongos, "Traveling On"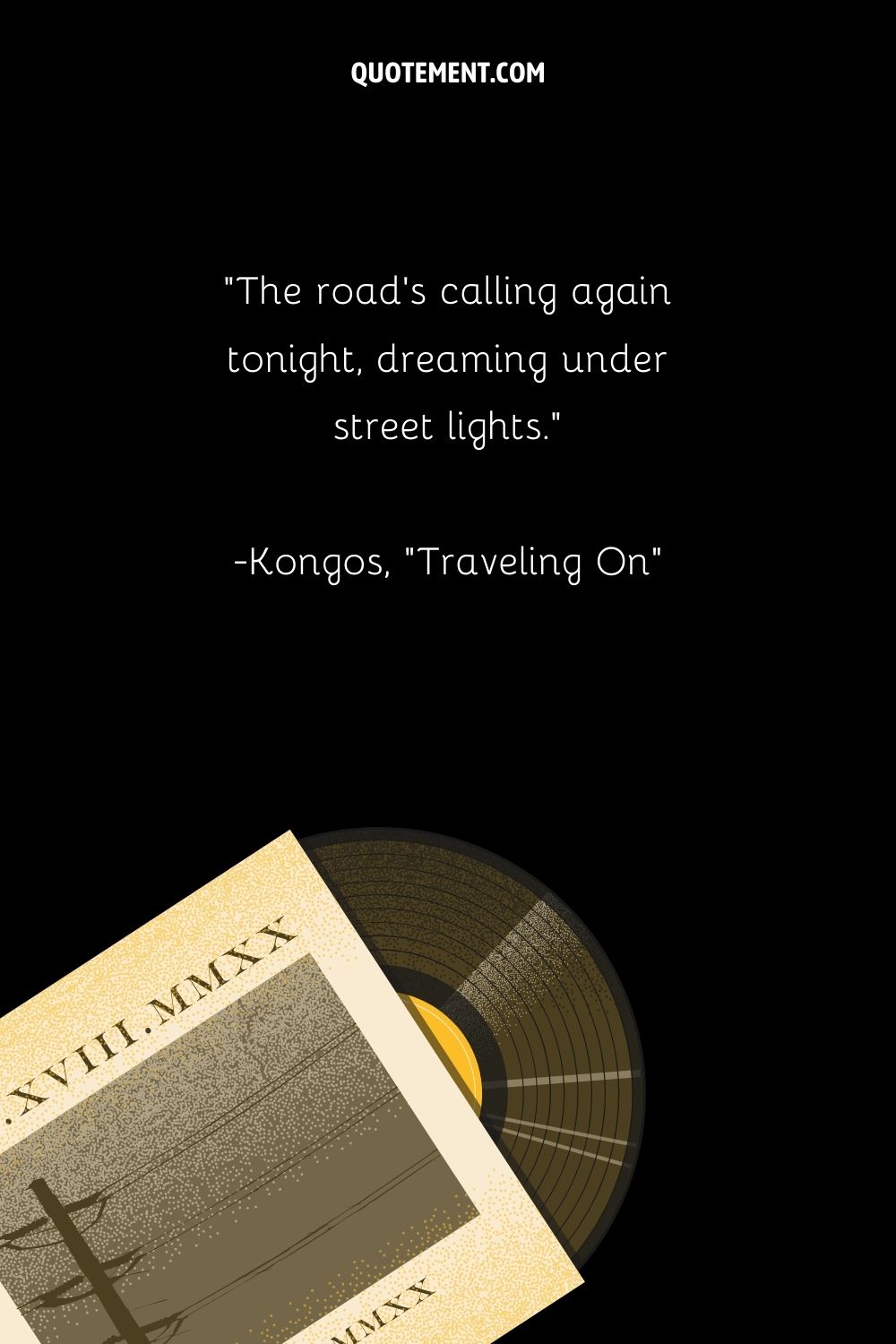 See also: 180 Best Road Trip Captions For All The World Wanderers
11. "Let's live our life, tomorrow doesn't always come. Don't try to hide, let's have some fun." — DJ Cassidy, "Kill The Lights"
12. "Listen to the river sing sweet songs to rock my soul." — The Grateful Dead, "Brokedown Palace"
13. "Imagine there's no countries. It isn't hard to do. Nothing to kill or die for. And no religion too. Imagine all the people. Living life in peace. You may say that I'm a dreamer. But I'm not the only one. I hope someday you'll join us. And the world will be as one." — John Lennon, "Imagine"
14. "I'd like to stay here for a while and go wild." — Maïa Vidal, "Our Palace"
15. "I think I need a sunrise, I'm tired of the sunset." — Augustana, "Boston"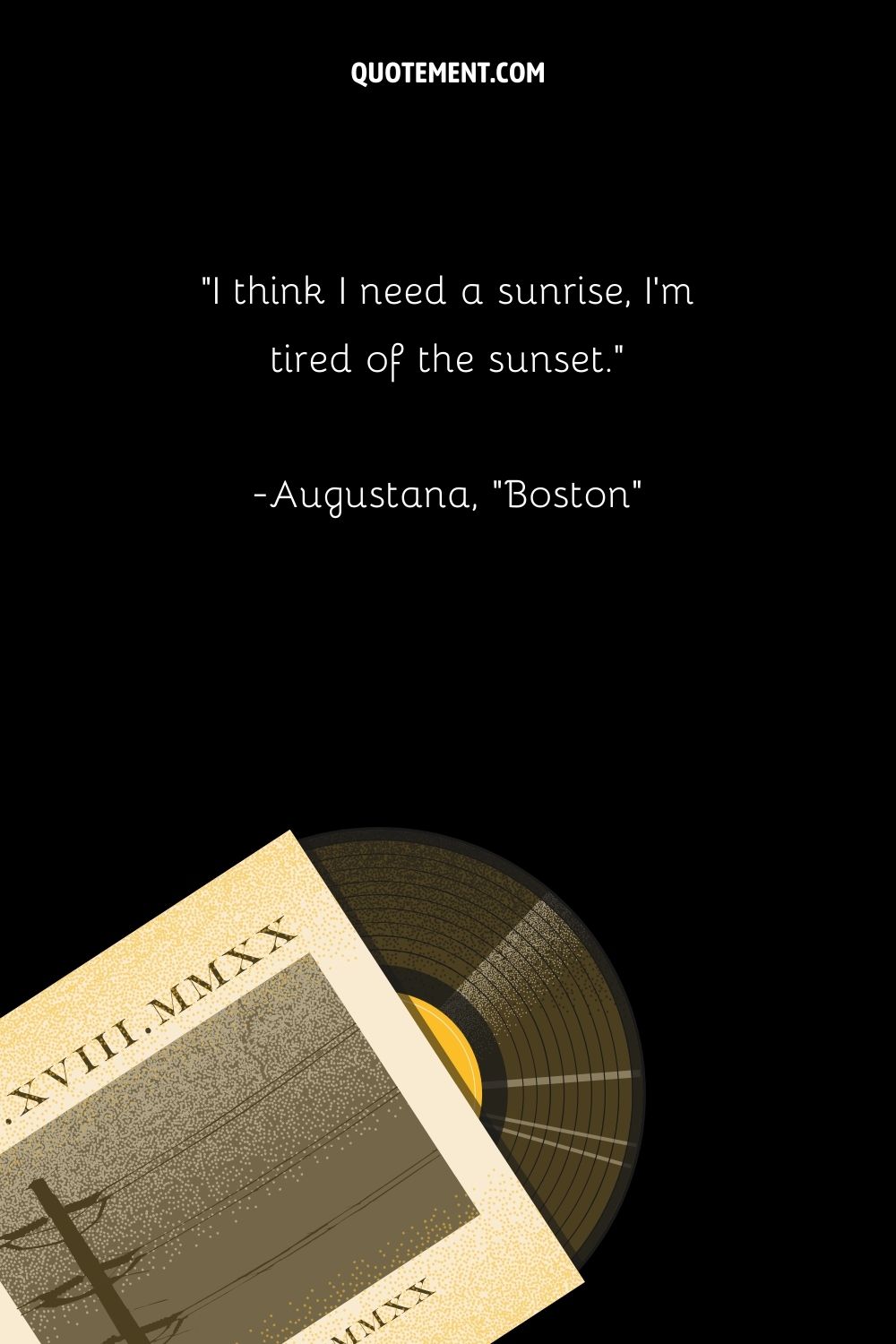 See also: 340 Absolutely Best Sunset Captions For Instagram + Quotes
Taylor Swift Song Lyrics For Captions
1. "I think I've seen this film before, and I didn't like the ending." — Taylor Swift, "Exile"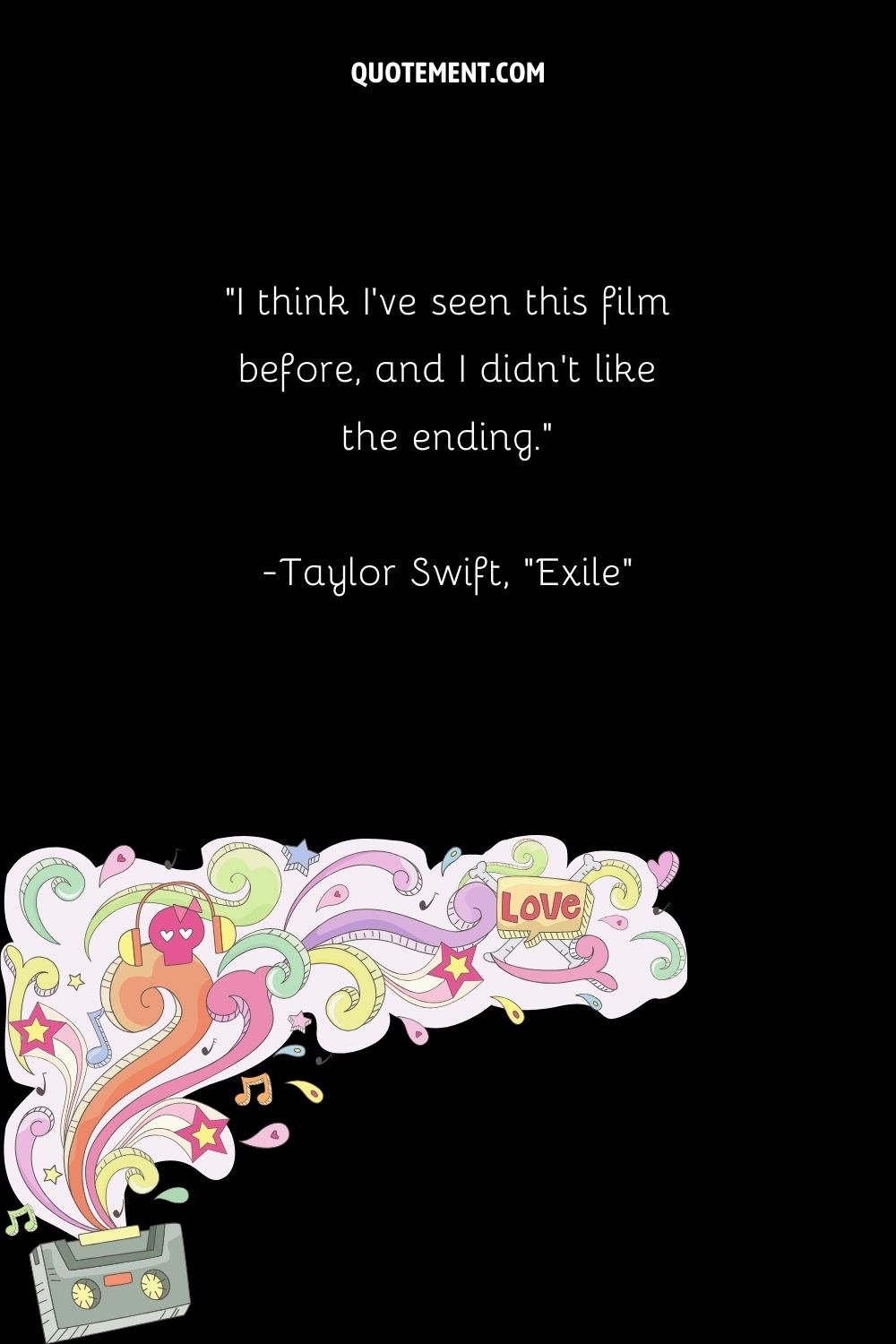 2. "I don't dress for women. I don't dress for men. Lately, I've been dressing for revenge." — Taylor Swift, "Vigilante S***"
3. "The rest of the world was in black and white, but we were in screaming color." — Taylor Swift, "Out Of The Woods"
4. "You don't know about me, but I bet you want to." — Taylor Swift, "22"
5. "Darling I'm a nightmare dressed like a daydream." — Taylor Swift, "Blank Space"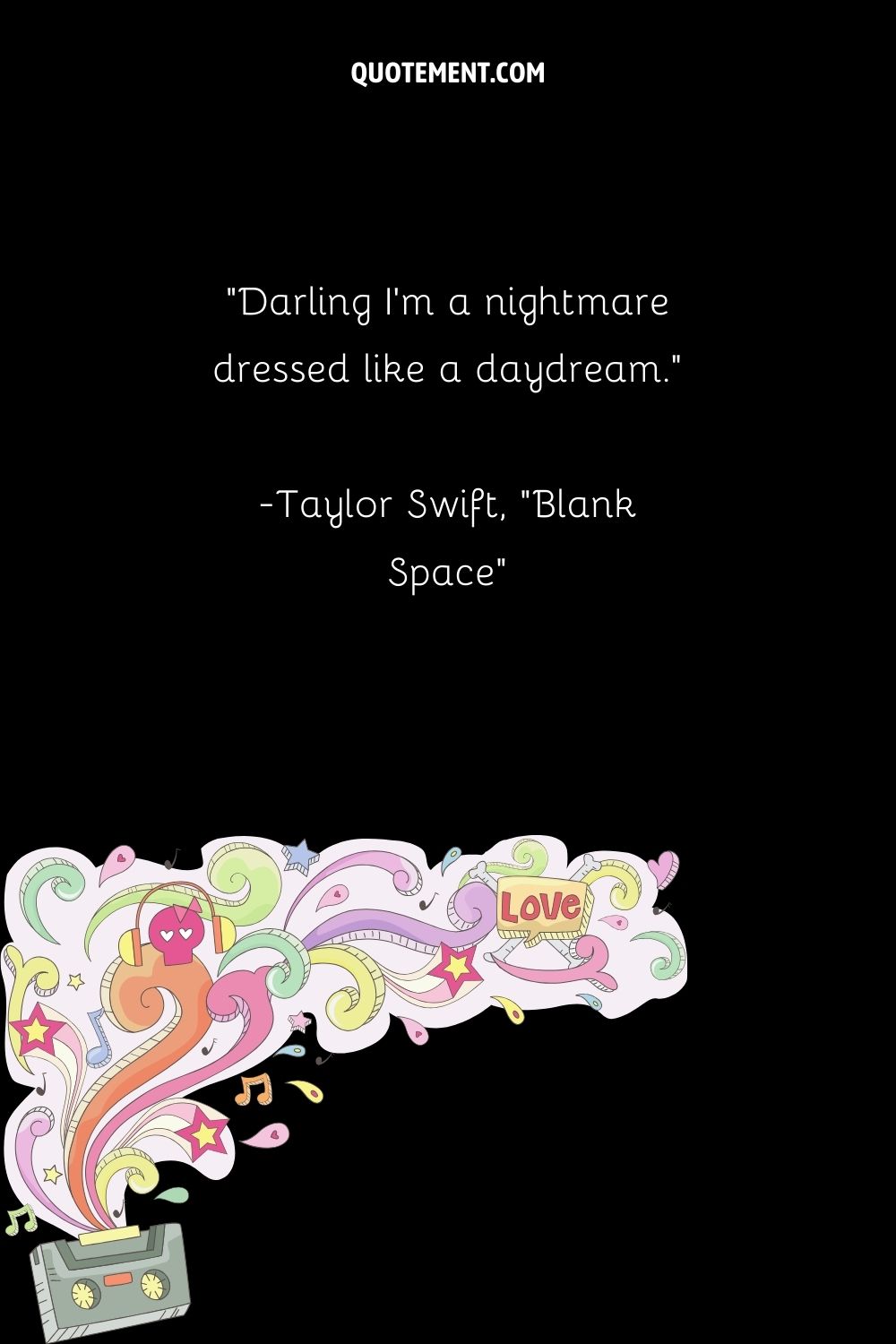 6. "They said the end is coming. Everyone's up to something. I find myself running home to your sweet nothings." — Taylor Swift, "Sweet Nothings"
7. "Your past and mine are parallel lines. Stars all aligned and they intertwined." — Taylor Swift, "To All of the Girls You Loved Before"
8. "I wanna be your end game. I wanna be your first string. I wanna be your A-Team." — Taylor Swift, 'End Game'
9. "The world moves on, another day another drama, drama. But not for me, not for me, all I think about is karma." — Taylor Swift, "Look What You Made Me Do"
10. "My love had been frozen deep blue, but you painted me golden." — Taylor Swift, "Dancing With Our Hands Tied"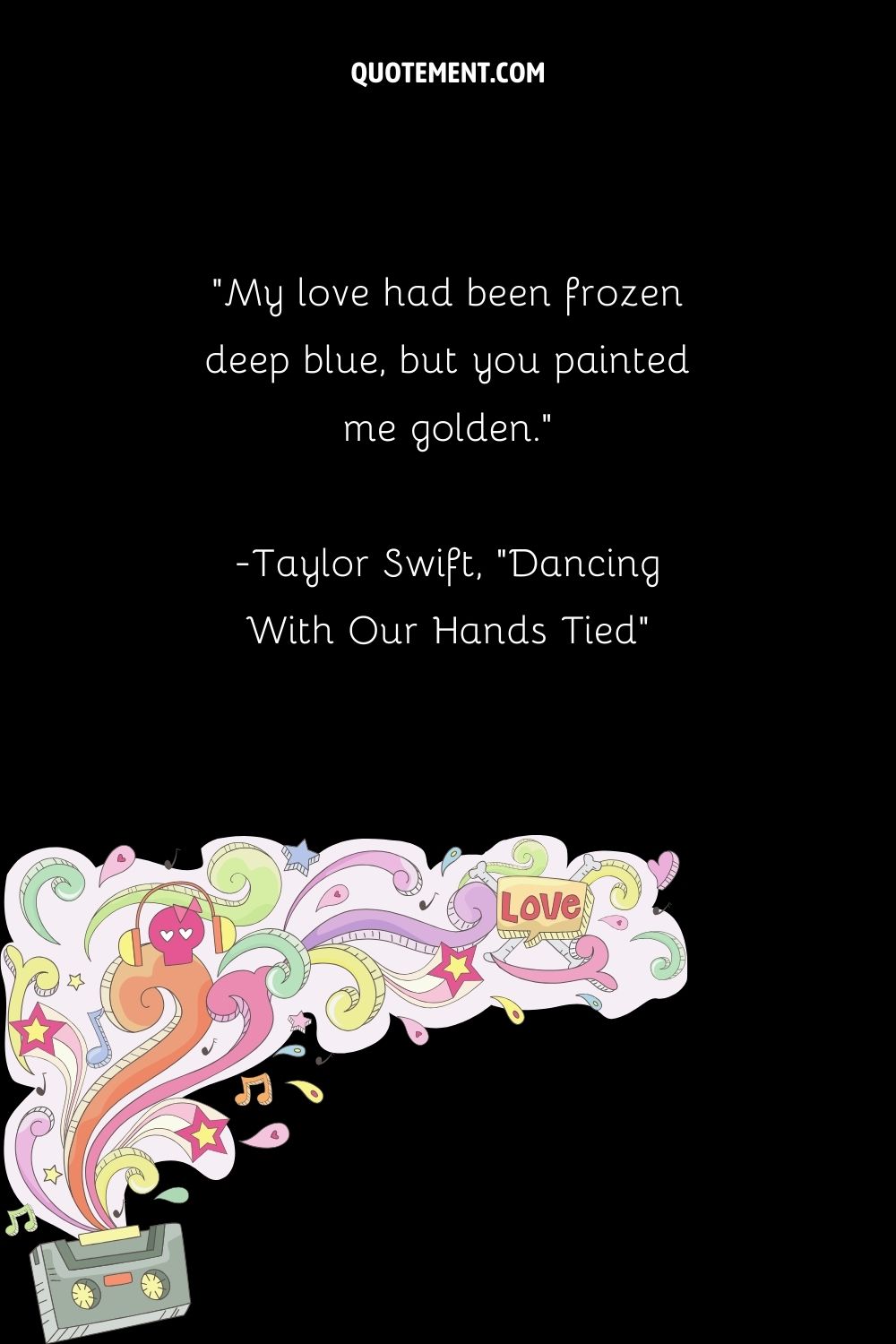 11. "And all the pieces fall right into place. Getting caught up in a moment, lipstick on your face." — Taylor Swift, "So It Goes"
12. "That old familiar body ache. The snaps from the same little breaks in your soul. You know when it's time to go." — Taylor Swift, "it's time to go"
13. "I'll spend forever wondering if you knew I was enchanted to meet you." — Taylor Swiift, "Enchanted"
14. "You showed me colors you know I can't see with anyone else." — Taylor Swift, "Illicit Affairs"
15. "I'm perfectly fine. I live on my own. I made up my mind. I'm better off bein' alone." — Taylor Swift, "King Of My Heart"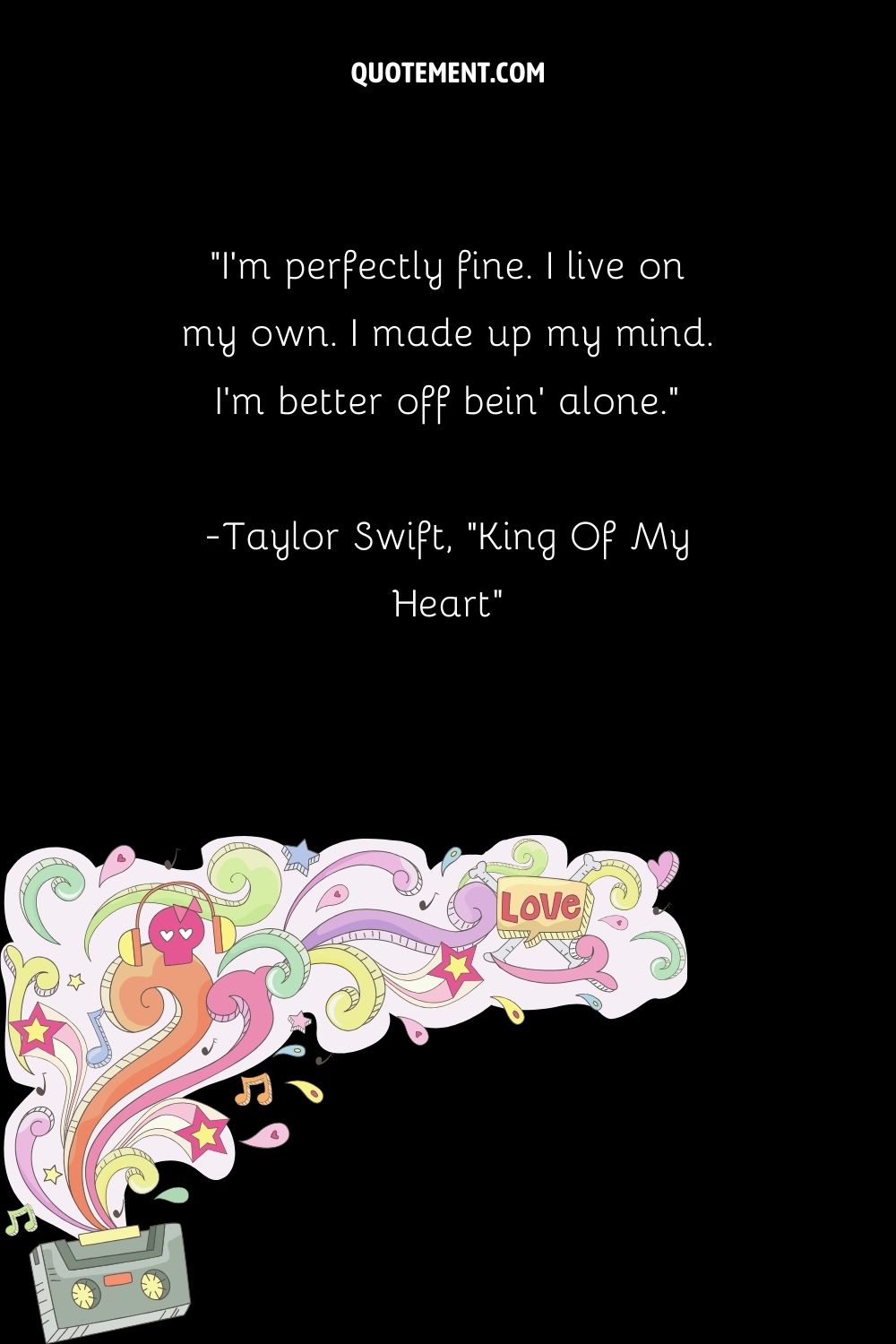 See also: 110 Attitude Happy Alone Quotes That Will Uplift You
Thought-Provoking Song Lyrics For Instagram Captions
1. "All this time I was finding myself and I didn't know I was lost." — Avicii, "Wake Me Up"
2. "Are you sure you want to party with the demons?" — Travis Scott," "Beibs in the trap"
3. "Hush. It's okay. Dry your eye. Soulmate, dry your eye cause soulmates never die." — Placebo, Sleeping With Ghosts
4. "Sometimes you gotta break your heart to save your soul." — Bryson Tiller ft. Big Sean, Still Yours
5. "Emancipate yourselves from mental slavery. None but ourselves can free our minds." ― Bob Marley, "Redemption Song"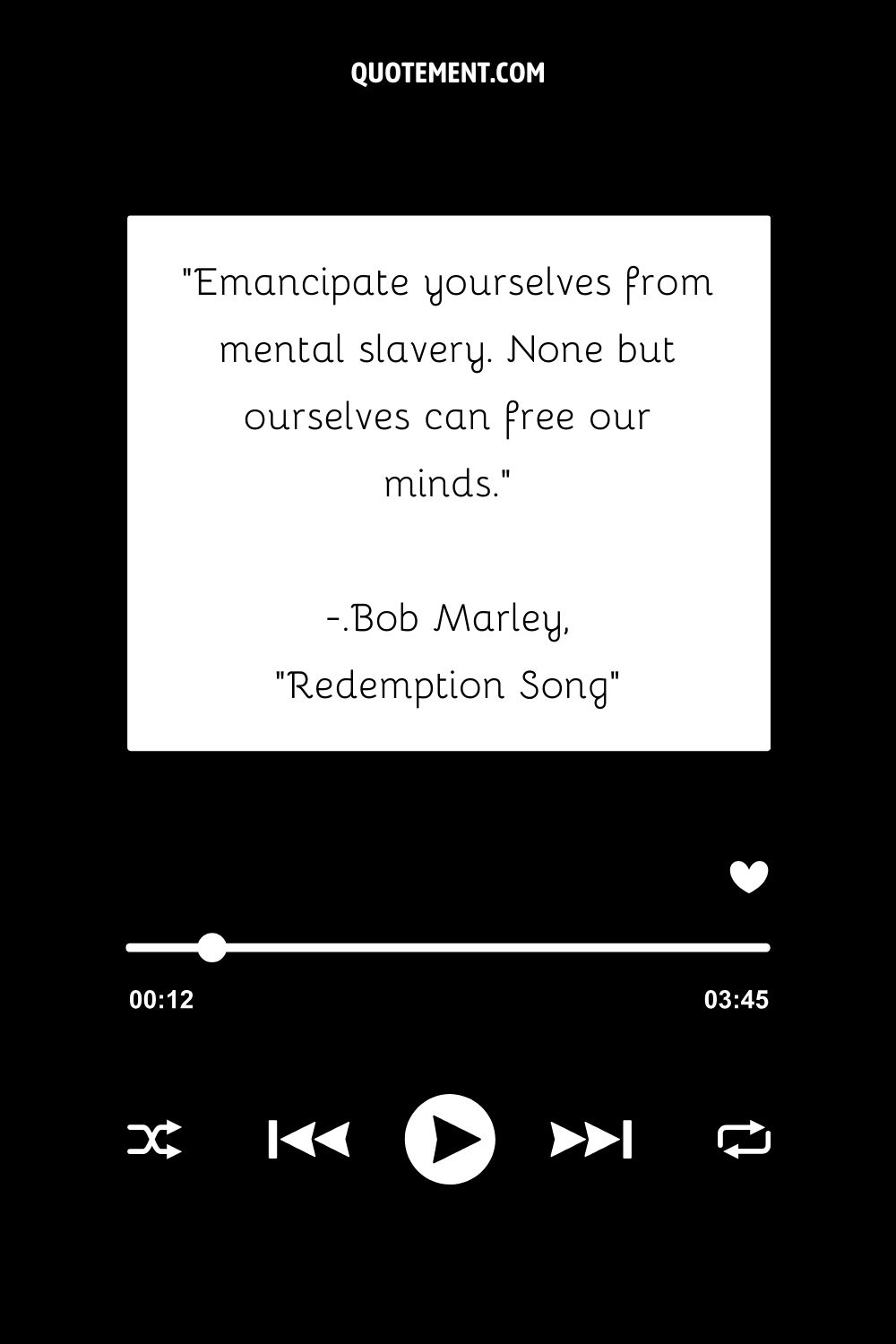 6. "Heaven knows that I've been told, paid for the life that I chose" — The Weekend, "Ordinary Life"
7. "I tried so hard and got so far, but in the end it doesn't even matter." — Linkin Park, "In The End"
8. "The story of life is quicker than the wink of an eye; the story of love is hello and goodbye…until we meet again." ― Jimi Hendrix, "The Story Of Life"
9. "There's no beginning, and there is no end." — Mariah Carey, "Fantasy"
10. "Every start has an end. Every first has a last. Every now has a then. Every future has a past." — Morgan Wallen, "Quittin' Time"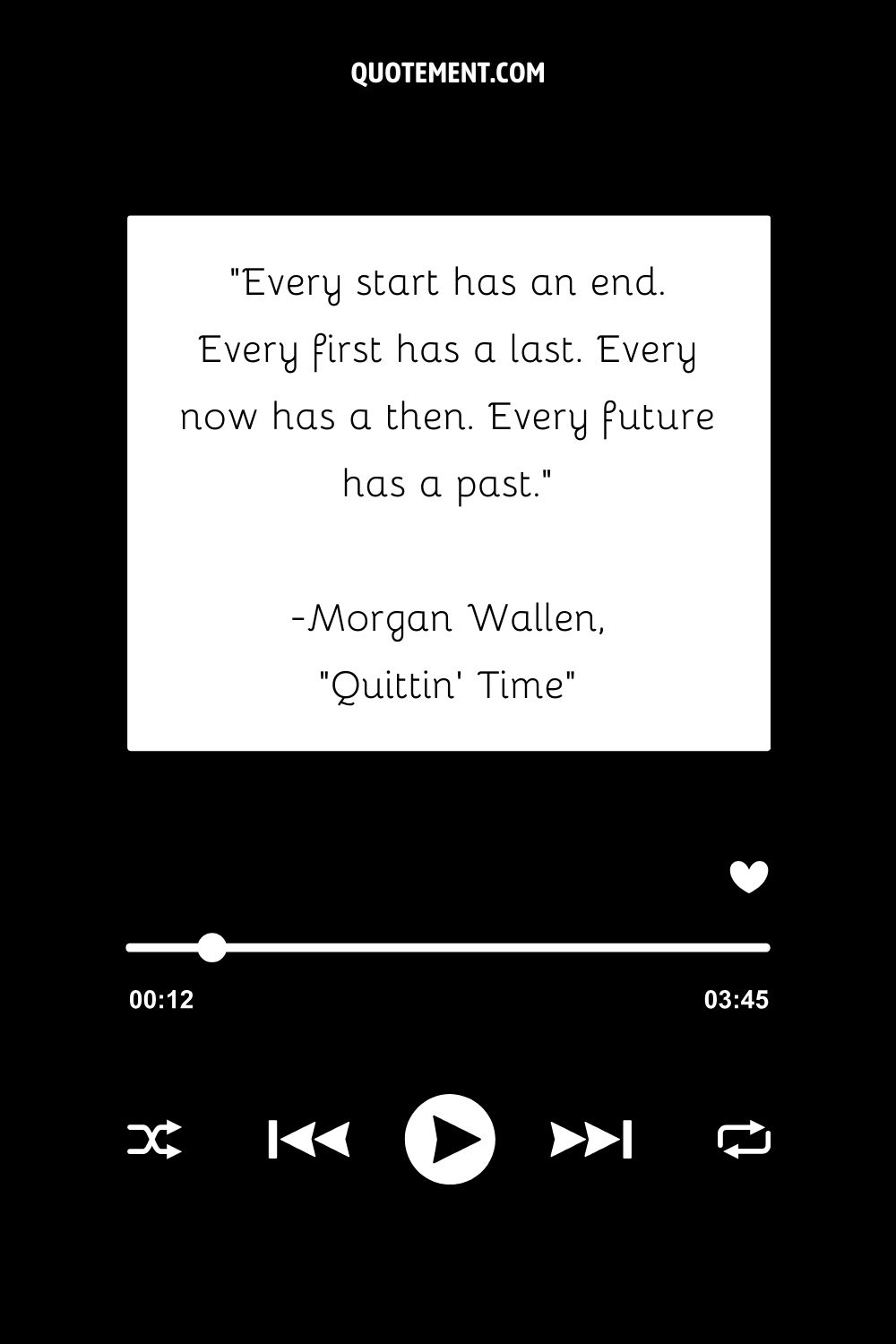 11. "Hold your breath and count to 10. Then fall apart and start again." — Placebo, "English Summer Rain"
12."We ain't picture perfect but we worth the picture still." — J.Cole, "Crooked Smile"
13. "One of these days the clocks will stop and time won't mean a thing." — Foo Fighters
14. "You say you're somebody now, but what's a somebody in a nobody town." — The Weeknd, Professional
15. "Sometimes it may seem dark, but the absence of the light is a necessary part." — Jason Mraz, "93 Million Miles"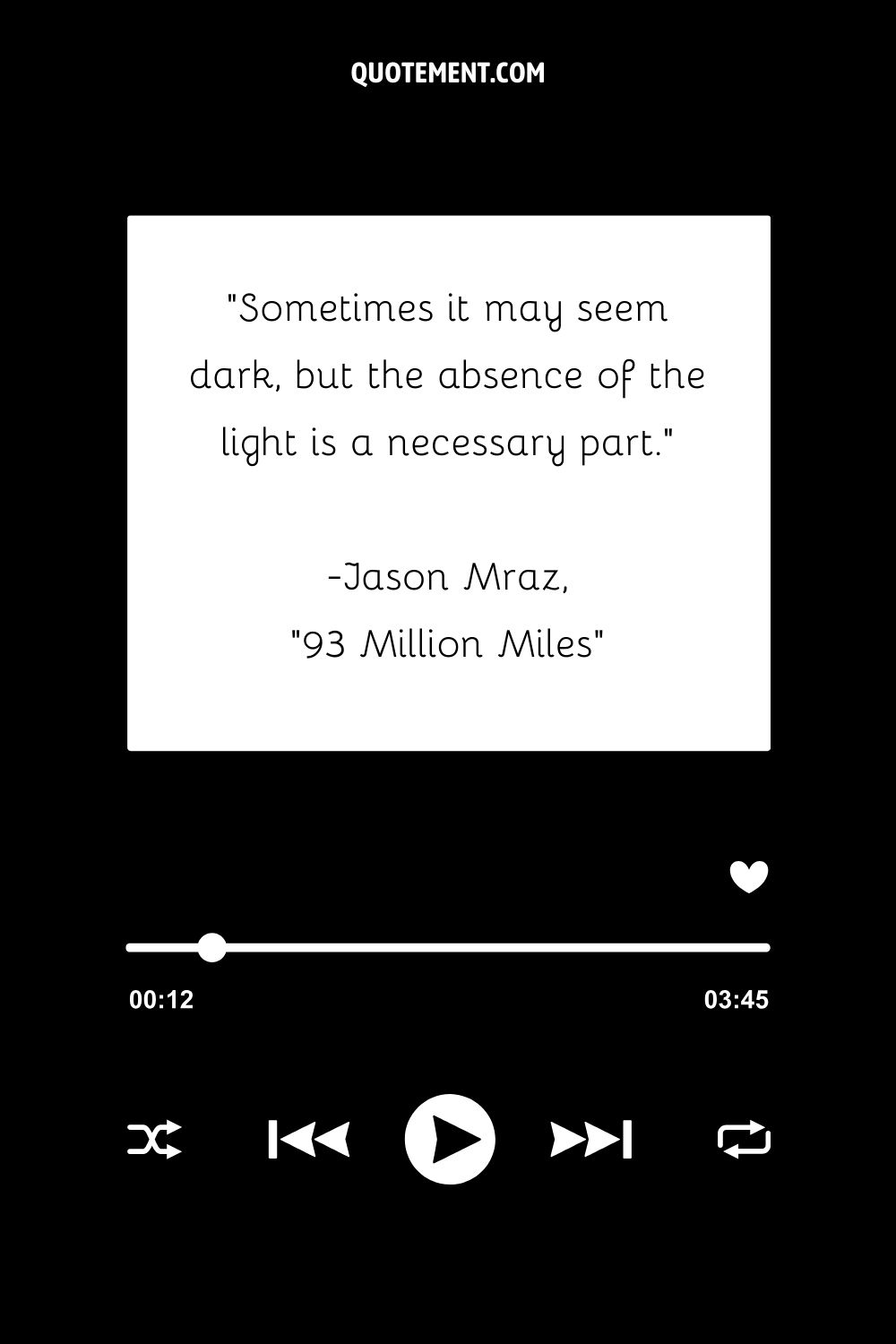 See also: 150 Deep Dark Quotes About Life, Death, Pain & Love
16. "Nobody said it was easy, no one said it would be this hard." — Coldplay, "The Scientist"
17. "But there are mountains, and there are doors that we can't walk through" — Zan Efron, "Rewrite The Stars"
18. "I wanna thank god for workin' way harder than Satan. He's playin' favorites, it feels amazin'" — Drake, "Elevate"
19. "I'm just a soul whose intentions are good. Oh, Lord, please don't let me be misunderstood." — Animals, "Don't Let Me Be Misunderstood"
20. "Even though you're fed up, you have to keep your head up." — Tupac, "Keep Ya Head Up"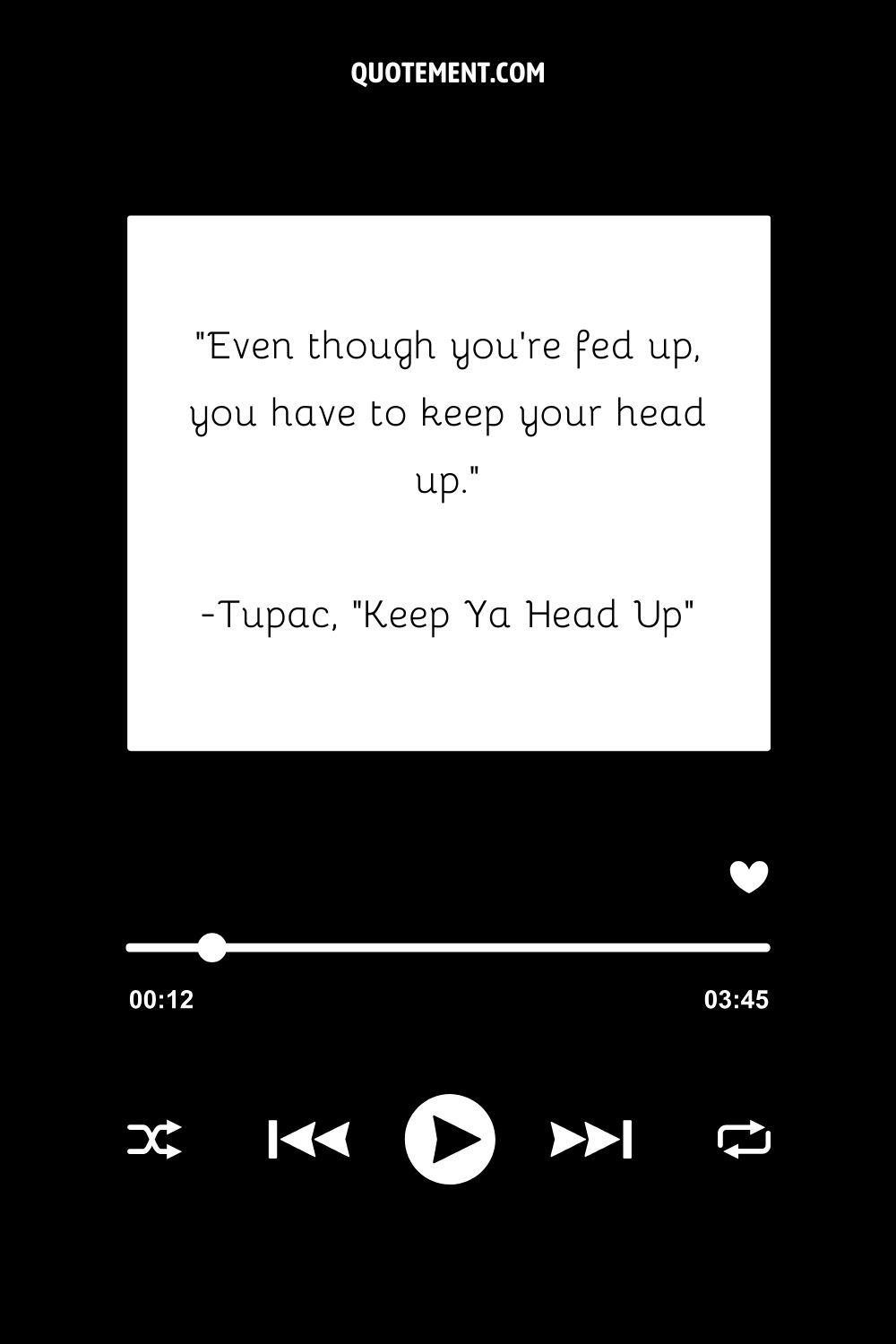 21. "The question isn't do he love ya. The question is, do ya love yourself? You give the best advice to your friends and not take it for yourself." — Big Sean, "Jump Out The Window"
22. "Isn't it lovely, all alone? My heart is made of glass, my mind of stone. Tear me to pieces, skin to bone. Hello, welcome home." — Billie Eilish, "Lovely"
23. "And in the spring I shed my skin, and it blows away with the changing winds" — Florence + the Machine, "Rabbit Heart (Raise it Up)"
24. "Ask me how I'm doing, I'll say okay. But ain't that what we all say?" — NF, "If You Want Love"
25. "Dreams stopped being dreams when I turned 'em into goals." — Big Sean, "First Chain"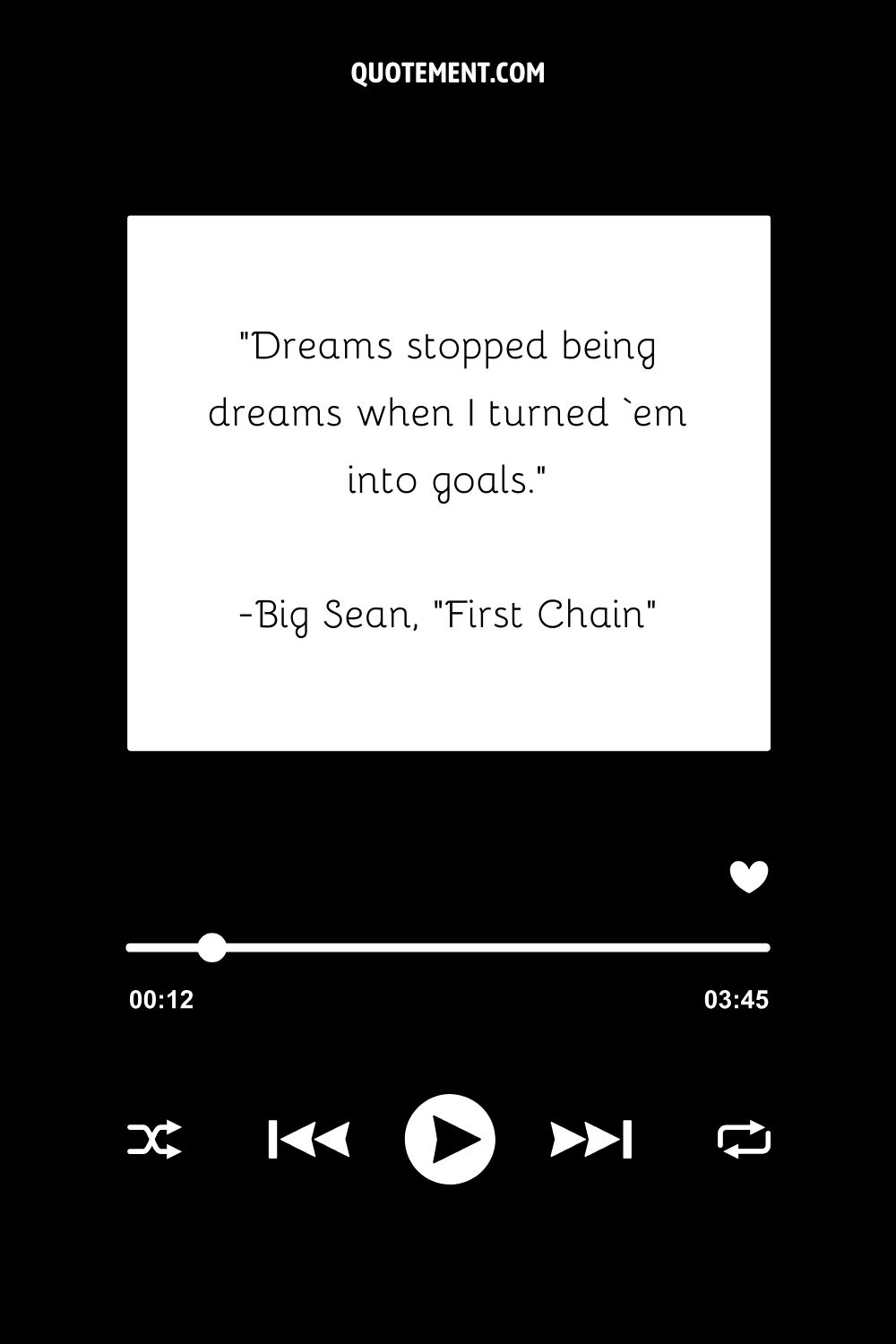 See also: 120 Follow Your Dreams Quotes To Keep You On The Track
To Sum Up
So there you have it, 200 of the best song lyrics for Instagram captions. Now go forth and spread your musical love with the world!