Here's a reminder that life, despite all its ups and downs, is beautiful.
Join me and discover an ultimate collection of cute life quotes that are guaranteed to put a smile on your face.
We all need a bit of help to stay inspired and enthusiastic while facing personal challenges.
This collection is here to make sure you don't lose your spark.
Top 10 Cute Life Quotes To Live By
1. "The way I see it, if you want the rainbow, you gotta put up with the rain." — Dolly Parton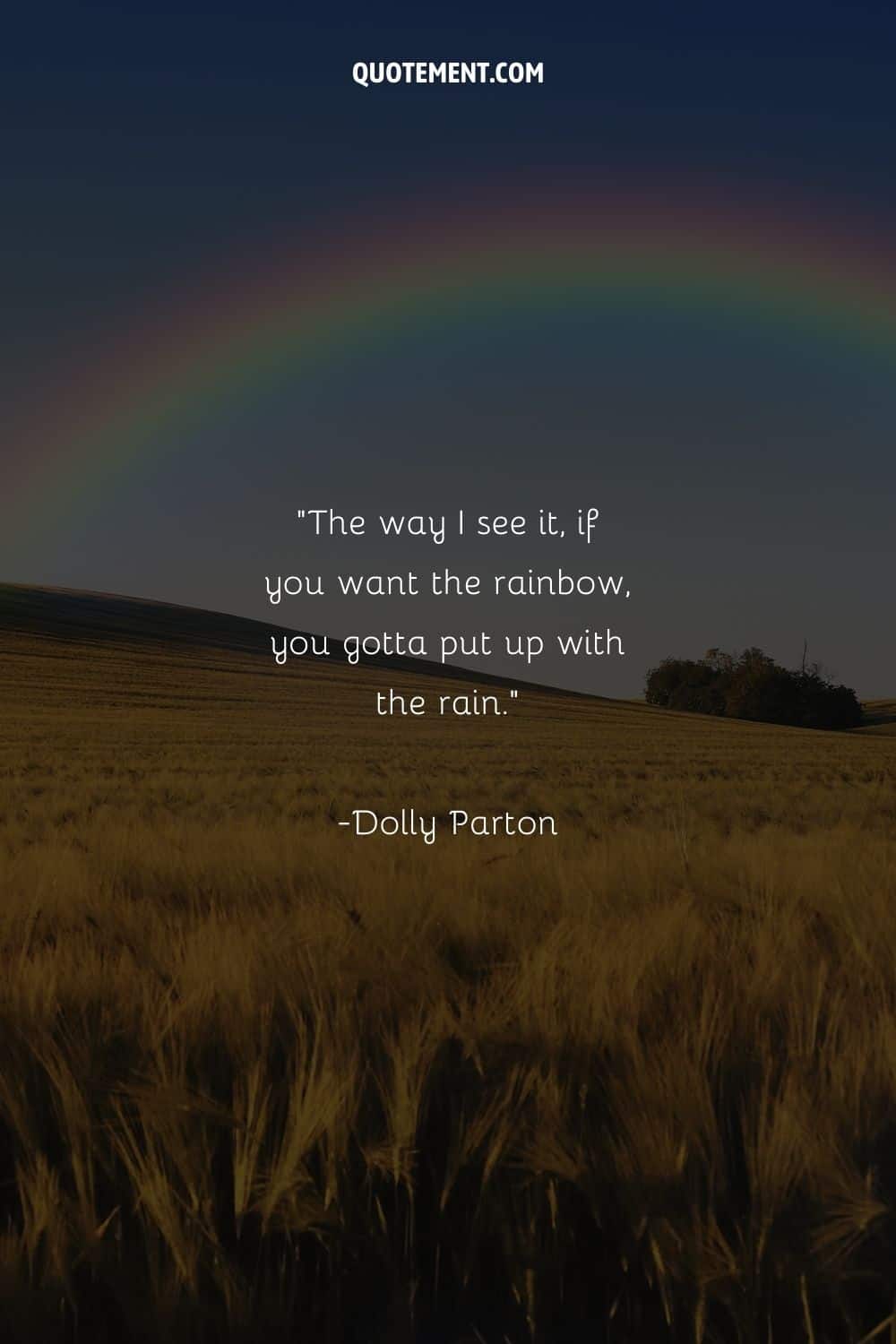 2. "If you want to live a happy life, tie it to a goal, not to people or things." – Albert Einstein
3. "Good friends, good books, and a sleepy conscience: this is the ideal life." — Mark Twain
4. "Happiness can be found even in the darkest of times if one only remembers to turn on the light." — Dumbledore
5. "Life isn't about finding yourself. Life is about creating yourself." — George Bernard Shaw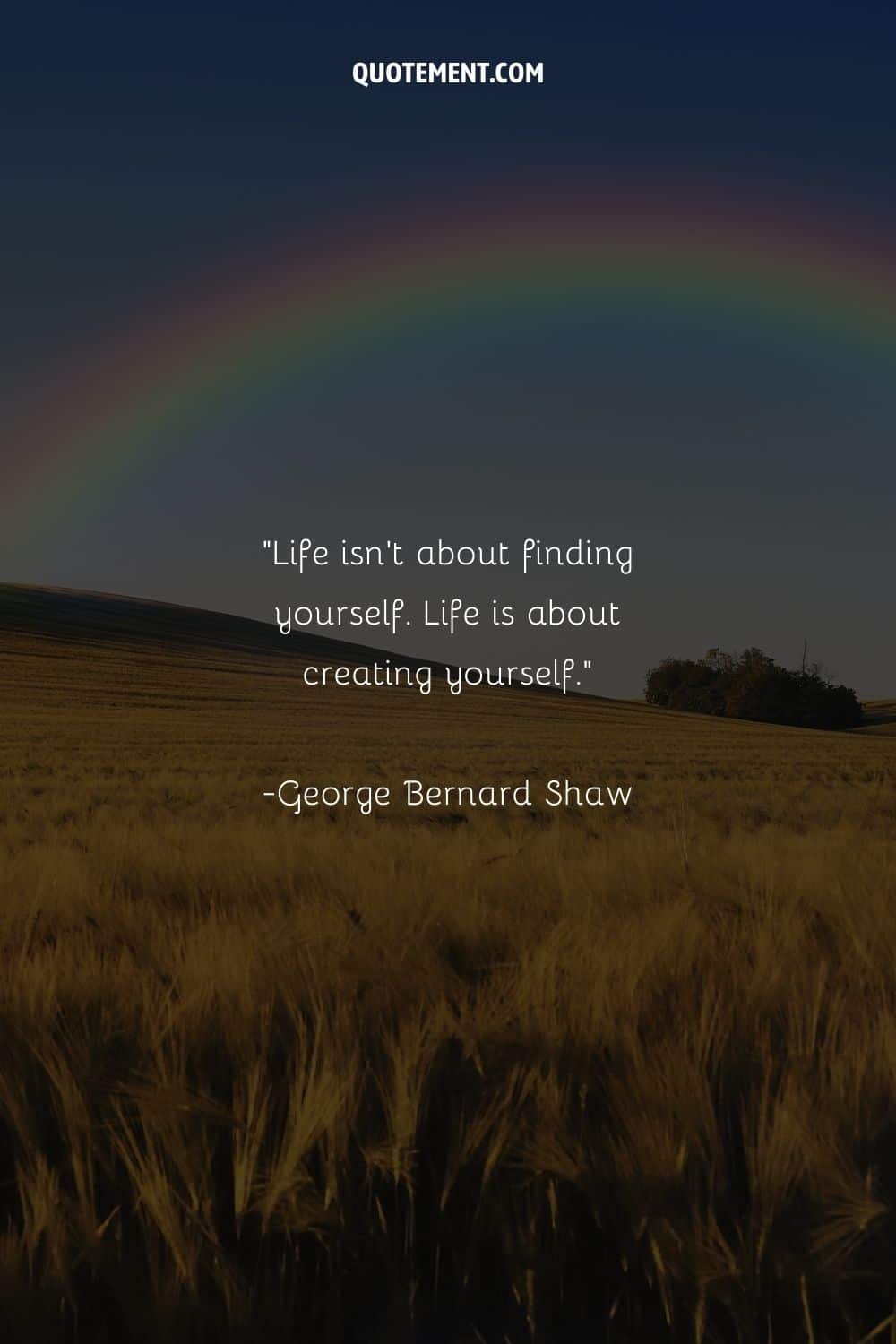 6. "Life is short, and it is up to you to make it sweet." — Sarah Louise Delany
7. "You are genuinely happy if you don't know why." — Joseph Mayer
8. "It is the sweet, simple things of life which are the real ones after all." — Laura Ingalls Wilder
9. "Those who don't believe in magic will never find it." — Roald Dahl
10. "When life is sweet, say thank you and celebrate. And when life is bitter, say thank you and grow." — Shauna Niequist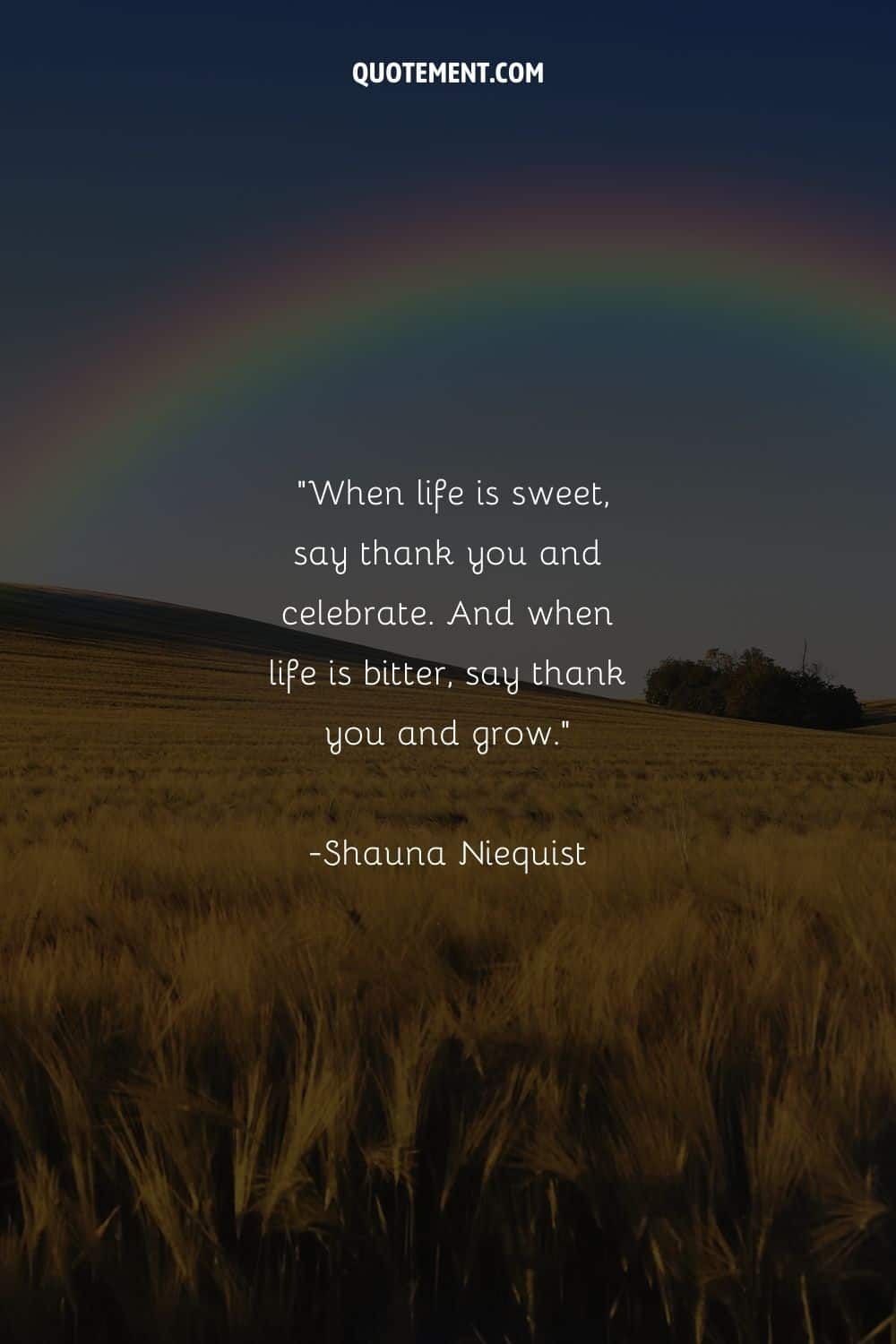 See also: 130 Wise Acceptance Quotes To Help You Grow And Prosper
Cute Inspirational Quotes To Lift You Up
1. "If life doesn't offer a game worth playing, then invent a new one." — Anthony J. D'Angelo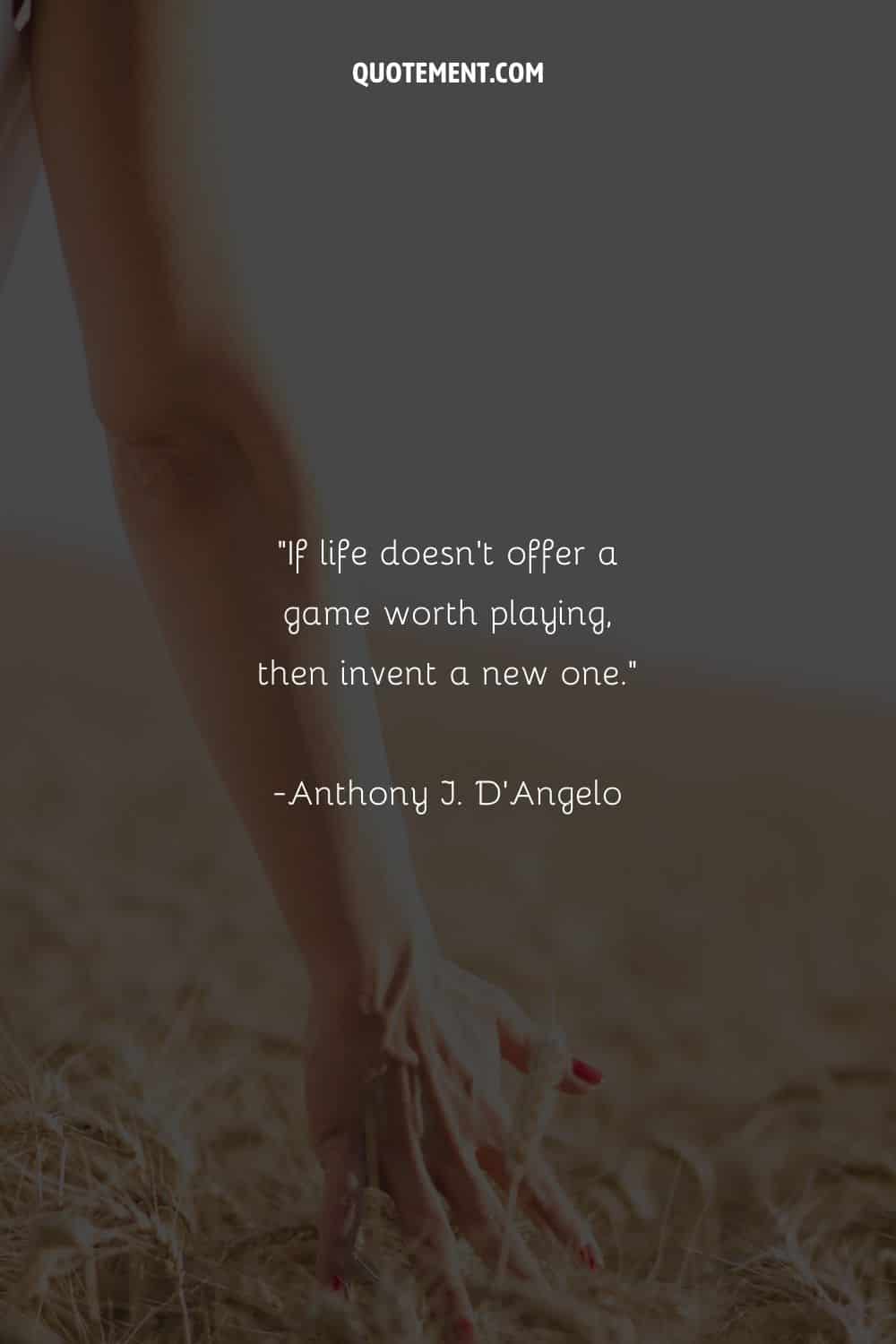 2. "Curiosity about life in all of its aspects, I think, is still the secret of great creative people." — Leo Burnett
3. "Smile in the mirror. Do that every morning and you'll start to see a big difference in your life." — Yoko Ono
4. "We are here to add what we can to life, not to get what we can from life." — William Osler
5. "The most beautiful things in the world cannot be seen or even touched. They must be felt with the heart." — Helen Keller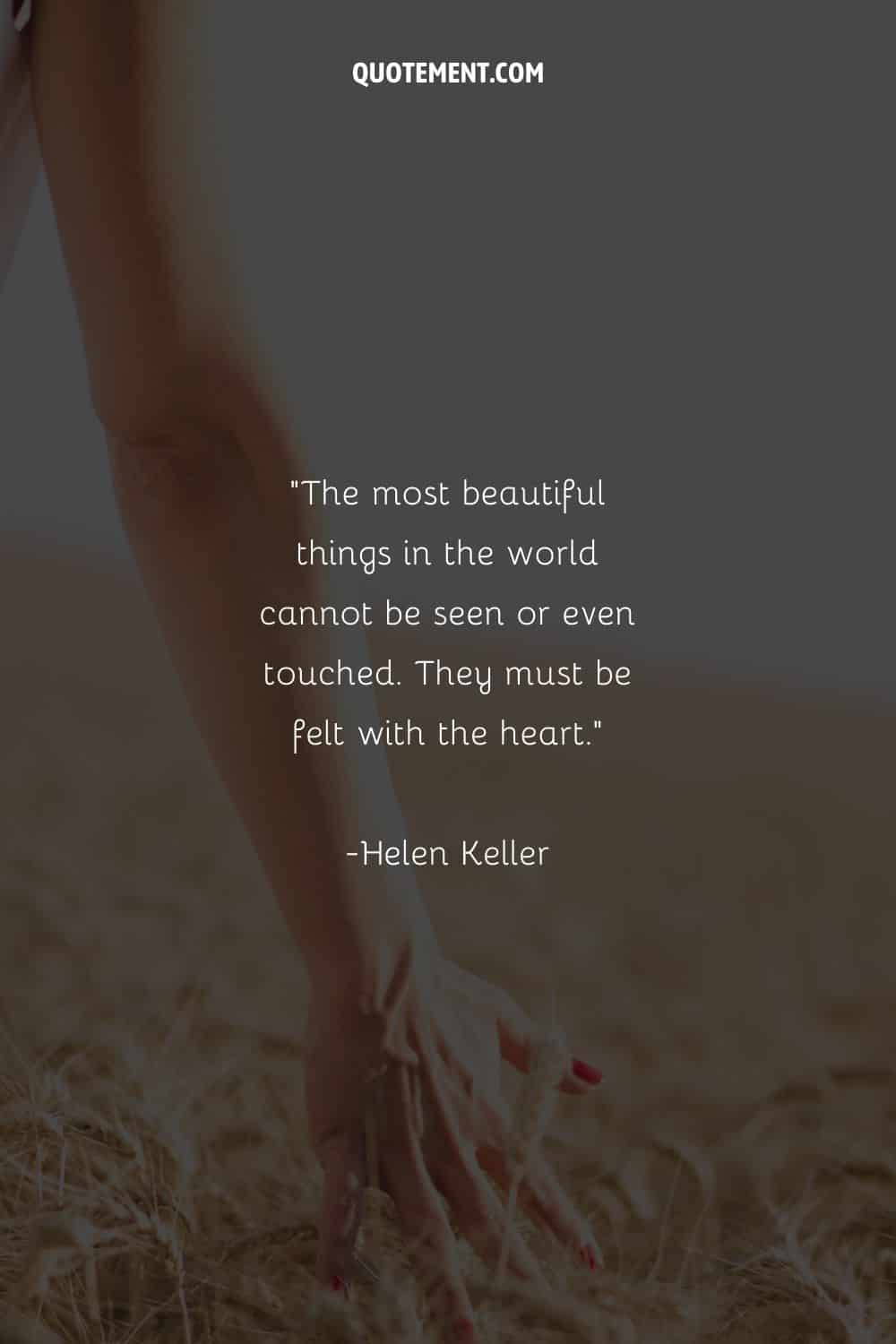 6. "You deserve an amazing life; life is good and meant to be enjoyed to the fullest." — Greg Adenauer
7. "Because of your smile, you make life more beautiful." — Thich Nhat Hanh
8. "There are only two ways to live your life. One is as though nothing is a miracle. The other is as though everything is a miracle." — Albert Einstein
9. "Some people want a huge house filled with luxuries and cars. Others just want a tiny cabin alone in the woods away from those kinds of people." — Jim Carrey
10. "Wherever you go, no matter what the weather, always bring your own sunshine." ― Anthony J. D'Angelo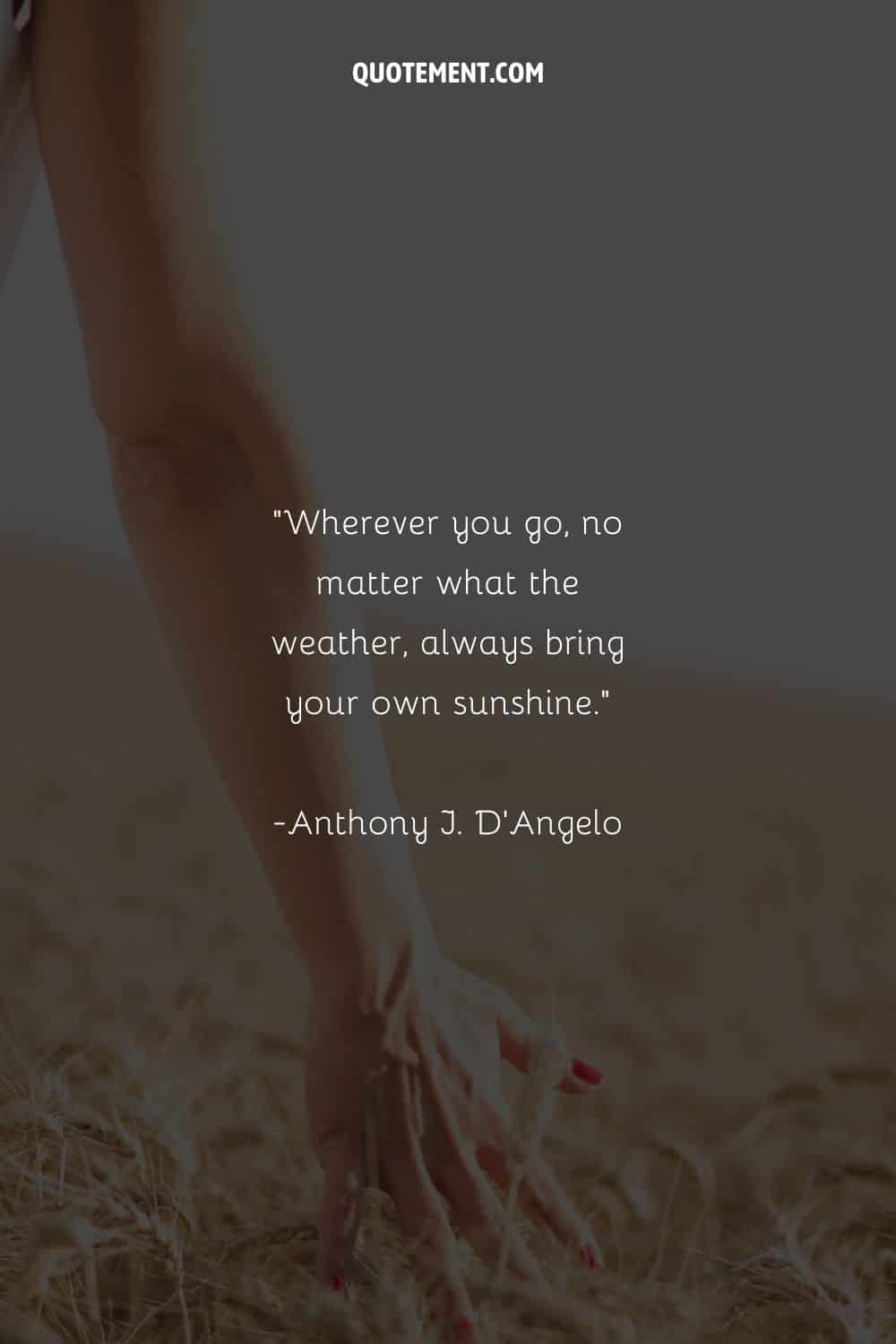 11. "A fit body, a calm mind, a house full of love. These things cannot be bought – they must be earned." — Naval Ravikant
12. "You only live once, but if you do it right, once is enough." — Mae West
13. "Just one small positive thought in the morning can change your whole day." — Dalai Lama
See also: Top 90 Positive Vibes Quotes To Empower Your Every Day
14. "There are two means of refuge from the misery of life – music and cats." — Albert Schweitzer
15. "Sometimes your joy is the source of your smile, but sometimes your smile can be the source of your joy." — Thich Nhat Hanh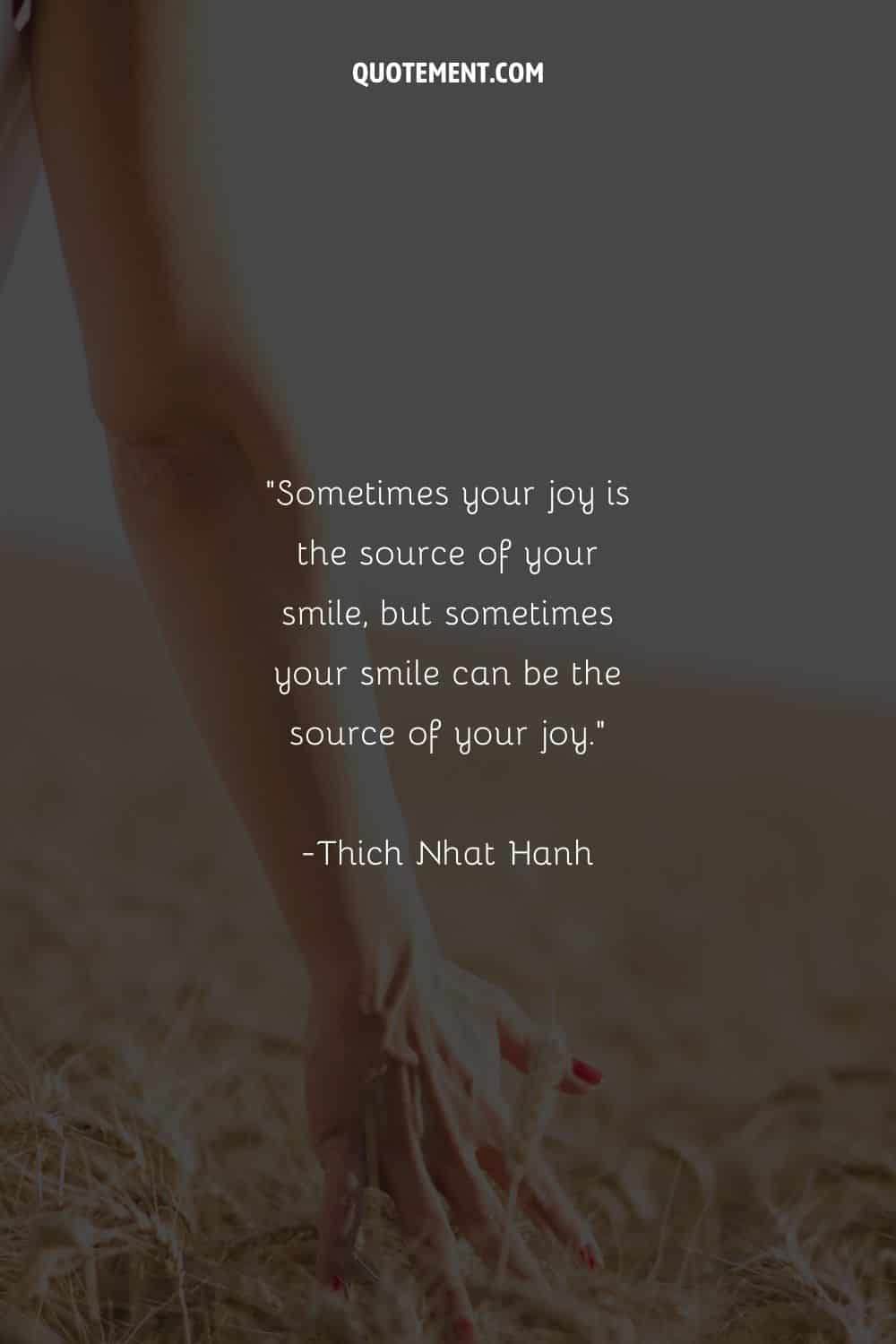 16. "Everything negative – pressure, challenges – is all an opportunity for me to rise." — Kobe Bryant
17. "A hug is like a boomerang: you get it back right away." — Bil Keane
18. "You have brains in your head. You have feet in your shoes. You can steer yourself any direction you choose." — Dr. Seuss
19. "Be who you are and say what you feel because those who mind don't matter and those who matter don't mind." — Dr. Seuss
20. "The universe is change; our life is what our thoughts make It." — Marcus Aurelius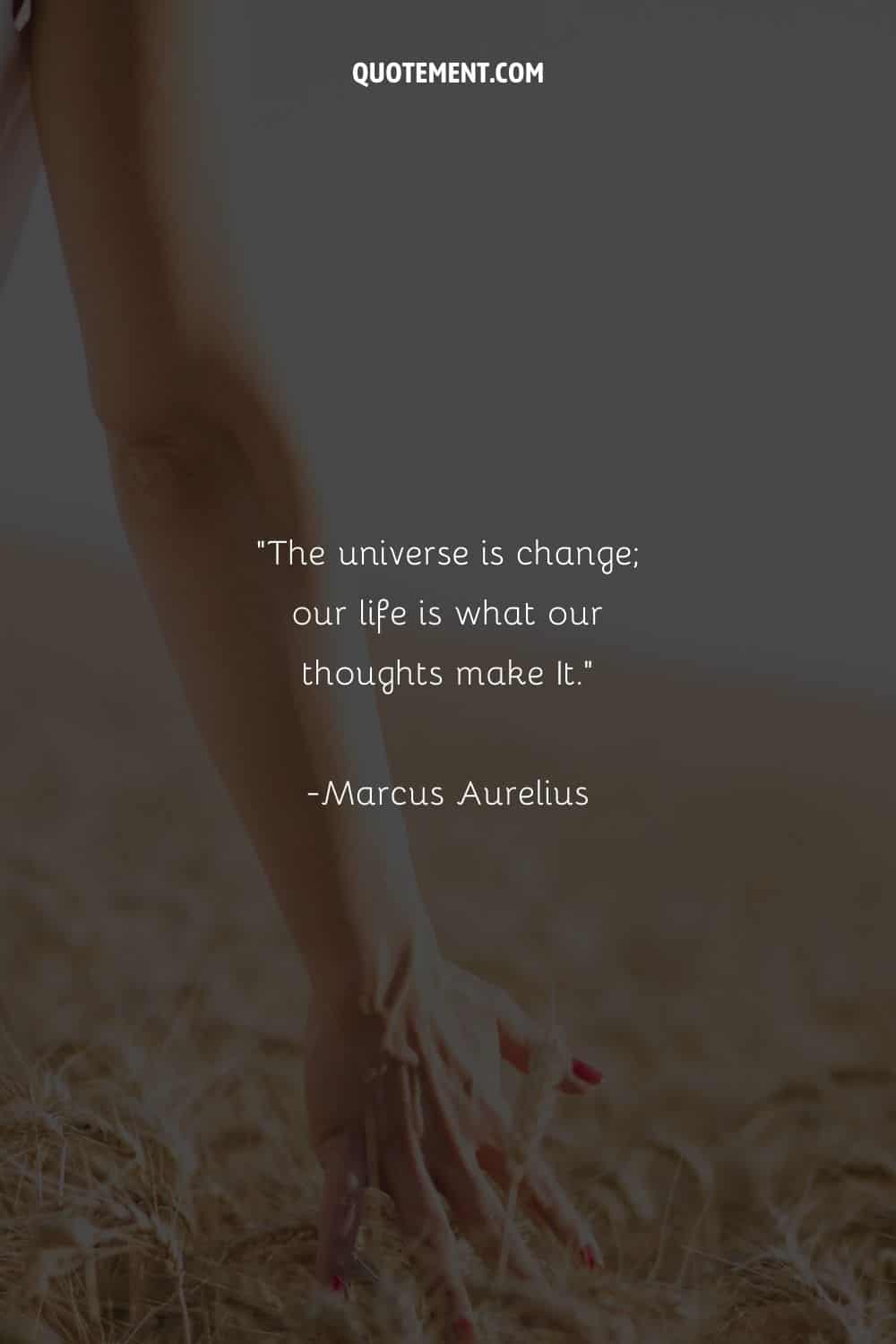 See also: 70 Marcus Aurelius Quotes To Change Your Outlook On Life
21. "There is no value in life except what you choose to place upon it and no happiness in any place except what you bring to it yourself. " — Henry David Thoreau
22. "The longer I live, the more beautiful life becomes." — Frank Lloyd Wright
23. "The best portion of a good man's life is his little nameless, unencumbered acts of kindness and of love." — Wordsworth
24. "When we do the best we can, we never know what miracle is wrought in our life or the life of another." — Helen Keller
25. "Life is a great big canvas, and you should throw all the paint you can on it." — Danny Kaye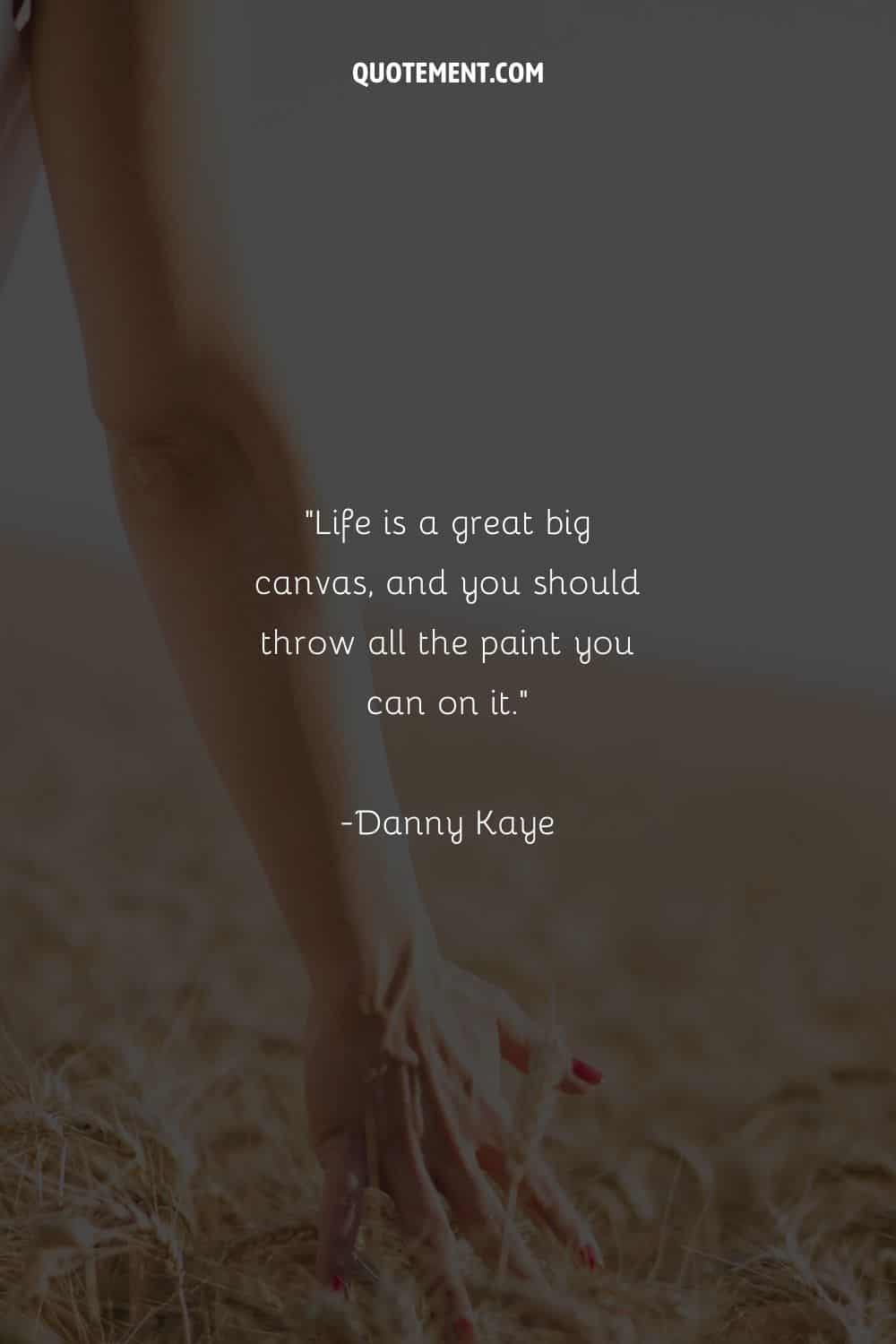 26. "If you can do what you do best and be happy, you're further along in life than most people." — Leonardo DiCaprio
27. "We tend to forget that happiness doesn't come as a result of getting something we don't have, but rather of recognizing and appreciating what we do have." — Frederick Keonig
28. "When I was 5 years old, my mother always told me that happiness was the key to life. When I went to school, they asked me what I wanted to be when I grew up. I wrote down 'happy'. They told me I didn't understand the assignment, and I told them they didn't understand life." — John Lennon
29. "This life is like a rose and you are the beauty and fragrance. Without you, all it will be is a faded rose without any charm or a sense of smell." — Matt Cooper
30. "Be like the flower that gives fragrance even to the hand that crushes it." — Ali Ibn Abi Talib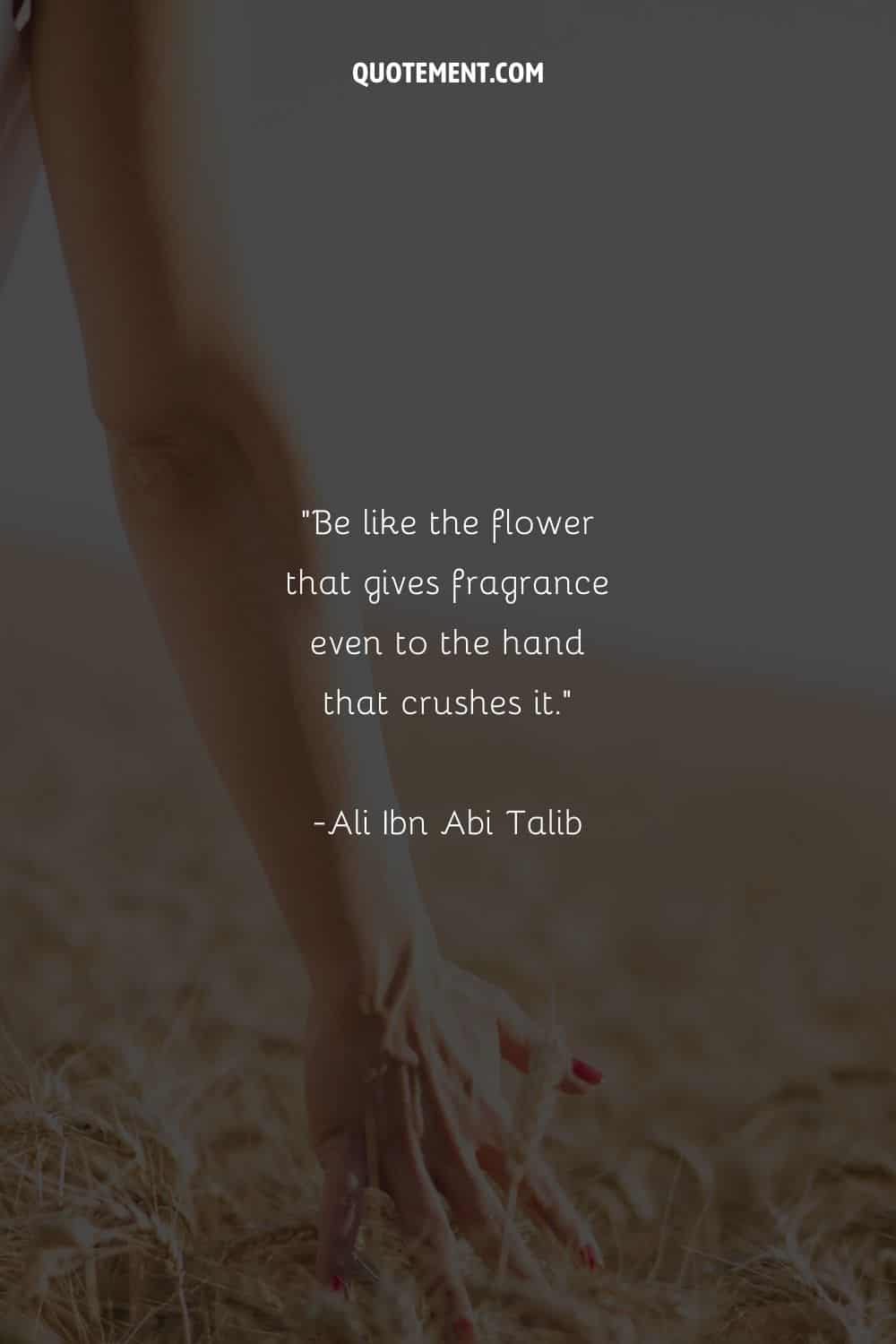 See also: 130 Beautiful Short Flower Quotes To Add Colors To Your Day
31. "To be yourself in a world that is constantly trying to make you something else is the greatest accomplishment." — Ralph Waldo Emerson
32. "Begin doing what you want to do now. We are not living in eternity. We have only this moment, sparkling like a star in our hand and melting like a snowflake." — Marie Beyon Ray
33. "A child has no trouble believing the unbelievable, nor does the genius or the madman. It's only you and I with our big brains and our tiny hearts, who doubt and overthink and hesitate." — Steven Pressfield
34. "If you give your life as a wholehearted response to love, then love will wholeheartedly respond to you." — Marianna Williamson
35. "Every day may not be good, but there's something good in every day." — Alice Morse Earle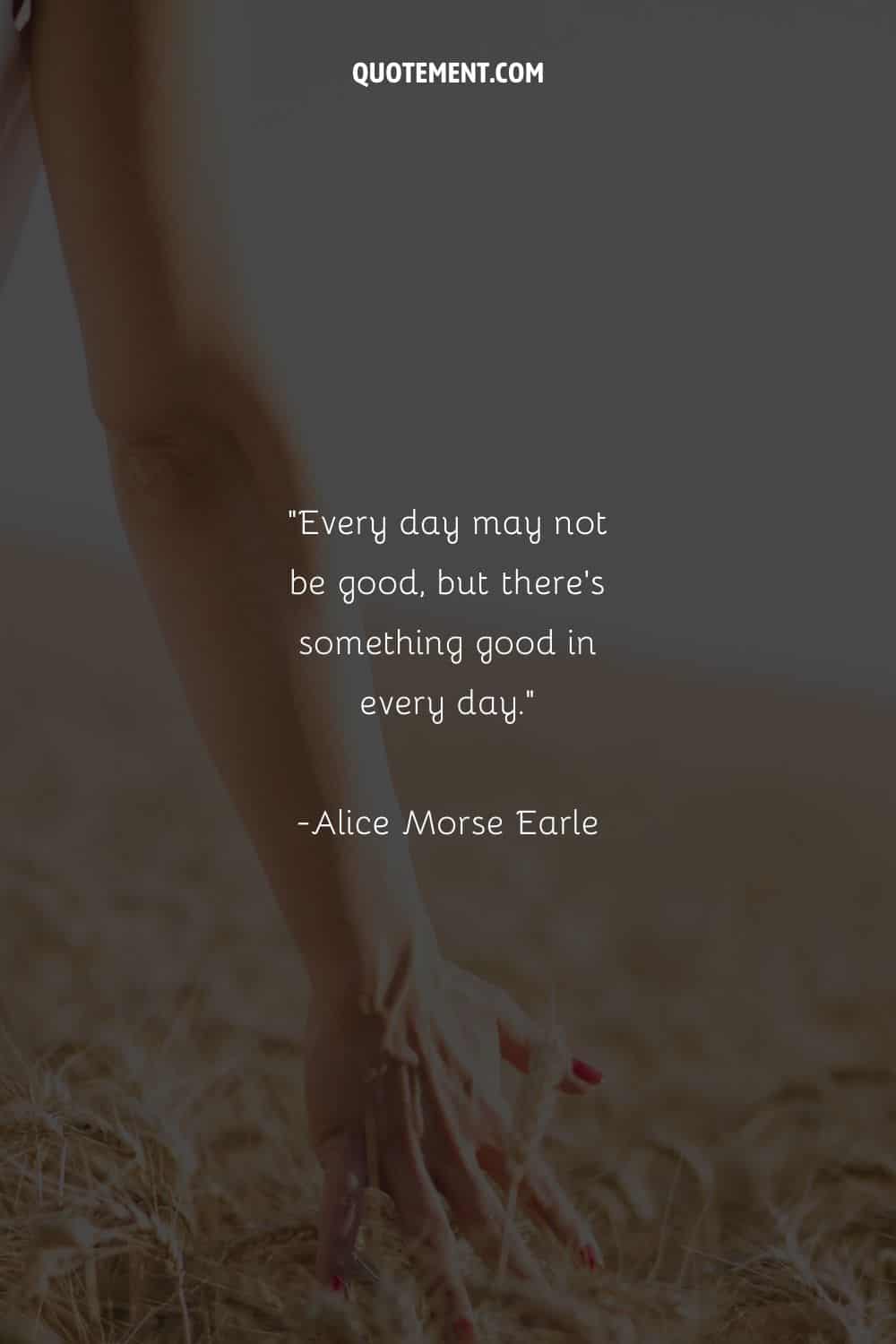 36. "At any given moment, you have the power to say: this is not how the story is going to end." — Christine Mason Miller
37. "The one thing that you have that nobody else has is you. Your voice, your mind, your story, your vision. So write and draw and build and play and dance and live as only you can." — Neil Gaiman
38. "You're only here for a short visit. Don't hurry, don't worry. And be sure to smell the flowers along the way." — Walter Hagen
39. "The best and most beautiful things in this world cannot be seen or even heard, but must be felt with the heart." — Helen Keller
40. "The biggest adventure you can take is to live the life of your dreams." — Oprah Winfrey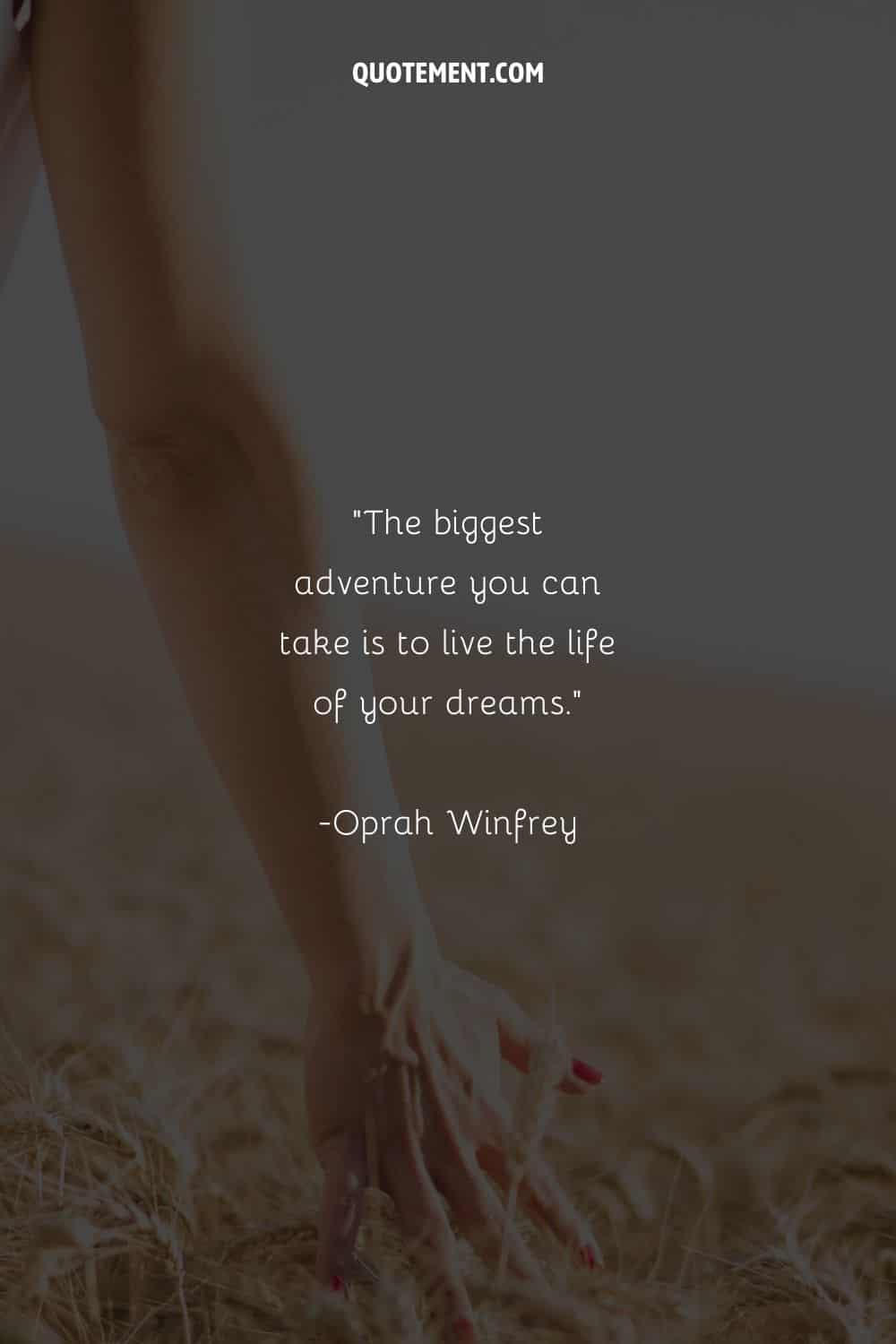 See also: 120 Follow Your Dreams Quotes To Keep You On The Track
Cute Life Quotes To Lead You Through Life
1. "If you don't know where you're going, any road'll take you there." — George Harrison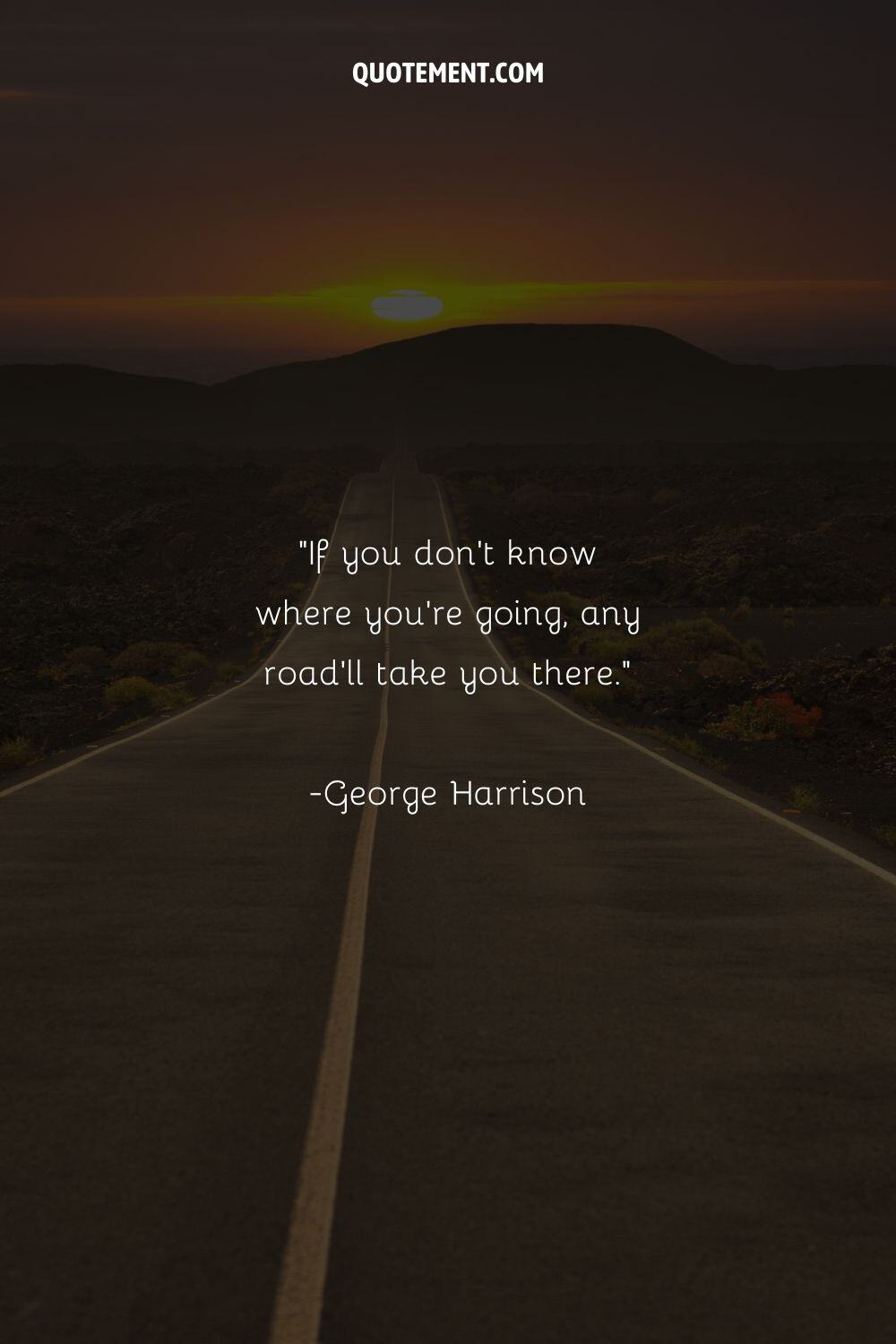 2. "Nature never hurries, yet everything is accomplished" — Lao Tzu
3. "Today is, therefore, the most important day in your life because it's the only day in which you are free to choose." — Alice Camille
4. "And in the end it is not the years in your life that count, It's the life in your years." — Abraham Lincon
5. "Here is a test to find out whether your mission in life is complete. If you're alive, it isn't." — Richard Bach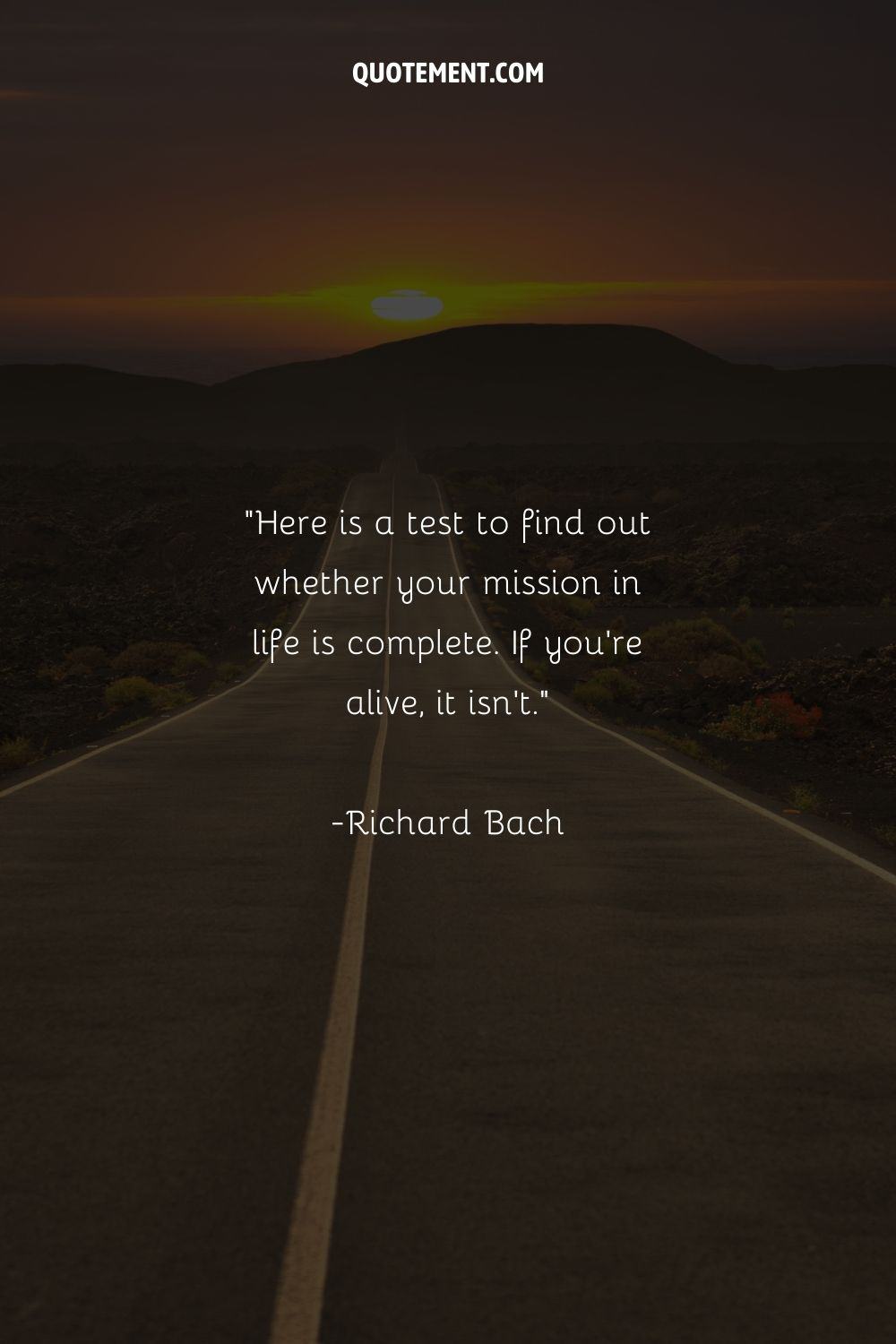 6. "Life is full of small treasures that we collect here and there, but every now and then we must say thanks." — Danielle Duckery
7. "How wonderful it is that nobody needs to wait a single moment before starting to improve the world." — Anne Frank
8. "I think of life as a good book. The further you get into it, the more it begins to make sense." — Harold Kushner
9. "Why compare yourself with others? No one in the entire world can do a better job of being you than you." — Unknown
10. "The whole secret of a successful life is to find out what is one's destiny to do, and then do it." — Henry Ford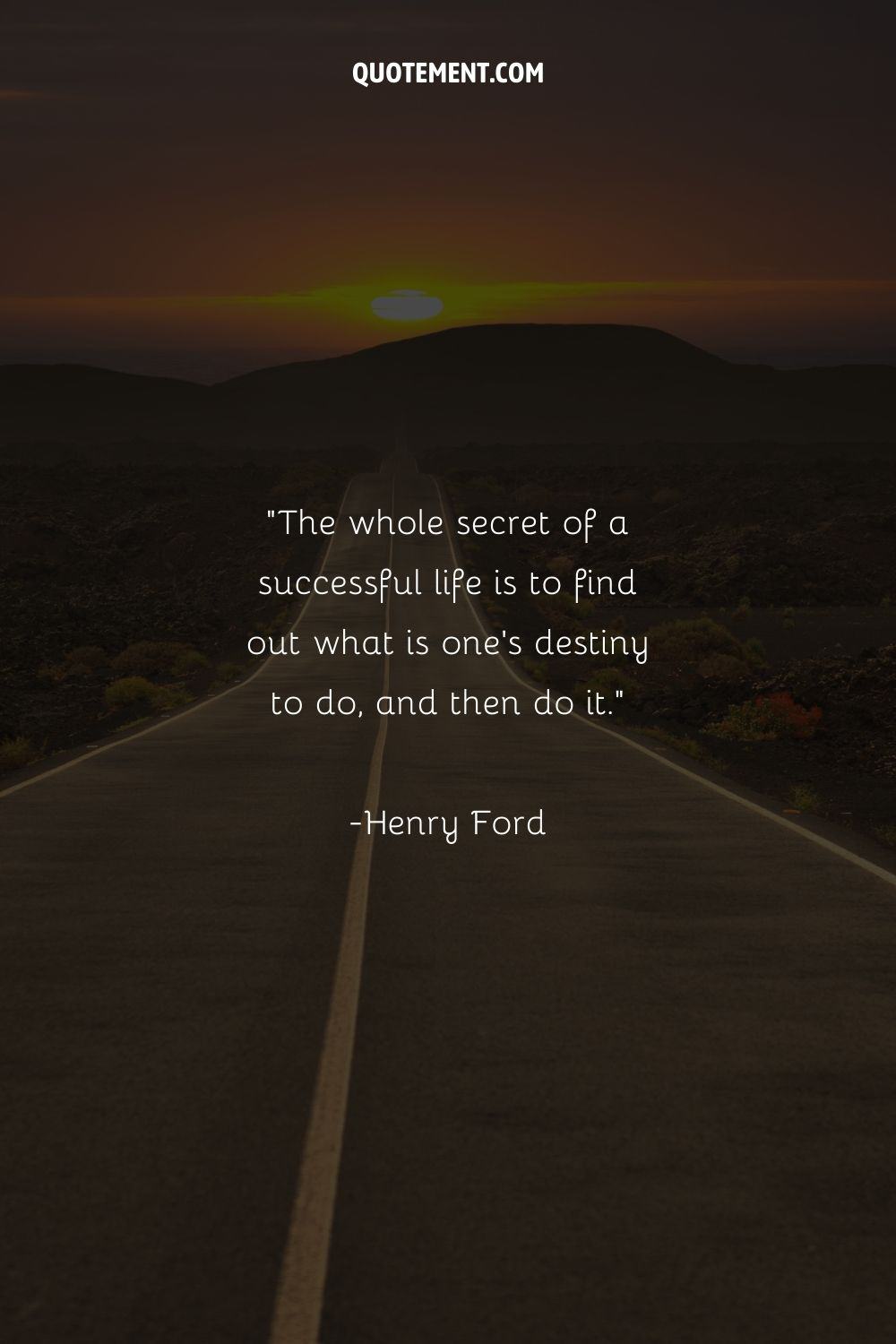 11. "Life is a beauty to those who know how to treat it like a princess. Your attitude towards life will determine how far you will go. Stop cursing and saying that it is no good." — Nazarene Wallace
12. "Life's too mysterious to take too serious." — Mary Engelbreit
13. "Don't limit a child to your own learning, for he was born in another time." — Rabindranath Tagore
14. "Maybe everyone can live beyond what they're capable of." — Markus Zusak
15. "Life is like a cup of coffee or tea. No matter how bitter it may be, it is always enjoyable." — Jason Wong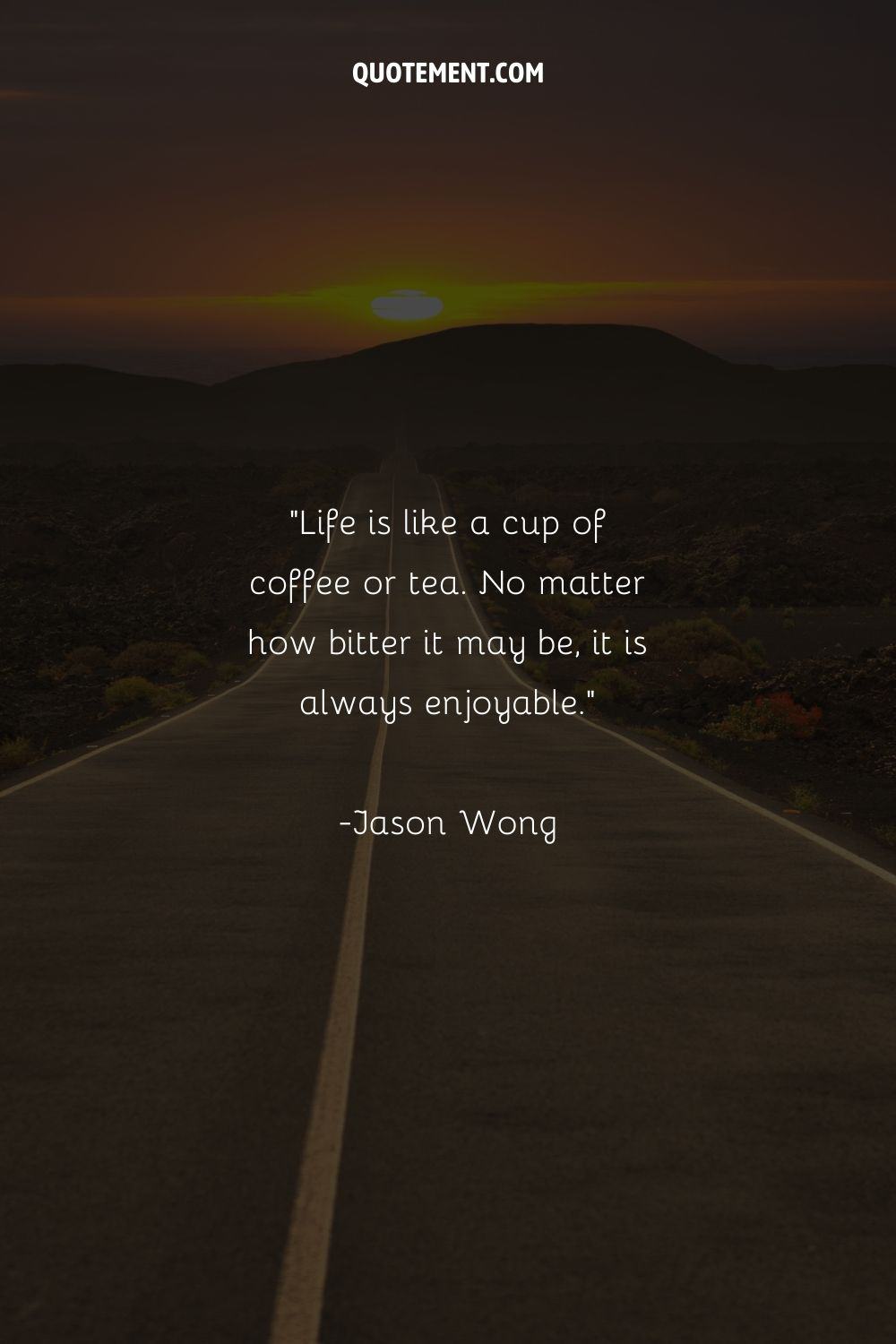 16. "Life has a way of getting in the way of whatever goals you set for yourself. Set them high enough, and you'll not be disappointed wherever you land." — Paul Smith
See also: 170 Genius Goal Achievement Quotes To Help You Succeed
17. "Remember, this book (or any book) won't really change your life. Books and ideas alone do not really have that power. What changes your life is the implementation of ideas, and sure, these ideas are very often found in books." — Drew Rozell Ph.D.
18. "You can waste your lives drawing lines or you can live your life crossing them." — Shonda Rhimes
19. "Don't you dare put your life in a box! Don't you dare decide to settle for mediocrity! Don't you dare give up on your dreams! Don't you dare give up on your life!" — Dani Johnson
20. "Life is ten percent what happens to you and ninety percent how you respond to it." — Charles Swindoll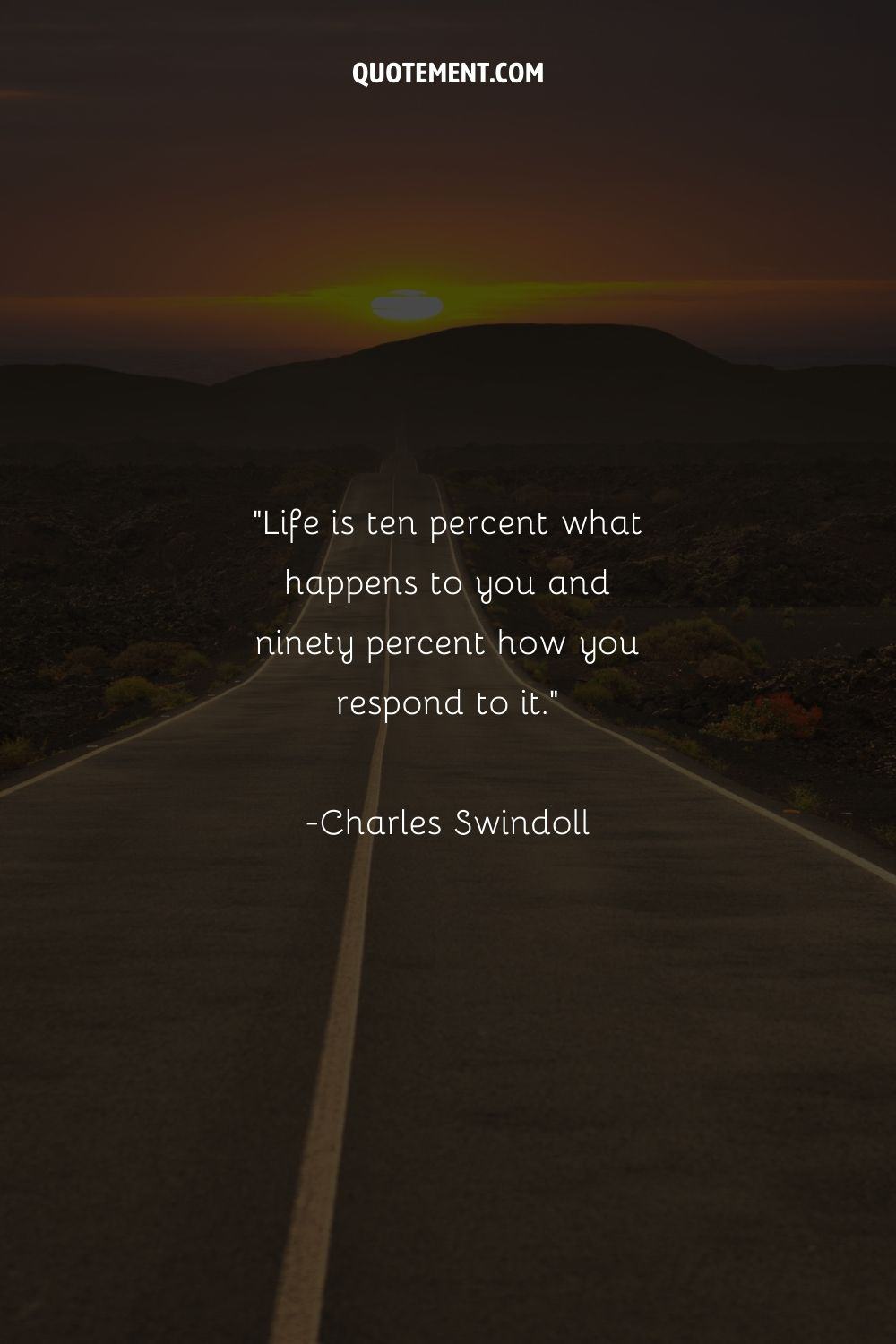 21. "Life imposes things on you that you can't control, but you still have the choice of how you're going to live through this." — Celine Dion
22. "Thousands of candles can be lit from a single candle, and the life of the candle will not be shortened. Happiness never decreases by being shared." — Buddha
23. "If you keep doing what you've always done, you'll keep getting what you've always gotten. And if you keep going where you're going, you'll only end up where you've been heading – not where you really want to be." — Derek Doepker
24. "It's not the will to win that matters—everyone has that. It's the will to prepare to win that matters." — Paul Bryant
See also: 160 Winning Quotes To Celebrate Your Achievements
25. "Live in the sunshine, swim the sea, drink the wild air." — Ralph Waldo Emerson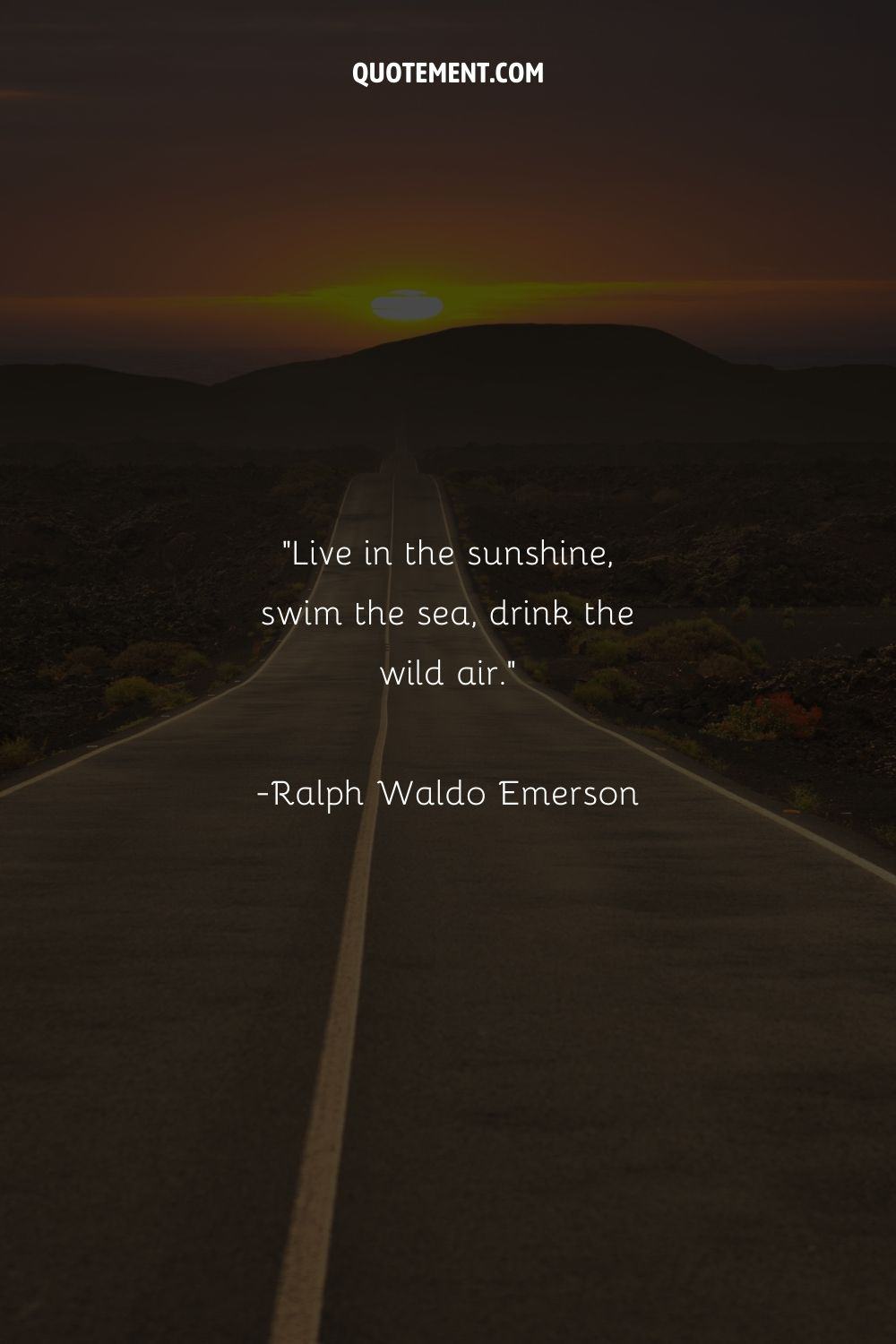 26. "Life is like a coin. You can spend it any way you wish, but you only spend it once." — Lillian Dickson
27. "The people who succeed in the game of life understand the important power of small actions. They flourish by doing two critical things well: Identifying the most important activities (or habits) related to their goals. Repeating these activities every day." — S.J. Scott
28. "The quality, not the longevity, of one's life is what is important." — Martin Luther King, Jr.
29. "For beautiful eyes, look for the good in others; for beautiful lips, speak only words of kindness; and for poise, walk with the knowledge that you are never alone." — Audrey Hepburn
30. "Your life is a story and you are the narrator. How you choose to tell your story is up to you." — Colleen Archer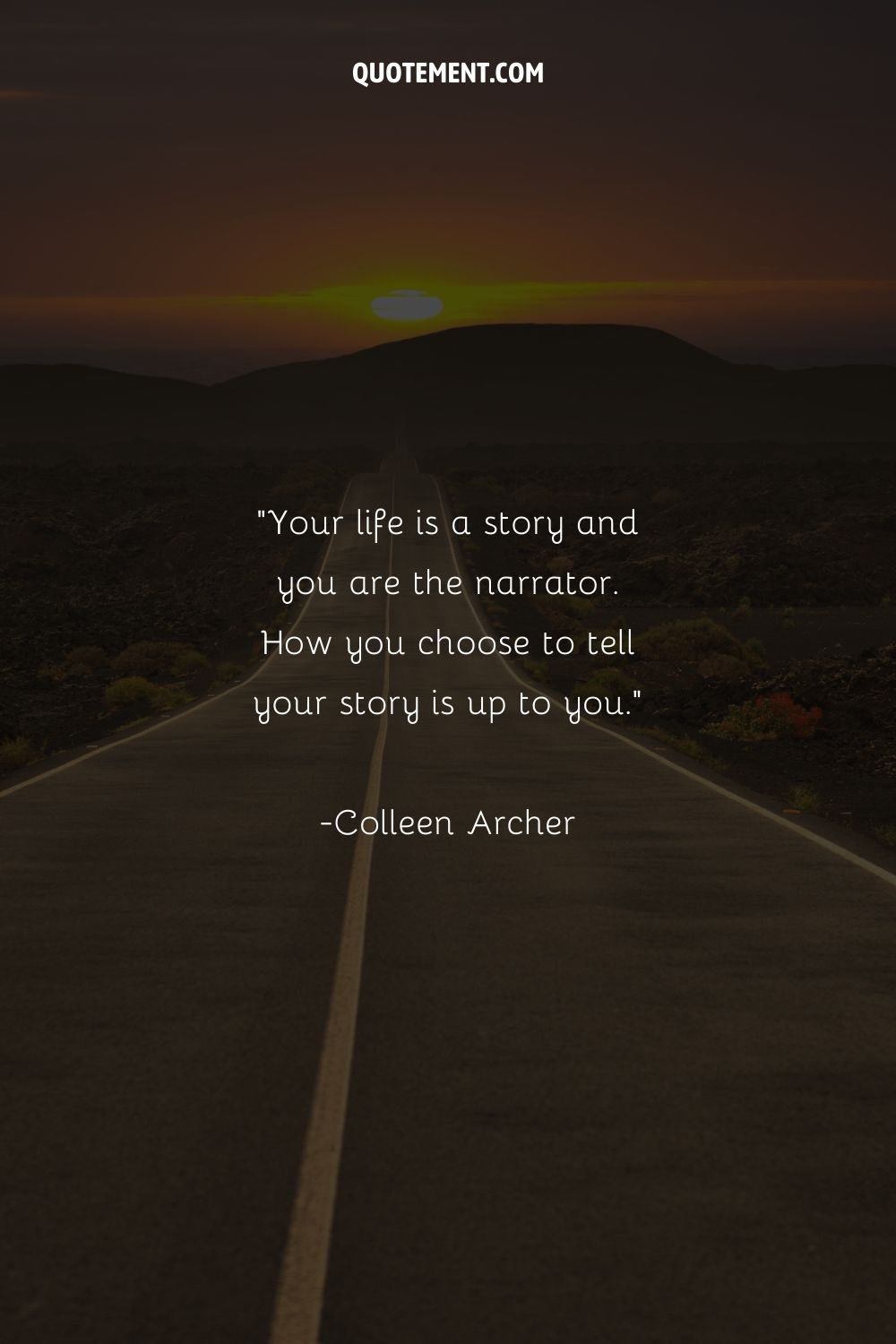 31. "The courage to imagine the otherwise is our greatest resource, adding color and suspense to all our life." — Daniel Boorstin
32. "Never let a problem to be solved become more important than a person to be loved." — Barbara Johnson
33. "Schedule all your worrying for a specific half-hour about the middle of the day. Then take a nap during this period." — Peterborough, Ont., Examiner
34. "Imperfection is beauty, madness is genius and it's better to be absolutely ridiculous than absolutely boring." — Marilyn Monroe
35. "The present moment is filled with joy and happiness. If you are attentive, you will see it." — Thich Nhat Hanh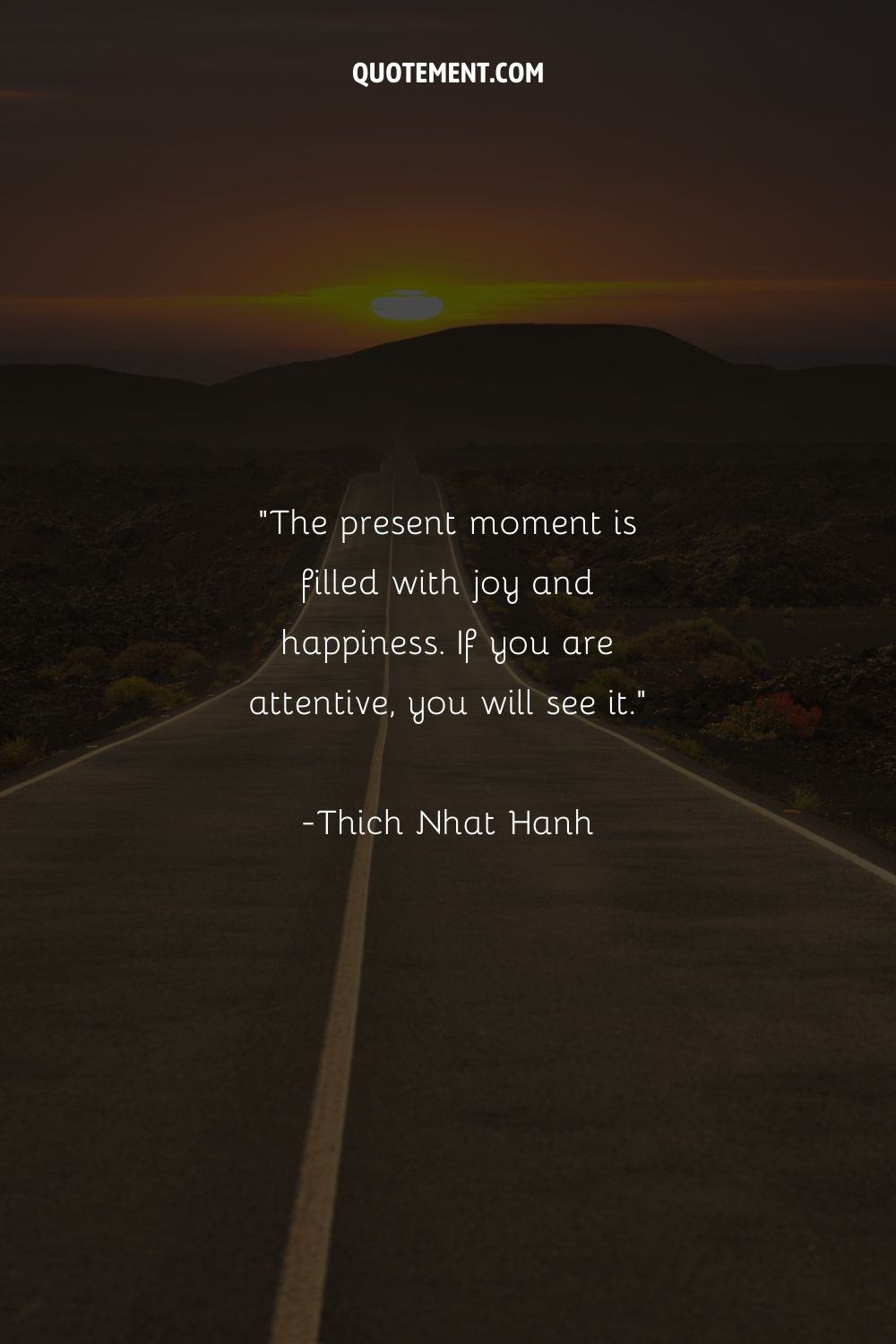 36. "Action may not always bring happiness, but there is no happiness without action." — Benjamin Disraeli
37. "We are what our thoughts have made us; so take care about what you think. Words are secondary. Thoughts live; they travel far." — Swami Vivekananda
38. "We need to accept that we won't always make the right decisions, that we'll screw up royally sometimes – understanding that failure is not the opposite of success, it's part of success." — Ariana Huffington
39. "Flowers don't worry about how they're going to bloom. They just open up and turn toward the light and that makes them beautiful." — Jim Carrey
40. "Weekends don't count unless you spend them doing something completely pointless." — Bill Watterson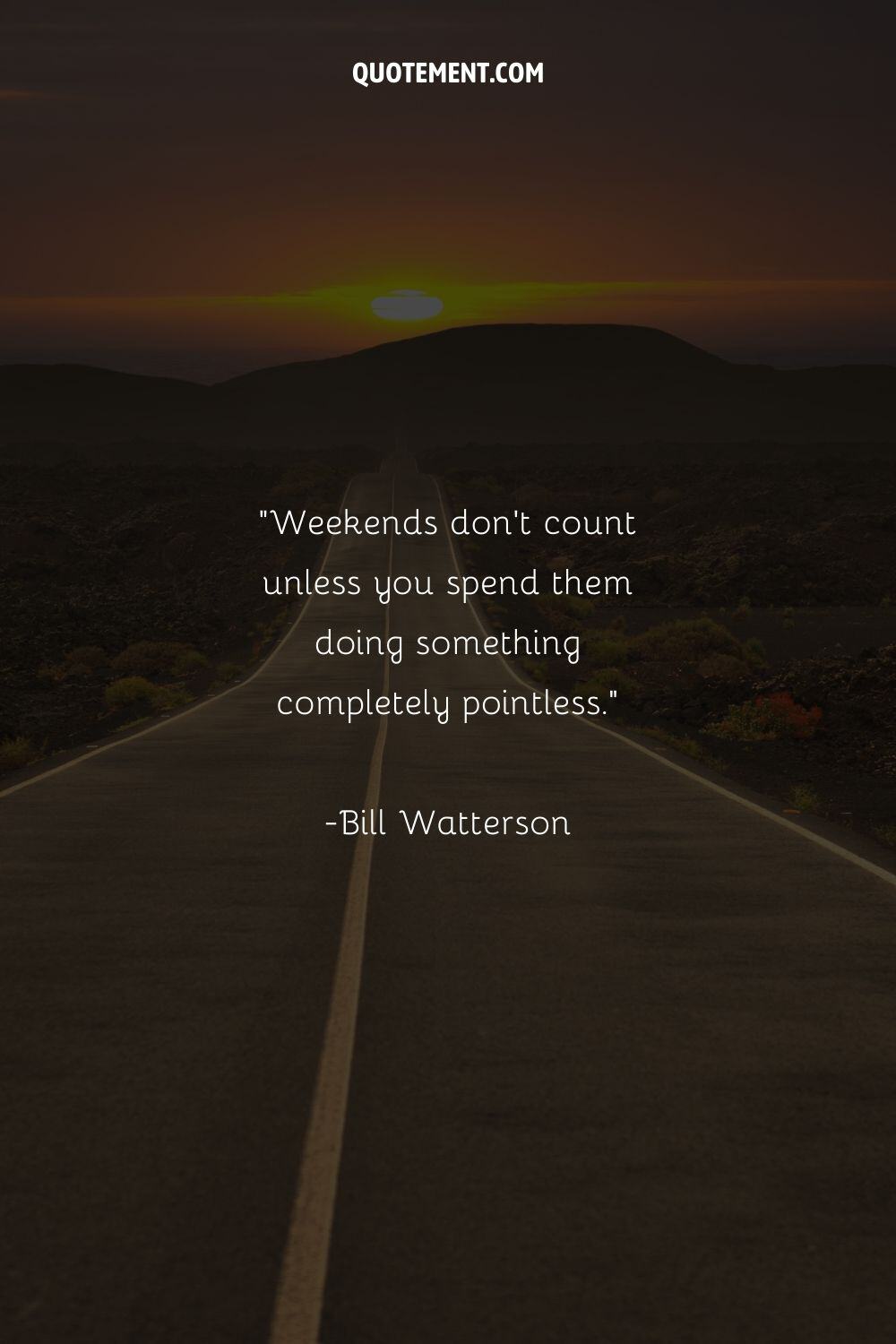 See also: 180 Happy Weekend Quotes To Enjoy Your Deserved Break
Cute Love Quotes To Spark The Romance
1. "The supreme happiness of life consists in the conviction that one is loved…" — Victor Hugo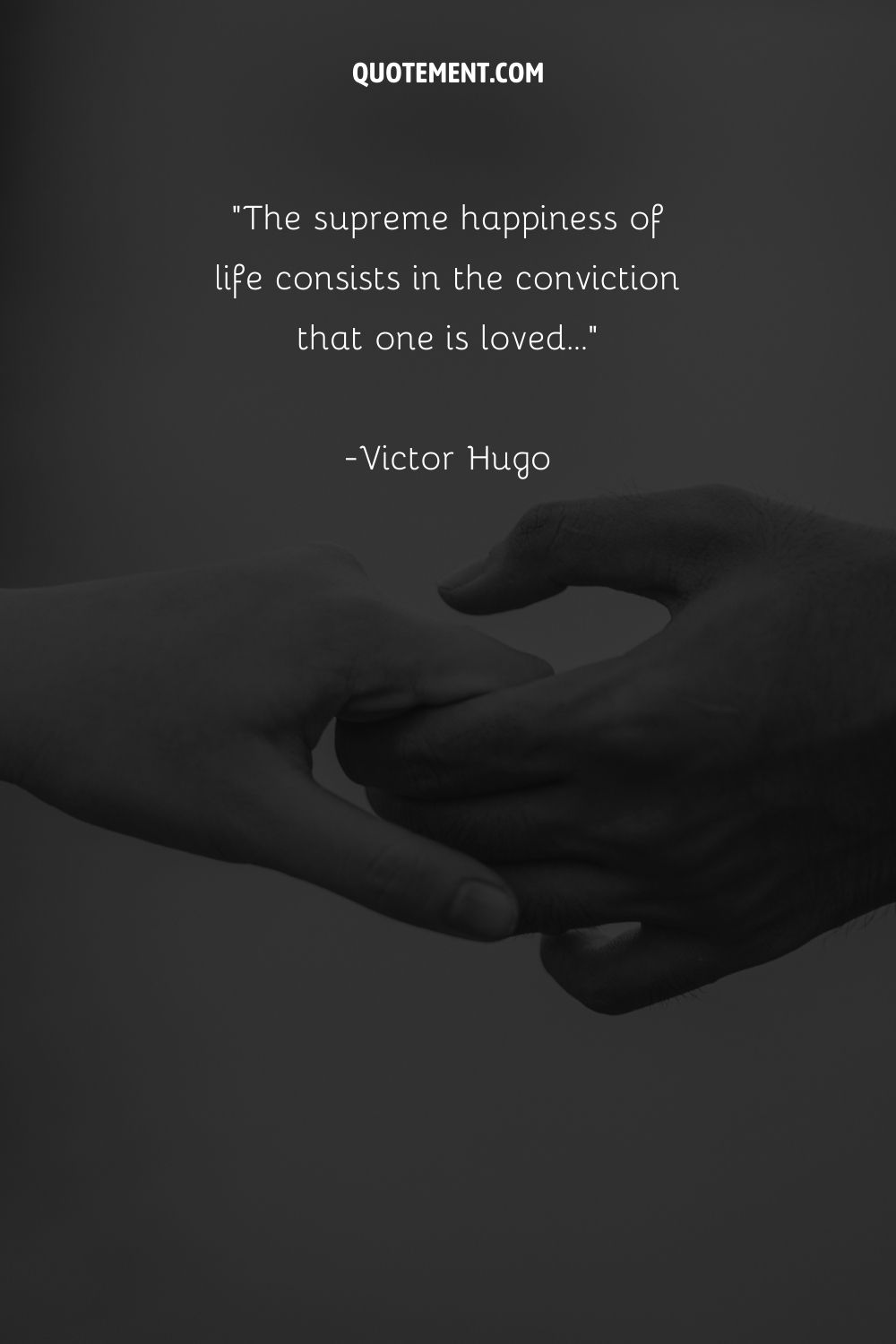 2. "In every living thing there is the desire for love." — D.H. Lawrence
3. "Life is a flower of which love is the honey." — Victor Hugo
4. "You have bewitched me, body and soul, and I love… I love… I love you." — Mr. Darcy, Pride and Prejudice
5. "Maybe you don't need the whole world to love you, you know. Maybe you just need one person." — Kermit the Frog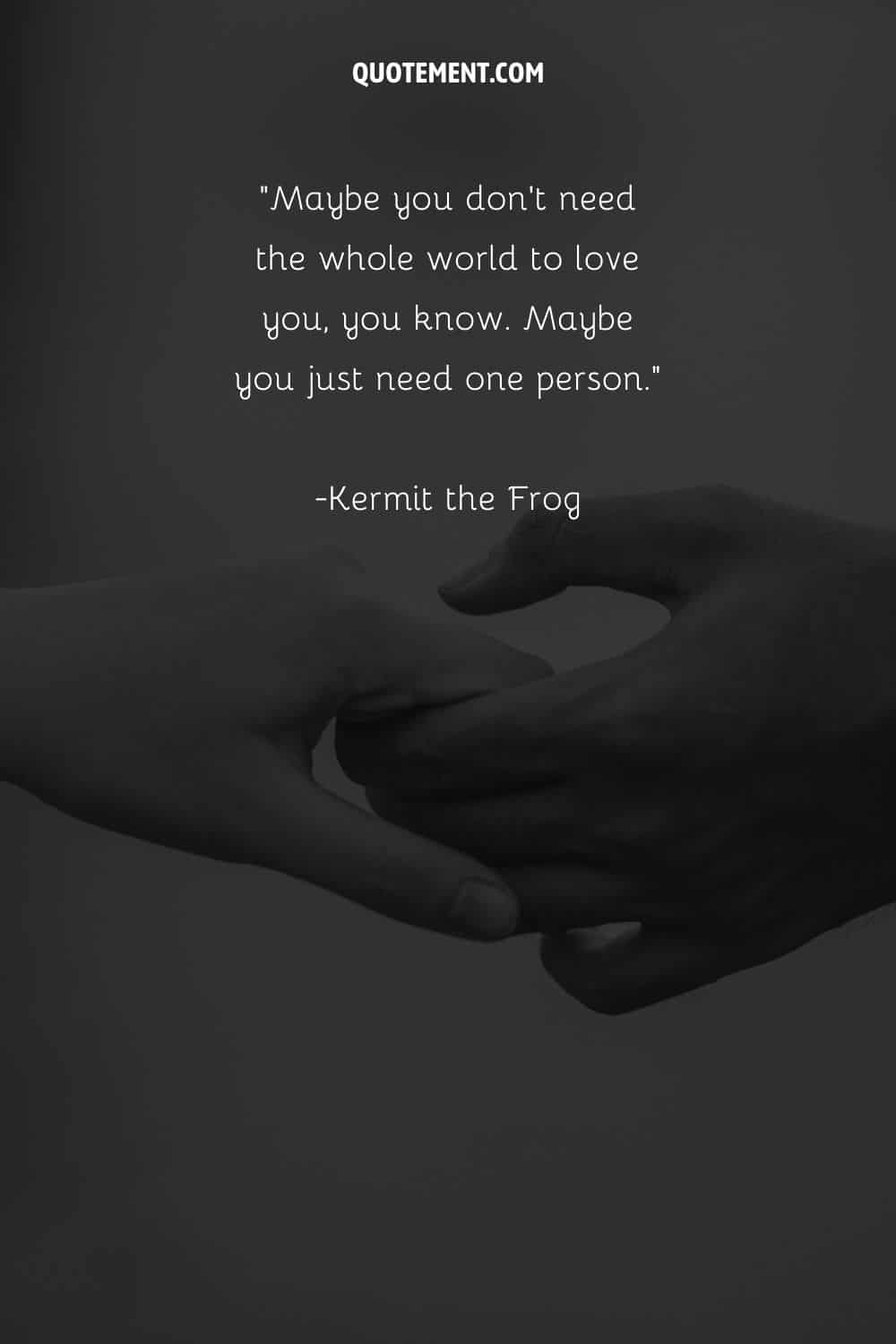 6. "The greatest pleasure of life is love." — Euripides
7. "If you live to be a hundred, I want to live to be a hundred minus one day so I never have to live without you." — A.A. Milne
8. "If you find someone you love in your life, then hang on to that love." — Princess Diana
9. "I asked you here tonight because when you realize you want to spend the rest of your life with somebody, you want the rest of your life to start as soon as possible." ― Graeme Simsion
10. "I don't want to live. I want to love first, and live incidentally." — Zelda Fitzgerald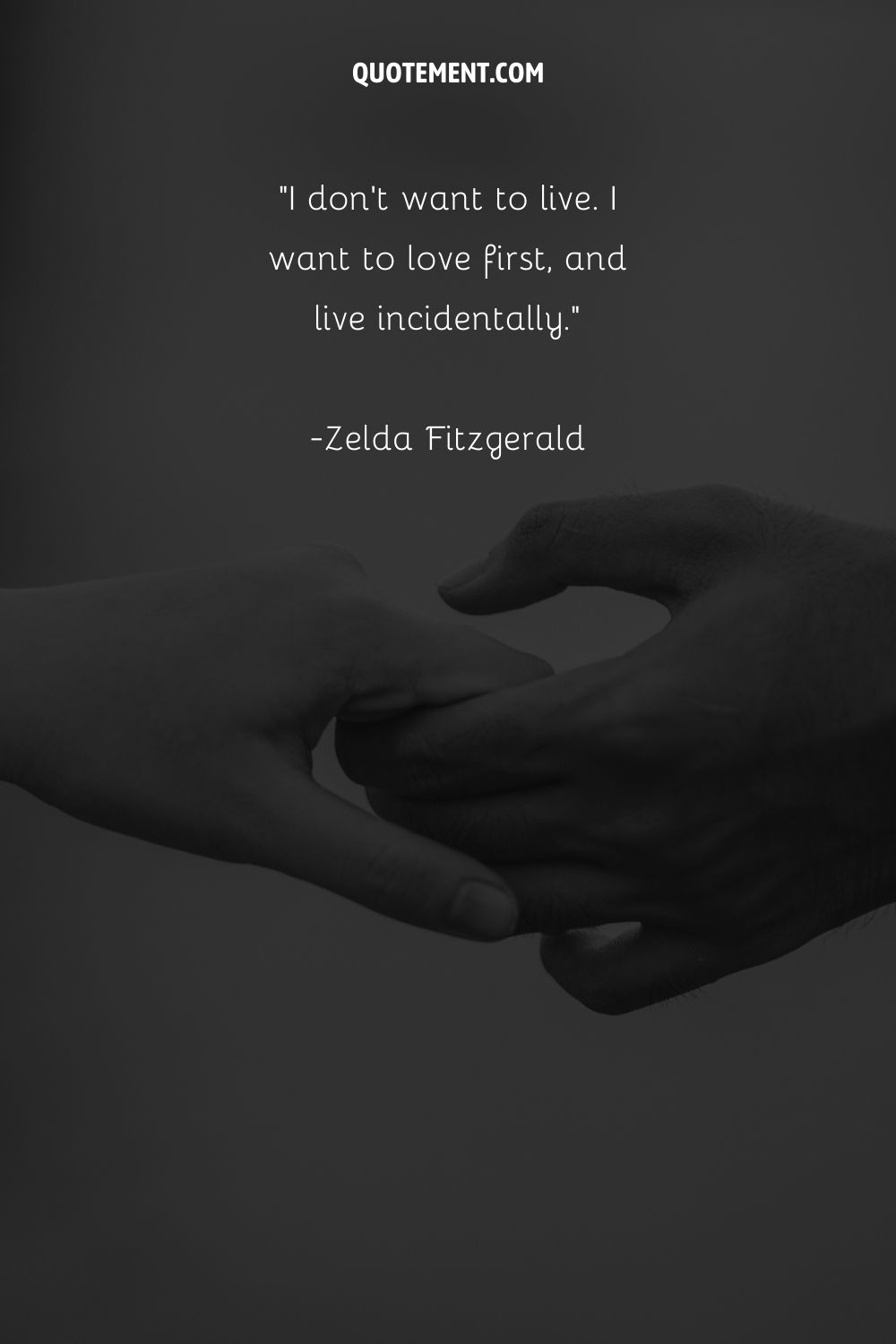 11. "It wasn't love at first sight. It took a full five minutes." — Lucille Ball
See also: 80 Love At First Sight Messages And Quotes For Your Loved Ones
12. "I was laughing and he was too, and there we were, tangled up together in the water and sunshine. In a good kind of way." — Jessi Kirby
13. "A girl can wait for the right man to come along but in the meantime that still doesn't mean she can't have a wonderful time with all the wrong ones." — Cher
14. "Love thy neighbor – and if he happens to be tall, debonair, and devastating, it will be that much easier." — Mae West
15. "I saw that you were perfect, and so I loved you. Then I saw that you were not perfect and I loved you even more." — Angelita Lim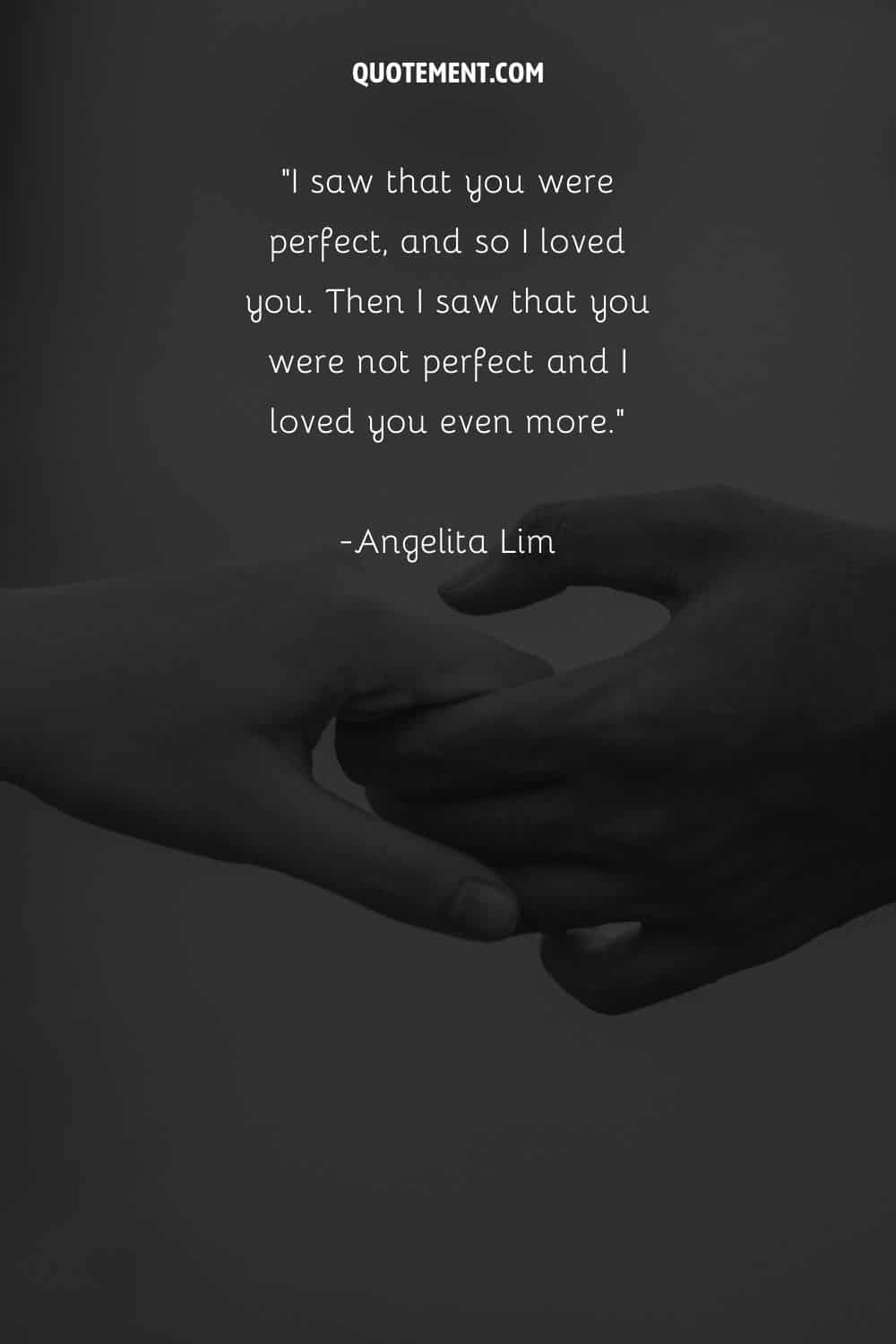 16. "Love is a two-way street constantly under construction." — Carroll Bryant
17. "Marriage is a bond between two people who choose to stay with each other despite knowing that life decides to throw them the biggest rocks for the rest of their lives." — Karen Johnson
18. "I love you without knowing how, or when, or from where. I love you simply, without problems or pride: I love you in this way because I do not know any other way of loving but this, in which there is no I or you, so intimate that your hand upon my chest is my hand, so intimate that when I fall asleep your eyes close." — Pablo Neruda
19. "Love is like Pi: natural, irrational, and very important." — Lisa Hoffman
20. "I loved her against reason, against promise, against peace, against hope, against happiness, against all discouragement that could be." — Charles Dickens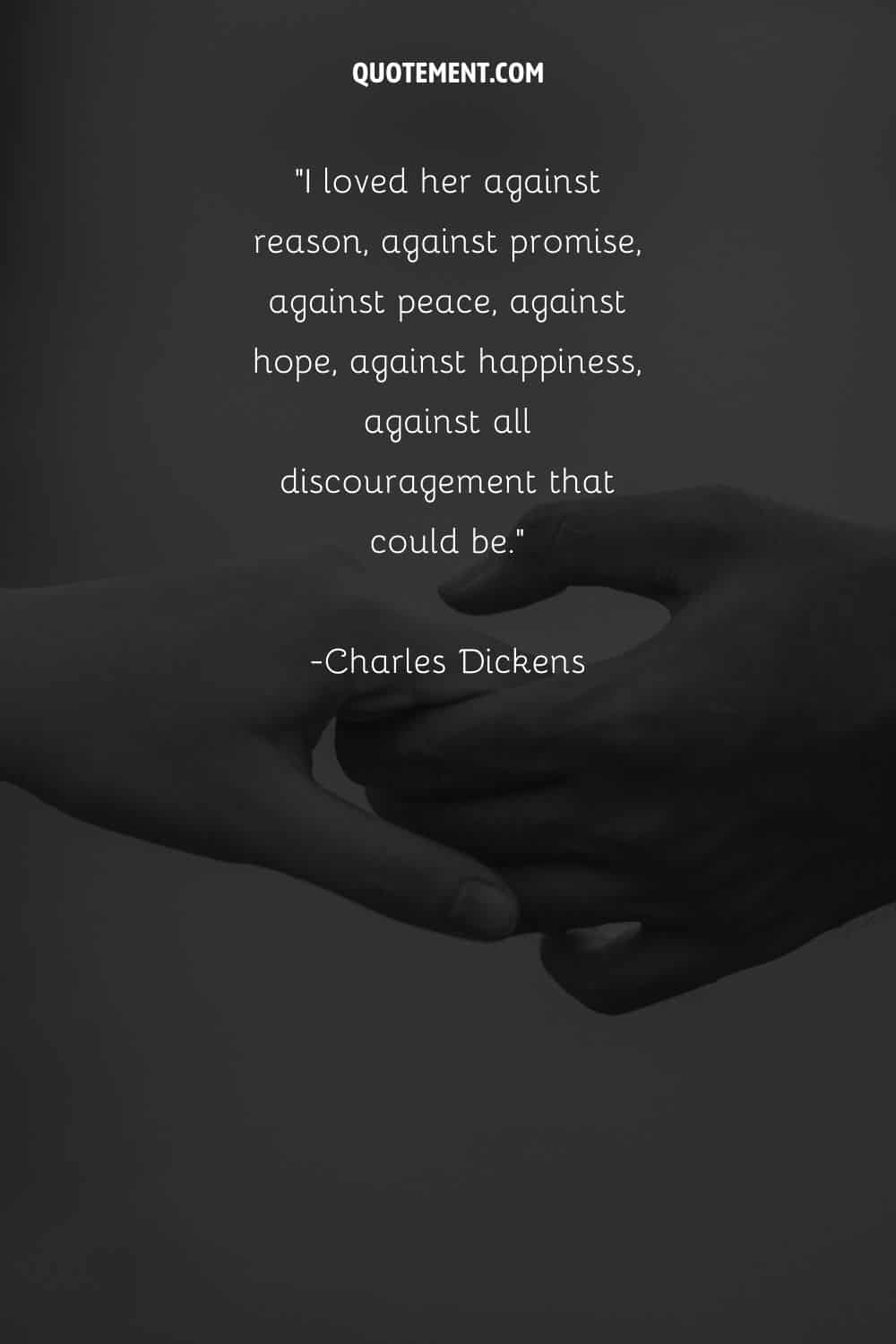 21. "Do you think we can just take it on faith right now that I want you, you want me, and we'll figure out the happy ending part later?" ― Katie McGarry
22. "Work like you don't need the money. Love like you've never been hurt. Dance like nobody's watching." — Satchel Paige
23. "Love does not begin and end the way we seem to think it does. Love is a battle, love is a war; love is a growing up." — James Baldwin
24. "We are made of particles that have existed since the moment the universe began. I like to think those atoms traveled 14 billion years through time and space to create us so we could be together and make each other whole." — Leonard Hofstadter
25. "There is nothing holier in this life of ours than the first consciousness of love, the first fluttering of its silken wings." — Henry Wadsworth Longfellow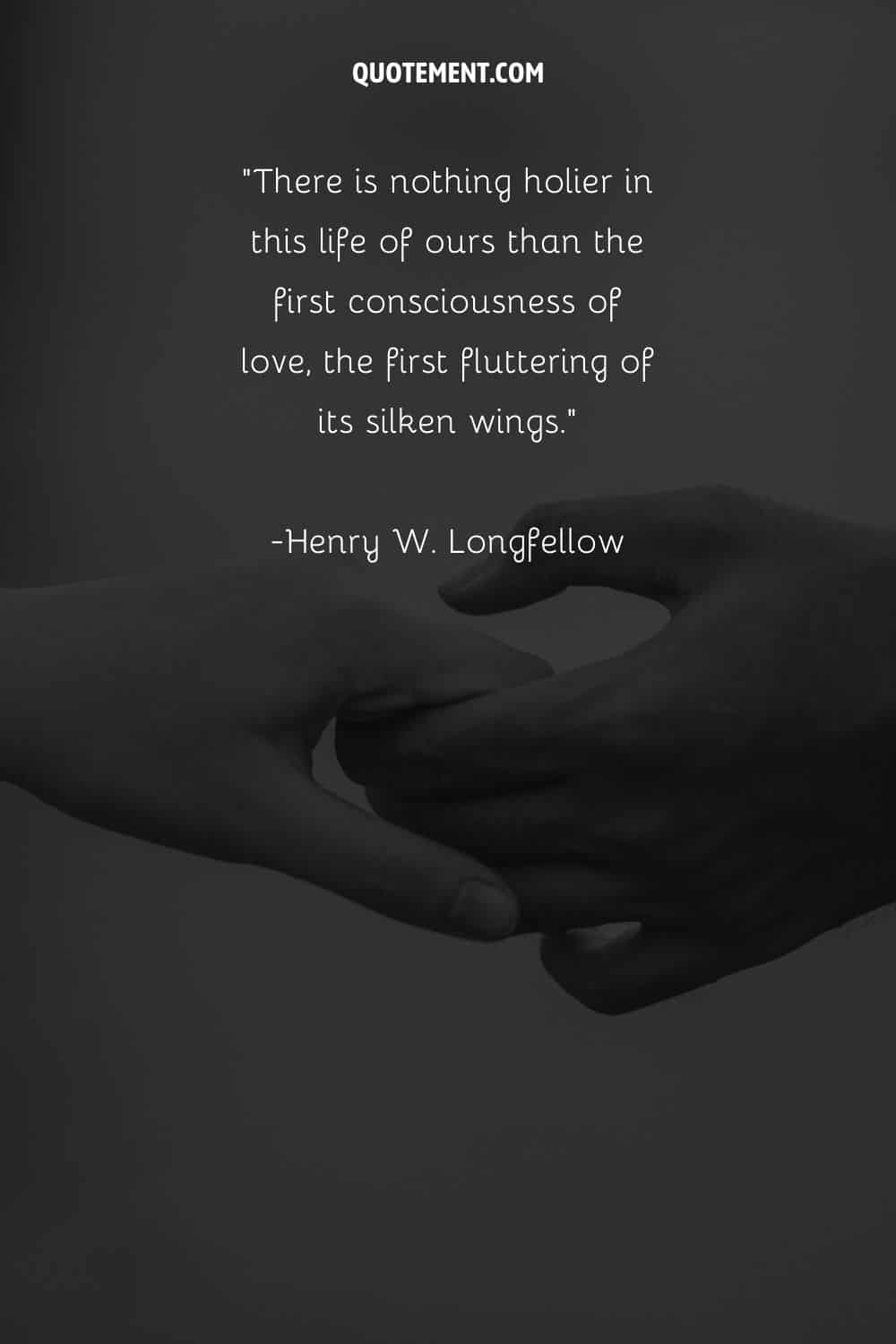 26. "It's easy to fall in love. The hard part is finding someone to catch you." — Bertrand Russell
27. "There is a place you can touch a woman that will drive her crazy. Her heart." — Melanie Griffith
28. "The urge to jump into his arms and feel the warmth of them surrounding me is so powerful, I wonder if it's medically possible to be addicted to another human being." ― Simone Elkeles
29. "Flatter me, and I may not believe you. Criticize me, and I may not like you. Ignore me, and I may not forgive you. Encourage me, and I will not forget you. Love me and I may be forced to love you." — William Arthur Ward
30. "I love you, and I will love you until I die, and if there's a life after that, I'll love you then." — Cassandra Clare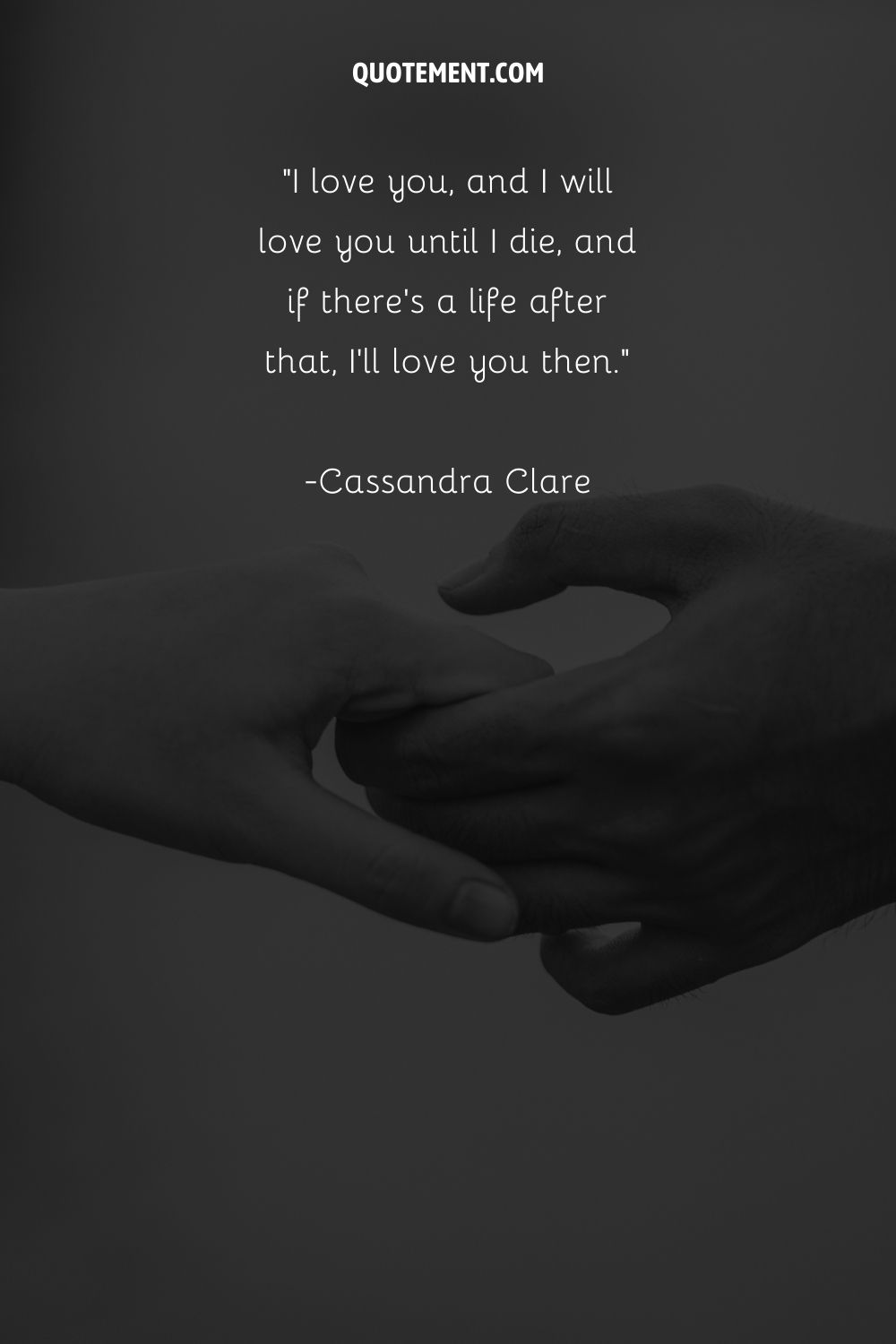 31. "Love doesn't make the world go round. Love is what makes the ride worthwhile." — Franklin P. Jones
32. "If I love myself I love you. If I love you I love myself." — Rumi
33. "She sprouted love like flowers, grew a garden in her mind, and even on the darkest days, from her smile the sun still shined." — Erin Hanson
34. "You know you're in love when you can't fall asleep because reality is finally better than your dreams." — Dr. Seuss
35. "I wish you to know that you have been the last dream of my soul." — Charles Dickens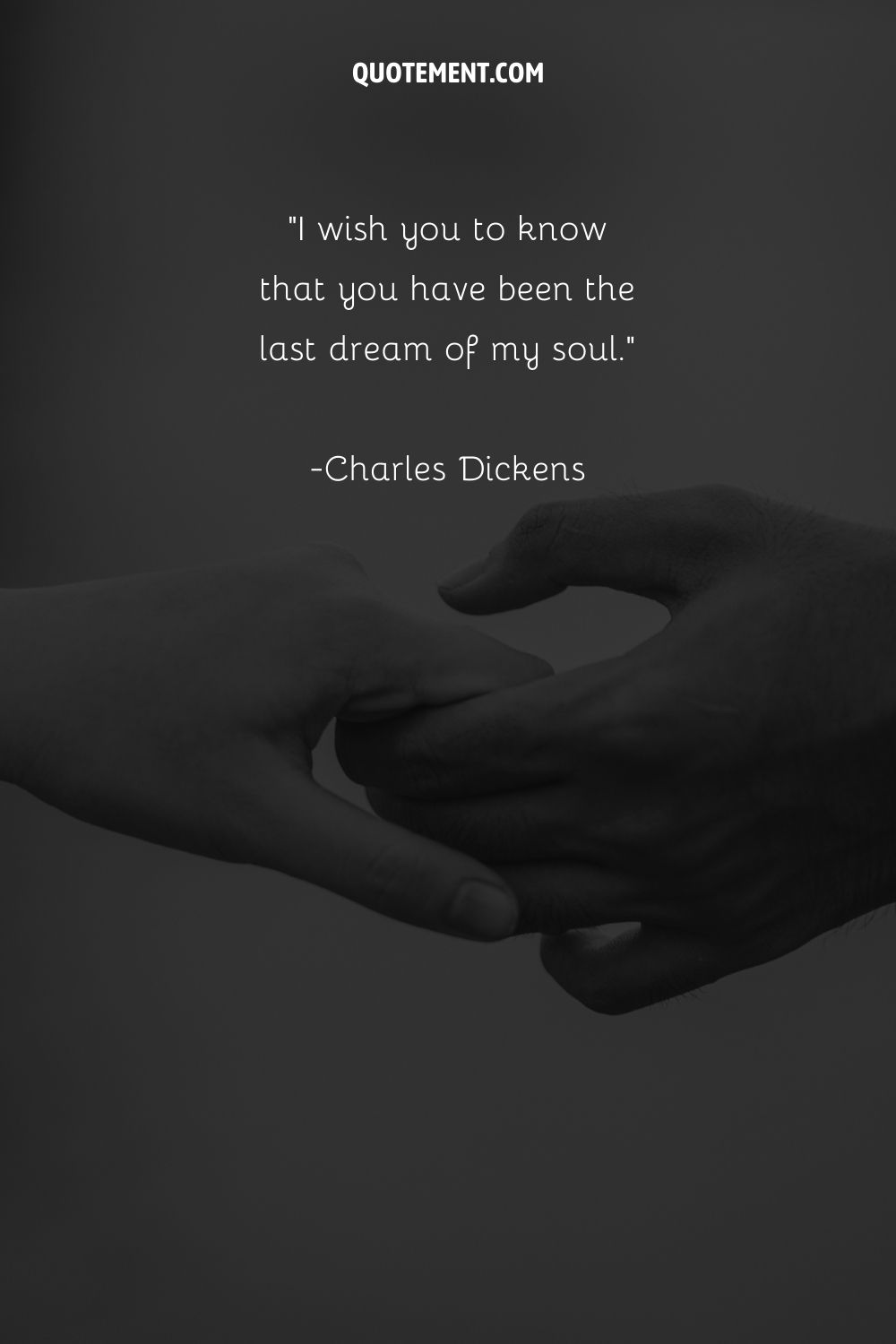 36. "All you need is love. But a little chocolate now and then doesn't hurt." — Charles Schulz
37. "Real love amounts to withholding the truth, even when you're offered the perfect opportunity to hurt someone's feelings." — David Sedaris
38. "People do belong to each other, because that's the only chance that anyone's got for true happiness." — Breakfast at Tiffany's
39. "I want you. All of you. Your flaws. Your mistakes. Your imperfections. I want you, and only you." — John Legend
40. "A flower cannot blossom without sunshine, and a man cannot live without love." – Max Muller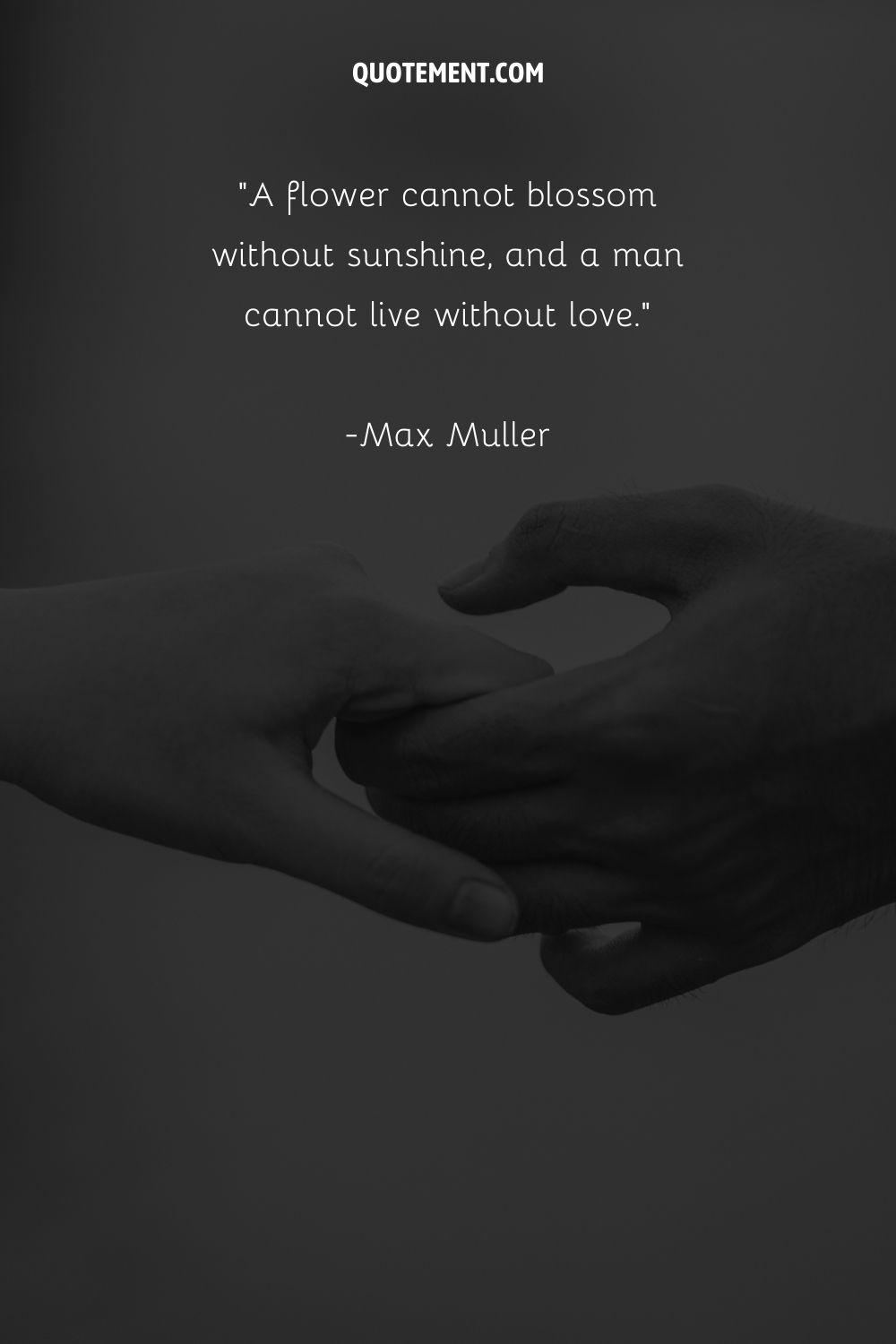 Cute Life Quotes On Friends & Friendships
1. "A single rose can be my garden… a single friend, my world." — Leo Buscaglia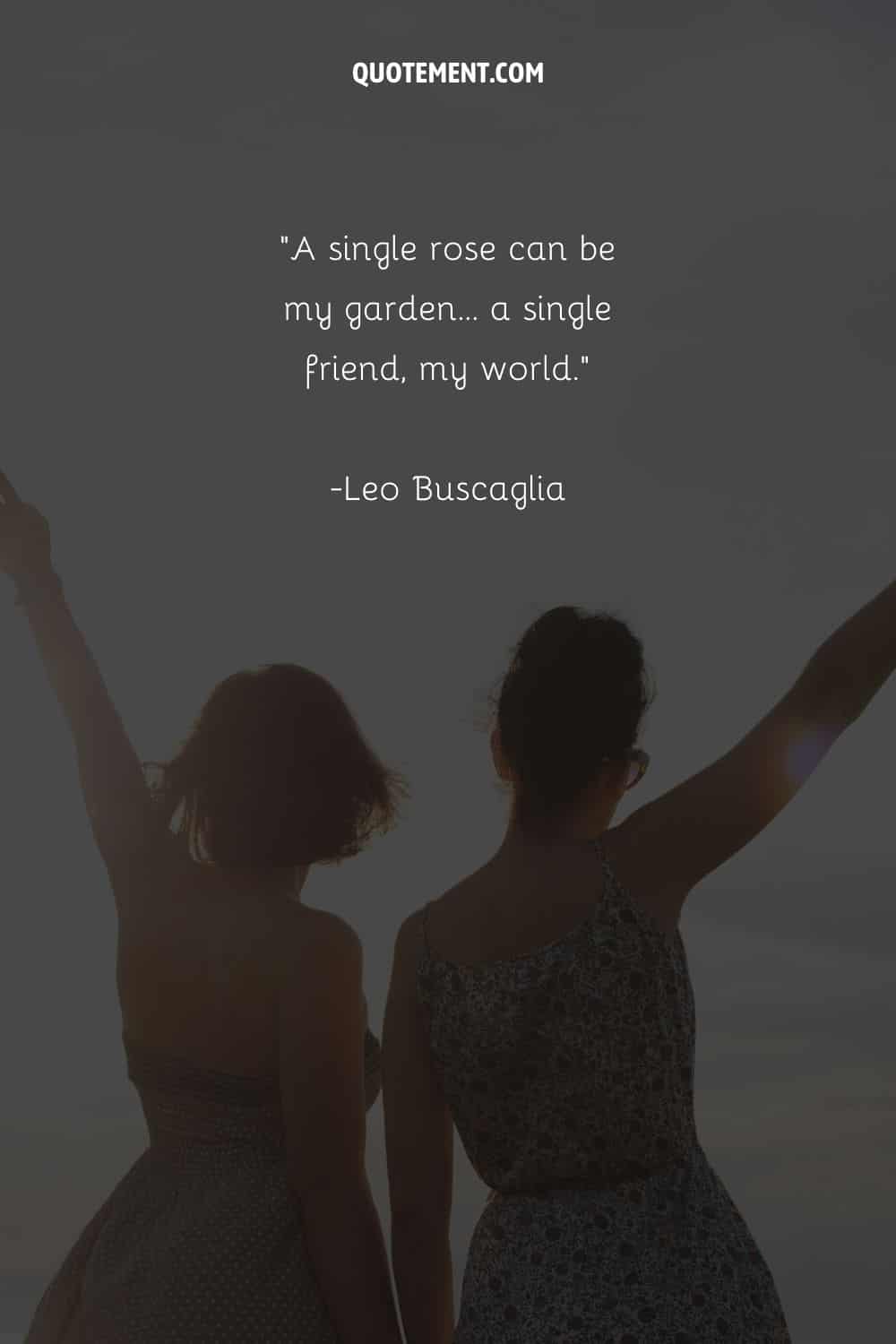 2. "Don't walk in front of me; I may not follow. Don't walk behind me; I may not lead. Just walk beside me and be my friend." — Albert Camus
3. "Constant use will wear out anything – especially friends." — Warren Hull
4. "You can always tell a real friend: when you've made a fool of yourself he doesn't feel you've done a permanent job." — Laurence J. Peter
5. "Real friendship, like real poetry, is extremely rare – and precious as a pearl." — Tahar Ben Jelloun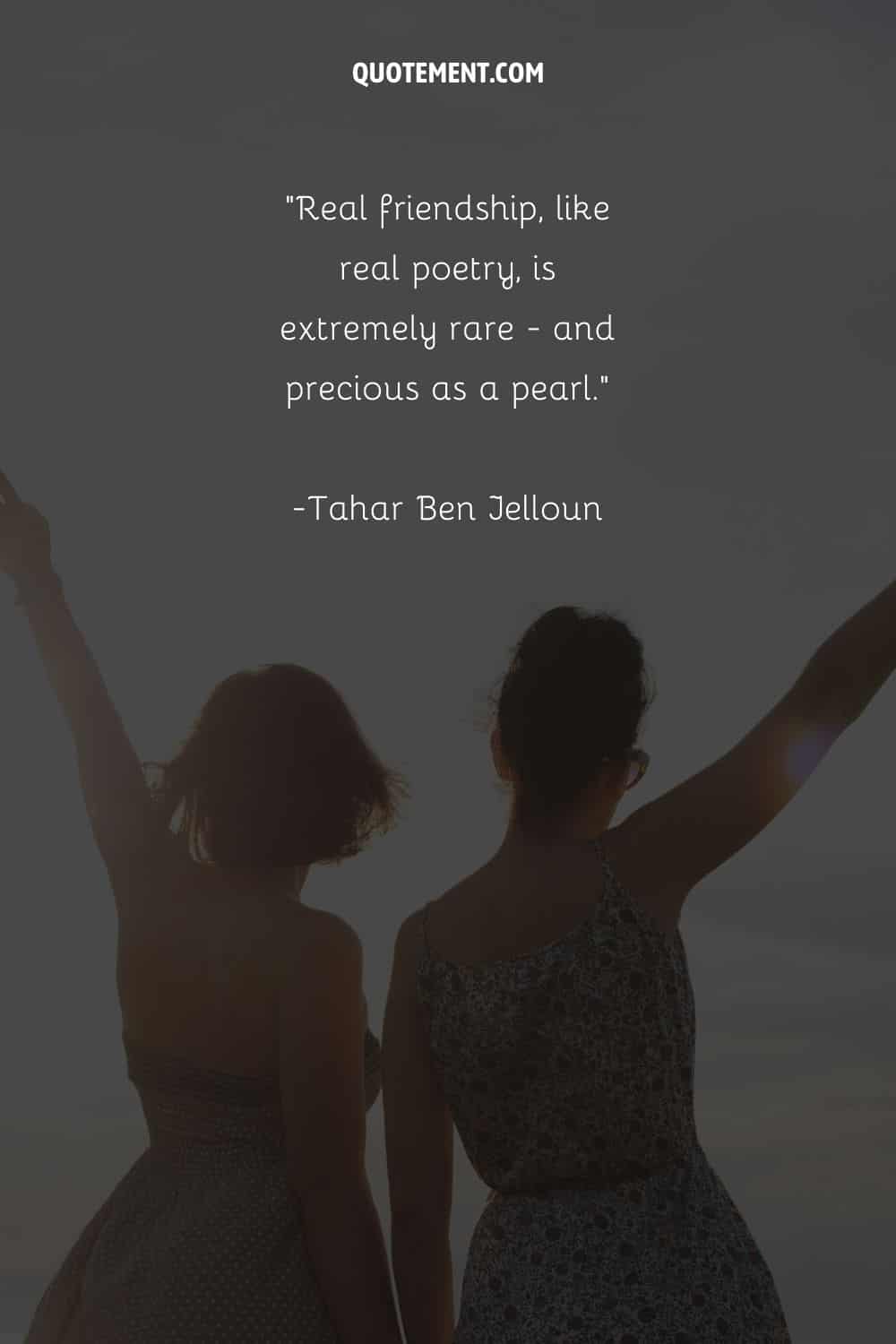 6. "Of all forms of caution, caution in love is perhaps the most fatal to true happiness." — Bertrand Russell
7. "We must reach out our hand in friendship and dignity both to those who would befriend us and those who would be our enemy." — Arthur Ashe
8. "In life, I have met many friends and people whom I have loved dearly. All this has been possible because of a life full of joy happiness and peace. Humor is another factor which helped me on my way in life." — Bob Lyres
9. "You can make more friends in two months by becoming interested in other people than you can in two years by trying to get other people interested in you." — Dale Carnegie
10. "Let us be grateful to the people who make us happy; they are the charming gardeners who make our souls blossom." — Marcel Proust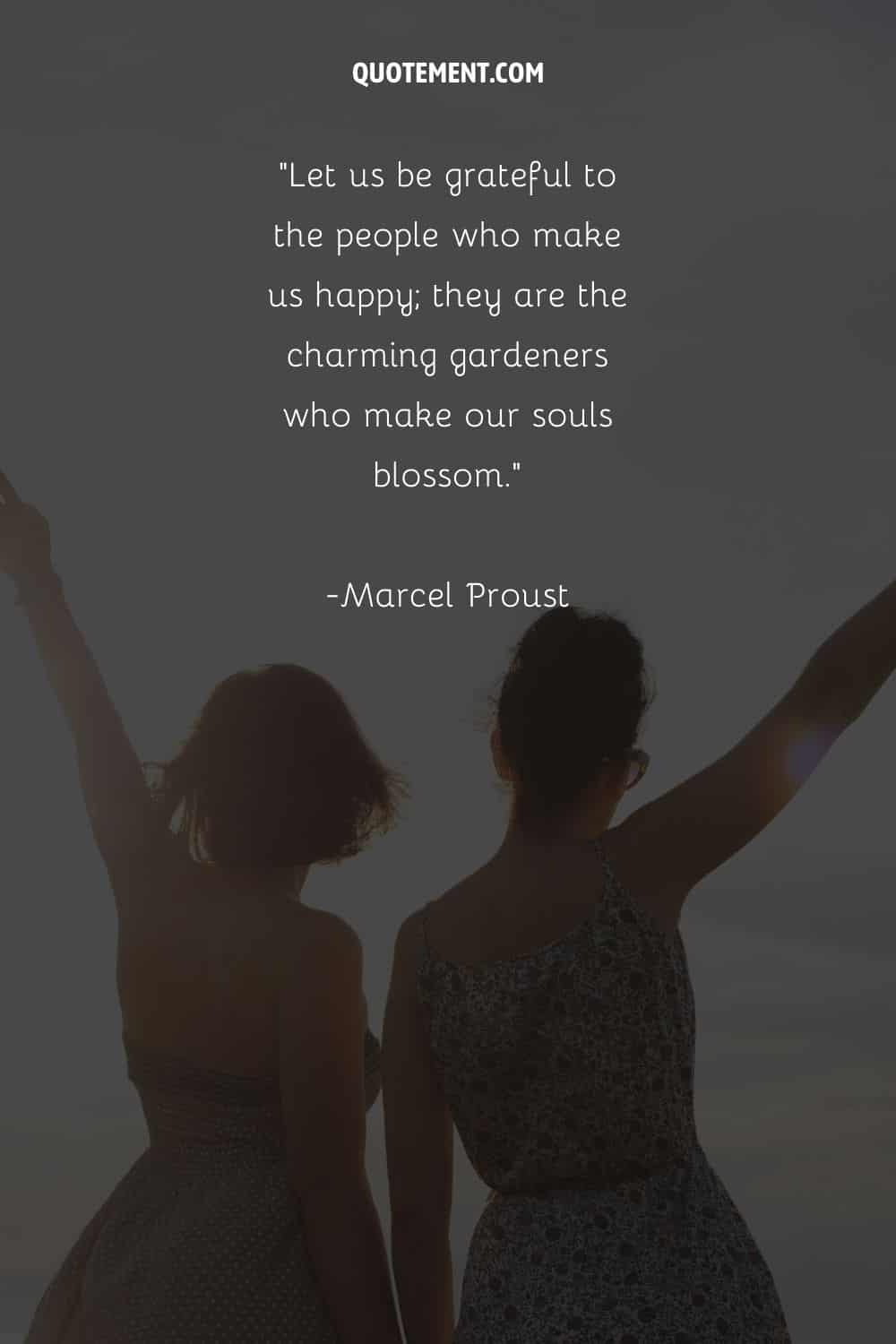 11. "A friend is someone who knows all about you and still loves you." — Elbert Hubbard
12. "Friendship is born at that moment when one person says to another, 'What! You too? I thought I was the only one.'" — C.S. Lewis
13. "In the sweetness of friendship let there be laughter, for in the dew of little things the heart finds its morning and is refreshed." — Khalil Gibran
14. "Friendship marks a life even more deeply than love. Love risks degenerating into obsession, friendship is never anything but sharing." ― Elie Wiesel
15. "It is not a lack of love, but a lack of friendship that makes unhappy marriages." — Friedrich Nietzsche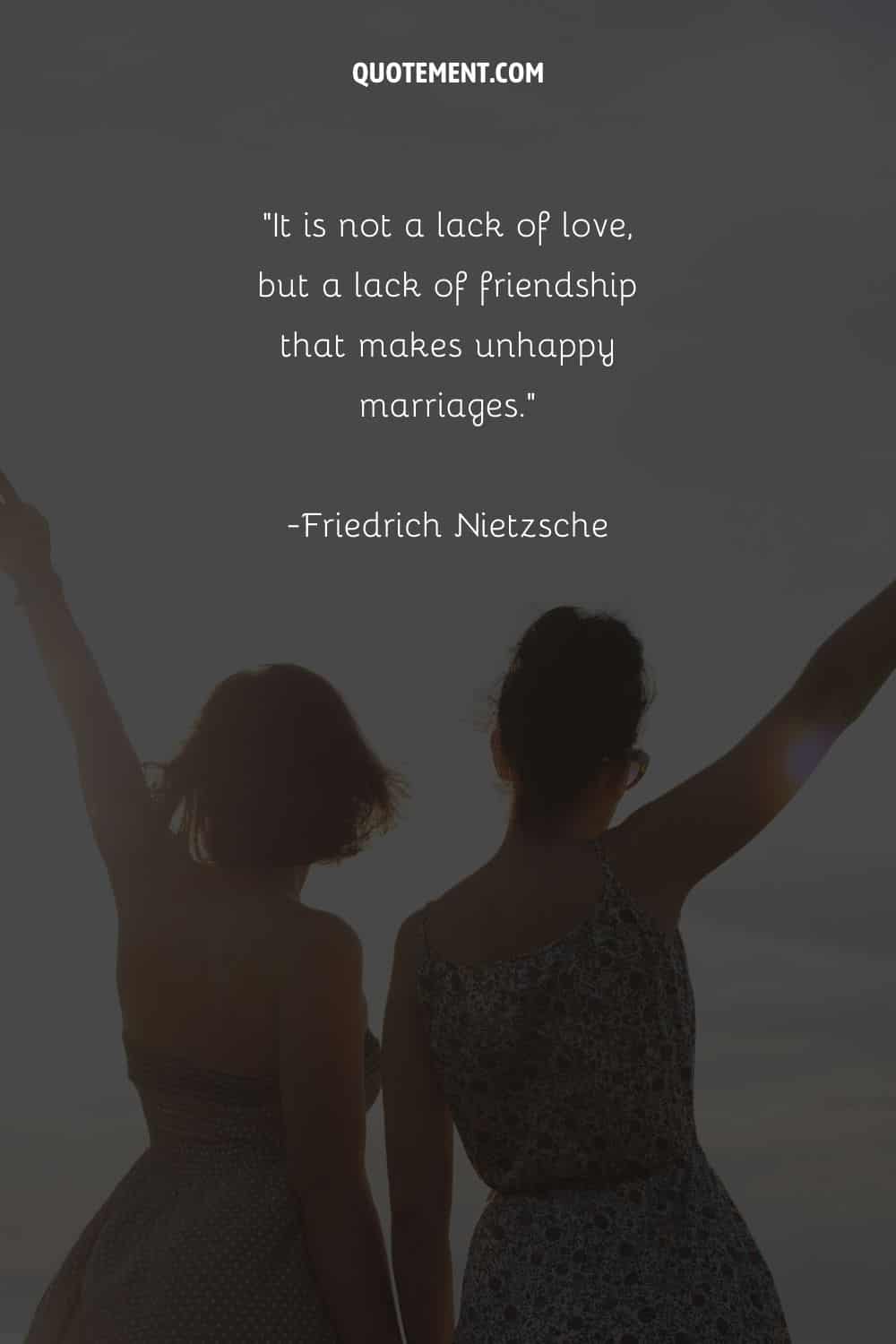 16. "The real test of friendship is can you literally do nothing with the other person? Can you enjoy those moments of life that are utterly simple?" — Eugene Kennedy
17. "Life though, is full of compensations and I have been well blessed throughout my 'Life Journey' with good friends met and made along the way. Life is a kind of swings and roundabouts situation; if you can't kick a football you turn to other pursuits." — John McLeod
18. "Friends are those rare people who ask how we are and then wait to hear the answer." — Ed Cunningham
19. "Some people go to priests. Others to poetry. I to my friends." — Virginia Woolf
20. "If you go looking for a friend, you're going to find they're very scarce. If you go out to be a friend, you'll find them everywhere." — Zig Ziglar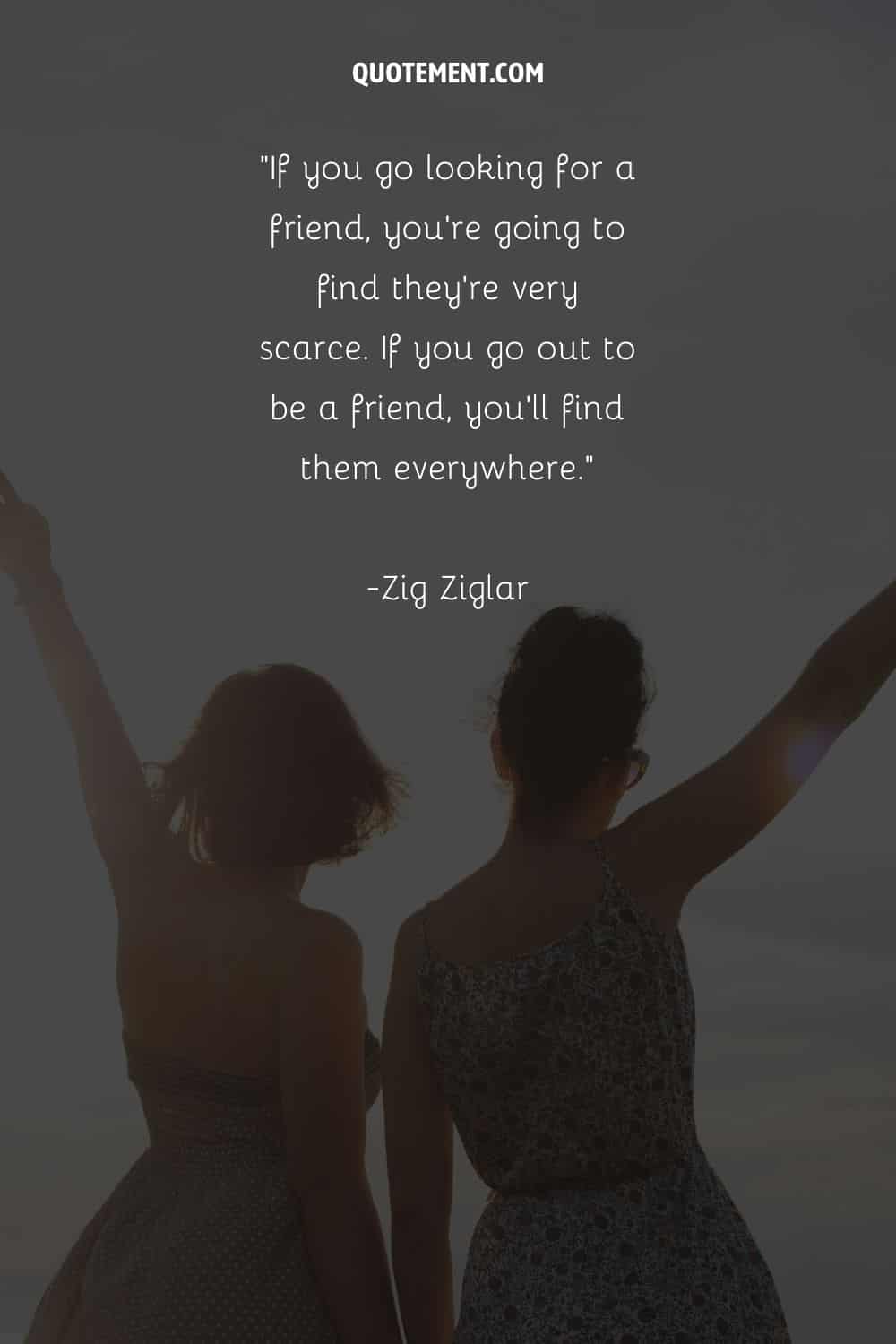 21. "In everyone's life, at some time, our inner fire goes out. It is then burst into flame by an encounter with another human being. We should all be thankful for those people who rekindle the inner spirit." — Albert Schweitzer
22. "A friend knows the song in my heart and sings it to me when my memory fails." — Donna Roberts
23. "But I think we both knew, even then, that what we had was something even more rare, and even more meaningful. I was going to be his friend, and was going to show him possibilities. And he, in turn, would become someone I could trust more than myself." ― David Levithan
24. "The essence of true friendship is to make allowance for another's little lapses." — David Storey
25. "The most beautiful discovery true friends make is that they can grow separately without growing apart." — Elisabeth Foley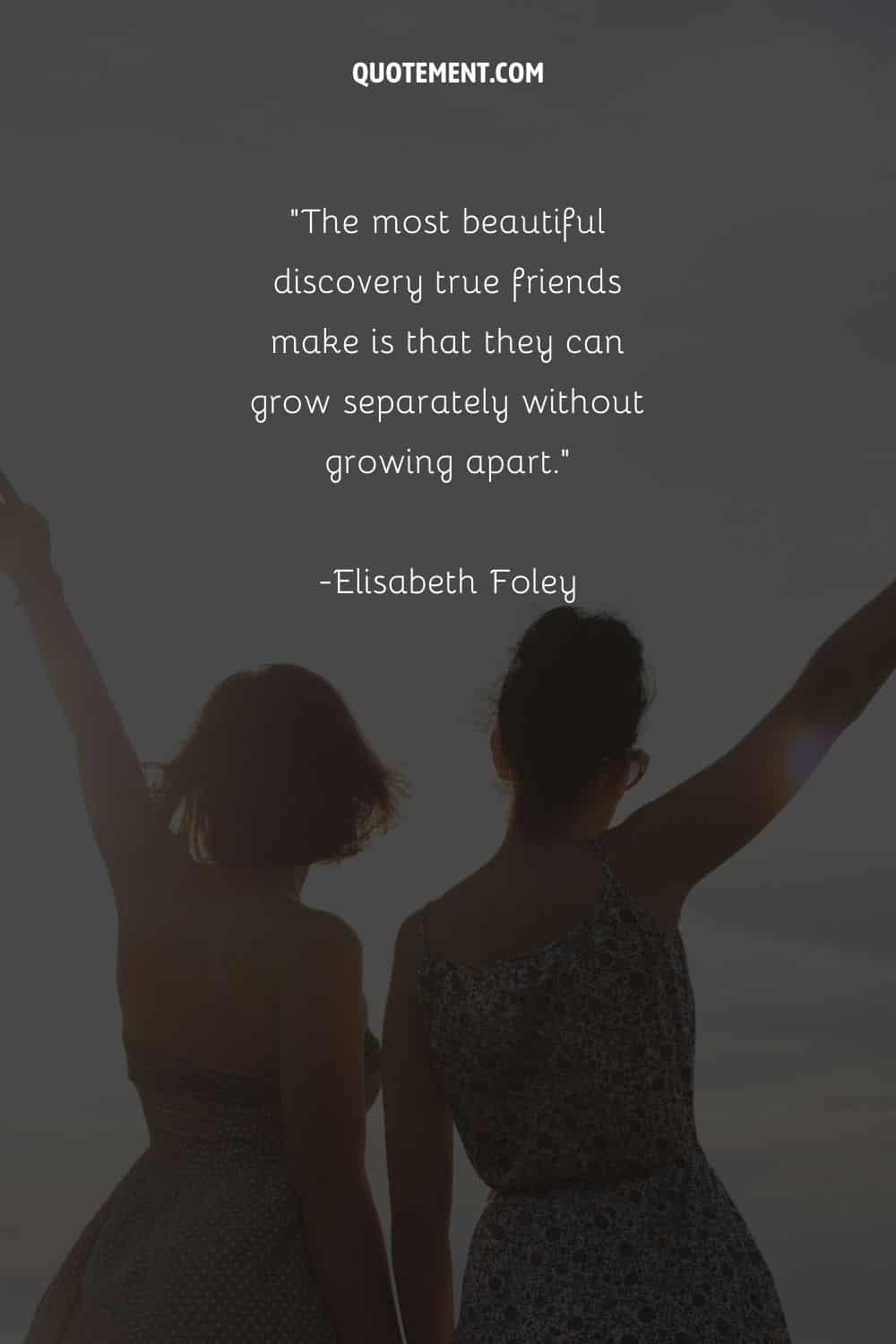 26. "The only way to have a friend is to be one." — Ralph Waldo Emerson
27. "The holy passion of friendship is of so sweet and steady and loyal and enduring a nature that it will last through a whole lifetime, if not asked to lend money." — Mark Twain
28. "Friends…they cherish one another's hopes. They are kind to one another's dreams." — Henry David Thoreau
29. "If ever there is tomorrow when we're not together… there is something you must always remember. You are braver than you believe, stronger than you seem, and smarter than you think. But the most important thing is, even if we're apart… I'll always be with you." — Winnie the Pooh
30. "There are three things that grow more precious with age; old wood to burn, old books to read, and old friends to enjoy." — Henry Ford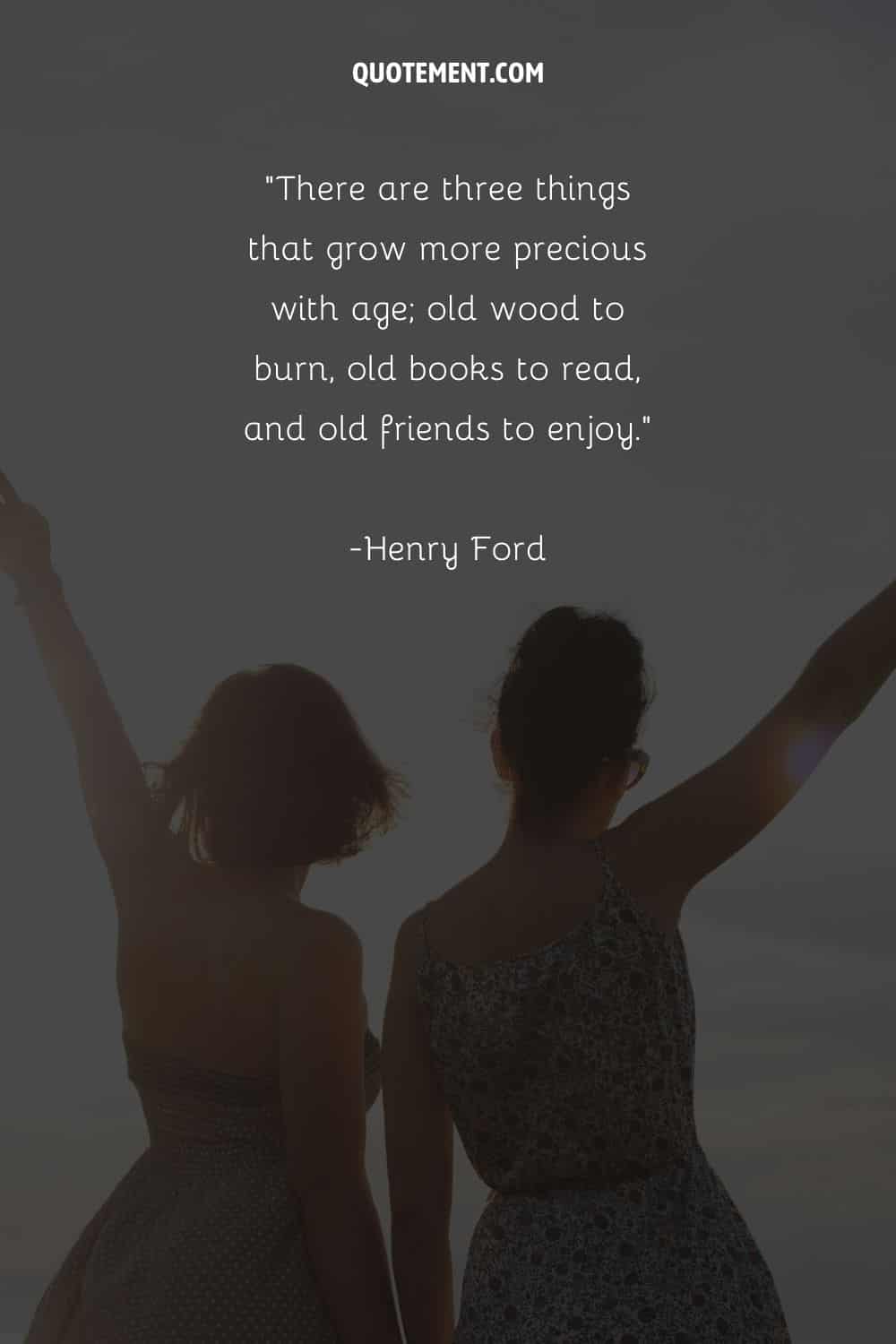 31. "Friendship is the hardest thing in the world to explain. It's not something you learn in school. But if you haven't learned the meaning of friendship, you really haven't learned anything." — Muhammad Ali
32. "A good friend is a connection to life – a tie to the past, a road to the future, the key to sanity in a totally insane world." — Lois Wyse
33. "Friendship is the source of the greatest pleasures, and without friends even the most agreeable pursuits become tedious." — Thomas Aquinas
34. "It is one of the blessings of old friends that you can afford to be stupid with them." — Ralph Waldo Emerson
35. "Ultimately the bond of all companionship, whether in marriage or in friendship, is conversation." — Oscar Wilde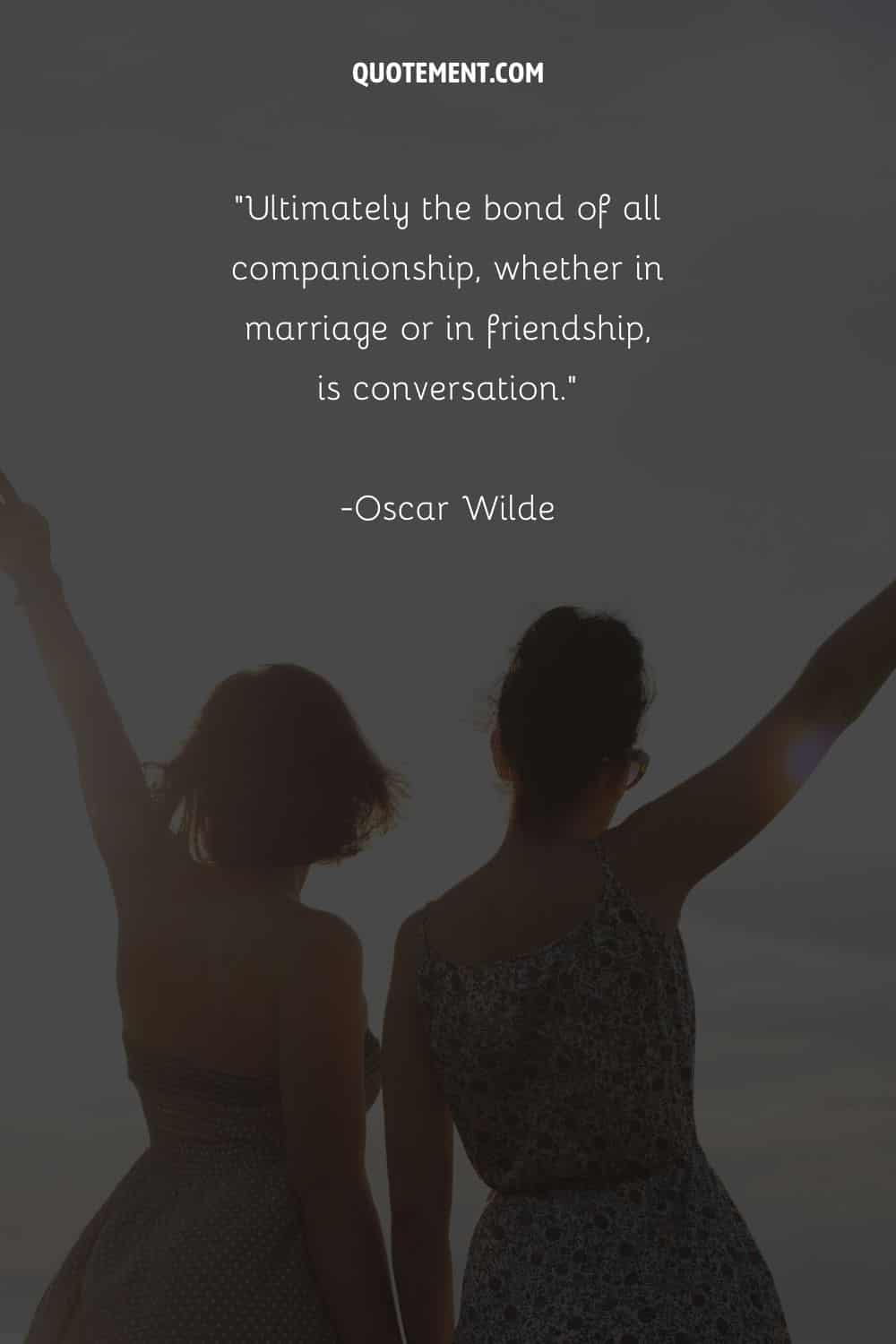 See also: 100 Oscar Wilde Quotes For Every Point Of Your Life
36. "In everyone's life, at some time, our inner fire goes out. It is then burst into flame by an encounter with another human being. We should all be thankful for those people who rekindle tthe inner spirit." — Albert Schweitzer
37. "But friendship is precious, not only in the shade, but in the sunshine of life, and thanks to a benevolent arrangement the greater part of life is sunshine." — Thomas Jefferson
38. "The great thing about new friends is that they bring new energy to your soul." — Shanna Rodriguez
39. "Each friend represents a world in us, a world possibly not born until they arrive, and it is only by this meeting that a new world is born." — Anais Nin
40. "When the world is so complicated, the simple gift of friendship is within all of our hands." — Maria Shriver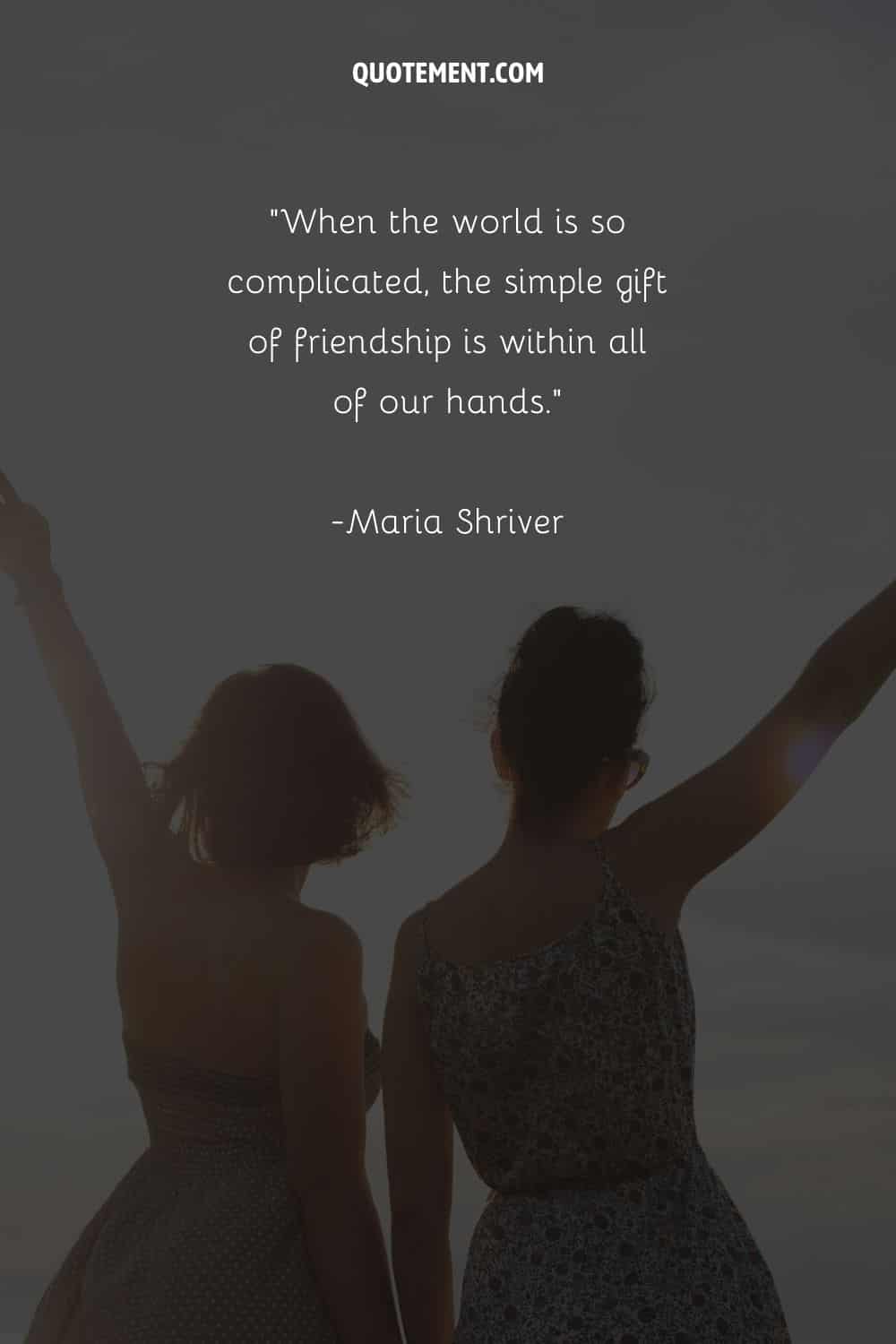 Cute Short Quotes For Joy & Happiness
1. "Life is to be enjoyed, not endured" — Gordon B. Hinckley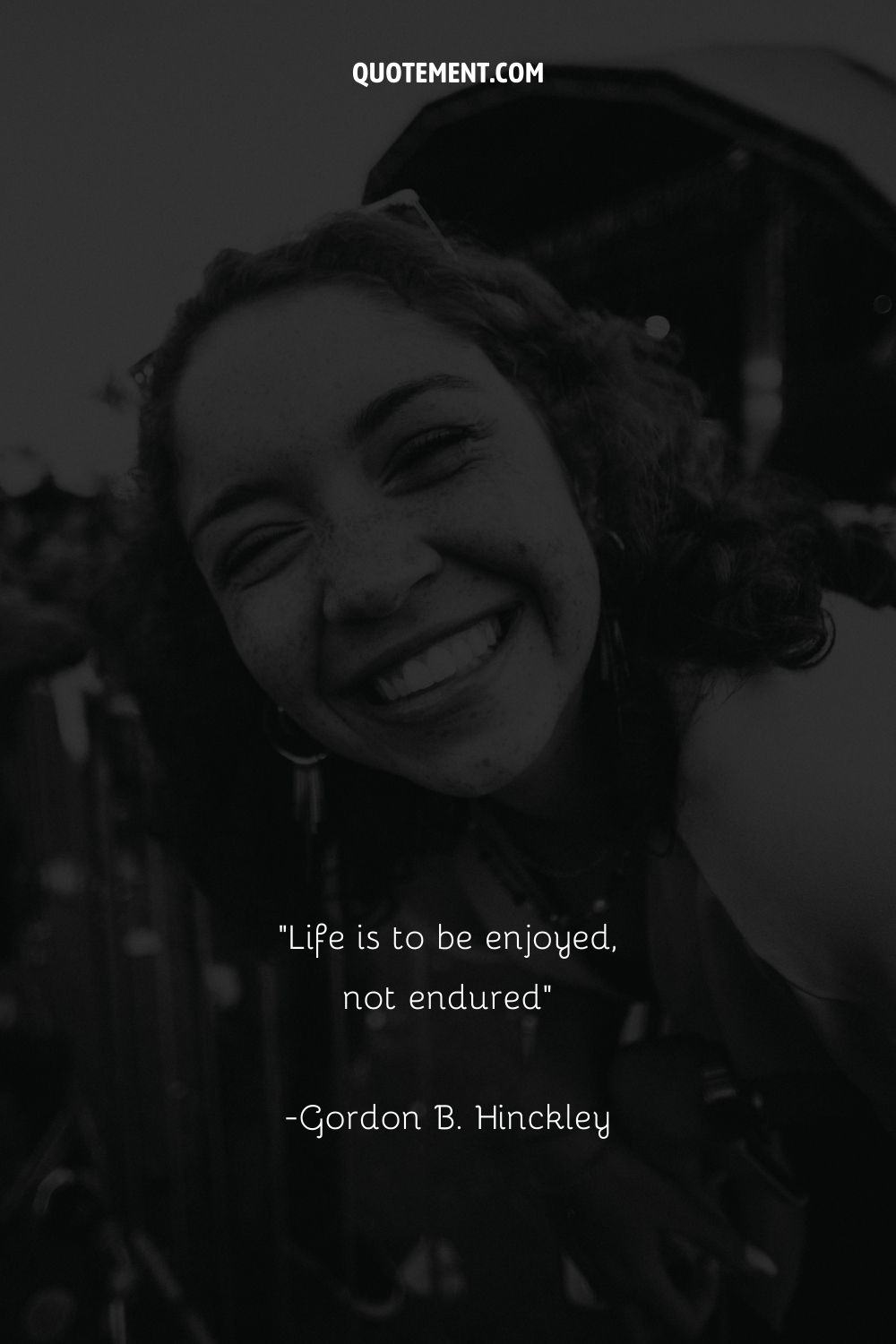 2. "Life is a ride. Strap in, hang on, and keep your eyes open." — Michael J. Fox
3. "What you do today can improve all your tomorrows." — Ralph Marston
4. "Where there is love there is life." — Mahatma Gandhi
5. "Every time I find the meaning of life, they change it." — Reinhold Niebuhr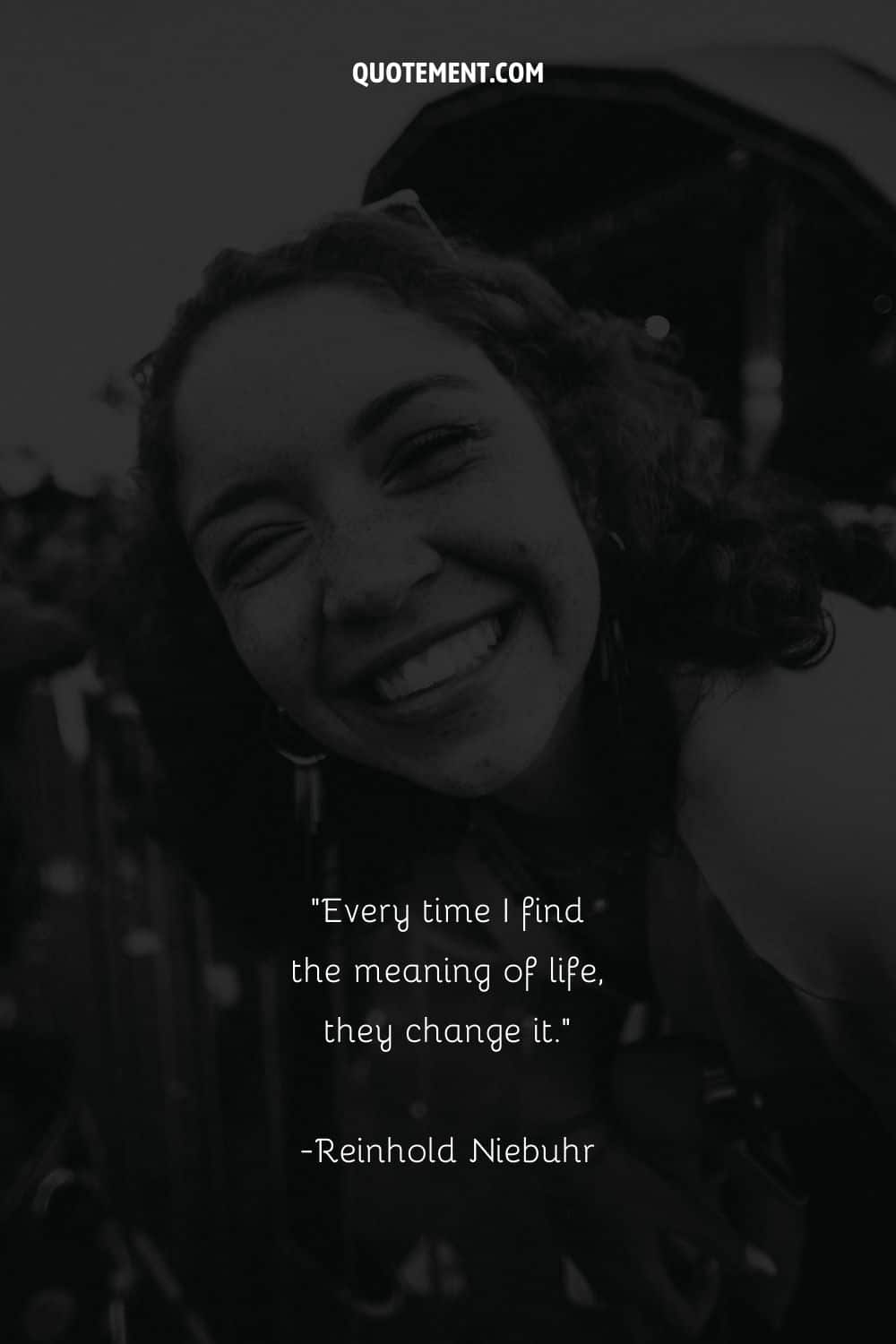 6. "Don't let yesterday use up too much of today." — Will Rogers
7. "Who would enjoy a life of no runs, no hits, no errors?" — Hans Selye
8. "Don't cry because it's over, smile because it happened." — Dr. Seuss
9. "Life is worth living as long as there's a laugh in it." — L.M. Montgomery
10. "The healthiest response to life is joy." — Deepak Chopra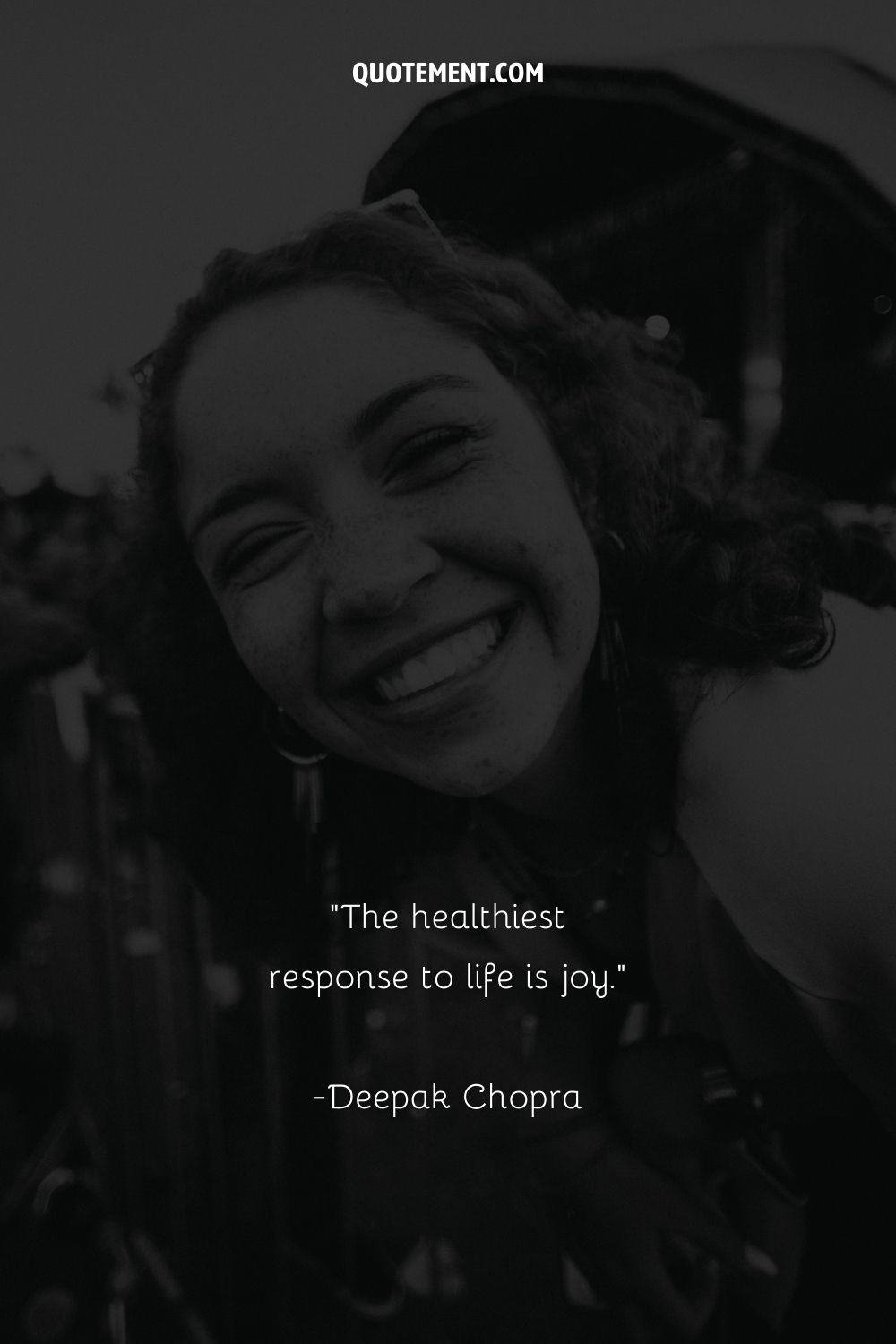 11. "With the new day comes new strength and new thoughts." — Eleanor Roosevelt
12. "Happiness is an inside job." — Unknown
13. "Get busy living or get busy dying." — Stephen King
14. "Live for each second without hesitation." — Elton John
15. "Life without love is like a tree without blossoms or fruit." — Khalil Gibran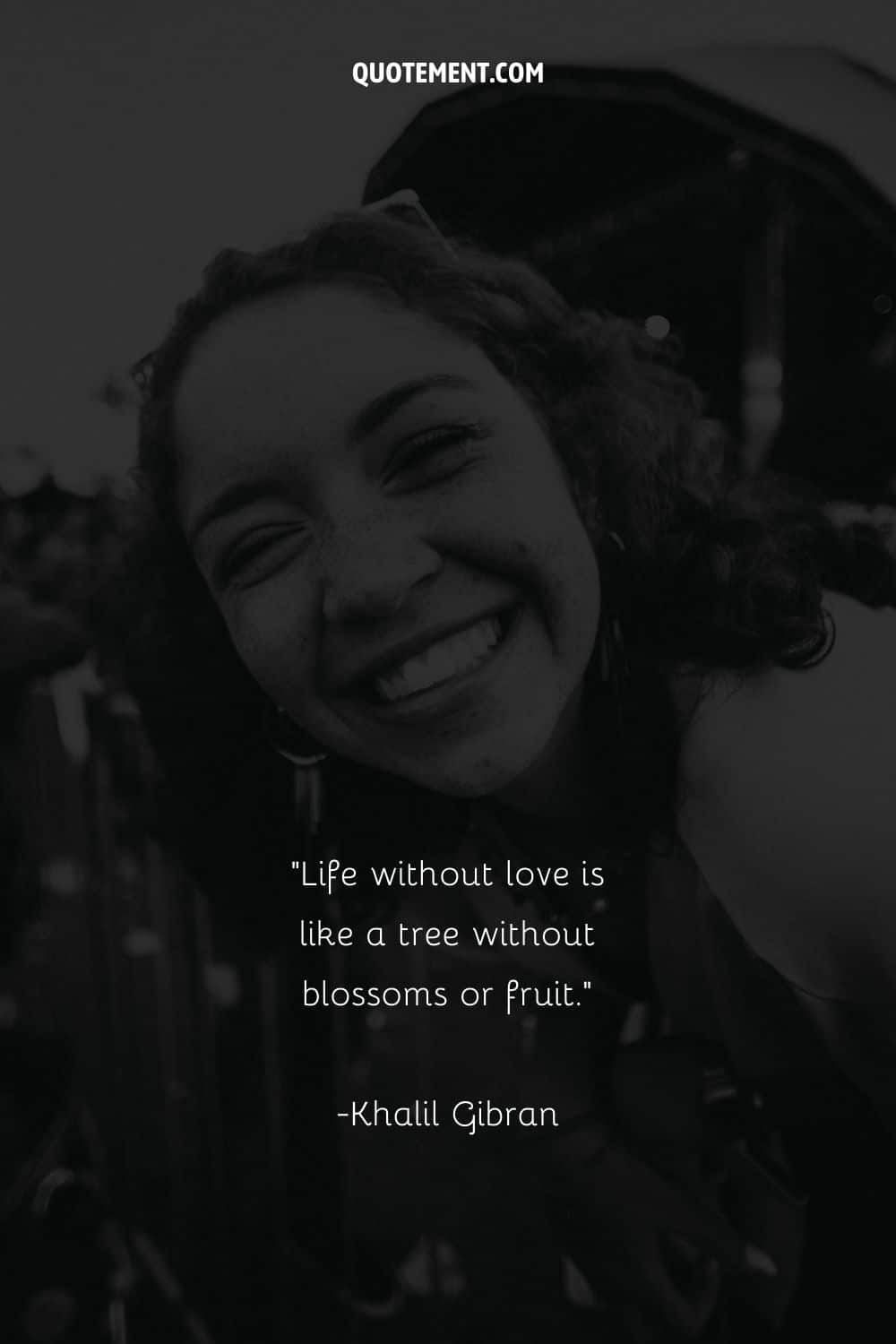 16. "Life is like butter – when things cool down it can be reshaped." — Alan Sheinwald
17. "Life is short, and it is here to be lived." — Kate Winslet
18. "In order to write about life first you must live it." — Ernest Hemingway
19. "Be happy for this moment. This moment in your life." — Omar Khayyam
20. "Life shrinks or expands in proportion to one's courage." — Anais Nin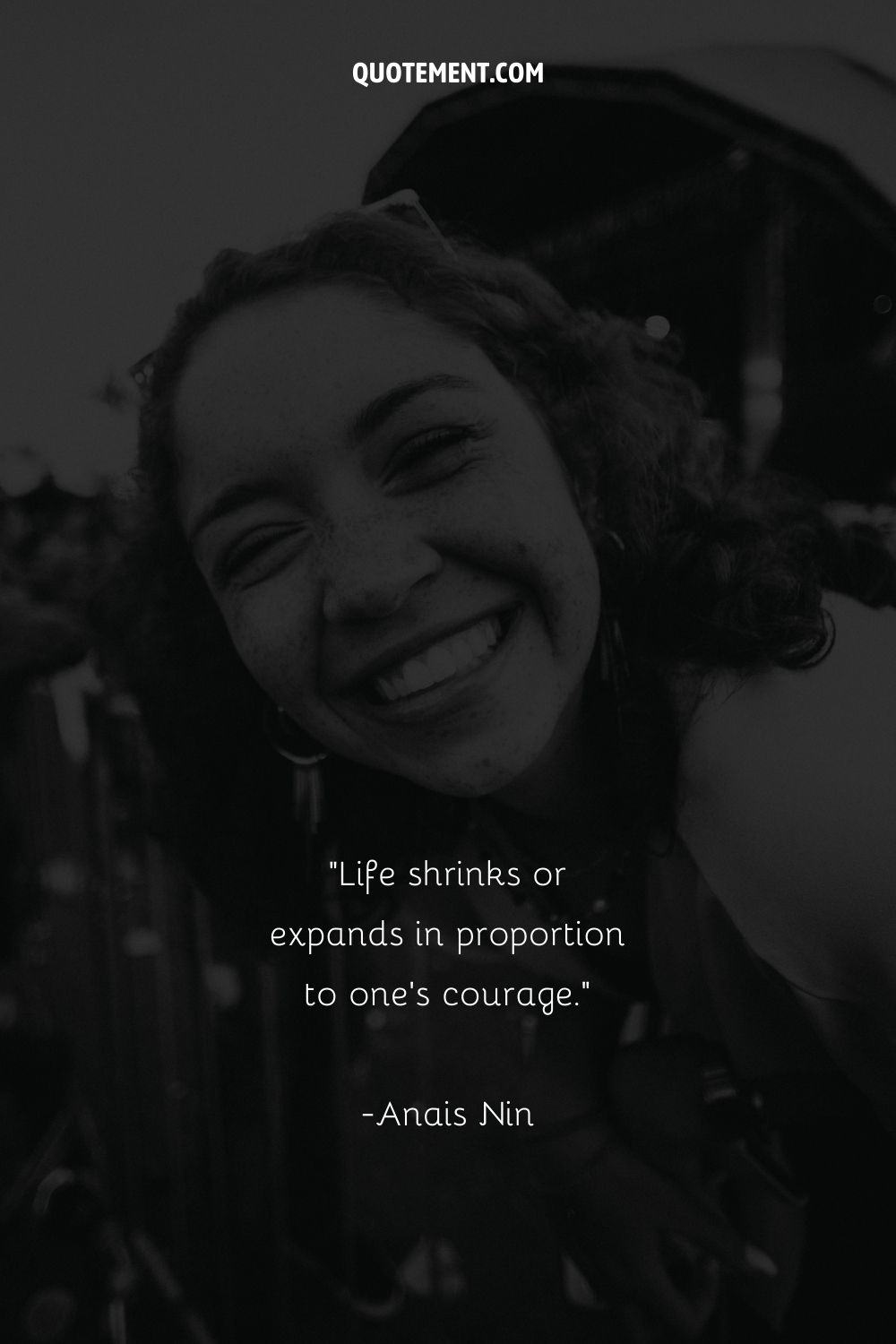 See also: 110 Anais Nin Quotes On Being Fierce And Unapologetic
21. "When you cease to dream you cease to live." — Malcolm Forbes
22. "May you live all the days of your life." — Jonathan Swift
23. "Soft hearts make the universe worth living in." ― Veronica Roth
24. "The best bridge between despair and hope is a good night's sleep." — Harry Ruby
25. "We do not remember days, we remember moments." — Cesare Pavese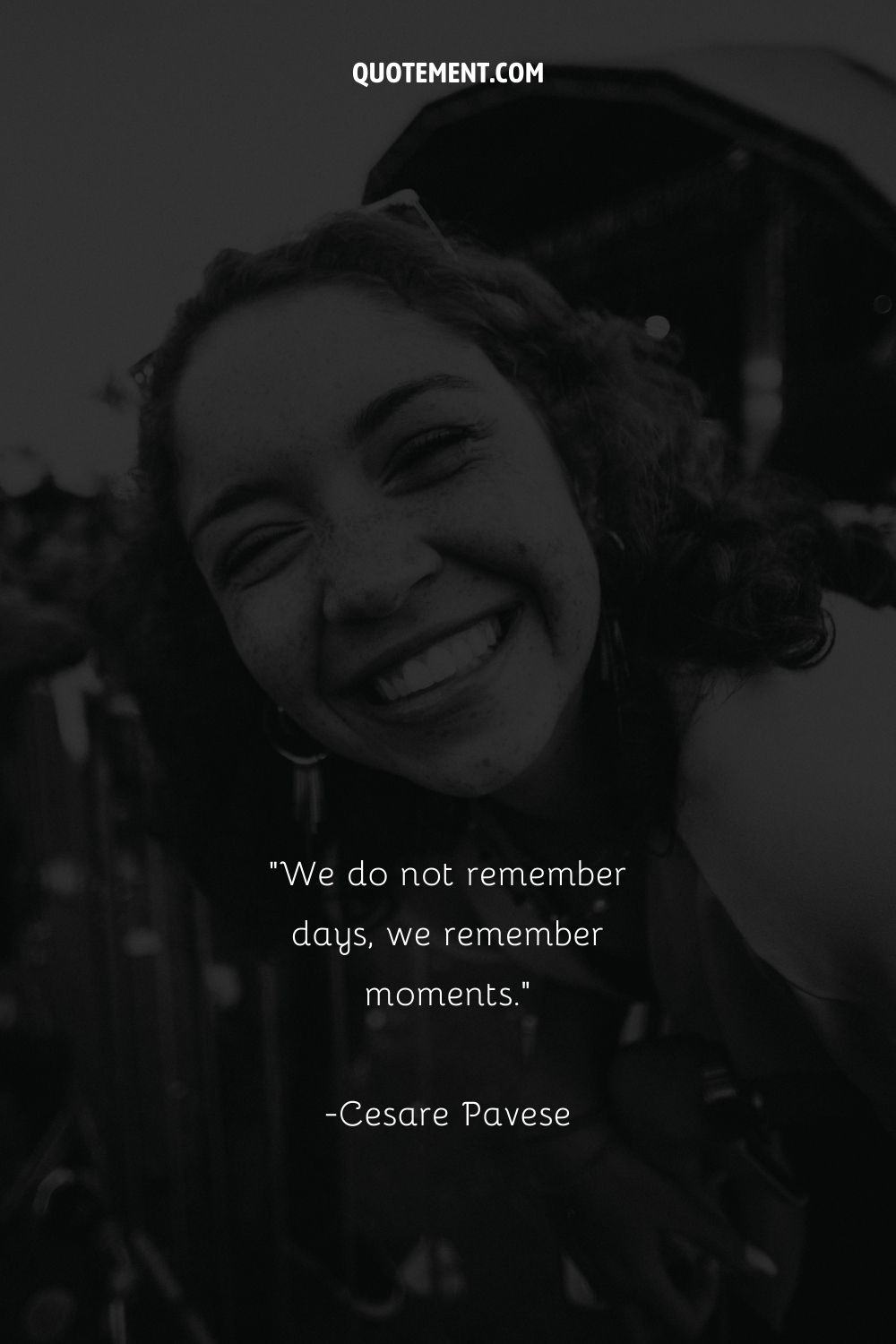 26. "I rebel; therefore I exist." — Albert Camus
27. "Think of all the beauty that's still left in and around you and be happy!" — Anne Frank
28. "Happiness is not by chance, but by choice." — Jim Rohn
29. "Happy people plan actions, they don't plan results." — Dennis Waitley
30. "Life does not have to be perfect to be wonderful." — Annette Funicello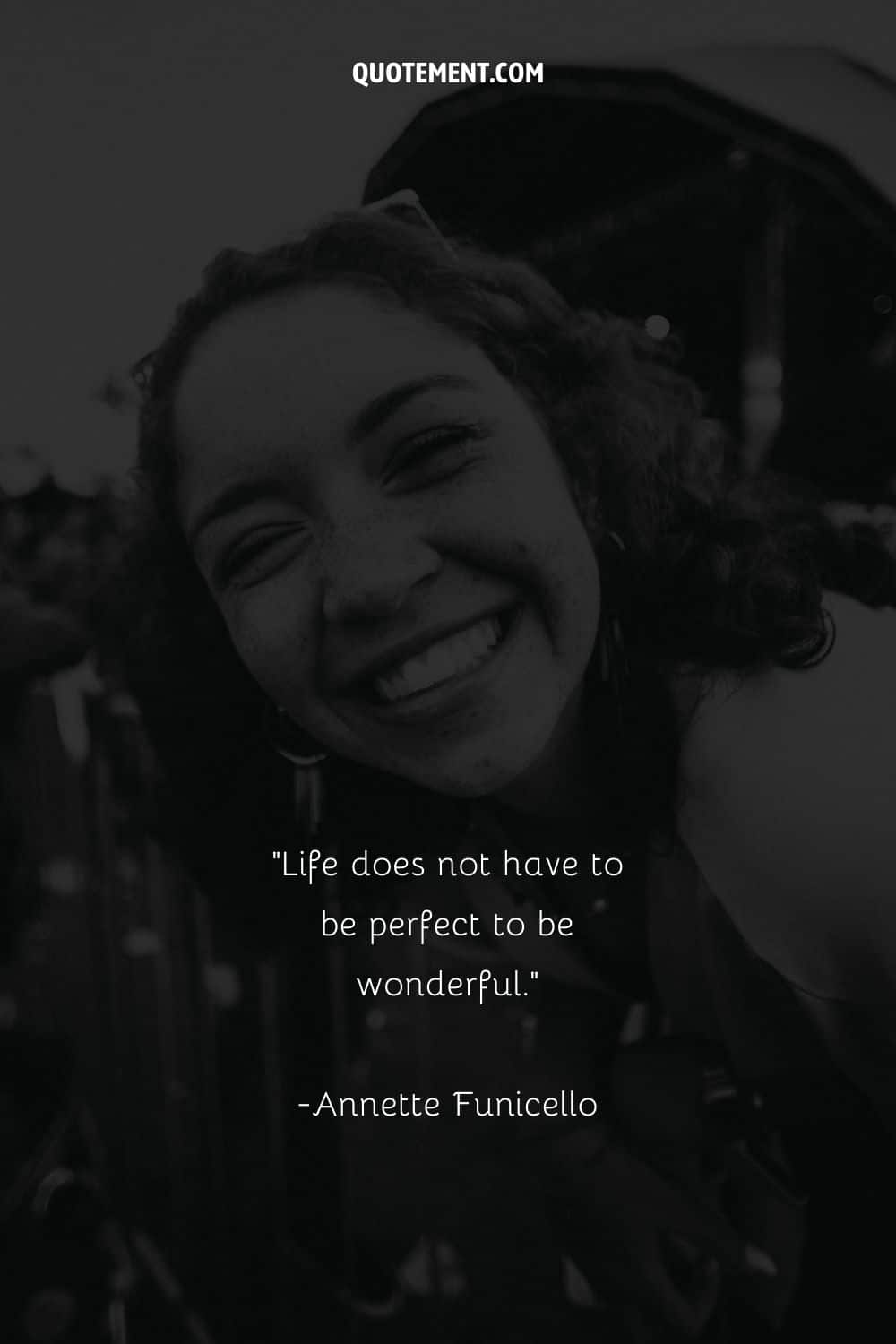 31. "Politeness is the flower of humanity" — Joseph Joubert
32. "Success is a journey, not a destination." — Ben Sweetland
See also: 220 Best Proverbs About Success To Give You Inspiration
33. "Love yourself first and everything else falls into place." — Lucille Ball
34. "Rise above the storm and you will find the sunshine." — Mario Fernández
35. "Aim for the moon. If you miss, you may hit a star." — W. Clement Stone
36. "I've got nothing to do today but smile." — Paul Simon
37. "Opportunities don't happen, you create them." — Chris Grosser
38. "Try to be a rainbow in someone else's cloud." — Maya Angelou
39. "Never regret anything that made you smile." — Mark Twain
40. "There is no way to happiness – happiness is the way." — Thich Nhat Hanh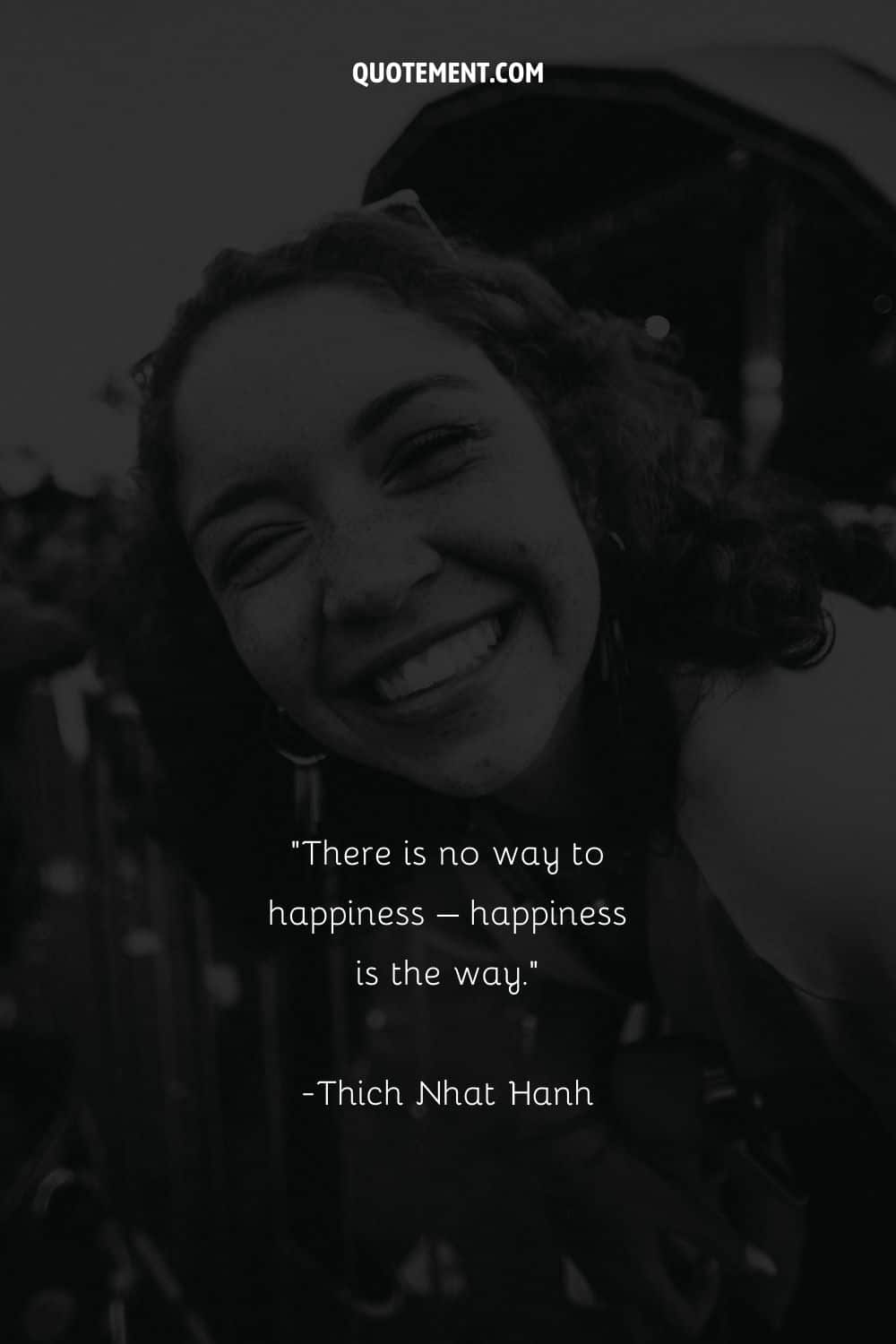 See also: 90 Choose Happiness Quotes To Encourage And Inspire You
Cute Life Quotes To Teach You Important Lessons
1. "In three words I can sum up everything I've learned about life: it goes on." — Robert Frost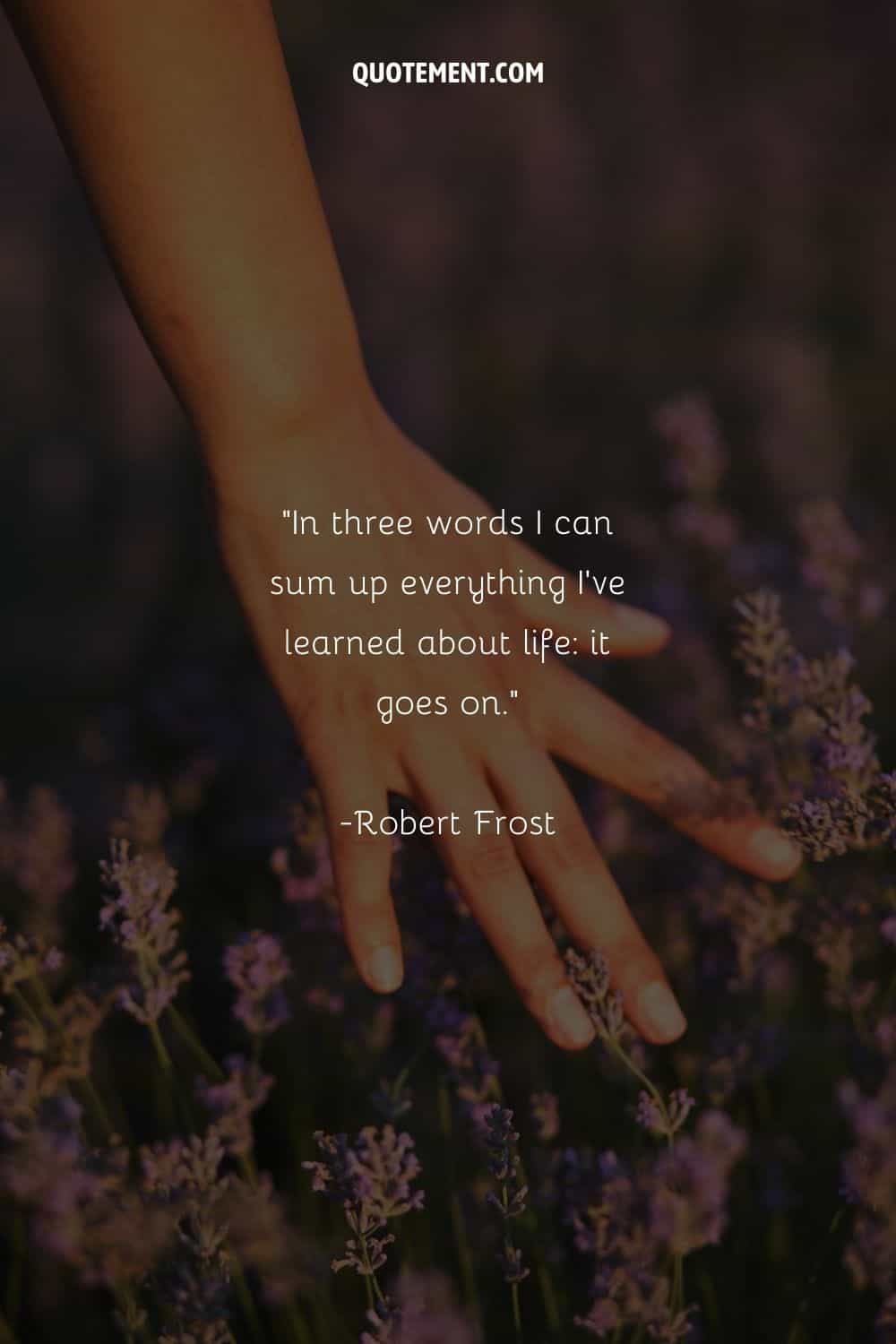 2. "Beauty is when you can appreciate yourself. When you love yourself, that's when you're most beautiful." — Zoe Kravitz
3. "You come into the world with nothing, and the purpose of your life is to make something out of nothing." — Henry Louis Mencken
4. "Life ain't always beautiful, but it's a beautiful ride." — Gary Allan
5. "We say we understand life is fleeting, but we act as though it is endless." — Marty Cauley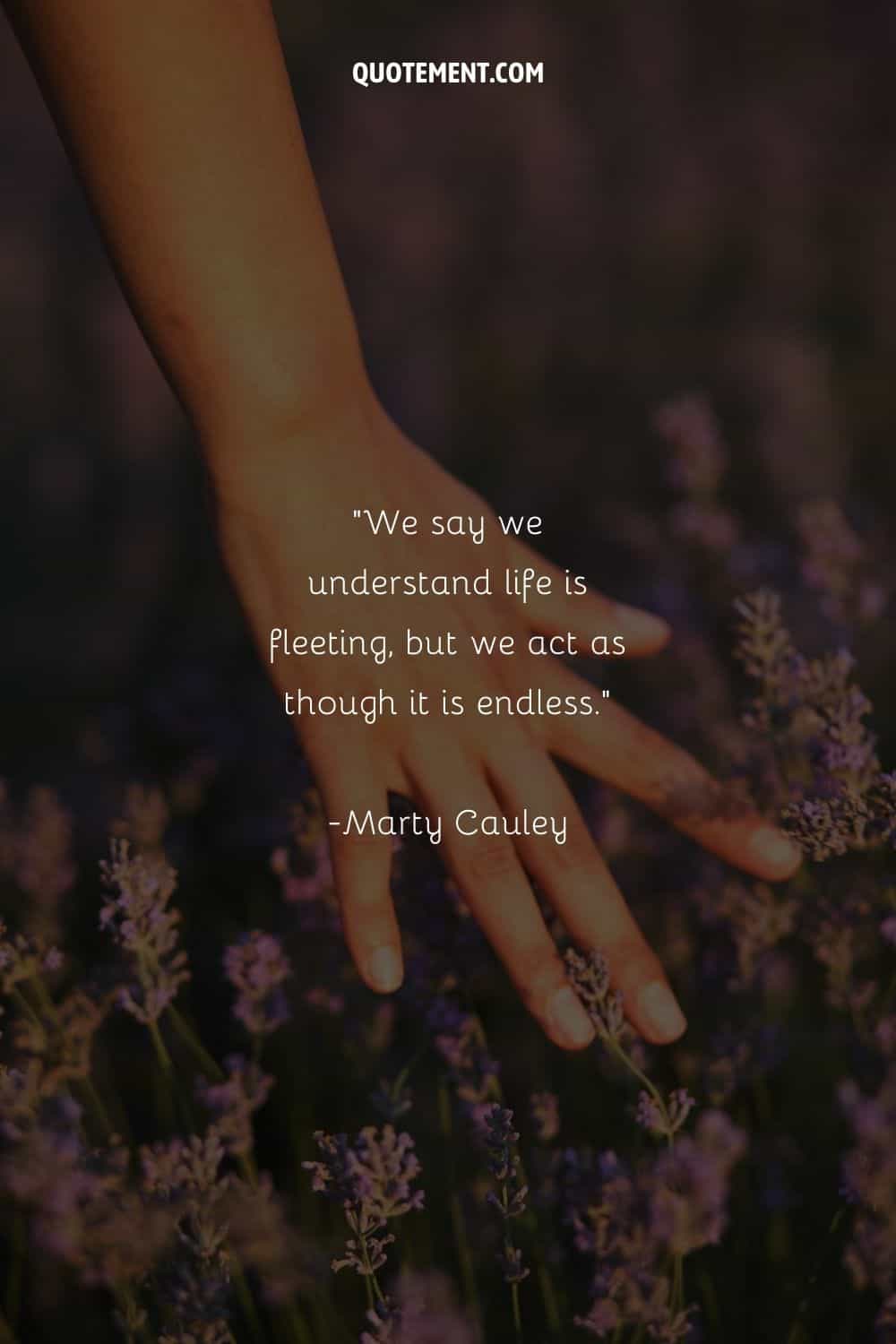 6. "There are only two tragedies in life: one is not getting what one wants, and the other is getting it." — Oscar Wilde
7. "Sometimes the questions are complicated and the answers are simple." — Dr. Seuss
8. "We want to become others' heroes – to be larger than life. That creates a problem because we're real live human beings." — John C. Maxwell
9. One of the advantages of being disorganized is that one is always having surprising discoveries." — A.A. Milne
See also: 35 Best Quotes For Organization To Help You Gain Control
10. "You are not judged by the height you have risen, but from the depth you have climbed." — Frederick Douglass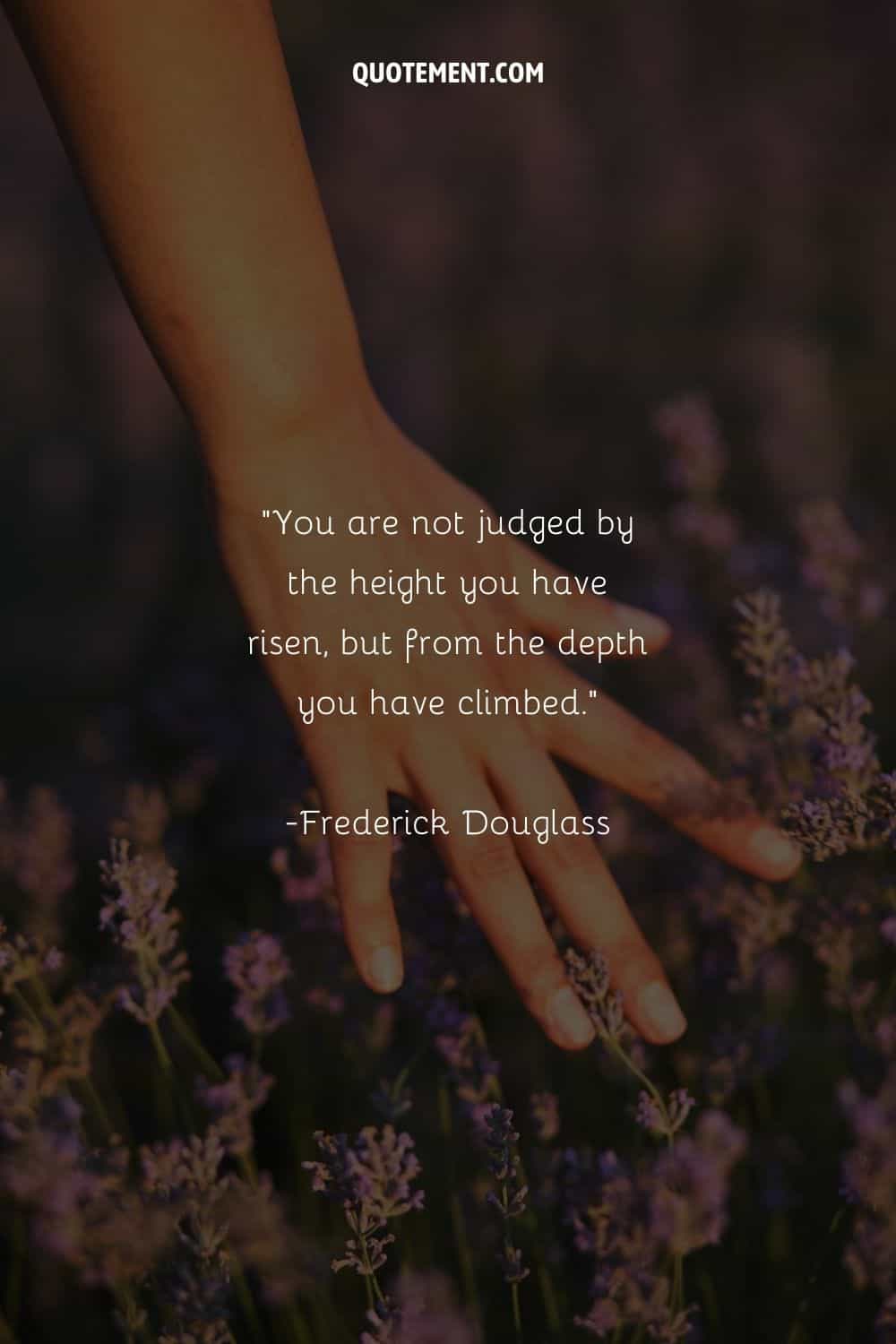 11. "It's a funny thing about life: if you refuse to accept anything but the best, you very often get it." — W. Somerset Maugham
12. "Life consists not in holding good cards but in playing those you hold well." — Josh Billings
13. "My mama always said, life is like a box of chocolates. You never know what you're gonna get." — Forrest Gump
14. "Your life becomes meaningful in precise proportion to the depths of the responsibility you are willing to shoulder." — Jordan Peterson
See also: 80 Most Famous Jordan Peterson Quotes To Blow Your Mind
15. "What most people need to learn in life is how to love people and use things instead of using people and loving things." — Zelda Fitzgerald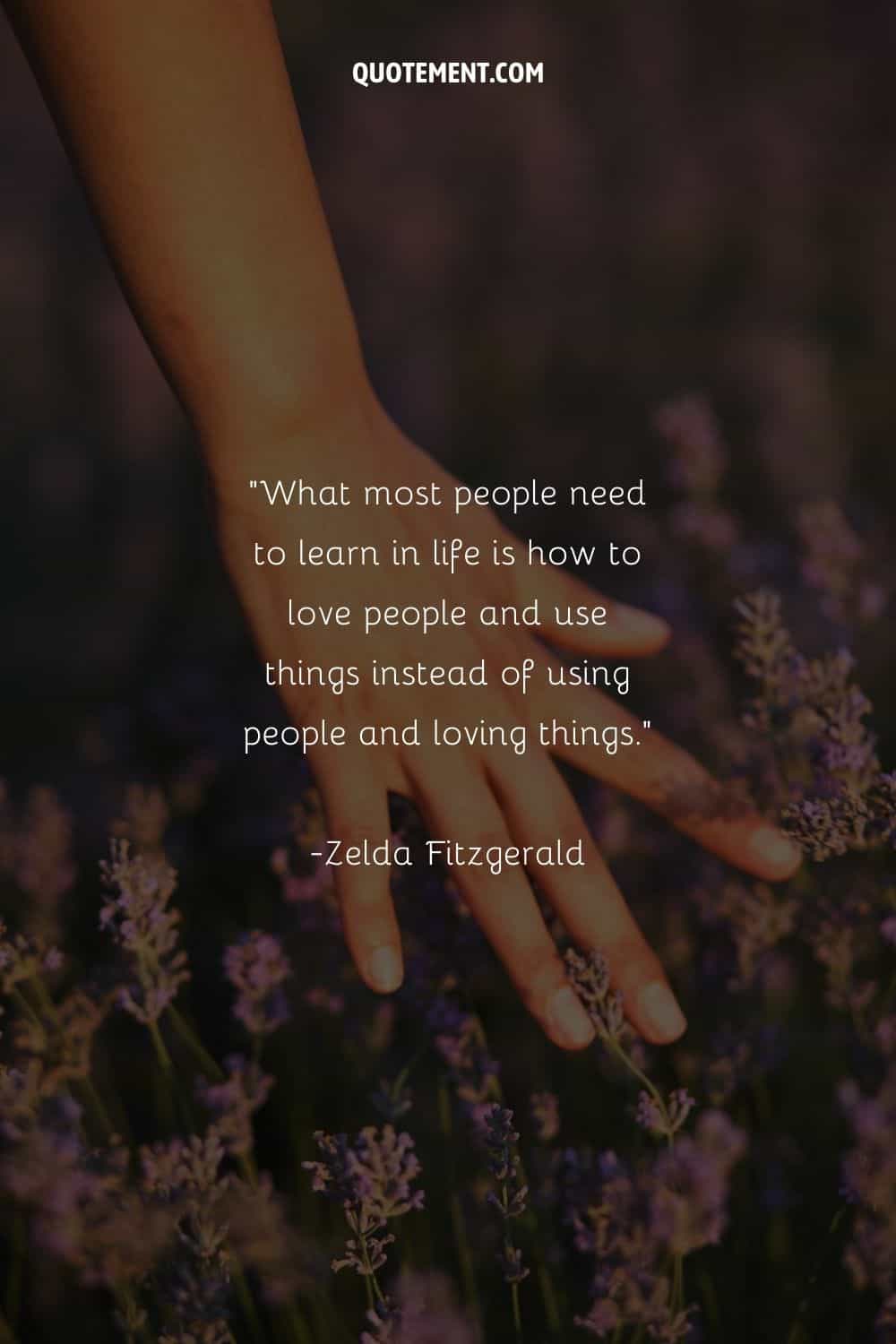 16. "If I had to live my life again I'd make the same mistakes only sooner." — Tallulah Bankhead
17. "Learn, think, do. If I had to write an instruction manual for life, and I could only use three words, that's what I'd write. If I had a fourth word, then I would include 'Do' again because it's that important." — Tim David
18. "Faith is risking it all on something unseen. Most people say, "I'll believe it when I see it," but the truth of the matter is that you'll see it when you believe it." — David DeNotaris
19. "When one door closes, another opens; but we often look so long and so regretfully upon the closed door that we do not see the one that has opened for us." — Alexander Graham Bell
20. "I believe every human has a finite number of heartbeats. I don't intend to waste any of mine." — Neil Armstrong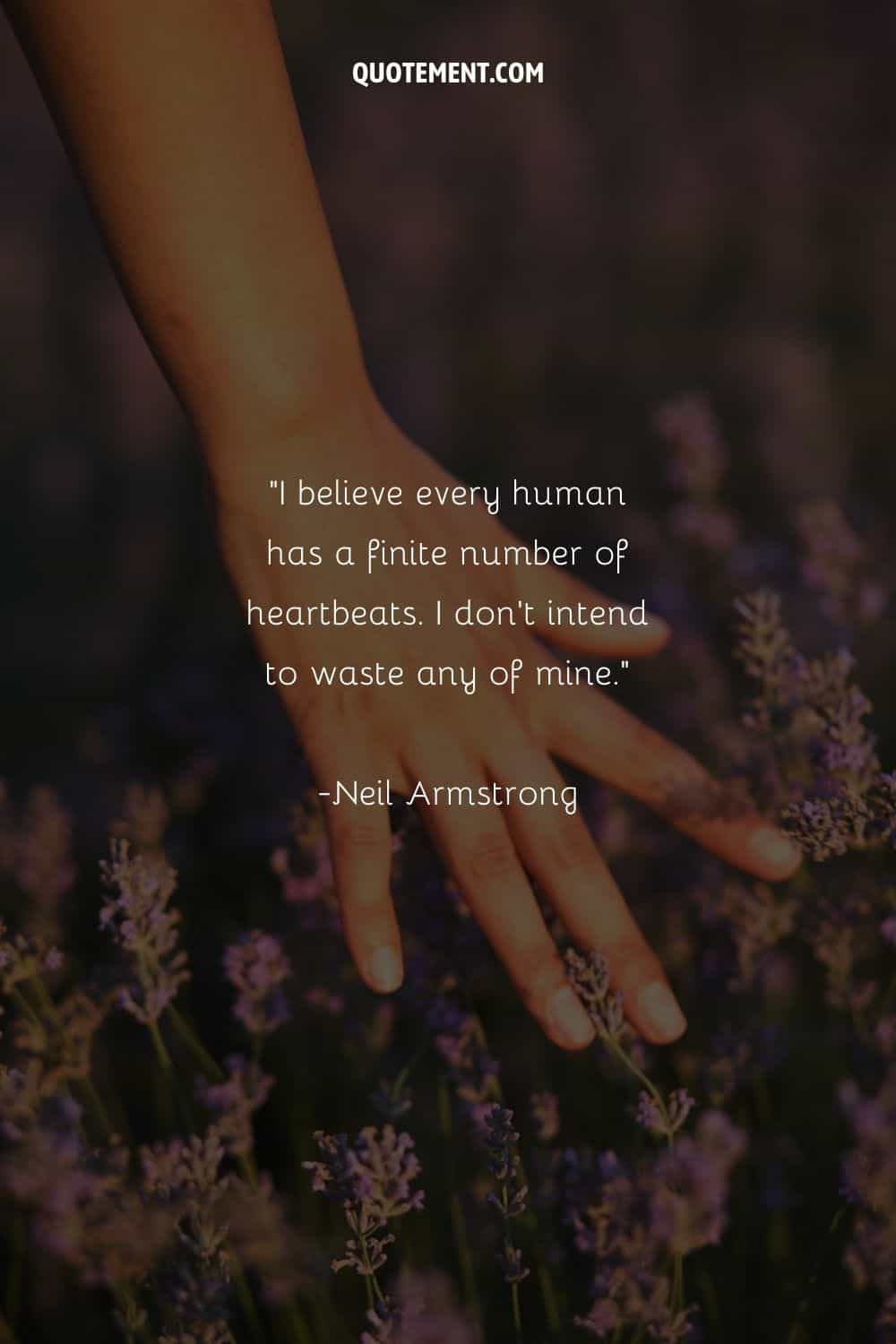 21. "Life is rarely ever greener on the other side and gratitude is the way to quit comparing the excess in people's lives, but rather to compare the joy in people's lives." — Josh Austin
See also: 130 Gratitude Affirmations To Make Your Life More Joyful
22. "The value of life is not in the length of days, but in the use we make of them; a man may live long yet very little." — Michel de Montaigne
23. "If you can see your path laid out in front of you step by step, you know it's not your path. Your own path you make with every step you take. That's why it's your path." — Joseph Campbell
24. "Watch your thoughts; they become words. Watch your words; they become actions. Watch your actions; they become habits. Watch your habits; they become character. Watch your character; it becomes your destiny." — Lao-Tze
25. "The older you get the more you realize that kindness is synonymous with happiness." — Lionel Barrymore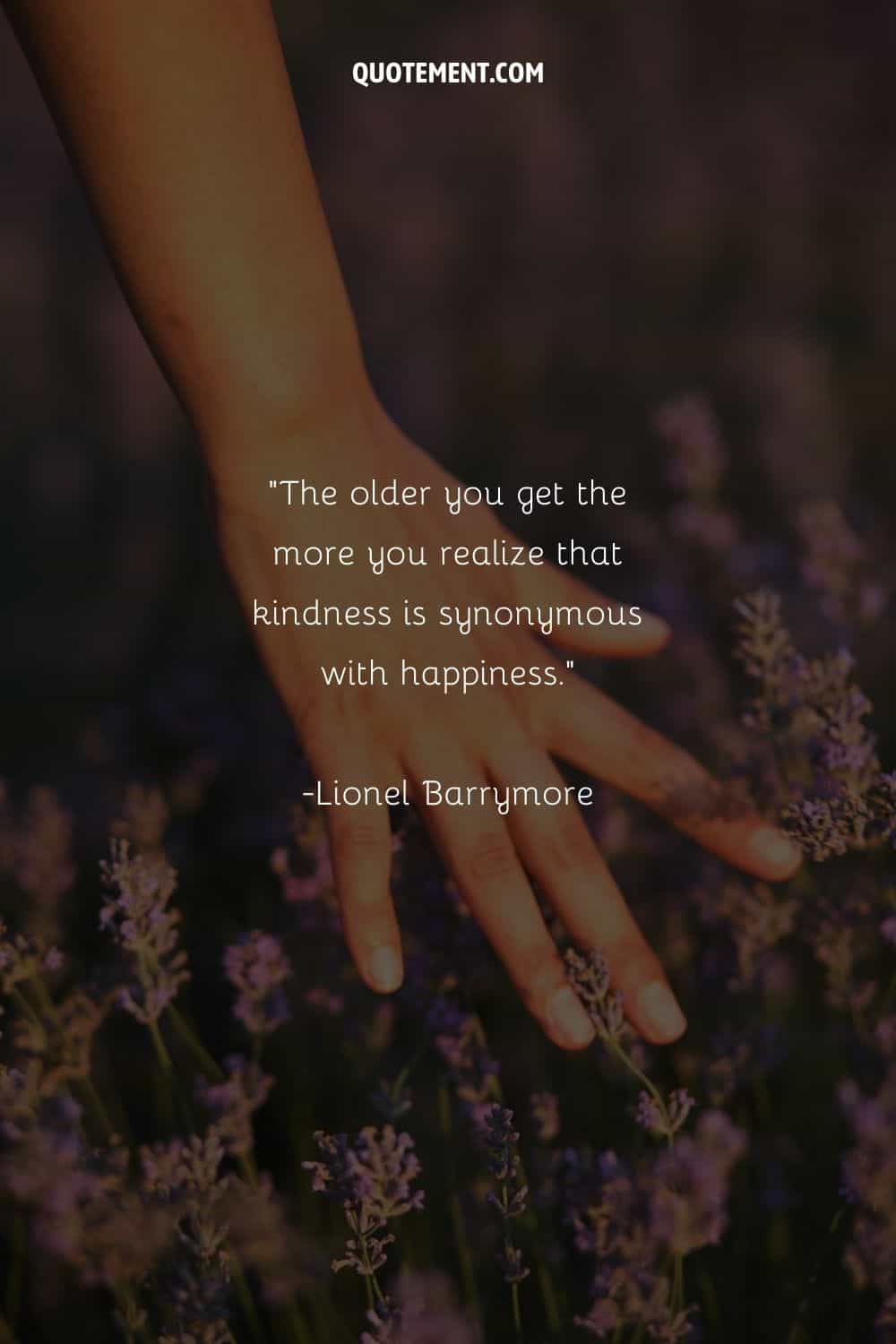 26. "Life is either a daring adventure or nothing. To keep our faces toward change and behave like free spirits in the presence of fate is strength undefeatable." — Helen Keller
27. "I've missed more than 9000 shots in my career. I've lost almost 300 games. 26 times I've been trusted to take the game-winning shot and missed. I've failed over and over and over again in my life. And that is why I succeed." — Michael Jordan
28. "Don't underestimate the value of Doing Nothing, of just going along, listening to all the things you can't hear, and not bothering." — Winnie the Pooh
See also: 60 Best Chill Quotes To Teach You The Art Of Doing Nothing
29. "Your time is limited, so don't waste it living someone else's life. Don't be trapped by dogma – which is living with the results of other people's thinking." – Steve Jobs
30. "There's no fun in perfect life. So make a risk, take a chance, go where the wind takes you, have fun." — Jenny C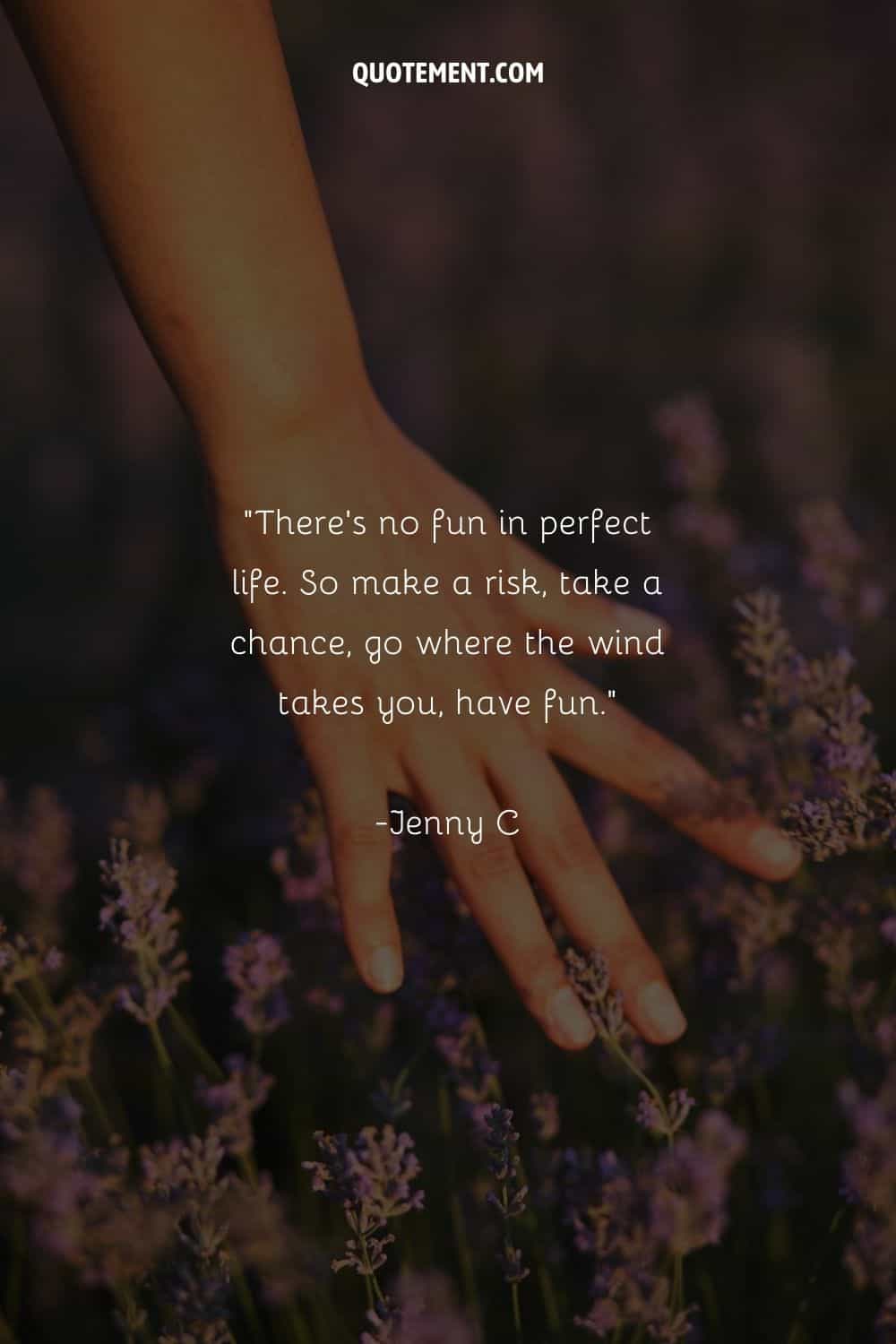 31. "As a single footstep will not make a path on the earth, so a single thought will not make a pathway in the mind. To make a deep physical path, we walk again and again. To make a deep mental path, we must think over and over the kind of thoughts we wish to dominate our lives." — Henry David Thoreau
32. "Don't take life too seriously. Punch it in the face when it needs a good hit. Laugh at it." — Colleen Hoover
33. "Only a fool tests the depth of the water with both feet." — African proverb
34. "Ideals are like stars; you will not succeed in touching them with your hands. But, like the seafaring men on the desert of waters, you choose them as your guides, and following them reach your destiny." — Carl Schurz
35. "The foolish man seeks happiness in the distance, the wise grows it under his feet." — James Oppenheim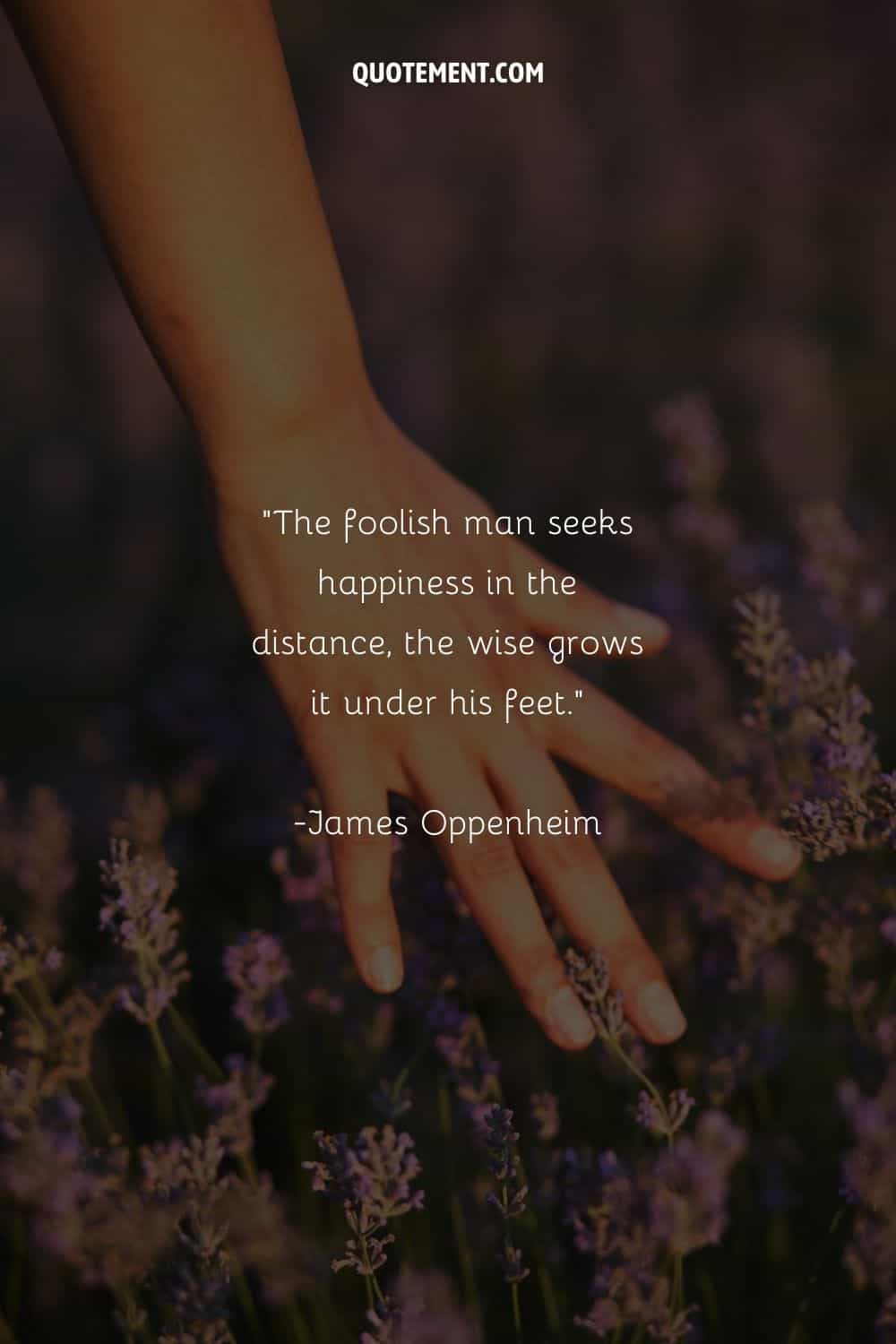 See also: 100 Wise Quotes About Bad Days To Help You Stay Positive
36. "A secret to life: Know that none of this matters, and yet… live as if every single moment does." — Kamal Ravikant
37. "Never give up on a dream just because of the time it will take to accomplish it. The time will pass anyway." — Earl Nightingale
38. "I can't tell you how many times I've been given a no. Only to find that a better, brighter, bigger yes was right around the corner." — Arlan Hamilton
39. "Not how long, but how well you have lived is the main thing." — Seneca
40. "Nobody can go back and start a new beginning but anyone can start today and make a new ending." — Maria Robinson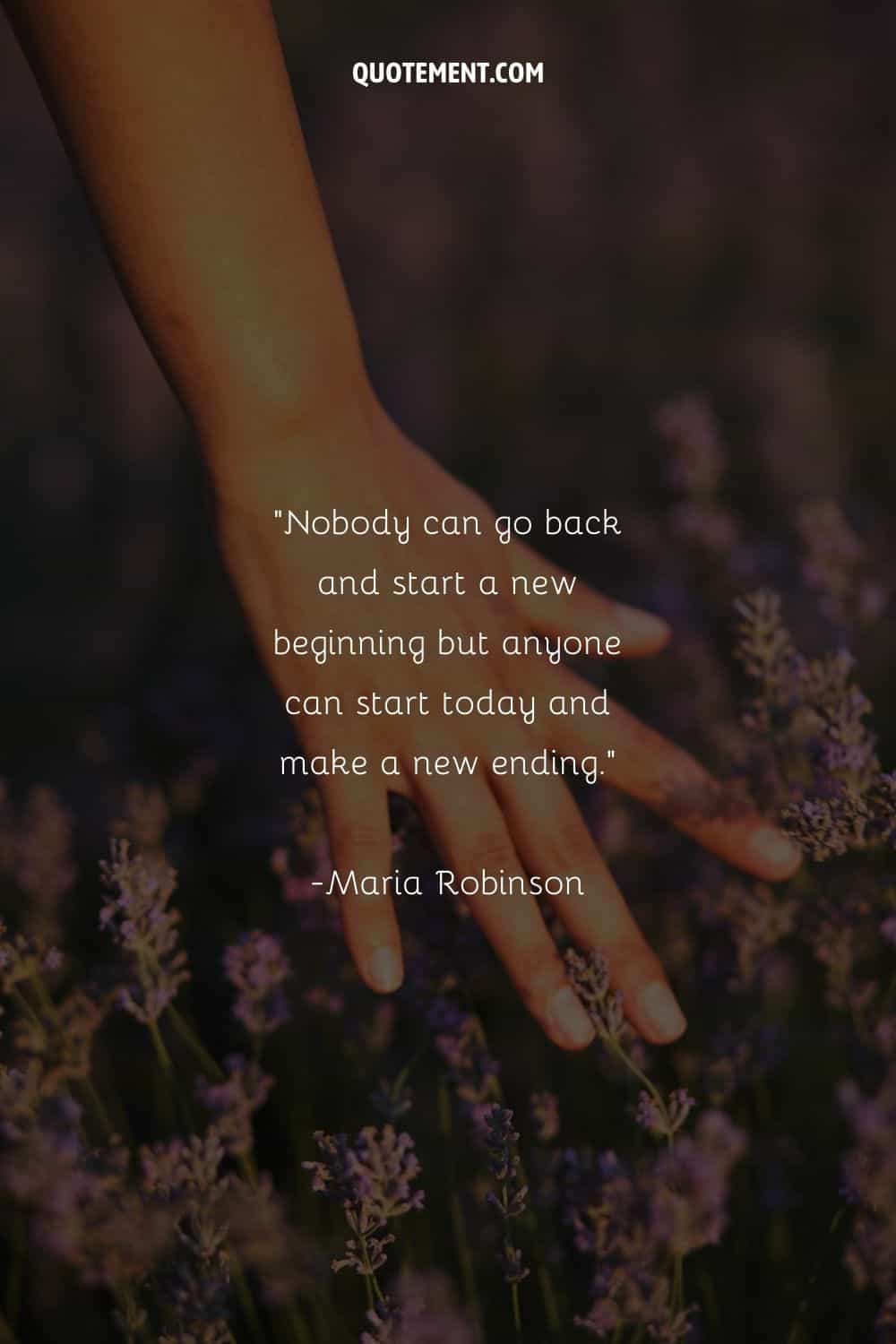 See also: 90 New Beginning Quotes To Embrace A New Day And New You
Final Thoughts
I hope I've succeeded to uplift and inspire you with this extensive collection of cute life quotes.
Always remember, life is beautiful and you are too!