The first step towards an organized life is an organized home.
In this article, you'll find the 35 most inspirational quotes for organization to help you regain control over your life.
Our environment, primarily our home, correlates directly with how we go through life. Is your home messy and unorganized? Or is it peaceful, clean, and gives you a feeling of having control?
If you want to take your life into your hands, start with the easiest things, for example, home organization. Do what you can, do what's easy and accessible, and you'll start building your way up.
To help you stay inspired and motivated, I've collected the best life quotes for organization from different sources on the web.
If you're looking for a great quote to spark your inspiration, you'll find it here.
Let's start exploring!
Top 10 Inspirational Quotes For Organization
Let's start off with the top 10 quotes for organization to boost your inspiration.
1. "A good system shortens the road to the goal." — Orison Swett Marden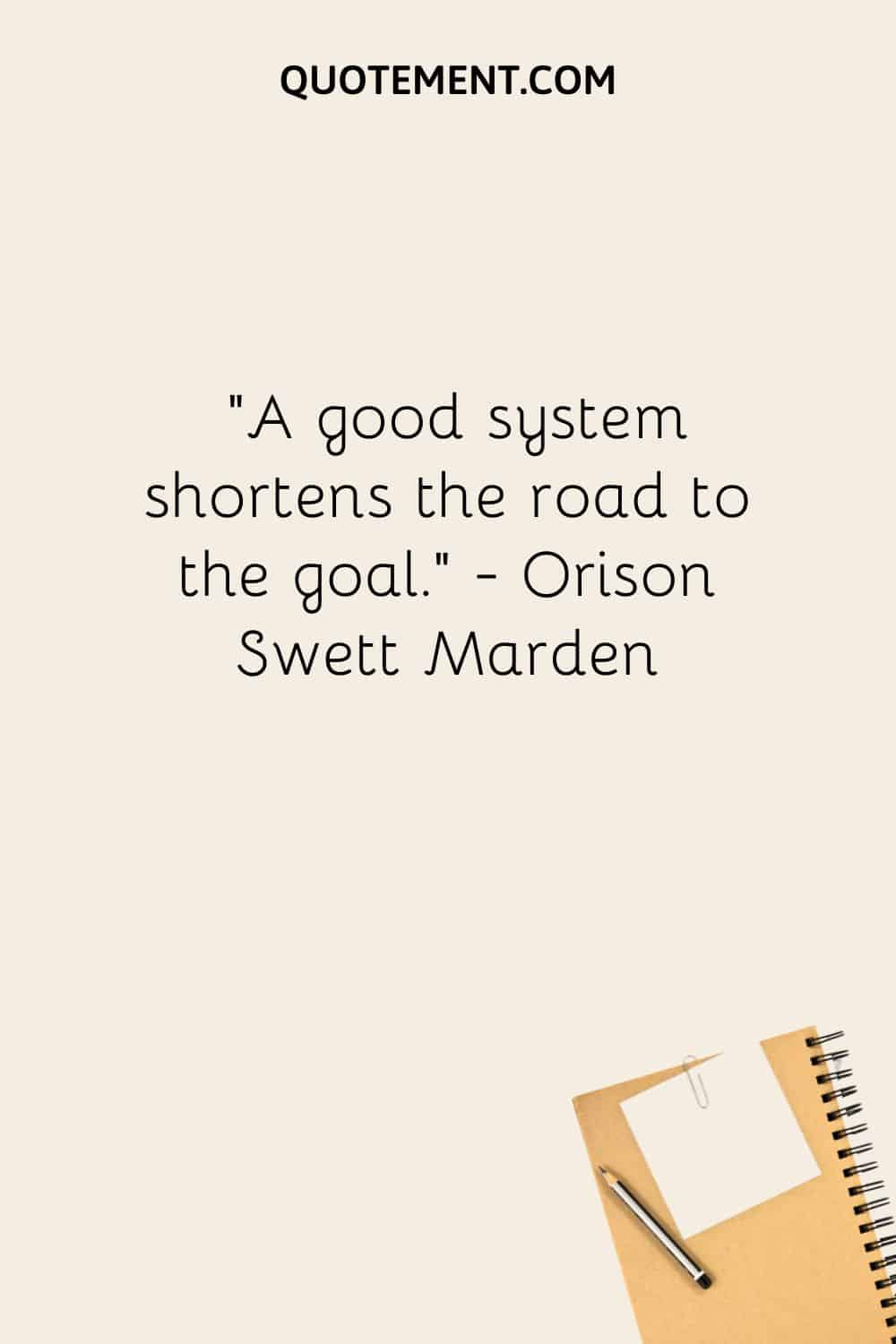 2. "Clutter is nothing more than postponed decisions." — Barbara Hemphill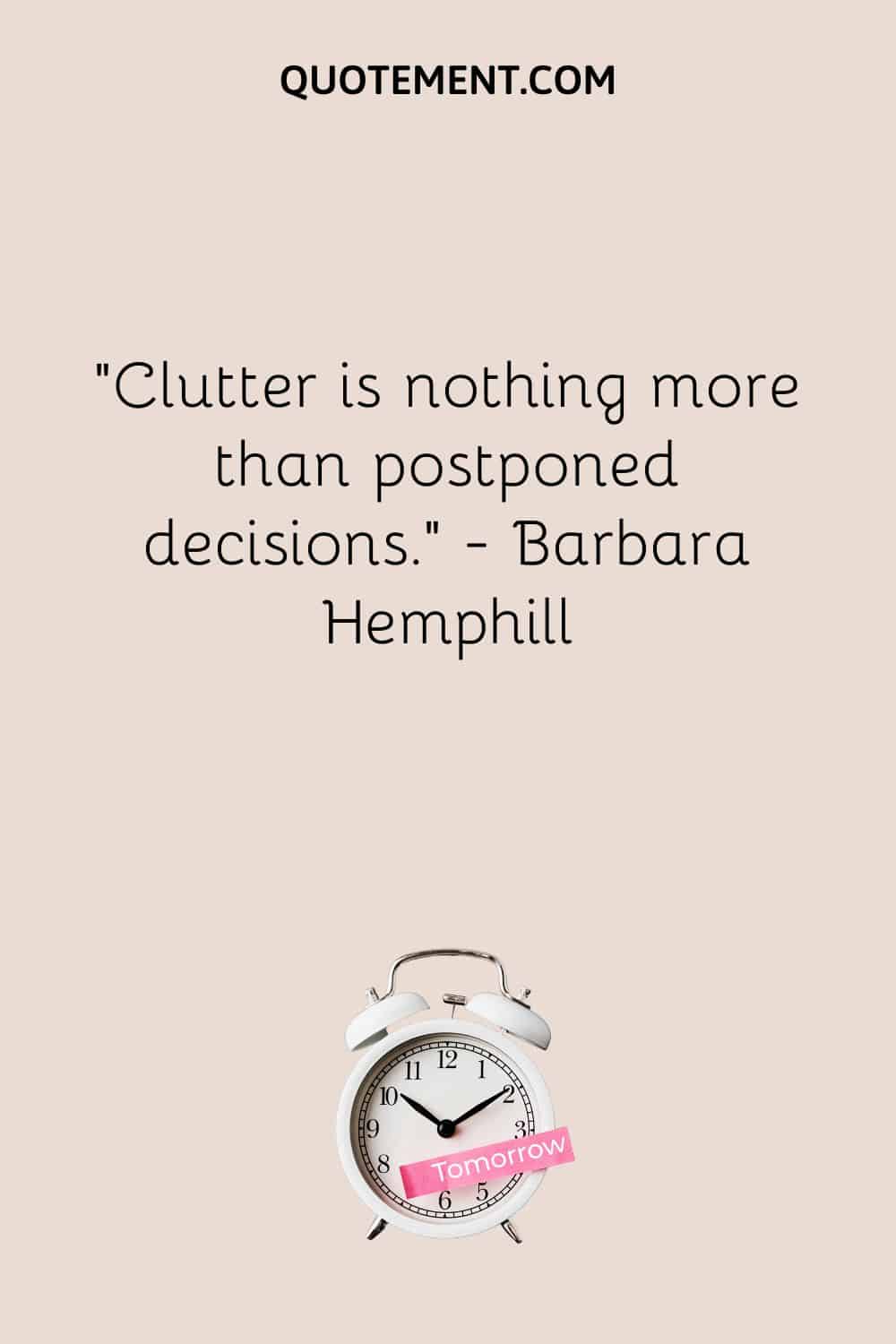 3. "The secret of all victory lies in the organization of the non-obvious." — Marcus Aurelius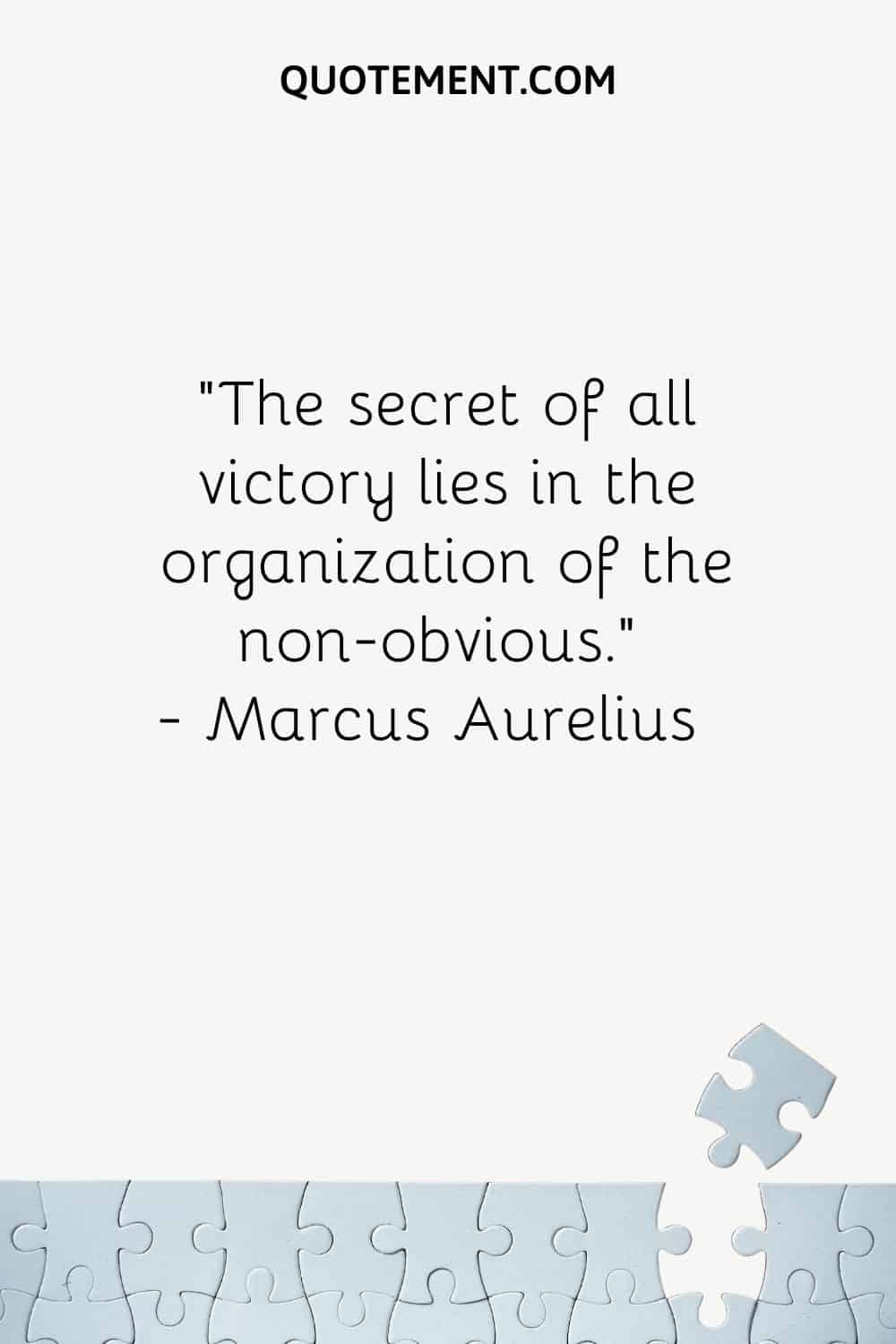 4. "Organizing is what you do before you do something so that when you do it, it is not all mixed up." — A. A. Milne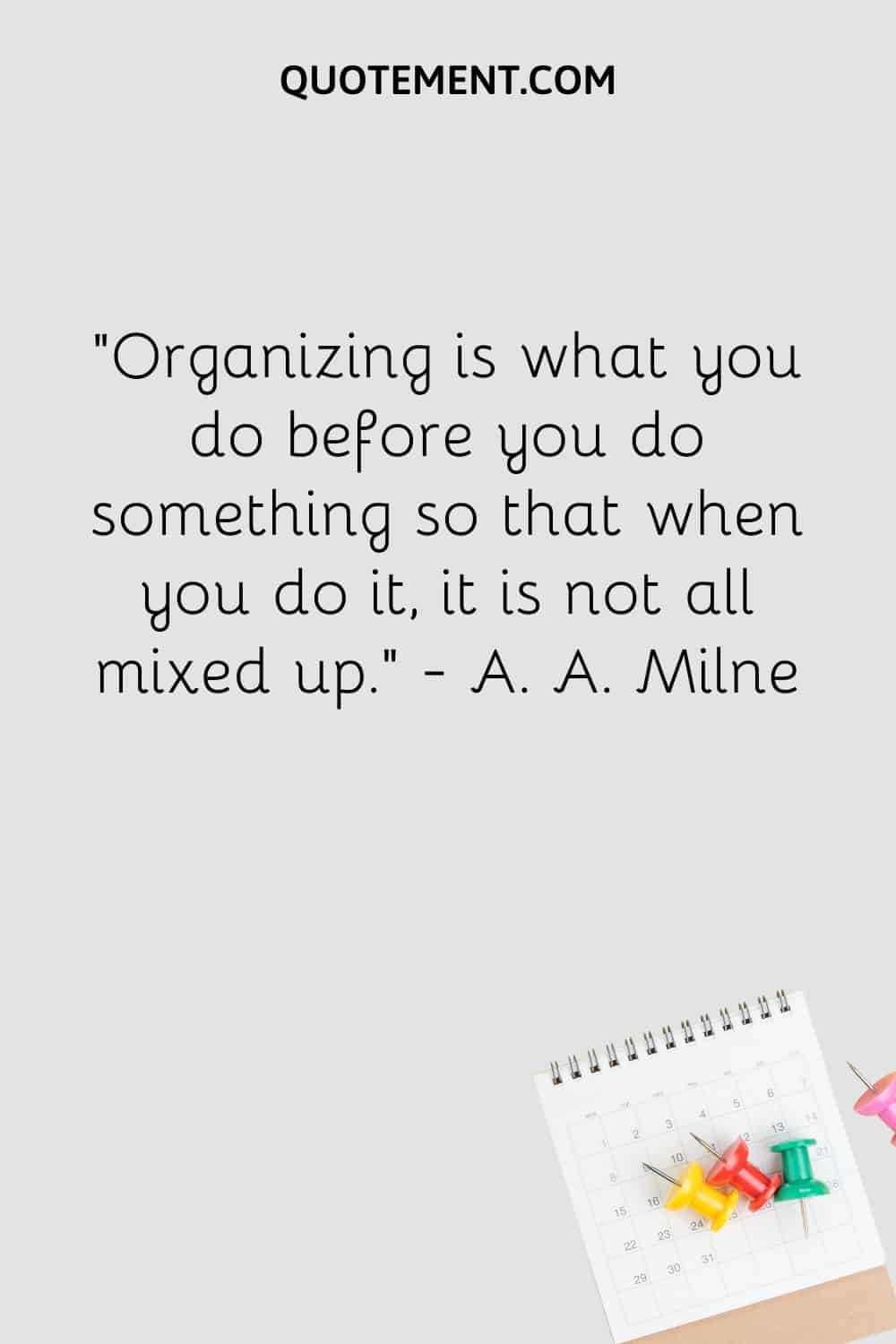 5. "To accomplish great things, we must not only act but also dream; not only plan but also believe." — Anatole France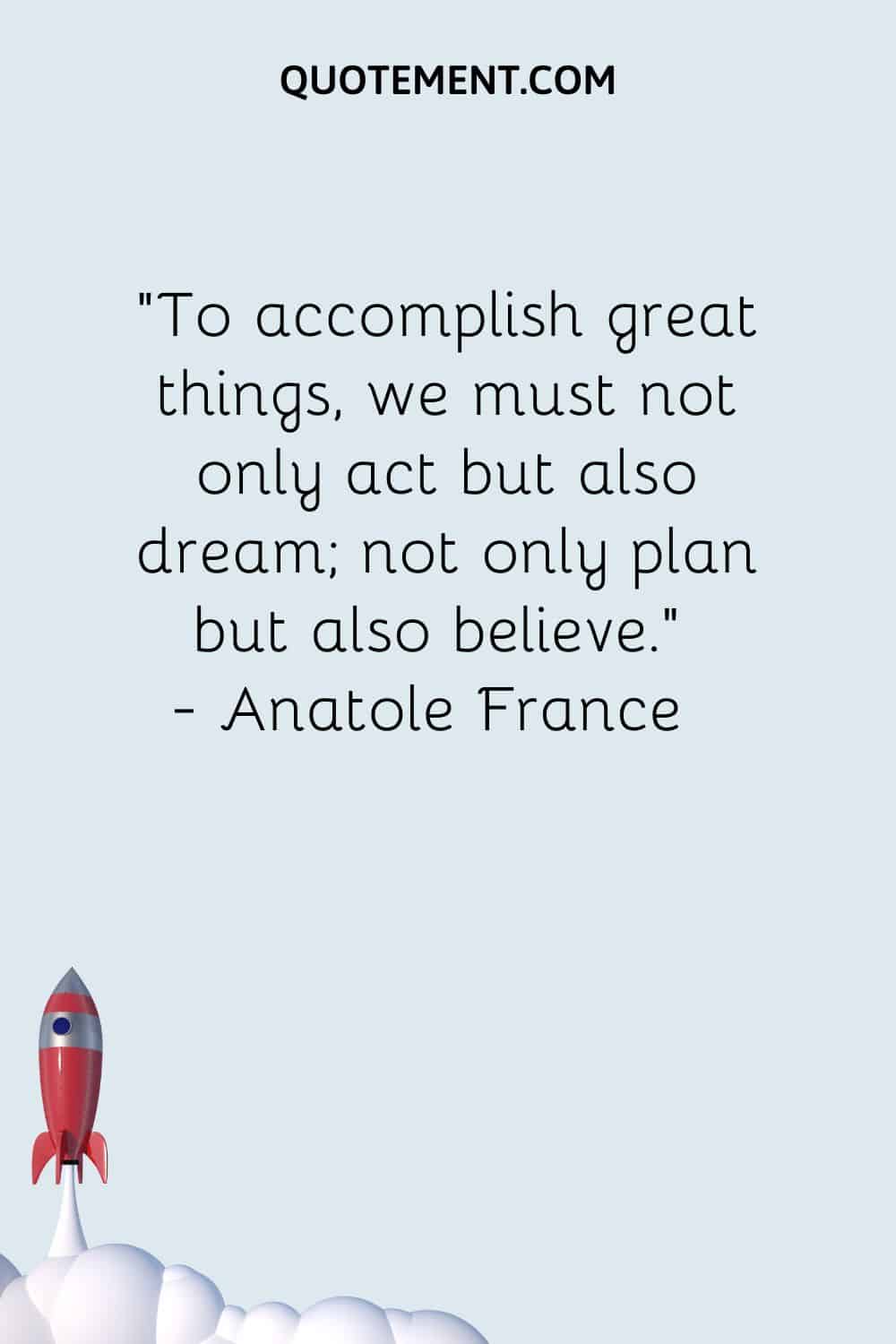 6. "Deciding what NOT to do is as important as deciding what to do." — Steve Jobs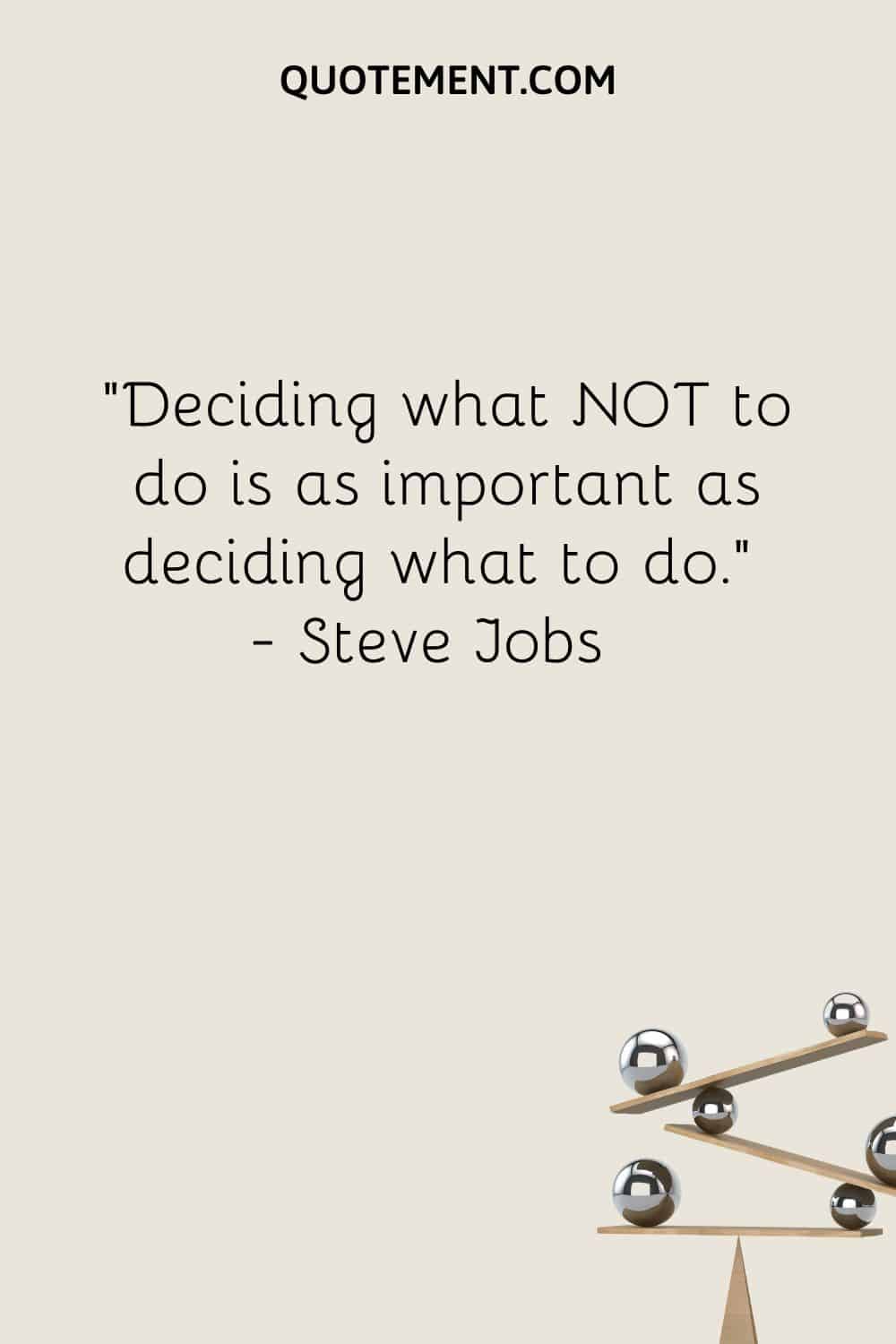 7. "For every minute spent in organizing, an hour is earned." — Benjamin Franklin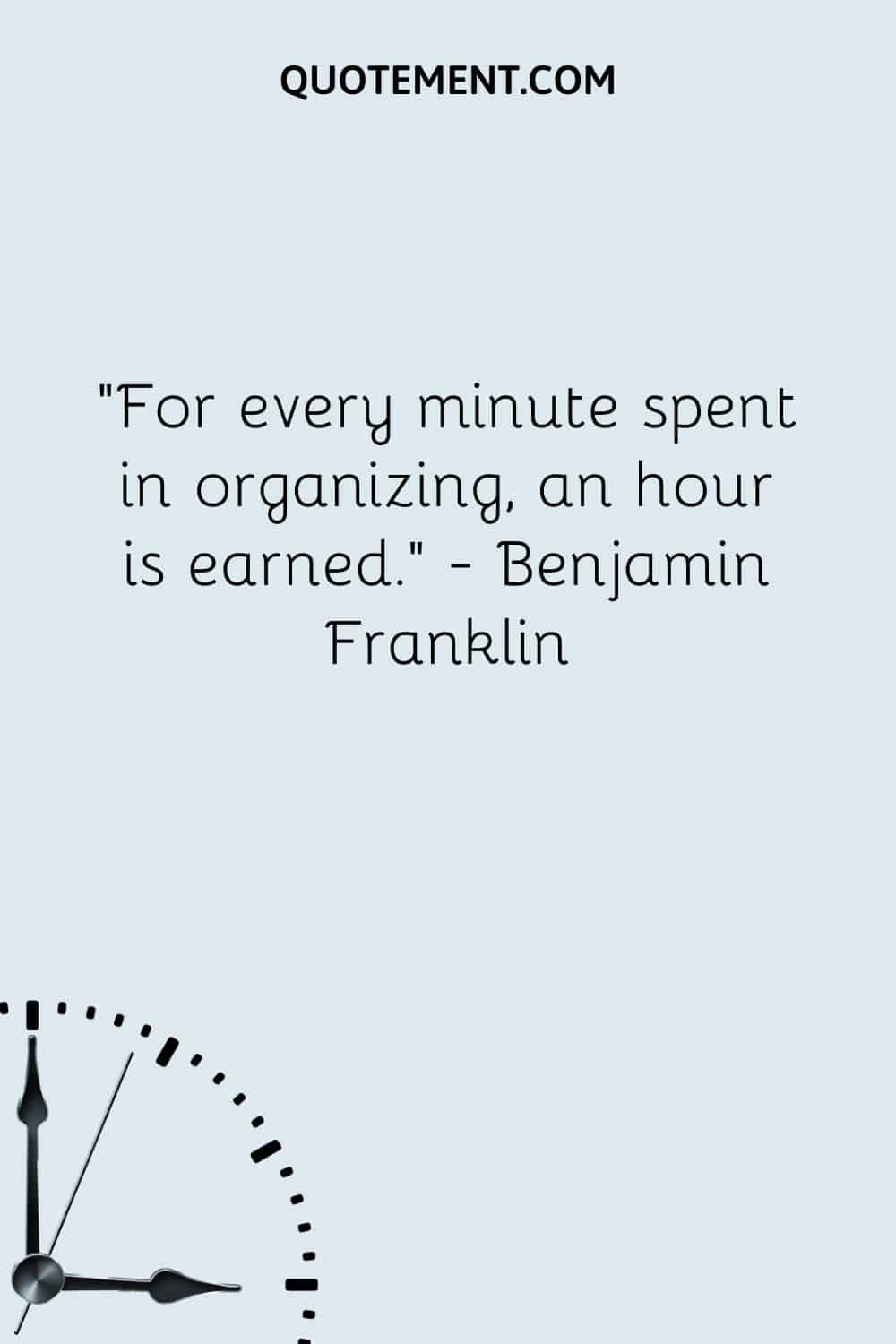 8. "Good order is the foundation of all things." — Edmund Burke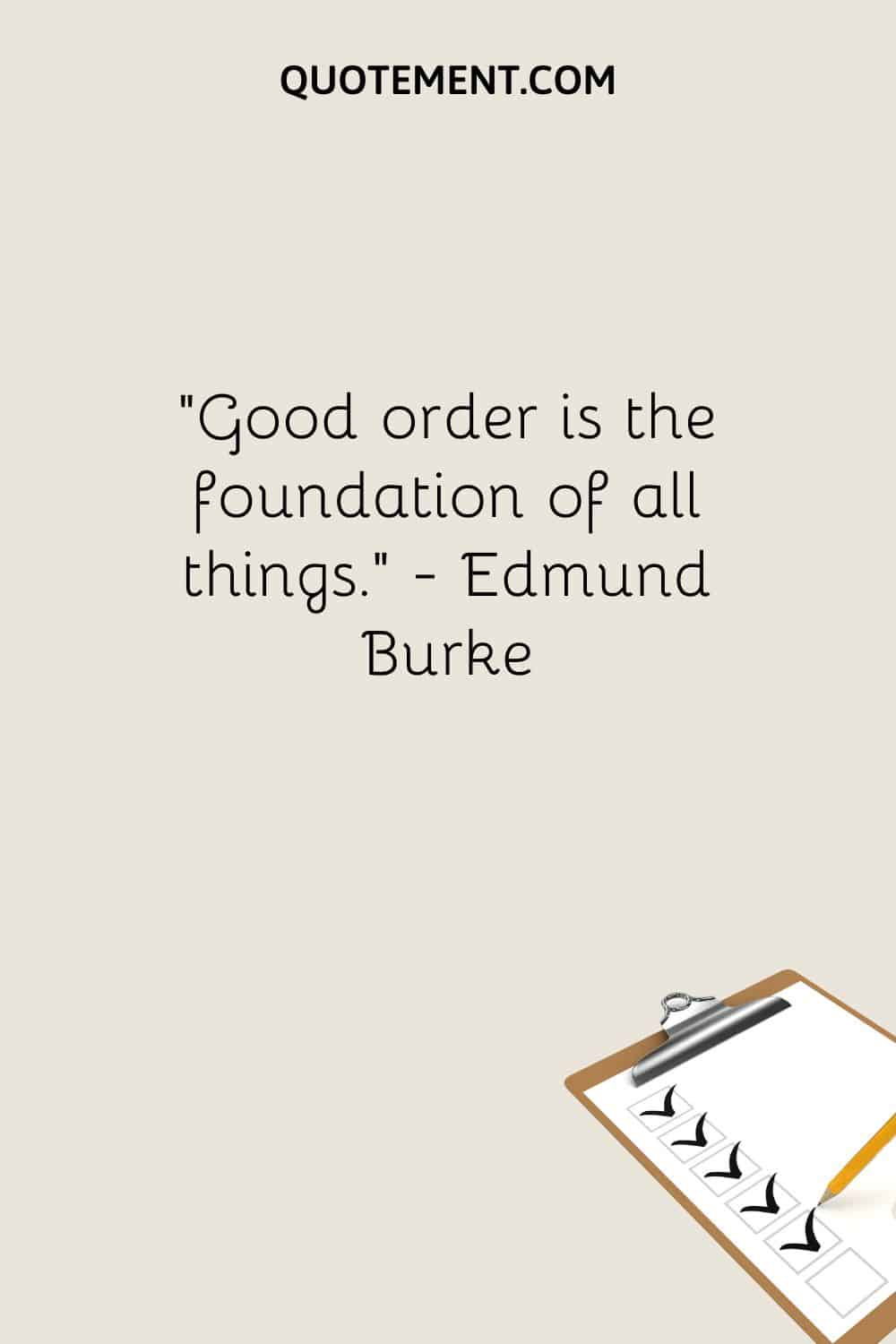 9. "First comes thought; then organization of that thought into ideas and plans; then transformation of those plans into reality." — Napoleon Hill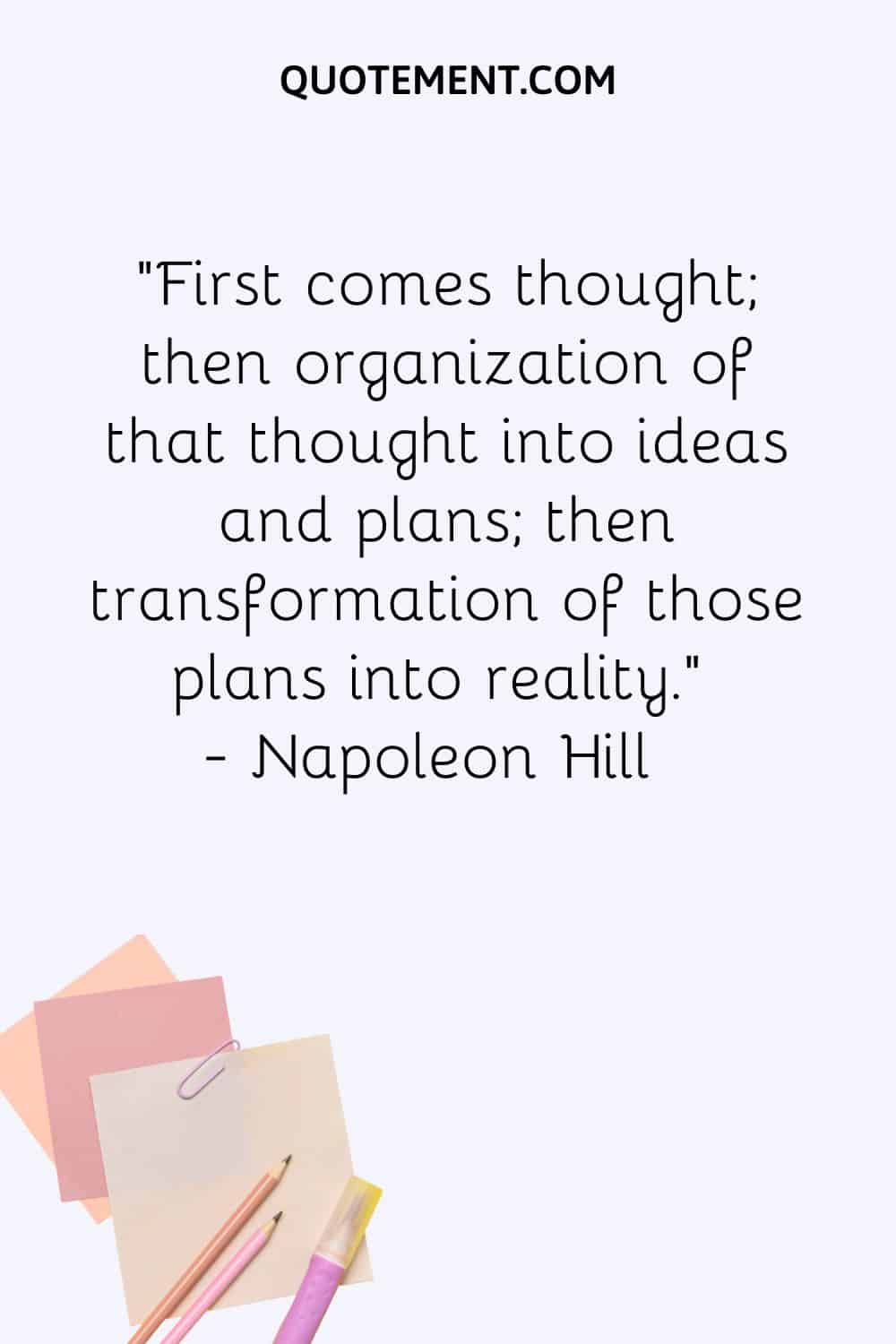 10. "Living in a messy home is a sign of self-sabotaging behavior." — Lauren Levine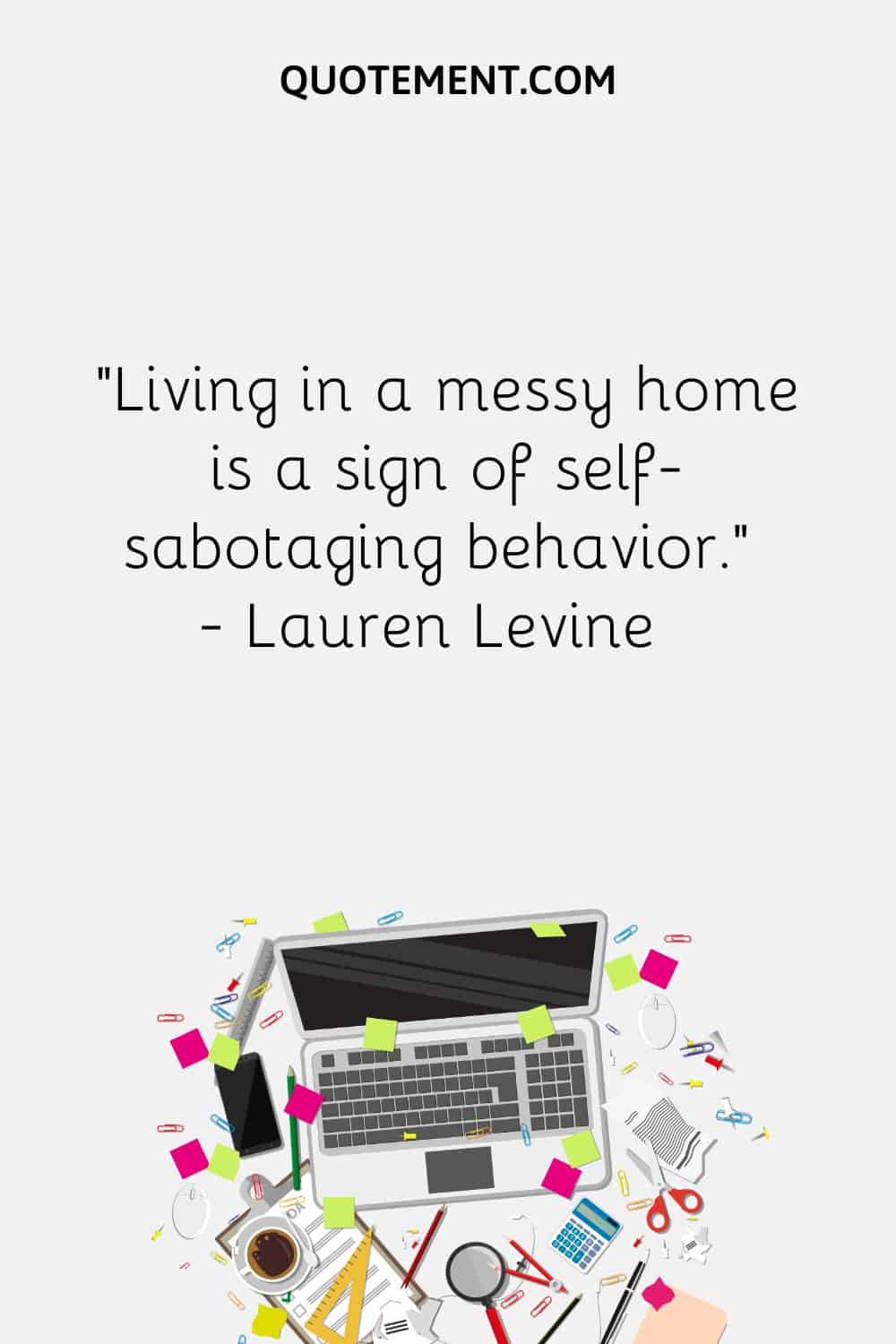 See also: 90 Self-Sabotage Quotes To Free You From Your Own Mind
Inspirational Organization Quotes
Below you'll find some more inspirational quotes for organization. Have a look!
1. "Start where you are. Use what you have. Do what you can." — Arthur Ashe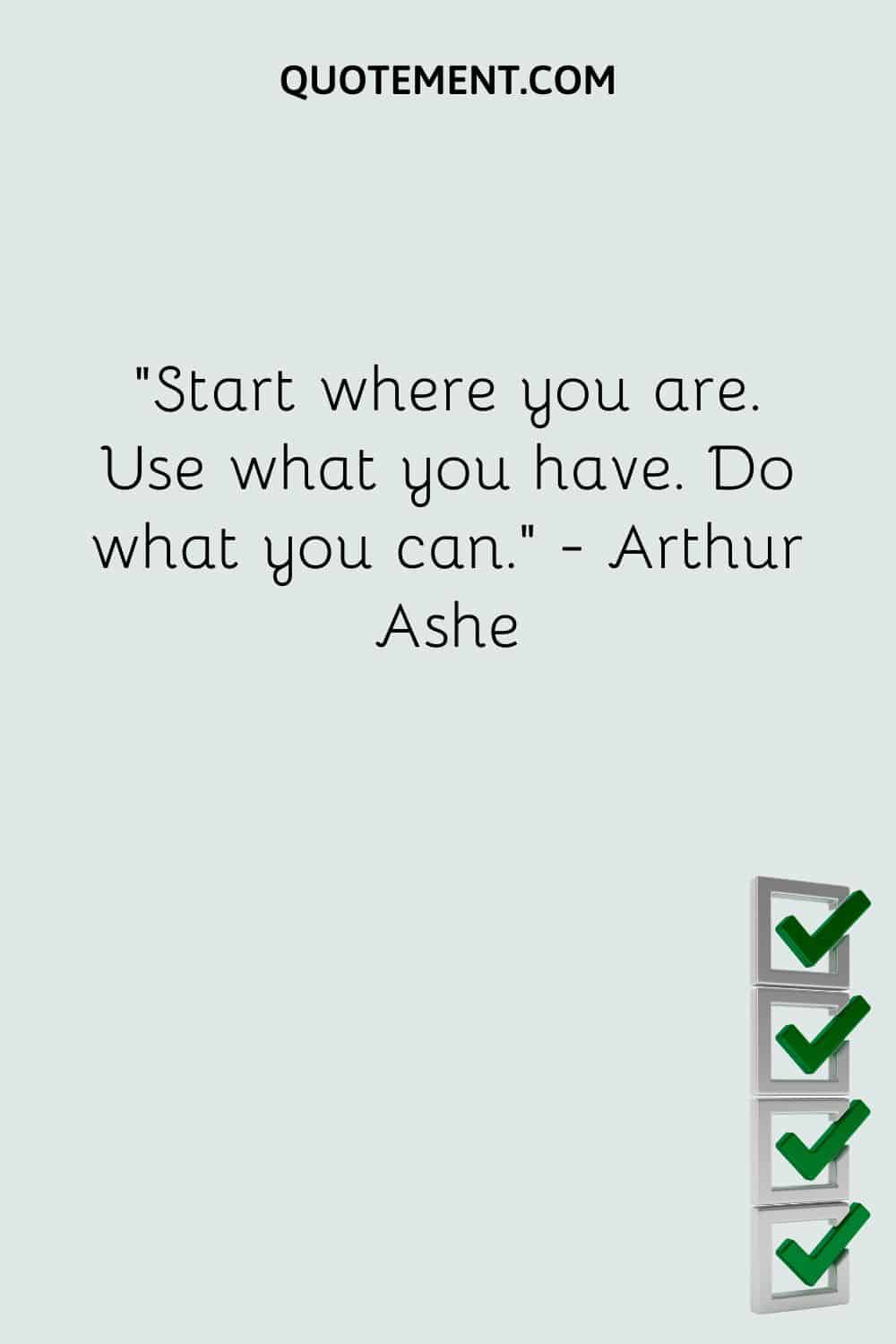 2. "It takes as much energy to wish as it does to plan." — Eleanor Roosevelt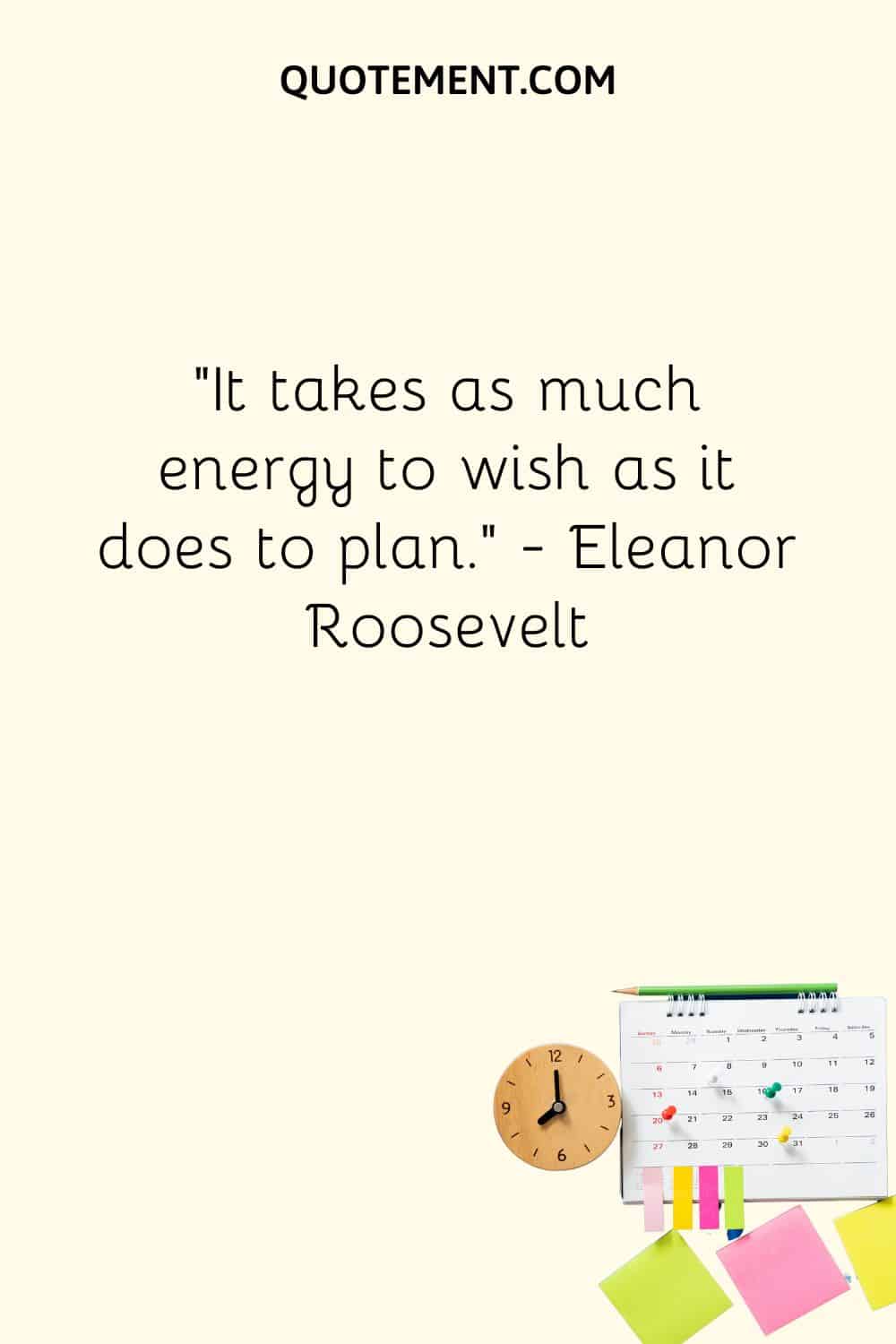 3. "Out of clutter, find simplicity. From discord, find harmony. In the middle of difficulty lies opportunity." — Albert Einstein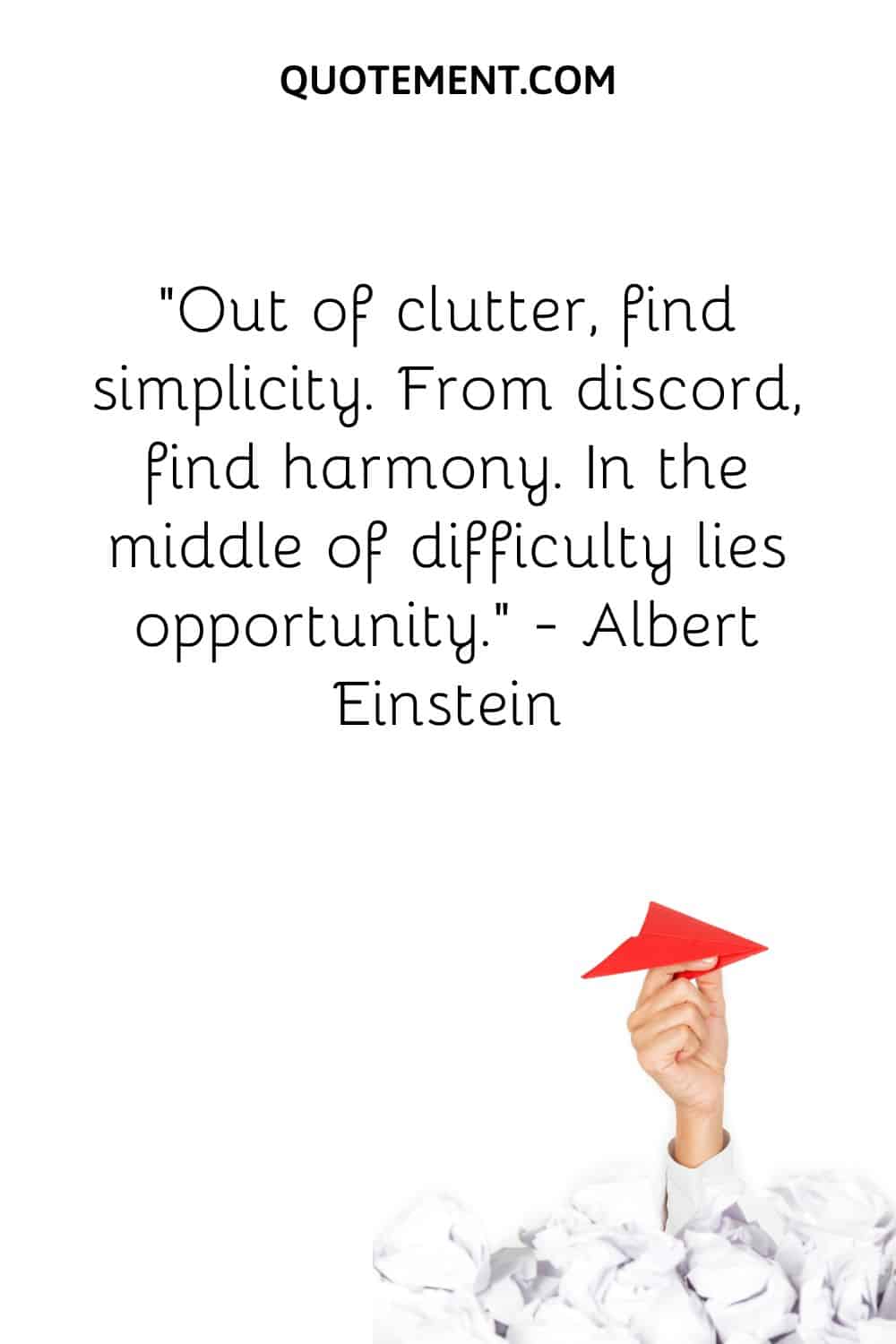 4. "Organization isn't about perfection. It's about efficiency. Reducing stress and clutter, saving time and money, and improving your overall quality of life." — Christina Scalise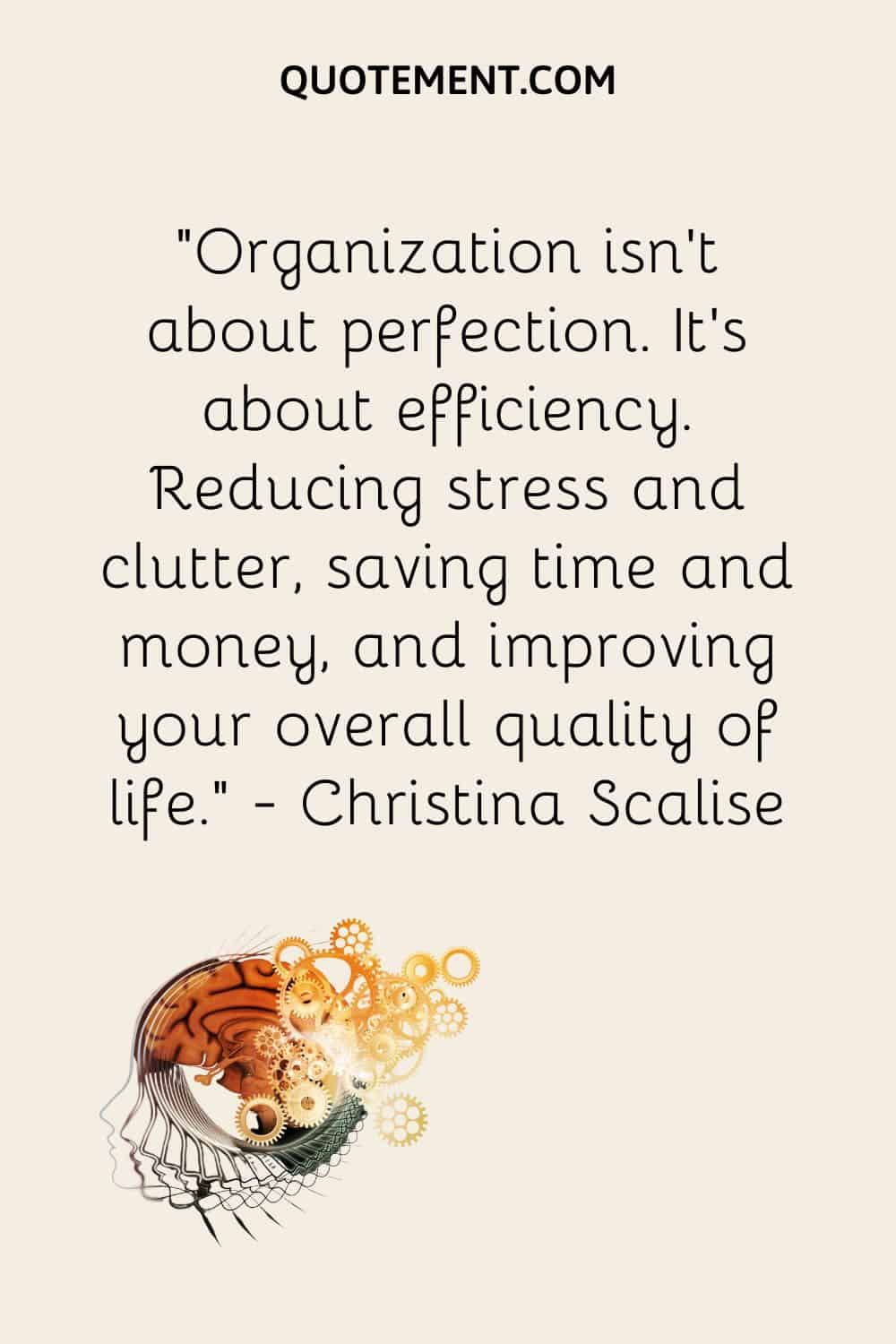 5. "Bottom line is, if you do not use it or need it, it's clutter, and it needs to go." ― Charisse Ward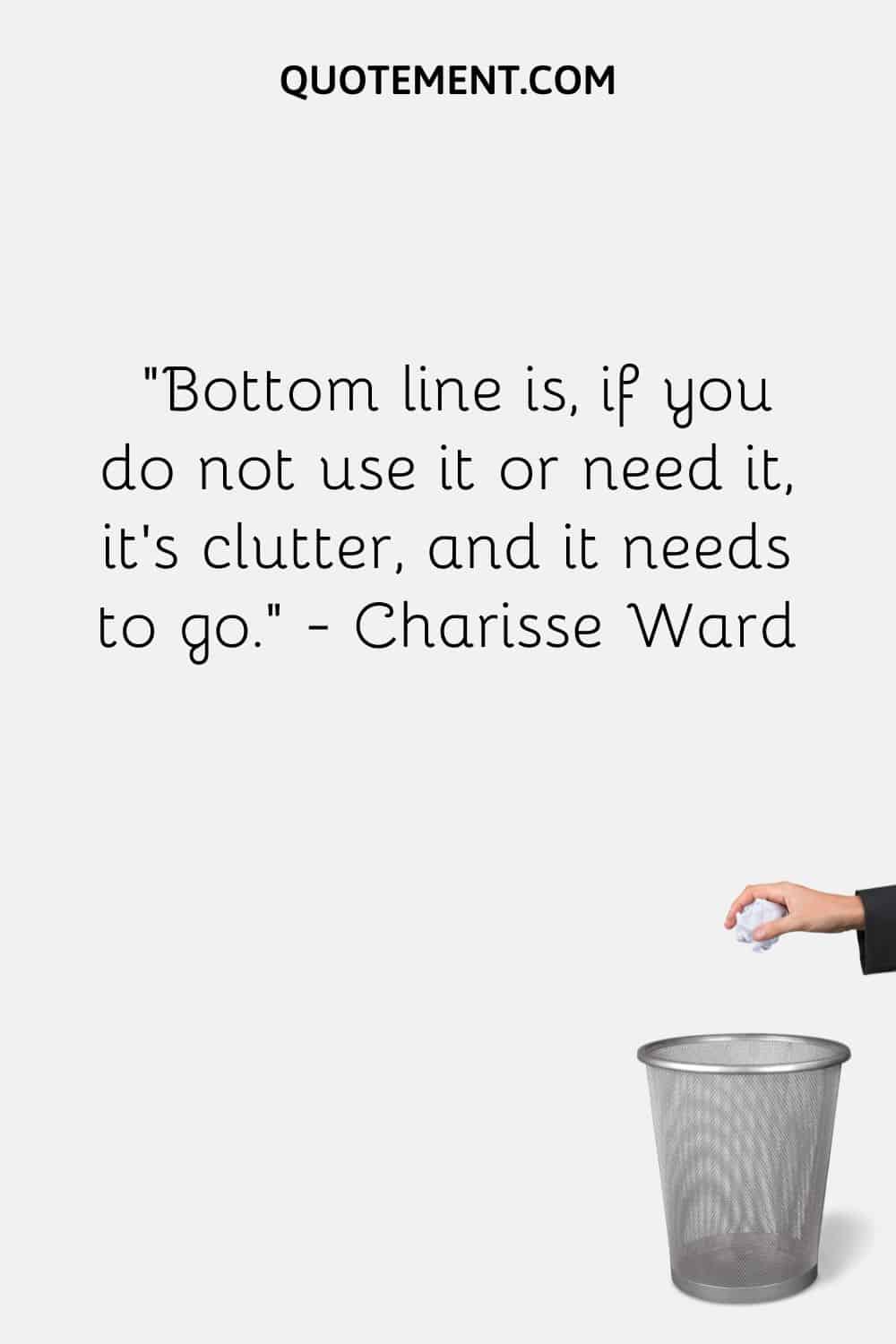 6. "Get clear on what matters by getting rid of everything that doesn't." — Courtney Carver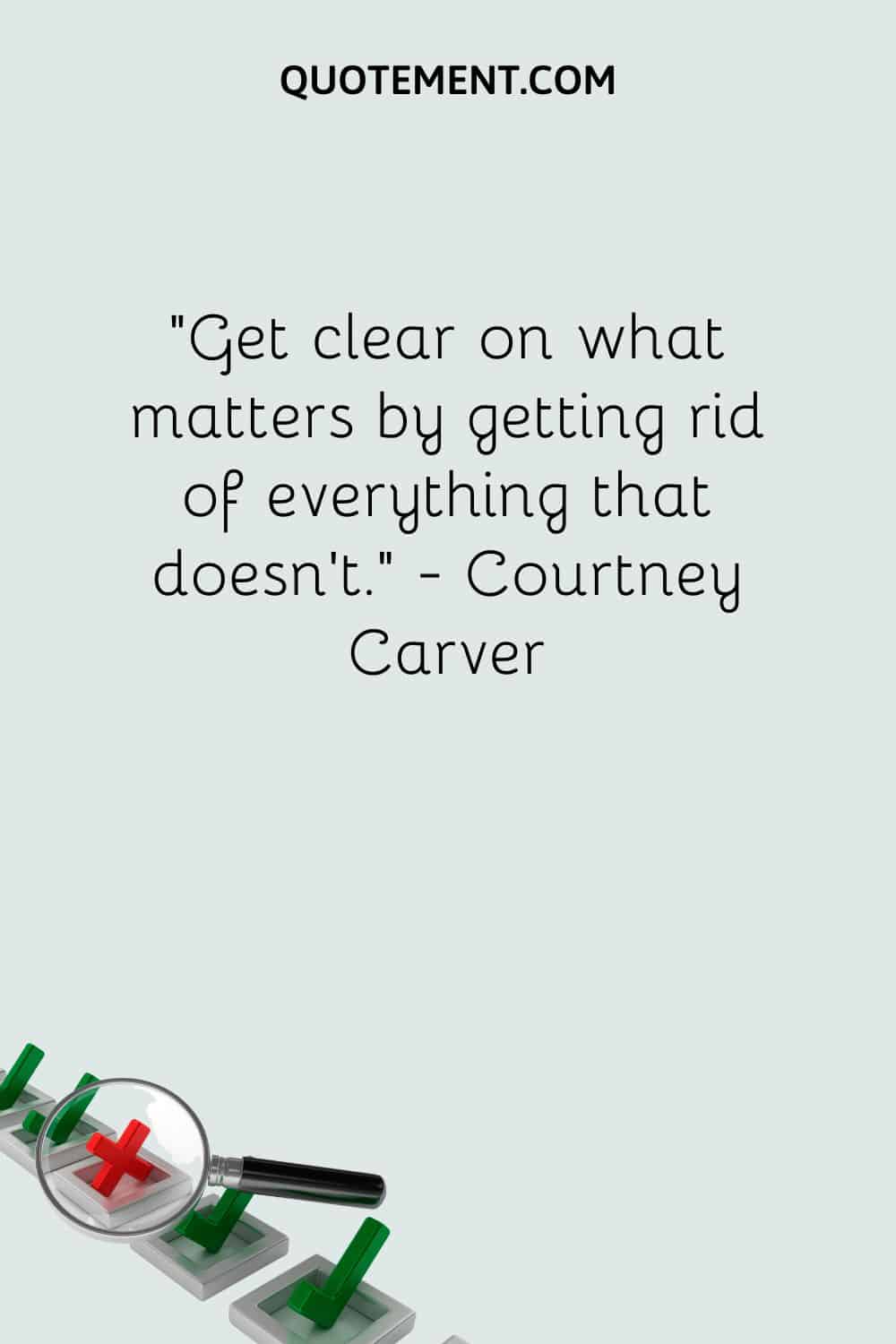 7. "Start by doing what's necessary; then do what's possible; and suddenly you are doing the impossible." — Francis of Assisi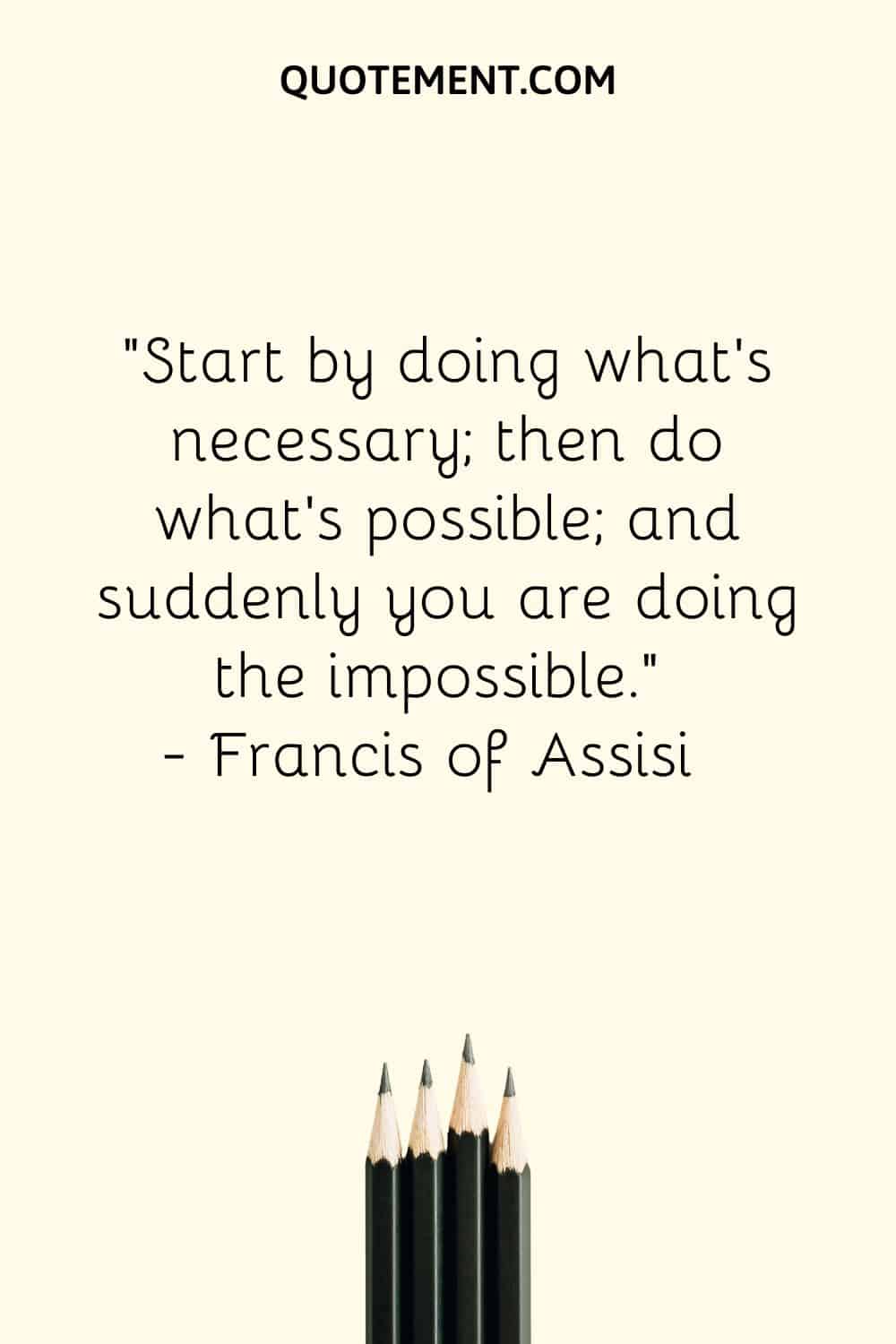 8. "Getting organized is a sign of self-respect." — Gabrielle Bernstein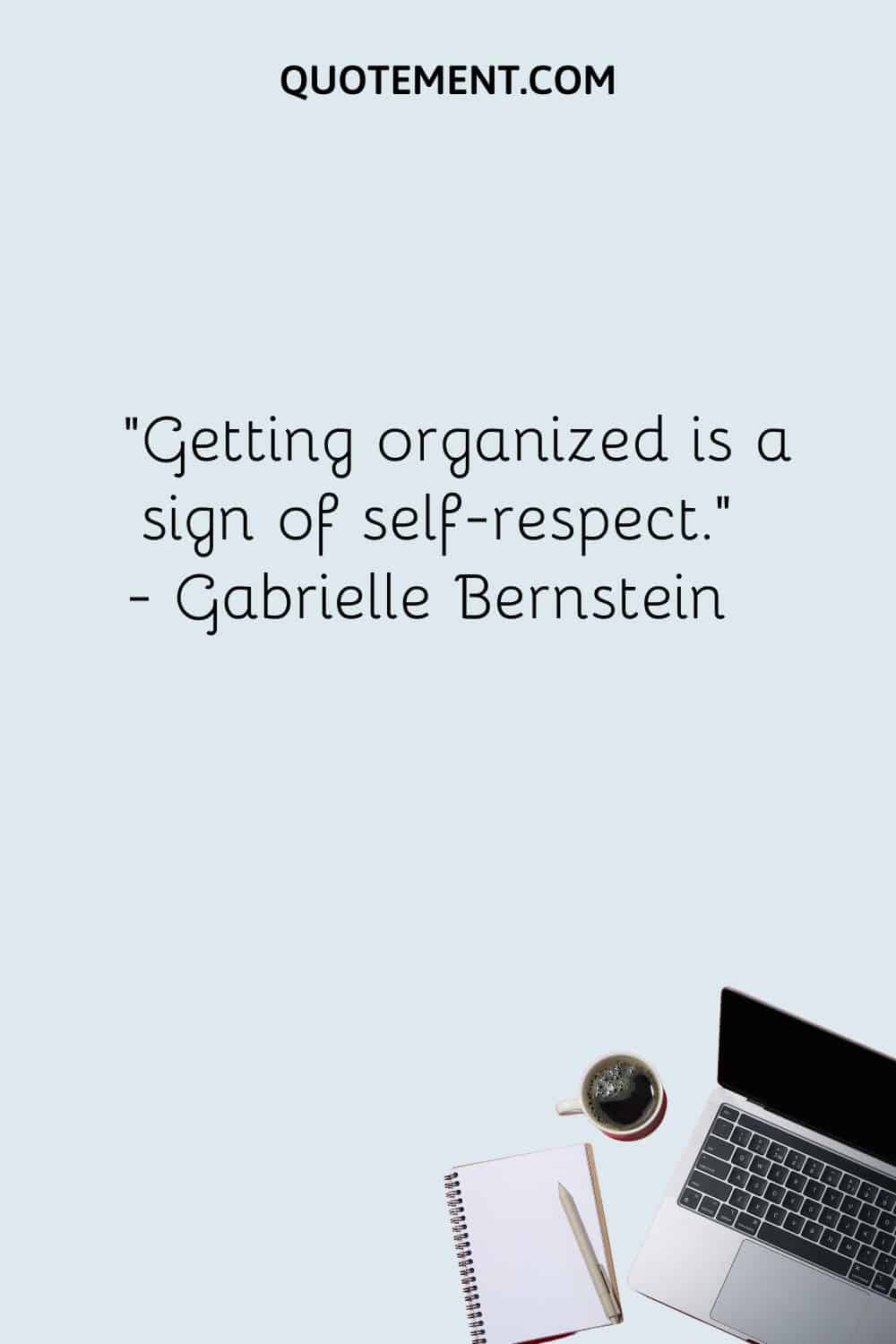 9. "Organize your life around your dreams and watch them come true because somewhere over the rainbow, skies are blue, and the dreams that you dare to dream really do come true." ― Purba Chakraborty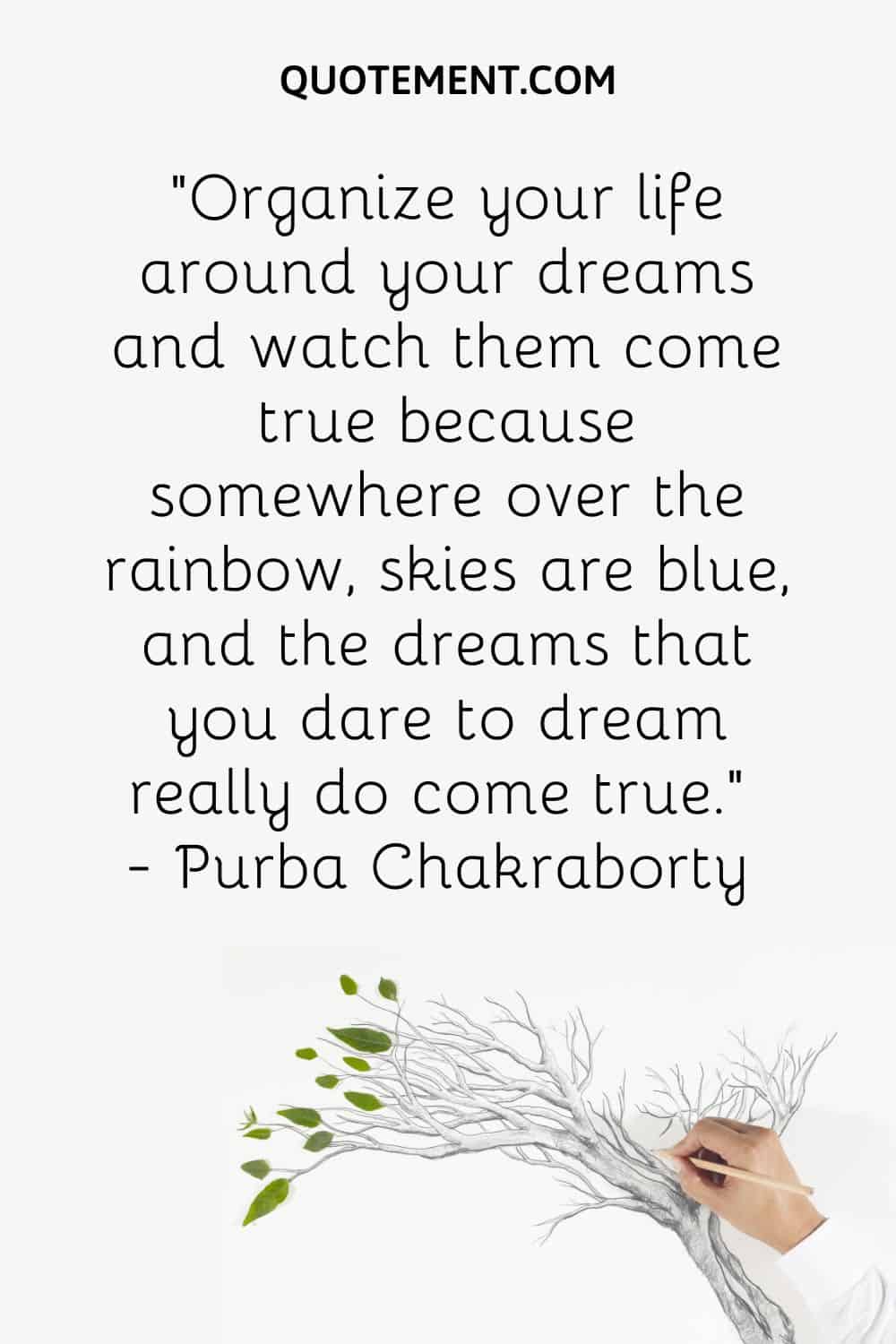 10. "Success is not always achieved by hard work alone, but mix it with a little bit of organization and a little strength from God above, and you'll have a winning recipe." — unknown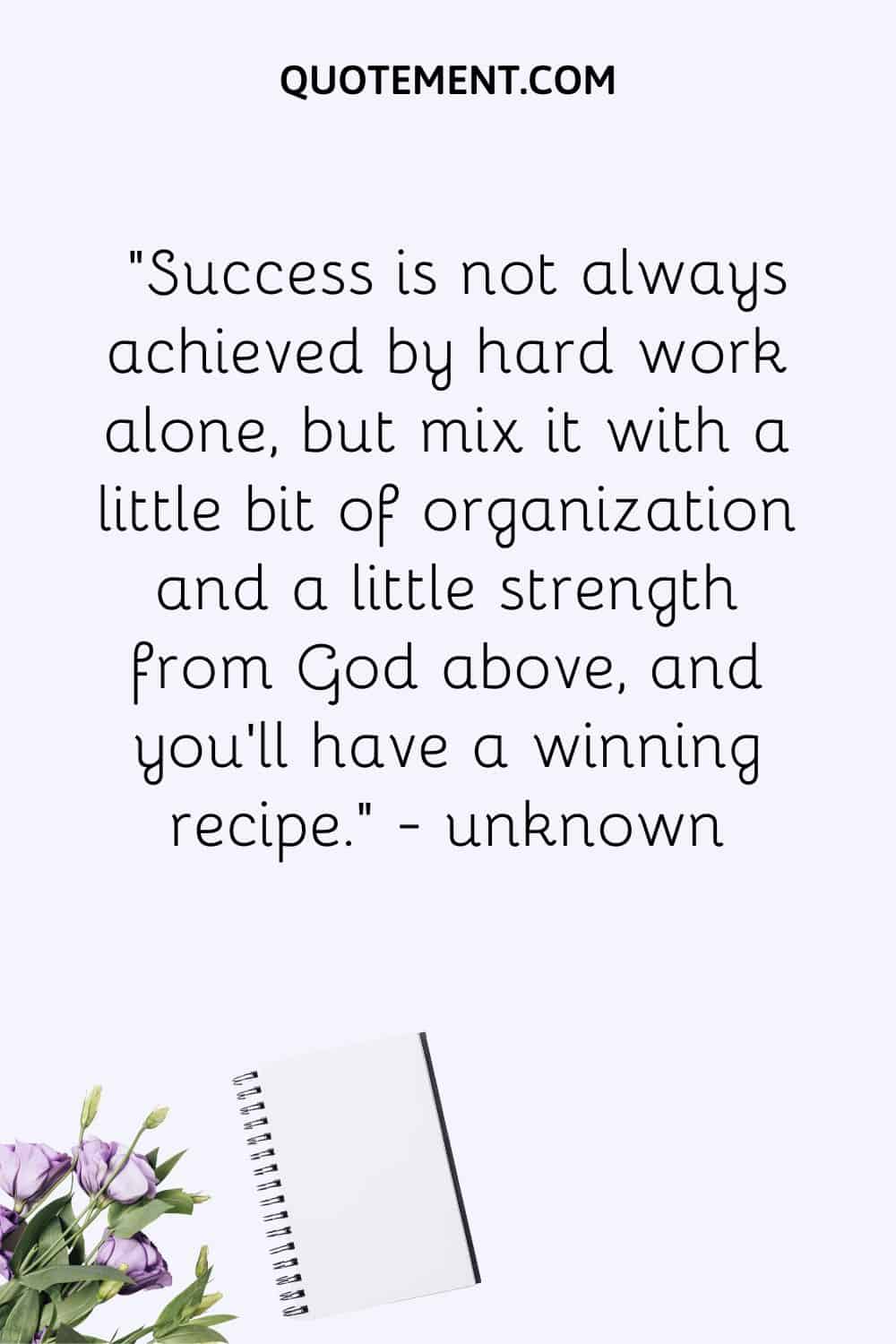 See also: 220 Best Proverbs About Success To Give You Inspiration
Motivational Quotes For Organization
Check out these motivational quotes for organization below.
1. "You'll never get organized if you don't have a vision for your life." — Linda Eubanks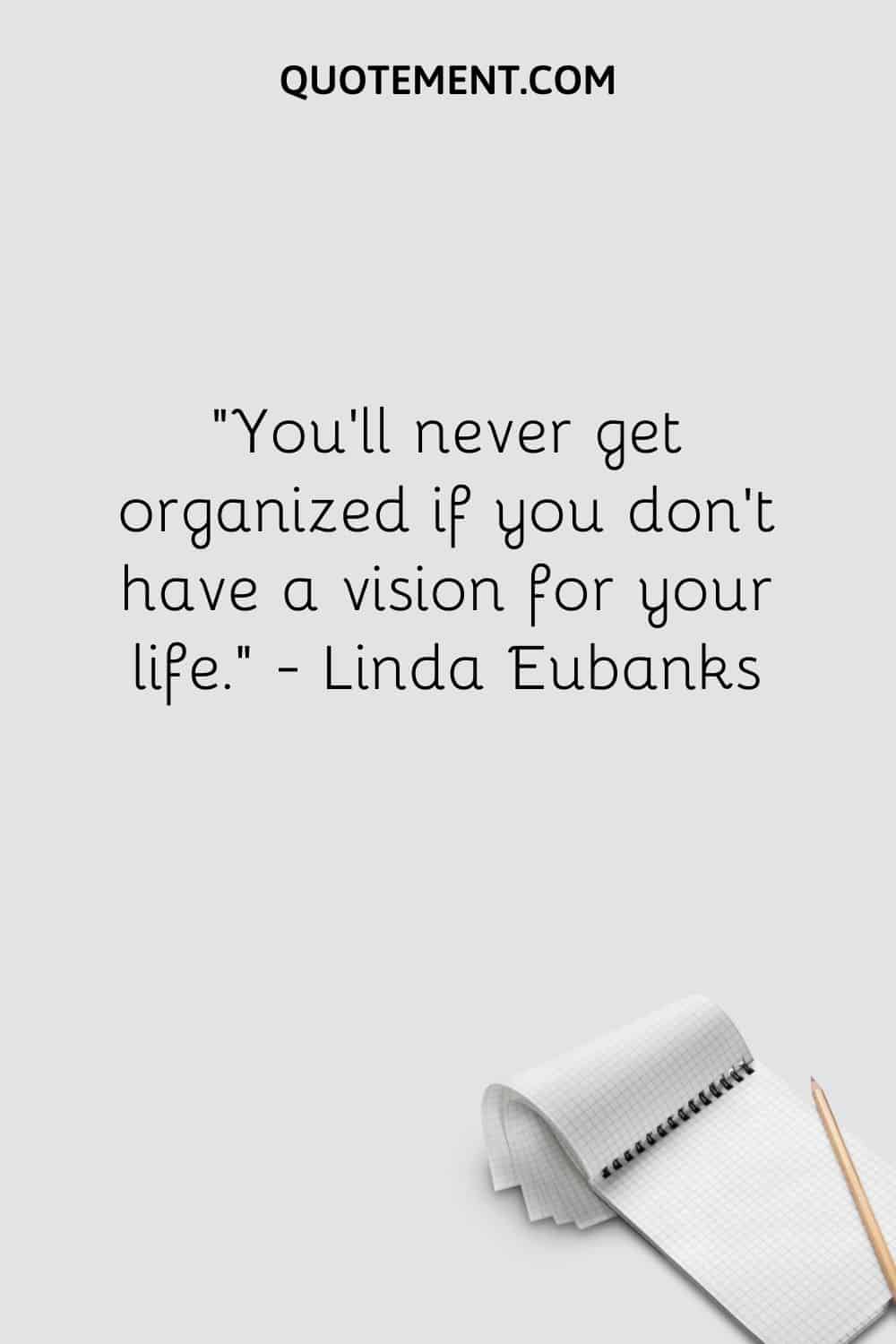 2. "In the successful organization, no detail is too small to escape close attention." — Lou Holtz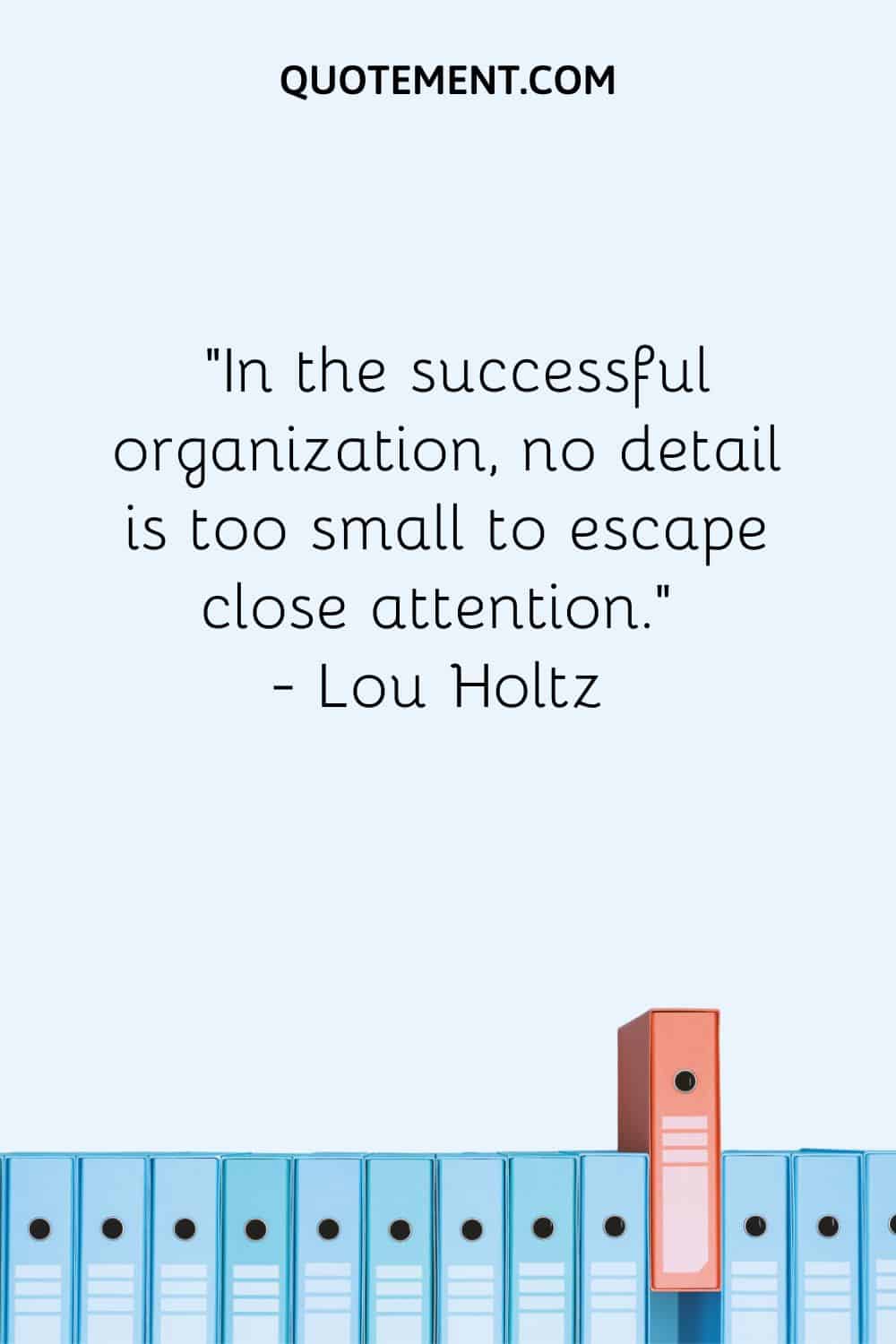 3. "There is nothing more calming than an organized home." — unknown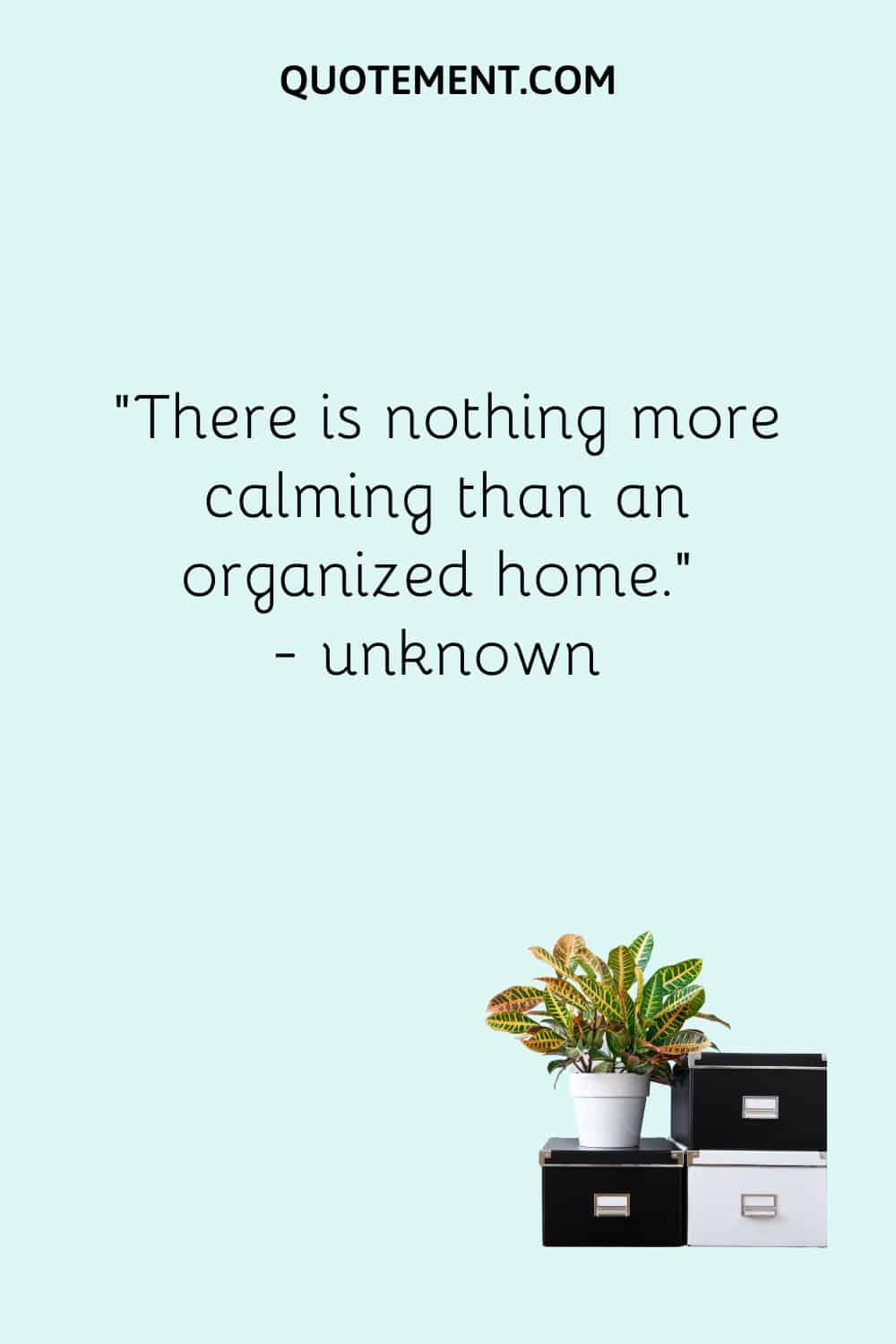 4. "Once you have a clear picture of your priorities – that is, your values, goals, and high leverage activities, organize around them." — Stephen Covey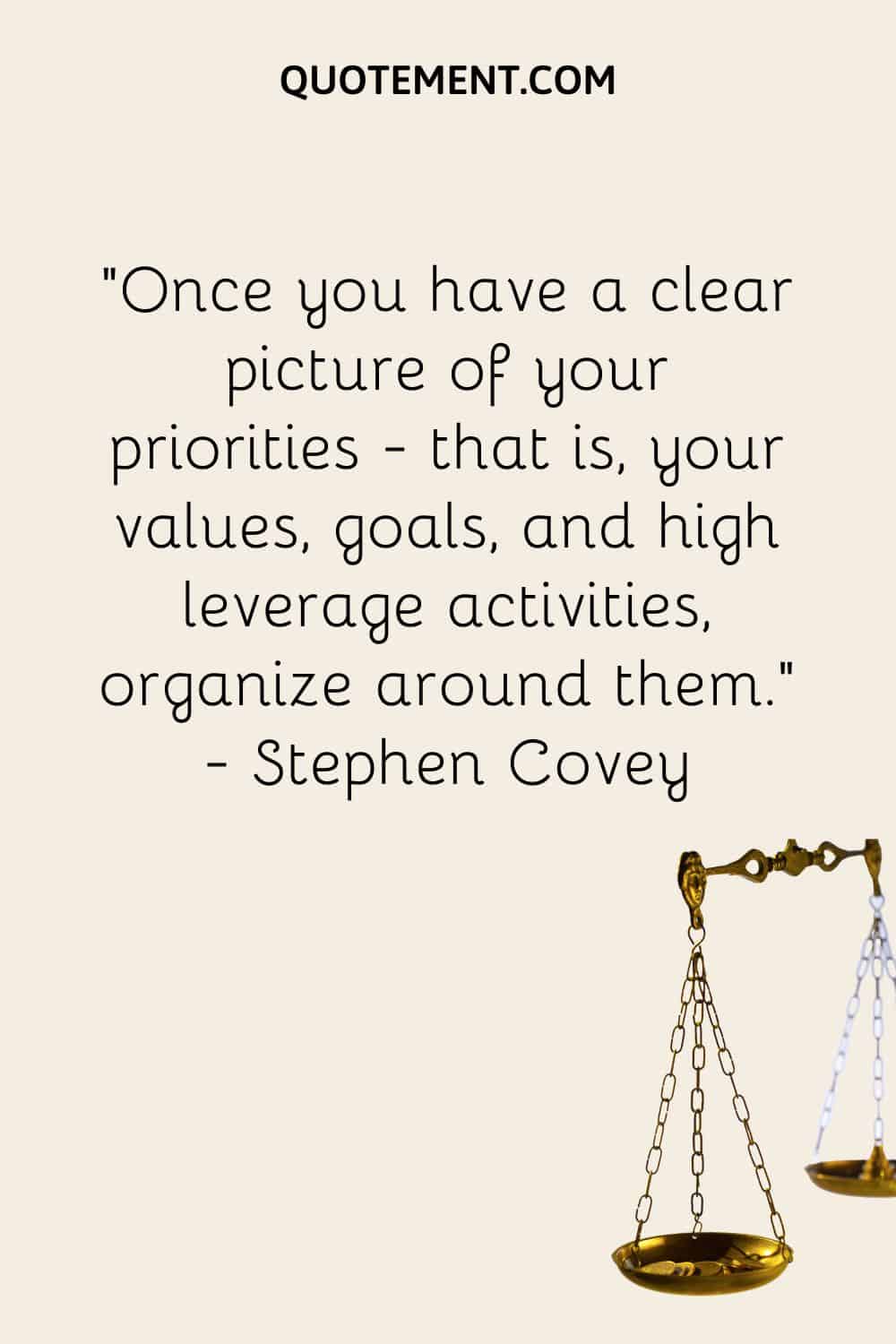 5. "It's not just about clearing your desk. It's about clearing your mind…for more important things." ― Cynthia Kyriazis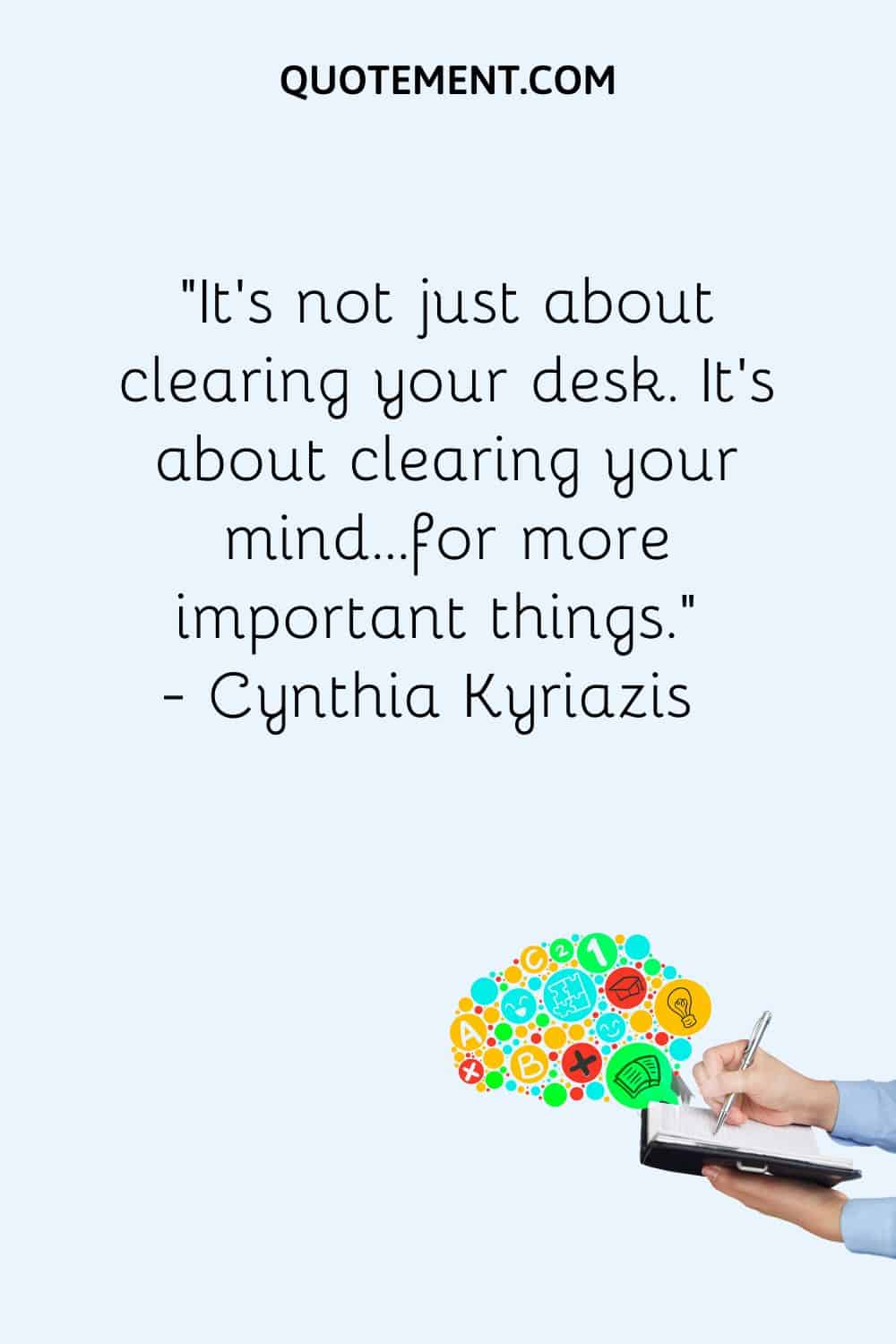 6. "It is essential that there should be organization of labor. This is an era of organization. Capital organizes, and therefore labor must organize." — Theodore Roosevelt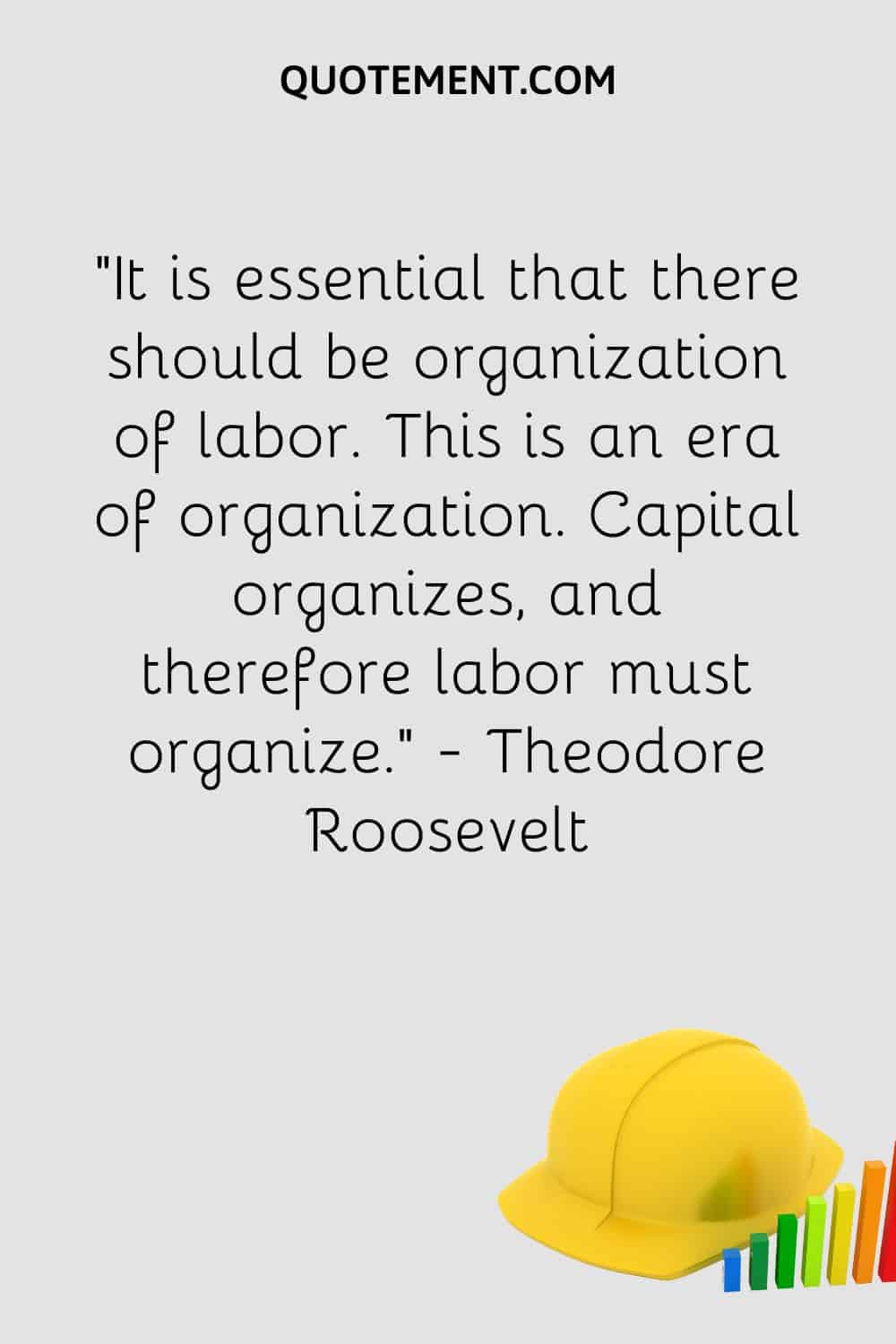 7. "Edit your life frequently and ruthlessly. It's your masterpiece after all." — Nathan W. Morris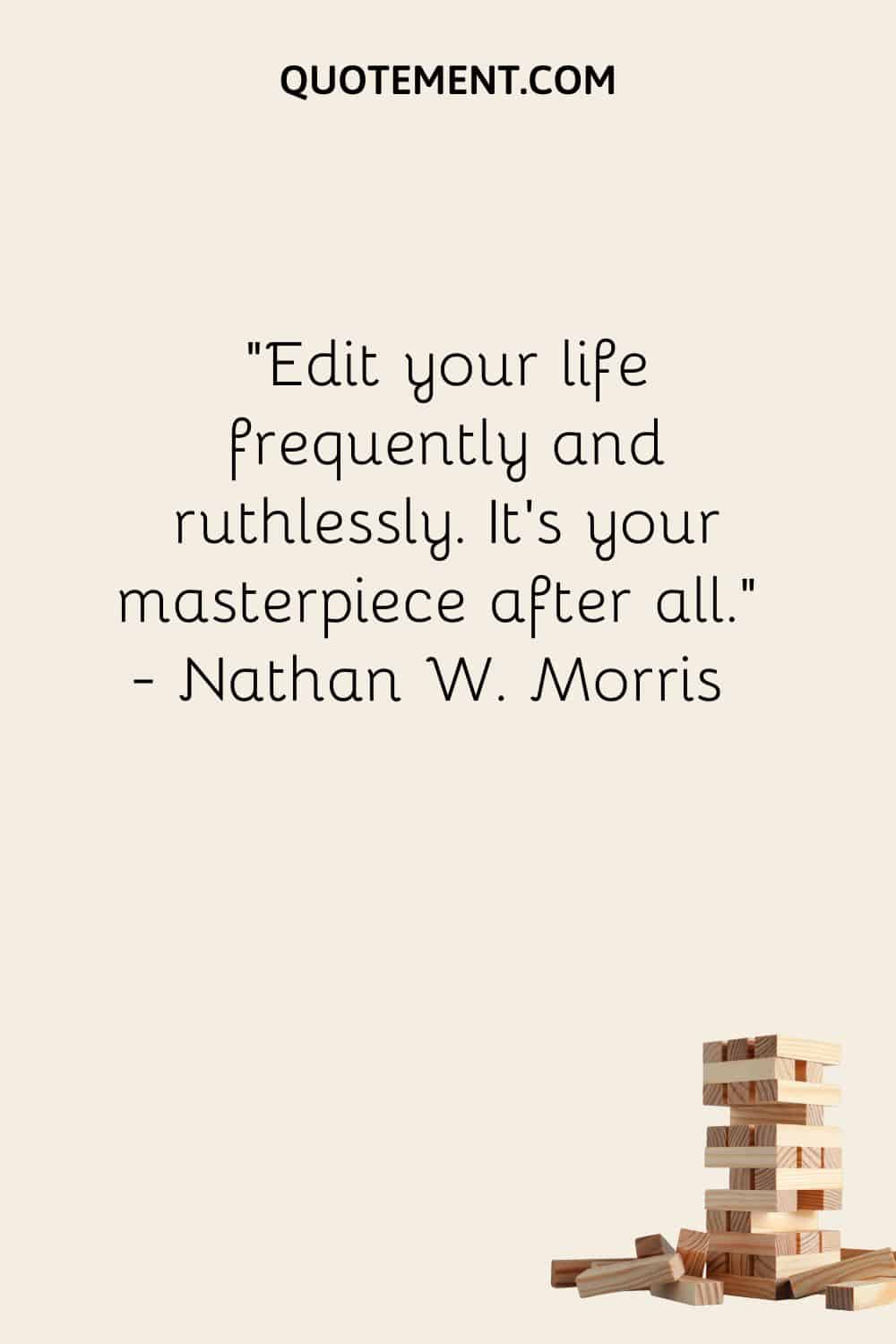 8. "Until we can manage time, we can manage nothing else." ― Peter Drucker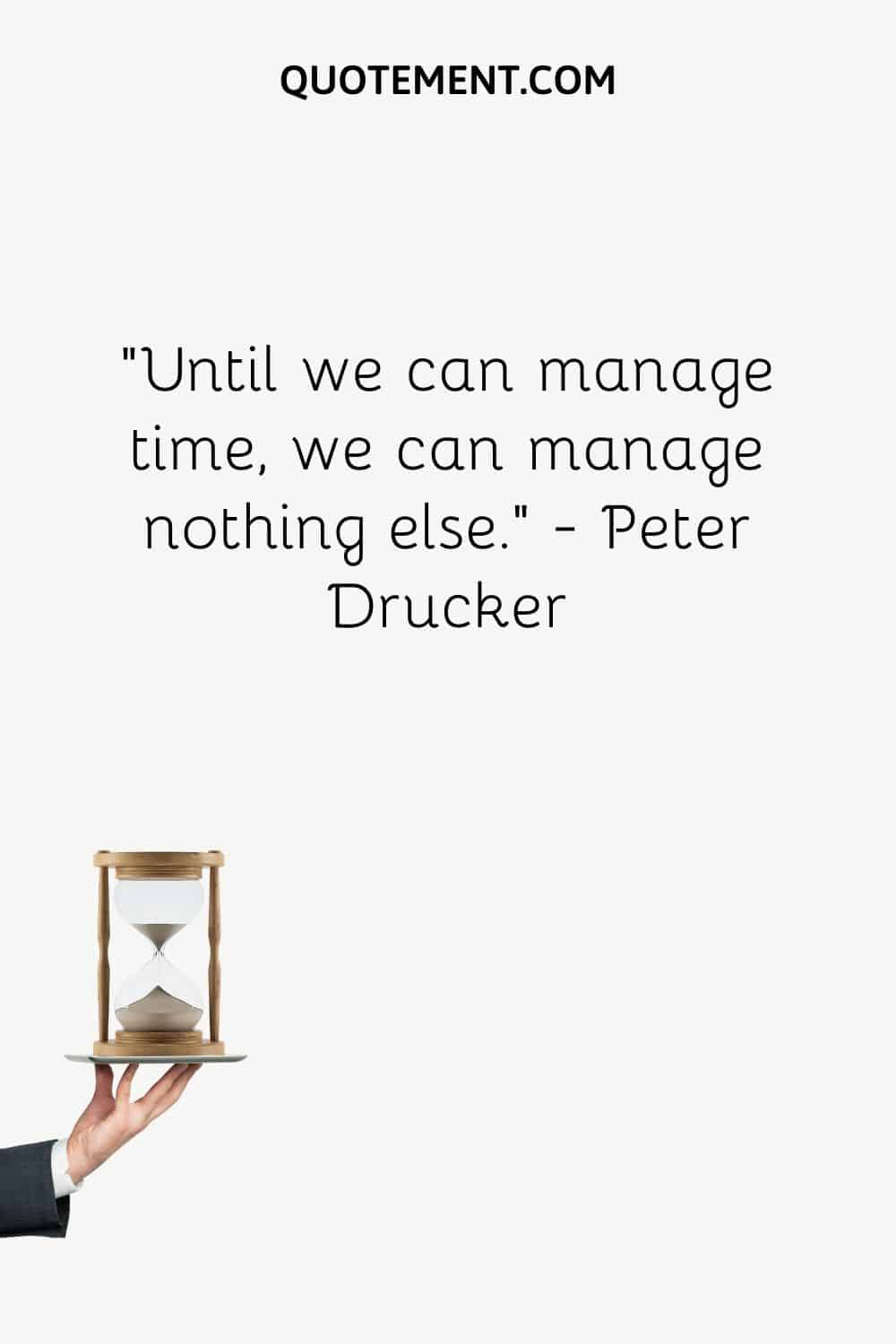 9. "I go through about half a dozen spiral notebooks a year. They are my friends, just like the to-do lists. They keep me organized." ― David R. Wommack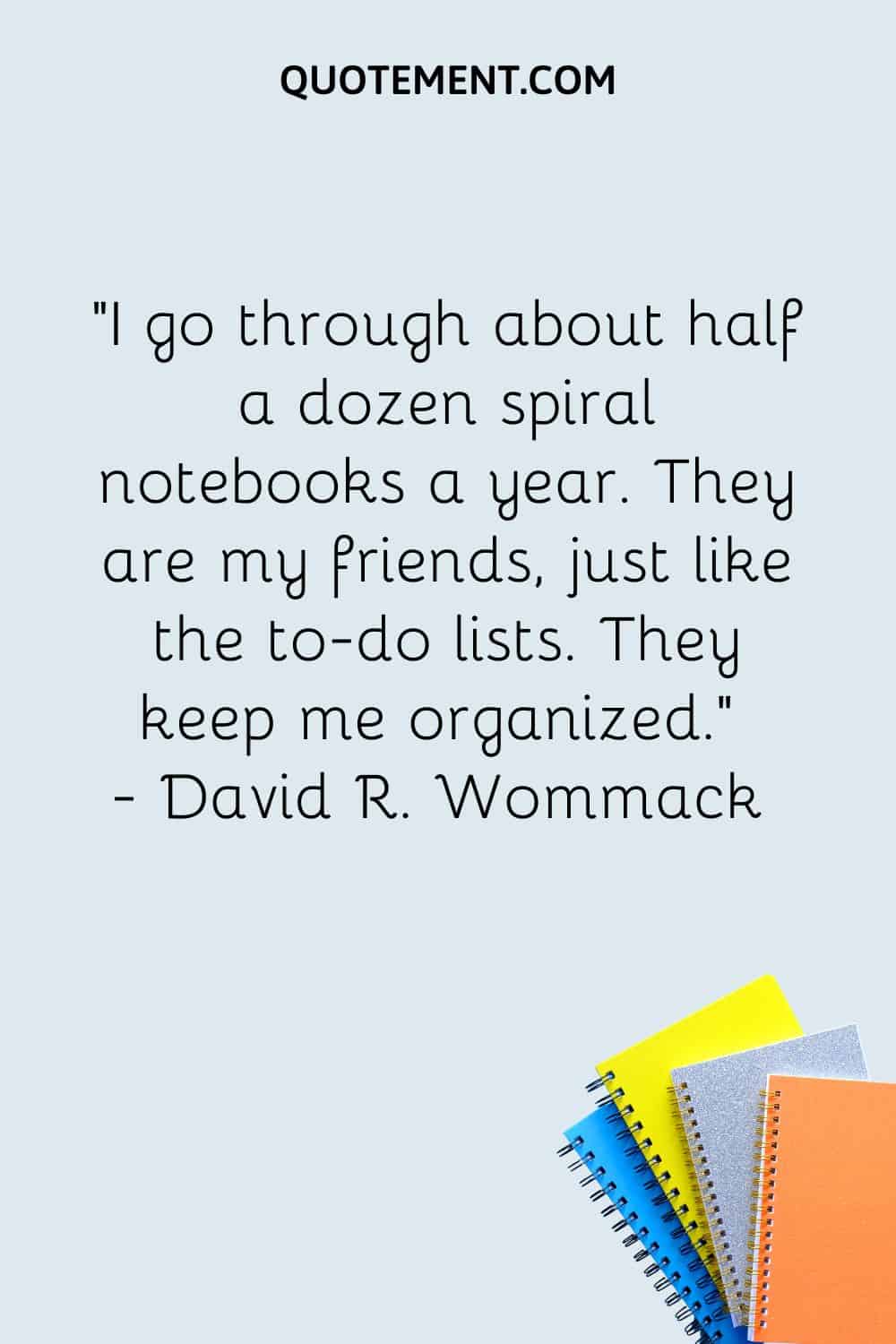 10. "The secret to multitasking is that it isn't actually multitasking. It's just extreme focus and organization." ― Joss Whedon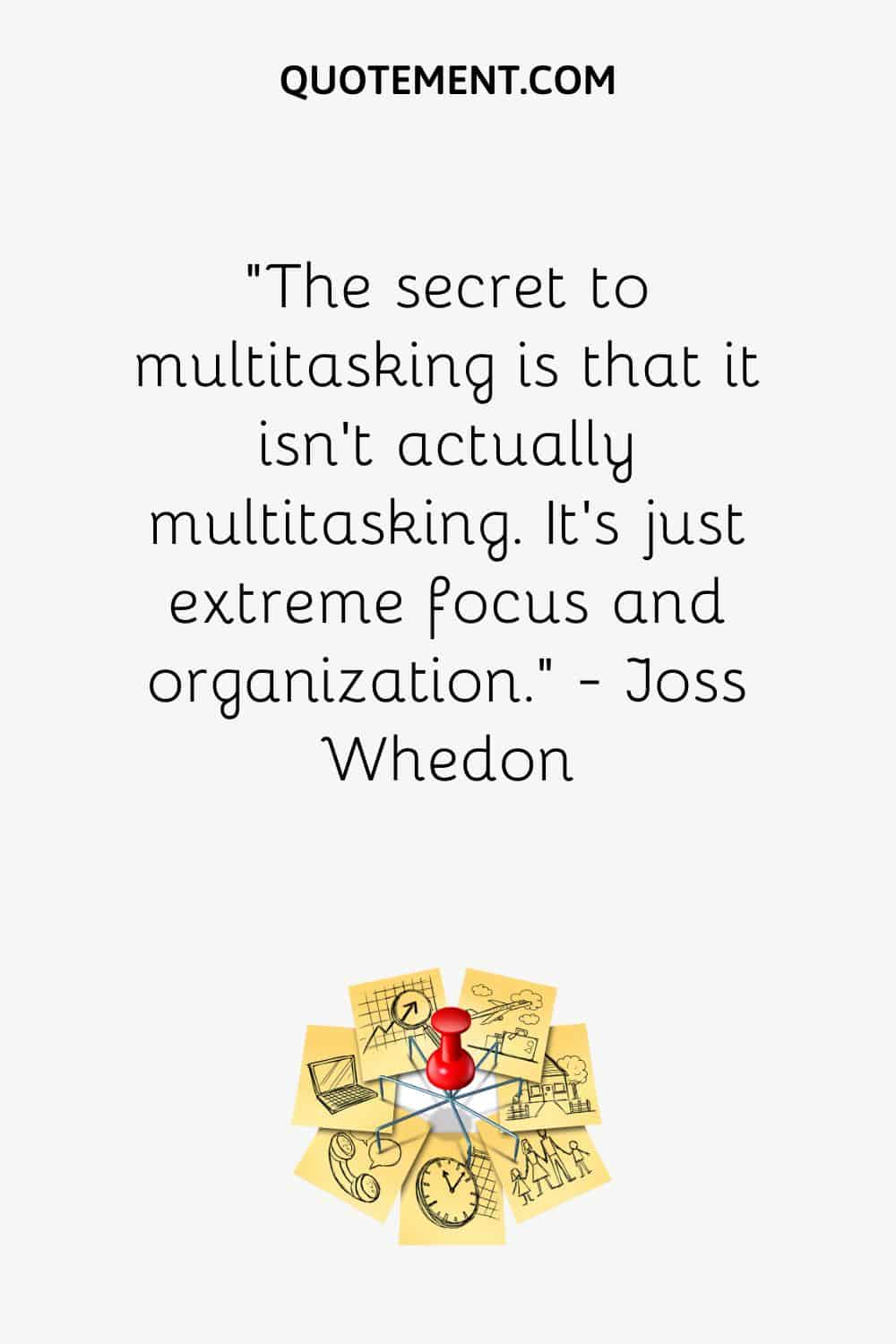 11. "Decluttering can be overwhelming, so start with that one small thing. Clean out your junk drawers. It can lead to so many more beautiful things." ― Bobby Berk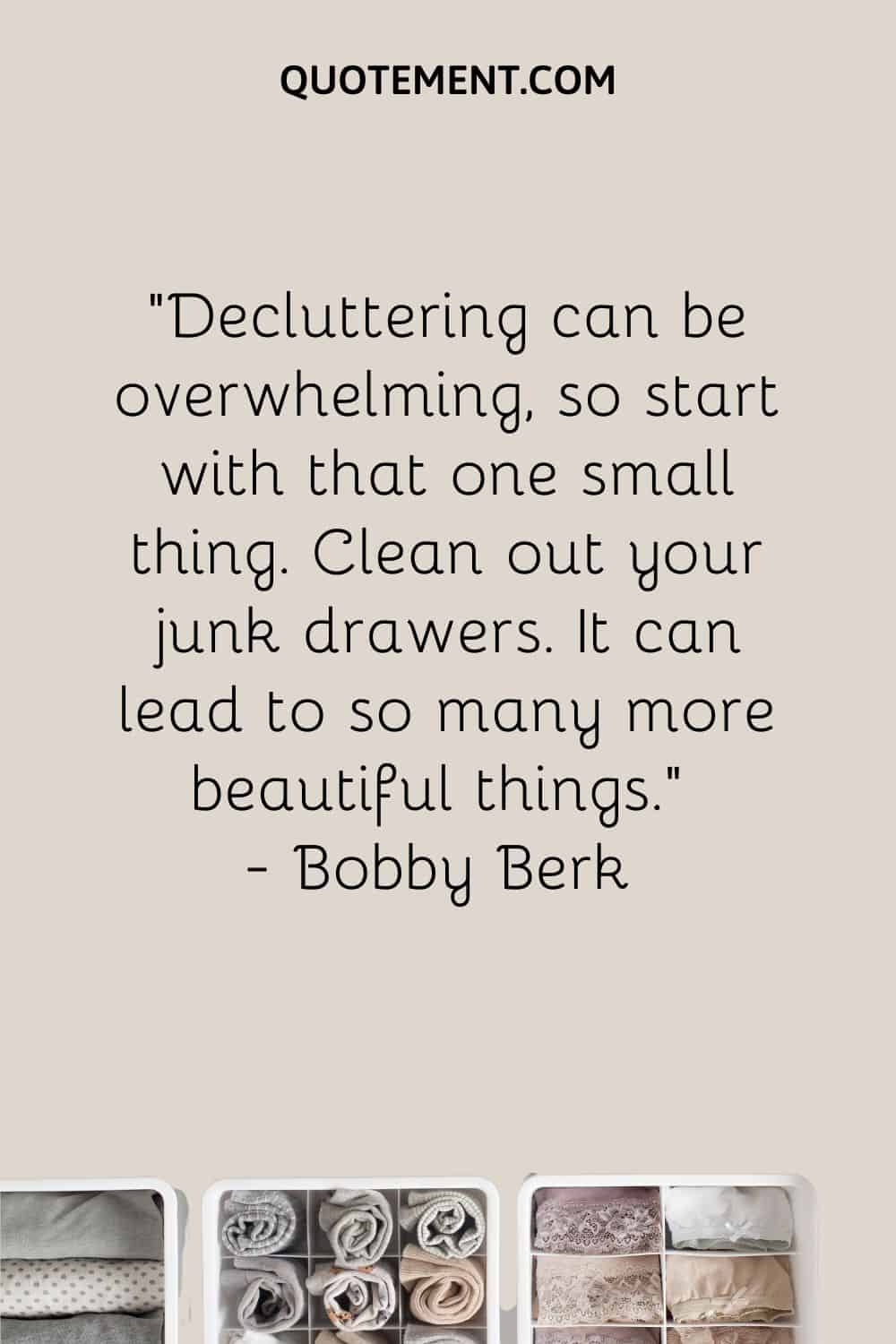 12. "Men admire the man who can organize their wishes and thoughts in stone and wood and steel and brass." — Ralph Waldo Emerson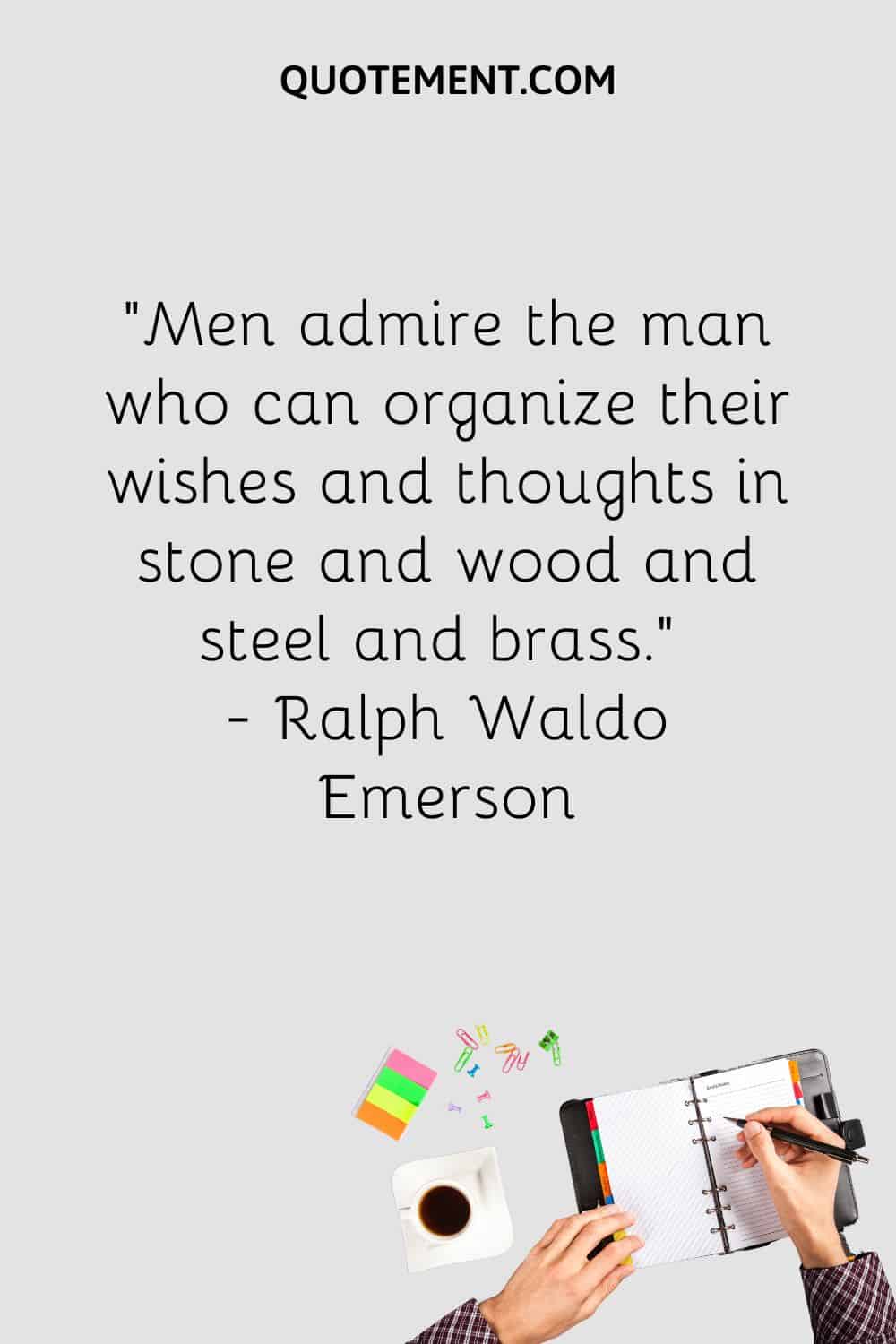 13. "It's not what you do but what you don't do – the things you postpone, not the things you accomplish – that make you tired." ― Donna Otto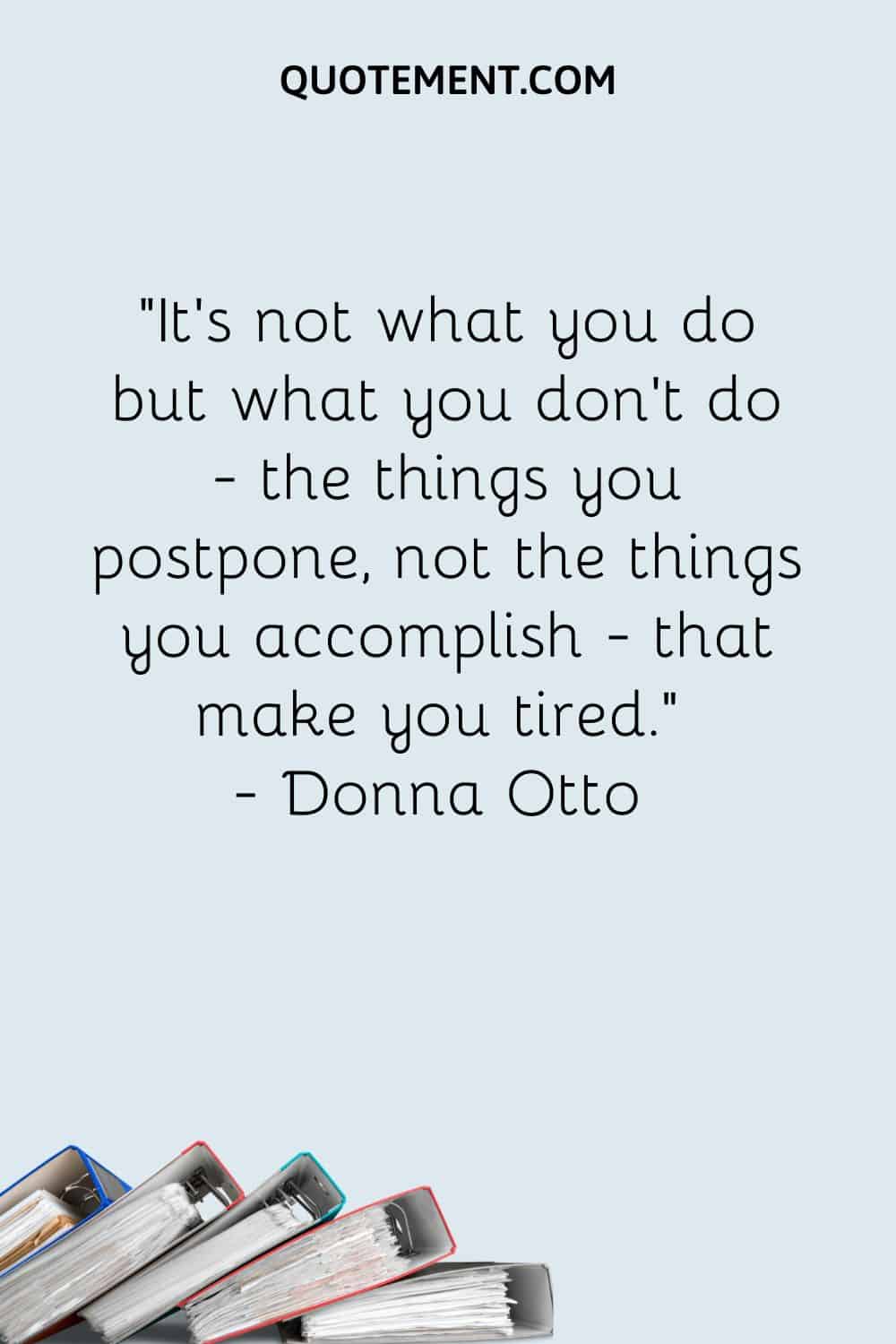 14. "You can't reach for anything new if your hands are still full of yesterday's junk." ― Louise Smith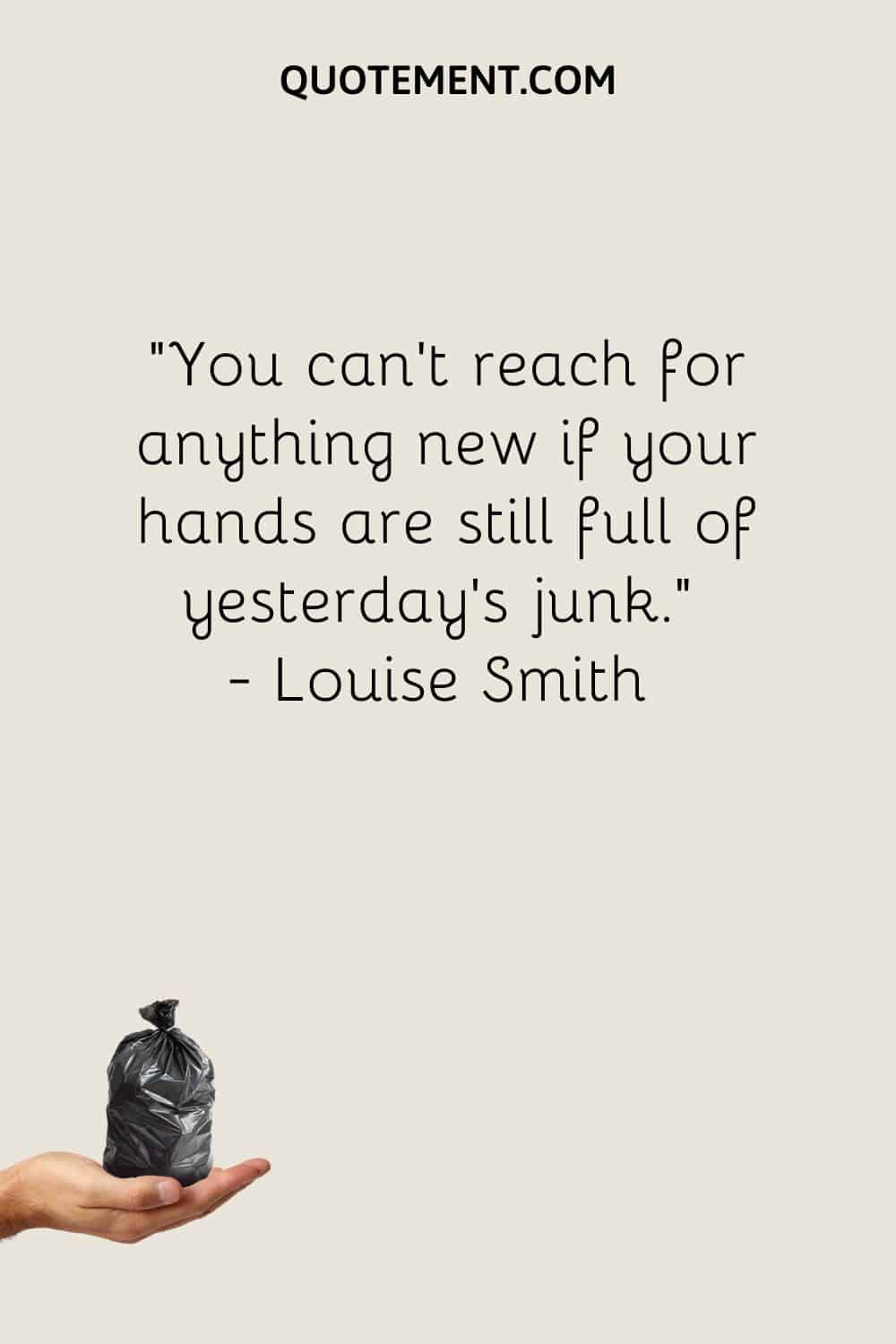 15. "Having a simplified, uncluttered home is a form of self-care." ― Emma Scheib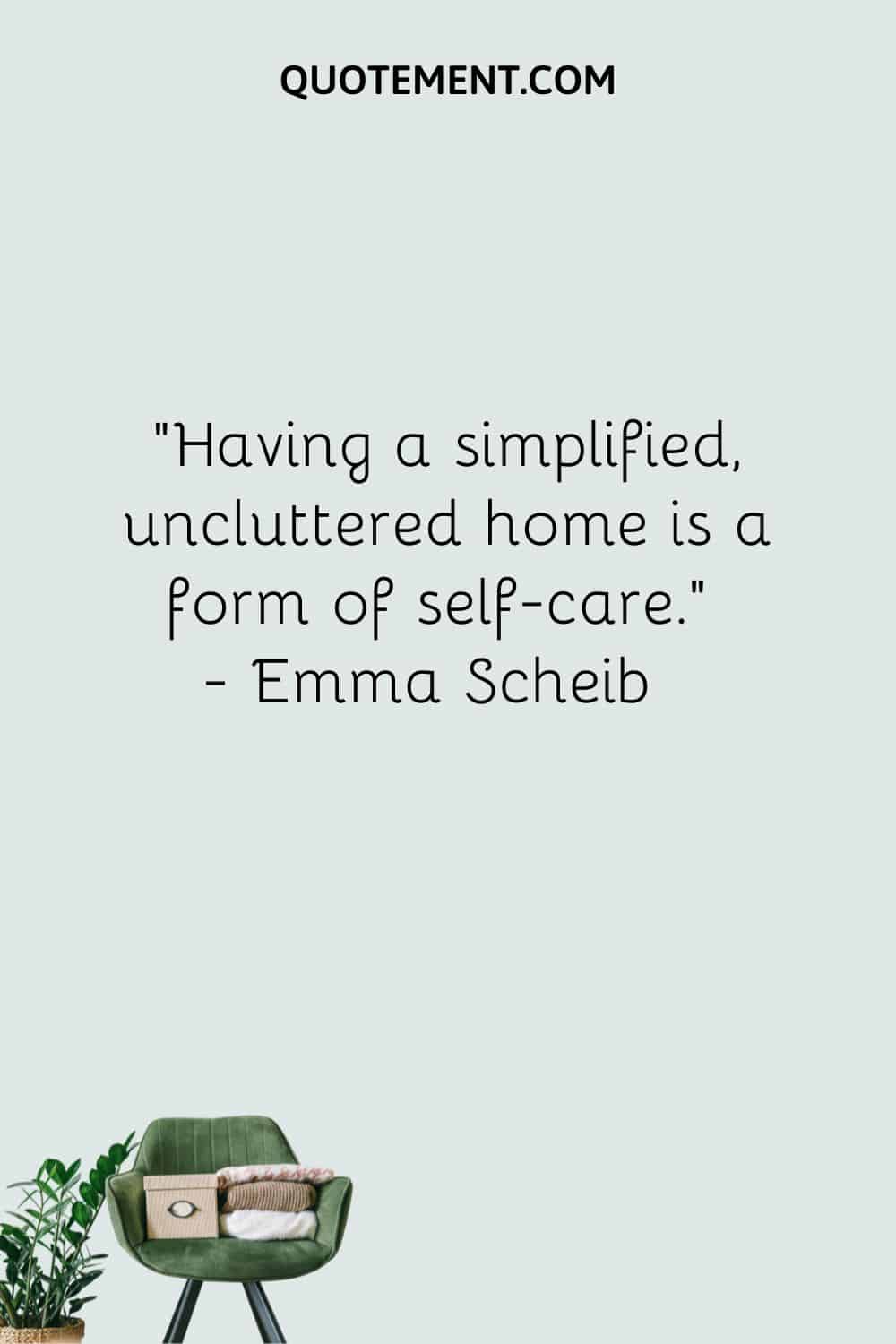 See also: 70 Self Compassion Quotes To Help You Love Yourself More
To Conclude
I hope you enjoyed my collection of inspirational quotes for organization. Hope to see you again.
Until next time!