Having a bad day?
Oh don't worry, you're not alone. I've had so many "I hate my life" days, I feel I could write a book on these!
Sure there are days when I'm all about rainbows and sprinkles, but there are certainly lots of those when I feel I live the life of Alan Harper from Two And A Half Men. Pretty bad, agree?
Yup, that's the reality of life. Bad days are simply part of it.
An average person in the US experiences 60 bad throughout a year, a 2018 study has revealed. Yes, that's two whole months!
And while we mostly cannot do anything to turn a bad day into a good one, there are some ways to feel a bit better.
One of them is to read some inspirational quotes about bad days I collected from various online sources.
These are the words of famous or anonymous people who have found themselves on the same road you are now.
Let's see what they are saying about this experience!
Greatest Quotes About Bad Days
1. "Sail through the good days, and on bad days pick a spot of blue sky to steer toward." — Richelle E. Goodrich
2. "If you can't fly then run, if you can't run then walk, if you can't walk then crawl, but whatever you do you have to keep moving forward." — Martin Luther King Jr
3. "There are bad times, but that's okay, just look for the love in it, don't burn the day away." — Dave Matthews Band
4. "I get up every morning and it's going to be a great day. You never know when it's going to be over so I refuse to have a bad day." — Paul Henderson
5. "You'll have good days, bad days, overwhelming days, too tired days, "I'm awesome" days, "I can't go on" days, and every day you'll still show up." — Tiny Buddha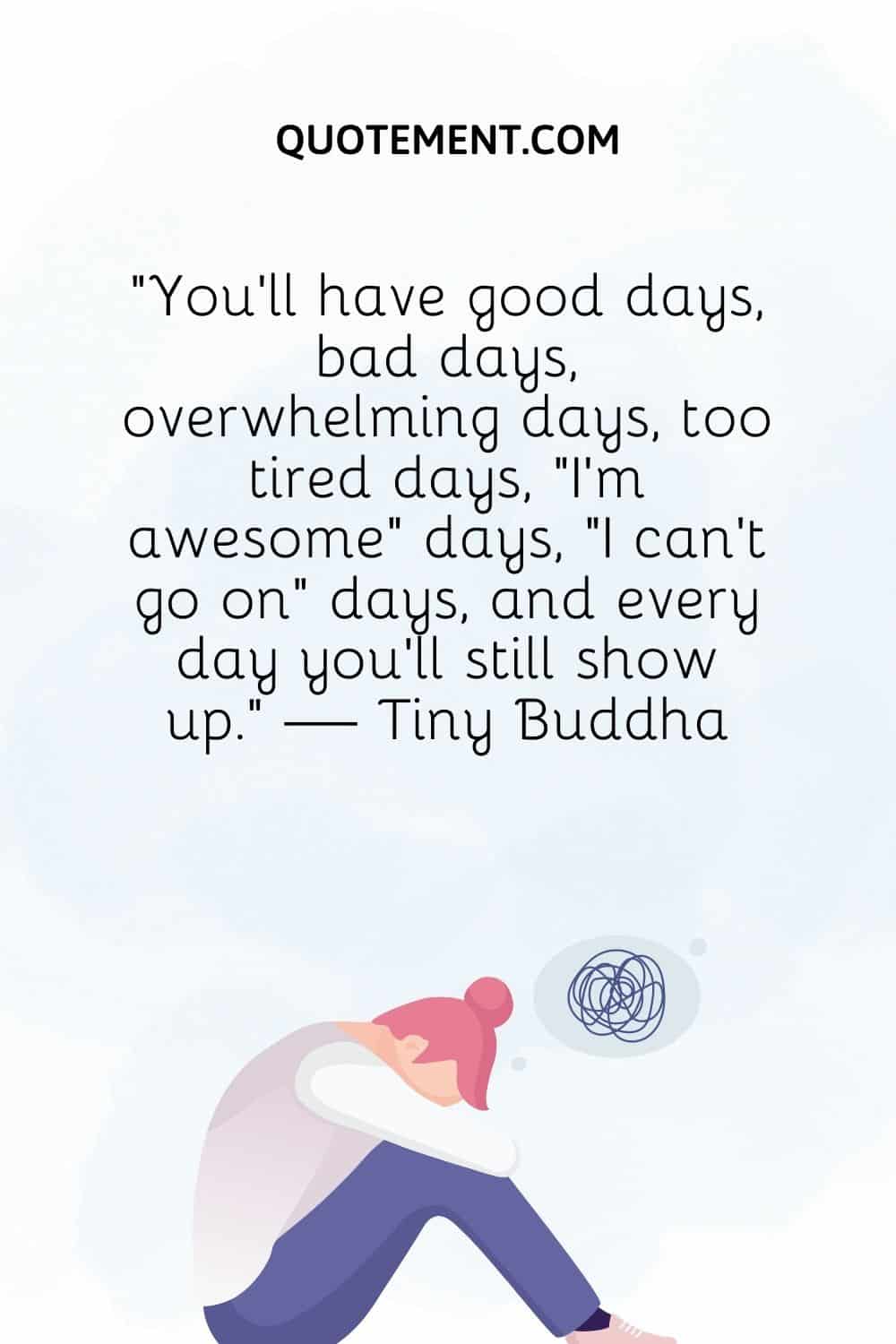 6. "When you fail, know that your past is anonymous to the world, so you might as well go about life as if you've had a good day." ― Karl Kristian Flores
7. "Bad days make you stronger, those are the best days because God is talking to you. You just have to listen closely. Don't let your tears become louder than his voice." — Les Simple
8. "What? You're having a bad day? Think of those who didn't wake up this morning, and can no longer live this day." — Patty Medina
9. "A day gone is a day gone. As they say, don't let a bad day turn into a bad year. Every sunset is an opportunity to reset." — Richie Norton
10. "For many of us, a day is neither bad or good. It is our attitude that seems to make it what it is." — Darryl Van Kirk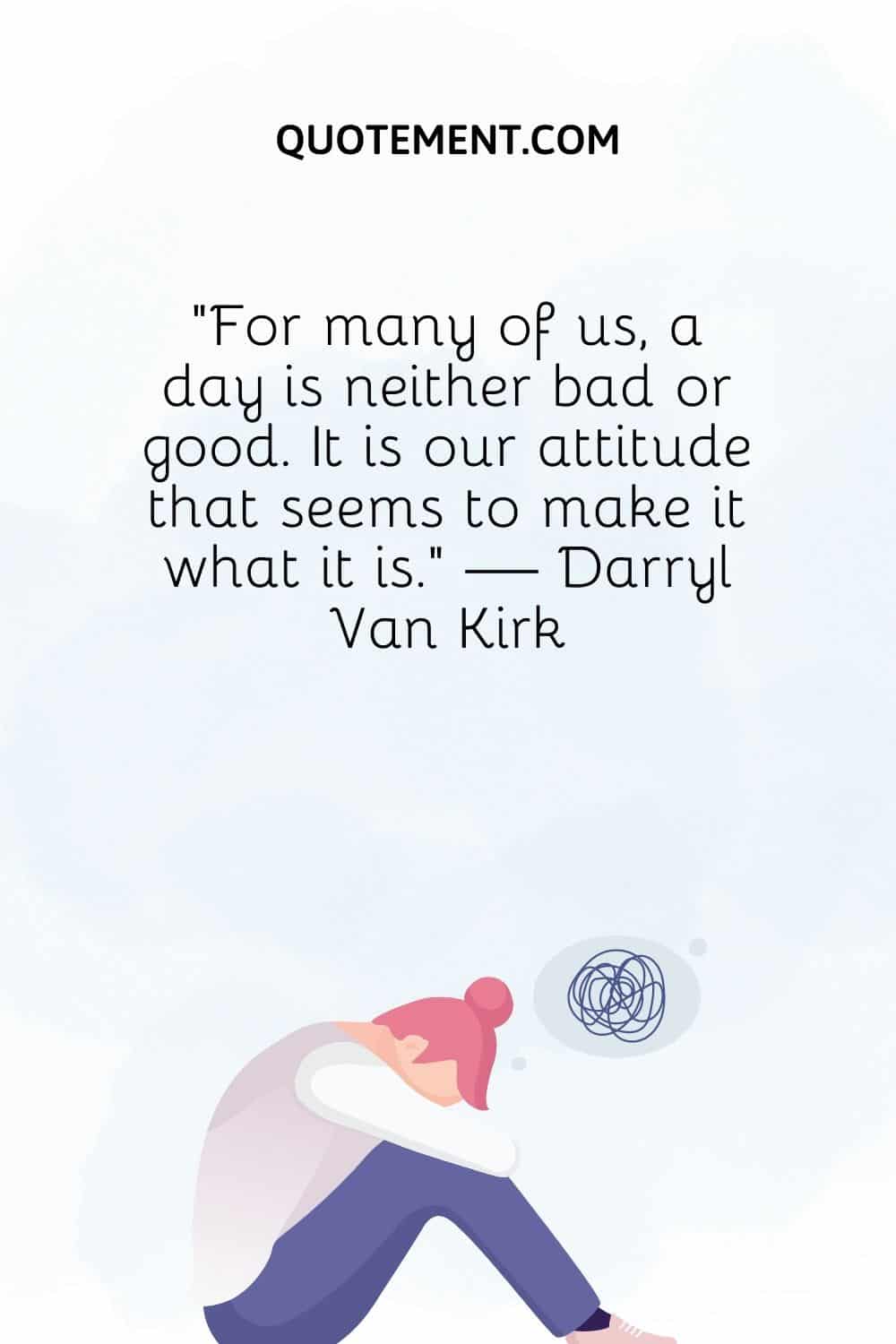 See also: 270 Best Attitude Caption Ideas To Make Your Instagram Pop
Bad Day Inspirational Quotes
1. "Some days are just bad days. And that's OK. There is a new day tomorrow when you can get a fresh start and new beginning." — Unknown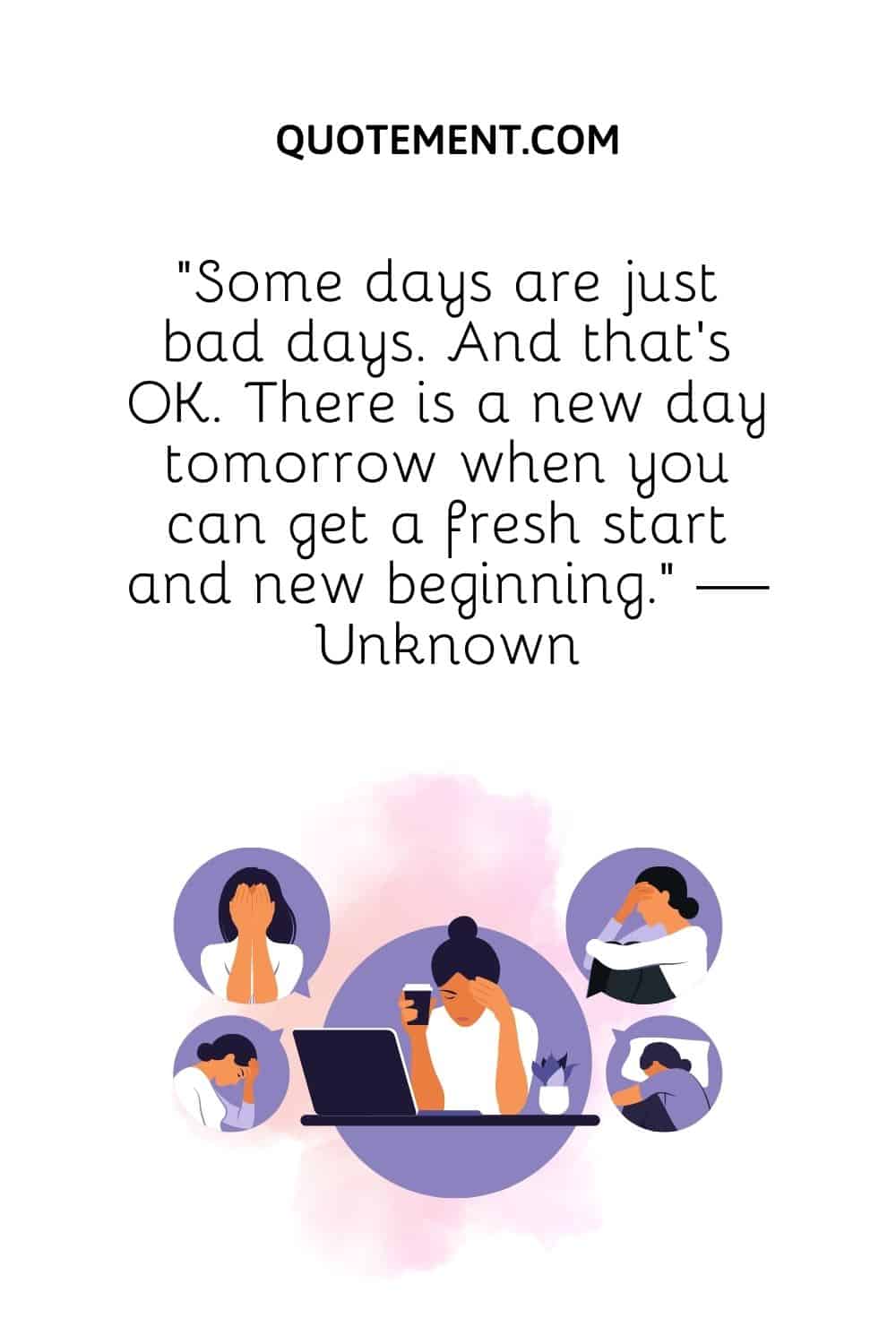 2. "Even when the sky is heavily overcast, the sun hasn't disappeared. It's still there on the other side of the clouds." — Unknown
3. "When you have a bad day, a really bad day, try and treat the world better than it treated you." — Patrick Stump
4. "Even when bad things happen you have to try to use those bad things in a positive manner and really just take the positive out of it." — Natalie du Toit
5. "Remember the tough times. They'll help you appreciate the good times even more deeply." — Unknown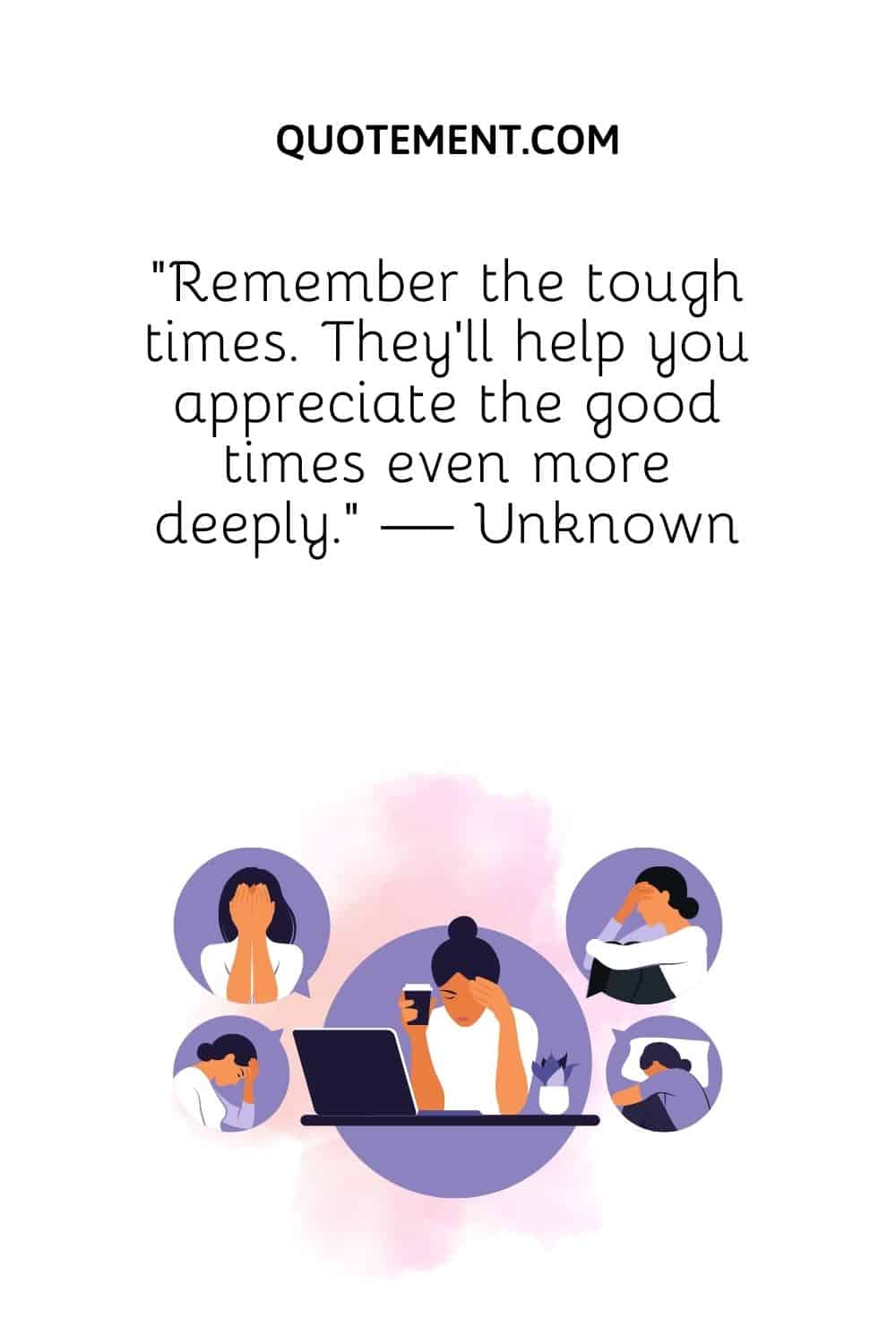 6. "Sometimes you need those bad days to help you appreciate the good ones." — Unknown
7. "It's a hard life sometimes and the biggest temptation is to let how hard it is be an excuse to weaken." — Walter Dean Myers
8. "You have to remember that the hard days are what make you stronger. The bad days make you realize what a good day is. If you never had any bad days, you would never have that sense of accomplishment." — Aly Raisman
9. "Difficult roads often lead to beautiful destinations. The best is yet to come." — Zig Ziglar
10. "I've learned that no matter what happens, or how bad it seems today, life does go on, and it will be better tomorrow." — Maya Angelou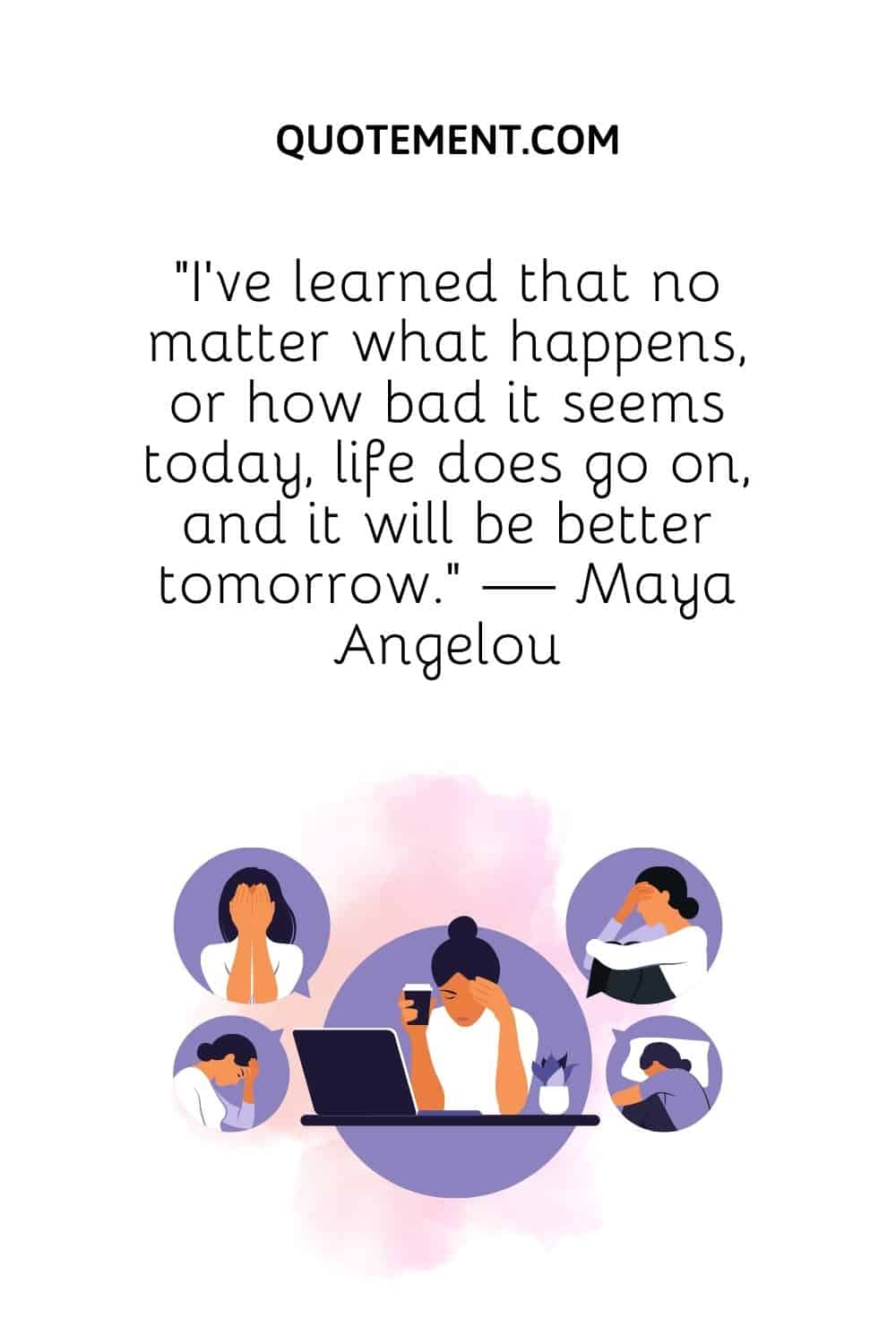 11. "No matter what looms ahead, if you can eat today, enjoy today, mix good cheer with friends today, enjoy it and, bless God for it." — Henry Ward Beecher
12. "Never regret a day in your life. Good days give happiness, bad days give experience, worst days give lessons, and best days give memories." — Unknown
13. "There's always a way through every challenge. You need a heart full of commitment. A lens focused on positivity. And a willingness to travel unexplored paths. Faith forward. You'll get there." — Karen Salmansohn
14. "Just because today started as a bad day doesn't mean it has to end that way. Take action and turn your day around." — Unknown
15. "You need to have a bad day once in a while, otherwise, you'll never know what a good day feels like." — Unknown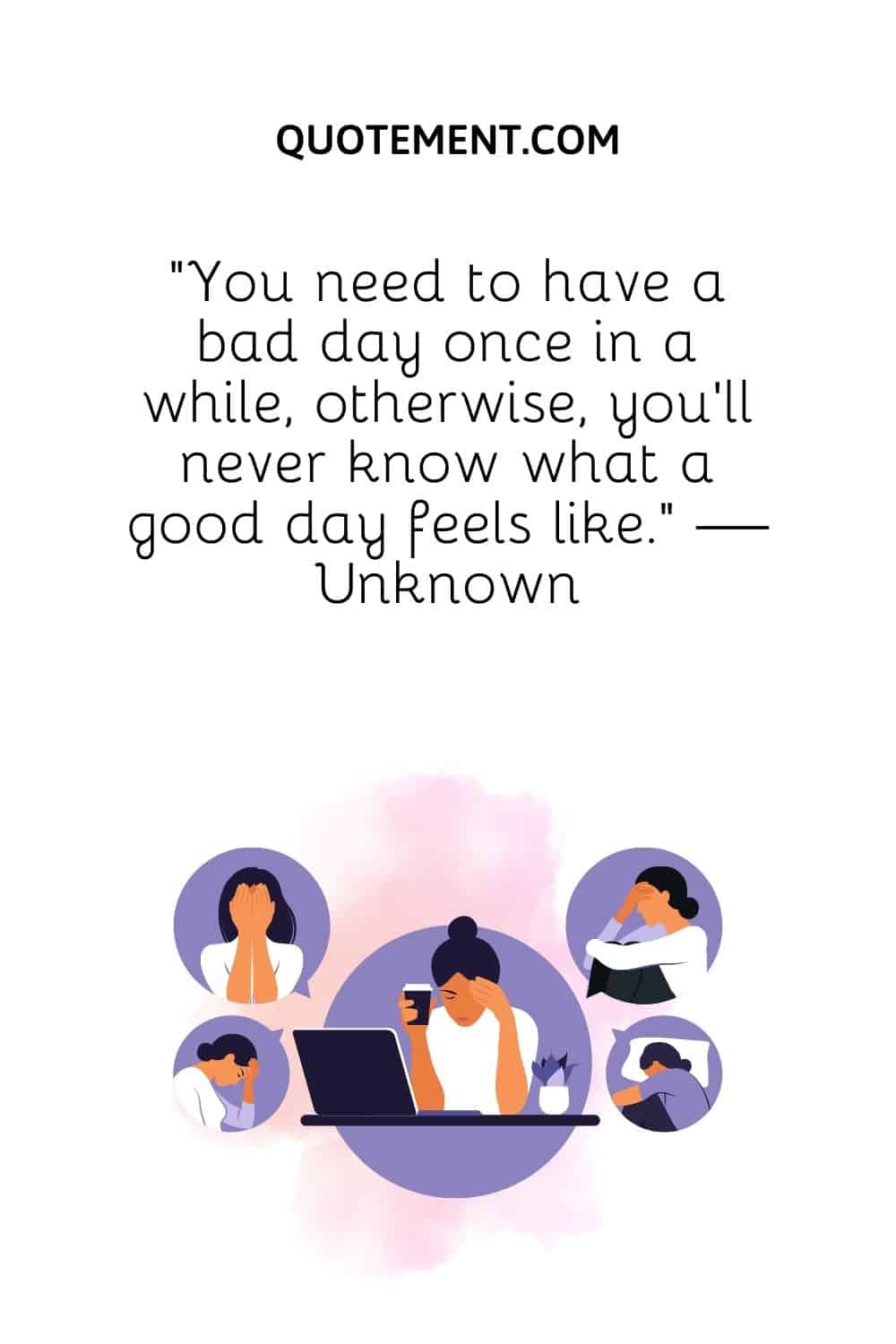 16. "Don't be discouraged by what happened to you today. Be thankful that you have today to live and tomorrow to try again." — Unknown
17. "When you get into a tight place and everything goes against you, till it seems as though you could not hang on a minute longer, never give up then, for that is just the place and time that the tide will turn." — Harriet Beecher Stowe
18. "Look for something positive in each day, even if some days you have to look a little harder." — Unknown
19. "Everything is going to be okay. Actually, it'll turn out better than okay. You'll see." — Unknown
20. "You never see bad days in a photo album, but it is these days that get us from one happy snapshot to the next." — Unknown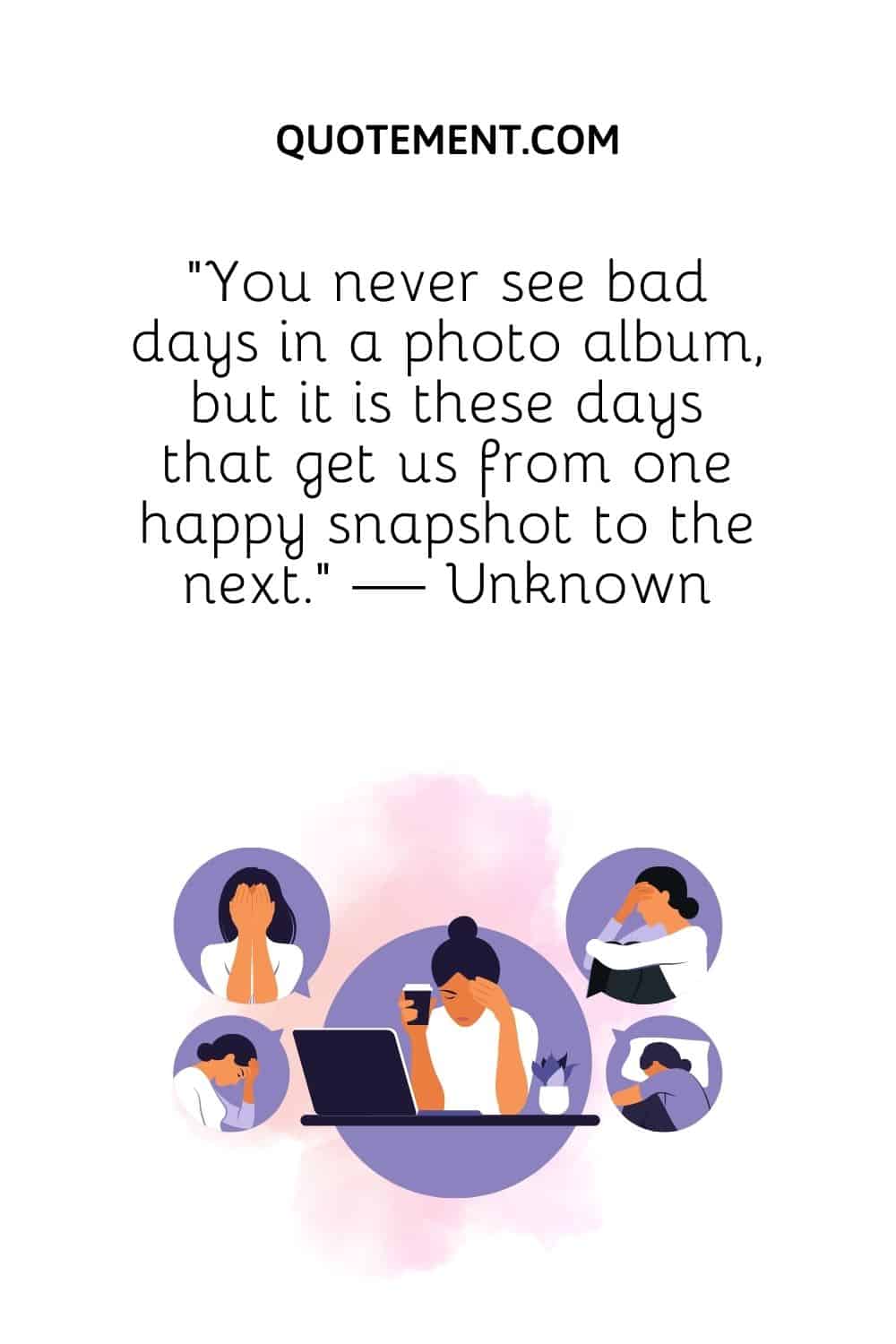 Wise Having A Bad Day Quotes
1. "When you're having a bad day at work, a lot of times it's your head. When you're having good days, a lot of times it's the absence of the mind." — Curt Schilling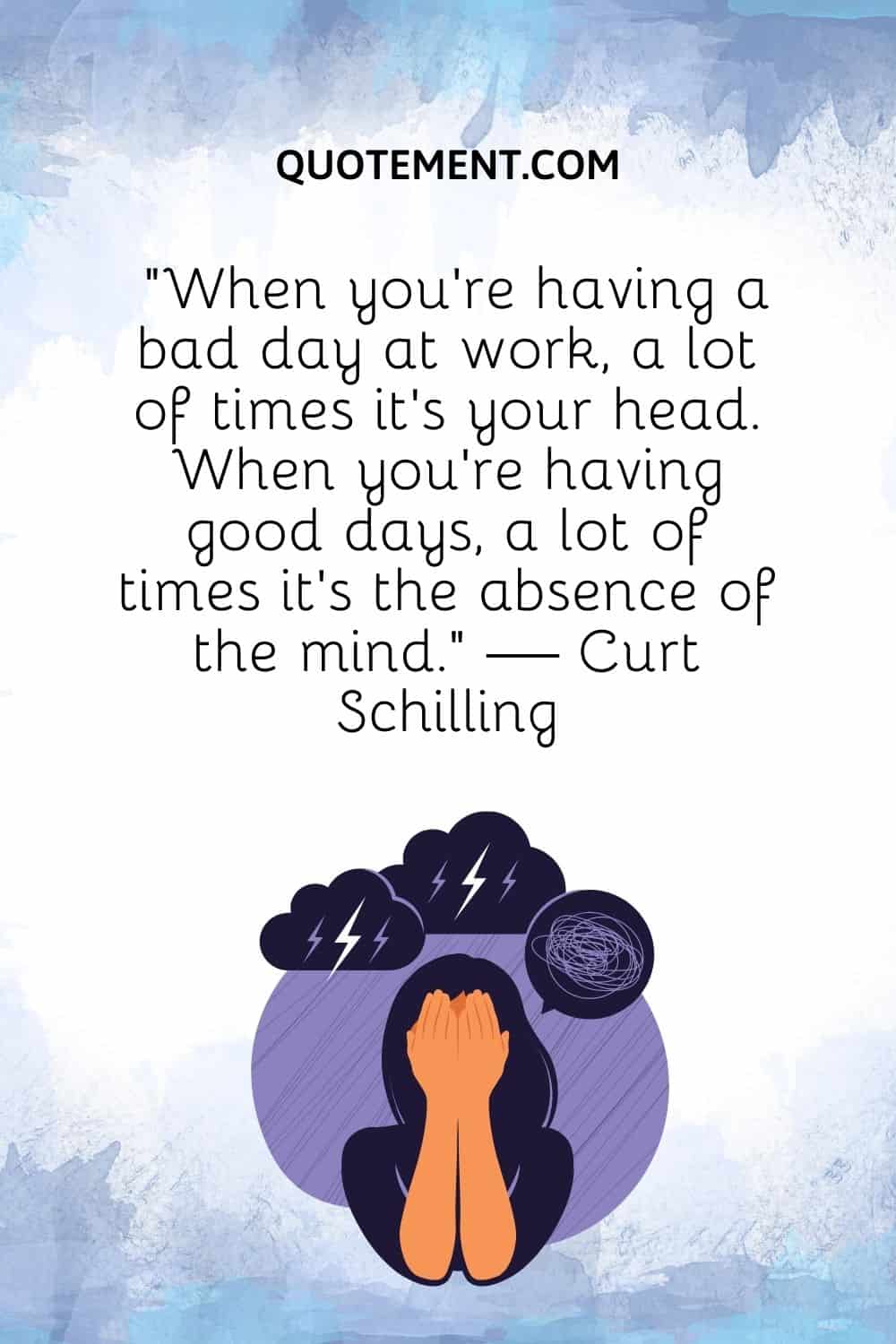 2. "Train your mind and heart to see the good in everything. There is always something to be thankful for." — Unknown
3. "It is not in the stars to hold our destiny but in ourselves." — William Shakespeare
4. "My secret to survival has been embracing life's challenges and not letting them dictate my frame of mind or determine my fate… Learning to stand strong in the face of challenge and adversity is the only way to get through the tough times." — Sandra Lee
5. "You will have bad times, but they will always wake you up to the stuff you weren't paying attention to." — Robin Williams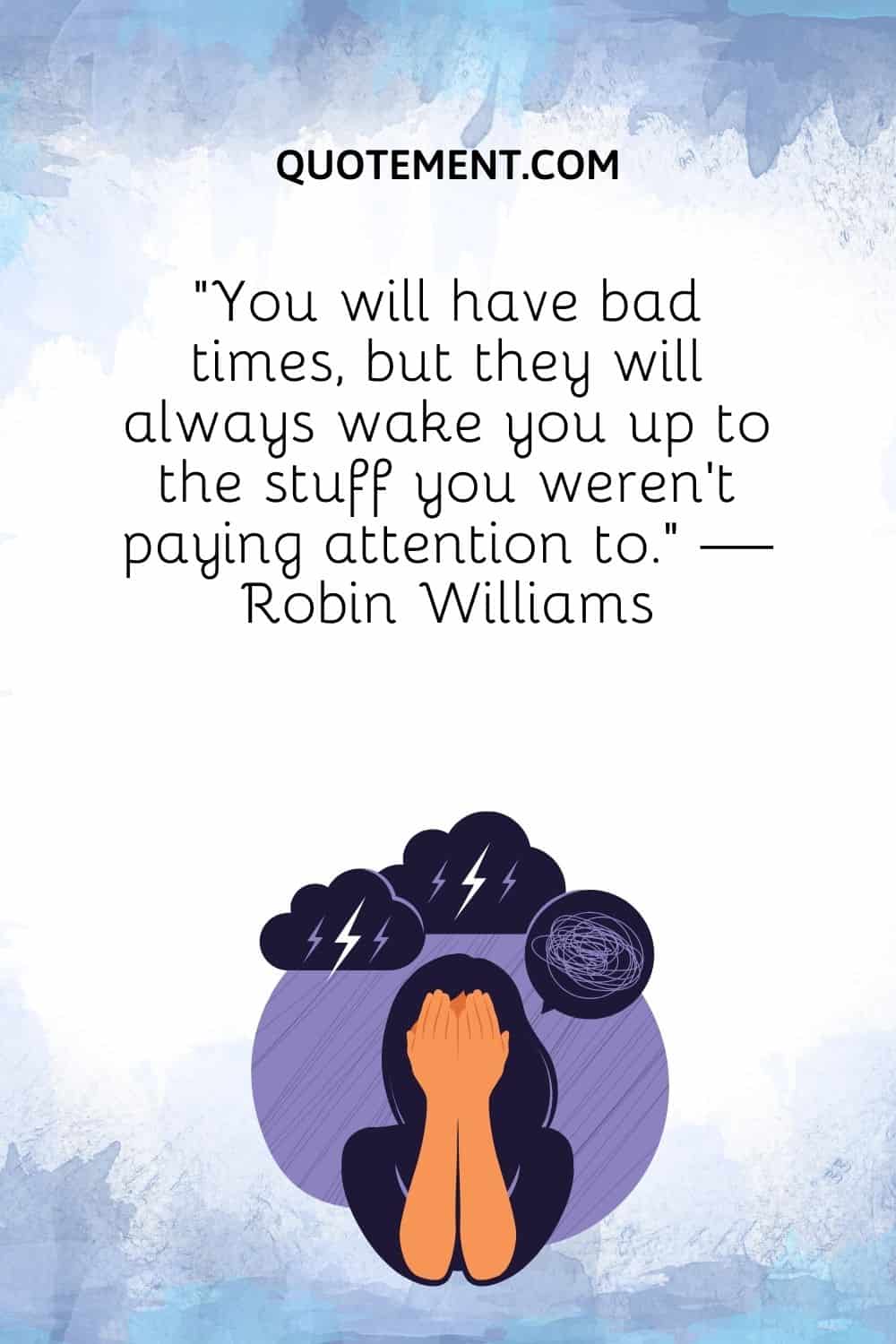 6. "You have power over your mind — not outside events. Realize this, and you will find strength." — Marcus Aurelius
7. "Keep your face towards the sunshine and shadows will fall behind you." — Walt Whitman
8. "Whenever you're going through a bad day just remember, your track record for getting through bad days, so far, is 100%. That's pretty darn good." — Unknown
9. "A bad day doesn't mean a bad week or a bad month or a bad year." ― Anuj Jasani
10. "You have good days, you have bad days. But the main thing is to grow mentally." — Floyd Mayweather Jr.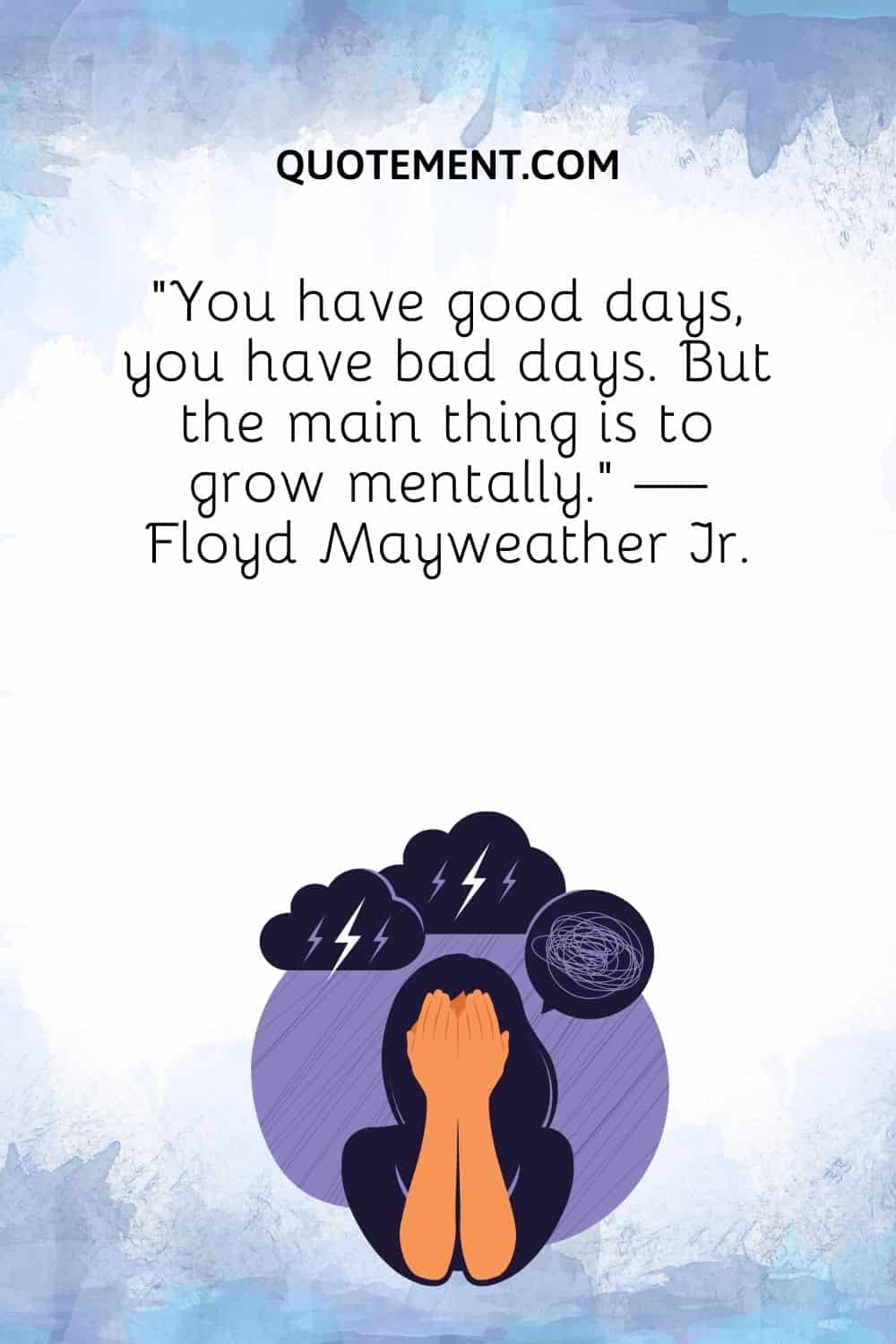 11. "There is neither happiness nor unhappiness in this world; there is merely the comparison of one state to the other. Only a man who has felt ultimate despair is capable of feeling ultimate bliss." — Alexandre Dumas
12. "Never give up on someone who is having a bad day. Tomorrow could be yours." — Giovannie de Sadeleer
13. "And once the storm is over, you won't remember how you made it through, how you managed to survive. You won't even be sure, whether the storm is really over. But one thing is certain. When you come out of the storm, you won't be the same person who walked in. That's what this storm's all about." — Haruki Murakami
14. "If you want a place in the sun, you have to expect a few blisters." — Loretta Young
15. "The only difference between a good day and a bad day is your attitude." — Dennis S. Brown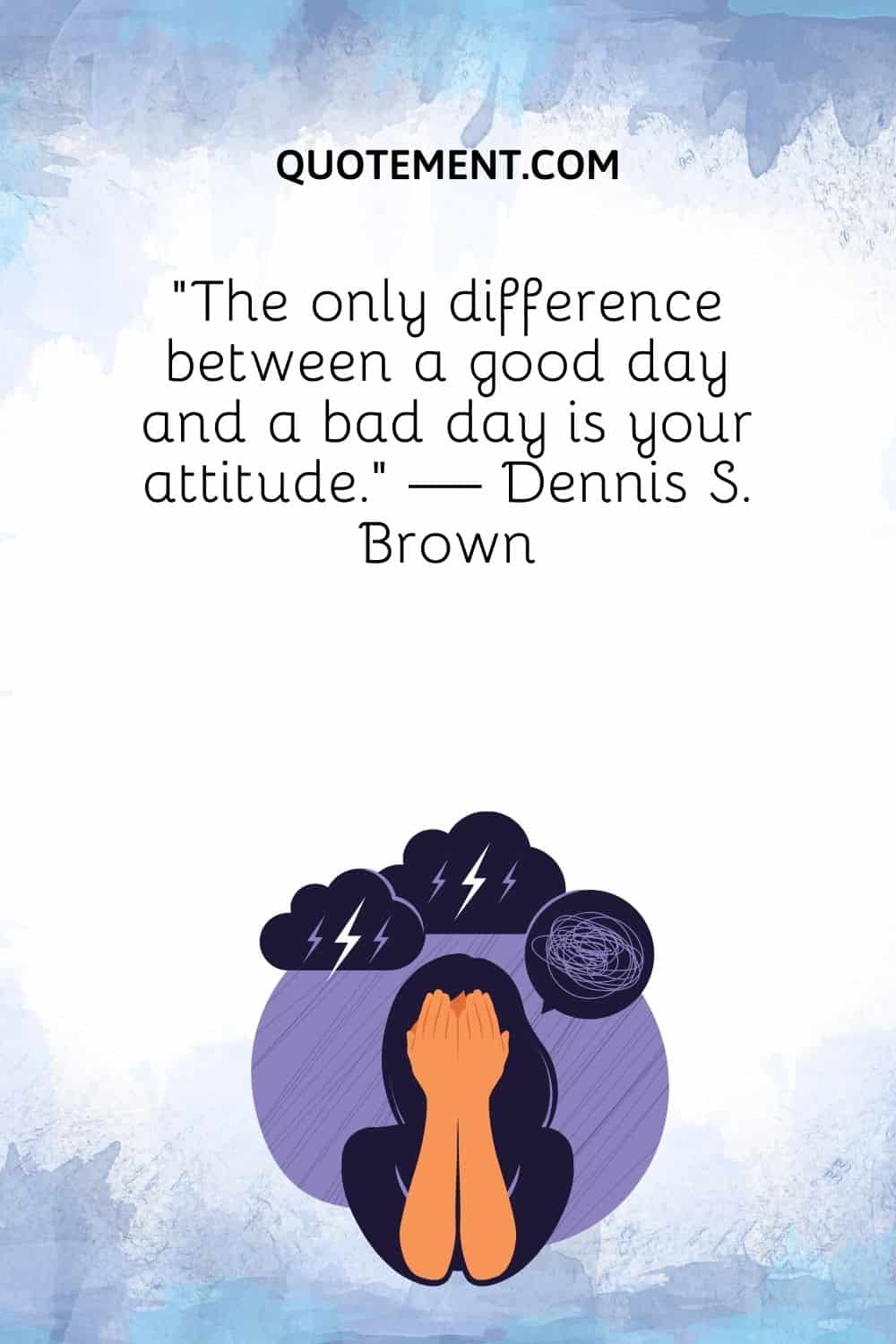 16. "At the age of 18, I made up my mind to never have another bad day in my life. I dove into an endless sea of gratitude from which I've never emerged." — Patch Adams
17. "If you're going through difficult times today, hold steady. It will change soon. If you are experiencing smooth sailing and easy times now, brace yourself. It will change soon. The only thing you can be certain of is change." — James Dobson
18. "Learn to understand the purpose of bumps in the road, grow from them, and stay positive." — Unknown
19. "How was your day?' ought to be 'How did you look at your day?" ― Mokokoma Mokhonoana
20. "In the sentence of life, the devil may be a comma — but never let him be the period, because it may just be a bad day, not a bad life!" ― Usman Aman
See also: 220 Awesome Devil Quotes For Instagram + Devil Captions
Short Quotes About Bad Days
1. "The only thing worse than a bad day is no day at all." — Jonathan Lockwood Huie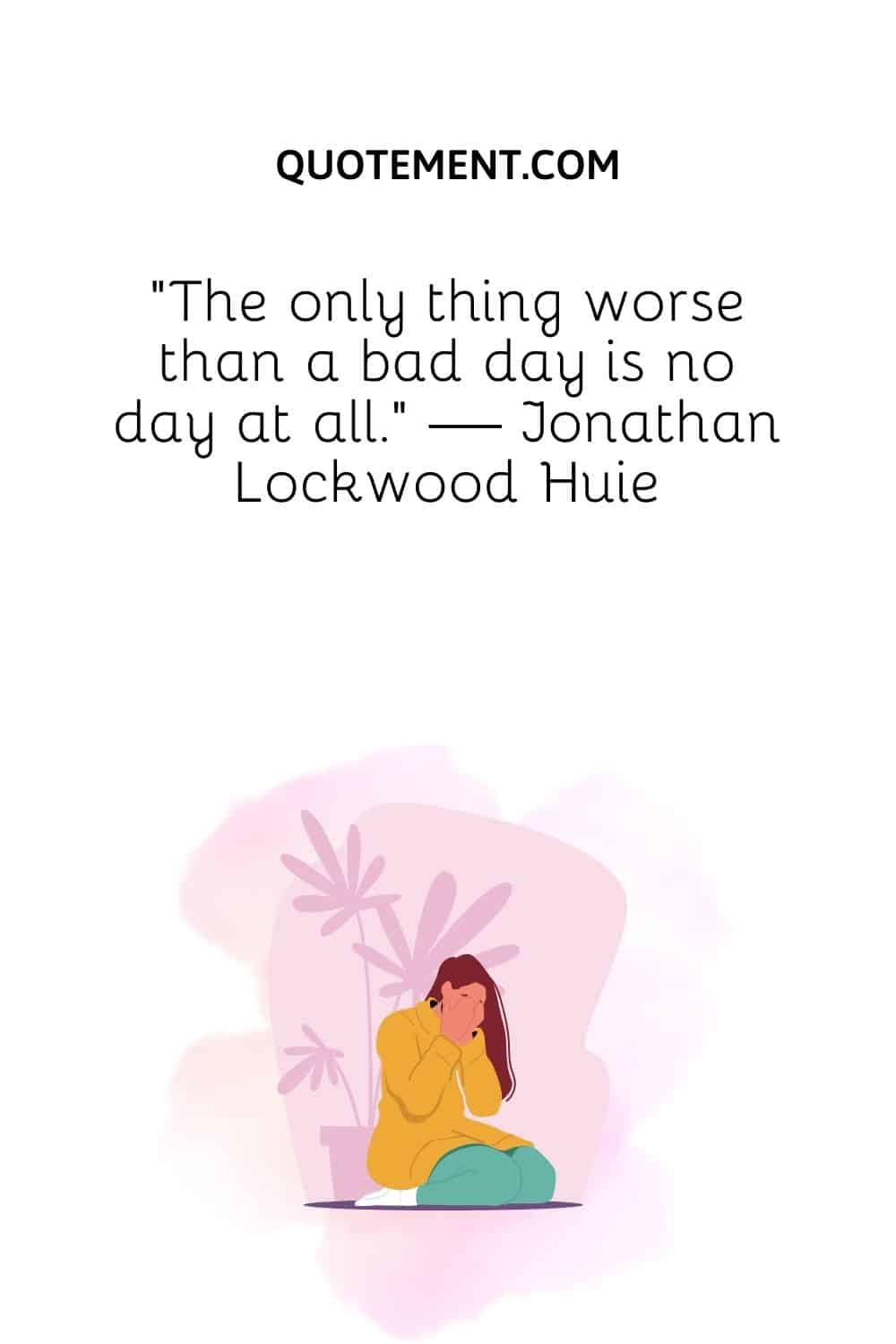 2. "Everyone can have a bad day." — Nikki Haley
3. "When you reach the end of your rope, tie a knot and hang on." — Abraham Lincoln
4. "No one really has a bad life. Not even a bad day. Just bad moments." — Regina Brett
5. "Just as a snake sheds its skin, we must shed our past over and over again." — Buddha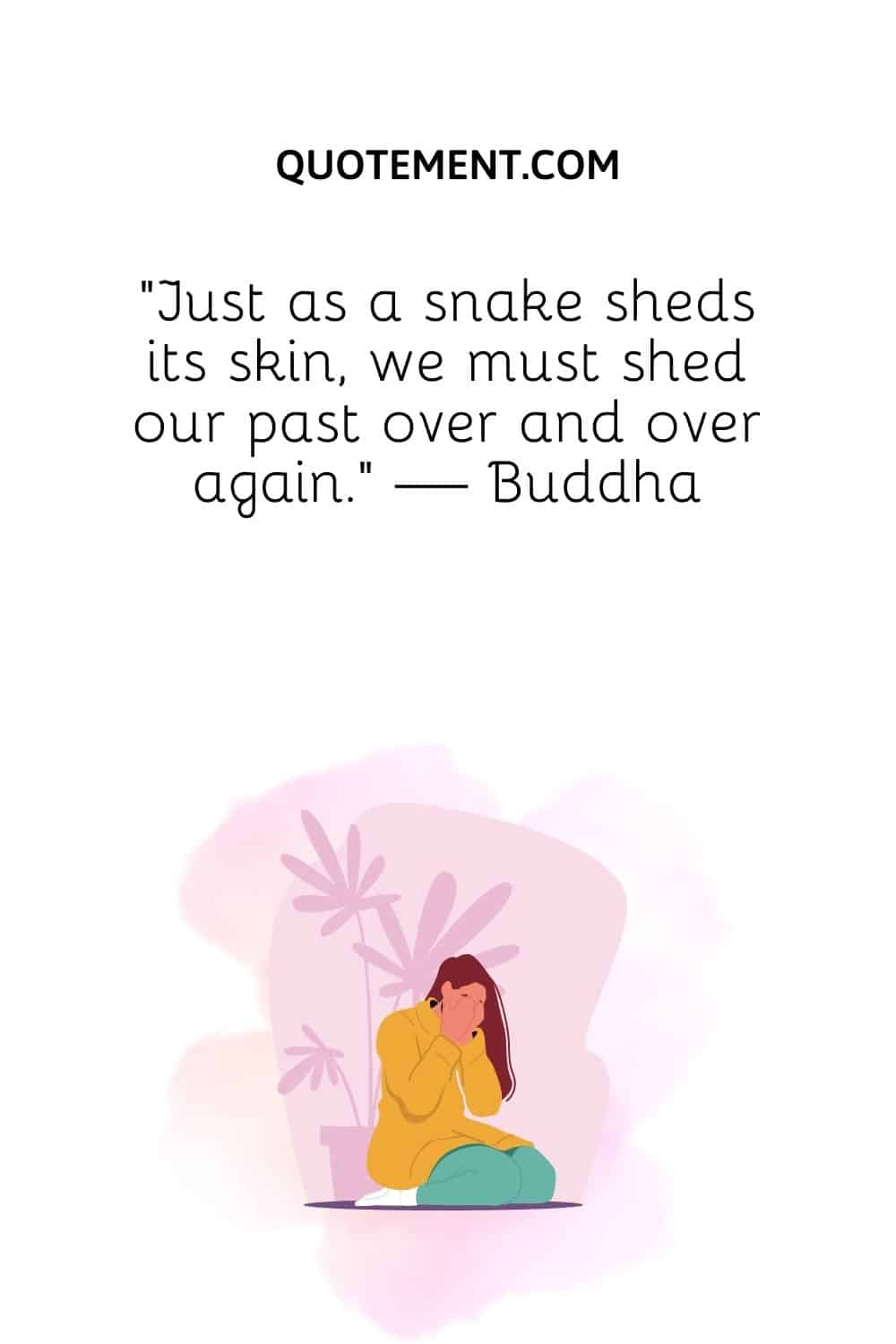 6. "Even though you're fed up, you gotta keep your head up." — Tupac Shakur
7. "The good life is a process, not a state of being. It is a direction, not a destination." — Carl Rogers
8. "Take a deep breath. It calms the mind." — Regina Brett
9. "Tough times never last, but tough people do." — Robert H. Schuller
10. "It's just a bad day, not a bad life." — Mary Engelbreit
11. "Do not let what you cannot do interfere with what you can do." — John Wooden
12. "Bad days always promise a better day tomorrow." — Arieana E.
13. "Many bad days were preceded by a bad night's sleep." — Mokokoma Mokhonoana
14. "Our greatest glory is not in never falling, but in rising every time we fall." — Confucius
15. "There is no good day or bad day, only good or bad actions." — Amit Kalantri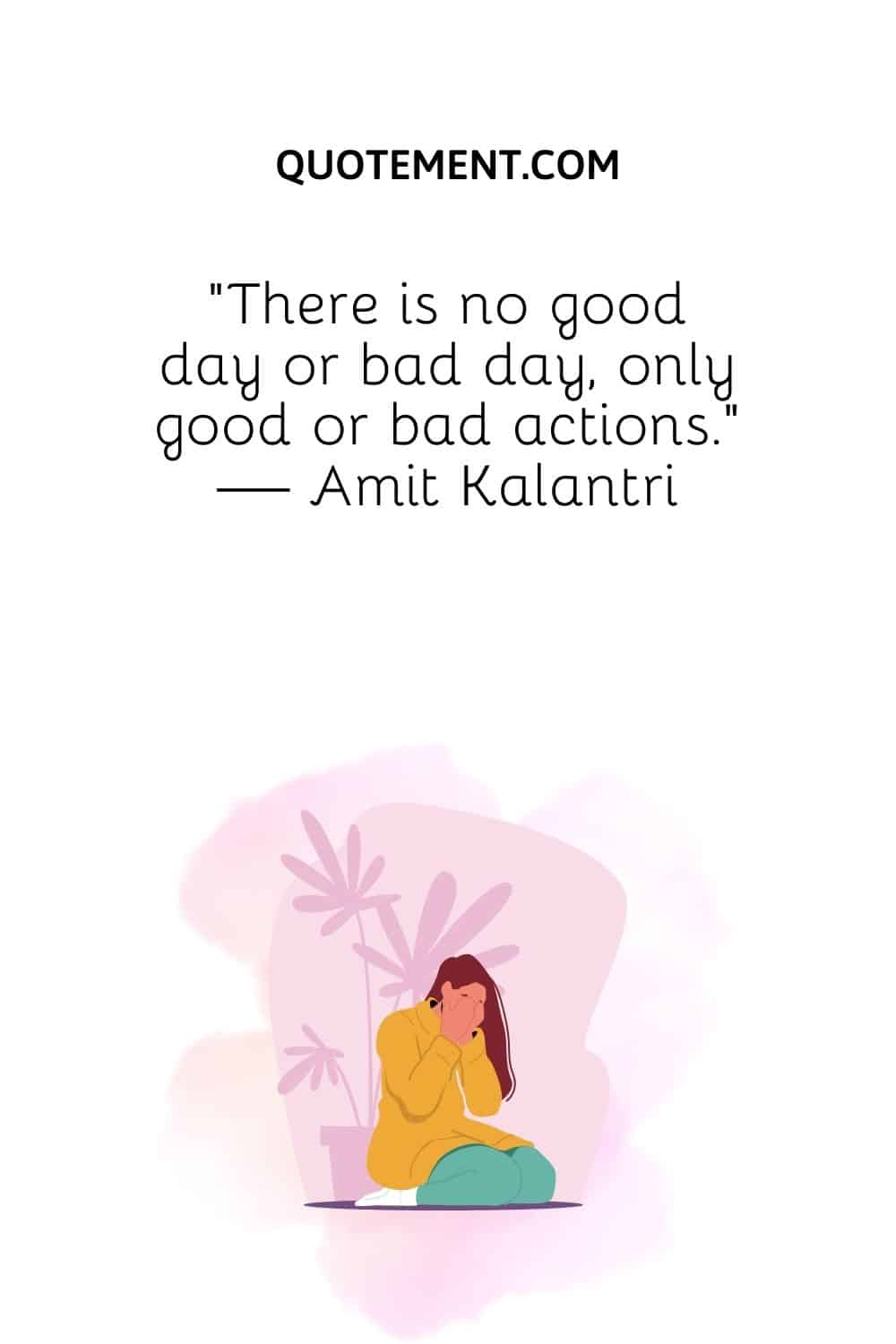 16. "If you wish to live to see better days, then you must endure the bad days." — Abdul Kalam
17. "Problems are not stop signs, they are guidelines." — Robert H. Schuller
18. "A positive attitude is a person's passport to a better tomorrow." — Jeff Keller
19. "To affect the quality of the day, that is the highest of arts." — Henry David Thoreau
20. "When I'm having a bad day, I pick up my guitar." — Michelle Branch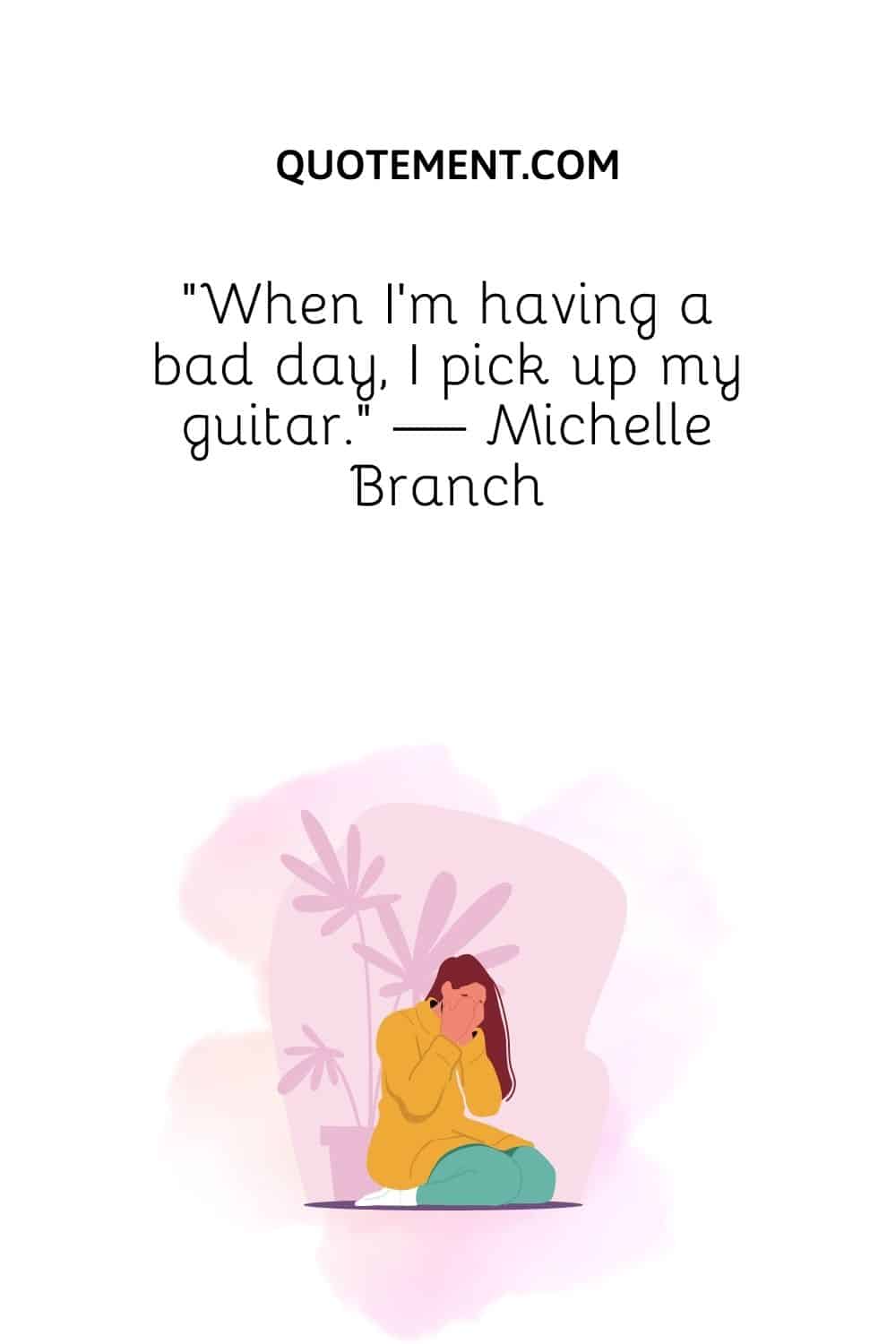 See also: 230 Best Guitar Captions And Guitar Quotes For Instagram
Getting Through Hard Days Quotes
1. "One small crack doesn't mean that you're broken, it means that you were put to the test and you didn't fall apart." — Linda Poindexer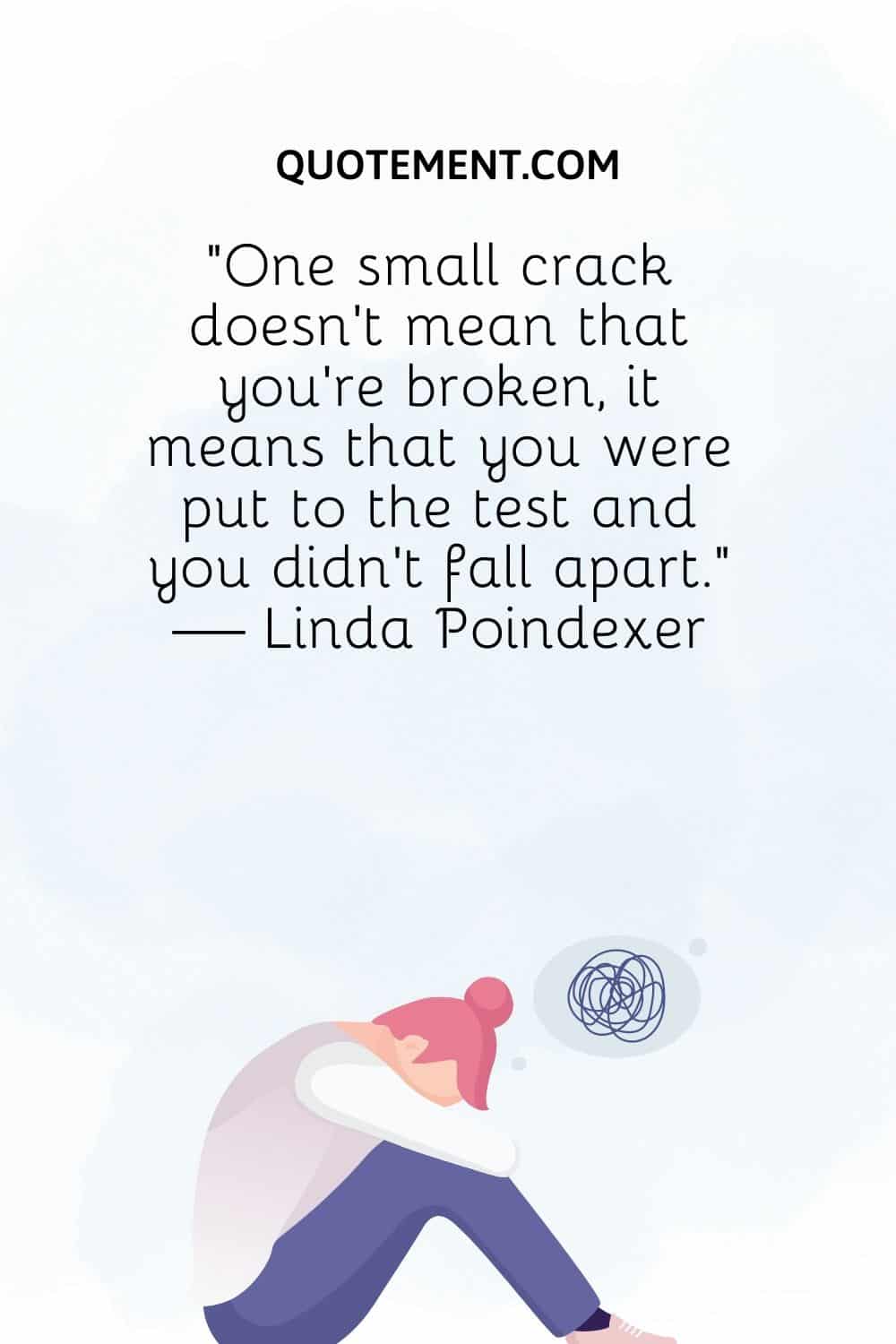 2. "A bad day doesn't cancel out a good life. Keep going." ― Richie Norton
3. "Outside the windows the day was bright: golden sunshine, blue sky, pleasant wind… I wanted to punch the happy day in the face, grab it by the hair, and beat it until it told me what the hell it was so happy about." ― Ilona Andrews
4. "You can't stop the waves, but you can learn to surf." — Jon Kabat-Zinn
5. "Do not confuse my bad days as a sign of weakness. Those are actually the days I am fighting my hardest." — Unknown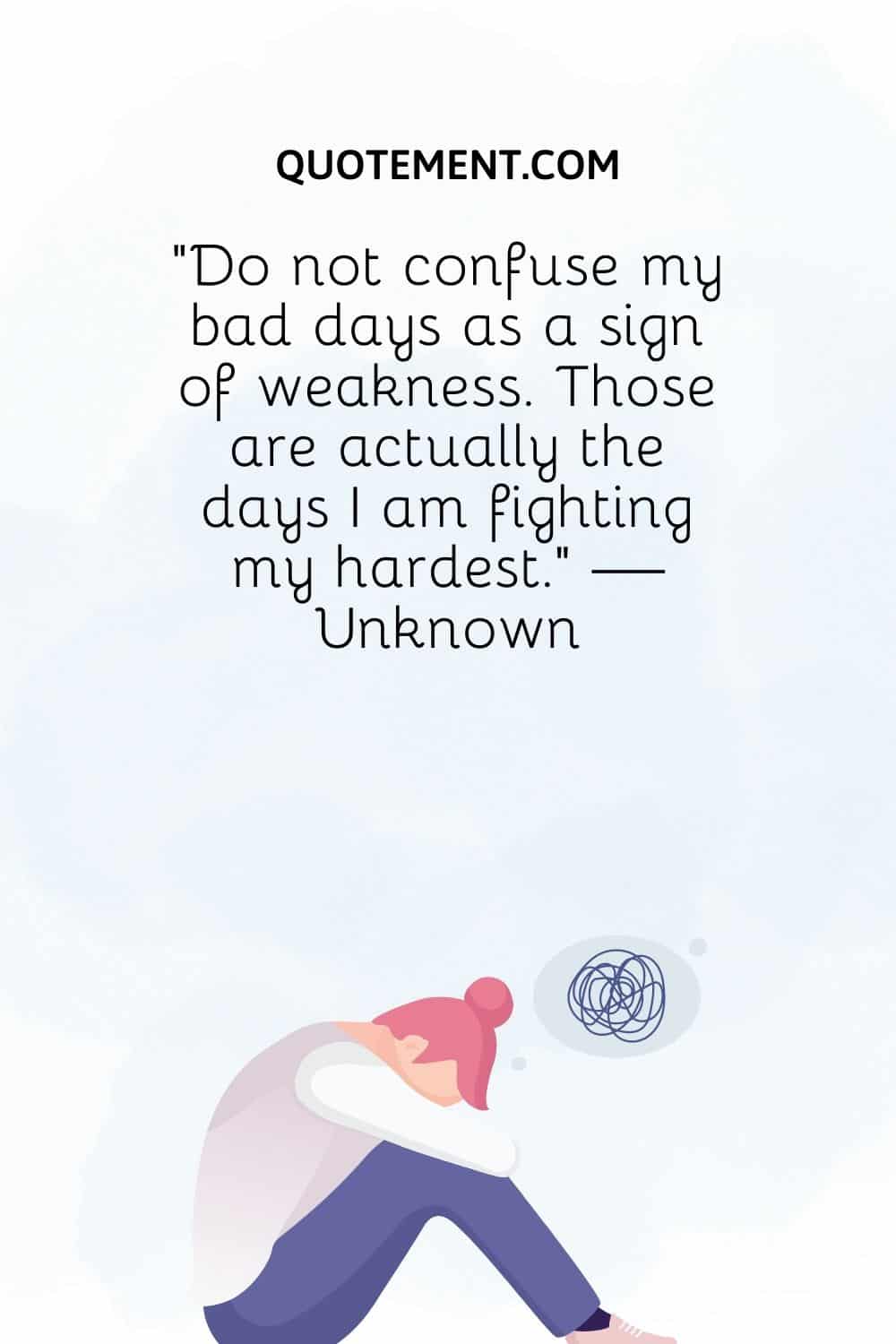 6. "When you're having what you feel like is a "bad day" and then someone comes along out of nowhere and extends to you the simplest of kind gestures, you feel it so deeply within your heart." — Miya Yamanouchi
7. "Today is a hard day. Sometimes, there are hard days. Days stretched so tight with pain that they seem as if they can allow no room for hope." ― Libba Bray
8. "I think every girl needs to love herself, regardless of anything. Like if you're having a bad day, if you don't like your hair, if you don't have the best family situation, whatever, you have to love yourself and you can't do anything until you love yourself first." — Julianne Hough
9. "At midnight, even bad days come to an end." — Ms. Moem
10. "Keep calm when things don't go according to your expectations! Beautiful things always meet friction!" ― Ernest Agyemang Yeboah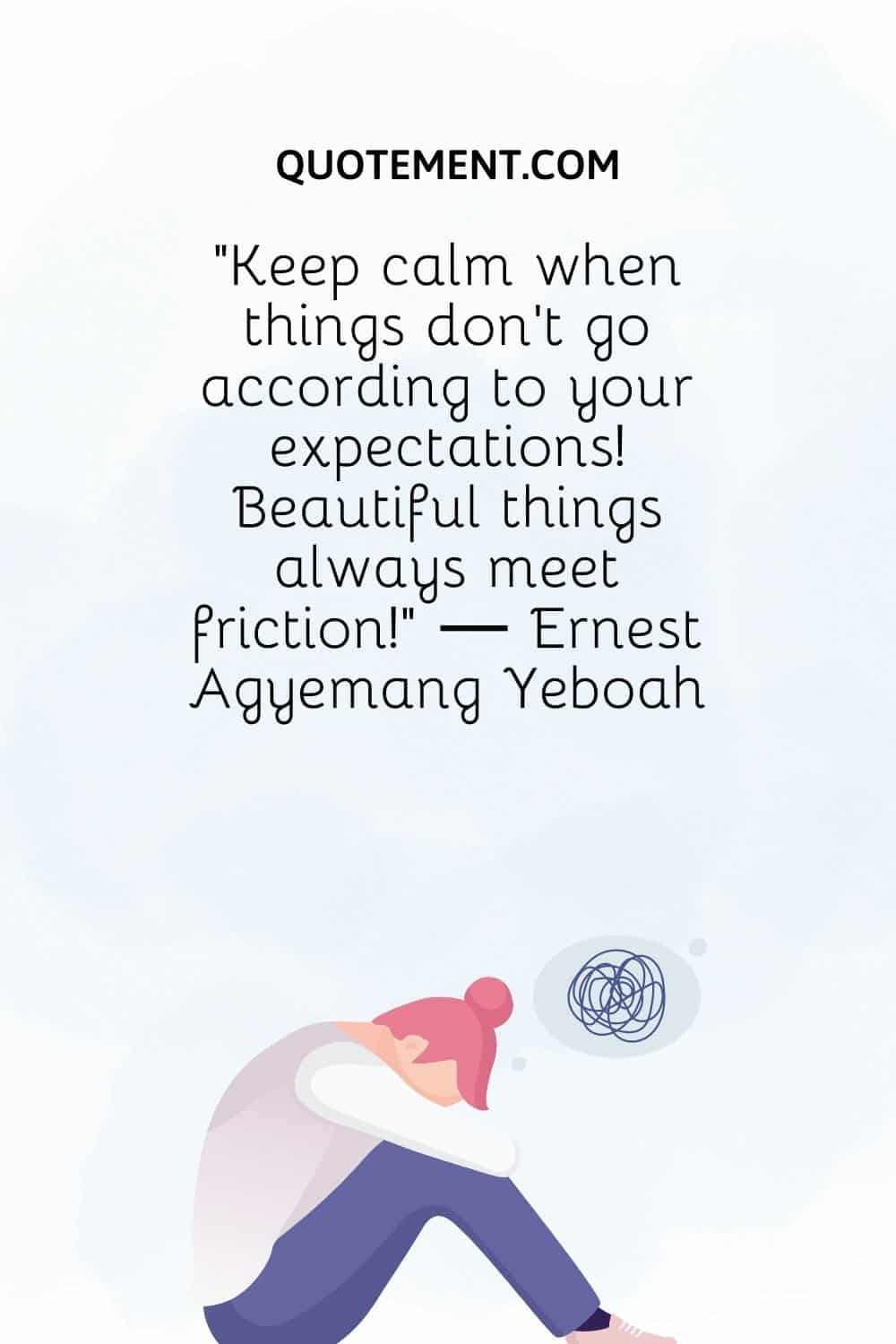 11. "Don't ever give up. Don't ever give in. Don't ever stop trying. Don't ever sell out. And if you find yourself succumbing to one of the above for a brief moment, pick yourself up, brush yourself off, whisper a prayer, and start where you left off. But never, ever, ever give up." — Richelle E. Goodrich
12. "Some days are for living. Others are for getting through." — Malcolm S Forbes
13. "Most of the important things in the world have been accomplished by people who have kept on trying when there seemed to be no hope at all." ― Dale Carnegie
14. "When nothing goes my way, when all attempts fail, when the darkest clouds in the sky seem bent on hovering over me while everyone with whom I come into contact flashes a nasty scowl, I find some comfort in the thought of a fresh tomorrow. I am thankful for the opportunity to try again." — Richelle E. Goodrich
15. "When you're feeling your worst, that's when you get to know yourself the best." — Leslie Grossman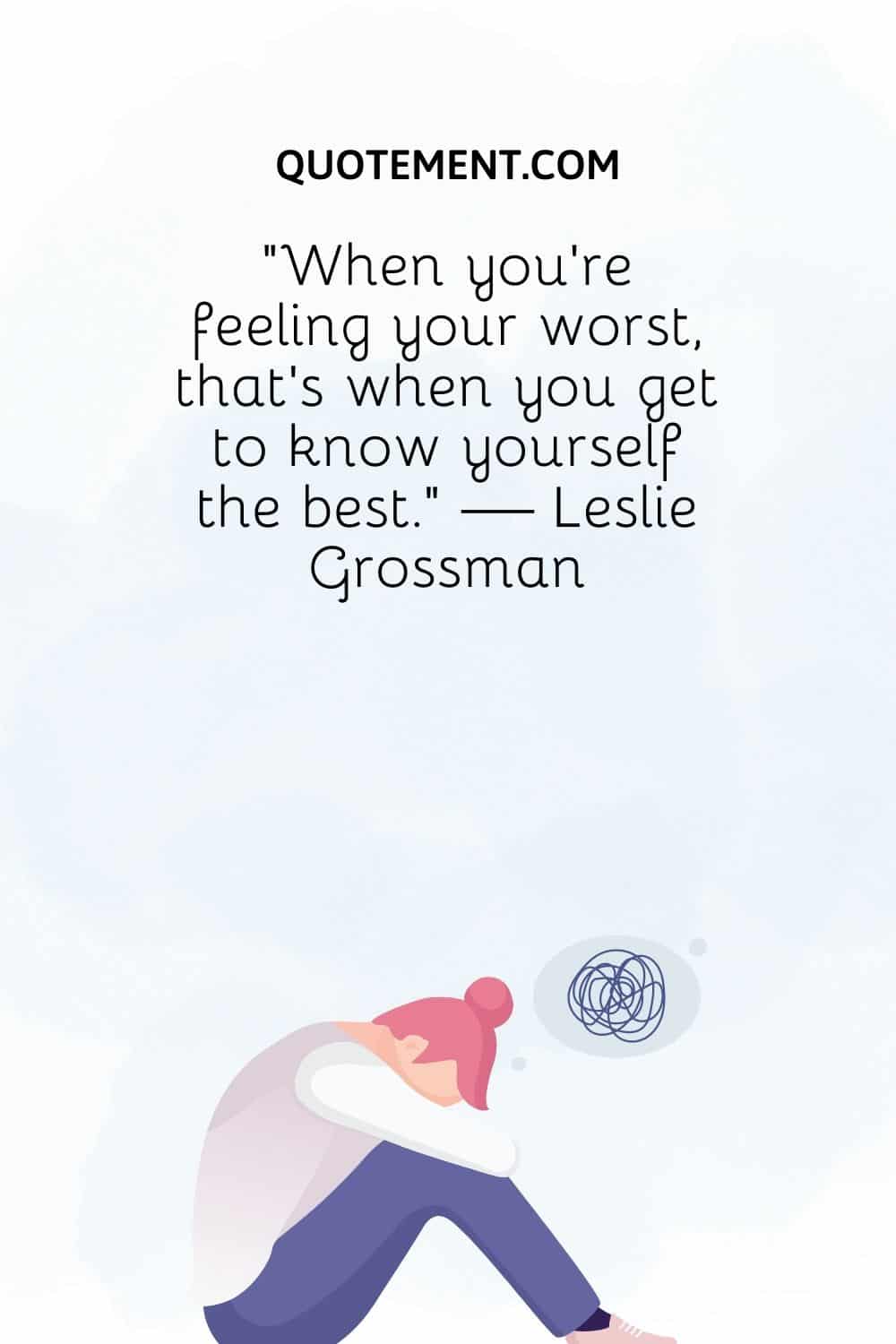 16. "There's nothing wrong or evil about having a bad day. There's everything wrong with making others have to have it with you." — Neil Cavuto
17. "Maybe it's not about having a beautiful day, but about finding beautiful moments. Maybe a whole day is just too much to ask. I could choose to believe that in every day, in all things, no matter how dark and ugly, there are shards of beauty if I look for them." ― Anna White
18. "You must master a new way to think before you can master a new way to be." — Marianne Williamson
19. "When you are having a really crappy day, and life seems to be kicking your ass, try to force yourself to laugh. If you can achieve a smile and a laugh, you can chase any demons away." ― L.F. Young
20. "There's very little in my world that a foot massage and a thin-crust, everything-on-it pizza won't set right." ― G.A. McKevett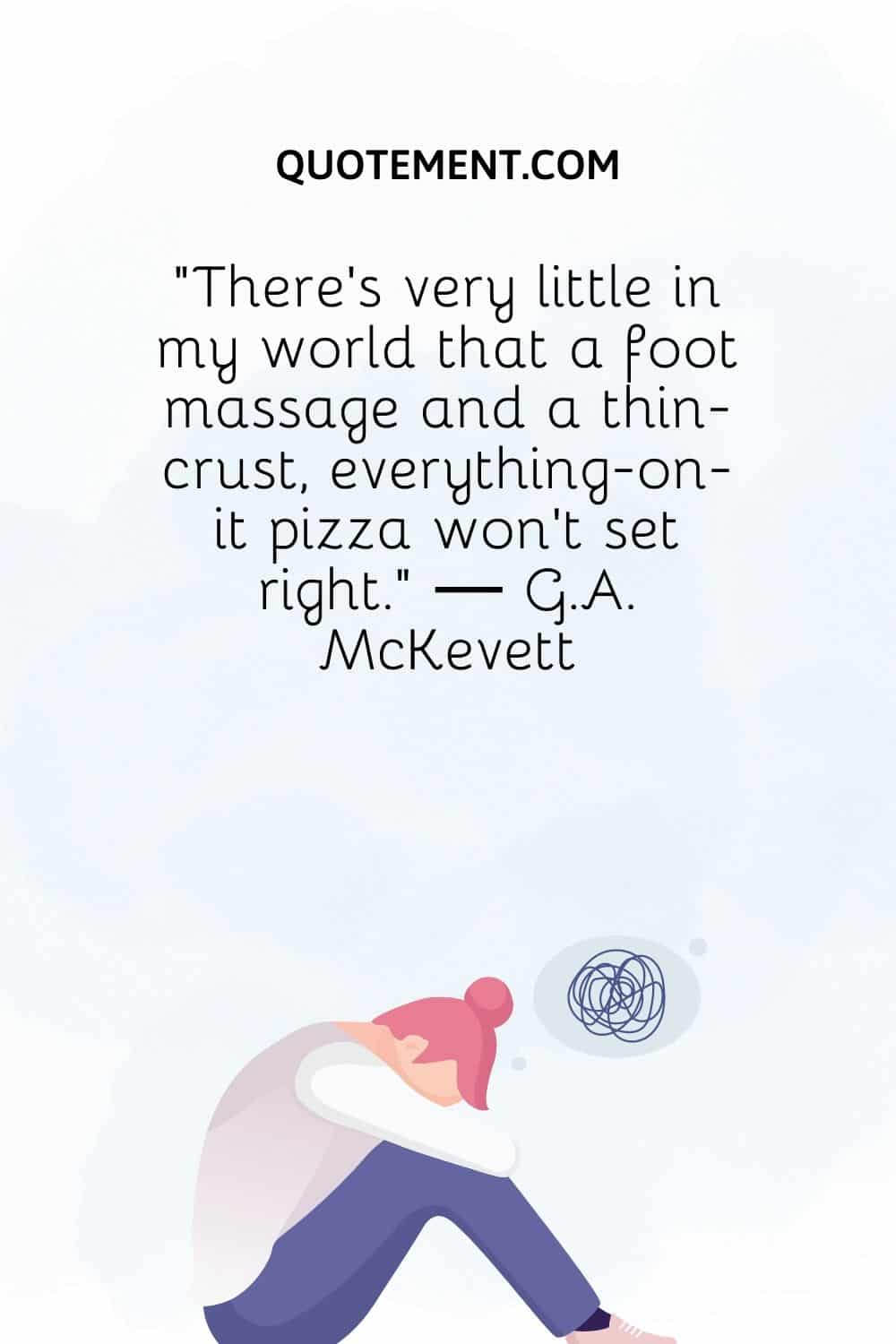 See also: 270 Perfect Pizza Captions For A Catchy Instagram Post
Funny Bad Day Quotes
1. "If you're having a bad day, just remember, at least you don't look like you did in middle school." — Unknown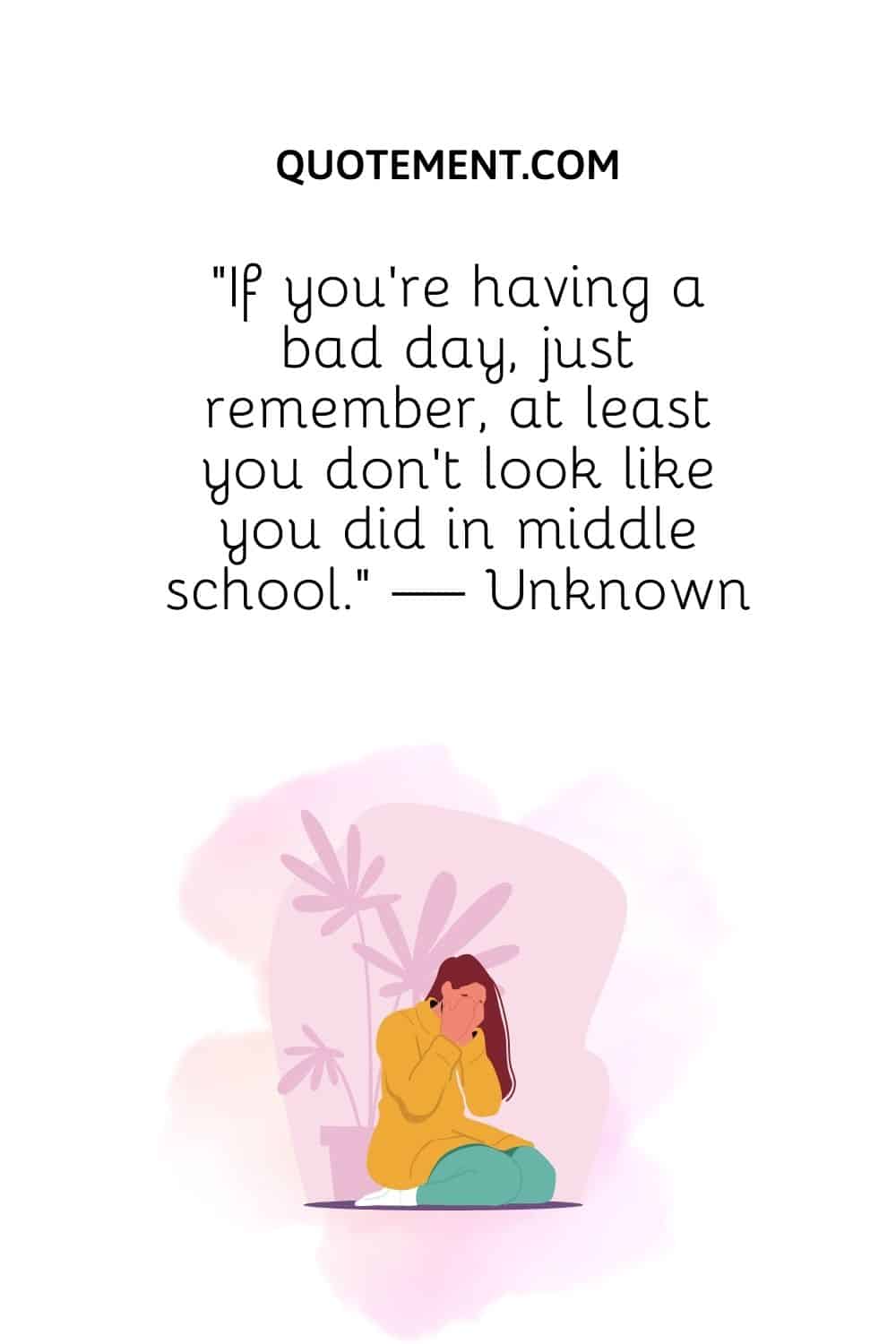 2. "…I've had a bad week." What's happened?" Nothing's happened. I've had a bad week in my head, is all." — Nick Hornby
3. "If you're in a bad situation, don't worry, it'll change. If you're in a good situation, don't worry, it'll change." — John A Simone
4. "When something goes wrong in your life, just yell, 'PLOT TWIST!' and move on." — Unknown
5. "A good day is a good day. A bad day is a good story." — Glennon Melton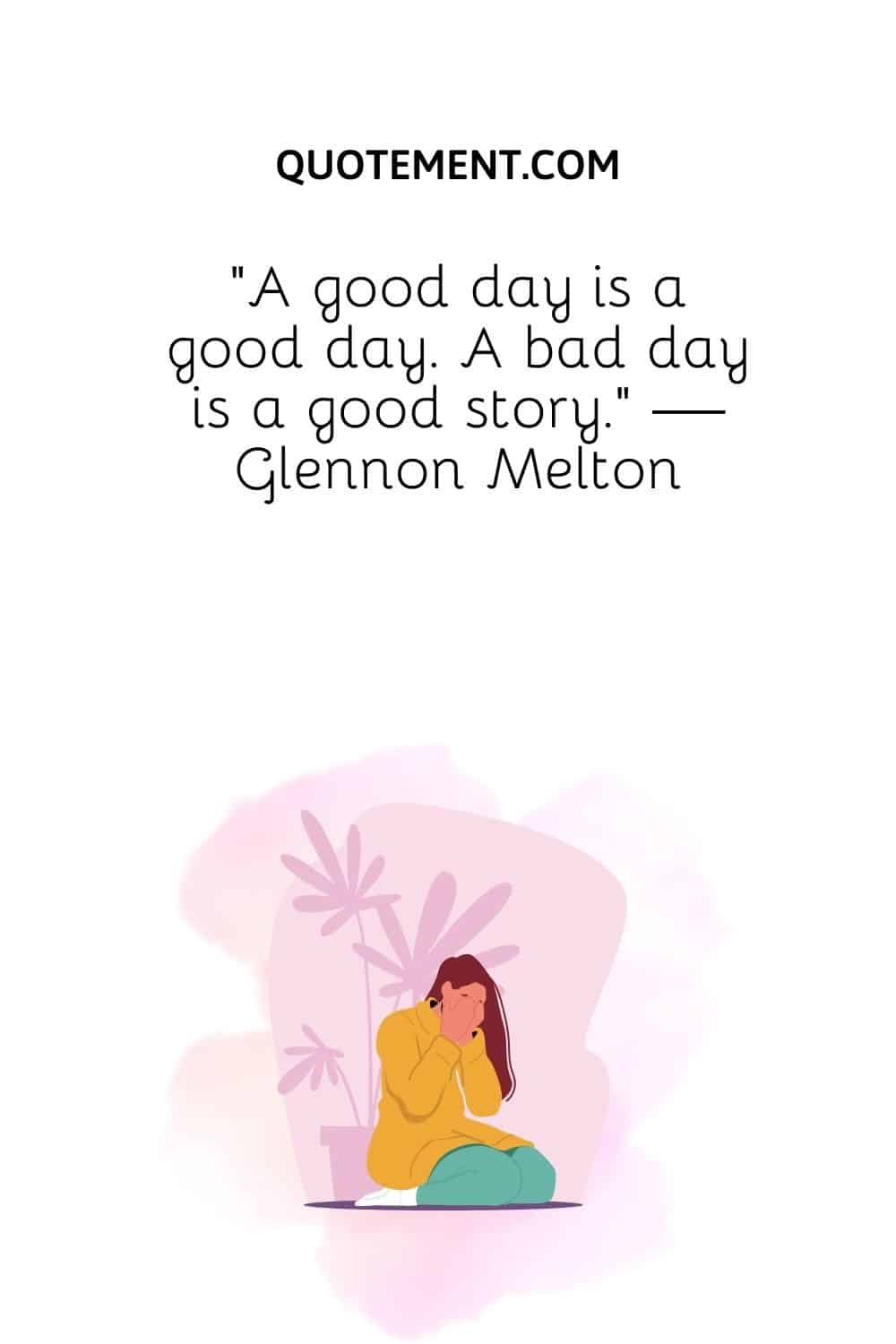 6. "You know, Hobbes, some days even my lucky rocket ship underpants don't help." — Bill Watterson
7. "Can't decide if I need a hug, an XL coffee, 6 shots of vodka, or 2 weeks of sleep." — Unknown
8. "Nothing could be as hard as middle school." — Zooey Deschanel
9. "I've got 99 problems and 86 of the are completely made up scenarios in my head that I'm stressing about for absolutely no logical reason." — Unknown
10. "Chocolate doesn't ask silly questions. Chocolate understands." — Unknown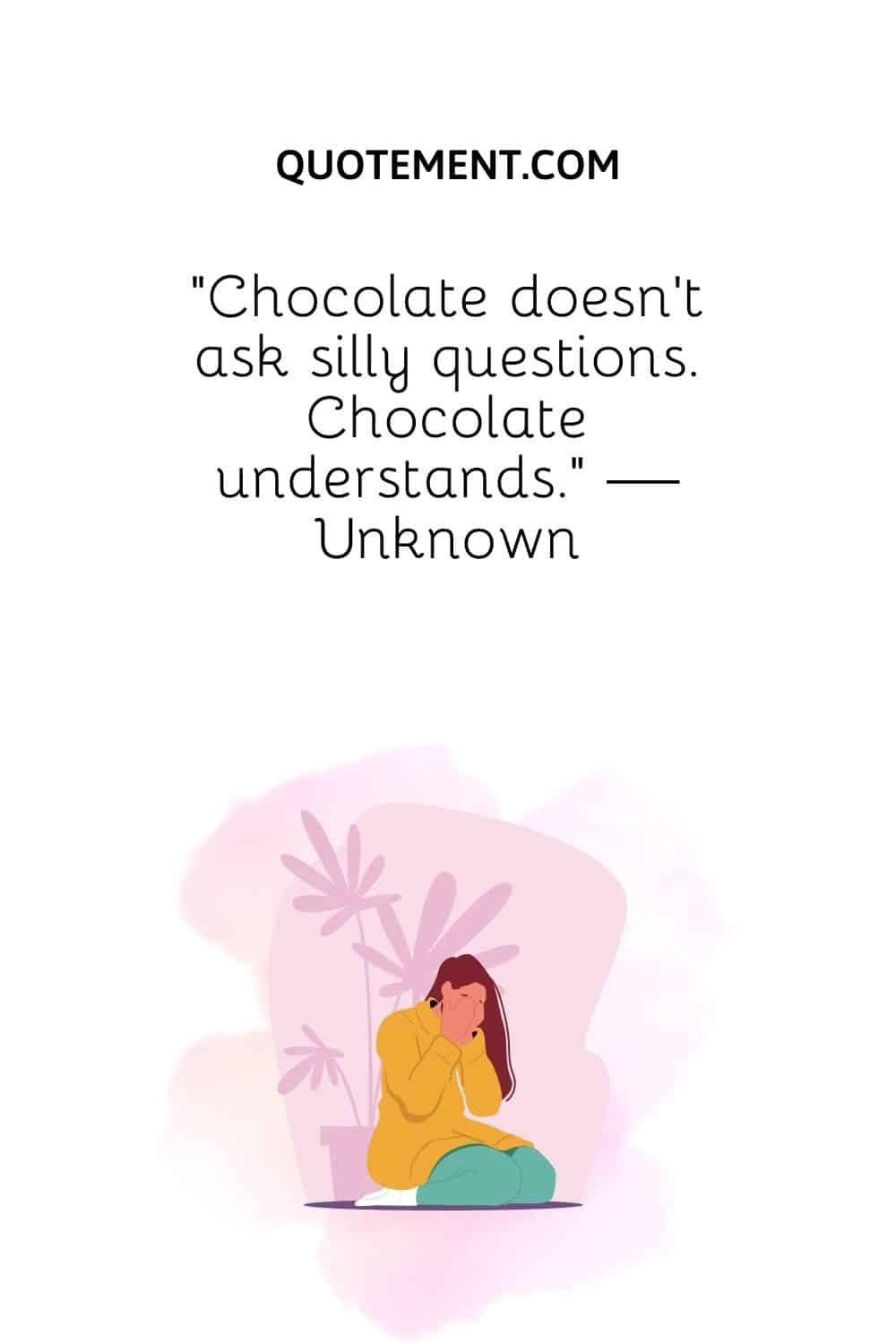 See also: 200 Sweet Chocolate Captions For Instagram You'll Love
Final Words
I hope my collection of quotes about bad days cheered you up at least a bit.
So, I suggest you bookmark this page to have a go-to list of inspiring hard days quotes to turn to when you feel the worst.
Or, you can share them with someone who's having a hard time, to make their day a bit better!
These tough day quotes may be just the perfect reminders that without those hard times, we could not appreciate the wonderful ones!
Read next: 100 + Most Powerful You Got This Quotes To Encourage You