There isn't such a feeling as powerful as a victory is, huh?
My dear reader, and my dear winner, let's celebrate your achievements together!
You visiting these sites about winning, means that you are either prepared to win something, or that you have already won something, and are now ready to celebrate it. I am proud of your achievements and I hope that you will celebrate many more to come.
Let's celebrate being winners and being high achievers, with the best winning quotes that I could find online!
Best Winning Quotes
1. "One should always play fairly when one has the winning cards." ― Oscar Wilde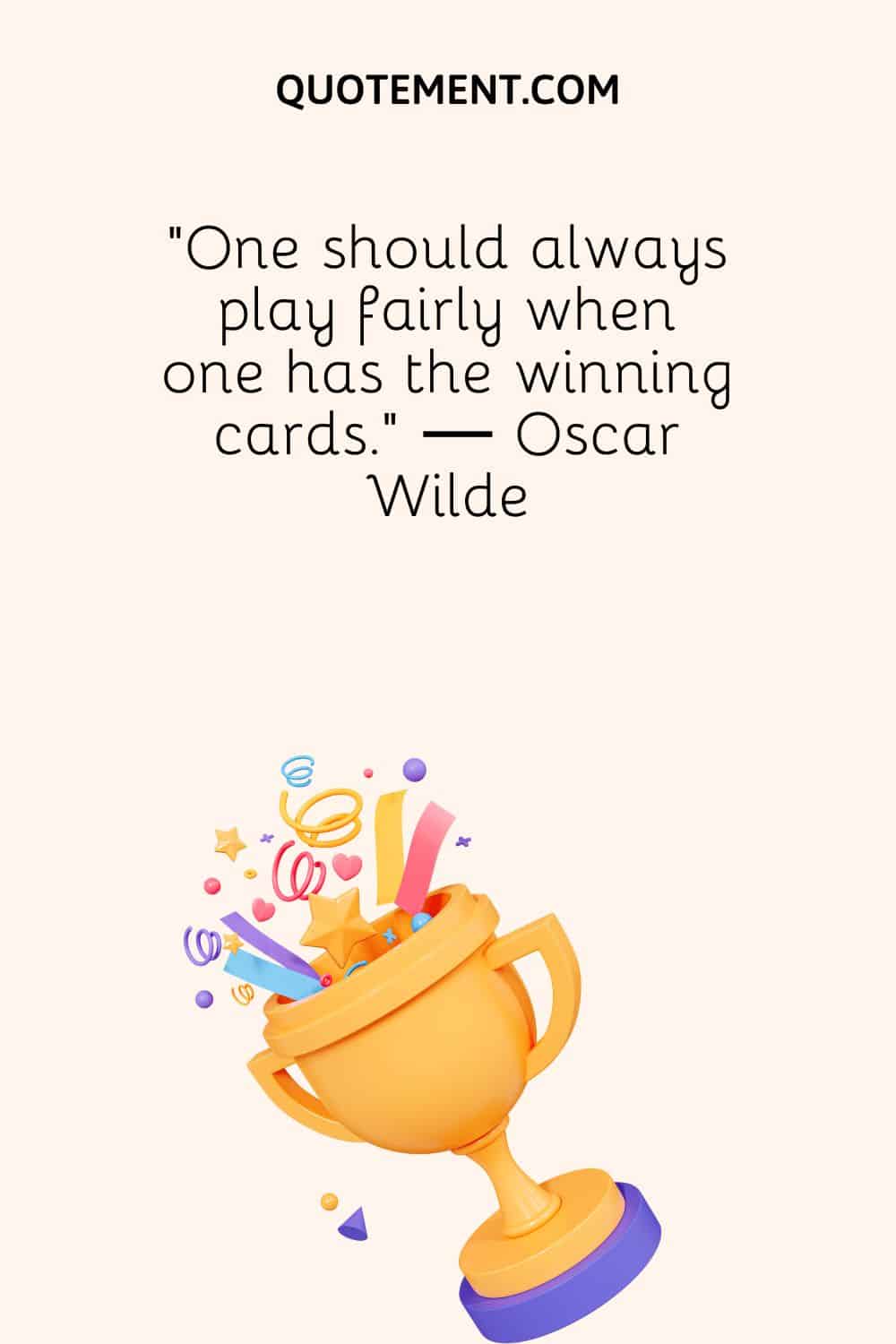 2. "Dieting is the only game where you win when you lose!" ― Karl Lagerfeld
3. "A quitter never wins-and-a winner never quits." ― Napoleon Hill, Think and Grow Rich: The Landmark Bestseller Now Revised and Updated for the 21st Century
4. "I don't pretend to know everything; I just only speak on matters I know I'll win." ― Criss Jami, Killosophy
5. "If you want to find the real competition, just look in the mirror. After awhile you'll see your rivals scrambling for second place." ― Criss Jami, Killosophy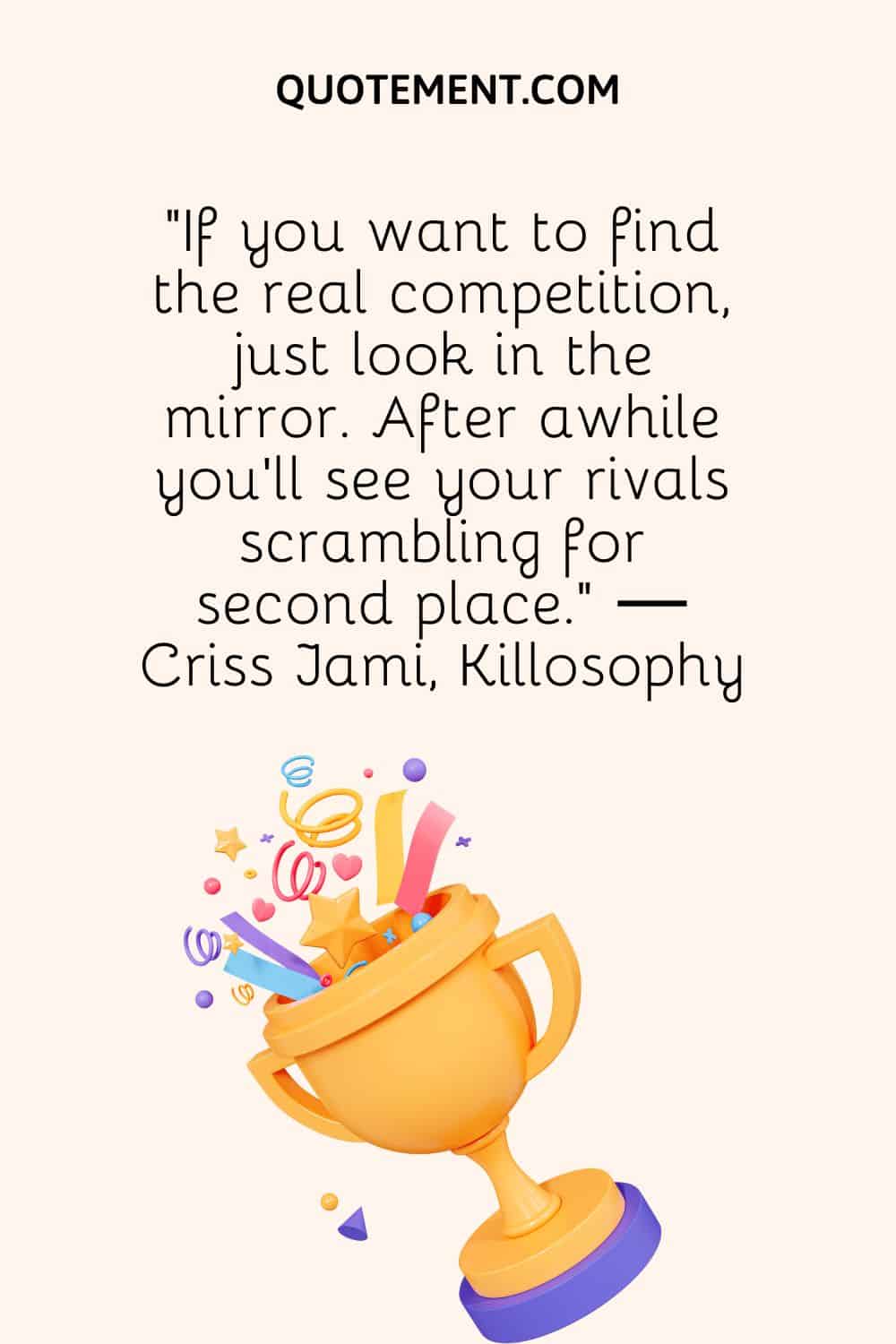 6. "Leaders live by choice, not by accident." ― Mark Gorman
7. "If you're confused about what to do, it's a sign that your enemy is winning." ― Toba Beta, Master of Stupidity
8. "Focus on what you are and what you can rather than what others aren't & can't. You have to win; they don't necessarily have to lose for you!" ― Alok Mishra
9. "Winning has nothing to do with racing. Most days don't have races anyway. Winning is about struggle and effort and optimism, and never, ever, ever giving up." ― Amby Burfoot, The Runner's Guide to the Meaning of Life
10. "Winning is a state of mind that embraces everything you do." ― Bryce Courtenay, The Power of One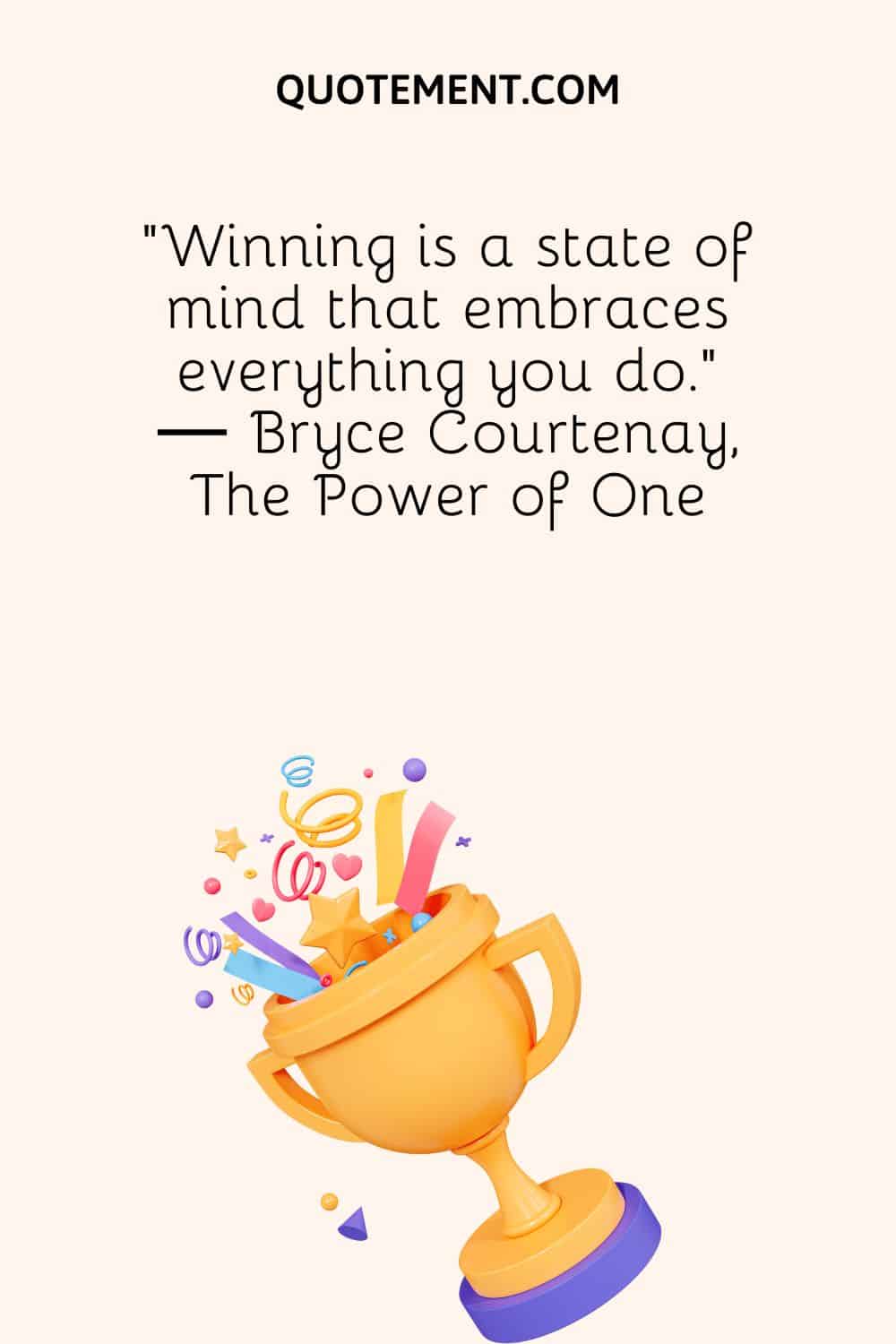 Sport Winning Quotes
1. "Winning isn't everything–but wanting to win is." ― Vince Lombardi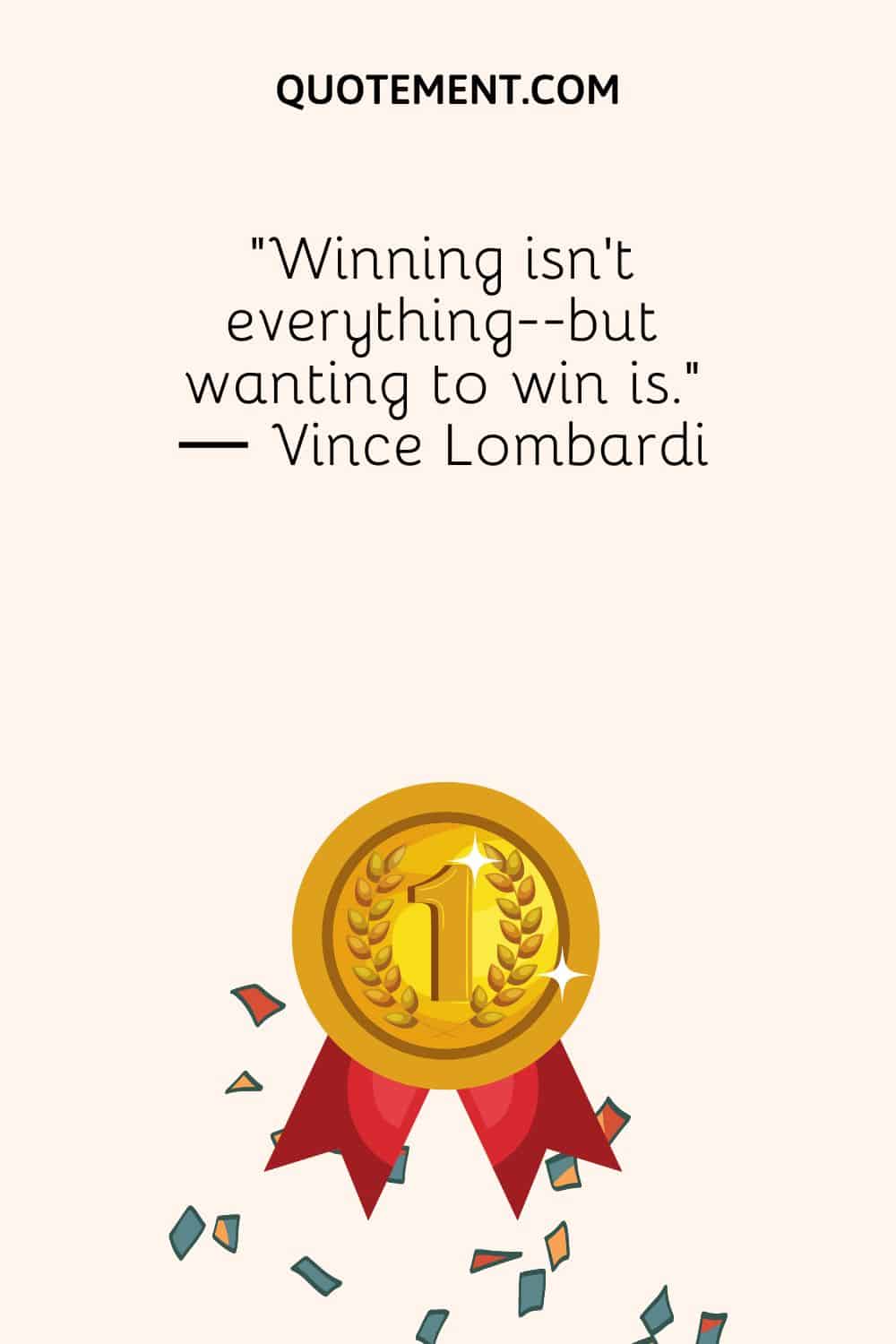 2. "Who you are tomorrow begins with what you do today." ― Tim Fargo
3. "The real glory is being knocked to your knees and then coming back. That's real glory. Thats the essence of it." ― Vince Lombardi
4. "Why would I want to win anything other than a beautiful game?" ― Patrick Rothfuss, The Wise Man's Fear
5. "Success in life is not for those who run fast, but for those who keep running and always on the move." ― Bangambiki Habyarimana, Pearls Of Eternity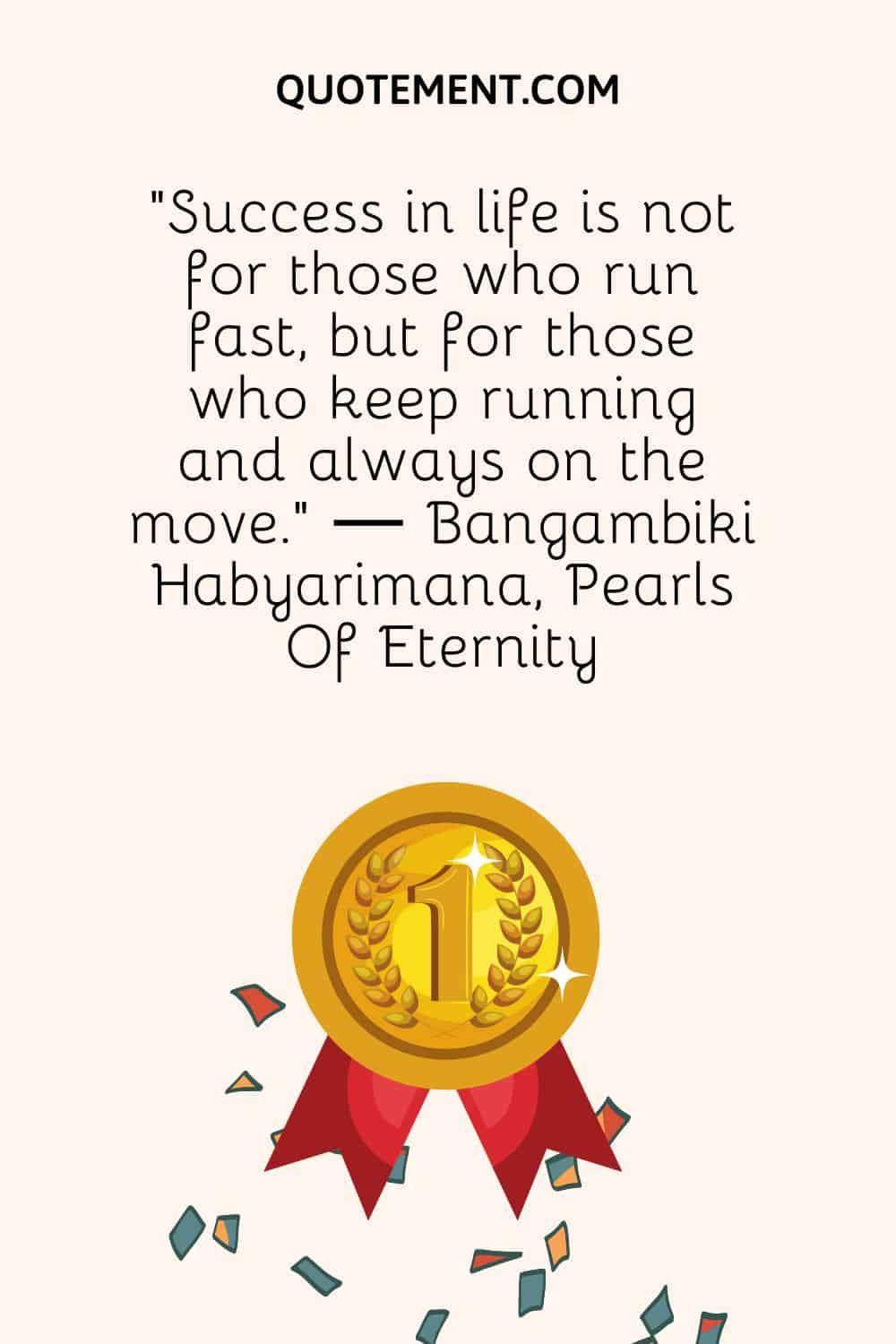 6. "No matter how good you are, you're going to lose one-third of your games. No matter how bad you are you're going to win one-third of your games. It's the other third that makes the difference." ― Tommy Lasorda
7. "When you win, you don't examine it very much, except to congratulate yourself. You easily, and wrongly, assume it has something to do with your rare qualities as a person. But winning only measures how hard you've worked and how physically talented you are; it doesn't particularly define you beyond those characteristics. Losing on the other hand, really does say something about who you are. Among other things it measures are: do you blame others, or do you own the loss? Do you analyze your failure, or just complain about bad luck? If you're willing to examine failure, and to look not just at your outward physical performance, but your internal workings, too, losing can be valuable. How you behave in those moments can perhaps be more self-defining than winning could ever be. Sometimes losing shows you for who you really are."― Lance Armstrong, Every Second Counts
8. "You do not enter a race to lose" ― Leigh Bardugo, Wonder Woman: Warbringer
9. "Now I realized that me and him were just alike. We were both born to win. And, when we were not winning, it was OK 'cause we were busy planning to win." ― Sister Souljah, The Coldest Winter Ever
10. "I have no sense of humor about losing" ― Rafael Nadal, Rafa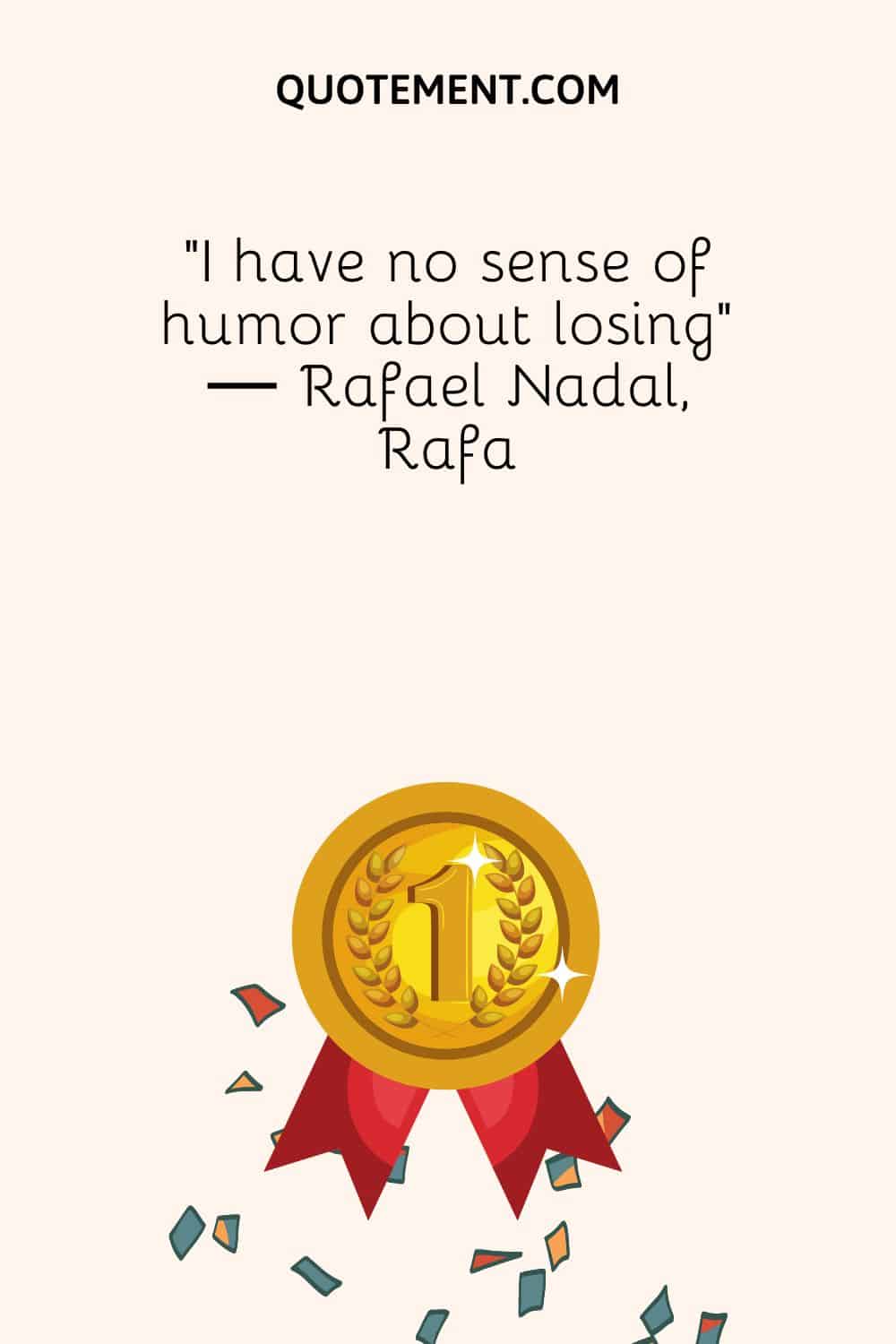 11. "You don't win a game by hitting the ball out of the court." ― Carlos Ruiz Zafón, The Angel's Game
12. "Winning may not be everything, but losing has little to recommend it." ― Dianne Feinstein, Nine and Counting: The Women of the Senate
13. "The game itself is bigger than the winning." ― Dejan Stojanovic, The Sun Watches the Sun
14. "There are no winners in real games." ― Dejan Stojanovic, The Sun Watches the Sun
15. "Games are lost and won in your mind as much as they are on the field." ― Carl Deuker, Gym Candy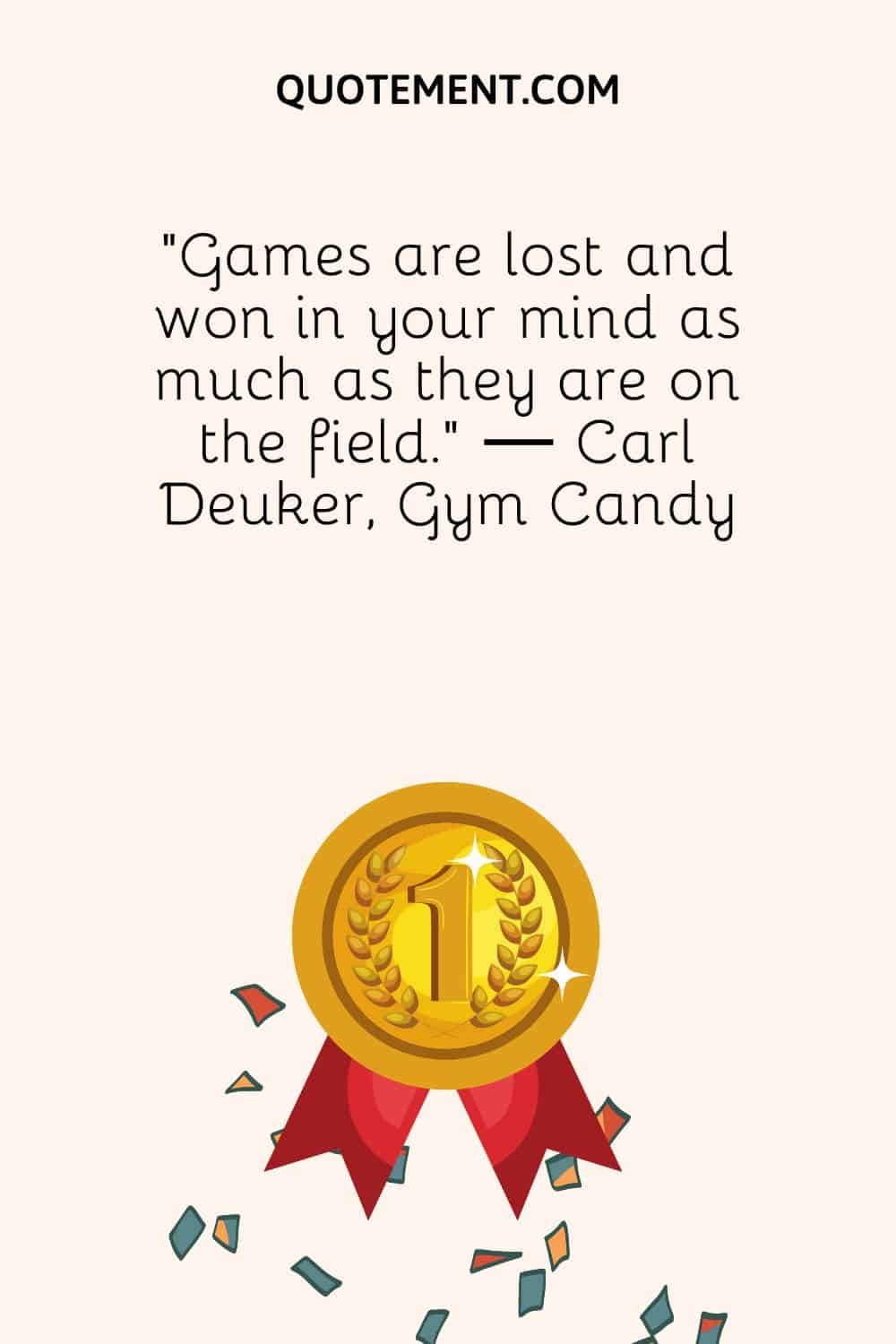 16. "When one person succeeds, we win as a group of people. Support others dreams so we can all win." ― Bianca Frazier
17. "Don't practice to just win a match or competition instead practice winning everyday and this is how you will excel in your life." ― Bhawna Dehariya
18. "Going into a game of tennis: If you go in determined to win, and then your opponent is playing better than you, you're probably going to get anxious and feel that you're failing. Whereas if you go in determined to play as well as you can, then it doesn't matter if your opponent is a bit better than you or if they start to win: you're not failing."― Derren Brown
19. "The taste of success is so much sweeter when the tasteless have been so bitter and nasty to you!" ― Curtis Tyrone Jones
20."I wouldn't play the game if I couldn't win." ― Holly Black, The Queen of Nothing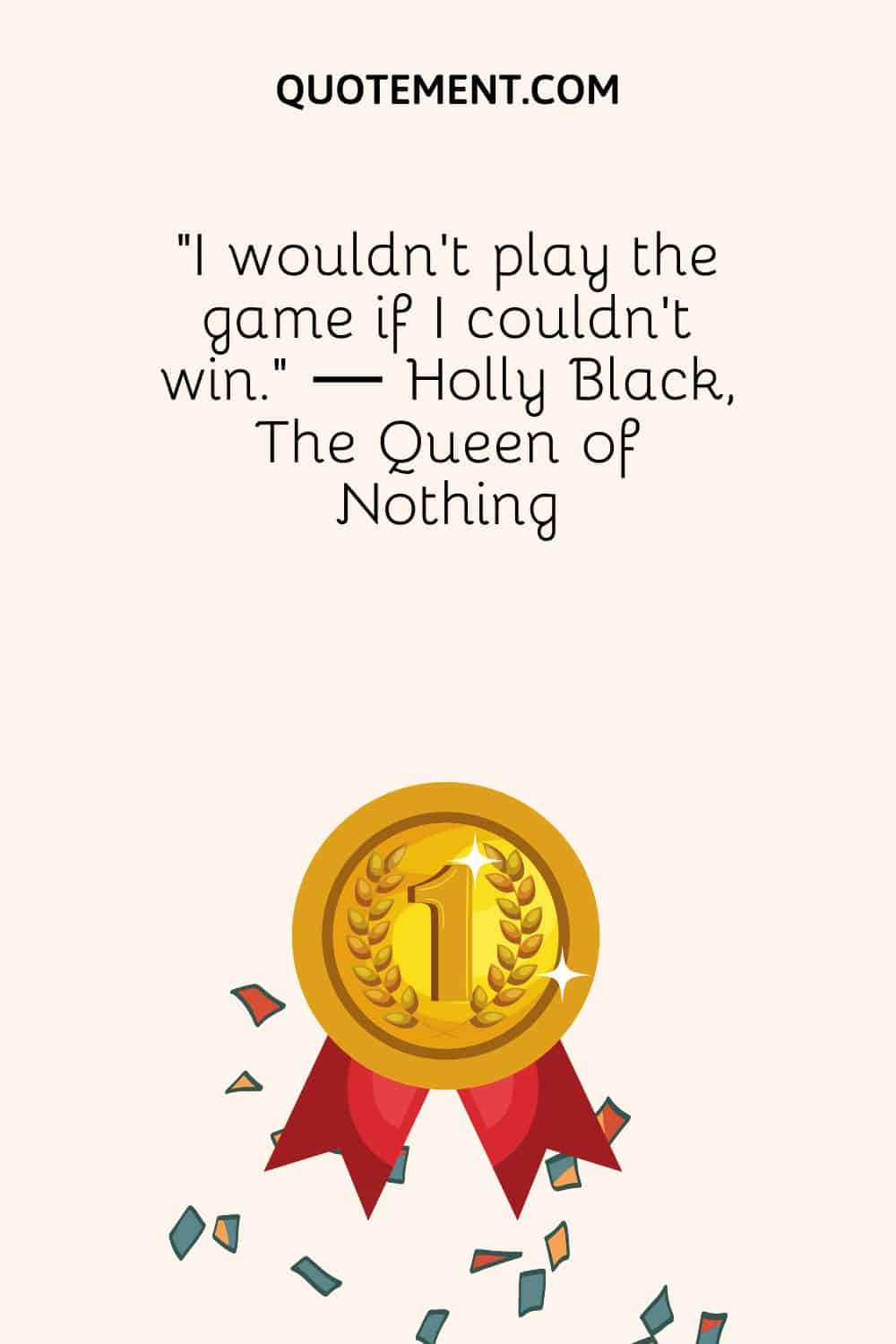 21."There are varying motivations for becoming a professional athlete, from the money to the fame to the women to the drive to the competition. But on this night at this singular moment the Mets remembered what it was like to do something for pure love. They had accomplished the baseball impossible, and the result was euphoria." ― Jeff Pearlman, The Bad Guys Won!
22. "The success of a strategy largely depends on it's implementation. You can have a good strategy, you can have a winning game plan, but ultimately you and your team have to implement the strategy and execute and put the game plan into action if your business is going to succeed." ― Hendrith Vanlon Smith Jr, CEO of Mayflower-Plymouth
23. "Working with young people and helping them succeed in this great sport were some of the best hours of my life." ― Ken Sayles, Coach, Run, Win
24. "…never settle for trying to be less than the best." ― Ken Sayles, Coach, Run, Win
25. "Discipline is a prerequisite of greatness. Nobody becomes great by accident." ― Henry Joseph-Grant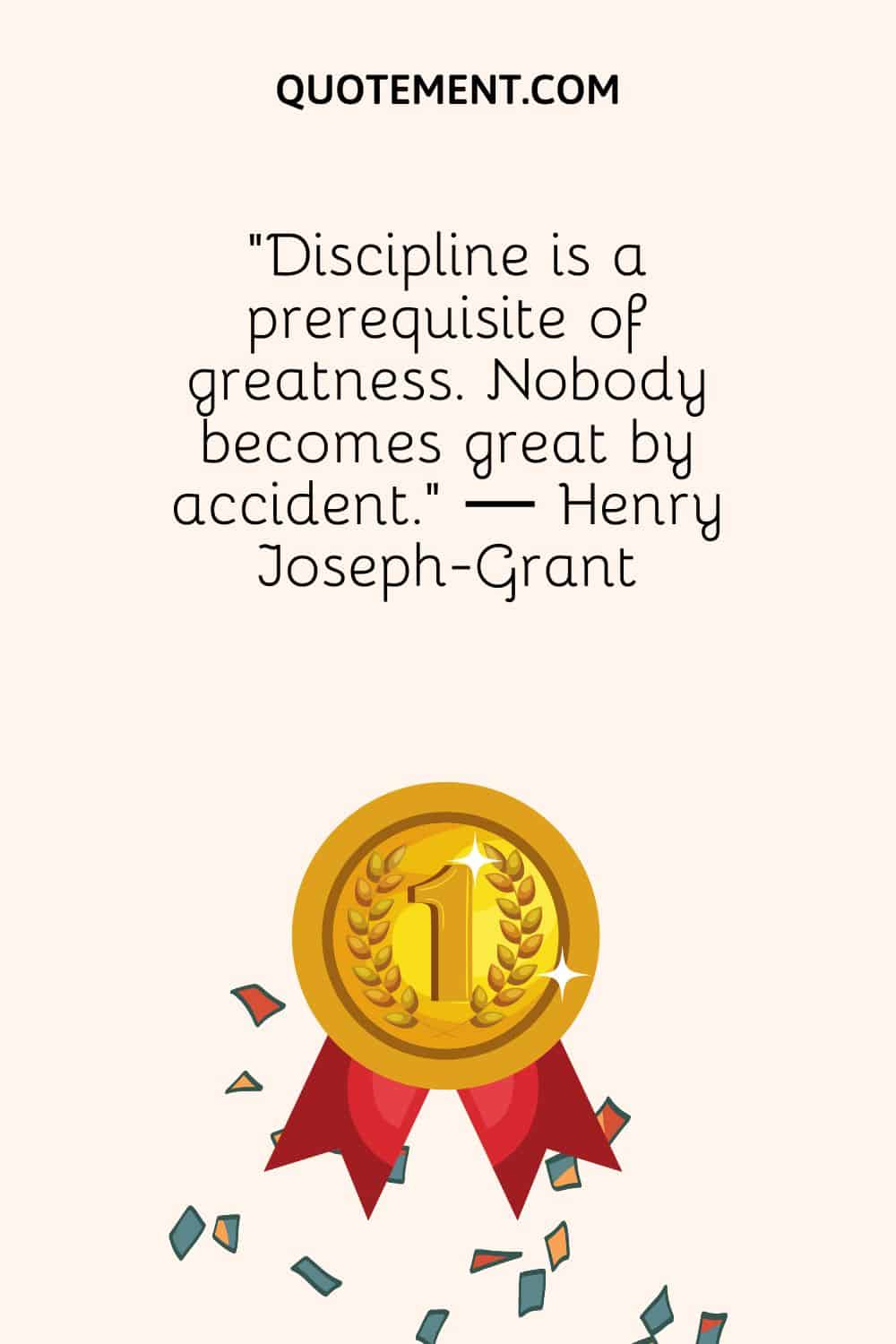 26. "Games take a long time, and a lot of moves, before someone wins." ― Liz Braswell, Part of Your World
27. "Celebrate when it's time to celebrate but work hard before you even think about celebrating" ― Anuj Jasani
28. "A winner is not someone who conquers the world; a winner is someone who conquers himself."― Dr. MaryAnn Diorio
29. "Success without failure is like joy without sadness. You cannot truly appreciate any win without hardship." ― Adrien Malcolm Pierre
30. "Sports are about more than just winning or losing. They're about building character and becoming a better person." ― Dr Prem JagyasiI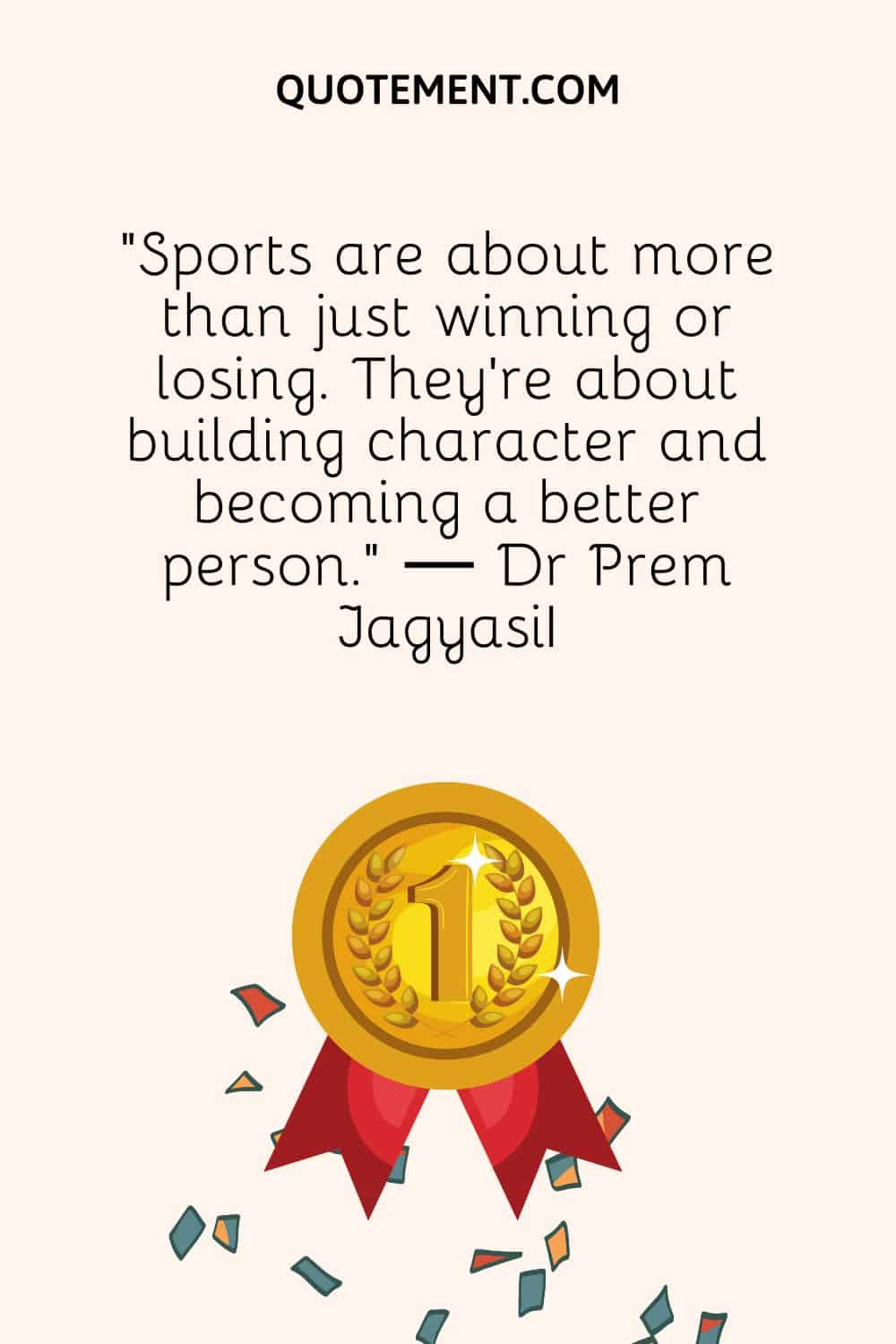 31. "Enlightenment isn't about getting out of the game, it's about winning the game – levelling up to the highest possible level. You mustn't disengage from the game, you must maximally engage with it, with full knowledge of how it operates and thus full knowledge of how to change it. Don't leave the game. Change the game. Win the game." ― Jack Tanner, The Meaning of Life: Where Is Your Life Taking You?
32. "The way to greatest triumph is to keep moving forward." ― Hiral Nagda
33. "Warriors don't worry, we win" ― SeKeithia Johnson, Color Me Moor Royal
34. "Winning becomes addicted to you when you destroy all the excuses of giving up." ― Hiral Nagda
35. "Win more than once. Once you win do not stop" ― Isaac Nash, AMERICA EXIST
36. "Winning is not enough. People get lucky and win. People can be assholes and win. Anyone can win. But not everyone is the best possible version of themselves" ― Ryan Holiday, Ego Is the Enemy
37. "It's easy for people to embrace you at the finish line; remember who ran the race with you." ― Johnnie Dent Jr.
38. "When athletes go for the glory, they're really going for God." ― A.D. Aliwat, In Limbo
39. "To play the game is good, to win is better, but to love the game is best of all. " ― Jacob Chance, Hooked
40. I've grown most not from victories, but setbacks. If winning is God's reward, then losing is how he teaches us. – Serena Williams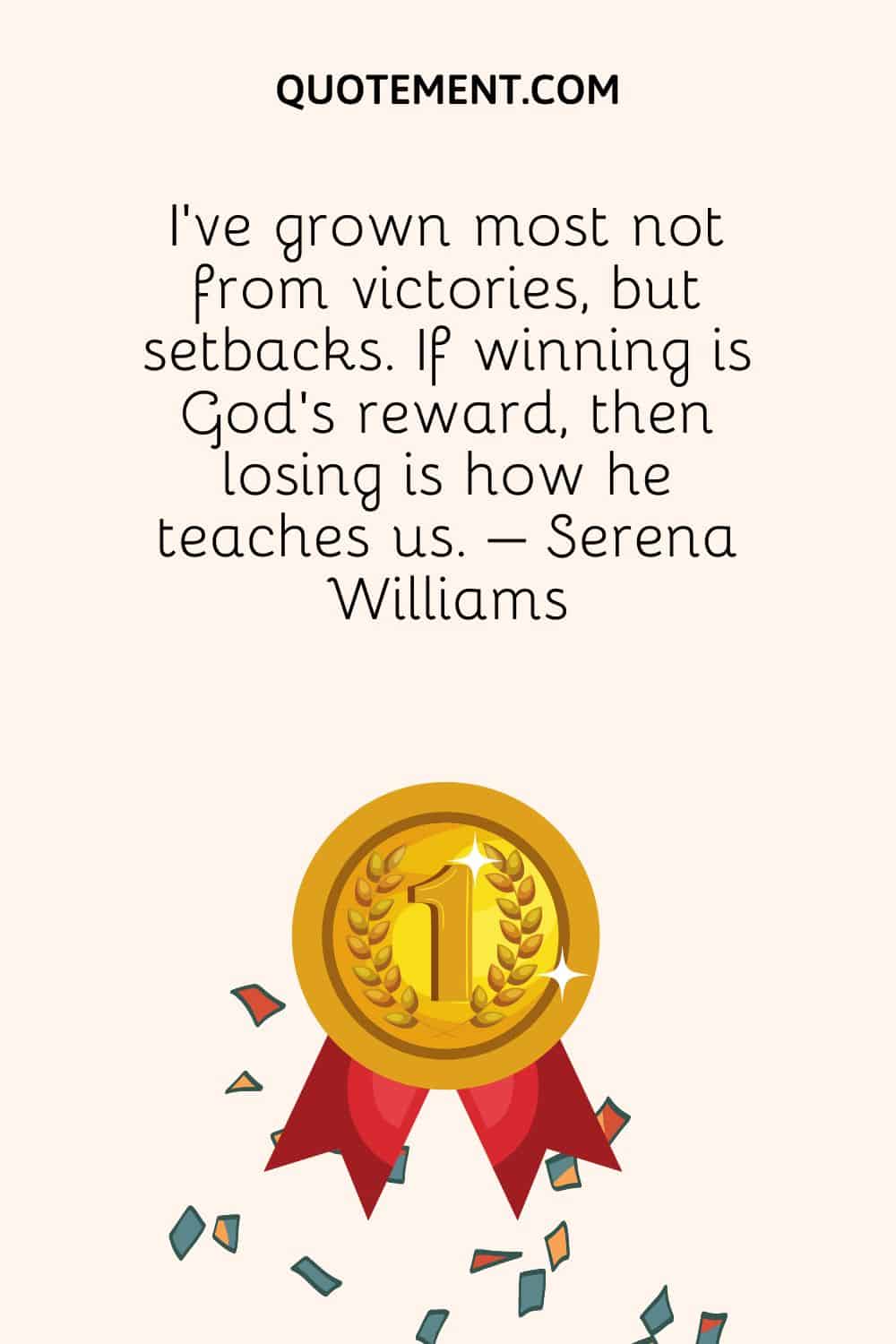 See also: 130 Gratitude Affirmations To Make Your Life More Joyful
When Winning Is The Only Option Quotes
1. "You've got to be sure of yourself before you can ever win a prize." ― Napoleon Hill, Think and Grow Rich: The Landmark Bestseller Updated for the 21st Century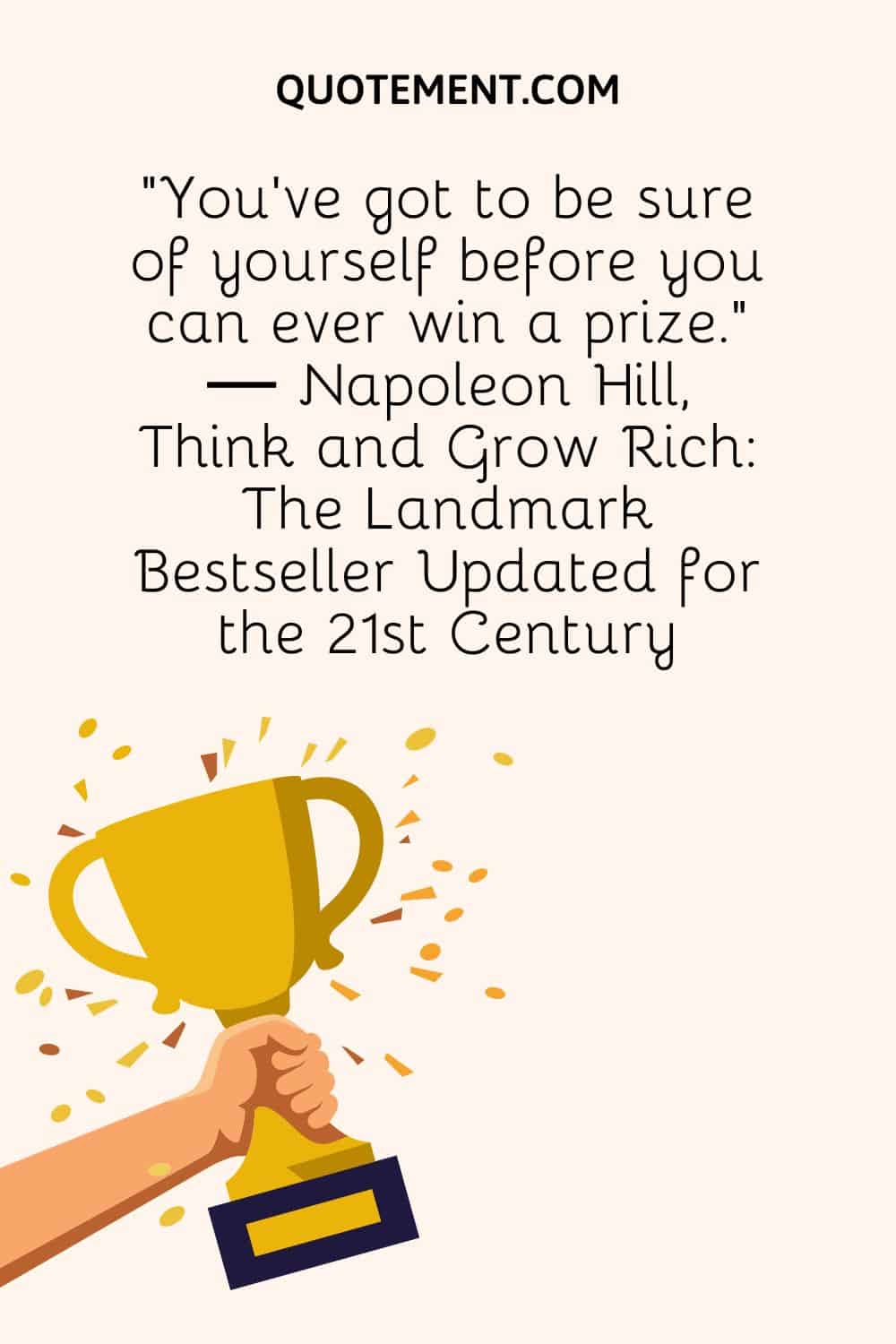 2. "You are not an option, a choice or a soft place to land after a long battle. You were meant to be the one. If you can wrap yourself around the idea that you are something incredible, then you will stop excusing behavior that rapes your very soul. You were never meant to teach someone to love you. You were meant to be loved." ― Shannon L. Alder
3. "Winning isn't everything; it's just the ONLY thing." ― Henry Sanders
4. "Faith has won it! Fear has lost it! When you get full of faith, the devil gets filled with fear! Keep your faith in light every day and you will keep the devil in fright always!" ― Israelmore Ayivor, The Great Hand Book of Quotes
5. "Obstacles are challenges for winners and excuses for losers" ― M.E Kerr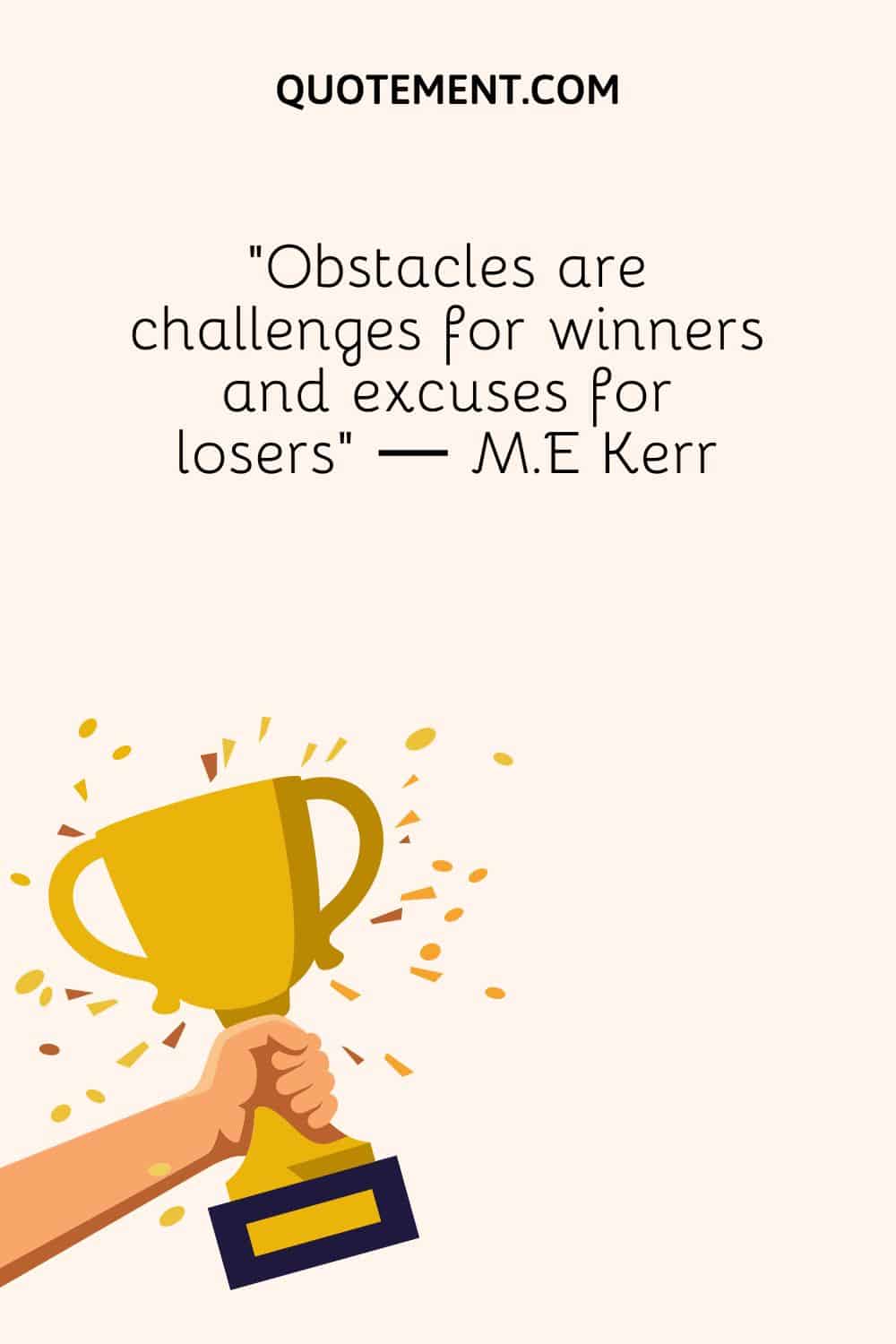 6. "Play to win because almost doesn't cut it." ― Ana Monnar
7. "Life is a game, you can't afford to lose." ― Tracy Bleers
8. "In this life, you have winners and losers. the more you win, the higher you go." ― Daniel Nayeri , Another Faust
9. "I am not a killer. I just win – Thoroughly – After all, winning isn't everything but wanting to win is." ― Ziad K. Abdelnour, Economic Warfare: Secrets of Wealth Creation in the Age of Welfare Politics
10. "Champions are built on a thousand invisible mornings." ― Kirk Cousins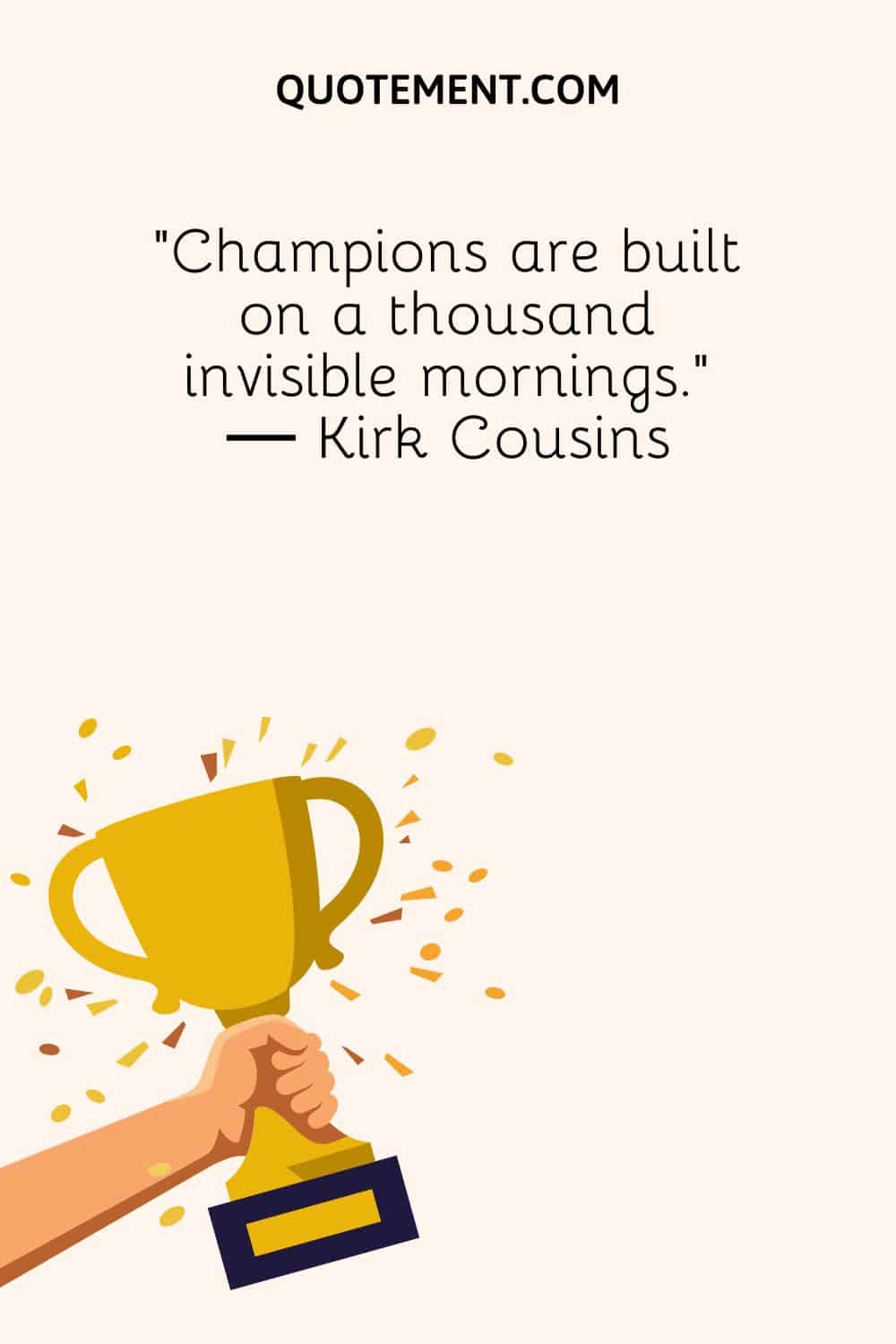 11. "Victories are won while on your knees! Keep praying for those who rise up against you. Fear not. The Lord has rectified the problem. Prayer is POWERFUL!!" ― Anita R. Sneed-Carter
12. "I was always challenged
By losing
And then winning
Against all odds
So any loss
Cannot stop me" ― Jazalyn, Rose: Future Heart
13. "ENORMOUS WINS come at the risk of colossal failures." ― Sir Winston Churchill
14. "Some of us get hit in the fight. But we cannot give up the fight. A bullfighter gets hit in the beginning of the bullfight. But he does not give up the fight. The bullfighter gets better in the next fight. We will fight hard in the next fight!" ― Avijeet Das
15. "Winning is within." ― Lailah Gifty Akita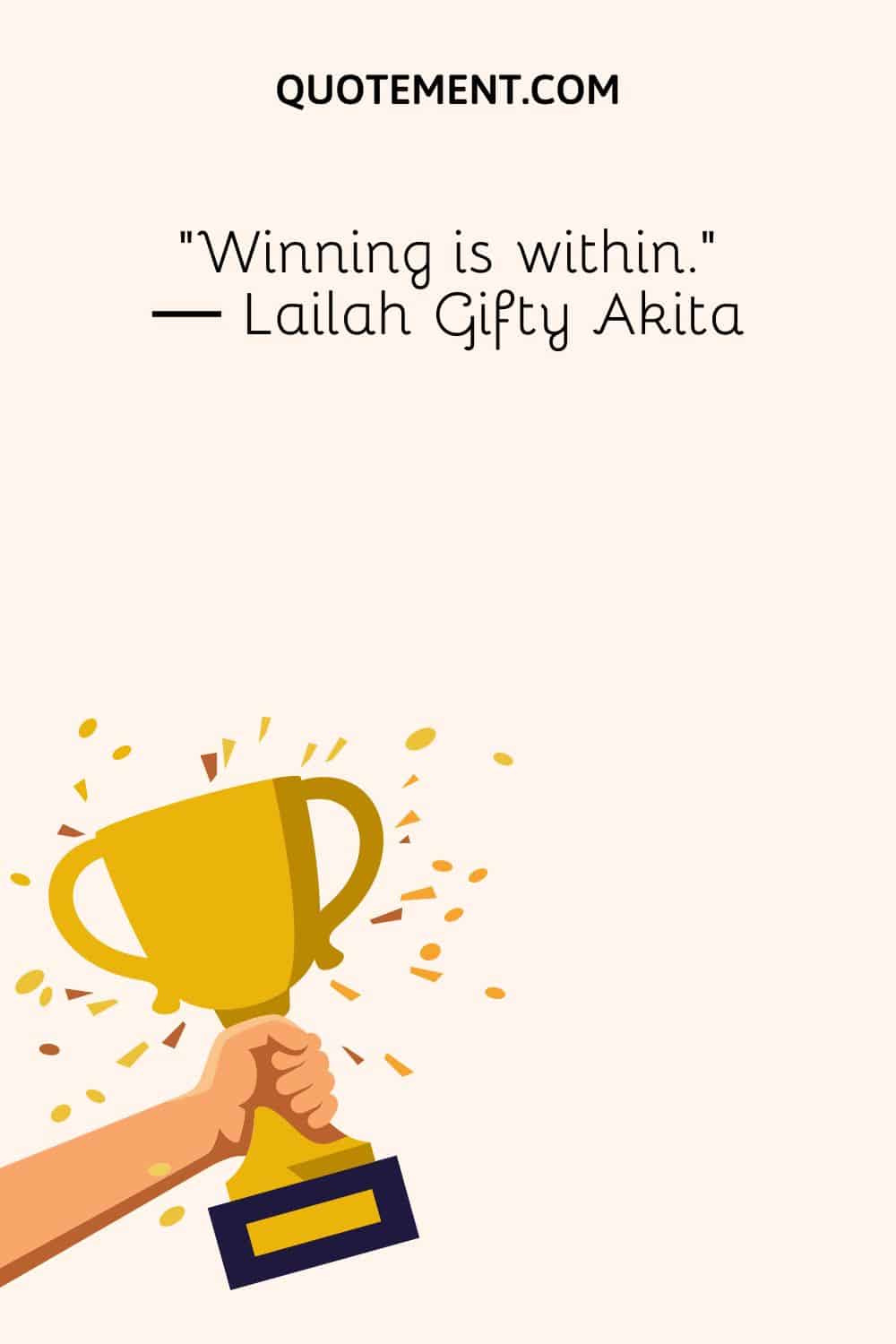 16. "Sometimes winning wasn't about playing fair, but knowing the rules so well that you could exploit discrepancies." ― Liz Braswell, Part of Your World
17. "Win-win is a no-lose opportunity." ― Frank Sonnenberg, The Path to a Meaningful Life
18. "Ah. Yes, that is the price of being clever. We win, and we hurt other people, and we always, always hurt ourselves." ― Kiersten White, The Camelot Betrayal
19. "Right now, for me, it's only about winning" ― Alicia D. Williams, Genesis Begins Again
20. "Do your best to defeat the enemy inside you and you will find yourself winning the heart of your external enemy" ― Srinivas Mishra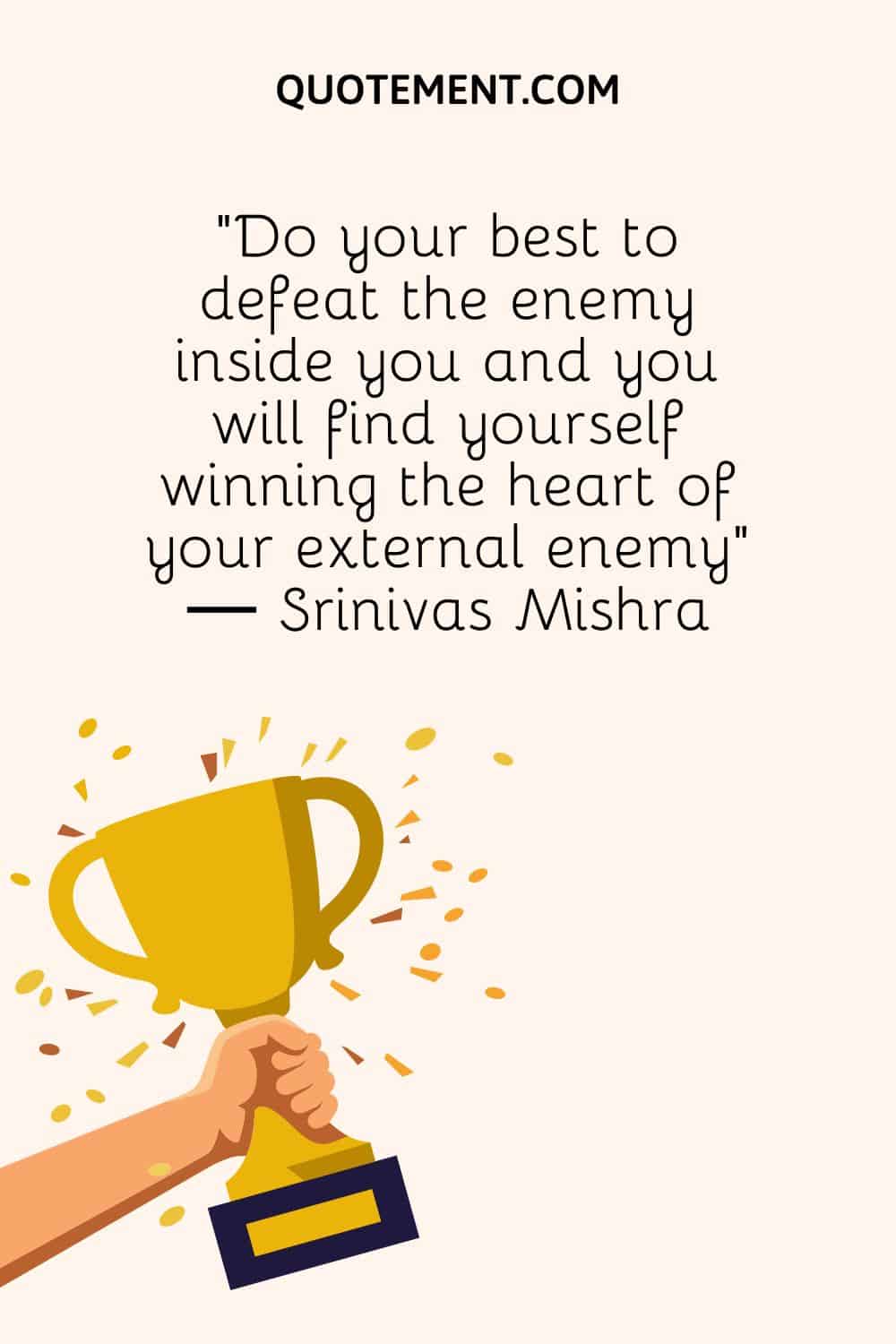 See also: 210 Unique Savage Quotes To Embrace Your Bold Attitude
Motivational Winning Quotes
1. "You're not obligated to win. You're obligated to keep trying. Do the best you can do everyday." ― Jason Mraz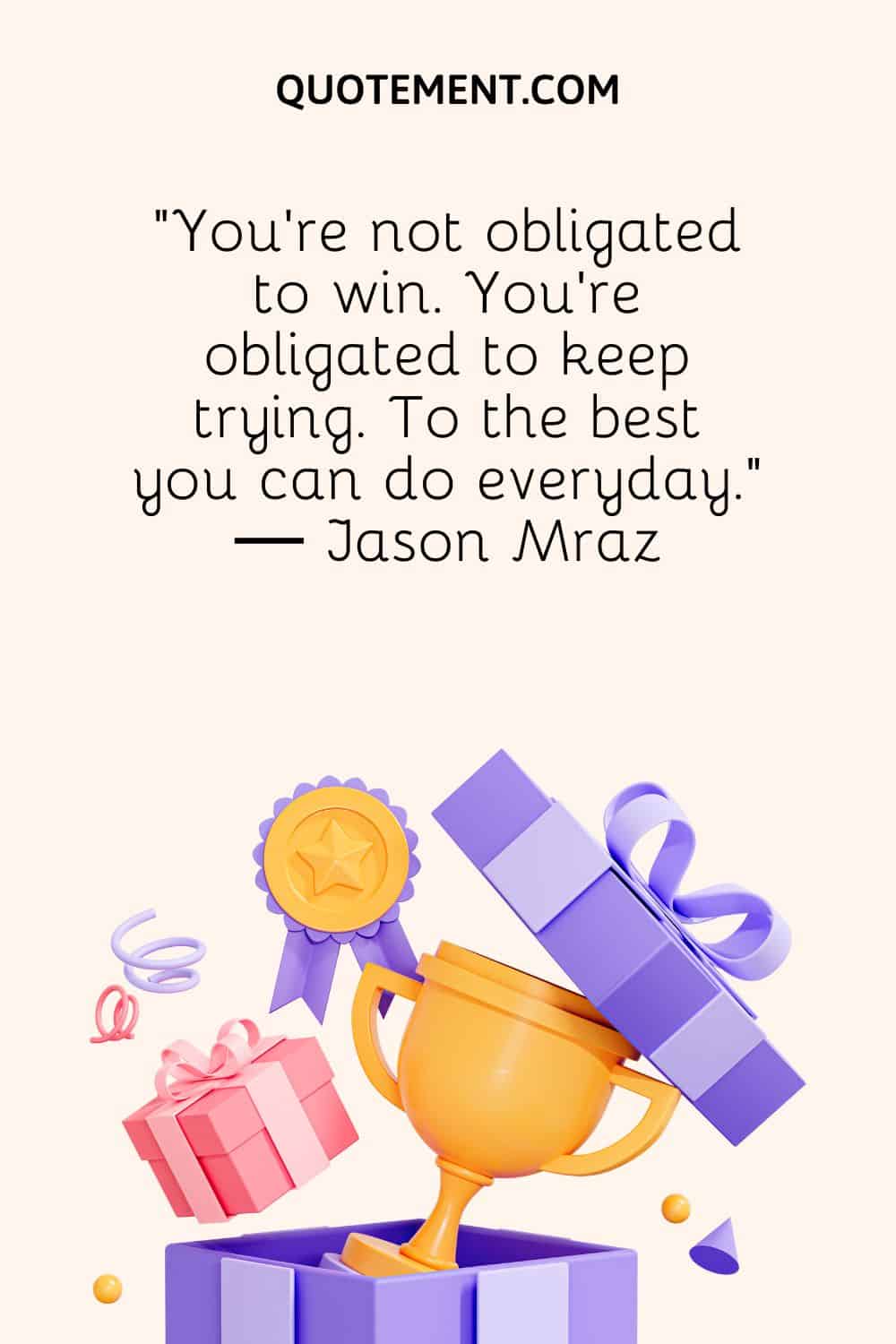 2. "There is nothing in this life that can destroy you but yourself. Bad things happen to everyone, but when they do, you can't just fall apart and die. You have to fight back. If you don't, you're the one who loses in the end. But if you do keep going and fight back, you win." ― Alexandra Monir, Timeless
3. "Sometimes not getting what you want is a brilliant stroke of luck." ― Lorii Myers, Make It Happen, A Healthy, Competitive Approach to Achieving Personal Success
4. "Sometimes in life you don't always feel like a winner, but that doesn't mean you're not a winner." ― Lady Gaga, Lady Gaga: Born This Way
5. "More powerful than the will to win is the courage to begin." ― Orrin Woodward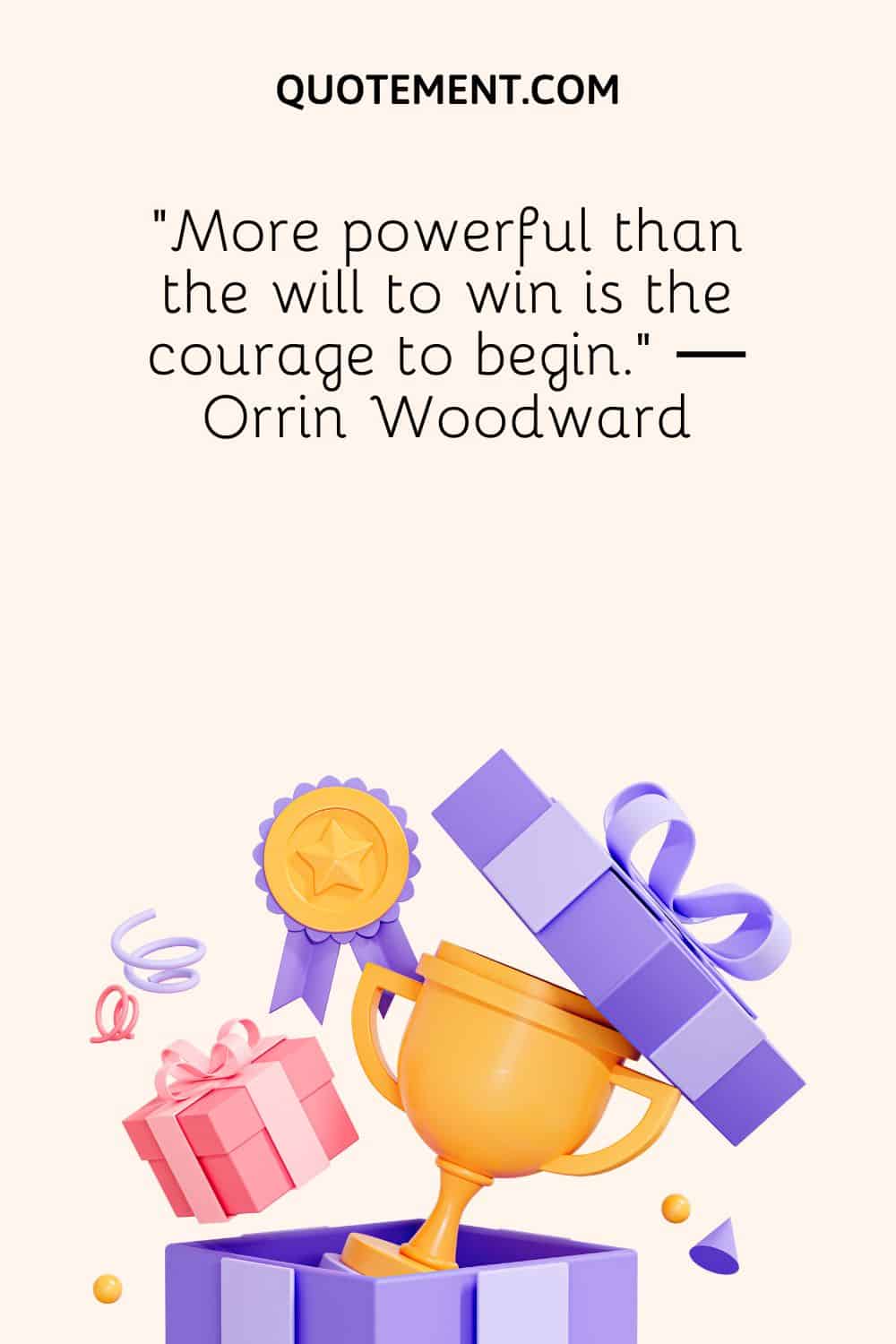 6. "Perfection of effort is not required, by the way. It is the consistency of attempting to work these tools that brings the progress. It's like anything else. If I want to tone muscle, lifting a ten-pound weight a few times every day will move me toward my goal much quicker than hoisting a fifty-pound barbell once a week. Yes, it really is true: "Slow and steady wins the race." Just try a little, every day. You'll see." ― Holly Mosier
7. "Some lean back. But those who lean forward are poised to cross the finish-line, first!"
― T.F. Hodge, From Within I Rise: Spiritual Triumph Over Death and Conscious Encounters with "The Divine Presence''
8. "Opportunity doesn't make appointments, you have to be ready when it arrives." ― Tim Fargo
9. "No man can be a failure if he thinks he's a success; If he thinks he is a winner, then he is." ― Robert W. Service
10. "Win without boasting. Lose without excuse." ― Albert Payson Terhune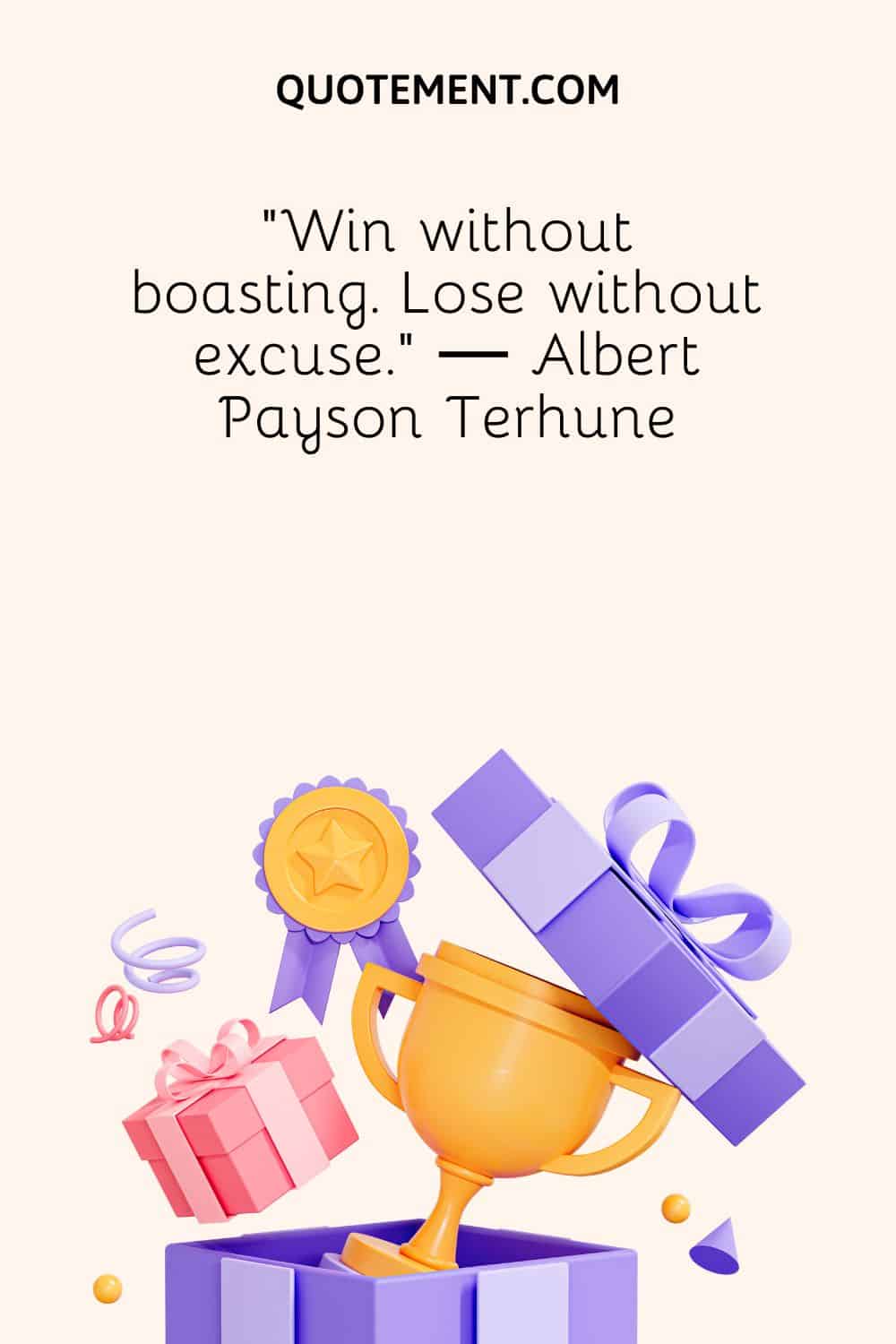 11. "Success is not as easy as winners make it look nor as hard as losers make it sound." ― Orrin Woodward
12. "Many people do not understand the art of winning and this has been the case for many centuries. There was once a Shaolin monk who was constantly being challenged to fight. He always won, even against the angriest and strongest fighters, because they could not understand that technique is always superior to personal will and expectations.
Some of the men noticed his skill and asked to be trained with him, and once their technique was good enough, they would try to defeat him. But the monk would defeat them instead because they could not understand that experience is always superior to technique. As the monk grew older, he did not desire to fight anymore, and so many men would insult him. But the monk was still winning, because they could not understand that they were wasting an opportunity to learn and the monk did not desire to waste the little time he had left on earth. Before he died, the monk wrote a few manuscripts with his wisdom, but few were capable of understanding his words because their spirit was not ready. They were still thinking about winning. And so they lost everything, they lost the opportunity to develop a new technique, gain experience, study and understand how to win." ― Dan Desmarques
13. "First we lose, then we win in life. The one who wins after losing is known as the Maverick!"― Avijeet Das, Why the Silhouette?
14. "It's not that which happens to you. It's that which you 'make it happen' out of it." ― Hiral Nagda
15. "This life experience is a chance to spin the roulette wheel of life while trusting to win." ― Steven Redhead, Life Is A Circus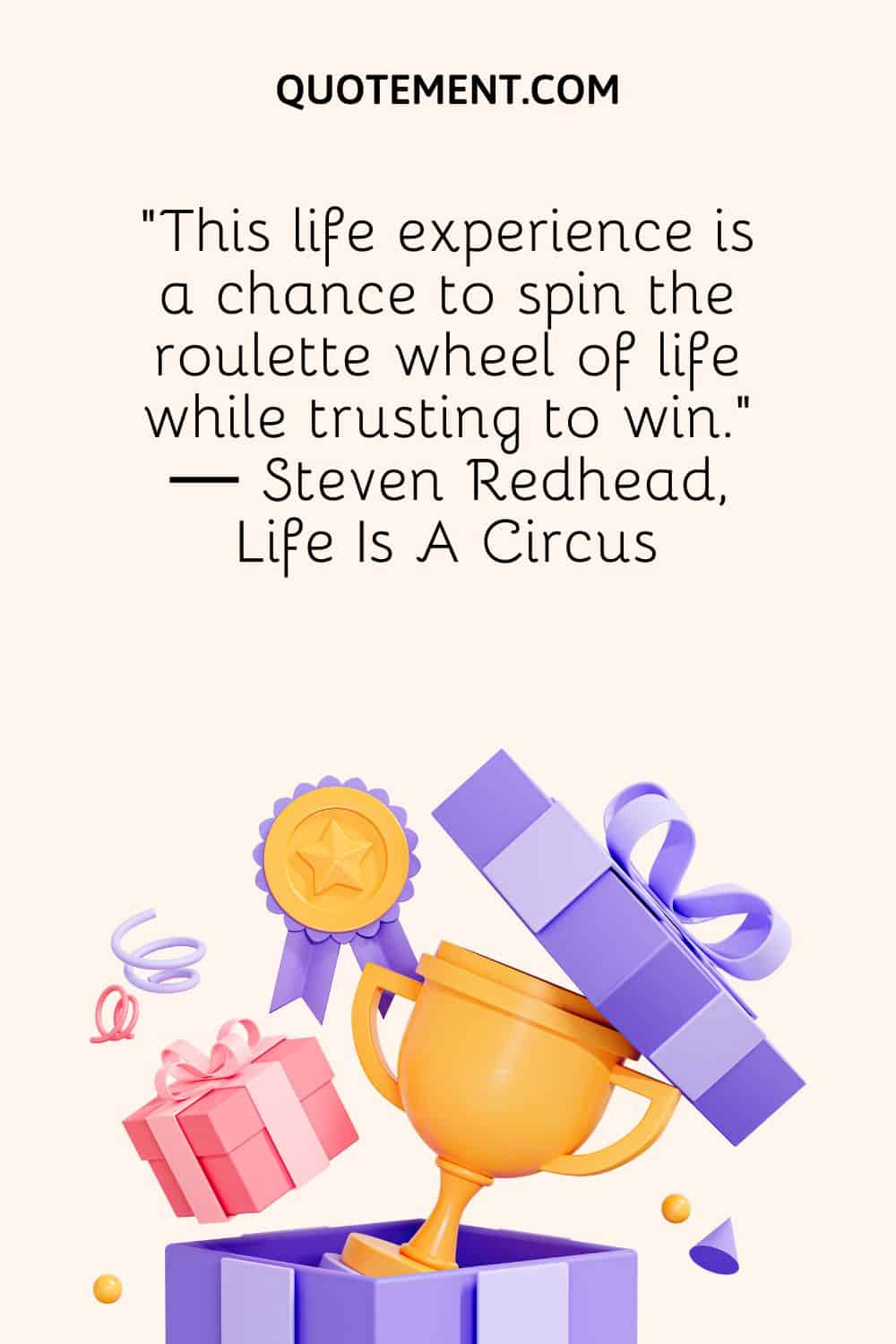 16. "If you lose today, try tomorrow, if you lose tomorrow, try one more time, try again and again till you win because that is the only way to win big in your life" ― Anuj Jasani
17. "Some people are winners even after losing because they run for happiness, while others run for wealth, fame, success, praise, revenge, or greed." ― Sukant Ratnakar, Quantraz
18. "Winning is not important every time. Your experience which you gained after participation in your selective course is Important. Winning is not what we have.
It's about what we are willing to do." ― Ishu Rattan
19. "You're not a bad person for comparing yourself to others. You're not a bad person for measuring where you are against where you're not. But you deserve better. Comparing yourself to others seems useful, and maybe feels good when you're "winning" but hurts even more when you're not. Either way, it's a false equivalency that doesn't yield any kind of practical metric." ― Adam J. Kurtz
20. "Take grandest advantage of today. It is brimming with unlimited power to accelerate your life." ― Hiral Nagda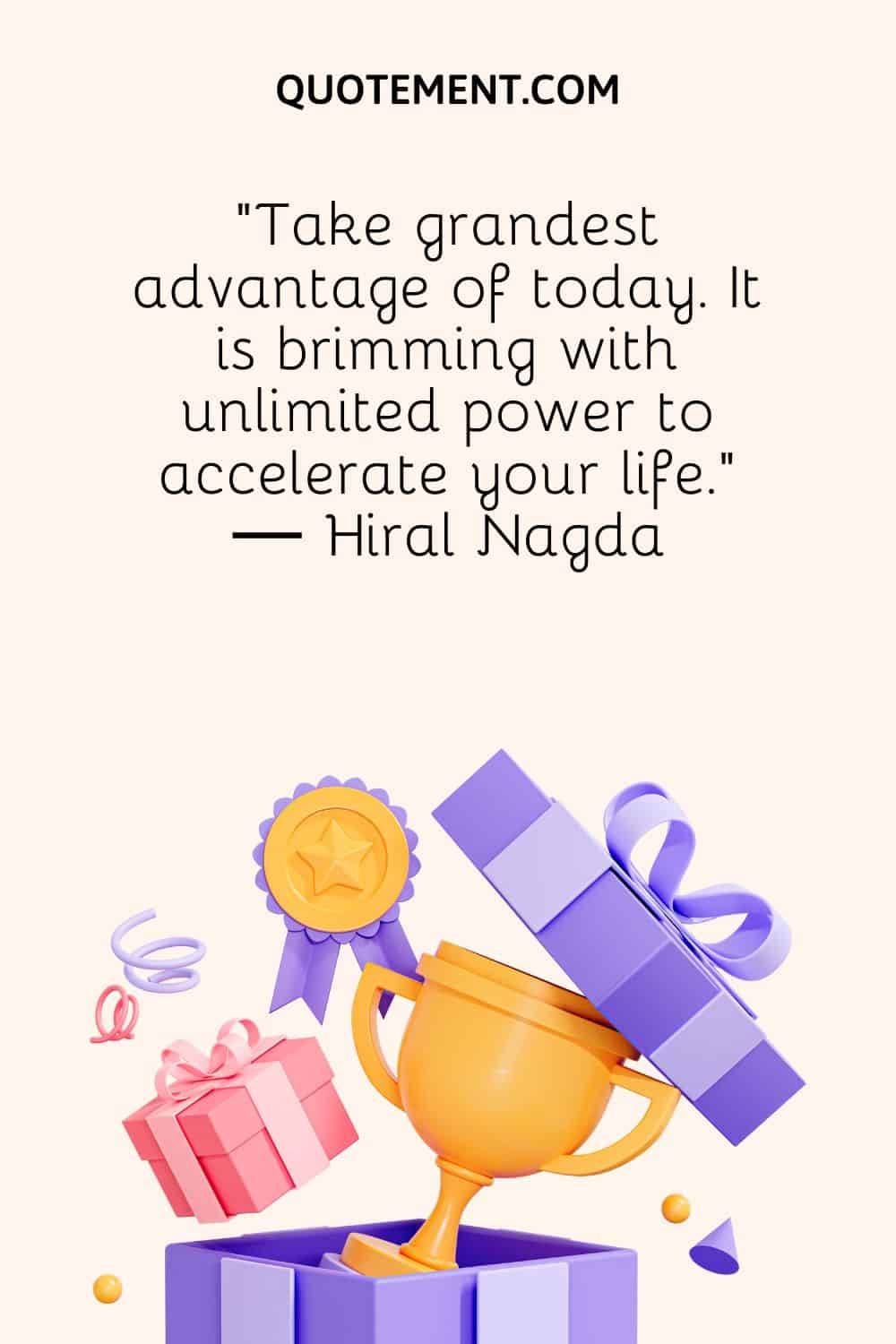 See also: 110 Inspiring Moving On Quotes To Help You Forge Ahead
Inspirational Winning Quotes
1. "To be heroic is to be courageous enough to die for something; to be inspirational is to be crazy enough to live a little." ― Criss Jami, Venus in Arms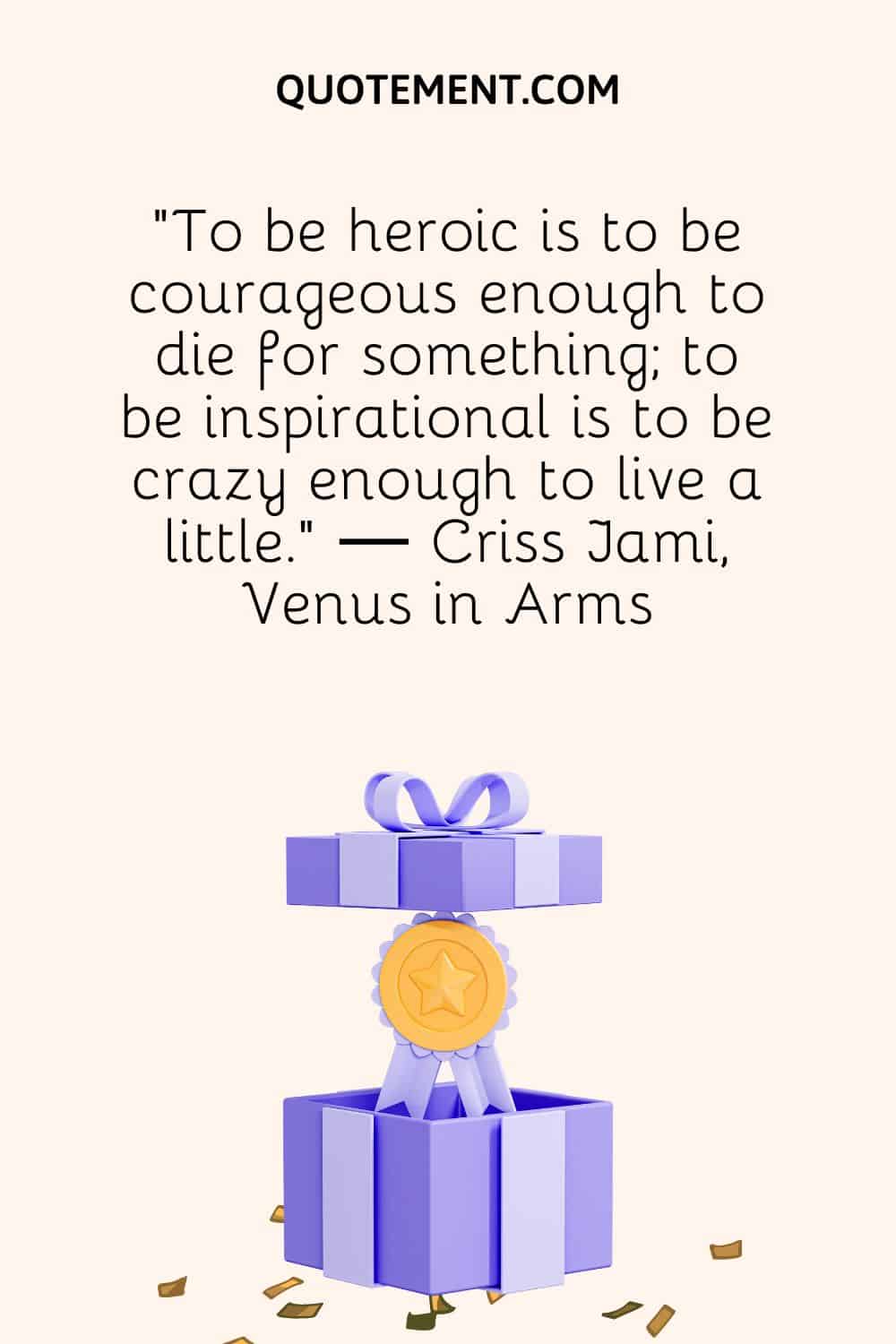 2. "If you walked away from a
toxic, negative, abusive,
one-sided, dead-end
low vibrational
relationship or friendship
— you won." ― Lalah Delia
3. "REMEMBER YOUR GREATNESS
Before you were born,
And were still too tiny for
The human eye to see,
You won the race for life
From among 250 million competitors.
And yet,
How fast you have forgotten
Your strength,
When your very existence
Is proof of your greatness.
You were born a winner,
A warrior,
One who defied the odds
By surviving the most gruesome
Battle of them all.
And now that you are a giant,
Why do you even doubt victory
Against smaller numbers,
And wider margins?
The only walls that exist,
Are those you have placed in your mind.
And whatever obstacles you conceive,
Exist only because you have forgotten
What you have already
Achieved." ― Suzy Kassem, Rise Up and Salute the Sun: The Writings of Suzy Kassem
4. "Not all dreamers are winners, but all winners are dreamers. Your dream is the key to your future. The Bible says that, "without a vision (dream), a people perish." You need a dream, if you're going to succeed in anything you do." ― Mark Gorman
5. "It is deeply satisfying to win a prize in front of a lot of people." ― E.B. White, Charlotte's Web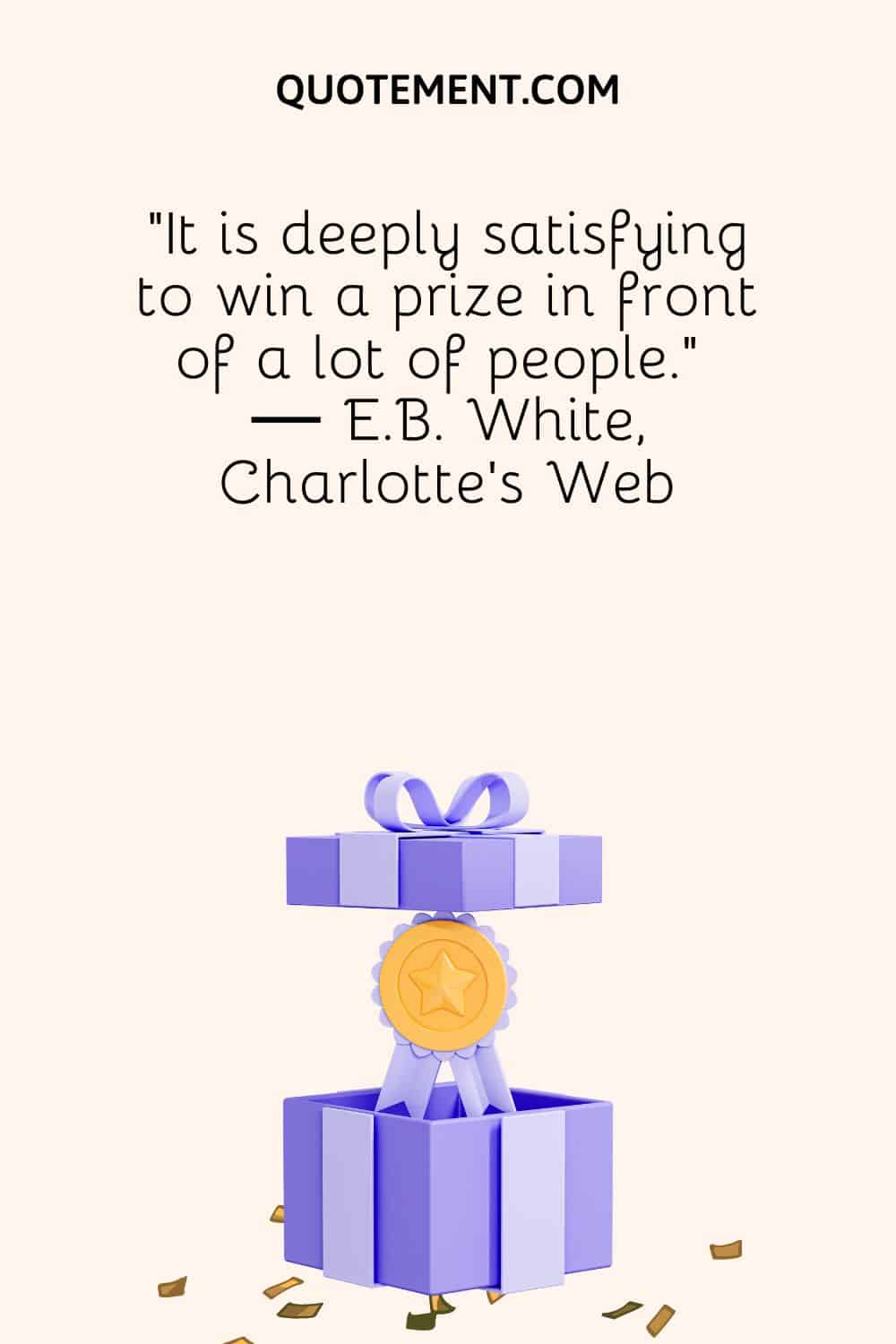 6. "I've wanted to win at everything, every day, since I was a kid. And time doesn't change a person, it just helps you get a handle on who you are. Even at age 41, I still hate losing–I'm just more gracious about it. I'm also aware that setbacks have an upside; they fuel new dreams." ― Dara Torres, Age Is Just a Number: Achieve Your Dreams at Any Stage in Your Life
7. "If you ask me how I want to be remembered, it is as a winner. You know what a winner is? A winner is somebody who has given his best effort, who has tried the hardest they possibly can, who has utilized every ounce of energy and strength within them to accomplish something. It doesn't mean that they accomplished it or failed, it means that they've given it their best. That's a winner." ― Walter Payton, Never Die Easy: The Autobiography of Walter Payton
8. "I like the lady horses best,
how they make it all look easy,
like running 40 miles per hour
is as fun as taking a nap, or grass.
I like their lady horse swagger,
after winning. Ears up, girls, ears up!
But mainly, let's be honest, I like
that they're ladies. As if this big
dangerous animal is also a part of me,
that somewhere inside the delicate
skin of my body, there pumps
an 8-pound female horse heart,
giant with power, heavy with blood.
Don't you want to believe it?
Don't you want to lift my shirt and see
the huge beating genius machine
that thinks, no, it knows,
it's going to come in first." ― Ada Limon, Bright Dead Things
9. "They ex­pect­ed to lose. And there­fore, they lost. [..] Peo­ple who start think­ing deep dark thoughts in the mid­dle of a war start ex­pect­ing to lose." ― Michael Scott
10. "Where's the pleasure in bein' the winner if the loser ain't alive to know they've lost?" ― Terry Pratchett, Witches Abroad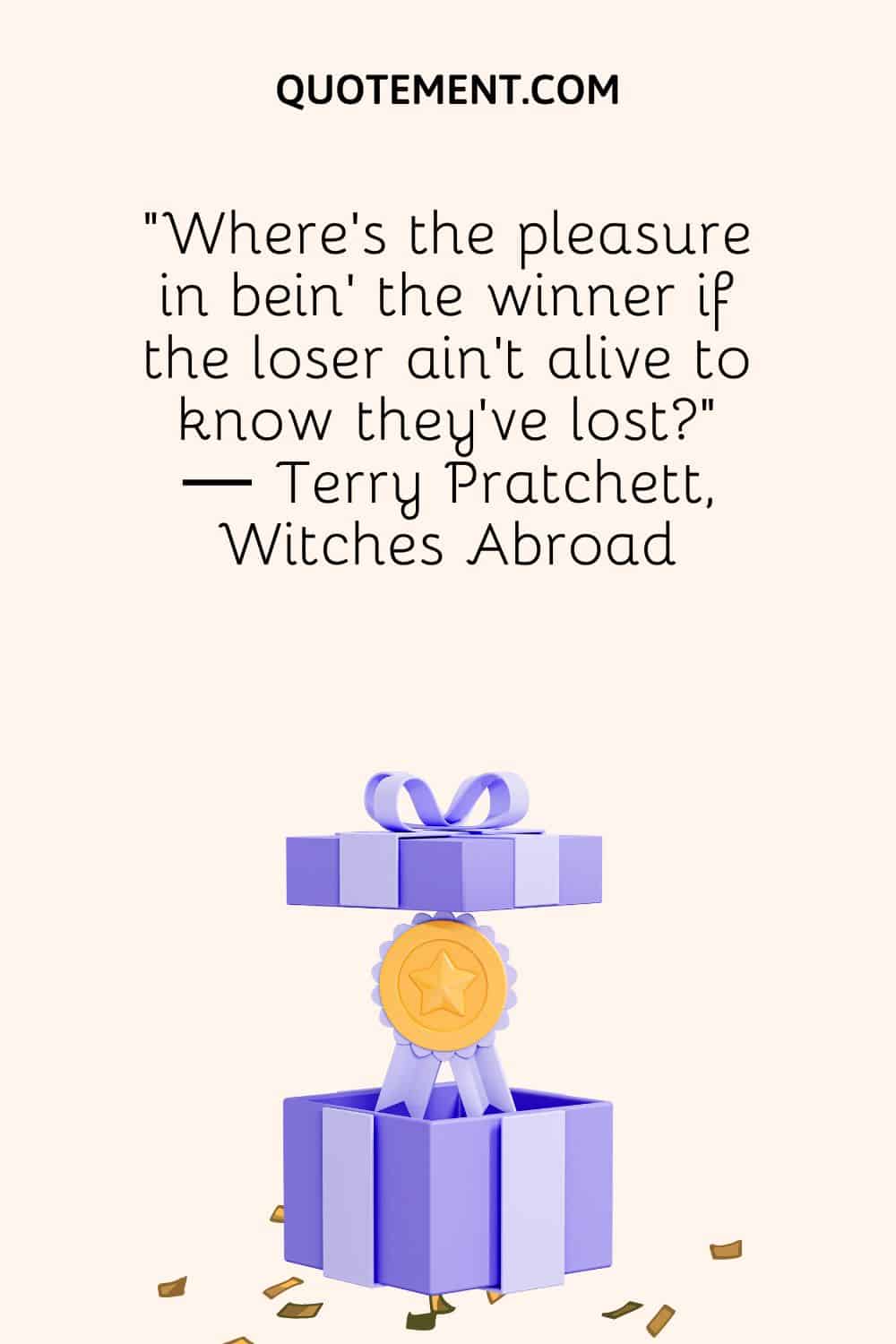 11. "So many people saying, Let's improve these problems right now! Except extremists. Extremists never wanted things to improve. They just wanted to win. They needed psychiatrists." ― Naomi Shihab Nye, There Is No Long Distance Now
12. "Some victories are merely defeat wearing the wrong clothing" ― Kiersten White, And I Darken
13. "But maybe people don't want fantasy, they want to feel they're in control, that they're playing by rules they understand and that it's possible to win." ― Eddie Robson, Drunk on All Your Strange New Words
14. "Life isn't about winning or losing. Between those two extremes there is a middle ground, and that middle ground is where I let my ducks roam and graze on and lay their eggs—which are now ON SALE at Trophies For All prices." ― Jarod Kintz, Music is fluid, and my saxophone overflows when my ducks slosh in the sounds I make in elevators.
15. "There is nothing quite like the feeling of accomplishment at the end of a hard workout or race. Winners know how it feels." ― Ken Sayles, Coach, Run, Win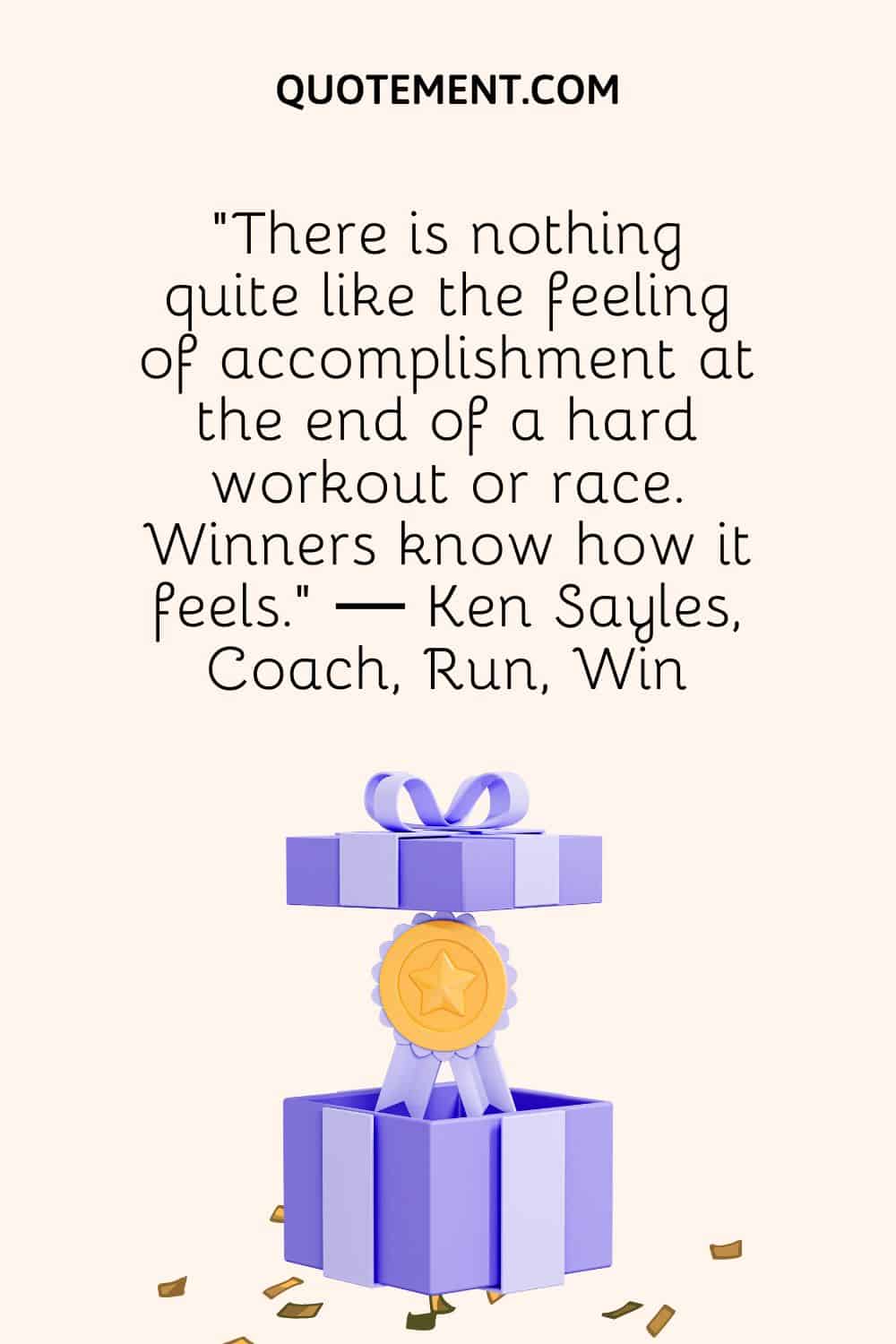 16. "Everyone has doubts and negative thoughts. It is , however, what you choose to do with those thoughts that matters." ― Ken Sayles, Coach, Run, Win
17. "It is thrilling and humbling to realize the impact we coaches have on you, and I am so happy that it was a positive and joyous experience that we shared." ― Ken Sayles, Coach, Run, Win
18. "The reality is that the world owes you nothing. When you approach your goals and desires with this mindset, you will do everything it takes for you to get it. You will work against all odds and swim against all tides to make it happen. And that is very empowering." ― Yugesh Mandvikar
19. "Of course, winning is much better than losing. No argument there. But winning or losing doesn't affect the weight and value of the time. It's the same time, either way. A minute is a minute, an hour is an hour. We need to cherish it. We need to deftly reconcile ourselves with time, and leave behind as many precious memories as we can— that's what's the most valuable." ― Haruki Murakami, First Person Singular: Stories
20. "My story isn't over until I win." ― Brajesh Kumar Singh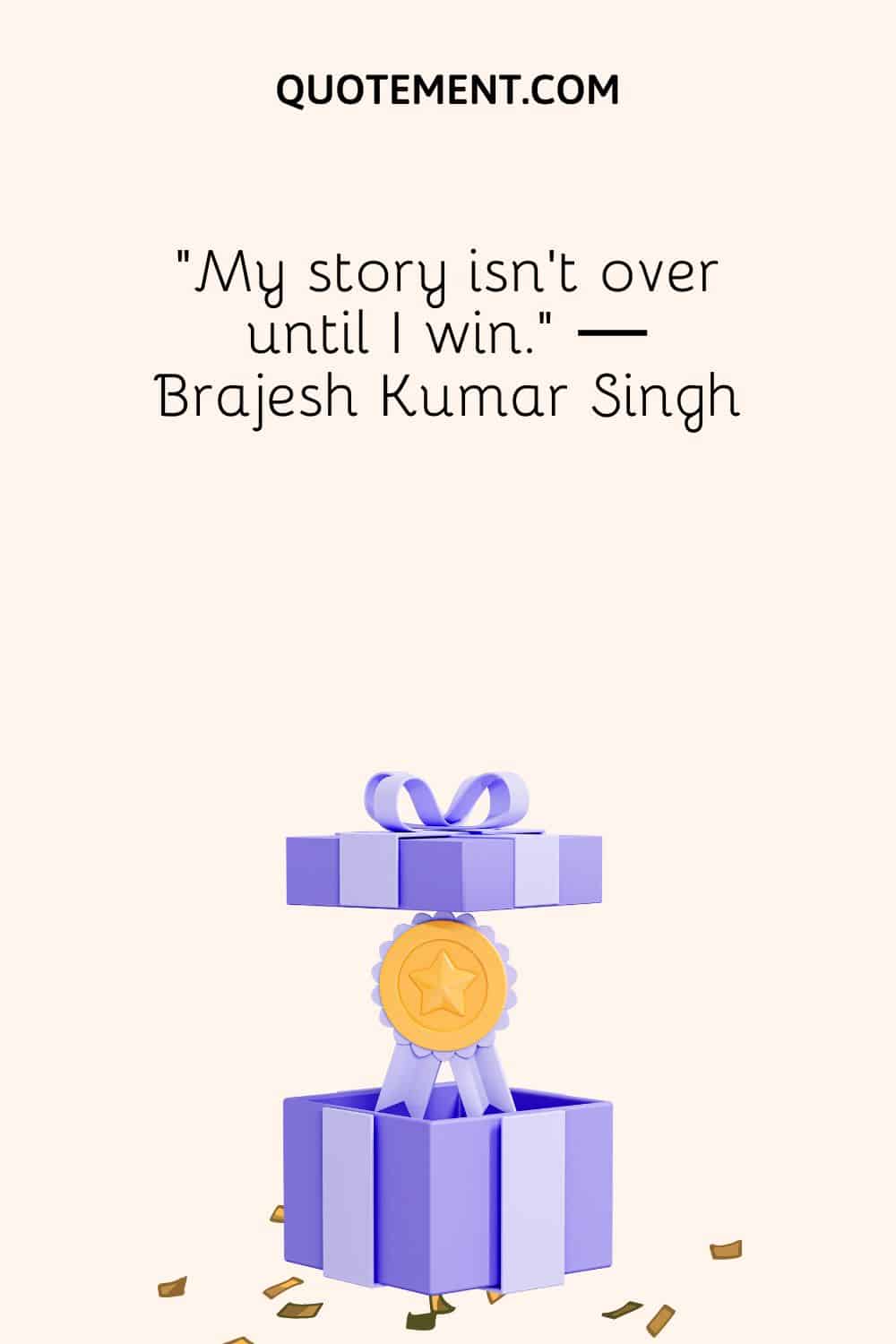 Wise Winning Quotes
1. "When you lose your ego, you win. It really is that simple." ― Shannon L. Alder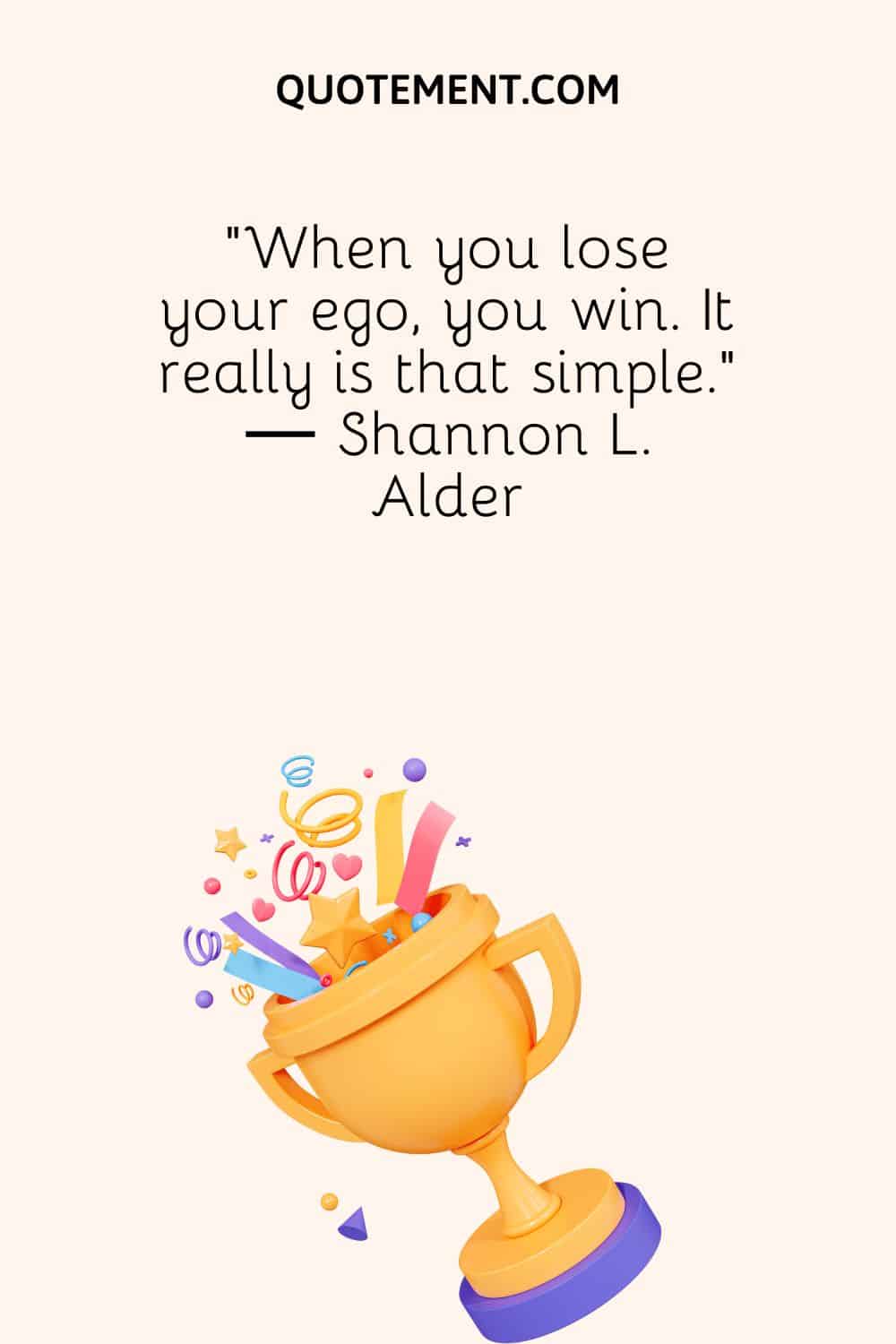 2. "We're going to meet a lot of lonely people in the next week and the next month and the next year. And when they ask us what we're doing, you can say, We're remembering. That's where we'll win out in the long run. And someday we'll remember so much that we'll build the biggest goddamn steamshovel in history and dig the biggest grave of all time and shove war in it and cover it up." ― Ray Bradbury, Fahrenheit 451
3. "Never do a single thing in the anticipation to prove something to someone who has hurt you. If someone has hurt or offended you (whoever that person may be), never perform anything or strive for anything in your life with the mind of proving to that someone/ to those people that they won. May nothing that you do be done with any thought of them in mind. There is nothing that needs to be proven." ― C. JoyBell C.
4. "An insincere critic of a sincere person never wins." ― Criss Jami, Killosophy
5. "Associating with winners may not make you a winner, but associating with losers will definitely not make you one." ― Jeffrey Fry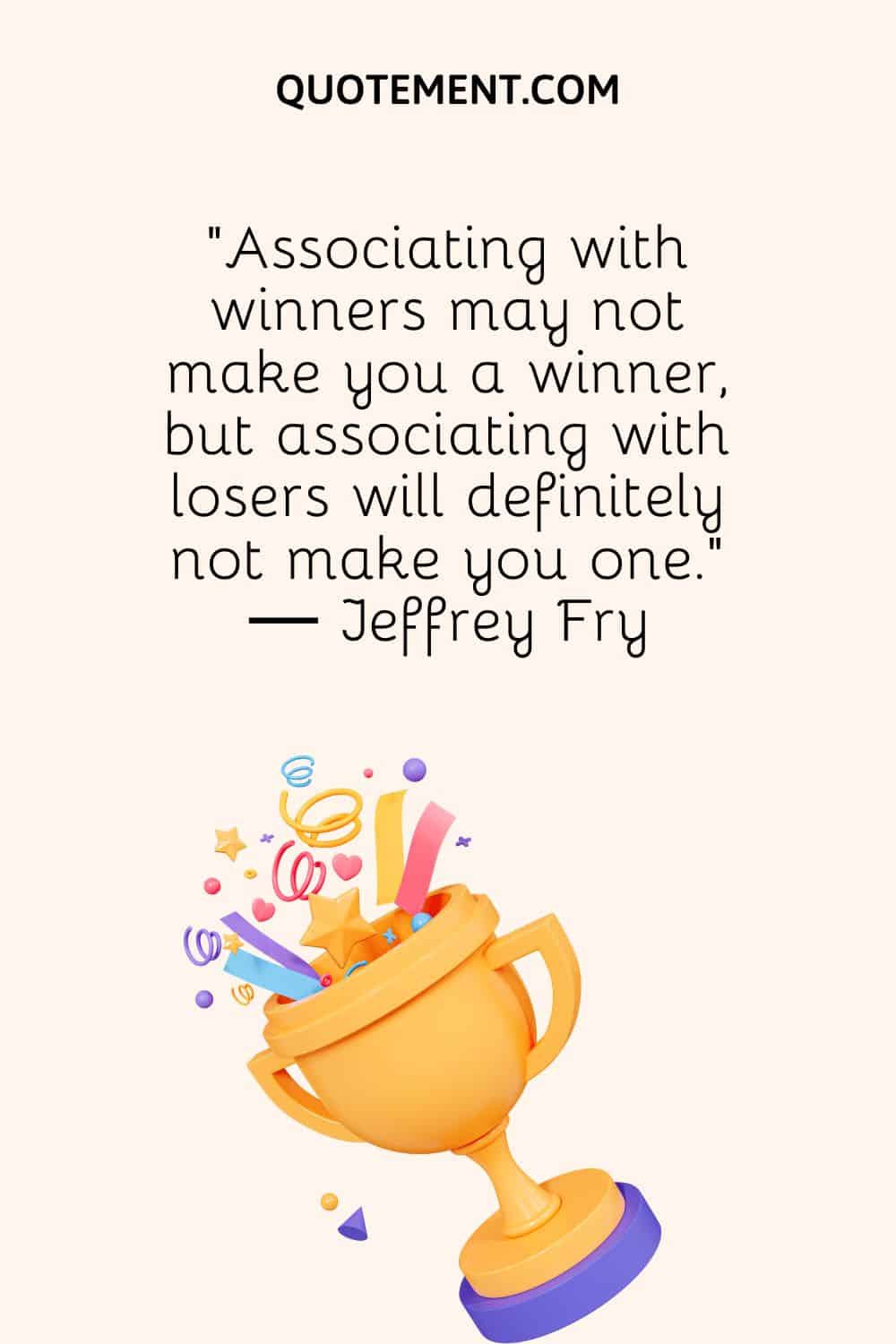 6. "Every man has a specific skill, whether it is discovered or not, that more readily and naturally comes to him than it would to another, and his own should be sought and polished. He excels best in his niche – originality loses its authenticity in one's efforts to obtain originality." ― Criss Jami, Salomé: In Every Inch In Every Mile
7. "Life is not a battle to win but a melody to sing." ― Amit Ray, Enlightenment Step by Step
8. "Winning is definitely the ultimate goal, the lessons learned when I don't win only strengthen me." ― Lewis Hamilton
9. "Nothing hurls an individual towards their goals faster than the sting of defeat. That's when all the probing post-mortem questions get asked. Victory is the fluffing up and reinforcing of the existing ego." ― Stewart Stafford
10. "Winning is an event that your opponent controls. But, you do have the choice to give your best." ― Sukant Ratnakar, Quantraz
11. "There are many lies being spread fast and deeply to the hearts and minds of many people and corrupting their chances of overcoming challenges and difficulties. Many of the deceptions consist of pressuring already manifesting tendencies and impulses like the need to fight, compete and survive. But you cannot win this way. Nobody does. You can only win when you focus on yourself and your own path. Without discipline, focus and consistency you have nothing, not even the power to control your own mind." ― Dan Desmarques
12. "The beauty of your winning is magnified when you impact at least one life in the process." ― Hiral Nagda
13. "She detested rows and scenes, but enjoyed quietly pitting her cool will against opposition. It amused her; and when she was defeated, she withdrew in good order and lost interest in the campaign. She had little or no sporting spirit. Bloody battles to the death bored her, nor did she like other people to win." ― Stella Gibbons, Cold Comfort Farm
14. "I am unafraid to dream.
I play on the winning team.
With God foremost on my list,
Possibilities exist." ― Sylvia Green Chatman, Unafraid to Dream
15. "Revel in your wins minuscule though they may be" ― Renee A. Lee
16. "People who have lots of power, people who care less about others, people are are more interested in what they want than what is just – sadly enough, these people tend to do pretty well for themselves, because they are more concerned with what works than what's right." ― Kelly Williams Brown, Adulting: How to Become a Grown-up in 468 Easy(ish) Steps
17. "If you keep doing the right thing, one day you will wake up and hear the words, at the right time, you have come out, at the right time, you have built your capacity, at the right time, you can now see the results, at the right time, you have overcome adversity, at the right time – yes at the right time." ― Elkanah Nyauma Ondieki
18. "I learned to respect the nuts and bolts of politics, the attention to detail required, the daily grind that might prove the difference between winning and losing. It confirmed, too, what I already new about myself: that whatever preferences I had for fair play, I didn't like to lose." ― Barack Obama, A Promised Land
19. "How do I know I've won, when I've never lost?" ― Caden T
20. "Winning is all for nothing if one does not take advantage of success." ― Allison Pataki, The Queen's Fortune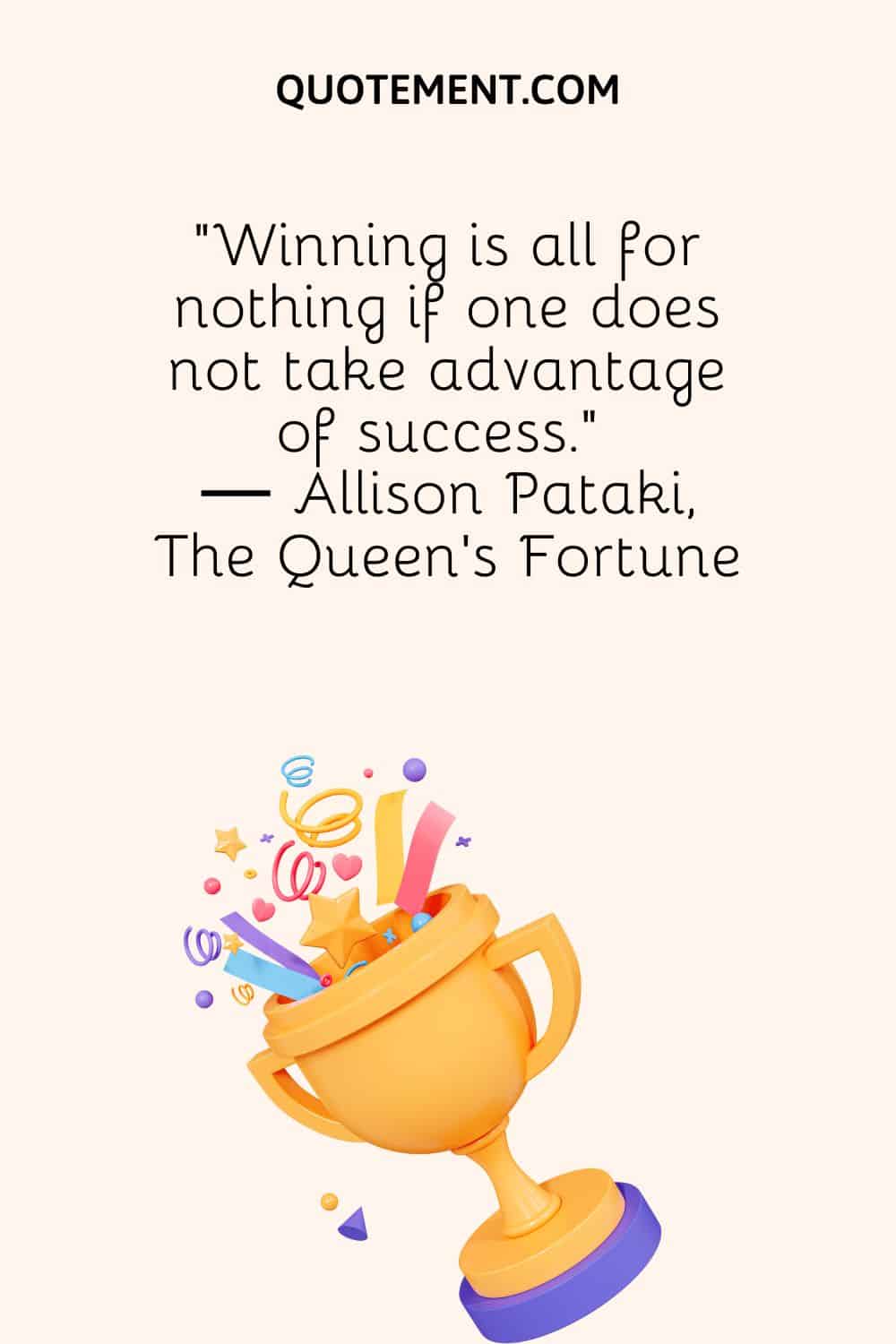 See also: 130 Know Your Worth Quotes To Remind You Of Your Greatness
Winning Quotes To Think About
1. "You rarely win, but sometimes you do."― Harper Lee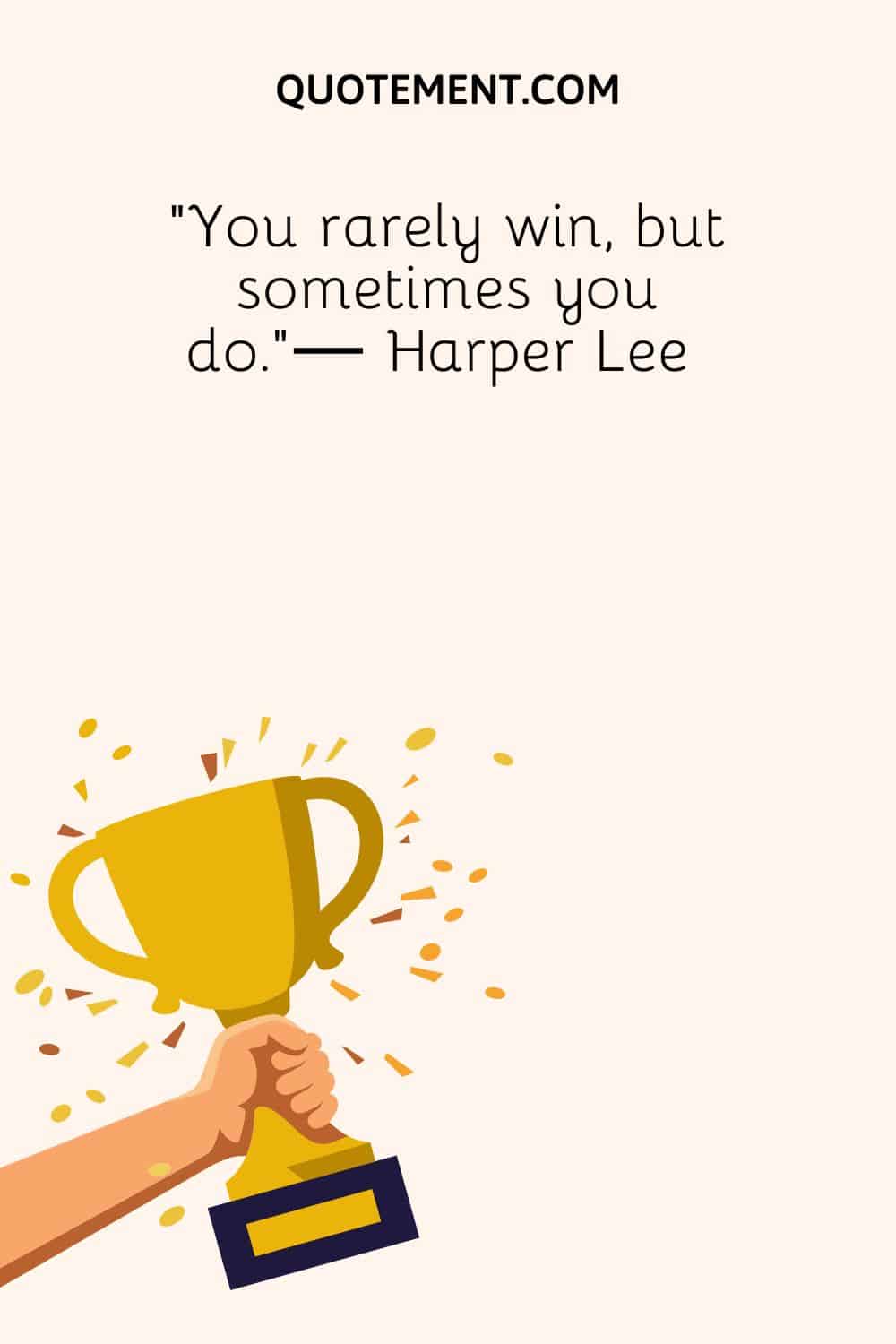 2. "Fame you'll be famous, as famous as can be, with everyone watching you win on TV, Except when they don't because sometimes they won't.." ― Dr. Seuss, Oh, the Places You'll Go!
3. "Hope?" he says. "There is always hope, John. New developments have yet to present themselves. Not all the information is in. No. Don't give up hope just yet. It's the last thing to go. When you have lost hope, you have lost everything. And when you think all is lost, when all is dire and bleak, there is always hope." ― Pittacus Lore, I Am Number Four
4. "Humanity does not ask us to be happy. It merely asks us to be brilliant on its behalf. Survival first, and then happiness as we can manage it…. Take what pleasure you can in the interstices of your work, but your work is first, learning first, winning is everything because without it there is nothing." ― Orson Scott Card, Ender's Game
5. "If you lose your temper, you lose!" ― Richard Diaz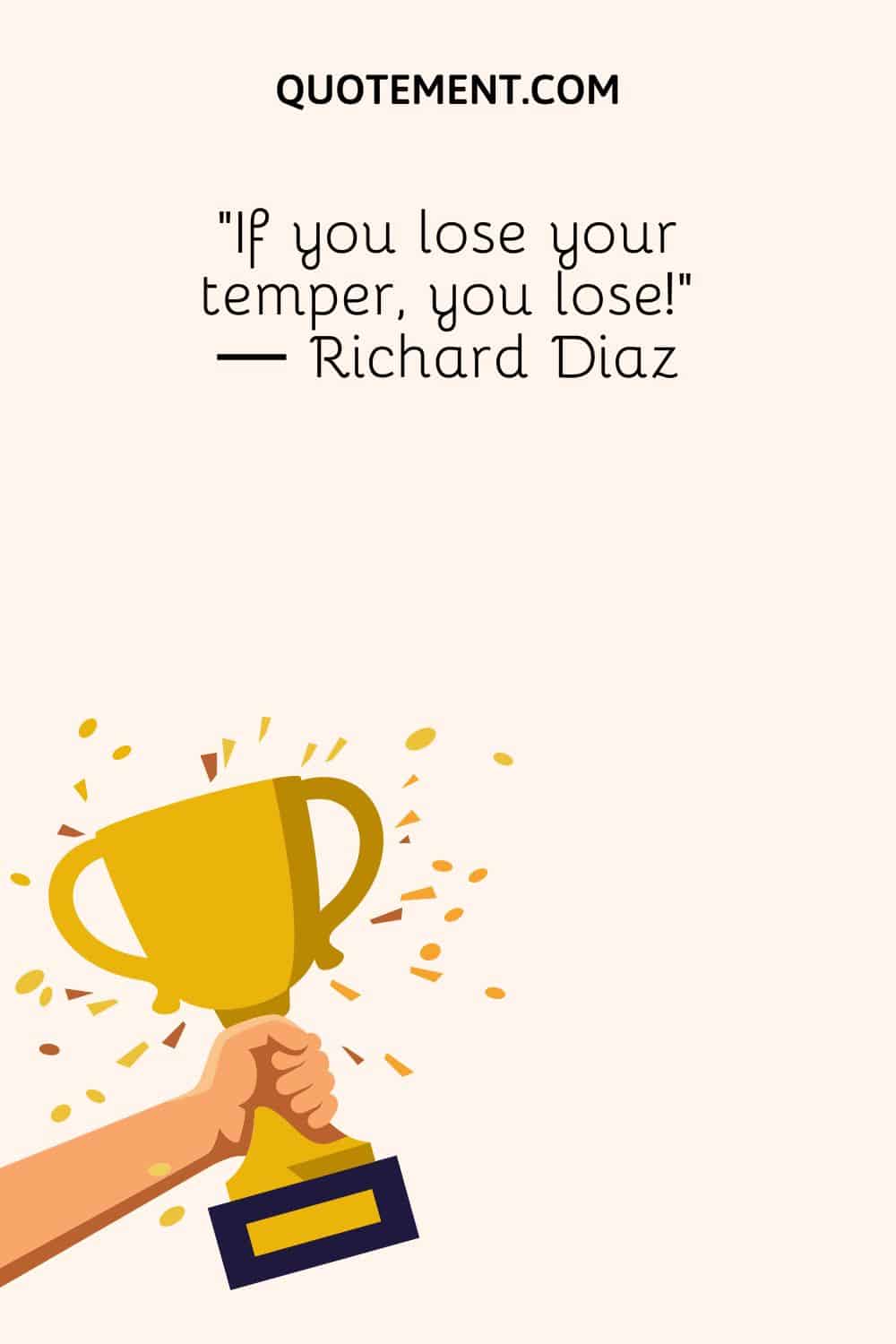 6. "You were born a winner, a warrior, one who defied the odds by surviving the most gruesome battle of them all – the race to the egg. And now that you are a giant, why do you even doubt victory against smaller numbers and wider margins? The only walls that exist are those you have placed in your mind. And whatever obstacles you conceive, exist only because you have forgotten what you have already achieved." ― Suzy Kassem, Rise Up and Salute the Sun: The Writings of Suzy Kassem
7. "Law is made by the winner to preserve victory over the loser." ― Toba Beta [Betelgeuse Incident], Betelgeuse Incident: Insiden Bait Al-Jauza
8. "And what exactly do you think this proves?" he spits. "You've got power, but you don't know what to do with it."
VIOLA
"Looks like I'm doing fine," I say." ― Patrick Ness, The Ask and the Answer
9. "Cats are marvelous creatures – they either adapt to circumstances, or decide to make circumstances adapt to them. Either way – they win." ― Will Advise, Nothing is here…
10. "No one can take the shot for you." ― Lorii Myers, Make It Happen, A Healthy, Competitive Approach to Achieving Personal Success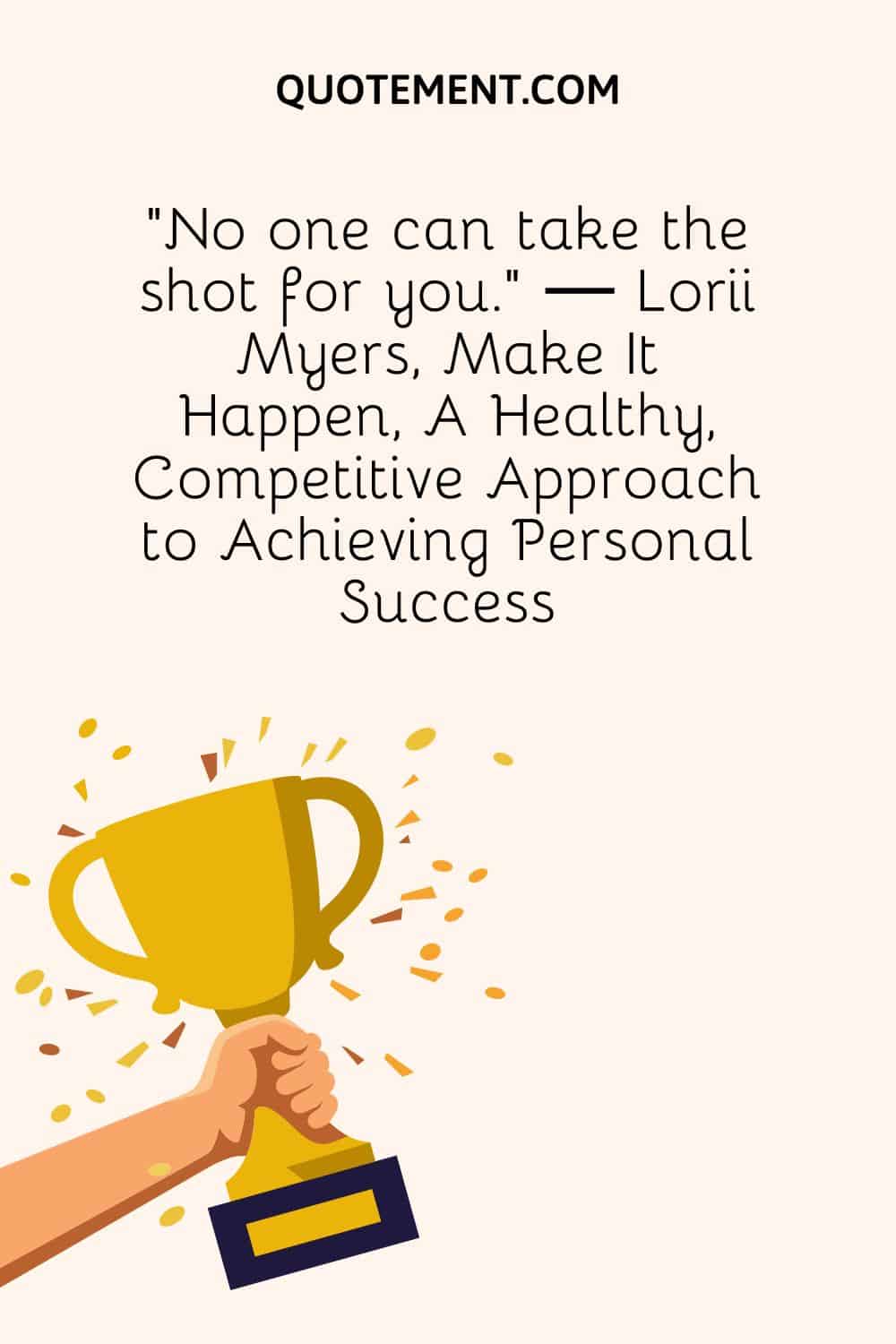 11. "Conquering any difficulty always gives one a secret joy, for it means pushing back a boundary line and adding to one's liberty." ― Henri Frédéric Amiel
12. "A winner has more skills than a loser," Vor said, "no matter how you define the competition." ― Brian Herbert, The Butlerian Jihad
13. "Maxim 20: If you're not willing to shell your own position, you're not willing to win. -The Seventy Maxims of Maximally Effective Mercenaries" ― Howard Tayler
14. "I'd seen glimpses of a different me. It was a different me because in those increments of time I thought I actually became a winner. The truth, however, is painful. It was a truth that told me with a scratching internal brutality that I was me, and that winning wan't natural for me. It had to be fought for, in the echoes and trodden footprints of my mind. In a way, I had to scavenge for moments of alrightness." ― Markus Zusak, Getting the Girl
15. "One way to win your battles is to actually let go some of them, by losing we gain much more than we think" ― Dr. Lucas D. Shallua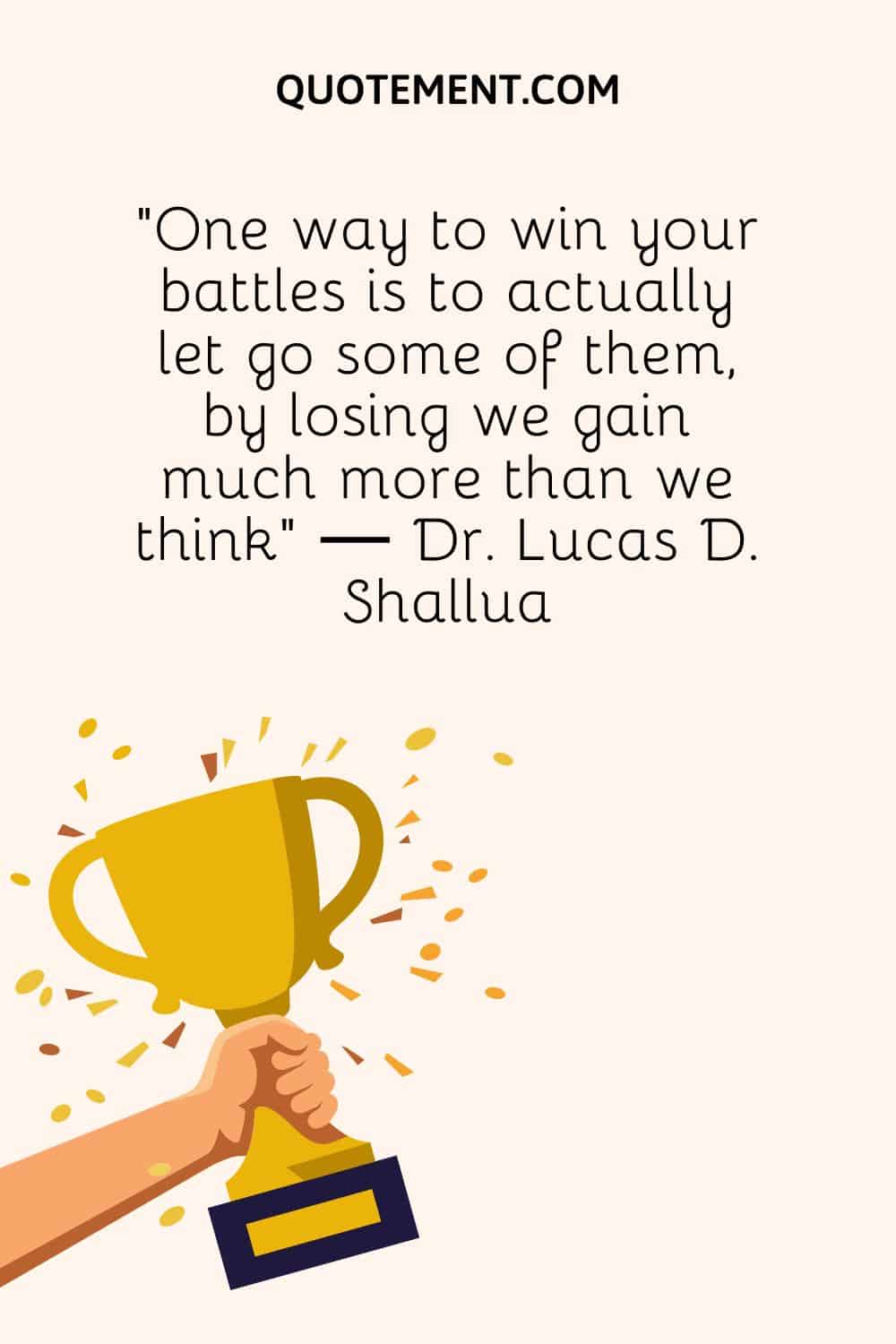 16. "Jack the Giant Slayer needs to be cunning. He needs to be able to analyse giants and detect their weakness and vulnerabilities. He must work out his giant-killing tactics. The holy grail for the giant slayers is the mind. The giants can control the body. They can get the physically best players. What they can't get is the mentally best players, i.e. the most resilient, robust, fastest-thinking, the best leaders, the most composed, and so on. That's because they can see the body and not the mind. What they can't see, they are much shakier on. That's where small teams have so much scope. Their task is to find mentally better players, more consistent, more able to work in a team, more able to cope with changing circumstances. The sky's the limit for mental footballers versus physical footballers. It's time for mental Moneyball, for psychological football – for Sun Tzu and Clausewitz footballers. Jack can outsmart the giants. They're very big and very rich, but not very smart. It's time to bring them down and take control of the golden goose. Come on guys, let's get this revolution started. Let's beat the odds. It's time for our day in the sun, lifting the big trophy!" ― Jim Leigh, Slaying the Football Giants: How Small Teams Can Succeed
17. "This parent seemed more concerned with winning and getting his newborn child the higher score, rather than concerning himself with his child's health. Flashforward 18 years and think about the length that parent might go to ensure his child get the best scores to get into the best school all the time ignoring if the child is actually learning or is healthy in every other way." ― Simon Sinek, The Infinite Game
18. "It's not so much that a person wins, but that they refuse to lose that results in success." ― Brian Quebbemann, M.D.
19. "If you are good at your game. You would not cheat." ― De philosopher DJ Kyos
20. "Small accomplishments can make you feel like a winner too." ― Christina Casino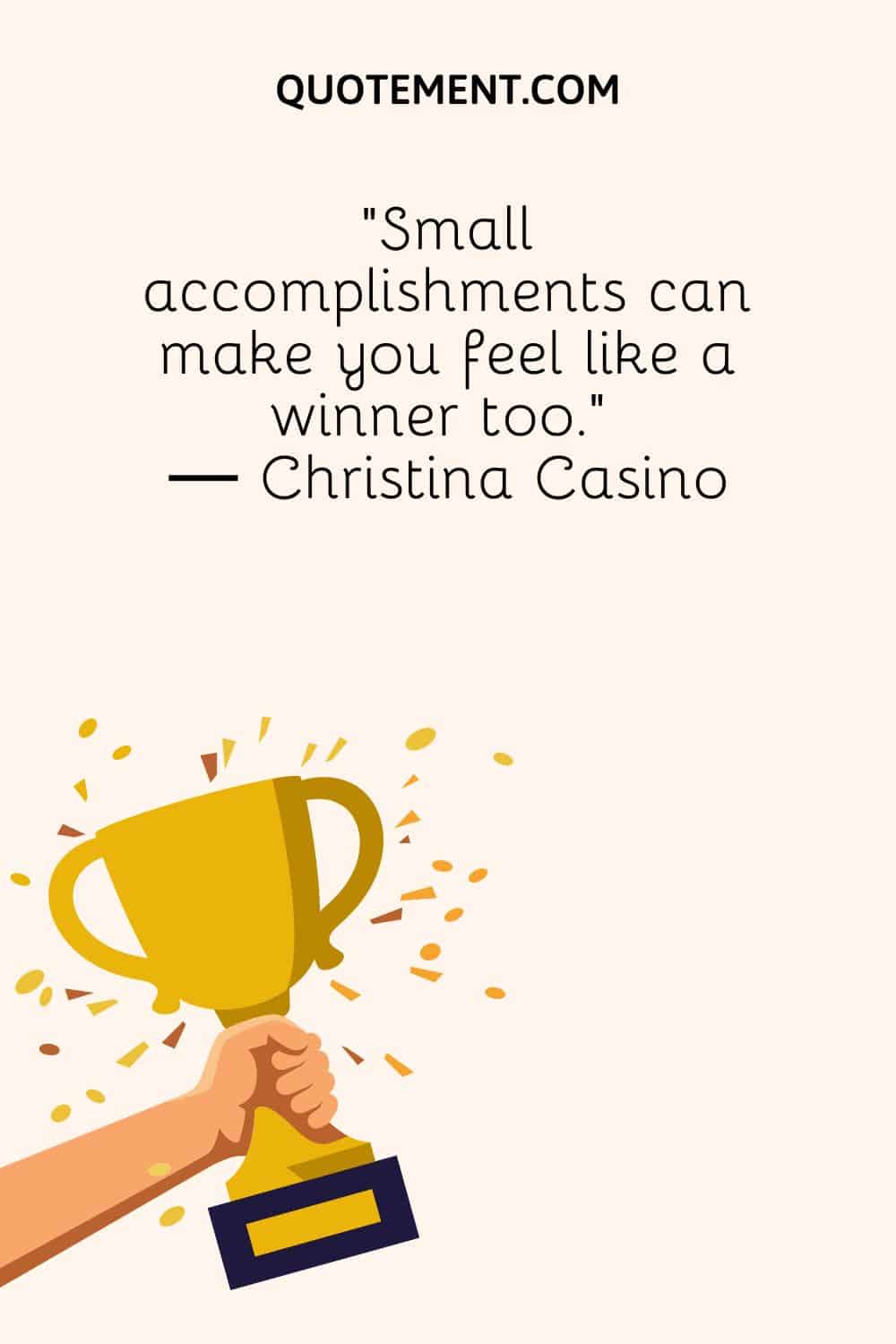 21. "You do not need to believe evil, only to use its methods. You will get accustomed to them, until eventually they are not your last choice, but your first. For awhile, you can justify it to yourself, and then eventually you will not bother. You have forgotten what you are fighting for; now winning is the only objective! And the more you win, the more you justify it, until the whole idea of right and wrong disappears and only winning matters." ― Anne Perry, Death in Focus
22. "A smart woman encourages other women because she knows she cannot be destroying others and be winning on the other side." ― Gift Gugu Mona, Woman of Virtue: Power-Filled Quotes for a Powerful Woman
23. "If, instead of seeking approval, you ask, 'What's wrong with it? How can I make it better?', you are more likely to get a truthful critical answer. These answers will help you in improving and becoming a better version of yourself. Constant critical evaluation is key to constant improvement." ― Abhishek Ratna
24. "While there is no definitive formula for success and winning, there exists a deliberative mindset, confidence and emotional strength. For one must believe they are a champion before they can become one." ― R.J. Intindola
25. "The ultimate courage is fighting a battle one knows they will lose; but they confront the adversary, to prevent them from winning." ― R.J. Intindola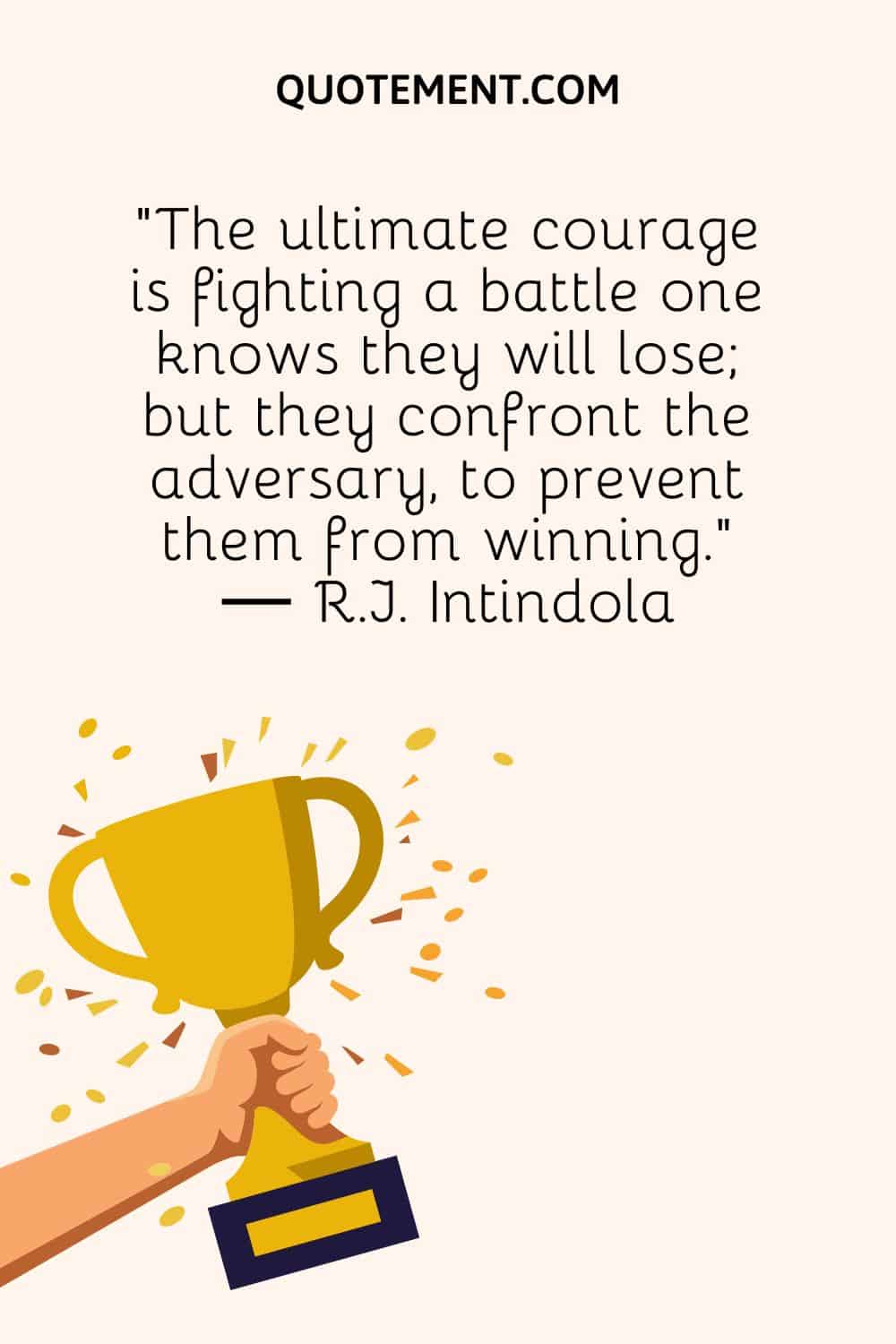 26. "A key criteria to be successful in any field is the desire to continually strive to be a better version of yourself. This is very different from the skill of accumulating and remembering facts which may helps in studies and in getting qualifications." ― Abhishek Ratna, small wins BIG SUCCESS: A handbook for exemplary success in post Covid19 Outbreak Era
27. "Let's be honest with ourselves for a moment, shall we. Trying to argue a point, prove we are right—that we are a good person—is more about winning, or quite simply, protect ourselves from losing. It all boils down to fight or flight. Ultimately, when we are driven by these two forces, we end up fighting and fleeing the ultimate truth which is not of this earth." ― Charles F Glassman
28. "People talk about a 'winners mentality' because a winner has something that others lack, a special brain that takes for granted that it was born to be heroic. When a game comes down to the last decisive seconds, the winner bangs his stick down on the ice and yells to his teammates to pass to him, because a winner doesn't ask for the puck, he demands it. When thousands of spectators stand up and roar, most people become uncertain and back away, but the winner steps up." ― Fredrick Backman
29. "Let's get this straight: we all can win. Because winning is not a function of circumstances of birth. Nor is it a lucky dip, that places success within the reach of the poor and the unlucky. Whoever has doubts about his ability to succeed doubts God's ability to help him harness his limitless potentials. Any more doubters?" ― Abiodun Fijabi
30. "Face your fears with Positivity and Confidence-And you will be a Winner!" ― Kanika Saxena, A Lockdown Story: How to Use the Lockdown to your Advantage?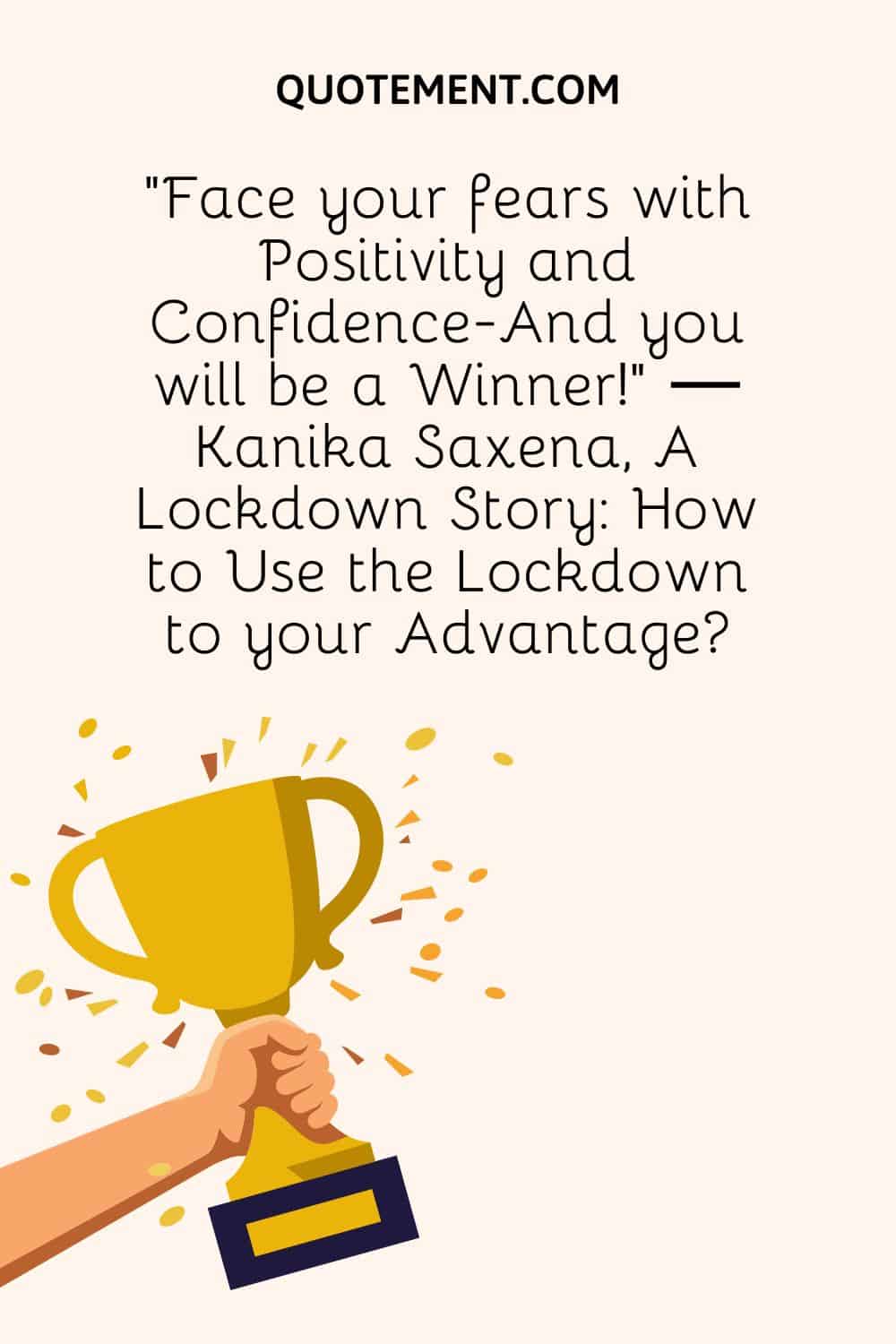 Final Word
Hi there, winner! I hope that you have enjoyed reading these winning quotes, that you have found inspiration within them, and that you might use some of these as a caption, or to write it down in your own notebook.
If you are not yet a winner, but you aspire to be one, I know that these winning quotes will help you walk on that path with pride and joy.
I wish that you will continue to be a high-achiever, and that you get to have many more personal wins to come. Best of luck!
Read next: 100 Taking Chances Quotes To Help You Conquer Your Fears