If you're getting ready to hit the road, you found this article just in time! Here you'll find 180 cool, catchy, and cute road trip captions to use with the fantastic pictures you take on your road trip.
Whether you're going somewhere exotic, visiting Red Rocks Park in Colorado, or a city nearby, traveling always awakens the photographer in us.
You take tons of cool photos, many of which will not end up on your feed, but for those that do you'll need a proper Instagram caption.
To save you the stress of searching for the best caption ideas, I've collected the 180 best road trip captions that will get your Instagram post loads of likes!
I've also prepared a bunch of exciting travel quotes you can use as catchy Instagram captions. These are the best road trip quotes you can find anywhere online!
Without further ado, let's jump right in to the juicy stuff!
Top 20 Best Road Trip Captions
Let's start off this adventure with the 20 absolute best road trip captions perfect for your road trip selfie.
Check them out!
1. Ultimately, every road leads to the whole world.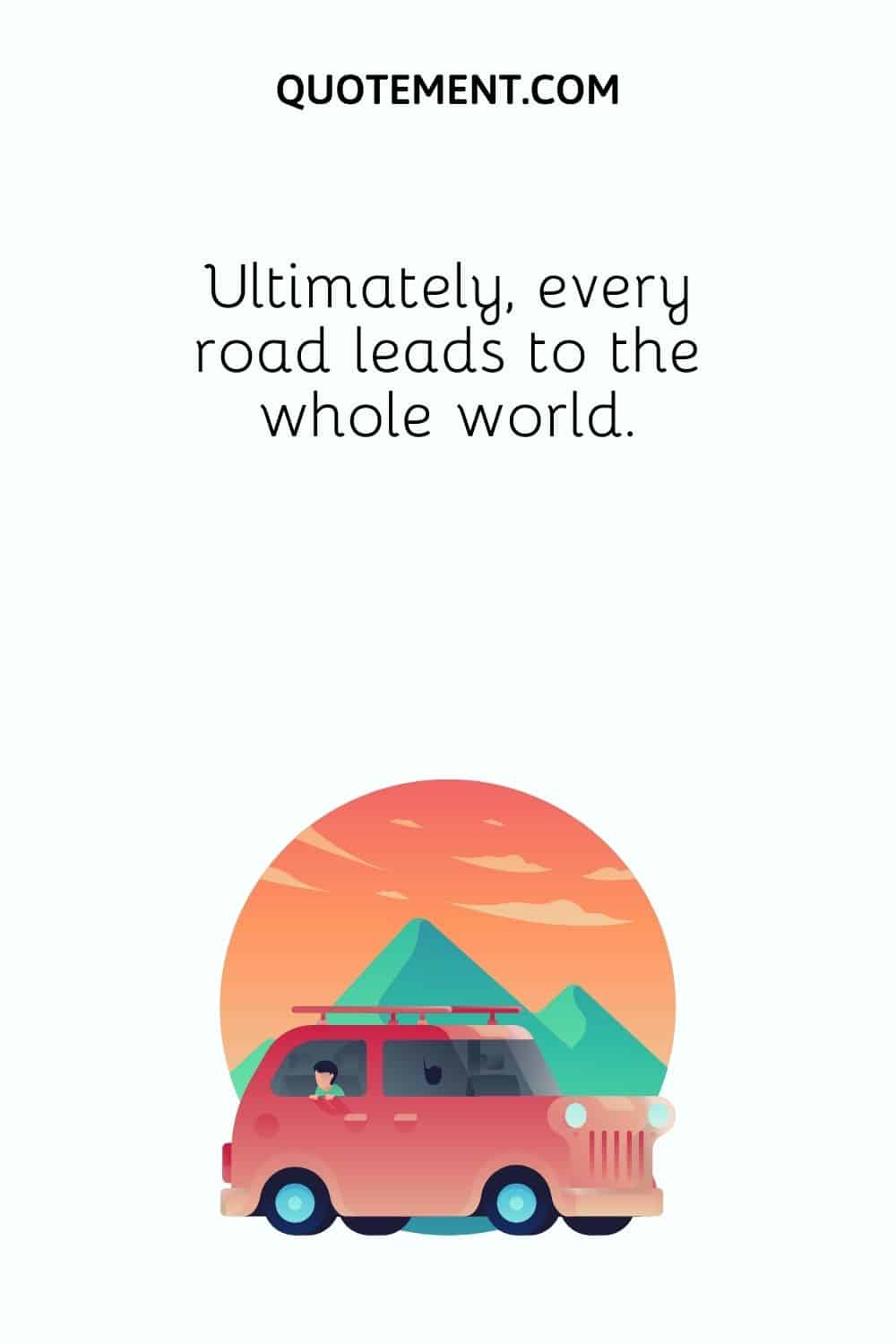 2. Difficult roads often lead to beautiful destinations.
3. I don't care how long it takes, but I'm going somewhere beautiful.
4. Life is too short not to go on a spontaneous road trip.
5. Work hard, travel harder.
6. Turns out, I just needed a day off and a dirt road.
7. There's this thing about road trips that throws our sense of time out of the window.
8. Take good care of your vehicle in the garage, and it will take good care of you on the road.
9. All I need is one wheel in hand and four wheels on the road.
10. "If you're not lost, you're not much of an explorer." — John Perry Barlow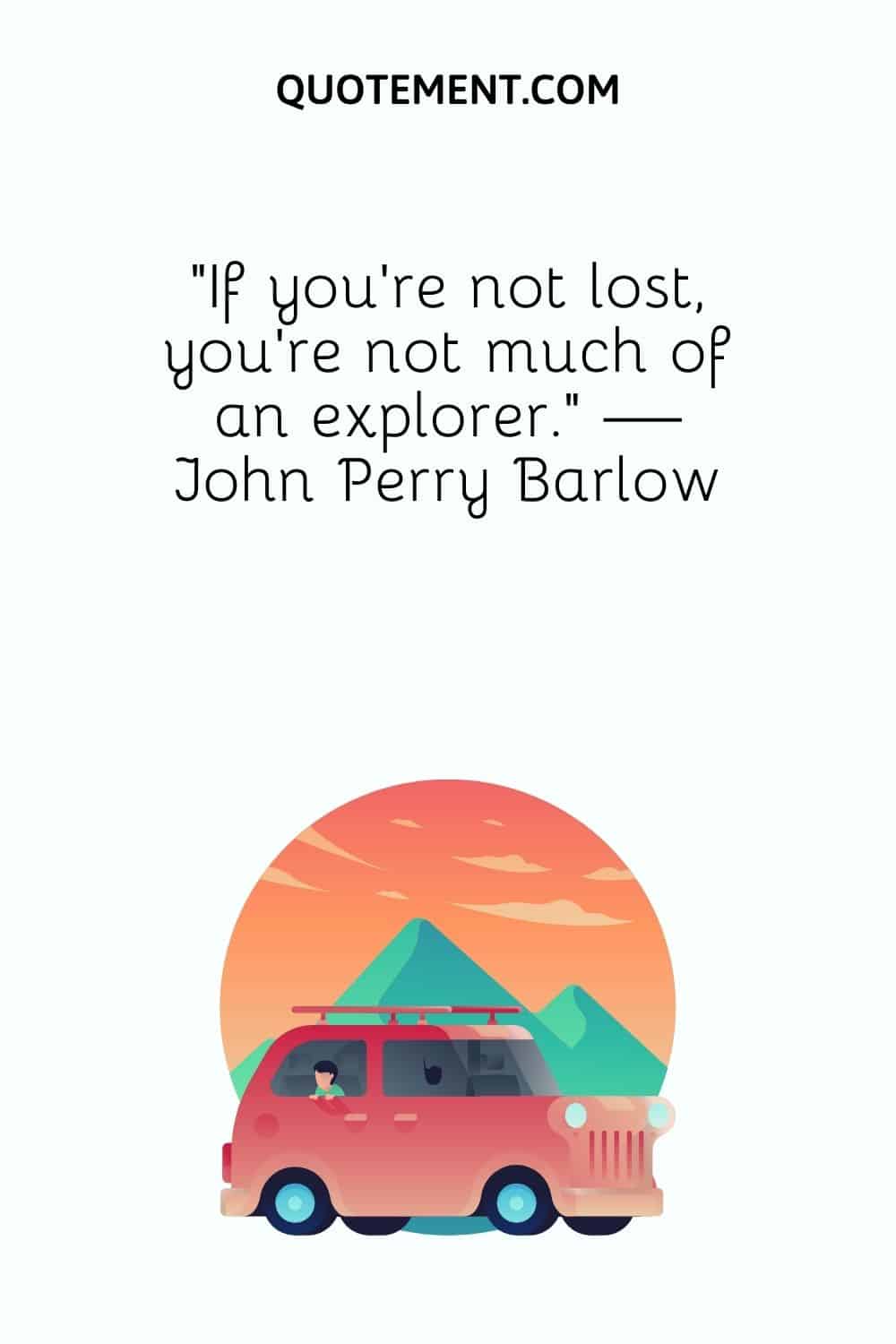 11. The road ahead is as long as you make it.
12. Keeping the windows down and letting the wind blow my worries away.
13. Nowhere to be but everywhere.
14. Nothing fixes cabin fever like the open road.
15. Unintended detours have been known to take people to the most scenic roads in life.
16. A travel addict on the road to recovery. Ironic, isn't it?
17. An open road is the most exciting part of a road trip.
18. Nothing behind me, everything ahead of me. As ever, it is so on the road.
19. Not knowing where a road leads is what inspires me to go for it.
20. Sky above, open road ahead, peace within.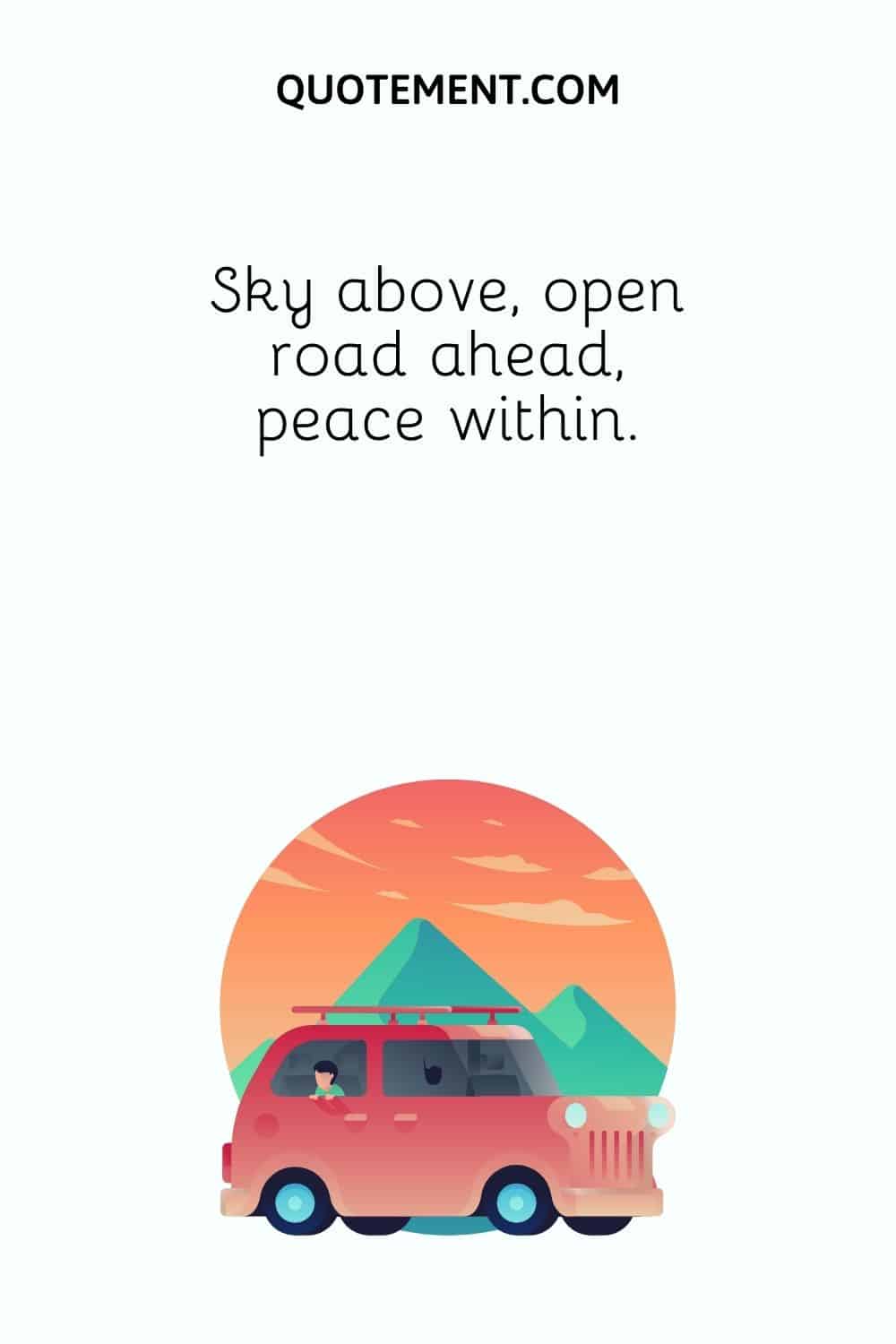 See also: 270 Absolutely Beautiful Sky Captions For Instagram
Quirky And Short Road Trip Captions
We'll continue with some of the quirkiest short road trip captions. They will make your Instagram post pop!
1. My heart is on the open road.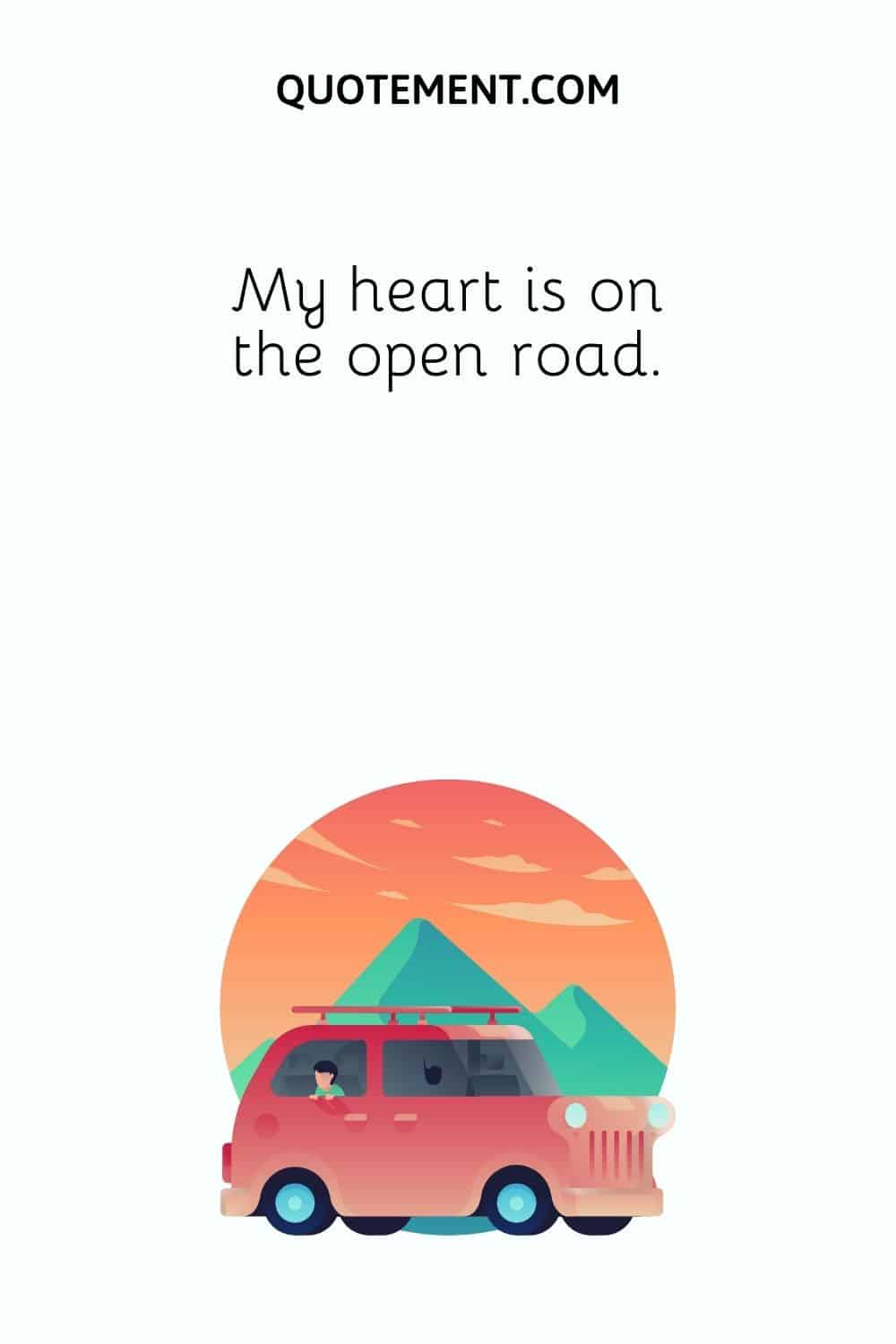 2. I was born for the open road.
3. Always take the scenic route.
4. Life is a highway.
5. On the road again!
6. The road ahead is as long as you make it. Make it worth it.
7. Until our paths cross again.
8. Wanderlust and highway dust.
9. Your life, your ride.
10. Traveling where the wind will take me.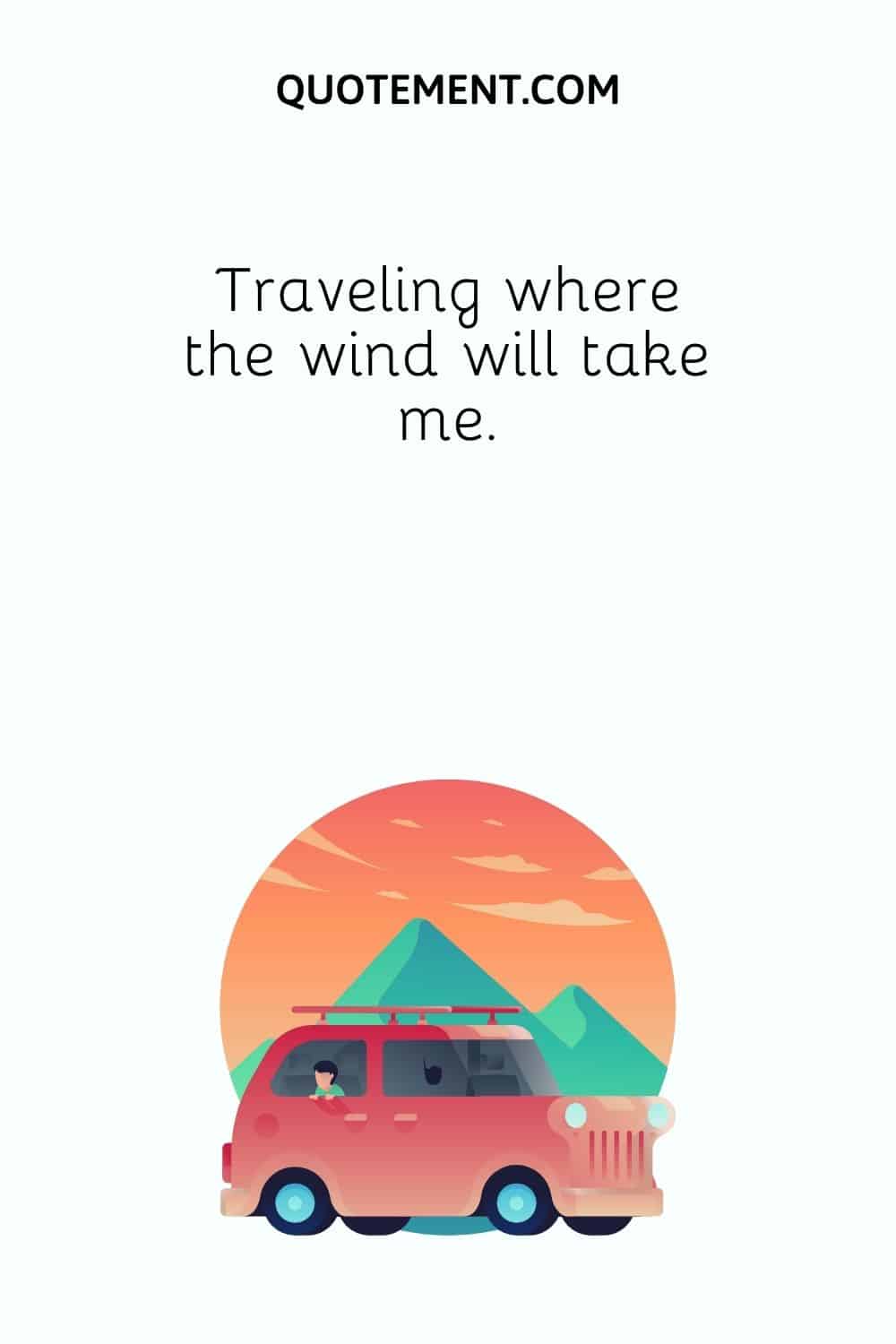 11. Traveling the extra mile.
12. Making memories, one road trip at a time.
13. Hit nothing but the road.
14. Windows down, music up.
15. Are we there yet?
16. BRB – exploring.
17. Every day is a winding road!
18. Add life to your days, not days to your life.
19. Choose the scenic route.
20. Finding paradise wherever I go.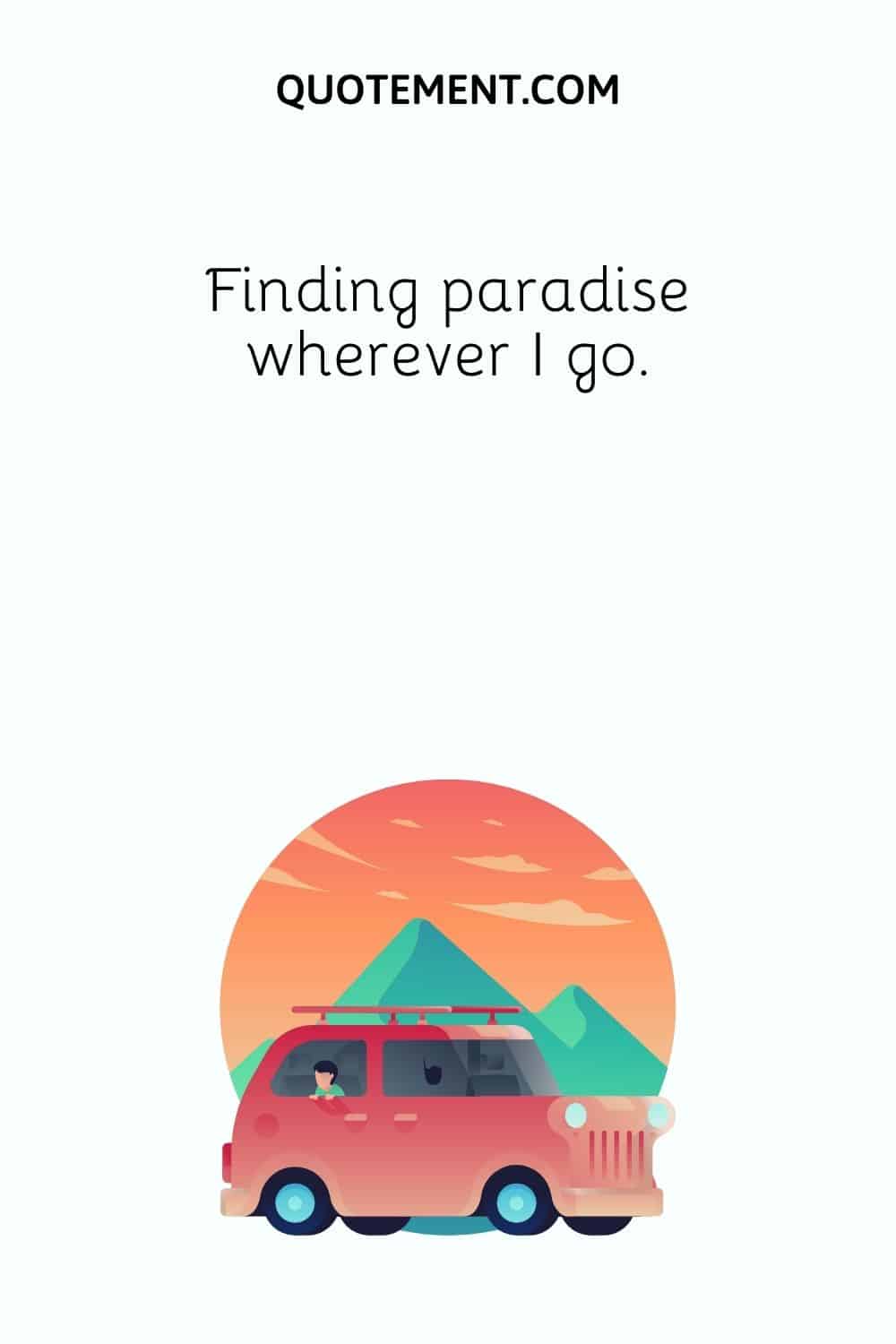 21. Take me away!
22. Drifting on the road is my favorite mood.
23. May the road rise with you.
24. Embracing my inner road tripper.
25. Don't call it a dream, call it a plan.
See also: 240 Sassiest & Classiest One Line Caption Ideas For Instagram
Funny Road Trip Captions For Instagram
Here's a fine selection of funny road trip captions and puns that will make your Instagram post catchy. Take a look!
1. Texting while driving? Oh, cell no!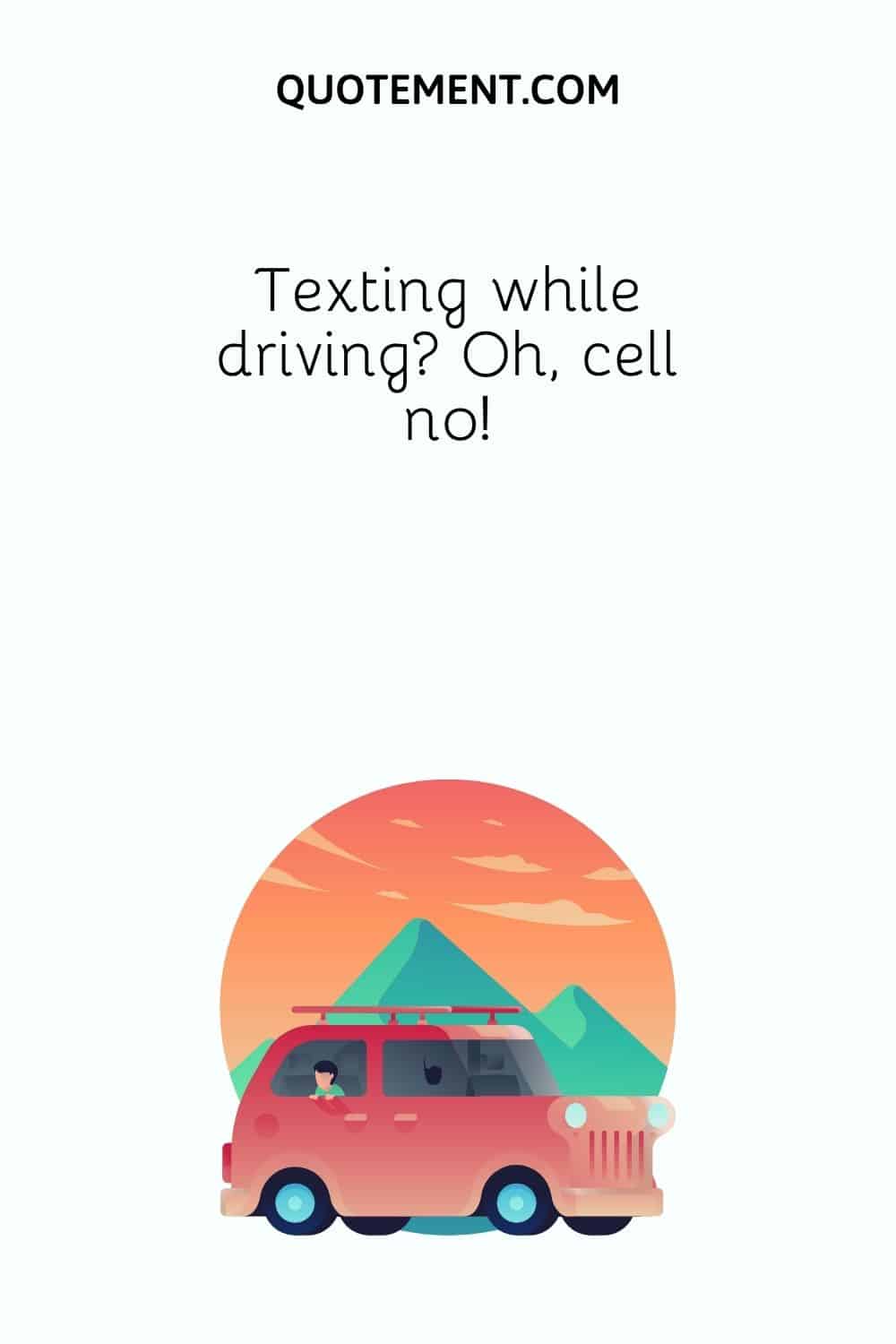 2. Drive it like you stole it!
3. If a police car isn't after you, you're not doing it right.
4. Chasing beautiful sunsets and running away from bugs.
5. You've got two options when you need to pee while on a road trip: public restrooms or the wilderness. I chose the wilderness, and my dogs nodded in solidarity.
6. Family road trips are special in the sense that everyone can spend time annoying one another in various different places.
7. "A road trip is a way for the whole family to spend time together and annoy each other in interesting new places."- Tom Lichtenheld
8. Every time I go on extended road trips, I get emotionally attached to the cars ahead of me.
9. Yeah, working is great… but have you tried taking a road trip?
10. I wish the road trips could pay my bills.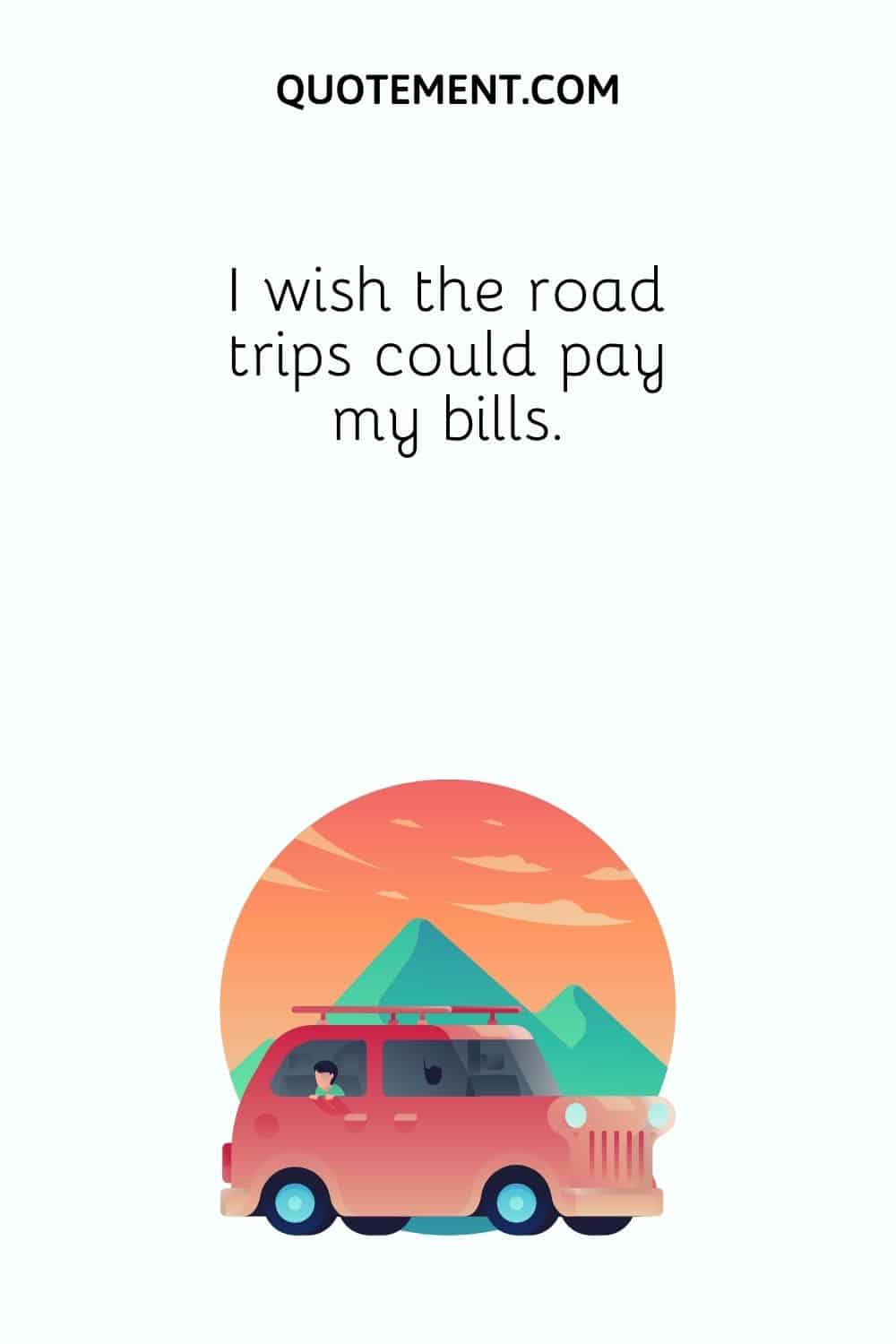 11. We've run out of things to talk about. Send help.
12. Road tripping. AKA getting kicked repeatedly by my toddler.
13. Perhaps I'm going nowhere, but still – what a ride!
14. The destination isn't actually the best part of a road trip. It's the fast food pit that stops along the way!
15. Age doesn't matter when you're buying snacks for a road trip. You should always look like you're an unsupervised kid who was given a load of cash.
16. People having babies and getting married…and I'm like: let's get trippy and road trippin'?
See also: 250 Best Trippy Captions For Instagram For Your Next Post
Cute And Catchy Road Trip Captions
More catchy road trip captions are coming your way. Take a look!
1. Here for the journey, not the destination.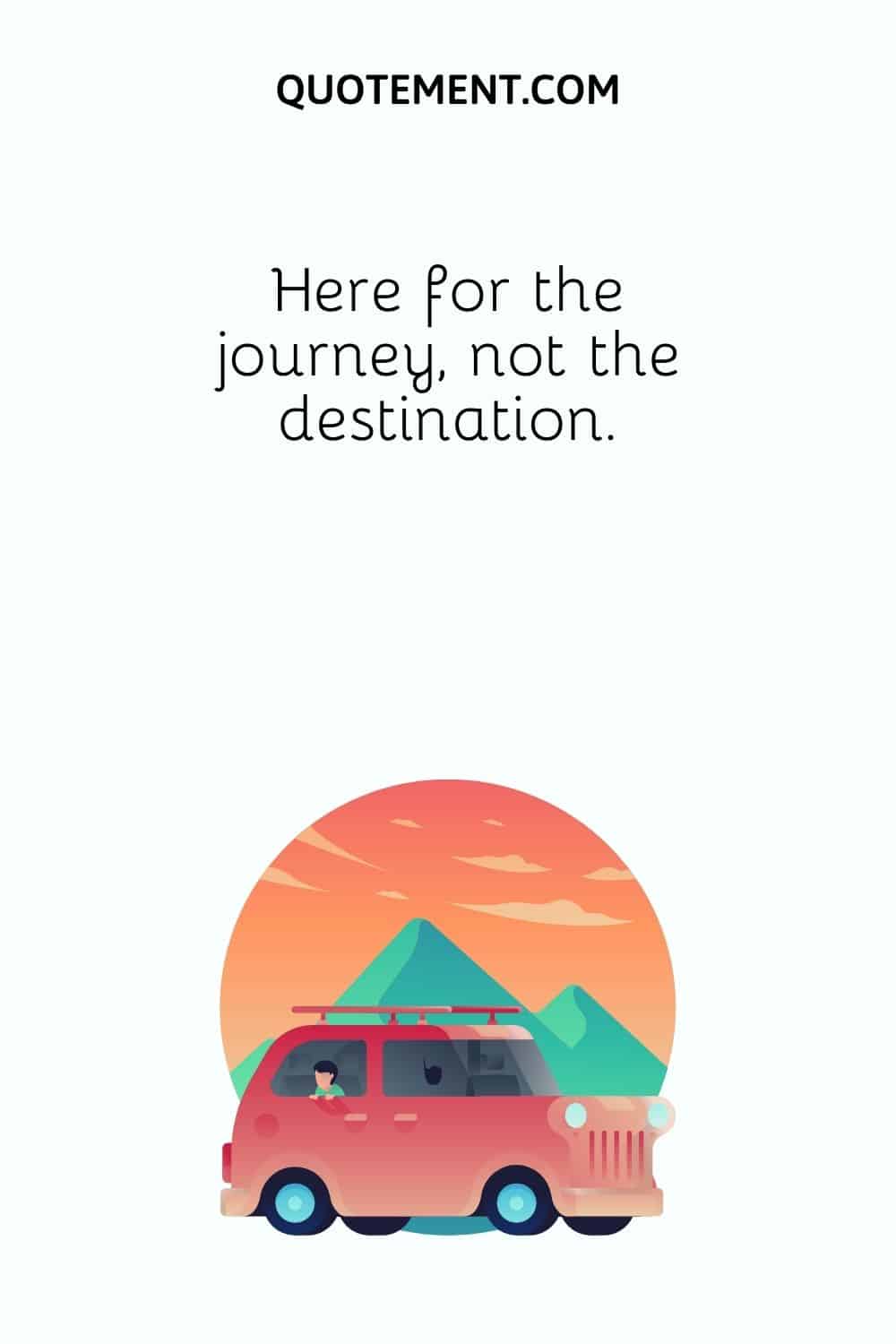 2. Hey GPS, show me today's most scenic route. Let's take that!
3. Really in the mood for a long drive with no destination.
4. Never underestimate the therapeutic power of driving and listening to loud music.
5. The destination isn't actually the best part of a road trip. It's the fast-food pit stops along the way!
6. Happiness is a mix CD and a road trip.
7. Extraordinary things happen when you don't know where you're going.
8. Run like the roadrunner and never look down.
9. Out of mind, out of town.
10. Difficult roads often lead to beautiful destinations.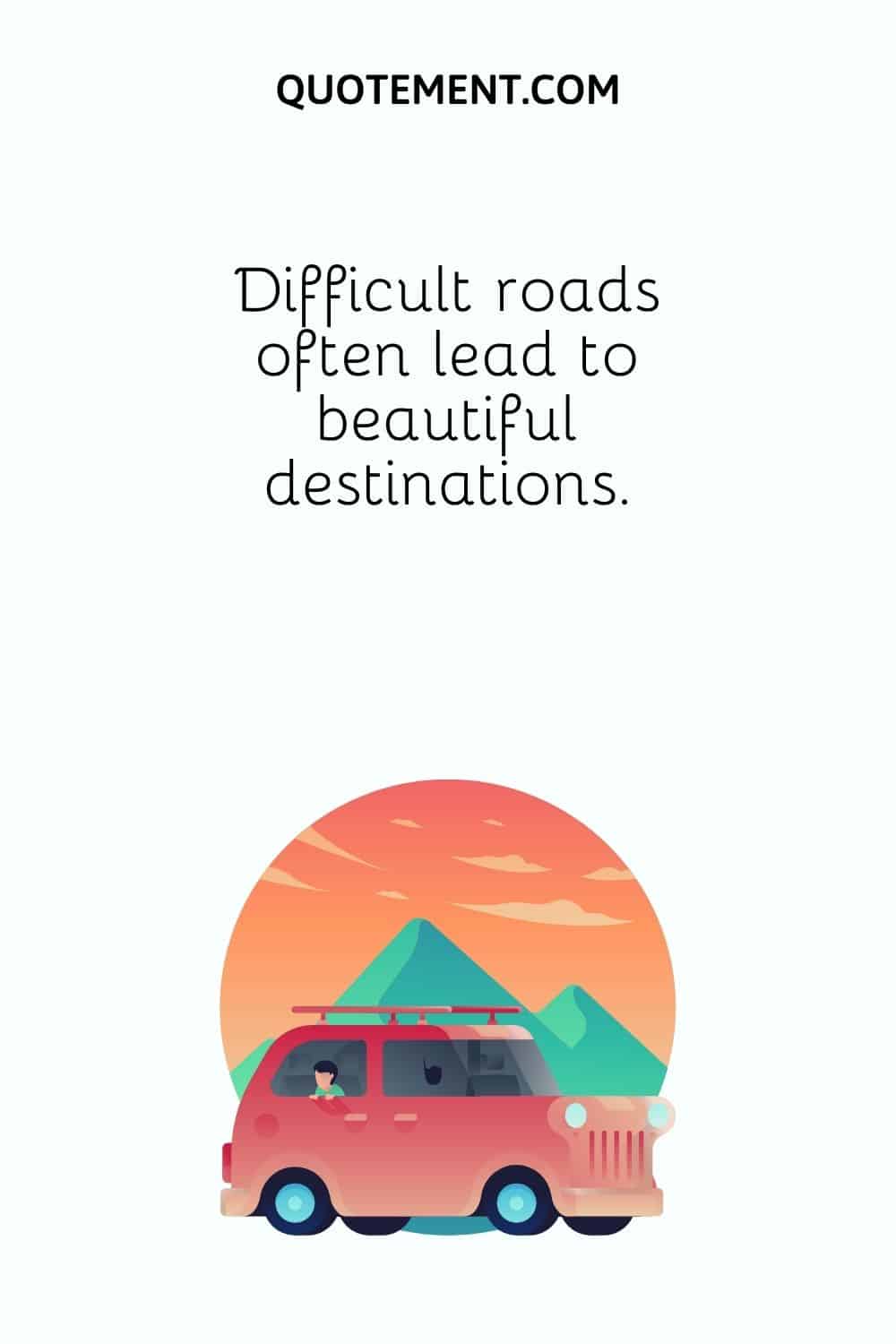 11. The only trip I want to take is one on the open road.
12. There are no wrong turns.
13. I need the curving, winding, twisting, dusty path to nowhere
14. One car, one driver, infinite possibilities.
15. Never fear the road less taken.
16. On your mark, get set, go!
17. Highway exits are just new adventures waiting to happen.
18. Gone in sixty seconds, and be back never!
19. Hard roads require a will of steel.
20. Somewhere along the road, I've discovered how beautiful life is indeed.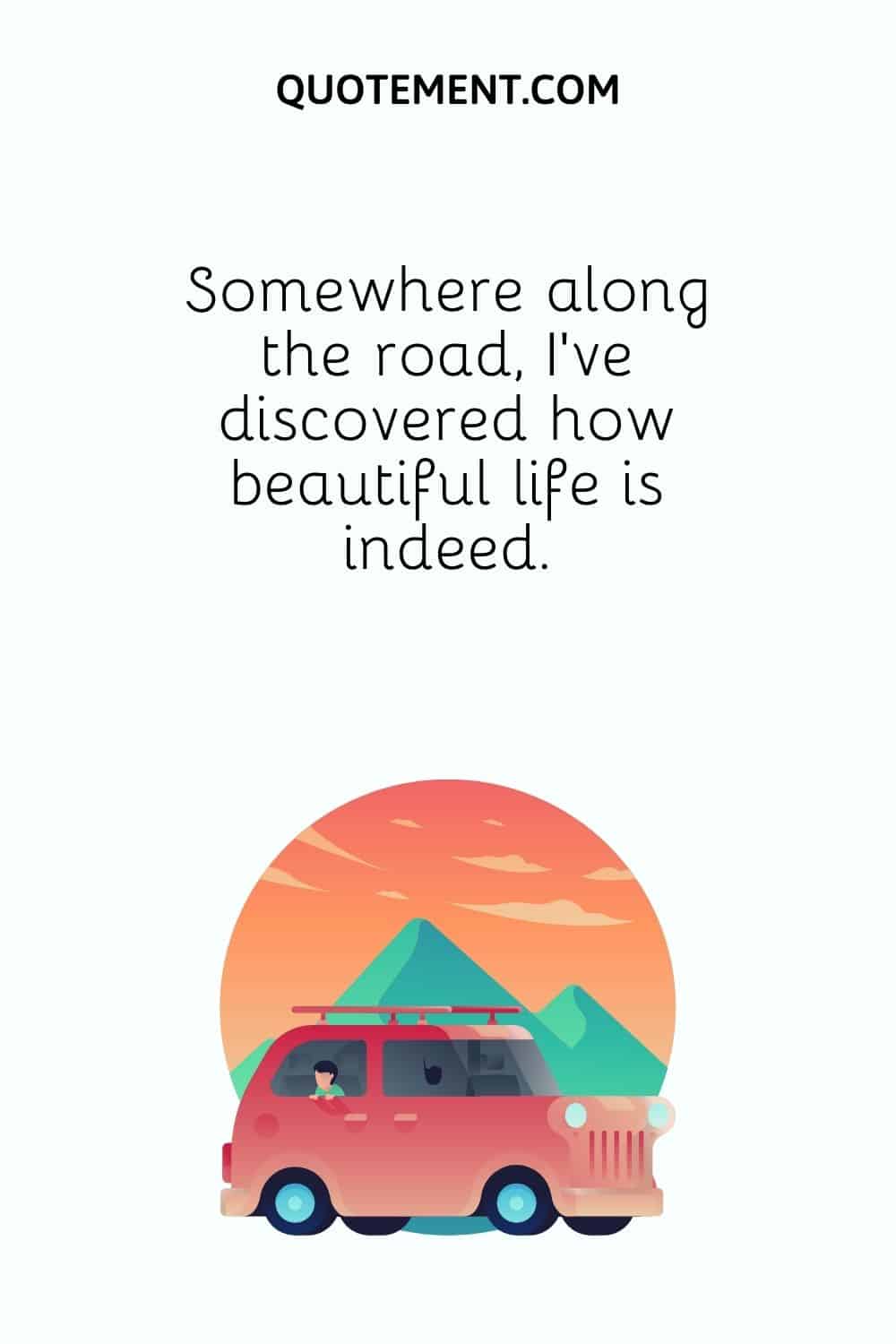 21. Life is too short not to go on a spontaneous road trip.
22. A journey that leads to freedom.
23. Jump in, and let's go!
24. The road is a great listener.
25. Because the greatest part of a road trip isn't arriving at your destination. It's all the stuff in-between.
26. Road trips aren't measured by mile markers but by moments.
27. Let's lie on the ground and write songs about nature all day.
See also: 150 Nature Captions For Instagram For All The Nature Lovers
Road Trip Instagram Captions With Best Friends
Traveling with best friends is a true adventure. Make these moments last forever by capturing them with a photo and a cute road trip caption.
Here are my favorite road trip captions for when you're traveling with friends.
1. Sometimes, all you need is a good friend and a full tank of gas.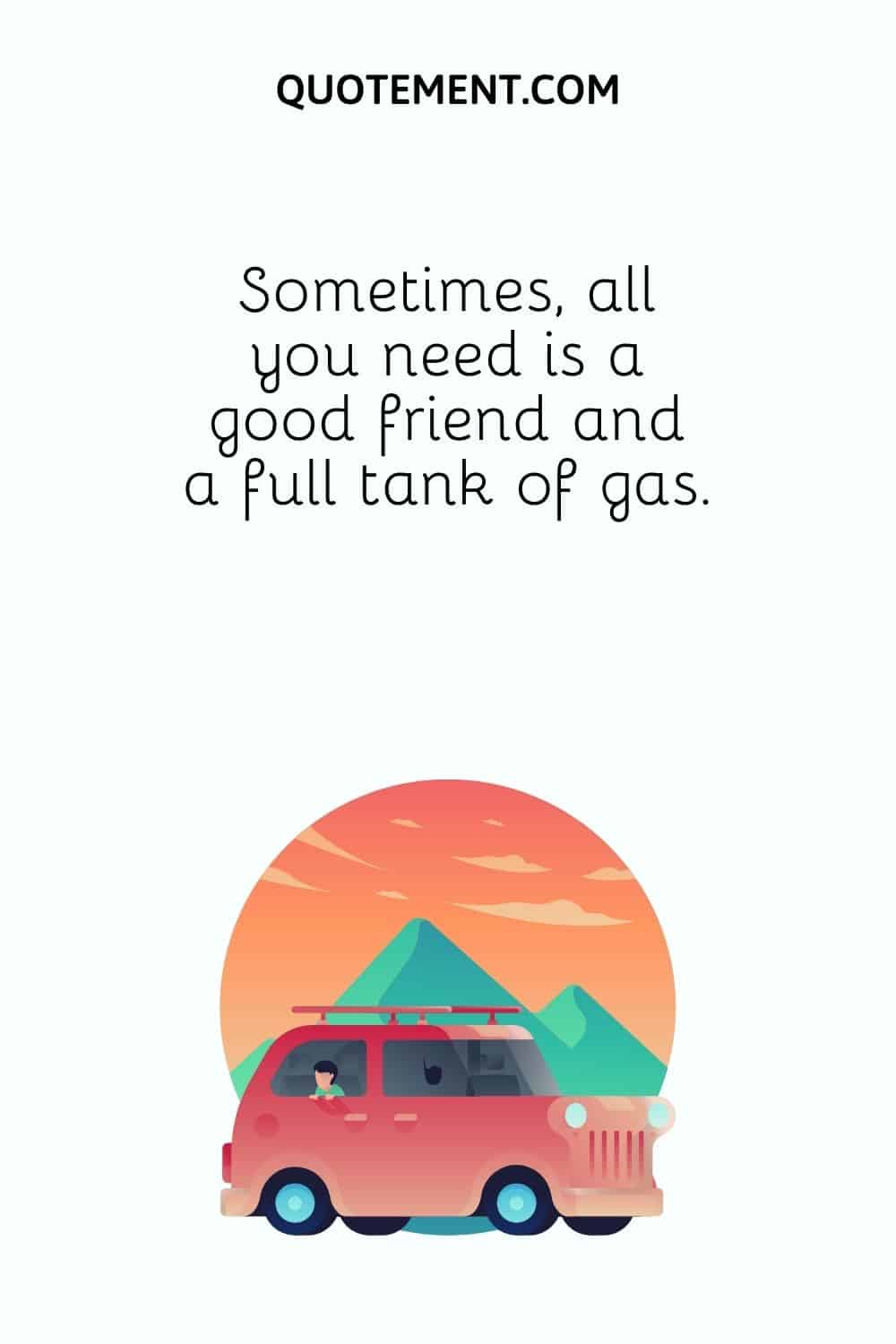 2. No road is long with good company.
3. Good company on a journey makes the way seem shorter.
4. Endless playlists + coffee + best friends = best road trip ever.
5. Life is meant for good friends and great adventures.
6. Pleasant road trips require yummy snacks, good music, fun chatter, and, oh—reliable directions!
7. A great road adventure is measured in friends rather than kilometers.
8. Sometimes, all you need is a good friend and a full tank of gas.
9. Great companions on the road make trips seem shorter.
10. A good friend listens to your adventures. Your best friend makes them with you.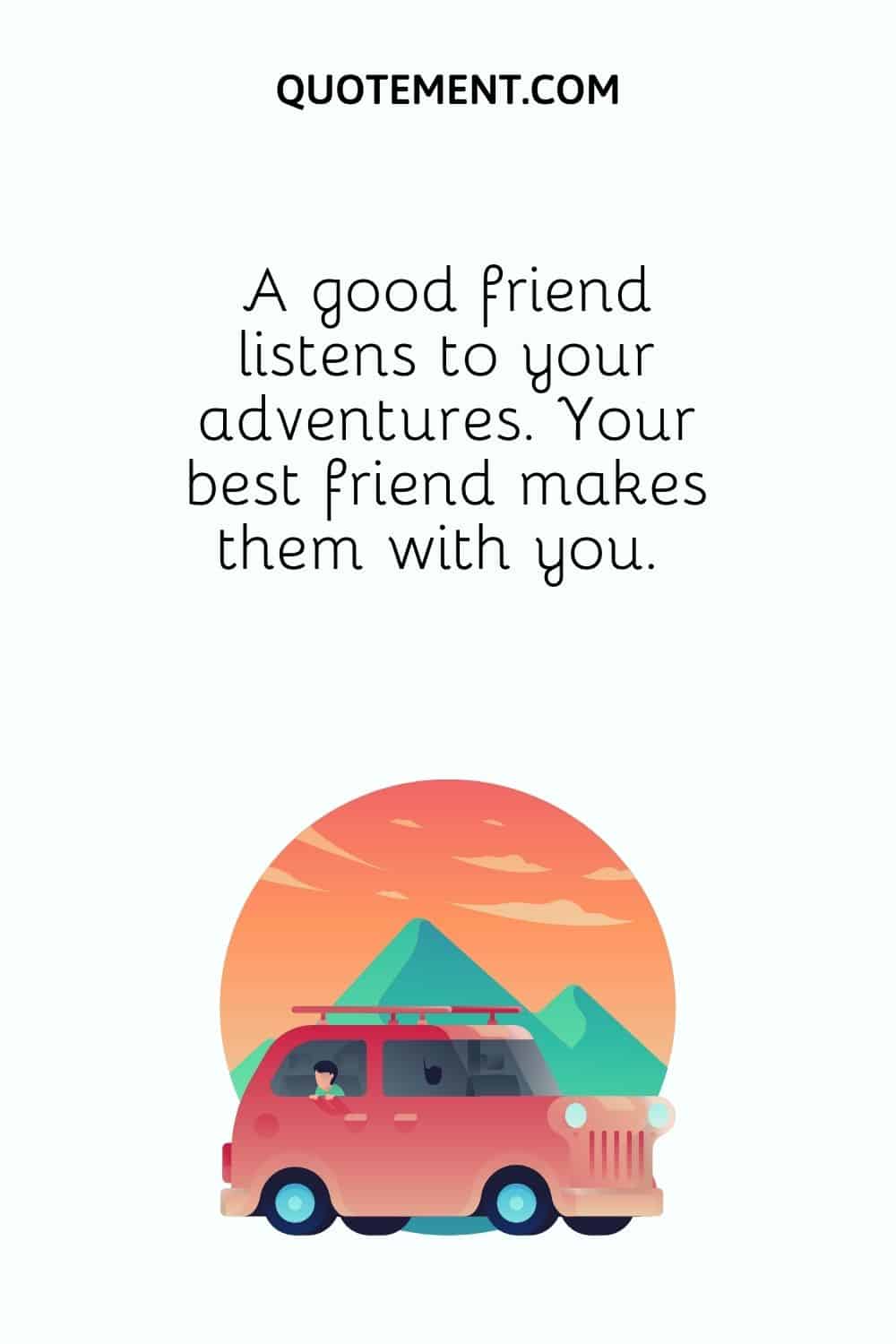 11. No road is long with good company.
12. Having a best friend is like having your own little corner of the world to escape to.
13. You never really travel alone. The world is full of friends waiting to get to know you.
14. The fastest way to make a friend for life is to travel with a stranger.
15. There is an unspoken bond you create with the friends you travel with.
16. Away is a place where it's not about the money you spend. It's about the moments you share.
17. Good friends follow you anywhere.
18. Surround yourself with people who make you hungry for life, touch your heart, and nourish your soul.
19. You and me, we are more than friends. We are like a small travel gang!
See also: 90 Small Circle Quotes To Share With Your Best Friends
Romantic Road Trip Captions
Open roads and your beloved by your side – life doesn't get any better than that! Here are some of the most romantic road trip captions to capture those sweet moments with your lover.
1. Me, you, the radio, and the highway. Let's go.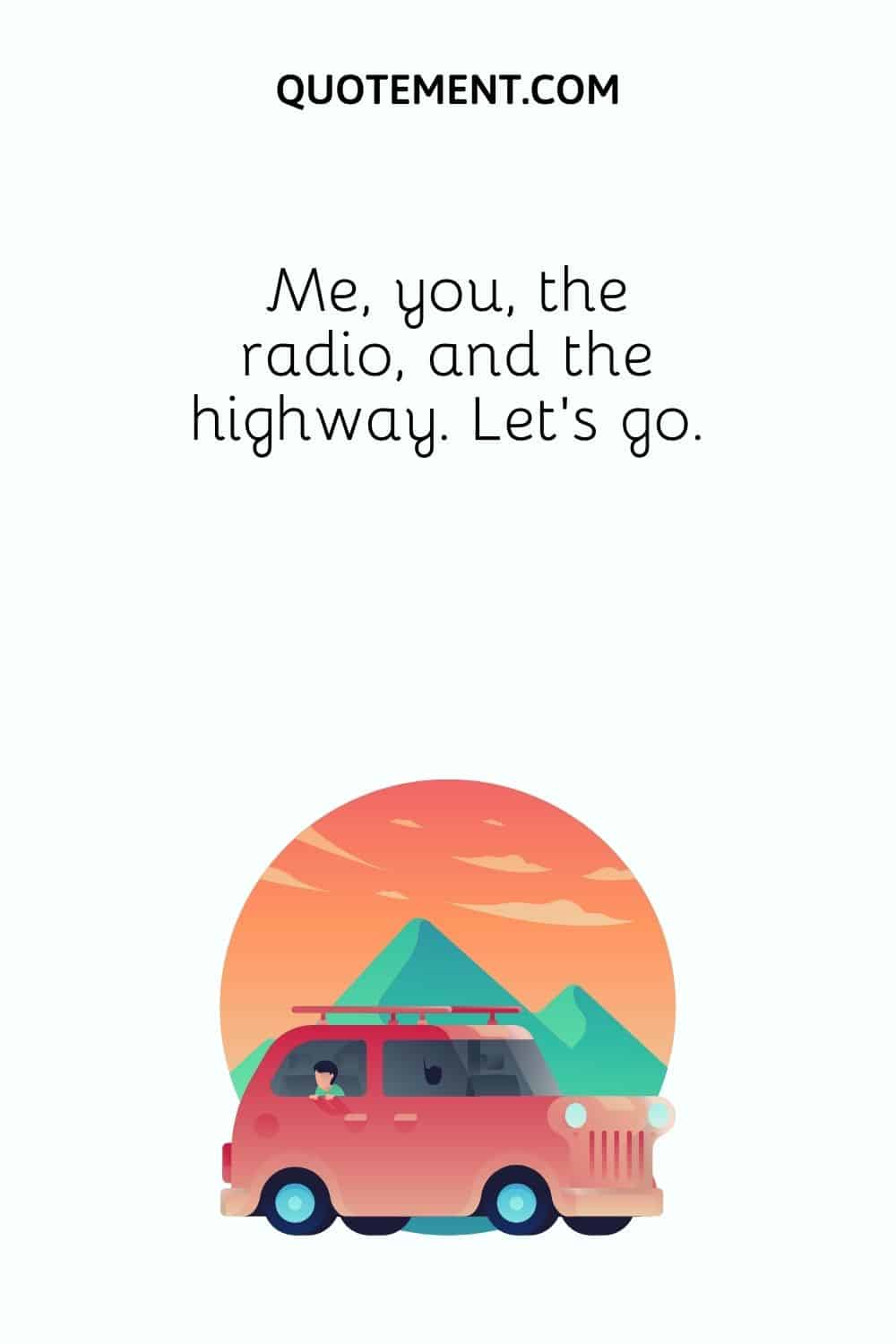 2. I just want to hold your hand and wander the streets with you.
3. "I can speak to my soul only when the two of us are off exploring deserts or cities or mountains or roads." — Paulo Coelho
4. It doesn't matter where you're going, it's who you have beside you.
5. Baby, you got the keys. Now shut up and drive!
6. My happy place: on a road trip with my favorite person, windows down, and music blasting.
7. Dreaming about our next stop.
8. "Come with me, where dreams are born and time is never planned." — M Barrie
9. There's something about open roads that bellows freedom. They are beguiling, fortuitous, and absolutely liberating.
10. I'm in love with cities I have never been to and people I have never met.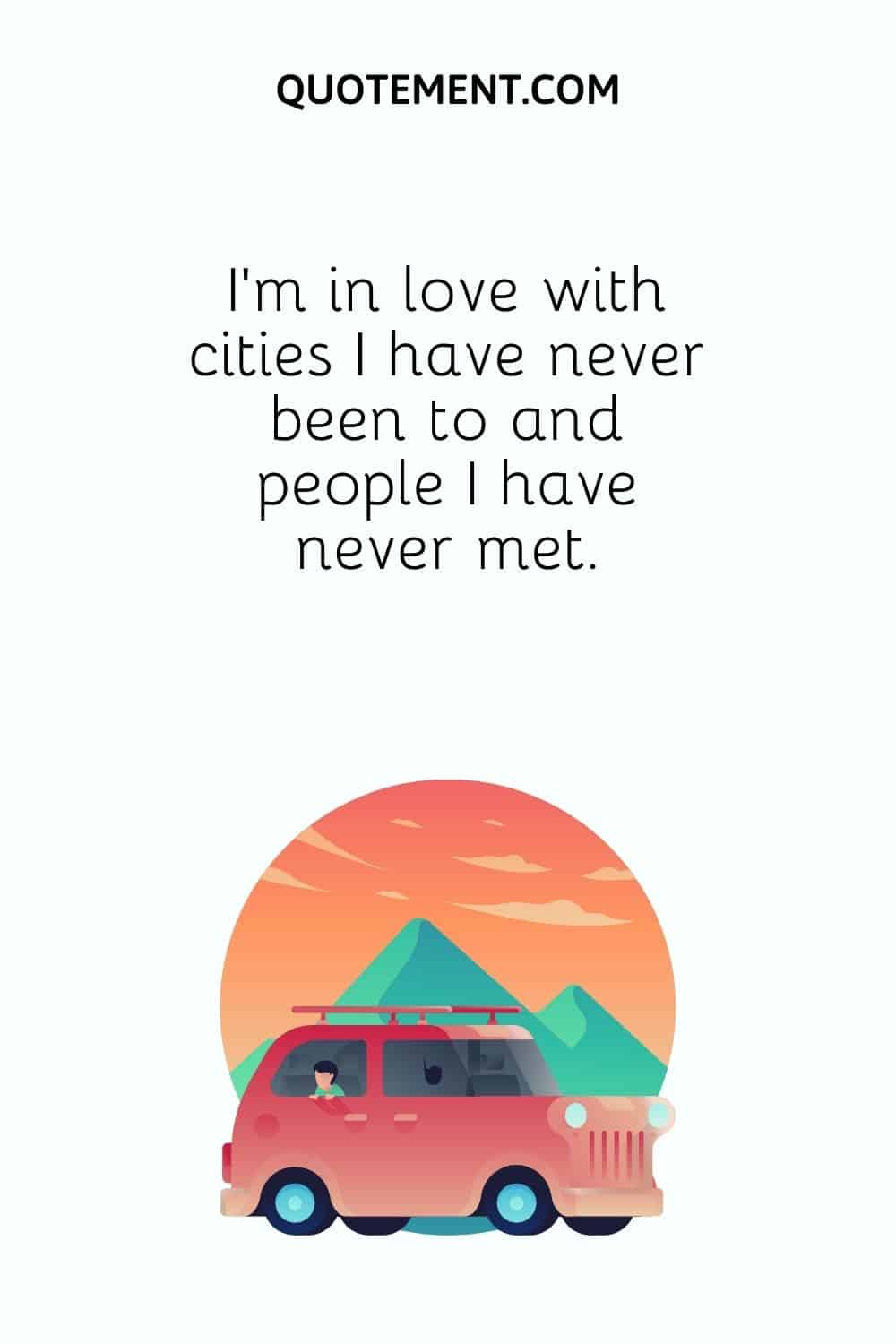 11. You make me wanna roll my windows down and cruise.
12. You drive me car-azy!
13. Driving during nighttime is about connecting and communicating with the lights.
14. No road is long with good company
15. My dreams are ready to take the road.
16. Here's to road trips, red eyes, and a lifetime of adventure together.
17. Every now and then, I take to the road looking for adventure.
18. Kiss my lips, and let's run away together.
19. I'm in love with you and with the world.
20. Find someone who is a home and an adventure all at once.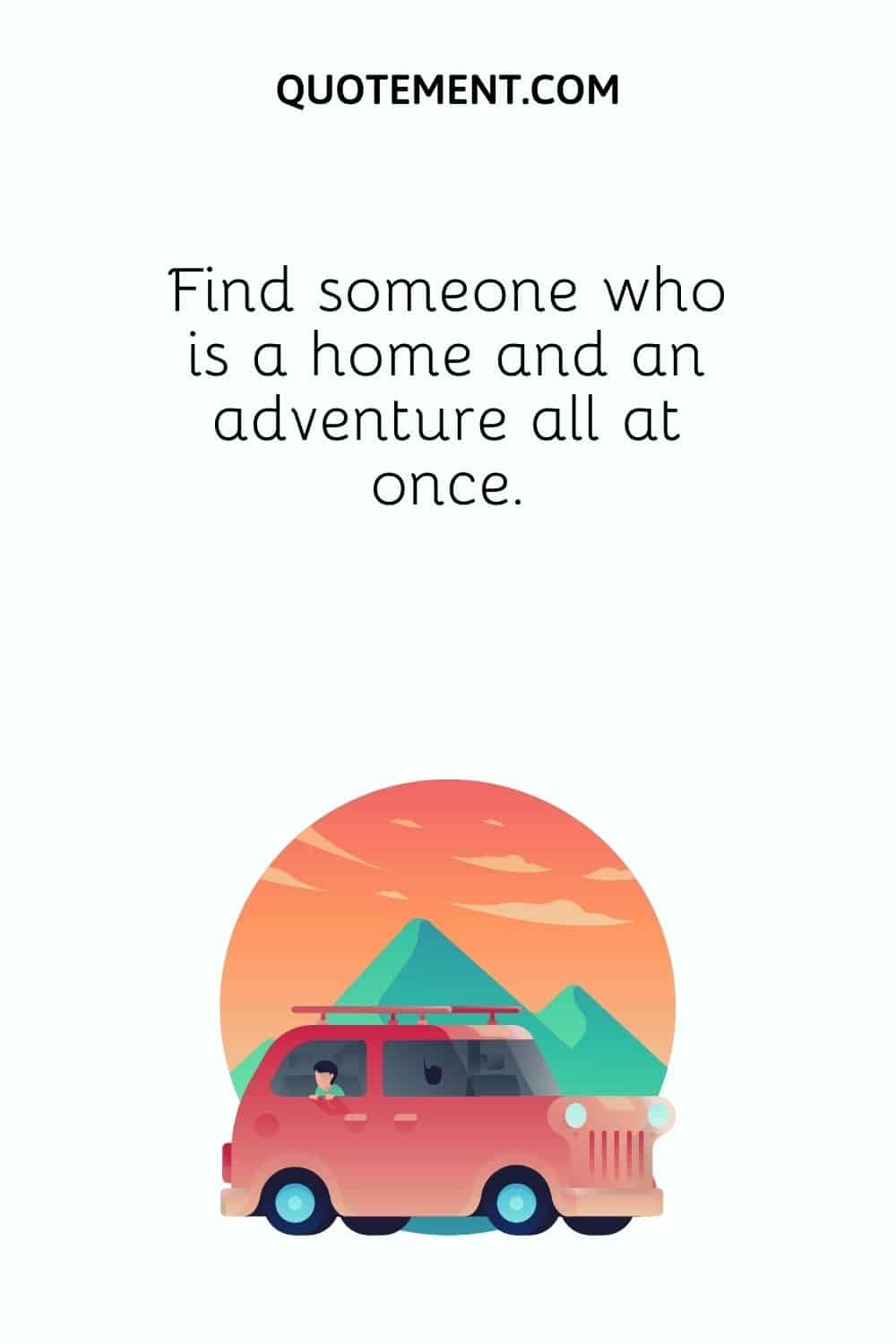 21. Together is our favorite place to be.
22. I don't want to be tied down to someone. I want to be set free with someone.
23. Saving the passenger seat just for you.
24. I want to travel the world with two things in my hands: your hand in one and a camera in the other.
25. We have nothing to lose and a world to see.
25. I want to travel the world with you, go to every country, every city, take pictures and be happy.
26. Open road, loud music, and my crush on my mind.
See also: 210 Lovely Captions For Crush To Let Them Know How You Feel
Deep And Meaningful Road Trip Captions
If traveling inspires you to think about life and its meaning, here are some deep and meaningful road trip captions you'll love.
1. It may be a long journey, but it will take you to freedom.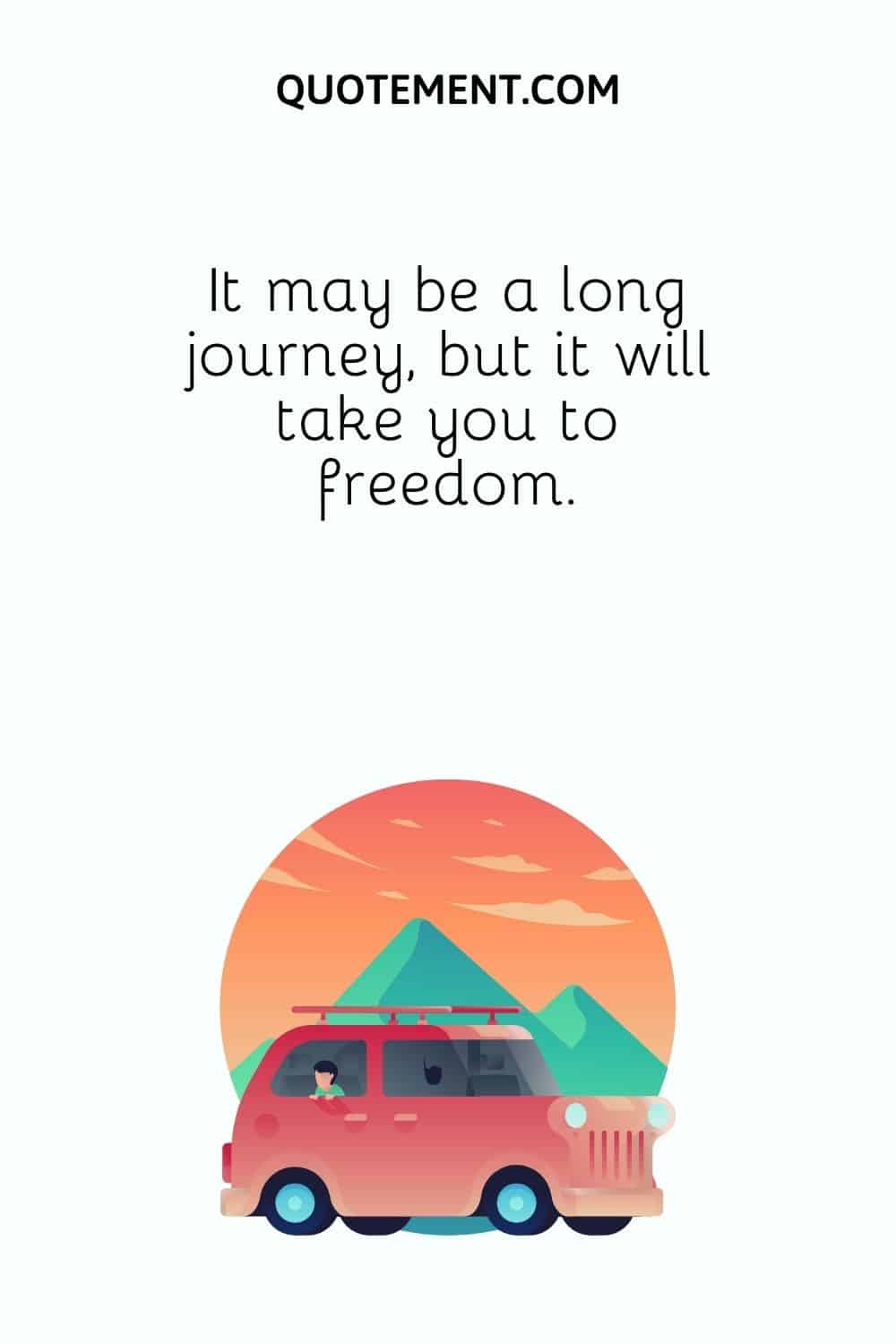 2. People don't take road trips. Road trips take people.
3. Any road will take you wherever you want to go. Just pick one and go.
4. Only those who willingly take the risk of going too far can hope to discover just how far they can go.
5. You are the driver of your own life. Roads will always be there. It's all just a matter of when you're going to take them.
6. I don't really identify with one place in particular.
7. Roads are a record of those who have gone before.
8. Never underestimate the healing power of driving with really loud music on the highway.
9. Arriving isn't everything. It's the wild stuff that happens along the way that makes up everything.
10. Some pathways are only open to adventurous people who are prepared to get lost.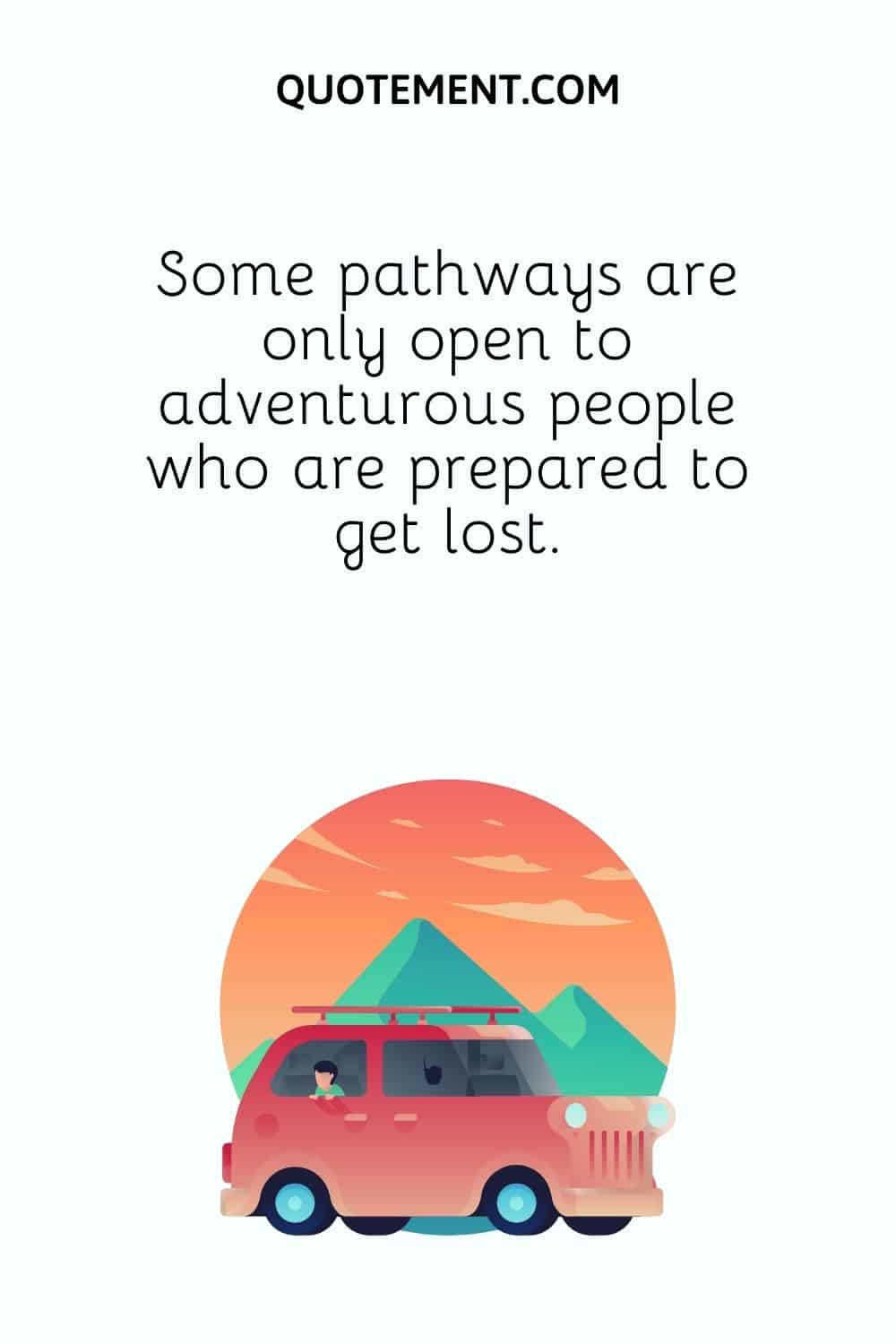 11. Being on the road is bliss. I love traveling from city to city, chilling out, and moving on to the next destination.
12. People frequently lose themselves on open roads. After all, open roads are venturesome pathways that beckon unceasingly.
13. The world is round for a reason: so that we would never be able to see too far down the road.
14. Kilometers are shorter than miles. Thus, you should always take your trips in kilometers. It saves a lot of gas!
15. Sometimes, the best therapy is a long drive with good car music.
16. "I don't know where I'm going from here, but I promise it won't be boring." — David Bowie
17. Driving on the highway, listening to the radio, rolling the windows down, and breathing the wild air. What a great time to be alive!
18. Wanderlust isn't about running away from it all. It's about experiencing the outside to discover the inside.
19. We're almost there, but nowhere near it. All that matters is that we're going.
20. Marvelous destinations usually come after the longest road trips.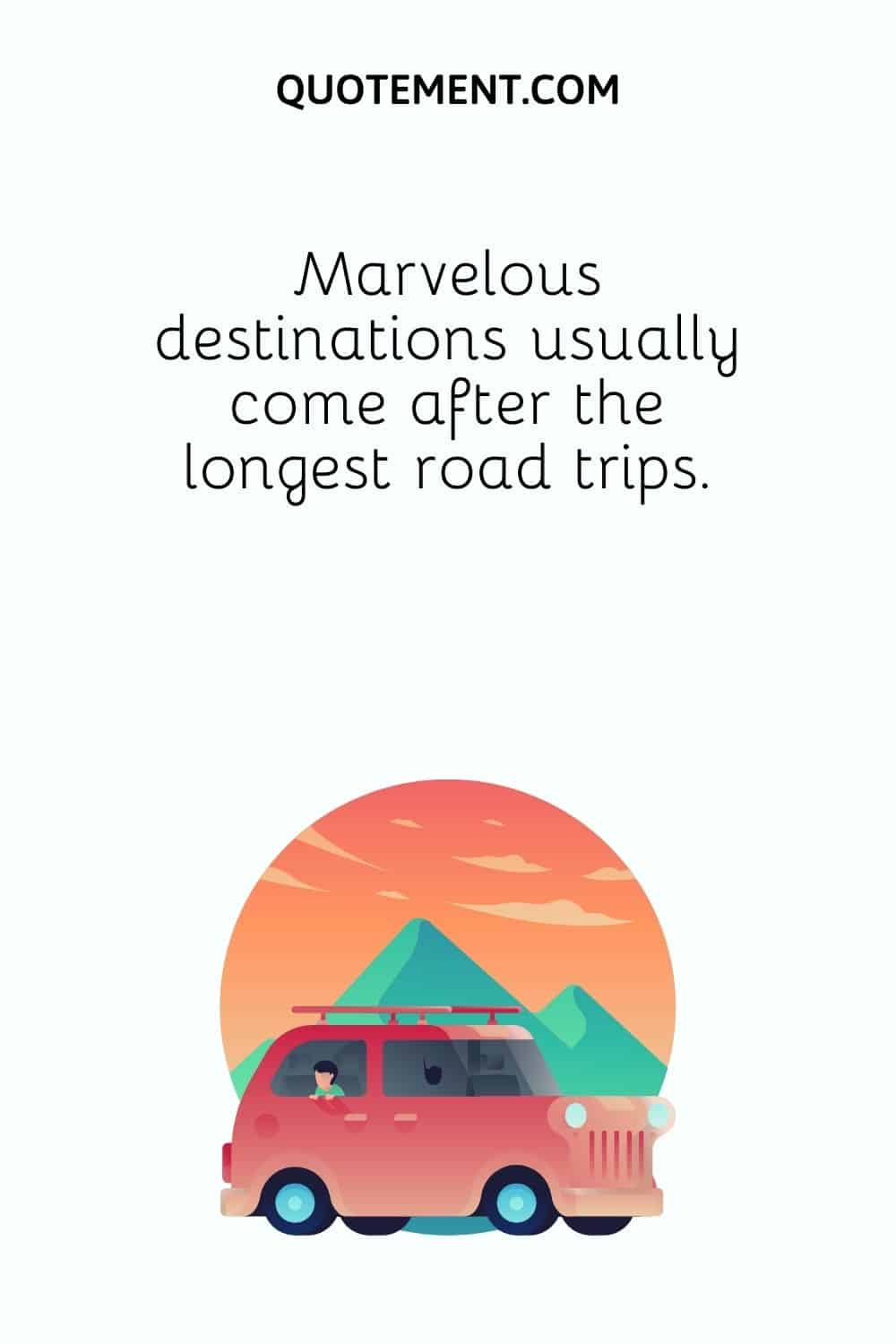 21. Life by the water is always better, especially with a few good friends in tow.
See also: 260 Gripping Water Captions For Instagram To Inspire Change
Road Trip Quotes That Can Be Used As Captions
I've selected a handful of short road trip quotes that can be used as exciting Instagram road trip captions. Take a look!
1. "There is nowhere to go but everywhere, so just keep on rolling under the stars." — Jack Kerouac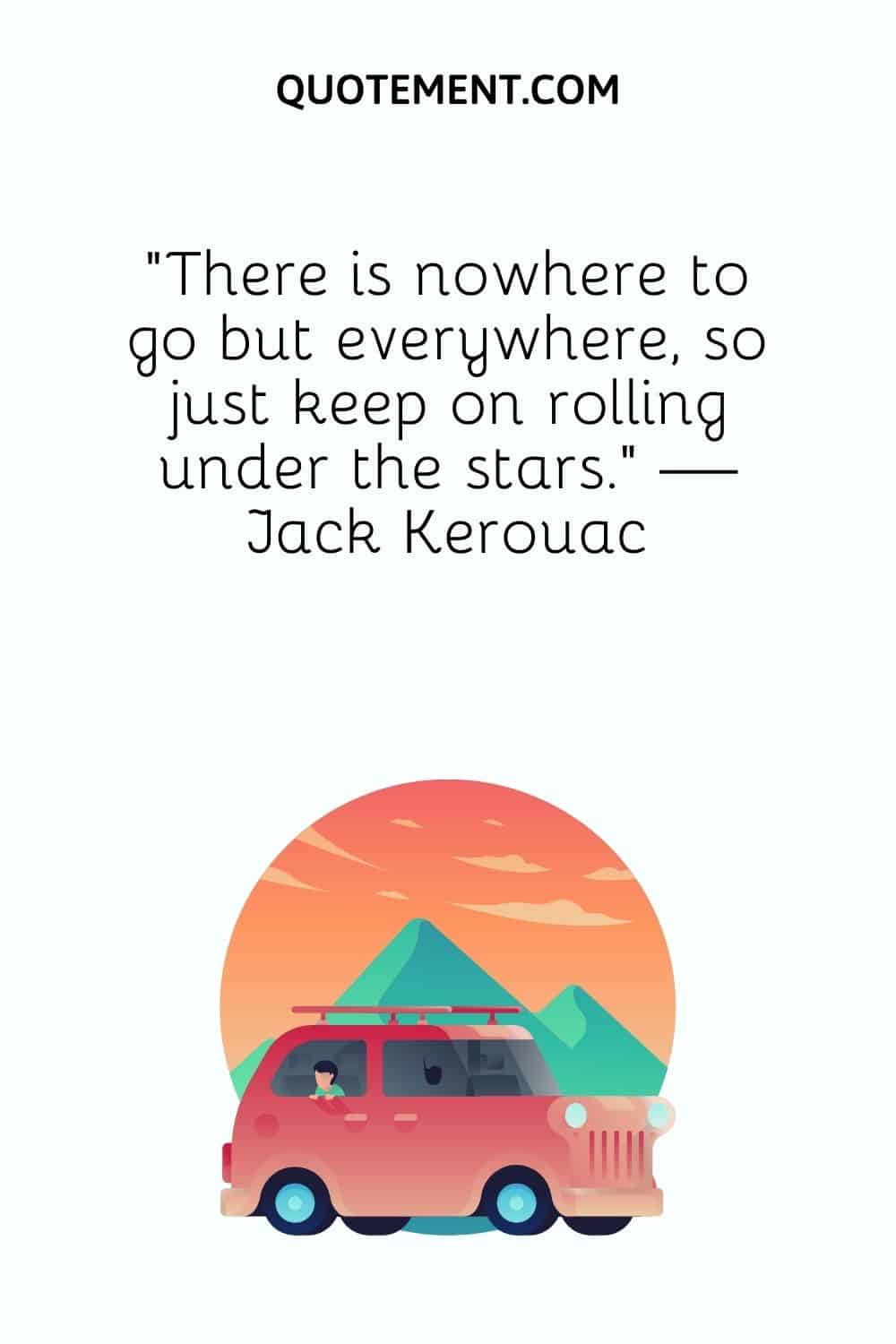 2. "Look at life through the windshield, not the rearview mirror." — Byrd Baggett
3. "Live life with no excuses, travel with no regret." — Oscar Wilde
4. "Sometimes the most scenic roads in life are the detours you didn't mean to take." — Angela N. Blount
5. "Some beautiful paths can't be discovered without getting lost." — Erol Ozan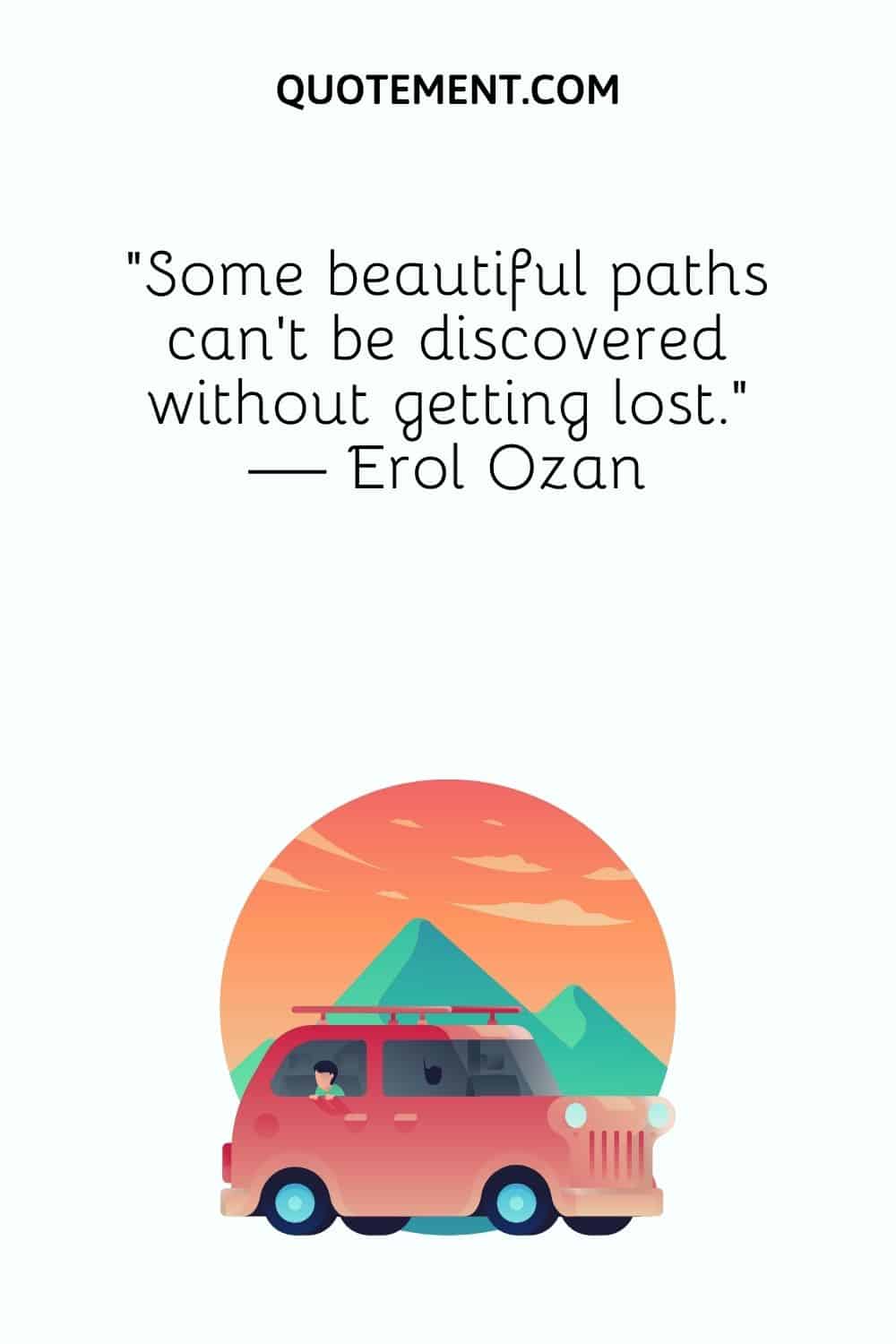 6. "You can be writing every day. When you go on a road trip, the trip itself becomes part of the story." — Steve Rushin
7. "Still, round the corner, there may wait, A new road or a secret gate." — J. R. R. Tolkien
8. "Road trips required a couple of things: a well-balanced diet of caffeine, salt and sugar and an excellent selection of tunes—oh, and directions." — Jenn McKinlay
9. "That's why I love road trips, dude. It's like doing something without actually doing anything." — John Green
10. "If you don't know where you are going, any road will get you there." — Lewis Carroll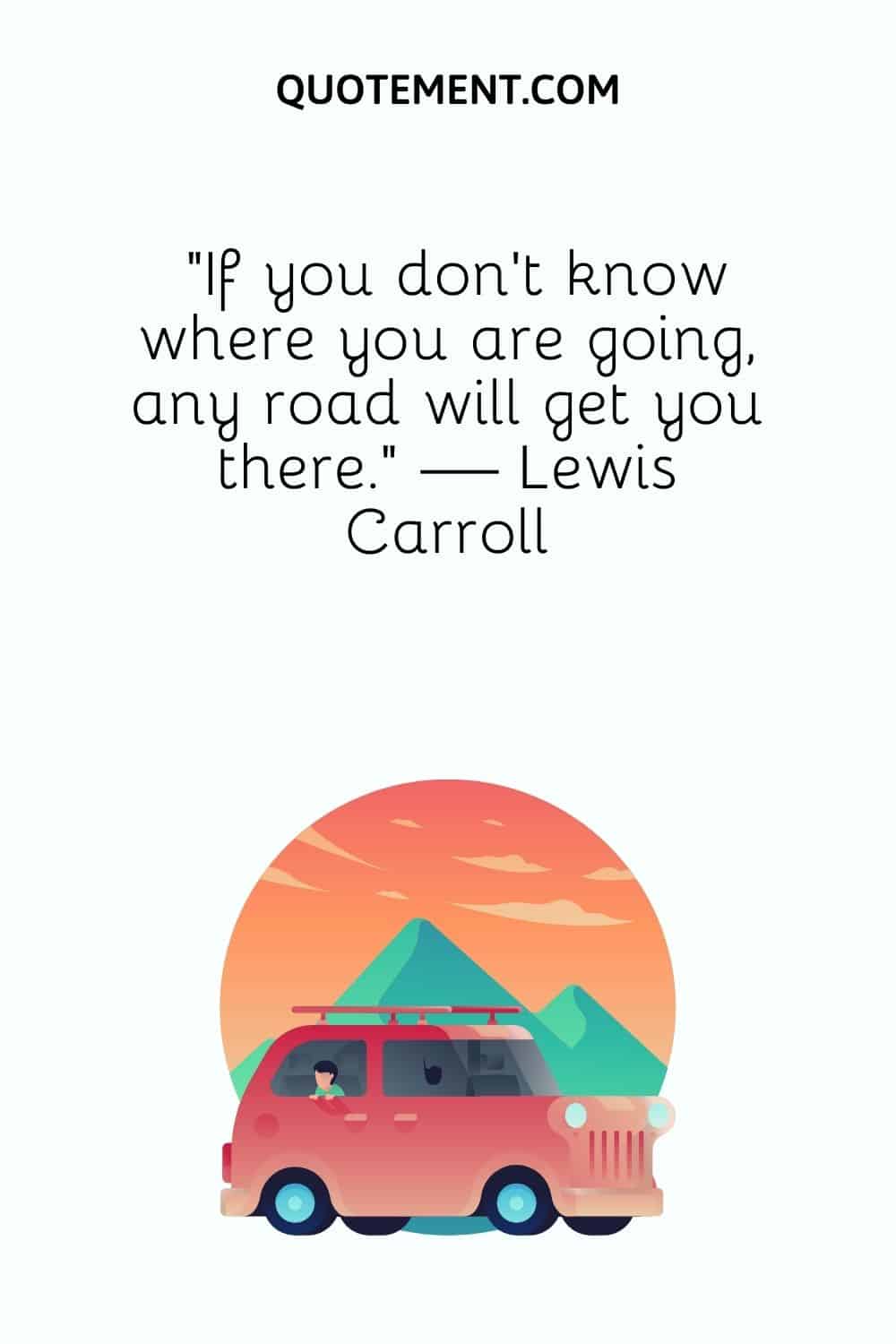 11. "Two roads diverged in a wood, and I – I took the one less traveled by." — Robert Frost
12. "Afoot and light-hearted I take to the open road." — Walt Whitman
13. "Look for chances to take the less-traveled roads. There are no wrong turns." — Susan Magsamen
14. "Stop worrying about the potholes in the road and enjoy the journey." — Babs Hoffman
15. "Roads were made for journeys, not destinations." — Confucius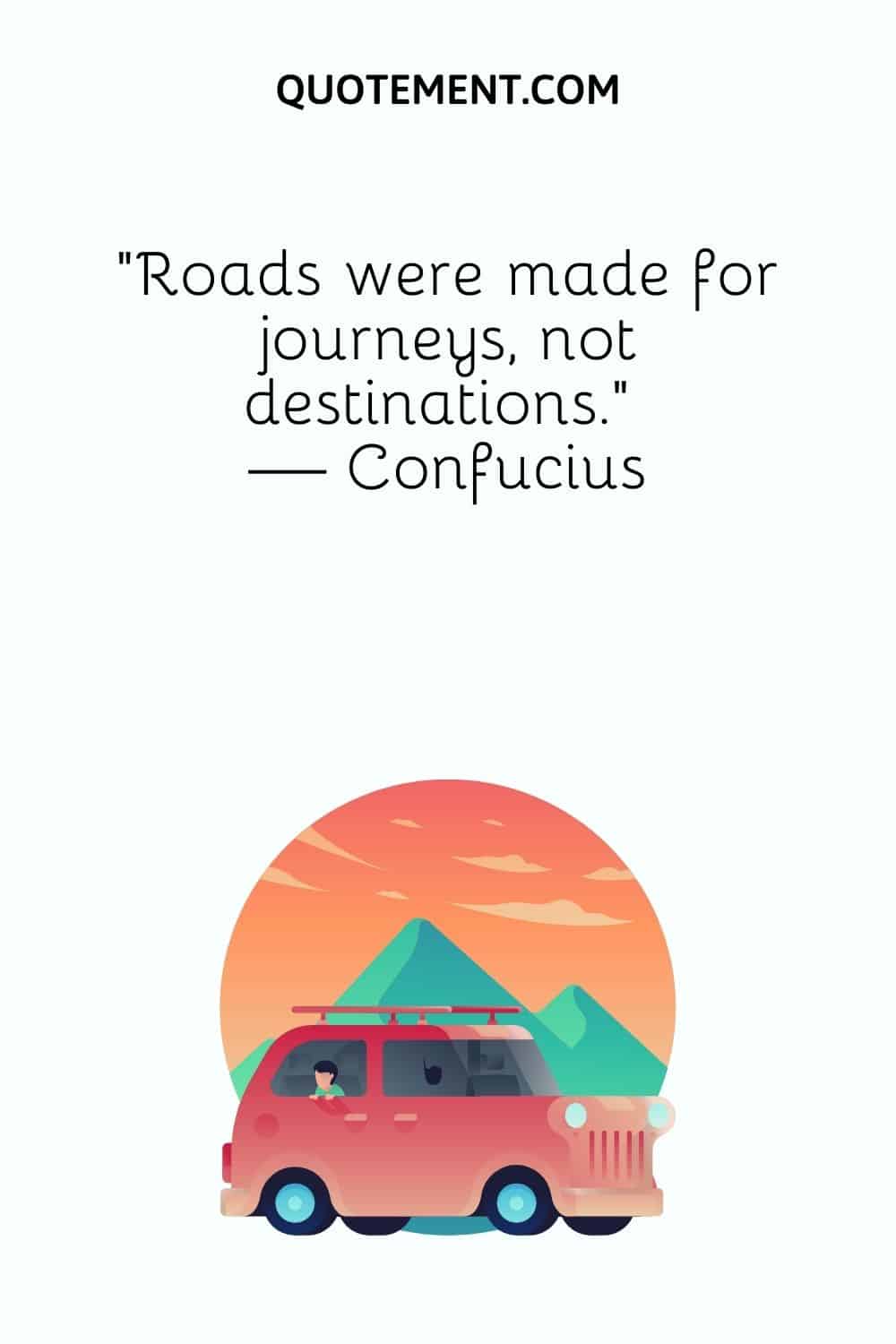 16. "I may not have gone where I intended to go, but I think I have ended up where I intended to be." — Douglas Adams
17. "Because the greatest part of a road trip isn't arriving at your destination. It's all the wild stuff that happens along the way." — Emma Chase
18. "To awaken alone in a strange town is one of the pleasantest sensations in the world. You are surrounded by adventure. You have no idea of what is in store for you, but you will, if you are wise and know the art of travel, let yourself go on the stream of the unknown." — Freya Stark
19. "Wherever you get to is better than where you started. To stay on the road is a massive achievement." — Anthony Joshua
20. "There are no mistakes. Only new paths to explore." — Gregory David Roberts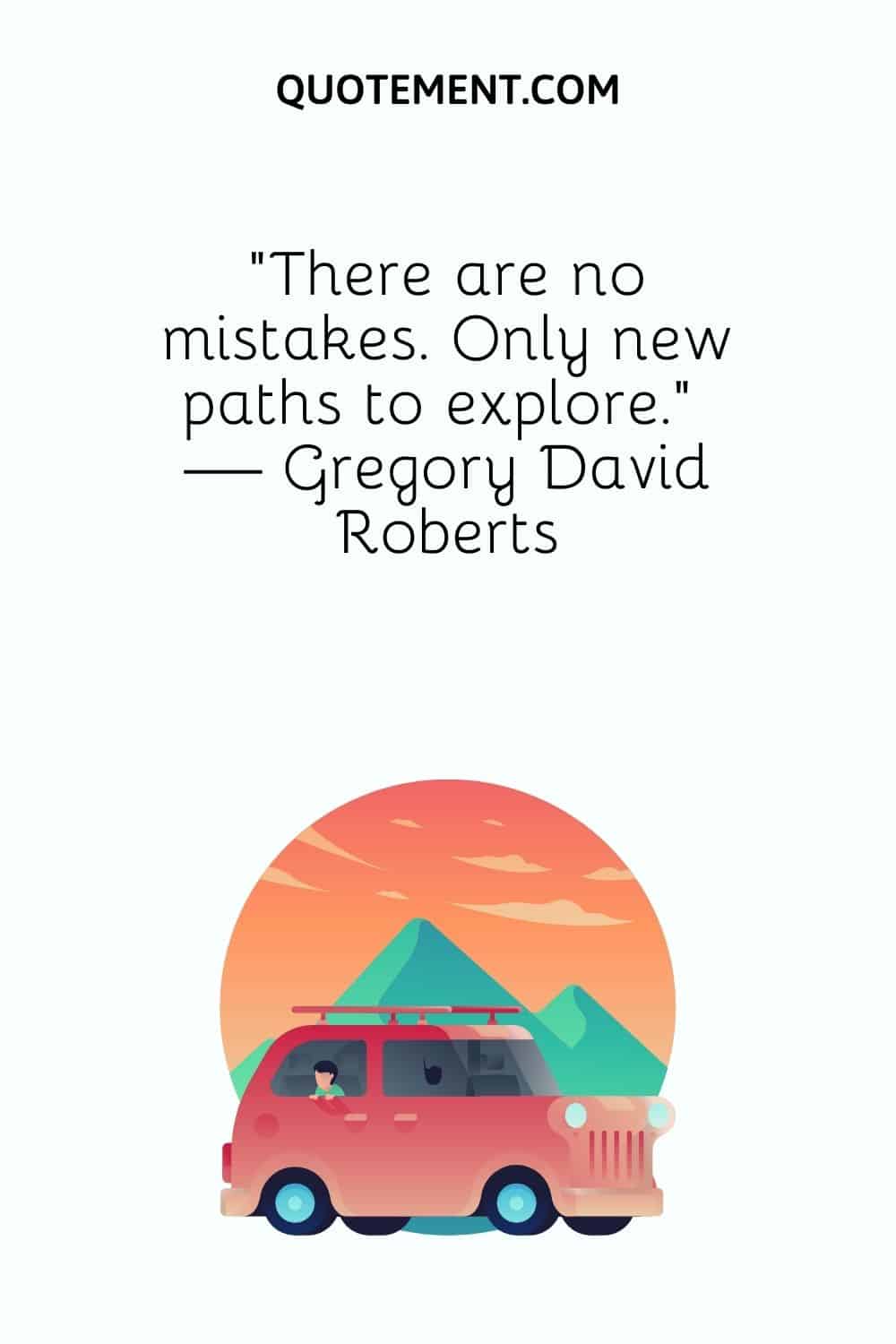 21. "Well, we're not in the middle of nowhere, but we can see it from here." — Thelma & Louise
22. "On the road again, Goin' places that I've never been, Seein' things that I may never see again, And I can't wait to get on the road again." — Willie Nelson, On The Road Again
23. "So remember when we were driving, driving in your car. Speed so fast I felt like I was drunk. City lights lay out before us. And your arm felt nice wrapped 'round my shoulder. And I had a feeling that I belonged. I had a feeling I could be someone. (be someone, be someone)." — Tracy Chapman, Fast Car
24. "On the road again, Goin' places that I've never been, Seein' things that I may never see again, And I can't wait to get on the road again." — Willie Nelson, On The Road Again
25. "The freedom of the open road is seductive, serendipitous and absolutely liberating." — Aaron Lauritsen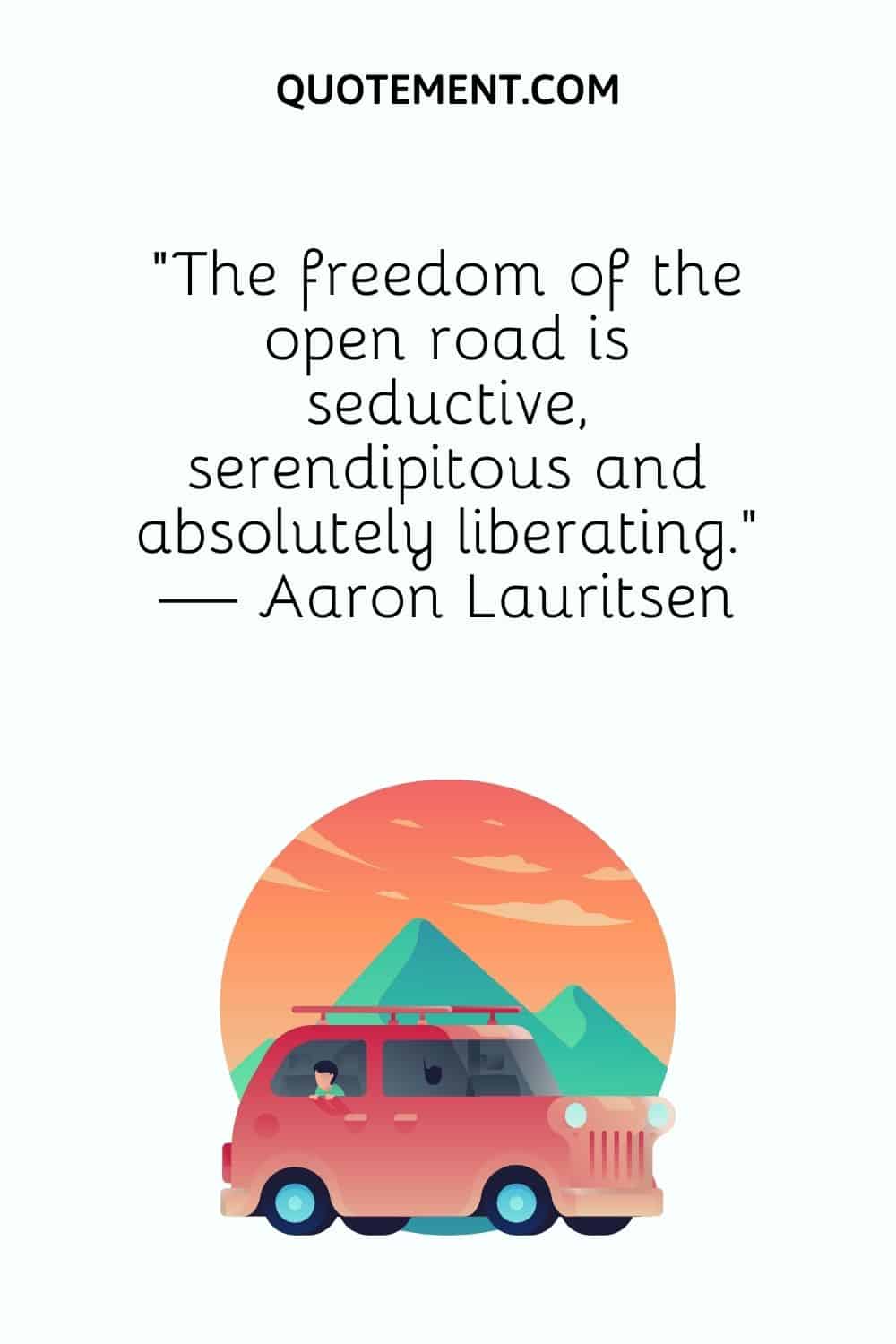 26. "Road trippin' with my two favorite allies – fully loaded, we got snacks and supplies. It's time to leave this town; it's time to steal away. Let's go get lost anywhere in the U.S.A." — Red Hot Chilli Peppers, Road Trippin'
27. "Get your motor runnin', head out on the highway, lookin' for adventure…" — Steppenwolf, Born to be Wild
See also: 290 Catchy Motorcycle Captions For Instagram + Bike Quotes
To Wrap Up
I hope you liked the road trip captions I selected for today's article. Have fun on your trip and see you soon.
Until next time!