Have you been searching for the perfect water caption for Instagram to make your post stand out and captivate the audience?
Today is your lucky day because you have just discovered the most comprehensive list of water captions anywhere on the web!
In this article, you'll discover more than 250 captions about water. Some are cute and catchy, some are funny, and some are even really inspirational and have a powerful message.
You can use them to point out the important issues of today's world, and water is definitely one of them.
Social media doesn't have to be all about selfies and looking good all the time.
You can use social media platforms to make an impact and spread awareness about environmental issues, such as the importance of water.
Without any further ado, let's jump straight to the juicy stuff!
Top 20 Water Captions For Instagram
Let's start off with the 20 best water captions for Instagram.
1. If there is magic on this planet, it is contained in water.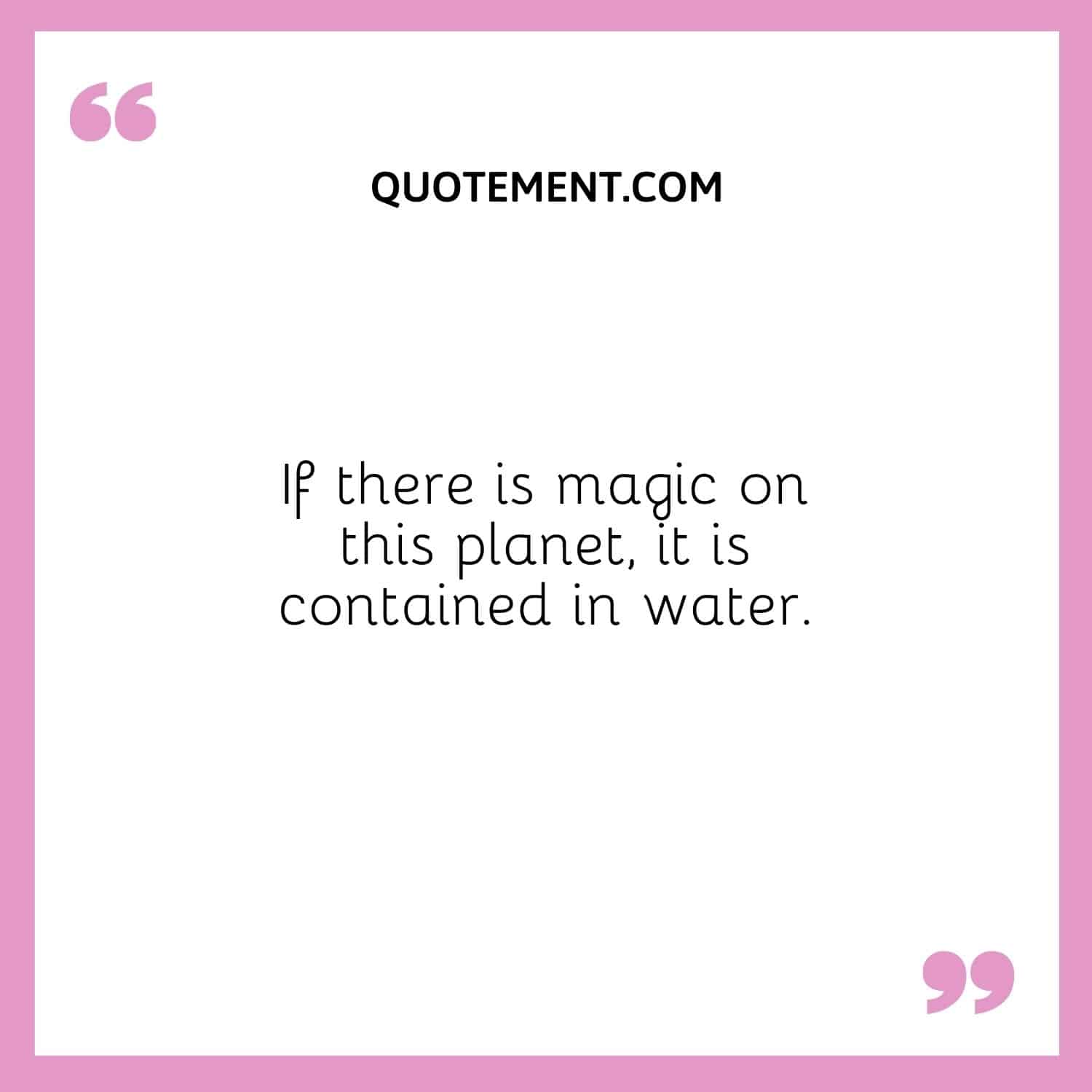 2. There are a number of ways to save water. And they all start with you.
3. Why was it that the sight of water made everything in the world seem okay?
4. Water stream makes its own way, despite stones in the way.
5. Nothing in the world is softer or more flexible than water, yet nothing can resist it.
6. Always be like water. Float in the times of pain or dance like waves along with the wind which touches its surface.
7. Water is the reason for our birth; it is the healer, the destroyer, and the final consumer.
8. More water, more happiness.
9. "You didn't come into this world. You came out of it like a wave from the ocean. You are not a stranger here." — Alan Watts
10. Water your roots, so your soul can blossom.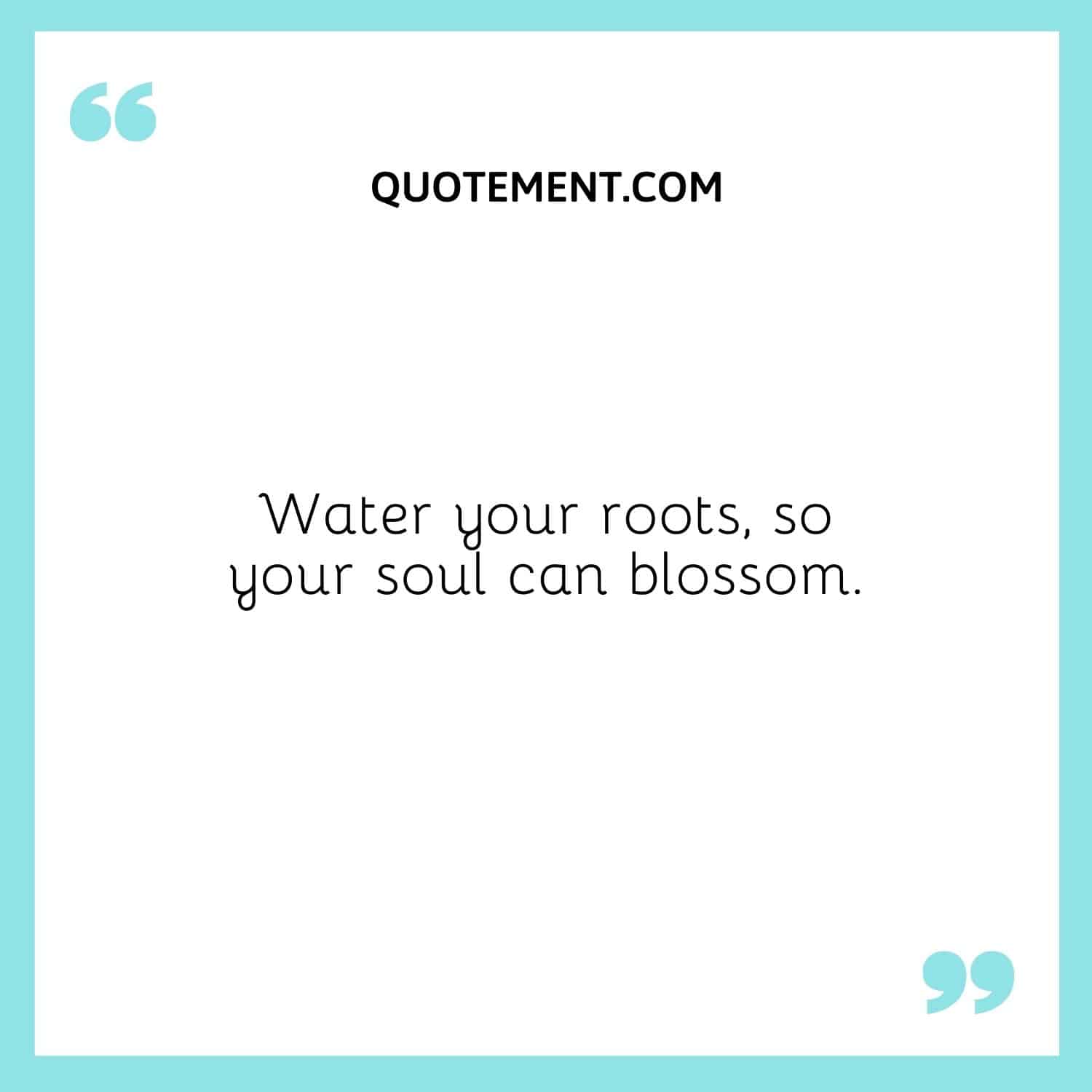 11. Life is like the ocean, it goes up and down.
12. I understand that everything is connected, that all roads meet, and that all rivers flow into the same sea.
13. The sound of water is worth more than all the poets' words.
14. The solution for anything is salt water, sweat, tears, or the ocean.
15. I want to be like a dew drop over your soul.
16. Actually, I think we as a whole need more days at the seashore.
17. Laughter sparkles like a splash of water in sunlight.
18. The deeper the waters are, the more still they run.
19. In one drop of water are found all the secrets of all the oceans; in one aspect of you are found all the aspects of existence.
20. Water is the most perfect traveler because when it travels, it becomes the path itself.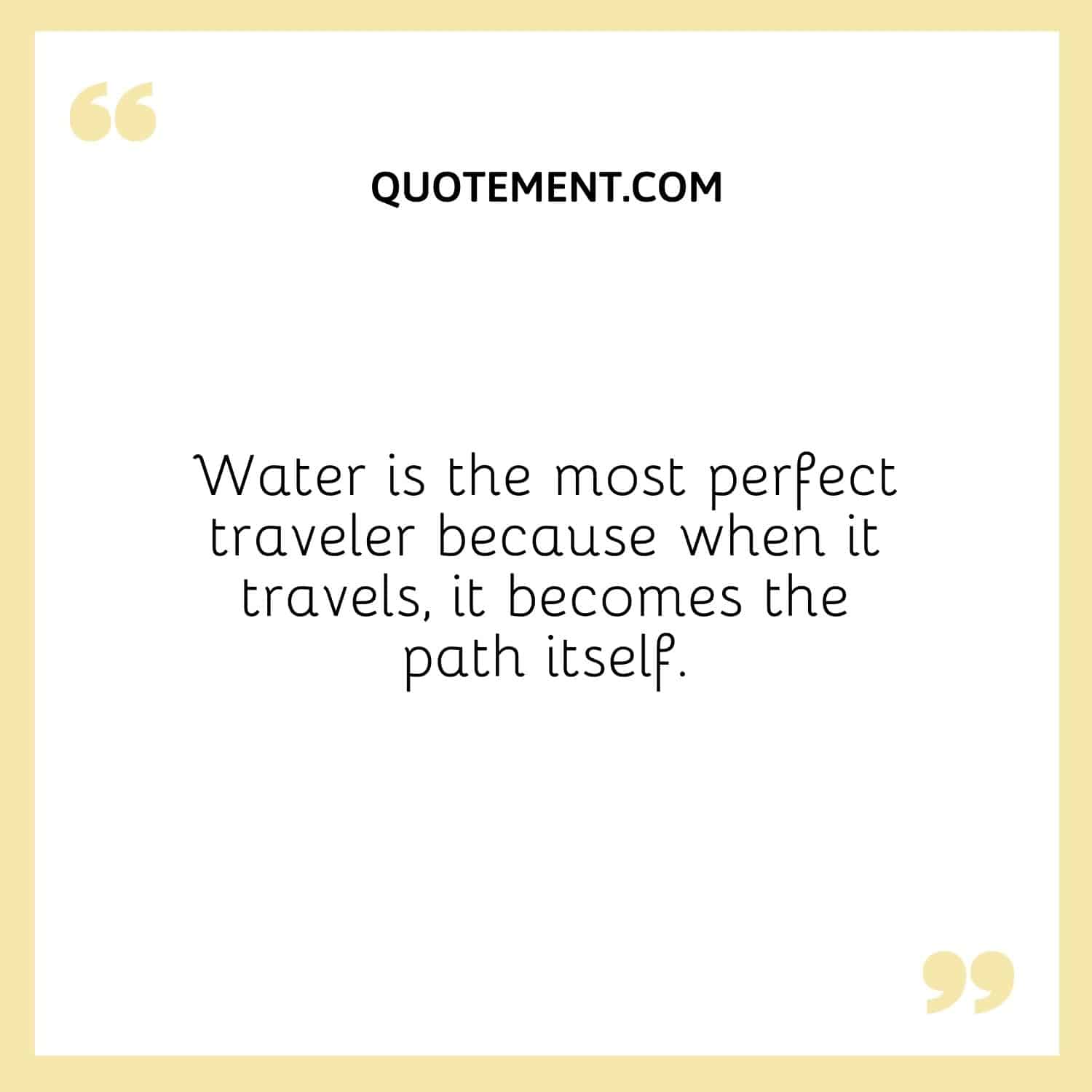 Catchy Water Captions For Instagram
1. One drop could save our thirsty world! Conserve water!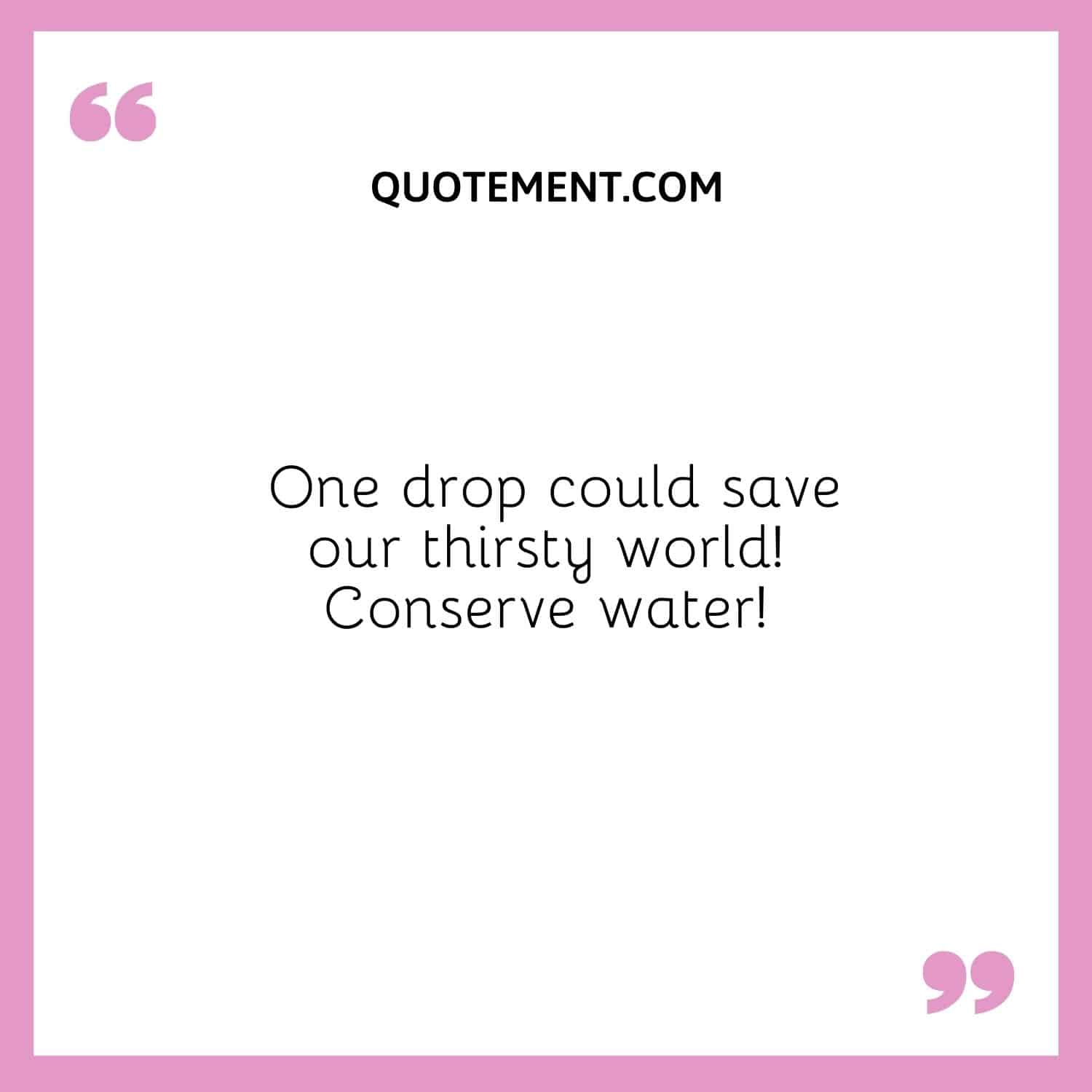 2. "When the well's dry, we know the worth of water." — Benjamin Franklin
3. Clean water, the essence of life and a birthright for everyone, must become available to all people now.
4. All the water that will ever be is, right now.
5. No matter how rich you are, you can't live without water.
6. Water = Life, Conservation = Future!
7. Don't let the water run when you brush your teeth.
8. The lake and the mountains have become my landscape, my real world.
9. Save water for your children.
10. Pure water is the world's first and foremost medicine.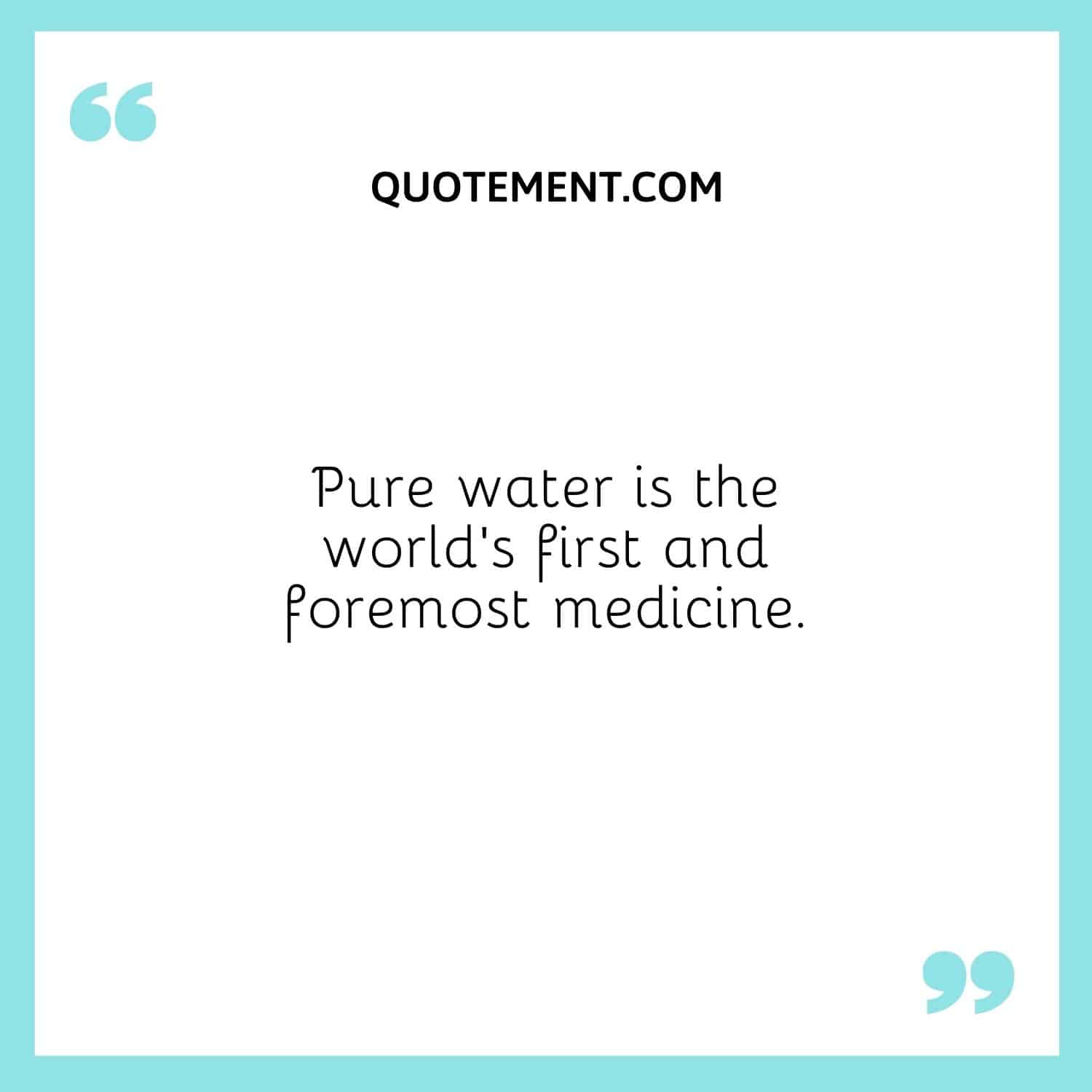 11. Water is sacred to all human beings. If you do not have water, you cannot have life. I always remember to honor and pour the water because it is traditional.
12. Nature never becomes unfashionable.
13. Put a stop to the drop.
14. Life in us is like the water in a river.
15. In my life, water has had the character of punctuation.
16. Heavy hearts, like heavy clouds in the sky, are best relieved by the letting of a little water.
17. It's all water over the falls.
18. The sea is captive in a drop of water.
19. The grass is greener where you water it.
20. Water liked to be free. . . Water hated being trapped, just like Percy.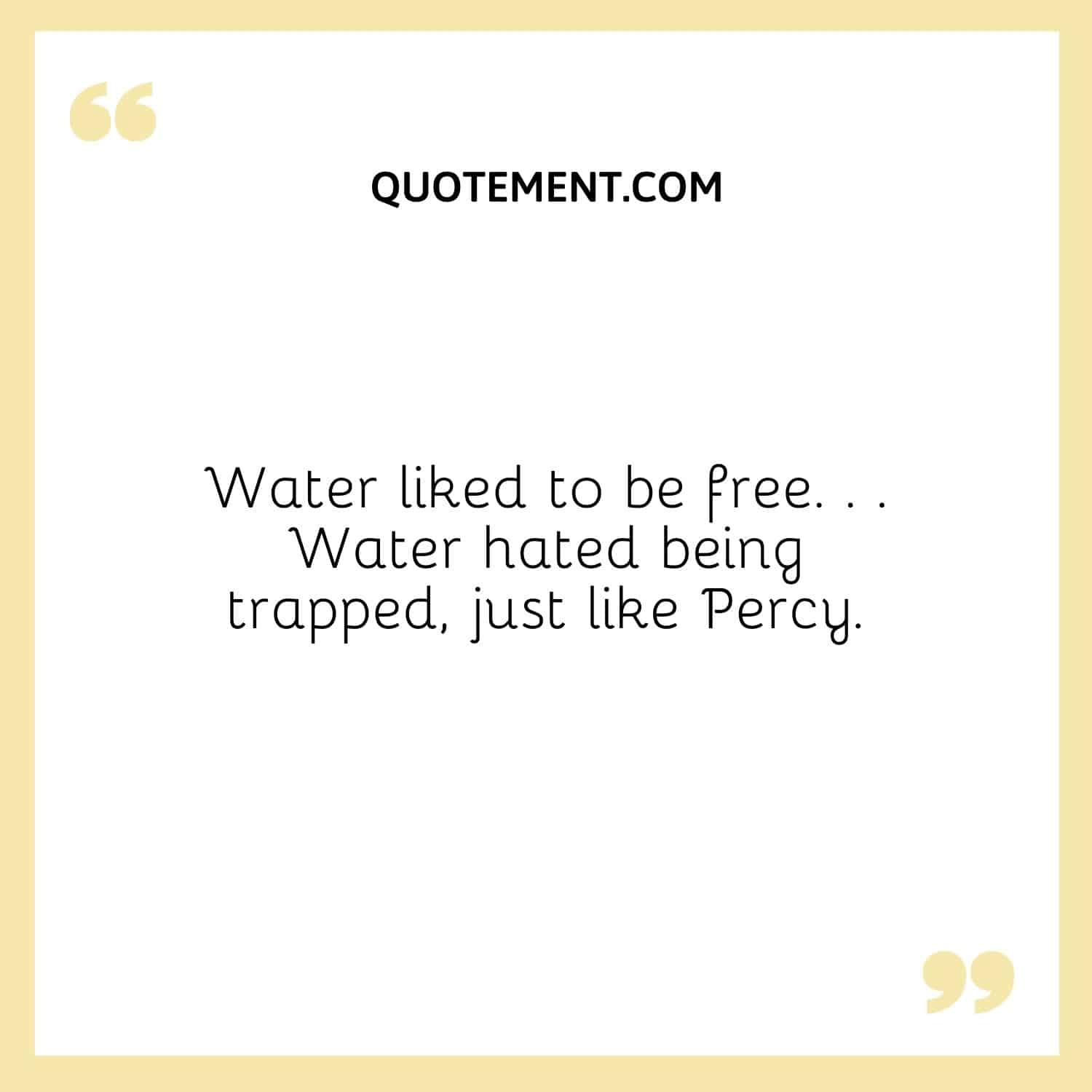 21. Water is the most critical resource issue of our lifetime and our children's lifetime. The health of our waters is the principal measure of how we live on the land.
22. It is life, I think, to watch the water. A man can learn so many things.
23. A beautiful distraction.
24. Do the Earth a favor, be a water saver.
25. A drip can destroy many drops.
26. Save water, and it will save you.
27. I've got nature vibes.
28. In addition to the fact that it is stunning, a portion of my extremely most loved photographs is one that I have taken at sea.
29. We need your helping hand to save water, sky, and land.
30. We get back to one another in waves. This is the manner by which water loves.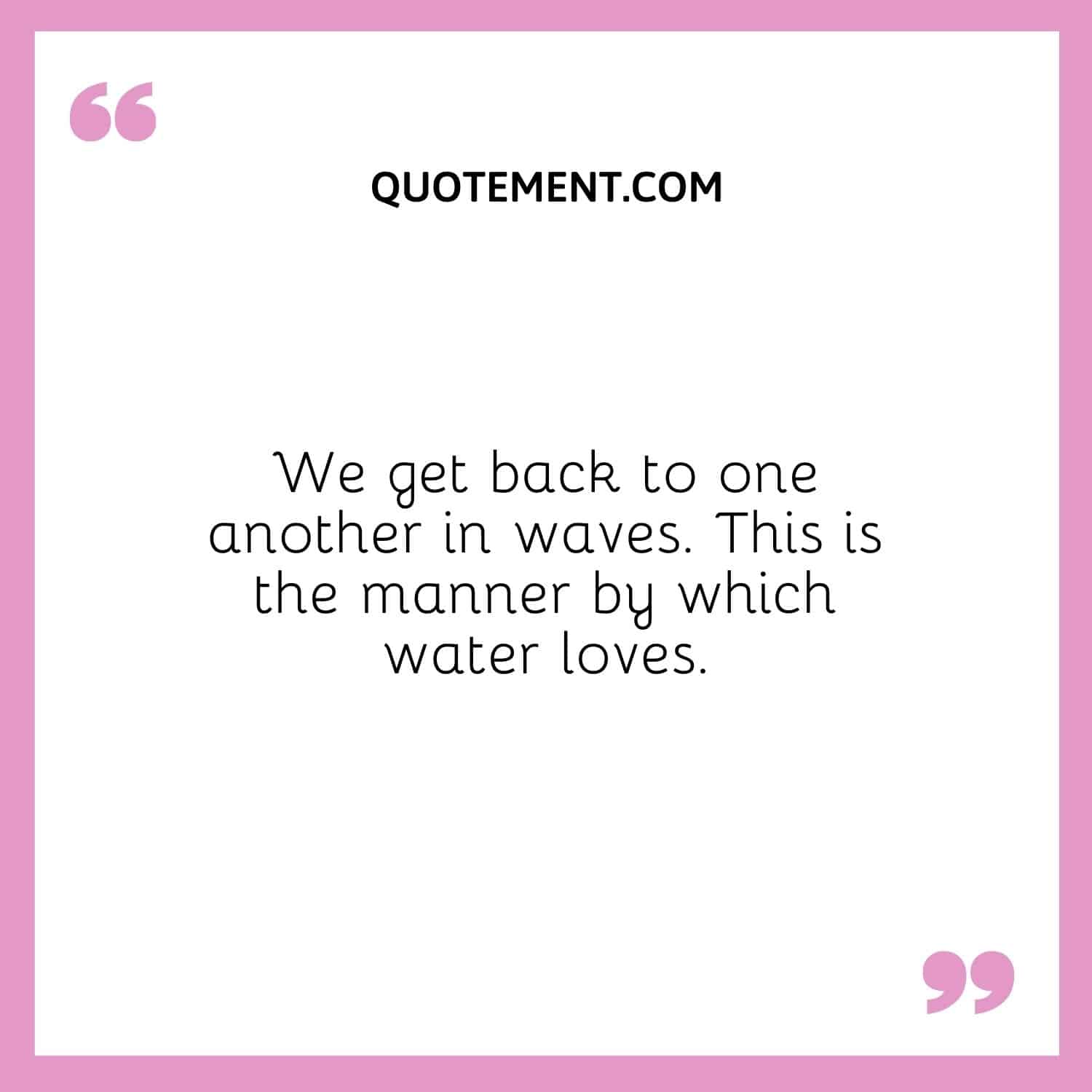 Water Instagram Captions
1. River is time in water; as it came, still so it flows, yet never is the same.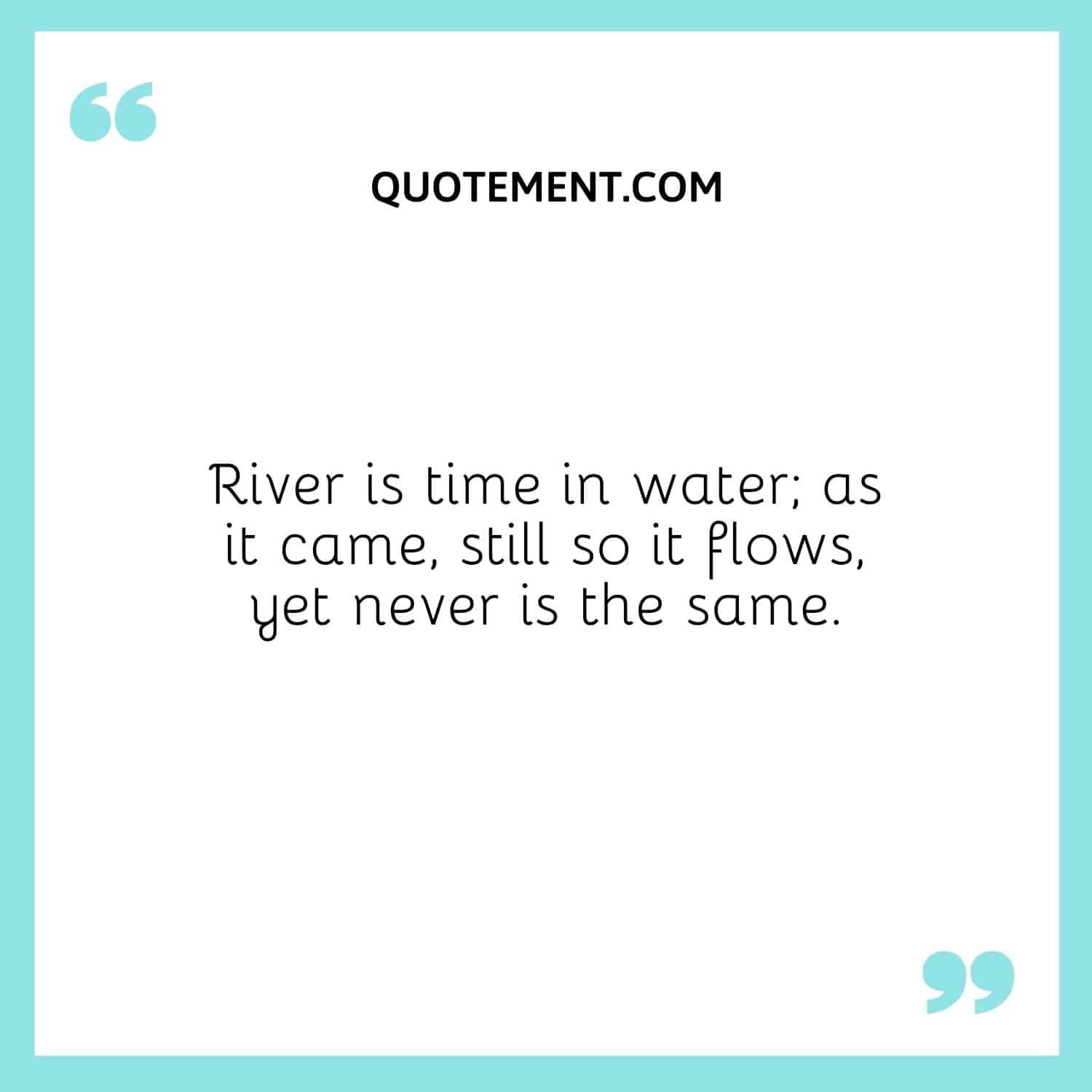 2. "Water is the driving force of all nature." — Leonardo Da Vinci
3. Wanted: Water in its natural form.
4. The earth, the air, the land, and the water are not an inheritance from our forefathers but on loan from our children. So we have to hand it over to them at least as it was handed over to us.
5. No water, no life. No blue, no green.
6. A lake carries you into recesses of feeling otherwise impenetrable.
7. I could float in the pool for hours, just letting the water carry me.
8. You can not hide on an island and expect that water will not find you.
9. May you always have a shell in your pocket and sand in your toes.
10. Water is a priceless gift of nature, so save it for the future.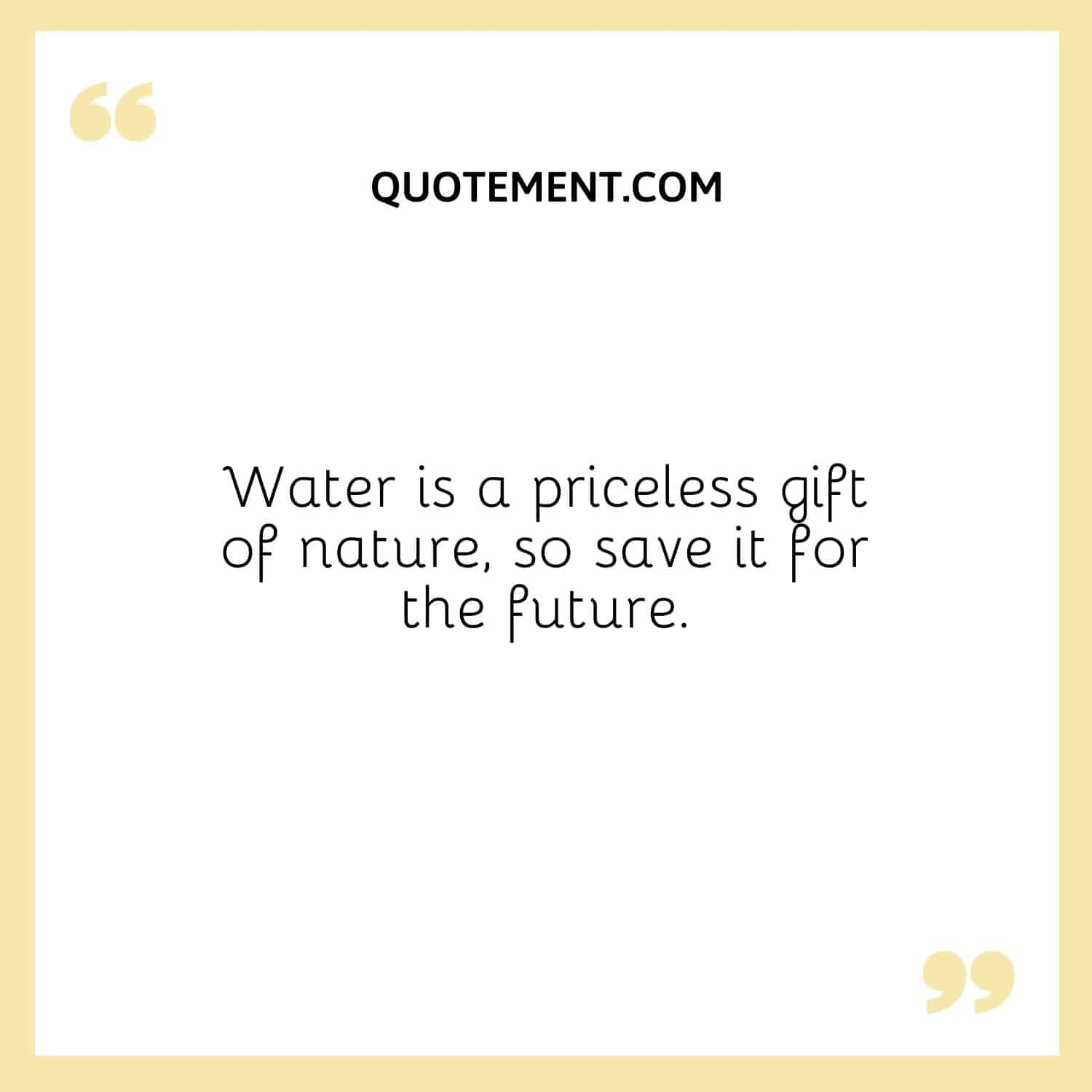 See also: 150 Nature Captions For Instagram For All The Nature Lovers
11. There is simply something so unique about the sea.
12. "With meditation, I found a ledge above the water of my thoughts." — Mary Pipher
13. Live in the sunshine. Swim in the sea. Drink the wild air.
14. I have a therapist; her name is NATURE.
15. They both listened silently to the water, which to them was not just water, but the voice of life, the voice of Being, the voice of perpetual Becoming.
16. Giggling shines like a sprinkle of water in daylight.
17. "In order to reflect, think and plan, you must quiet yourself. You can't see your reflection in churning waters. Water must be still to see your reflection." — Karen Susman
18. A drop of water, if it could write out its own history, would explain the universe to us.
19. Life is a sea, comprehend it.
20. Water was liquid silver, water was gold. It was clarity – a sacred thing.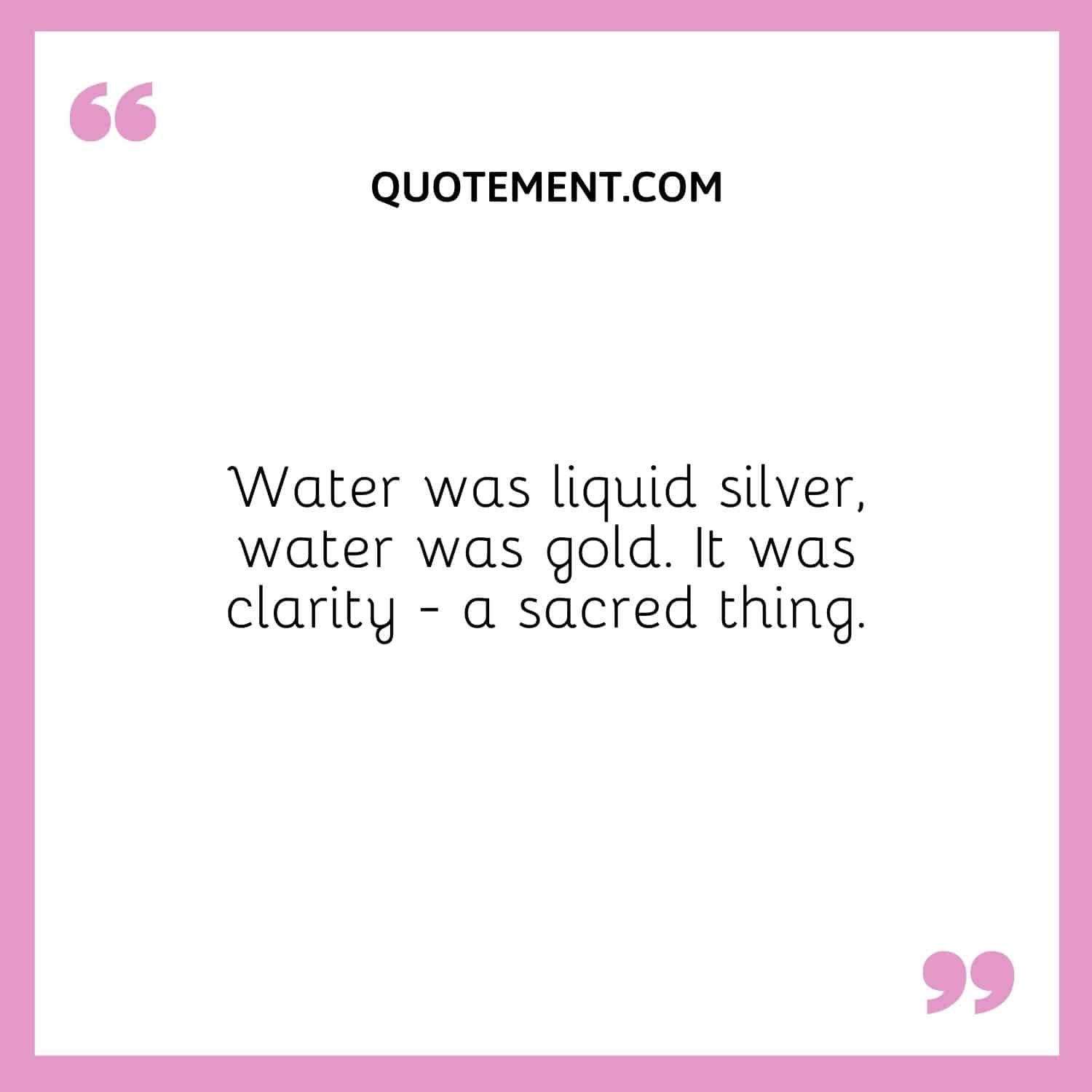 21. A woman is like a tea bag – you can't tell how strong she is until you put her in hot water.
22. "All good writing is swimming under water and holding your breath." — F. Scott Fitzgerald
23. We have just visited a small bunch, yet it is our objective to visit the most that we can.
24. Simply hanging with my gull companions.
25. Nobody likes obscure seashores.
26. How one raindrop marries the other and forms an ocean of love.
27. Not every paradise is tropical.
28. Not complaining about this view.
29. You swam in a river of chance and coincidence. You clung to the happiest accidents – the rest you let float by.
30. Water covers two-thirds of the surface of the Earth, but fresh water is only 0.002% on Earth.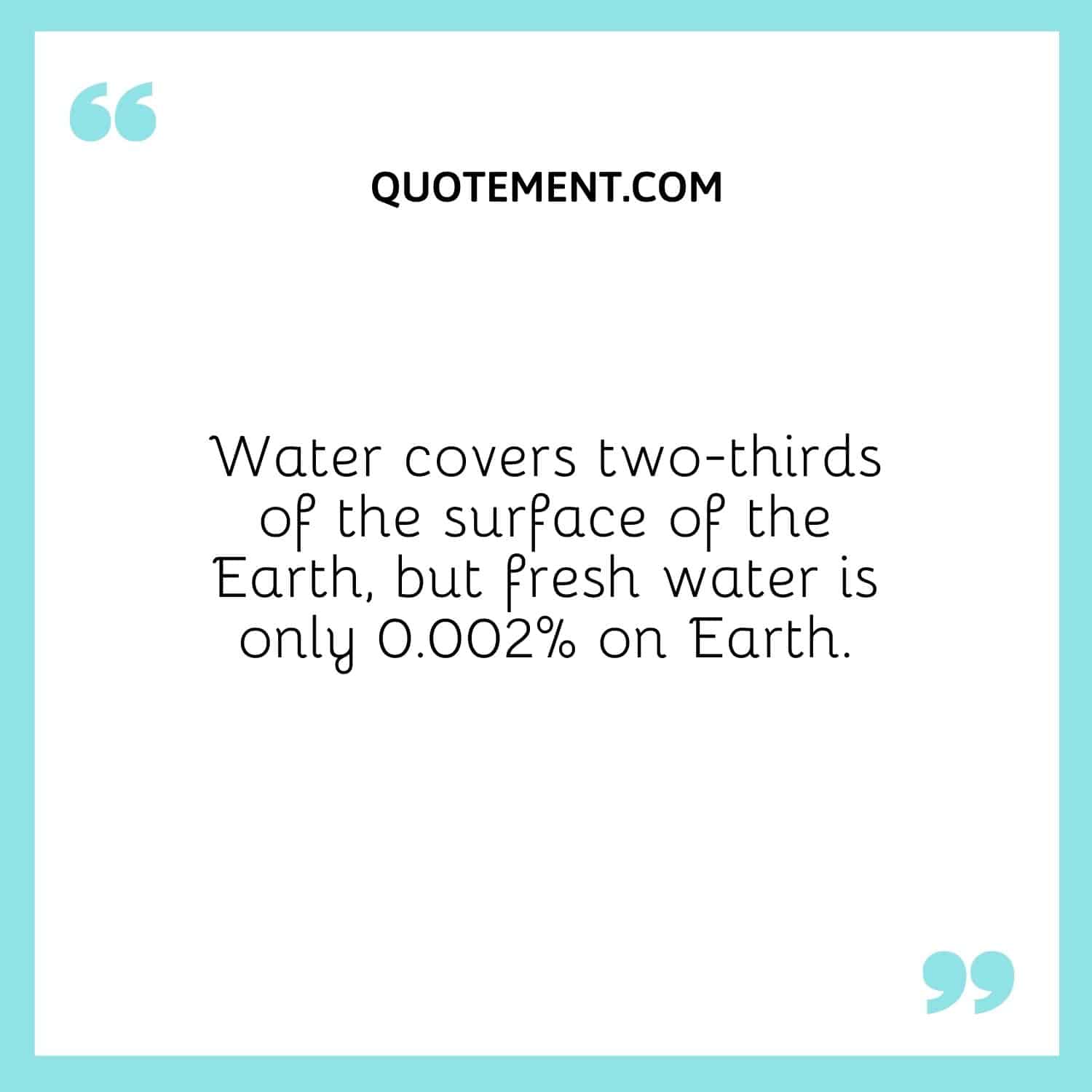 31. Without water, life would just be a rock.
32. When water falls, it flies.
33. "Some people love the ocean. Some people fear it. I love it, hate it, fear it, respect it, cherish it, loathe it, and frequently curse it. It brings out the best in me and sometimes the worst." — Roz Savage
34. Save water, the world depends on it.
35. "Adopt the pace of nature." — Ralph Waldo Emerson
36. When you do things from your soul, you feel a river moving in you, a joy.
37. Water is to drink, not pollute and waste.
38. When life places stones in your path, be the water. A persistent drop of water will wear away even the hardest stone.
39. I love places that make you realize how tiny you and your problems are.
40. My desk faces the water, and I'm perfectly happy sitting there. I'm never lonely.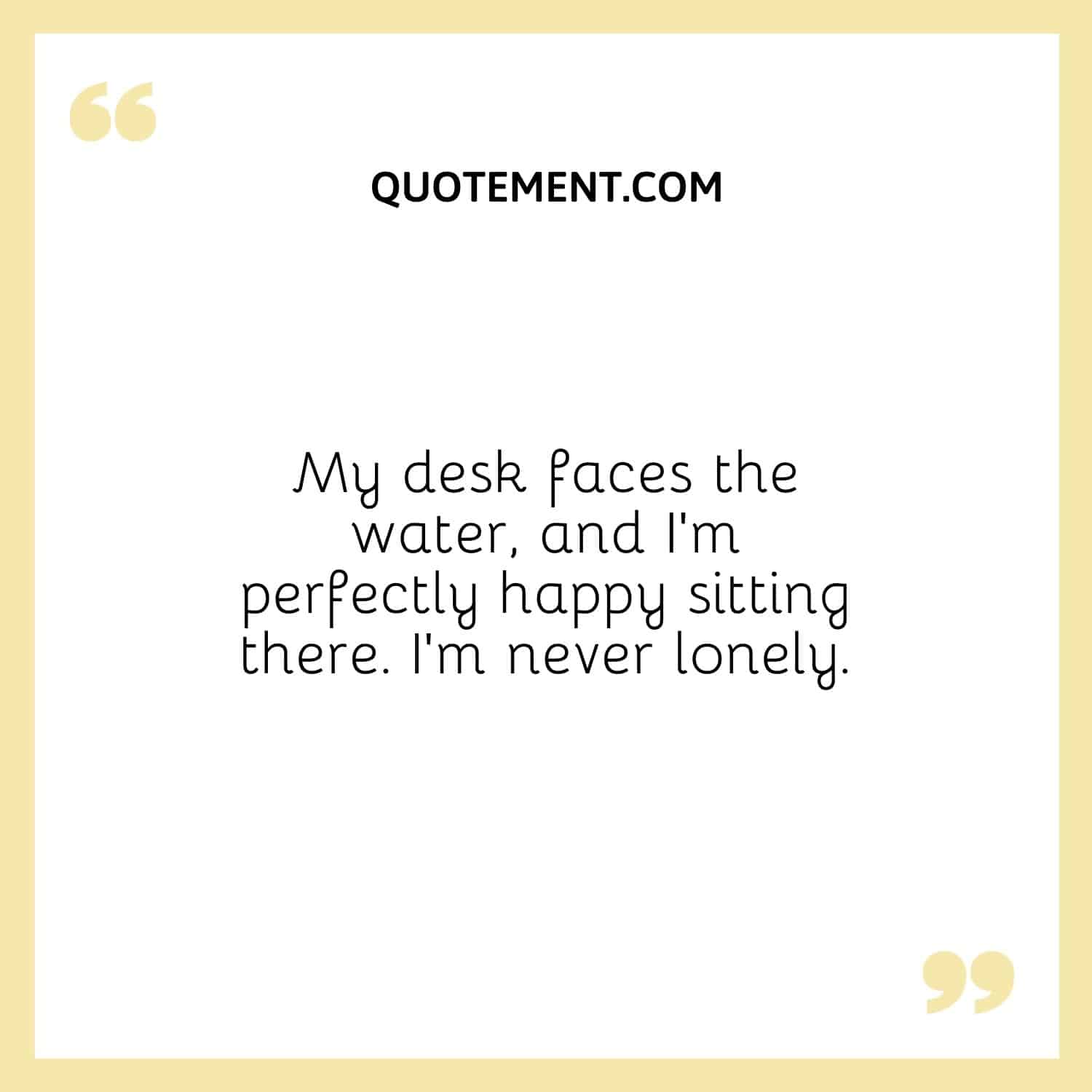 41. I speak in oceans, I love in sunsets.
See also: 340 Absolutely Best Sunset Captions For Instagram + Quotes
Cute Captions For Water Pics
1. I water you, you water me. We grow together.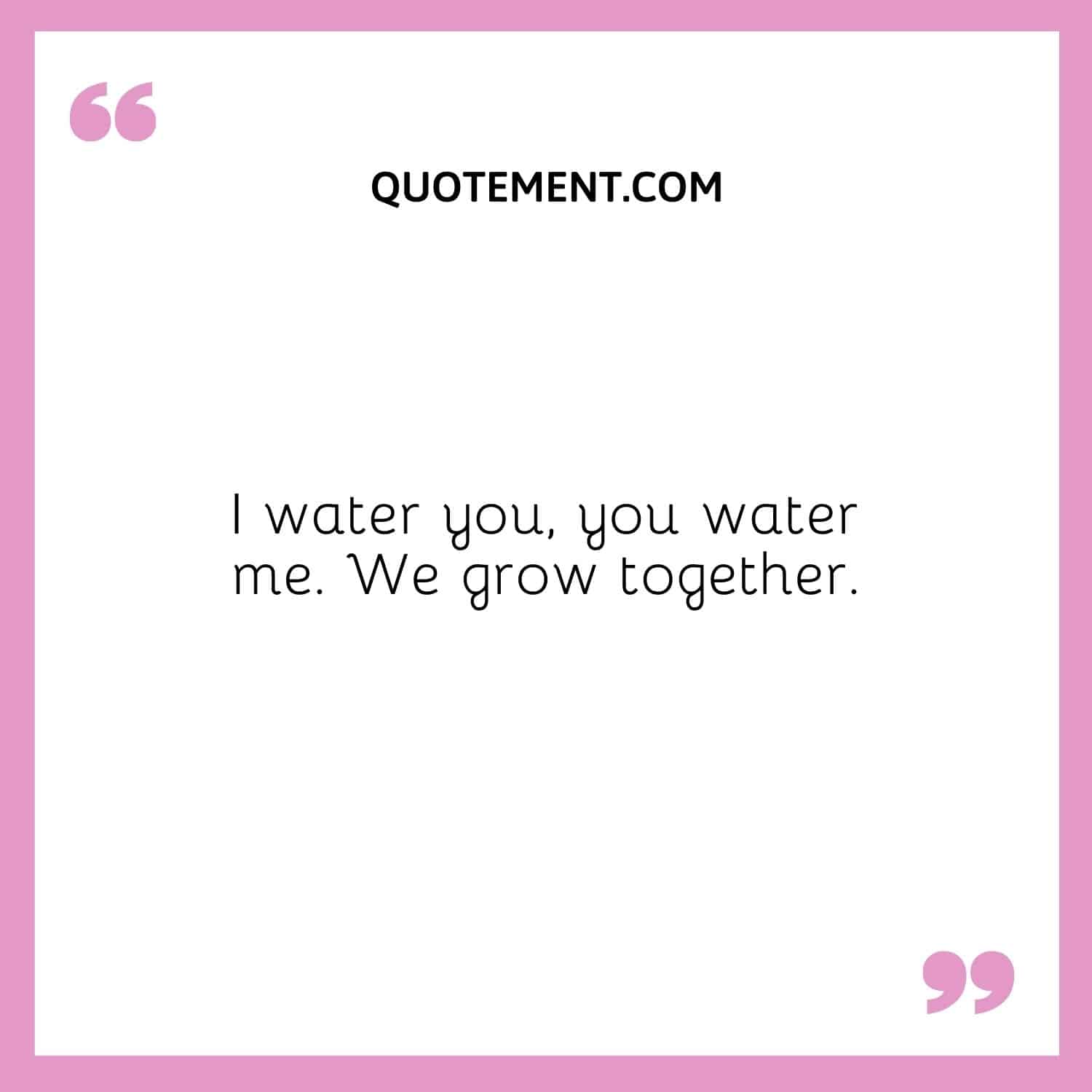 2. Water wants to join the water. Youth wants to join the youth.
3. Meet me where the sky contacts the ocean.
4. Life is straightforward. Simply add water.
5. Be like water, which is fluid, soft, and yielding, as, in time, water will overcome rock that is rigid and hard. Therefore, what is soft is strong.
6. Live in the daylight, and swim in the ocean.
7. Habit of saving water is the best habit.
8. The fall of dropping water wears away the stone.
9. Be like water. Flow, crash, fly!
10. Everybody ought to trust in something. I trust I'll go to the seashore.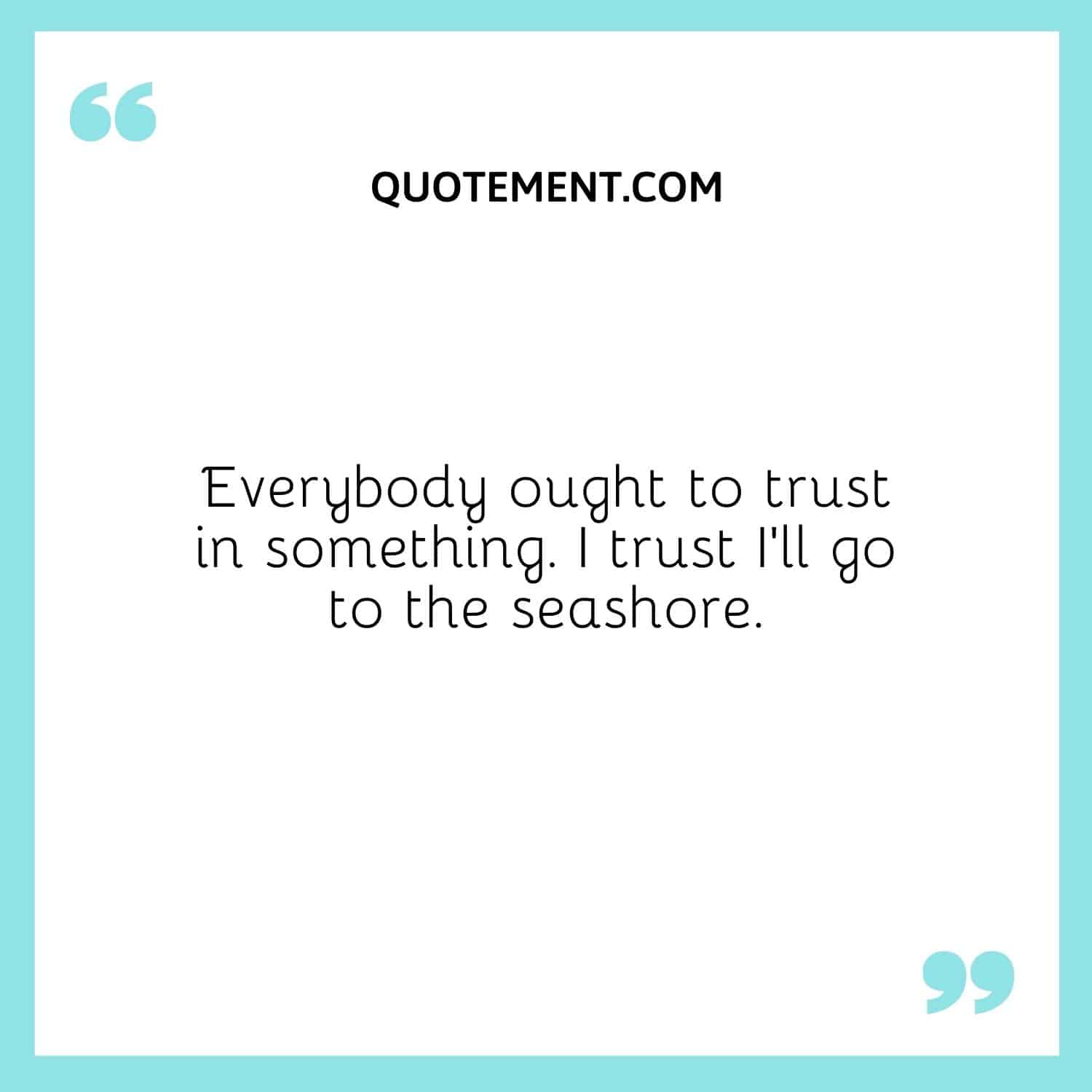 11. My definition of beautiful.
12. 4-minute shower, not a quarter-hour!
13. Becoming hopelessly enamored.
14. Water is precious. Conserve when you do dishes.
15. Life by the water is always better, especially with a few best friends in tow.
16. Happiness comes in rushes.
17. Salty eyelashes and the endless ocean.
18. Saving water can save the world.
19. "The sky broke like an egg into full sunset, and the water caught fire." — Pamela Hansford Johnson
20. Every one of my difficulties washes away in the water.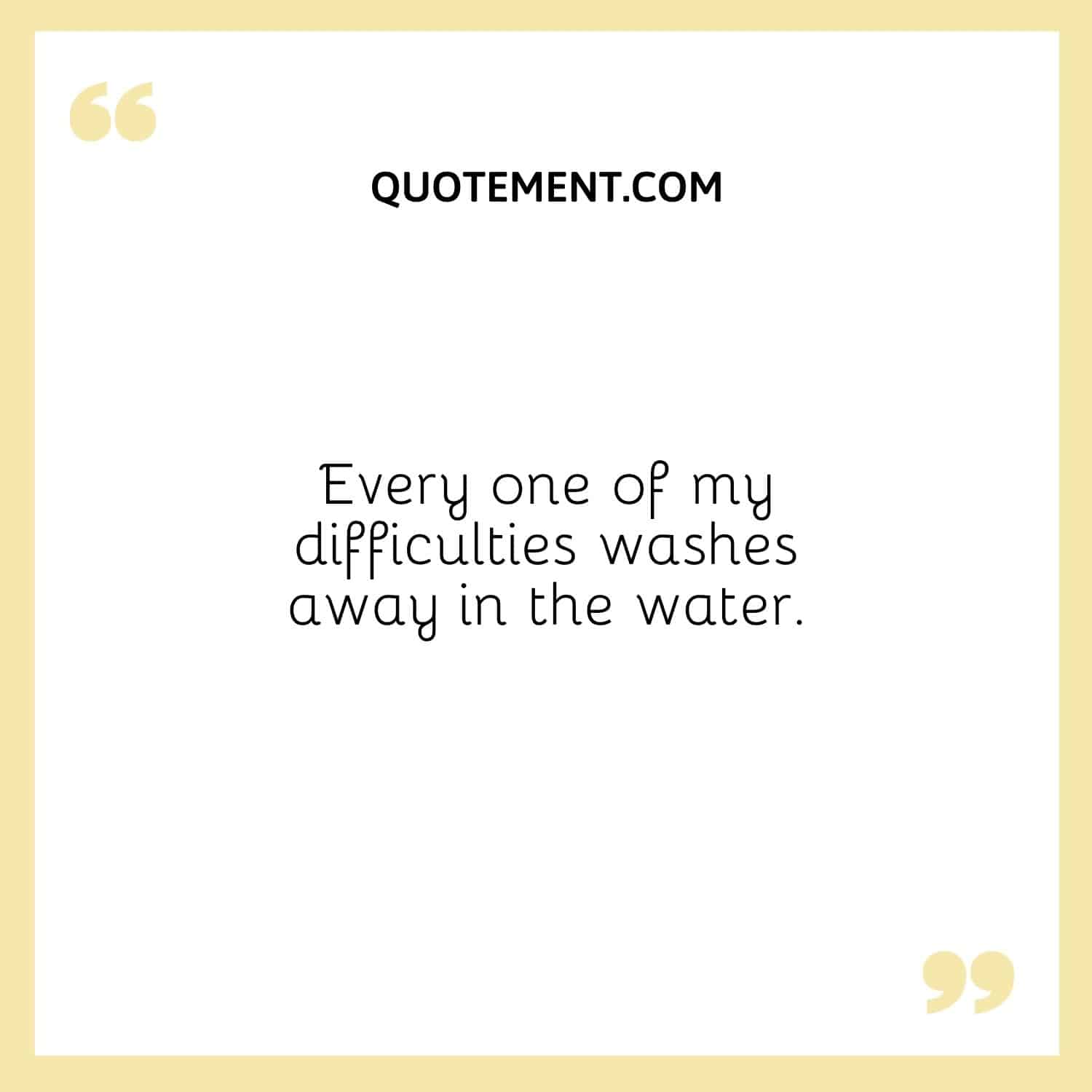 21. Good words cool more than cold water.
22. Saltwater mends everything.
23. The water is a dark flower, and a fisherman is a bee in the heart of her.
24. Water is the mother of the vine, the nurse and fountain of fecundity, the adorner, and the refresher of the world.
25. Falling in love with this place.
26. Save water, do your part.
27. "A river cuts through a rock, not because of its power but because of its persistence." — Jim Watkins
28. All I want is to watch some waves roll in.
29. Life doesn't flow backward.
30. The ocean doesn't care to be limited.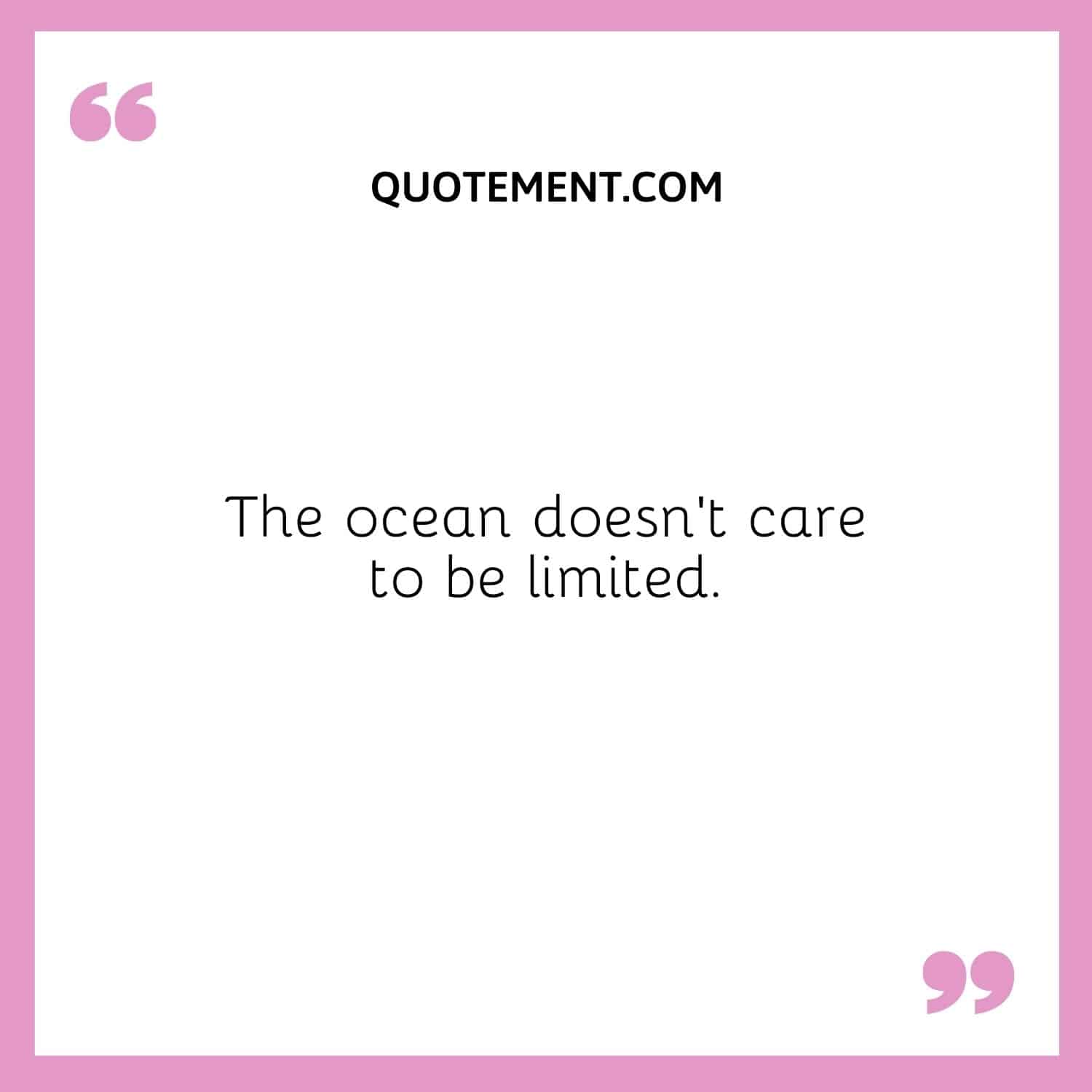 31. Say no to water pollution and lead a healthy life.
32. Save water, it's our most valuable resource.
33. Until justice rolls down like water and righteousness like a mighty stream.
34. This life is a swimming pool. You dive into the water, but you can't see how deep it is.
35. When the water is calm, take as much distance as possible with your boat.
36. I am like the water that runs over me, immune to permanence, recycling endlessly. I am water; I am life. The form may change, but the substance stays the same. Strike me down, and I will rise again. Vincit qui patitur.
37. Water is the lifeblood of our bodies, our economy, our nation, and our well-being.
38. I believe water is the closest thing to a god we have here on Earth. We are in awe of its power and majestic beauty. We are drawn to it as if it's a magical, healing force. We gestate in water, are made of water, and need to drink water to live. We are living in the water.
39. Nobody enjoys an obscure seashore.
40. You can't cross the sea merely by standing and staring at the water.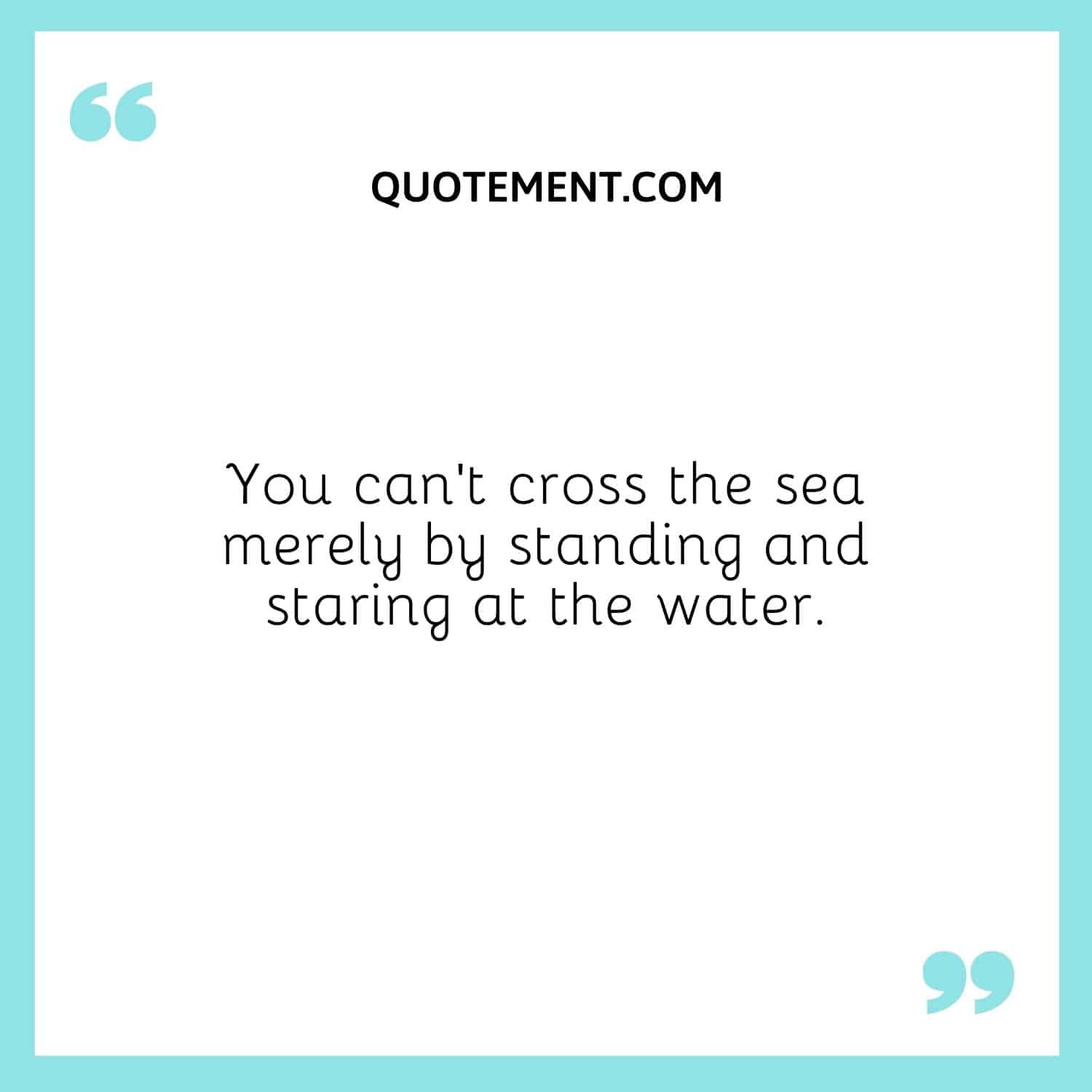 Smart Water Captions For Instagram
These thought-provoking water captions will really make your audience want to engage with you.
1. No one can see their reflection in running water. It is only in still water that we can see.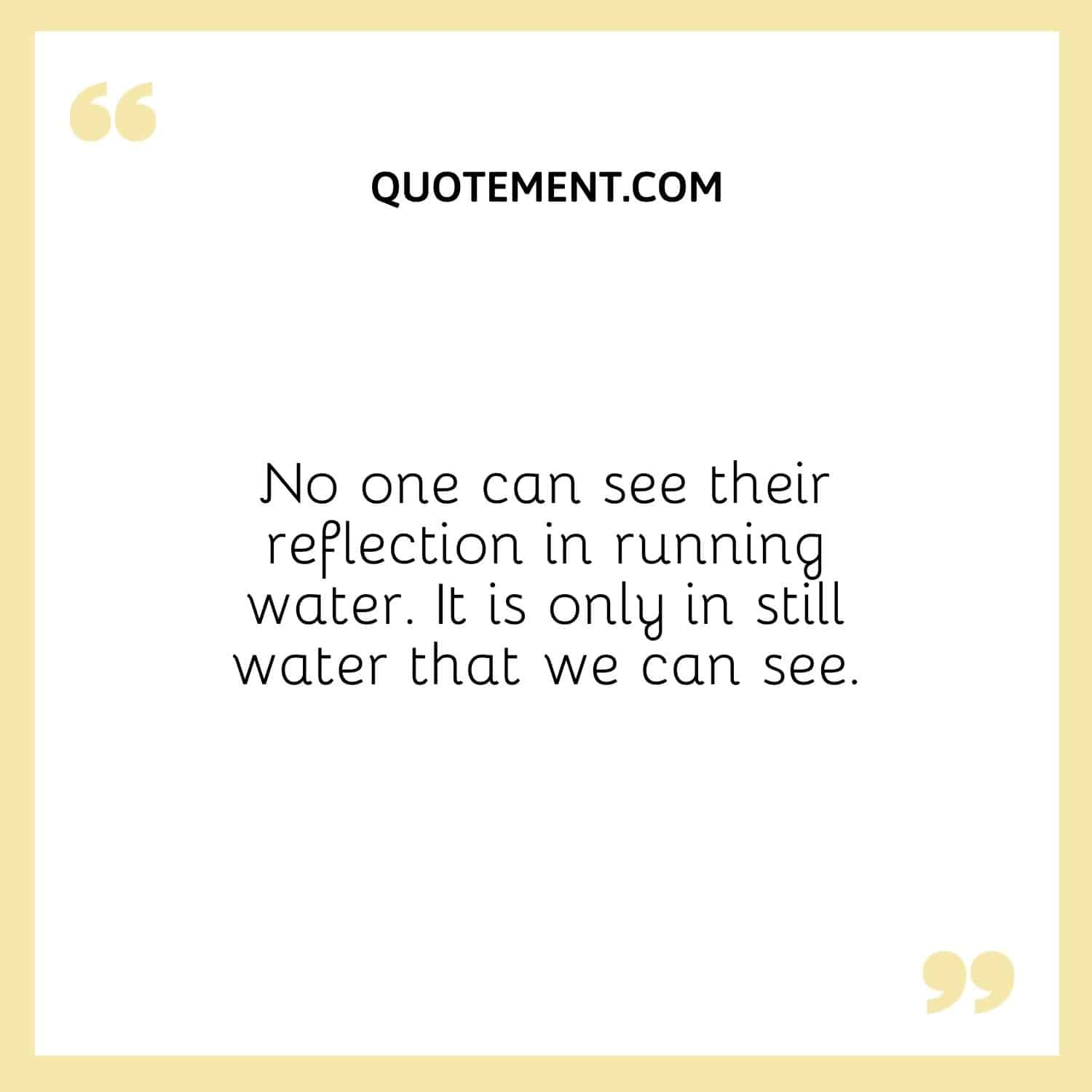 2. Nothing is softer or more flexible than water, yet nothing can resist it.
3. Home is where the water is.
4. You can shake the sand from your shoes but not from your soul.
5. Every wave kisses the shore while the sand hugs your toes and the wind brushes your cheeks.
6. A man of wisdom delights in water.
7. Save water, the world is in your hands.
8. Water is life's matter and matrix, mother and medium. There is no life without water.
9. Try not to restrict yourself to being a simple wellspring when you contain a sea.
10. The sea blends the heart, moves the creative mind, and carries interminable satisfaction to the spirit.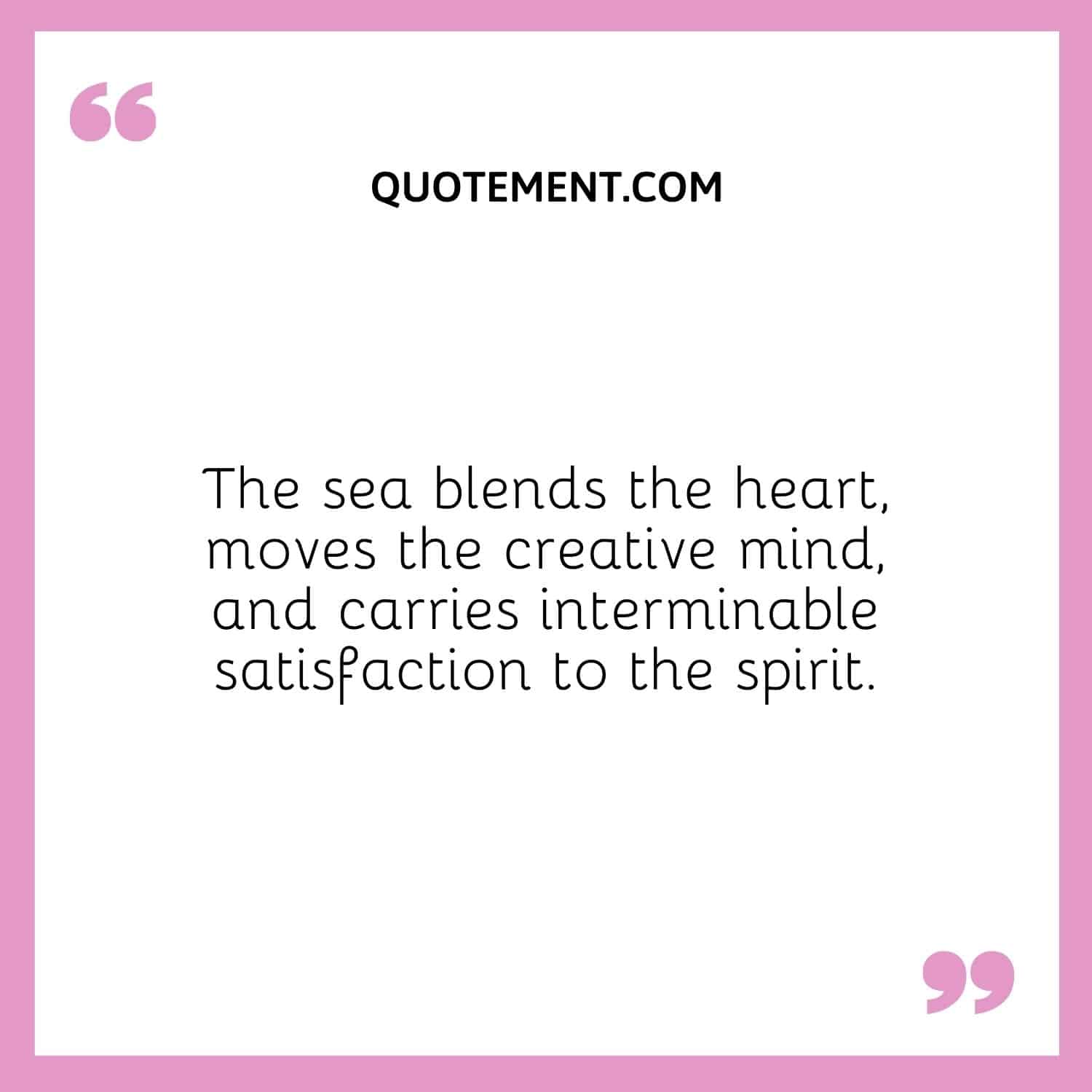 11. Rest is not idleness, and to lie sometimes on the grass under trees on a summer's day, listening to the murmur of the water, or watching the clouds float across the sky, is by no means a waste of time.
12. I have seen the sea when it is stormy and wild; when it is quiet and serene, when it is dark and moody. And in all these moods, I see myself.
13. It's all water over the falls.
14. Everything is better at the beach…Even rain.
See also: 200 Best Rain Captions For Instagram To Rock Your Post!
15. All I need is some nutrient ocean.
16. "Be water, my friend." — Bruce Lee
17. Nature never goes out of style.
18. Water is always working, reorganizing the land.
19. An adjustment in scope would help my disposition.
20. I am now a river carving my own path.
21. Live in the water. Love by the moon.
22. It's the ideal opportunity for some seashore treatment.
23. I am thankful for the beach.
24. Water is such a lifesaver into which we cannot breathe, but without taking it into us, we cannot live.
25. I don't waste water – Do you?
26. You can live without love but not without water.
27. A river always knows where it's going.
28. Protect your water bodies from pollution.
29. Water is sacred. Kindly save it.
30. You are not a drop in the ocean. You are the entire ocean in a drop.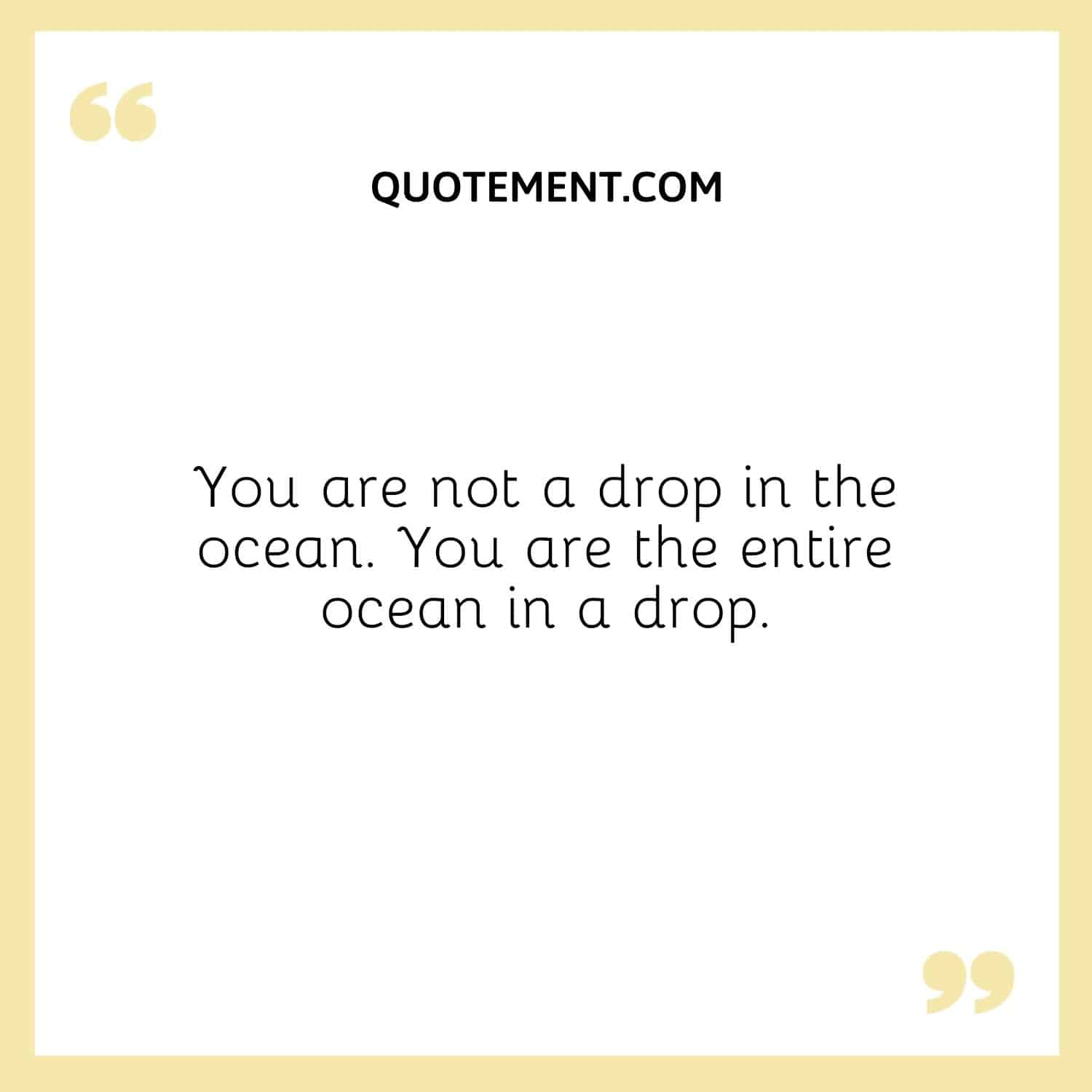 31. Think blue and go green!
32. Clean water should be a necessity.
33. It is possible that you choose to remain in the shallow finish of the pool or you go out into the sea.
34. Relax and enjoy the view.
Drinking Water Captions For Instagram
1. Drink pure water. Stay healthy.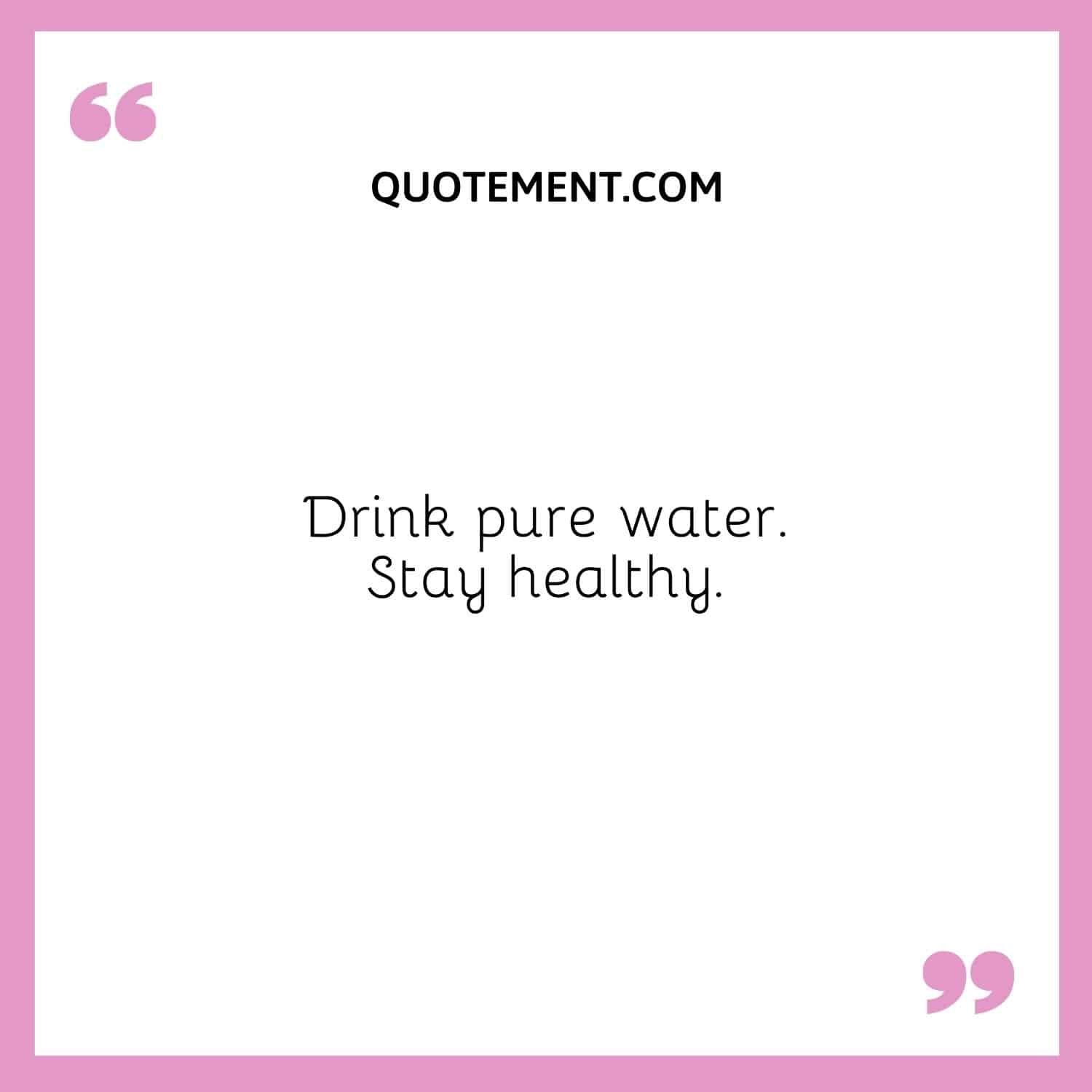 2. Water is the best natural remedy. drink your way to better health.
3. There are no substitutes for water.
4. Water! You may not like it, but you have to drink it.
5. Water, water everywhere but not a drop to drink.
6. Use water but never waste water!
7. Water is sufficient…the spirit moves over water.
8. Everything in life feels such a ton better close to the sea.
9. Make hope just like water in your life.
10. Save water – it does a body good.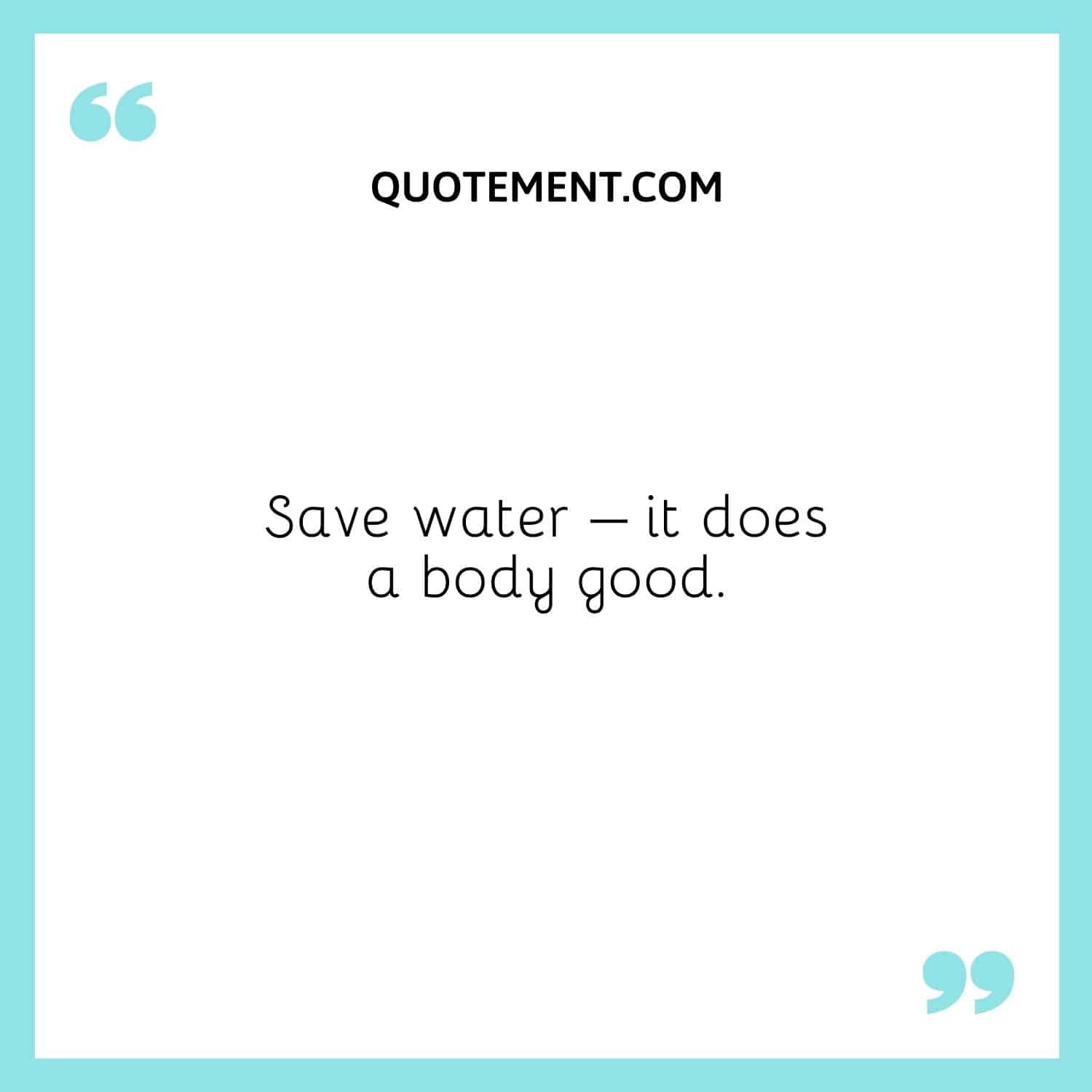 11. To some, it's just water. To me, it's where I regain my sanity.
12. "Thousands have lived without love, not one without water." ― W. H. Auden
13. Please Think and don't Waste Water in the Sink.
14. Either rich or poor, everyone needs water.
15. Individually, we are one drop. Together, we are an ocean.
16. Water for the future generations… priceless.
17. Clean water is inestimably precious to waste!
18. She is water. Adequately amazing to suffocate you. Adequately delicate to scrub you. Sufficiently profound to save you.
19. The water was pure and cold and came out of the Apennines tasting like snow melted in the hands of a pretty girl.
20. Do your children a favor and save tomorrow's lifesaver. WATER!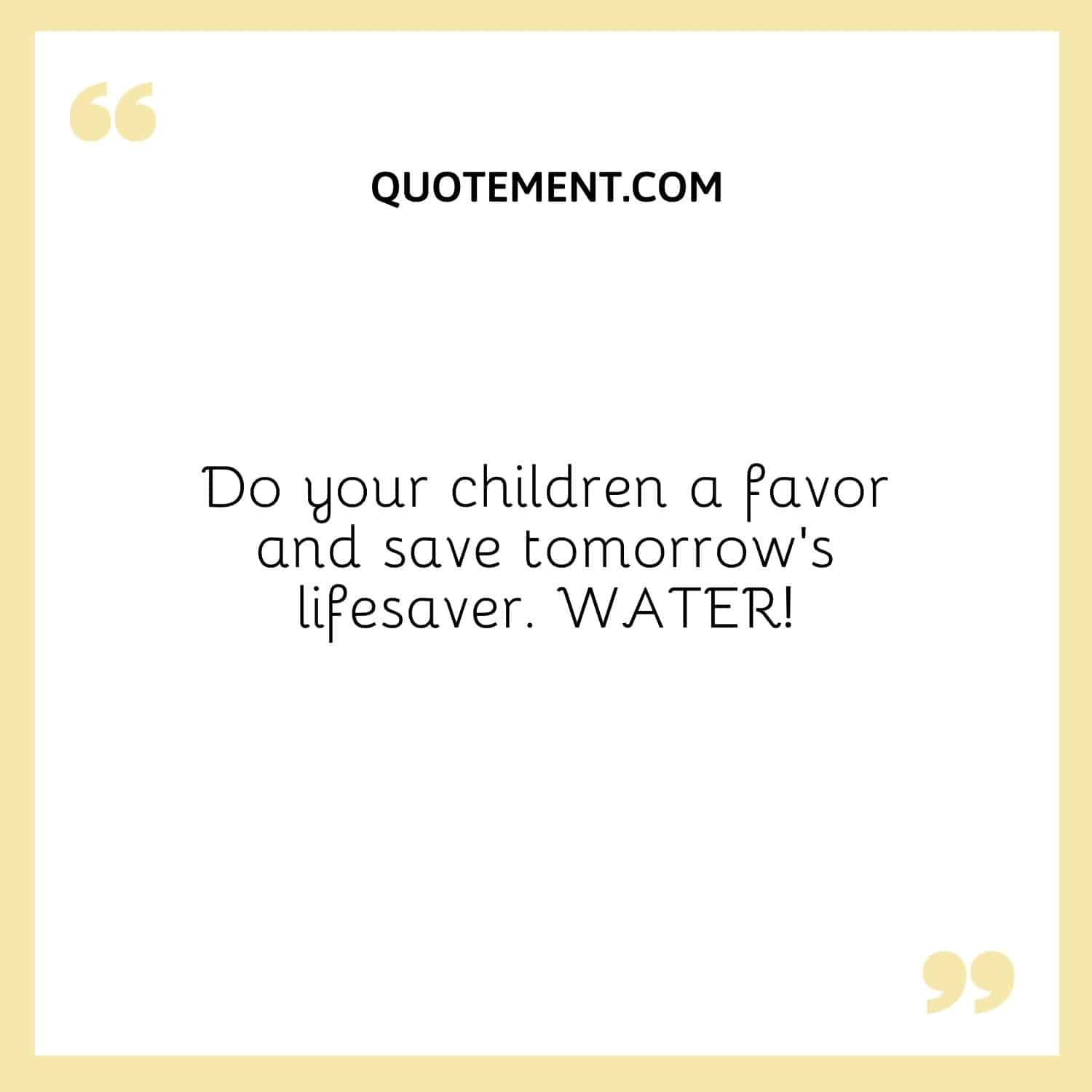 21. I don't wanna be tied down.
22. "All water is holy water." — Rajiv Joseph
23. Meet me where the sky contacts the ocean.
24. The sea has my heart.
25. Saving water is in our hands.
26. No water – No life.
27. All the water that will ever be is, right now.
28. Without water, you are nothing.
29. While they are never as stunning in the photographs. It's enjoyable to have pictures to recall.
30. And though I sink, my heart still floats.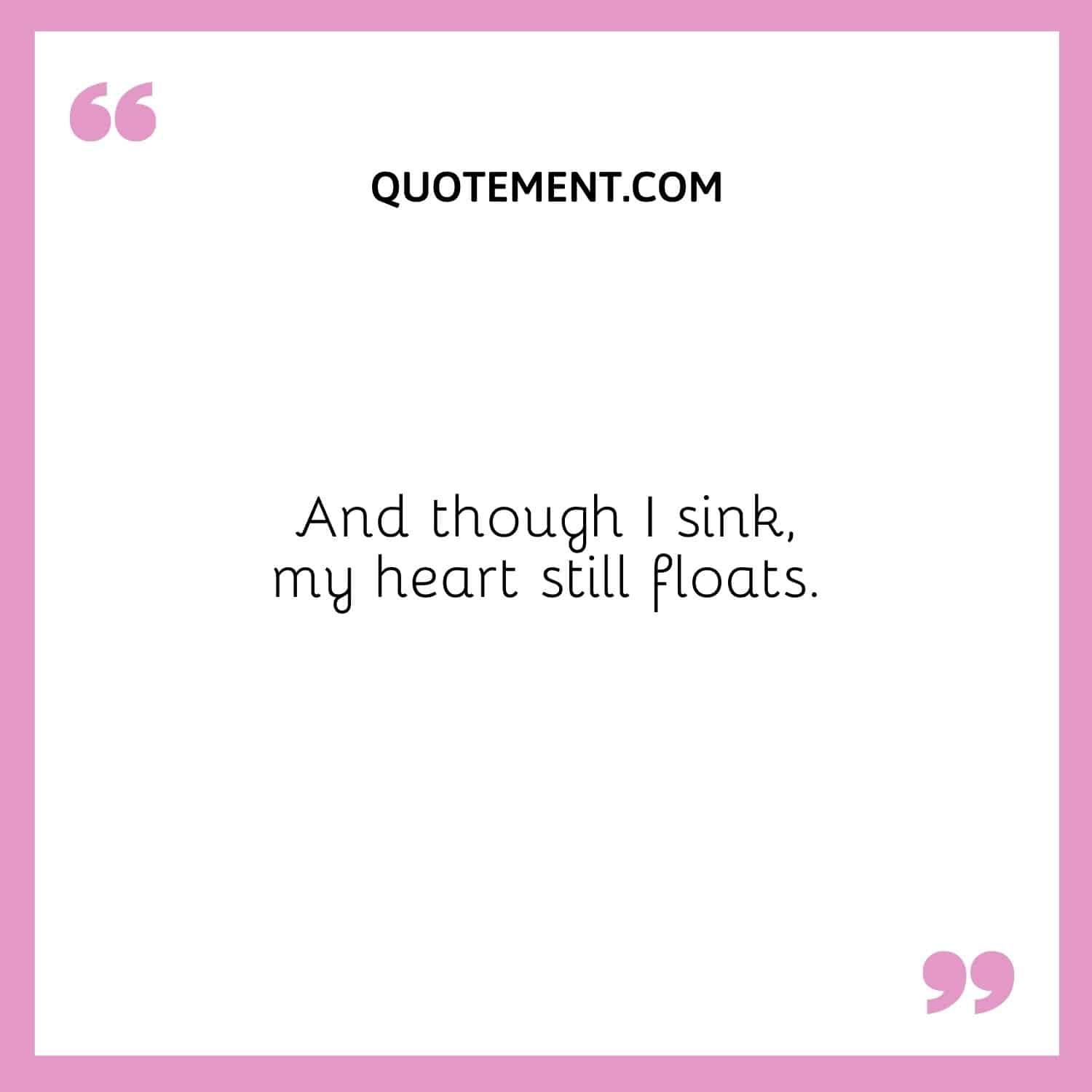 31. I am happiest when floating.
32. "Water and air, the two essential fluids on which all life depends, have become global garbage cans." – Jacques Yves Cousteau
33. Ordinarily, at sea is a decent day.
34. Never give up, for that is just the place and time the tide will turn.
35. Therefore, just as water retains no constant shape, so in warfare, there are no constant conditions.
36. Go wherever you feel most alive.
37. Water belongs to us all. Nature did not make the sun one person's property, nor air, nor water, cool and clear.
38. The places where water comes together with other water. Those places stand out in my mind like holy places.
39. "Human nature is like water. It takes the shape of its container." ― Wallace Stevens
Funny Water Captions For Instagram
A funny caption is always a good option. Check out these funny water captions for Instagram. I'm sure you'll love them!
1. OK, Mother Nature, I see you flexing.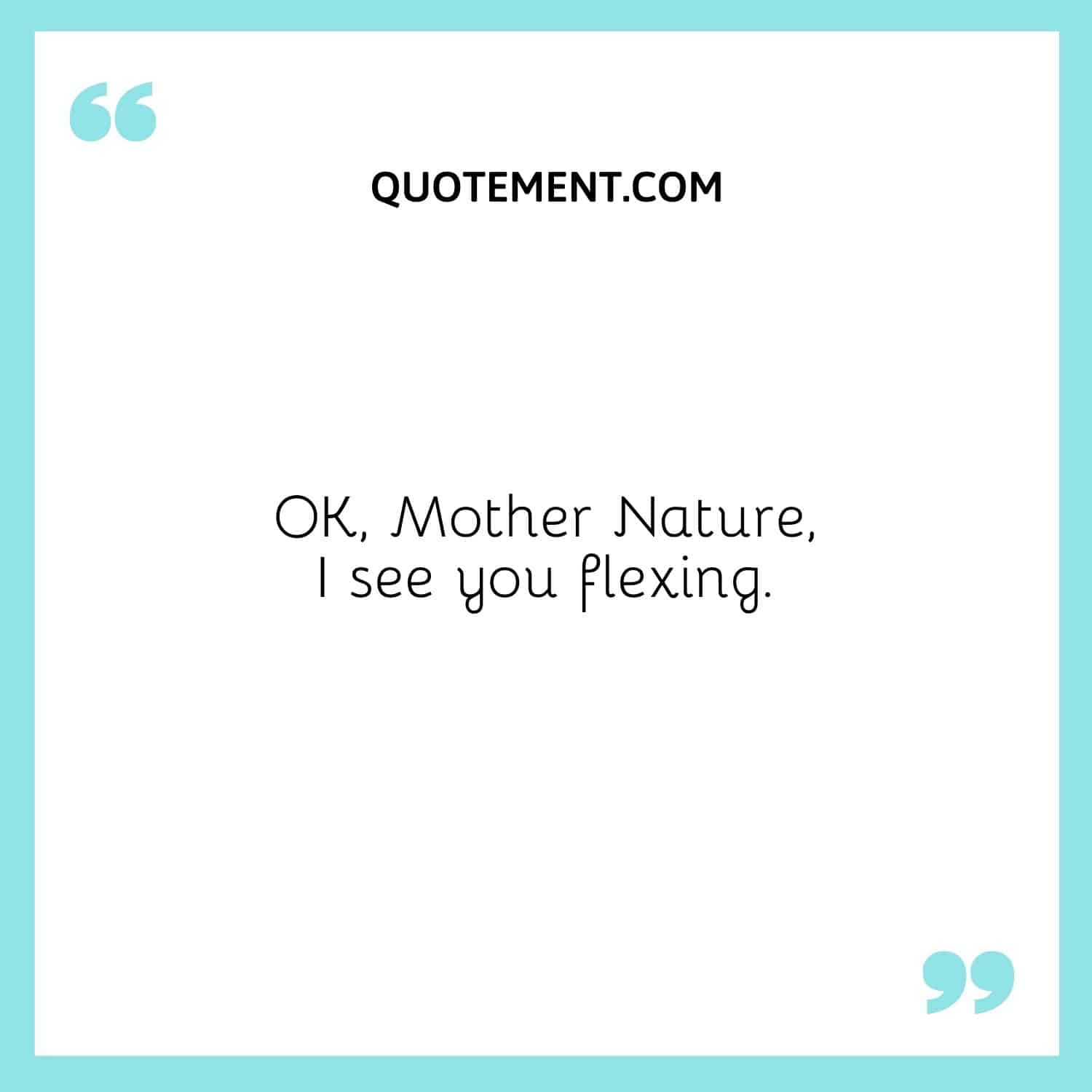 2. Namaste at the seashore.
3. Happiness comes in waves.
4. Go green & drink clean.
5. Water: The original NO calorie drink.
6. Get over it.
7. I'm an aquaholic.
8. Resting sea shoreface.
9. Sun of a seashore.
10. In wine, there is wisdom. In beer, there is freedom. In water, there is bacteria.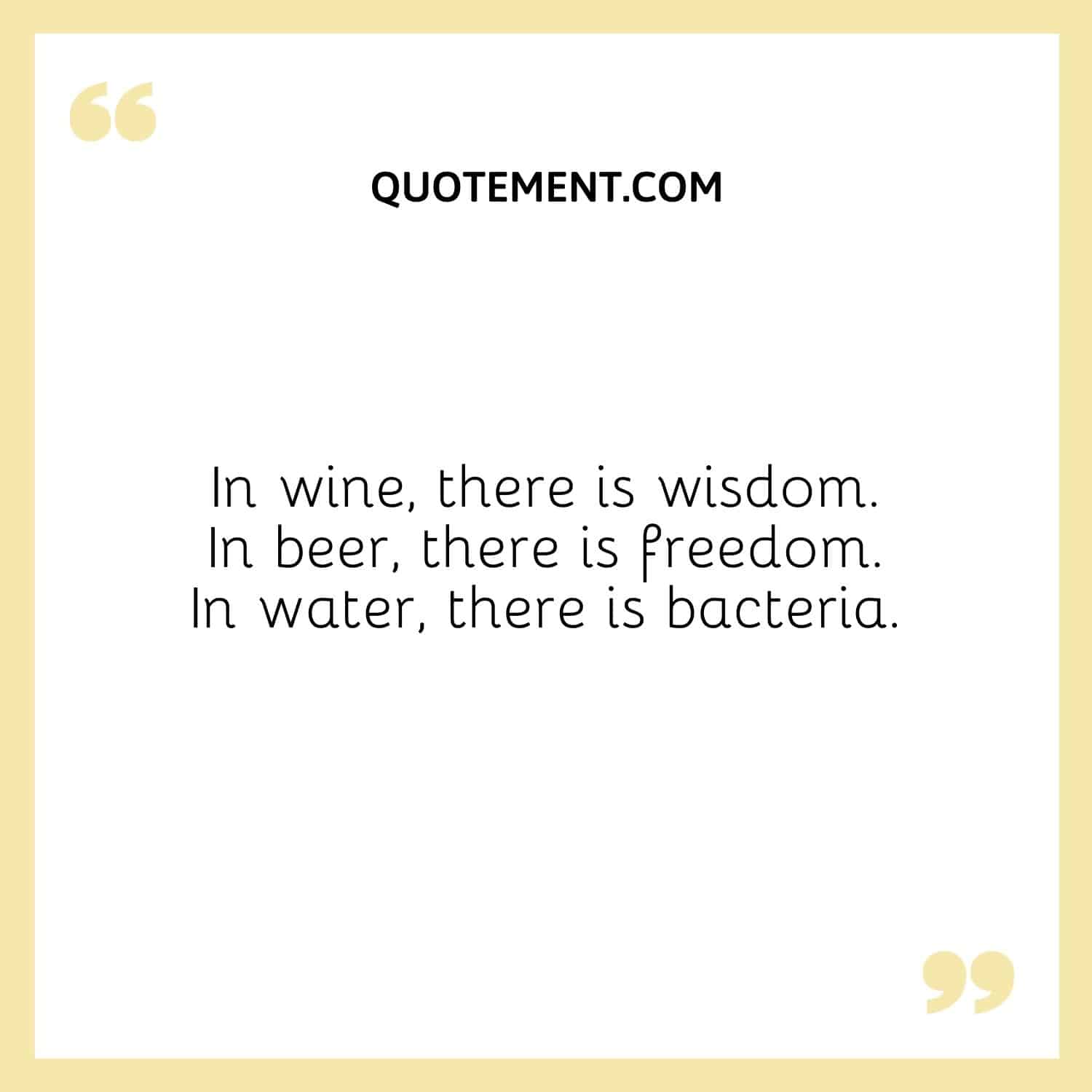 11. Water you doing today?
12. In the event that you need me, call me on my shell.
13. Jungle like it's hot.
14. I've finished adulting. We should be mermaids!
15. My therapist set half a glass of water in front of me. He asked if I was an optimist or a pessimist. So, I drank the water and told him I was a problem solver.
16. Gone to the seashore. Back never.
17. My fake plants died because I did not pretend to water them.
Short Water Captions For Instagram
1. Bliss comes in waves.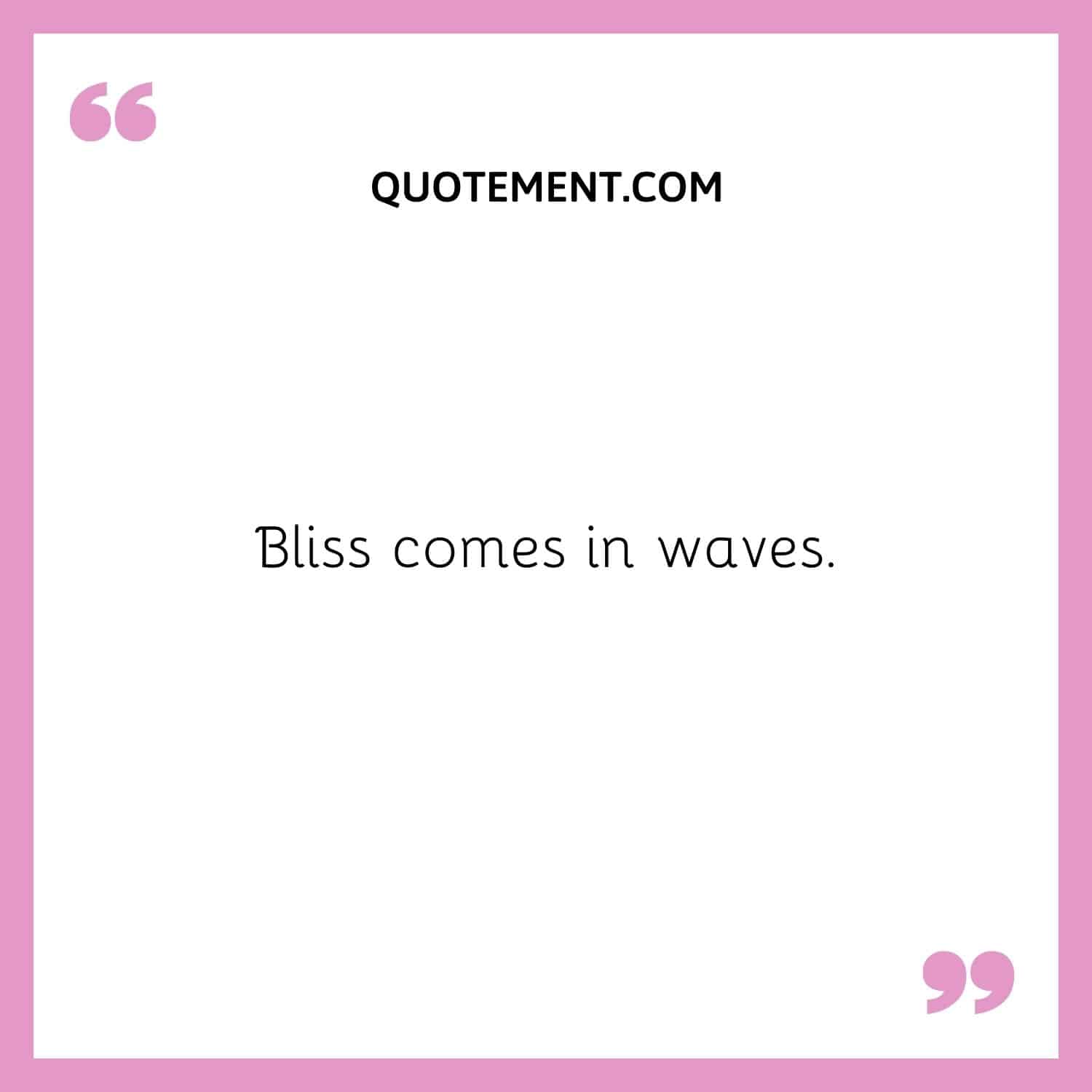 2. WATER, the DNA of life.
3. Water sustains all.
4. Glad as a shellfish.
5. As free as the sea.
6. Say no to water pollution!
7. Eat. Rest. Sea. Rehash.
8. Seashore, please!
9. Investigate great.
10. Water, a wonder liquid.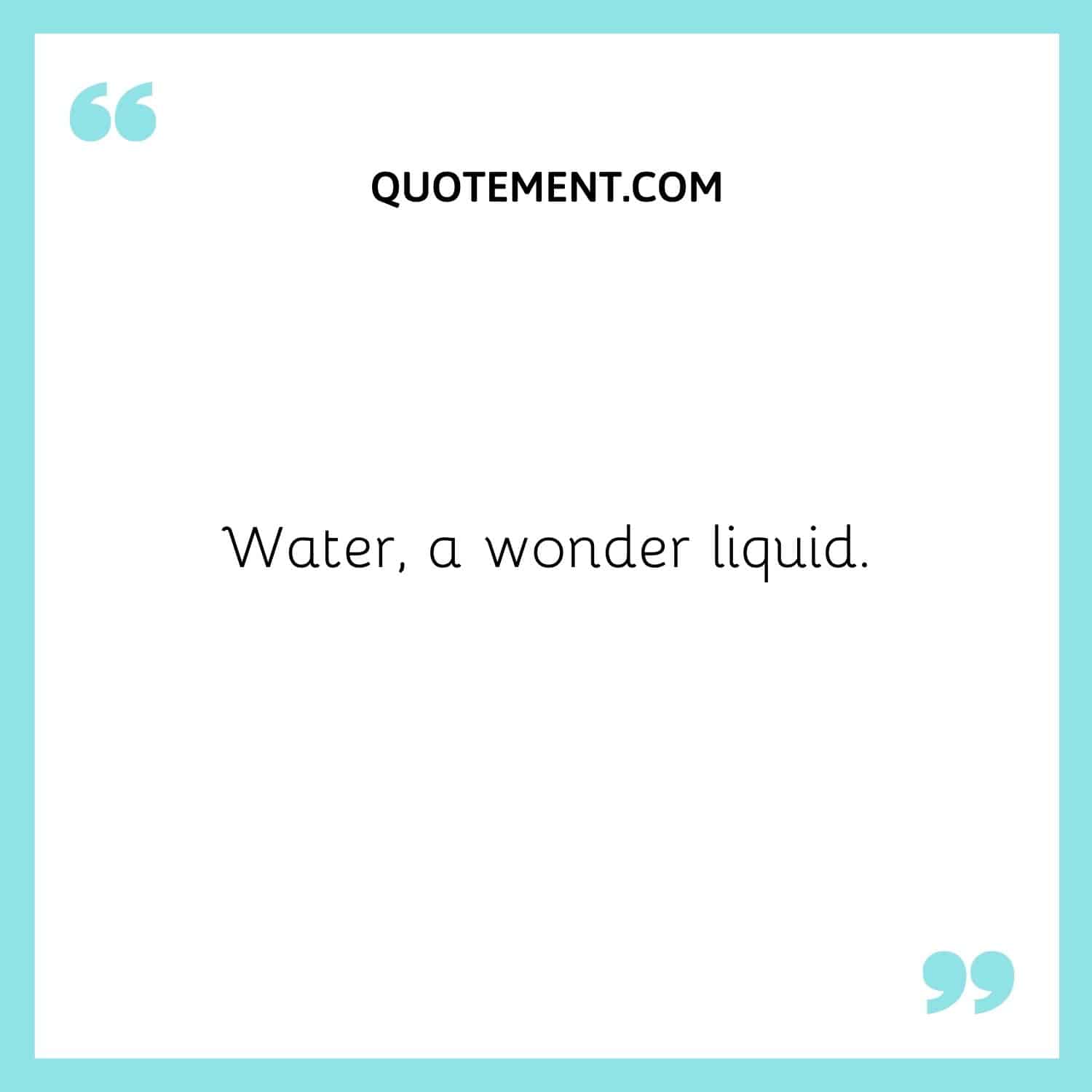 11. Go with the flow.
12. Paradise found.
13. Take me to the ocean.
14. Palm trees and sea breeze
15. Life's a seashore!
16. Shell no doubt!
17. As free as the sea.
18. Catch me by the river.
19. Seashore you to it.
20. The sea is calling.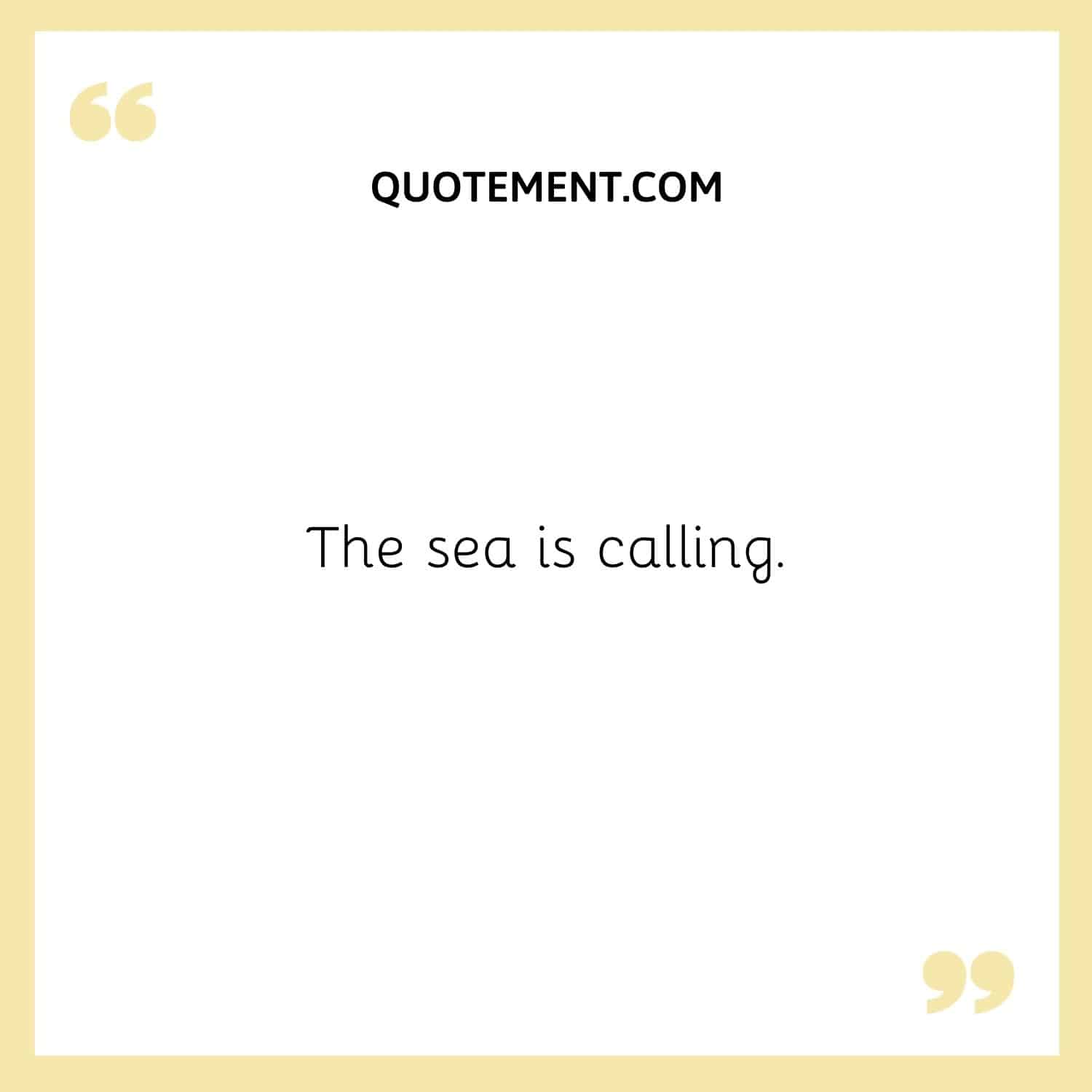 See also: 330 Best Short Instagram Captions For Your Exciting Posts
Captions For Waterfall Pics
If you need a caption for a waterfall pic, you'll find plenty of them here.
1. We start in different places, but in the end, we all meet at the waterfall.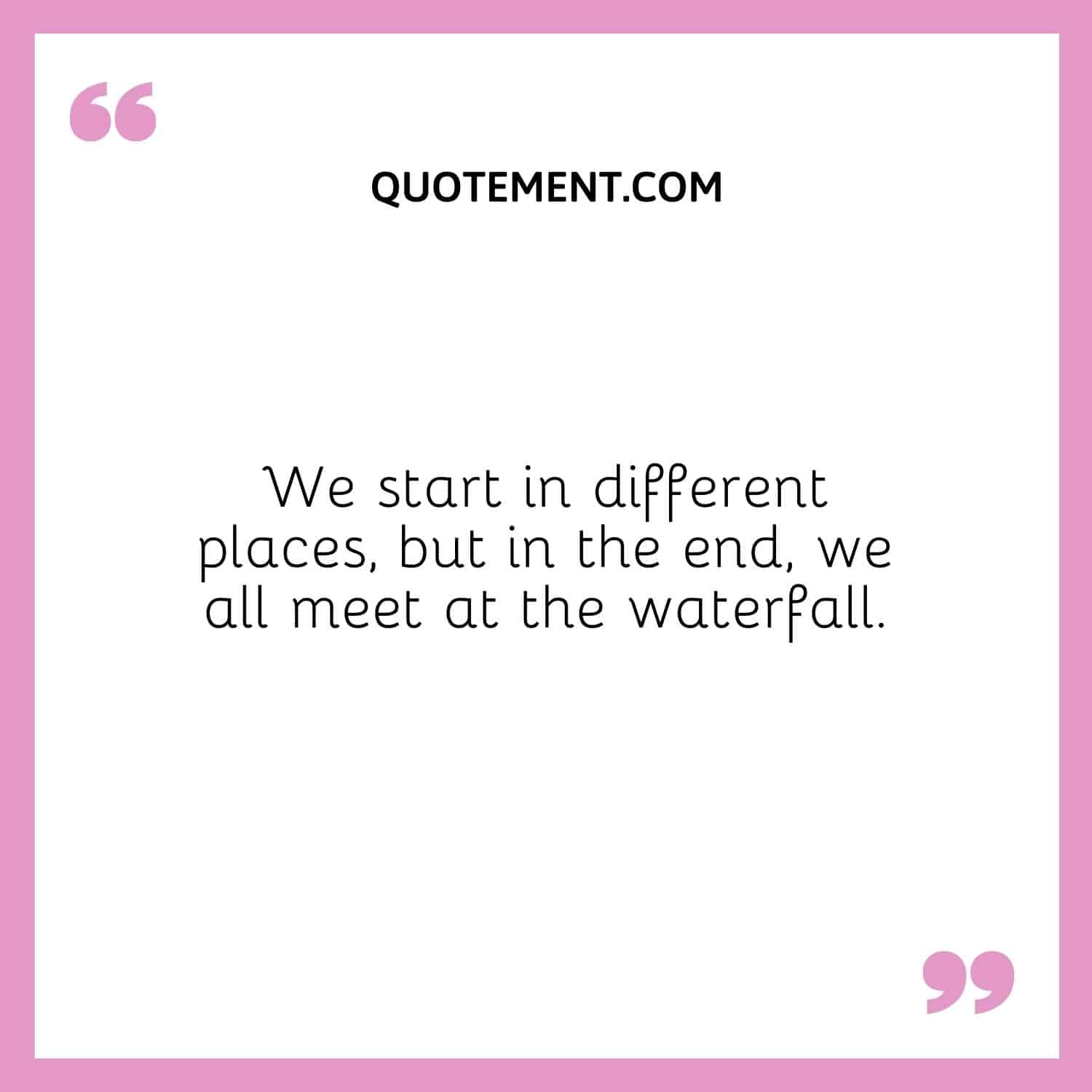 2. Many a calm river begins as a turbulent waterfall, yet none hurtles and foams all the way to the sea.
3. The waterfall is nature's laughter.
4. Water-falling in love with this place.
5. Canoe + waterfall = I don't go camping anymore.
6. This waterfall is lifting me over the seventh heaven.
7. "I love the sounds and the power of pounding water, whether it is the waves or a waterfall." — Mike May
8. I additionally love to take photos of the relative multitude of waterfalls that we visit.
9. Just let go – and fall like a little waterfall.
10. Run wild and free like a waterfall.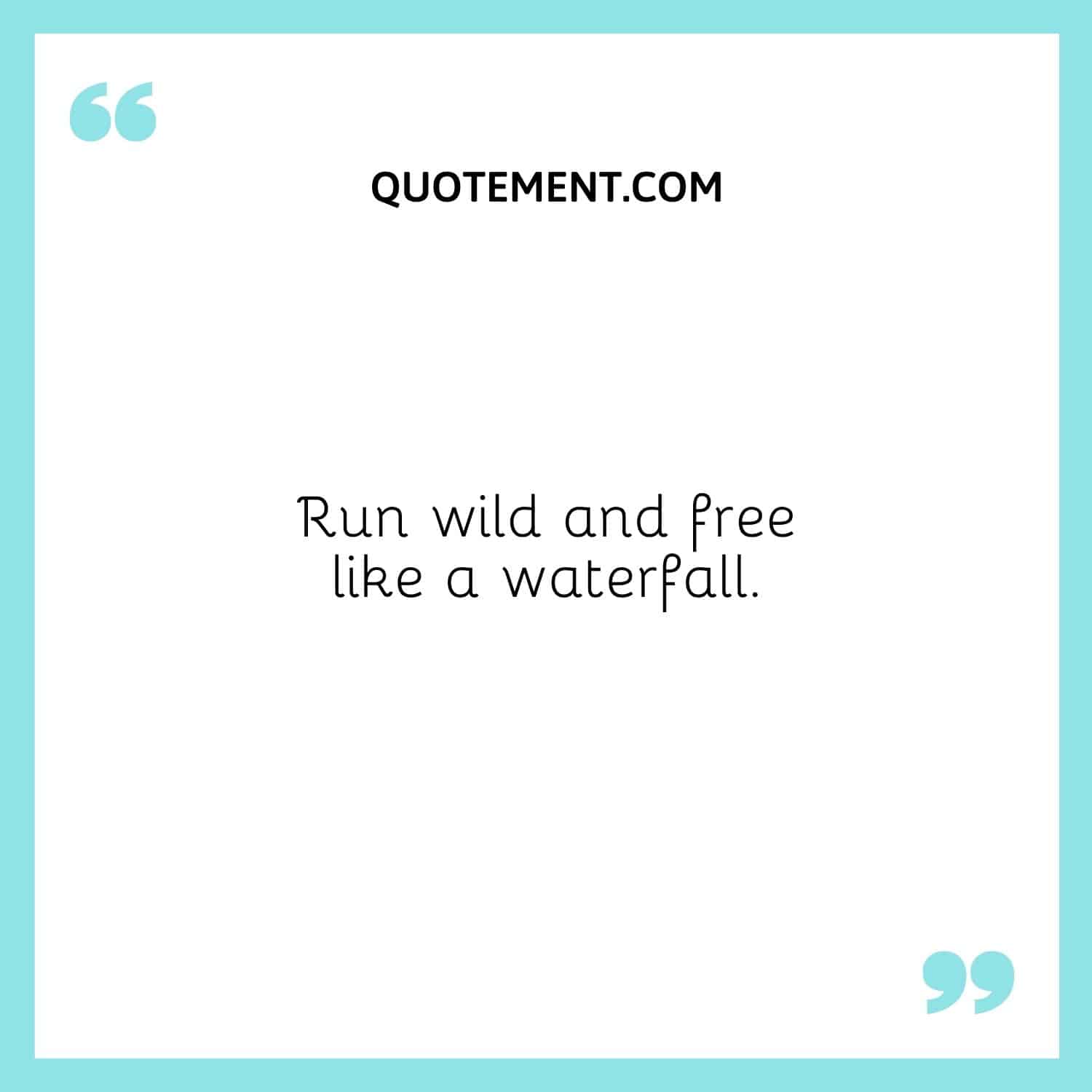 11. Our lives stream like water in a waterfall.
12. Pursuing waterfalls.
13. Do not feel sad for your tears as rocks never regret the waterfalls.
14. She'll carry on through everything. She's a waterfall.
15. Sorry, TLC. I chased the waterfall.
16. Water you up to? Nothing much, just chasing this waterfall.
17. One of my number one activities with my family is to climb waterfalls.
18. Tripping on skies, sipping on waterfalls.
19. "Do not feel sad for your tears as rocks never regret the waterfalls." ― Munia Khan
See also: 180 Remarkable Waterfall Quotes Guaranteed To Inspire You
The Bottom Line
Water is life. Are we sure we're doing everything in our power to preserve it?
You don't have to make any grand gestures, even a simple act is enough. For instance, don't let the water run down the plug while brushing your teeth.
Or you can use one of these water captions for Instagram to spread awareness on your social media.
Every little thing we do to save water is important and counts.
Until next time!
Read next: 260 Amazing Lake Captions For True Lake Lovers To Enjoy