Brilliant lake captions can really make your social media posts stand out, I a-shore you!
Of course, you may also be looking for cute and short lake captions just for fun.
Nature is a great source of inspiration and reel lake enthusiasts will agree that there's nothing like quality lake time!
So, it's a-boat time you checked out my fabulous collection of various captions, puns, and wonderful quotes!
Now, water you waiting for? Let's explore the very best captions collected from different online sources.
I'm sure you'll absolutely love these perfect lake captions!
10 Best Lake Captions
Many different captions can be found on the Internet, but these are my top 10 lake captions.
Enjoy!
1. Finding my zen at the lake.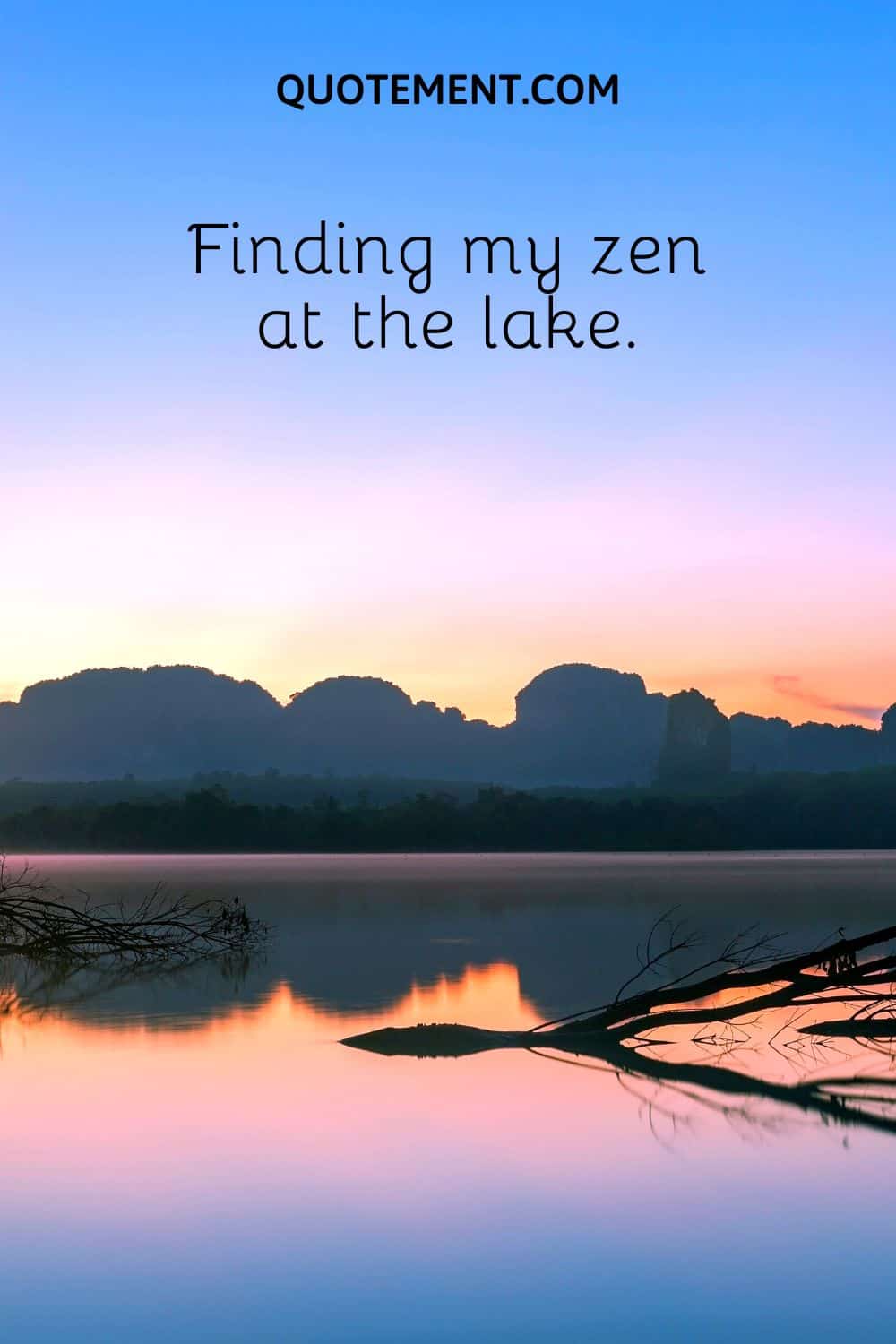 2. Never met a lake I liked so much.
3. Not every lake dreams of being an ocean.
4. Lake hair, don't care.
5. Hooked. Like, for reels.
6. Good times and tan lines are a given at the lake.
7. Stay close to the serenity of a lake to meet your own peace of mind.
8. They say all you need is love, but I need the lake.
9. Beer tastes better at the lake.
10. "The lake and the mountains have become my landscape, my real world." – Georges Simenon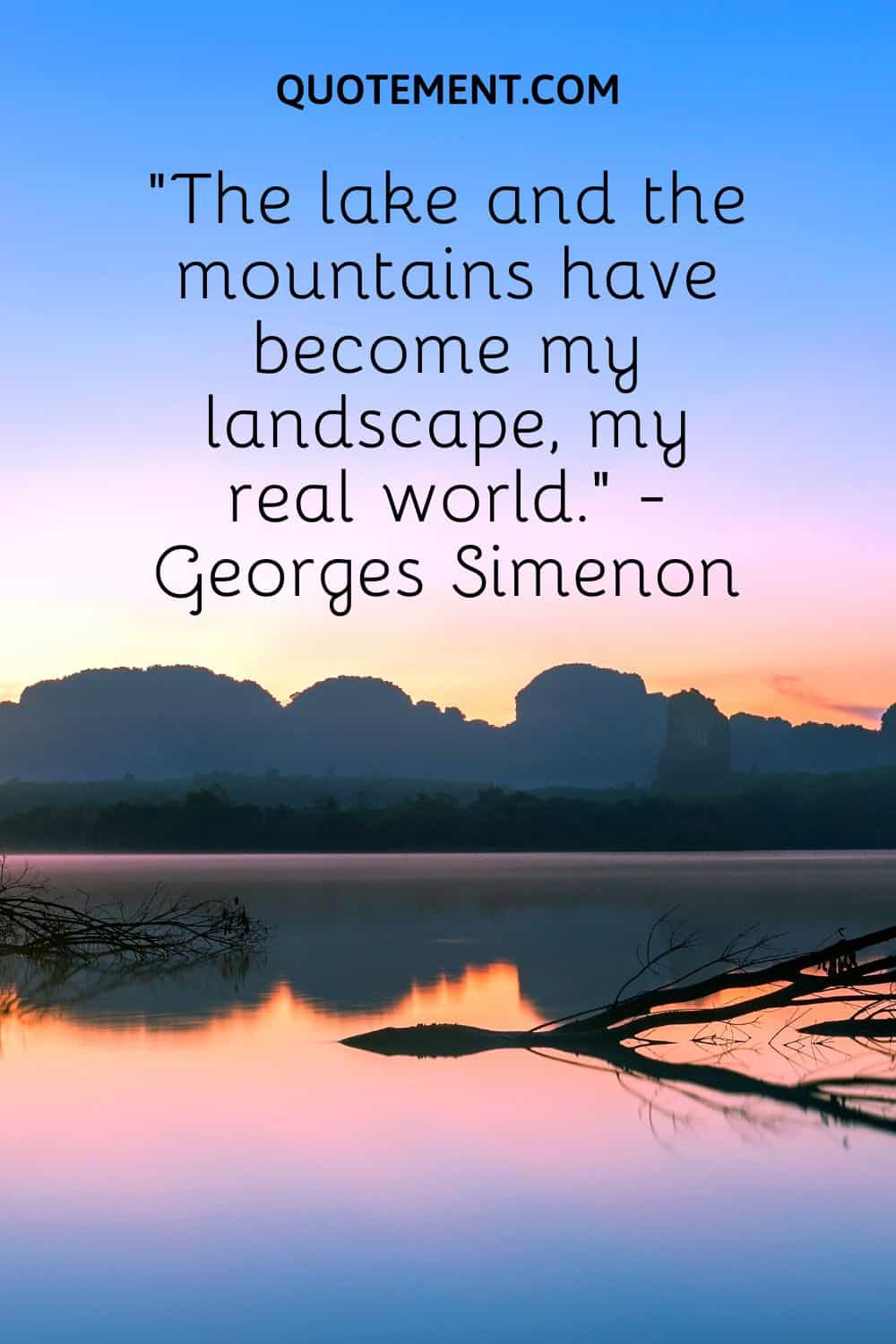 Fabulous Captions For Lake Pictures
If you've got some awesome lake pics, these cool lake captions will go with them perfectly!
1. Life's just right when the lake's in sight.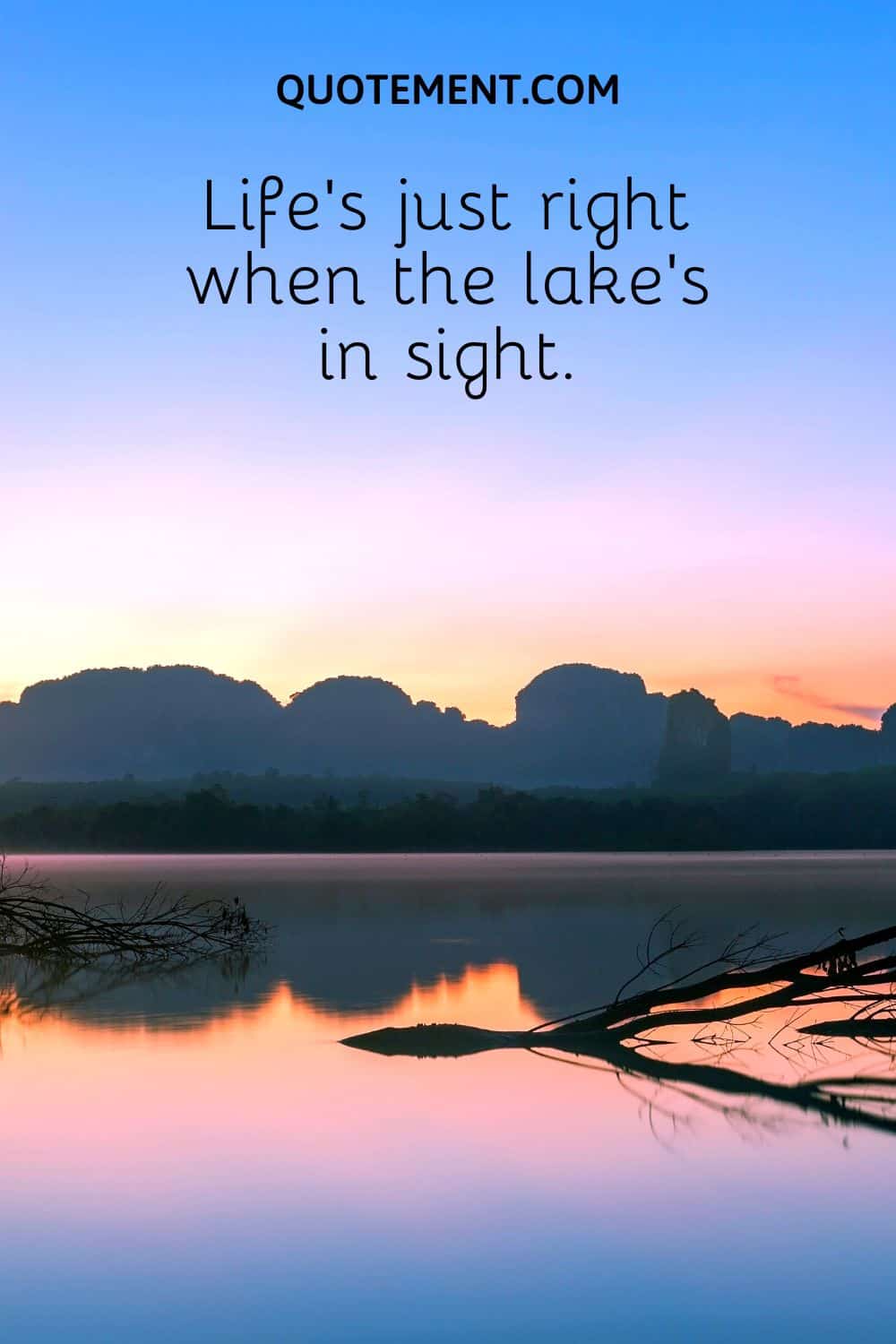 2. Coffee, lake, wine. Repeat.
3. Boat, lake, sunset, perfect.
4. I love to wake up at the lake.
5. Life by the lake is better with friends in tow.
6. Lake colors.
7. Full steam ahead.
8. The lake… It inspires the imagination, and brings joy to the soul!
9. Lake rules: sleep in, read, relax, fish, and enjoy each moment.
10. A glimpse of the lake from my tent is icing on the cake.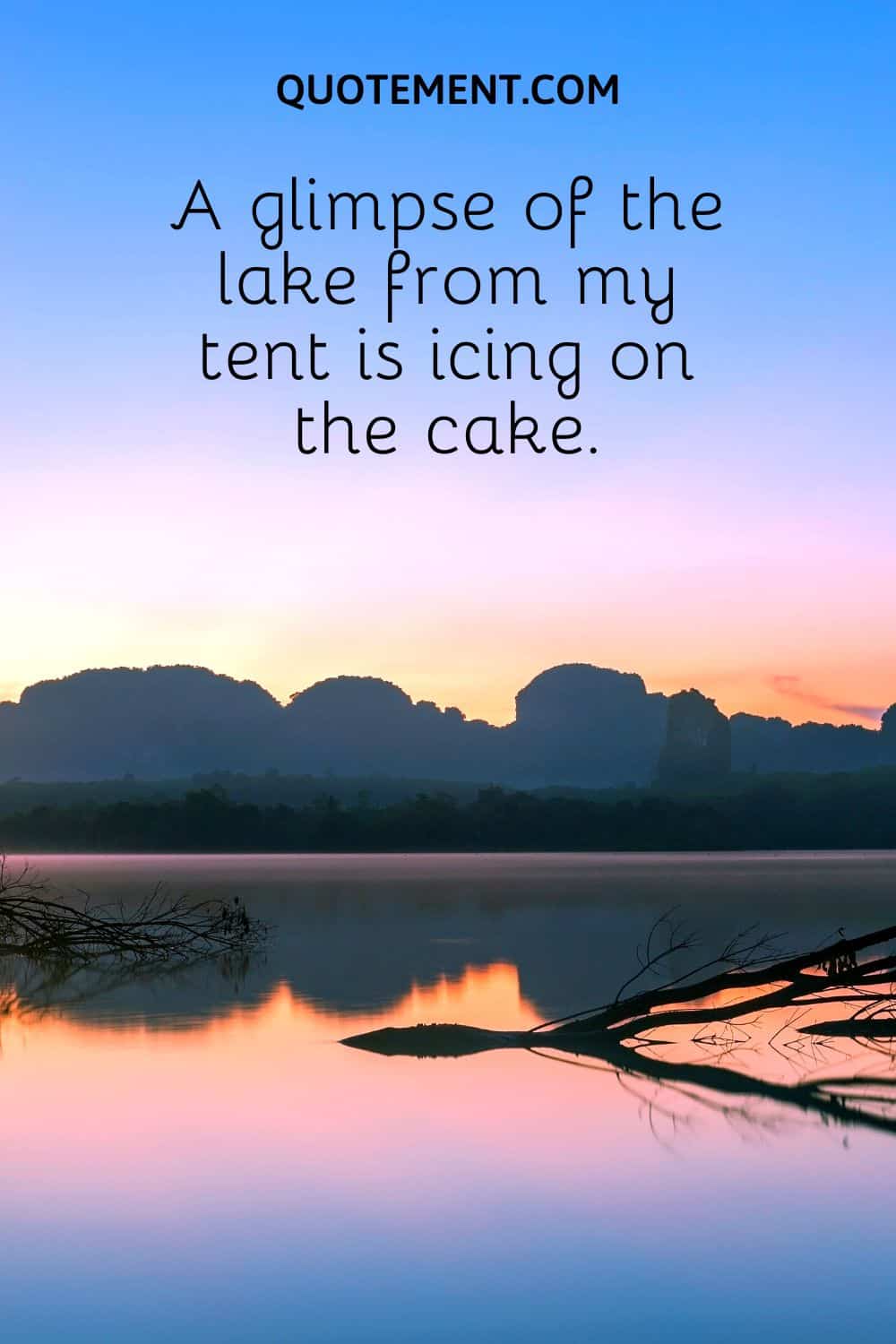 11. Boat waves, sun rays, ain't nothing like lake days.
12. Lake bliss.
13. Wind in our hair, sun on our faces, love in our hearts.
14. Welcome to the lake house.
15. If you want to heal, find water and stars.
16. Take the scenic route.
17. Lake rules. Go barefoot. Read a book. Jump off the dock. Catch fireflies. Watch the sunset. Go fishing. Build a bonfire. Make memories.
18. Food, friends, sunshine.
19. Sunshine on my mind.
20. A day at the lake restores the soul.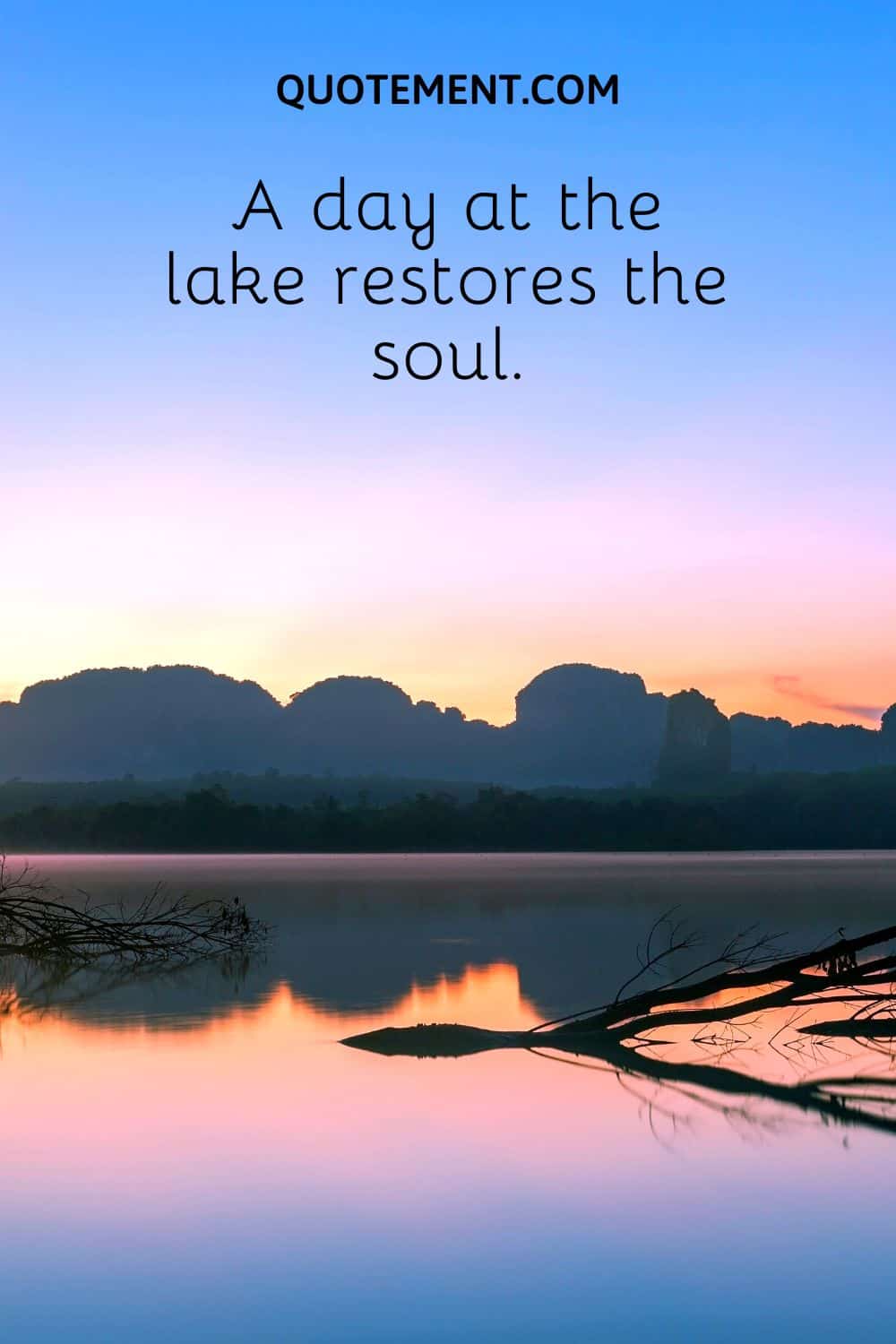 21. Postcard material.
22. Laketastic!
23. Sparkling.
24. Vacay.
25. Speechless.
26. Zen.
27. Paradise found.
28. Another day at the lake.
29. Just floating through life.
30. Just another day in paradise.
31. My music is the breeze.
32. Summertime is coming… When is your favorite time of year on the lake?
33. I can never get enough of the lake.
34. Nothing like sunsets, especially when on the lake.
See also: 340 Absolutely Best Sunset Captions For Instagram + Quotes
Brilliant Summer Lake Captions
Whether summer's just around the corner or it's already arrived, get inspired with these brilliant captions:
1. I'm o-fish-ally on vacation time.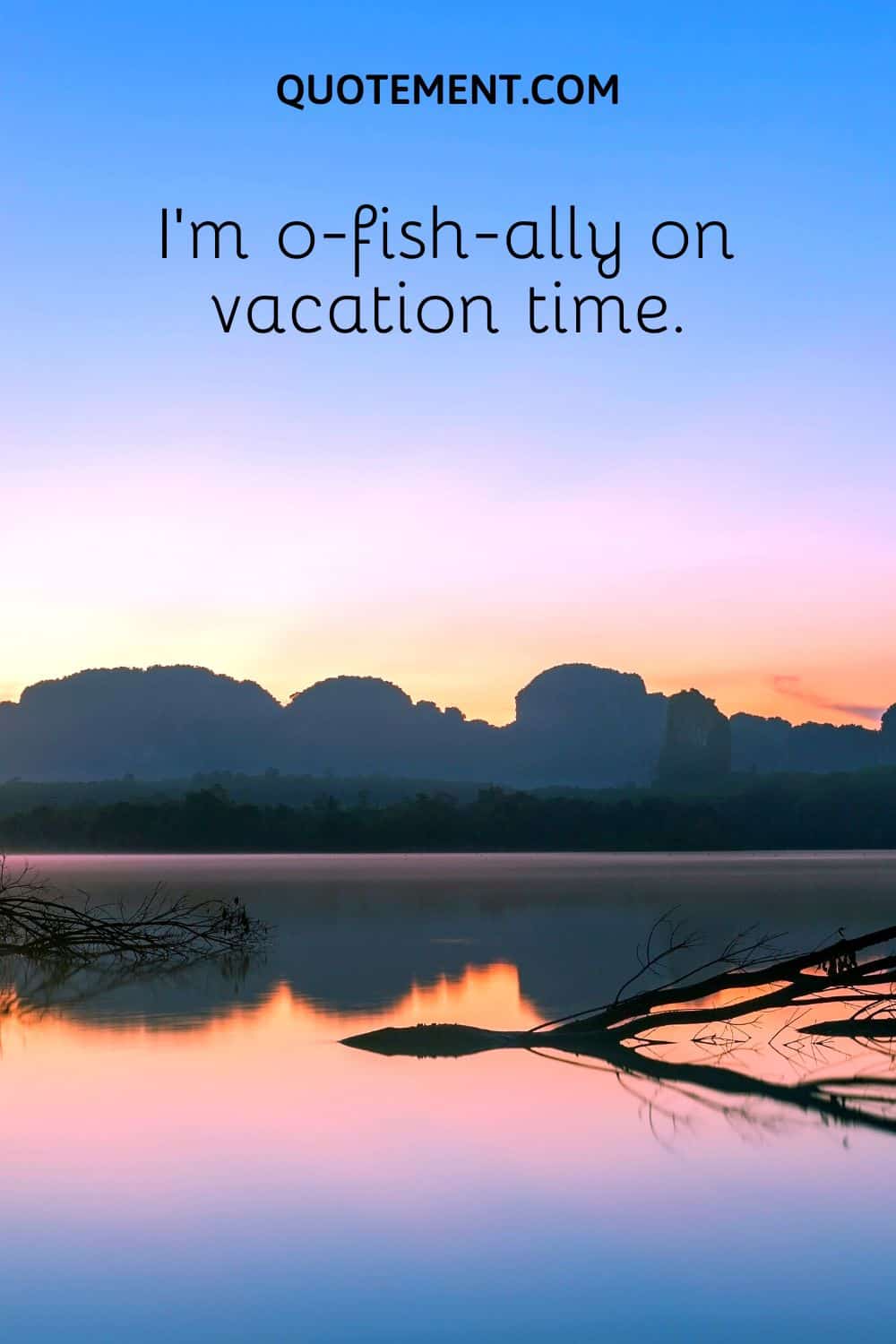 2. Stay fresh!
3. A splashing good time!
4. Sleep under the stars and swim under the sun.
5. Chill mode on.
6. Decks, docks, and flip flops.
7. It's a-boat time we go to the lake.
8. The lake is calling. I must go.
9. Sand in my shower means I had a great day.
10. I wish this summer would slow down.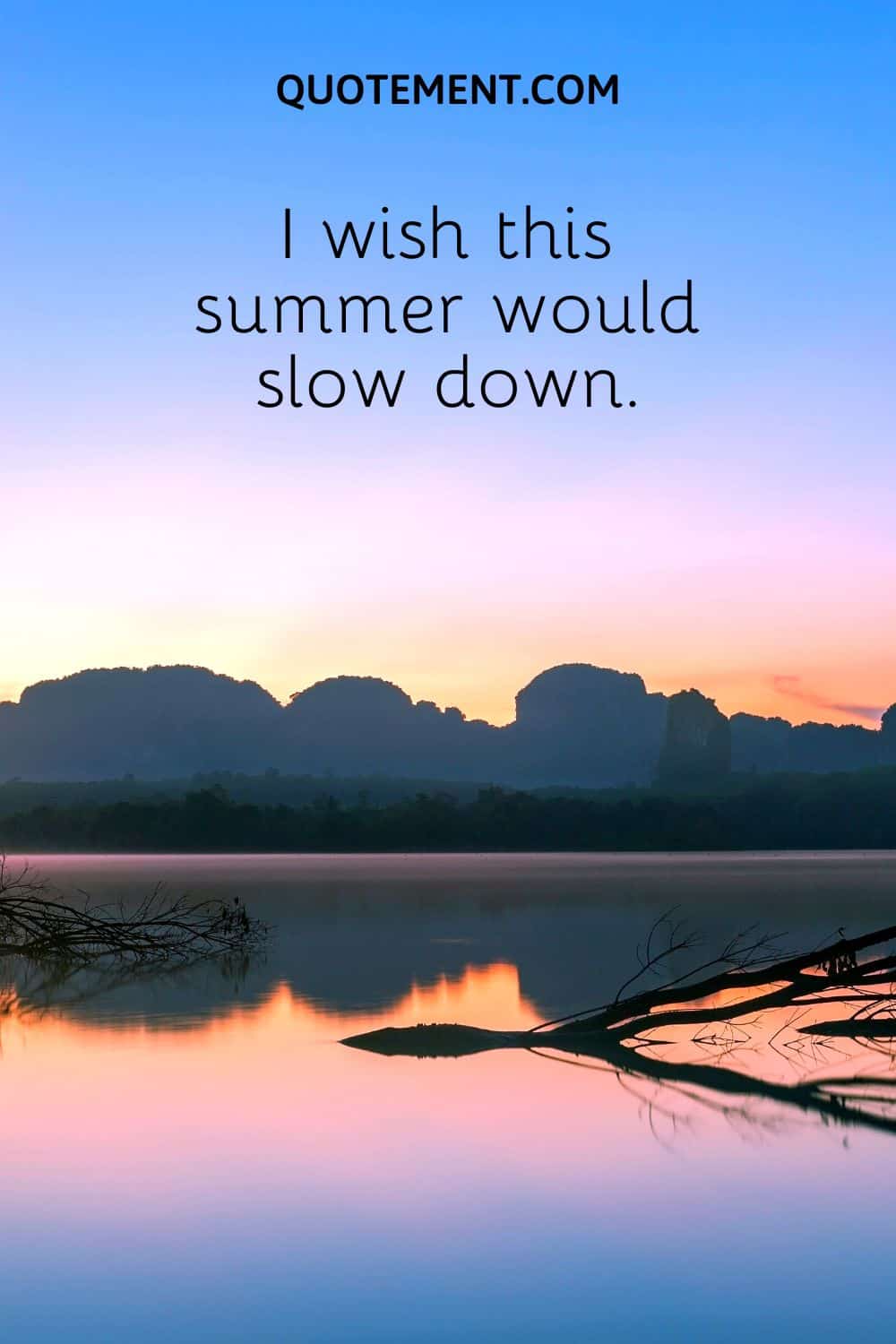 11. Good vibes and high tides.
12. Life's better in a bikini.
13. Let's run away to the lakes.
14. Come aboard.
15. Reading while sunbathing makes you well-red.
16. Summer, you're golden.
17. Free watermelon? Y'all gonna make me lose my rind.
18. Hello, summer.
19. Let's dive in!
20. Sleeping on the ground with a view of the lake is where it's at.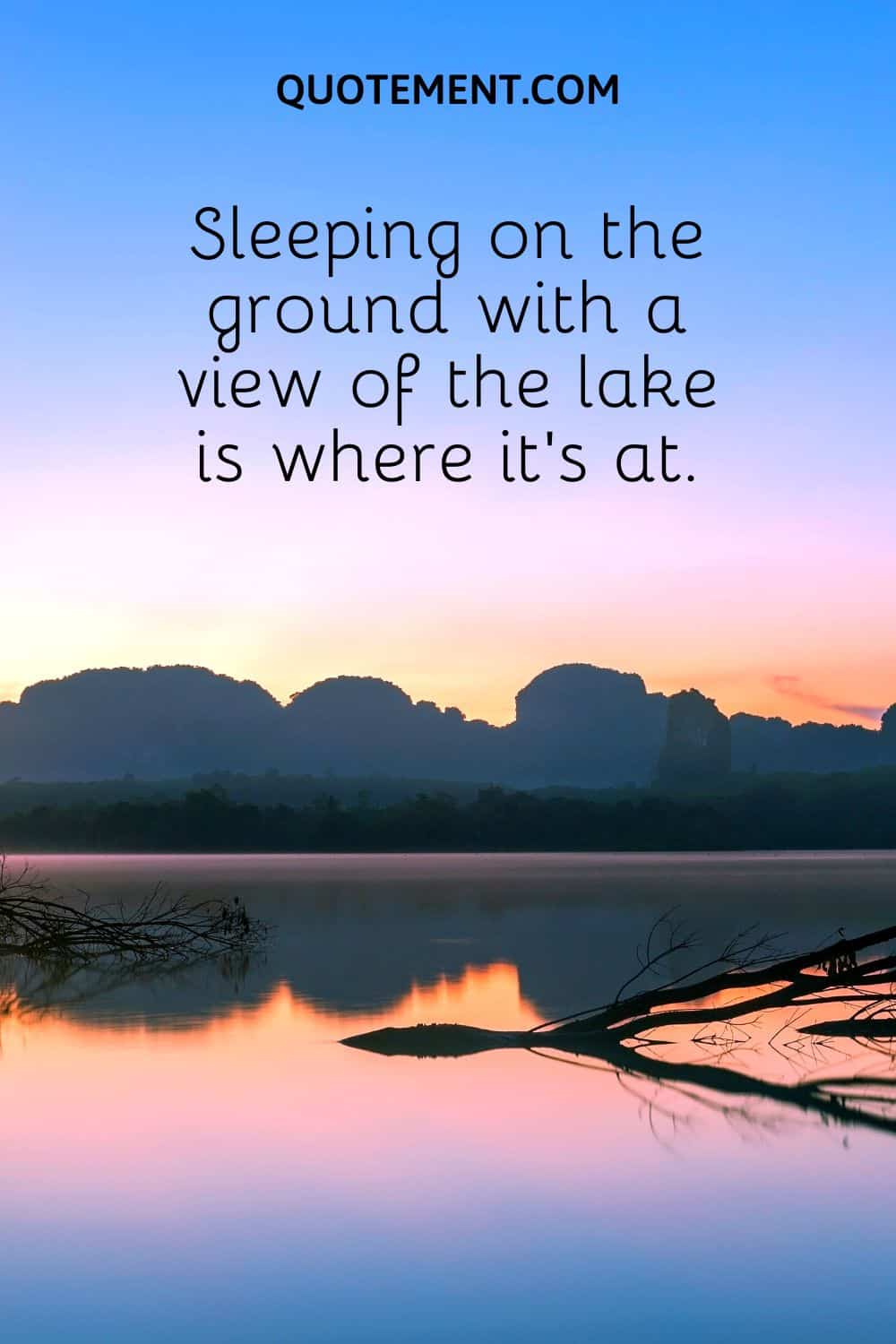 21. Sandy toes with a sun-kissed nose.
See also: 80 Glowing Sun Kissed Quotes For A Perfect Instagram Post
Cool Captions For Lake Activities
Lake activities require awesome lake captions! Here you can find some fantastic fishing, camping, paddling, swimming, and boating captions:
1. Home is where the boat is docked.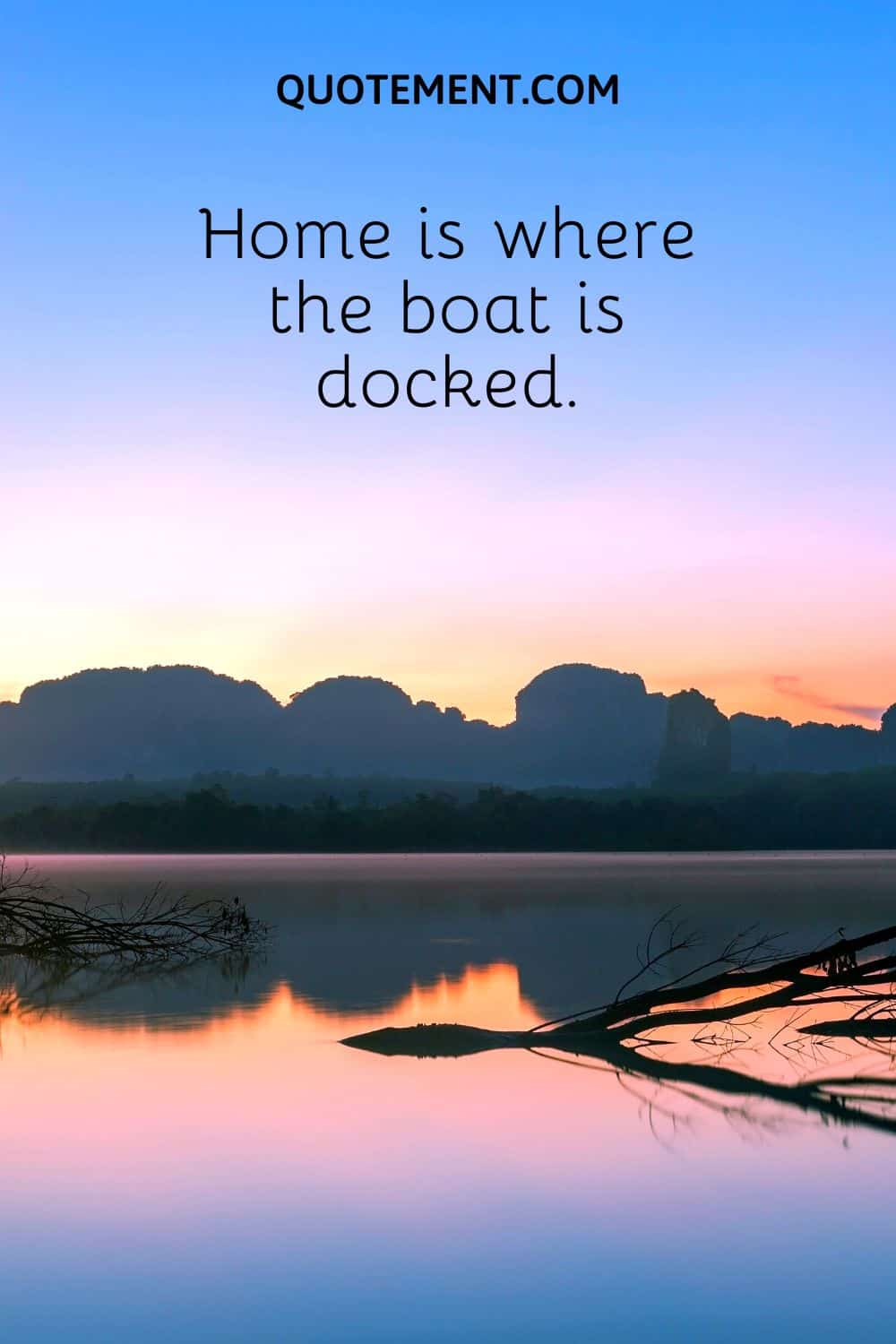 2. Good things come to those who bait.
3. Good catch!
4. Born to fish.
5. I'm hooked!
6. I'm a catch!
7. Call of the wild!
8. Another day, another adventure.
9. The forest is calling.
10. The best friends are around a campfire.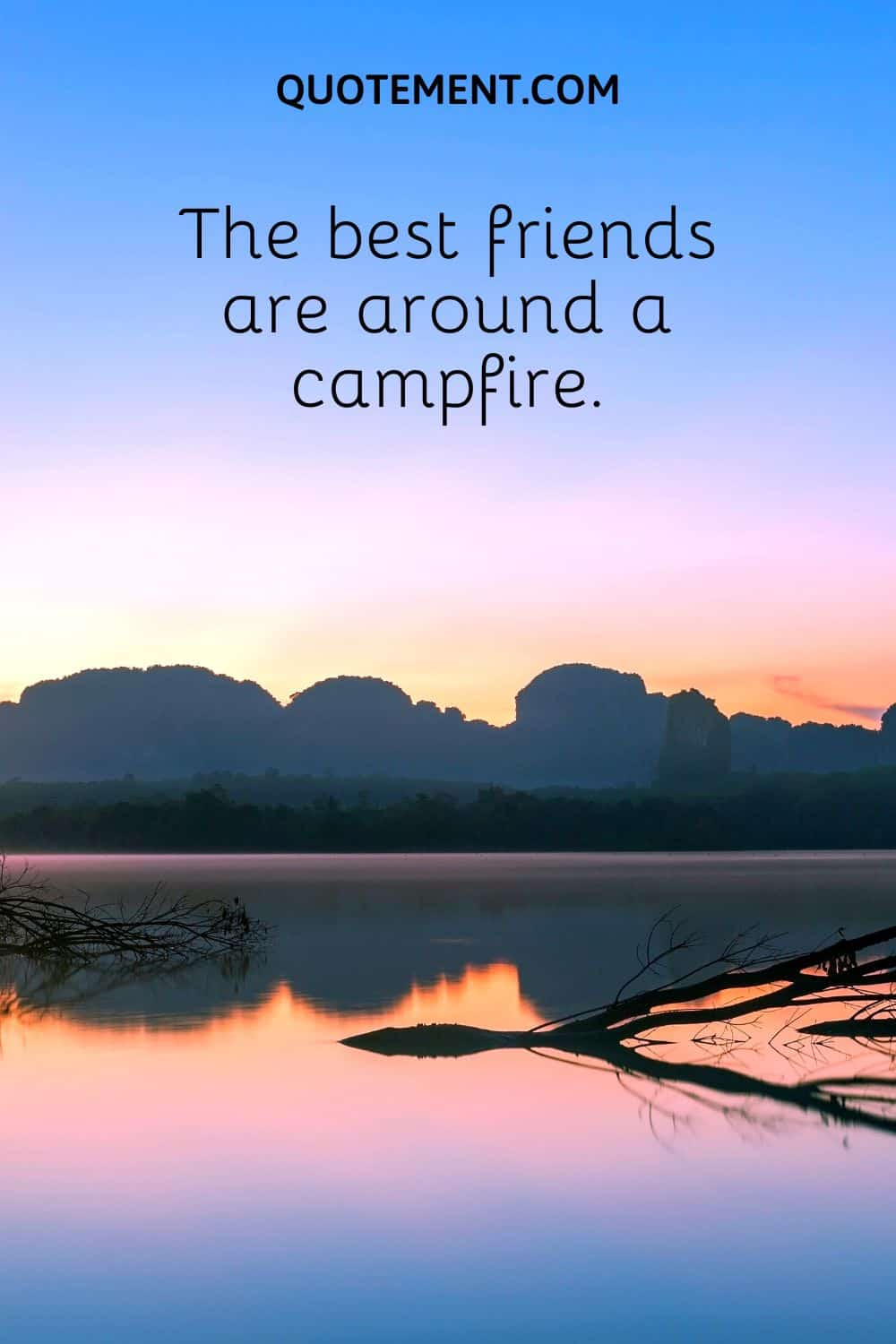 11. Be my campfire friend.
12. Life is s'more fun with you.
13. Tell good ghost stories. Make great friends.
14. This trip is on fire.
15. Navigator in chief.
16. Lake life = go boating, nap often, enjoy every sunset.
17. I don't need therapy, I just need my boat and a lake.
18. Give me a boat, a lake, and a drink in my hand, and you will make me the happiest girl in the world.
19. Life's short – pitch a tent by the lake.
20. My shower is a swim in the lake.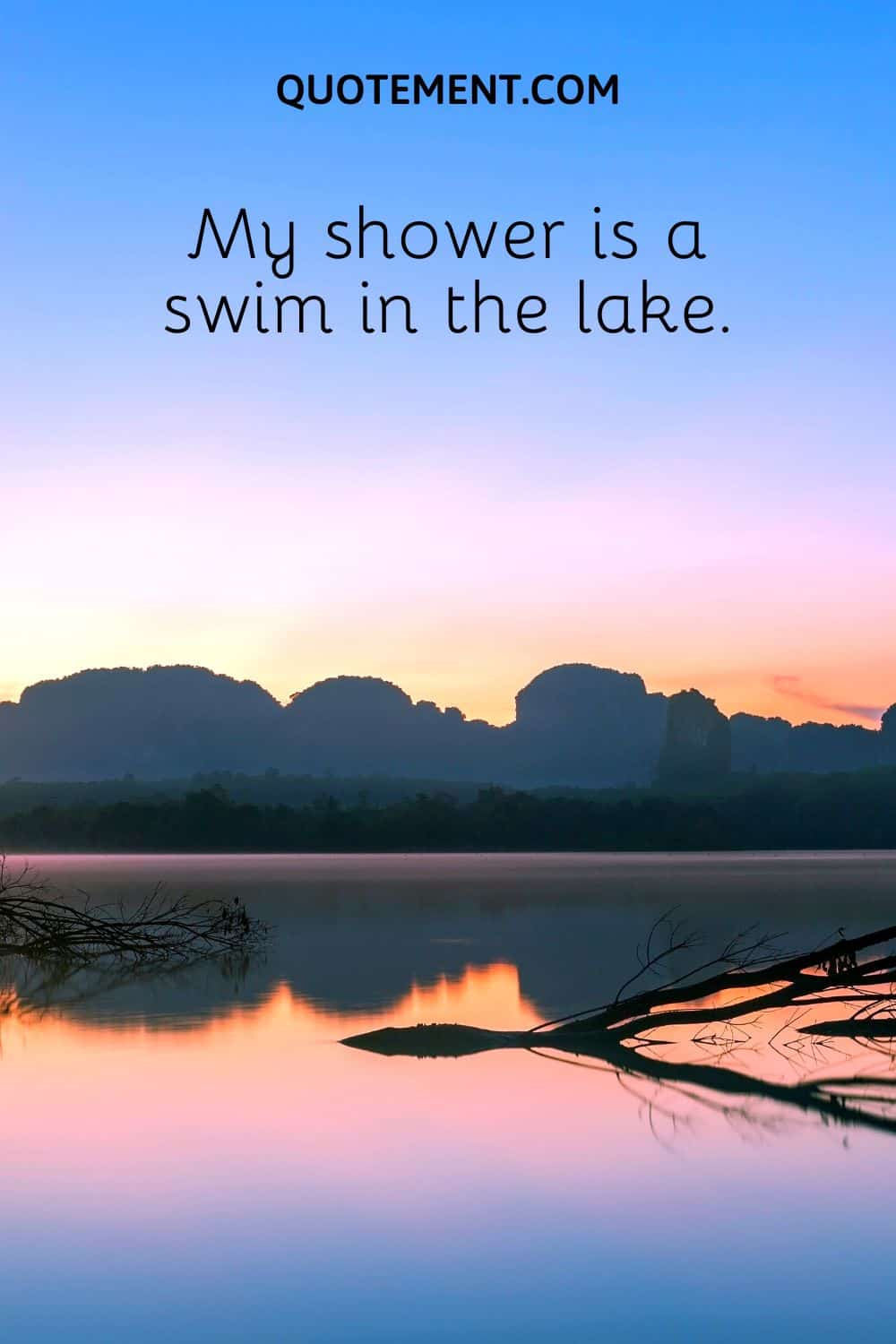 21. Lake reflections, campfire, setting sun – life is good.
22. A bad day camping at the lake is better than a good day not camping.
23. No tent-sion here!
24. Making nature cozy.
See also: 150 Nature Captions For Instagram For All The Nature Lovers
Lake Instagram Captions You'll Love
If your Instagram posts could use a little help, you need these lake captions!
1. Paradise found at the lakes.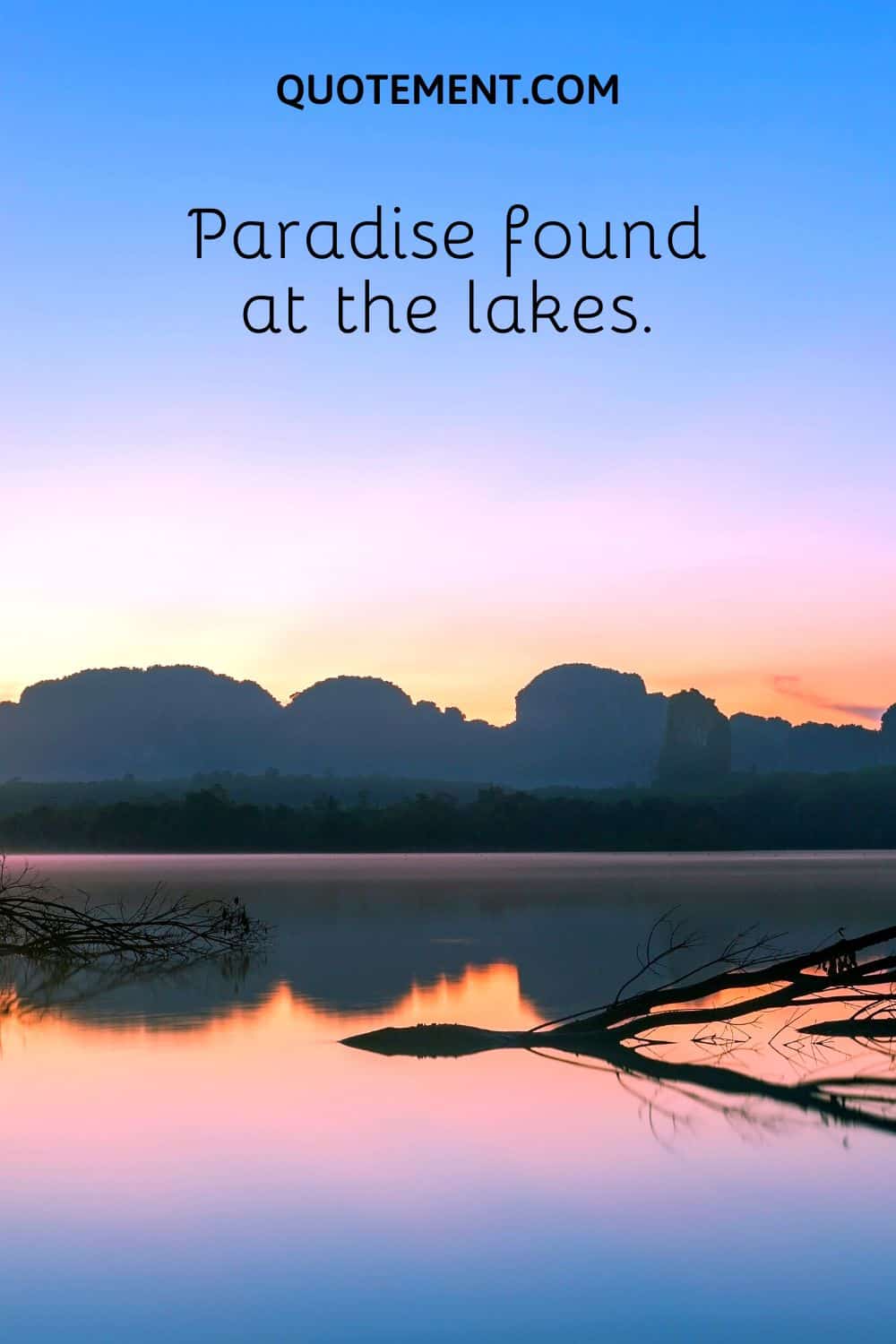 2. Live. Love. Lake.
3. Let's wander where the wi-fi is weak.
4. Follow me to the lake.
5. Sunglasses, good friends, and a day at the lake. What more could you ask for?
6. Water is life.
7. Time wasted at the lake is time well wasted.
8. Got the lake on my mind.
9. Lake mode: activated.
10. Lake breeze puts me at ease.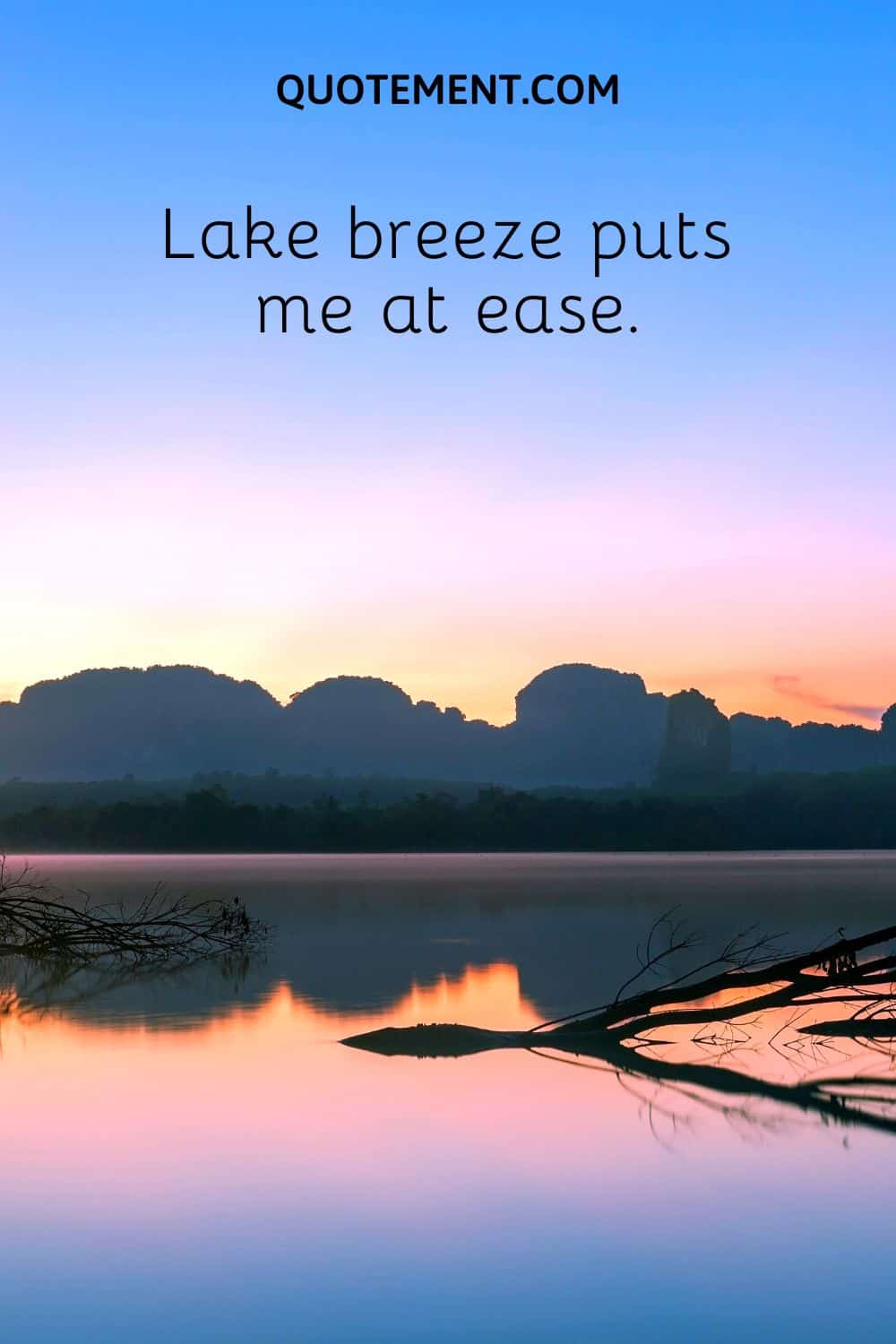 11. Life is better on a boat.
12. To some, it's just water. To me, it's where I regain my sanity.
13. Sunshine and lake water is all I need.
14. The lake is my happy place.
15. Come aboard.
16. Meet me near the lakeside.
17. Living the lake life.
18. I can never get enough of the lake.
19. The early bird catches the sunrise.
20. I want to go to the mountains and sit by the lake, far away from everything.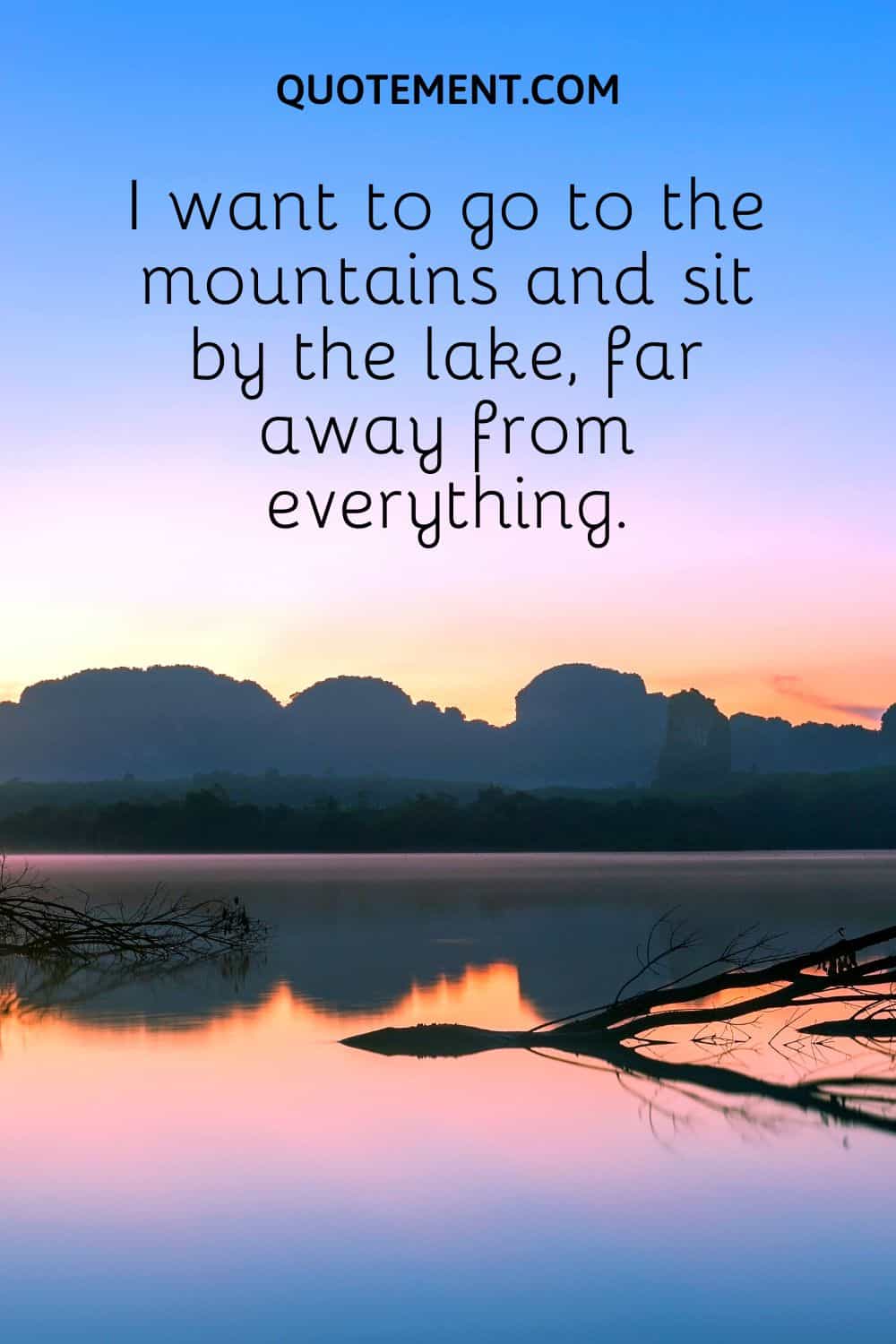 21. There's no place like home except the lake.
22. Eat. Sleep. Boat. Repeat.
23. "Lake time is my favorite time."
24. A clean cabin is a sign of wasted time at the lake.
25. Reckless diving.
26. Paradise.
27. You dive me crazy.
28. If you're not barefoot, then you are overdressed.
29. This is living.
30. Home is where you park your flip-flops.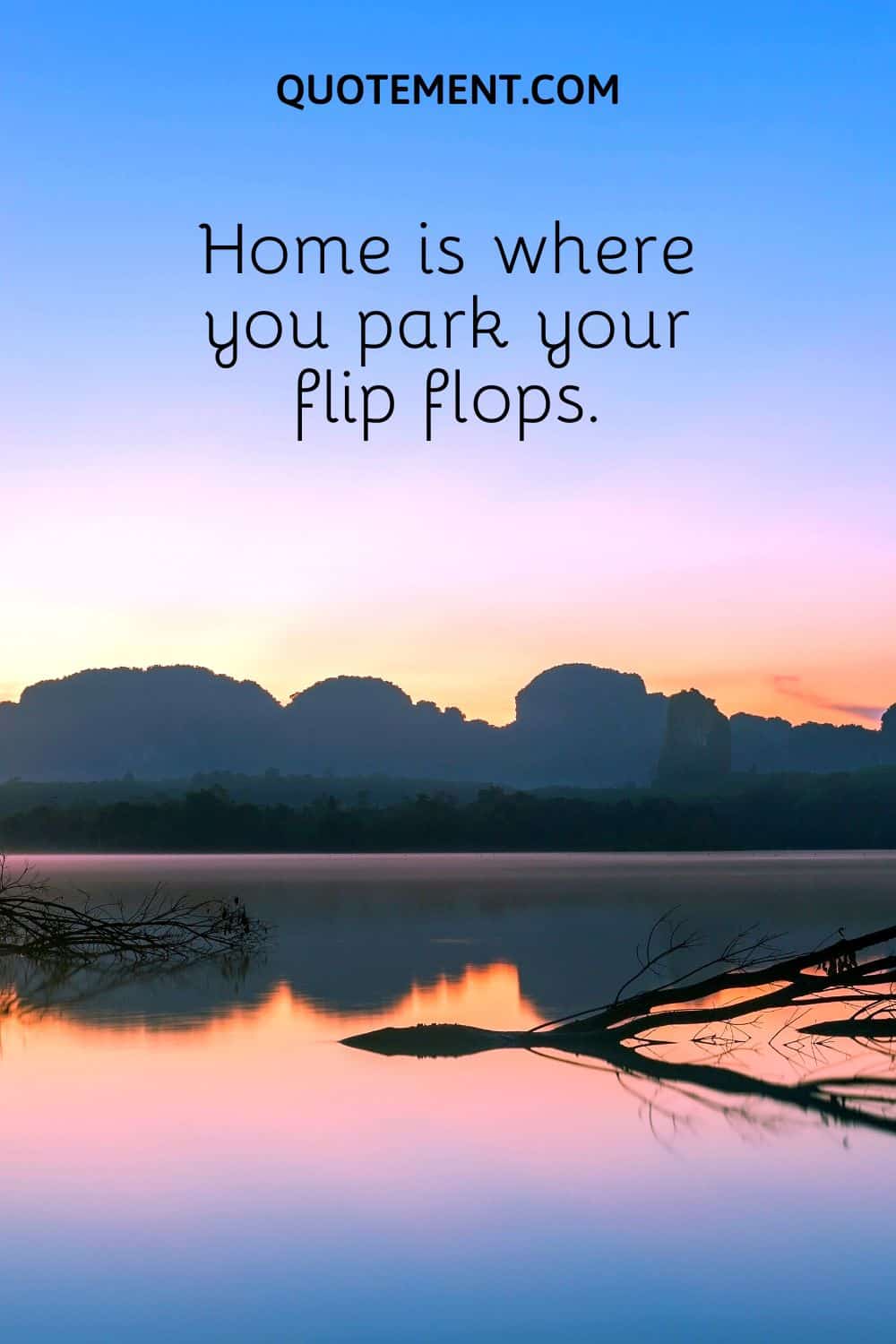 31. Go where you feel most alive.
32. Sunshine and lake time.
33. Vacation mode on.
34. Bobbing along.
35. Another day, another dip.
36. I left my heart at the lake.
37. Lake life is the life for me.
38. The mind is like water. When it's turbulent, it's difficult to see. When it's calm, everything becomes clear.
39. I want to lay down, let the sun hit my face, and forget about absolutely everything.
40. I love places that make you realize how tiny you and your problems are.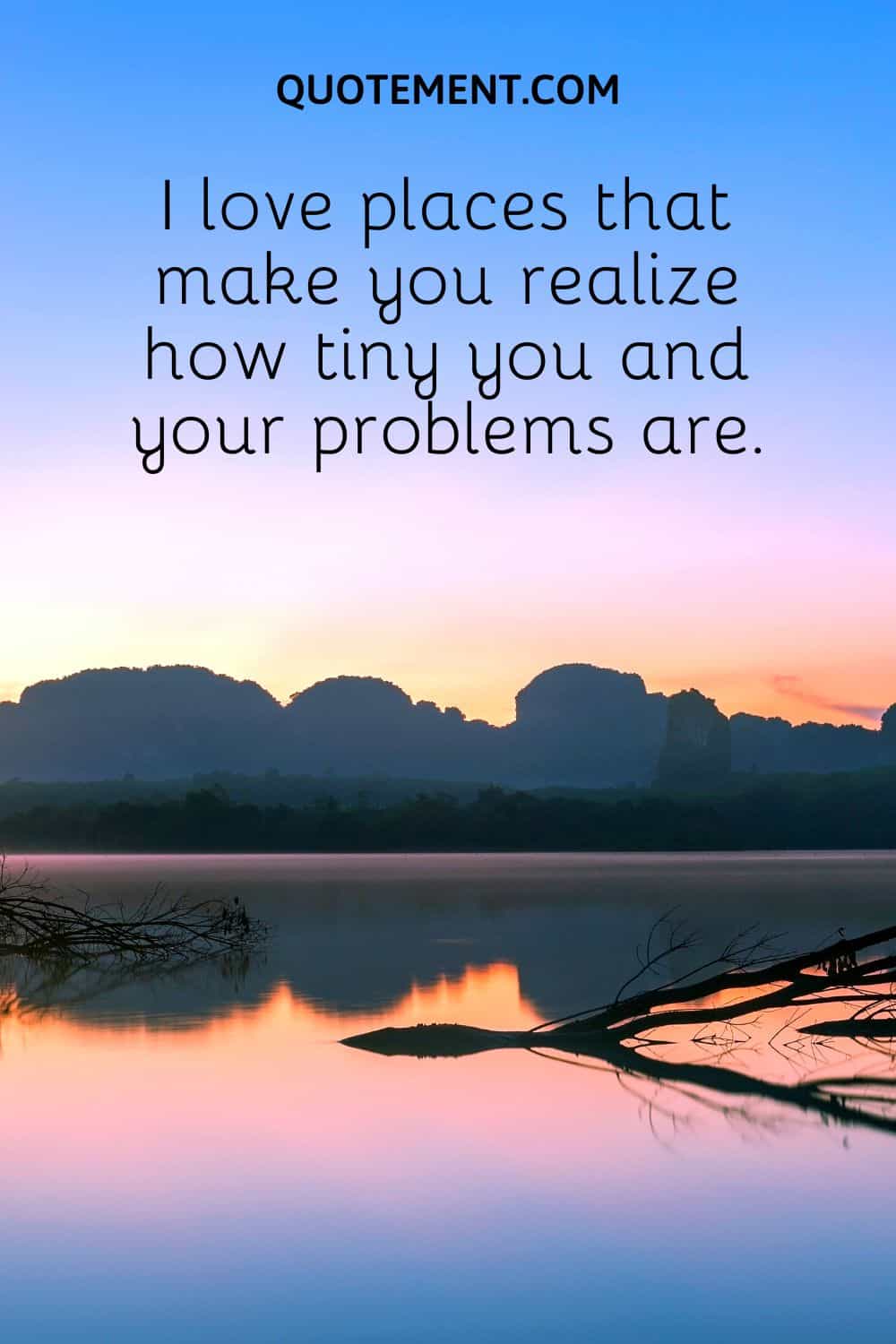 41. This camp sky is a five billion star hotel.
42. Limnophile – lover of lakes.
43. Shipshape.
44. Nature's poolside.
45. Know when to give up and just go to the lake.
46. The lake is no place for stress!
47. Time at the lake is a treasure.
48. If there is magic on this planet, it's contained in water.
See also: 260 Gripping Water Captions For Instagram To Inspire Change
Funny Lake Captions To Make You Chuckle
Funny lake captions are my absolute favorite! Keep scrolling to see the most hilarious options.
1. I lake you a lot!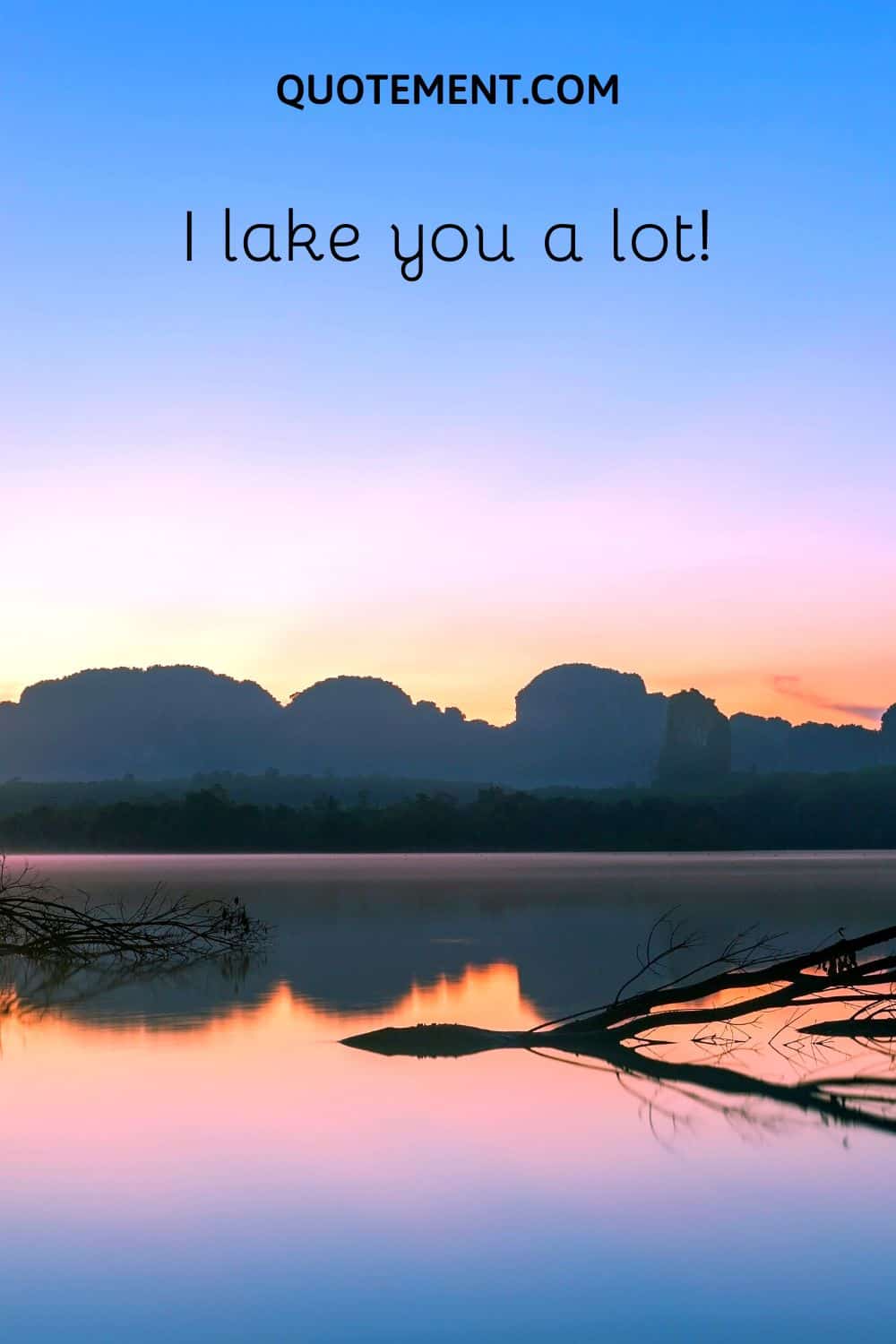 2. Lake rules: fish, fish, fish, fish, fish, fish!
3. I'm a lakeaholic.
4. I majored in lake days.
5. So you keep your ocean, I'll take the lake.
6. I like big boats and I cannot lie.
7. If you need me, I'll be at the lake. P.S. Don't need me.
8. What happens on the deck, stays on the deck.
9. The lower the latitude, the better the attitude.
10. Advice from the lake: don't be shallow.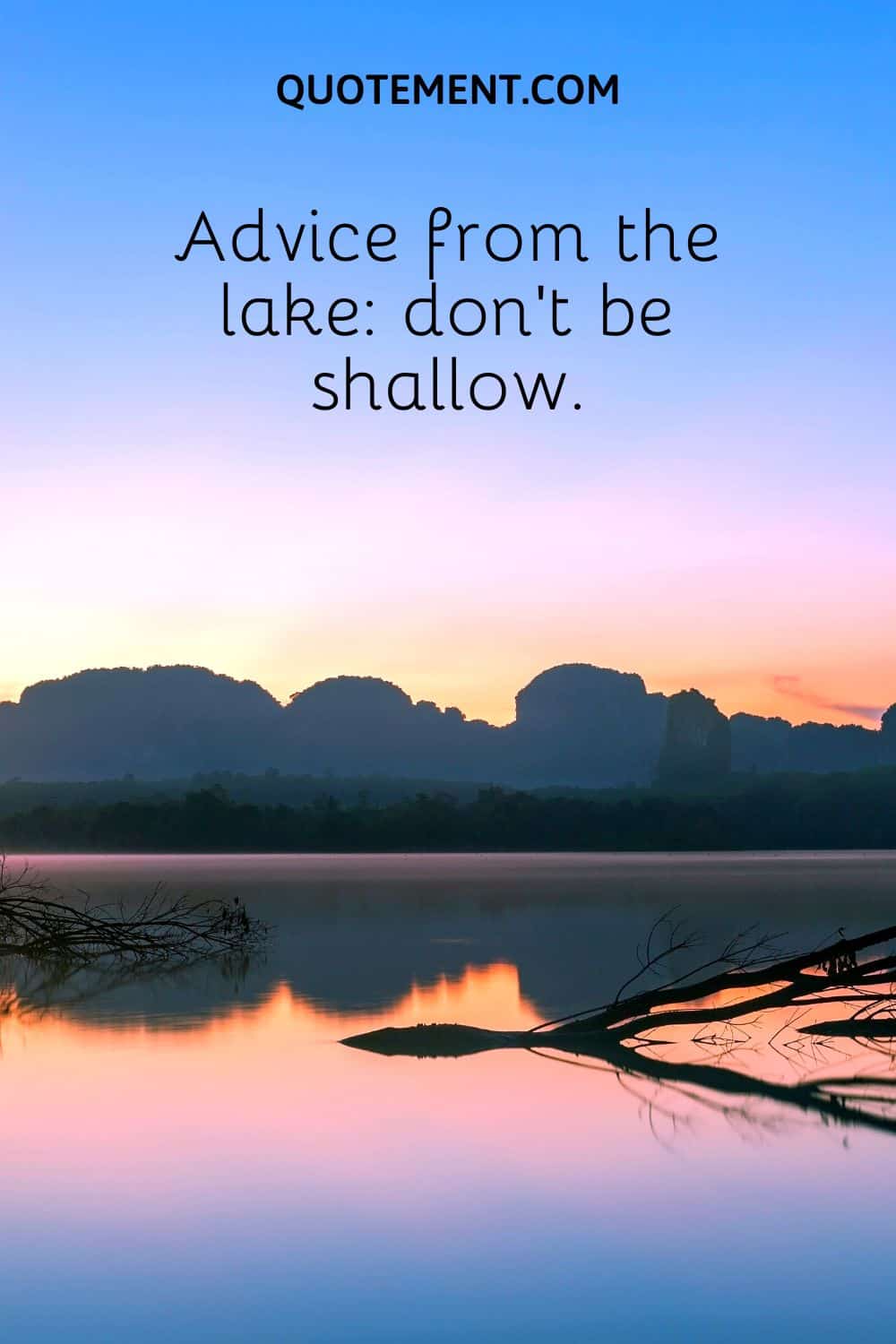 11. Fish tremble before me.
12. On a quiet summer night at the lake, you can almost hear the fish laughing.
13. Looking for the catch of the day.
14. Average weekend warrior.
15. Yachts of fun!
16. Adios beaches.
17. Pier pressure keeps a dock floating above water.
18. Splish. Splash.
19. I refuse to sink.
20. Water you doing?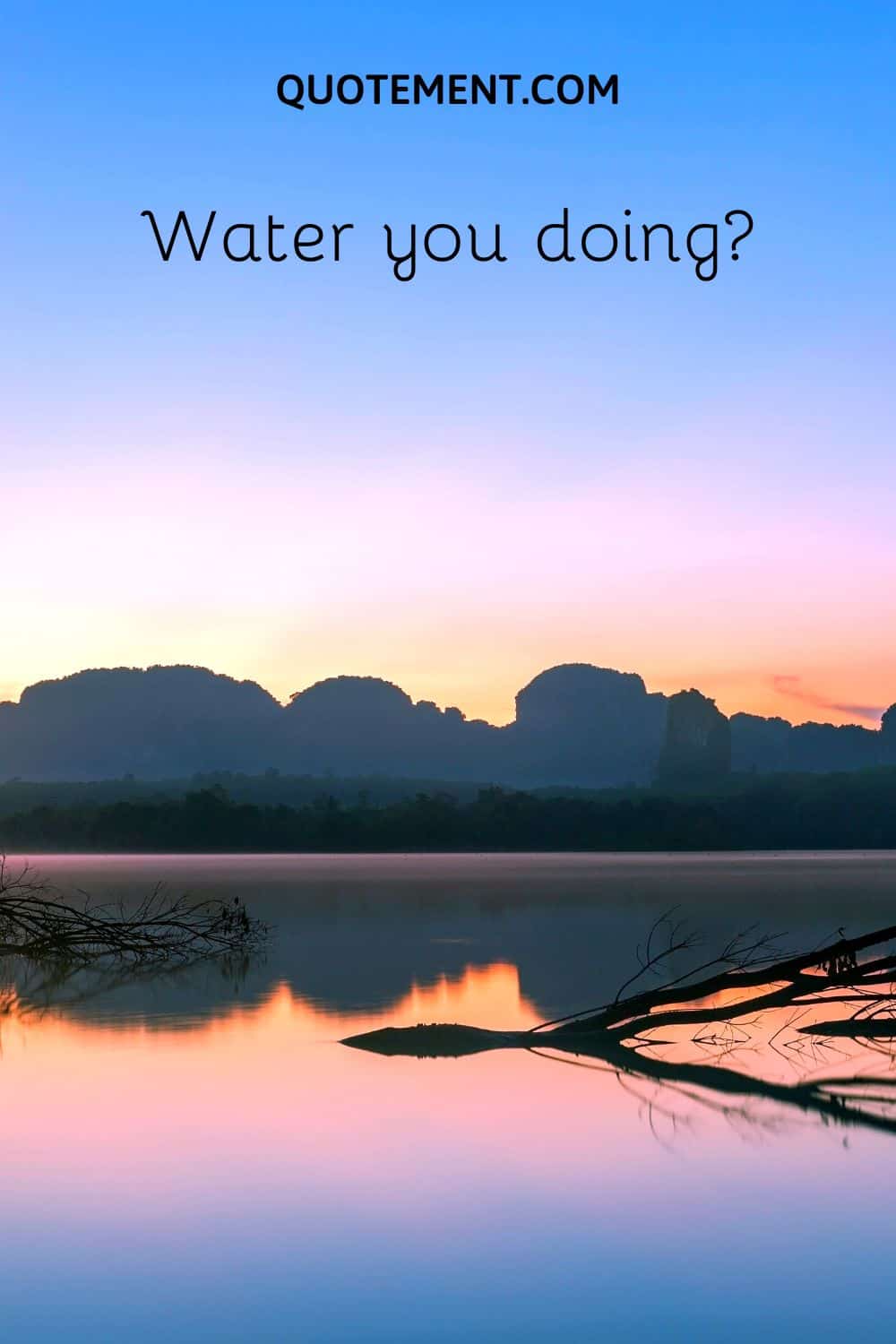 21. Being at the lake fixes everything.
22. Go where you feel most alive.
23. I'm outdoorsy, I like to drink on boats.
24. Having a reel good time.
25. She says you were being a bit beachy.
26. It's campfire time. Let's get lit.
27. Work like a captain, play like a pirate.
28. Just call me Dwayne 'The Dock' Johnson.
29. Girls just wanna have sun.
See also: 280 Best Sun Captions For Instagram For A Shinny Post
Cute Lake Captions
Do you have some nice pics that could use cute lake captions? Look no further:
1. Worry less, paddle more.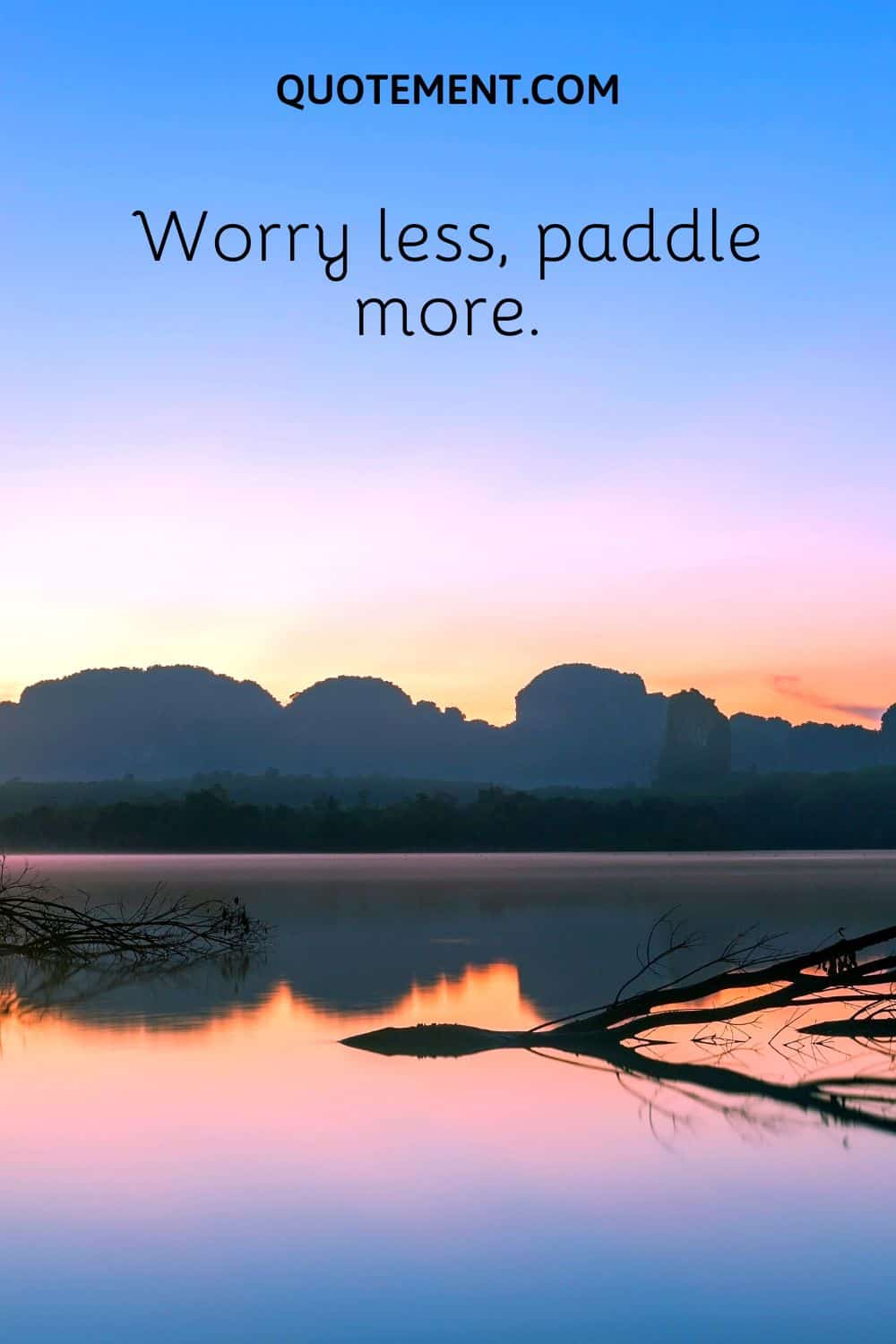 2. My favorite shirts are camp shirts.
3. Fill your life with lakes, not things.
4. If heaven were a place on earth, the lake would be a top contender.
5. Lake days are my therapy.
6. Floating along.
7. I believe that water is the closest thing we have to God here on Earth.
8. Sunny days at the lake are my idea of heaven.
9. You bring the boat, and I'll bring the bubbles.
10. It's lake o'clock somewhere.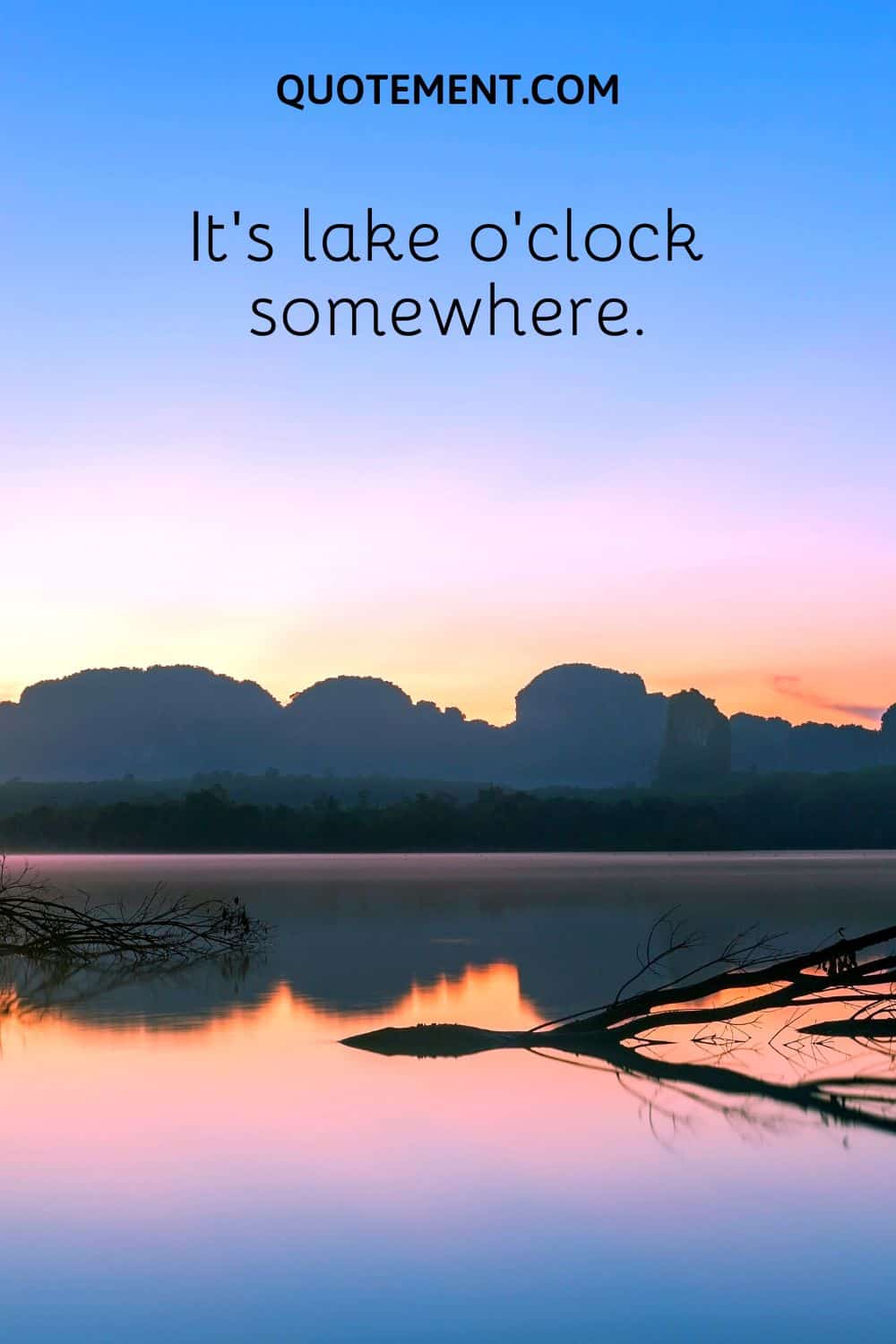 11. The voice of the lake speaks to the soul.
12. Just keep paddling!
13. I am the person I am today because of camp.
14. High tide or low tide, I'll be on your side.
15. I miss it already. Memories made at the lake last forever.
16. Home is where the waves are.
17. Heaven is a little closer in a home by the lake.
18. Row, row, row my boat.
19. All my troubles wash away in the water.
20. I'm living by lake rules, and no one can stop me!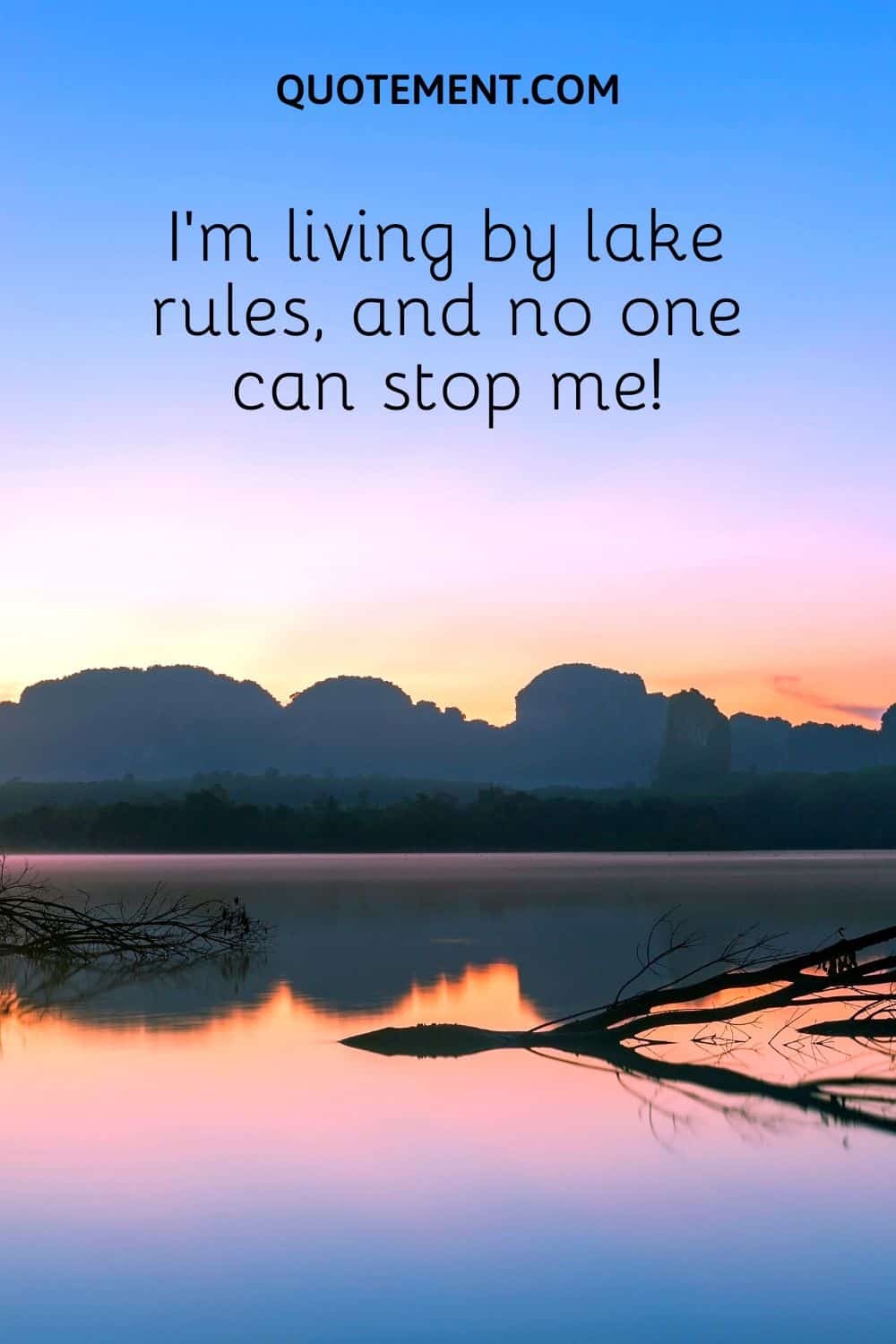 21. Everything's s'more fun with you around.
22. At the lake, we don't hide crazy, we parade it on the porch and give it a cocktail.
23. The lake called, they want me back right away!
24. The lake is good for the soul.
25. There's no wi-fi at the lake, but you'll find a better connection.
26. Lake life for me.
27. At the lake, every hour is happy hour.
28. Great things come to those who book lake vacations.
29. Livin' la Vida Loca at the lake!
30. Take me back to the lake!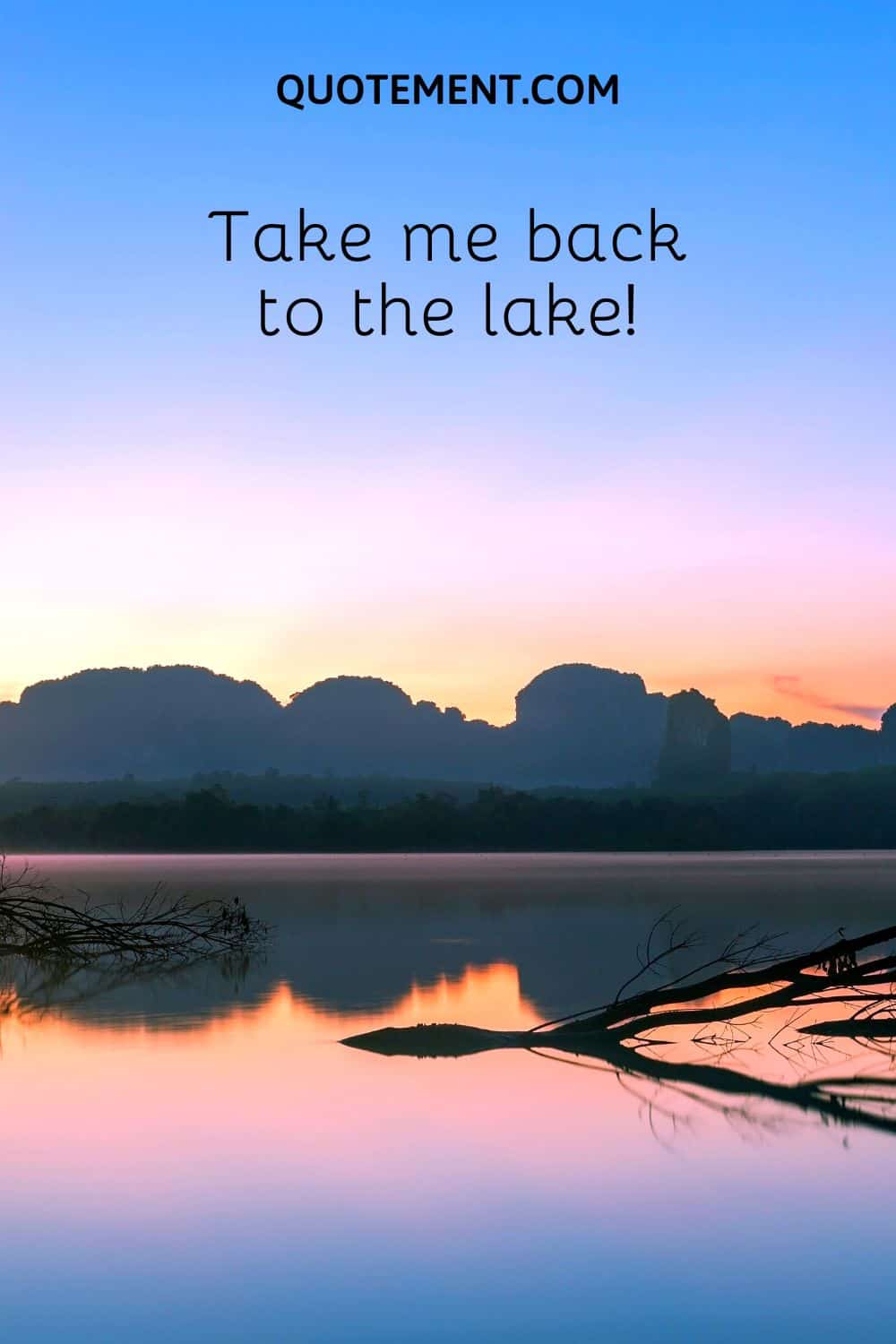 31. I'm on lake time.
32. "Who could be so lucky? Who comes to a lake for water and sees the reflection of moon." – Rumi
See also: 430 Beautiful Moon Captions For A Magical Instagram Post
Lake Puns For Reel Lakeaholics
Are you on the hunt for some lake puns you can use as lake captions? I hope you'll lake these as well…
1. Wanna hear a lake pun? I a-shore you it's good.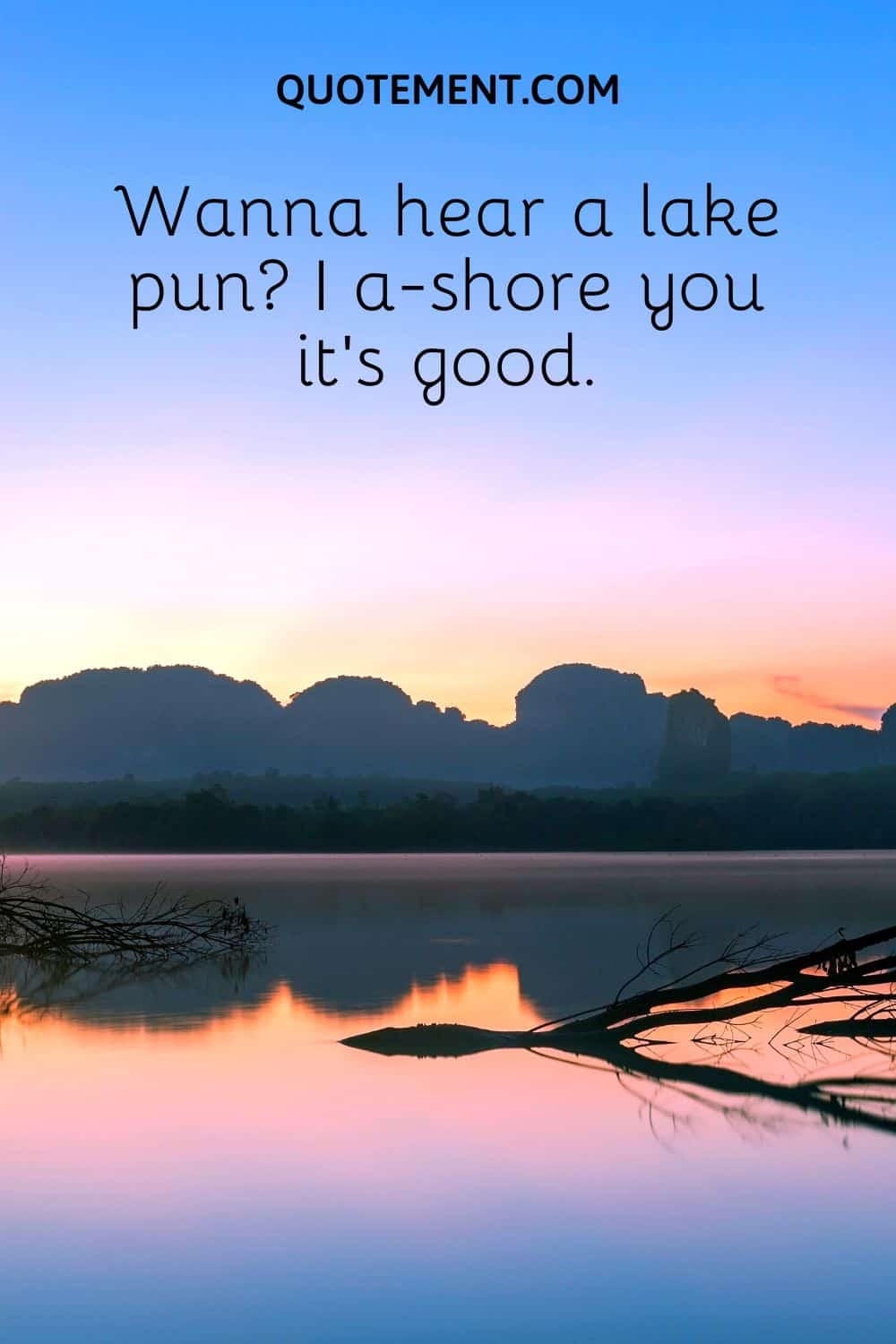 2. Having fun is so impor-tent.
3. It's a-boat time we got to the lake.
4. At the lake and keeping it reel.
5. It's a bit lake to start now.
6. This vacation is one in a melon.
7. Bear with me.
8. Life's a beach, enjoy the waves.
9. Lake a fish out of water.
10. You al-waves make me smile.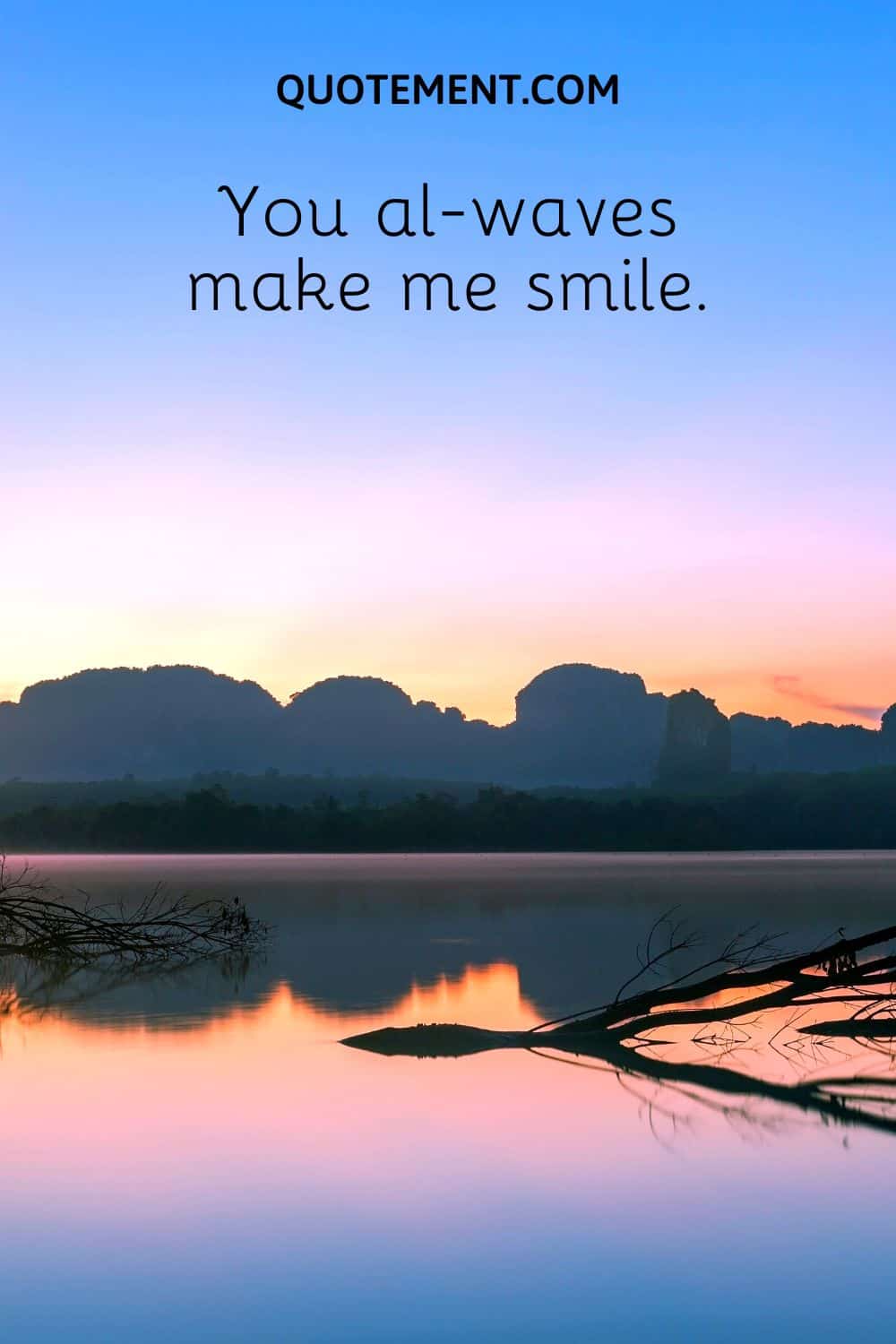 11. Let minnow if you need anything.
12. I've succumbed to pier pressure.
13. You call it a jet ski. I call it a boater-cycle.
14. Catching a movie at the dive-in.
15. Come out of your shell.
16. It's shore to be a good day.
17. Nobody likes a shady beach.
18. You're very spe-shell to me.
19. Of all the fish… you mer-maid for me.
20. Having a reel good time.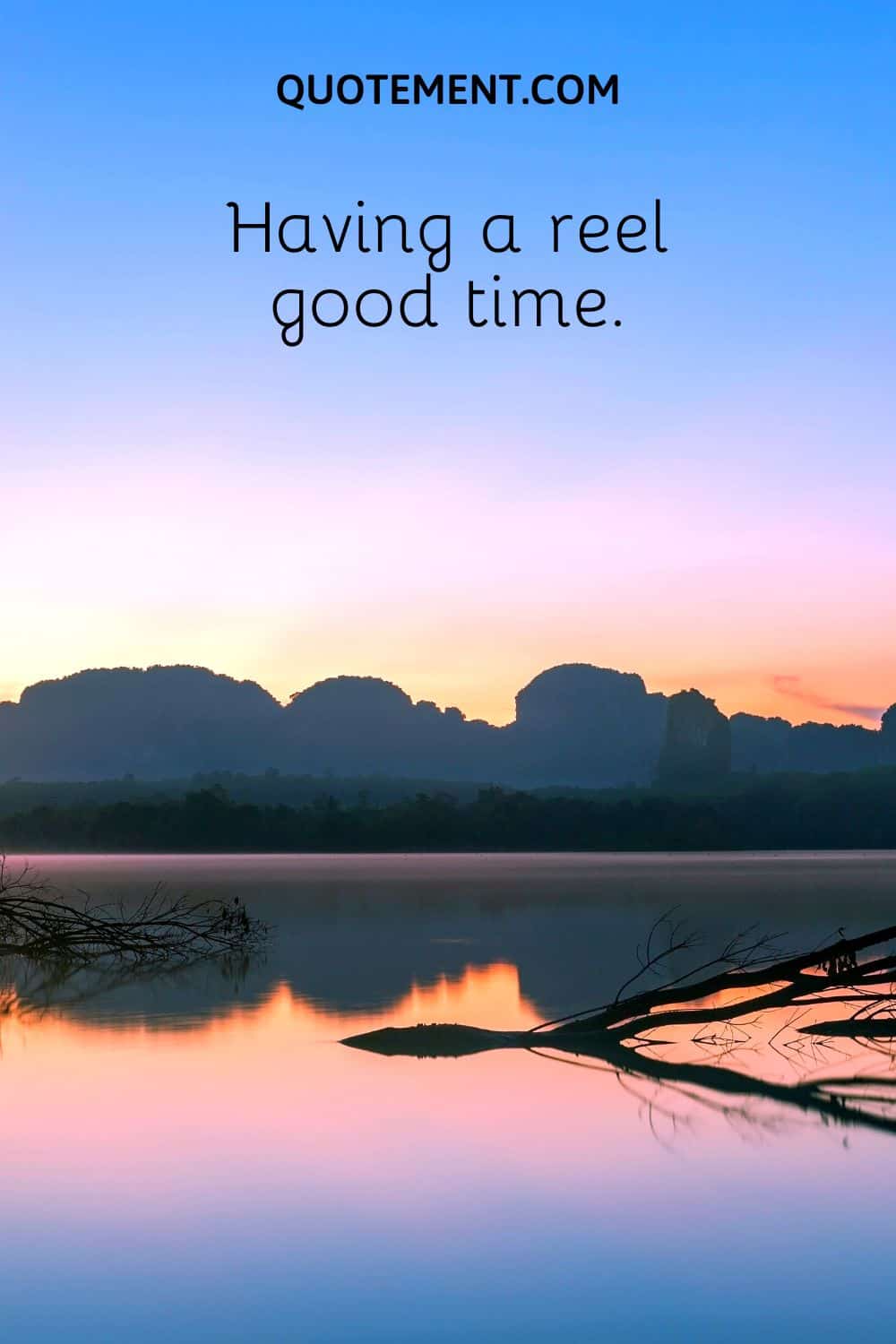 21. Hooked. Like, for reels.
22. This is my resting beach face.
23. Aboat time.
Lake Quotes That Can Be Used As Captions
We'll finish up, with this collection of inspirational quotes! Below you will find the best lake quotes that can be used as lake captions and nature captions:
1. "A lake carries you into recesses of feeling otherwise impenetrable." – William Wordsworth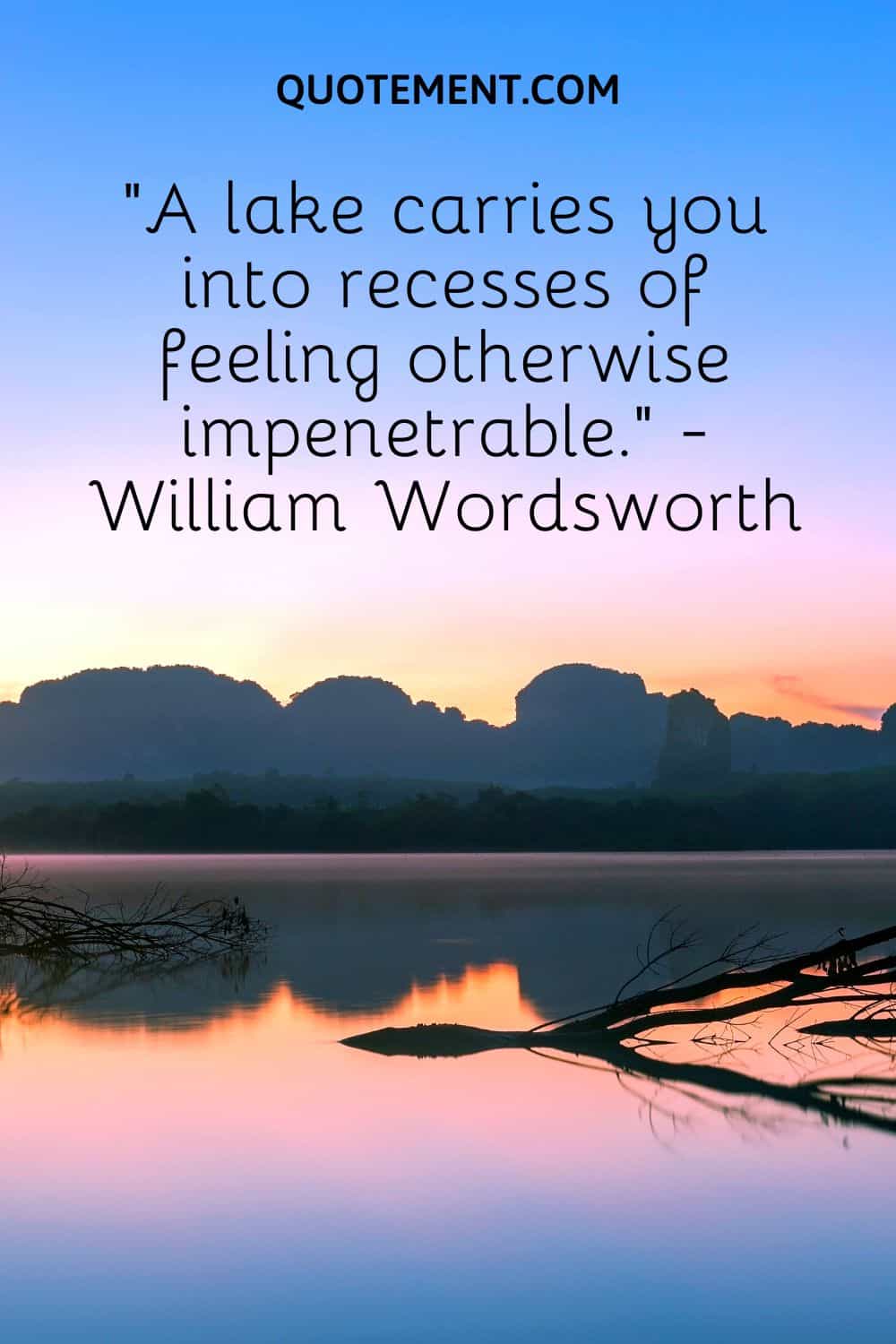 2. "A lake is a landscape's most beautiful and expressive feature. It is Earth's eye; looking into which the beholder measures the depth of his own nature." – Henry David Thoreau
3. "This lake exceeds anything I ever beheld in beauty." – Percy Bysshe Shelley
4. "Water is the driving force of all nature." – Leonardo da Vinci
5. "Nothing is softer or more flexible than water, yet nothing can resist it." – Lao Tzu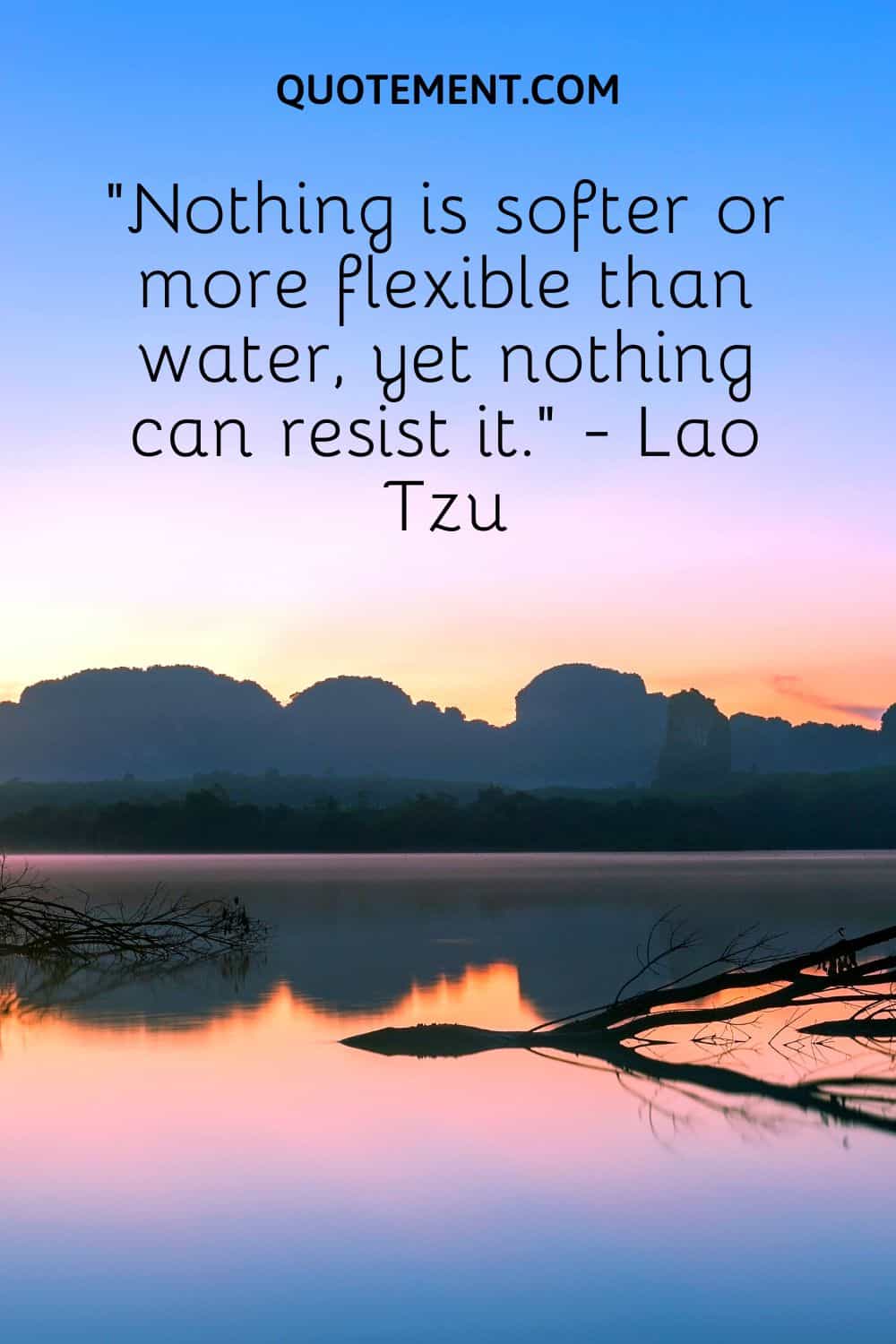 6. "A lake so vibrant in color that it looks like a fine art painting." – Stefanie Payne
7. "Every lake belongs to the quietness desired by the swans." – Munia Khan
8. "Earth and sky, woods and fields, lakes and rivers, the mountain and the sea, are excellent schoolmasters, and teach some of us more that what we could learn from books." – John Lubbock
9. "If the lake sees the ocean, it will want big waves! If the ocean sees the lake, it will want calm days that lasts for years!" – Mehmet Murat Ildan
10. "The little lake you love is the biggest ocean for you." – Mehmet Murat Ildan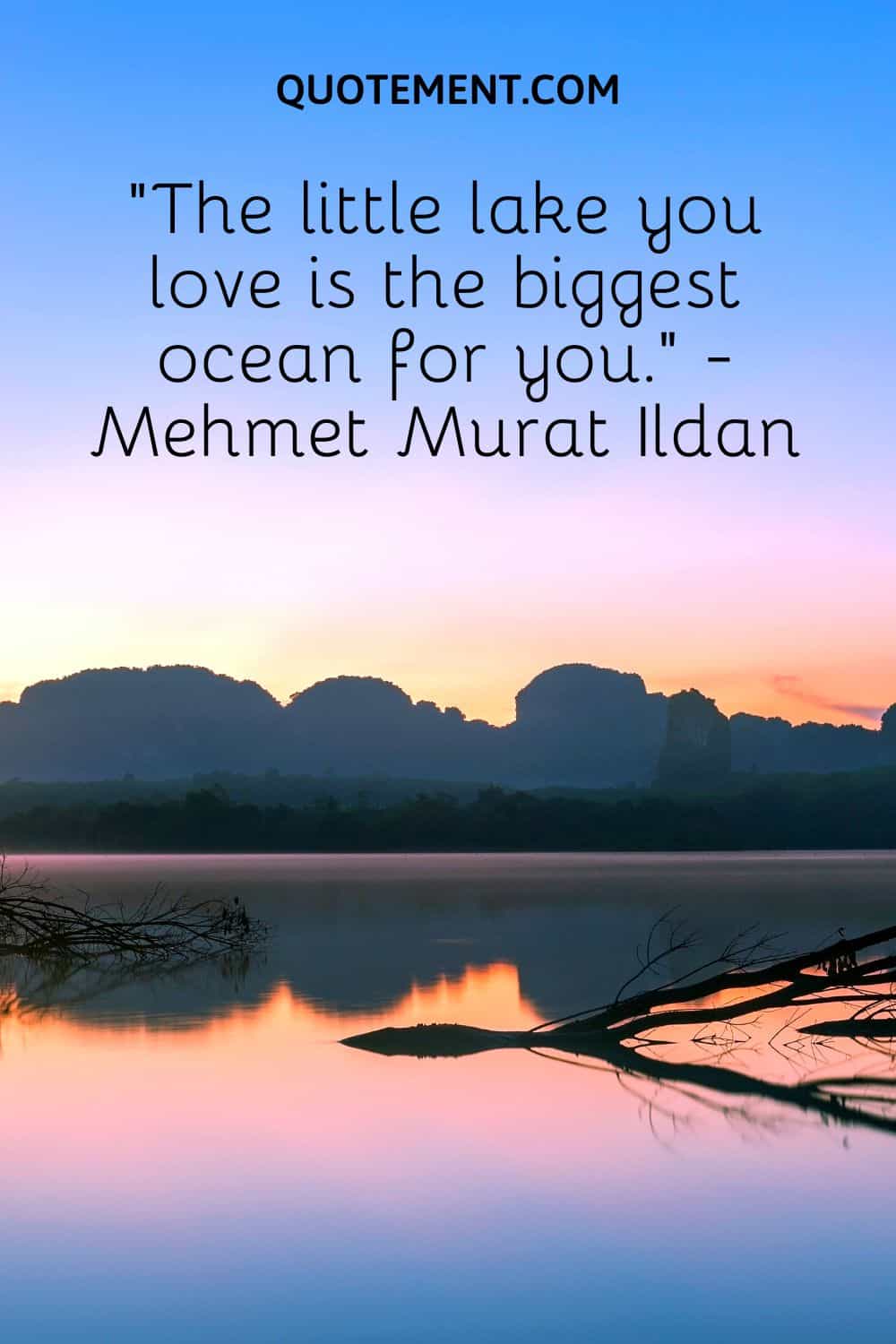 12. "Find a calm lake and wait for the twilight in silence! There, existence will visit you with all its magnificence! The existence of the Existence can best be felt in the presence of dimness and in the absence of crowds and noises!" – Mehmet Murat Ildan
13. "Forests, lakes, and rivers, clouds and winds, stars and flowers, stupendous glaciers and crystal snowflakes – every form of animate or inanimate existence, leaves its impress upon the soul of man." – Orison Swett Marden
14. "I grew up with the smell of the lake and the feeling of the woods." – Steven Tyler
15. "Nothing is more memorable than a smell. One scent can be unexpected, momentary and fleeting, yet conjure up a childhood summer beside a lake in the mountains." – Diane Ackerman
16. "A little tranquil lake is more significant to my life than any big city in the world." – Munia Khan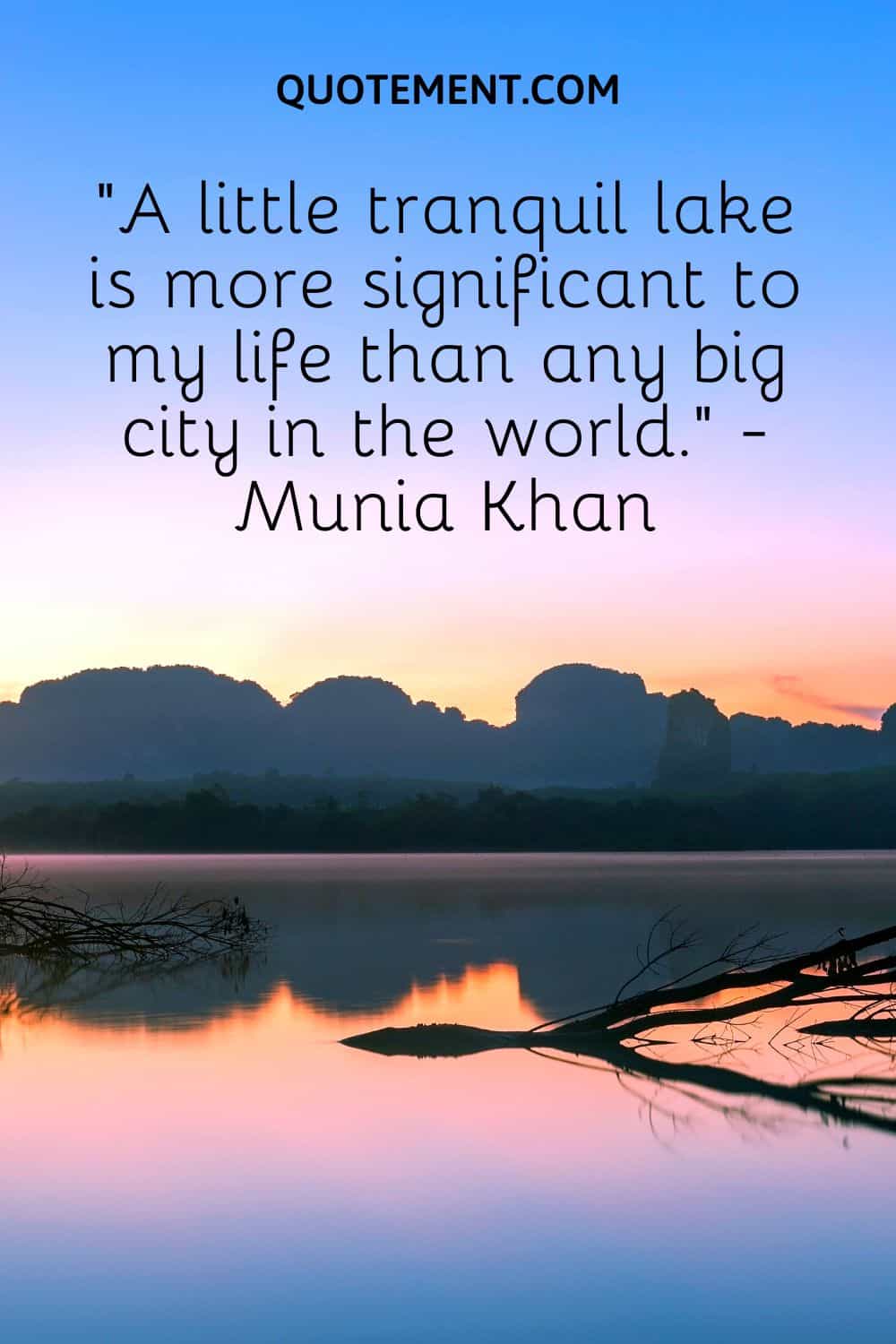 17. "My recollection of a hundred lovely lakes has given me blessed release from care and worry and the troubled thinking of our modern day. It has been a return to the primitive and the peaceful." – Hamlin Garland
18. "A normal lake is knowable. A Great Lake can hold all the mysteries of an ocean, and then some." – Dan Egan
19. "We cannot see our reflection in running water. It is only in still water that we can see." – Zen Saying
20. "The still waters of a lake reflect the beauty around it. When the mind is still, the beauty of the Self is seen reflected in it." – B.K.S Iyengar
21. "So lovely was the loneliness of a wild lake." – Edgar Allan Poe
22. "The lake water was reinventing the forest and the white moon above it, and wolves lapped up the cold reflection of the sky." – Karen Russell
23. "Be calm like a calm lake, then you will look beautiful like a beautiful calm lake!" – Mehmet Murat Ildan
24. "Adopt the pace of nature." – Ralph Waldo Emerson
25. "Just find your way, like a river settling into its bed, and the sigh of the wind over a lake, light but restful… content with the joy in the arc of an arm throwing a ball for a dog to fetch." – Jay Woodman
26. "Perhaps the truth depends on a walk around the lake." – Wallace Stevens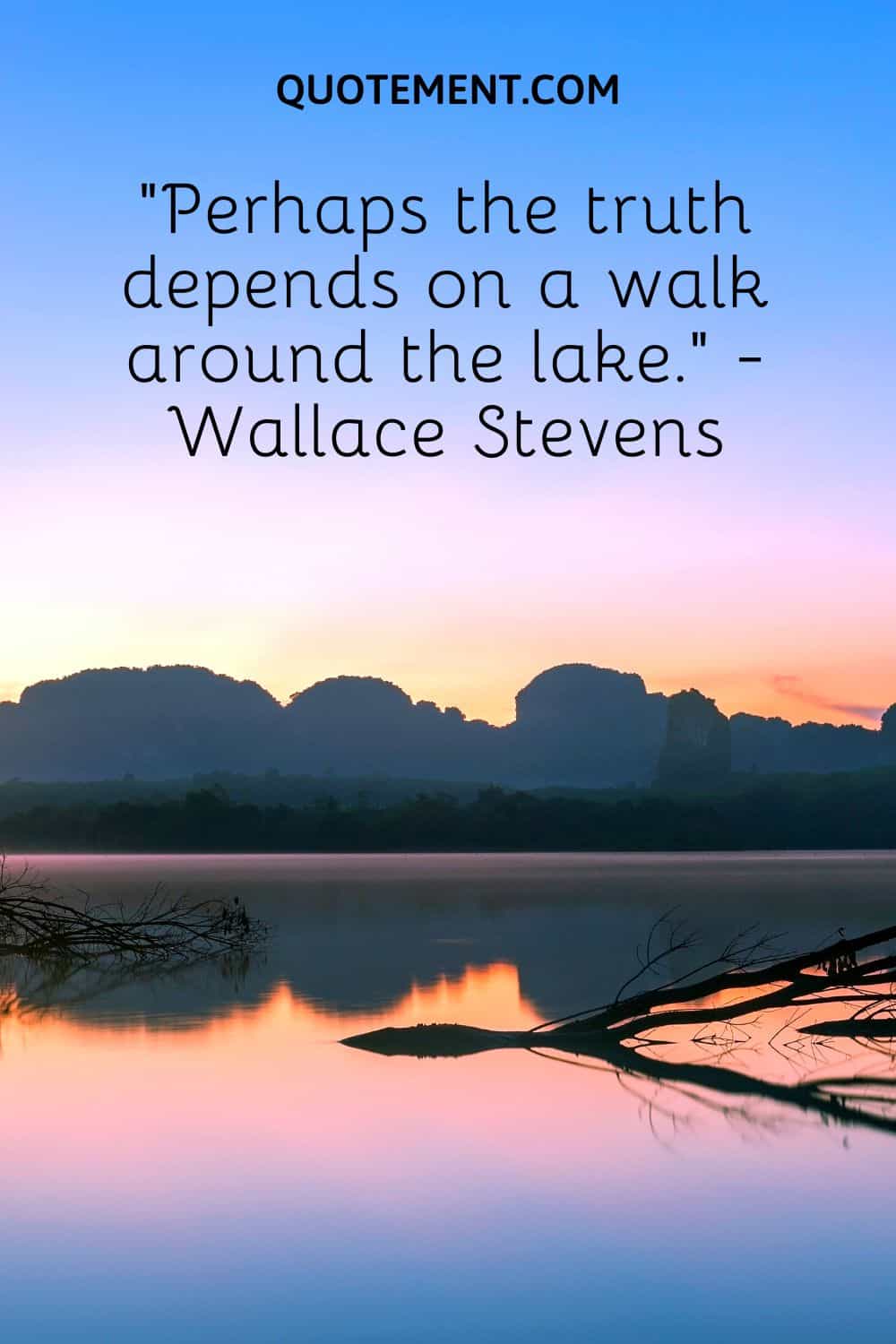 27. "It is life, I think, to watch the water. A man can learn so many things." – Nicholas Sparks
28. "A man without courage is a boat in a frozen lake! Get rid of your fears!" – Mehmet Murat Ildan
29. "I could never in a hundred summers get tired of this." – Susan Branch
30. "Advice from a lake: be clear, make positive ripples, look beneath the surface, stay calm, shore up friendships, take time to reflect, be full of life." – Ilan Shamir
31. "I'm an old school guy… I want to be an old man with a beer belly sitting on a porch, looking at a lake or something…" – Johnny Depp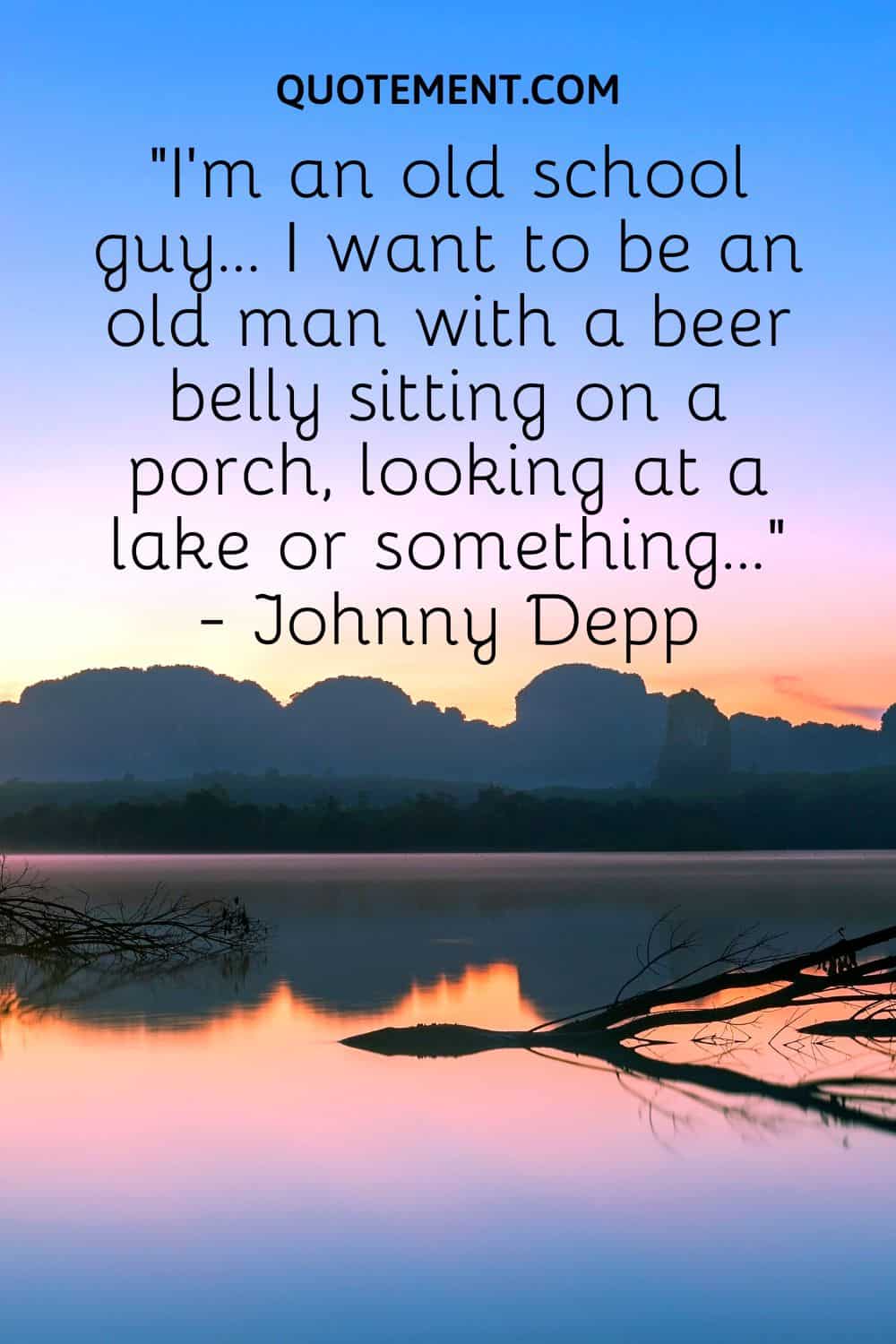 32. "Not all who wander are lost." – J.R.R. Tolkien
33. "Make your heart like a lake, with a calm, still surface, and great depths of kindness." – Lao Tzu
34. "Water is fluid, soft, and yielding. But water will wear away rock, which is rigid and cannot yield. As a rule, whatever is fluid, soft, and yielding will overcome whatever is rigid and hard. This is another paradox: what is soft is strong." – Lao Tzu
35. "Rivers, ponds, lakes and streams – they all have different names, but they all contain water. Just as religions do – they all contain truths." – Muhammad Ali
36. "Looking out over the lake, I felt enveloped in the most peaceful, loving utopia." – Laurie Kahn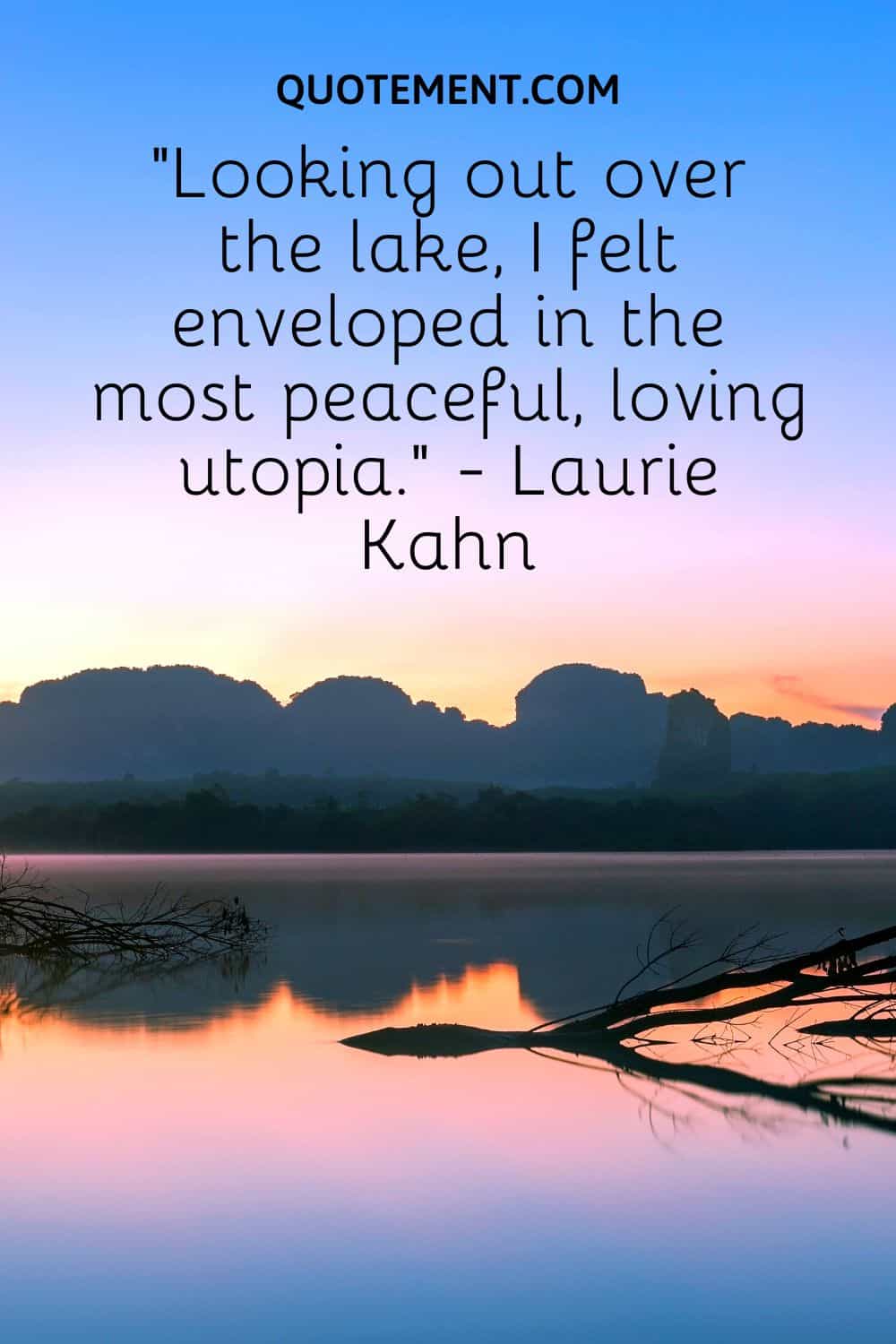 37. "The deeper the waters are, the more still they run." – Korean proverb
38. "The lake lay like a mirror that someone had breathed upon, the brown islands showing through the mist faintly, with gray shadows falling into the water, blurred at the edges." – George Moore
39. "I go to nature to be soothed and healed, and to have my sense put in order." – John Burroughs
40. "The sky loves lakes rather than oceans because it finds the opportunity to watch itself in the crystal clear mirrors of the lakes!" – Mehmet Murat Ildan
See also: 270 Absolutely Beautiful Sky Captions For Instagram
To Wrap It Up
That's all, folks!
I'm sure that all the reel lakeaholics loved this collection of lake captions for their lake photos and videos!
Next time you need amazing captions, puns or quotes – make sure you use some of these!
Perhaps you'll go on a road trip which includes visits to wonderful lakes, and you might need a little help with captions for your awesome pics!
Now, it's high time you told me which captions you liked best! Feel free to leave them in the comments below!
Until next time!
P.S. Just keep paddling! 🙂