Have you been inspired to share some heart touching true love quotes with your dearest one?
If so, then my wonderful collection of 140 beautiful quotes will amaze you!
The love of your life means the world to you, and sometimes you simply can't find the right words to show how you feel.
However, with a little bit of help from me, you'll find the perfect quote for your love!
In fact, I've prepared a list of the very best heart touching, deep, romantic, and emotional quotes you can share with your darling.
Read on, and I guarantee that you'll find what you're looking for!
Top 10 Heart Touching True Love Quotes
Let's start exploring this fantastic collection with my top 10 quotes:
1. "You don't love someone because of their looks or their clothes or their car. You love them because they sing a song only your heart can understand." – Oscar Wilde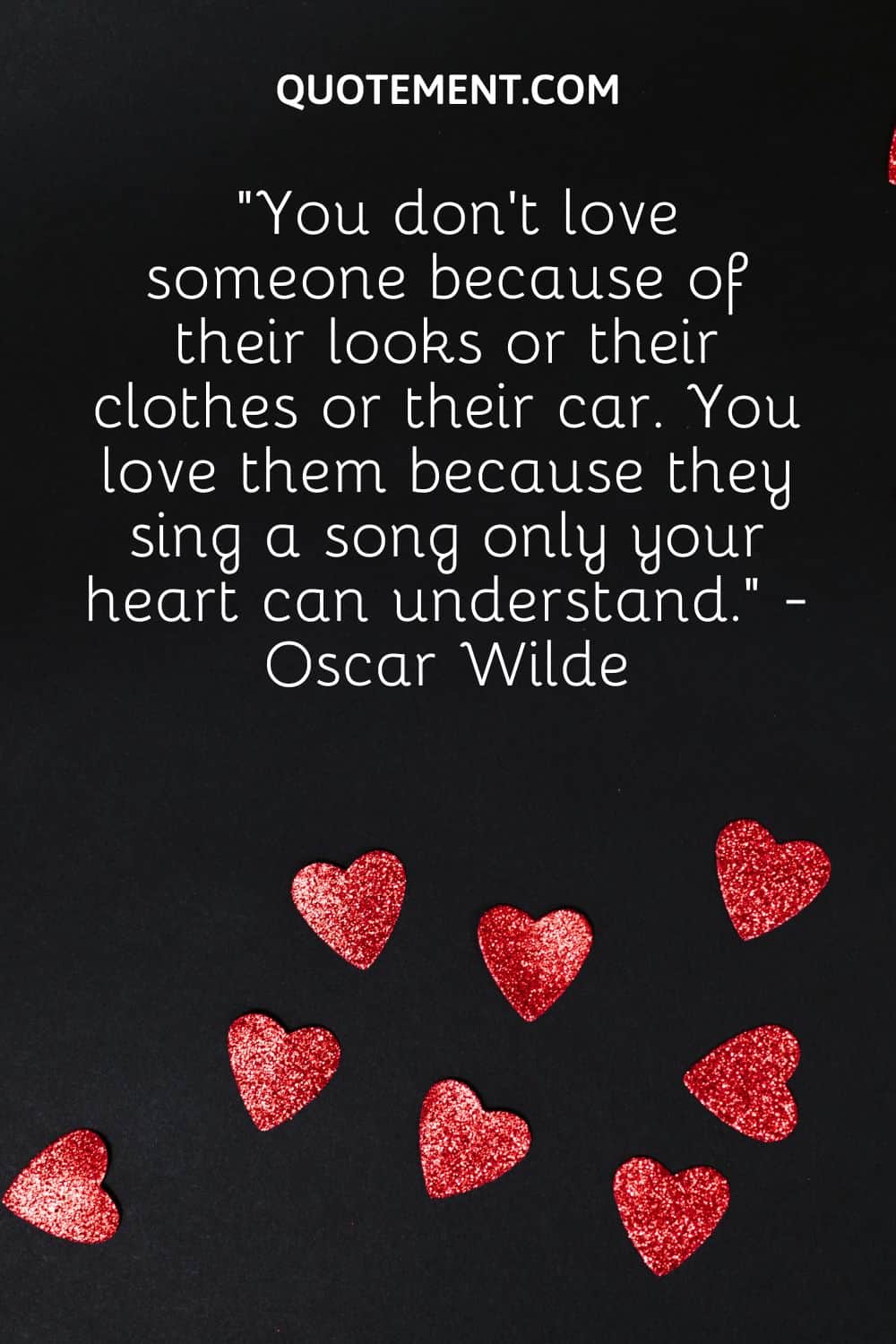 2. "Love is born into every human being; it calls back the halves of our original nature together; it tries to make one out of two and heal the wound of human nature." – Plato
3. "And remember, the truth that once was spoken: to love another person is to see the face of God." – Victor Hugo
4. "Love is composed of a single soul inhabiting two bodies." – Aristotle
5. "I love you without knowing how, or when, or from where. I love you simply, without problems or pride." – Pablo Neruda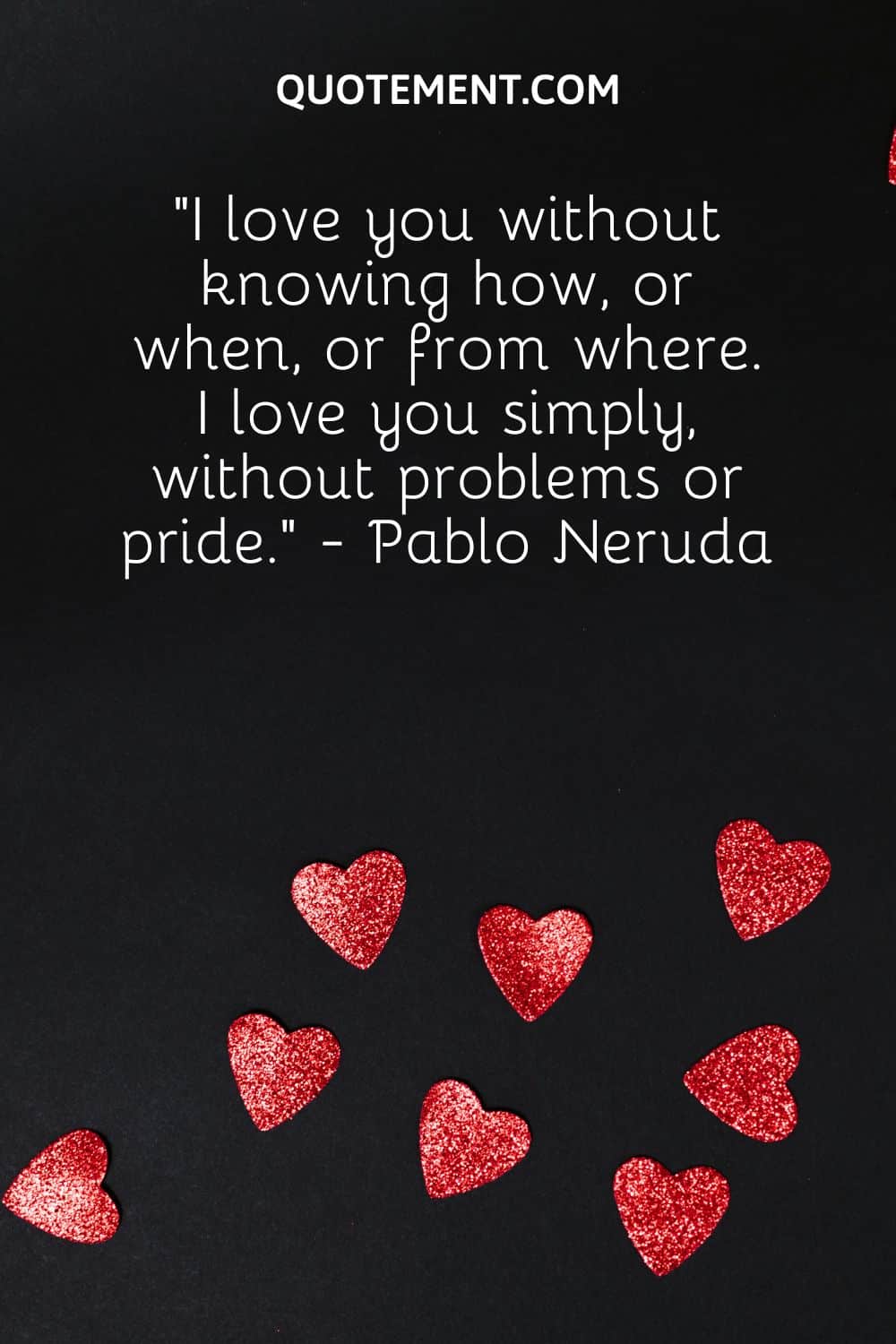 6. "My love for her is beyond any love I have ever heard described. It is a love that is beyond love; a soul connection in which no seam is visible." – Steve Maraboli
7. "At the touch of love everyone becomes a poet." – Plato
8. "Being deeply loved by someone gives you strength, while loving someone deeply gives you courage." – Lao Tzu
9. "You know you're in love when you can't fall asleep because reality is finally better than your dreams." – Dr. Seuss
10. "I love you, and I will love you until I die, and if there's a life after that, I'll love you then." – Cassandra Clare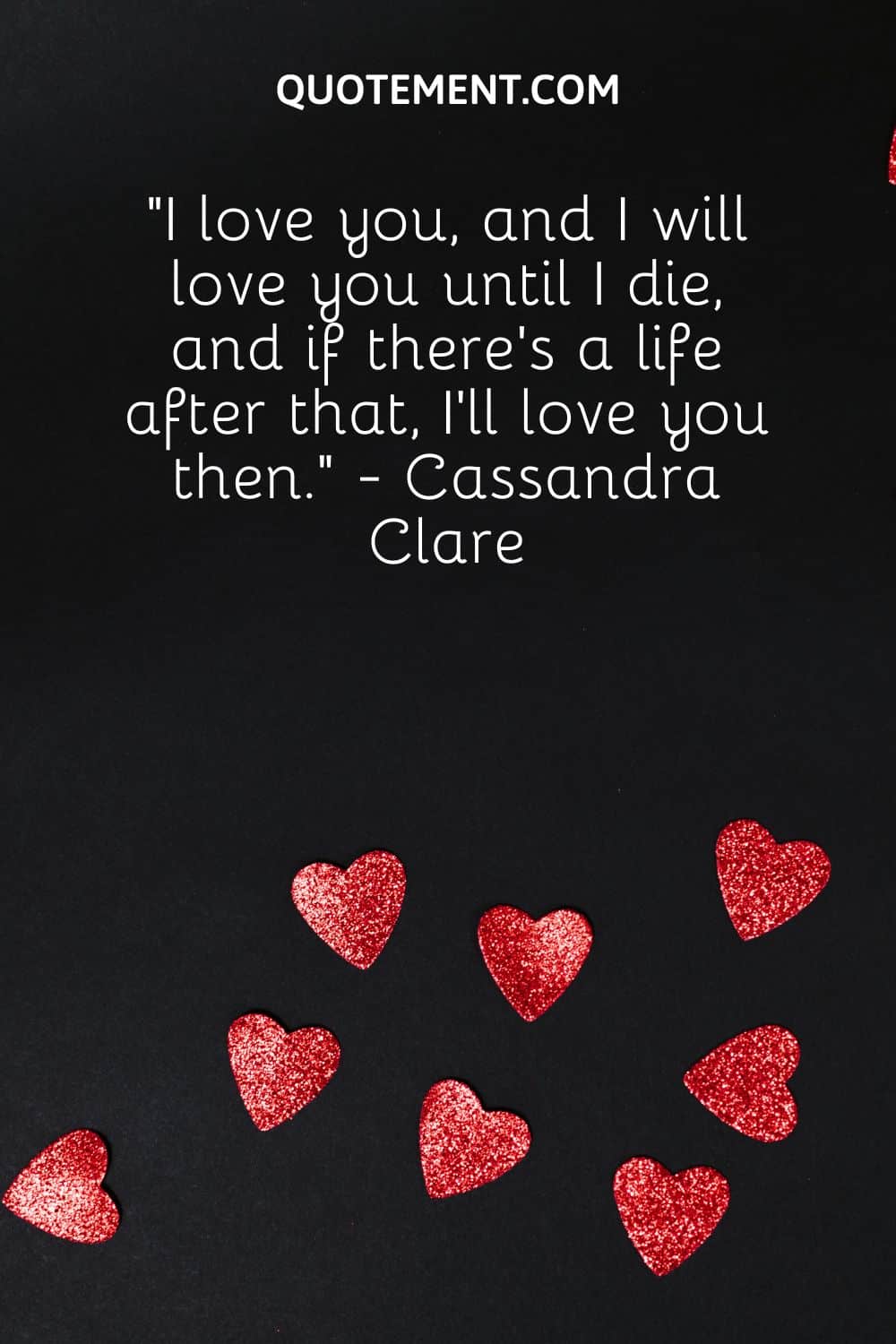 See also: 110 I Love You No Matter What Quotes That Melt Hearts
Deeply Heart Touching Love Quotes
If you're looking for deep and beautiful love quotes for your loved one, you'll enjoy these:
1. "Love is when someone gives you a piece of your soul that you never knew was missing." – Torquato Tasso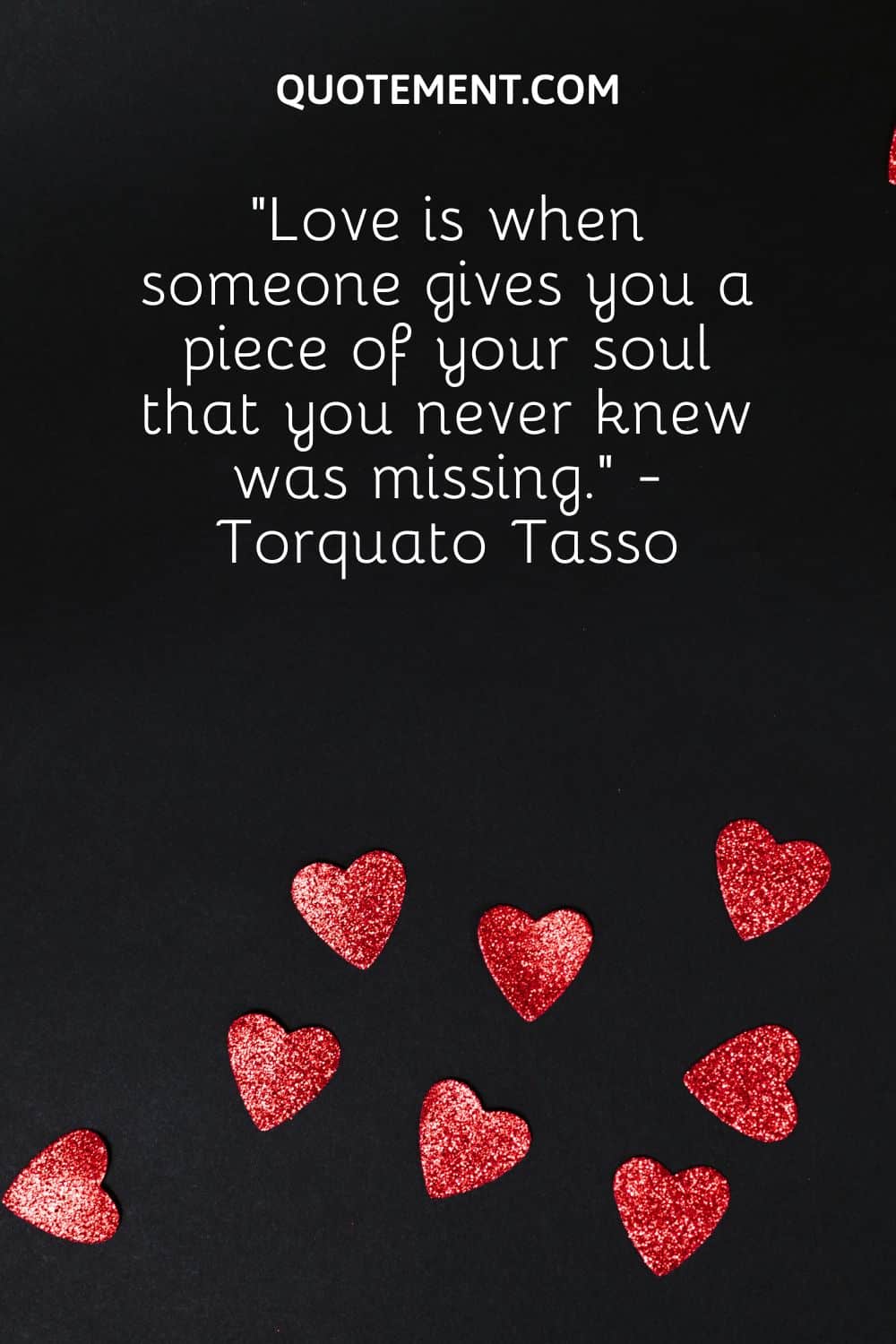 2. "That's why love stories don't have endings! They don't have endings because love doesn't end." – Richard Bach
3. "Love rests on no foundation. It is an endless ocean, with no beginning or end." – Rumi
4. "A true soulmate is a mirror, the person who shows you everything that is holding you back, the person who brings you to your own attention so you can change your life." – Elizabeth Gilbert
5. "When the mind falls in love, it's temporary. When the heart falls in love, it lasts a lifetime. When the soul falls in love, it's eternal."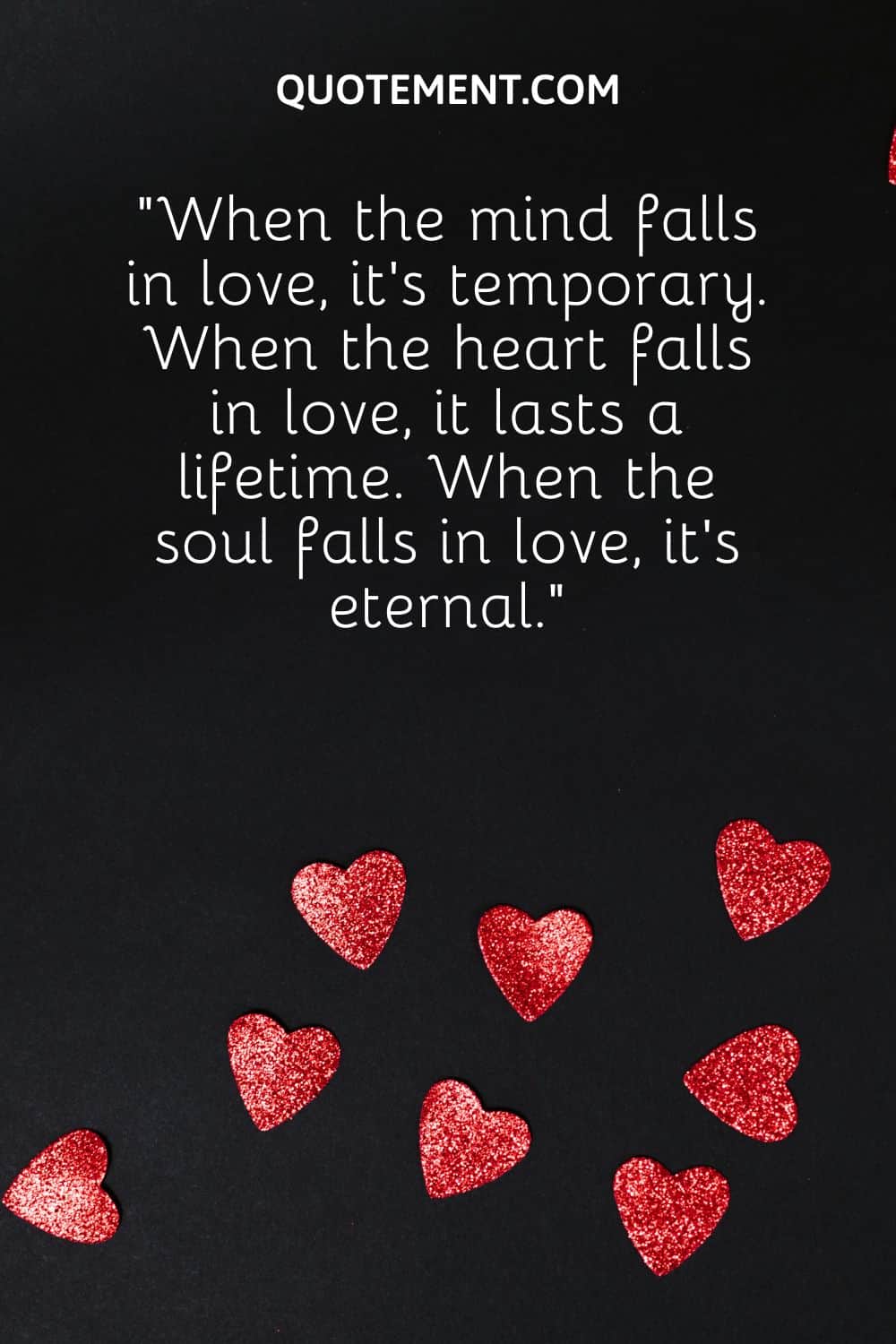 6. "When we feel love and kindness toward others, it not only makes others feel loved and cared for, but it helps us also to develop inner happiness and peace." – Dalai Lama
7. "Love knows how to form itself. God will do his work if we do ours. Our job is to prepare ourselves for love. When we do, love finds us every time." – Marianne Williamson
8. "There is madness in loving you, a lack of reason that makes it feel so flawless." ​- Leo Christopher
9. "Through Love all that is bitter will be sweet, through Love all that is copper will be gold, through Love all dregs will become wine, through Love all pain will turn to medicine." – Rumi
10. "Keep love in your heart. A life without it is like a sunless garden when the flowers are dead. The consciousness of loving and being loved brings a warmth and a richness to life that nothing else can bring." – Oscar Wilde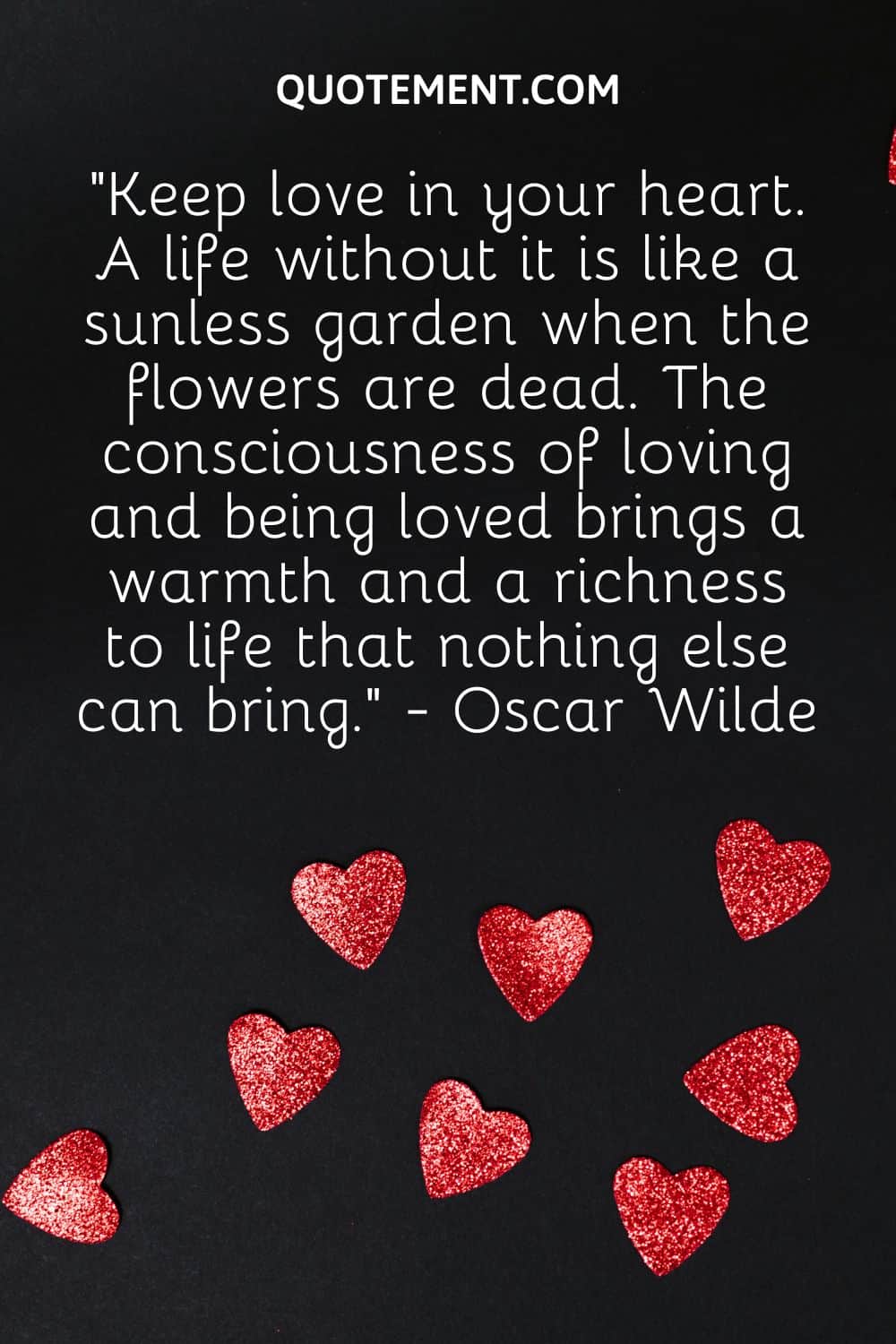 11. "What greater thing is there for two human souls than to feel that they are joined for life… to strengthen each other… to be at one with each other in silent unspeakable memories." – George Eliot
12. "The best love is the kind that awakens the soul; that makes us reach for more, that plants the fire in our hearts and brings peace to our minds. That's what I hope to give you forever." – Nicholas Sparks (The Notebook)
13. "One day you will ask me which is more important? My life or yours? I will say mine and you will walk away not knowing that you are my life." – Kahlil Gibran
14. "I saw that you were perfect, and so I loved you. Then I saw that you were not perfect and I loved you even more." – Angelita Lim
15. "Love is just a word until someone special comes along and gives it meaning." – Paulo Coelho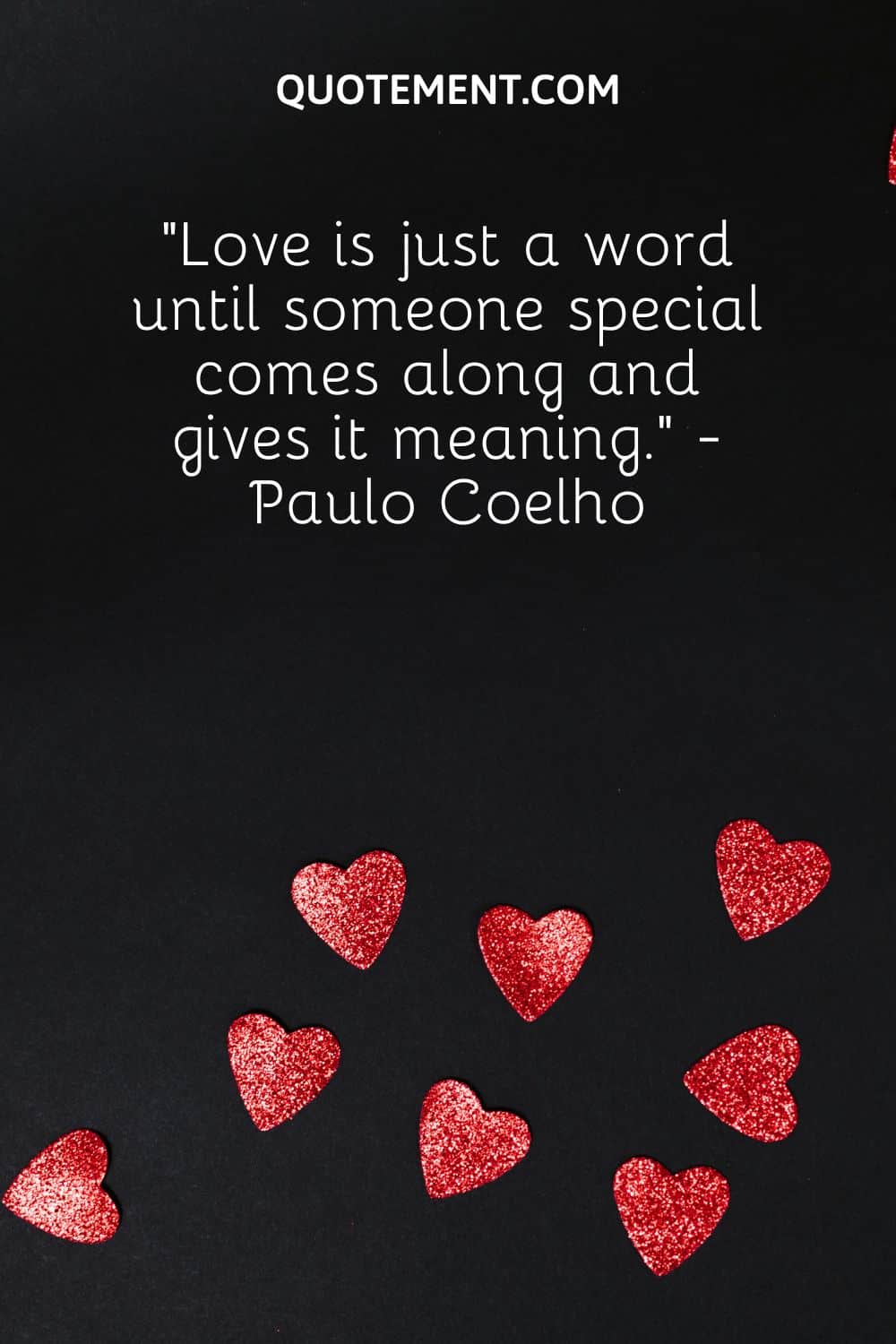 16. "To love someone is nothing, to be loved by someone is something, to love someone who loves you is everything." – Bill Russell
17. "You must love in such a way that the person you love feels free." – Thich Nhat Hanh
18. "You know it's love when all you want is that person to be happy, even if you're not part of their happiness." – Julia Roberts
19. "Love is the crowning grace of humanity, the holiest right of the soul, the golden link which binds us to duty and truth, the redeeming principle that chiefly reconciles the heart to life, and is prophetic of eternal good." – Petrarch
20. "The heart is a thousand-stringed instrument that can only be tuned with Love."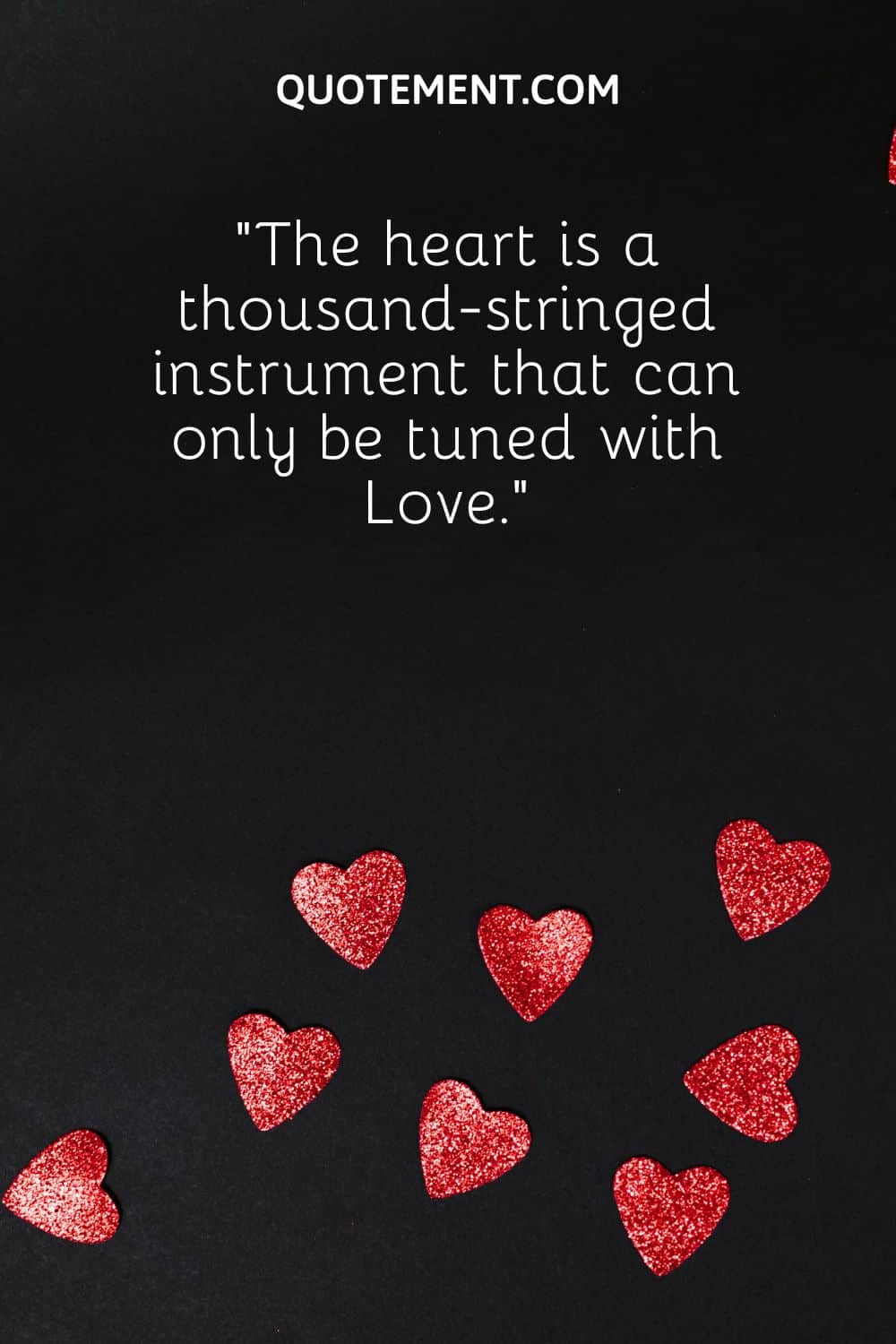 21. "Where there is great love, there are always miracles." – Willa Cather
22. "Love is a rebellious bird that nobody can tame." – Ludovic Halévy
23. "The heart has its own language. The heart knows a hundred thousand ways to speak." – Rumi
24. "Love is the way back into Eden. It is the way back to life." – Francine Rivers
25. "I knew you were the one when I realized your smile was my heaven, your laugh my favorite song, and your arms my home." – Steve Maraboli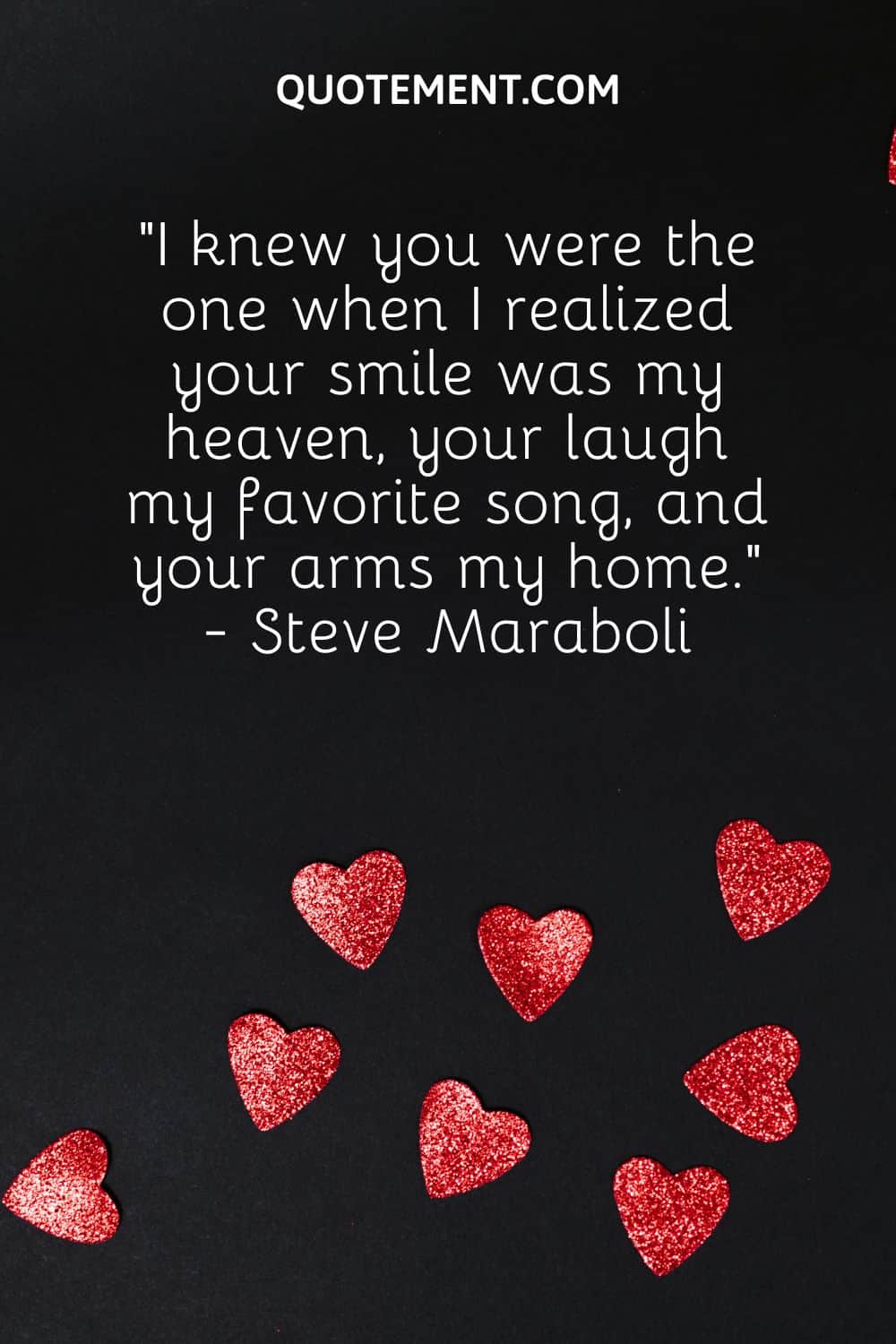 26. "Love is that condition in which the happiness of another person is essential to your own." – Robert A. Heinlein
27. "Sometimes you can't explain what you see in a person. It's just the way they take you to a place where no one else can."
28. "Love recognizes no barriers. It jumps hurdles, leaps fences, penetrates walls to arrive at its destination full of hope." – Maya Angelou
29. "To love is to recognize yourself in another." – Eckhart Tolle
30. "We come to love not by finding a perfect person, but by learning to see an imperfect person perfectly." – Sam Keen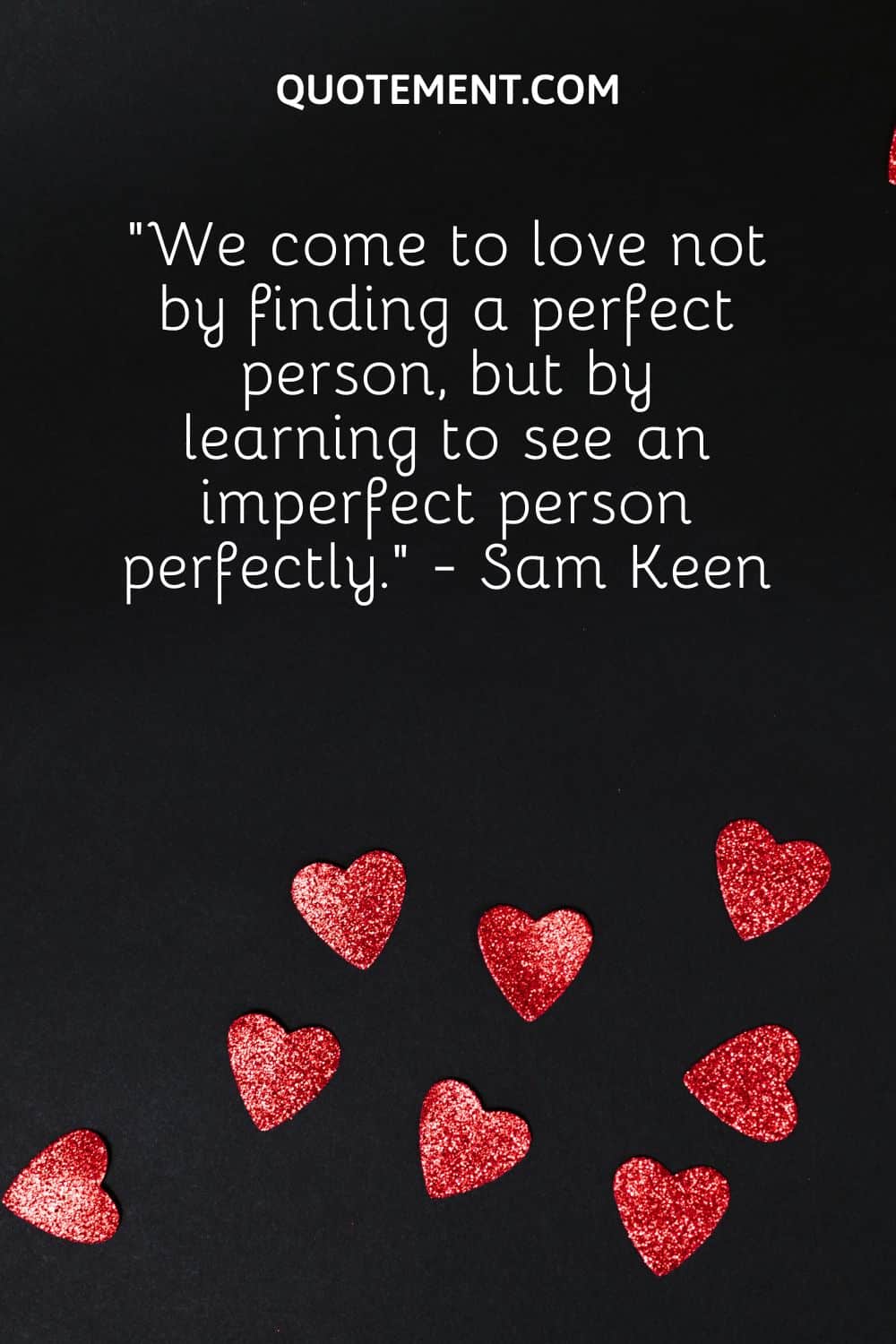 31. "Love is patient, love is kind. It does not envy, it does not boast, it is not proud. It does not dishonor others, it is not self-seeking, it is not easily angered, it keeps no record of wrongs. Love does not delight in evil but rejoices with the truth. It always protects, always trusts, always hopes, always perseveres." – 1 Corinthians 13:4-7
32. "Unconditional love is hard to compete with." – Abbi Glines
33. "Love doesn't make the world go round, Love is what makes the ride worthwhile!" – Elizabeth Barrett Browning
34. "The heart wants what it wants. There's no logic to these things. You meet someone and you fall in love and that's that." – Woody Allen
See also: 160 Unexpected Falling In Love Quotes To Give You Hope
Deep Love Quotes For Your Darling
These Heart touching true love quotes are perfect to share with the love of your life:
1. "You have me. Until every last star in the galaxy dies. You have me." – Amie Kaufman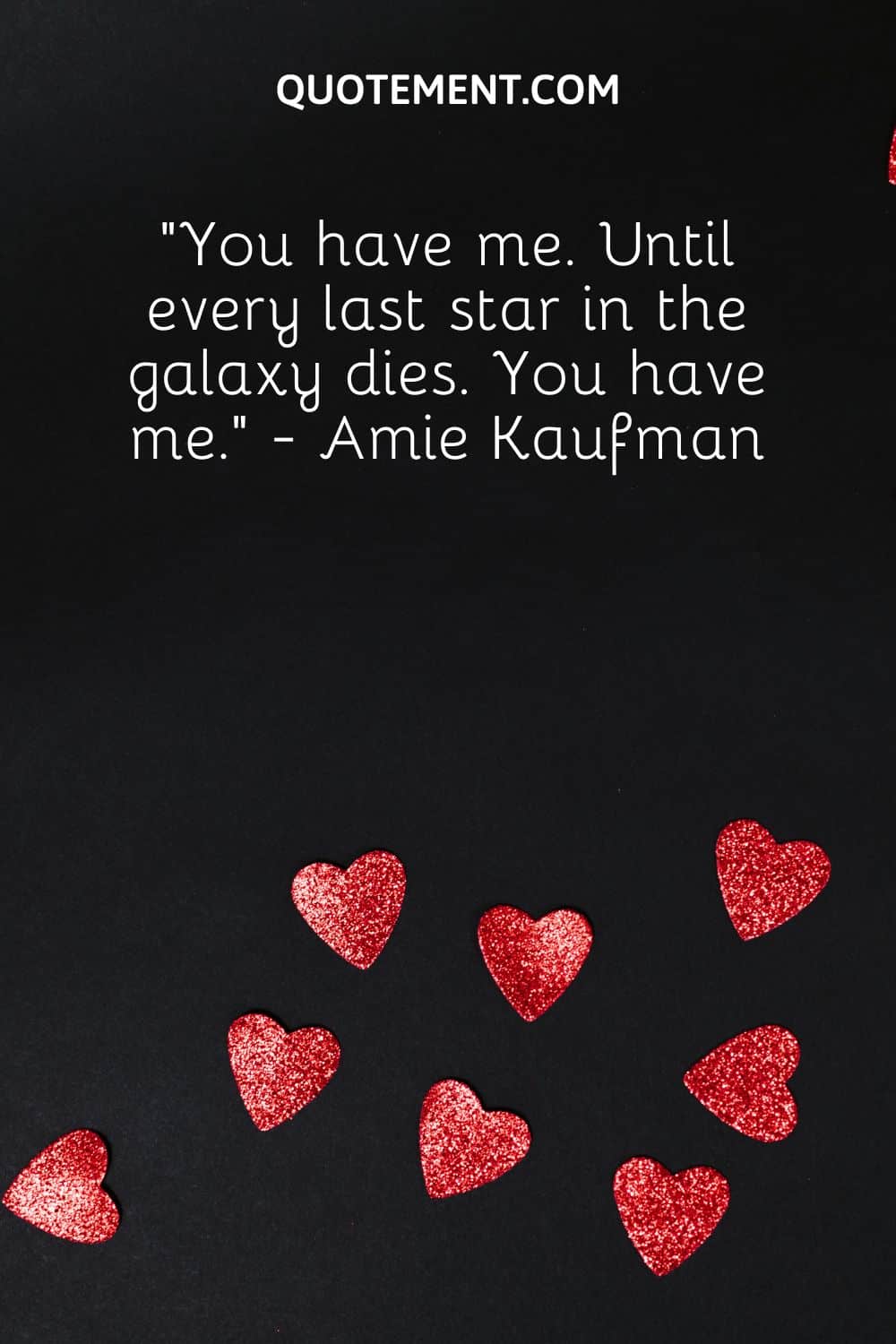 2. "Love doesn't mean you will always agree, see eye to eye, or never have an argument. It means despite the bad days you still can't see yourself without that person."
3. "You are my love story, and I write you into everything I do, everything I see, everything I touch and everything I dream, you are the words that fill my pages." – A.R Asher
4. "Love is our true destiny. We do not find the meaning of life by ourselves alone – we find it with another." – Thomas Merton
5. "If forever does exist, please let it be you…" – A.R Asher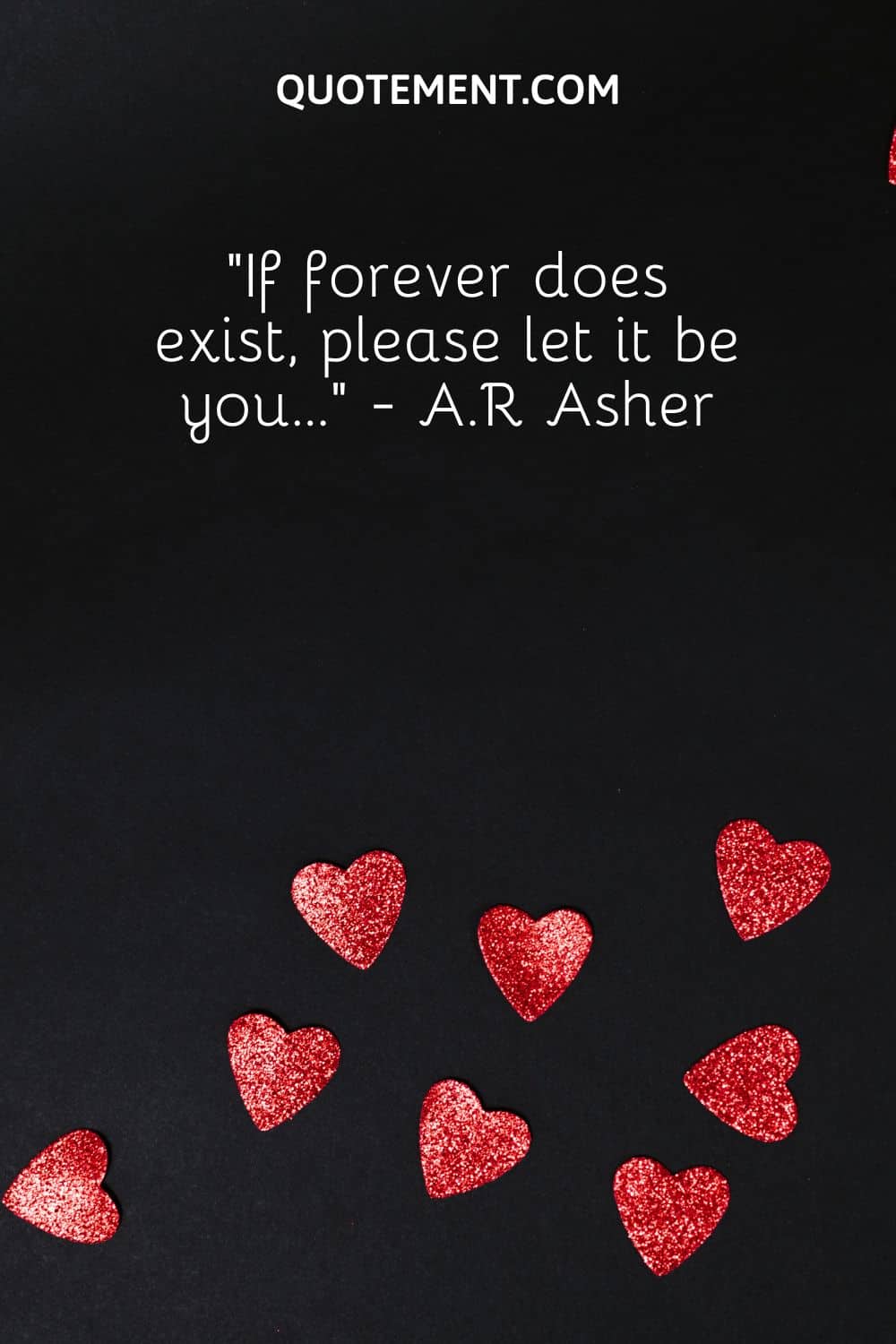 6. "Life is the first gift, love is the second, and understanding the third." – Marge Piercy
7. "If my love were an ocean, there would be no more land. If my love were a desert, you would see only sand. If my love were a star – late at night, only light. And if my love could grow wings, I'd be soaring in flight." – Jay Asher
8. "I have been searching for you since the day I was born, and when I found you, I felt that I found myself."
9. "Love lets you find those hidden places in another person, even the ones they didn't know were there, even the ones they wouldn't have thought to call beautiful themselves." – Hilary T. Smith
10. "There is never a time or place for true love. It happens accidentally, in a heartbeat, in a single flashing, throbbing moment." – Sarah Dessen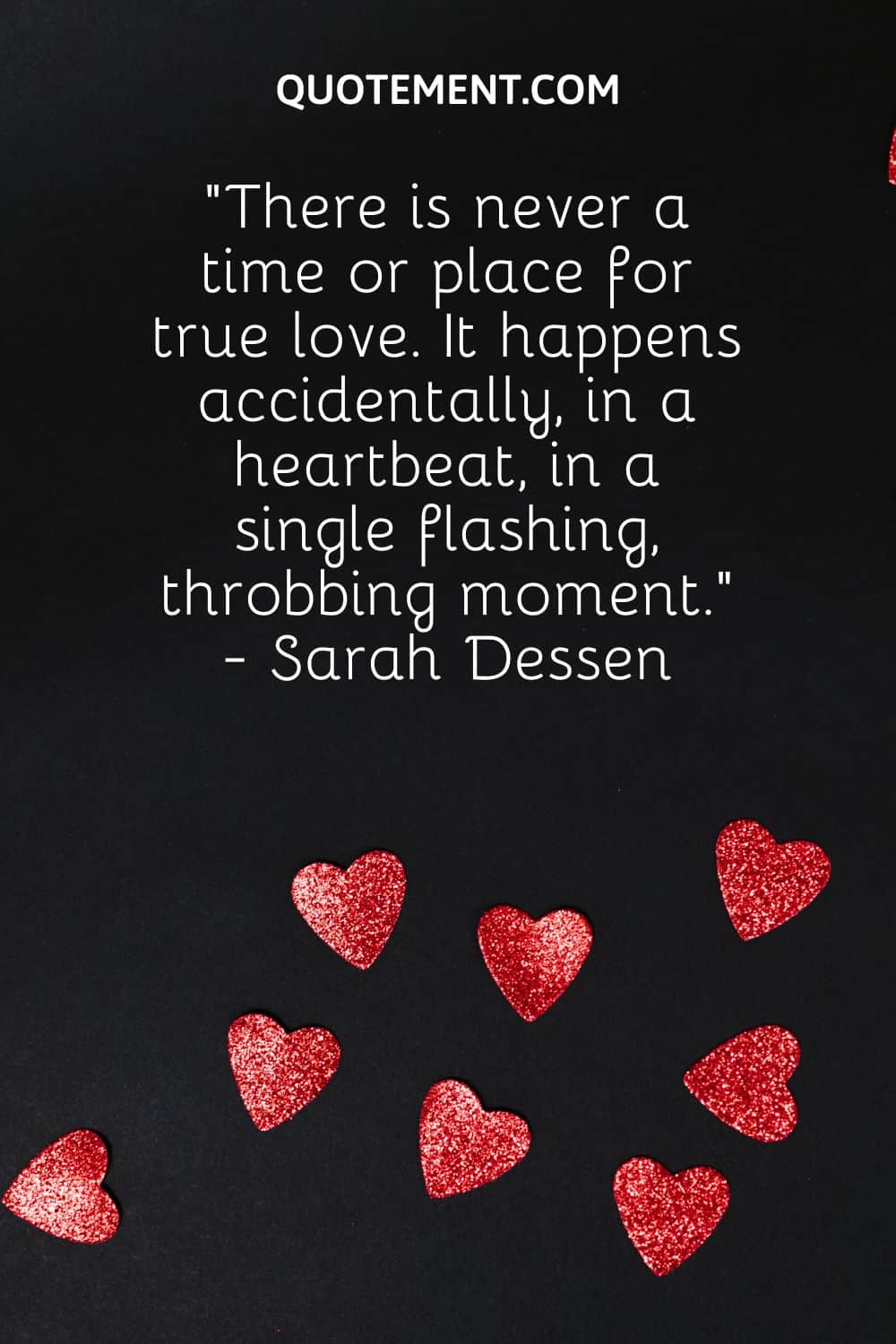 11. "Maybe you don't need the whole world to love you. You know? Maybe you just need one person." – Kermit the Frog
12. "The water shines only by the sun. And it is you who are my sun." – Charles de Leusse
13. "Love is like the wind, you can't see it but you can feel it." – Nicholas Sparks
14. "The one who is meant for you encourages you to be your best but still loves and accepts you at your worst."
15."I know that somehow, every step I took since the moment I could walk was a step towards finding you." – Nicholas Sparks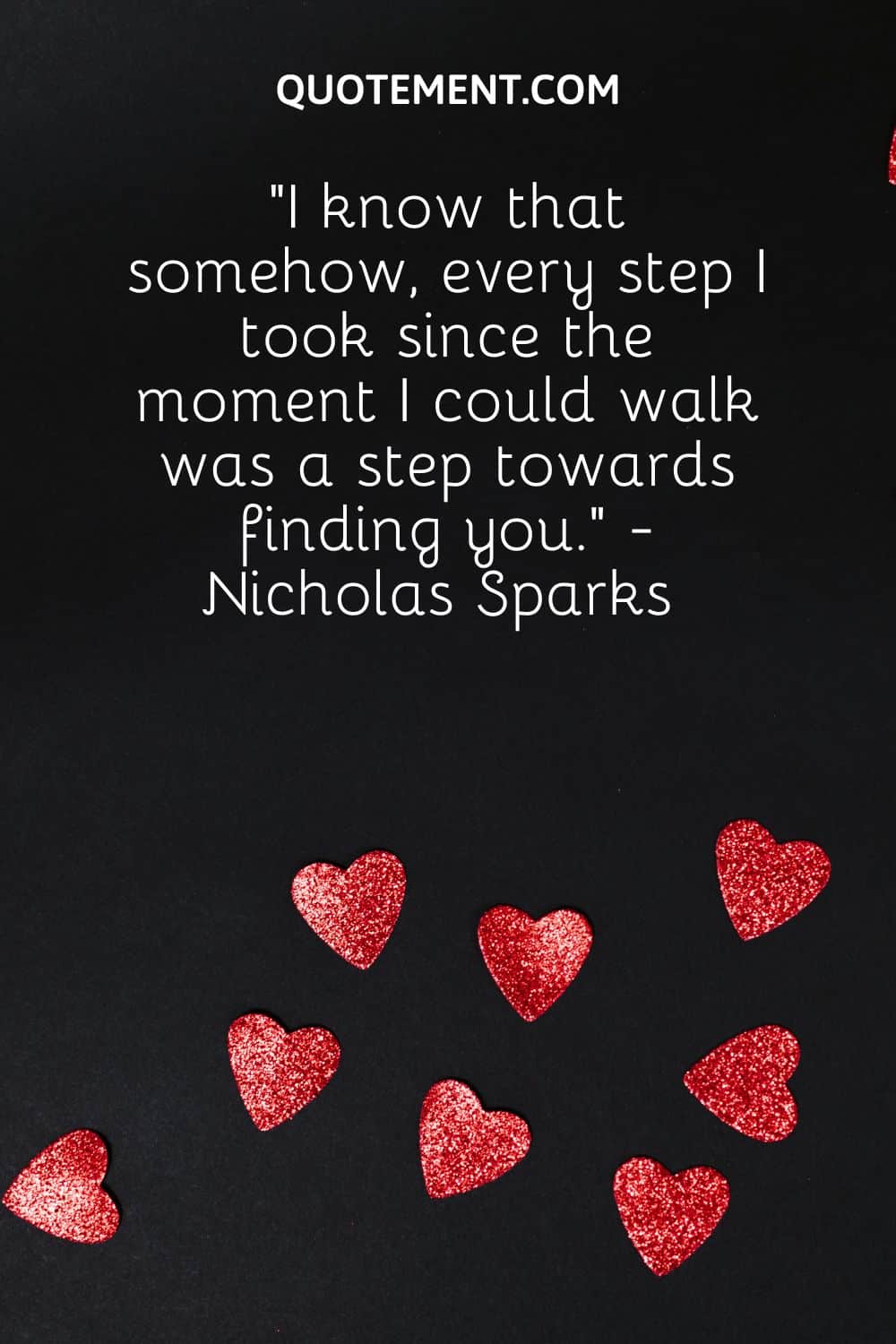 16. "Love does not consist of gazing at each other, but in looking outward together in the same direction." – Antoine de Saint-Exupéry
17. "Love looks not with eyes, but with the mind." – William Shakespeare
18. "The moment you have in your heart this extraordinary thing called love and feel the depth, the delight, the ecstasy of it, you will discover that for you the world is transformed." – Jiddu Krishnamurti
19. "You have made a place in my heart where I thought there was no room for anything else. You have made flowers grow where I cultivated dust and stones." – Robert Jordan
20. "I knew the second I met you that there was something about you I needed. Turns out it wasn't something about you at all. It was just you." – Jamie McGuire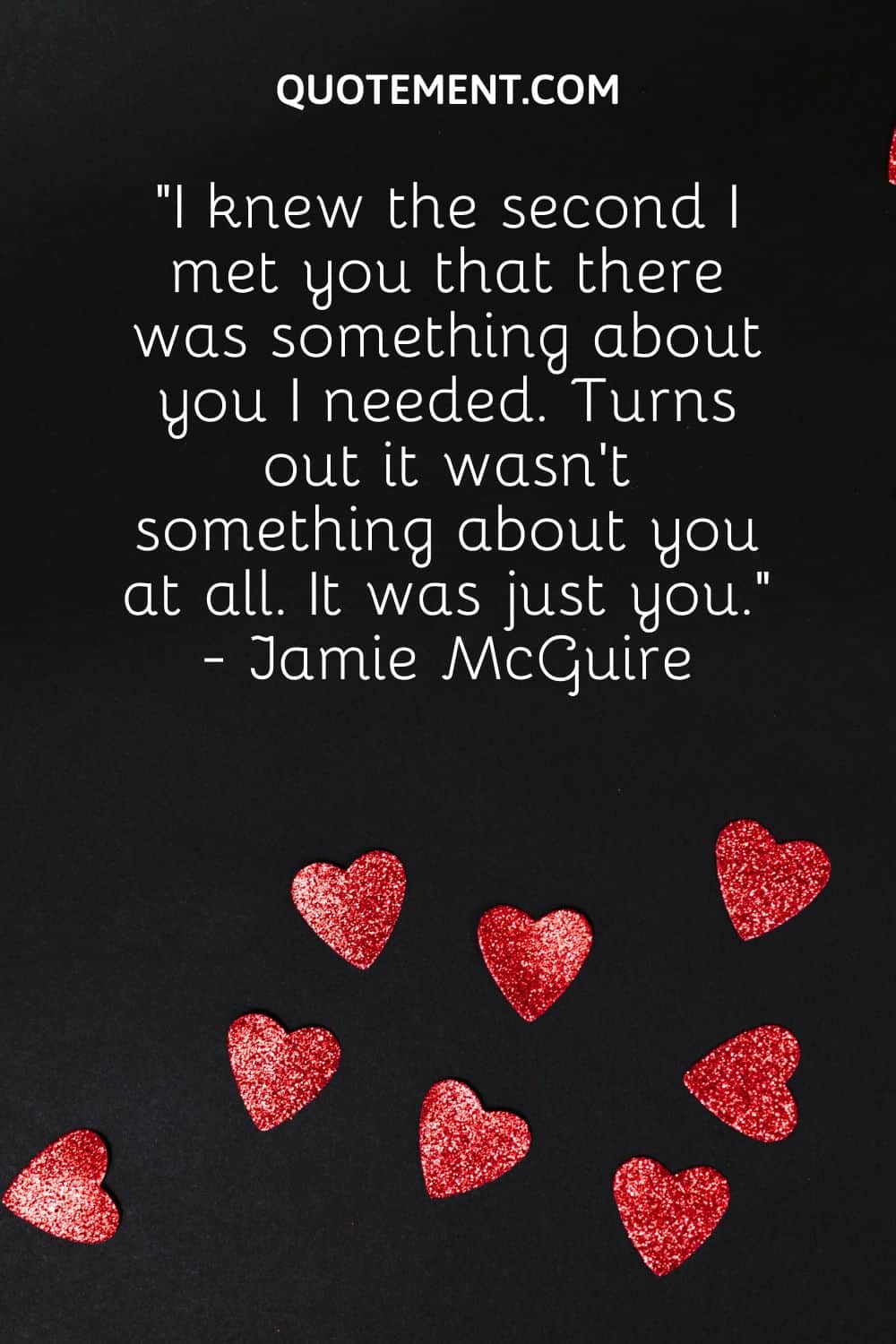 See also: 80 Love At First Sight Messages And Quotes For Your Loved One
Romantic Love Quotes For Your Sweetheart
Romantic quotes can leave us speechless. Make sure you share a few of these with your sweetheart:
1. "You are, and always have been, my dream."– Nicholas Sparks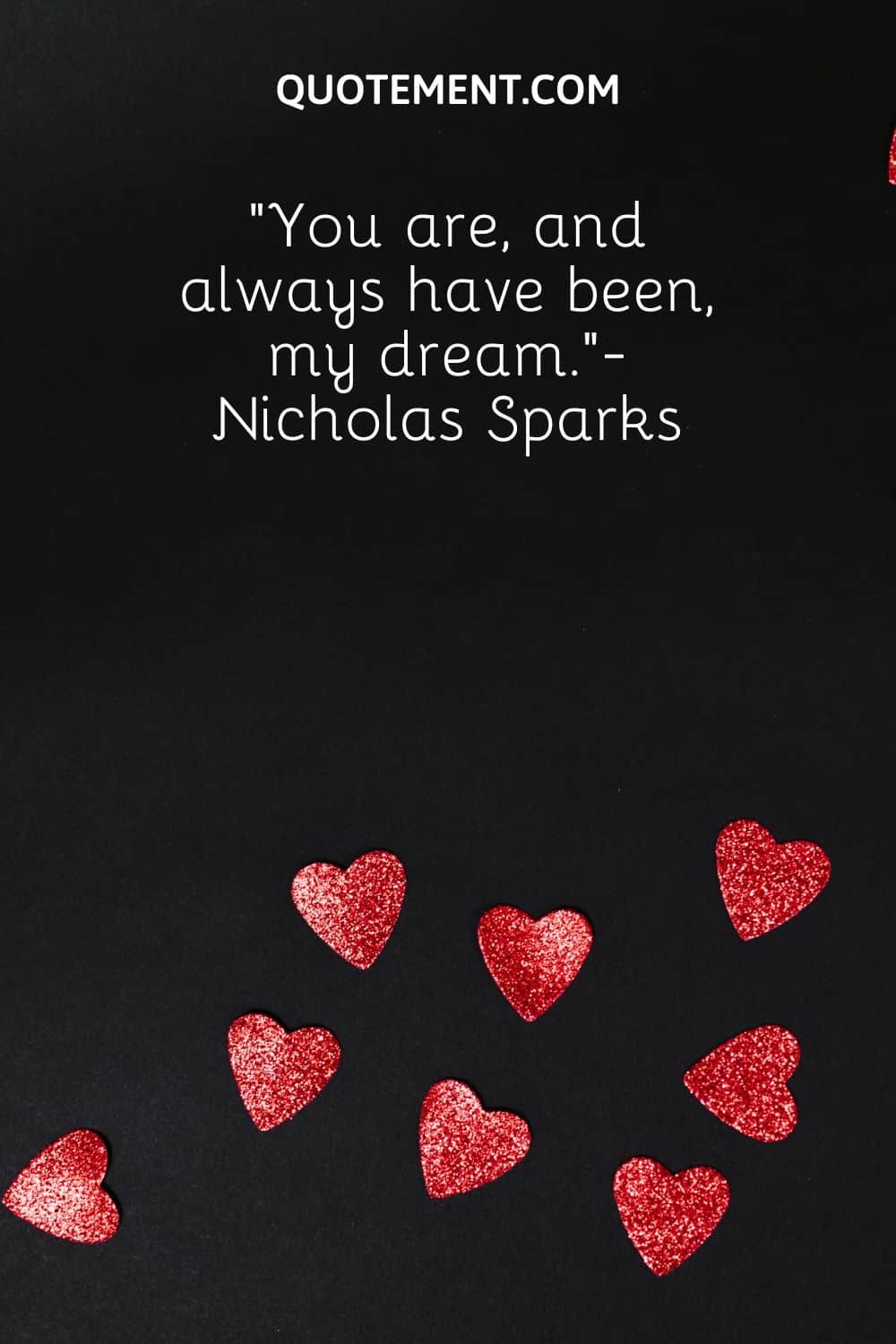 2. "If I know what love is, it is because of you." – Hermann Hesse
3. "So, I love you because the entire universe conspired to help me find you." – Paulo Coelho
4. "If my heart was a canvas, every square inch of it would be painted over with you." – Cassandra Clare
5. "Happy is the moment when we sit together, with two forms, two faces, yet one soul, you and I." – Rumi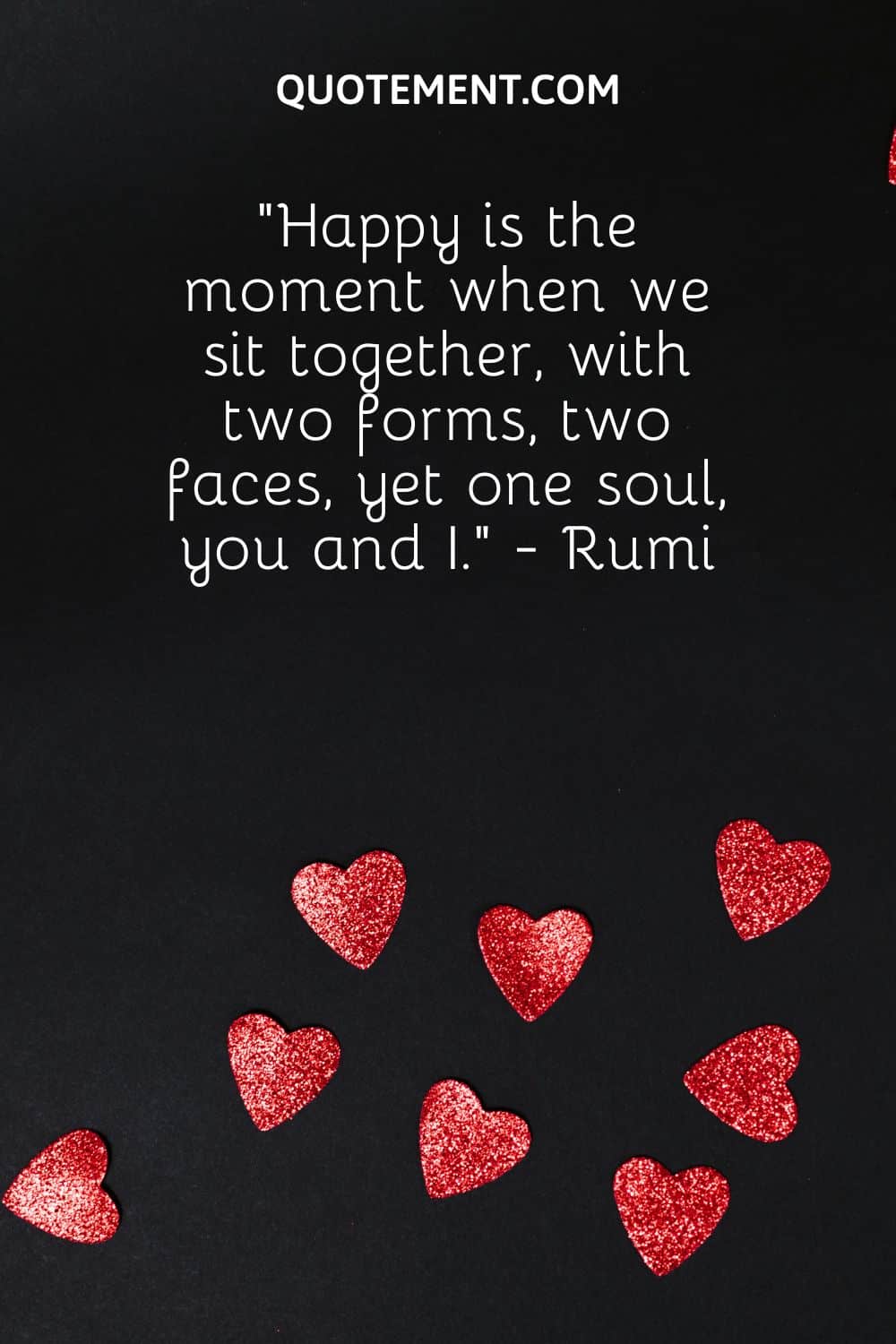 6. "In all the world, there is no heart for me like yours. In all the world, there is no love for you like mine." – Maya Angelou
7. "I swear I couldn't love you more than I do right now, and yet I know I will tomorrow." – Leo Christopher
8. "How lucky I am to have something that makes saying goodbye so hard." – A.A. Milne
9. "I love you with so much of my heart that none is left to protest." – William Shakespeare
10. "Your kisses lift me higher like the sweet song of a choir. You light my morning sky with burning love." – Elvis Presley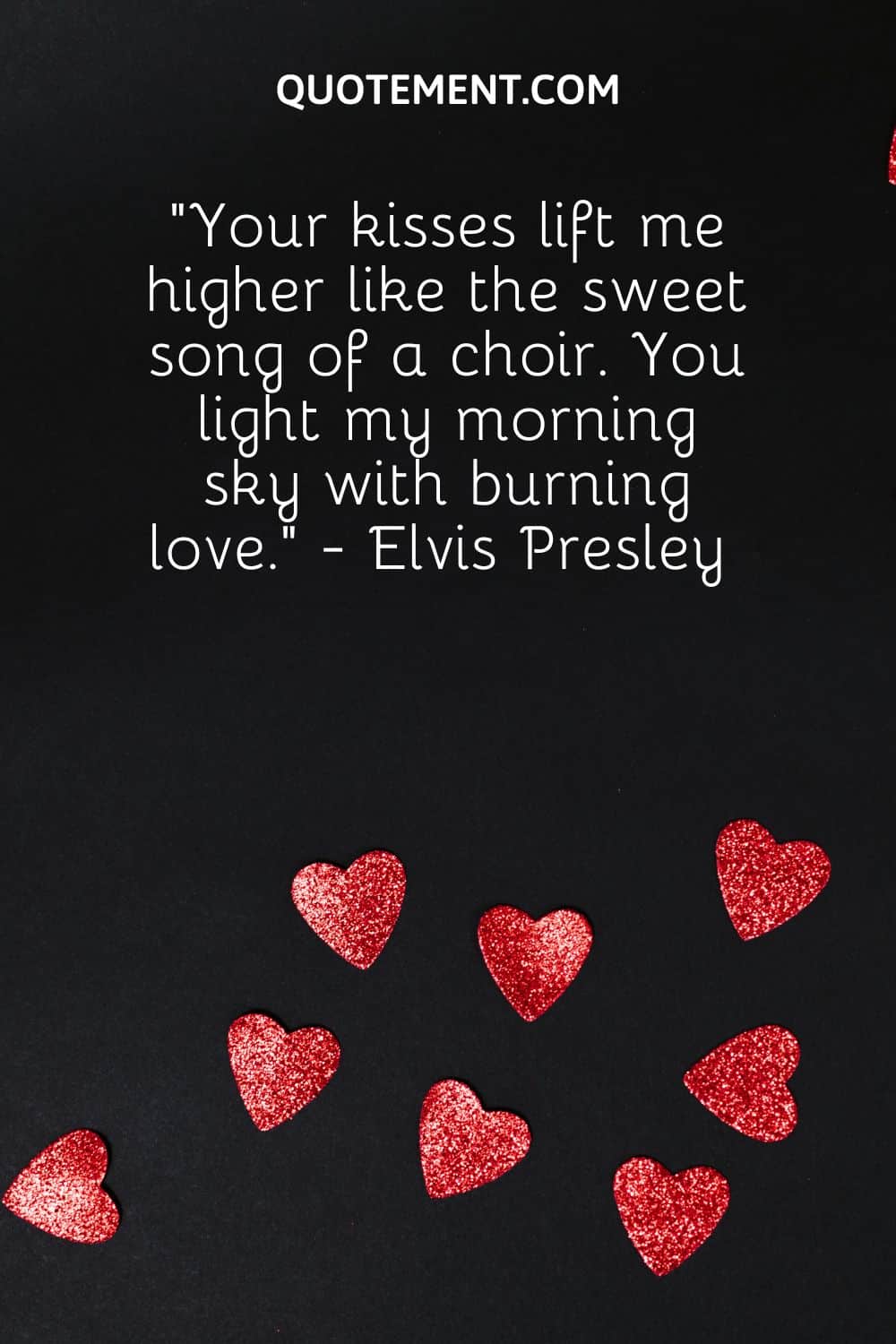 11. "My heart is and always will be yours." – Jane Austen
12. "He's more myself than I am. Whatever our souls are made of, his and mine are the same." – Emily Brontë
13. "When I hold you in my arms, I feel like I am holding the whole world."
14. "I know I've spent each life before this one searching for you. Not someone like you but you, for your soul and mine must always come together." – Nicholas Sparks
15. "I think that if past lives are real then we have been lovers in every single one of them. I've known you for a short time, but I feel like I've known you forever." – J.A. Redmerski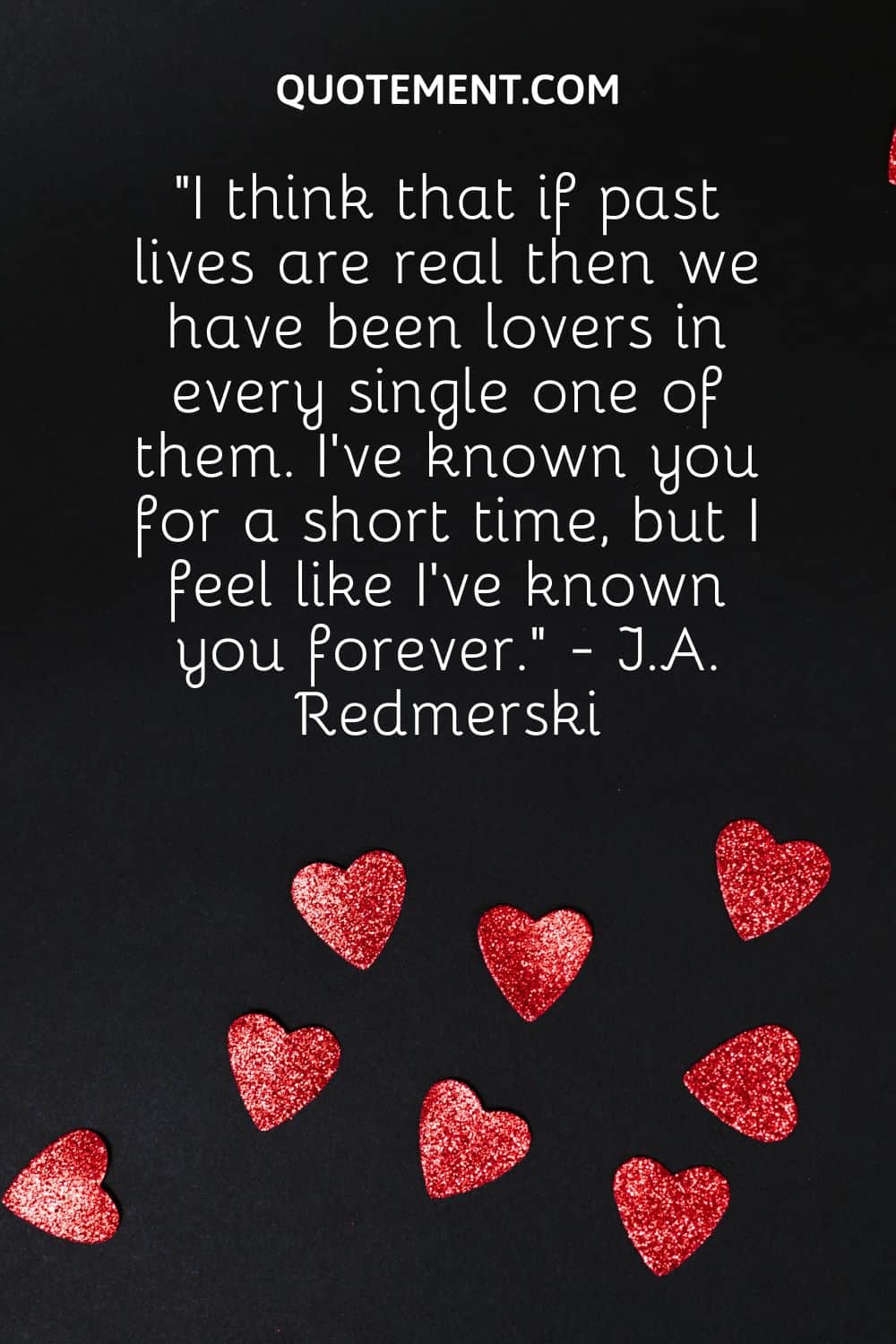 16. "All, everything that I understand, I only understand because I love." – Leo Tolstoy
17. "You are my paradise and I would happily get stranded on you for a lifetime."
18. "You are the last thought in my mind before I drift off to sleep and the first thought when I wake up each morning."
19. "It was not into my ear you whispered, but into my heart. It was not my lips you kissed, but my soul." – Judy Garland
20. "Our conversations are like beautiful lyrics, our laughter is like music. And when we are together, we create a melody that could be replayed over and over again." – Nicholas Sparks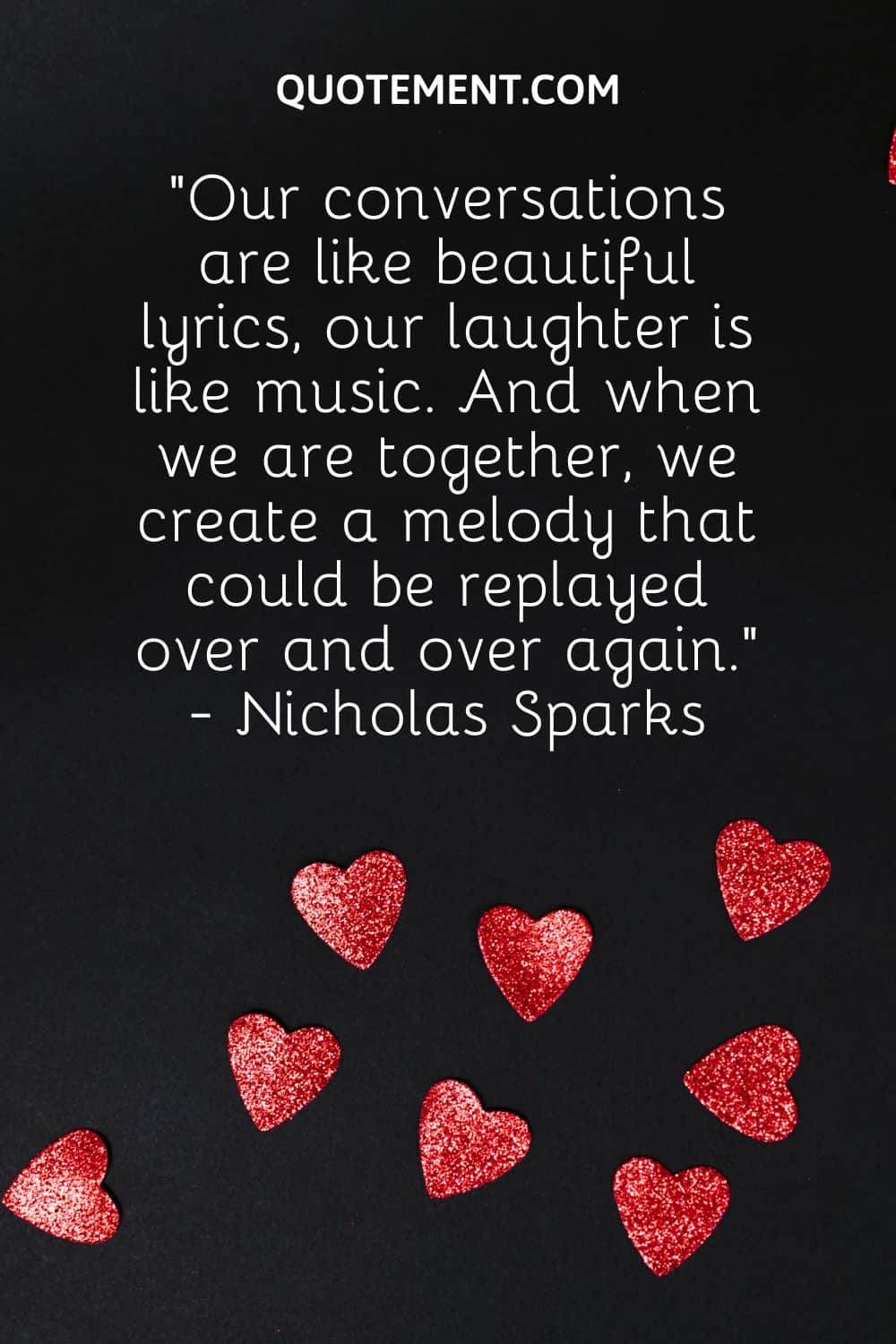 21. "I love you. You're in the very core of my heart. I hold you there like a jewel." – L.M. Montgomery
22. "When someone loves you, it's like having a blanket all round your heart." – Helen Fielding
23. "Being with you and not being with you is the only way I have to measure time." – Jorge Borges
24. "I am in you and you in me, mutual in divine love." – William Blake
25. "I love you and that's the beginning and end of everything." – F. Scott Fitzgerald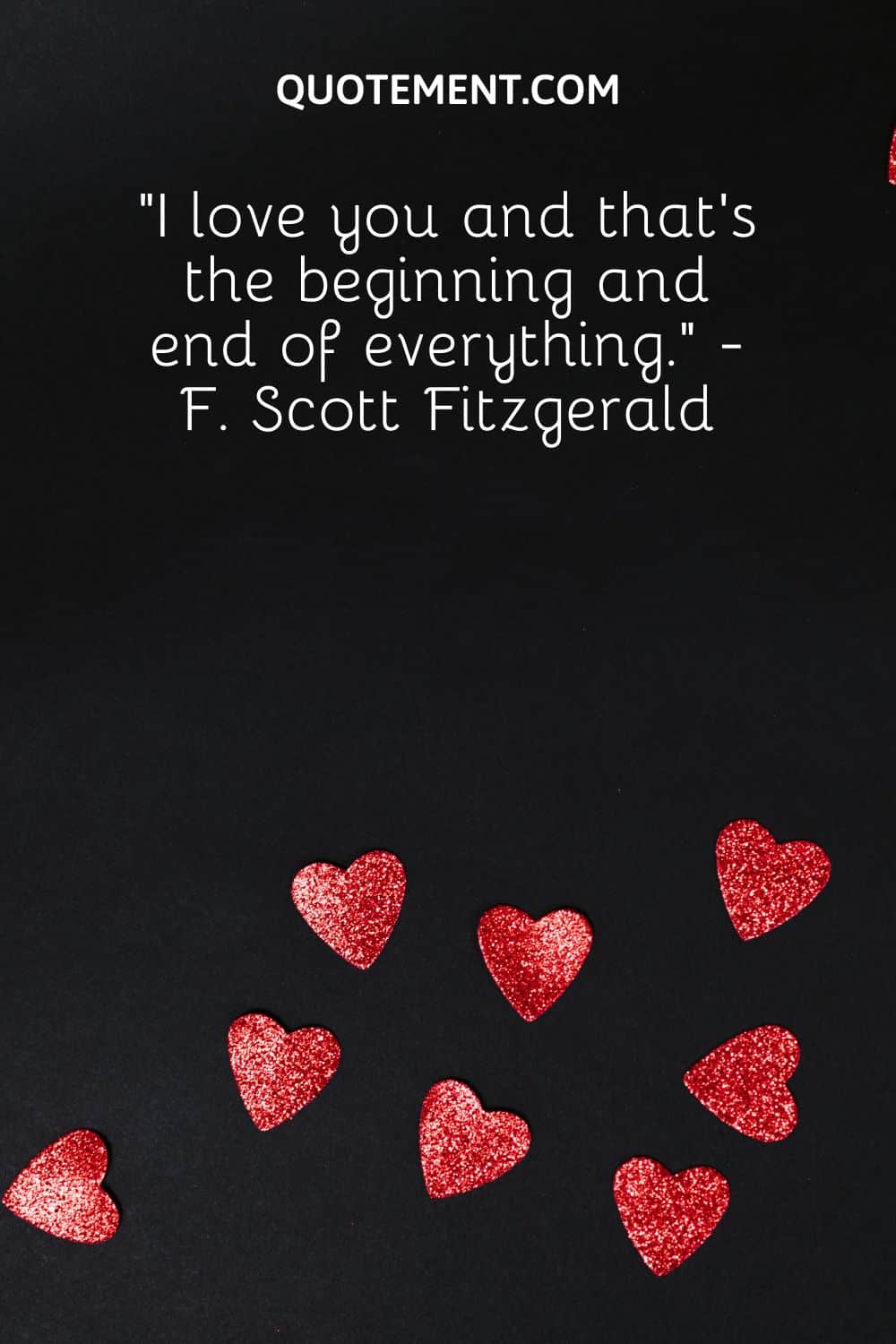 See also: 200 Best You Are My Everything Quotes To Express Your Love
Heart Touching Emotional Love Quotes
Heart touching true love quotes can express your emotions in a beautiful way. These inspirational quotes will do so as well:
1. "For you see, each day I love you more, today more than yesterday and less than tomorrow." – Rosemonde Gerard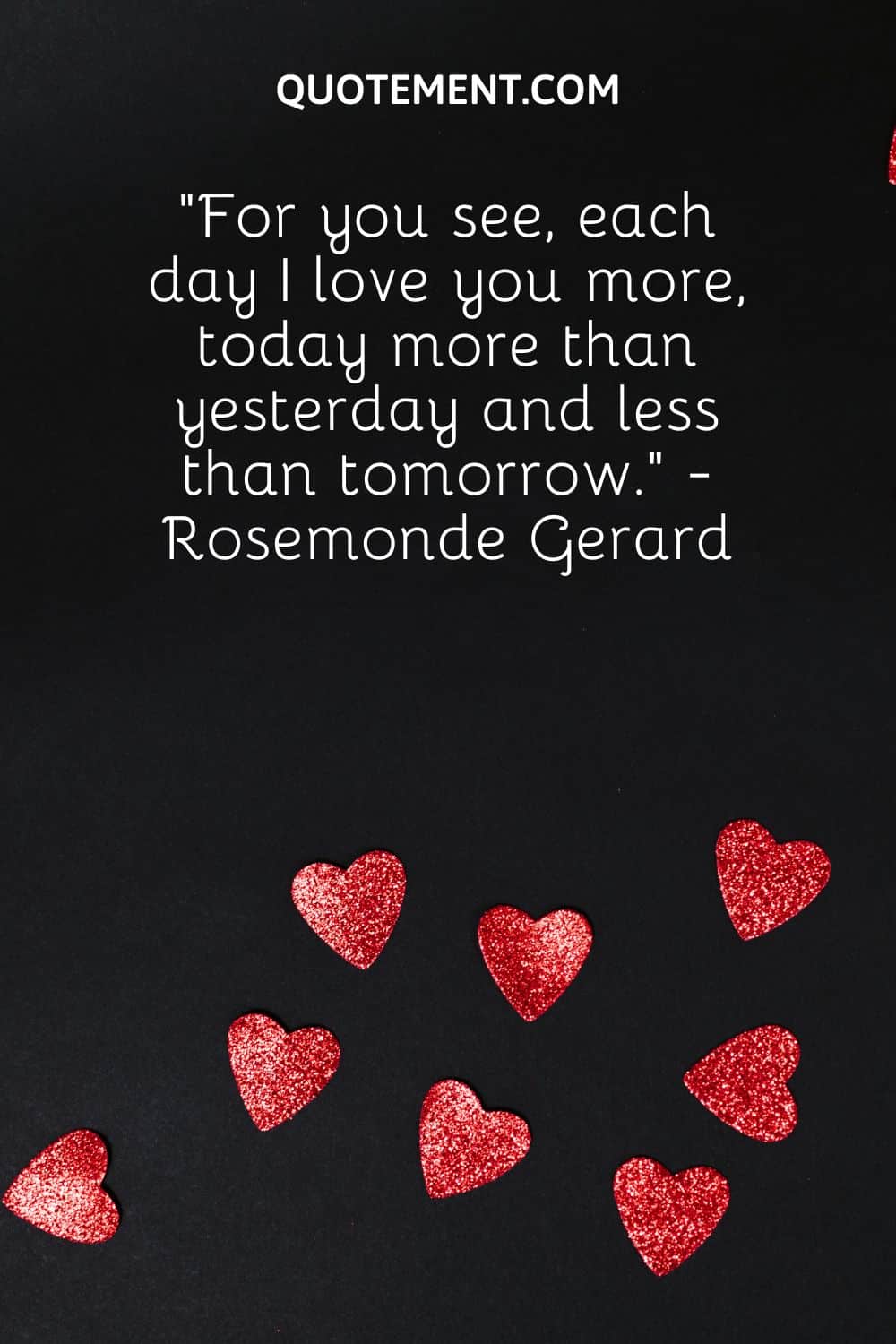 2. "A hundred hearts would be too few to carry all my love for you." – Henry Wadsworth
3. "I want you. All of you. Your flaws. Your mistakes. Your imperfections. I want you, and only you." – John Legend
4. "All that you are is all that I'll ever need." – Ed Sheeran
5. "No matter where I went, I always knew my way back to you. You are my compass star." – Diana Peterfreund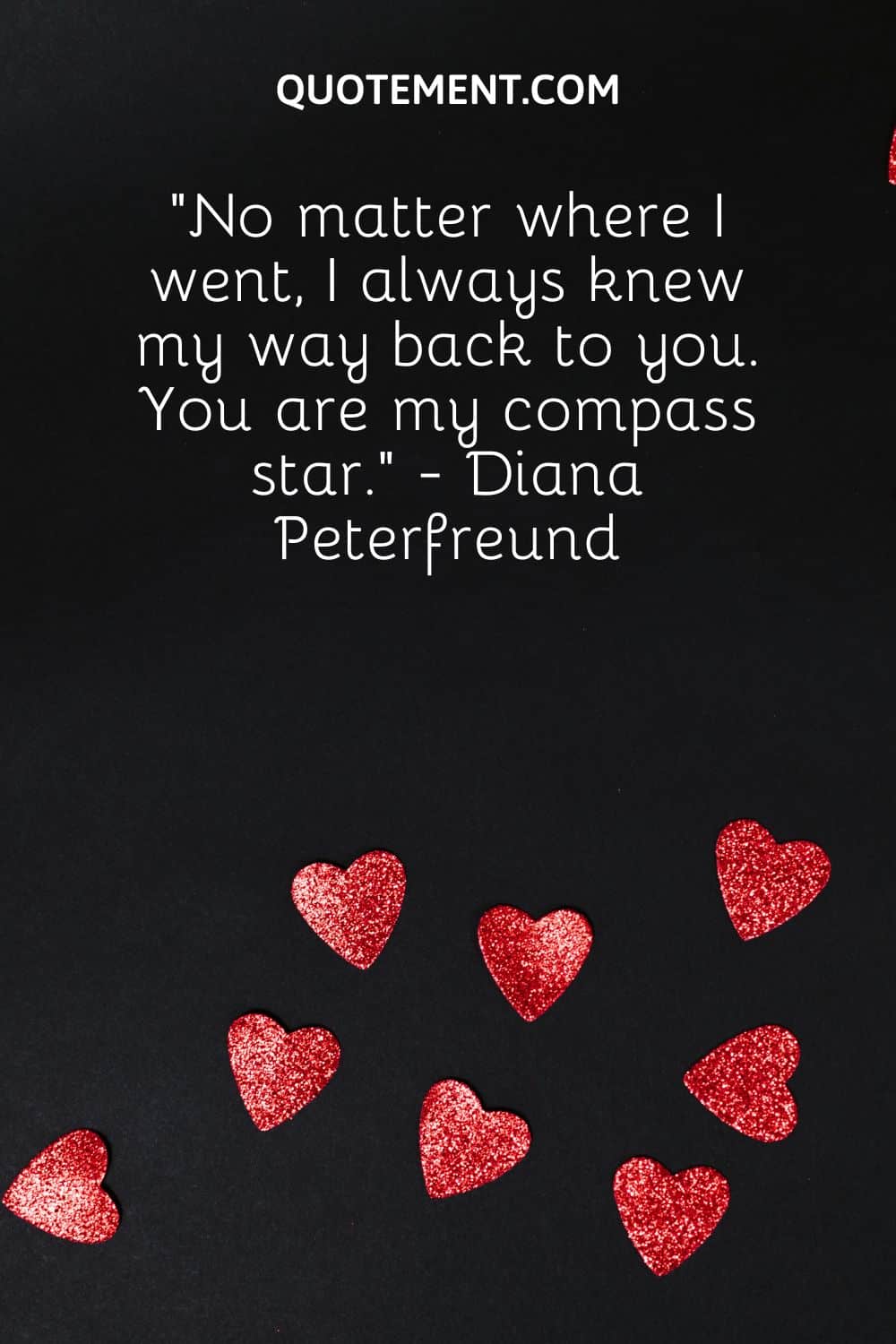 6. "If you live to be 100, I hope I live to be 100 minus one day, so I never have to live without you." – A. A. Milne
7. "My six word love story: I can't imagine life without you."
8. "The way our fingers intertwine feels so natural and right; as if our hands hold memories of meeting in a thousand other lifetimes." – John Mark Green
9. "If I ever were to lose you, I'd surely lose myself." – Pearl Jam
10. "I wish you to know that you have been the last dream of my soul." – Charles Dickens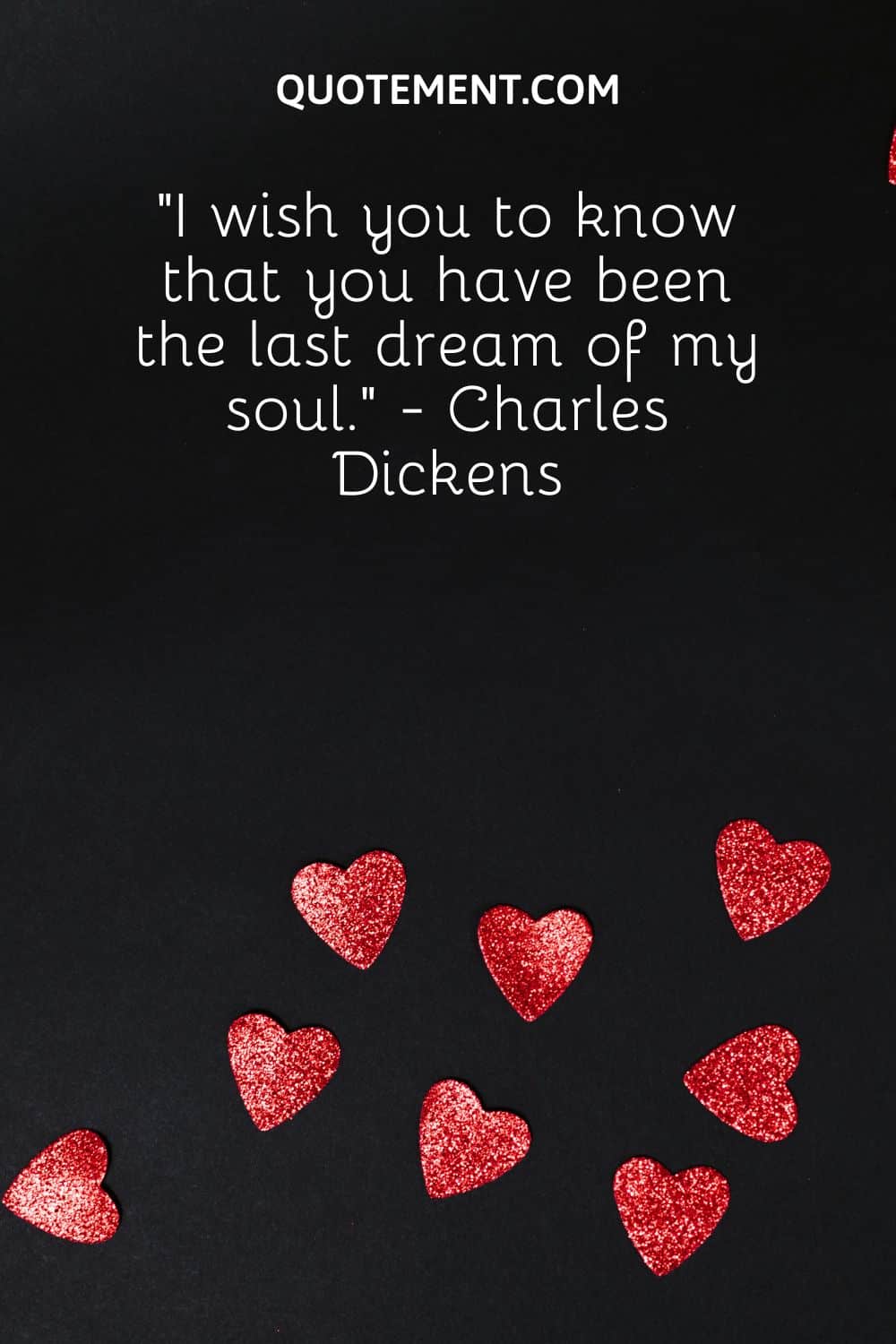 11. "You're always the hero of my heart and the love of my life."
12. "I'm crazily in love with you and every time I see you, I fall in love all over again."
13. "I found my soulmate, I found my one true love, I found my one and only forever and always. I found that in you."
14. "We loved with a love that was more than love." – Edgar Allan Poe
15. "I wanted to tell you that wherever I am, whatever happens, I'll always think of you, and the time we spent together, as my happiest time. I'd do it all over again, if I had the choice. No regrets." – Cynthia Hand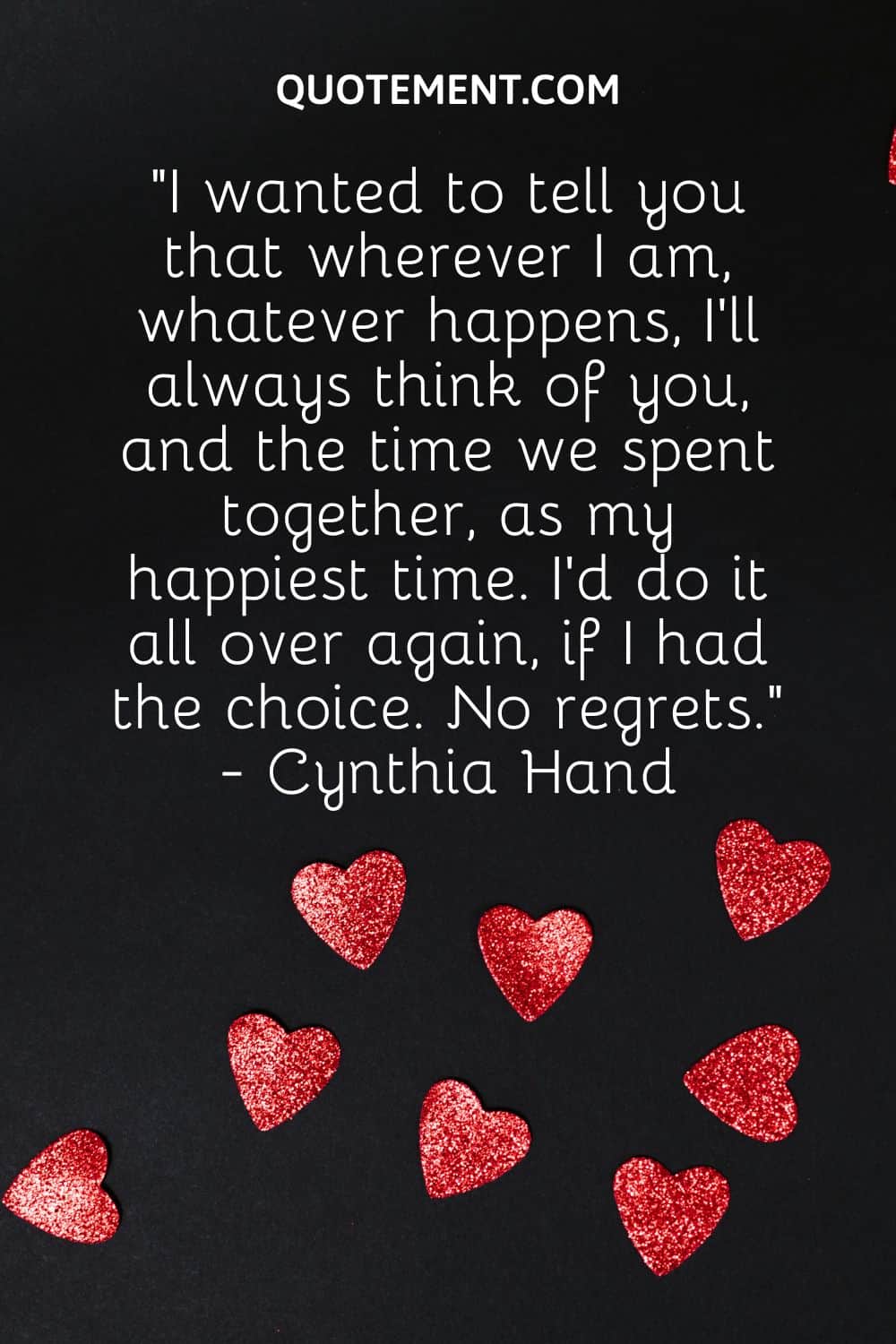 16. "If I could have anyone in the world, it would still be you."
17. "I dream of growing old with you. I dream of spending every single beautiful day together with you for the rest of my life."
18. "I look at you and see the rest of my life in front of my eyes."
19. "You give me the kind of feelings people write novels about."
20. "Darling, let me tell you a secret. In my heart we are always kissing." – Alexandra Vasiliu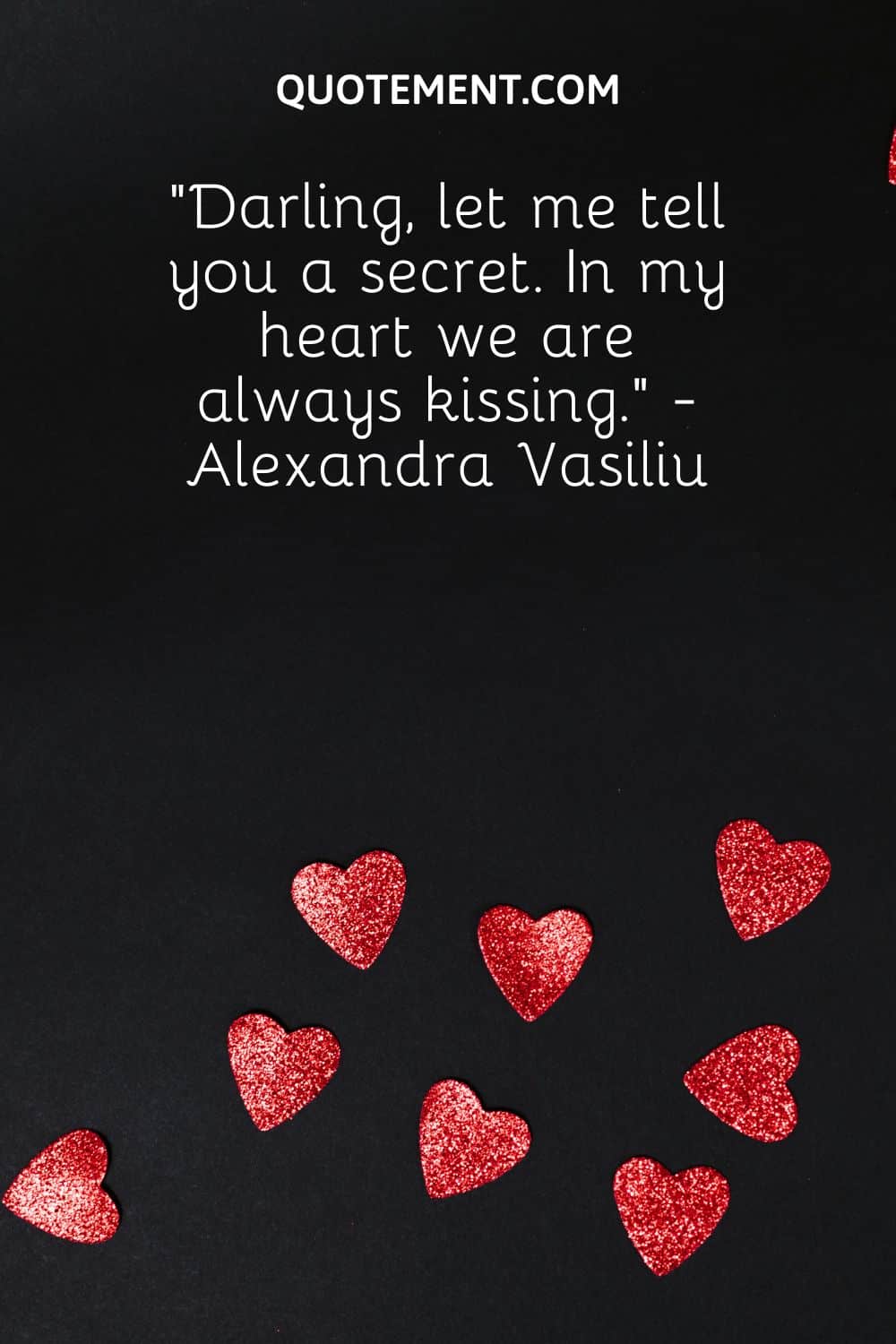 21. "Reaching for your hand brings me such joy and knowing that you are mine forever brings me peace. I am blessed to have you in my life."
22. "My soul and your soul are forever tangled." – N.R. Hart
23. "Your hand touching mine. This is how galaxies collide." – Sanober Khan
24. "I've been in love with you since the very beginning. You asked why there isn't anyone else in my life, and the reason… is you." – Julie James
25. "When I saw you I fell in love, and you smiled because you knew." – Arrigo Boito
26. "Do I love you? My God, if your love were a grain of sand, mine would be a universe of beaches." – William Goldman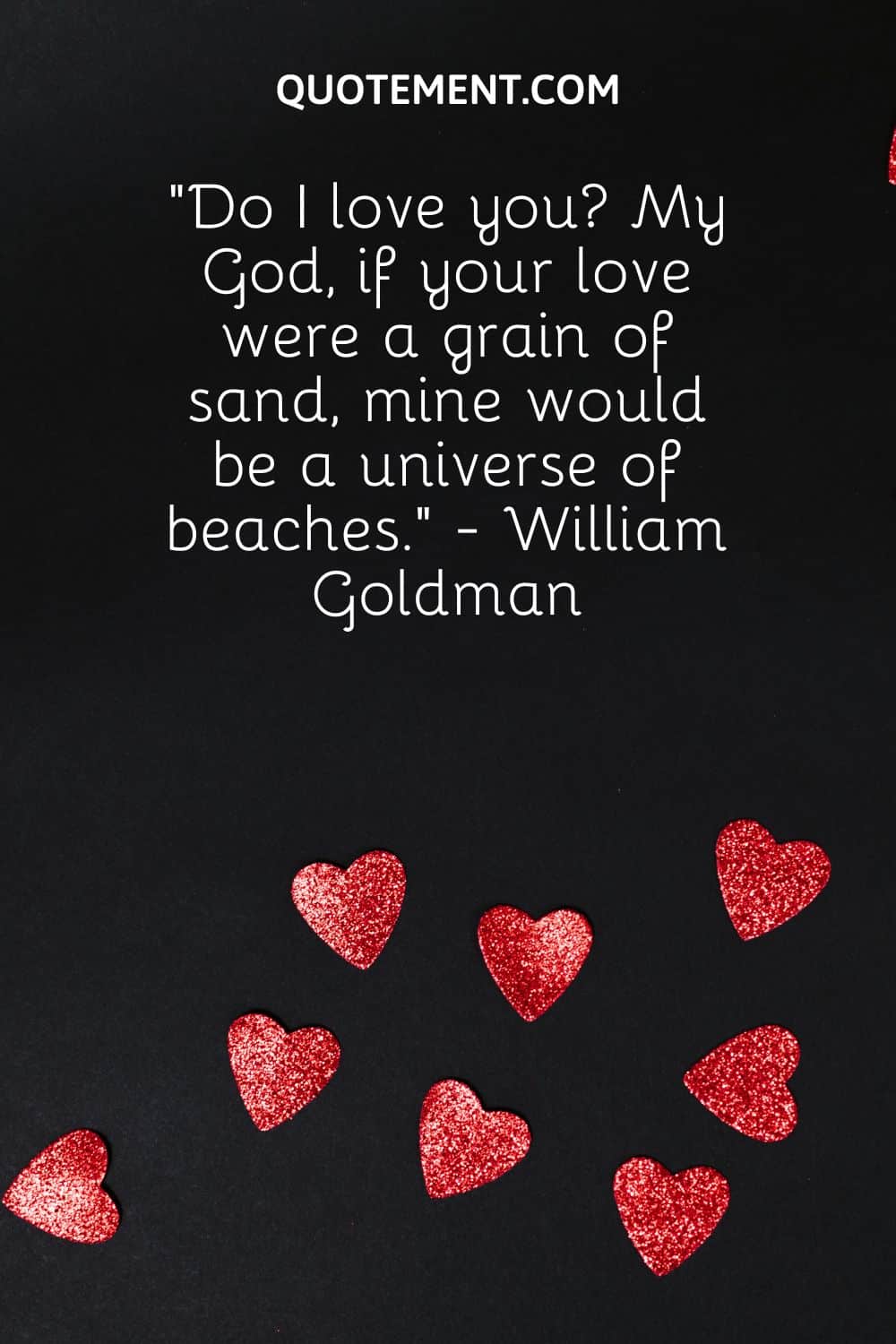 27. "I've never had a moment's doubt. I love you. I believe in you completely. You are my dearest one. My reason for life." – Ian McEwan
28. "I love you more than I have ever found a way to say to you." – Ben Folds
29. "Storm clouds may gather and stars may collide, but I love you until the end of time." – Moulin Rouge
30. "Well, I found a woman stronger than anyone I know. She shares my dreams; I hope that someday I'll share her home." – Ed Sheeran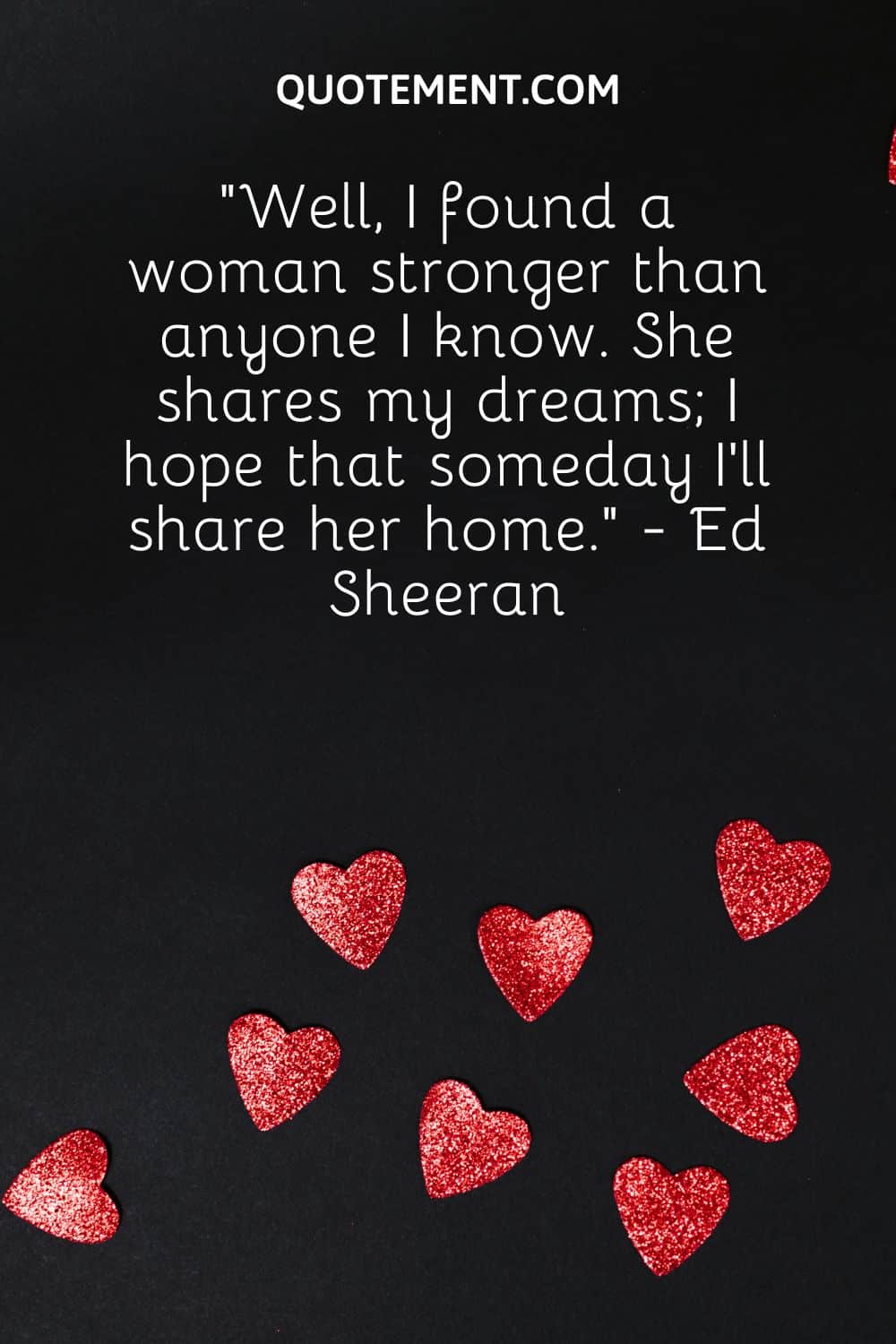 31. "Today and always, beyond tomorrow, through thick and thin, I need you beside me, always as my best friend, lover and forever soul mate."
See also: 90 Through Thick And Thin Quotes For All Your Loyal People
True Love Quotes For Him And Her
The following heart touching true love quotes are simply wonderful:
1. "For the two of us, home isn't a place. It is a person. And we are finally home." – Stephanie Perkins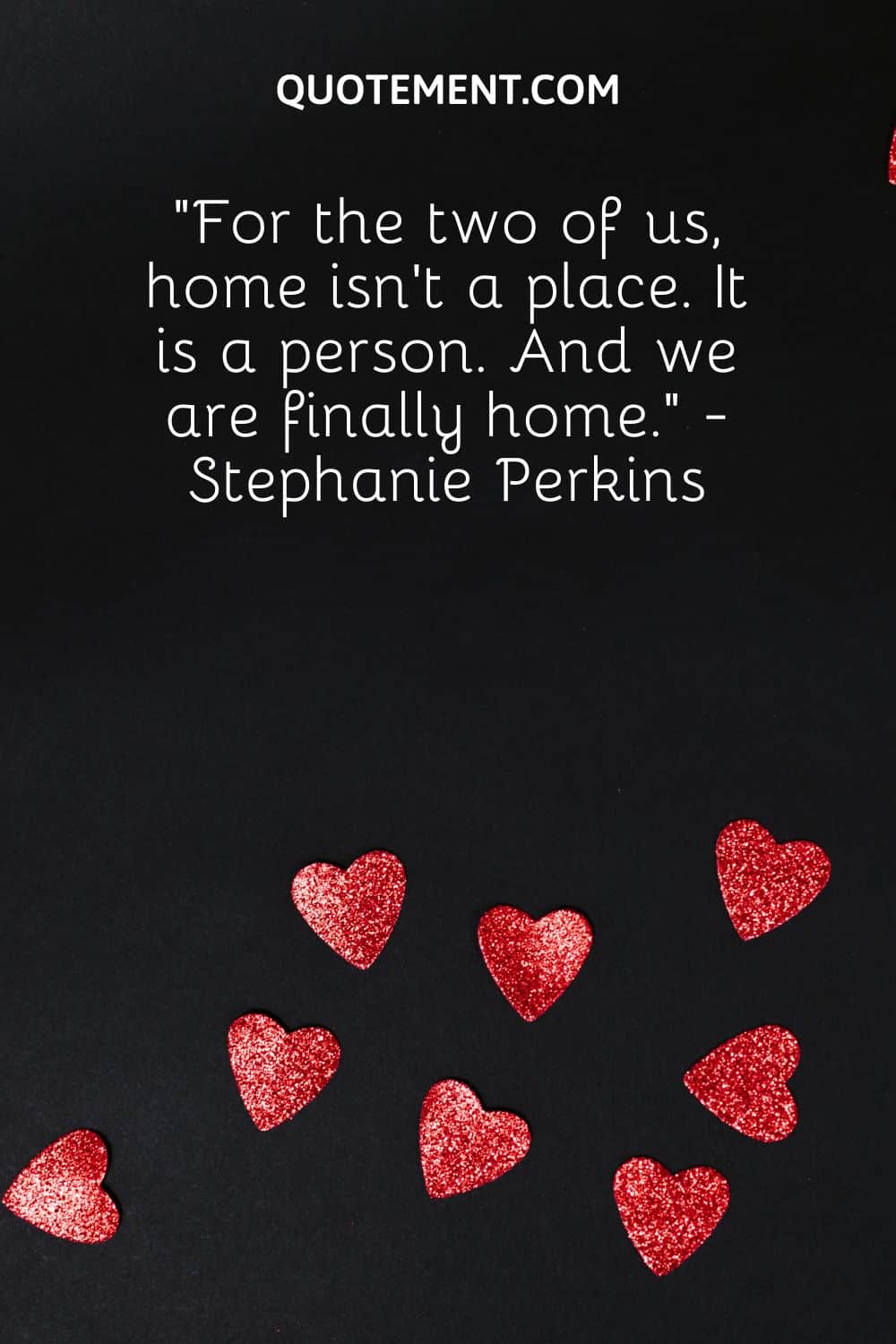 2. "True love is rare, and it's the only thing that gives life real meaning." – Nicholas Sparks
3. "At last… my love has come along. My lonely days are over. And life is like a song." – Etta James
4. "You know you've found true love when you catch yourself falling in love with the same person over and over again."
5. "You're always the first and the last thing on this heart of mine. No matter where I go, or what I do, I'm thinking of you." – Dierks Bentley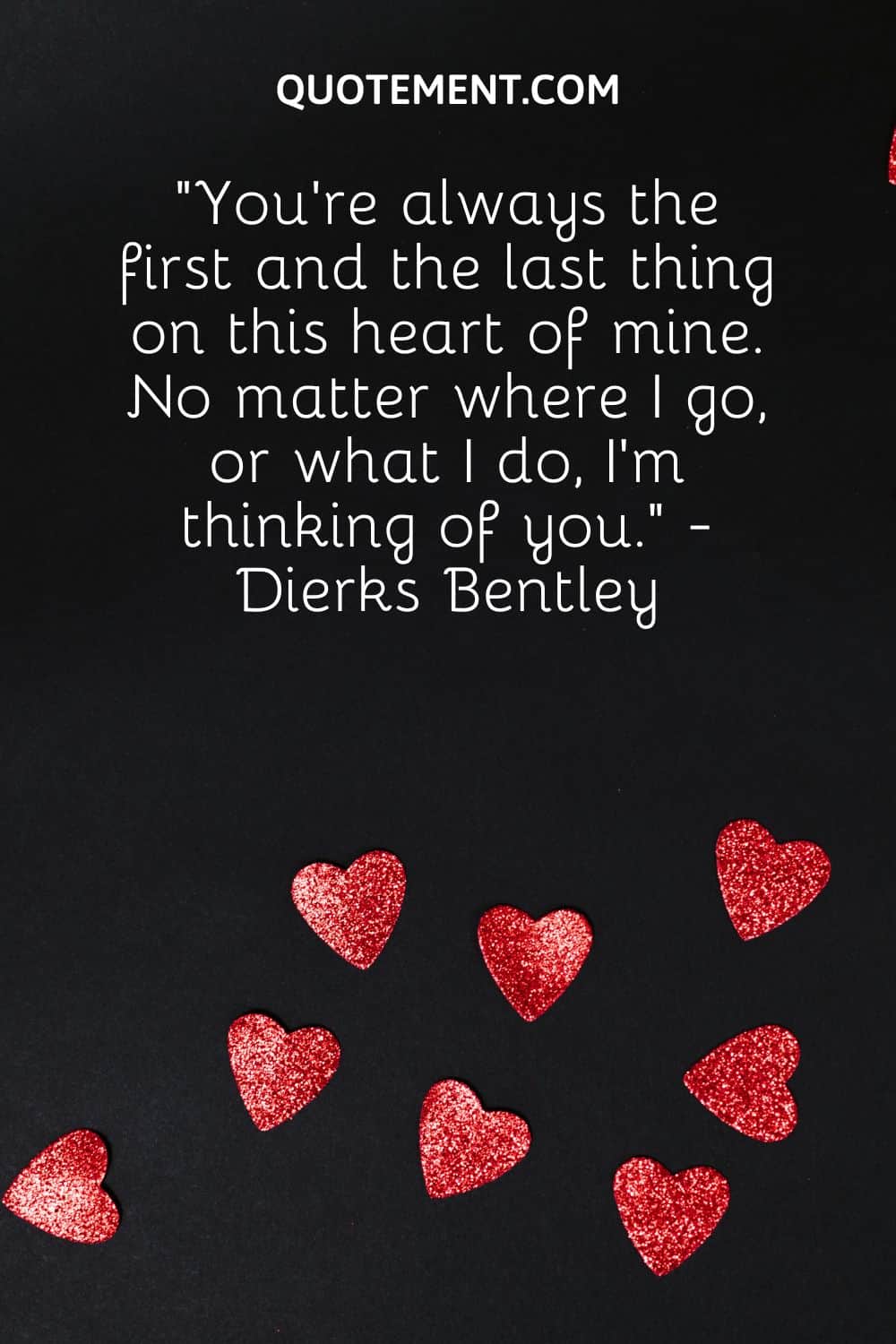 6. "When you love someone, you love the whole person, just as he or she is, and not as you would like them to be." – Leo Tolstoy
7. "To be your husband was all I ever wanted; to be yours forever was all I ever dreamt."
8. "True love doesn't happen right away; it's an ever-growing process. It develops after you've gone through many ups and downs, when you've suffered together, cried together, laughed together." – Ricardo Montalban
9. "When you realize you want to spend the rest of your life with somebody, you want the rest of your life to start as soon as possible." – Nora Ephron
10. "I hope you don't mind that I put down in words how wonderful life is while you're in the world." – Elton John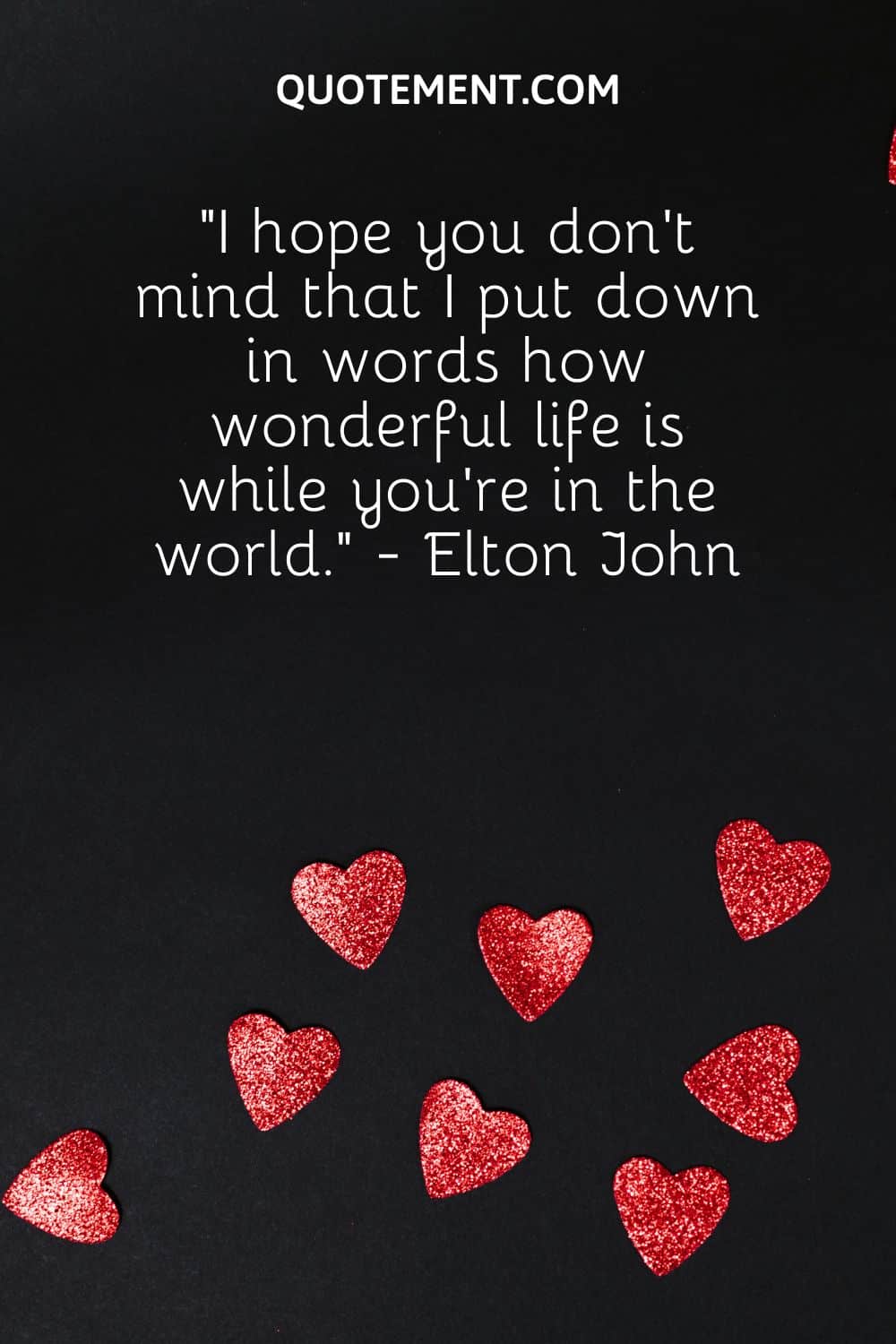 11. "When you find that one that's right for you, you feel like they were put there for you, you never want to be apart." – Joe Manganiello
12. "You feel more like home to me than any place I've ever been." – Angela N. Blount
13. "If you fall in love with their soul before you touch their skin, it's true love."
14. "True love is inexhaustible; the more you give, the more you have. And if you go to draw at the true fountainhead, the more water you draw, the more abundant is its flow." – Antoine de Saint-Exupéry
15. "People leave traces of themselves where they feel most comfortable, most worthwhile." – Haruki Murakami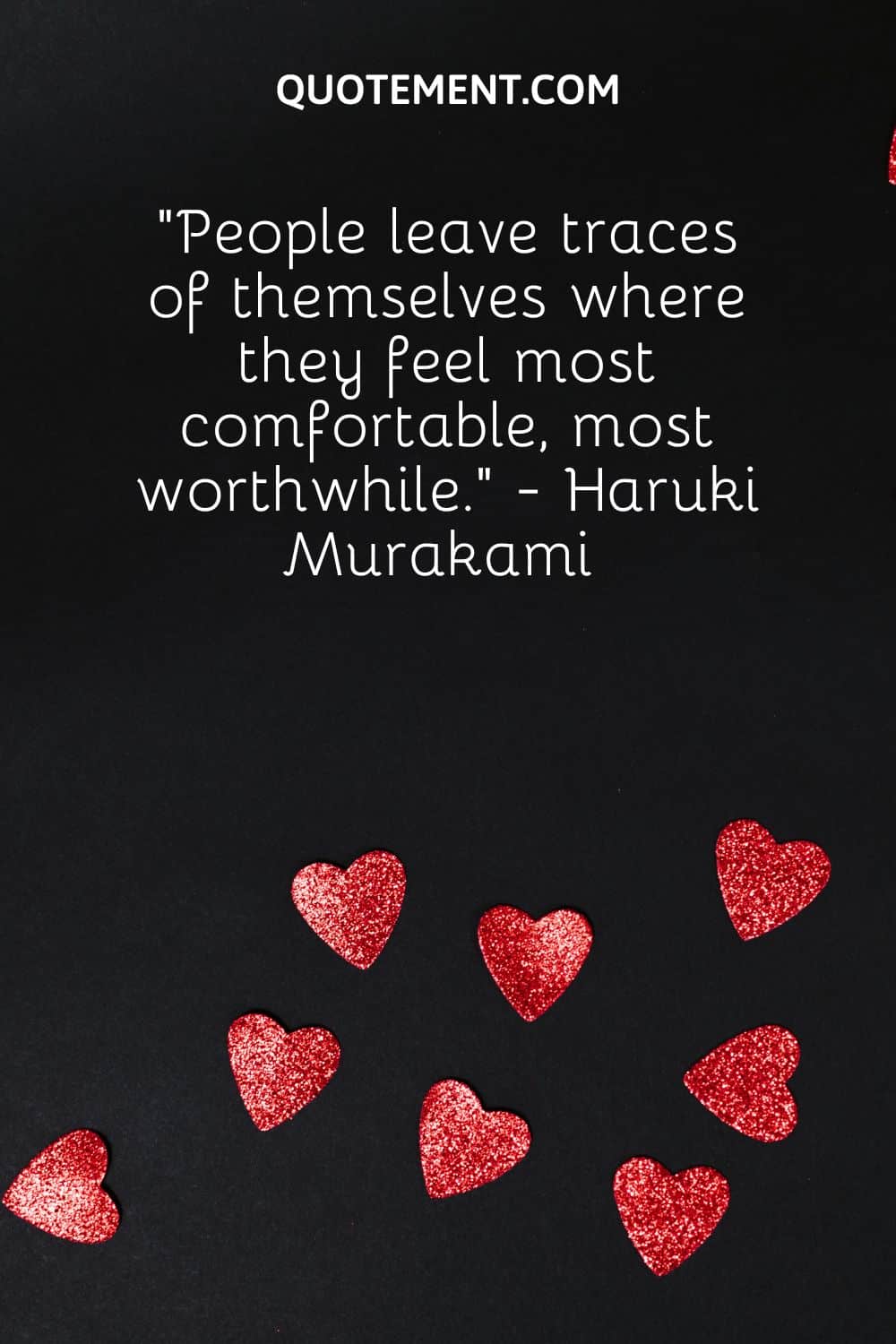 16. "True love can not be found where it does not truly exist, nor can it be hidden where it truly does." – William Shakespeare
17. "Real love means loving kindness and compassion, the kind of love that does not have any conditions." – Nhat Hanh
18. "The best and most beautiful things in the world cannot be seen or even heard, but must be felt with the heart." – Helen Keller
19. "When you love someone, you say their name different. Like it's safe inside your mouth." – Jodi Picoult
20. "The first time we met, I could swear I heard my soul whisper, 'hello, my soulmate'."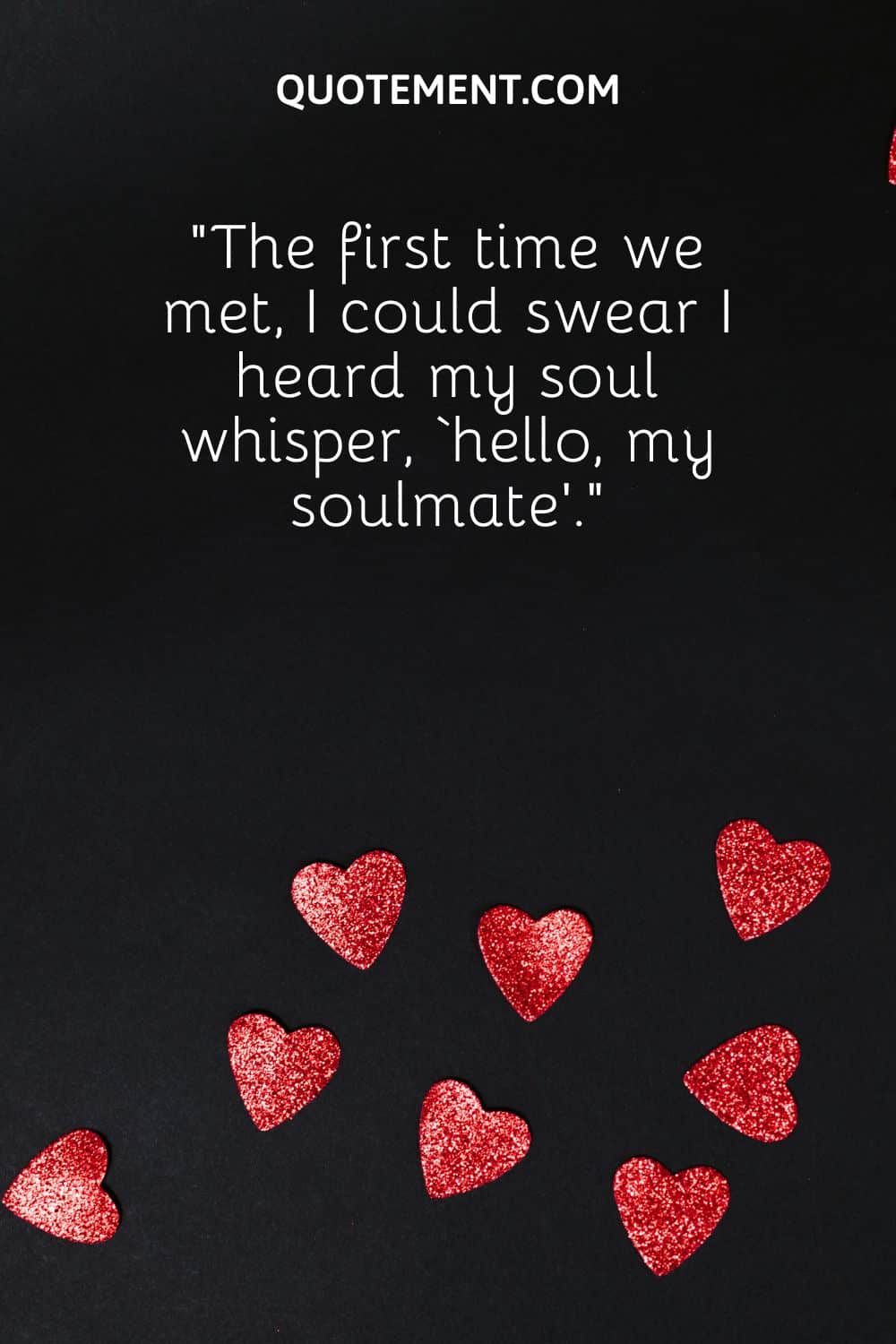 See also: 80 Today Is The Day We First Met Quotes For Your Love
Final Thoughts
I hope you enjoyed these heart touching true love quotes, and that your sweetheart will love and appreciate them!
Everyone adores feeling loved and cherished – so let's try our best to really show how we feel about the love of our life!
For example, a cute love note with a heart touching quote saying good morning can really make a difference.
Real love empowers us and makes us feel special. Nothing compares to it and it's truly a blessing if you're lucky enough to find it.
So, next time you feel like showing some love to a very special person, don't be shy about using a heart touching quote.
Your darling will absolutely love it!
Until next time!
Read next: 200 Most Romantic True Love Messages For Your Loved Ones