Self-reflection is a lifelong journey, and there is no right or wrong way to do it. The most important thing is to be open to learning and growing.
This article contains 100 self-reflection quotes from some of the most famous and influential people in history. These quotes can provide inspiration and guidance as you embark on your own journey of self-discovery.
So take some time to reflect on these quotes and let them sink in. What do they mean to you? How can you apply them to your own life?
Now let's get started!
20 Most Powerful Self-Reflection Quotes
1. "People who have had little self-reflection live life in a huge reality blind-spot." – Bryant McGill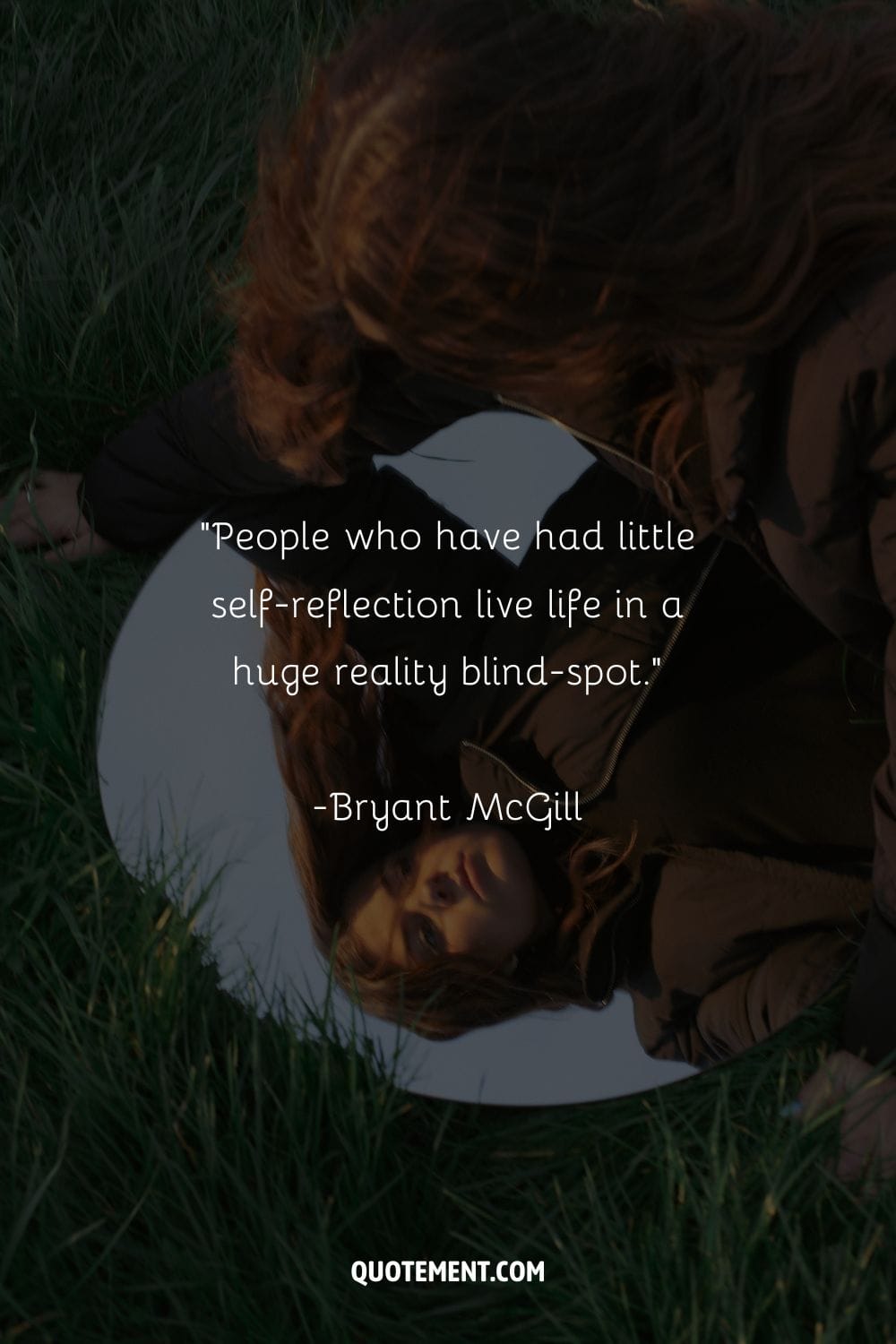 2. "Self-reflection is a humbling process. It's essential to find out why you think, say, and do certain things — then better yourself." – Sonya Teclai
3. "Self-reflection is a much kinder teacher than regret is. Prioritize yourself by making a habit of it." – Andrena Sawyer
4. "Your soul needs time for solitude and self-reflection. In order to love, lead, heal and create, you must nourish yourself first." – Linda Joy
5. "Who hasn't asked himself, am I a monster or is this what it means to be human?" – Clarice Lispector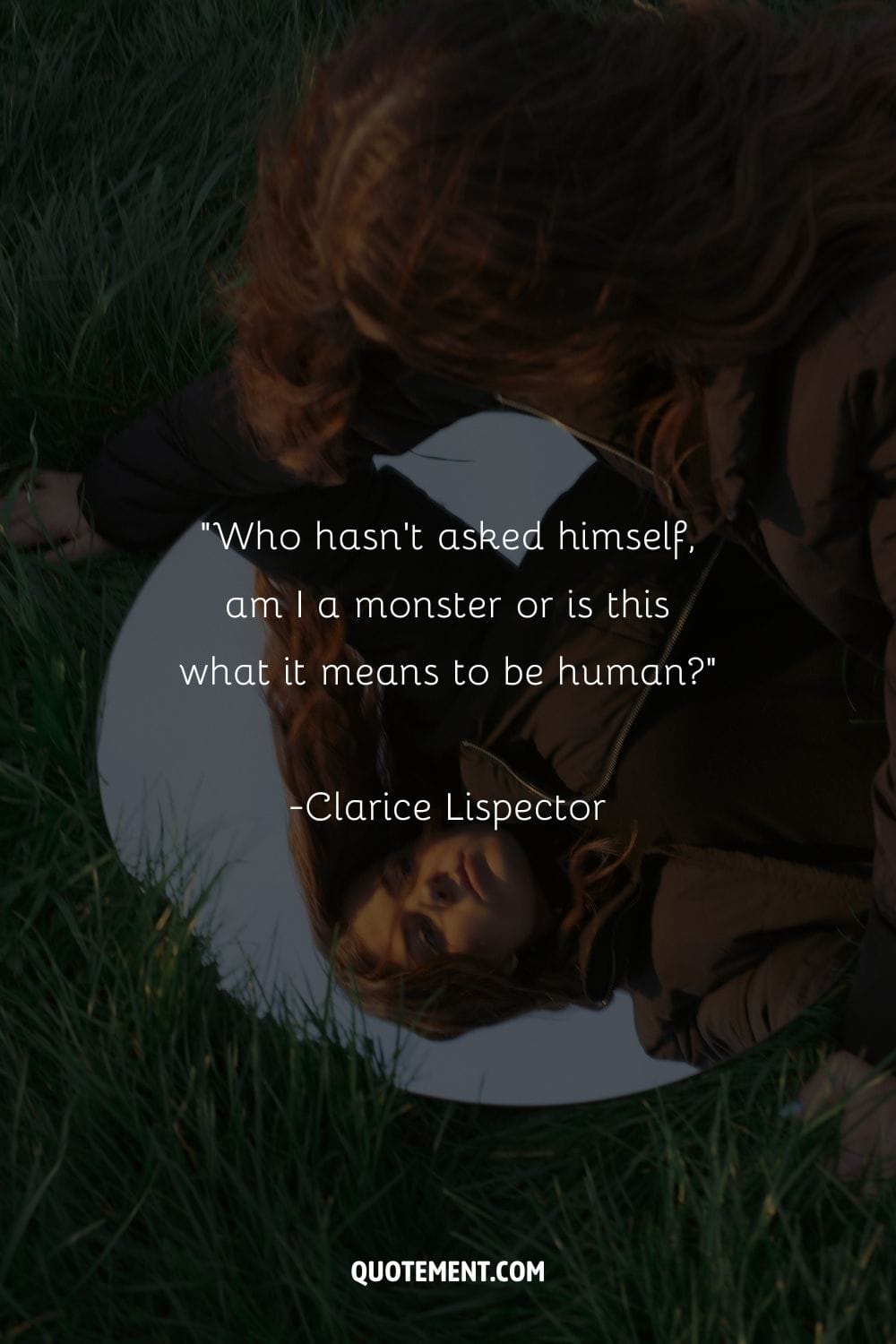 6. "Knowledge of the self is the mother of all knowledge. So it is incumbent on me to know myself, to know it completely." – Kahlil Gibran
7. "Self-reflection entails asking yourself questions about your values, assessing your strengths and failures, thinking about your perceptions and interactions with others, and imagining where you want to take your life in the future." – Robert L. Rosen
8. "Honest self-understanding liberates us from our stuck emotions." – C Terry Warner
9. "He that knows himself, knows others." – Charles Caleb Colton
10. "These years in silence and reflection made me stronger and reminded me that acceptance has to come from within and that this kind of truth gives me the power to conquer emotions I didn't even know existed." – Ricky Martin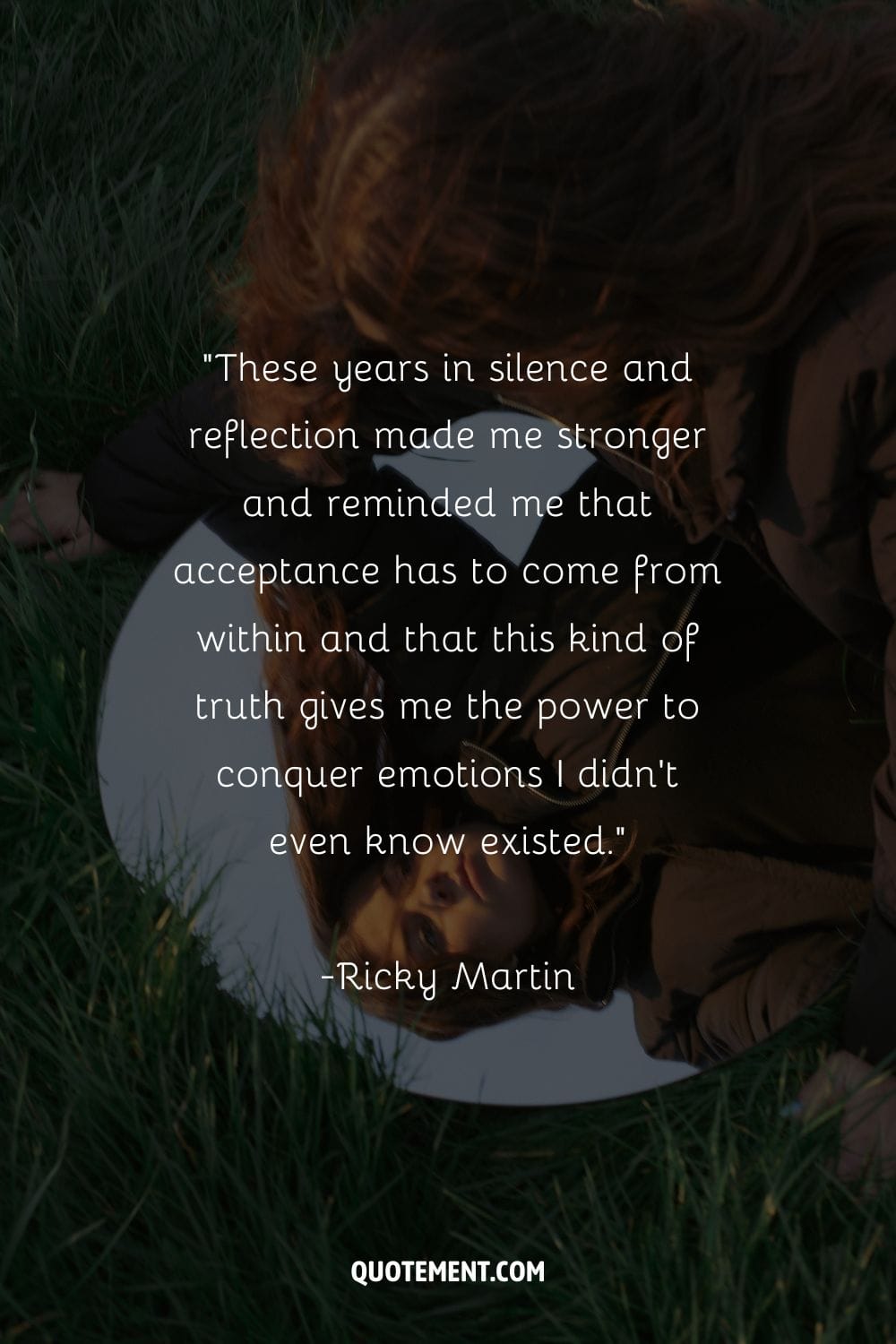 See also: 150 Silence Quotes When Silence Speaks Louder Than Words
11. "Self-awareness gives you the capacity to learn from your mistakes as well as your successes." – Lawrence Bossidy
12. "Self-reflection is a desire felt by the body, as well as the soul." – Susan Griffin
13. "Self-reflection is the school of wisdom." – Baltasar Gracian
14. "Let go of rejections and focus on self-reflection. For it is within that you will find the light you seek." – Amy Leigh Mercree
See also: Brilliant List Of 120 Light Quotes To Awaken Your Mind
15. "Self-reflection is an important stage to diagnose, develop and strengthen your creativity." – Pearl Zhu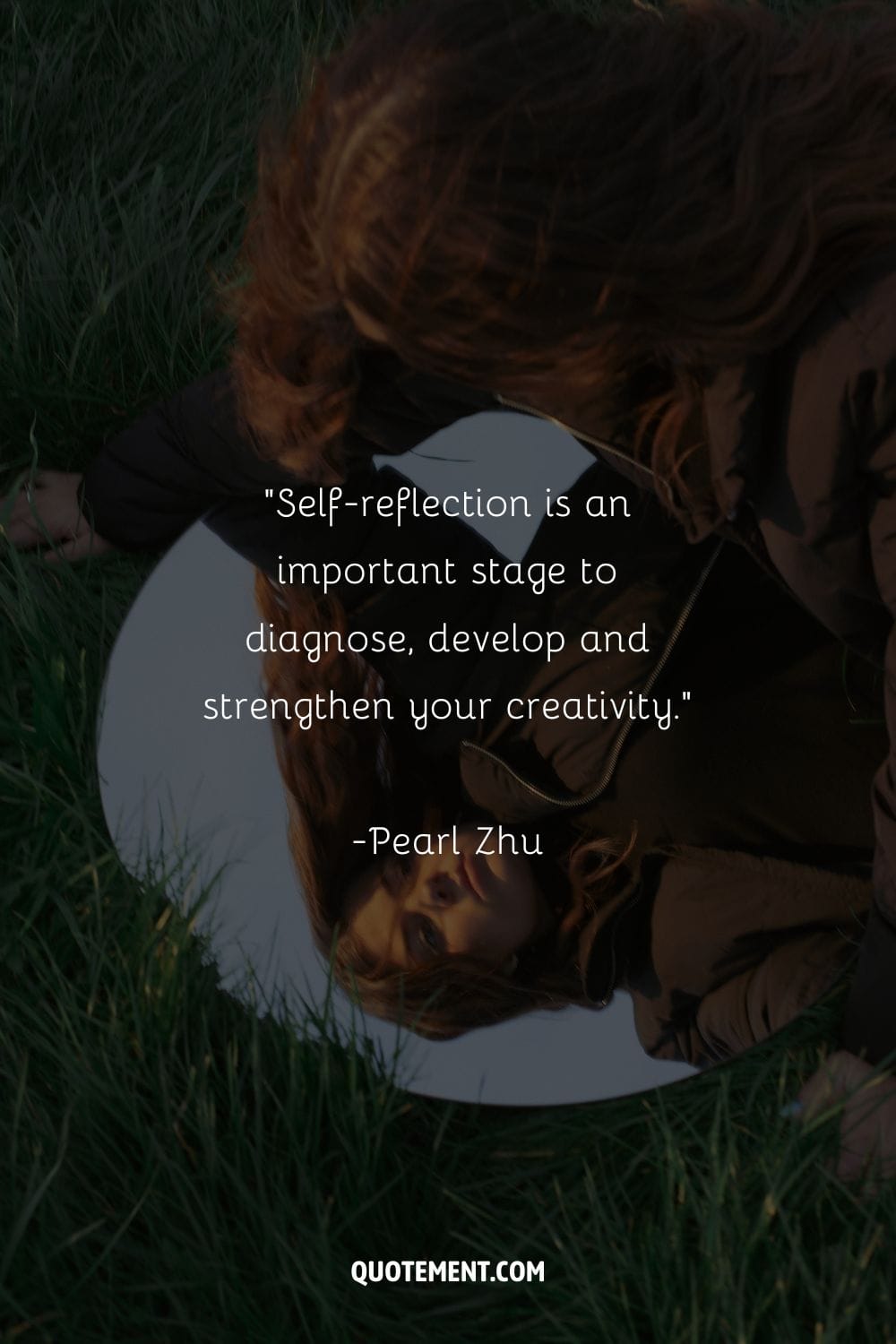 16. "To achieve happiness I advocate four major principles, the principles of love, wisdom, self-reflection, and progress." – Ryuho Okawa
17. "The feeling of being 'offended' is a warning indicator that is showing you where to look within yourself for unresolved issues." – Bryant McGill
18. "Difficulty creates the opportunity for self-reflection and compassion." – Suzan-Lori Parks
19. "Time spent in self-reflection is never wasted – it is an intimate date with yourself." – Paul TP Wong
20. "What we perceive about ourselves is greatly a reflection of how we will end up living our lives." – Stephen Richards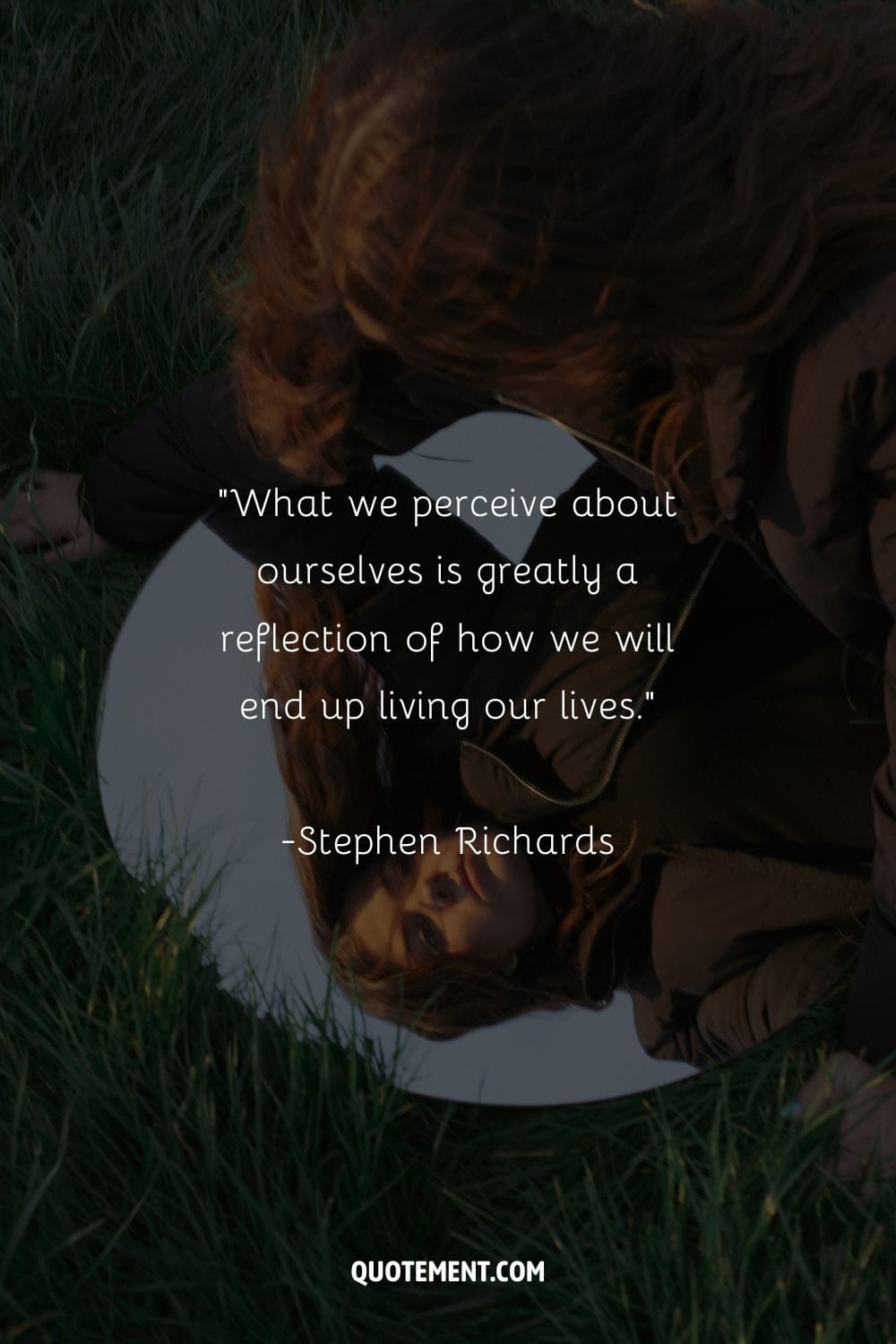 Insightful Quotes About Reflection
1. "The real man smiles in trouble, gathers strength from distress, and grows brave by reflection." – Thomas Paine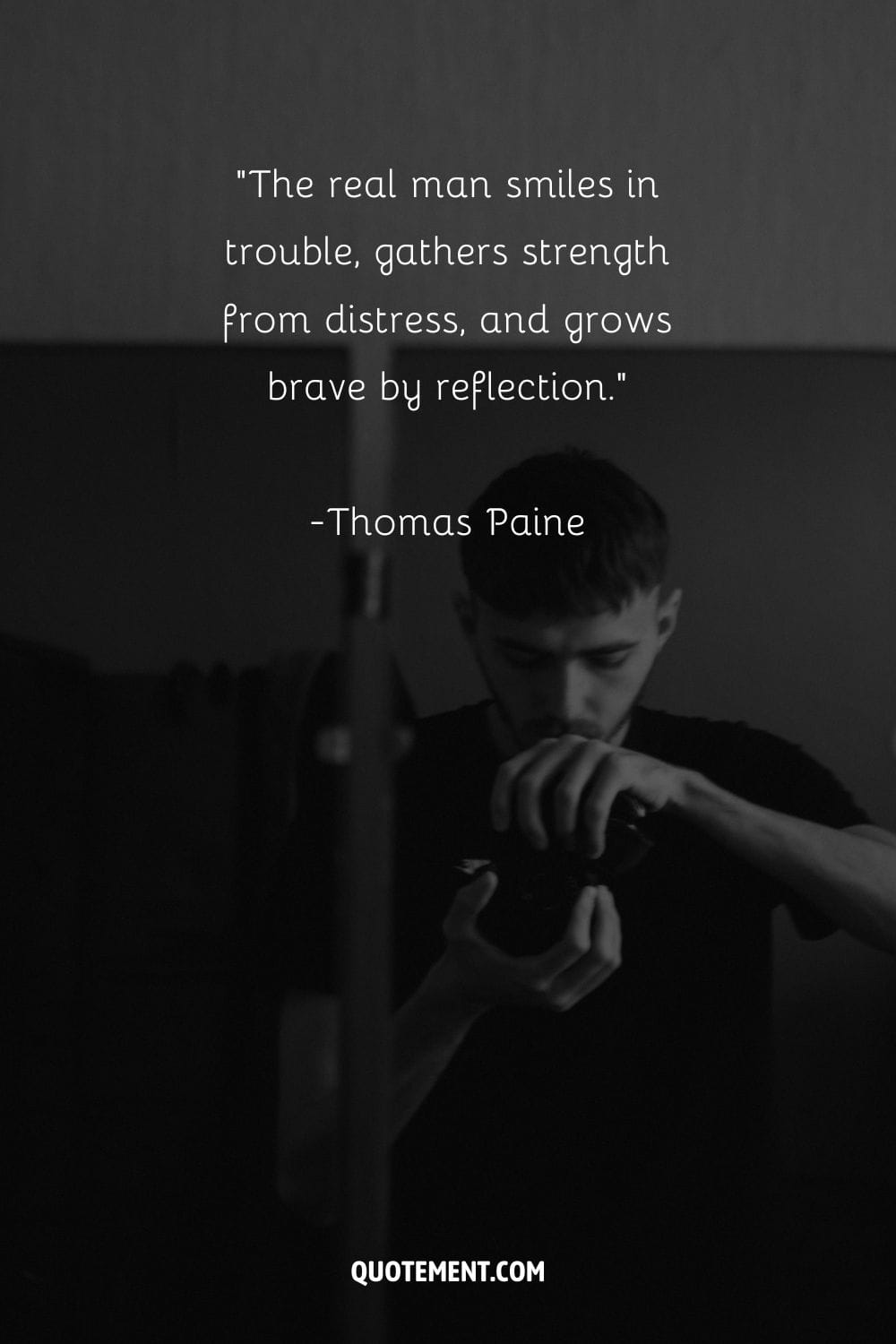 2. "Self-reflection is the gateway to freedom. It also brings greater appreciation and enjoyment. We begin to enjoy spending time with our own mind, and we enjoy reflecting on our experience of the teachings. Like the sun emerging from behind the clouds, the teachings of the dharma become clear." – Dzigar Kongtrul Rinpoche
3. "A man must find time for himself. Time is what we spend our lives with. If we are not careful we find others spending it for us. . . . It is necessary now and then for a man to go away by himself and experience loneliness; to sit on a rock in the forest and to ask of himself, 'Who am I, and where have I been, and where am I going?' . . . If one is not careful, one allows diversions to take up one's time — the stuff of life." – Carl Sandburg
4. "I really came into being the day I no longer cared about what the world thought of me, only on my thoughts for changing the world." – Suzy Kassem
5. "There is one art of which people should be masters — the art of reflection." – Samuel Taylor Coleridge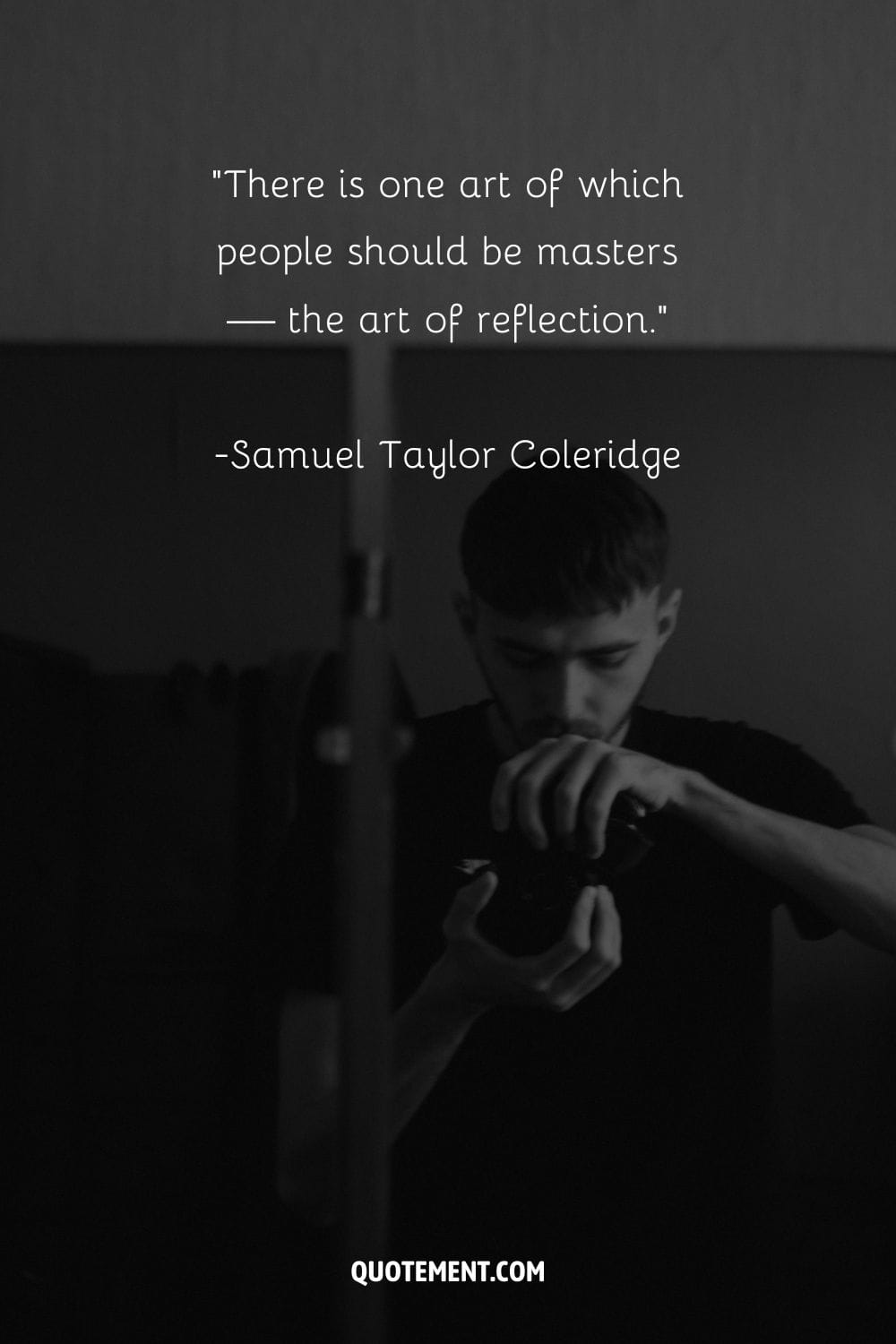 6. "The more reflective you are, the more effective you are." – Hall and Simeral
7. "Engaging in meditative self-reflection and gaining increased control of inner experiences provides a person with a sense of control over fear and trembling and the chaos of life." – Kilroy J. Oldster
8. "Study without reflection is a waste of time; reflection without study is dangerous." – Confucius
9. "People of the world don't look at themselves, and so they blame one another." – Rumi
10. "Honest self-reflection opens your mind to reprogramming, change, success, and freedom." – Vikas Runwal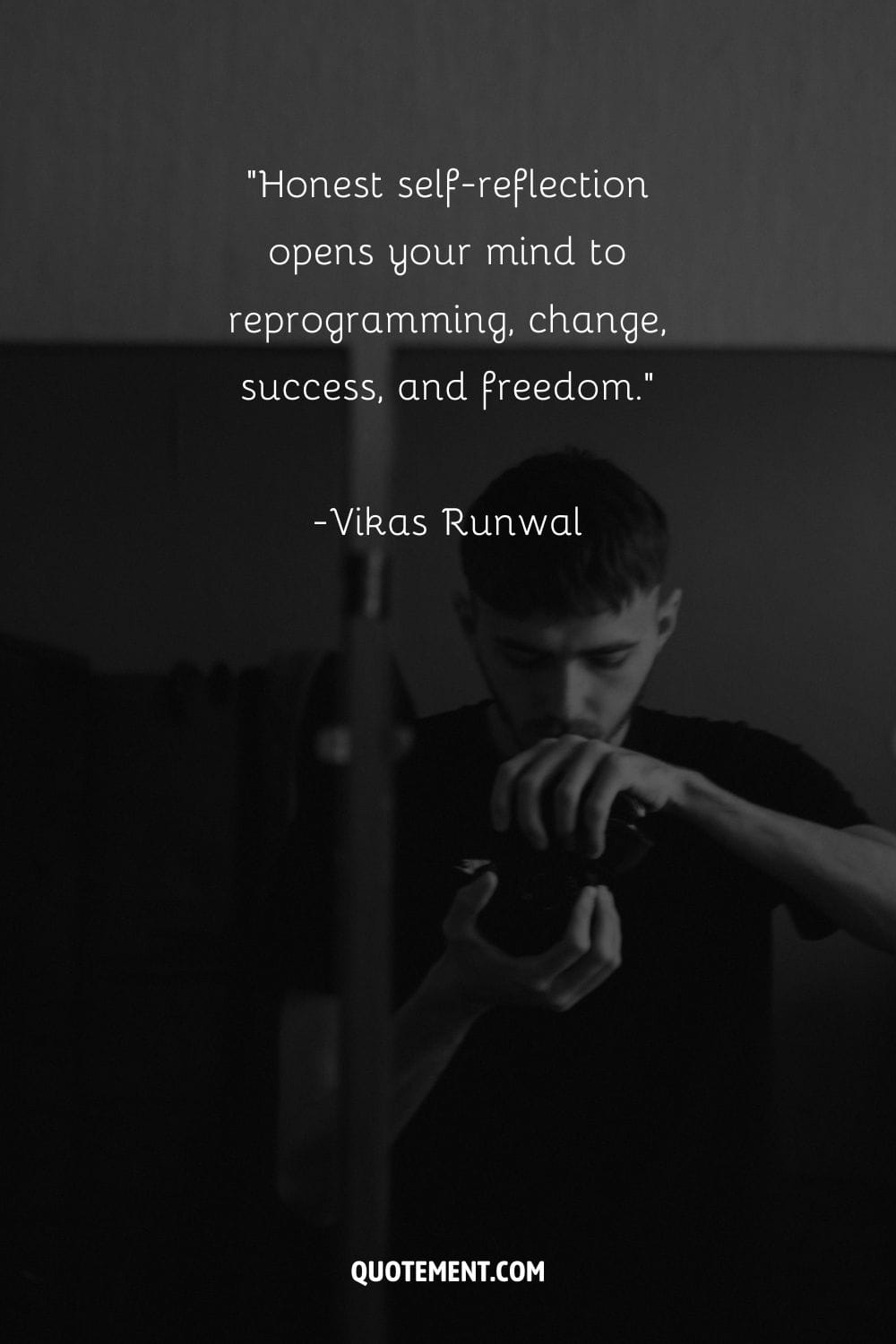 11. "When I am sharply judgmental of any other person, it's because I sense or see reflected in them some aspect of myself that I don't want to acknowledge." – Gabor Maté
12. "Failure is all a matter of perspective. Think of all the people you admire. I guarantee you they all failed at one time or another. The key is to recognize setbacks for what they really are – entry points for learning, not validation that you aren't good enough. After a disappointment, analyze your actions, get feedback from friends, and take inventory of what you could do better next time. This type of self-reflection and improvement will ultimately make success inevitable." – Jillian Michaels
13. "Self-reflection is so healthy. Journaling works for me – when I record the details of what I'm going through, whether it's a relationship issue or negative thoughts, I can look back and see how far I've come. It makes me proud to see my progress and how I got through a bad situation". – Kelly Rowland
14. "Self-reflection is necessary to dig beneath our own layers and visit the inner crevices of our heart and mind to develop an understanding of life." – Anonymous
15. "Women need real moments of solitude and self-reflection to balance out how much of ourselves we give away." – Barbara De Angelis
16. "My own brain is to me the most unaccountable of machinery – always buzzing, humming, soaring roaring diving, and then buried in mud. And why? What's this passion for?" – Virginia Woolf
17. "Knowing yourself is the beginning of all wisdom." – Aristotle
18. "Life has a tendency to provide a person with what they need in order to grow. Our beliefs, what we value in life, provide the roadmap for the type of life that we experience. A period of personal unhappiness reveals that our values are misplaced and we are on the wrong path. Unless a person changes their values and ideas, they will continue to experience discontentment." – Kilroy J. Oldster
19. "Follow effective action with quiet reflection. From the quiet reflection will come even more effective action." – Peter Drucker
20. "Quiet reflection is often the mother of deep understanding. Maintain that peaceful nursery, enabling stillness to speak." – Tom Althouse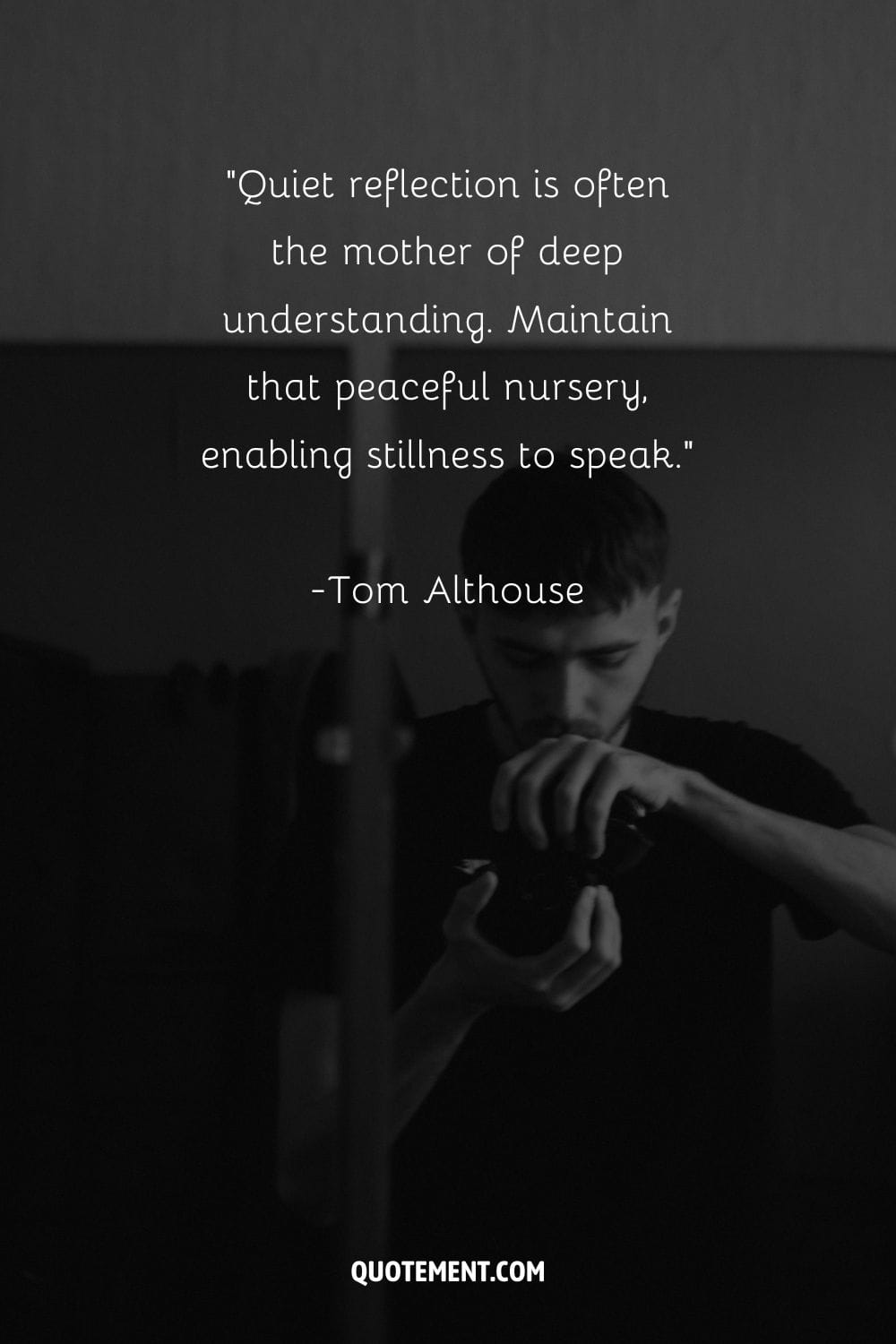 Inspirational Self-Development Quotes
1. "There is only one corner of the universe you can be certain of improving, and that's your own self." – Aldos Huxley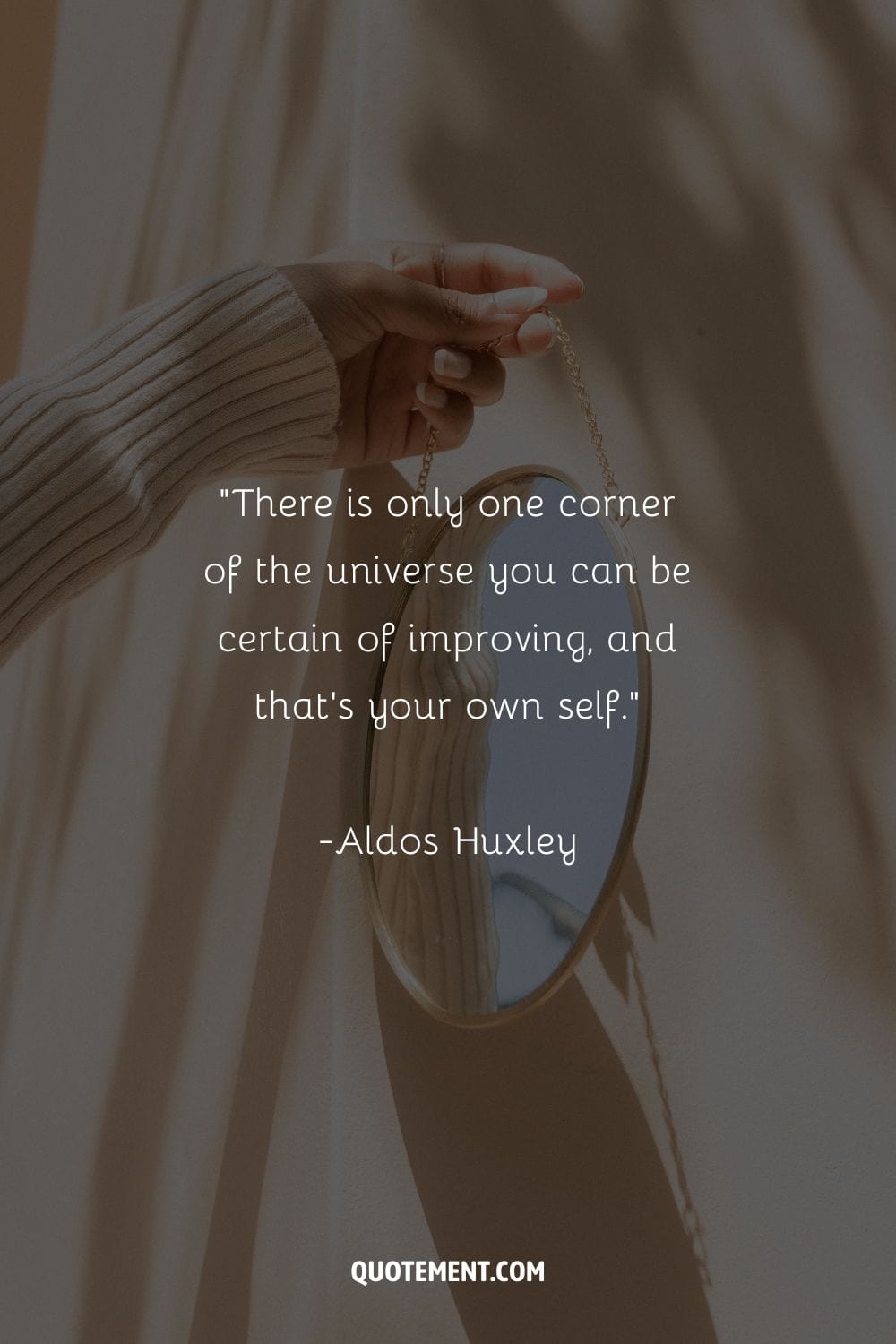 See also: 170 Self-Improvement Quotes To Make Your Life Better
2. "The deepest secret is that life is not a process of discovery, but a process of creation. You are not discovering yourself but creating yourself anew. Seek, therefore, not to find out who you are, seek to determine what you want to be." – Neal Donald Walsch
3. "You're always with yourself, so you might as well enjoy the company." – Diane von Furstenberg
4. The key to happiness is really progress and growth and constantly working on yourself and developing something." – Lewis Howes
See also: 120 Ultimate Best Quotes About Progress To Fuel Your Growth
5. "It is not by muscle, speed, or physical dexterity that great things are achieved, but by reflection, force of character, and judgment." – Marcus Tullius Cicero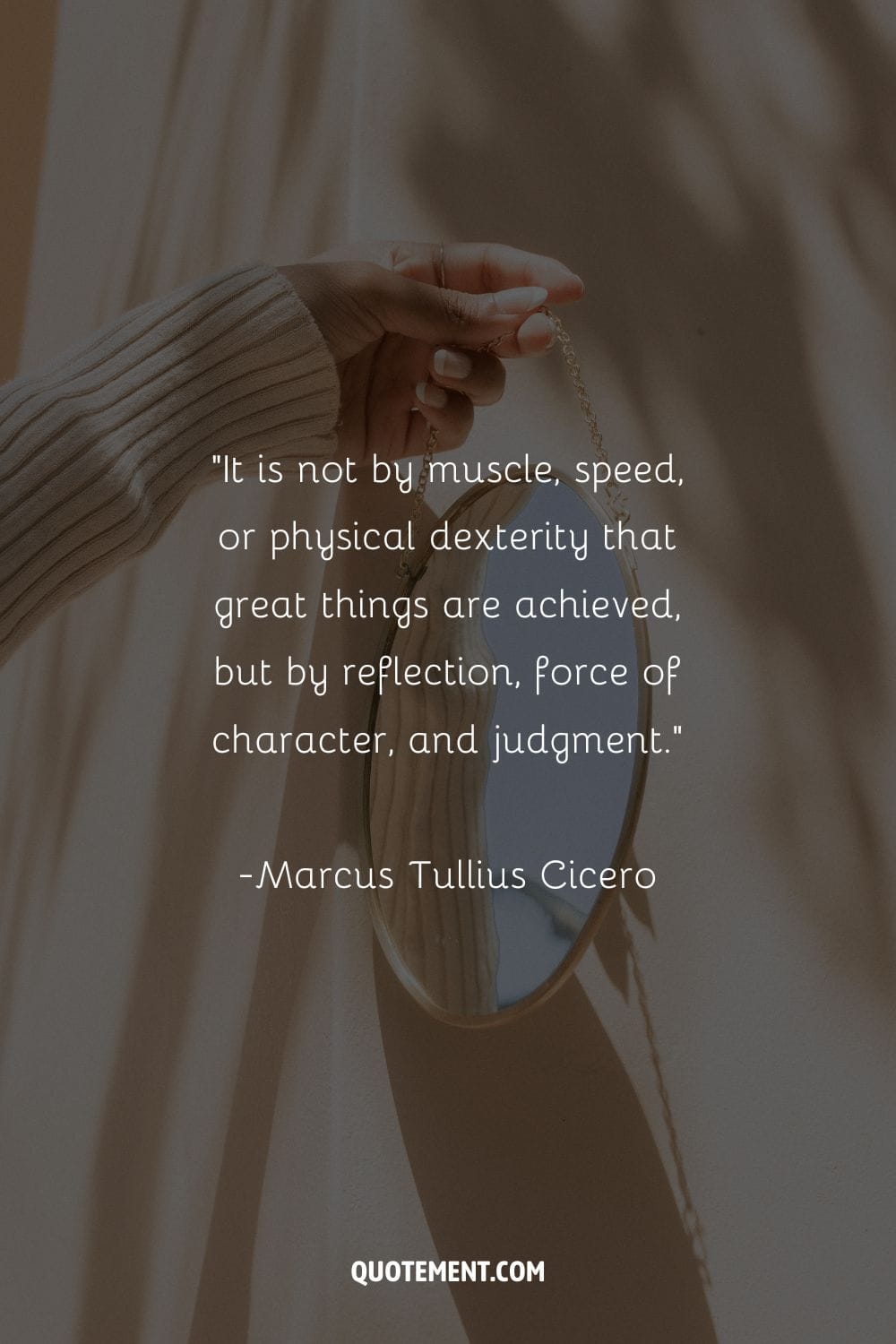 6. "Even if you think you're doing well and have it all figured out, there is a voice you will always inevitably hear at some point which nags at you and says "but wait…" Don't ever dismiss it, listen to what it has to say. Life will never be close enough to perfect, and listening to that voice means stepping outside of yourself and considering your own wrongdoings and flaws." – Ashly Lorenzana
7. "There is no greater journey than the one that you must take to discover all of the mysteries that lie within you." – Michelle Sandlin
8. "By three methods we may learn wisdom: first, by reflection, which is noblest; second, by imitation, which is easiest; and third by experience, which is the bitterest." – Confucious
9. "Reflection is the lamp of the heart. If it departs, the heart will have no light." – Abdullah ibn Alawi al-Haddad
10. "Great leaders develop through a never-ending process of self-study, self-reflection, education, training, and experience." – Tony Buon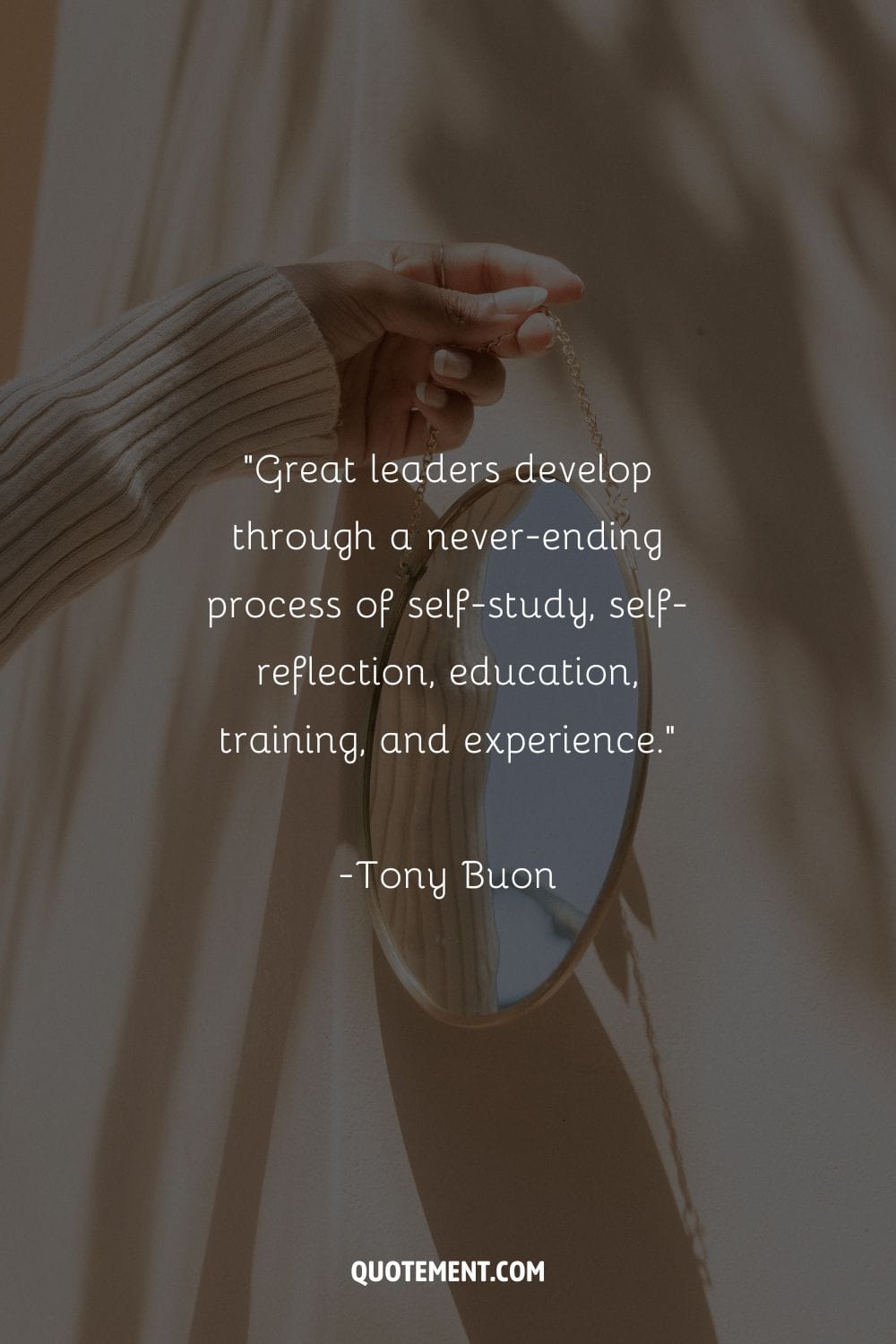 11. "Reflect upon your present blessings – of which every man has many – not on your past misfortunes, of which all men have some." – Charles Dickens
12. "It is when you lose sight of yourself, that you lose your way. To keep your truth in sight you must keep yourself in sight and the world to you should be a mirror to reflect to you your image; the world should be a mirror that you reflect upon." – C. JoyBell C.
13. "Self-reflection is a kind of self-judgment. The difference is just this – the former is positive and the latter is negative." – Balroop Singh
14. "I look out into the water and up deep into the stars. I beg the sparkling lanterns of light to cure me of myself — my past and the kaleidoscope of mistakes, failures and wrong turns that have stacked unbearable regret upon my shoulders." – Jennifer Elisabeth
15. "Take this moment to pause, and observe what your thoughts do. Take note of what sensations you feel before, during, and after you pause. In stillness, you'll discover the roots of your true nature. Come back to you today, dear one." – The Moon Tarot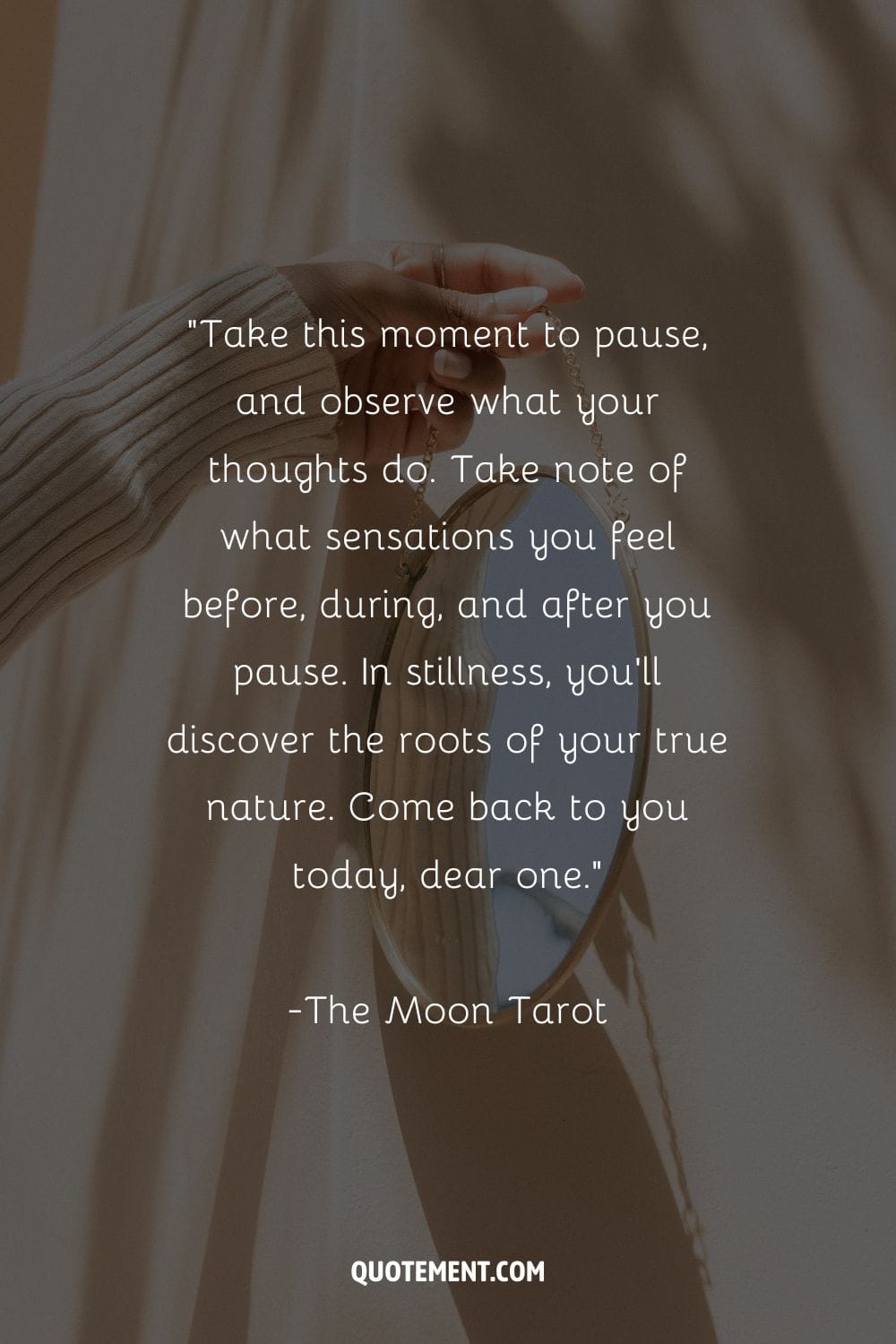 16. "It is great to be introspective; self-analysis can be useful, but only if it results in action." – Joe Sacco
17. "The cosmos is evolving toward greater self-reflection, allowing us to open the eye of Spirit and see our source." – Alex Grey
18. "Our self-image, strongly held, essentially determines what we become." – Maxwell Martz
19. "The world is your mirror and your mind is a magnet. What you perceive in this world is largely a reflection of your own attitudes and beliefs. Life will give you what you attract with your thoughts. Think, act and talk negatively and your world will be negative. Think and act and talk with enthusiasm and you will attract positive results." – Michael LeBoeuf
20. "Self-reflection is scary, but necessary for growth." – Unknown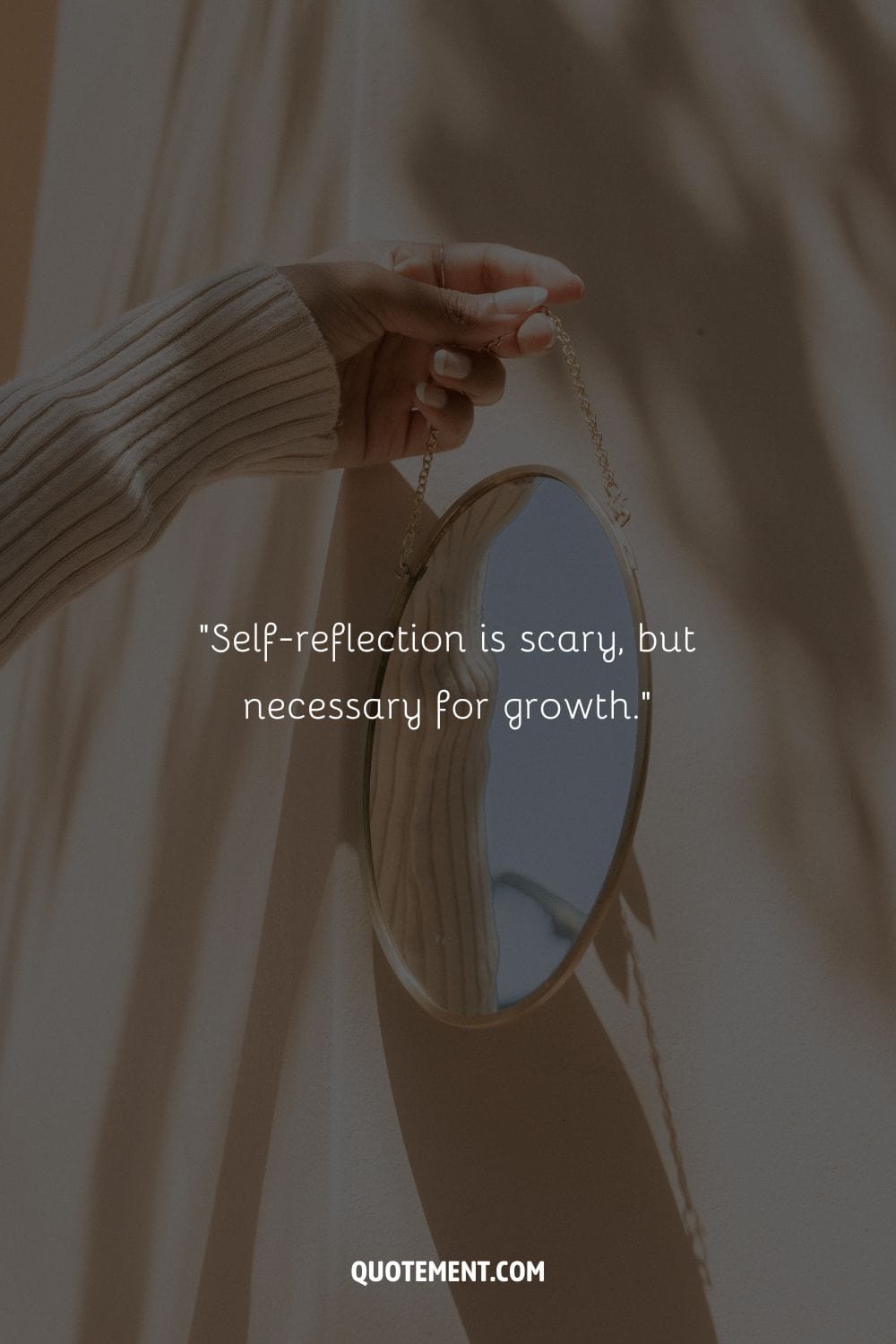 Eye-opening Reflection Quotes
1. "Without reflection, we go blindly on our way, creating more unintended consequences, and failing to achieve anything useful." – Margaret J. Wheatley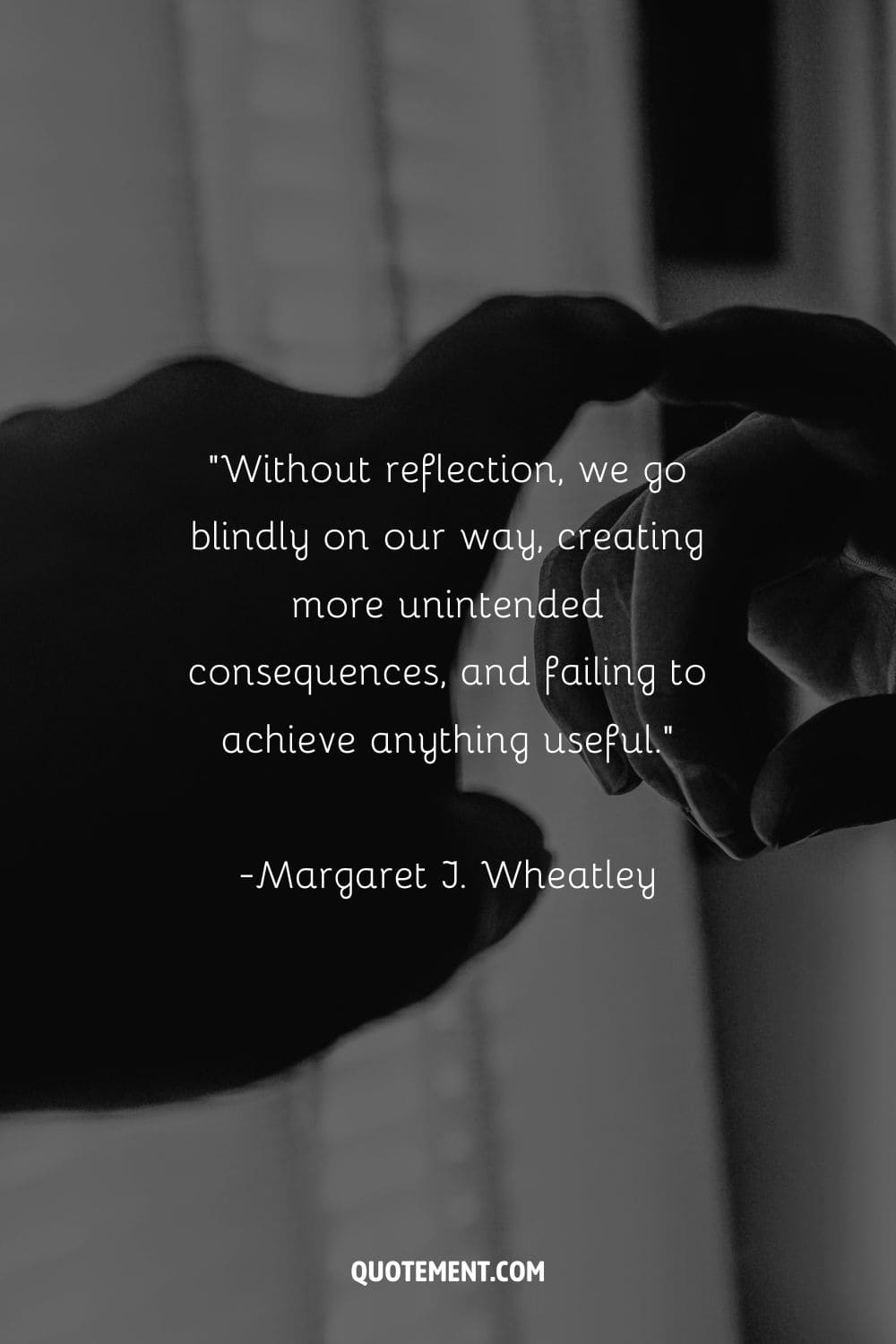 2. "One of the greatest tragedies in life is to lose your own sense of self and accept the version of you that is expected by everyone else." – K.L. Toth
3. "Self-transformation commences with a period of self-questioning. Questions lead to more questions, bewilderment leads to new discoveries, and growing personal awareness leads to transformation in how a person lives. Purposeful modification of the self only commences with revising our mind's internal functions. Revamped internal functions eventually alter how we view our external environment." – Kilroy J. Oldster
4. "Before you judge another, ask yourself if what you don't like in them is actually what you don't like in yourself." – Joe Vitale
5. "It is always our own self that we find at the end of the journey. The sooner we face that self, the better." – Ella Maillart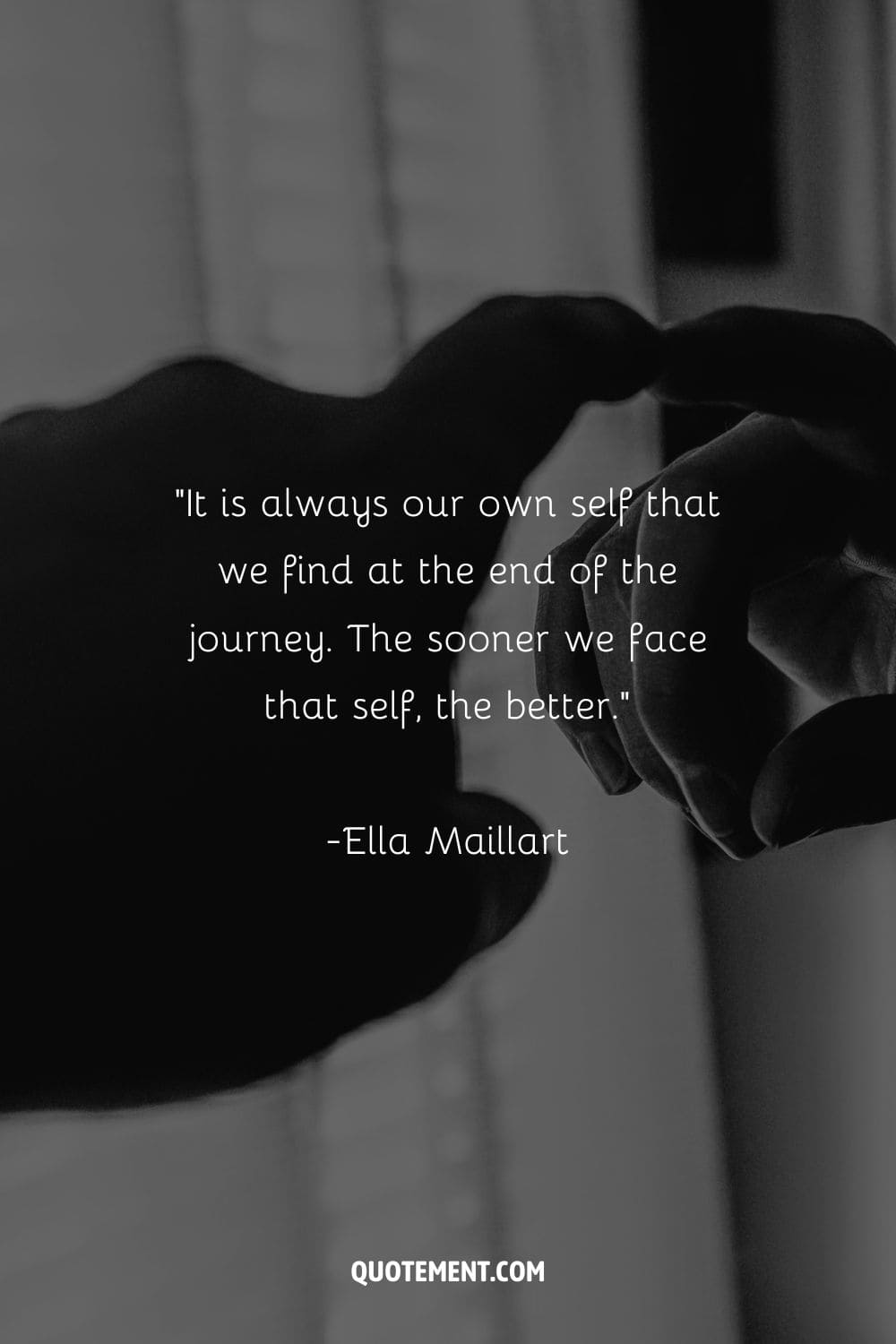 6. "It is when you lose sight of yourself, that you lose your way. To keep your truth in sight you must keep yourself in sight and the world to you should be a mirror to reflect to you your image; the world should be a mirror that you reflect upon." – C. JoyBell C.
7. "Like water which can clearly mirror the sky and the trees only so long as its surface is undisturbed, the mind can only reflect the true image of the Self when it is tranquil and wholly relaxed." – Indra Devi
8. "Without deep reflection one knows from daily life that one exists for other people." – Albert Einstein
9. "In moments of quiet reflection, our minds embrace the sea that we have crossed." – Holmes
10. "Knowing your own darkness is the best method for dealing with the darkness of other people." – Carl Jung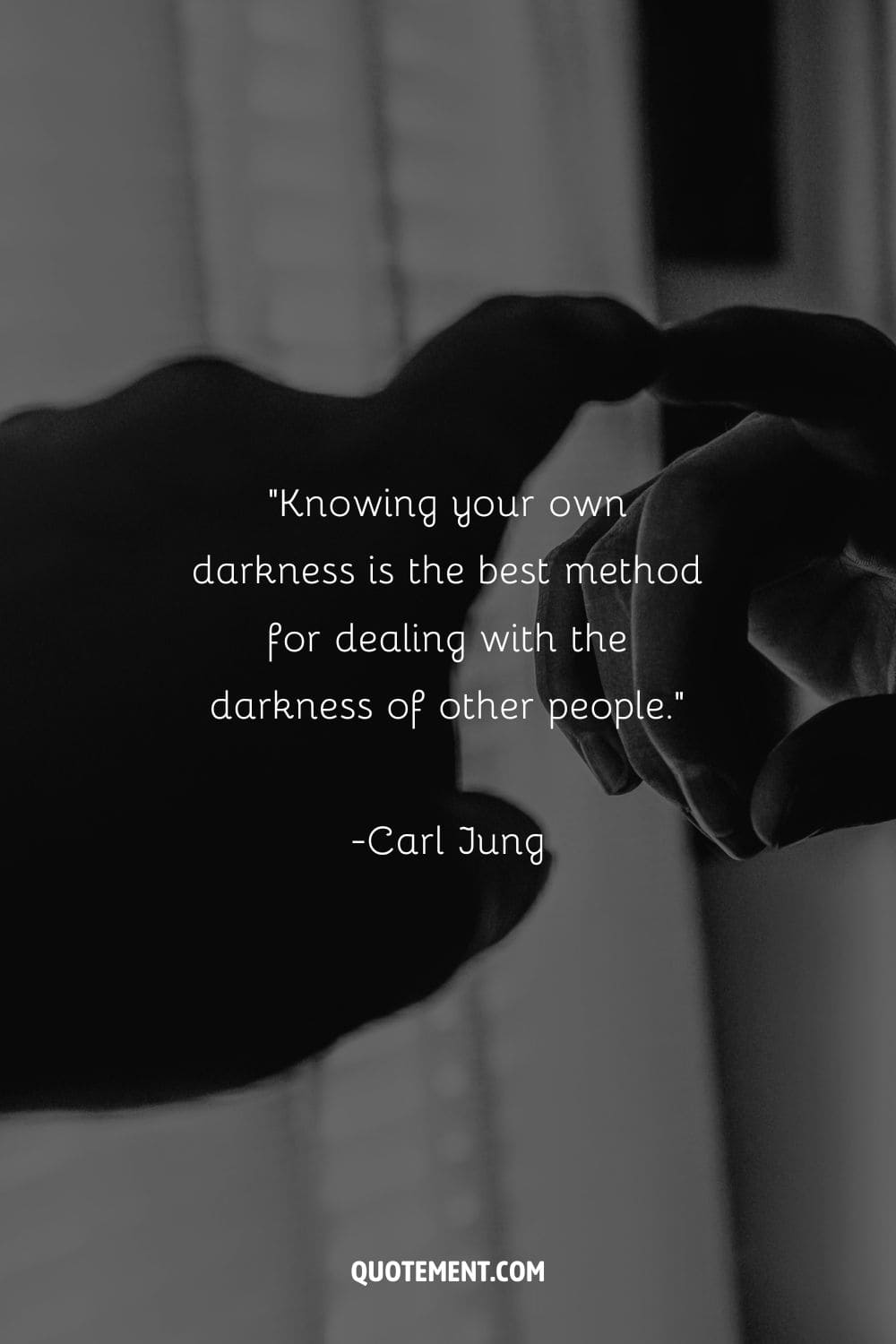 11. "Reflective thinking turns experience into insight." – John C. Maxwell
12. "It's on the strength of observation and reflection that one finds a way. So we must dig and delve unceasingly." – Claude Monet
13. "Time and reflection change the sight little by little 'till we come to understand." – Paul Cezanne
14. "Lessons are learned by acknowledging the grossest and cruelest parts of ourselves." – Anne T. Donahue
15. "Look outside and you will see yourself. Look inside and you will find yourself." – Drew Gerald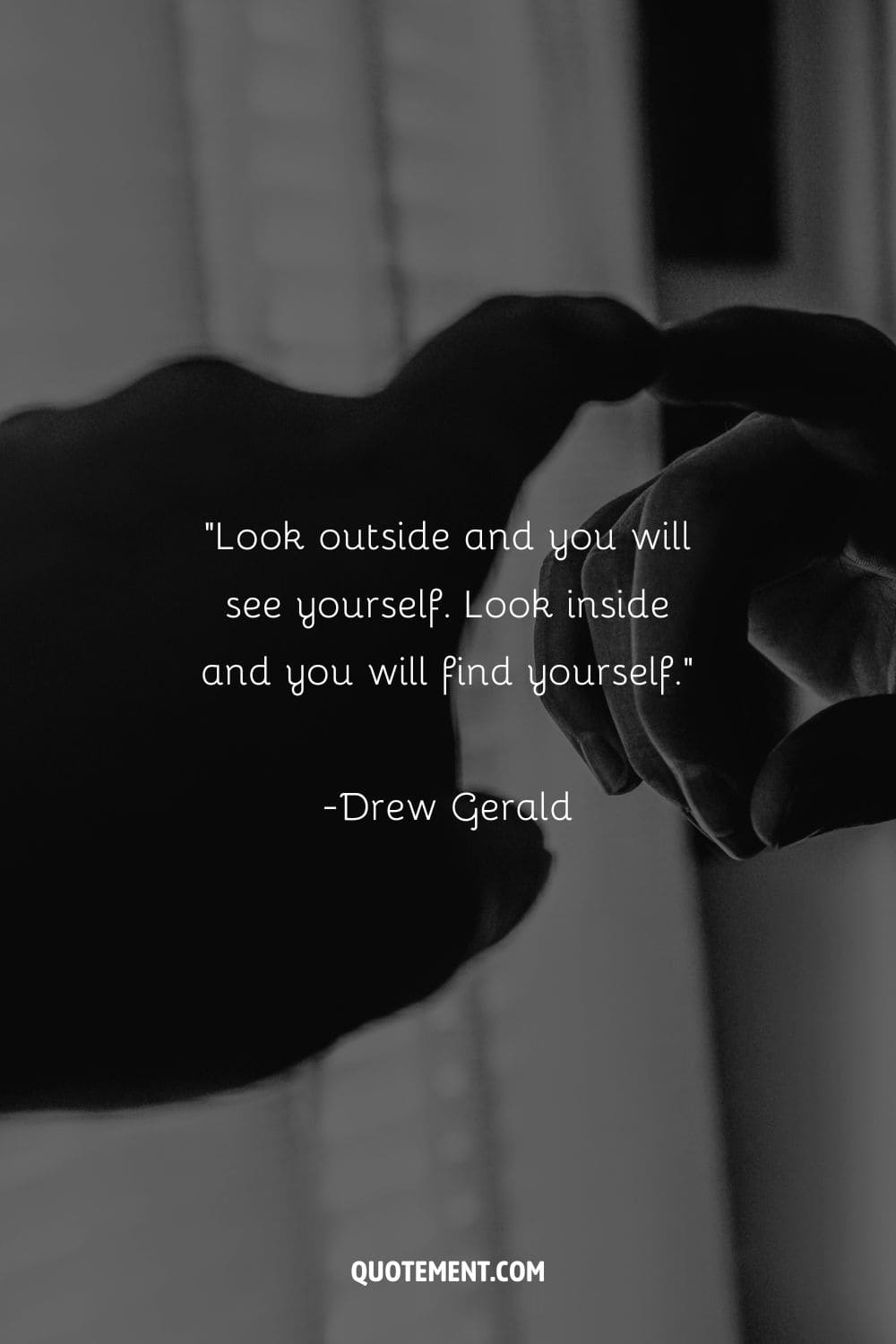 16. "Self-reflection becomes self-torment when learning doesn't occur." – Jeffrey G. Duarte
17. "Unless you learn to face your own shadows, you will continue to see them in others, because the world outside you is only a reflection of the world inside you." – Unknown
18. "Before I ask you to sit with me, I must be able to sit with myself. Before I ask you to accept my pain, I have to accept the pain myself. Before I ask you to love me, I have to be madly in love with myself." – C. Thoth
19. "Doubt, not self-reflection, comes from a destructive energy, and when it rears its head, I talk to it like a lunatic." – Gwyneth Paltrow
20. "We have so committed ourselves in different ways that we have hardly any time for self-reflection, to observe, to study." – Jiddu Krishnamurti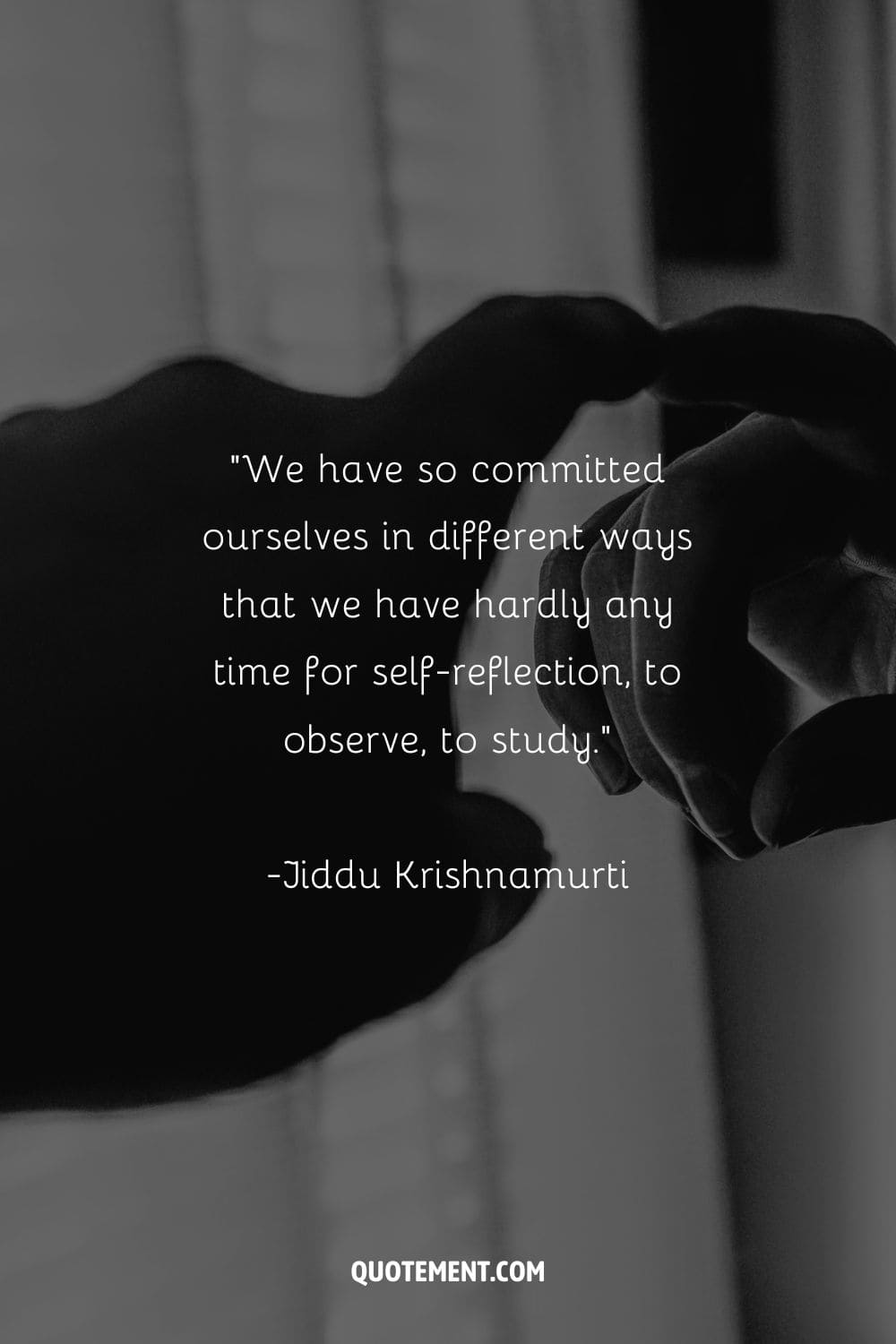 Motivational Quotes On Reflection And Growth
1. "Look well into thyself; there is a source of strength which will always spring up if thou wilt always look." – Marcus Aurelius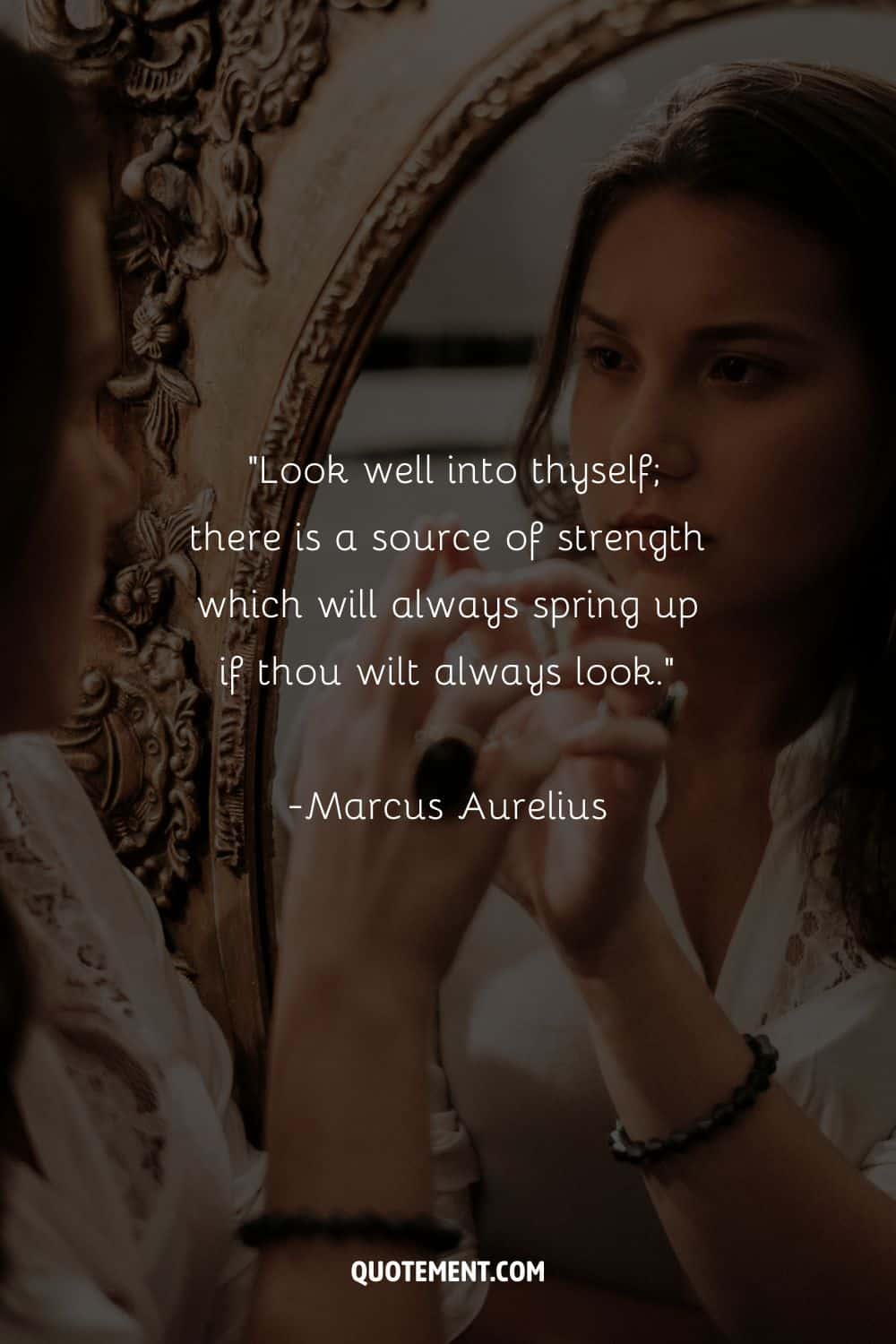 2. "The unexamined life is not worth living." – Socrates
3. "The journey into self-love and self-acceptance must begin with self-examination… until you take the journey of self-reflection, it is almost impossible to grow or learn in life." – Iyanla Vanzant
4. "We do not learn from experience. We learn from reflecting on experience." – John Dewey
5. "Don't become too preoccupied with what is happening around you. Pay more attention to what is going on within you." – Mary-Frances Winters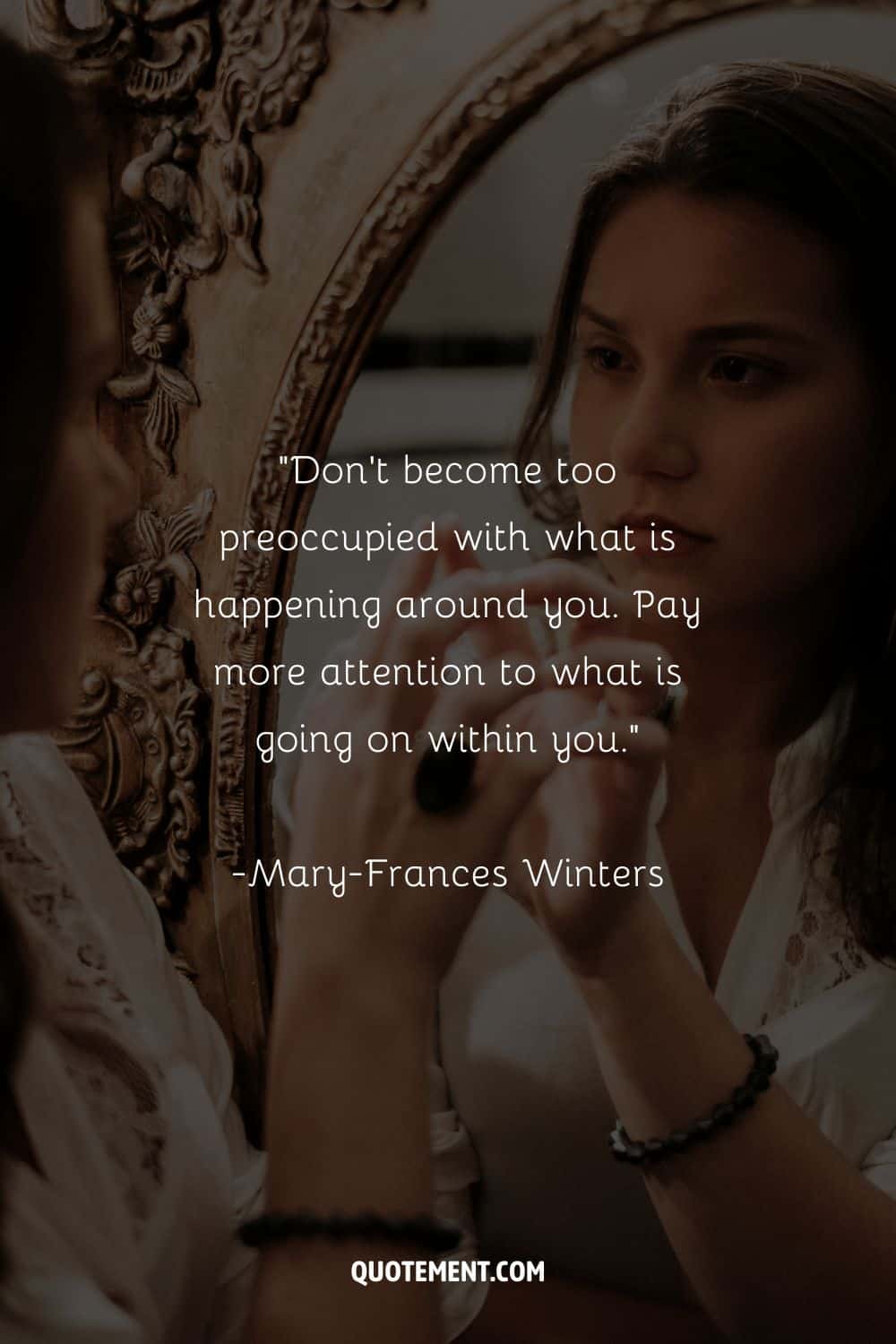 6. "Reflection is one of the most underused yet powerful tools for success." – Richard Carlson
7. "Growth is actually contagious, so if you want to reach your goals, you've got to get around people who are going in the same direction you want to be going, and you will catch the success." – Dr. Henry Cloud
See also: 100 Growth Mindset Quotes For Those Who Want To Succeed
8. "Reflection… Looking back so the view looking forward is clearer." – Unknown
9. "Whenever you find yourself on the side of the majority, it's time to pause and reflect." – Mark Twain
10. "You cannot have a meaningful life without having self-reflection." – Oprah Winfrey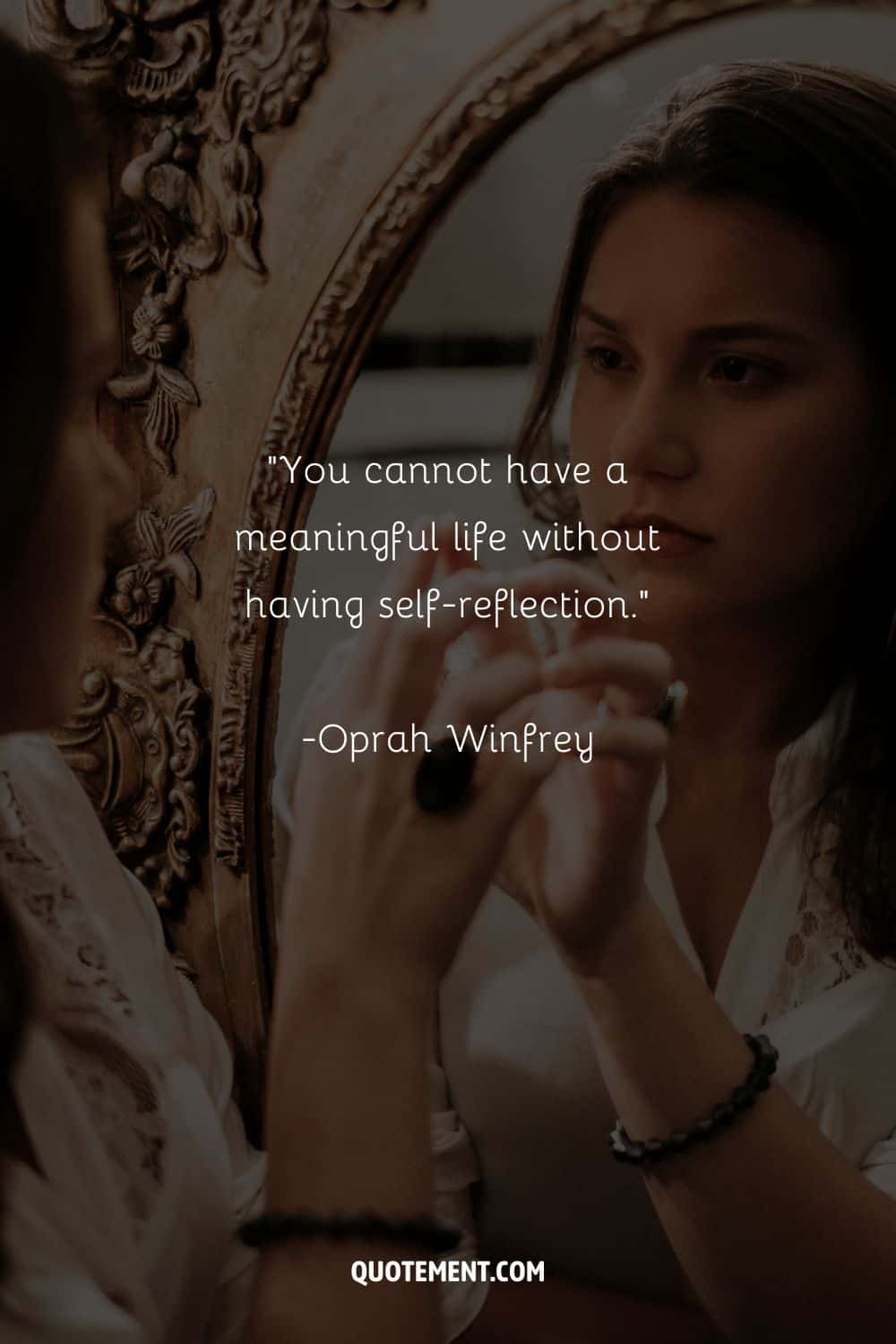 11. "There is one art of which people should be masters – the art of reflection." – Baltasar Gracian
12. "Don't worry if people think you're crazy. You are crazy. You have that kind of intoxicating insanity that lets other people dream outside of the lines and become who they're destined to be." – Jennifer Elisabeth
13. "Everyone and everything that shows up in our life is a reflection of something that is happening inside of us." – Alan Cohen
14. "Spiritual growth requires the development of inner knowing and inner authority. It requires the heart, not the intellect." – Gary Zukav
15. "Dwell not on the faults and shortcomings of others; instead, seek clarity about your own." – Buddha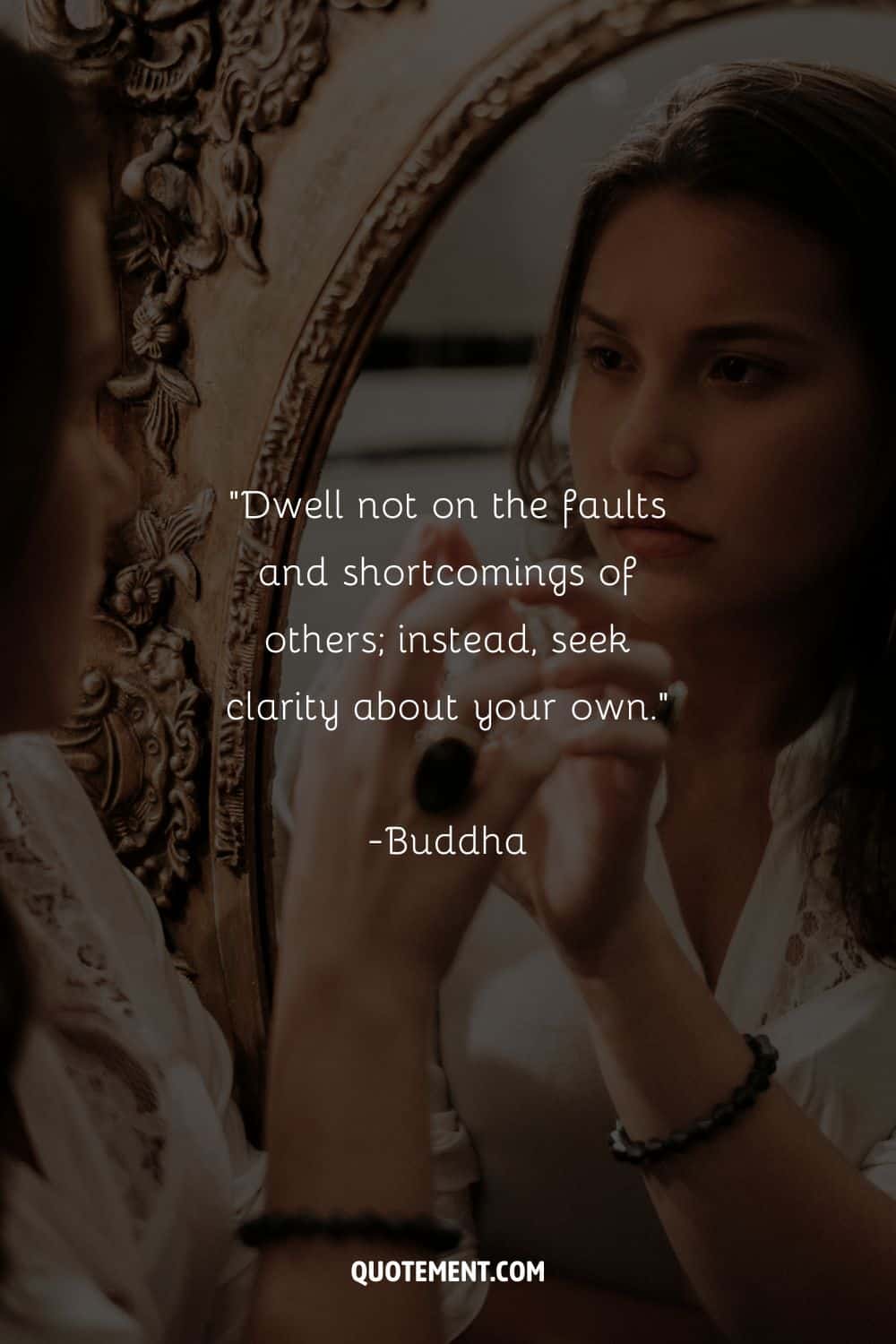 16. "The only journey is the journey within." – Rainer Maria Rilke
17. "Some nights are made for torture, or reflection, or the savoring of loneliness." – Poppy Z. Brite
18. "Sometimes, you have to look back in order to understand the things that lie ahead." – Yvonne Woon
19. "The goal of life is to make your heartbeat match the beat of the universe, to match your nature with Nature." – John Campbell
20. "Change your thoughts and you change your world." – Norman Vincent Peale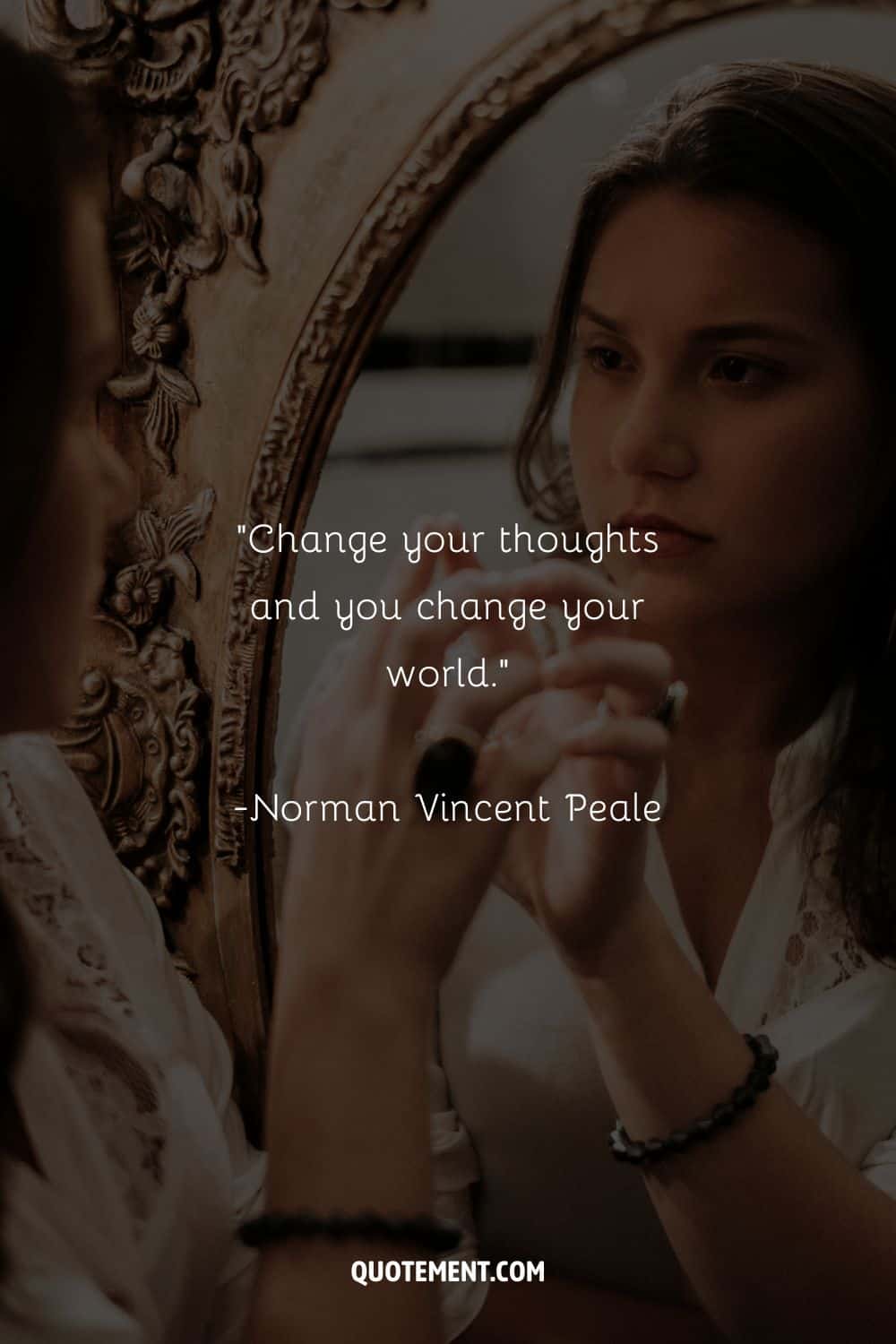 Final Thoughts
Self-reflection is a journey, not a destination. It is a process of continual learning and growth. I hope these quotes can provide inspiration and guidance along the way.
But, the most important thing is to be open to exploring your own thoughts, feelings, and experiences. The more you reflect, the more you will learn about yourself and the more you will grow.
Finally, thanks for stopping by! If you liked my collection of 100 self-reflection quotes, be sure to save it and share it.
See you next time!
Read next:
130 Best Finding Yourself Quotes To Give You A Mind Blow
130 Wise Acceptance Quotes To Help You Grow And Prosper
130 Know Your Worth Quotes To Remind You Of Your Greatness