I have also been in a situation where it is better to stay silent than to say a single word.
It's true that silence possesses tremendous power. Therefore, learning to stay silent, especially when having to deal with certain sorts of individuals and/or circumstances, it's more favorable than arguing or yelling.
With the actual and symbolic sound of silence all around us, it's crucial to take the time to appreciate silence for the purpose of revitalization, rather than chasing other forms of escapism.
Therefore, using that silence to appreciate your own essence and being is an important part of a day.
Enjoy the best silence quotes that I could find online, and I hope that you will find this niche sayings as interesting as I did!
Best Silence Quotes
1. "I decided it is better to scream. Silence is the real crime against humanity." ― Nadezhda Mandelstam, Hope Against Hope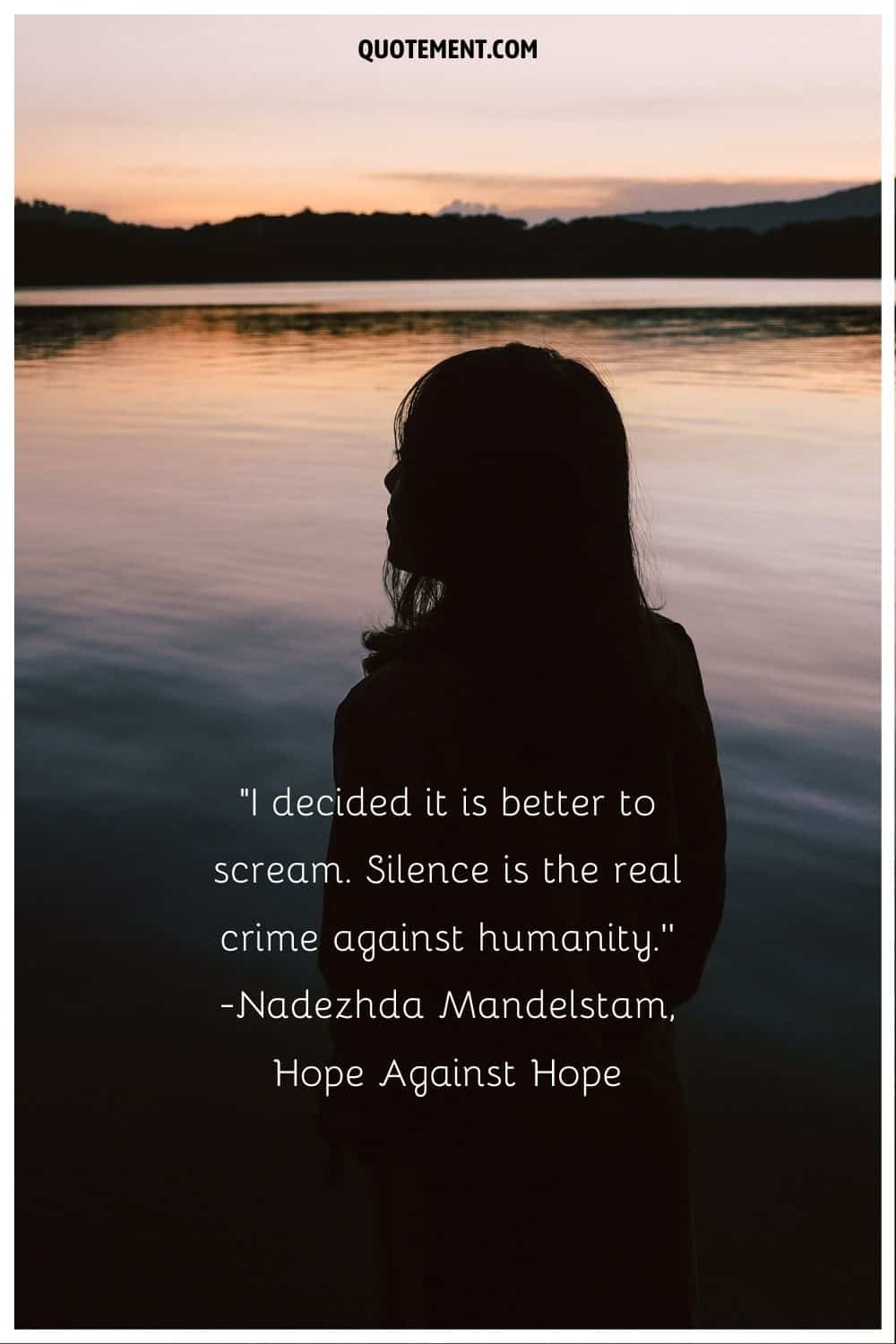 2. "Out beyond ideas of wrongdoing and rightdoing there is a field. I'll meet you there. When the soul lies down in that grass the world is too full to talk about." ― Rumi
3. "I don't want to be married just to be married. I can't think of anything lonelier than spending the rest of my life with someone I can't talk to, or worse, someone I can't be silent with." ― Mary Ann Shaffer, The Guernsey Literary and Potato Peel Pie Society
4."Blessed is the man who, having nothing to say, abstains from giving us wordy evidence of the fact." ― George Eliot, Impressions of Theophrastus Such
5. "Never miss a good chance to shut up." ― Will Rogers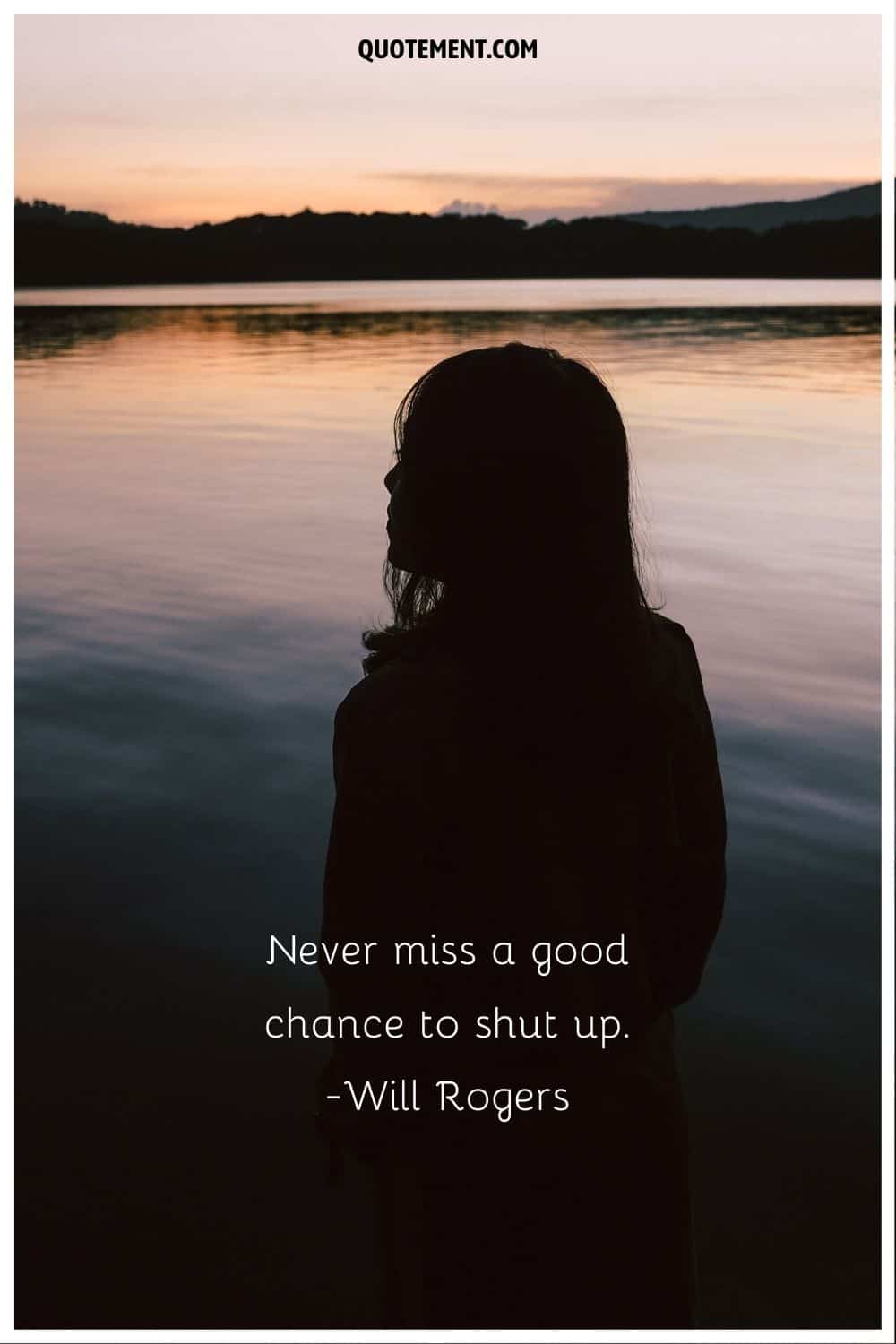 6. "God is silent. Now if only man would shut up." ― Woody Allen
7. "When truth is replaced by silence,the silence is a lie." ― Yevgeny Yevtushenko
8. "Does not everything depend on our interpretation of the silence around us?"― Lawrence Durrell, Justine
9. "Silence is a source of Great Strength." ― Lao Tzu
10. "Silence is so freaking loud" ― Sarah Dessen, Just Listen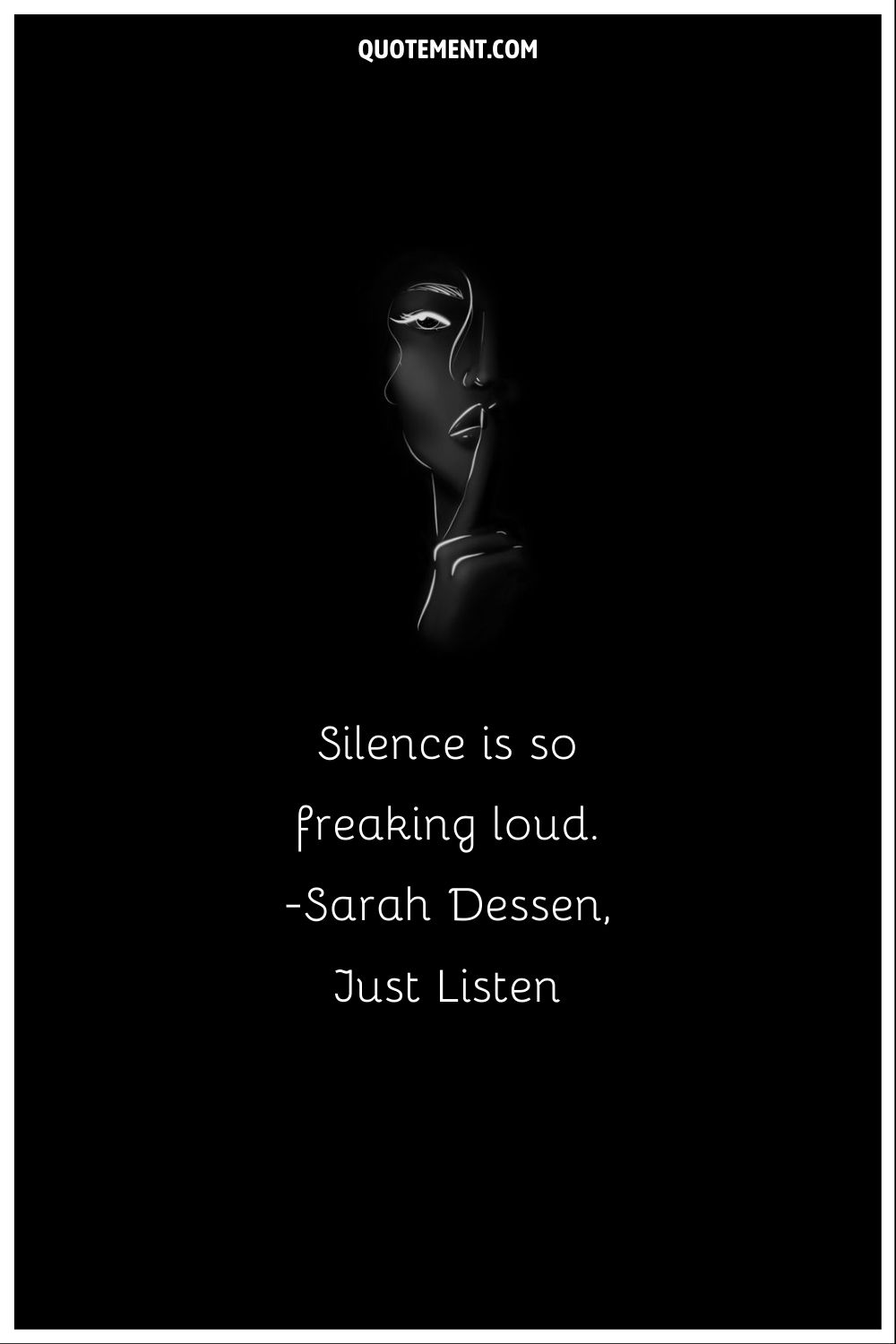 For The Times When It Is Better To Stay Silent
1. "I've begun to realize that you can listen to silence and learn from it. It has a quality and a dimension all its own." ― Chaim Potok, The Chosen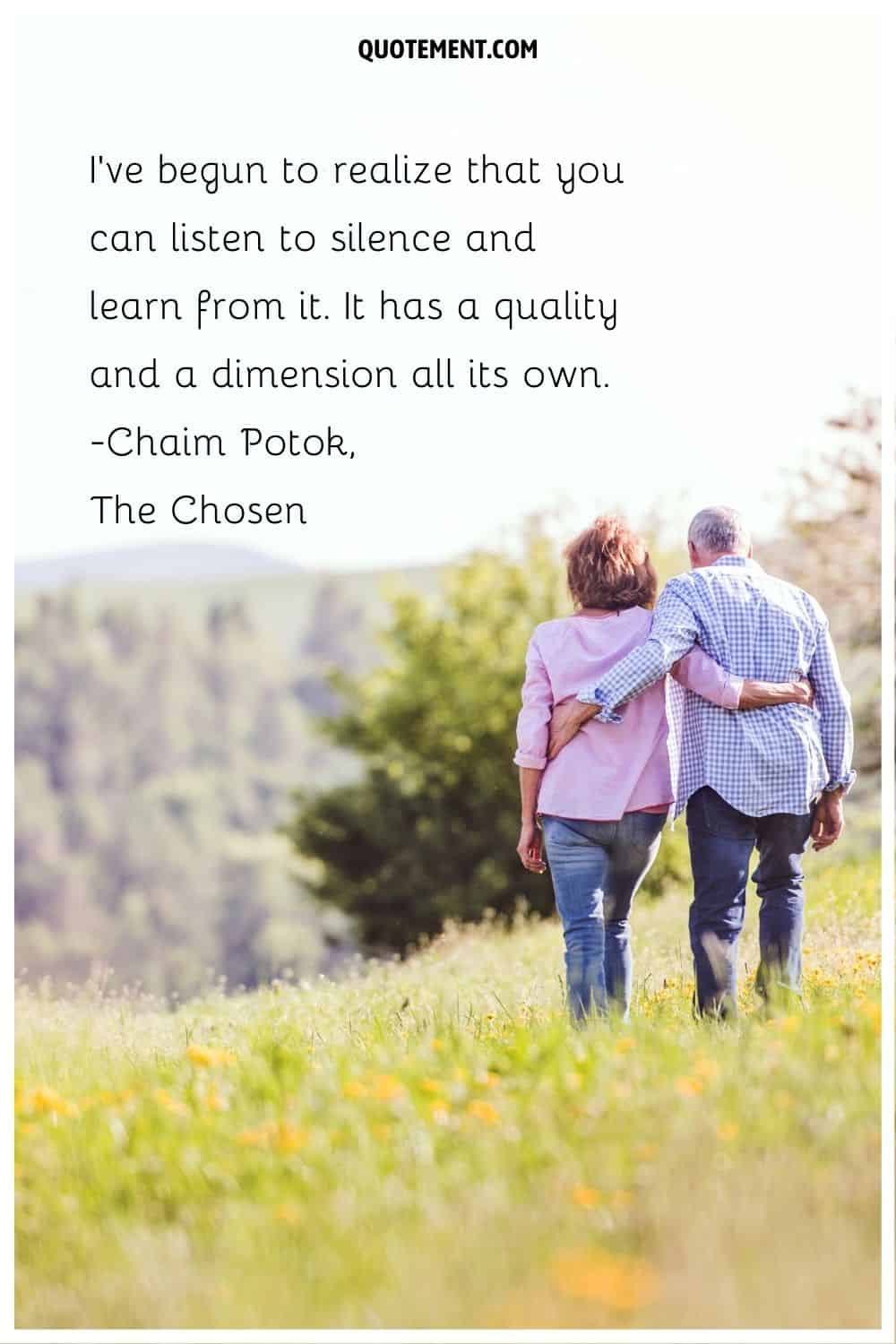 2. "We sit silently and watch the world around us. This has taken a lifetime to learn. It seems only the old are able to sit next to one another and not say anything and still feel content. The young, brash and impatient, must always break the silence. It is a waste, for silence is pure. Silence is holy. It draws people together because only those who are comfortable with each other can sit without speaking. This is the great paradox." ― Nicholas Sparks, The Notebook
3. "How much better is silence; the coffee cup, the table. How much better to sit by myself like the solitary sea-bird that opens its wings on the stake. Let me sit here for ever with bare things, this coffee cup, this knife, this fork, things in themselves, myself being myself." ― Virginia Woolf, The Waves
4. "God is whispering in your heart, in the whole existence, just tune your ears." ― Amit Ray, Meditation: Insights and Inspirations
5. "If there were a little more silence, if we all kept quiet…maybe we could understand something." ― Federico Fellini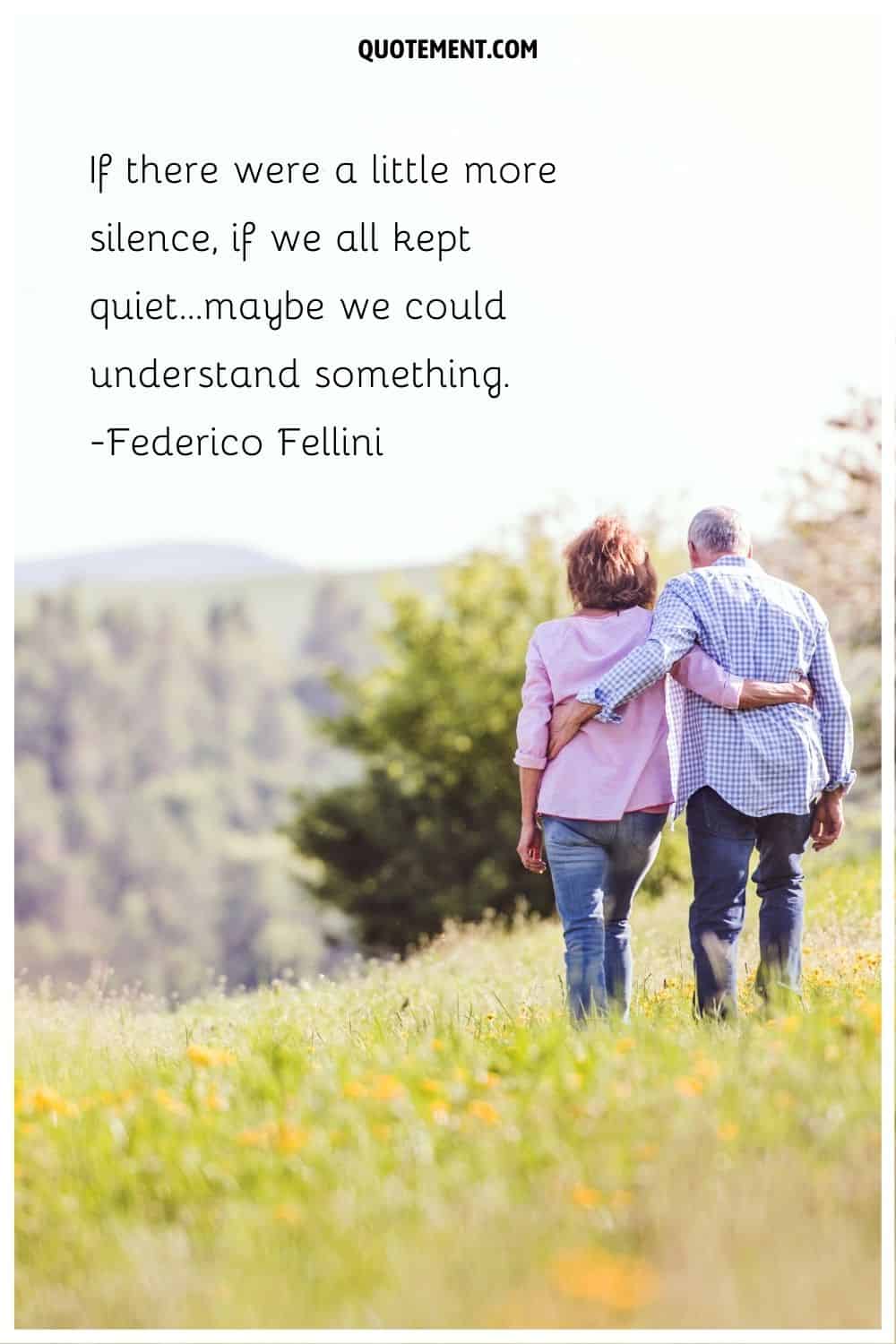 6. "We switch to another language– not our invented language or the language we've learned from our lives. As we walk further up the mountain, we speak the language of silence. This language gives us time to think and move. We can be here and elsewhere at the same time." ― David Levithan, Boy Meets Boy
7. "A nervous silence loosens tongues" ― Jacqueline Carey, Kushiel's Chosen
8. "At times, silence can be a welcoming and hospitable partner when we can let loose, and the flow of time is sending a comforting wave of sound vibrations gently opening the skyline. " ― Erik Pevernagie
9. "The closer you are to the truth, the more silent you become inside." ― Naval Ravikant
10. Silence is one of the great arts of conversation. – Marcus Tullius Cicero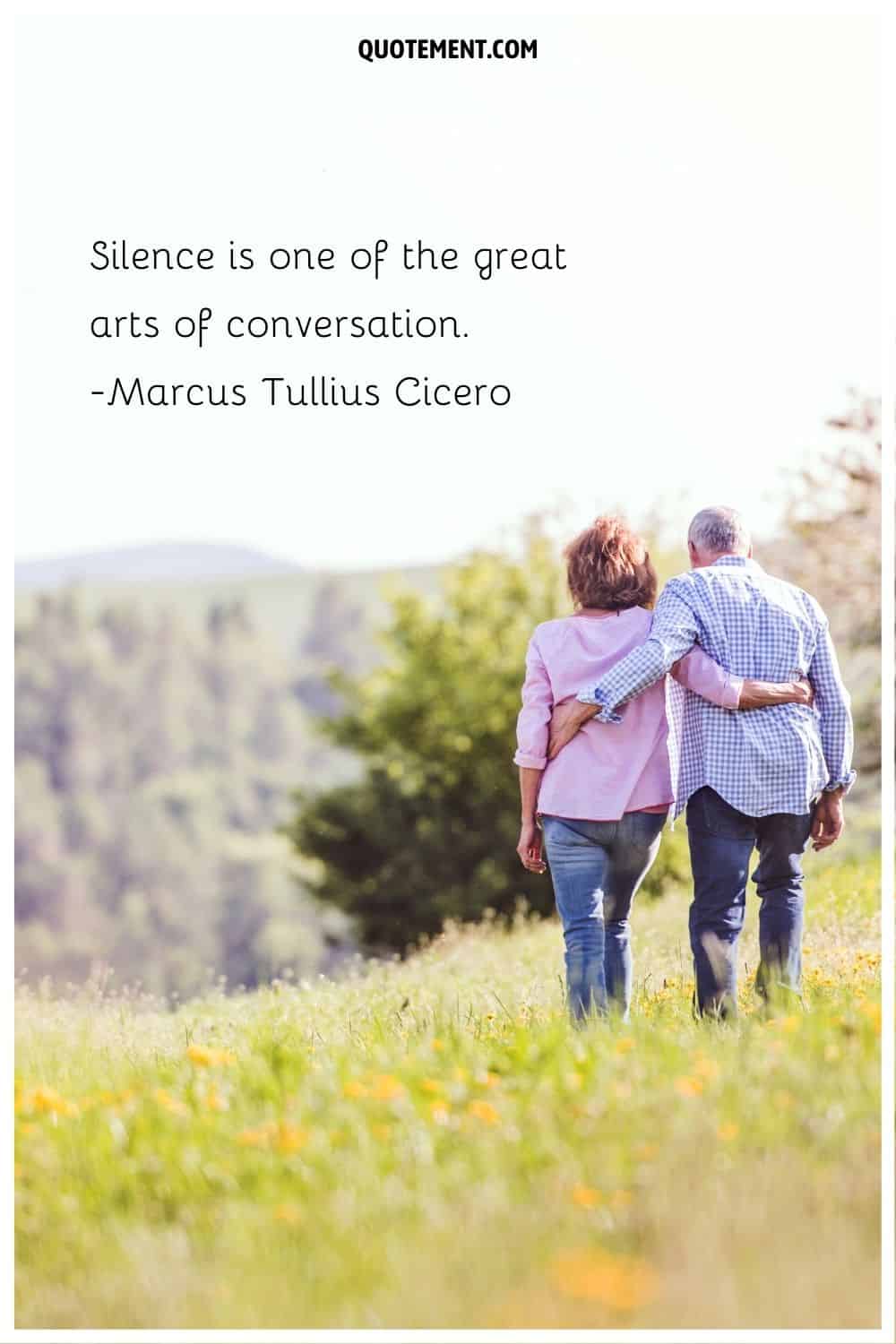 When Silence Is The Only Answer
1. "Nothing strengthens authority so much as silence." ― Leonardo da Vinci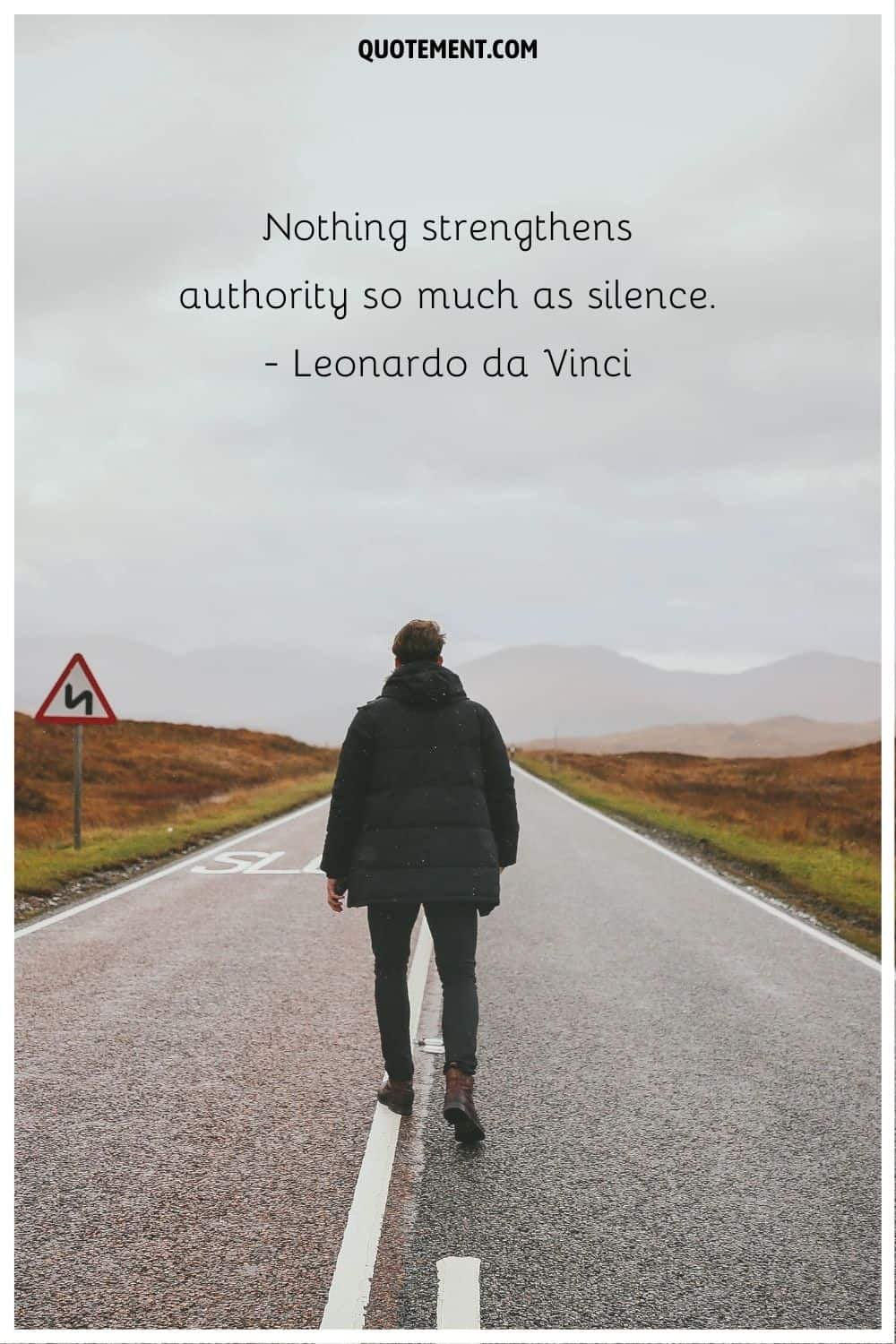 2. "I need to be alone. I need to ponder my shame and my despair in seclusion; I need the sunshine and the paving stones of the streets without companions, without conversation, face to face with myself, with only the music of my heart for company." ― Henry Miller, Tropic of Cancer
3. "The true genius shudders at incompleteness — imperfection — and usually prefers silence to saying something which is not everything that should be said." ― Edgar Allan Poe, Marginalia
4. "Silence is only frightening to people who are compulsively verbalizing." ― William S. Burroughs, The Job: Interviews with William S. Burroughs
5. "Lying is done with words, and also with silence." ― Adrienne Rich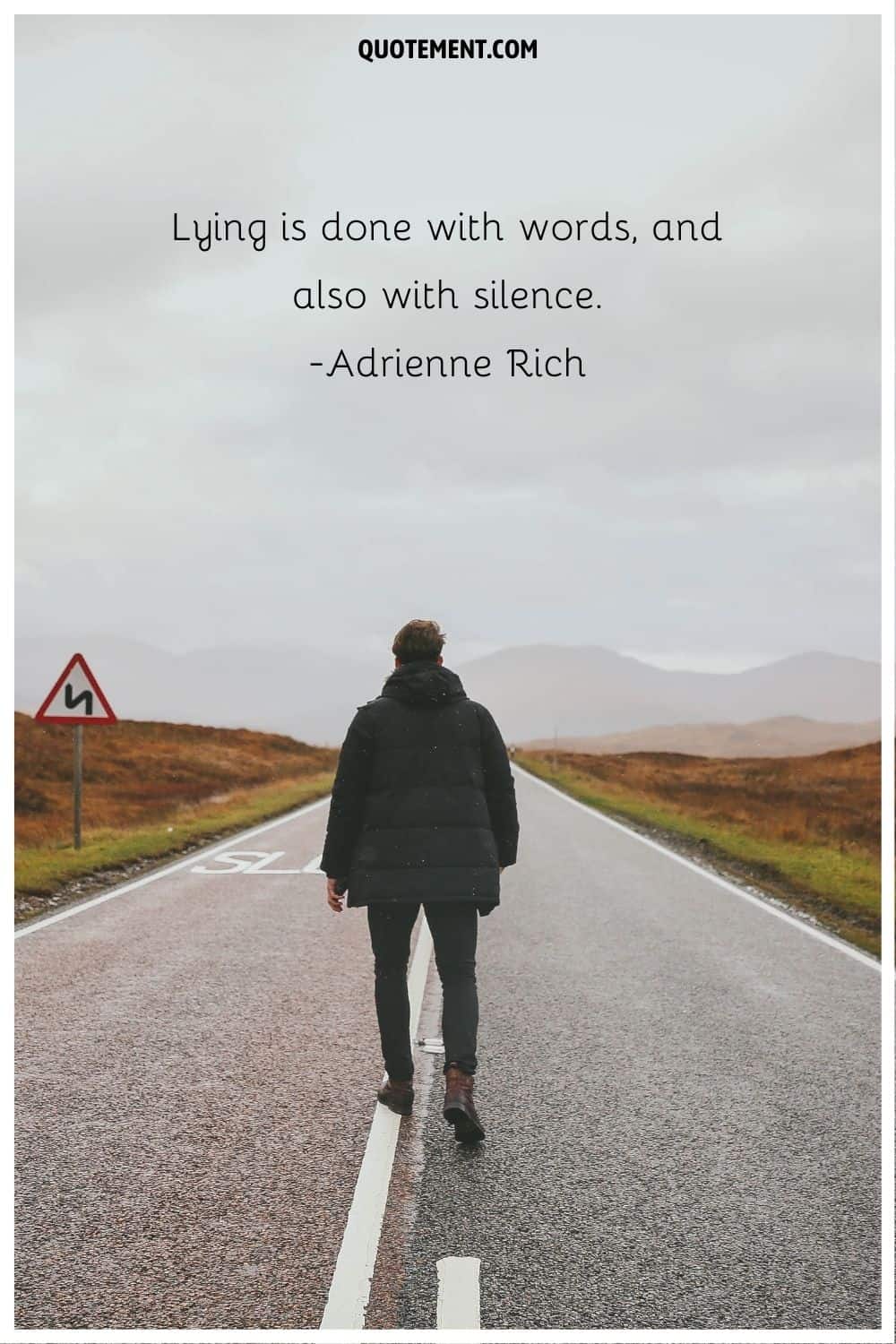 6. "I have never heard a more eloquent silence." ― Laurie Halse Anderson, Speak
7. "There's really no such thing as the 'voiceless'. There are only the deliberately silenced, or the preferably unheard." ― Arundhati Roy
8. "When a question has no correct answer, there is only one honest response.
The gray area between yes and no. Silence."― Dan Brown, The Da Vinci Code
9. "But there is greater comfort in the substance of silence than in the answer to a question." ― Thomas Merton
10. "Silence is golden when you can't think of a good answer." ― Muhammad Ali
11. "Always ask yourself: "What will happen if I say nothing?" ― Kamand Kojouri
12. "I'm all these words, all these strangers, this dust of words, with no ground for their settling, no sky for their dispersing, coming together to say, fleeing one another to say, that I am they, all of them, those that merge, those that part, those that never meet, and nothing else, yes, something else, that I'm something quite different, a quite different thing, a wordless thing in an empty place, a hard shut dry cold black place, where nothing stirs, nothing speaks, and that I listen, and that I seek, like a caged beast born of caged beasts born of caged beasts born of caged beasts born in a cage and dead in a cage, born and then dead, born in a cage and then dead in a cage, in a word like a beast, in one of their words, like such a beast, and that I seek, like such a beast, with my little strength, such a beast, with nothing of its species left but fear and fury, no, the fury is past, nothing but fear, nothing of all its due but fear centupled, fear of its shadow, no, blind from birth, of sound then, if you like, we'll have that, one must have something, it's a pity, but there it is, fear of sound, fear of sounds, the sounds of beasts, the sounds of men, sounds in the daytime and sounds at night, that's enough, fear of sounds all sounds, more or less, more or less fear, all sounds, there's only one, continuous, day and night, what is it, it's steps coming and going, it's voices speaking for a moment, it's bodies groping their way, it's the air, it's things, it's the air among the things, that's enough, that I seek, like it, no, not like it, like me, in my own way, what am I saying, after my fashion, that I seek, what do I seek now, what it is, it must be that, it can only be that, what it is, what it can be, what what can be, what I seek, no, what I hear, I hear them, now it comes back to me, they say I seek what it is I hear, I hear them, now it comes back to me, what it can possibly be, and where it can possibly come from, since all is silent here, and the walls thick, and how I manage, without feeling an ear on me, or a head, or a body, or a soul, how I manage, to do what, how I manage, it's not clear, dear dear, you say it's not clear, something is wanting to make it clear, I'll seek, what is wanting, to make everything clear, I'm always seeking something, it's tiring in the end, and it's only the beginning." ― Samuel Beckett, The Unnamable
13. "Surely silence can sometimes be the most eloquent reply." ― Ali Ibn Abi Talib AS
14. "The easiest way to get touch with this universal power is through silent Prayer. Shut your eyes, shut your mouth, and open your heart. This is the golden rule of prayer. Prayer should be soundless words coming forth from the centre of your heart filled with love." ― Amit Ray, Om Chanting and Meditation
15. "Silence is pure and holy. It draws people together because only those who are comfortable with each other can sit without speaking." ― Nicholas Sparks, The Notebook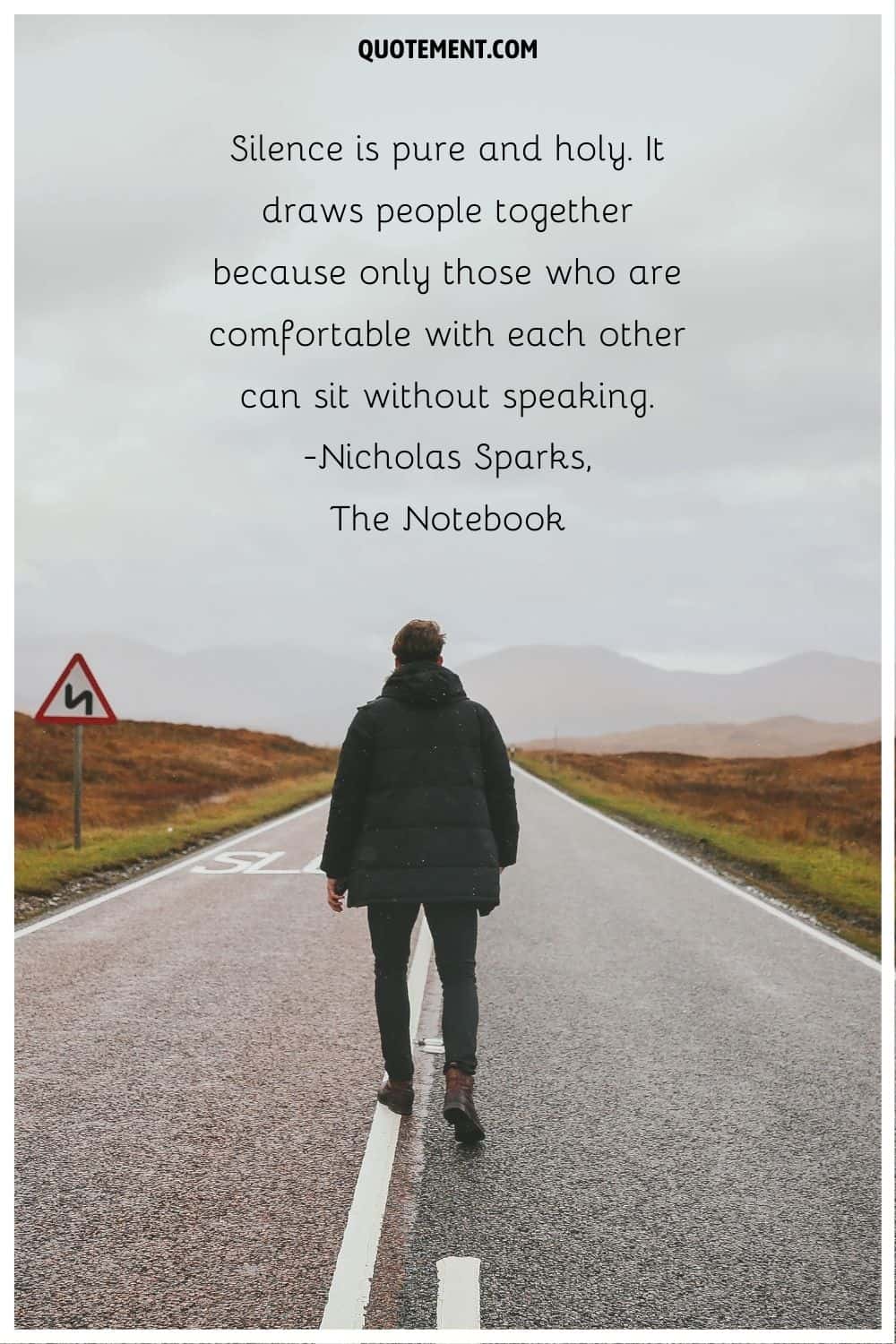 16. "Silence is the language of Om. We need silence to be able to reach our Self. Both internal and external silence is very important to feel the presence of that supreme Love." ― Amit Ray, Om Chanting and Meditation
17. "All too often, when we see injustices, both great and small, we think, That's terrible, but we do nothing. We say nothing. We let other people fight their own battles. We remain silent because silence is easier. Qui tacet consentire videtur is Latin for 'Silence gives consent.' When we say nothing, when we do nothing, we are consenting to these trespasses against us." ― Roxane Gay, Bad Feminist
18. "I discovered that I felt at home and alive in the silence, which compelled me to enter my interior world and around there. Without the distraction of constant conversation, the words on the page began to speak directly to my inner self. They were no long expressing ideas that were simply interesting intellectually, but were talking directly to my own yearning and perplexity." ― Karen Armstrong, The Spiral Staircase: My Climb Out of Darkness
19. "Every woman knows what I'm talking about. It's the presumption that makes it hard, at times, for any woman in any field; that keeps women from speaking up and from being heard when they dare; that crushes young women into silence by indicating, the way harassment on the street does, that this is not their world. It trains us in self-doubt and self-limitation just as it exercises men's unsupported overconfidence." ― Rebecca Solnit
20. "There is a time to be quiet and a time to talk." – Aung San Suu Kyi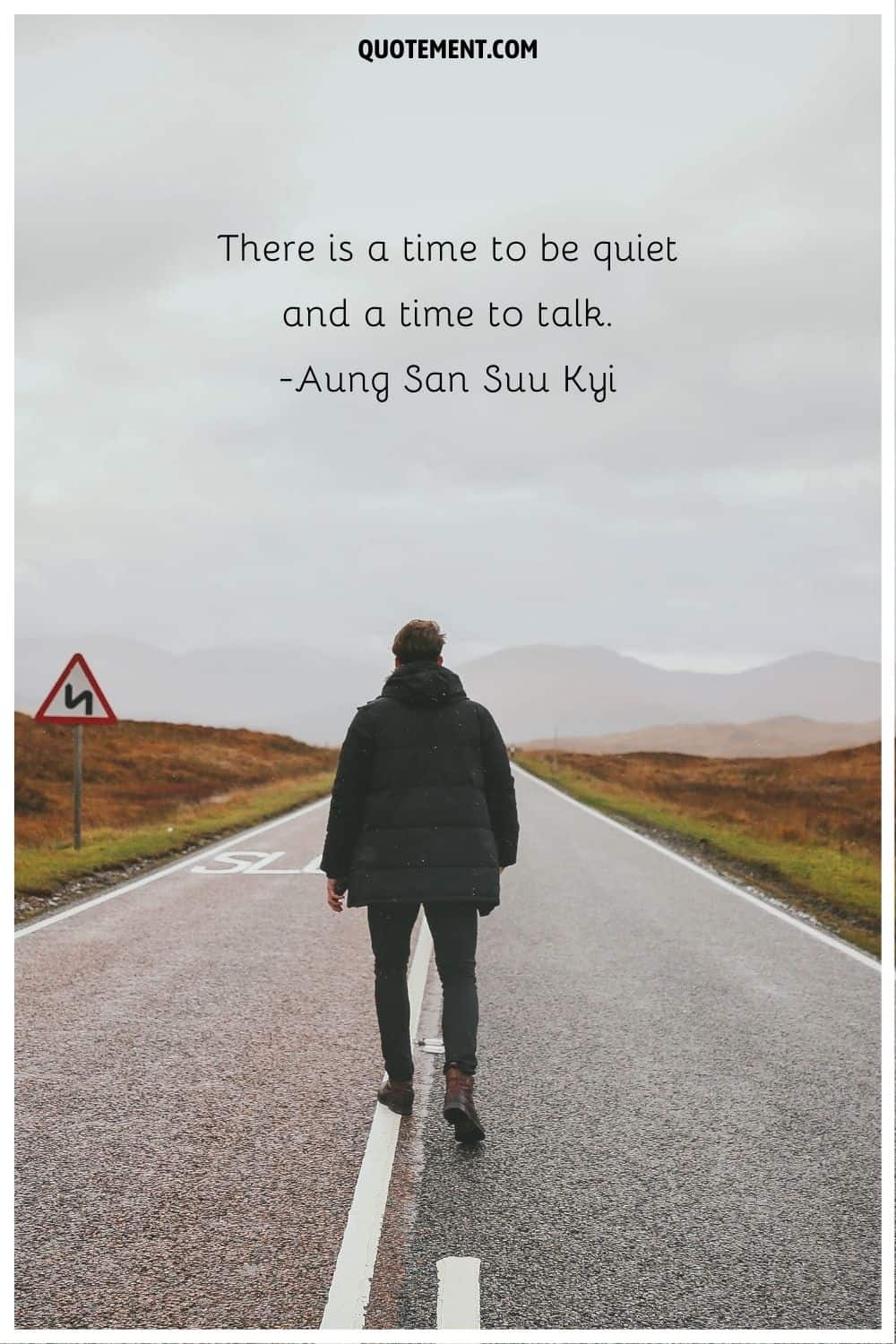 Hustle And Work In Silence Quotes
1. "You gotta be careful: don't say a word to nobody about nothing anytime ever." ― Johnny Depp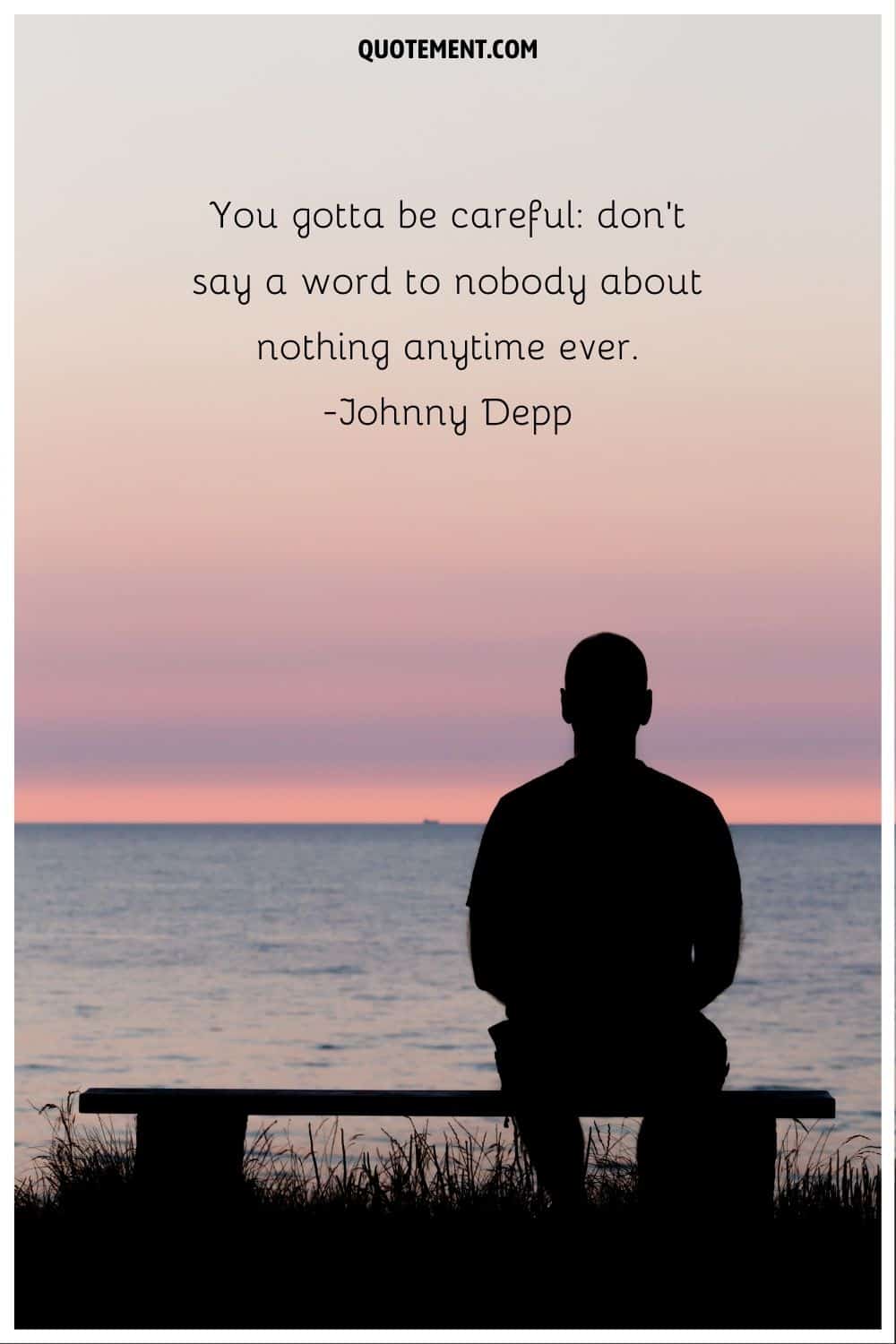 2. "Silence is the ultimate weapon of power." ― Charles de Gaulle
3. "At times to be silent is to lie. You will win because you have enough brute force. But you will not convince. To convince you need to persuade. And in order to persuade you would need what you lack: Reason and Right" ― Miguel de Unamuno
4. "Silence is of different kinds, and breathes different meanings." ― Charlotte Brontë, Villette
5. "I have heard the languages of apocalypse, and now I shall embrace the silence." ― Neil Gaiman, The Sandman: Endless Nights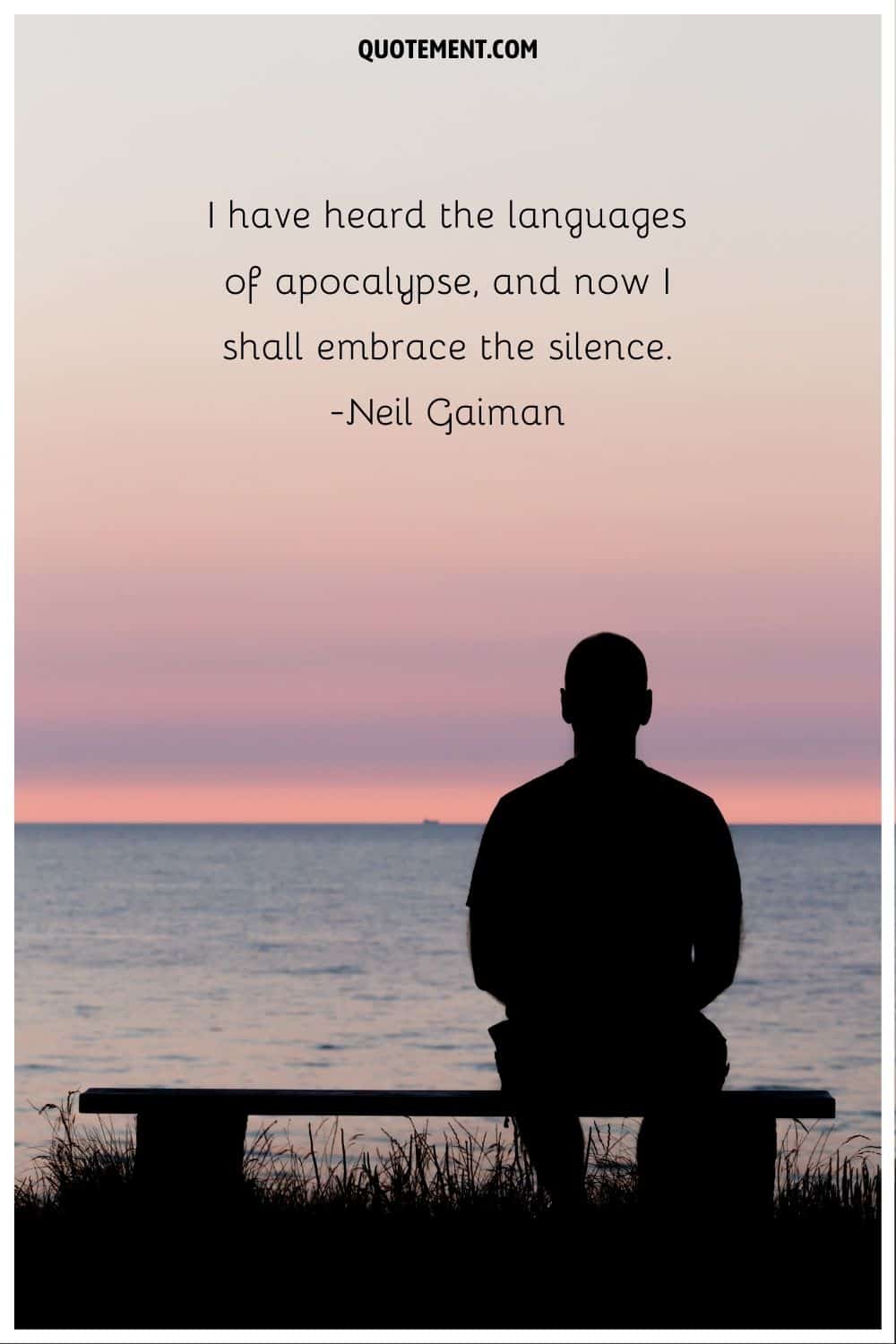 6. "Be leery of silence. It doesn't mean you won the argument. Often, people are just busy reloading their guns." ― Shannon L. Alder
7."Since there is no real silence,
Silence will contain all the sounds,
All the words, all the languages,
All knowledge, all memory." ― Dejan Stojanovic
8. "Be silent and safe — silence never betrays you; be true to your word and your work and your friend; put least trust in him who is foremost to praise you, nor judge of a road till it draws to the end." – John Boyle O'Reilly
9."Work hard in silence, let your success make the noise." – Frank Ocean
10. "Silence is better than unmeaning words." ― Pythagoras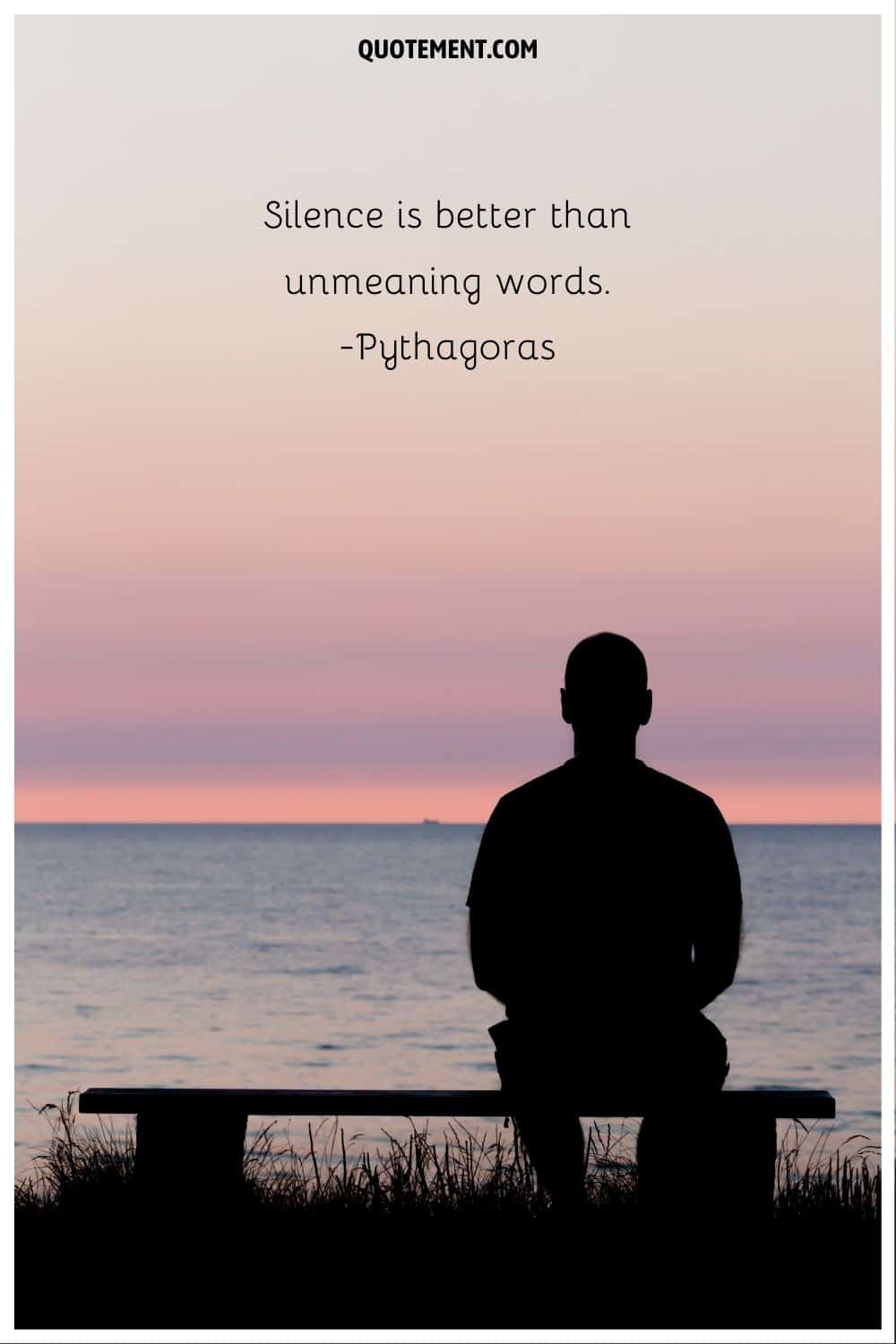 See also: 130 Know Your Worth Quotes To Remind You Of Your Greatness
Move In Silence Quotes
1. "Most people are perfectly afraid of silence" ― e.e cummings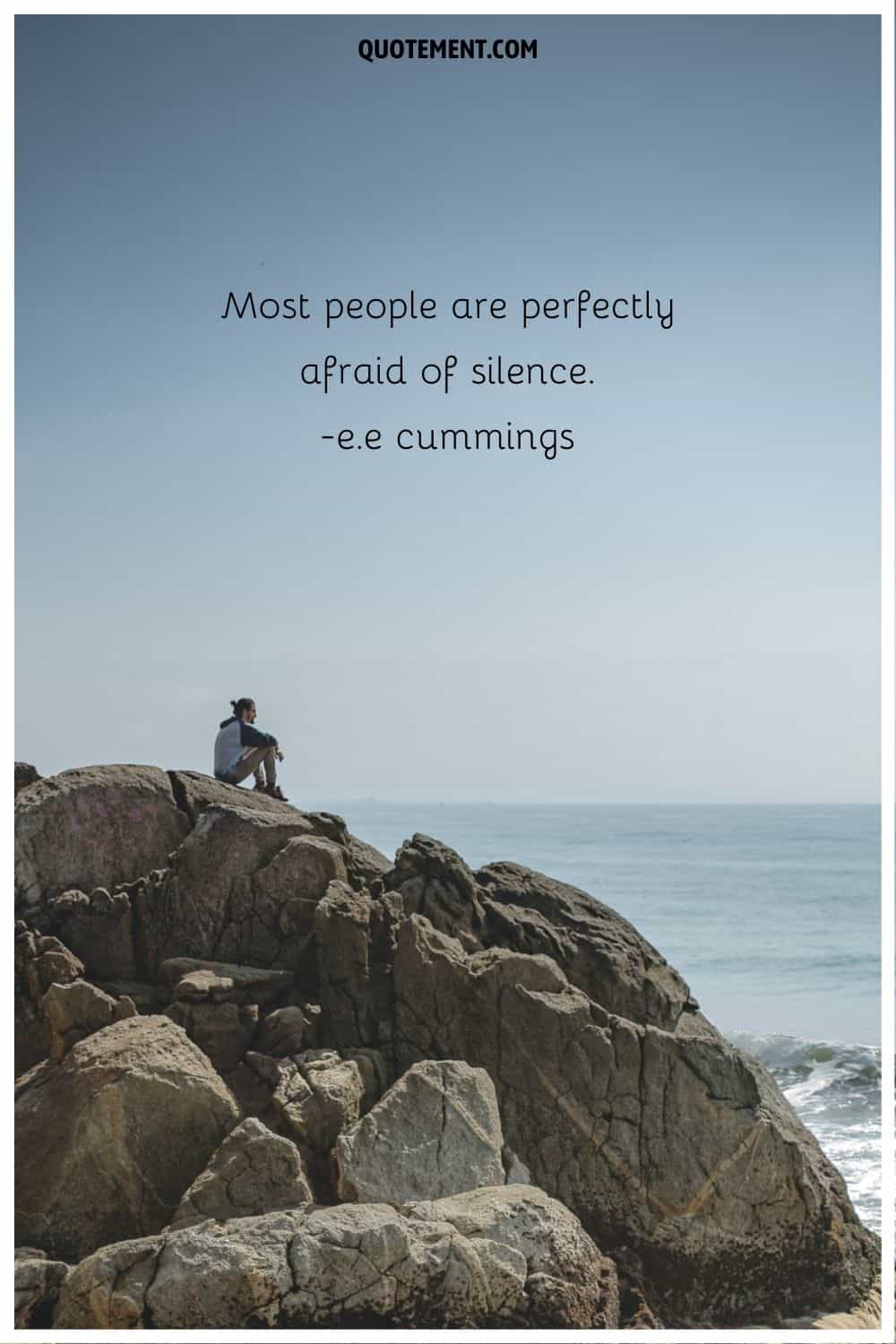 2. "Words can be twisted into any shape. Promises can be made to lull the heart and seduce the soul. In the final analysis, words mean nothing. They are labels we give things in an effort to wrap our puny little brains around their underlying natures, when ninety-nine percent of the time the totality of the reality is an entirely different beast. The wisest man is the silent one. Examine his actions. Judge him by them." ― Karen Marie Moning
3. "For now she need not think of anybody. She could be herself, by herself. And that was what now she often felt the need of – to think; well not even to think. To be silent; to be alone. All the being and the doing, expansive, glittering, vocal, evaporated; and one shrunk, with a sense of solemnity, to being oneself, a wedge-shaped core of darkness, something invisible to others… and this self having shed its attachments was free for the strangest adventures." ― Virginia Woolf, To the Lighthouse
4. "You are most powerful when you are most silent. People never expect silence. They expect words, motion, defense, offense, back and forth. They expect to leap into the fray. They are ready, fists up, words hanging leaping from their mouths. Silence? No." ― Alison McGhee, All Rivers Flow To The Sea
5. "Be silent or let thy words be worth more than silence." ― Pythagoras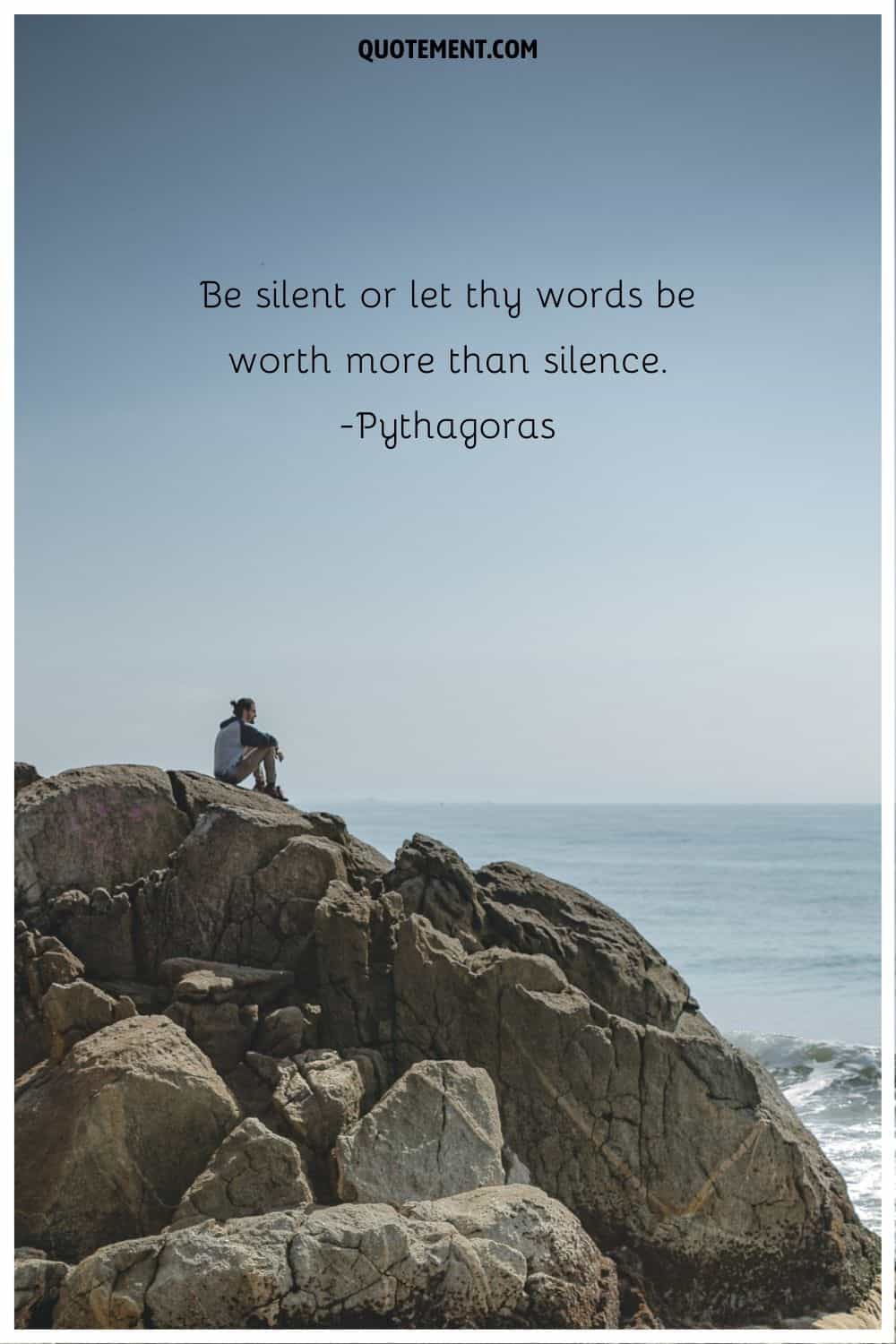 6. "It may well be that we will have to repent in this generation. Not merely for the vitriolic words and the violent actions of the bad people, but for the appalling silence and indifference of the good people who sit around and say, "Wait on time." ― Martin Luther King Jr., A Testament of Hope: The Essential Writings and Speeches
7. "It does not do to rely too much on silent majorities, Evey, for silence is a fragile thing, one loud noise, and its gone. But the people are so cowed and disorganised. A few might take the opportunity to protest, but it'll just be a voice crying in the wilderness. Noise is relative to the silence preceding it. The more absolute the hush, the more shocking the thunderclap. Our masters have not heard the people's voice for generations, Evey and it is much, much louder than they care to remember." ― Alan Moore & David Lloyd, V for Vendetta
8. "Yes, in my life, since we must call it so, there were three things, the inability to speak, the inability to be silent, and solitude, that's what I've had to make the best of." ― Samuel Beckett, The Unnamable
9. "Make peace with silence, and remind yourself that it is in this space that you'll come to remember your spirit. When you're able to transcend an aversion to silence, you'll also transcend many other miseries. And it is in this silence that the remembrance of God will be activated." ― Wayne W. Dyer
10. "I didn't like having to explain to them, so I just shut up, smoked a cigarette, and looked at the sea." ― Albert Camus, The Stranger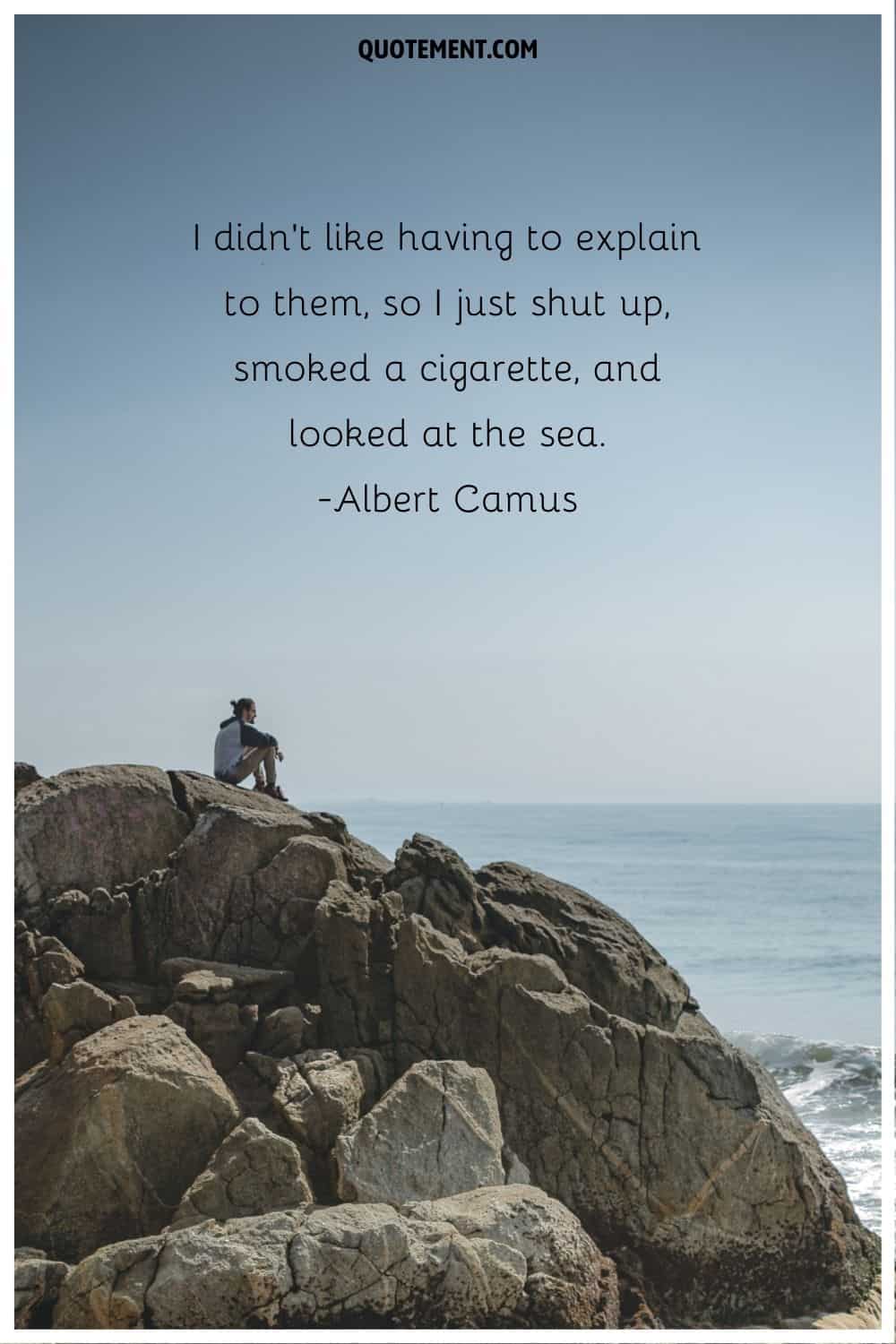 See also: 130 Quotes About God's Goodness To Strengthen Your Faith
When You Are Suffering In Silence Quotes
1. "Quiet is peace. Tranquility. Quiet is turning down the volume knob on life. Silence is pushing the off button. Shutting it down. All of it." ― Khaled Hosseini, The Kite Runner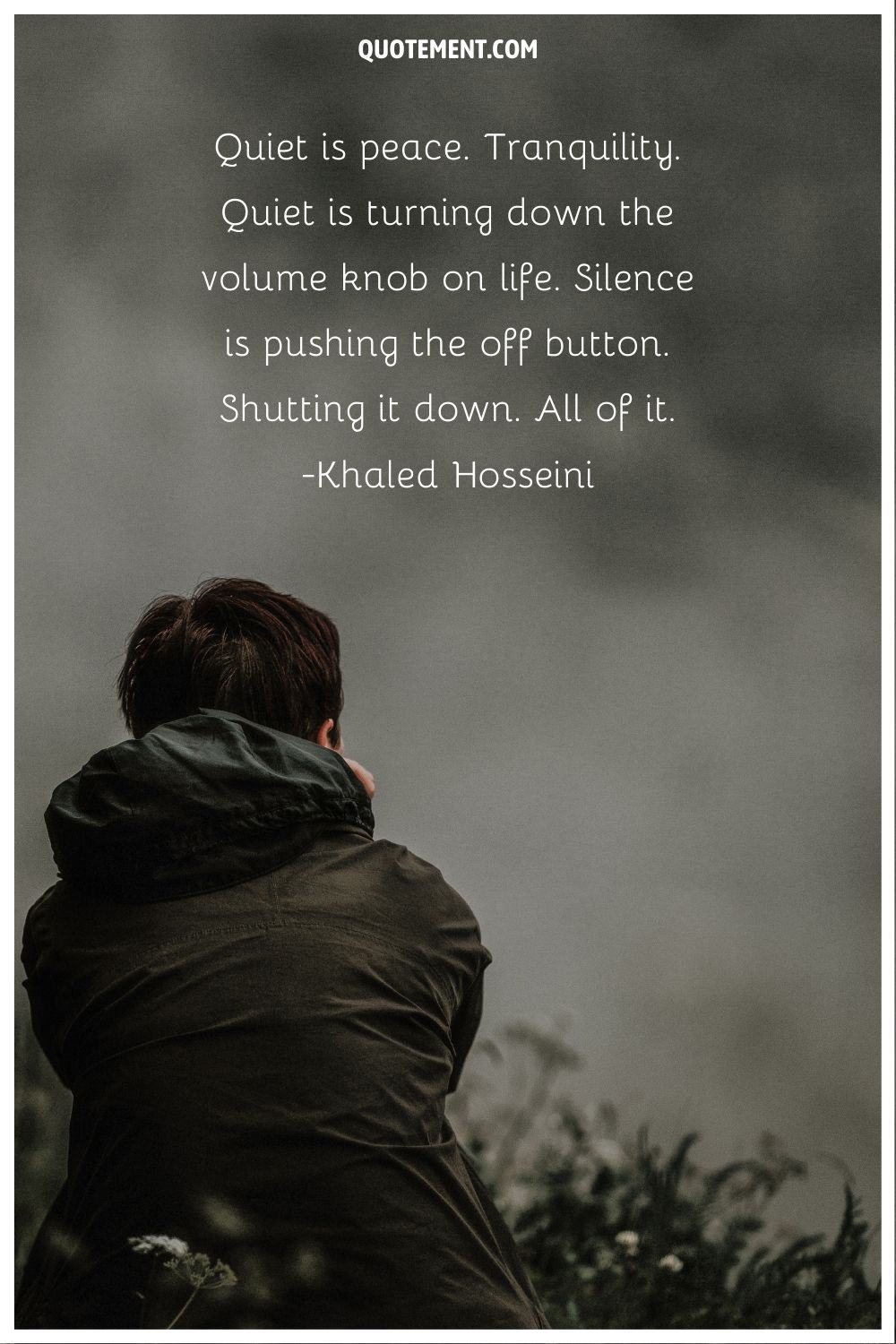 2. "I said nothing for a time, just ran my fingertips along the edge of the human-shaped emptiness that had been left inside me." ― Haruki Murakami, Blind Willow, Sleeping Woman
3. "My silences had not protected me. Your silence will not protect you. But for every real word spoken, for every attempt I had ever made to speak those truths for which I am still seeking, I had made contact with other women while we examined the words to fit a world in which we all believed, bridging our differences." ― Audre Lorde, The Cancer Journals
4. "I have packed myself into silence so deeply and for so long that I can never unpack myself using words. When I speak, I only pack myself a little differently." ― Herta Müller, The Hunger Angel
5. "There is an ocean of silence between us… and I am drowning in it." ― Ranata Suzuki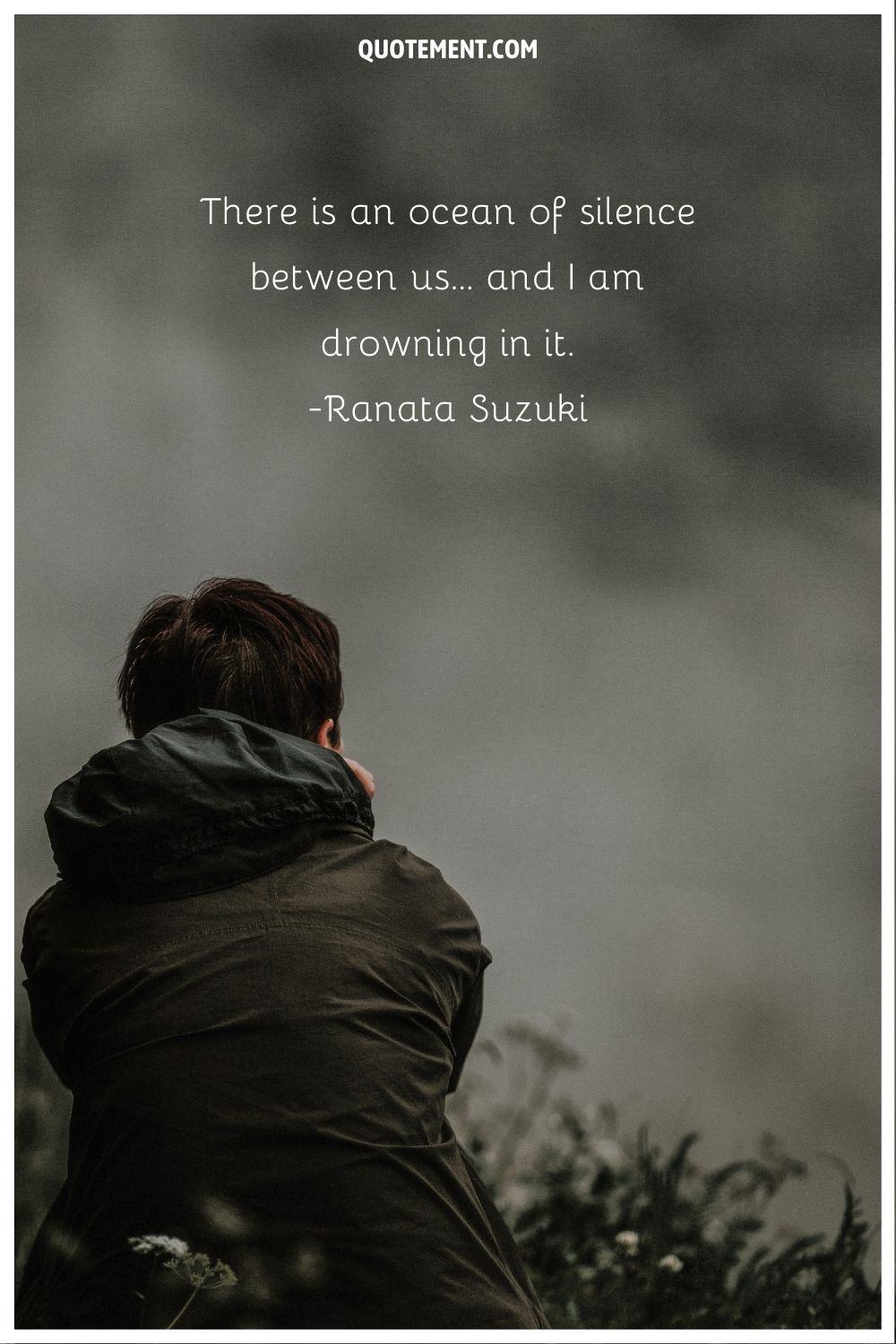 6. "Quiet people always know more than they seem. Although very normal, their inner world is by default fronted mysterious and therefore assumed weird. Never underestimate the social awareness and sense of reality in a quiet person; they are some of the most observant, absorbent persons of all." ― Criss Jami, Healology
7. "Silent solitude makes true speech possible and personal. If I am not in touch with my own belovedness, then I cannot touch the sacredness of others. If I am estranged from myself, I am likewise a stranger to others." ― Brennan Manning, Abba's Child: The Cry of the Heart for Intimate Belonging
8. "If people were silent, they could hear the noise of their own lives better. If people were silent, it would make what they did say, whenever they chose to say it, more important. If people were silent, they could read one another's signals, the way underwater creatures flash lights at one another, or turn their skin different colors." ― Ali Benjamin, The Thing About Jellyfish
9. "When you sit in silence long enough, you learn that silence has a motion. It glides over you without shape or form, exactly like water. Its color is silver. And silence has a sound you hear only after hours of wading inside it. The sound is soft, like flute notes rising up, like the words of glass speaking. Then there comes a point when you must shatter the blindness of its words, the blindness of its light." ― Anne Spollen, The Shape of Water
10. "I'm a master of speaking silently—all my life I've spoken silently and I've lived through entire tragedies in silence." ― Fyodor Dostoyevsky, The Gentle Spirit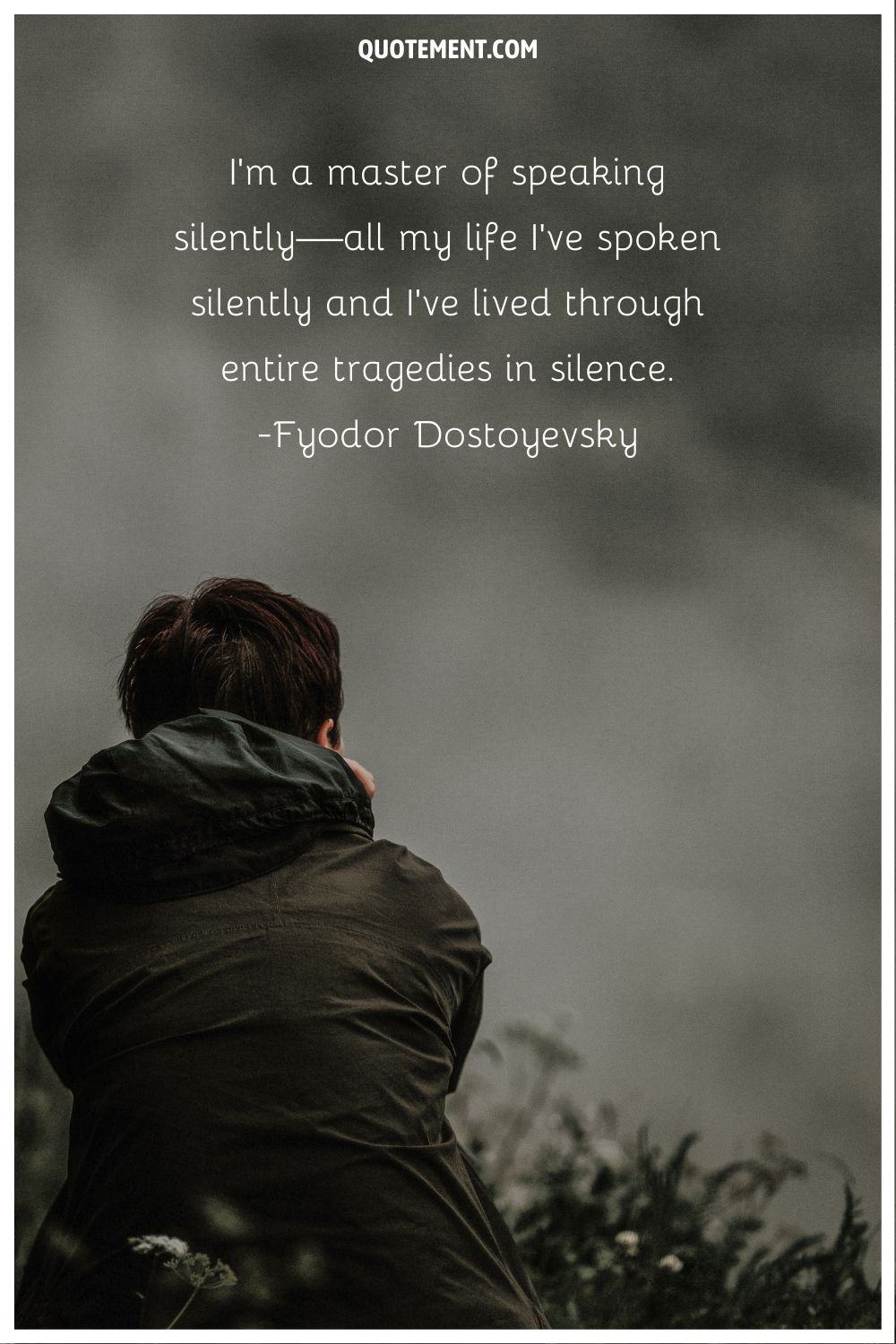 11. "She extended a hand that I didn't know how to take, so I broke its fingers with my silence." ― Jonathan Safran Foer, Extremely Loud & Incredibly Close
12. "Word by word, the language of women so often begins with a whisper." ― Terry Tempest Williams, When Women Were Birds: Fifty-four Variations on Voice
13."Maybe I was naïve to think that silence was implicit complacence, instead of a festering question. Maybe I was silly to believe that friends owed each other anything." ― Jodi Picoult, Handle with Care
14. "Silence can often be more disturbing than noise, it reveals the complicated mechanism of our thoughts ― Jose Rodrigues Migueis
15. "The daggers of silence last longer than anything ever spoken." ― Shannon L. Alder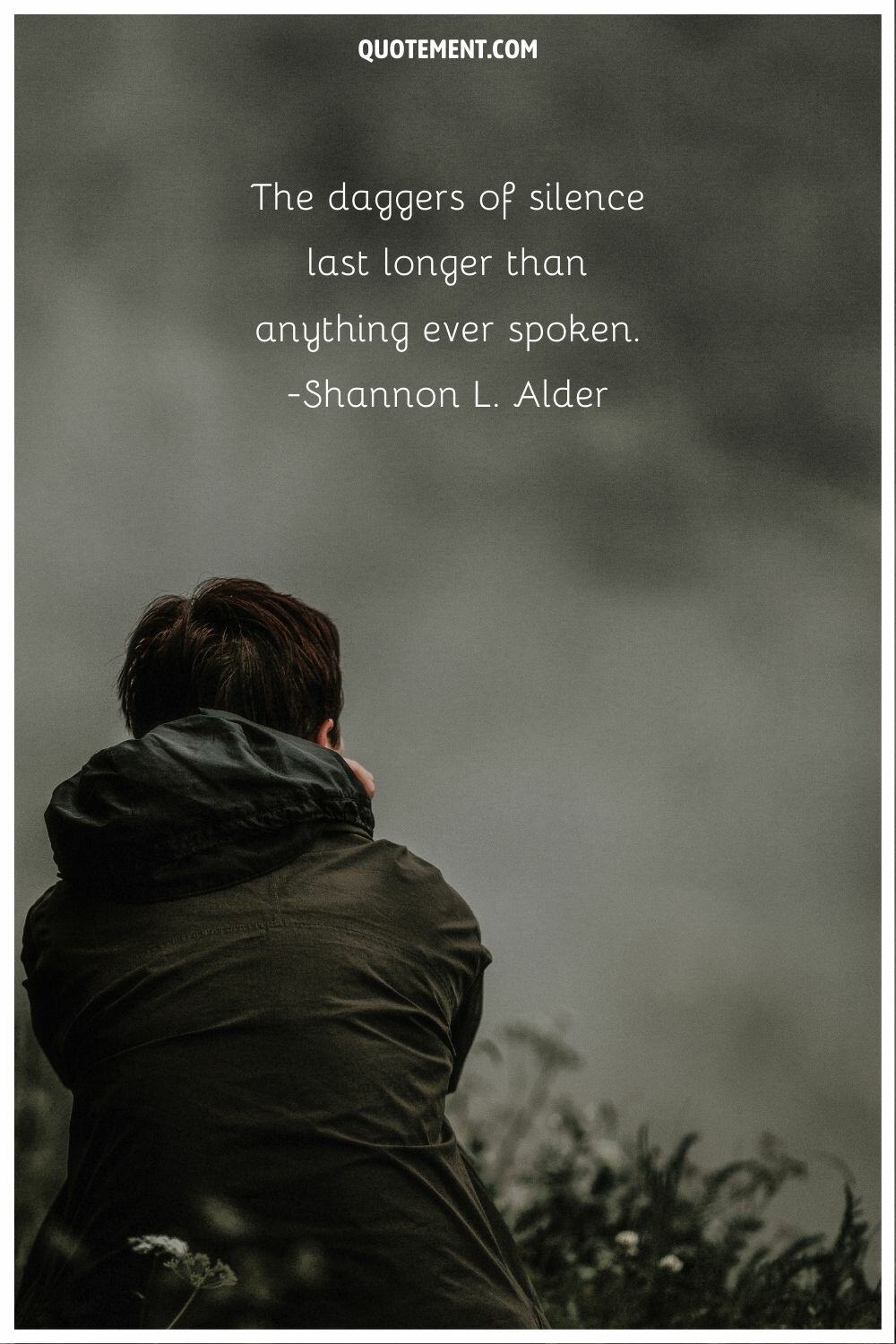 16. "I wait
with silent passion
for one gesture
one glance
from you" ― Rumi, The Love Poems of Rumi
17. "A star shoots bleeding across the skyline, a companion to the black wind. Silence comes sweeping across everything." ― Joe Bousquet
18. "People dread silence because it is transparent; like clear water, which reveals every obstacle—the used, the dead, the drowned, silence reveals the cast-off words and thoughts dropped in to obscure its clear stream. And when people stare too close to silence they sometimes face their own reflections, their magnified shadows in the depths, and that frightens them. I know; I know." ― Janet Frame, Scented Gardens for the Blind
19. "The silence between us was so profound I thought part of it must be my fault." ― Sylvia Plath, The Bell Jar
20. "Human beings can't bear silence. It would mean that they would bear themselves." ― Pascal Mercier, Night Train to Lisbon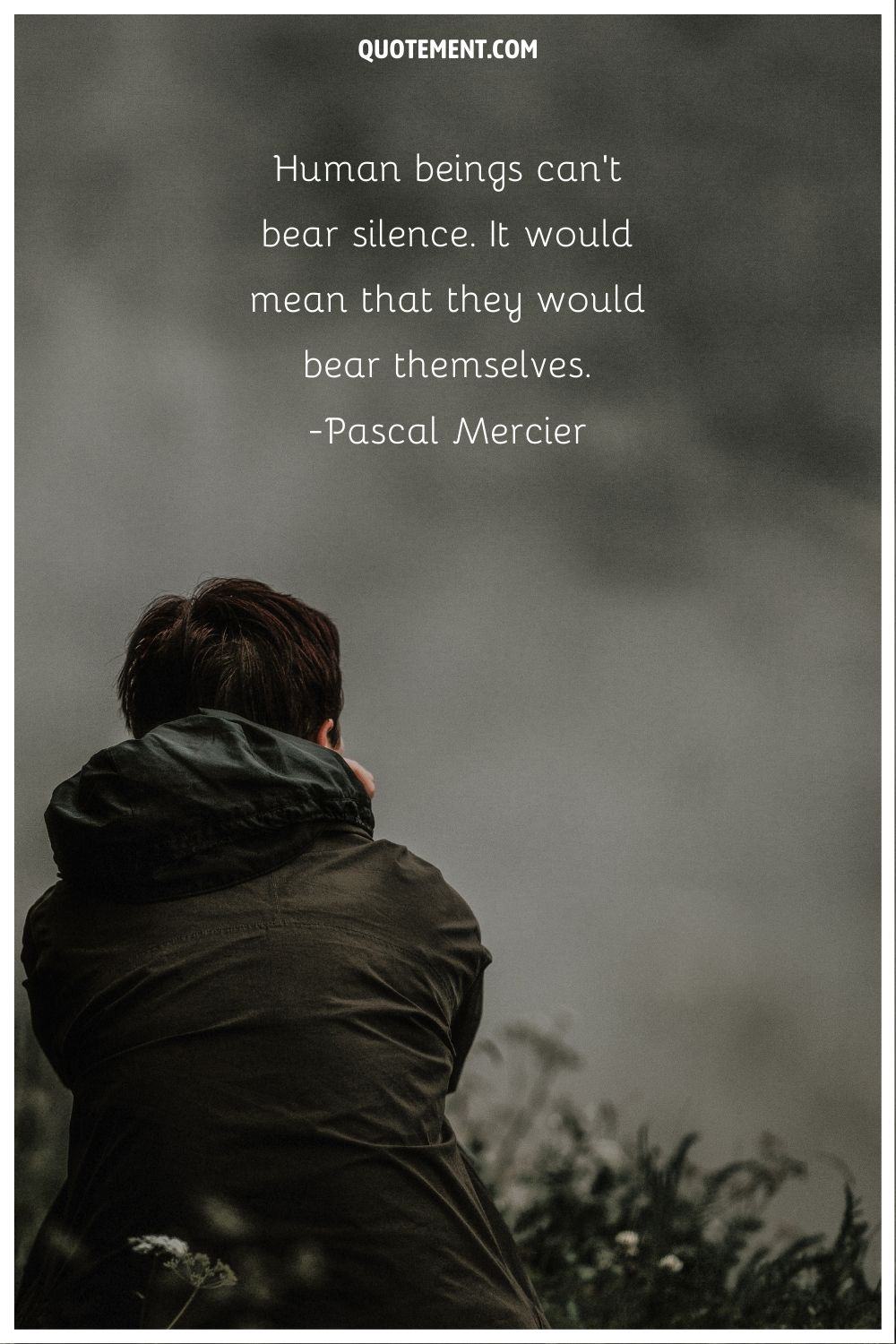 21. "The silence was killing me. And that's all there ever was. Silence. It was all I knew. Keep quiet. Pretend nothing had happened, that nothing was wrong. And look how well that was turning out." ― J. Lynn, Wait for You
22. "It is well, when in difficulties, to say never a word, neither black nor white. Speech is silver but silence is golden." ― Muriel Spark, The Prime of Miss Jean Brodie
23."Never be bullied into silence. Never allow yourself to be made a victim. Accept no one's definition of your life; define yourself." – Harvey Fierstein
24. "Love, and do what you will. If you keep silence, do it out of love. If you cry out, do it out of love. If you refrain from punishing, do it out of love." – Augustine of Hippo
25. "Strength is born in the deep silence of long-suffering hearts; not amid joy." – Arthur Helps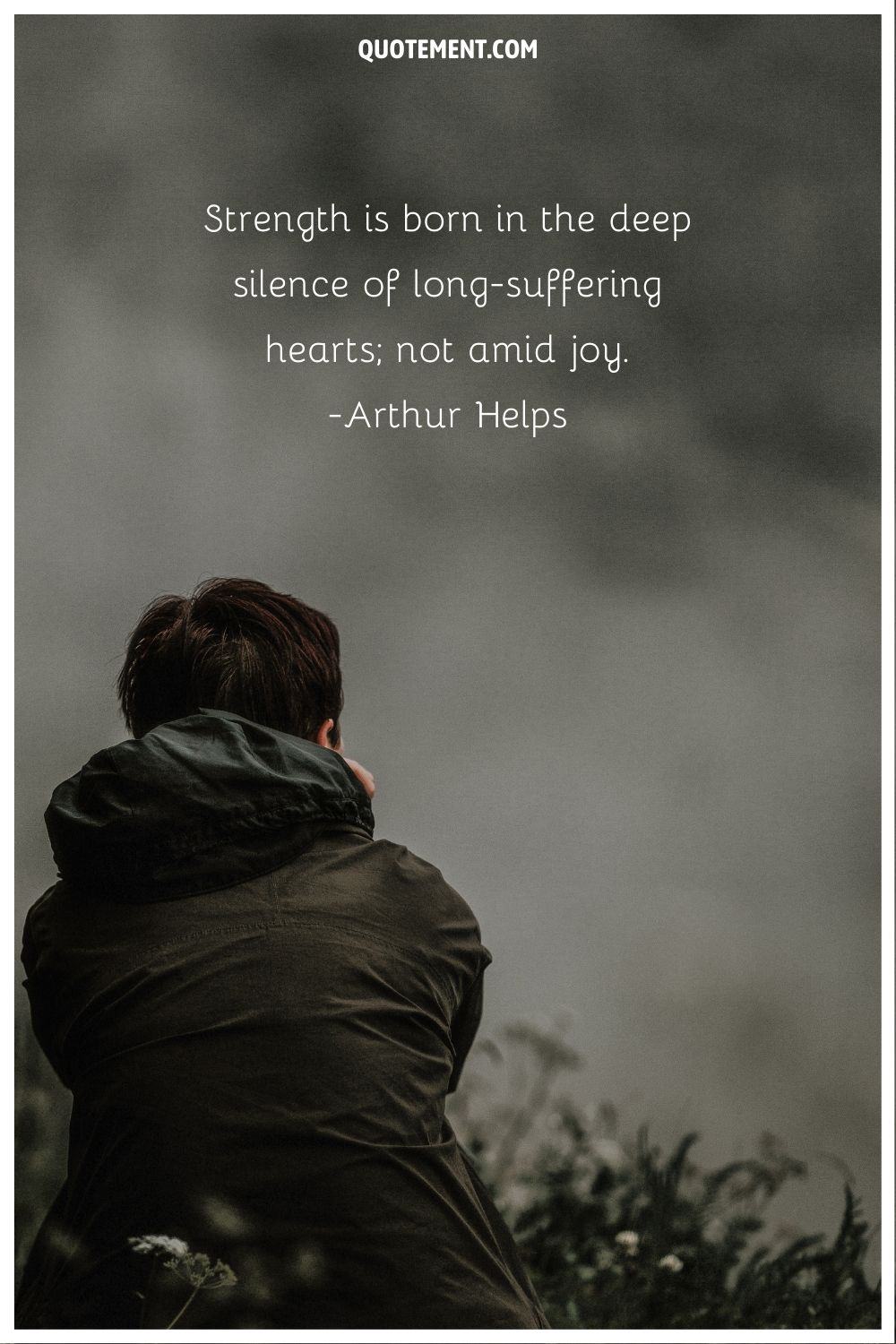 26. "Let me silent be, for silence is the speech of love, the music of the spheres above." – Richard Henry Stoddard
27. "Never assume that loud is strong and quiet is weak."
28. "Luxury, today, is solitude and silence." – Paul-Henri Spaak
29. "Life's deepest feelings are often expressed in silence."
30. "Make peace with silence, and remind yourself that it is in this space that you'll come to remember your spirit." – Wayne W. Dyer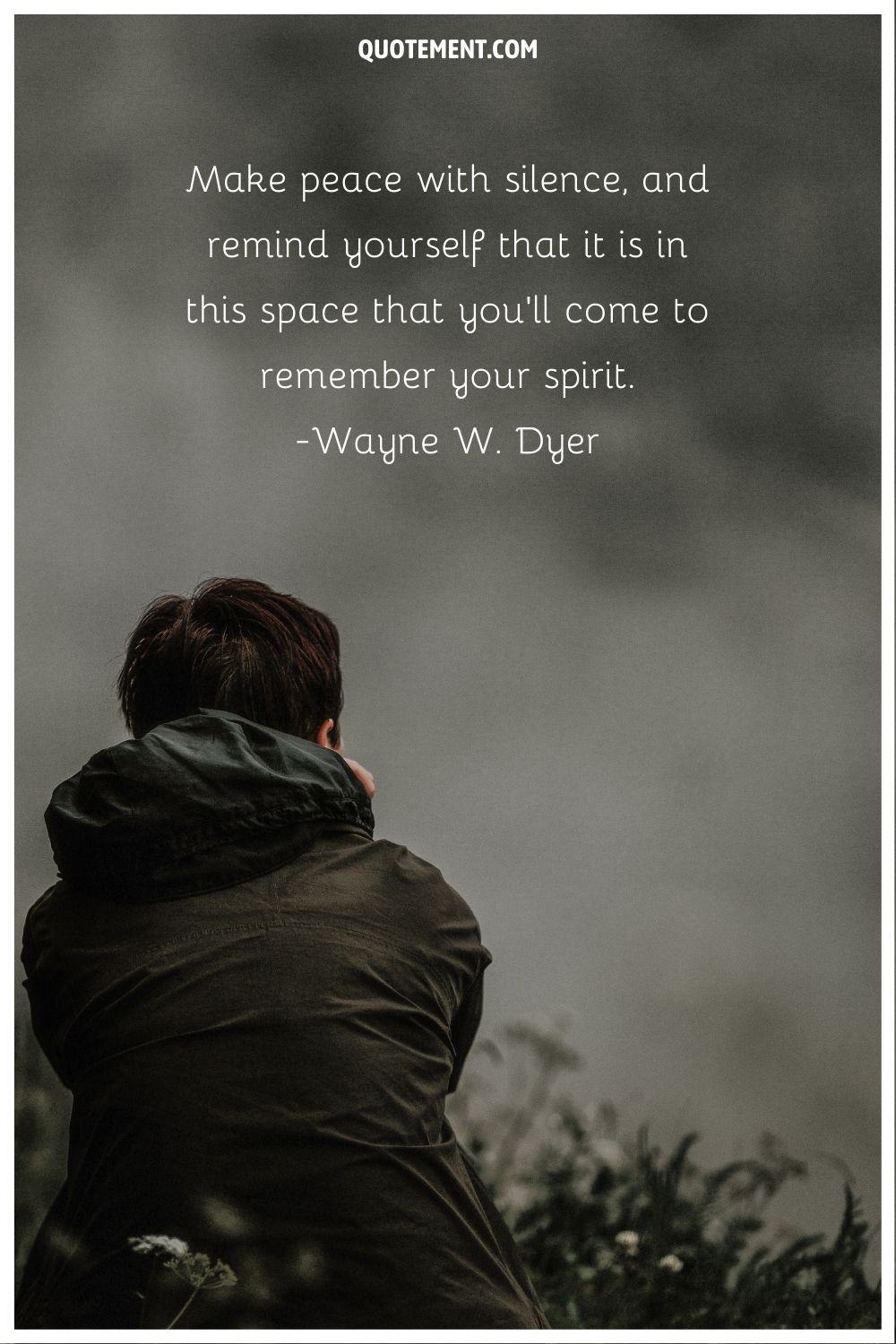 See also: 100 Deep And Sad When Children Hurt Their Parents Quotes
Silence Quotes To Think About
1. "When I pronounce the word Future, the first syllable already belongs to the past. When I pronounce the word Silence, I destroy it." ― Wisława Szymborska, Poems New and Collected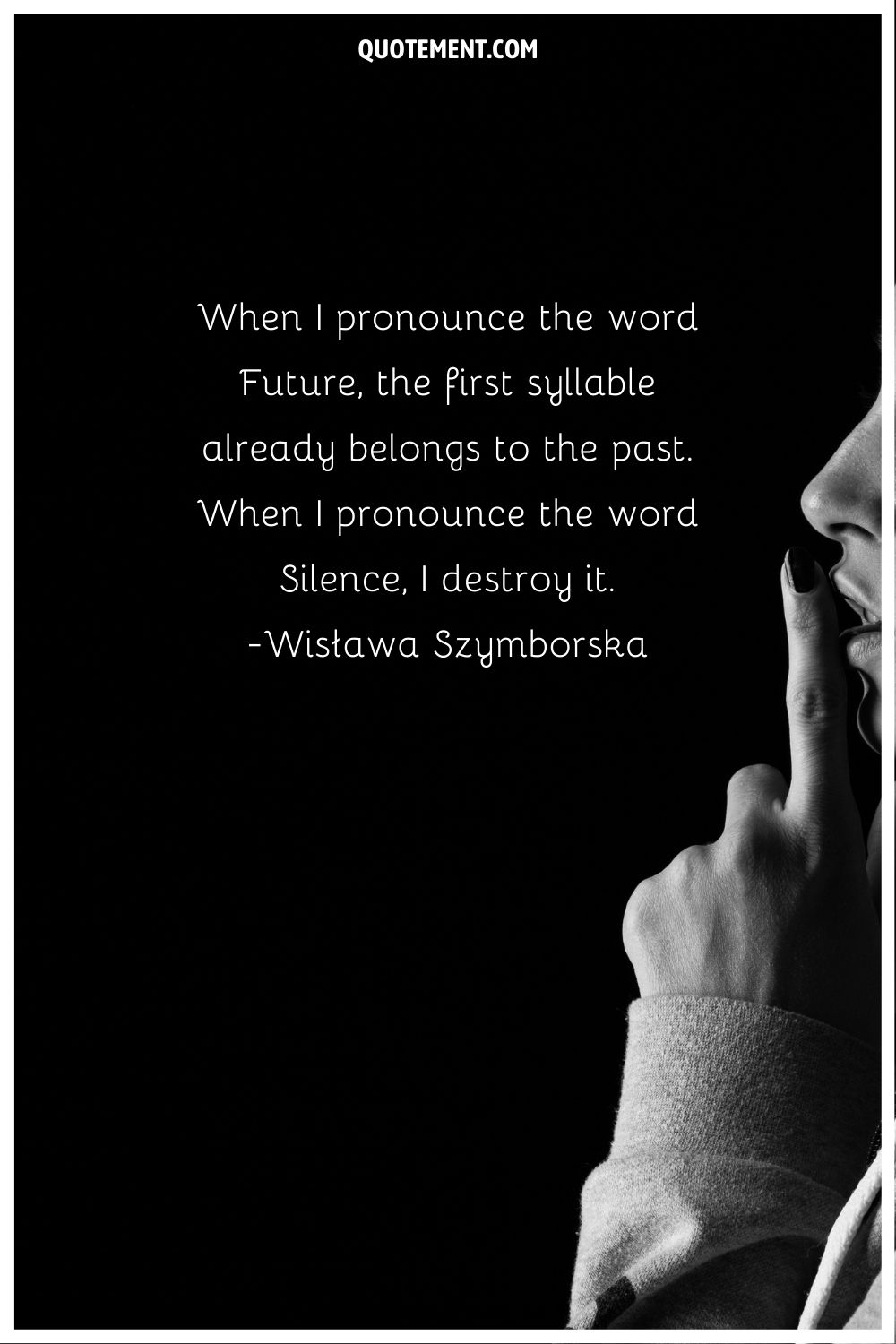 2. "We went down into the silent garden. Dawn is the time when nothing breathes, the hour of silence. Everything is transfixed, only the light moves." ― Leonora Carrington
3. "When words become unclear, I shall focus with photographs. When images become inadequate, I shall be content with silence." ― Ansel Adams
4. "My personal hobbies are reading, listening to music, and silence." ― Edith Sitwell
5. "When truth is replaced by silence, the silence is a lie." ― Yevgeny Yevtushenko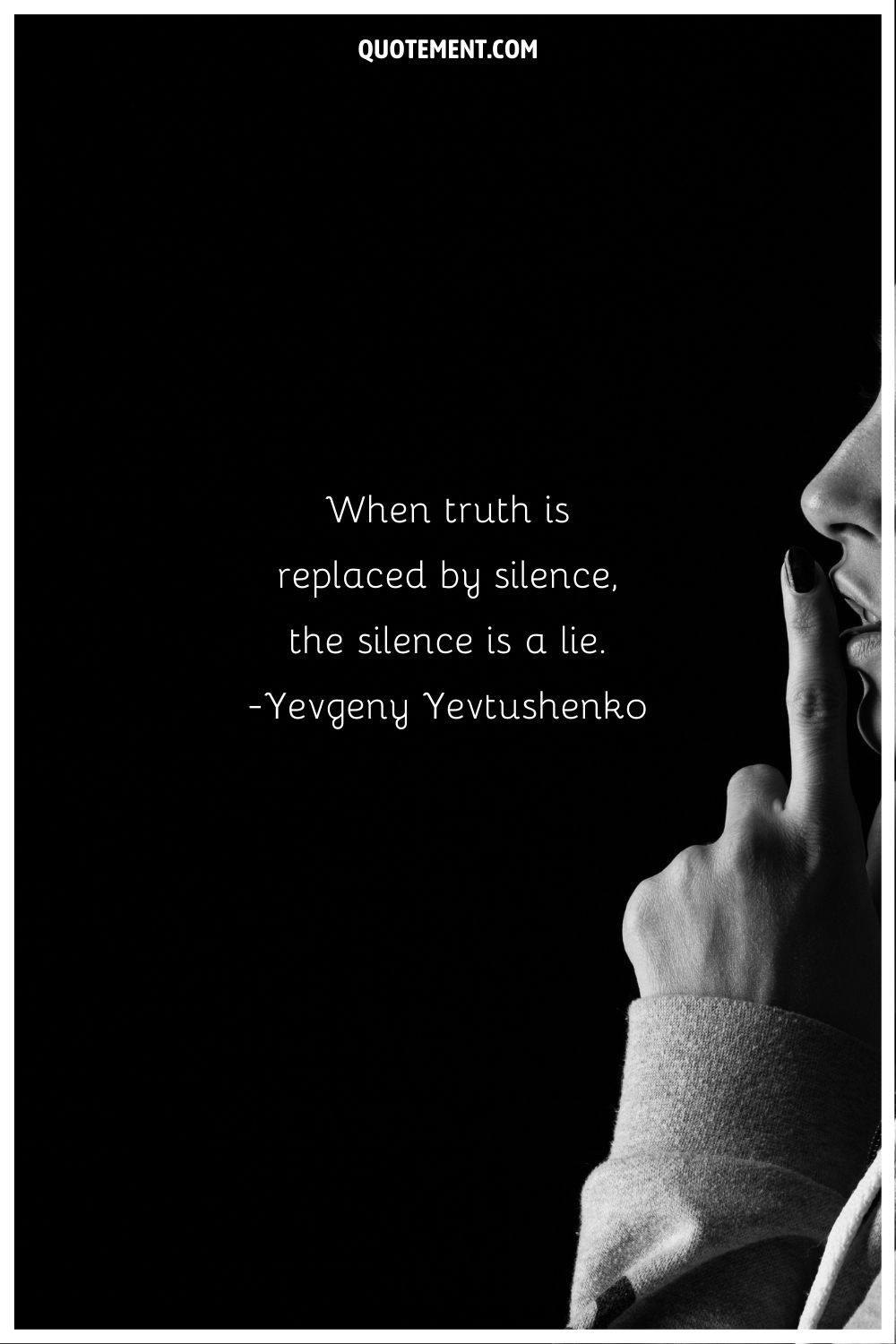 6. "He who does not understand your silence will probably not understand your words." ― Elbert Hubbard
7. "Have you ever heard the wonderful silence just before the dawn? Or the quiet and calm just as a storm ends? Or perhaps you know the silence when you haven't the answer to a question you've been asked, or the hush of a country road at night, or the expectant pause of a room full of people when someone is just about to speak, or, most beautiful of all, the moment after the door closes and you're alone in the whole house? Each one is different, you know, and all very beautiful if you listen carefully." ― Norton Juster, The Phantom Tollbooth
8. "Seeing her sitting there unresponsive makes me realize that silence has a sound." ― Jodi Picoult, My Sister's Keeper
9. "In Silence there is eloquence. Stop weaving and see how the pattern improves." ― Rumi
10. "The cruelest lies are often told in silence." ― Robert Louis Stevenson, Virginibus Puerisque and Other Papers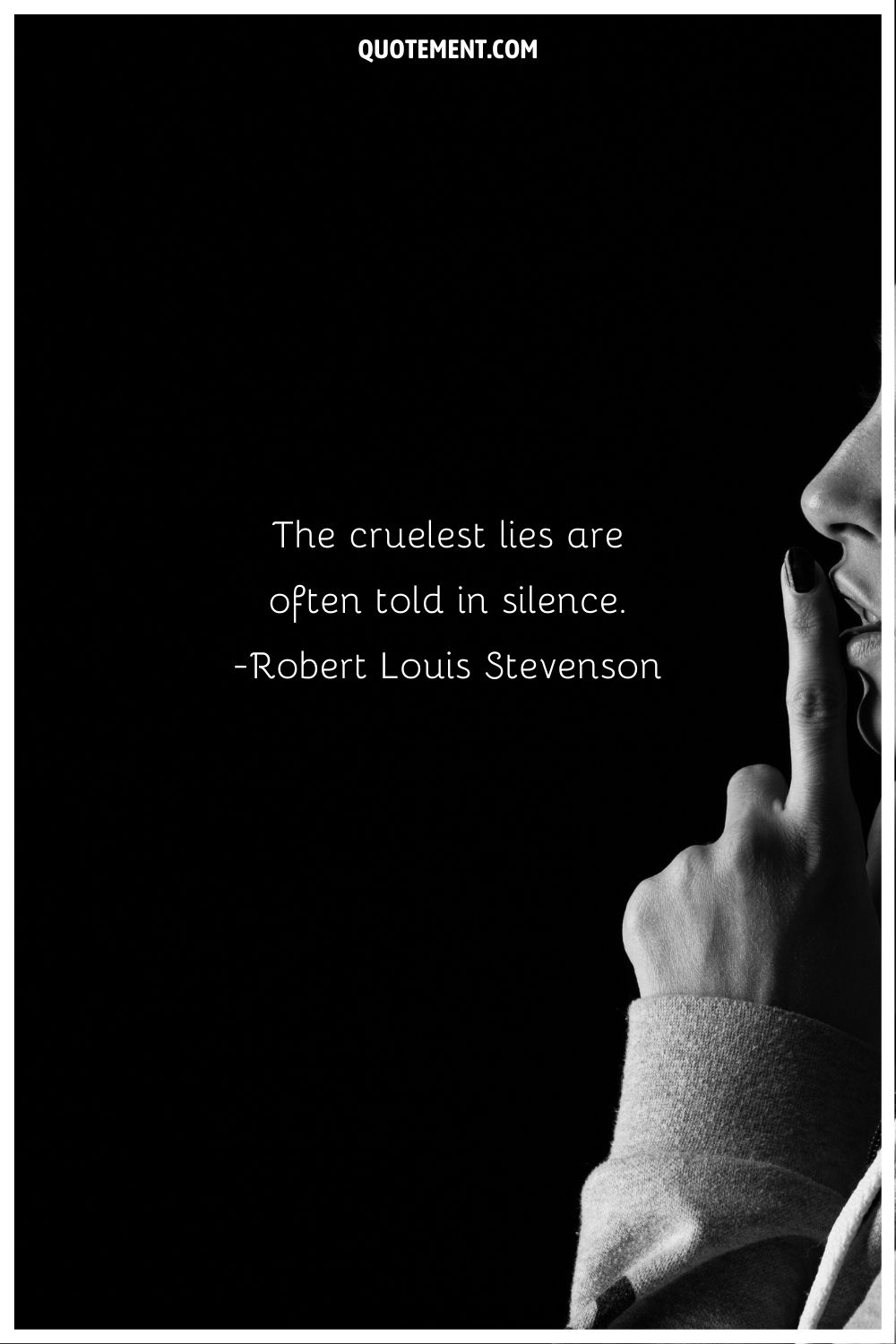 11. "Staying silent is like a slow growing cancer to the soul and a trait of a true coward. There is nothing intelligent about not standing up for yourself. You may not win every battle. However, everyone will at least know what you stood for—YOU." ― Shannon L. Alder
12. "If you can sit in silence with a person for half an hour and yet be entirely comfortable, you and that person can be friends. If you cannot, friends you'll never be and you need not waste time in trying." ― L.M. Montgomery, The Blue Castle
13. "It is always assumed by the empty-headed, who chatter about themselves for want of something better, that people who do not discuss their affairs openly must have something to hide." ― Honoré de Balzac, Père Goriot
14. "Silence makes idiots seem wise even for a minute." ― Carlos Ruiz Zafón, The Angel's Game
15. "It is not easy to keep silent when silence is a lie." ― Victor Hugo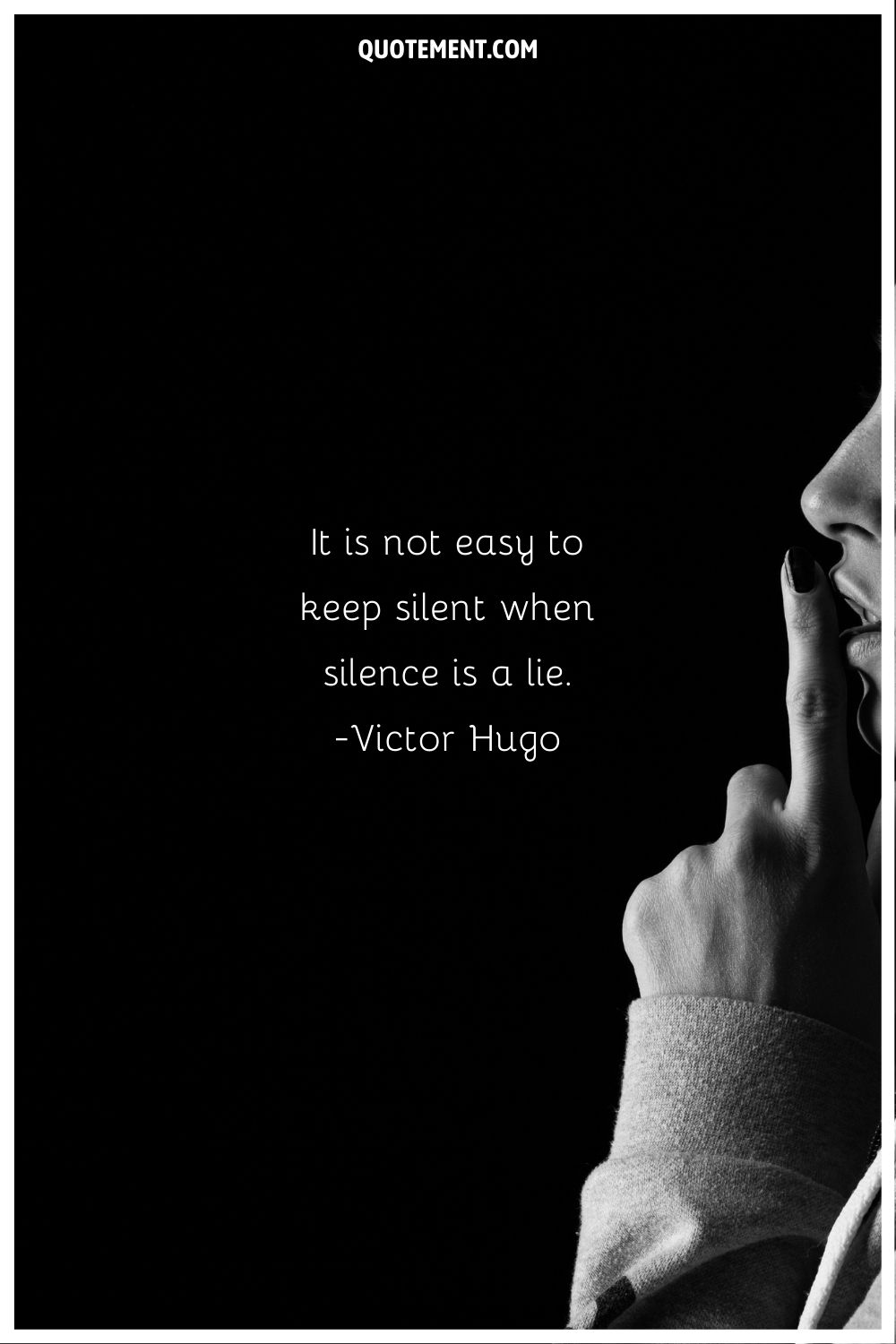 16. "There is no sound more annoying than the chatter of a child, and none more sad than the silence they leave when they are gone." ― Mark Lawrence, King of Thorns
17. "In order to see birds it is necessary to become a part of the silence." ― Robert Lynd
18. "You talk when you cease to be at peace with your thoughts;
And when you can no longer dwell in the solitude of your heart you live in your lips, and sound is a diversion and a pastime. And in much of your talking, thinking is half murdered." ― Khalil Gibran, The Prophet
19. "The whole time I was hoping my silence would fit yours and exclamation marks would gently float across time and space so that boundaries would be crossed; the whole time I was praying you would read my eyes and understand what I was never able to understand. See, we were never about butterflies. We've always been about burning stars. All about us is unearthly and radiant." ― Anna Akhmatova
20. "And where there is no Echo, there is no description of space or love. There is only silence." ― Mark Z. Danielewski, House of Leaves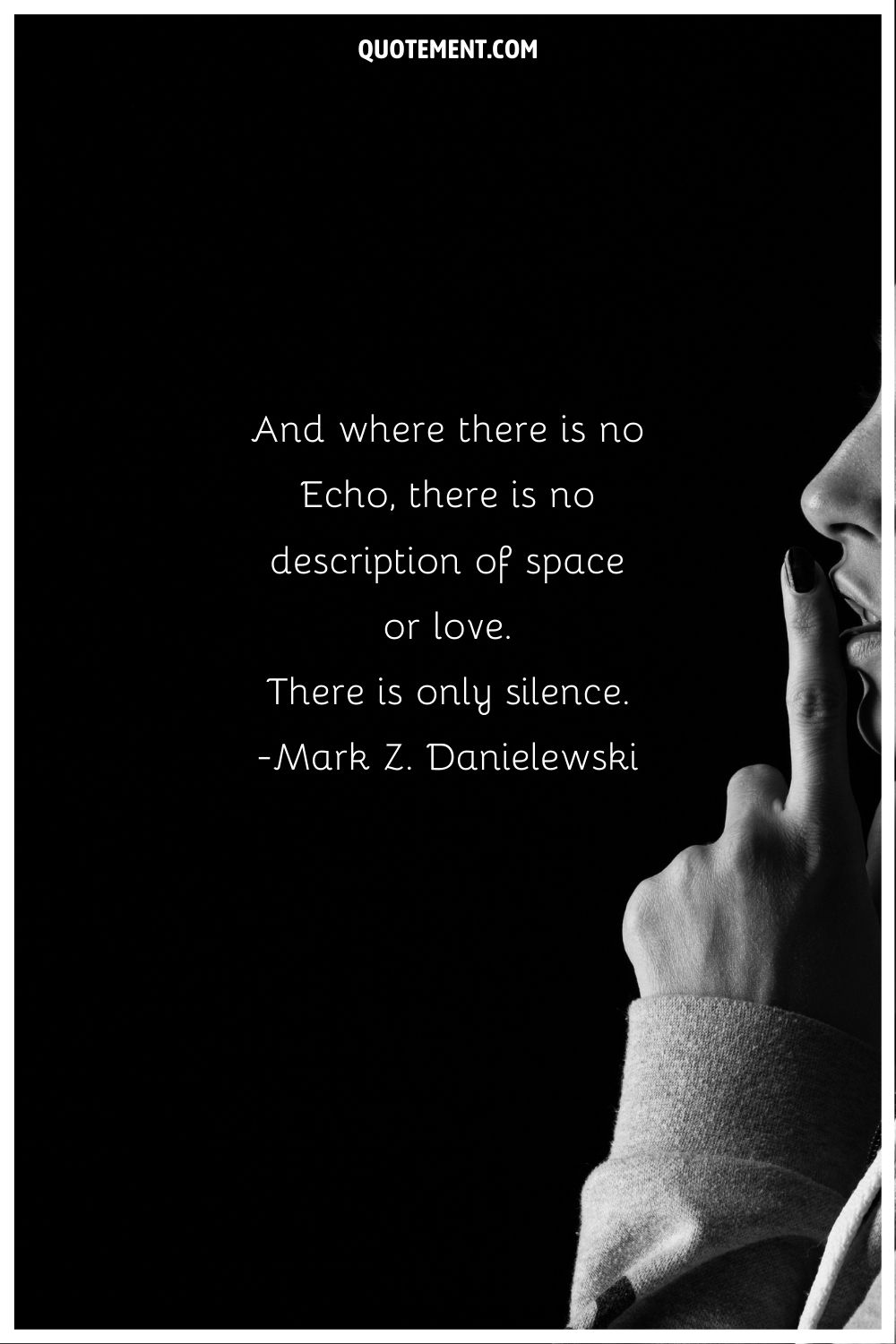 21. "We refuse to turn off our computers, turn off our phone, log off Facebook, and just sit in silence, because in those moments we might actually have to face up to who we really are." ― Jefferson Bethke, Jesus Greater Than Religion
22. "What keeps my heart awake is colorful silence." ― Claude Monet
23. "If you're silent for a long time, people just arrive in your mind." ― Alice Walker
24. "If there was any great lesson in life it was this: No battle was ever won with silence." ― Shannon L. Alder
25. "Your very silence shows you agree." ― Euripides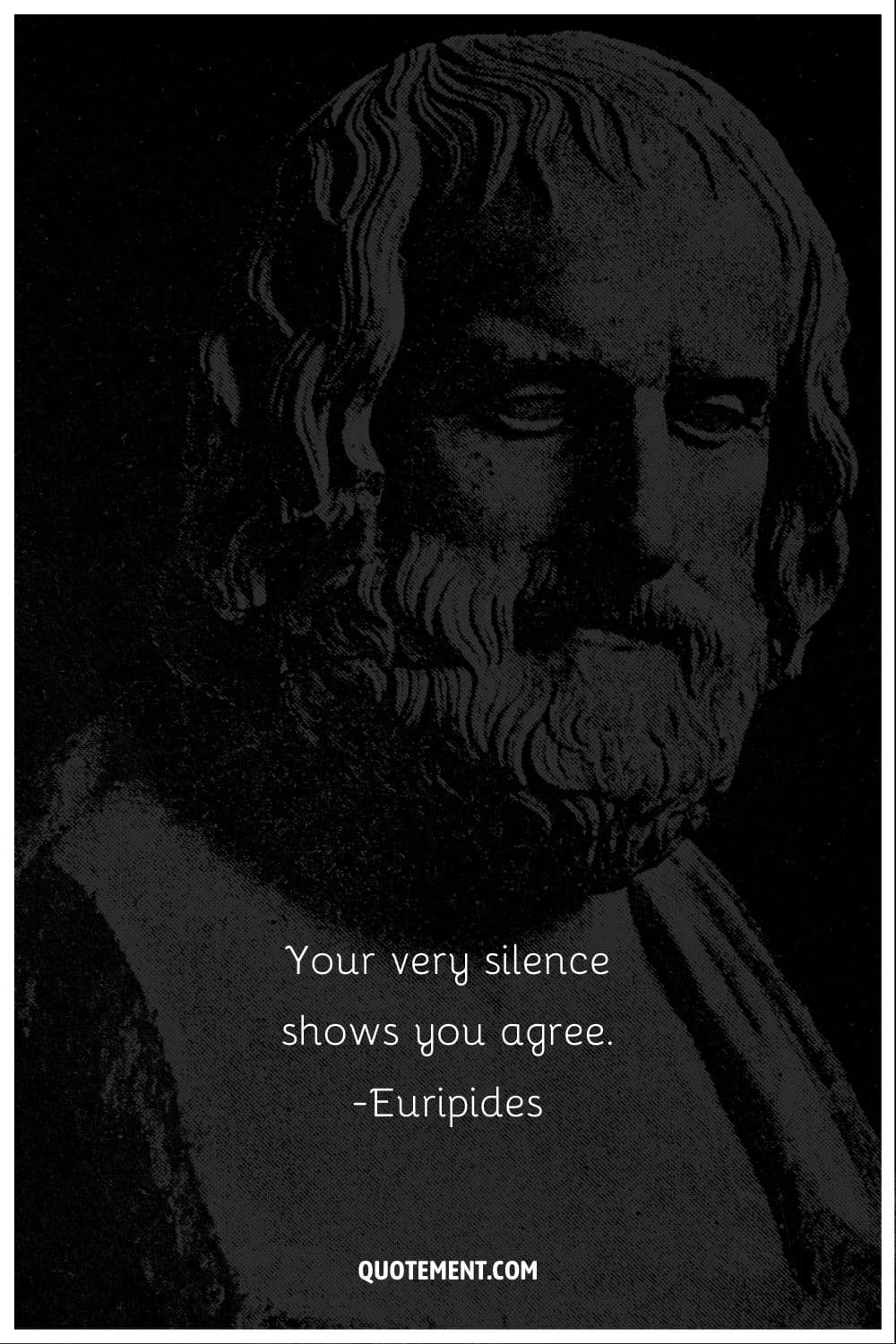 26. "Do you want to change the world?
Then change yourself first.
Do you want to change yourself?
Then remain completely silent inside the silence-sea." ― Sri Chinmoy, Meditation: Man-perfection in God-satisfaction
27. "I no longer believe that we can keep silent. We never really do, mind you. In one way or another we articulate what has happened to us through the kind of people we become." ― Azar Nafisi, Things I've Been Silent About
28. "There is a silence that comes to a house when no one can sleep. I guess it's the price of love; I know it's not cheap." ― U2
29. "Words stand between silence and silence: between the silence of things and the silence of our own being. Between the silence of the world and the silence of God. When we have really met and known the world in silence, words do not separate us from the world nor from other men, nor from God, nor from ourselves because we no longer trust entirely in language to contain reality." ― Thomas Merton, Thoughts in Solitude
30. "We are only lightly covered with buttoned cloth; and beneath these pavements are shells, bones and silence." ― Virginia Woolf, The Waves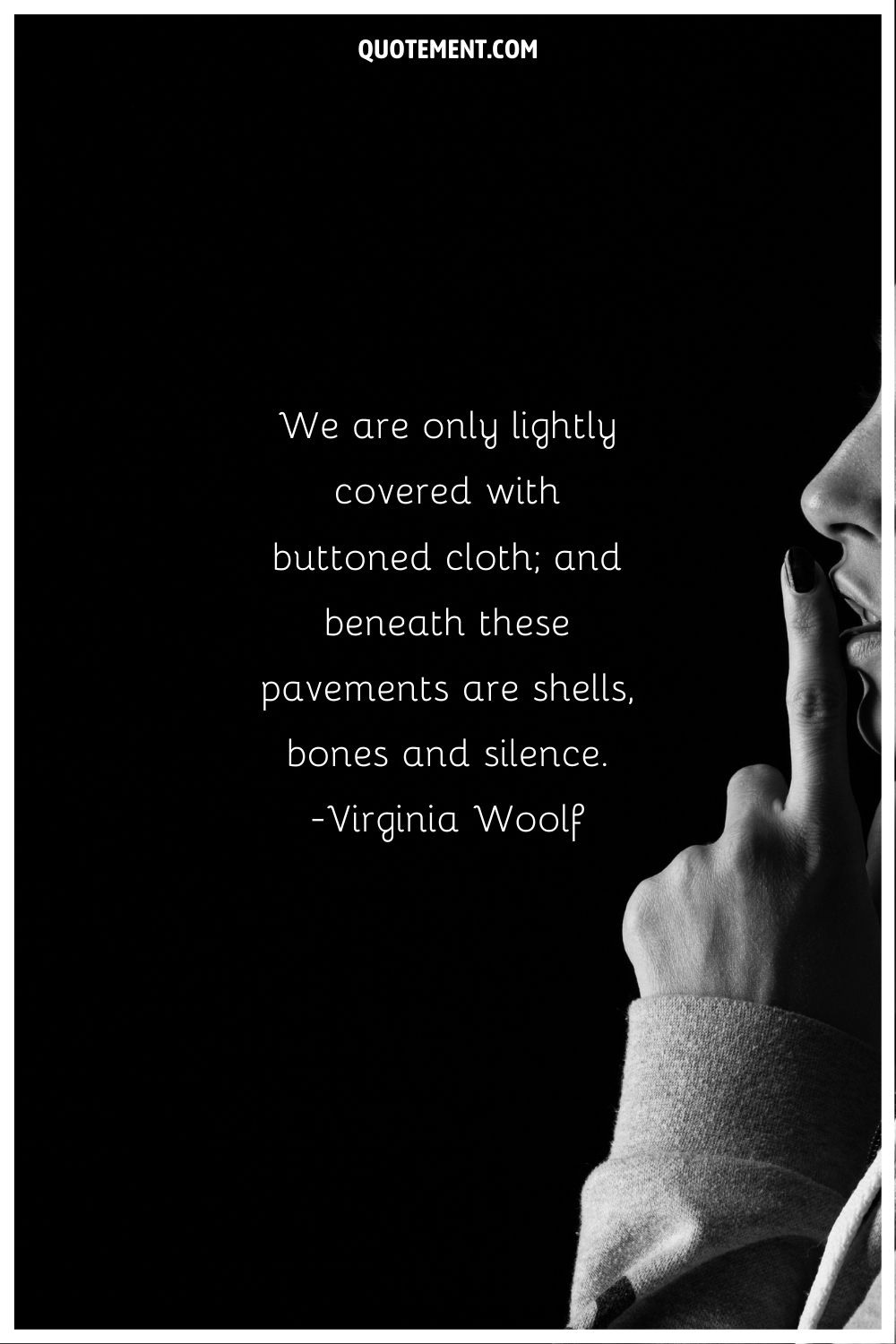 See also: 80 Inspirational Confidence Affirmations To Empower You
Beautiful Quotes About Silence
1. "On the fifth day, which was a Sunday, it rained very hard. I like it when it rains hard. It sounds like white noise everywhere, which is like silence but not empty." ― Mark Haddon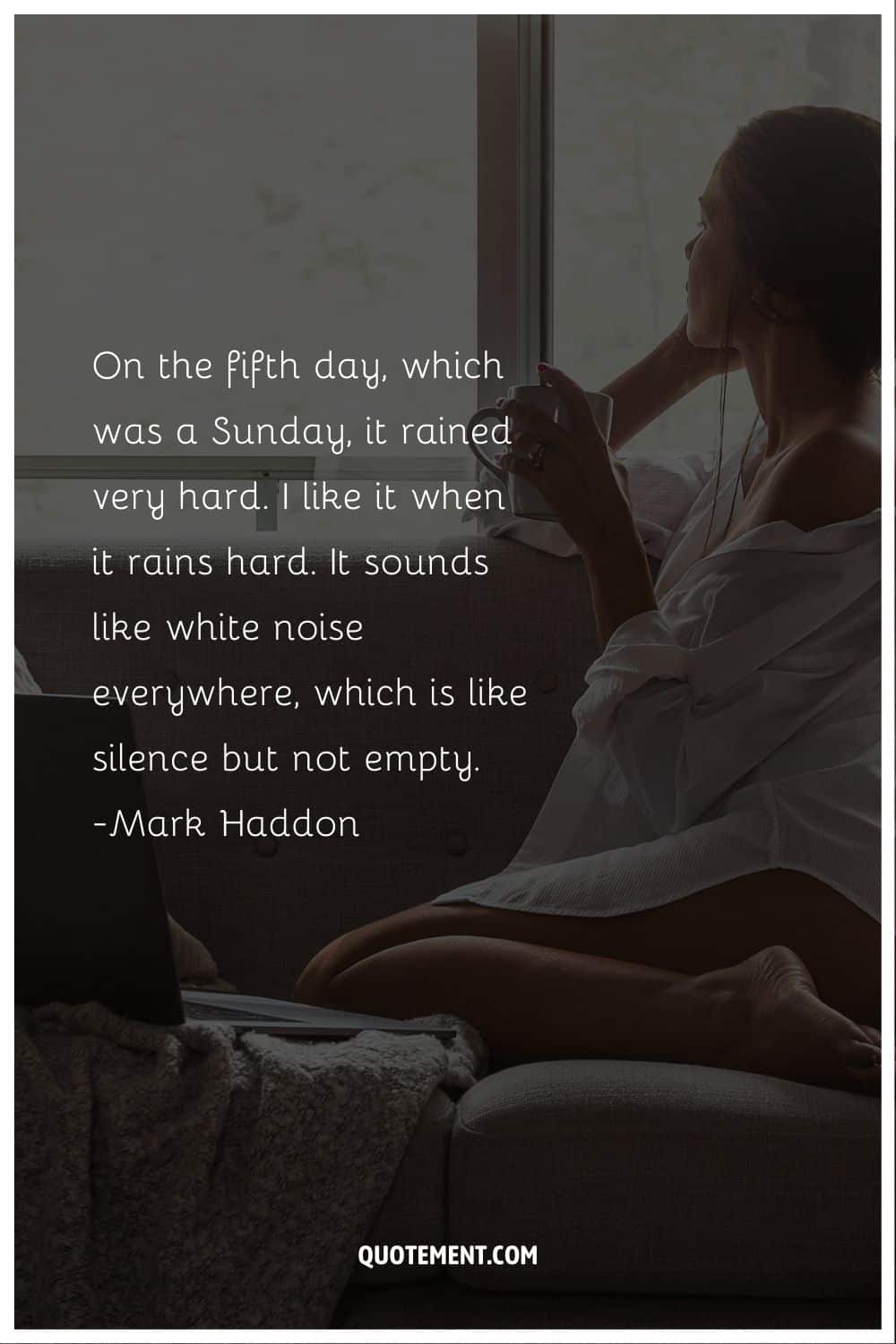 2. "Be silent and safe — silence never betrays you;
Be true to your word and your work and your friend;
Put least trust in him who is foremost to praise you,
Nor judge of a road till it draw to the end." ― John Boyle O'Reilly, Life of John Boyle O'Reilly
3. "In the silence of the heart God speaks. If you face God in prayer and silence, God will speak to you. Then you will know that you are nothing. It is only when you realize your nothingness, your emptiness, that God can fill you with Himself. Souls of prayer are souls of great silence." ― Mother Teresa, In the Heart of the World: Thoughts, Stories and Prayers
4. "I have always loved the desert. One sits down on a desert sand dune, sees nothing, hears nothing. Yet through the silence something throbs, and gleams…" ― Antoine de Saint-Exupéry, The Little Prince
5. "Sometimes there aren't words. The silence between us is flung wide as an ocean. But I manage to reach across it, to wrap my arms around him." ― Jodi Picoult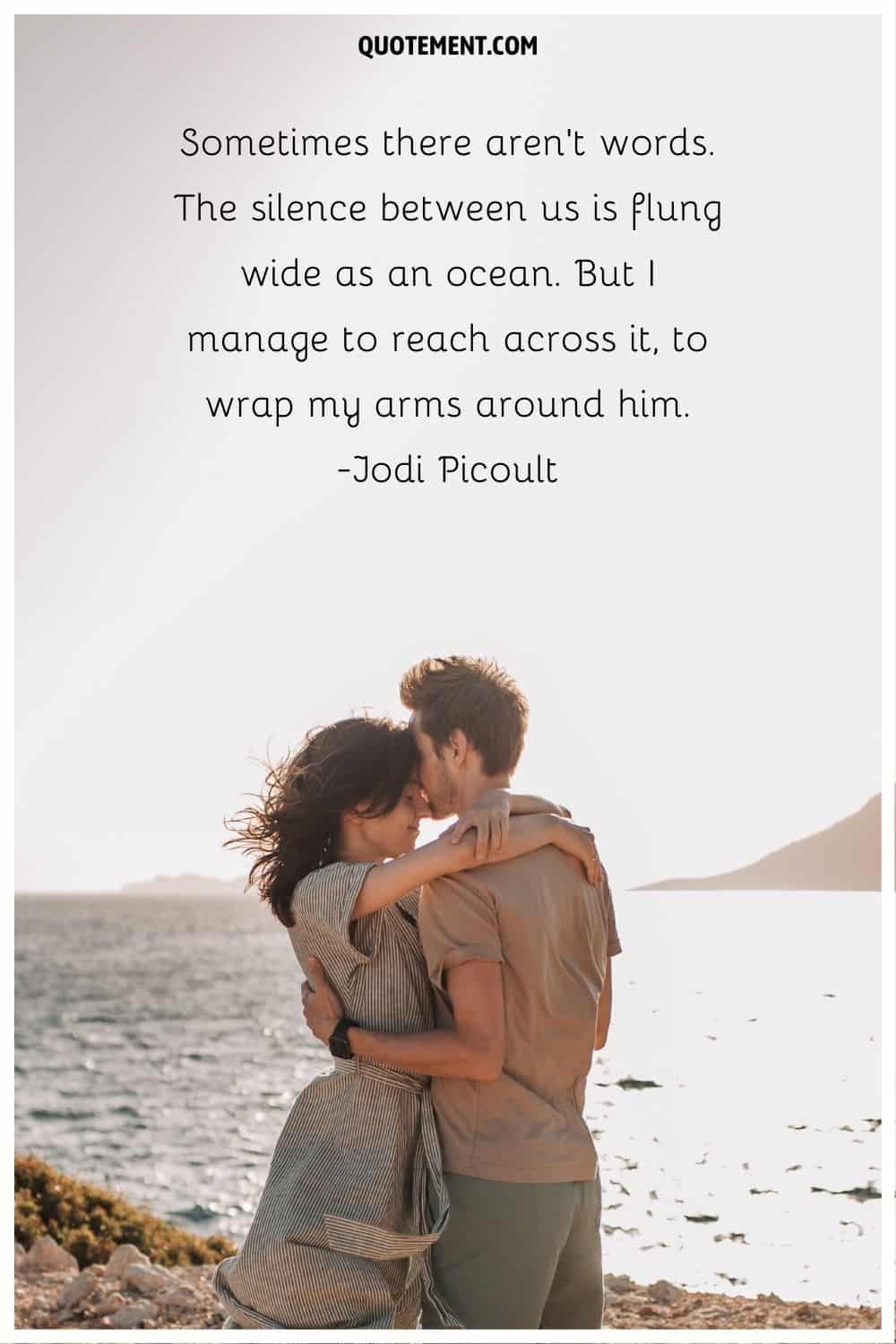 6. "Listen closely… the eternal hush of silence goes on and on throughout all this, and has been going on, and will go on and on. This is because the world is nothing but a dream and is just thought of and the everlasting eternity pays no attention to it."― Jack Kerouac
7. "Ships that pass in the night, and speak each other in passing,
Only a signal shown and a distant voice in the darkness;
So on the ocean of life, we pass and speak one another,
Only a look and a voice, then darkness again and a silence." ― Henry Wadsworth Longfellow, Tales of a Wayside Inn
8."I woke up early and took the first train to take me away from the city. The noise and all its people. I was alone on the train and had no idea where I was going, and that's why I went there. Two hours later we arrived in a small town, one of those towns with one single coffee shop and where everyone knows each other's name. I walked for a while until I found the water, the most peaceful place I know. There I sat and stayed the whole day, with nothing and everything on my mind, cleaning my head. Silence, I learned, is some times the most beautiful sound." ― Charlotte Eriksson
9."Not words.
nor laughter.
but rather someone
who will fall in love
with your silence." ― Sanober Khan
10. "The deepest feeling always shows itself in silence." ― Marianne Moore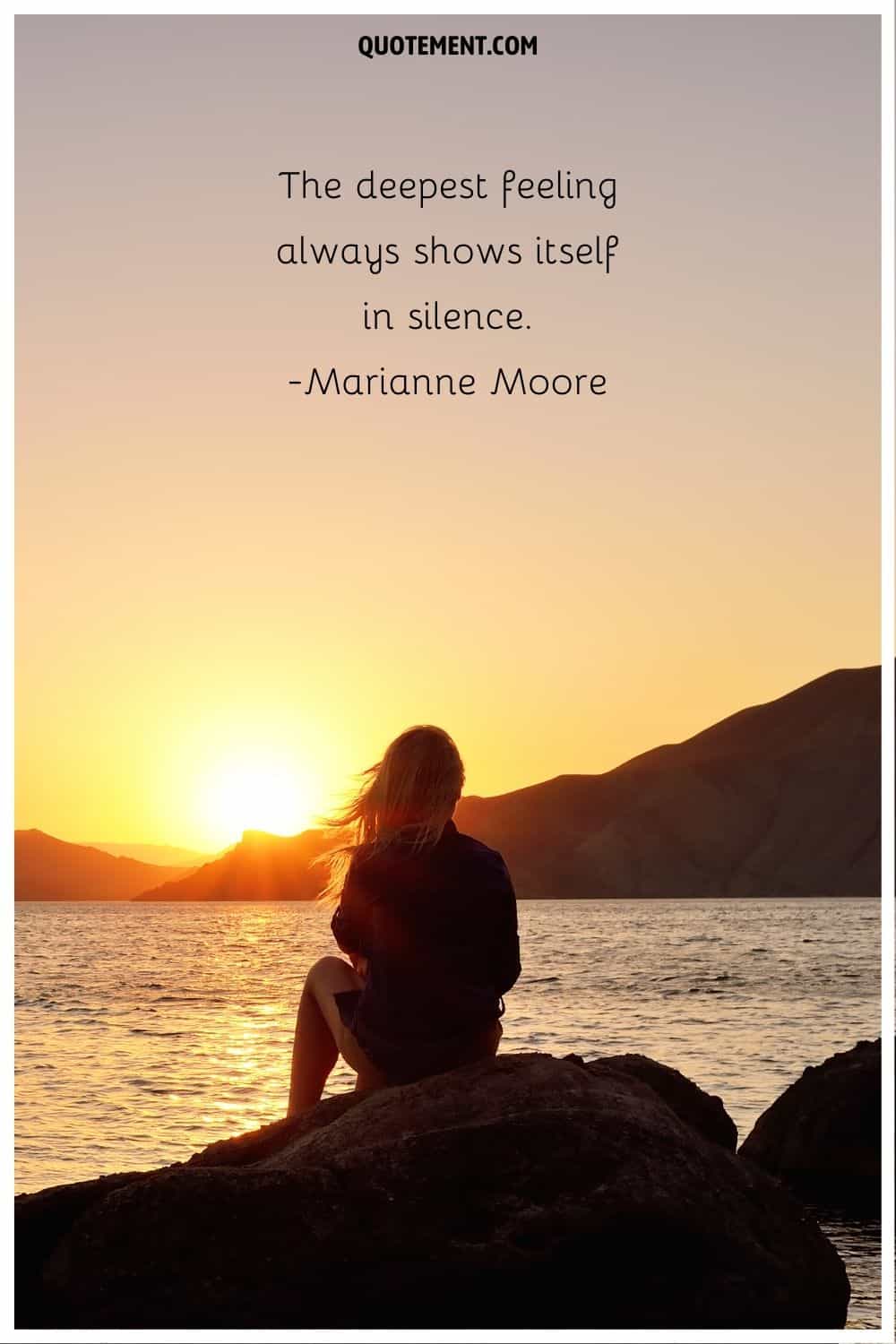 11. "Silence fell between us. This was a common occurrence whenever we're alone. When you're comfortable with someone, you don't need to always fill the void with noise. I liked it when we would just be." ― Elizabeth Eulberg, Better Off Friends
12. "And silence. She liked the silence most of all. The silence in which the body, senses, the instincts, are more alert, more powerful, more sensitized, live a more richly perfumed and intoxication life, instead of transmuting into thoughts, words, into exquisite abstractions, mathematics of emotion in place of violent impact, the volcanic eruptions of fever, lust and delight." ― Anaïs Nin
13. "When we still our mind and stroll through the human landscapes around us, we can see astounding images sneaking from undisclosed places, and hear roaring sounds behind unsuspected walls. If we take the time to listen to the blistering flurry of the silence and look at the inconspicuous specks in our surroundings, our world can turn into an explosion of little wonders. We realize that we finally recognize the things we have overlooked, due to our deafness and blindness." ― Erik Pevernagie
14. "A heart worth loving is one you understand, even in silence." ― Shannon L. Alder
15. "There are in life a few moments so beautiful ,that even words are a sort of profanity." ― Diana Palmer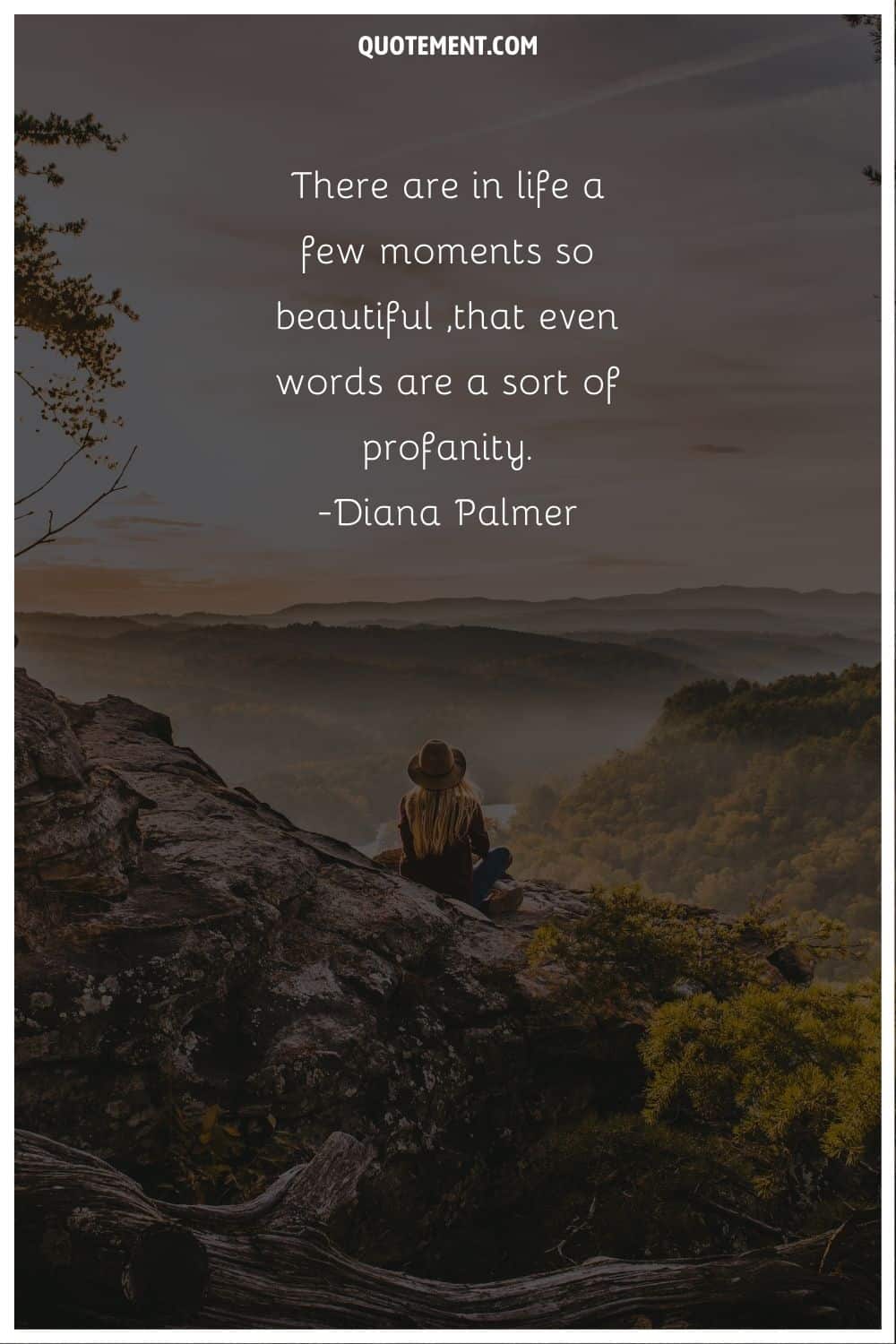 16. "I waited for her to catch up, and when I did, she slowed down, and I missed seeing the light in her haord
After you have read these silence quotes, I think that you got the idea of a few different types of silence.
Some stay silent because they don't want to hurt the other person, some when they are working on something air. I never told Nadia how much I liked seeing the halo the sunlight made of her hair. Sometimes silence is a habit that hurts." ― E.L. Konigsburg, The View from Saturday
17. "She was a poem and a painting too. Everything she said sounded like a song, every silence was the music too." ― Akshay Vasu
18. "There are certain kinds of silence that make you walk on air." ― Cecelia Ahern
19. "Silence is the universal refuge, the sequel to all dull discourses and all foolish acts, a balm to our every chagrin, as welcome after satiety as after disappointment; that background which the painter may not daub, be he master or bungler, and which, however awkward a figure we may have made in the foreground, remains ever our inviolable asylum, where no indignity can assail, no personality can disturb us." ― Henry David Thoreau
20. "Let silence take you to the core of life." ― Rumi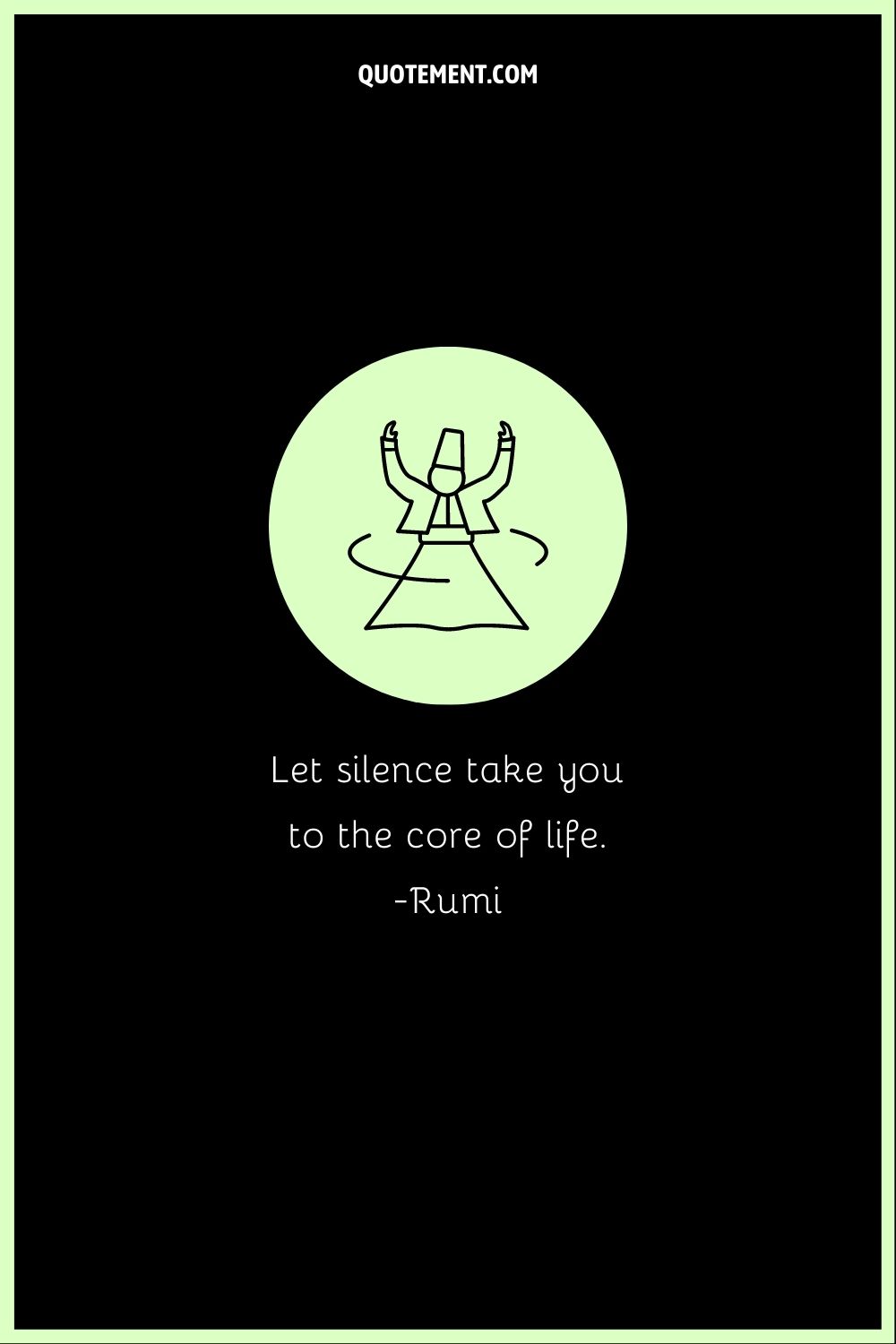 Final Word
After you have read these silence quotes, I think that you got the idea of a few different types of silence.
Some stay silent because they don't want to hurt the other person, some when they are working on something and don't want other people to ruin that for them. Others are just finding silence to be the only coping mechanism for them.
Whatever is the case with yourself, I would like to support you to acknowledge that your emotions are important. Everything will eventually fade away, both happiness and sadness, both silence and loudness.
It is important that you stay true to yourself, and find inspiration to keep going.
Read next: 220 Best Sad Instagram Captions To Get It Off Your Chest