The symbols of freedom, hope, and grace, birds have impressed writers, philosophers, observers of nature, as well as us ordinary folks.
Thus one can find plenty of inspiring and beautiful quotes capturing the grace and freedom of these majestic creatures of the sky.
In this article, I've collected the best bird quotes I could find online, and I bet you'll be impressed by them as much as I am.
Let's go!
Top 10 Bird Quotes
1. "Birds were created to record everything. They were not designed just to be beautiful jewels in the sky, but to serve as the eyes of heaven." — Suzy Kassem
2. "Birds are a miracle because they prove to us there is a finer, simpler state of being which we may strive to attain." — Douglas Coupland
3. "The bird dares to break the shell, then the shell breaks open and the bird can fly openly. This is the simplest principle of success. You dream, you dare and you fly." — Israelmore Ayivor
4. "A bird does not sing because it has an answer, it sings because it has a song." — Maya Angelou
5. "Everyone likes birds. What wild creature is more accessible to our eyes and ears, as close to us and everyone in the world, as universal as a bird?" — David Attenborough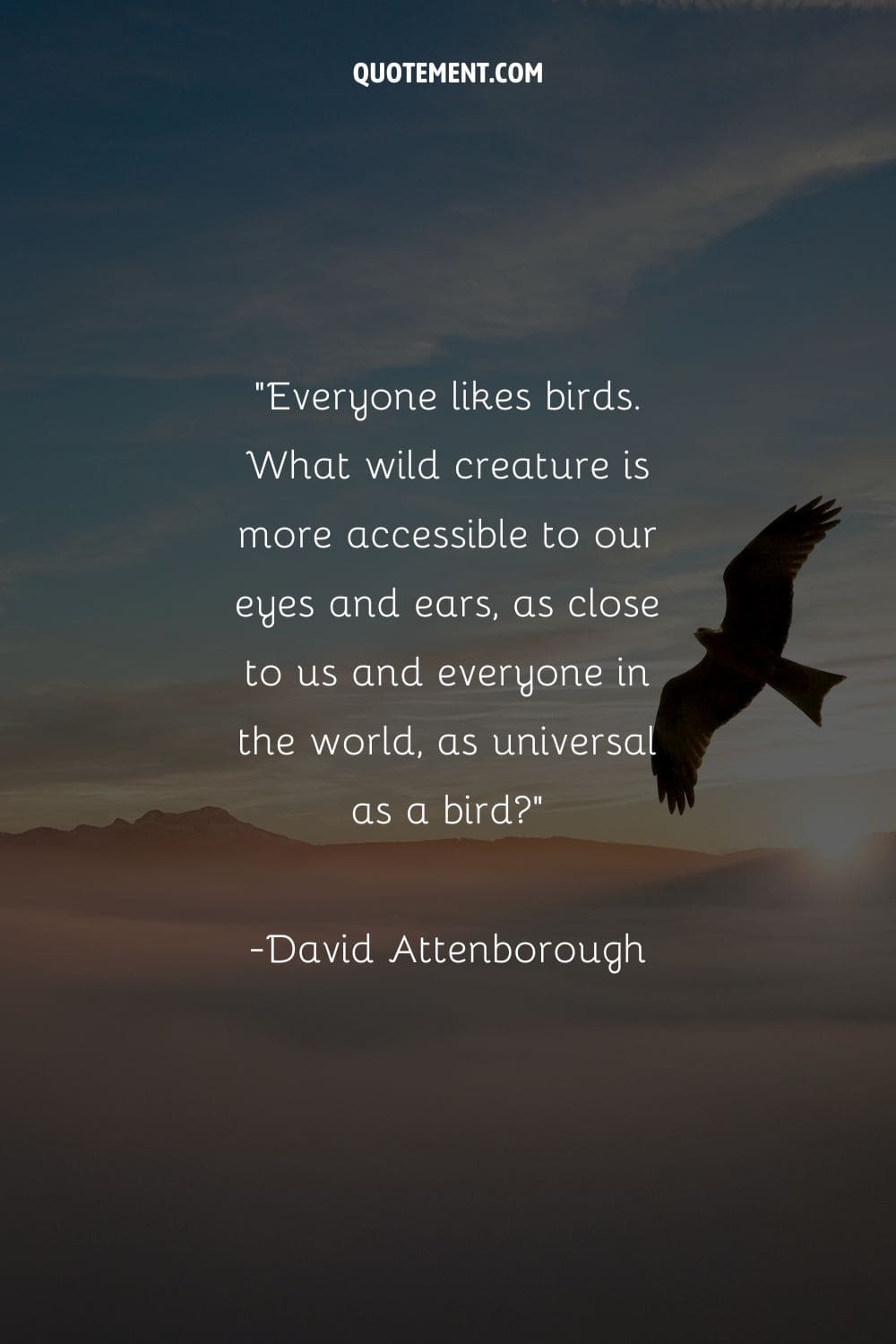 6. "Man is a bird without wings and a bird is a man without sorrow." — Louis de Bernieres
7. "My heart is like a singing bird." — Christina Rossetti
8. "Without birds, where would we have learned that there can be song in the heart?" — Hal Borland
9. "Birds sing after a storm; why shouldn't people feel as free to delight in whatever sunlight remains to them?" — Rose Fitzgerald Kennedy
10. "Birds teach us something very important: To whatever height you rise, you will finally come down to the ground!" — Mehmet Murat ildan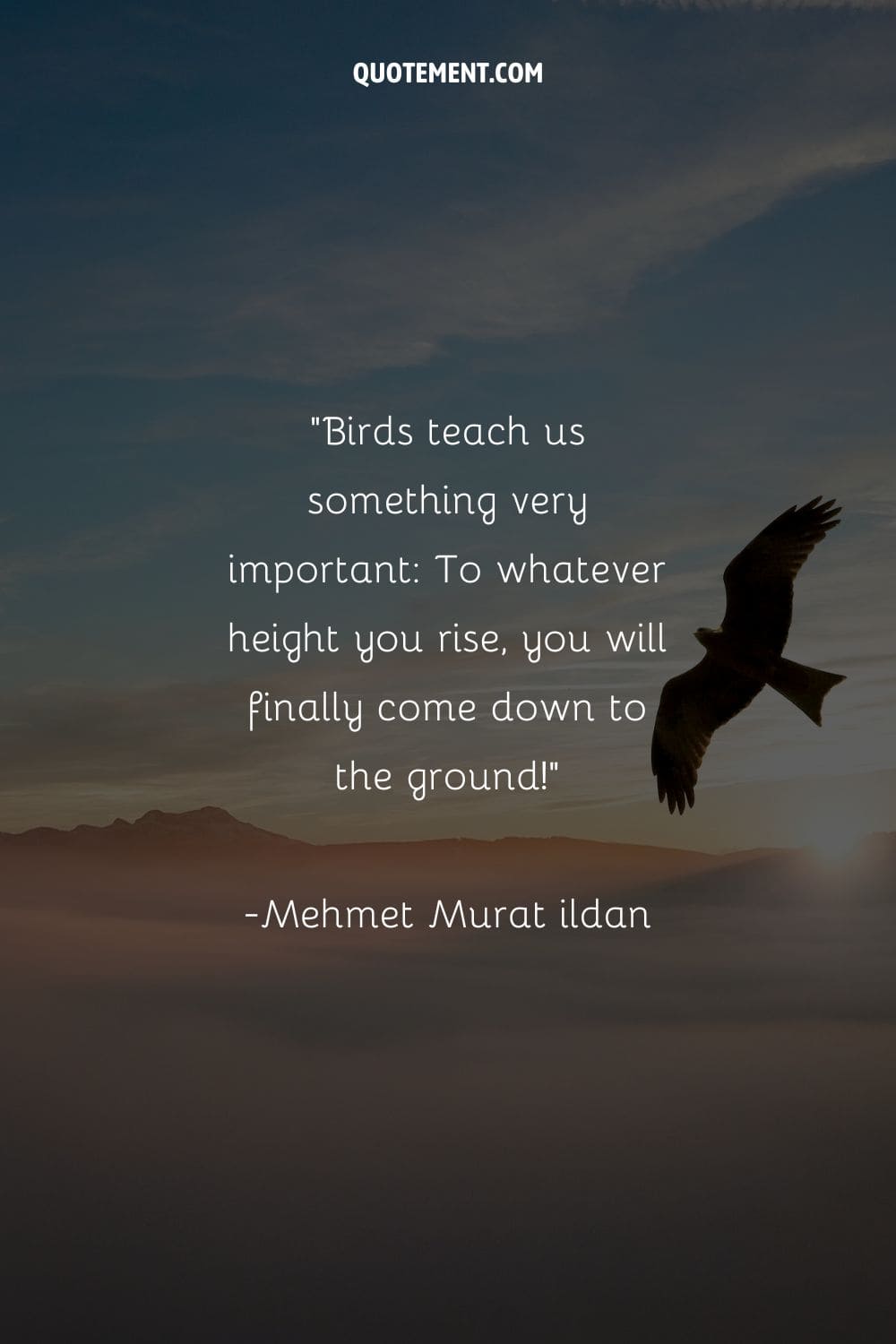 Inspirational Quotes About Birds
1. "A bird sitting in a tree is never afraid of the branch breaking because its trust is not on the branch but on its own wings. Always believe in yourself." — Charlie Wardle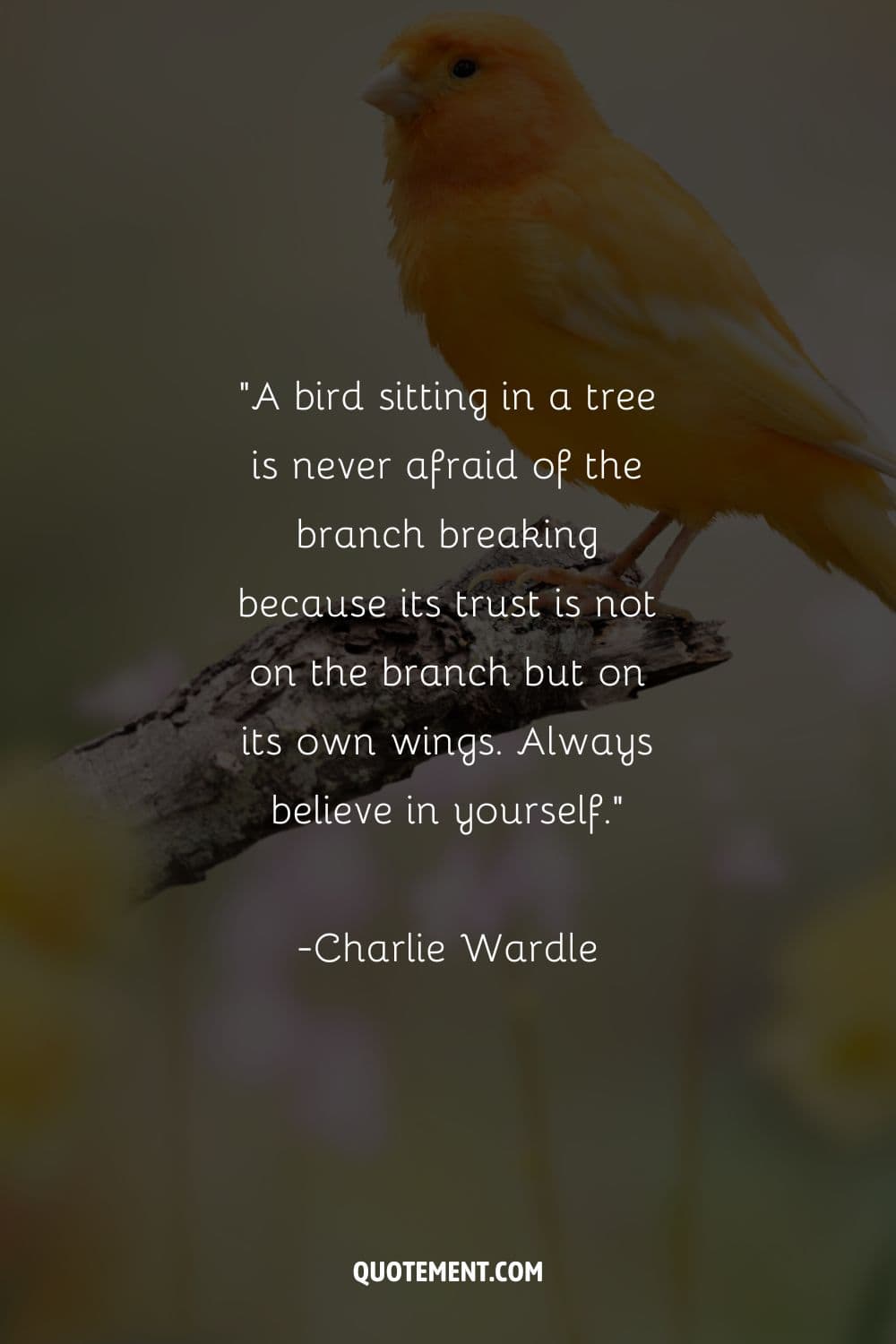 2. "Each bird must sing with his own throat." — Henrik Ibsen
3. "Be like the bird listener who has no need to interpret what the birds have to say but who is simply content that the birds have their say." — Wald Wassermann
4. "Faith is the bird that feels the light when the dawn is still dark." — Rabindranath Tagore
5. "Be as a bird perched on a frail branch that she feels bending beneath her, still she sings away all the same, knowing she has wings." — Victor Hugo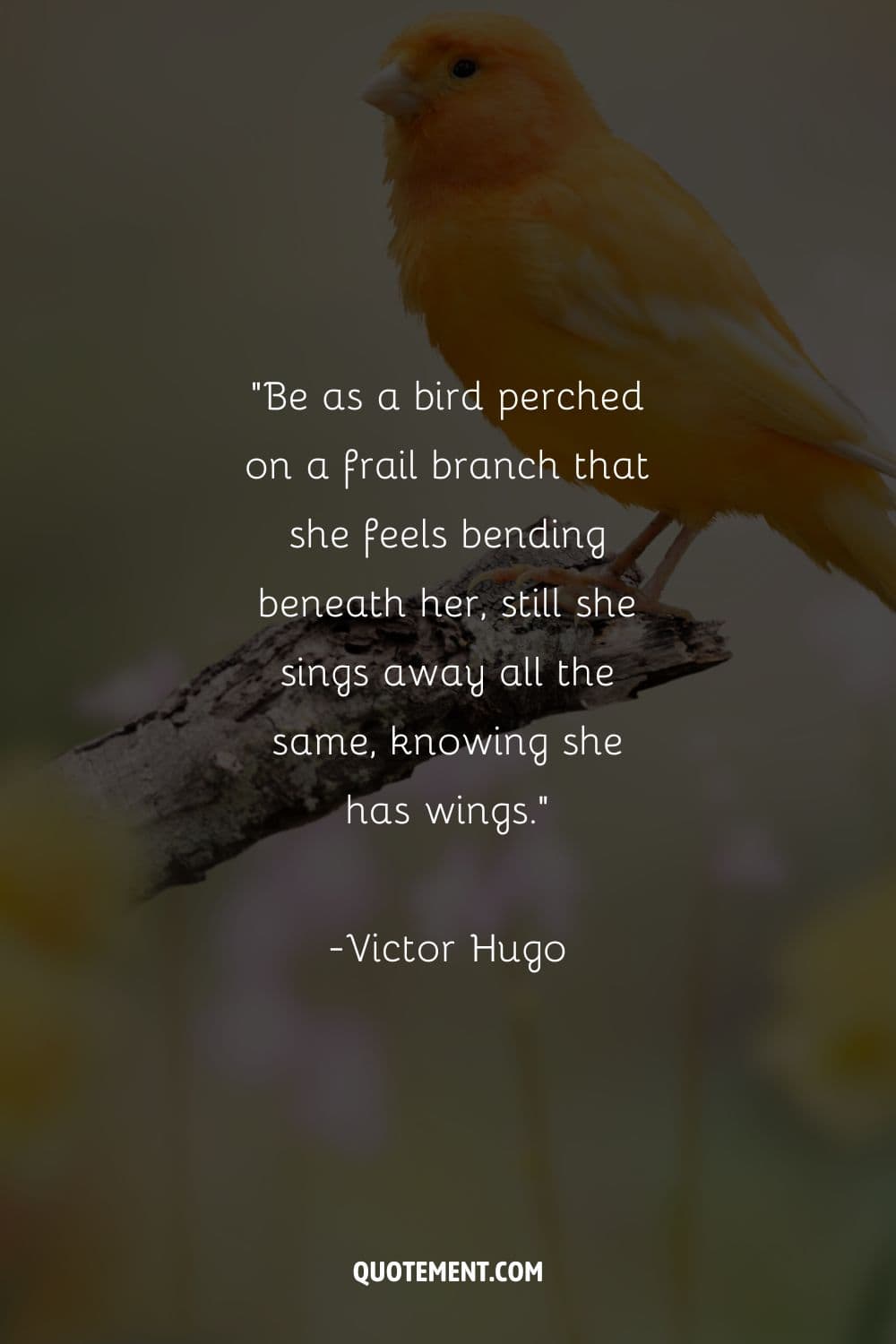 6. "You must have the bird in your heart before you can find it in the bush." — John Burroughs
7. "Birds are beautiful. After a lifetime of study I still love to look at them and listen to them, even the common species." — Kenn Kaufman
8. "I wake up every morning new, free as a bird." — Ashley Cole
See also: 130 Morning Affirmations To Set You Up For A Fabulous Day
9. "Watching birds has become part of my daily meditation affirming my connection to the earth body." — Carol P. Christ
10. "The presence of a single bird can change everything for one who appreciates them." — Julie Zickefoose
11. "Tomorrow, the birds will sing. Be brave. Face life." — Charlie Chaplin
12. "Keep a green tree in your heart and perhaps the singing bird will come." — Lois Lowry
13. "I like the idea of taking off like a bird." — Florence Welch
14. "If you become a singing bird, I will be the listening sky so that I will never miss your song." — Debasish Mridha
15. "Not humans, but birds often witness the most beautiful mornings in this world!" — Mehmet Murat ildan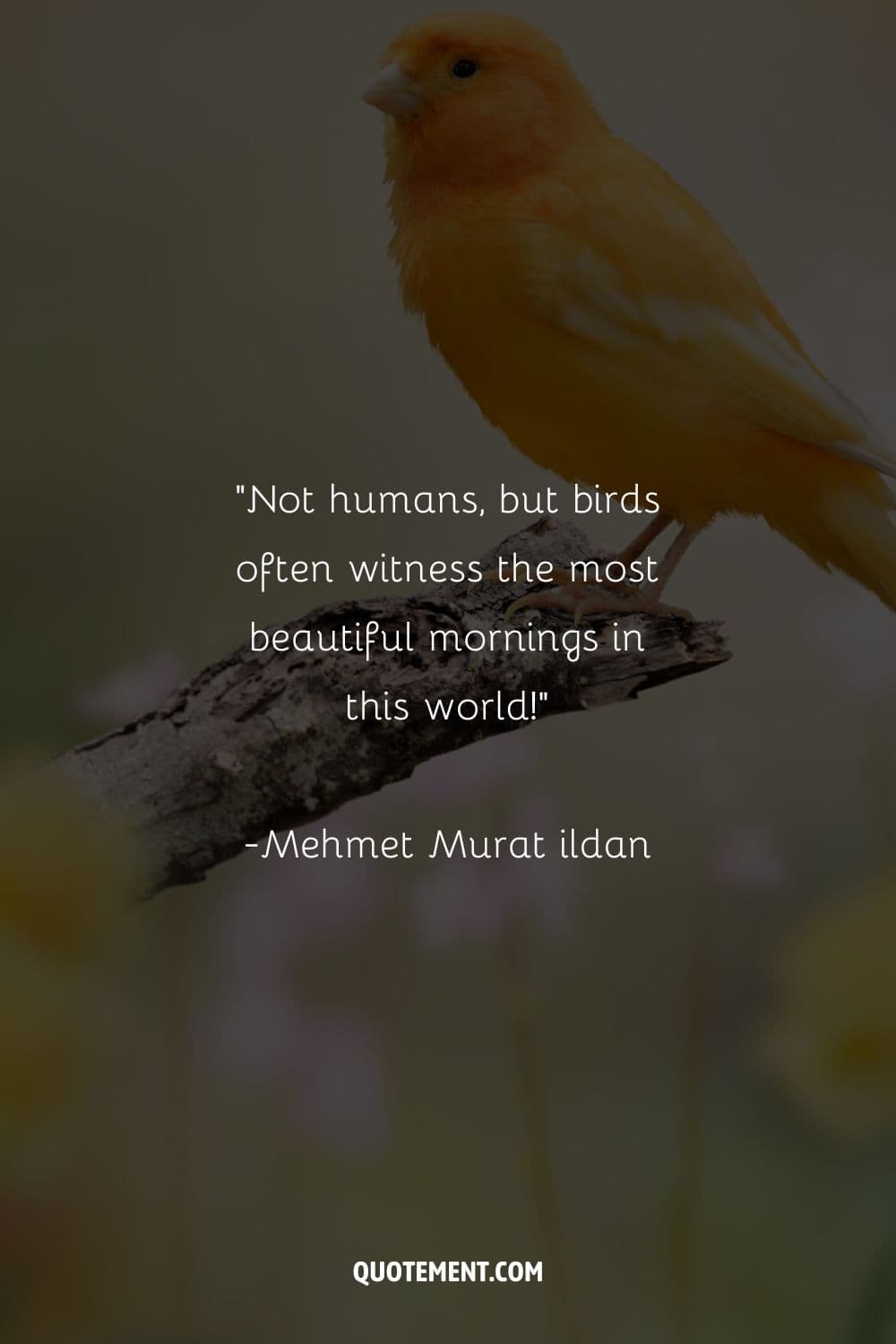 16. "Birds are the first and the greatest performers." — Olivier Messiaen
17. "Wake up with the birds and go to sleep with the stars." — Marty Rubin
18. "The sound of birds stops the noise in my mind." — Carly Simon
19. "I don't ask for the meaning of the song of a bird or the rising of the sun on a misty morning. There they are, and they are beautiful." — Pete Hamill
20. "I caught a glimpse of happiness, and saw it was a bird on a branch, fixing to take wing." — Richard Peck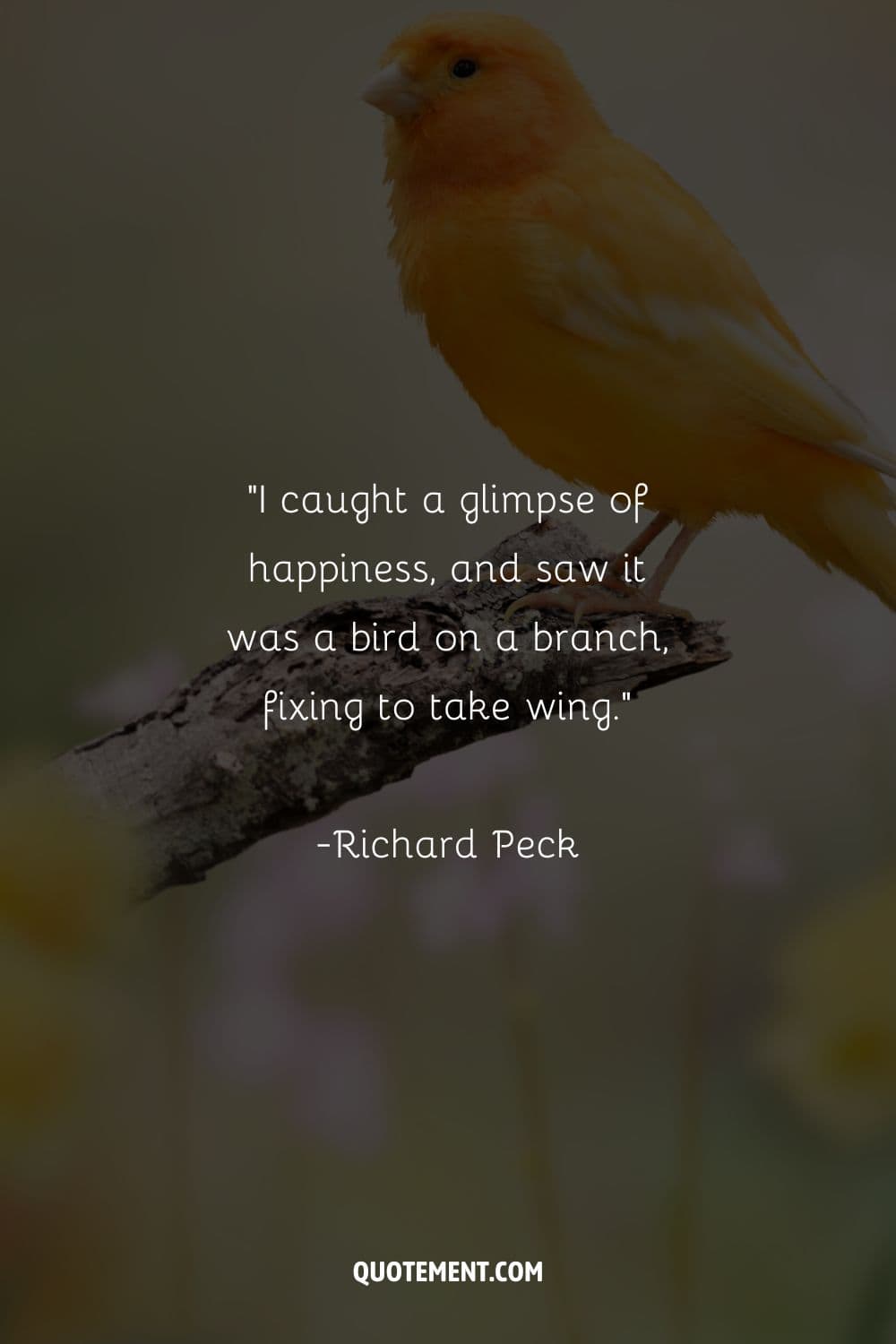 21. "A beautiful day with the buoyancy of a bird." — Truman Capote
22. "A bird is joy incarnate." — Myrtle Reed
See also: 80 Inspiring Quotes On Joy To Turn Your Frown Upside Down
23. "I personally find the diversity and beauty of birds to be endlessly stimulating and fascinating." — Tim Laman
24. "Wherever there are birds, there is hope." — Mehmet Murat Ildan
25. "The eagle has no fear of adversity. We need to be like the eagle and have a fearless spirit of a conqueror." — Joyce Meyer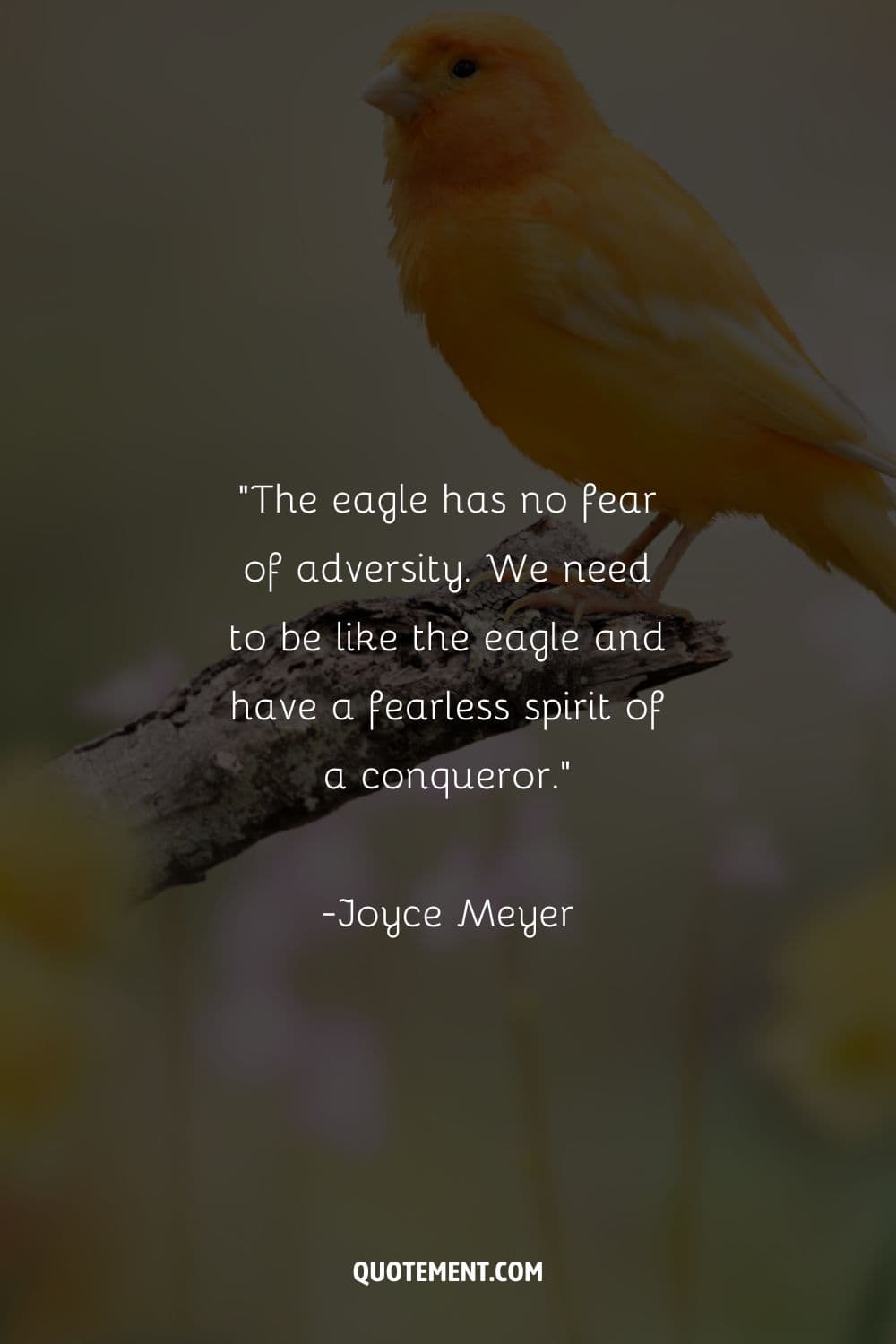 26. "I'm youth, I'm joy, I'm a little bird that has broken out of the egg." — James M. Barrie
27. "The bird is powered by its own life and by its motivation." — A. P. J. Abdul Kalam
28. "You cannot fly like an eagle with the wings of a wren." — William Henry Hudson
29. "A heart without dreams is like a bird without feathers." — Suzy Kassem
See also: 120 Follow Your Dreams Quotes To Keep You On The Track
30. "Every bird, every tree, every flower reminds me what a blessing and privilege it is just to be alive." — Marty Rubin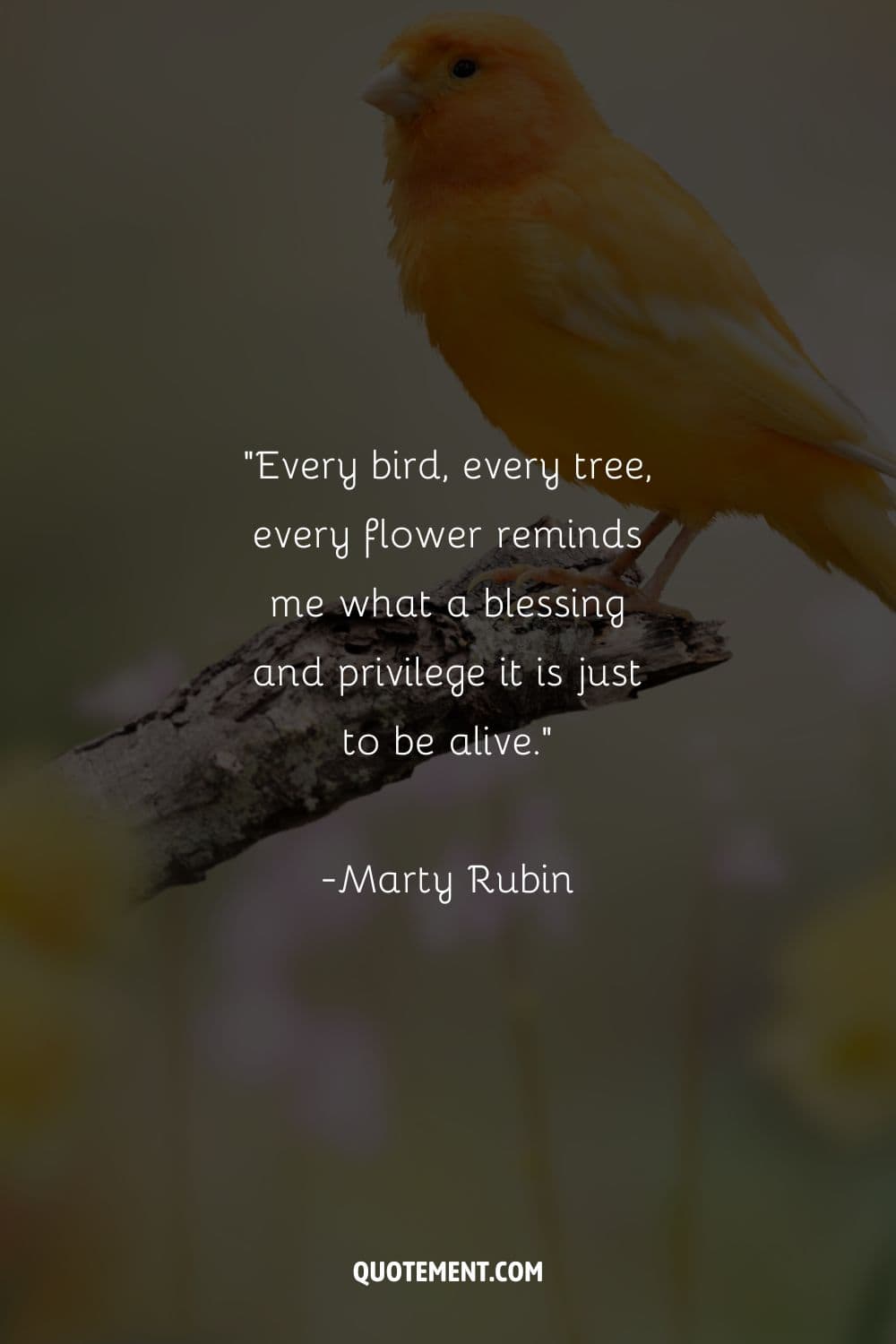 Bird Quotes On Life
1. "Birds chirping around you is a beautiful realization that life is incredibly good. Let this sound be a gentle break in your routine." — Hiral Nagda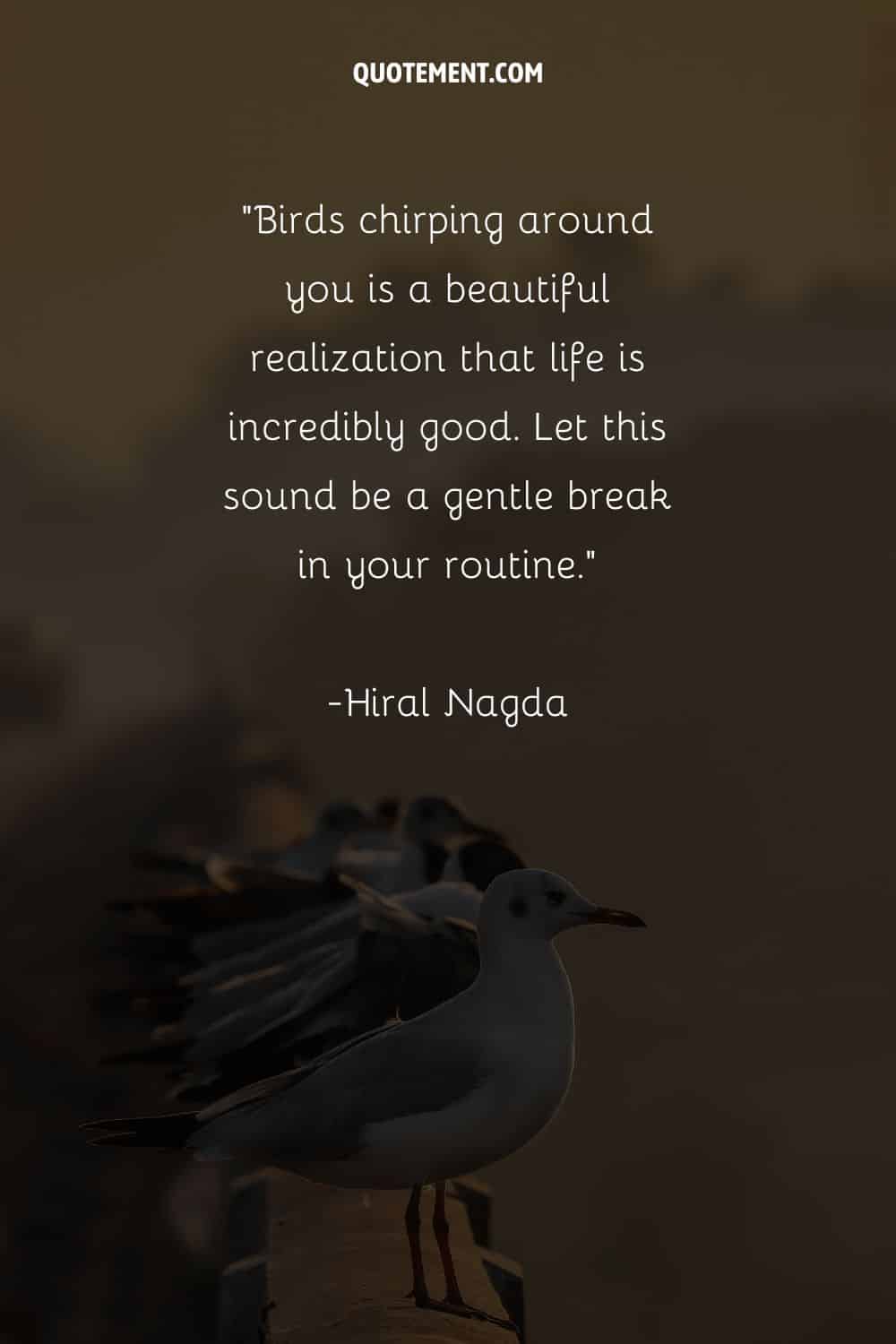 2. "You were born with wings, why prefer to crawl through life?" — Rumi
3. "Intelligence without ambition is a bird without wings." — Salvador Dali
4. "Hold fast to dreams, for if dreams die, life is a broken-winged bird that cannot fly." — Langston Hughes
5. "The air is crowded with birds — beautiful, tender, intelligent birds — to whom life is a song." — George Henry Lewes
6. "Be not like the bird that sees the seed, but not the trap." — Judah ben Saul ibn Tibbon
7. "Use what talents you possess; the woods would be very silent if no birds sang there except those that sang best." — Henry Van Dyke
8. "The songs of the morning birds reverberate the glory of the eternal life." ― Amit Ray
9. "May my heart always be open to little birds who are the secrets of living" — e. e. Cummings
10. "Relationships are like birds. If you hold tightly, they die. If you hold loosely, they fly. But if you hold with care, they remain with you forever." — Unknown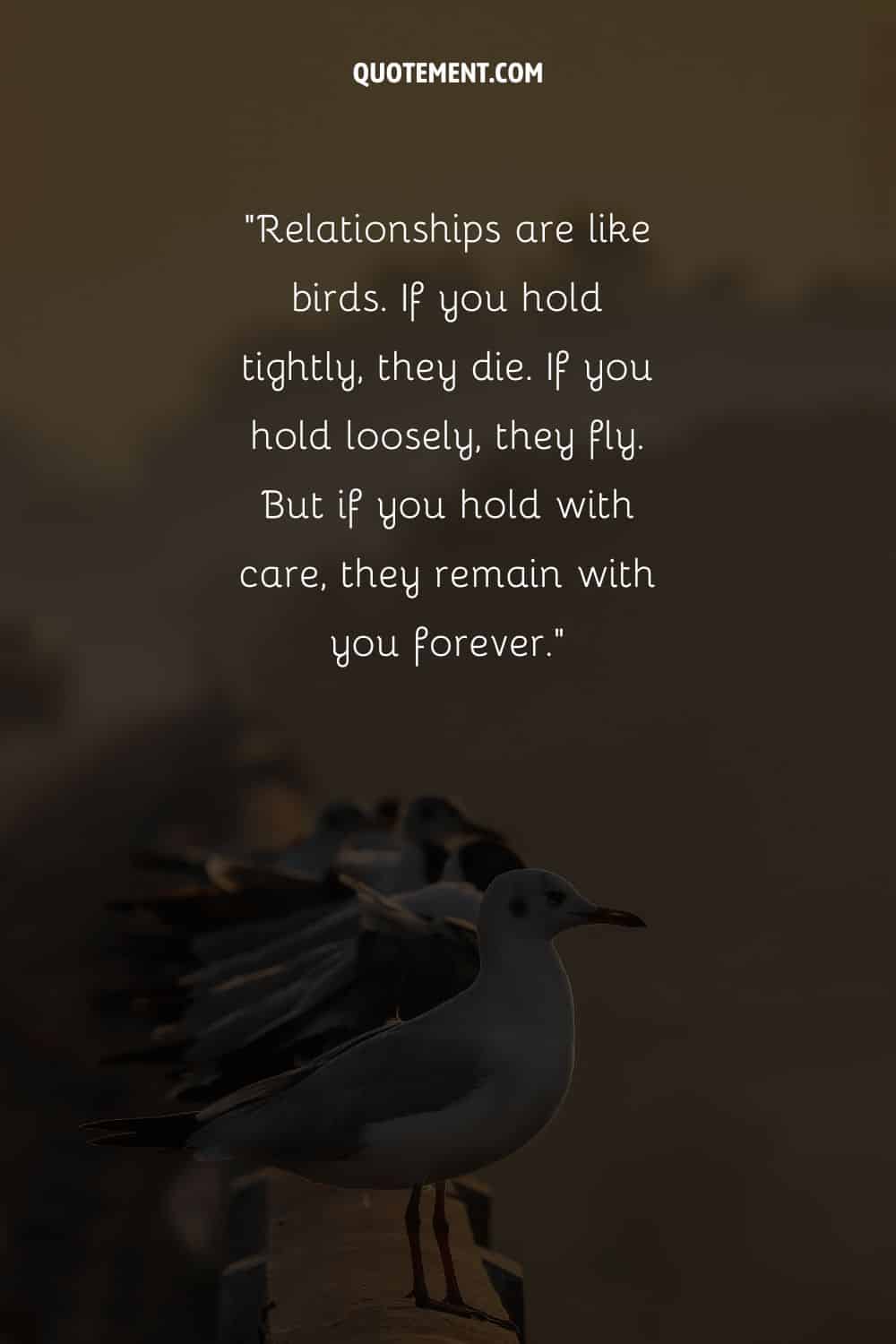 11. "Birds teach a great life lesson. All you have to do is listen to their song." — Unknown
12. "Some birds are not meant to be caged, that's all." ― Stephen King
13. "No human ever lived in a birdless world." — Richard Smyth
14. "Your head is a living forest full of songbirds." — e. e. Cummings
15. "Just as the bird needs wings to fly, a leader needs useful information to flow. Leaders learn." — Israelmore Ayivor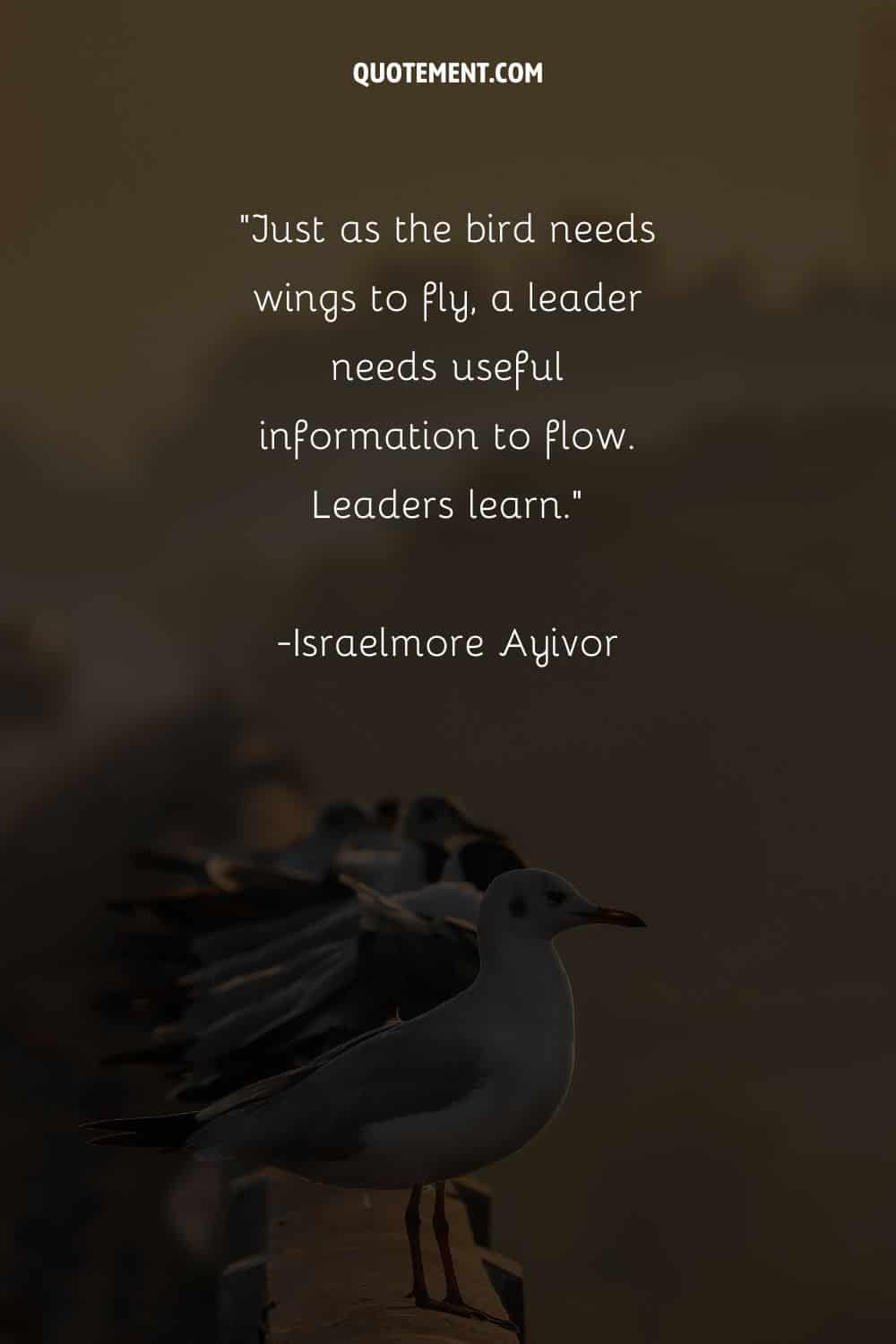 16. "A bird in hand is a certainty. But a bird in the bush may sing." — Bret Harte
17. "Without love we all like birds with broken wings." — Mitch Albom
18. "The bird has an honor that man does not have. Man lives in the traps of his abdicated laws and traditions; but the birds live according to the natural law of God who causes the earth to turn around the sun." — Khalil Gibran
19. "If I had to choose, I would rather have birds than airplanes." — Charles Lindbergh
20. "Faith without works is like a bird without wings; though she may hop with her companions on earth, yet she will never fly with them to heaven." — Francis Beaumont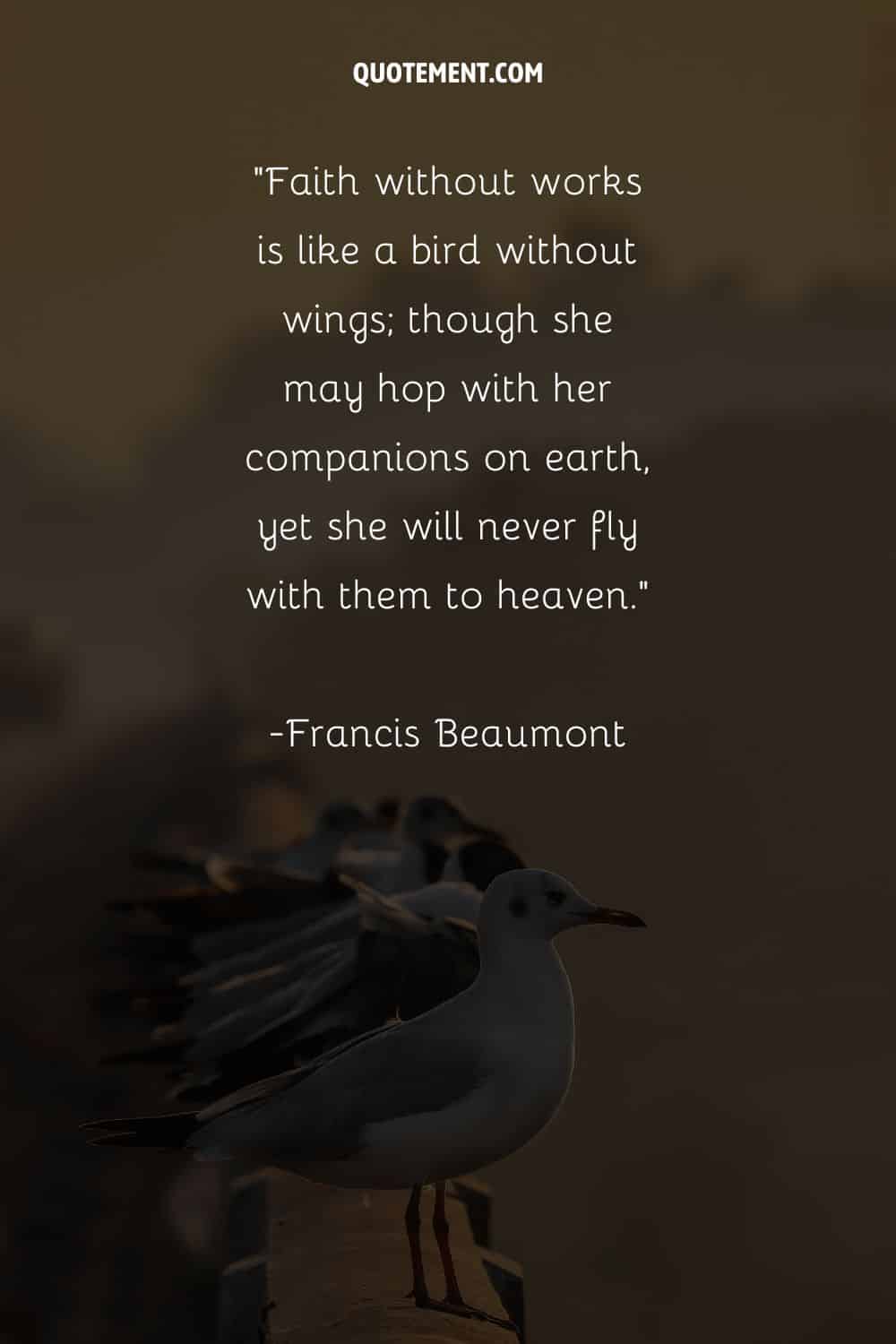 21. "A bird is safe in its nest — but that is not what its wings are made for." — Amit Ray
22. "The early bird catches the worm." — Unknown
23. "No bird soars too high if he soars with his own wings." — William Blake
24. "No one is free, even the birds are chained to the sky." — Bob Dylan
25. "The moment a little boy is concerned with which is a jay and which is a sparrow, he can no longer see the birds or hear them sing." — Eric Berne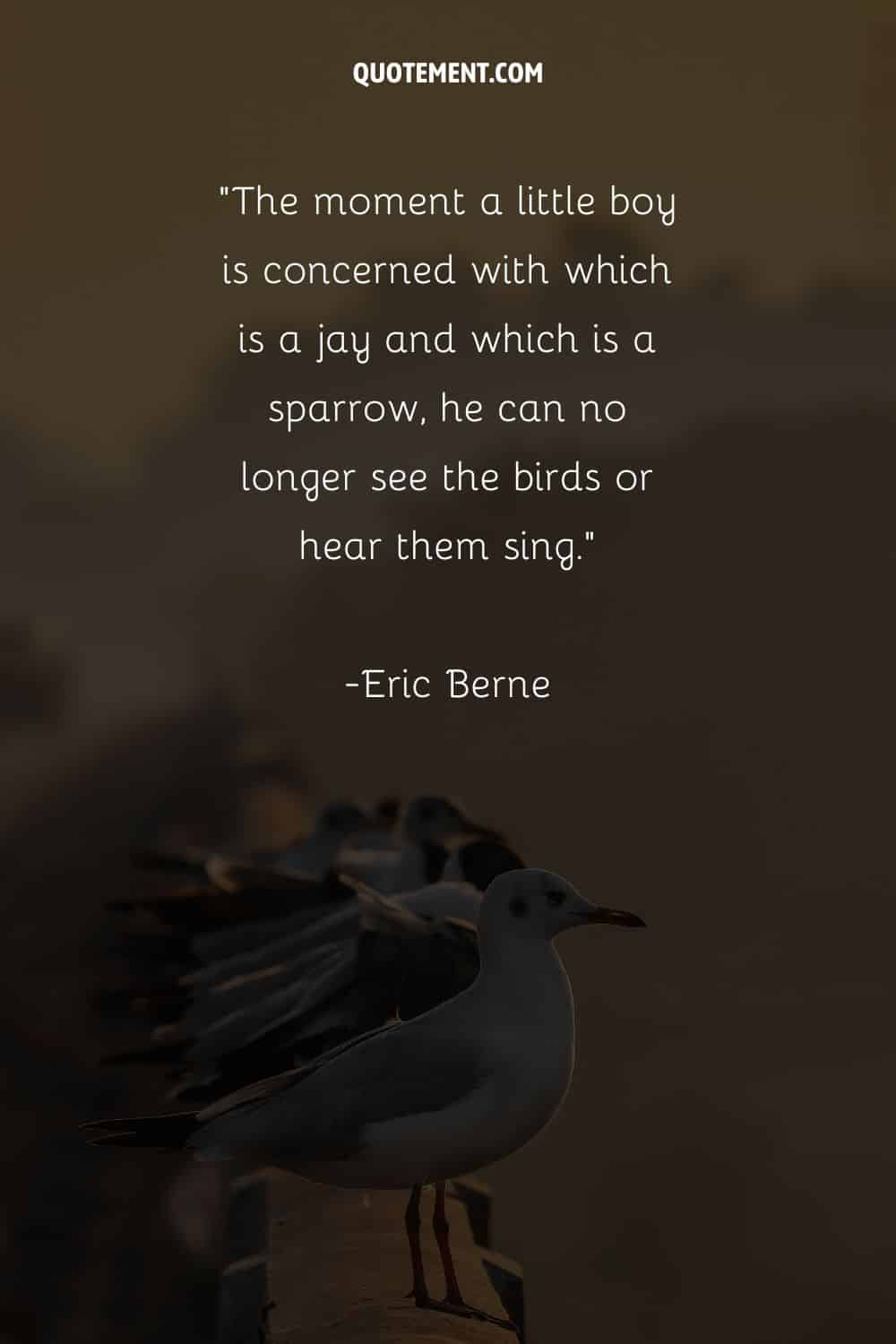 26. "The bird who dares to fall is the bird who learns to fly." — Unknown
27. "If you want to see birds, you must have birds in your heart." — John Burroughs
28. "The early bird gets the worm, but the second mouse gets the cheese." — Willie Nelson
29. "God provide food for every bird but not in their nest." — Prince el Fati
30. "Success is full of promise till one gets it, and then it seems like a nest from which the bird has flown." — Henry Ward Beecher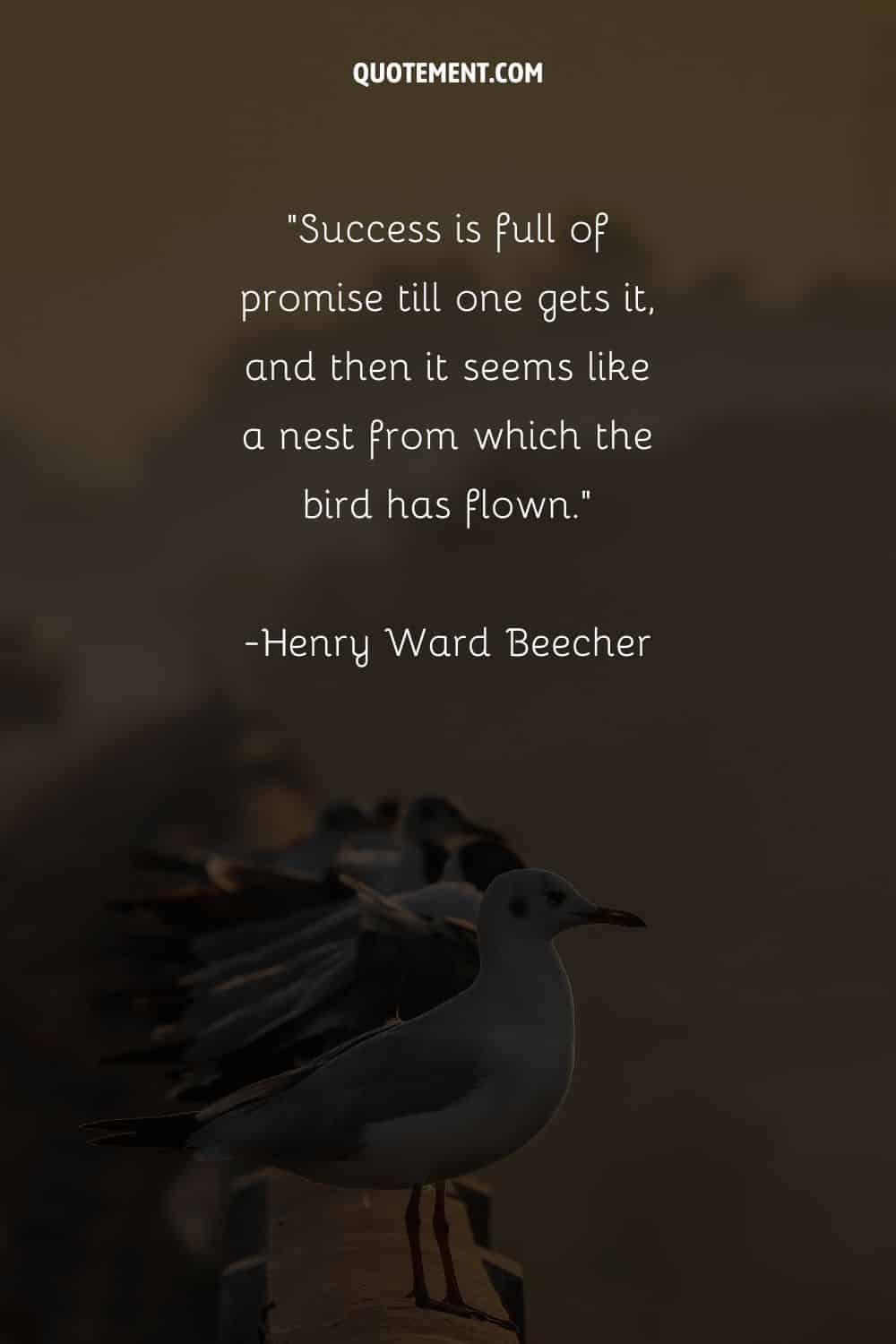 See also: 220 Best Proverbs About Success To Give You Inspiration
Quotes On Birds Flying
1. "I once asked a bird, how is it that you fly in this gravity of darkness? She responded, 'Love lifts me." — Hafez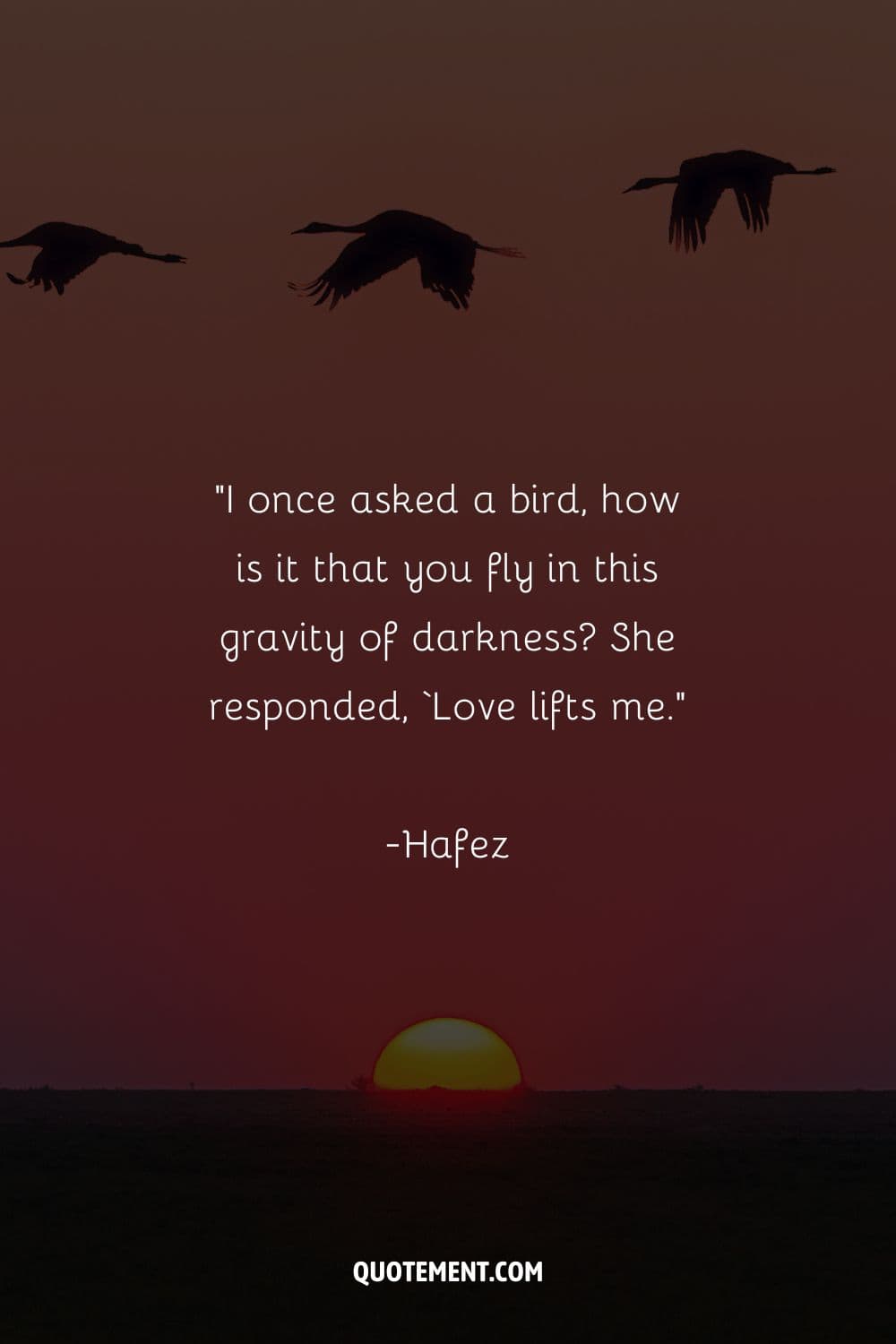 2. "Oh, bird of my soul, fly away now, for I possess a hundred fortified towers." — Rumi
3. "Birds are the most accomplished aeronauts the world has ever seen. They fly high and low, at great speed, and very slowly. And always with extraordinary precision and control." — David Attenborough
4. "It's impossible to explain creativity. It's like asking a bird, 'How do you fly?' You just do." — Eric Jerome Dickey
5. "Birds have wings; they're free; they can fly where they want when they want. They have the kind of mobility many people envy." — Roger Tory Peterson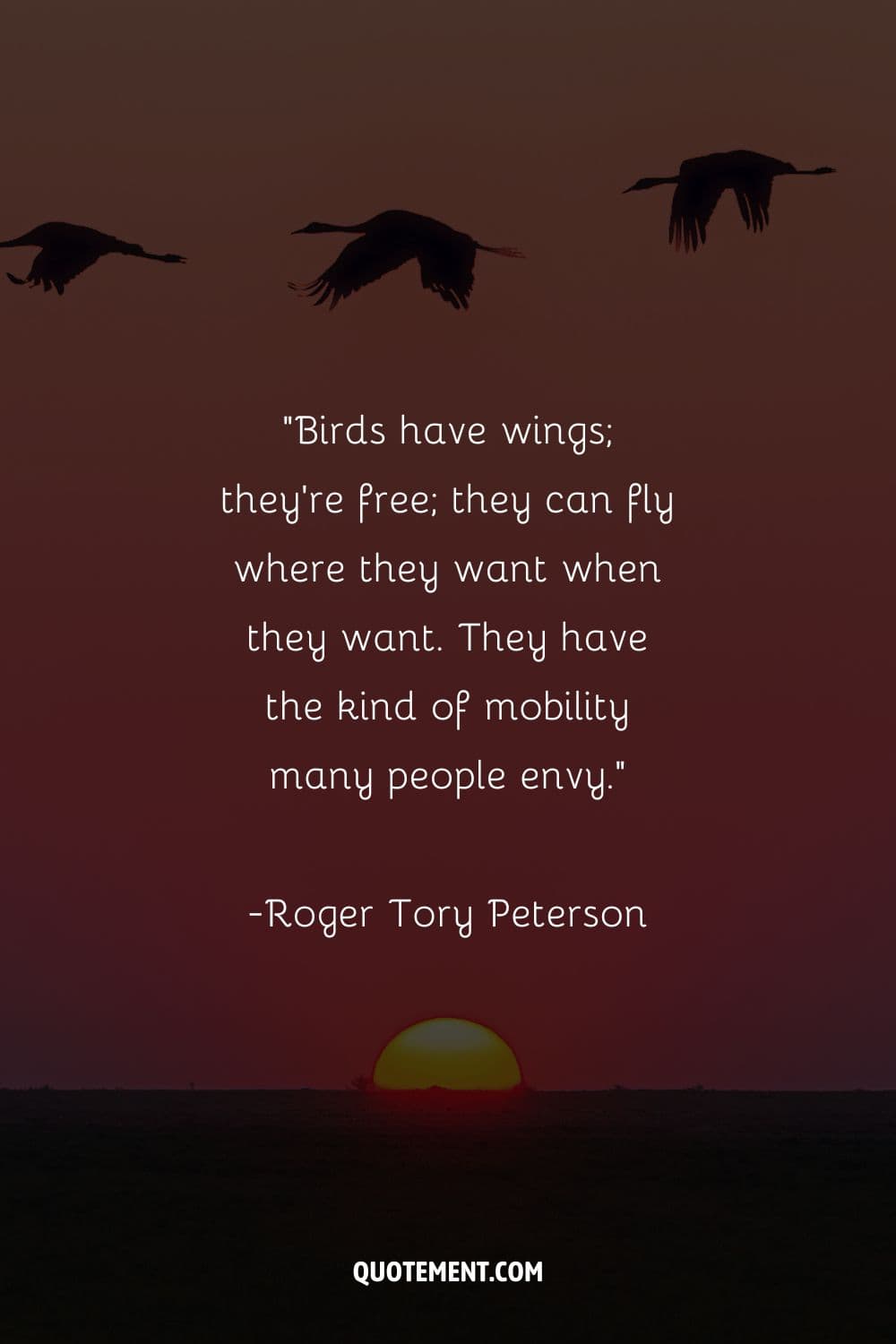 6. "It's like being a bird, maybe, the perspective of flying over the Earth." — Peggy Whitson
7. "Broken wings can heal, a bird is meant to fly." — Kate Stradling
8. "Every nation needs two wings to fly. Any bird torn at the wings will never soar the skies." — Suzy Kassem
9. "There's a lot of us out here that are birds, man. We all need to just fly." — Travis Scott
10. "When you see birds flying from the sunset towards you, you will find it hard to convince yourself that they are not angels from heaven!" — Mehmet Murat ildan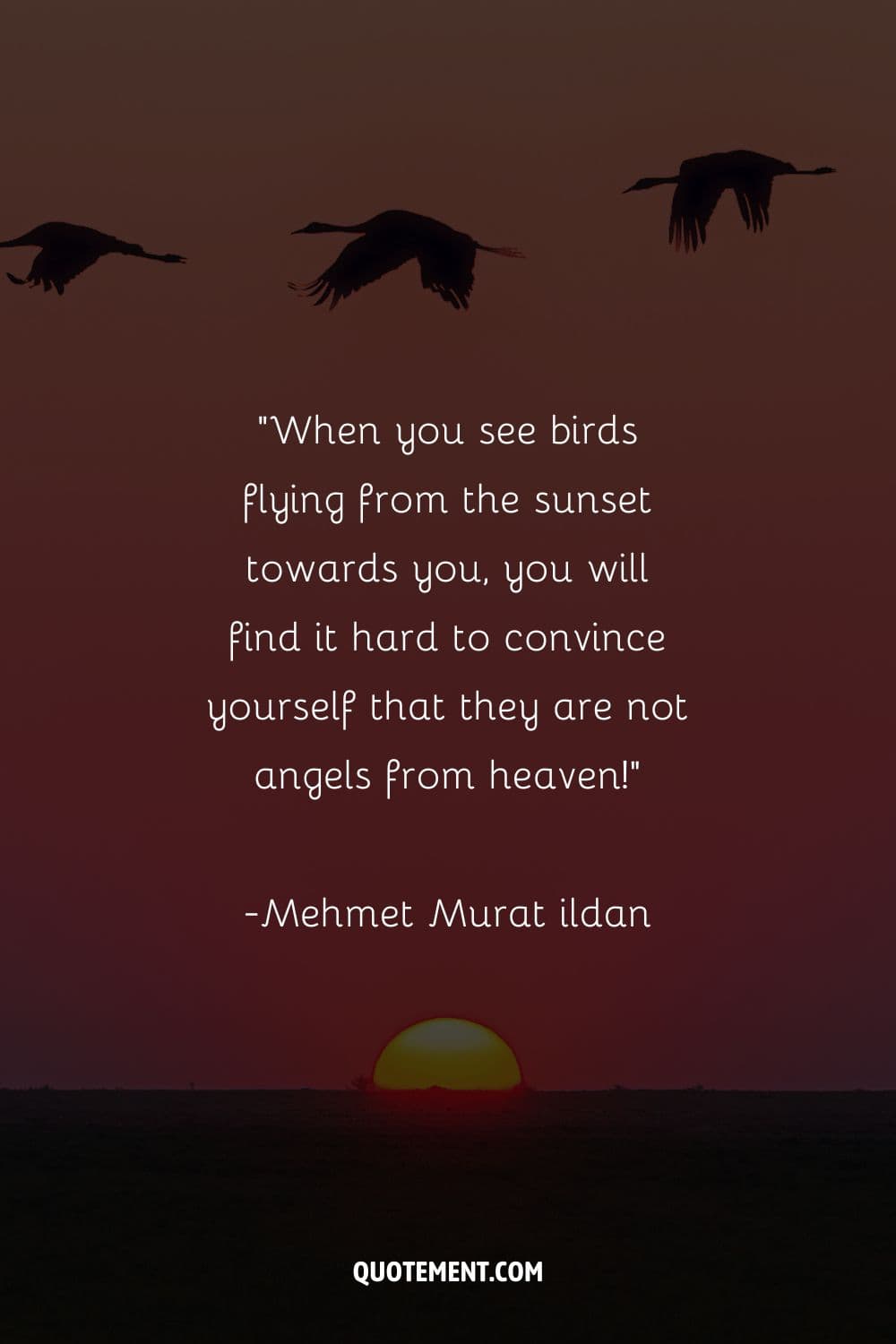 11. "The moment you doubt whether you can fly, you cease forever to be able to do it." — J. M. Barrie
12. "Fly! There's a lot of sky out there for brave birds." — Matthew Quick
See also: 270 Absolutely Beautiful Sky Captions For Instagram
13. "Most birds were created to fly. Being grounded for them is a limitation within their ability to fly, not the other way around." — William Paul Young
14. "Birds of the same feathers flock together, and when they flock together they fly so high." — Cecil Thounaojam
15. "No bird can fly without opening its wings, and no one can love without exposing their hearts." — Mark Nepo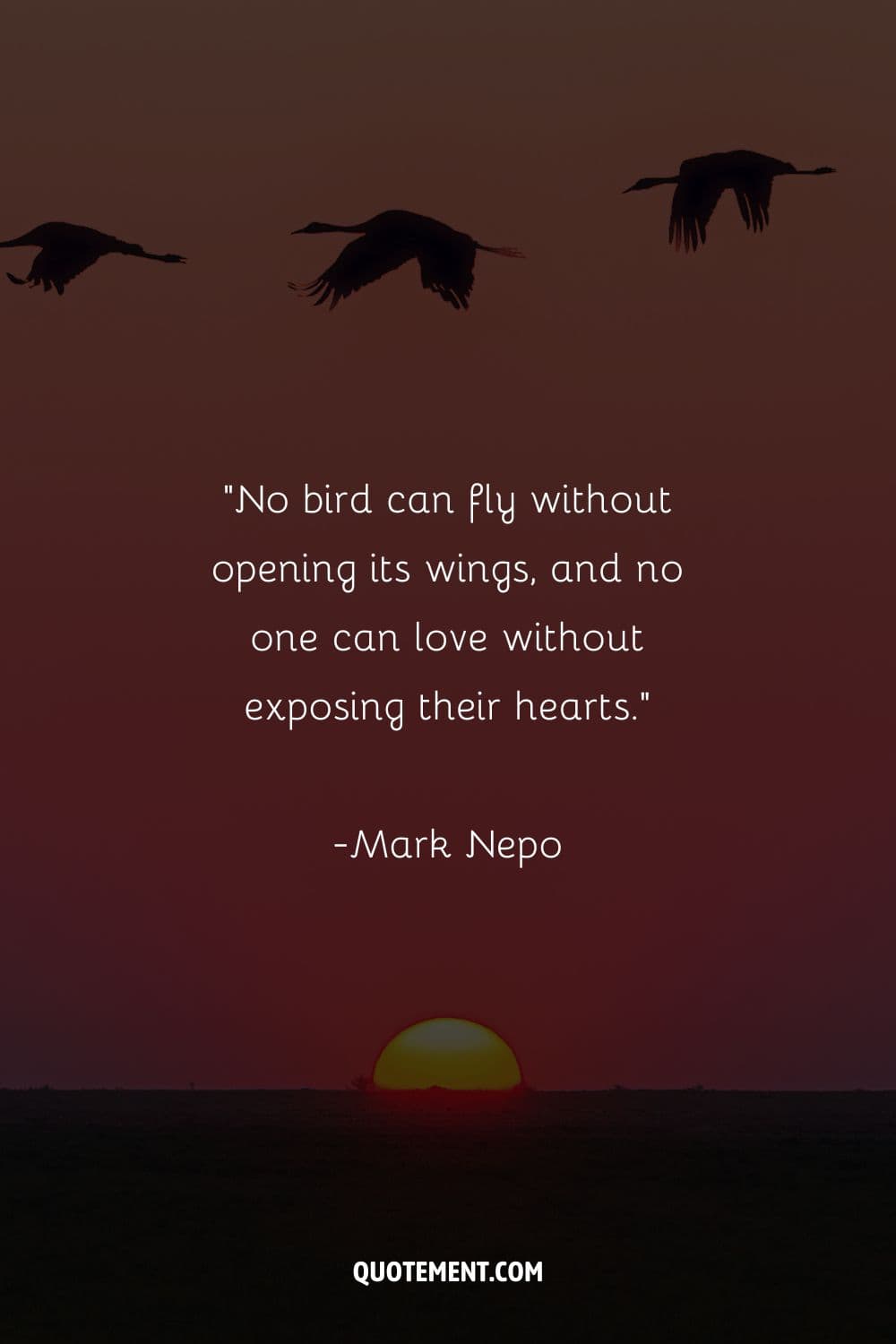 16. "Birds learn how to fly, never knowing where the flight will take them." — Unknown
17. "Paint the flying spirit of the bird rather than its feathers." — Robert Henri
18. "Unclose your mind. You are not a prisoner. You are a bird in flight, searching the skies for dreams." — Haruki Murakami
19. "A bird doesn't need a professor to teach it how to fly." — Matshona Dhliwayo
20. "The reason birds can fly and we can't is simply that they have perfect faith, for to have faith is to have wings." — J.M. Barrie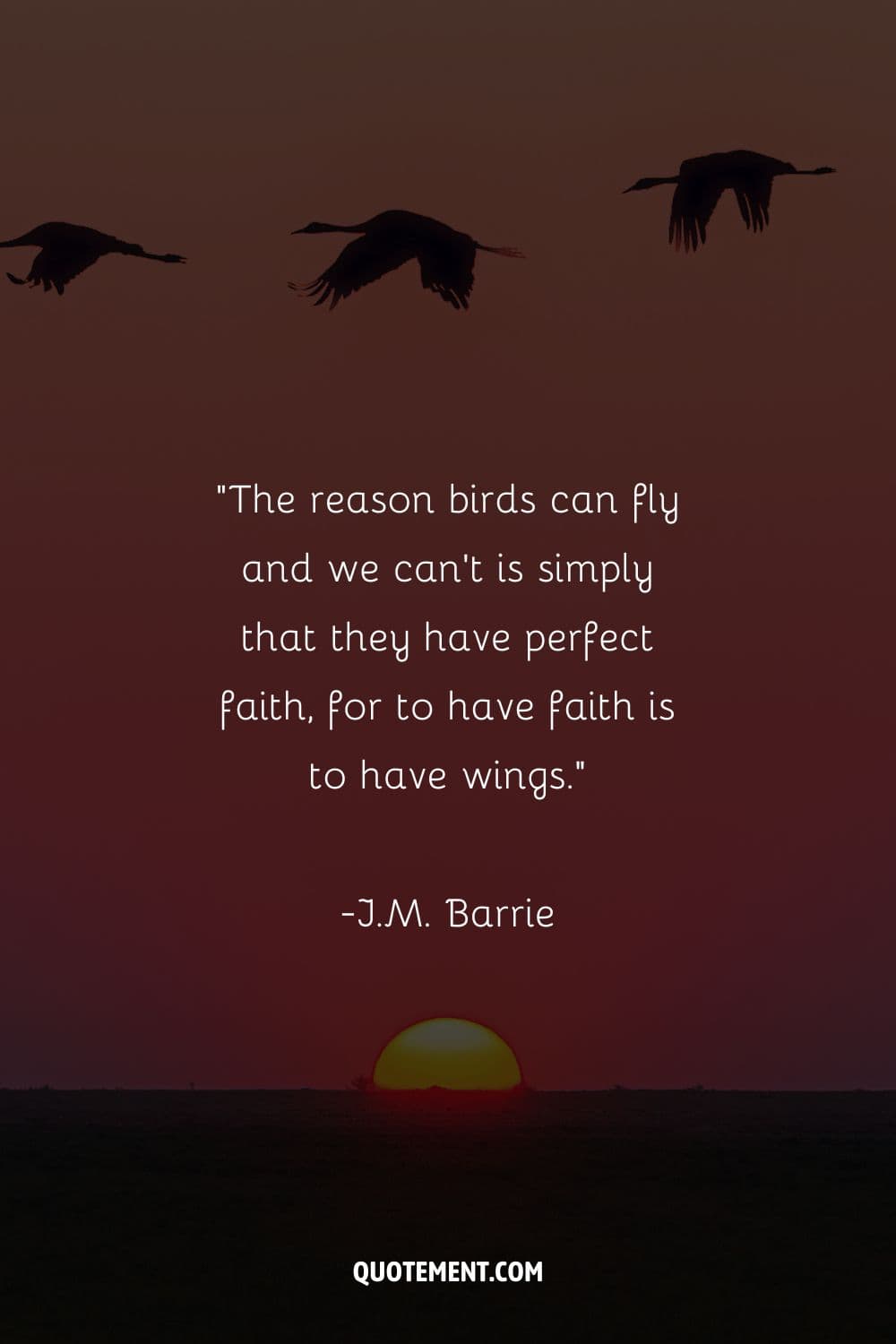 21. "The biggest favor you can do to yourself is fly freely like birds." — Kuldeep Gera
22. "I'm like a bird, I only fly away. I don't know where my soul is. I don't know where my home is." — Nelly Furtado
23. "Until you spread your wings; you'll have no idea how far you can fly." — Napoleon Bonaparte
24. "Birds are magical. Their flight alone can arouse a clever thought." — Michael Bassey
25. "I always wonder why birds choose to stay in the same place when they can fly anywhere on the earth, then I ask myself the same question. — Harun Yahya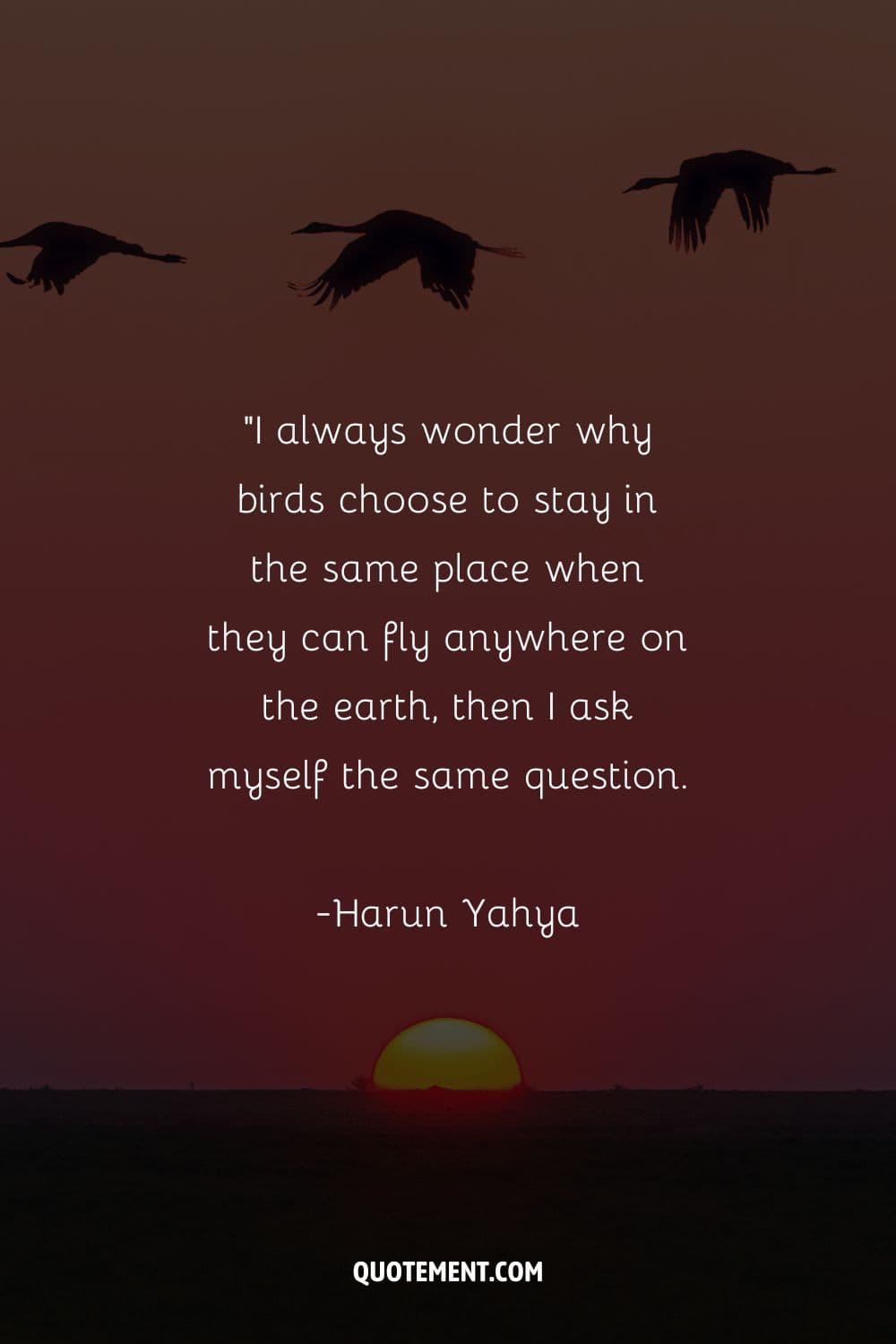 26. "Tame birds sing of freedom. Wild birds fly." — John Lennon
27. "The human bird shall take his first flight, filling the world with amazement, all writings with his fame, and bringing eternal glory to the nest whence he sprang." — Leonardo da Vinci
28. "I'm very happy being me, although sometimes I'd love to be a bird so that I could fly." — Joy Fielding
29. "All birds find shelter during a rain, but the eagle avoids the rain by flying above the clouds. Problems are common, but attitude makes the difference." — A. P. J. Abdul Kalam
See also: 270 Best Attitude Caption Ideas To Make Your Instagram Pop
30. "It is beautiful to discover our wings and learn how to fly; flight is a beautiful process. But then to rest on the wings of God as He flies: this is divine." — C. JoyBell C.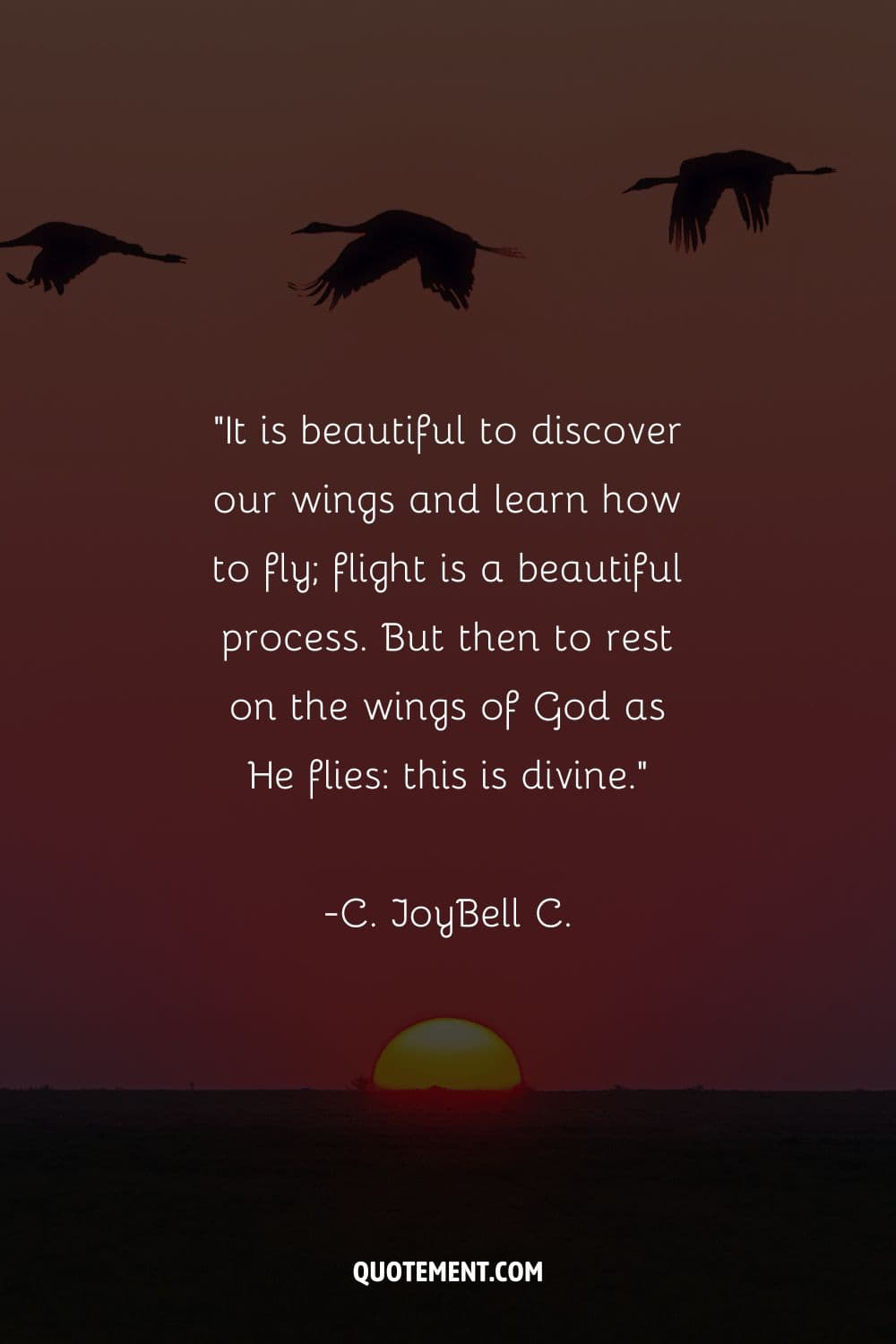 Thought-Provoking Bird Quotes
1. "Birds are indicators of the environment. If they are in trouble, we know we'll soon be in trouble." — Roger Tory Peterson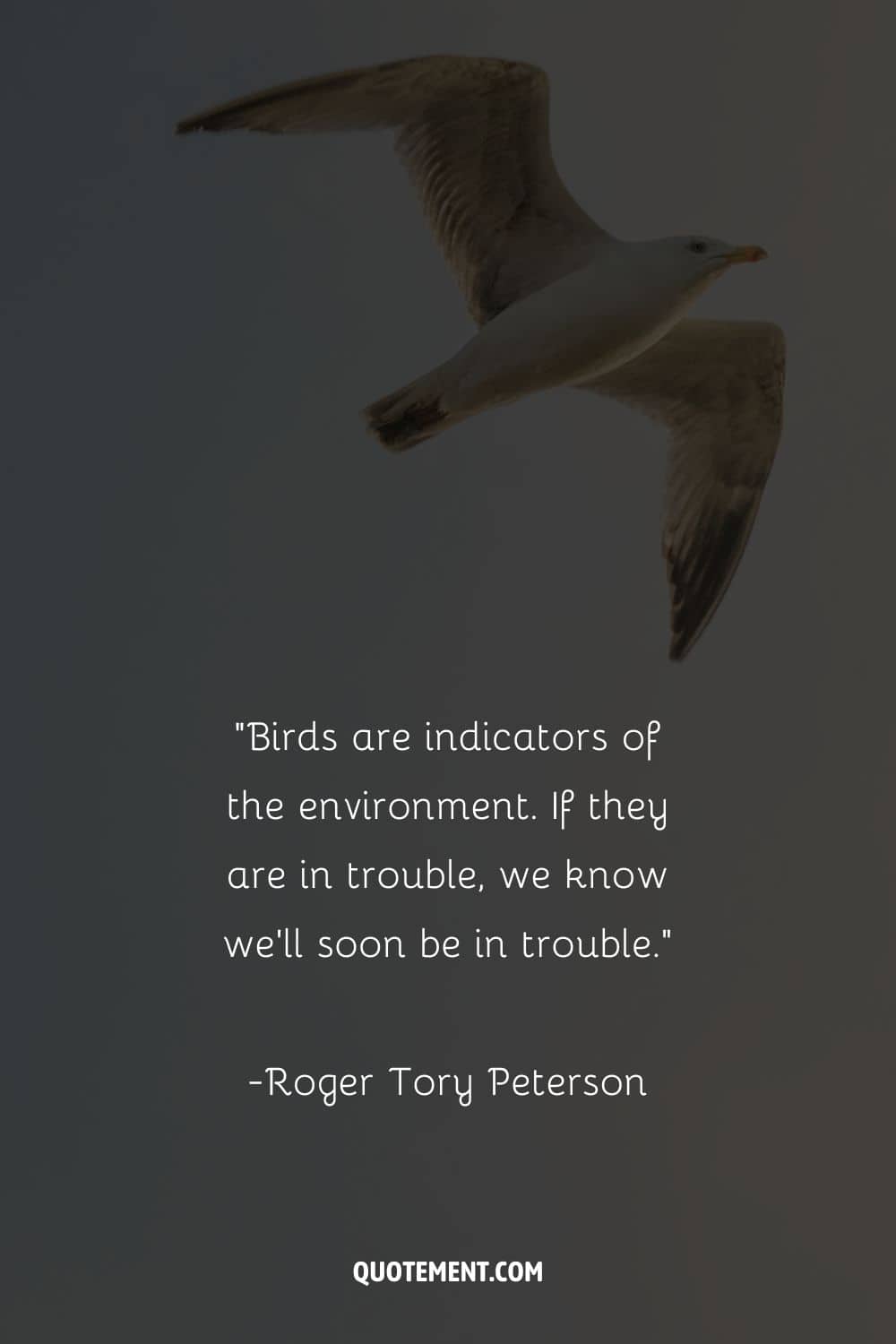 2. "Perfect as the wing of a bird may be, it will never enable the bird to fly if unsupported by the air. Facts are the air of science. Without them a man of science can never rise." — Ivan Pavlov
3. "The very idea of a bird is a symbol and a suggestion to the poet. A bird seems to be at the top of the scale, so vehement and intense is his life, large-brained, large-lunged, hot, ecstatic, his frame charged with buoyancy and his heart with song." — John Burroughs
4. "Opportunity is a bird that never perches." — Claude Maxwell MacDonald
5. "How do I hold on to these moments that are fluttering away as birds in the sky…" — Avijeet Das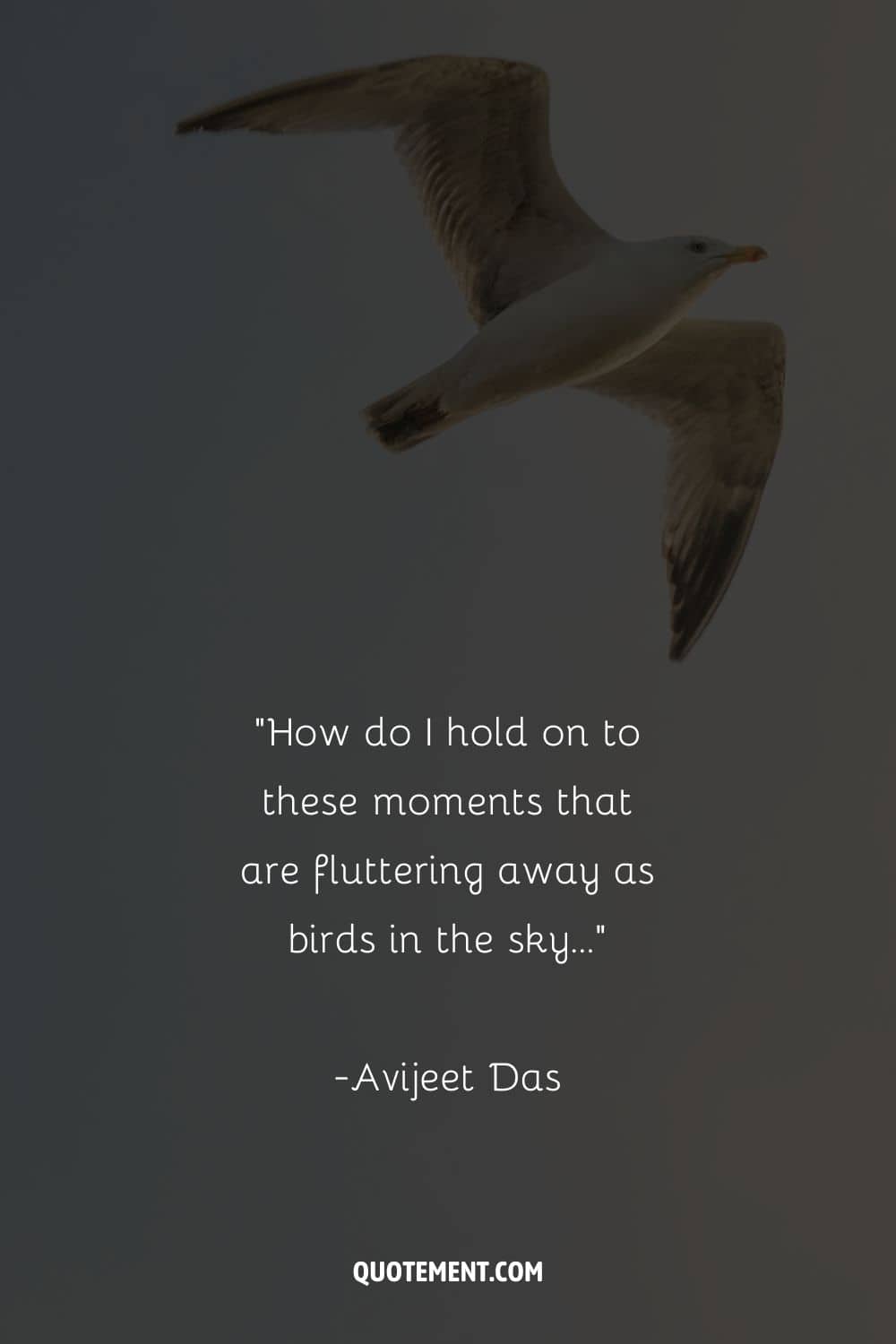 6. "If you throw a bird off a cliff, you are helping it find its wings." — Matshona Dhliwayo
7. "A fish may love a bird, but where would they live?" — Drew Barrymore
8. "If birds can glide for long periods of time, then why can't I?" — Orville Wright
9. "A bird is three things: Feathers, flight, and song, and feathers are the least of these." — Marjorie Allen Seiffert
10. "When the Sun of compassion arises darkness evaporates and the singing birds come from nowhere." — Amit Ray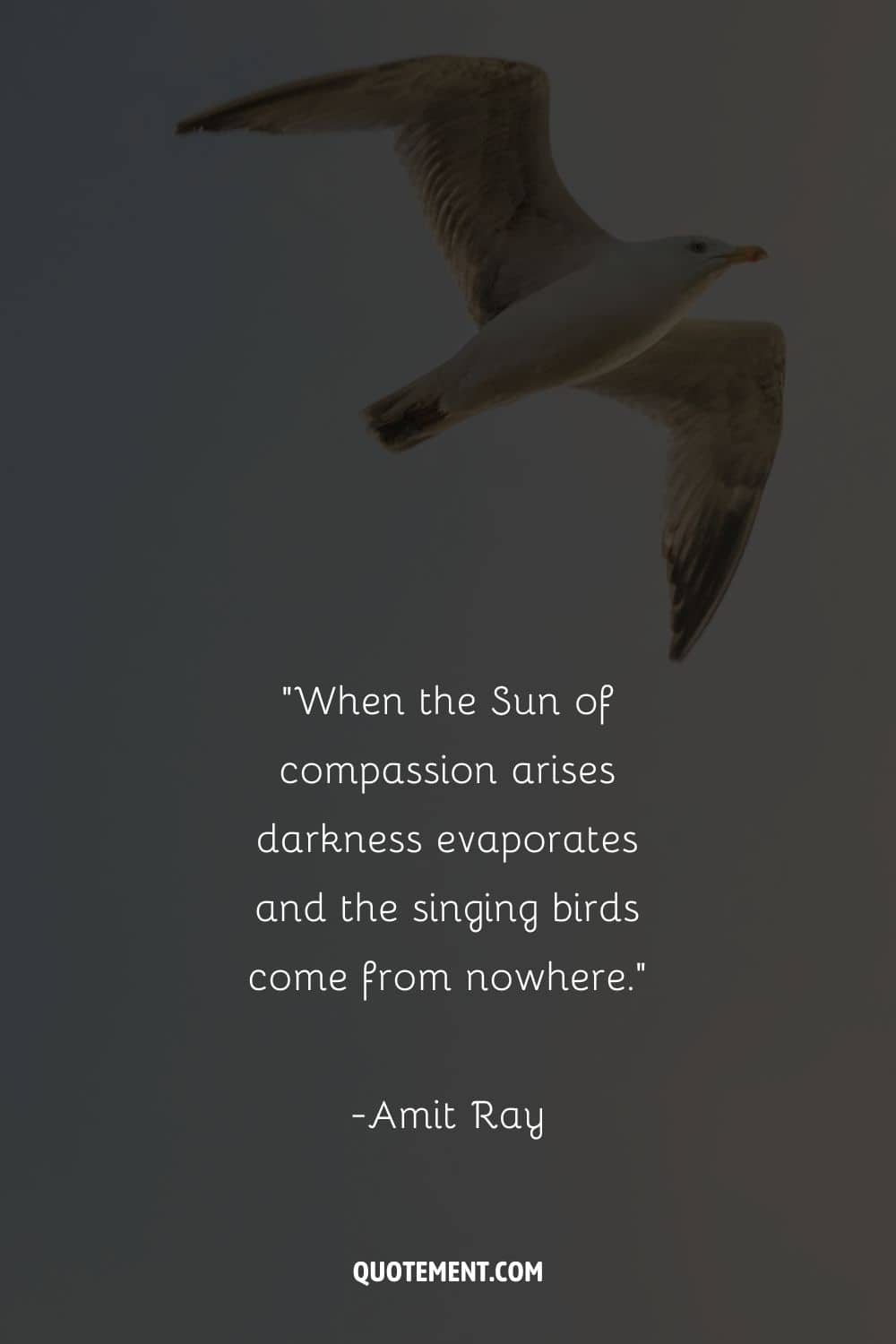 11. "Birds are, perhaps, the most eloquent expression of reality." — Roger Tory Peterson
12. "The imagination of the birds was ahead of us because they dreamed of going to the Moon while we dreamed of soaring like birds into the sky!" — Mehmet Murat ildan
13. "It is not only fine feathers that make fine birds." — Aesop
14. "How can I be in two places at once, unless I were a bird?" — Boyle Roche
15. "I'd rather learn from one bird how to sing than teach ten thousand stars how not to dance." — e. e. Cummings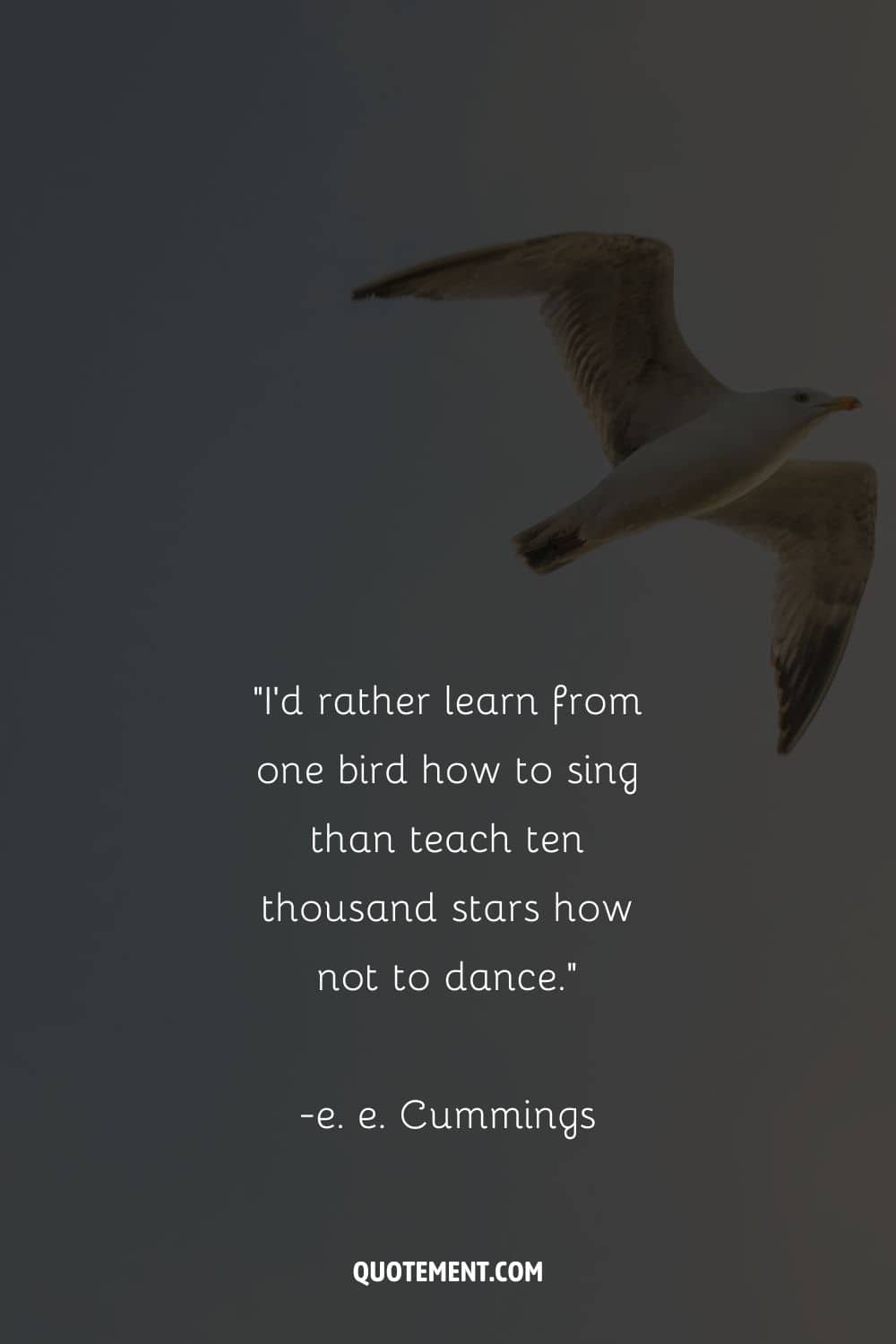 16. "A bird with beautiful feathers is the target of many hunters." — Matshona Dhliwayo
17. "I think we consider too much the good luck of the early bird and not enough the bad luck of the early worm." — Franklin D. Roosevelt
18. "The soul has illusions as the bird has wings: it is supported by them." — Victor Hugo
19. "Scientists say that human beings are made of atoms, but a little bird told me that we are also made of stories." — Eduardo Galeano
20. "Hear how the birds, on every blooming spray, with joyous music wake the dawning day." — Alexander Pope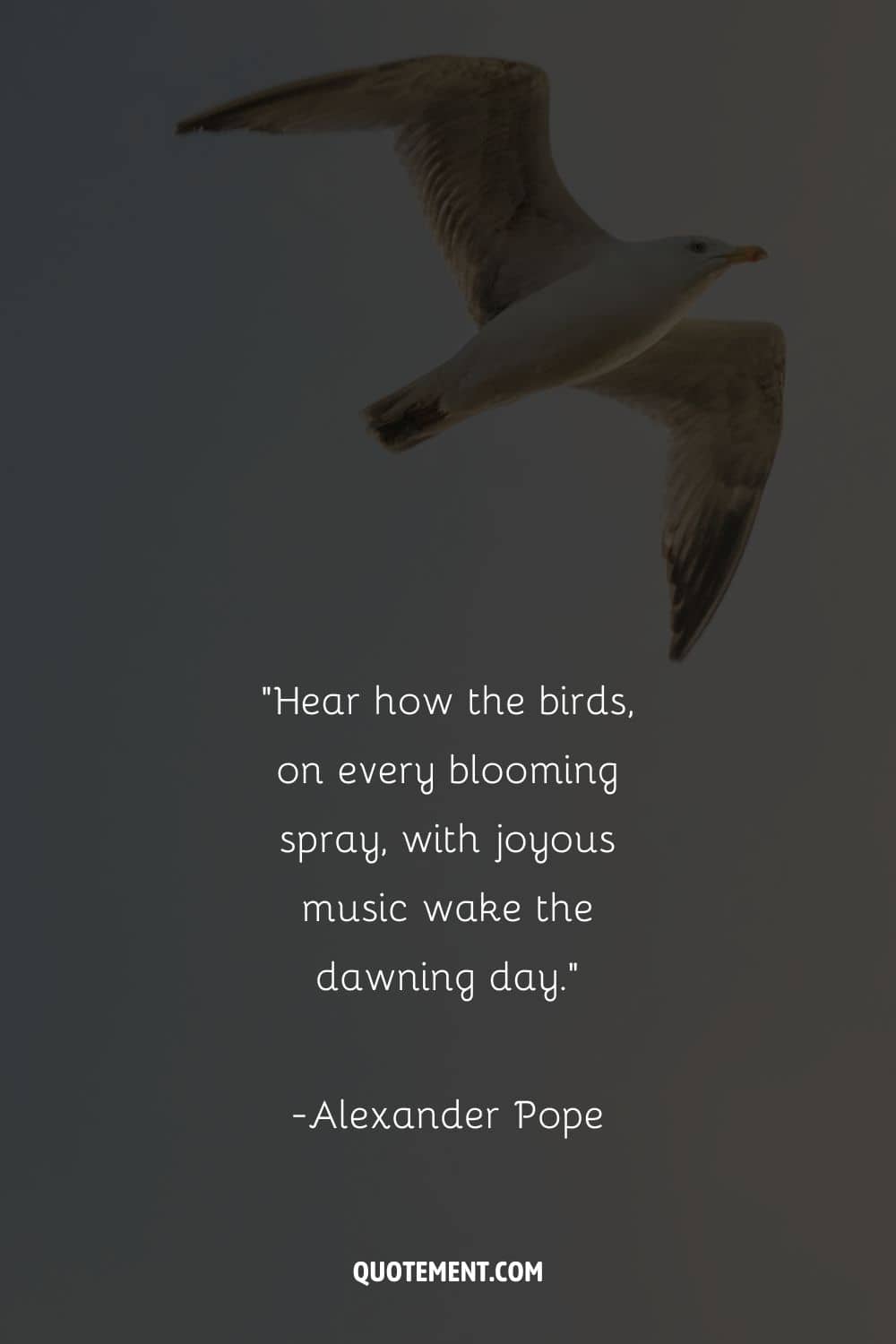 21. "A forest bird never wants a cage." — Henrik Ibsen
22. "How can you expect the birds to sing when their groves are cut down?" — Henry David Thoreau
23. "Birds are sky-bound; holding them down in a cage is wicked love." — Vincent Okay Nwachukwu
24. "Heavenly bodies are nests of invisible birds." — Dejan Stojanovic
25. "The bird fights its way out of the egg. The egg is the world. Whoever will be born must destroy a world." — Hermann Hesse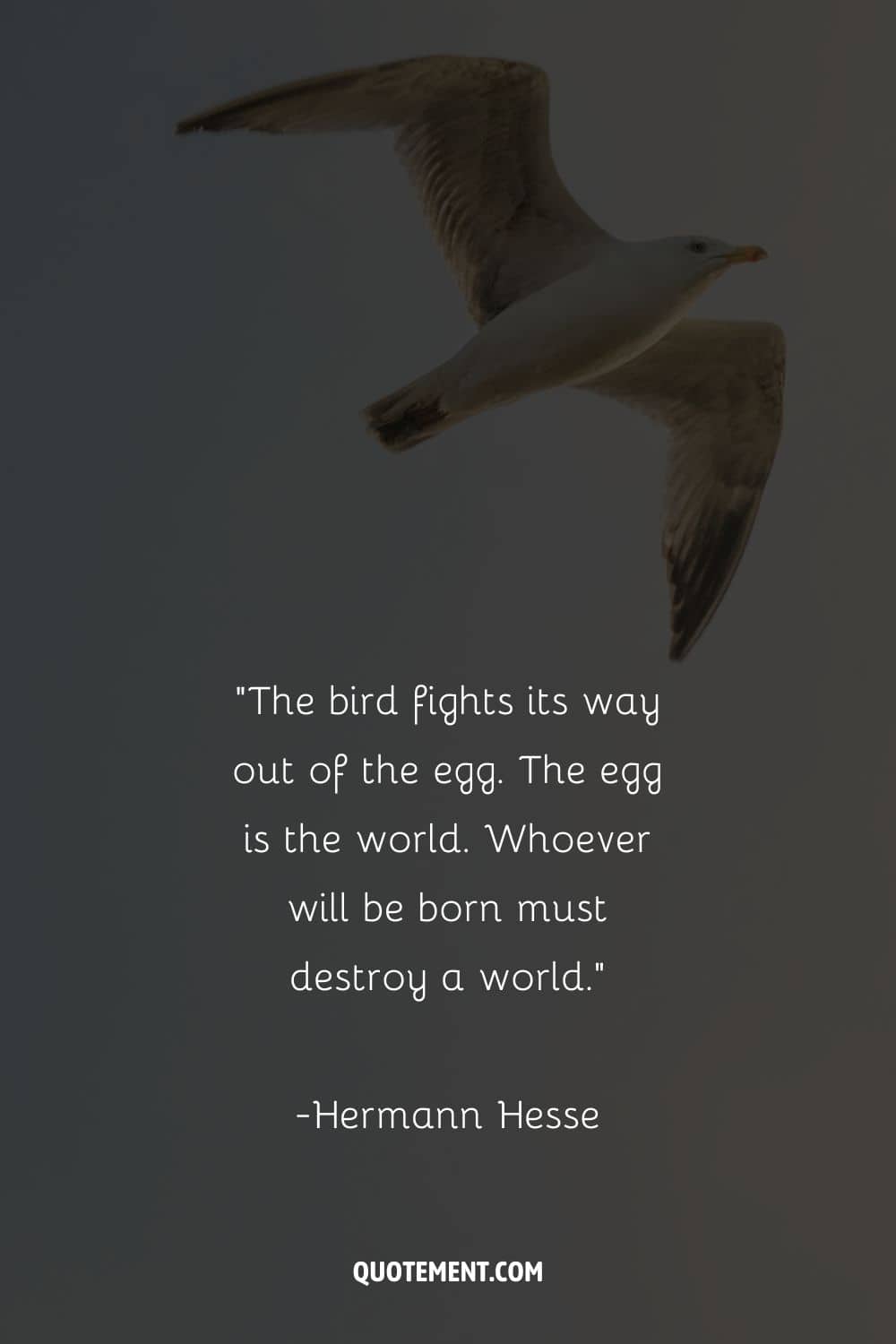 26. "It's probable that in the artistic hierarchy, birds are the greatest musicians existing on our planet." — Olivier Messiaen
27. "The word precipice does not exist in the dictionary of birds!" — Mehmet Murat ildan
28. "If one bird foraging in a flock on the ground suddenly takes off, all other birds will take off immediately after, before they even know what's going on. The one who stays behind may be prey." — Frans De Waal
29. "In order to see birds it is necessary to become a part of the silence." — Robert Wilson Lynd
See also: 150 Silence Quotes When Silence Speaks Louder Than Words
30. "There is nothing in which the birds differ more from man than the way in which they can build and yet leave a landscape as it was before." — Robert Wilson Lynd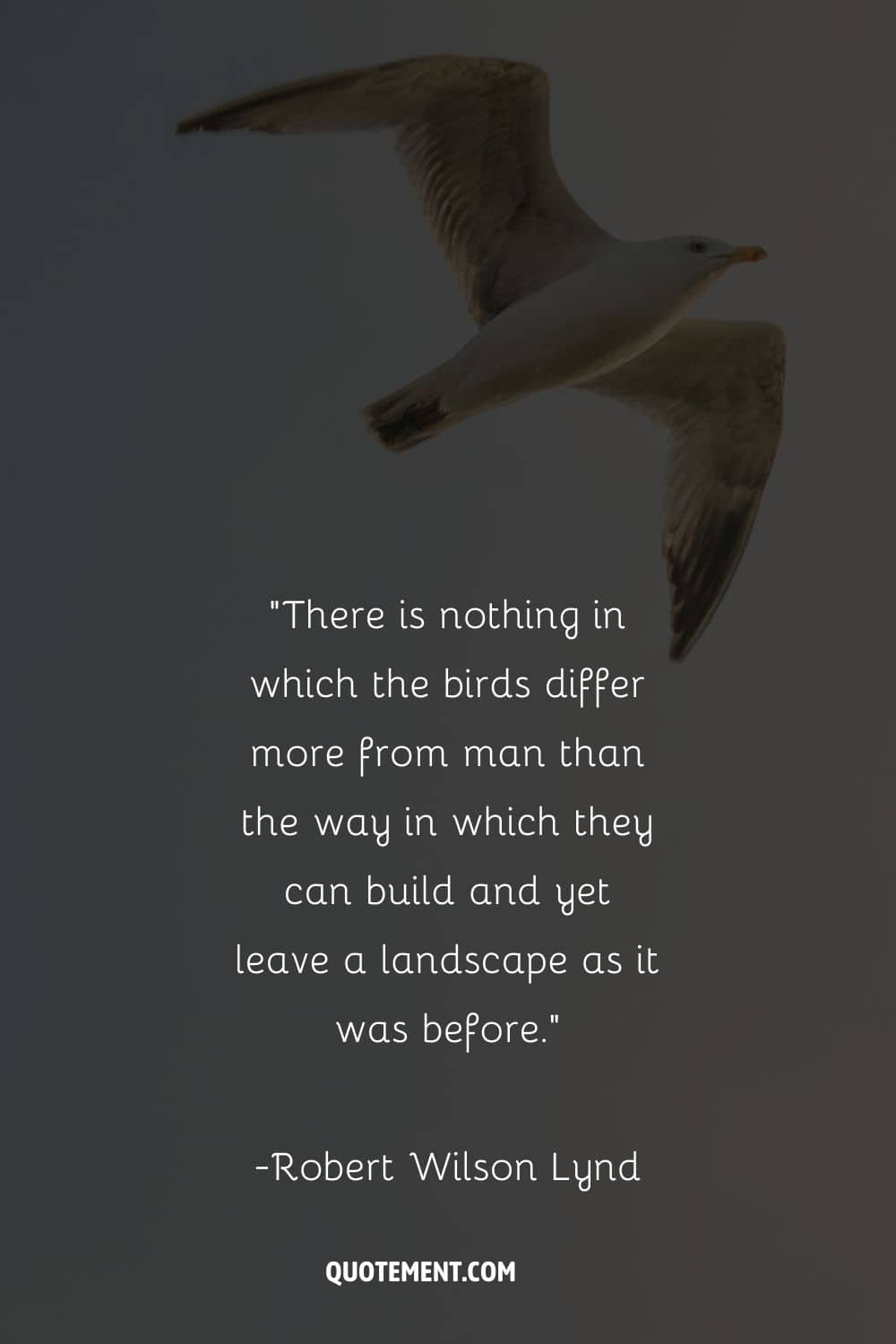 Wrapping It Up
Thank you for reading my collection of bird quotes. I hope you could extract valuable life lessons and the wisdom they contain.
So let us be like birds, nurturing the wings of our dreams and cherishing the world around us!