Deep breath in. Breath out. Enlightenment and bliss are just one breath away.
Discover more than 100 deep and wise breathe in quotes to help you center yourself and find peace and bliss.
Let's start!
10 Best Breathe In Quotes
1. "As you breathe in, cherish yourself. As you breathe out, cherish all Beings." — Dalai Lama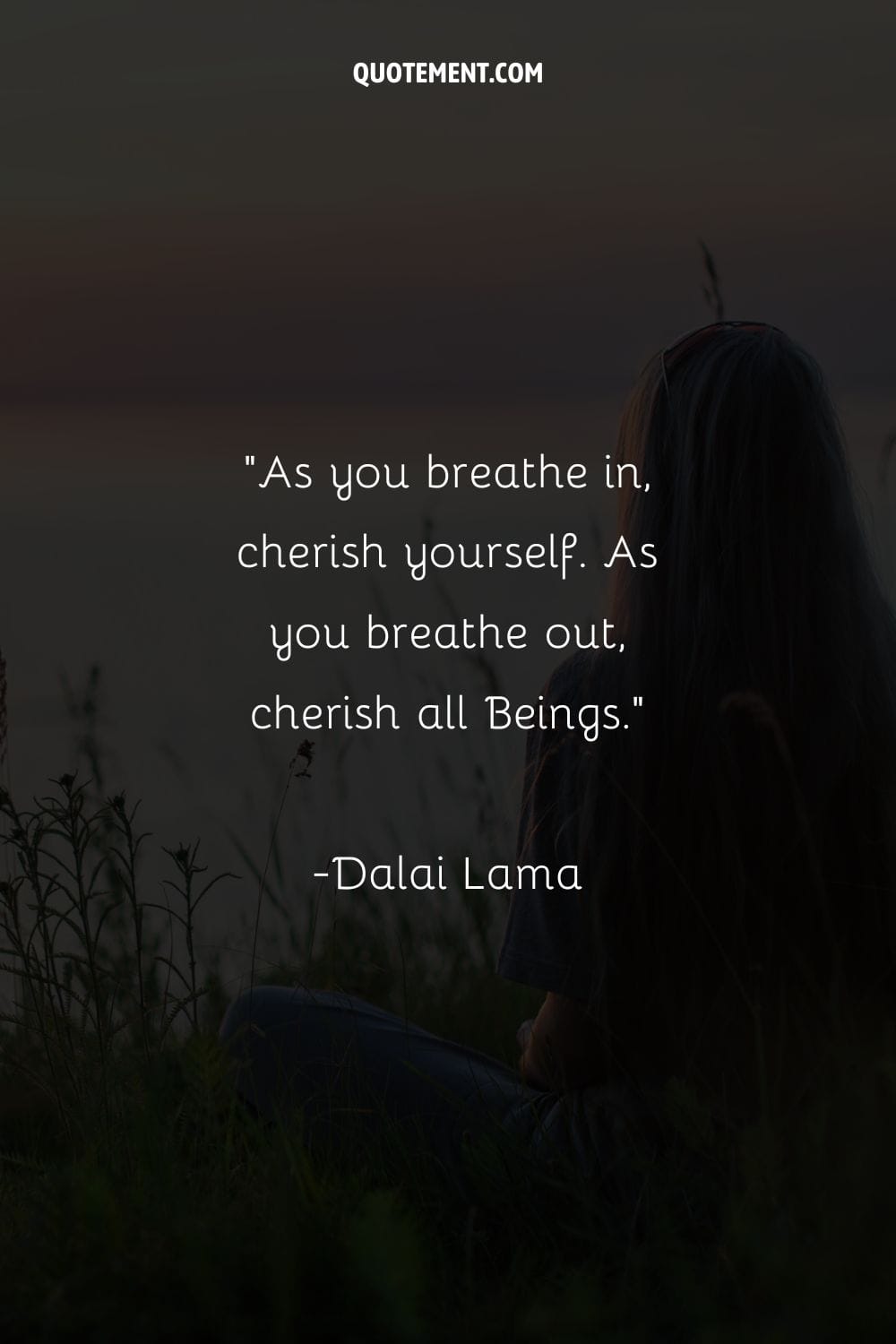 2. "Feelings come and go like clouds in a windy sky, conscious breathing is my anchor." — Thich Nhat Hanh
3. "One conscious breath in and out is meditation." — Eckhart Tolle
4. "Today is the day to cast your worries on God and breathe in new life. Your past does not define who you are today." ― Gabriella Marigold Lindsay
5. "Breathe in, take what life hands you; hold it, accept it; breathe out, let it go." ― Susan Gable
See also: 130 Wise Acceptance Quotes To Help You Grow And Prosper
6. "Breathe in the beauty all around you." — A.D. Posey
7. "Remember to breathe. It is, after all, the secret of life." — Gregory Maguire
8. "Breathe in that vital connection to the life source and sensual beauty everywhere. Feel loved and strong." — Jay Woodman
9. "While we breathe, we will hope." — Barack Obama
10. "Capture that perfect wave moment; rise to the occasion and breathe in those good vibes." — Linda Wickens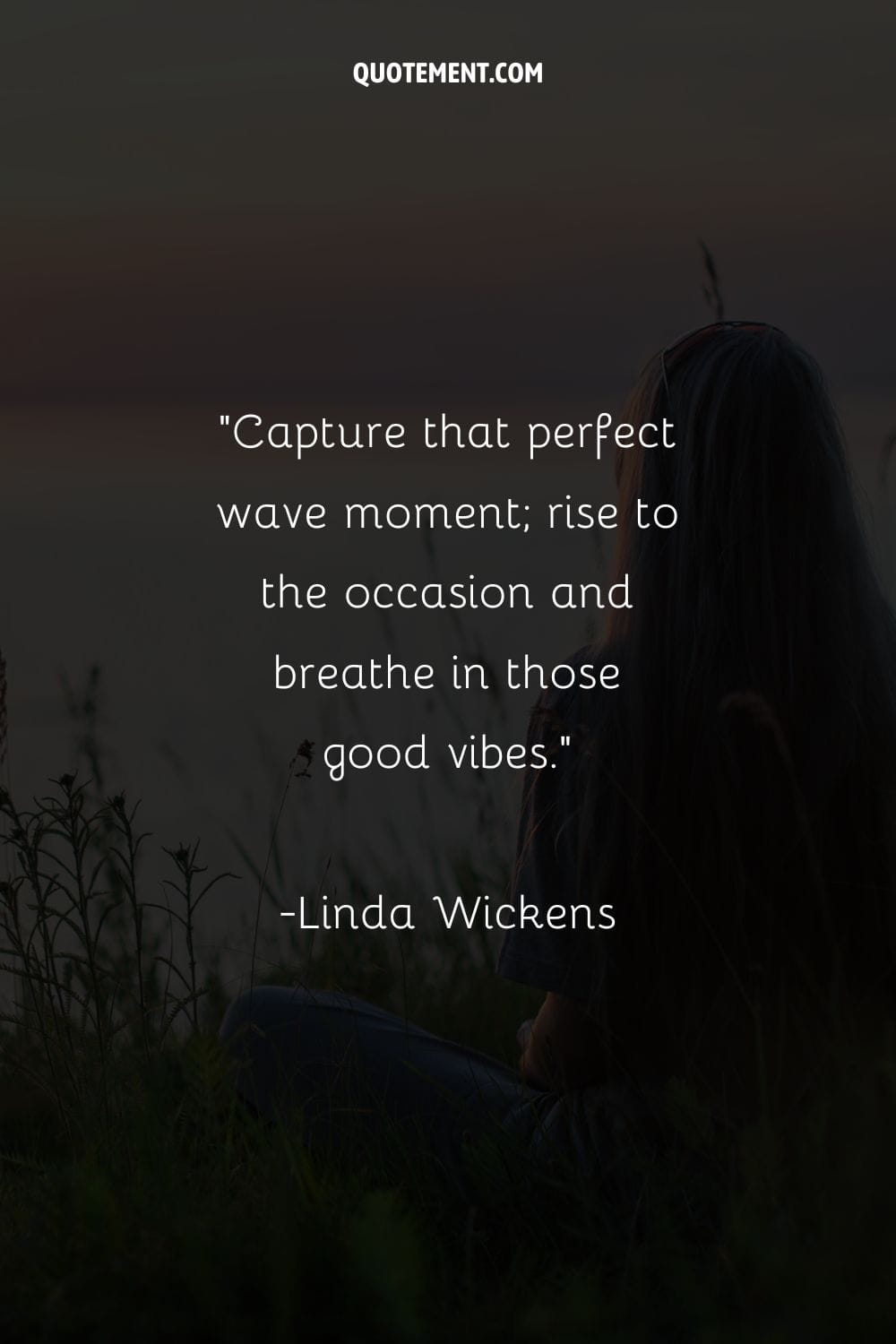 See also: Top 90 Positive Vibes Quotes To Empower You Every Day
Quoted About Breathing To Inspire You
1. "What excites me is just taking some time to breathe in life. The mundane is very exciting." — Viola Davis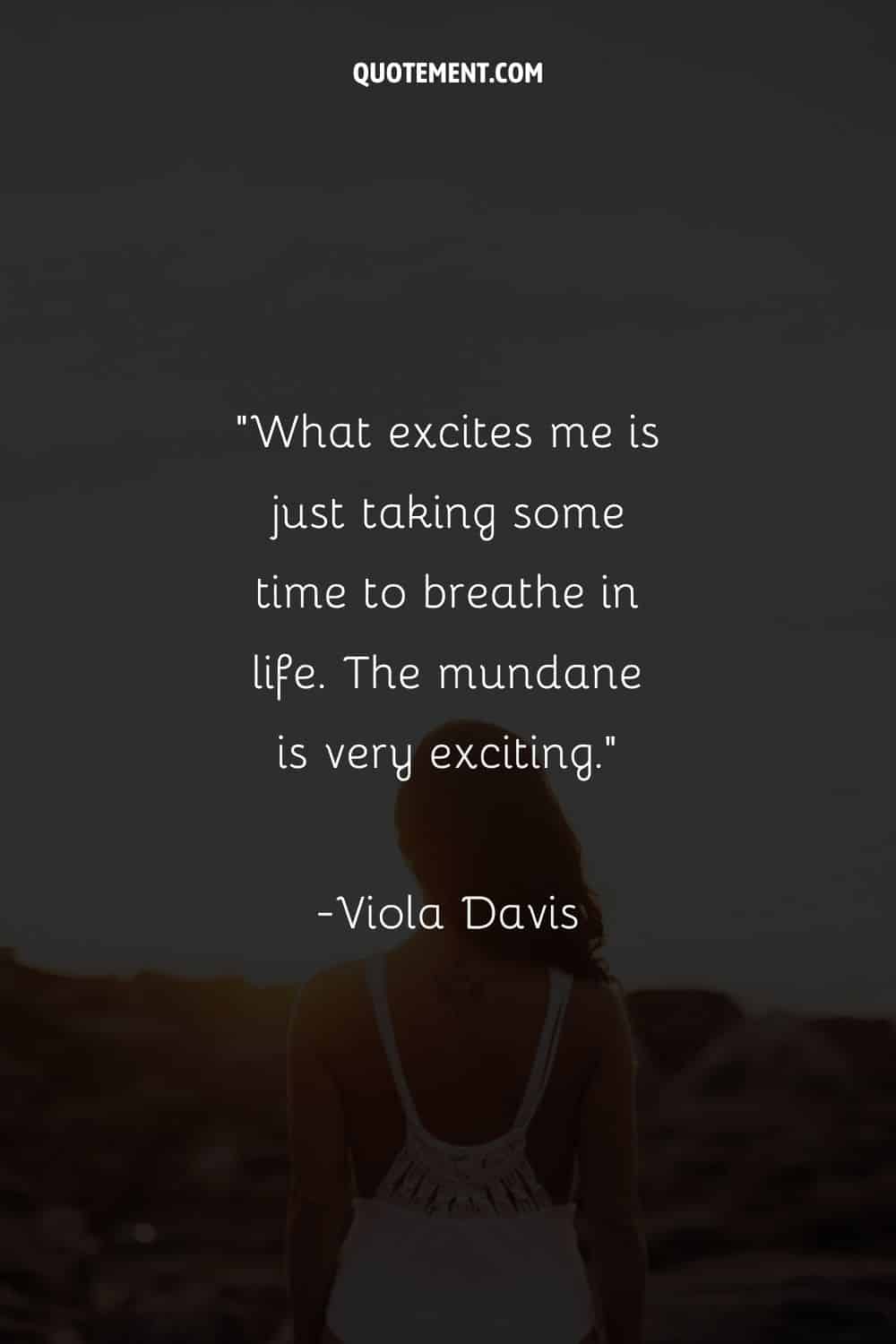 2. "With every breath, I breathe in so much of inspiration. I feel if there is one thing as free and as important as oxygen, it's inspiration." — Sharad Vivek Sagar
3. "Happiness breathes when you do." — Terri Guillemets
4. "There is one way of breathing that is shameful and constricted. Then, there's another way: a breath of love that takes you all the way to infinity." — Rumi
5. "Can you feel the connection? We breathe so that the trees thrive and the trees breathe so that we are able to live. Perfect symbiosis…" ― Sanchita Pandey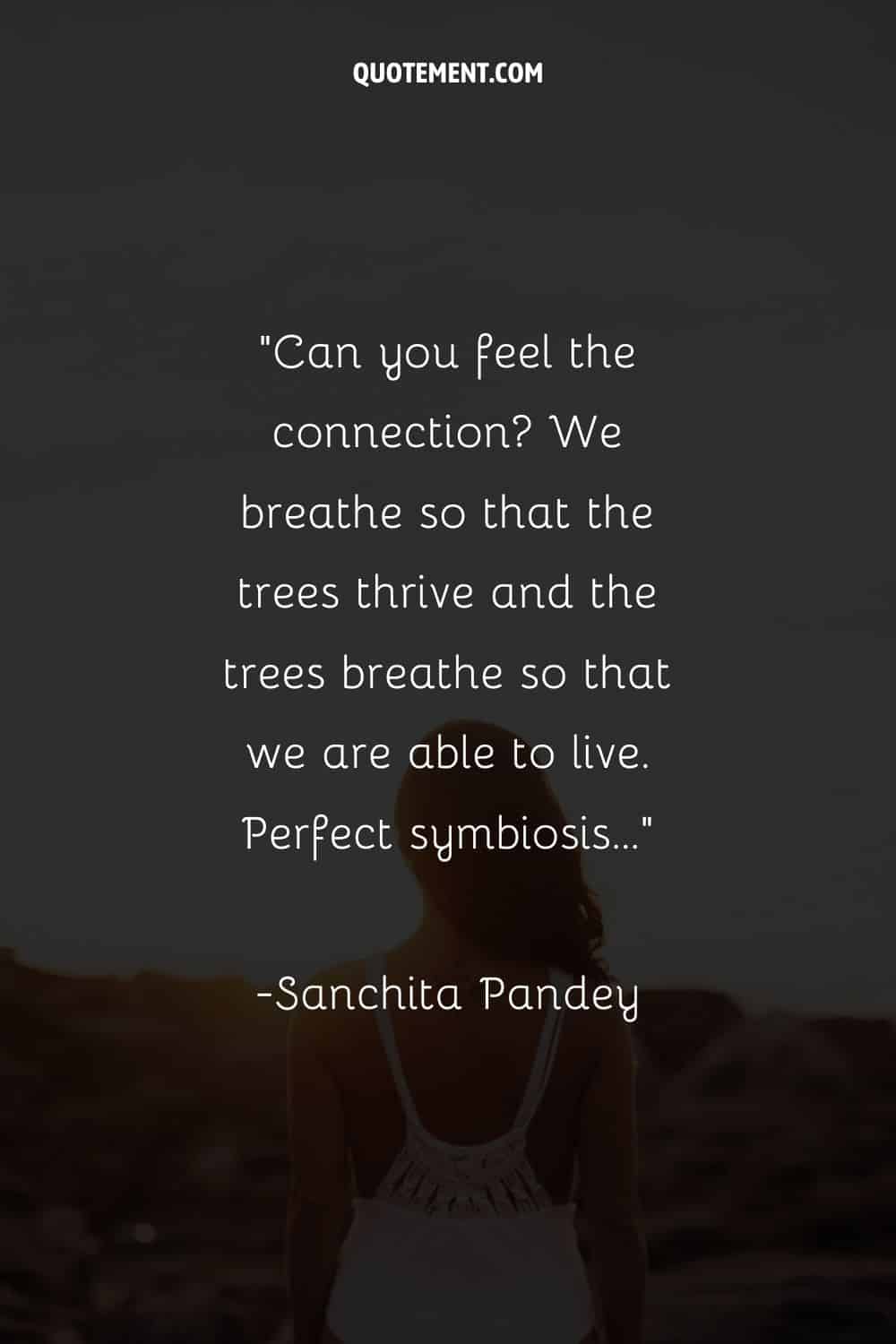 6. "The moment you breathe your first breath, you won." — J.R Rim
7. "If you woke up breathing, congratulations! You have another chance." — Andrea Boydston
8. "What can we do but keep on breathing in and out, modest and willing, and in our places?" — Mary Oliver
9. "Now breathe, and step out again, a step further from the past. Step into the streets as narrow as bones, the white streets of the labyrinth, and breathe deeply. Breathe, and step out once more." — Kevin Barry
10. "Just the air we breathe to keep alive is amazing; and you just breathe in and think this is happiness." — Ashok Chopra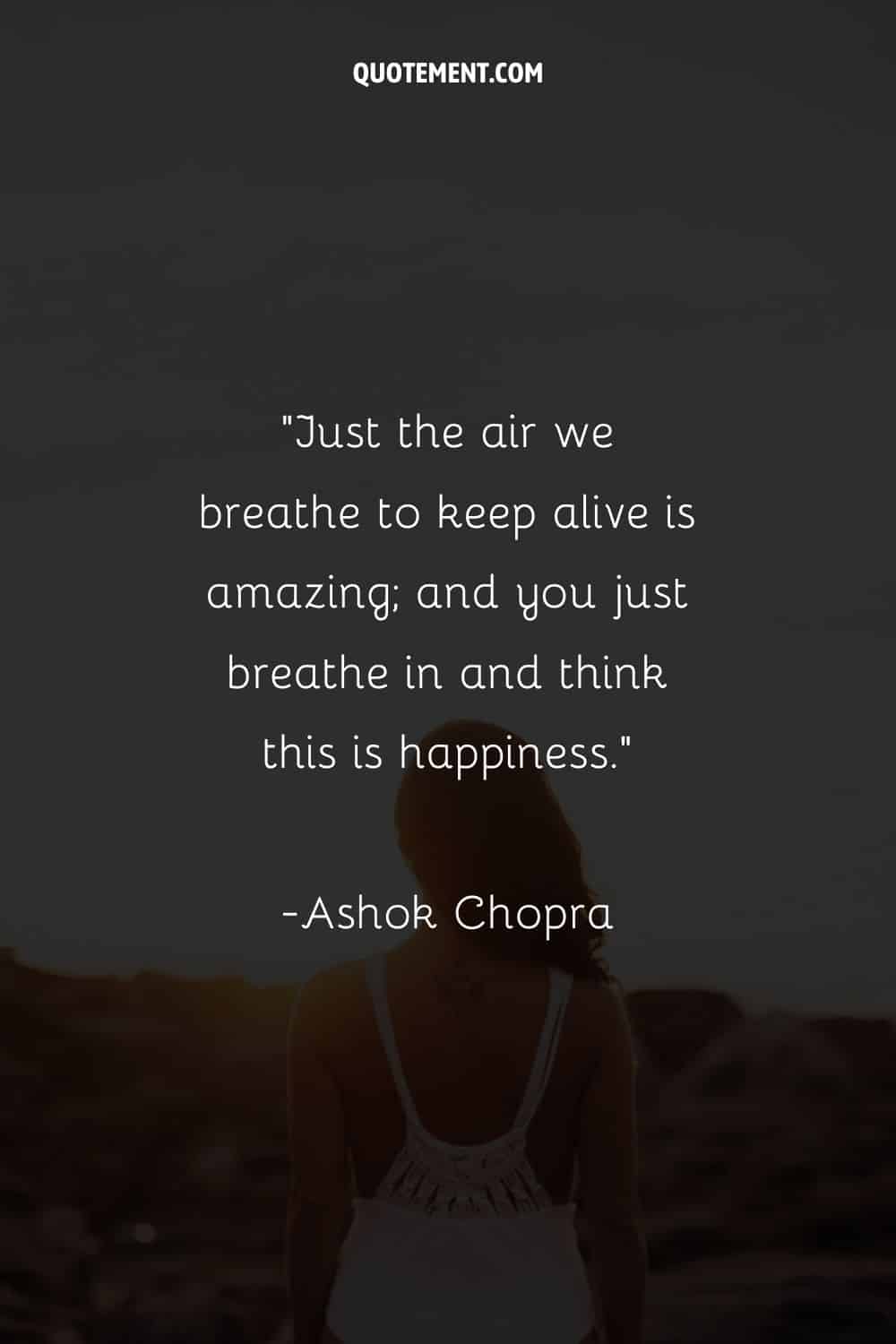 See also: Top 220 Happy Quotes For Instagram To Spread Good Vibes
11. "The quality of your life is measured by the number of deep breaths you take. Make each breath count." — Richie Norton
12. "Become the leader of your life. Lead yourself to where you want to be. Breathe life back into your ambitions, your desires, your goals, your relationships." ― Steve Maraboli
13. "If you're still breathing, you have the power to take control of your life — to take control of the world." — John Landry
14. "Take a deep breath and tell us your deepest, darkest secret, so we can wipe our brow and know that we're not alone." — Alan Watts
15. "Allow yourself to let go, surrender, and breathe in the beautiful world that is waiting for you just outside of your comfort zone." ― Leigh Hershkovich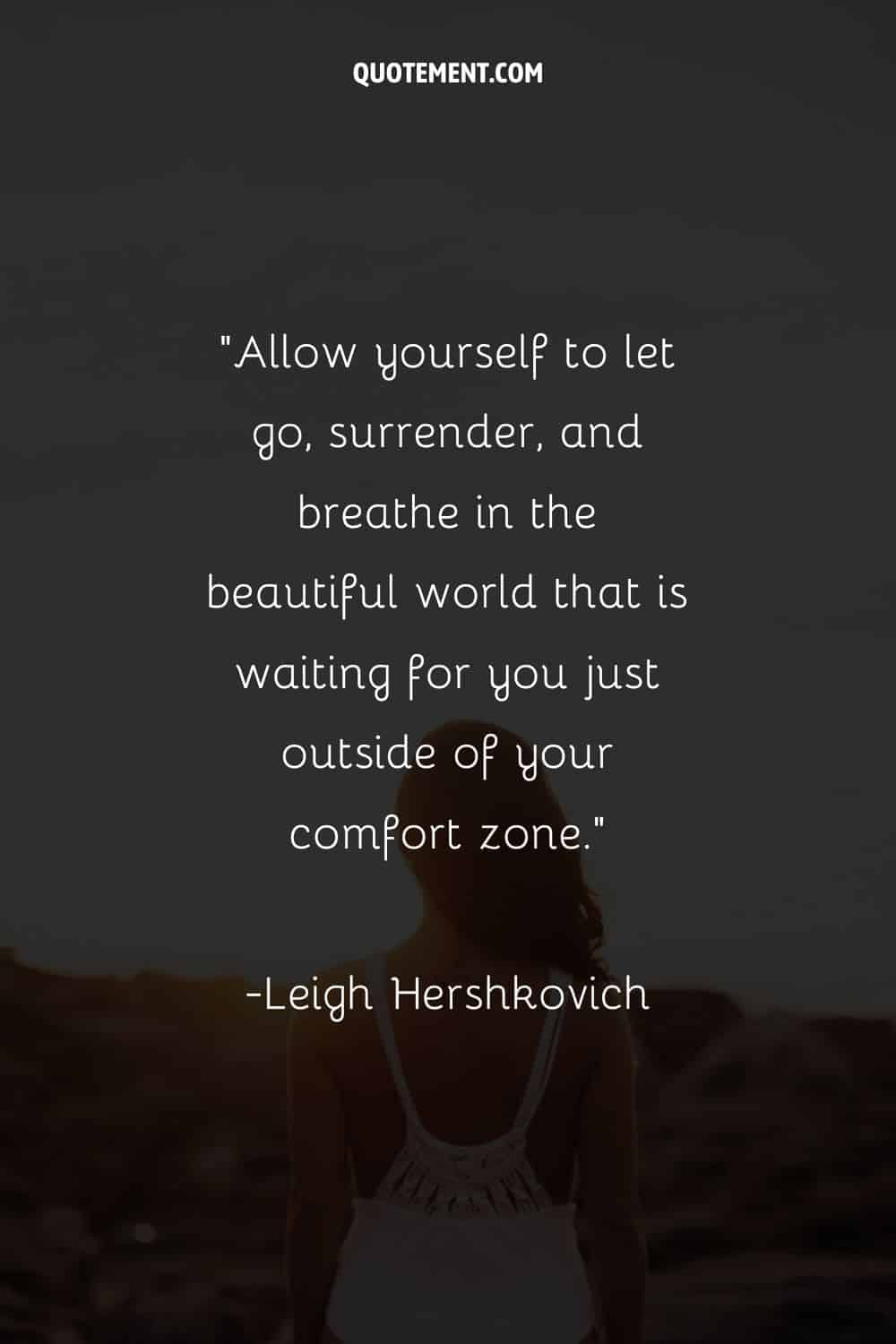 16. "Be one with yourself and you will live in your alignment. Living in your alignment will provide you with the best possible outcomes of the desires you have created. Don't muscle through. Just breathe." — Gene Black
17. "Breath is the bridge which connects life to consciousness, which unites your body to your thoughts." — Thích Nhất Hạnh
18. "He lives most life whoever breathes most air." — Elizabeth Barrett Browning
19. "We breathe when we're wrong, we breathe when we're right, we breathe even as we slip off the ledge toward an early grave. It cannot be undone. So I breathe." ― Tahereh Mafi
20. "Take a deep breath, pick yourself up, dust yourself off, and start all over again." — Frank Sinatra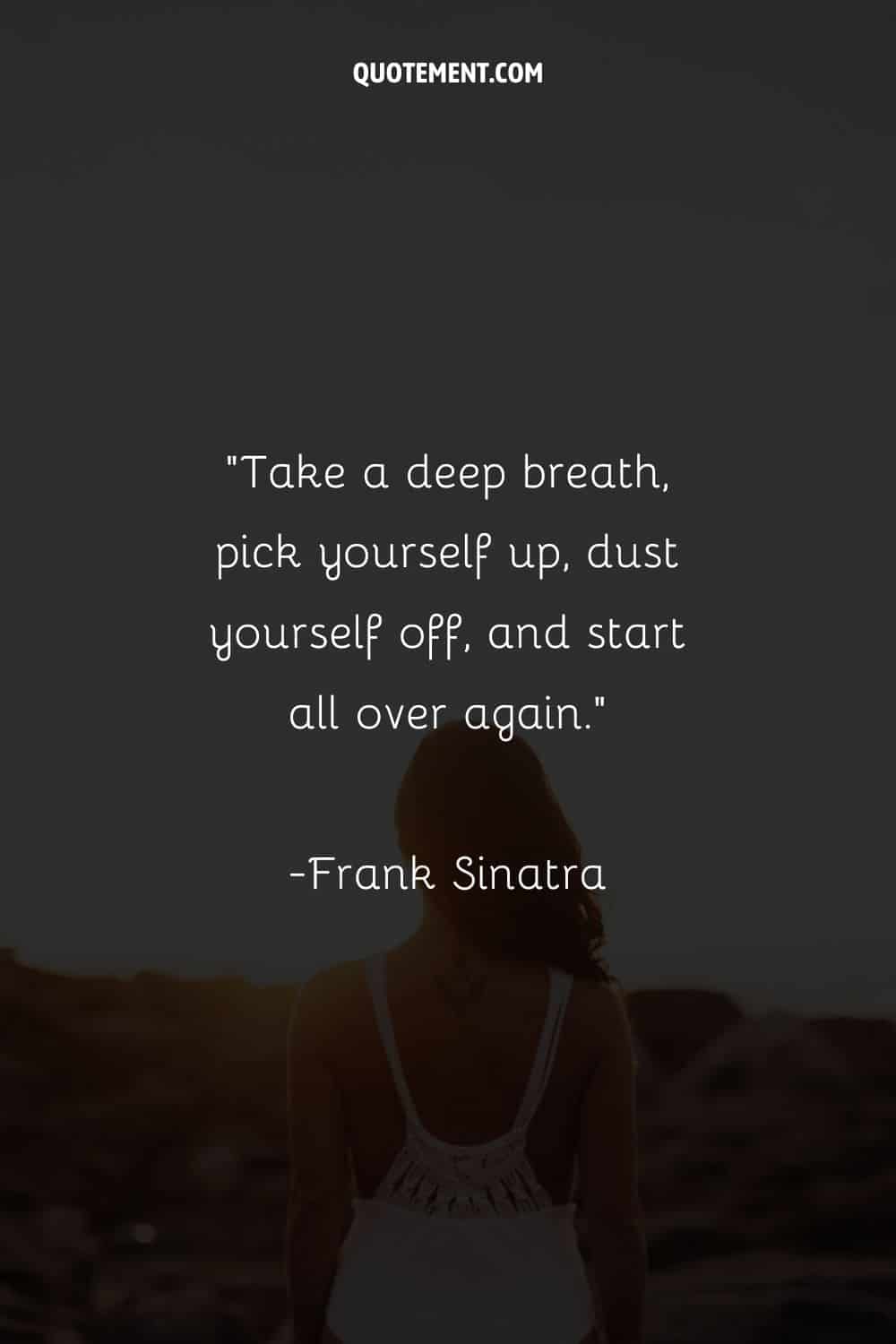 See also: 90+ Inspiring Pick Yourself Up Quotes To Keep You Going
21. "When people ask me what the most important thing is in life, I answer: 'Just breathe.'" — Yoko Ono
22. "When you want to succeed as bad as you want to breathe, then you will be successful." — Eric D. Thomas
23. "You're alive and breathing. That's a fine reason to celebrate." — Johnny Lung
24. "I will breathe. I will think of solutions. I will not let my worry control me. I will not let my stress level break me. I will simply breathe. And it will be okay. Because I don't quit." — Shayne McClendon
25. "To breathe properly is to live properly." — Robin Sharma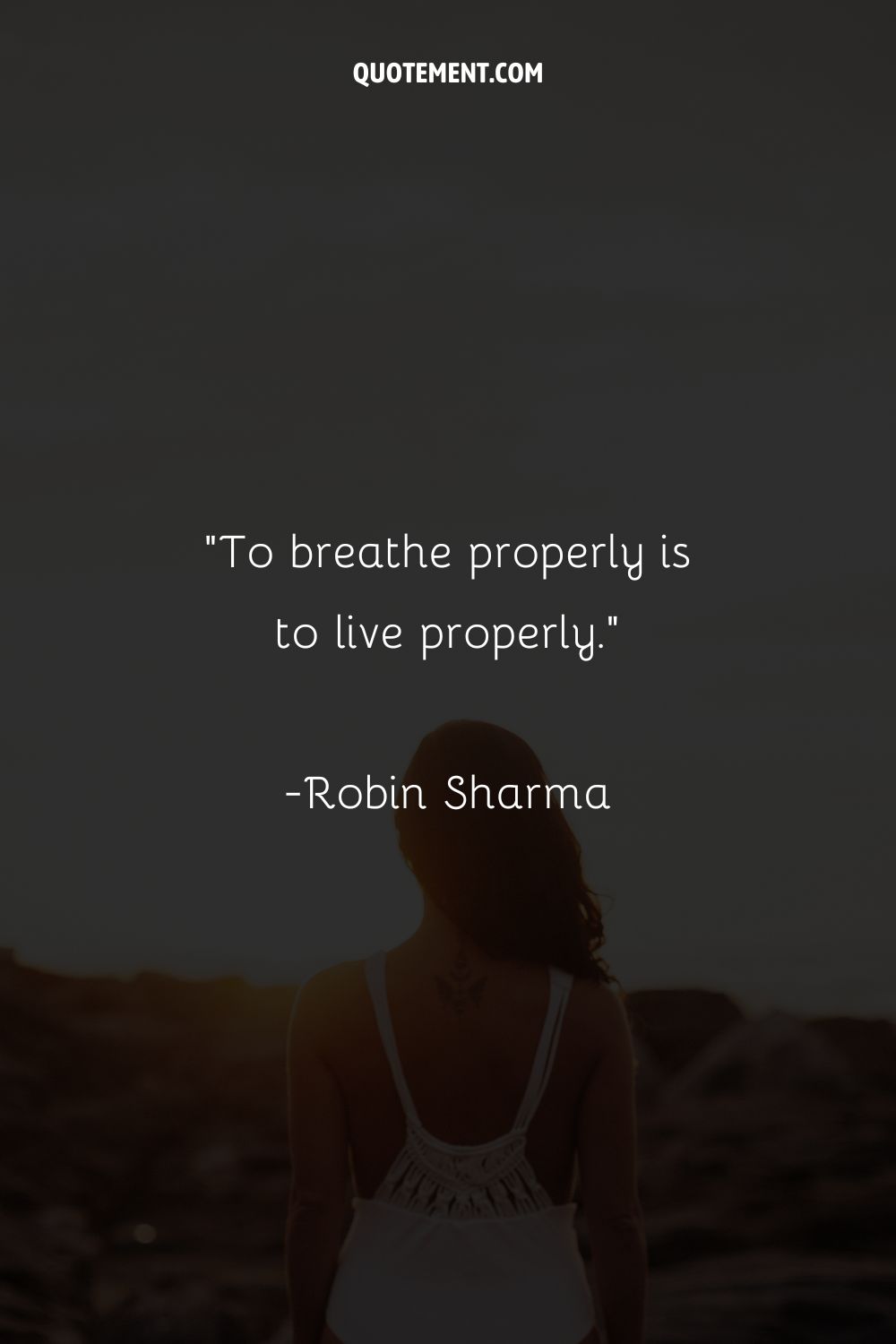 Breathing Quotes To Help You Center Yourself
1. "Breathe in deeply to bring your mind home to your body." — Thich Nhat Hanh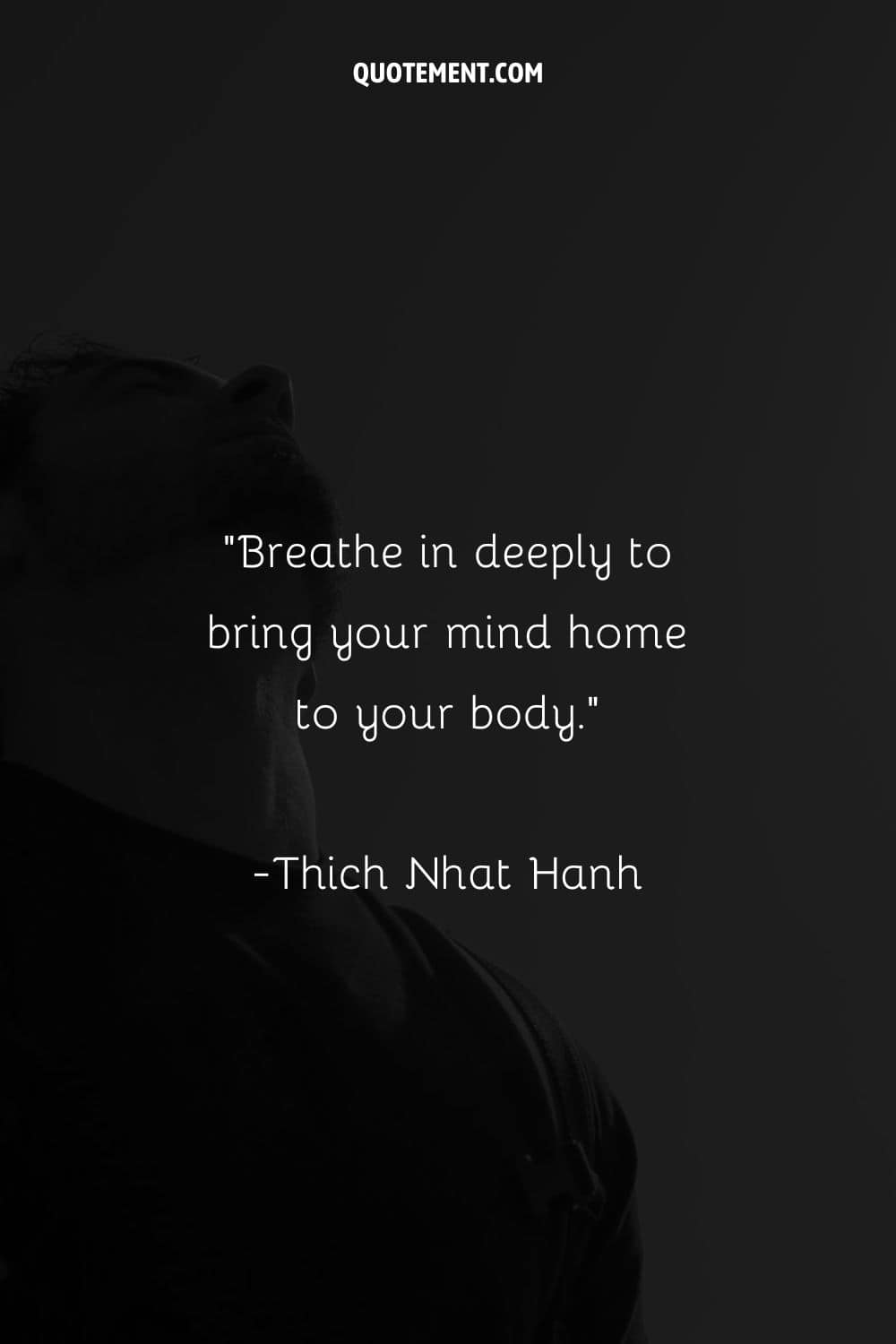 2. "Through your crisis, just breathe and take that next step." — Marian Simon
3. "Some things are out of your control, but not your breath, so breathe in with me, okay?" ― R.S. Grey
4. "Breathe. Let go of identification with the body. Breathe. Let go and slip away into spirit. Breathe. Breathe your spirit free." — Rebecca Rees
5. "Conscious breathing, also known as breath awareness, provides an intimate pathway into ourselves." — Dennis Lewis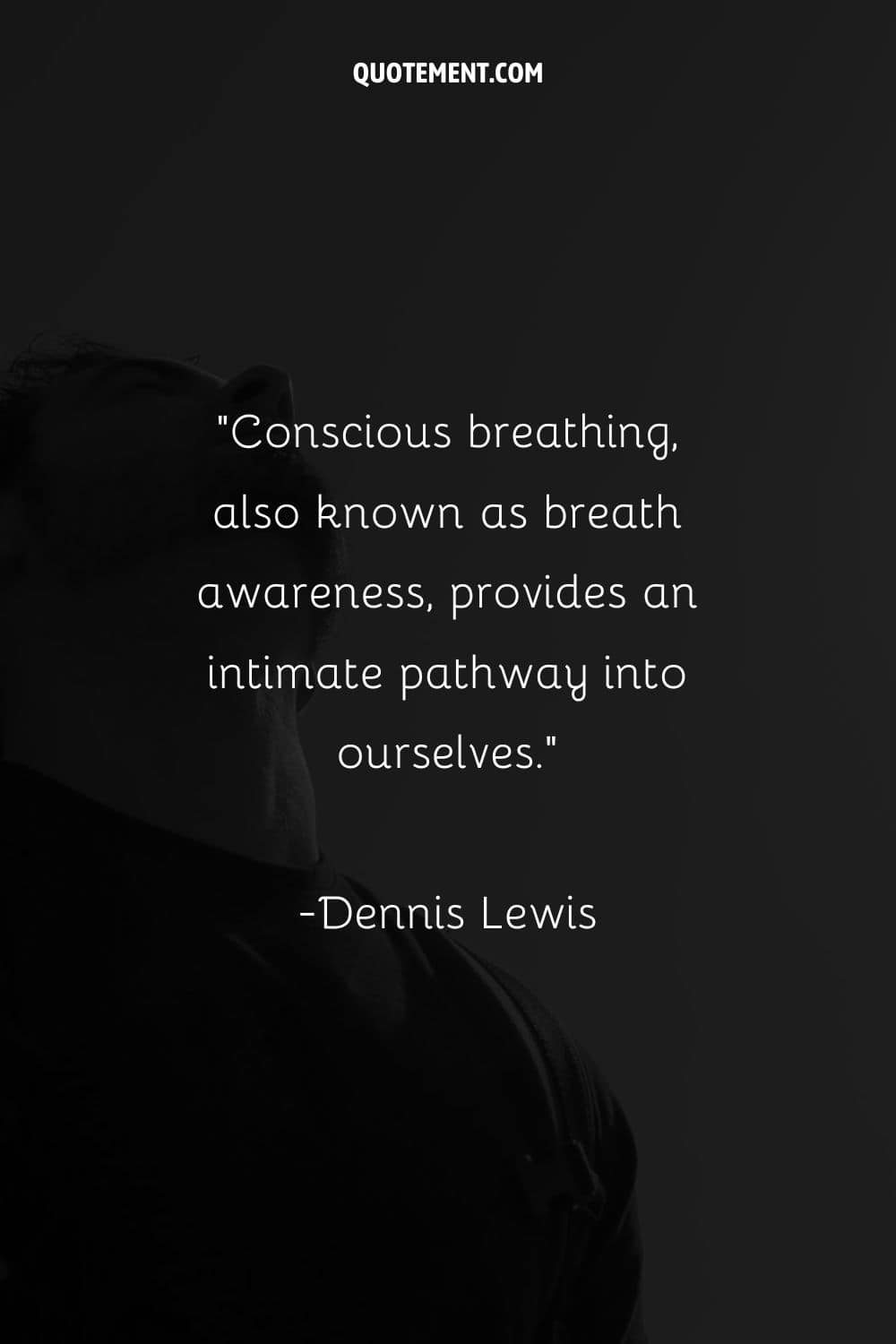 6. "Take a deep breath and think of the three things you are grateful for, right in this moment." — M. J. Ryan
7. "When you feel like life is out of focus, always return to the basics of life. Breathing. No breath, no life." — Mr. Miyagi
8. "When the breath wanders the mind is unsteady, but when the breath is calmed, the mind too will be still." — Hatha Yoga Pradipika
9. "I take a few moments in the morning just to breathe while I drink my morning coffee or right before I get out of bed." — Ayesha Curry
10. "Breathing in, I calm body and mind. Breathing out, I smile. Dwelling in the present moment, I know this is the only moment." — Thich Nhat Hanh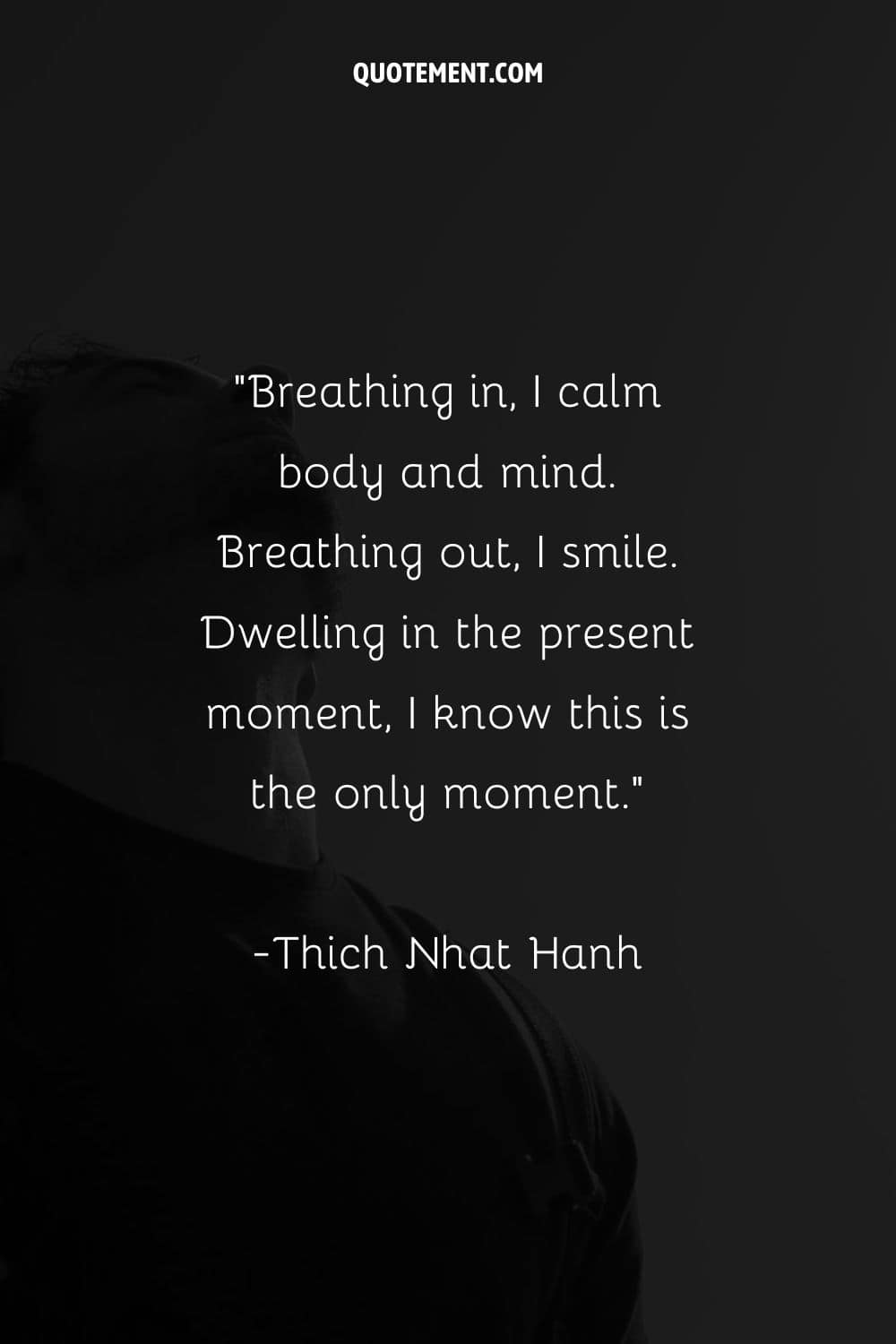 See also: 150 Living In This Moment Quotes To Embrace The Here & Now
11. "The world may feel like it's spinning out of control, but you don't have to. Anchor into your breath. Slow your pace so that you can remain clear." ― Hania Khuri-Trapper
12. "When life is foggy, path is unclear and mind is dull, remember your breath. It has the power to give you the peace. It has the power to resolve the unsolved equations of life." ― Amit Ray
13. "In a quiet place, close your eyes, take a deep breath, and go inward. Place your attention on your heart, in the center of your chest. Sit quietly and easily let your attention remain there." — Deepak Chopra
14. "Meditation nourishes your awareness that you are the Self, then you can relax and have fun in this Divine Play." — Bert McCoy
15. "Why be crying, fearful, lonely, when you have the whole universe? Be still, listen to your heart, breathe, and know you need nothing." ― Jay Woodman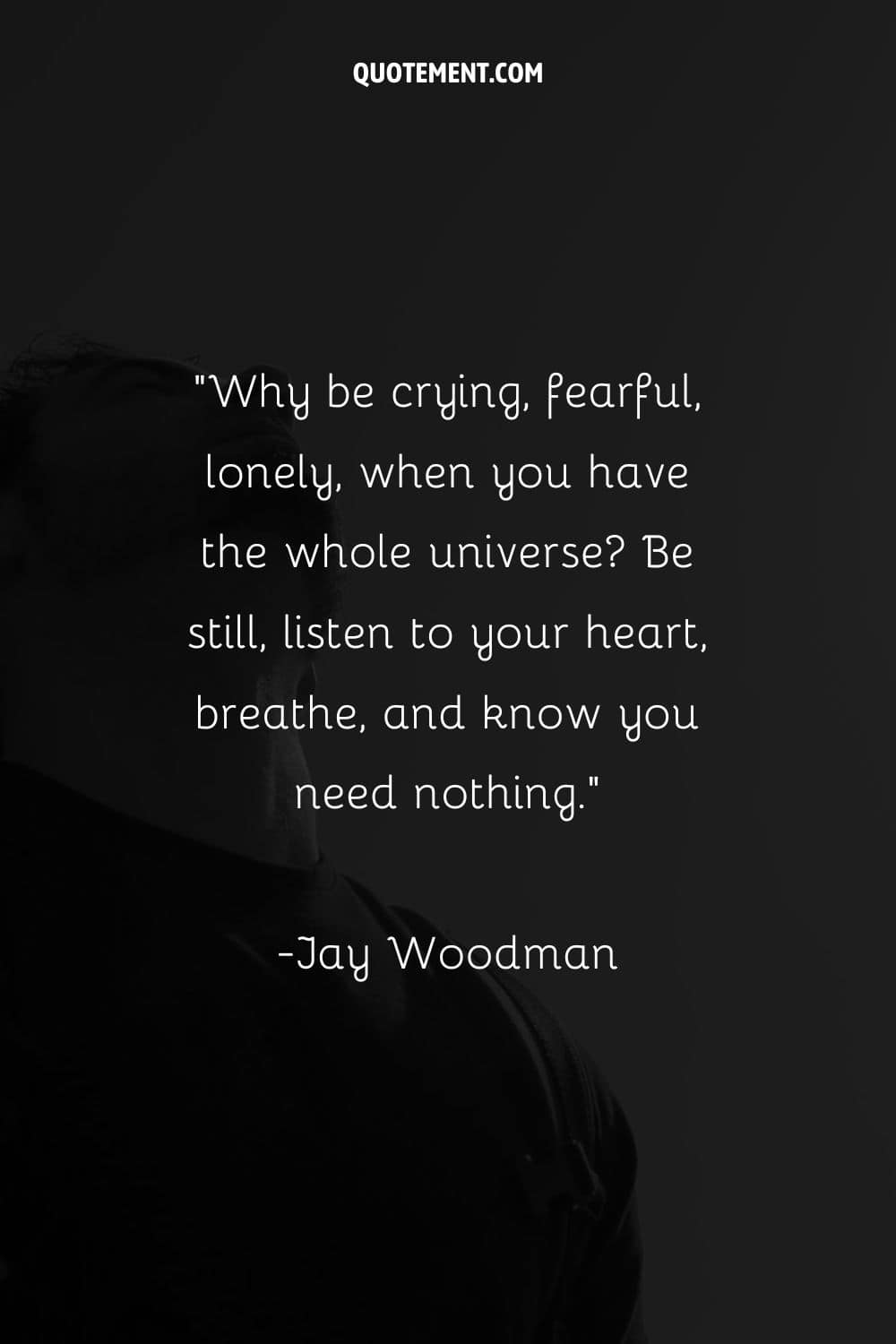 See also: 120 Best Spiritual Universe Quotes To Contemplate Life
16. "Don't spin your wheels and stress. Take a deep breath, center yourself and make a plan." — Douglas Adams
17. "Breathing is meditation; life is a meditation. You have to breathe in order to live, so breathing is how you get in touch with the sacred space of your heart." — Willow Smith
18. "Breath is the bridge which connects life to consciousness, which unites your body to your thoughts. Whenever your mind becomes, scattered, use your breath as the means to take hold of your mind again." — Thich Nhat Hanh
19. "Sometimes you just have to stop, take a deep breath, and put things into perspective." — Katrina Mayer
20. "When you feel like life is out of focus, always return to the basics of life. Breathing. No breath, no life." — Mr. Miyagi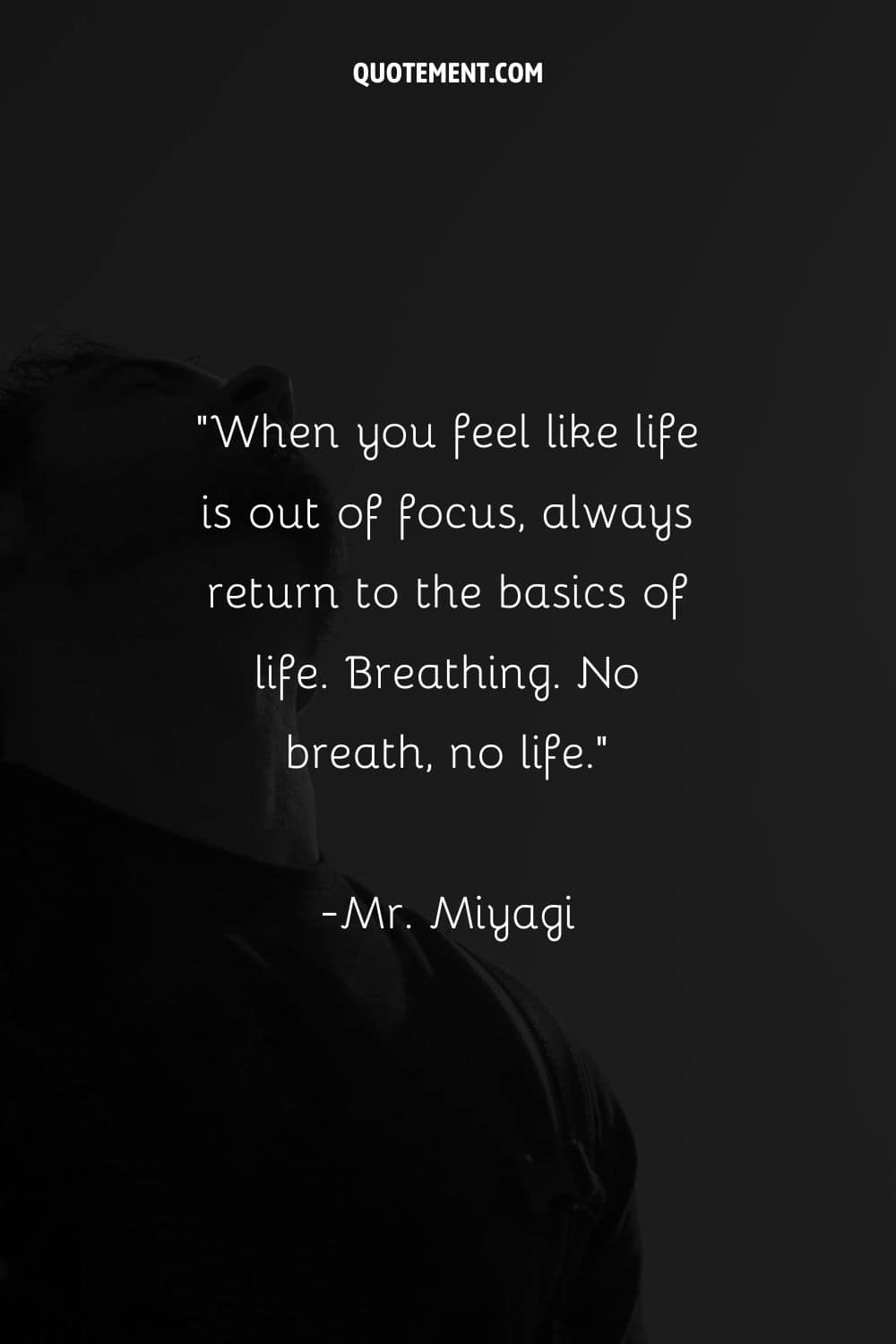 See also: 160 Wise Quotes About Focusing On Yourself To Empower You
21. "Breathe. This too will pass." — Edward FitzGerald
22. "Whenever you're feeling down – just breathe. Everything will work its way out in the end." — Johnny Lung
23. "I love being in the woods when I can just walk barefoot in the grass and just sit down and breathe. I love that so much." — Jessie Reyez
24. "Every moment allows you the opportunity to take a deep breath in and be grateful for the fact that you can take in a breath." — John Assaraf
25. "Breathe. It's just a bad day, not a bad life." — Unknown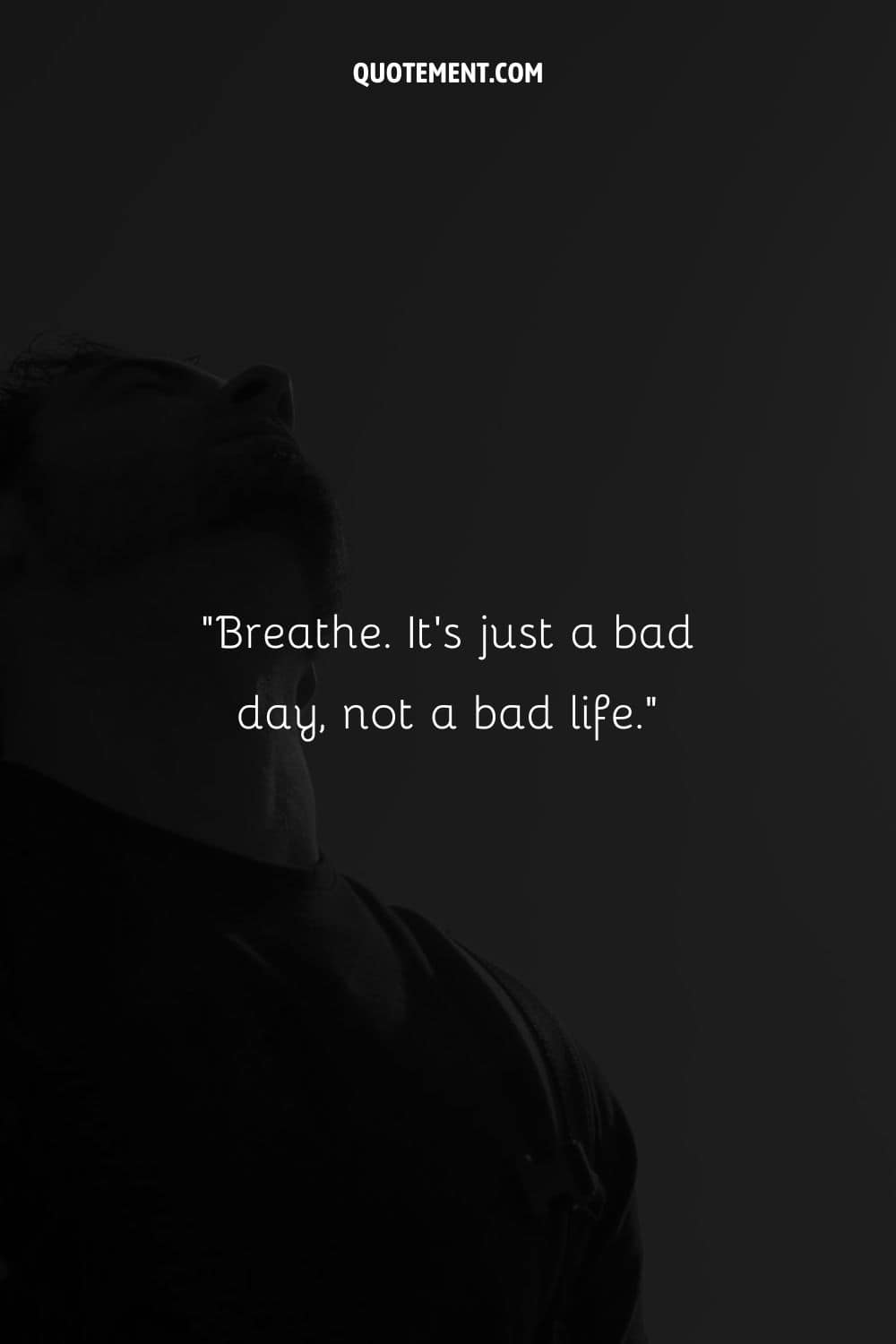 See also: 100 Wise Quotes About Bad Days To Help You Stay Positive
Breathe In Quotes To Help You Find Peace
1. "Bliss begins with the breath. We breathe in and accept all that is new. We breathe out, and release all that has passed." — Sara Wiseman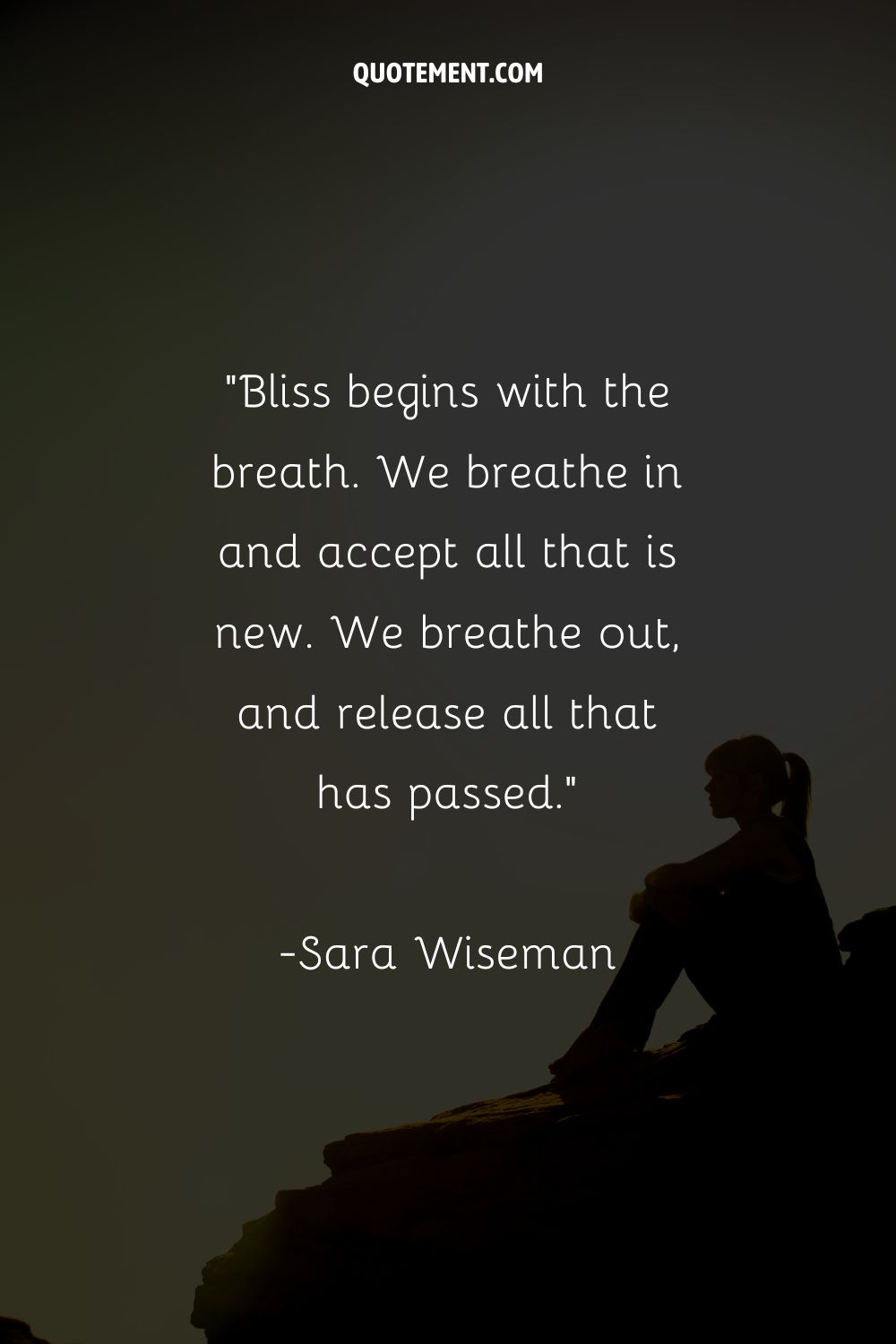 2. "The key to enlightenment is the state of 'no mind'. To achieve the state of no mind, the ego needs to disappear. For the ego to disappear, breath is the answer." — Dr. Vishal U.S. Rao
3. "Breathe deeply, until sweet air extinguishes the burn of fear in your lungs and every breath is a beautiful refusal to become anything less than infinite." — D. Antoinette Foy
4. "If you want to conquer the anxiety of life, live in the moment, live in the breath." — Amit Ray
5. "In all Oriental and mystic philosophies, the breath holds the secret to the highest bliss." — Alexander Lowen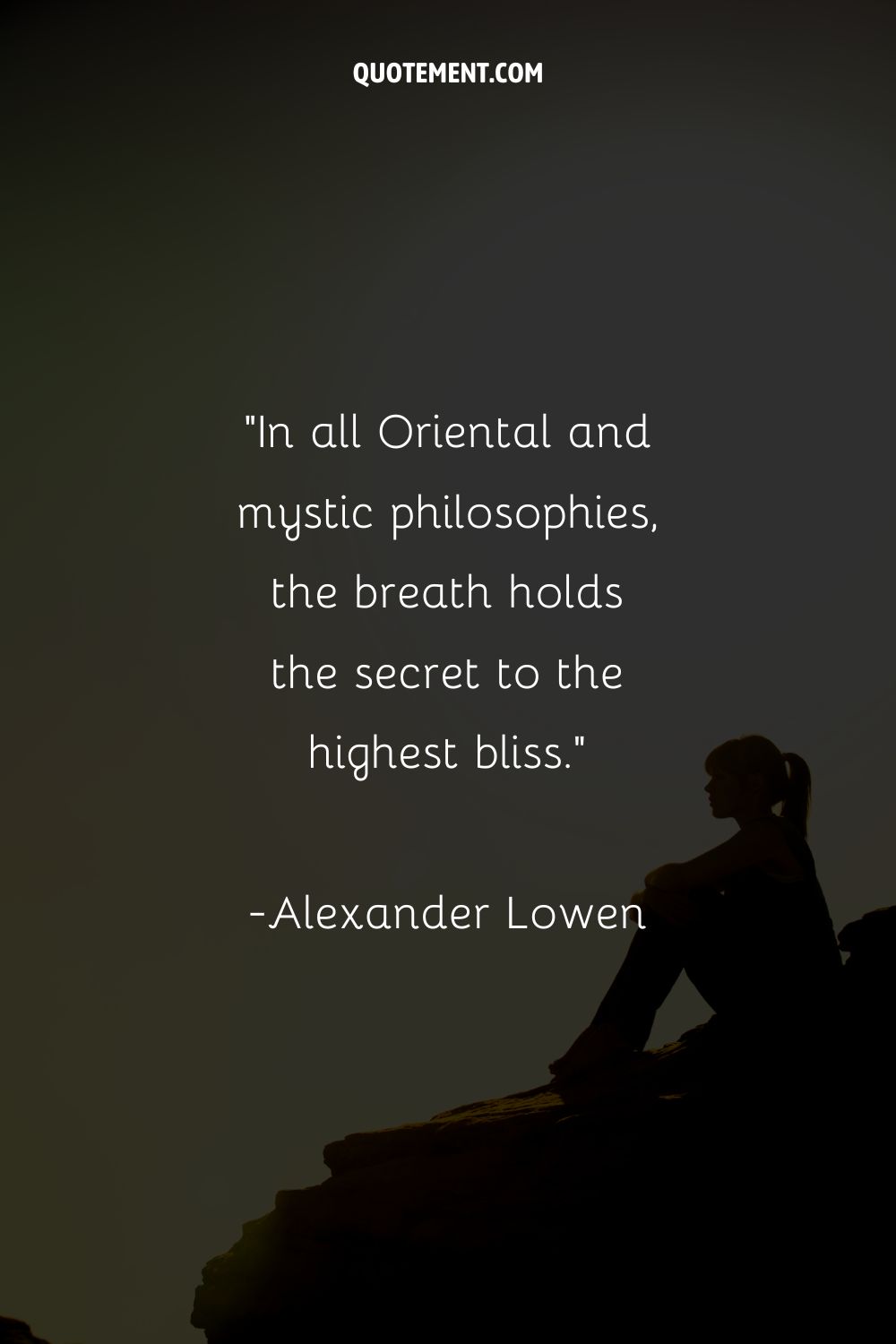 6. "Revenge is a caustic thing. I say, Breathe in, breathe deeply, let it go." — Jason Statham
7. "Take a deep breath, listen to your favorite song and realize everything is gonna be okay, nothing is permanent." — Camila Cabello
8. "Take a deep breath. It calms the mind." — Regina Brett
9. "Just breathe. Ten tiny breaths … Seize them. Feel them. Love them." — K.A. Tucker
10. "Our every breath connects us to the divine ocean of peace, joy, and happiness. Feel the joy of mindful breathing." ― Amit Ray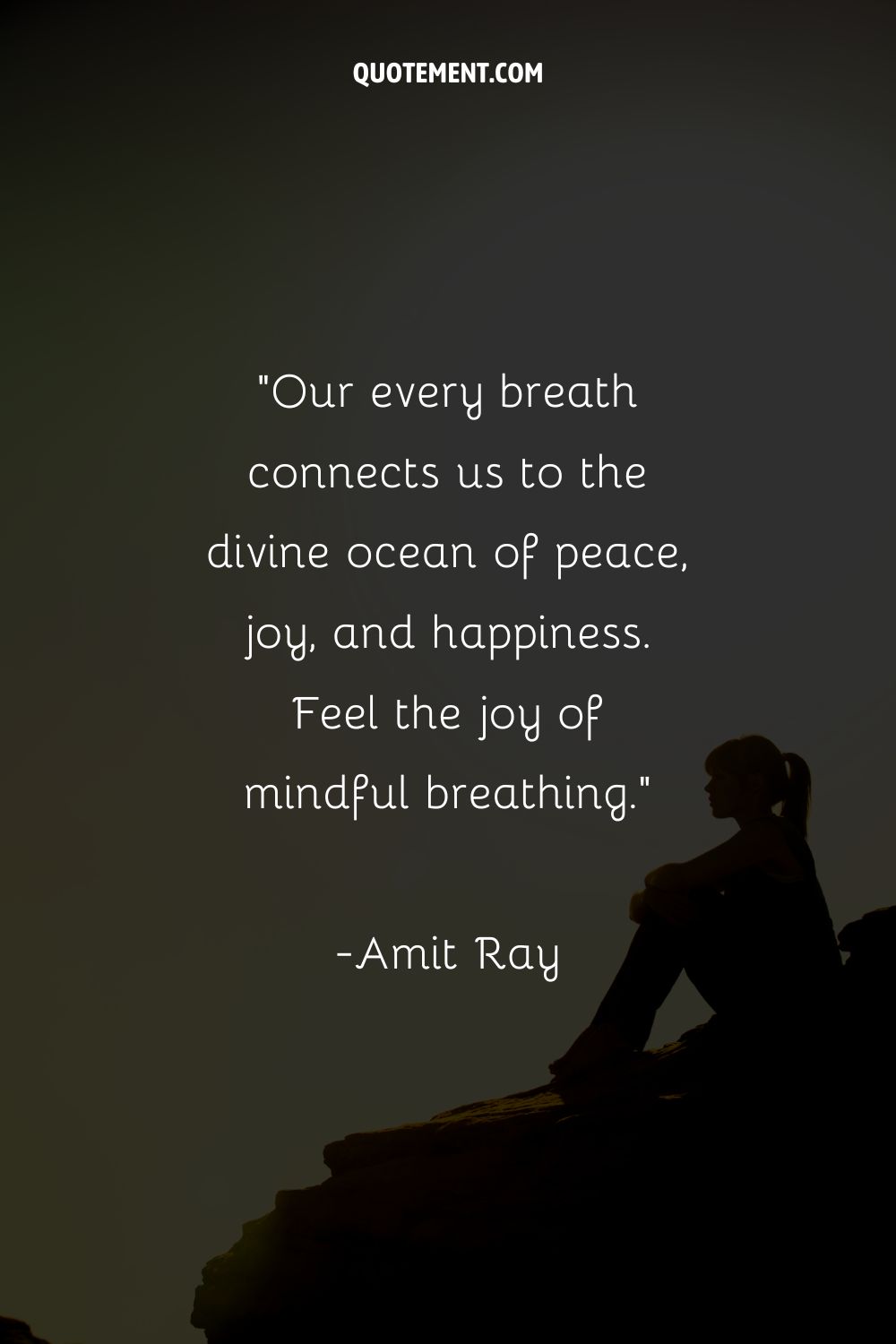 11. "I meditate. I breathe out what I can't control and focus on the positives." — Deepika Padukone
12. "Think for yourself. Ignore the noises around you that polarize and try to promote fear and division. You know better. Be better. Breathe." — Gregory S. Williams
13. "The wisest one-word sentence? Breathe." — Terri Guillemets
14. "Breathing meditation can quiet the mind, open the body, and develop a great power of concentration." — Jack Kornfield
15. "I took a deep breath and listened to the old bray of my heart: I am, I am, I am." — Sylvia Plath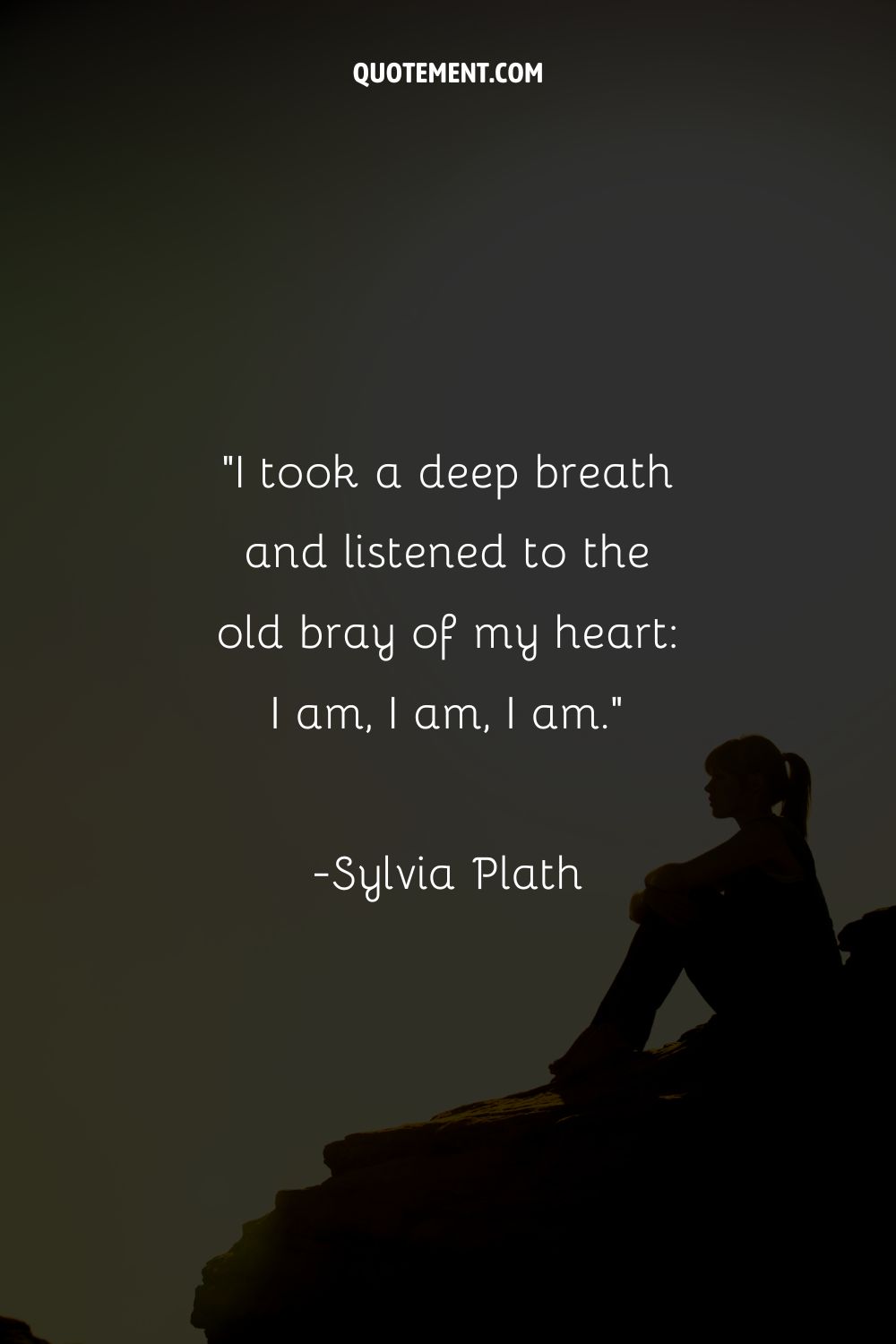 16. "I AM WELL. I breathe in wellness and wholeness. I exhale all that doesn't serve me. Every breath I take is in gratitude for this very moment." ― Sanjo Jendayi
17. "Breathe. Don't panic and flee. Sink. Feel it all. Imagine. Let it burn." ― Glennon Doyle
18. "We just need to hang in there a little longer, spend a little more of our energy… Breathe…" ― Melita Tessy
19. "Just sit and be present with this body-mind as it is, enjoy your breathing, not trying to avoid thoughts and feelings, just breathe into them." — Taigen Dan Leighton
20. "Open your heart! Even in trying times. Relax. Breathe. Allow. Feel lighter, happier, and at peace." ― Dawn Gluskin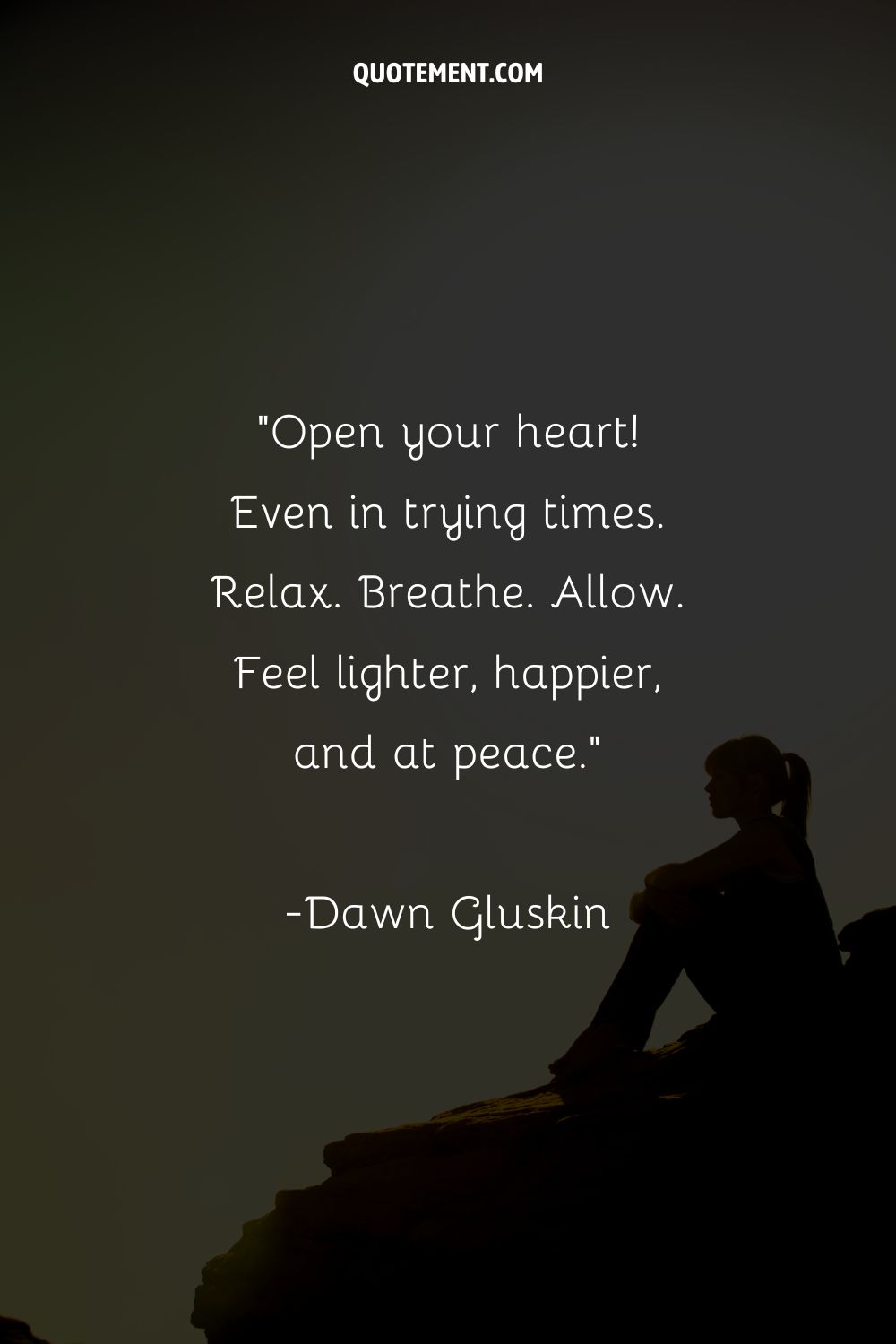 Breathe In Quotes For Relaxation
1. "Breathe quietly and let it be. Let your body relax and your heart soften." — Jack Kornfield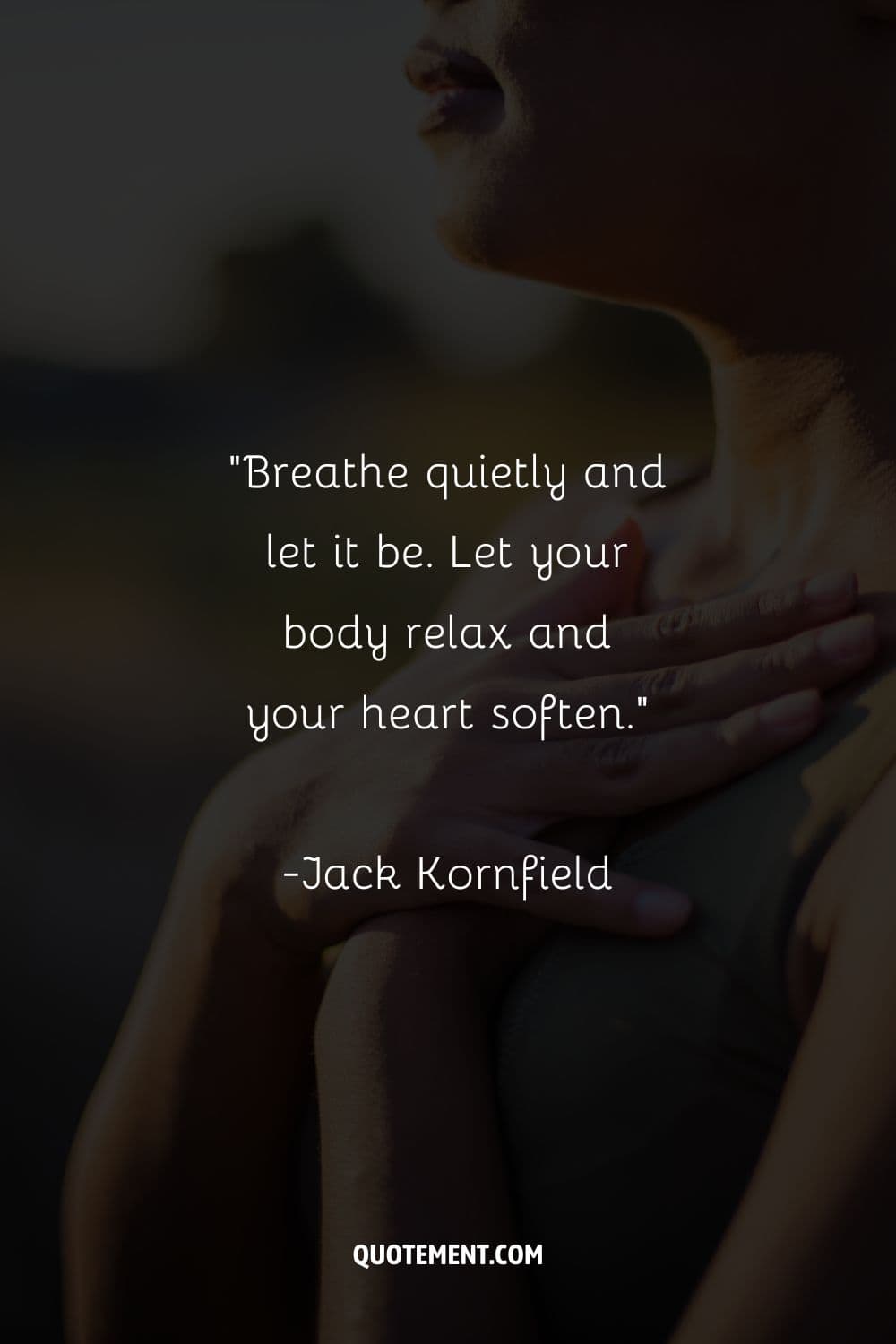 2. "Breathe. Let go. And remind yourself that this very moment is the only one you know you have for sure." — Oprah Winfrey
3. "When you learn to understand and use your breath, it can do amazing things! It can reset your body when it feels stressed or out of control." — Christopher Willard
4. "Think about every good thing in your life right now. Free yourself of worrying. Let go of the anxiety, breathe. Stay positive, all is well." — Germany Kent
5. "Keep breathing. Just keep doing it. It's easy. In and out." — Jenny Downham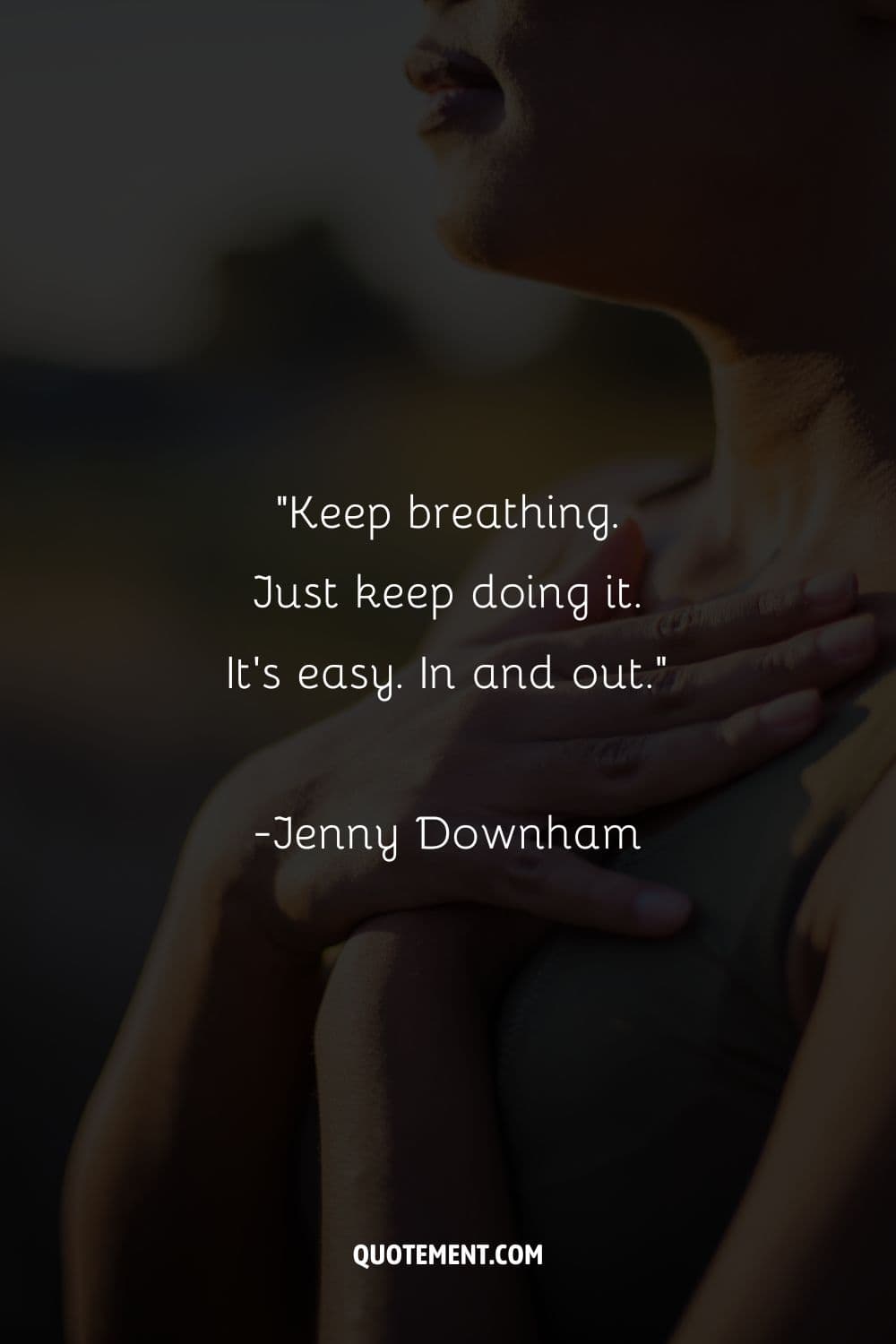 6. "Breath is life. We should pay as much attention to it as any other aspect of beingness." — Swami Nostradamus Virato
7. "Think about every good thing in your life right now. Free yourself of worrying. Let go of the anxiety, breathe. Stay positive, all is well." ― Germany Kent
8. "Conscious breathing heightens awareness and deepens relaxation." — Dan Brule
9. "Breathe consciously and with full intent to relax. In your breath is your freedom from the past and future and your ability to be here now." ― Ari Zandieh
10. "Sometimes the most important thing in a whole day is the rest we take between two deep breaths." — Etty Hillesum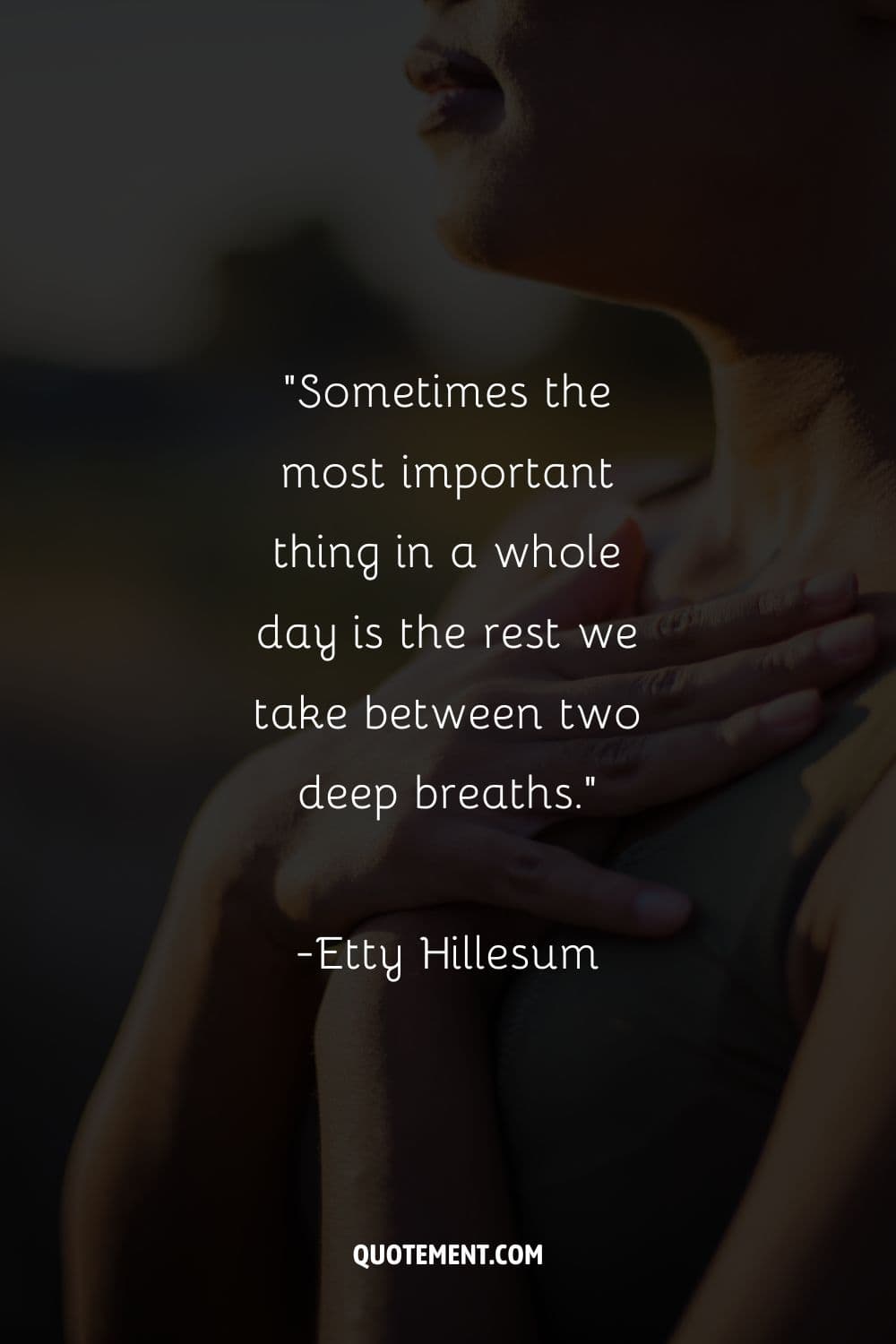 11. "Do something nice for yourself today. Find some quiet, sit in stillness, breathe. Put your problems on pause. You deserve a break." ― Akiroq Brost
12. "Breathe. A great time to relax is when you don't have time for it." — Sydney Harris
13. "I want to rest. I want to breathe quietly again." ― Tennessee Williams
14. "Just be, right now, here; & breathe. Stop questioning every little thing, stop analysing how it should be and let go of the control, you hold so tightly onto; and beging to trust the magic of yourself." ― Nikki Rowe
15. "Take a deep breath, relax and imagine yourself exactly as you wish to be." — Brian Tracy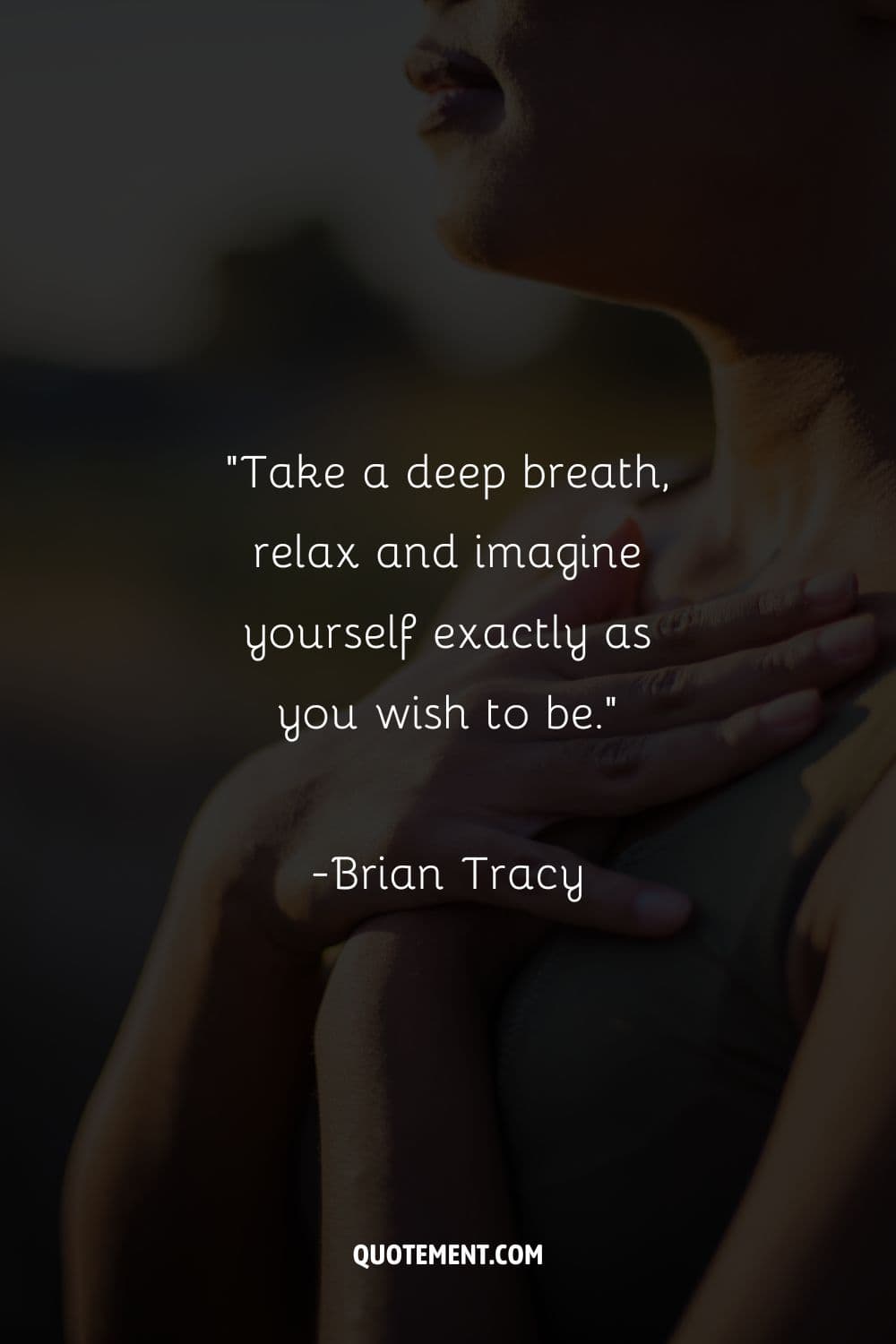 16. "I schedule 'me' time because, just like everyone else, I need to unwind. I try to remember to take it easy and breathe." — Mandy Ingber
17. "Being calm is a skill that starts with proper breathing. Dr. Tully taught me that breathing deeply and regularly is not only the key to remaining calm, but also instantly connects us to a higher vibration." ― Sonia Choquette
18. "Breathing well means breathing more slowly and deeply. Relax, feel your breathing, and breathe comfortably. Once aware, it naturally becomes deeper and slower." — Ilchi Lee
19. "You don't always need a plan. Sometimes you just need to breathe, trust, let go and see what happens." — Mandy Hale
20. "You will get there when you are meant to get there and not one moment sooner… so relax, breathe, and be patient" — Mandy Hale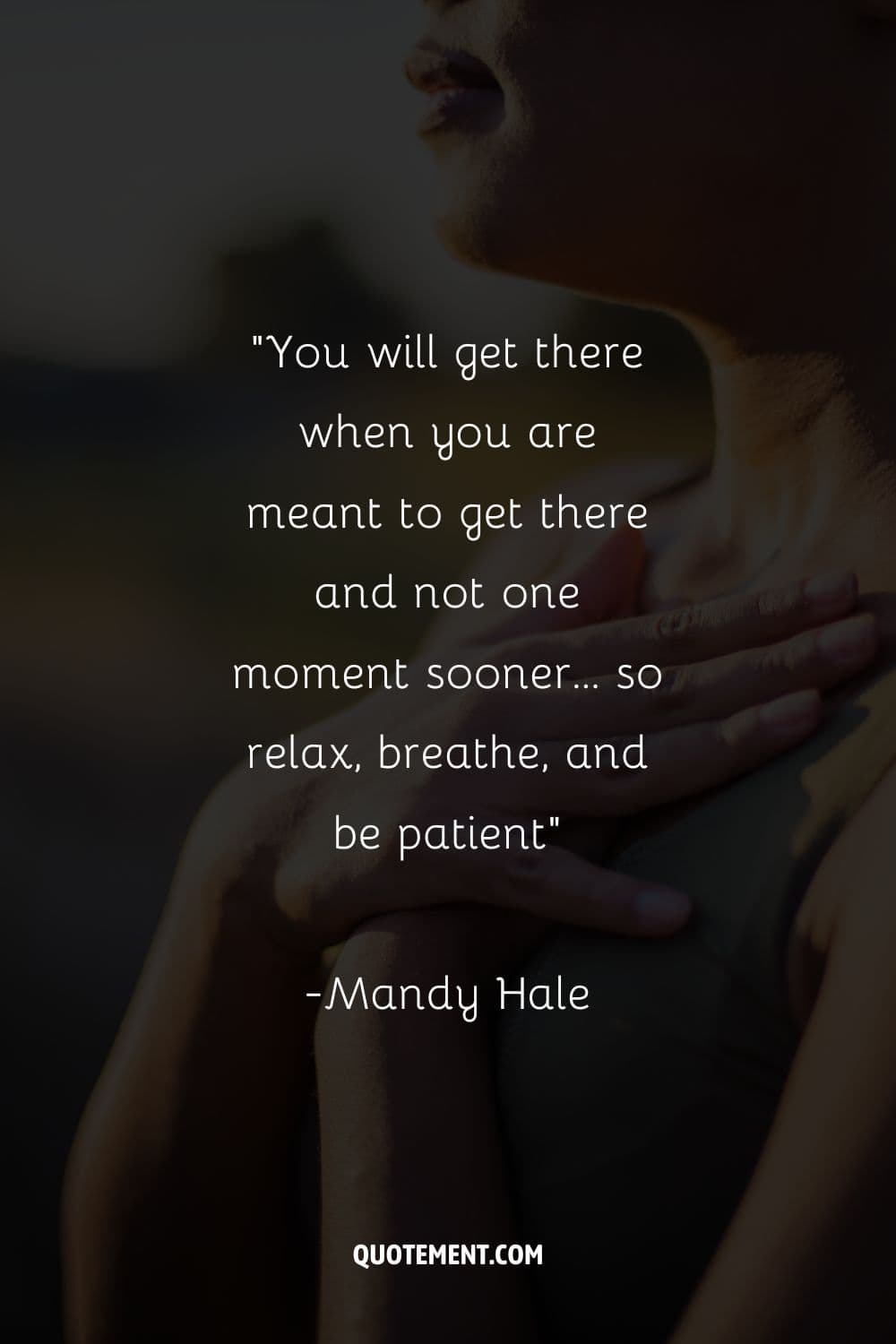 Breathe In Quotes To Broaden Your Perspective
1. "Breathing means saying yes to life. We start our life with the first breath and end it with the last one." — Angelika Ruppert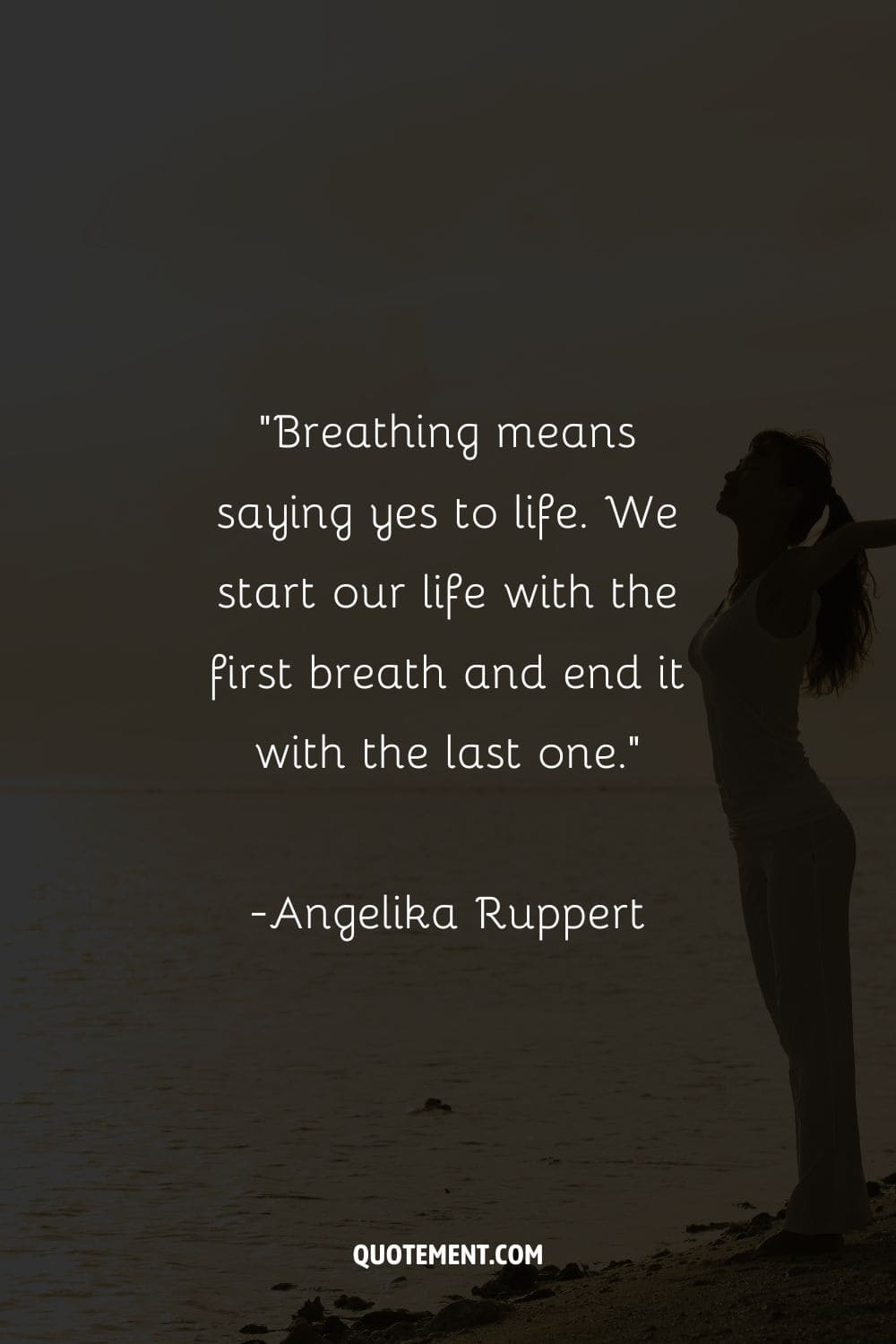 2. "Just the fact that you get to live and breathe and interact with the world – that's pretty marvelous." — Junot Diaz
3. "The way we breathe in response to pain and pleasure, to stress and change, can make all the difference in the world, to our health and well-being, our performance at home and at work, and to our loved ones." — Dan Brule
4. "The mind follows the breath, but don't try to contain the breath in your mind. Let the mind go. The breath is greater, and it brings you further into the depths of yourself, so follow the flow, follow the wave coming in onto the shore, and then let it go." — Wim Hof
5. "When you arise in the morning, think of what a precious privilege it is to be alive – to breathe, to think, to enjoy, to love." — Marcus Aurelius
See also: 70 Marcus Aurelius Quotes To Change Your Outlook On Life
6. "Breathing, according to me, corresponds to taking charge of one's own life." — Luce Irigaray
7. "Deep breathing brings deep thinking and shallow breathing brings shallow thinking." — Elsie Lincoln Benedict
8. "Breath is the finest gift of nature. Be grateful for this wonderful gift." ― Amit Ray
See also: 140 Blessing Quotes To Awaken Your Gratefulness
9. "By changing patterns of breathing we can change our emotional states, how we think, and how we interact with the world." — Dr. Patricia Gerbarg
10. "Do not be afraid that joy will make the pain worse; it is needed like the air we breathe." — Garon Persson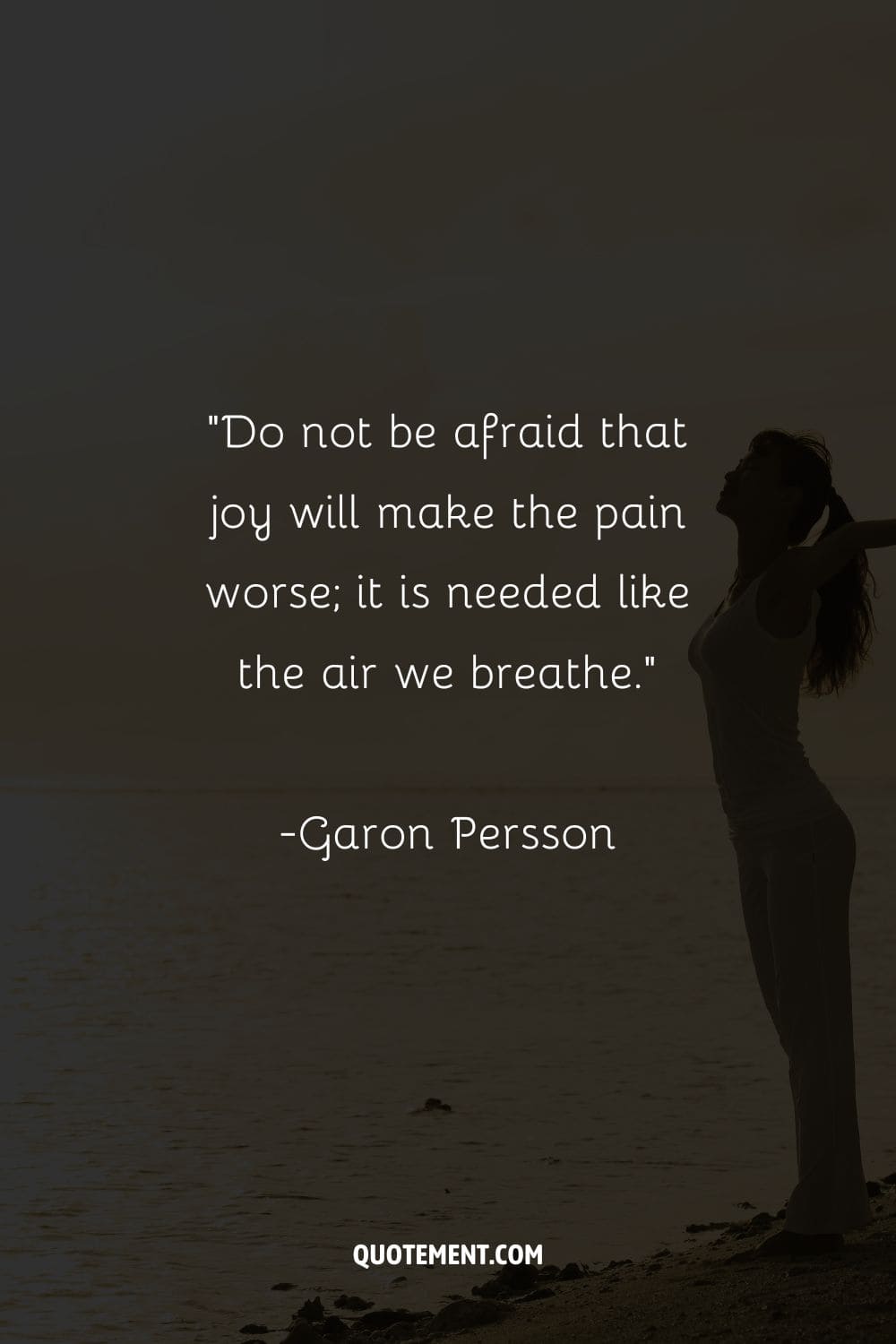 See also: 80 Inspiring Quotes On Joy To Turn Your Frown Upside Down
11. "I learned that when life pulls you under, you can kick against the bottom, break the surface, and breathe again." — Sheryl Sandberg
12. "The sun loves the moon so much that he dies every night to let her breathe." — Jeffrey Fry
13. "When you inhale, you are taking the strength from God. When you exhale, it represents the service you are giving to the world." — BKS Inyengar
14. "If you really want 'wellness', you need to go back to basics & make sure the foundation of your health-your breathing-is good." — Belisa Vranich
15. "You say that you are too busy to meditate. Do you have time to breathe? Meditation is your breath." — Ajahn Chah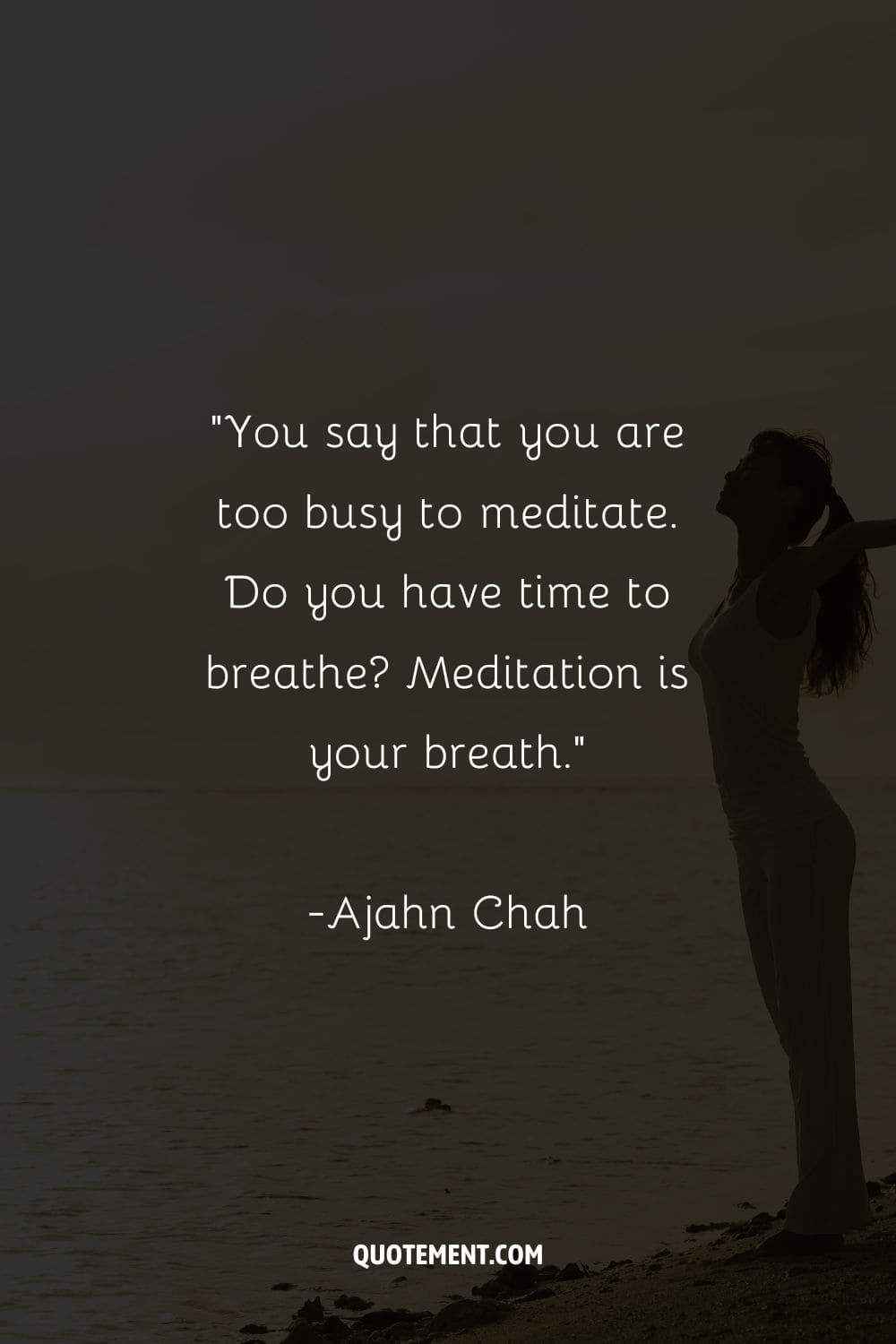 16. "The breath is a small daily reminder of the cyclic nature of life. We are constantly inhaling and exhaling in our lives. We take in information and let it go. We rise like the breath and we also fall. Sometimes we feel full and sometimes we are empty." ― Jenny C. Bell
17. "Spiritual breathing teaches us that we are all connected in love." — Dan Brule
18. "The breath is always present. It lives and dies so quickly it doesn't have time to occupy thoughts."― Psil Silva
19. "Learn how to exhale, the inhale will take care of itself." — Carla Melucci Ardito
20. "In an underdeveloped country don't drink the water. In a developed country don't breathe the air." — Jonathan Raban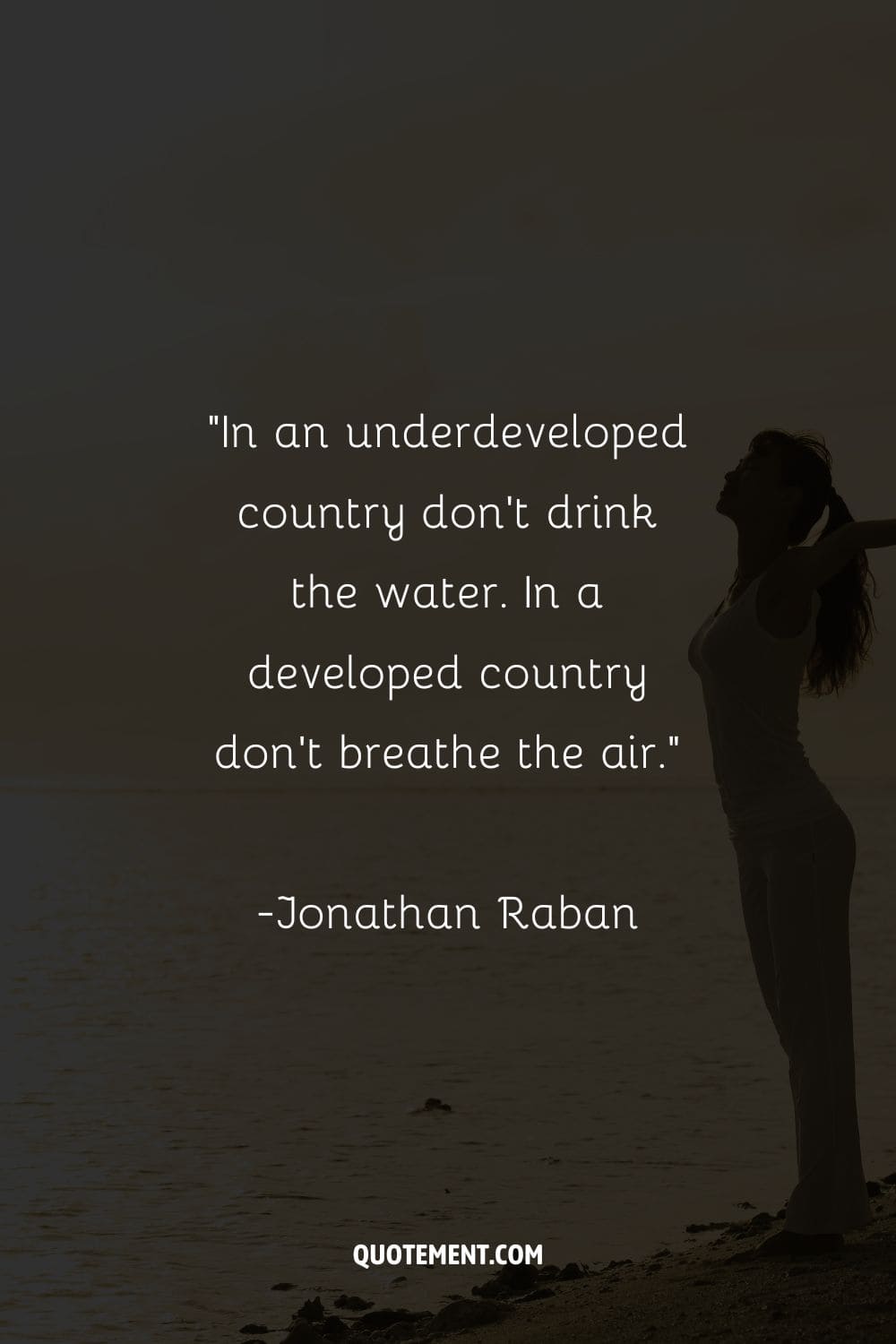 See also: 260 Gripping Water Captions For Instagram To Inspire Change
Final Thoughts
Bringing awareness to your breathing is the crucial step to attaining peace. I hope these breathe in quotes have inspired you to take a deep breath. That's where your peace is.