If you want to save your precious time and find the most inspirational happy quotes for Instagram to capture your next post, you've come to the right place!
Today's exciting article brings you the ultimate collection of the best quotes I could find on the web!
The definition of happiness is different for all of us, and that's okay. The important thing is that you never stop fighting and searching for it!
Once you want to share photos or videos that represent your happy moments, you may need a little help to capture them, so just stick with me to find powerful, motivational, deep, sassy or short quotes!
Let's have a look!
10 Best Happy Quotes For Instagram
First, let's take a look at my top 10 happy quotes for Insta:
1. "I used to dream of happiness. Now I find it every day within my soul. As long as I am determined to explore the depths of my being, I shall see the beauty of life and existence." – Lauren Levine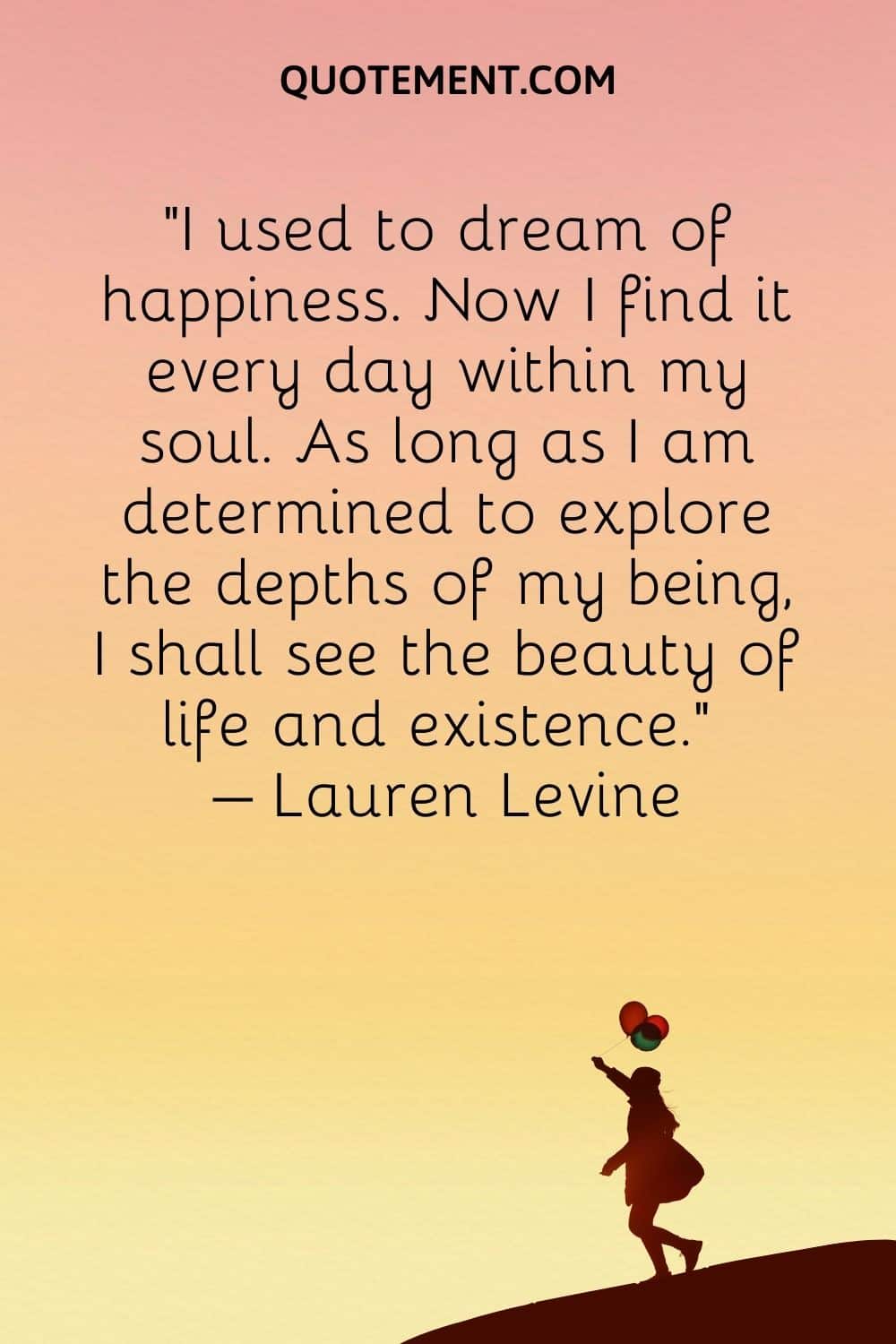 2. "We should always make time for the things we like. If we don't, we might forget how to be happy." ― T.J. Klune
3. "Happiness depends upon ourselves." ― Aristotle
4. "Don't waste your time in anger, regrets, worries, and grudges. Life is too short to be unhappy." ― Roy T. Bennett
5. "If you want to be happy, do not dwell in the past, do not worry about the future, focus on living fully in the present." ― Roy T. Bennett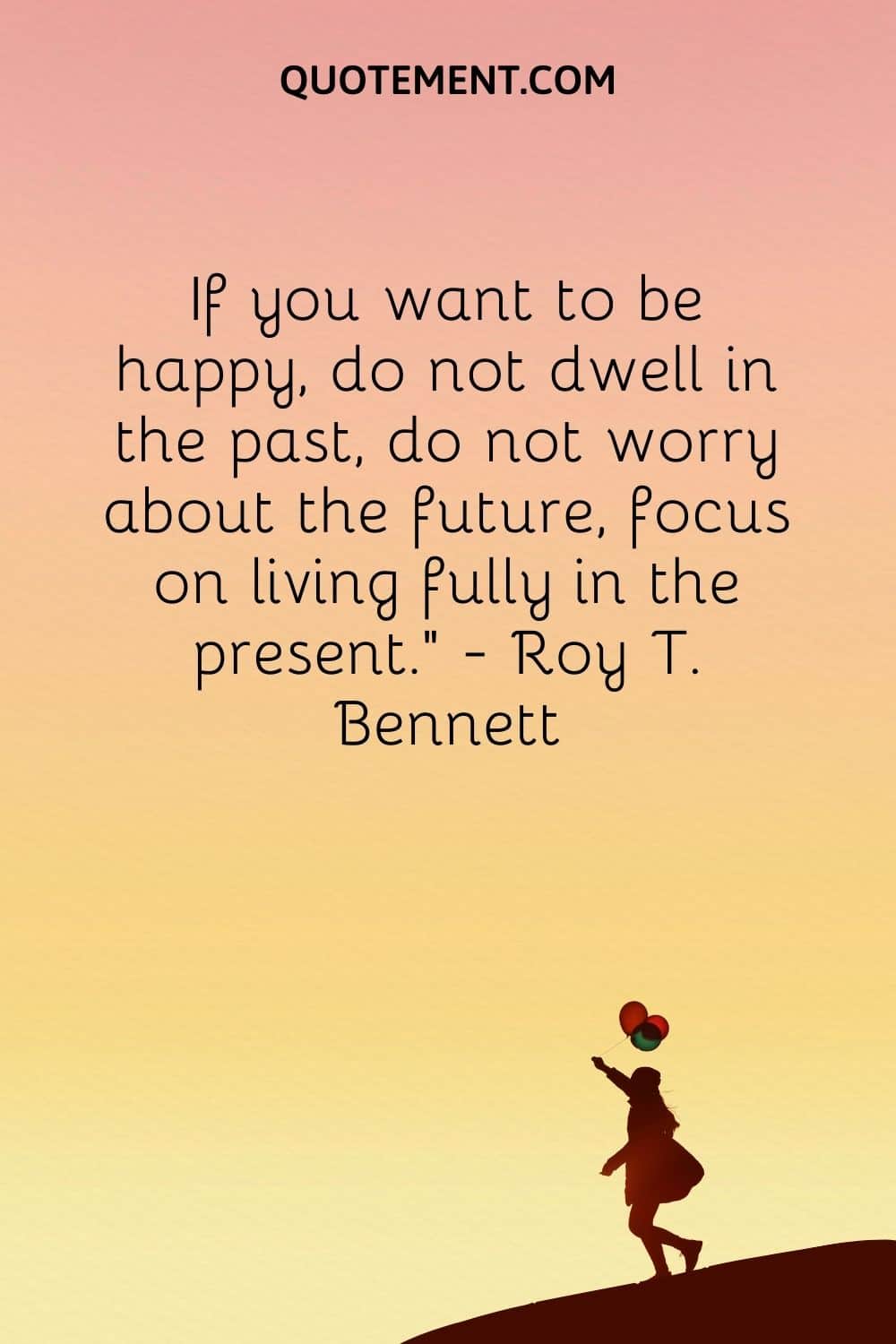 6. "Think of all the beauty still left around you and be happy." ― Anne Frank
7. "It isn't what you have or who you are or where you are or what you are doing that makes you happy or unhappy. It is what you think about it." ― Dale Carnegie
8. "I'd far rather be happy than right any day." ― Douglas Adams
9. "Happiness is when what you think, what you say, and what you do are in harmony." ― Mahatma Gandhi
10. "I felt once more how simple and frugal a thing is happiness: a glass of wine, a roast chestnut, a wretched little brazier, the sound of the sea. Nothing else." ― Nikos Kazantzakis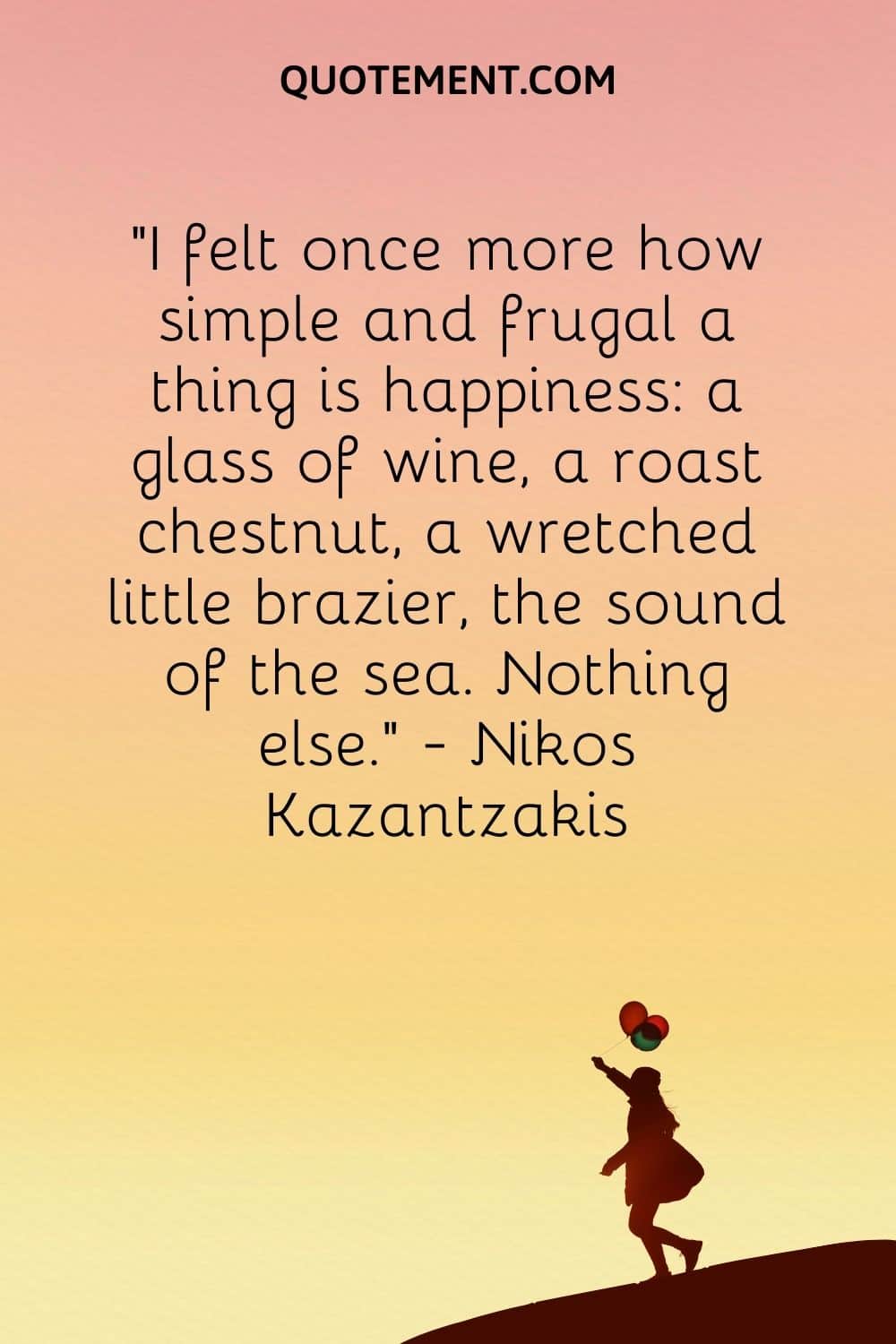 Happiness Quotes For Instagram
Your next Insta post can stand out with a little help from this amazing list of happiness quotes and happy quotes for Instagram:
1. "Do not set aside your happiness. Do not wait to be happy in the future. The best time to be happy is always now." ― Roy T. Bennett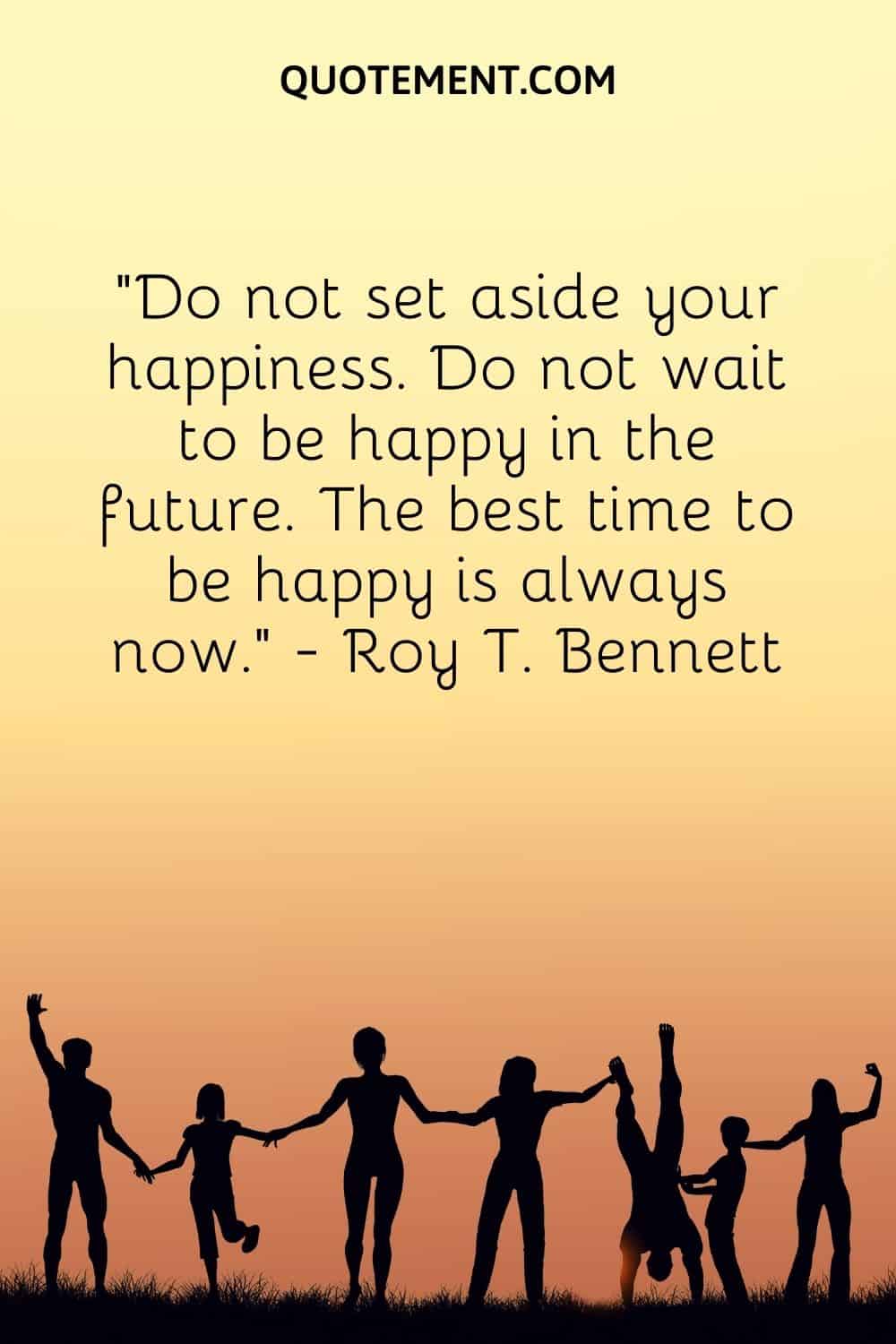 2. "For every minute you are angry, you lose sixty seconds of happiness." ― Ralph Waldo Emerson
3. "Happiness depends on your mindset and attitude." ― Roy T. Bennett
4. "The real things haven't changed. It is still best to be honest and truthful; to make the most of what we have; to be happy with simple pleasures; and have courage when things go wrong." ― Laura Ingalls Wilder
5. "If only we'd stop trying to be happy, we could have a pretty good time." – Edith Wharton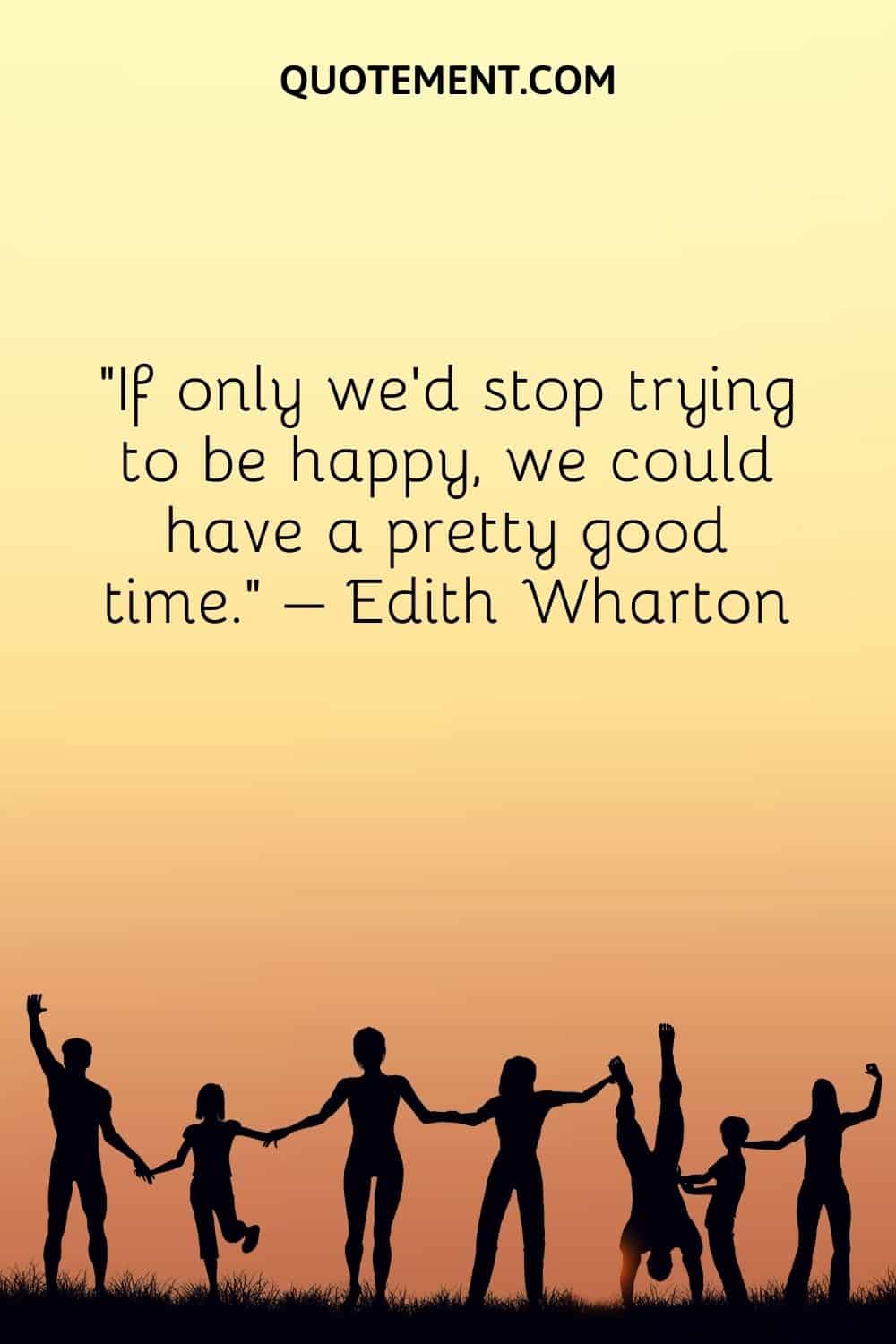 6. "If you have good thoughts, they will shine out of your face like sunbeams, and you will always look lovely." ― Roald Dahl
7. "Be believing, be happy, don't get discouraged. Things will work out." ― Gordon B. Hinckley
8. "When you are joyful, when you say yes to life and have fun and project positivity all around you, you become a sun in the center of every constellation, and people want to be near you." ― Shannon L. Alder
9. "They say a person needs just three things to be truly happy in this world: someone to love, something to do, and something to hope for." ― Tom Bodett
10. "Attitude is a choice. Happiness is a choice. Optimism is a choice. Kindness is a choice. Giving is a choice. Respect is a choice. Whatever choice you make makes you. Choose wisely." ― Roy T. Bennett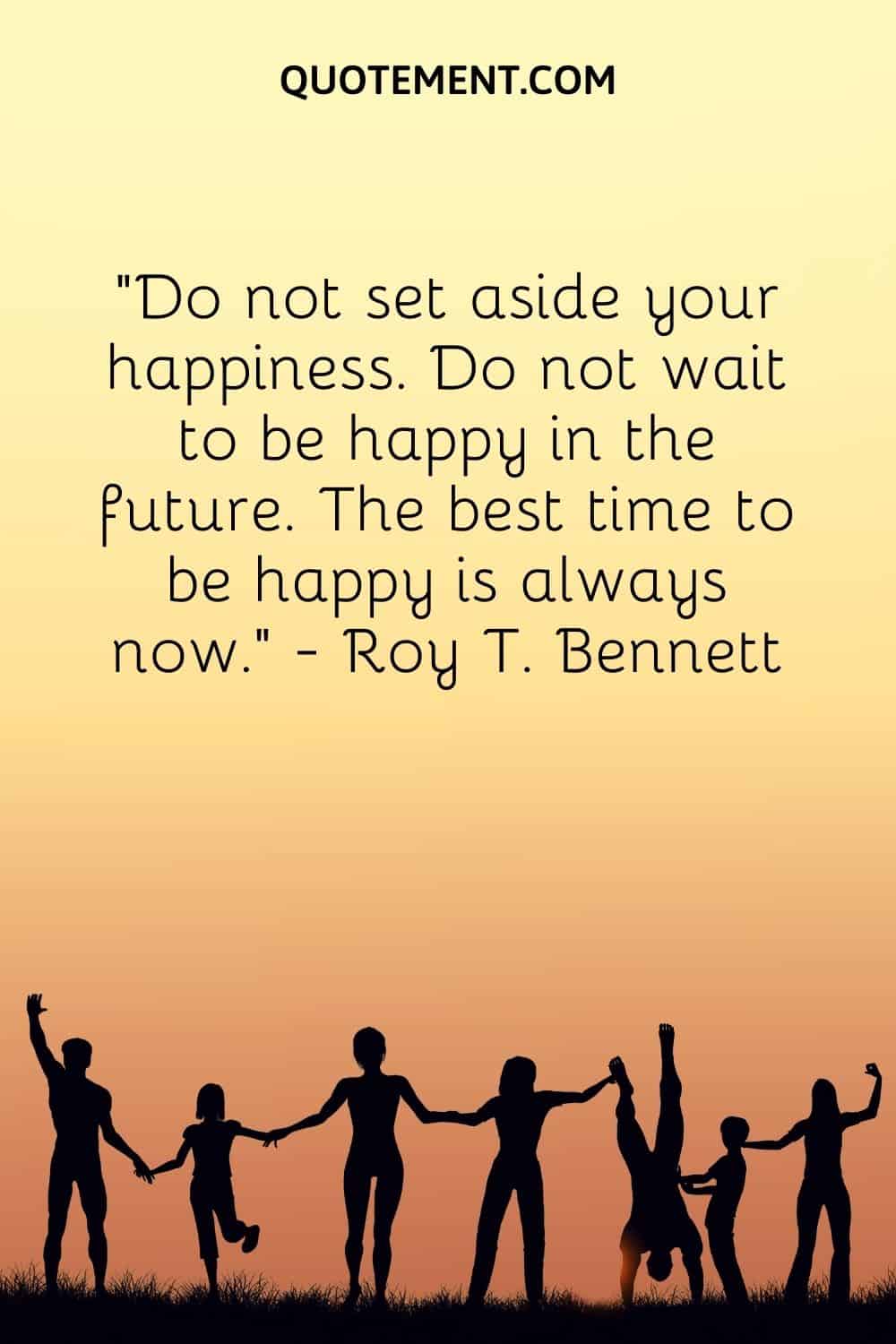 11. "A smile is a curve that sets everything straight."
12. "Nothing makes a person happier than having a happy heart." ― Roy T. Bennett
13. "Happiness is not doing fun things. Happiness is doing meaningful things." – Maxime Lagacé
14. "The secret of happiness is to admire without desiring." – Carl Sandburg
15. "Count your age by friends, not years. Count your life by smiles, not tears." ― John Lennon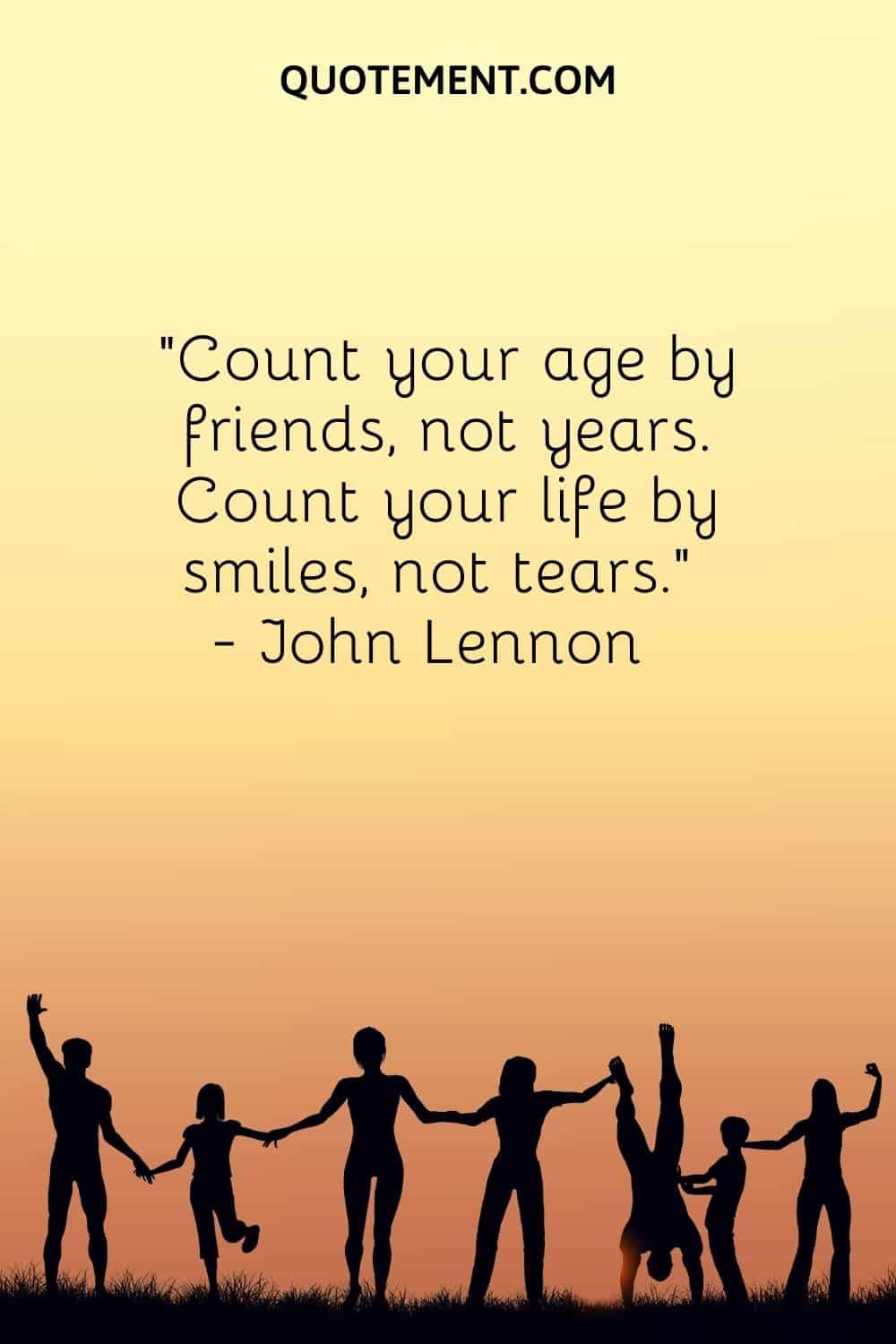 16. "One of the keys to happiness is a bad memory." – Rita Mae Brown
17. "Success is getting what you want. Happiness is wanting what you get." – Dale Carnegie
18. "Find love. Because love is the closest companion of happiness."
19. "There's nothing like deep breaths after laughing that hard. Nothing in the world like a sore stomach for the right reasons." ― Stephen Chbosky
20. "Happiness is the meaning and the purpose of life, the whole aim and end of human existence." ― Aristotle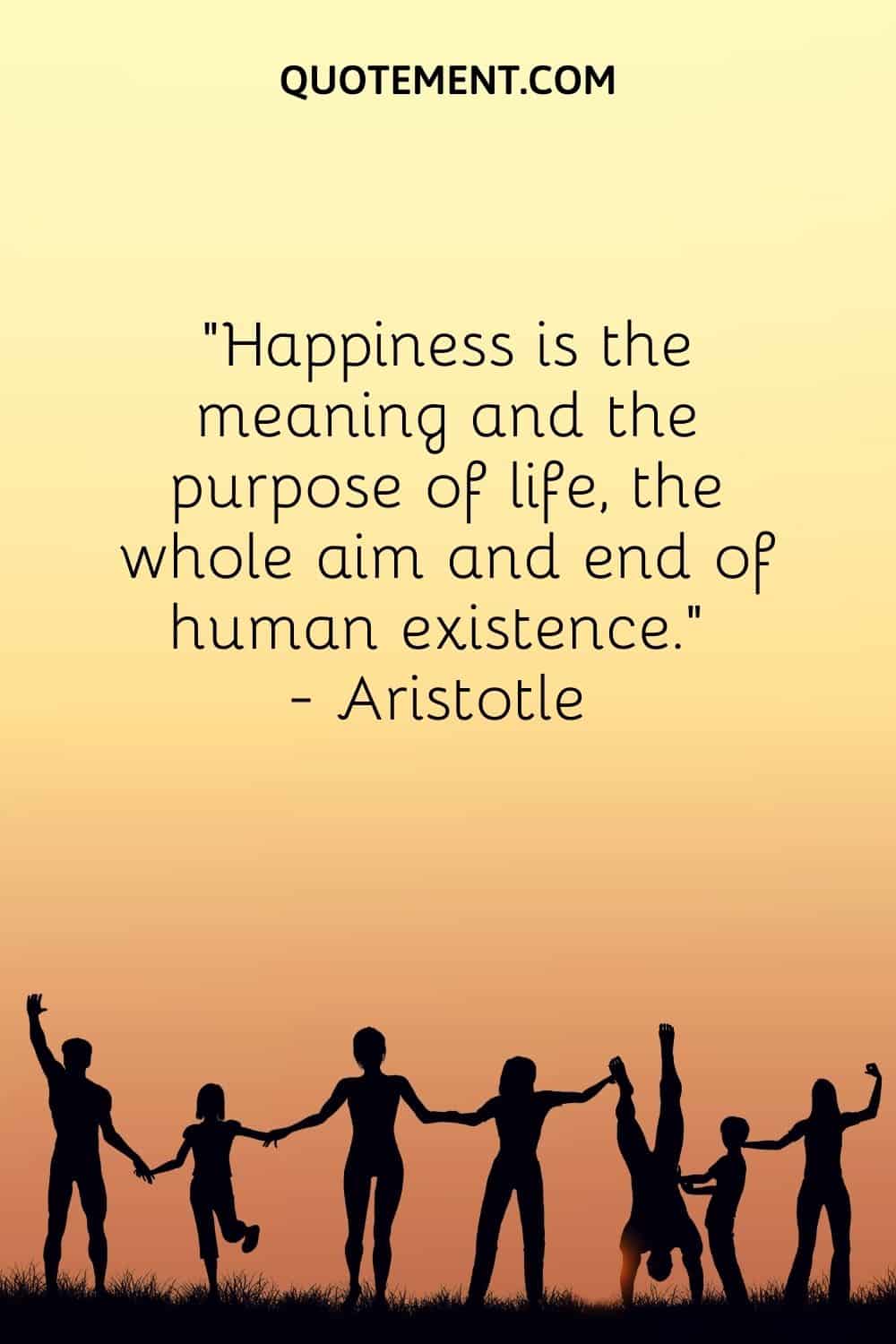 21. "Happiness is not something ready-made. It comes from your own actions." ― Dalai Lama XIV
22. "The most important thing is to enjoy your life – to be happy – it's all that matters." ― Audrey Hepburn
23. "Smile more. Smiling can make you and others happy." ― Roy T. Bennett
24. "Promise yourself to be so strong that nothing can disturb your peace of mind. To talk health, happiness, and prosperity to every person you meet." – Christian D. Larson
25. "Take responsibility of your own happiness, never put it in other people's hands." ― Roy T. Bennett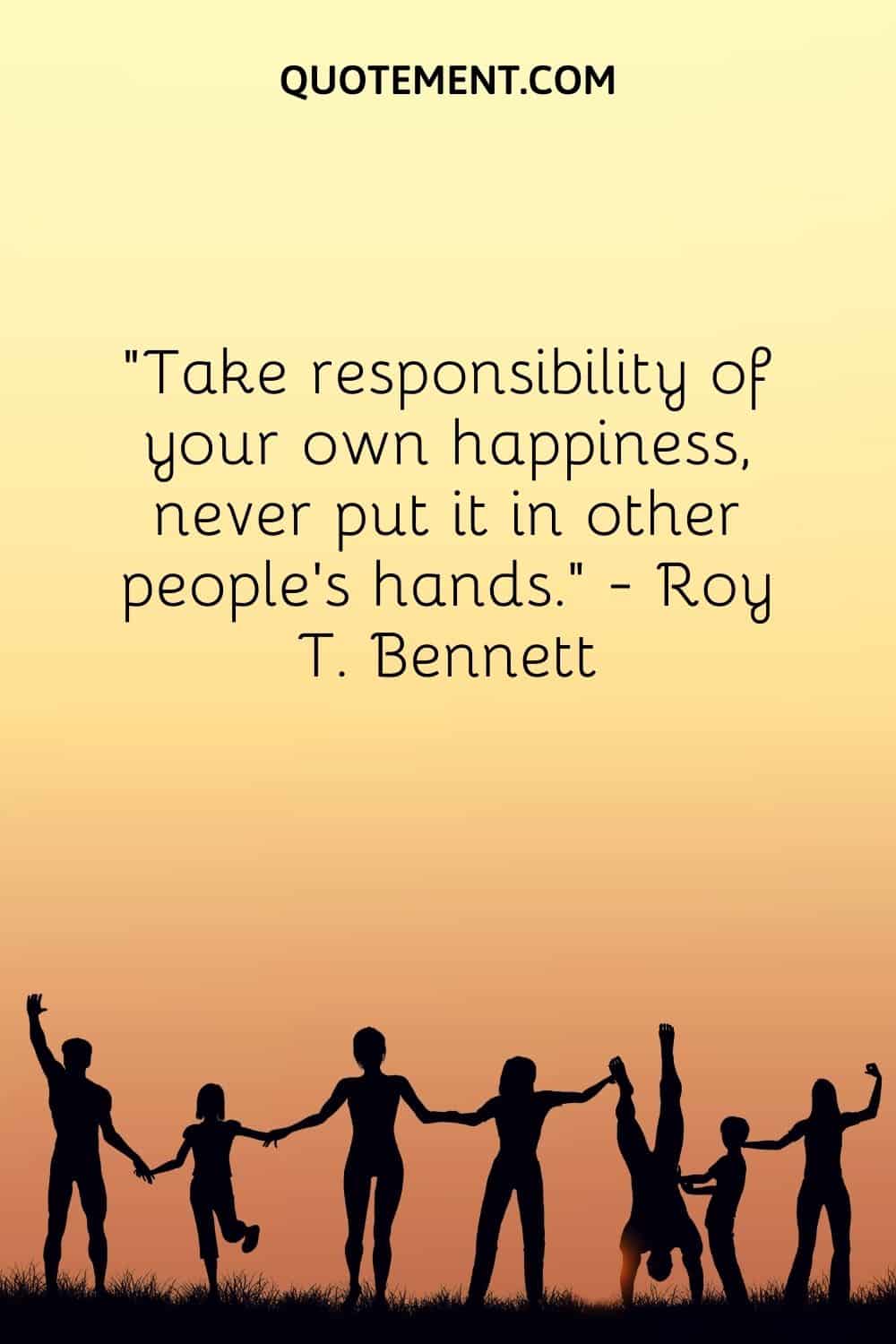 26. "If more of us valued food and cheer and song above hoarded gold, it would be a merrier world." ― J.R.R. Tolkien
27. "Whoever is happy will make others happy." ― Anne Frank
28. "The secret of happiness is freedom, the secret of freedom is courage." ― Carrie Jones
29. "I'm choosing happiness over suffering, I know I am. I'm making space for the unknown future to fill up my life with yet-to-come surprises." ― Elizabeth Gilbert
30. "There are millions of reasons to be happy. However, we are fragile, our spirits can shatter in seconds. Provided that each blow is seen as an opportunity to start appreciating life better, nobody can stop you from being happy." – Lauren Levine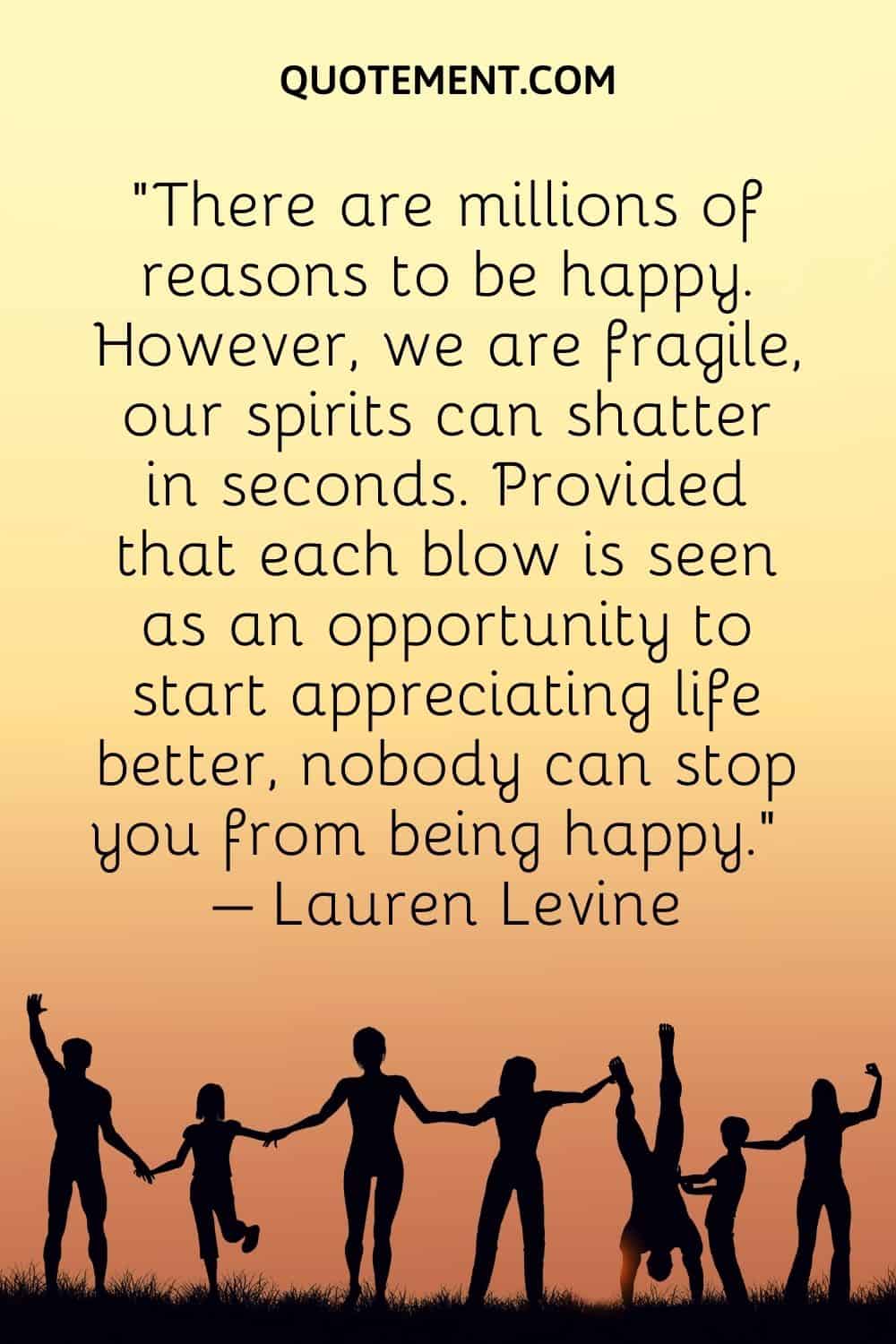 Inspirational Happy Quotes For Your Instagram Posts
Find loads of inspirational happy quotes that you can also use as happy Instagram captions over here:
1. "Let us be grateful to the people who make us happy; they are the charming gardeners who make our souls blossom." ― Marcel Proust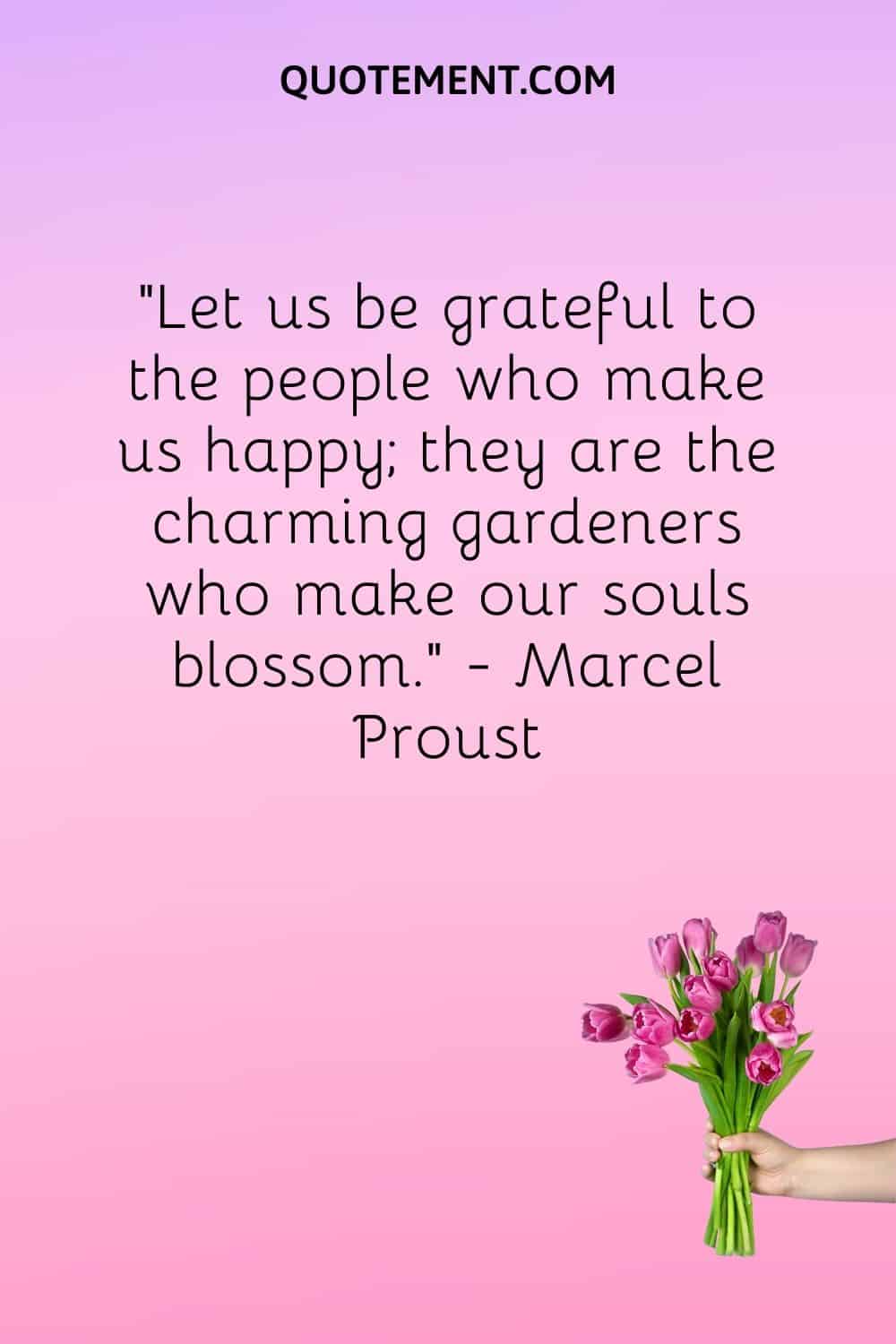 2. "With mirth and laughter let old wrinkles come." ― William Shakespeare
3. "Sometimes your joy is the source of your smile, but sometimes your smile can be the source of your joy."
4. "Happiness is being content with what you have, living in freedom and liberty, having a good family life and good friends."
5. "No medicine cures what happiness cannot." ― Gabriel García Márquez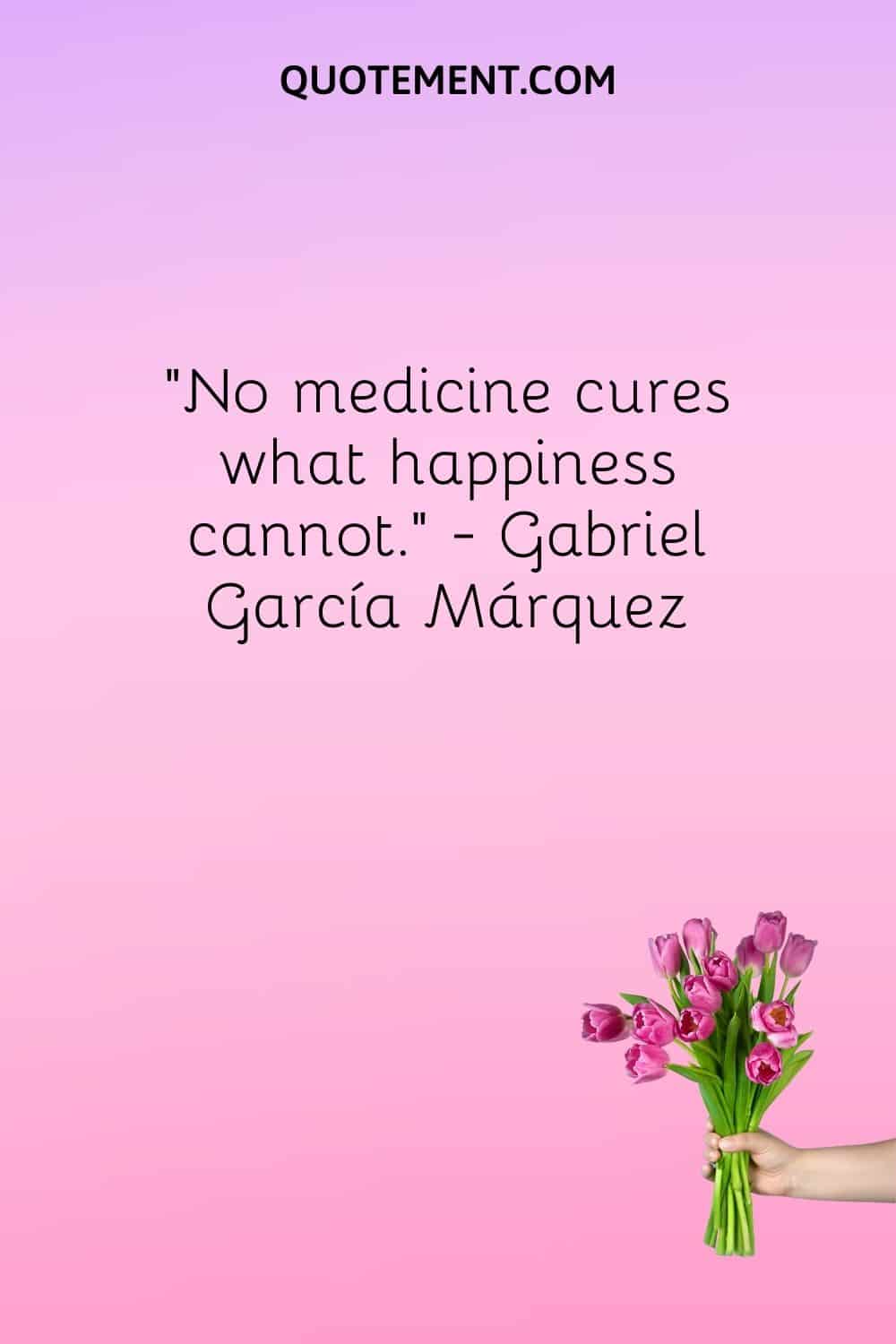 6. "Even if you cannot change all the people around you, you can change the people you choose to be around. Life is too short to waste your time on people who don't respect, appreciate, and value you. Spend your life with people who make you smile, laugh, and feel loved." ― Roy T. Bennett
7. "Go outside. Don't tell anyone and don't bring your phone. Start walking and keep walking until you no longer know the road like the palm of your hand, because we walk the same roads day in and day out, to the bus and back home and we cease to see. We walk in our sleep and teach our muscles to work without thinking and I dare you to walk where you have not yet walked and I dare you to notice. Don't try to get anything out of it, because you won't. Don't try to make use of it, because you can't. And that's the point. Just walk, see, sit down if you like. And be. Just be, whatever you are with whatever you have, and realize that that is enough to be happy. There's a whole world out there, right outside your window. You'd be a fool to miss it." ― Charlotte Eriksson
8. "Let me wake up next to you, have coffee in the morning and wander through the city with your hand in mine, and I'll be happy for the rest of my fu**ed up little life." ― Charlotte Eriksson
9. "Time you enjoy wasting is not wasted time." ― Marthe Troly-Curtin
10. "What makes you happy? What makes your soul excited about tomorrow? – Whatever it is, nobody can take it from you. Remember that." – Lauren Levine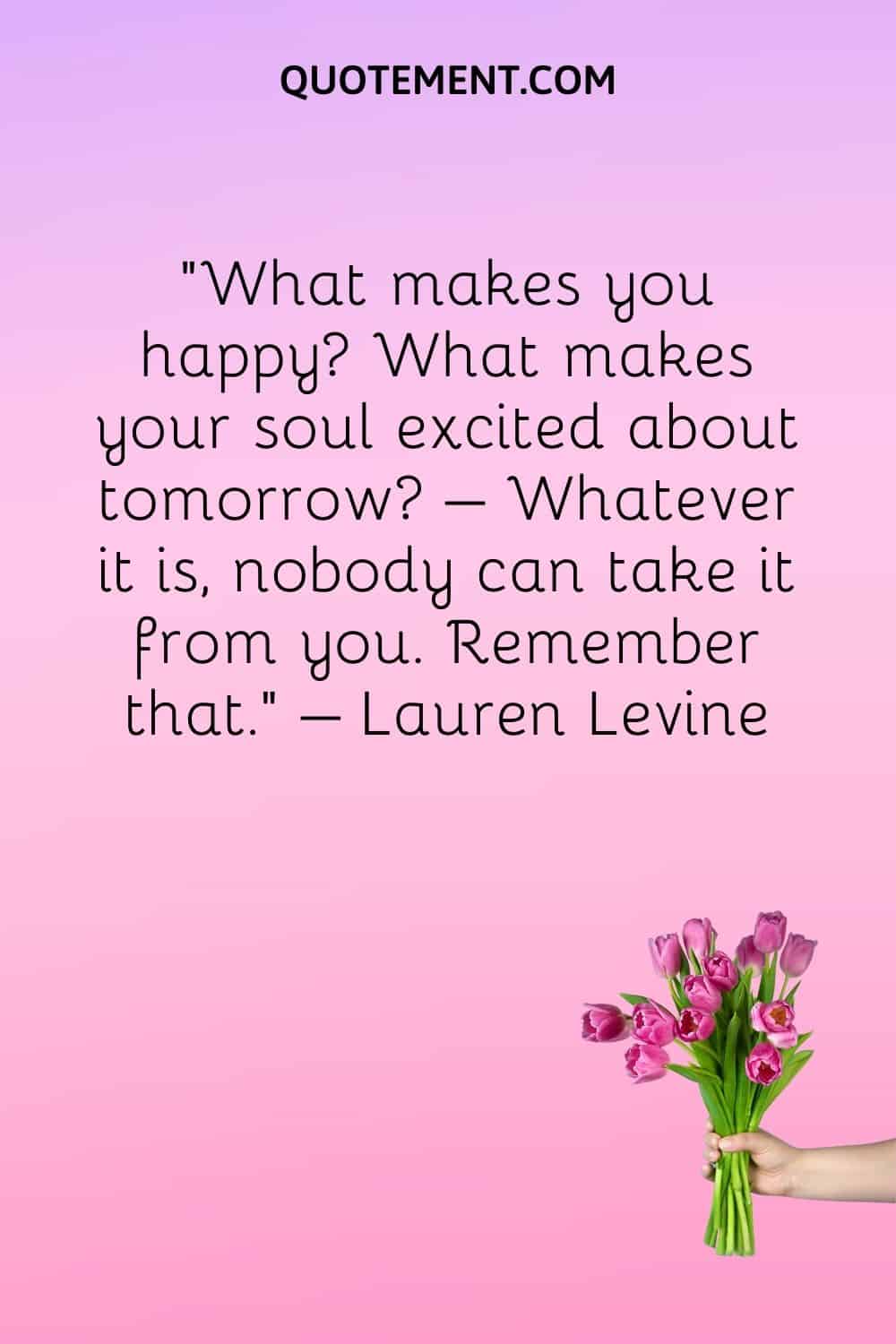 11. "It's so hard to forget pain, but it's even harder to remember sweetness. We have no scar to show for happiness. We learn so little from peace." ― Chuck Palahniuk
12. "Happiness in intelligent people is the rarest thing I know." ― Ernest Hemingway
13. "Happiness is the consequence of personal effort. You fight for it, strive for it, insist upon it, and sometimes even travel around the world looking for it. You have to participate relentlessly in the manifestations of your own blessings. And once you have achieved a state of happiness, you must never become lax about maintaining it. You must make a mighty effort to keep swimming upward into that happiness forever, to stay afloat on top of it." ― Elizabeth Gilbert
14. "A quiet secluded life in the country, with the possibility of being useful to people to whom it is easy to do good, and who are not accustomed to have it done to them; then work which one hopes may be of some use; then rest, nature, books, music, love for one's neighbor – such is my idea of happiness." ― Leo Tolstoy
15. "Wherever I go and whenever I go, I just want to spread sparkling happiness around."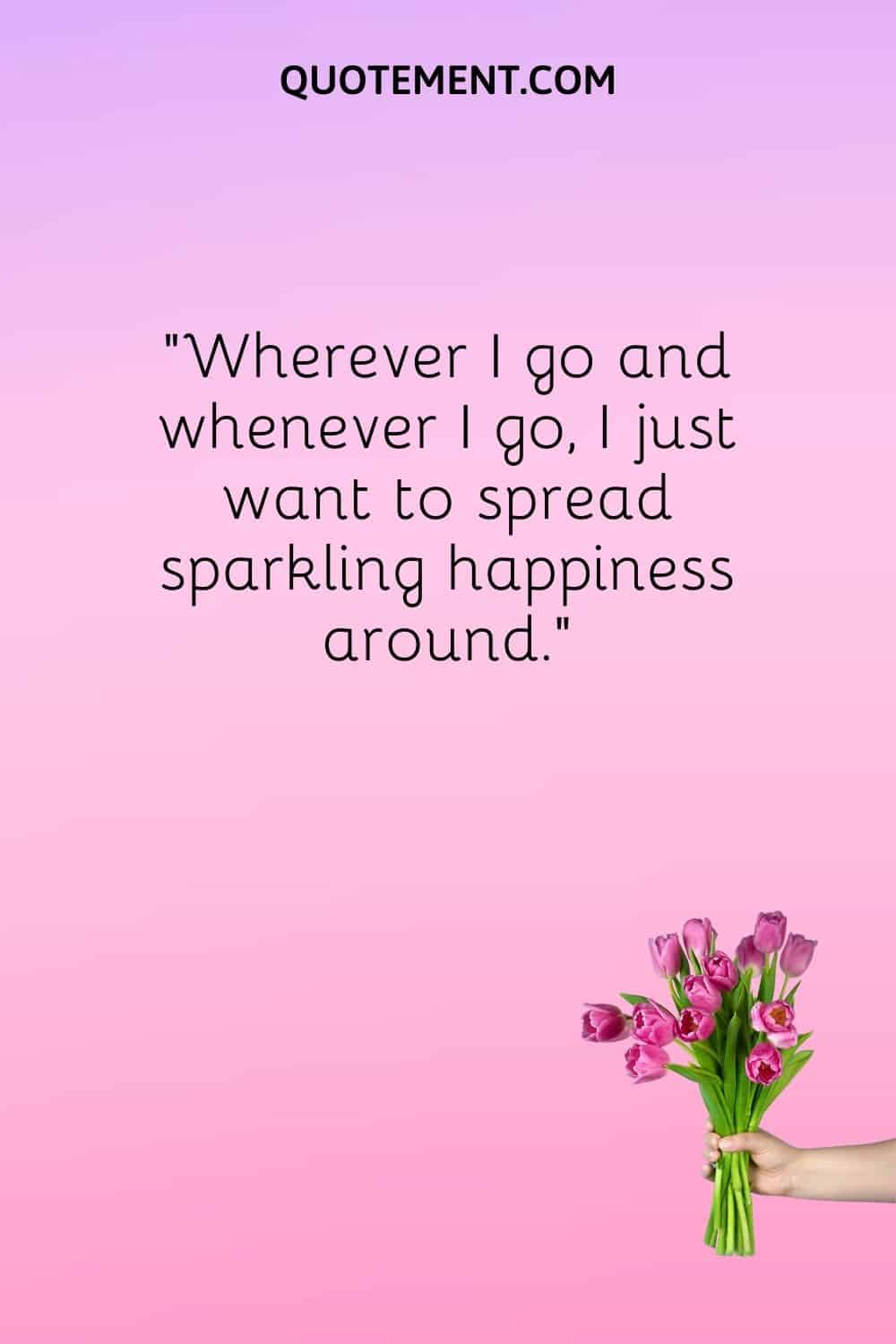 16. "This life is yours. Take the power to choose what you want to do and do it well. Take the power to love what you want in life and love it honestly. Take the power to walk in the forest and be a part of nature. Take the power to control your own life. No one else can do it for you. Take the power to make your life happy." ― Susan Polis Schutz
17. "Happiness [is] only real when shared." ― Jon Krakauer
18. "It was only a sunny smile, and little it cost in the giving, but like morning light it scattered the night and made the day worth living." ― F. Scott Fitzgerald
19. "Always find opportunities to make someone smile and to offer random acts of kindness in everyday life." ― Roy T. Bennett
20. "Happiness is not a possession to be prized, it is a quality of thought, a state of mind." ― Daphne Du Maurier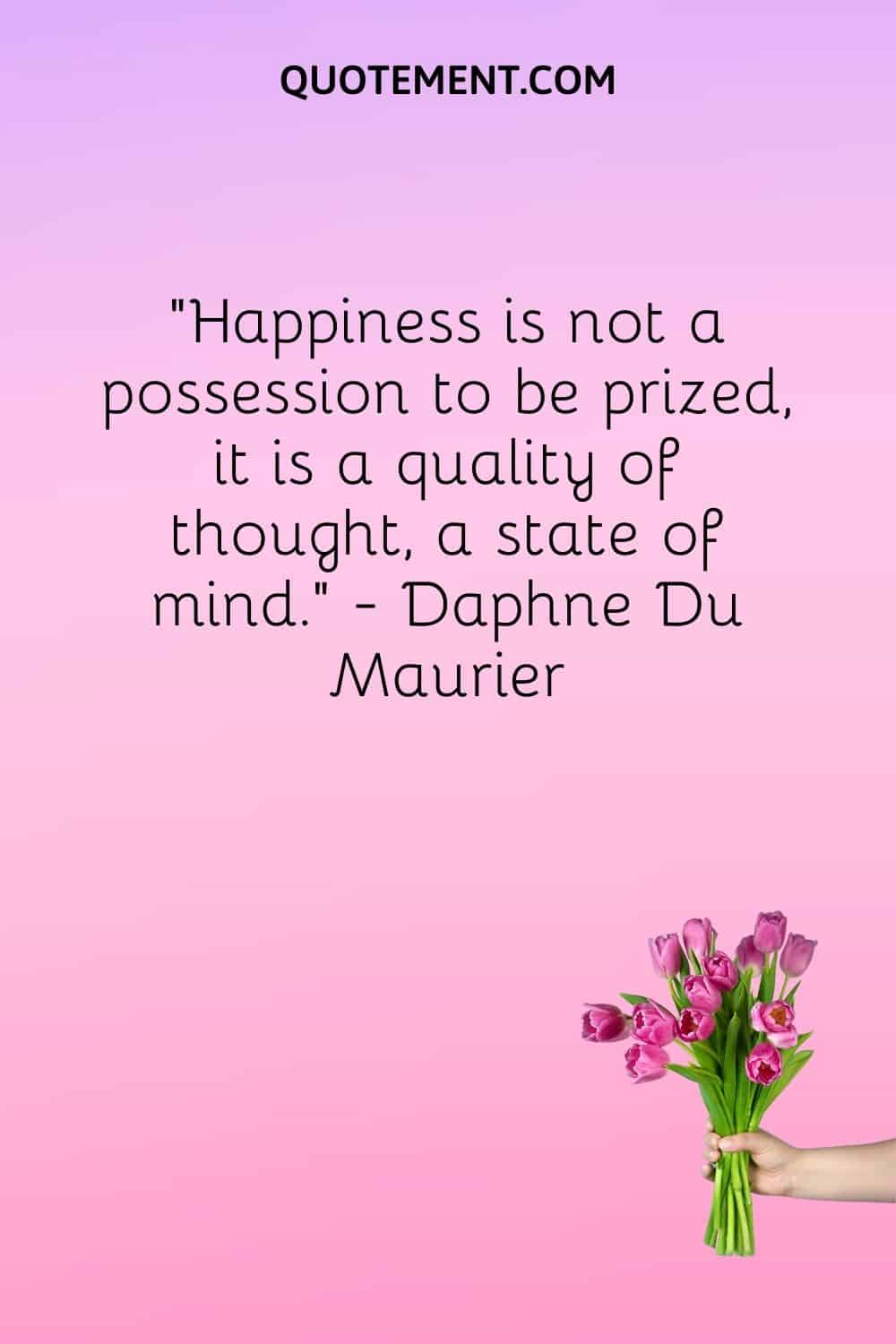 21. "It is the very mark of the spirit of rebellion to crave for happiness in this life." ― Henrik Ibsen
22. "I am very happy because I have conquered myself and not the world. I am very happy because I have loved the world and not myself." ― Sri Chinmoy
23. "Happiness. It was the place where passion, with all its dazzle and drumbeat, met something softer: homecoming and safety and pure sunbeam comfort. It was all those things, intertwined with the heat and the thrill, and it was as bright within her as a swallowed star." ― Laini Taylor
24. "If you want others to be happy, practice compassion. If you want to be happy, practice compassion." ― Dalai Lama XIV
25. "I'm a kind of paranoiac in reverse. I suspect people of plotting to make me happy." ― J.D. Salinger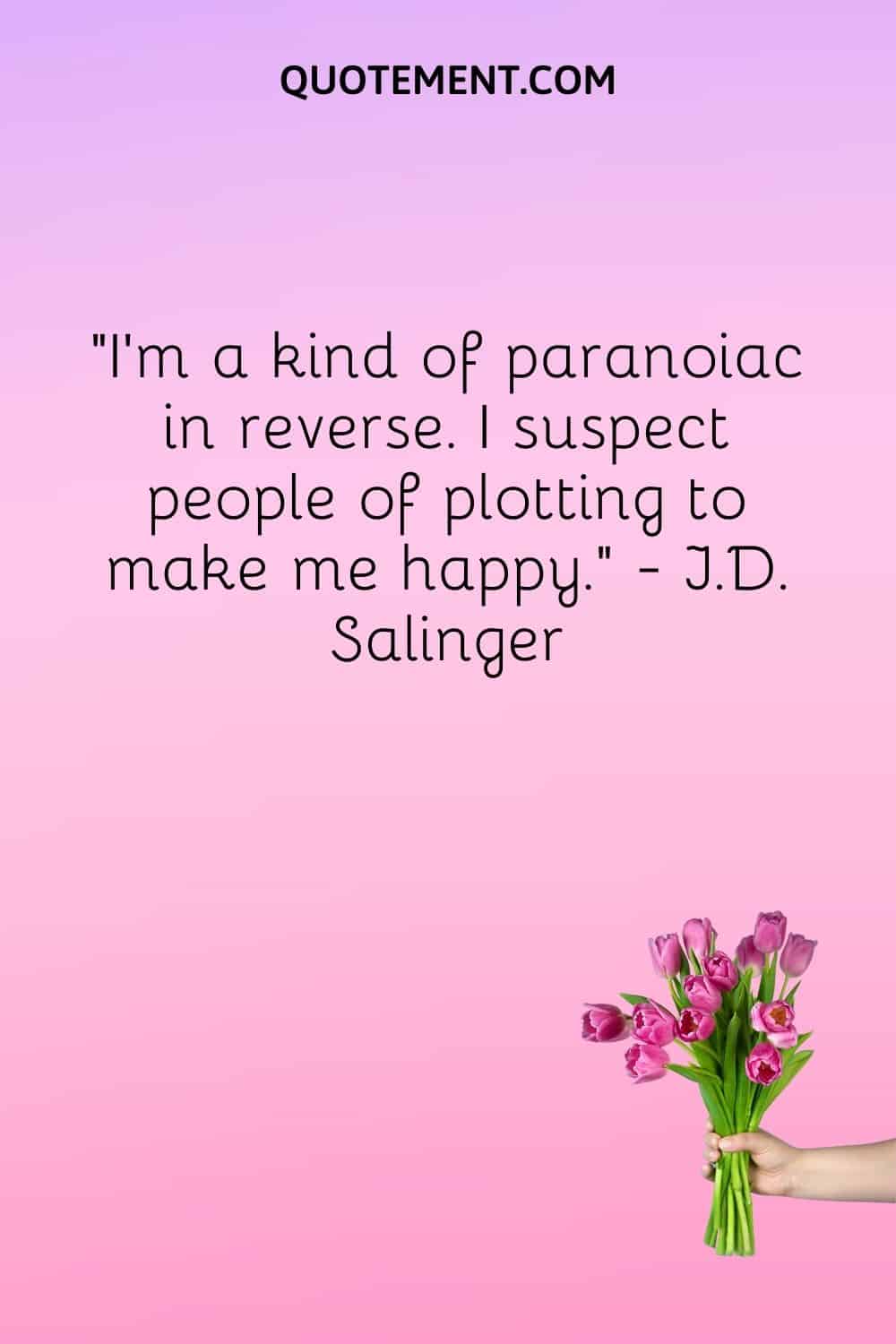 26. "My happiness is not the means to any end. It is the end. It is its own goal. It is its own purpose." ― Ayn Rand
27. "Happiness is a risk. If you're not a little scared, then you're not doing it right." ― Sarah Addison Allen
28. "To be happy, we must not be too concerned with others." – Albert Camus
29. "Pierre was right when he said that one must believe in the possibility of happiness in order to be happy, and I now believe in it. Let the dead bury the dead, but while I'm alive, I must live and be happy." ― Leo Tolstoy
30. "Happiness is a how; not a what. A talent, not an object." – Herman Hesse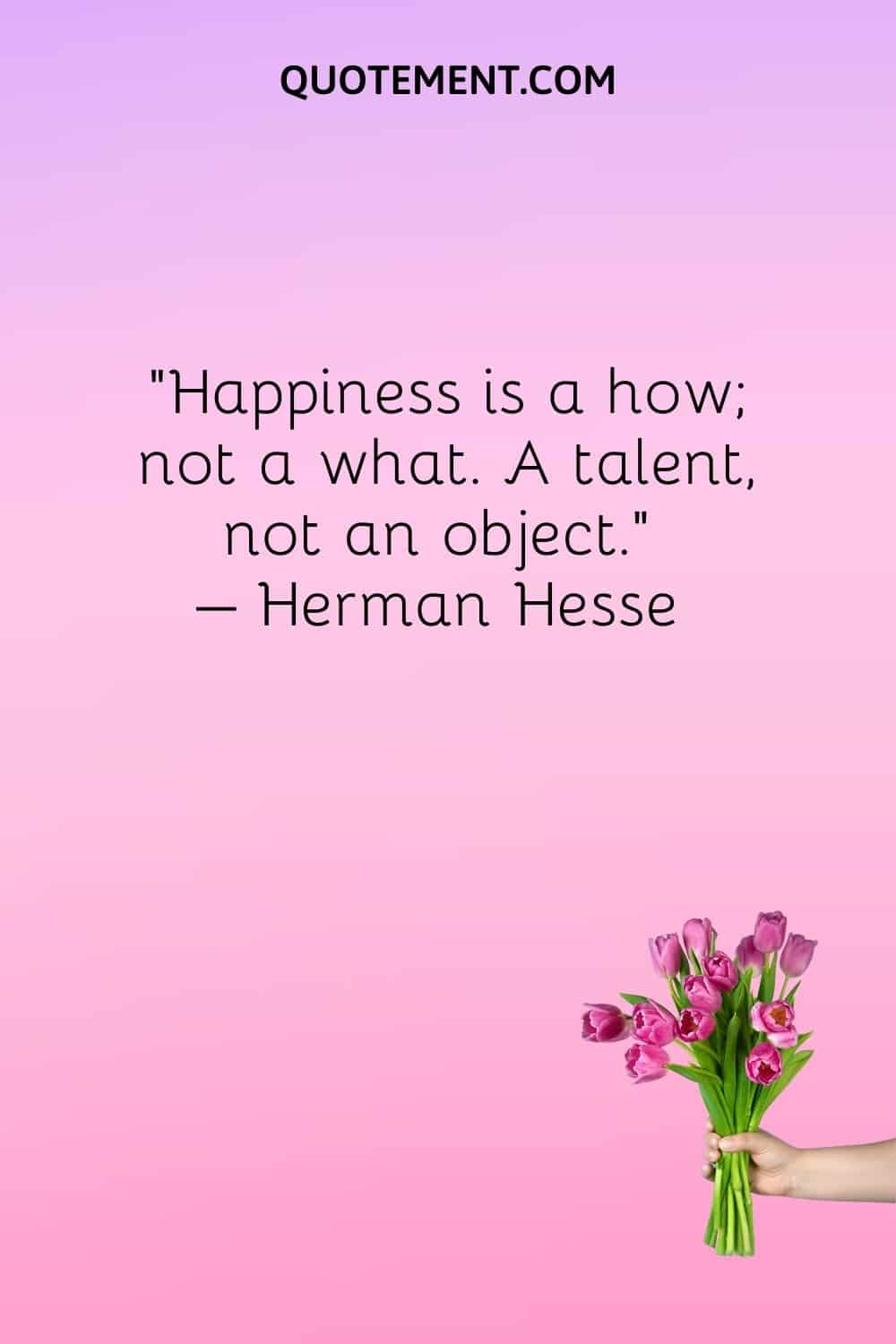 Brilliant Happy Quotes For Instagram
This section brings you a few brilliant happy quotes for Instagram. Enjoy:
1. "I think happiness is what makes you pretty. Period. Happy people are beautiful. They become like a mirror and they reflect that happiness." ― Drew Barrymore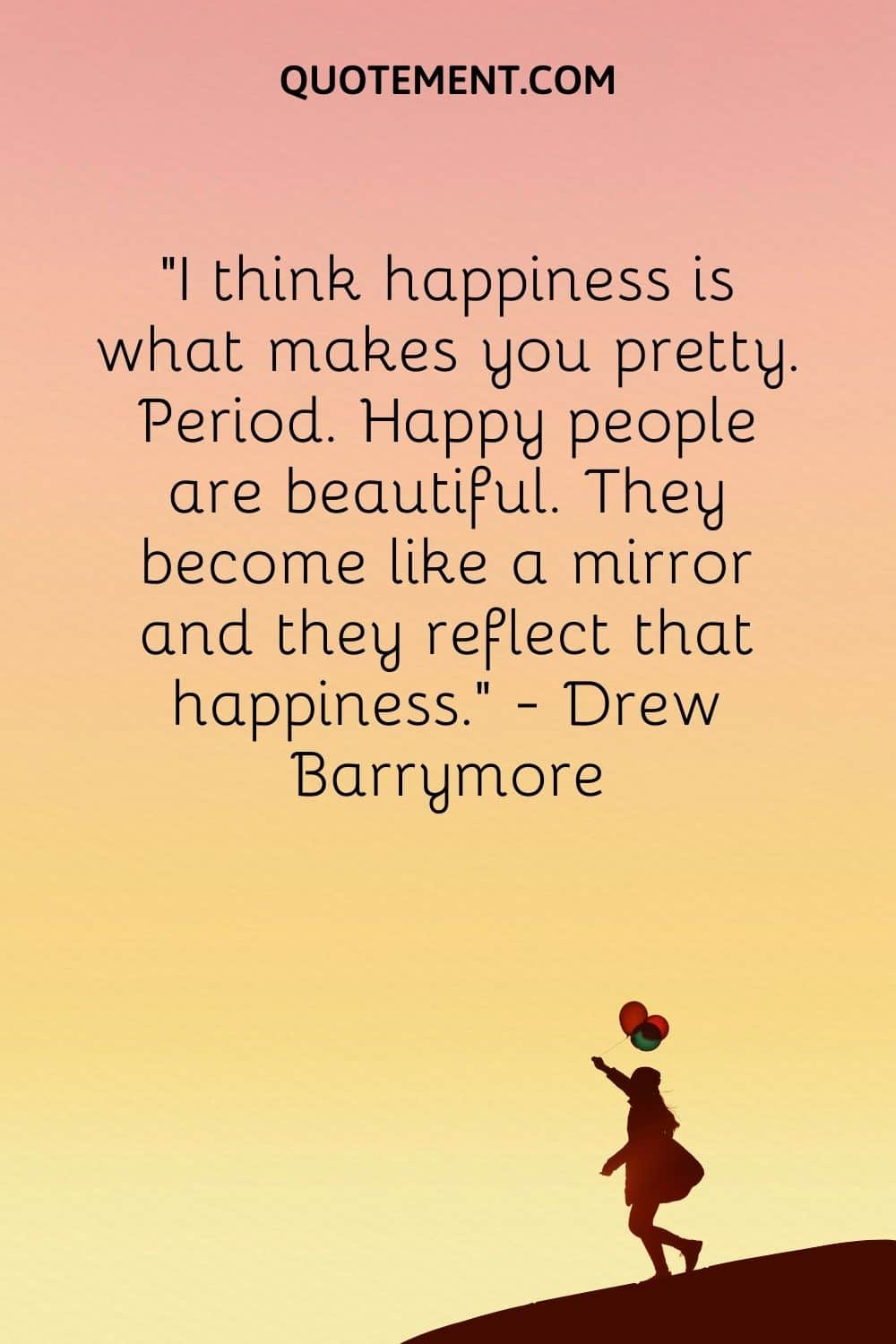 2. "The trouble is that we have a bad habit, encouraged by pedants and sophisticates, of considering happiness as something rather stupid. Only pain is intellectual, only evil interesting. This is the treason of the artist; a refusal to admit the banality of evil and the terrible boredom of pain." ― Ursula K. LeGuin
3. "Action may not always bring happiness, but there is no happiness without action. " ― William James
4. "I'm happy. Which often looks like crazy." ― David Henry Hwang
5. "I, not events, have the power to make me happy or unhappy today. I can choose which it shall be. Yesterday is dead, tomorrow hasn't arrived yet. I have just one day, today, and I'm going to be happy in it." ― Groucho Marx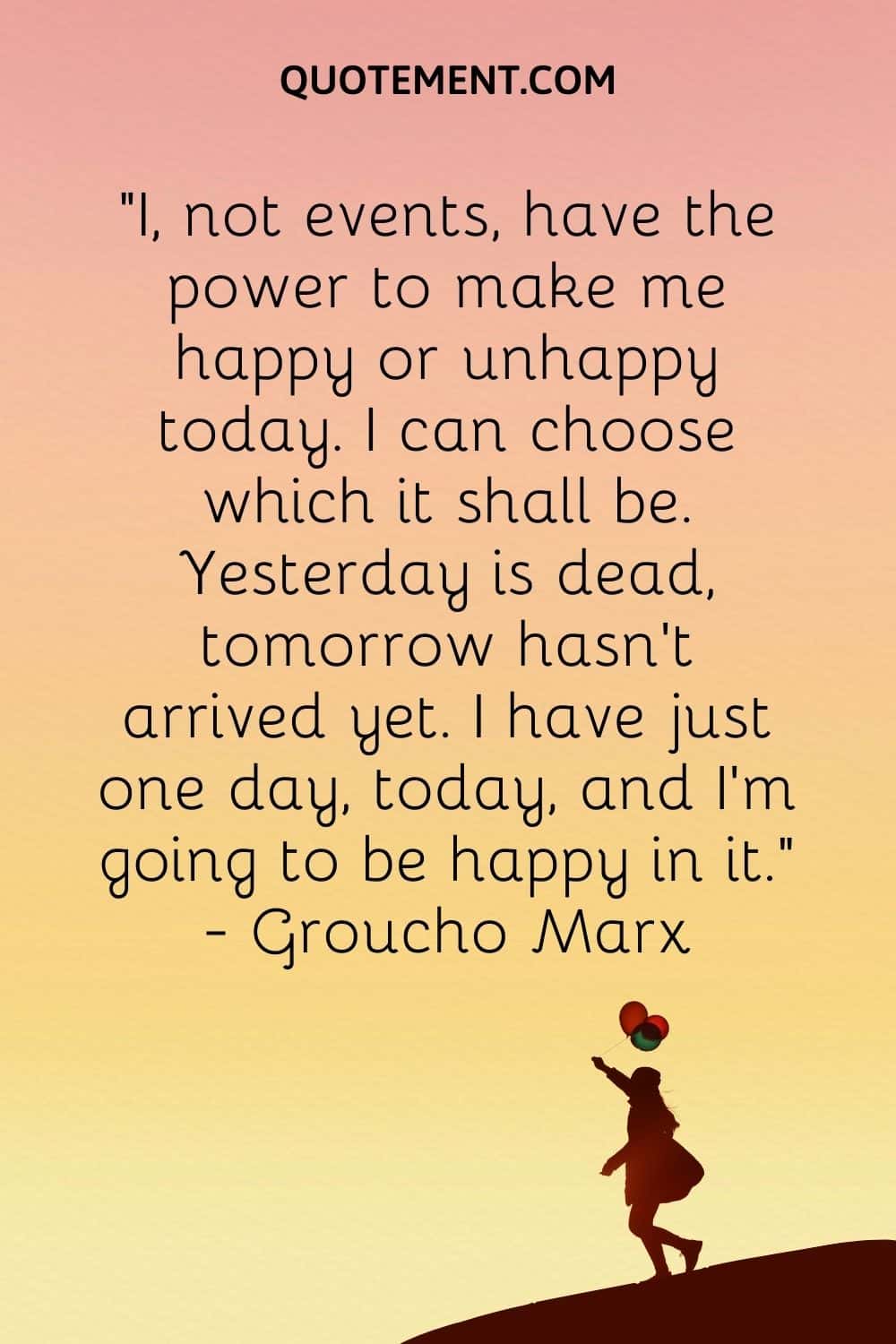 6. "Perfectionism is the enemy of happiness. Embrace being perfectly imperfect. Learn from your mistakes and forgive yourself, you'll be happier. We make mistakes because we are imperfect. Learn from your mistakes, forgive yourself, and keep moving forward." ― Roy T. Bennett
7. "What is happiness? The feeling that power is growing, that resistance is overcome." – Friedrich Nietzsche
8. "A mathematical formula for happiness: Reality divided by Expectations. There were two ways to be happy: improve your reality or lower your expectations." ― Jodi Picoult
9. "Letting go gives us freedom, and freedom is the only condition for happiness. If, in our heart, we still cling to anything – anger, anxiety, or possessions – we cannot be free." ― Thich Nhat Hanh
10. "Children are happy because they don't have a file in their minds called 'All the Things That Could Go Wrong'." ― Marianne Williamson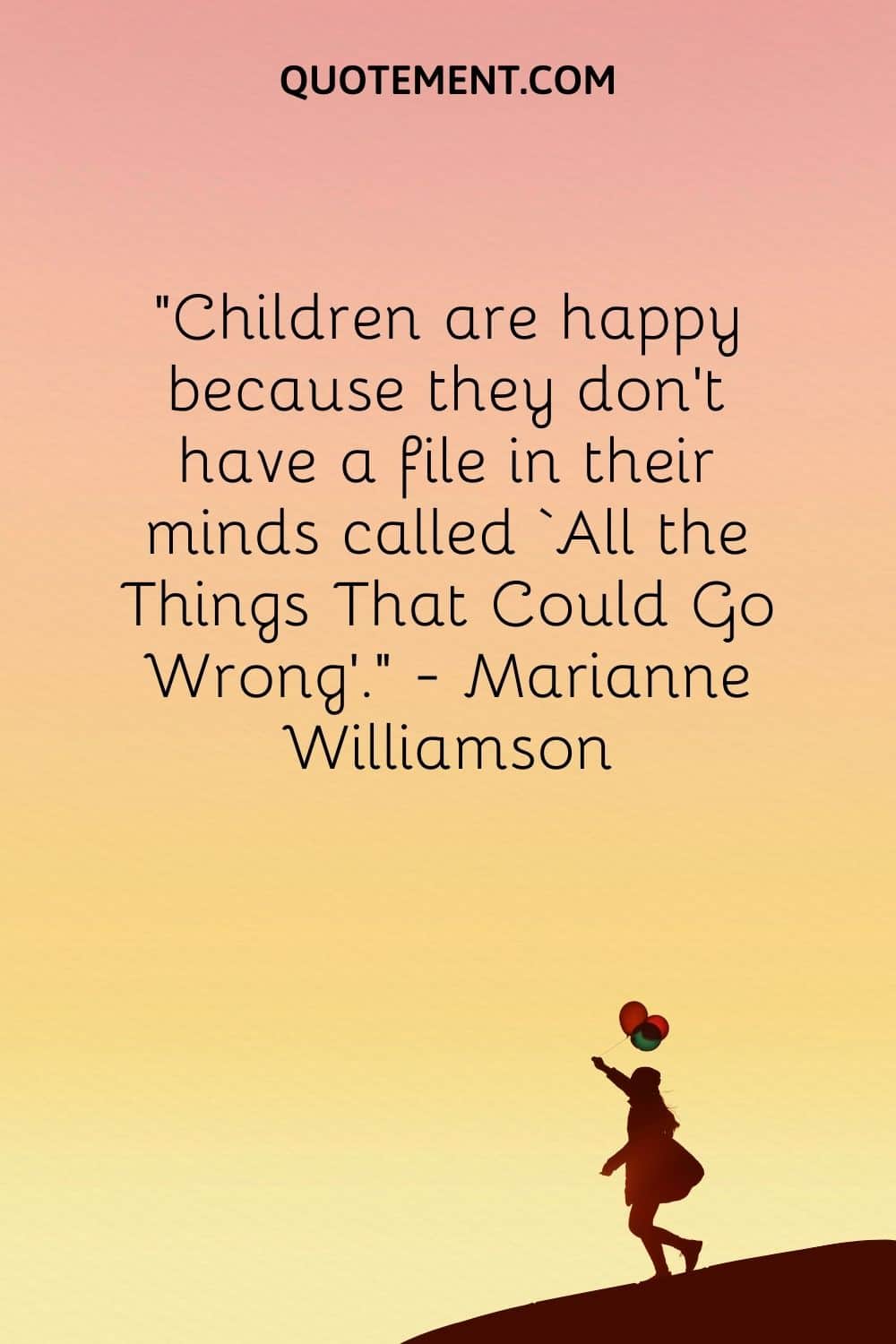 11. "With all its sham, drudgery, and broken dreams, it is still a beautiful world. Be cheerful. Strive to be happy." ― Max Ehrmann
12. "The power of finding beauty in the humblest things makes home happy and life lovely." ― Louisa May Alcott
13. "There is no happiness like that of being loved by your fellow creatures, and feeling that your presence is an addition to their comfort." ― Charlotte Brontë
14. "That's the difference between me and the rest of the world! Happiness isn't good enough for me! I demand euphoria!" ― Bill Watterson
15. "Everyone wants to live on top of the mountain, but all the happiness and growth occurs while you're climbing it." ― Andy Rooney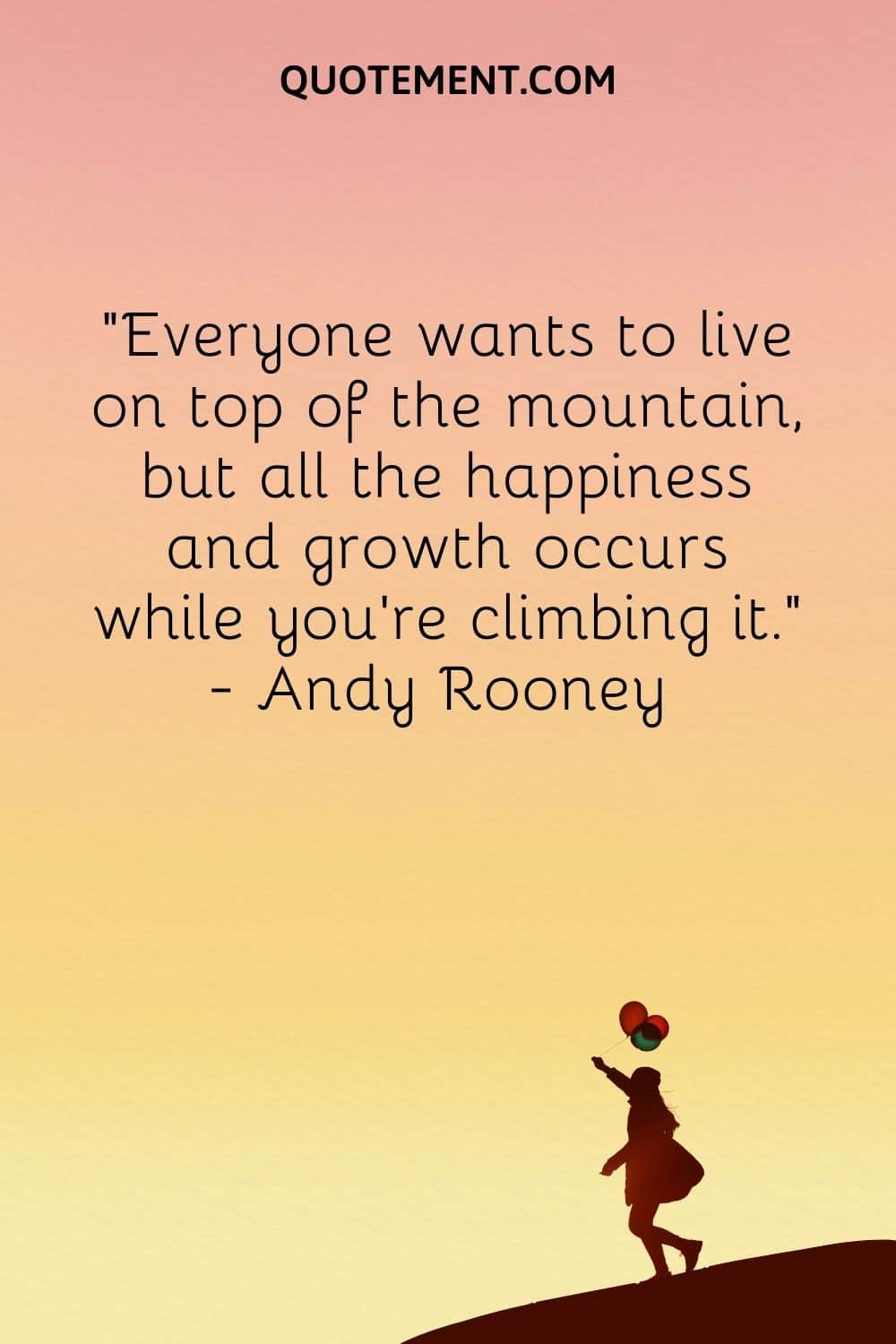 16. "What can I do with my happiness? How can I keep it, conceal it, bury it where I may never lose it? I want to kneel as it falls over me like rain, gather it up with lace and silk, and press it over myself again." ― Anais Nin
17. "Happiness consists in frequent repetition of pleasure." ― Arthur Schopenhauer
18. "Life is not always easy to live, but the opportunity to do so is a blessing beyond comprehension." – L. Lionel Kendrick
19. "People are unhappy when they get something too easily. You have to sweat – that's the only moral they know." – Dany Laferrière
20. "Some cause happiness wherever they go; others whenever they go." – Oscar Wilde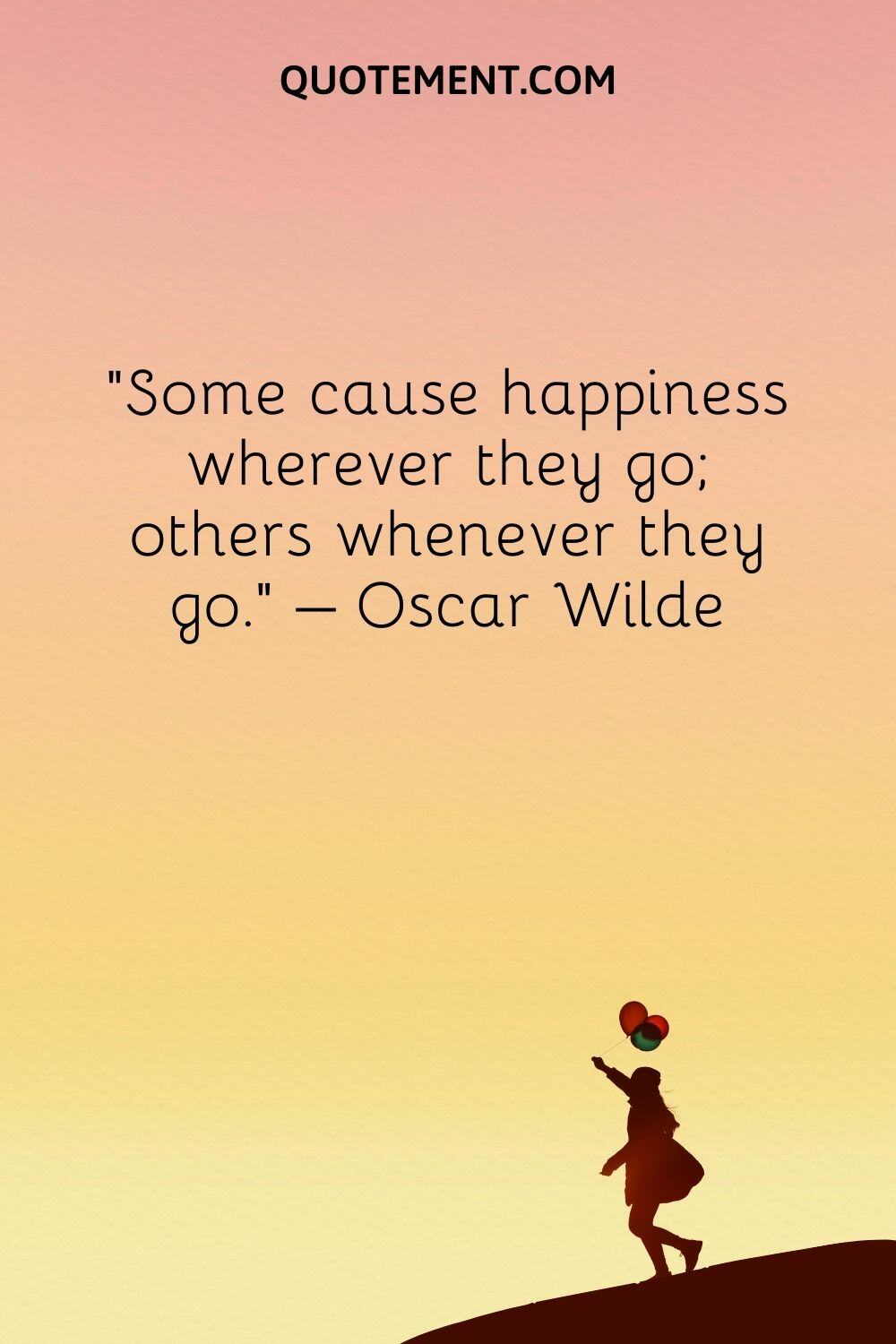 21. "We don't laugh because we're happy – we're happy because we laugh." – William James
22. "Doing what you like is freedom. Liking what you do is happiness." – Frank Tyger
23. "Happiness is a gift and the trick is not to expect it, but to delight in it when it comes." – Charles Dickens
24. "There is great happiness in not wanting, in not being something, in not going somewhere." – Jiddu Krishnamurti
25. "Slow down and enjoy life. It's not only the scenery you miss by going too fast – you also miss the sense of where you are going and why." ― Eddie Cantor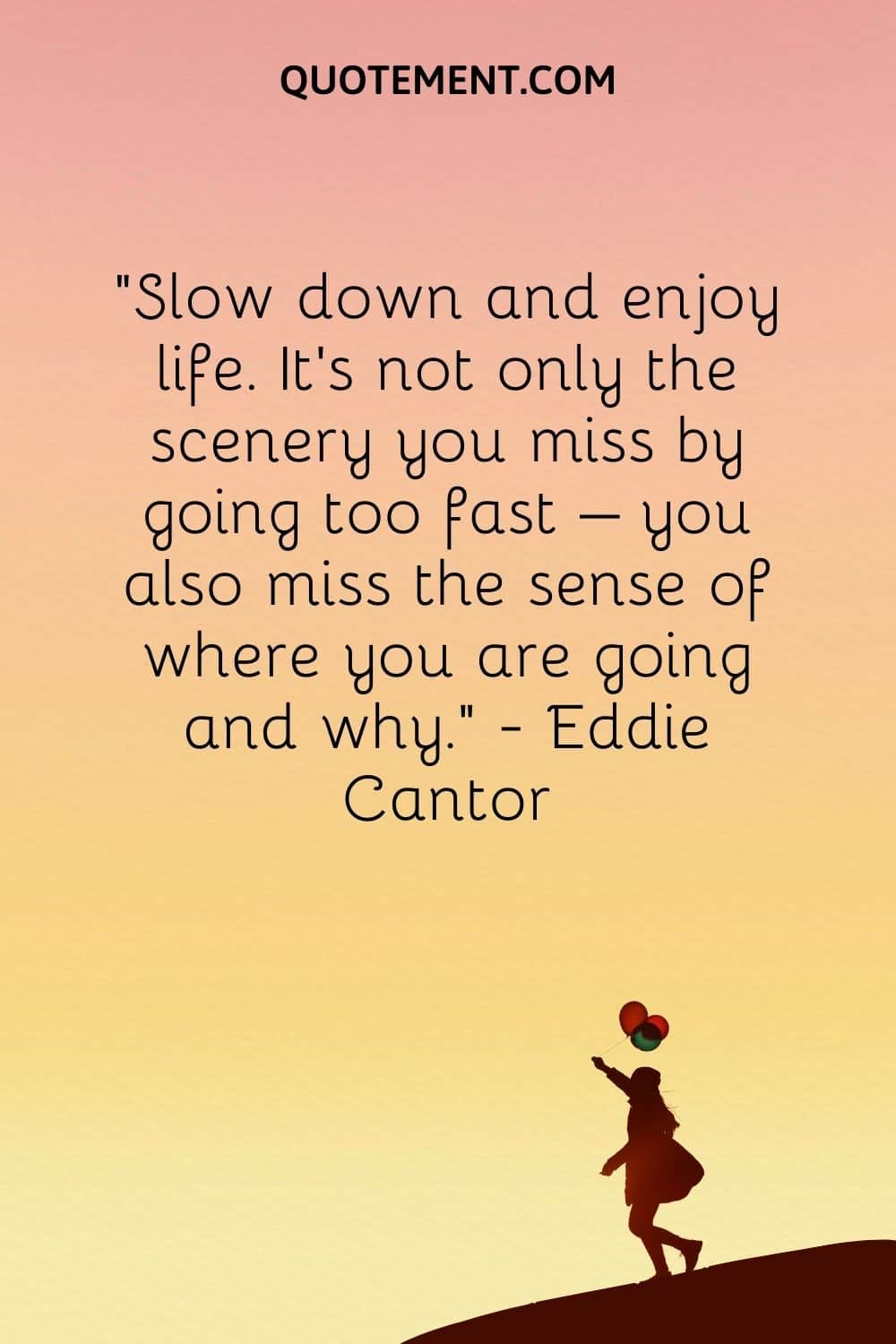 26. "It is not how much we have, but how much we enjoy that makes happiness." – Charles Spurgeon
27. "Happiness does not consist in pastimes and amusements but in virtuous activities." – Aristotle
28. "Simplicity is the prerequisite for happiness."
29. "Happiness is letting go of what you think your life is supposed to look like."
30. "I've just discovered a million ways to be happy in life."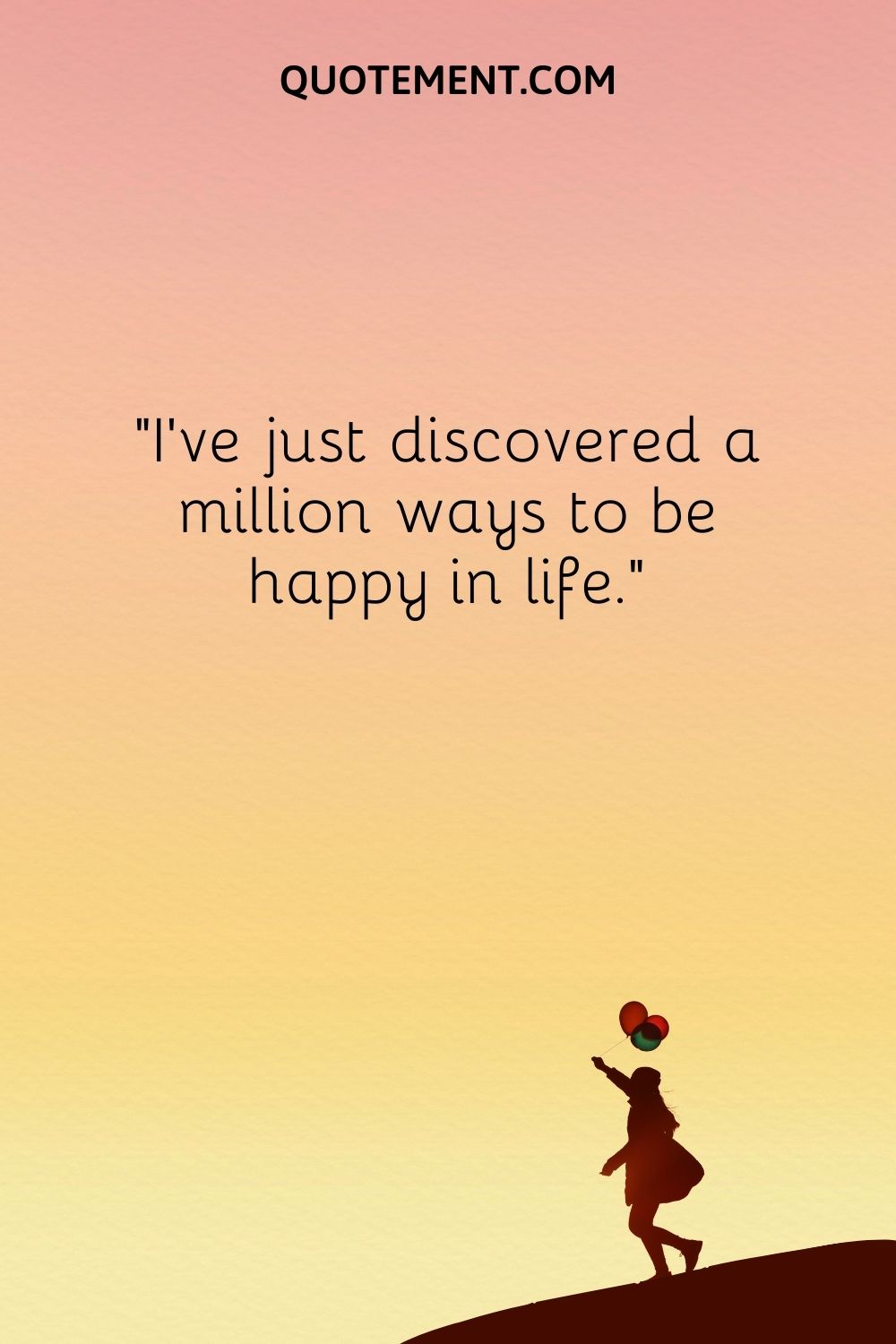 Motivational Happy Quotes For Your Next Insta Post
If you've been searching for some motivational happy quotes for Instagram, make sure you check these out:
1. "Be strong and move on. It's time to be happy again."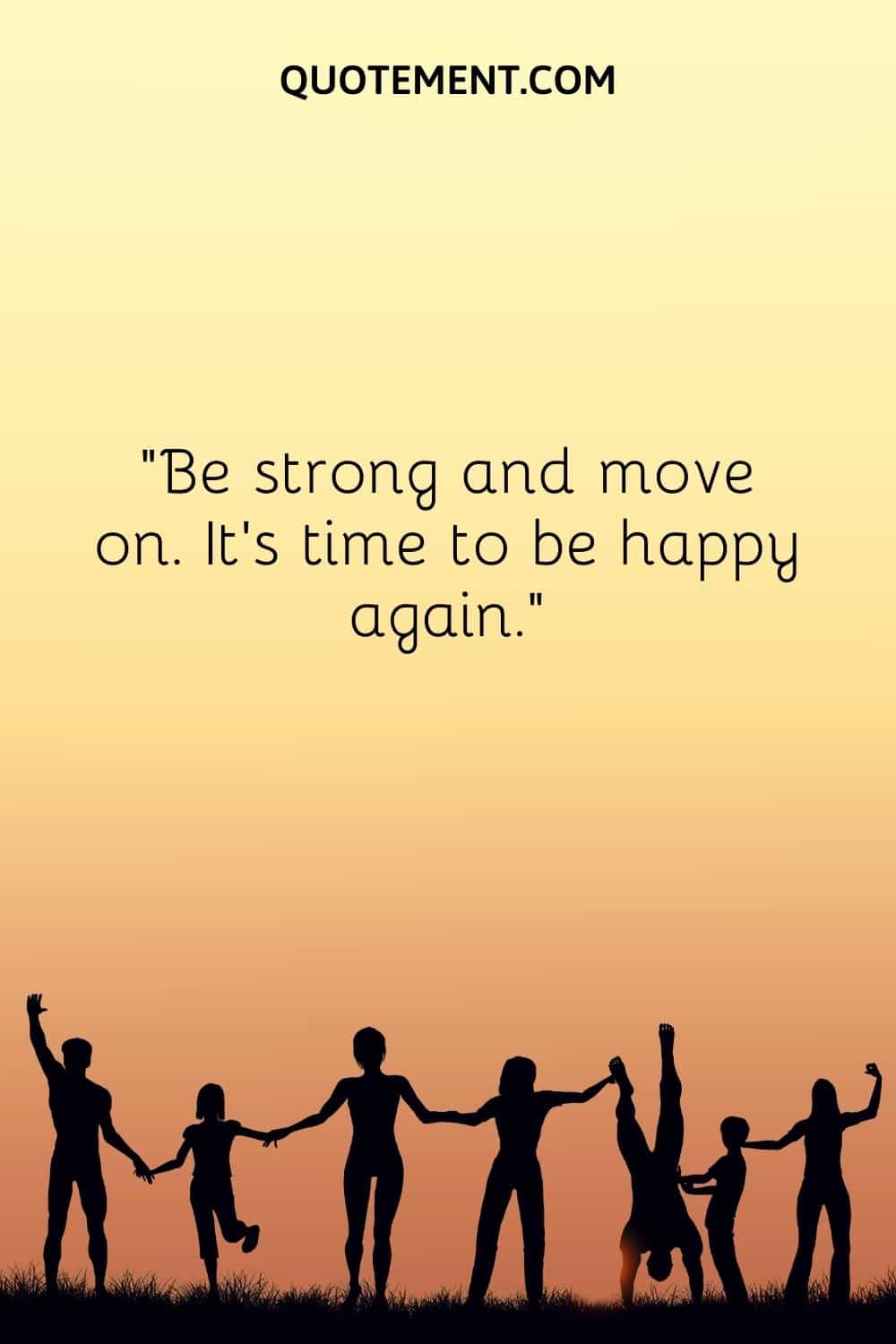 2. "The way I see it, if you want the rainbow, you gotta put up with the rain."
3. "Be happy not because everything is good, but because you can see the good side in everything."
4. "If being happy is important to you, try this: instead of regretting all you lack, celebrate all you've got."
5. "Happiness is enjoying the little things in life."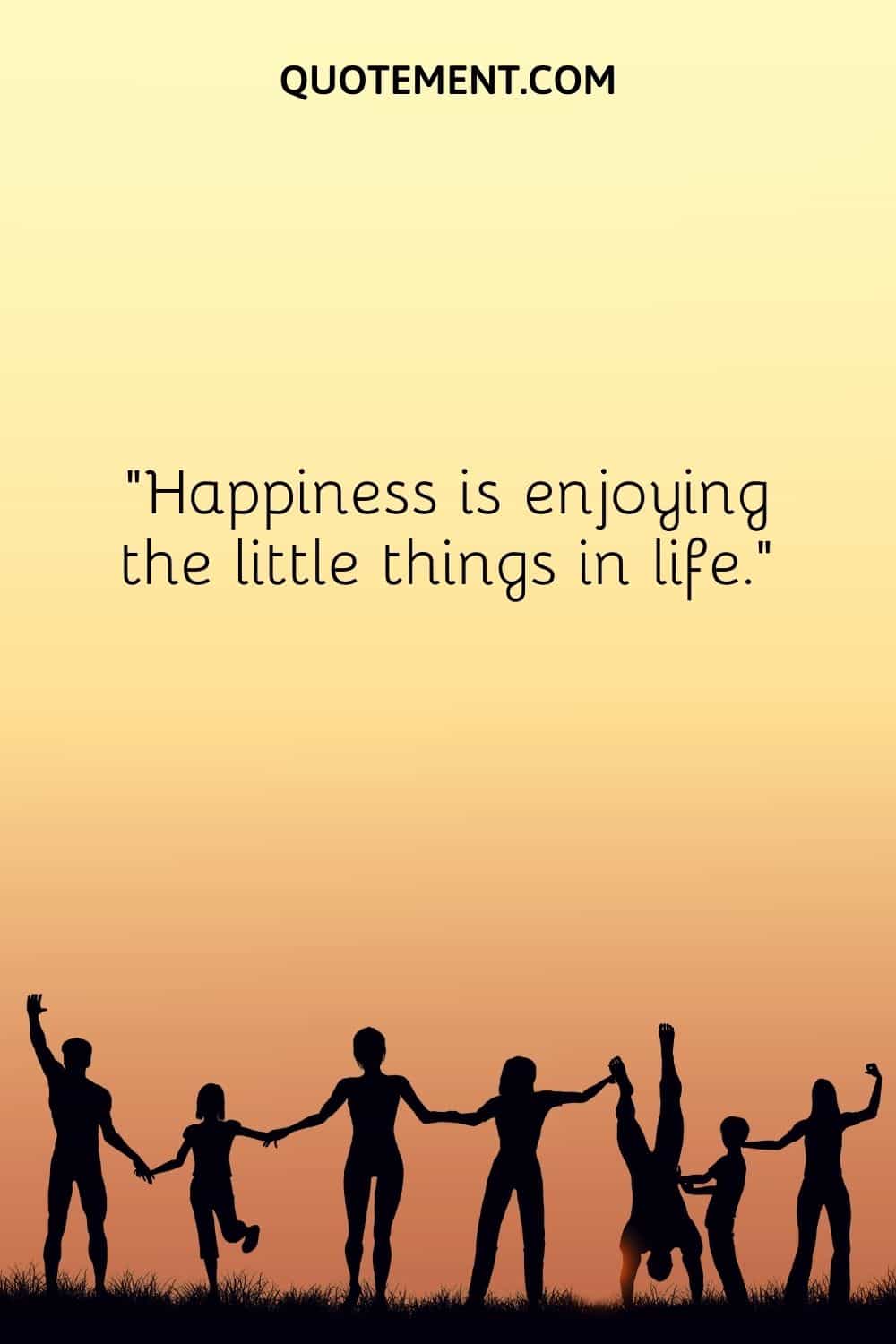 6. "Let the wrinkles come from smiling!"
7. "If life gives you lemons, make lemonade, lemon bars, lemon chicken, and lemon cake. Host a lemon party!"
8. "Life isn't about waiting for the storm to pass… It's about learning to dance in the rain." – Vivian Greene
9. "There can be no happiness if the things we believe in are different from the things we do." – Freya Stark
10. "Two things prevent happiness: living in the past and observing others."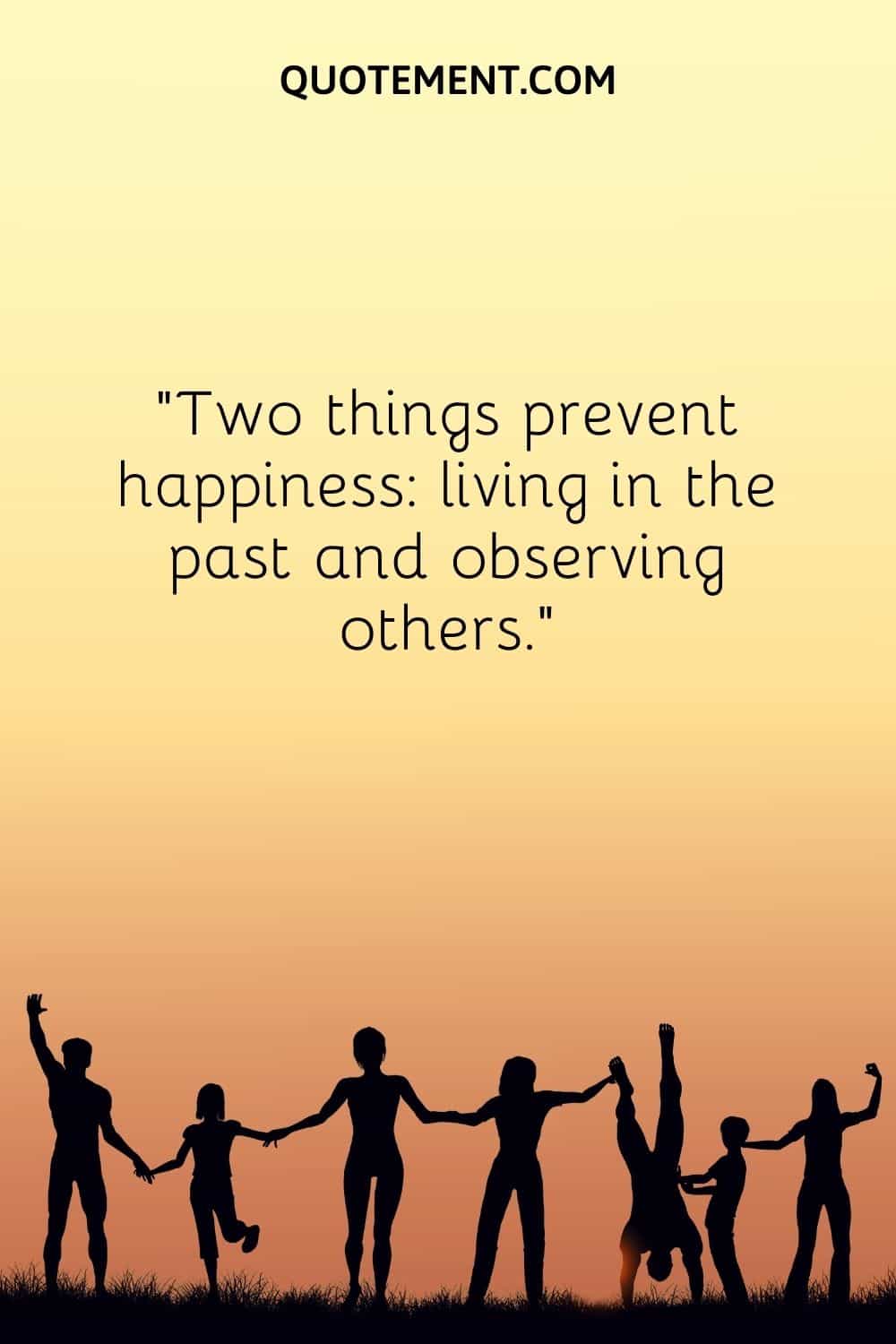 11. "If you want to be happy, be." – Leo Tolstoy
12. "Life is really simple, but we insist on making it complicated." – Confucius
13. "Alcohol is proof that God wants us to be happy."
14. "Happiness? That's nothing more than health and a poor memory." – Albert Schweitzer
15. "Be happy. It drives people crazy."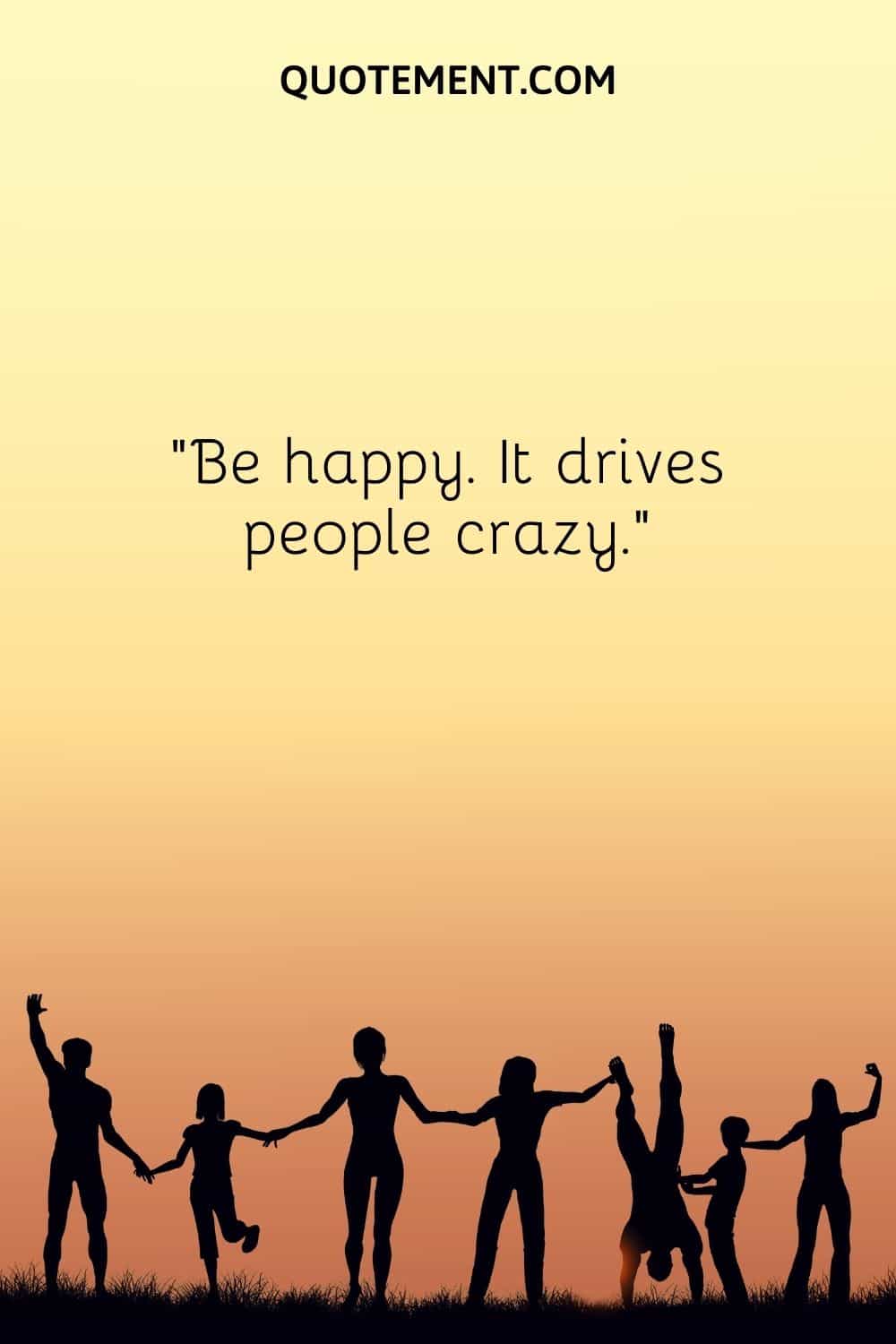 16. "You have one life. Live it! Enjoy it!" – Izey Victoria Odiase
17. "To be without some of the things you want is an indispensable part of happiness." – Bertrand Russell
18. "We don't laugh because we're happy – we're happy because we laugh." – William James
19. "Cry. Forgive. Learn. Move on. Let your tears water the seeds of your future happiness." ― Steve Maraboli
20. "The art of being happy lies in the power of extracting happiness from common things."
21. "Incredible change happens in your life when you decide to take control of what you do have power over instead of craving control over what you don't." ― Steve Maraboli
22. "There is no such thing as wasted time when you're happy during that time."
23. "Profound appreciation of the tiny details in life is the true secret of happiness."
24. "You are beautiful. Your beauty, just like your capacity for life, happiness, and success, is immeasurable. Day after day, countless people across the globe get on a scale in search of validation of beauty and social acceptance. Get off the scale!" – Steve Maraboli
25. "Optimism is a happiness magnet. If you stay positive, good things and good people will be drawn to you." – Mary Lou Retton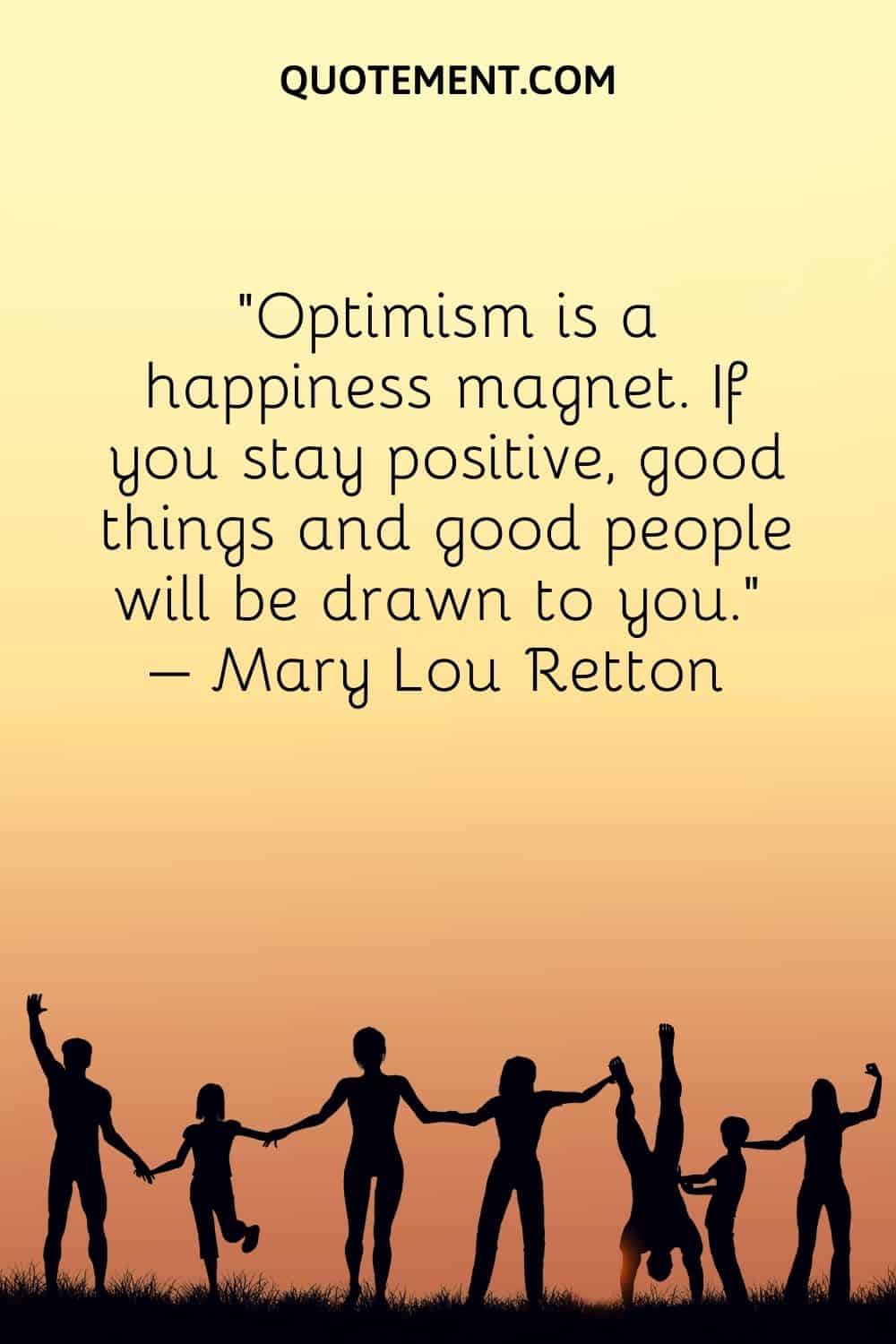 26. "You cannot protect yourself from sadness without protecting yourself from happiness." ― Jonathan Safran Foer
27. "Whatever you do in life, make sure it makes you happy."
See also: Ultimate Collection Of 60 Do What Makes You Happy Quotes
Deep Happy Quotes For Instagram
If you need deep happy quotes for Instagram to capture your special moments or memories, take a look at this selection:
1. "Happiness. Simple as a glass of chocolate or tortuous as the heart. Bitter. Sweet. Alive." ― Joanne Harris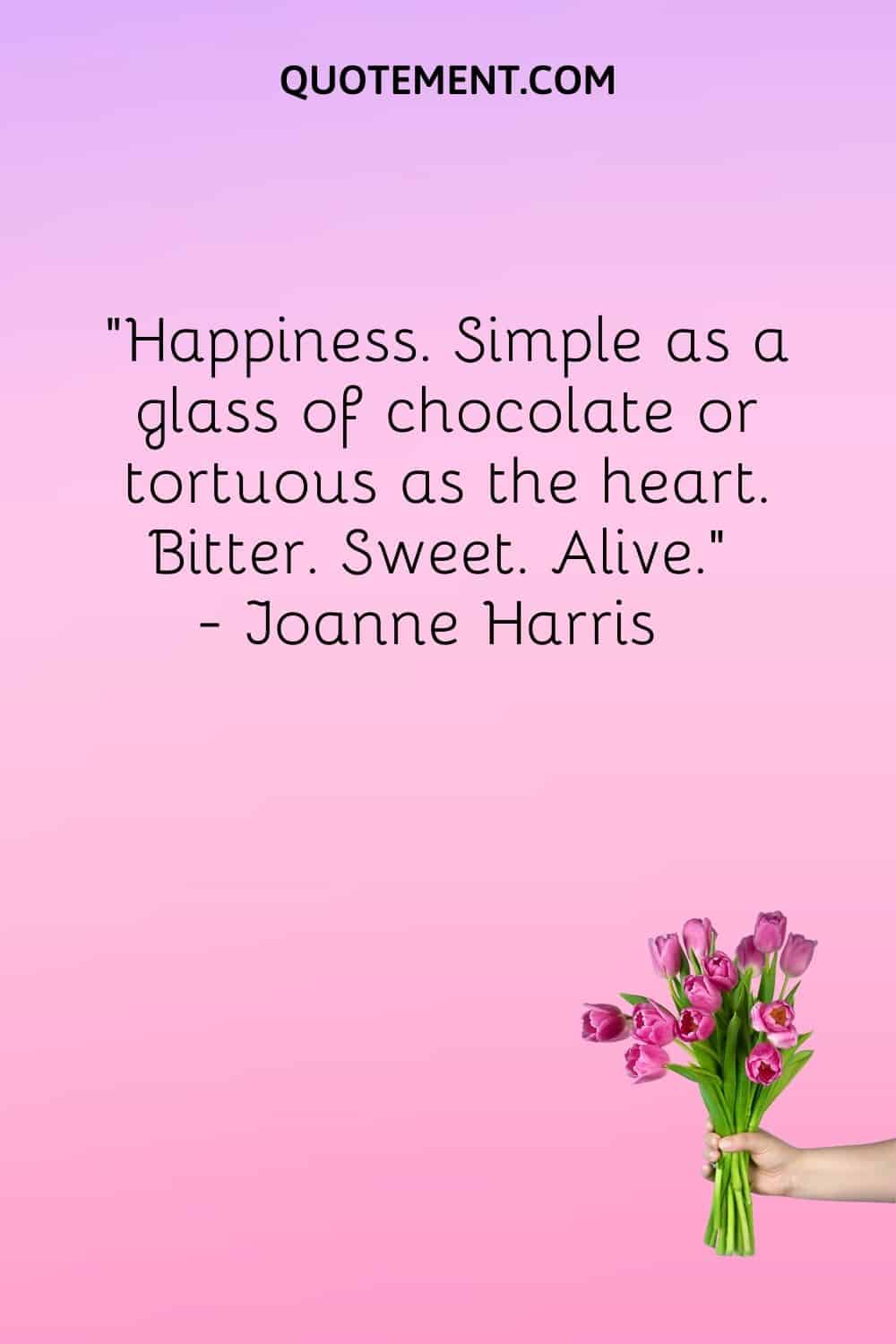 2. "Maybe the truth is, there's a little bit of loser in all of us. Being happy isn't having everything in your life be perfect. Maybe it's about stringing together all the little things." ― Ann Brashares
3. "Generally speaking, the most miserable people I know are those who are obsessed with themselves; the happiest people I know are those who lose themselves in the service of others… By and large, I have come to see that if we complain about life, it is because we are thinking only of ourselves." ― Gordon B. Hinckley
4. "There is some kind of a sweet innocence in being human – in not having to be just happy or just sad – in the nature of being able to be both broken and whole, at the same time." ― C. JoyBell C.
5. "Happiness is not the absence of problems, it's the ability to deal with them." ― Steve Maraboli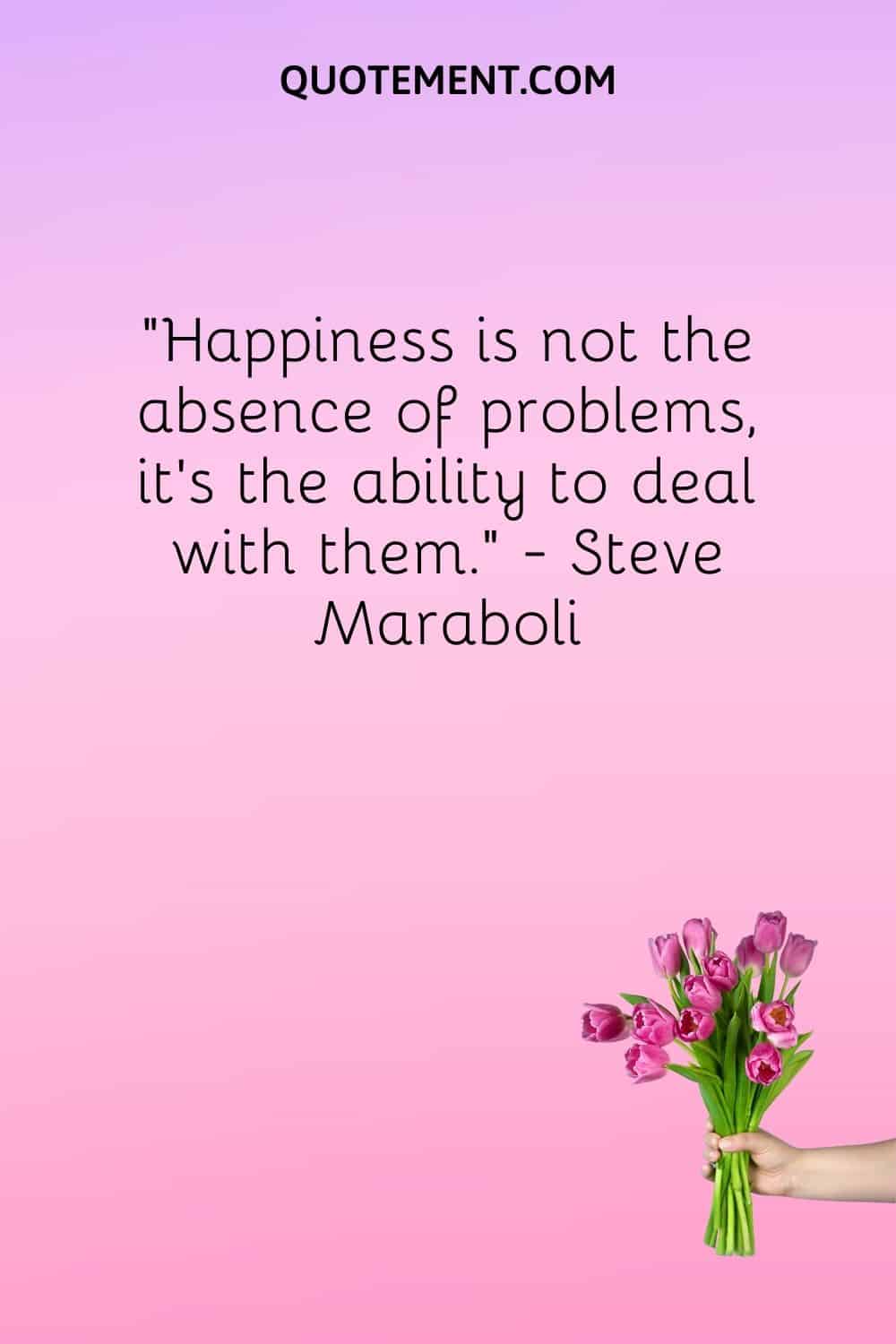 6. "True happiness is to enjoy the present, without anxious dependence upon the future, not to amuse ourselves with either hopes or fears but to rest satisfied with what we have, which is sufficient, for he that is so wants nothing. The greatest blessings of mankind are within us and within our reach. A wise man is content with his lot, whatever it may be, without wishing for what he has not." ― Seneca
7. "I do not miss childhood, but I miss the way I took pleasure in small things, even as greater things crumbled. I could not control the world I was in, could not walk away from things or people or moments that hurt, but I took joy in the things that made me happy." ― Neil Gaiman
8. "Actual happiness always looks pretty squalid in comparison with the overcompensations for misery. And, of course, stability isn't nearly so spectacular as instability. And being contented has none of the glamour of a good fight against misfortune, none of the picturesqueness of a struggle with temptation, or a fatal overthrow by passion or doubt. Happiness is never grand." ― Aldous Huxley
9. "I don't know what's worse: to not know what you are and be happy, or to become what you've always wanted to be, and feel alone." ― Daniel Keyes
10. "Cry. Forgive. Learn. Move on. Let your tears water the seeds of your future happiness." ― Steve Maraboli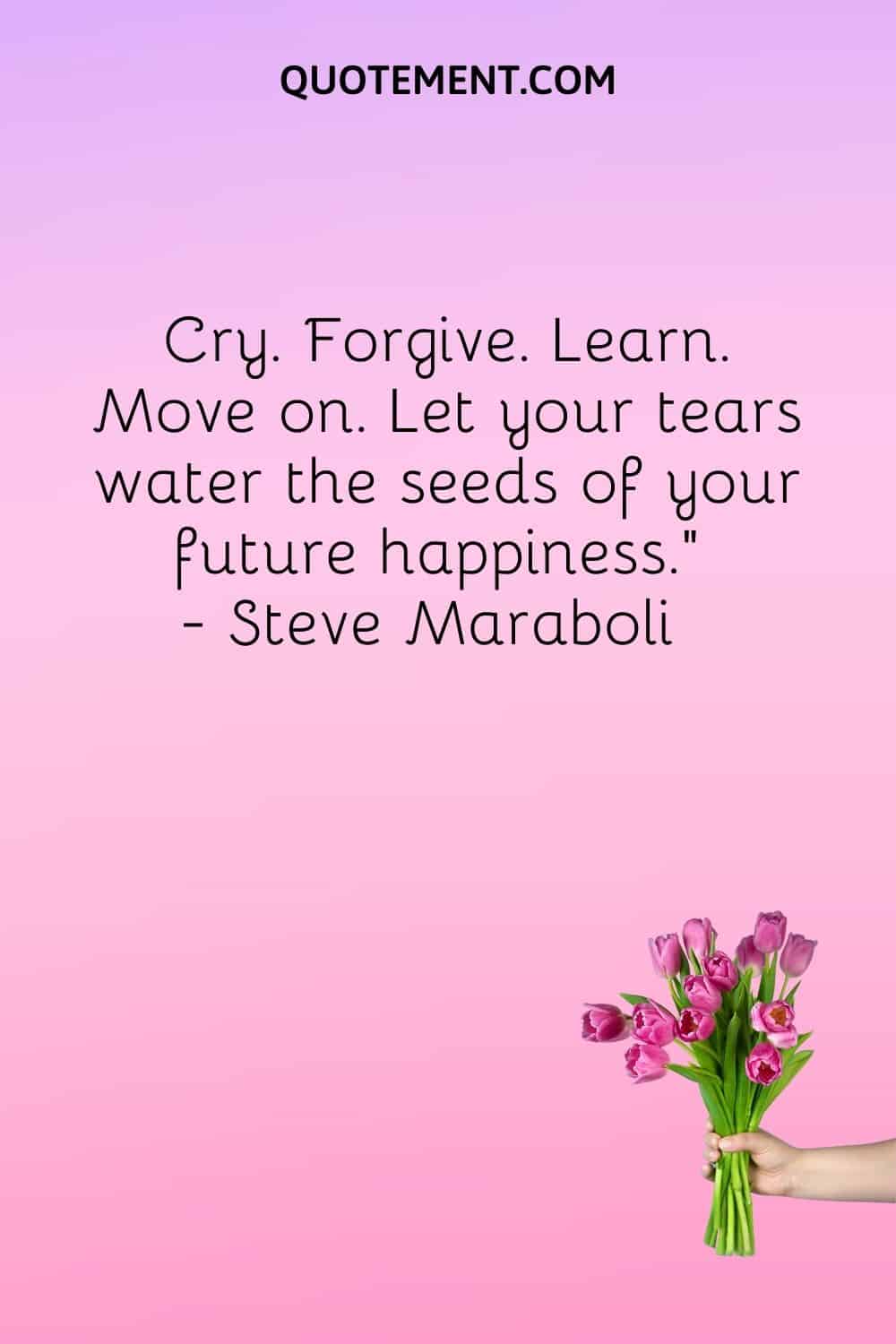 11. "So we shall let the reader answer this question for himself: who is the happier man, he who has braved the storm of life and lived or he who has stayed securely on shore and merely existed?" ― Hunter S. Thompson
12. "Happiness quite unshared can scarcely be called happiness; it has no taste." ― Charlotte Bronte
13. "The advantage of a bad memory is that one enjoys several times the same good things for the first time." ― Friedrich Nietzsche
14. "All happiness depends on courage and work." ― Honoré de Balzac
15. "Learn to value yourself, which means: fight for your happiness." ― Ayn Rand
16. "Man only likes to count his troubles; he doesn't calculate his happiness." ― Fyodor Dostoevsky
17. "I am not proud, but I am happy; and happiness blinds, I think, more than pride." ― Alexandre Dumas
18. "The happiness of your life depends upon the quality of your thoughts." ― Marcus Aurelius
19. "Sadness gives depth. Happiness gives height. Sadness gives roots. Happiness gives branches. Happiness is like a tree going into the sky, and sadness is like the roots going down into the womb of the earth. Both are needed, and the higher a tree goes, the deeper it goes, simultaneously. The bigger the tree, the bigger will be its roots. In fact, it is always in proportion. That's its balance." ― Osho Rajneesh
20. "Now and then it's good to pause in our pursuit of happiness and just be happy." ― Guillaume Apollinaire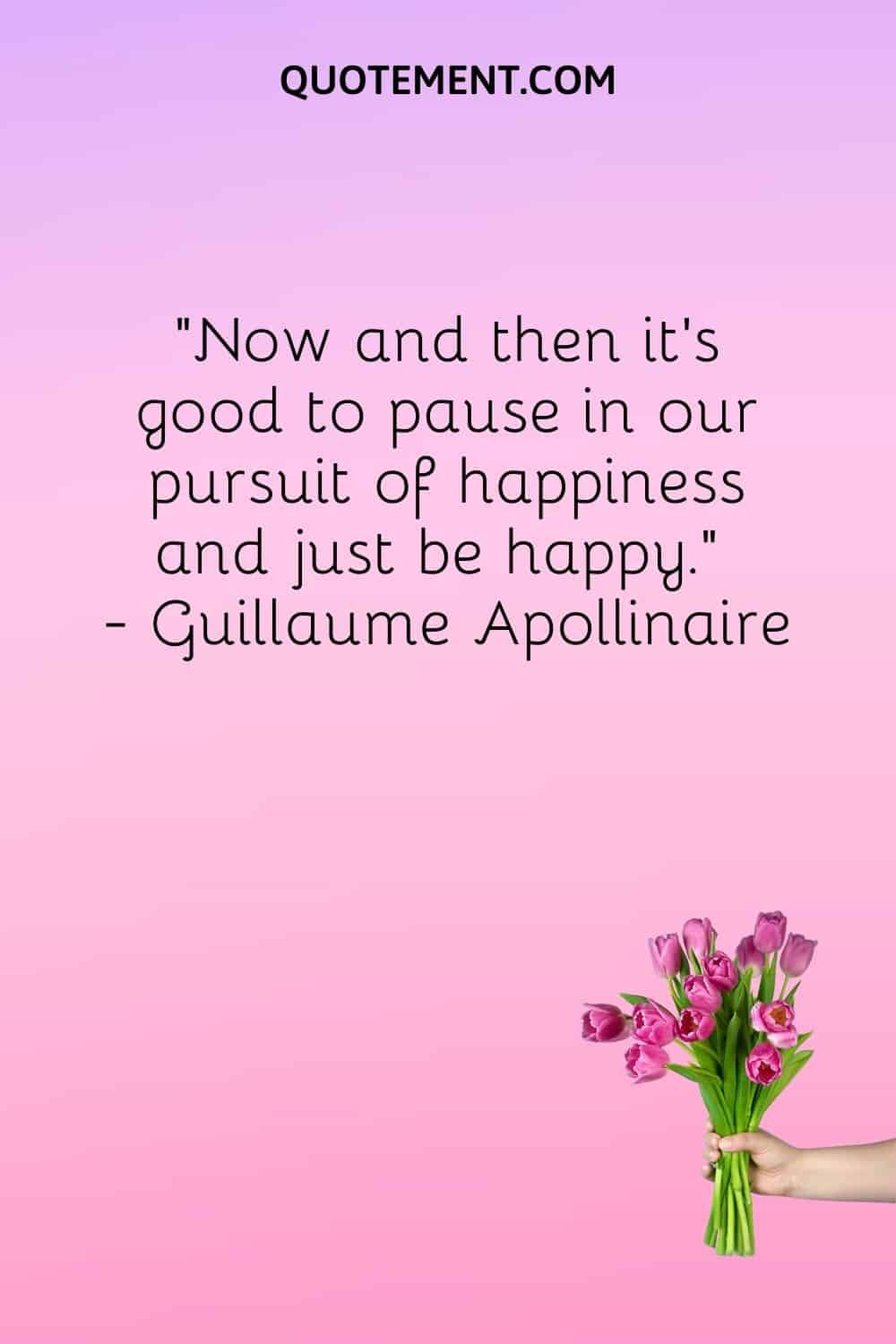 21. "Top 15 things money can't buy. Time. Happiness. Inner Peace. Integrity. Love. Character. Manners. Health. Respect. Morals. Trust. Patience. Class. Common sense. Dignity." ― Roy T. Bennett
22. "Sanity and happiness are an impossible combination." ― Mark Twain
23. "You can't be happy unless you're unhappy sometimes." ― Lauren Oliver
24. "Be grateful for what you already have while you pursue your goals. If you aren't grateful for what you already have, what makes you think you would be happy with more." ― Roy T. Bennett
25. "We don't even ask for happiness, just a little less pain." ― Charles Bukowski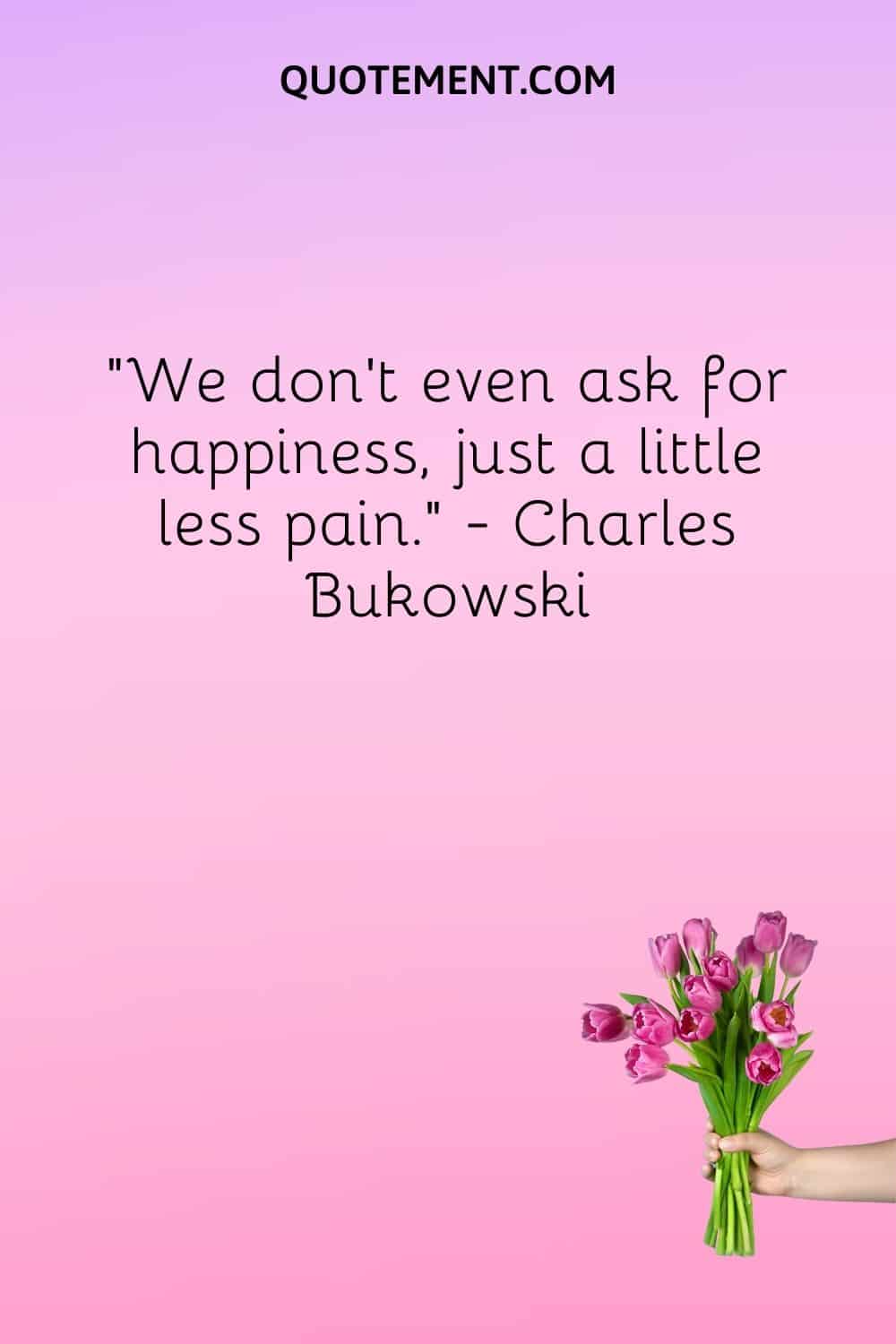 26. "Hope smiles from the threshold of the year to come, whispering 'it will be happier'…" ― Alfred Lord Tennyson
27. "Of all forms of caution, caution in love is perhaps the most fatal to true happiness." ― Bertrand Russell
28. "I felt my lungs inflate with the onrush of scenery – air, mountains, trees, people. I thought, 'This is what it is to be happy'." ― Sylvia Plath
29. "The only way to find true happiness is to risk being completely cut open." ― Chuck Palahniuk
30. "It's been my experience that you can nearly always enjoy things if you make up your mind firmly that you will." ― Lucy Maud Montgomery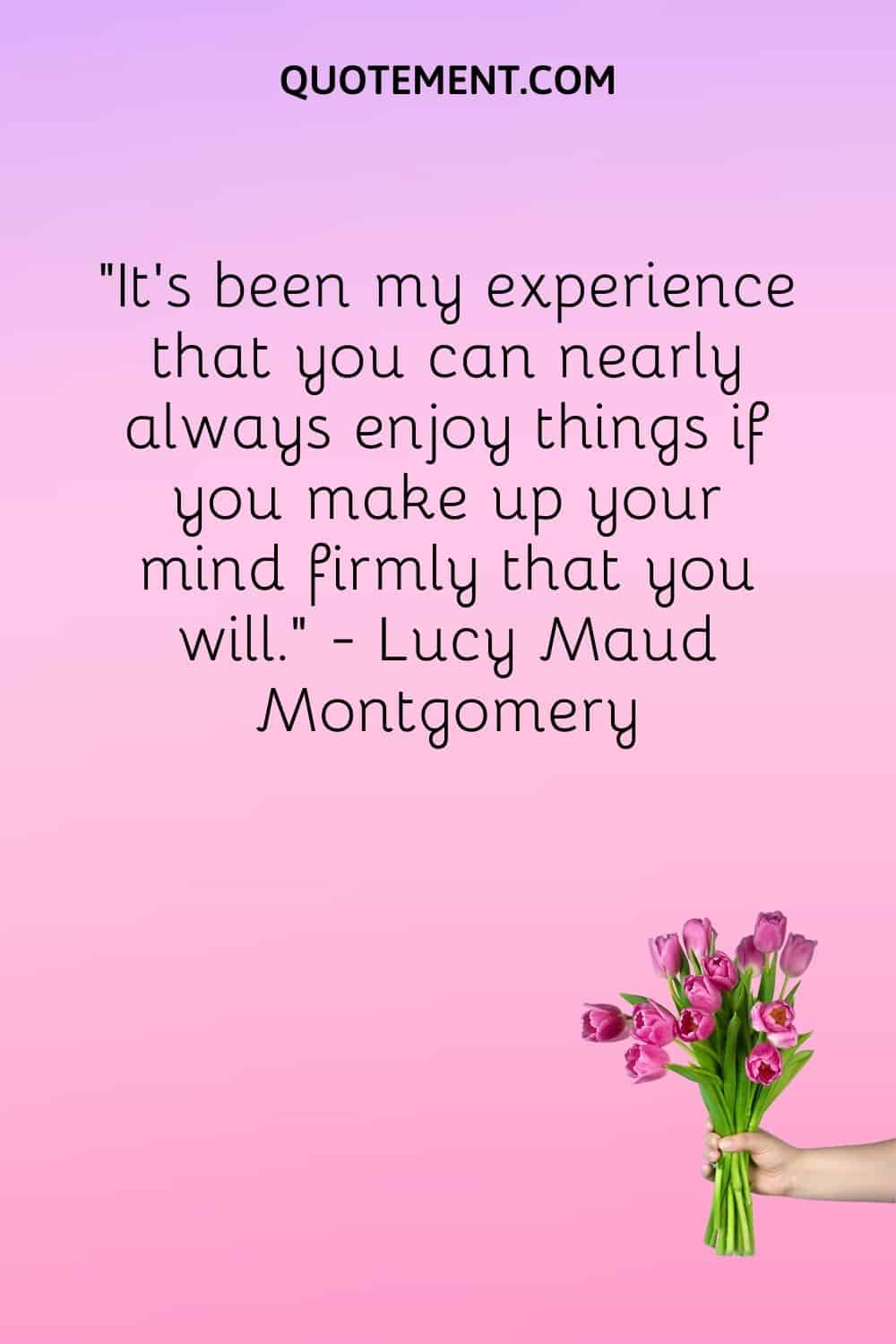 Powerful Happy Quotes For Instagram
Find a few powerful happy quotes for your next Insta post right here:
1. "Take time to make your soul happy."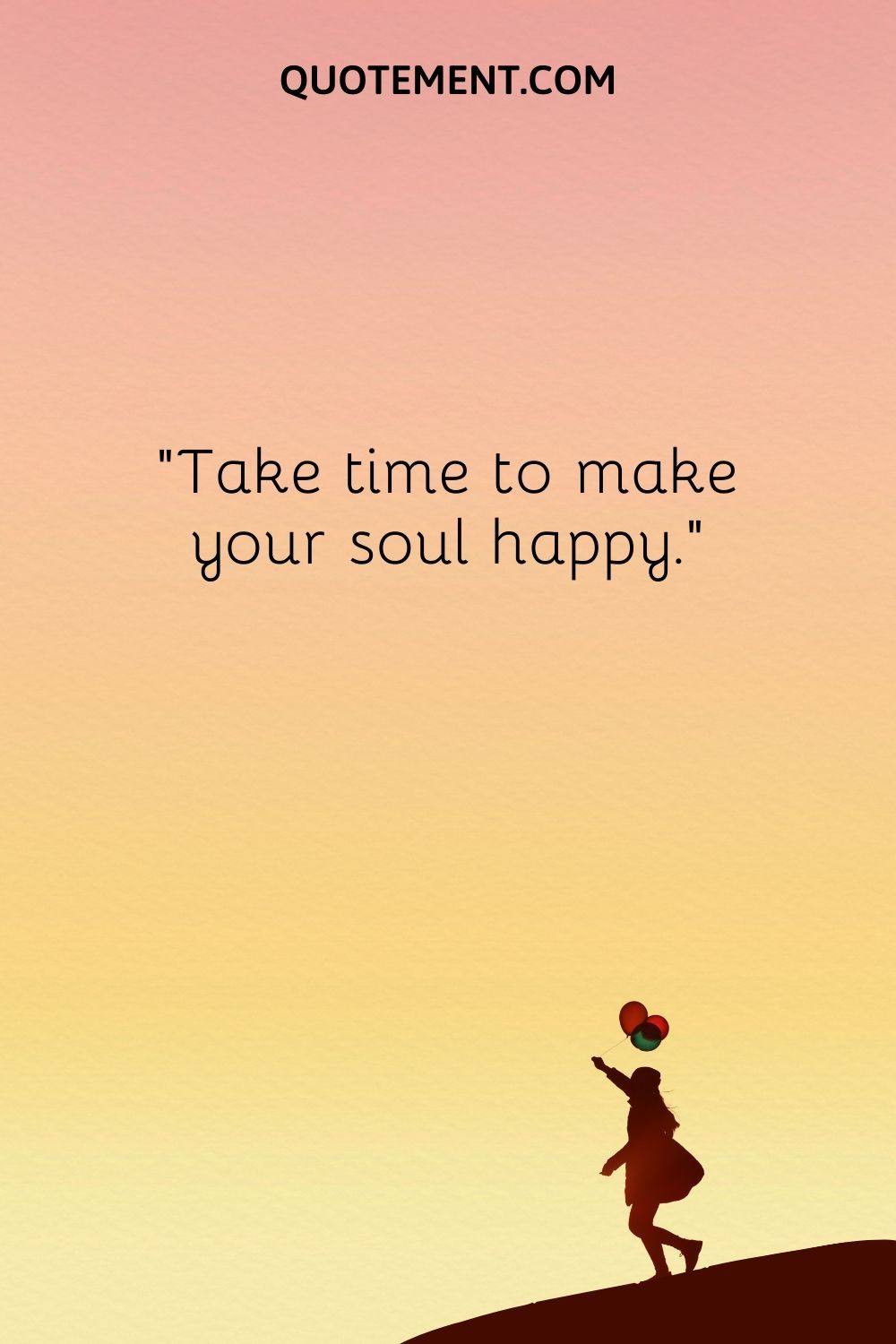 2. "If your happiness depends on what someone else does, I guess you do have a problem."
3. "Being happy never goes out of style."
4. "Happiness is my natural state of mind."
5. "Choose to be happy and a reason will come along."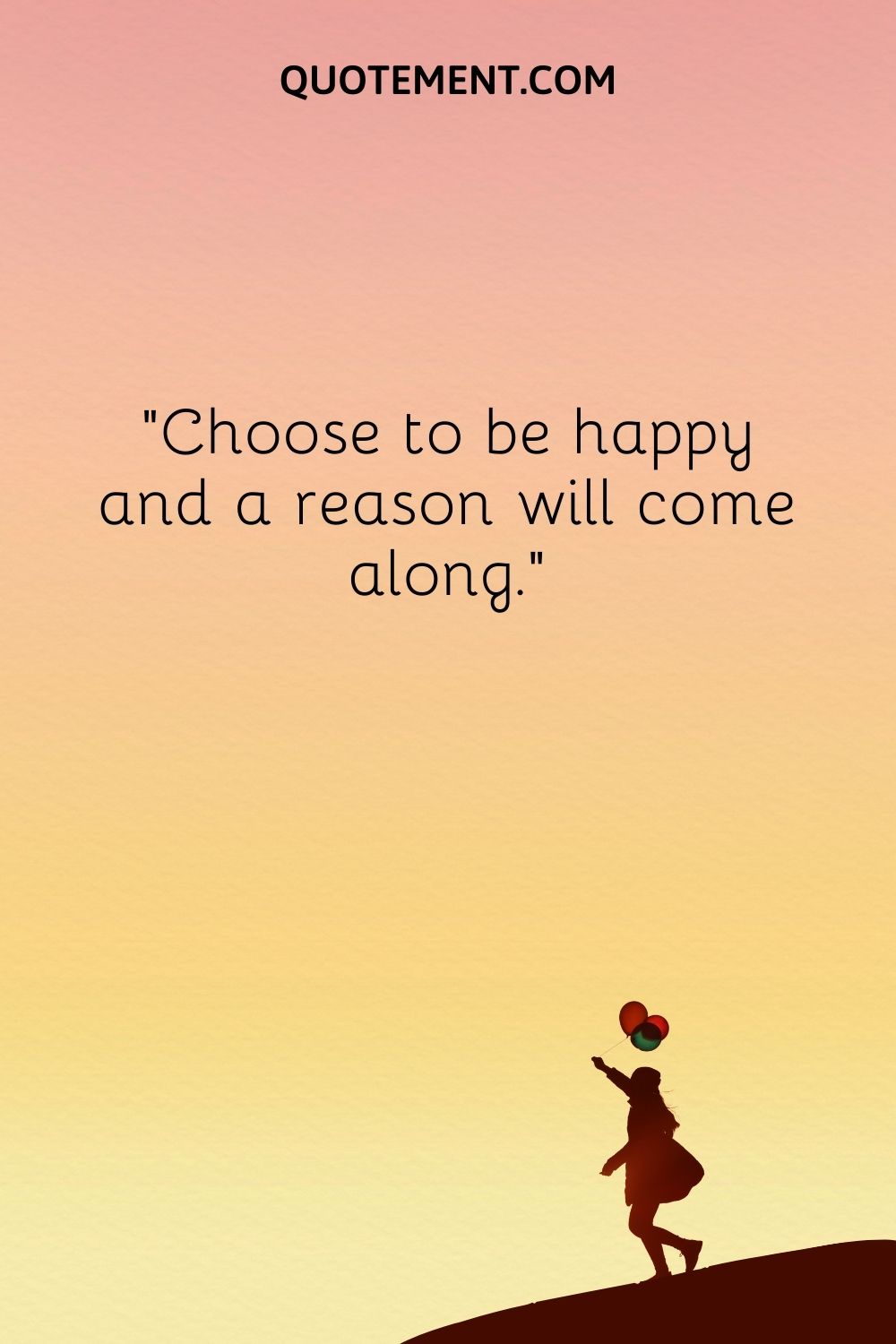 6. "There is only one way to happiness and that is to cease worrying about things which are beyond the power of our will."
7. "Happiness is an attitude of mind, born of the simple determination to be happy under all outward circumstances."
8. "The moments of happiness we enjoy take us by surprise. It is not that we seize them, but that they seize us." – Ashley Montagu
9. "Happiness is the key to success. If you love what you are doing, you will be successful." – Albert Schweitzer
10. "If you're happy doing what you're doing, then no one can tell you you're not successful."
11. "Maybe happiness didn't have to be about the big, sweeping circumstances, about having everything in your life in place. Maybe it was about stringing together a bunch of small pleasures. Wearing slippers and watching the Miss Universe contest. Eating a brownie with vanilla ice cream." – Ann Brashares
12. "There is no beauty in sadness. No honor in suffering. No growth in fear. No relief in hate. It's just a waste of perfectly good happiness." ― Katerina Stoykova Klemer
13. "She had never imagined she had the power to make someone else so happy. And not a magical power, either – a purely human one." ― Cassandra Clare
14. "Happy. Just in my swim shorts, barefooted, wild-haired, in the red fire dark, singing, swigging wine, spitting, jumping, running – that's the way to live." – Jack Kerouac
15. "Do it because it makes you happy."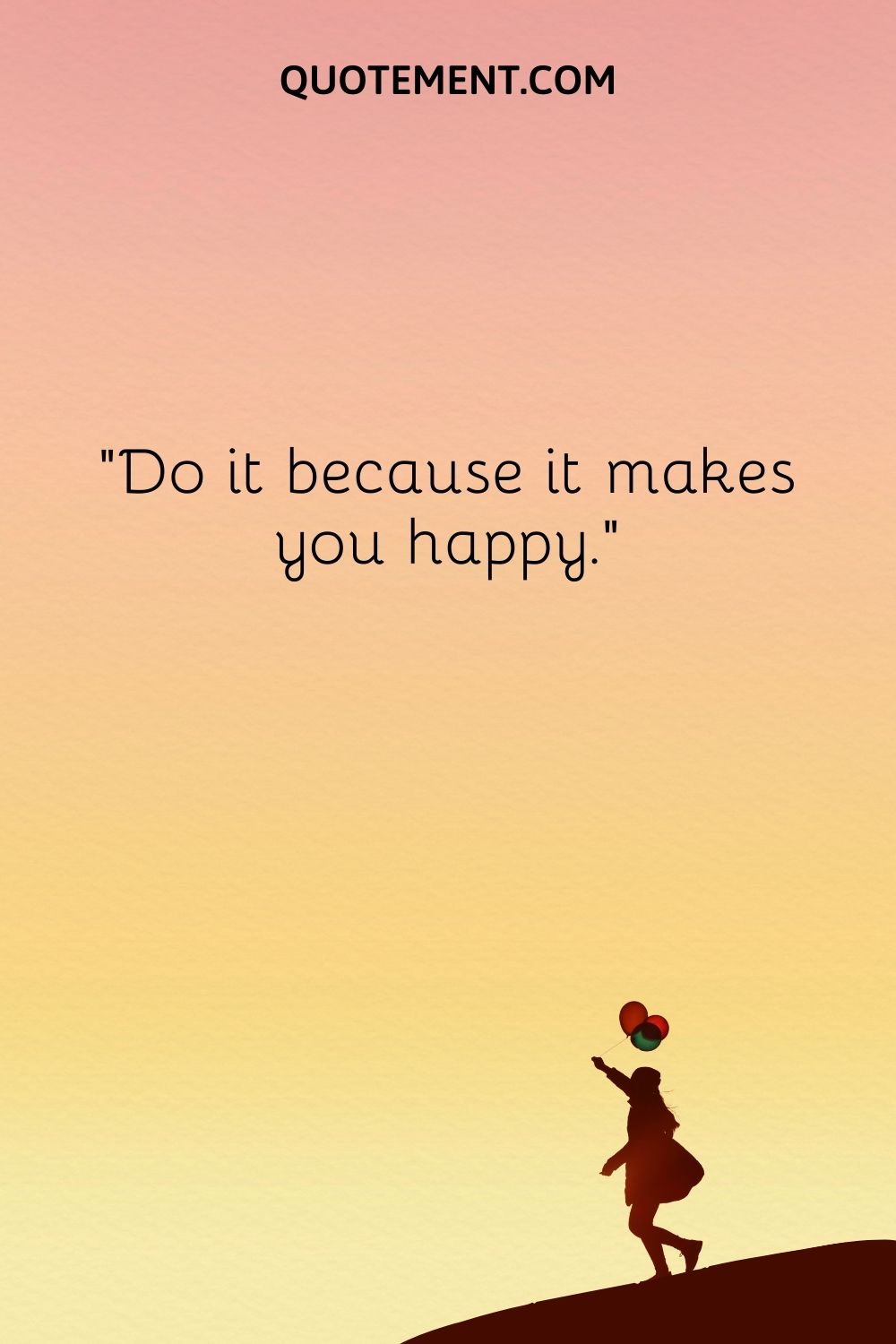 16. "It is sometimes easier to be happy if you don't know everything." ― Alexander McCall Smith
17. "Plant seeds of happiness, hope, success, and love; it will all come back to you in abundance. This is the law of nature." ― Steve Maraboli
18. "We all live with the objective of being happy; our lives are all different and yet the same." ― Anne Frank
19. "You must be the best judge of your own happiness." ― Jane Austen
20. "Just because you are happy it does not mean that the day is perfect but that you have looked beyond its imperfections." ― Bob Marley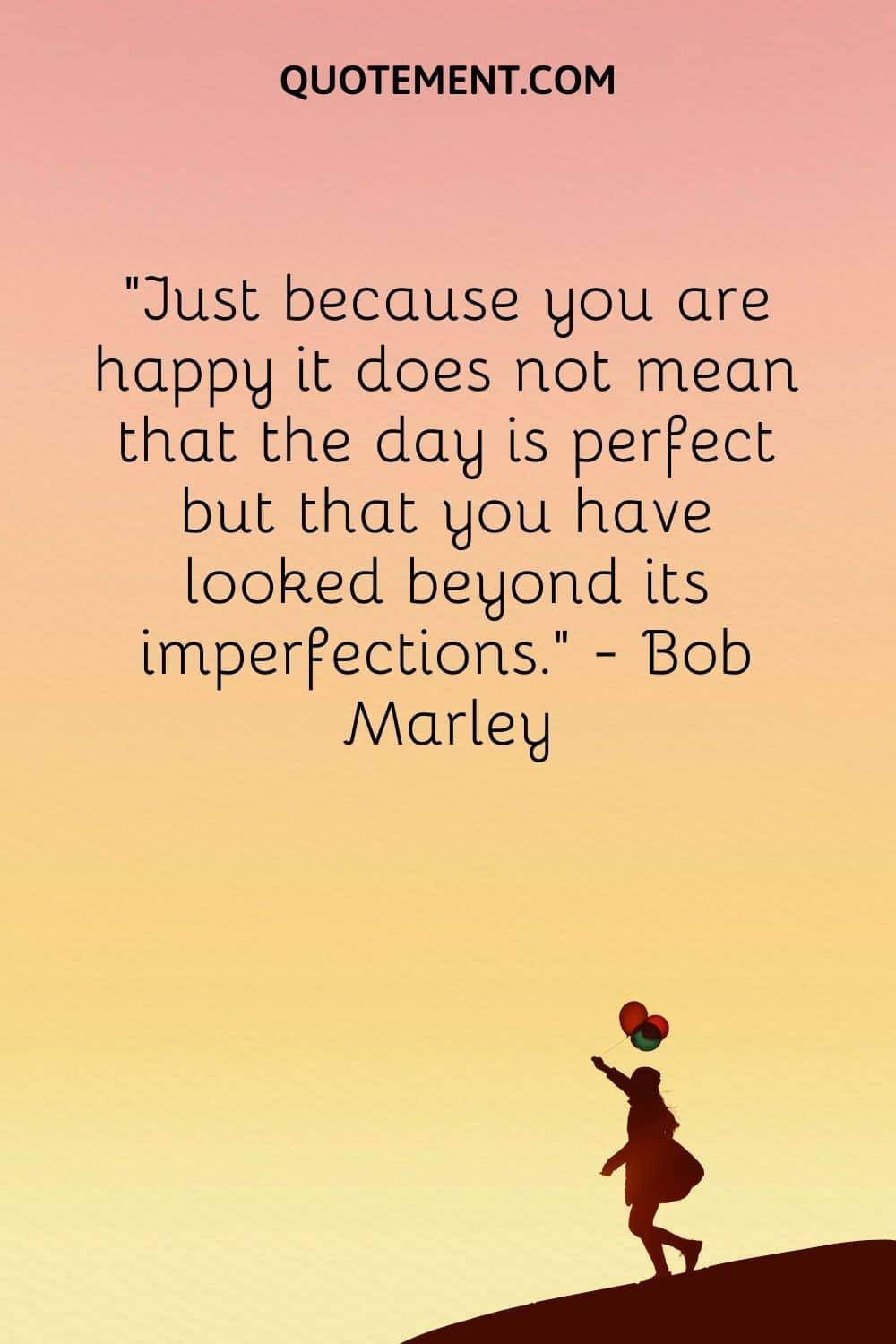 21. "It is difficult to live in and enjoy the moment when you are thinking about the past or worrying about the future. You cannot change your past, but you can ruin the present by worrying about your future. Learn from the past, plan for the future. The more you live in and enjoy the present moment, the happier you will be." ― Roy T. Bennett
22. "Happiness is a perfume you cannot pour on others without getting some on yourself." ― Ralph Waldo Emerson
23. "They've got no idea what happiness is, they don't know that without this love there is no happiness or unhappiness for us –there is no life." ― Leo Tolstoy
24. "Stop giving other people the power to control your happiness, your mind, and your life. If you don't take control of yourself and your own life, someone else is bound to try." ― Roy T. Bennett
25. "You will be exactly as happy as you decide to be."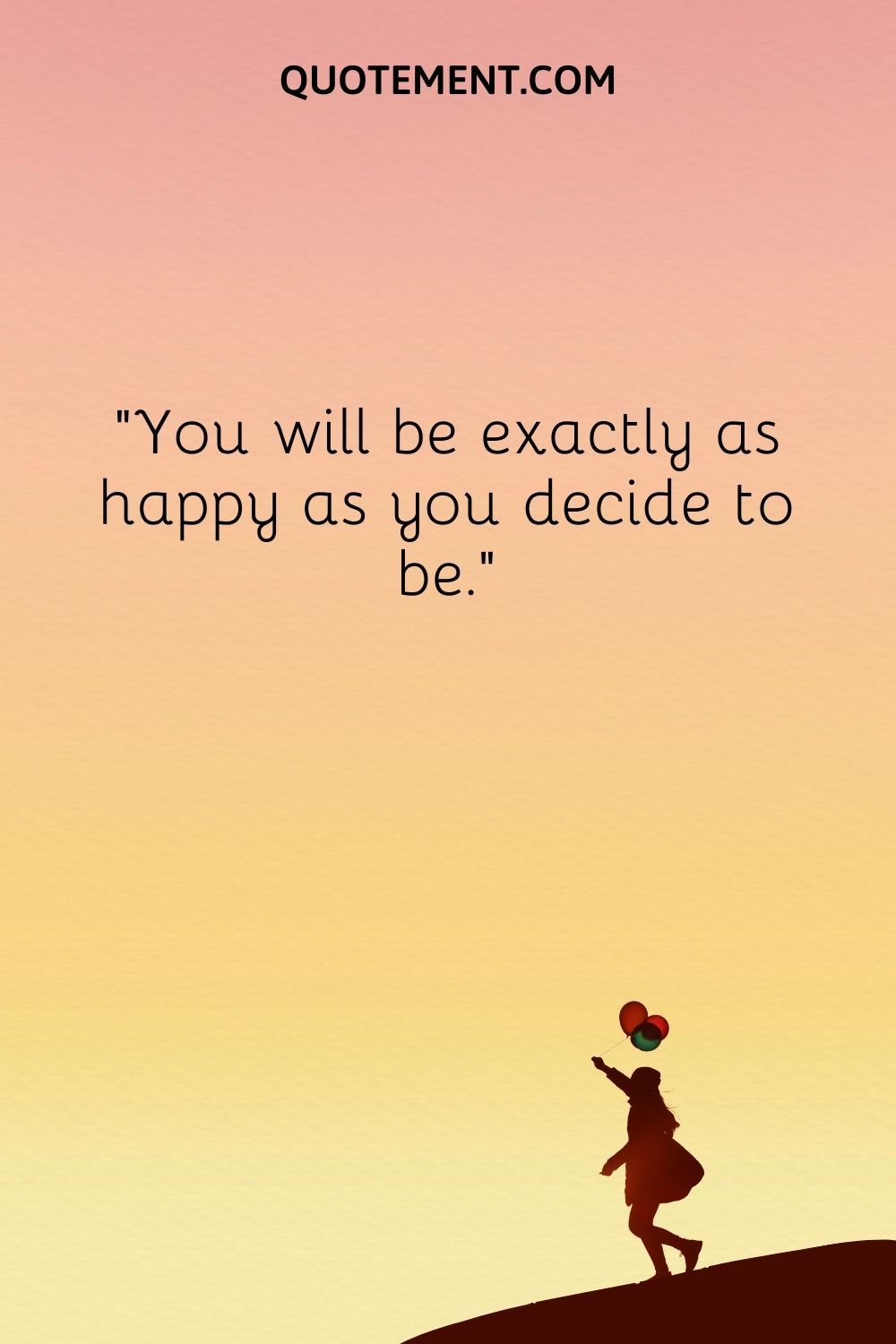 26. "Those who are not looking for happiness are the most likely to find it, because those who are searching forget that the surest way to be happy is to seek happiness for others." ― Martin Luther King Jr.
27. "When the first baby laughed for the first time, its laugh broke into a thousand pieces, and they all went skipping about, and that was the beginning of fairies." ― J.M. Barrie
28. "Happiness is a warm puppy." ― Charles M. Schulz
29. "Stop comparing yourself to other people, just choose to be happy and live your own life." ― Roy T. Bennett
30. "The biggest adventure you can take is to live the life of your dreams."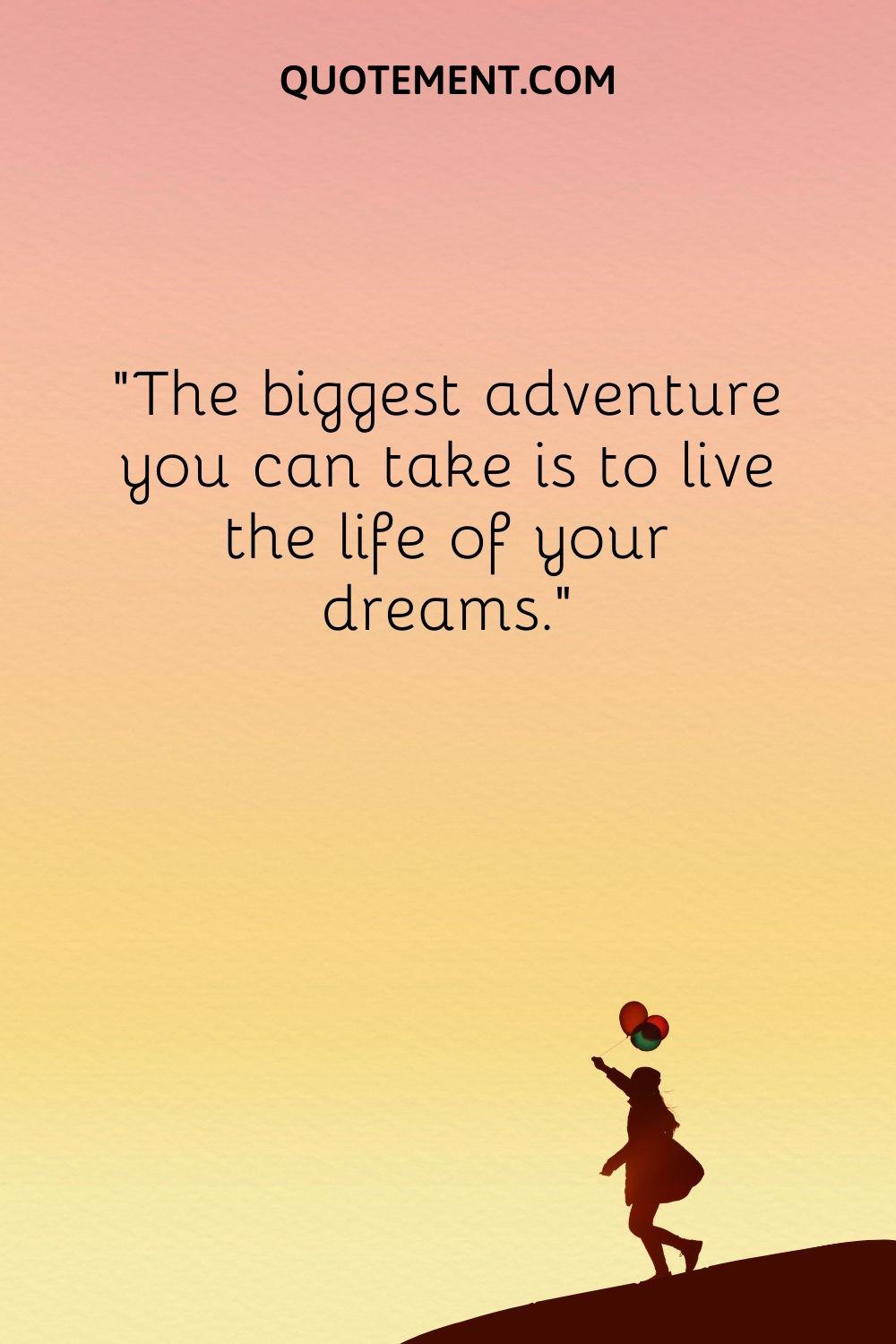 Short Happy Quotes For Instagram
My collection of happy quotes for Instagram ends with these short quotes that will help you cultivate happy thoughts. Boost your selfies and posts in seconds:
1. "Happiness is holding someone in your arms and knowing you hold the whole world." ― Orhan Pamuk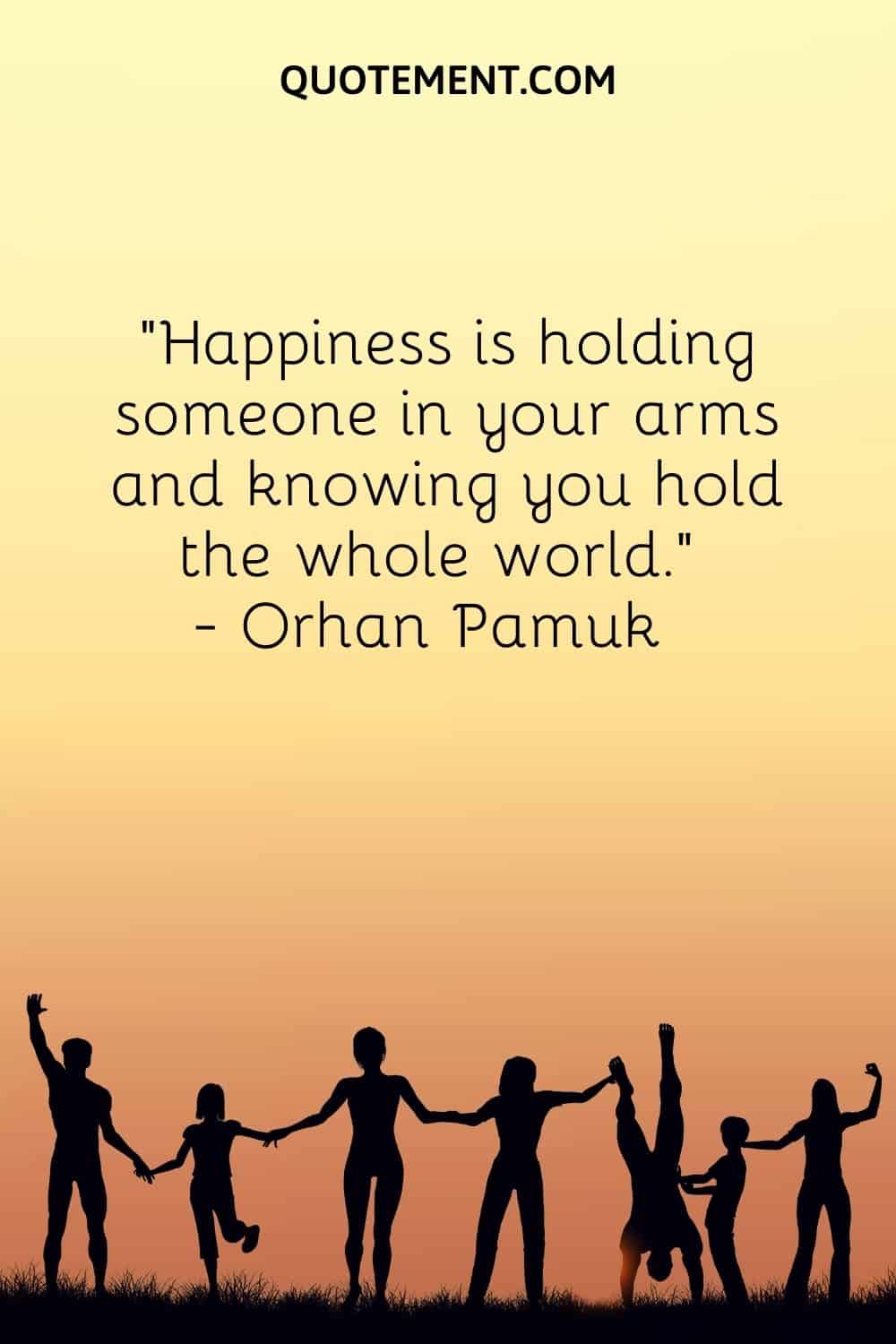 2. "Sorry, even the latest update of my life does not feature an unhappy button."
3. "You can only have bliss if you don't chase it."
4. "The purpose of our lives is to be happy."
5. "People don't notice whether it's winter or summer when they're happy." – Anton Chekhov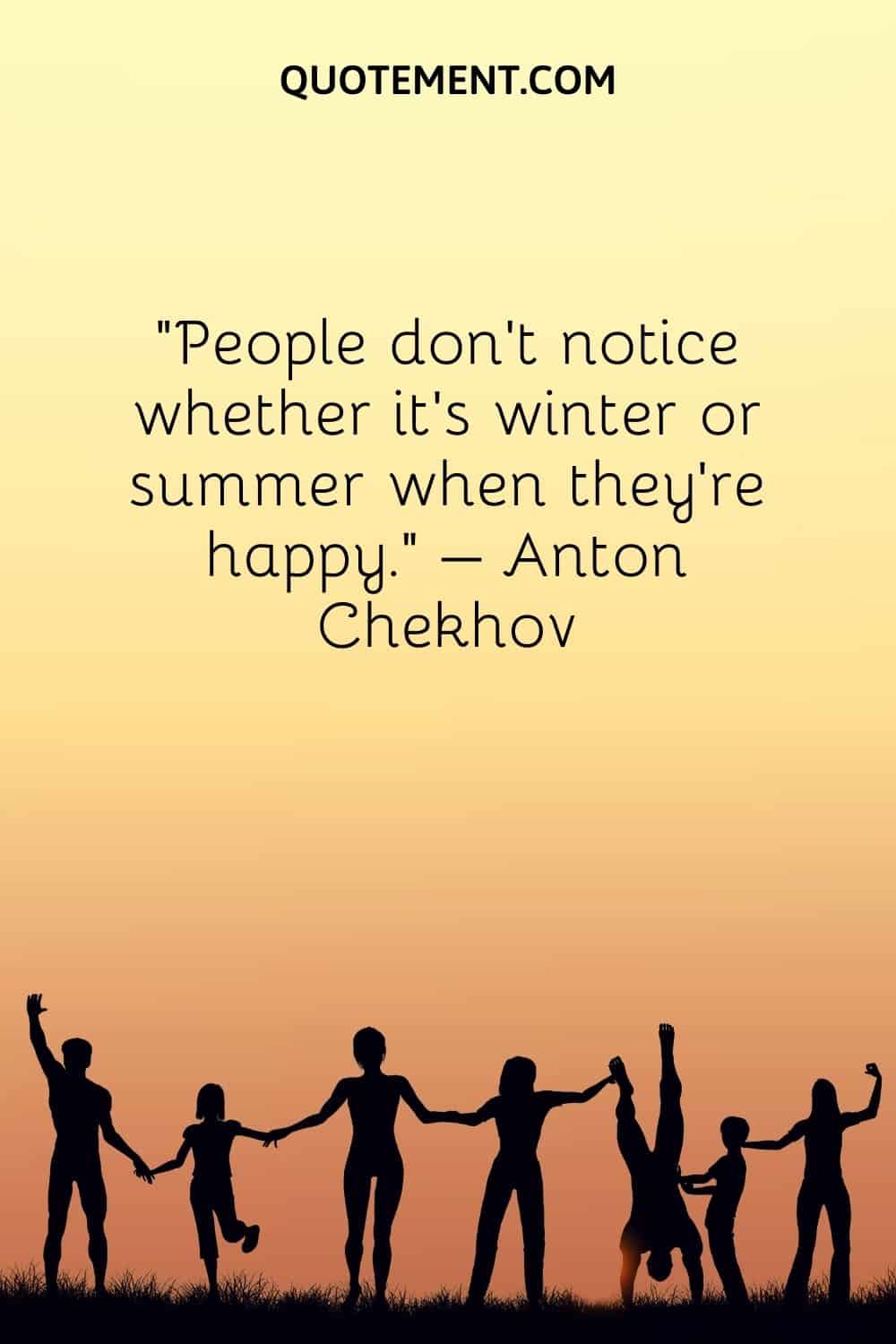 6. "Start your new year with a little dance party."
7. "Count not the troubles, but the joys."
8. "It's no coincidence that grass is always greener where you water it. The same goes for the happiness that you spread."
9. "If you love and appreciate what you currently have, then you actually have everything that you need."
10. "I've got nothing to do today but smile." ― Simon and Garfunkel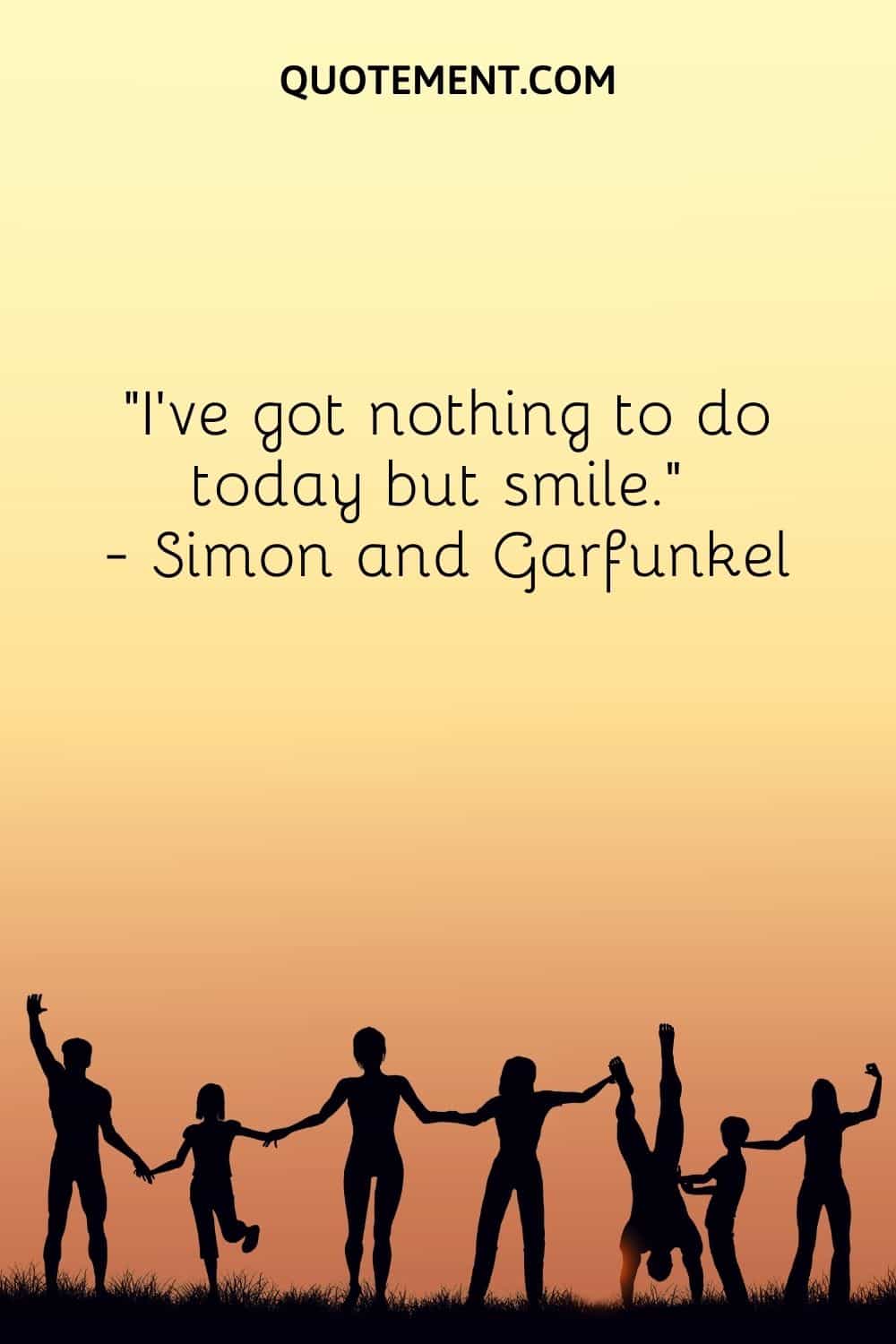 11. "Learning to extract happiness from the littlest of things in life is what makes a happy soul."
12. "Oddly enough, one can find happiness in possessing both good health and bad memory."
13. "The biggest adventure you can take is to live a life where you are determined to be happy every day."
14. "One of the most effective ways to cheer yourself up is to cheer someone else up."
15. "I deserve to be happy."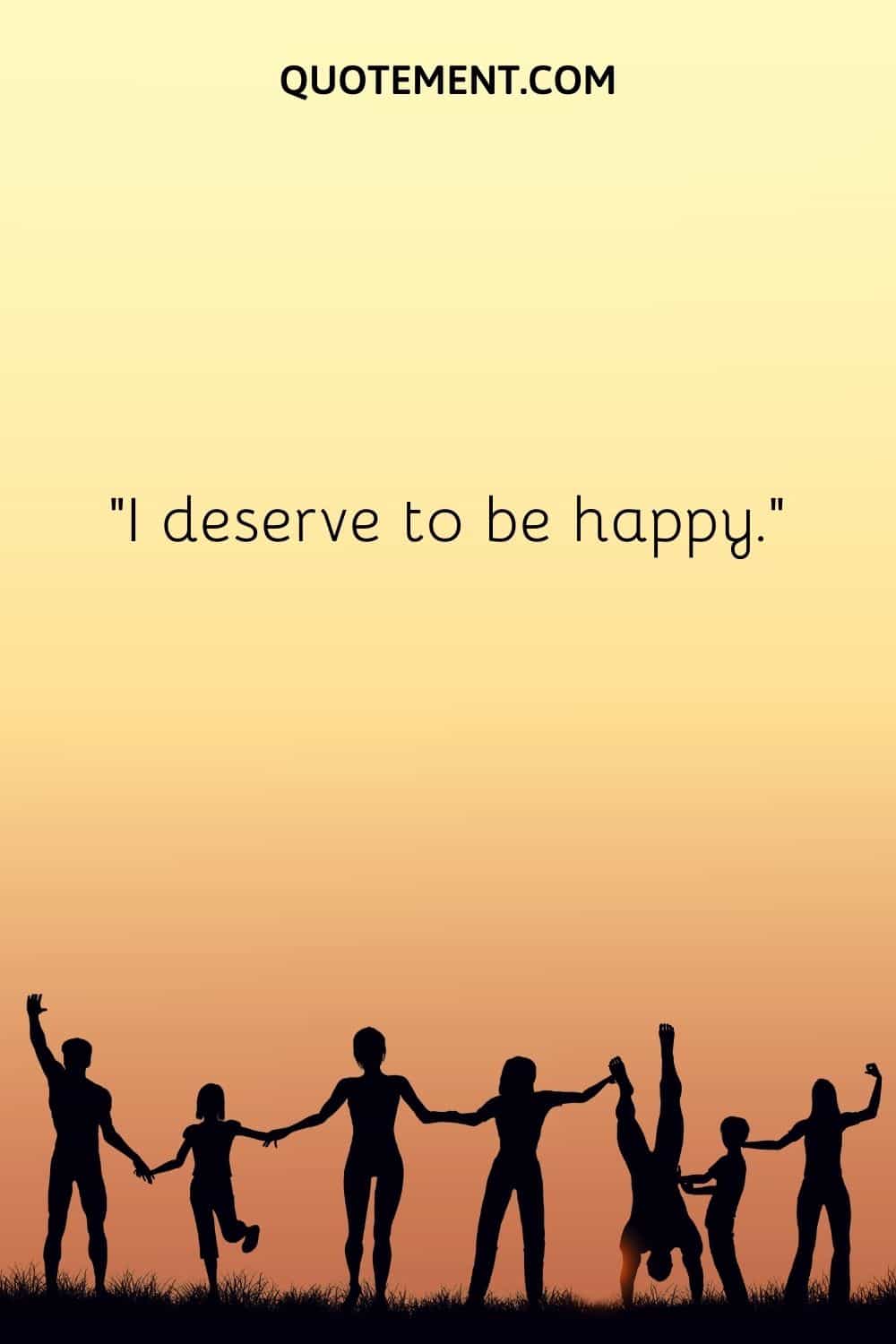 16. "Judge nothing, forgive everything, and love everything. Practice these three and you'll always be happy."
17. "Just like butterflies, happiness has no intention of being caught. It only willingly alights upon those who deserve it."
18. "More often than not, people are about as happy as they choose and decide to be."
19. "Nothing like a sore tummy from laughing so hard."
20. "Life is too short to be anything but happy."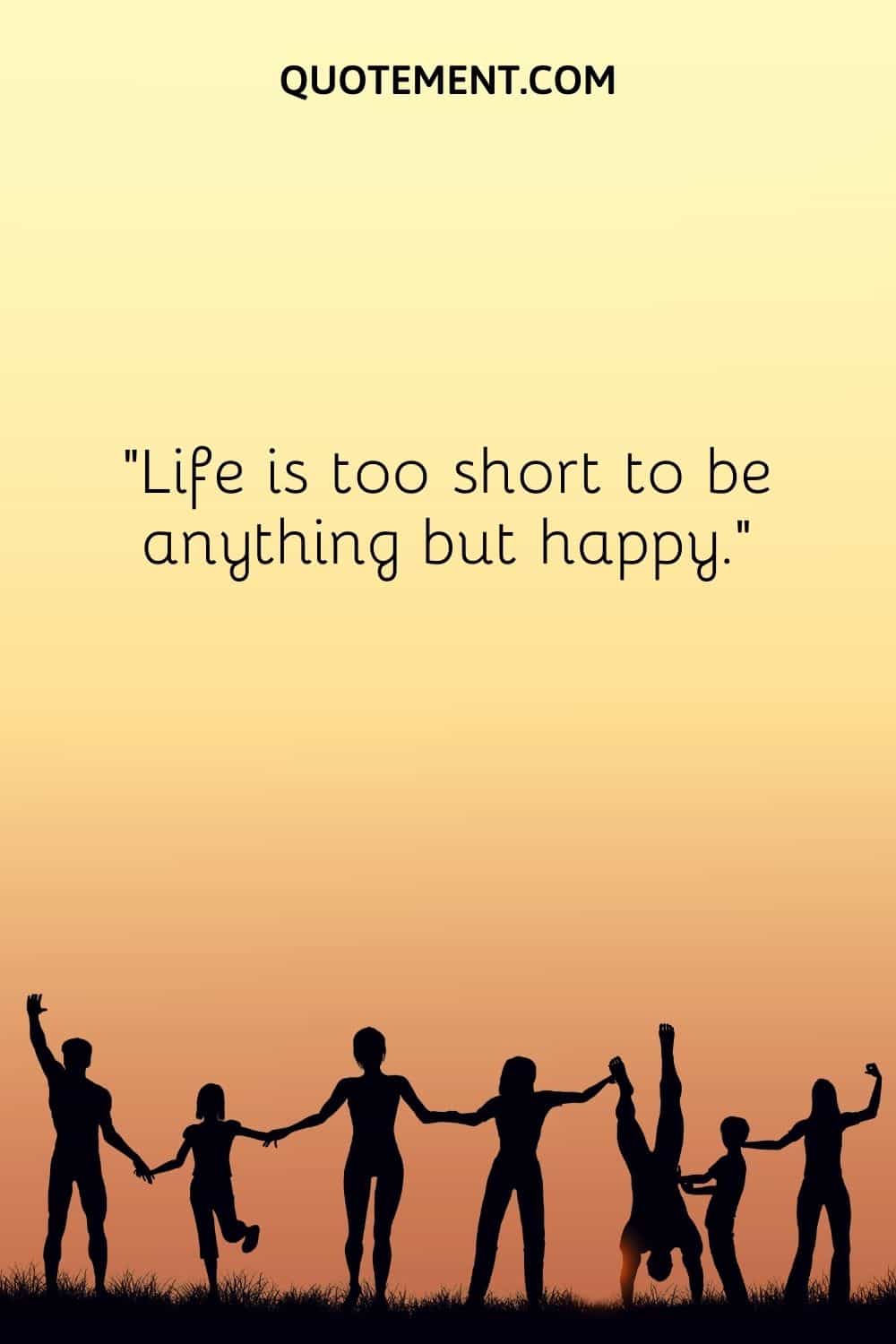 21. "Happiness doesn't have an address, it's everywhere."
22. "When it rains, look for rainbows. When it's dark, look for stars."
23. "Difficult roads often lead to beautiful destinations, so rise and shine, my friend! You deserve to be happy."
24. "I don't want a perfect life, I want a happy life."
25. "Happiness is the best makeup."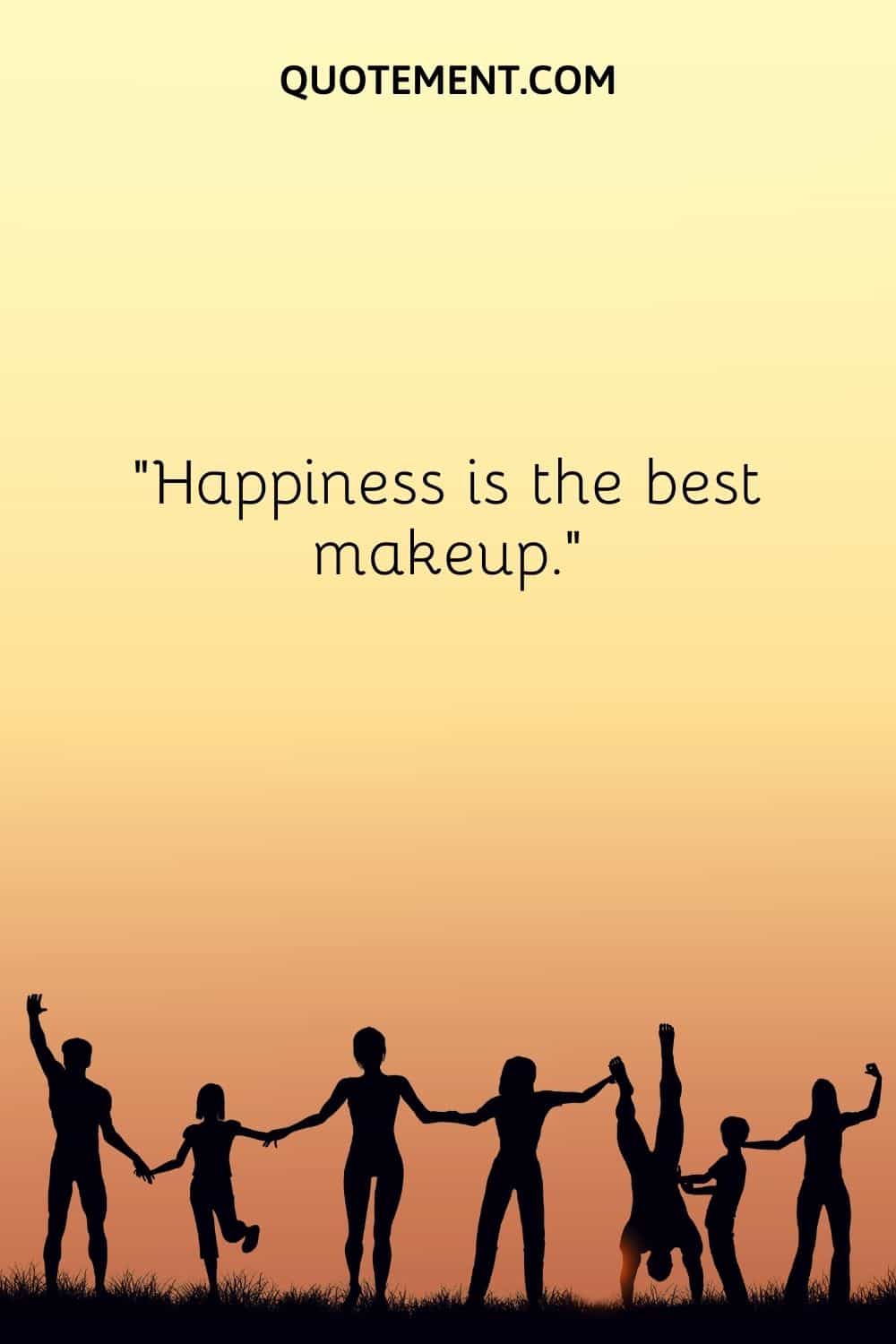 26. "Maybe it's not about the happy ending. It's about the story."
27. "Life is beautiful, but you don't have a clue."
28. "Your vibe attracts your tribe."
29. "Let's make today a happy day."
30. "Happiness found a soulmate in me."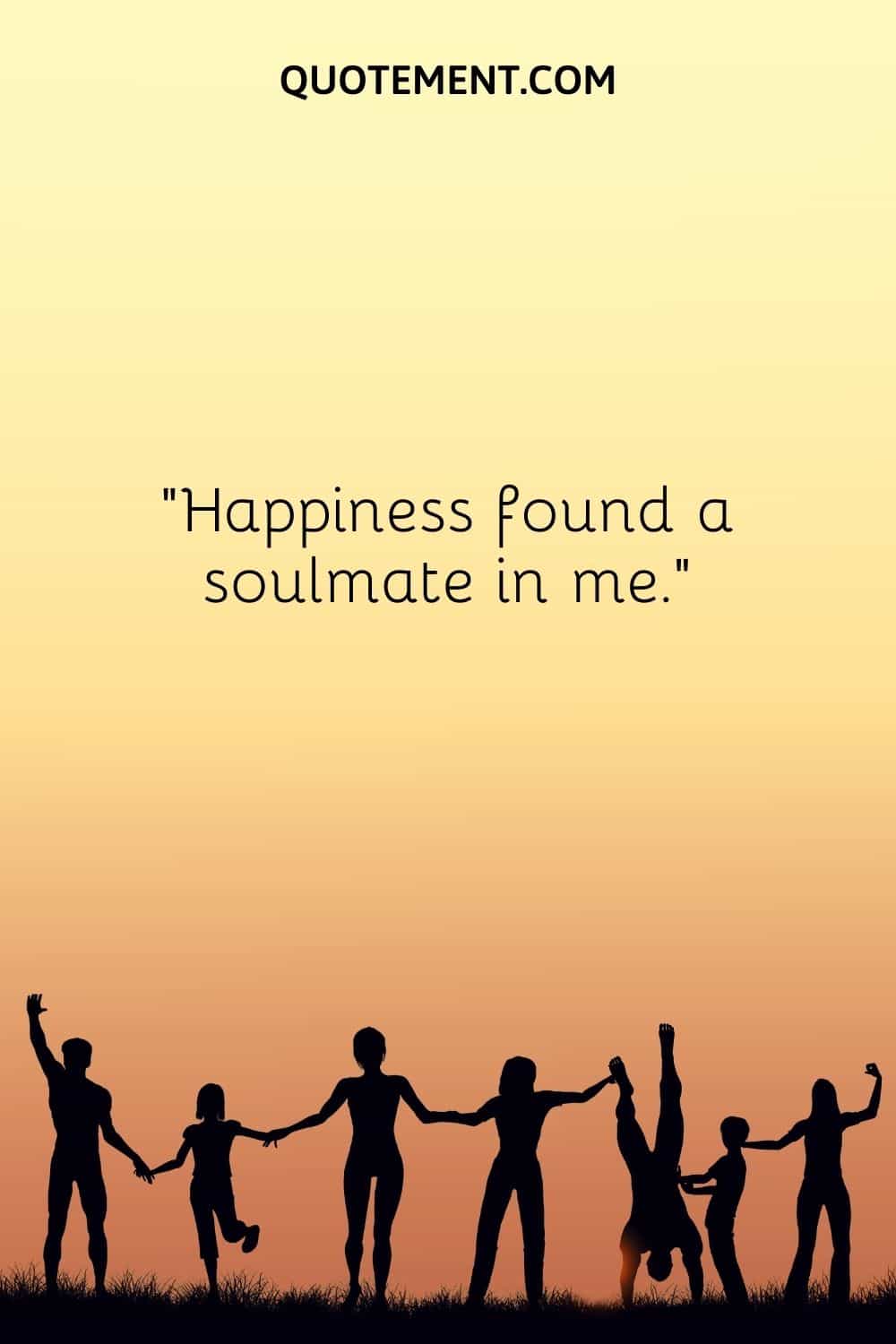 31. "Happiness is being married to your best friend."
32. "Cue the confetti."
33. "Hakuna matata!"
To Wrap It Up
You've reached the end of my collection of 220 happy quotes for Instagram!
I hope you've found perfect quotes and caption ideas for your next posts so you can capture your happy moments and thoughts on happiness!
If you enjoyed my list of inspirational quotes, feel free to share it on social media with your nearest and dearest!
Stay tuned for more brilliant content and be sure to check out our page because there's plenty of other great stuff waiting for you!
Until next time!