Nature has the amazing ability to ground us and to teach us some valuable lessons.
River quotes represent that something so calming, gentle and beautiful can be equally as powerful and strong. Sounds just like you, doesn't it?
Remember when Bruce Lee said "Be like water"? I know you do; and that is a quote that reminds us of the fact that we have to be flexible when it comes to both, our minds and our bodies, in order to keep ourselves healthy.
Now, without further ado, let's go through the best river quotes!
10 Most Amazing River Quotes
1. "May what I do flow from me like a river, no forcing and no holding back, the way it is with children." ― Rainer Maria Rilke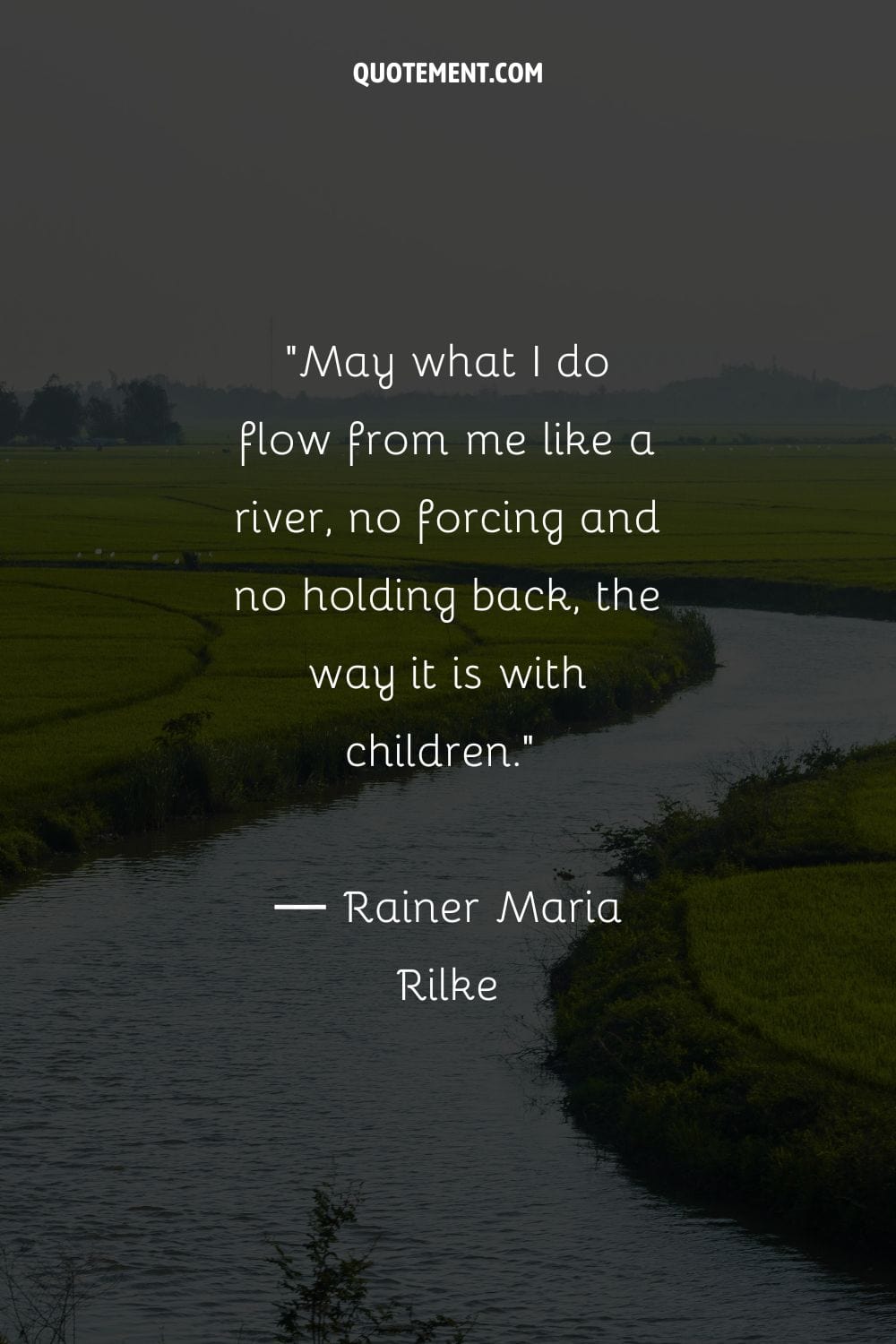 2. "I like geography best, he said, because your mountains & rivers know the secret. Pay no attention to boundaries." ― Brian Andreas, Story People
3. "Life is like the river, sometimes it sweeps you gently along and sometimes the rapids come out of nowhere." ― Emma Smith
4. "We must begin thinking like a river if we are to leave a legacy of beauty and life for future generations." ― David Brower
5. "A river seems like a magic thing. A magic, moving, living part of the very earth itself." ― Laura Gilpin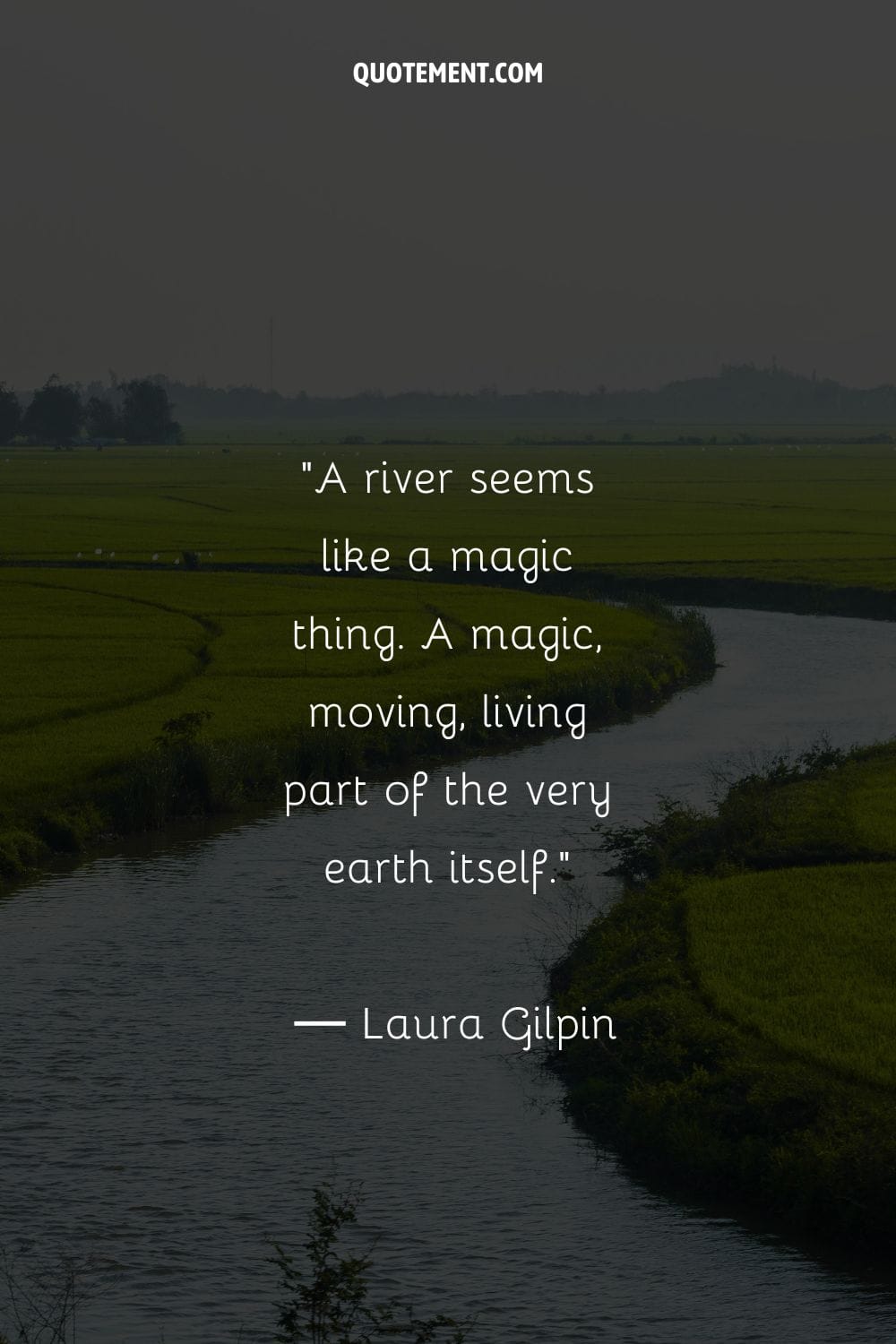 6. "Be like water,
Flow like a river,
Crash like the rain,
Fly like the cloud again!" ― Md. Ziaul Haque
7. "But just as the river is always at the door, so is the world always outside. And it is in the world that we have to live." ― Lian Hearn, Across the Nightingale Floor
8. "Eventually, all things merge into one, and a river runs through it. The river was cut by the world's great flood and runs over rocks from the basement of time. On some of the rocks are timeless raindrops. Under the rocks are the words, and some of the words are theirs.
I am haunted by waters." ― Norman Maclean, A River Runs Through It and Other Stories
9. "Spring buds burst to bloom, and the river carries their song of life." ― Jayita Bhattacharjee
10. "Where there is grief, there once was love,… where the barren fields stand, there once was a river that ran, where the drought remains, there once was, a tender stream that flowed…" ― Jayita Bhattacharjee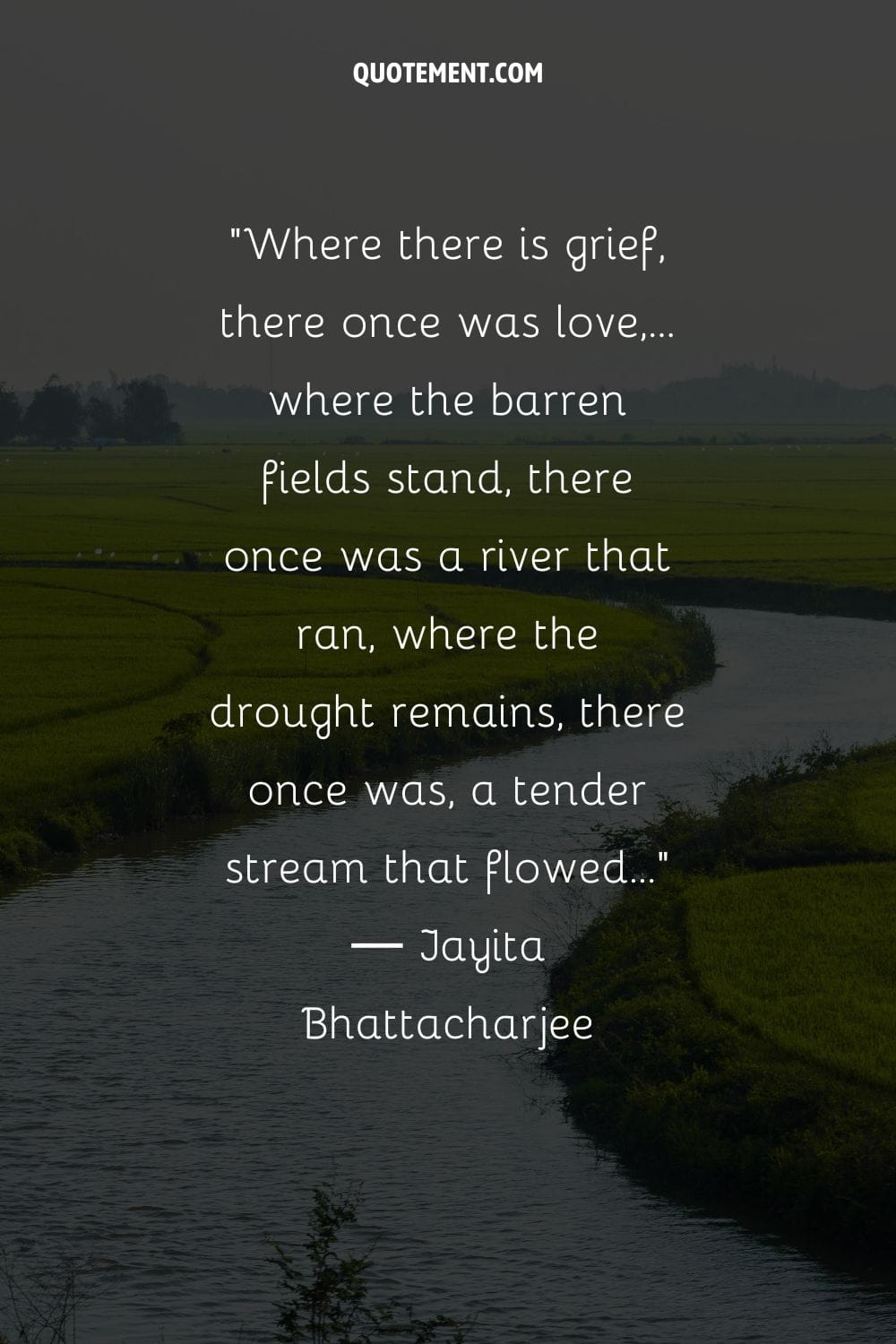 20 Motivational River Quotes
1. "They can stop a river by building a dam, but I will be damned if they can stop my river of blood flowing through my veins and heart." ― Anthony Liccione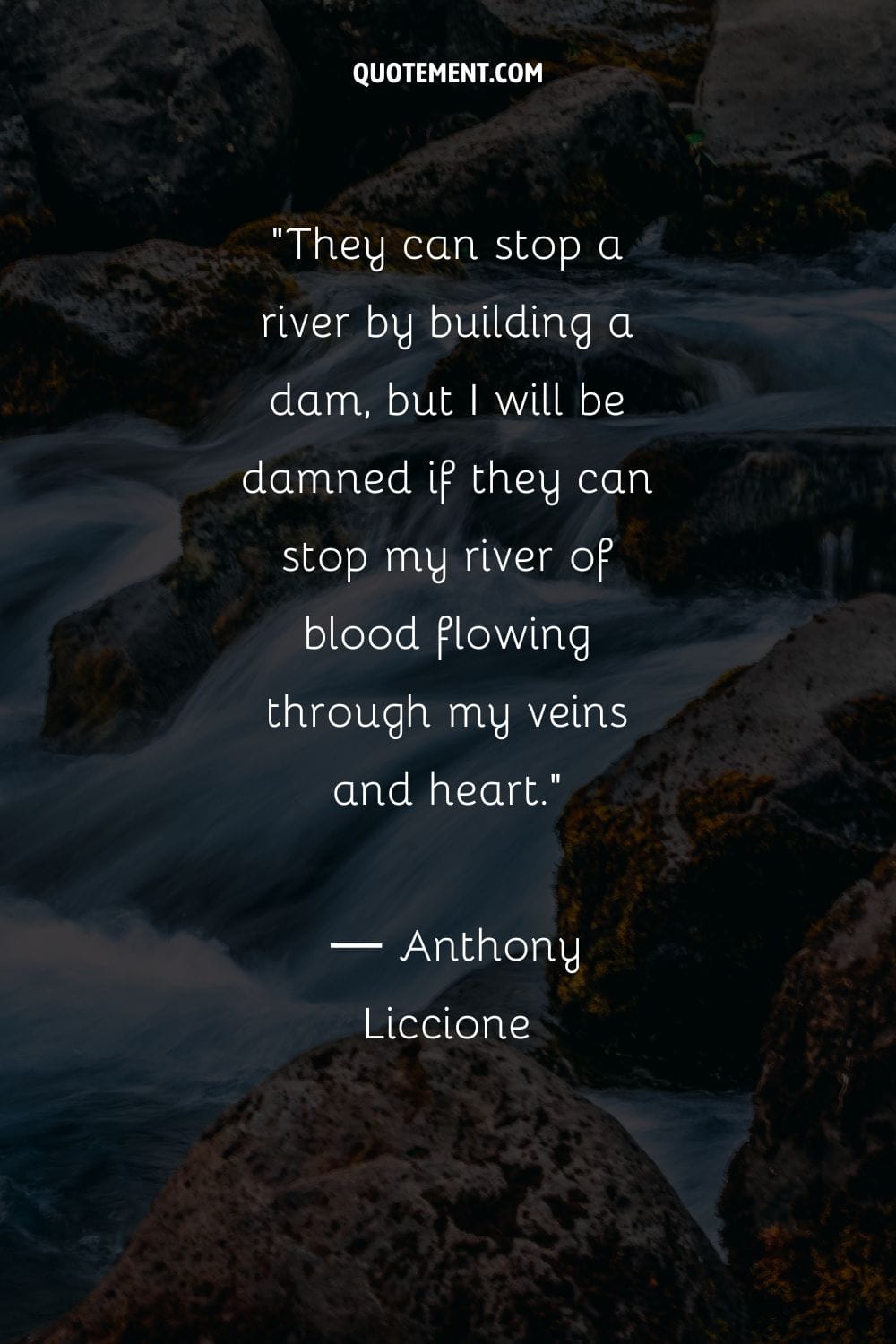 2. "Have you also learned that secret from the river; that there is no such thing as time?" That the river is everywhere at the same time, at the source and at the mouth, at the waterfall, at the ferry, at the current, in the ocean and in the mountains, everywhere and that the present only exists for it, not the shadow of the past nor the shadow of the future." ― Hermann Hesse, Siddhartha
3. "Stretch yourself and flow like a river so you become a carrier of light. Let the flowers grow on the deserts for too deep is your soul to be terrified in the dark. Flow freely in the loudest of silences for it is your soul spilling expressively…." ― Jayita Bhattacharjee
4. "…whatever happens to the world, the river never stops responding to the friendly breeze with its murmuring sound of joyfulness." ― Munia Khan, Attainable
5. "In a river, the water flows more slowly near the banks and faster in the middle but it still flows. So forget the fish. Forget the salmon. Be the river. Sometimes you move slow and at other times you move fast. But be alive. Go live your life." ― Soroosh Shahrivar, Tajrish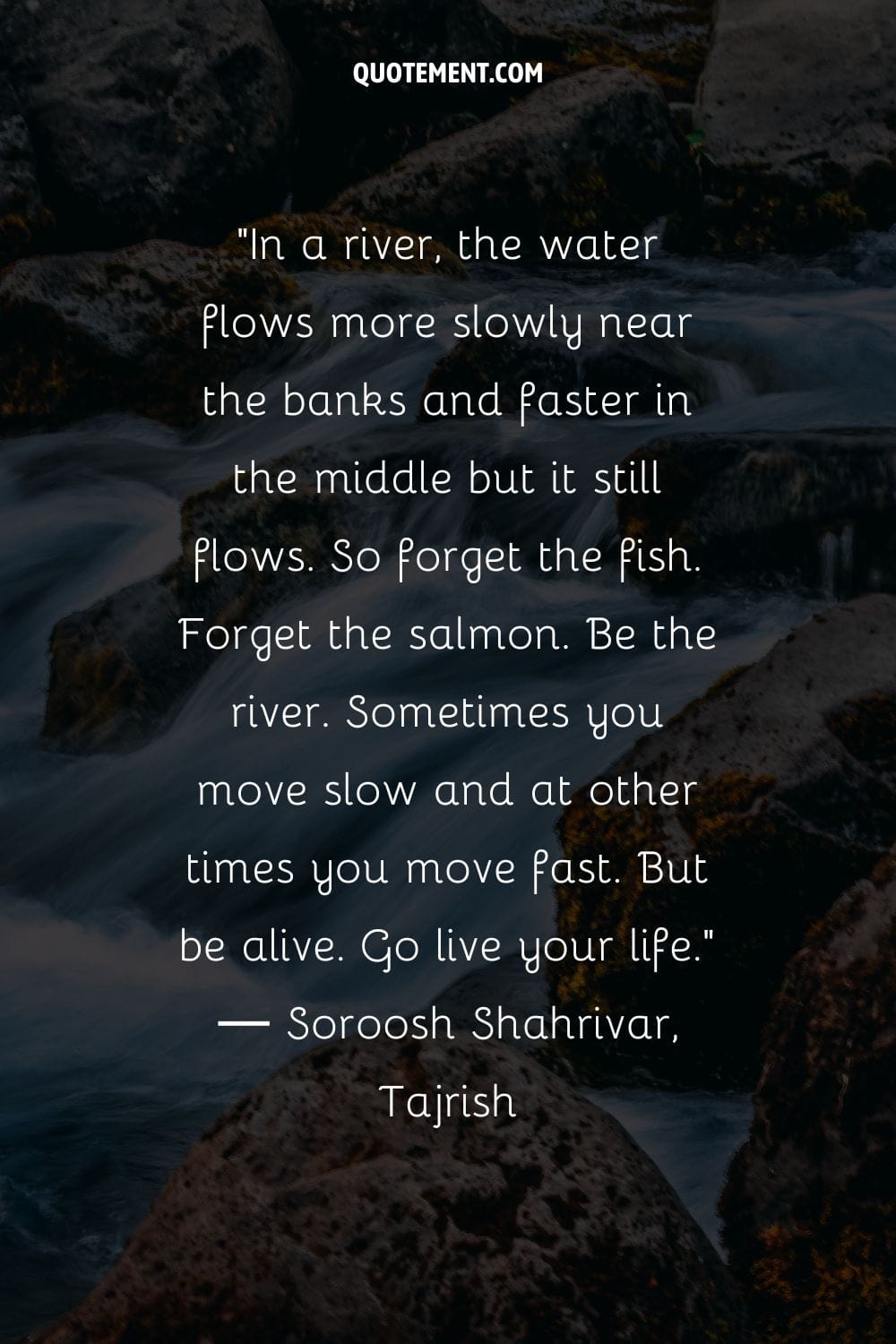 6. "Like the river, keep on flowing." ― Avijeet Das, Life is a River: Stories and Poems
7. "A river can't forgive because it is only capable, in the first place, of love. A river loves the dumpers, the polluters, the slayers, the nest-thieves, the bird-killers, the dammers, the water-stealers. A river loves even the clear-cutters. But I can forgive. I am trying to be like the river." ― Janisse Ray, Drifting into Darien: A Personal and Natural History of the Altamaha River
8. "Beneath the falling snow in silence is the sudden awakening and the river wakes into itself again….." ― Jayita Bhattacharjee
9. "He does not so much inhabit this landscape as become inhabited by it. Its rivers flow through his veins, its branches toss in his hair, its planets burn through the bone of his forehead and irradiate his skull, its volcanoes stir and grumble in his throat" ― Gerald Moore
10. "Persistence gives the power to a river." ― Jayita Bhattacharjee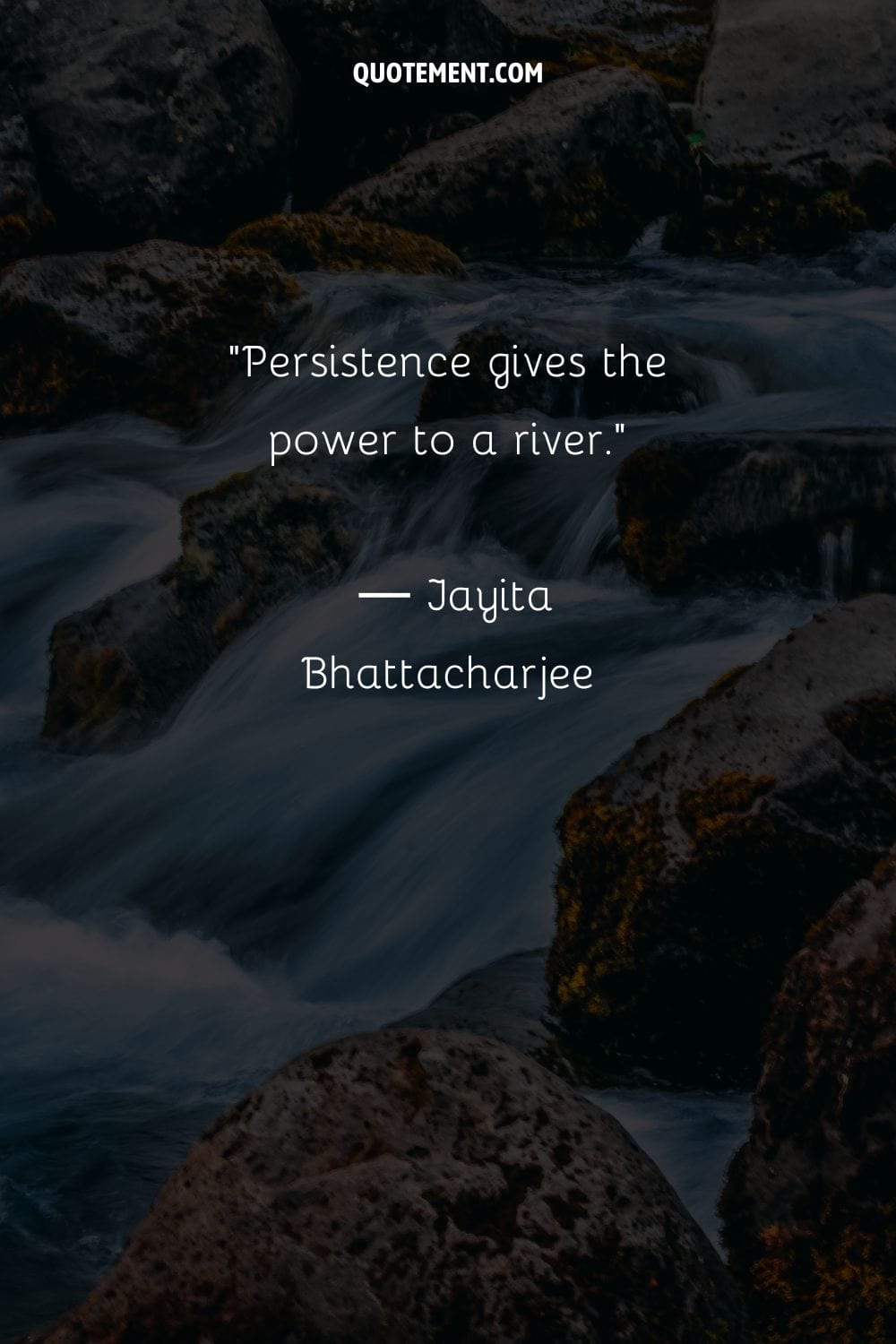 11. "Life is like a river and
time is like its water.
If you have little time for yourself,
you can't live your life
to the fullest." ― Srinivas Mishra
12. "Either fill pitchers or live by the river" ― Vineet Raj Kapoor
13. "Life is a river of ordeals that makes men swim upstream so that they may chase after their dreams, and whoever refuses to swim gets washed away downstream and be dragooned to drown to its defeatist depths." ― Picazo Basha, Shambala Sect
14. "Sweetie, there are many things we learn in this world," she says. "Those things can make you hard, but you have a choice to not let it. You don't be the rock. you be the river. You hear me?" ― Catherine Adel West, Saving Ruby King
15. "There are no guarantees in life, no certainties in life – just the ever-changing, flowing river of life." ― Rasheed Ogunlaru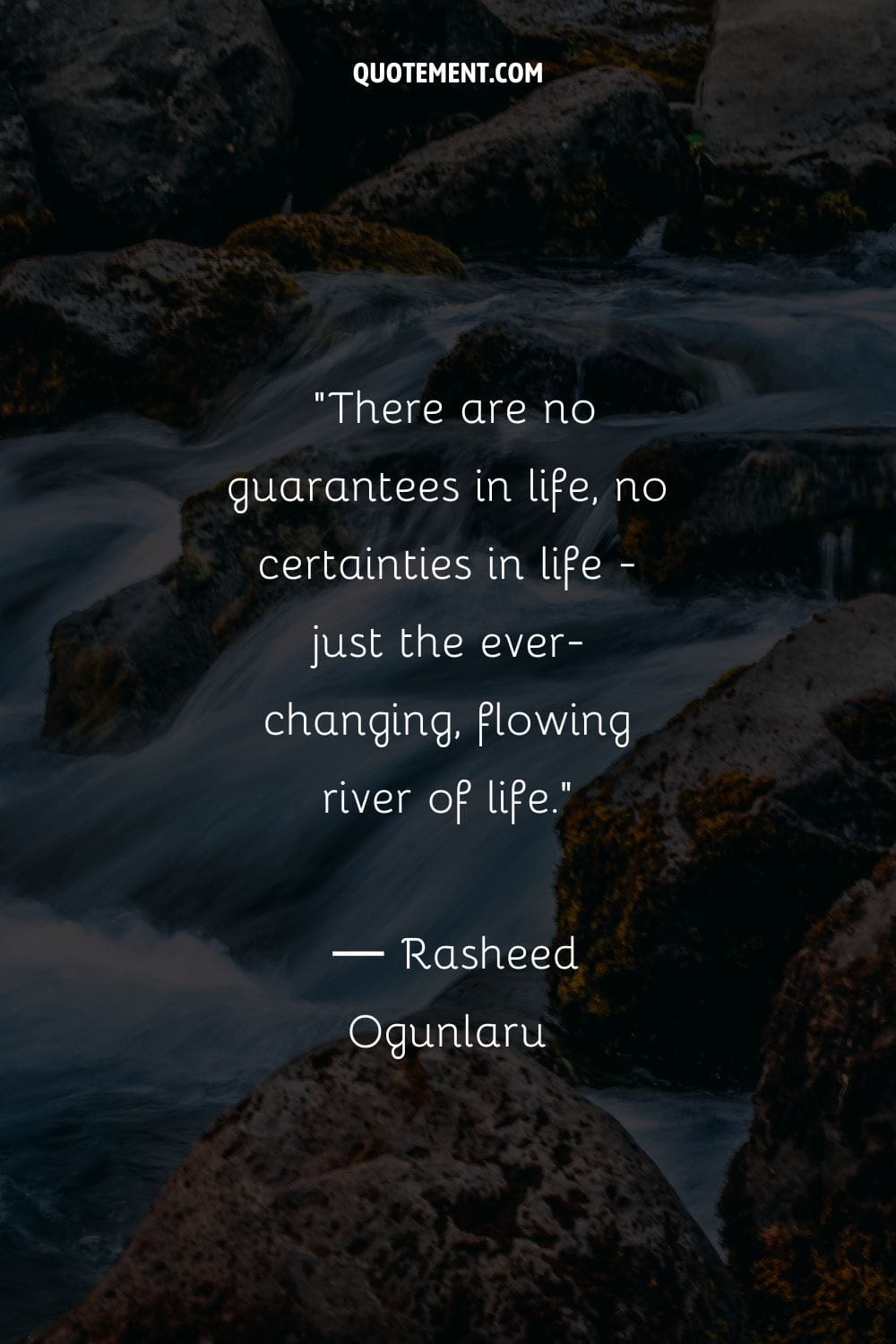 16. "I was still water, held by my surroundings.
I am now a river, carving my own path." ― Scott Stabile
17. "Meaning comes from the unknown, from the stranger, from the unpredictable that suddenly knocks at your door — a flower that suddenly blooms and you never expected it; a friend that suddenly happens to be on the street you were not waiting for; a love that blooms suddenly and you were not even aware that this was going to happen, you had not even imagined, not even dreamed. Then life has meaning. Then life has a dance. Then every step is happy because it is not a step filled with duty, it is a step moving into the unknown. The river is going towards the sea." ― Osho, When the Shoe Fits: Stories of the Taoist Mystic Chuang Tzu
18. "If a stone hits a river, the river will treat it as yet another commotion in its already tumultuous course. Nothing unusual. Nothing unmanageable. If a stone hits a lake, however, the lake will never be the same again." ― Elif Shafak, The Forty Rules of Love
19. "Witnessing is not flowing with the current of the river but observing the flow from the bank of the river." ― Amit Ray, Enlightenment Step by Step
20. "The river teaches us many things, but its most important teaching is this: Whatever is happening around you, you keep flowing to your own destination following your own way!" ― Mehmet Murat Ildan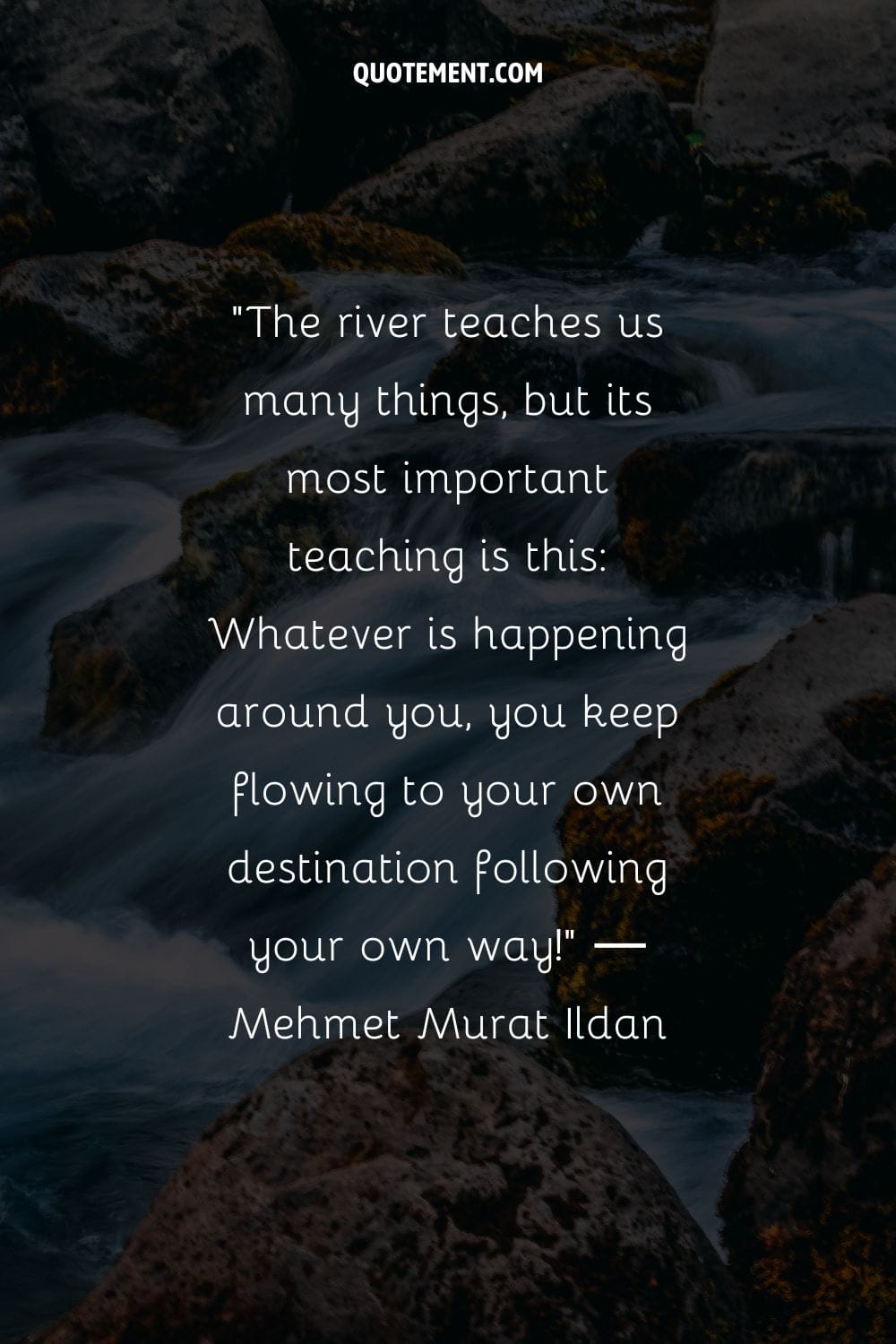 See also: 90 Choose Happiness Quotes To Encourage And Inspire You
30 Inspirational River Quotes
1. "I had been afraid of the awful presence of the river, which was the soul of the river, but through her [Ultima] I learned that my spirit shared in the spirit of all things." ― Rudolfo Anaya, Bless Me, Ultima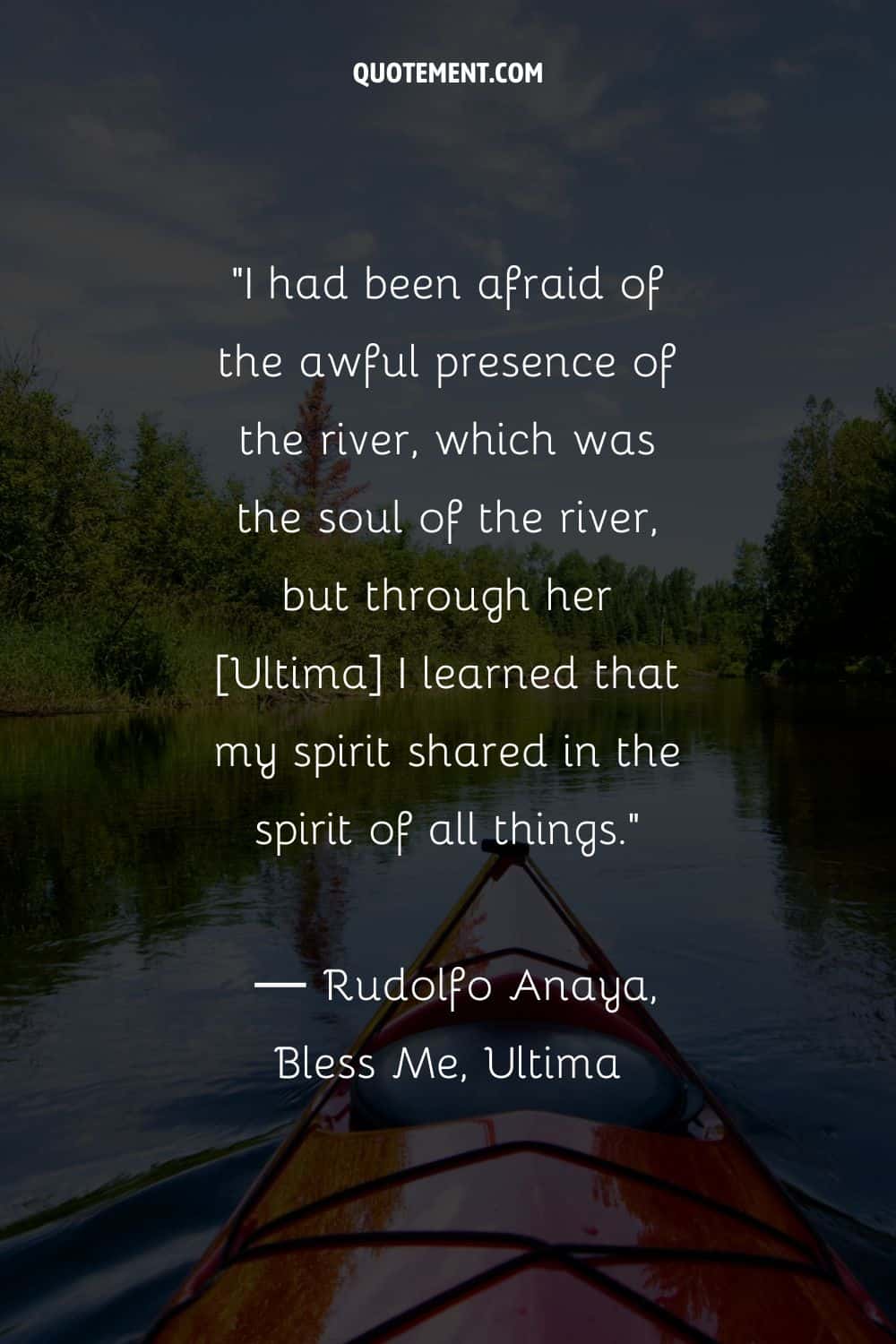 2. "We may be floating on Tao, but there is nothing wrong with steering. If Tao is like a river, it is certainly good to know where the rocks are." ― Deng Ming-Dao, Everyday Tao: Living with Balance and Harmony
3. "The river and the garden have been the foundations of my economy here. Of the two I have liked the river best. It is wonderful to have the duty of being on the river the first and last thing every day. I have loved it even in the rain. Sometimes I have loved it most in the rain." ― Wendell Berry, Jayber Crow
4. "Living on the water took away the boundaries created by land and custom and introversion. Without fences and driveways, the water provided a constant thread of connection and dependency." ― Lily Graham, The Cornish Escape
5. "The river that runs through my being
Flows through an endless sea,
Reflects in a view such tender feeling,
Under the Universe only what I see." ― Ana Claudia Antunes, The Sea Sons: The Enchanted Valley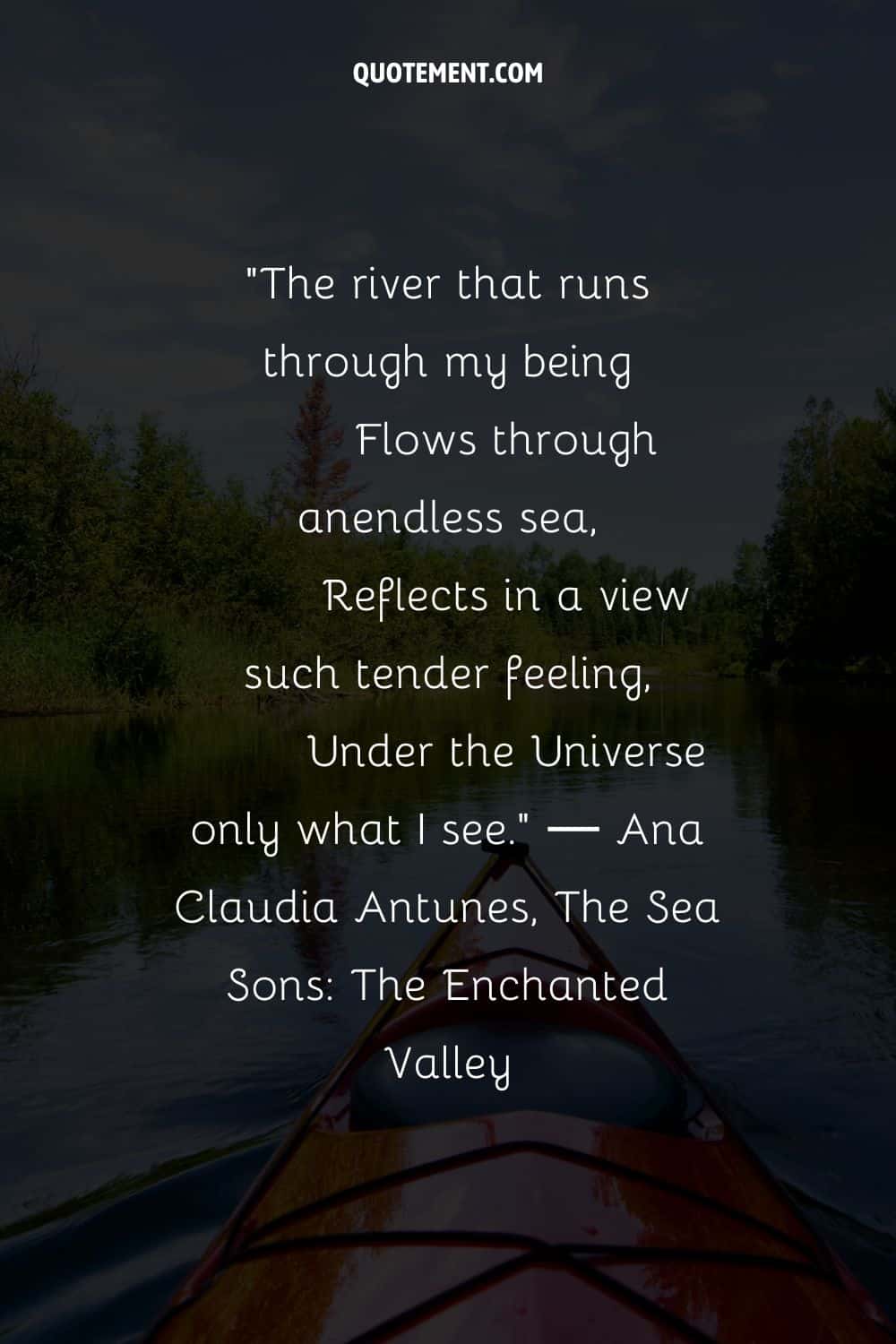 6. "The higher the water, the faster it was moving." ― Caleb Pinkerton, The Suicide Journal
7. "But maybe life is like a river that can't be stopped, always winding, towards or away from death and love. Back and forth. Still, even though life moves like that river, lots of people go their whole life without swimming. I thought I was one of those people." ― Sally Andrew, Recipes for Love and Murder
8. "A river knows nothing about its next destination, It may crash, fall, or even get polluted but it never forgets the property of flowing." ― Wisdom With Shubham
9. "The beauty of a river is best measured by the cleanliness of its water; the beauty of a person, by the cleanliness of his character!" ― Mehmet Murat Ildan
10. "Let go of our fears… go with the flow… for by faith… rivers can… grain by grain… remove mountains!" ― AshRawArt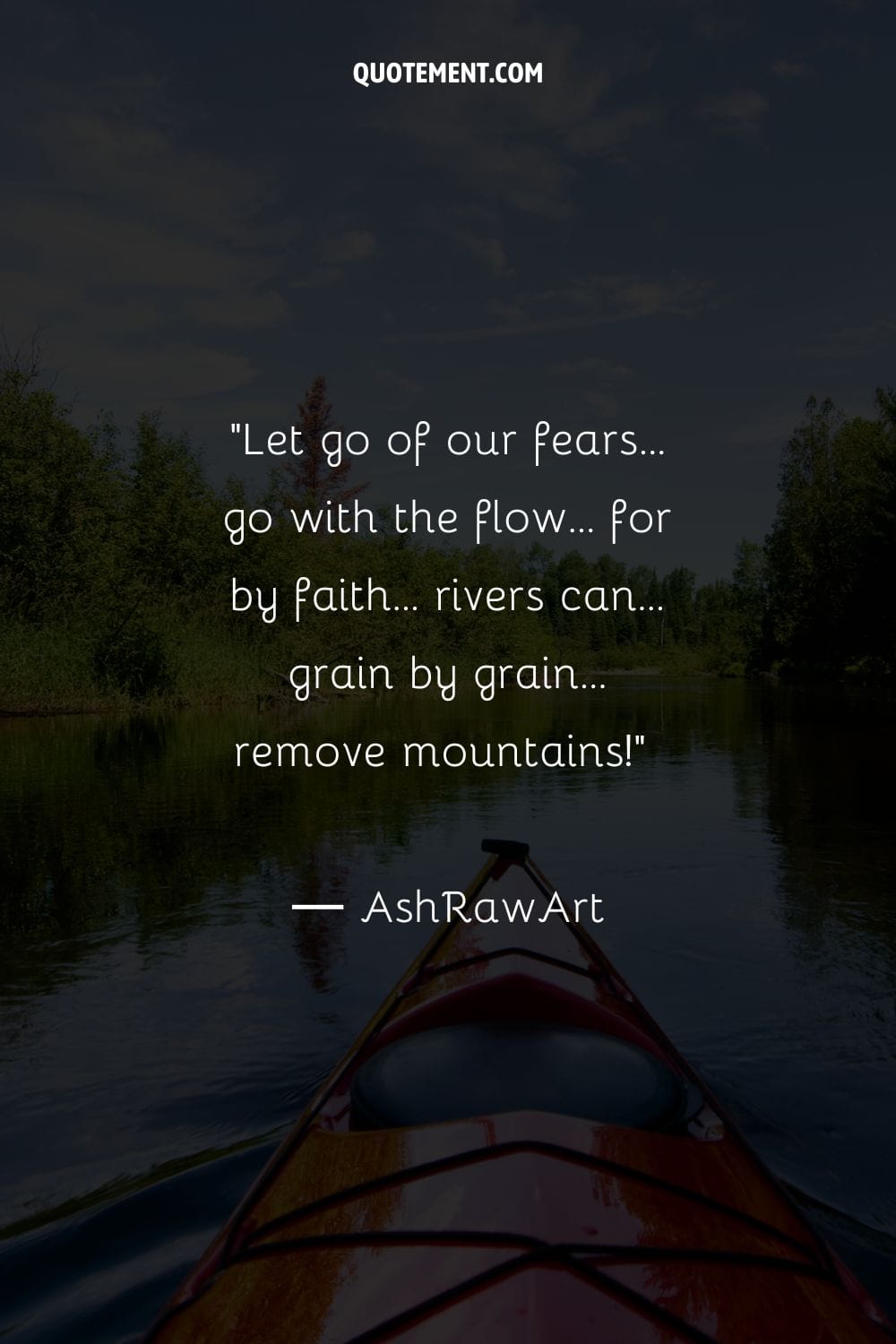 11. "During the infinite distance
between your center and my perimeter;
I feel, a continuous river of faith
flowing for ages." ― Geeta Tripathee, Simalko Geet
12. "You dip your toes in this unbreakable stream of consciousness until creativity gets its teeth in you and pulls you to its depths." ― Curtis Tyrone Jones
13. "Jump. Life is a river." ― Maxime Lagacé
14. "A river never wants to turn into a lake! And a person who likes to flow like a river never wants to be something stagnant like a lake!" ― Mehmet Murat Ildan
15. "The hard path is often the right one. The river teaches more than the shore." ― Maxime Lagacé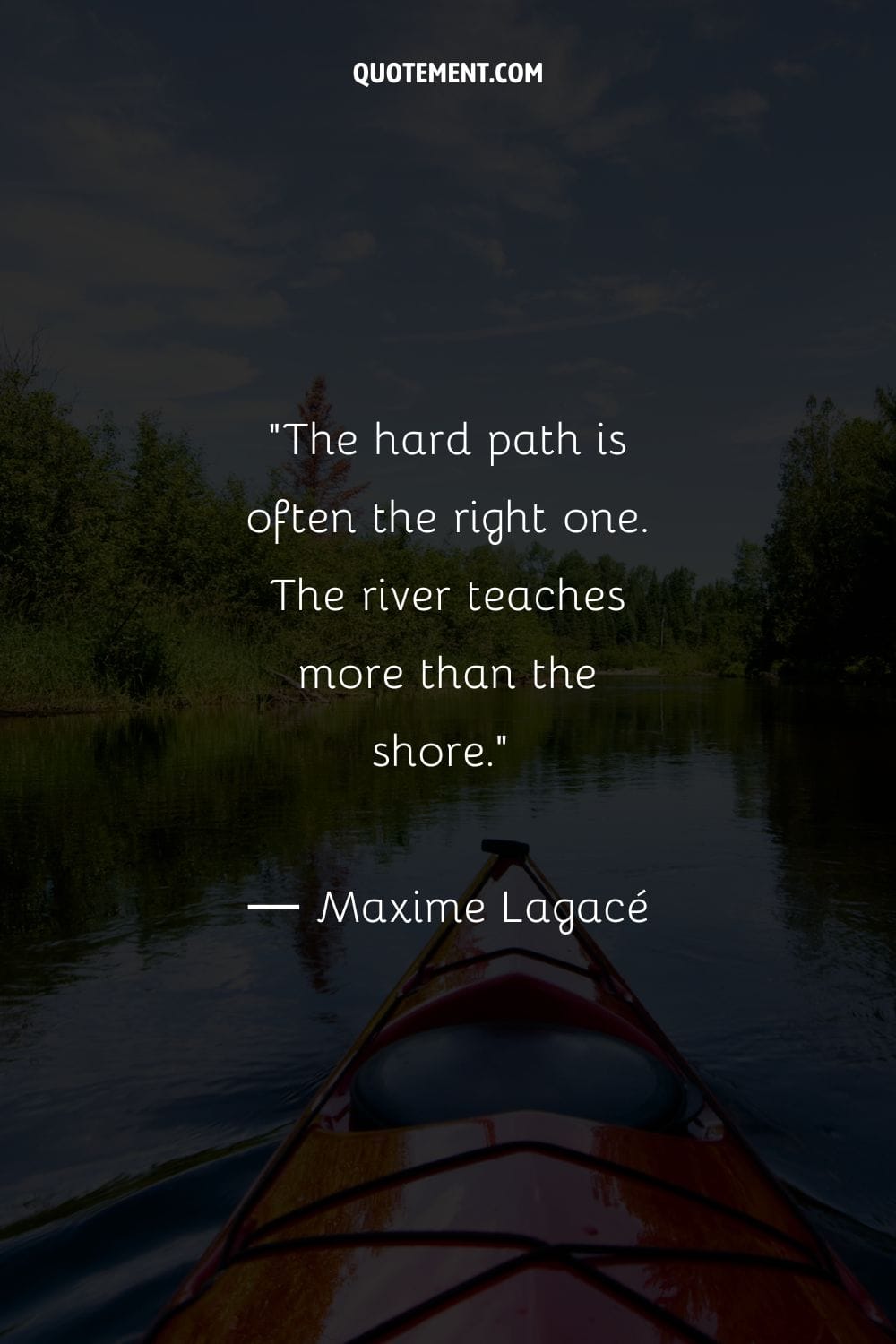 16. "Life is a river. Life is not the mountain which speaks of struggle, nor the ocean that speaks of depths unknown. Life is not the sky which tells stories of greatness, nor the trees that tell stories of purpose. But life is a river that flows and the only way to live is to go into your river and flow with it. That is where life is. That is how you will arrive at where you are meant to be. Flow in your river wherever it may lead." ― C. JoyBell C.
17. "Who was to say where the river ended and the sea began, water flowed into itself and the sweet became the salty, where the brine and the riverine coagulated and became the ocean, primordial churn, from the beginning of time and earth and life." – Kiran Manral, More Things in Heaven and Earth.
18. "I wanted to change my fate, to force it down another road. I wanted to stand in the river of time and make it flow a different direction, if just for a little while." ― April Genevieve Tucholke, The Boneless Mercies
19. "Spending time in nature assists a person reconnect with his or her inner state. A wounded person undoubtedly benefits by bowing down and taking communion beside the healing waters of a river." ― Kilroy J. Oldster, Dead Toad Scrolls
20. "In the harmonious synthesis of the opposite ends of the river, flows the stream of happiness." ― Awdhesh Singh, 31 Ways to Happiness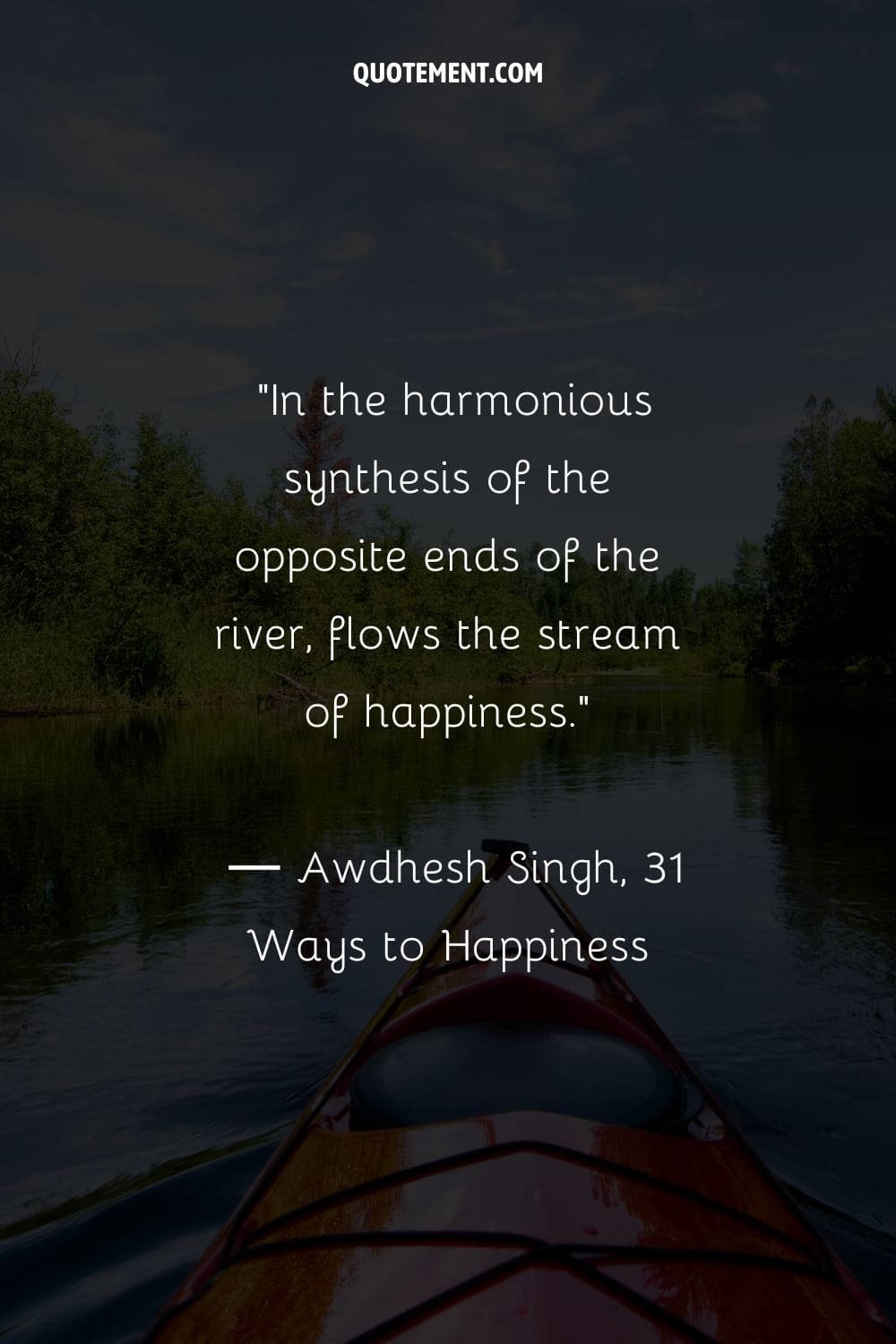 21. "Many a calm river begins as a turbulent waterfall, yet none hurtles and foams all the way to the sea." ― Mikhail Lermontov
22. "The river has great wisdom and whispers its secrets to the hearts of men." ― Mark Twain
23. "When you do things from your soul, you feel a river moving in you, a joy." ― Rumi
24. "The flowing river nonchalantly reminds us of life: flowing relentlessly; flowing purposelessly. Life without purpose." ― Girdhar Joshi, Some Mistakes Have No Pardon
25. "The only way to understand a river is to jump into it." ― Alice Hoffman, The Museum of Extraordinary Things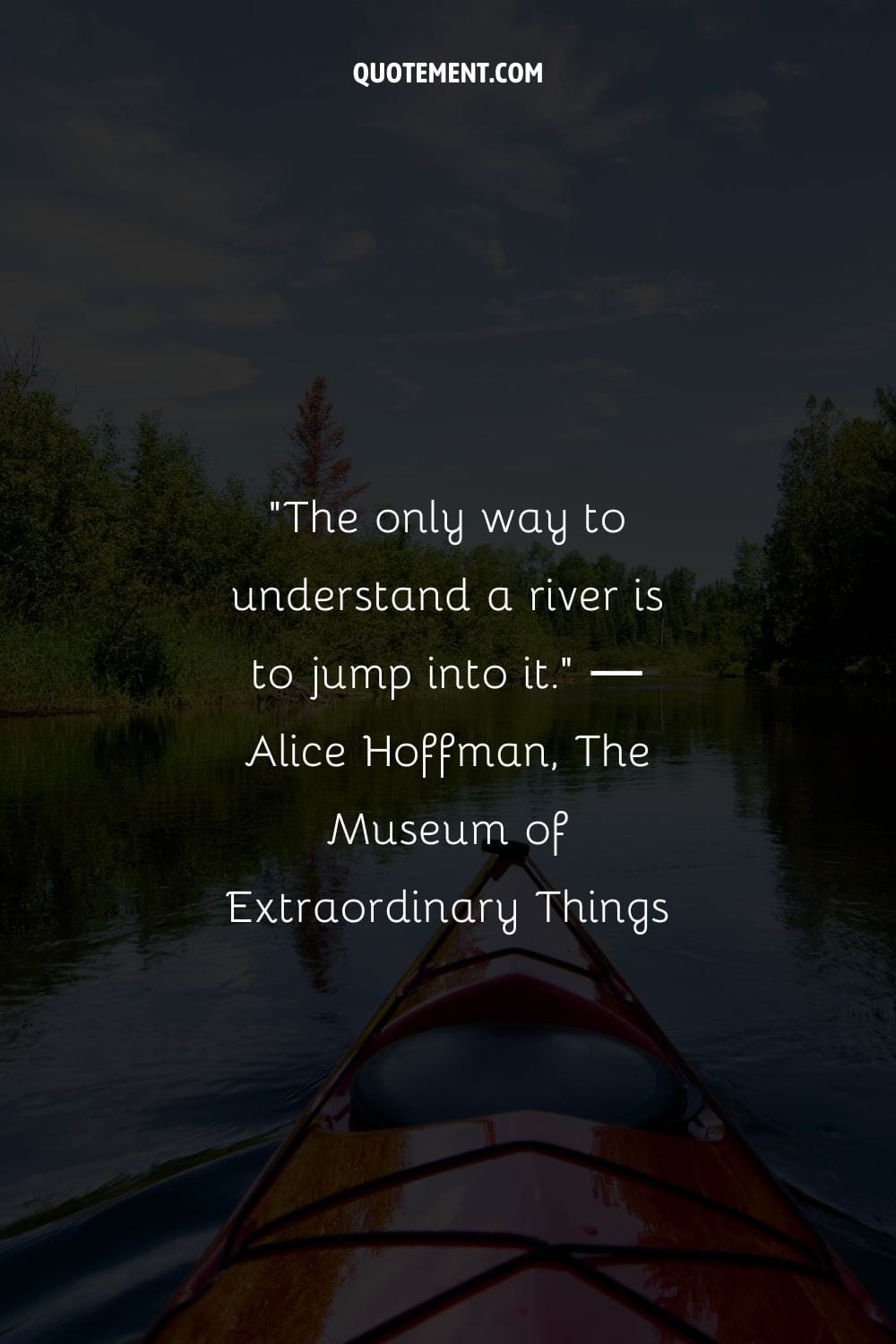 26. "You are the ocean, let the rivers come to you. You are the flower, let the bees come to you." ― Amit Ray
27. "The way to the place you wish to go can always be found; just behave like a river, that is to say, firstly, move and secondly, move with no hesitation!" ― Mehmet Murat Ildan
28. "Bridges take people across rivers. Leaders take people across ignorance. With a leader, the destination of a journey is sure." ― Israelmore Ayivor, Leaders' Ladder
29. "A field which feeds you, a river which gives you water are much holier than all other so-called holy places!" ― Mehmet Murat Ildan
30. "A river is easier to channel than to stop." ― Brandon Sanderson, Shadows of Self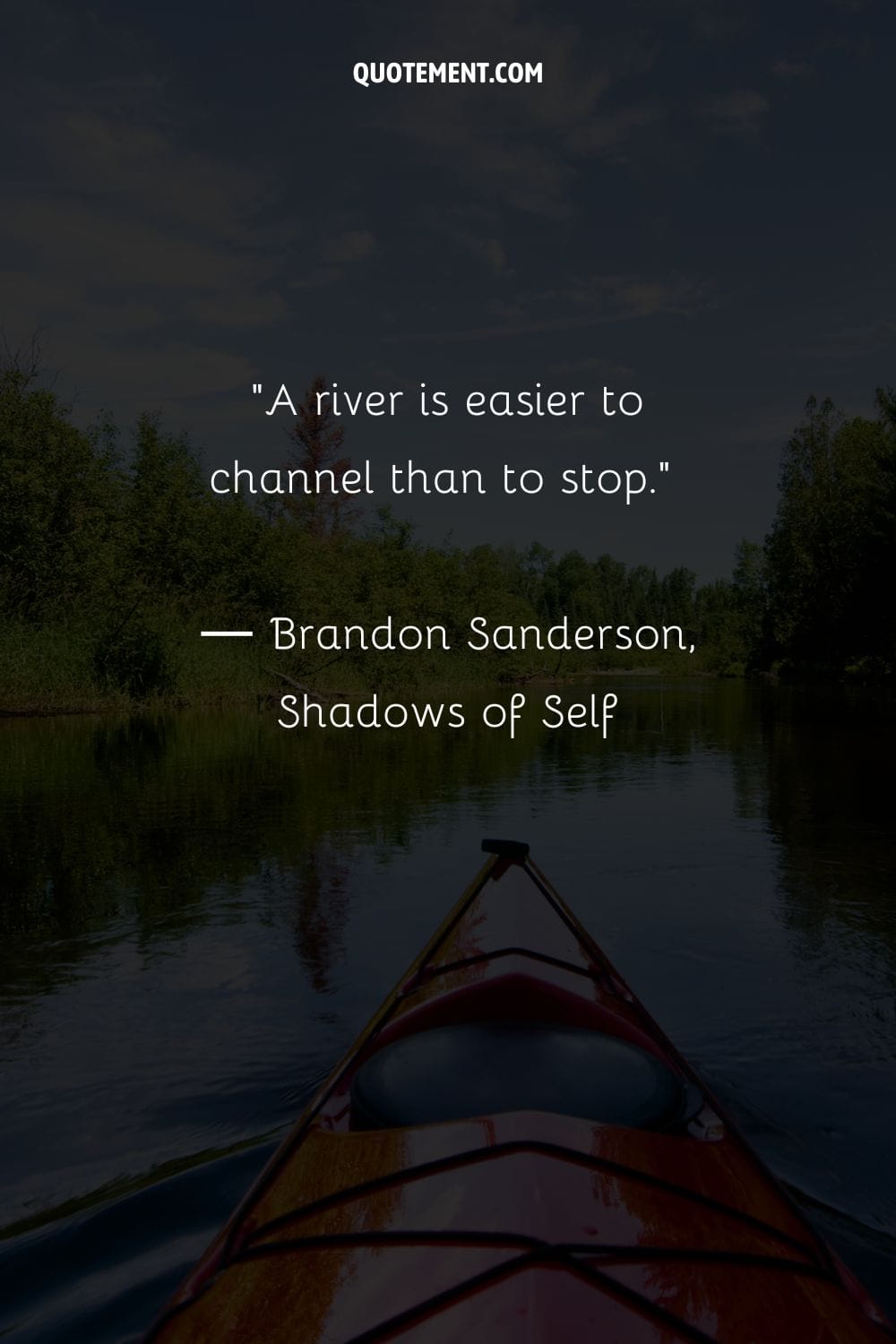 See also: 180 Remarkable Waterfall Quotes Guaranteed To Inspire You
20 Cool River Quotes That Can Serve As River Captions For Instagram
1. Cry me a river.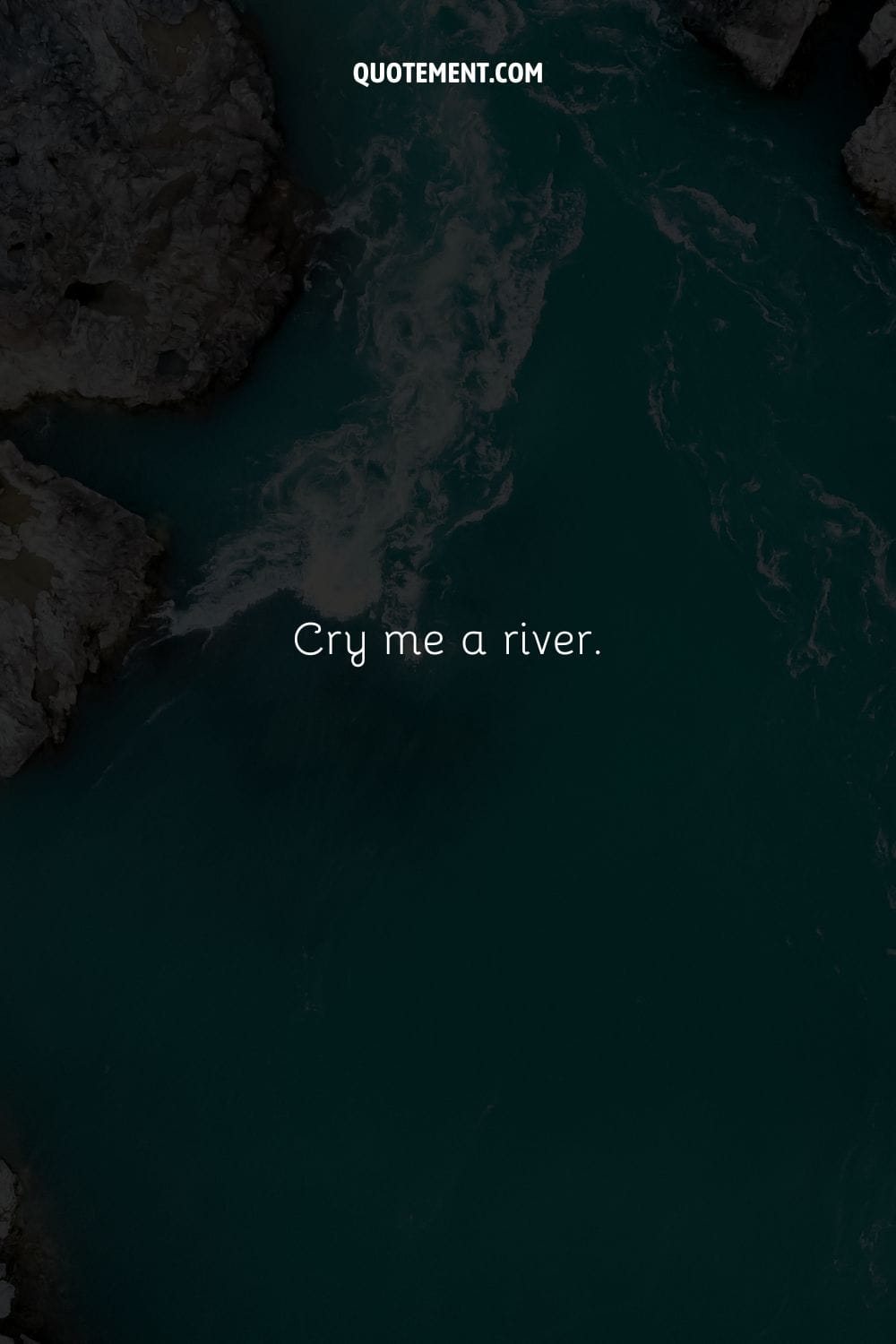 2. There is no one else I would chase the rivers with.
3. A calm ocean is never afraid of a raging river.
4. Seen so many rivers, yet the water is the same. We've seen so many cultures, yet the people are the same.
5. Rivers are roads that move and carry us whither we wish to go.
6. Life passes just like water in a river.
7. Travelers love rivers as they present a moment of peace in what can be exhausting days.
8. River ready.
9. The river brings me peace.
10. Run wild and free like a waterfall.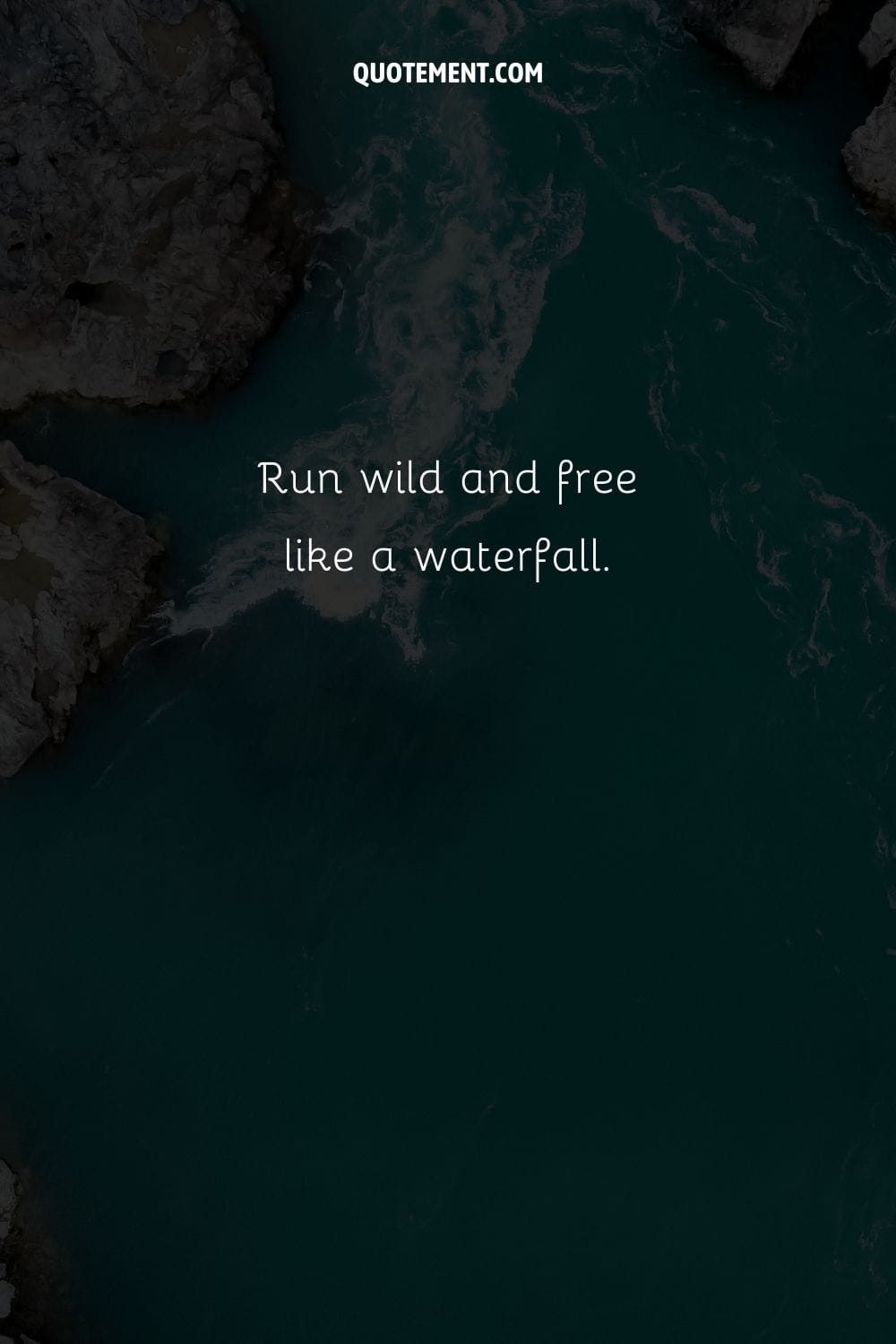 11. Wonderful the relief rivers give.
12. Recharging my batteries.
13. Let the river wash away your worries.
14. A heaven of peace, the river is.
15. Happiness comes in waves.
16. My happy place.
17. We have a therapist, her name is nature.
18. Cry a river, build a bridge and get over it.
19. Never too tired to keep flowing.
20. Nature is not a place to visit. It is a home.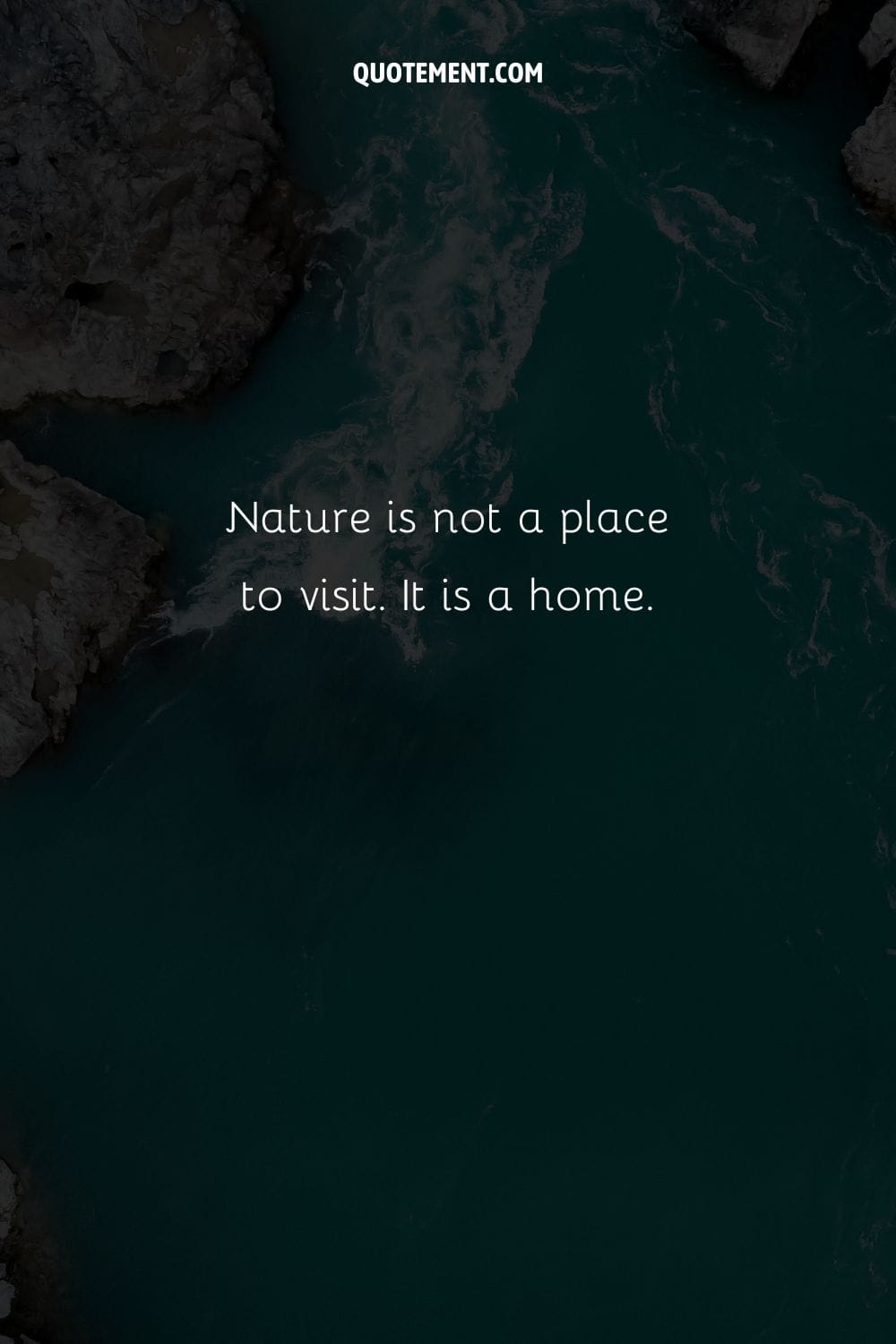 See also: Ultimate Collection Of 330 Cute Captions For Instagram
20 Famous River Quotes From Authors And Famous Individuals
1. "The river is everywhere." ― Herman Hesse, Siddhartha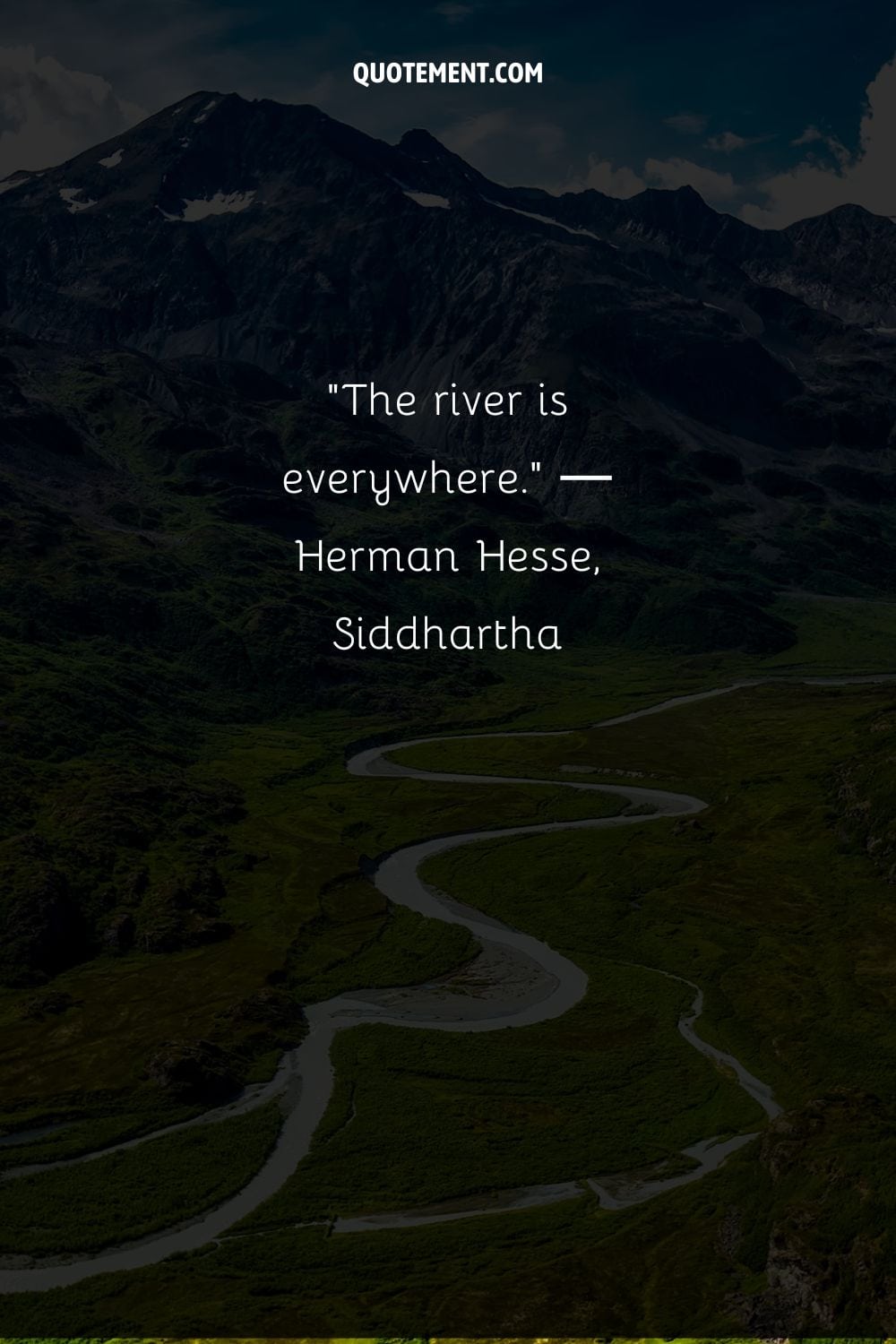 2. "Mist to mist, drops to drops. For water thou art, and unto water shalt thou return." ― Kamand Kojouri
3. "TWENTY bridges from Tower to Kew –
Wanted to know what the River knew,
Twenty Bridges or twenty-two,
For they were young, and the Thames was old
And this is the tale that River told:" ― Rudyard Kipling
4. "I have an immoderate passion for water; for the sea, though so vast, so restless, so beyond one's comprehension; for rivers, beautiful, yet fugitive and elusive; but especially for marshes, teeming with all that mysterious life of the creatures that haunt them. A marsh is a whole world within a world, a different world, with a life of its own, with its own permanent denizens, its passing visitors, its voices, its sounds, its own strange mystery." ― Guy de Maupassant, The House of Madame Tellier and Other Stories
5. "You cannot step twice into the same river." ― Heraclitus, quoted by Plato, Cratylus, 402a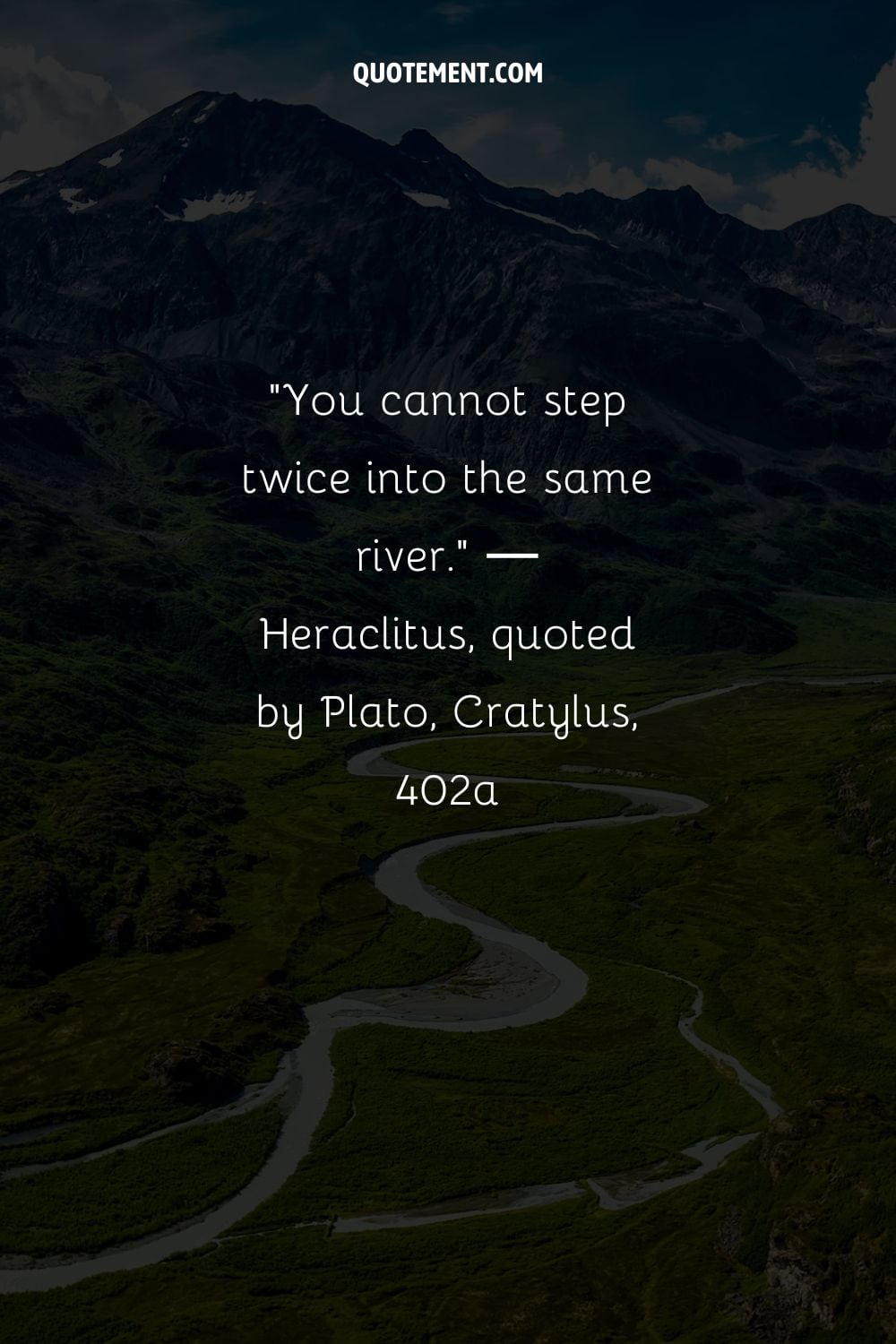 6. "The river itself portrays humanity precisely, with its tortuous windings, its accumulation of driftwood, its unsuspected depths, and its crystalline shallows, singing in the Summer sun. Barriers may be built across its path, but they bring only power, as the conquering of an obstacle is always sure to do. Sometimes when the rocks and stone-clad hills loom large ahead, and eternity itself would be needed to carve a passage, there is an easy way around. The discovery of it makes the river sing with gladness and turns the murmurous deeps to living water, bright with ripples and foam." ― Myrtle Reed, Old Rose and Silver
7. "Idalina loved the river. It was the only constant thing she knew of, except for the high mountains. People lived and died and during their lives they altered the landscape with their houses and roads. Trees were planted and cut down. The herds came and went. Yet the river flowed still as it had flowed when she was a girl and when her mother and grandmother had been girls before her and through each generation to the beginning of time." ― T.M Cicinski, From Whence The Rivers Run
8. "Every river is a witness to the passage of time, a faithful companion to the ebb and flow of history." ― Ajaz Ahmad Khawaja
9. "Any meal is a good meal when you're on a good river." ― Edward Abbey, Abbey's Road
10. "The student asked: Master, I've seen a river that doesn't flow, it can't be called a river anymore, right? The master answered: When you see a pianist who no longer plays the piano, what will you say to him? Violinist? Trumpeter?" ― Mehmet Murat Ildan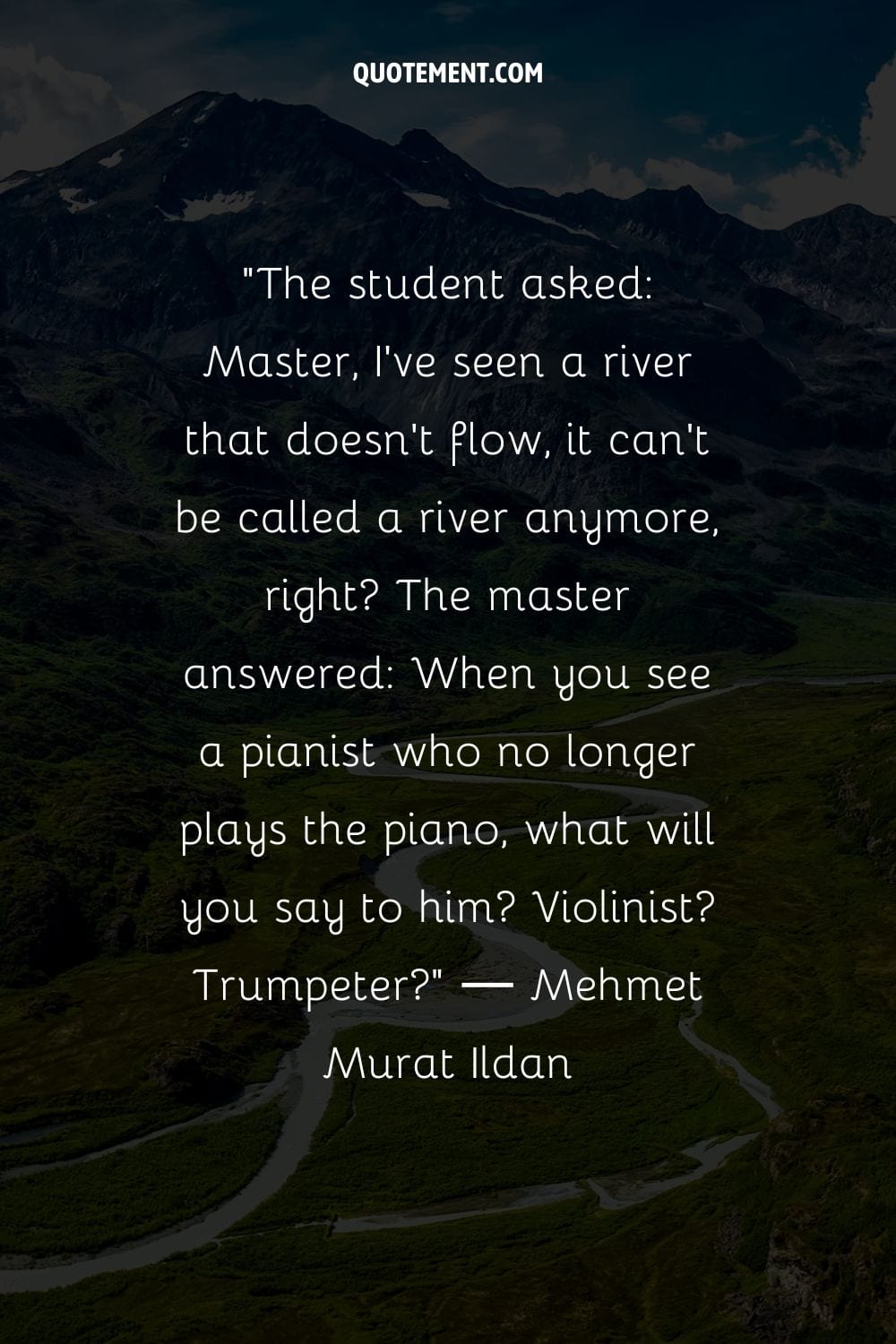 11. "Sitting in the dentist high chair and ,"Your Song" plays, by Sir Elton John. Tears flowing like a river." ― Charmaine J. Forde
12. "Pristine river of lives
is swallowed by the crowd–
Humans getting lost into humans." ― Suman Pokhrel
13. "Sometimes we'd have that whole river all to ourselves for the longest time. Yonder was the banks and the islands, across the water; and maybe a spark– which was a candle in a cabin window… It's lovely to live on a raft. We had the sky up there, all speckled with stars, and we used to lay on our backs and look up at them, and discuss about whether they was made or only just happened; Jim he allowed they was made, but I allowed they happened; I judged it would have took too long to make so many. Jim said the moon could 'a' laid them; well, that looked kind of reasonable… because I've seen a frog lay most as many, so of course it could be done. We used to watch the stars that fell, too, and see them streak down. Jim allowed they'd got spoiled and was hove out of the nest. ― Mark Twain, The Adventures of Huckleberry Finn
14. "The moving, living river carries the soul of this earth. The murmurs of its music, how the whispers arise from the riverbed, only to lull you in the deeps." ― Jayita Bhattacharjee
15. "I was born upon thy bank, river,
My blood flows in thy stream,
And thou meanderest forever
At the bottom of my dream." ― Henry David Thoreau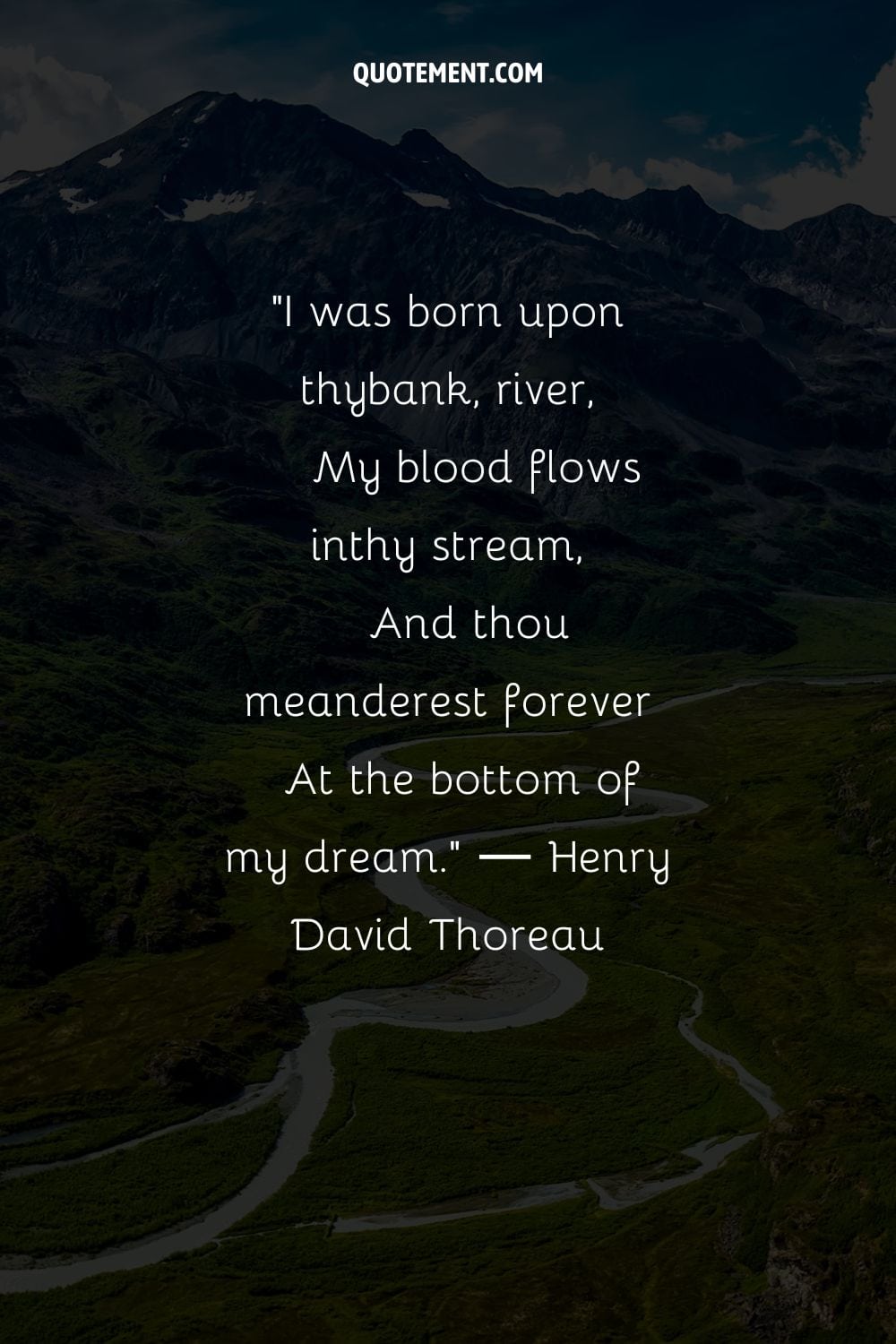 16. "rivers fall from my mouth
tears my eyes can't carry" ― Rupi Kaur, milk and honey
17. "Beware, O Man – for knowledge must to thee,
Like the great flood to Egypt, ever be." ― Percy Bysshe Shelley, The Complete Works of P.B. Shelley
18. "May the river of love always flow from its own lap." ― Suman Pokhrel
19. "she is a storm, untamed
she is a river, untouched" ― Avijeet Das
20. "You don't have to scream at the top of your lungs to make your voice heard to the world! A quietly flowing river also conveys its message to the ocean!" ― Mehmet Murat Ildan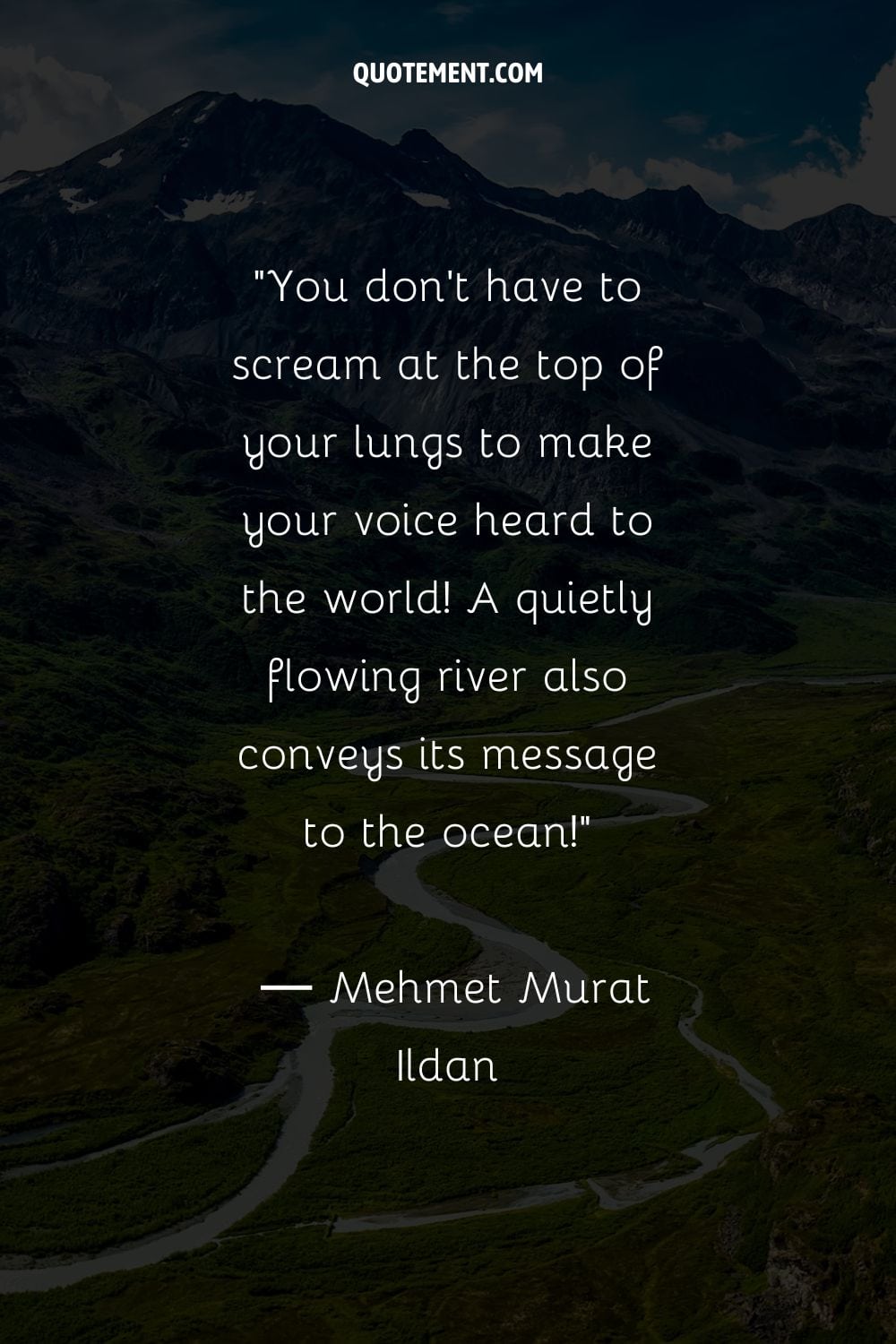 30 Beautiful River Quotes
1. "There is another alphabet, whispering from every leaf, singing from every river, shimmering from every sky." ― Dejan Stojanovic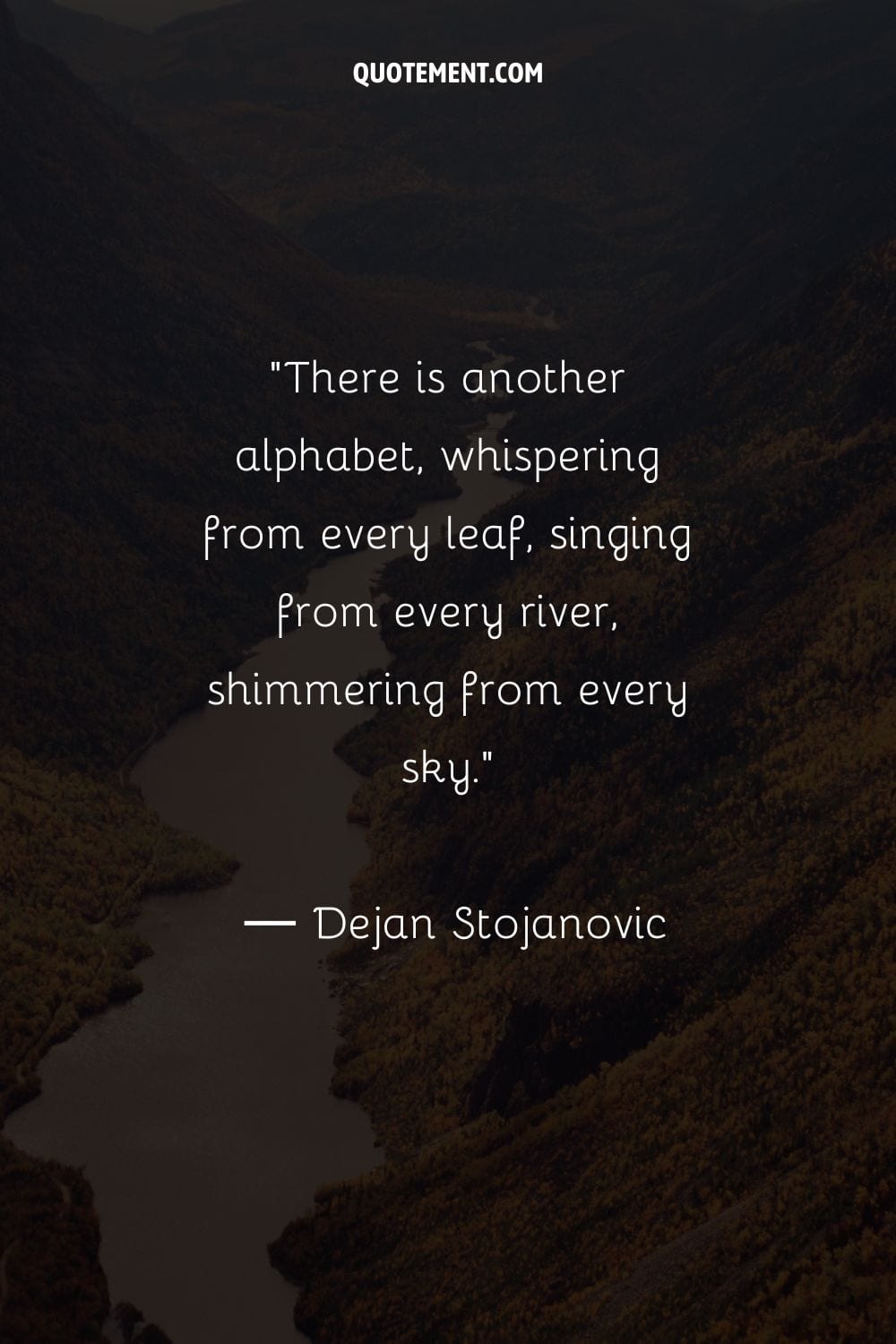 2. "Oh, Eeyore, you are wet!" said Piglet, feeling him.
Eeyore shook himself, and asked somebody to explain to Piglet what happened when you had been inside a river for quite a long time." ― A. A. Milne
3. "On and on they flew, over the countryside parceled out in patches of green and brown, over roads and rivers winding through the landscapes like strips of matte and glossy ribbon." ― J.K. Rowling, Harry Potter and the Deathly Hallows
4. "I thought about how lovely and how strange a river is. A river is a river, always there, and yet the water flowing through it is never the same water and is never still. It's always changing and is always on the move. And over time the river itself changes too. It widens and deepens as it rubs and scours, gnaws and kneads, eats and bores its way through the land. Even the greatest rivers- the Nile and the Ganges, the Yangtze and he Mississippi, the Amazon and the great gray-green greasy Limpopo all set about with fever trees-must have been no more than trickles and flickering streams before they grew into mighty rivers. Are people like that? I wondered. Am I like that? Always me, like the river itself, always flowing but always different, like the water flowing in the river, sometimes walking steadily along andante, sometimes surging over rapids furioso, sometimes meandering with hardly any visible movement tranquilo, lento, ppp pianissimo, sometimes gurgling giacoso with pleasure, sometimes sparkling brillante in the sun, sometimes lacrimoso, sometimes appassionato, sometimes misterioso, sometimes pesante, sometimes legato, sometimes staccato, sometimes sospirando, sometimes vivace, and always, I hope, amoroso. Do I change like a river, widening and deepening, eddying back on myself sometimes, bursting my banks sometimes when there's too much water, too much life in me, and sometimes dried up from lack of rain? Will the I that is me grow and widen and deepen? Or will I stagnate and become an arid riverbed? Will I allow people to dam me up and confine me to the wall so that I flow only where they want? Will I allow them to turn me into a canal to use for their own purposes? Or will I make sure I flow freely, coursing my way through the land and plowing a valley of my own?" ― Aidan Chambers, This is All: The Pillow Book of Cordelia Kenn
5. "A good river is nature's life work in song." ― Mark Helprin, Freddy and Fredericka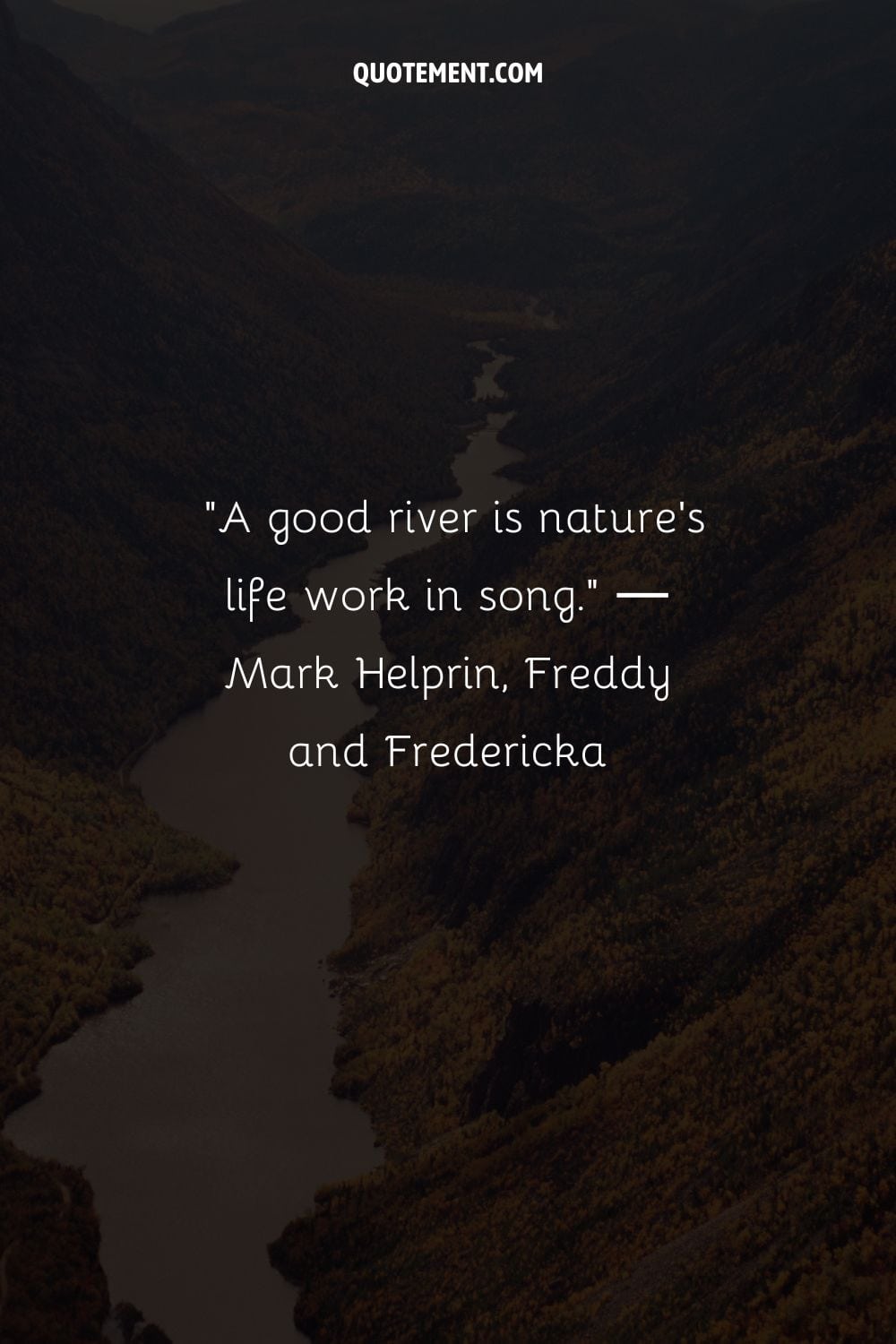 6. "From the dim regions beyond the mountains at the upper end of our encircled domain, there crept out a narrow and deep river, brighter than all save the eyes of Eleonora; and, winding stealthily about in mazy courses, it passed away, at length, through a shadowy gorge, among hills still dimmer than those whence it had issued. We called it the "River of Silence"; for there seemed to be a hushing influence in its flow. No murmur arose from its bed, and so gently it wandered along, that the pearly pebbles upon which we loved to gaze, far down within its bosom, stirred not at all, but lay in a motionless content, each in its own old station, shining on gloriously forever." ― Edgar Allan Poe, Eleonora
7. "Ultima came to stay with us the summer I was almost seven. When she came the beauty of the llano unfolded before my eyes, and the gurgling waters of the river sang to the hum of the turning earth. The magical time of childhood stood still, and the pulse of the living earth pressed its mystery into my living blood." ― Rudolfo Anaya, Bless Me, Ultima
8. "He watched the early light of the new moon glint fretfully on the river, now silver slivers, now darkness, as the night breeze stirred the choked growth on the banks and lifted the tree branches. The watersteps were a deserted invitation, and he envied Hori who must surely even now be reclining on the bottom of his skiff, Antef beside him, their fishing lines tied to the boat whilst they watched the stars and gossiped. His fountain tinkled like music in the darkness, and the monkeys sighed and snuffled in their favourite warm spot under the stone basin, which still held the warmth of the day's heat." ― Pauline Gedge, Scroll of Saqqara
9. "Most of the time, you don't know the source of a river or where it flows into, and people whose past or future you don't know are just like this river!" ― Mehmet Murat Ildan
10. "If you didn't get a little wet crossing the river you might have crossed it, but you didn't experience it." ― Craig D. Lounsbrough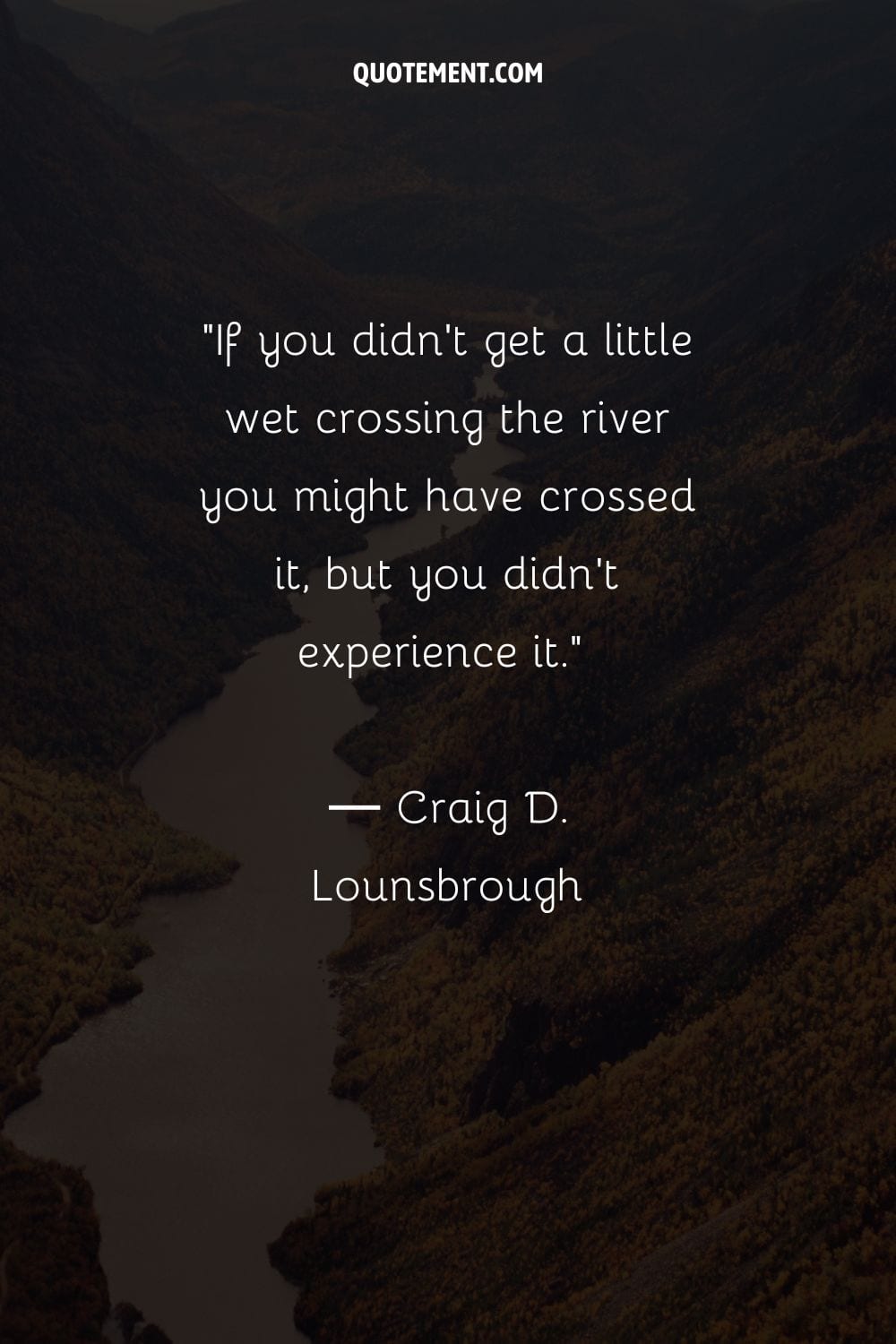 11. "I adore the sea, yet I'm terrified of its raging waters. Love and dread go hand in hand for me. One enhances the other. I'm terrified to love; I'm afraid to drown in its endless waves. I'm frightened of ending up on desolate shores," she confessed. "Let the sea listen to all your woes and sorrows, and let it speak to your soul. Spill out all your fears and embrace its tides." He replied." ― Afreen Rahat, Behind Her Eyes: A Poetry Collection
12. "She is a storm; she is a river
untamed; untouched
She will engulf you; she will shatter you
hold her softly; caress her gently
She is fragile like a rose petal
She is tender like the touch me not leaf
She is the warm glow of the morning sun
She is the magic of a full moon light." ― Avijeet Das
13. "The body is like water, and the blood as the river." ― Mia Siufi
14. "We call everything a river here. We are that kind of people." ― Richard Brautigan, In Watermelon Sugar
15. "When the river meets the ocean, the memories of the river meet the memories of the ocean. These two different worlds have many stories to tell each other!" ― Mehmet Murat Ildan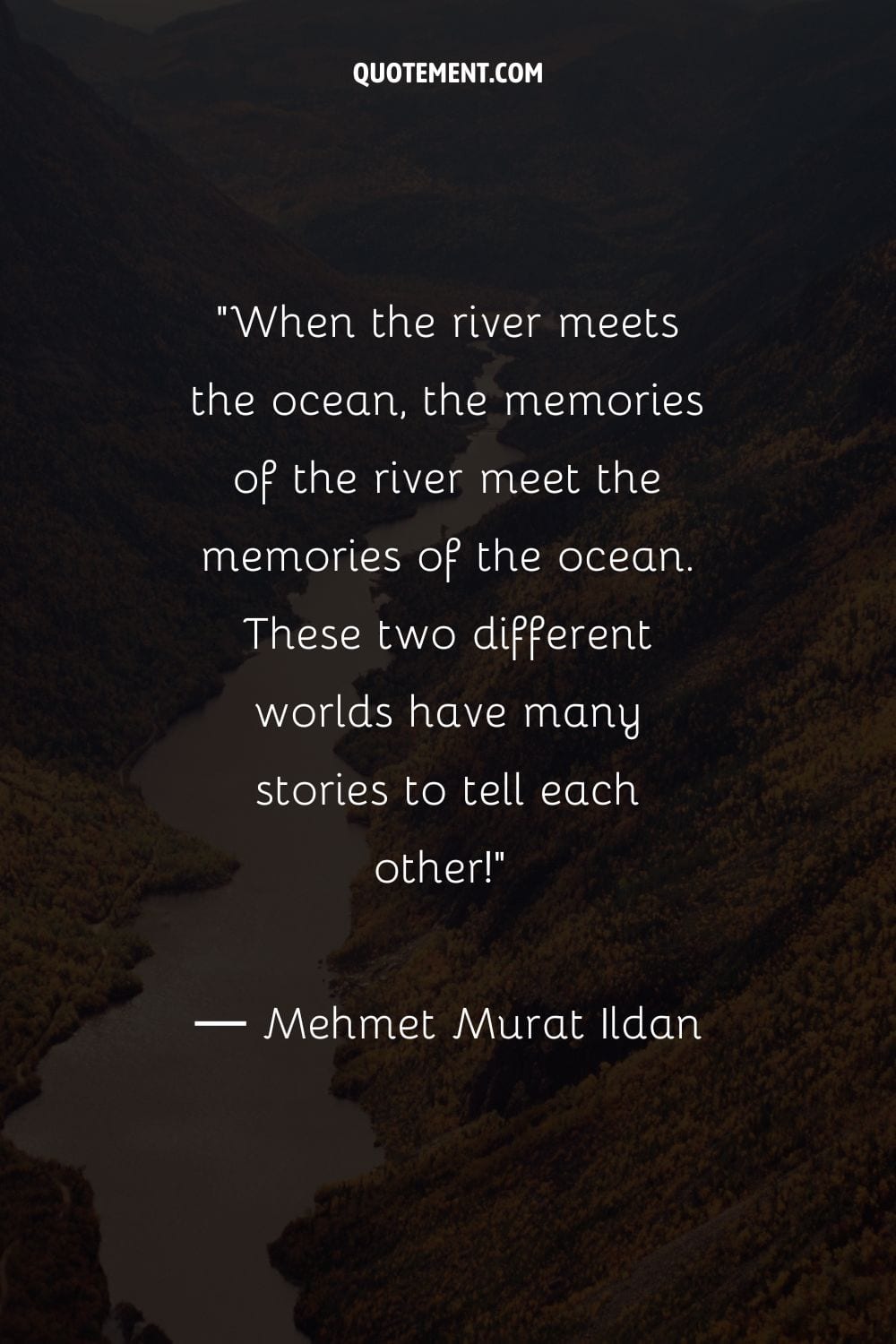 16. "Life is a river" ― Manjushree Mohanty
17. "Symphony of peace is the murmuring sound of a river! And with the shimmering water I feel my limbs' ecstatic quiver" ― Munia Khan
18. "Like a house that has a home and a river that flows, so does love become when you open your heart, even when the lights go out or the flow encounters rocks." ― Goitsemang Mvula
19. "She smelled the river on him." ― Arundhati Roy, The God of Small Things
20. "Despite the ferocity of the current, a river is always moving but it's always in the same place. And much like a river, while we should surge forward with great ferocity, our principles should never move." ― Craig D. Lounsbrough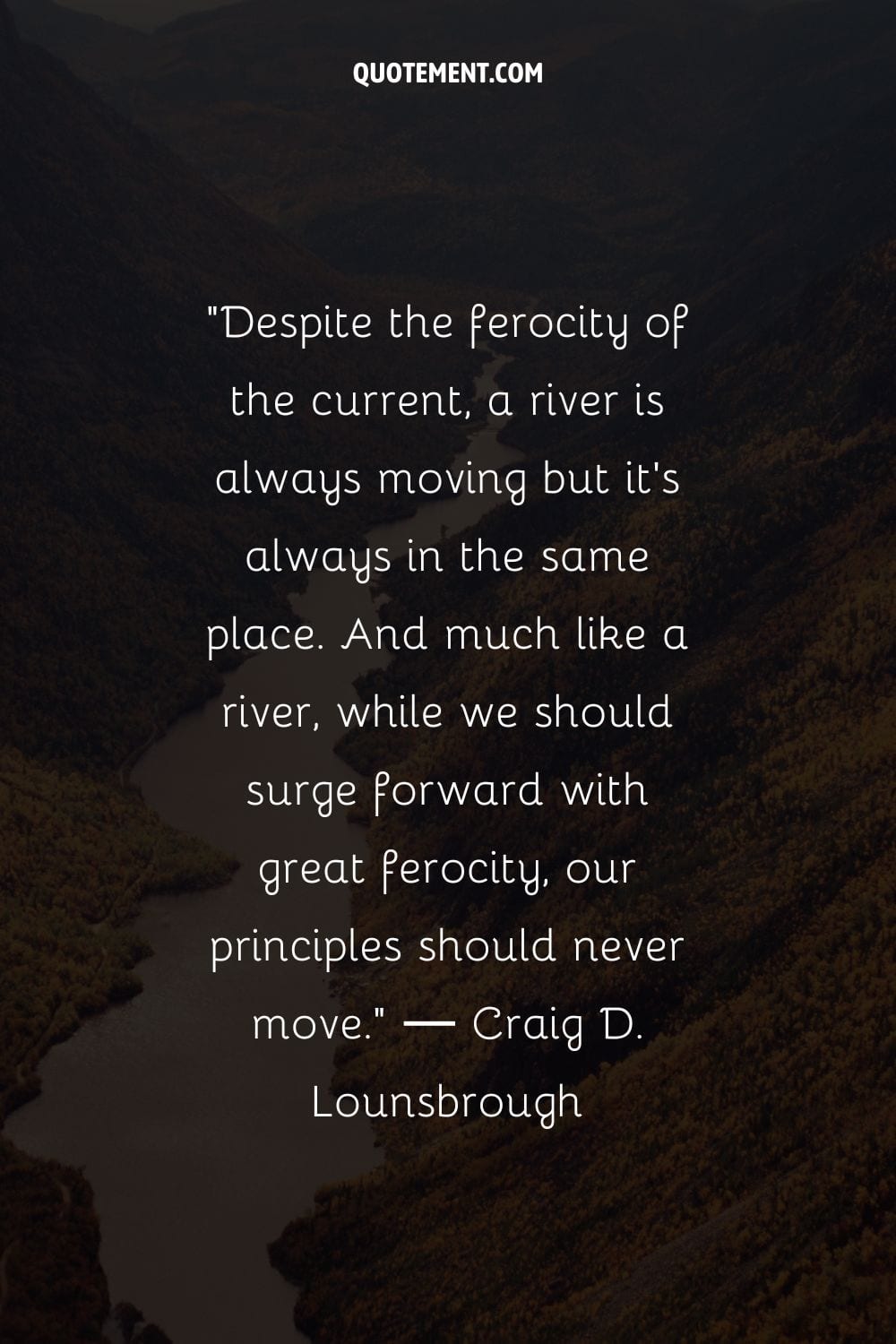 21. "The Gay, the Straight, the Preacher,
The privileged, the homeless, the Teacher.
They all hear
The speaking of the Tree.
They hear the first and last of every Tree
Speak to humankind today. Come to me, here beside the River.
Plant yourself beside the River." ― Maya Angelou
22. "The air moves like a river and carries the clouds with it; just as running water carries all the things that float upon it." ― Leonardo da Vinci
23. "The river loved to tell everybody (everybody being the sky, the wind, the few trees that grew around there, birds, deer and even the stars if you can believe that) what a great river it was. "I come roaring from the earth and return roaring to the earth. I am the master of my waters. I am the mother and father of myself. I don't need a single drop of rain. Look at my smooth strong white muscles. I am my own future!" ― Richard Brautigan, Revenge of the Lawn / The Abortion / So the Wind Won't Blow it All Away
24. "Oftentimes, I had gone to the river to look at my reflection in the sunlight. Each time a face looked at me with subdued eyes. What I saw was not the same as the image I pretended to see when I looked in the mirror. Stubbornly, I found solace in blaming the ripples for the wrinkles and abhorrent distortions on my face. A painful allegory of sight, and a revelation of reality." ― FIDELIS O MKPARU, 2019
25. "She was the river, and the river had nothing to be ashamed of." ― Rachel Hartman, Tess of the Road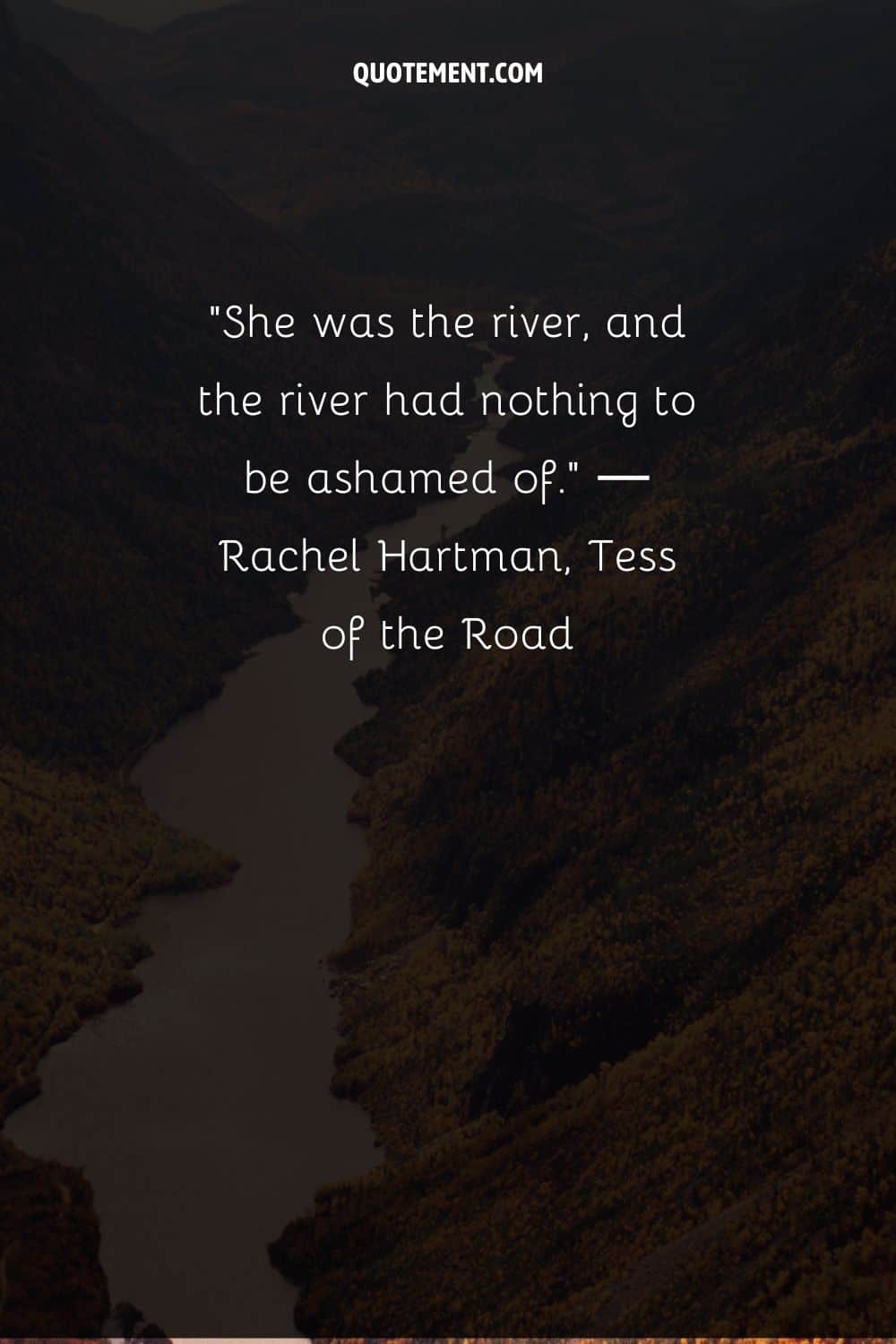 26. "If the earth is a mother then rivers are her veins." ― Amit Kalantri, Wealth of Words
27. "The fall of your hair is rushing through my head like elegant waterfalls repeatedly dancing down into an open riverbed." ― Curtis Tyrone Jones
28. "The language of a river inscribes
over eyes of moths and flies
the navel of the land is a lake." ― Sneha Subramanian Kanta, Synecdoche
29. "Patience is the river that finds its way to the sea, by flowing through many confluences." ― Mladen Đorđević, Svetioničar – Pritajeno zlo
30. "A river doesn't just carry water, it carries life." ― Amit Kalantri, Wealth of Words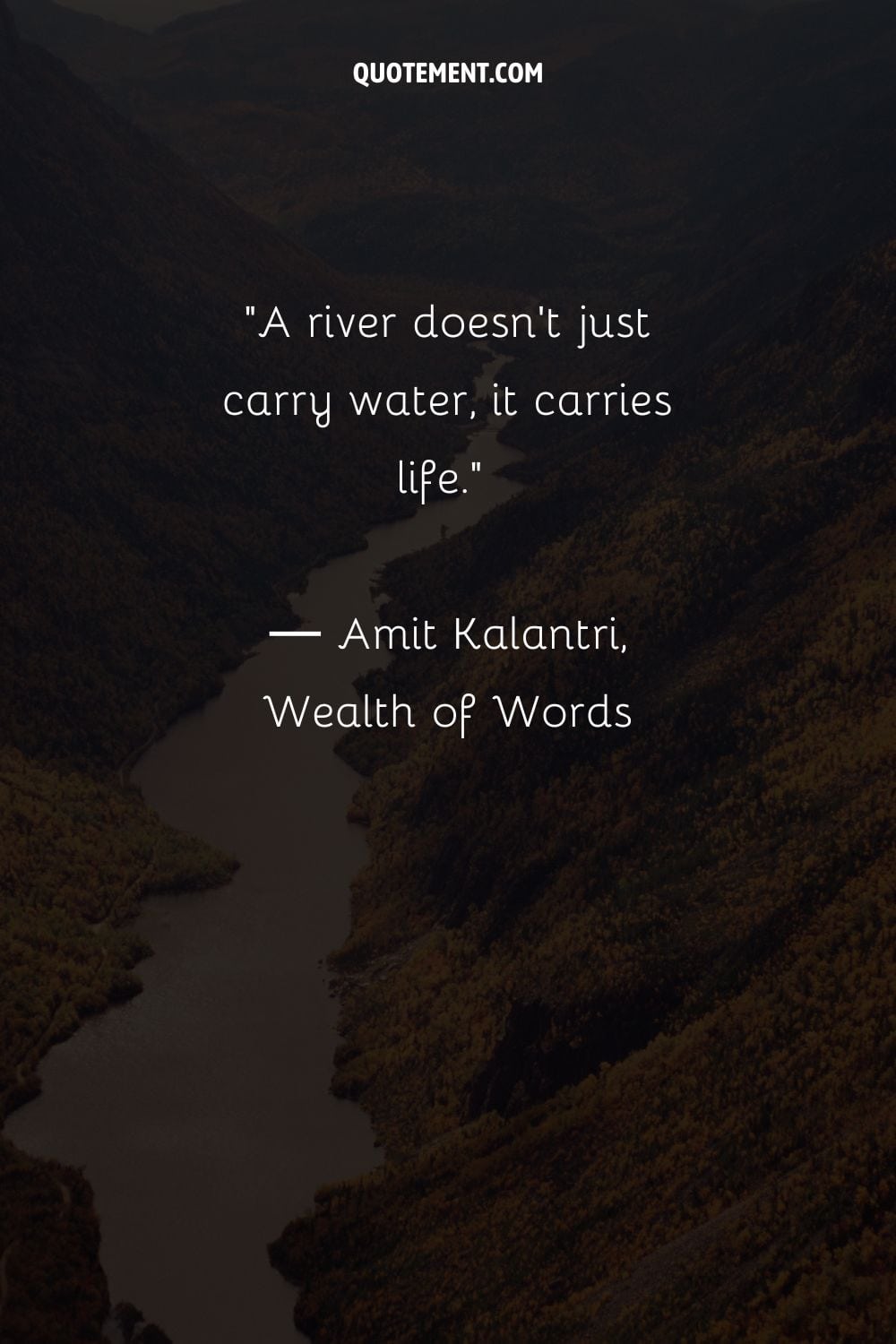 30 Wise River Quotes To Make You Think More Deeply
1. "A single poem, alone
can turn tides
scatter galaxies
and burst forth with rivers
from paradise." ― Sanober Khan, A Thousand Flamingos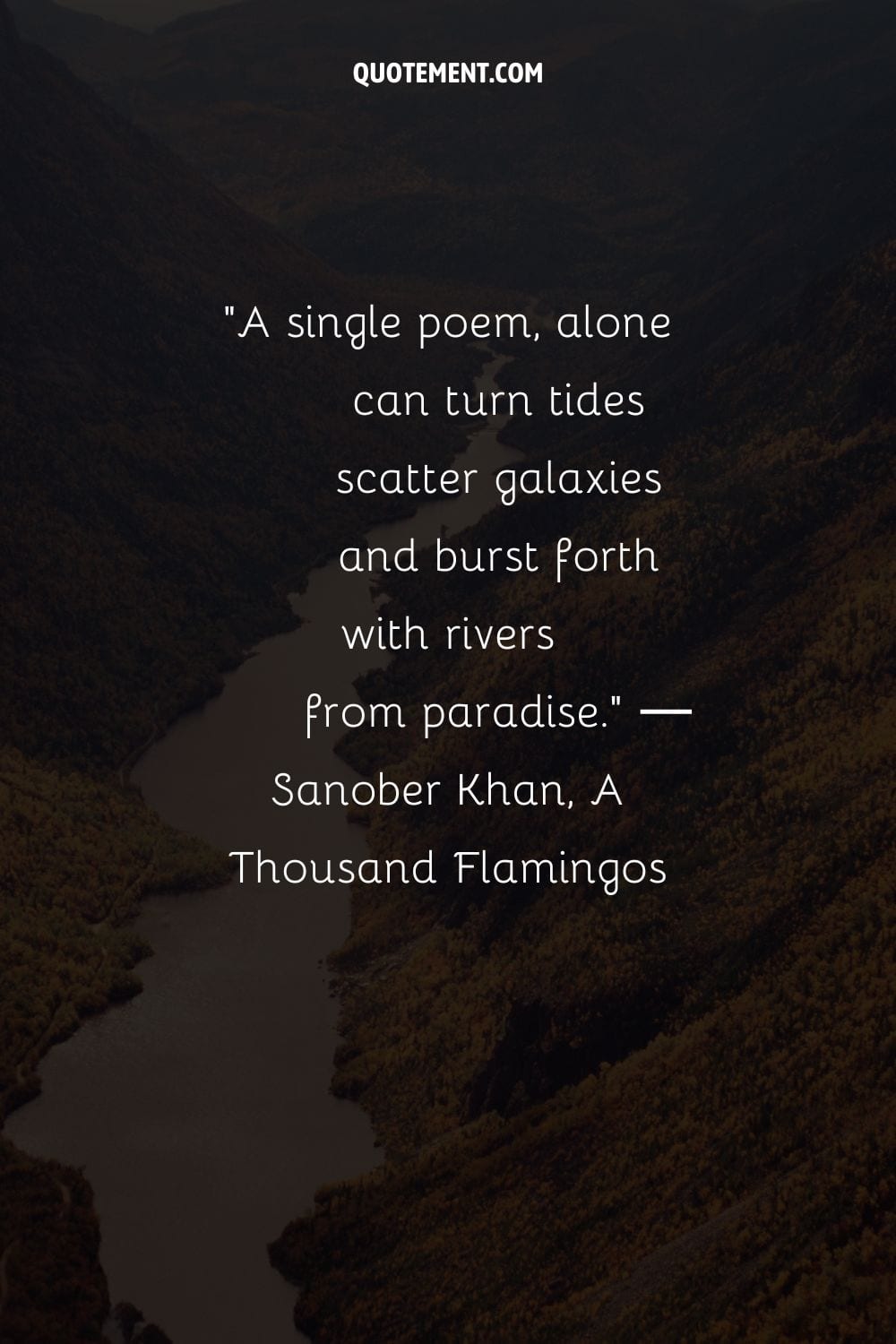 2. "When we feel lost in time, with only shadows of the past living in our mind; when the moment, which "was", no longer "is" and when only silence remains, loads of questions arise. We can cry a river or we may wonder: "What went wrong?" ― Erik Pevernagie
3. "…how it would be nice if, for every sea waiting for us, there would be a river, for us.
And someone -a father, a lover, someone- able to take us by the hand and find that river -imagine it, invent it- and put us on its stream, with the lightness of one only word, goodbye. This, really, would be wonderful. It would be sweet, life, every life. And things wouldn't hurt, but they would get near taken by stream, one could first shave and then touch them and only finally be touched. Be wounded, also. Die because of them. Doesn't matter. But everything would be, finally, human. It would be enough someone's fancy -a father, a lover, someone- could invent a way, here in the middle of the silence, in this land which don't wanna talk. Clement way, and beautiful.
A way from here to the sea." ― Alessandro Baricco, Ocean Sea
4. "One of the things she most liked about the city -apart from all its obvious attractions, the theater, the galleries, the exhilarating walks by the river- was that so few people ever asked you personal questions." ― Julia Gregson, East of the Sun
5. "Some people want to know where the river begins. Others want to know where it ends. However, I want to know how to navigate it so that I can be part of both without ever having to see either." ― Craig D. Lounsbrough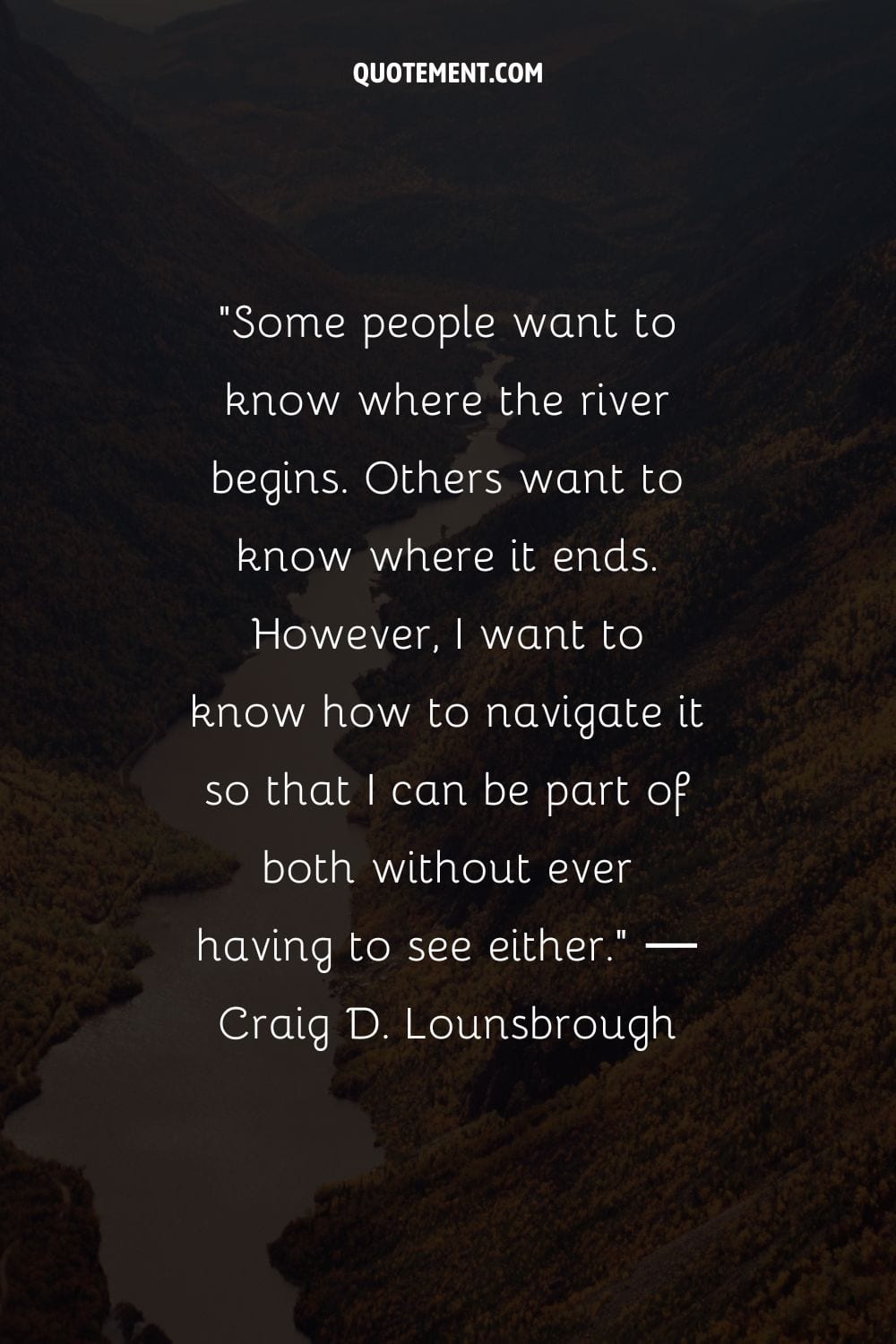 6. "If you curse the hand that feeds you then do not complain the day you sleep hungry. In other words; do not curse the alligator (or crocodile) before crossing the river." ― Dr. Lucas D. Shallua
7. "The current of the times seems to be going down the wrong river carrying a boat with no oars." ― Craig D. Lounsbrough
8. "Once, men and women were able to turn themselves into eagles and fly immense distances. They communed with rivers and mountains and received wisdom from them. They felt the turning of the stars inside their own minds." ― Susanna Clarke, Piranesi
9. "In Peru," said Gonzalo, "they cure madness by placing the madman next to a flowing river. The water flows, he throws stones into it, his feelings begin to flow again, and he is cured." ― Anaïs Nin, The Diary of Anaïs Nin Volume 2 1934-1939
10. "Words are like a pebble, and the heart is like a river.
What happens when a pebble is thrown into a river? It causes a ripple." ― Michael Bassey Johnson, Song of a Nature Lover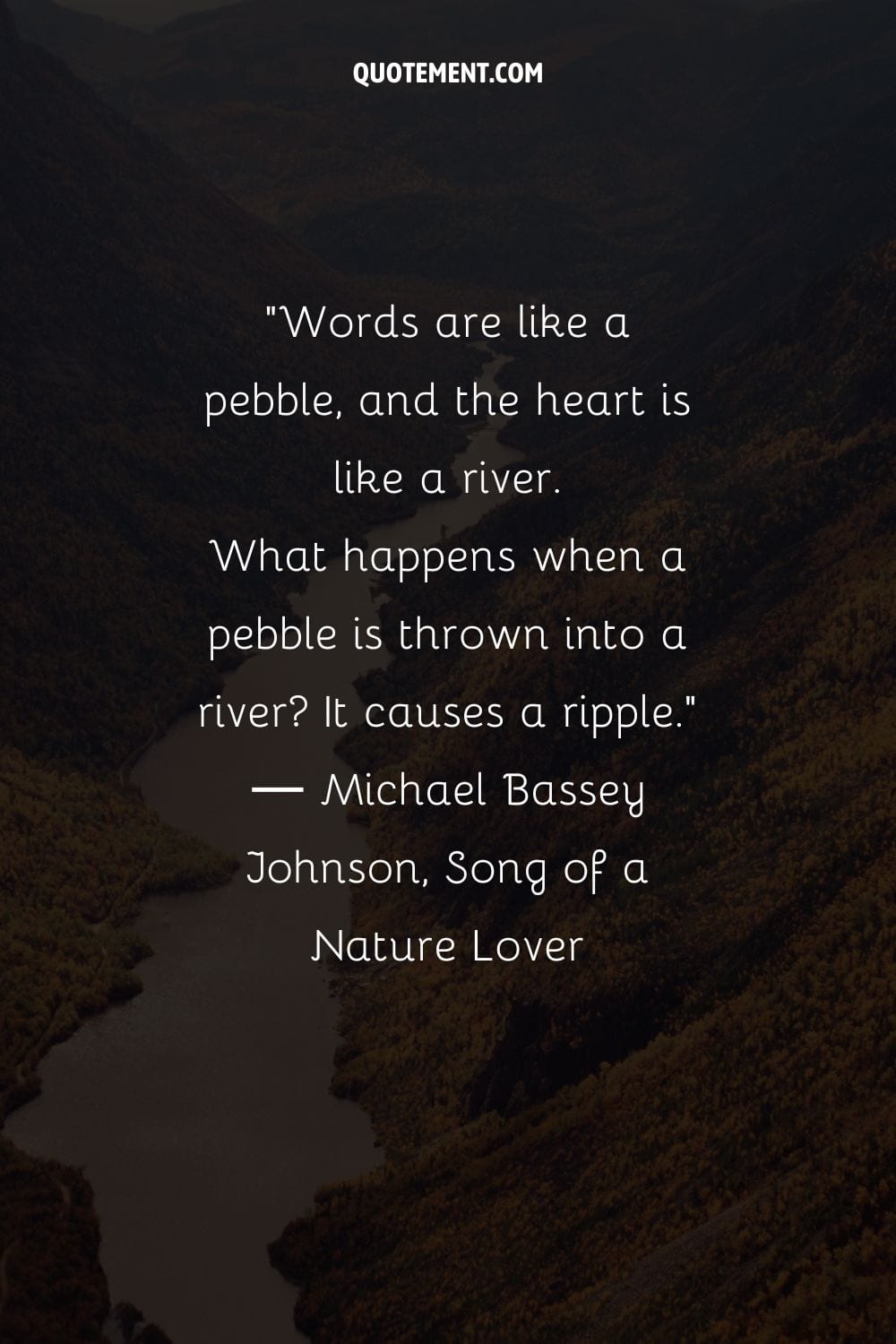 11. "Your words swept me away in the river of your feelings!" ― Avijeet Das
12. "Like a house that has a home and a river that flows, so does love become when you open your heart, even when the lights go out or the flow encounters rocks." ― Goitsemang Mvula
13. "A winter message from the river: Never surrender! Life can try to stop you, but somehow find a way to flow!" ― Mehmet Murat Ildan
14. "THE RIVER OF A WOMAN
Man is like a desert without the rain of a woman.
Nothing can be born and grown without her nourishment.
She is a life-giving river that gives and loves without holding anything back.
And without her water, man would walk around aimlessly,
feeling incomplete and hollow like an empty well.
The longer he roams, the deeper the hole within his soul expands,
growing bigger and bigger like a barren tree whose branches resemble the cracks on hard, dry soil.
And he shall continue to feel incomplete and malnourished,
until – he encounters a godly woman, to show him life
and quench his thirst." ― Suzy Kassem, Rise Up and Salute the Sun: The Writings of Suzy Kassem
15. "We steer the boat, we don't alter the river." ― J. Earp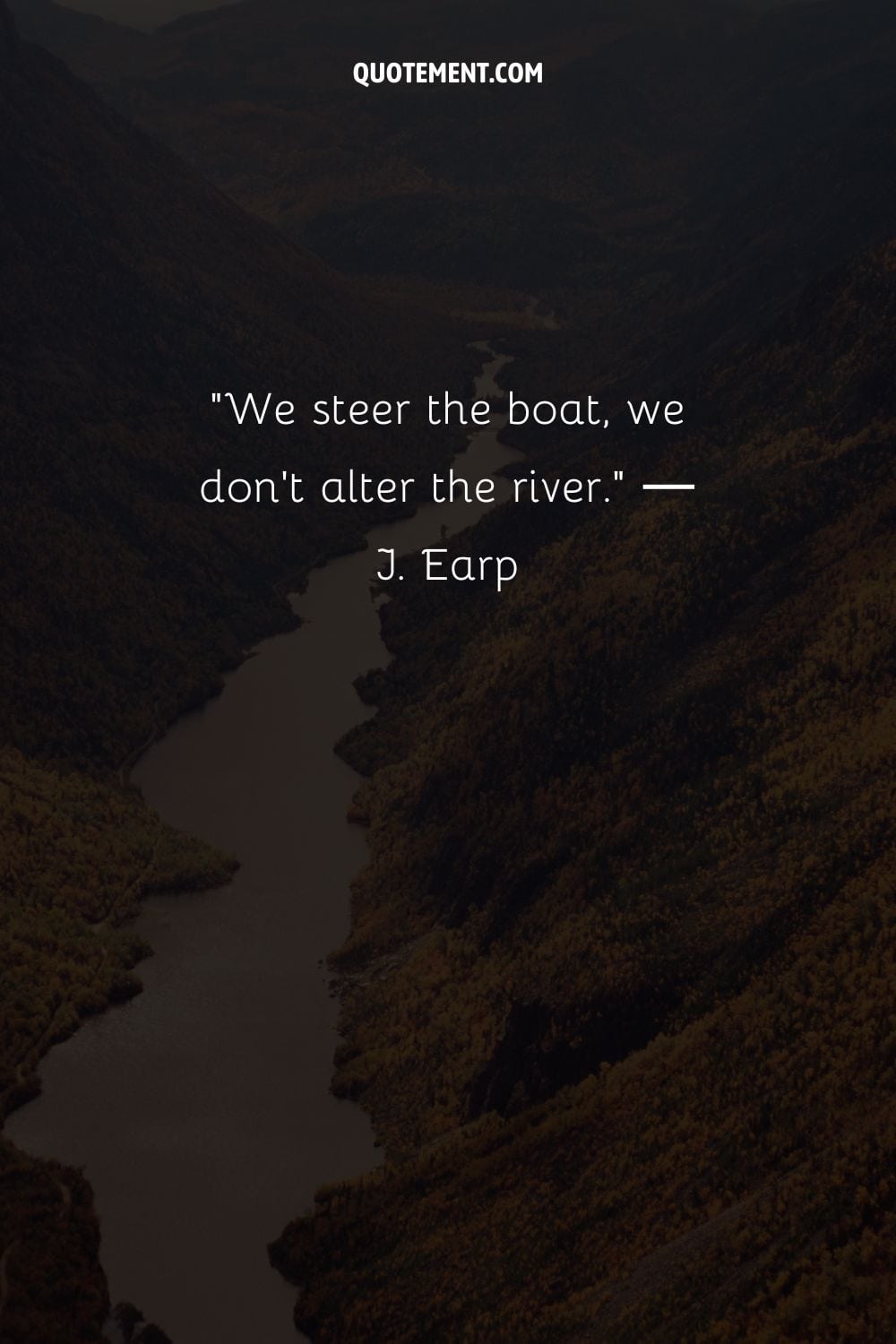 16. "When you stop beside a river, you get this message: Flow! And when you flow, you meet the never-seen and the never-lived parts of life!" ― Mehmet Murat Ildan
17. "Life is much like a river. I can't determine where the river comes from or where it's flowing to. But I can immerse myself in it as it's flowing by me." ― Craig D. Lounsbrough
18. "The road by the river had been one of my favorites. I could walk at the same speed as the river. I could feel it breathing. It was alive. More than anything, it was the river we had thank for creating the town. For grinding down from the hills over how many hundreds of thousands of years, for hauling the dirt, filling the sea, and making the tree grow. The town belonged to the river from the very beginning, and it would always be the way" ― Haruki Murakami, A Wild Sheep Chase
19. "During dry spells, the whole river used to dry up into sandy bed, leaving only a faintly damp white trail. Years ago, on my walks I'd trace that trail upstream, searching for where the river had gone" ― Haruki Murakami, A Wild Sheep Chase
20. "Beside the river there are two things you never forget, that the moment you look at a river that moment has already passed, and that everything is on its way somewhere else." ― Niall Williams, History of the Rain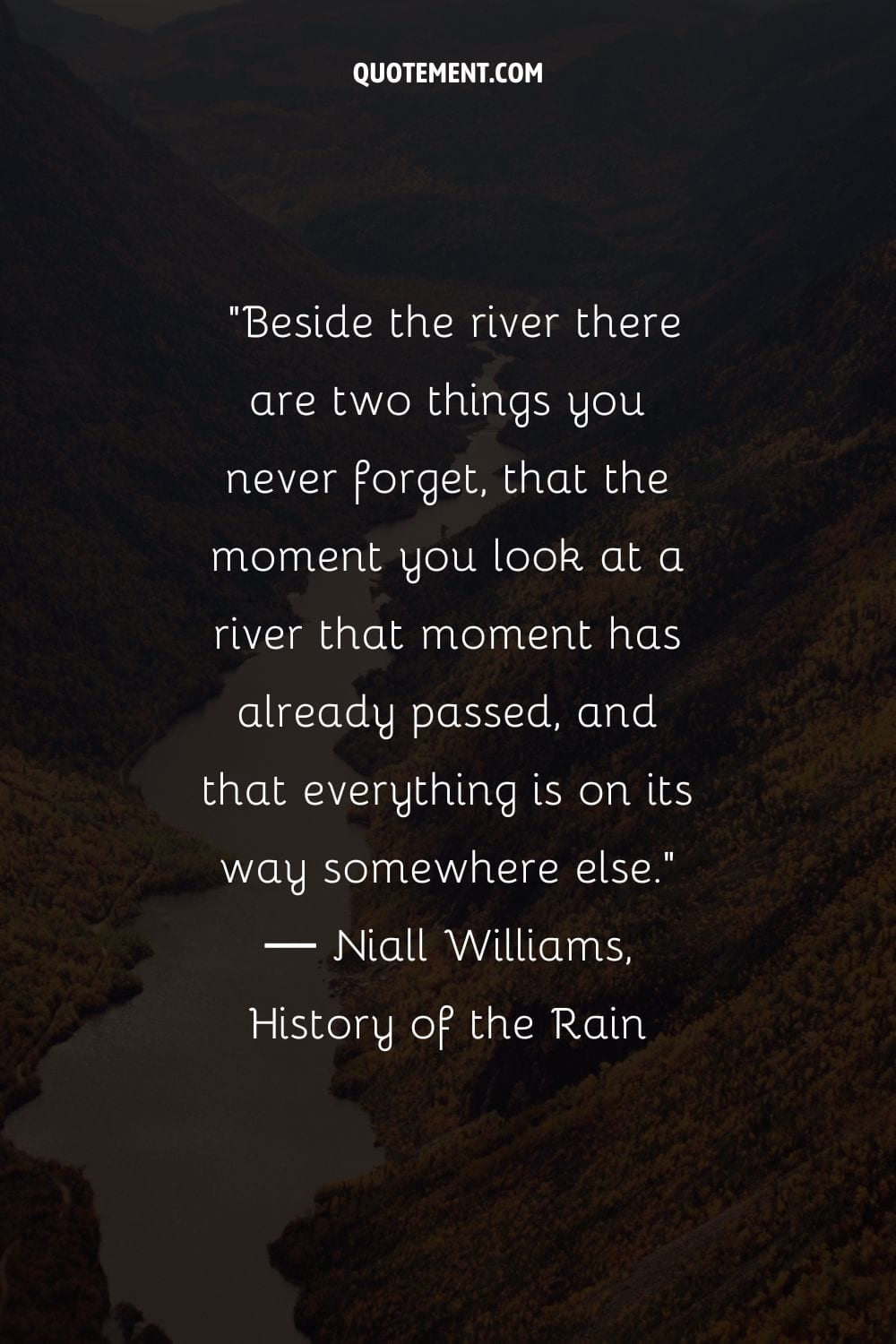 21. "Water is sagacious because it carries inside of itself the bottomless profundity of oceans, the cosmic looks of the clouds, subtle wits of the rivers, the inquisitive character of the rains and the silent meditation of the little lakes!" ― Mehmet Murat Ildan
22. "A river unneeded still finds its way down to the ocean…" ― Will Advise
23. "We are all in the same boat,
boat of life. Does not seem
to be a rudder with oarsman.
Perhaps my words may find a
path, path through currents and water
as we continue our journey on
river of life.
-River of Life" ― Robert Trabold, Watching the River Flow By: Selected Poems
24. "He used to often say there was only one Road; that it was like a great river: its springs were at every doorstep, and every path was its tributary." ― J.R.R. Tolkien, The Lord of the Rings
25. "We can't always be the bridge. Sometimes we have to be the flooding river." ― K. Weikel, The One-Hundred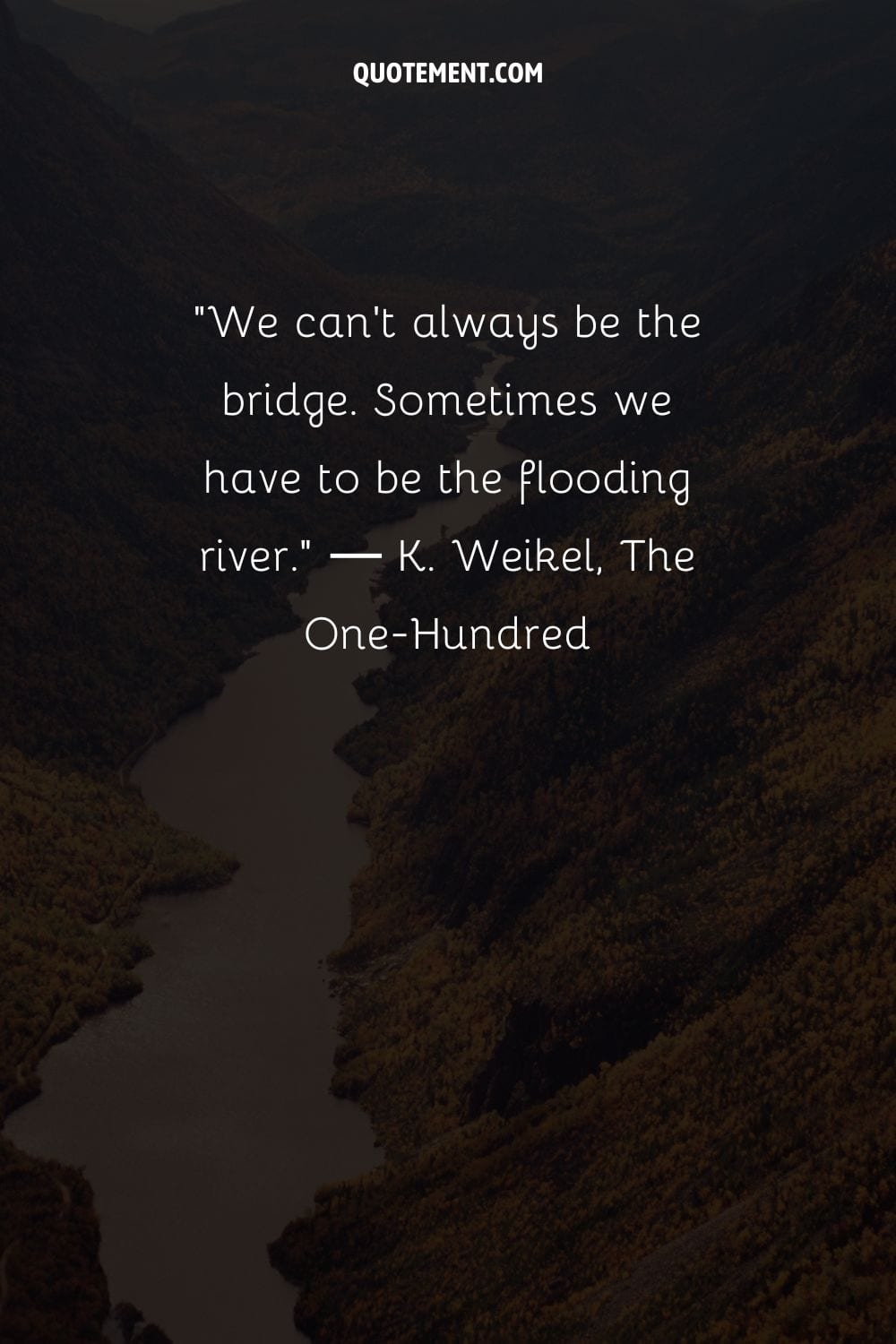 26. "You can no more read the same book again than you can step into the same river." ― Neil Gaiman, The View from the Cheap Seats: Selected Nonfiction
27. "The thing about love is that you will never run out of it. It's an ever-flowing river. So go ahead and LOVE. What are you saving all this love for — death?" ― Kamand Kojouri
28. "Become a river and then nothing is needed. That's what The Secret of the Golden Flower says: Achieve inaction through action, achieve effortlessness through effort. But first comes the effort, the action—it will melt you—and then the river starts flowing. In that very flow it has reached the ocean." ― Osho, The secret of secrets
29. "Denial isn't just a river in Egypt." ― C.L. Parker, Playing Dirty
30. "If you have learnt to enjoy life without purpose, like a flowing river, you have learnt the art of living." ― Girdhar Joshi, Some Mistakes Have No Pardon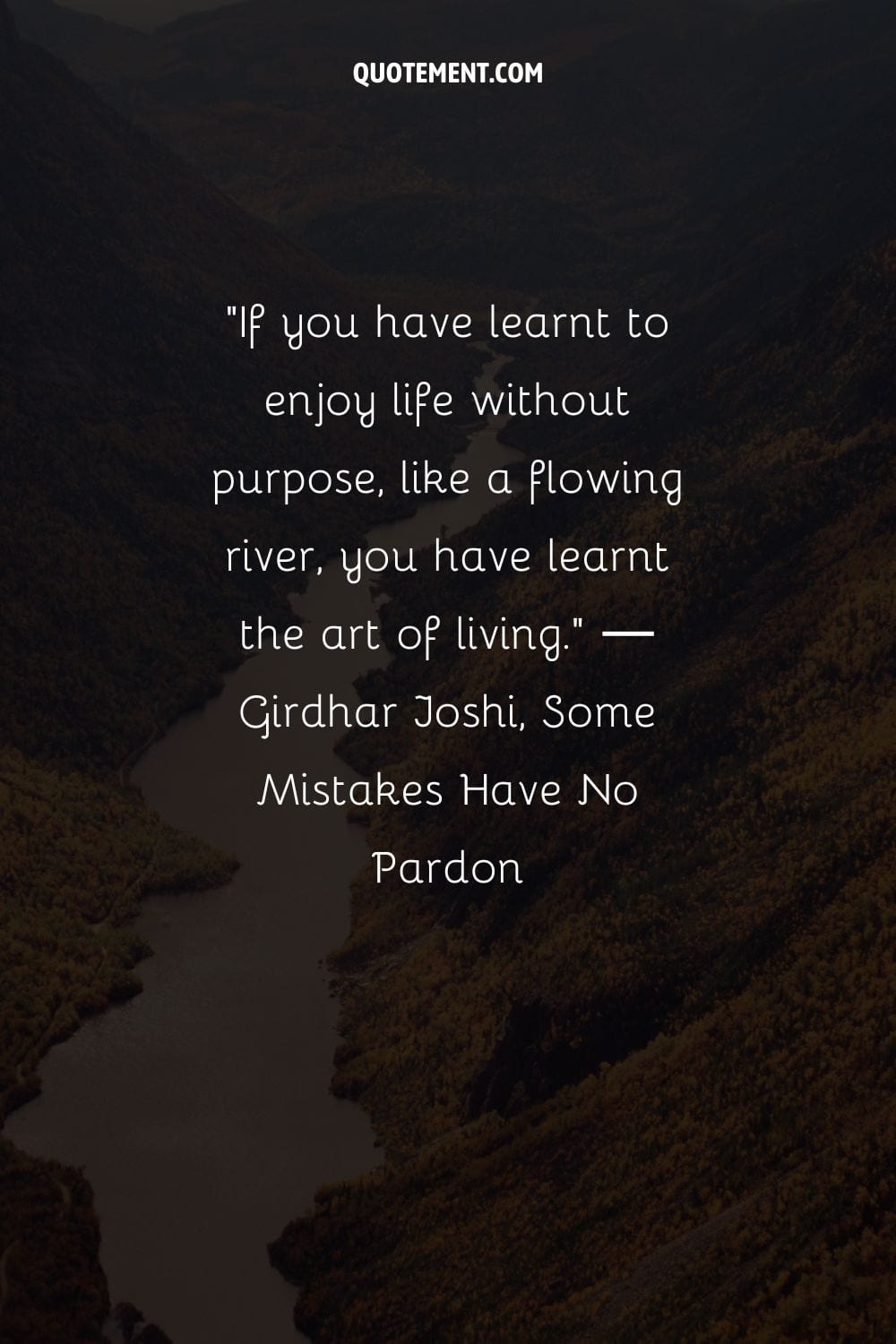 See also: 130 Wise Acceptance Quotes To Help You Grow And Prosper
Final Word
Just as finding out that Denial is not just a river in Egypt, I hope that you have enjoyed my collection of the best river quotes that I could find online.
As the flowing river teaches us, remember to go with the flow and to be gentle and giving to yourself and others, but also to be powerful and merciless when you have to. You have all of that within you.
Read next: 260 Gripping Water Captions For Instagram To Inspire Change