Are you feeling stuck finding the right words to describe your love for soup on an Instagram post? Don't worry, because I have brought you a list of the best soup captions to help you share your soup vibes with the social media world!
Although mainly considered a side dish, I know all the soup lovers out there will agree with me that a good soup can easily replace the main meal.
To help you share those cozy moments of enjoying a bowl of your favorite soup, I've rounded up this collection of fantastic soup captions your Insta friends and followers will love!
A good Insta pic must contain a good Instagram caption if you want it to be noticed and liked.
With these soup Instagram captions, all your soup pics will have the perfect words to get your Instagram post boosted and bring you tons of likes!
You'll find plenty of funny soup captions, puns, and soup quotes in my ultimate list of food captions dedicated to soup, so you never lack a way to express your passion for this great dish.
Check out my soup captions below!
20 Best Soup Captions
This is my list of the best soup captions handpicked from various sources on the web.
1. Soup feeds the body as well as the soul.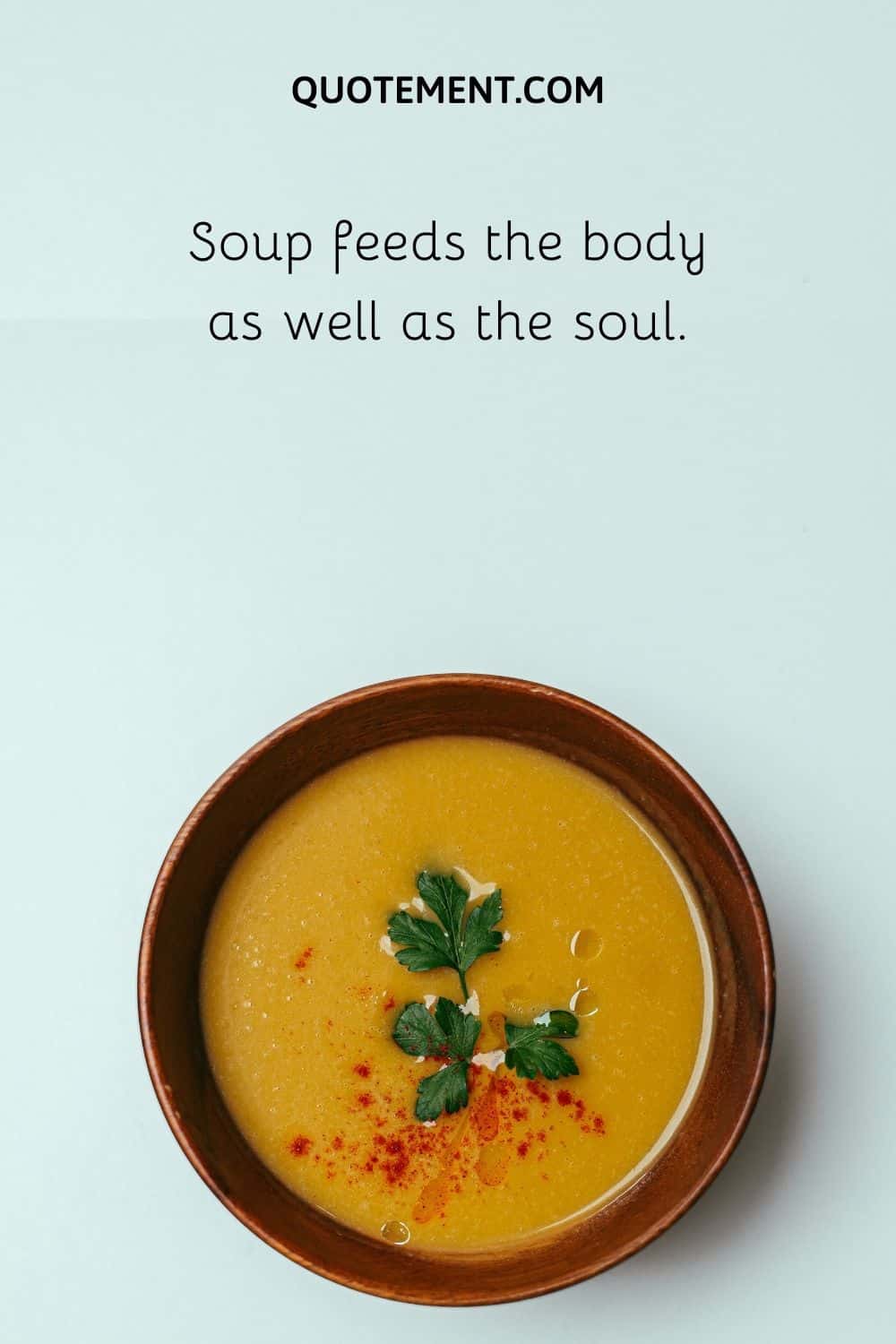 2. Crisp fall weather is the perfect excuse to cozy up with a steamy bowl of yummy homemade soup.
3. The flavors that can take you down a memory lane.
4. Drinking soup provides a great moment of exhilarating taste.
5. When there's just too much on your mind, that's when the warm, uncomplicated goodness of soup hits the spot.
6. Now that the nights are drawing in it's time to brew up something warm, satisfying, and cozy.
7. All the feels in one place.
8. Home is where the soup is.
9. Winter doesn't have to be all full of fright if you just add a little heat.
10. Slow down and enjoy the good things in life!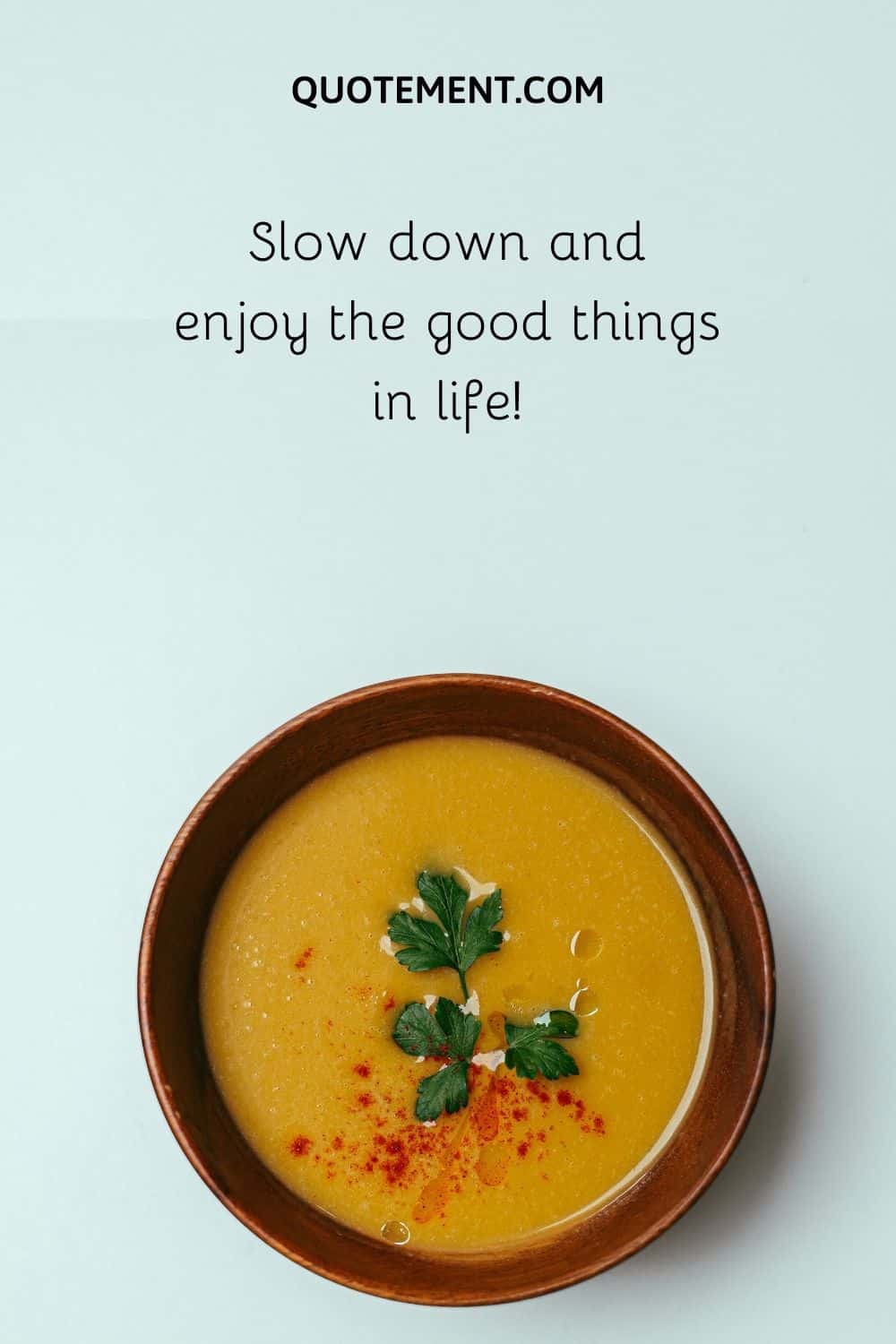 11. Everyday happiness means you can't wait to come home because the soup is hot.
12. There's something about a piping hot bowl of soup that makes you feel all warm and toasty inside.
13. Some memories are like soup, it tastes better when you stir them.
14. There are so many reasons why I love winter – and the best one is soup.
15. I want someone to look at me the way I look at soup.
16. Art is a hot soup in this cold world!
17. Living on good soup is bliss in itself.
18. Delete all plans. A warm bowl of soup and a good book on this rainy day is the only thing we need.
19. The best things come in small packages.
20. Soupin' your way through the week. Thanks, Sunday.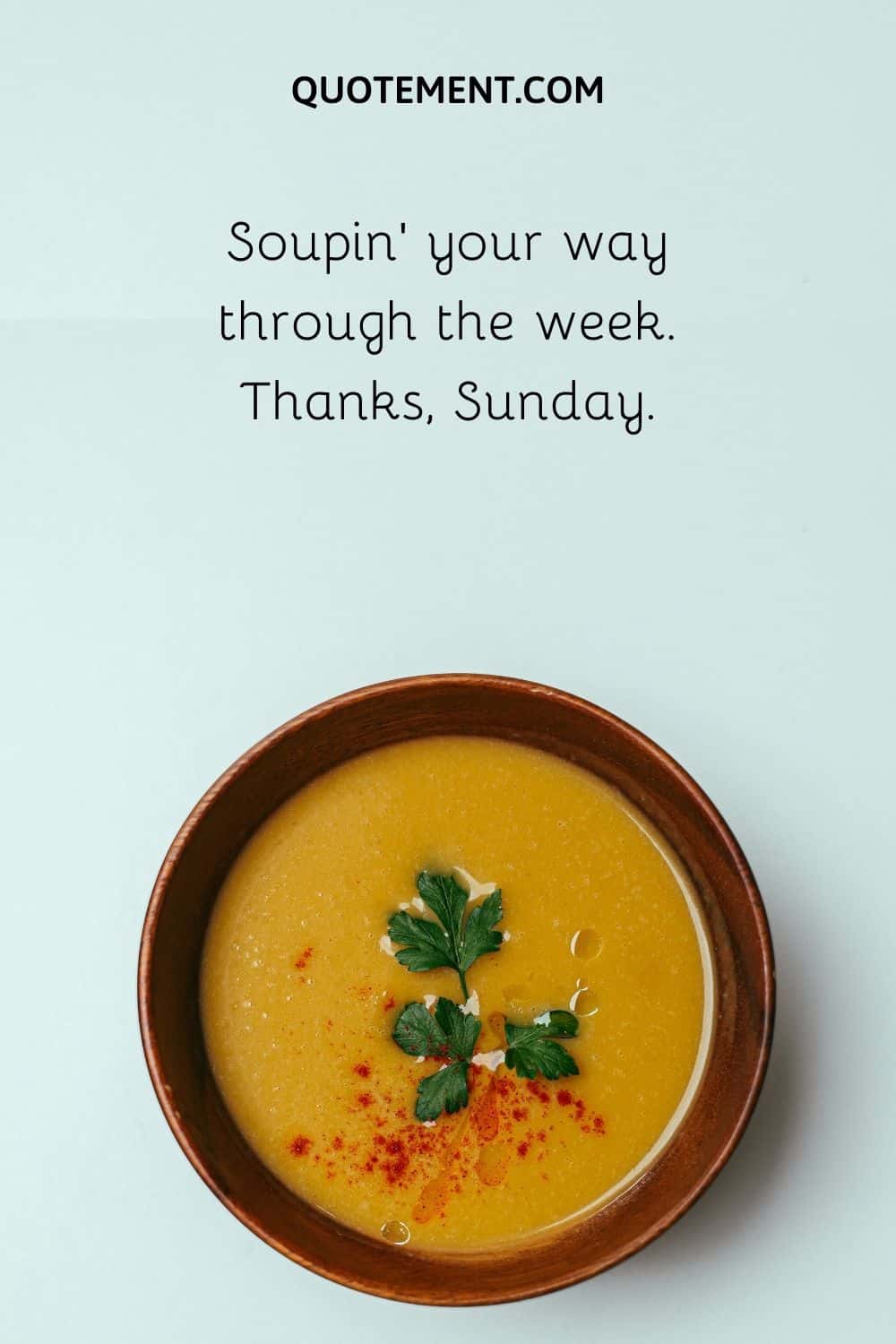 Good Soup Instagram Captions
Read on to discover some good soup captions that will make your followers double-tap your post!
1. When every drop becomes divine.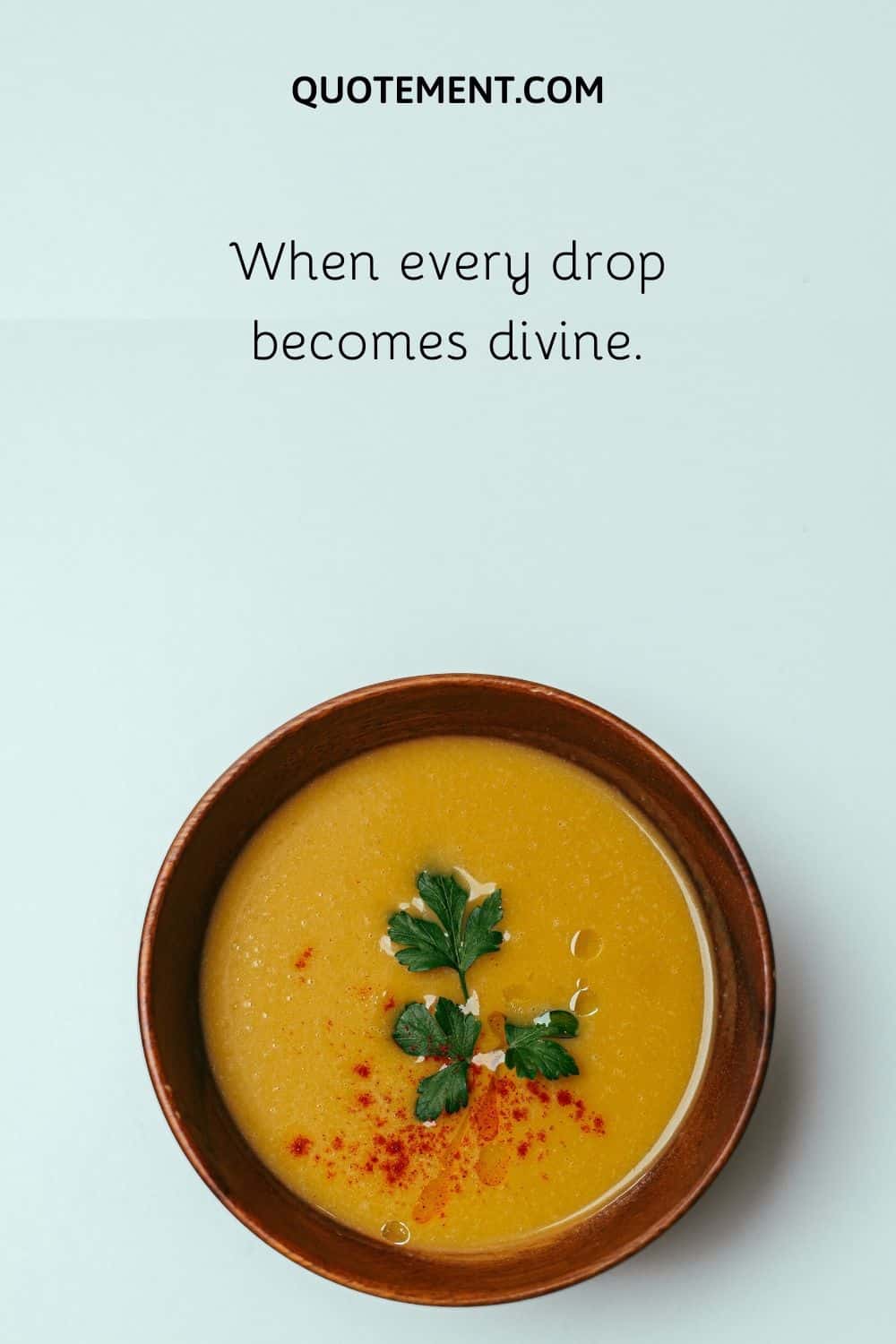 2. Fill your stomach with spices and deliciousness.
3. A soup can feel like a bowl full of warmth and comfort on a chilly autumn day.
4. Satisfy your taste buds with the soup of your desire.
5. Miso hungry.
6. Soupin' my way through the week.
7. Don't judge a soup by its size.
8. If you want to feel good, drink soup.
9. There's something so satisfying about slurping soup. It's so warming, soothing, and hearty.
10. A sip of health for your better fitness.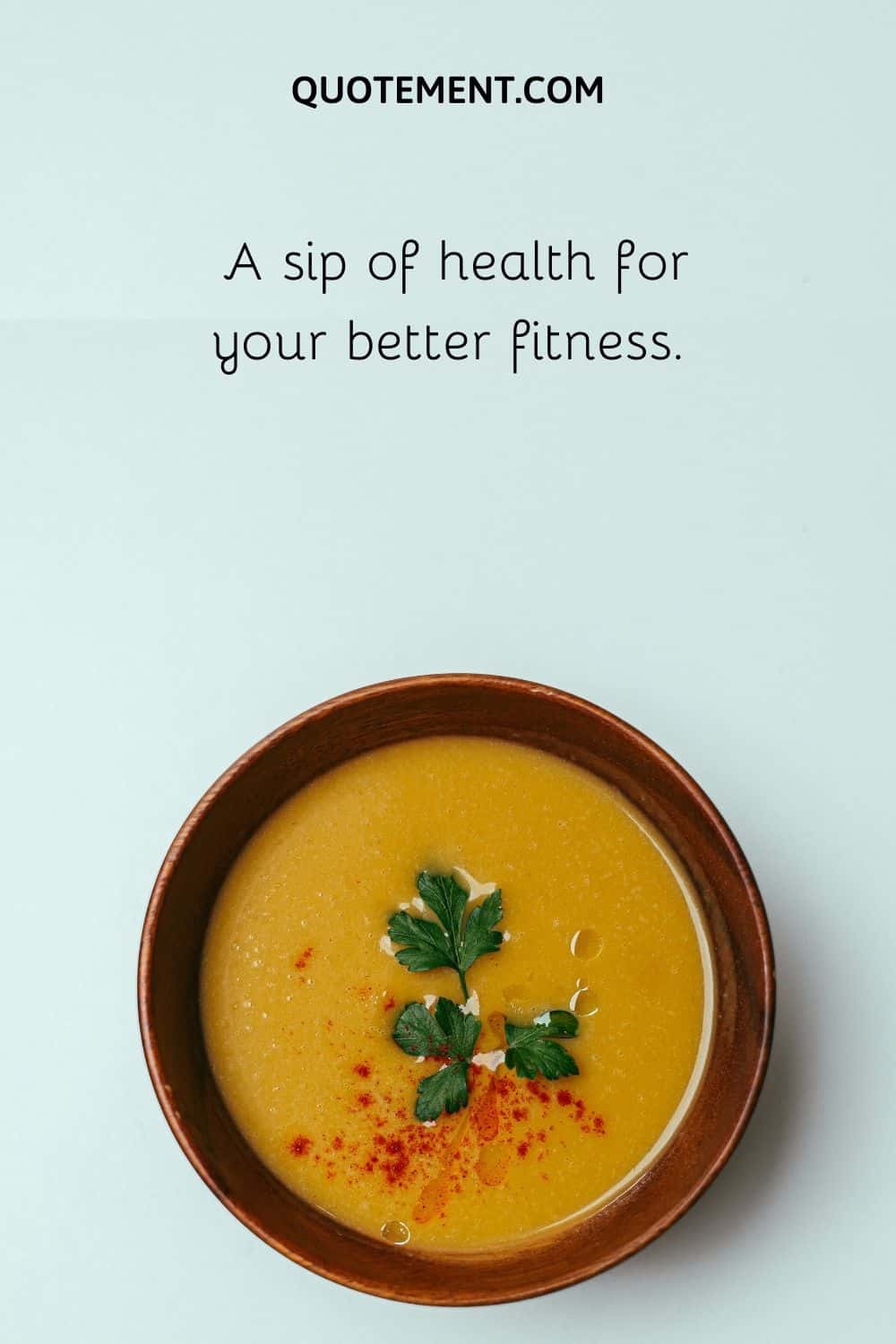 11. The only thing worse than being sick is not having any soup to make you feel better.
12. Wholesome ingredients. Well-made. If you're going to make soup for dinner, this is a good one to try.
13. Hey. It's me. Plain-Jane chicken noodle with a twist.
14. It's soup season.
15. For certain people, drinking soup is a passion.
16. Those cozy days.
17. Gimme that soup! Now! No way.
18. That homemade soup is so good I might marry it.
19. When the soup tastes better than the other things in the meal.
20. Between soup and love, the first is better.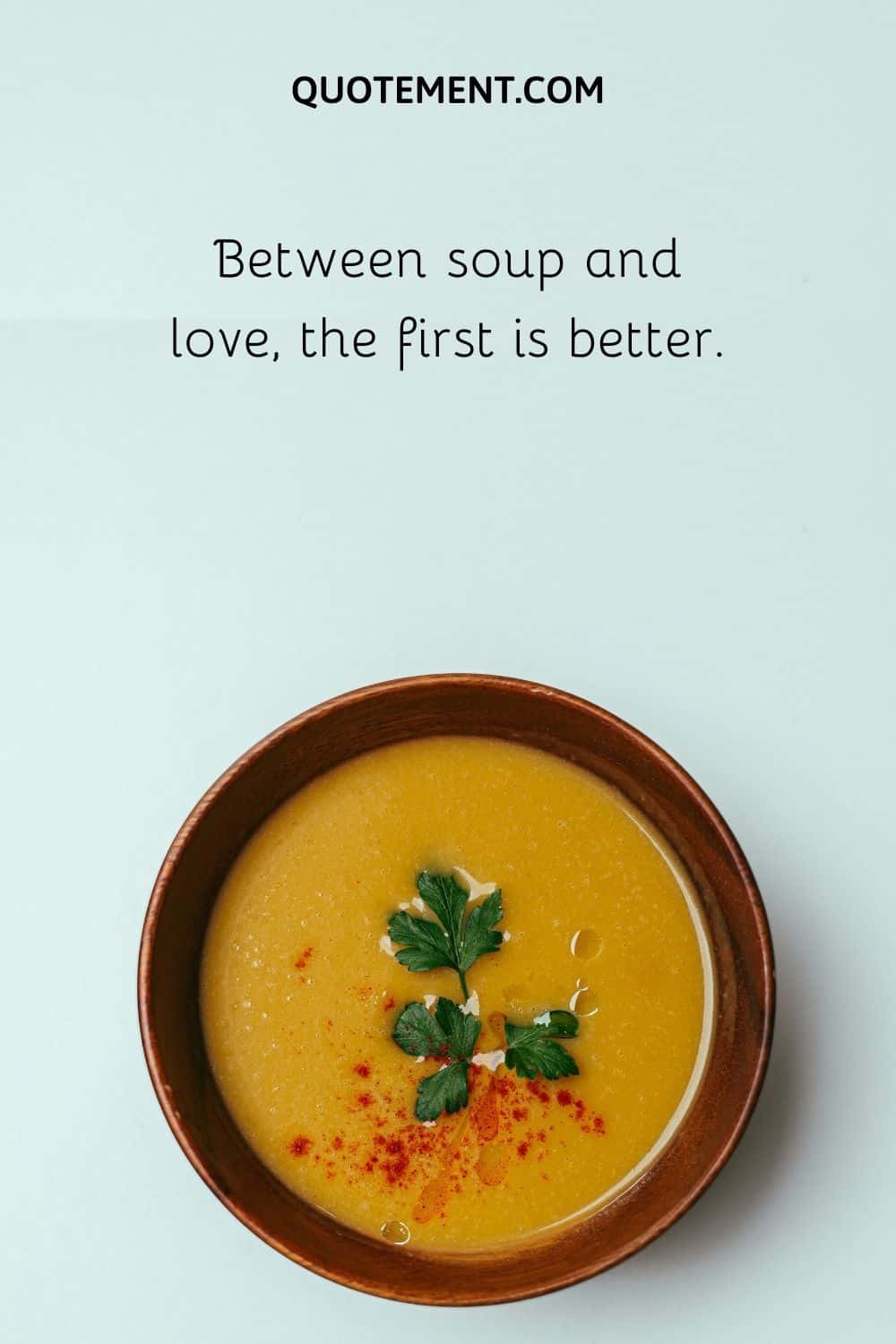 21. You're never fully dressed without a smile. Tag your bestie while you enjoy your soup.
22. The perfect replacement of desire with flavor.
23. The taste of the homemade soup is simply unparalleled.
24. My favorite way to warm up on a chilly day: soup, then some tacos.
25. There's no better time to cozy up with a warm bowl of soup. Whether you're out enjoying the fresh air or staying in, you can't go wrong.
26. Good food, good life.
27. Start your dining with the best thing in the world.
28. Soup is so good that it can uplift your mood.
29. It's soup o'clock.
30. Soup is love in a mug or bowl.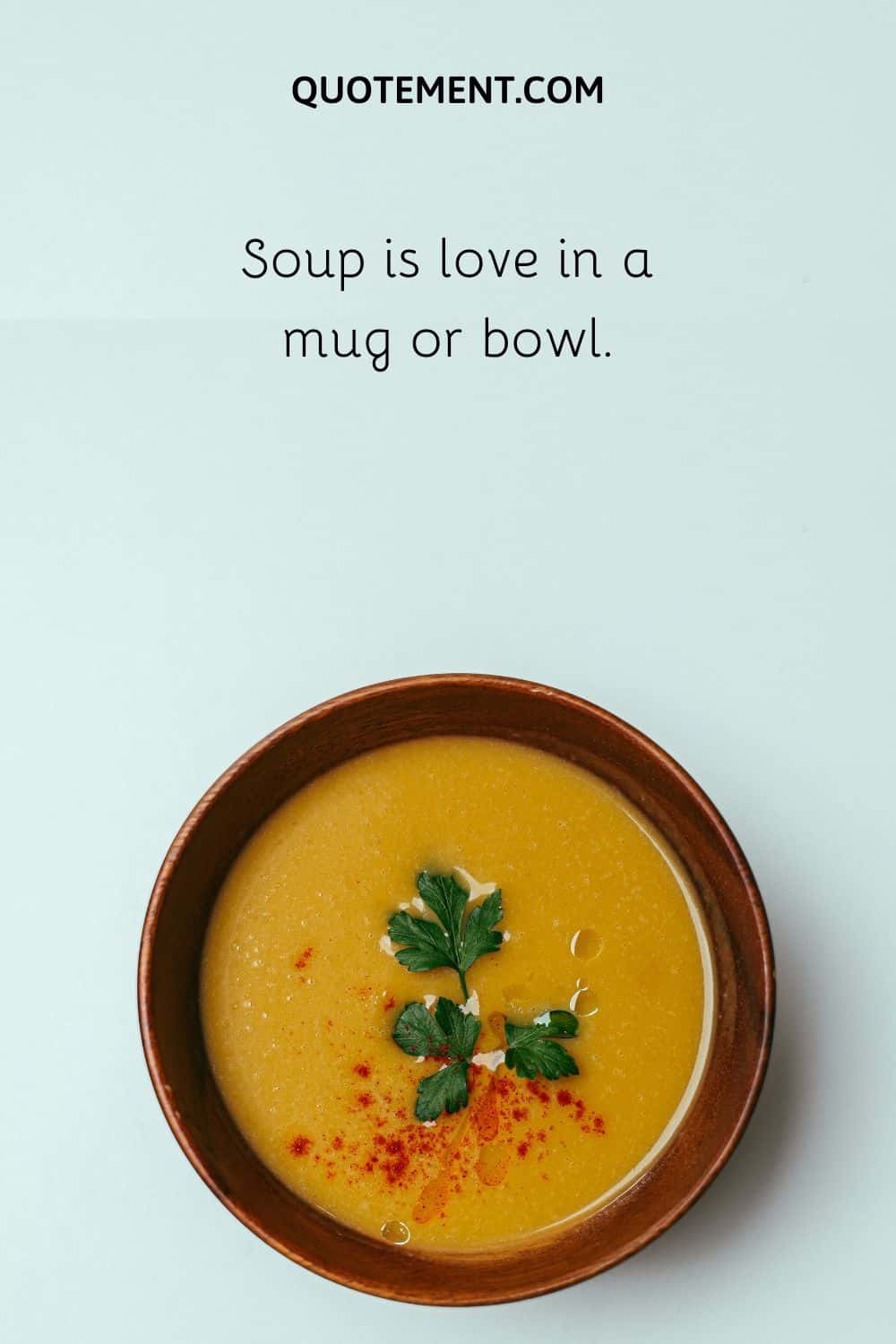 31. Soup is a necessity of life, not just for winter but every day.
32. Cool weather is finally here, so you know what that means…soup season!
33. Soup season is back.
34. A spoonful of delight and cravings.
35. A meal is complemented best by a nutritious soup.
36. What's soup with you?
37. Get the best taste in your life.
38. Delicious steam coming off that bowl — yes, please!
39. Getting tomato soup on a freezing cold day will make you feel like everything is going to be alright.
40. Get cozy with a warm bowl of soup for lunch.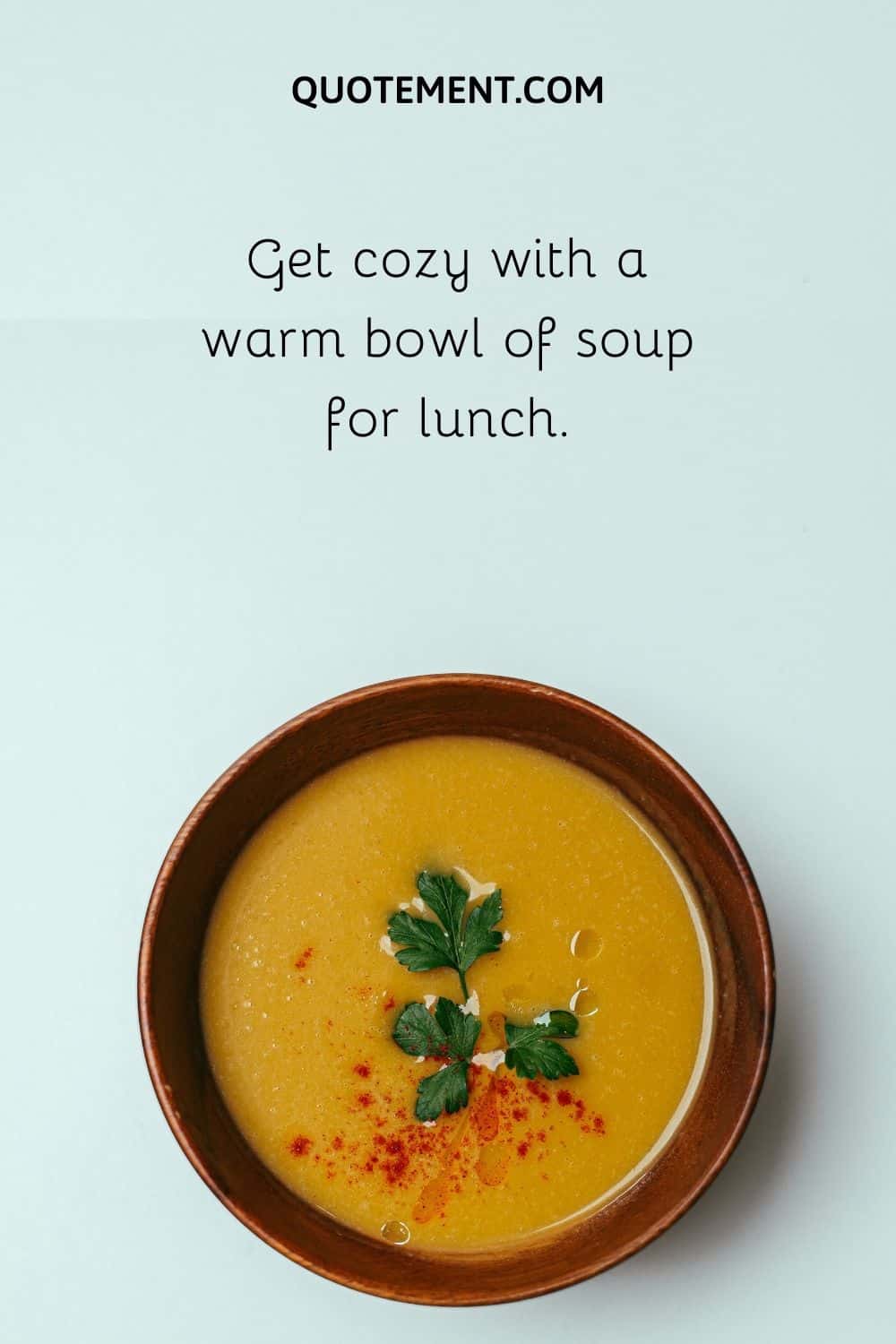 Tasty Soup Captions For Instagram
Soup is a delicious meal at any time of the year, especially during the cold months when it warms up your body! Check out these tasty soup Instagram captions that will warm your soul.
1. Let's get cozy this fall with some warm soup.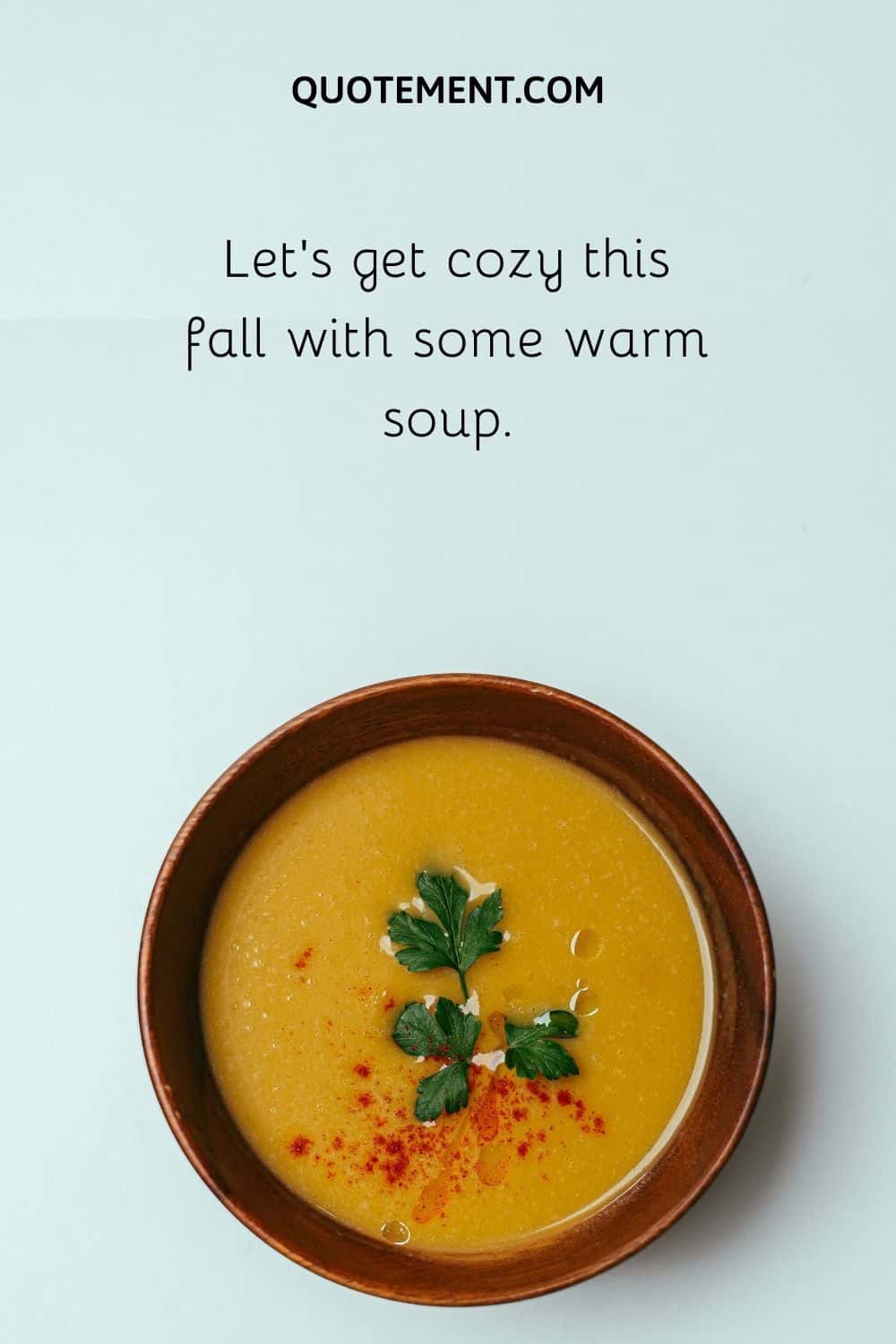 2. The flavors that will make you lick your fingers.
3. A steaming bowl of soup is the ultimate comfort food. Soup in, warm out.
4. As good for your health as it is for your taste.
5. A bowl of nutrition at your mouth.
6. Yummy in the tummy.
7. Soup is best when it's homemade, with love.
8. Warm soup on a cold day soothes more than just hunger.
9. All you have to do is heat it to eat it.
10. A good soup is an indication of a pure heart.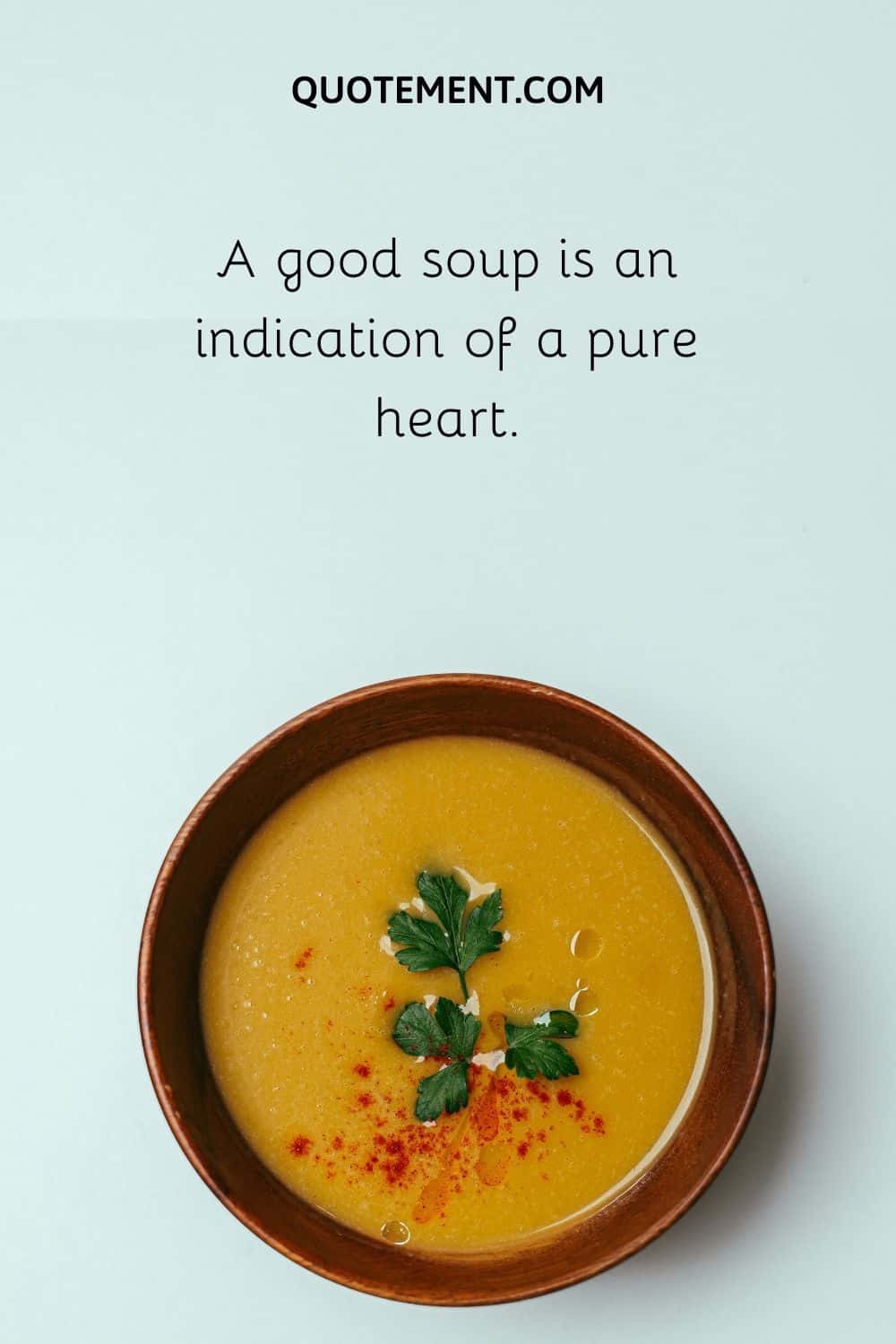 11. Full steam ahead. These steamy bowls of hearty goodness will warm you up and fill you up.
12. A taste that is etched in my memory forever.
13. Turnip the spicy heat into your favorite soup with a gentle press of the Pulse button.
14. It's always time for soup.
15. I'm the soup fairy in disguise. I have come to make you feel better with a bowl of my chicken noodle soup.
16. Warm up with a cup of delicious homemade soup.
17. Welcome to the wonderful fall where the weather is cooling and soup will not break your bank.
18. If tastes had a competition, soup would come out as a clear winner.
19. The good taste of soup for the good moments in life.
20. A good soup is reflective of good intentions.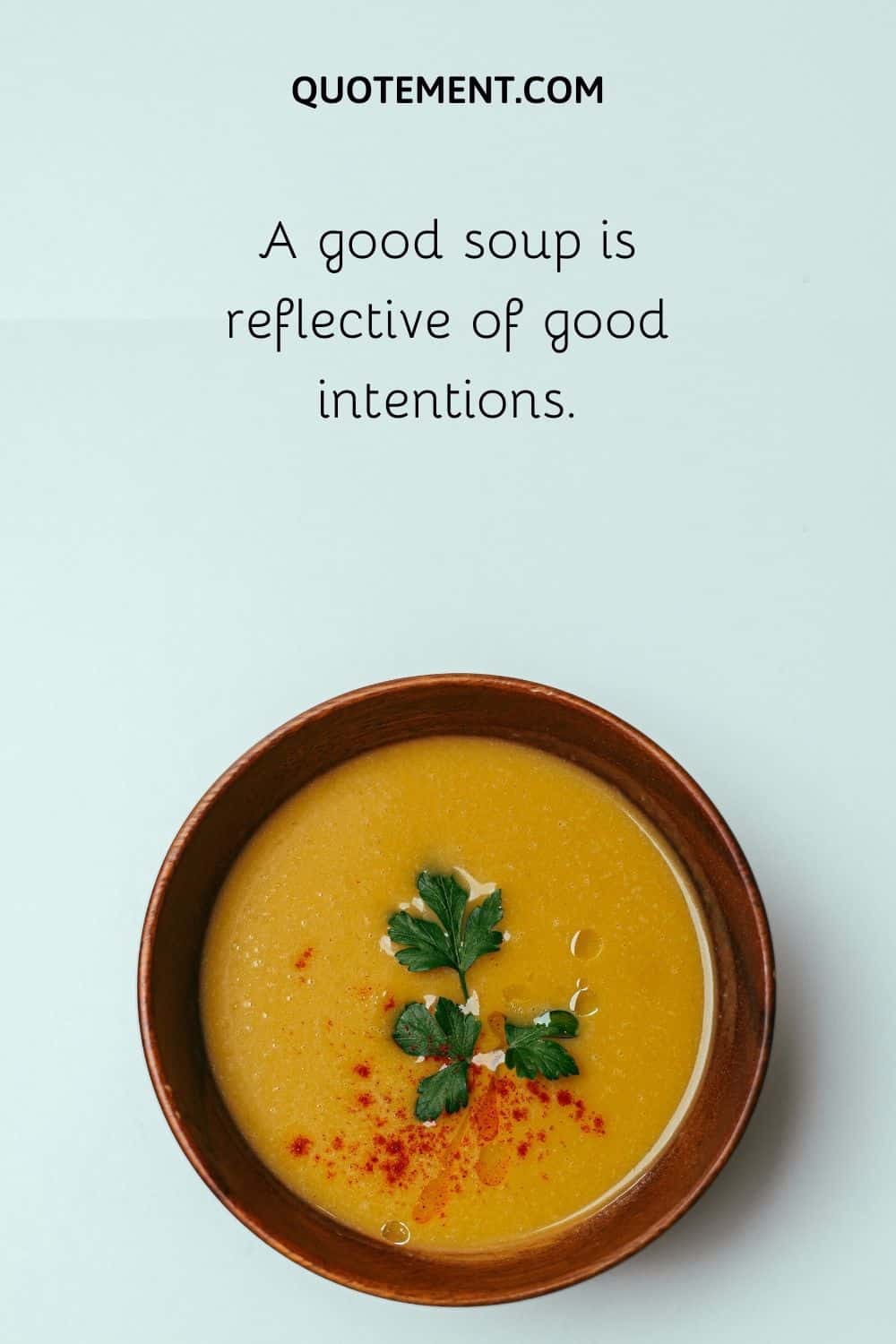 21. On this cold day, cracked corn soup warms the body and the soul!
22. Do not only eat healthy but also drink healthy.
23. It's the little things that count, like eating a bowl of minestrone before bedtime and getting your vitamin C.
24. Tomatoes are healthy and delicious. My favorite soup to eat on a hot day? Tomato! Getting tomato soup on a freezing cold day.
25. What's the best soup to cure a hangover?
26. Give your health the fuel that it needs.
27. Getting tomato soup on a freezing cold day will make you fresh and be alright.
28. The powerful taste with all its subtleties.
29. Winters are made to enjoy the soup! Soup is always the perfect addition to any chilly day!
30. If I share my soup with you, it's a big deal.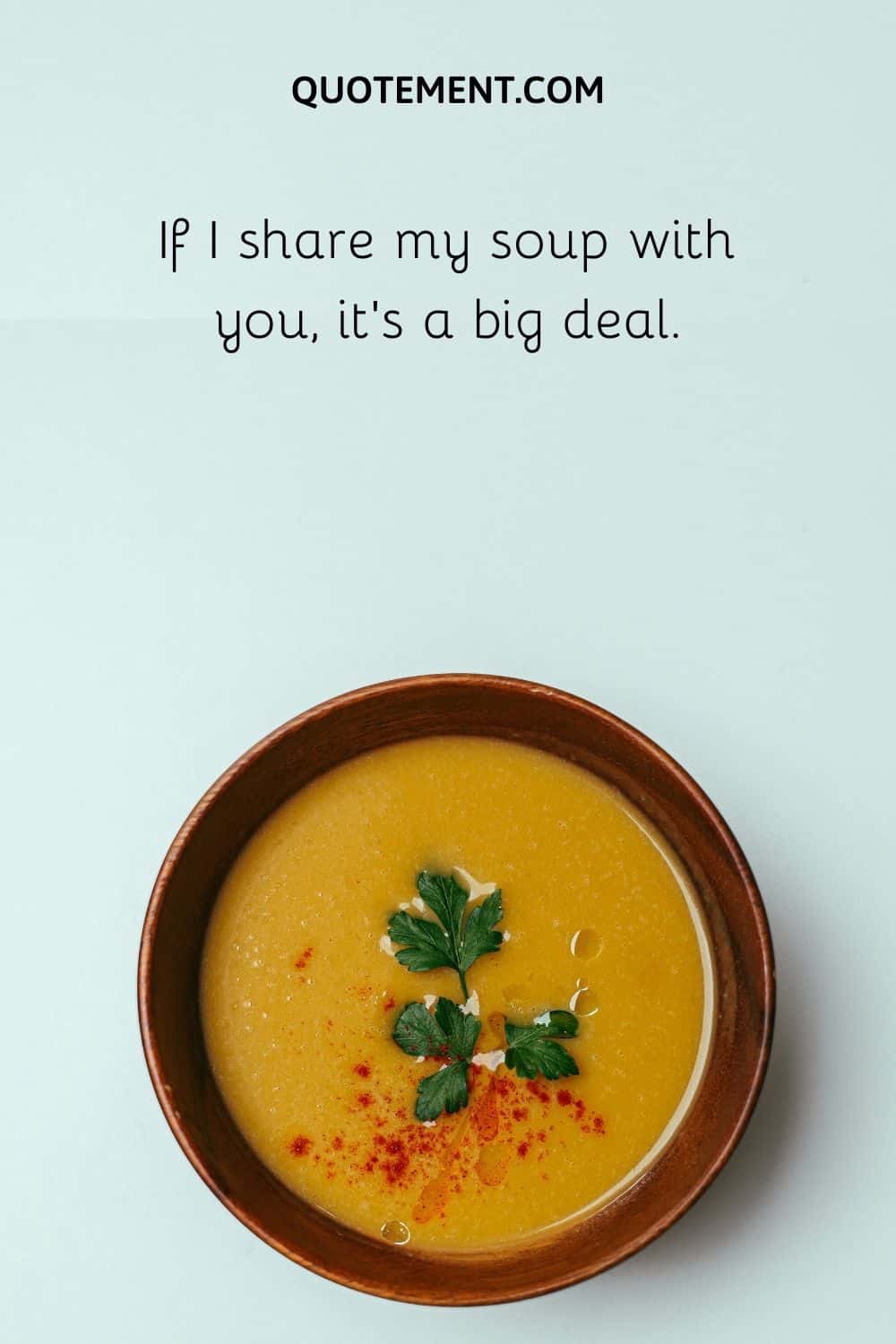 31. You're always there for me when I need chicken soup.
32. It does not take much to have a bowl of soup in front of you.
33. Let's get cozy and spoon up this soup.
34. Warm up with some hot chicken soup. Get out of the cold and warm up with some good old comfort food.
35. Soup vibes.
36. The tastiest portion of a meal.
37. A warm bowl of soup could really hit the spot right now. Hot soups are perfect for this chilly weather.
38. My favorite soup to eat on a hot day? Tomato!
39. Spooning up a bowl of inspiration in a perfect fall dinner.
40. Soup before dinner is the best thing ever.
More Soup Instagram Captions
If, after reading the lists of soup captions above, you still haven't found the perfect one for you, here are some more Instagram captions about soup to choose from.
1. Soup reminds you of family, each ingredient enhancing the other.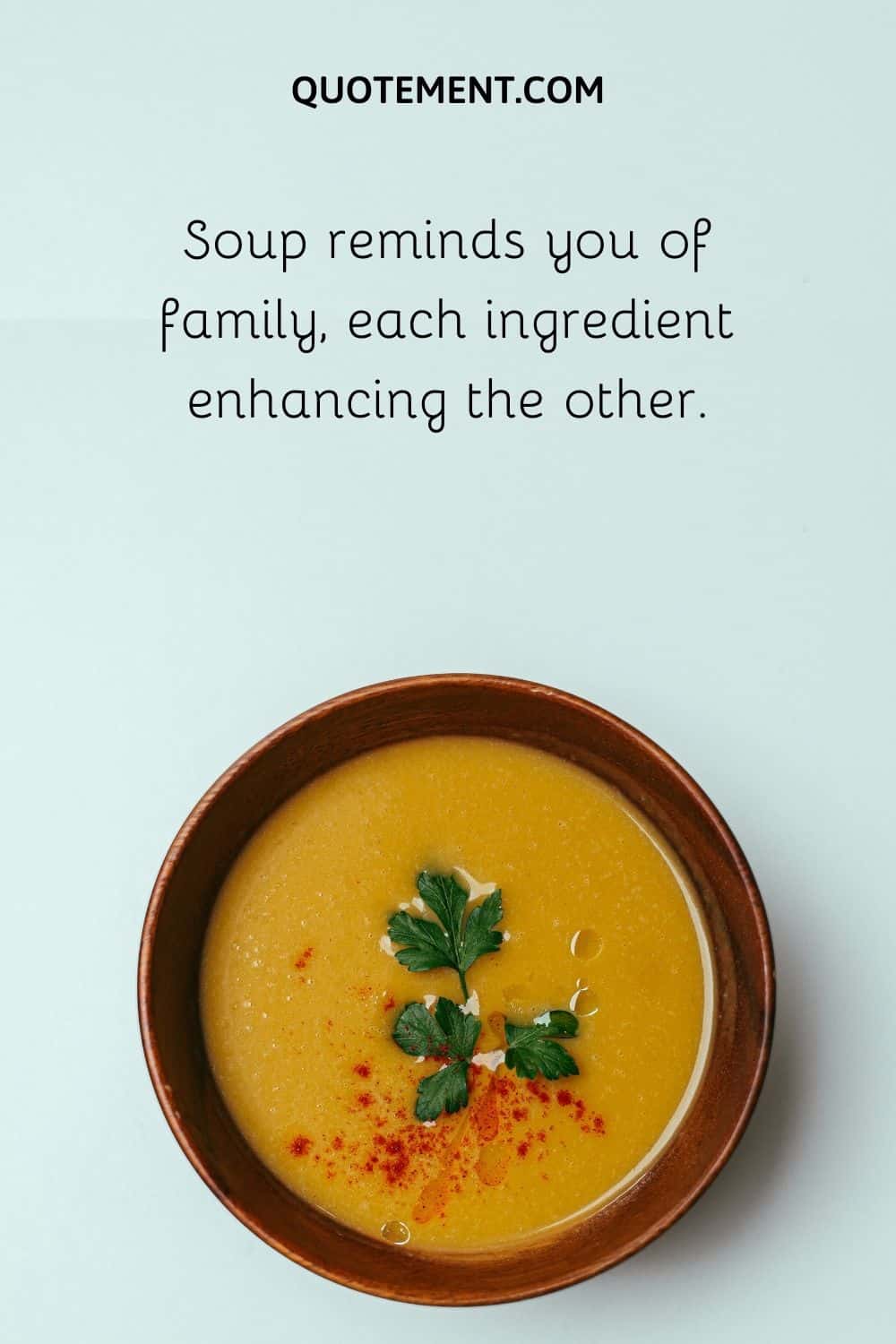 2. When the soup touches the insides of your soul.
3. Get your daily amount of fibers from a bowl of soup.#nutrition
4. Using the power of Broth.
5. Soup is quintessential fall comfort food. It's warm, it's spicy, it's filling, and everyone loves it!
6. Most of the time, soup is the answer.
7. Winter doesn't have to be all full of fright if you just add a little heat.
8. A well-made soup is a whole meal in itself.
9. It's cold outside. It's time to make some soup!
10. A soup has all the good things added in one place.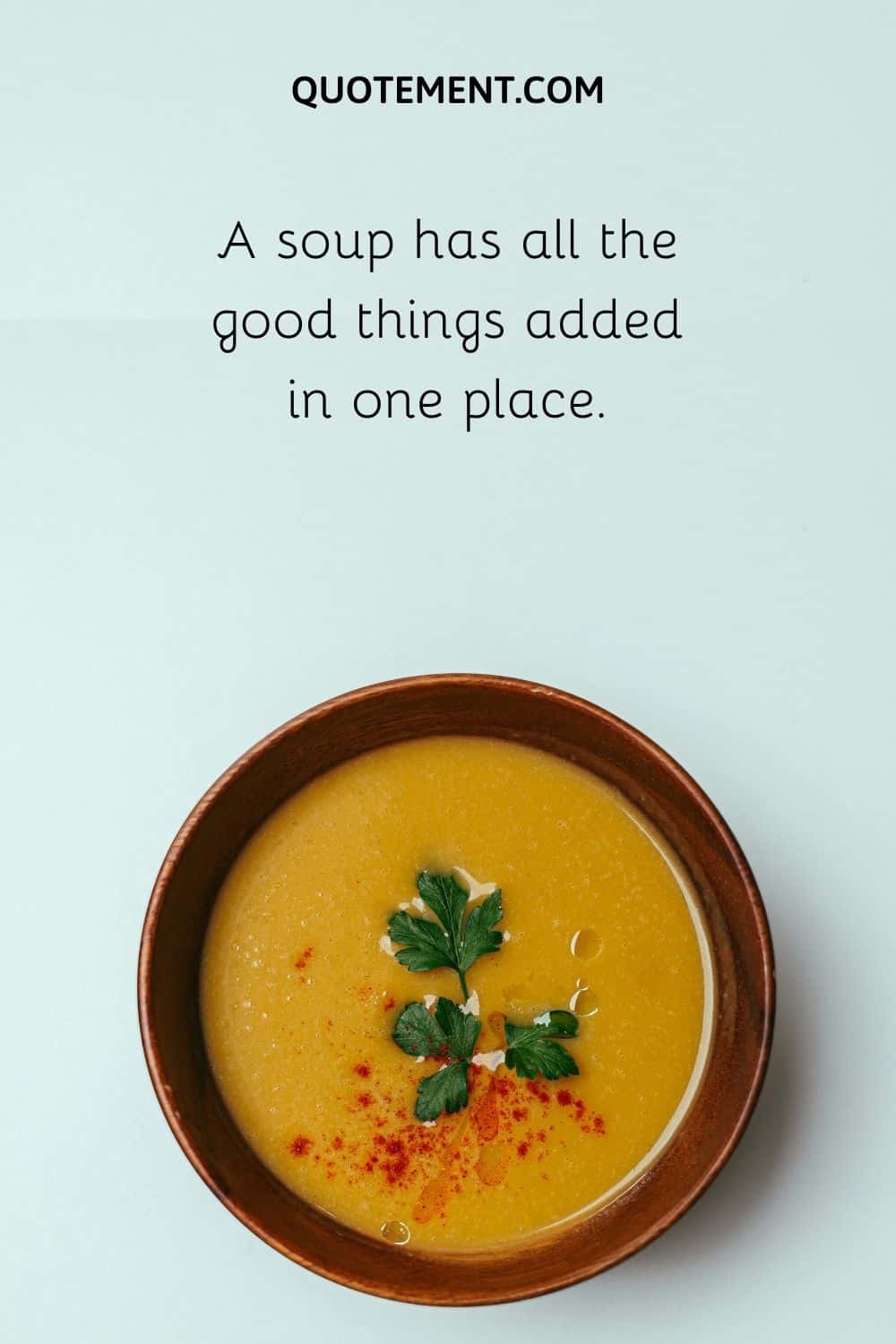 11. The best feeling during the winters is to sip on a hot and tasty soup.
12. Complement soup with salad for the most wholesome meal.
13. A creamy soup to cream your taste buds.
14. Savor each moment. Be present. Let your worries wash away. And nourish your body & soul with this simple, delicious soup made fresh daily.
15. The perfect drink for every occasion.
16. What goes better together than soup and a sandwich? Nothing.
17. Soup-pendous.
18. No, but seriously. You're my soup BFF.
19. Grilled cheese and tomato soup are the ultimate comfort meal.
20. Savor every moment.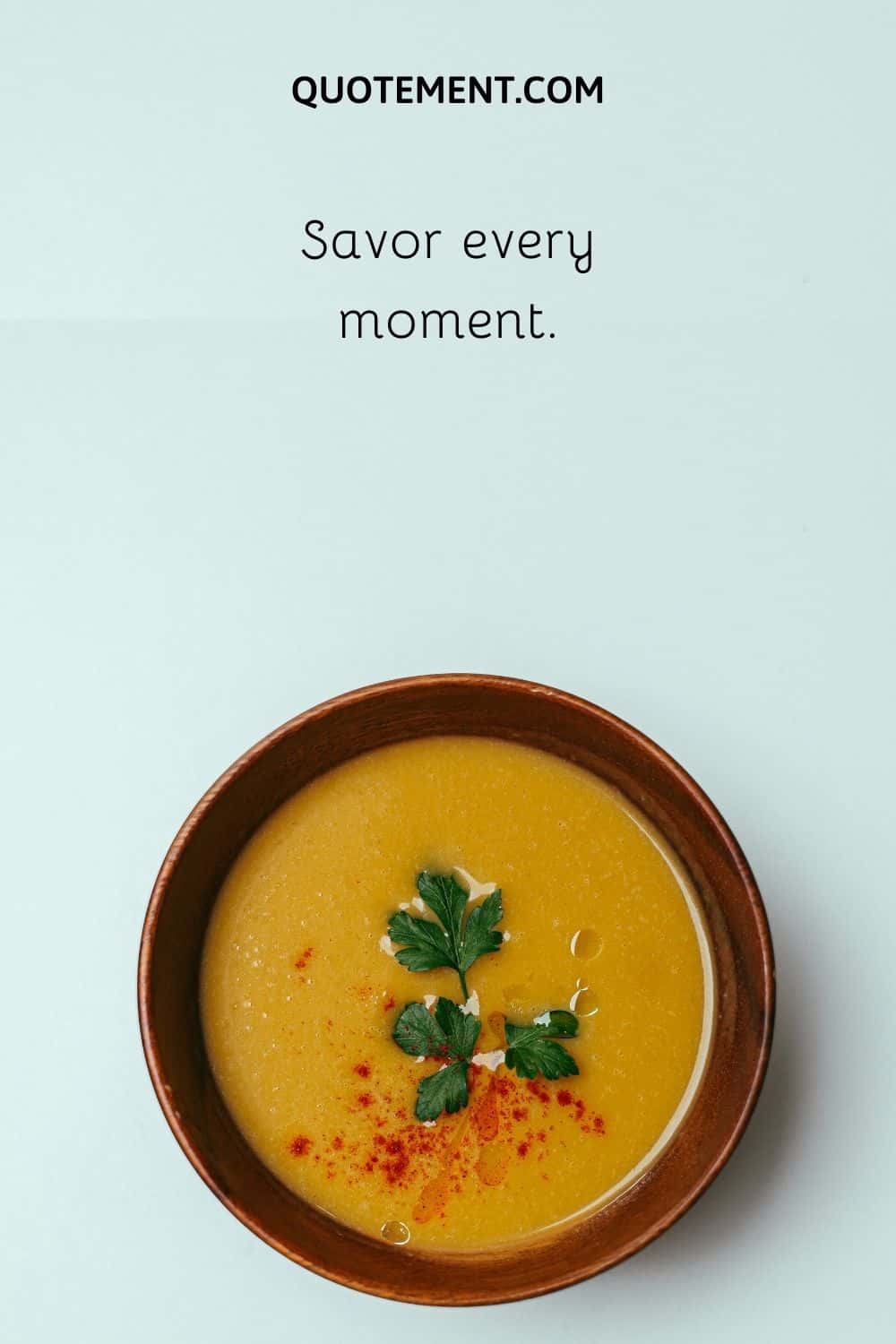 21. The titleholder for your entire diet.
22. A lot of greens for your body, a feeling of contentment for your soul.
23. It is so amazing that you cannot let go of it.
24. Good for the soul.
25. My friends are my soup spoons, stirring up happiness for me.
26. Creamy chicken soup in a bread bowl with all the Fixin's. It's dinner in a bowl – and everything you could ever want.
27. I'm going to make this easy. Soup it is!
28. A dish where taste meets best moments and memories.
29. This warm and nourishingly creamy vegan tomato soup may just be your best new self-care ritual.
30. Give your taste bud the taste that it deserves.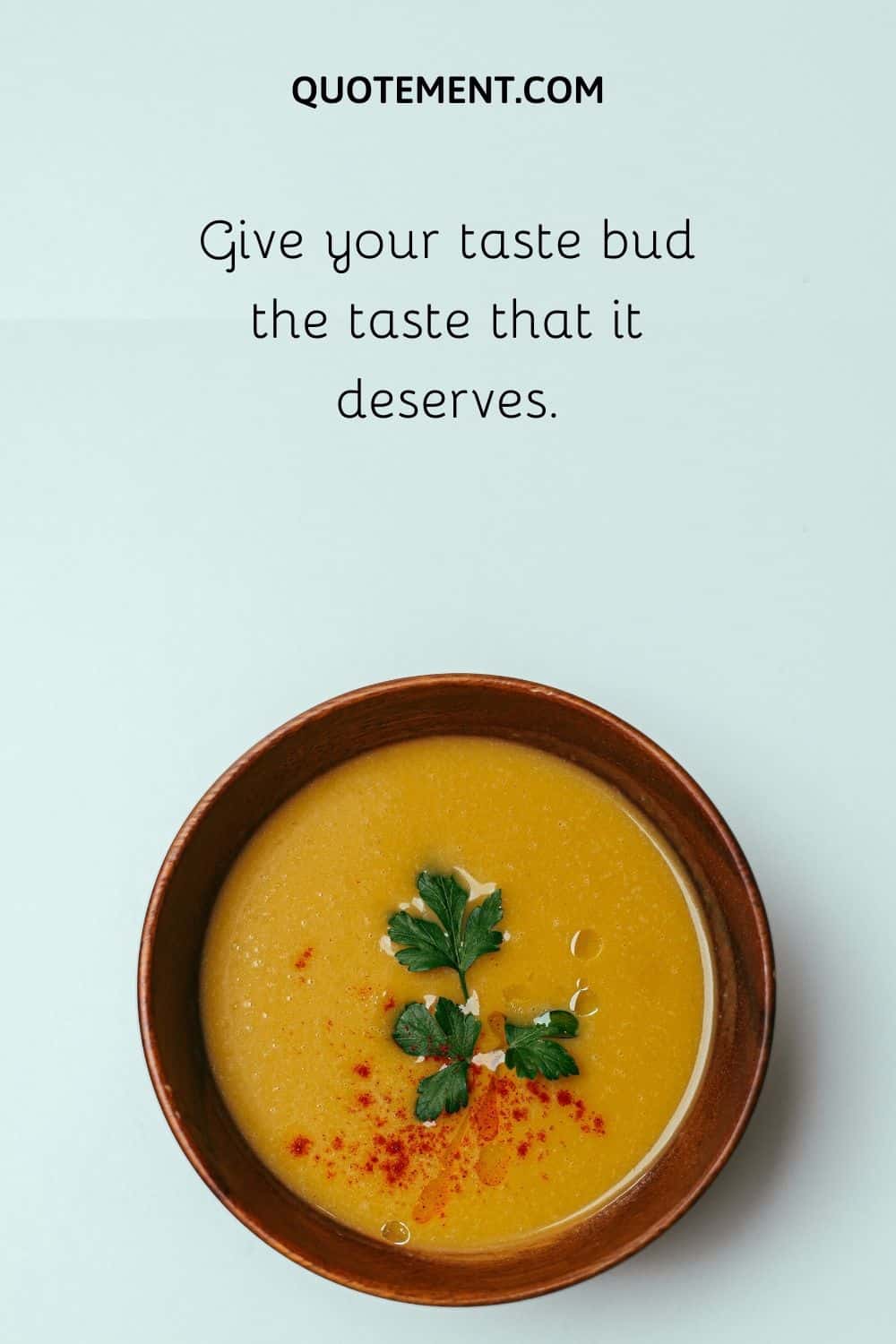 31. Soup is good food.
32. Soup is for everyone. It warms the heart and soul when it's cold outside.
33. Chicken soup with rice. I'm feeling under the weather today.
34. What's better than a bowl of our cheesy potato soup? A cup of our cheesy potato soup.
35. A delight with a lot of love from home.
36. Have the perfect night with a bowl of soup on your right.
37. A soup whose spices are full of magic.
38. A soup that tastes amazing from the first sip.
39. Cheers to late-night bowls and late-night Insta-stories. We're craving: tomato soup and toast and all the blue and green and yellow things.
40. I'm really a standard brand. Like Campbell's tomato soup or Baker's chocolate.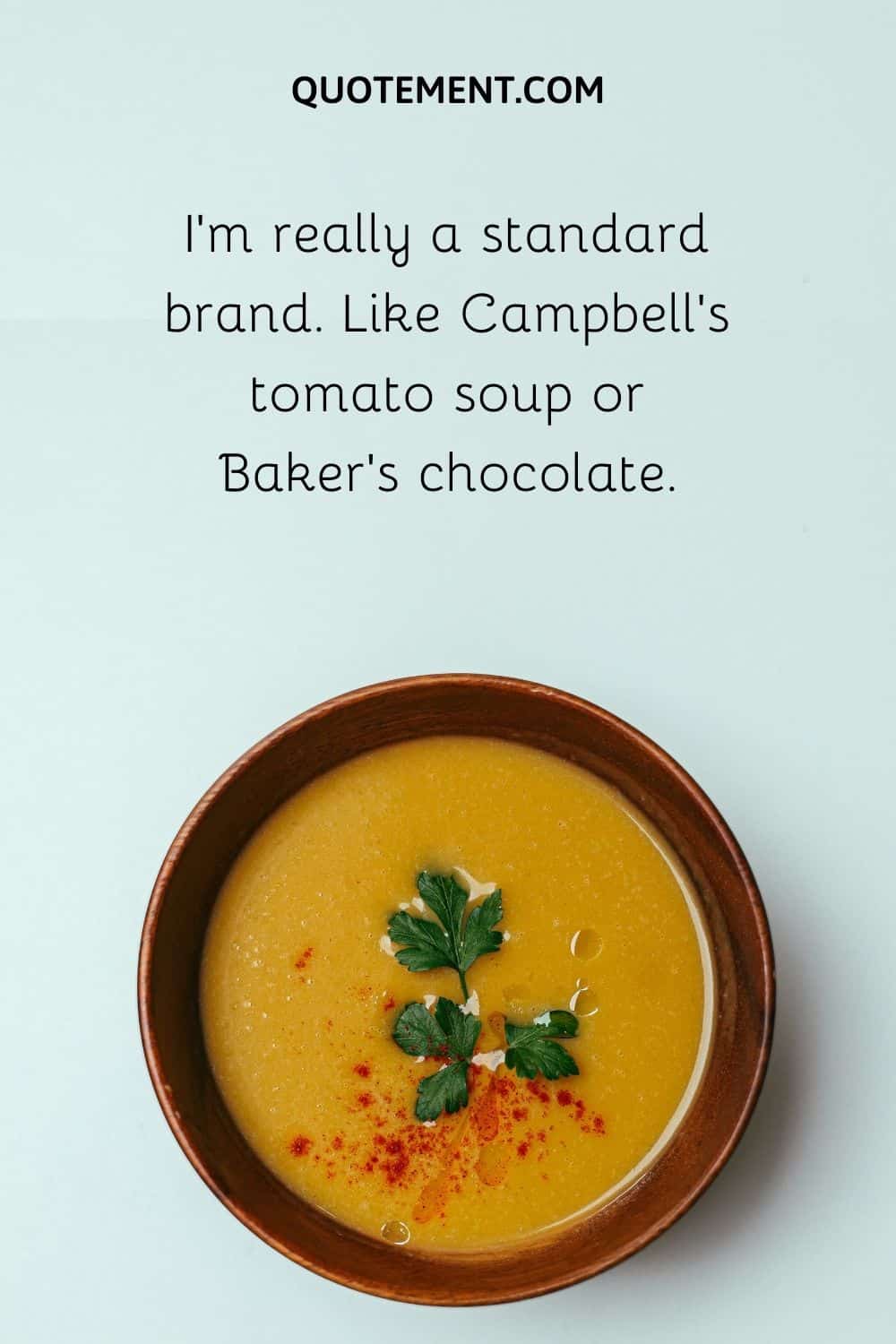 Soup Quotes That Can Be Used As Captions
Take a look at the following soup quotes to see what some famous people have said about this tasty meal. I've picked the ones that you can use as Instagram captions.
1. "Soup is the song of the hearth… and the home." — Louis P. De Gouy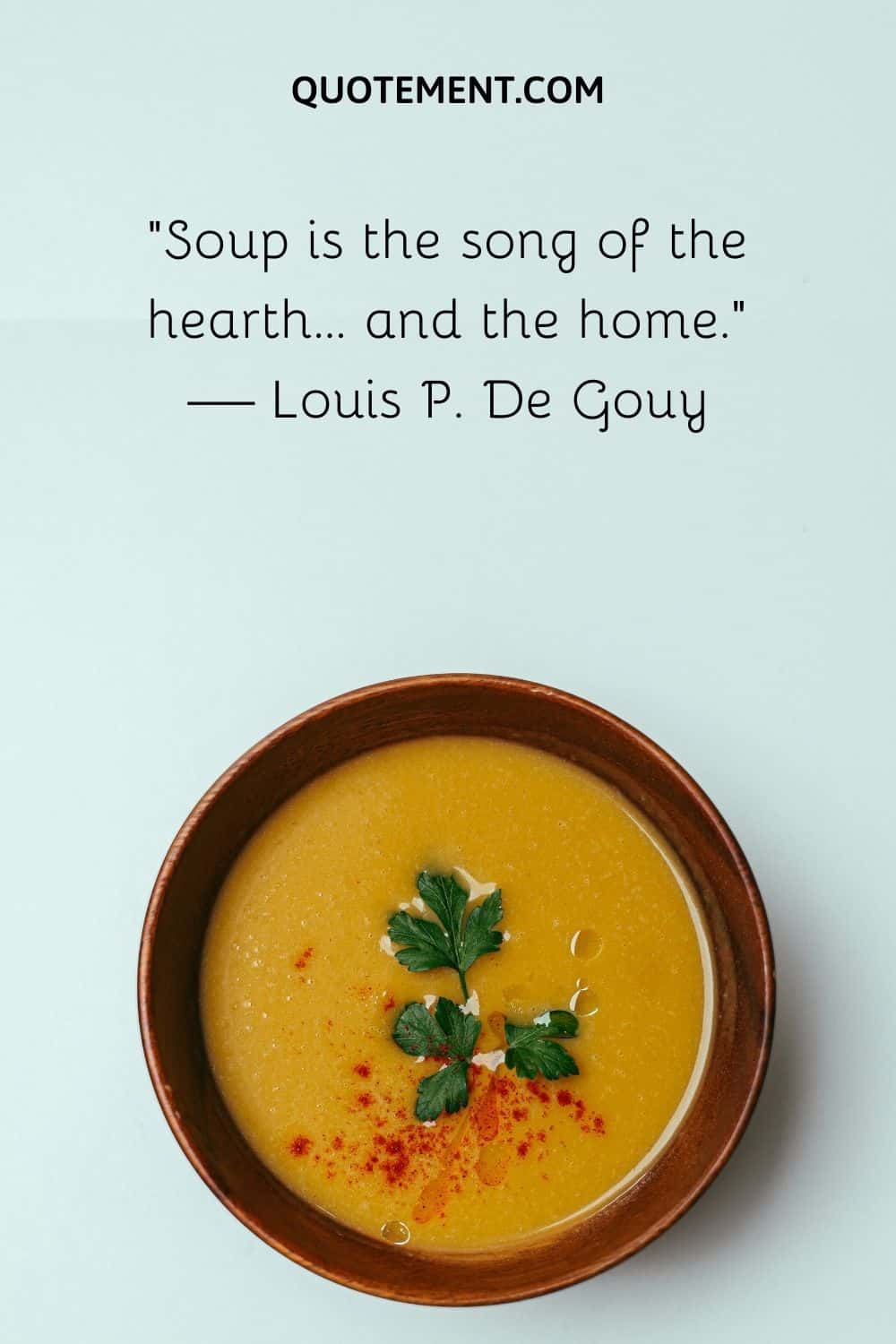 2. "A first-rate soup is more creative than a second-rate painting." — Abraham Maslow
3. "Good manners: The noise you don't make when you're eating soup." — Bennett Cerf
4. "Soup is just a way of screwing you out of a meal." — Jay Leno
5. "Of all the items on the menu, soup is that which exacts the most delicate perfection and the strictest attention." — Auguste Escoffier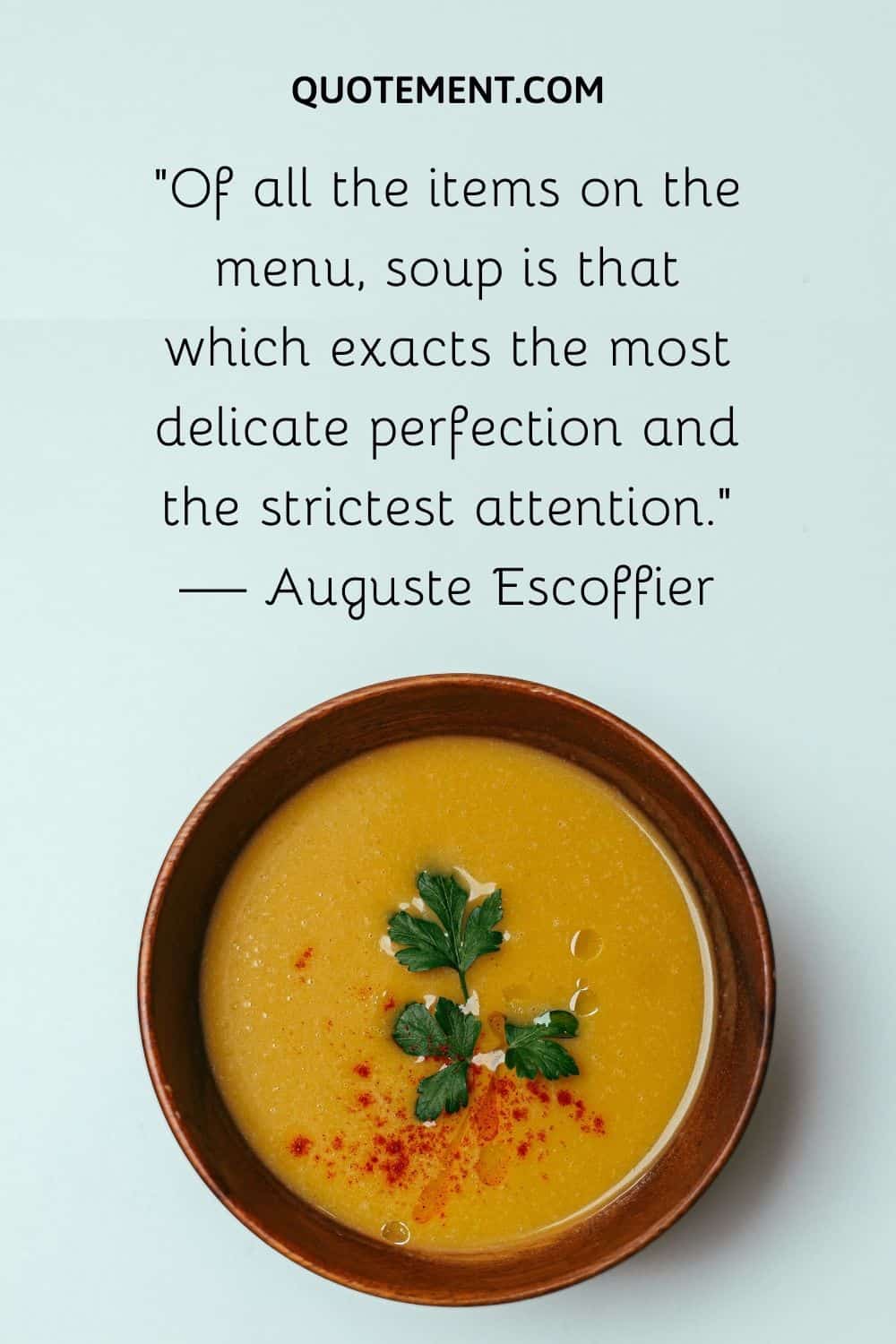 6. "Soup puts the heart at ease, calms down the violence of hunger, eliminates the tension of the day, and awakens and refines the appetite." — Auguste Escoffier
7. "There is nothing like soup. It is by nature eccentric: no two are ever alike, unless of course you get your soup in a can." — Laurie Colwin
8. "A little spoon for a cup of soup teaches to be patient; and the big one, to be greedy!" — Mehmet Murat ildan
9. "Soup is cuisine's kindest course. It breathes reassurance; it steams consolation; after a weary day it promotes sociability, as the five o'clock cup of tea or the cocktail hour." — Louis Pullig De Gouy
10. "I live on good soup, not on fine words." — Moliere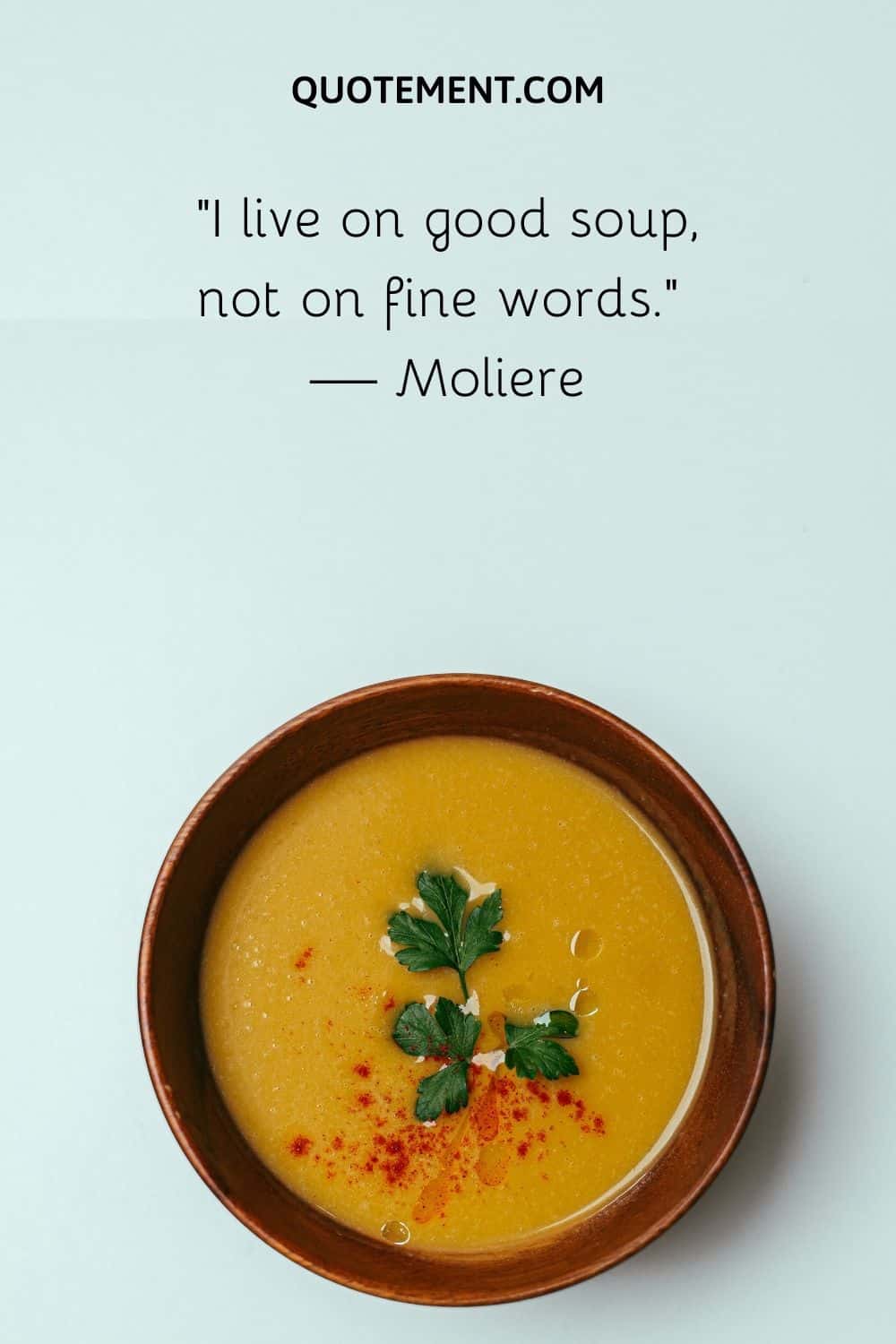 To Conclude
I hope you enjoyed my collection of soup captions, and that your quest to find the perfect one to go with your awesome soup picture is now complete.
Stay tuned for more content.
Until next time!