Partying hard and having some extra fun while taking photos for social media?
Well, this collection of the coolest 270 party captions might be exactly what you're looking for!
Since I've gathered only the best captions from different online sources, I bet they'll make your awesome posts pop in no time!
So, stick with me to find perfect caption ideas for your amazing pics and selfies!
Let's check them out!
10 Best Party Captions
I'll kick things off with my 10 best captions:
1. Feel the shot, body rock, rock it, don't stop!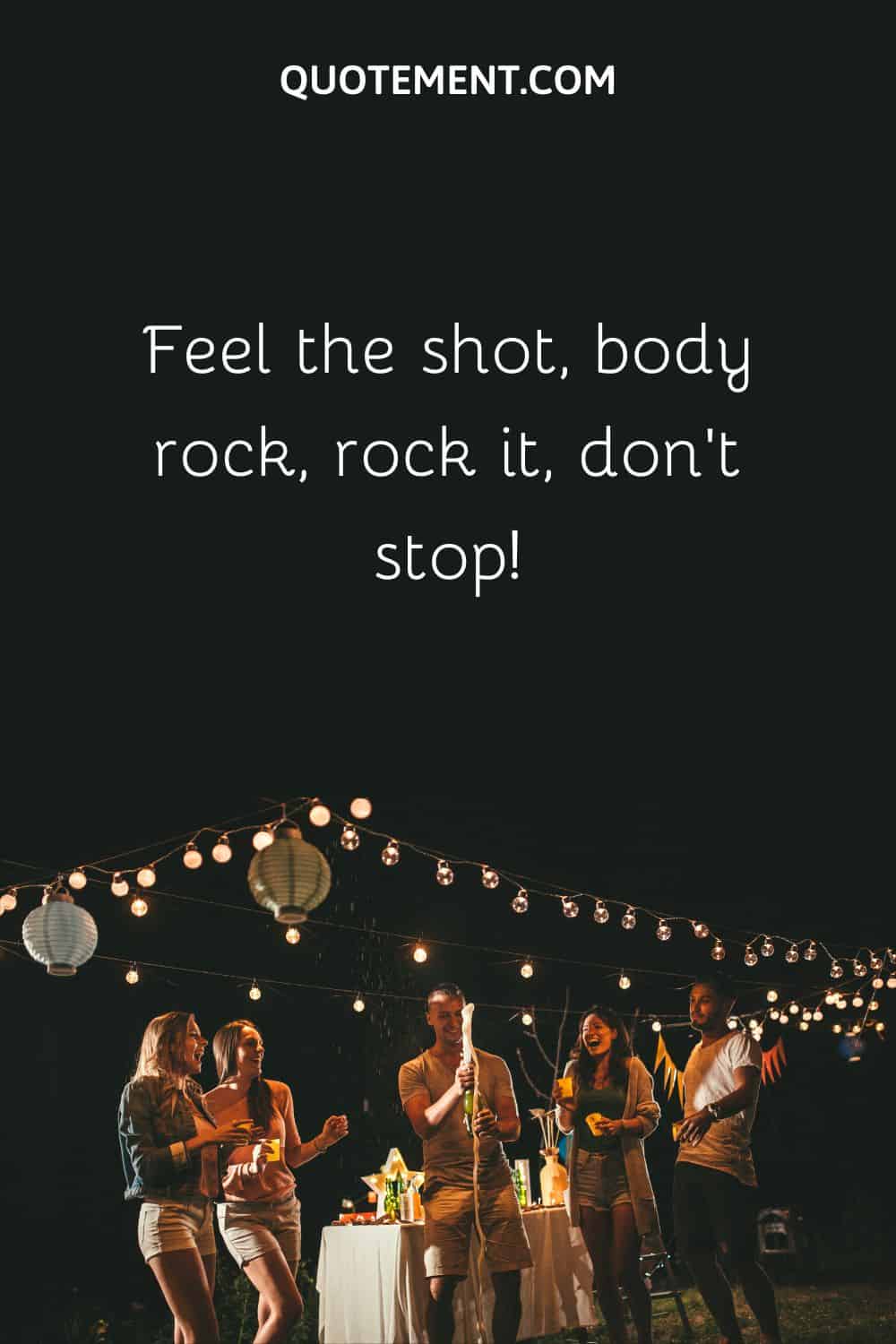 2. I'm all about that bass!
3. You might call it a party, but I call it therapy.
4. If I scream, if I cry, it's only 'cause I feel alive!
5. Give me the beat and free my soul!
6. Never miss a chance to dance.
7. Let me introduce you to my party people in the club, huh!
8. I said, y'all having a good time out there?
9. Dance floor shining or it's just me?
10. Shhh, it's party time!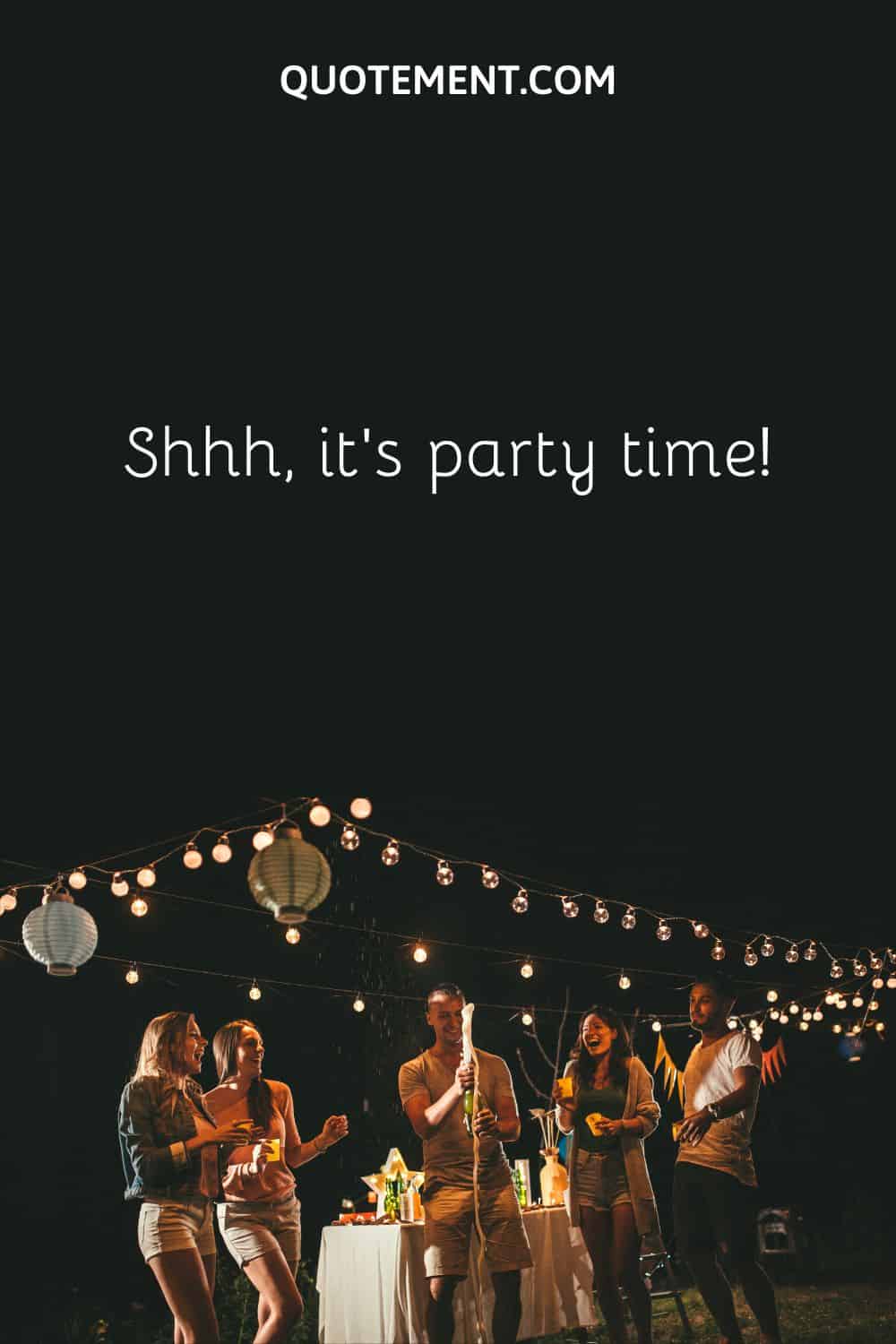 Funny Party Captions
Your party pictures and posts can stand out with these hilarious party captions:
1. Sip sip hooray!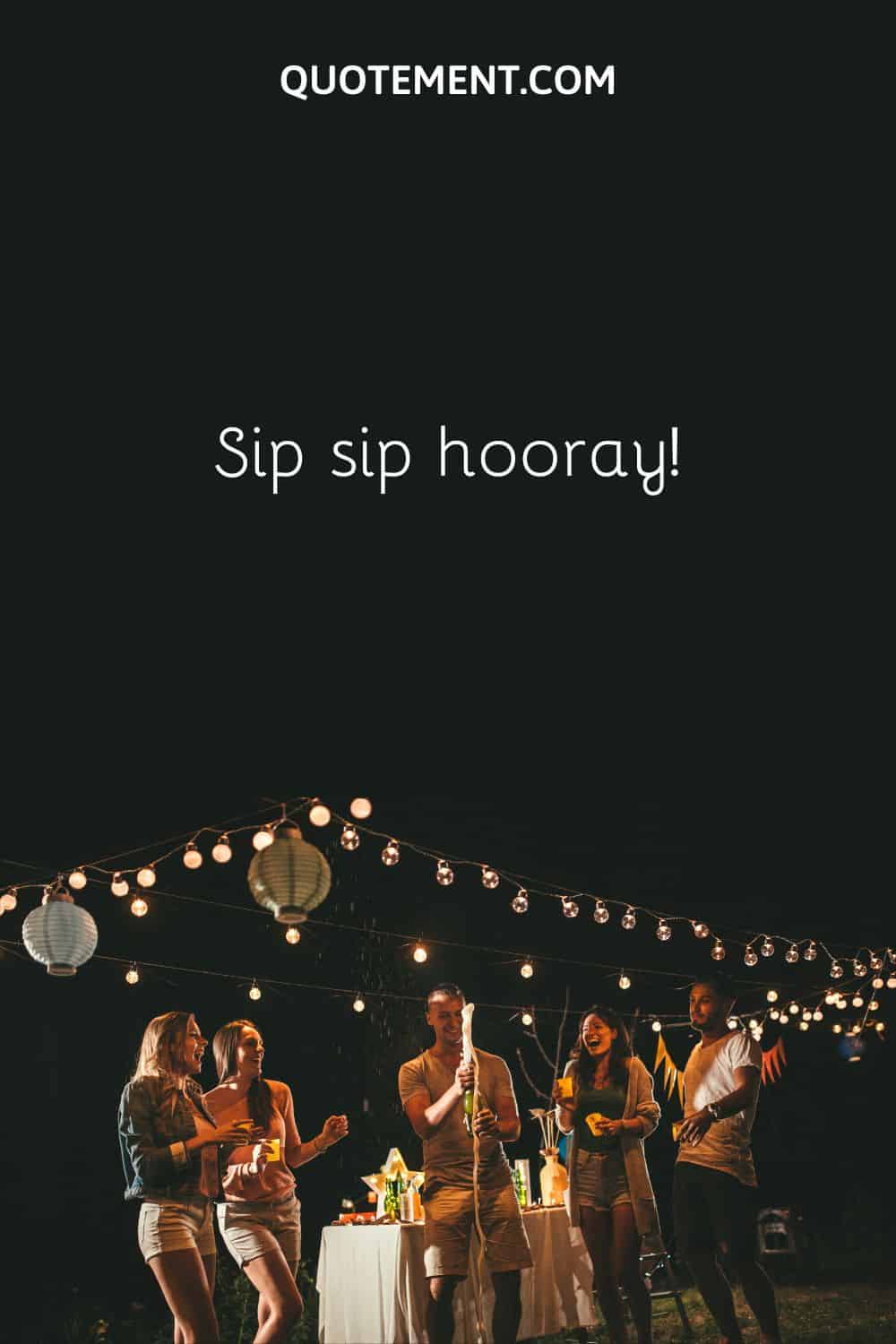 2. If this drink says I can dance, then I definitely can dance.
3. It's all fun and games until someone calls the cops. Then it's a new game; hide and seek.
4. Don't drink and drive, it will spill everywhere.
5. I never remember what people tell me at New Year's parties. It goes in one year and out the other.
6. I don't always drink beer, but when I do, call me Beercules.
7. Twinkle, twinkle little star… sign me up to the nearest bar.
8. Hear no evil, speak no evil and you'll never be invited to a party.
9. I drink to make other people interesting.
10. Why be moody when you can shake your booty?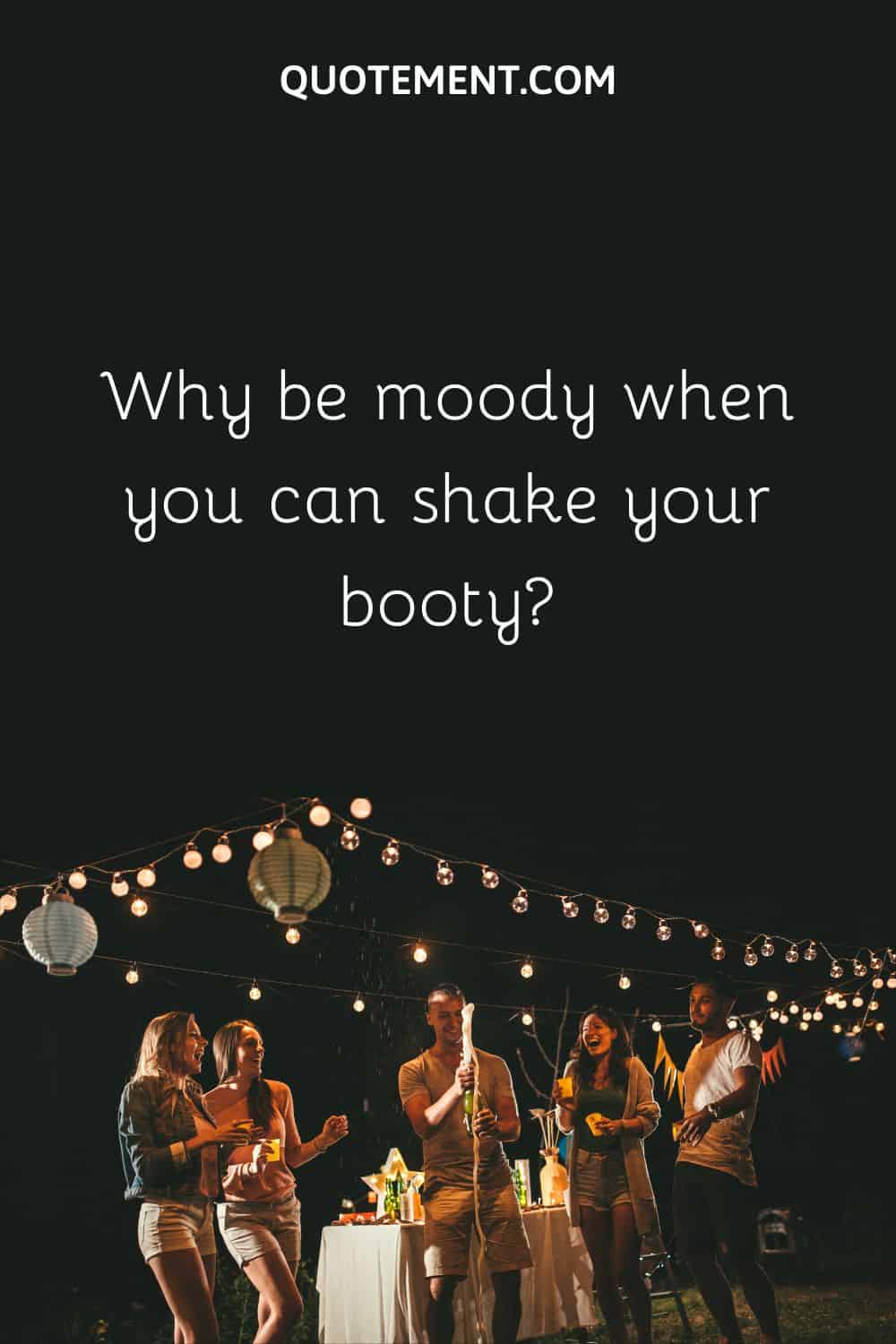 11. Currently too sober for whatever that's going on here.
12. Alcohol. Because legendary stories never start with someone drinking milk.
13. Are 24 hours in a day and 24 beers in a case a coincidence? I think not.
14. No, officer, there is no blood in my alcohol system.
15. Sobriety is not in my vocabulary.
16. At the party, there are two types of people – one who wants to go home and the other who doesn't want to. But the fact is they are married to each other.
17. A party without cake is just a meeting.
18. Went to a great party for meteorologists yesterday… Lovely atmosphere!
19. We gave them something to taco 'bout.
20. Drinking probably isn't the answer to our problems, but it's worth a shot.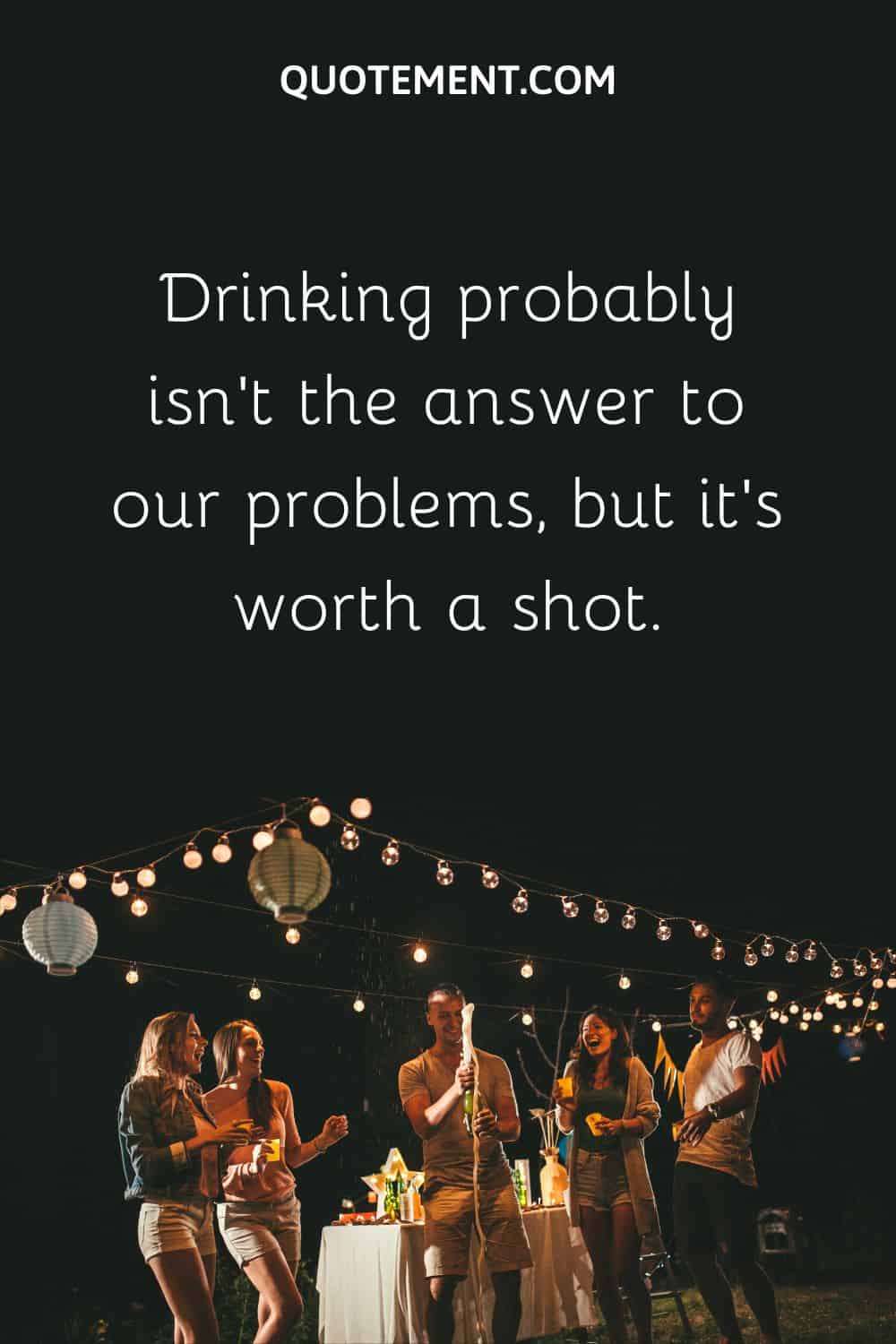 21. Actually, it only takes one drink to get me loaded. The trouble is, I can't remember if it's the thirteenth or fourteenth.
22. All worries can be drowned in wine.
23. Wine improves with age. The older I get, the better I like it.
24. You know you're drunk when you fall off the floor.
25. A night of pour decisions.
26. Well, that escalated quickly!
27. Beer is proof that God loves us.
28. Drink triple. See double. Act Single.
29. According to the Bible, you should love thy enemy. And since I consider alcohol an enemy, you know the rest of the story.
30. Who's on the floor? Oh, sorry, it's just me.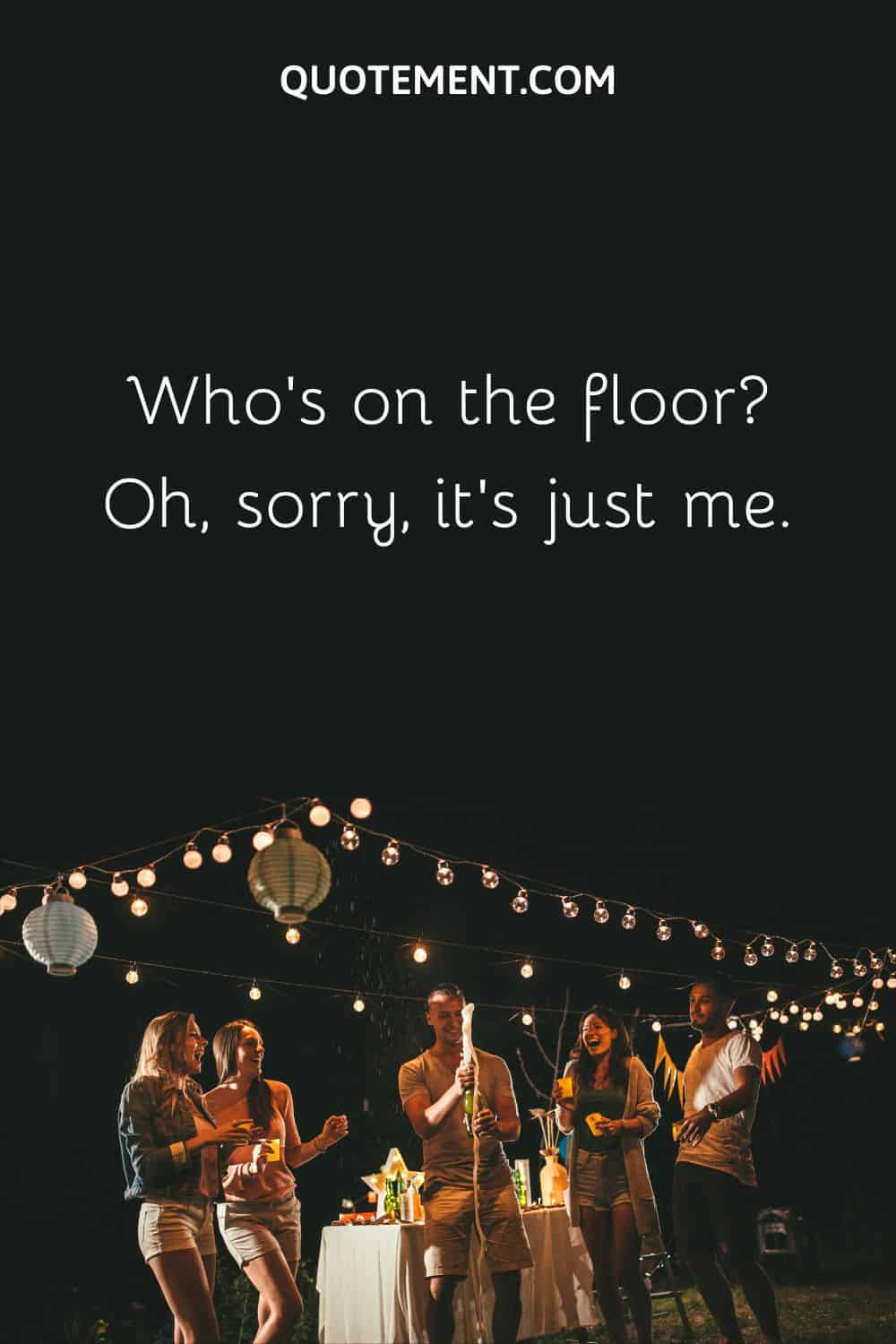 31. One tequila, two tequila, three tequila, floor.
32. A man's got to believe in something. I believe I'll have another drink.
33. Never miss a party. Good for the nerves, like celery.
34. Cocktail party: a meeting organized to allow forty people to talk about themselves at the same time.
35. Let's celebrate with a toast and get lost!
36. Petting a dog counts as partying.
37. Soup of the day: tequila.
See also: 100 Tequila Quotes That Are Absolutely Worth A Shot!
Captions For Party Selfies
If you're looking for party captions for your sassy selfies, be sure to check these caption ideas out:
1. Last night a DJ saved my life.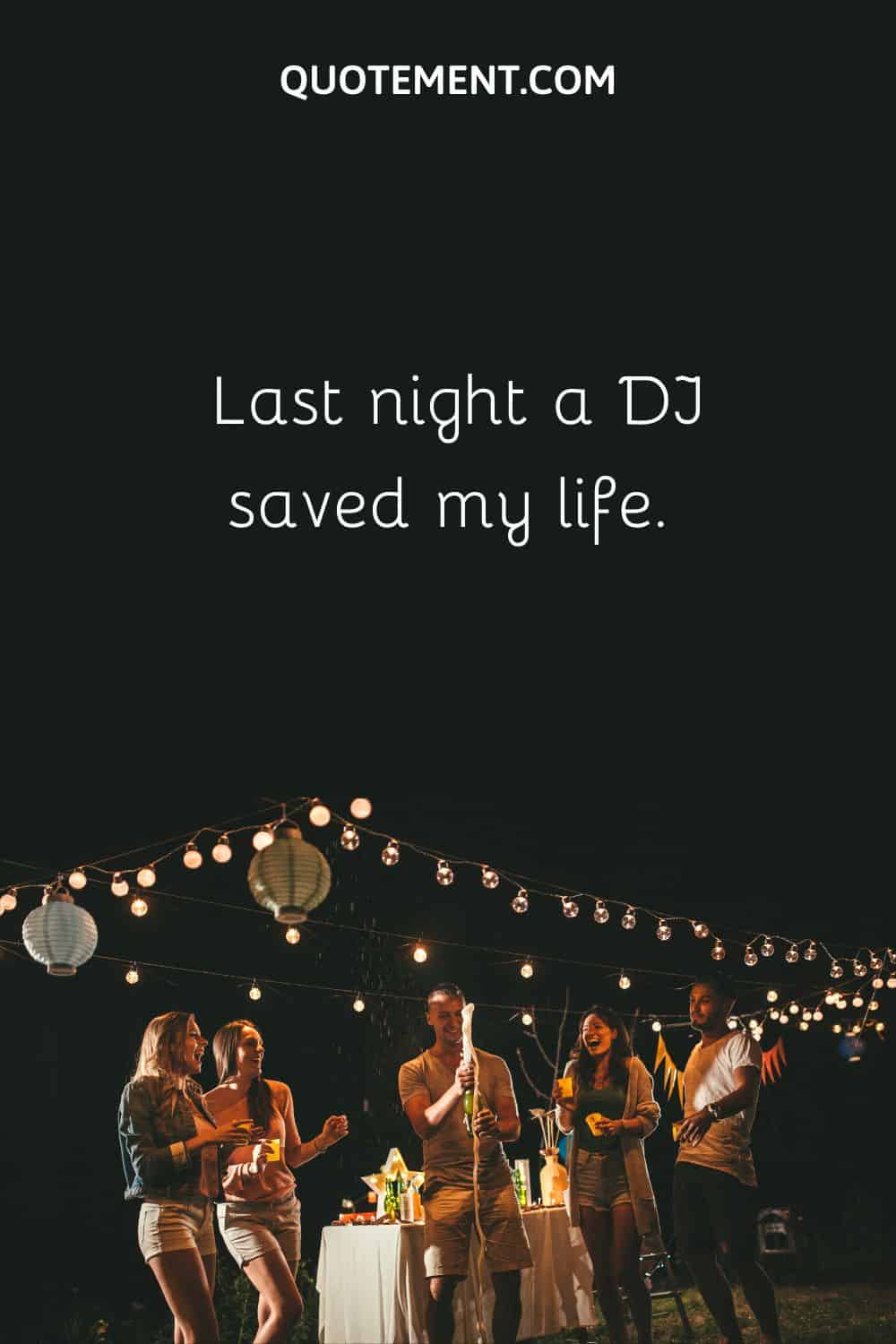 2. And if it wasn't for the music, I don't know what I'd do, yeah.
3. Let's get sassy and be a little bit glittery.
4. Like a rockstar.
5. Live for today… Plan for tomorrow… Party tonight!
6. Let the good times roll.
7. All I want is good music, great friends, bright lights and late nights.
8. You may say I'm a dreamer, but I'm not the only one.
9. Make your own magic.
10. Not invited to a celebration? Throw your own party!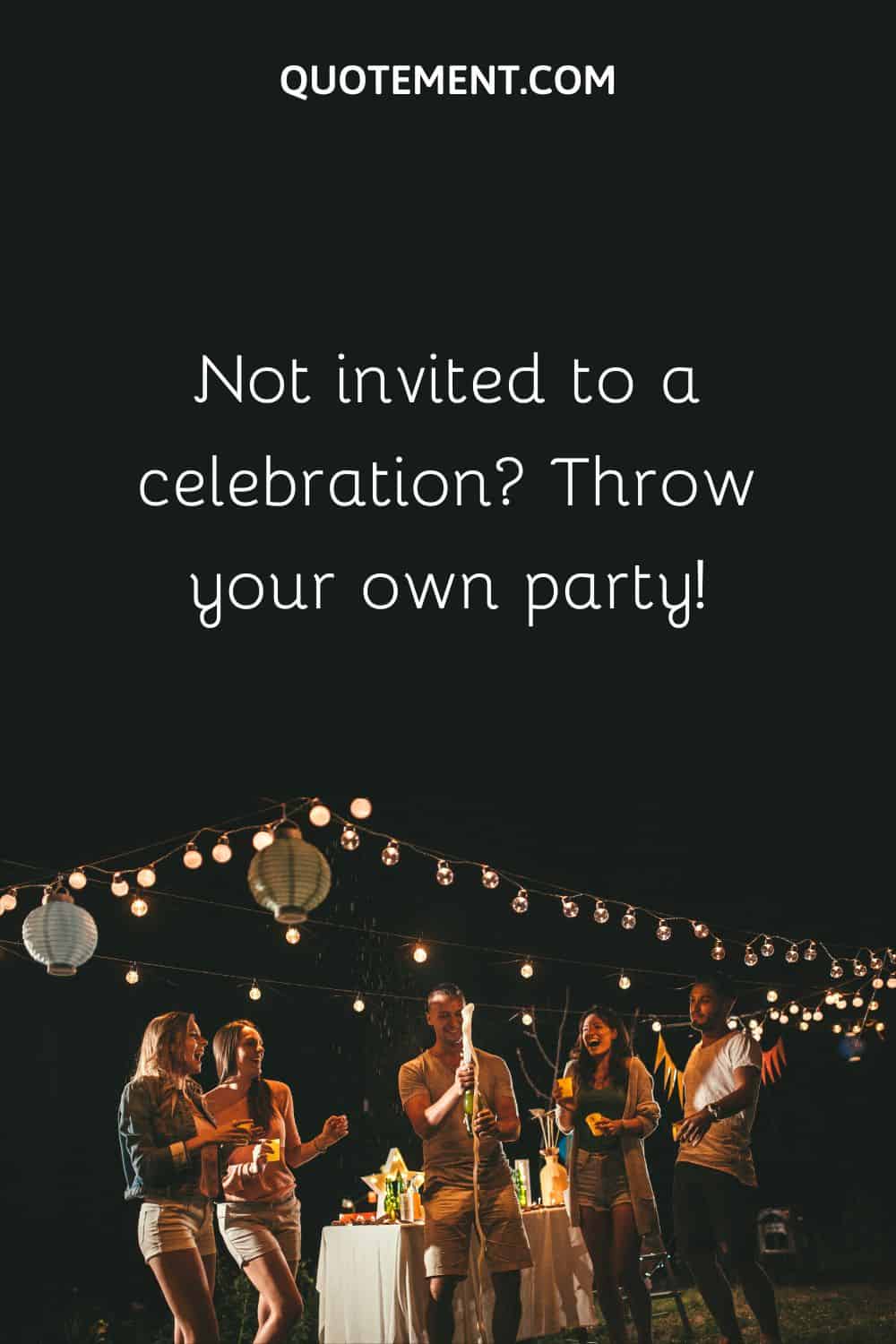 11. Sure I can party all night long.
12. I'm gonna live like tomorrow doesn't exist.
13. Live to work. Work to party. Party to live.
14. Time to drink and dance on the table.
15. Wild, barefoot, and free.
16. Drink all day; play all night. Let's get it poppin'; I'm in Miami!
17. Just keep celebrating and have fun.
18. Good music. Good friends. Good vibes.
19. I need a six-month holiday, twice a year.
20. Let's party all night.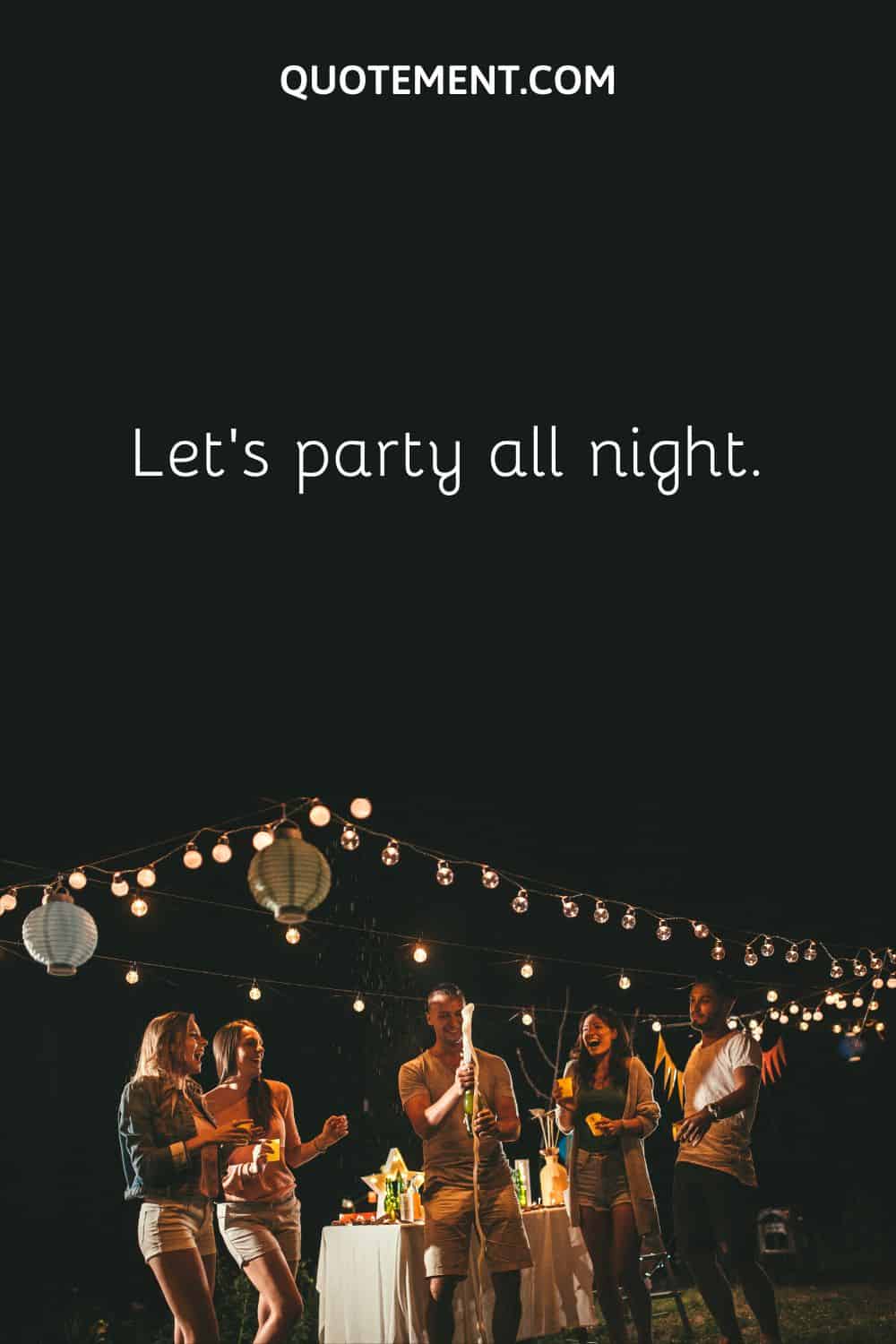 21. The party ain't over, the party ain't over!
22. And I'm just getting warmed up!
23. They can't, they won't, they never will stop the party!
24. So baby tonight we will celebrate and talk of the times till it gets real late!
25. Yes baby tonight we'll appreciate just what we've got, so let the good times rock!
26. Take me dancing tonight, I want to hit that high!
27. No matter how you feel, get up, dress up and enjoy the party!
28. Live to rock, rock to live!
29. She said shut up and dance with me, this woman is my destiny.
See also: The 280 Best Dance Captions To Awaken The Dancer In You
Party Captions For Instagram
Looking for party Instagram captions? Look no more because you'll find loads of cool captions ideas for Insta here:
1. Keep calm and party in the club!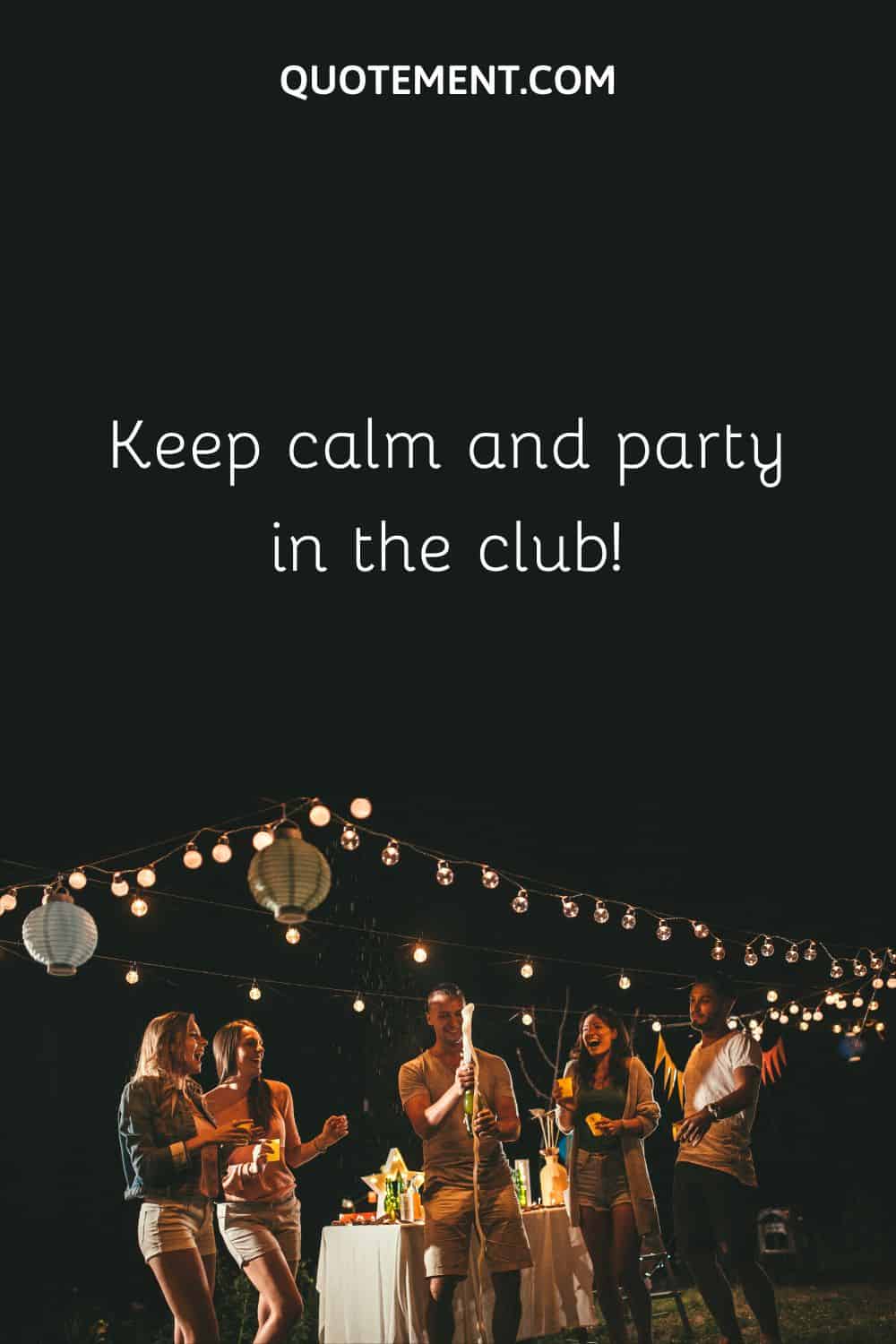 2. Old enough to know better, young enough not to care.
3. Darling, it wouldn't be a party without you.
4. We'll be glowing in the dark.
5. Drinking booze and minding my own business.
6. I wish some nights lasted forever.
7. Baby, I don't need dollar bills to have fun tonight.
8. My excuse is that I'm young.
9. Come and meet some legends.
10. That's what life is all about: let's have a party. Let's have it tonight.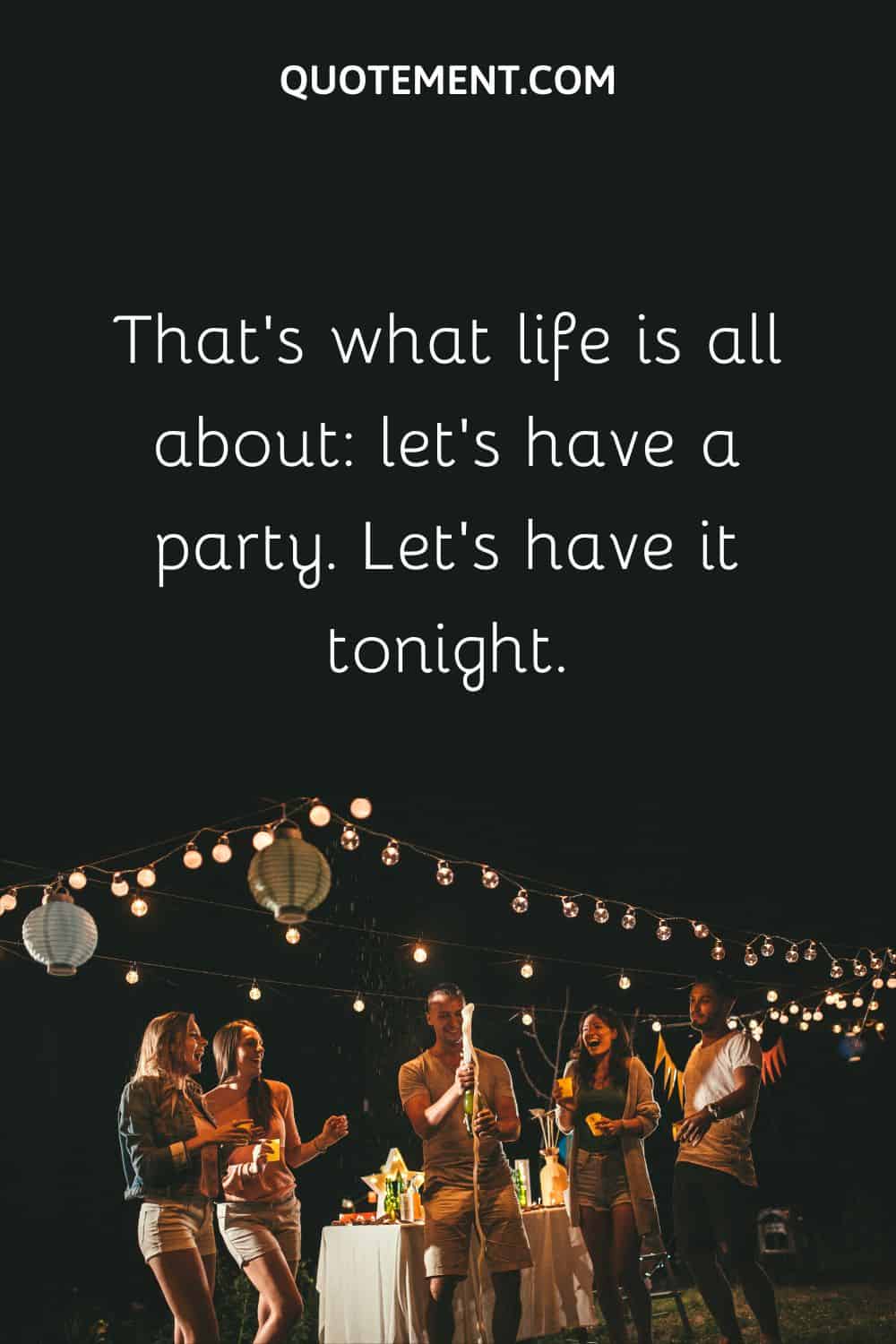 11. The girls just want to have fun!
12. Let's gather tonight on the dance floor.
13. Come on Barbie, let's go party!
14. Good girl with bad habits.
15. Anything possible with a little lipstick and champagne.
16. You know we're gonna be legends.
17. Always dress like you're about to party.
18. Bring on the night.
19. Friends who slay together stay together.
20. Work hard, party harder.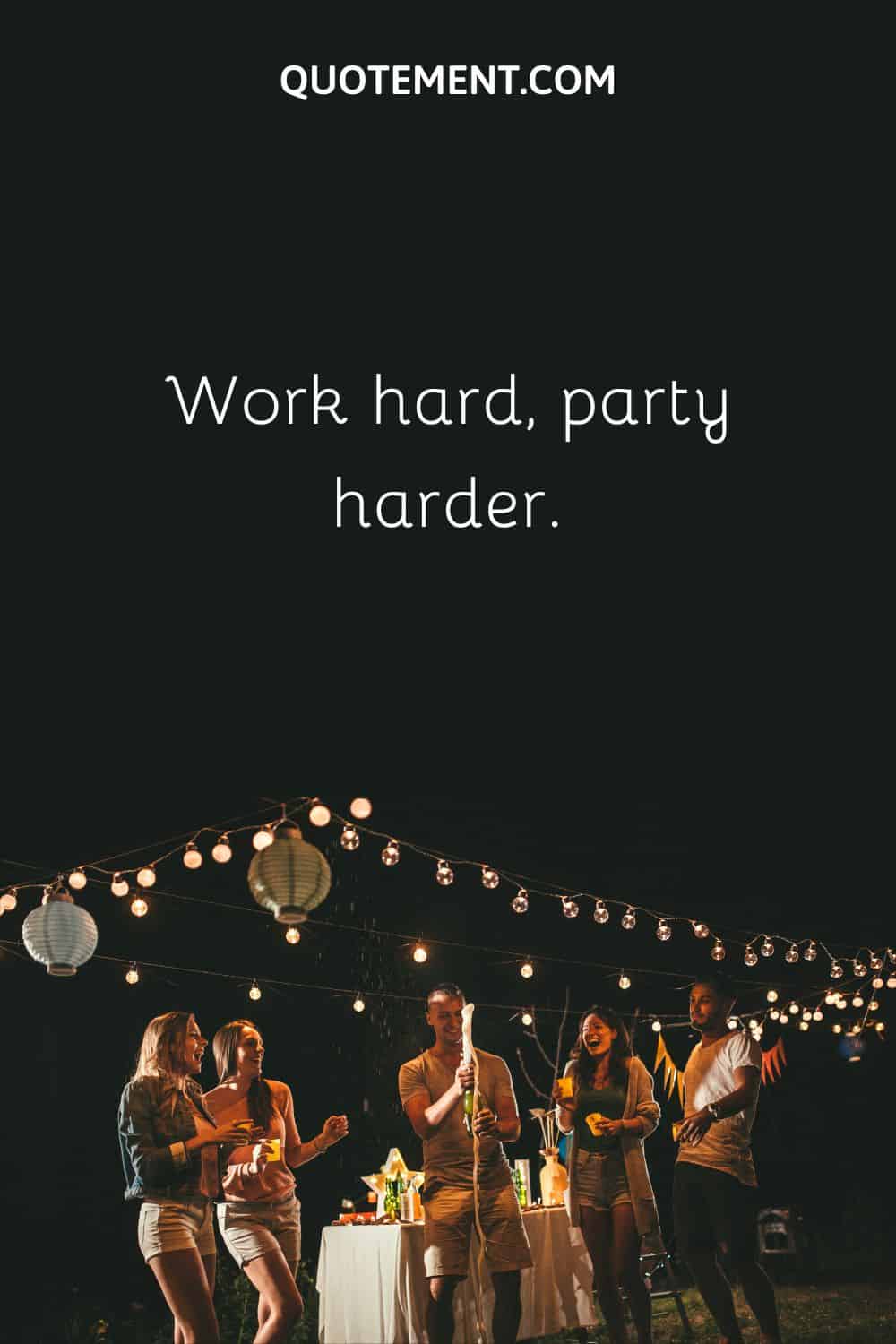 21. Forget about the world and enjoy the moment because we are young.
22. Time flies when you're having fun.
23. Follow the call of the disco ball.
24. Stop talking, start dancing.
25. Find me where the wild things are.
26. One shortcut to happiness is dancing in the middle of a rowdy crowd.
27. Crazy nights make the best memories.
28. My advice to all: dance and sing while the party is still on!
29. Turn down the tension and turn up the beat!
30. Dancing is the language of the soul that relieves stress and increases happiness.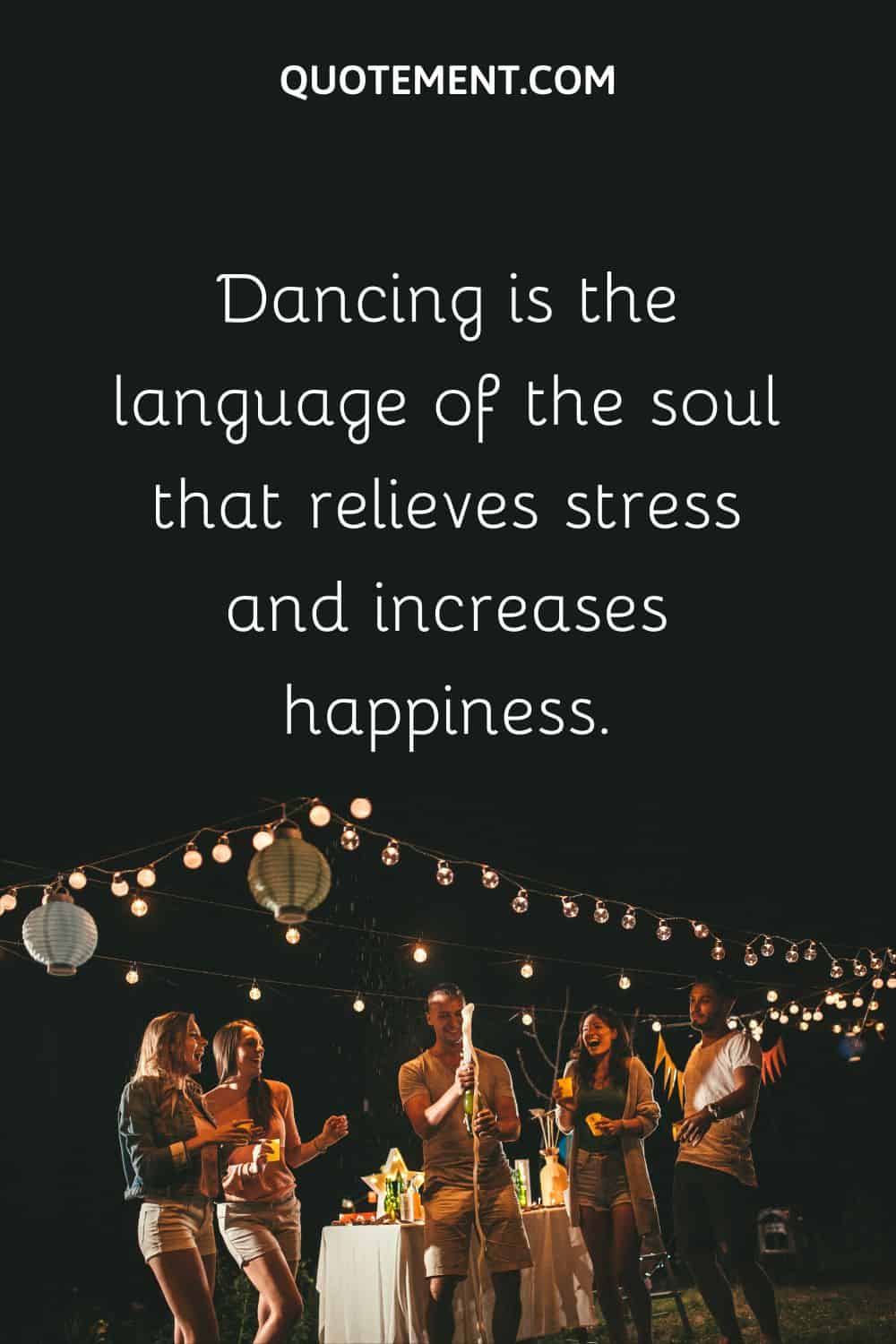 31. Hangovers are temporary. Drunk stories are forever.
32. Going a little crazy is sometimes the only way to stay sane in this world.
33. All I want is upbeat music, cool companions, flickering lights, and crazy nights.
34. Every firework begins with one spark.
35. Let it all out!
Night Out Party Captions
A good night out often means tons of exciting pics! Check these absolutely brilliant party captions to spice up your posts:
1. Groovin' to the music!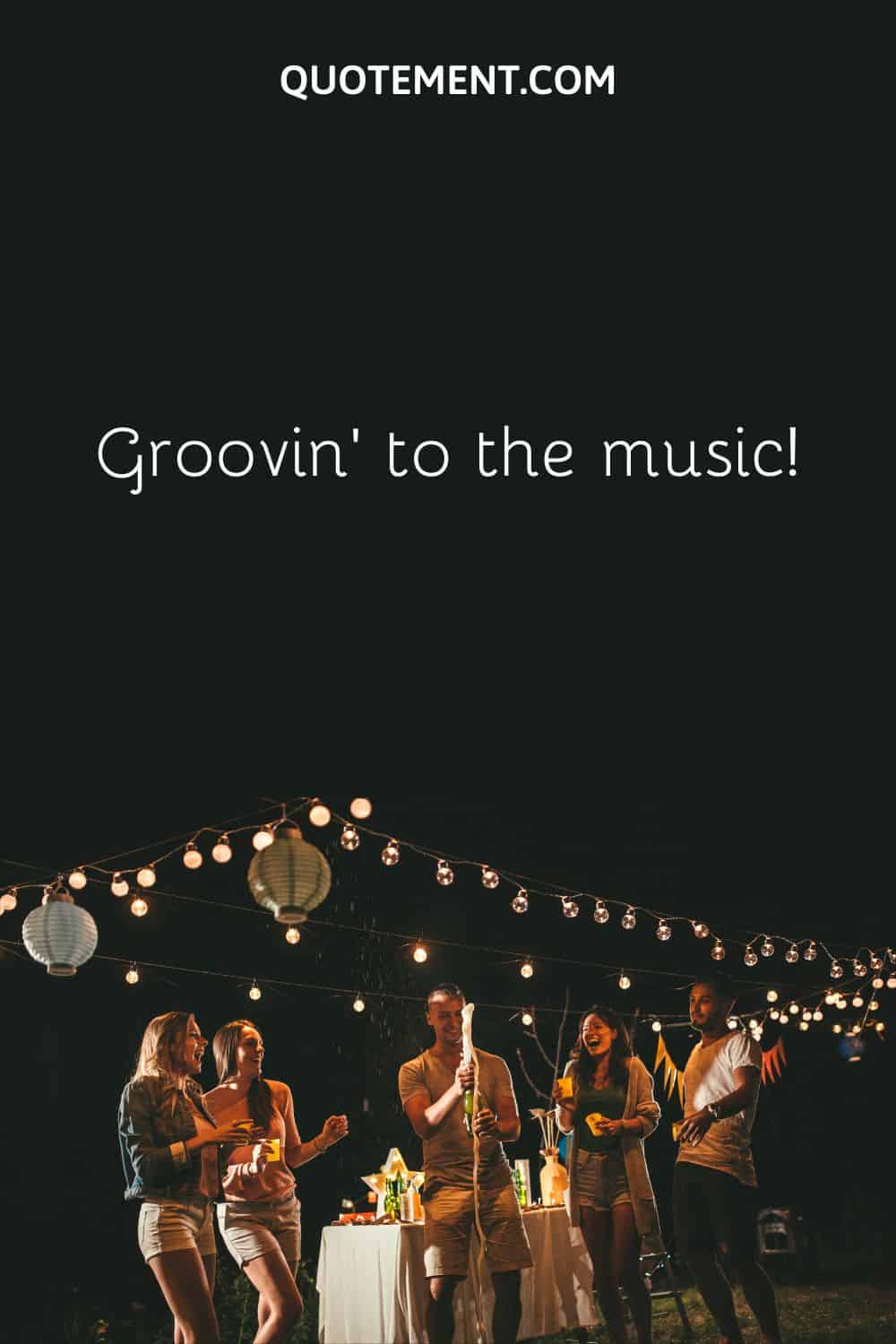 2. Music is the strongest form of magic.
3. When it's time to party, we party hard, yeah!
4. Party nights are the nights we all live for.
5. Ain't ain't no stoppin', we gonna keep on rockin'!
6. Reality is an illusion that occurs due to the lack of partying.
7. Make the most out of tonight and worry about it all tomorrow.
8. When life hands you lemons, bust out the tequila and salt!
9. Life is all about moments. Create them.
10. Because no one ever talks about the nights they went to bed early.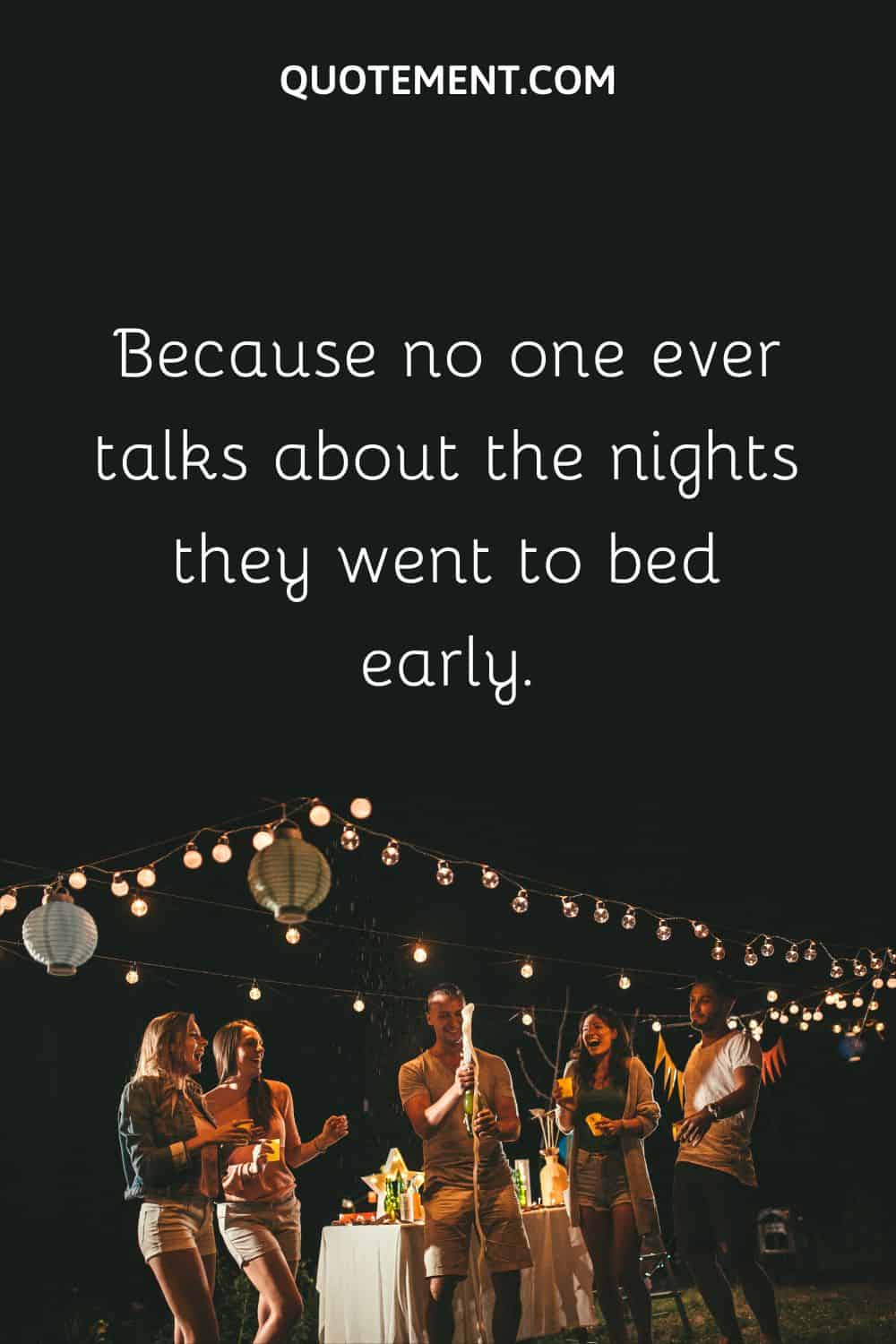 11. Drunk words are sober thoughts.
12. If you obey all the rules, you miss all the fun.
13. Nothing left for me to do but to party all night.
14. There's always a wild side to an innocent face.
15. There is something in singing, dancing, and partying that does everyone's well-being a lot of good.
16. Here's to the festive moments that make us feel alive.
17. Life is one big party.
18. The night is still young, and so are we.
19. Good parties create a temporary youthfulness.
20. Last night was ecstatic, the party was fantastic!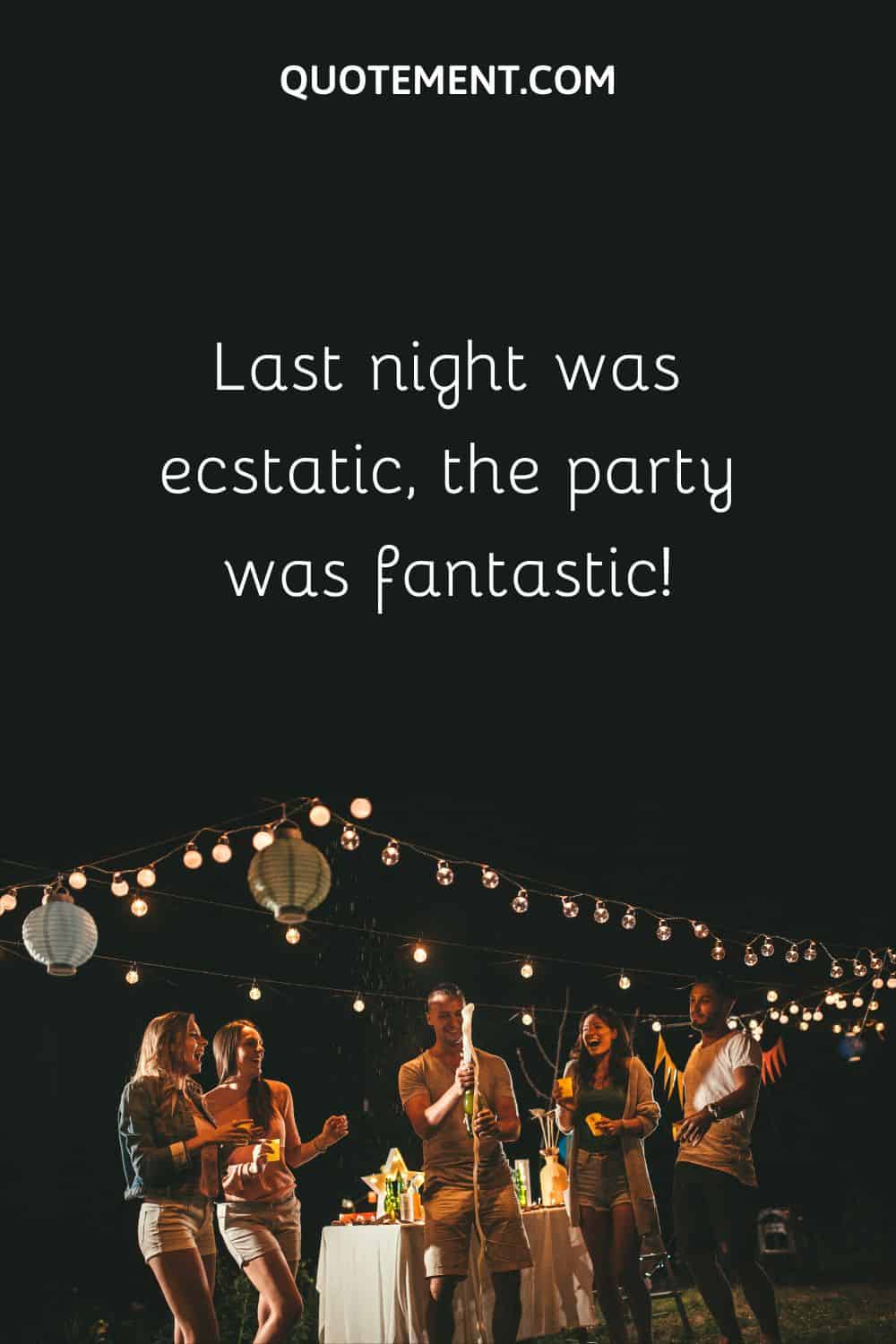 21. Life is short, wear your party pants.
22. If you can't remember what happened last night, you must have gone to a party.
23. Life is short to regret the food and wine you had at your dinner party last night.
24. Don't keep calm. The bachelorette party is on.
25. Alcohol you later.
26. Eat, sleep, rave, repeat.
27. Tonight we are young.
28. Party is my lucky word.
29. Party never stops!
30. Don't stop the party!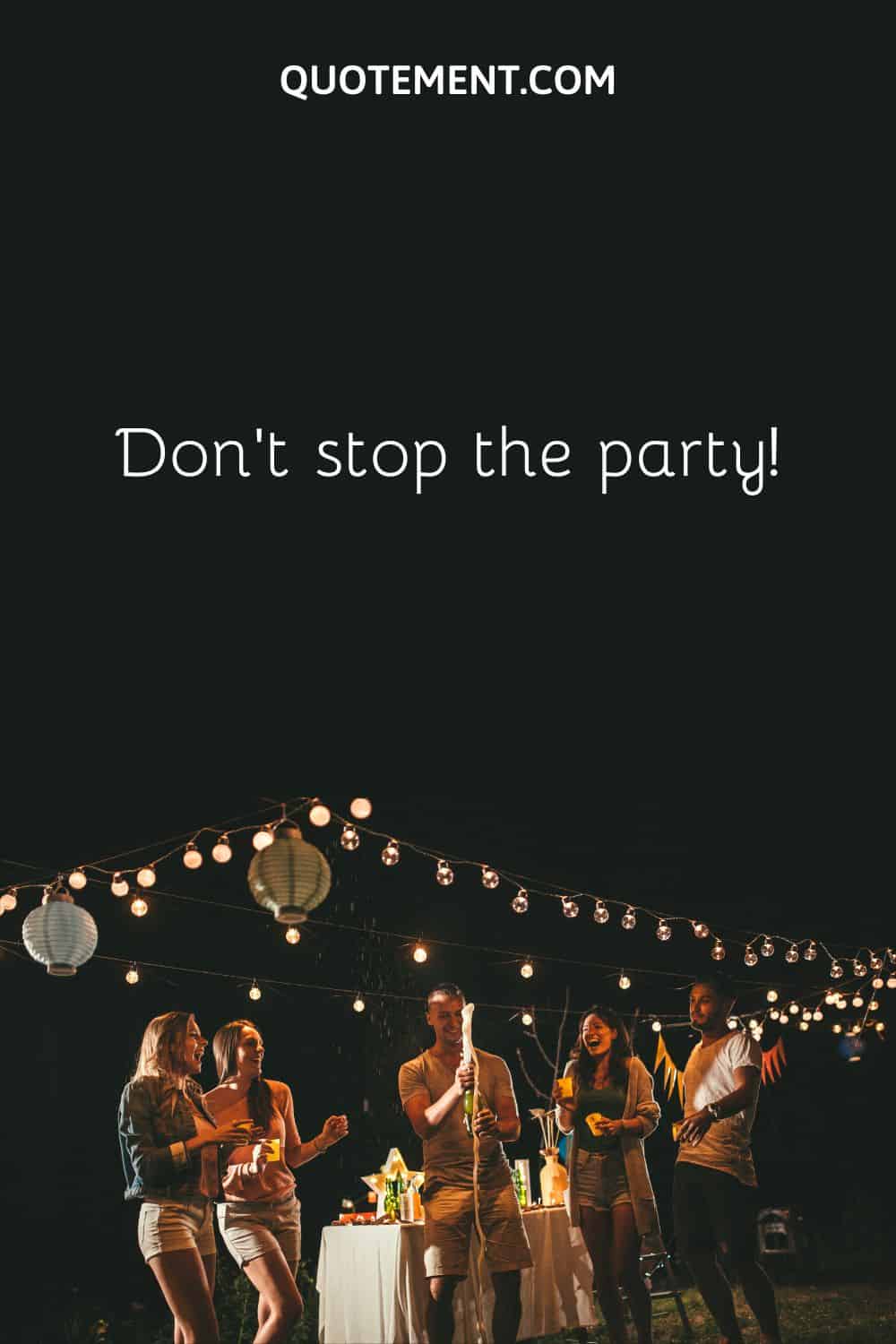 31. Music is my medicine, you won't find me settlin'!
32. Set the world on fire!
33. You could call me a crazy man, every day I'm partyin'.
34. Tell that DJ to turn it up!
35. Live for the nights you won't remember with the people you will never forget.
See also: Top 197 Night Captions For Instagram
Night Out Captions For Instagram
If you want to rock your Insta posts with fantastic party captions, don't miss these:
1. A little party never killed nobody, so we gon' dance until we drop!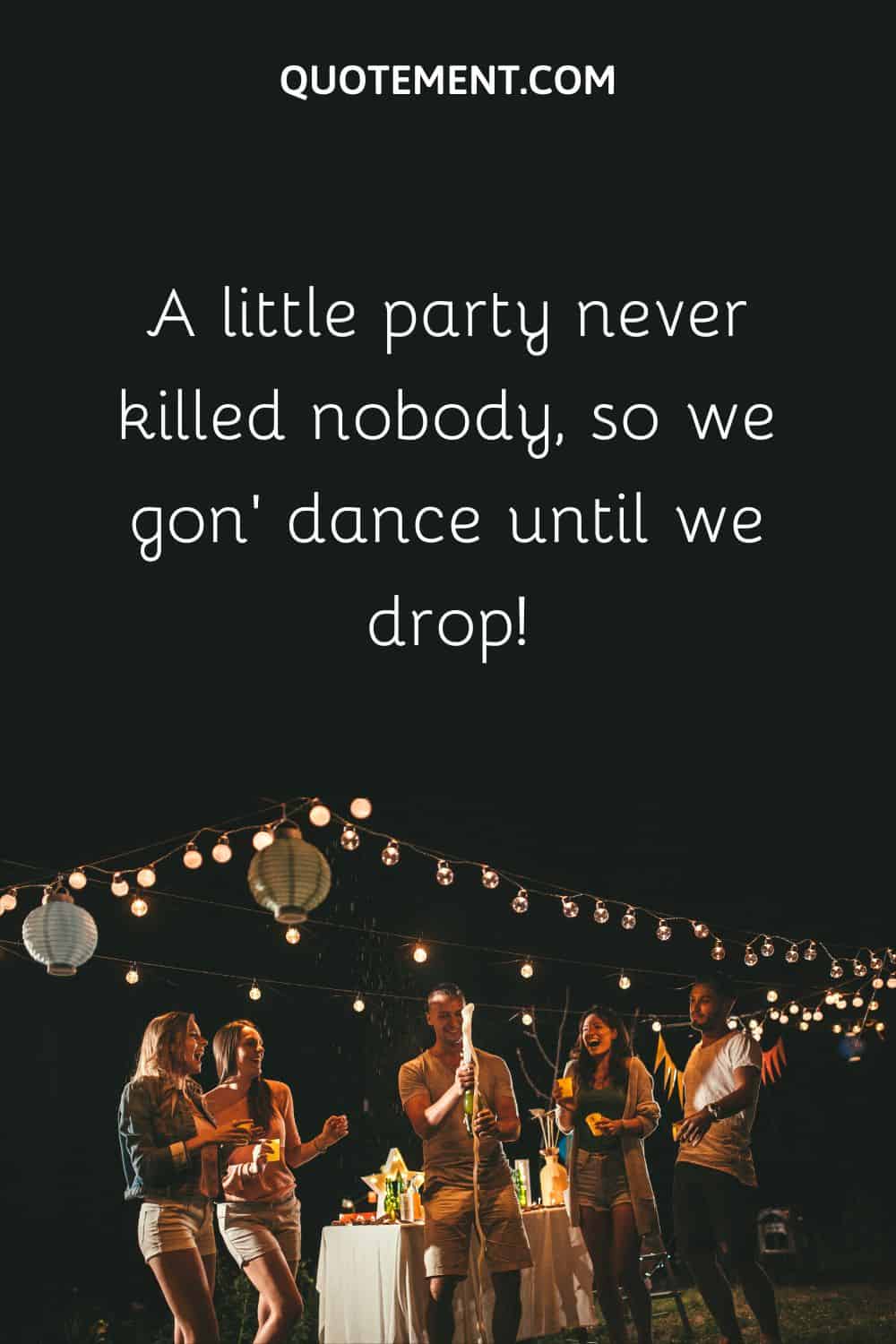 2. Dancing to the rhythm!
3. I got a feeling that tonight's gonna be a good night!
4. I feel stressed out, I wanna let it go. Let's go way out, spaced out, and losin' all control.
5. Swirling through the night!
6. Rejoicing like there's no tomorrow.
7. Tonight's the night, let's live it up, I got my money, let's spend it up.
8. Party rock is in the house tonight, everybody just have a good time.
9. One more shot for us!
10. Every day I'm shuffling!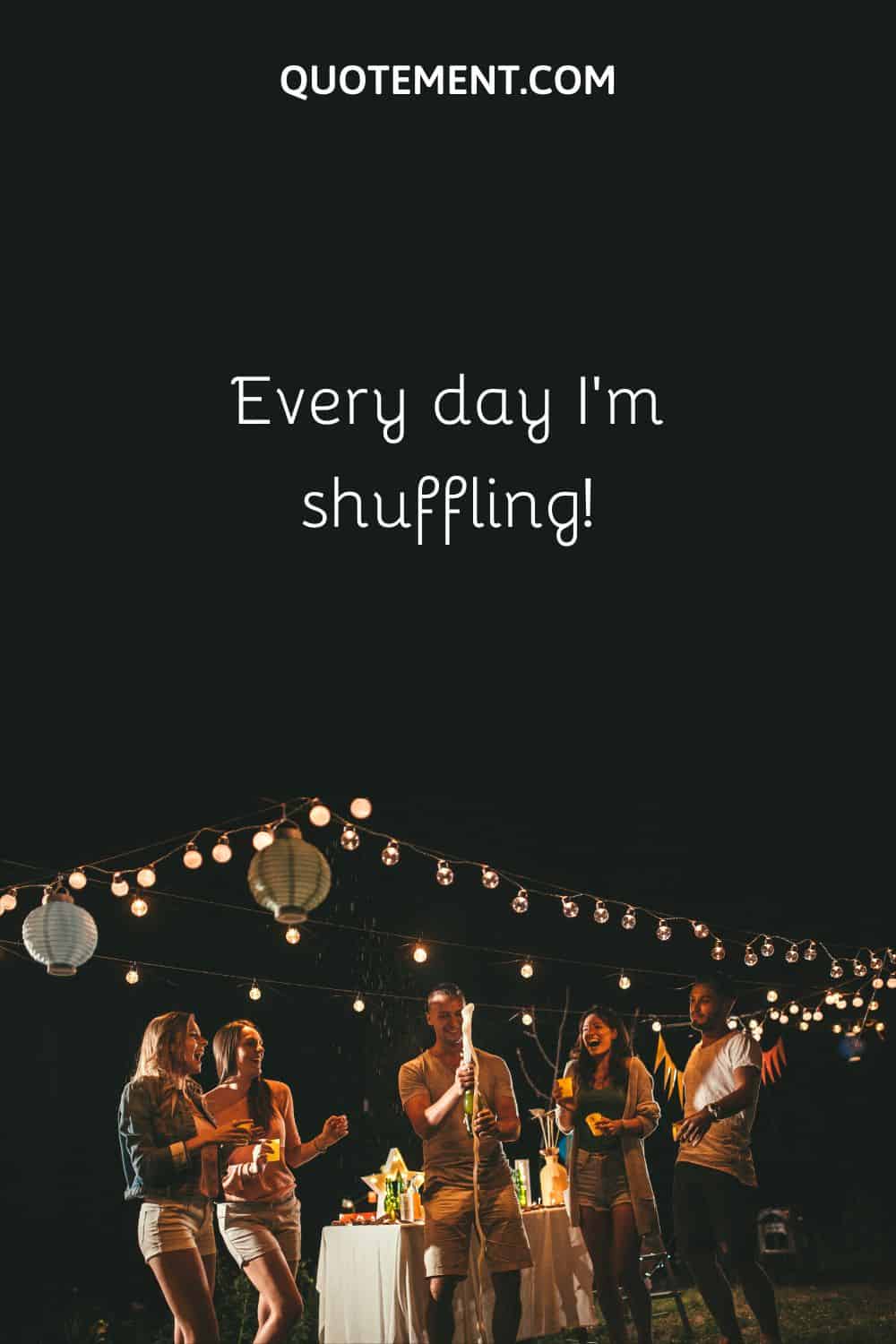 11. Fiesta, baby!
12. Get up, get down, put your hands up to the sound!
13. Party rock!
14. Bright lights and the big city, it belongs to us tonight.
15. In the club, party rock!
16. Now Friday is cool, but there's something about Saturday night.
17. I'm alive this evening, it was love at first sight.
18. And everyone's standing in line, uh, yeah lookin' good, and lookin' for a real good time.
19. Oh, I wanna dance with somebody, I wanna feel the heat with somebody.
20. Right here, right now's all we got.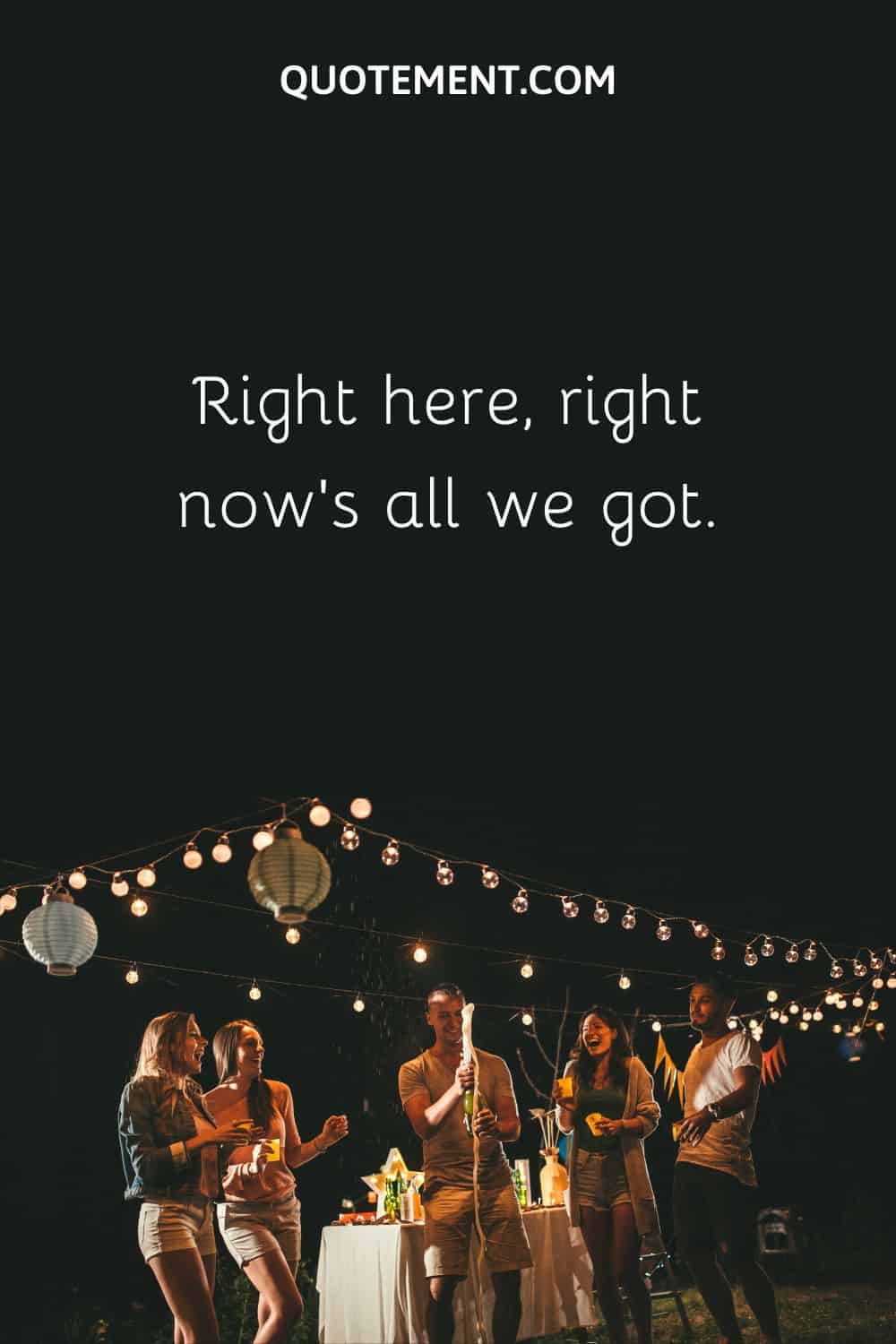 21. Yeah, I wanna dance with somebody, with somebody who loves me.
22. Don't ya wanna dance with me boy?
23. If I didn't drink, how would my friends know that I love them at 2 AM?
24. The night is just not there to sleep.
25. We can sleep when we're dead.
26. Let's get weird.
27. I shouldn't be permitted to go on Snapchat, Facebook or Instagram when I'm tipsy!
28. Rollin' with the homies.
29. Go wild for a while.
30. Let's get loud!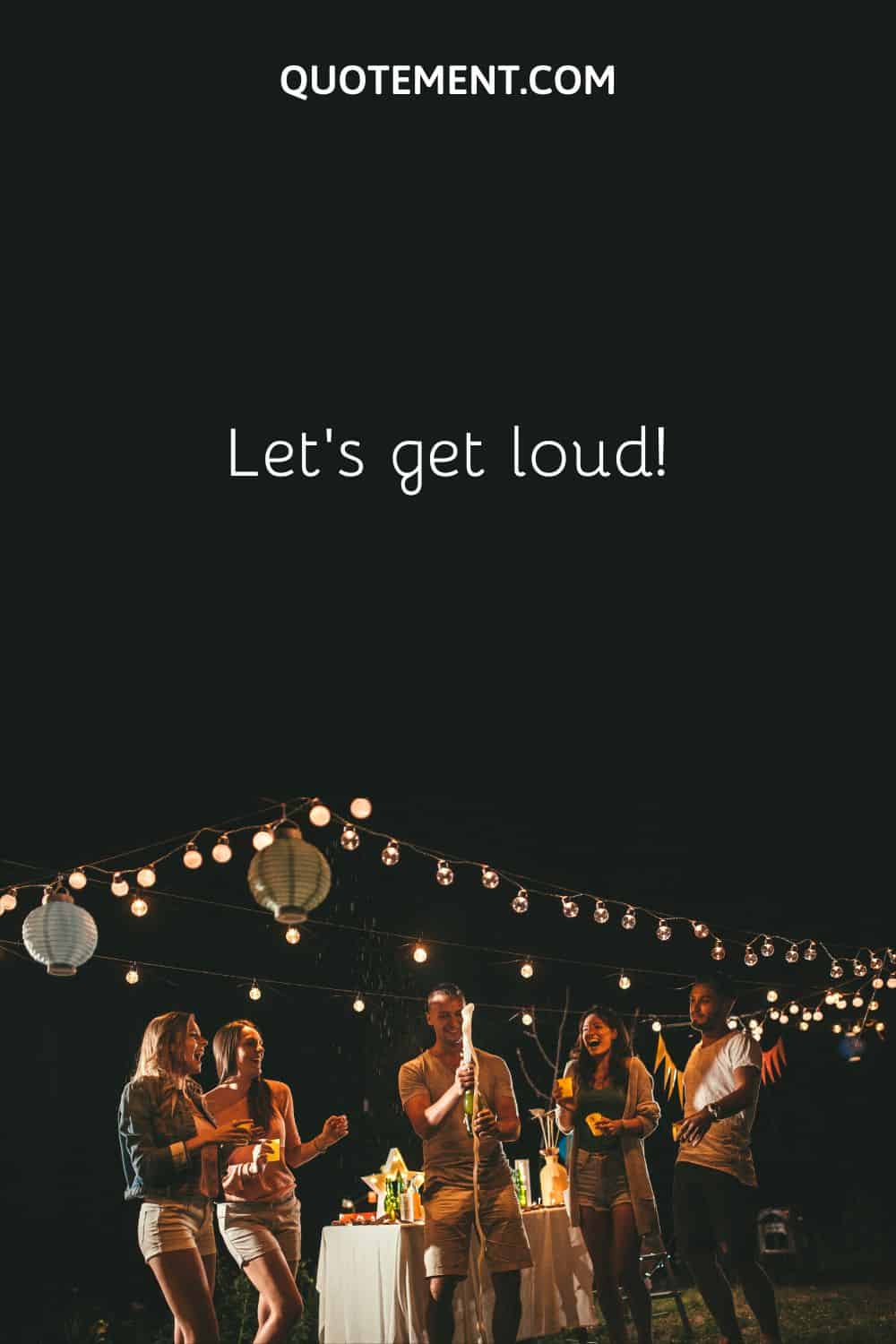 31. Hold it while I take this pic.
32. Turn the music up to hear that sound.
33. Let's get loud, ain't nobody gotta tell ya what you gotta do.
34. If you wanna live your life, live it all the way, and don't you waste it!
35. Every feeling, every beat can be so very sweet, you gotta taste it.
Party Selfie Captions For Instagram
Got nice party selfies you want to share with your followers? Why don't you check out these Insta party captions for your cute selfies:
1. Peace, love & party.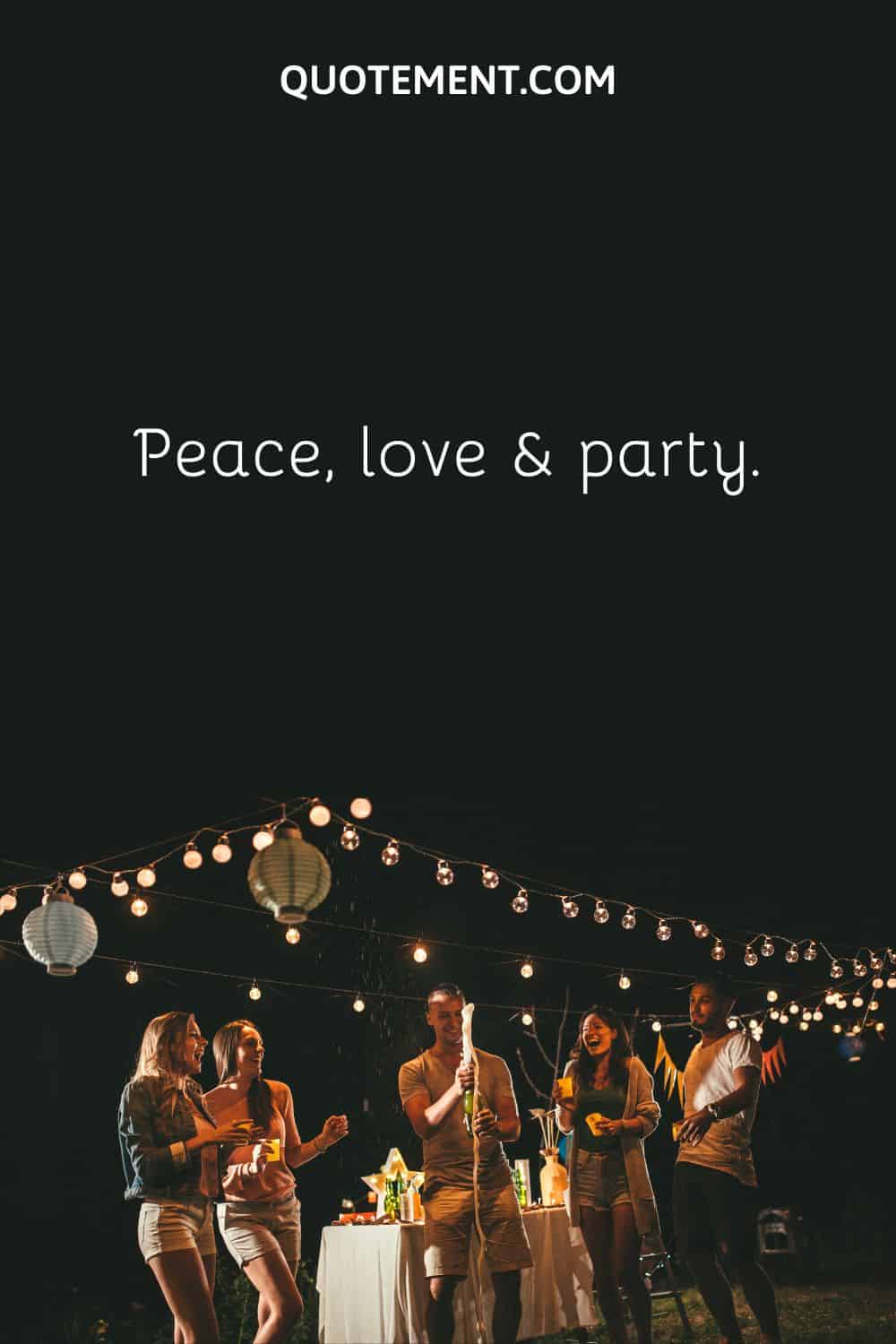 2. There are shortcuts to happiness, and dancing is one of them.
3. Life is meant to be big fun, you're not hurtin' anyone, nobody loses.
4. Life's a party, make it hot! Dance, don't ever stop, whatever rhythm.
5. Let the music make you free, be what you wanna be, make no excuses.
6. Do it for the Instagram after party photo.
7. The best time to celebrate is whenever you can.
8. Dress like Jackie; act like Audrey; party like Gatsby.
9. When life was a constant party.
10. I have not been this excited about Friday since last Friday.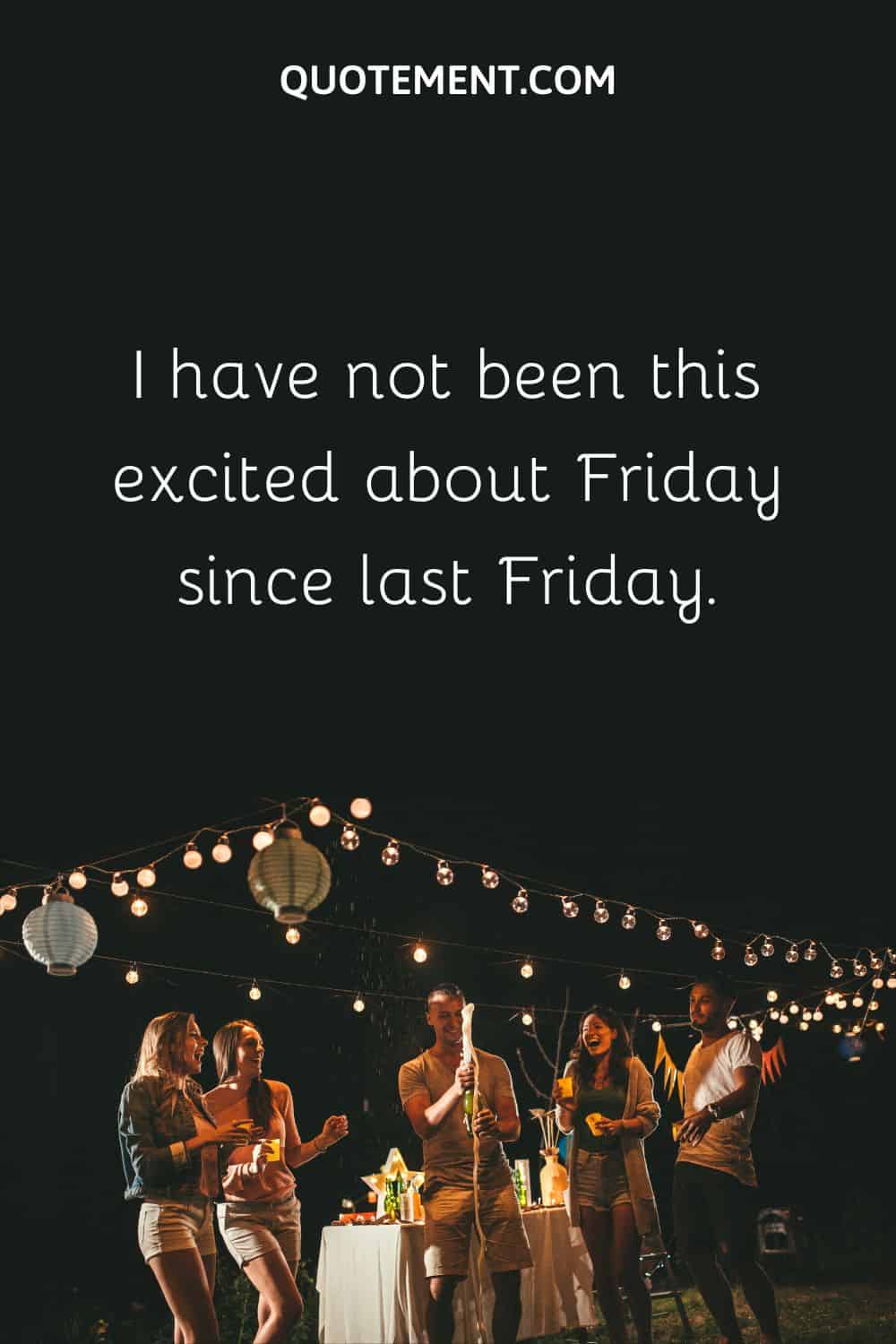 11. Cheers to the freakin' weekend!
12. I'll just sit here and wait for my next party.
13. Happy Saturday party people. Smile, laugh, dance and live your life.
14. I'm ready to party this summer. What about you?
15. Don't keep calm, it's Saturday party night.
16. It is a bubble party.
17. The party doesn't start until we walk in.
18. Good vibes, good friends, good times.
19. We came here to party.
20. Until further notice, celebrate everything.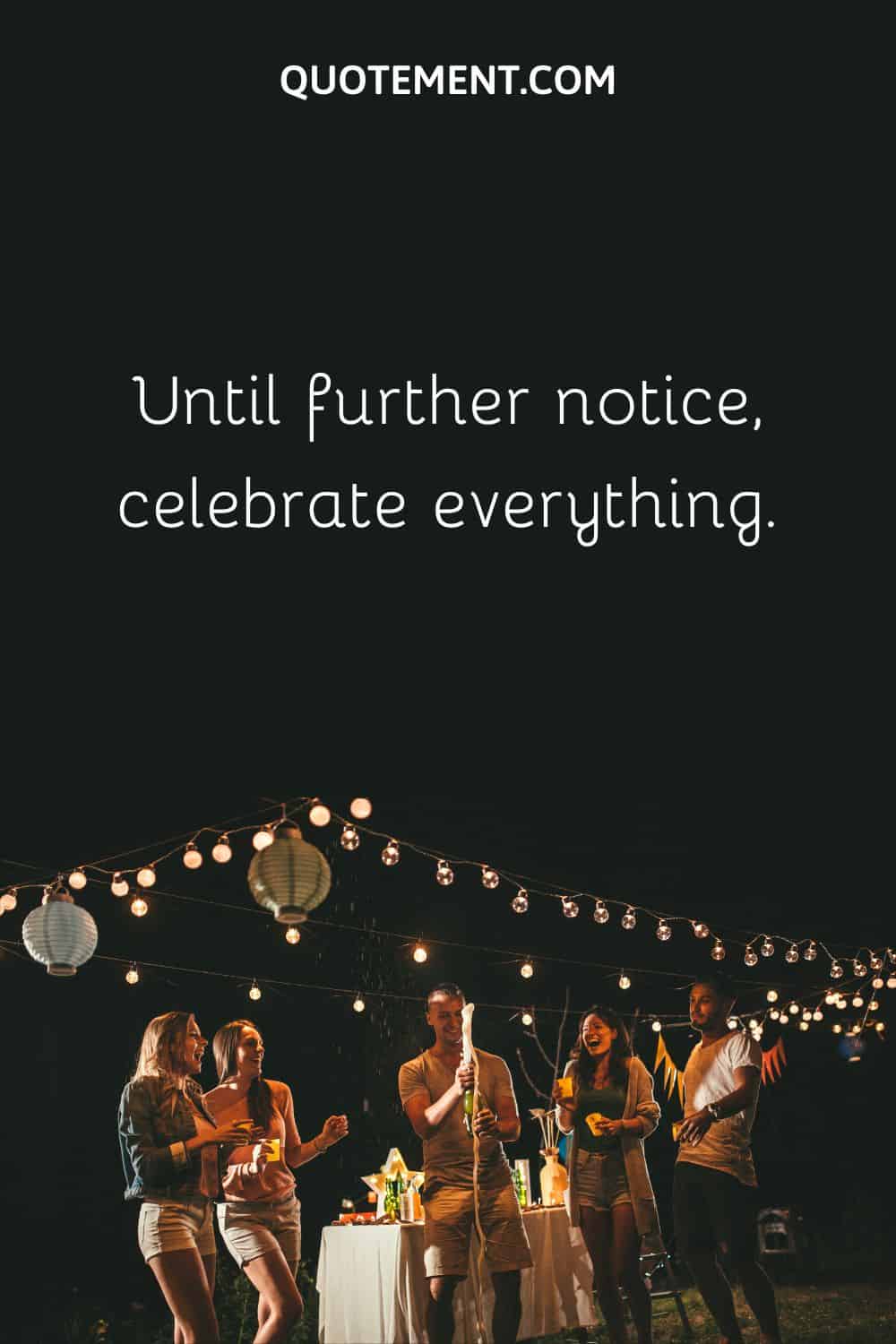 21. We got that party feeling.
22. Hell is empty and all the devils are here.
23. You didn't see this before, I am the party lover.
24. Let's make sure we have a party.
25. What happens in the club, stays in the club.
26. Life is a party. Dress for it.
27. Before you say "I do," let's have a party or two.
28. My plans for today: party, party and party.
29. I can party for three days in a row, what's your superpower?
30. He had a cocktail in his hand and confetti in his hair.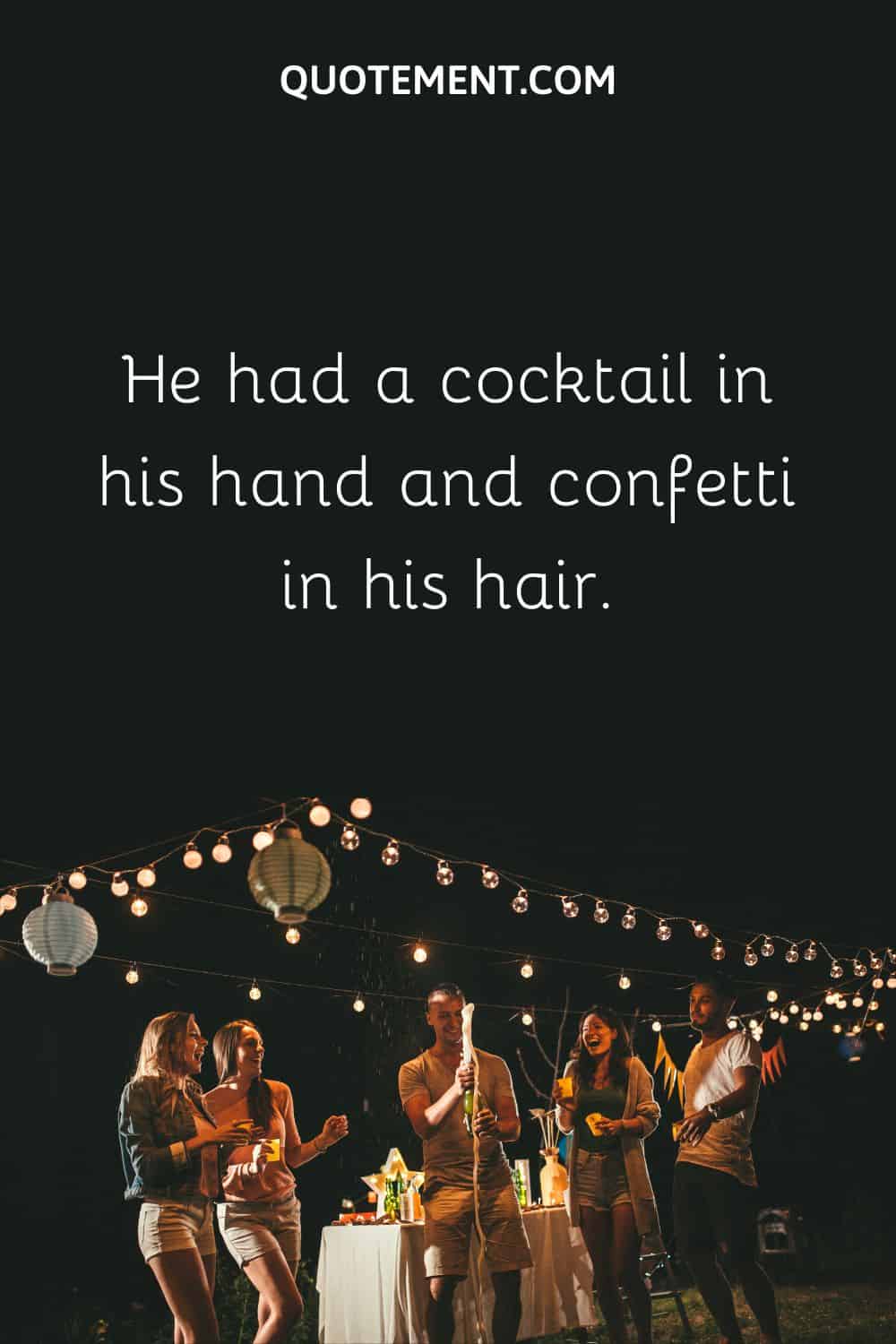 See also: 230 Brilliant Cocktail Captions For Instagram + Quotes
Sassy Party Captions
If you've been searching for sassy club party captions, here you go:
1. Felt cute. Might go party all night!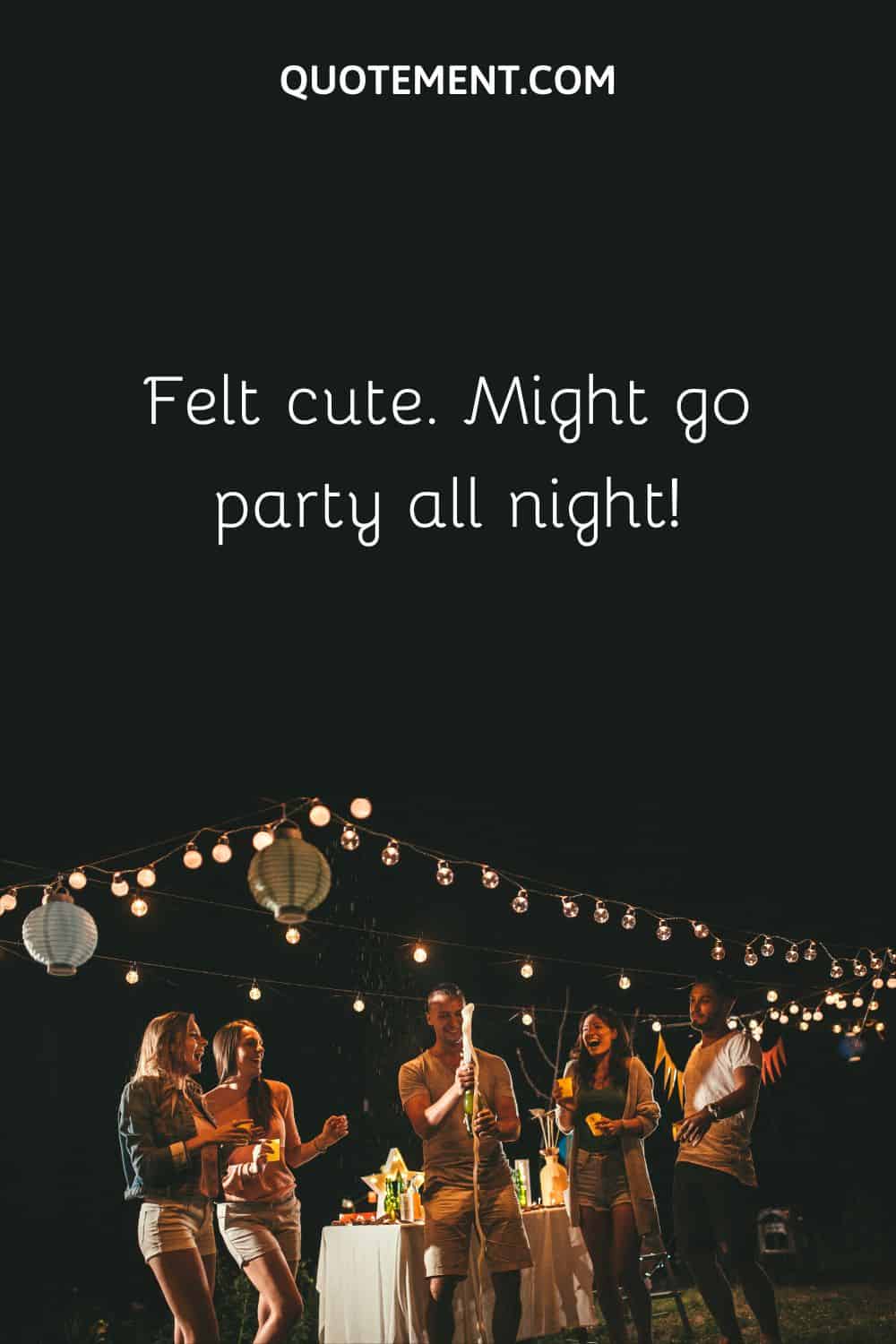 2. I'm coming up so you better get this party started.
3. Gonna party like it's my birthday… 'cause it is.
4. Life may not be the party we hoped for, but while we're here, we should dance.
5. Felt cute, might delete it later.
6. Throwback to an absolutely amazing birthday party!
7. No regrets tonight.
8. I don't want to study, I just wanna party.
9. All day, all night.
10. You gotta fight for your right to party.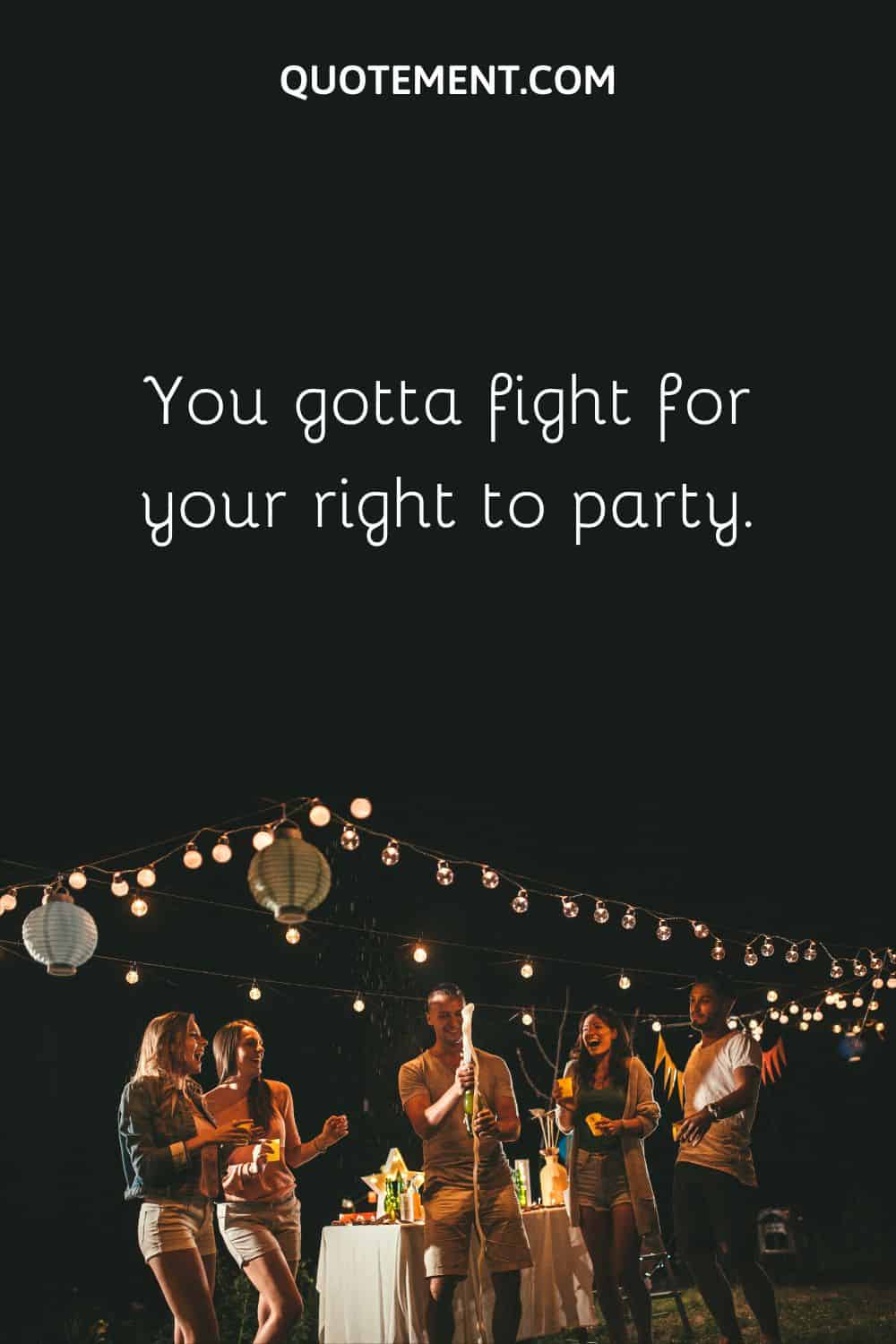 11. Viva la fiesta, viva la noche.
12. Parties are places where you can get wasted safely.
13. Hell, yes, we have to celebrate this.
14. Who says I have to wait for the weekend to come in order to party?
15. Sure, I have done enough partying for 10 guys.
16. Friday. My second favorite F-word.
17. When I read about the evils of drinking, I gave up reading.
18. If you are not dancing, something is wrong.
19. Every time a champagne bottle pops, a party angel gets its wings.
20. Be as bubbly as your drink.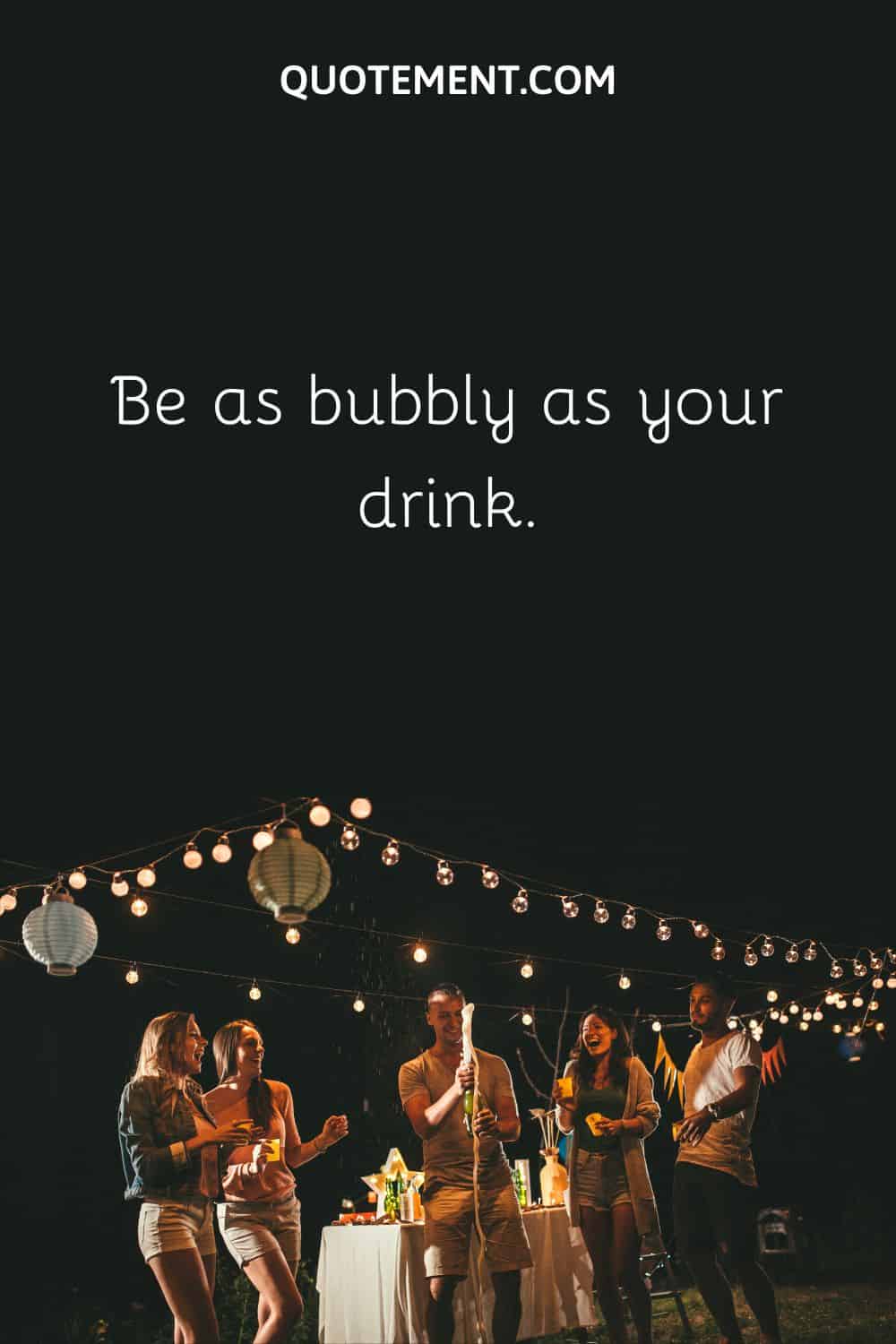 Captions For Party Pics
Finding good captions for your party pics has never been easier with these exciting caption ideas:
1. Let's dance, put on your red shoes and dance the blues!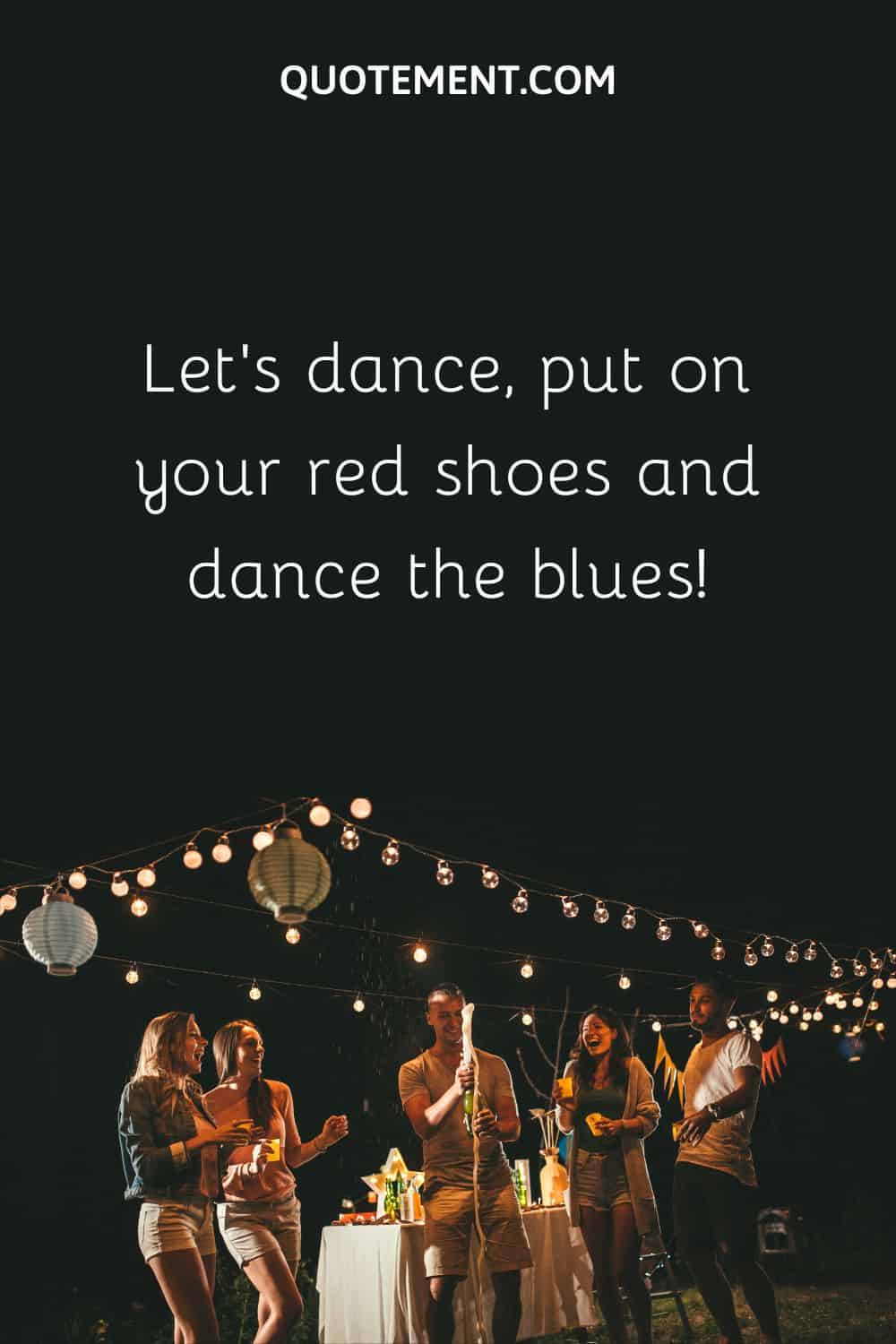 2. If you go hard, you gotta get on the floor. If you're a party freak, then step on the floor.
3. Happiness is a girl's night out.
4. Making my connection as I enter the room, everybody's chillin' as I set up the groove.
5. Pumping up the volume with this brand-new beat, everybody's dancing and they're dancing for me.
6. I'm comin' up, party animals!
7. Break a sweat on the floor.
8. Don't stop, keep it moving, put your drinks up!
9. Pick your body up and drop it on the floor. Let the rhythm change your world on the floor!
10. Pumping up the volume, breaking down to the beat!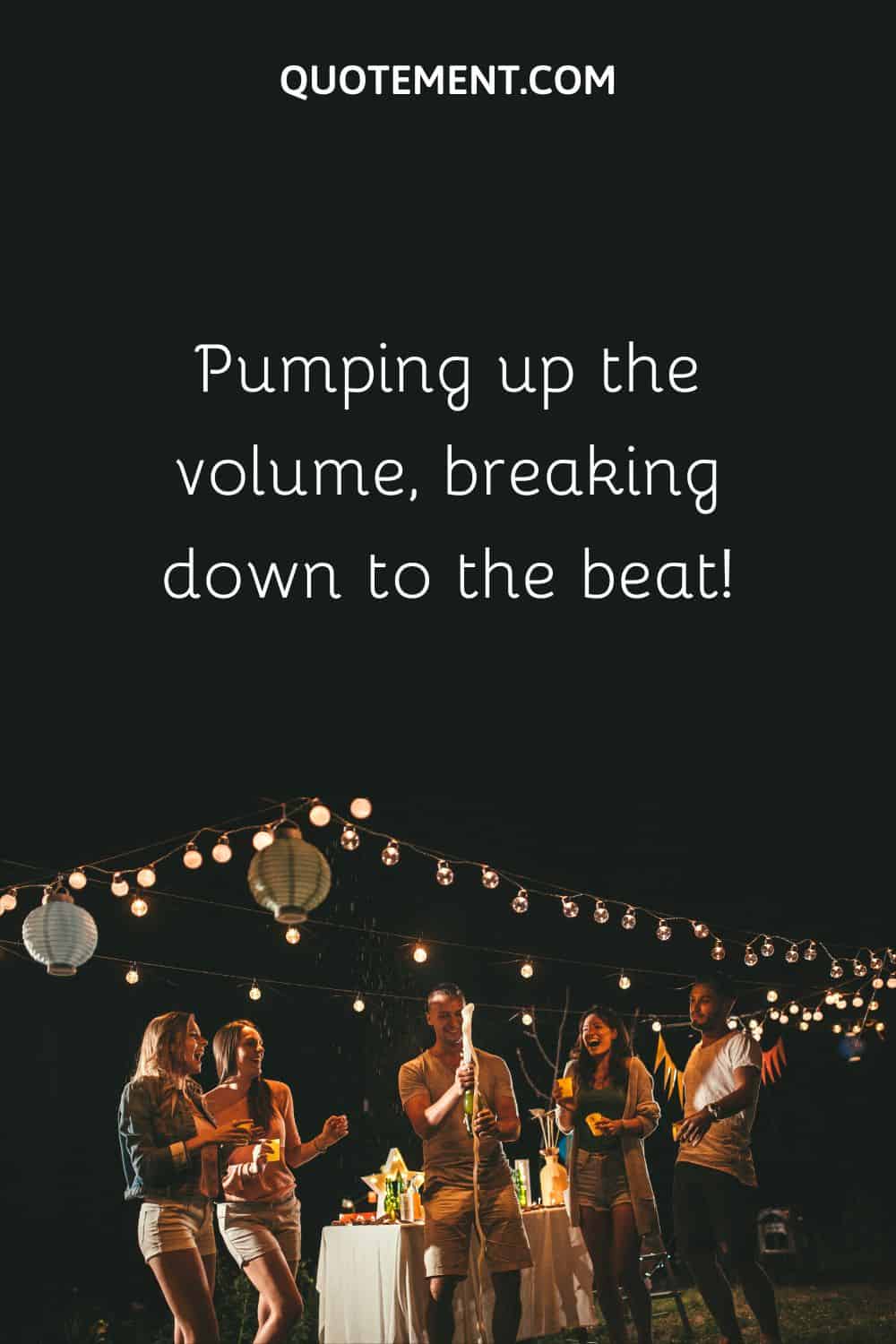 11. Get on the floor, dale!
12. This party is happening.
13. Big party gang!
14. Me dreaming of the time when we can have a party again.
15. Cheers, my dear!
16. But I always say one's company, two's a crowd, and three's a party.
17. Private party.
18. Rough day, wonderful night.
19. The best nights are usually unplanned, random and spontaneous.
20. All aboard the yacht party.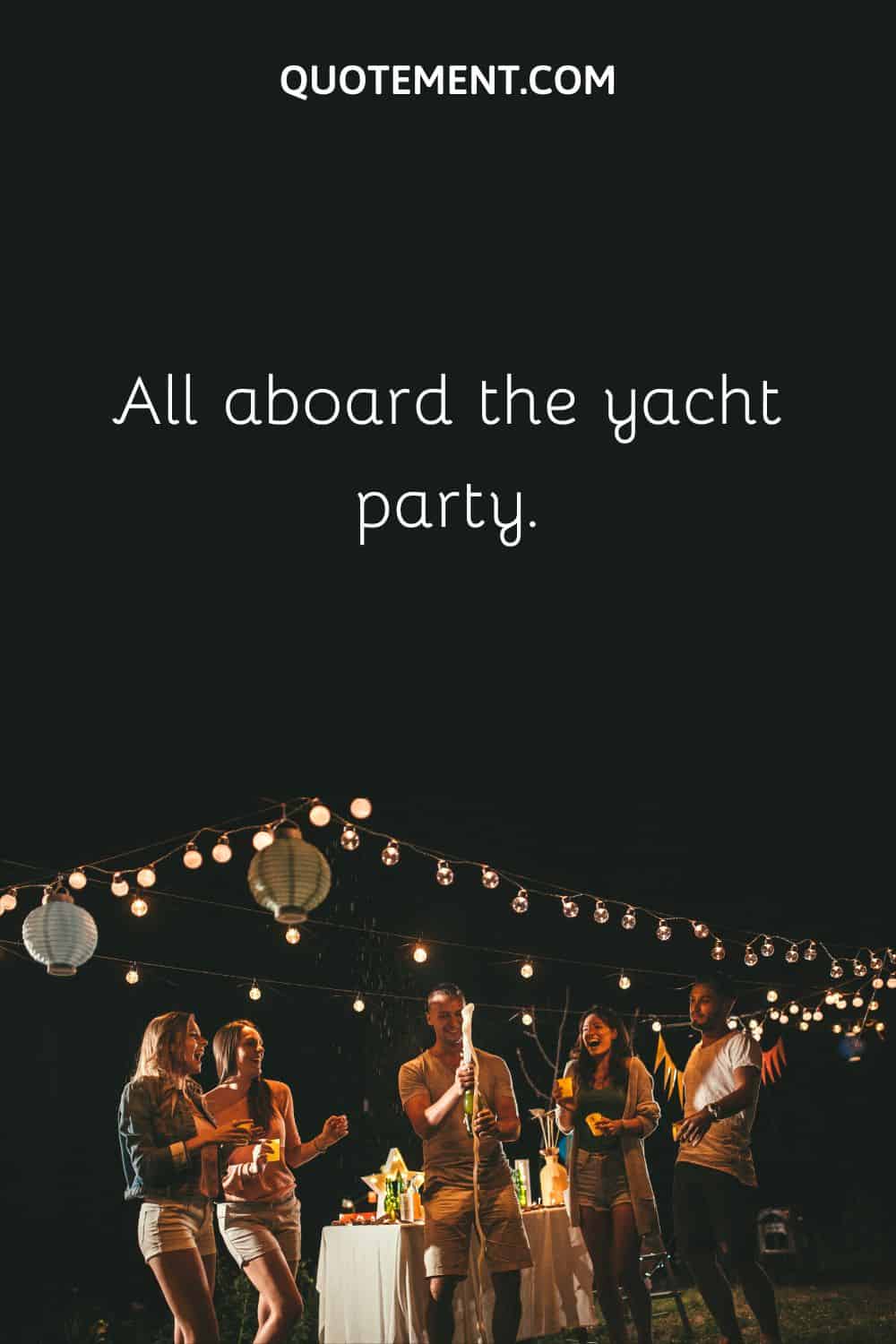 Good Party Captions For Instagram
My collection ends with these cool party Ig captions:
1. I wanna rock and roll all night and party every day!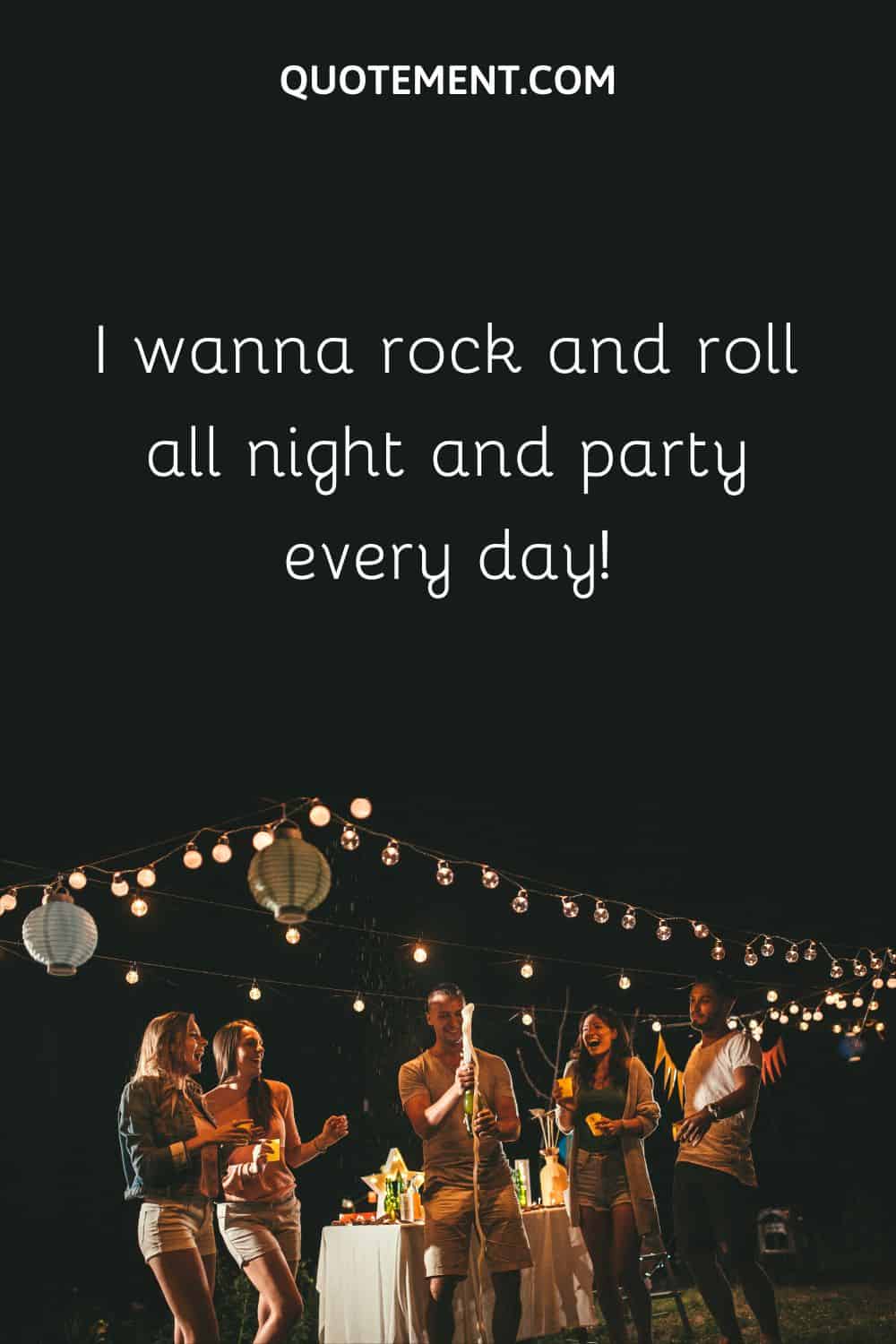 2. You want to rock now, rock the night, till early in the morning light.
3. Do it today. It could be illegal tomorrow.
4. Twenty-four-hour champagne diet.
5. A little whiskey makes me frisky.
6. It's beginning to look a lot like cocktails.
7. Party time, shall we?
8. You call me an alcoholic, I just call it a damn good time.
9. Hands in the air like we don't care.
10. It's gon' be fire, I'm warmin' up, I'm fillin' my cup.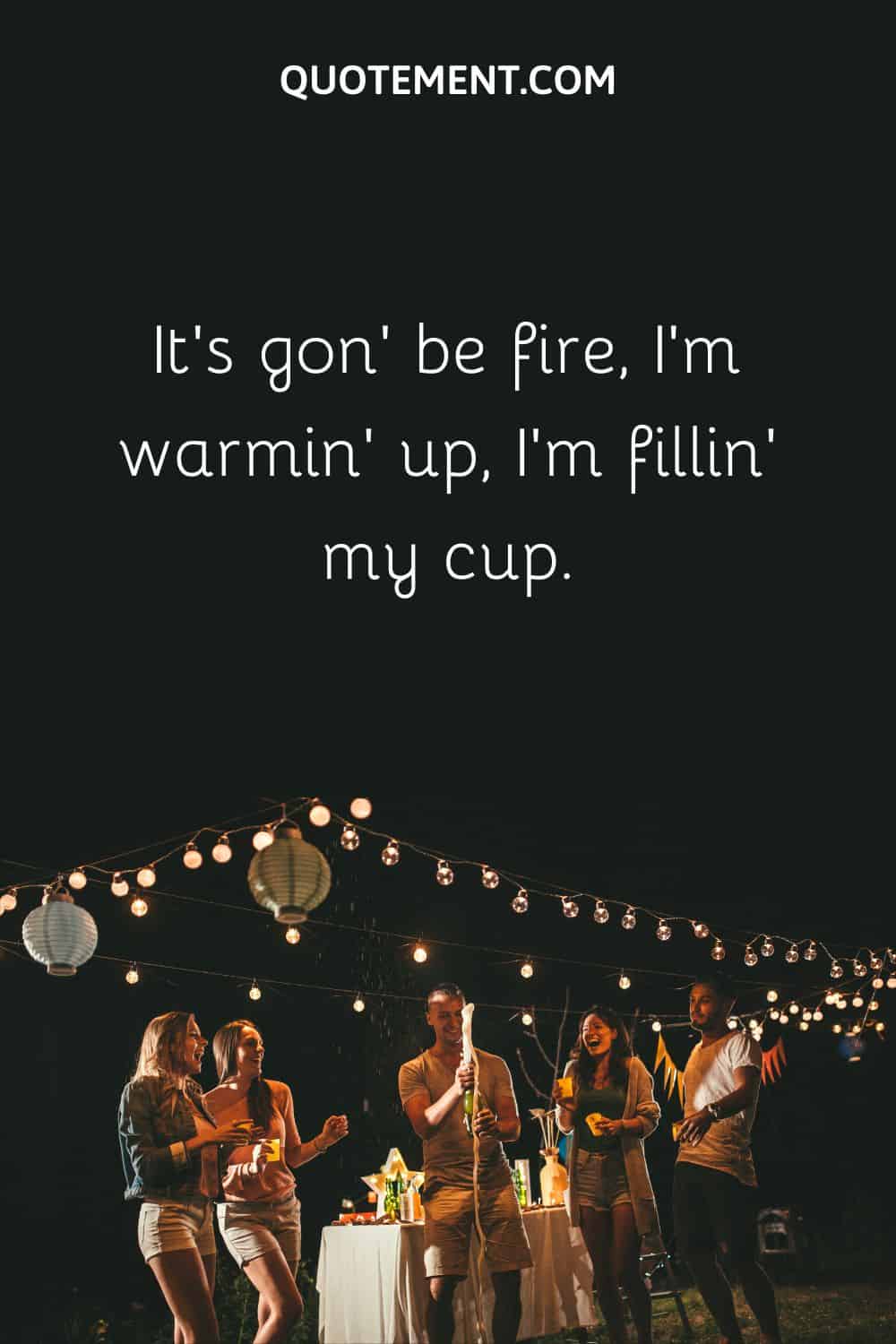 11. You know what time it is, it's time to party.
12. I am the club rocker.
13. Everyone's a star, shinin' in the spotlight tonight!
14. Beautiful, proud, get loud, the music's right. Get on the floor some more, feel the love inside!
15. Don't stop believing, tonight we are one. If you get in the moment, you've already won.
16. Everybody in the club is famous, no matter who you are, just celebrate it!
17. Don't stop it now, get down, have another round, reach for the lights, and have the time of your life.
18. All the crazy shi* I did tonight, those will be the best memories.
19. Let's sway while color lights up your face!
To Wrap It Up
That's all, folks!
This was the best collection of 270 party captions for your cool posts.
I hope you enjoyed reading it! If you liked this post, remember that sharing is caring! 🙂
Stay tuned for more awesome content. Now let's paint the town red!
Until next time!
Read next: 140 Cool Bachelorette Party Quotes + Instagram Captions