Have you ever had a friend going through a difficult time and felt at a loss for what to say to help them feel better? I've been there.
I recently had a treasured friend who was going through a really tough time. And being someone who values deep and meaningful connections, I wanted to help.
However, I found myself lost for comforting words that would make any difference in her struggles.
So I searched the web for some positive words of encouragement for a friend that would cheer her up and uplift her spirits at least a bit.
And I found plenty of truly inspirational words of wisdom that helped me encourage and motivate her to keep pushing forward.
I believe these encouraging phrases can be just as helpful for you and your loved ones.
Let's dive in and spread some positivity with our closest companions!
10 Inspirational Words Of Encouragement For A Friend
1. "Who cares about the storm? Don't worry. I can't make it stop, but I can always hold your umbrella."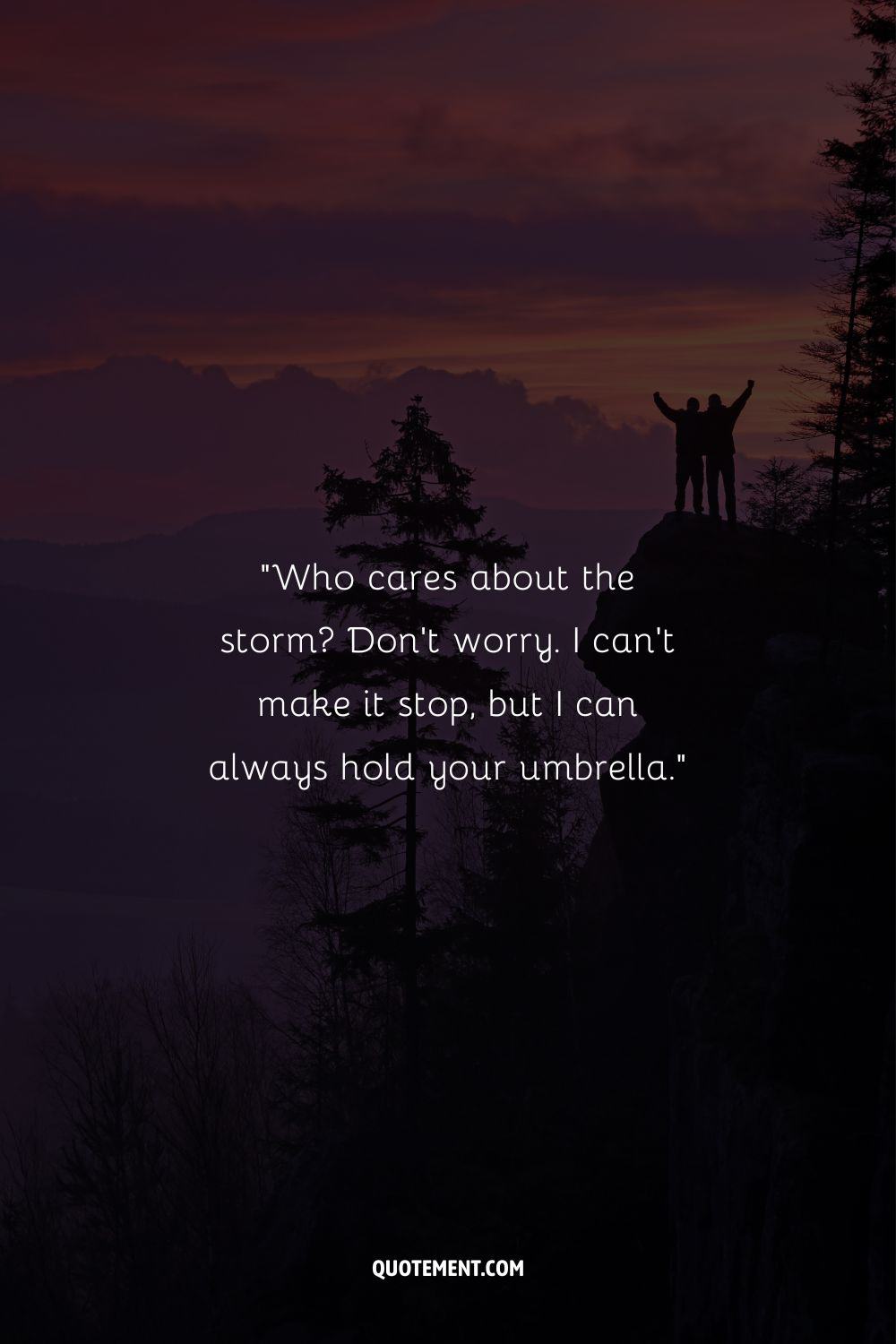 2. "The best words of encouragement that I can give you are to trust in yourself and recognize that you are worthy of great things in life."
3. "You are the writer of your story, and you decide your own destiny. No matter what happens, I believe you will always have the power to endure."
4. "We've been friends since childhood, and I know that no one can stop you from winning. So don't back down. I've got your back."
5. "Don't give up now! You've come too far to take orders from a bunch of molecules in your brain that can't even tell the difference between reality and a dream."
6. "Never stop dreaming, fella. You have the greatest mind and the biggest heart, just don't be afraid to use it. There are books written about people like you. I believe in you, always have, and always will."
7. "Go big or go home, am I right? You always choose the first option. You are the strongest person I know, and there is nothing that can stop you from winning. I admire you with every little piece of my soul."
8. "Your every scar tells a story about your victory. Your journey is hard, and sometimes you get wounded, but every wound brings you closer to your goal. Just don't give up."
9. "I know you can do anything. You are the smartest and most ambitious person I know, so basically nothing can stop you. You will reach your every goal, and your achievements will be legendary."
10. "We can only see rainbows around a storm, so it's okay to protect yourself from the storm, but never stop looking for rainbows."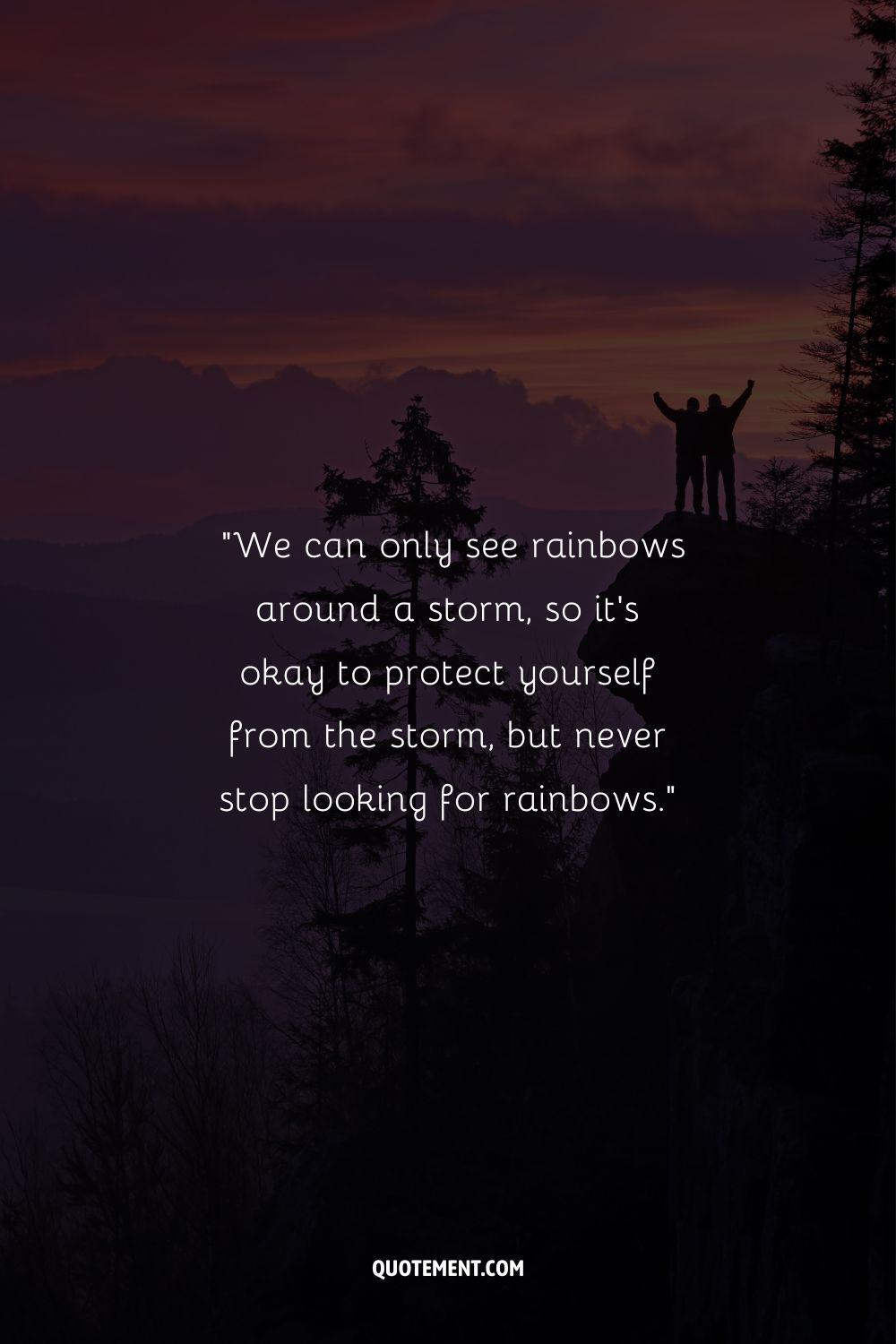 Encouraging Words For A Friend Going Through A Tough Time
1. "You've gotten through tough times before and you'll get through this one too. Just take things one day at a time and believe in yourself."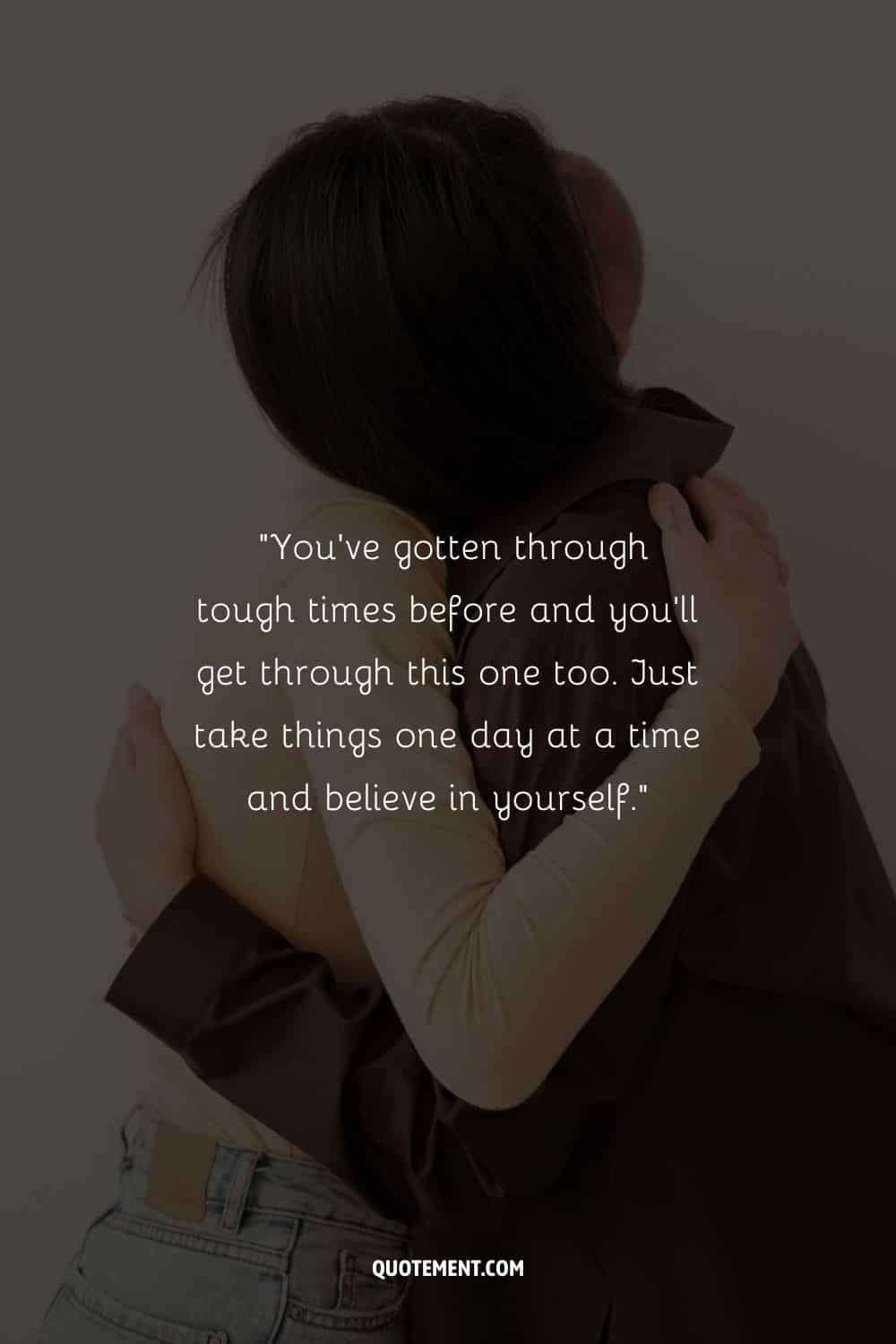 2. "You're going to completely forget about this incident in a few weeks. It honestly isn't worth your time, figure out an alternative course and get what you need that way!"
3. "There's sure to be good news in your future because you've already heard the worst."
4. "It doesn't matter how large the obstacles before you are, because you're the strongest person I know."
5. "It's okay if you don't know all the answers right now. Take all the time you need to figure it out."
6. "Don't let anyone tell you how to feel — it doesn't matter if it's good or bad, your feelings are your own."
7. "Your greatest accomplishment is being able to see through the fluff. This is fluff! Ignore it and focus on your plan!"
8. "Remember the good times and learn from the bad, and your future will be all smiles."
9. "You're destined for great things, so rise to your challenges with positive thoughts!"
10. "Please accept these words of encouragement as my way of letting you know that even though right now you don't see yourself as awesome, I know you are!"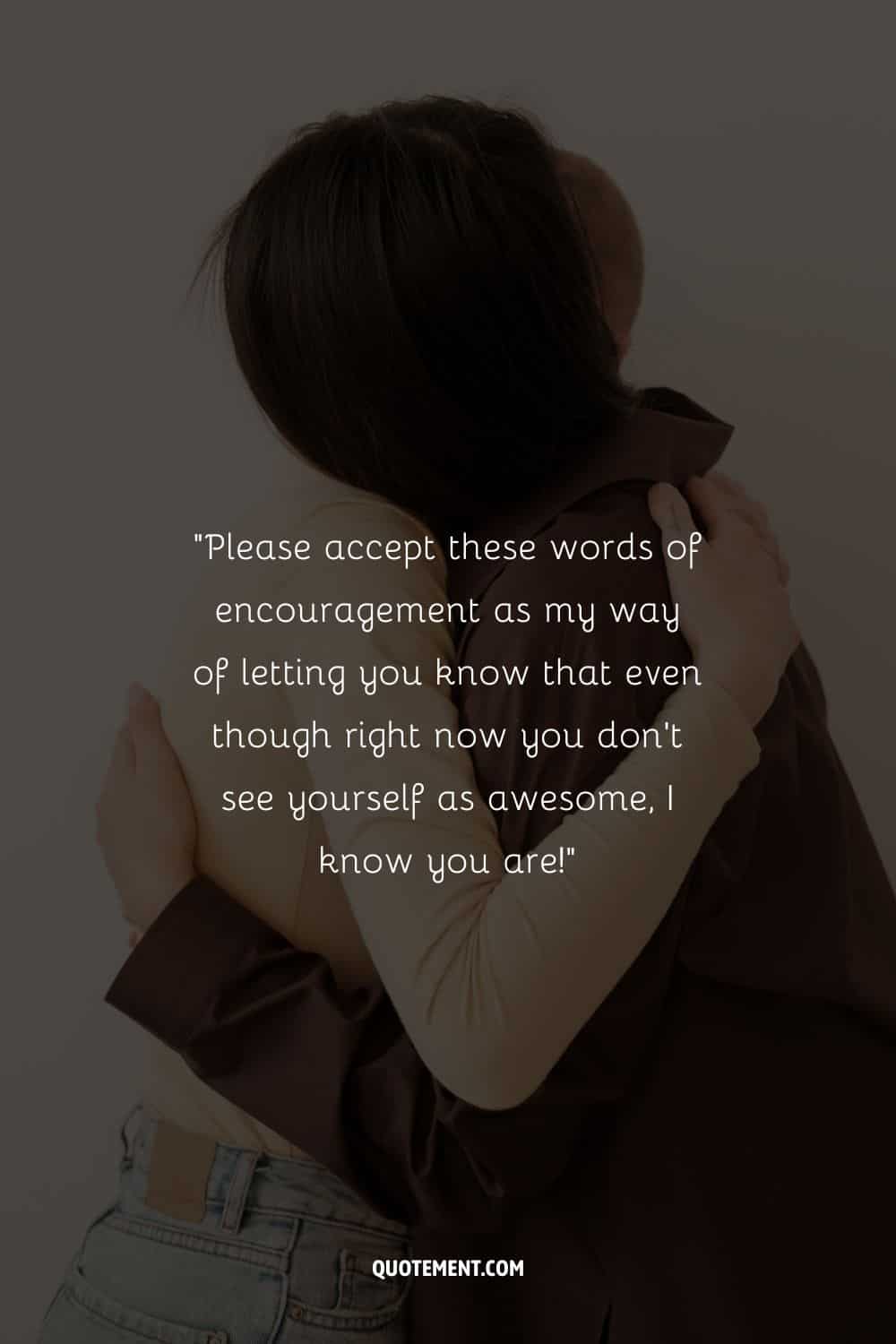 11. "Despite the first step being the hardest, the path to success gets easier as you go!"
12. "Even though it might not seem like it, everything happens for a reason. Maybe this is happening to teach you something or make you stronger. Whatever the reason is, try to keep that in mind and it might make things a little easier to handle."
13. "Remember that whatever you're going through is only temporary. It might feel like it's never going to end, but it will."
14. "Although things seem bad right now, they will eventually get better. Hang in there and things will work out in the end."
15. "You are surrounded by people who love and care about you. Lean on us for support during this difficult time."
16. "You're one of the bravest people I know, and you can get through anything life throws at you."
17. "It's just a bad day, it doesn't mean things will always be this way. Believe in yourself, always!"
18. "Every difficulty lies opportunity, every challenge provides an opportunity to learn and grow. So when you encounter difficulty, don't be afraid to face it head on. You'll come out stronger in the end."
19. "You are such an amazing person, take a deep breath, this is just a bad day, tomorrow will be better."
20. "Everything will be okay. No matter what happened today, you have the power at any given moment to turn things for yourself!"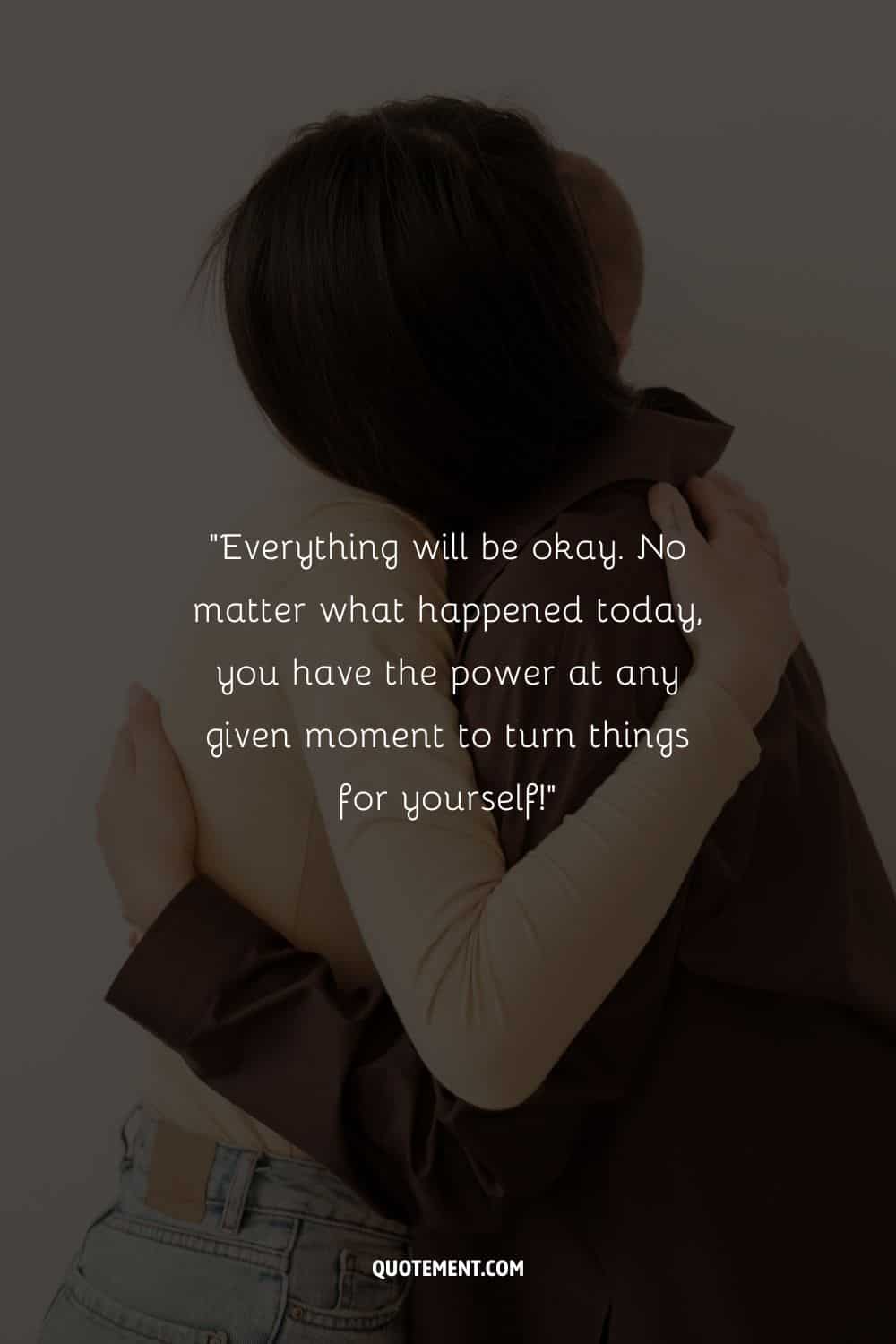 1. "You are strong, capable, and resilient! Keep telling yourself that!"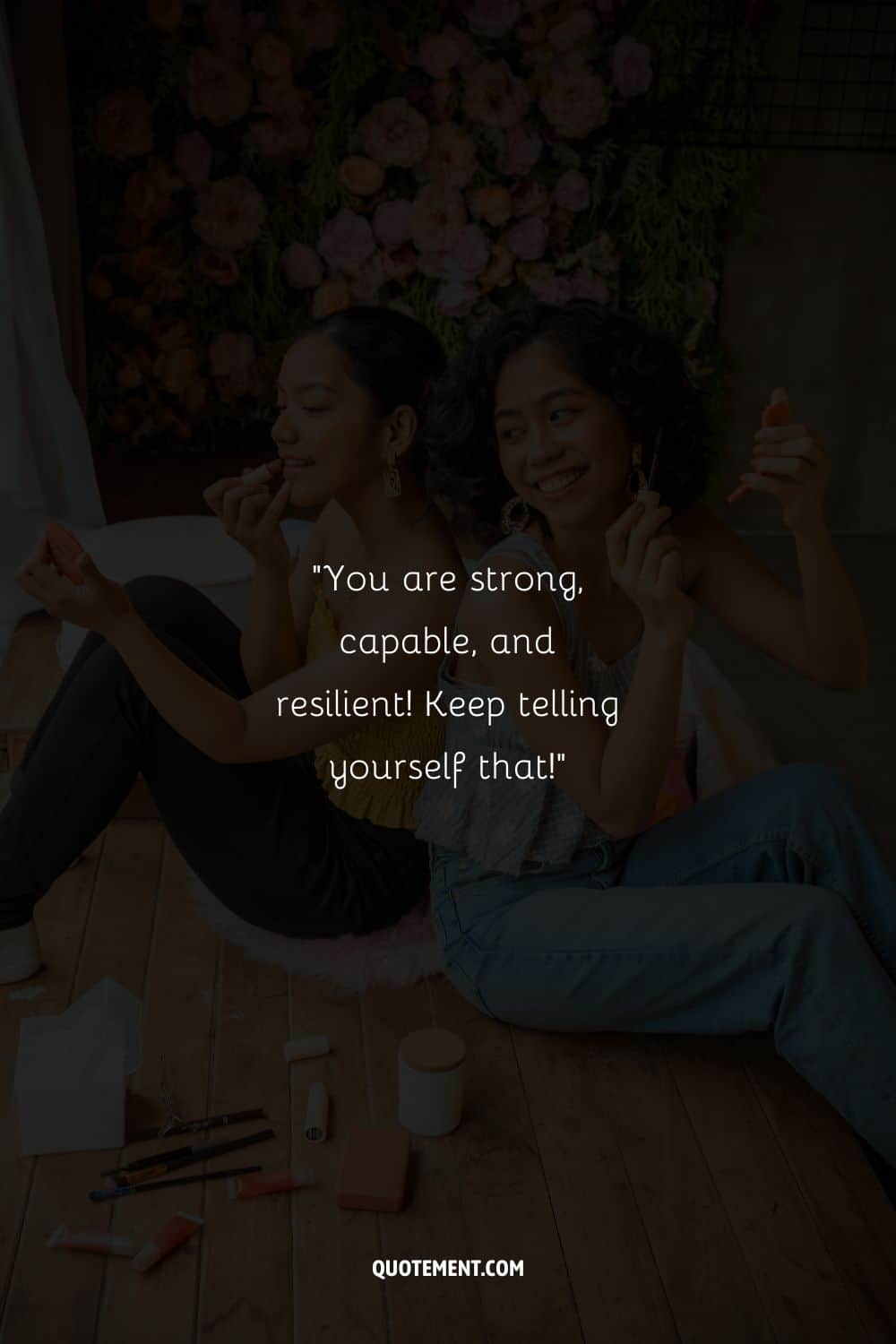 2. "If you need some good news, it's that you only need your own permission to be happy."
3. "Triumph begins when you refuse failure and keep moving forward."
4. "When life knocks you down, get up!"
5. "Everything happens for a reason."
6. "Stop beating yourself up, get up, wipe yourself off, and move on!"
7. "Never let anyone make you feel inferior!"
8. "You have an indomitable will."
9. "Who you are isn't defined by what you're going through."
10. "With your dynamic, determined, and driven nature, you're an asset wherever you go!"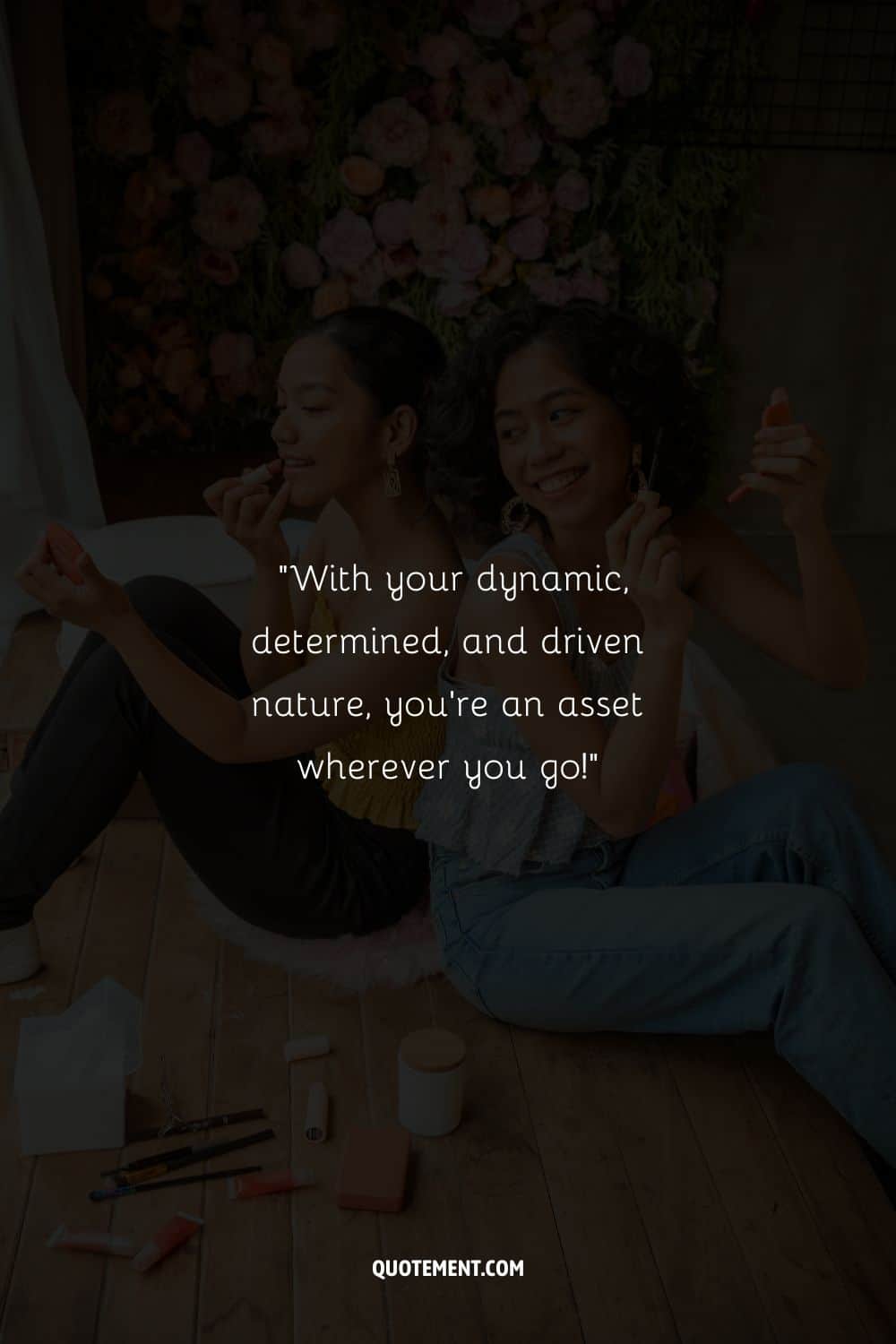 11. "You have a bright future ahead of you!"
12. "Now the time comes for you to decide what to do in the next moment?"
13. "Your greatest weakness is believing what others have to say about you! STOP!"
14. "Just surviving what you've been through shows how courageous you are."
15. "Everyone is guilty of making mistakes, now how do we fix this one together?"
16. "Go easy on yourself!"
17. "Your dedication will finally pay off, this is your moment so cheer up!"
18. "You are the wisest person I know. You got this!"
19. "That is not your only choice, there are many things you can do now!"
20. "You are a superhero with the power to conquer anything that comes your way."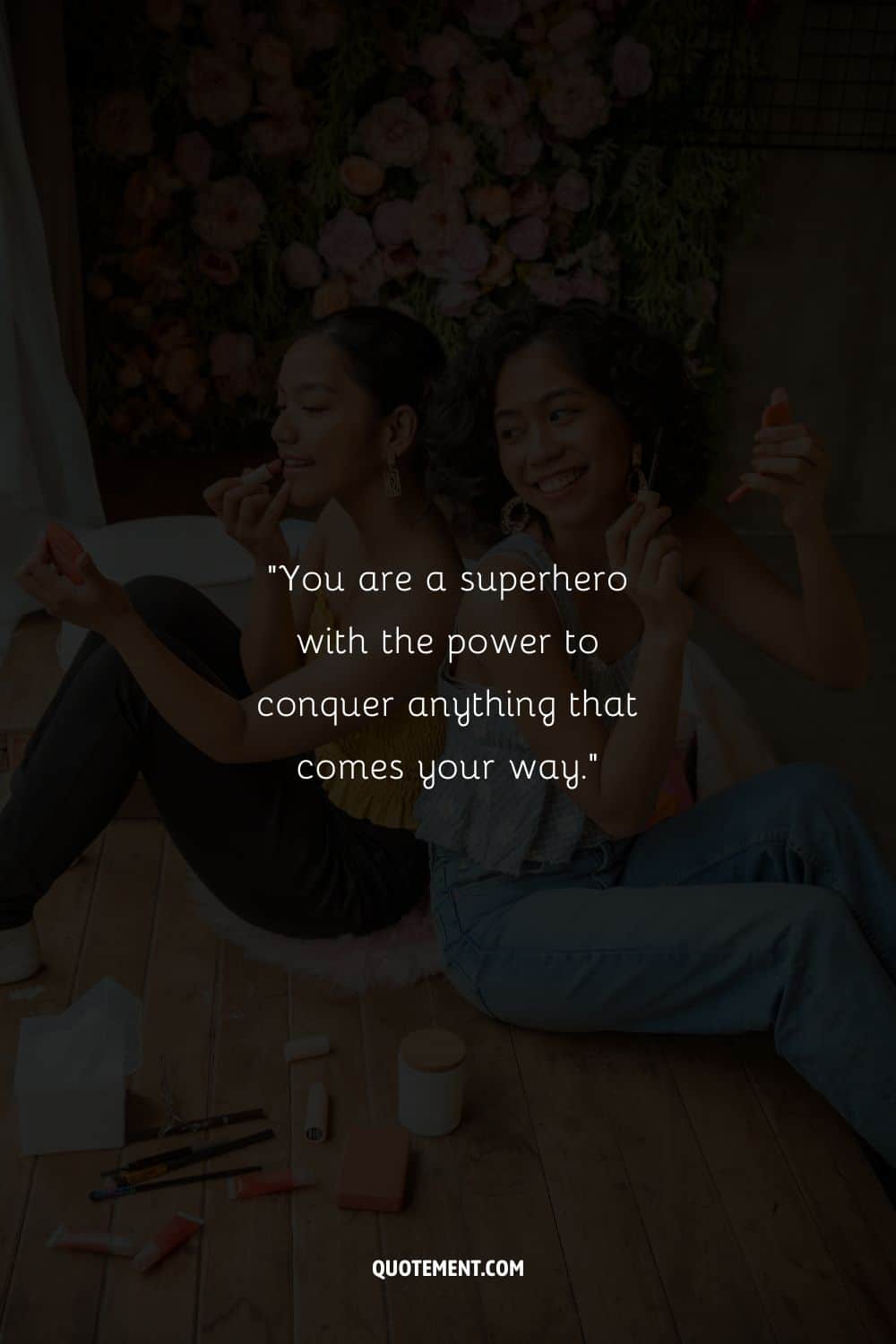 Words Of Encouragement To Offer Your Help To A Friend
1. "Let me know if you can't see the light anymore. I will buy a whole bunch of bulbs for you."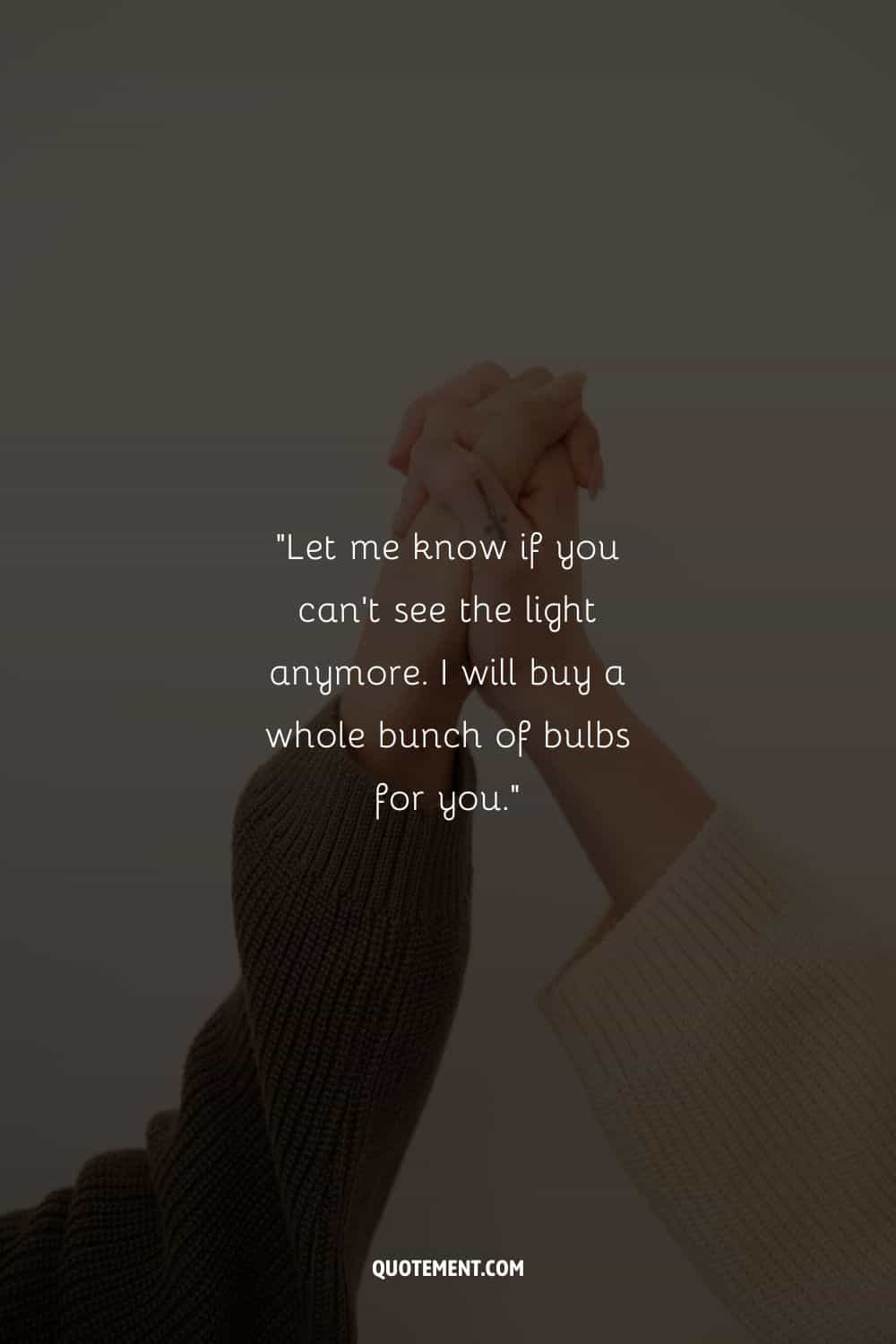 2. "I can't imagine how you feel. But I can listen when you need to talk."
3. "Take everything one day at a time. And on the harder days, give me a call."
4. "If you fall, I'll pick you up. If I can't pick you up, then I'll just lie down and rest with you. Let's get back to the top together."
5. "My friend, there are so many beautiful reasons to fight for life and happiness. Keep going. Let's fight together."
6. "All this can be a lot to take on. I'm here to help, whenever you need it. I got your back!"
7. "We all experience bad days; we all have to deal with our inner demons. When you feel like there's nothing you can do about it, know that you can always depend on me for support."
8. "I can deliver a mean takeout. Just name the day."
9. "What's especially challenging right now? I'd like to find a way to help with that."
10. "I'm here for you no matter what — to talk, to run errands, to clean up, whatever is helpful."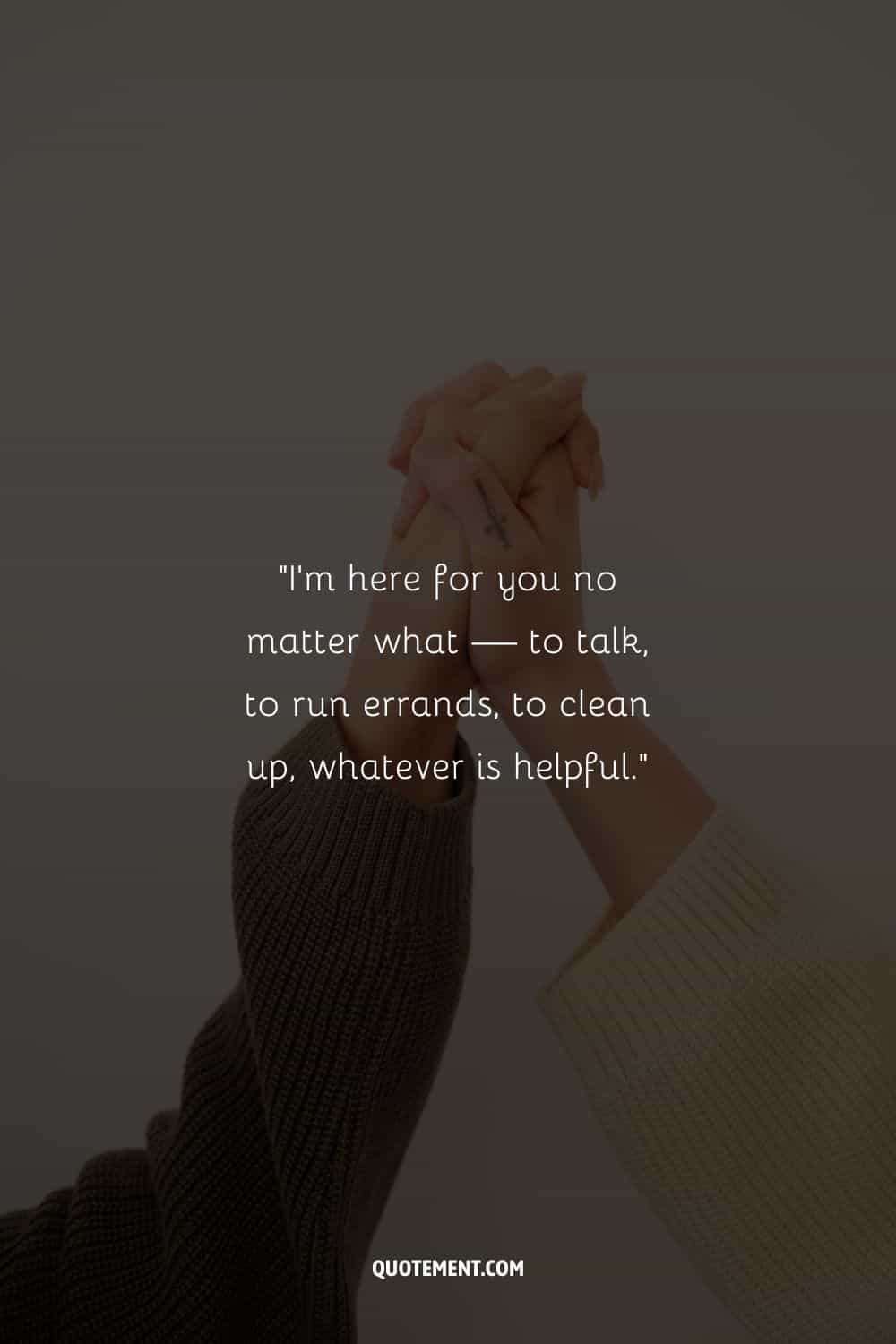 11. "I'm sorry things are so hard right now. I'd like to take care of your responsibilities for you until they get a little easier."
12. "I'm never more than a text or call away. Don't hesitate to reach out. (I plan to check in on you, too.)"
13. "I won't ask you to act now if you don't feel like it. I'll stay by your side and wait until you are ready and choose to fight again."
14. "If you need somebody to do house chores, cook, whatever, I'm a somebody."
15. "I'll plan to leave Tuesday night meals in the cooler by your front door by 5:00. If you feel up for a visitor, just text me ahead of time."
16. "There is always a way out, buddy. Everybody feels helpless sometimes, but I can assure you that there're so many options that you don't see yet. I will help you to get through these life struggles, don't you worry about a thing."
17. "I may not always be there with you. But I will ALWAYS be there for you."
18. "You are capable of amazing things — I've seen them myself! And I'm more than happy to remind you of how amazing you are anytime you need to hear it."
19. "It will pass, we can ride it out together."
20. "I'm here to listen. I may not understand, but I care about you and even if I don't know what to say at times, know that I want to be here for you in any way I can."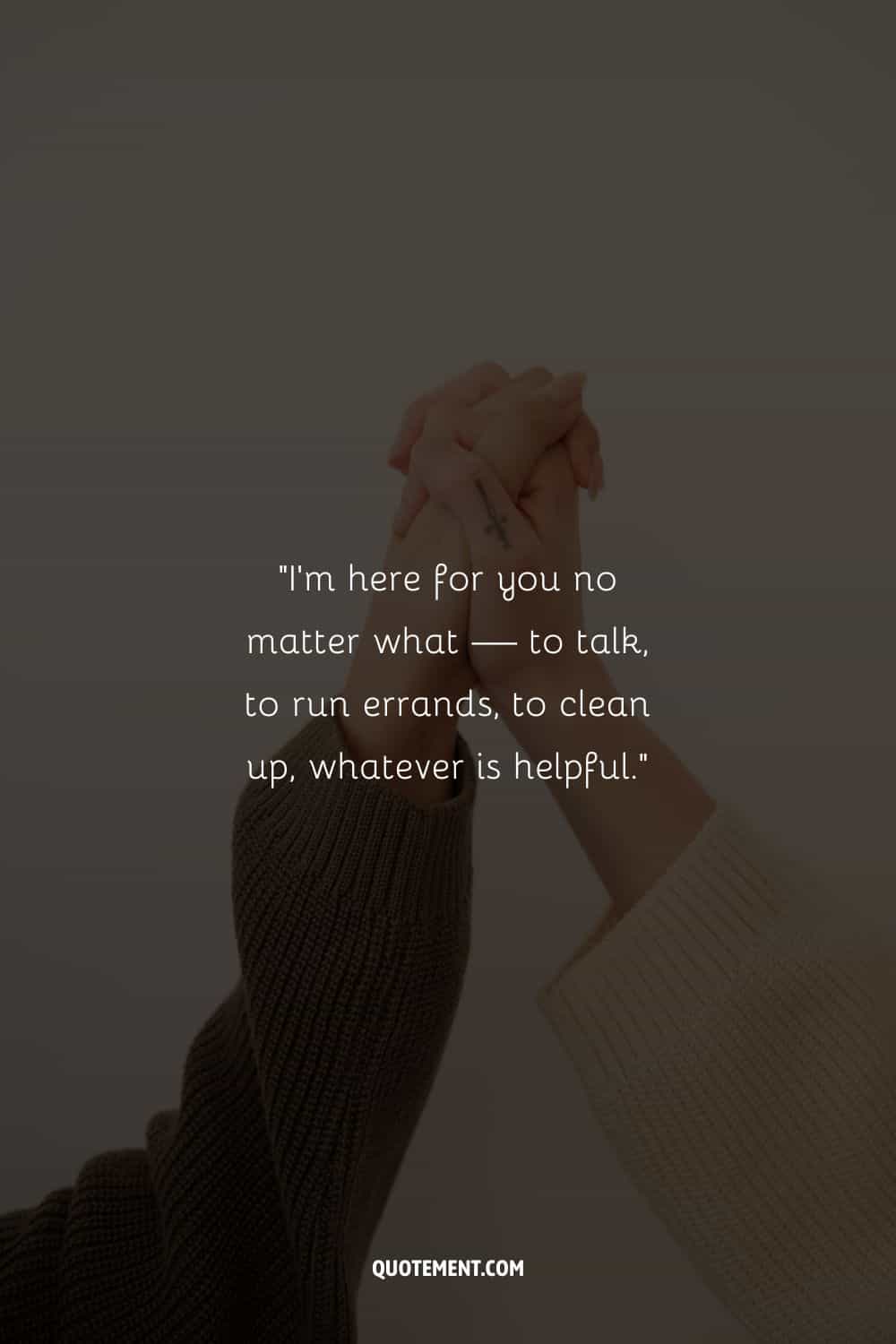 Spiritual Words Of Encouragement For A Friend
1. "Cheer up, my friend. God gave you those problems because He knows you are strong enough to handle and overcome them."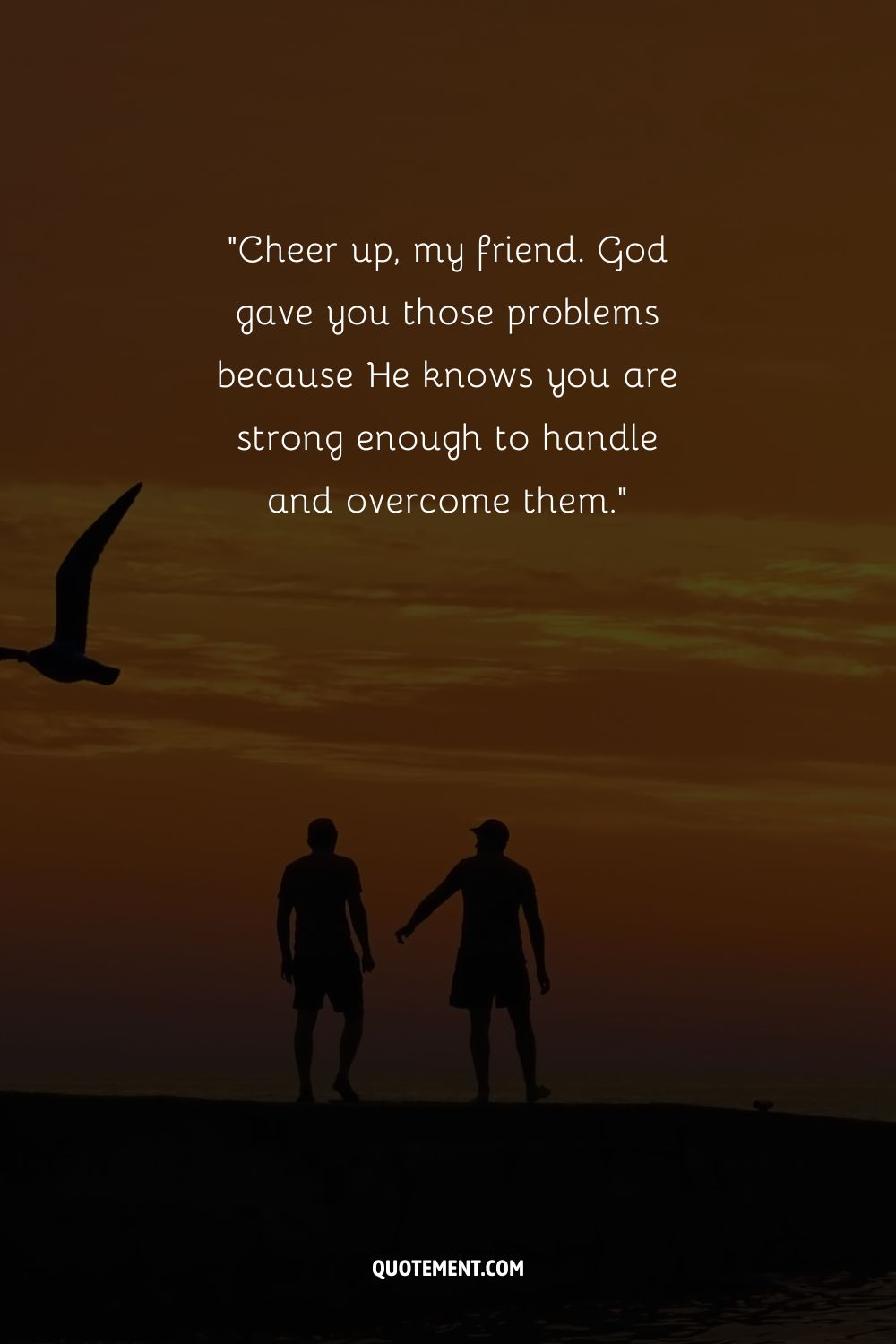 2. "God is greater than any one of us. Trust in Him and He is always ready to solve our problems."
3. "I always believe in you. No matter what you do, no matter where you are. You are the smartest, the most talented, the wisest person I know, therefore you can do anything. Godspeed, fella."
4. "You are beautiful, wonderful, and loved by not only those who know you but by God."
5. "God will not give us anything we can't handle. He sees a strength that isn't always visible to us, and we can use these opportunities to grow closer to Him and each other."
6. "You have a greater power in you – the Creator of life itself living right within you."
7. "Remember the Holy Spirit is not only powerful but also a friend and a comforter. That's what Jesus chiefly called Him, 'The Comforter'. That's what He's here for – to comfort you and me in times like these."
8. "Trust in the Lord with all your heart, and do not lean on your own understanding. In all your ways acknowledge Him, and He will make straight your paths."
9. "Thank God for the strength He's given you, my friend. I know this will make my work easier as I remind you of how much God has made available for your peace and joy."
10. "His grace is sufficient for you. You will be fine. Your mind is restored and your healing shall be permanent."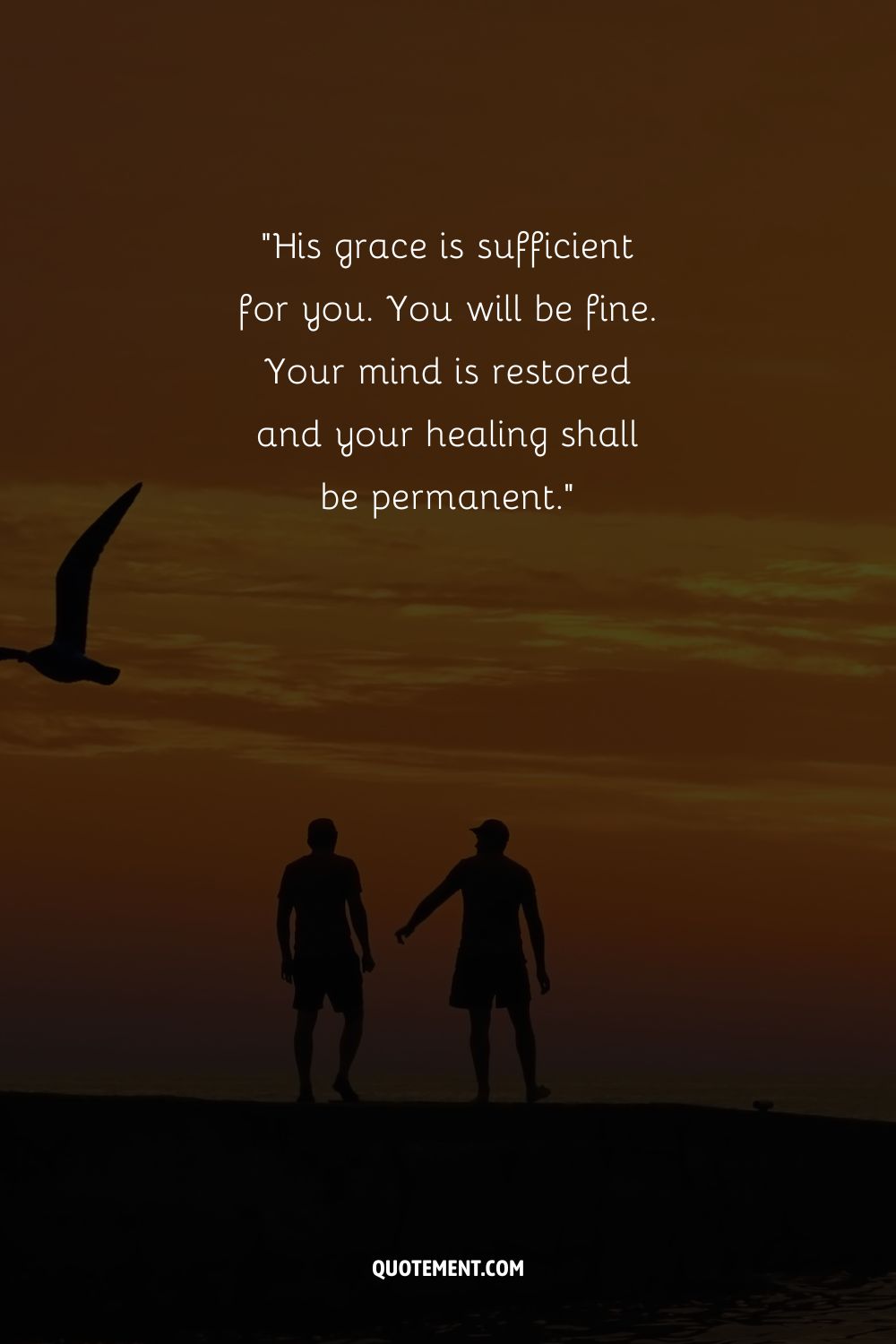 11. "God is working in ways that men can't begin to understand or imagine. You can trust in Him and know that you are in my thoughts and prayers this week."
12. "Know that someone is thinking of you, praying for you and that God will never leave you nor forsake you."
13. "Hang in there during these hard days. God knows all you are going through, and you can know that prayers are going up for you."
14. "Praying that you will feel the presence of God in a very real way today and that you will draw strength and hope as you trust Him to be your comfort."
15. "Humble yourself under the mighty hand of God so that at the proper time He may exalt you, casting all your anxieties on Him, because He cares for you."
16. "Even when you can't see, God is working it out. You should not be discouraged or give up hope. Keep the faith!"
17. "May the God of hope fill you with all joy and peace as you trust in Him, so that you may overflow with hope by the power of the Holy Spirit."
18. "God has given us our own unique paths to follow in life. What's interesting is no one's journey is ever the same."
19. "You are a beautiful creation and were made like no one else. Your uniqueness is a pleasant gift you can give to the world if you are willing to define and live that out. And, it is the best gift you will ever give yourself."
20. "It is the Lord who goes before you. He will be with you; he will not leave you or forsake you. Do not fear or be dismayed."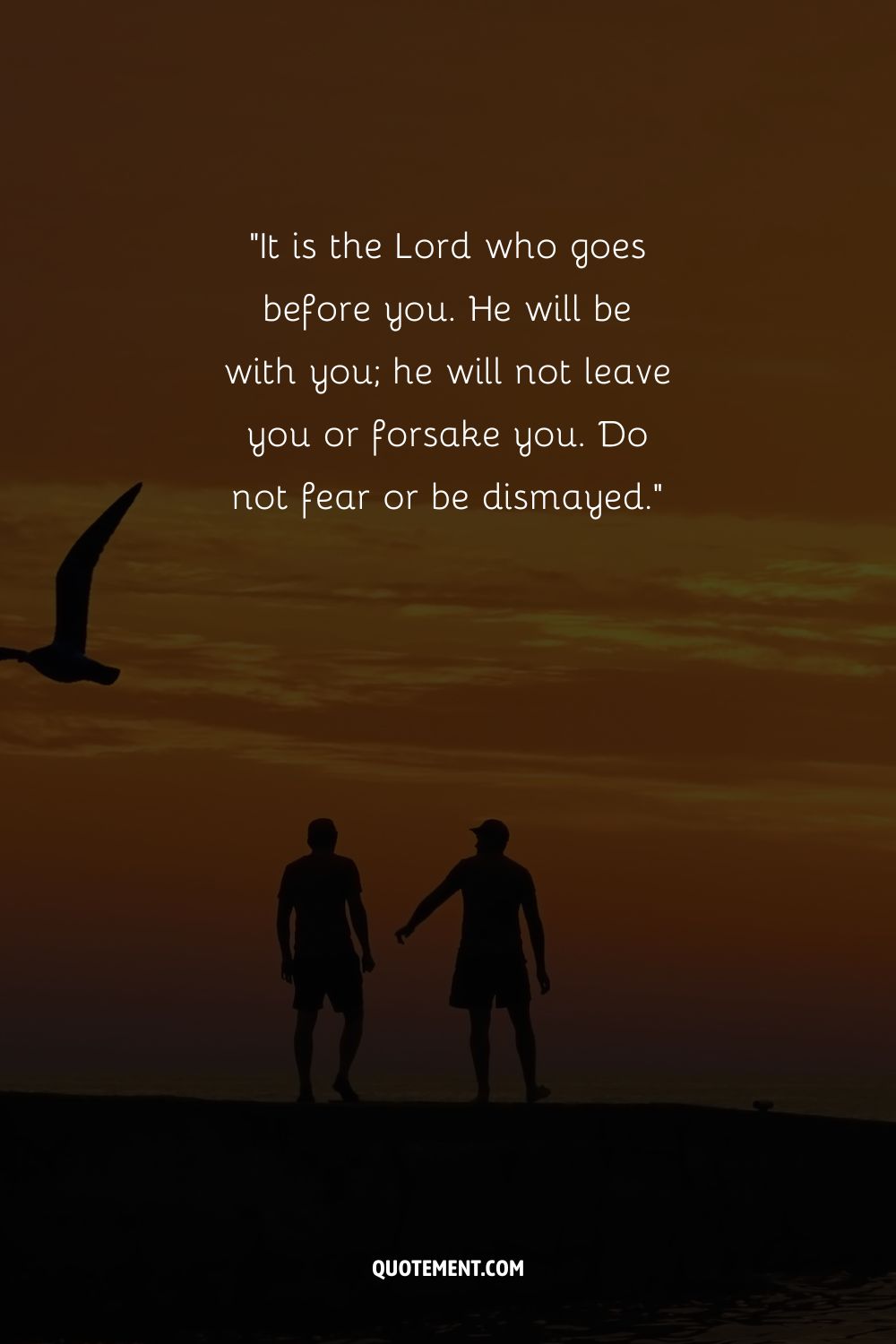 Words Of Encouragement And Strength For A Suffering Friend
1. "You have the strength and resilience within yourself to face your struggles head on, no matter how hard it may feel in the moment."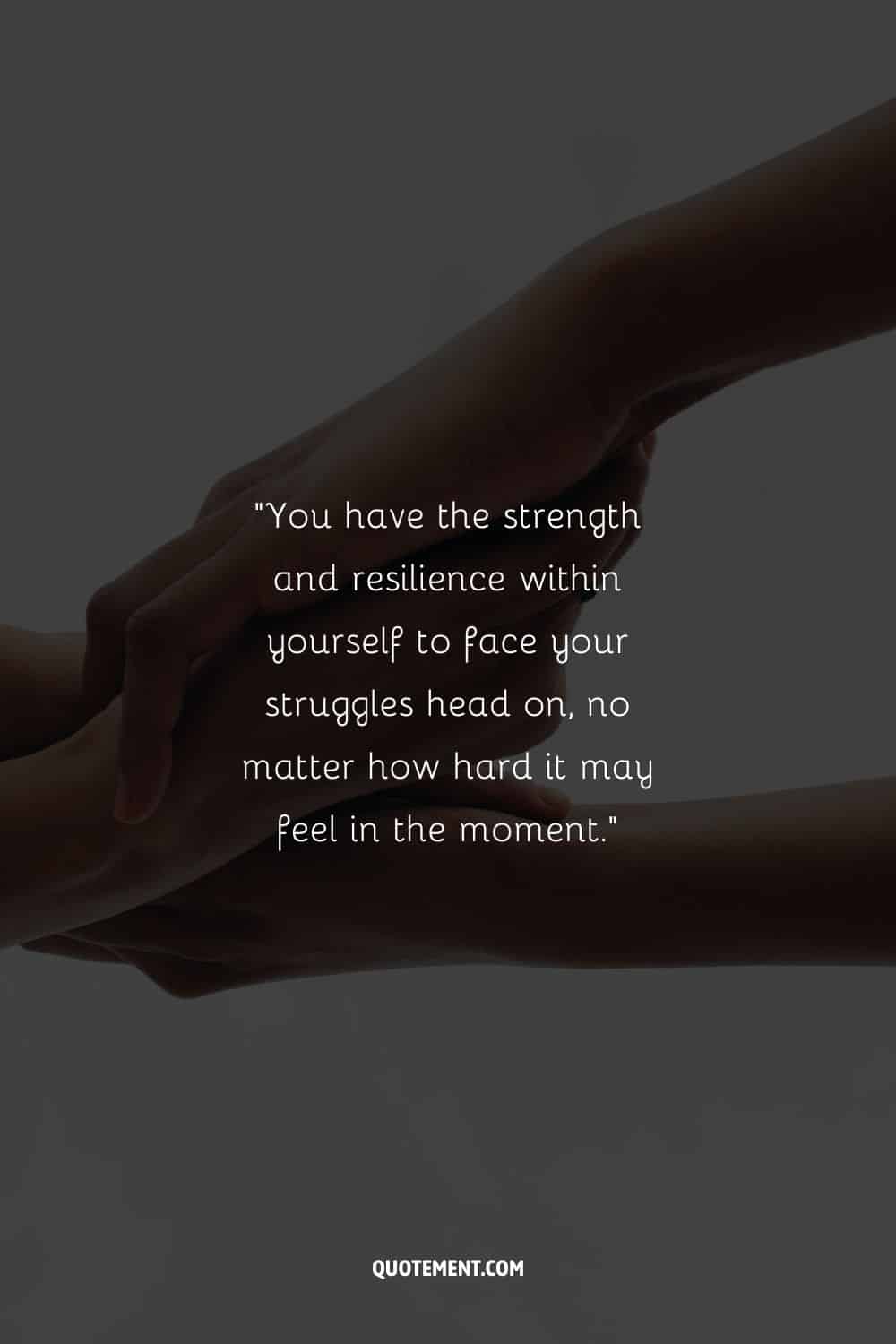 2. "It's important to remember that it's okay to not be okay sometimes."
3. "No wise words or advice here. Just me. Thinking of you. Hoping for you. Wishing you better days ahead."
4. "All I want you to focus on is relaxing, having positive thoughts, and regaining your strength."
5. "Things will get better for you, I promise, and I will be by your side until they do!"
6. "Everyone has tough times and everyone feels sad sometimes. So don't be hard on yourself if you're feeling down, just take some time to relax and recharge."
7. "I can't possibly imagine what you went through today, but I believe in you, and I know you will get through this!"
8. "You've always been a fighter, so I know that you'll get through this. Don't lose that strength; don't let go of that bravery."
9. "Sometimes it takes a tough ending to make a bright new beginning. Wishing you all the strength you need right now."
10. "Do you know where I get my strength? From you. Your dedication is what encourages me to be the best version of myself."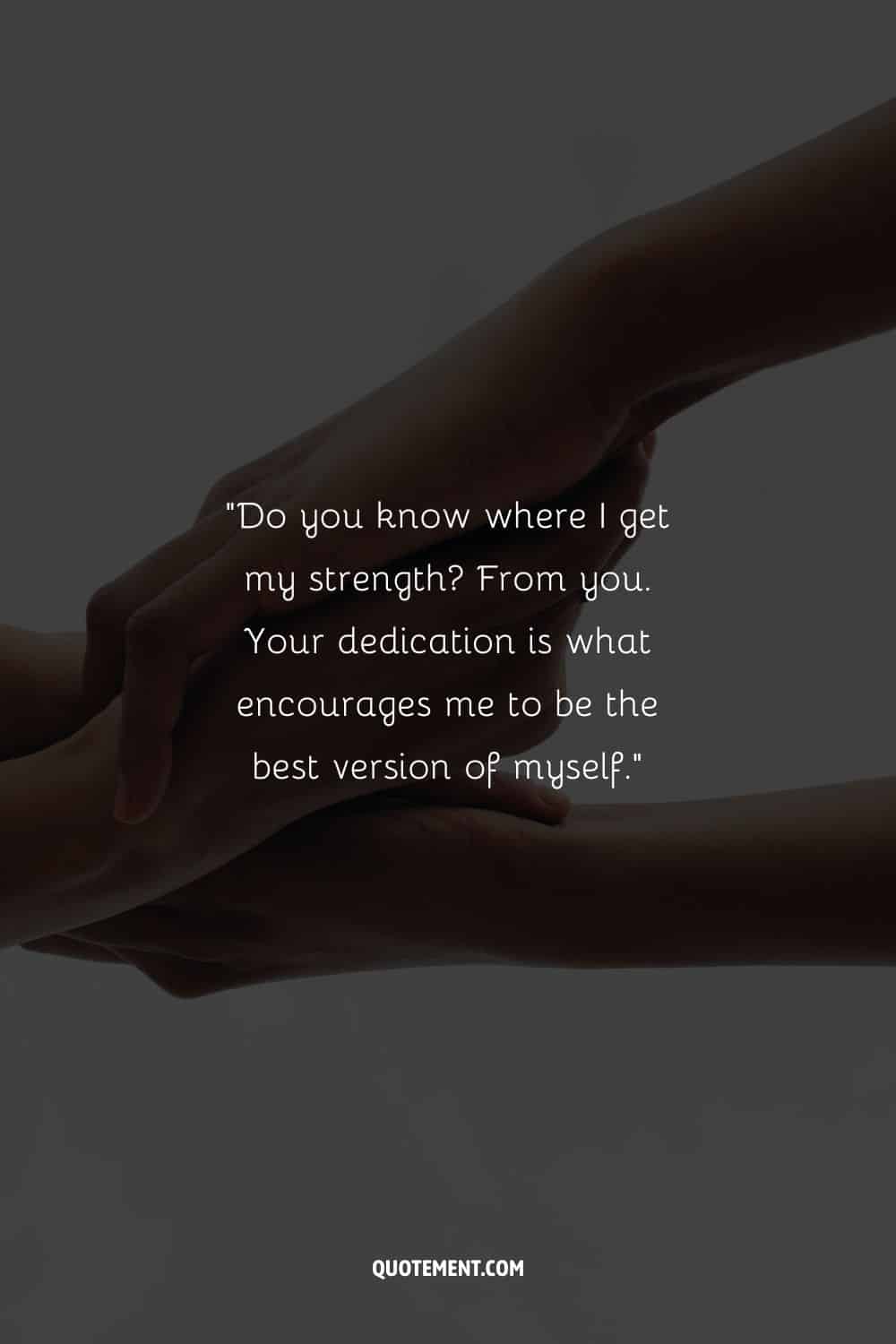 11. "Your pain is valid. I'm here if you need someone to listen."
12. "It may seem that things are hopeless right now, but I know that there's so much more in store for your future."
13. "Whatever you do and whatever you choose, I will always be proud of you. Don't put yourself down."
14. "Let go of what is hurting you. Don't hang on to something that just keeps on dragging you down. You have me, your other friends, and your family. Hold on to us."
15. "Swap that judgment for self-love, replace that hate with self-compassion."
16. "Hard times hit us all, but we survive by being strong. I don't worry about you — you're a strong and amazing person."
17. "The best is yet to come, so sit up straight and stop the tears. Whatever is happening right now is not the end."
18. "Everyone feels like giving up sometimes, it's okay to feel that way. Being tired of fighting is not a crime, and I know that you have the power to overcome this and finish what you started."
19. "It's okay to feel sad, down, and frustrated. You may even feel like things are a bit hopeless right now. But you don't have to hang on to those feelings. You have a bright and happy future."
20. "Here's what you need to remember: You are enough and you are wonderful, even on those days you feel broken and shattered."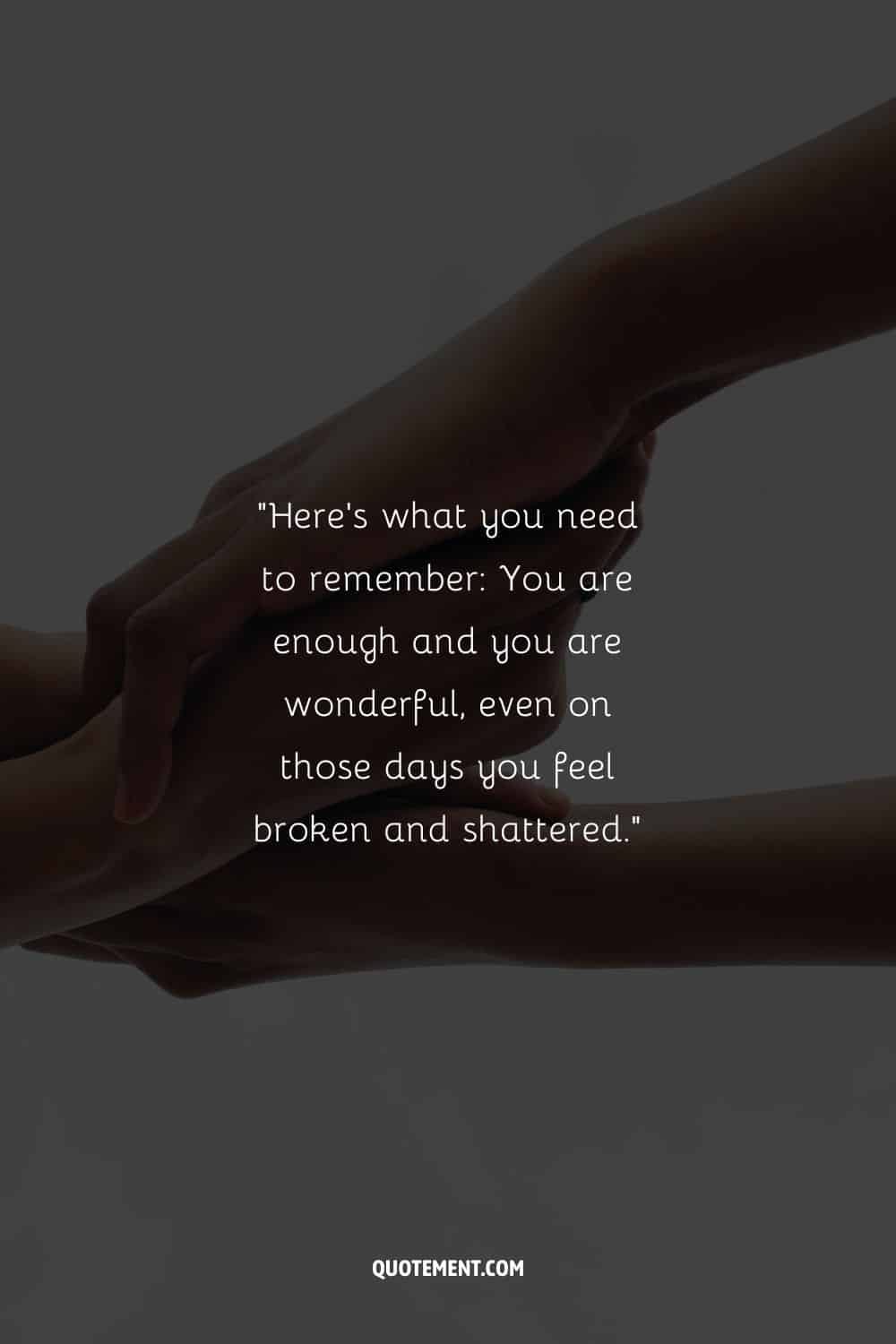 Comforting Words For A Friend's Recovery
1. "You're doing exactly what you should be doing. Hang in there. For this voyage, you are more than prepared!"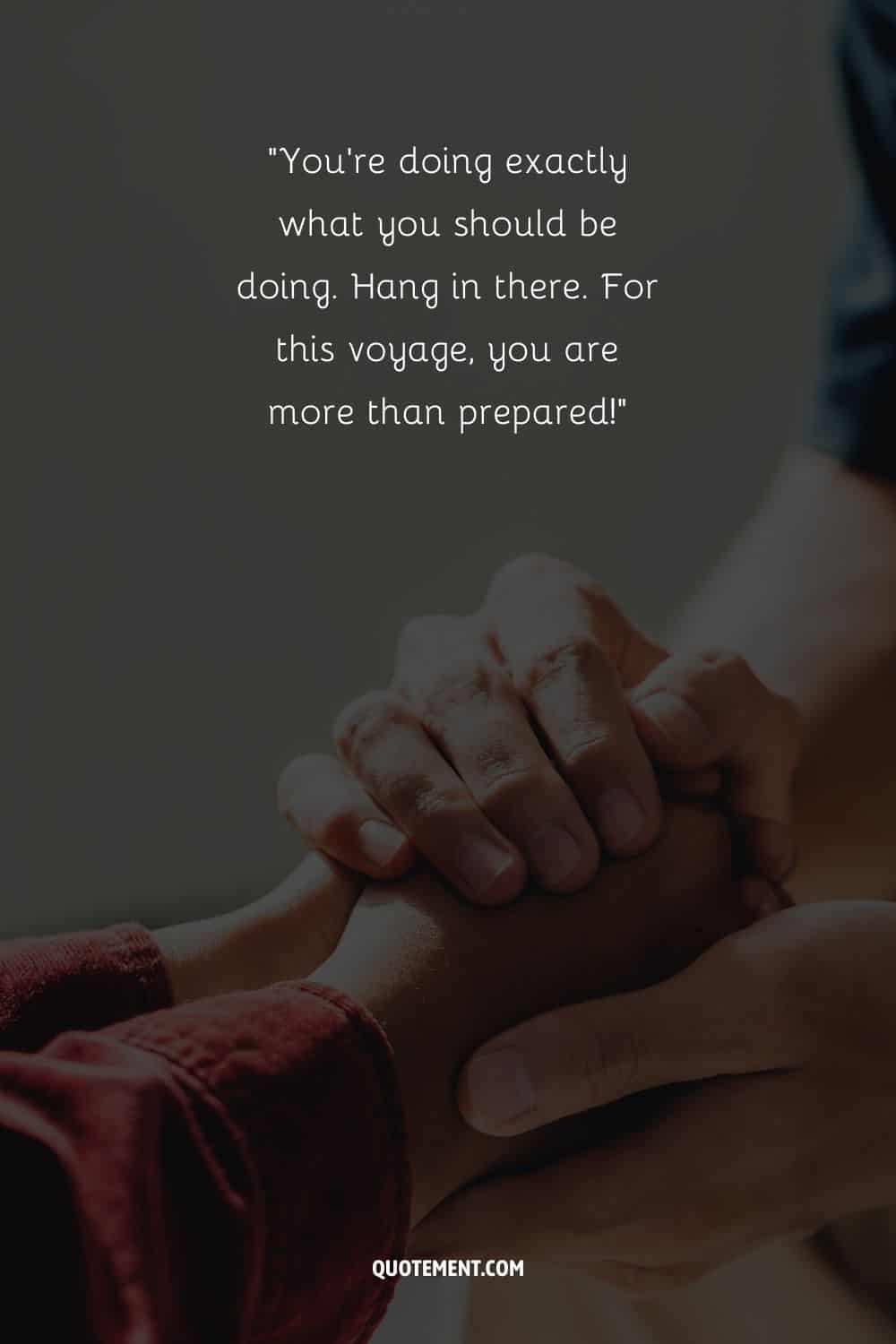 2. "Our lives can be overshadowed by darkness but I want you to know that you'll overcome this, and I'll be here to support you. Let's work through this together, so lean on me."
3. "Wishing you healing around the next corner."
4. "I know you're emotionally tired. I can tell that you feel like giving up, but what I also know is that you've been through too much to give up right now. I will always be there for you if you need support. Let's do this together."
5. "We are not defined by one moment in time. Your strength to recover from this is what will define you, and I'm here to support that."
6. "You are such a wonderful friend and individual. Thinking about your struggles makes me sad. From the minute I learned about your condition, you have been on my mind. I'm confident that you'll fully recover. I will do all in my power to make your life simpler till then."
7. "Stay strong and remember how many people care about you. (I'm one of them!)"
8. "I know you're body has definitely felt better, but how are your spirits holding up? I'll be in touch to see if you want to talk, vent, rant, whatever."
9. "You're being so strong and patient. Keep the faith and release the fear. Things are going to start looking up soon."
10. "Recovery is a long ride, but you've already bought the ticket and boarded the train — don't get off now."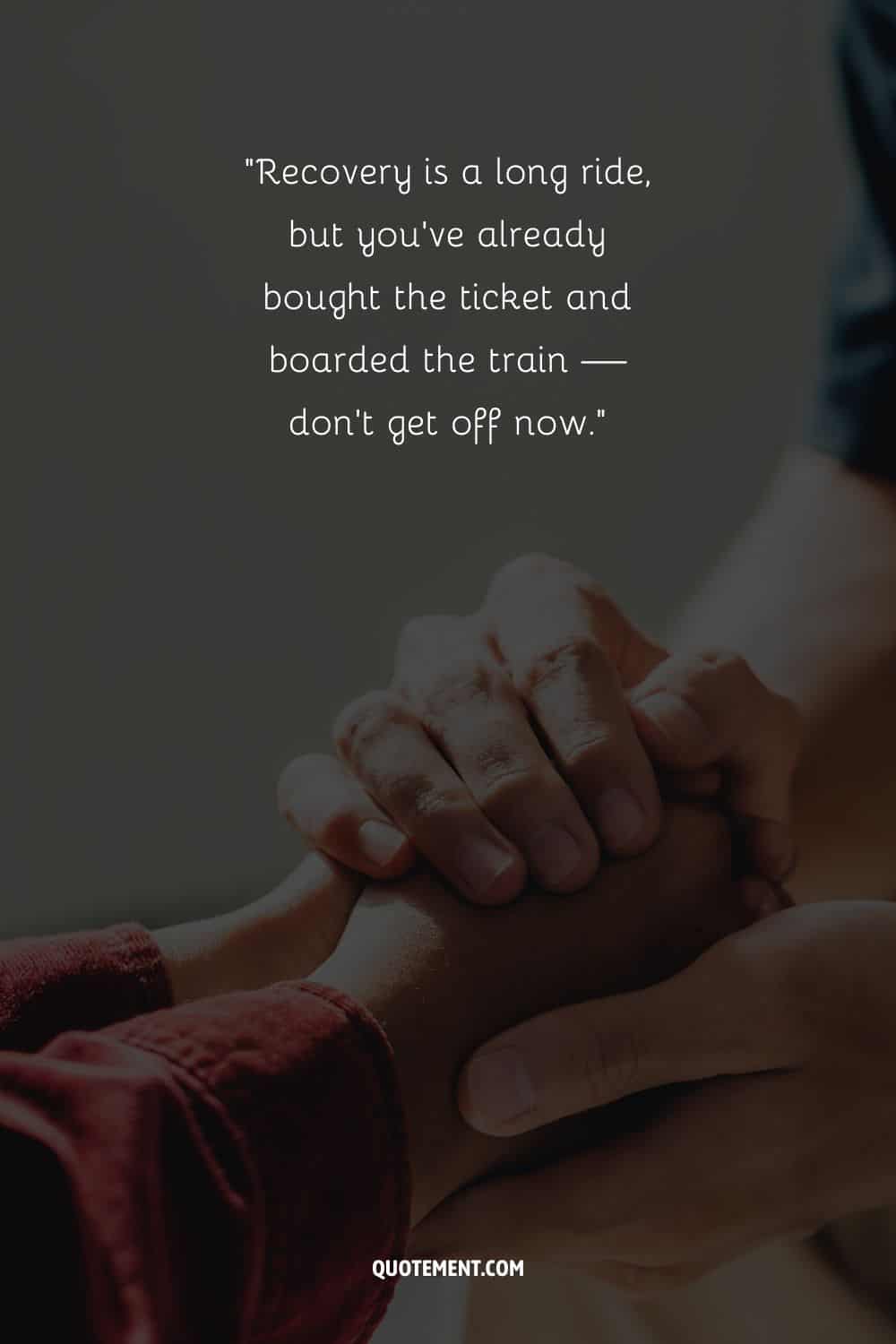 11. "I sincerely hope you start feeling well soon. While you relax and heal, take your time and be kind to yourself. Your obligations can wait. I would be pleased to assist if there was a critical matter. Get better quickly!"
12. "The most important thing right now is to focus on getting better… everything else can wait."
13. "When we get unwell, we have to stop and evaluate our way of life. Even though you may be experiencing frustration now, I hope you find solace in the fact that you may unwind and go to sleep. I'm sending you healing thoughts and my best hopes for a speedy recovery."
14. "I know what you're going through is hard, but I'm rooting for you every minute of every day."
15. "I genuinely hope that you feel well soon. Take your time and treat yourself kindly while you unwind and recuperate. Your responsibilities can wait. If there was a pressing problem, I would be happy to help."
16. "Being unwell may be a little depressing, so I'm sending you happy thoughts of health and vitality. I wish you a speedy recovery and a speedy return to your radiant self."
17. "I'm your pal, in case you forgot because of your condition, and while I like you no matter what, I like you most when you're healthy. So please, look after yourself and recover quickly."
18. "I'm not sure why unfortunate events befall decent people like you, but we'll fight it for as long and as hard as we can. I won't allow you to give up!"
19. "I love you, and I'm here for you. Whatever happens, we've got each other, and I think that makes us pretty lucky."
20. "Whatever obstacles life has presented to you, you have always managed to overcome them and prevail. Why should things be any different this time?"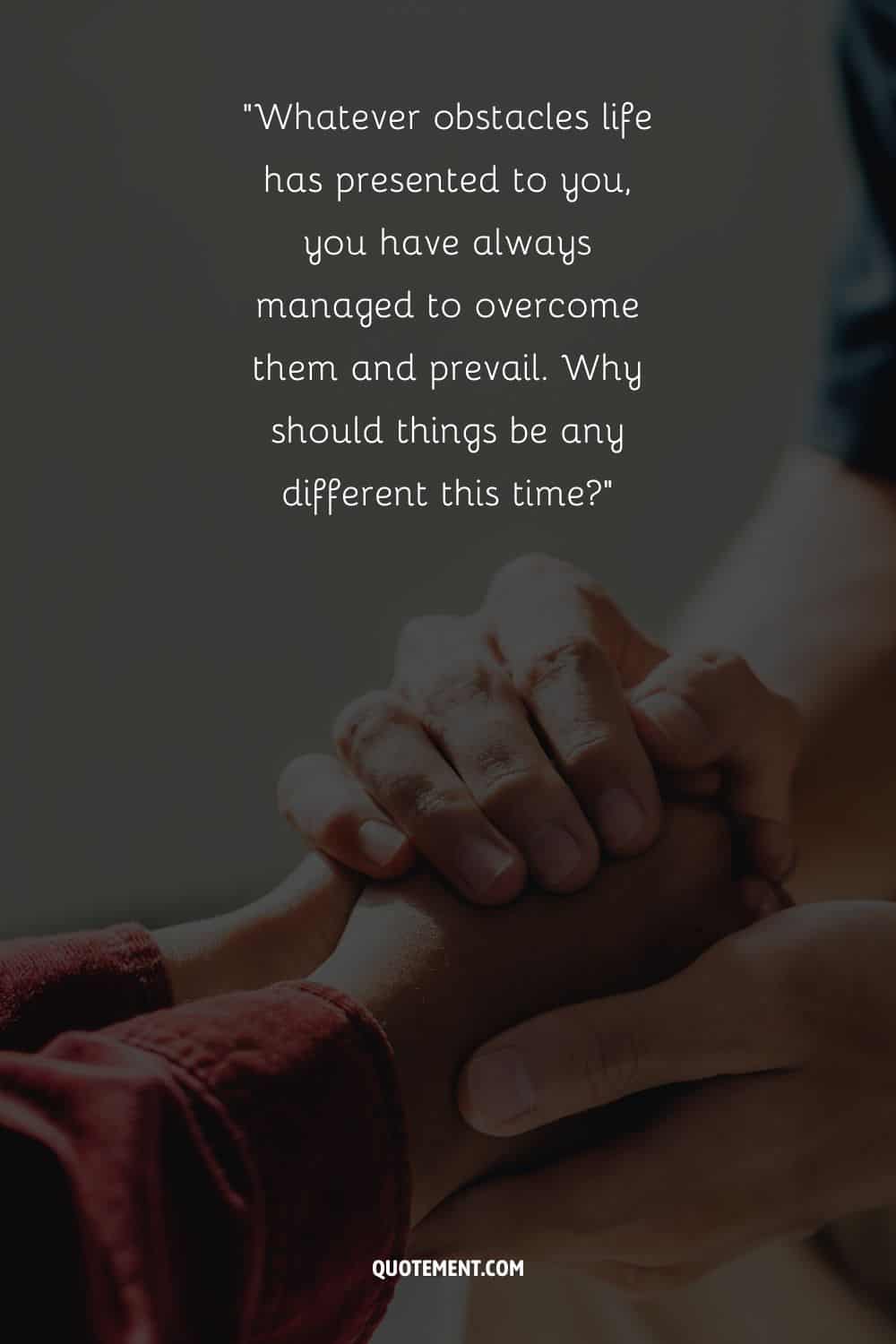 Words Of Motivation To Uplift Your Friend
1. "Your courage, determination, and positive attitude prove that it doesn't matter what life throws at you, you can always bounce back."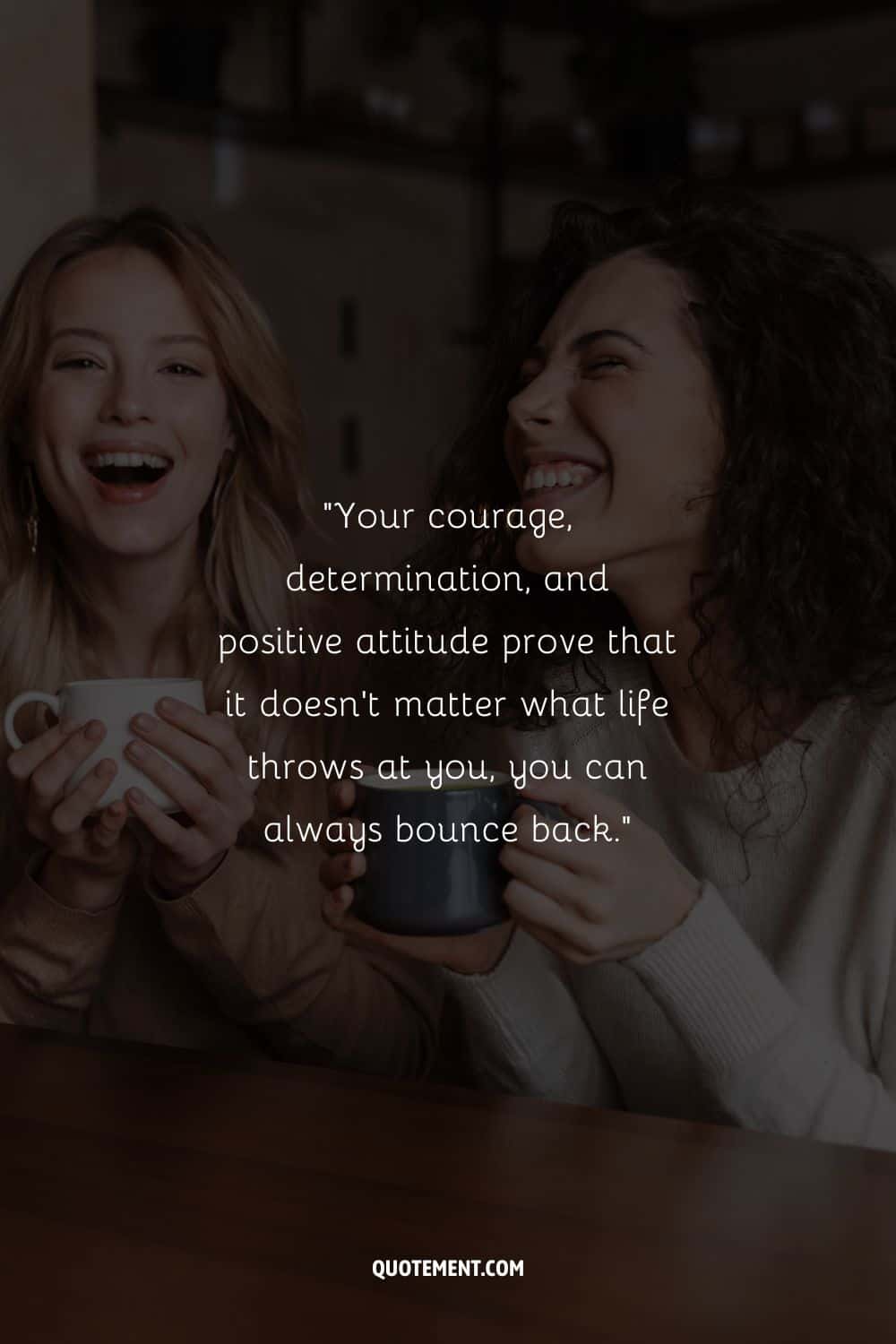 2. "You are such a blessing in my life, so even if you don't believe in yourself right now, I believe in you, and I have always believed in you."
3. "You are the smartest human being I know, this too shall pass, and something even better will come along."
4. "Don't lose faith. It can be really hard to keep going at times, especially when you don't have enough motivation. But despite that, we should still keep our heads up."
5. "You've got this! Take the night to wallow, I'll bring the ice cream, but tomorrow you get back up and keep moving forward!"
6. "Tonight we can cry and watch romance movies, but tomorrow I want you to pick yourself up and no matter what, dress in your best suit and walk in there tomorrow and knock everyone's socks off!"
7. "Your feelings are valid, but now is not the time for you to feel sorry for yourself! Get back up and get back out there!"
8. "You have the physical capacity to do so much in your life, but only you can take the first step."
9. "Everything will be alright in the end, just hang in there and don't give up!"
10. "It's okay to feel down today, and perhaps even tomorrow. But always remember that you are a champion. You are amazing — never forget that."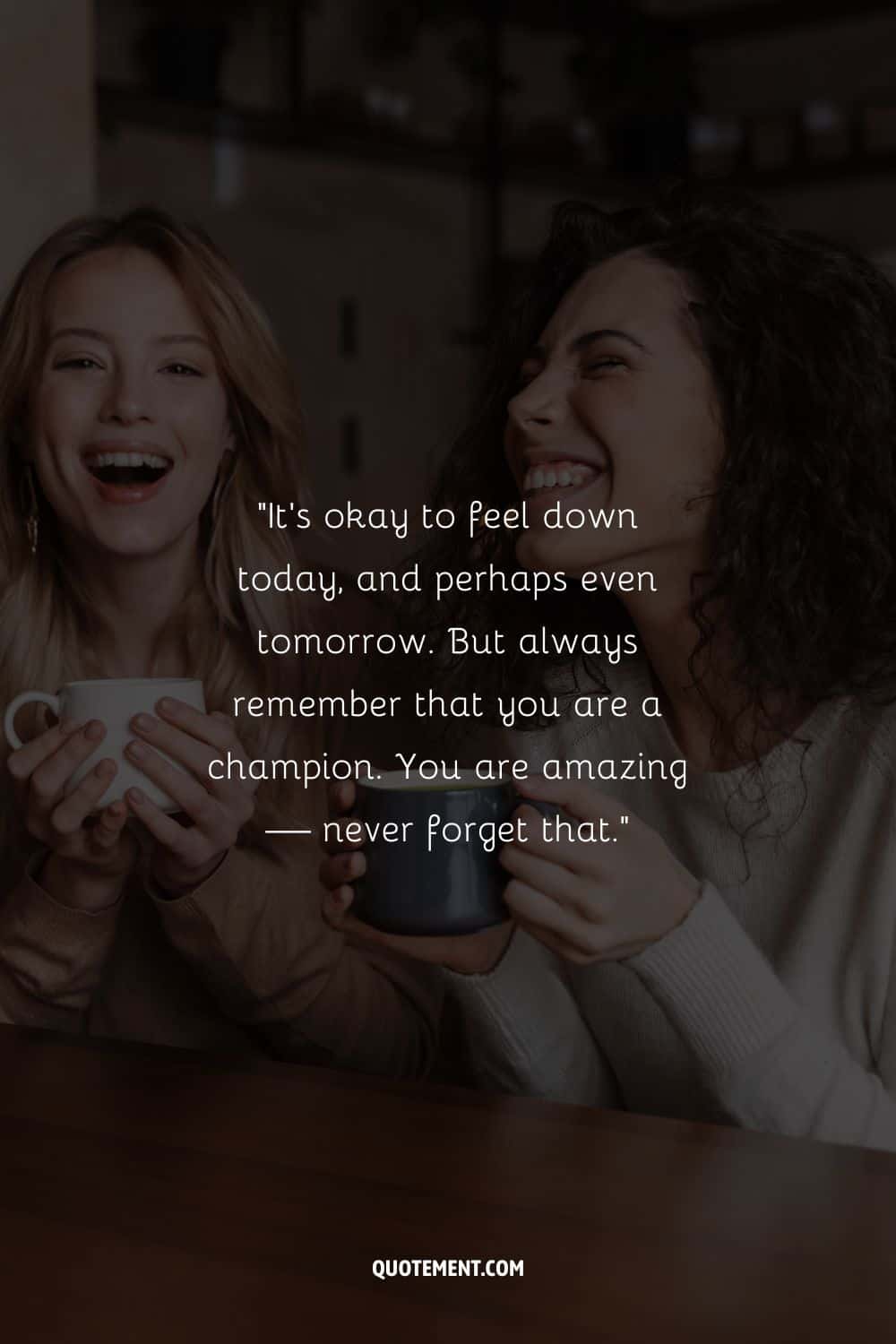 11. "I truly believe this is just a stepping stone to something bigger and more satisfying for you!"
12. "When something goes horribly wrong as it did, refuse failure and figure out a way to make things better."
13. "Sending positive vibes your way, you CAN do this. Take a deep breath and focus on the task at hand!"
14. "Fake it till you make it! Keep reminding yourself how awesome you are, until you remember you are!"
15. "You always get back on your feet, so it doesn't matter how many times you get knocked down!"
16. "When you feel like it's the end of the world, remember all that you've done and all the good times that are still to come."
17. "Your mistakes and failures don't define who you are. Believe you can, and you'll eventually get there. I'll be there to hold you up."
18. "I always knew that you could do anything. After all, you are smart and ambitious. Cheer up, buddy! Nothing can stop us now."
19. "Don't give up on your dreams, no matter how hard it gets. So keep going, never give up, and never forget how amazing you are. If you need help remembering that, call me, day or night."
20. "Think of this as just another lesson that you need to learn. Life is tough, but so are you. You can't let it defeat you."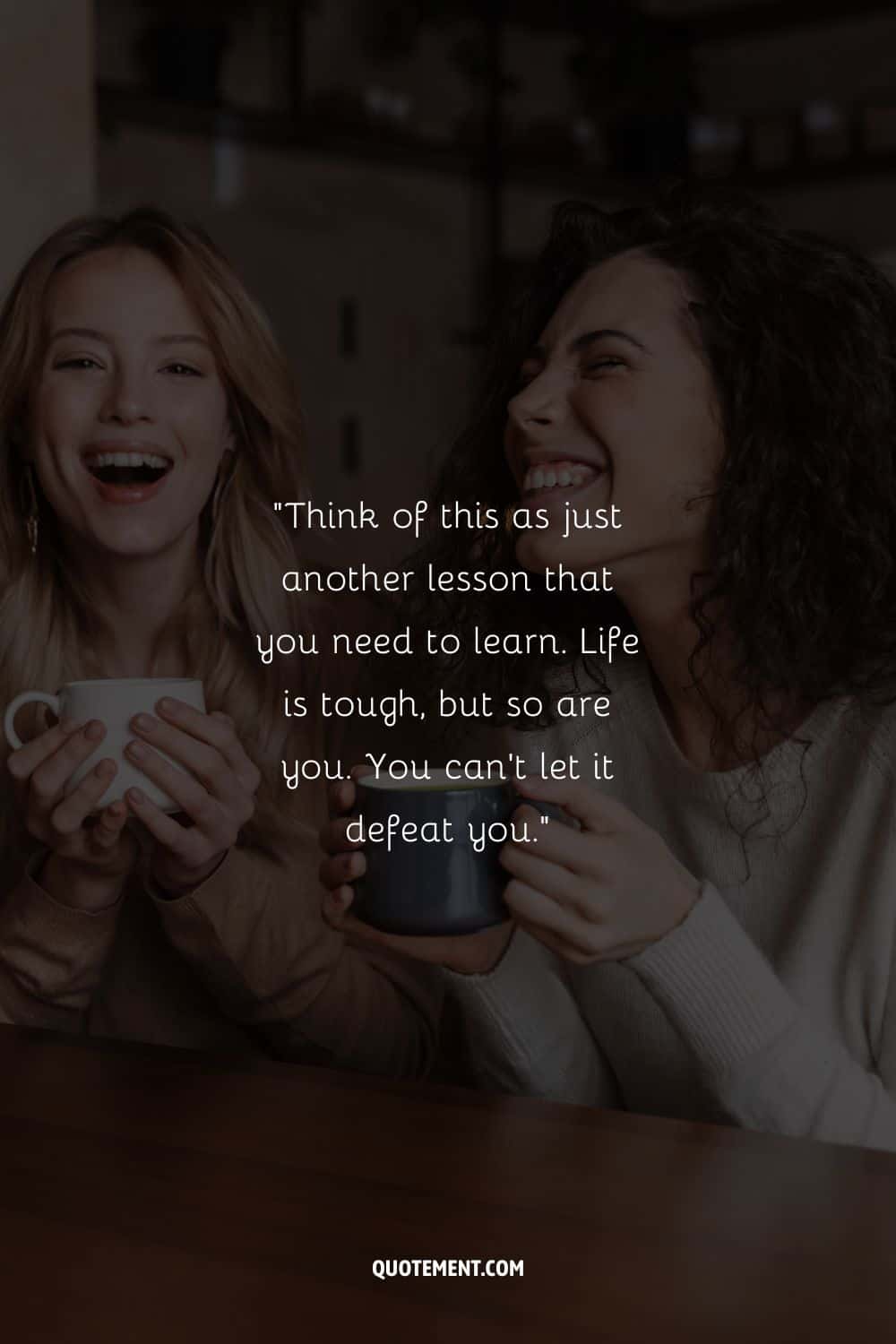 Nice Things To Say To A Friend You Cherish
1. "Always remember, no matter what, you're loved by me and so many others. You bring so much happiness to our lives, remember that."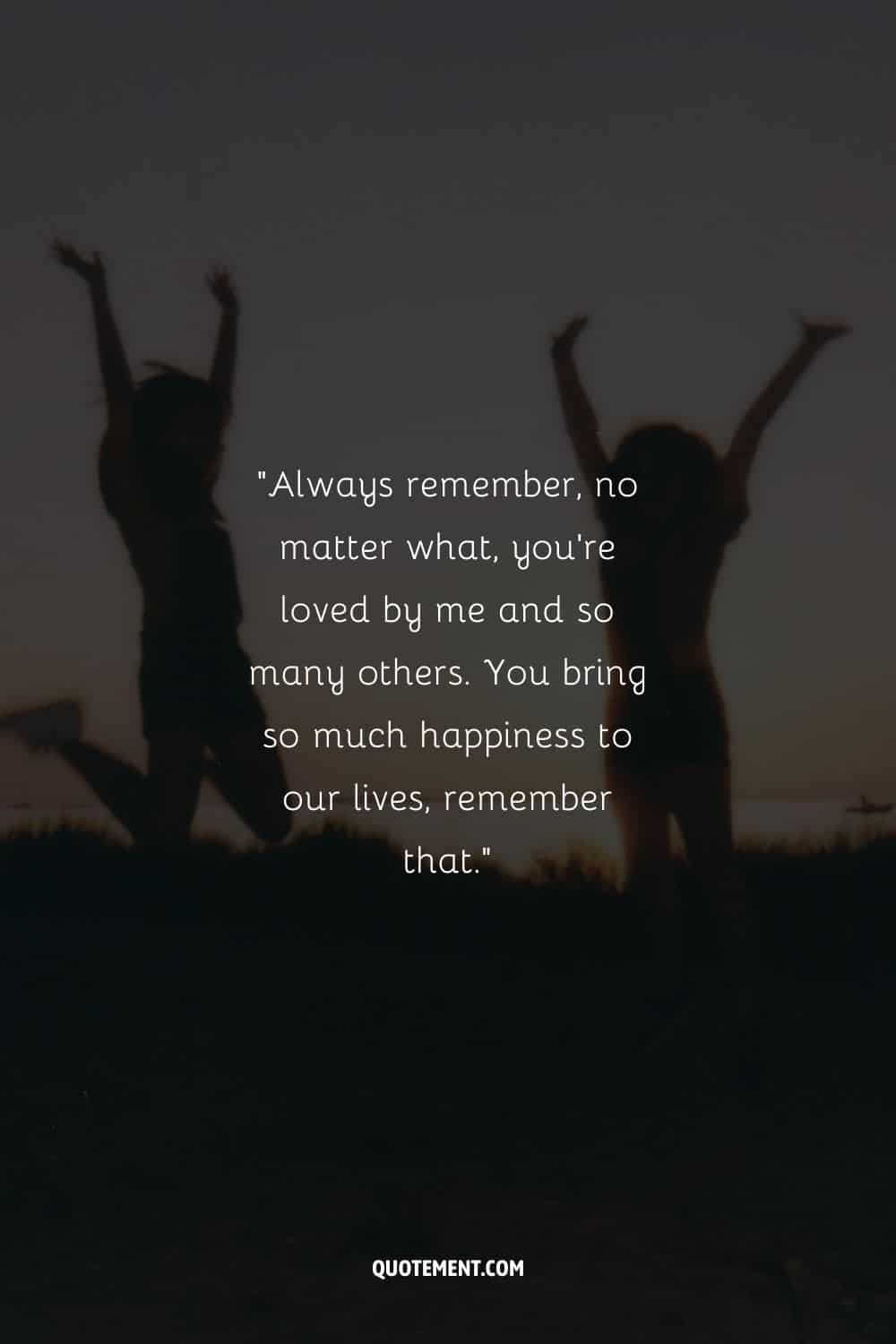 2. "You are so much stronger than you think you are. You are an amazing person and you deserve only the best."
3. "I want you to know that when it seems the whole world is against you, I'm on your team."
4. "Sending love and positive thoughts to my best friend. Always remember I have your back!"
5. "Surround yourself with people who love you, remember your best friends are here for anything you need."
6. "You write the script for your own life, and you control the plot. The best scripts have ups and downs with glorious triumphs. I know you will have that same triumph."
7. "The world needs more people like you."
8. "Be good to yourself, because you're worth having positive thoughts, good times, and peace in your heart."
9. "We've got friends for our happiest days and saddest moments. I hope you know I'm your friend now just as much as ever."
10. "Do you know how valuable you are? You are a gift not just to me and the people around you, but to the whole world."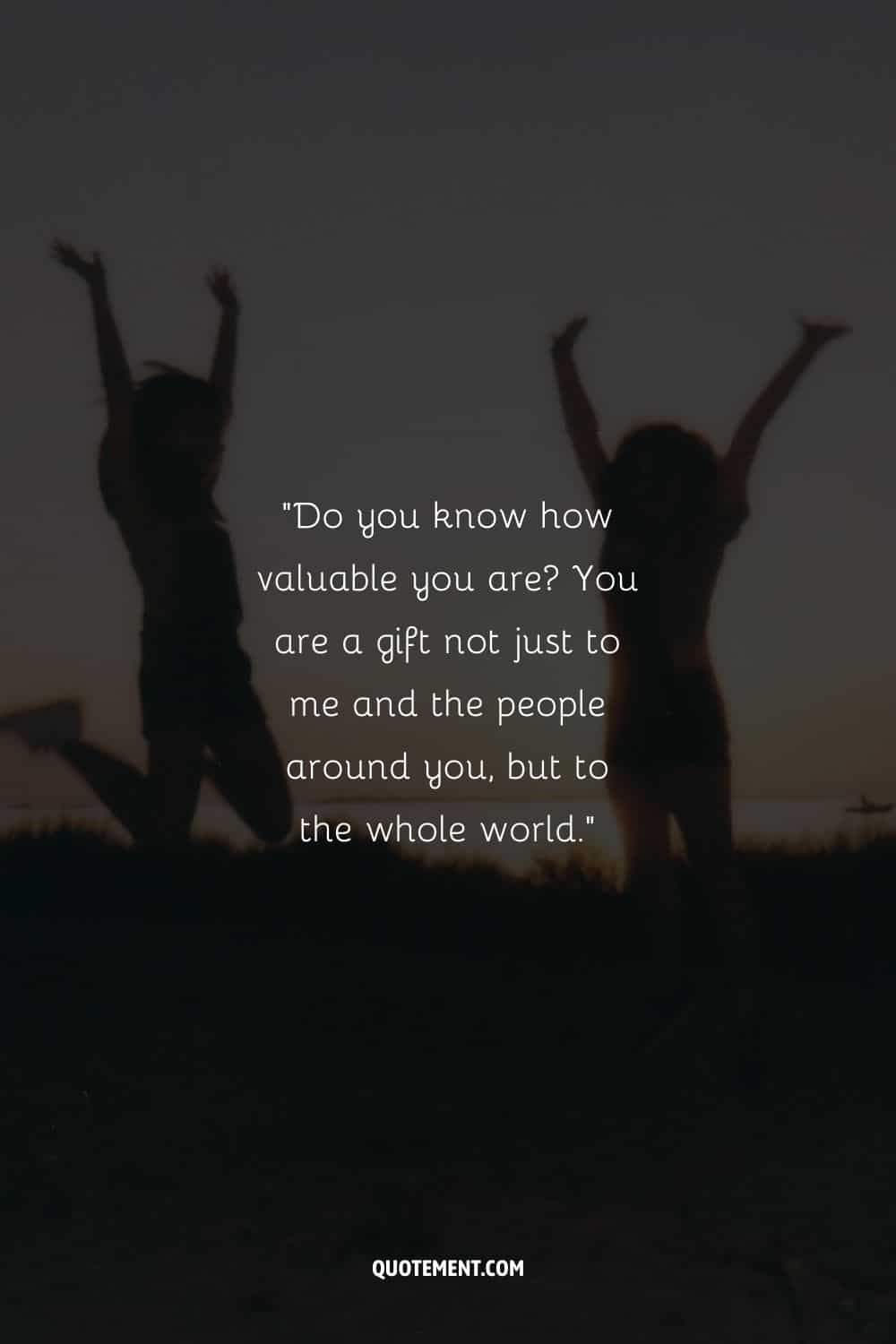 11. "I realize that I am indeed a very lucky person. I've been blessed with the most wonderful people in my life, and that includes you."
12. "My friend, always remember that you are important and worthy of everything good in this world."
13. "I've always admired you. I know you can do anything if you try hard enough, and nothing can stop you from being the best. There's nothing holding you back. I believe in you, buddy!"
14. "Never give up on your life, friend. Learn to live for your dreams of life."
15. "Be strong and courageous my friend. Have faith in yourself. I am sure that you can do this."
16. "Things could have been much worse than this. Thank God for not making these conditions as worse as they could have been."
17. "Make your faith bigger than your fears."
18. "In a world where every person is so mean, you will always find me behind your back who will constantly push you and encourage you to give your best and pursue your dreams."
19. "Be positive and happy. I know you have the ability to do this. You just keep working hard."
20. "Many hardships you have faced, many are to be faced. But don't ever feel alone. I am always there with you to encourage you and take you to the best."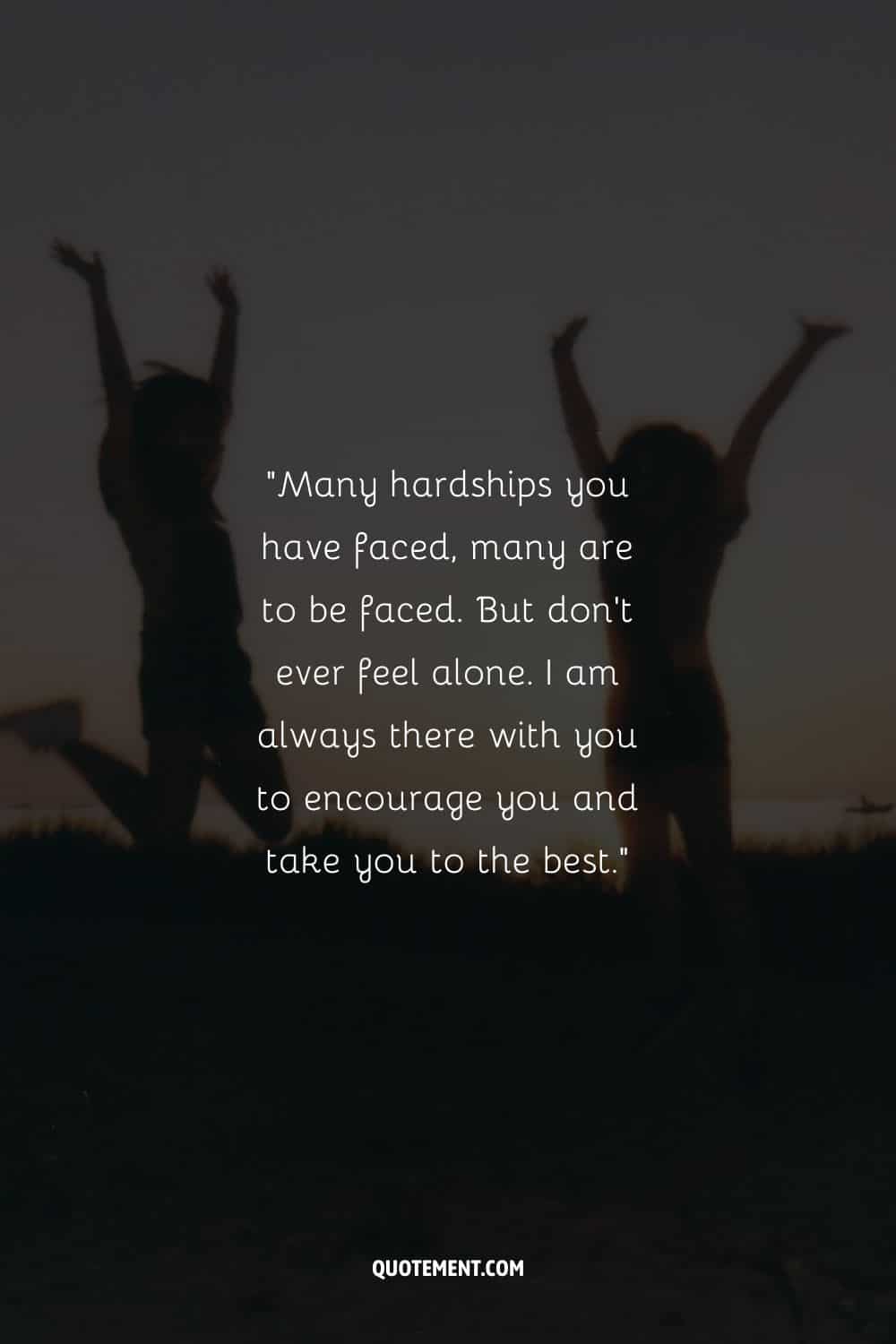 Quotes Of Encouragement To Inspire Your Friend
1. "The struggle you're in today is developing the strength you need for tomorrow. Don't give up." — Robert Tew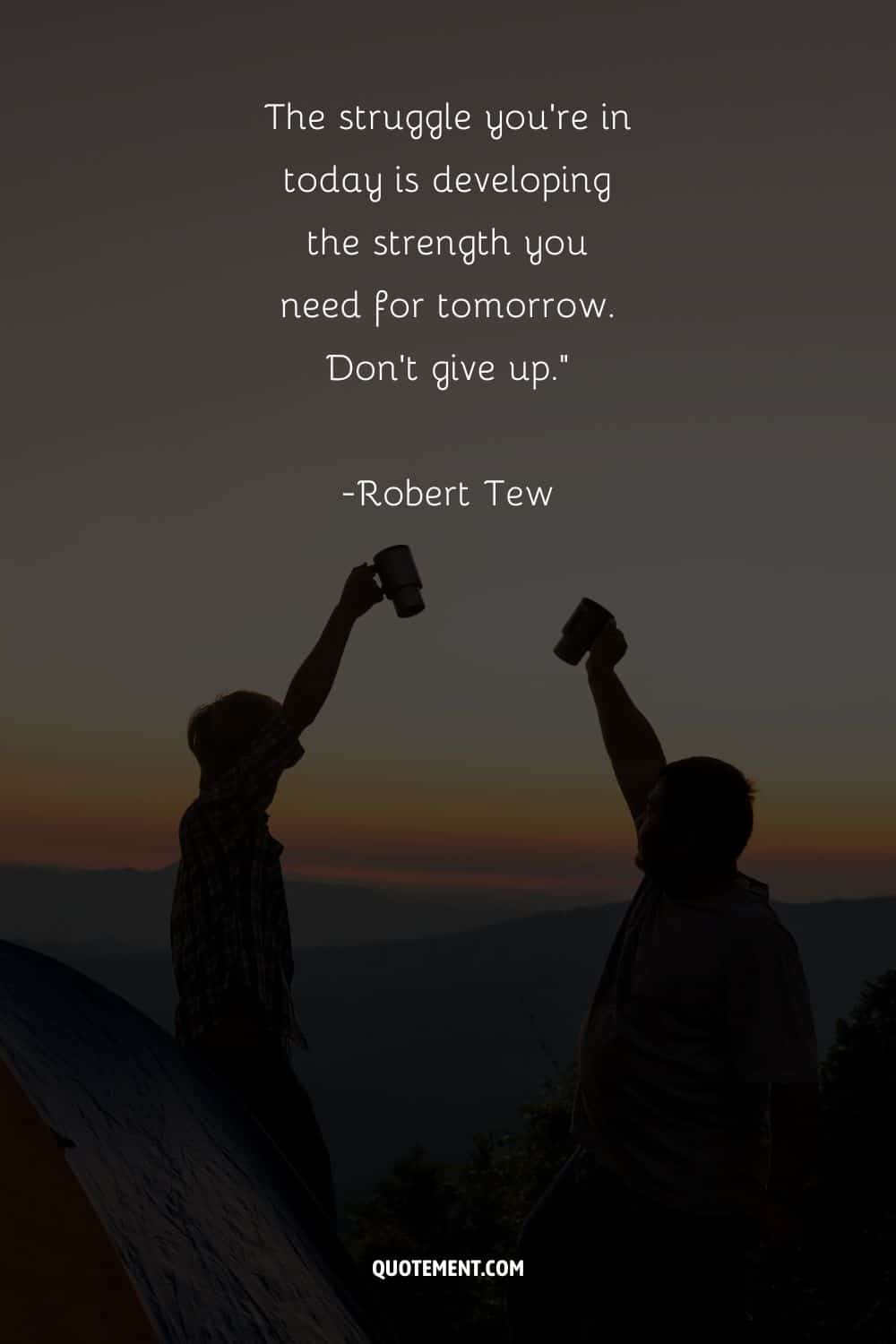 2. "Everyone has inside them a piece of good news. The good news is you don't know how great you can be! How much you can love! What you can accomplish! And what your potential is." — Anne Frank
3. "You're braver than you believe, stronger than you seem, and smarter than you think." — A.A. Milne
4. "For the world is in a bad state, but everything will become still worse unless each of us does his best." — Viktor Frankl
5. "Happiness is an attitude. We either make ourselves miserable, or happy and strong. The amount of work is the same." — Carlos Castaneda
6. "Dance, when you're broken open. Dance, if you've torn the bandage off. Dance in the middle of the fighting. Dance in your blood. Dance when you're perfectly free." ― Rumi
7. "Our greatest glory is not in never falling, but in rising every time we fall." — Confucius
8. "Accept the challenges so that you can feel the exhilaration of victory." — George Patton
9. "And you ask 'What if I fall?' Oh, but my darling, what if you fly?" — Erin Hanson
10. "Refuse failure. No matter how difficult the obstacles, find a way to around them." — JJ Goldwag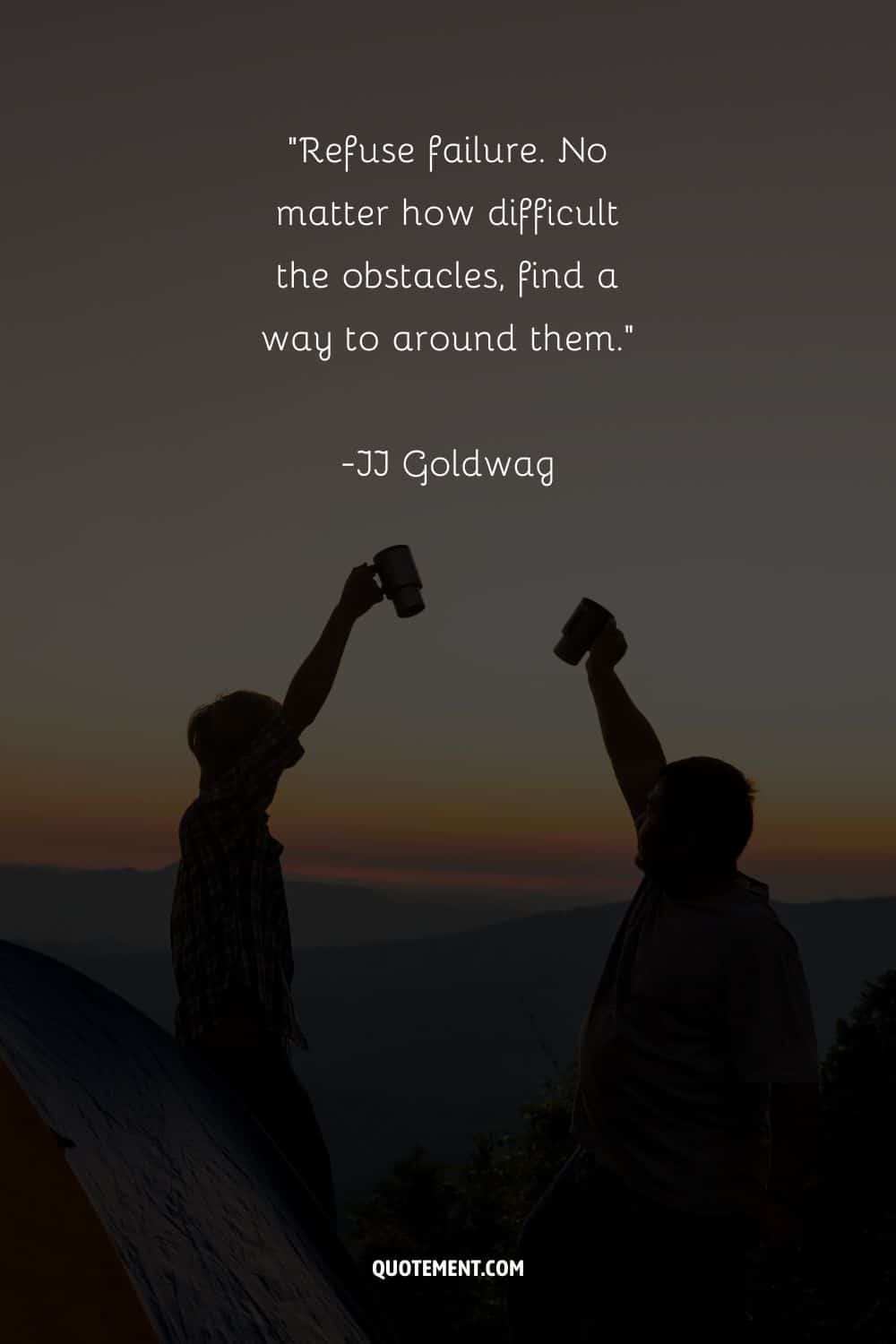 11. "If one dream should fall and break into a thousand pieces, never be afraid to pick one of those pieces up and begin again." — Flavia Weedn
12. "When you come to a roadblock, take a detour." — Mary Kay Ash
13. "Hardships often prepare ordinary people for an extraordinary destiny." — C.S. Lewis
14. "When we are no longer able to change a situation, we are challenged to change ourselves." — Viktor Frankl
15. "When you come to the end of your rope, tie a knot, and hang on." — Franklin D. Roosevelt
16. "Don't grieve. Anything you lose comes round in another form." ― Rumi
17. "It doesn't matter who you are, where you come from. The ability to triumph begins with you. Always." — Oprah Winfrey
18. "At any given moment you have the power to say: This is not how the story is going to end." — Christine Mason Miller
19. "Even if happiness forgets you a little bit, never completely forget about it." — Jacques Prevert
20. "Don't get discouraged. It's often the last key in the bunch that opens up the lock." — John Wooden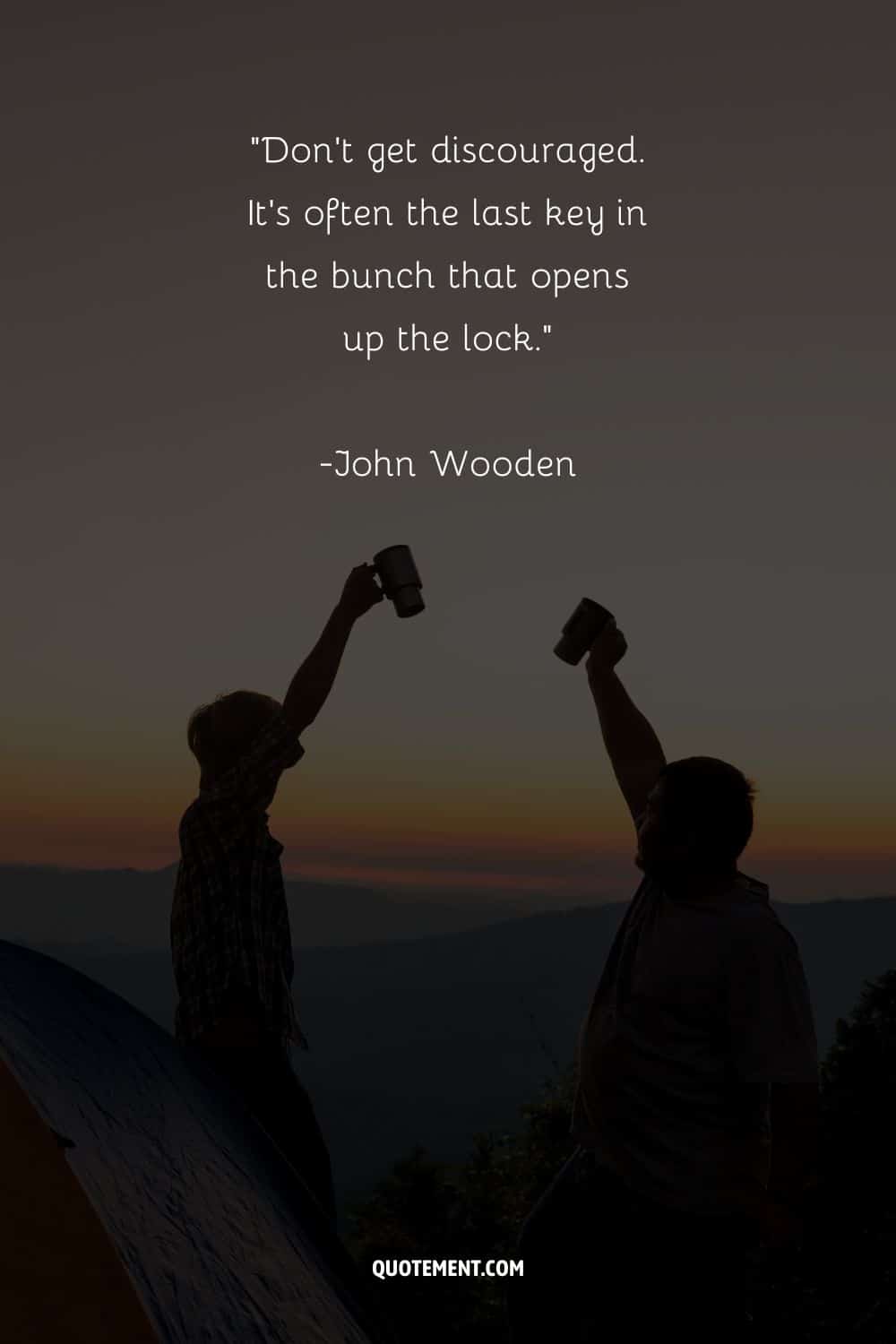 Words Of Encouragement To Make Your Friend Smile
1. "Things will work out eventually. Besides, you'll have some good stories to tell when this is all over."
2. "Good friends are always by our side at our saddest moments. I'm here and I've got wine and Redbox!"
3. "You and bacon are in my thoughts a lot these days. Hey, it's not all about you, you know."
4. "Sorry things are crappy. If you need somebody to binge-watch a whole season of something with you, I'm there."
5. "You can get through this. Take it from me. I'm very wise and stuff."
6. "I believe in you! And unicorns. But mostly you!"
7. "You've so got this! We all have so much faith in you that even my cat thinks you can do it — and you know how judgy Mittens can be!"
8. "You get three days to be sad, but then you gotta be a badass."
9. "Why be sad when you could be fabulous? Put on some glitter, strike a pose, and show the world what you're made of!"
10. "If this didn't make you smile, let me know, and I will send you my senior yearbook picture instead."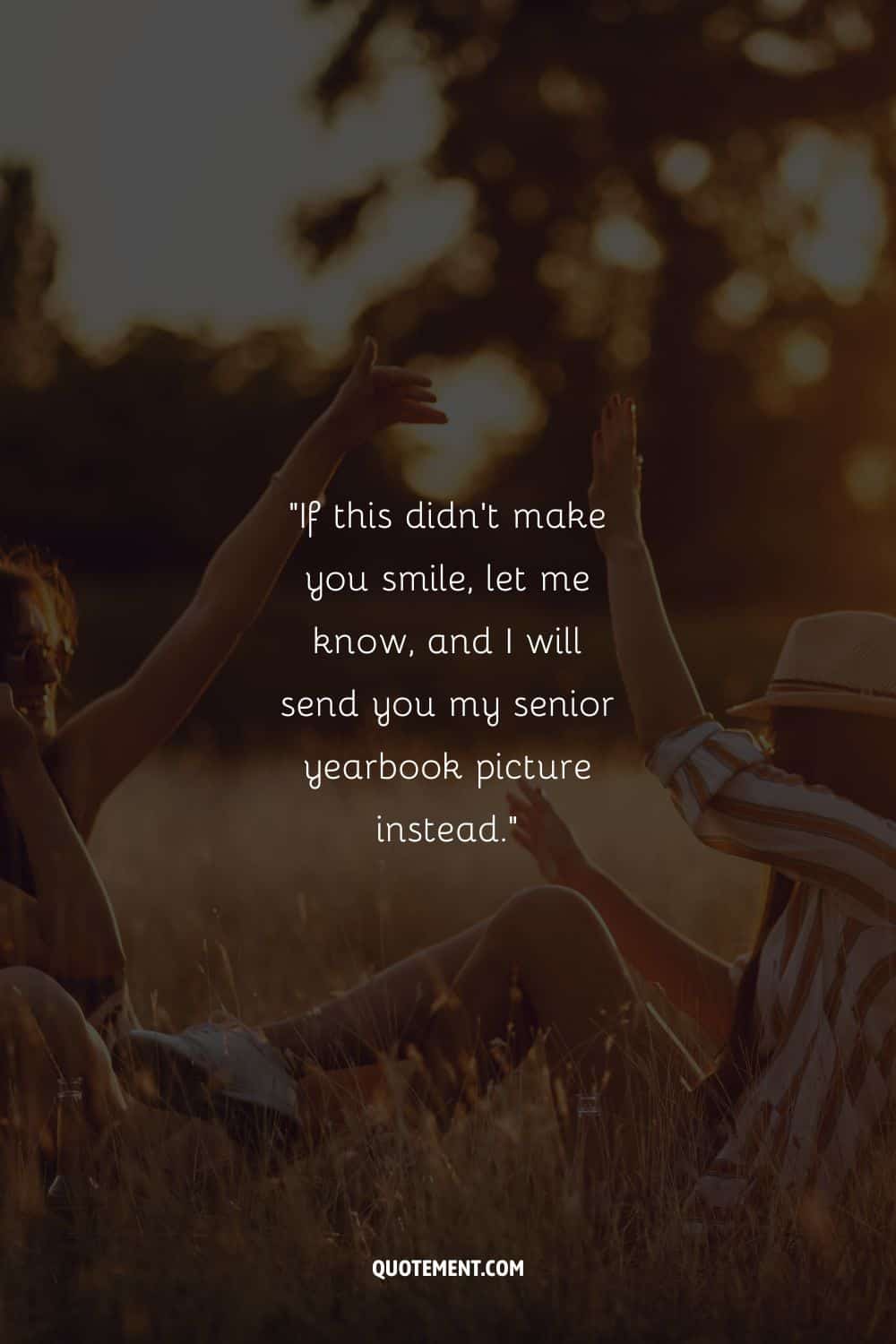 Summing Up
In times of your friend's difficulty, the right words of encouragement can be a powerful force to give them the strength to keep going.
Whether it's a tough day or a long journey, reminding a friend of their strength, resilience, and worth can make a world of difference.
So share these words of encouragement for a friend whenever they find themselves in a challenging situation and be a source of light when they need it most!