Fear is good because it keeps us away from danger, but what when fear becomes crippling?
I've compiled a collection of inspirational faith over fear quotes to help you overcome your fears.
Having faith is the only way to stop your fears from taking over. Where there's faith, fear can no longer exist.
These powerful faith quotes will guide you on your way of overcoming fears that block you from enjoying your life and fulfilling your purpose.
Let's have a look!
Top 10 Faith Over Fear Quotes
I'll start off with the top 10 faith over fear quotes to help you deal with your fears.
1. "The chains of love are stronger than the chains of fear." — William Gurnall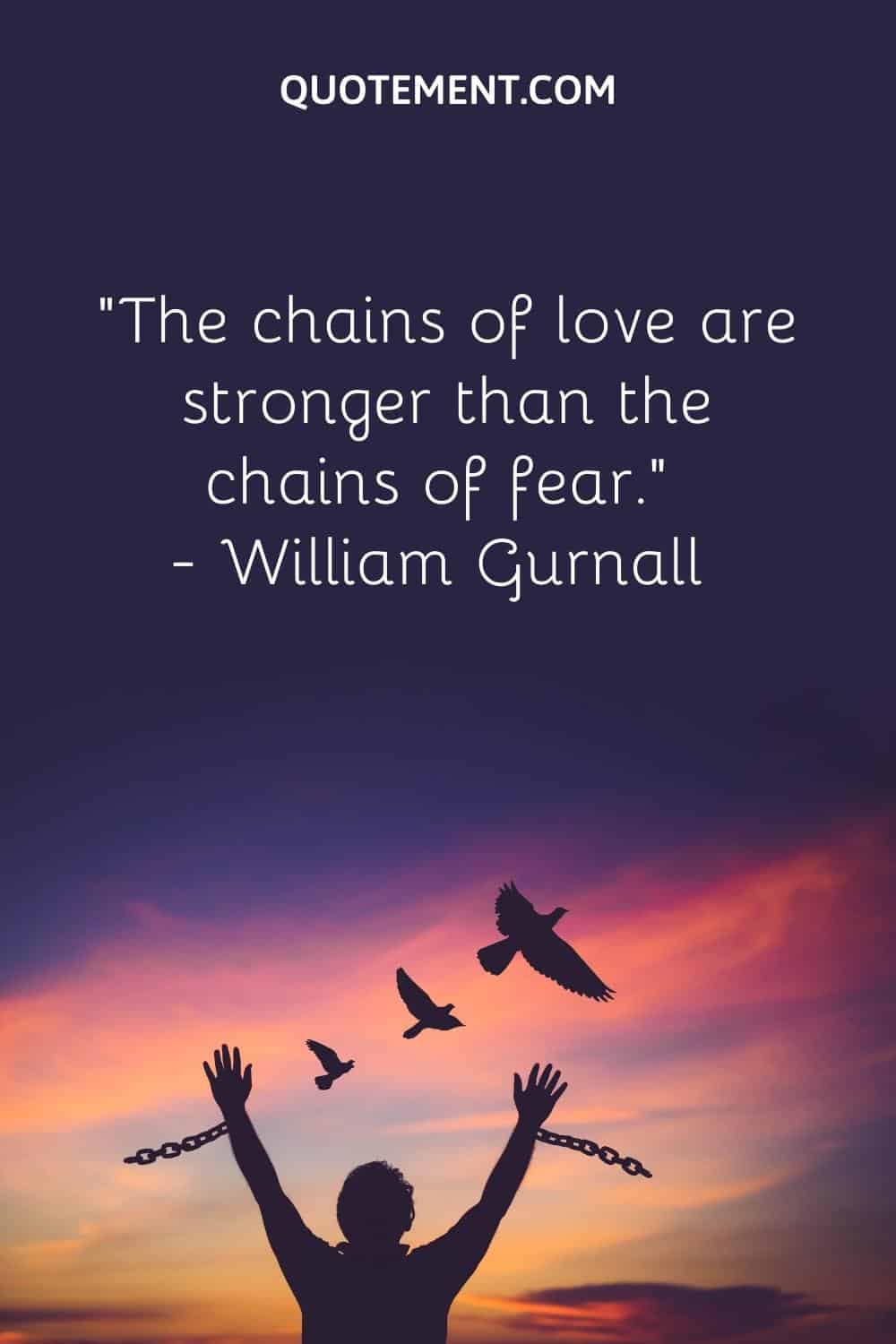 2. "Feed your fears, and your faith will starve." — Max Lucado
3. "Faith is taking the first step even when you don't see the whole staircase." — Martin Luther King, Jr.
4. "Faith and fear both demand you believe in something you cannot see. You choose." — Bob Proctor
5. "Fear-filled words will defeat you, but faith-filled words will put you over!" — Charles Capps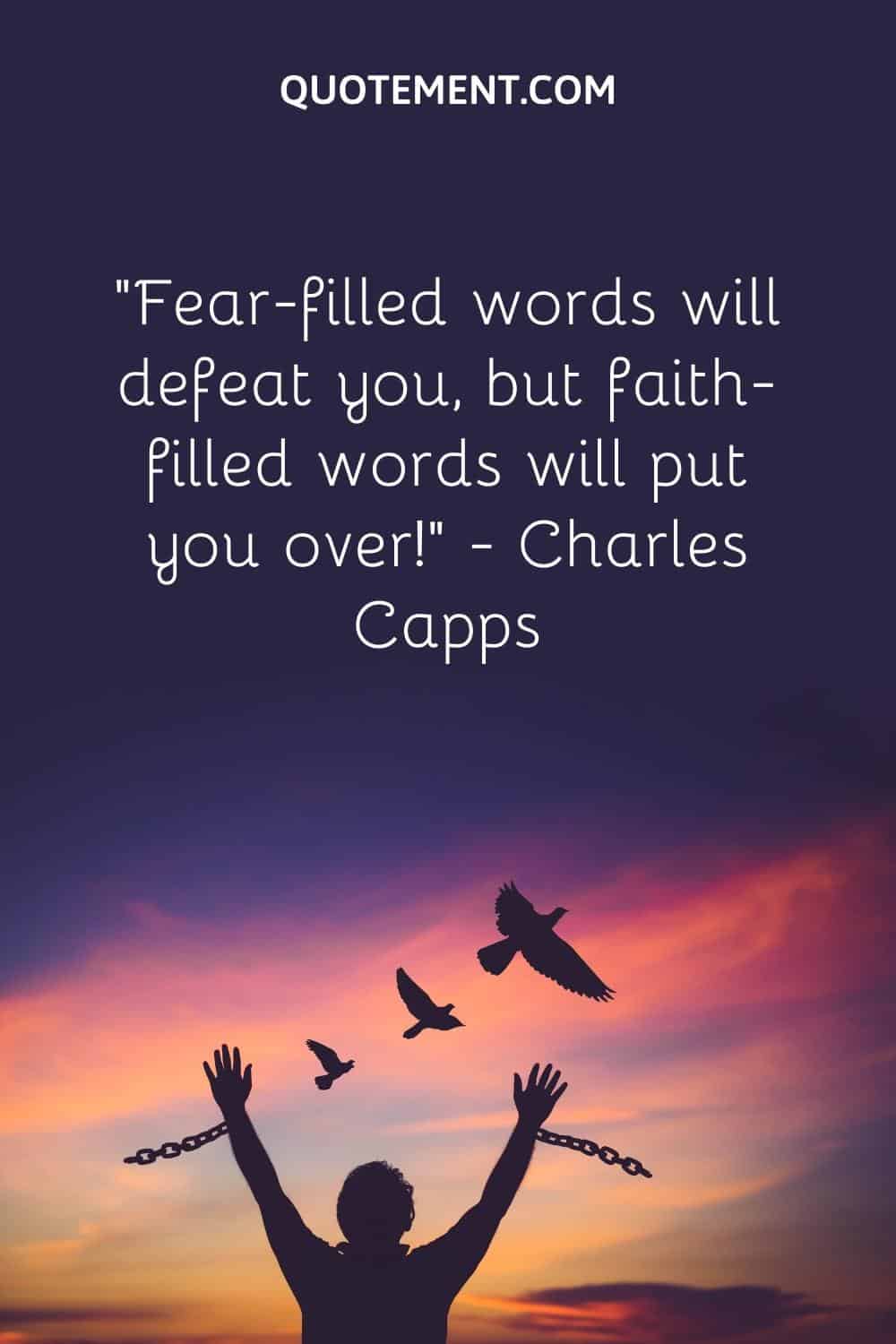 6. "Faith and Fear make poor bedfellows. Where one is found, the other cannot exist." — Napoleon Hill
7. "The presence of hope in the invincible sovereignty of God drives out fear." — John Piper
8. "I believe that every single event in life happens in an opportunity to choose love over fear." — Oprah Winfrey
9. "If you look into your own heart, and you find nothing wrong there, what is there to worry about? What is there to fear?" — Confucius
10. "I am not afraid of tomorrow, for I have seen yesterday and I love today." — William Allen White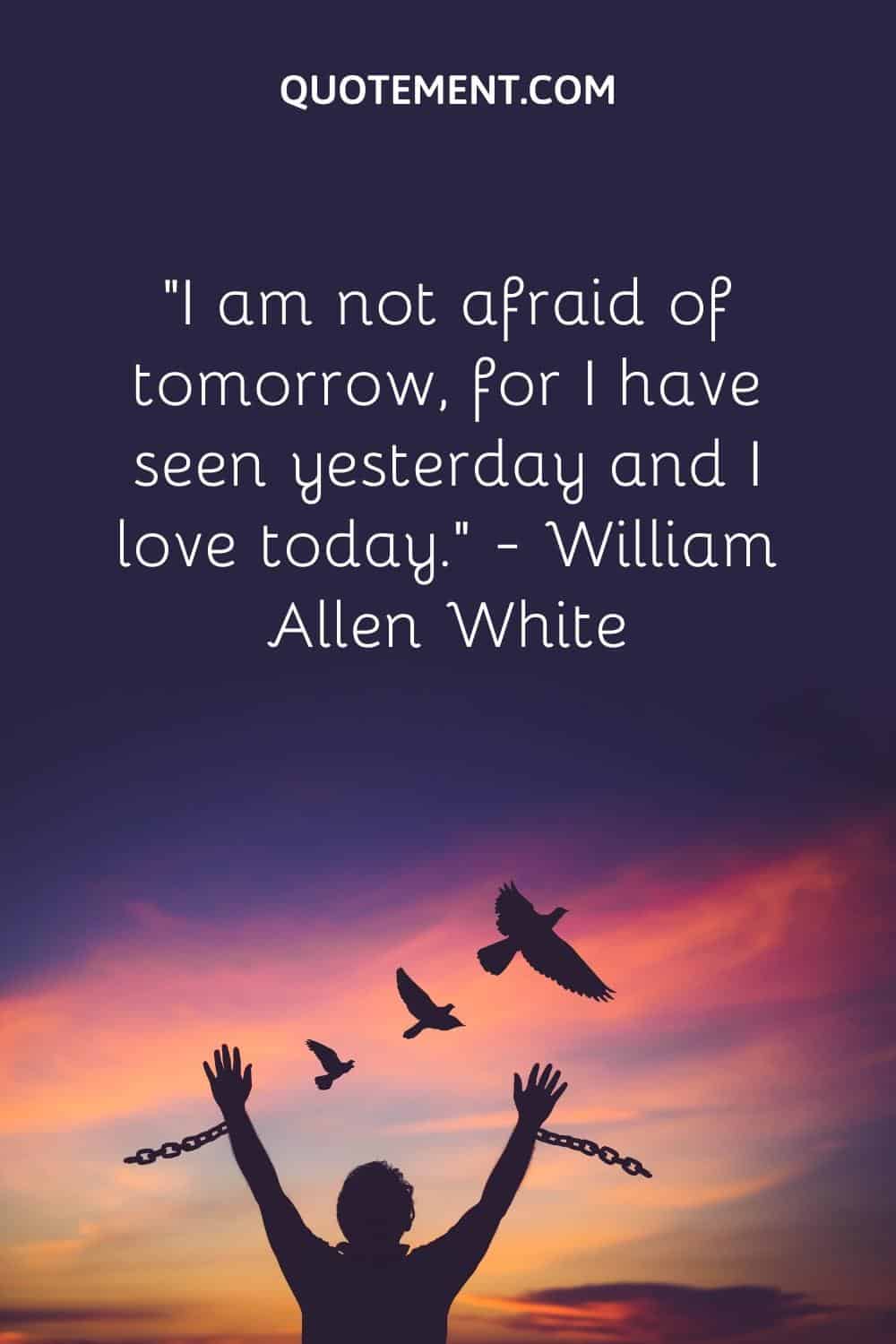 Motivational Quotes About Conquering Fear
These motivational faith over fear quotes will help you to conquer your fears and take your life into your hands.
1. "Both faith and fear may sail into your harbor, but only allow faith to drop anchor." — Bear Grylls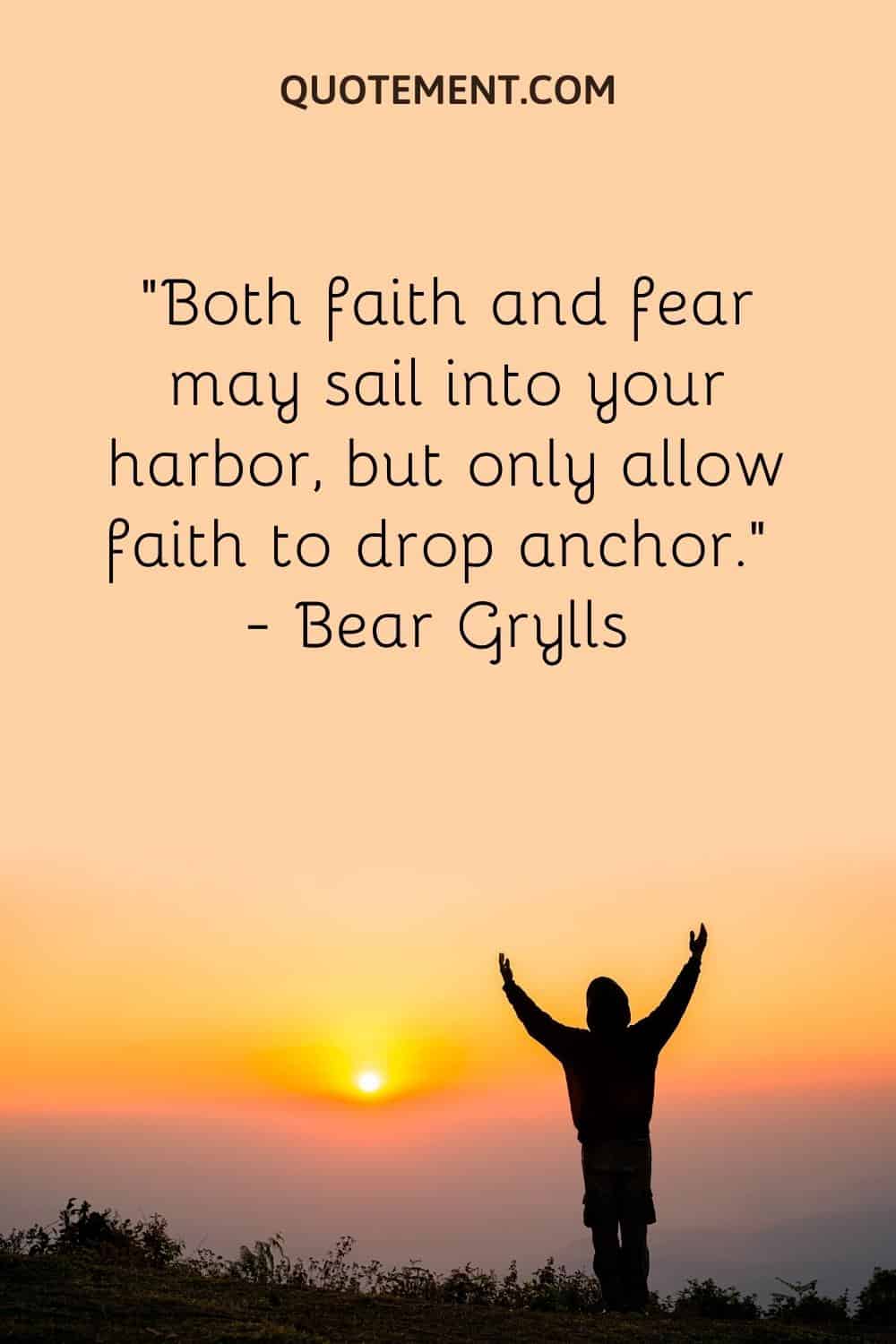 2. "Faith is the flame that eliminates fear." — Suzy Kassem
3. "The presence of fear does not mean you have no faith. Fear visits everyone. But make your fear a visitor and not a resident." — Max Lucado
4. "Fear is the main source of superstition and one of the main sources of cruelty. To conquer fear is the beginning of wisdom." — Bertrand Russell
5. "Nothing in life is to be feared, it is only to be understood. Now is the time to understand more, so that we may fear less." — Marie Curie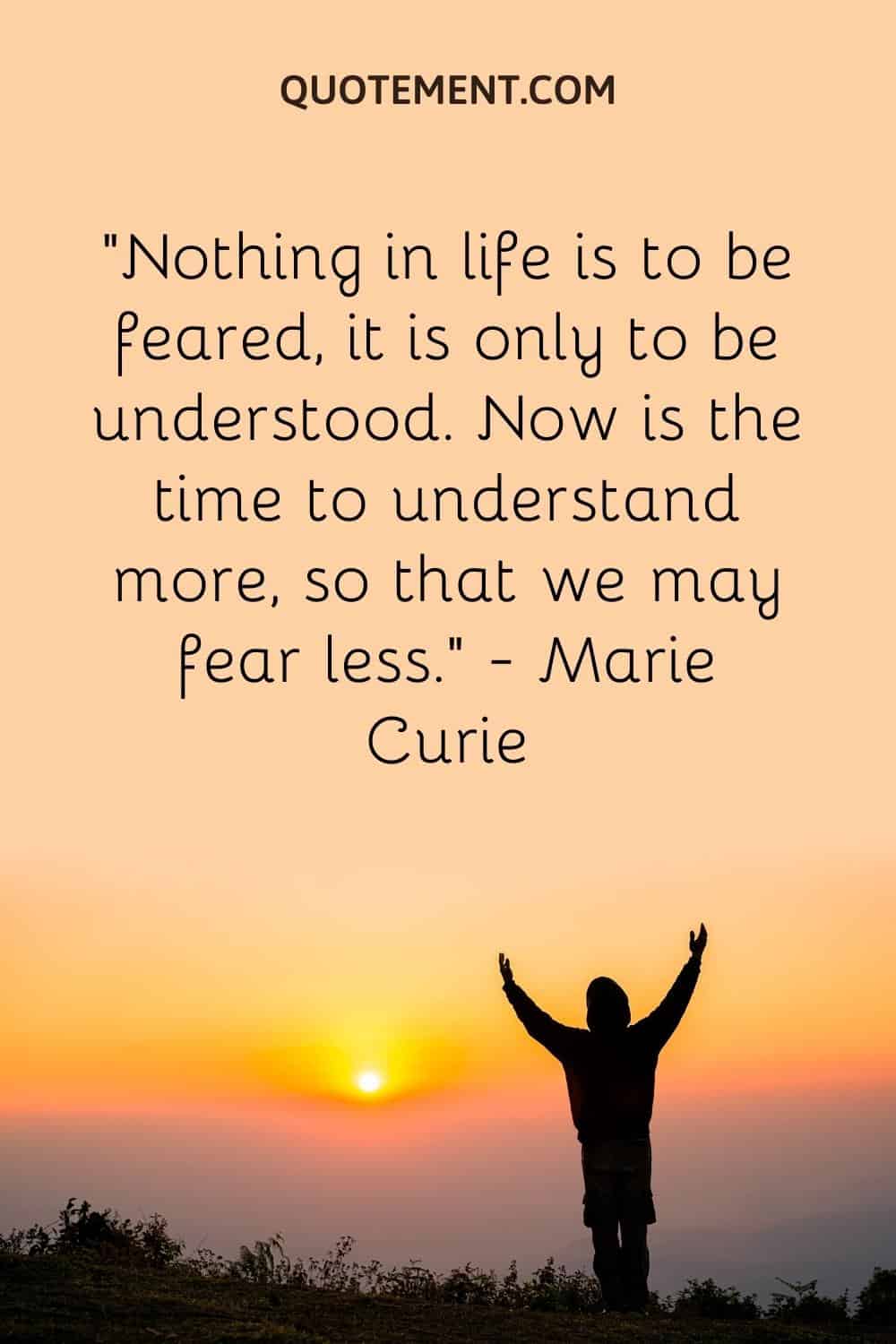 6. "Fear imprisons, faith liberates; fear paralyzes, faith empowers; fear disheartens, faith encourages; fear sickens, faith heals; fear makes useless, faith also makes serviceable az quotes." — Harry Emerson Fosdick
7. "Fear is born of Satan, and if we would only take time to think a moment, we would see that everything Satan says is founded upon a falsehood." — A. B. Simpson
8. "Fear is not defeating; fear is not oppressive. But "living afraid" can be defeating, oppressive, controlling…. and that is why "fear" of anything should be looked in the face, otherwise the act of not facing fear turns into the habit of living afraid." — Sandra C Bibb
9. "Are you facing fear today? Perhaps you are afraid of losing your job, of developing cancer, or being left by your spouse. At times all of us experience fear. But don't allow fear to keep you from being used by God. He has kept you thus far; trust Him for the rest of the way." — Woodrow Kroll
10. "It is not death that a man should fear, but he should fear never beginning to live." — Marcus Aurelius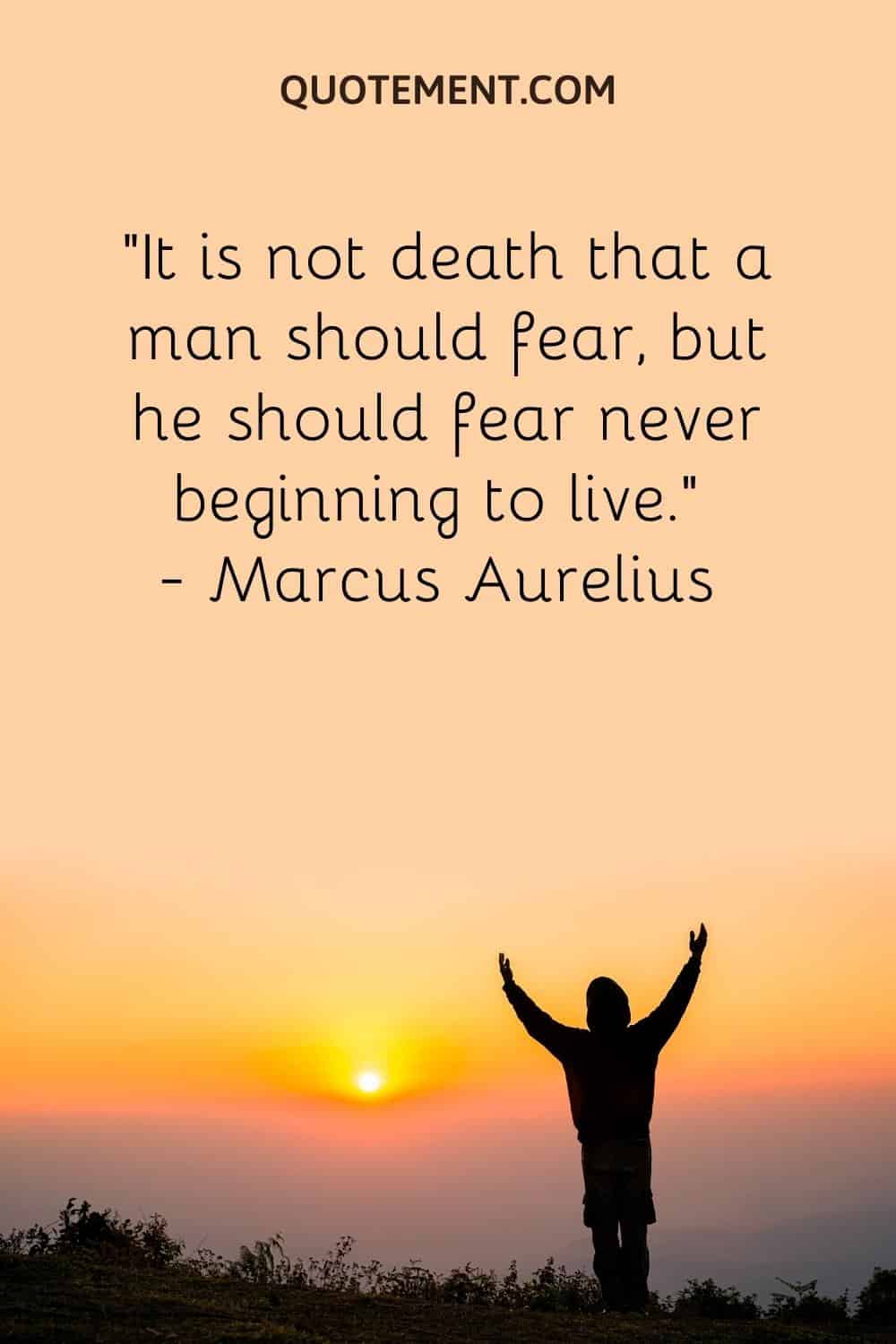 See also: 150 Deep Dark Quotes About Life, Death, Pain & Love
Have Faith In God Quotes
If you want to live fearlessly, you must have faith in God. Below you'll find deep and meaningful faith over fear quotes to strengthen your faith in God.
1. "Fear is a self-imposed prison that will keep you from becoming what God intends for you to be. You must move against it with the weapons of faith and love." — Rick Warren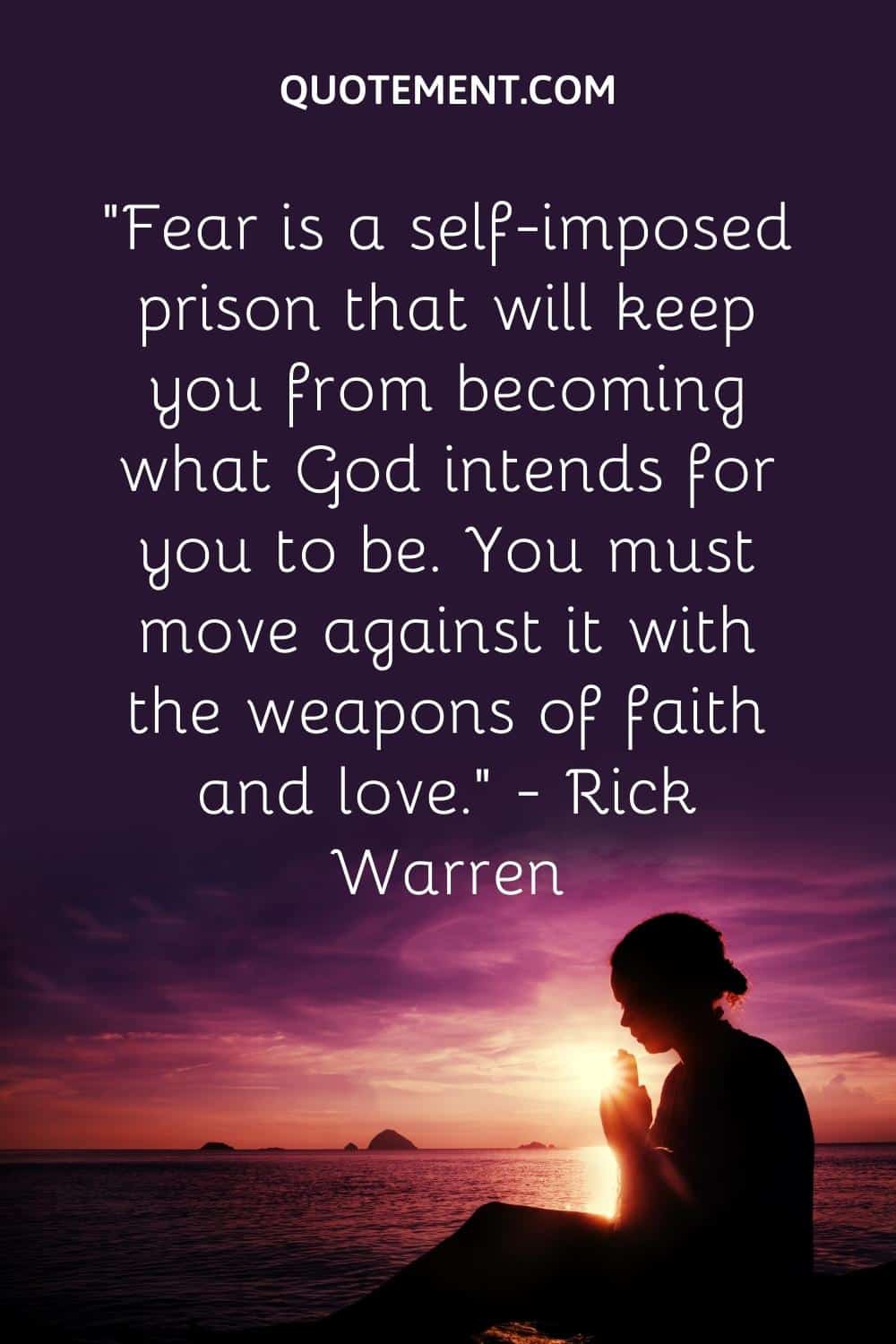 2. "If my attitude is one of fear, not faith, about one who has disappointed me; if I say, "Just what I expected," if a fall occurs, then I know nothing of Calvary love." — Amy Carmichael
3. "We see Your strength, and even though we're shaking, we know we are safe." ― Nicole Williams, RISE UP: Believing God When the World is Falling Apart
4. "I say, choose faith. Choose faith over doubt, choose faith over fear, choose faith over the unknown and the unseen, and choose faith over pessimism." — Dallin H. Oaks
5. "How sweet the name of Jesus sounds, In a believer's ear! It soothes his sorrows, heals his wounds, And drives away his fear." — John Newton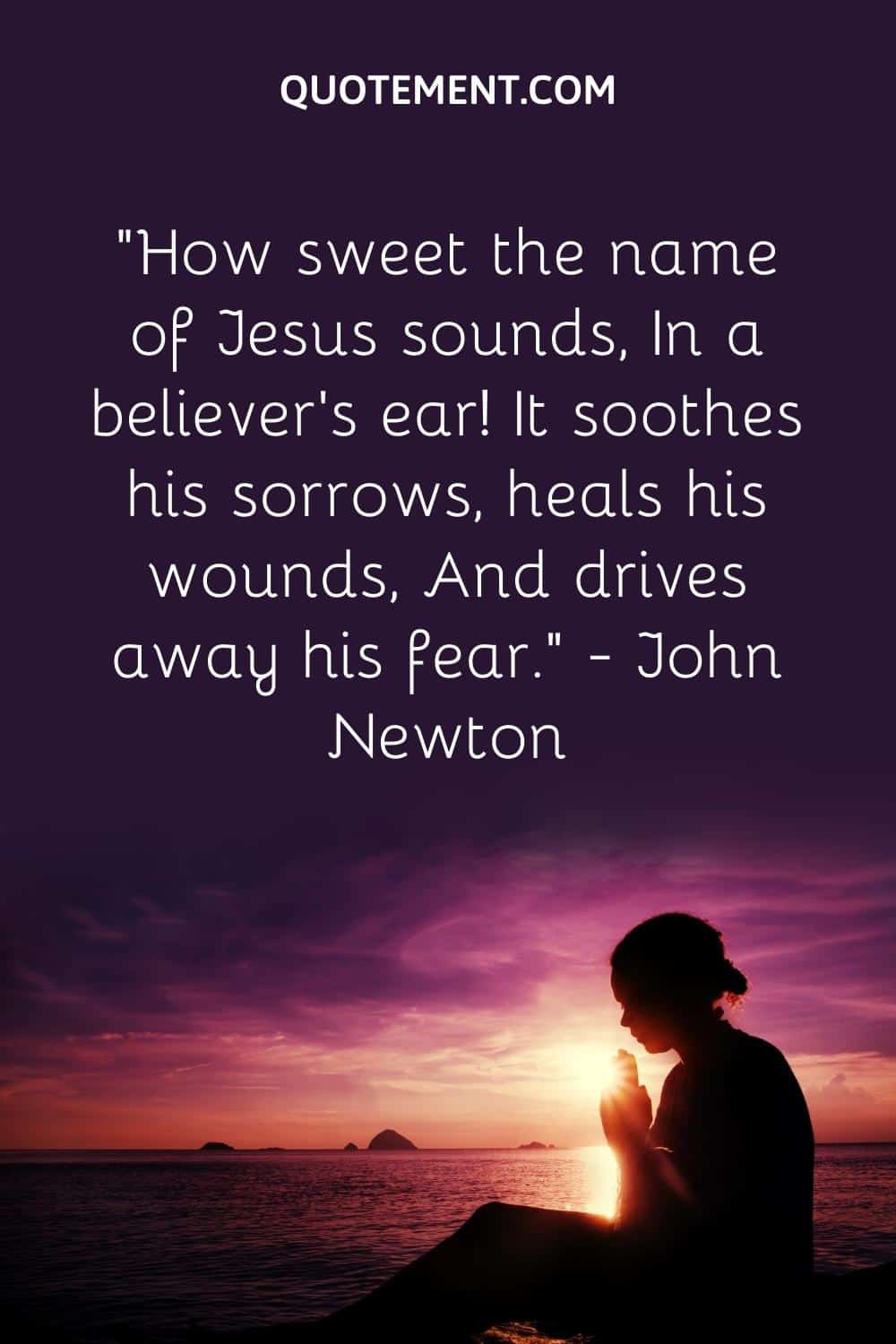 6. "Turn it right over to God and ask Him to solve it with you. Fear is keeping things in your own hands; faith is turning them over into the hands of God." — E. Stanley Jones
7. "I bear witness of the power of the priesthood given to the Church to protect us and guide us. And because we have that, we have no fear of the future. Fear is the opposite of faith. We move forward, certain that the Lord will watch over us, particularly in the family." — Boyd K. Packer
8. "Faith, which is trust, and fear are opposite poles. If a man has one, he can scarcely have the other in vigorous operation. He that has his trust set upon God does not need to dread anything except the weakening or the paralyzing of that trust." — Alexander MacLaren
9. "Worry is a cycle of inefficient thoughts whirling around a center of fear." — Corrie Ten Boom
10. "The Lord was pleased to strengthen us, and remove all fear from us, and disposed of our hearts to be as useful as possible." — Richard Allen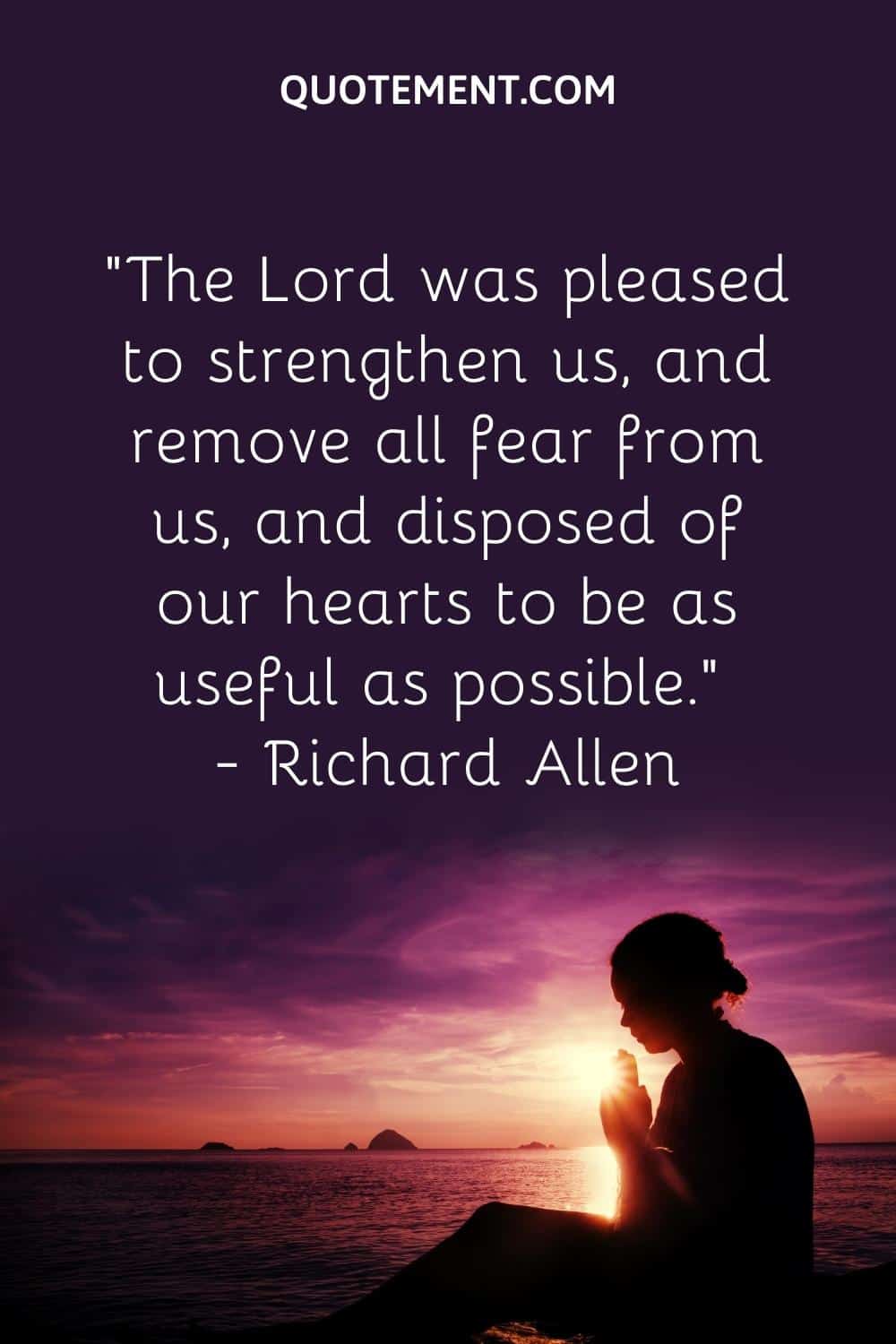 See also: 90 Inspirational God Give Me Strength Quotes For Hard Times
Faith Over Fear Bible Verses
Here are some of my favorite Bible verses on overcoming fear. Take a look!
1. "For God has not given us a spirit of fear, but of power and of love and of a sound mind." — 2 Timothy 1:7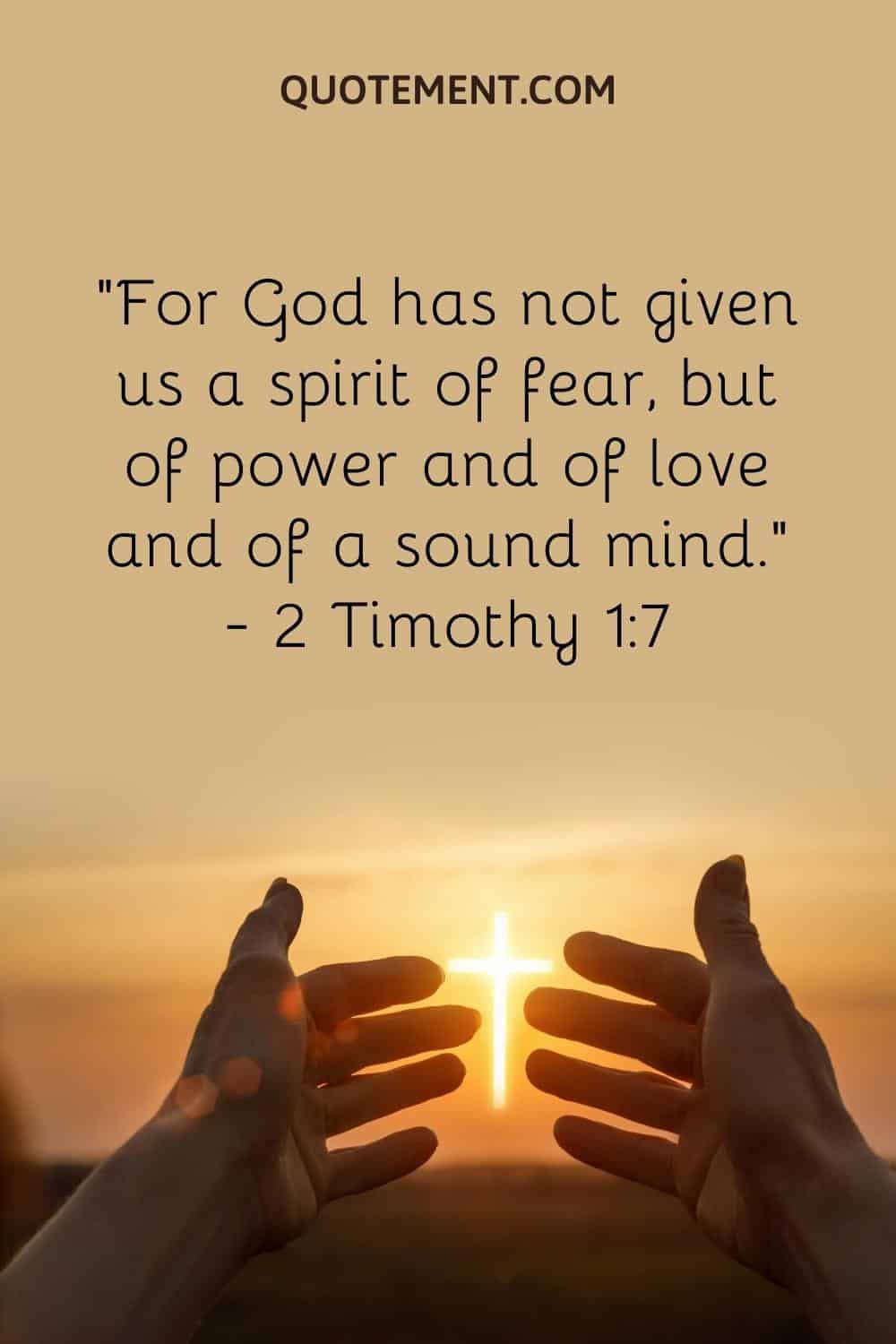 2. "Perfect love casts out fear." — 1 John 4:18
3. "Now faith is the assurance of things hoped for, the conviction of things not seen." — Hebrews 11:1
4. "Even though I walk through the valley of the shadow of death, I will fear no evil, for you are with me; your rod and your staff, they comfort me." — Psalm 23:4
5. "You shall not fear them, for it is the LORD your God who fights for you." — Deuteronomy 3:22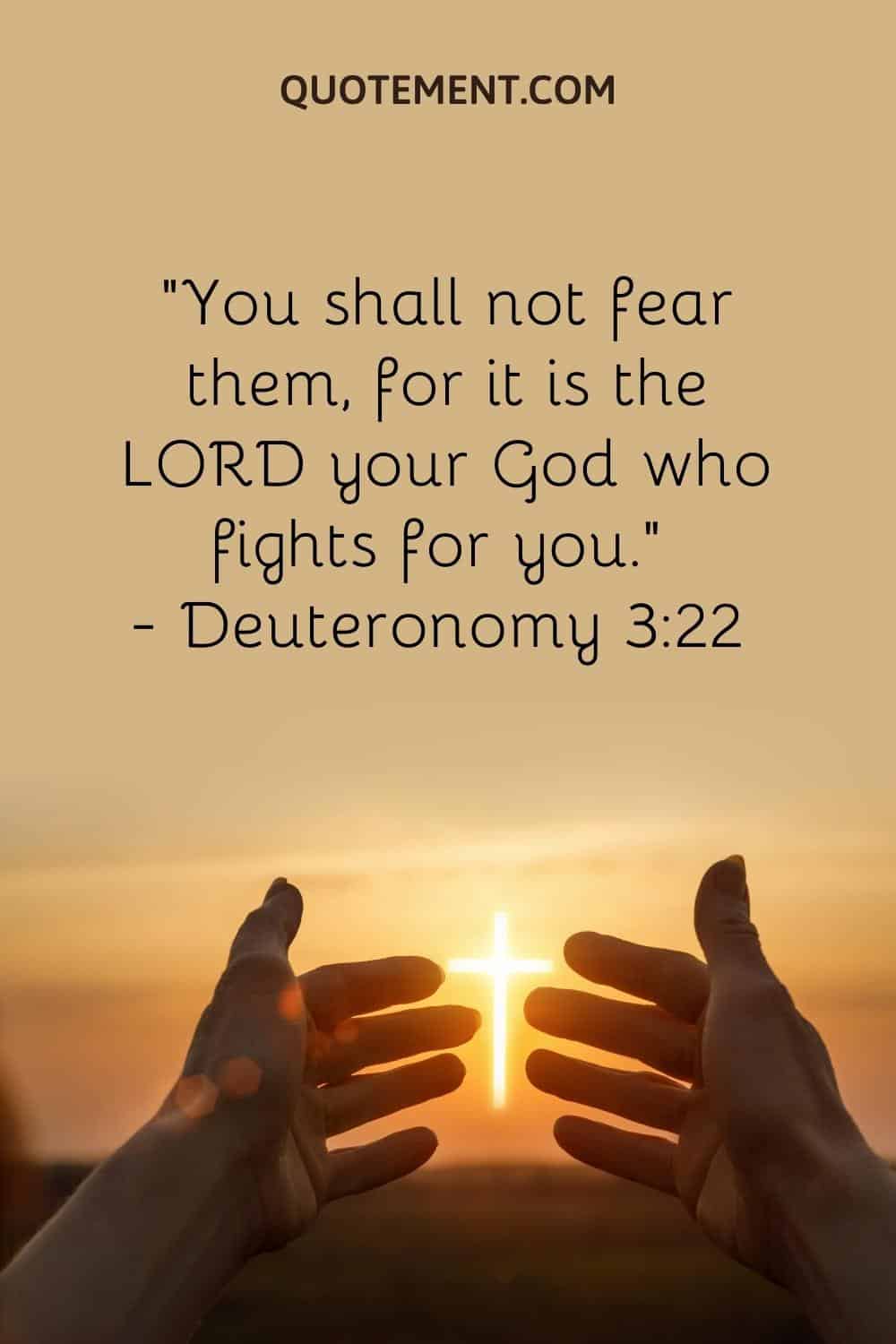 6. "Peace I leave with you; my peace I give to you. Not as the world gives do I give to you. Let not your hearts be troubled, neither let them be afraid." — Luke 14:27
7. "Have I not commanded you? Be strong and courageous. Do not be afraid; do not be discouraged, for the Lord will be with you wherever you go." — Joshua 1:9
8. "Fear not, I am with you; be not dismayed; I am your God. I will strengthen you, and help you, and uphold you with my right hand of justice." — Isaiah 41:10
9. "The LORD is my light and my salvation— whom shall I fear? The LORD is the stronghold of my life – of whom shall I be afraid?" — Psalms 27:1
10. "Fear of man will prove to be a snare, but whoever trusts in the Lord is kept safe." — Proverbs 29:25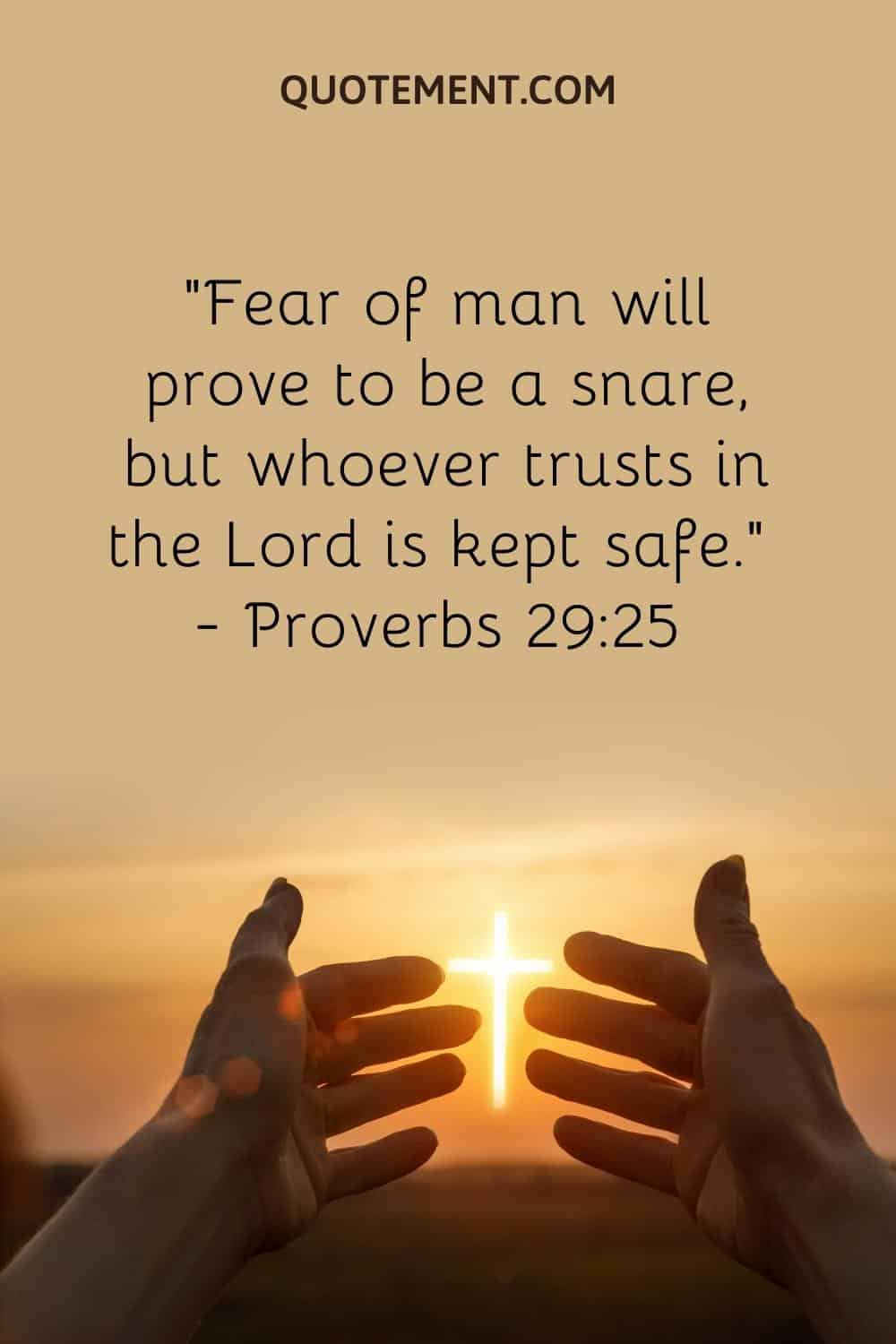 In Conclusion
Fear is natural, and we can't make it go away. To be brave is to have faith, despite your fears.
I hope these faith over fear quotes have inspired you.
Until next time!