Life can be very tricky — there's no doubt about that.
Along with all the beauty, sunshine, and rainbows, it comes with hardships, setbacks, and struggles that we simply must overcome.
But if struggles didn't exist, how would we appreciate the beauty and wonders of life?
Thinking about this led me to venture out into the depths of the web and find the best quotes on life struggles that are filled with life lessons and a great deal of motivation.
So if you've been facing some difficulty and you're on the verge of giving up or struggling to survive it, these life quotes about struggle are just what you need.
Let them remind you that struggle is the pre-condition for growth and let them be your go-to list whenever you 'struggle with the struggle'!
10 Brilliant Quotes On Life Struggles
1. "You're imperfect, and you're wired for struggle, but you are worthy of love and belonging." — Brene Brown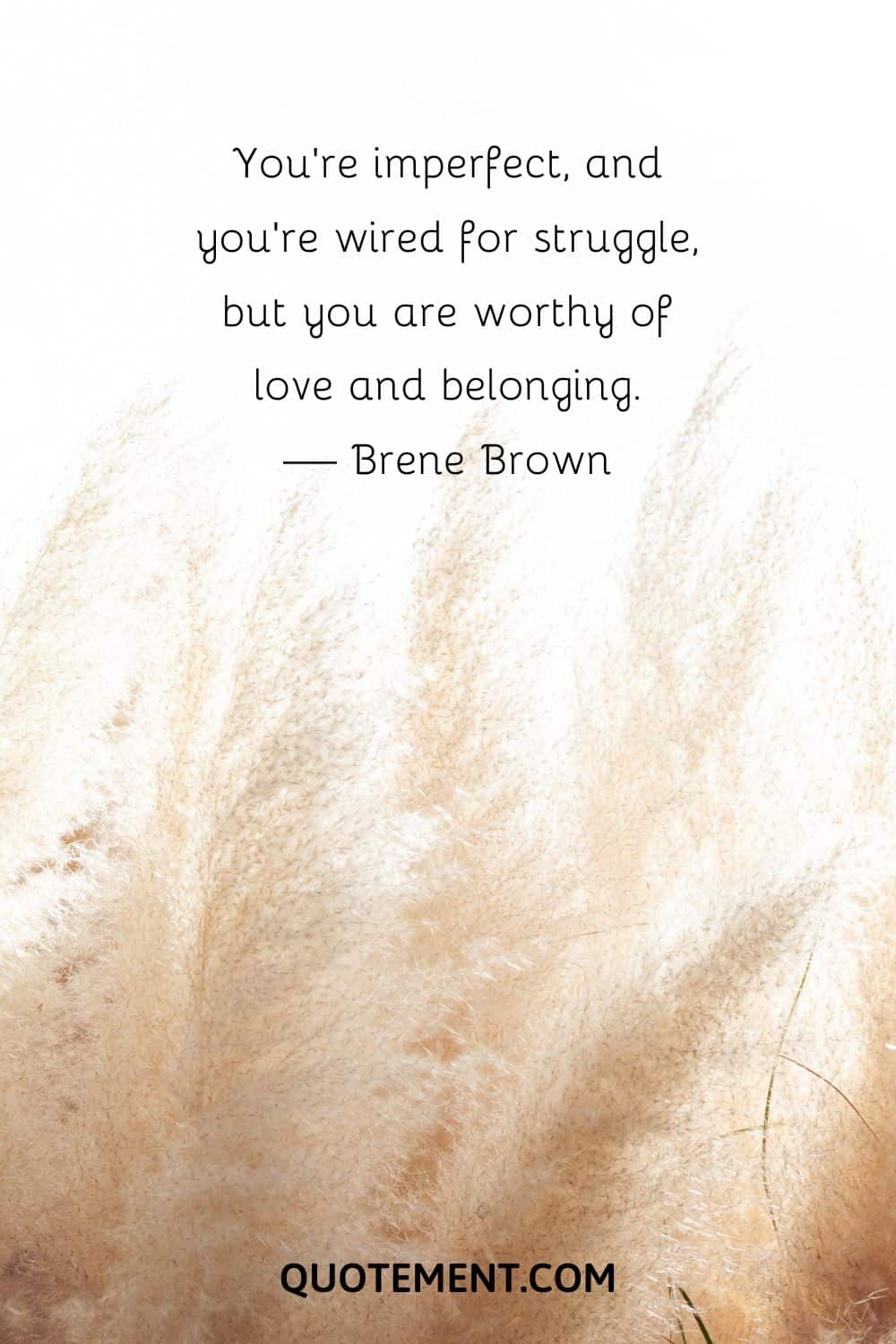 2. "Be proud of struggles in your life. They bring you closer to greatness." — Auliq Ice
3. "A constant struggle, a ceaseless battle to bring success from inhospitable surroundings, is the price of all great achievements." — Orison Swett Marden
4. "Difficult roads always lead to beautiful destinations." — Zig Ziglar
5. "To have striven, to have made the effort, to have been true to certain ideals, this alone is worth the struggle." — William Osler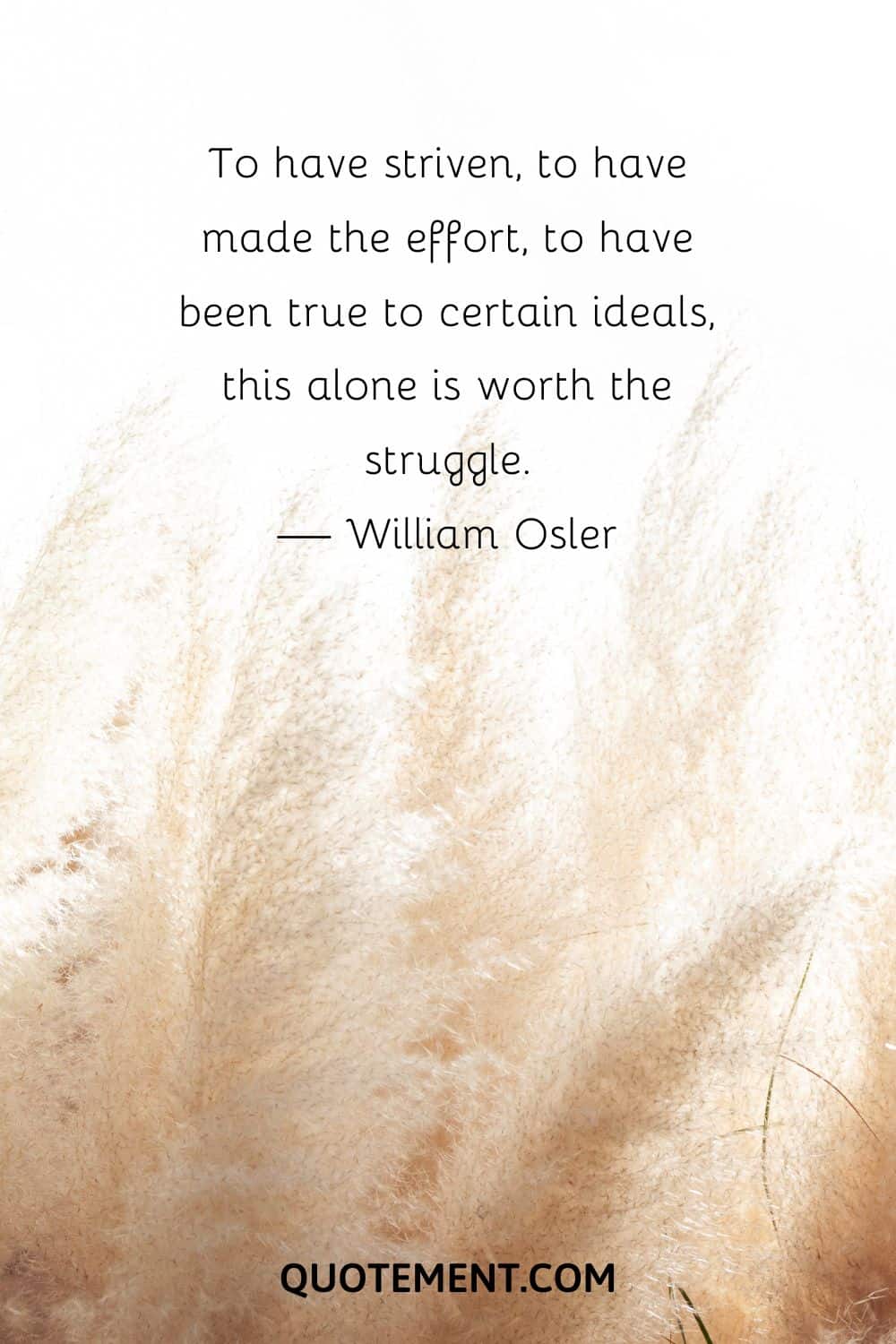 6. My story is a freedom song of struggle. It is about finding one's purpose, how to overcome fear, and to stand up for causes bigger than one's self. — Coretta Scott King
7. "In the heart of every struggle lies an opportunity to grow." — Melanie M. Koulouris
8. "The most authentic thing about us is our capacity to create, to overcome, to endure, to transform, to love and to be greater than our suffering." — Ben Okri
9. "I'm not interested in passion and love for their own sake — without the struggle of life, they're just fluff." — Mira Nair
10. "Don't fill life with struggles, fill life with joy. A flower always struggles to survive, but it never forgets to bloom with joy." — Debasish Mridha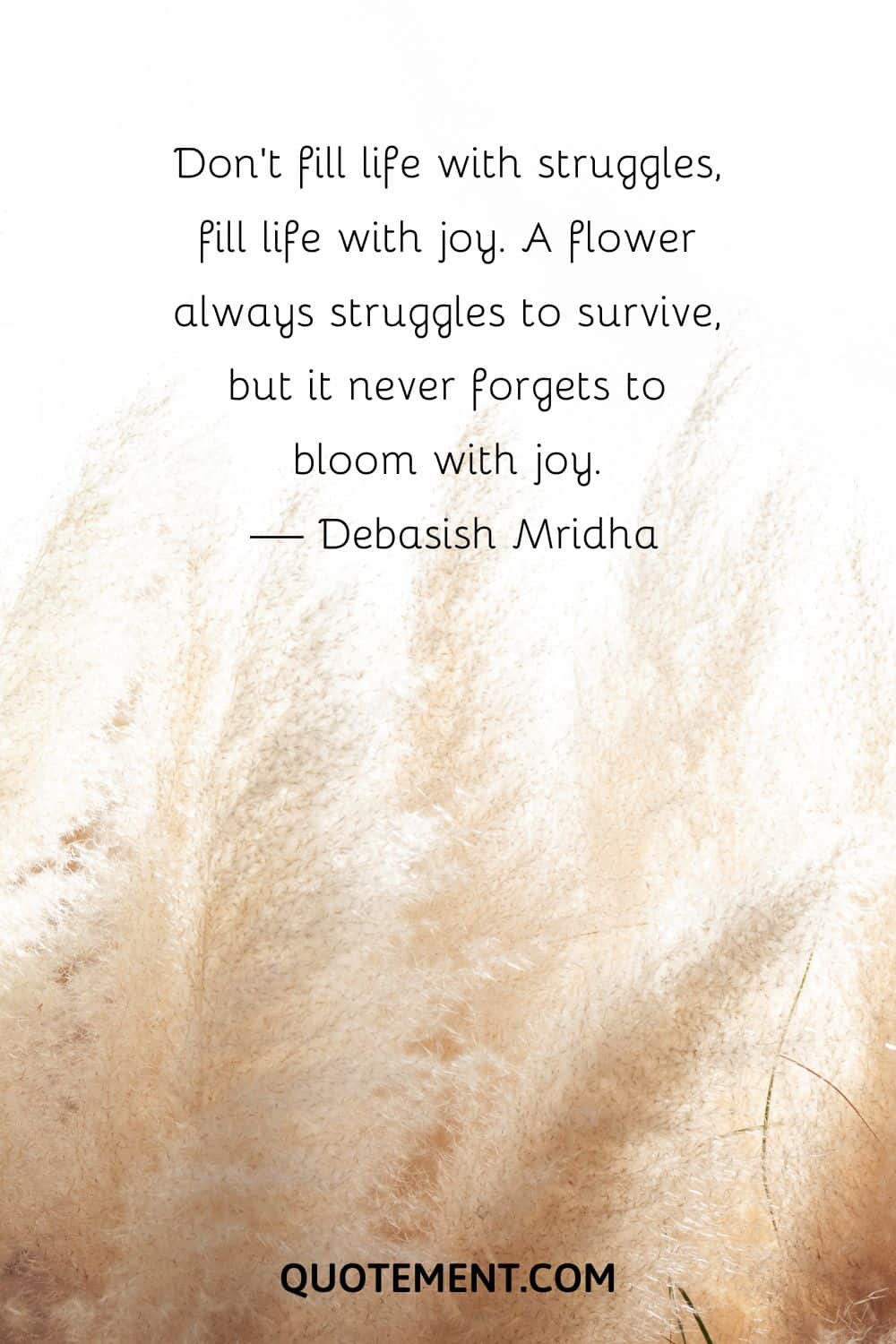 Inspirational Quotes About Life And Struggles
1. "Whatever life gives you, even if it hurts, just be strong and act like you're okay. Strong walls shake but never collapse." — Unknown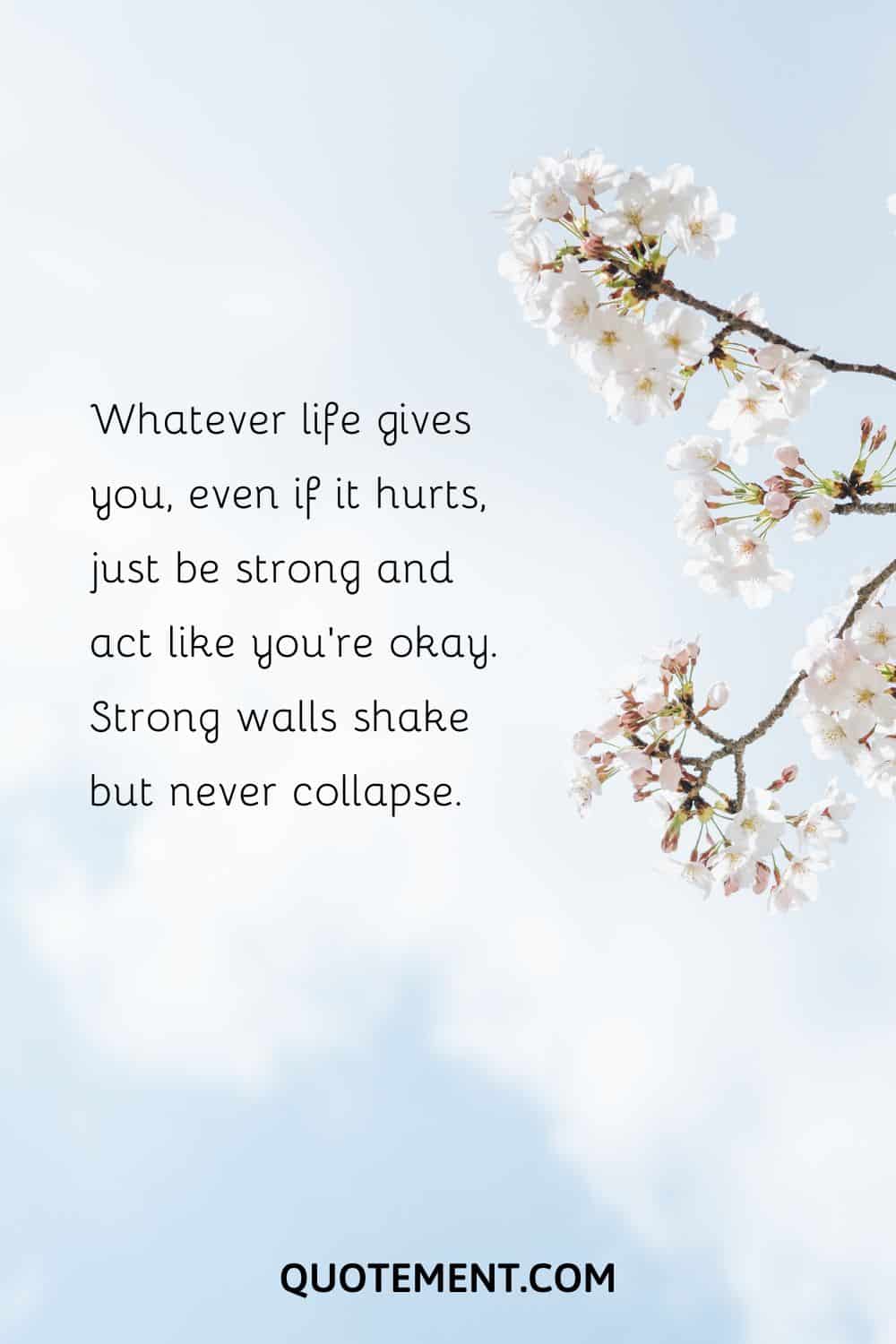 2. "When the storms do come; you can only allow them to slow you down, but don't let them stop you, there will be delays, detours, and disappointments but you have to keep pushing through it." — Bernard Kelvin Clive
3. "Hope is important because it can make the present moment less difficult to bear. If we believe that tomorrow will be better, we can bear hardship today." — Thich Nhat Hanh
4. "The struggles, challenges, and obstacles that it takes to succeed in life are what makes success more valuable. Nothing great comes easy, and nothing easy can ever equate to greatness." — Edmond Mbiaka
5. "We don't develop courage by being happy every day. We develop it by surviving difficult times and challenging adversity." — Barbara De Angelis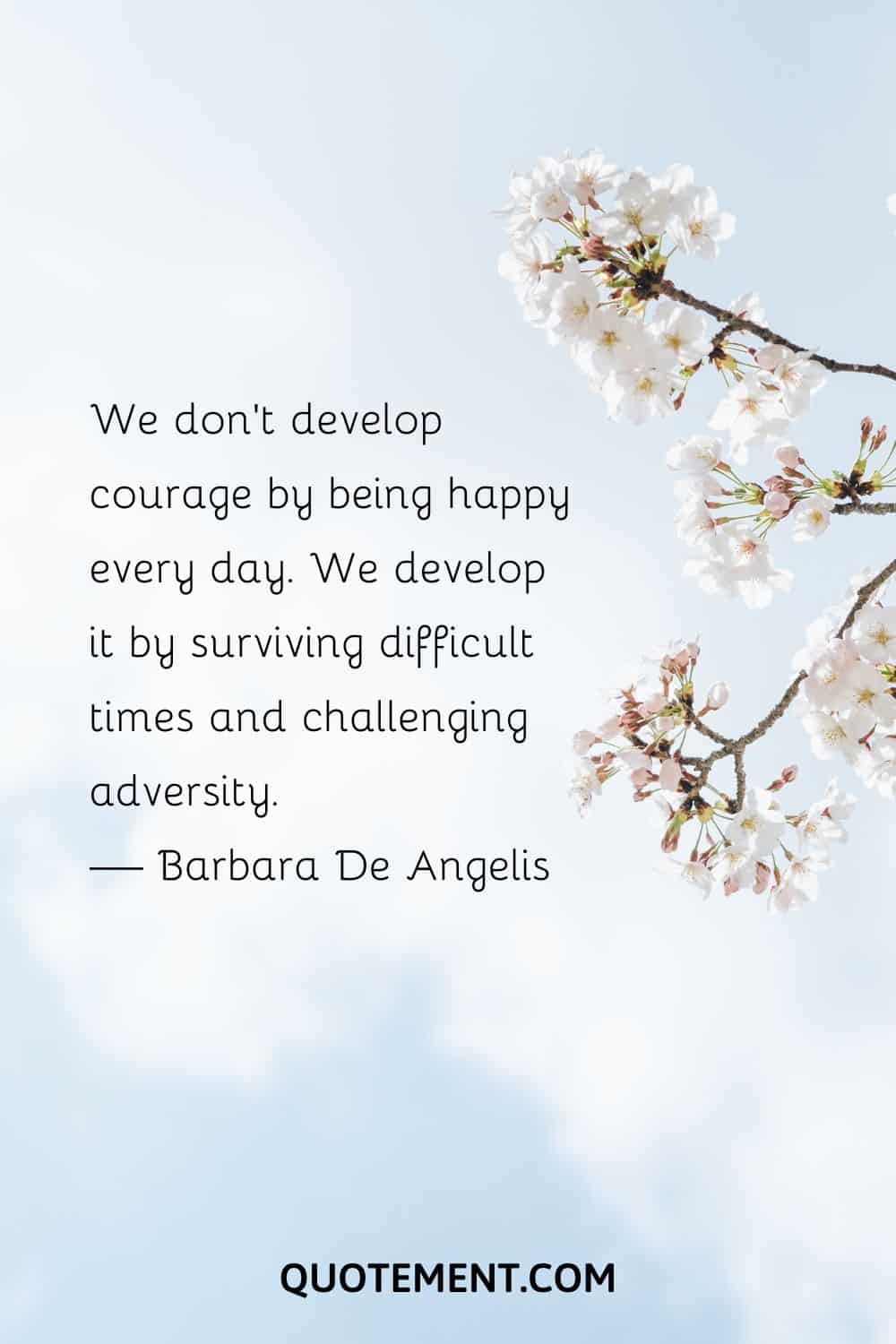 6. "Whenever you feel life is challenging or things are just not working out, review and assess your most important values. This will help reinforce the confidence and clarity you need to improve your current situation." — Brandon Stanberg
7. "Once you make it to your point of making it, you'll appreciate the struggle." — Nas
8. "We are all faced with challenges at some point in our life, challenges that we did not create. Challenges that happened beyond our control. The difference is how we respond to these challenges. You can adopt the attitude there is nothing you can do, or you can see the challenge as your call to action." — Catherine Pulsifer
9. "A life filled with vicissitudes, uncertainty, and hard lessons provides us with skills to better approach new challenges that come along." — Vivian Eisenecher
10. "Although the world is full of suffering, it is also full of the overcoming of it." — Helen Keller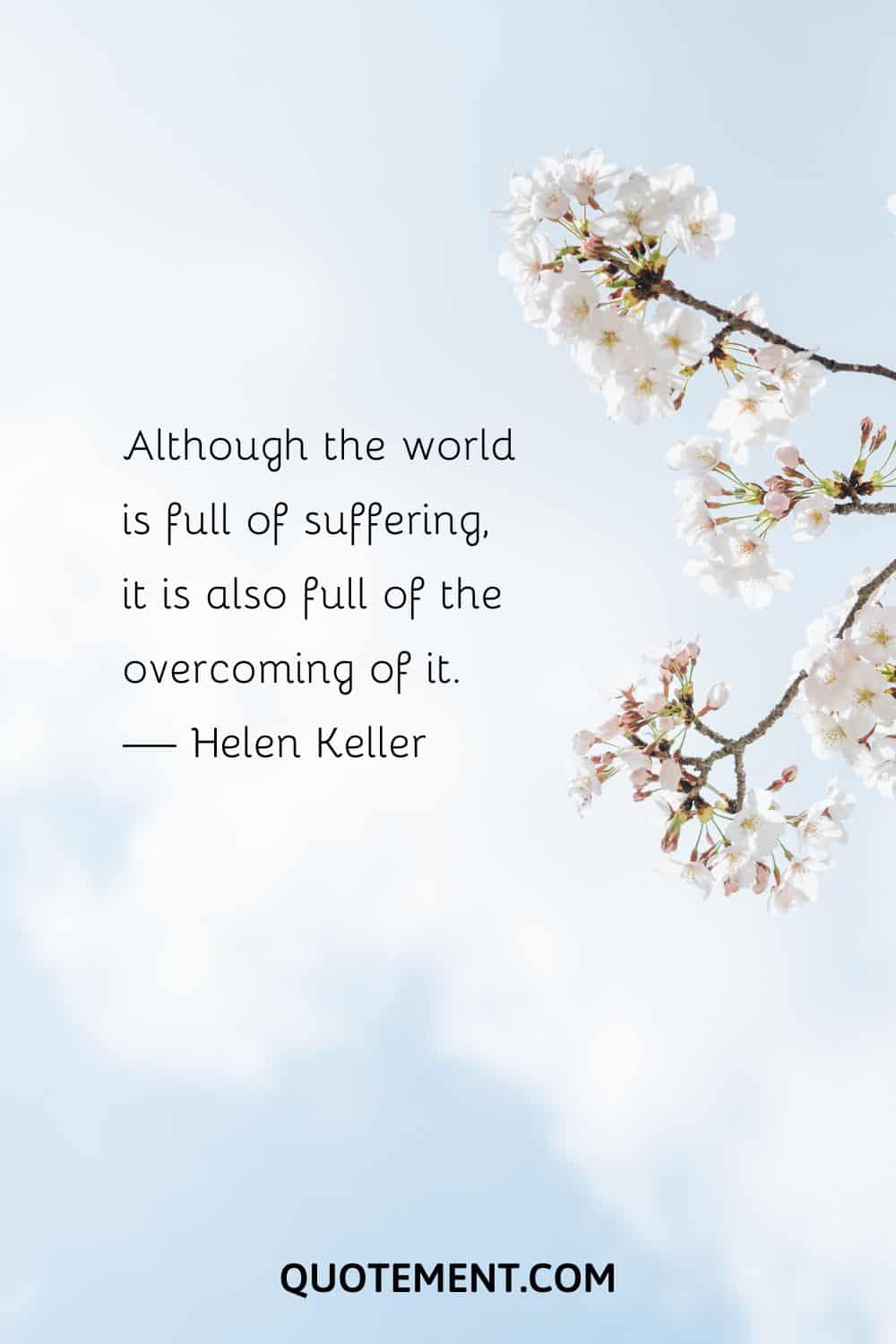 11. "You need an immense amount of courage to stay the course and struggle even when you are almost ready to give up on life, so take courage and don't let go till you win." — Unknown
12. "In any situation, there is a sacred solution." — Lailah Gifty Akita
13. "Struggles not only make us into stronger, better, and wiser people, they also let us learn more about ourselves and our purpose in life." — Auliq Ice
14. "You can overcome anything if you don't bellyache." — Bernard M. Baruch
15. "Don't be afraid to have goals and dreams. Even in the face of haters and those who do not believe in you, don't stop dreaming." — Auliq Ice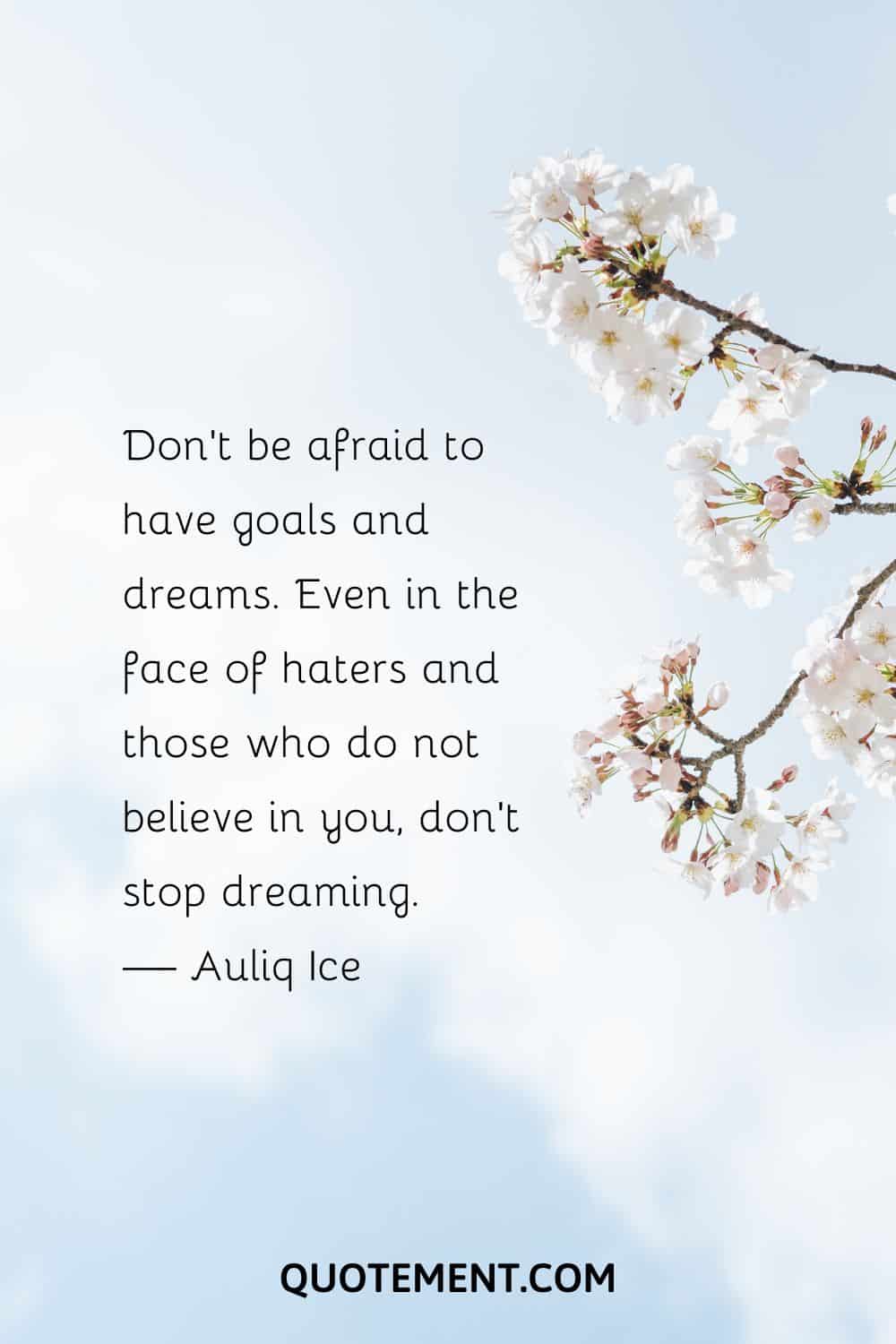 16. "Never let your head hang down. Never give up and sit down and grieve. Find another way. And don't pray when it rains if you don't pray when the sun shines." — Leroy Satchel Paige
17. "Things always get better with time, just wait and see." — Clavel Nelson
18. "No matter what happens, no matter how far you seem to be away from where you want to be, never stop believing that you will somehow make it." — Brad Gast
19. "Believe me, the reward is not so great without the struggle." — Wilma Rudolph
20. "Because some people see a wall, and assume that's the end of their journey. Others see it, and decide it's just the beginning." — Angeline Trevena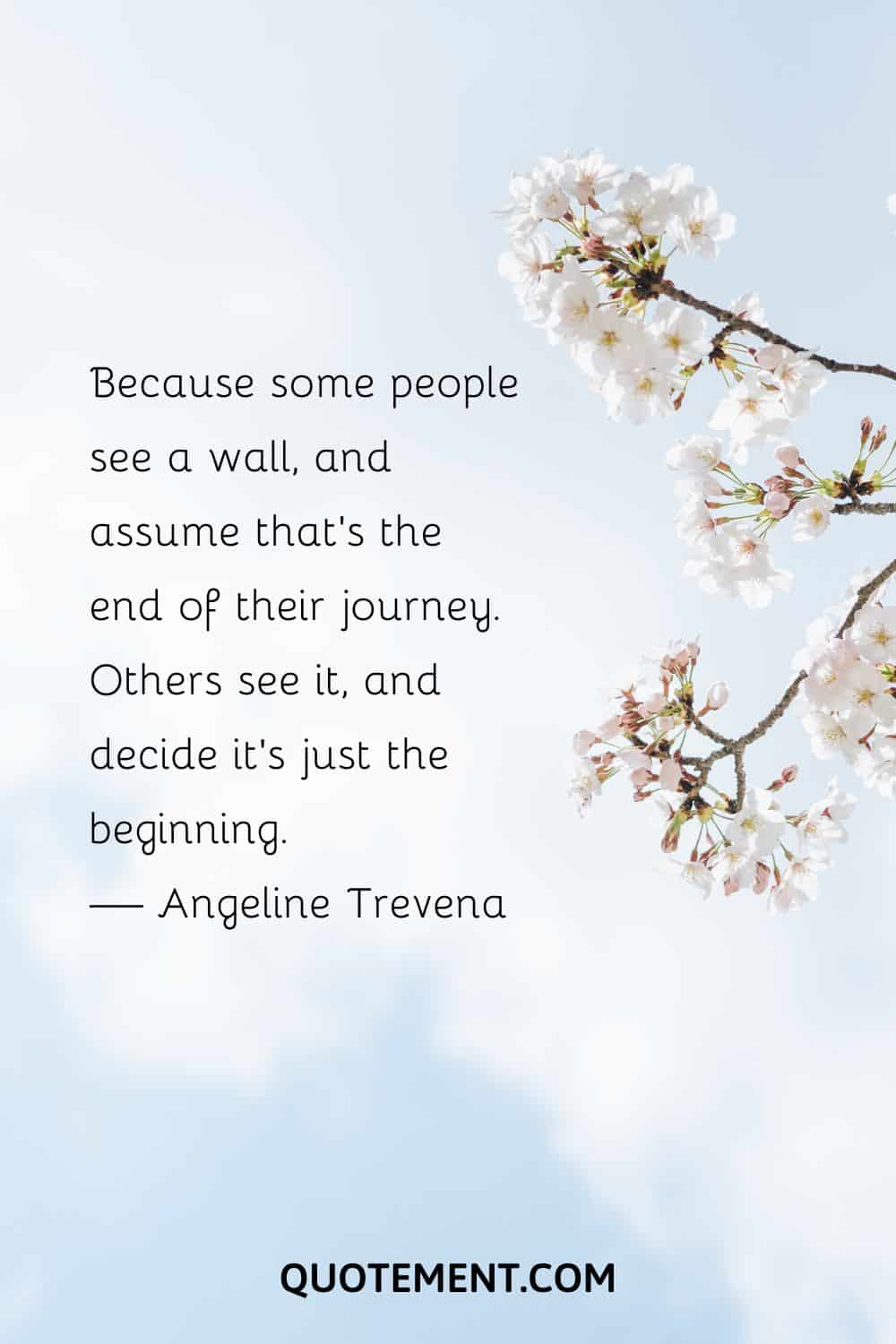 See also: 90 New Beginning Quotes To Embrace A New Day And New You
Positive Quotes On Life Struggles
1. "Expect obstacles and face them head-on. They are going to come up so the way you handle them is what makes all the difference." — Lance Dale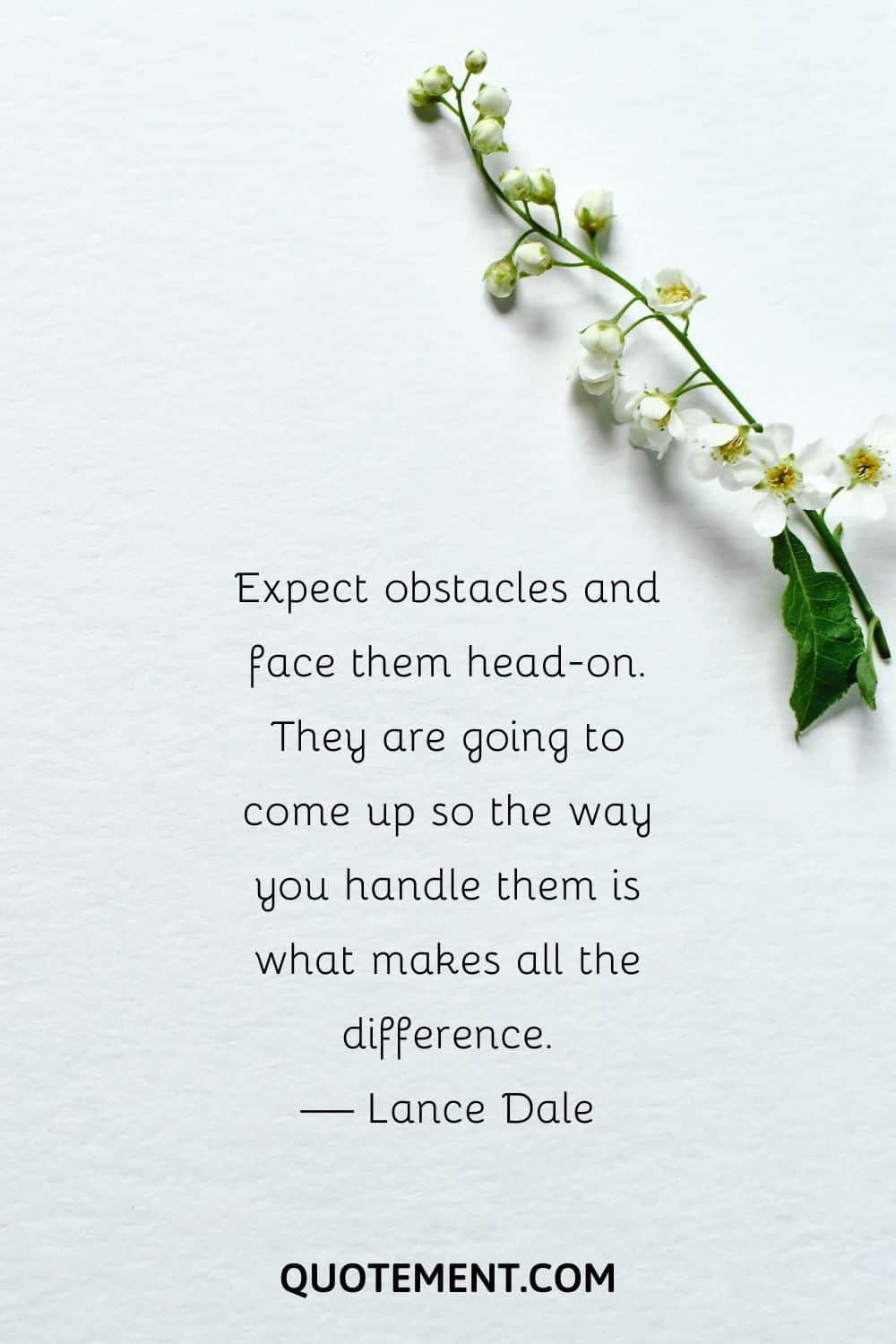 2. "Not many great things have ever been done without struggling, stand up for your dream, a definite plan and burning desire can get you there." — Okorote Emmanuel
3. "Strength and growth come only through continuous effort and struggle." — Napoleon Hill
4. "We all make mistakes, have struggles, and even regret things in our past. But you are not your mistakes, you are not your struggles, and you are here now with the power to shape your day and your future." — Steve Maraboli
5. "One who conquers the sea today is ready to conquer the ocean tomorrow." — Matshona Dhliwayo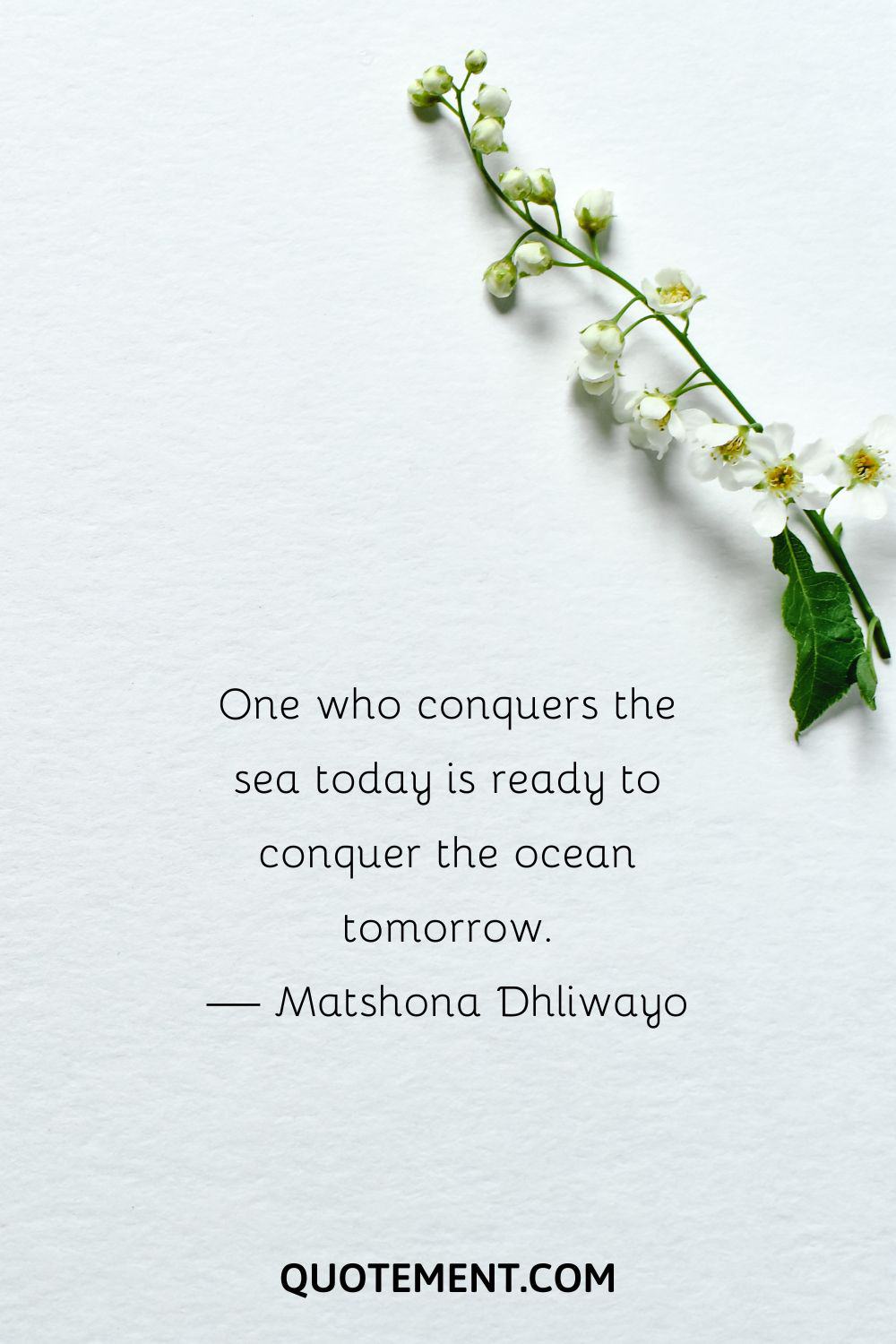 6. "When you learn to see your struggles as opportunities to become stronger, better, wiser, then your thinking shifts from 'I can't do this' to 'I must do this'." — Toni Sorenson
7. "If there is no struggle, there is no progress." — Frederick Douglass
See also: 120 Ultimate Best Quotes About Progress To Fuel Your Growth
8. "Look at my success. I didn't achieve it overnight. It has been the product of many years' struggle, and every year, my times have shown gradual improvement." — Mo Farah
9. "Only by facing your demons can you stop them from having power over you." — Auliq Ice
10. "And even though things won't always go your way, I have no doubt that you can overcome." — Julie Hebert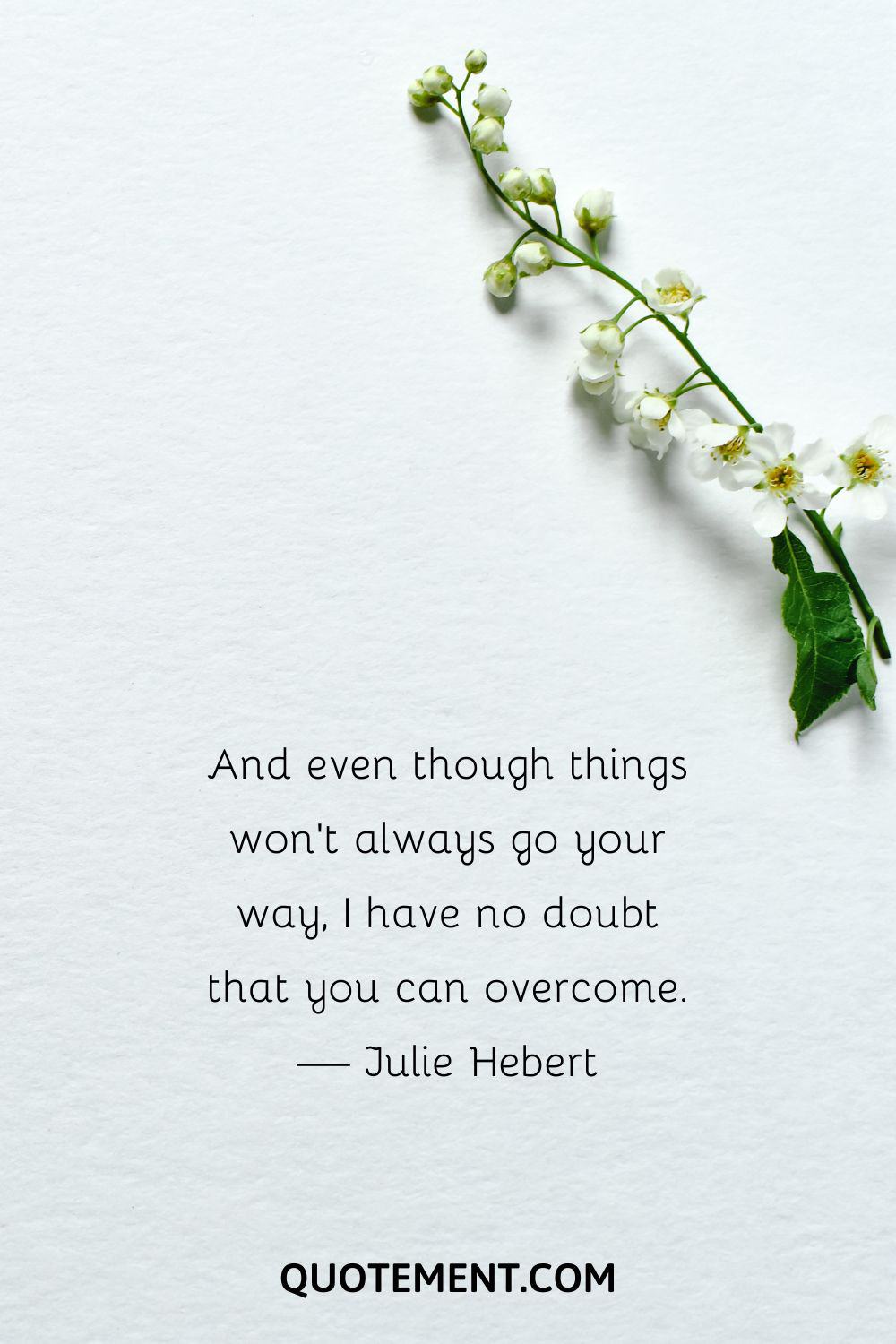 11. "We grow because we struggle, we learn and overcome." — R. C. Allen
12. "Be of good cheer. Do not think of today's failures, but of the success that may come tomorrow. You have set yourself a difficult task, but you will succeed if you persevere, and you will find joy in overcoming obstacles." — Helen Keller
13. "Struggle teaches you a lot of things, and I am happy that I witnessed a roller coaster ride. The journey has improved me as a person and made me more mature." — Manoj Bajpayee
14. "When I am struggling with my life I look up towards the sky and say; Lord you take over." — Joan Disantis
See also: 50 God Please Help Me Through This Difficult Time Prayers
15. "I'm thankful for my struggle because, without it, I wouldn't have stumbled across my strength." — Alex Elle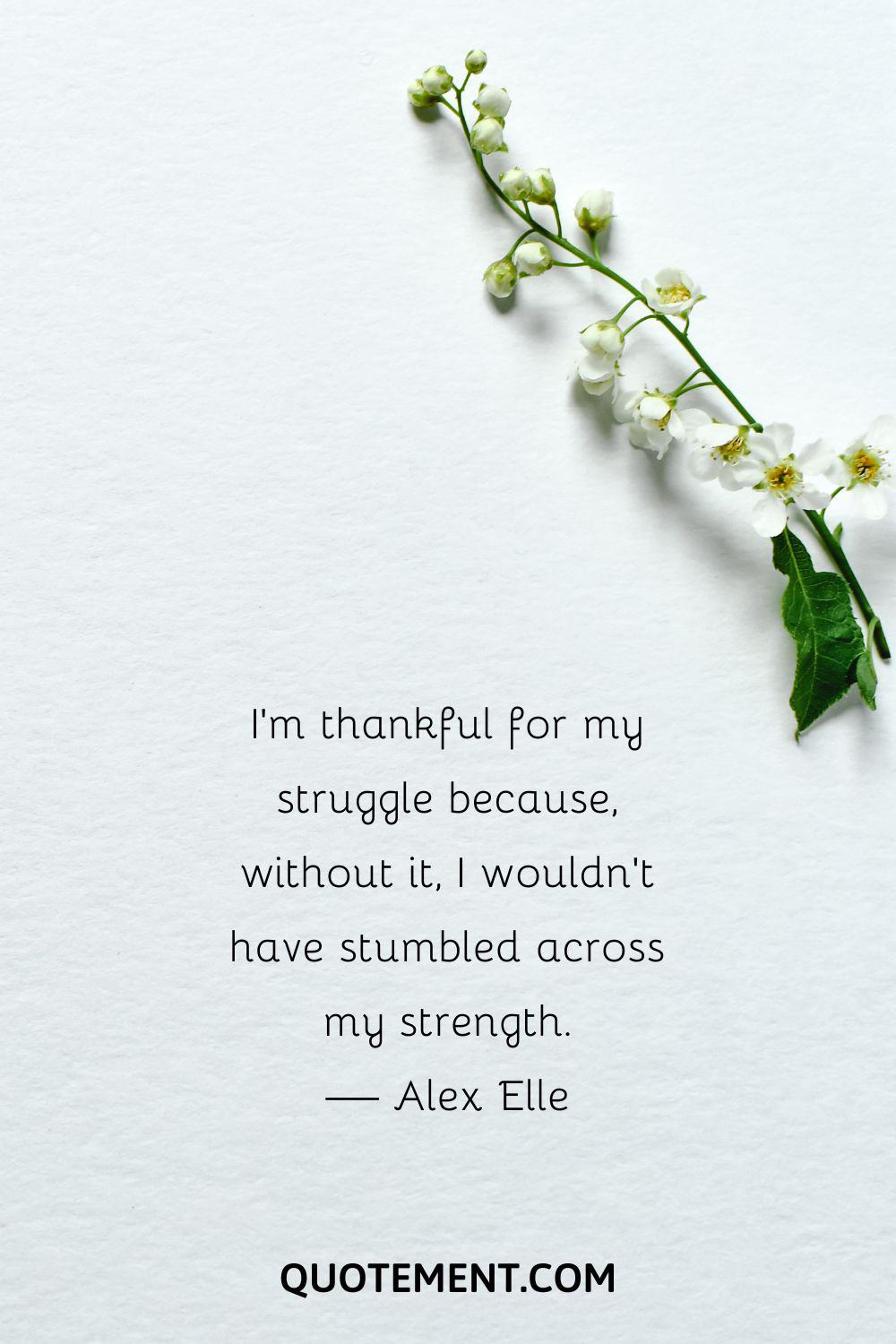 16. "Don't be stuck on the struggle that you refuse to be a part of life, there are so many people waiting on you to show them that they deserve to live, so breath a bit and live life even in the struggles." — Unknown
17. "The most beautiful people I've known are those who have known trials, have known struggles, have known loss, and have found their way out of the depths." — Elizabeth Kübler-Ross
18. "The greater the obstacle, the more glory in overcoming it." — Molière
19. "I have no regrets in my life. I think that everything happens to you for a reason. The hard times that you go through build character, making you a much stronger person." — Rita Mero
20. "Use what you've been through as fuel, believe in yourself, and be unstoppable!" — Yvonne Pierre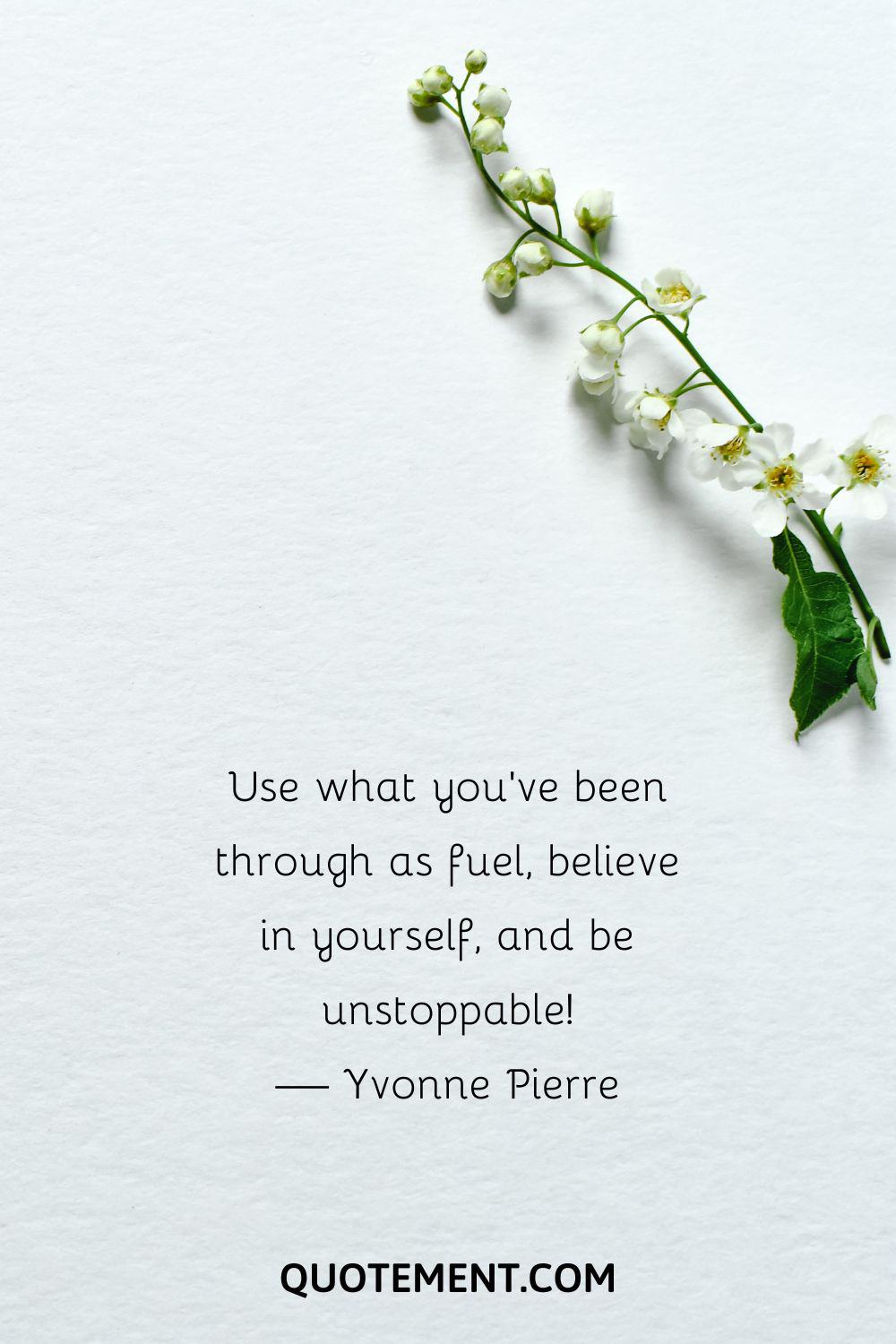 Deep Quotes About Life Struggles
1. "It's not exactly like you thought it would be, you think it's a failure. What about the spectrum of colors in between." — Sara Evans
2. "You are not alone in the struggles of life. Entire cosmos is with you. It evolves through the way you face and overcome challenges of life. Use everything in your advantage." — Amit Ray
3. "There are a lot of complications in life that we have no control over which we leave to God, so why do we complicate the things that we have control over and it is much simpler than we think?" — Islam Bakli
4. "Those who overcome great challenges will be changed, and often in unexpected ways. For our struggles enter our lives as unwelcome guests, but they bring valuable gifts. And once the pain subsides, the gifts remain. These gifts are life's true treasures, bought at great price, but cannot be acquired in any other way." — Steve Goodier
5. "The road to overcoming your fears could lead you to unbearable places but sometimes such gives you an edge than nothing else could give." — Auliq Ice
6. "The harder the struggle, the more glorious the triumph. Self-realization demands very great struggle." — Swami Sivananda
7. "Struggle is the food from which change is made, and the best time to make the most of a struggle is when it's right in front of your face." — Danny Dreyer
8. "Once all struggle is grasped, miracles are possible." — Mao Zedong
9. "The best way to get rid of the pain is to feel the pain. And when you feel the pain and go beyond it, you'll see there's a very intense love that is wanting to awaken itself." — Deepak Chopra
10. "Strong people alone know how to organize their suffering so as to bear only the most necessary pain." — Emil Dorian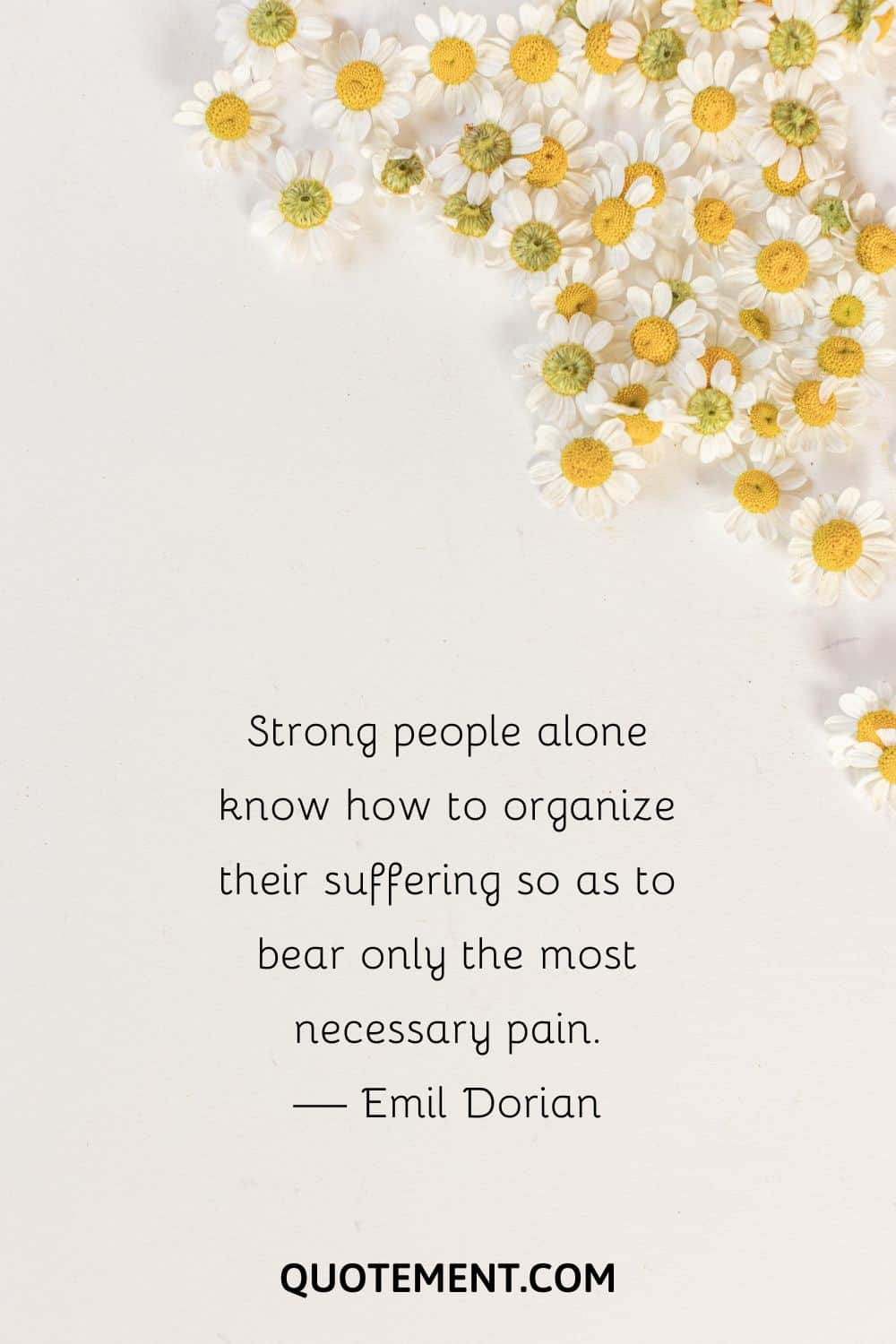 11. "Real difficulties can be overcome; it is the imaginary ones that are unconquerable." — Theodore Newton Vail
12. "Your strength will be found when you stop struggling with yourself, instead of thinking everyone is a struggle worth overcoming. Every obstacle in life is a lesson that teaches us, not others." — Shannon L. Alder
13. "Life's battles don't always go to the stronger or faster man. But sooner or later the man who wins is the man who thinks he can." — Bruce Lee
14. "Whenever you feel a little stricken down in pain, think about this. The knife has to be sharpened by striking and rubbing it against something strong before it can become useful. You are going to be great after the struggles." — Israelmore Ayivor
15. "The greater the difficulty, the more glory in surmounting it. Skillful pilots gain their reputation from storms and tempests." — Epictetus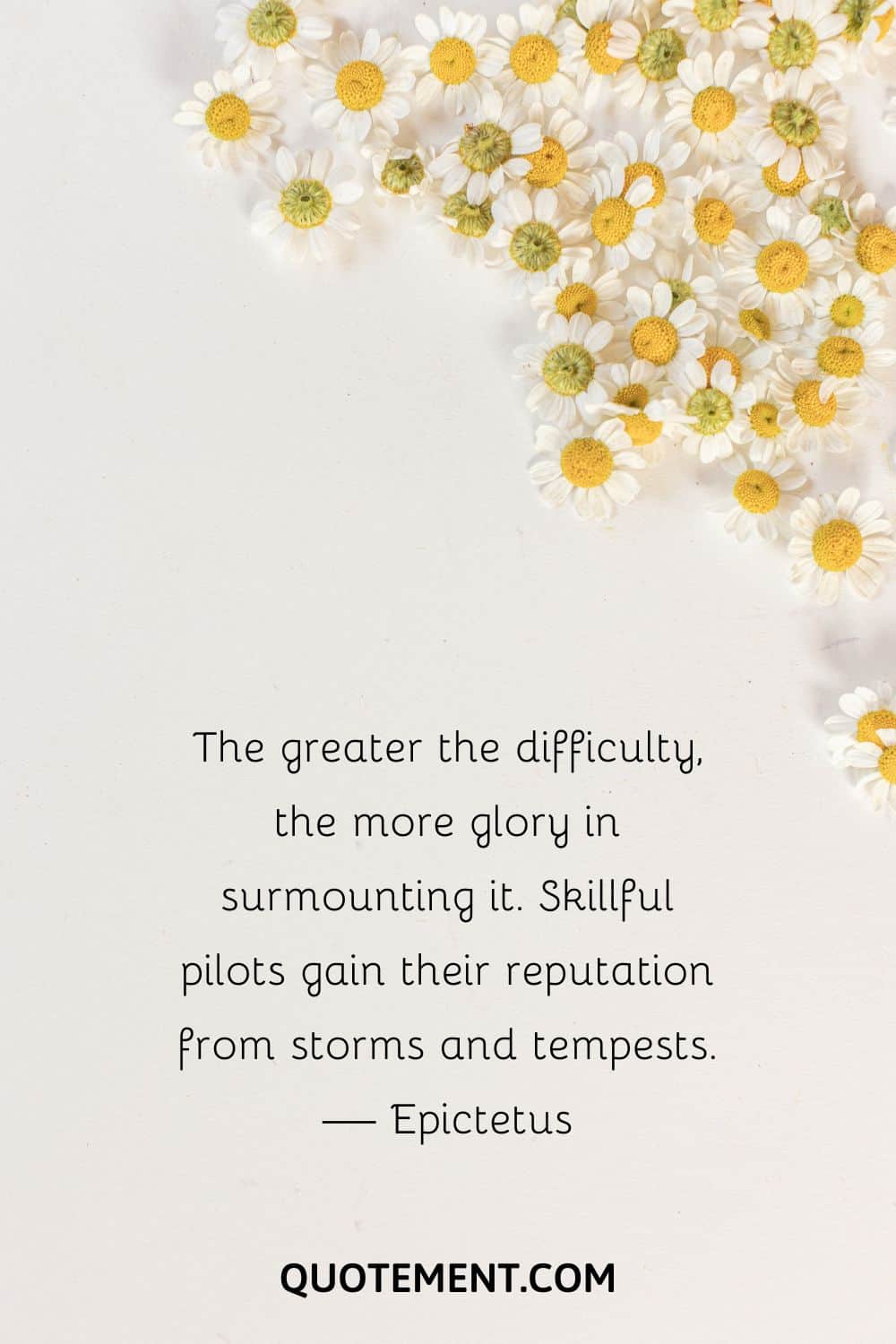 16. "Some people swim as fast as they can. Faster than most. They can never stop and rest for long, and they never reach their destination, for they are constantly swimming upstream. But eventually, they become strong, in their own way." — Robert Black
17. "The bravest sight in the world is to see a great man struggling against adversity." — Seneca
18. "We must embrace pain and burn it as fuel for our journey." — Kenji Miyazawa
19. "The individual has always had to struggle to keep from being overwhelmed by the tribe. If you try it, you will be lonely often, and sometimes frightened. But no price is too high to pay for the privilege of owning yourself." — Friedrich Nietzsche
20. "Courage doesn't always roar. Sometimes courage is the quiet voice at the end of the day, saying, "I will try again tomorrow." — Mary Anne Radmacher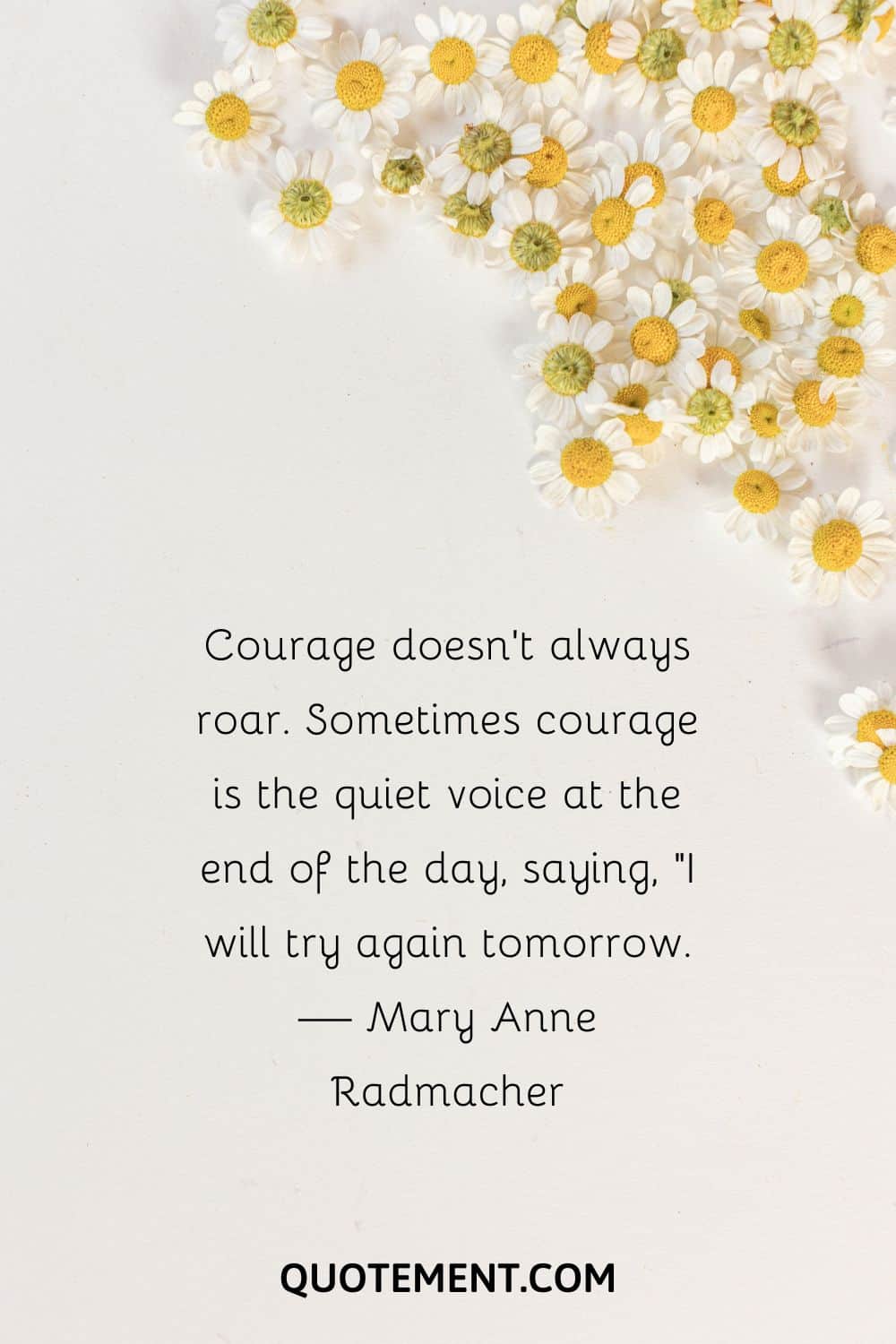 Struggle Life Quotes
1. "Life requires overcoming challenges and obstacles of many types. Battling our struggles and fears determines who we are." — David Weatherford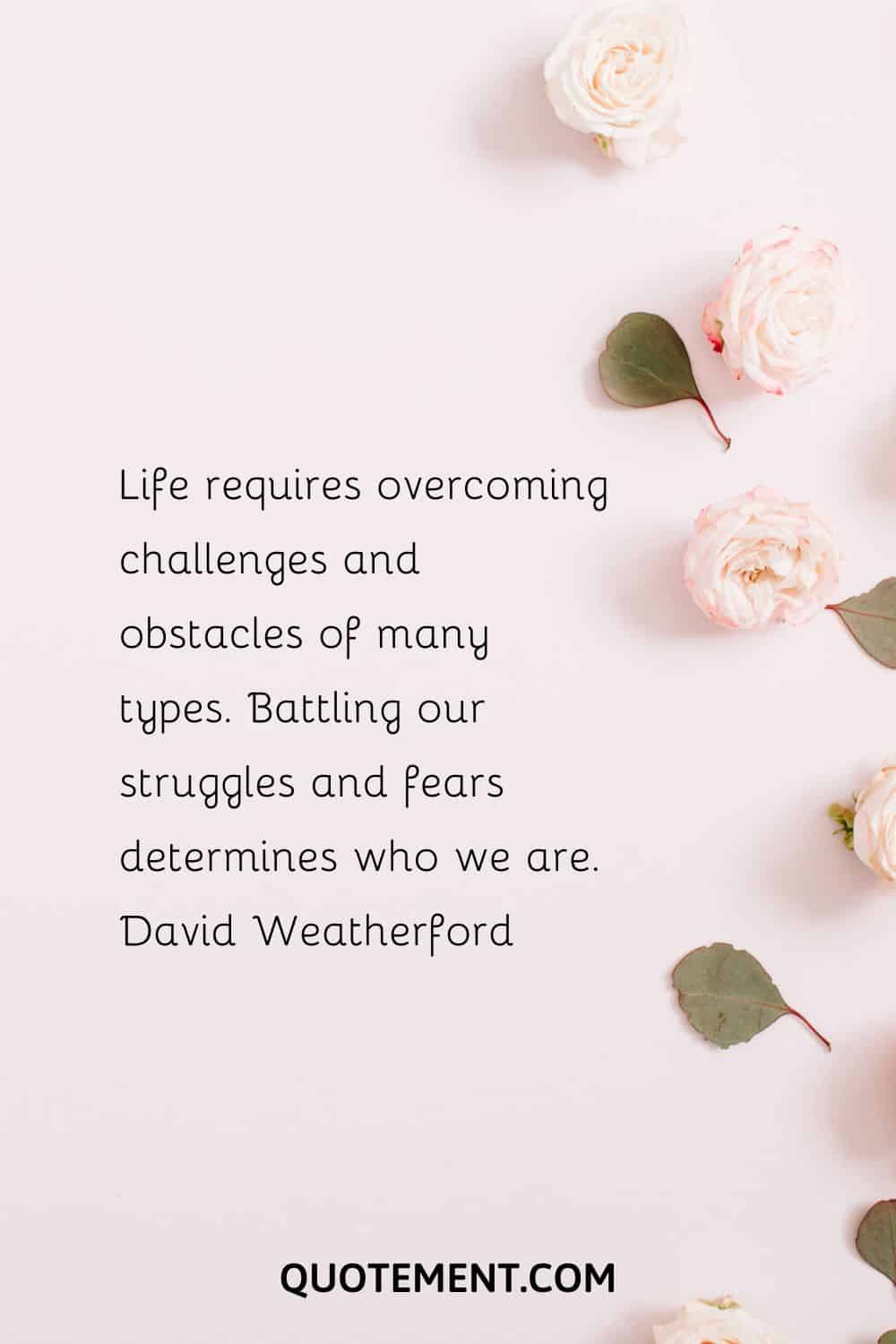 2. "Life is essentially a cheat and its conditions are those of defeat; the redeeming things are not happiness and pleasure but the deeper satisfactions that come out of struggle." — F. Scott Fitzgerald
3. "In everybody's life, there's a point of no return. And in a very few cases, a point where you can't go forward anymore. And when we reach that point, all we can do is quietly accept the fact. That's how we survive." — Haruki Murakami
4. "Life's struggles are necessary for growth." — Auliq Ice
5. "Don't feel entitled to anything you didn't sweat and struggle for." — Marian Wright Edelman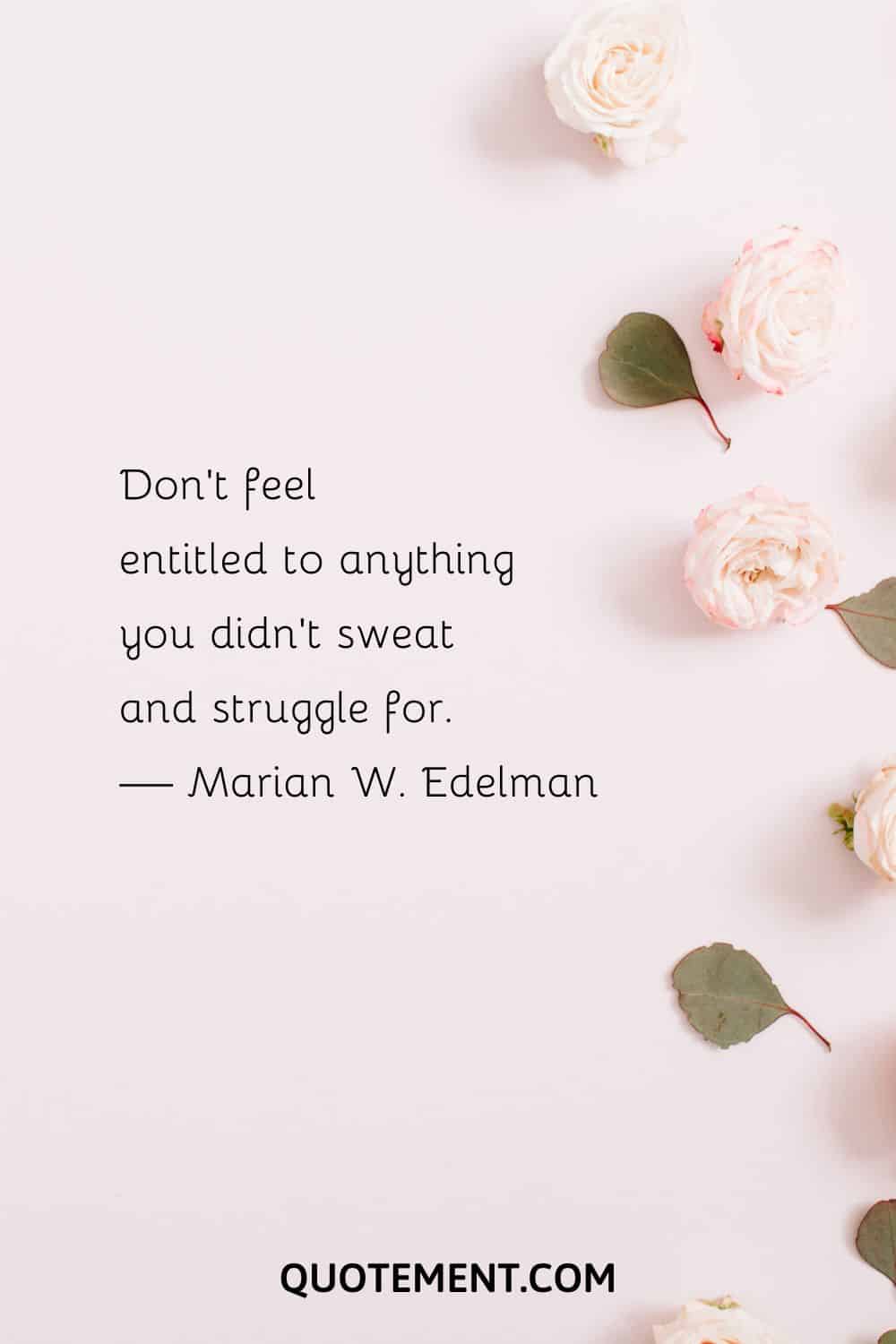 6. "In life, we all struggle and strive to make progress. When will you know you've reached success? A billion dollars is a good sign, but there's a better one, humility." — Naveen Jain
7. "All life demands struggle. Those who have everything given to them become lazy, selfish, and insensitive to the real values of life. The very striving and hard work that we so constantly try to avoid is the major building block in the person we are today." — Pope Paul VI
8. "You can't solve anyone else's life for them. But then, if you see someone struggling with a heavy load, isn't it forbidden to walk on without helping them?" — Naomi Alderman
9. "People can have the best of intentions when they tell their loved ones how they should be living their lives. But often times, when we are in struggle, we are seeking to be supported, not solved." — Jaeda DeWalt
10. "Struggle is a never-ending process. Freedom is never really won. You earn it and win it in every generation." — Coretta Scott King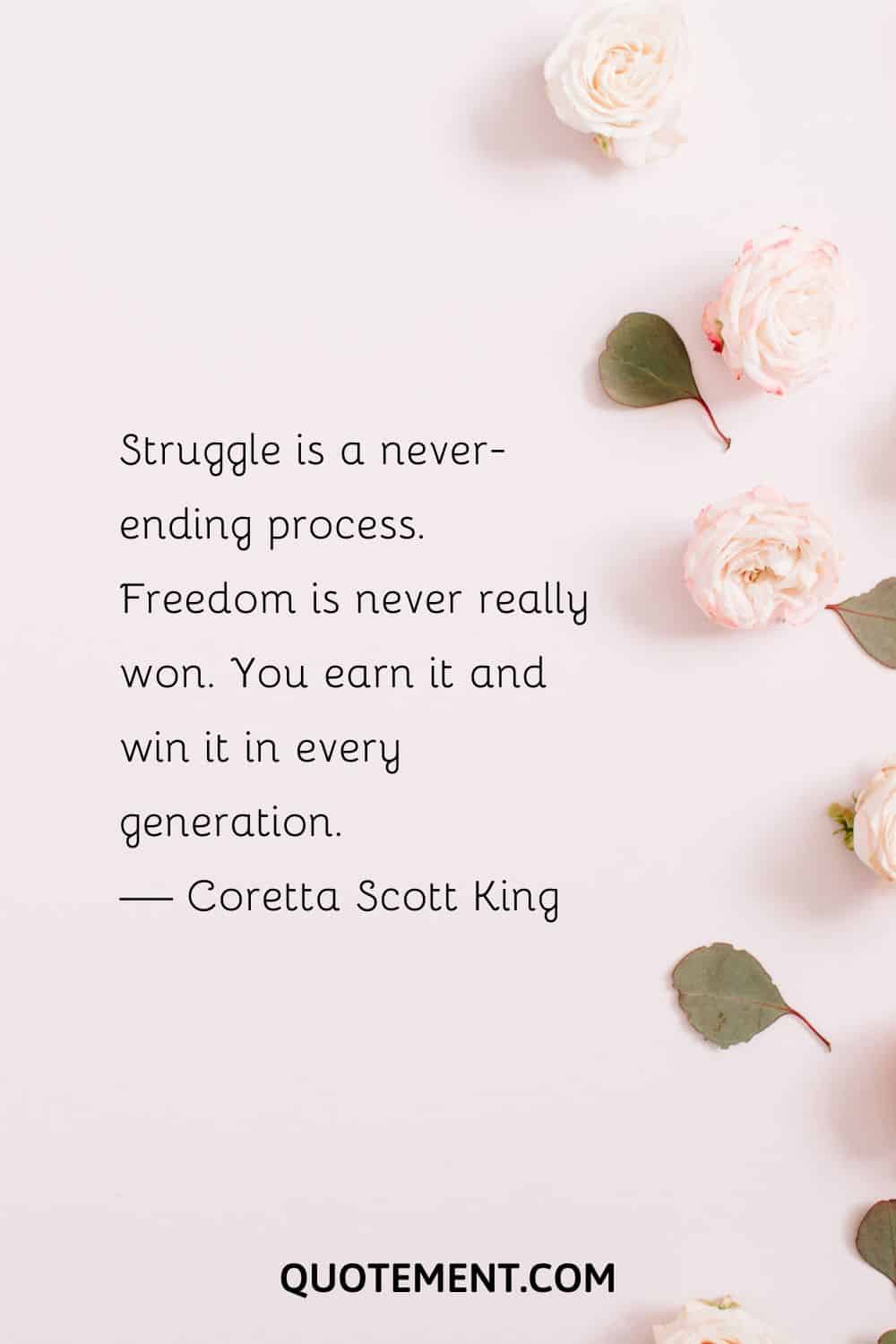 11. "Struggles are a part of life but they are not the totality of what life entails so we must remember to discover all the other ingredients that make life worth living." — Unknown
12. "When we face a life storm, our faith is challenged most often by God's seeming silence when we need him the most. Life storms help us to explore the reality of trust when circumstances challenge our faith and tempt us to doubt God's promises." — John Krohn PhD
13. "Sometimes when hardships knock, it's just life. Do not take it personal." — Naide Obiang
14. "Success is not measured by what you accomplish, but by the opposition you have encountered, and the courage with which you have maintained the struggle against overwhelming odds." — Orison Swett Marden
See also: 220 Best Proverbs About Success To Give You Inspiration
15. "Sometimes, life's challenges are tough to deal with. You will succeed if you focus your thoughts on how to overcome the challenge." — Catherine Pulsifer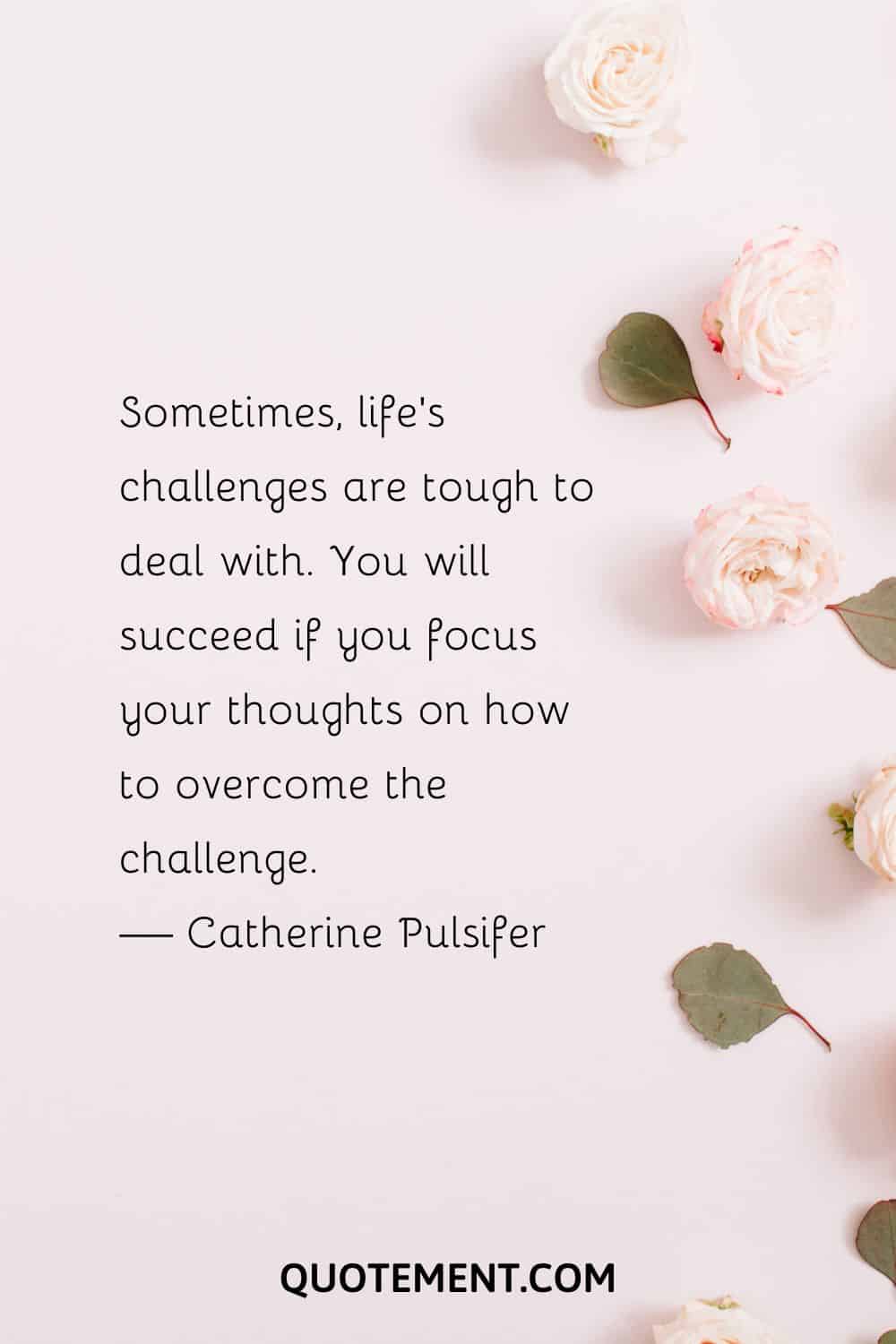 16. "As much as this will not be easy, it's better to choose life even through the struggles." — Unknown
17. "When things are bad, we take comfort in the thought that they could always get worse. And when they are, we find hope in the thought that things are so bad they have to get better." — Malcolm S. Forbes
18. "Quietly endure, silently suffer and patiently wait." — Martin Luther King Jr.
19. "True struggle happens when you can sense what is not working for you and you're willing to take the appropriate action to correct the situation. Those who accomplish change are willing to engage the struggle." — Danny Dreyer
20. "Life is very interesting. In the end, some of your greatest pains become your greatest strengths." — Drew Barrymore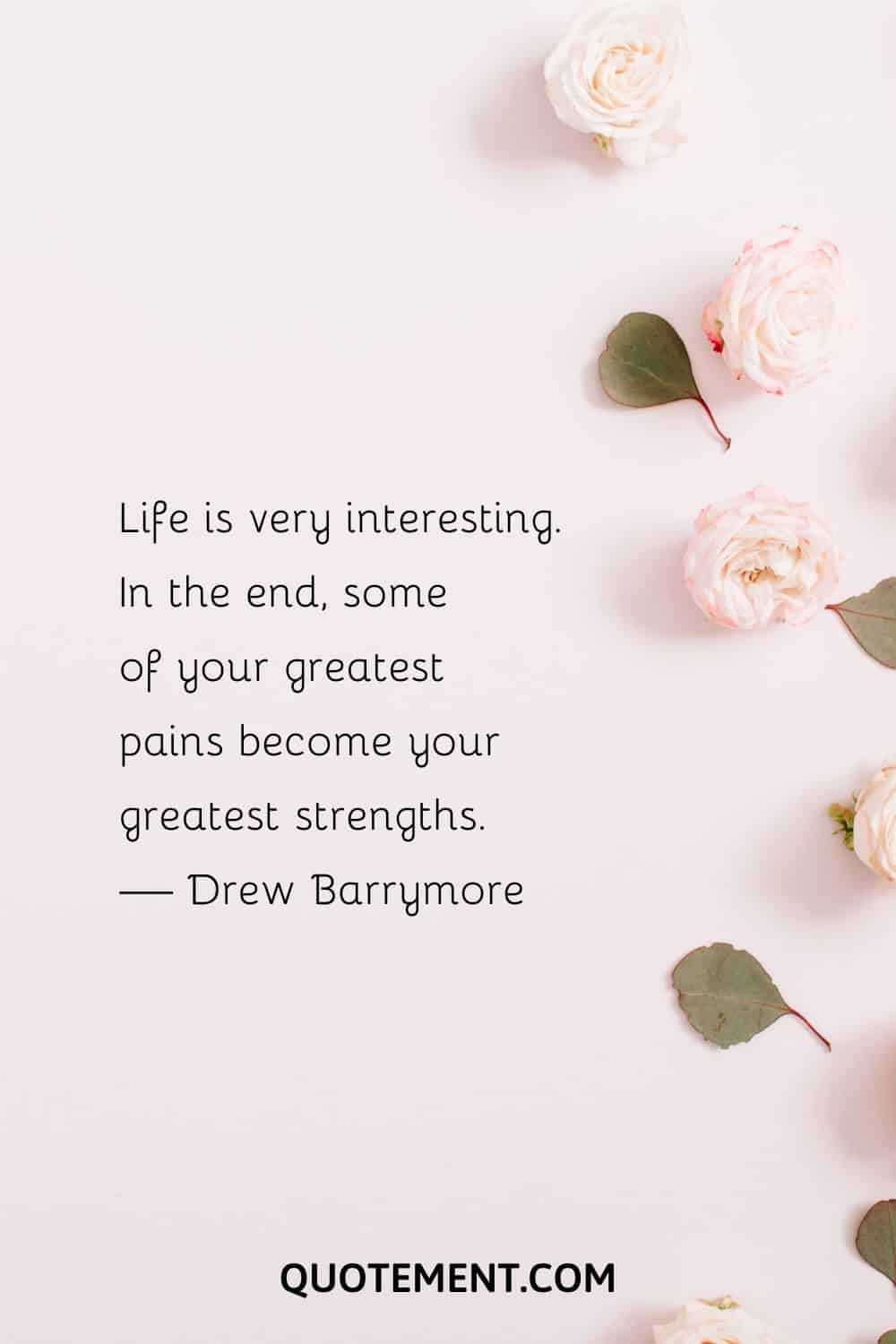 Keep Struggling Quotes
1. "Whatever the struggle, continue the climb. It may be only one step to the summit." — Diane Westlake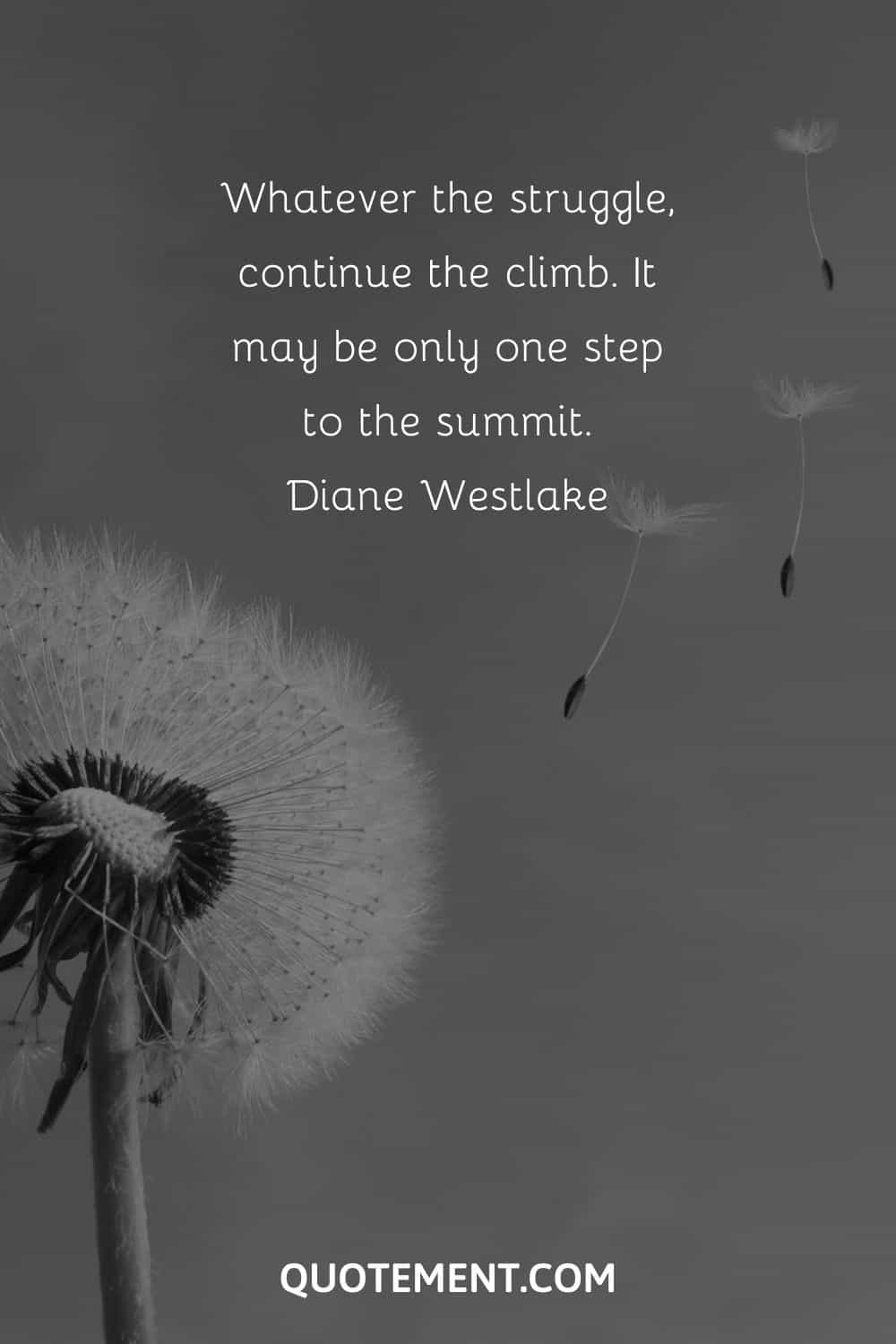 2. "What we all need to do is find the wellspring that keeps us going, that gives us the strength and patience to keep up this struggle for a long time." — Winona LaDuke
3. "Even in the most difficult of times, there is always a hidden blessing that exists under all the superficial stuff that we so frequently see. There is always a rainbow waiting to burst forth after the rain." — Daniella Whyte
4. "The struggle you're in today is developing the strength you need for tomorrow. Don't give up." — Robert Tew
5. "Remember that in difficult times, we don't give up. We don't discard our highest ideals. No! We rise up to meet them." — Michelle Obama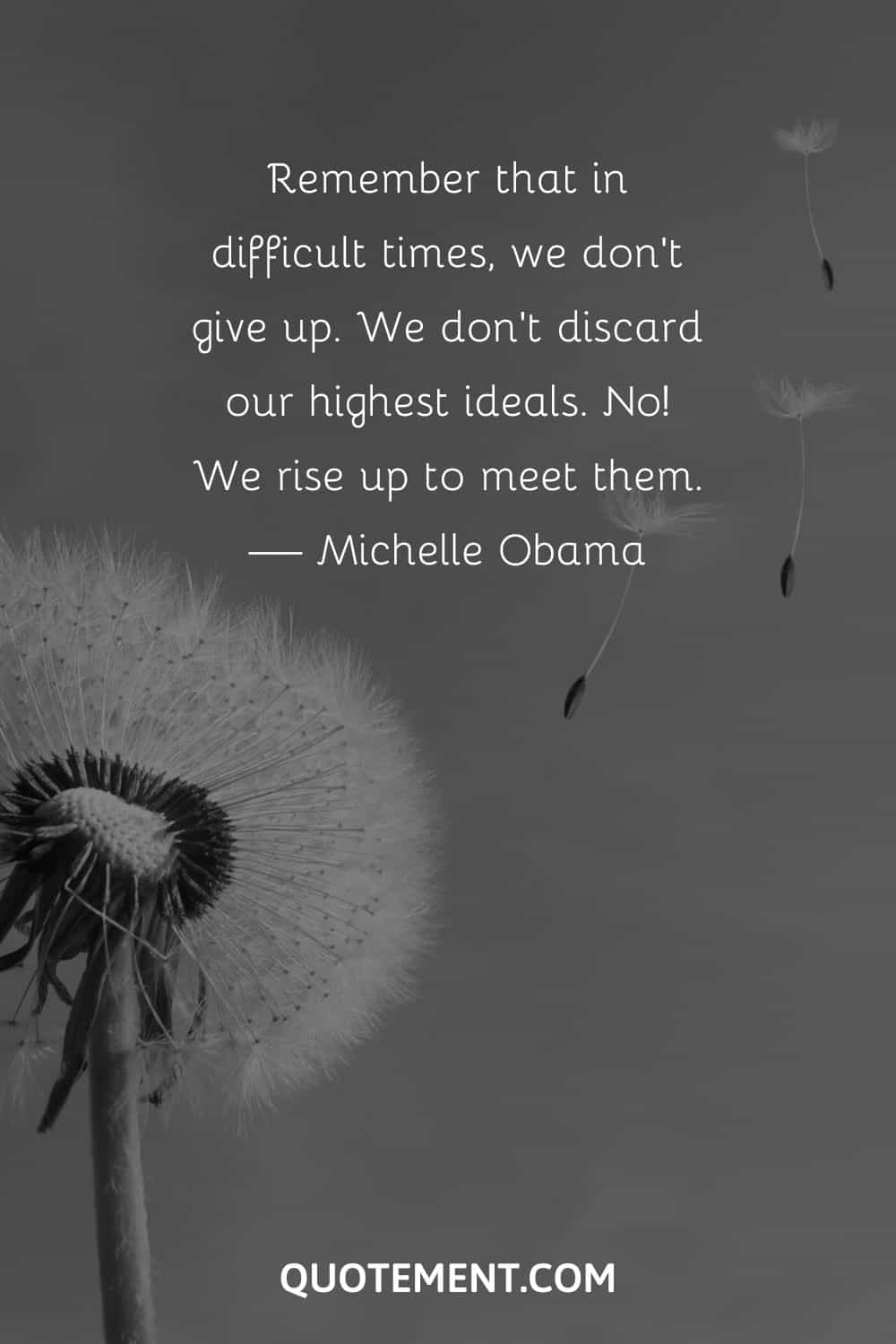 6. "Have your one good cry, pick your chin up, smile, and move on to the positive." — Auliq Ice
7. "Don't cry to give up, cry to keep going." — Eric Thomas
8. "Don't give up in times of difficulty. Persevere on as there will be an end to these." — Edward Dunedin
9. "Struggles make you stronger and the changes make you wiser and happiness has its own way of taking its sweet time. Life isn't always lovely, but it's a beautiful ride." — Gary Allan
10. "No matter how much falls on us, we keep plowing ahead. That's the only way to keep the roads clear." — Greg Kincaid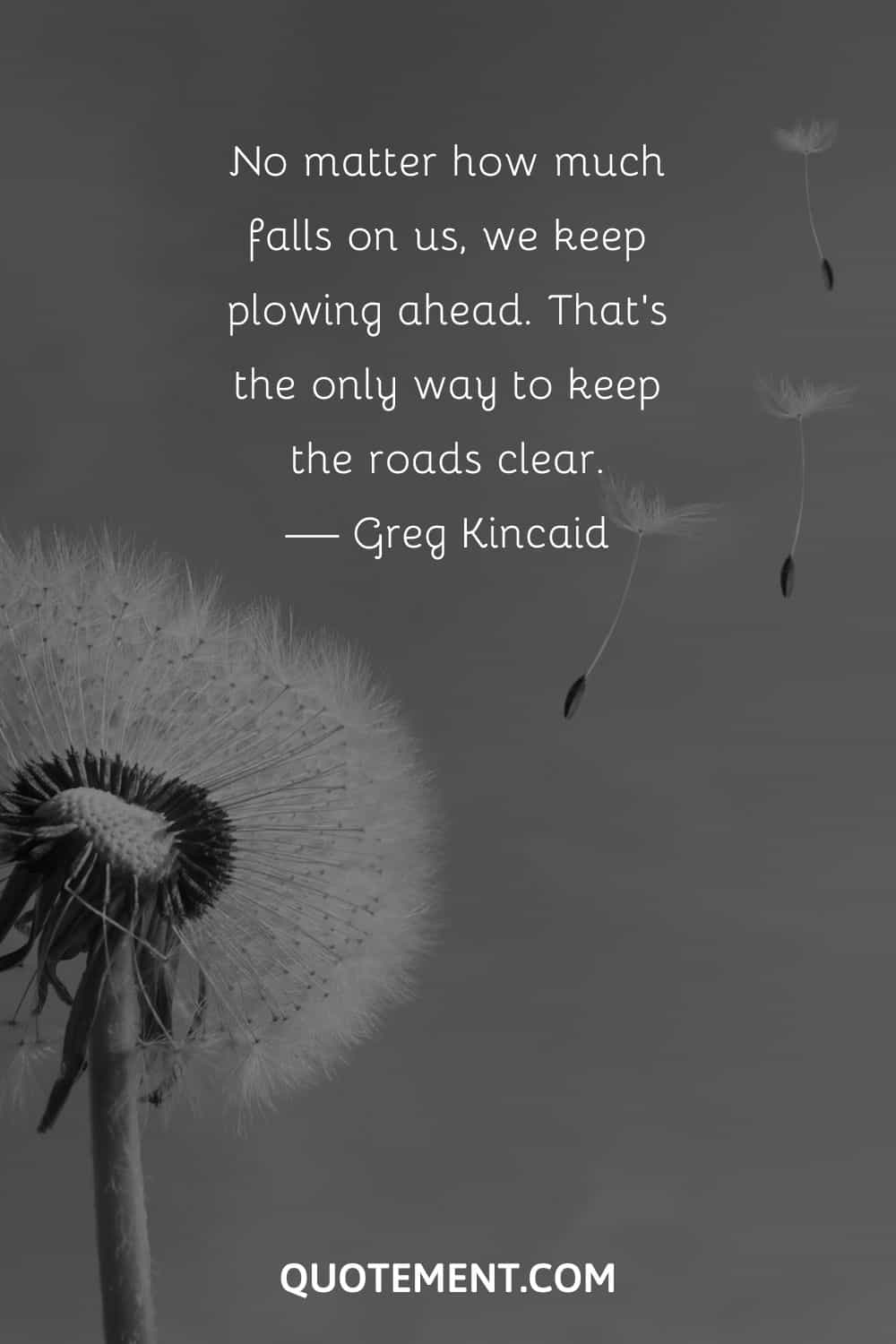 Final Words
I hope my collection of inspiring quotes on life struggles helped you soak up some wisdom and lifted your spirits along the way.Don't worry, you're going to make it through this!