As mortals, we are often confronted with a setback or a struggle we simply can't deal with on our own.
That's when we turn to divine help, and, to that end, I've collected the most powerful God please help me through this difficult time prayers I could find on the web.
You will find here devotional prayers inspired by psalms and Bible Verses that will help you open your heart to the Creator.
Difficult times are a test of faith – we can easily feel discouraged and powerless, however, every cloud has a silver lining!
We can come out stronger than before – both literally and regarding our faith in God.
A powerful prayer is a good way to start. Let's take a look at different sections of my collection and find amazing prayers.
Top 10 God Please Help Me Through This Difficult Time Prayers
You can find a lot of Christian or Roman Catholic prayers inspired by the Bible on the web, but here are my best 10 prayers for difficult times:
1. "Dear Lord, help me remember that, despite how I feel, I am fearfully and wonderfully made. Amen."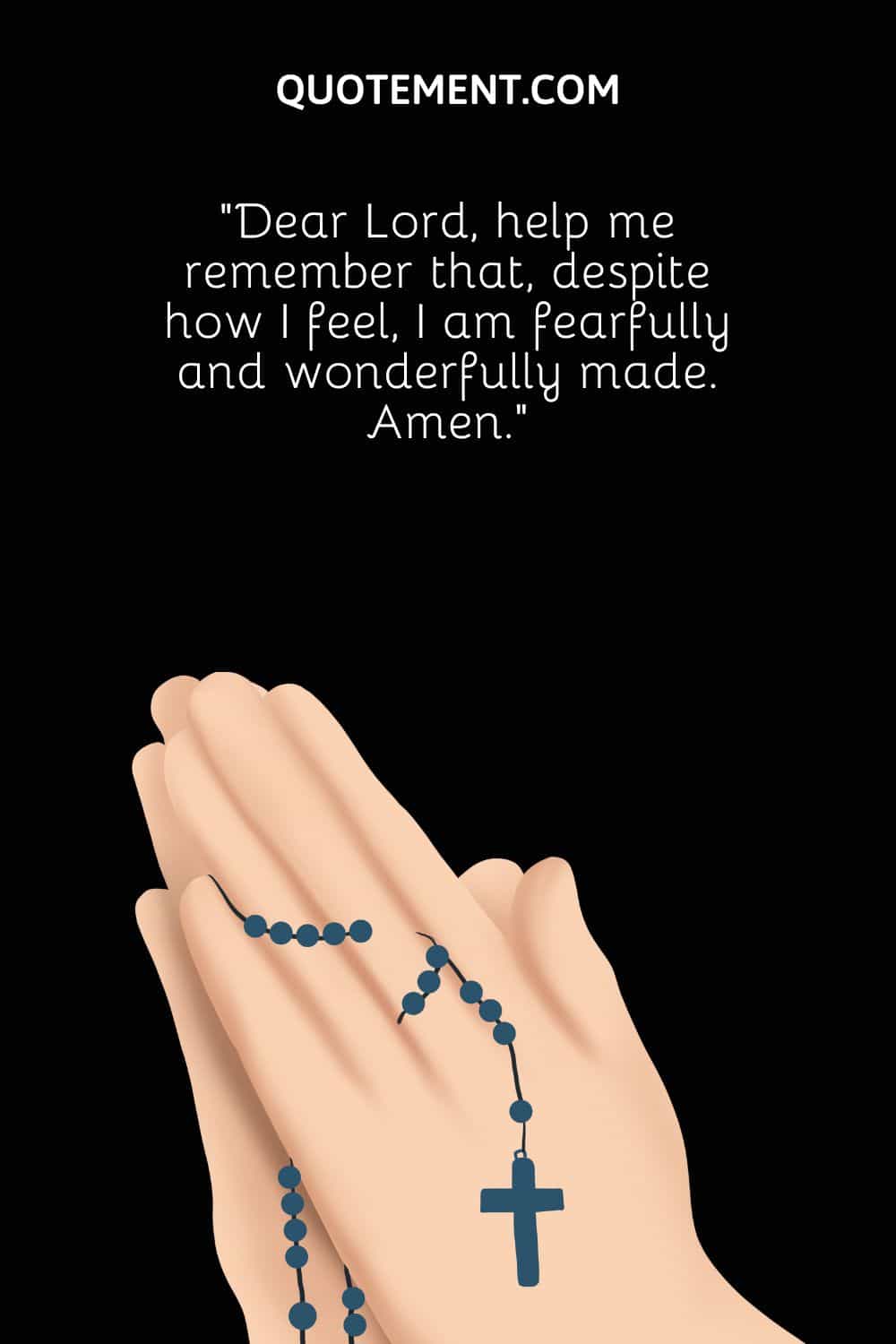 2. "Loving God, inspire me by your Holy Spirit, as I fear losing hope. Give me a fresh vision of your love, that I may find again what I fear I have lost. Grant me your powerful deliverance; through the One who makes all things new, Jesus Christ, our Redeemer. Amen."
3. "Lord Christ, you came into the world as one of us, and suffered as we do. As I go through the trials of life, help me realize that you are with me at all times and in all things; that I have no secrets from you, and that your loving grace enfolds me for eternity. In the security of your embrace I pray. Amen."
4. "As I go through this day, Lord, whatever trials come my way, please be with me. And as You walk with me today, surround me with peace. Enable me to do my best today for Your glory. All these I ask in Your Name, Amen."
5. "Lord, remind me that this is only temporary. For every time there is a purpose, and I will not be in this storm forever. This storm will pass and the Sun will shine again. I will trust You and Your plans. Amen."
See also: 70 Best Trust God Quotes To Boost Your Spiritual Growth
6. "I pray for revitalizing strength, dear God, that glorious boost of power to continue on life's journey. Let it bubble in my soul so that I never give up, so that I never lose hope and faith in You. I trust You, Lord. I lay my life before You, surrendering my body, my heart, my soul, and my all to You."
7. "Jesus, I'm weary and tired from this battle. My feet are stumbling and I don't know how much longer I can carry on. Give me strength. Renew my hope. Restore and revive me so I can continue on and run this race with perseverance. Amen."
8. "Jesus, I need you. I'm weary and the burdens are great. I'm not sure how much more I can bear. Will you help carry these burdens for a while? I need your rest for my soul, your comfort for my heart. You will lead me and show me the way. Thank you for how much you love me. Amen."
9. "Lord, give me the strength to find joy and the good, even in the midst of my trials and difficulties. Produce within me faith and perseverance, that I may be mature and complete, not lacking anything! This is only possible through the power of your Word. Amen."
10. "I have set the Lord always before me. Because he is at my right hand, I will not be shaken."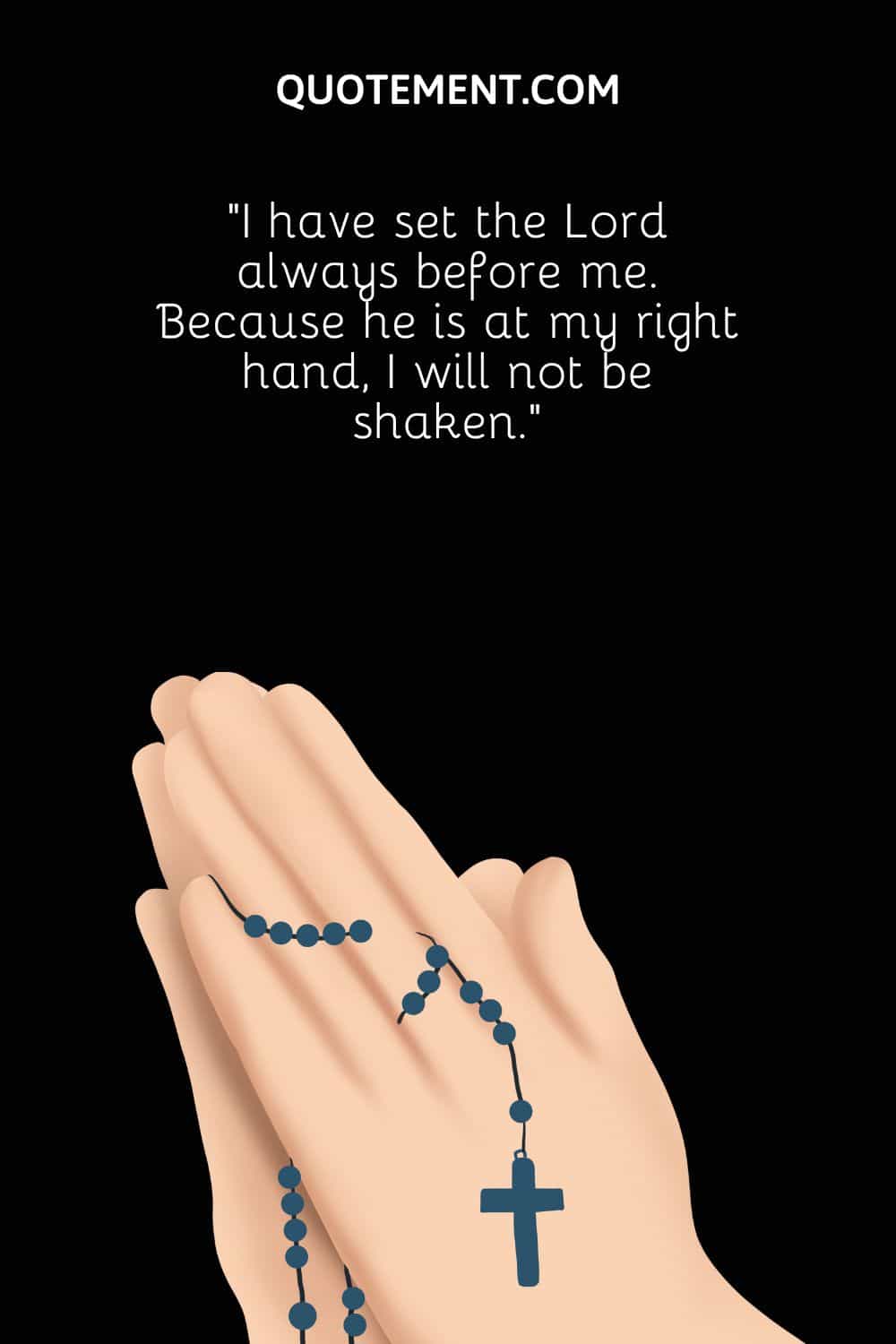 Prayers For Strength During Difficult Times
This section of my collection of God please help me through this difficult time prayers is dedicated to very difficult times where the power of prayer is essential.
Take a look at these prayers for strength:
1. "I ask for strength to maintain unwavering faith in you so that I can overcome every battle that confronts me day to day. Amen."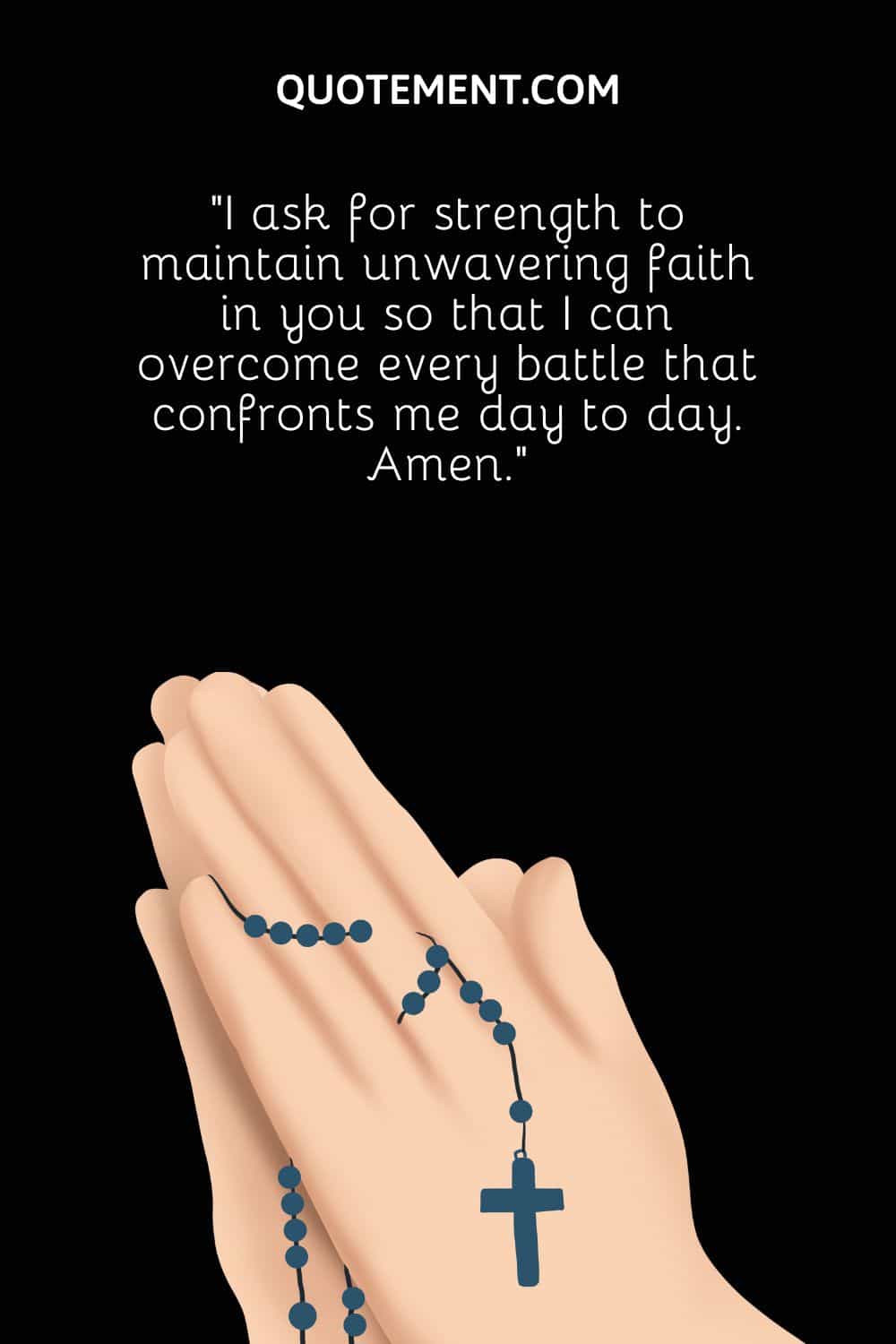 2. "Gracious God, only source of life and health: help, comfort, and relieve me, and give your power of healing to those who minister to my needs; that my weakness may be turned to strength and confidence in your loving care; for the sake of Jesus Christ. Amen."
3. "God, I need comfort. In my own life, in the world around me, it seems that everything has gone from bad to worse. I know you are the source of my strength and my Great Comforter. Please be those two things for me now. Remind me of both in these difficult times. Amen."
4. "Heavenly Father, you are the comforter and the healer. I have recently lost someone dear to me. I do not know if I have the strength to undergo this process of grief and bereavement. Lord, in your holy power, grant me strength to continue during these difficult days. Amen."
5. "Father, I am so tired of trying to weather the storms of life on my own. I need Your power and strength to face each one. Please teach me to turn to You first. Help me learn to patiently endure the hard times and honor You in the midst of them as I walk by faith. In Jesus' name, amen."
6. "Great Healer and Physician, I ask for strength during the healing process which I am undergoing. Although I know you are the Great Healer, these times are never easy to partake in. Remind me of all the times you have healed my hurting in the past and give me strength to endure now. Amen."
7. "Lord, I would be lying if I said that I am undergoing easy or prosperous times. The world around me, even within my own home, seems to have been thrown into chaos. God, I need your strength and comfort to rest on me during these uncertain and difficult times. Amen."
8. "Lord Jesus, the Gospels teach us that faith has infinite power. Even the faith of a mustard seed can move mountains and bring the dead back to life. In hard times we see the brokenness of the world. Our faith is often tested and it can become difficult to believe. Lord, I ask that You strengthen my faith. Purge all doubt from my heart, and open my eyes of faith to find my way out of these dark times. Amen."
9. "All-powerful God and Father, I pray that you give my family strength. In difficult times and in times of plenty, help us grow closer to you in your holy word. May I set a good example for my children so that they may know your love and goodness. Amen."
10. "This challenge hasn't come to destroy me but rather to make me a better person. I ask for strength to come out better in this situation. In the name of Jesus Christ. Amen."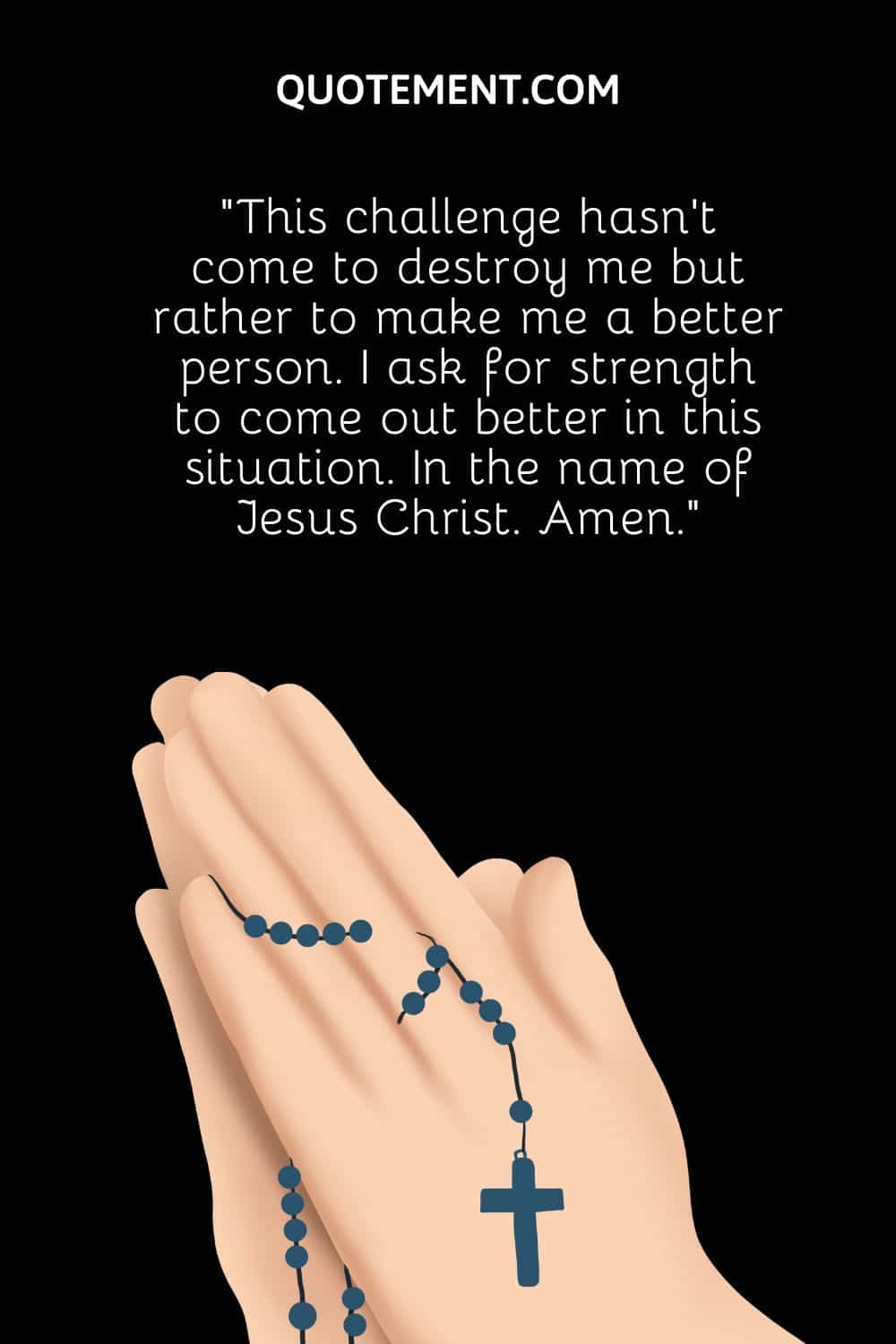 Prayers For Guidance During Difficult Times
Powerful and encouraging God please help me through this difficult time prayers are especially needed when we feel lost. We trust God that He never leaves us alone.
Here's how you can pray for His divine guidance:
1. "In these vague moments, hear my prayers for guidance and strength, and let your unfailing love protect me against all works of evil. Oh God, grant me the assurance that I will still be able to enter your kingdom. In Jesus' name I offer this prayer. Amen."
2. "God, I am not sure which direction you have planned for my life. I appear to have reached a crossroads in which an important decision must be made. I pray that you give me the strength to press on in the midst of this decision. I also ask that the Holy Spirit guide me and help me navigate through a mirror I see dimly in right now. Amen."
3. "Lord, I thank you that your Word is a light to my path. Illuminate the lamp of your Word before me, and may the brilliance of your wisdom and understanding give me guidance each day. Help me make the right decisions that will bring you glory and honor during this season of my life. Let your name be praised forevermore in the name of your son Jesus. Amen."
4. "Dear Lord God, guard me against my anxious thoughts that may harm our relationship. Clothe me with your mighty power and protect me from anything that can corrupt my mind. Cleanse me of all my anxieties and allow me to be the bearer of your goodwill. These are my prayers for guidance and strength, Lord, and I offer them through your Son, Jesus. Amen."
5. "Lord God, answer my prayer for guidance with your very wisdom and help me realize the supreme importance of your mighty name. Help me do things according to your will and allow me to spread the good news that your kingdom brings as we all wait for your second coming. Help me be wise at all times and able to distinguish the differences between good and bad judgments. In the name of Jesus, I pray. Amen."
6. "Dear Father God, I praise you, and I acknowledge the truth that you are our one true king. Strengthen me with your wisdom Lord God, and give me the direction I need as I live my life here on earth. Hear my cry as I say these prayers for guidance and strength. Help me become more resistant during difficult times, as I know that my heart is anchored to yours. In the name of Jesus, I pray. Amen."
7. "Dear Lord, through these prayers for guidance and strength, I ask you to be with me along the way, even with all the struggles and worries I have. Allow your Holy Spirit to cleanse me of all negative thoughts and let your Son, Jesus Christ, be my ultimate role model when dealing with my problems and helping difficult people. Allow your peace and wisdom to clothe me against all works of evil in my mind. All these I pray in Jesus' name. Amen."
8. "Lord Jesus, I am faced with a very difficult dilemma. I have to make a tough financial decision, and it could have dire consequences if I choose wrongly. Give me the wisdom I need to make sound decisions. Help me invoke Godly principles according to Your word that Your servant may be well-equipped for every good work under the heavens. Through Christ, Your only begotten Son, my Lord. Amen."
9. "Lord, when I am uncertain about what I should do, show me your ways. When I don't know which way to turn, teach me and show me. In everything I do, I ask you to guide me. I want to trust you and I ask that you would protect me. In Jesus' name, Amen."
10. "Father, You are my ever-present help in times of trouble. When it seems like it's all over, I know You are there. Help me Lord, guide me when I'm lost. Show me the way to go, my dear Lord. Amen."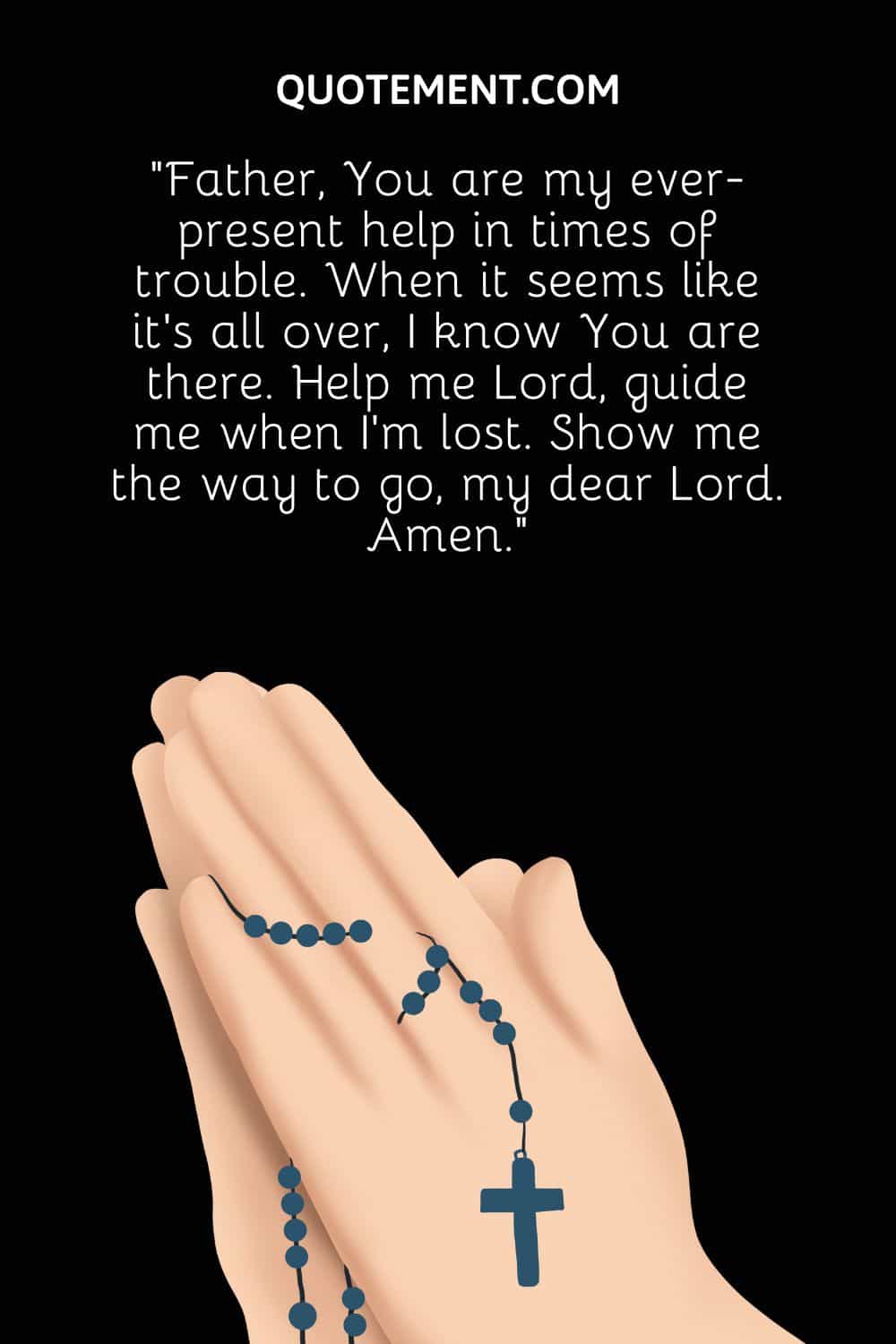 Prayers For Help During Hard Times
The Almighty is always here with us in our time of need. God's promises give us hope that although we might feel hopeless, He will see our pain and bring it to an end:
1. "God I can't do this any more. I can't keep putting one foot in front of the other. Can you take over, strengthen me, give me wisdom and help me make it through? Please help me remember that you will never leave me. Amen."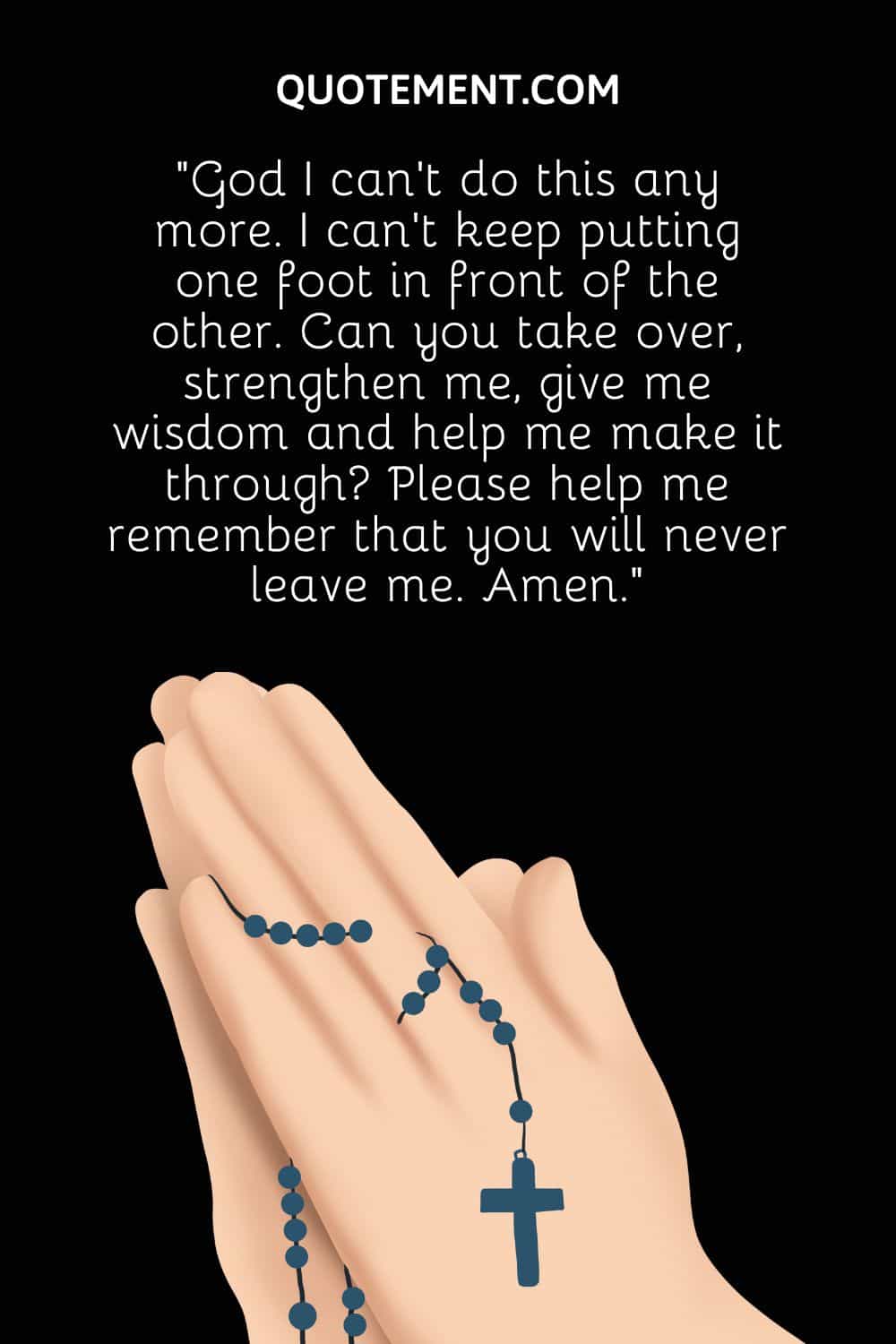 2. "Heavenly Father, I feel alone, beaten up, tears fill my eyes, I toss and turn at night. Words can't express the ache in my heart. I feel pain every day. I pray to you as I am desperate for help. I need to know that you care, that you love me.Be my refuge from pain, replace my distress with peace, and be my strength when I feel weak and find it hard to carry on. Help me not to fear the future but to boldly trust that you are in control when my emotions plunge me down, and when I am in despair. And times when I can't talk and don't know what to say, help me to be still and know that you are God. Be my comforter, my healer and bring me peace. In Jesus' name, amen."
3. "Father Lord, I feel like a million tonnes of weight is hanging over my head right now. I feel exhausted, stressed and overwhelmed, even though I have just woken up. Lord, I need you now more than ever. I can no longer pretend I can help myself alone. Lord, help me safely anchor myself to you. Help me recognize and accept your divine help when I see it today. Amen."
4. "Sweet Jesus, I come before you with my heavy heart. I ask for Your help. I lack hope. Lord, please grant me Your eternal hope. Father, without You, I am nothing, and without You, I cannot face these obstacles. Lord Jesus, when I lose hope, help me remember that your love is greater than all my disappointments, and your plan for my life is better than my dreams."
5. "Lord Jesus, these are the times that test the faith of Your people. Like You teach in Your parable, so will grow in good soil, while others will be choked out. I ask that You continue to grant me the good soil of faith. Help me to continue to rely on You for all things. Let me always be quick to pray and ask for help, for You love to provide for us. Amen."
6. "God of all creation, I need some comfort right now. My heart is breaking. I've lost my loved one. My life feels kind of strange, all upside down. My words feel like they have no strength, I have lost my confidence. Some days I wake up, and for a moment I feel happy to be alive, but this is always followed by deep guilt for having those thoughts, and I sink again. Sorrow has kind of become a friend, a companion – ever-present. My prayer to you is that you will help grief do its work in me, and when it is done, I pray that the wound of loss will heal. I want one day to welcome these memories without this depth of pain. To welcome thoughts of my loved one with a small smile, with love. Please God, help me heal. Amen."
7. "Dearest God, the past few days have not been good to me. I feel as if everything is going wrong. I feel so worried, anxious, and afraid. This is probably the biggest difficulty I have ever had to face in my life. I feel that at any time, the weight of all my problems will crush me. Not a moment goes by that I don't think about the problems surrounding me. But Lord, You said in Your word not to worry about anything, but instead to pray and present my concerns to You with thanksgiving. Thank You, God, that I am able to have this chance to make my requests known to You. I cast those cares, fears, and worries to You, Lord. I lay my burdens down at Your feet. Thank You, Lord, for easing my burden."
8. "God, where are you? I am so worried. I feel anxious from the soles of my feet to the top of my head. Everything feels so big, so overwhelming, so insurmountable. Please help me get some peace. Give me peace that doesn't make sense, peace that I can't produce. Give me the peace of knowing you are with me and that you love me. May your peace guide my heart and mind in Christ Jesus. Amen."
9. "Father, thank You that even when all others leave and abandon me, You remain. Thank You that even when the ones I thought would be around forever choose to go, I can trust that you will stand with me. Father, I come to You with my cares and my worries concerning this trial I am facing. Would You remind me that I am not alone? Would You tell me that you care about this and its outcome? Father, I thank You for standing with me, and I receive your strength to stand another day. Thank you that I can trust you to rescue me from this and every trial I will face in this life. Amen."
10. "Heavenly Father, grant me the strength to endure all that has been happening in my life. Help me to be an over-comer and to rise above it all. Bless my family and me. Equip me, Lord, to pray for others and to be a blessing to those I encounter daily. In Jesus' precious name I pray, amen."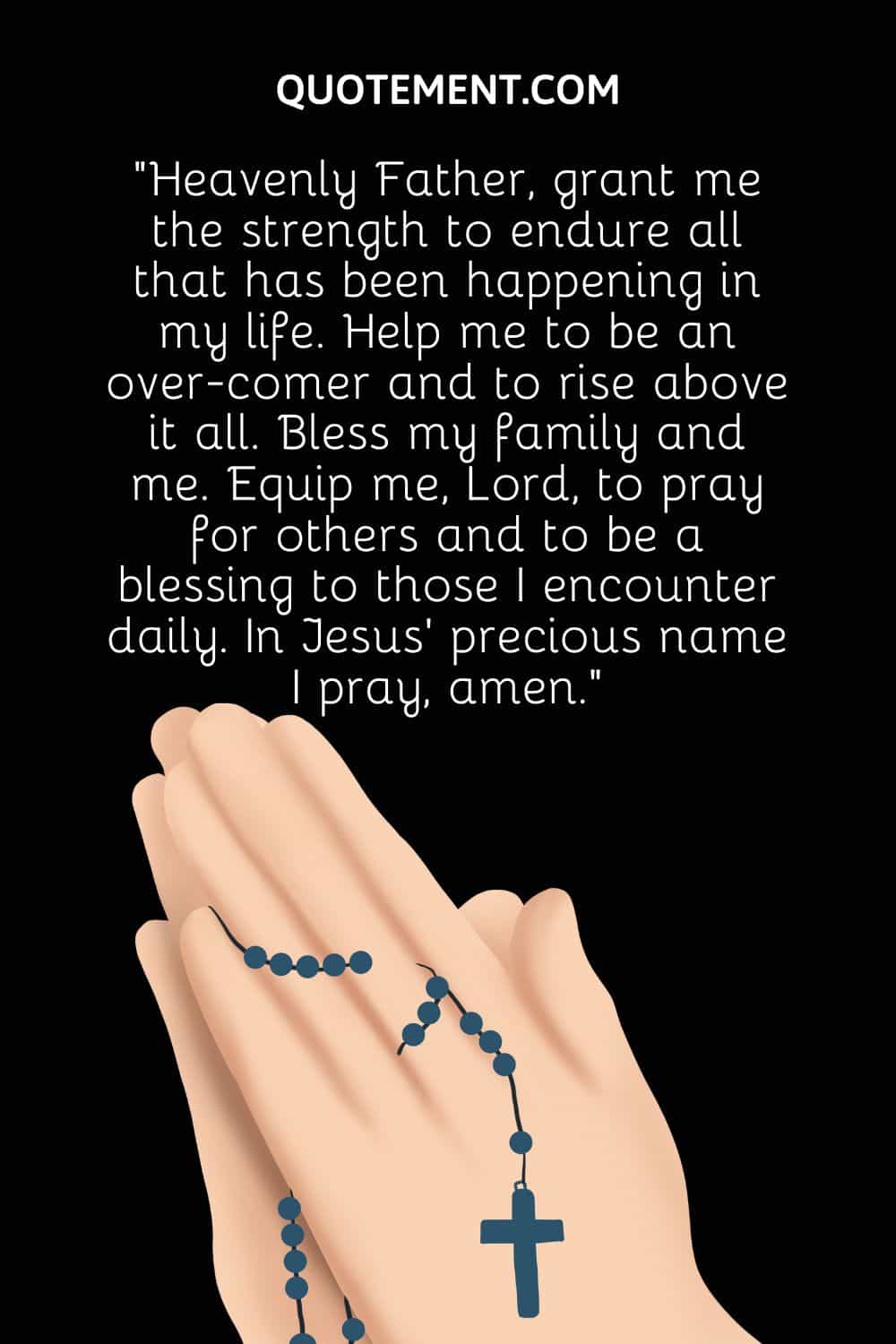 Prayers For Someone Going Through A Hard Time
This collection of God please help me through this difficult time prayers ends with these prayers for anyone who's going through a tough time. Our Lord will hear our prayers – no matter how desperate you may be feeling right now, remember that He never leaves you.
1. "I open my entire heart to you, dear Lord, pleading for your great mercy. Let your mercy find me at this critical time, and take me to the next level in my life. Amen."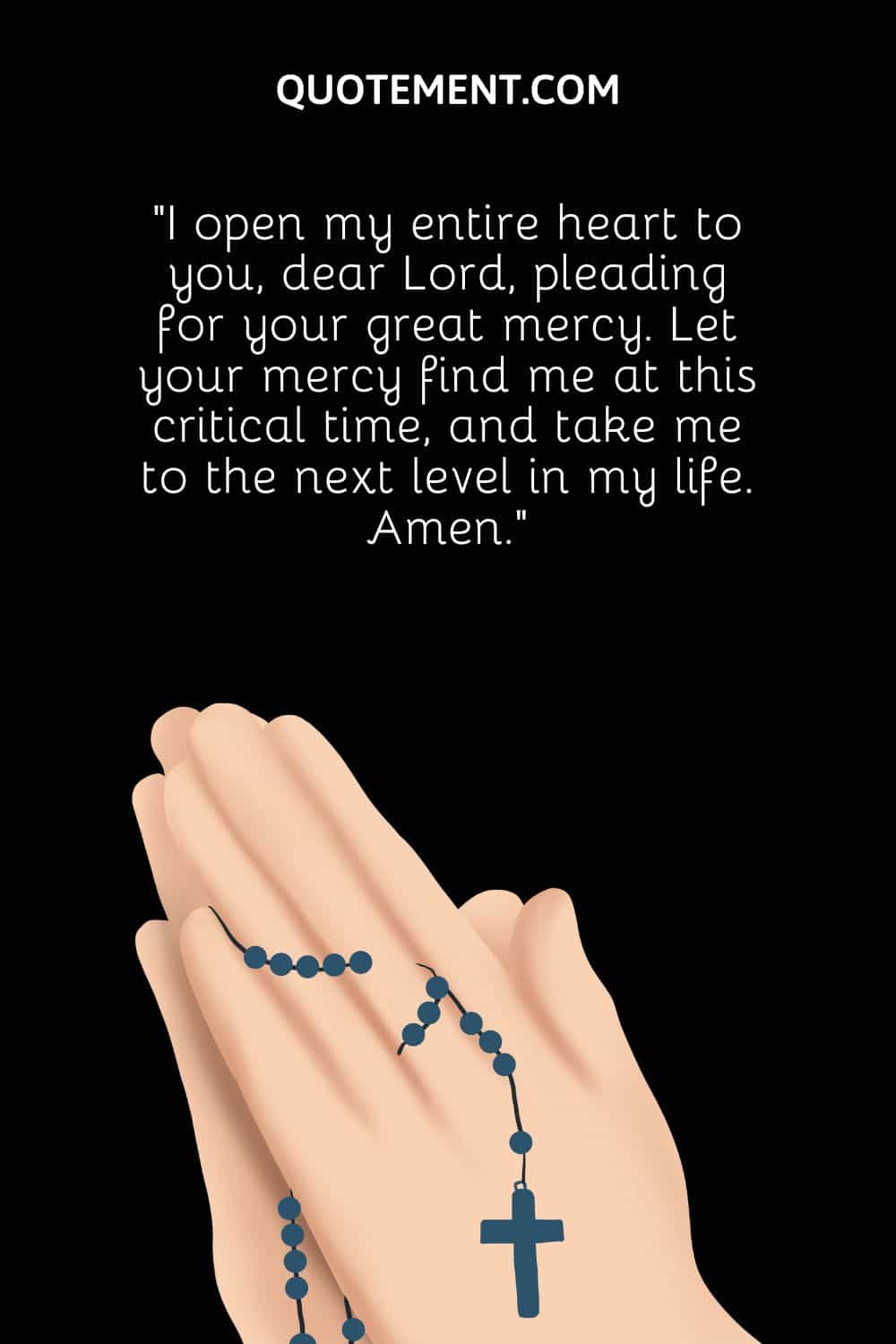 2. "Lord God, difficult times are the Devil's playground. Like a roaring lion, he lurks, waiting for the weak in spirit to make a misstep. He pounces on those without faith. He traps the unsuspecting with his cunning. O God, save us from the lion's jaws. Give us an enduring spirit so that we can become battle-hardened and ready to face the Devil in hard times. Amen."
3. "Father God, like any athlete in training, one has to be able to endure to finish the race and win the crown. Yet, this becomes very difficult as hard times test our faith and wear down our will to walk according to Your word. Lord, give Your saints the endurance and stamina to persevere through the most difficult days. Help us to rely not on bread alone, but on every word that proceeds from Your mouth. Amen."
4. "Faithful God, You led the Israelites out of Egypt through the Red Sea. You delivered Your people from their oppression by faithfulness to Your promises. You have promised us also that You would deliver all who call upon Your name. In this difficulty, I cry out to You. I invoke Your holy name to free us from these hard and trying circumstances, so that You may deliver Your servant once and for all. Amen."
5. "Lord of All, I would not be able to persevere through difficult periods of my life were it not for Your gift of hope. For if You have not risen from the grave, why does anything matter? Would we not be pitied above all men for our beliefs? Continue to impart unto us the hope and joy of Your salvation. Let our eyes ever gaze toward the horizon, confident in Your promise that You will come again to deliver us and end all misery. Amen."
6. "Heavenly Father, I am tired, and I am worn. I feel pressure from all of these circumstances surrounding me, but I thank You that I am not, and they will not crush me. I am unsure of how this can or will work out for my good, but I say no to discouragement and despair in Jesus' name. I feel like everything and everyone is coming against me, but Father, I thank you that I never stand alone. Thank you for being with me through it all, both as my friend and my advocate. Thank you for picking me up every time in my life, especially when hard times knock me down. I will rest in You and Your finished work at the cross. Amen."
7. "Lord Jesus, it is a very hard time right now with my family. We are normally in harmony with one another, but now we are not at peace. There is tension, mistrust, and distress. Were it not for Your grace, I would have lost all hope. But You are a God of new beginnings. You create all things afresh by the power of Your holy word. Therefore, speak life and peace back into my family, and bring these hard times to a peaceful end. Amen."
8. "Father, I come to you worn and weary from the hard times I have walked through recently. I come to you seeking your shelter where I know I can find security and rest in your shadow. Father, you are mighty. I know my circumstances are no match for Your great power. Thank You that You are my safe place. Thank You that I am always welcome beneath Your wings. Thank You for being a fortress I can trust. Father, I know you can save me from these trials. I will wait patiently for You to help me work things out for my good. You have always been faithful to me. I will rest in Your faithfulness. Amen."
9. "O Lord, You are a good and gracious Savior. You are a God of promises and covenants. You do not let us walk aimlessly through difficult times; You give us something to place our hope in. Lord, help us cling to Your promise of salvation and eternal life. Let us lift our eyes to Christ crucified for the life of the world. Let the earth shake and crumble so that the hard times may pass and Your throne can be established. Lord, in Your goodness, hear my prayer. Amen."
10. "Your word has promised that when I go through the fire, you'll be with me, when I go through flood, it shall not overshadow me. Let not the flame of these challenges kindle upon me. In Jesus' name."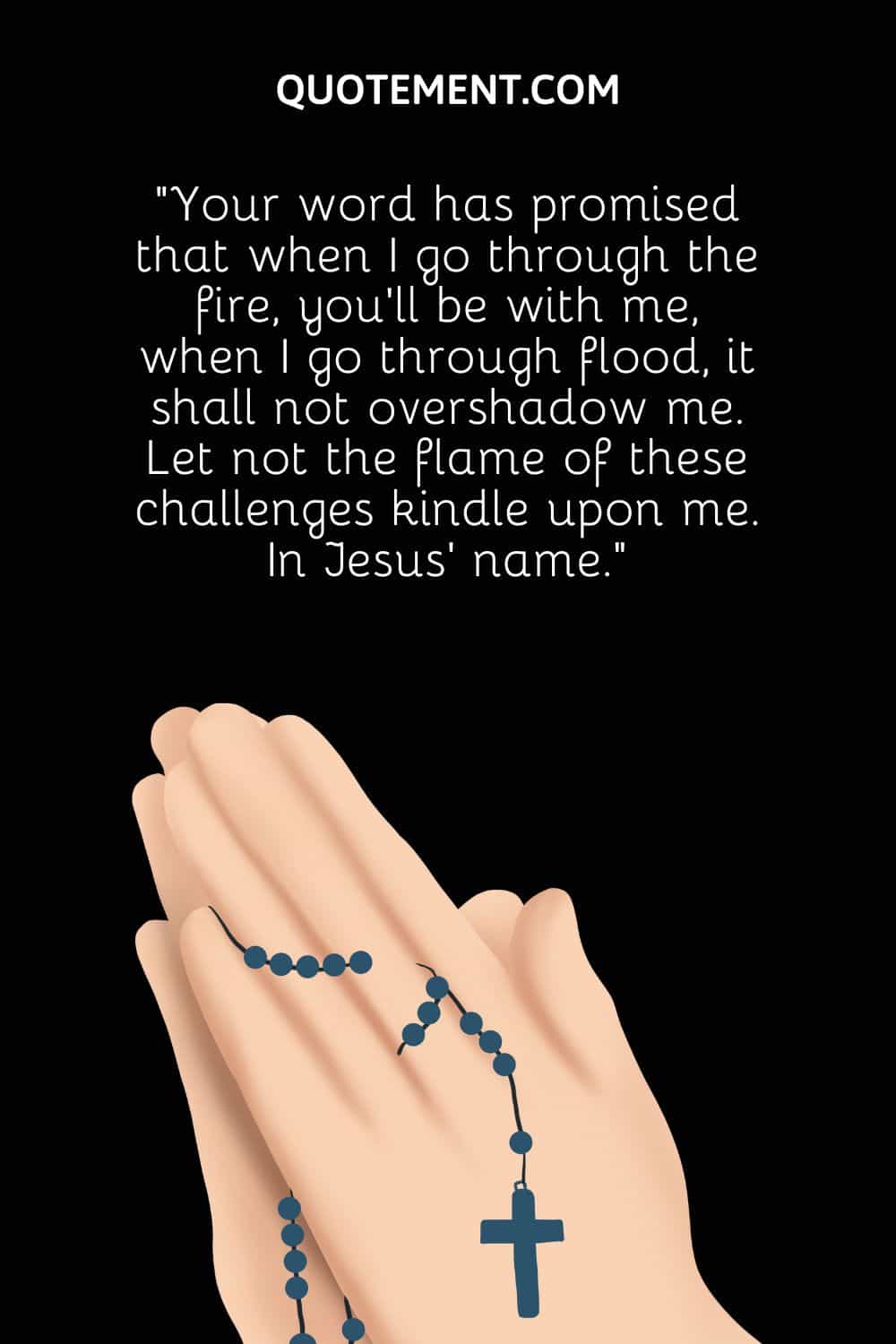 Final Thoughts
Let us remember once again:
"God is our refuge and strength, an ever-present help in trouble." – Psalm 46:1
Finally, I hope my collection of 50 God please help me through this difficult time prayers has helped you connect with God and explain whatever that you're going through.
You can use them as morning prayers or daily prayers, or the way you prefer.
Of course, if you liked this post, feel free to share it with your family members, friends or anyone who may need to let go of their worries.
At the end, I also hope you enjoyed my completely unique and printable images that I've made for this post!
Until next time! May God bless you.
Read next: 90 Inspirational God Give Me Strength Quotes For Hard Times