If you're surrounded by fake people, or even worse, fake friends, you are in trouble.
So why would reading quotes about fake people be of any help to you?
Well, these nuggets of wisdom may actually help you in several ways, but let's name three main ones:
First, they will offer you some great inspiration to rediscover the importance of being real.
Second, quotes about fake friends will help you clarify what you do or don't want in a friend.
And third, they will remind you that you are worthy and deserve better for yourself.
So the goal is? To warn you to keep your eyes open and identify between those who are real and those who aren't.
I had so many 'friends' who turned out to be master manipulators who betrayed my trust and broke my heart.
So I collected these fake people quotes from various online sources to teach you how to see through their phony intentions and throw those fakers out of your life.
Let's start!
10 Greatest Fake People Quotes
1. "Fake people talk about other people being fake. Real people worry about their business, and no one else's." — Ziad K. Abdelnour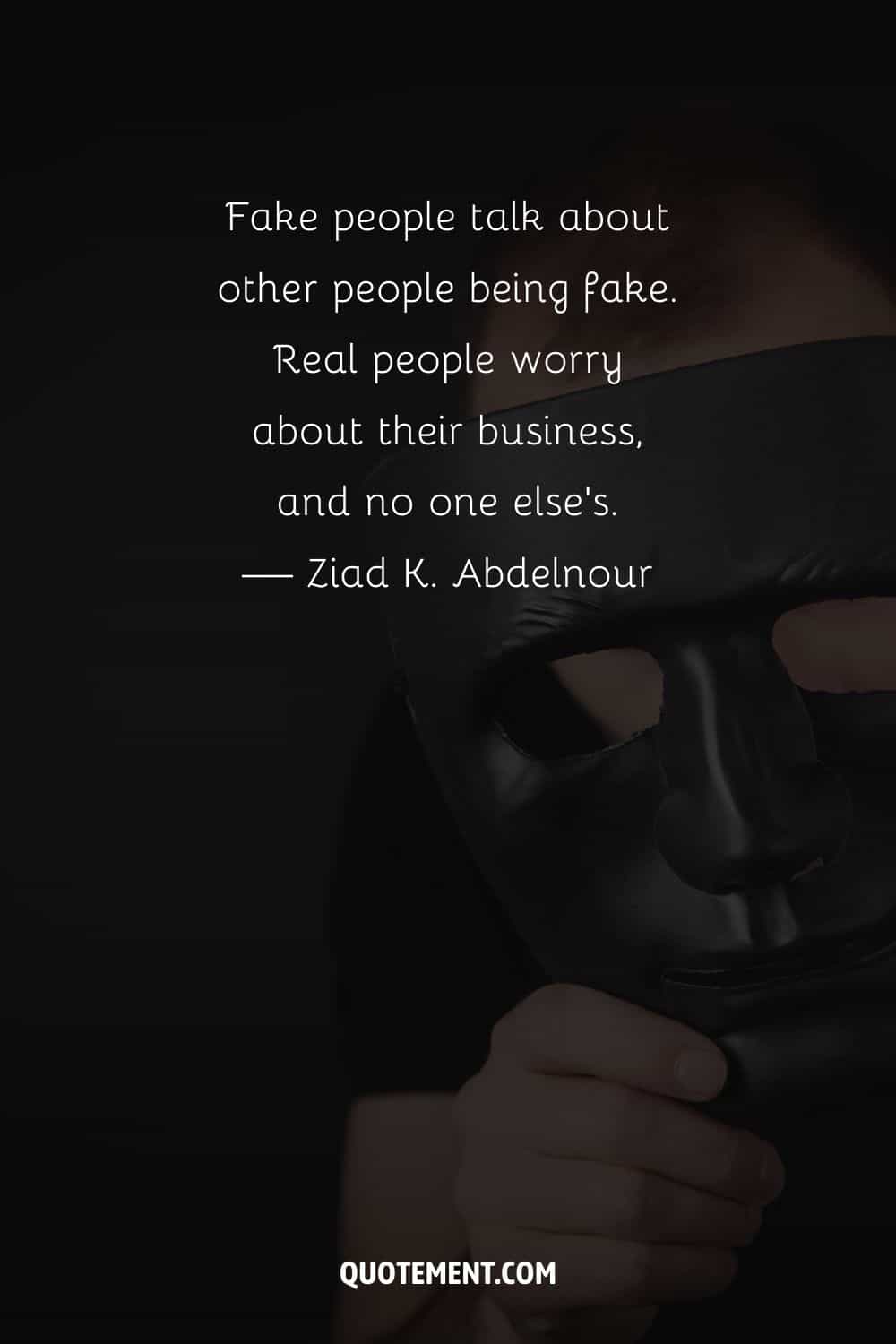 2. "Fake people are like soap bubbles, they pop out when the sun shines brightly." ― Chiranjude Bird
3. "Being fake is so common now that being real is seen as offensive." — Chris Ruden
4. "Life is too short for fake butter or fake people." — Karen Salmansohn
5. "Fake people are like costume jewelry: They look great for a while, then all of a sudden, their true selves 'Shine' thru." — Nitya Prakash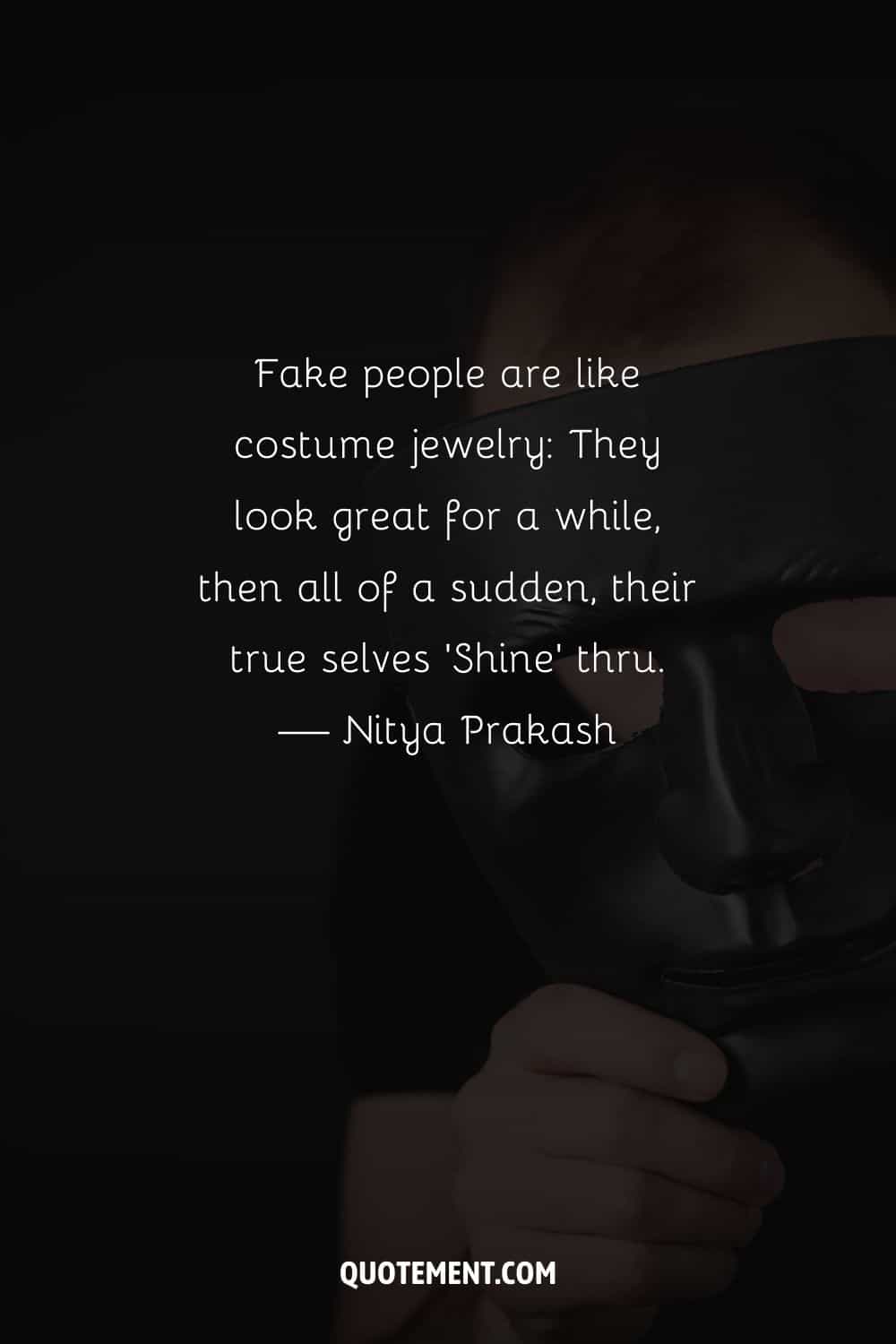 6. "Fake people take from you. Wise people simply give."— Maxime Lagacé
7. "Pay close attention to the people who don't clap when you win." ― Leonardo DiCaprio
8. "Most people want to see you do better, but not doing better than them." — London Mond
9. "A sign of wisdom: you avoid people with bad vibes." — Maxime Lagacé
10. "Fake people have an image to maintain. Real people just don't care." — Hachiman Hikigaya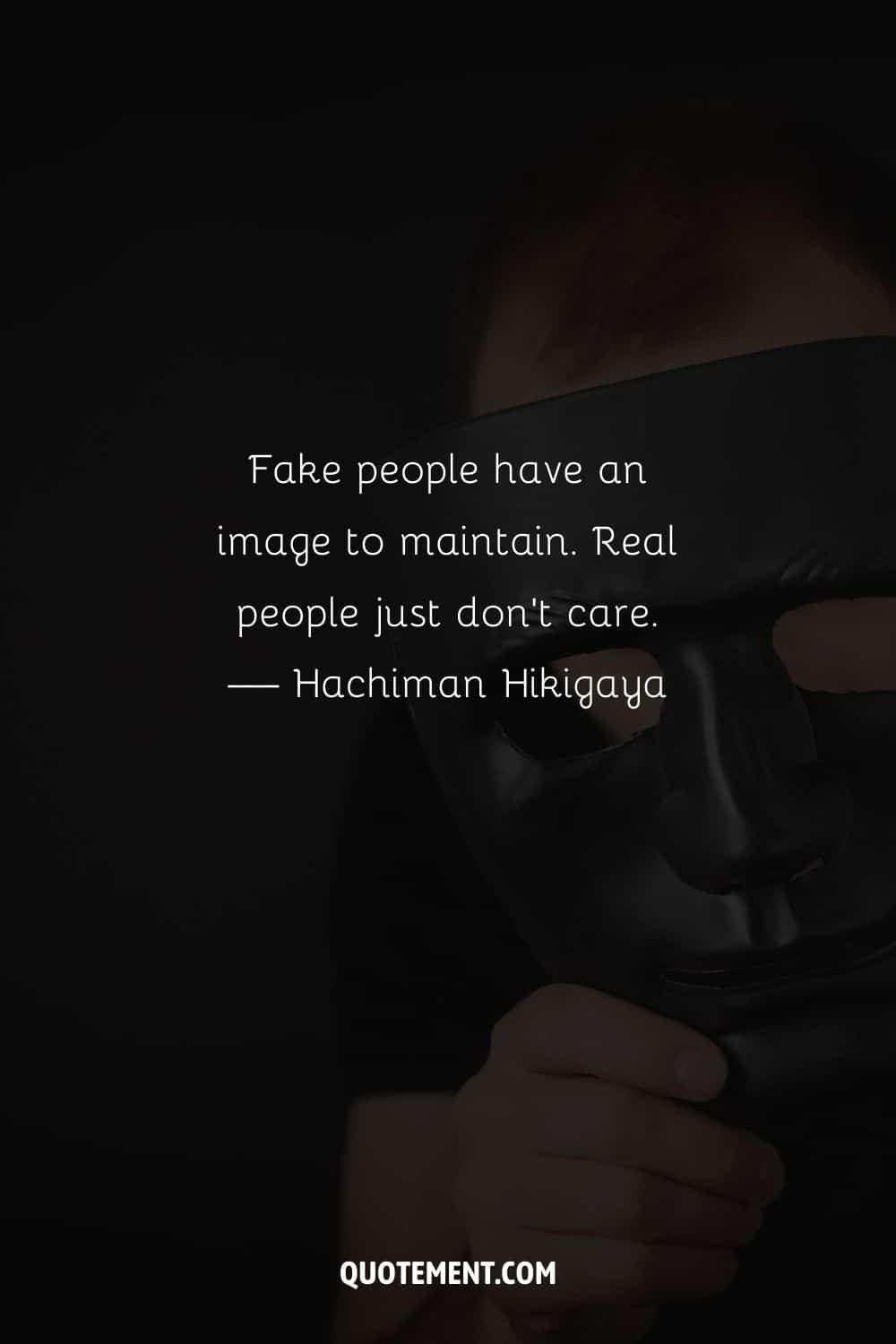 Being Fake Quotes To Wise You Up
1. "In the beginning, some people try to appear that everything about them is 'in black and white,' until later their true colors come out." ― Anthony Liccione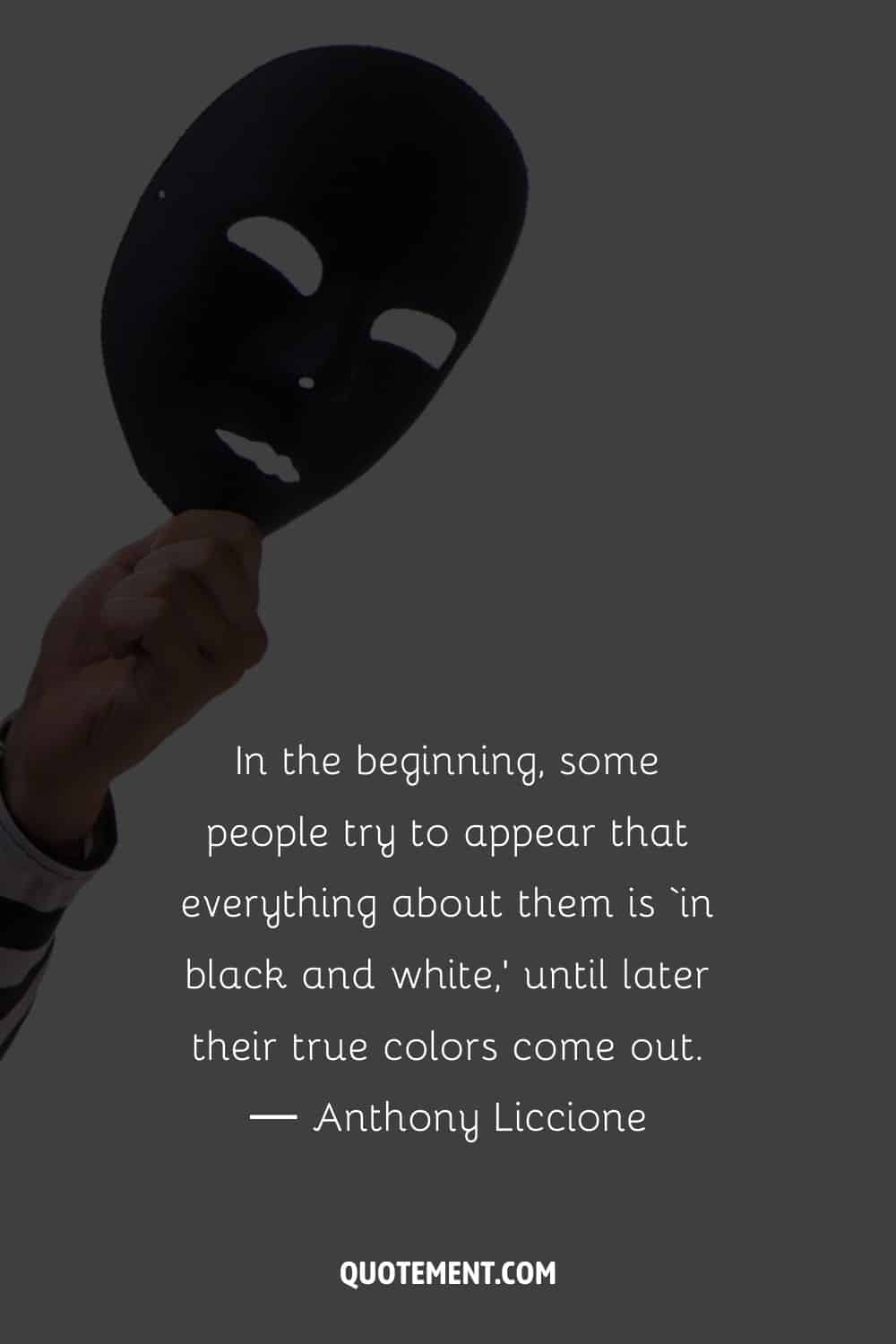 2. "Are you sincere? Are you yourself? Are you as you look? You don't have a mask on your face? You speak what you think? Then you are real, then you are not fake!" — Mehmet Murat ildan
3. "When people are two-faced, the only thing you know for sure is that you can't trust either of them." — Unknown
4. "If your actions are dictated by who might be watching, they'll never be genuine — and neither will you." — Vincent H. O'Neil
5. "Always sleep with one eye open. Never take anything for granted. Your best friends might just be your enemies." — Sara Shepard
6. "People show their true colors unintentionally; pay attention." — Unknown
7. "When you become successful, you will get many false friends and true enemies." — Unknown
8. "The only wolves we got to fear are the ones that wear manskin." — George RR Marin
9. "You can't always go by actions because some people will ACT like they love you just to get what they want from you." — Sonya Parker
10. "A person's character is shown through their actions in life, not where they sit on Sunday." ― Navonne Johns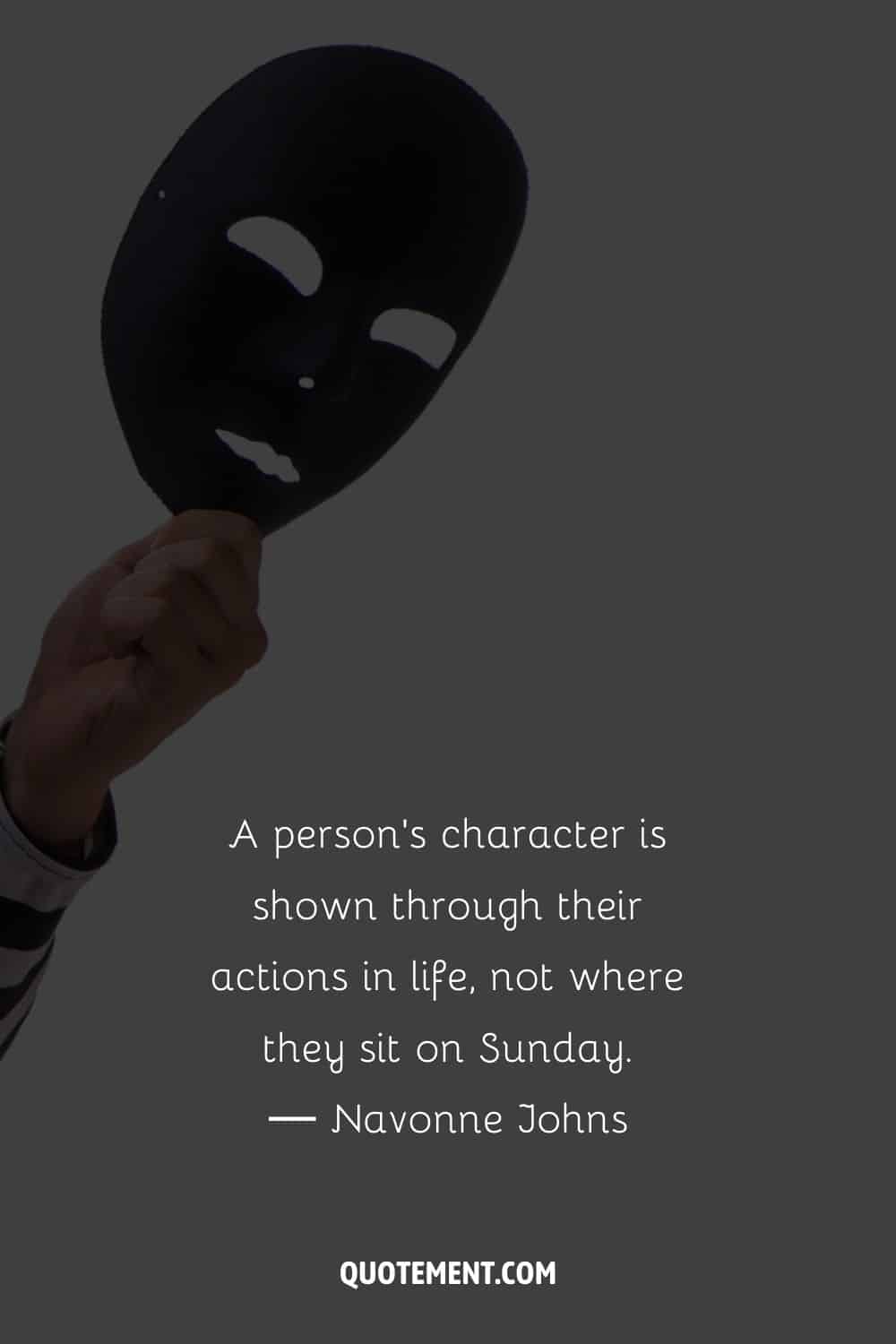 11. "Make sure the lions you roll with aren't snakes in disguise." — Genereux Philip
12. "People wear masks of lies so that they look attractive, so be careful." — Muhammad Saqib
13. "If they talk about other people with you, they will talk about you with other people." — Carlos Wallace
14. "You'll be surrounded by many so-called well-wishers during your good times but there'll be only a few ones around you in your bad times." — Anurag Prakash Ray
15. "Incessant smiling is one of the deadly tools used by someone whose intent is to make others cry." ― Michael Bassey Johnson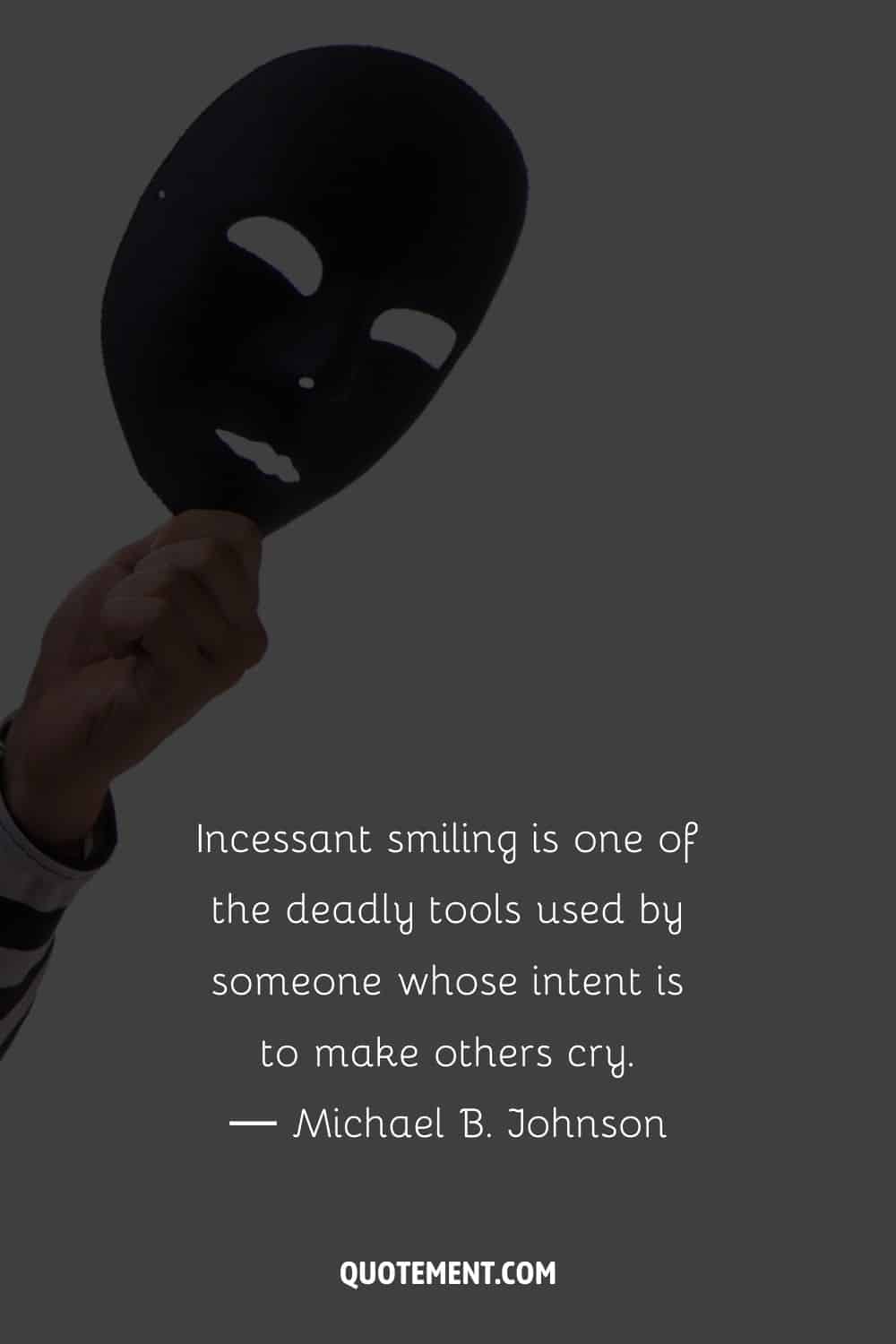 16. "Act like you trust people, but don't." ― Mayank Chawla
17. "We sometimes wish for the prosperity of someone who is secretly praying for our downfall." ― Mokokoma Mokhonoana
18. "When you have to find who are the real ones then look at their heart not face." — Unknown
19. "Narcissists are consumed with maintaining a shallow false self to others. They're emotionally crippled souls that are addicted to attention." ― Shannon L. Alder
See also: 210 Powerful Karma Narcissist Quotes About Life And Love
20. "Sometimes it is good to have fake people because then you will understand who are the real ones." — Unknown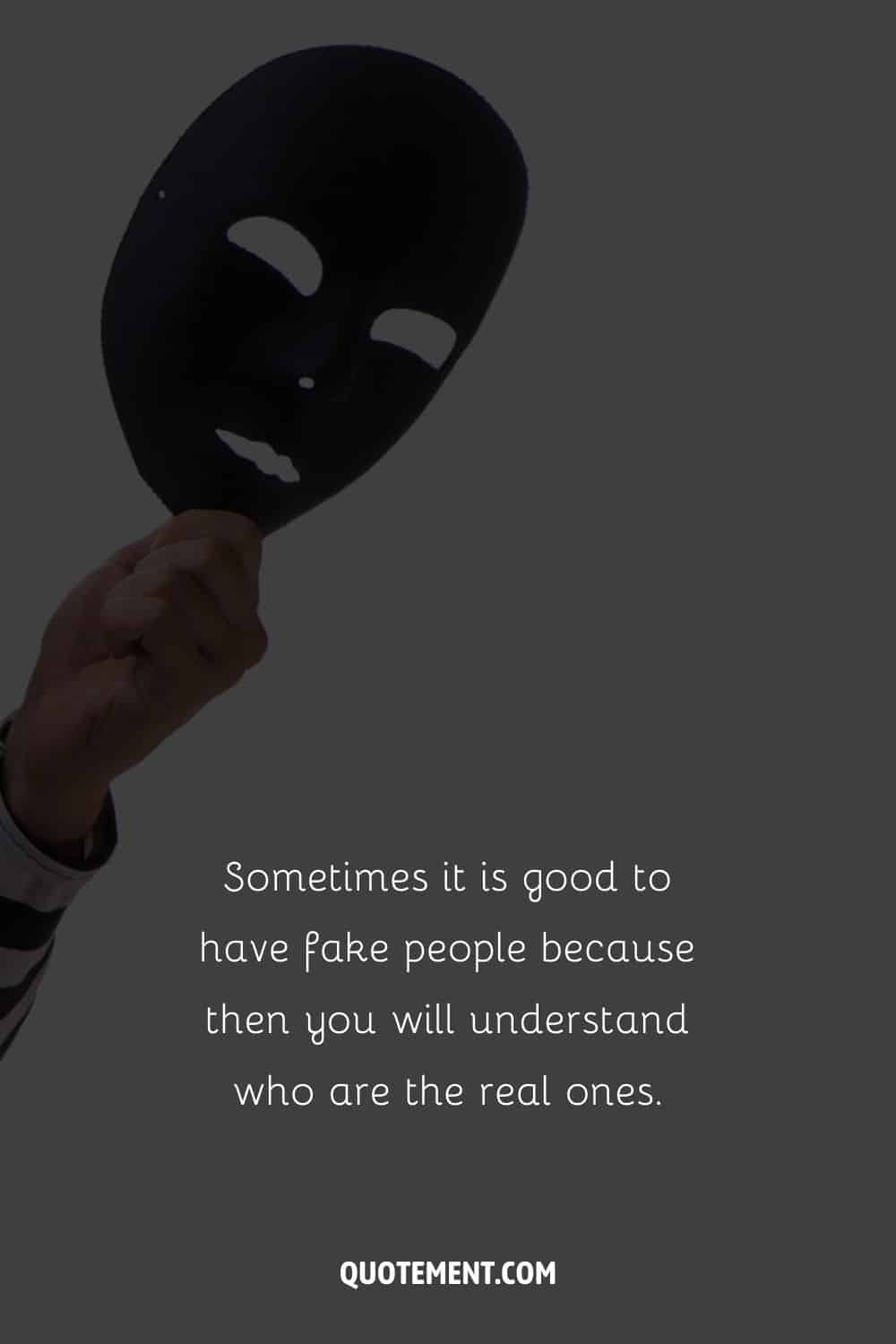 Fake Friends Quotes
1. "True friends esteem you of greater worth than you feel deserving. False friends demand you prove that worth." ― Richelle E. Goodrich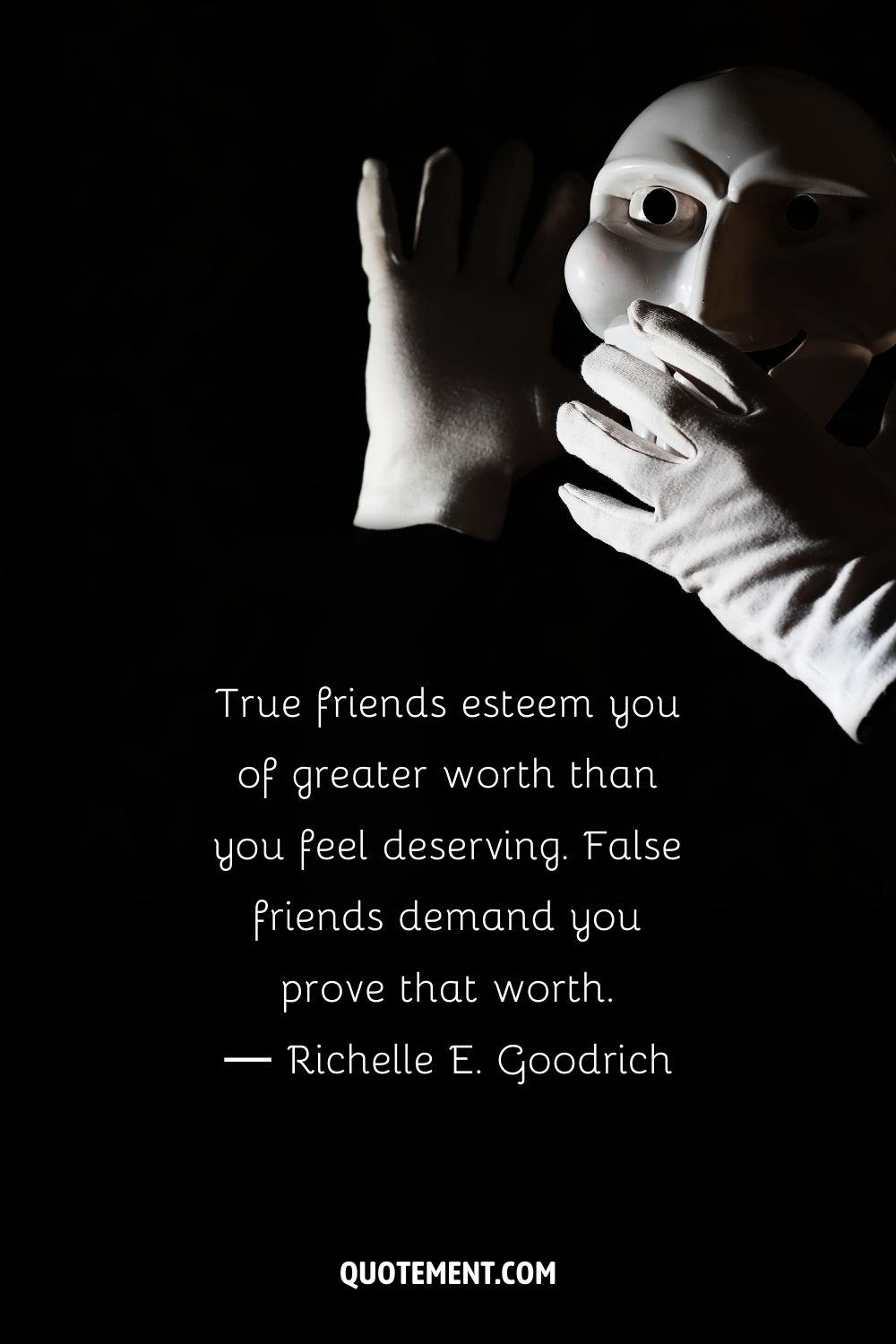 2. "Fake friends will bring you down no matter what's happening, and they'll do it in a way that you may not even realize consciously." — Mandy Hale
3. "One fake friend can do more harm than 10 enemies… Be smart choosing your friends." — Ziad K. Abdelnour
4. "False friendship, like the ivy, decays and ruins the walls it embraces; but true friendship gives new life and animation to the object it supports." — Richard Burton
5. "Crocodiles are easy. They try to kill and eat you. People are harder. They pretend to be your friend first." — Steve Irwin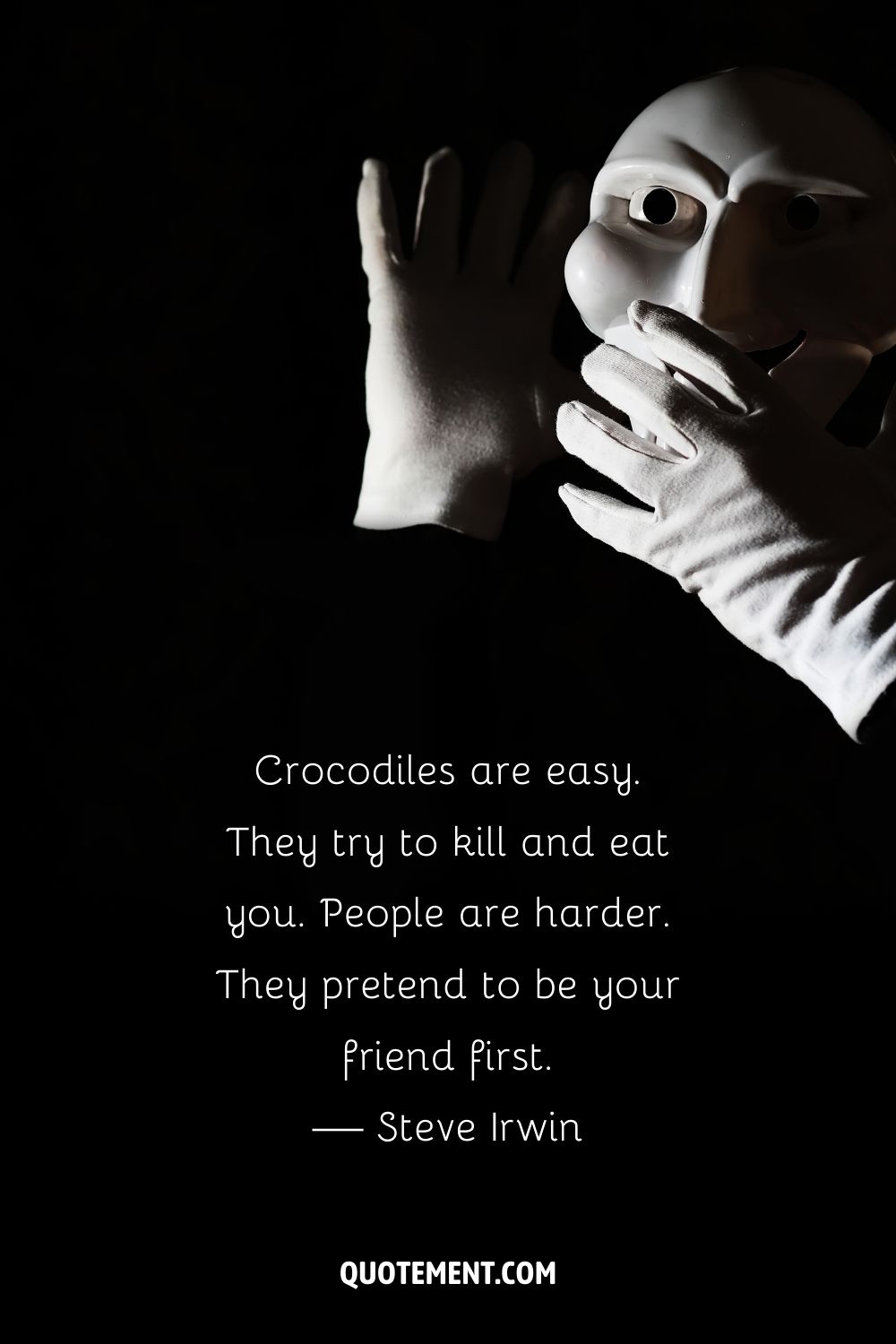 6. "A friend to all, is not a friend to anyone."— Mike Skinner
7. "There will always be real friends and fake friends. It is difficult to distinguish the two because both will appear the same in the beginning but so different at the end." ― Rita Zahara
8. "We never lose friends, fake ones are exposed." ― Carlos Wallace
9. "A friend who stands with you in pressure is more valuable than a hundred ones who stand with you in pleasure." — Edward G. Bulwer-Lytton
10. "Fake, selfish friends are around when they think you're cool. True friends are around even when they think you're a fool." — Unknown
11. "A false friend and a shadow attend only while the sun shines." — Benjamin Franklin
12. "An insincere and evil friend is more to be feared than a wild beast; a wild beast may wound your body, but an evil friend will wound your mind." — Buddha
13. "Real friends celebrate your wins. Fake friends downgrade them." — Dan Go
14. "What greater wound is there than a false friend?" — Sophocles
15. "Fake friends are like shadows: always near you at your brightest moments, but nowhere to be seen at your darkest hour." — Khalil Gibran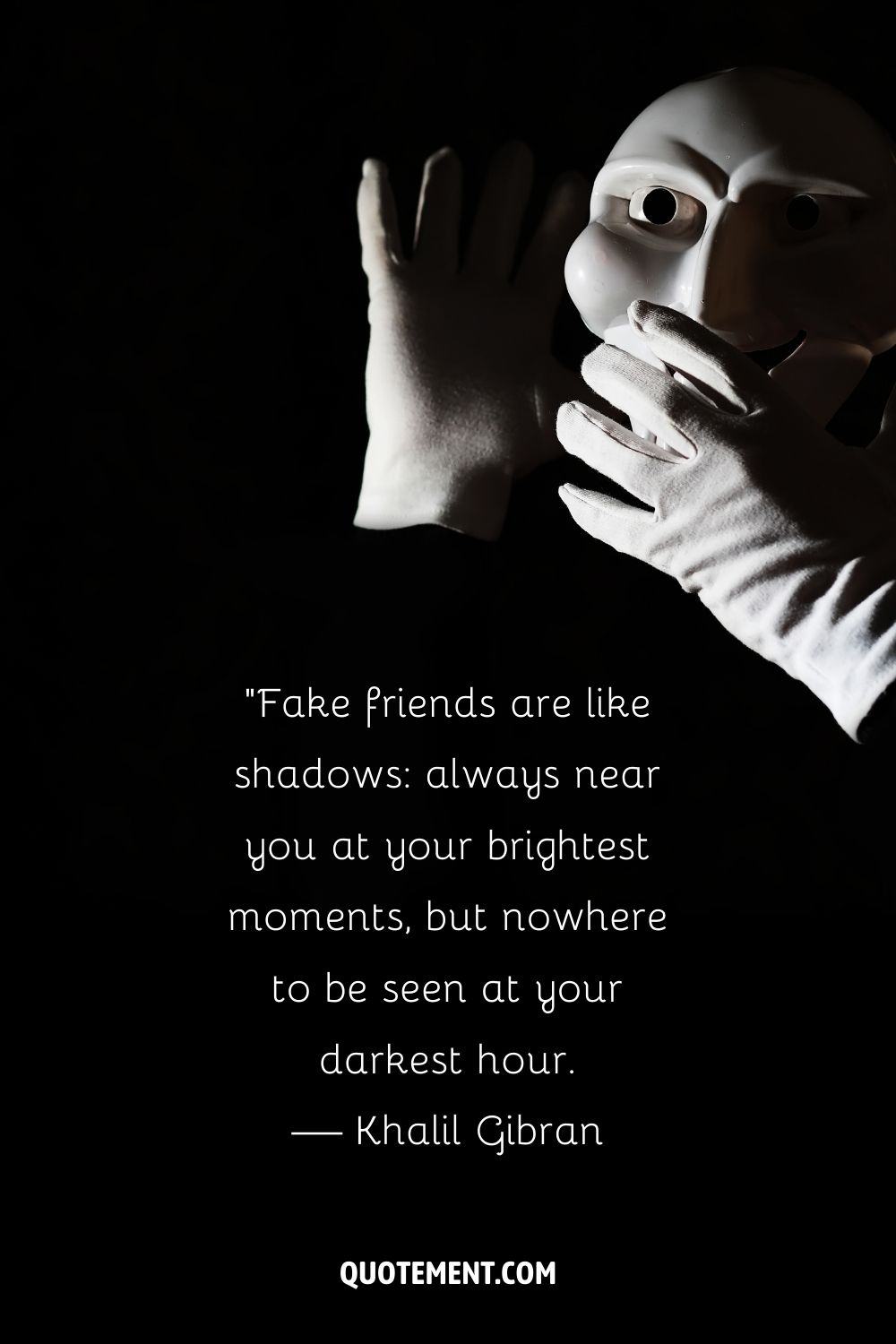 16. "A genuine enemy is more useful than a fake friend." — Mokokoma Mokhonoana
17. "It is only the great-hearted who can be true friends. The mean and cowardly can never know what true friendship means." — Charles Kingsley
18. "Fake friends: once they stop talking to you, they start talking about you." — Unknown
19. "Fake friends believe in rumors. Real friends believe in you." — Yolanda Hadid
20. "In the end, we will remember not the words of our enemies, but the silence of our friends." — Martin Luther King Jr.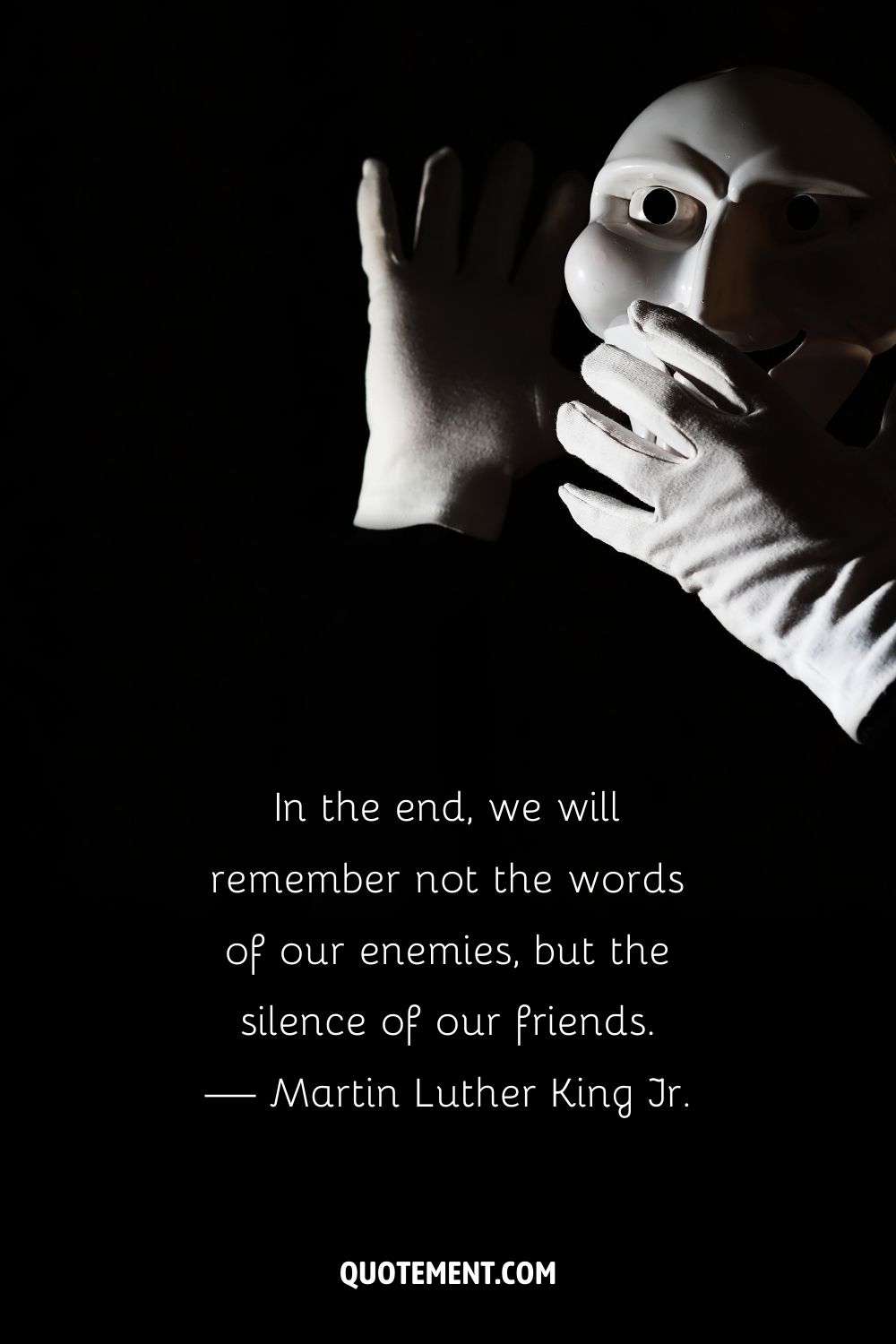 See also: Hard Times Reveal True Friends: 80 True Friendship Quotes
Inspirational Quotes About Fake People
1. "You have to shine a light on shady people. The future is too bright to sit under their shade. The truth will eventually expose the fake!" ― Tony A. Gaskins Jr.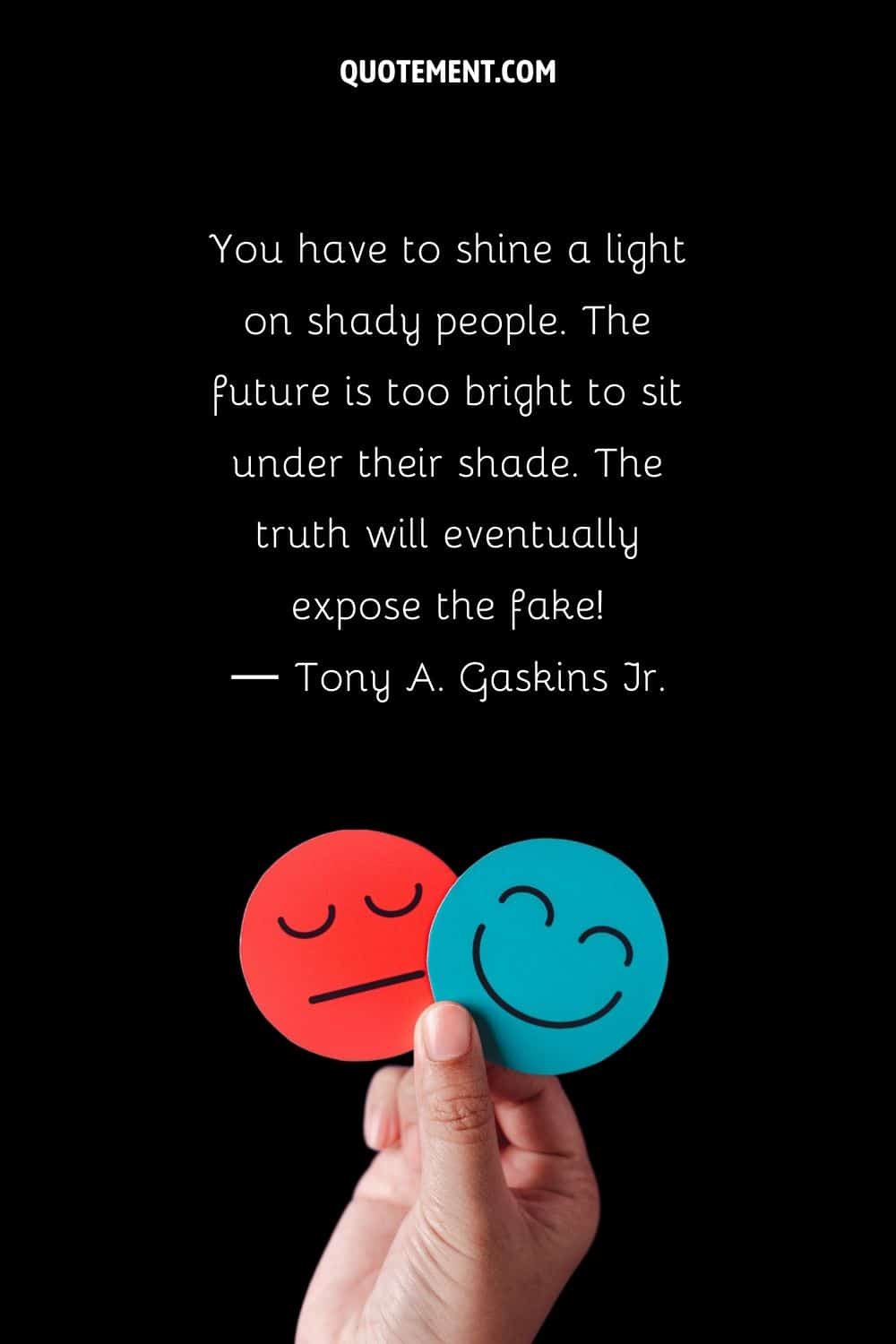 2. "Lots of people want to ride with you in the limo, but what you want is some who will take the bus with you when the limo breaks down." — Oprah Winfrey
3. "Over a small misunderstanding God will expose how people really feel about you…" — Gugu Mofokeng
4. "Just be honest with who you are. Don't pretend to be something you're not. Don't be a phony. Walk your talk. That's how God works, so doing it is emulating how Source works." — Wayne Dyer
5. "Don't pretend to be what you're not, instead, pretend to be what you want to be. It is not pretense, it is a journey to self-realization." — Michael Bassey Johnson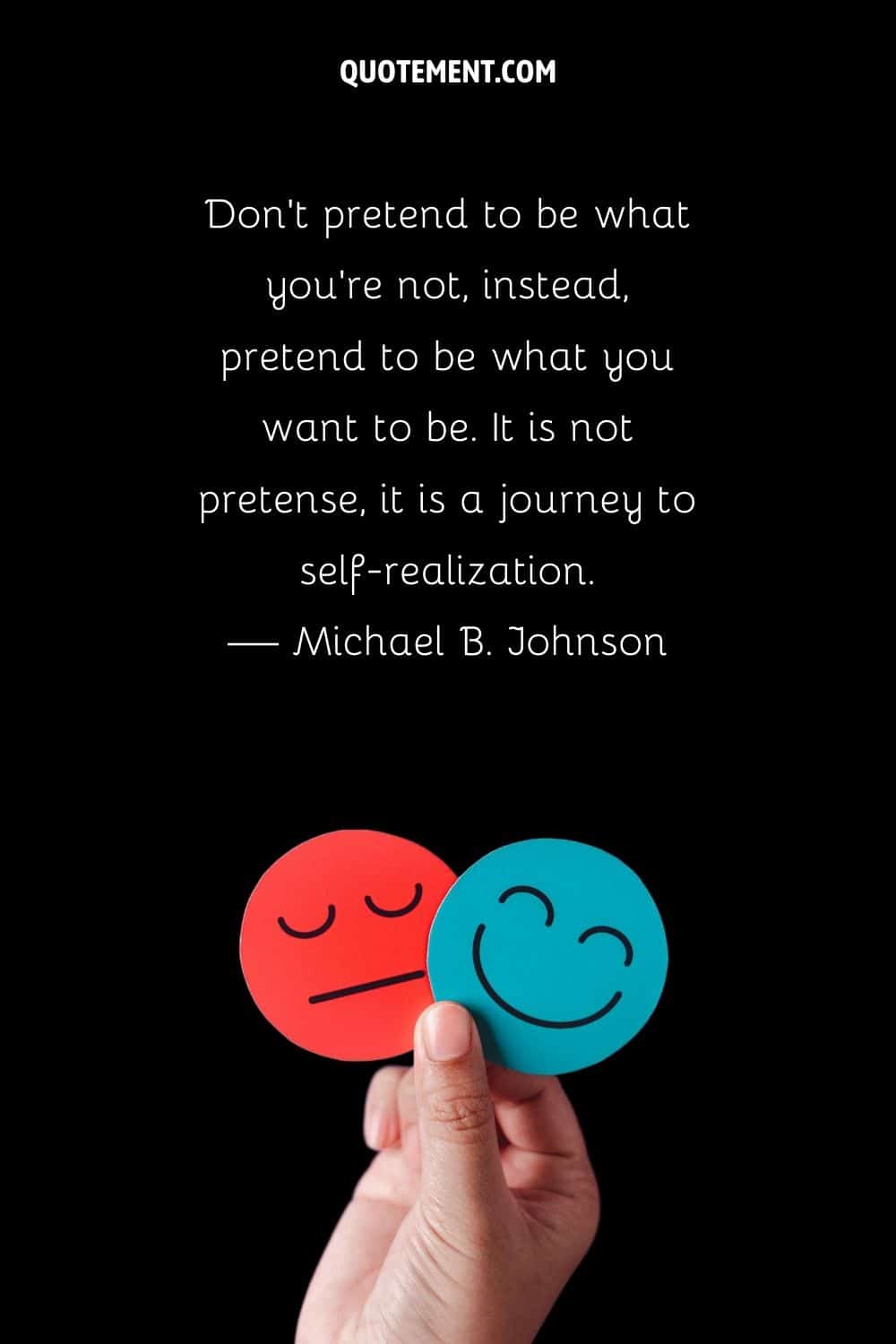 6. "Shady people can be role models, use them as examples of what not to do." — Unknown
7. "Spend your time with those who love you unconditionally, not with those who only love you under certain conditions." — Suzy Kassem
8. "Life is full of fake people but before you decide to judge them, make sure you're not one of them." — Unknown
9. "Tell people how it is, be real, and be honest. If you see something wrong make sure you speak up. Being this way will naturally eliminate the snakes and fakes." — John Maiorana
10. "I prefer to surround myself with people who reveal their imperfection, rather than people who fake their perfection." — Charles F. Glassman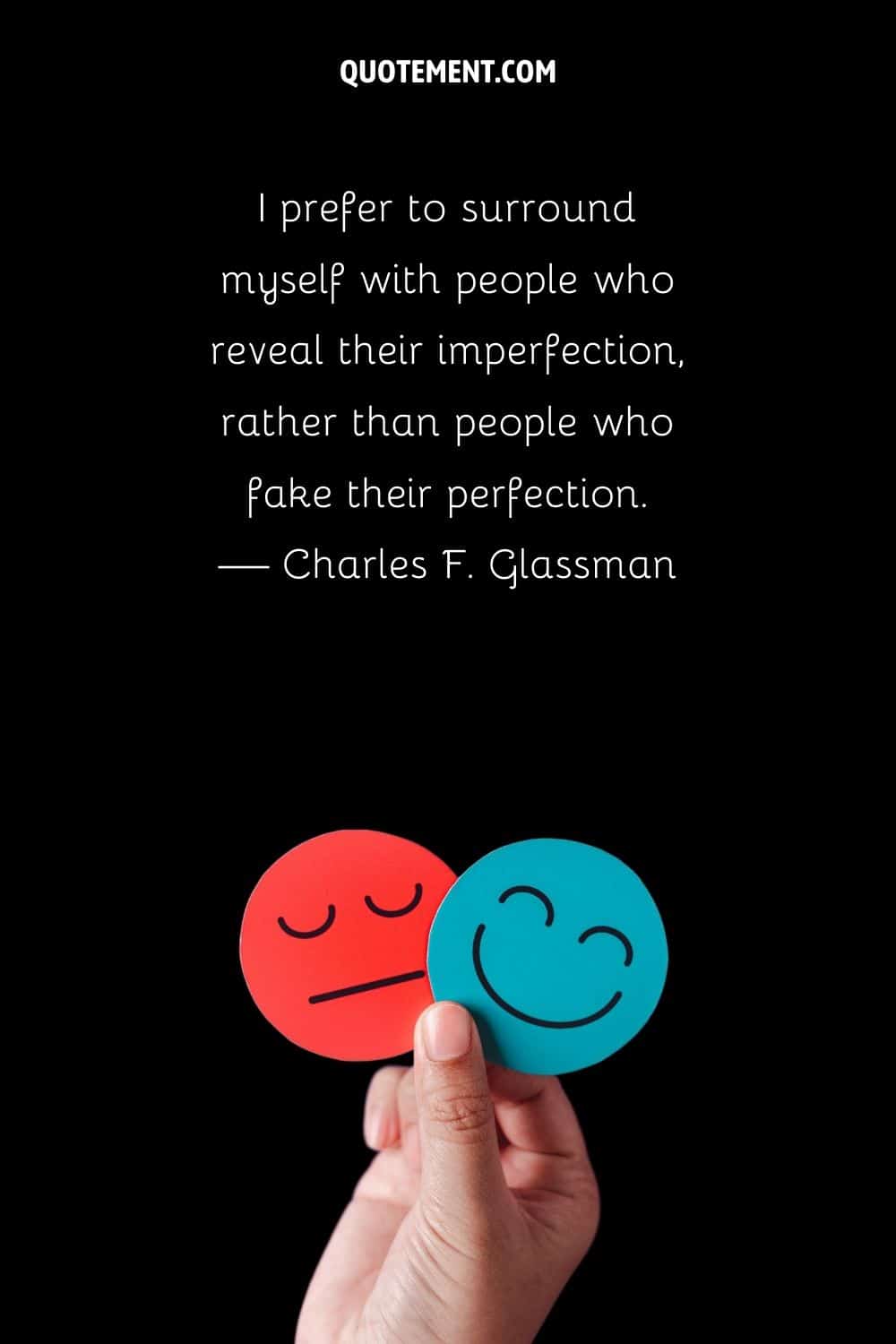 See also: 90 Small Circle Quotes To Share With Your Best Friends
11. "When you see the genuine, you don't deal with the fakes anymore." — Nima Davani
12. "Sometimes those who don't socialize much aren't actually anti-social, they just have no tolerance for drama and fake people." — Reddioui
13. "Share your weaknesses. Share your hard moments. Share your real side. It'll either scare away every fake person in your life or it will inspire them to finally let go of that mirage called 'perfection'.'" — Dan Pearce
14. "Some people think that the truth can be hidden with a little cover-up and decoration. But as time goes by, what is true is revealed, and what is fake fades away." — Ismail Haniyeh
15. "When people act shady, allow them. When people betray your trust, allow them. But never, ever sink to their level…" — Unknown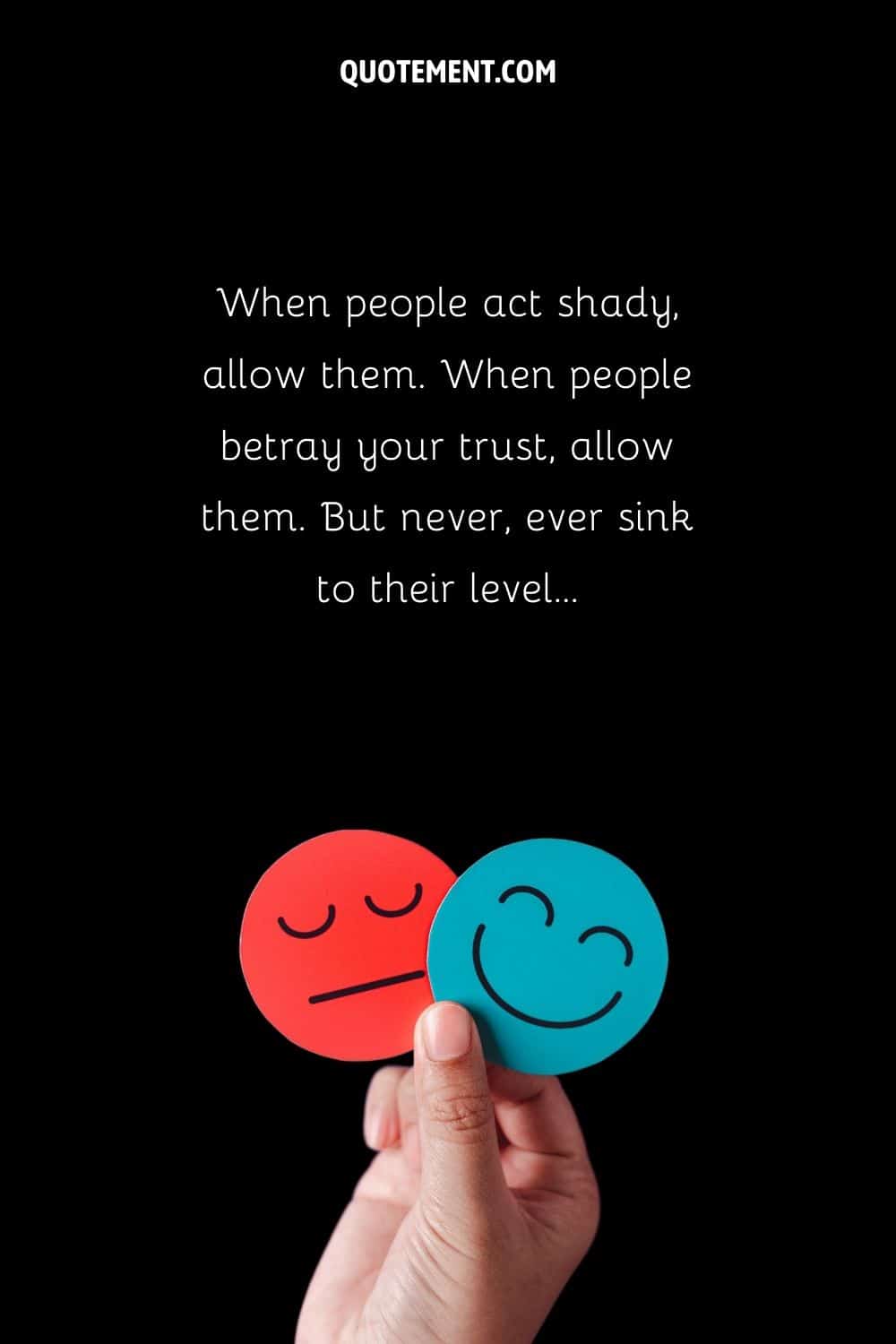 16. "Being fake in life is going to attract you fake reactions, fake cr*p, and fake friends. Just be real with yourself and others and things will be fine." — Derrick Robinson
17. "Trolls and haters are only distractions from your greater purpose. When you achieve your goals and success, not only will the trolls and haters be forgotten, but they will definitely be looked upon as the biggest fools." — Kaitlin Gow
18. "Shady people will expose themselves. Don't disrupt your happiness by trying to be Sherlock Holmes. Just sit back and pay attention. The truth will surface!" ― Tony Gaskins
19. "Not everyone will have the heart you have. Not everyone will appreciate you and what you do for them. It won't be easy having a kind heart in a cruel world. Be prepared." ― Tony Gaskins
20. "Shady people show their shade eventually, but that doesn't mean you have to sit under it. Be the sun." — Unknown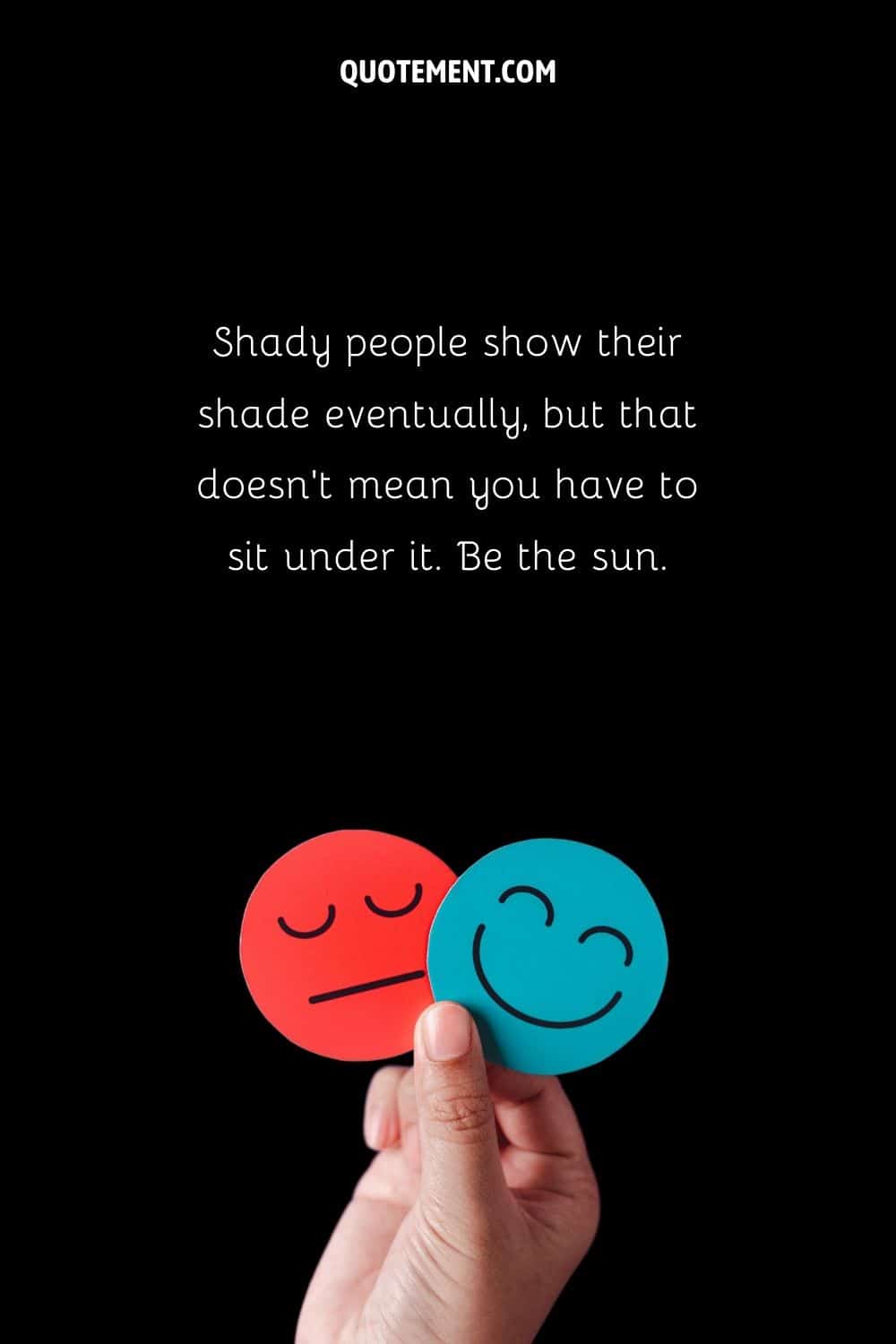 Life Quotes About People Being Fake
1. "Society has become so fake that the truth actually bothers people." — Chanda Kaushik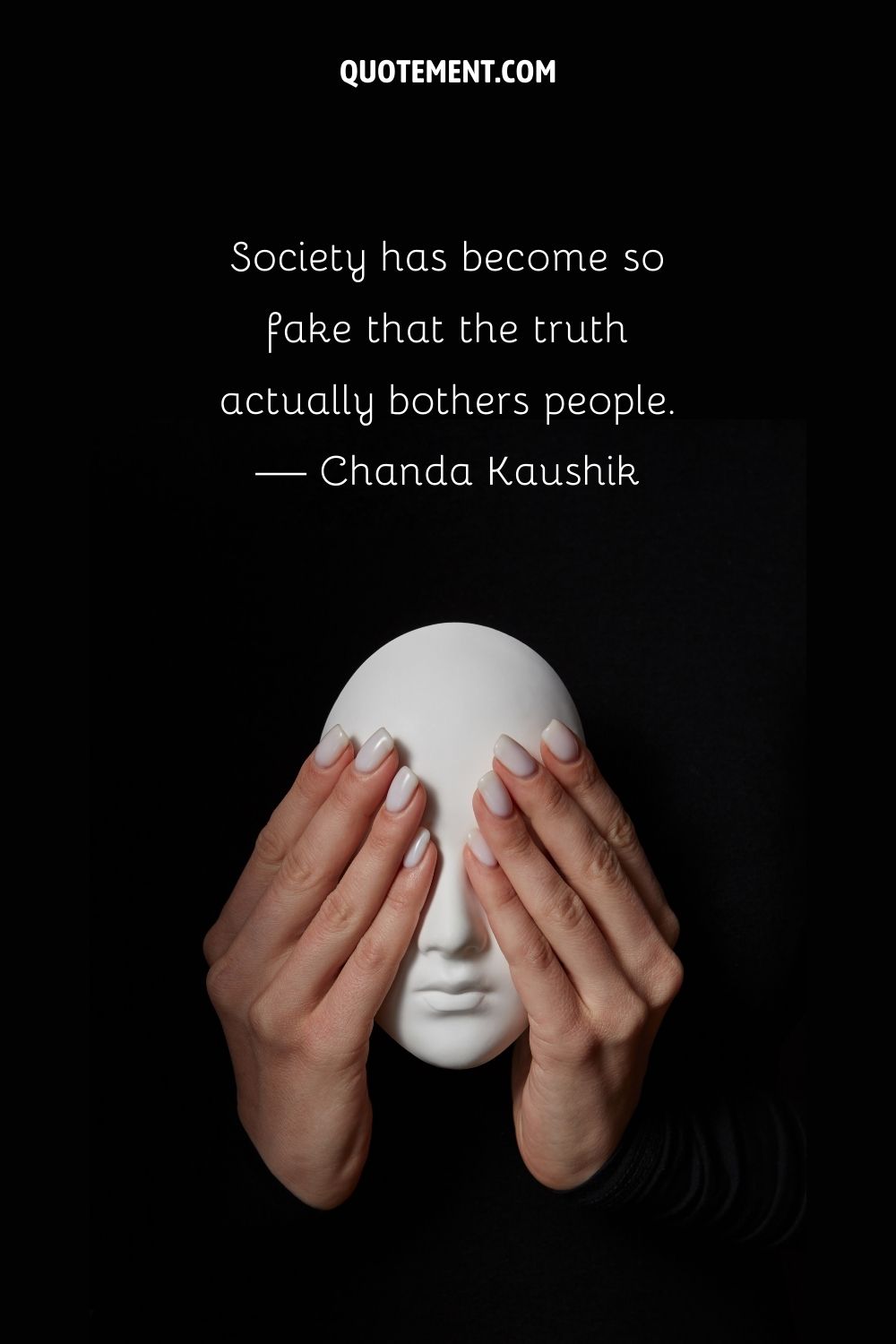 2. "Sometimes it's not the people that change; it's the mask that falls off." — Unknown
3. "No man for any considerable period can wear one face to himself and another to the multitude, without finally getting bewildered as to which may be the true." — Nathaniel Hawthorne
4. "Sometimes you have to take people for who they say they are because eventually the person they really are will be revealed." — Unknown
5. "Faking your own death is illegal, yet faking your own life is celebrated." — Dean Cavanagh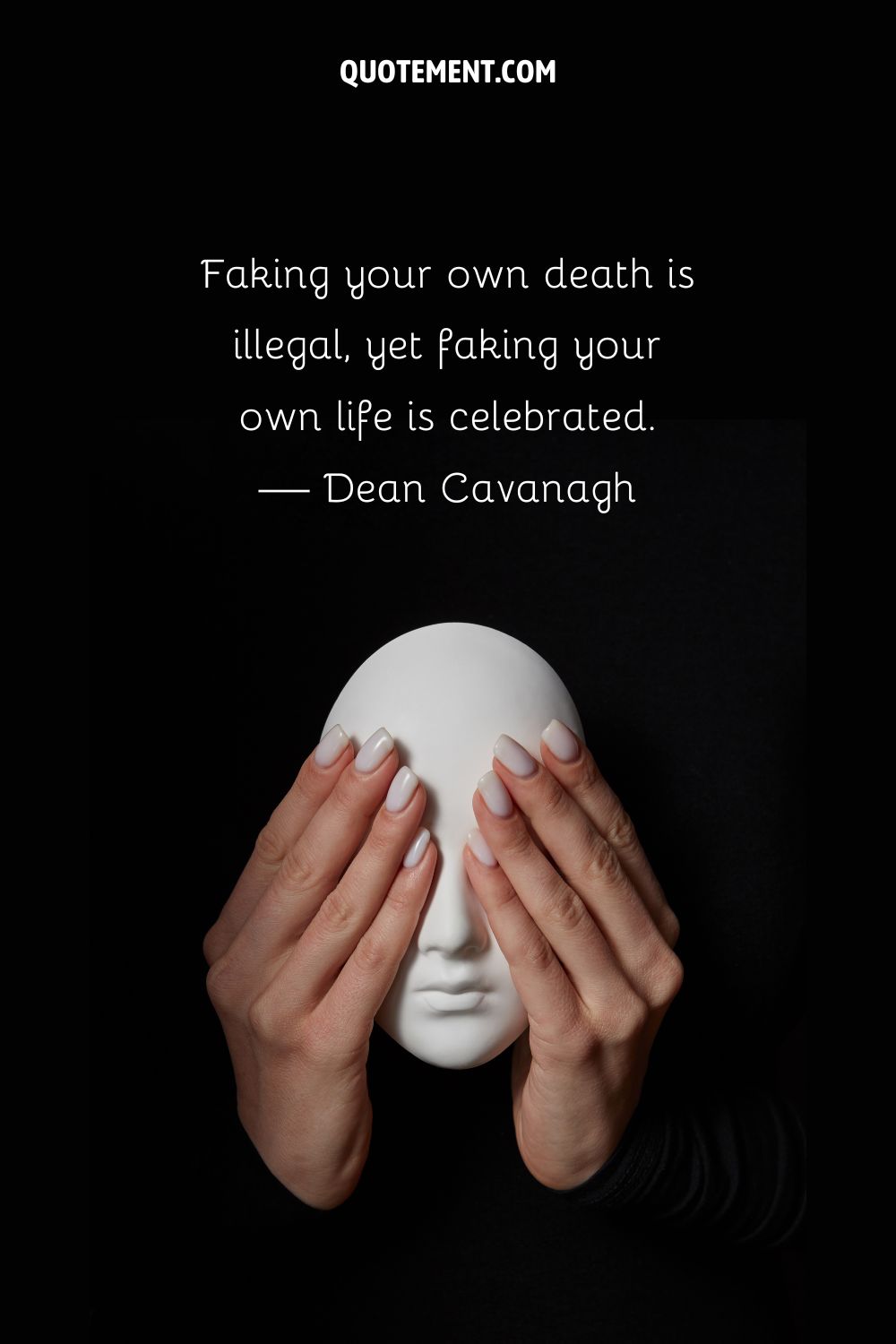 6. "Fake people always think others are fake." — Tomichan Matheikal
7. "Fake happiness is the worst kind of sadness." — Dominic Riccitello
8. "It's relatively easy to act nice and normal in front of a crowd, or in public. The tricky part is doing it in private." — Robert Black
9. "Someone who smiles too much with you can sometimes frown too much with you at your back." — Michael Bassey Johnson
10. "Some people are real. Some people are good. Some people are fake and some people are really good at being fake." — Unknown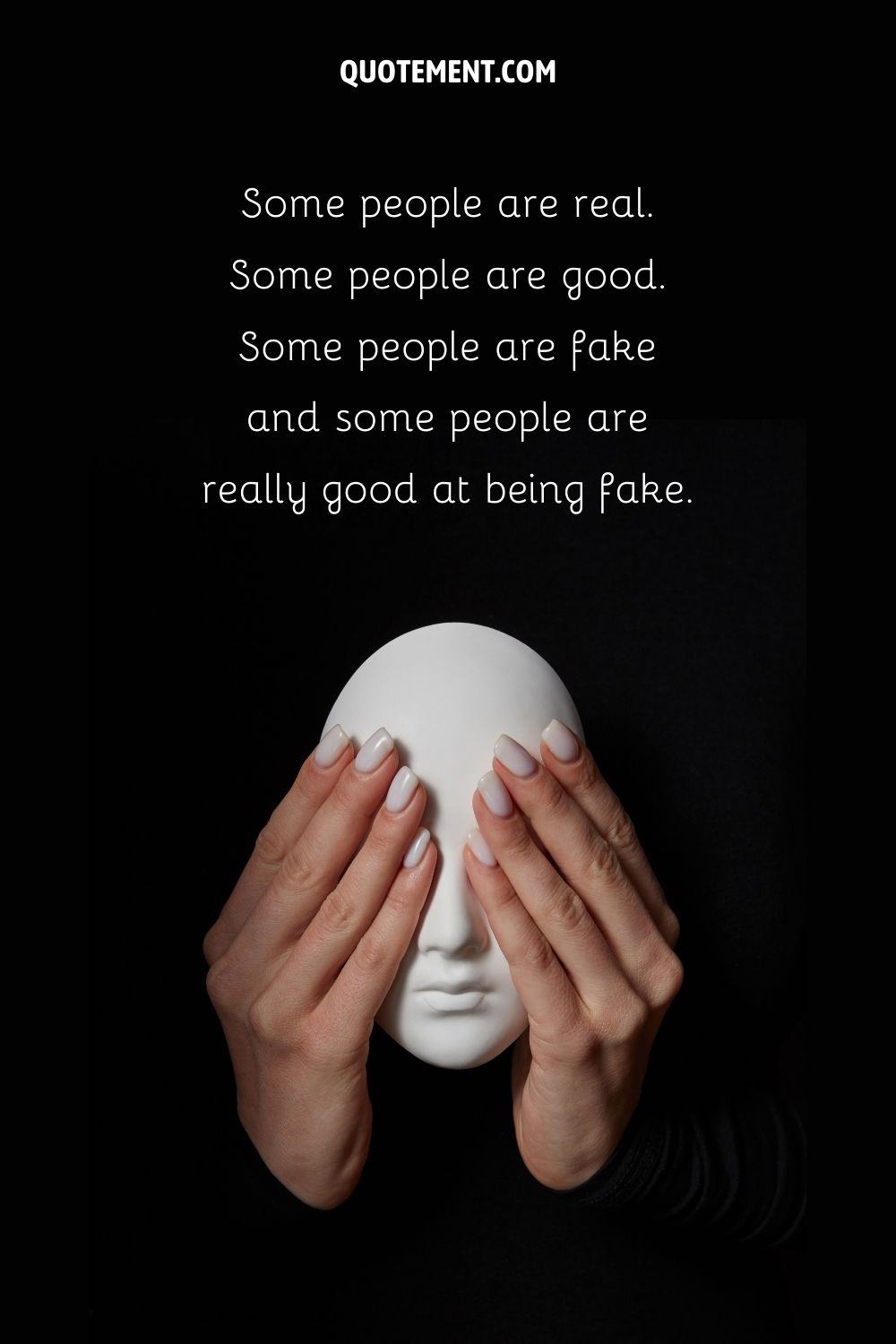 11. "People striving for approval from others become phony." — Ichiro Suzuki
12. "Most people will never learn the lessons meant for them in this lifetime, nor become the person they were meant to be, simply because they are too busy being someone else, or someone they are not." — Suzy Kassem
13. The problem is, people are being hated when they're real and loved when they're fake." — Bob Marley
14. "I love fake people provided they are mannequins." — Pushpa Rana
15. "The most dangerous among us come dressed as angels and we learn too late they are the devil in disguise." — Carlos Wallace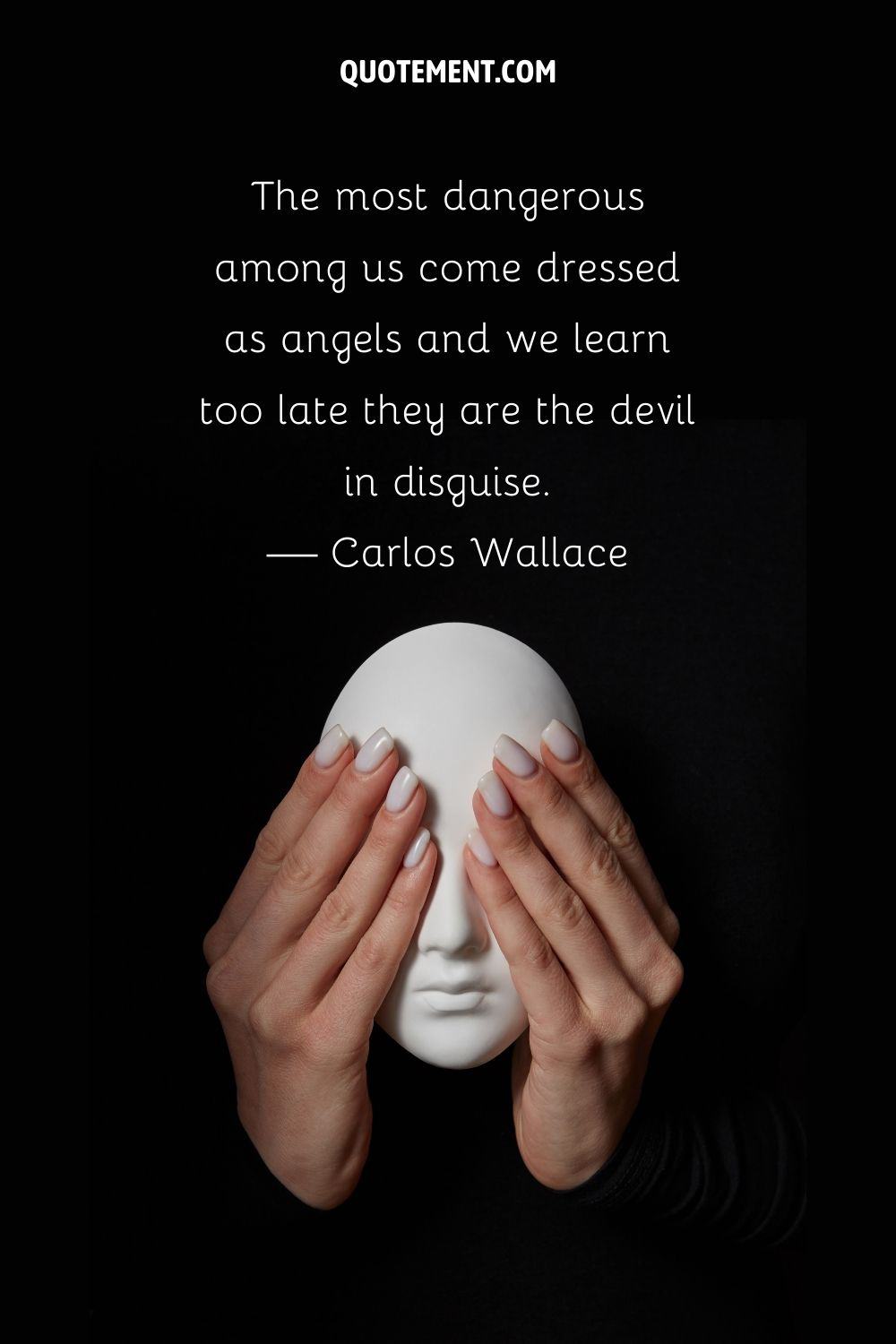 16. "Fake is the new trend and everyone seems to be in style." — Unknown
17. "Time passes and you begin to see people for who they really are and not who they pretend to be." — Scarlet Koop
18. "Feigned interest is worse than brutal honesty." ― Stewart Stafford
19. "The fake people do not dare to come out from their mask and face the truth of the real ones." ― Ehsan Sehgal
20. "In the end, we all discover who's fake, who's true, and who would risk it all for you." — Unknown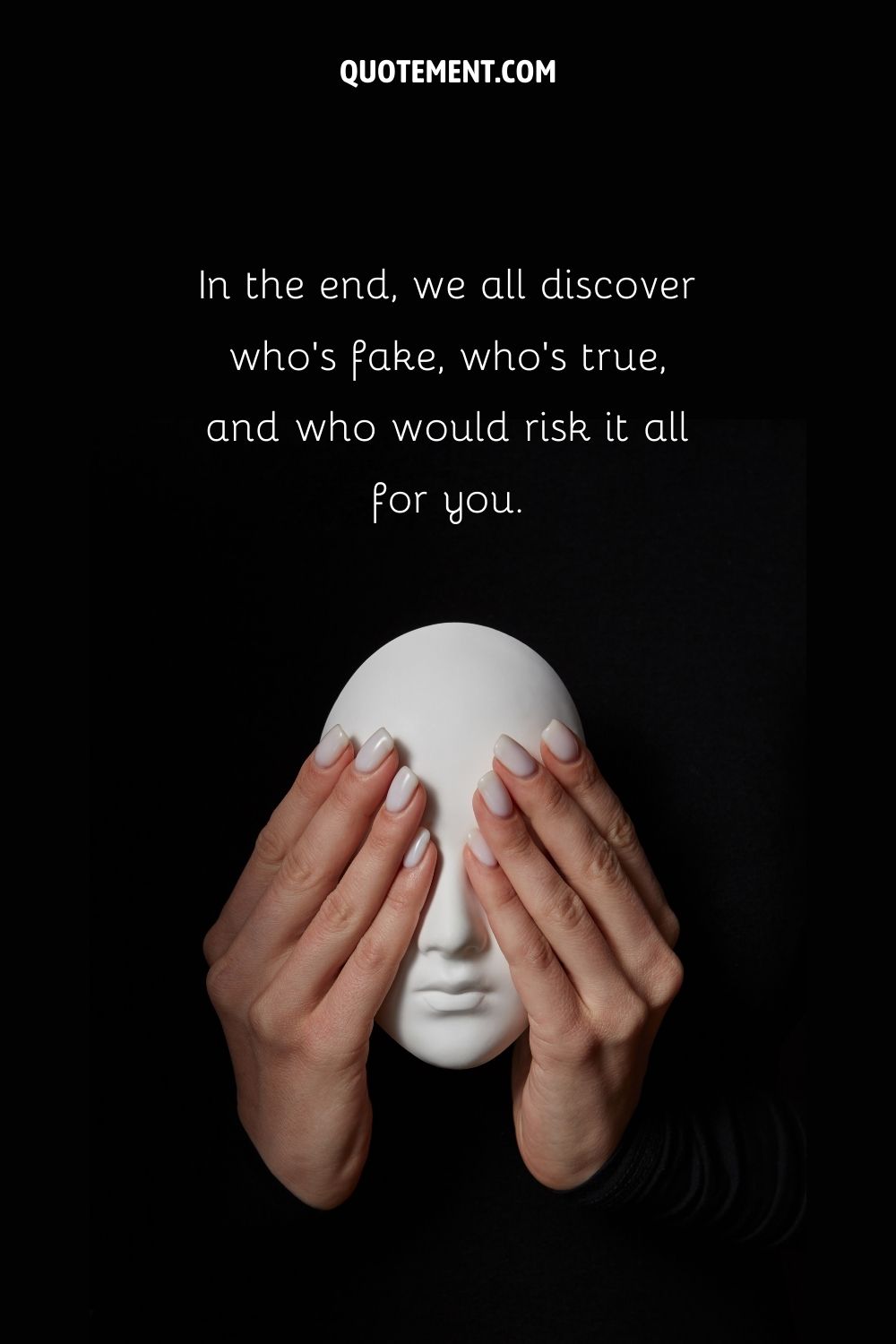 Motivational Quotes On Cutting Fake People Off
1. "Letting go of toxic people in your life is a big step in loving yourself." — Hussein Nishah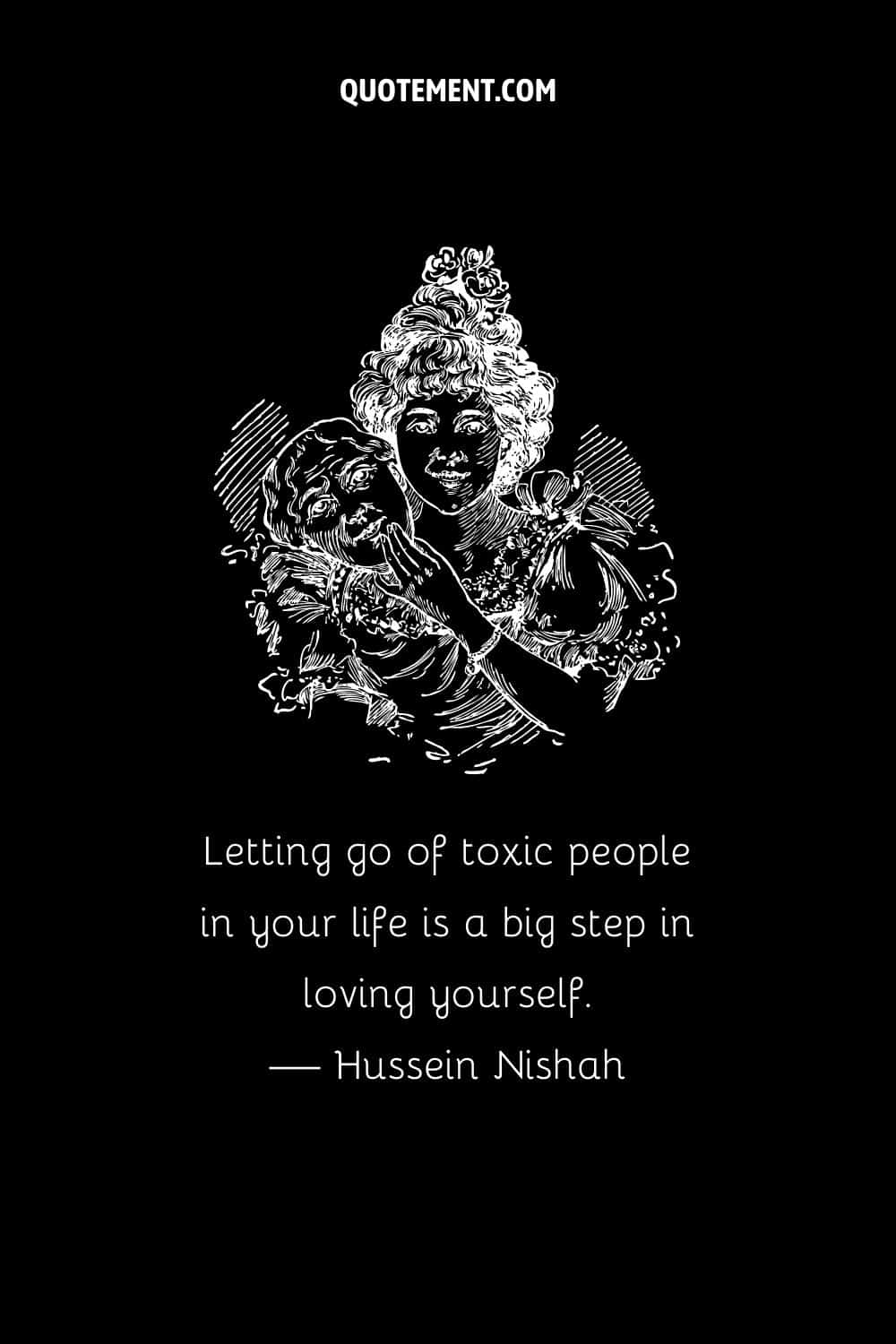 2. "Cut off fake people for real reasons, not real people for fake reasons." — Unknown
3. "You create more space in your life when you turn your excess baggage to garbage." — Chinonye J. Chudolue
4. "Eliminate those fake friends who seem real when you have something and disappear when you have nothing." — Rashida Rowe
5. "There are folks you just don't need. You're better off without them. Your life is just a little better because they ain't in it." — William Gay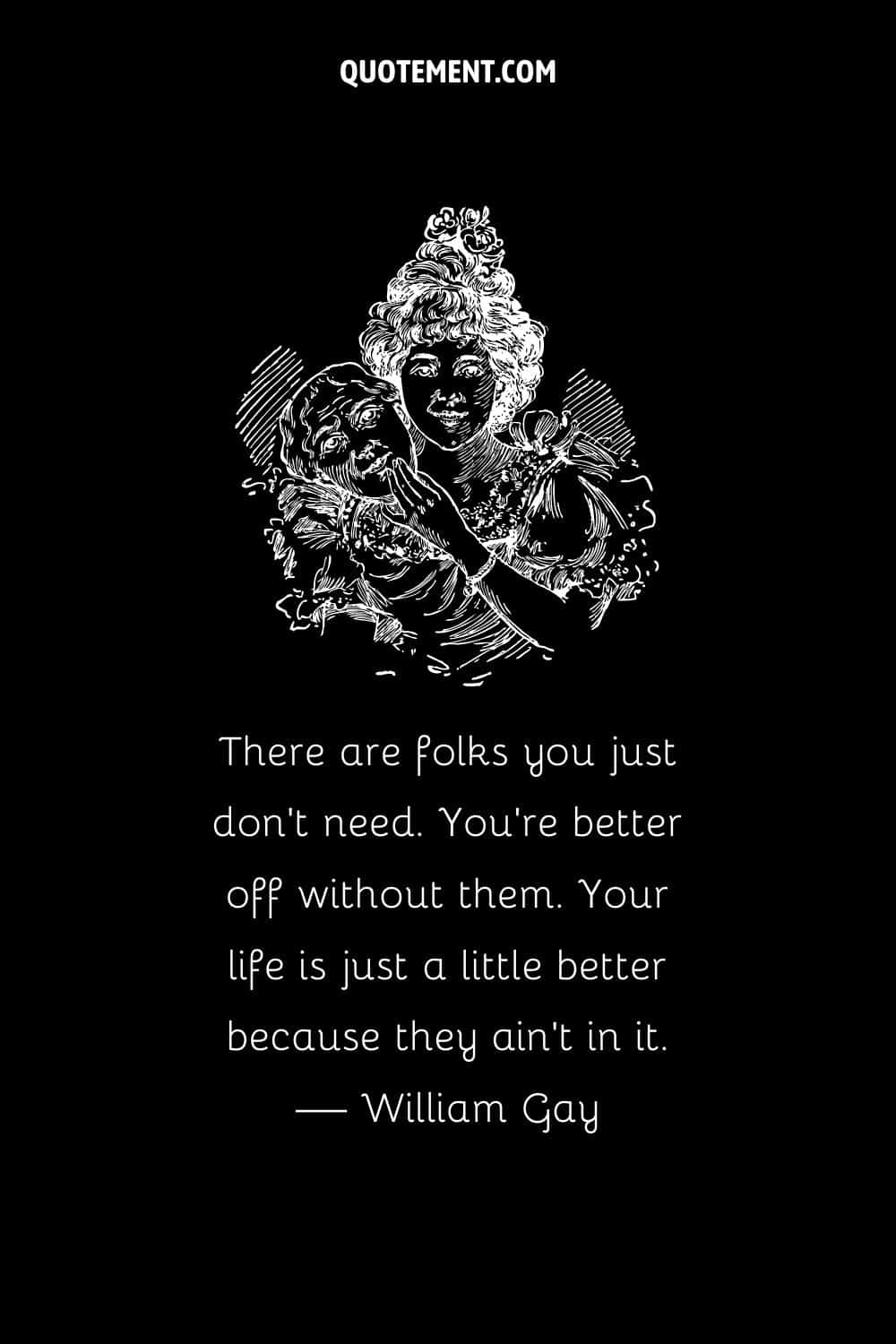 6. "There should never be a time you make time for people who waste your time." ― Carlos Wallace
7. "Not all toxic people are cruel and uncaring. Some of them love us dearly. Many of them have good intentions. Most are toxic to our being simply because…they aren't inherently bad people, but they aren't the right people for us. And as hard as it is, we have to let them go." — Daniell Koepke
See also: 120 Final Goodbye Toxic Relationship Quotes To Let It Go
8. "Fake people hate honesty. It's the lies that keep them feeling good about themselves and their lives. So share your true feelings about their actions and watch how they fade away." — Unknown
9. "Try not to stress over shady people who betrayed you. I know it hurts, but the truth is that they were always shady, they're never going to change, and you're actually much better off now because at least you know who they really are." — Unknown
10. "At some point, you have to realize that some people can stay in your heart but not in your life." — Sandi Lynn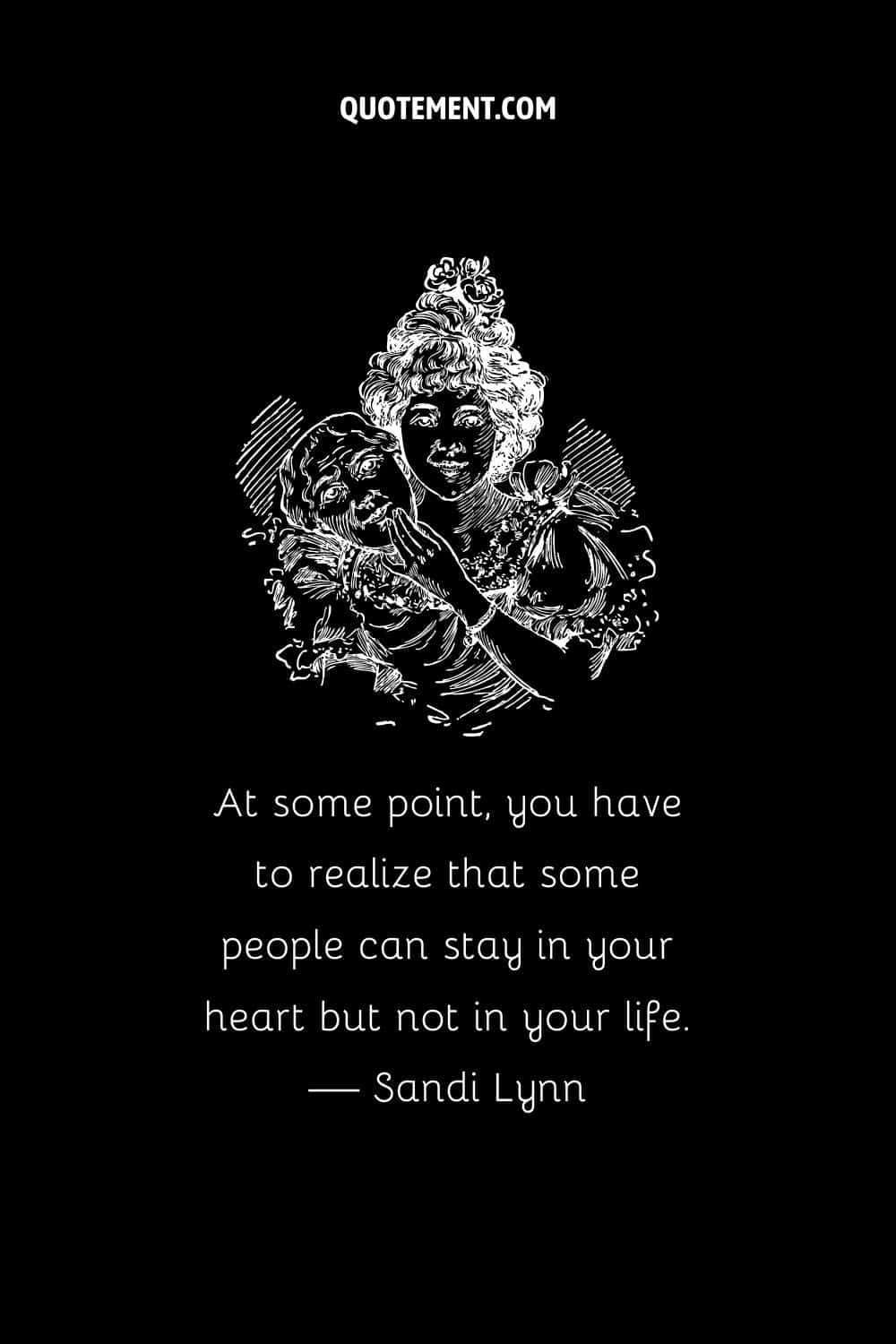 See also: Top 90+ Cutting People Off Quotes To Save Your Sanity
Summing Up
If you've found yourself surrounded by fakers, you may end up blaming yourself for being too naive.
I know I did.
But don't be hard on yourself, see it as a silver lining in the dark clouds. Whoever acted fake on you only did you a favor — they helped you get rid of something that's been draining the life out of you.If you liked my collection of fake people quotes, be sure to check out other inspiring content on our page!