Best or worse at whatever you are doing, failure is inevitable. But, I assure you, there is nothing to worry about, because failure is a sign that you are doing something good!

Why, you may ask. Well, the answer is simple – if you are progressing in whatever you are doing, there will always be some roads which won't lead to success. And those roads are called failures.
But fear not, because they are just a road of life, telling you that you can do some things better. In honor of progress and personal development, I present you – quotes about failure!
Best Quotes About Failure
1. "There is only one thing that makes a dream impossible to achieve: the fear of failure." ― Paulo Coelho, The Alchemist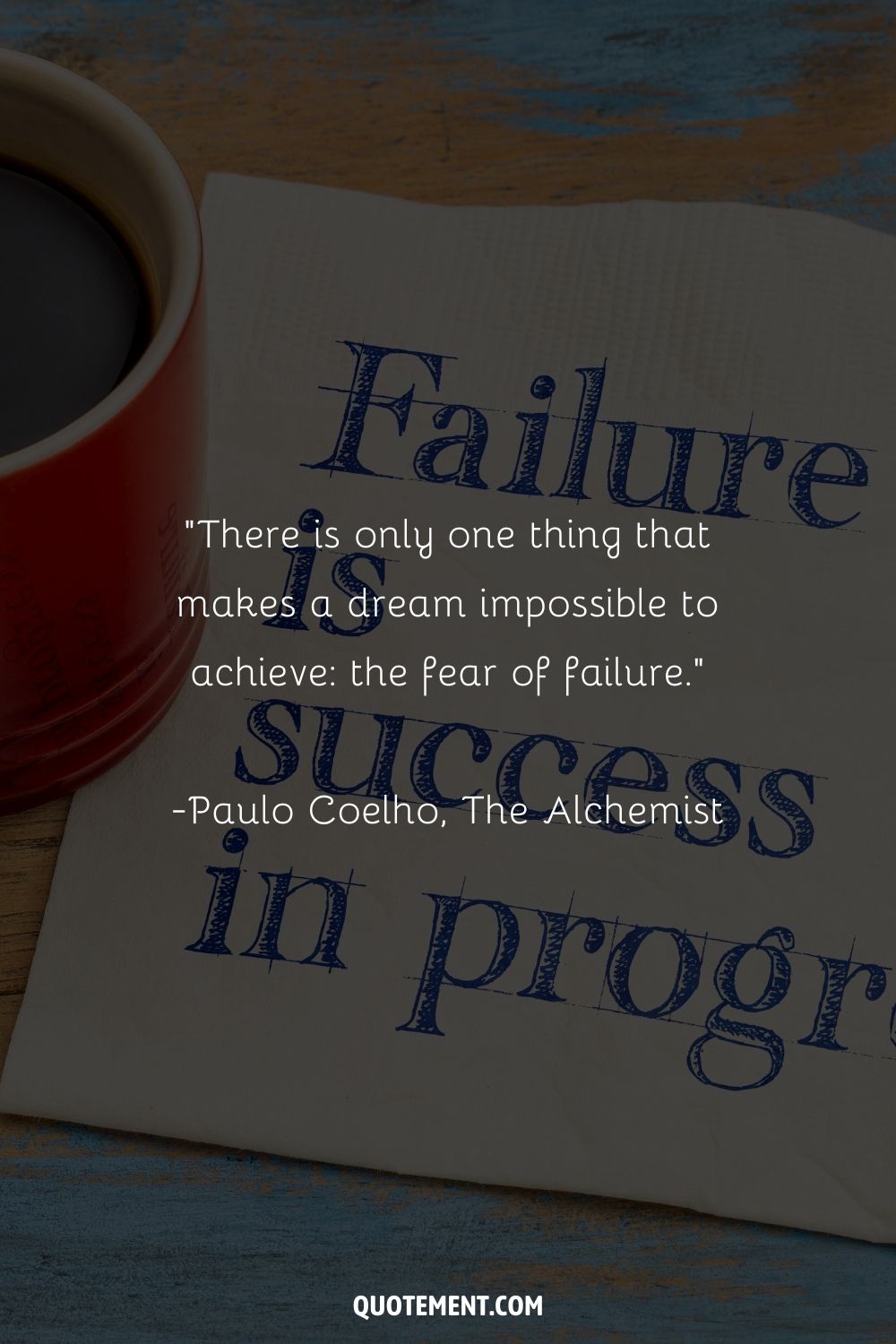 2. "Success is not final, failure is not fatal: it is the courage to continue that counts." ― Winston S. Churchill
3. "It is hard to fail, but it is worse never to have tried to succeed." ― Theodore Roosevelt
4. "Just because you fail once doesn't mean you're gonna fail at everything." ― Marilyn Monroe
5. "Success is stumbling from failure to failure with no loss of enthusiasm." ― Winston S. Churchill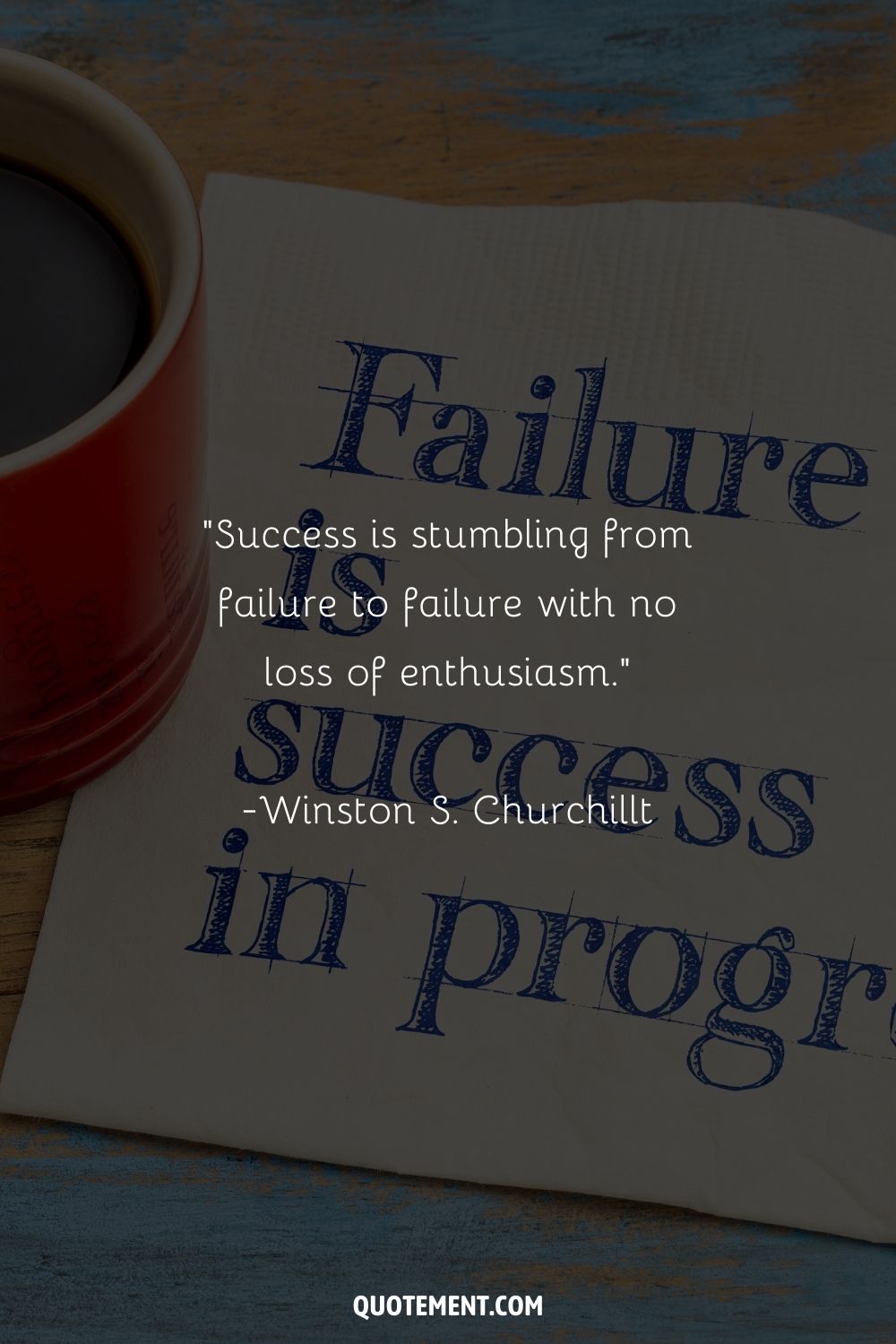 6. "I'm done with those; regrets are an excuse for people who have failed." ― Ned Vizzini, It's Kind of a Funny Story
7. "I didn't fail the test, I just found 100 ways to do it wrong." ― Benjamin Franklin
8. "Never confuse a single defeat with a final defeat." ― F. Scott Fitzgerald
9. "My fault, my failure, is not in the passions I have, but in my lack of control of them." ― Jack Kerouac
10. "Only those who dare to fail greatly can ever achieve greatly." ― Robert F. Kennedy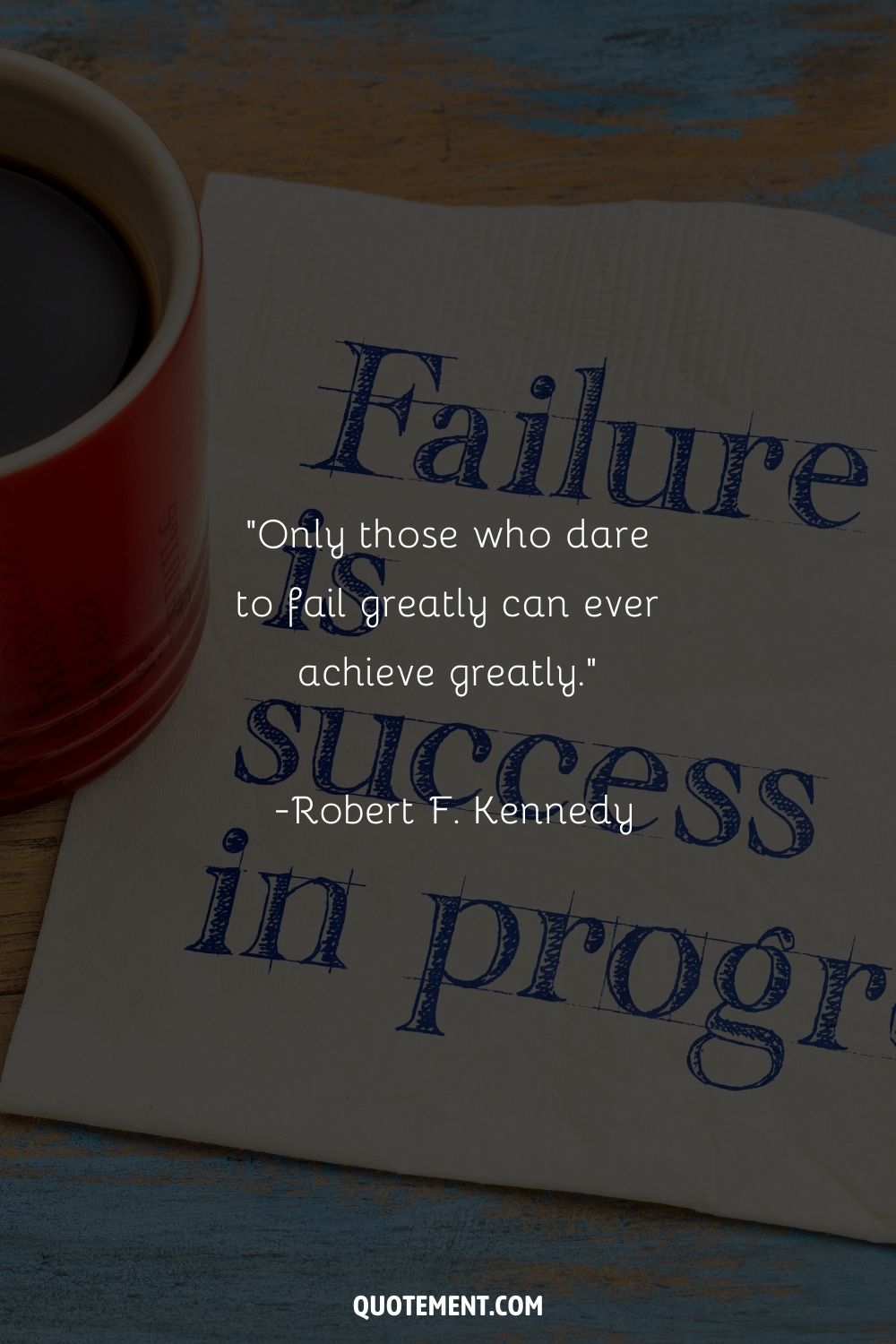 Quotes On Failure That Are Exceptional
1. "I can't give you a sure-fire formula for success, but I can give you a formula for failure: try to please everybody all the time." ― Herbert Bayard Swope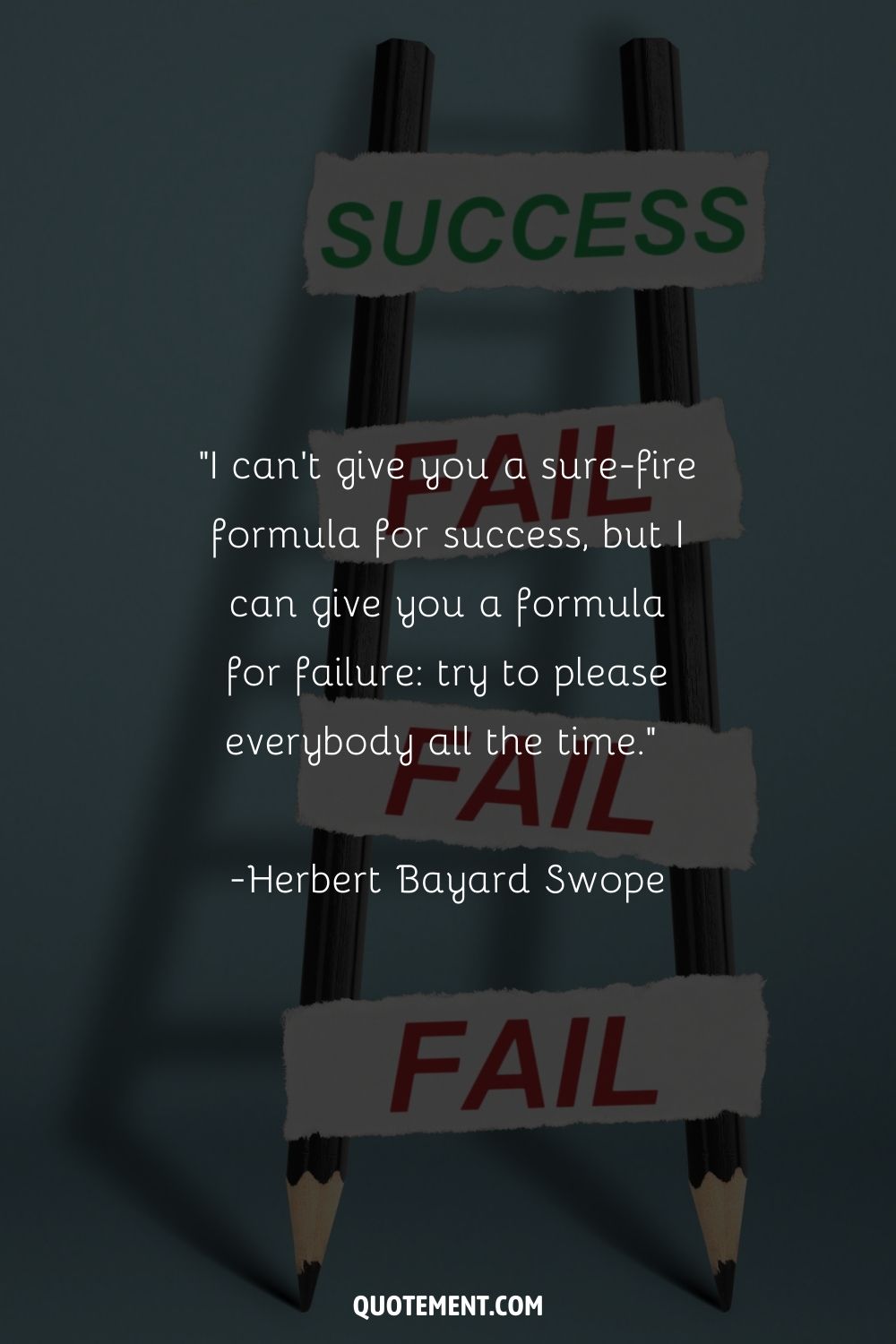 2. "A thinker sees his own actions as experiments and questions–as attempts to find out something. Success and failure are for him answers above all." ― Friedrich Nietzsche
3. "All men make mistakes, but a good man yields when he knows his course is wrong, and repairs the evil. The only crime is pride." ― Sophocles, Antigone
4. "If you're not prepared to be wrong, you'll never come up with anything original." ― Ken Robinson, The Element: How Finding Your Passion Changes Everything
5. "I'd rather be partly great than entirely useless." ― Neal Shusterman, Unwind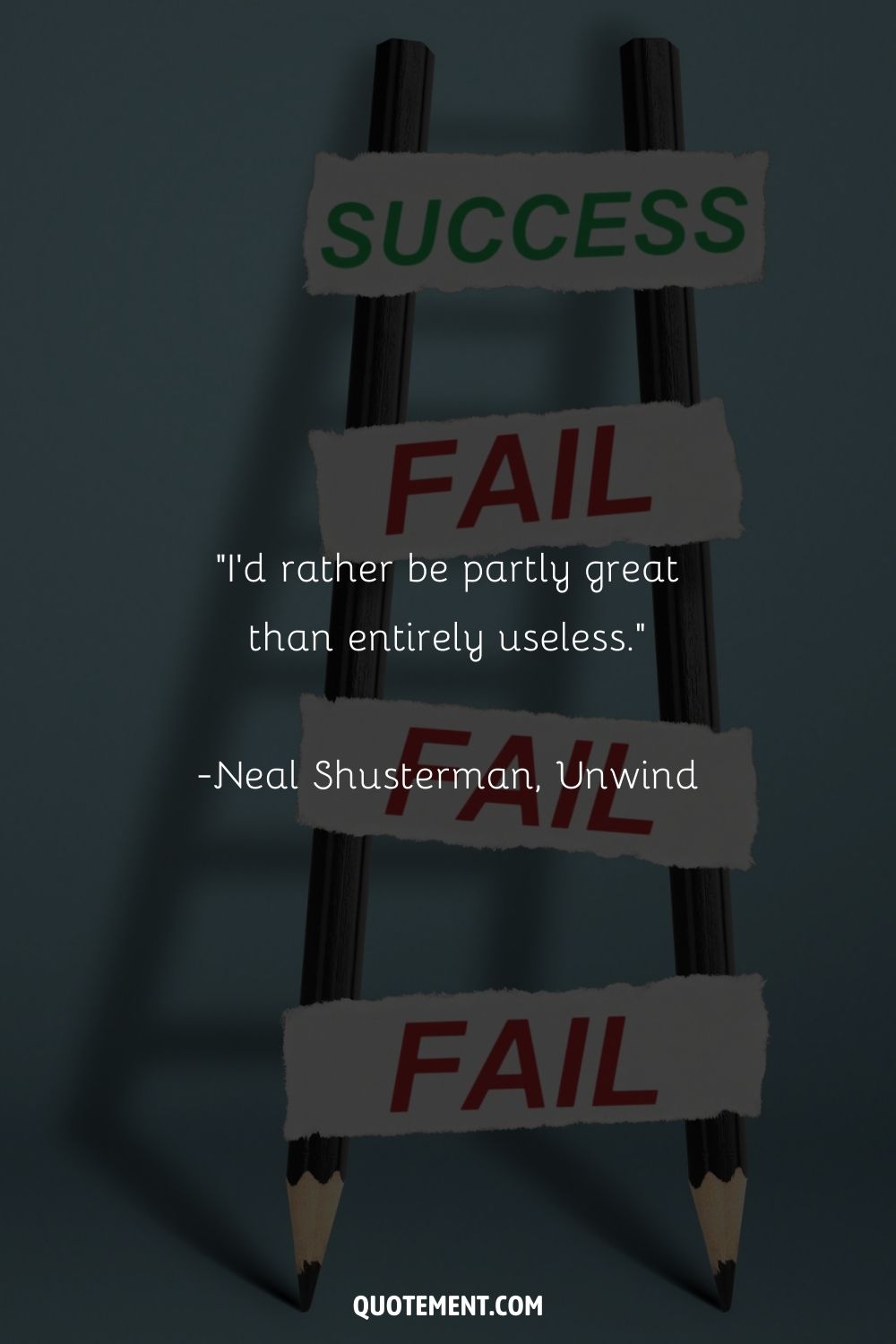 6. "Failure doesn't define you. It's what you do after you fail that determines whether you are a leader or a waste of perfectly good air." ― Sabaa Tahir, A Torch Against the Night
7. "Negative results are just what I want. They're just as valuable to me as positive results. I can never find the thing that does the job best until I find the ones that don't." ― Thomas A. Edison
8. "Failure is constructive feedback that tells you to try a different approach to accomplish what you want." ― Idowu Koyenikan, Wealth for All: Living a Life of Success at the Edge of Your Ability
9. "I am not concerned that you have fallen — I am concerned that you arise." ― Abraham Lincoln
10. "The only real mistake is the one from which we learn nothing." ― Henry Ford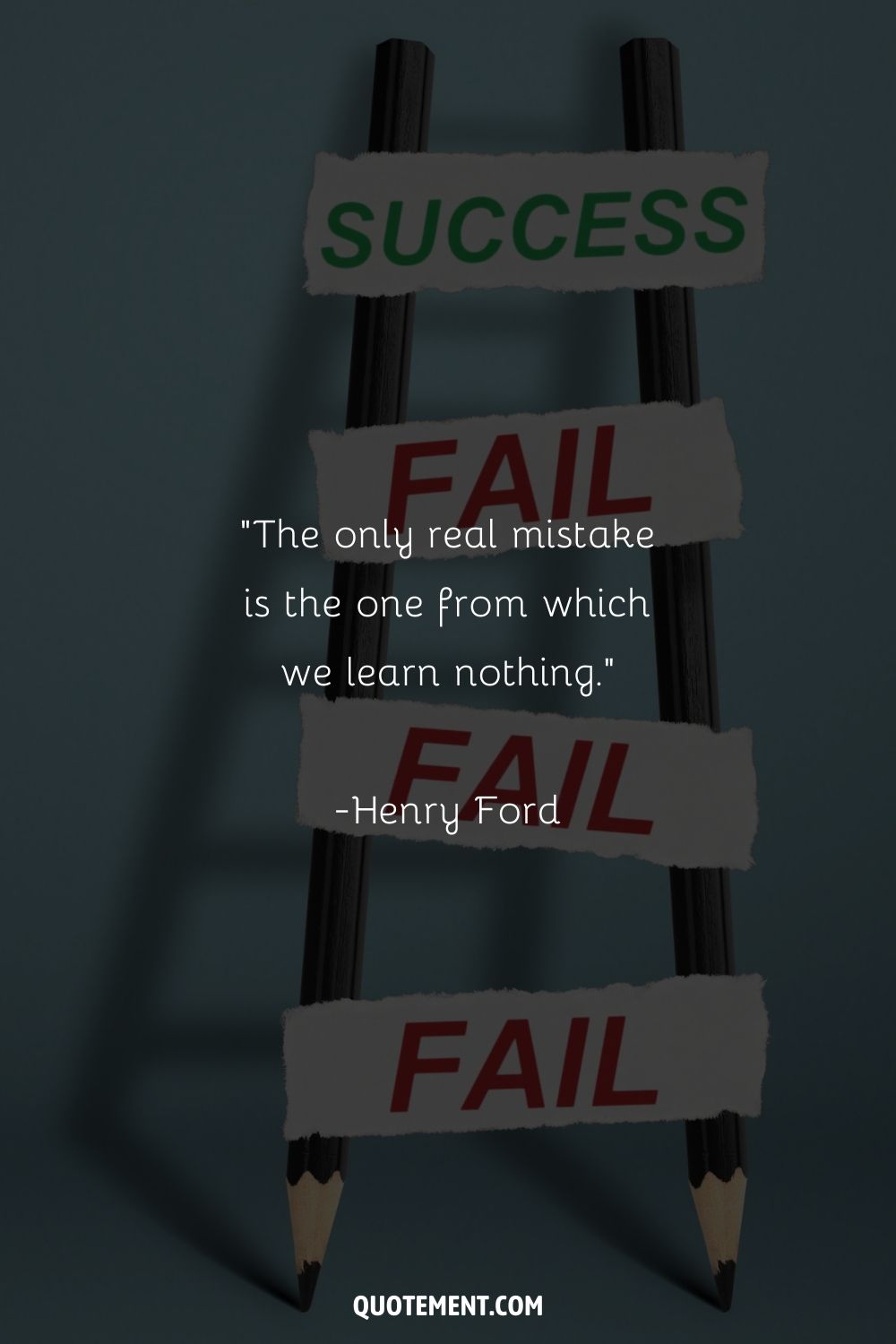 11. "The person who failed often knows how to avoid future failures. The person who knows only success can be more oblivious to all the pitfalls." ― Randy Pausch, The Last Lecture
12. "Giving up is the only sure way to fail." ― Gena Showalter
13. "Life is full of screwups," he said, chucking another paper at the split-level before taking the corner. "You're supposed to fail sometimes. It's a required part of the human existence." ― Sarah Dessen, Along for the Ride
14. "Disappointment is really just a term for our refusal to look on the bright side." ― Richelle E. Goodrich, Smile Anyway: Quotes, Verse, and Grumblings for Every Day of the Year
15. "I want to do it because I want to do it. Women must try to do things as men have tried. When they fail, their failure must be but a challenge to others." ― Amelia Earhart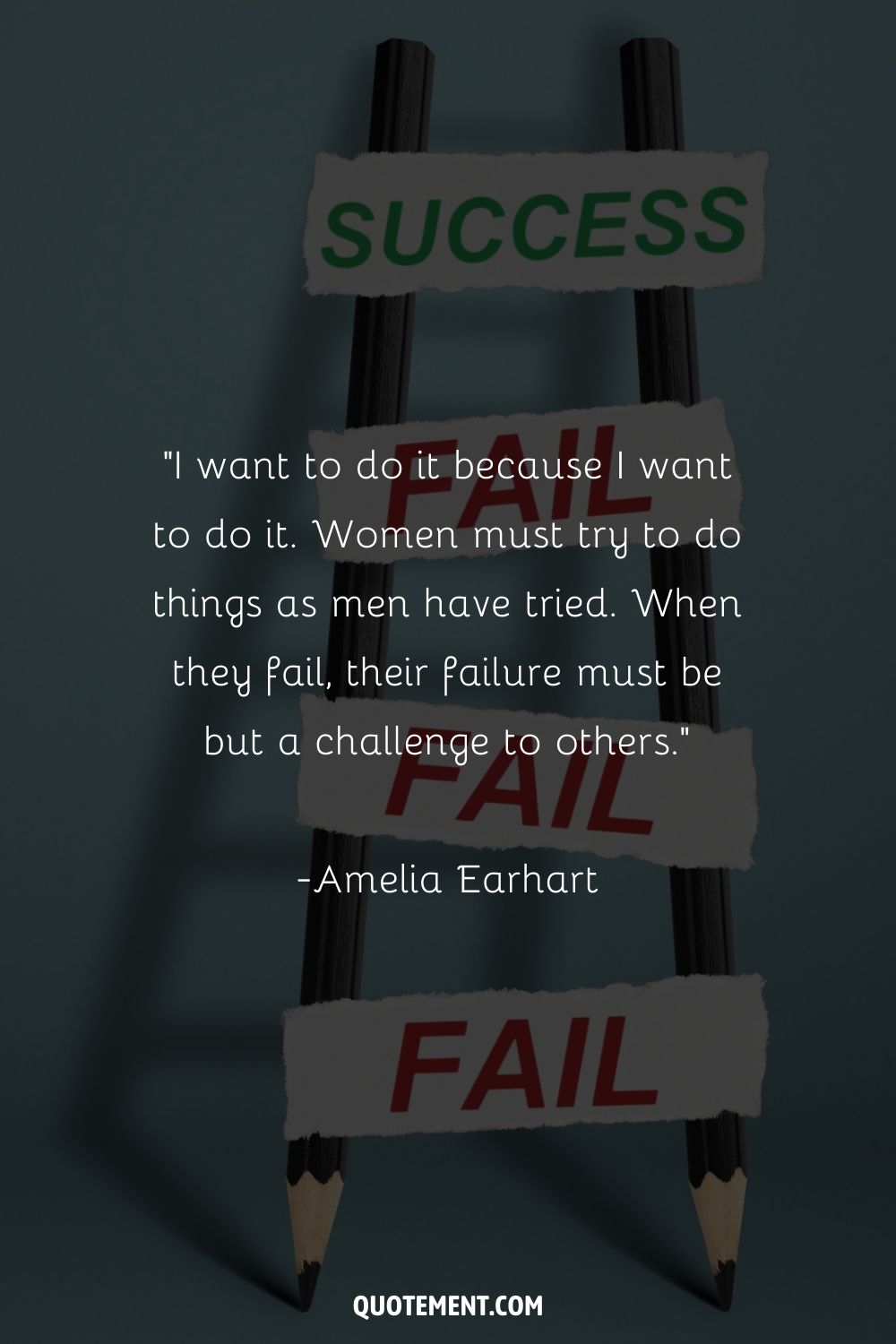 16. "What you perceive as a failure today may actually be a crucial step towards the success you seek. Never give up." ― Richelle E. Goodrich, Smile Anyway: Quotes, Verse, and Grumblings for Every Day of the Year
17. "The pressure of adversity is the most powerful sustainer of accountability. It's as though everything you do is multiplied by 50 in order to surpass those with a head-start. I was never capable of slacking when at the threshold of failure." ― Criss Jami, Killosophy
18. "What seems to us as bitter trials are often blessings in disguise" ― Oscar Wilde, The Importance of Being Earnest
See also: 140 Blessing Quotes To Awaken Your Gratefulness
19. "The bottom line is, insults only hurt when they come from someone I respect." ― Kresley Cole
20. "Some people talk about other people's failures with so much pleasure that you would swear they are talking about their own successes." ― Mokokoma Mokhonoana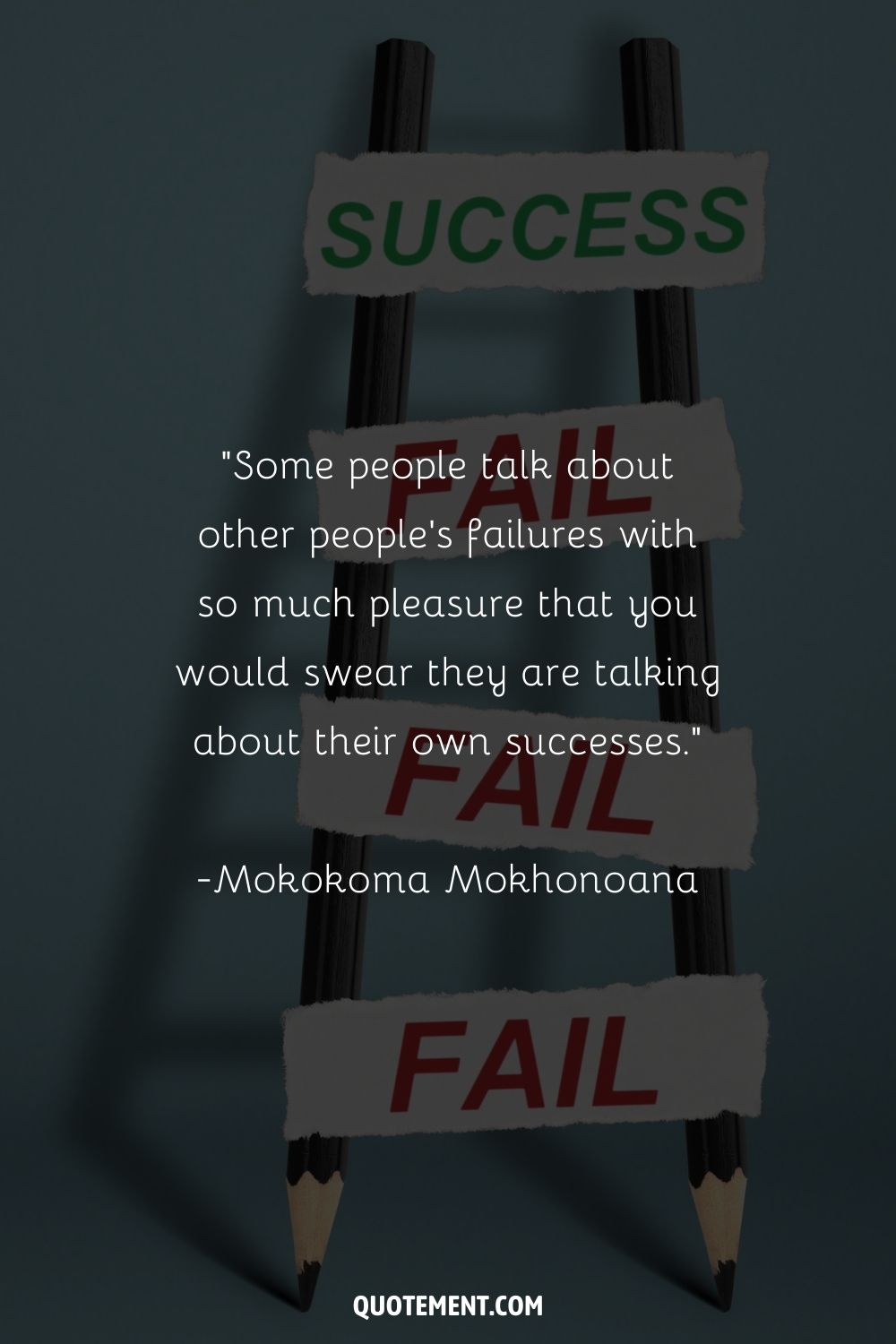 21. "There is something good in all seeming failures. You are not to see that now. Time will reveal it. Be patient." ― Swami Sivananda
22. "I've reached the age where bruises are formed from failures within rather than accidents without." ― Nicole Krauss, Great House
23. "It is easier for one to take risks and to chase his dreams with a mindset that he has nothing to lose. In this lies the immense passion, the great advantage of avoiding a materialistic, pleasure-filled way of life." ― Criss Jami, Killosophy
24. "Very little is needed for everything to be upset and ruined, only a slight lapse in reason." ― Epictetus
LINKAJ EPICTETUS QUOTES
25. "It is not a failure to readjust my sails to fit the waters I find myself in." ― Mackenzi Lee, The Lady's Guide to Petticoats and Piracy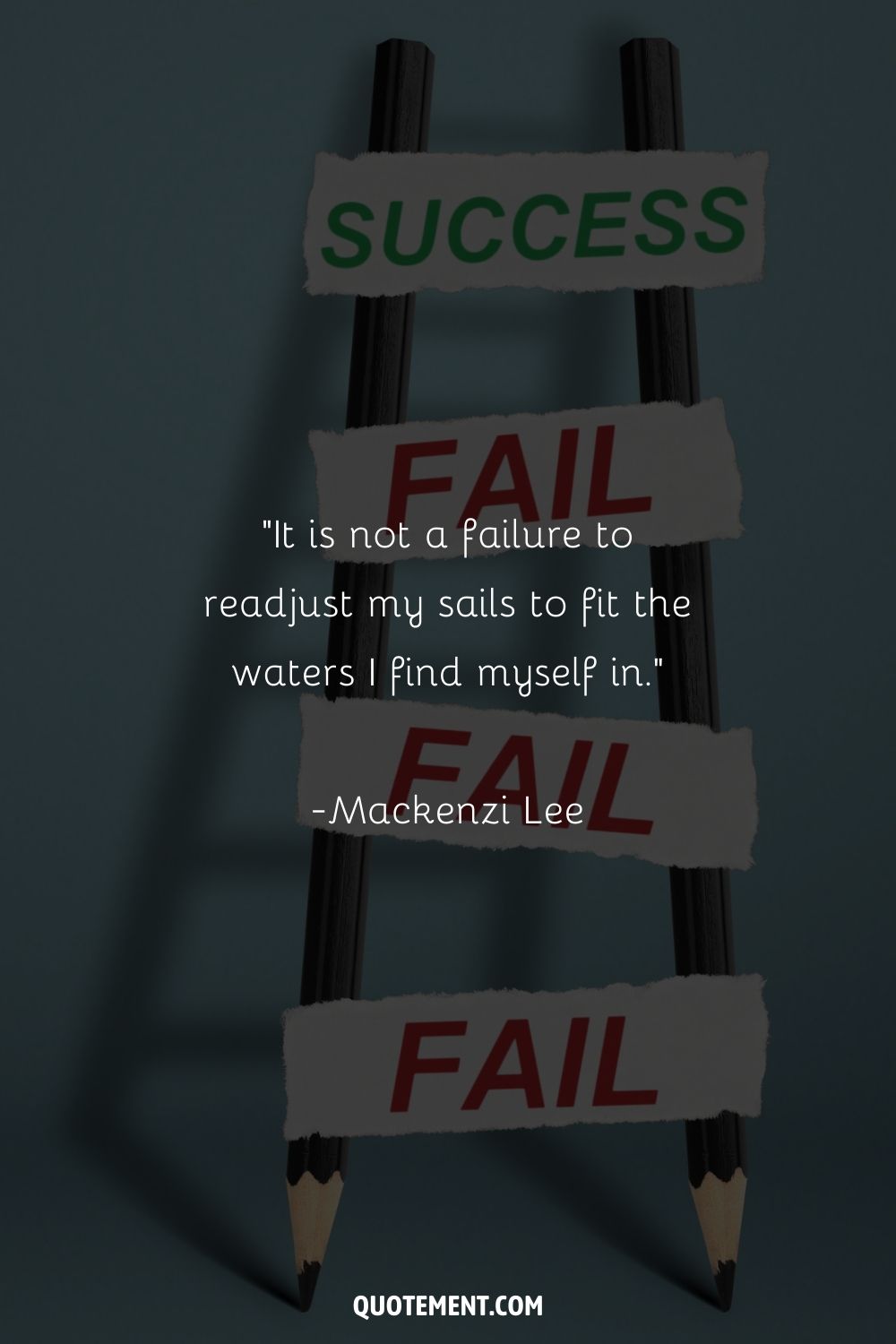 26. "Can I do it? I'd rather not try and fail."
"That's stupid talk, Maya. Every try will not succeed. But if you're going to live, live at all, your business is trying. And if you fail once, so what? Old folks say, Every shuteye ain't sleep and every goodbye ain't gone. You fail, you get up and try again." ― Maya Angelou, The Heart of a Woman
27. "Never mind those failures till yesterday. Each new day is a sequel of a wonderful life; gifted with hopes to succeed." ― Aniruddha Sastikar
28. "You have to be free to fail in this world." ― J.K. Rowling
29. "It takes only a split second for life to go horribly wrong. To fix the mess, I need a thousand things to go right. The distance from one bit of luck to the next feels as great as the distance across oceans. But, I decide in this moment, I will bridge that distance, again and again, until I win. I will not fail." ― Sabaa Tahir, A Torch Against the Night
30. "It is not failure to fail." ― Roshani Chokshi, Aru Shah and the End of Time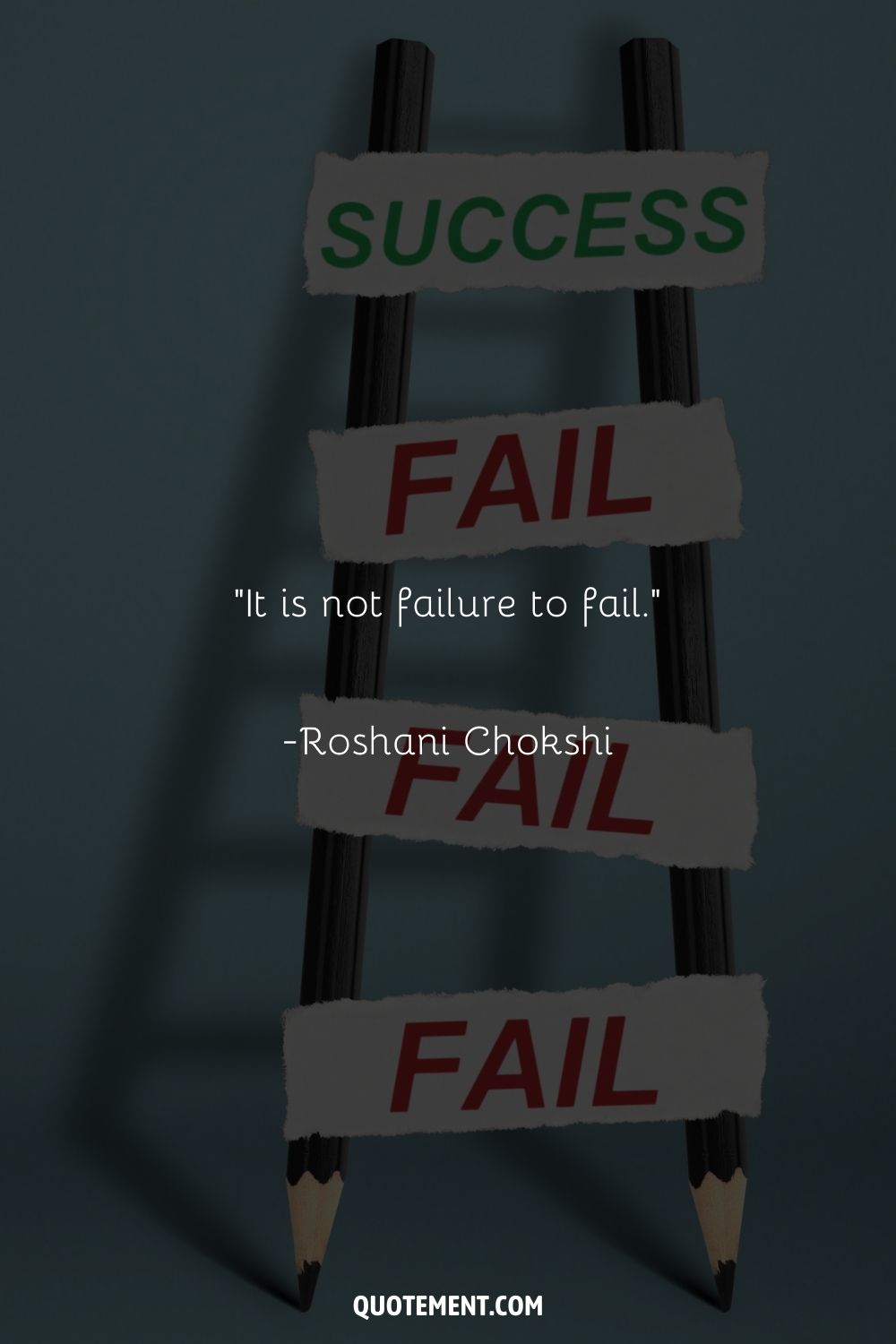 31. "Failure is a part of life. Success teaches you nothing, but failure teaches you resilience. It teaches you to pick yourself up and try again." ― Sarah Morgan, Sleepless in Manhattan
32. "I don't believe in failure. I'm perseverant – I believe in failing." ― Bauvard, Some Inspiration for the Overenthusiastic
33. "Success and failure can both make you lose appetite and concentration, don't let it bother or over-excite you, just think them away as a mere thing that had just happened, and get along with your life." ― Michael Bassey Johnson
34. "There is no faster way to harden my determination than to assume I will fail at something." ― Marie Brennan, The Tropic of Serpents
35. "Trying is fine. Failing is inevitable. Don't let it devour you." ― Michelle Sagara, Cast in Shadow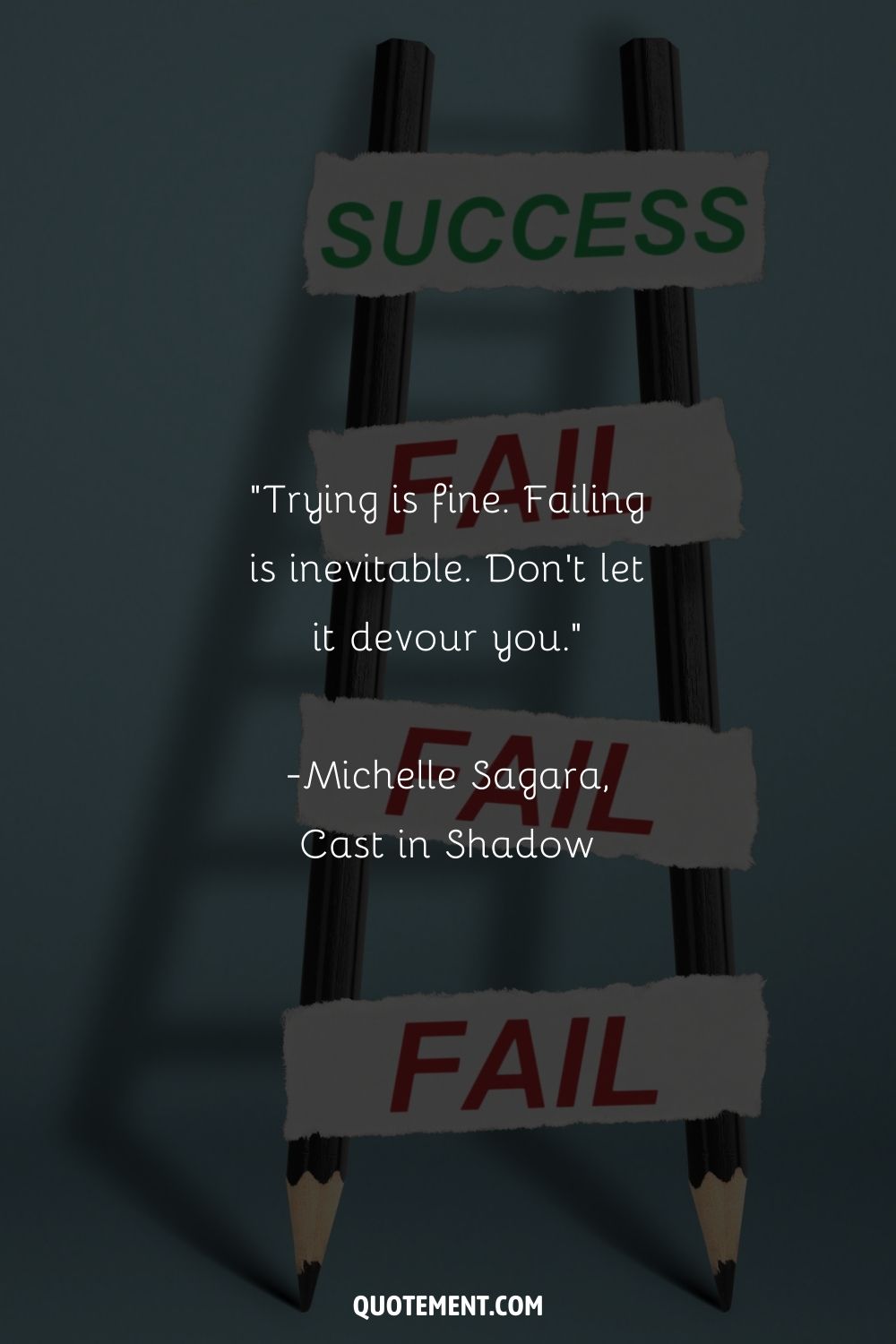 36. "Failures make you humble, they make you realize that you are not the center of the world, proving that we are all alike, and they also shower you with wisdom. That's why I have always been a great fan of failures as they offer you more than success can." ― Neeraj Agnihotri, Procrasdemon – The Artist's Guide to Liberation from Procrastination
37. "One often has to do what they have to do in order to do what they want to do; however if you only do what you want to do then you will never do what you have to do!" ― Dr. C. Moorer, From Failure to Promise: An Uncommon Path to Professoriate
38. "I think that's the saddest thing in the world, the failure of love. Not hatred, but the failure of love." ― Rebecca Makkai, The Great Believers
See also: 150 Best Love Failure Quotes For All The Heart-Broken Souls
39. "You can perhaps, in a number of circumstances, tell yourself that you can't have more than you have until you do better than you're doing, but by all means steer clear of its reverse, the creed of defeat, in saying that you can't do better than you're doing until you can have more than you have." ― Criss Jami, Healology
40. "Failure is not the end. In fact it is the beginning of a beautiful journey." ― Jade Youssef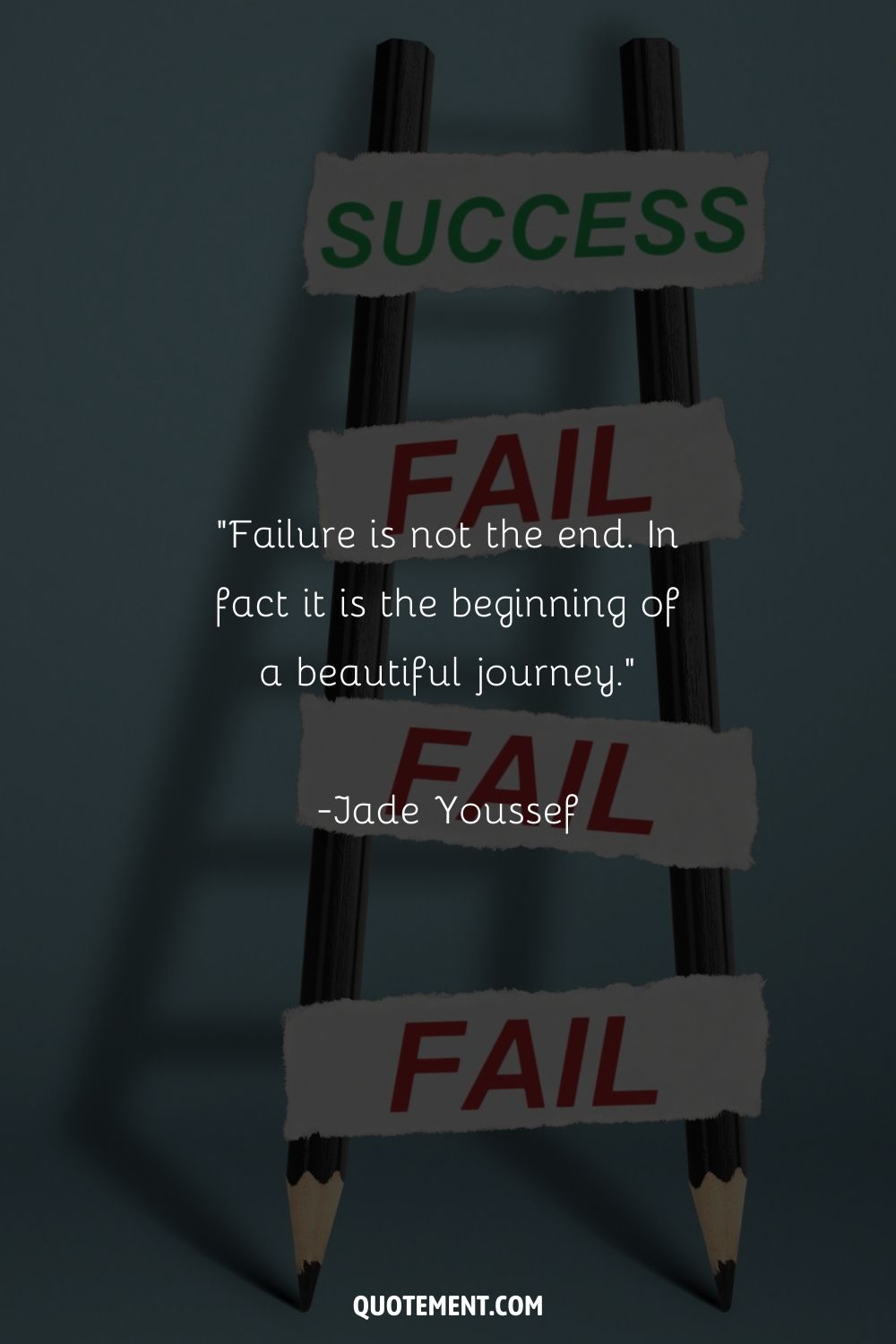 41. "Love was the most susceptible to random failure of all human enterprises." ― Charlie Jane Anders, All the Birds in the Sky
42. "Sometimes, when we want something so badly, we fear failure more than we fear being without that thing." ― Matthew J. Kirby, Icefall
43. "I think it's important to have a good hard failure when you're young. I learned a lot out of that. Because it makes you kind of aware of what can happen to you. Because of it I've never had any fear in my whole life when we've been near collapse and all of that. I've never been afraid. I've never had the feeling I couldn't walk out and get a job doing something." ― Walt Disney
44. "You want to be competent? she thought. You want to learn to be in control of what goes on around you, rather than just being pushed around? Then you'll have to learn to deal with failure." ― Brandon Sanderson, Warbreaker
45. "Even monkeys fall from trees." ― Chris Bradford, The Ring of Earth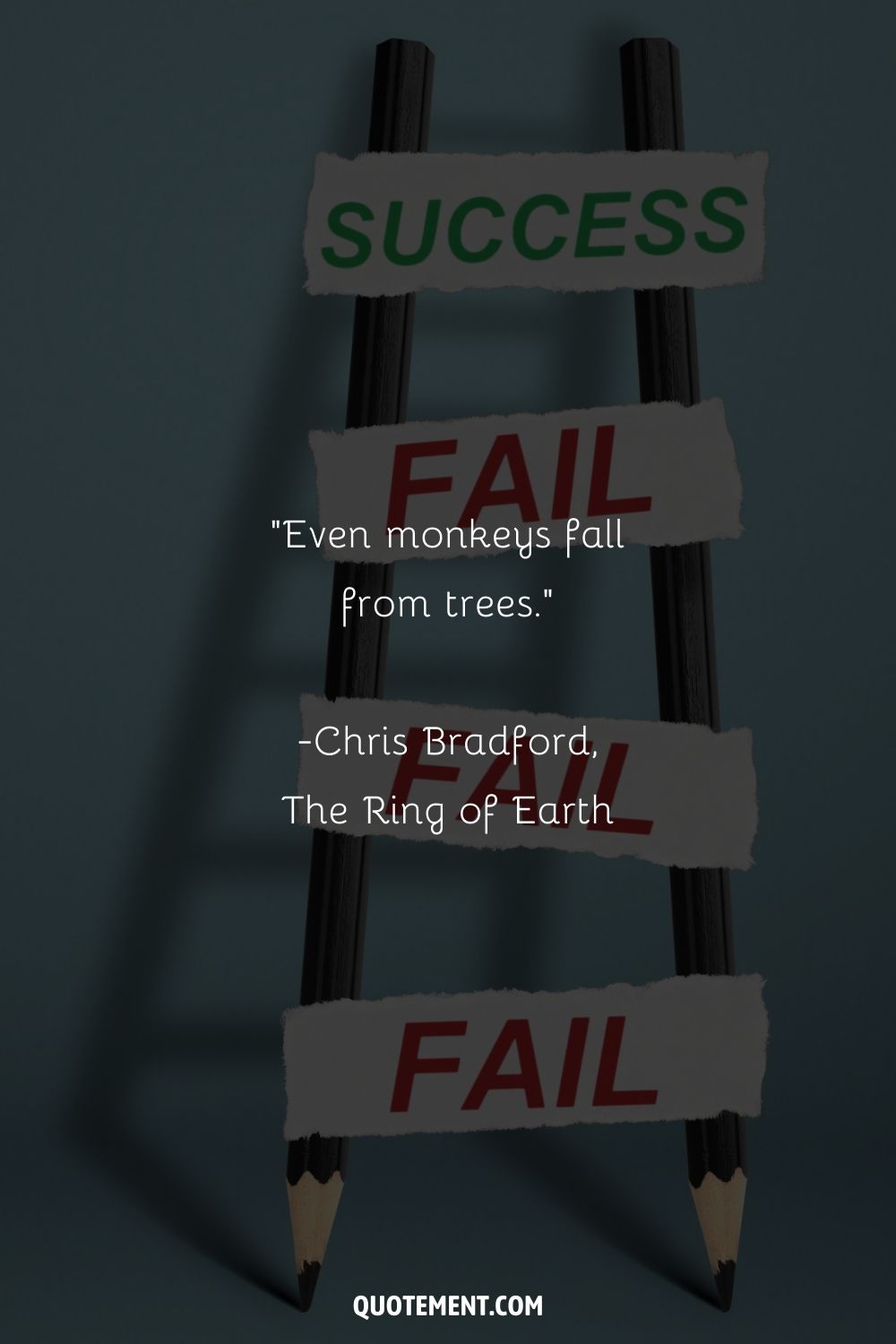 46. "When you're still too young to shave, optimism is a perfectly legitimate response to failure." ― Stephen king, On Writing: A Memoir of the Craft
47. "When we give ourselves permission to fail..we at the same time, give ourselves permission to excel." ― Eloise Ristad
48. "Before you were born, and were still too tiny for the human eye to see, you won the race for life from among 250 million competitors. And yet, how fast you have forgotten your strength, when your very existence is proof of your greatness." ― Suzy Kassem, Rise Up and Salute the Sun: The Writings of Suzy Kassem
49. "Los Angeles is a town where status is all and status is only given to success. Dukes and millionaires and playboys by the dozen may arrive and be glad-handed for a time, but they are unwise if they choose to live there because the town is, perhaps even creditably, committed to recognising only professional success, and nothing else, to be of lasting value. The burdensome obligation imposed on all its inhabitants is therefore to present themselves as successes, because otherwise they forfeit their right to respect in that environment … There is no place in that town for the "interesting failure" or for anyone who is not determined on a life that will be shaped in a upward-heading curve." ― Julian Fellowes, Past Imperfect
50. "How much you can learn when you fail determines how far you will go into achieving your goals." ― Roy Bennett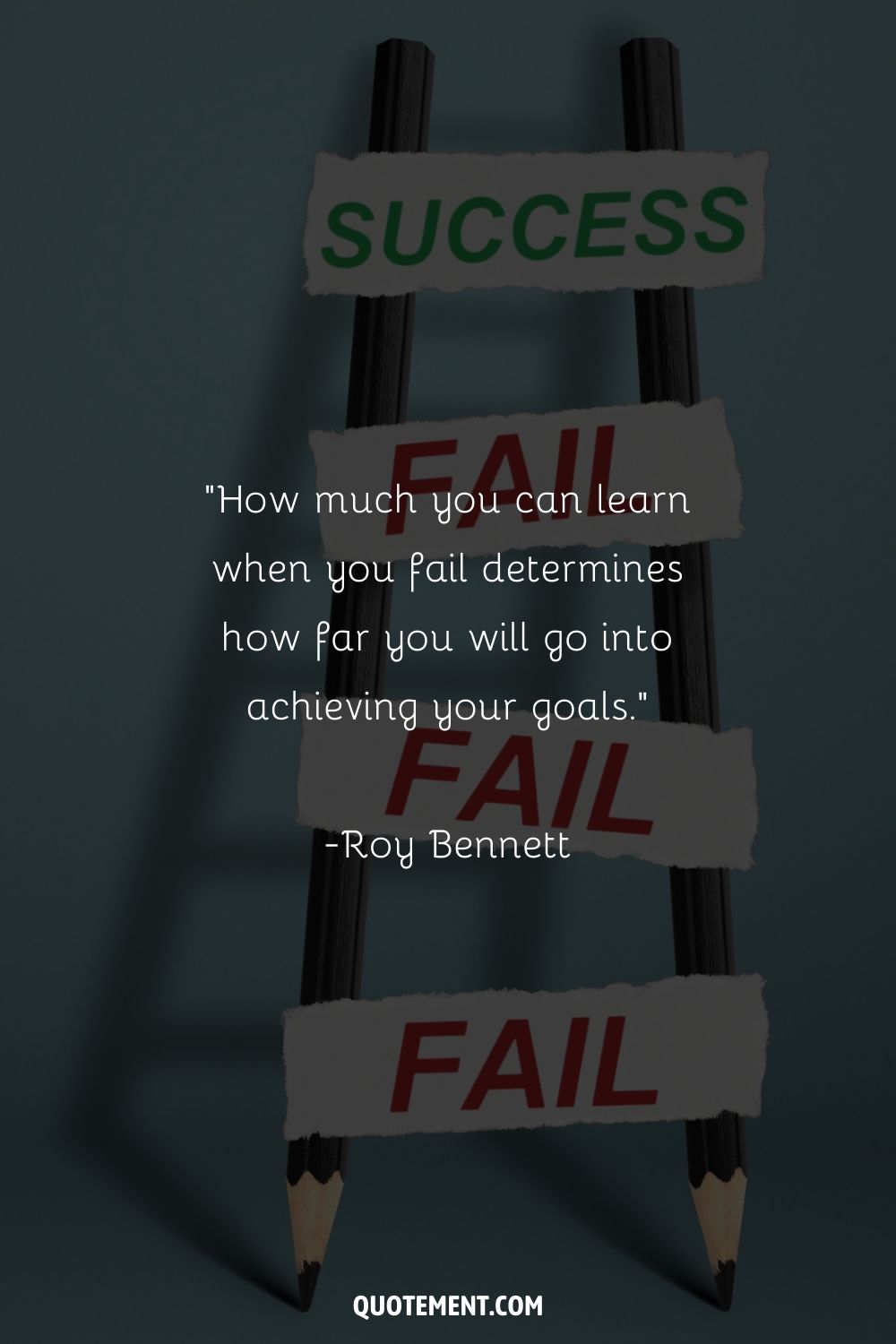 Inspirational Quotes About Failure
1. "Failure is the condiment that gives success its flavor." ― Truman Capote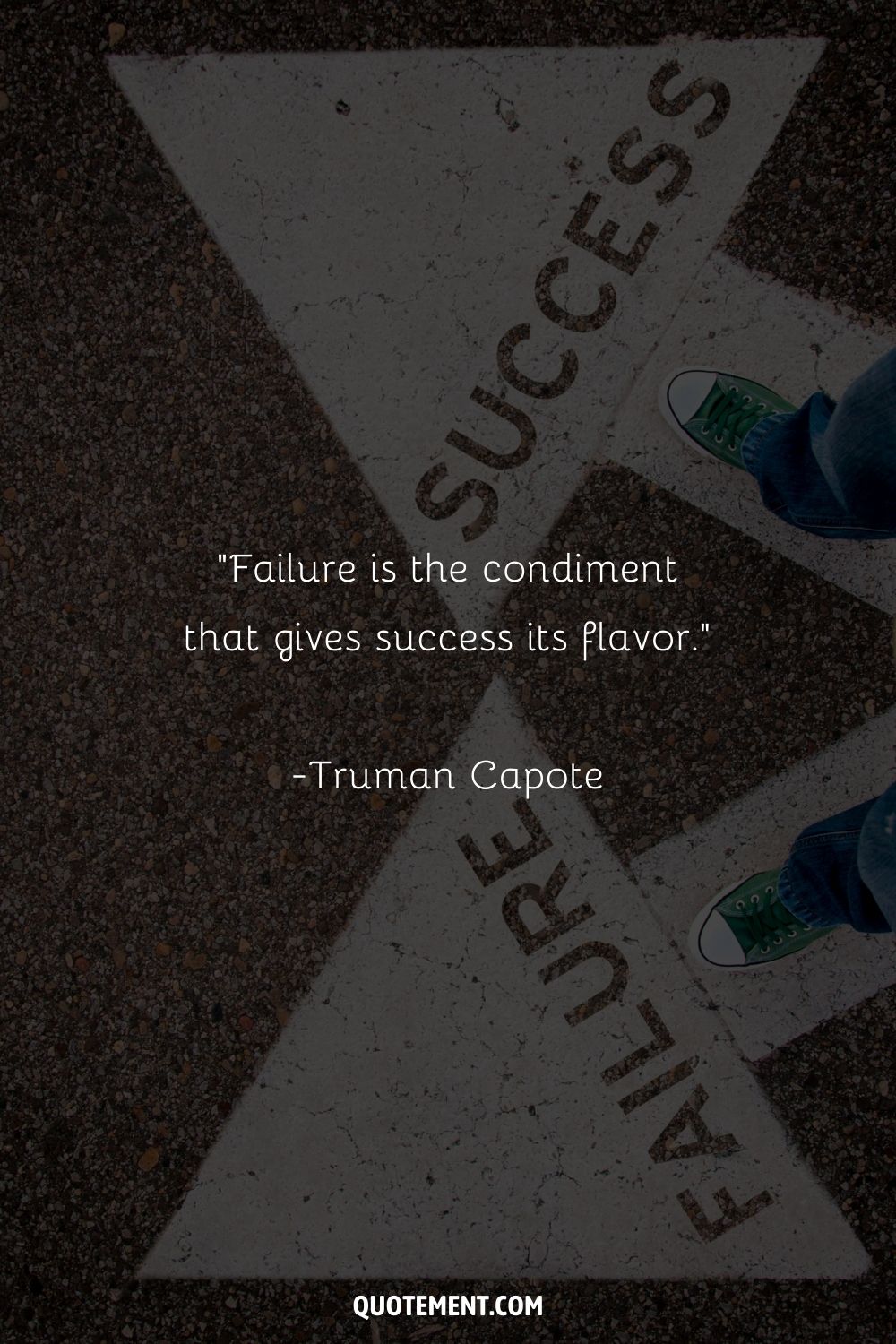 2. "You're not obligated to win. You're obligated to keep trying. To the best you can do everyday." ― Jason Mraz
3. "All of old. Nothing else ever. Ever tried. Ever failed. No matter. Try again. Fail again. Fail better." ― Samuel Beckett, Worstward Ho
4. "Success is determined not by whether or not you face obstacles, but by your reaction to them. And if you look at these obstacles as a containing fence, they become your excuse for failure. If you look at them as a hurdle, each one strengthens you for the next." ― Ben Carson, Gifted Hands: The Ben Carson Story
5. "Success is most often achieved by those who don't know that failure is inevitable." ― Coco Chanel, Believing in Ourselves: The Wisdom of Women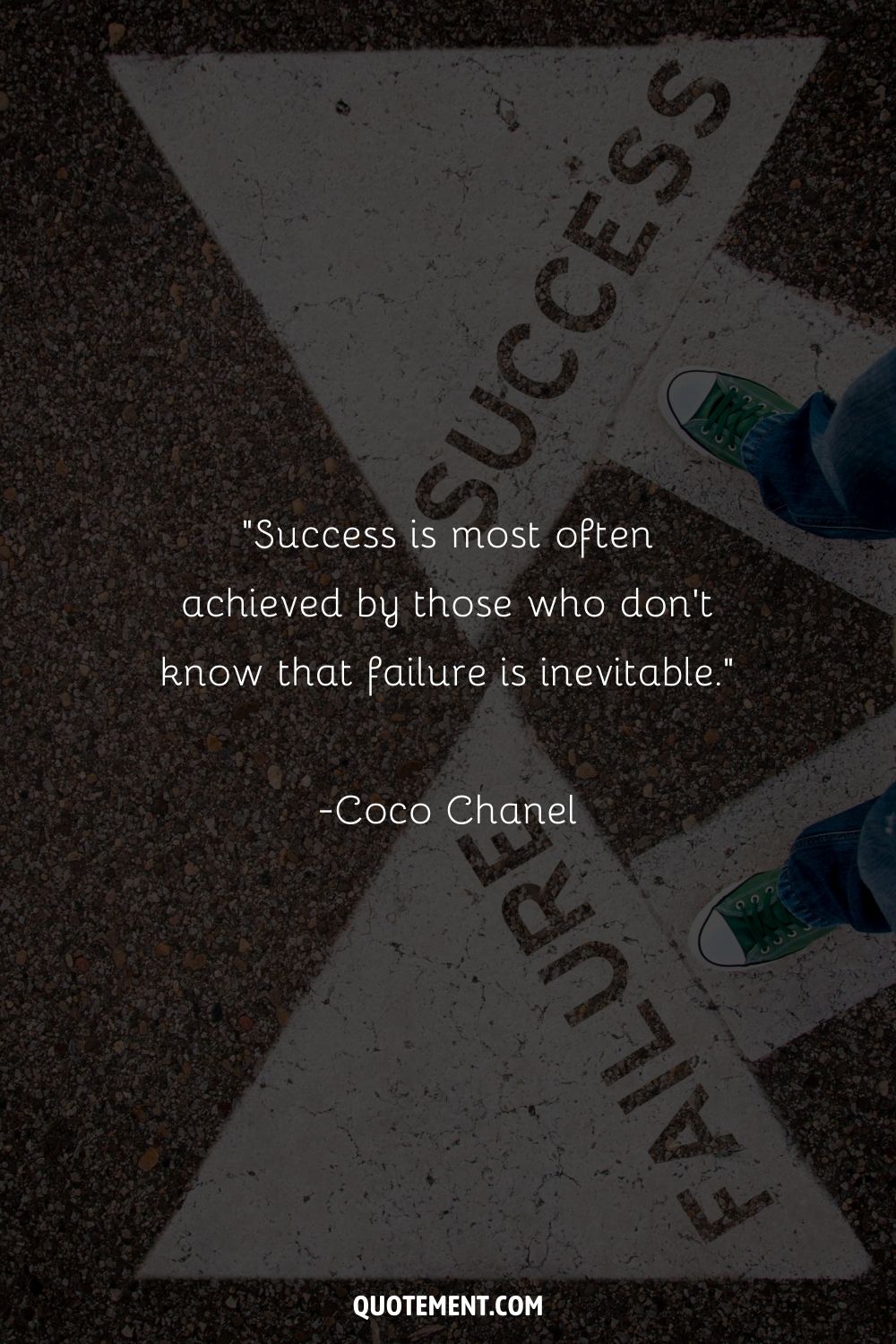 6. "Rock bottom became the solid foundation on which I rebuilt my life." ― J.K. Rowling
7. "When you take risks you learn that there will be times when you succeed and there will be times when you fail, and both are equally important." ― Ellen DeGeneres, Seriously… I'm Kidding
8. "You tried to help the people of the market. You mostly failed. This is life. The longer you live, the more you fail. Failure is the mark of a life well lived. In turn, the only way to live without failure is to be of no use to anyone. Trust me, I've practiced" ― Brandon Sanderson, Oathbringer
9. "I was never afraid of failure; for I would sooner fail than not be among the greatest." ― John Keats
10. "There is no failure except in no longer trying." ― Elbert Hubbard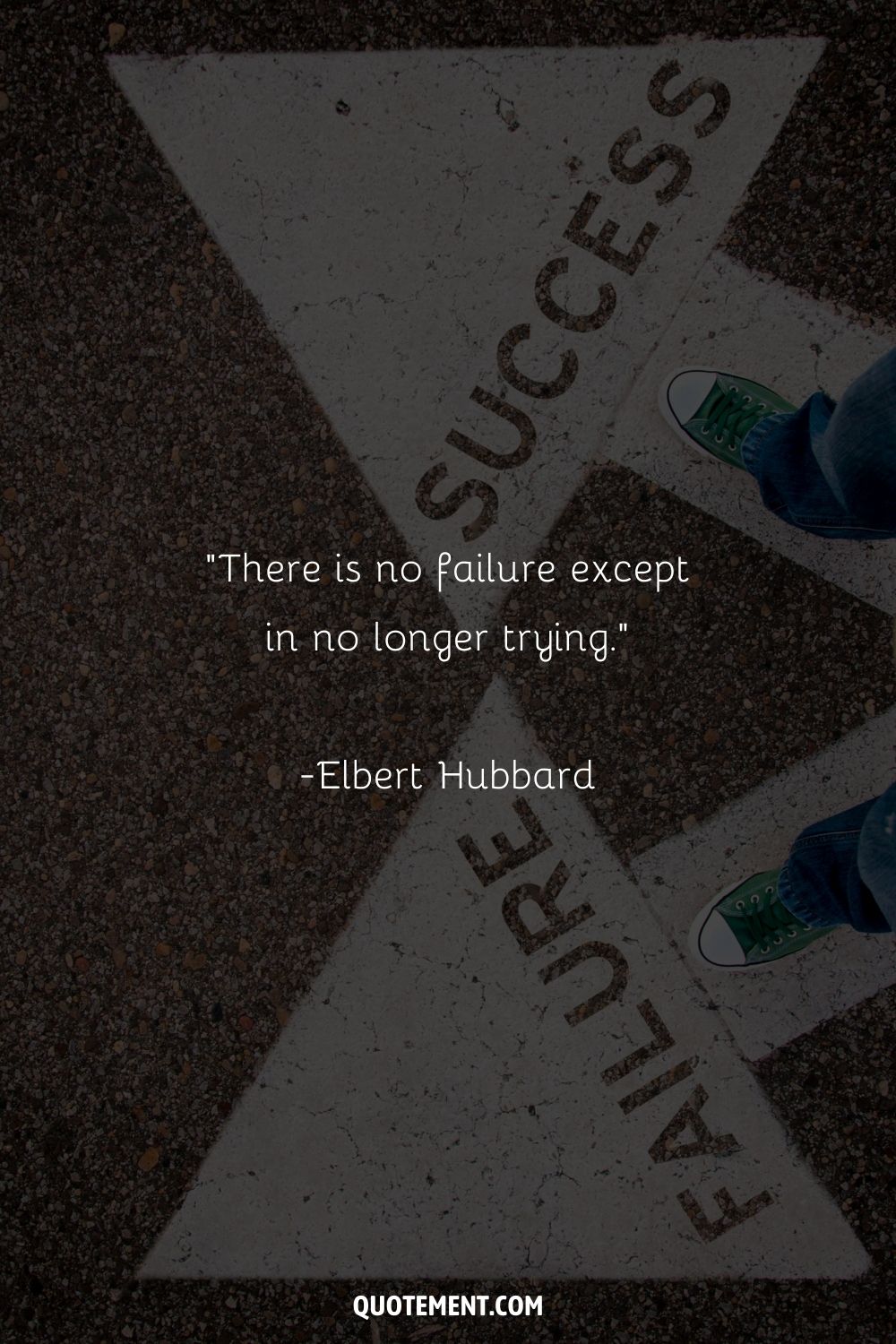 11. "The master has failed more times than the beginner has even tried." ― Stephen McCranie
12. "Don't worry about being effective. Just concentrate on being faithful to the truth." ― Dorothy Day
13. "You may be disappointed if you fail, but you are doomed if you don't try." ― Beverly Sills
14. "I am struck by how sharing our weakness and difficulties is more nourishing to others than sharing our qualities and successes." ― Jean Vanier, Community and Growth
See also: 240 Disappointment Lies Quotes So You Can Start Anew
15. "It is said we learn more from our failures than our successes." ― Holly Black, The Wicked King
16. "You build on failure. You use it as a stepping sone. Close the door on the past. You don't try to forget the mistakes, but you don't dwell on it. You don't let it have any of your energy, or any of your time, or any of your space." ― Johnny Cash
17. "When the sense of «not belonging» is tolling the bell for true happiness, it infuses people into accepting life as a failure, or a scar in the canvas of a vacant environment. The attachment to the little things, though, and the fleeting moments of every day can confer connection and expectation. ("The grass was greener over there")" ― Erik Pevernagie
See also: 210 Connection Quotes About Uniting Everything Together
18. "He will know from and early age that failure is not disgrace. It's just a pitch that you missed, and you'd better get ready for the next one. The next one might be the shot heard round the world. My son and I are Americans, we prepare for glory by failing until we don't." ― Craig Ferguson, American on Purpose: The Improbable Adventures of an Unlikely Patriot
19. "Failure is just part of the process, and it's not just okay; it's better than okay. God doesn't want failure to shut us down. God didn't make it a three-strikes-and-you're-out sort of thing. It's more about how God helps us dust ourselves off so we can swing for the fences again. And all of this without keeping a meticulous record of our screw-ups." ― Bob Goff, Love Does: Discover a Secretly Incredible Life in an Ordinary World
20. "The value of a moment is immeasurable. The power of just ONE moment can propel you to success and happiness or chain you to failure and misery." ― Steve Maraboli, Life, the Truth, and Being Free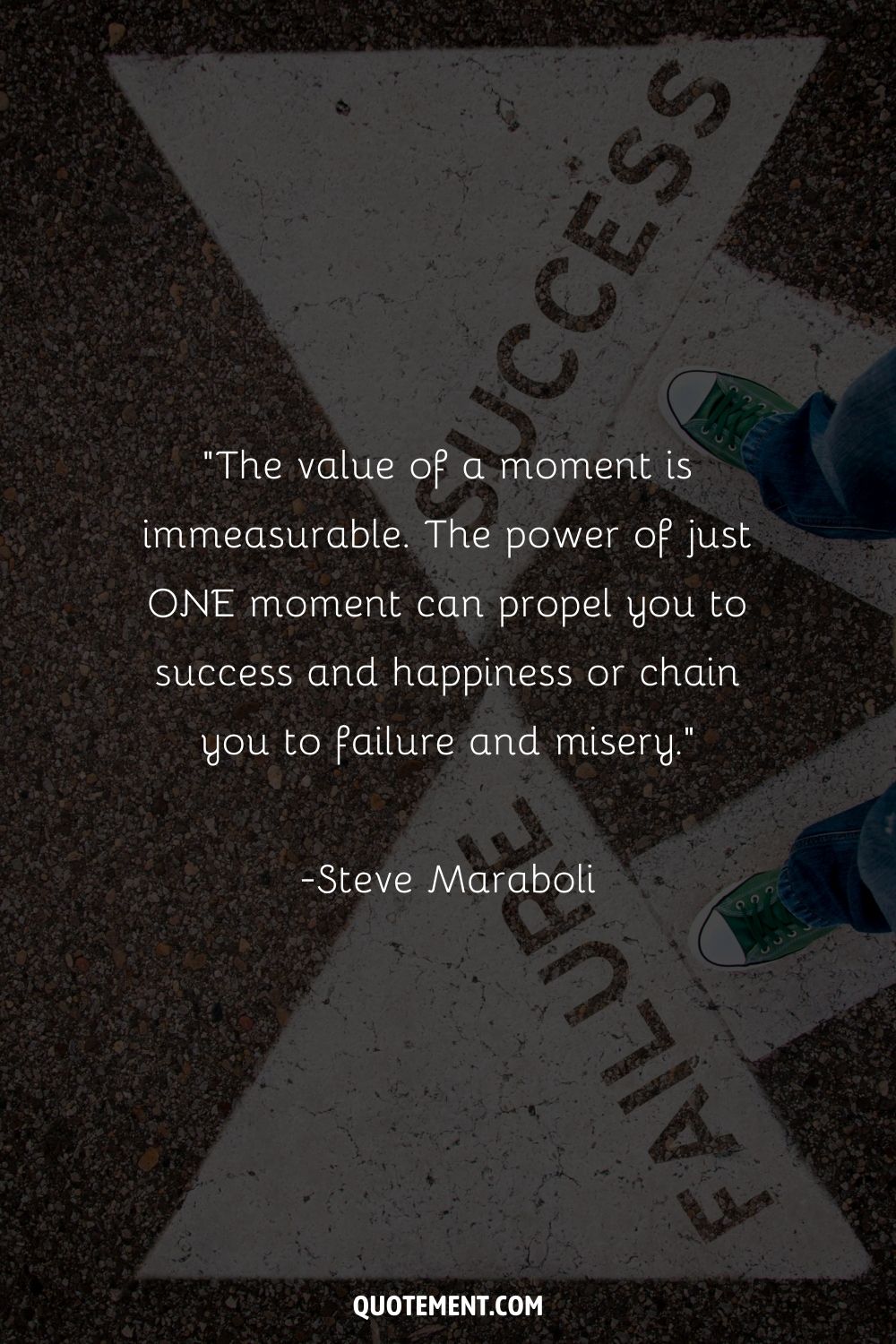 See also: 140 Best Quotes On Values To Present Inspirational Insights
21. "I told you before, that there are different ways to fail. Imperfection is inevitable. That's life. But it doesn't sound to me like you failed at all, Eve. It sounds like your dream broke, and you've been picking up shattered pieces, and blaming yourself when your hands bleed." ― Talia Hibbert, Act Your Age, Eve Brown
22. "There is no tomorrow and there was no yesterday; if you truly want to accomplish your goals you must engulf yourself in today." ― Noel DeJesus
23. "Education is what they equip you with; just in case your dream doesn't workout." ― Mokokoma Mokhonoana
24. "If failure has the strength to turn your life into bitterness itself, then patience has the strength to turn your life into the sweetest joy. Do not surrender to fate after a single failure. Failure, at most, precedes success." ― Sri Chinmoy
25. "Why are you going to choose failure when success is an option?" ― Jillian Michaels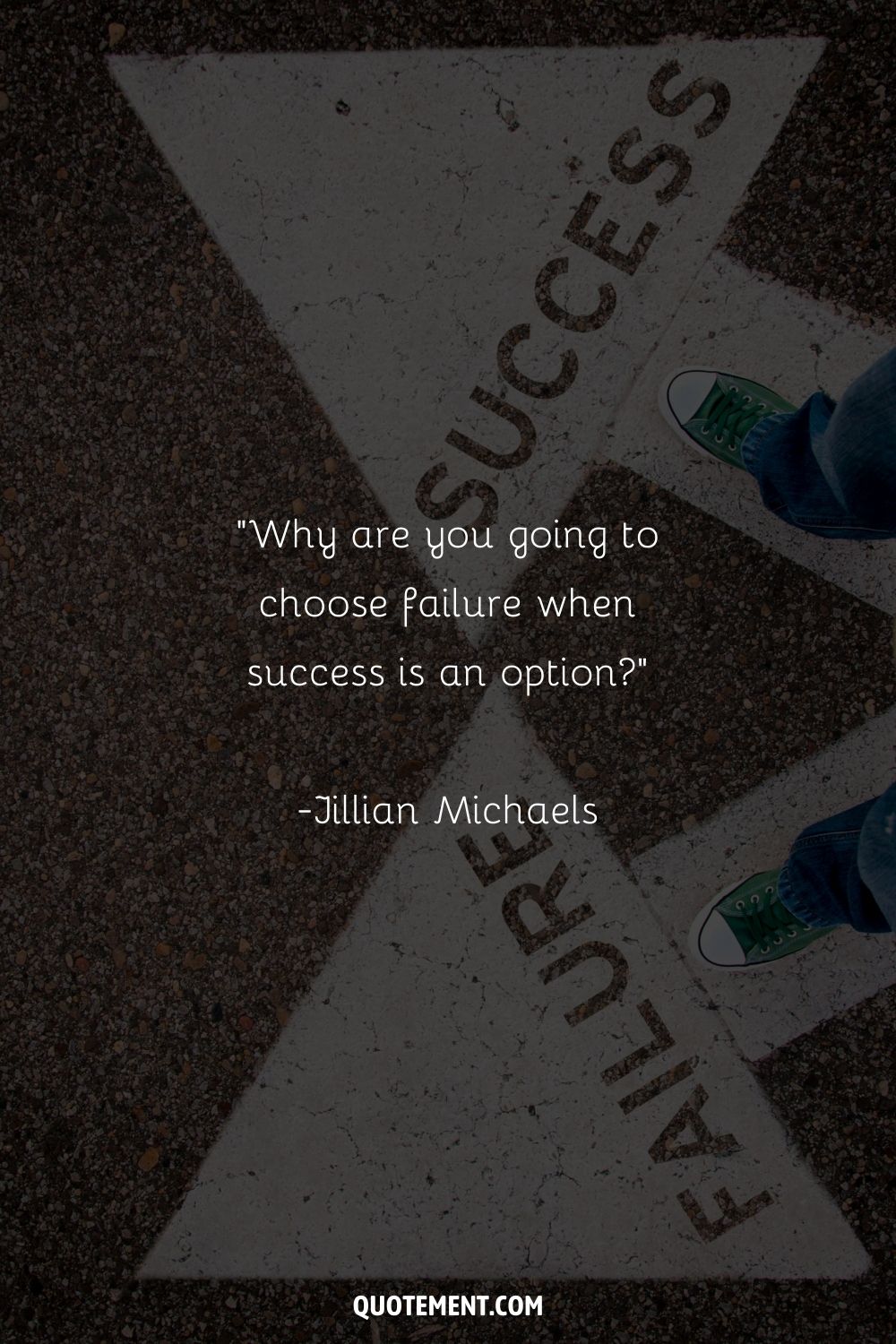 26. "Stop judging your life only by the failures," he whispered.
"What should I do?" she whispered. "I'm always going to fail."
"We all do," he said softly, his voice closer now. "We all fail. But none of us fail all the time." ― Michelle Sagara West, Cast in Silence
27. "Sometimes I feel proud of myself, not because of any success I've achieved, but because I'm aware of all the difficulties that I have suffered or went through.
I'm an eyewitness at all the fear, weakness, frustration, failure, depression, refraction and bad luck moments that I've been through alone and which affected significantly but never was able to beat me for so long.
This is why I'm proud, because I'm here now stronger that yesterday, I'm still able to stand and continue on my way, still following up my dreams, still trying my best to build better future for me and my family and I will never ever give up!" ― Shadi Kamal Kandil
28. "Isana felt her throat tighten.
"We failed." Serai lifted her chin and patted Isana's arm firmly.
"We have not yet succeeded. There is a difference." ― Jim Butcher, Academ's Fury
29. "Do not let your grand ambitions stand in the way of small but meaningful accomplishments." ― Bryant McGill
30. "A hundred failures would not matter, when one single success could change the destiny of the world." ― Arthur C. Clarke, 2001: A Space Odyssey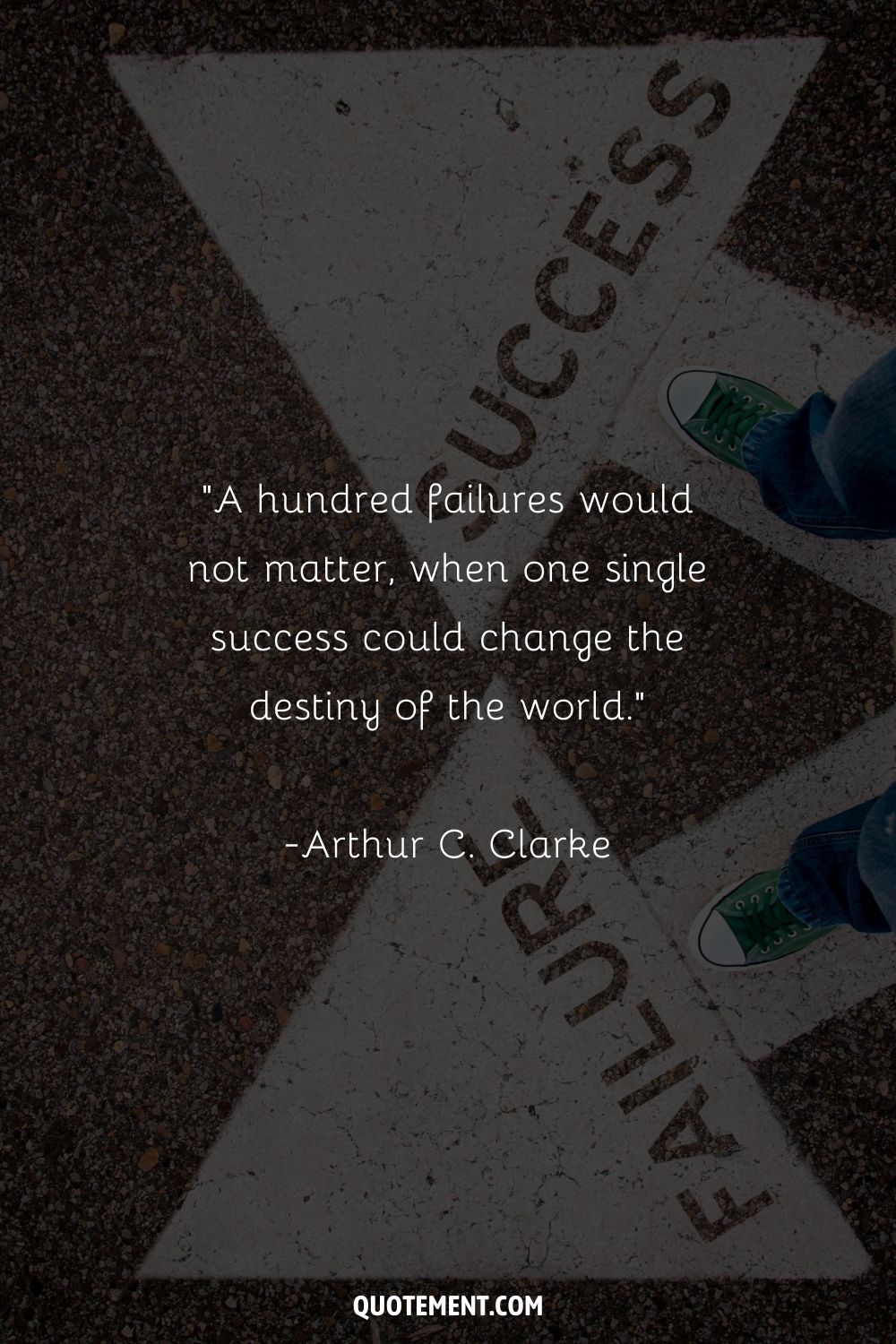 31. "Stand up for the underdog, the 'loser.' Sometimes having the strength to show loving support for unacknowledged others turns the tides of our own lives." ― Alexandra Katehakis, Mirror of Intimacy: Daily Reflections on Emotional and Erotic Intelligence
32. "Failure only happens when you lose your willpower to continue trying…If we let the obstacles get the best of us then it was our choice to fail, not fate." ― Lindsey Rietzsch, Successful Failures
33. "challenges; the great wall between those who stand and those who fall" ― Ernest Agyemang Yeboah
34. "Good habits are the key to all success. Bad habits are the unlocked door to failure." ― Og Mandino
35. "If your failure is not a lesson, it's indeed a failure." ― Ogwo David Emenike, The Fortune in Failing: Decoding the Message of Failure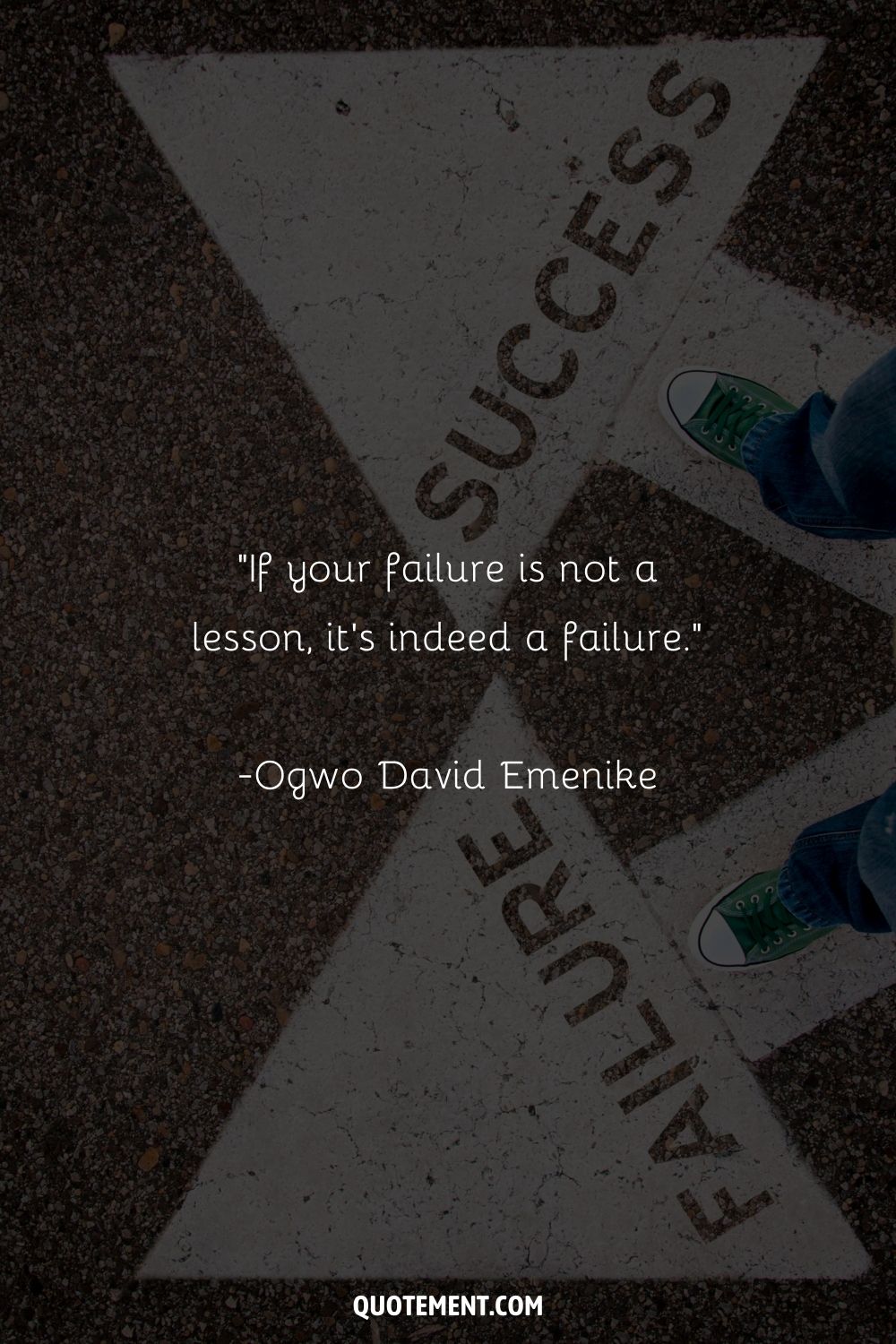 36. "Know that tomorrow will bring clarity where before was only fog. In the final summation, it is not other's expectations that slay us, but our over compensatory reactions in regard" ― C.B. Smith
37. "Ideas do not have to be correct in order to be good; its only necessary that, if they do fail, they do so in an interesting way. " ― Robert Rosen
38. "A failure establishes only this, that our determination to succeed was not strong enough." ― Christian Nestell Bovee
39. "Failure is another emotion I cannot stand to feel, because in adult life I have conditioned myself not to fail at anything. Failure takes me straight back to the feelings of worthlessness I grew up with as a stammering, reclusive little boy." ― Jake Wood , Among You: The Extraordinary True Story of a Soldier Broken By War
40. "Try again; you have millions of alternatives. Fill yourself with the bullets of hope and you will kill failure with one shot." ― Israelmore Ayivor, Dream big!: See your bigger picture!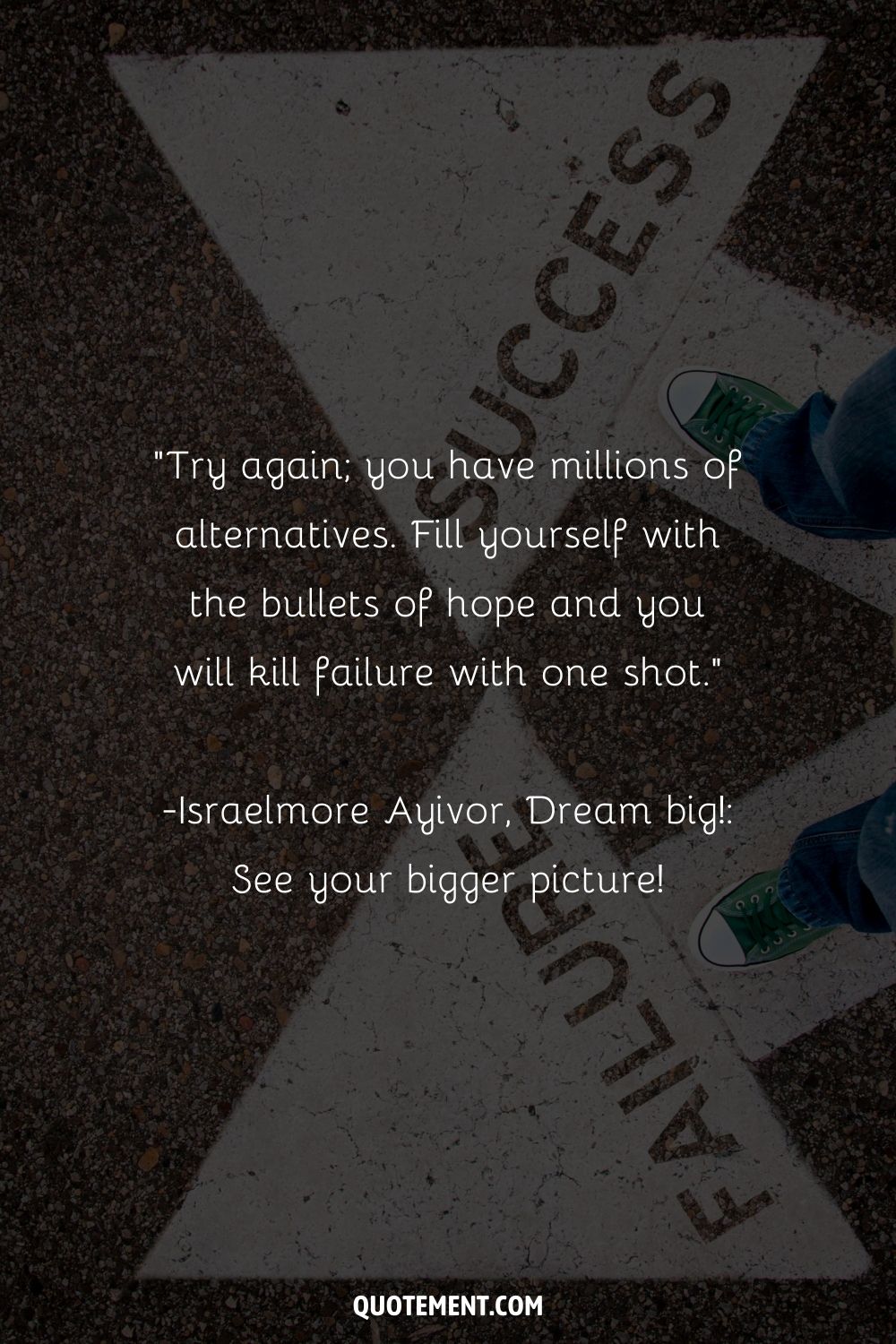 41. "An event in which you did not achieve your desired outcome (definition of failure)." ― Steven K. Scott
42. "And the thing is, we can't fail. We've already hit the bottom and come out of it. From here on out, if we just love and listen, we can't go wrong, babe." ― Erin McCarthy, Hot Finish
43. "It comes down to 'fear' and 'faith'. 'Fear' of what stands in front of me. 'Faith' is believing that the resources I possess can handle what stands in front of me. If I stop at the former, I will change nothing. If I embrace the latter, I can change everything." ― Craig D. Lounsbrough
44. "Failure does not connote that you achieved nothing. It denotes that you are on an adventure towards finding what will eventually advance you to the realization of your goals." ― Ogwo David Emenike, The Fortune in Failing: Decoding the Message of Failu
45. "Failure has its successes." ― Brian Howard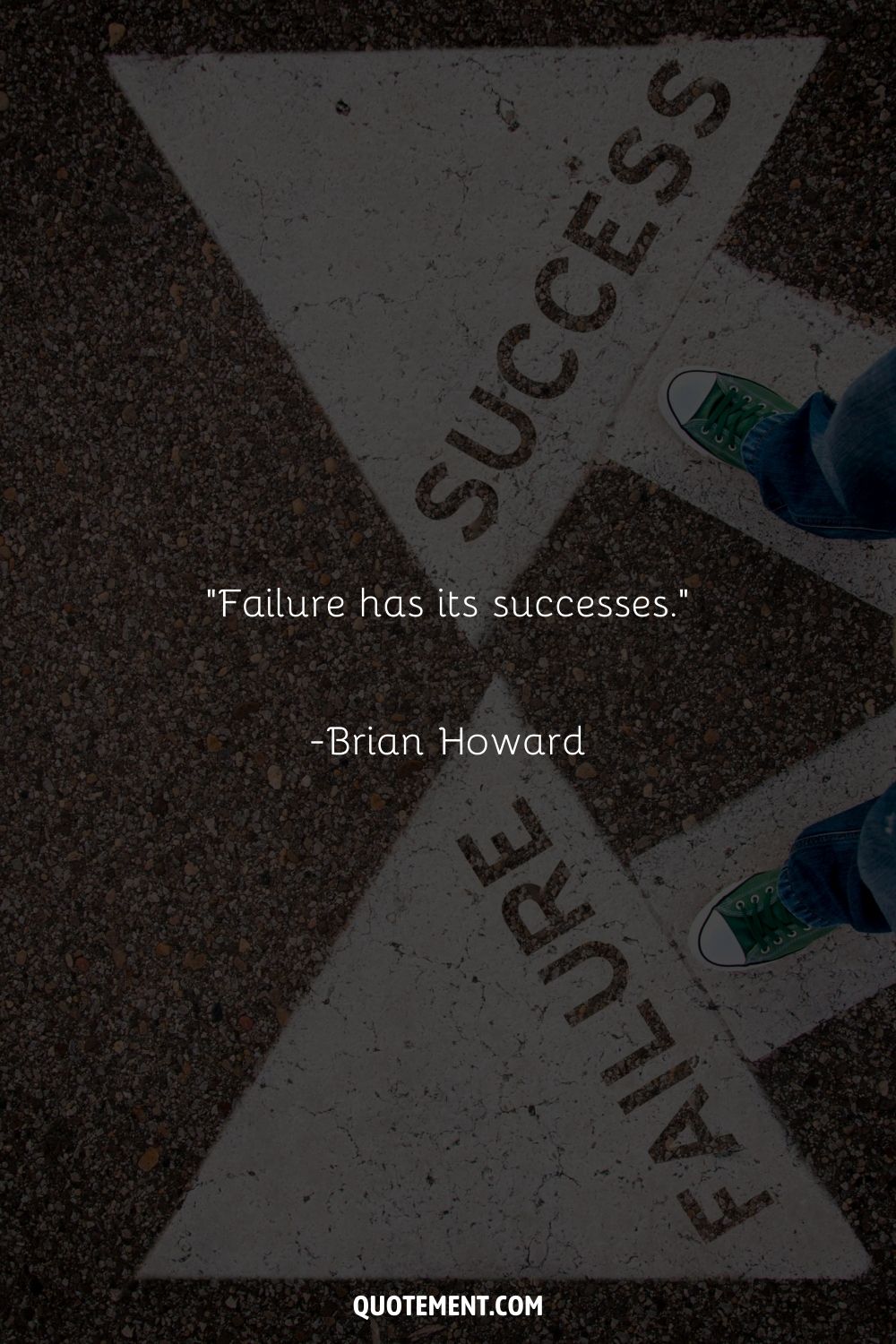 46. "The ability to overcome failure—to live through it and move on—is crucial. If we are not willing to face failure—if we don't have the skills to survive it—we have precluded any real creativity or risk. Failure may never become our friend, but if we are to do meaningful work, perhaps failure needs to be our companion." ― John Hunter, World Peace and Other 4th-Grade Achievements
47. "Let failure be your workshop. See it for what is is: the world walking you through a tough but necessary semester, free of tuition. (from Workbook)" ― Steven Heighton
48. "Allow yourself to think that the possibility of failure is a necessary part of parenting well…. Avoiding the possibility of failure means avoiding the possibility of being an extraordinary parent-and avoiding what you want for your child." ― Lisa Coyne, The Joy of Parenting: An Acceptance and Commitment Therapy Guide to Effective Parenting in the Early Years
49. "That failure serves a purpose!" ― Ogwo David Emenike, The Fortune in Failing: Decoding the Message of Failure
50. "Decode the message of failure and enjoy the fortune thereof." ― Ogwo David Emenike, The Fortune in Failing: Decoding the Message of Failure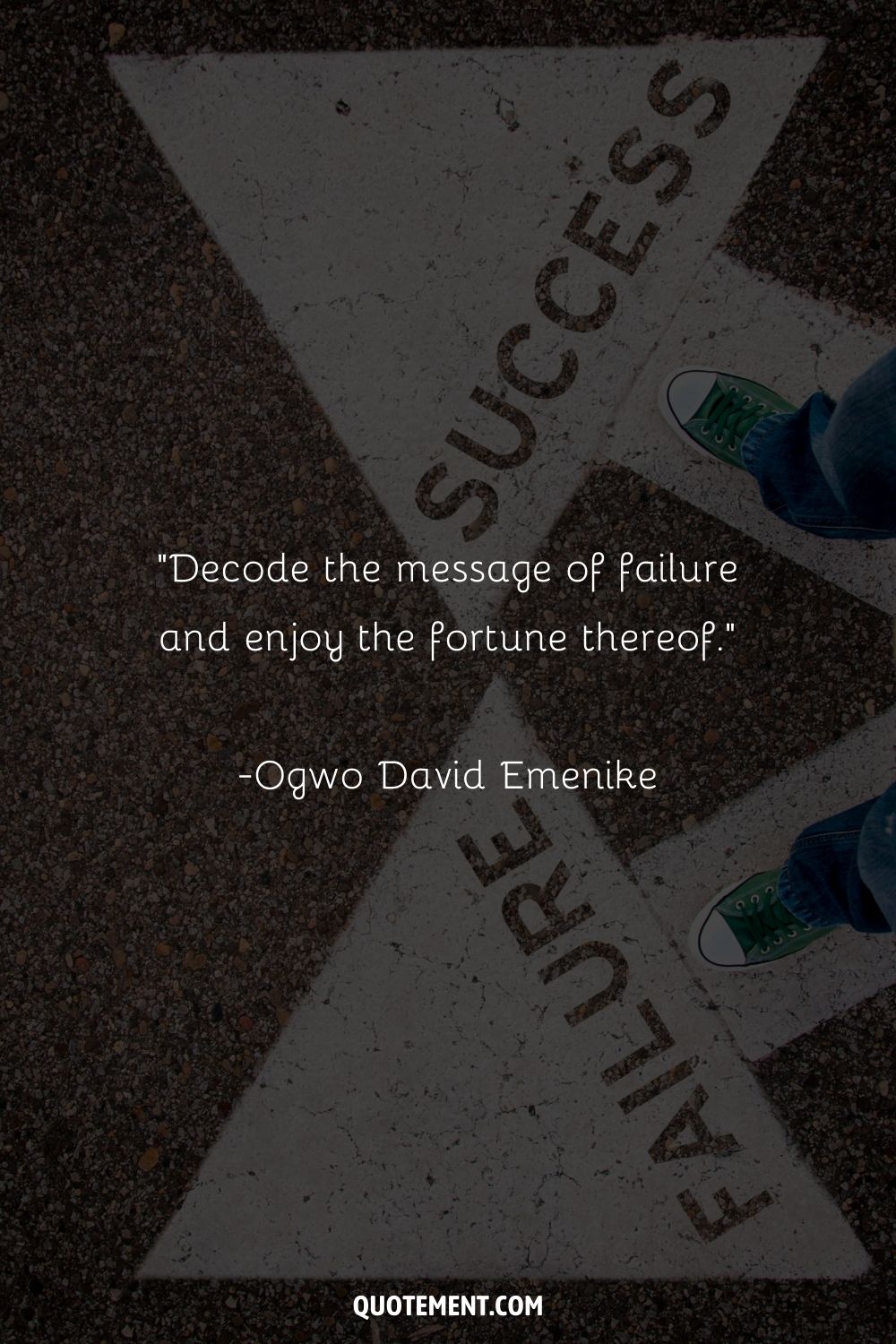 Motivational Quotes About Failure
1. "If you fell down yesterday, stand up today." ― H.G. Wells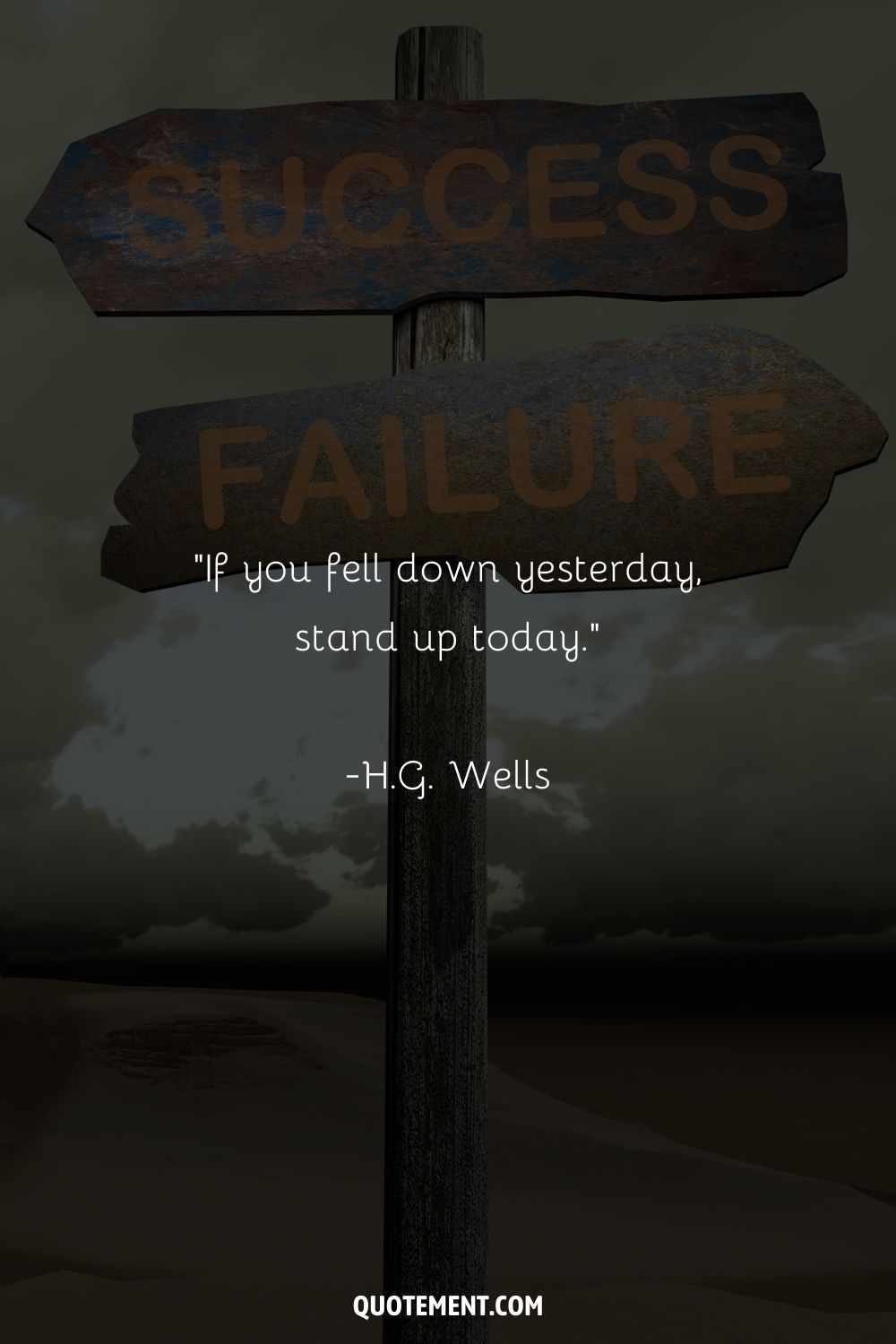 2. "Failure is only the opportunity more intelligently to begin again." ― Henry Ford
3. "Failures are the stairs we climb to reach success." ― Roy T. Bennett, The Light in the Heart
4. "How much you can learn when you fail determines how far you will go into achieving your goals." ― Roy T. Bennett, The Light in the Heart
5. "The phoenix must burn to emerge." ― Janet Fitch, White Oleander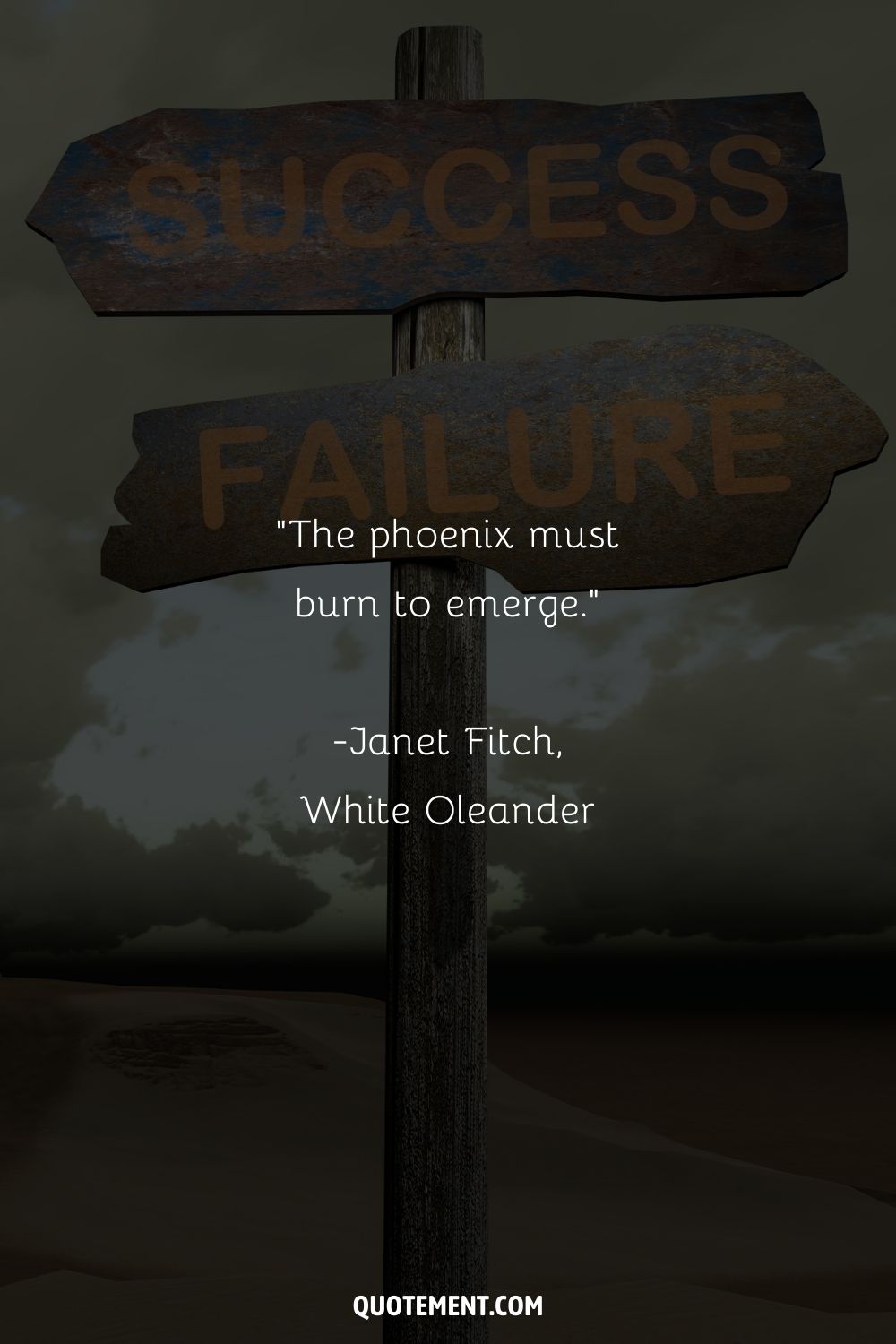 LINKAJ PHOENIX QUTES
6. "Children have a lesson adults should learn, to not be ashamed of failing, but to get up and try again. Most of us adults are so afraid, so cautious, so 'safe,' and therefore so shrinking and rigid and afraid that it is why so many humans fail. Most middle-aged adults have resigned themselves to failure." ― Malcolm X, The Autobiography of Malcolm X
7. "Every adversity, every failure, every heartache carries with it the seed of an equal or greater benefit." ― Napoleon Hill
8. "It's failure that gives you the proper perspective on success." ― Ellen DeGeneres, Seriously… I'm Kidding
9. "it's not how far you fall, but how high you bounce that counts." ― Zig Ziglar
10. "Failures are finger posts on the road to achievement." ― C.S. Lewis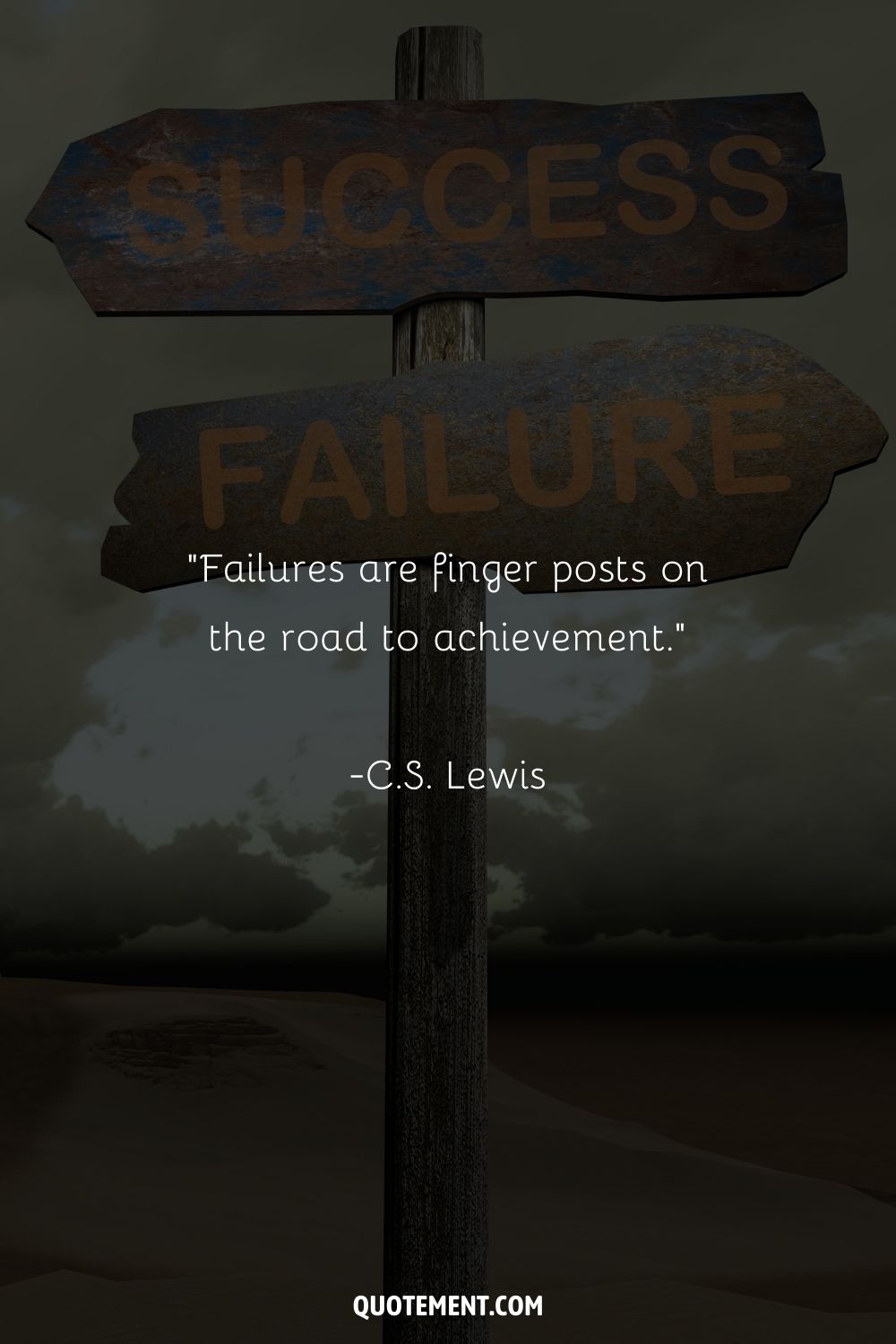 11. "Sometimes it takes a wrong turn to get you to the right place." ― Mandy Hale, The Single Woman: Life, Love, and a Dash of Sass
12. "Never feel shame for trying and failing for he who has never failed is he who has never tried." ― Og Mandino, The Greatest Salesman in the World
13. "Much of life is about failure, whether we acknowledge it or not, and your destiny is profoundly shaped by how effectively you learn from and adapt to failure." ― David Brooks, The Social Animal: The Hidden Sources of Love, Character, and Achievement
14. "Many times what we perceive as an error or failure is actually a gift. And eventually we find that lessons learned from that discouraging experience prove to be of great worth." ― Richelle E. Goodrich, Smile Anyway: Quotes, Verse, and Grumblings for Every Day of the Year
15. "Failure? I never encountered it. All I ever met were temporary setbacks." ― Dottie Walters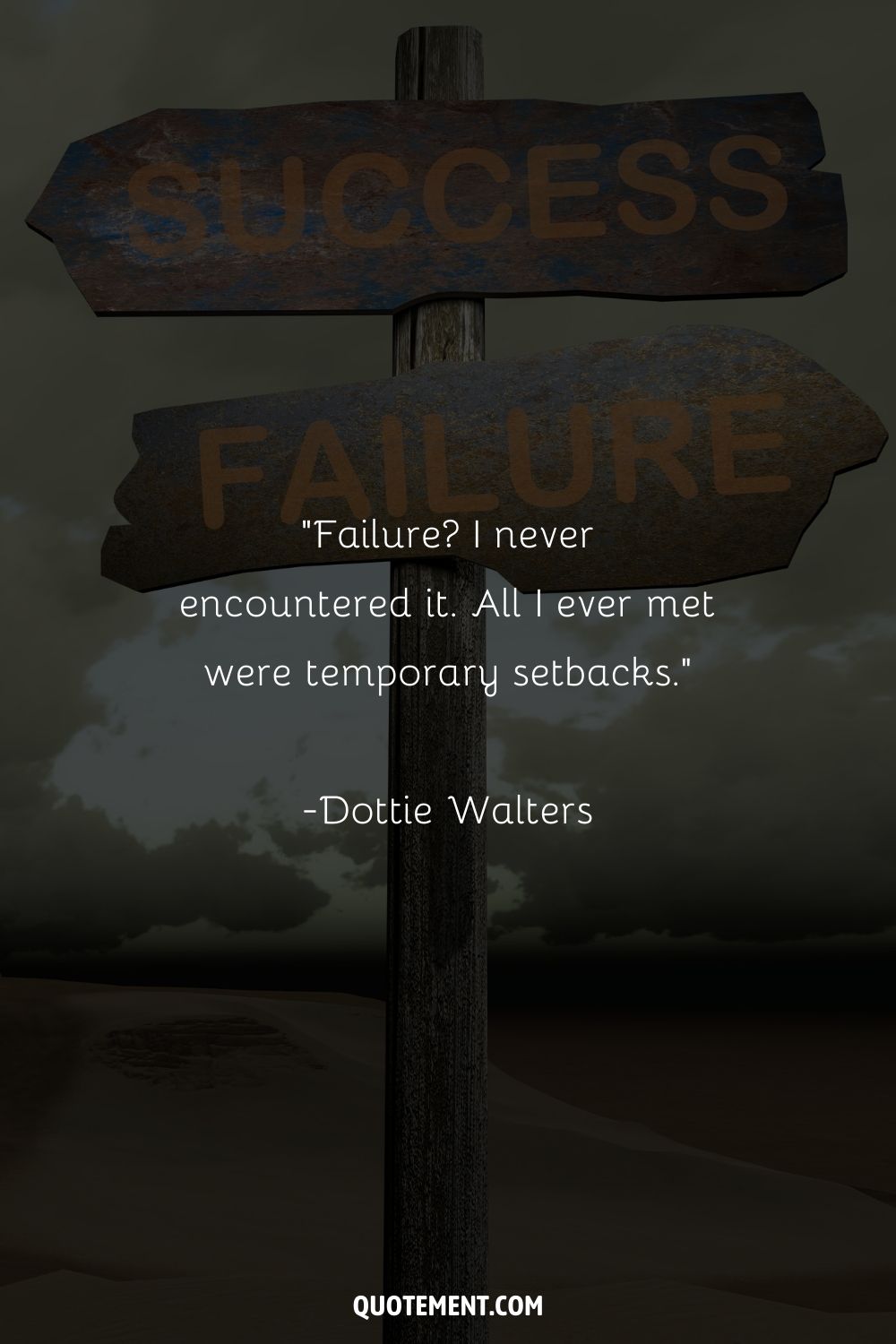 16. "I think for anyone to become good at something, they have to fail a lot too. And they have to be completely unafraid to fail or they'll never make it to the next level." ― Amy Schumer, The Girl with the Lower Back Tattoo
17. "There will always be haters. And the more you grow the more they hate; the more they hate the more you grow." ― Anthony Liccione
18. "I assumed that everything would lead to complete failure, but I decided that didn't matter – that would be my life. " ― Jasper Johns
19. "Excuses are merely nails used to build a house of failure." ― Habeeb Akande
20. "There is no failure except in no longer trying." ― Chris Bradford, The Way of the Sword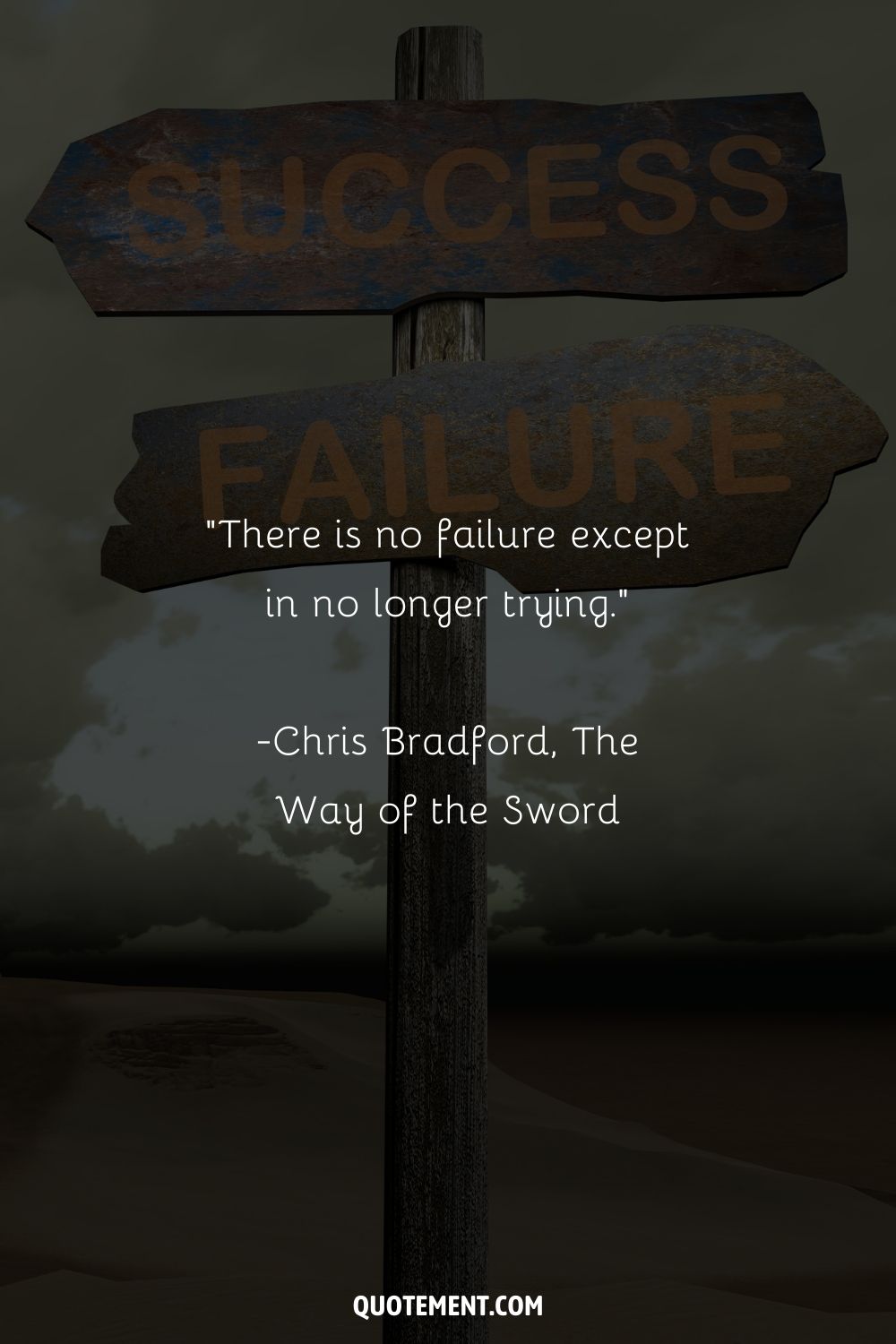 21. "Some people will insult your intelligence by suddenly being nice or nicer to you once you make it … or they think you have." ― Mokokoma Mokhonoana
22. "You are likely to fall when you stop paddling your bicycle. Such is life. As long as you don't give up, you will never end up failing!" ― Israelmore Ayivor, Daily Drive 365
23. "You were born a winner, a warrior, one who defied the odds by surviving the most gruesome battle of them all – the race to the egg. And now that you are a giant, why do you even doubt victory against smaller numbers and wider margins? The only walls that exist are those you have placed in your mind. And whatever obstacles you conceive, exist only because you have forgotten what you have already achieved." ― Suzy Kassem, Rise Up and Salute the Sun: The Writings of Suzy Kassem
24. "To be successful, one has to be one of three bees – the queen bee, the hardest working bee, or the bee that does not fit in." ― Suzy Kassem, Rise Up and Salute the Sun: The Writings of Suzy Kassem
25. "Her failure was a useful preliminary to success." ― Edith Wharton, The Custom of the Country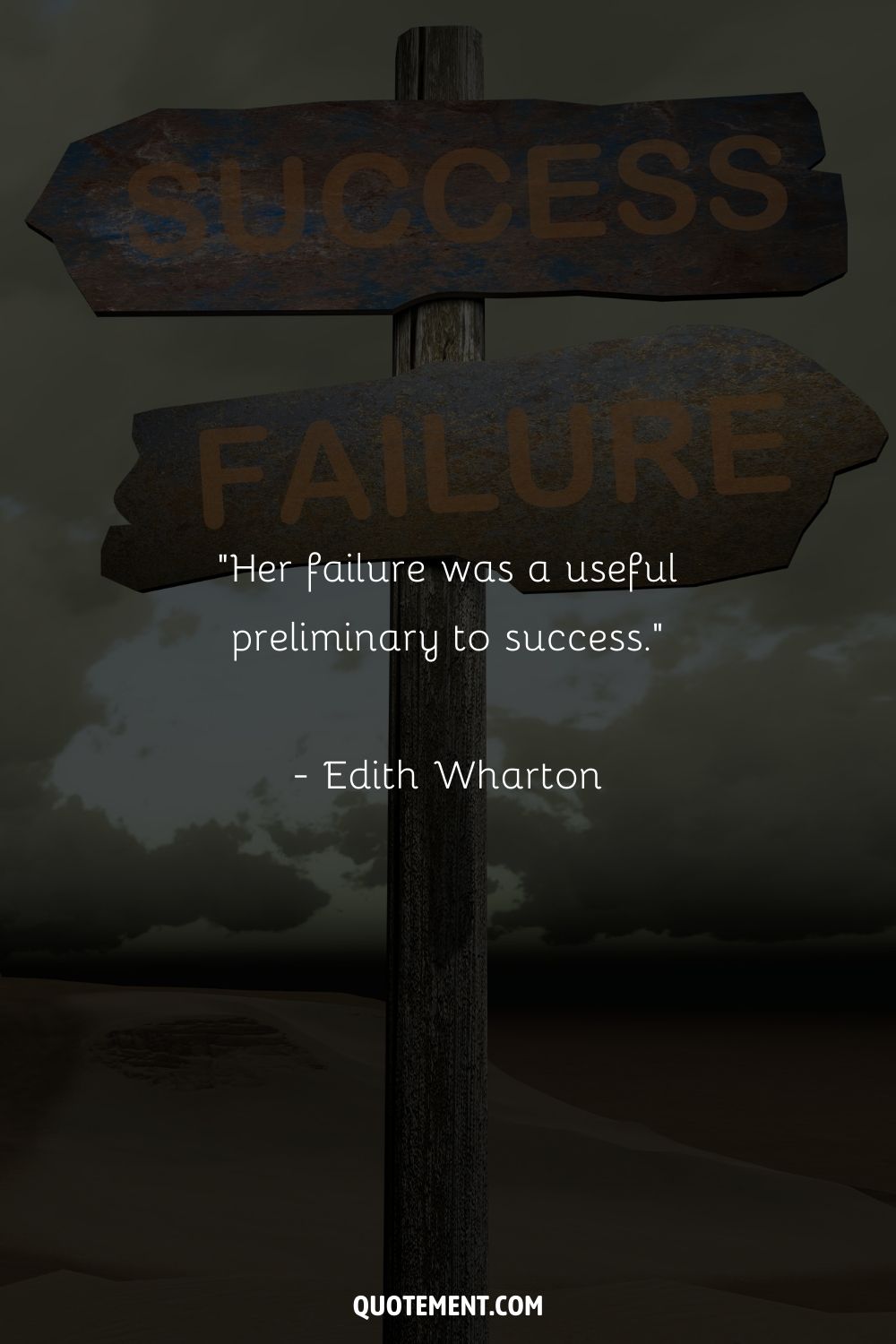 26. "The pain of failure had led me to understand that technical excellence was a moral requirement." ― Paul Kalanithi
27. "I could take a walk with my wife and try
to explain the ghosts I can't stop speaking to.
Or I could read all those books piling up
about the beginning of the end of understanding…
Meanwhile, it's such a beautiful morning,
the changing colors, the hypnotic light.
I could sit by the window watching the leaves,
which seem to know exactly how to fall
from one moment to the next. Or I could lose
everything and have to begin over again." ― Philip Schultz, Failure: Poems
28. "Two types of choices seem to me to have been crucial in tipping the outcomes [of the various societies' histories] towards success or failure: long-term planning and willingness to reconsider core values. On reflection we can also recognize the crucial role of these same two choices for the outcomes of our individual lives." ― Jared Diamond, Collapse: How Societies Choose to Fail or Succeed
29. "The true measure of a man is not what he dreams, but what he aspires to be; a dream is nothing without action. Whether one fails or succeeds is irrelevant; all that matters is that there was motion in his life. That alone affects the world." ― Mike Norton, White Mountain
See also: Ultimate Collection Of 130 Best Sigma Male Quotes
30. "Since when is failure more appealing? Never give up." ― Richelle E. Goodrich, Smile Anyway: Quotes, Verse, and Grumblings for Every Day of the Year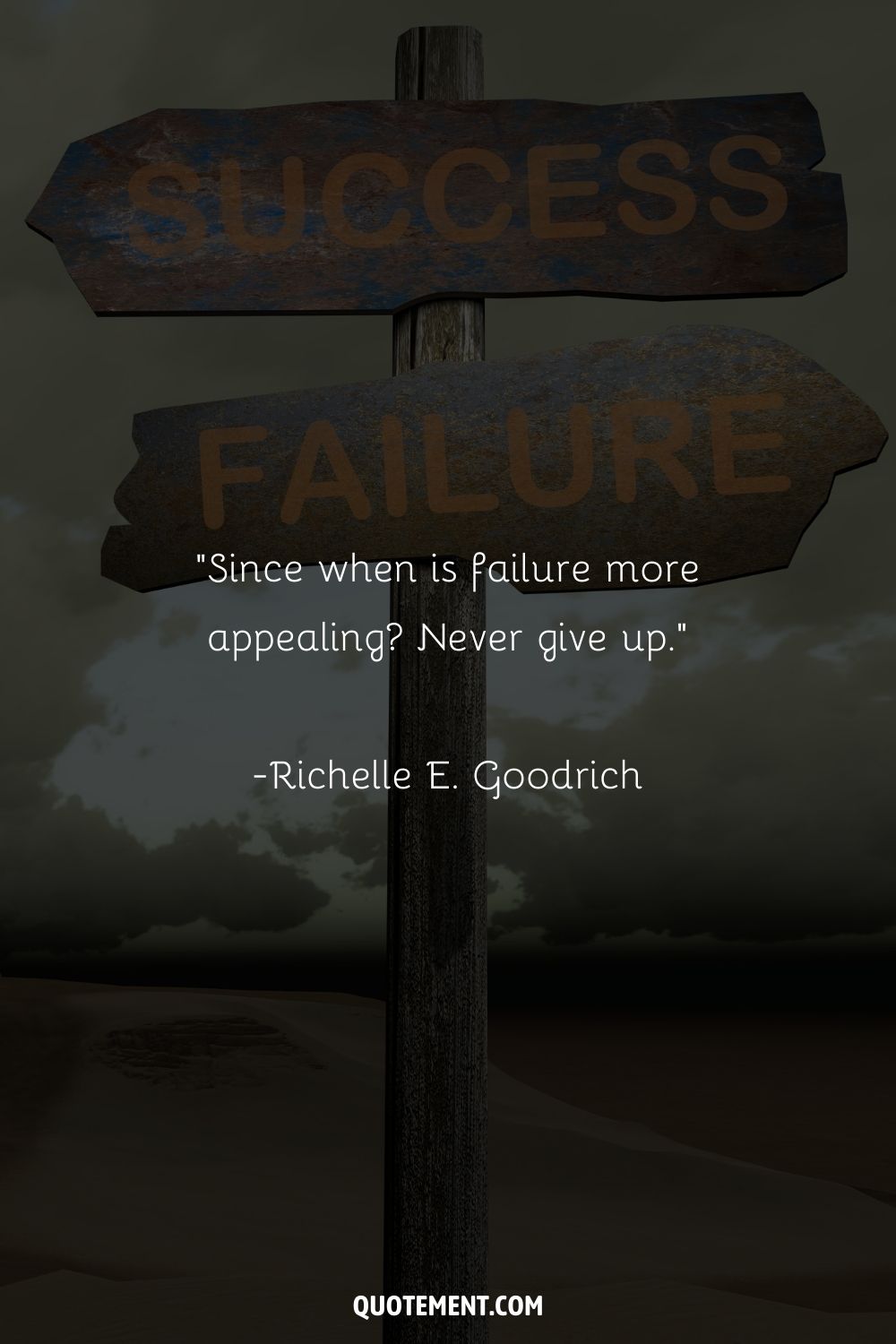 31. "Strength and success – they are above morality, above criticism. It seems, then, that it is not what you do, but how you do it and what you call it. Is there a check in men, deep in them, that stops or punishes? There doesn't seem to be. The only punishment is for failure. In effect no crime is committed unless a criminal is caught." ― John Steinbeck, The Winter of Our Discontent
32. "So long as the man with ambition is a failure, the world will tell him to let go of his ideal; but when his ambition is realized, the world will praise him for the persistence and the determination that he manifested during his dark hours, and everybody will point to his life as an example for coming generations. This is invariably the rule. Therefore pay no attention to what the world says when you are down. Be determined to get up, to reach the highest goal you have in view, and you will." ― Christian D. Larson
33. "But, ah me! where is the faultless human creature who can persevere in a good resolution, without sometimes failing and falling back?" ― Wilkie Collins, The Woman in White
34. "But we fall only that we might rise, Alfred. All of us fall; all of us, as you say, screw up. Falling is not important. It is how we get up after the fall that's important." ― Rick Yancey, The Extraordinary Adventures of Alfred Kropp
35. "Success and failure are two edges of the same blade, two sides of the same coin. To fear one is to forever deny the possibility of the other." ― Michelle Sagara West, Cast in Courtlight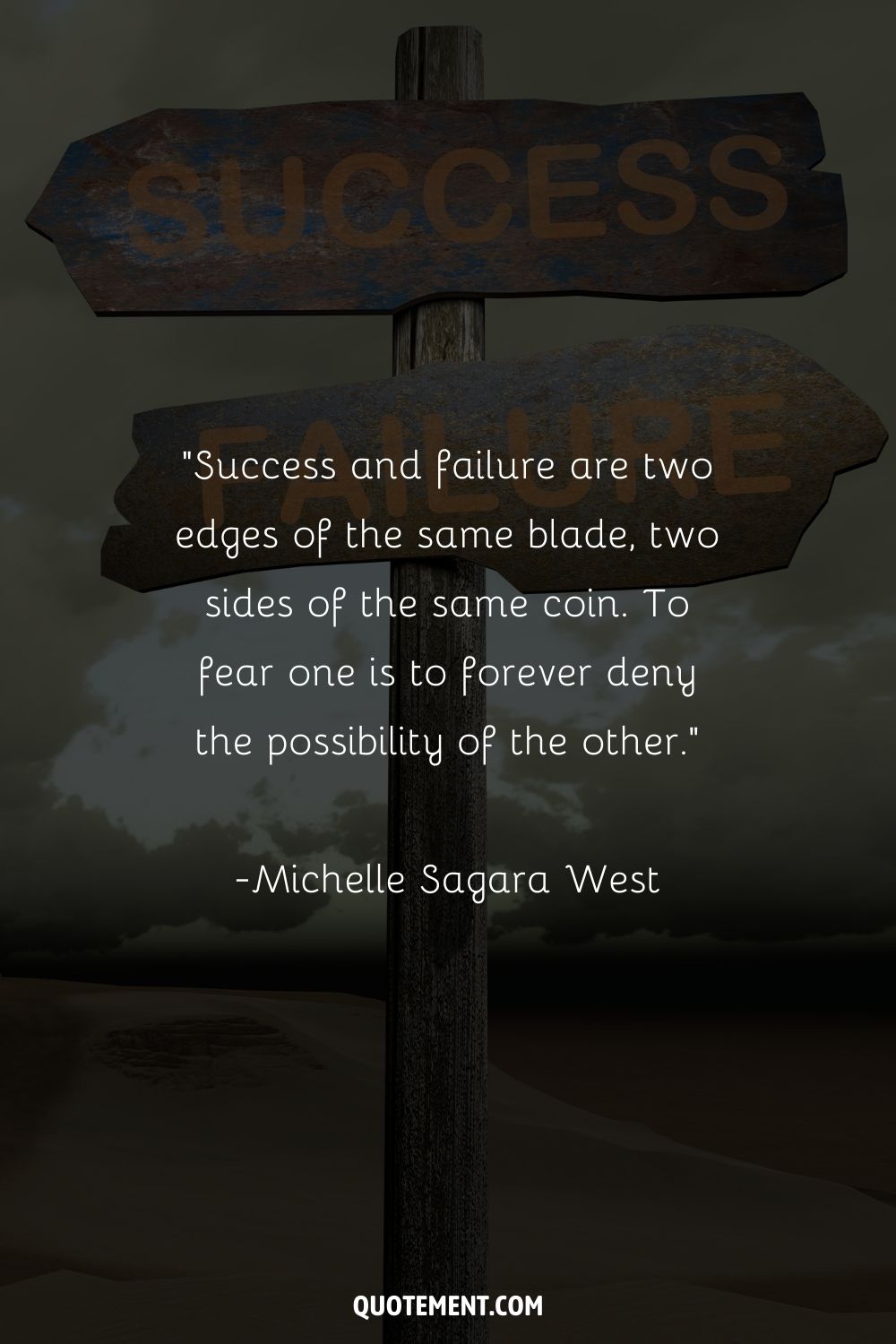 36. "The way into the hall of success always passes through the chamber of decision. Decide to be a success; success is deliberate!" ― Israelmore Ayivor, The Great Hand Book of Quotes
37. "The more I try to be perfect; the more I fail." ― Harley King
38. "You know you made it, when people you know, tell people they know, that you know them." ― Mokokoma Mokhonoana
39. "Don't lose hope. If your hope gets lost, the other side called "failure" begins to win! The quickest medicine to heal a depressed soul is to command; "arise my soul and praise the Lord". Hope is the cloth piece in which wraps a healthy soul!" ― Israelmore Ayivor, The Great Hand Book of Quotes
40. "May you find the strength of will and the grace of endurance to overcome every challenge." ― Lailah Gifty Akita, Think Great: Be Great!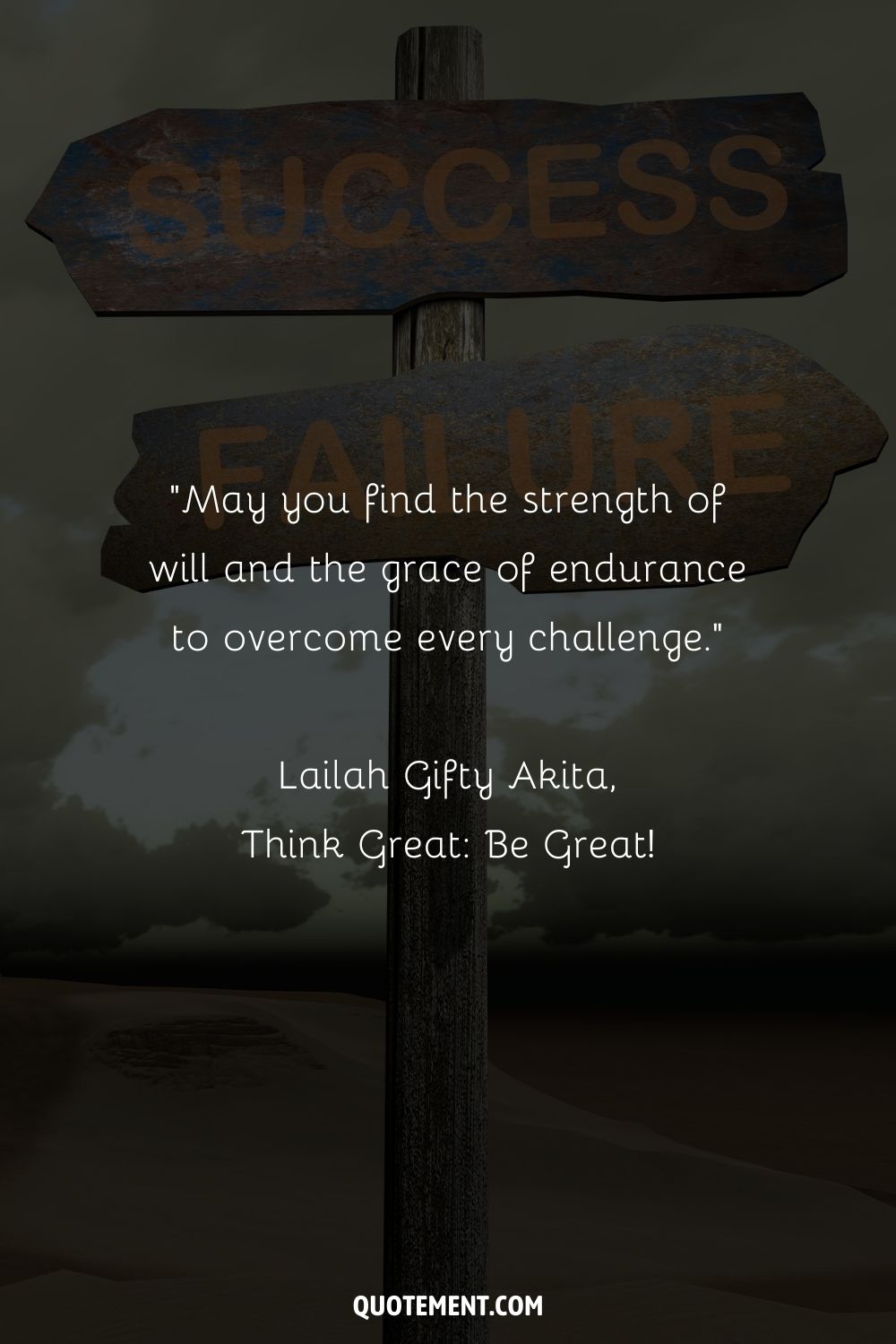 41. "The only real failure in life is giving up. On looking back let it stand to our credit in life's balance sheet that at least we tried, and tried hard." ― A.G. Street, Farmer's Glory
42. "Your decisions in hours of failure would determine whether you will forever be where you are or you will move out of that situation." ― Israelmore Ayivor, Dream big!: See your bigger picture!
43. "Elusive success is not the same as failure." ― Damon Throop
44. "Successful people use failures to sharpen their intuition by acknowledging mistakes for what they truly are – feedback." ― Gordana Biernat
45. "The greatest reward for a man's failure is not necessarily the consequent success, but what he becomes by it." ― Ogwo David Emenike, The Fortune in Failing: Decoding the Message of Failure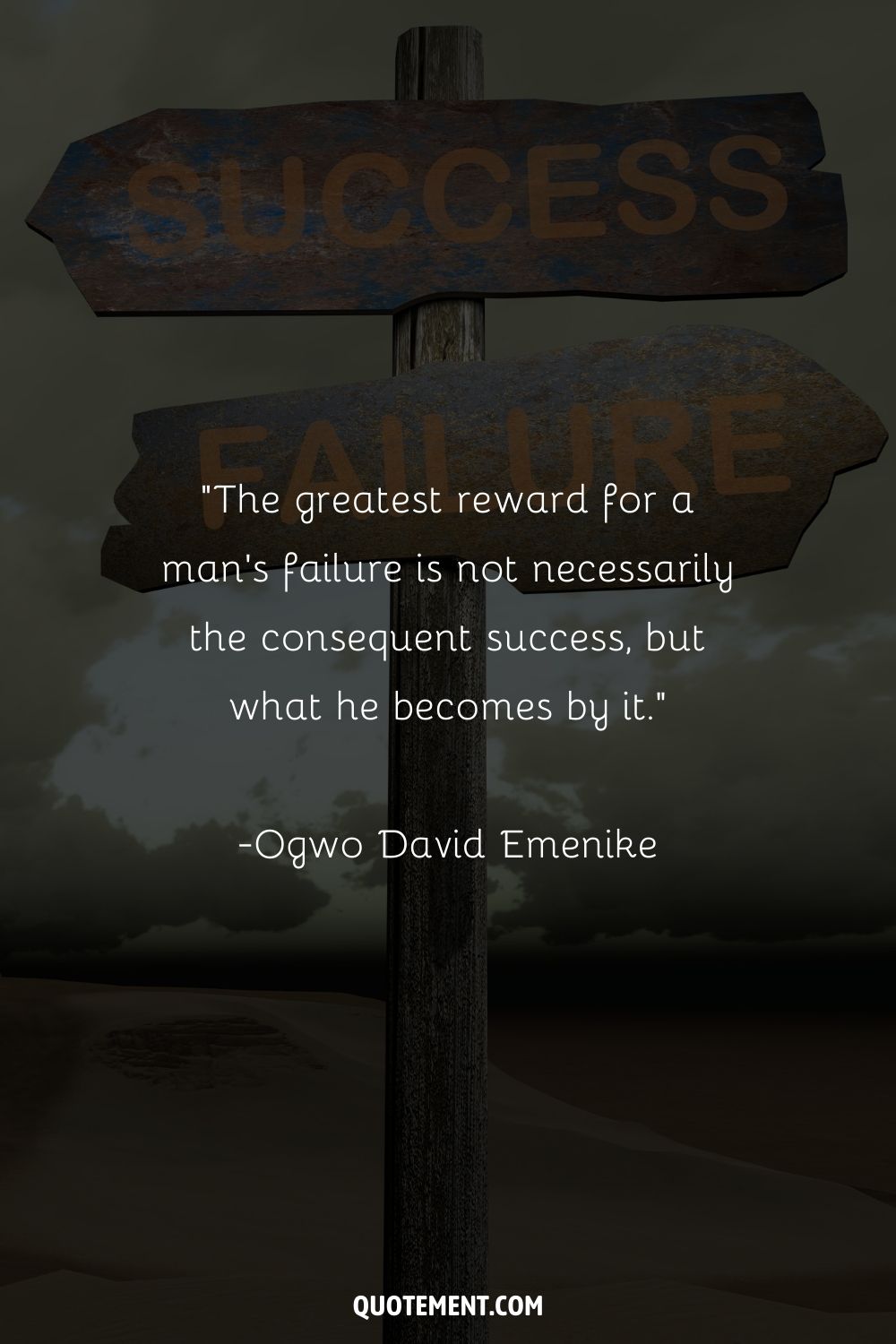 46. "Failures are the stairs we climb to reach success." ― Roy Bennett
47. "Success requires no explanations. Failure permits no alibis." ― Napoleon Hill, Think and Grow Rich
48. "Never let success get to your head and never let failure get to your heart." ― Ziad K. Abdelnour
49. "Failure happened. The trick was to accept the risk and try anyway." ― Ilona Andrews, Bayou Moon
50. "Failure is delay but not defeat.
It is a temporary detour, not a dead-end street." ― William Arthur Ward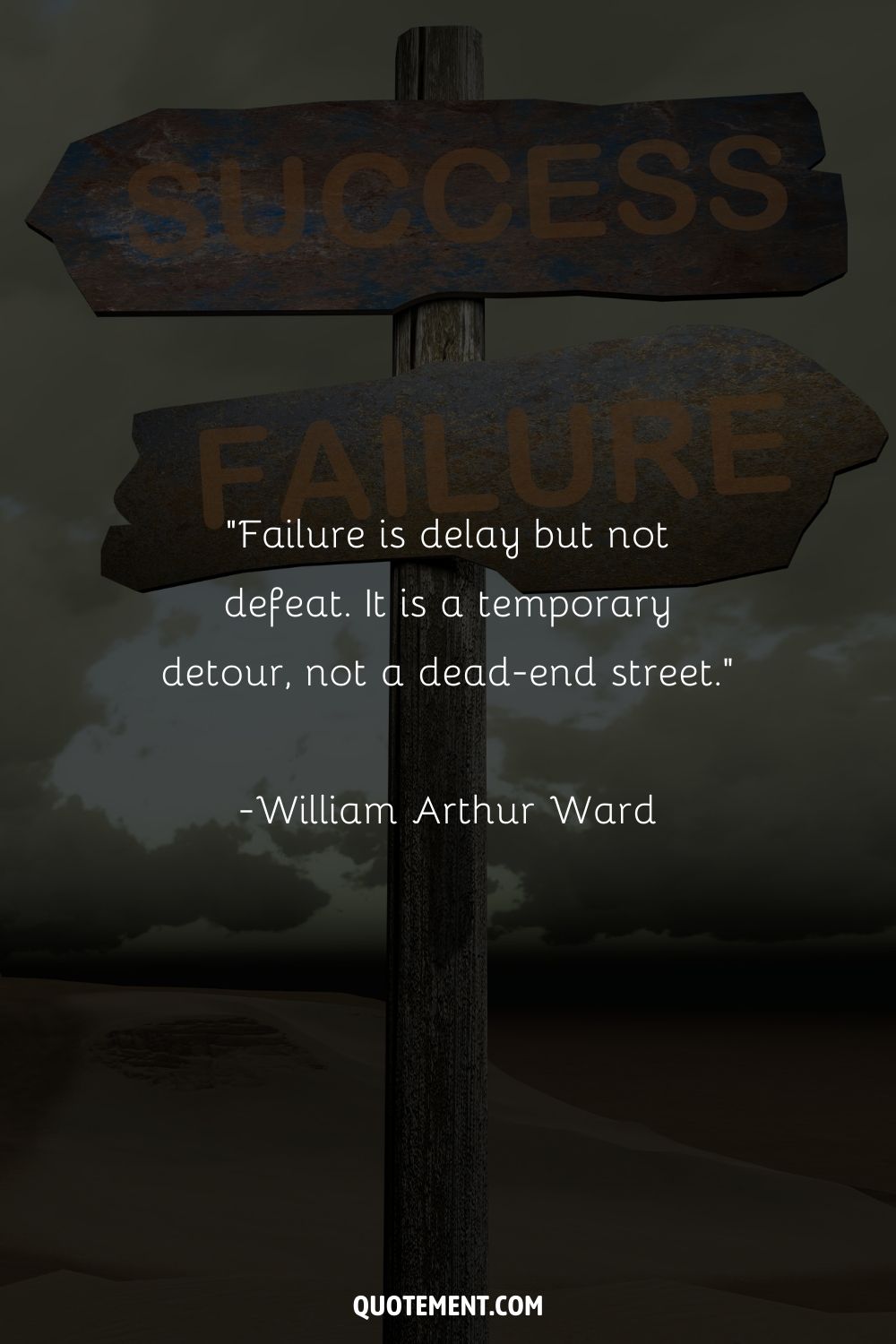 Quotes About Fear Of Failure
1. "Have no fear of perfection – you'll never reach it." ― Salvador Dali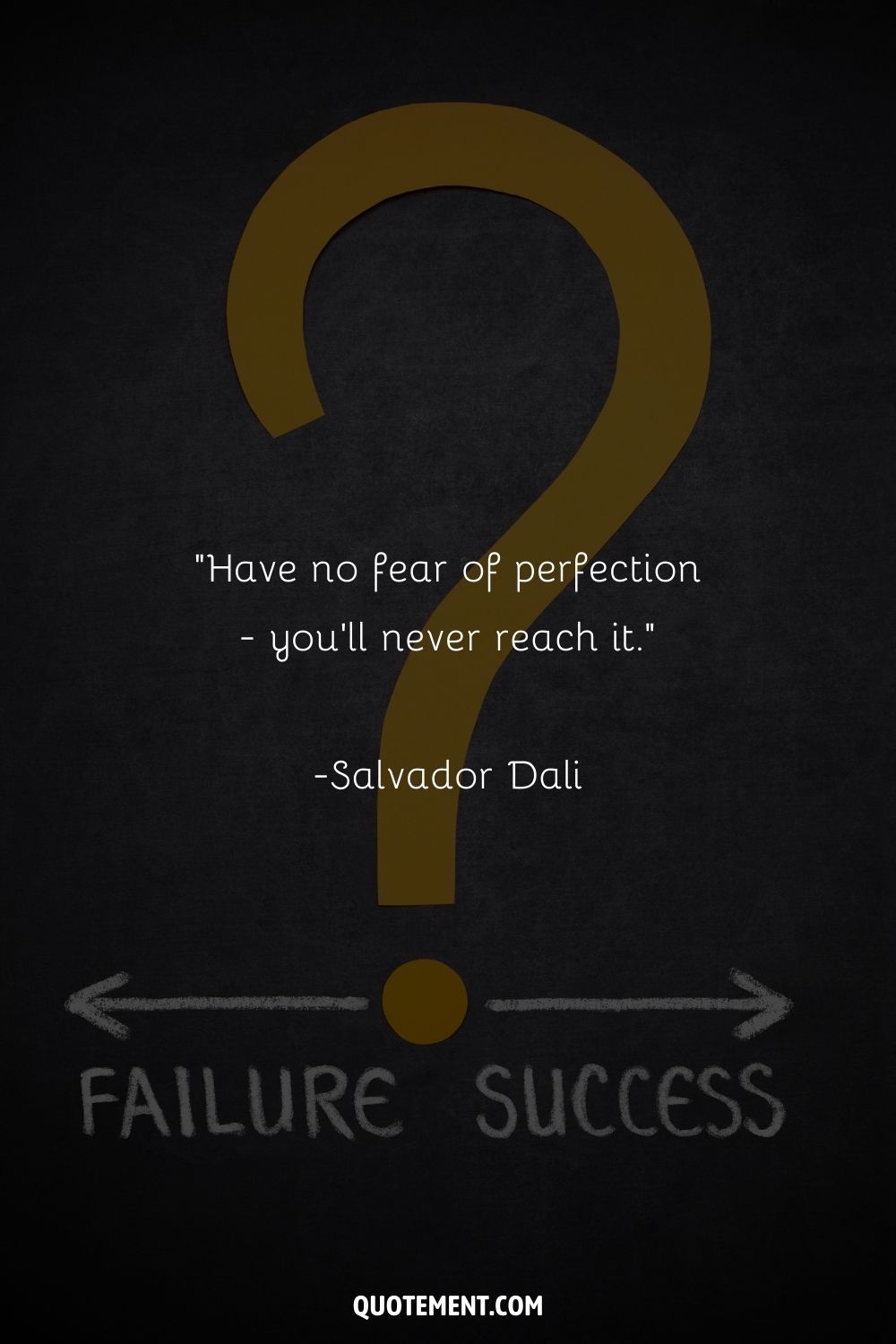 2. "Winners are not afraid of losing. But losers are. Failure is part of the process of success. People who avoid failure also avoid success." ― Robert T. Kiyosaki, Rich Dad, Poor Dad
3. "Successful people have no fear of failure. But unsuccessful people do. Successful people have the resilience to face up to failure—learn the lessons and adapt from it." ― Roy T. Bennett
4. "Doubt kills more dreams than failure ever will." ― Suzy Kassem
5. "Failure is a bend in the road, not the end of the road. Learn from failure and keep moving forward." ― Roy T. Bennett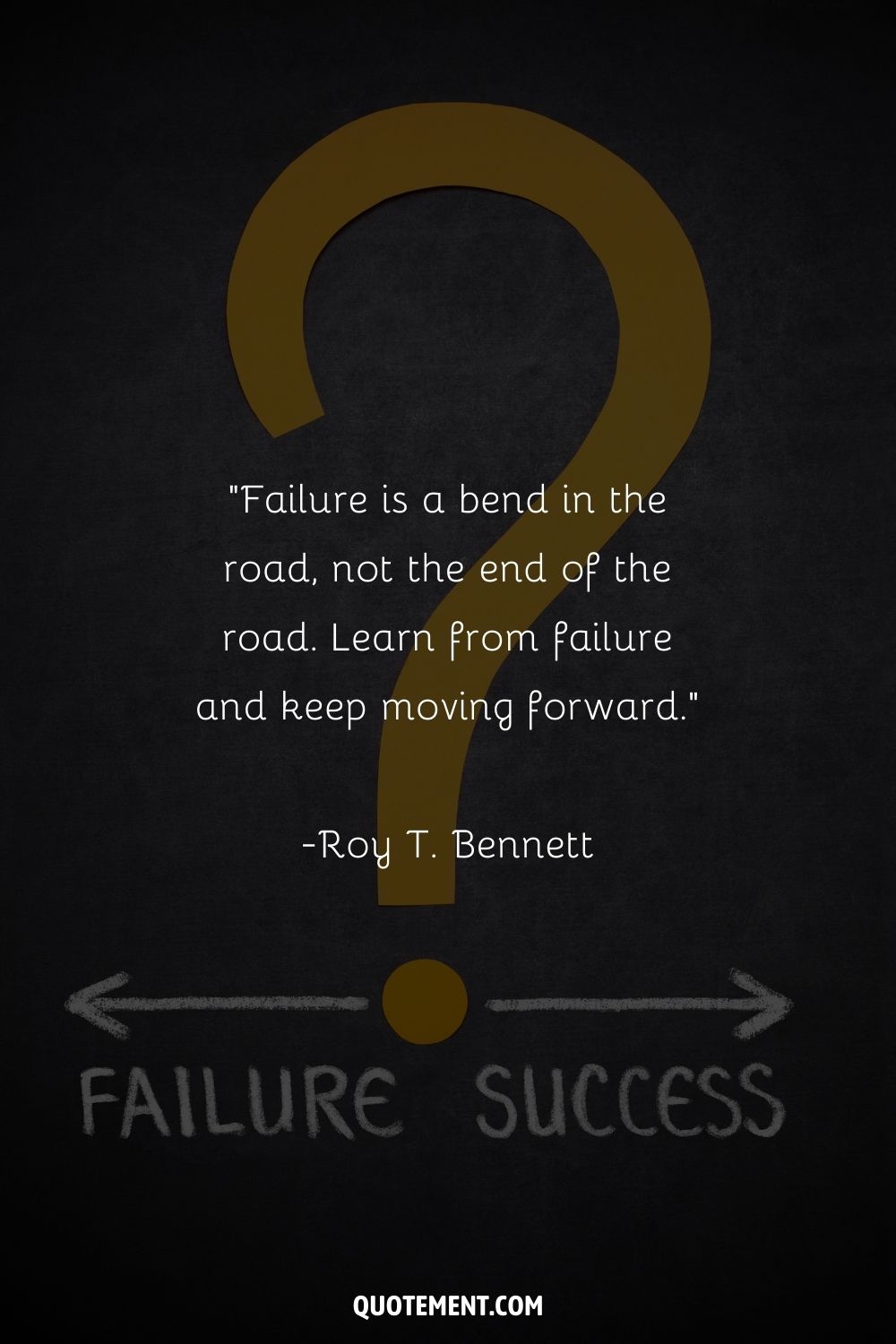 6. "All the time you're saying to yourself, 'I could do that, but I won't,' — which is just another way of saying that you can't." ― Richard P. Feynman, Surely You're Joking, Mr. Feynman!: Adventures of a Curious Character
7. "Don't let mental blocks control you. Set yourself free. Confront your fear and turn the mental blocks into building blocks." ― Dr Roopleen, Words to inspire the winner in YOU
8. "Failure should be our teacher, not our undertaker. Failure is delay, not defeat. It is a temporary detour, not a dead end. Failure is something we can avoid only by saying nothing, doing nothing, and being nothing." ― Denis Waitley
9. "Defeat is not the worst of failures. Not to have tried is the true failure." ― George E. Woodberry
10. "The one who falls and gets up is stronger than the one who never tried. Do not fear failure but rather fear not trying." ― Roy T. Bennett, The Light in the Heart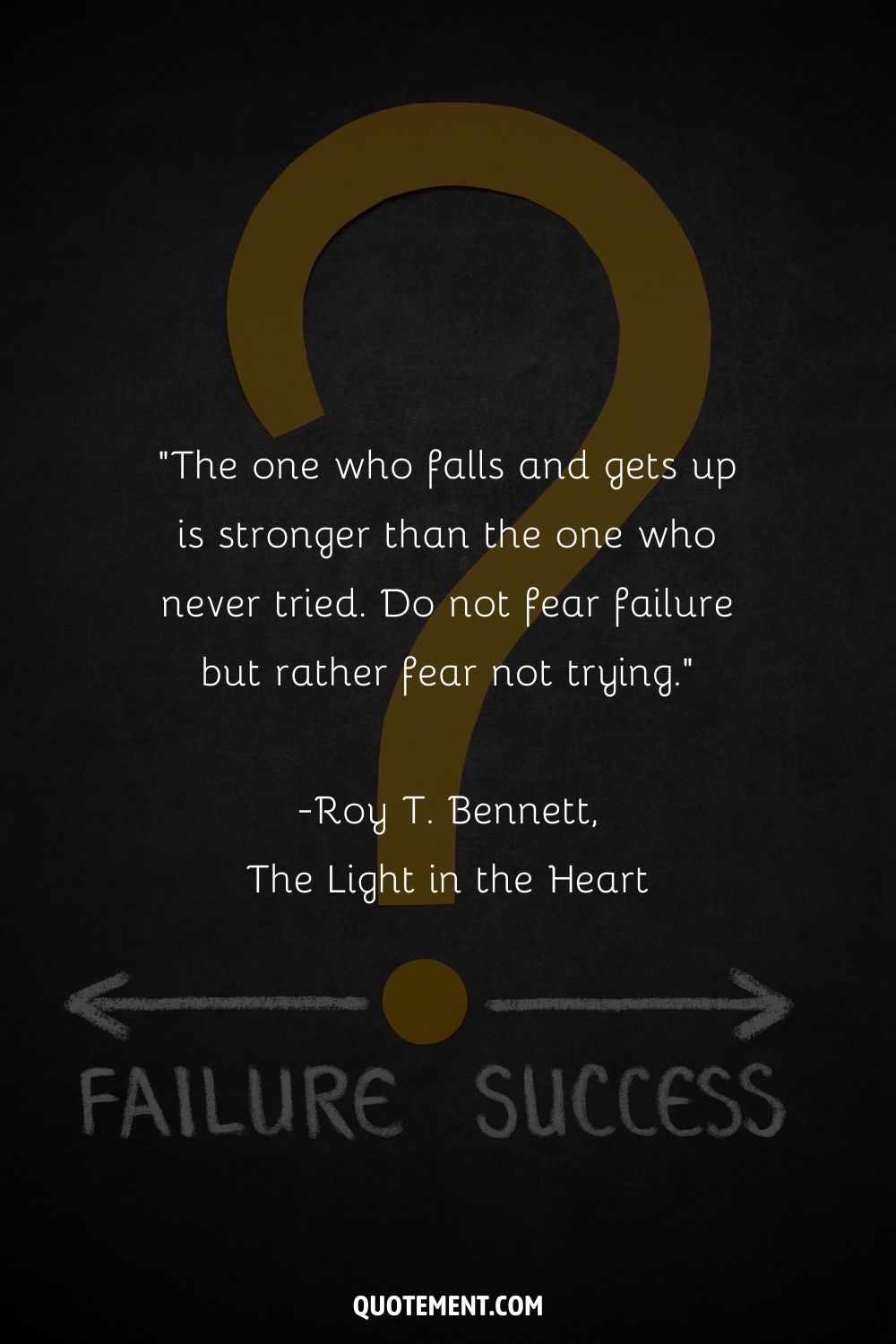 11. "As long as you gave everything you had and you didn't let it break you, it could never be considered a failure." ― Merphy Napier, Perfection
12. "I…took some pride in 'not fulfilling my potential,' in part because I was terrified that if I tried my hardest, the world would learn I didn't actually have that much potential." ― John Green, The Anthropocene Reviewed
13. "Be patient. Your skin took a while to deteriorate. Give it some time to reflect a calmer inner state. As one of my friends states on his Facebook profile: "The true Losers in Life, are not those who Try and Fail, but those who Fail to Try." ― Jess C. Scott, Clear: A Guide to Treating Acne Naturally
14. "When I thought about why I was sometimes reluctant to push myself, I realized that it was because I was afraid of failure – but in order to have more success, I needed to be willing to accept more failure." ― Gretchen Rubin, The Happiness Project
15. "We have forty million reasons for failure, but not a single excuse." ― Rudyard Kipling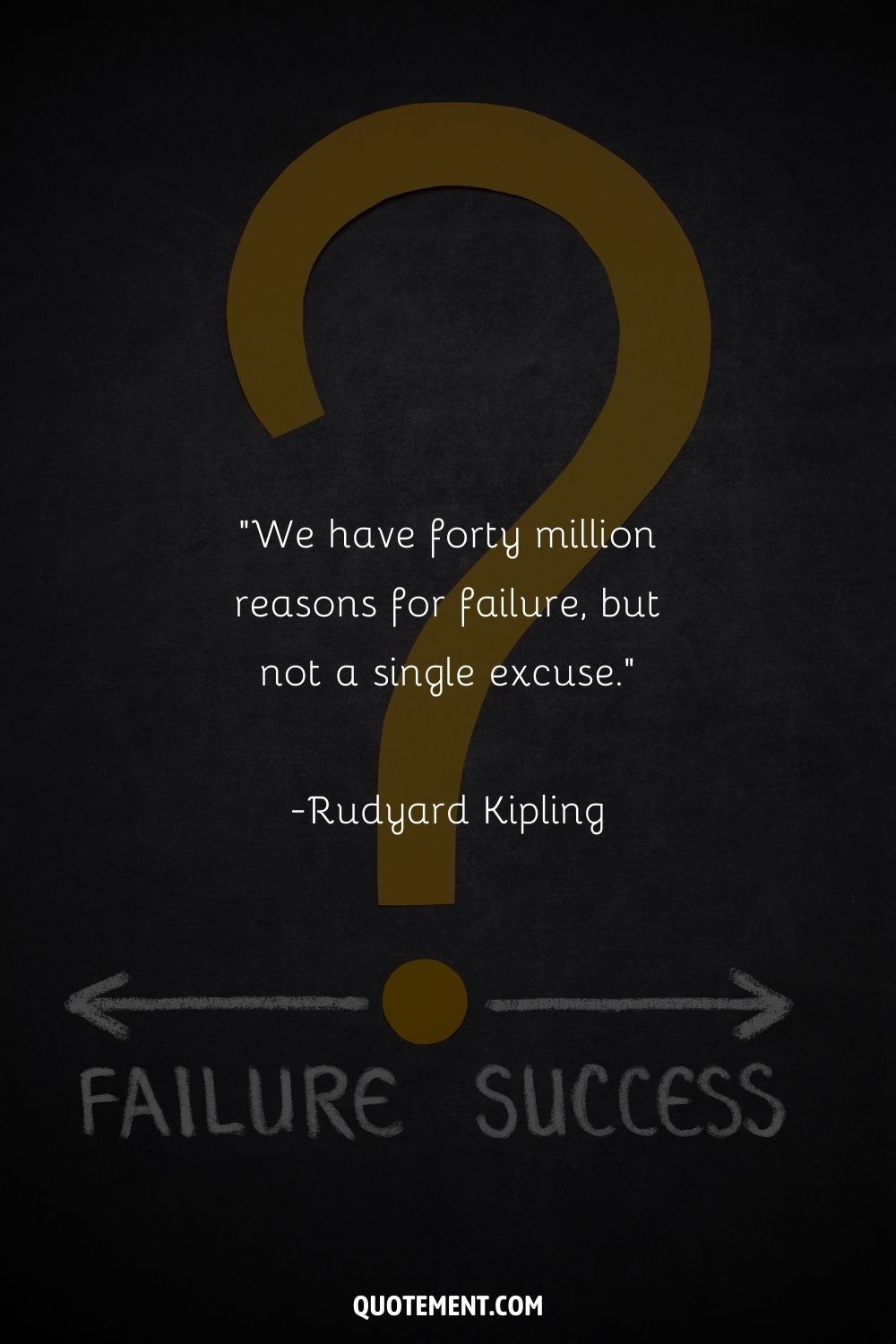 16. "My dear boy, the people who only love once in their lives are really the shallow people. What they call their loyalty, and their fidelity, I call either the lethargy of custom or their lack of imagination. Faithfulness is to the emotional life what consistency is to the life of the intellect—simply a confession of failures." ― Oscar Wilde, The Picture of Dorian Gray
See also: 130 Loyalty Quotes On A Virtue Worth More Than Gold
17. "Failures plagued me. Things I had omitted or ignored, neglected. What I should have given and hadn't. I felt the biting pang of every unfulfillment." ― Richard Matheson, What Dreams May Come
18. "The TV scientist who mutters sadly, "The experiment is a failure; we have failed to achieve what we had hoped for," is suffering mainly from a bad script writer. An experiment is never a failure solely because it fails to achieve predicted results. An experiment is a failure only when it also fails adequately to test the hypothesis in question, when the data it produces don't prove anything one way or another." ― Robert M. Pirsig, Zen and the Art of Motorcycle Maintenance: An Inquiry Into Values
19. "From children to men we cage ourselves in patterns to avoid facing new problems and possible failure; after a while men become bored because there are no new problems. Such is life under the fear of failure." ― Luke Rhinehart, The Dice Man
20. "Don't waste your time hating failure. Failure is a greater teacher than success. Listen, learn, go on." ― Clarissa Pinkola Estés, Women Who Run With the Wolves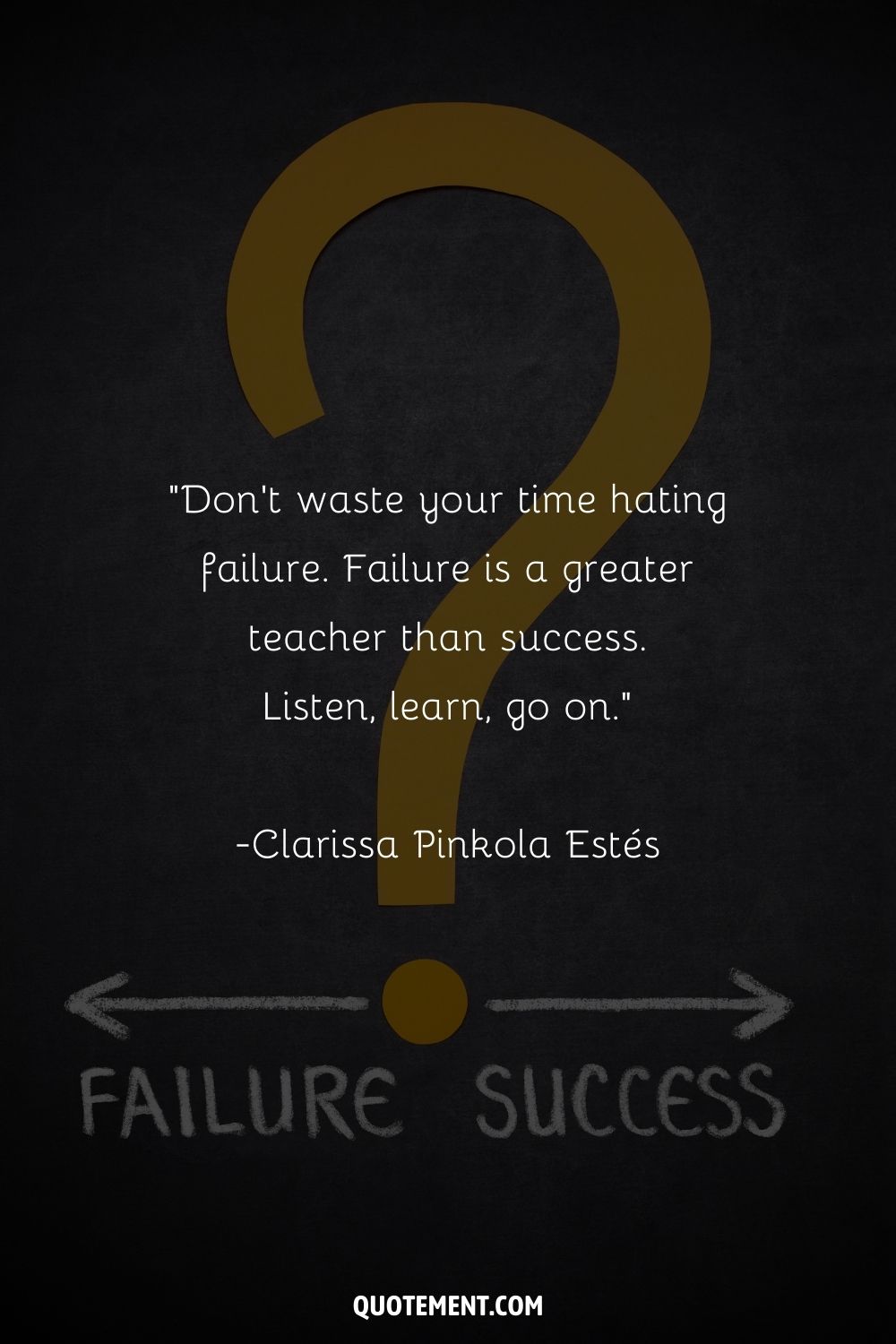 21. "You're not defeated when you lose a battle.
You are defeated when you give up the struggle" ― Mouloud Benzadi
22. "Why is it our failures only show us more clearly the people we are failing?" ― Leif Enger, So Brave, Young, and Handsome
23. "If you fall, you fall," Elodin shrugged. "Sometimes falling teaches us things too." In dreams you often fall before you wake." ― Patrick Rothfuss
24. "He possessed the logic of all good intentions and a knowledge of all the tricks of his trade, and yet he never succeeded at anything, because he believed too much in the impossible. Surprising? Why so? He was forever in the act of conceiving it!" ― Charles Baudelaire
25. "Sometimes we have to soak ourselves in the tears and fears of the past to water our future gardens." ― Suzy Kassem, Rise Up and Salute the Sun: The Writings of Suzy Kassem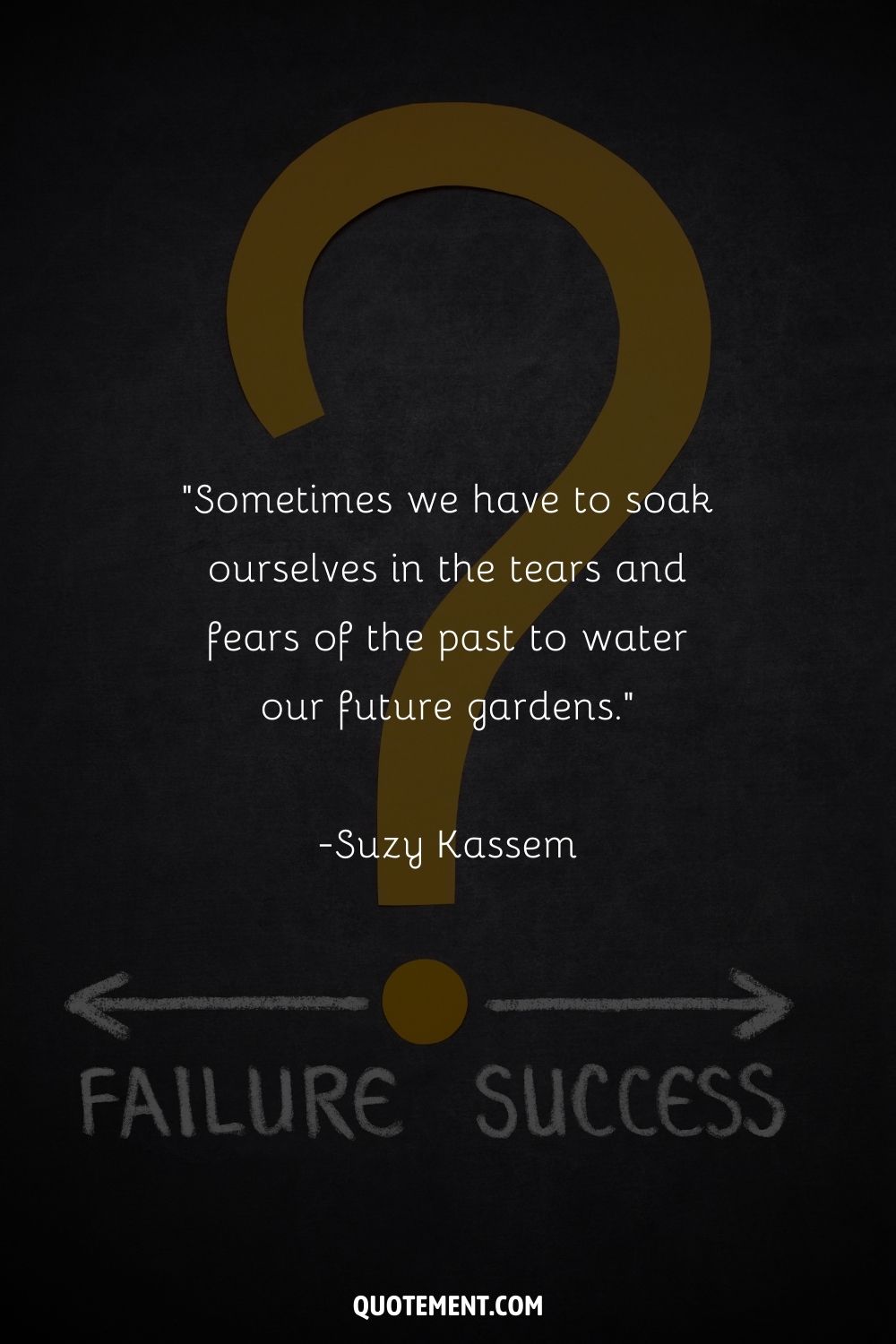 26. "How many of us stop short of success on purpose? How many of us sabotage our own happiness because failure, while miserable, is a fear we're familiar with? Success, however, dreams come true, are a whole new kind of terrifying, an entire new species of responsibilities and disillusions, requiring a new way to think, act and become. Why do we REALLY quit? Because it's hopeless? Or because it's possible…" ― Jennifer DeLucy
27. "Without being push to the wall, we will have remained in our comfortable zone. But this circumstance challenges us to find the courage to move on." ― Lailah Gifty Akita, On Eagles Wings:Rise
28. "His air of failure had nothing desperate about it; rather, it seemed to stem from an unresented realization that he was not cut out for success, and his duty was therefore to ensure only that he failed in the correct and acceptable fashion." ― Julian Barnes, Flaubert's Parrot
29. "Nothing makes a person desire improvement like failure" ― Chris Stocking
30. "Failure seldom stops you. What stops you is the fear of failure." ― Jack Lemmon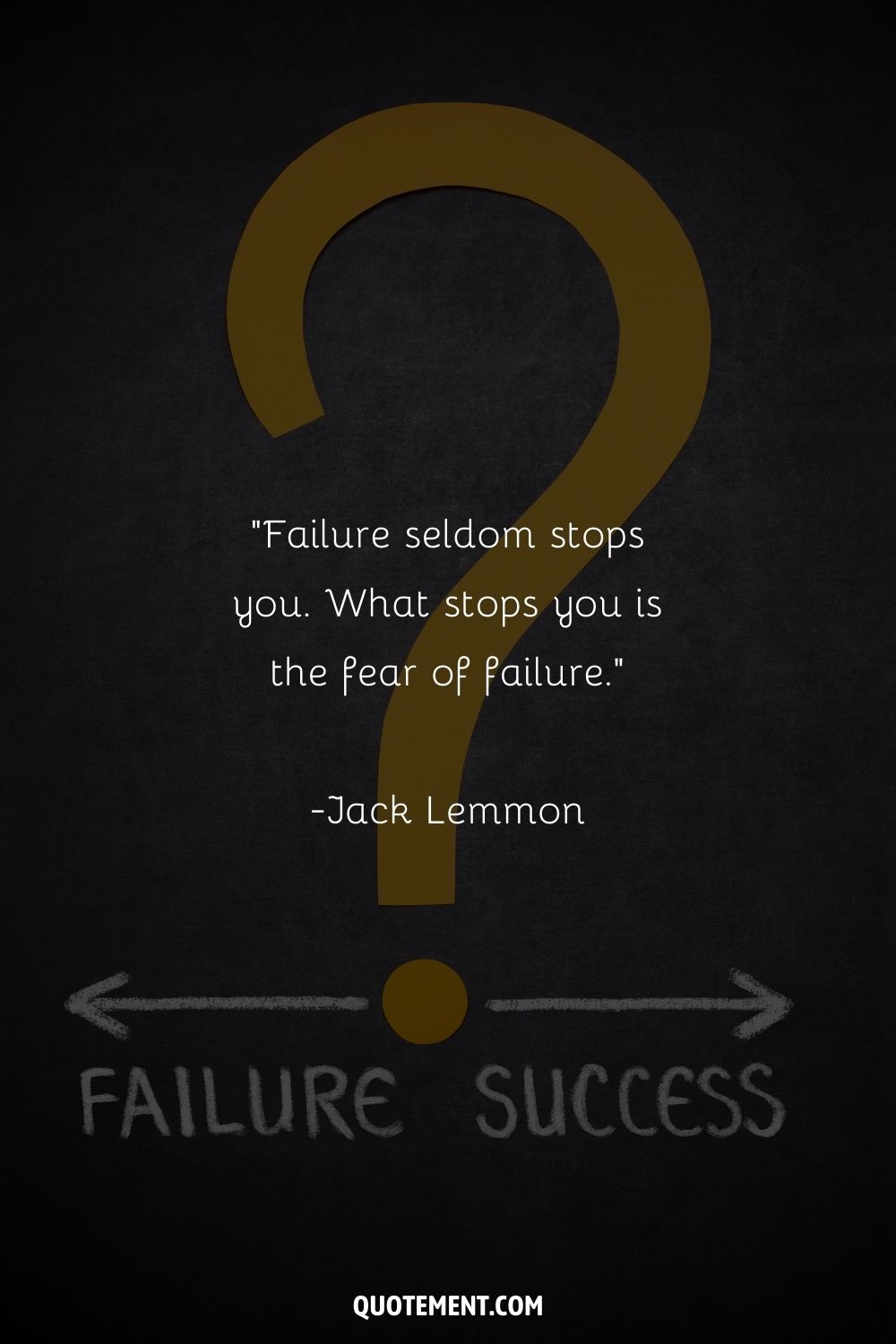 31. "There is nothing that teaches you more than regrouping after failure ad moving on. Yet most people are stricken wth fear. They fear failure so much that they fail." ― Charles Bukowski
32. "Once you learn to celebrate your failures, you are on the way to becoming the real deal!" ― Harsh Agrawal, The Handbook To Affiliate Marketing by Harsh Agrawal: Your Fastest $1000 Online
33. "Falling into the folly of concentrating on a failure instead of its causes is to fall victim to yet another failure." ― Vincent Okay Nwachukwu, Weighty 'n' Worthy African Proverbs – Volume 1
34. "The success of an enterprise is determined not only by its financial success but also by the positive influence it has on people's lives and the progress of a country." ― Santosh Kalwar, Why Nepal Fails
35. "Never give up just because you failed initially" ― Sunday Adelaja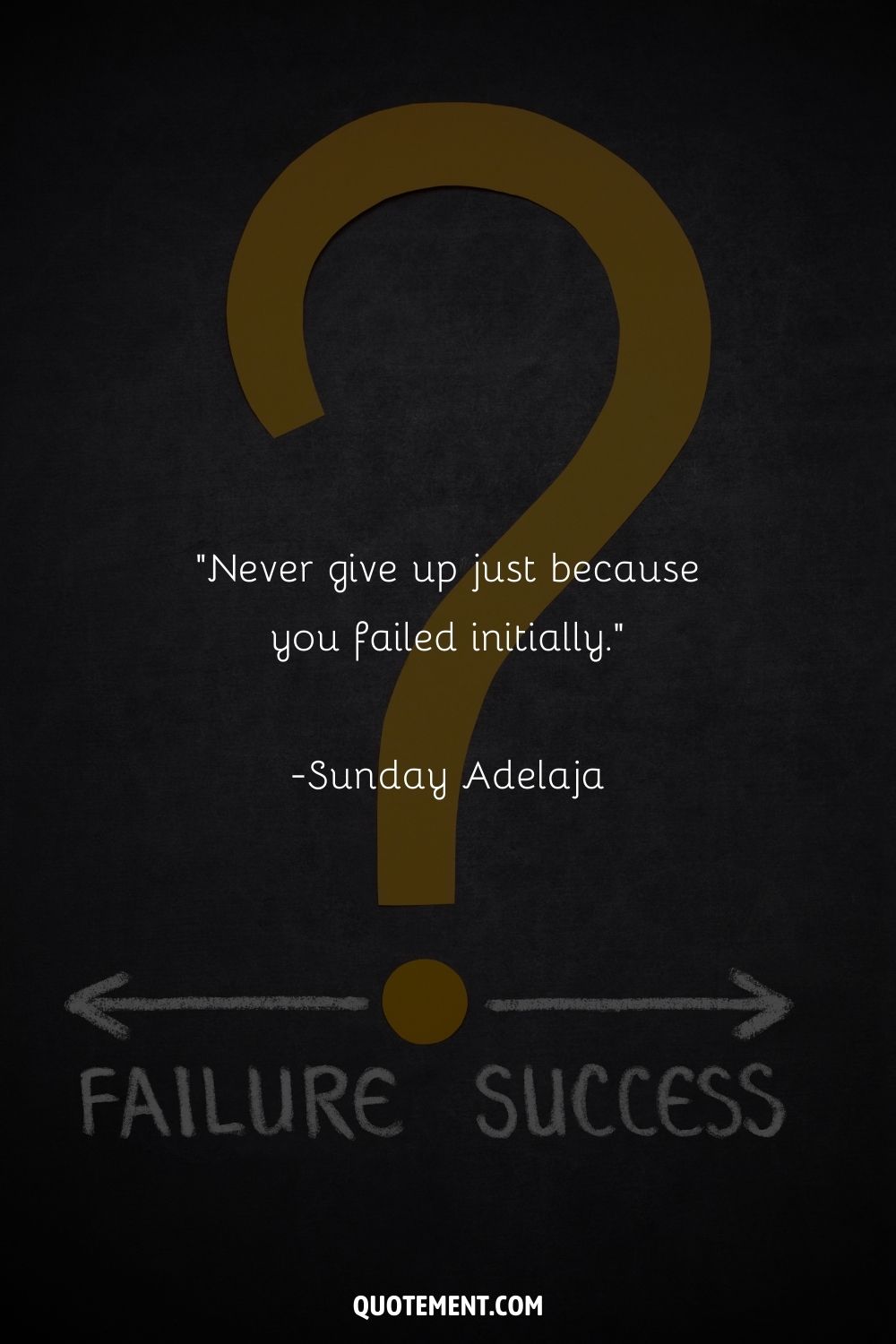 36. "Failure isn't bad if it doesn't attack the heart. Success is all right if it doesn't go to the head." ― Grantland Rice
37. "It is sometimes a mistake to climb; it is always a mistake never even to make the attempt. If you do not climb, you will not fall. This is true. But is it that bad to fail, that hard to fall?" ― Neil Gaiman, The Sandman, Vol. 6: Fables & Reflections
38. "Giving up is always an option, but not always a failure." ― Cameron Conaway, Caged: Memoirs of a Cage-Fighting Poet
39. "Good people are good because they've come to wisdom through failure. We get very little wisdom from success, you know." ― William Saroyan
40. "Don't think about the possibilities of failing. Never forget to think about the possibilities of flying." ― Debasish Mridha
41. "Oh, sweet little boy, beloved little girl, you are so overwhelmed by life sometimes, I know, by the enormity of it all, by the vastness of the possibilities, by the myriad of perspectives available to you. You feel so pressed down sometimes, by all the unresolved questions, by all the information you are supposed to process and hold, by the urgency of things. You are overcome by powerful emotions, trying to make it all "work out" somehow, trying to get everything done "on time," trying to resolve things so fast, even trying not to try at all.
You are exhausted, sweet one, exhausted from all the trying and the not trying, and you are struggling to trust life again. It's all too much for the poor organism, isn't it? You are exhausted; you long to rest. And that is not a failing of yours, not a horrible mistake, but something wonderful to embrace!" ― Jeff Foster, The Way of Rest: Finding The Courage to Hold Everything in Love
42. "Many times, the thought of fear itself is greater than what it is we fear." ― Idowu Koyenikan, Wealth for All: Living a Life of Success at the Edge of Your Ability
43. "Mindless fear is greater than mindful fear." ― Idowu Koyenikan
44. "Criticism is just someone else's opinion. Even people who are experts in their fields are sometimes wrong. It is up to you to choose whether to believe some of it, none of it, or all of it. What you think is what counts." ― Rodolfo Costa, Advice My Parents Gave Me: and Other Lessons I Learned from My Mistakes
45. "He who fears being conquered is sure of defeat." ― Napoleon Bonaparte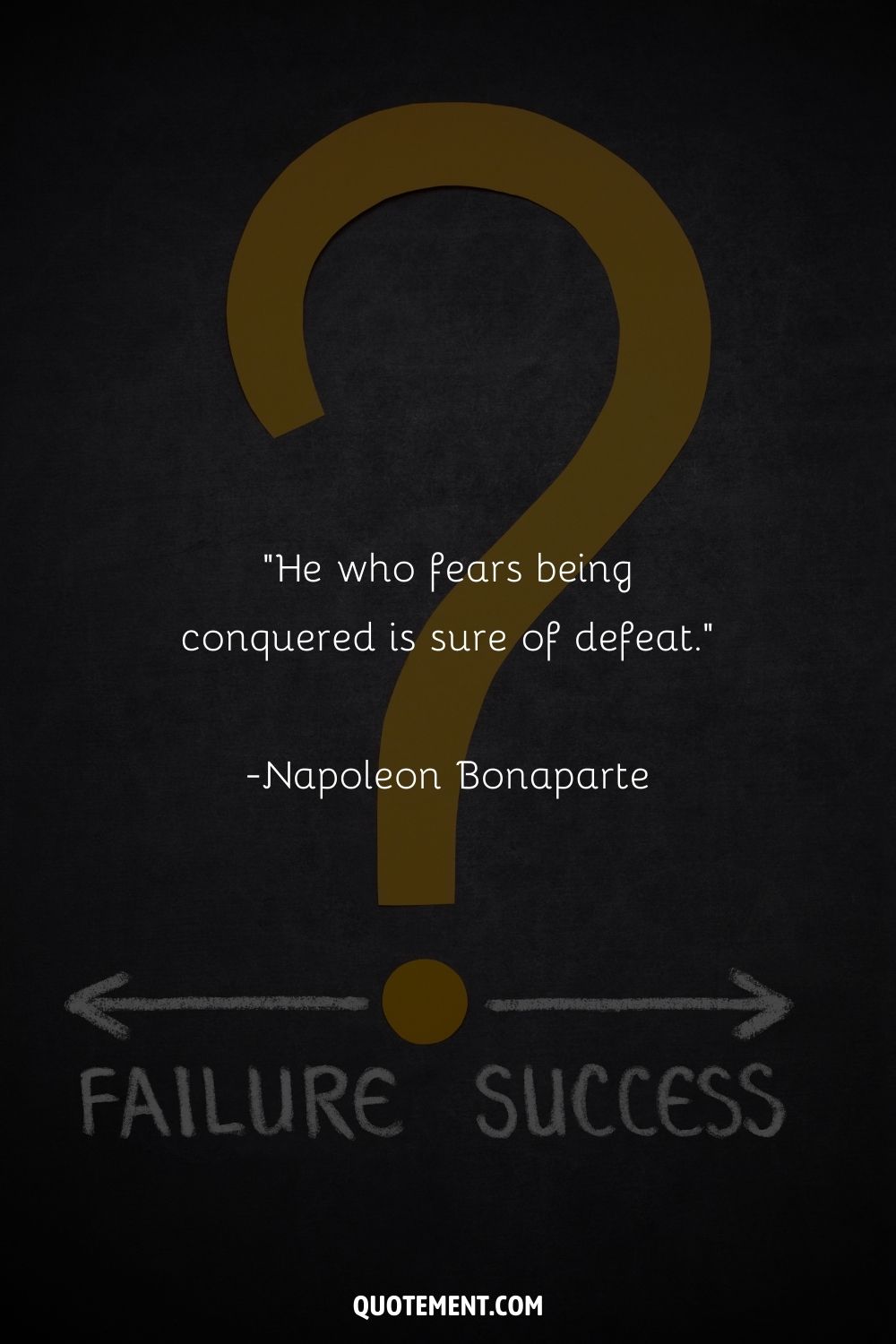 46. "Have pity on those who are fearful of taking up a pen, or a paintbrush, or an instrument, or a tool because they are afraid that someone has already done so better than they could…" ― Paulo Coelho, The Pilgrimage
47. "How many of us stop short of success on purpose? How many of us sabotage our own happiness because failure, while miserable, is a fear we're familiar with? Success, however, dreams come true, are a whole new kind of terrifying, an entire new species of responsibilities and disillusions, requiring a new way to think, act and become. Why do we REALLY quit? Because it's hopeless? Or because it's possible…" ― Jennifer DeLucy
48. "…he began to fear whether in the presence of far greater events, all his acts would not fade into insignificance, just as a drop of rain disappears into the sea." ― Henryk Sienkiewicz, In Desert and Wilderness
49. "Death, of course, is not a failure. Death is normal. Death may be the enemy, but it is also the natural order of things." ― Atul Gawande, Being Mortal: Medicine and What Matters in the End
50. "Success and failure come and go, but don't let them define you. It's who you are that matters." ― Kamal Ravikant, Live Your Truth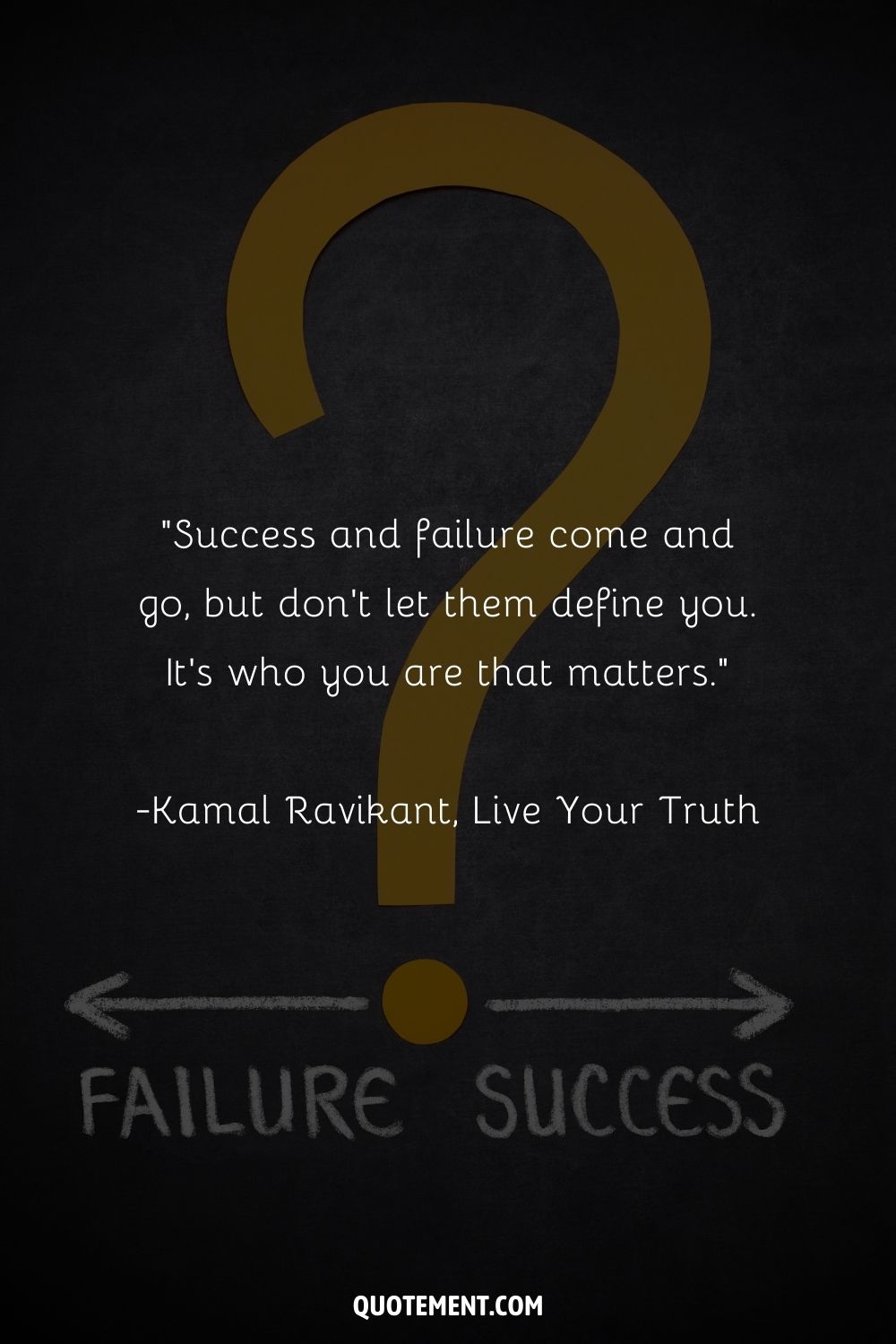 Quotes About Learning From Failure
1. "Pain is temporary. Quitting lasts forever." ― Lance Armstrong Sally Jenkins, Every Second Counts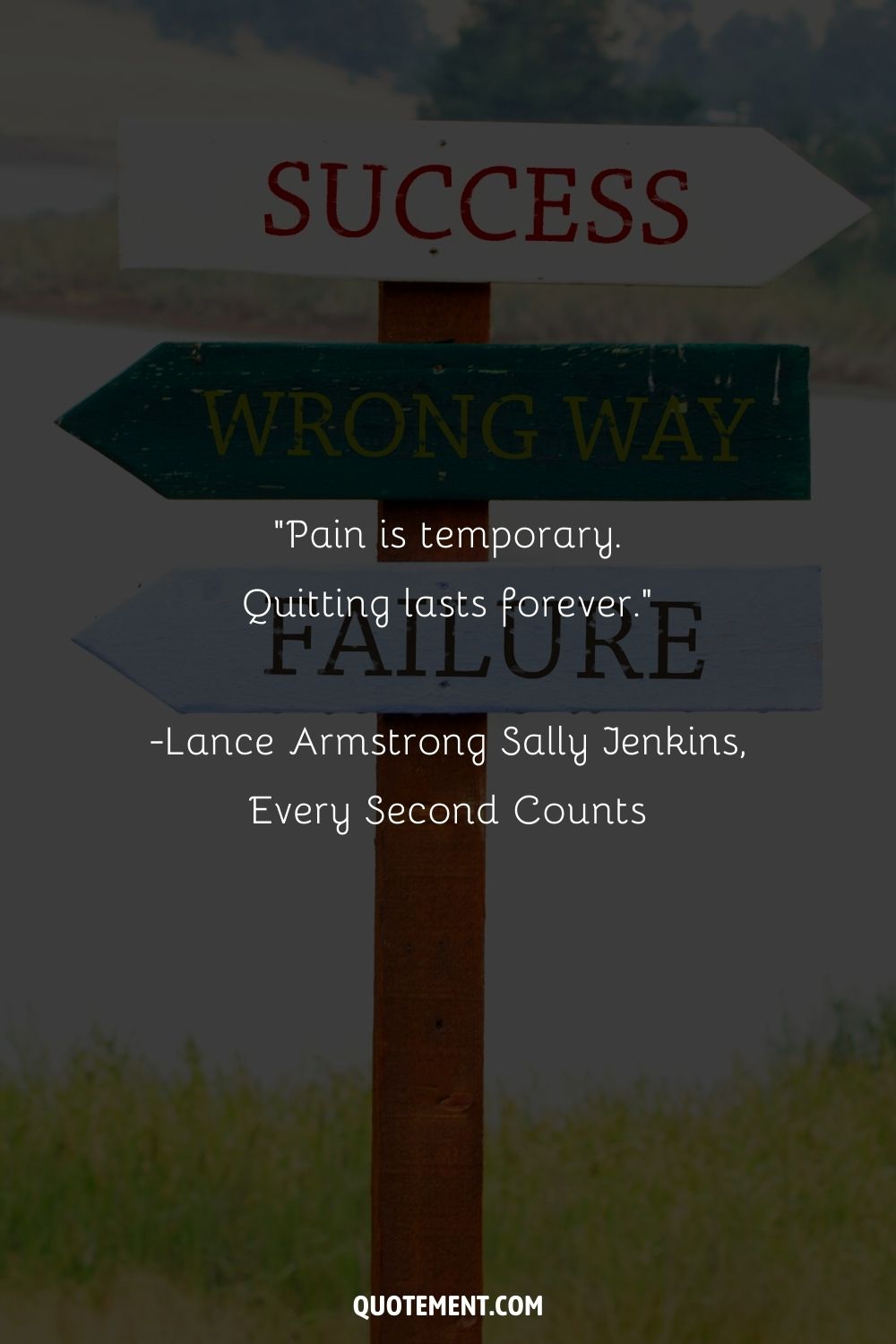 2. "You must make a decision that you are going to move on. It wont happen automatically. You will have to rise up and say, 'I don't care how hard this is, I don't care how disappointed I am, I'm not going to let this get the best of me. I'm moving on with my life." ― Joel Osteen, Your Best Life Now: 7 Steps to Living at Your Full Potential
3. "Don't spend time beating on a wall, hoping to transform it into a door. " ― Coco Chanel
See also: 200 Powerful Quotes About Transformation To Inspire Change
4. "Do not let arrogance go to your head and despair to your heart; do not let compliments go to your head and criticisms to your heart; do not let success go to your head and failure to your heart." ― Roy T. Bennett, The Light in the Heart
5. "Do not fear failure but rather fear not trying." ― Roy T. Bennett, The Light in the Heart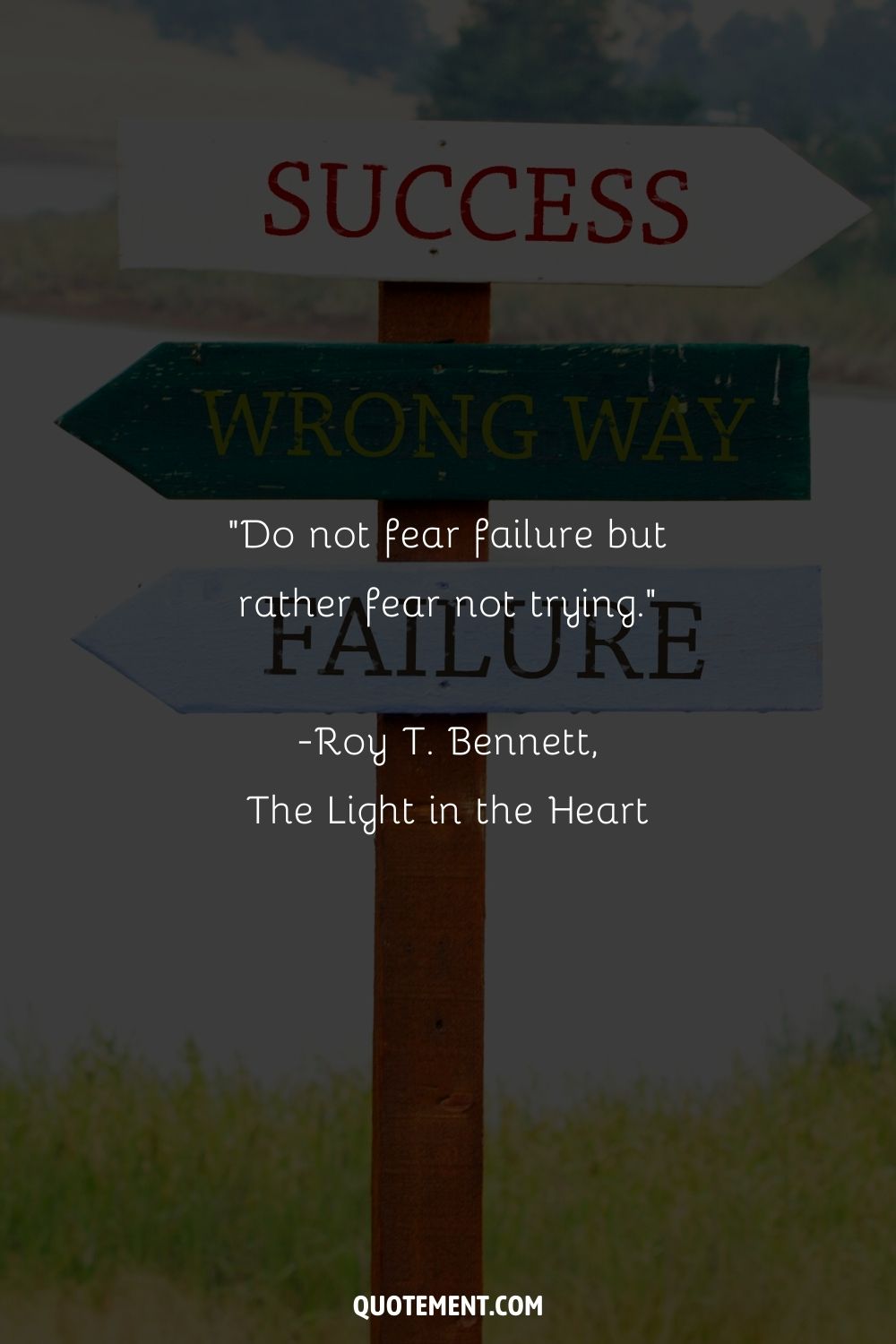 6. "To err is human, to forgive, divine." ― Alexander Pope, An Essay On Criticism
7. "Science, my lad, is made up of mistakes, but they are mistakes which it is useful to make, because they lead little by little to the truth." ― Jules Verne, A Journey to the Center of the Earth
8. "If we will be quiet and ready enough, we shall find compensation in every disappointment." ― Henry David Thoreau, I to Myself: An Annotated Selection from the Journal of Henry D. Thoreau
9. "Success, after all, loves a witness, but failure can't exist without one." ― Junot Díaz, The Brief Wondrous Life of Oscar Wao
10. "We are all failures- at least the best of us are." ― J.M. Barrie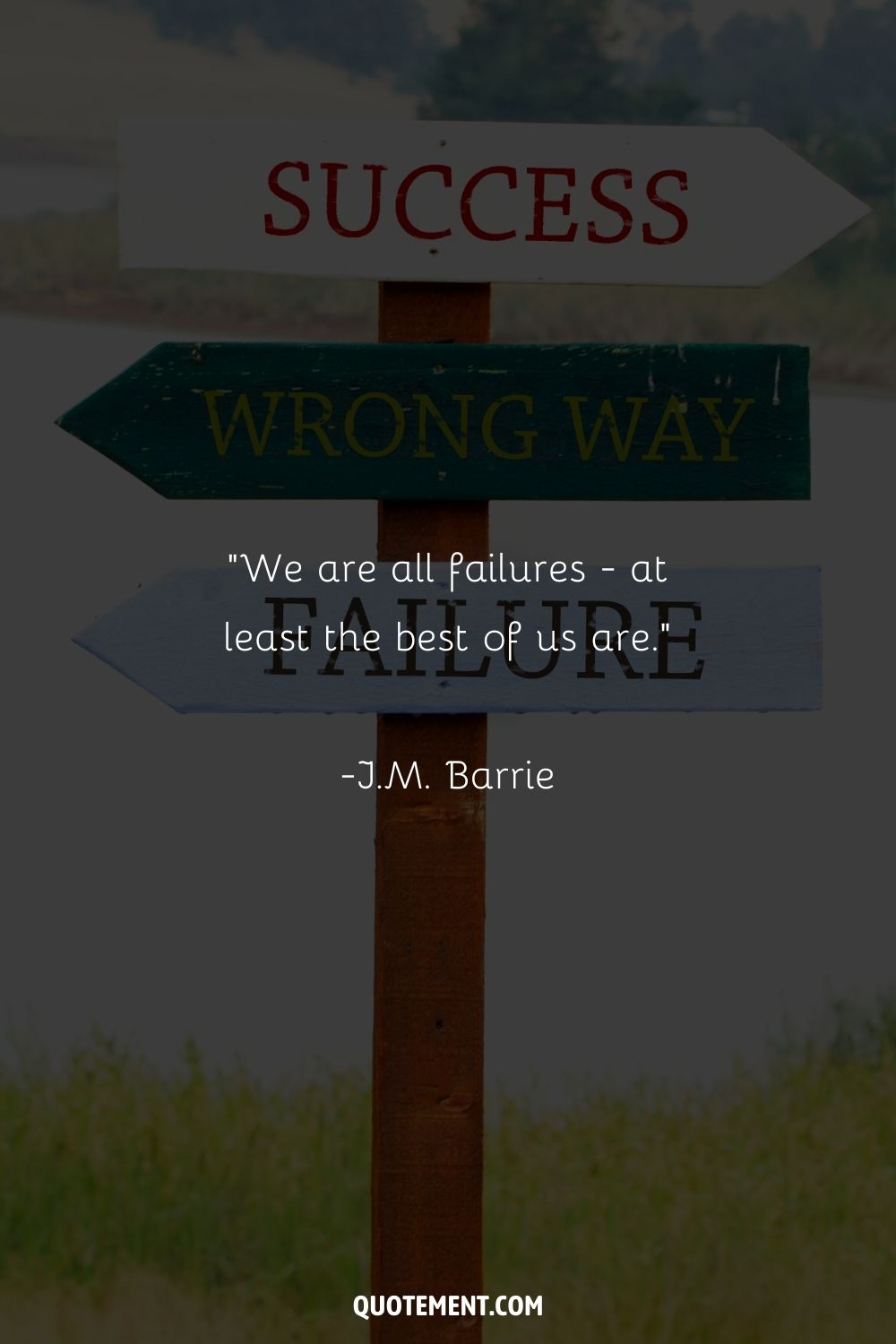 11. "Each mistake teaches you something new about yourself. There is no failure, remember, except in no longer trying. It is the courage to continue that counts." ― Chris Bradford, The Way of the Sword
12. "I caught myself thinking about falling in love with someone who I hoped was out there right now thinking about the possibility of me, but I quickly banished the notion. It was that kind of thinking that landed me in this situation to begin with. Hope can ruin you." ― Perry Moore, Hero
13. "Remember the two benefits of failure. First, if you do fail, you learn what doesn't work; and second, the failure gives you the opportunity to try a new approach." ― Roger Von Oech
14. "Lucy: You learn more when you lose
Charlie Brown: Well then I must be the smartest person in the world!!!" ― Charles M. Schulz, Peanuts Treasury
15. ​​"But instead of spending our lives running towards our dreams, we are often running away from a fear of failure or a fear of criticism." ― Eric Wright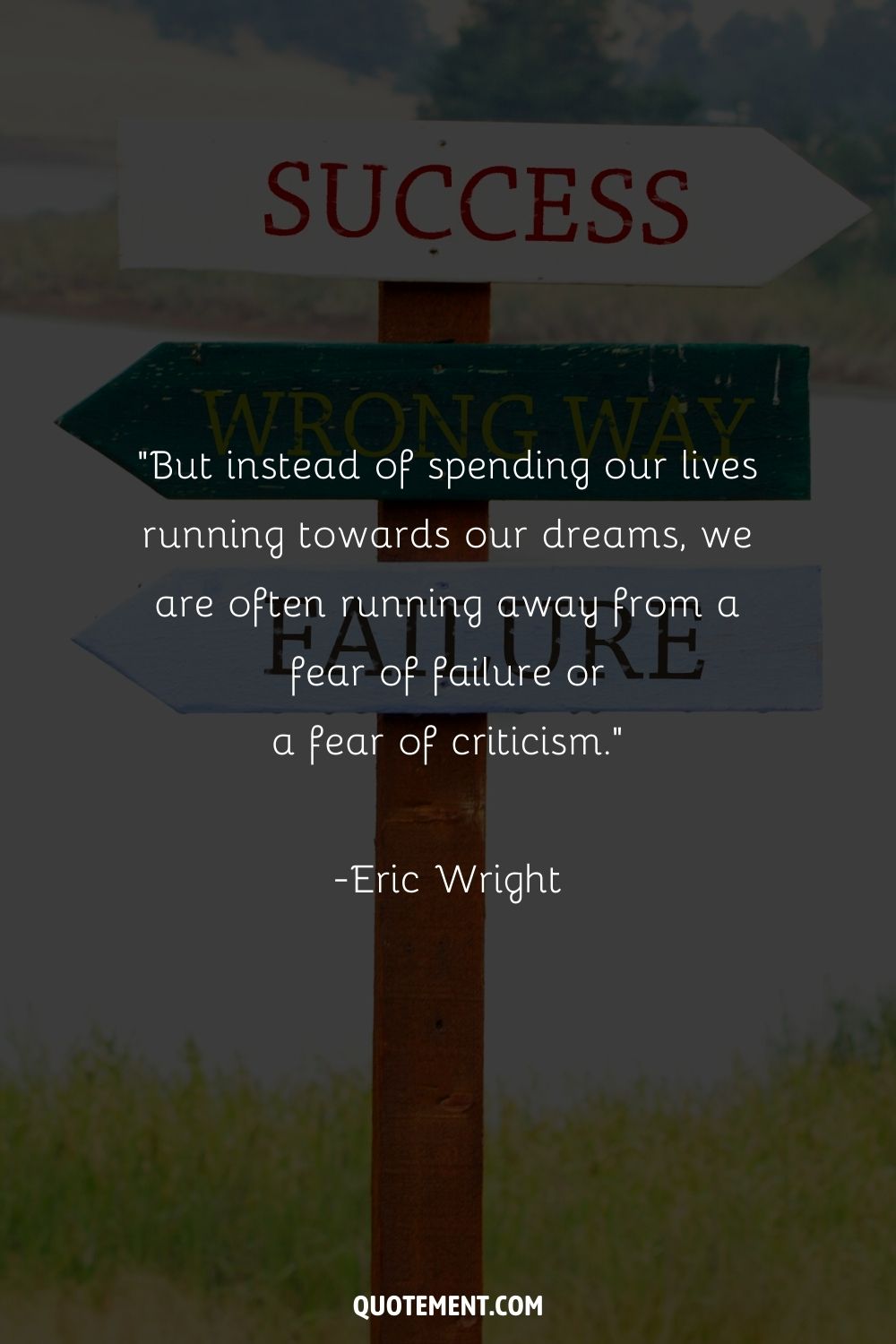 16. "Okay, we didn't work, and all
memories to tell you the truth aren't good.
But sometimes there were good times.
Love was good. I loved your crooked sleep
beside me and never dreamed afraid.
There should be stars for great wars
like ours." ― Sandra Cisneros (Author)
17. "I never fail. It's just that the people around me succeed more than I." ― Carroll Bryant
18. "With a hint of good judgment, to fear nothing, not failure or suffering or even death, indicates that you value life the most. You live to the extreme; you push limits; you spend your time building legacies. Those do not die." ― Criss Jami, Venus in Arms
19. "A world where a majority had imbibed the lessons implicit within tragic art would be one in which the consequences of our failures would necessarily cease to weigh upon us so heavily." ― Alain de Botton, Status Anxiety
20. "Failure is a greater teacher than success" ― Clarissa Pinkola Estés, Women Who Run With the Wolves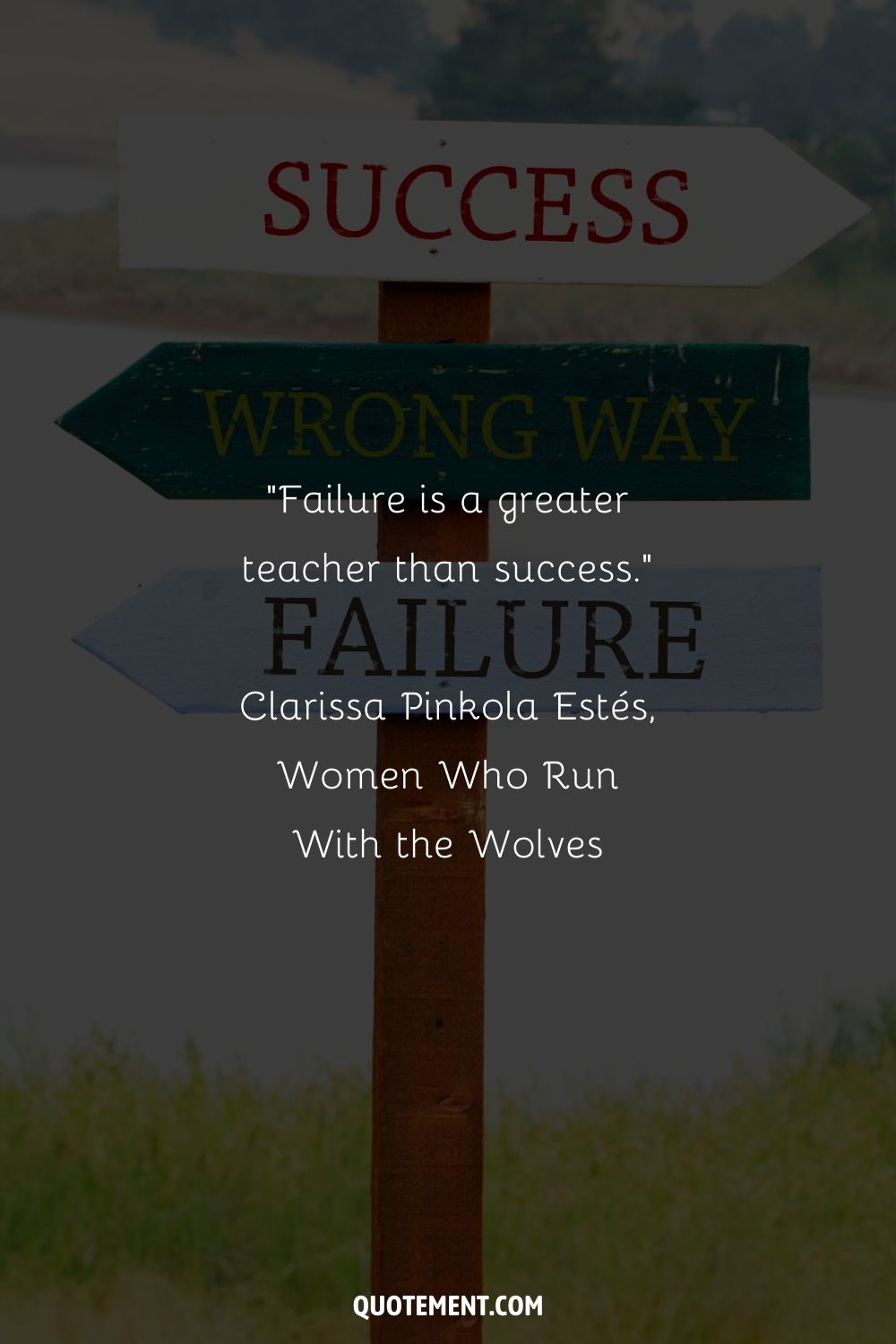 21. "Success is counted sweetest by those ne'er succeed." ― Emily Dickinson
22. "It is questionable, for that matter, whether success is an adequate response to life. Success can eliminate as many options as failure." ― Tom Robbins
23. "Empty complaints are the sources of everyday failure, but not the problem being complained about. Problems are solvable; but not with complaints. A complainer is just an explainer of problems!" ― Israelmore Ayivor, Daily Drive 365
24. "…at some point you need to stop looking out at others and start looking inward, at yourself, at your own accomplishments, at your own foibles, at your own successes and your own failures. It's only when you begin to look inward that you can begin to have an effect on those out there, the ones with the greedy eyes and outstretched hands." ― Scott F. Falkner
25. "So few are the easy victories as the ultimate failures." ― Marcel Proust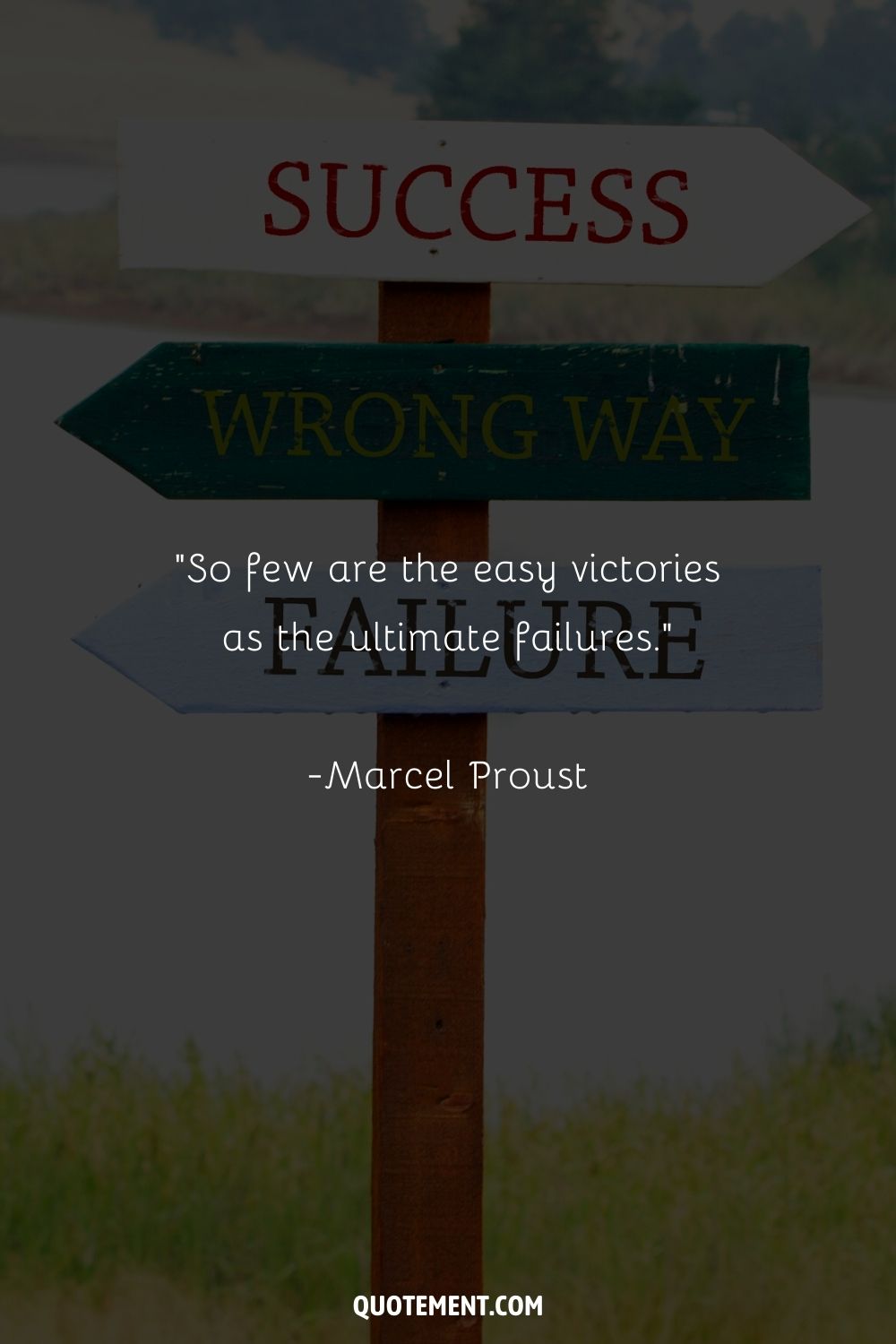 26. "The ladder of success is there waiting for you… you just have to realize it and reach towards and climb as high as you can you will surely be successful." ― Noor Ahmad
27. "Failure of your first attempt does not mean you can't be a winner of great battles; it rather means, you must trigger only when your target is in focus." ― Israelmore Ayivor, Daily Drive 365
28. "Good life is not a sprint. It's an exerting marathon of purpose, passion, patience and perseverance. It's the road where faith and hard work meet. It is an unusual love adventure between success and failure. It is where truth is a belt and integrity a shield. It is knowing your lane, staying in your lane and running your own race. It's a road loathed and less traveled by most men." ― Abiodun Fijabi
29. "Children who are not encouraged to do, to try, to explore, to master, and to risk failure, often feel helpless and inadequate. Over-controlled by anxious, fearful parents, these children often become anxious and fearful themselves. This makes it difficult for them to mature. Many never outgrow the need for ongoing parental guidance and control. As a result, their parents continue to invade, manipulate, and frequently dominate their lives." ― Susan Forward, Toxic Parents: Overcoming Their Hurtful Legacy and Reclaiming Your Life
30. "Failure is not the deterrent for the next try. Rather, it is information that empowers the next step." ― Craig D. Lounsbrough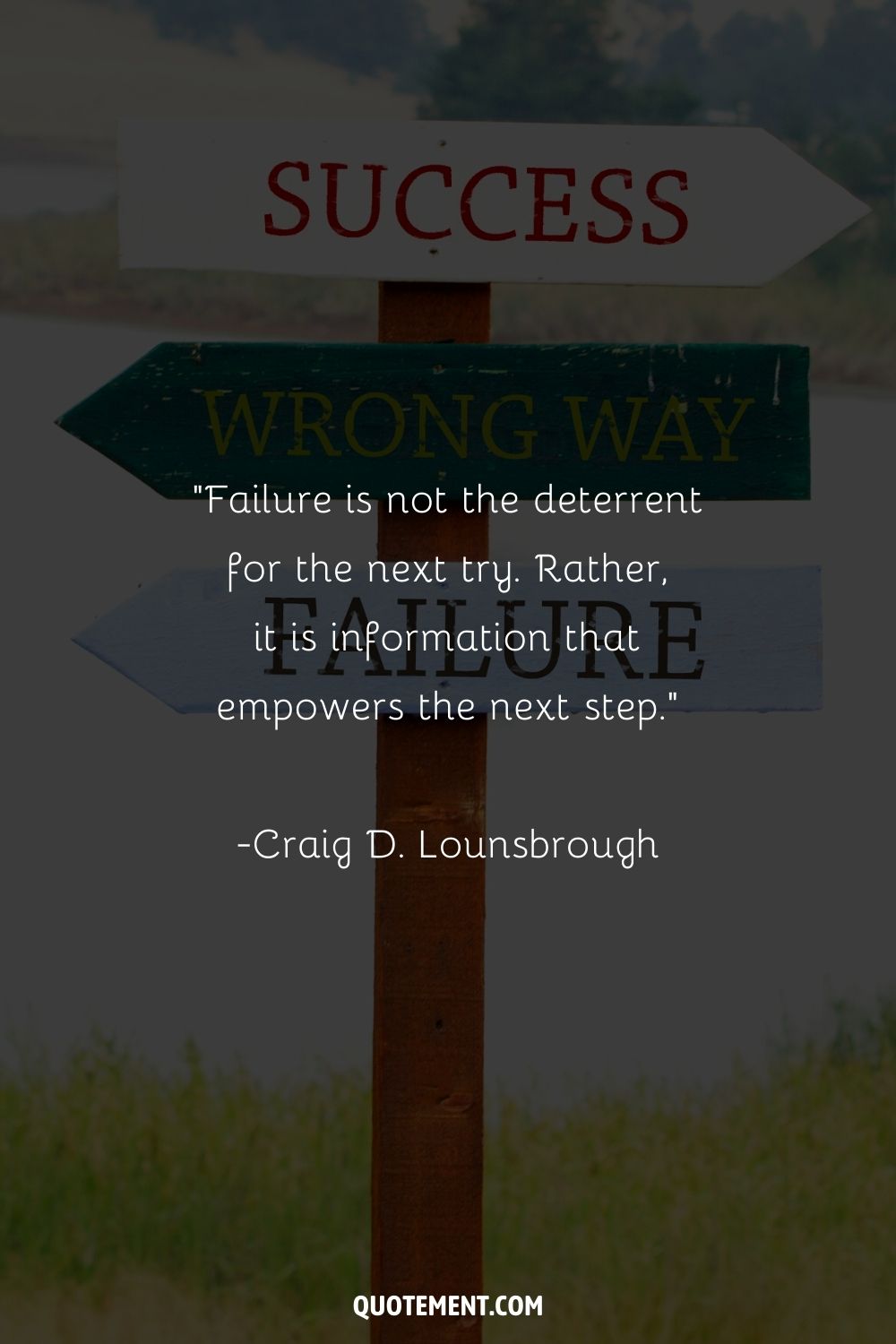 31. "A man who fails well is greater than one who succeeds badly." ― Thomas Merton, No Man Is an Island
32. "Leaving what feels secure behind and following the beckoning of our hearts doesn't always end as we expect or hope. We may even fail. But here's the payoff: it can also be amazing and wonderful and immensely satisfying." ― Steve Goodier
33. "I'd rather be a failure in something that I love than a success in something that I hate." ― George Burns
34. "I do not wish to comment on the work; if it does not speak for itself, it is a failure." ― George Orwell
35. "People think that the opposite of success is failure, but it's not. Failure is part of the process of success." ― Randy Gage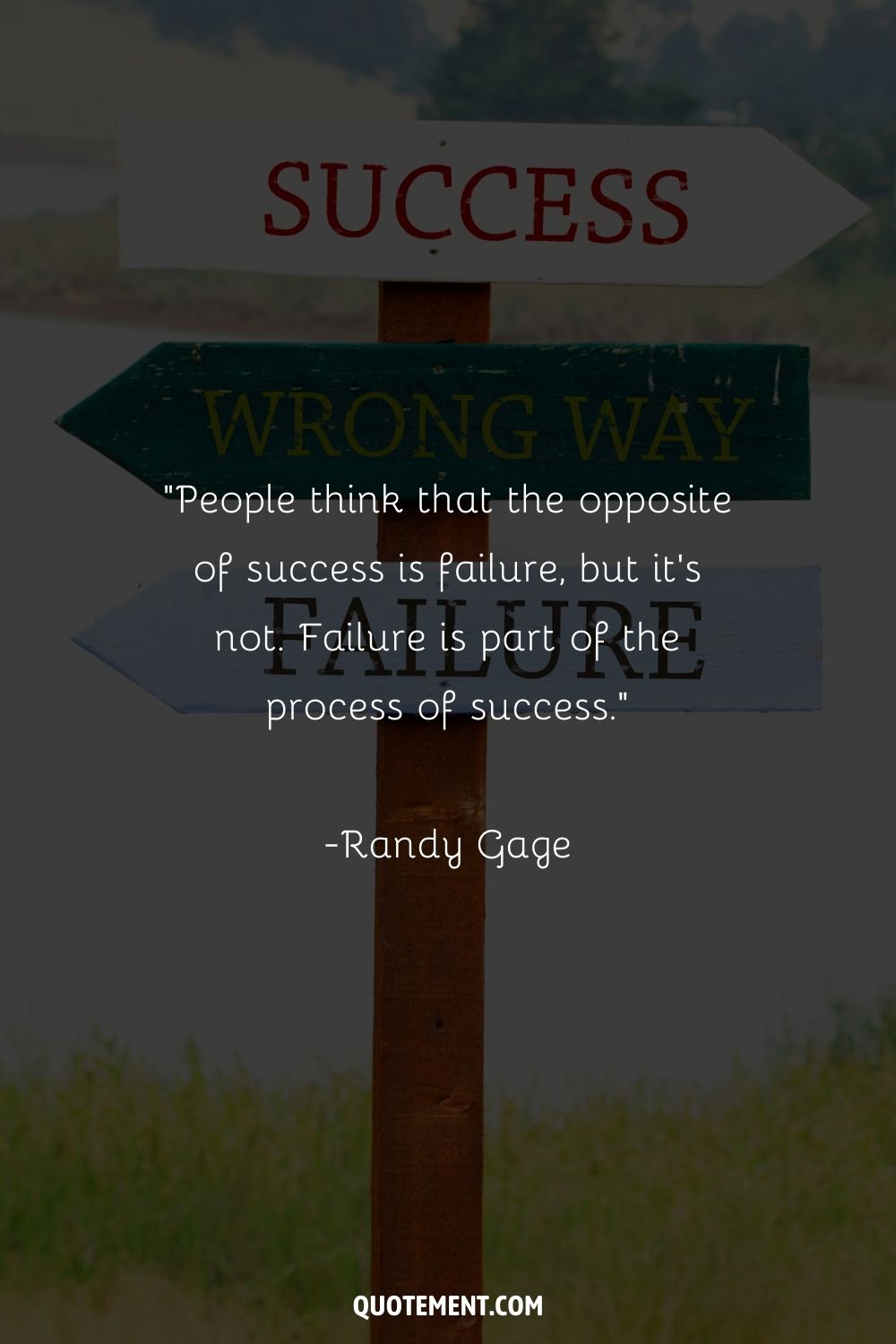 36. "The library is full of stories of supposed triumphs which makes me very suspicious of it. It's misleading for people to read about great successes, since even for middle-class and upper-class white people, in my experience, failure is the norm" ― Kurt Vonnegut, Hocus Pocus
37. "As the sun shines I will make hay
To keep failure at bay
For there remaineth a pay
For my honest toil each day." ― Ogwo David Emenike
See also: 180 Greatest Honesty Quotes To Inspire Authentic Living
38. "Children, who play life, discern its true law and relations more clearly than men, who fail to live it worthily, but who think that they are wiser by experience, that is, by failure." ― Henry David Thoreau, Walden
39. "If things go wrong, you don't have to accept you made a bum decision." ― Dorothy Koomson, My Best Friend's Girl
40. "It is during our failures that we discover our true desire for success." ― Kevin Ngo, Let's Do This! 100 Powerful Messages to Help You Take Action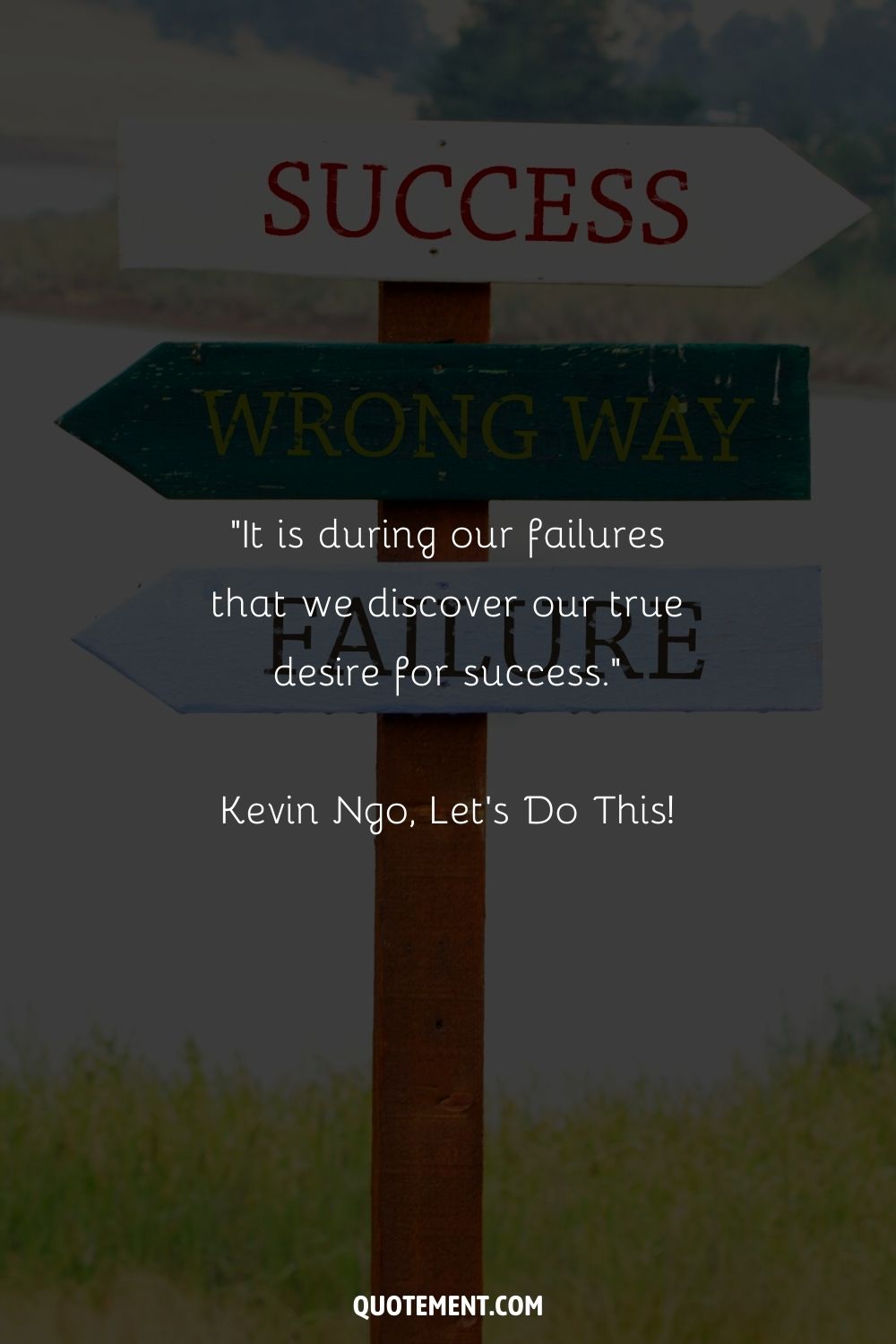 41. "How many stopped-up men and women does it take to produce one Einstein? Ten? A thousand? A hundred thousand? … So this is what Einstein meant when he looked me in the eye that day and said, I would be nothing without you. It was not success he saw written in my face. He saw, rather, that I would never accomplish anything at all." ― Rana Dasgupta, Solo
42. "Don't dream about success,
and wait for it..
Work hard, make progress,
and reach for it!" ― Mouloud Benzadi
43. "In your life, things can either fall in place or fall apart, and it all depends on you being positive and constructive or negative and destructive." ― Mouloud Benzadi
44. "No age of life is inglorious. Youth has its merits, but living to a ripe old age is the true statement of value. Aging is the road that we take to discern our character. Fame and fortune can elude us, but character is immortal. We must encounter a sufficient variety of experiences including both failures and accomplishments in order to gain nobility of character." ― Kilroy J. Oldster, Dead Toad Scrolls
45. "If you listen to critics for too long, you will become deaf to success." ― Matshona Dhliwayo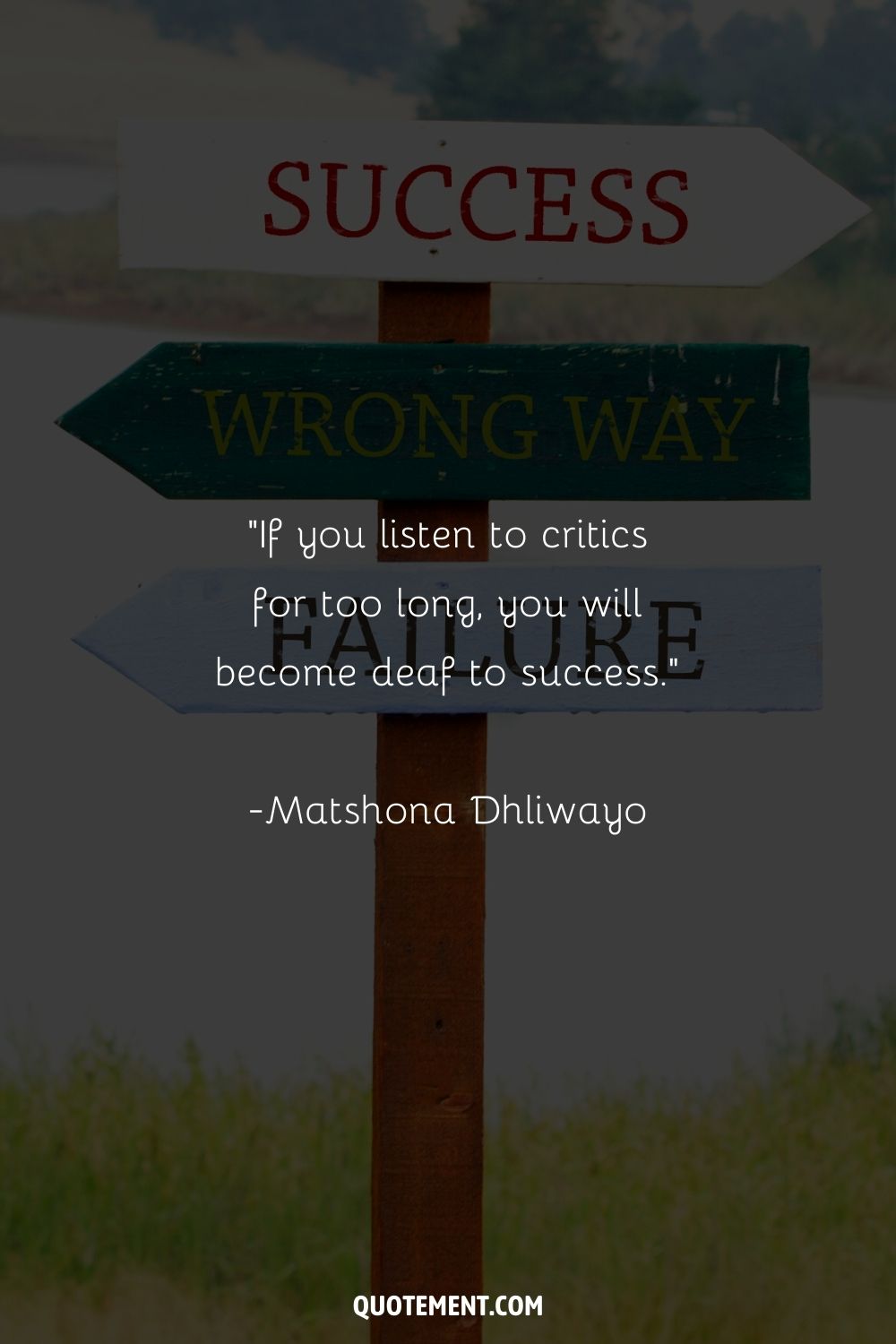 46. "When you feel that others are lacking and failing ….
first assess the skill, style, quality, results, mindset,
support, professionalism and spirit with which
you yourself play the game." ― Rasheed Ogunlaru
47. "An archer must never blame a target for missing it." ― Matshona Dhliwayo
48. "Experiencing failure can often be likened to the sensation of getting pricked by a small twig from a tree. Initially, the pain is sharp and jolting. However, with time, this discomfort can become an empowering force, allowing individuals to persevere even in the face of greater obstacles." ― Emmanuel Aluko
49. "Observe the mistakes of others and make a definitive mental note, so as not to repeat them. It is easier to learn from our mistakes and failures because they are personal. However, if you place the mistakes of others in a written form and read them every day for a week, there is a greater chance you will recall and avoid them yourself." ― RJ Intindola – (Gandolfo) – 1989
50. "Anyone shall be the reason behind my failure but none should be the cause behind my success, I am strong enough to be myself." ― P.S. Jagadeesh Kumar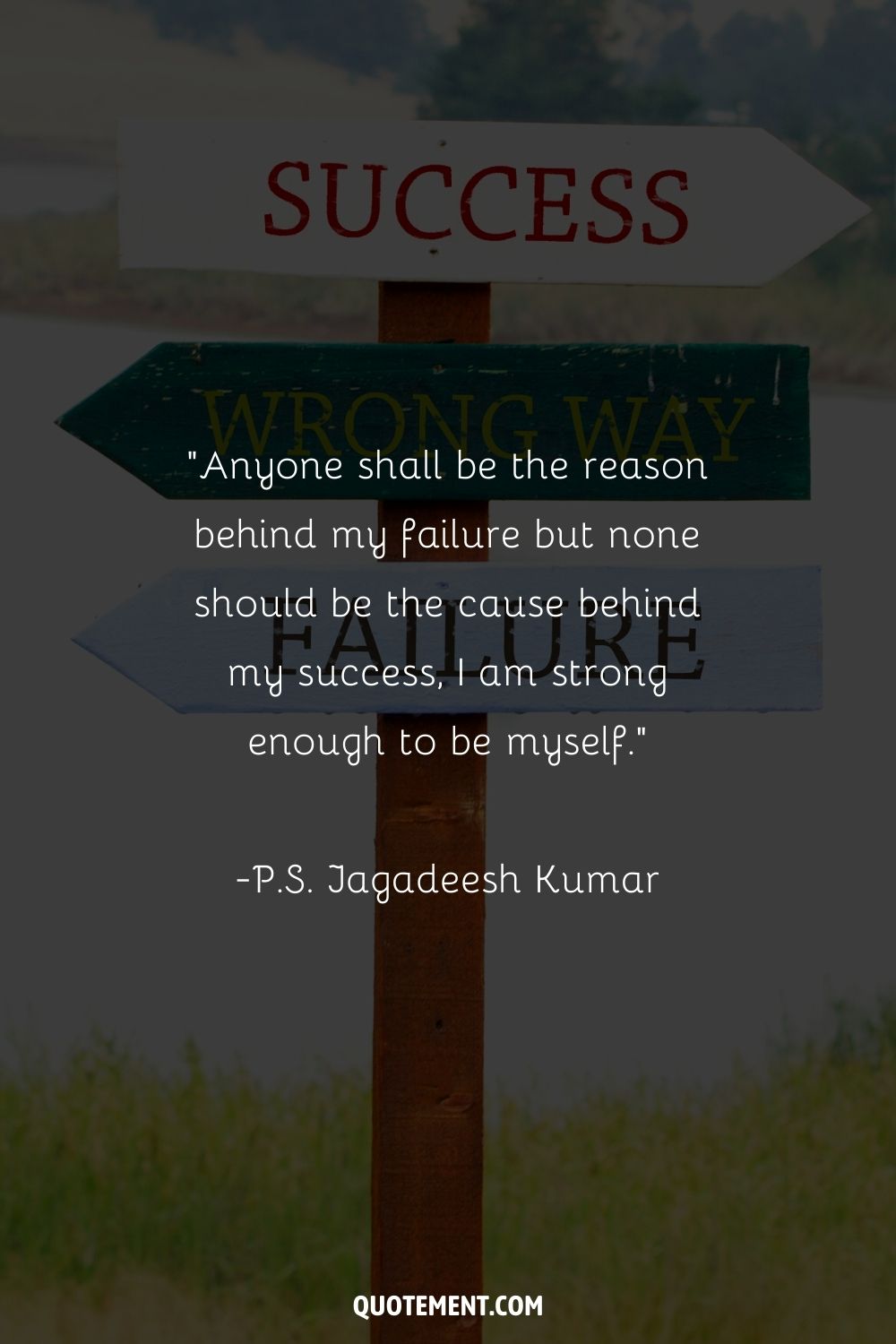 Beautiful Quotes On Learning From Failure That Will Leave You Thinking
1. "If at first you don't succeed, destroy all evidence that you tried." ― Steven Wright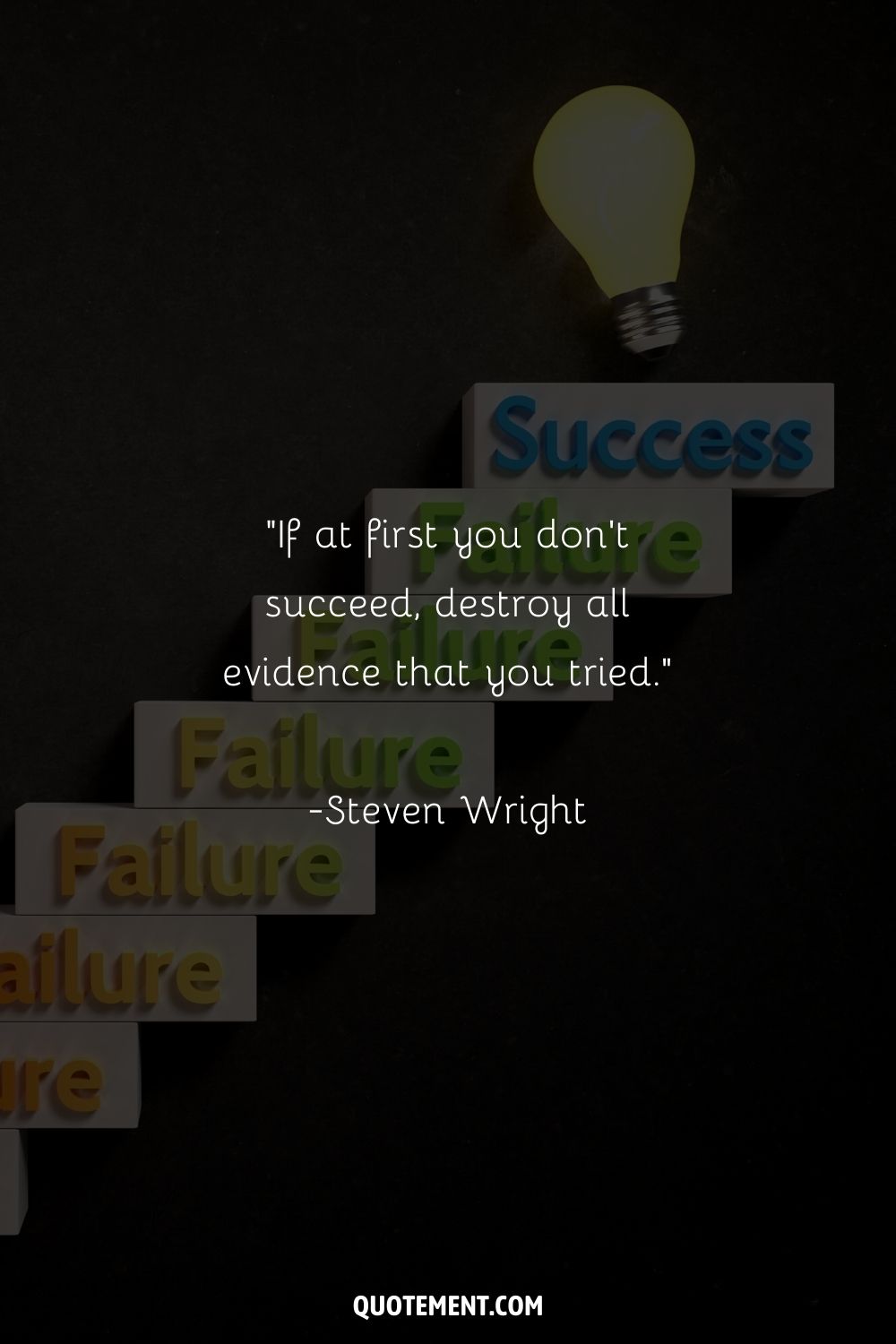 2. "You may encounter many defeats, but you must not be defeated. In fact, it may be necessary to encounter the defeats, so you can know who you are, what you can rise from, how you can still come out of it." ― Maya Angelou
3. "The brick walls are there for a reason. The brick walls are not there to keep us out. The brick walls are there to give us a chance to show how badly we want something. Because the brick walls are there to stop the people who don't want it badly enough. They're there to stop the other people." ― Randy Pausch, The Last Lecture
4. "Life is full of screwups. You're supposed to fail sometimes. It's a required part of the human existence." ― Sarah Dessen, Along for the Ride
5. "I think perfection is ugly. Somewhere in the things humans make, I want to see scars, failure, disorder, distortion." ― Yohji Yamamoto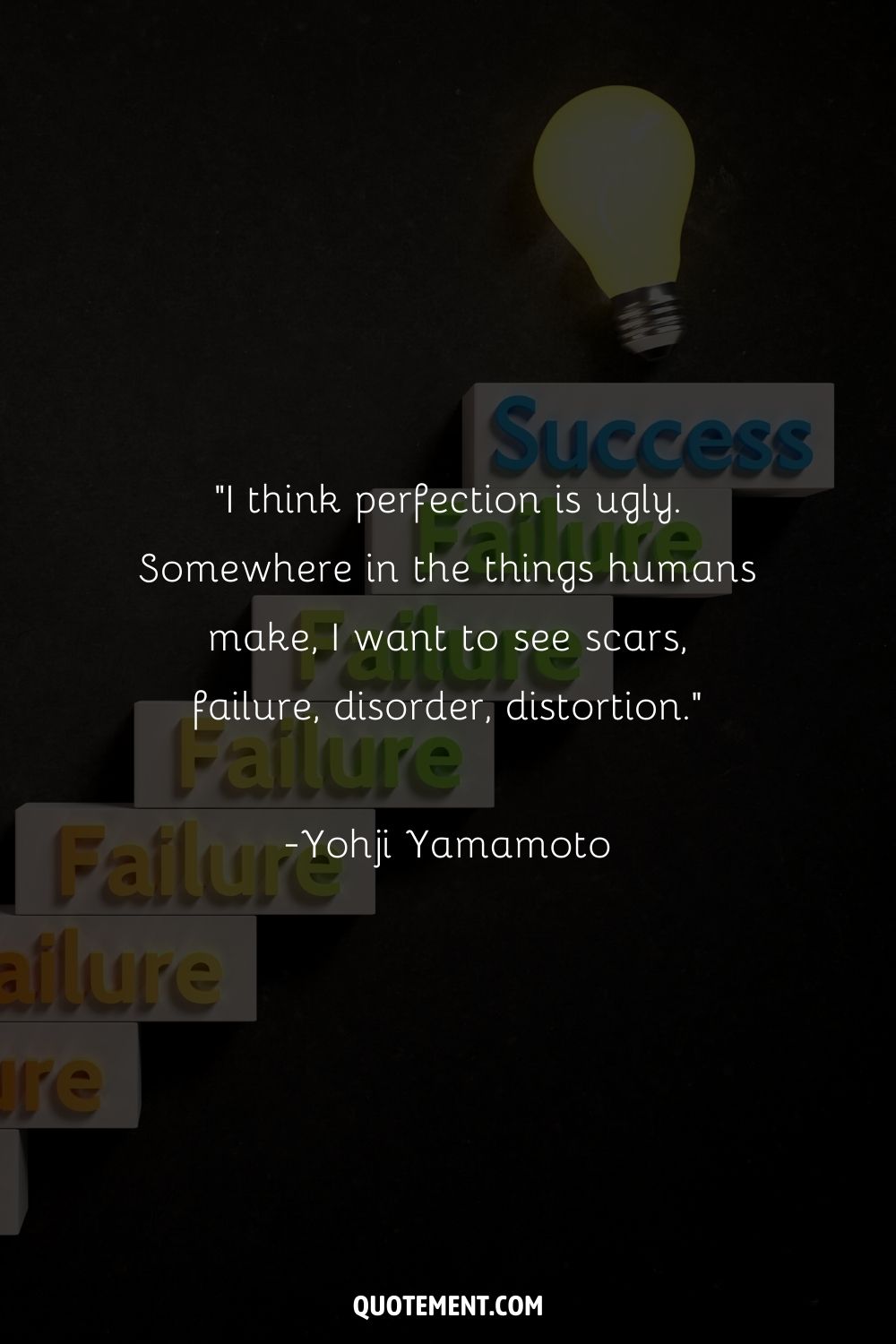 6. "I advise you to stop sharing your dreams with people who try to hold you back, even if they're your parents. Because, if you're the kind of person who senses there's something out there for you beyond whatever it is you're expected to do – if you want to be EXTRAordinary- you will not get there by hanging around a bunch of people who tell you you're not extraordinary. Instead, you will probably become as ordinary as they expect you to be." ― Kelly Cutrone, If You Have to Cry, Go Outside: And Other Things Your Mother Never Told You
7. "The end of a relationship is not always a failure. Sometimes all the love in the world is not enough to save something. In these cases, it is not a matter of fault from either person. Some things cannot be, it's as simple as that." ― Ashly Lorenzana
8. "Nostalgia is a necessary thing, I believe, and a way for all of us to find peace in that which we have accomplished, or even failed to accomplish. At the same time, if nostalgia precipitates actions to return to that fabled, rosy-painted time, particularly in one who believes his life to be a failure, then it is an empty thing, doomed to produce nothing but frustration and an even greater sense of failure." ― R.A. Salvatore, Streams of Silver
9. "The sorrow of God lies in our fear of Him, our fear of life, and our fear of ourselves. He anguishes over our self-absorption and self-sufficiency… God's sorrow lies in our refusal to approach Him when we sinned and failed." ― Brennan Manning, Abba's Child: The Cry of the Heart for Intimate Belonging
10. "So, I must be taken as I have been made. The success is not mine, the failure is not mine, but the two together make me." ― Charles Dickens, Great Expectations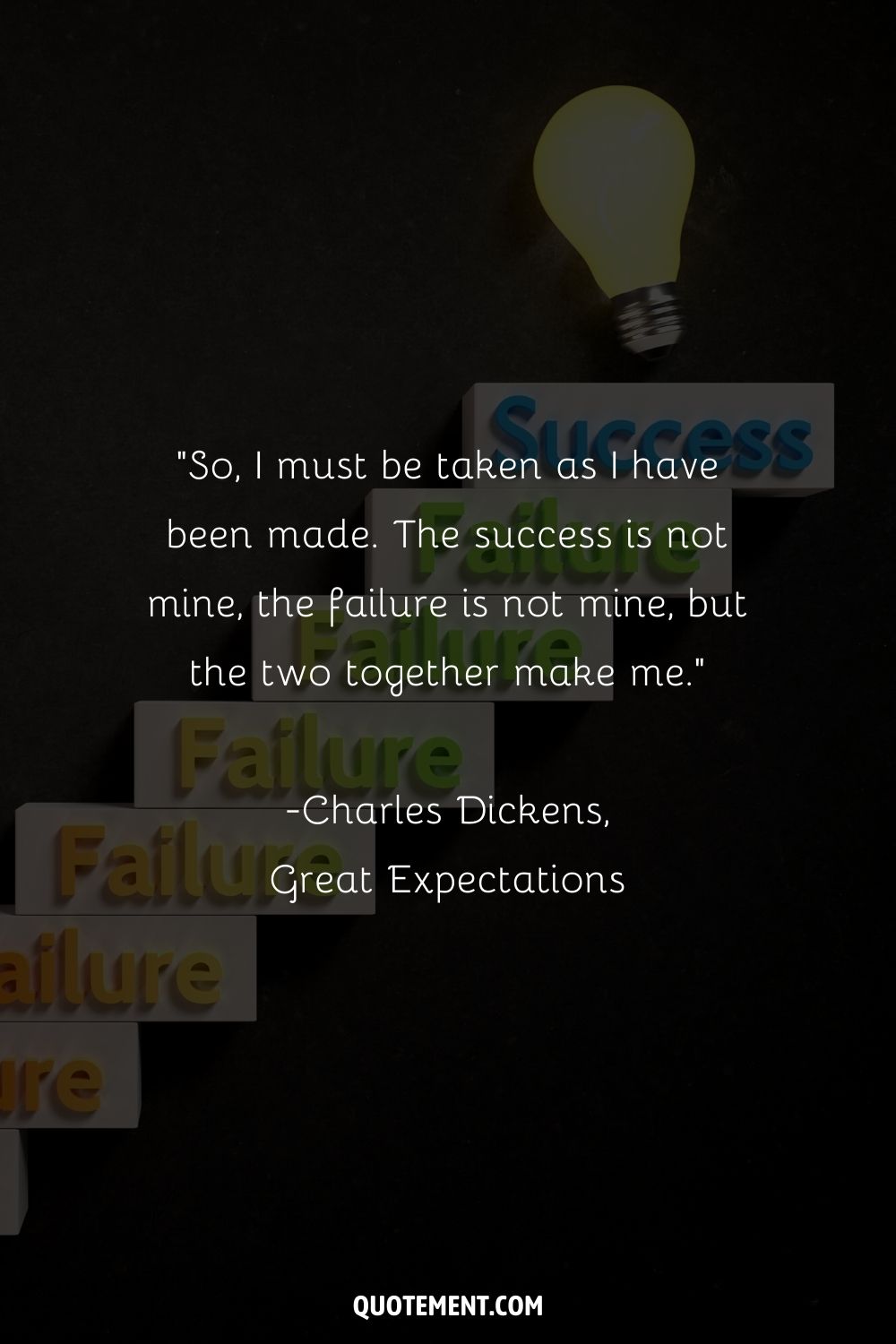 11. "I knew I was putting you under immense pressure when I rejected your work the other day. I set an impossible deadline – yet you have met it with work that I can only call outstanding. As your teacher, I had to push you to your limits so that you could recognize your own true potential." ― A. P. J. Abdul Kalam
12. "Human beings are the only creatures who are allowed to fail. If an ant fails, it's dead. But we're allowed to learn from our mistakes and from our failures. And that's how I learn, by falling flat on my face and picking myself up and starting all over again." ― Madeleine L'Engle
13. "If my attitude be on of fear, not faith, about the one who has disappointed me; if I say "Just what I expected," if a fall occurs, then I know nothing of Calvary Love." ― Amy Carmichael, If
14. "How we feel is not who we are. We might feel like failures, but as long as we are still trying, we are not failures. We are works in progress." ― Toni Sorenson
15. "If you live to fail, then you fail to live." ― Muhammad Misrad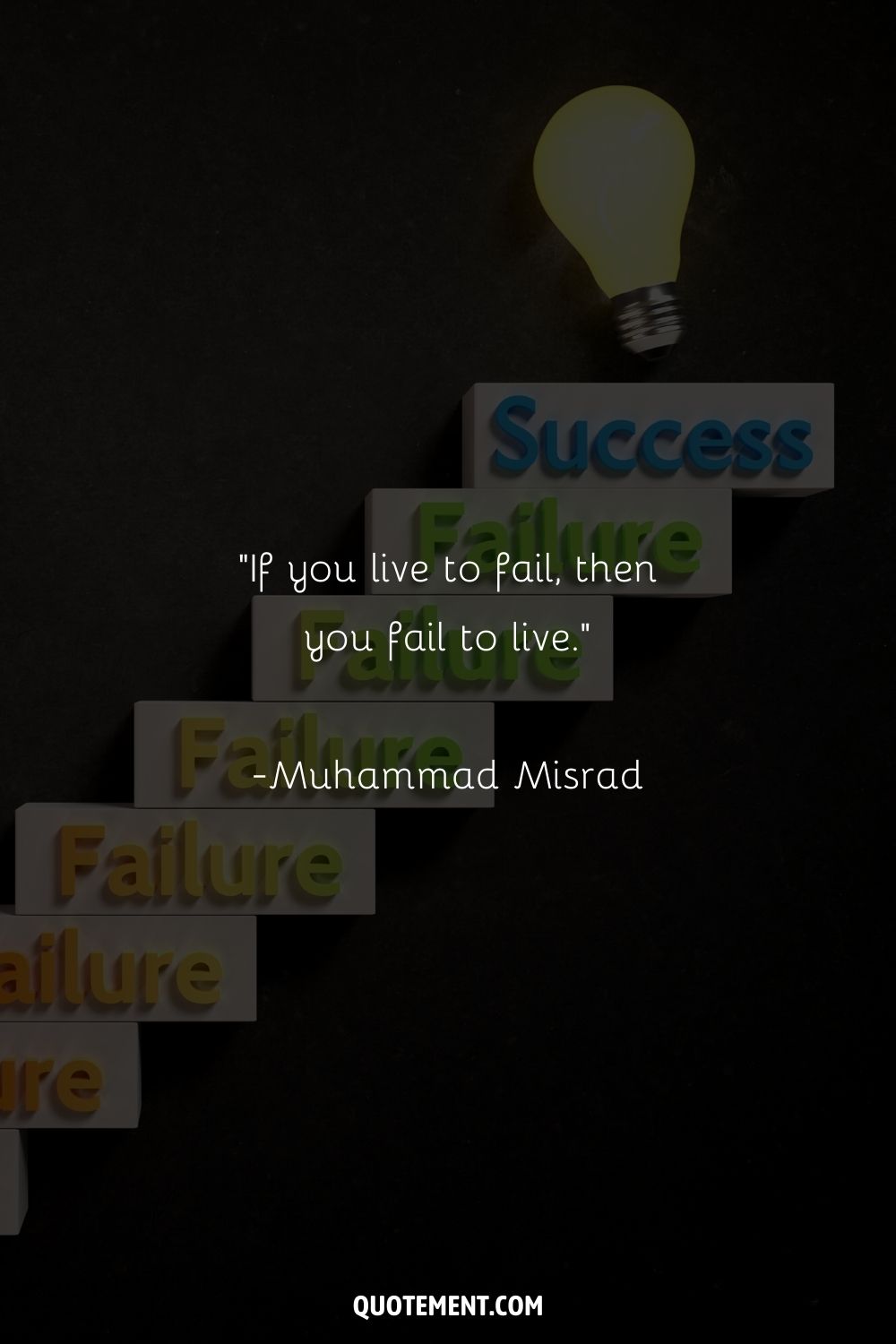 16. "Winning may not be everything, but losing has little to recommend it." ― Dianne Feinstein, Nine and Counting: The Women of the Senate
17. "And what of failure?"
He shrugged."The consequence of not succeeding. Remember what Homer said.Circumstances rule men,not men circumstances." ― Steve Berry
18. "No experience is wasted. It is the stepping stone for great success." ― Lailah Gifty Akita, Pearls of Wisdom: Great mind
19. "When I was a boy, that was all I wanted—to grow a pair of wings and get up into the sky. I had a basement full of failed wing projects. Boards and capes and motors, even a pile of found feathers I once tried to glue together with a bottle of Elmer's; you should have seen your grandmother's face. But I never got any higher than the backyard fence I'd launch from. I never got inside a cloud. Your raven did." ― Beth Kephart, Undercover
20. "Failure is an opportunity to rise higher than before." ― Edwin Dearborn, Power Branding Secrets: Spark Customer Interest and Ignite Your Sales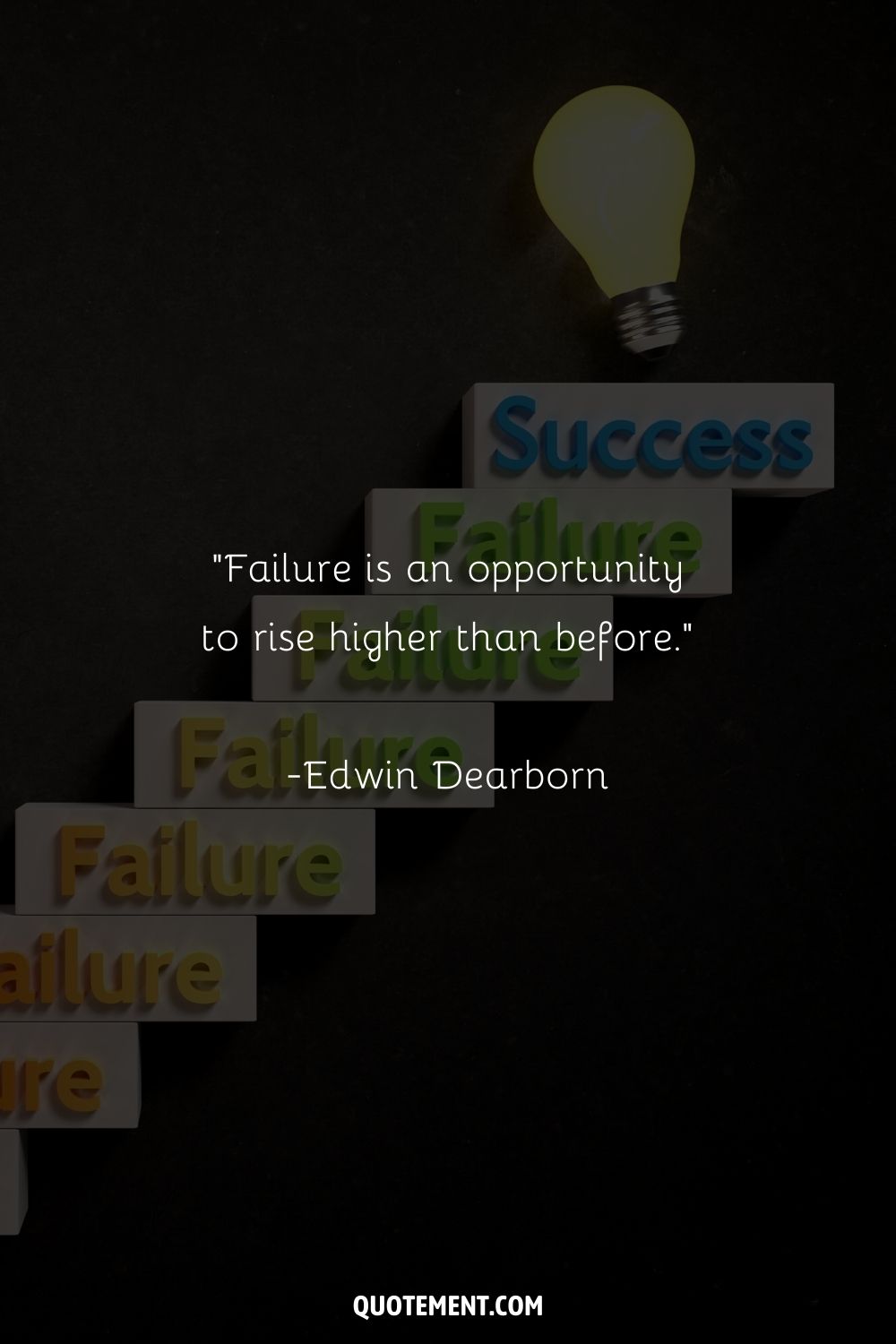 21. "It takes a safe and wide love to teach a man that it's possible to fail and remain." ― Jedidiah Jenkins, Like Streams to the Ocean: Notes on Ego, Love, and the Things That Make Us Who We Are
22. "Getting fired from work does not make you a failure. Letting it take control of your life is what does" ― Sunday Adelaja
23. "With them, I had never cried and I had never allowed them to cry but without them, every drop of tears made my life an ocean, I am stronger than my success and failures." ― P.S. Jagadeesh Kumar
24. "Learning from failure is an essential element in any human endeavor. Mistakes should not be feared … just learned from." ― Roger Macdonald Andrew
25. "I have failed many times but have not let the failures extinguish my spirit and diminish my peace of mind." ― Bhuwan Thapaliya, Our Nepal, Our Pride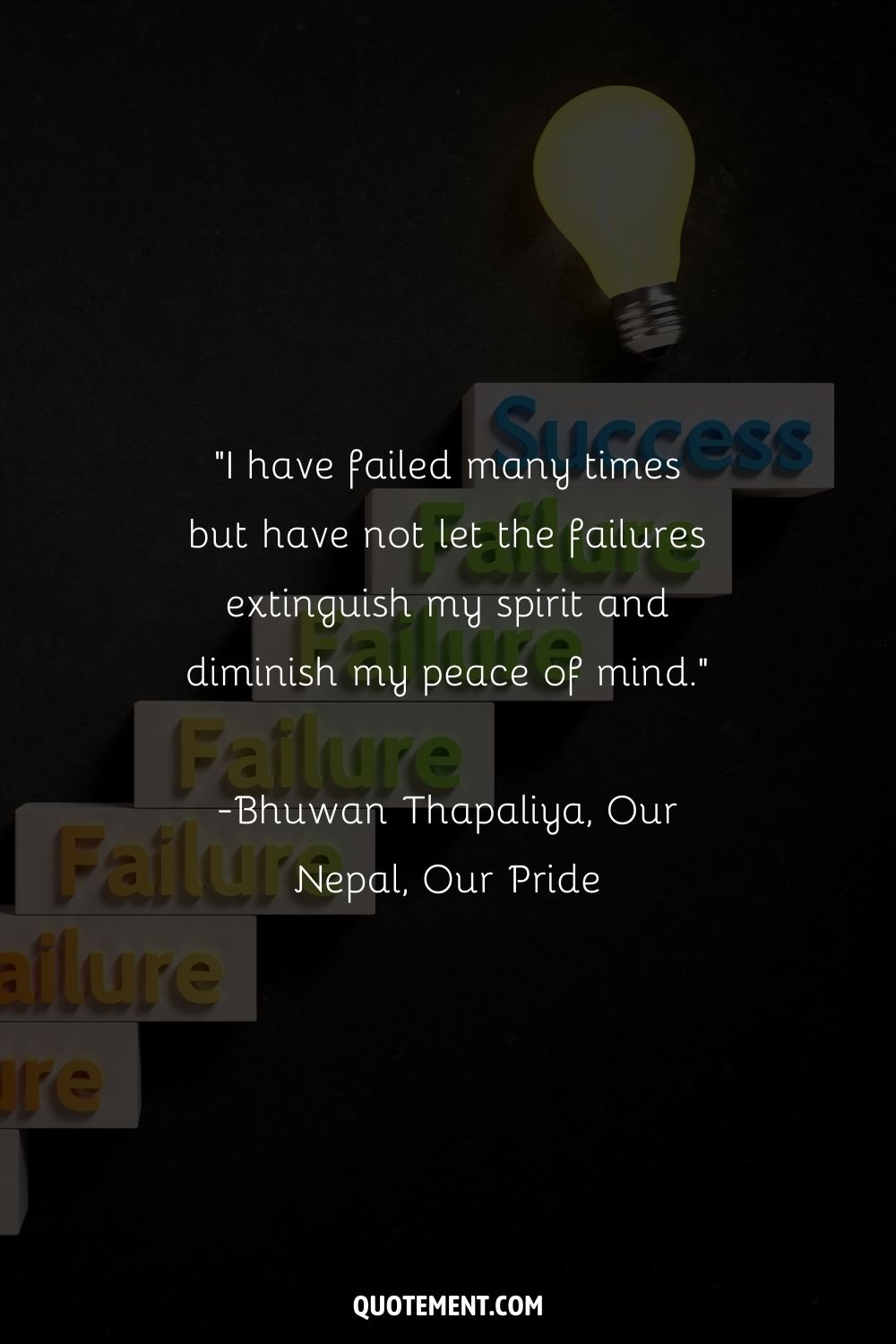 26. "We are products of our past, but we don't have to be prisoners of it." ― Rick Warren, The Purpose Driven Life: What on Earth Am I Here for?
27. "By seeking and blundering we learn." ― Johann Wolfgang von Goethe
28. "A teachable spirit and a humbleness to admit your ignorance or your mistake will save you a lot of pain. However, if you're a person who knows it all, then you've got a lot of heavy-hearted experiences coming your way." ― Ron Carpenter Jr., The Necessity of an Enemy: How the Battle You Face Is Your Best Opportunity
29. "You don't learn to walk by following rules. You learn by doing, and by falling over." ― Richard Branson
30. "Failure is instructive. The person who really thinks learns quite as much from his failures as from his successes." ― John Dewey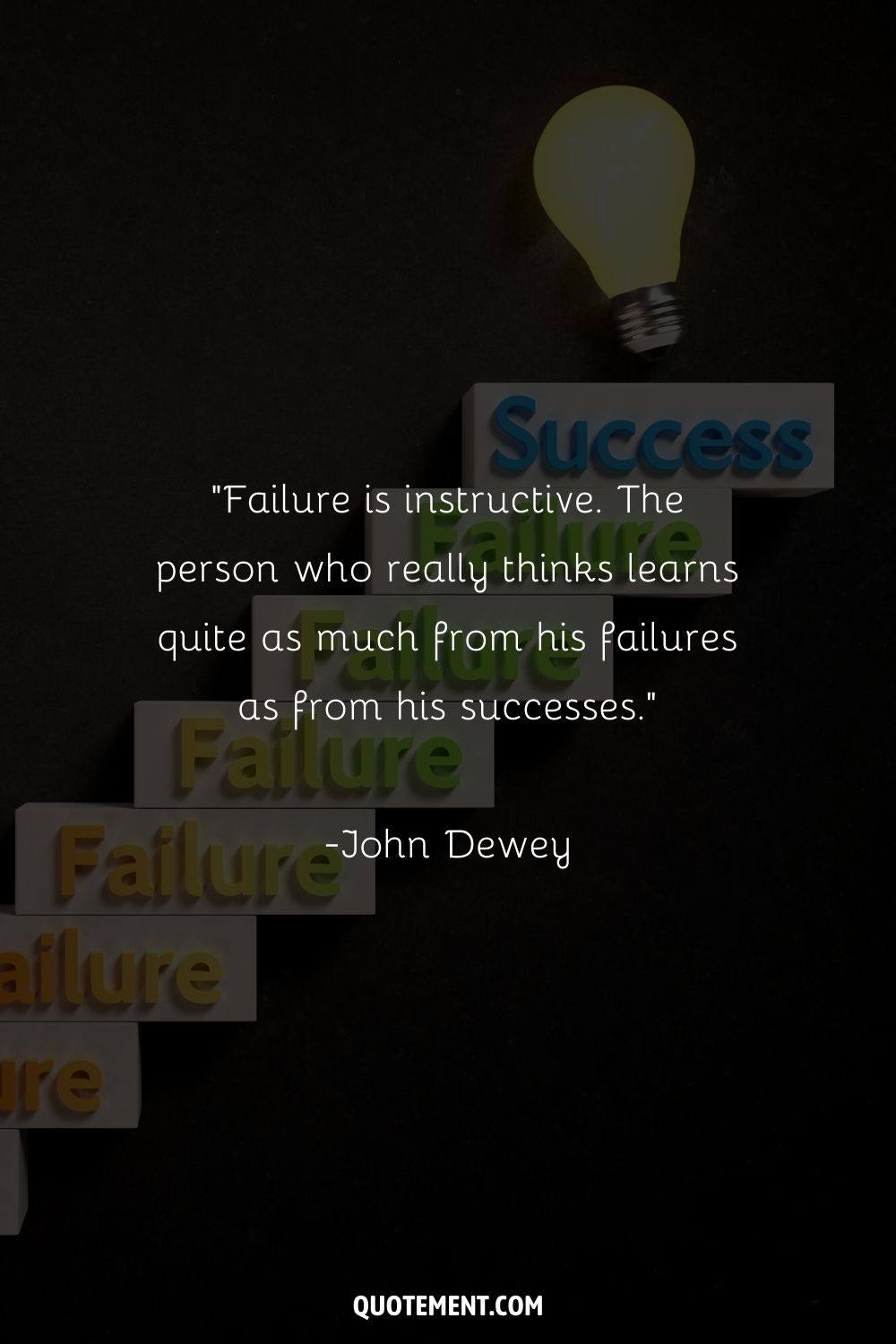 31. "Fools say that they learn by experience. I prefer to profit by others experience." ― Otto von Bismarck
32. "Great losses are great lessons." ― Amit Kalantri, Wealth of Words
33. "False facts are highly injurious to the progress of science, for they often endure long; but false views, if supported by some evidence, do little harm, for everyone takes a salutary pleasure in proving their falseness; and when this is done, one path towards error is closed and the road to truth is often at the same time opened." ― Charles Darwin
34. "Living is a process of developing oneself. Without experiencing pain from disconcerting periods of our lives, we would be different person, perhaps a lesser person." ― Kilroy J. Oldster, Dead Toad Scrolls
35. "Why learn solely from your mistakes when you can learn from the mistakes of others?" ― Frank Sonnenberg, The Path to a Meaningful Life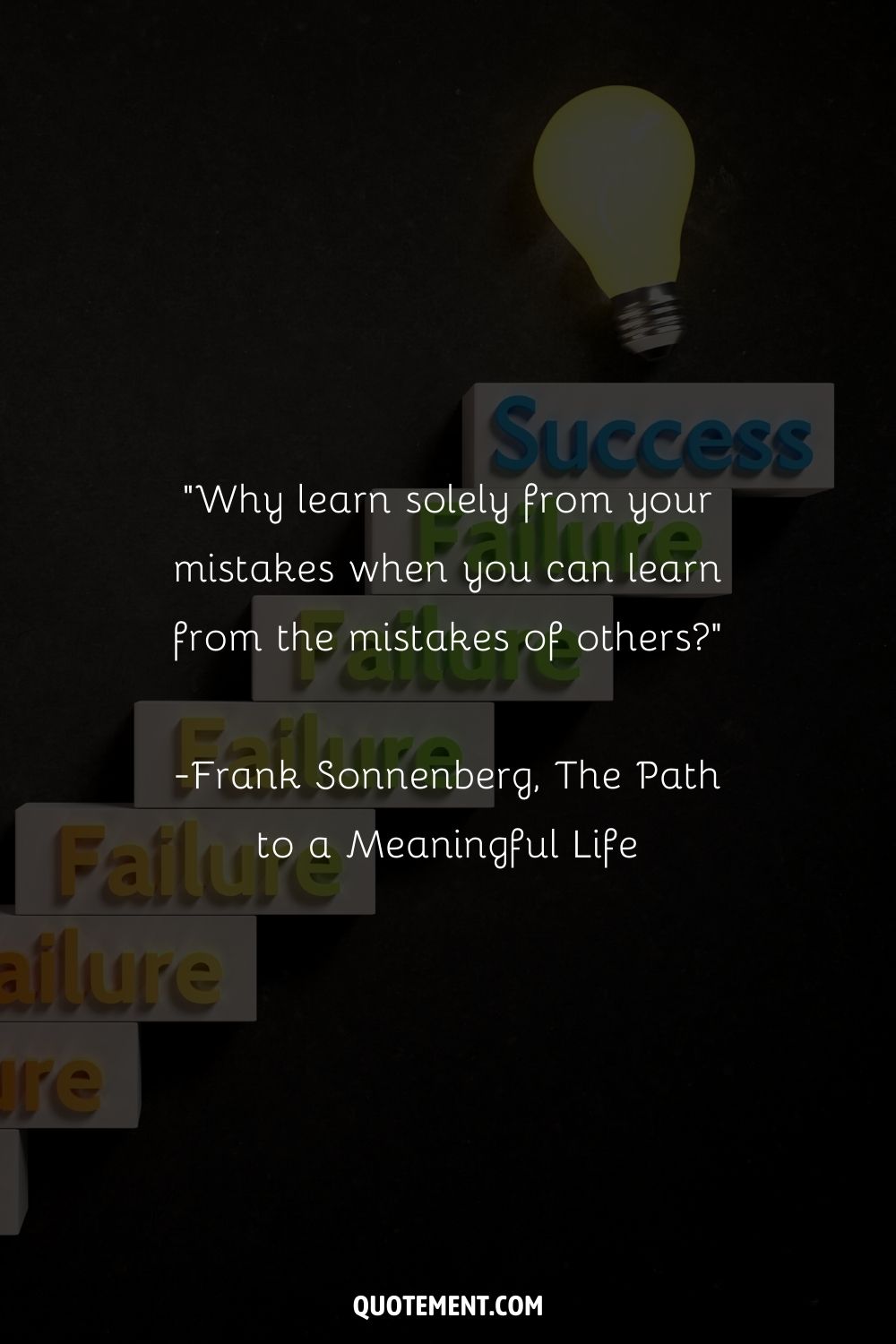 36. "Sometimes our enemies can teach us more than our friends." ― Wayne Gerard Trotman
37. "Experience can birth skill if you are aware of how your mind reacts to situations. Practice watching your mind when everything is fine, and it can help you to keep calm when problems arise." ― Eric Overby
38. "I may be a little slow, but I'm learning at the speed of light. Or at least I think I am. I can't actually see the light, I just assume it's there." ― Ajaz Ahmad Khawaja
39. "When a bad thing happens a pessimist thinks, 'just my luck', an optimist thinks, 'this will pass', and a teacher thinks, 'what's the lesson here?'." ― Garry Fitchett
40. "Learning from your mistakes does not happen automatically, it requires thinking and reflection." ― Oscar Auliq-Ice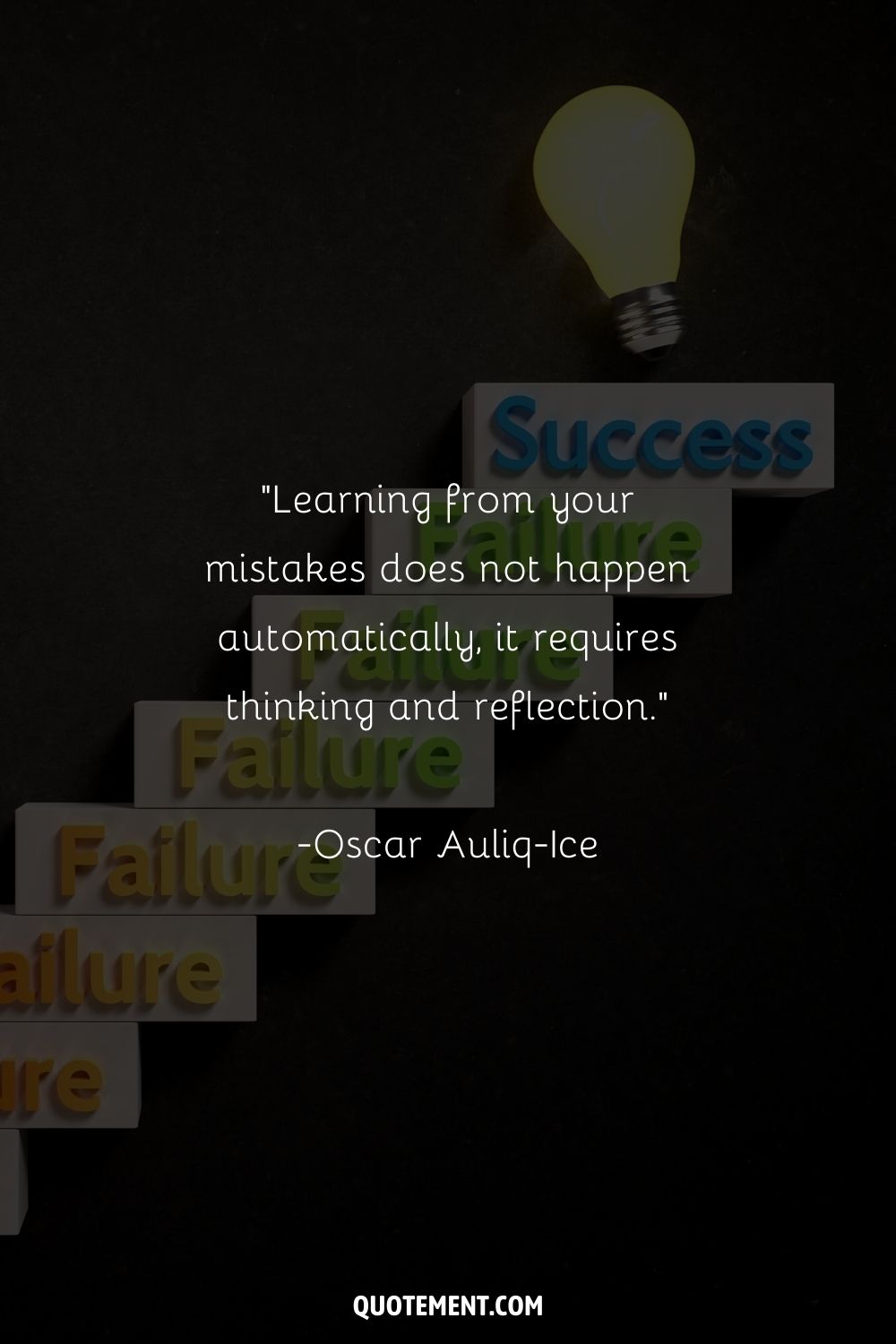 See also: List Of Top 100 Self-Reflection Quotes To Help You Thrive
41. "Learning from failure is an essential element in any human endeavor. Mistakes should not be feared … just learned from." ― Roger Macdonald Andrew
42. "The idea of being wrong shouldn't scare you from trying something new. We fail and we learn." ― Pooja Agnihotri, 17 Reasons Why Businesses Fail :Unscrew Yourself From Business Failure
43. "Problems and opportunities are two sides of the same coin. When we learn how to deal with our problems, we grow and become a better version of ourselves." ― Pooja Agnihotri, Market Research Like a Pro
44. "My point is that life is long, and parts of it can be immensely shitty. You shouldn't focus on the future because you've got little control over it. All you can do is make sure the steps you take now are going in the direction of the future you want and be prepared for trips and falls along the way. Why focus on the past when you cannot change it? Mistakes will always linger there, and all you can do is learn from them and use them as benchmarks for how much you've improved since then. Focus on the now…Life is a series of infinite Nows." ― Daniel Sloss, Everyone You Hate is Going to Die: And Other Comforting Thoughts on Family, Friends, Sex, Love, and More Things That Ruin Your Life
See also: 160 Wise Quotes About Focusing On Yourself To Empower You
45. "Use teachable moments as a blueprint for what you should not do in the future." ― Germany Kent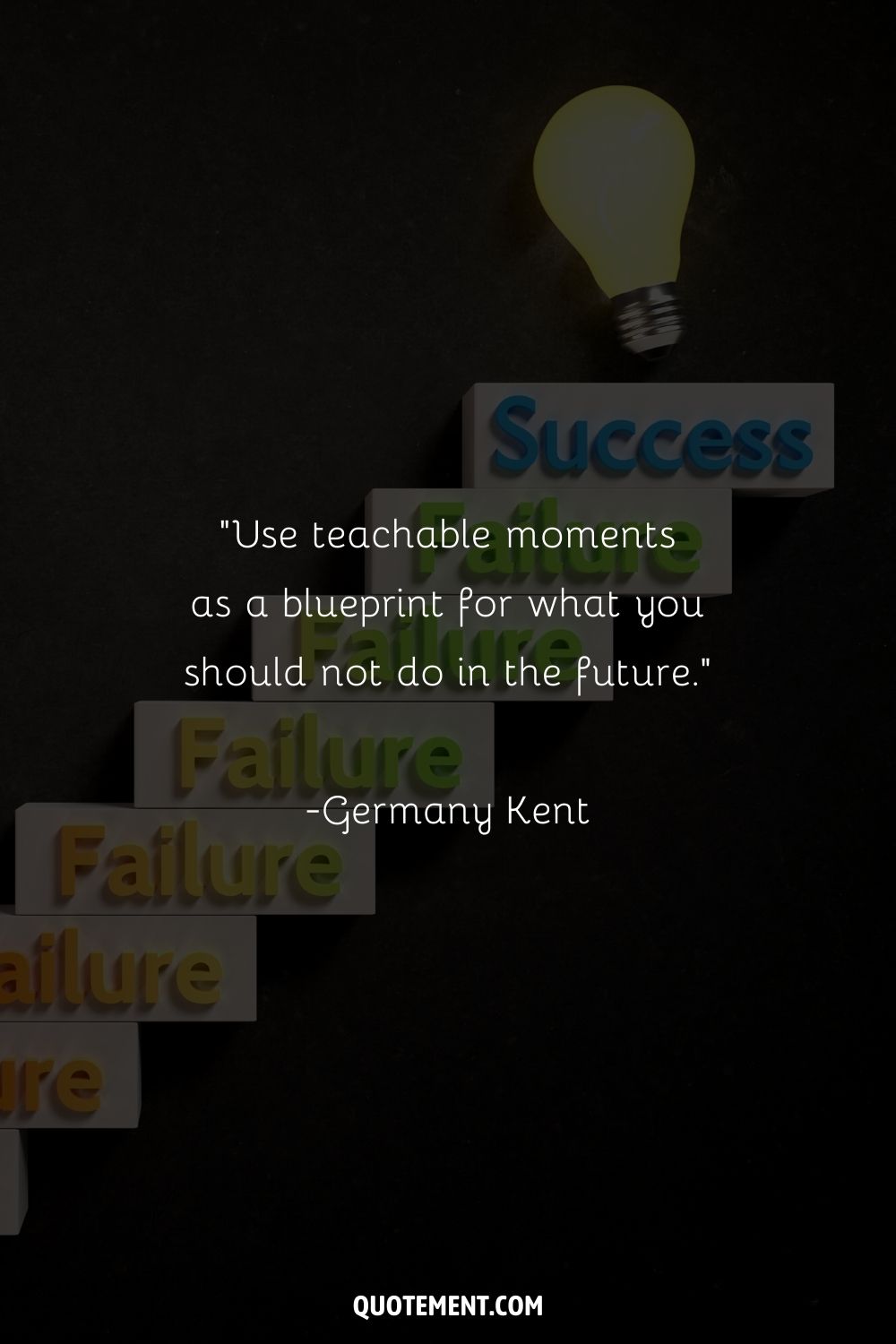 46. "What is happening today has happened yesterday and will happen tomorrow also, unless we take serious steps to stop it." ― Louis Yako
47. "At times we do crazy things. They make no sense. It reminds me of the definition of insanity, which is doing the same thing over and over, and expecting different results. People credit that to Einstein. I think it is true. I think people are painfully ignorant of how much they do the same thing but expect different results. Maybe willfully ignorant? However, this is a good thing. We are naturally created to do the same thing over and over. That is called consistency. My goal is to align our natural tendency with the ideas in this book, causing an adjustment to our actions which will produce a more propitious "same result"." ― Dexter A. Daniels, Consistent, Not Different: Why We Stray from the Path and Reasons to Return
48. "This was life. We had to learn to take the ending of something painful and let it become something else. Give it meaning. Use it as an opportunity to grow, to try something different, to be someone better." ― Jacqueline Simon Gunn, Let Love Rule
49. "If your actions aren't advancing your goals, stop and ask why." ― Oscar Auliq-Ice
50. "Failure teaches you everything—you learn nothing from success." ― George Clooney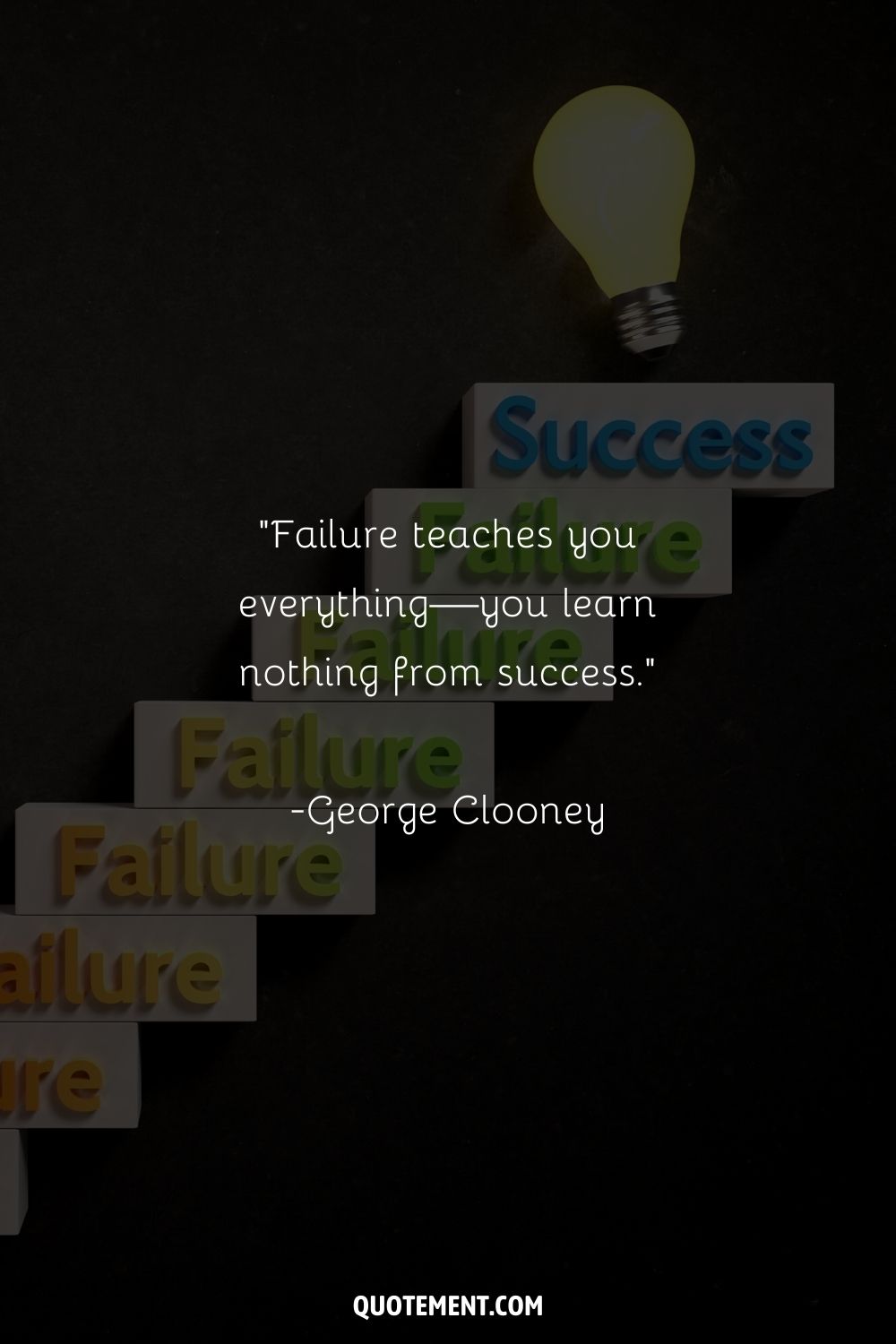 Quotes About Trying Again After Failure
1. "I have not failed. I've just found 10,000 ways that won't work." ― Thomas A. Edison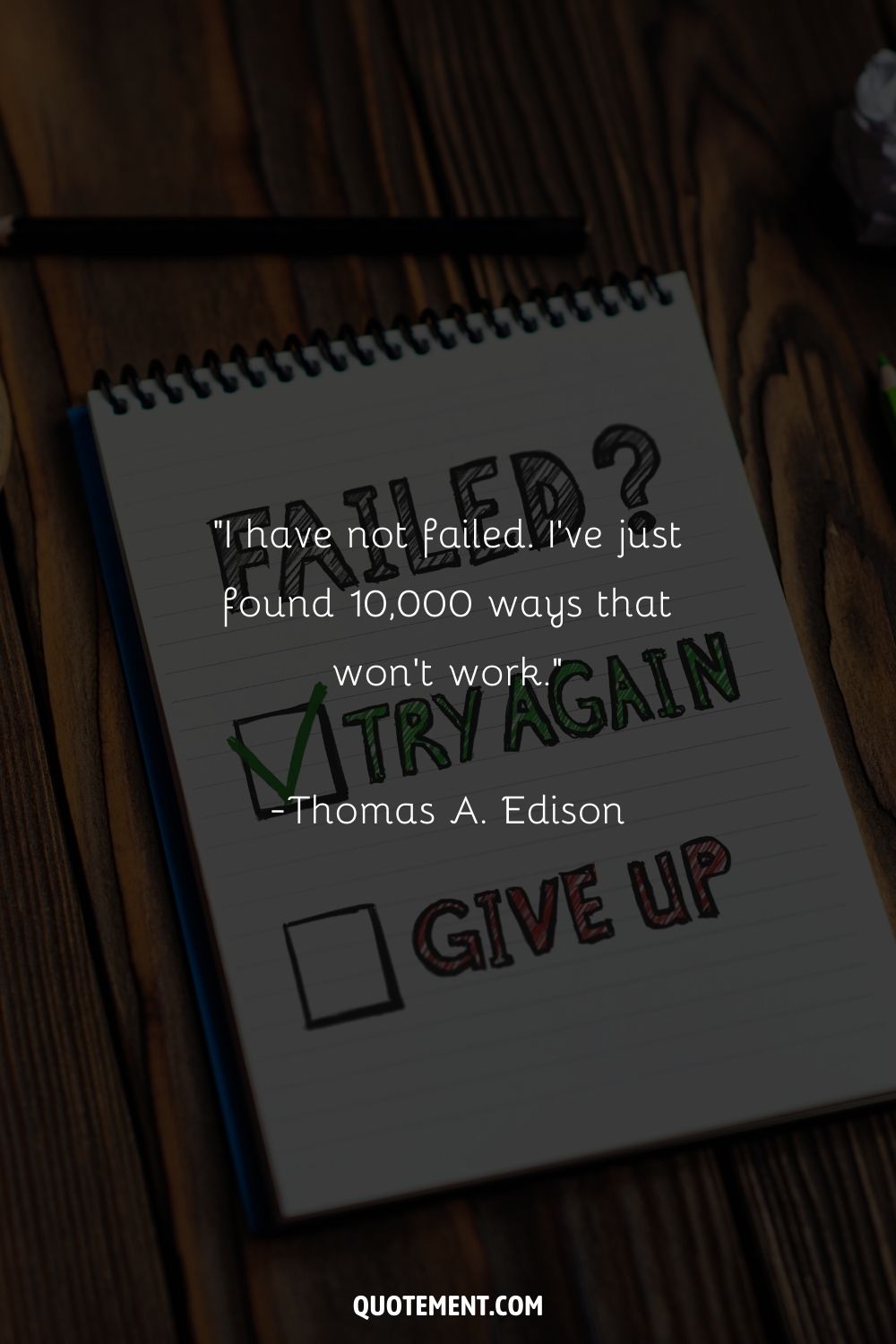 2. "Together, they would watch everything that was so carefully planned collapse, and they would smile at the beauty of destruction." ― Markus Zusak, The Book Thief
3. "I make mistakes like the next man. In fact, being–forgive me–rather cleverer than most men, my mistakes tend to be correspondingly huger." ― J.K. Rowling, Harry Potter and the Half-Blood Prince
4. "When I face the desolate impossibility of writing five hundred pages, a sick sense of failure falls on me, and I know I can never do it. Then gradually, I write one page and then another. One day's work is all I can permit myself to contemplate." ― John Steinbeck, Travels with Charley: In Search of America
5. "My past is everything I failed to be." ― Fernando Pessoa, The Book of Disquiet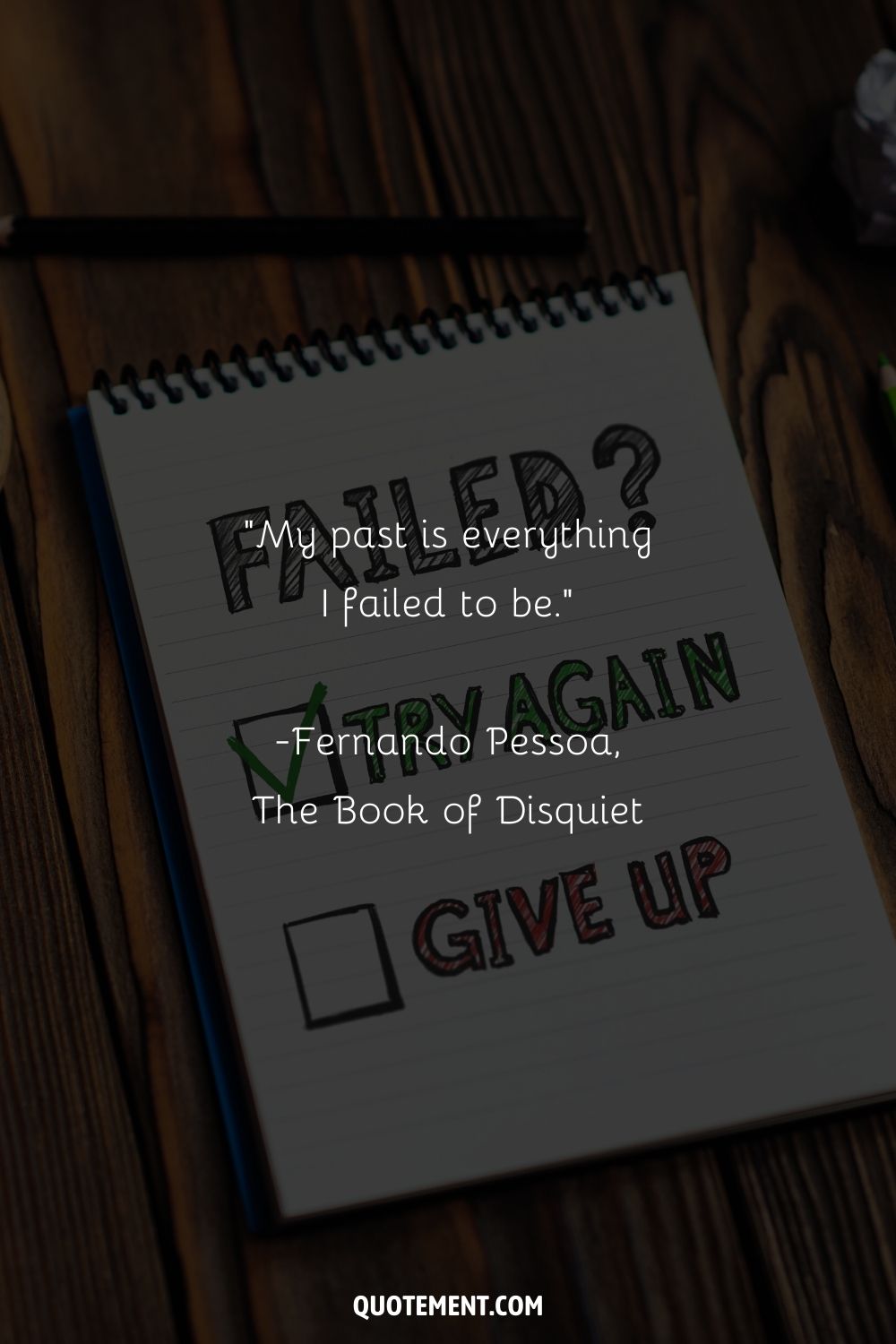 6. "What makes authentic disciples is not visions, ecstasies, biblical mastery of chapter and verse, or spectacular success in the ministry, but a capacity for faithfulness. Buffeted by the fickle winds of failure, battered by their own unruly emotions, and bruised by rejection and ridicule, authentic disciples may have stumbled and frequently fallen, endured lapses and relapses, gotten handcuffed to the fleshpots and wandered into a far county. Yet, they kept coming back to Jesus." ― Brennan Manning, The Ragamuffin Gospel
7. "He believed in himself, believed in his quixotic ambition, letting the failures of the previous day disappear as each new day dawned. Yesterday was not today. The past did not predict the future if he could learn from his mistakes." ― Daniel Wallace, The Kings and Queens of Roam
8. "I enjoy the fun of failure. It's fun to fail, I kept repeating. It's part of being ambitious; it's part of being creative. If something is worth doing, it's worth doing badly" ― Gretchen Rubin, The Happiness Project
See also: 140 Quotes About Having Fun Whenever You Can
9. "The difference between Success and failure is not giving up." ― Steven Redhead, The Solution
10. "Try again. Fail again. Fail better." ― Samuel Beckett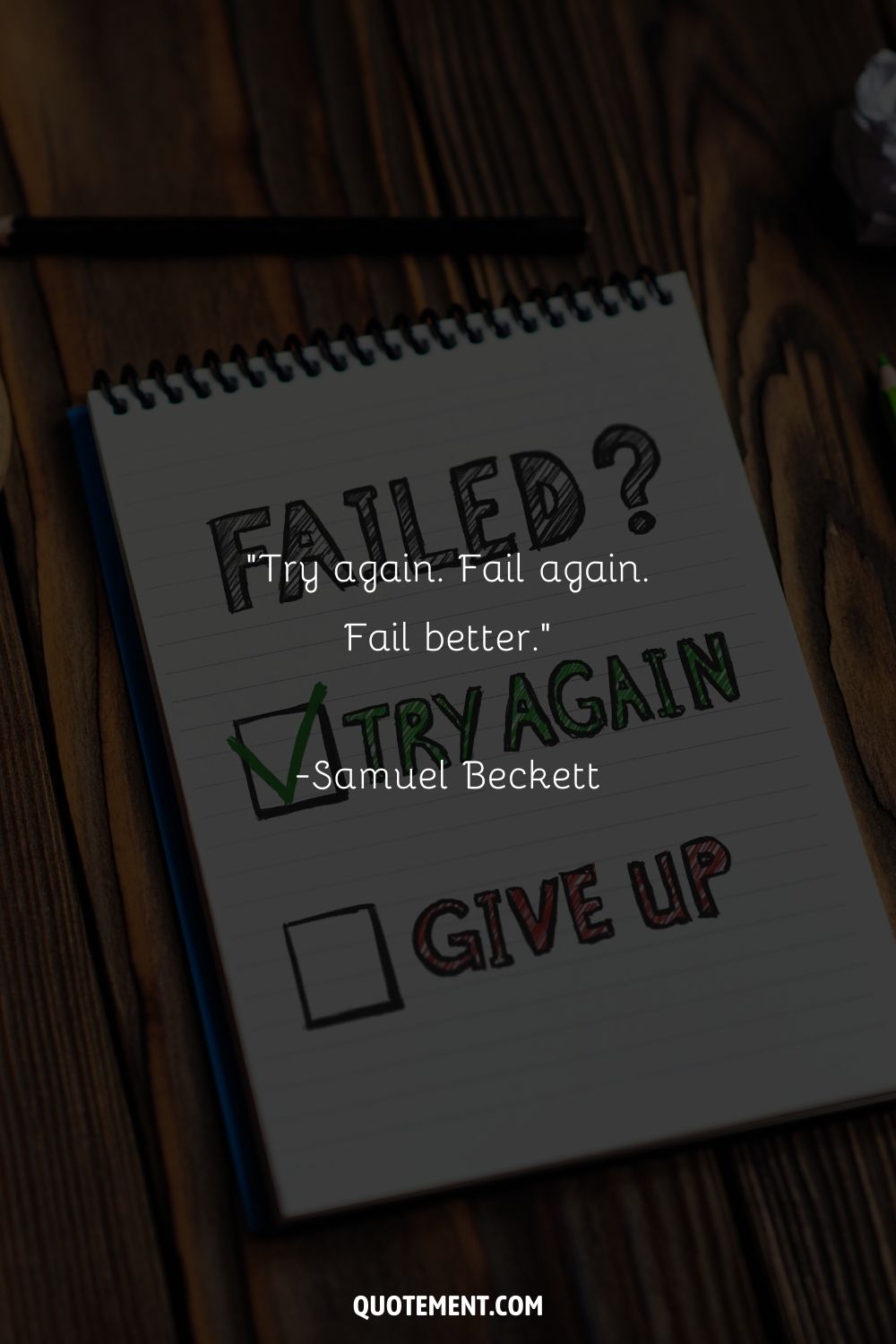 11. "For some unknown reason, success usually occurs in private, while failure occurs in
full view." ― Jill Shalvis, The Sweetest Thing
12. "In life, things can always go wrong,
So always keep your heart strong,
Carry on, and never give up hope." ― Mouloud Benzadi
13. "The major difference between a thing that might go wrong and a thing that cannot possibly go wrong is that when a thing that cannot possibly go wrong goes wrong it usually turns out to be impossible to get at or repair." ― Douglas Adams
14. "Sometimes failure is the beginning of success" ― Astrid Scholte, Four Dead Queens
15. "NOTHING goes exactly as planned.
Make your OWN destiny" ― Tate Hallaway, Almost to Die For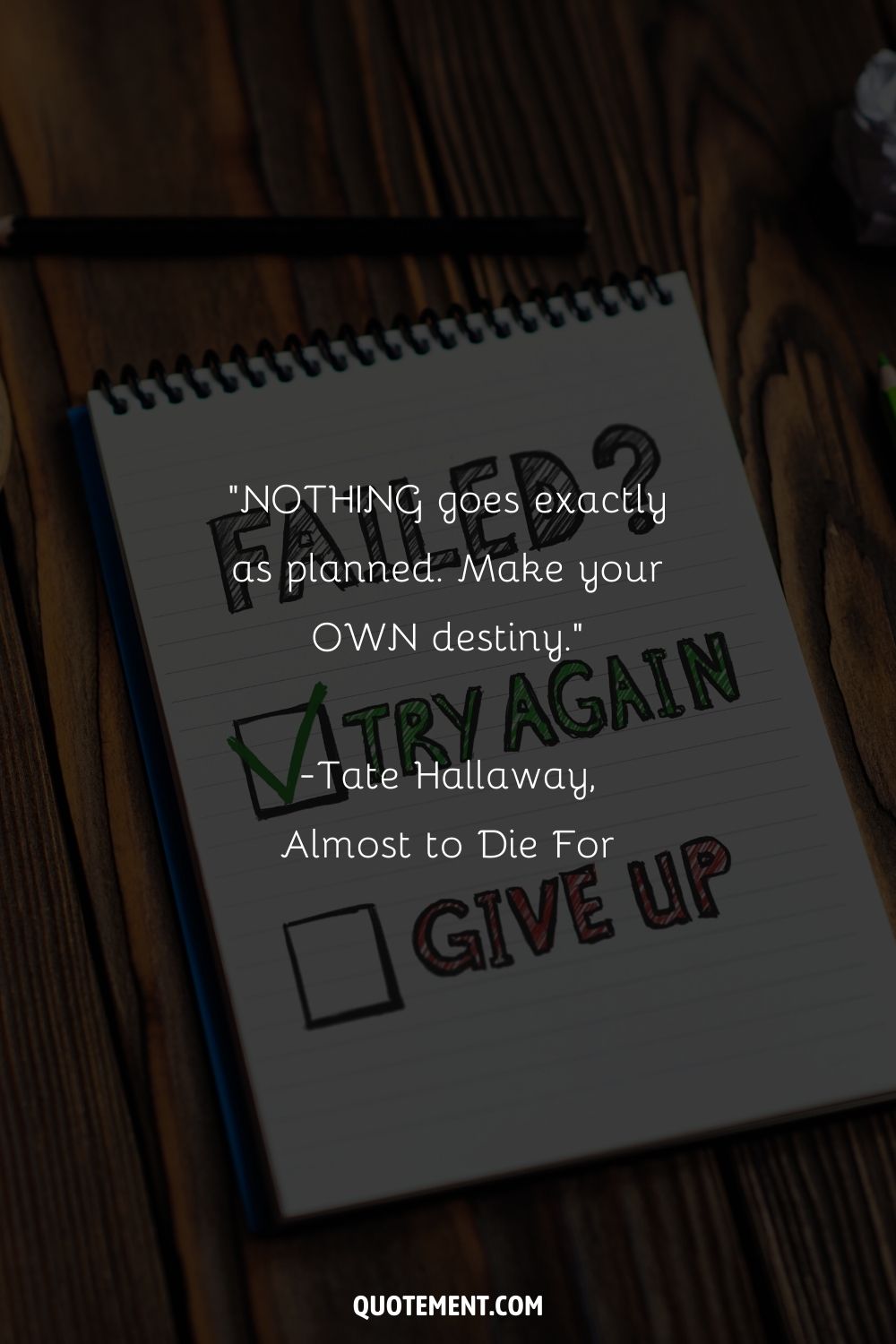 16. "Failure is so important. We speak about success all the time. It is the ability to resist failure or use failure that often leads to greater success. I've met people who don't want to try for fear of failing." ― J.K. Rowling
17. "Have you had a failure or rejection? You could get bitter. That's one way to deal with it. Or…you could just get BETTER. What do you think?" ― Destiny Booze
18. "The writer must have a good imagination to begin with, but the imagination has to be muscular, which means it must be exercised in a disciplined way, day in and day out, by writing, failing, succeeding and revising." [The Writer's Digest Interview: Stephen King & Jerry B. Jenkins (Jessica Strawser, Writer's Digest, May/June 2009)]" ― Stephen King
See also: 150 Discipline Quotes To Unlock Your Potential And Success
19. "If there is one lesson I've learned from failure and success, it's this. I am not the outcome. I am never the result. I am only the effort." ― Kamal Ravikant, Live Your Truth
20. "Do not be embarrassed by your failures, learn from them and start again." ― Richard Branson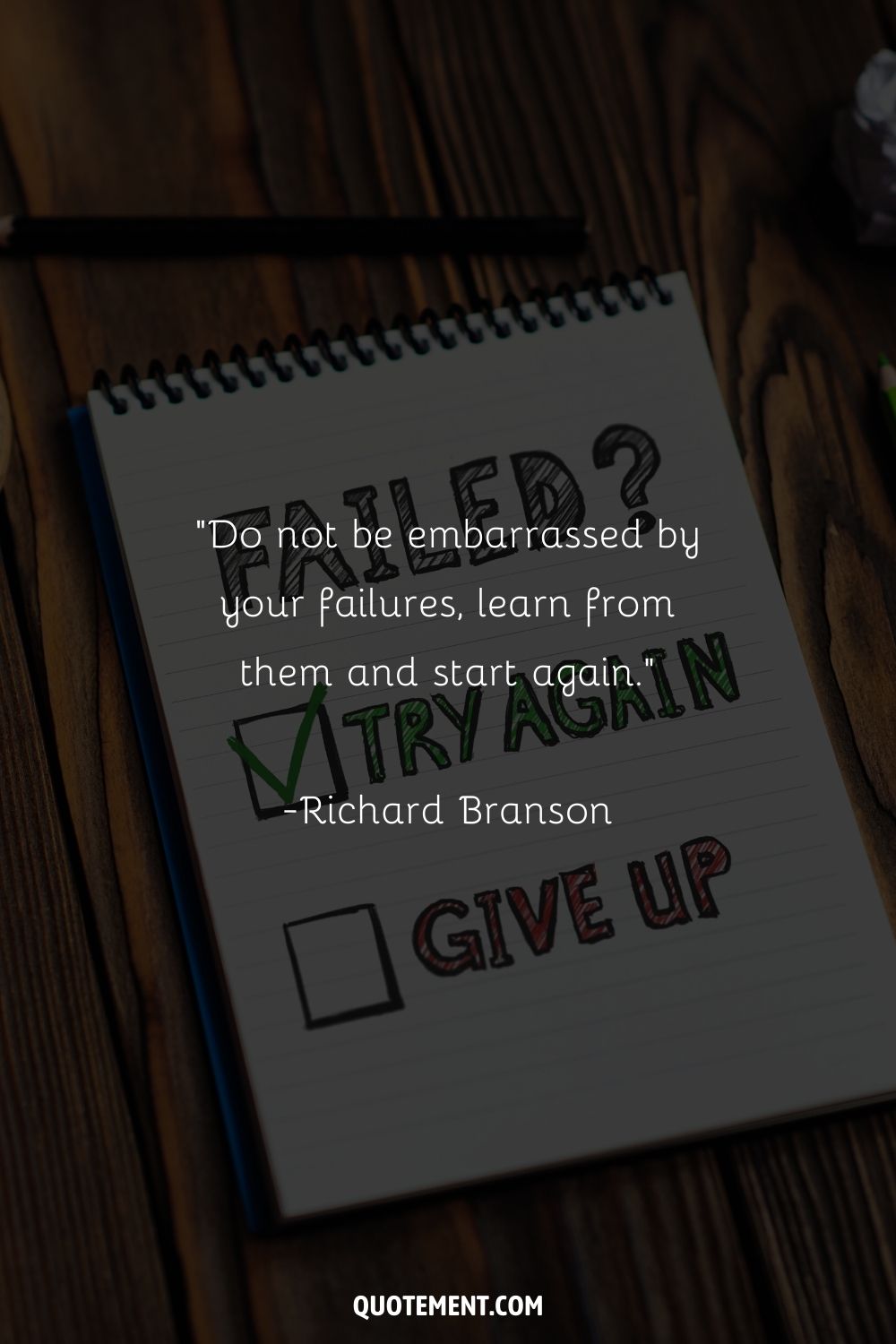 21. "Every second of every day we are entering a new universe. And we spend so much time wishing our lives were different, comparing ourselves to other people and to other versions of ourselves, when really most lives contain degrees of good and degrees of bad.
There are patterns of life… Rhythms. It is so easy, while trapped in just the one life, to imagine that times of sadness or tragedy or failure or fear are a result of the particular existence. That it is a by-product of living a certain way, rather than simply living. I mean, it would have made things a lot easier if we understood there was no way of living that can immunise you against sadness. And that sadness is intrinsically part of the fabric of happiness. You can't have one without the other. Of course, they come in different degrees and quantities. But there is no life where you can be in a state of sheer happiness for ever. And imagining there is just breeds more unhappiness in the life you're in." ― Matt Haig
22. "Becoming fearless isn't the point. That's impossible. It's learning how to control your fear, and how to be free from it." ― Veronica Roth, Divergent
23. "Keep Going
Your hardest times often lead to the greatest moments of your life. Keep going. Tough situations build strong people in the end." ― Roy T. Bennett, The Light in the Heart
24. "Never stop dreaming,
never stop believing,
never give up,
never stop trying, and
never stop learning." ― Roy T. Bennett, The Light in the Heart
25. "Pressure is a word that is misused in our vocabulary. When you start thinking of pressure, it's because you've started to think of failure." ― Tommy Lasorda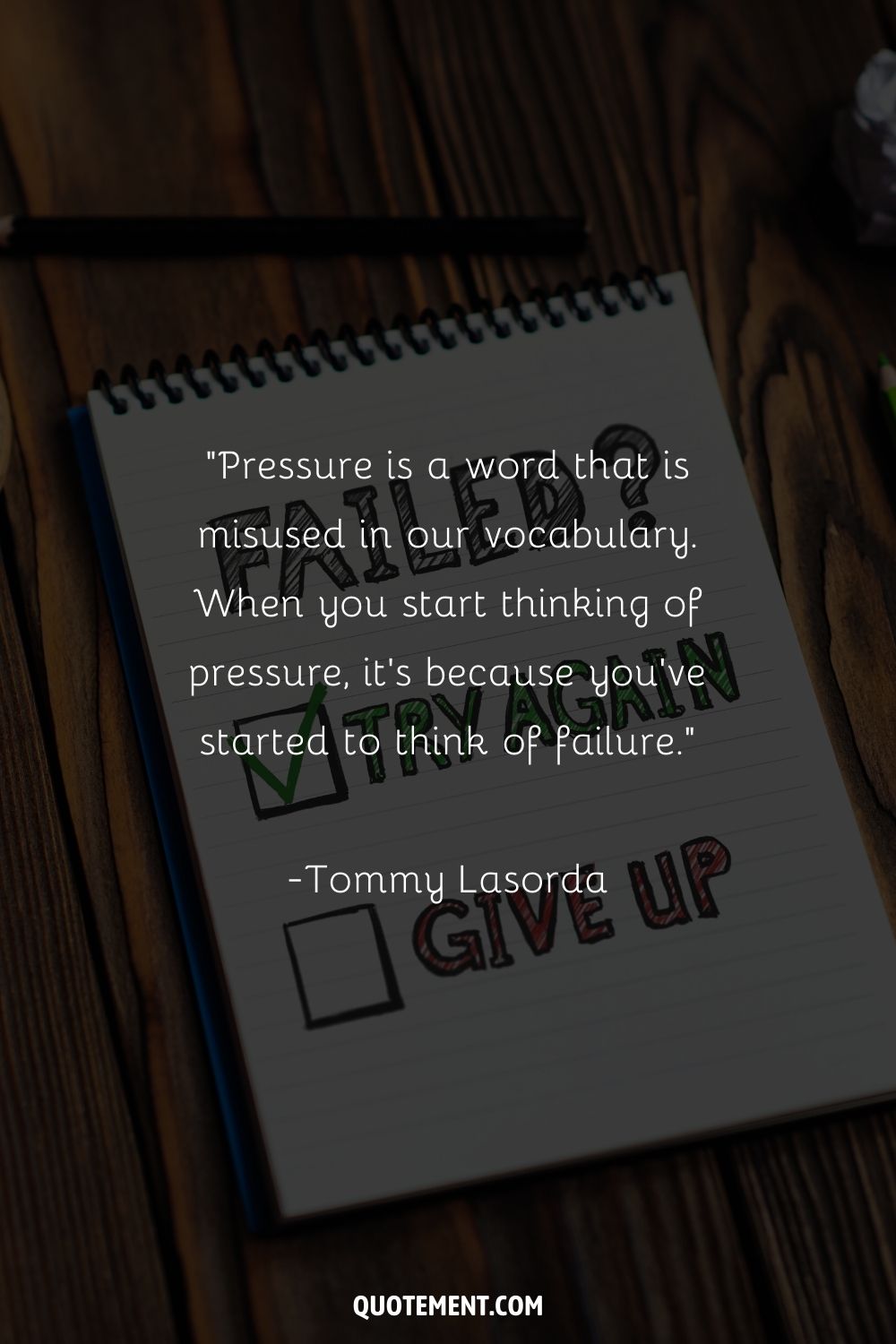 26. "No. Don't give up hope just yet. It's the last thing to go. When you have lost hope, you have lost everything. And when you think all is lost, when all is dire and bleak, there is always hope." ― Pittacus Lore, I Am Number Four
27. "You may be the only person left who believes in you, but it's enough. It takes just one star to pierce a universe of darkness. Never give up." ― Richelle E. Goodrich, Smile Anyway: Quotes, Verse, and Grumblings for Every Day of the Year
28. "Many Christians… find themselves defeated by the most psychological weapon that Satan uses against them. This weapon has the effectiveness of a deadly missile. Its name? Low self-esteem. Satan's greatest psychological weapon is a gut level feeling of inferiority, inadequacy, and low self-worth This feeling shackles many Christians, in spite of wonderful spiritual experiences and knowledge of God's Word. Although they understand their position as sons and daughters of God, they are tied up in knots, bound by a terrible feeling inferiority, and chained to a deep sense of worthlessness." ― David Seamands, Healing for Damaged Emotions
See also: 130 Self Worth Quotes To Remind You Of Your Greatness
29. "If the doom of failure stifles some time the path of our life, it can pin us down like downtrodden aliens, while, meanwhile, the world around is erupting in joy and contentment. Let's go back then to the nuts and bolts and consult the core of our inner self. ("The grass was greener over there")" ― Erik Pevernagie
30. "It doesn't matter how many times you get knocked down. All that matters is you get up one more time than you were knocked down." ― Roy T. Bennett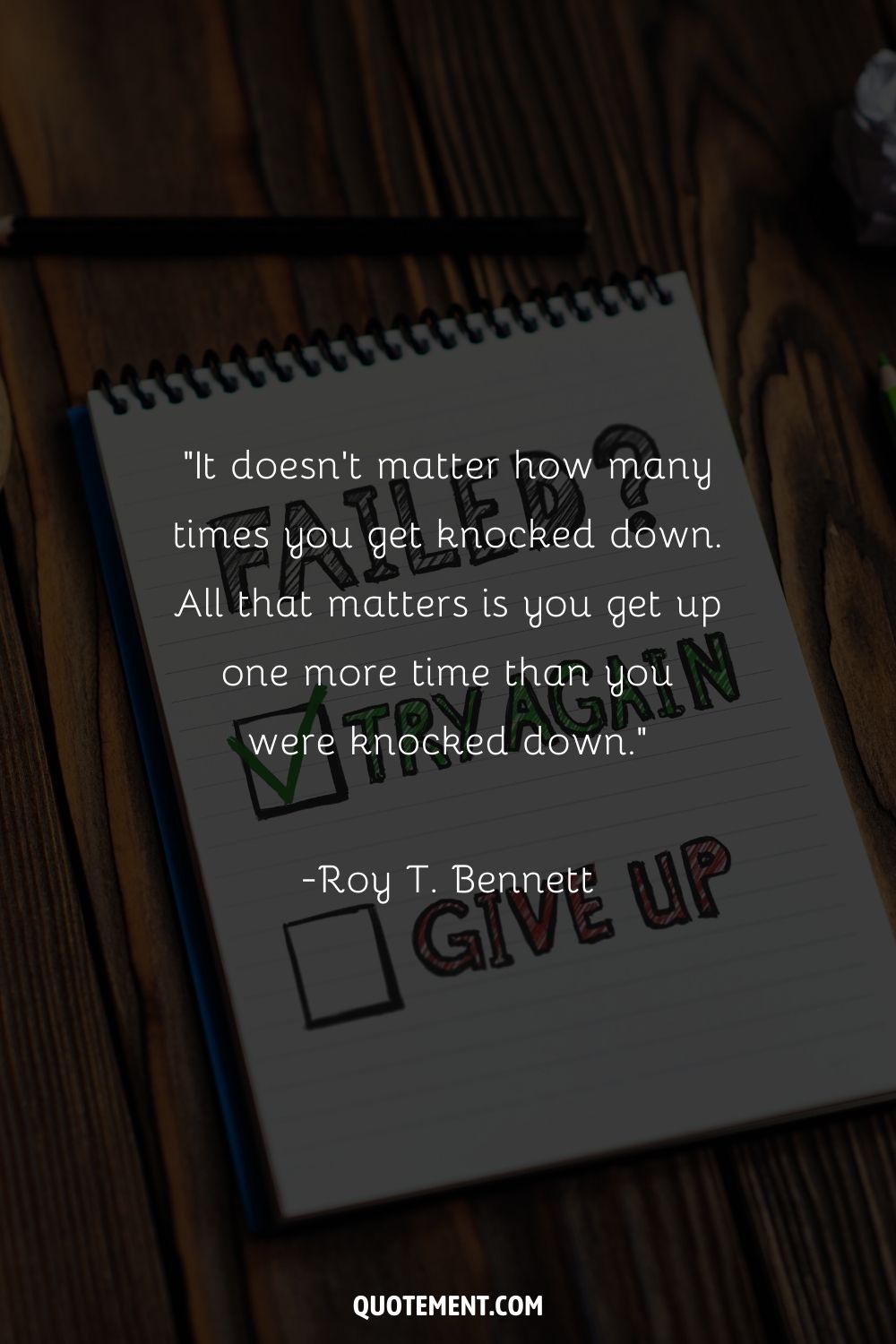 31. "Rise and rise again until lambs become lions" ― Robin Hood
32. "People will walk in and walk out of your life, but the one whose footstep made a long lasting impression is the one you should never allow to walk out." ― Michael Bassey Johnson
33. "Success is not obtained overnight. It comes in installments; you get a little bit today, a little bit tomorrow until the whole package is given out. The day you procrastinate, you lose that day's success." ― Israelmore Ayivor
34. "You can dance in the storm. Don't wait for the rain to be over before because it might take too long. You can can do it now. Wherever you are, right now, you can start, right now; this very moment." ― Israelmore Ayivor
35. "Courage doesn't always roar, sometimes it's the quiet voice at the end of the day whispering 'I will try again tomorrow" ― Mary Anne Radmacher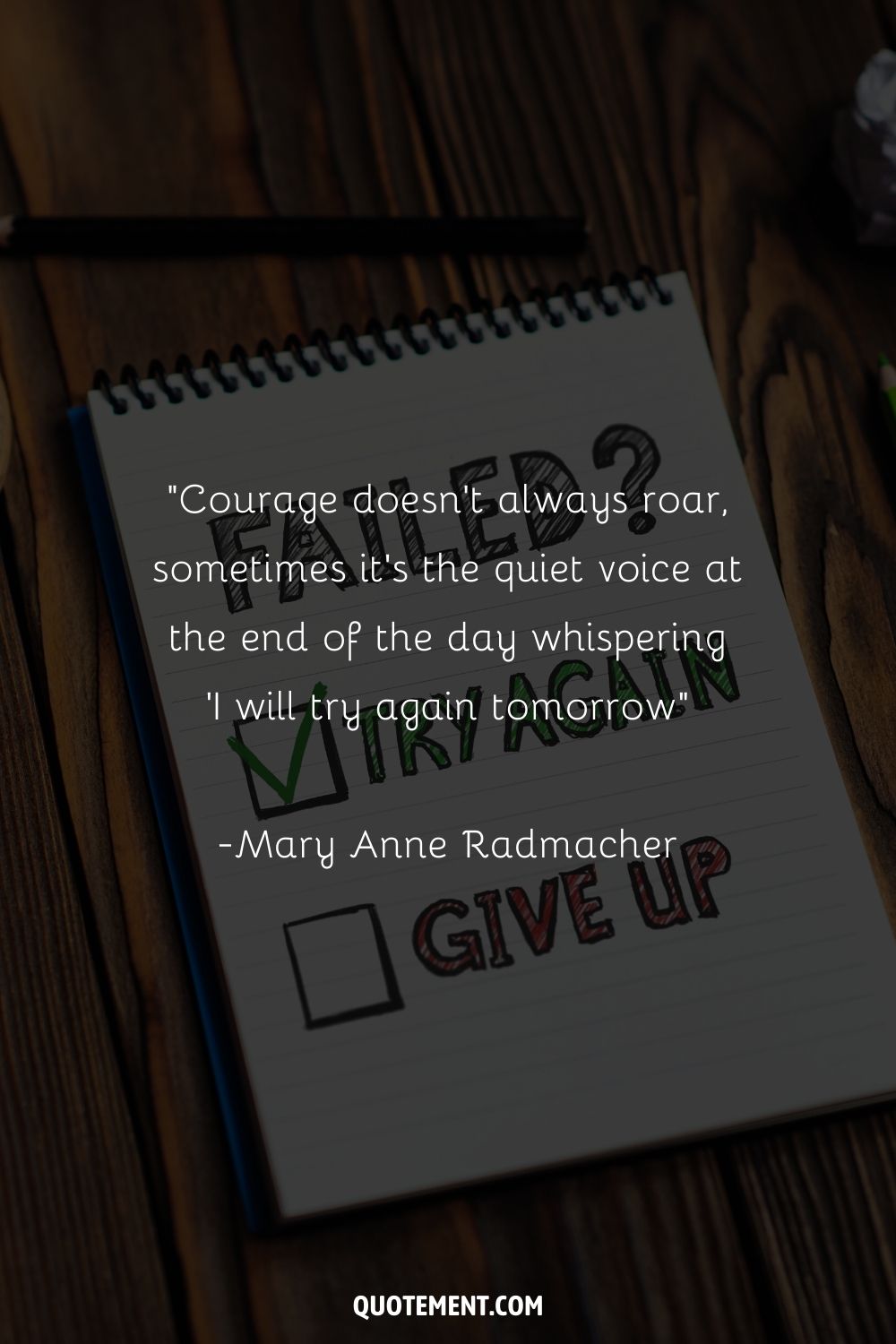 36. "No matter how dark and hopeless a situation may seem, always hold on and never give up your dream." ― Mouloud Benzadi مولود بن زادي
37. "Do it again. Play it again. Sing it again. Read it again. Write it again. Sketch it again. Rehearse it again. Run it again. Try it again.
Because again is practice, and practice is improvement, and improvement only leads to perfection." ― Richelle E. Goodrich, Smile Anyway: Quotes, Verse, and Grumblings for Every Day of the Year
38. "There are five important things for living a successful and fulfilling life: never stop dreaming, never stop believing, never give up, never stop trying, and never stop learning." ― Roy Bennett
39. Never give up hope. All things are working for your good. One day, you'll look back on everything you've been through and thank God for it." ― Germany Kent
40. "Seven times down, eight times up…" ― Chris Bradford, The Way of the Warrior
Wise Quotes About Failure
1. "A bad day for your ego is a great day for your soul." ― Jillian Michaels, Master Your Metabolism: The 3 Diet Secrets to Naturally Balancing Your Hormones for a Hot and Healthy Body!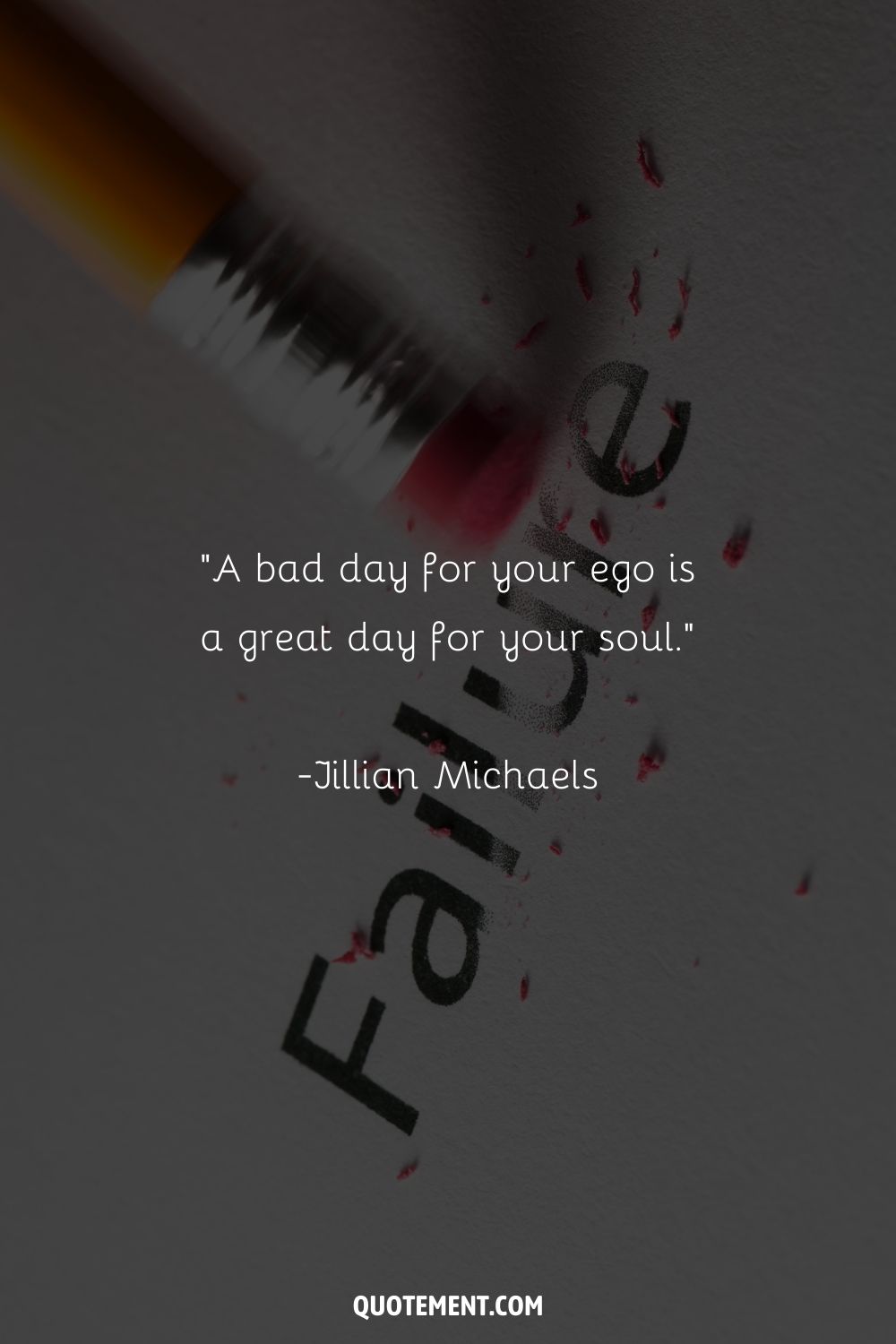 2. "In every way that counted, I failed him." ― Sarah J. Maas, Crown of Midnight
3. "You are a side effect," Van Houten continued, "of an evolutionary process that cares little for individual lives. You are a failed experiment in mutation." ― John Green, The Fault in Our Stars
4. "Last night as I was sleeping, I dreamt —
O, marvelous error —
That there was a beehive here inside my heart
And the golden bees were making white combs
And sweet honey from all my failures." ― Antonio Machado
5. "if you don't try at anything, you can't fail… it takes back bone to lead the life you want" ― Richard Yates, Revolutionary Road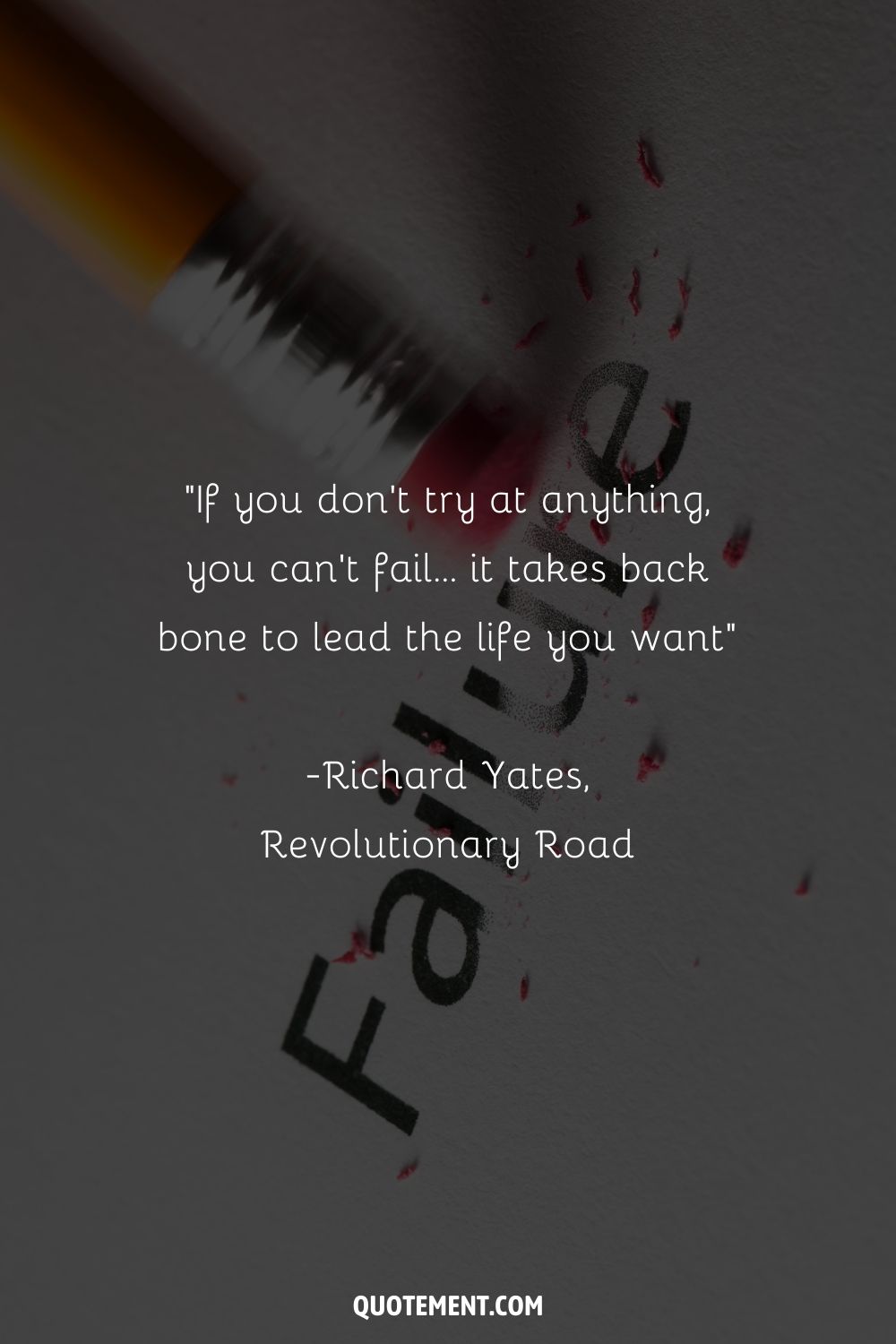 6. "You might never fail on the scale I did, but some failure in life is inevitable. It is impossible to live without failing at something, unless you live so cautiously that you might as well not have lived at all – in which case, you fail by default." ― J.K. Rowling, Very Good Lives: The Fringe Benefits of Failure and the Importance of Imagination
7. "When I have tried and failed, I shall have failed." ― Sophocles, Antigone
8. "Failure is an opportunity.
If you blame someone else,
there is no end to the blame.
Therefore the Master
fulfills her own obligations
and corrects her own mistakes.
She does what she needs to do
and demands nothing of others." ― Lao Tzu, Tao Te Ching
LINKAJ LAO TZU
9. "No one can travel so far that he does not make some progess each day. So let us never give up. Then we shall move forward daily in the Lord's way. And let us never despair because of our limited success. Even though it is so much less than we would like, our labour is not wasted when today is better than yesterday!" ― John Calvin, Institutes of the Christian Religion
10. "You make mistakes, mistakes don't make you" ― Maxwell Maltz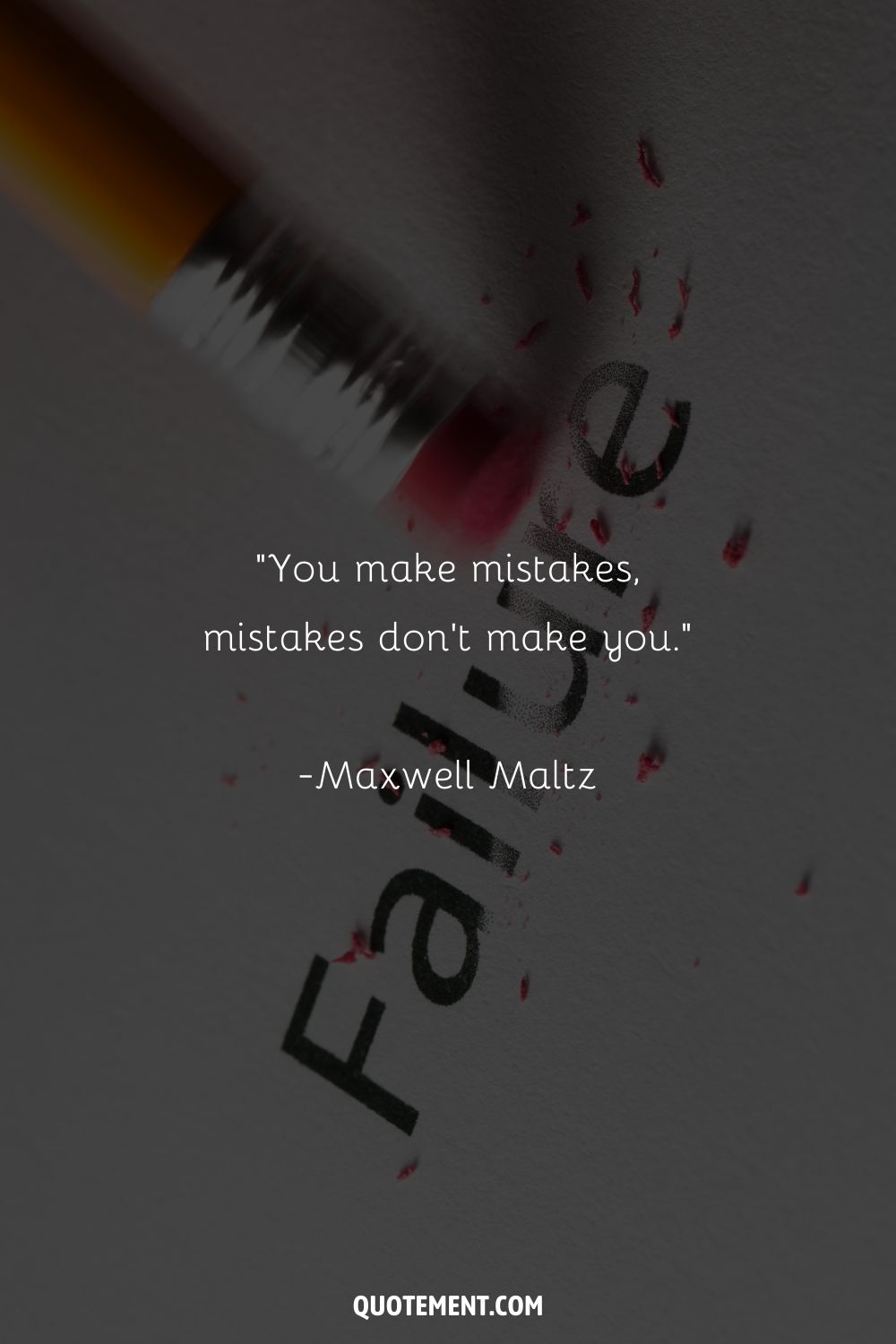 11. "Nearly' only counts in horseshoes and hand-grenades." ― Neil Gaiman, The Graveyard Book
12. "We must allow ourselves to think, we must dare to think, even though we fail. It is in the nature of things that we always fail, because we suddenly find it impossible to order our thoughts, because the process of thinking requires us to consider every thought there is, every possible thought. Fundamentally we have always failed, like all the others, whoever they were, even the greatest minds. At some point, they suddenly failed and their system collapsed, as is proved by their writings, which we admire because they venture farthest into failure. To think is to fail, I thought." ― Thomas Bernhard, Extinction
13. "Because when you find something you love, you can't quit. Every failure pushes you harder. It's in your soul and in your fuc*ing heart" ― Becca Ritchie, Hothouse Flower
See also: 210 Inspiring Keep Pushing Quotes To Unleash Your Power
14. "I don't do that kind of negativity. If you put your energy into thinking about how much the fall would hurt, you're already halfway down." ― Tana French, Broken Harbour
15. "Failure is when you talk yourself out of becoming something amazing." ― Rudy Francisco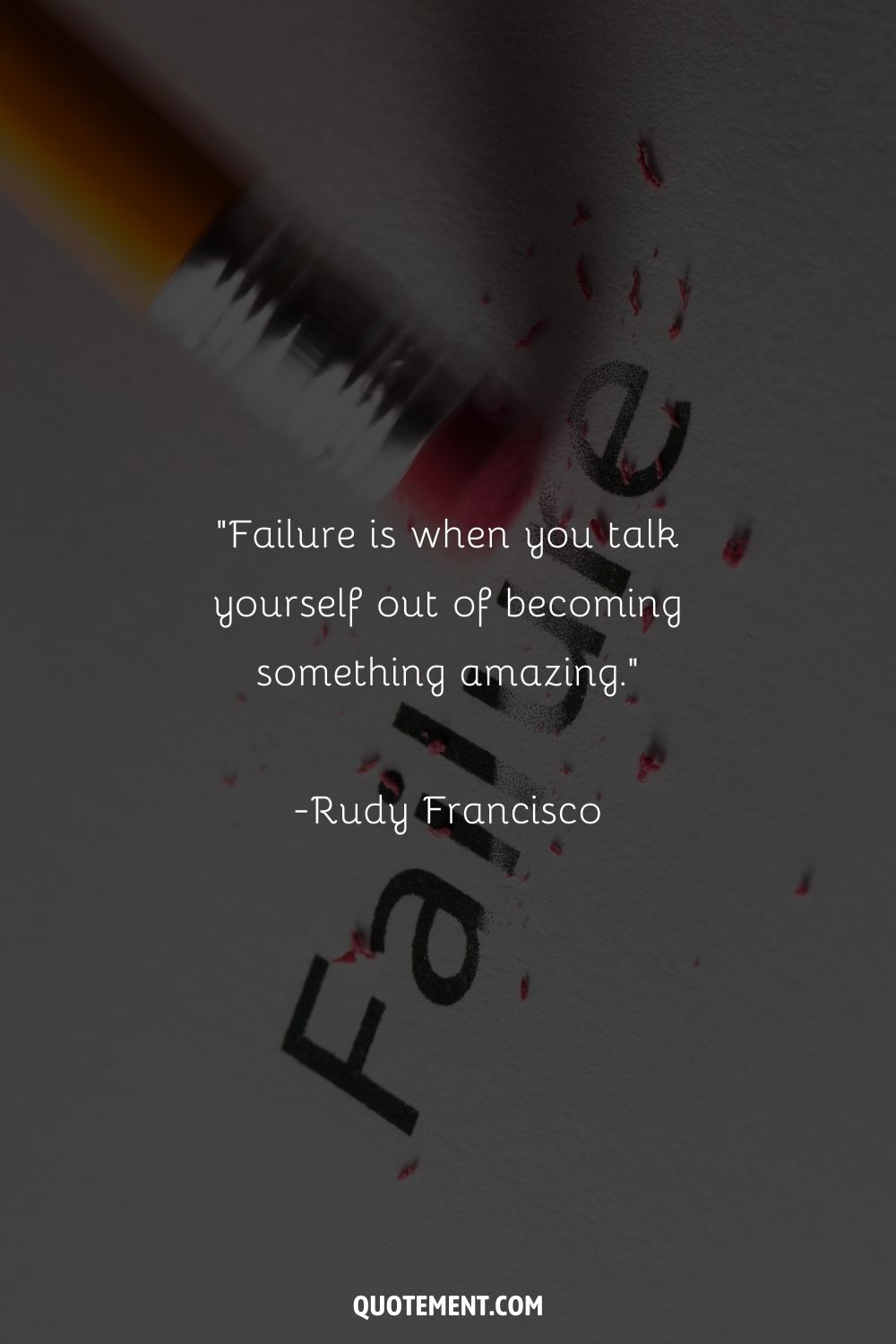 16. "Failure is always an option" ― Adam Savage
17. "The only real sadness, the only real failure, the only great tragedy in life, is not to become a saint." ― Léon Bloy
18. "Every single person is a fool, insane, a failure, or a bad person to at least ten people." ― Mokokoma Mokhonoana
19. "Of course, when you fall out of love, it's rarely about just one failure or one betrayal, is it? . . . How does it happen? All those things you once loved about each other are replaced by other things that remind you of something you hate until you're always setting each other off, and what you share is a battleground. In the end, the failure turns out to be less about sex—which surprises most men—and more about loss of respect. One morning your partner looks at you across the bed and wonders at the waywardness of her own heart—how, she asks herself, can she feel such disdain for someone she once felt such love?" ― Frederick Weisel, Teller
20. "Being right keeps you in place. Being wrong forces you to explore." ― Steven Johnson, Where Good Ideas Come From: The Natural History of Innovation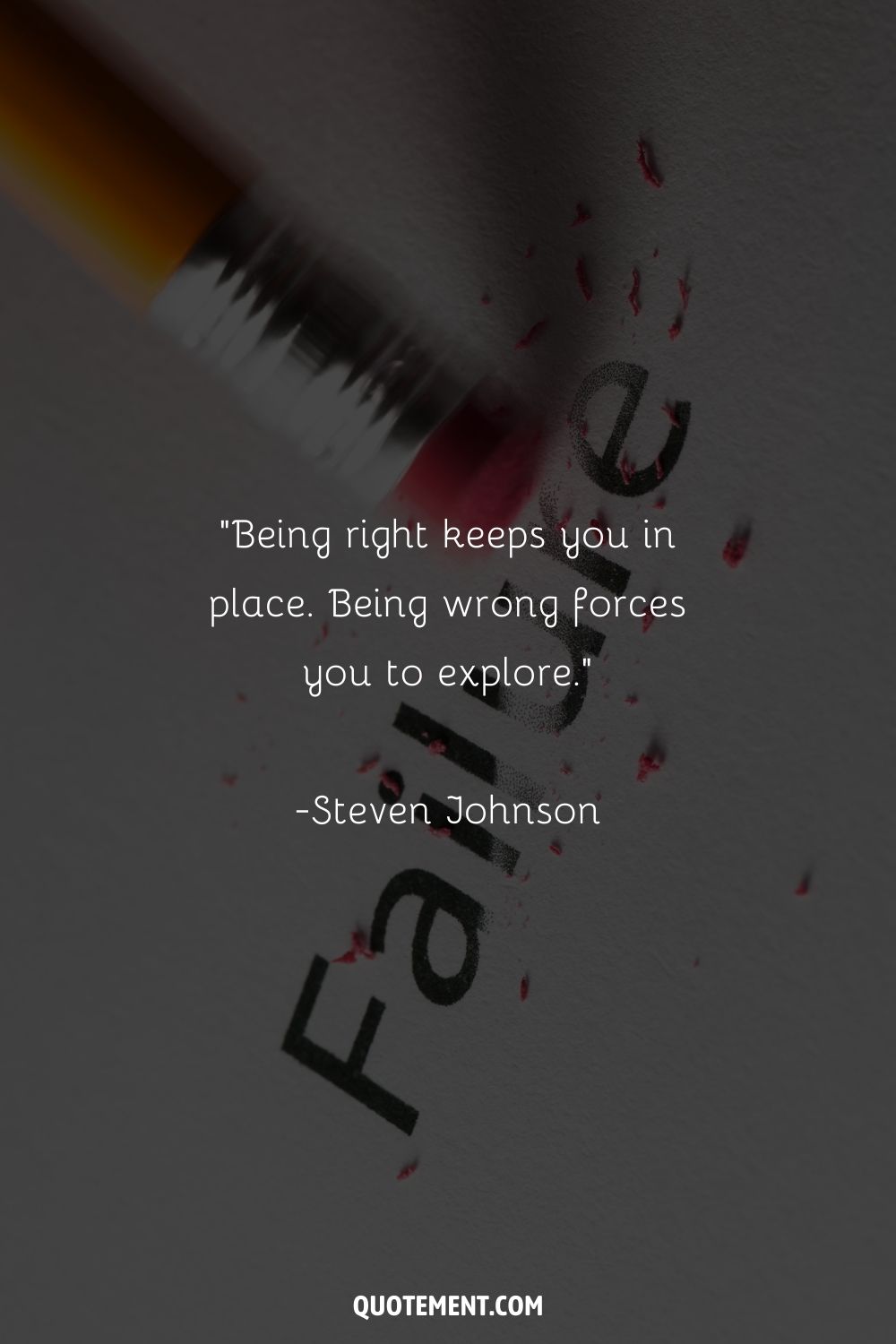 21. "Always suffer delusions of grandeur with your art. What you are unable to face will never hurt you" ― Ginnetta Correli
22. "For every question, there is an answer.
Where everybody fails is by asking the wrong question." ― Richard Diaz
23. "Nevertheless, what was made in the hope of transforming the world need not be rejected because it failed to do so – otherwise, one would also have to throw out a good deal of the greatest painting and poetry of the nineteenth century. An objective political failure can still work as a model of intellectual affirmation or dissent." ― Robert Hughes, The Shock of the New
24. "Consistency is the only path to success; quitting prematurely only ensures failure." ― Pep Talk Radio, LinguaVerse: A Journey through Language Realms
25. "You can fail many times, but you're not a failure until you begin to blame somebody else." ― John Burroughs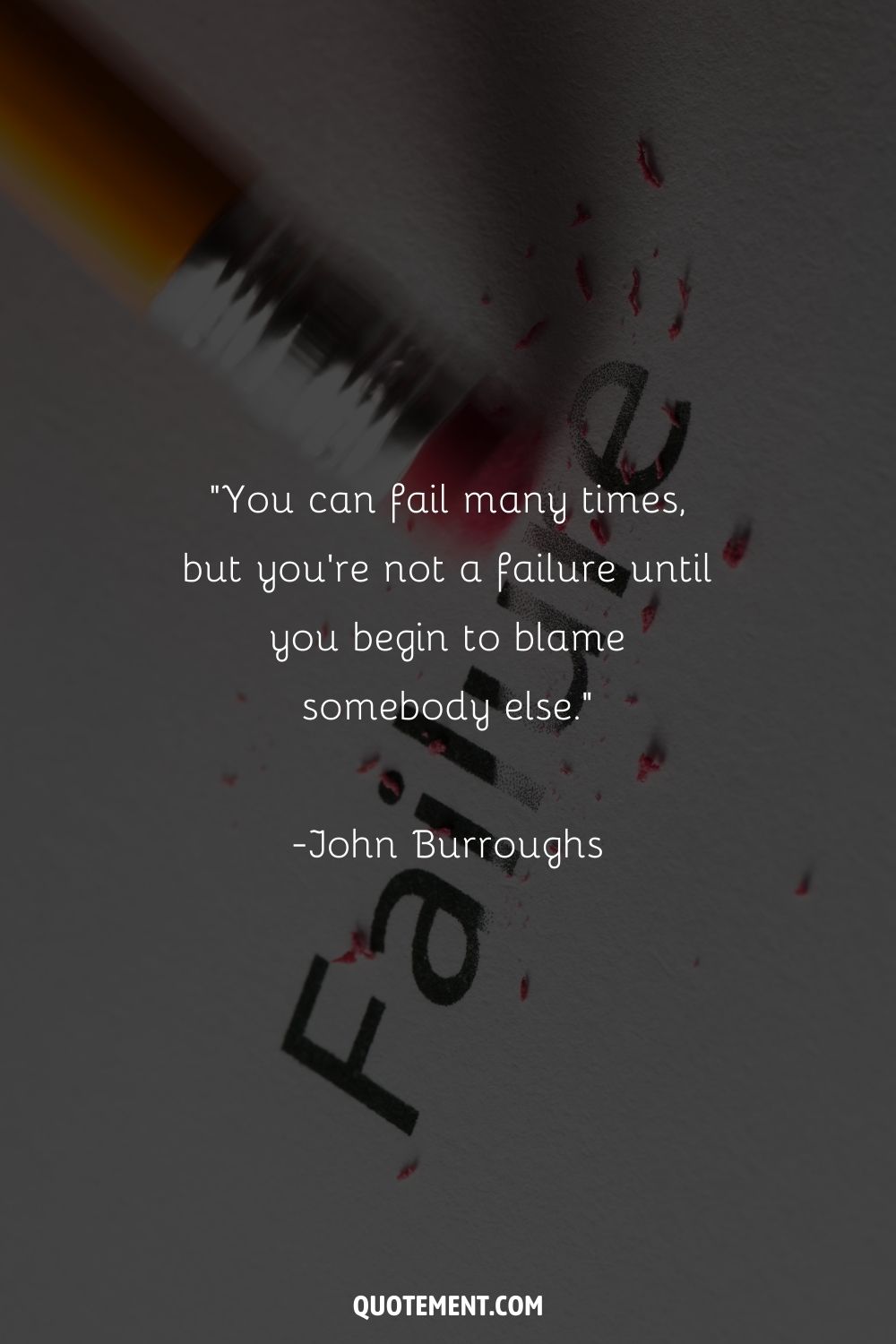 26. "Men have been allowed to fail and keep playing forever. Why do we let failure take us out of the game? Imperfect men have been empowered and permitted to run the world since the beginning of time. It's time for imperfect women to grant themselves permission to join them." ― Abby Wambach, Wolfpack
27. "People know very well what they are doing and why they are doing it. You can't compete with them by being as bad they are. By arguing or reasoning with them especially when they think they are smart by what they are doing to you. Sometimes they provoke you because they want to fight you. They don't want to win the fight, but they know that fight will turn you to be like them. They are setting you up for failure. All you must do for your sanity just choose peace and walk away. Fighting them will make you as bad they are and will turn you into an evil person that you are not." ― De philosopher DJ Kyos
28. "In a situation of manipulation, the Left is almost always tempted by a "quick return to power," forgets the necessity of joining with the oppressed to forge an organization, and strays into an impossible "dialogue" with the dominant elites. It ends by being manipulated by these elites, and not infrequently itself falls in an elitist game, which it calls "realism."
Manipulation, like the conquest whose objectives it serves, attempts to anesthetize the people so they will not think. For if the people join to their presence in the historical process critical thinking about that process, the threat of their emergence materializes in revolution…One of the methods of manipulation is to inoculate individuals with the bourgeois appetite for personal success. This manipulation is sometimes carried out directly by the elites and sometimes indirectly, through populist leaders." ― Paulo Freire, Pedagogy of the Oppressed
29. "No matter how old you are now. You are never too young or too old for success or going after what you want. Here's a short list of people who accomplished great things at different ages:
1) Helen Keller, at the age of 19 months, became deaf and blind. But that didn't stop her. She was the first deaf and blind person to earn a Bachelor of Arts degree.
2) Mozart was already competent on keyboard and violin; he composed from the age of 5.
3) Shirley Temple was 6 when she became a movie star on "Bright Eyes."
4) Anne Frank was 12 when she wrote the diary of Anne Frank.
5) Magnus Carlsen became a chess Grandmaster at the age of 13.
6) Nadia Comăneci was a gymnast from Romania that scored seven perfect 10.0 and won three gold medals at the Olympics at age 14.
7) Tenzin Gyatso was formally recognized as the 14th Dalai Lama in November 1950, at the age of 15.
8) Pele, a soccer superstar, was 17 years old when he won the world cup in 1958 with Brazil.
9) Elvis was a superstar by age 19.
10) John Lennon was 20 years and Paul Mcartney was 18 when the Beatles had their first concert in 1961.
11) Jesse Owens was 22 when he won 4 gold medals in Berlin 1936.
12) Beethoven was a piano virtuoso by age 23
13) Issac Newton wrote Philosophiæ Naturalis Principia Mathematica at age 24
14) Roger Bannister was 25 when he broke the 4 minute mile record
15) Albert Einstein was 26 when he wrote the theory of relativity
16) Lance E. Armstrong was 27 when he won the tour de France
17) Michelangelo created two of the greatest sculptures "David" and "Pieta" by age 28
18) Alexander the Great, by age 29, had created one of the largest empires of the ancient world
19) J.K. Rowling was 30 years old when she finished the first manuscript of Harry Potter
20) Amelia Earhart was 31 years old when she became the first woman to fly solo across the Atlantic Ocean
21) Oprah was 32 when she started her talk show, which has become the highest-rated program of its kind
22) Edmund Hillary was 33 when he became the first man to reach Mount Everest
23) Martin Luther King Jr. was 34 when he wrote the speech "I Have a Dream."
24) Marie Curie was 35 years old when she got nominated for a Nobel Prize in Physics
25) The Wright brothers, Orville (32) and Wilbur (36) invented and built the world's first successful airplane and making the first controlled, powered and sustained heavier-than-air human flight
26) Vincent Van Gogh was 37 when he died virtually unknown, yet his paintings today are worth millions.
27) Neil Armstrong was 38 when he became the first man to set foot on the moon.
28) Mark Twain was 40 when he wrote "The Adventures of Tom Sawyer", and 49 years old when he wrote "Adventures of Huckleberry Finn"
29) Christopher Columbus was 41 when he discovered the Americas
30) Rosa Parks was 42 when she refused to obey the bus driver's order to give up her seat to make room for a white passenger
31) John F. Kennedy was 43 years old when he became President of the United States
32) Henry Ford Was 45 when the Ford T came out.
33) Suzanne Collins was 46 when she wrote "The Hunger Games"
34) Charles Darwin was 50 years old when his book On the Origin of Species came out.
35) Leonardo Da Vinci was 51 years old when he painted the Mona Lisa.
36) Abraham Lincoln was 52 when he became president.
37) Ray Kroc Was 53 when he bought the McDonalds Franchise and took it to unprecedented levels.
38) Dr. Seuss was 54 when he wrote "The Cat in the Hat".
40) Chesley "Sully" Sullenberger III was 57 years old when he successfully ditched US Airways Flight 1549 in the Hudson River in 2009. All of the 155 passengers aboard the aircraft survived
41) Colonel Harland Sanders was 61 when he started the KFC Franchise
42) J.R.R Tolkien was 62 when the Lord of the Ring books came out
43) Ronald Reagan was 69 when he became President of the US
44) Jack Lalane at age 70 handcuffed, shackled, towed 70 rowboats
45) Nelson Mandela was 76 when he became President" ― Pablo
30. "Failure is just another way to learn how to do something right." ― Marian Wright Edelman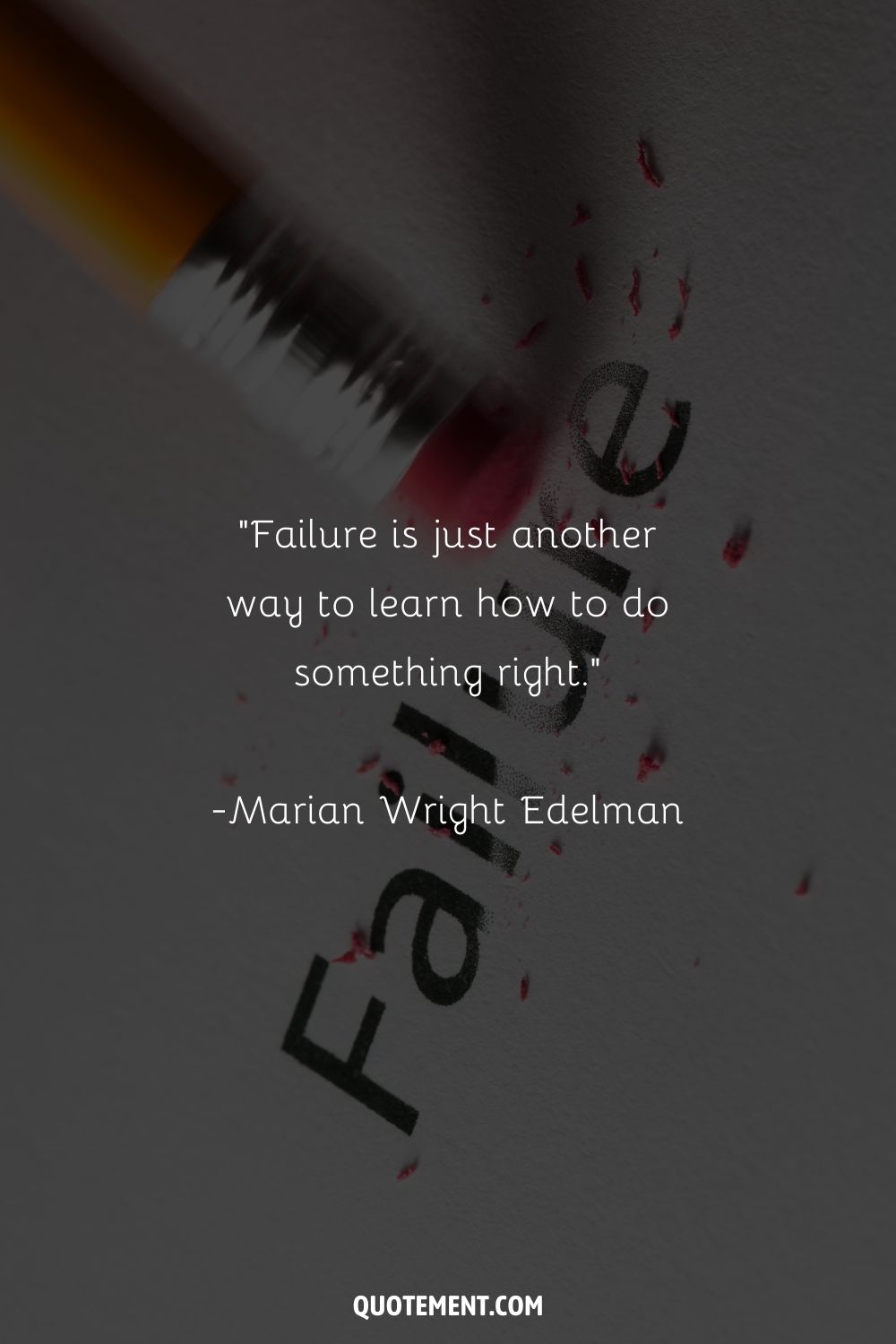 31. "Comparing what we're looking for misses the point. It's wanting to know that makes us matter. Otherwise we're going out the way we came in. That's why you can't believe in the afterlife, Valentine. Believe in the after, by all means, but not the life. Believe in God, the soul, the spirit, the infinite, believe in angels if you like, but not in the great celestial get-together for an exchange of views. If the answers are in the back of the book I can wait, but what a drag. Better to struggle on knowing that failure is final." ― Tom Stoppard, Arcadia
32. "All of us failed to match our dreams of perfection. So I rate us on the basis of our splendid failure to do the impossible." ― William Faulkner
33. "The only walls that exist are those you have placed in your mind. And whatever obstacles you conceive, exist only because you have forgotten what you have already achieved." ― Suzy Kassem, Rise Up and Salute the Sun: The Writings of Suzy Kassem
34. "If life throws you a few bad notes or vibrations, don't let them interrupt or alter your song." ― Suzy Kassem, Rise Up and Salute the Sun: The Writings of Suzy Kassem
35. "When we fail, our pride supports us, and when we succeed it betrays us." ― Charles Colton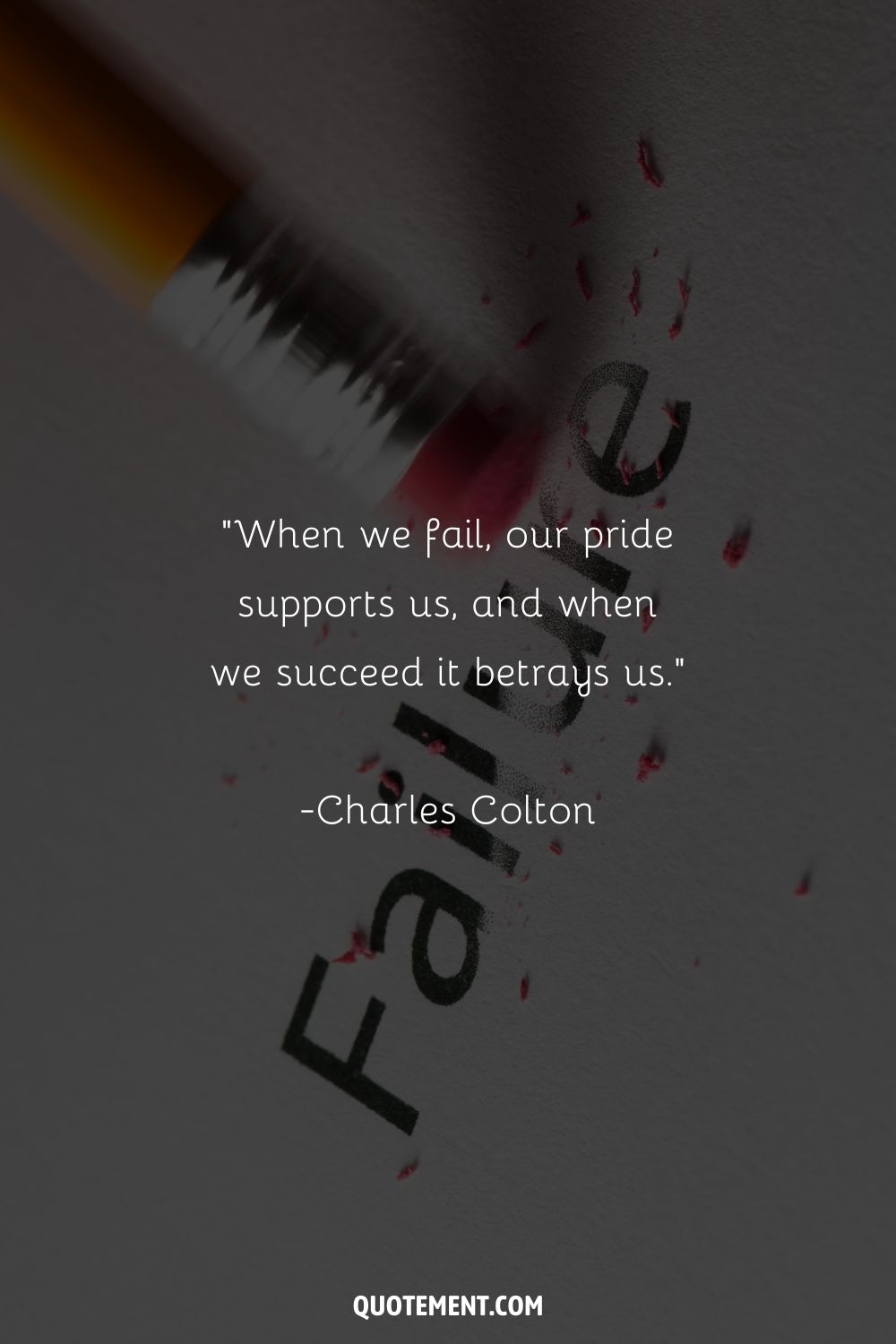 36. "The perfection you see in others is the result of their hard work to overcome their imperfections, through timely corrections and adjustments, and by constantly learning from their failures and successes." ― Aiyaz Uddin, Science Behind A Perfect Life
37. "Hope is the name that should be at the top of the Hit List. It's worse than our enemies. Our enemies are thieves, but they come as advertised. Hope is ignorance, a liar, an accidental creature made of fear. And it failed my first love just as it failed me." ― Lancali., I Fell in Love with Hope
38. "The failure of marriage reveals your failures." ― Tamerlan Kuzgov
39. "Often, in life, we don't fail. Sometimes, we struggle to do something, get passed over, do something we wish we hadn't, or give up. But even those moments aren't truly failures in a pejorative sense. Mistakes, maybe. Suffering at the cruelty of others. Listening to your body and your brain and accepting their natural limitations. But it doesn't mean you're a disaster, and it doesn't mean you've failed. Your journey will just continue on another path." ― Jay Dragon, Wanderhome
40. "Someone has said the test of a person's character is not whether he fails, but rather it's in how he handles that failure." ― Jeff Kinley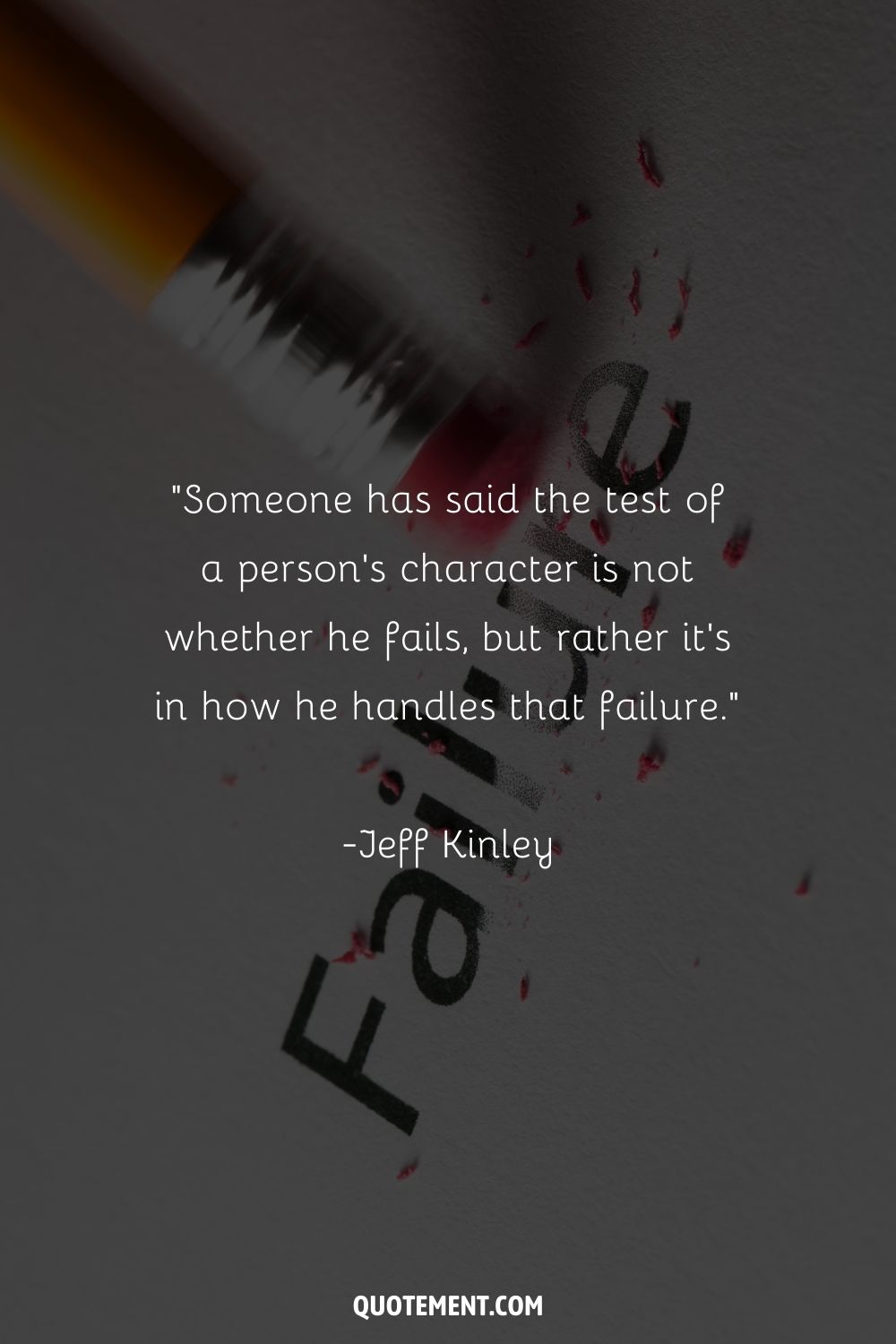 41. "Luck is an excuse people give for failure." ― Vikrmn: CA Vikram Verma, Rep By Rep
42. "Perhaps it was always a fatal failure to think that the world should exist, a one where we are locked in an eternal embrace when eternity and beyond was never big enough.
–The world and its people" ― Aleksandra Weretelnik, Nobody Has More of Me
43. "Take advantage of the lessons of experienced people because as long as you gain experience، you have the possibility of failure and obstacles." ― Kamaran Ihsan Salih
44. "Failure should not be a giving up point, it should give room for a restructured process" ― Daniel ANIKOR
45. "Success is not final, failure is not fatal: It is the courage to continue that counts." ― Winston Churchill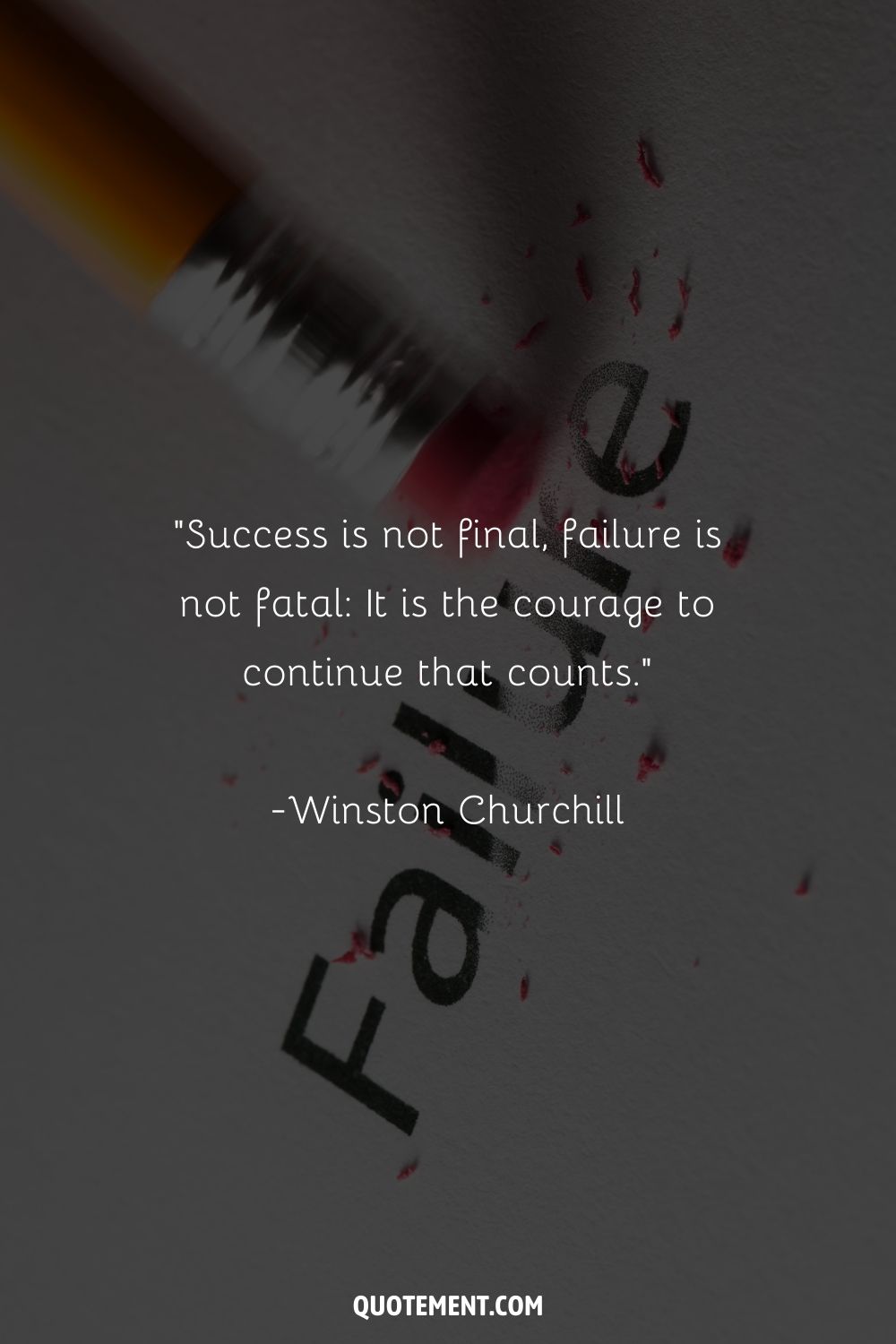 46. "Failures are very important—they mean a great deal to me. After a big failure, I go into a deep depression and a very dark part of my body, but soon afterward I come back to life again, alive to something else." ― Marina Abramović, Walk Through Walls: A Memoir
47. "The only way to achieve success is to face your failures and learn from them. Competitors are not your foes, but your guides who challenge you to become better." ― Srinivas Mishra
48. "Son, a real battlefield lacks dignity and honor. When lives are being spent—actual human lives—those high-minded concepts lose their meaning. All that matters is victory. If you have blades, you'll use blades. If you have rocks, you'll use rocks. If there's nothing but sand, you'll throw the damn sand. A true war is only waged when men don't want to live to see what failure looks like. You do what it takes to win. You go wherever necessity takes you." ― B. Justin Shier, Zero Sum
49. "I had made up my mind to find that for which I was searching even if it required the remainder of my life. After innumerable failures I finally uncovered the principle for which I was searching, and I was astounded at its simplicity. I was still more astounded to discover the principle I had revealed not only beneficial in the construction of a mechanical hearing aid but it served as well as means of sending the sound of the voice over a wire. Another discovery which came out of my investigation was the fact that when a man gives his order to produce a definite result and stands by that order it seems to have the effect of giving him what might be termed a second sight which enables him to see right through ordinary problems. What this power is I cannot say; all I know is that it exists and it becomes available only when a man is in that state of mind in which he knows exactly what he wants and is fully determined not to quit until he finds it." ― Alexander Graham Bell
50. "Failure is not the end; it's a stepping stone towards success." ― Pep Talk Radio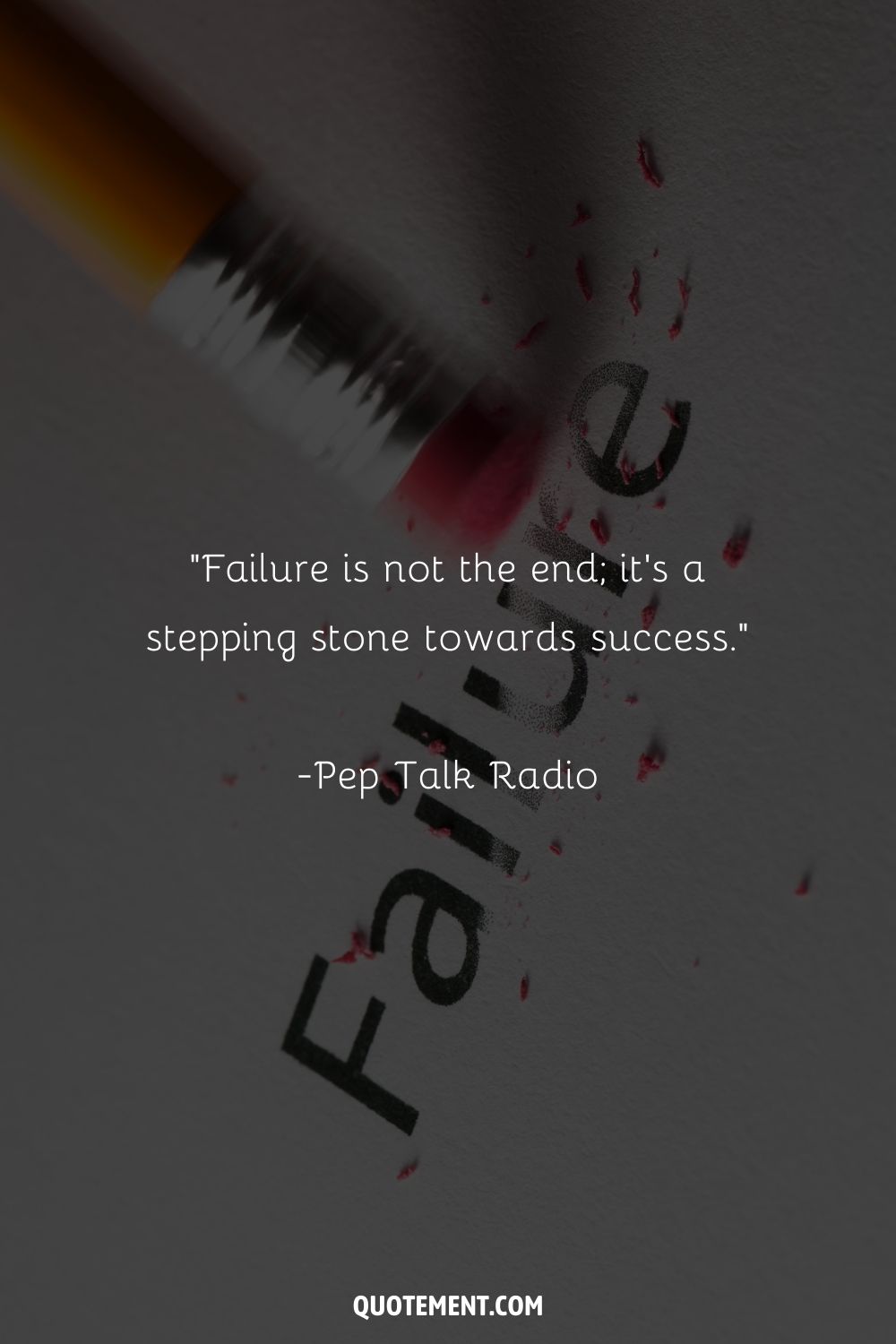 Final Word
I hope that you have found the perfect inspirational and engaging quotes about failure that will help you understand your current situation better.
Let your failures be something you can learn from – not a setback which determines your destiny!
Read next: 150 Best Taking Risk Quotes To Embrace Courageous Choices