Hi there lone wolf, still not following the rules of the society?
I know. It's better being as such, than to be stuck in the matrix, right?
Well, it is always good to be surrounded by something supportive, may it just be my words. But you'll feel the energy too, while reading these great quotes.
Unveiling the elusive charisma of the sigma male archetype, this meticulously curated compilation captures the profound wisdom, individuality, and unwavering strength that define these enigmatic souls such as yourself.
From the depths of introspection to the peaks of uncharted territories, embark on a transformative journey through the captivating words of some of history's greatest thinkers, philosophers, and icons.
Within these pages, you will encounter a mosaic of empowering insights, illuminating the path for those who revel in their unique identities, embrace solitude, and ardently reject the confines of societal norms.
Let's enjoy these quotes!
10 Best Sigma Male Quotes
1. "Learn to listen more than talk." ― Anonymous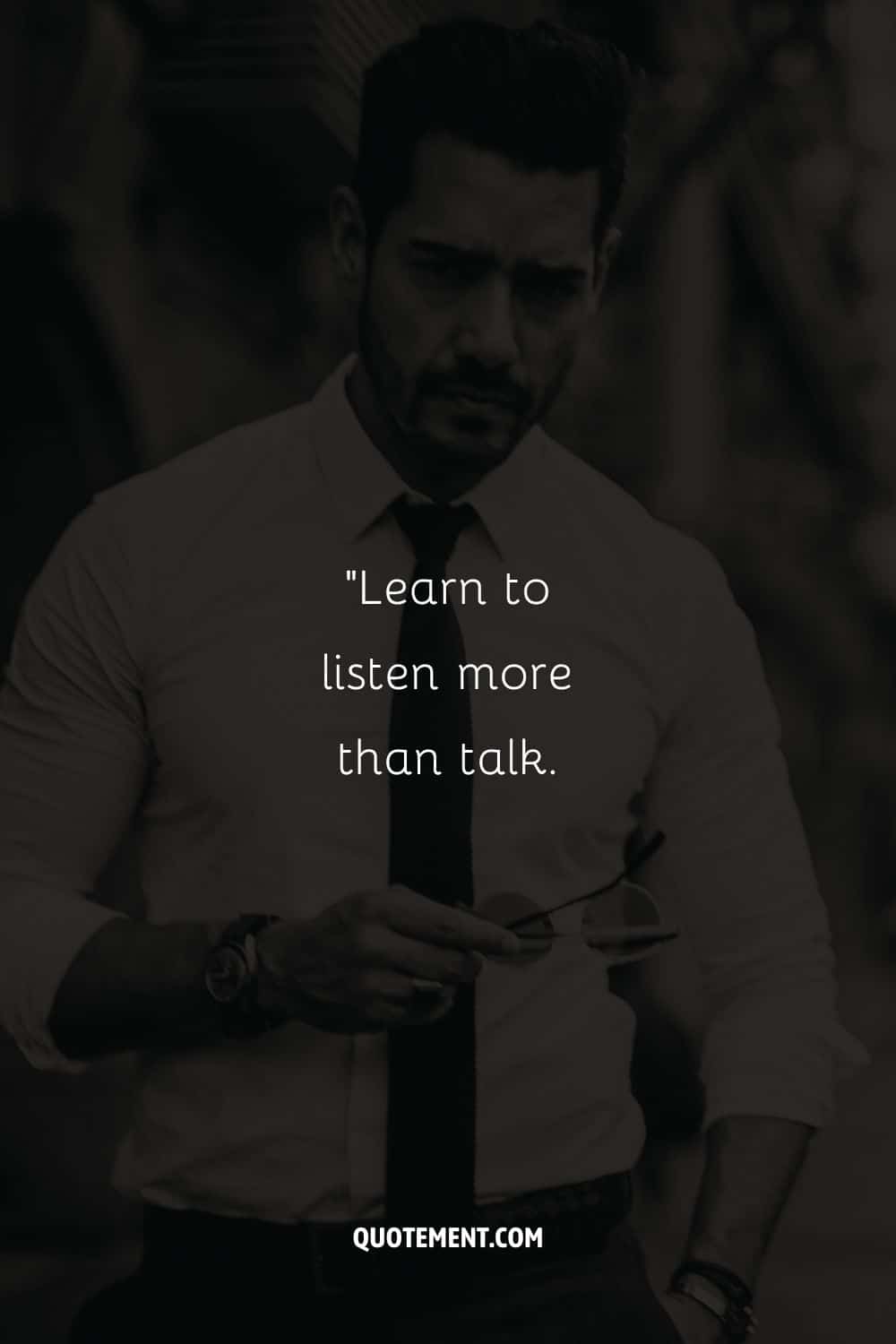 2. "Success is not final, failure is not fatal: it is the courage to continue that counts." ― Winston S. Churchill
3. "It takes courage to grow up and become who you really are." ― E.E. Cummings
4. "Once you make a decision, the universe conspires to make it happen." ― Ralph Waldo Emerson
5. "Be brave to stand for what you believe in even if you stand alone." ― Roy T. Bennett, The Light in the Heart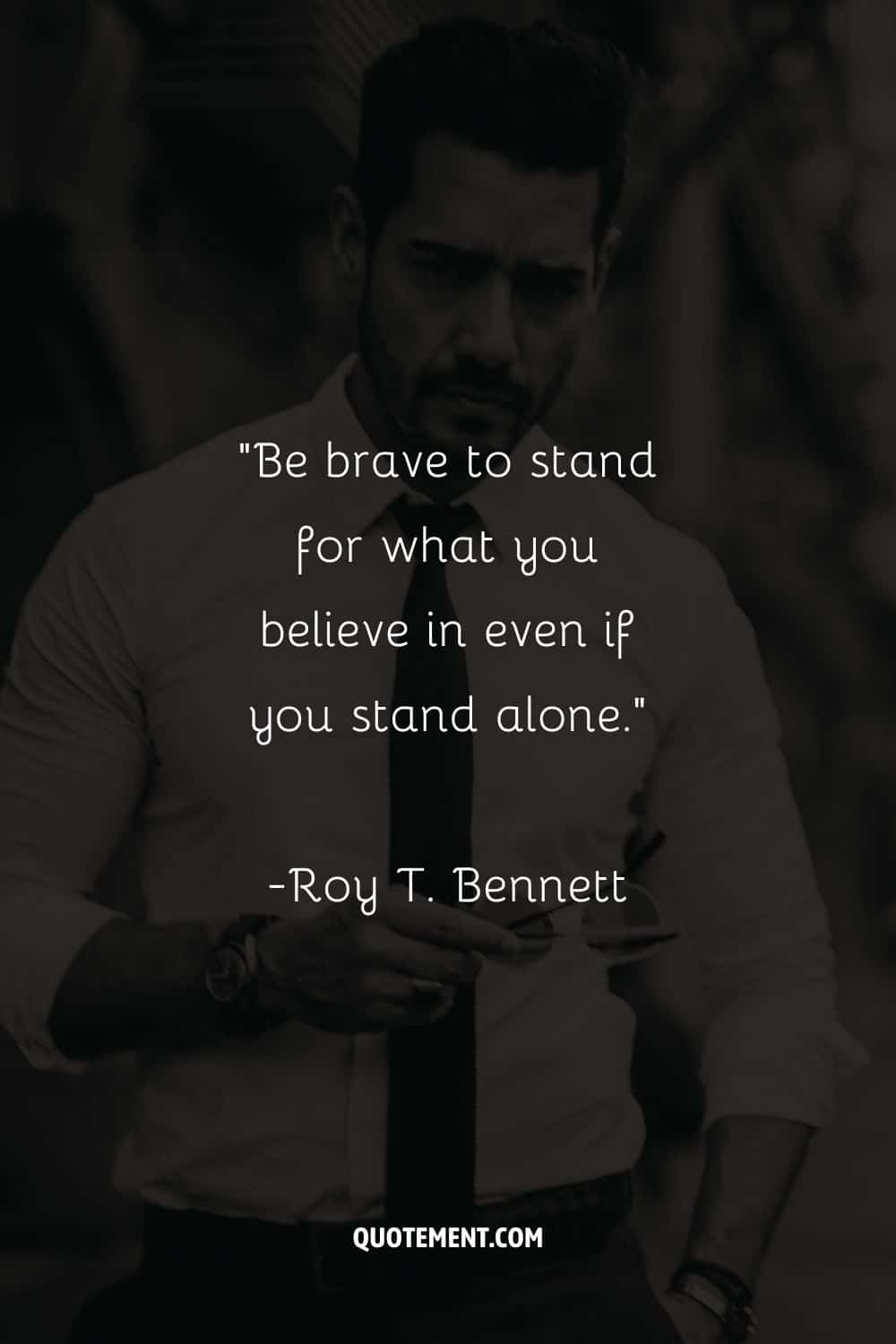 6. "F*ck the pack. I gave them fifteen years of my life. I fought for them, bled for them, and the moment my back was turned, they attacked my wife. I owe them nothing." ― Ilona Andrews, Magic Slays
7. "I was not obedient, and rules made a rebel of me." ― Tali Sara, Screaming into Pillows
8. "Any individual who truly has a lot of social status has enough power that he or she doesn't need to use force." ― Patricia B. McConnell, The Other End of the Leash: Why We Do What We Do Around Dogs
9. "I am living my best life, on my own terms." ― Anonymous
10. "Being alone has a power that very few people can handle." ― Anonymous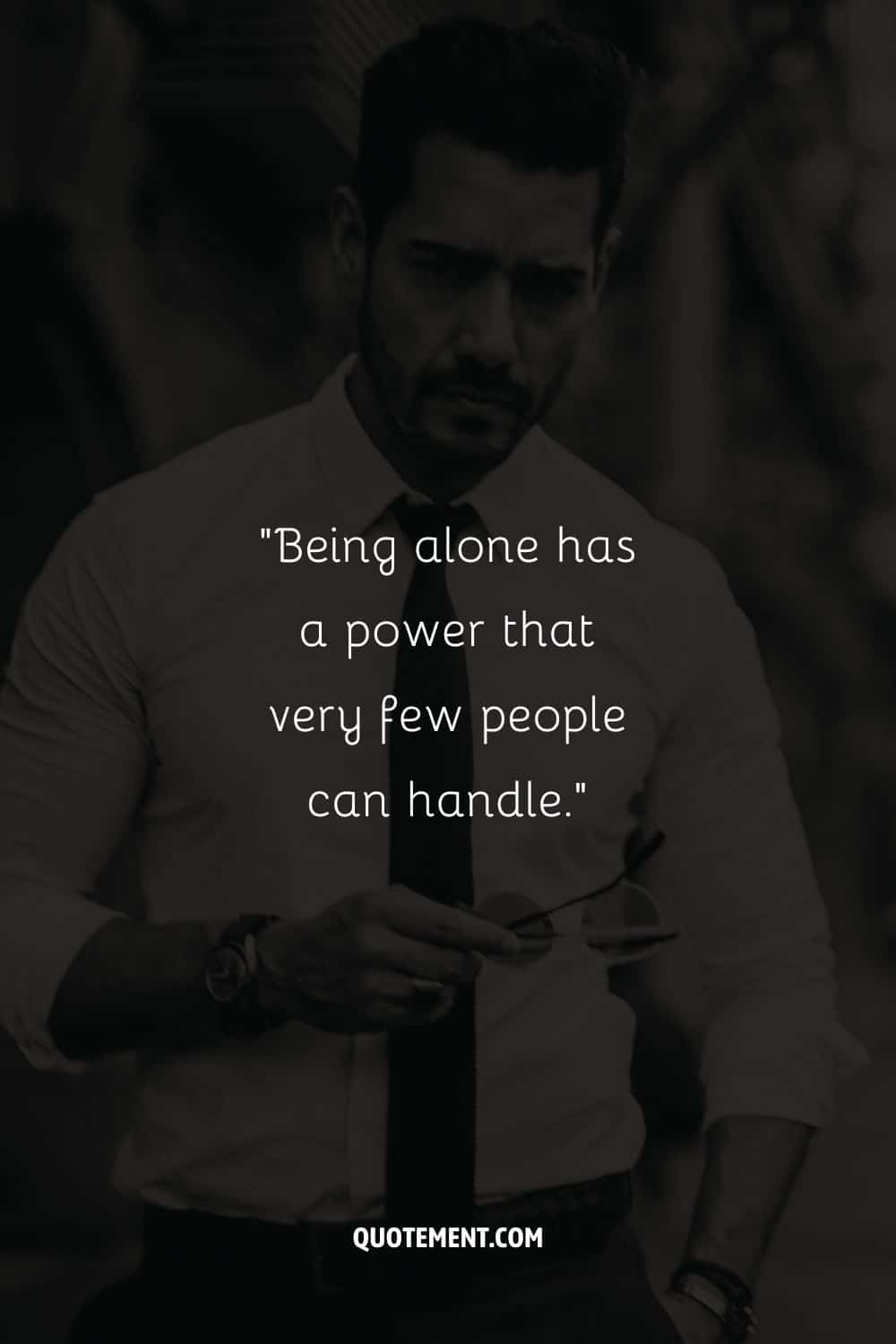 30 Motivational Winner Mentality Sigma Male Quotes
1. "When a man wants something he must pursue it with all he has."― Kailin Gow, The Tutor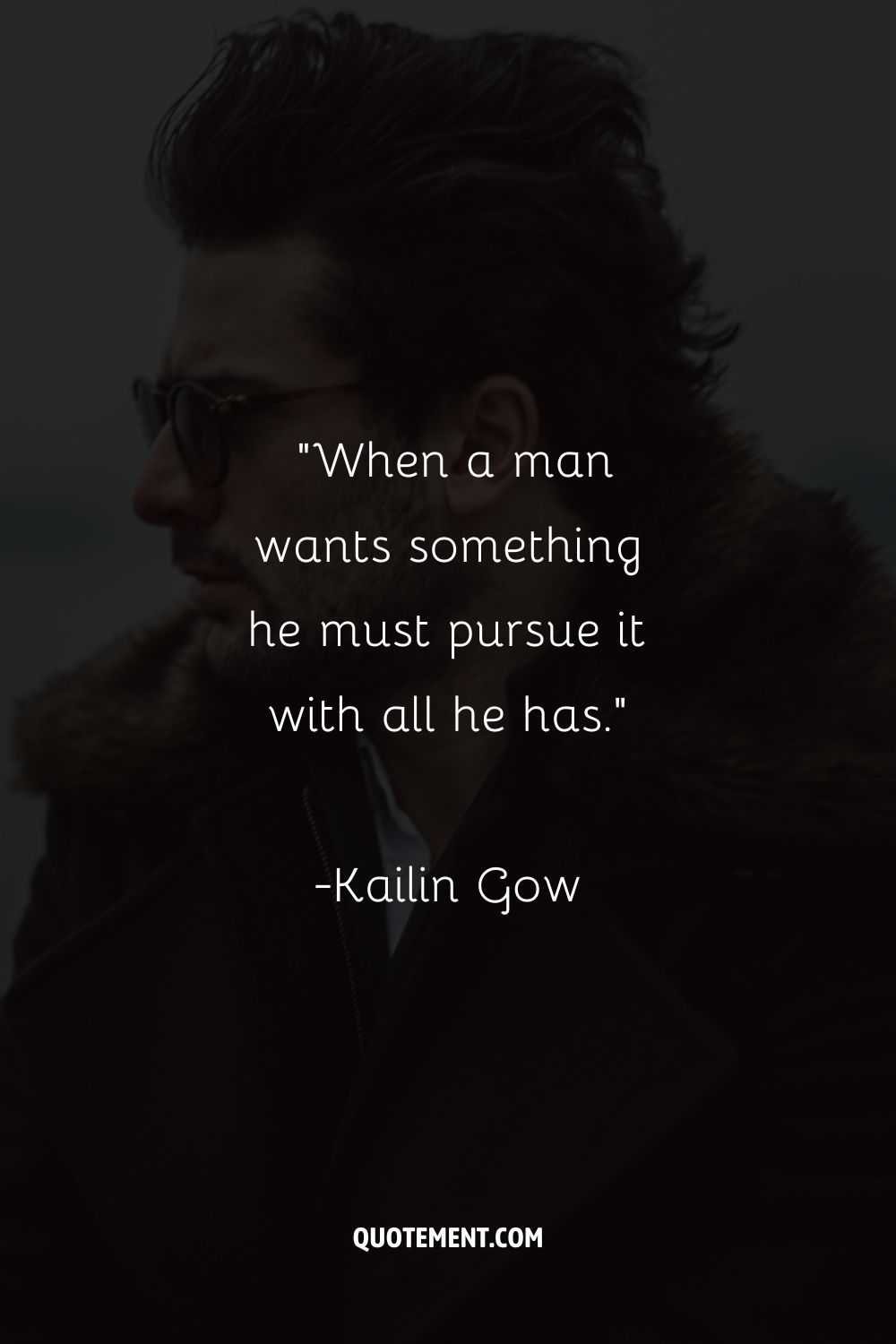 2. "In the end," Callum said, his voice soft, gentle, "it all comes back to you. You protect them [your pack], you love them, you live for them, and someday, you die. That's what it means, Bryn-girl, to be what we are. It's lonely. It's impossible. It's all-consuming." It is what it is." ― Jennifer Lynn Barnes, Trial by Fire
3. "Believe in yourself. You are braver than you think, more talented than you know, and capable of more than you imagine." ― Roy T. Bennett, The Light in the Heart
4. "Courage is the most important of all the virtues because without courage, you can't practice any other virtue consistently." ― Maya Angelou
5. "No matter how tiny you look, you can lead huge men if you have what the huge men don't have." ― Michael Bassey Johnson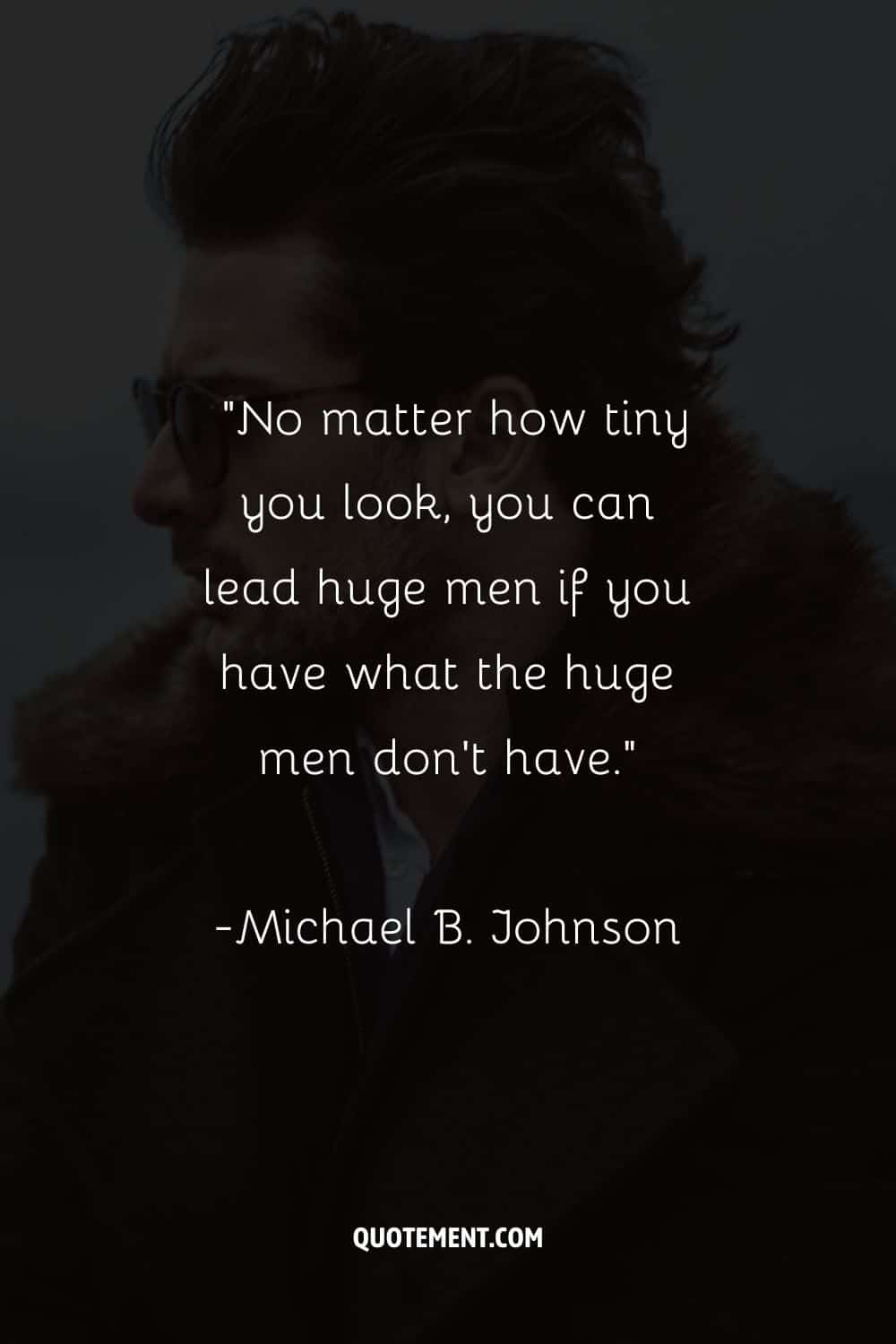 6. "Dominance. Control. These things the unjust seek most of all. And so it is the duty of the just to defy dominance and to challenge control." ― Robert Fanney
7. "The best way to not feel hopeless is to get up and do something. Don't wait for good things to happen to you. If you go out and make some good things happen, you will fill the world with hope, you will fill yourself with hope." ― Barack Obama
8. "There is a stubbornness about me that never can bear to be frightened at the will of others. My courage always rises at every attempt to intimidate me."― Jane Austen, Pride and Prejudice
9. "Don't be afraid of your fears. They're not there to scare you. They're there to let you know that something is worth it." ― C. JoyBell C.
10. "I've come to realize that there are two types of people: those who make things happen, and those who watch things happen. Which one are you?"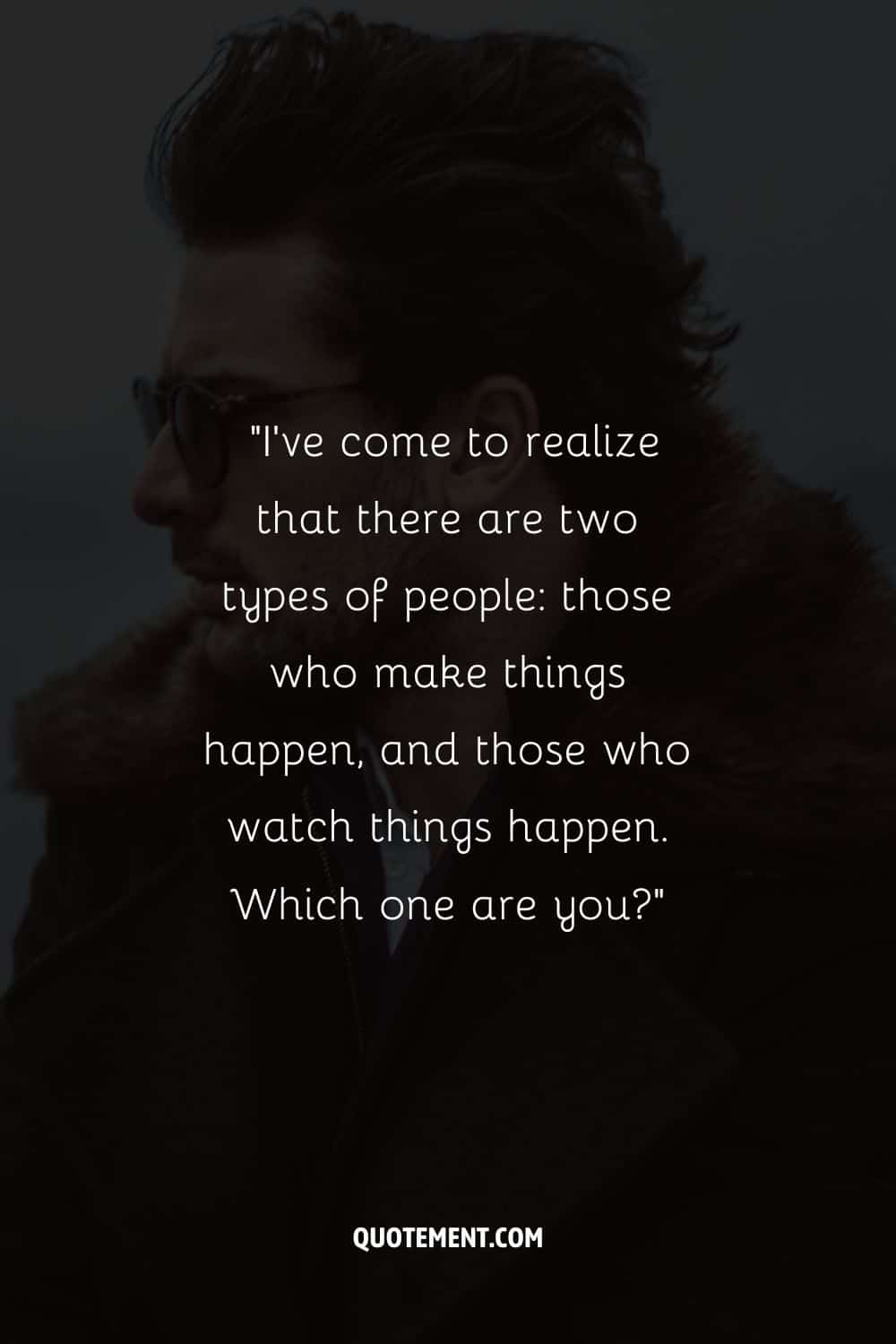 11. "Paradoxically, it is often when risking death that one feels the most alive." ― Romain Gagnon, SO MAN CREATED GOD IN HIS OWN IMAGE: The Science of Happiness
12. "Just beat the odds and be yourself. You will find someone for you eventually. You just need to hold on!"
13. "Are you on track with your mission today? Tomorrow is not promised, think of what you want to achieve and start working towards it."
14. "I am too busy growing and feeding my wife and kids to have time for drama. Life is good."
15. "Everyone's got at least one life to live, so why not live it to the fullest?"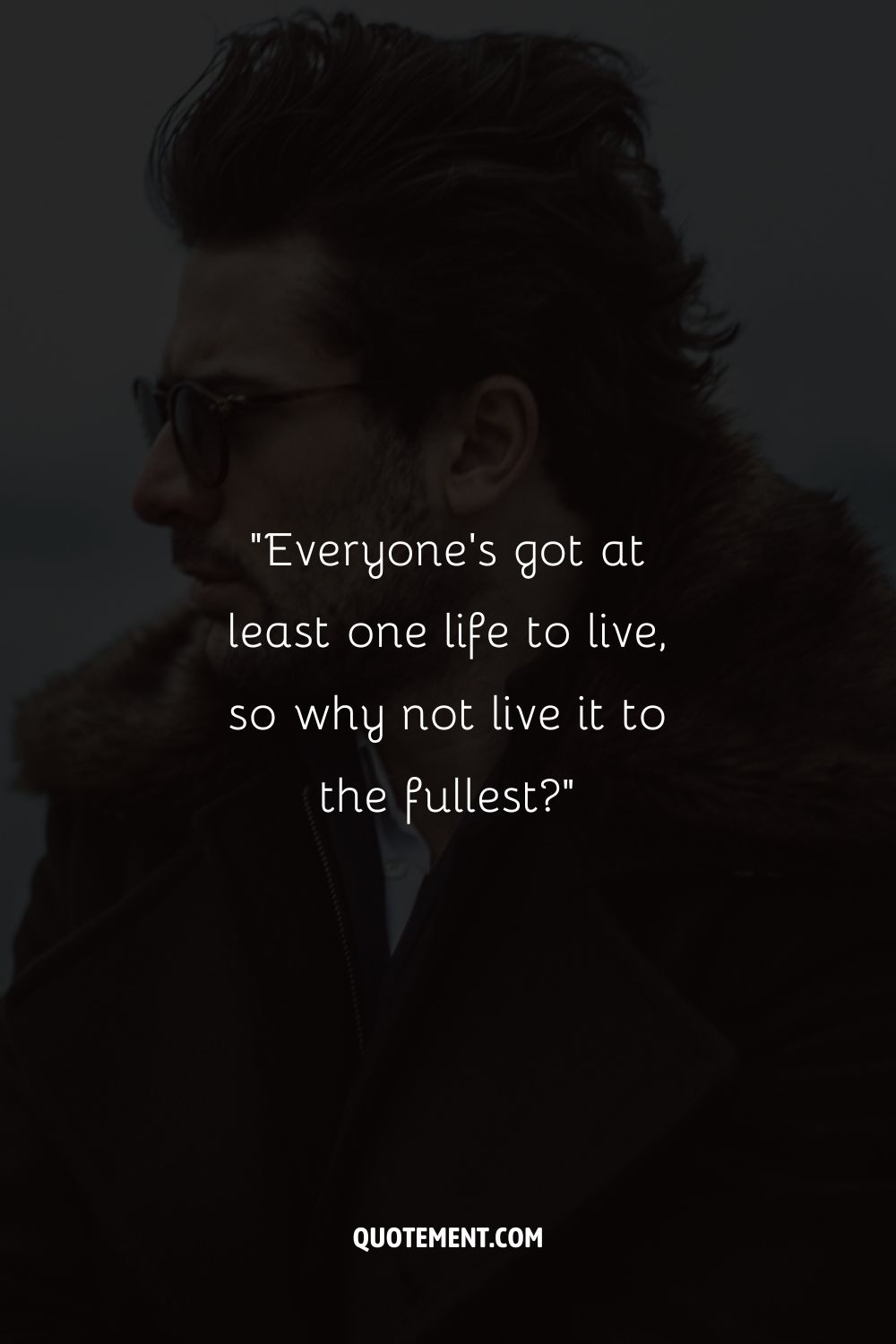 16. "Every man is a king already; you can just curve your kingdom."
17. "Be the bad guy, the one who doesn't take no for an answer. The one who makes things happen."
18. "Beyond the unattractive exterior, it turns out that even ugly people have beautiful faces."
19. "As sad as it might be, you have to be alone sometimes in your life to get things done."
20. "The contrast between what you are and what you desire is the work that you put into it."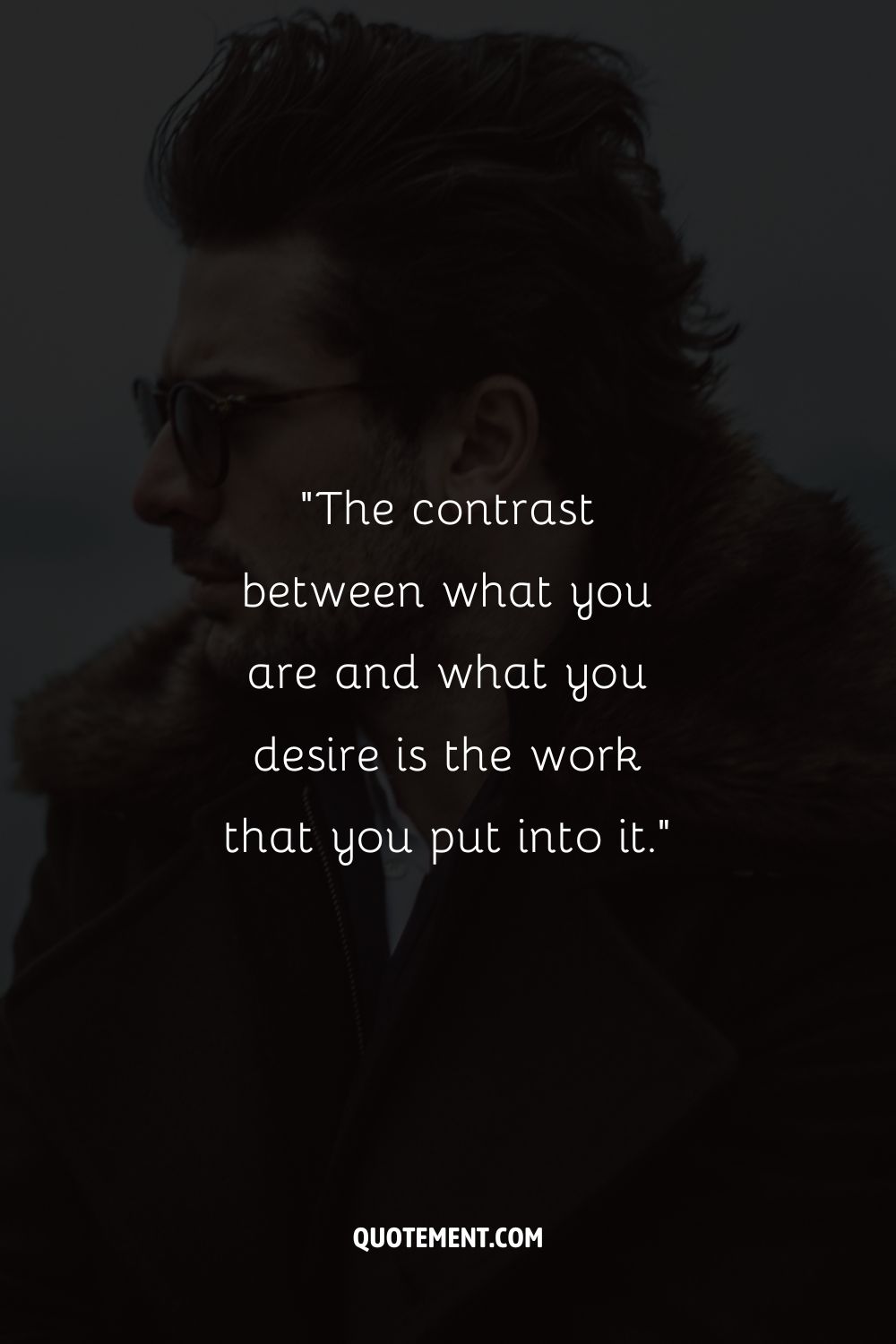 21. "The person who goes to the gym every day regardless of how they feel will always beat the person who goes to the gym when they feel like going to the gym." ― Andrew Tate
22. "He doesn't seek power over others, he seeks it over his mind."
23. "He marches on his own drum."
24. "Sigma male wins, no matter what the situation is."
25. "My unmatched perspicacity, coupled with sheer indefatigability, makes me a feared opponent in any realm of human endeavor." ― Emory Andrew Tate Jr.
26. "He doesn't need a tribe to feel secure, he trust's his abilities."
27. "Never call it a dream; call it a plan."
28. "Sadness is a warning. You feel it for a reason. Your mind is telling you that you need to work harder." ― Andrew Tate
29. "Discipline is always greater than motivation."
30. "Men are not designed to be comfortable. They want to achieve. They want to feel pain and suffering. They want to conquer something." ― Andrew Tate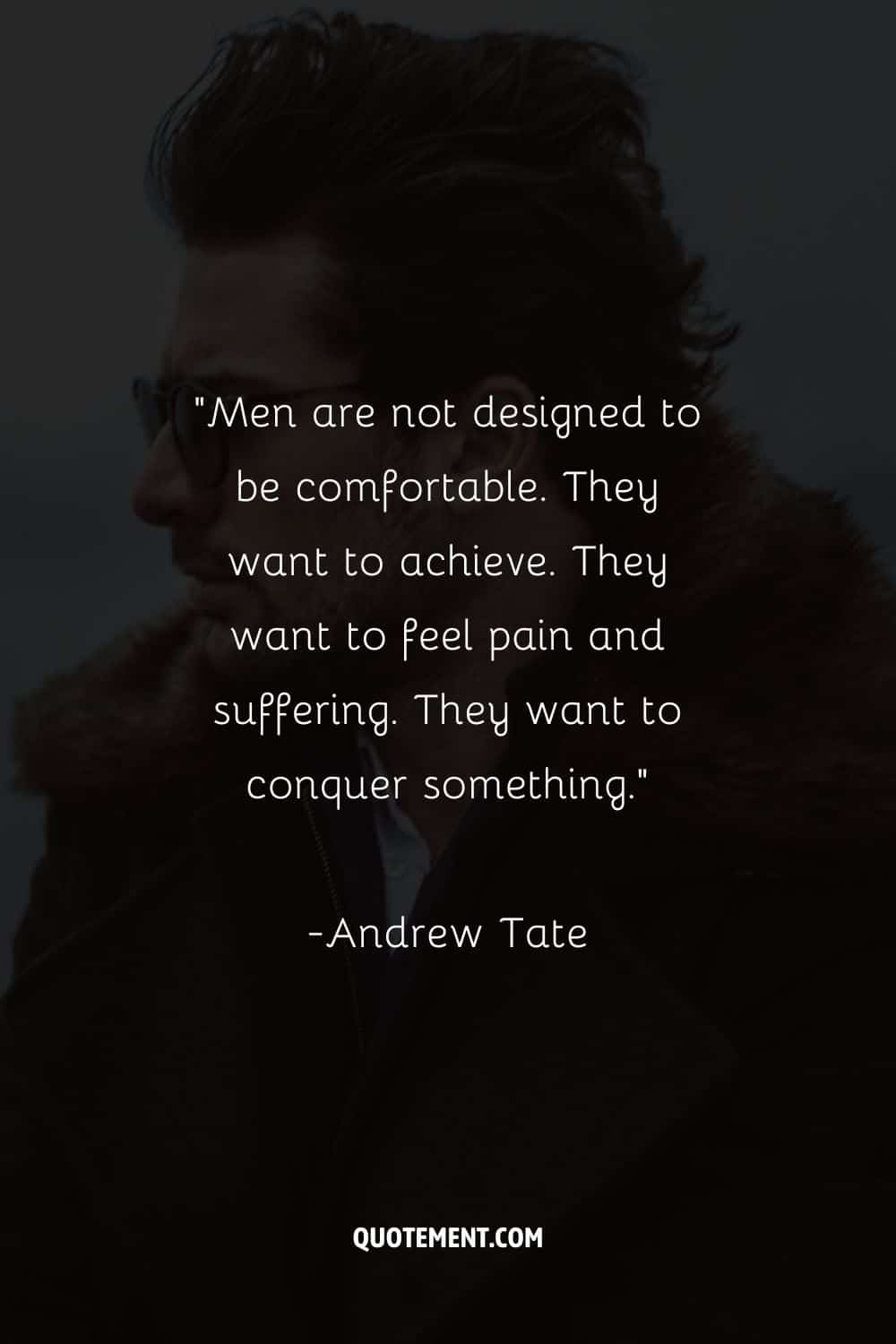 20 Sigma Male Quotes For Instagram
1. "Don't care what they think; they don't know what that means to you." ― Anonymous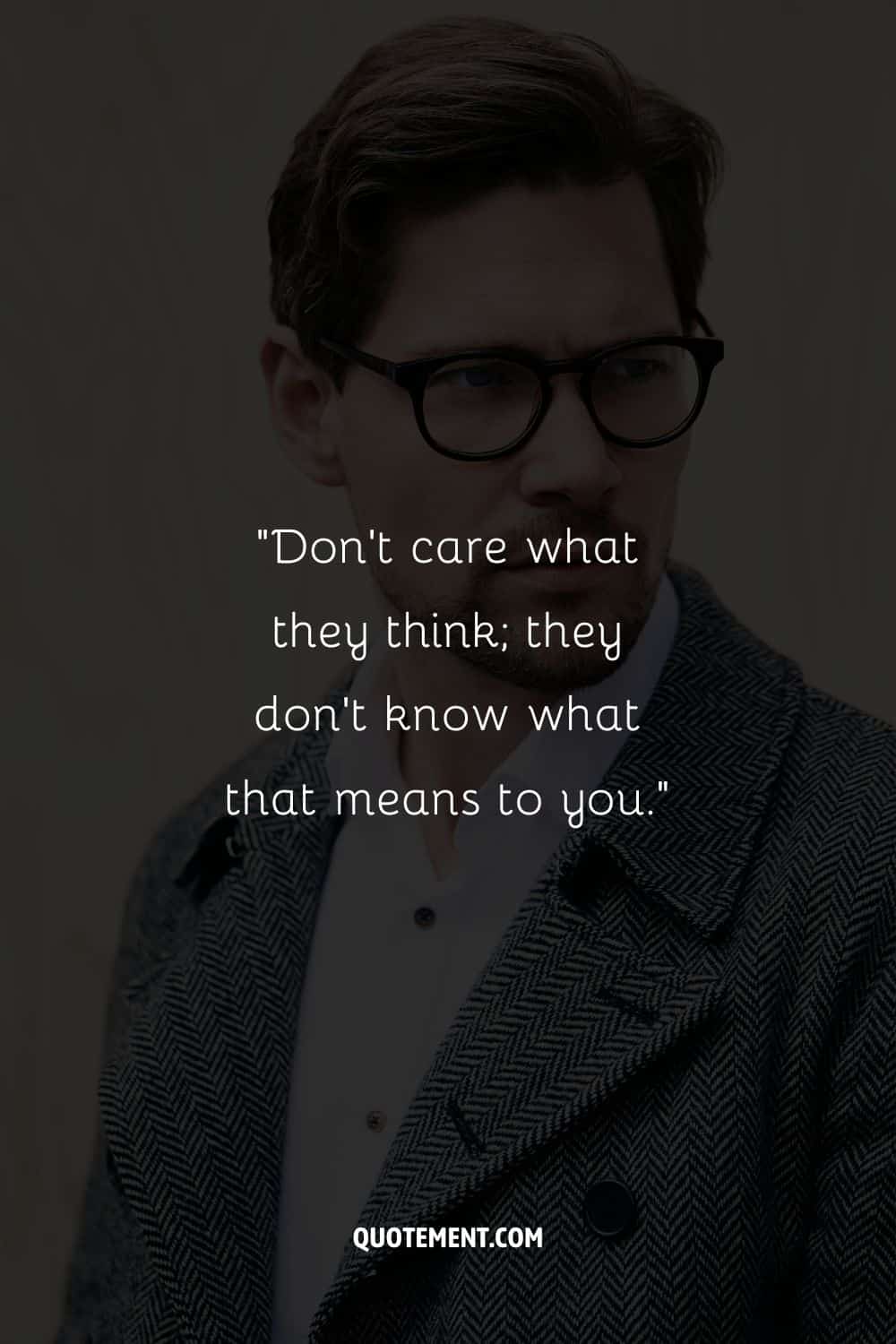 2. "Not only I survived but thrived, for I am born to be a Sigma male." ― Anonymous
3. "I drink my whiskey neat and live my life messily." ― Anonymous
4. "You can't make people respect you, so they're going to have no choice but to accept you." ― Anonymous
5. "Being strong is when you hold your ground, stand up for yourself and say, "No. You're not going to screw with me." ― Anonymous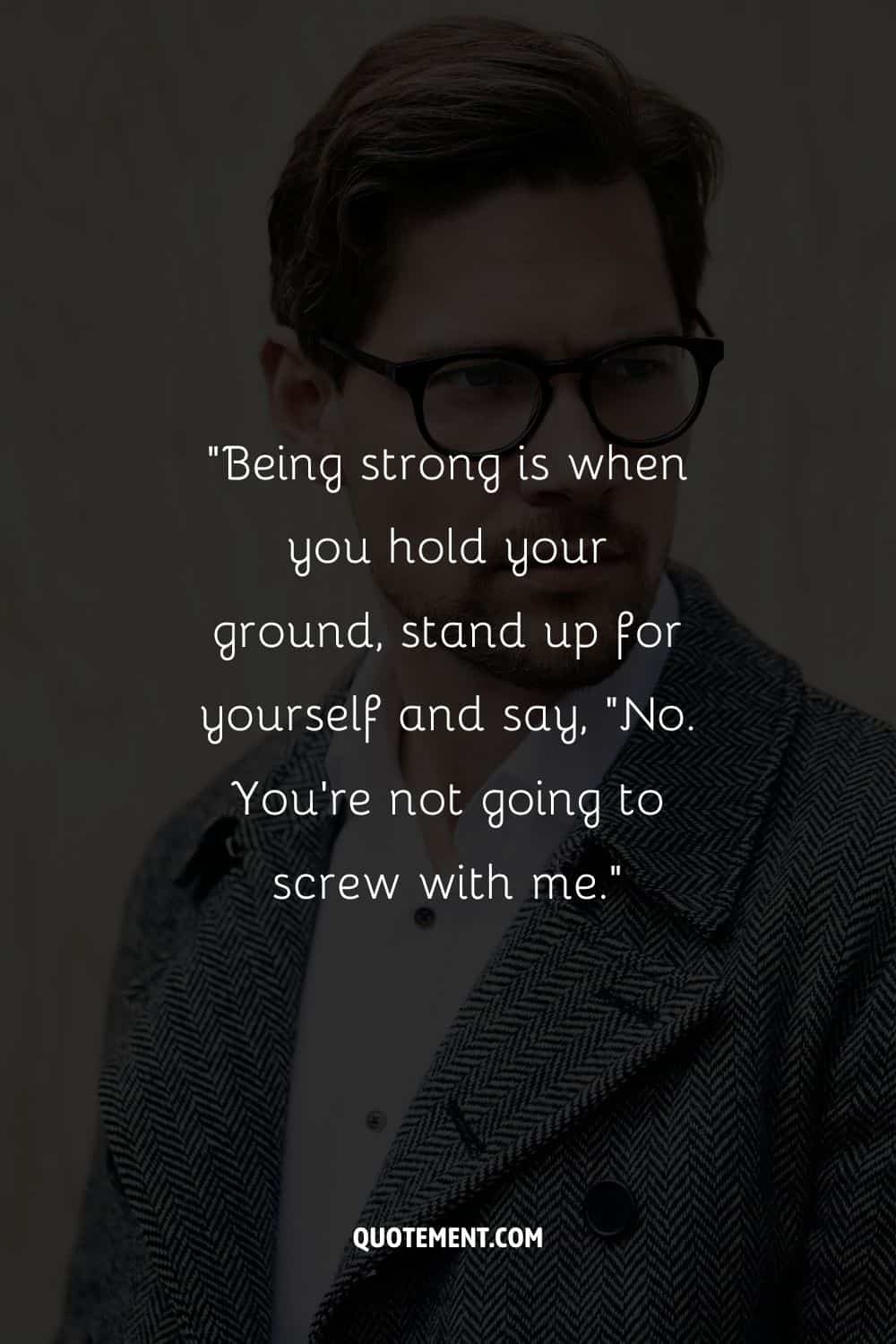 6. "Nowadays, the alpha male is the loser and the sigma male is the winner. And I'm not mad about it." ― Anonymous
7. "Men don't come of age, they come of wisdom." ― Anonymous
8. "I have no need for anyone to tell me who I am. I am the master of my own destiny and the captain of my soul." ― Anonymous
9. "Don't follow the traditional path, create your own tradition." ― Anonymous
10. "Don't wait for the right time, create them." ― Anonymous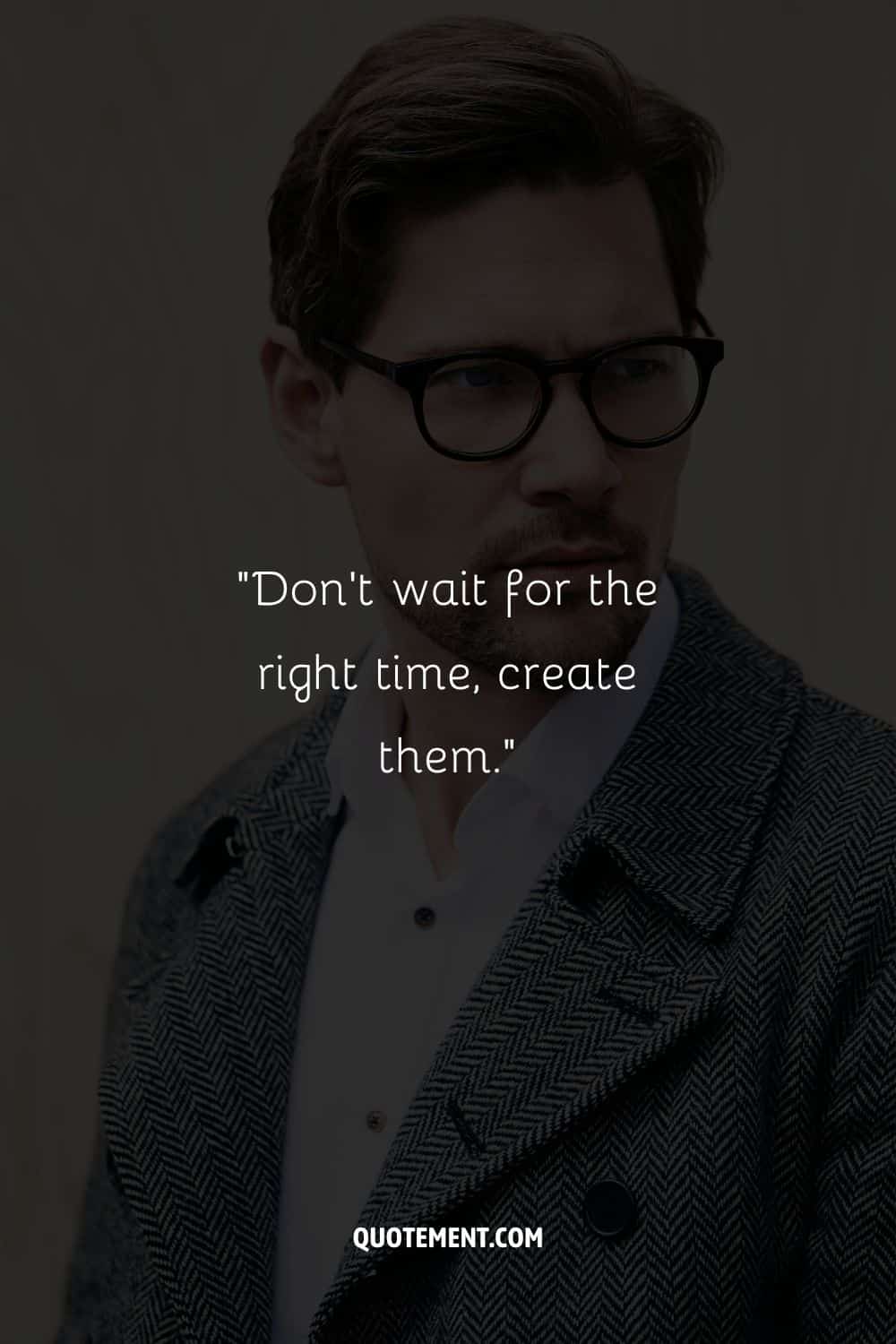 11. "Never ever create a negative image in your mind." ― Anonymous
12. "He never needs a title, he works hard to make it." ― Anonymous
13. "His only bestfriend is himself." ― Anonymous
14. "He would rather stay alone than with the wrong person." ― Anonymous
15. "He never needs a map to find a way out, he trusts his intuition." ― Anonymous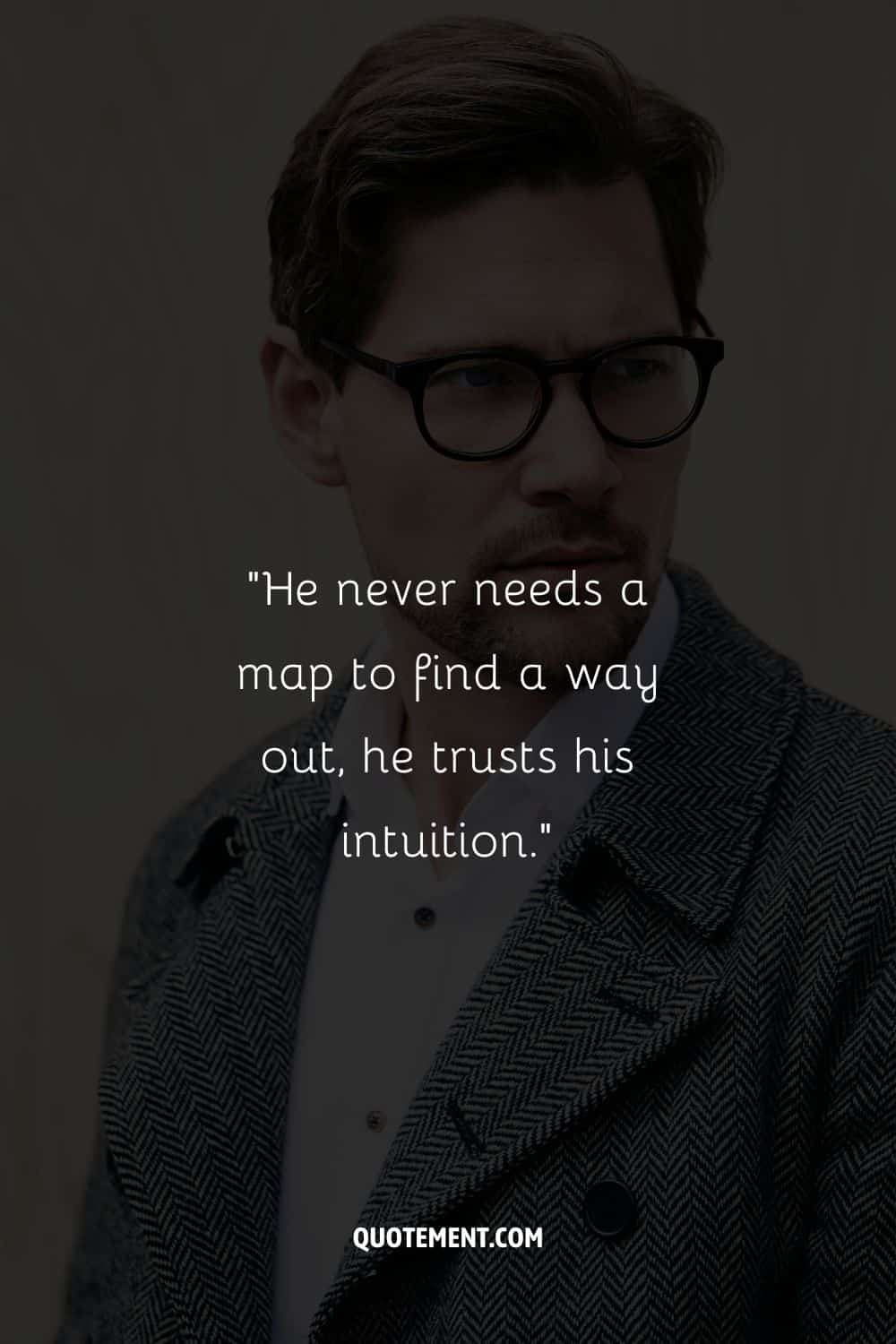 16. "He has his own personal space which no one can enter." ― Anonymous
17. "Don't let society's norms restrict your choices." ― Anonymous
18. "Don't waste your energy on drama, focus on what's important." ― Anonymous
19. "I thrive in discomfort." ― Anonymous
20. "Best business for 100% success is minding your own business." ― Anonymous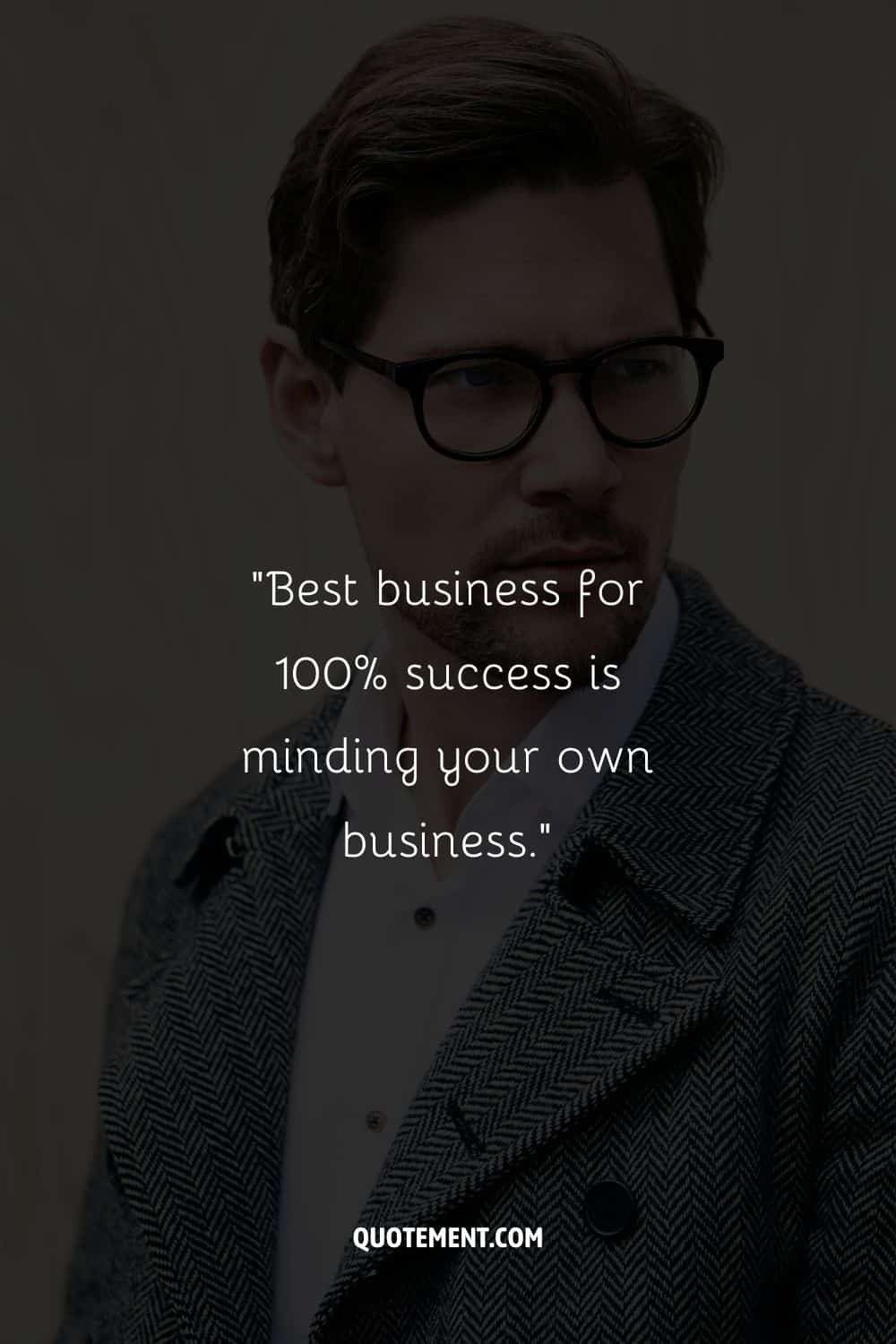 20 Funny And Cool Sigma Male Quotes And Captions For Instagram
1. "Coming."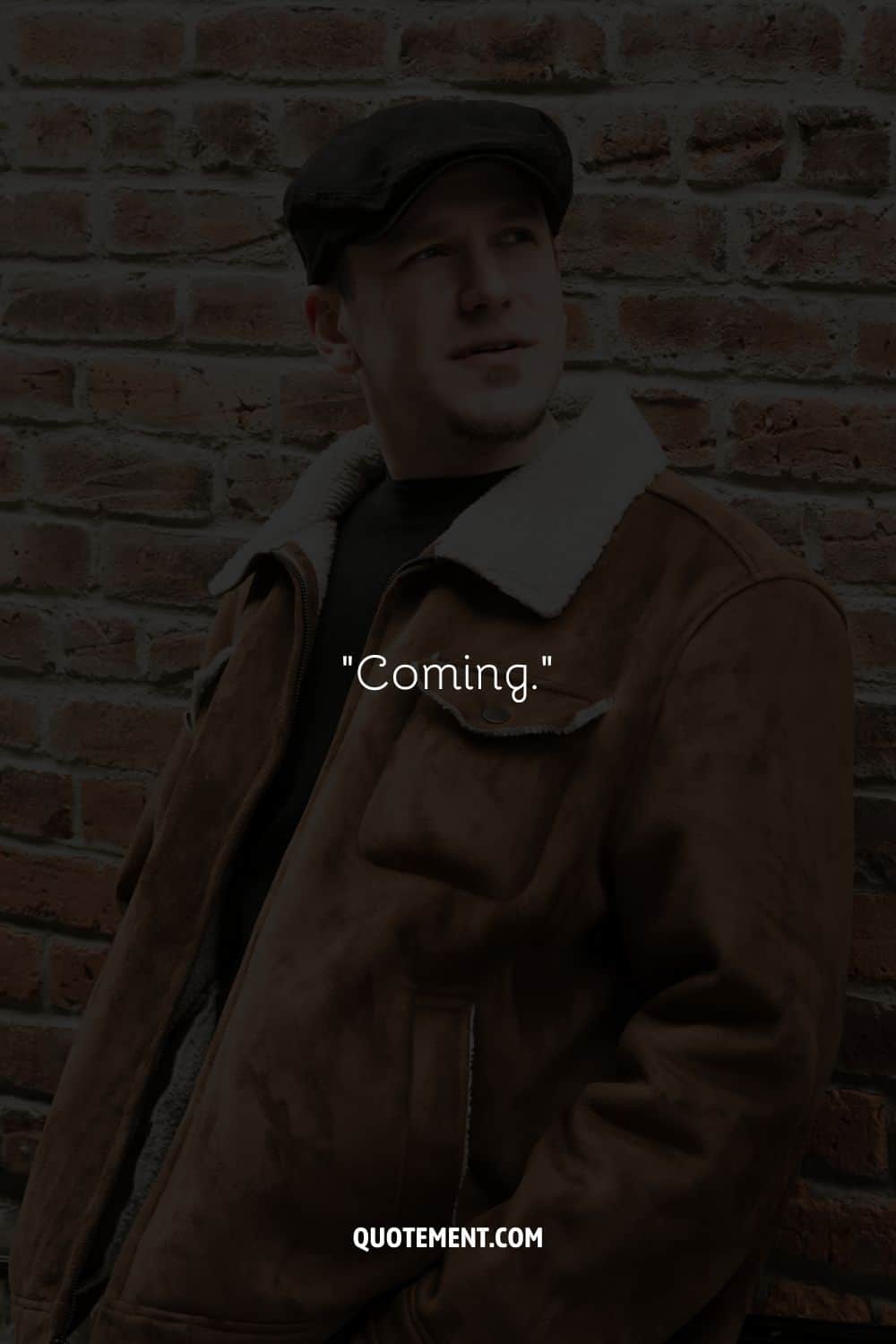 2. "Never fear anybody."
3. "Unconventional. I know."
4. "Guys like me don't like taking orders."
5. "Rules? What's that?"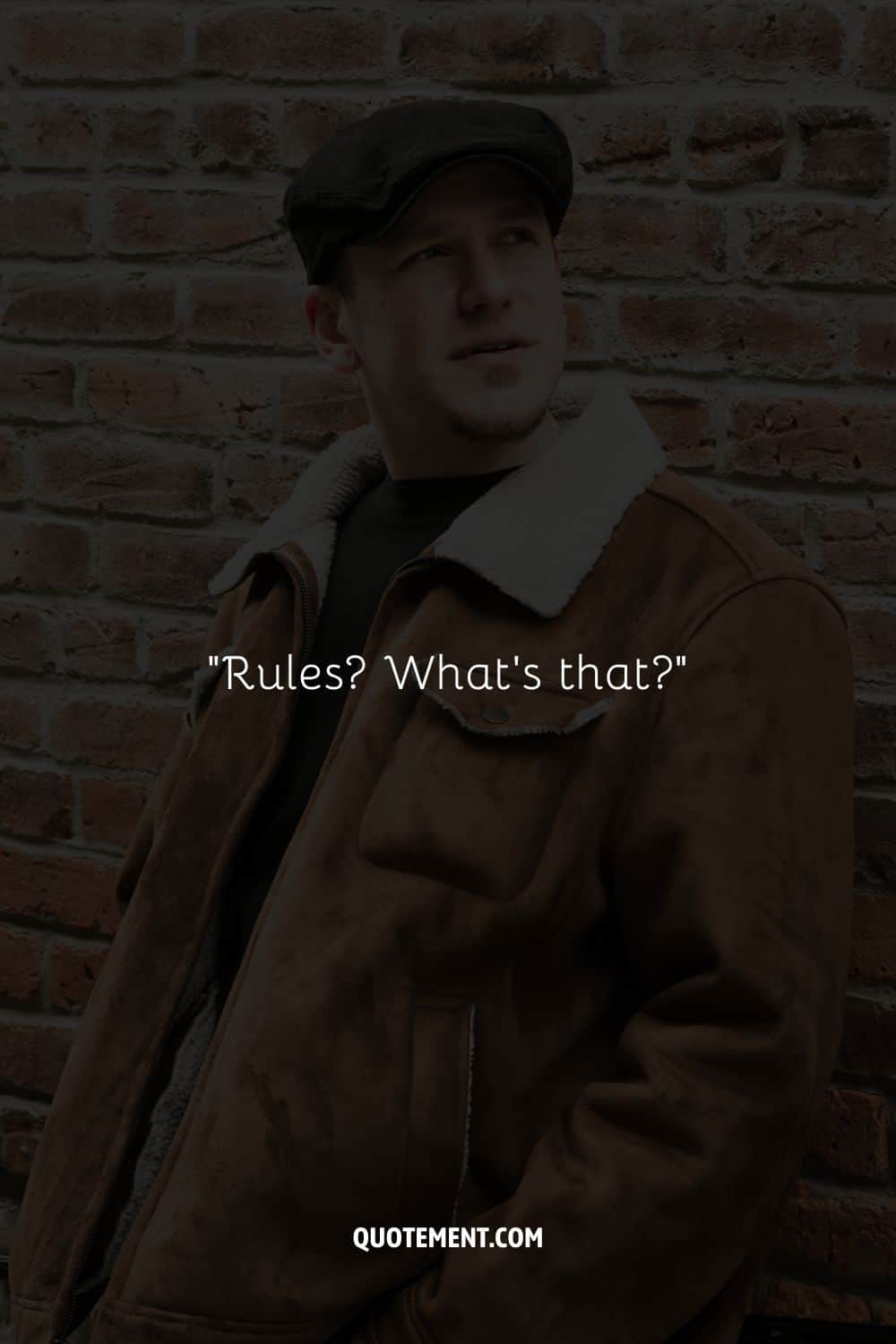 6. "Last time I followed a rule, I…. I don't remember."
7. "Doesn't matter how hard you work, I work harder, and you know it."
8. "I'm not afraid of being alone, I'm afraid of being surrounded by the wrong people."
9. "Don't talk about me. Talk to me."
10. "The only thing bigger than my ego is my bank account."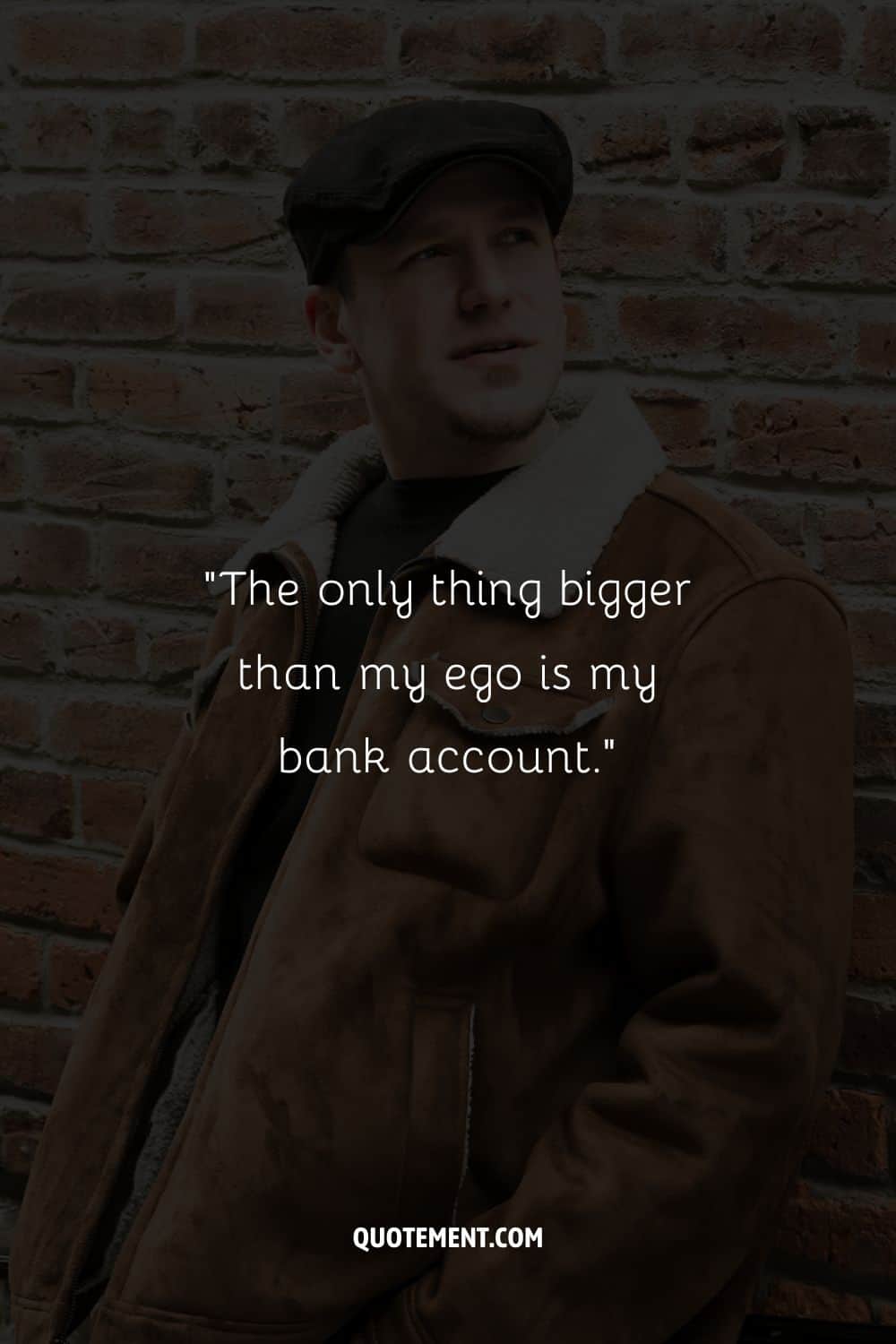 11. "I'll be at my usual spot: Right in front of you."
12. "For those who like to stay in the shadows and wait for their moment to appear."
13. "I know the type of girl you are, and I literally don't have time."
14. "Let them throw heat at you; when it gets hot, they run to you for cover."
15. "Unbothered."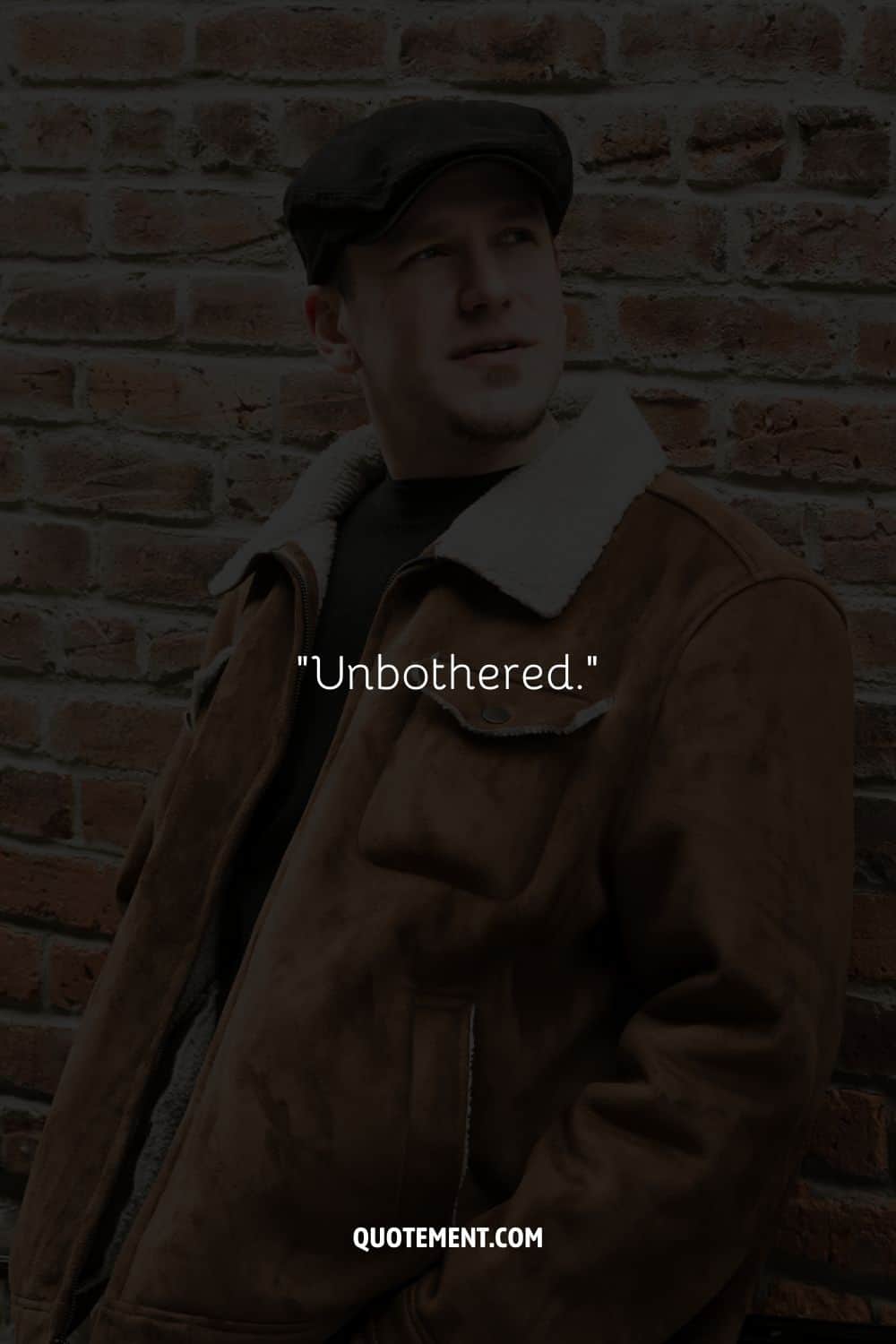 16. "Yeah, whatever."
17. "I don't suffer from my insanity. I enjoy every minute of it."
18. "I don't really care about you. I care for my kin and for my own, only."
19. "Whatever you are doing, it's not nearly as good as what I am doing. And you know it."
20. "You do you. I've got my own rules."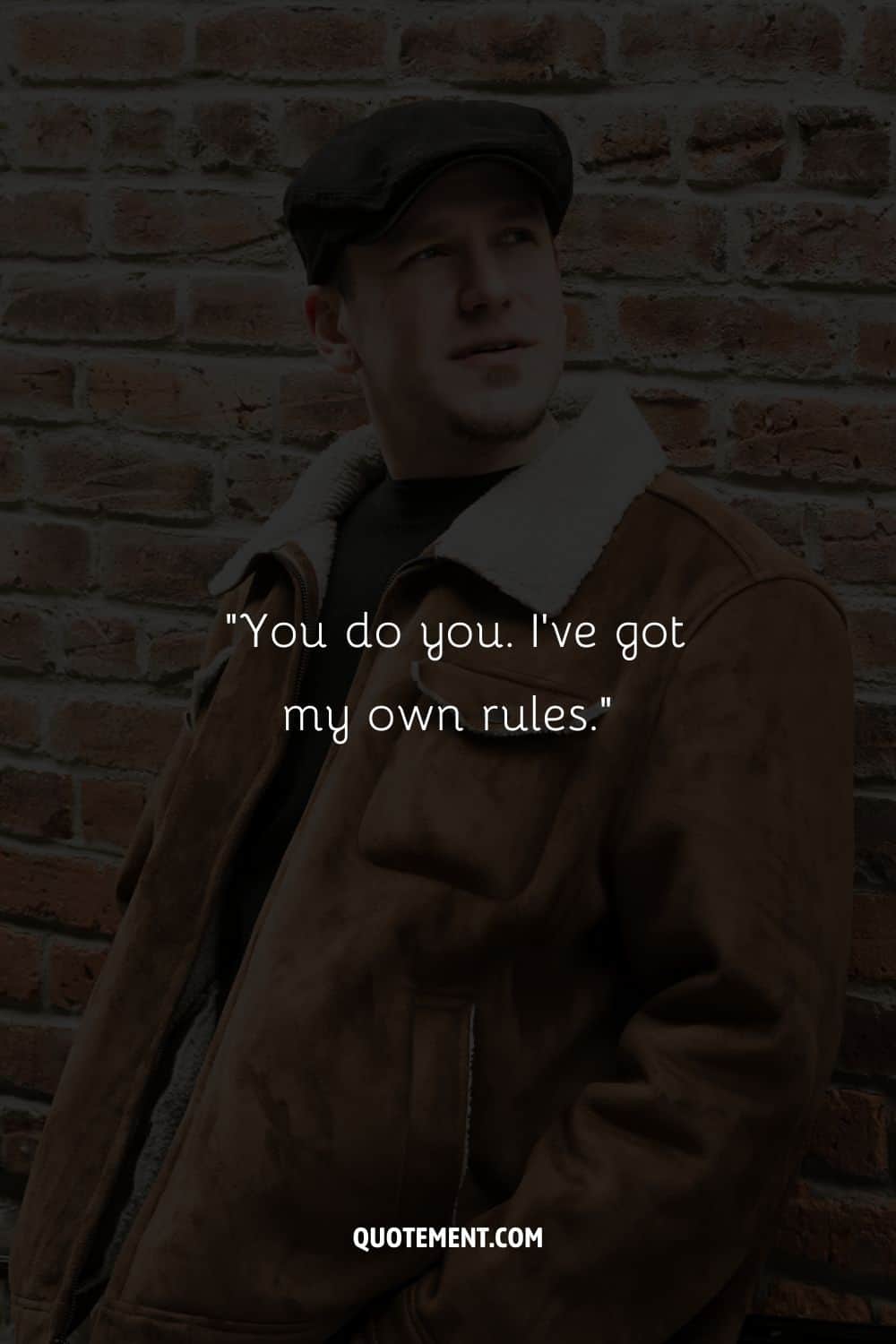 20 Short Sigma Male Quotes
1. "Courage is resistance to fear, mastery of fear – not absence of fear." ― Mark Twain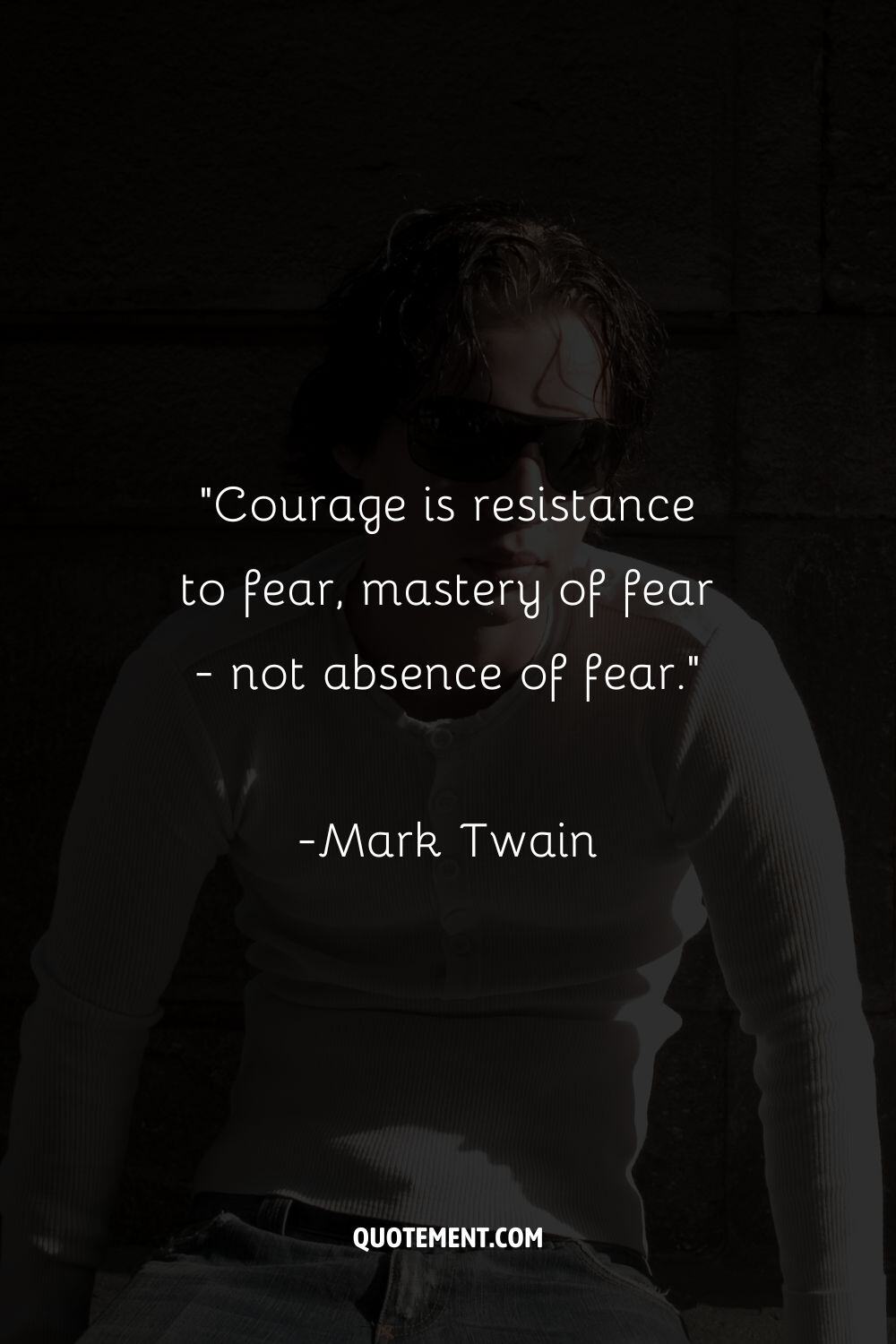 2. "Scared is what you're feeling. Brave is what you're doing." ― Emma Donoghue, Room
3. "Courage is found in unlikely places." ― J.R.R. Tolkien
4."All happiness depends on courage and work." ― Honoré de Balzac
5. "Freedom lies in being bold." ― Robert Frost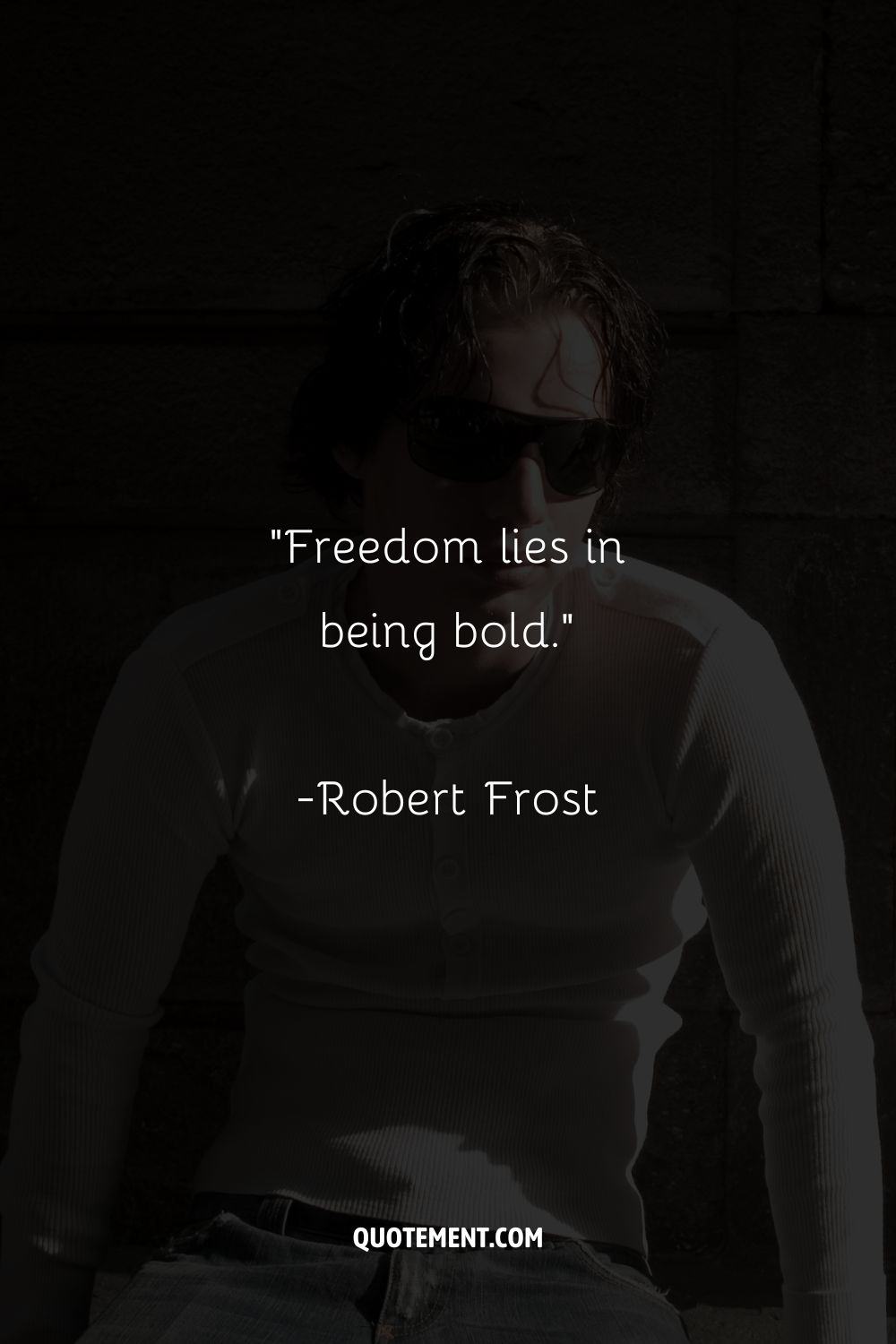 6. "Fear is feared from him himself." ― Anonymous
7. "If it hurts, it's a lesson." ― Anonymous
8. "Appear as dumb when you are smart, and act smart when you are dumb." ― Anonymous
9. "No one will be there with you in your struggle." ― Anonymous
10. "Remember what they did to you in the past." ― Anonymous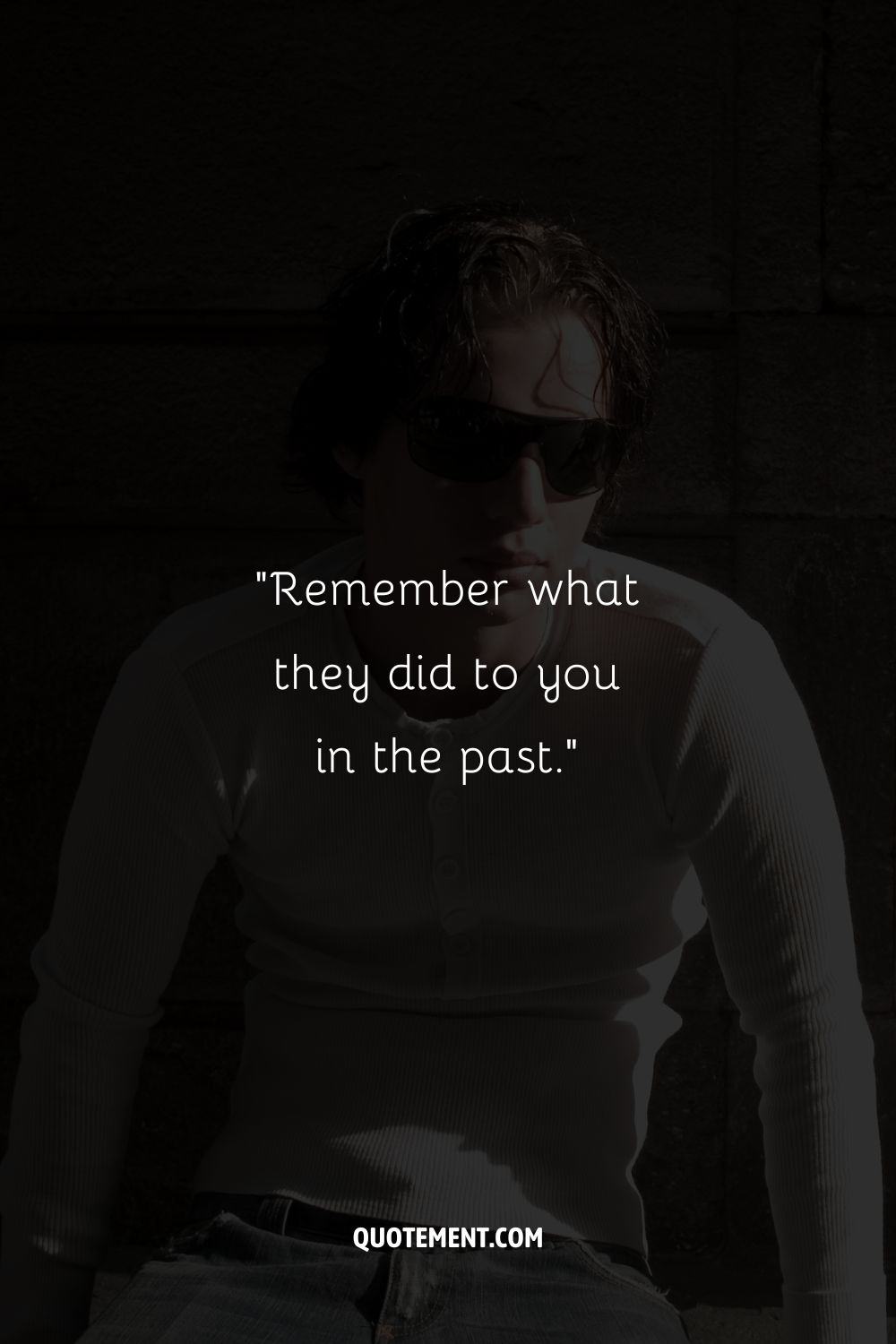 11. "Never. I don't ever give up. I'd have to be dead or completely incapacitated. For my part, I will never give up, and I mean never." ― Anonymous
12. "If love needs to be begged, it is never loved." ― Anonymous
13. "Never beg for someone's love." ― Anonymous
14. "Put an end to the relationship where your time doesn't matter." ― Anonymous
15. "Refrain from asking why someone cheats on you. Just say goodbye." ― Anonymous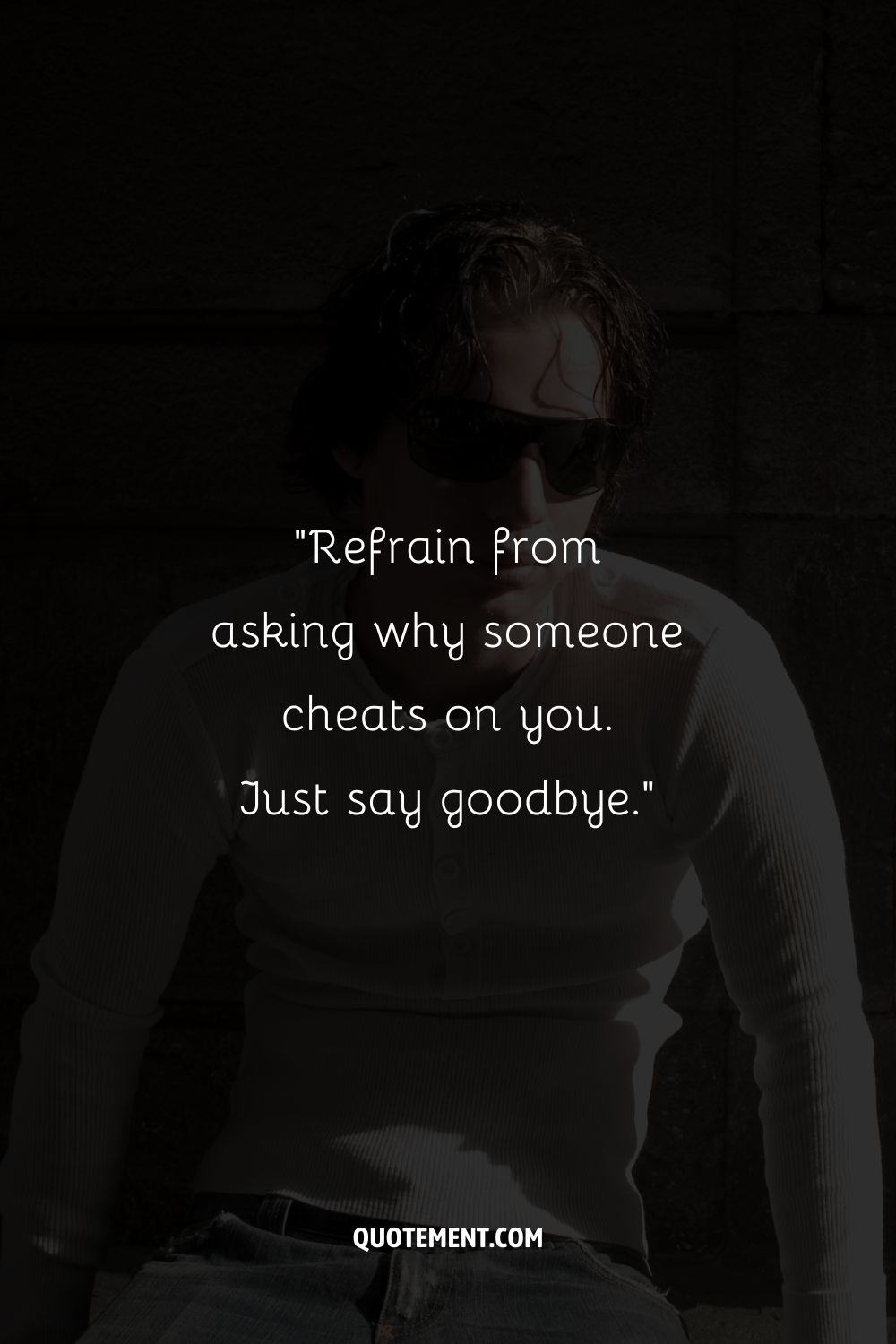 16. "Self respect should always be a priority." ― Anonymous
17. "A person without guts would never know the taste of victory." ― Anonymous
18. "No, relax until the dream comes true." ― Anonymous
19. "Experiment with everything until you find the right thing." ― Anonymous
20. "As responsibility increases, so does the absence of fun increases." ― Anonymous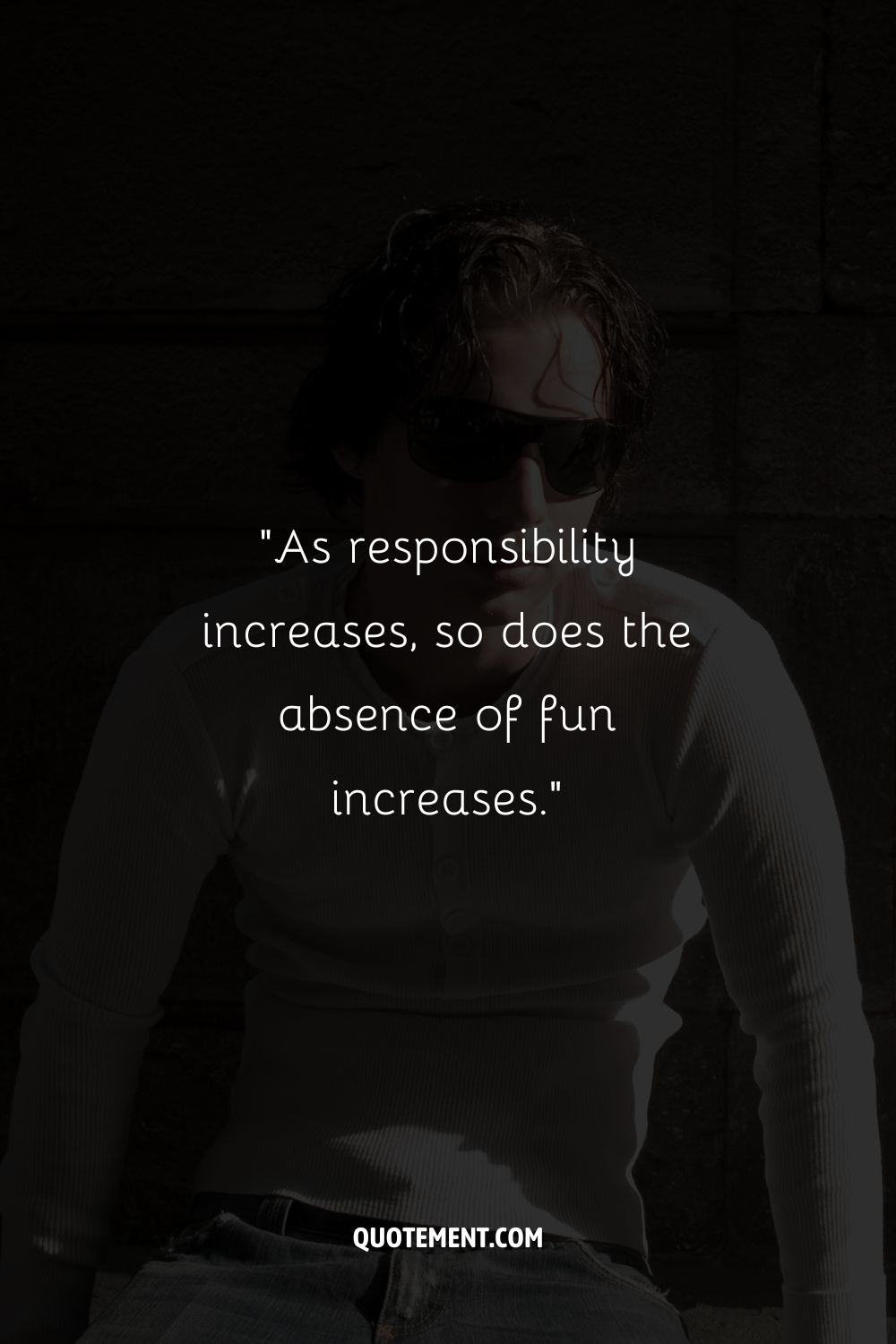 10 Andrew Tate's Hot Takes On Sigma Male Quotes
1. "In the end, we will remember not the words of our enemies, but the silence of our friends." ― Andrew Tate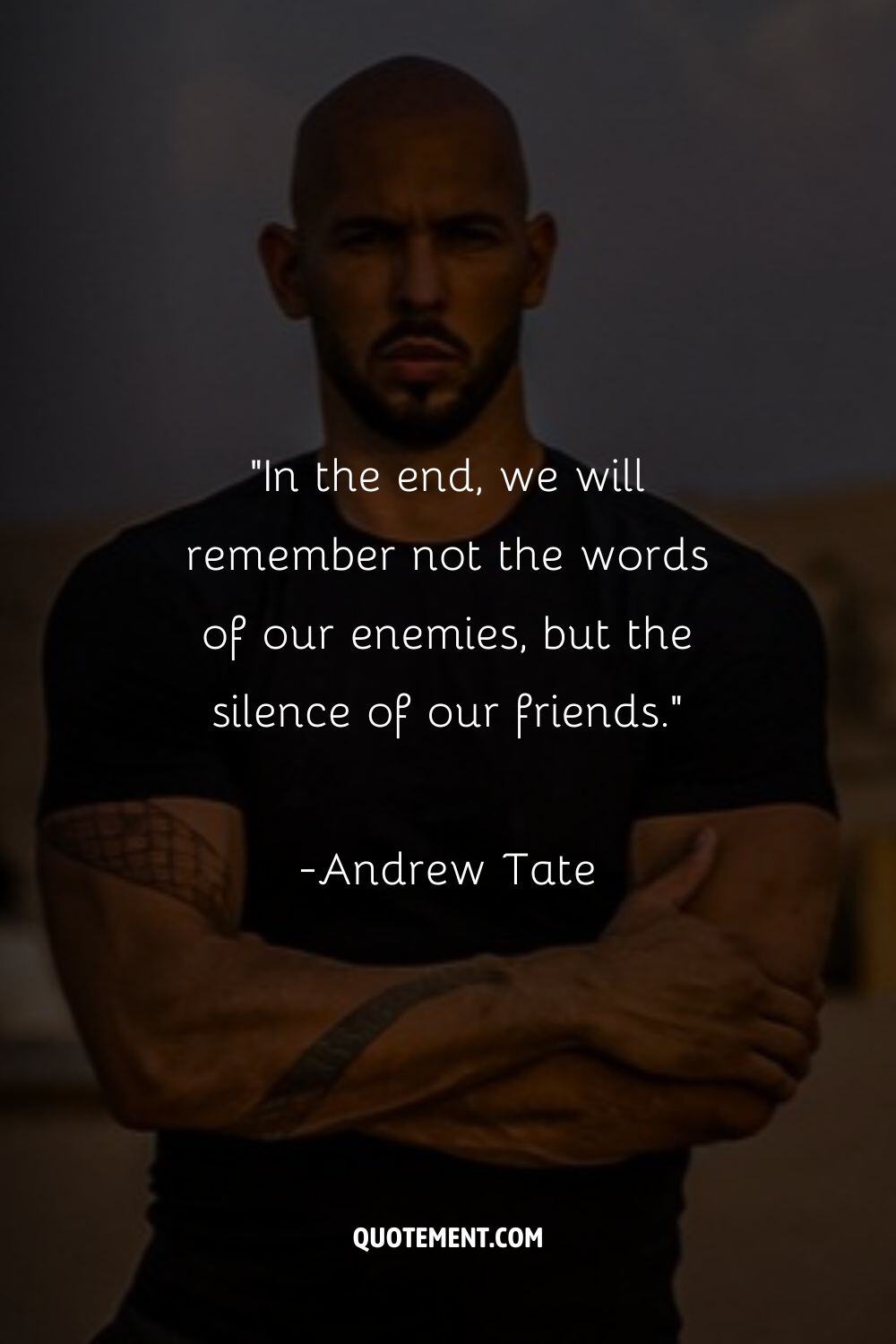 2. "The preparation is what will allow you to outlast the storms that are guaranteed to appear. Have you been preparing?" ― Andrew Tate
3. "If you're surrounded by people who have a plan to get rich, and you provide value to them, sooner or later you're going to begin to make money." ― Andrew Tate
4. "You are organized, fast, and systematized. You stop doing things that you know are a waste of time. You stop acting based on emotional whims. Imagine that version of yourself. Imagine what that person accomplishes in a year." ― Andrew Tate
5. "If you're known as crazy. Your life is going to go one of two ways. Absolute success, or the absolute bottom. But you can rest assured you won't end up average like the rest." ― Andrew Tate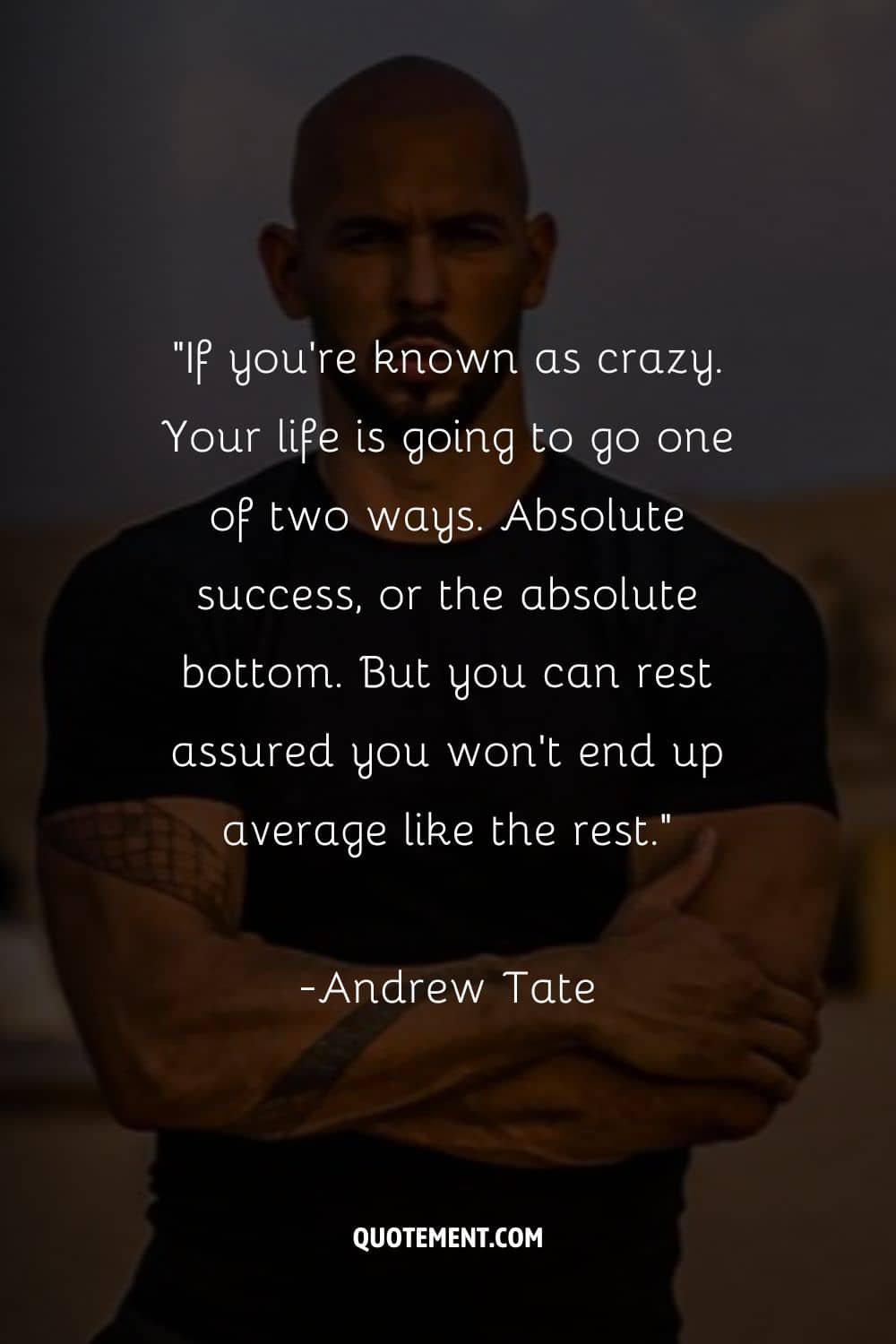 6. "Trauma and difficulty helps you to man up." ― Andrew Tate
7. "Your life can be like a movie. The mundane, the boring, the average, your life doesn't need to be this way. But every good movie has some sort of risk, and the heroes of the story are willing to take them. Are you?" ― Andrew Tate
8. "And if you're going to go through your life and you have to associate with people, what you want to do is find egotistical people. Find out if they have a reason to justify their egos. if they can't, then get rid of them. If they do, then hang around them, because you might actually learn something." ― Andrew Tate, The Tate Bible
9. "People who train every day do not want to train every day. They are not motivated to train every day. They have something else, they are disciplined." ― Andrew Tate
10. "Absolutely every single one of my actions is intentional. Divine purpose. If your day is full of mindless action, you act without thought." ― Andrew Tate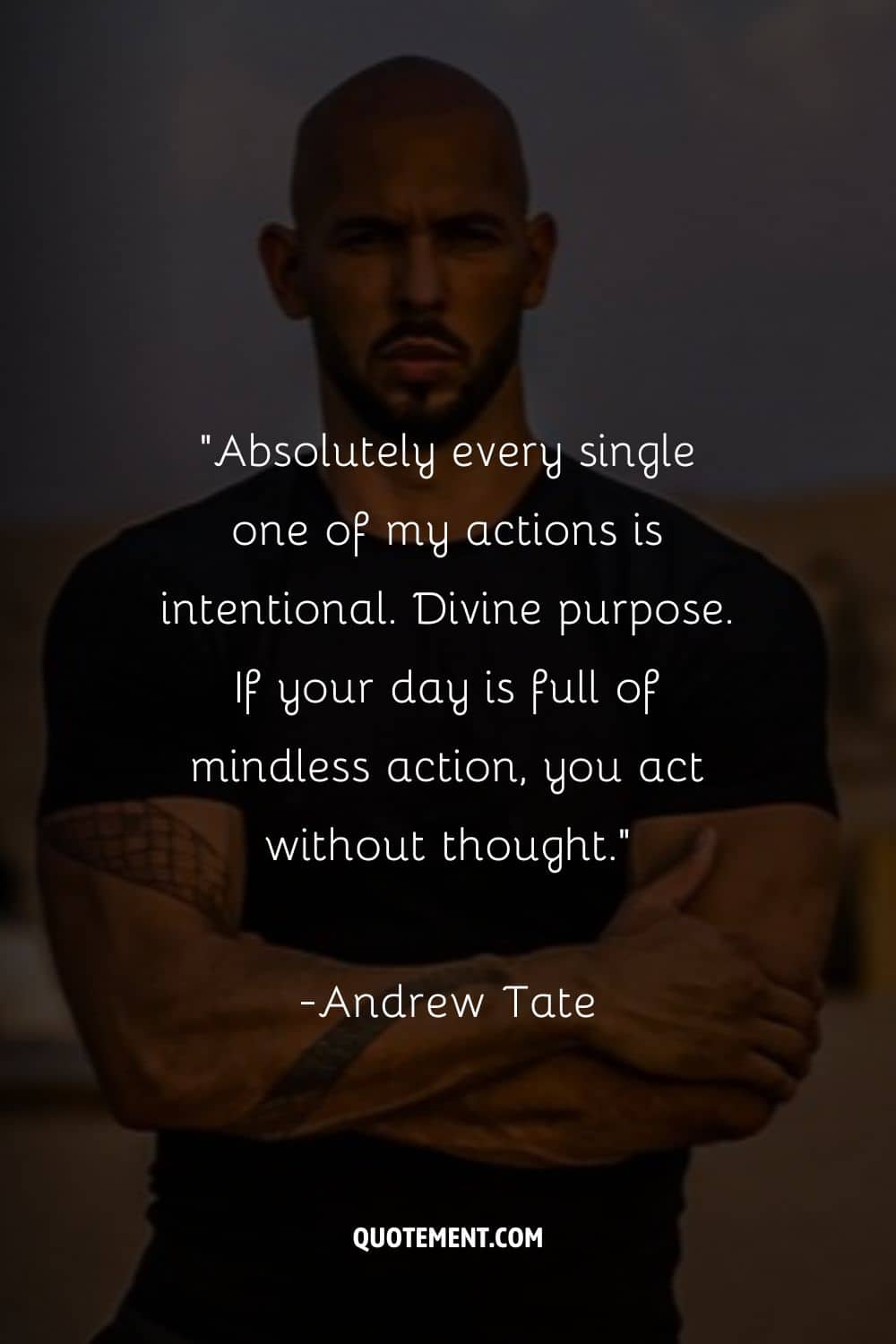 See also: Andrew Tate Quotes That Will Spark Your Inner Winner
20 Sigma Male Quotes You Should Think About
1. "Treat every woman the way you want your daughter to be treated."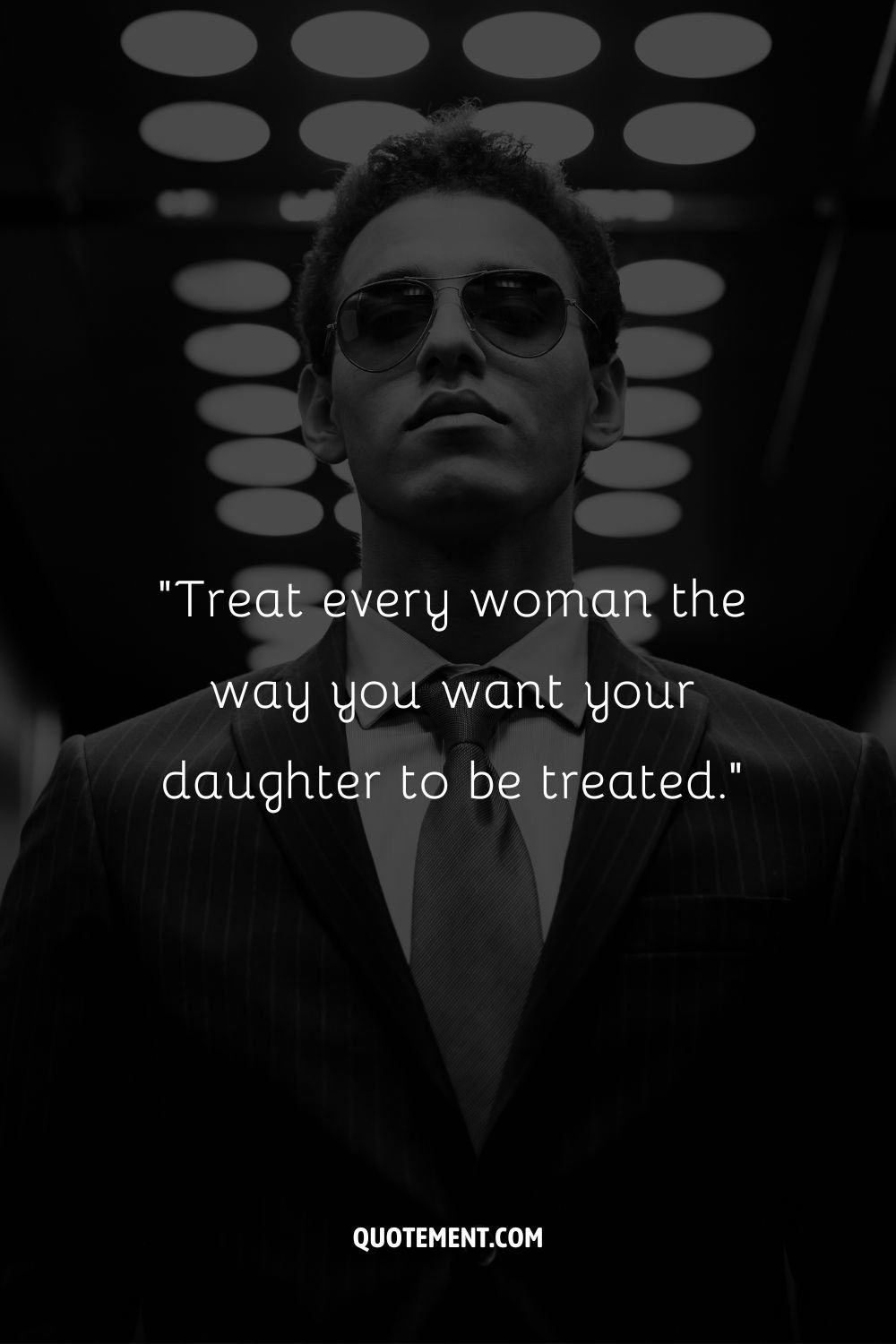 2. "We can't be afraid of change. You may feel very secure in the pond that you are in, but if you never venture out of it, you will never know that there is such a thing as an ocean, a sea. Holding onto something that is good for you now, may be the very reason why you don't have something better." ― C. JoyBell C.
3. "Whatever you do, you need courage. Whatever course you decide upon, there is always someone to tell you that you are wrong. There are always difficulties arising that tempt you to believe your critics are right. To map out a course of action and follow it to an end requires some of the same courage that a soldier needs. Peace has its victories, but it takes brave men and women to win them." ― Ralph Waldo Emerson
4. "At times the world may seem an unfriendly and sinister place, but believe that there is much more good in it than bad. All you have to do is look hard enough. and what might seem to be a series of unfortunate events may in fact be the first steps of a journey." ― Lemony Snicket
5. "When someone tells me "no," it doesn't mean I can't do it, it simply means I can't do it with them." ― Karen E. Quinones Miller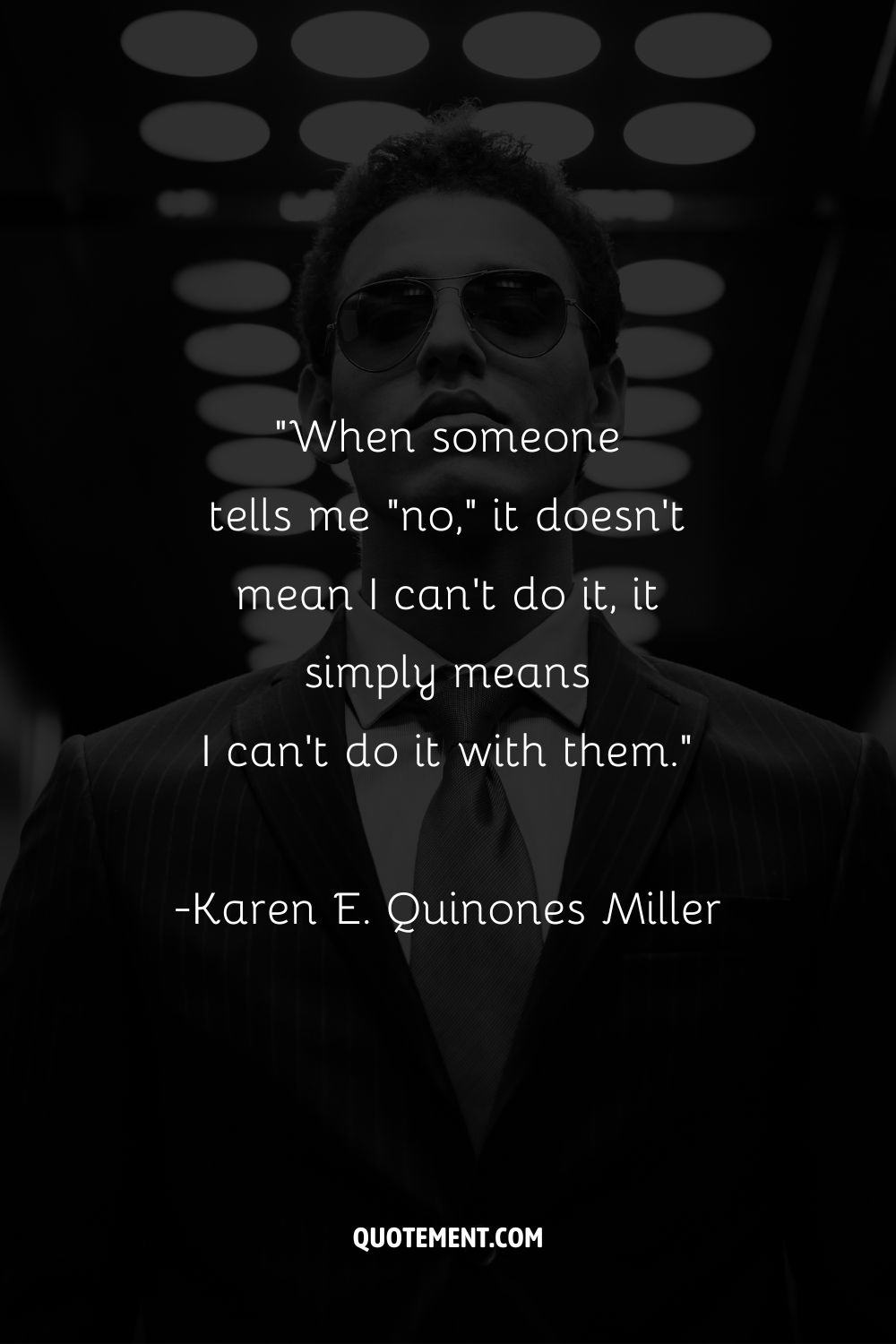 6. "Manliness consists not in bluff, bravado or loneliness. It consists in daring to do the right thing and facing consequences whether it is in matters social, political or other. It consists in deeds not words." ― Mahatma Gandhi
7. "Wise men are not pacifists; they are merely less likely to jump up and retaliate against their antagonizers. They know that needless antagonizers are virtually already insecure enough." ― Criss Jami, Killosophy
8. "There are two questions a man must ask himself: The first is 'Where am I going?' and the second is 'Who will go with me?'
If you ever get these questions in the wrong order you are in trouble." ― Sam Keen, Fire in the Belly: On Being a Man
9. "A man should be able to hear, and to bear, the worst that could be said of him." ― Saul Bellow
10. "There is one rule, above all others, for being a man. Whatever comes, face it on your feet." ― Robert Jordan, The Great Hunt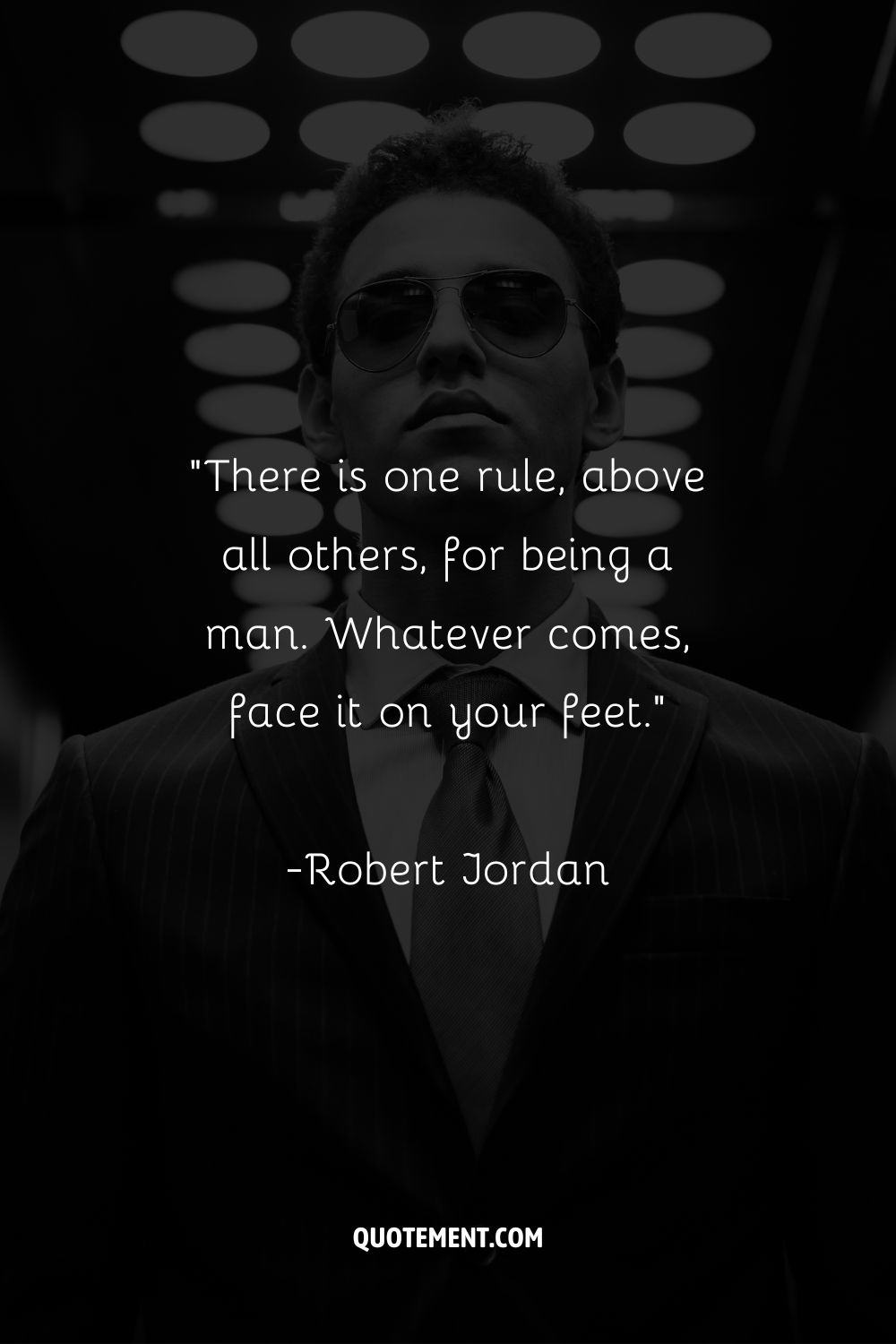 11. "You get paid in direct proportion to the difficulty of problems you solve" ― Elon Musk
12. "Constantly seek criticism. A well thought out critique of whatever you're doing is as valuable as gold." ― Elon Musk
13. "The idea of lying on a beach as my main thing just sounds like the worst. It sounds horrible to me. I would go bonkers. I would have to be on serious drugs. I'd be super-duper bored. I like high intensity." ― Elon Musk
14. "When Fortune Drops Something Valuable Into Your Lap, You Don't Just Dump It On The Bank Of The Cut." ― Thomas Shelby (Season 1, Episode 1)
15. "When something is important enough, you do it even if the odds are not in your favor." ― Elon Musk
16. "It's not a question of whether we will hurt, or of how much we will hurt; it's a question of what we will do, and how well we will do it, while pain has her wanton way with us." ― Thomas Shelby
17. "While you cannot purchase joy, you can purchase a ticket on the plane. So you are getting the same thing."
18. "You have to get what you want your own way." ― Thomas Shelby
19. "If you apologize once, you do it again and again and again. Like taking bricks out of the wall of your fuc*ing house. " ― Thomas Shelby
20. "I've got plans for my future. And they don't involve any of you." ― Thomas Shelby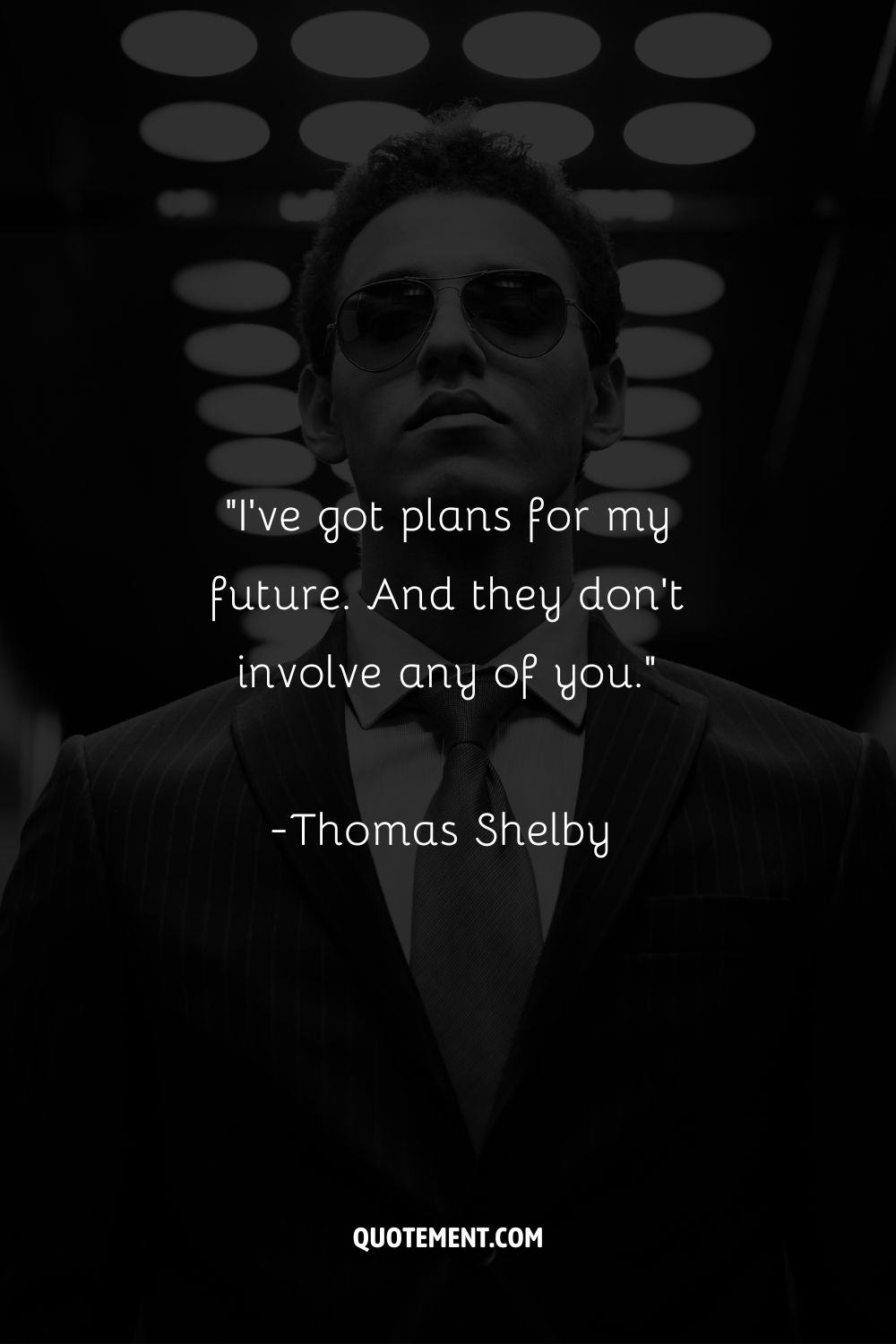 Final Word
As you reach the end of the best Sigma Male Quotes, I hope you have discovered a wellspring of inspiration within its pages.
May these quotes have ignited a fire within you, fueling your journey towards greatness. Embrace the essence of independence, authenticity, and a winner's mentality as you carve your own path to success.
I know that you are an individual that is used to relying only on himself, however, it was good reading some quotes that approve of your masculinity, wasn't it?
Read next: 50 Life-Changing Consistency Quotes On The Key To Success