If the world that we live in has become corrupt, it doesn't mean that we have to!
We are witnesses of daily moral decay in our distant family, in our groups, our societies and the whole world. Sadly, that is just how it is these days.
However, it doesn't mean that we have to follow those behavioral trends, right? Inspired by that, I have made the best compilation of quotes on values, so that we can get inspired to carry on with being a person that has a rock solid moral compass.
Without further ado, let's get inspired!
10 Best Quotes On Values
1. "Rather than love, than money, than fame, give me truth." ― Henry David Thoreau, Walden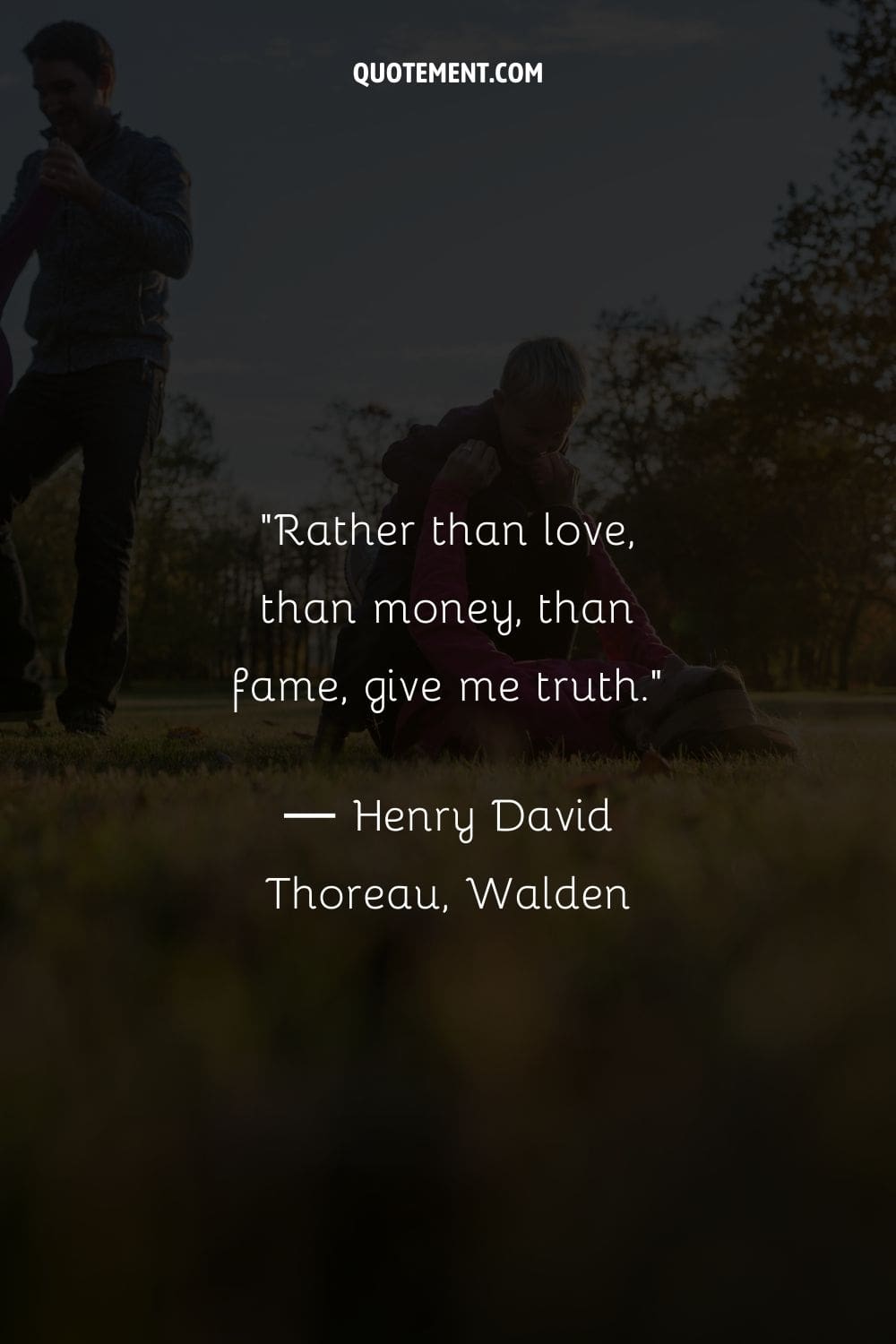 2. "Your beliefs become your thoughts,
Your thoughts become your words,
Your words become your actions,
Your actions become your habits,
Your habits become your values,
Your values become your destiny." ― Gandhi
3. "Tell me what you pay attention to and I will tell you who you are." ― José Ortega y Gasset
4. "Your time is way too valuable to be wasting on people that can't accept who you are." ― Turcois Ominek
5. "It's not hard to make decisions when you know what your values are." ― Roy Disney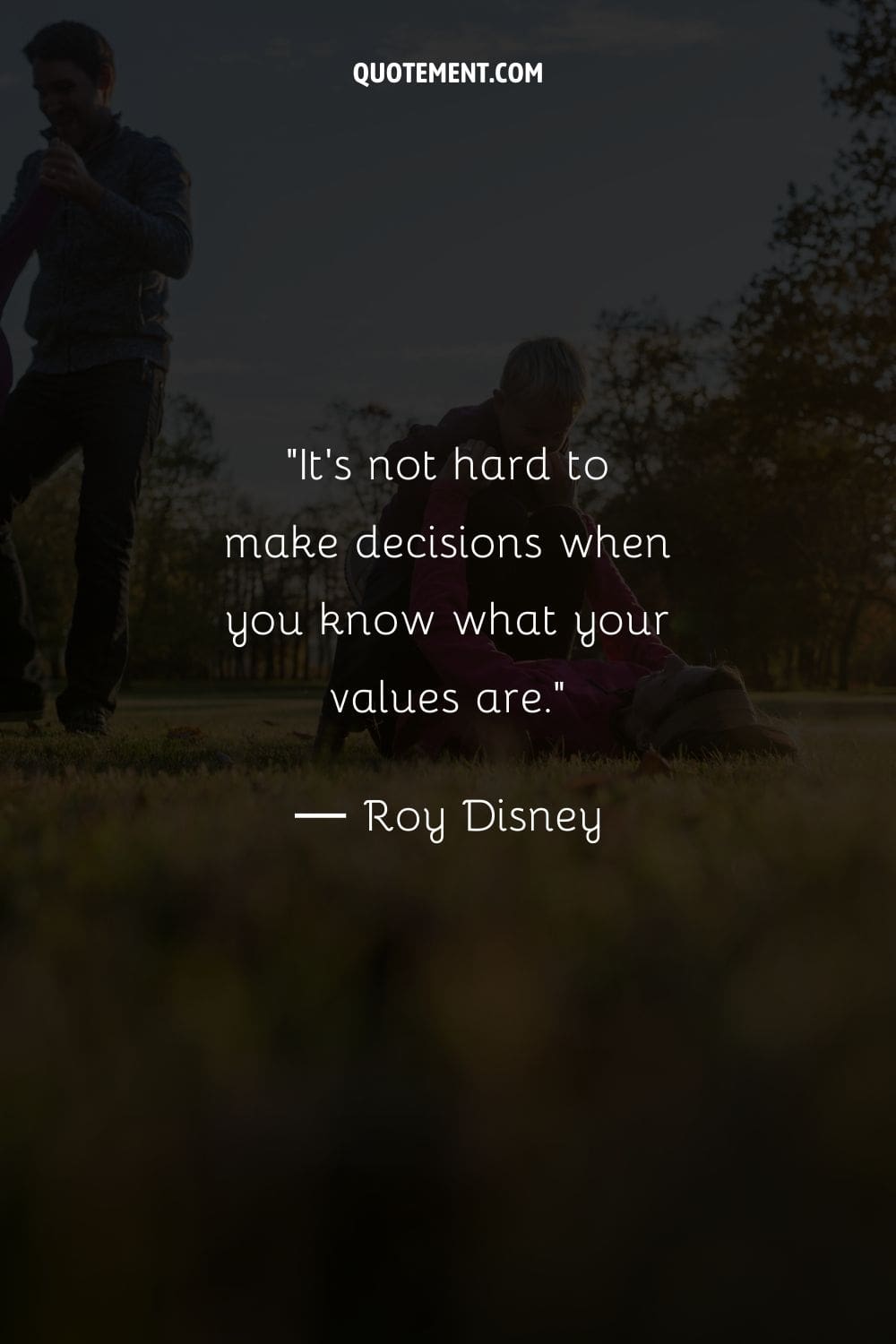 6. "A highly developed values system is like a compass. It serves as a guide to point you in the right direction when you are lost." ― Idowu Koyenikan, Wealth for All: Living a Life of Success at the Edge of Your Ability
7. "Before you call yourself a Christian, Buddhist, Muslim, Hindu or any other theology, learn to be human first." ― Shannon L. Alder
8. "The condition of your soul will determine the condition of your life. Because it determines how you think, what you feel, and what you choose to do." ― Gregory Dickow, Soul Cure How to Heal Your Pain and Discover Your Purpose
9. "When we cannot bear to be alone, it means we do not properly value the only companion we will have from birth to death – ourselves." ― Eda LeShan
10. "Values aren't buses… They're not supposed to get you anywhere. They're supposed to define who you are." ― Jennifer Crusie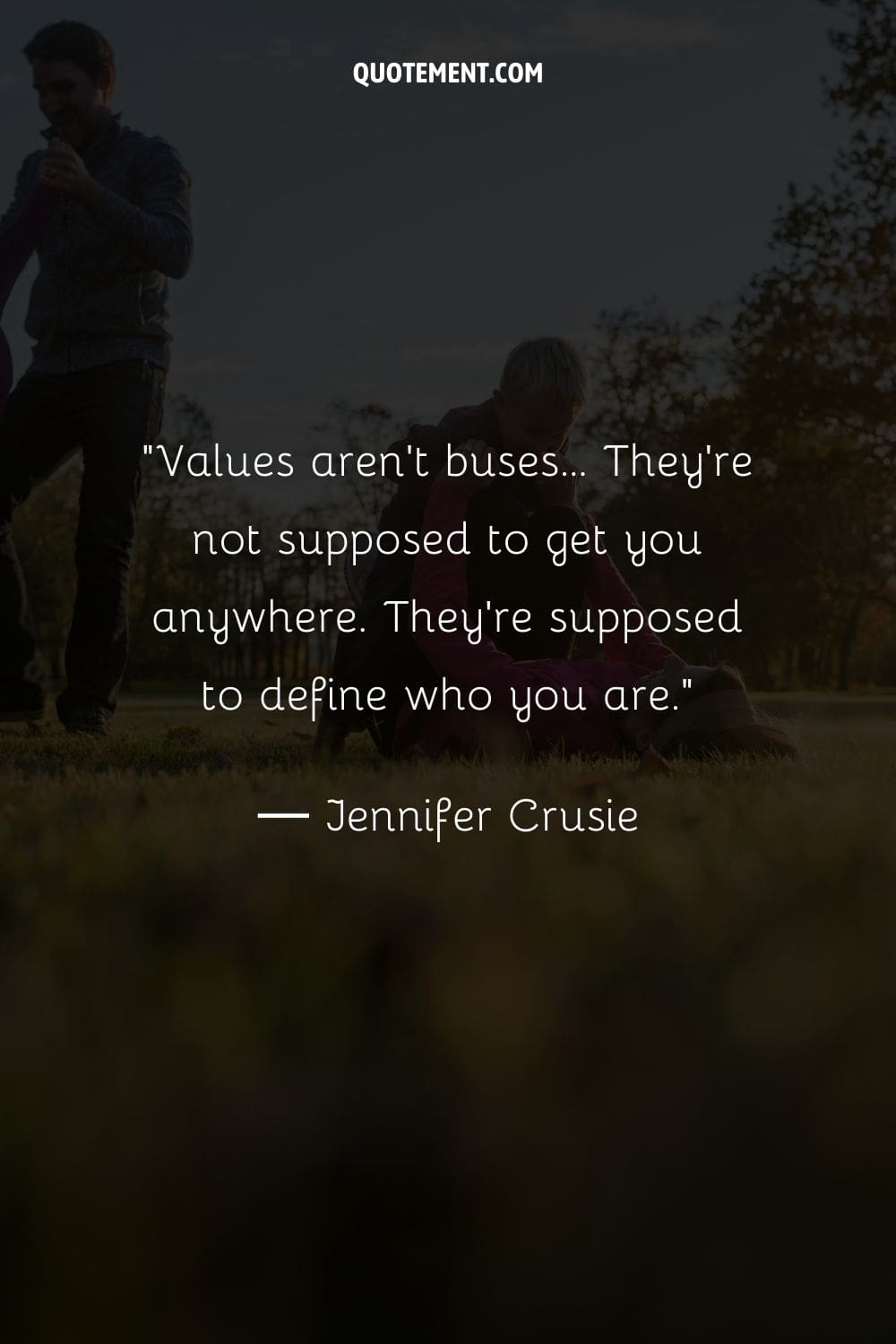 20 Famous And Popular Quotes On Values
1. "Don't waste your love on somebody, who doesn't value it." ― William Shakespeare, Romeo and Juliet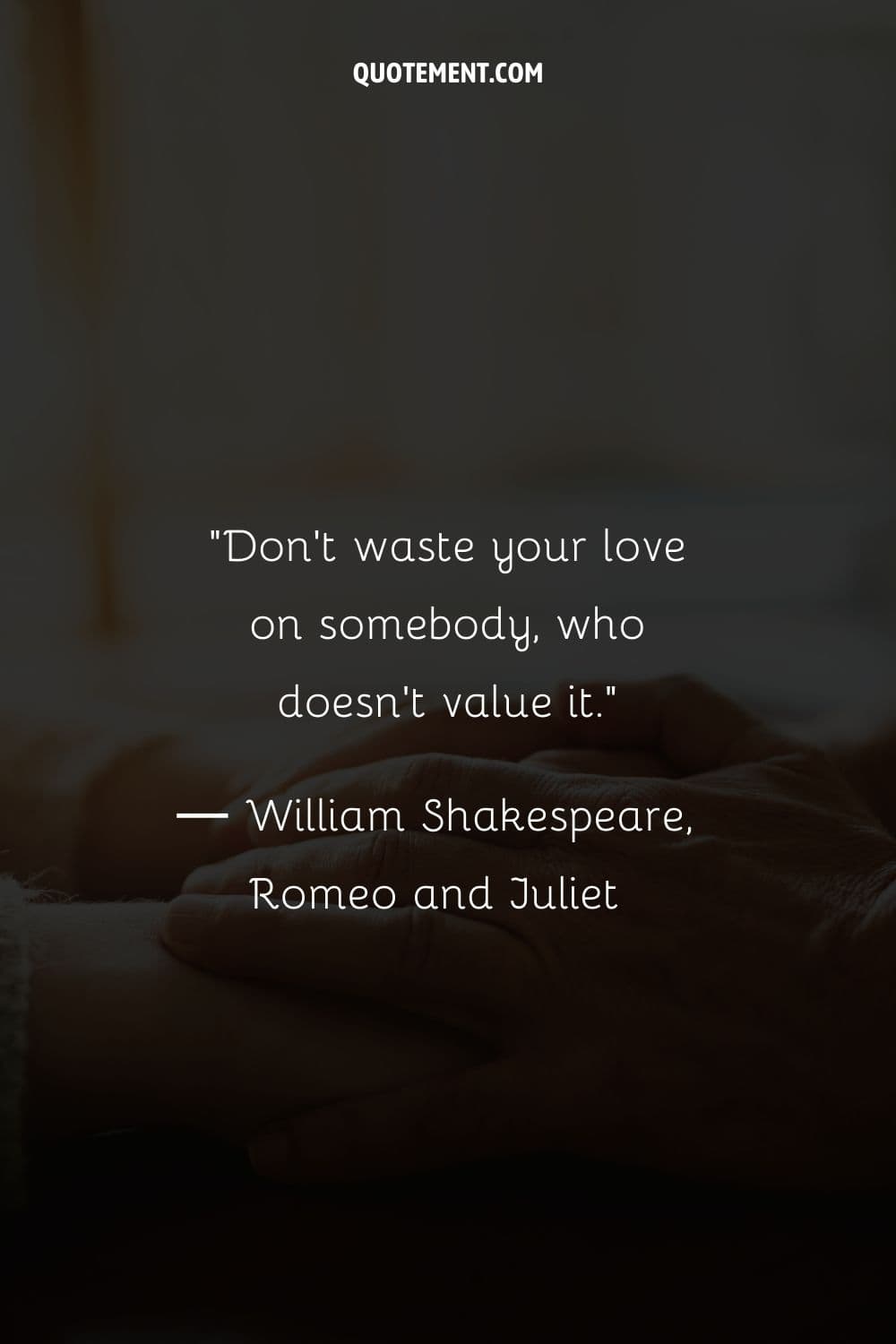 2. "It is no measure of health to be well adjusted to a profoundly sick society." ― J. Krishnamurti
3. Inventory:
"Four be the things I am wiser to know:
Idleness, sorrow, a friend, and a foe.
Four be the things I'd been better without:
Love, curiosity, freckles, and doubt.
Three be the things I shall never attain:
Envy, content, and sufficient champagne.
Three be the things I shall have till I die:
Laughter and hope and a sock in the eye." ― Dorothy Parker, The Complete Poems of Dorothy Parker
4. "Possessions, outward success, publicity, luxury – to me these have always been contemptible. I believe that a simple and unassuming manner of life is best for everyone, best for both the body and the mind." ― Albert Einstein
5. "Don't let your special character and values, the secret that you know and no one else does, the truth – don't let that get swallowed up by the great chewing complacency." ― Aesop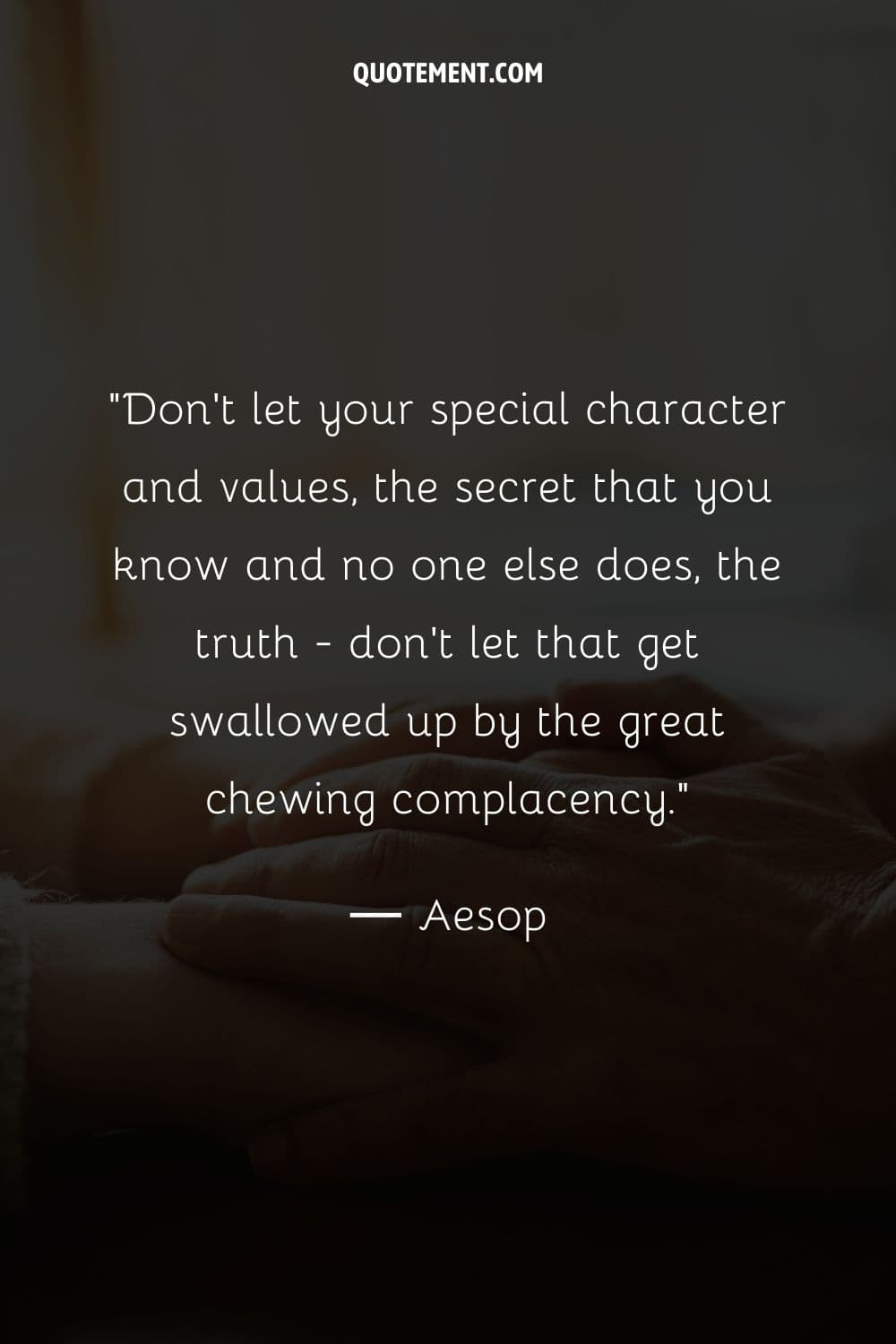 6. "Mathematics expresses values that reflect the cosmos, including orderliness, balance, harmony, logic, and abstract beauty." ― Deepak Chopra
7. "If you will practice being fictional for a while, you will understand that fictional characters are sometimes more real than people with bodies and heartbeats." ― Richard Bach, Illusions: The Adventures of a Reluctant Messiah
8. "Were all the geniuses of history to focus on this single theme, they could never fully express their bafflement at the darkness of the human mind. No person would give up even an inch of their estate, and the slightest dispute with a neighbor can mean hell to pay; yet we easily let others encroach on our lives—worse, we often pave the way for those who will take it over. No person hands out their money to passersby, but to how many do each of us hand out our lives! We're tight-fisted with property and money, yet think too little of wasting time, the one thing about which we should all be the toughest misers." ― Seneca, On the Shortness of Life: Life Is Long if You Know How to Use It
9. "Good name in man and woman, dear my lord,
Is the immediate jewel of their souls:
Who steals my purse steals trash; 'tis something, nothing;
'twas mine, 'tis his, and has been slave to thousands;
But he that filches from me my good name
Robs me of that which not enriches him,
And makes me poor indeed." ― William Shakespeare, Othello
10. "If it ever occurs to people to value the honour of the mind equally with the honour of the body, we shall get a social revolution of a quite unparalleled sort." ― Dorothy L. Sayers, Gaudy Night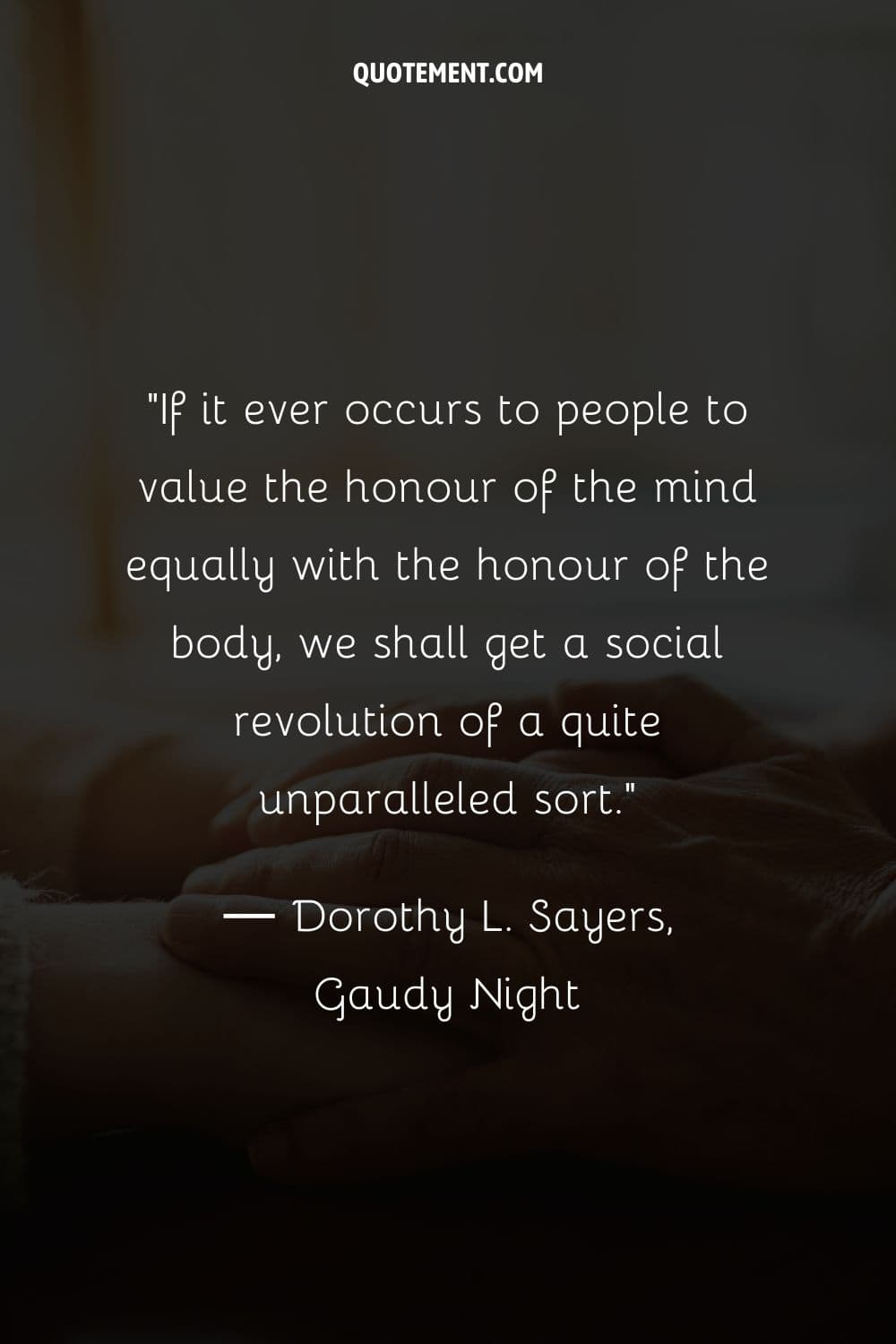 11. "What we obtain too cheap, we esteem too lightly: it is dearness only that gives every thing its value. Heaven knows how to put a proper price upon its goods; and it would be strange indeed if so celestial an article as freedom should not be highly rated." ― Thomas Paine, The American Crisis
12. "I am ashamed to think how easily we capitulate to badges and names, to large societies and dead institutions." ― Ralph Waldo Emerson, Self-Reliance
13. "The first principle of value that we need to rediscover is this: that all reality hinges on moral foundations. In other words, that this is a moral universe, and that there are moral laws of the universe just as abiding as the physical laws. (from "Rediscovering Lost Values")" ― Martin Luther King Jr., A Knock at Midnight: Inspiration from the Great Sermons of Reverend Martin Luther King, Jr.
14. "If we learn to see things as they are and not as we would like them to be, we avoid many frustrations. If we do not confuse our hopes with our perceptions, the glass house of our values will remain lustrous. ("Like peeing against the wind" )" ― Erik Pevernagie
15. "We give our mistakes too much power. Instead, see a mistake for what it is. It is not the real you… You are more valuable than the opinion others have of you." ― Gregory Dickow, Soul Cure: How to Heal Your Pain and Discover Your Purpose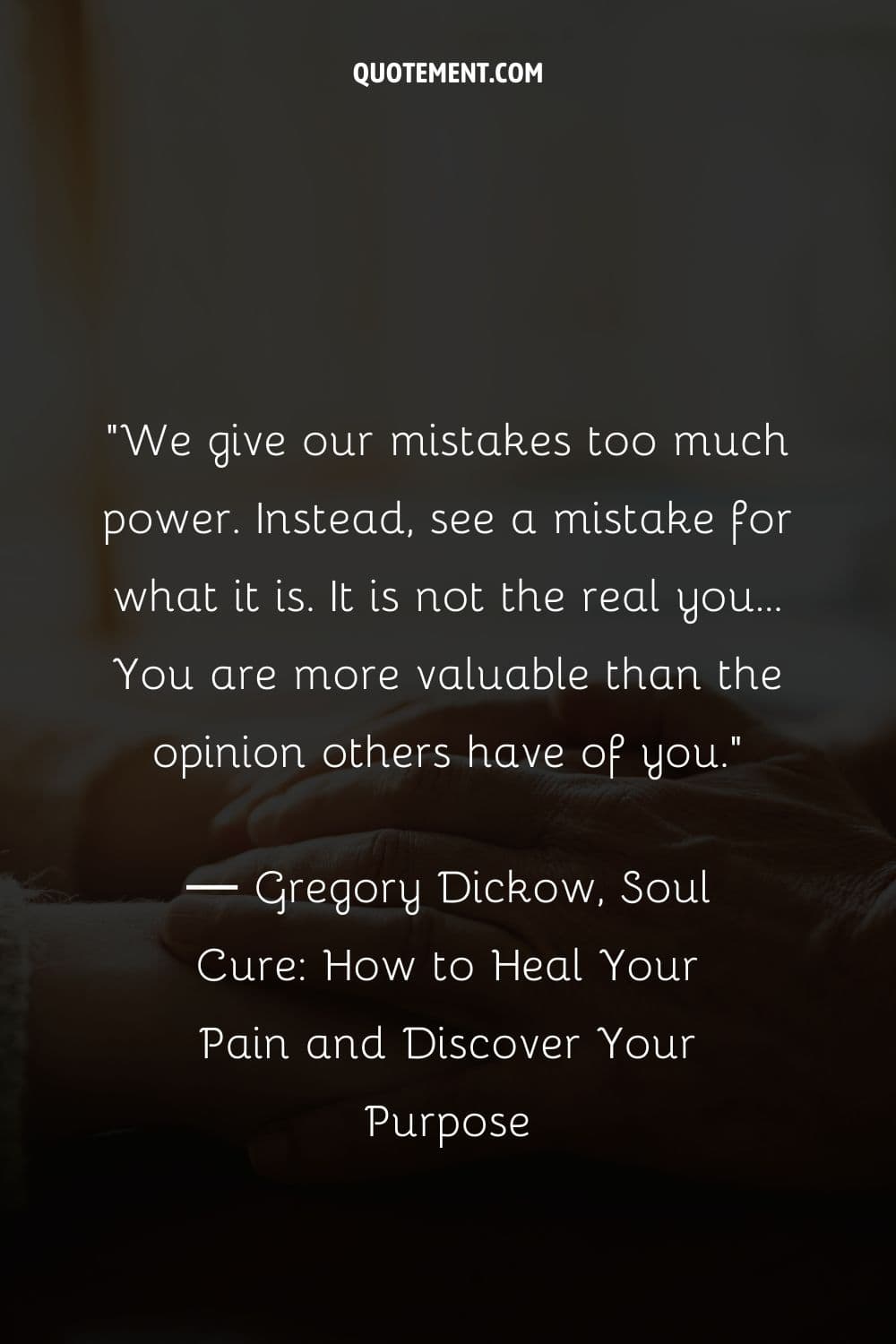 16. "The problem with our society is that our values aren't in the right place. There's an awful lot of bleeding and naked bodies on prime-time networks, but not nearly enough cable television on public programming." ― Bauvard, Some Inspiration for the Overenthusiastic
17. "At some point, you just gotta forgive the past, your happiness hinges on it." ― Aaron Lauritsen, 100 Days Drive: The Great North American Road Trip
18. "Never have things of the spirit counted for so little. Never has hatred for everything great been so manifest – disdain for Beauty, execration of literature. I have always tried to live in an ivory tower, but a tide of shit is beating at its walls, threatening to undermine it." ― Gustave Flaubert
19. "I don't know what sort of world she will live in and I have no fixed opinions concerning how she should live in it. I only know that if she does not come to value what is true above what is useful, it will make little difference whether she lives at all." ― Cormac McCarthy, All the Pretty Horses
20. "Values are like fingerprints. Nobodies are the same, but you leave them all over everything you do." ― Elvis Presley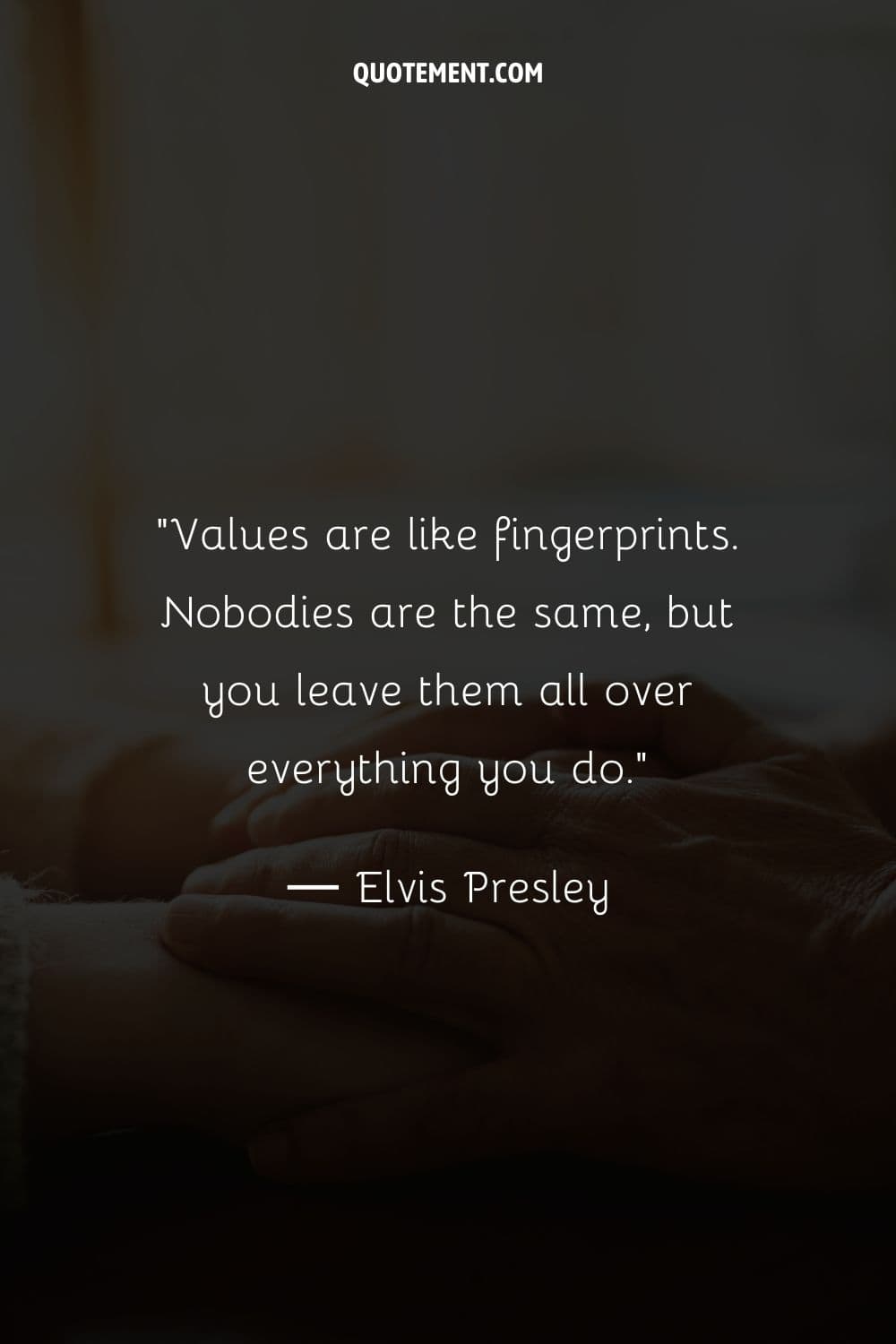 See also: Andrew Tate Quotes That Will Spark Your Inner Winner
20 Quotes On Self-Value
1. "Hide yourself in God, so when a man wants to find you he will have to go there first." ― Shannon L. Alder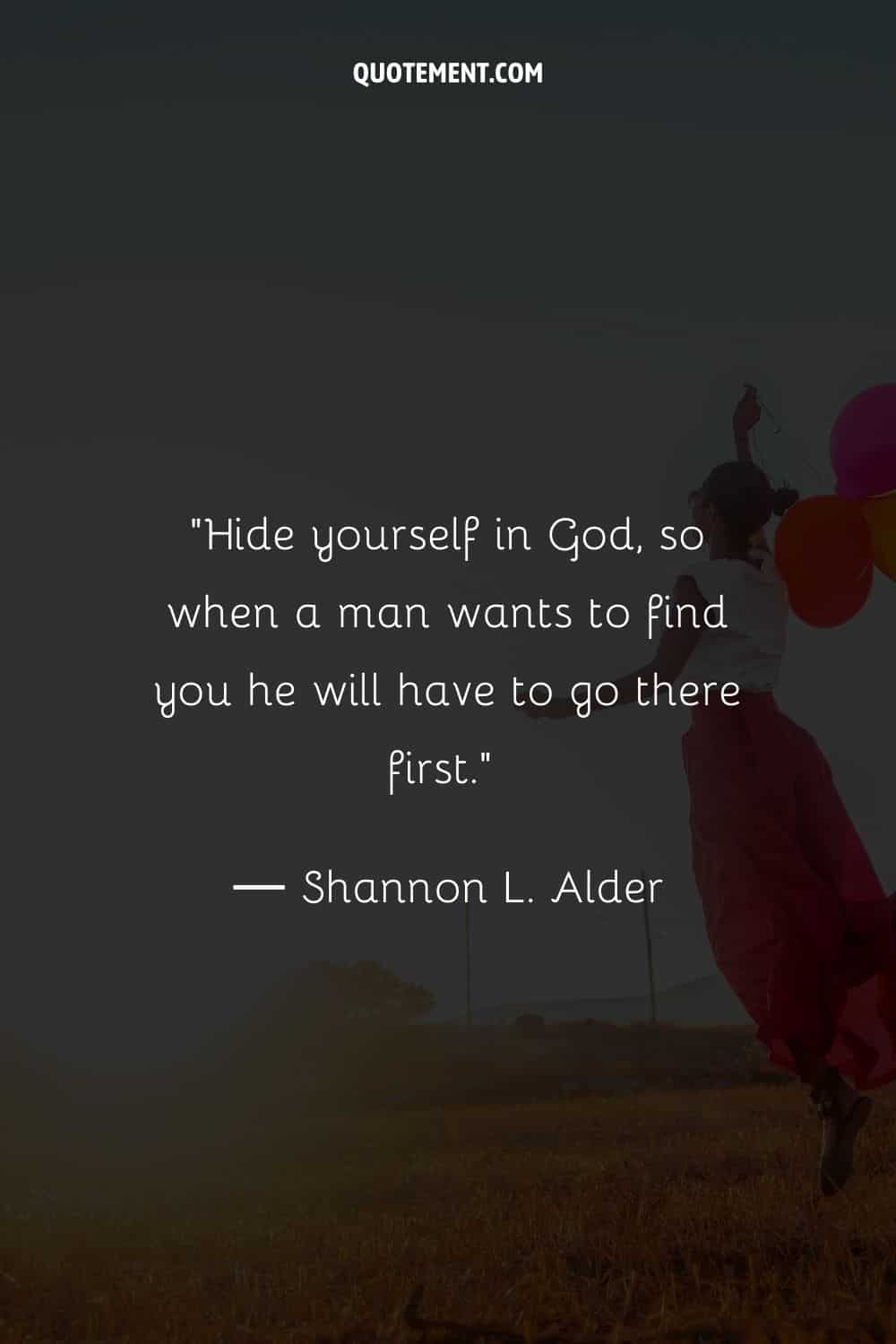 2. "They will envy you for your success, your wealth, for your intelligence, for your looks, for your status – but rarely for your wisdom." ― Nassim Nicholas Taleb, The Bed of Procrustes: Philosophical and Practical Aphorisms
3. "Life can be a wonderful ballet, letting us express all the values we are living for if the sky of our imagination remains open to passion. ("A glimpse of the future")" ― Erik Pevernagie
4. "If you're honest, you sooner or later have to confront your values. Then you're forced to separate what is right from what is merely legal. This puts you metaphysically on the run. America is full of metaphysical outlaws." ― Tom Robbins, Still Life with Woodpecker
5. "Never compromise your values." ― Steve Maraboli, Life, the Truth, and Being Free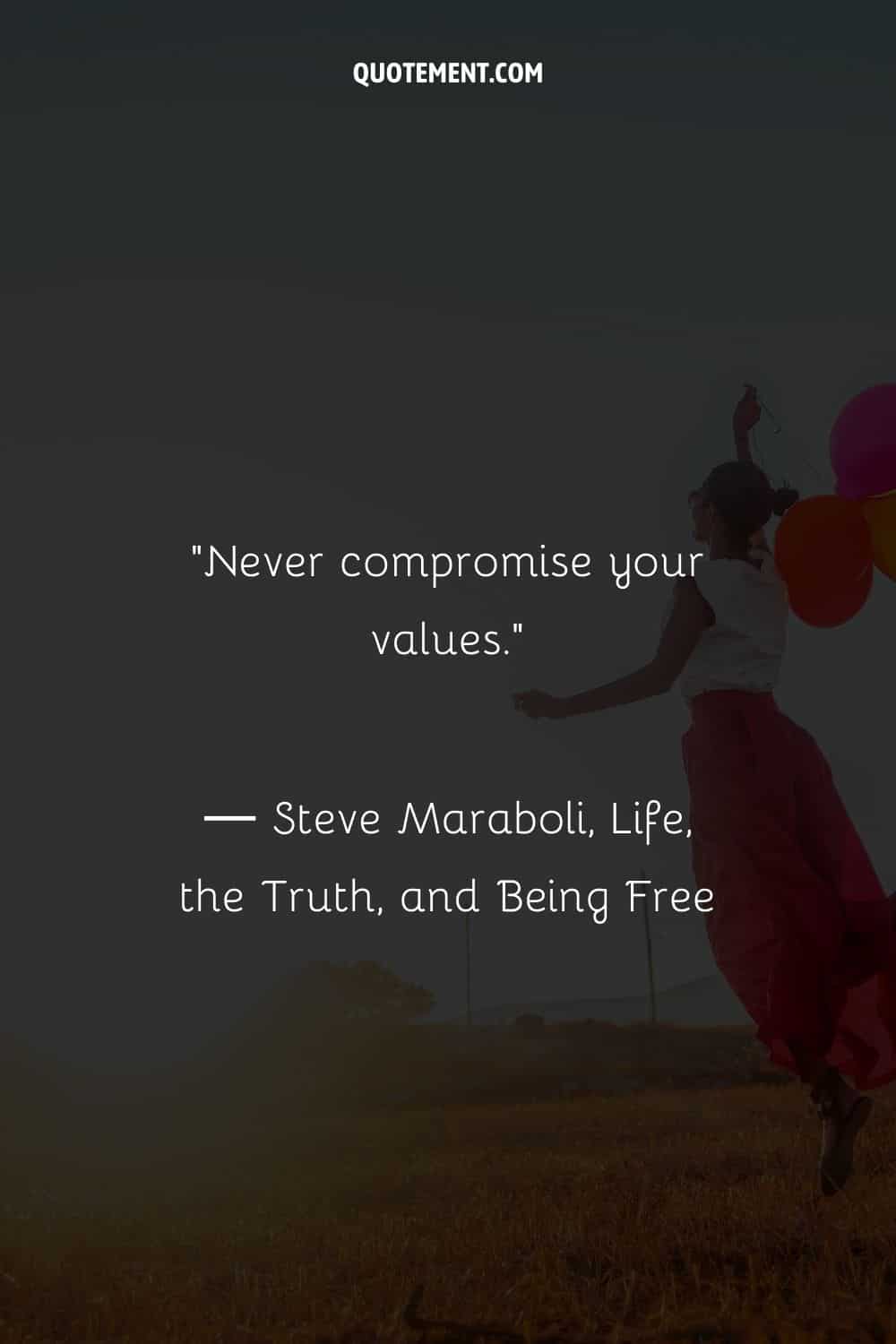 6. "Only men would think of cutting themselves to determine who the packleader is. Idiots." ― Christopher Paolini, Brisingr
7. "When we see a rock wall blocking our way, God sees a barrier to guard us someday." ― Carolyn Cutler Hughes, Through God's Eye
8. "I cannot give up on my values and beliefs for the sake of respecting someone else's values and morals. Because those values explain who am I. I prefer struggling and even dying for what I believe and what I don't believe.
Silence is not respect; it is not condemning brutality and cruelty, and neglecting your own existence as human being. I will be killed and so many others because of standing against the fallacy and misleading notion of religions. They will torture us and cut us in pieces alive and even won't stop disrespecting our death bodies; that is how these monsters have been governing for hundreds thousands of years." ― M.F. Moonzajer
9. "You can be the most beautiful person in the world and everybody sees light and rainbows when they look at you, but if you yourself don't know it, all of that doesn't even matter. Every second that you spend on doubting your worth, every moment that you use to criticize yourself; is a second of your life wasted, is a moment of your life thrown away. It's not like you have forever, so don't waste any of your seconds, don't throw even one of your moments away." ― C. JoyBell C.
10. "Life's trials will test you, and shape you, but don't let them change who you are." ― Aaron Lauritsen, 100 Days Drive: The Great North American Road Trip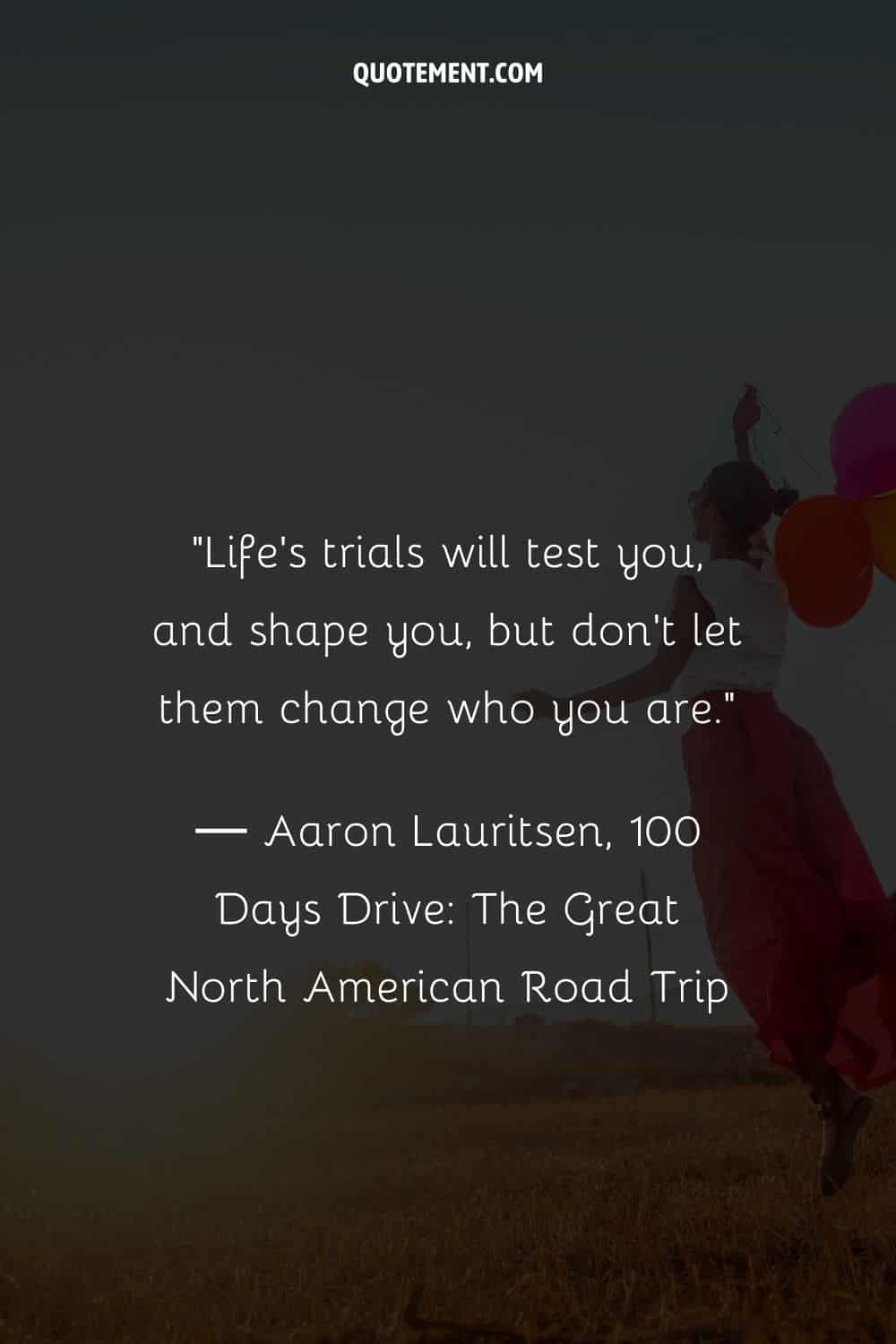 11. "I just want to do something that matters. Or be something that matters. I just want to matter." ― John Green, An Abundance of Katherines
12. "I think a power to do something is of value. Whether the result is a good thing or a bad thing depends on how it is used, but the power is a value." ― Richard P. Feynman, The Meaning of It All: Thoughts of a Citizen-Scientist
13. "You're not in the business because you want to create value for yourselves." ― Pooja Agnihotri, 17 Reasons Why Businesses Fail :Unscrew Yourself From Business Failure
14. "Dear young woman, do not place your sense of beauty and self worth, upon the plastic pedestal called "what other people say to you", "what other people think about your photo", "how many 'likes' your pictures get", "how many guys tell you that you look sexy", "how skinny can you be?". A plastic pedestal that is but the dismal shadow of the real one. Dear young woman, place your sense of self worth and beauty upon the Roman marble pedestal that will exist even when all other people are no longer there. If you were the very last person on this planet, you should still be able to know within your heart that you are worthy, you are beautiful, you are wanted. Even if you become the very last person on Earth, you should be fully wanted. Want yourself. Know yourself. See yourself as beautiful, see yourself as worthy." ― C. JoyBell C.
15. "I welcomed who I was and left behind who I was not." ― David Elliott, Voices
16. "In all that we lose, we rediscover a hidden part of ourselves. Loss is a road toward self discovery because it is only when we are stripped back to nothing, that we realise how truly valuable we are." ― Christine Evangelou, Stardust and Star Jumps: A Motivational Guide to Help You Reach Toward Your Dreams, Goals, and Life Purpose
17. "We should not elevate anyone higher than our own heart.
If you do not value what you have to give then no one else will ever come close to what you truly deserve." ― Christine Evangelou, Beating Hearts and Butterflies: Poetry of Wounds, Wishes and Wisdom
18. "Having your feelings hurt are only the tip of the iceberg. You need to dive to deeper depths to find the reasons why?" ― Dee Waldeck
19. "Seeking to value ourselves, we look to others for assurance. If what we are doing, threatens them, they cannot give it. If what we envision is larger than what they can see, they cannot give support for what it is we are doing." ― Julia Cameron, The Right to Write: An Invitation and Initiation Into the Writing Life
20. "We cannot be of any good to other people unless we are first good to ourselves." ― Dee Waldeck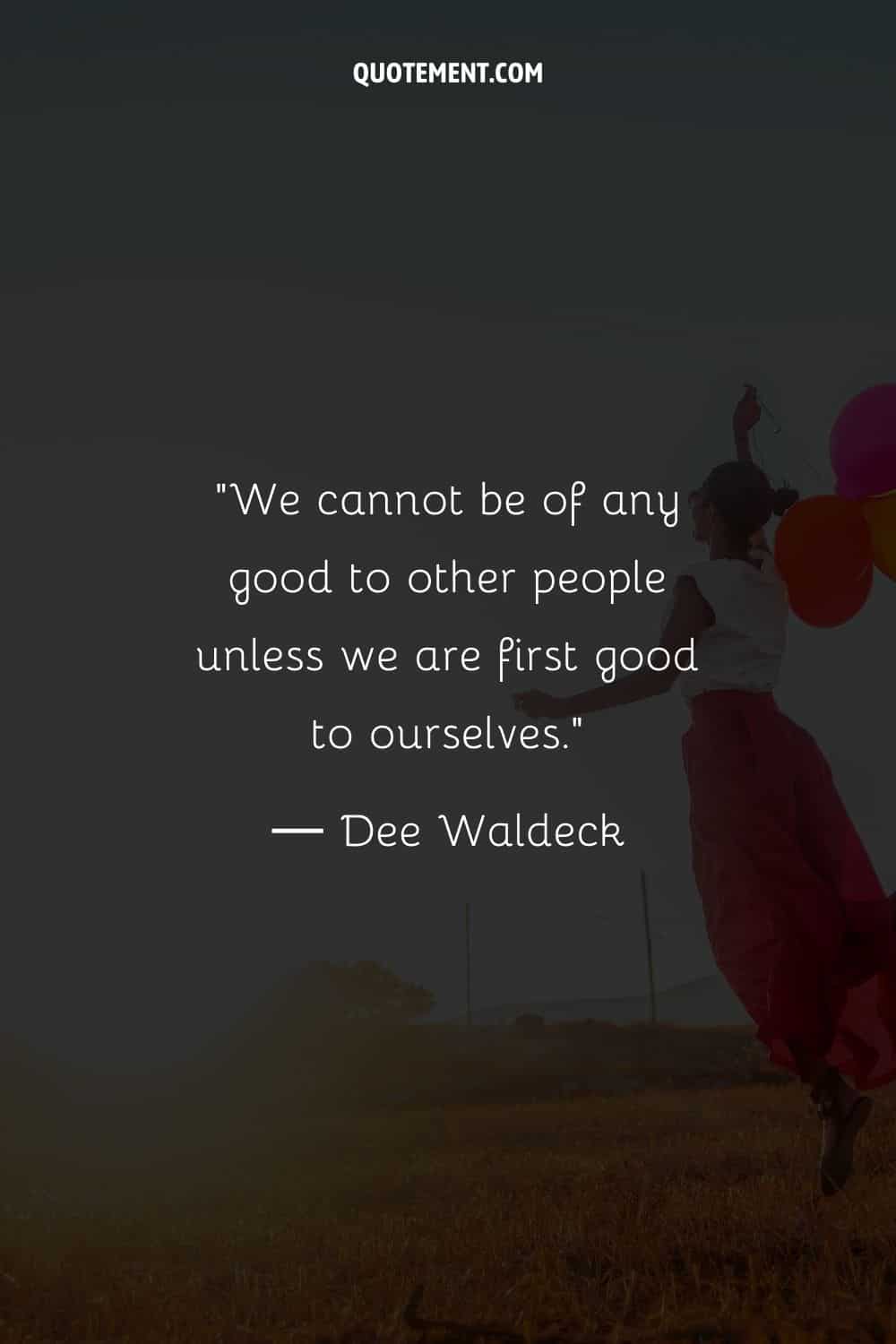 See also: 150 Powerful Lighthouse Quotes To Broaden Your Horizons
30 Deep Quotes On Values
1. "There is strange comfort in knowing that no matter what happens today, the Sun will rise again tomorrow." ― Aaron Lauritsen, 100 Days Drive: The Great North American Road Trip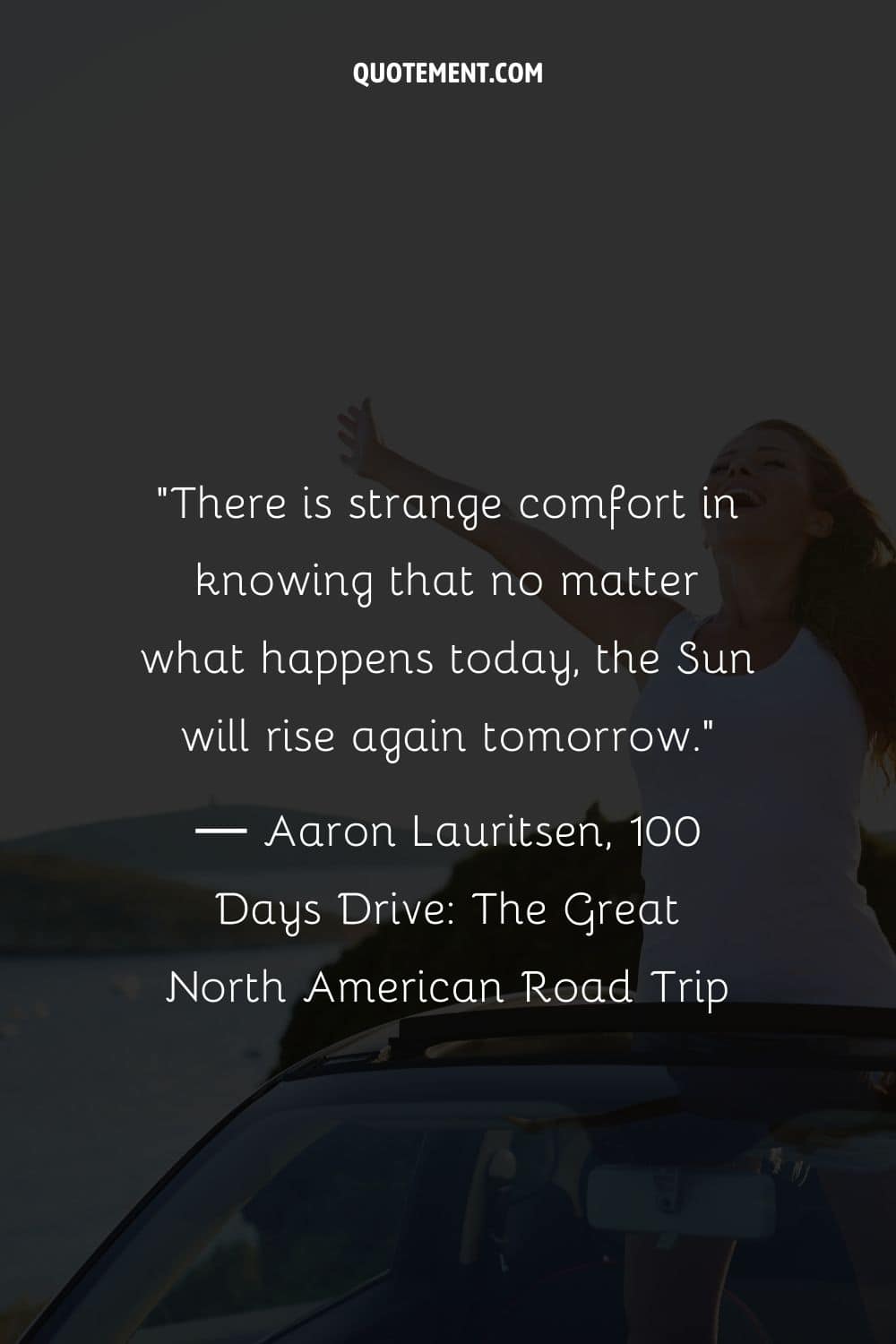 2. "Here is your country. Cherish these natural wonders, cherish the natural resources, cherish the history and romance as a sacred heritage, for your children and your children's children. Do not let selfish men or greedy interests skin your country of its beauty, its riches or its romance." ― Theodore Roosevelt
3. "We are not afraid to entrust the American people with unpleasant facts, foreign ideas, alien philosophies, and competitive values. For a nation that is afraid to let its people judge the truth and falsehood in an open market is a nation that is afraid of its people." ― John F. Kennedy [Remarks on the 20th Anniversary of the Voice of America; Department of Health, Education, and Welfare, February 26, 1962]"
4. "When we cannot share our values any longer and our incipient intentions have become blurry, common understanding may turn into irredeemable misunderstanding. If the spirit of common perspectives and commitments has irreversibly been broken, we might patently drift down into suspicion, remorse or regret. As such, shared initiatives ought to be reasoned and well thought-out to avoid 'understanding' becoming 'misunderstanding' and 'hope' breaking down into 'heartbreak'. ("The unbreakable code " )" ― Erik Pevernagie
5. "The struggles we endure today will be the 'good old days' we laugh about tomorrow." ― Aaron Lauritsen, 100 Days Drive: The Great North American Road Trip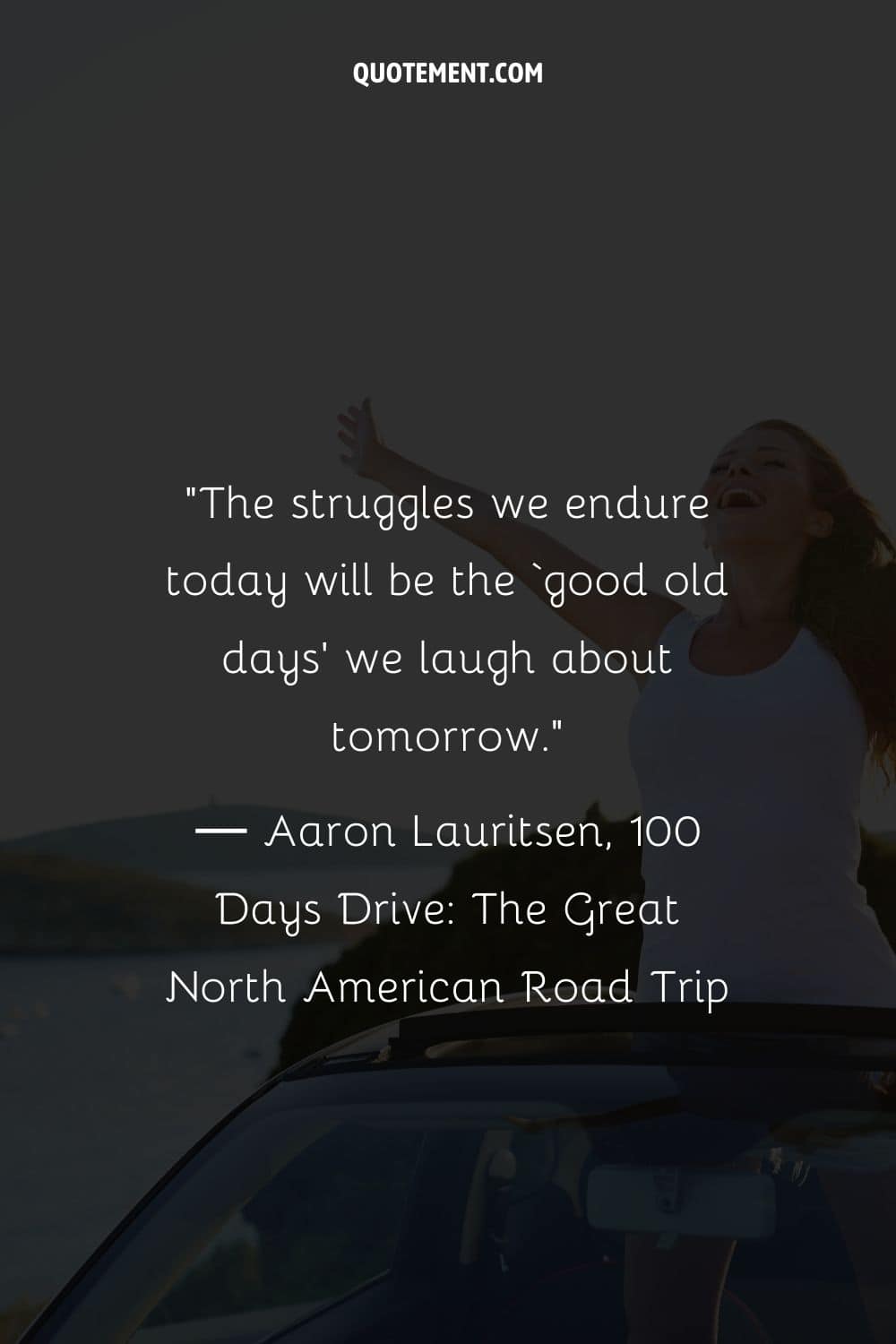 6. "It is easier to tell a person what life is not, rather than to tell them what it is. A child understands weeds that grow from lack of attention, in a garden. However, it is hard to explain the wild flowers that one gardener calls weeds, and another considers beautiful ground cover." ― Shannon L. Alder
7. "It's in those quiet little towns, at the edge of the world, that you will find the salt of the earth people who make you feel right at home." ― Aaron Lauritsen, 100 Days Drive: The Great North American Road Trip
8. "Modernity: we created youth without heroism, age without wisdom, and life without grandeur" ― Nassim Nicholas Taleb, The Bed of Procrustes: Philosophical and Practical Aphorisms
9. "A universal vision and a joint interest are steppingstones for full-blown empathy, and explicitly through empathy, we seize the pulsating assets of 'sharing,' sharing precious values with the others. ("Resilience")" ― Erik Pevernagie
10. "It is not until you change your identity to match your life blueprint that you will understand why everything in the past never worked." ― Shannon L. Alder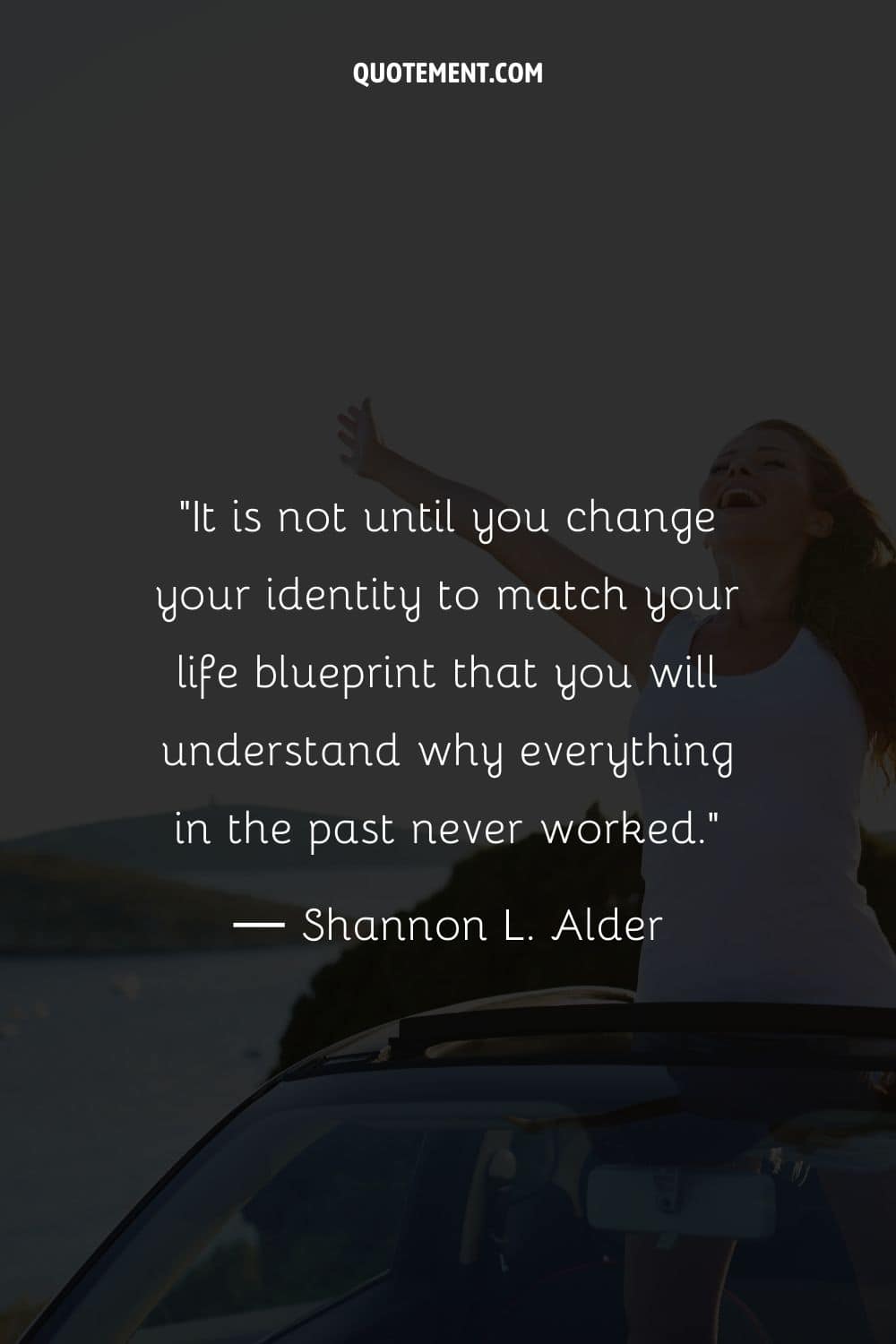 11. "Men have looked away from themselves and at things so long that they have come to esteem the religious, learned and civil institutions as guards of property, and they deprecate assaults on these, because they feel them to be assaults on property. They measure their esteem of each other by what each has, and not by what each is." ― Ralph Waldo Emerson, Self-Reliance
12. "We live among ruins in a World in which 'god is dead' as Nietzsche stated. The ideals of today are comfort, expediency, surface knowledge, disregard for one's ancestral heritage and traditions, catering to the lowest standards of taste and intelligence, apotheosis of the pathetic, hoarding of material objects and possessions, disrespect for all that is inherently higher and better — in other words
a complete inversion of true values and ideals, the raising of the victory flag of ignorance and the banner of degeneracy. In such a time, social decadence is so widespread that it appears as a natural component of all political institutions. The crises that dominate the daily lives of our societies are part of a secret occult war to remove the support of spiritual and traditional values in order to turn man into a passive instrument of dark powers. The common ground of both Capitalism and Socialism is a materialistic view of life and being. Materialism in its war with the Spirit has taken on many forms; some have promoted its goals with great subtlety, whilst others have done so with an alarming lack of subtlety, but all have added, in greater or lesser measure, to the growing misery of Mankind. The forms which have done the most damage in our time may be enumerated as: Freemasonry, Liberalism, Nihilism, Capitalism, Socialism, Marxism, Imperialism, Anarchism, Modernism and the New Age." ― Seyyed Hossein Nasr
13. "I think honesty is the most heroic quality one can aspire to." ― Daniel Radcliffe
14. "True friends don't come with conditions." ― Aaron Lauritsen, 100 Days Drive: The Great North American Road Trip
15. "How you look at it is pretty much how you'll see it" ― Rasheed Ogunlaru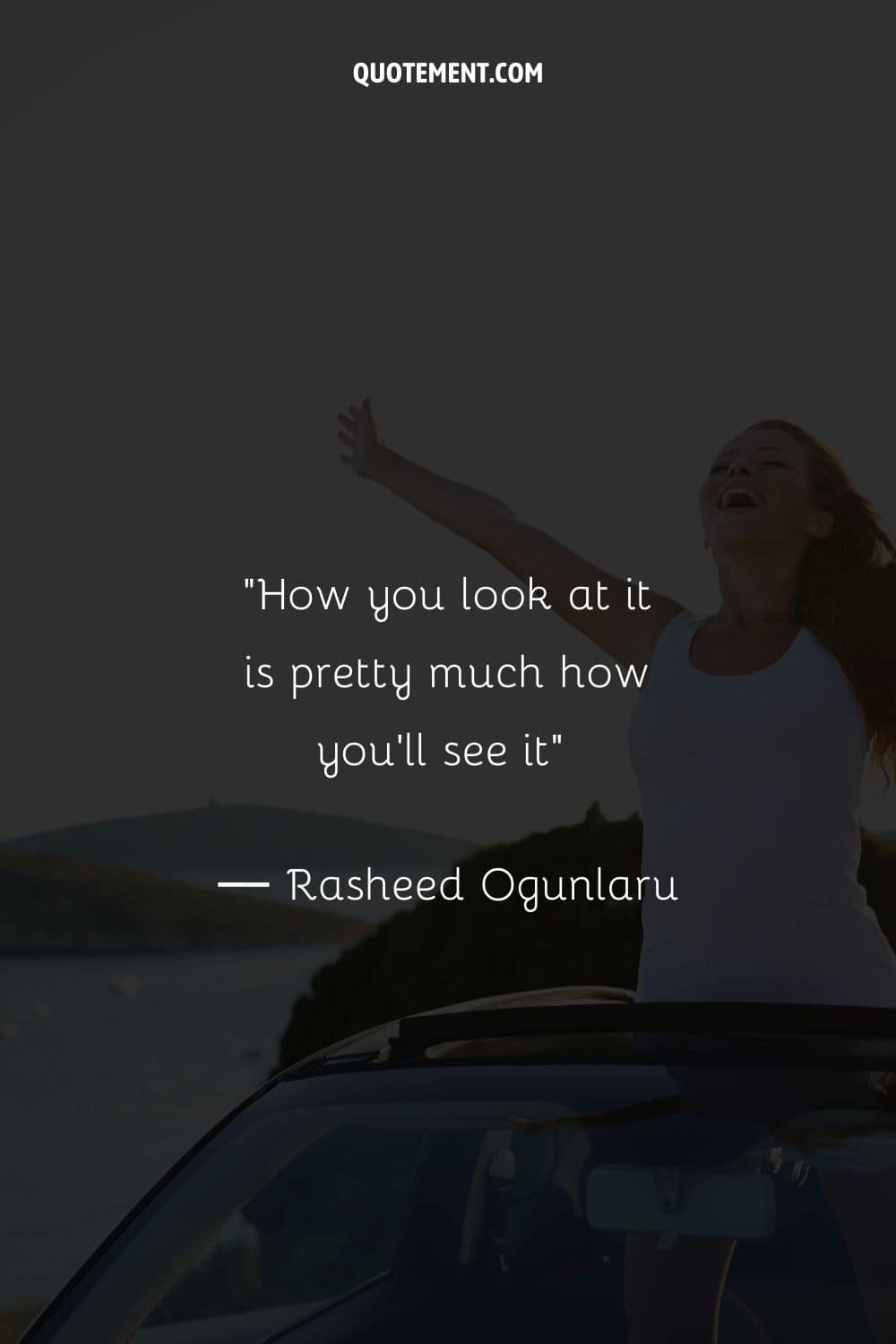 16. "Before you tell your life what you intend to do with it, listen for what it intends to do with you. Before you tell your life what truths and values you have decided to live up to, let your life tell you what truths you embody, what values you represent." ― Parker J. Palmer, Let Your Life Speak: Listening for the Voice of Vocation
17. "Those who achieve the extraordinary are usually the most ordinary because they have nothing to prove to anybody. Be Humble." ― Aaron Lauritsen, 100 Days Drive: The Great North American Road Trip
18. "Getting money is not all a man's business: to cultivate kindness is a valuable part of the business of life." ― Samuel Johnson, The Life of Samuel Johnson LL.D. Vol 3
19. "You have a hierarchy of values; pleasure is at the bottom of the ladder, and you speak with a little thrill of self-satisfaction, of duty, charity, and truthfulness. You think pleasure is only of the senses; the wretched slaves who manufactured your morality despised a satisfaction which they had small means of enjoying. You would not be so frightened if I had spoken of happiness instead of pleasure: it sounds less shocking, and your mind wonders from the sty of Epicurus to his garden. But I will speak of pleasure, for I see that men aim at that, and I do not know that they aim at happiness. It is pleasure that lurks in the practice of every one of your virtues. Man performs actions because they are good for him, and when they are good for other people as well they are thought virtuous: if he finds pleasure in giving alms he is charitable; if he finds pleasure in helping others he is benevolent; if he finds pleasure in working for society he is public-spirited; but it is for your private pleasure that you give twopence to a beggar as much as it is for my private pleasure that I drink another whiskey and soda. I, less of a humbug than you, neither applaud myself for my pleasure nor demand your admiration." ― W. Somerset Maugham, Of Human Bondage
20. "Diversity of character is due to the unequal time given to values. Only through each other will we see the importance of the qualities we lack and our unfinished soul's potential." ― Shannon L. Alder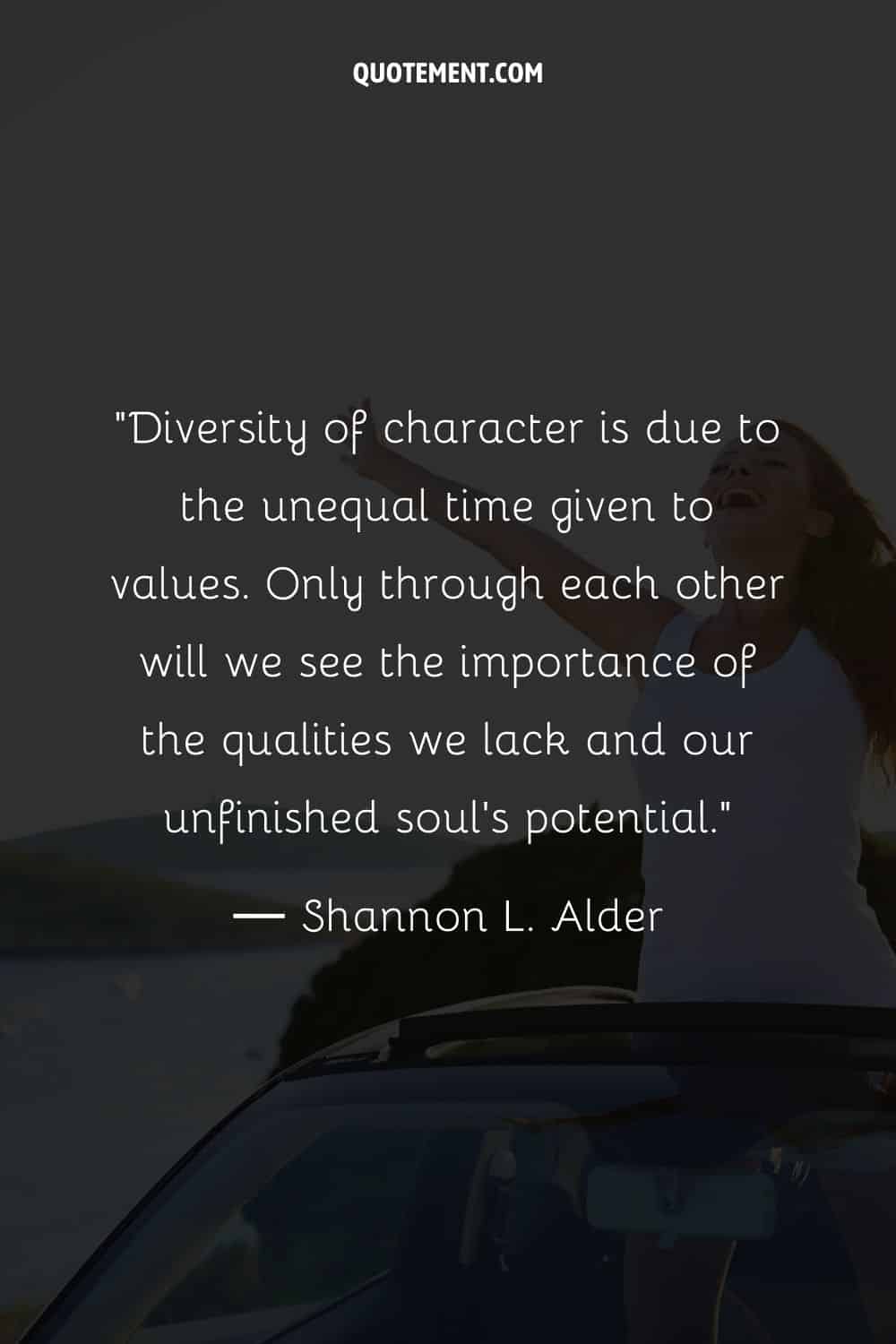 21. "We hang on to our values, even if they seem at times tarnished and worn; even if, as a nation and in our own lives, we have betrayed them more often that we care to remember. What else is there to guide us? Those values are our inheritance, what makes us who we are as a people. And although we recognize that they are subject to challenge, can be poked and prodded and debunked and turned inside out bu intellectuals and cultural critics, they have proven to be both surprisingly durable and surprisingly constant across classes, and races, and faiths, and generations. We can make claims on their behalf, so long as we understand that our values must be tested against fact and experience, so long as we recall that they demand deeds and not just words." ― Barack Obama, The Audacity of Hope: Thoughts on Reclaiming the American Dream
22. "History is hereditary only in this way: we, all of us, inherit everything, and then we choose what to cherish, what to disavow, and what do do next, which is why it's worth trying to know where things come from." ― Jill Lepore
23. "A best friend is the one person that doesn't leave you worse off by their actions or yours." ― Shannon L. Alder
24. "But why must the system go to such lengths to block our empathy? Why all the psychological acrobatics? The answer is simple: because we care about animals, and we don't want them to suffer. And because we eat them. Our values and behaviors are incongruent, and this incongruence causes us a certain degree of moral discomfort. In order to alleviate this discomfort, we have three choices: we can change our values to match our behaviors, we can change our behaviors to match our values, or we can change our perception of our behaviors so that they appear to match our values. It is around this third option that our schema of meat is shaped. As long as we neither value unnecessary animal suffering nor stop eating animals, our schema will distort our perceptions of animals and the meat we eat, so that we feel comfortable enough to consume them. And the system that constructs our schema of meat equips us with the means by which to do this." ― Melanie Joy, Why We Love Dogs, Eat Pigs, and Wear Cows: An Introduction to Carnism
25. "Living in a way that reflects one's values is not just about what you do, it is also about how you do things." ― Deborah Day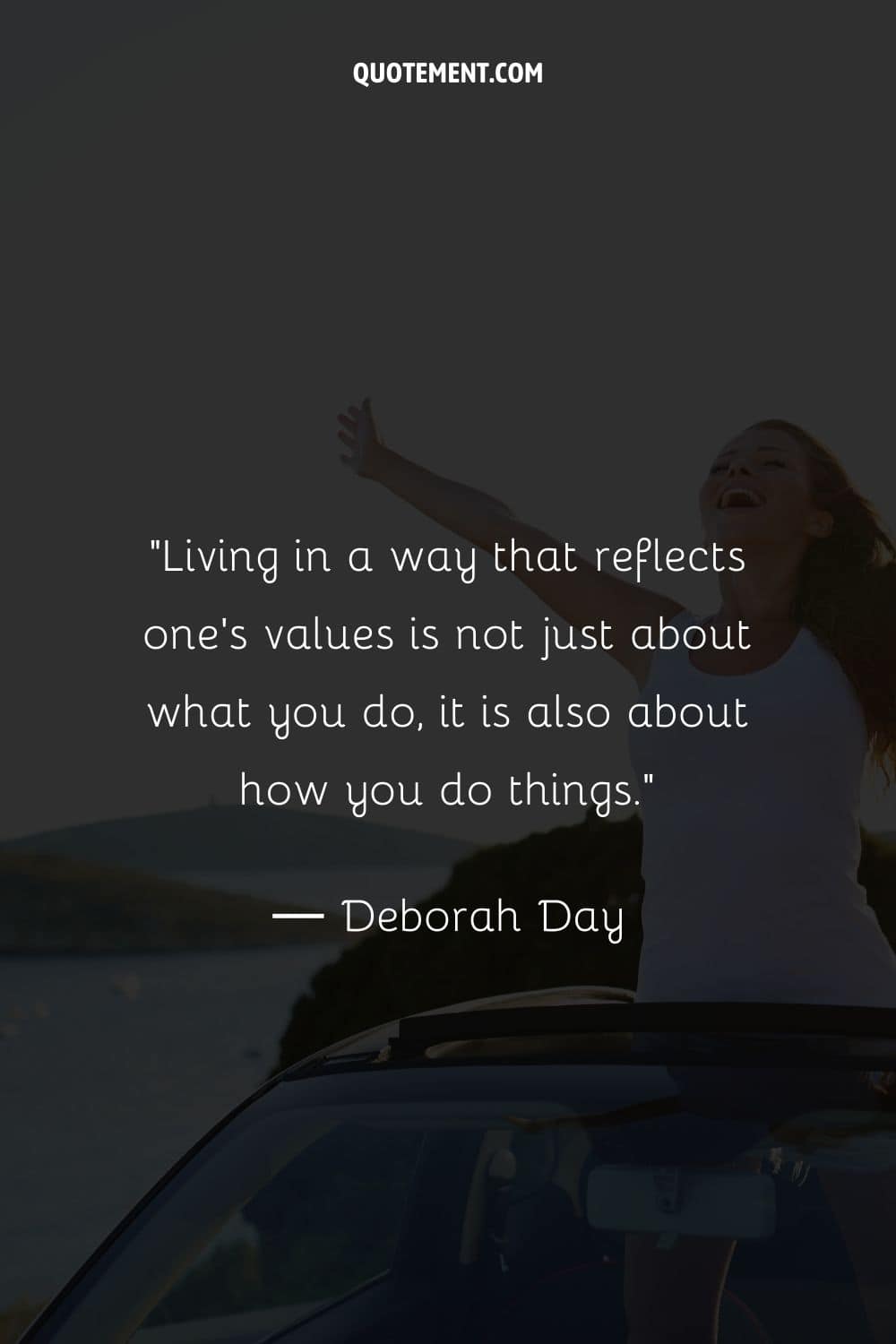 26. "Your choice is to be active or passive in your responses." ― Deborah Day
27. "There's more to a person than flesh. Judge others by the sum of their soul and you'll see that beauty is a force of light that radiates from the inside out." ― Aaron Lauritsen
28. "Successfully functioning in a society with diverse values, traditions and lifestyles requires us to have a relationship to our own reactions rather than be captive of them. To resist our tendencies to make right or true, that which is nearly familiar, and wrong or false, that which is only strange." ― Robert Kegan
29. "It's the 'everyday' experiences we encounter along the journey to who we wanna be that will define who we are when we get there." ― Aaron Lauritsen, 100 Days Drive: The Great North American Road Trip
30. "We set no special value on the possession of a virtue until we percieve that it is entirely lacking in our adversary." ― Friedrich Nietzsche, Human, All Too Human: A Book for Free Spirits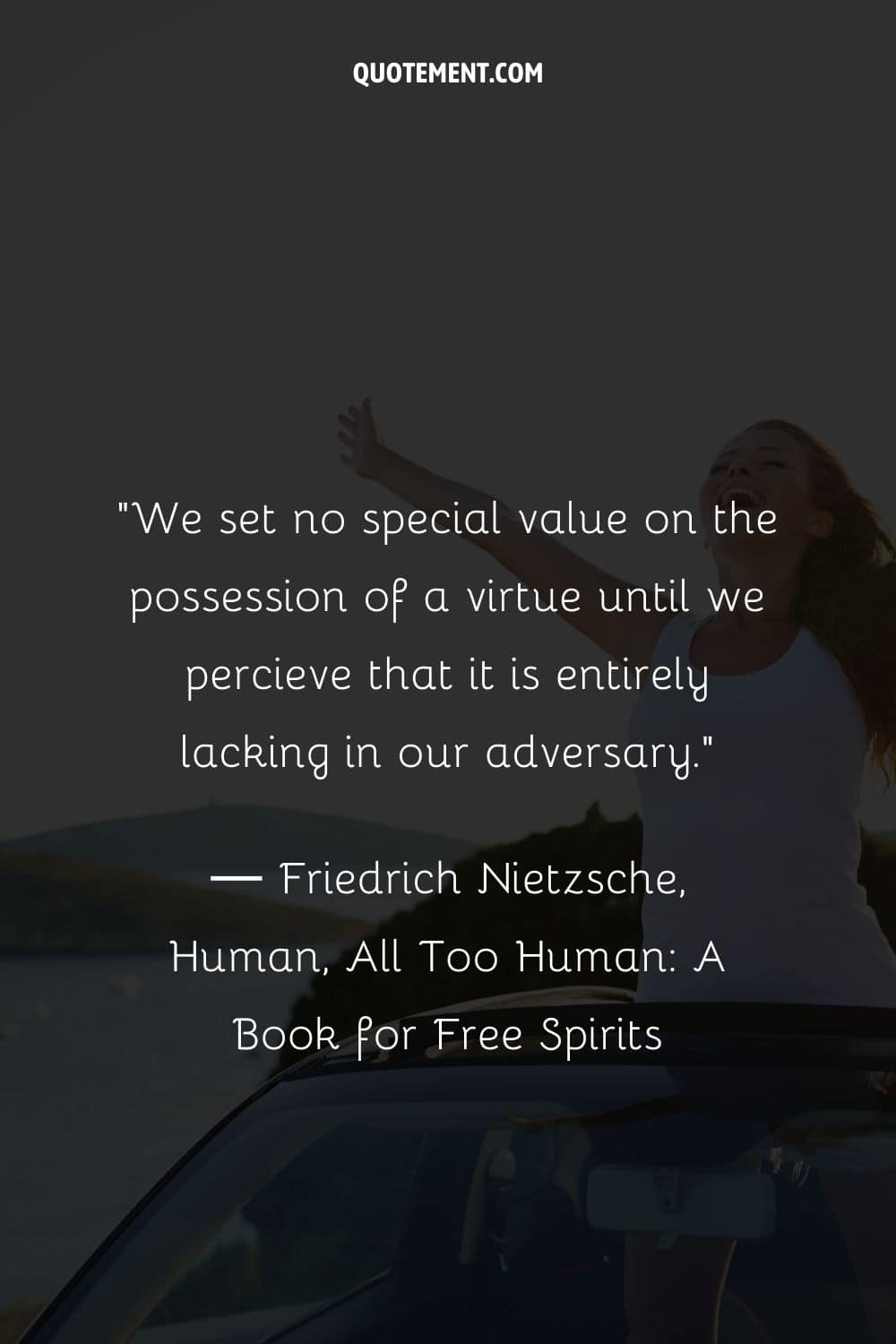 See also: 140 Regret Quotes That Will Help You Grow As A Person
40 Quotes On Morals And Principles
1. "God's love sweeps away everything before it. It sweeps away your past, your pain, your fears, your regrets." ― Gregory Dickow, Soul Cure: How to Heal Your Pain and Discover Your Purpose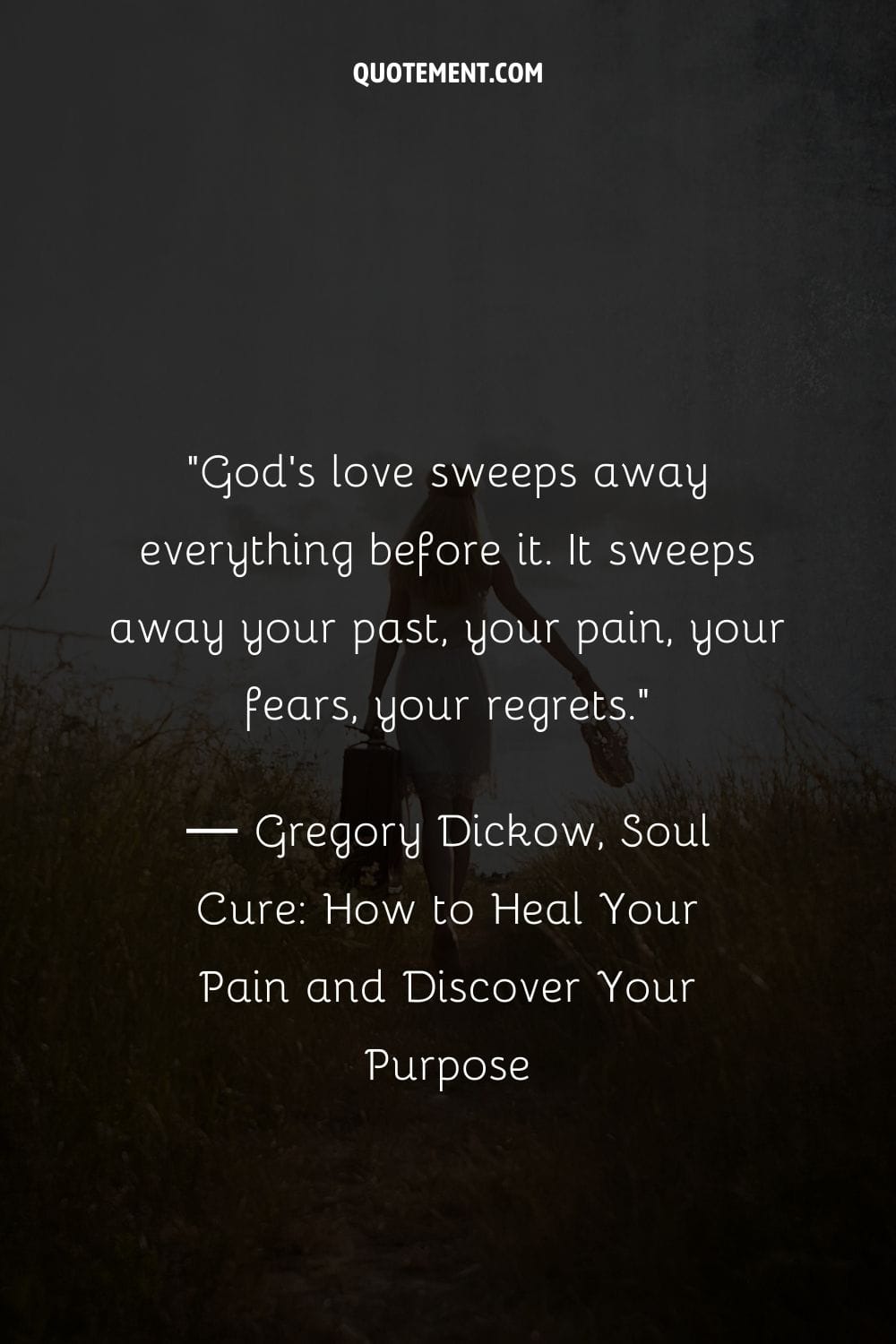 2. "Ideology knows the answer before the question has been asked.
Principles are something different: a set of values that have to be adapted to circumstances but not compromised away." ― George Packer
3. "Thomas More: Will, I'd trust you with my life. But not your principles. You see, we speak of being anchored to our principles. But if the weather turns nasty you up with an anchor and let it down where there's less wind, and the fishing's better. And "Look," we say, "look, I'm anchored! To my principles!" ― Robert Bolt, A Man for All Seasons: A Play in Two Acts
4. "Always do what is right. It will gratify half of mankind and astound the other." ― Mark Twain
5. "Top 15 Things Money Can't Buy:
Time. Happiness. Inner Peace. Integrity. Love. Character. Manners. Health. Respect. Morals. Trust. Patience. Class. Common sense. Dignity." ― Roy T. Bennett, The Light in the Heart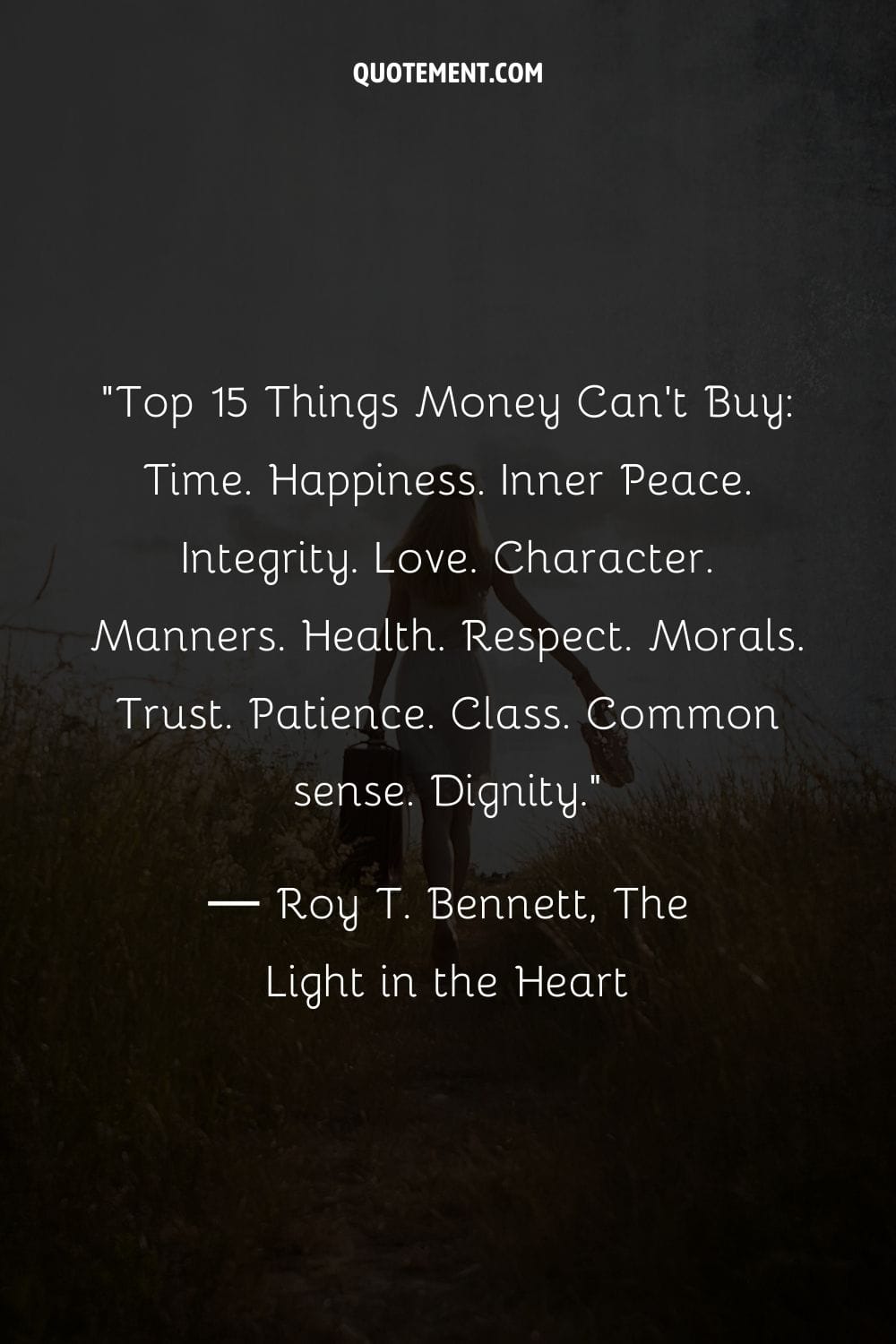 6. "The greatness of a nation and its moral progress can be judged by the way its animals are treated." ― Mahatma Gandhi
7. "So far, about morals, I know only that what is moral is what you feel good after and what is immoral is what you feel bad after." ― Ernest Hemingway, Death in the Afternoon
8. "Respect for ourselves guides our morals; respect for others guides our manners" ― Laurence Sterne
9. "Do you really mean to tell me the only reason you try to be good is to gain God's approval and reward, or to avoid his disapproval and punishment? That's not morality, that's just sucking up, apple-polishing, looking over your shoulder at the great surveillance camera in the sky, or the still small wiretap inside your head, monitoring your every move, even your every base though." ― Richard Dawkins, The God Delusion
10. "Compassion is the basis of morality." ― Arthur Schopenhauer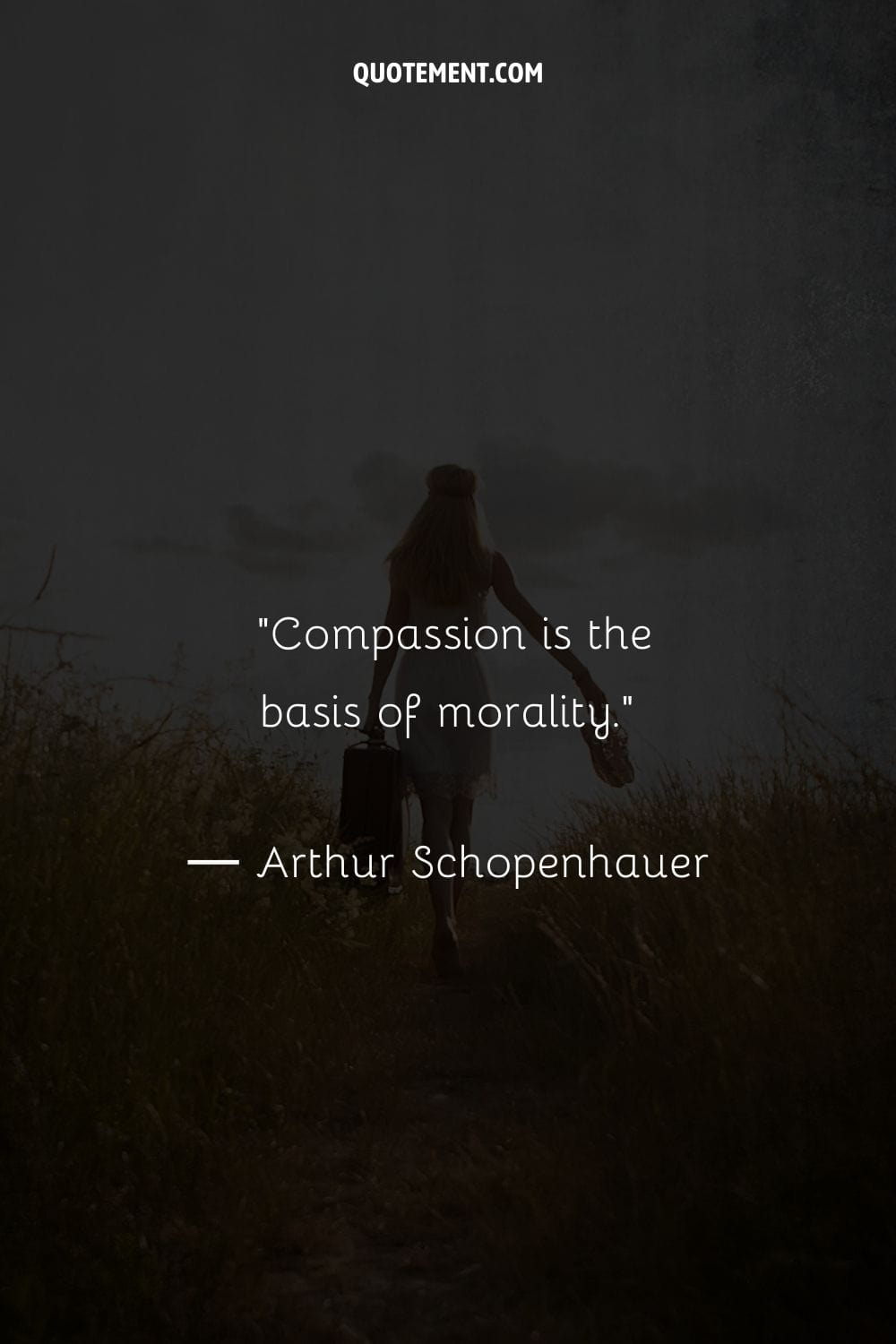 11. "Do not be deceived: bad company corrupts good morals." ― The Holy Bible: King James Version
12. "I learned from him that often contradiction is the clearest way to truth" ― Patti Smith, Just Kids
13. "How can one be well…when one suffers morally?" ― Leo Tolstoy, War and Peace
14. "There is no justice in the laws of nature, no term for fairness in the equations of motion. The Universe is neither evil, nor good, it simply does not care. The stars don't care, or the Sun, or the sky.
But they don't have to! WE care! There IS light in the world, and it is US!" ― Eliezer Yudkowsky, Harry Potter and the Methods of Rationality
15. "What one thinks is right is not always the same as what others think is right; no one can be always right." ― Roy T. Bennett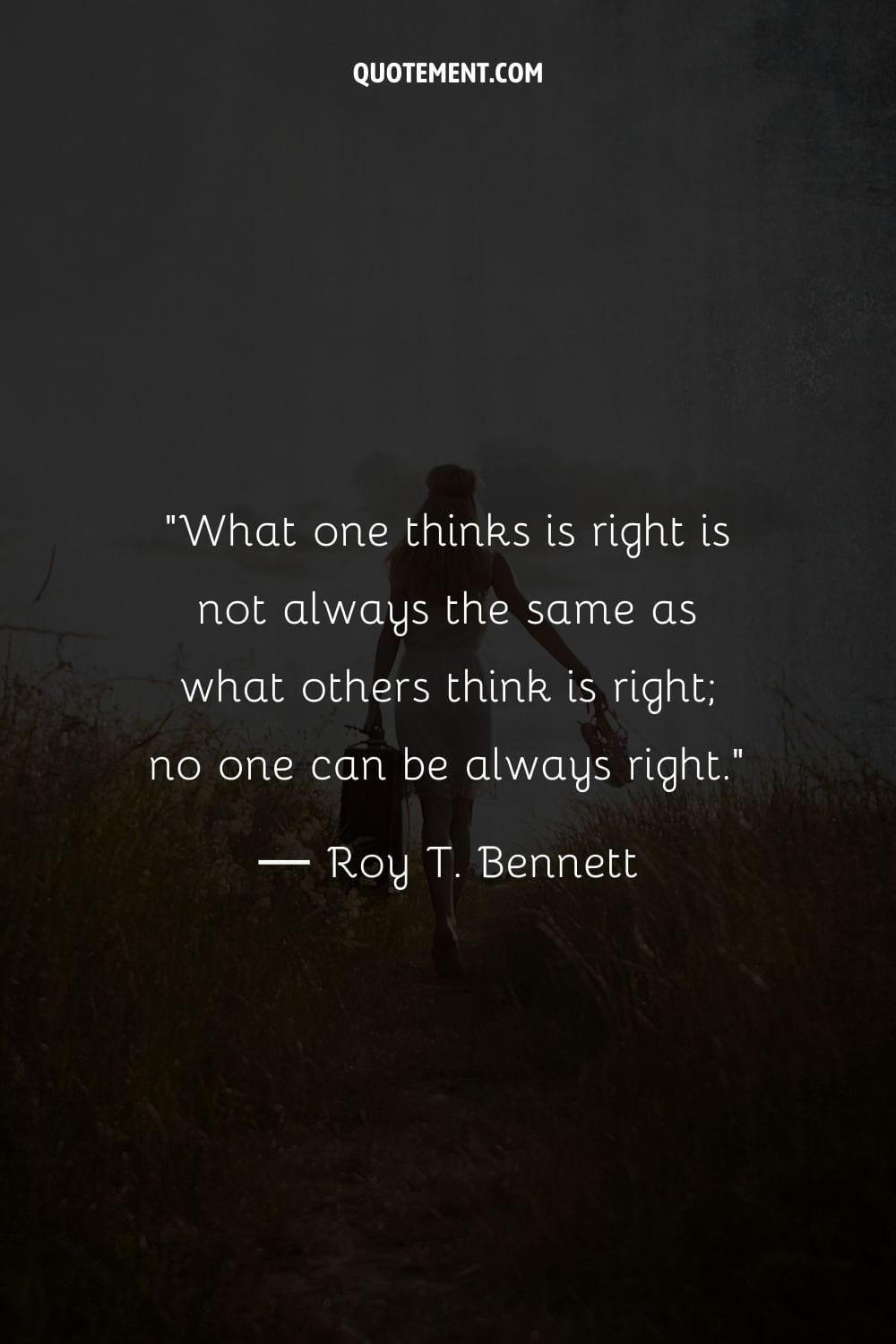 16. "Errors do not cease to be errors simply because they're ratified into law." ― E.A. Bucchianeri, Brushstrokes of a Gadfly,
17. "A moral system valid for all is basically immoral." ― Friedrich Nietzsche
18. "The first principle of value that we need to rediscover is this: that all reality hinges on moral foundations. In other words, that this is a moral universe, and that there are moral laws of the universe just as abiding as the physical laws. (from "Rediscovering Lost Values")" ― Martin Luther King Jr., A Knock at Midnight: Inspiration from the Great Sermons of Reverend Martin Luther King, Jr.
19. "Don't let your special character and values, the secret that you know and no one else does, the truth – don't let that get swallowed up by the great chewing complacency." ― Aesop
20. "Nothing is sufficient for the person who finds sufficiency too little" ― Epicurus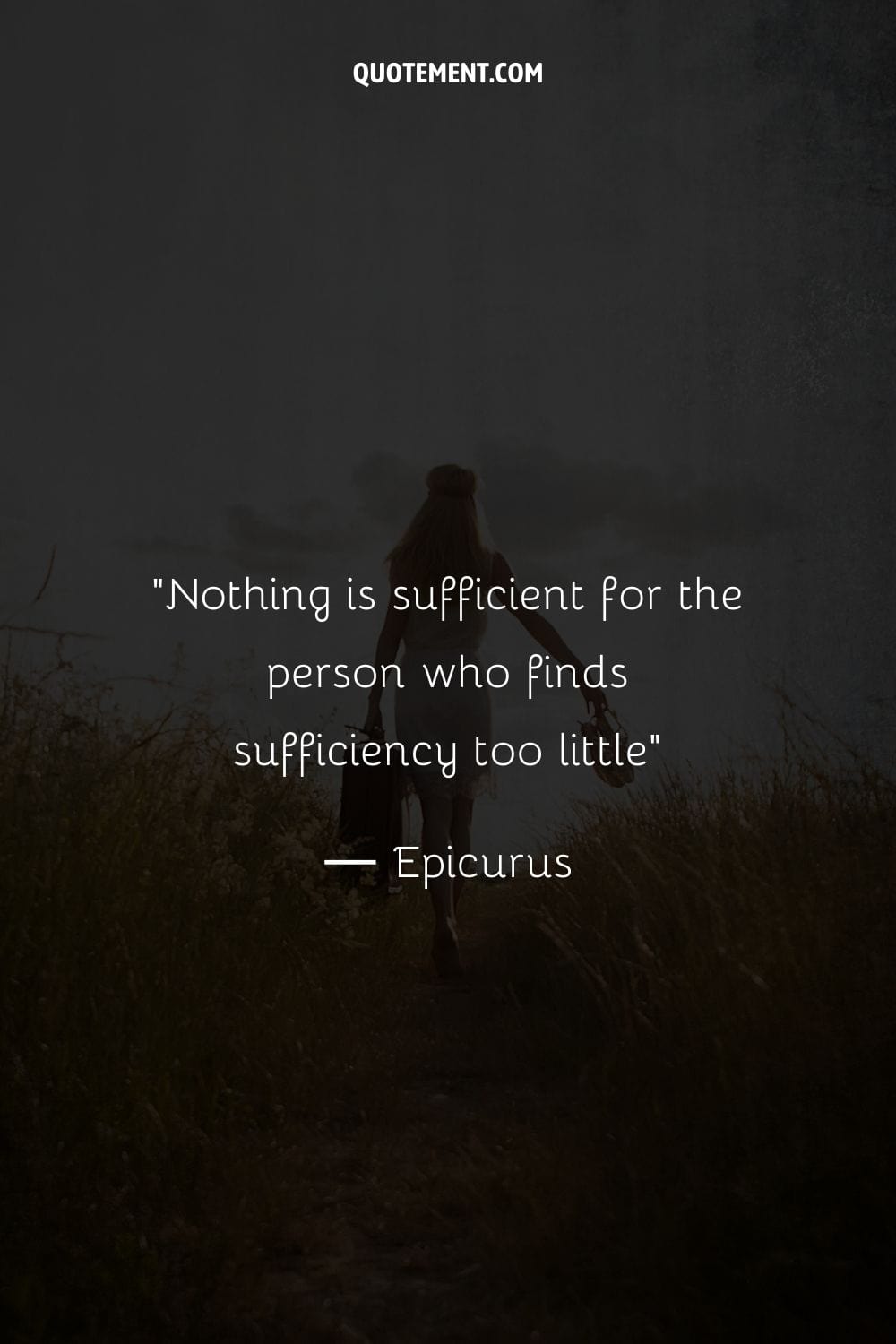 21. "There can be as many wrong reasons to do the right thing as there are stars in the sky. There might even be more than one legitimate right reason. But there is never a right reason to do the wrong thing. Not ever." ― Donita K. Paul, DragonKnight
22. "Always vote for principle, though you may vote alone." ― John Quincy Adams
23. "When you see no present advantage, walk by faith and not by sight. Do God the honor to trust Him when it comes to matters of loss for the sake of principle." ― Charles Spurgeon
24. "Nothing will bind the eyes of man quicker than the touch of compromise. A principle not compromised is a principle worth dying for. A dream not compromised is a dream worth living for." ― Ogwo David Emenike
25. "On matters of style, swim with the current, on matters of principle, stand like a rock." ― Thomas Jefferson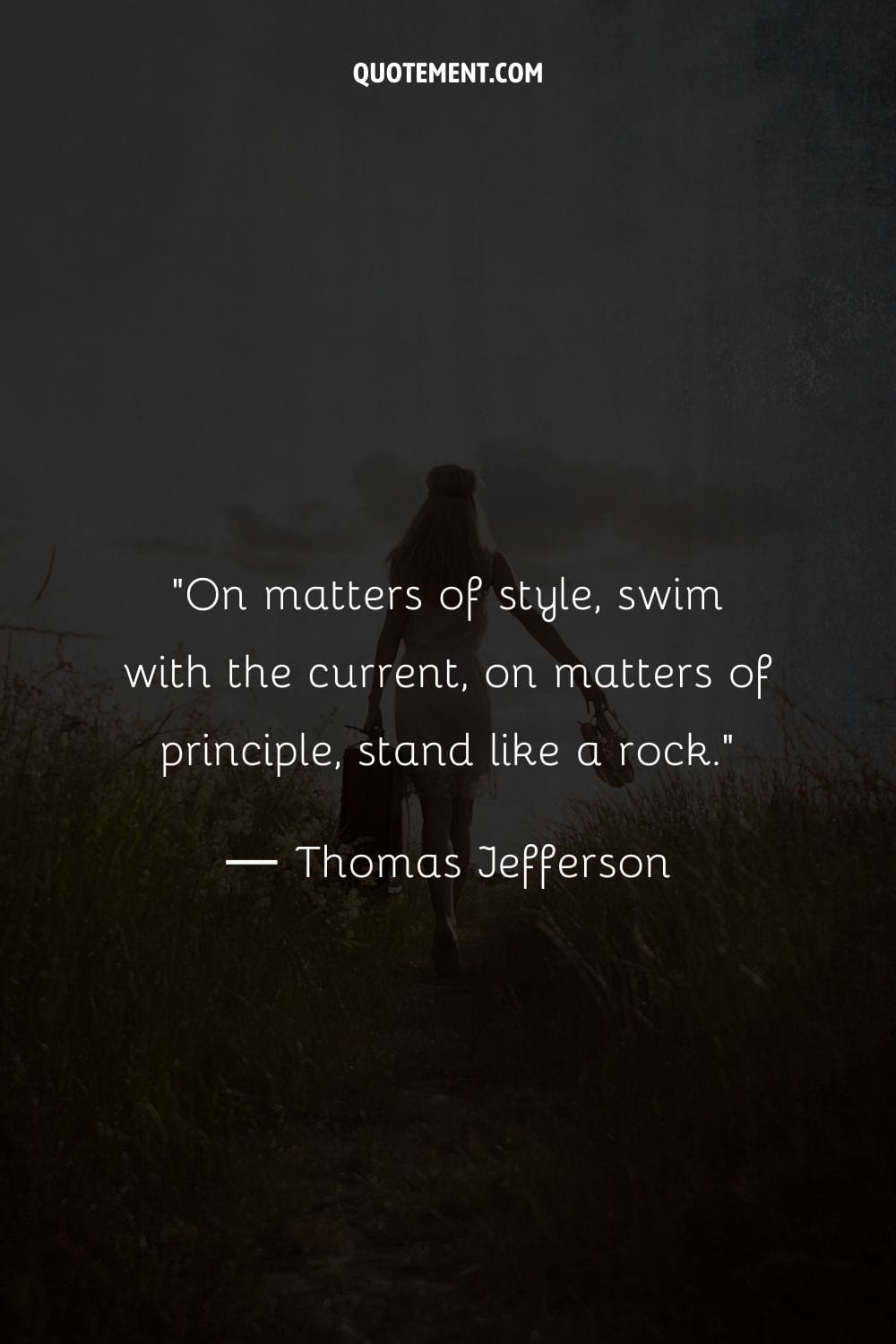 26. "In selecting men for office, let principle be your guide. Regard not the particular sect or denomination of the candidate – look to his character." ― Noah Webster
27. "It's okay to be honest about not knowing rather than spreading falsehood. While it is often said that honesty is the best policy, silence is the second best policy." ― Criss Jami, Killosophy
28. "Living in the present moment means living according to truth and principle (but not according to hard rigid dogma) flexibly applied in the particular way required by the immediate situation in which you are. Such a way of living leaves you free, not ruled tyrannically by imposed regulations which may not at all suit the particular case." ― Paul Brunton, Healing of the Self, the Negatives: Notebooks
29. "I would rather be an opportunist and float than go to the bottom with my principles around my neck." ― Stanley Baldwin
30. "The sacred formula of positivism: love as a principle, the order as a foundation, and progress as a goal." ― Auguste Comte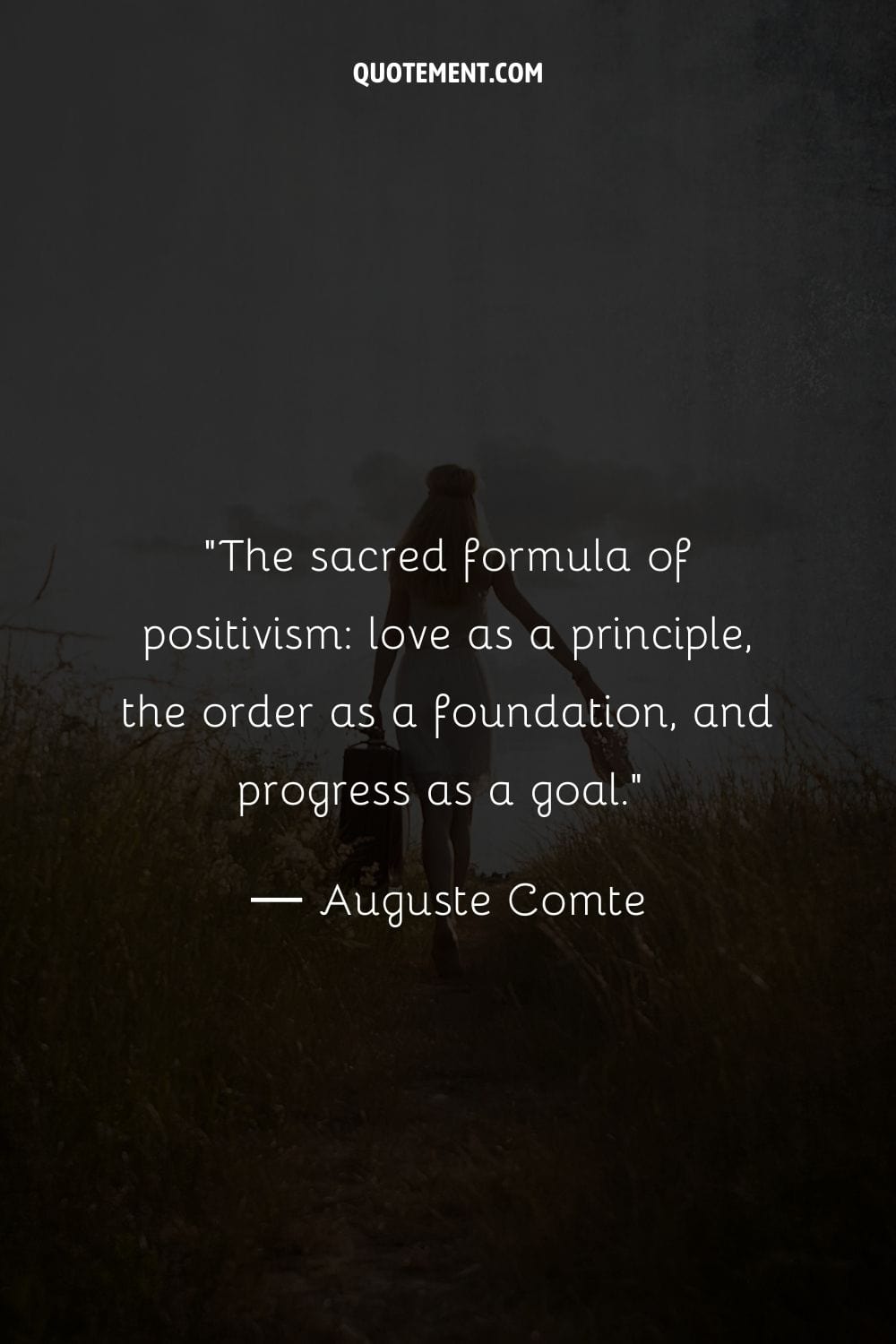 31. "At every period of history, people have believed things that were just ridiculous, and believed them so strongly that you risked ostracism or even violence by saying otherwise. If our own time were any different, that would be remarkable. As far as I can tell it isn't." ― Paul Graham
32. "The distinction between pretending you are better than you are and beginning to be better in reality is finer than moral sleuth hounds conceive." ― C.S. Lewis
33. "Only sometimes when we pick and choose among the rules we discover later that we have set aside something precious in the process." ― Helen Simonson, Major Pettigrew's Last Stand
34. "People need a moral code, to help them make decisions. All this bio-yogurt virtue and financial self-righteousness are just filling the gap in the market. But the problem is that it's all backwards. It's not that you do the right thing and hope it pays off; the morally right thing is by definition the thing that gives the biggest payoff." ― Tana French, In the Woods
35. "… what you think is right isn't the same as knowing what is right." ― E.A. Bucchianeri, Brushstrokes of a Gadfly
36. "Rewards of life lived with principles; bloom, when life is about to end or has departed already." ― Aniruddha Sastikar
37. "People suffer more from their own firm principles but never from their doubts." ― Bikash Bhandari
38. "Principles are nice things. If you can afford them. I like to think I am a principled man, but then, most men do. The fact is, we all have a price, we all have buttons that can press to make us do things that are not entirely honorable. Principles do not pay the mortgage or clear our debts. A principled man is generally a man who has everything he wants or absolutely nothing to lose." ― C.J. Tudor, The Chalk Man
39. "A principle is the expression of perfection. Imperfect beings like us cannot practice perfection. I shall allow for error in judgment by seeking counsel from all sources of knowledge. Failing is critical for self-growth because it causes a principled person to think. A person's greatest failures are their portals to discovery. The mind is a fire that a person must kindle; a person must seek constant development in order to stave off intellectual, spiritual, and moral morbidity. A person cannot apply any principle to guide human behavior without testing its concept against present realities or it will result in absurdities." ― Kilroy J. Oldster, Dead Toad Scrolls
40. "It is easy to speak of bravery, but it is difficult to live the words." ― Craig D. Lounsbrough
20 Quotes On Core Values
1. "The values to which people cling most stubbornly under inappropriate conditions are those values that were previously the source of their greatest triumphs." ― Jared Diamond, Collapse: How Societies Choose to Fail or Succeed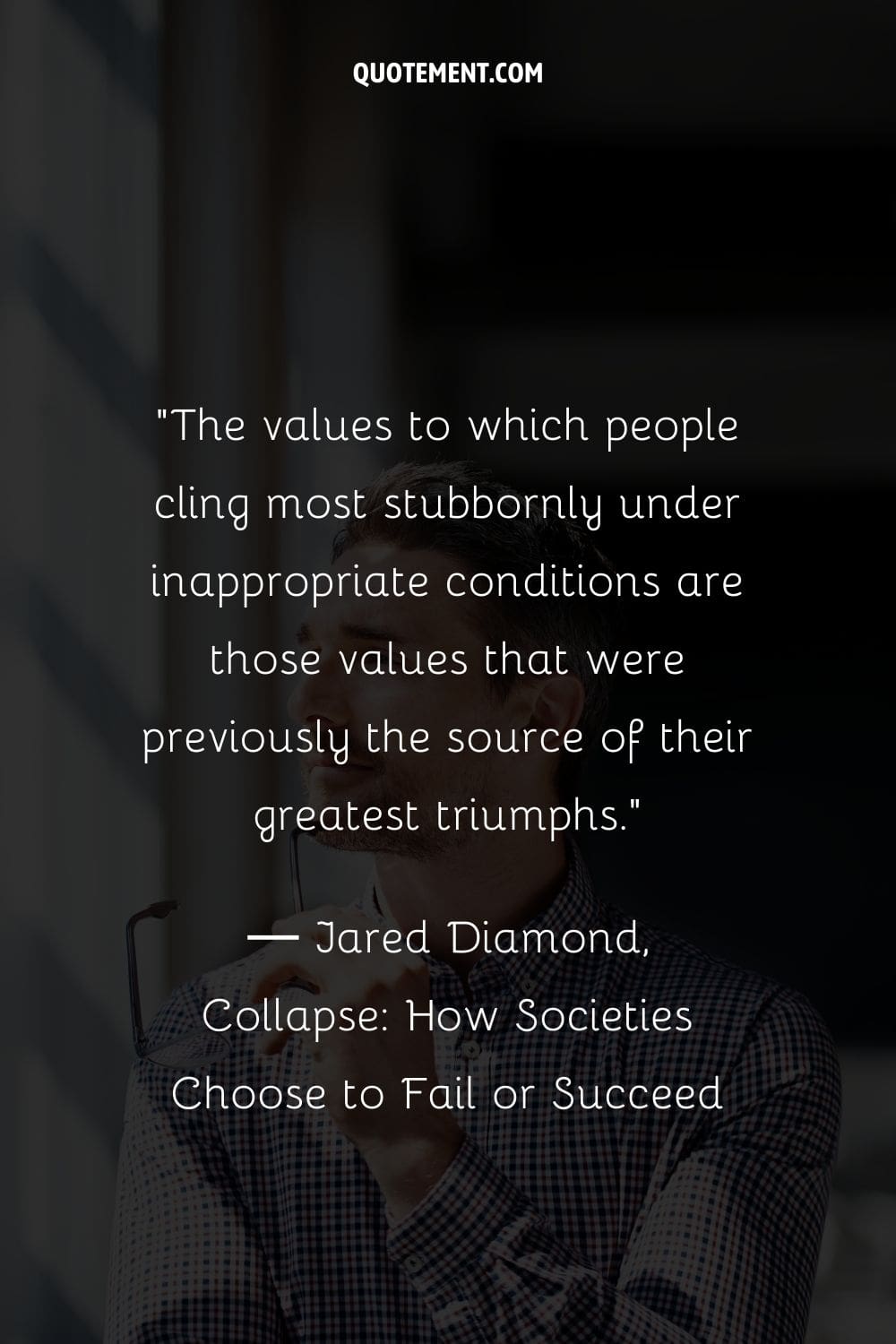 2. "For me, I am driven by two main philosophies: know more today about the world than I knew yesterday and lessen the suffering of others. You'd be surprised how far that gets you." ― Neil deGrasse Tyson
3. "From this point forward, you don't even know how to quit in life." ― Aaron Lauritsen
4. "The only ethical principle which has made science possible is that the truth shall be told all the time. If we do not penalize false statements made in error, we open up the way for false statements by intention. And a false statement of fact, made deliberately, is the most serious crime a scientist can commit." ― Dorothy L. Sayers, Gaudy Night
5. "Find people who share your values, and you'll conquer the world together." ― John Ratzenberger
6. "You can't be value free when it comes to marriage." ― Al Gore
7. "It amazes me when education, religion and family values fail to create a human being." ― Anum Sattar
8. "Ultimate prosperity is one's value within. It takes a man of depth, morality, and charm to be envied yet without a sign of wealth or romance. A passion to prove such inner worth is his permission to achieve whatever he desires." ― Criss Jami, Killosophy
9. "Two types of choices seem to me to have been crucial in tipping the outcomes [of the various societies' histories] towards success or failure: long-term planning and willingness to reconsider core values. On reflection we can also recognize the crucial role of these same two choices for the outcomes of our individual lives." ― Jared Diamond, Collapse: How Societies Choose to Fail or Succeed
10. "Step out of the crowd of average people. Enter that game and change the values on the scoreboard." ― Israelmore Ayivor, Dream Big!: See Your Bigger Picture!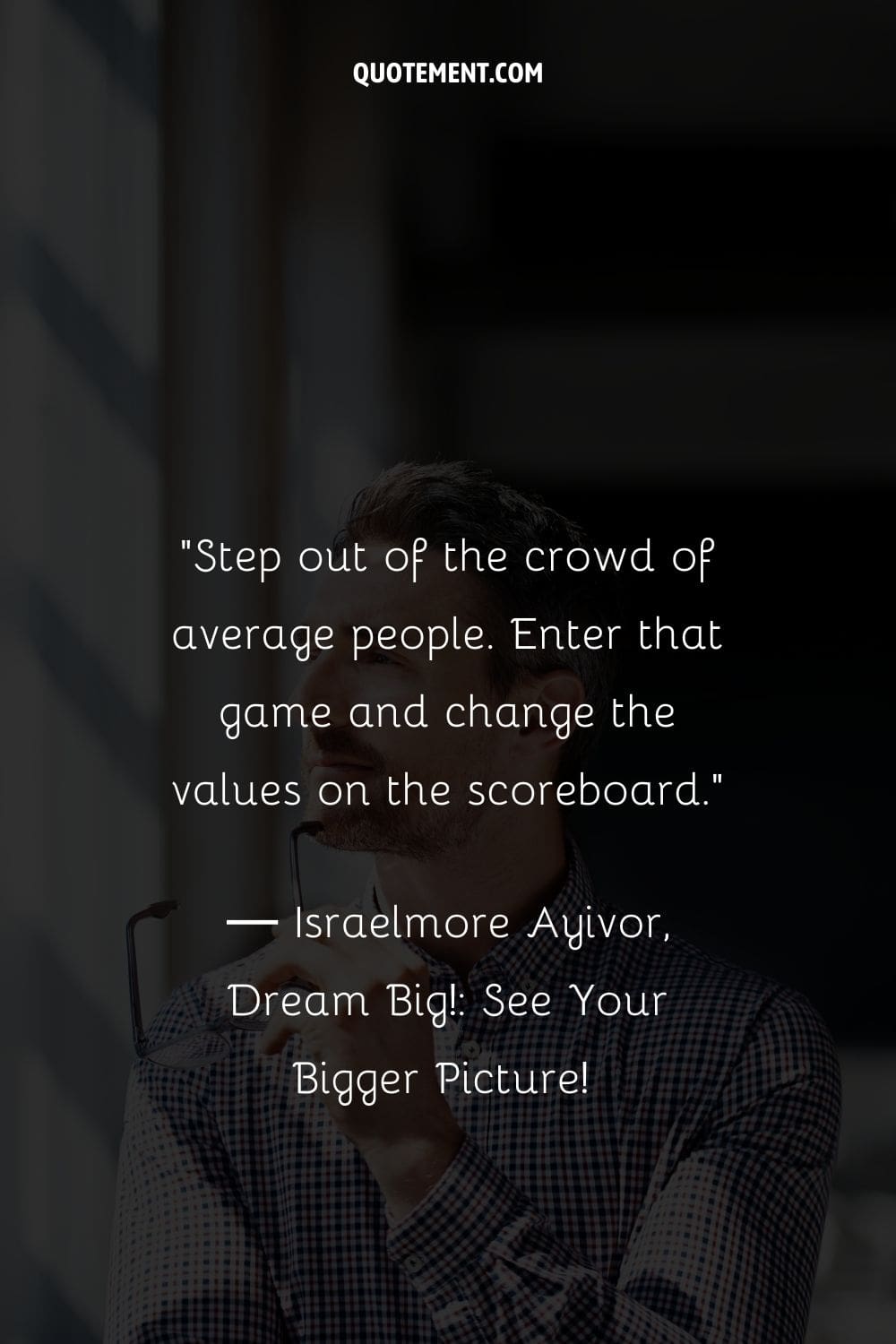 11. "There are some values that you should never compromise on to stay true to yourself; you should be brave to stand up for what you truly believe in even if you stand alone." ― Roy T. Bennett, The Light in the Heart
12. "If an opportunity is not aligned with that matters most to you (your core values), let it pass. The opportunities that don't make your soul sing, or that you can't be excited about, just end up taking space where a better opportunity could be. Don't settle for something fine―wait for something great!" ― Leanne Jacobs, Beautiful Money: The 4-Week Total Wealth Makeover
13. "Organizations, companies or individuals without core values are exactly like a boat without an anchor; it can be easy tossed to and fro following any direction the wind blows." ― Dr. Lucas D. Shallua
14. "In the decision supply chain, you account for your core values, consider all the facts and honor your feelings in the moment." ― Brant Menswar, Black Sheep: Unleash the Extraordinary, Awe-Inspiring, Undiscovered You
15. "Focus on making choices to lead your life that aligns with your core values in the most purposeful way possible." ― Roy T. Bennett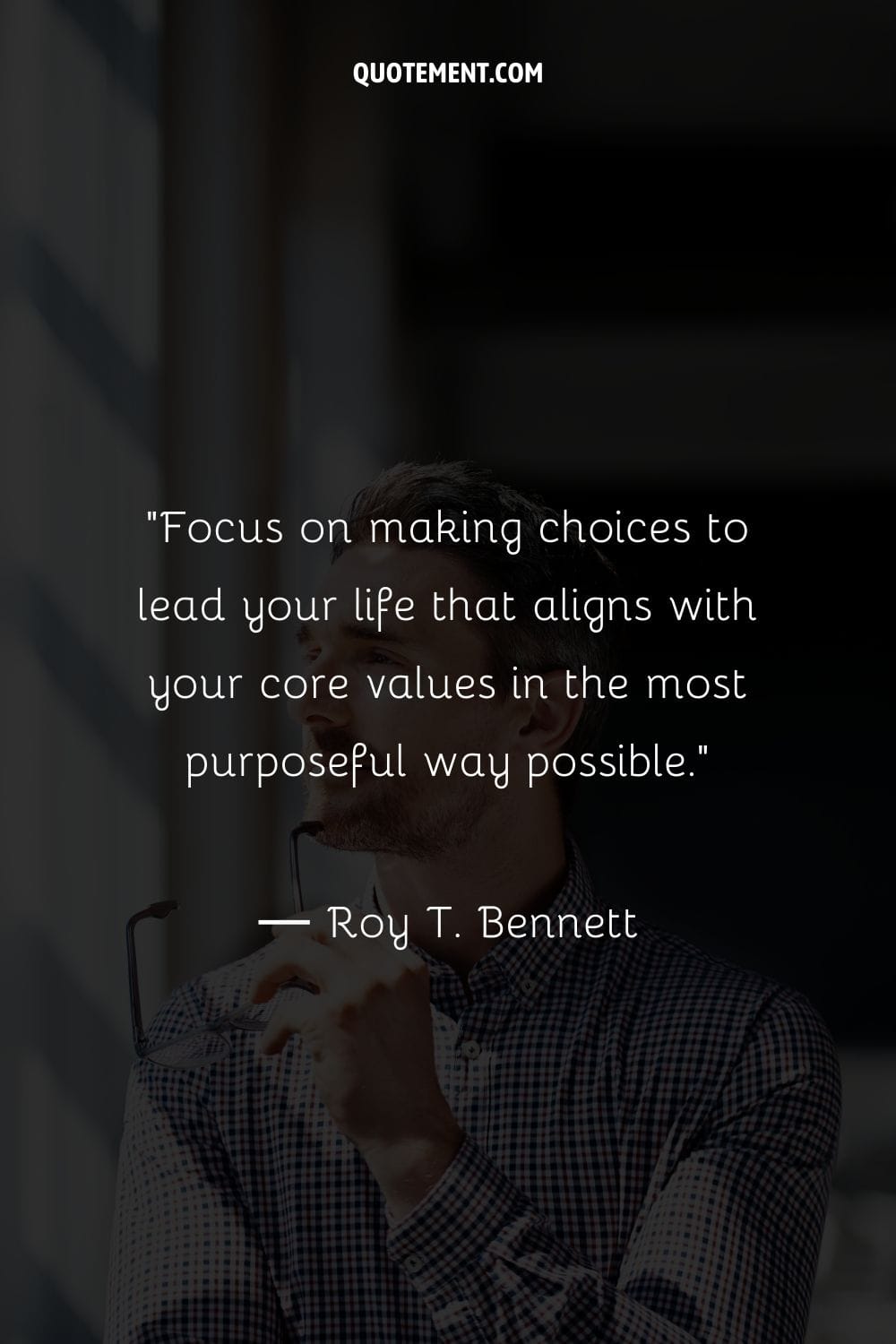 16. "Don't stand alone. Get in the mix. Except when you are standing on your core values." ― Abiodun Fijabi
17. "When you know something to be true in your very core, there is no need to shout it from the rooftops." ― Basetsana Kumalo, Bassie: My Journey of Hope
18. "Consider that the boundaries of your comfort zone are actually your core values." ― Stacey Hall, Selling from Your Comfort Zone: The Power of Alignment Marketing
19. "Language can't describe reality. Literature has no stable reference, no real meaning. Each reader's interpretation is equally valid, more important than the author's intention. In fact, nothing in life has meaning. Reality is subjective. Values and truths are subjective. Life itself is a kind of illusion. Blah, blah, blah, let's have another scotch." ― Dean Koontz, False Memory
20. "Your core values are your deciding factors for success." ― Tobi Delly, 25 Things you Must Have Before age 25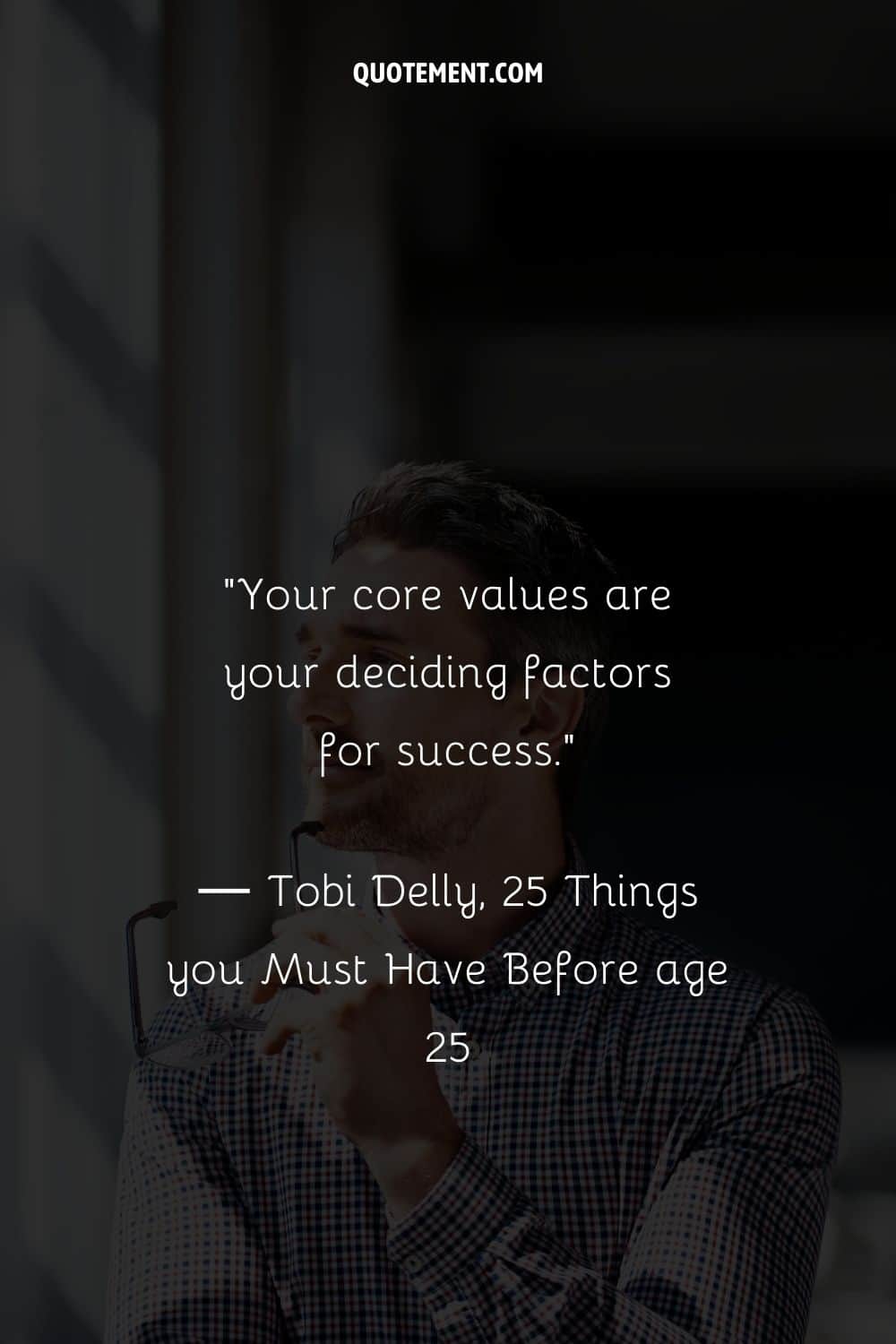 See also: 220 Best Enjoy Life Quotes To Unlock The Art Of Living
Final Word
I hope that you have enjoyed reading my collection of the best quotes on values that I could find online. I enjoyed reading them as well, and I wholeheartedly encourage you to pursue being a person of a high value.
You never know what you nugget of good karma will come back to you, right?
Read next: 150 Wise Quotes Of Perfection To Propel You To Excellence